BEFORE HE GETS OLD: MARSH SYMPOSIUM STARTS TONIGHT
"Land of Hope and Dreams" kicks off with creem-of-the-crop speakers: Pete Townshend, Jon Landau, and Caryn Rose tonight
The three-week, free online conference Land of Hope and Dreams: A Celebration of Dave Marsh's Work and Vision begins this evening. Following a welcome message from none other than Pete Townshend, tonight's opening event is an interview with Jon Landau conducted by discerning music writer (and longtime Backstreets contributer) Caryn Rose. As one who's long been inspired by Marsh and his work, Caryn reflects here on his impact and looks ahead to tonight's conversation and the LOHAD events to come.
As a teenager, reading the music press, Dave Marsh was someone whose byline I looked for and trusted. I was drawn to the immediacy of his writing and how he could explain complex personalities and dissect music in a way I could understand. It felt like listening to a respected older brother. He wasn't afraid of showing when he was moved by the music, and he didn't look down on anyone's enthusiasm. He was also one of a few people who were instrumental in helping me examine the political and social connections of rock 'n' roll.

I'm excited about this event because I'm a big fan of giving people their flowers while they're still alive. He has a prodigious body of work that's been out of the spotlight for some time, and I appreciate that the organizers are reflecting on not just his written work but his political and social impact as well. The panel of presenters and participants is a reflection of the breadth of his collaborations — it's one of the few conferences where you need multiple hands to count the number of women presenting, and that was deliberate.

I was both thrilled and honored to be asked to interview Mr. Landau for this event, and I look forward to being able to dig into his larger work as a rock critic and producer, his writing at Rolling Stone and elsewhere, and his perspective on how Dave Marsh fits into that. I'm hoping to get him to talk shop about the craft of music writing and its importance to the culture, to hopefully coax out some stories about the early days that we haven't heard.

For Springsteen fans, especially folks who came along in the post-Reunion era or later, I'd encourage them to look back at Marsh's writing both on Bruce and otherwise, as it's a doorway into a time they weren't around for. If you're interested in digging into the history at all, this is a tremendous opportunity to do that. These kinds of symposia are usually held at a university in the middle of nowhere and cost a lot of money to attend — this is a chance to come along for free.
- Caryn Rose
Spotlight Conversation: Jon Landau & Caryn Rose begins tonight at 8:30pm Eastern; registration for the event has closed, but it can still be viewed on YouTube.
For more about LOHAD conference, see our March 30 article for details, as well as the Land of Hope and Dreams website, where you can register for upcoming panel discussions and Spotlight Conversations. Follow @LOHADConf21 on Twitter.
- April 30, 2021

"NO, ELVIS AIN'T HOME. ELVIS IS IN LAKE TAHOE."
The 45th anniversary of the Graceland wall jump, plus an "outtake" from our coverage of Thom Zimny's Elvis Presley: The Searcher

The coolest incident of trespassing we know of took place 45 years ago tonight: Bruce Springsteen's legendary breaching of the Graceland walls in 1976, during the late-night hours after his own first-ever Memphis concert.
Twenty-six-year-old Bruce didn't quite make it to the front door in his unsuccessful attempt to meet Elvis Presley, who was in Lake Tahoe at the time to prepare for a one-week stand [right], but it still made for a great story.
Read our "Ultimate Graceland Story" supercut here, based on Springsteen's retellings from 1977 to 2008. The tale became so familiar over the years that even the official Graceland website recognized its significance.
Three years ago this month, HBO premiered Thom Zimny's definitive documentary Elvis Presley: The Searcher, which remains available for viewing via HBO Max and on DVD in standard and collector's editions. Jon Landau and Bruce Springsteen each made significant contributions to Zimny's film, sharing their love and knowledge of Presley's enduring impact on their lives and the lives of countless others.
In recognition of today's Kingly anniversary, we have a previously unpublished "outtake" from our reporting archives: a closer look at the film's soundtrack, with some behind-the-scenes insights that co-producers Landau and Zimny shared with us at a preview screening of the documentary. Zimny described how Bruce Springsteen inspired some of the music selected for the film's soundtrack via an impromptu performance in the edit room.
Click here to read Shawn Poole's 2018 report, "TCB in NYC: Landau and Zimny talk Searcher soundtrack at Lincoln Center Preview."
- April 29, 2021



HERE'S ONE FOR FRIENDSHIP: FROM MY HOME TO YOURS 21
Volume 21 of From My Home to Yours debuted on SiriusXM's E Street Radio this morning. Entitled "Waiting on a Friend" (borrowed from one of two Stones songs played today), the new episode is a lengthy, deep exploration of the many aspects of friendship. Our illustrious master of ceremonies also speaks knowingly and lovingly of a special kind of friendship.
"There is no friendship in the world like a rock 'n' roll friendship," asserts Bruce Springsteen. "Music is the unspoken language of companionship. When you find that soulmate who understands every note — every syllable of every lyric of every song that ever ripped a hole in your heart — you know you've found a friend for life. You are bonded forever through the magic, the mystery, and the miracle of rock 'n' roll."
Bruce had a score of recordings lined up for this one, with almost half of the tracks featuring Springsteen himself, along with plenty of rock 'n' roll friends, and ending with a song of friendship near and dear to our hearts, for sure.
Playlist
Bruce Springsteen - "Blood Brothers" (Alternate Version)
The Rolling Stones - "Waiting on a Friend"
Clarence Clemons and Jackson Browne - "You're a Friend of Mine"
Bruce Springsteen & the E Street Band with Alejandro Escovedo - "Always a Friend" (live)
The Kinks - "See My Friends"
Janis Joplin - "Me and Bobby McGee"
Elmore James - "My Best Friend"
Steely Dan - "Through With Buzz"
The Rolling Stones - "Mixed Emotions"
Bob Dylan - "Positively 4th Street"
MGMT - "Me and Michael"
Bruce Springsteen - "None But the Brave"
Tom Paxton - "Ramblin' Boy"
The Byrds - "He Was a Friend of Mine" (1990 recording)
Bruce Springsteen - "I'll See You in My Dreams"
Joan Baez - "Pal of Mine"
Southside Johnny & the Asbury Jukes (with Bruce Springsteen and Steven Van Zandt) - "It's Been a Long Time"
Dave Alvin - "Two Lucky Bums"
Bruce Springsteen & the E Street Band - "Two Hearts" (live)
Bruce Springsteen - "Backstreets"
- April 28, 2021 - Shawn Poole reporting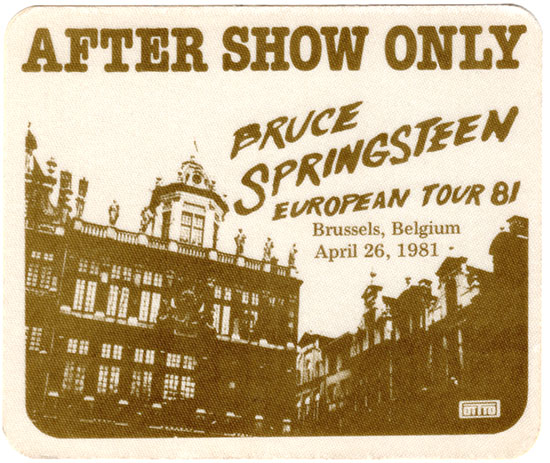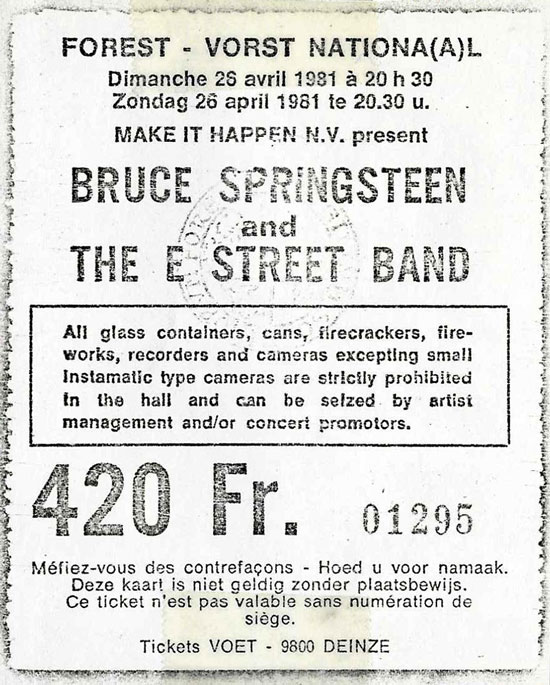 BRUCE MANIA IN BRUSSELS
After zig-zagging across the continent (Germany, Switzerland, France, and Spain), the European leg of the 1981 River Tour took a clear direction: North with a stop in Brussels at the Forest/Vorst National, 40 years ago tonight.
Tickets for Bruce Springsteen and the E Street Band's Belgium debut went on sale in early March, and the show was sold-out in 11 days. As Paul Ambach from the promoter Make it Happen would put it, "Phones don't stop ringing, and the employees at the post office and at the bank [dealing with money orders] are going crazy!"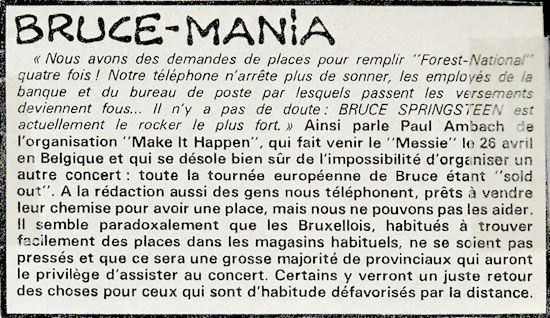 With tickets in hand, 7,000 music fans packed the all-seated venue, and it was a pure frenzy according to the Belgian rock critic Pierre Vernandel (aka Piero Kenroll). His review ran in a picture-heavy, two-page spread in Télémoustique, with photographs by Paul Coerten [below].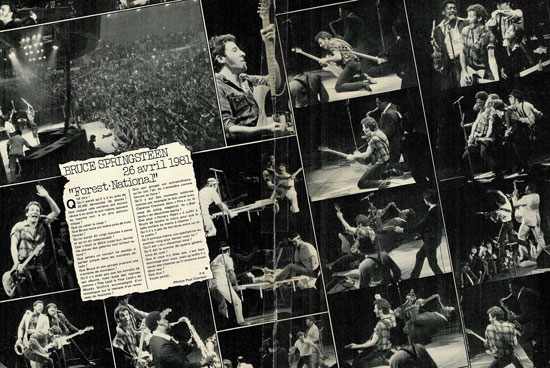 In fact, the performance was so incredible that the reviewer decided to take a 20-year hiatus from his career as a rock critic. A pillar of the rock scene in Belgium for more than 20 years — P.K. saw and interviewed all the great acts from the '60s and '70s (including a younger Bruce in Amsterdam in 1975) — the writer wondered if he would live to ever see such an intense evening again. It was that good to spend your Sunday night in Brussels on April 26, 1981.
- April 26, 2021 - Fabrice Szabo reporting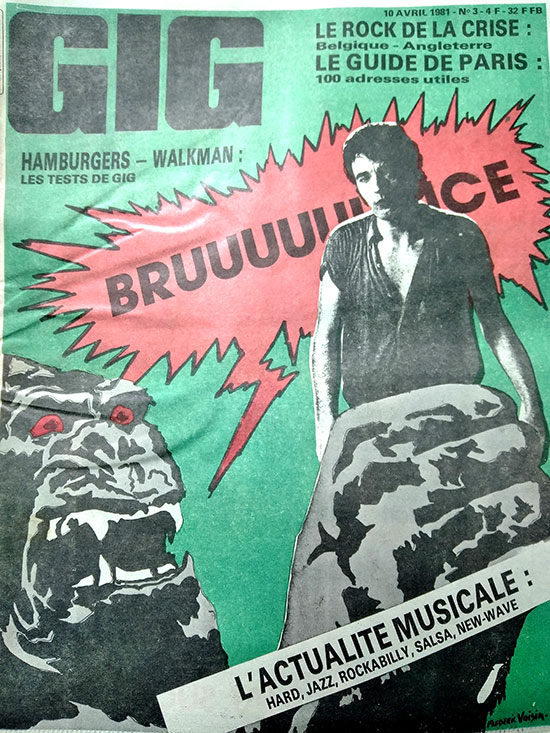 LE TRIOMPHE DE BRUCE SPRINGSTEEN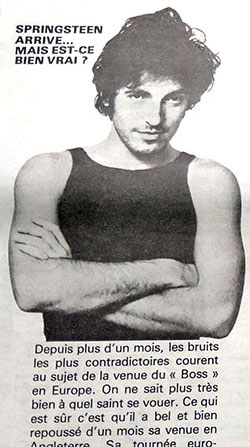 Looking back 40 years at the first E Street shows in France
Springsteen arrive… mais est-ce bien vrai?: Springsteen is coming… but is it for real?
When the short-lived rock newspaper GIG gave that title to a short article announcing ticket sales for Bruce Springsteen's 1981 Paris shows, it certainly caught the attention of many French fans. Would King Kong release Bruuuuuce, as GIG depicted on the front page [above], for his first-ever performances in France?
It's early April 1981, and it seems the answer is finally yes — on April 6, fans will be able to buy tickets for shows to happen in a fortnight at the Palais des Sports de Saint-Ouen, in the northern suburb of Paris. If you're a local, you're lucky; if you live in Lyon or nearby, you're still waiting for the official confirmation of "your" show: April 23 at the Palais des sports de Gerland, according to GIG.
As the newspaper would put it in their review of the Parisian shows, "We waited for years. His arrival was often announced, yet always cancelled… his visit seemed doubtful until recently."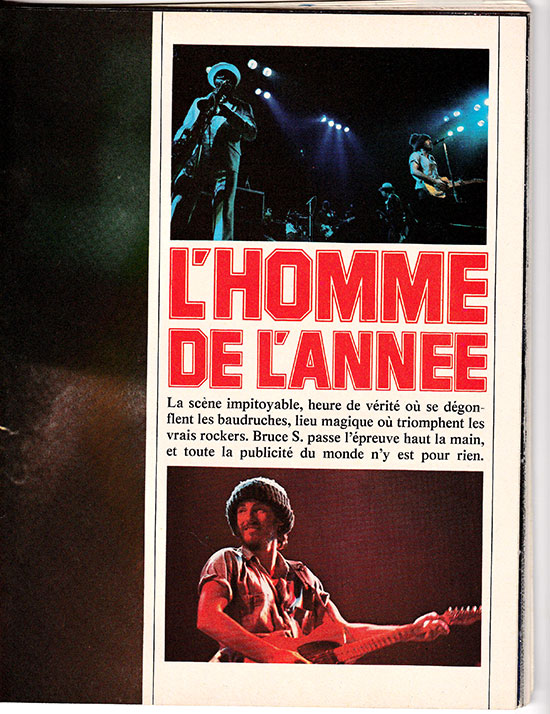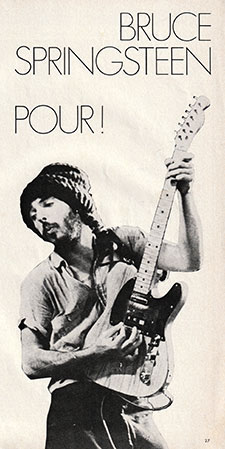 Indeed, it was a long time coming. Almost six years earlier, Springsteen broke through for the first time in the French media. Following the short European tour of 1975, the two main monthly rock newspapers, Best and Rock and Folk, devoted lengthy articles to Born to Run. Bruce was the man of the hour and even the man of the year for 1975, according to Rock and Folk [above].
Best put it simply but eloquently [right], Bruce Springsteen: Pour. "Bruce Springsteen: In Favor."
Bruce had momentum, but as with elsewhere in the world, it was not perfect timing. Following the Born to Run hype, there was a lull due to the conflict with Mike Appel: no records for more than two years, no promotion by CBS, and no live performances outside North America. Bruce almost disappeared, although shadows and glimpses of him remained.
Here and there, we got some distant news — like a rare full interview for another defunct newspaper, Pop Hedbo, in May 1976 — but very little until 1978.
One band and one man helped Springsteen avoid irrelevance and obscurity. French musician Little Bob, with his band Little Bob Story, recorded a cover of a then-unknown outtake: "Seaside Bar Song."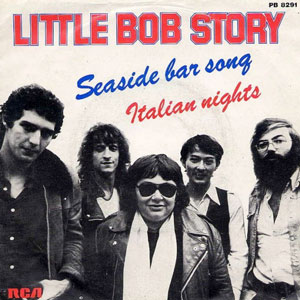 Little Bob Story played the Bruce song on stage, they made it a single, and though the band was never huge, it was at the forefront of the punk rock stage in France, with fairly extensive coverage in the French press. In the summer 1978, a seed of Bruce Springsteen in Lyon was planted at the Fourvière Rock Festival, where Little Bob took the stage after an array of the best French rock bands (Bijou, Starshooter, Telephone) and performed the cover. But this was just the appetizer.
In July 1978, both Rock and Folk and Best published enthusiastic reviews of Darkness on the Edge of Town. In August 1978, they reviewed shows from L.A. and New Orleans (with an extensive Bruce interview), and they printed a concert date in black-and-white: Bruce Springsteen, Paris, October 1, 1978. Live on a stage.
Here's where you say, "But no, he played Atlanta on that date." And indeed, he did. The plan to bring Bruce to Europe collapsed with his health somewhere during the summer of 1978, when they had to postpone some shows. Bye-bye Europe, Episode 1.
Then, we enter a nearly three-year period known as "The Loch Ness period." Bruce Springsteen on a French stage: If you're a rock journalist, you talk about it, you write about it, you print it… but you never see it.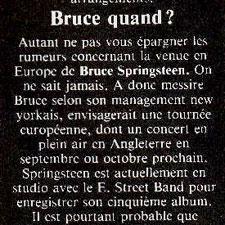 It is "Bruce Quand?" — "Bruce, when?" — as Best would put it in June 1979 [right], expecting a tour by fall 1979. Did you see that one? Bye-bye Europe, Episode 2.
Rumors flew about a new album (every month from fall 1979 to fall 1980), and rumors of a tour, too. On Chorus — a French rock TV program airing at noon on Sunday so that it would bother no one — host Antoine De Caunes would make his show a Bruce show by broadcasting the "Rosalita "clip and trying to get a Bruce live appearance on French TV. He got the Clash, but he did not get Bruce.
A TV appearance almost happened as a joint venture with German TV, a Rockpalast show; they even added a date and a city: Essen, April 4, 1981. You almost saw that one.… but almost is the key world. For a so long, Springsteen in France (as with so much of Europe) was a story of almost. But for now, in European TV land, it's bye-bye again, Episode 3.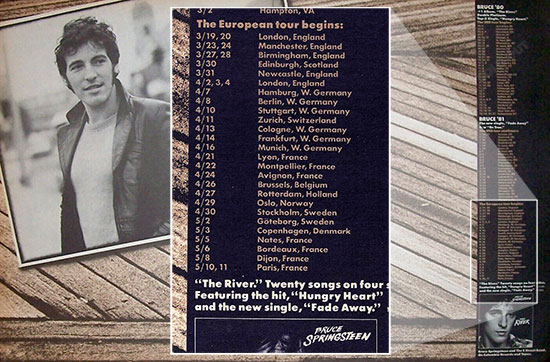 Finally, by winter 1980/1981, it was no longer an almost. This time it appeared to be for real — but still, not without some cancellations. CBS was so proud of the success of the tour and the album that they booked a two-page ad in Billboard [above]. After a long wait, the French fans would get their share of Bruce — and a good share, it seemed: seven cities, eight shows, with a two-night finale in Paris.
Concert producer Albert Koski (of KCP) made it big: "Hungry Heart" was a Top 3 single on the French charts in January 1981, and the album sold 140,000 copies in France by March, making it the best continental performance at the time. The U.K. would be Springsteen's prime European market, with a double-gold record, but by April, The River went gold in Holland, Sweden, and France.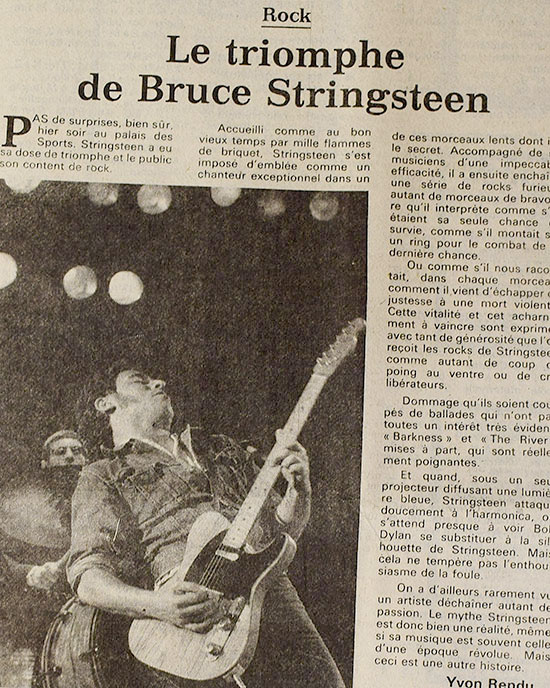 "Stringsteen"? Still triumphant, no matter how you spell it.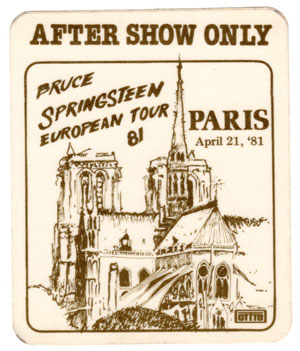 In a last-minute twist, however, tour plans changed, the original itinerary was scrapped (shifting the U.K. tour from the beginning of the European leg in March to the end of the leg in May and June), and the story as we know it unfolded: Bye-bye Avignon, bye-bye Nantes, Bordeaux, and Dijon.The first time Bruce took the stage in France was in Paris, in a weird-looking building overlooking the river Seine (of course, there must be a river at this point), on a Saturday night, April 18, around 9 p.m.
Paris hosted the River tour for two nights, April 18 and 19. After the second show, in an interview with the Australian reporter Stuart Coupe, Dave Marsh was ecstatic: "I'll tell you how good he was. I've seen him over a 100 times. But tonight I got tears in my eyes and lump in my throat."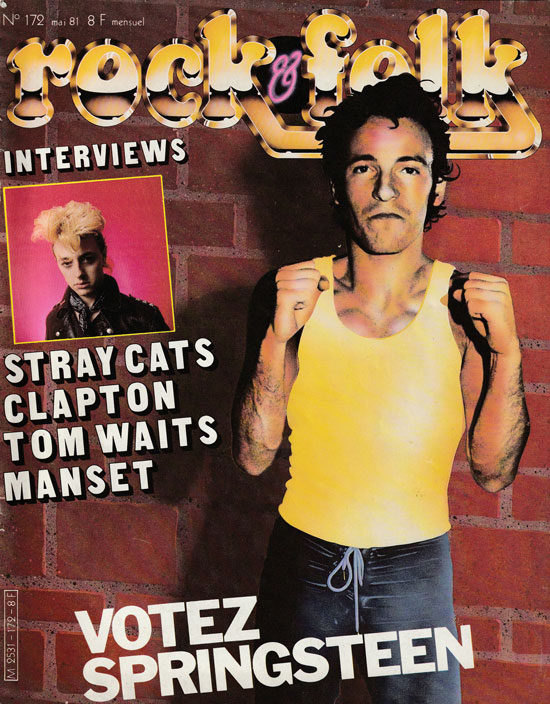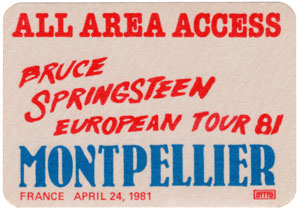 Along with Paris, Lyon and Montpellier appeared to be the other survivors of the new itinerary. The tour remained difficult to schedule, however, not only because of the March cancellation but the French Presidential election. A fierce fight was going on: Valery Giscard d'Estaing on the right and incumbent François Mitterrand on the left.
Rock and Folk made their call [above]: "Votez Springsteen!" But the President wanted to have his own show in Lyon; an electoral rally meant bye-bye Montpellier, and a 24-hour postponement to finally see Bruce and the E Street Band storming the Lyon stage on April 24.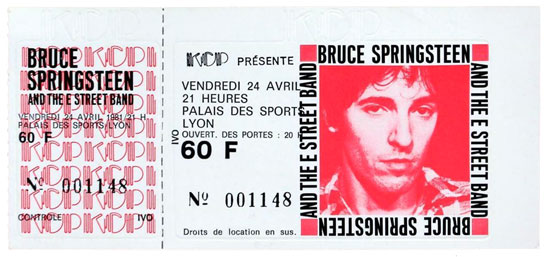 40 years ago tonight, 10,000 happy people rushed inside the Palais des Sports de Lyon, for the third and final French date remaining of the original eight.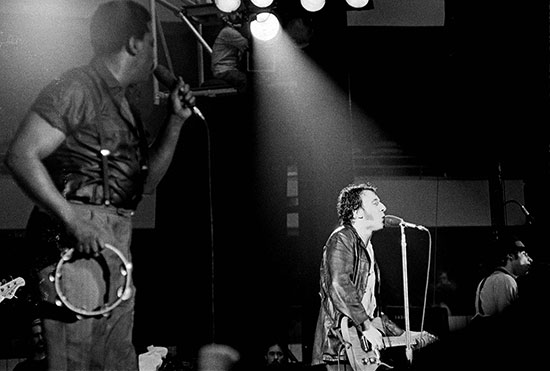 Palais des Sports de Lyon, April 24, 1981 - photograph by Stevie Dixon
Springsteen — with the E St Band, with the "other band," and solo — would perform four more times in the area, tying it with Montpellier as the most visited French cities outside of Paris.
- April 24, 2021 - Fabrice Szabo reporting, with special thanks to longtime fan and archivist Yvan Banié


SHIVER ME TIMBERS!
With a new coat of paint on Grapefruit Moon, Southside Johnny revisits his Tom Waits tribute album with Backstreets

Last month, Southside Johnny reissued one of the most adventurous albums of his career: Grapefruit Moon: The Songs of Tom Waits, his collaboration with LaBamba's Big Band.
Originally released in 2008, the full-length has been remastered for the 2021 reissue and features a bonus track, a live version of "Straight to the Top." Years later, Grapefruit Moon sounds fresh and cinematic, thanks to its mix of upbeat tracks ("Down, Down, Down"), more meditative fare (the torchy title track), and even a rakish Waits duet ("Walk Away").
While the pandemic has kept him off the road for quite a long stretch, Southside — who shares that he got his second vaccine shot on April Fool's Day — is easing back into live shows. Next week, from April 27 to 29, he's doing his first shows of 2021 at City Winery New York, billed as The Southside Johnny Trio with Jeff Kazee and Neil Pawley. "We're gonna try that and see if people come," he says. "I mean, it's only gonna be 100 people, and they'll be socially distanced. We'll see."
Before that, however, he checked in to chat all things reissue.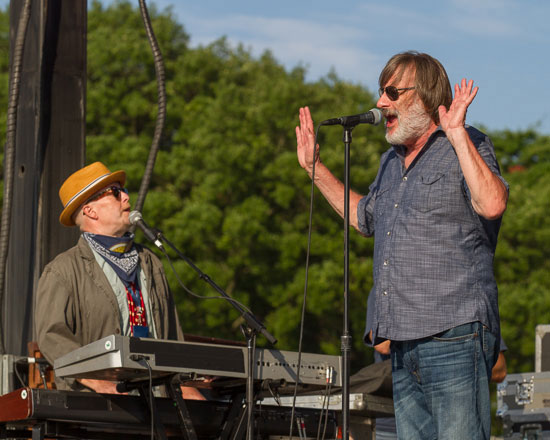 Two-thirds of the Southside Johnny trio — with Jeff Kazee at the Asbury Jukes' July 11, 2020 drive-in concert. Photograph by A.M. Saddler
Annie Zaleski: When you went back and listened to Grapefruit Moon, what stood out to you several years later?
Southside Johnny: I was astonished at how mature it was [laughs]. I mean, it really is great. To me, it was a realization of something I had dreamed about, but it came out better than I thought it would. I think LaBamba — Richie Rosenberg — did a great job with the arrangement. The production was terrific. I was just kind of the singer at that point. But I was even pleased with my singing, which is not always true.
It's so true that you are your worst critic, if you're in the creative field. When I come back and listen to this interview, listening to my voice, I'll be, like, cringe.
[Laughs] I was in a store or a bookstore, what, like, 20 years ago. And a song was playing, and I'm going, "Sounds familiar." This guy is singing some song, and I went: "Oh, that's me." [Laughs] I had never listened to the album once it came out.
At the time, what made you want to do this record?
It was really a confluence of opportunities. I had some money, and we had some time off, and Richie was around. I had always wanted to do some of Tom Waits' songs. Richie used to have a big band. And I [said], "Let's put the two of the ideas together. Let's see what happens." That was really the genesis of the whole thing.
So we got a whole bunch of guys together and rehearsed, and I thought, "This is really gonna sound great. It's also going to cost a goddamn fortune" [laughs]. I had to pay everybody — I forgot that part. But I was so pleased with the way it came out. I'm really very proud of it.…
Continue reading our "Shiver Me Timbers!"
interview with Southside Johnny
- April 22, 2021 - Annie Zaleski reporting - Visit southsidejohnny.com for additional upcoming tour dates.



BTX MADE IT THROUGH THE HEART OF A HURRICANE
It was a bad break, but baby we're back!
We're excited to announce that, as of today, our BTX message boards are back online! It was a long six weeks of dealing with problematic upgrades, technical support, and back-end challenges, but all problems have been resolved and we're ready to get back to business.
The software upgrade means a few changes to the BTX experience. The first thing you may notice is a new custom header banner, giving the boards some color, but our upgrades go well beyond the cosmetic. One major change: BTX is finally mobile-friendly; no more scrolling on your phone to see when that thread was last updated or even just to post a reply.
On the less visible but no less important front, we've implemented stronger anti-spam measures; hopefully, the number of private messages you receive regarding Russian mail-order brides will decrease considerably.
There will undoubtedly be some kinks to be smoothed out, so we ask users who see something unusual to please let us know, by sending a PM to Flynn. Speaking of whom, special thanks to board moderator Flynn McLean for his considerable efforts on these repairs and upgrades; we're also grateful to all BTXers for your patience and understanding during the downtime. Welcome back!
- April 19, 2021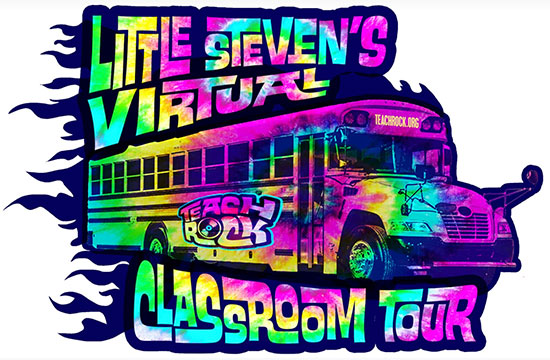 LITTLE STEVEN'S ROCKIN' ROLL ADVENTURE
Stevie in a new children's book, and in classrooms virtually
"I'm going on tour," says Steven Van Zandt, "traveling the only way we can right now — on Zoom." Van Zandt has just launched Little Steven's Virtual Classroom Tour, with plans to make an online visit to at least one public-school classroom per week for the remainder of this school year.
"The tours we did with the Disciples of Soul these last few years before the quarantine," says Stevie, "brought me face to face with the teachers we invited to the show every night. In the final week before COVID-19 shut down the U.S., I visited a TeachRock Partner School in Fullerton, CA, and seeing our curriculum come to life in the hands of teachers and students felt like the culmination of my life's work. I miss that interaction. So I've started visiting classrooms virtually every week. I get to see how our skilled teachers are using TeachRock to keep kids focused and engaged in such a crazy time. And I also get to help out where I can, answering questions from the students. I'll be visiting K-12 classrooms each week from now through the end of the school year."
Check out the video above to see the kinds of questions that Little Steven can expect from students as he visits them online.
The Virtual Classroom Tour comes on the heels of Little Steven's appearance in the children's book Grace's Rockin' Roll Adventure, written by Ken Korber with illustrations by Jaime Buckley.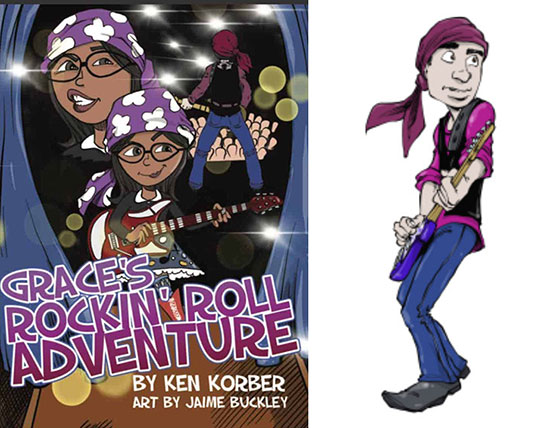 Stevie is depicted in interactions with characters from the children's-book series The Musical Adventures of Grace, which connects music with early elementary reading, science, and math. Copies of the book can be purchased with an $8 discount directly through TeachRock, which also will benefit from each direct purchase.
Little Steven's Virtual Classroom Tour culminates what TeachRock is calling "a banner year" for its important work. In the midst of the COVID-19 pandemic, with teachers seeking "online solutions during school shutdowns," TeachRock's website traffic "surged nearly 400%," the organization reported in its official Virtual Classroom Tour press release.
As in-person learning slowly but surely resumes, TeachRock is beginning to return to more direct work with districts. Last month, the organization announced a district-wide partnership with Milwaukee Public Schools destined to reach all 159 of the district's schools over the next several years. And on April 20, Steven Van Zandt and Connecticut Governor Ned Lamont will announce officially a three-year partnership with the Connecticut State Department of Education, bringing the TeachRock curriculum into 45 Connecticut schools.
Little Steven's Virtual Classroom Tour campaign page has information on how teachers can request a visit from Little Steven to their classrooms, as well as how everyone can support the Classroom Tour and TeachRock's ongoing efforts by purchasing a "brick" for inclusion in the "Wall of Solidarity."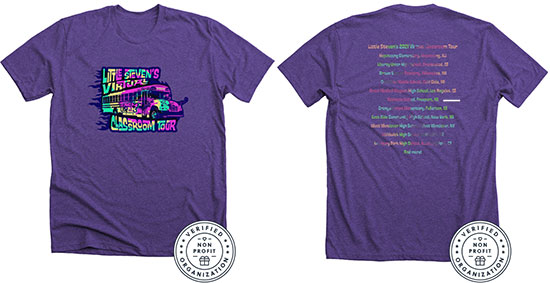 And hey, what tour would be complete without some wicked cool merch? Tees, tanks, hoodies, and baseball tees are available.
- April 19, 2021 - Shawn Poole reporting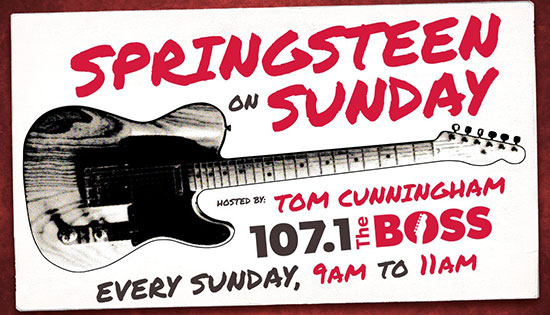 899-AND-A-HALF WON'T DO
Celebrating 900 episodes of Springsteen on Sunday with Tom Cunningham
Tom Cunningham doesn't skip church, but on Sunday mornings since 2003 he's had a congregation of his own, as host of a beloved all-Springsteen radio show on the Jersey Shore. The weekly two-hour Bruce block is long-running for a reason: it's a rare example of first-rate programming that can still be done on terrestrial radio, perfectly geared toward a local market but available anywhere thanks to internet streaming, developing a loyal audience in range of the radio towers and well beyond.

This weekend, Tom celebrates his 900th episode of what was first The Bruce Brunch (on 105.7 The Hawk) and is now Springsteen on Sunday (on 107.1 The Boss). A freeform delight for any fan of Jersey Shore music, Tom's show has played host to a multitude of musicians, authors, and other Friends of This Thing of Ours. Those interviews and musical performances are always interspersed, of course, with the music — engaging, timely Springsteen playlists every week, for casual fans and hardcores alike.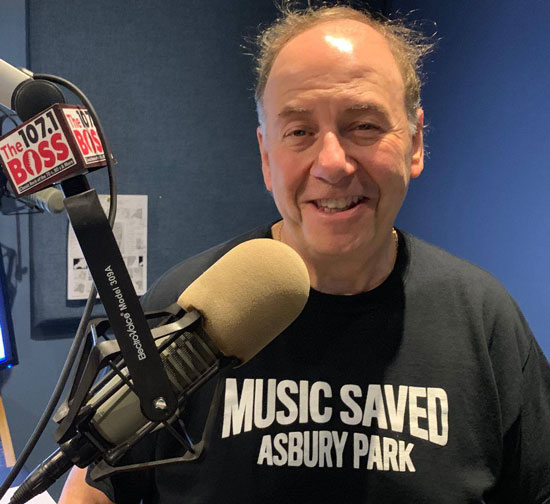 August 19, 2019: DJ Tom Cunningham hosts the 813th episode of his Sunday morning Springsteen radio show, but the first at his new home, 107.1 The Boss

Last Sunday afternoon, shortly after he signed off from episode #899, I had the pleasure of turning the tables on TC, getting him to answer the questions for a change. We looked back at the history of his show: origins, highlights, transitions, and (as with most things Springsteen) the community that surrounds it. We also looked ahead to #900, broadcasting this Sunday, April 18 — an event to which all are invited, on the airwaves or in person, as Mister DJ hosts the milestone episode live on location at Bar Anticipation in Lake Como.
Read the new Backstreets Interview with Tom Cunningham,
celebrating 900 episodes
Springsteen on Sunday airs at 9am Eastern on 107.1 FM at the Jersey Shore (and in Southern Ocean County at 99.7) and streams live online. For all forms of listening options, visit 1071theboss.com/apps-streaming.
- April 16, 2021 - Christopher Phillips reporting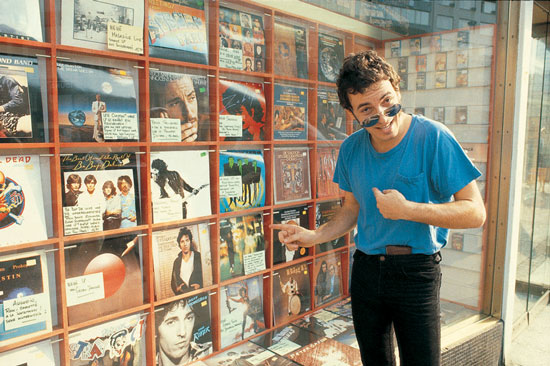 "Record Shop Window," Lucerne, April 1981 - photograph by Jim Marchese
RIVER OVER EUROPE '81: "FREEDOM BUSTING LOOSE"
A portfolio from photographer Jim Marchese, talking with Dan French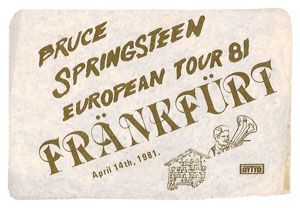 Forty years ago tonight in Frankfurt, with the E Street Band in the early stages of their 1981 European tour, Dan French had traveled from the U.K. to witness his first Bruce Springsteen concert. Dan had already begun publishing his Point Blank fanzine in 1980 (and would put out 12 issues in all, through 1992), so 4/14/81 couldn't be considered his conversion. But it was no less momentous a night, as Dan and so many other European fans had their first chance to see Springsteen on the concert stage. Europe '81 was only Bruce and the band's second trip to Europe, and far more extensive than the four-stop hop in 1975.
His Frankfurt experience, Dan tells us, was "a gift out of the blue, because the U.K. shows [originally scheduled earlier in the leg] had been postponed. And it wasn't just my first E Street show, but all on the same day: the chance to meet and hang out with Clarence, to witness a sparkling soundcheck, and then to finally have the rock 'n' roll baptism of a Bruce Springsteen concert, one that only left me wanting more... forever. As the cherry on top, I got to meet the man himself after the show."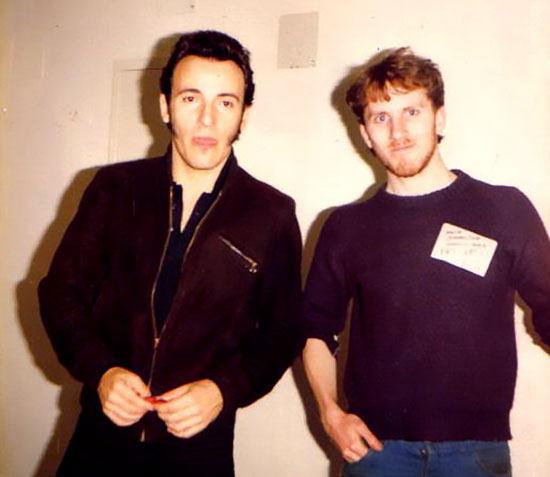 Bruce and Dan, April 14, 1981, in Frankfurt. Photography courtesy of Wild and Innocent Productions
Photographer Jim Marchese meanwhile, was beginning a chance-of-a-lifetime trip, having just arrived in Europe to officially document the tour. Embedded with the band for the majority of the landmark '81 leg, Marchese captured incredible images of this classic period in E Street history — on stage, off stage, and soundcheck — that remain visual touchstones any time we look back at the River tour. Just check the live Archive Series.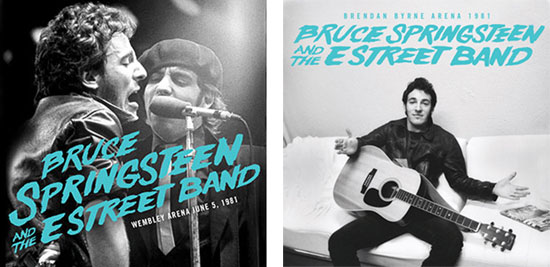 The two 1981 Archive Series releases to date, cover photographs by Jim Marchese
To celebrate their respective 40th anniversaries, Point Blank's Dan French interviewed Jim Marchese about his background, the call to capture the tour, and what it was like to strike out across new territory for Bruce and the band.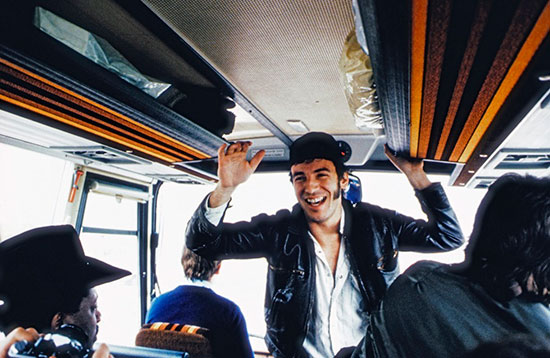 "Viva Las Vegas Bus," Europe, April 1981 - photograph by Jim Marchese
Dan French: Could you give us some background on where you were born and brought up, and what your early life was like?
Jim Marchese: Born in New York City, I first lived in the Bronx until I was 9 years old. My relatives all lived in one area, along the same block, and some in the same building: grandparents, aunts, uncles, and cousins. It was wonderful; we saw each other all the time. Kind of like Bruce's family, only we were in apartments. And then my family moved to Long Island.
Right after I saw the Beatles on The Ed Sullivan Show, my dad bought me a Silvertone acoustic guitar (which I still have). I took a couple of lessons but didn't like the teacher — he didn't like the Beatles! So I stopped lessons and learned on my own. I had a band in junior high school, and we played for school dances. Years later, I renewed my interest in playing and bought a '60s Telecaster.…
Continue reading here for more Marchese photos and Q&A
- April 14, 2021



- April 13, 2021

BTX UPDATE: JUST AROUND THE CORNER…
As you may already be aware (perhaps painfully aware), the Backstreets Ticket Exchange message boards have been offline for over a month now. Without warning, our host migrated the entire Backstreets.com site to a different server, which proved to be incompatible with the message board software; there's been a slew of back-and-forth with tech support ever since.
The good news: the recovery process took longer than anticipated, but we finally figured out the best fix and now have updated software for the boards. We still have a few last wrinkles to iron out — to reinstate our spam-fighting measures, to make sure everything old gets restored, and everything new functions as it should — but we're close. We anticipate at least a "soft" reopening within the coming week. Thanks for your continued patience in the meantime, and we'll make another announcement when BTX is back.
- April 11, 2021

SKIN TO SKIN
Tom Morello hosts "Race on E Street" talk with guest Jake Clemons
If you've ever thought about just how white the crowd tends to be at a Springsteen concert — despite the diversity of musicians on stage (the E Street Band, as well as the '92-'93 band and the Sessions Band, never having been without at least one Black member) and the influence of soul and gospel music — here's a fascinating discussion to tune in: the "Race on E Street" installment of Tom Morello's Maximum Firepower SiriusXM podcast series. After debuting last week on SiriusXM's Volume channel, the episode is available for on-demand listening now online and via the SiriusXM app.
"On this particular episode," begins Morello, "we're going to be talking about race and the E Street Band, where those two things intersect." His guest for the conversation is a fellow musician with whom Morello has often performed in the E Street Band, his "good friend and younger brother from another mother," Jake Clemons. For the next 25 minutes, Tom and Jake share their unique perspectives as African-American fans of Bruce Springsteen & the E Street Band who also went on to become members of the band.
Fittingly, the conversation initially centers on the legacy and experiences of Jake's famous and beloved uncle, the immortal Clarence "Big Man" Clemons, whom Morello describes as "Bruce's first lieutenant in the E Street Band for years." Jake and Tom focus on the challenges that Clarence faced as the E Street Band's only Black member from 1975 through most of the 21st century's first decade, as Springsteen consistently incorporated into his music and live performances — mostly covertly, sometimes overtly, but never with heavy-handedness — a basic, bedrock stance against racism and in celebration of diversity, unity, respect, and inclusion.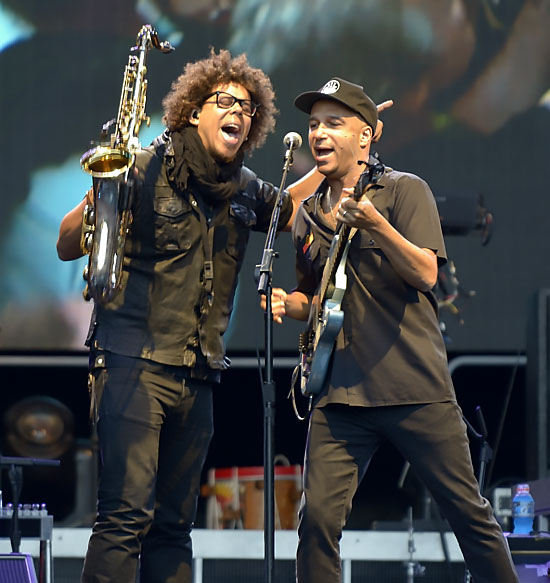 photograph by Rene van Diemen
"You and I," Morello reminds Clemons, "have toured the world with the E Street Band, in a multi-ethnic band… people of various shades, the singers, horn players… but for many, many years, it was just Clarence.
"And I am not a casual Bruce Springsteen fan," Morello goes on, "I always have trouble referring to Bruce Springsteen as a friend, because he's the only friend I have to whom I subscribe to a fanzine about, you know? But I would find myself at Bruce Springsteen shows as literally the only Black dude — the only one, every time. And I'd go backstage and would see Clarence sometimes, and he was the only Black guy onstage [while] I was the only Black guy out there in the crowd.
"And I was just like, 'How is it for you? Like, what is that experience like?' Because I know as an audience member, it's a little strange. I deeply connect with these songs, and yet I'm alone in a way. And it seems like Clarence deeply connected with those songs, and at least with regards to melanin, was alone in that way."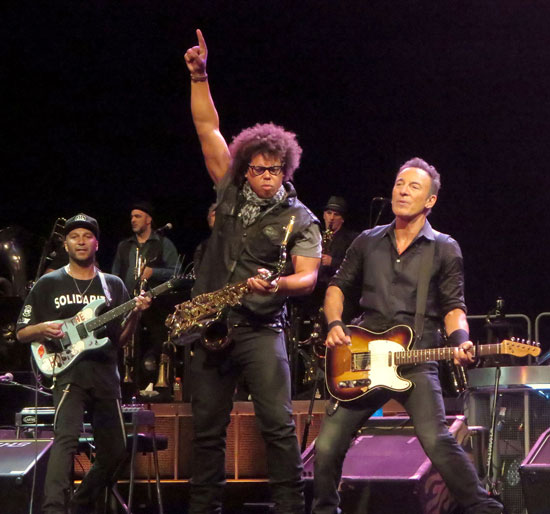 photograph by Joe Wall
Jake speaks knowingly and lovingly of his Chesapeake, VA-based family's long history of enduring some extremely divided social structures, while continually stressing to each other that "Race is not a wall; it's a hurdle." He sees that history as a major influence on how Clarence consciously viewed his role in the E Street Band.
"I feel that Clarence often felt this sense of… he was an ambassador," Jake says. "He had to stand in that role as an ambassador for the greater good, and for who we are as a whole — that there is this ability to be a union, to be a human species, and to promote love and joy within that."
While moving and insightful, the conversation also features some laughs, as Tom and Jake recall Springsteen and the E Street Band's historic 1988 Ivory Coast gig during Amnesty International's Human Rights Now! Tour. They crack up, recalling that as the musicians were looking out from the stage area at a stadium full of 50,000 all-Black faces, Clarence said, "Now you know how I feel!"
"Clarence talked about looking around and seeing this sea of beautiful Black faces, and chains with purple flowers," Jake adds, "and his initial response was, am I in Heaven? It was a huge and beautiful moment for him. I can't even picture what that experience would have been like. The closest thing that I could imagine is… we played Rock in Rio, in Portugal, to an audience that was very unfamiliar with Bruce's music. So just the reaction from the audience — this huge sea of people — and trying to win them over on first listen, I imagine, is similar to that experience."
Despite their conversation lasting just under a half-hour, Morello and Clemons manage to cover much more ground. Other topics discussed include the Arthur Baker remixes of Springsteen's Born in the U.S.A. hits, the Sessions tour's opening gig in Hurricane Katrina-ravaged New Orleans, "American Skin (41 Shots)," and the impact of Springsteen as a very popular white public figure who often is seen by his mostly white audience to be, in Morello's words, "modeling a behavior of standing for racial justice."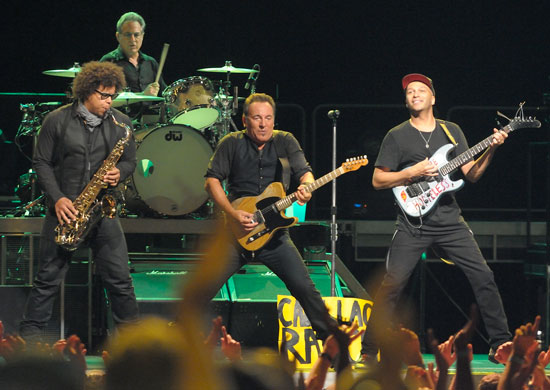 photograph by Rene van Diemen
"I love that point," adds Clemons, "of Bruce's audience being able to see him standing in the gap — as something for the audience to respond to. It makes me think about a lot of the marches and protests that we saw in 2020. I remember when stuff started taking off, how hard a time it was for me personally, just having to deal with this reckoning in myself, of other people recognizing your pain that you were trying to ignore. How hard that was, and exhausting. And at one point, I became concerned that I would soon become angry that it would become a fashionable fad.
"I remember thinking to myself — and I even said to some friends — I appreciate that people are out there protesting. I appreciate those marches happening, but until there's a majority of Caucasians out there in the streets, this thing's gonna just die out. People in this country who have the power need to be the ones who are going to disperse that power.
"And I was ecstatic to see," Jake continues, "as time went by, that ratio became more representative of what the country looked like. And I wonder how significant the presence of artists like Bruce and E Street may have had over the last forty years in preparing for a moment like this."
"It's certainly part of the cocktail," Morello concludes. "It resonates."
The complete "Race on E Street" episode of Tom Morello's Maximum Firepower remains available for on-demand listening online and via the SiriusXM app. Just enter "maximum firepower" in the search engine.
- April 8, 2021 - Shawn Poole reporting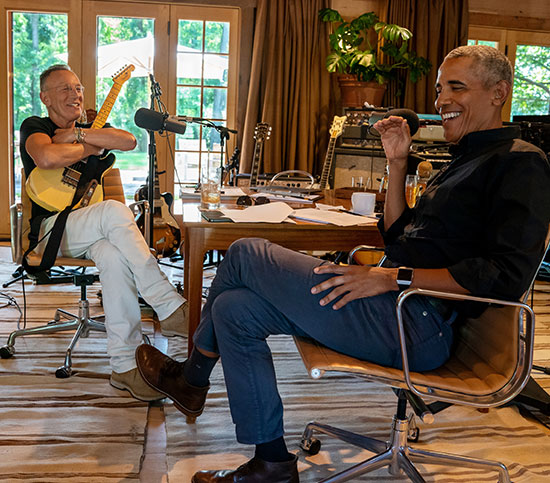 THIS WILL BE THE END TODAY
The 8-part Bruce/Barack summit is complete, for listening in full
As Episode 8 of the Renegades: Born in the U.S.A. podcast arrives on Spotify today, the conversation between Bruce Springsteen and Barack Obama comes to a close. (For now, at least — Spotify and Higher Ground are calling this a "season finale.") As they wrap, Obama and Springsteen return to where their talk began: exploring what led to the current great divide in our country, and how we might find our way back to a common American story. In the words of the former President, "We are convinced that for all our disagreements, most of us long for a more just and compassionate America. An America where everybody belongs."
A particularly fun stretch has Bruce and Barack naming their favorite American heroes, which include Muhammad Ali, James Brown, Jackie Robinson, Chuck Berry, Ray Charles, Aretha Franklin… and as Springsteen submits first in the Music category, "My man Bob Dylan."
"Dude, you can't argue with Dylan," says Obama. "And he keeps on going! He's a little bit like Picasso, in the sense that he will just come up with different phases, and he just keeps on cranking out innovation. And he seems to do it for himself as much as for anybody else. He can't help himself."
"No, he's an artist," Springsteen concludes, "He's doing what he's got to do, that's all."
Springsteen talks about the writing of "Born in the U.S.A.," a familiar story to many of us including the inspiration from key players Ron Kovic, Paul Schrader, and Bobby Muller; considering the complexities and misinterpretations of the song, Bruce also offers a succinct description of his own intent.
This is a song about the pain, glory, shame of identity and of place. So it's a complex picture of the country. Our protagonist is someone who has been betrayed by his nation and yet still feels deeply connected to the country that he grew up in.… I think why the song is being appropriated… one, is because it was so powerful; two, is because its imagery was so fundamentally American, but it did demand of you to hold two contradictory ideas in your mind at one time: that you can both be very critical of your nation and very prideful of your nation simultaneously. And that is something that you see argued about to this very day.
As the episode title "The Rising: Looking Towards American Renewal" suggests, their conversation closes on an optimistic note.
Because, as Obama, says, "You know, I'm the hope guy..."
"You are — I thought I was, but you're better than me!" Springsteen laughs.
"No, no, no, no," Barack counters, "Come on, man — you're the Rising guy! So we'll end on an upnote, right?"
And so will we. Granted, we're toward the bullseye of the target audience, but we've found it graitifying to be a fly on the wall in Springsteen's home studio, for such an entertaining and inspiring — and, until this point in history, unlikely — conversation between a rock star and a President. Would you rather hear Trump and Kid Rock talk golf? Elvis and Nixon talk about hippies? Maybe the latter, for the bonkers quotient. But for a real meeting of minds, an engaging, funny, substantive conversation about hope and dreams and America, Renegades has been a satisfying chapter in the story that we saw begin when Springsteen first played rallies for the Presidential candidate in 2008.
The podcast wasn't received well in all corners, and not simply due to that aforementioned political divide. Even the New Yorker, with no small affinity in terms of left-of-center perspective, cultural concerns, and level of discourse, announced that "Obama and Springsteen's Podcast Is Here to Lull America." So maybe we shouldn't expect a season two anytime soon. But we're grateful to these two Bosses for, in Springsteen's terms, "keeping the lantern lit."
Listen to the finale above, and the full season of Renegades: Born in the U.S.A. now on Spotify.
- April 5, 2021 - photograph by Rob DeMartin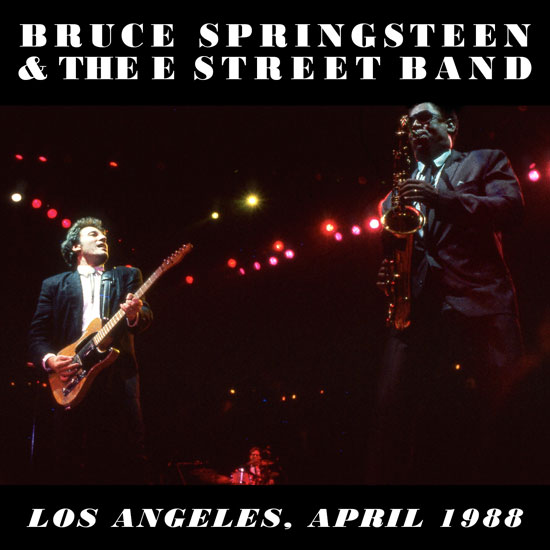 A THOUSAND FOOTPRINTS IN THE SAND
Springsteen's Archive Series Returns to Los Angeles, 1988
The Tunnel of Love Express Tour, with its firm commitment to a theme and the addition of the Horns of Love, satisfied many types of fans, though perhaps not setlist-watchers. Performances were in no way static, but setlists trended that way, keeping shows on Bruce Springsteen's 1988 outing with the E Street Band more or less uniform as the U.S. tour moved from Worcester, Massachusetts, to the west and back east, ending with five nights at Madison Square Garden.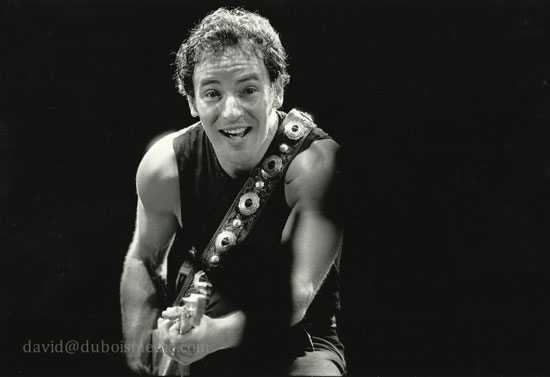 But the setlist consistency made new additions that year all the more momentous, particularly cover songs like John Lee Hooker's "Boom Boom," Roy Orbison's "Crying," The Sonics' "Have Love, Will Travel," Woody Guthrie's "Vigilante Man," and in Europe, to announce the Amnesty International tour, Bob Dylan's "Chimes of Freedom."
Some became fixtures, others got played only a handful of times. With today's release, Los Angeles, April 28, 1988, the final night of five at the Sports Arena, the Archive Series ushers in something of a sleeper hit, "Across the Borderline."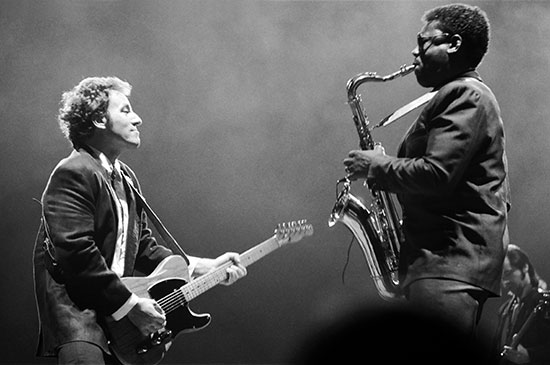 Now the series' fifth Tunnel of Love feature, April 28 presents much of the music performed over the course of the U.S. tour: eight tracks from the LP, robust revivals of "Adam Raised a Cain" and "She's the One," unreleased numbers ("Light of Day"), B-sides ("Be True," "Roulette"), and, of course, the acoustic arrangement of "Born to Run," to lead an eight-song encore. The Archive Series presented the second night in Los Angeles (April 23) in 2015 — with a setlist identical in all ways but one.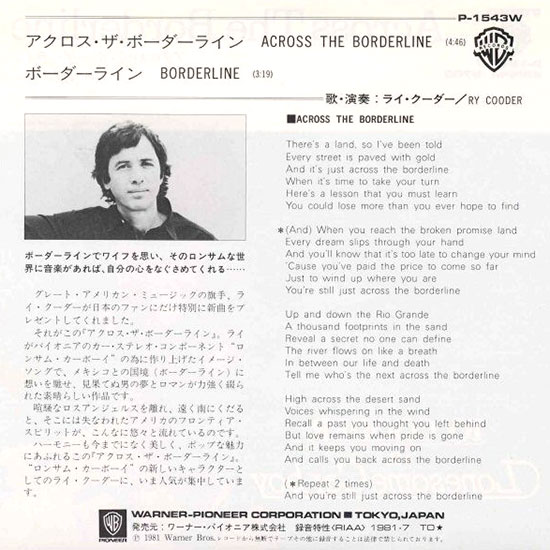 Springsteen had grown fond of "Across the Borderline," written by Ry Cooder, John Hiatt, and Jim Dickinson for the 1982 Jack Nicholson film The Border — Steve Pond reported in Rolling Stone that Bruce had "driven everyone crazy" playing it in the van. Rehearsed extensively, the E Street Band's cover finally debuted at the Sports Arena on April 27 (in place of "Backstreets"). Including its reprise on this final night in L.A., the song would receive only four plays on the tour; like "Mountain of Love," "Goin' Back," or "Drift Away," "Across the Borderline" remains a genuine rarity.
Sometimes a single song can change a show — "Drift Away" in 1984; "American Skin (41 Shots)" at the end of the Reunion Tour; or the adventurous E Street Band arrangement for "Devils & Dust," played twice in 2012; Springsteen seemed to have built the 1988 setlist with that in mind, sweeping out an entire era with the stroke of a Sharpie.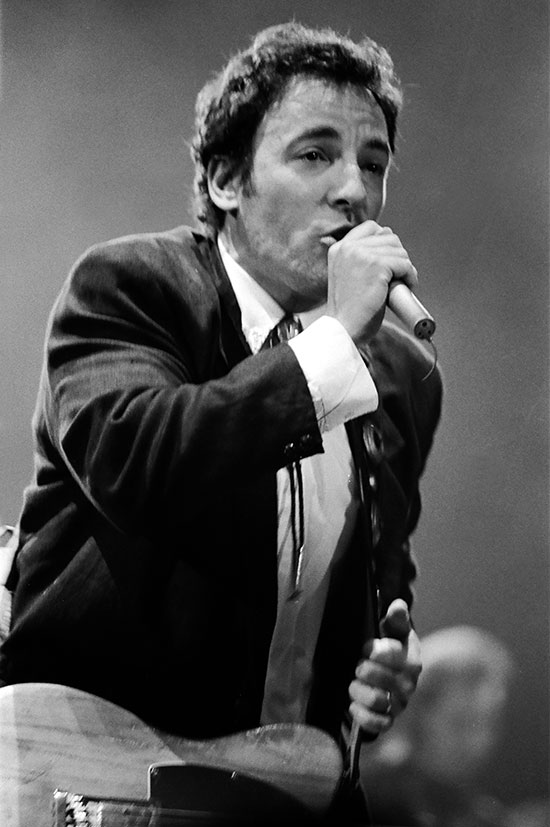 At the time, Springsteen had placed relationships of all types under the microscope; the all-blues "Across the Borderline" merely expanded the range. As a tale of both illusion and disillusion, it complemented "Roulette" as perfectly as it did "Brilliant Disguise."
This version features a prominent harmony vocal from Patti Scialfa in the chorus and a rising E Street Band performance. Played with no introduction, it's a true ensemble piece. The lyrics, with prices paid and a "broken Promised Land," resonate with Springsteen's own, and given America's ongoing dysfunction with immigration issues, the song feels as timely as ever, some 33 years on.
There's a land, so I've been told
Where every street is paved with gold
And it's just across the borderline…
Springsteen occasionally introduced "Roulette" as a song the times caught up to; "Across the Borderline" seems like a song built to move along with the times. It also seemingly inspired his own "Across the Border" in 1995, a hopeful spin on the theme that restored the dream of immigrants everywhere. Which one prevails in the 21st century is a story that remains untold.
Also read: Erik Flannigan's latest nugs.net blog entry, "Every Dream Slips Through Your Hands"
Sample the new release:

- April 2, 2021 - Jonathan Pont reporting - photographs by David DuBois

RECAP: VOLUME 20, "HERE COMES THE WEEKEND"
Springsteen scrubs off the dirt on From My Home to Yours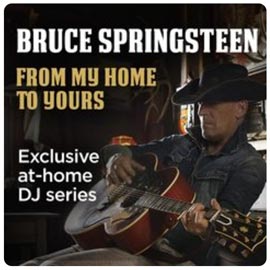 "Greetings, creatures of Earth! Fellows, freaks! Interstellar rock fans, locals, beach bums, New Jerseyans, ladies, gentlemen, boys and girls, listeners from sea to shining sea, and around the globe — welcome to Volume 20 of From My Home to Yours, titled 'Here Comes the Weekend.'
"What is better than the weekend? Friday, Saturday, Sunday… even a non-working bum like me can remember being in school and counting the days, hours, minutes, and seconds before that three-o'clock bell rang on Friday afternoon. I was free! Free of anybody running my life, telling me where I had to be, when I had to be there! I would burst through the school doors, walk that happy mile from school, down through town, throw my books on the kitchen table, run to my room, rip myself out of my school clothes, deposit them on the floor.… Oh, yes. Oh, yes, the weekend. My god, how I lived for it."
Wednesday's 20th stop on Bruce Springsteen's 2020-2021 From My Home to Yours tour was a carefully scripted radio journey through "two-and-a-half days of blissful freedom." From busting out of school on a Friday afternoon to waking up on Sunday with the all-too-familiar guilt of knowing you had too much of a good time, Springsteen leads listeners through the emotions — anticipation, escape, heartbreak, dread — of a restless Freehold teen over the course of a 1960s weekend.
Springsteen crafted a chronological, 14-song setlist interspersed with biographical vignettes, all in under an hour's worth of listening. Notably, he did so without breaking open his own library of "weekend songs." There's no "Out in the Street." No "Night." No mention of Rosie, Sandy, or Sleepy Joe and May.
In their place is a diverse collection of pop songs and standards spanning the past eight decades, stretching from the '40s (Sinatra's "Saturday Night (Is the Loneliest Night of the Week)") through the 2000s indie pop of Sweden's Loney, Dear and Acid House Kings. Each song is concise, conveys a unique emotion, and adds sonic and lyrical color to Springsteen's memories.
A good number of these songs influenced Springsteen's own pop craftsmanship, and he kicks off the show with the very inspiration behind "Out in the Street": the "epic" Easybeats tune "Friday on My Mind." Fans were introduced to Springsteen's faithful interpretation of this 1966 Australian hit through an official live video release from the February 19, 2014 Sydney stop on the High Hopes tour.
Jumping from Australia's Easybeats to England's The Cure with "Friday I'm in Love," Springsteen sets the table with two hits that capture the excitement and promise of a Friday and the weekend's infinite possibilities.
Looking back on his teenage Friday nights, Bruce recalls that it wasn't so much about the girls or dancing, as it was the music, bands, and getting a "real" education:
Friday night was the CYO dance. I'd be there in front of the band, not dancing, but doing my real homework of the week: studying, studying, studying… that lead guitarist's hands, inscrutably watching every riff and run he made… then I would run home while the other kids were getting their pizza down at Federici's and chasing the girls. I would run up to my room, and early into Saturday morning I would be trying to replicate what I'd seen down at the dance until I dropped to sleep with the guitar in my hands.
As Friday night gives way to Saturday morning, Springsteen introduces the new day — and a seven-song run of "Saturday" songs — by looking back on his own Saturdays in the Park:
At sixteen, I would hop up around 11 o'clock. I would head to the bus terminal, I would hop on the Lincoln Transit bus headed for Washington Square Park and Greenwich Village.

I lived in the Village on weekends as a teenager — anything to get me from that big boot pressing down on my neck in my lovely little redneck town.

That piece of MacDougal from… I guess from about Washington Square to Bleecker, I think, is the only piece of the authentic '60s Village that is still intact. And I lived on that piece of concrete for, I don't know, '65, '66, '67… and if you go there now, you can see it exactly as it was when Steve Van Zandt and I together tramped the concrete from the Park to the Cafe Wha? Check it out.
Chicago's "Saturday in the Park" and Loney, Dear's "Saturday Waits" create a breezy feel before Springsteen acknowledges the unfortunate reality that Saturdays weren't always sunshine and positive vibes:
Now there was only one time when the weekend could be truly toxic, and that was when you had freshly broken up with your girl. Then, the weekend would stick in your guts and break your heart with time and emptiness.
Kristina Train's "Saturdays Are the Greatest" kicks off a mini-set of Saturday heartbreakers, and Springsteen leaves no room for doubt when describing his feelings about her 2012 album, Dark Black:
…An album you have to own, you have to have it in your library… one of my favorite records of the past decade… terribly overlooked here in the states… Dark Black, Dark Black, Dark Black… you will not regret checking into this wonderful piece of music.
If Friday night was all about studying and practicing your guitar riffs, then Saturday night was delivering that killer set with your band and achieving that epic sense of transcendence. And Bruce captures all of those Saturday night feels in an eclectic mini-set of '60s and '70s hits: The Drifters' "Saturday Night at the Movies," Cat Stevens' cover of Sam Cooke's "Another Saturday Night," and Tony Joe White's "Saturday Night in Oak Grove, Louisiana" — soulful, folky, and swampy takes on Saturday nights across the U.S.A.
Now, you can't think of Sunday mornings in song without referencing Kris Kristofferson's "Sunday Mornin' Comin' Down" — and Bruce drops the needle on that one, sung by its writer, with a knowing "been there, done that." He offers a brief aside describing his first drink ever, at the age of 24: tequila at the Osprey in Manasquan, NJ, courtesy of Big Danny Gallagher. "After that, for quite a while, I tried to make up for lost time. So when I woke up on a Sunday morning — feeling hazy, exposed and guilty — was when I felt terrible but knew I had had a good time. Ouch!"
Loverboy's inescapable "Working for the Weekend" kicked off a show-closing, weekend "catch all" set followed by the man who had the "answer to it all": Gary U.S. Bonds. Bondsy contributes his version of Doc Pomus and Mort Shuman's "Seven Day Weekend" (featuring a chorus reminiscent of Moon Mullican's "Seven Nights to Rock"), followed by the "fabulous" Dave Edmunds, who plays the show out with "Here Comes the Weekend."
And like the best weekends, the show came and went in what felt like no time at all, leaving us to go in peace wishing we had a few extra hours (or encores?) before the foreman calls time.
Playlist
The Easybeats - "Friday on My Mind"
The Cure - "Friday I'm in Love"
Chicago - "Saturday in the Park"
Loney, Dear - "Saturday Waits"
Kristina Train - "Saturdays Are the Greatest"
Frank Sinatra - "Saturday Night (Is the Loneliest Night of the Week)"
The Drifters - "Saturday Night at the Movies"
Cat Stevens - "Another Saturday Night"
Tony Joe White - "Saturday Night in Oak Grove Louisiana"
Acid House Kings - "Sunday Morning"
Kris Kristofferson - "Sunday Mornin' Comin' Down"
Loverboy - "Working For the Weekend"
Gary U.S. Bonds - "Seven Day Weekend"
Dave Edmunds - "Here Comes the Weekend"
- Updated April 2, 2021 - Dante Cutrona reporting

- April 1, 2021



KICKING OUT ALL THE JAMS FOR DAVE MARSH
Springsteen, Landau, Van Zandt, and many more to honor Marsh with Land of Hope and Dreams online conference, April 30 - May 15
If you're a Springsteen fan, of any generation, it's highly likely that Dave Marsh has informed your passion along the way, whether via his books — particularly the crucial pair of biographies Born to Run: The Bruce Springsteen Story and Glory Days — his interviews and criticism for publications like Rolling Stone and Musician, or his current gig as radio host on SiriusXM (Live From E Street Nation, Kick Out the Jams).
Of course, it's likely the case for any fan of rock 'n' roll. Truly a legend in his field, Marsh was a pioneer (along with Jon Landau) of rock criticism; founded CREEM magazine; wrote books on The Who, Elvis, and Michael Jackson, as well as broad-scope classics like The Heart of Rock & Soul: The 1,001 Greatest Singles Ever Made and Louie Louie: The History and Mythology of the World's Most Famous Rock 'n' Roll Song.
Next month, a three-week online conference will honor Brother Dave, bringing together an all-star team of musicians, writers, and political activists to celebrate his achievements — and, in keeping with the celebrant's style, foster further conversations.
Land of Hope and Dreams: A Celebration of Dave Marsh's Work and Vision will take place over a series of three weekends this April and May, open to all via Zoom (registration/RSVP required).
The list of contributing musicians is headed up by Bruce Springsteen, Pete Townshend, Nona Hendryx, Gretchen Peters, Alejandro Escovedo, and Scarface. They'll be joined by a who's-who of rock criticism, including Landau, Greil Marcus, Robert Christgau, Ann Powers, Holly Gleason, Chuck Eddy, and Greg Tate.
"The goal," as noted at landofhopeanddreams.co, "is to re-create online the kind of warm, smart, and iconoclastic community that Dave Marsh has nurtured for many years."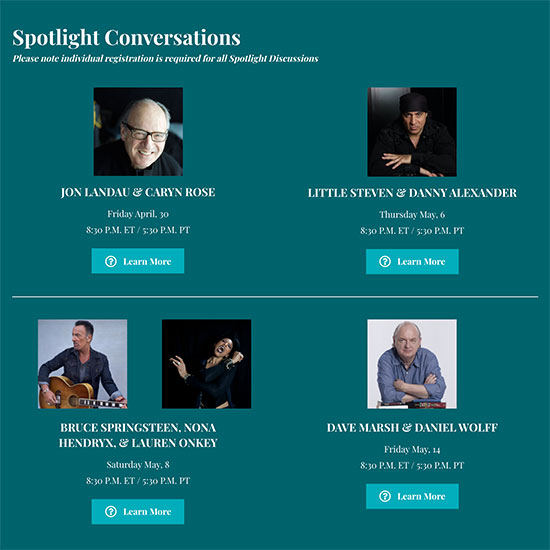 The conference schedule is studded with a series of four Spotlight Conversations; the first will be an interview with Jon Landau conducted by music writer (and Backstreets contributor) Caryn Rose, to kick off the conference on April 30.
Further Spotlight Conversations to follow, each led by a conference co-organizer: Little Steven with Danny Alexander (May 6), Bruce Springsteen and Nona Hendryx with Lauren Onkey (May 8), and Marsh himself, with Daniel Wolff (May 14).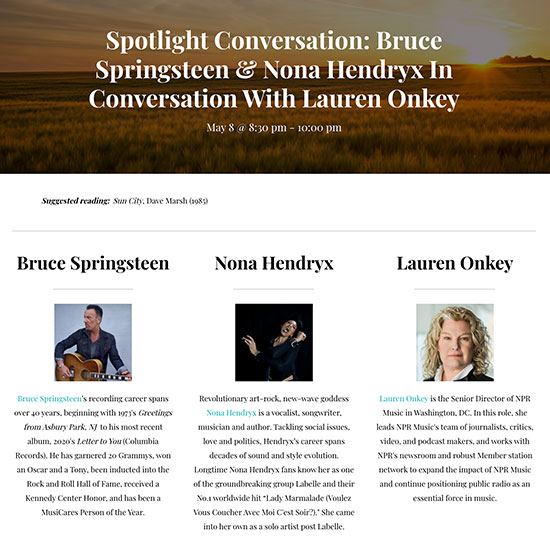 Land of Hope and Dreams will also include pre-recorded songs and tributes along with a series of panel discussions throughout the three weekends, highlighting the ongoing importance of Marsh's writing and political work. Full schedule of events is here.
You can sign up for panel discussions individually, or all panels with a single registration, but you must sign up for each Spotlight Conversation seperately.
In addition to his writing, Marsh has been a tireless mentor of musicians, writers, and political activists. He co-founded the Kristen Ann Carr Fund and continues to work for health care reform, racial justice, and abolition of the death penalty. So the scope of the conference will go beyond music, as Eric Schumacher-Rassmusen, one of the organizers, tells Backsreets.
"So many people, understandably, think of Dave only as a rock critic, and that's fair — he helped invent and reinvent rock criticism," Eric says. "He's always interwoven history, biography, politics, and activism in his writing, and we want this conference to reflect the breadth of his vision and his work. Among many other things, Dave has been a bridge-builder among those sometimes separate worlds — there are likely people who have no idea how active he's been in the health care world (particularly cancer) with the Kristen Ann Carr Fund — and so the speakers and the topics will help to shed some light on all of those aspects of his work."
Panel topics include:
Creem and the Origins of Rock Writing
On Listening
Detroit and Beyond
Music and Activism: Race and Class
Music and Activism: Health Care and Justice
Who Needs the Music Industry?
Music and the Media
Music and Community
Music and Education: Where the Spirit of Learning and Teaching Should Meet.
In addition to the musicians and music writers, the conference will feature director John Sayles; WhyHunger co-founder Bill Ayres; television writer/creator Barbara Hall; E Street Radio host Jim Rotolo; activists Bobby Muller, Luis Rodriguez, Cheri Honkala, and John Sinclair; and many more. See a list of featured speakers here.
"Dave doesn't see divisions between music and politics, or 'celebrities' and regular folks, and we hope the speaker roster reflects that," Schumacher-Rassmusen says.
The Land of Hope and Dreams conference has been in the works for well over a year, with Schumacher-Rassmusen, Alexander, Onkey, and Wolff joined on the Organizing Committee by Chris Buhalis, Charles Hughes, Sue Martinez, Alexander Shashko, and Craig Werner.
"It's really been a group effort," Schumacher-Rasmussen tells us. "We've been meeting since late 2019. We were going to do it for Dave's 70th birthday [in 2020] — and his 50th anniversary as a rock critic — but COVID scuttled those plans. And while we wish we could get together physically, doing the event virtually means we can reach more people and include some speakers who might not have been able to join otherwise."
The entire event is free and open to the public, and will be presented as a series of Zoom webinars. Find out more and register now at landofhopeanddreams.co.
- March 30, 2021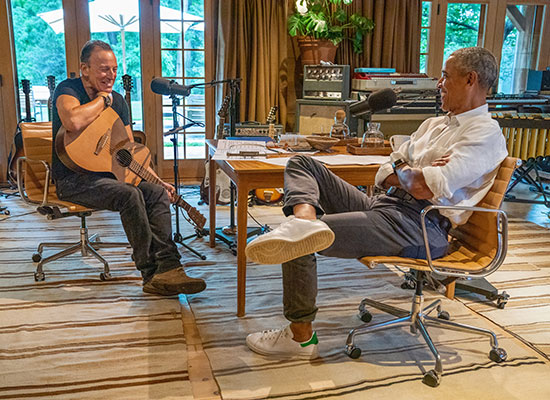 COOL ROCKIN' DADDIES
We're in the home stretch of Bruce Springsteen and Barack Obama's conversation in their Renegades: Born in the U.S.A. podcast, with Episode 7 of 8 released today on Spotify. After talking about their fathers last time, this penultimate episode focuses on being fathers, and dedicated family men, which has Springsteen recalling how he wrestled with the question, "Am I capable of not disappointing?"
I wasn't sure. You're never completely sure, I suppose. But after the children were born, and you start to find the resources you have inside you that you didn't know they were there — that is a gift you get from your children and from your wife. Your acknowledgment of your new self. And the realization of your manhood. It was huge. You know, I woke up. I felt as someone… not necessarily someone different, but someone so much further down the road than I thought maybe I'd ever get.
Springsteen and Obama discuss learning to trust themselves as parents, the hardships their families encountered along the way, and balancing family life with their busy schedules on the road. As Springsteen says, "When I go away for three months, it's bad when I come back. When I go away for three days, it's okay when I come back. I better start going away for three days!"
The episode closes as the two men share the biggest lessons they have learned as fathers — for Bruce, that meant learning "presentness," as well as how to make breakfast — hoping to pass along their insights to the next generation of men feeling unprepared for what fatherhood has in store.
Listen to episode 7, "Finding Home: Fatherhood" above or on Spotify.
- March 29, 2021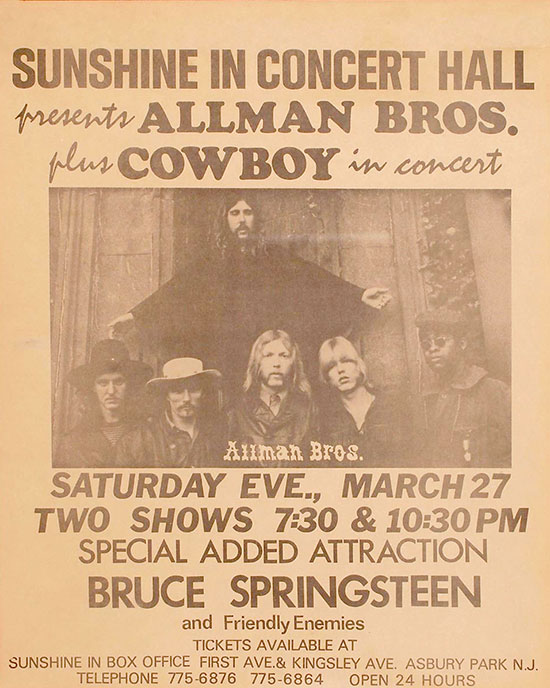 A COUPLE OF COOKIN' BANDS ON KINGSLEY IN 1971
Springsteen x Allman Brothers, 50 years ago in Asbury Park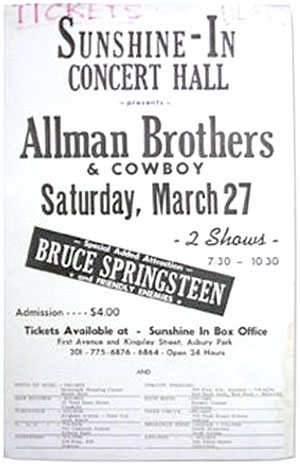 On March 27, 1971 — that's 50 years ago tonight, a Saturday night then, too — greatness converged as Bruce Springsteen, with his band Friendly Enemies, opened for the Allman Brothers Band at Asbury Park's Sunshine In.
The venue is long gone; the Friendly Enemies didn't last long themselves, as a quickly assembled, short-lived transitional band, but they soon adopted a name more familiar to later fans: Dr. Zoom and the Sonic Boom. The group included future E Streeters Vini Lopez, David Sancious, Garry Tallent, and Stevie Van Zandt, along with Southside Johnny Lyon.
Jean Mikle's excellent 2018 Asbury Park Press article ran down details behind this significant gig in E Street history. The article included recollections from Mikle's exclusive interviews with Springsteen's then-manager Carl "Tinker" West and Friendly Enemy Albee Tellone. It also drew upon a bit of material from Peter Ames Carlin's Bruce biography.
When the Springsteen & Friendly Enemies set ended, Tellone related to Mikle, "Duane Allman said to me, 'Man, that was a cookin' band.' The second band on the bill was [the Allmans'] touring partners, Cowboy. When we finished, one of their guys said, 'How the hell are we supposed to follow THAT?' We felt like we had accomplished what we set out to do. Rock the house."
Allman's reaction must have been especially pleasing to Stevie Van Zandt, whom Tellone describes as "a huge Allman Brothers fan." (Carlin noted that Duane Allman was very impressed with Stevie's slide-guitar playing, reportedly stating that Van Zandt was among the best slide players in the country at that time, second only to Allman himself.)
Addressing today's anniversary on Twitter, Van Zandt recalls, "We already knew them from playing with them in Virginia. Really great guys in addition to being a phenomenal band."
Vini Lopez also tweets, "They liked us because we had two drummers, Big Bobby Williams and me, Vini Maddog Lopez!"
There were two shows that night 50 years ago, an early show and a late show. While the Sunshine In was a regular venue for Springsteen at the time, this would be the Allmans' only performance there. Click here to hear the only circulating audio record of the evening, nine minutes of the Allmans courtesy of Tinker West's soundboard recording.
- March 27, 2021 - Shawn Poole reporting

- March 25, 2021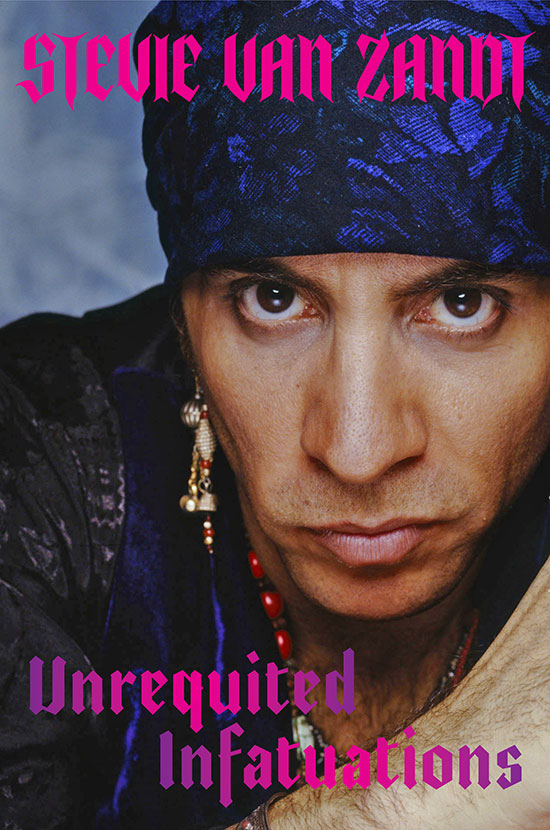 I AM A MEMOIRIST
Van Zandt recounts the times of his life in new book due Fall 2021
Officially announced today: Unrequited Infatuations by Stevie Van Zandt, a 256-page memoir due September 28 from Hachette Books. Van Zandt's book will be published in hardcover, ebook, and downloadable audiobook form. Stevie has confirmed via Twitter that he'll be reading the audiobook himself.
Hachette's official announcement calls the book "an epic tale of self-discovery by a self-confessed rock 'n' roll disciple" that "begins in a bedroom in suburban New Jersey in the early '60s, unfolds on some of the country's largest stages, and then ranges across the globe, demonstrating over and over again how rock 'n' roll has the power to change the world for the better."
The memoir's "first true heartbeat," according to Hachette's announcement, "is the moment when Stevie Van Zandt trades in his devotion to the Baptist religion for an obsession with rock 'n' roll. Groups like the Beatles and the Rolling Stones created new ideas of community, creative risk, and principled rebellion. They changed him forever. While still a teenager, he met Bruce Springsteen, a like-minded outcast/true believer who became one of his most important friends and bandmates. As Miami Steve, Van Zandt anchored the E Street Band as they conquered the rock 'n' roll world."
The story then follows Van Zandt's transformation into Little Steven and the decades of prolific, visionary music-making, activism, acting, radio/television production, and entrepreneurship that followed, continuing into the present and looking towards the future.
"Unrequited Infatuations," reports Hachette, "chronicles the twists and turns of Stevie Van Zandt's always surprising life. It is more than just the testimony of a globe-trotting nomad, more than the story of a groundbreaking activist, more than the odyssey of a spiritual seeker, and more than a master class in rock 'n' roll (not to mention a dozen other crafts). It's the best book of its kind because it's the only book of its kind."
- March 24, 2021 - Shawn Poole reporting


SPRINGSTEEN AND OBAMA WRESTLE WITH GHOSTS
In Episode 6 of the Renegades: Born in the U.S.A. podcast, out today, President Obama opens the episode with a simple question: What does it mean to be a good man? It's a question both he and Bruce Springsteen have grappled with over the years, and they discuss their own personal struggles with masculinity. "The arc of my work life was a little funny," Springsteen says, "because I was at my most popular, I feel, when I had an image that was least like myself: I had a very alpha-male image."
The pair also reflects on each of their largely absent fathers. Between them, they describe a mutual "lifetime journey of trying to prove your worth to somebody that's not there."
You'll hear "My Father's House," as you might expect, and Bruce discusses the impact of "a father who was pretty seriously mentally ill":
My father was a funny guy. There was something in his illness or in who he was that involved a tremendous denying of his family ties. And this created enormous problems for me as I got older, because I couldn't make a family connection. I always remember him complaining that if he hadn't had a family he would've been able to take a certain job and go on the road, but… it was a missed opportunity. And he sat there over that six-pack of beers night after night after night after night, and that was his answer to it all.

So… we felt guilt.… And that was my entire picture of masculinity until I was way into my 30s, where I began to sort it out myself. Because I couldn't establish and hold a relationship, I was embarrassed simply having a women at my side.… I just couldn't find a life with the information that he left me, and I was trying to over and over again.
Listen to Episode 6, "Wrestling With Ghosts: American Men" above, or on Spotify.
- March 22, 2021 - photograph by Rob DeMartin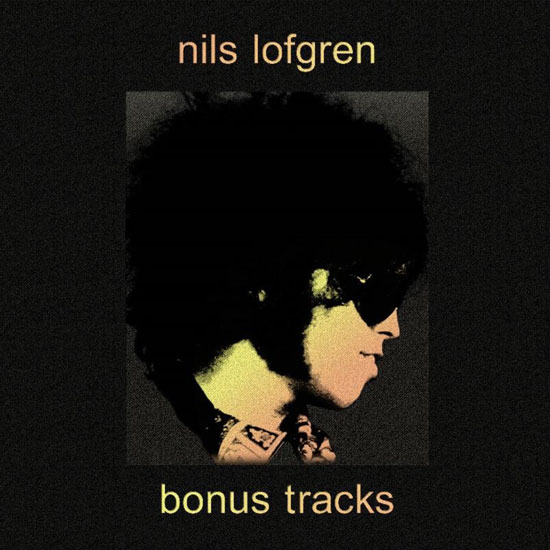 BONUS TRACKS BRINGS FACE THE MUSIC RARITIES TO DIGITAL
Today brings a digital-only release from Nils Lofgren, of particular interest to anyone who was unable to score a copy of his Face the Music box before it sold out. Bonus Tracks makes available the 39 rare recordings and special demos that were a part of that limited edition box — two-and-a-half hours of music, including his song for Clarence Clemons, "Miss You, 'C.'"
Says Nils:
We're excited to share these 39 bonus tracks of rare recordings and special demos of mine through the years. They originally appeared on the 10-disc Face the Music box set, which my dear wife Amy produced with me. Thanks Amy! It has been out of print for a while so we're sharing them with you digitally now. Featuring unreleased Grin tracks and favorites of mine, and I'm so grateful to the many talented musicians that grace this collection.

Grin's version of "Keith Don't Go" features an inspired performance by Neil Young on piano and vocals. It rocks! Also, one of the greatest voices ever, Lou Gramm duets on "Some Must Dream" and "I'll Arise."Truly an honor.

Hope you all enjoy these tracks, and thank you all for listening all these decades. You, the audience, are the main inspiration for everything you hear, here! Bless you all! Peace and Believe — Nils Lofgren
Click here to see full track listings and musician notes, and here to listen to or download Bonus Tracks on services including Spotify, Apple Music, Amazon, Deezer, and Tidal.
- March 19, 2021

WHAT TO DO WHEN YOUR BOSS IS THE BOSS
Game Changer explores talent/management dynamics, including JLM
Tucked within a book normally outside of our scope is an insight into the workings of Bruce Springsteen's management. It's not often that either Jon Landau or Barbara Carr lifts the veil to tell what goes in the strategic or tactical workings to keep the business side growing. So we're glad to pass on some clues that appear in Game Changer: How to Be 10x in the Talent Economy, a new business book written by Michael Solomon and Rishon Blumberg (with Daniel Weizmann).
The principal authors, partners themselves in a New York-based talent management firm, have broadened their offerings to help clients and companies — often freelancers and tech companies — make better matches with one another, addressing generational and qualitative changes sweeping the 21st century workplace. Solomon and Blumberg were close to Kristen Ann Carr, Barbara Carr's daughter, who passed away in 1993; both help administer the Kristen Ann Carr Fund, which provides funding for cancer research and improves the lives of people living with cancer. As of the book's 2020 publication, KACF has raised $23 million since its 1993 inception. Together, Solomon and Blumberg founded 10x Management, Brick Wall Management, and 10x Ascend.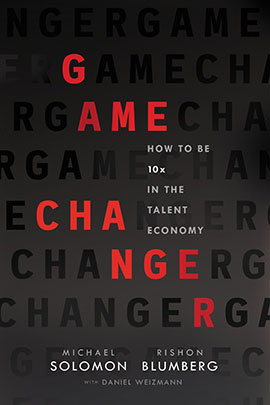 GAME CHANGER: How to Be 10x in the Talent Economy By Michael Solomon and Rishon Blumberg, with Daniel Weizmann. 246 pages. HarperCollins Leadership. $28.99 list.
Game Changer uses anecdotes, research, and lessons from their own partnership — and from their reinvention, as the music industry changed around them a decade or so after they established their firm. The authors contrast the old ways of managing talent, whichever the industry, with the modern quest for workers who are both intelligent and empathic.
Both Jon Landau and Barbara Carr spoke to the book's authors for Game Changer, and they provide a few colorful details that illustrate key points. Landau recalls a 1974 meeting, when he traveled to New Jersey after a snow storm — "Roads are blocked, it's a mess" — because Springsteen wanted to hang out and listen to records. Bruce, Landau says, "wasn't interested in the weather… what he wanted was to stick to our plan" (some trains were still running, as it turns out). Solomon and Blumberg use that to illustrate the importance of establishing a client/management bond.
The authors also show the importance of maintaining such a bond. Landau recounts a more recent instance, when a power failure brought a Springsteen show to a dead stop. As Bruce came off stage afterward, he good-naturedly greeted his manager and tour director George Travis, saying, "Gentlemen, there's only one thing I want to hear." Landau reassured him that it wouldn't happen again.
"The reason Bruce Springsteen could take Landau at his word," the writers assert, is a half-century of a bond they liken to having "skin in the game."
Barbara Carr goes on the record, too, and her importance to Springsteen can't be overstated. Fans and business people alike might still wish for a deeper dive into Carr's role; part gatekeeper, part fan, part pioneer, and indispensable, in Springsteen's estimation.
Springsteen's appeal, of course, carves a wide path; chances are that anyone curious about the music, technology, and modern workplace might find Game Changer a good read.
- March 18, 2021 - By the Editors



SPRINGSTEEN, OBAMA, AND THE CHICKEN MAN
In today's new episode of the Renegades: Born in the U.S.A. podcast, Bruce Springsteen takes advantage of his home studio setting to pick up a guitar, performing an acoustic "Atlantic City." A crucial topic in Episode 5 is the shift in America that occurred in the early '80s — not only the "greed is good" mantra and big cell phones of Wall Street, but as Springsteen puts it to President Obama, the "dread in the air."
Over his "Atlantic City" performance, Springsteen recalls: "Maybe you can trace it back to the end of the Vietnam war... But there's a dread in the air and in the idea of the American Dream that hadn't been present previously. I wrote a very strange album in the early '80s called Nebraska…"
"Yeah, beautiful," Obama says.
"It was this very quiet record that dealt with all of these issues at that moment. Now, I'm writing about these things when I'm not that conscious about them — I mean, I'm following what I'm feeling in the air."
That feeling, along with what he saw happen to his father — "experiences in Freehold, where I sort of saw what happens when there there's some union problems, and suddenly the factory is moving down South, and everybody is unemployed… and the cost that was paid by the families in town and my own" — that combination, says Springsteen, "moved me in writing [in that] direction."
"And really, like I said, I didn't write [Nebraska] with the idea of being socially conscious or or with any sort of awareness. I was just telling stories that I was feeling at the time."
Also in Episode 5, "Every Man for Himself: Money and the American Dream," Springsteen and President Obama relate to each other's humble upbringings growing up with limited access to resources, discussing the visible class issues in their childhood communities, equal opportunity, and what went wrong with upward mobility in America.
Listen to the full Episode 5 above, or on Spotify.
- March 15, 2021 - photograph by Rob DeMartin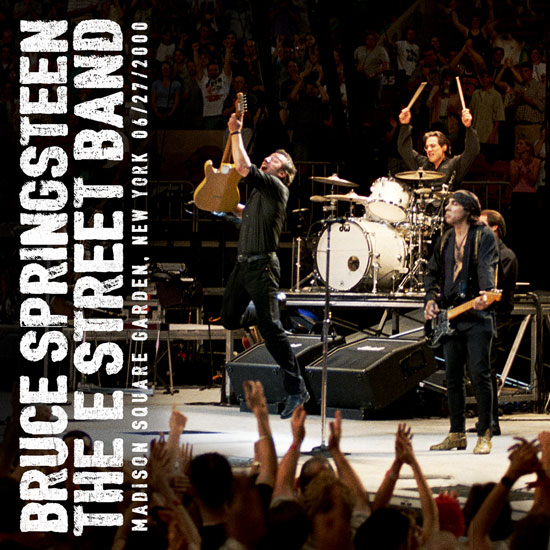 AND ON THE EIGHTH NIGHT, THEY ROCKED
Archive Series returns to Madison Square Garden, June 27, 2000
In the spring of 2000, Bruce Springsteen fans worldwide circled June 12 through July 1 on their calendars; that was when his Reunion tour with the E Street Band would wrap up with a ten-night stand at Madison Square Garden in New York City. As Springsteen and the Band gained momentum with every show that spring, fans would say to each other, "Just think what the Garden's going to be like."
But then "American Skin" happened (premiered live on June 4, in Atlanta). As the focus shifted to reaction — by some in the New York City Police Department, and others who viewed the song as anti-cop — what was once going to be the celebratory finale to a triumphant reunion took on a different tone.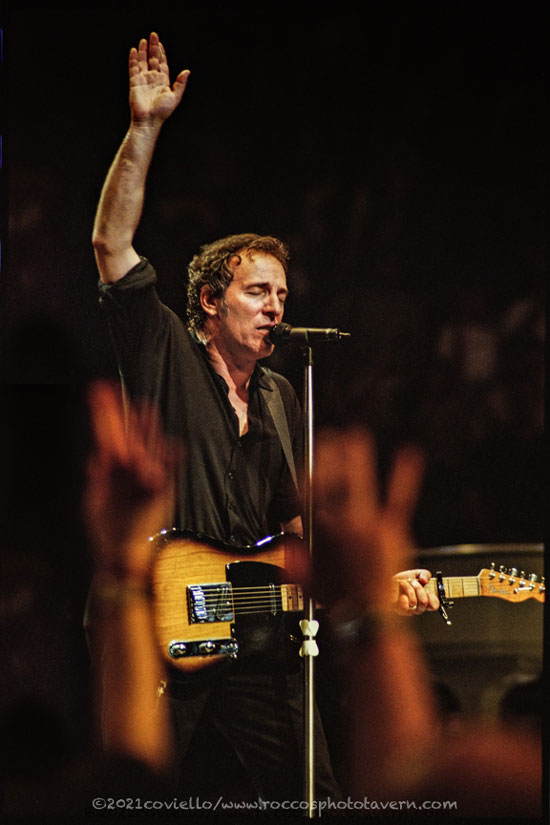 Between the media firestorm to open the stand and the emotions running high on the final night (July 1, 2000, released in the Archive Series in October 2017), one can be forgiven for forgetting that Bruce Springsteen and the E Street Band were simply at the top of their performance game. Today's release — the stand's eighth show, recorded June 27, 2000 — is an excellent example.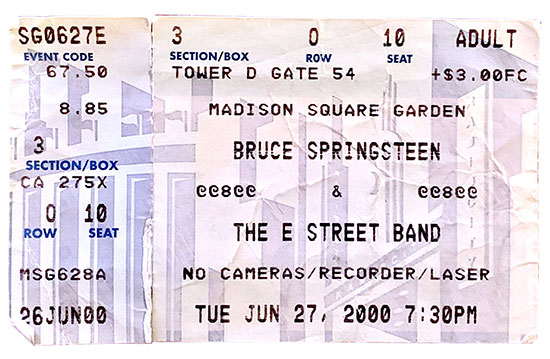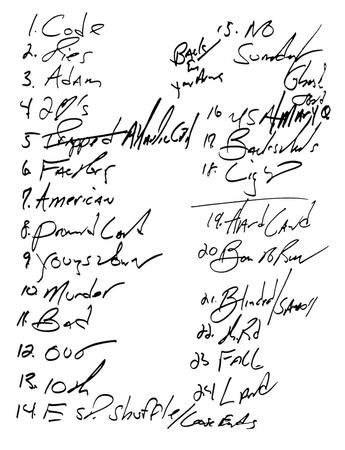 The 24-song setlist relies on the same structure from the start of the tour, nearly 15 months earlier. It includes ten songs performed at every show; the Garden stand expanded that list to 13. But with many repeat customers in NYC, Springsteen's wild-card choices brought many changes. Nine songs played on June 27 weren't in the set on July 1, including five which made their only Garden 2000 appearance.
Beyond setlist statistics, the show found Bruce and the E Street Band playing with their usual energy and intensity. Opening with "Code of Silence" (unreleased at the time), Bruce's voice had a real edge to it — check out the way he and Little Steven attack the "c'mon, c'mon, c'mon" line in the verse following the bridge. Fans who had seen multiple shows on the tour could tell something extra was in the air.
Following "The Ties That Bind," Bruce went guitar god in "Adam Raised a Cain," utilizing feedback to set the tone in the intro and then stretching out on the angriest solo in his catalog, nearly overpowering the rest of the song. From there, it was "C'mon, Steve!" and into "Two Hearts."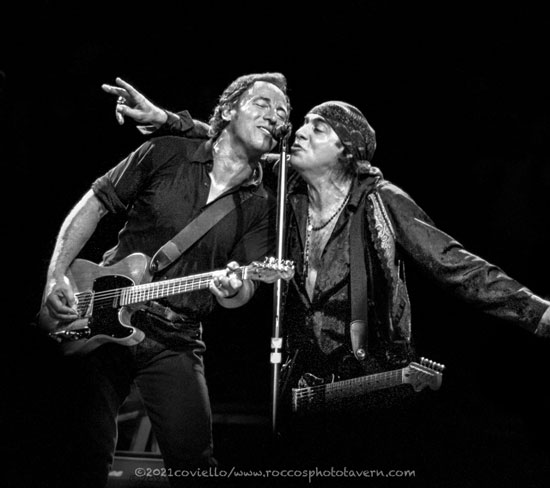 The first four songs played in tight succession, each segueing into the next. Bruce allowed "Two Hearts" to fade away completely, offering a moment of calm before starting the familiar guitar riff for "Trapped." As the audience sang the chorus after the second verse and the E Street Band brought their full might to the song, the release was palpable. That pattern, the tension in the verses and the release in the chorus, left the audience needing a breather, which arrived with the bluegrass-influenced arrangement of "Factory," a duet with Patti Scialfa.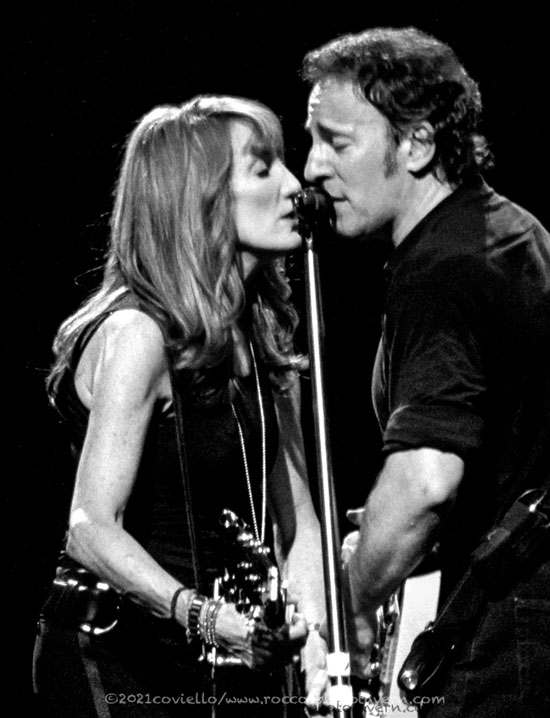 By this eighth night, most in the crowd knew that "American Skin" was next up. Bruce introduced the song simply: "Got a new song for you, so we need a little bit of quiet. We're recording, so please don't clap along." The uneasy quiet in the crowd gave the song more gravitas when the low keyboard intro began. As the stand progressed, Bruce drew out the song's ending, giving a spotlight solo to Clarence Clemons.
Even C's familiar presence didn't fully calm the nerves in the crowd. However, next up was "The Promised Land," and as soon as Bruce blew his harmonica, the crowd erupted. Not only did "American Skin" bring new context to a classic, but Springsteen again created a tension/release spot in the show that worked perfectly.
Next up was the Reunion five-pack, a sequence of songs that told a stories of industrial ruin ("Youngstown," highlighted by Nils Lofgren's now-legendary guitar solo), urban paranoia ("Murder Incorporated," which featured an impassioned vocal), and the desire to rise above one's environment, before celebrating that "it ain't no sin to be glad you're alive" ("Badlands), communion ("Out in the Street") and, finally, the E Street Band's origin story ("Tenth Avenue Freeze-out").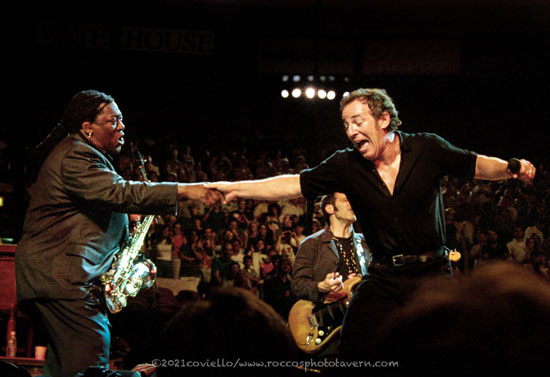 In those days of seats on the floor, a stage rush came near the end of the main set. In New York City, the stage rush began earlier each night; this night it was during "Out in the Street." Bruce made a couple of half-hearted attempts to send fans back to their seats, and as he talked about going down to the River of Life, he remarked, "People are in a hurry to get to the river tonight!" (As it turned out, this was the last E Street tour to have seats on the floor.)
For the biggest wild card of the night, Bruce pulled out two songs from Tracks: a version of "Loose Ends" that may stand as definitive for the classic E Street Band line-up, including Clarence's nearly perfect solo, and "Back in Your Arms." Bruce didn't set up "Back in Your Arms," but the performance was strong, with an excellent Danny Federici solo in the bridge and Clarence adding his soulful sax to ride it out.
The solo-acoustic number was a straight-up rarity: "Mary Queen of Arkansas," its third spin of the tour after going unplayed since 1974. No rust was evident in Bruce's performance.
For the "epic" slot, Springsteen went with an emotional reading of "Backstreets," another opportunity for a ripping guitar solo. Max Weinberg's drums signaled the start of the set-closing "Light of Day," and Bruce tagged Mitch Ryder in the bridge — the "Jenny Take a Ride!" mini-medley of "C.C. Rider" and "Jenny Jenny" — much to the crowd's loud approval.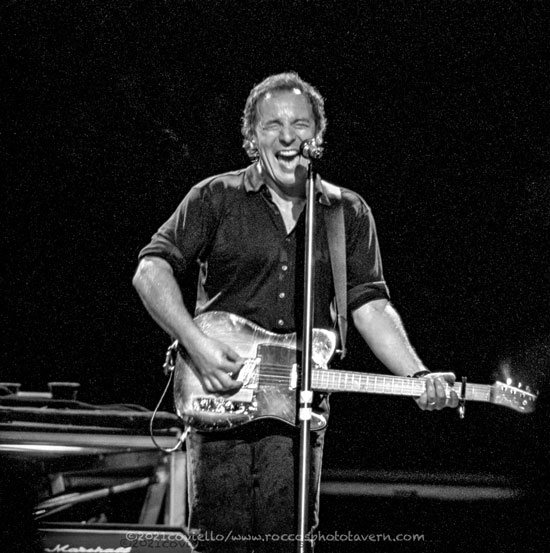 Listeners and viewers of Live in New York City, captured at the two following shows, know Springsteen's preacher shtick during "Light of Day," when he talked about his ambassadorial mission to bring together the people of New York and New Jersey. He may have sought diplomatic ties, but he fanned the flames of interstate rivalry, noting that the Statue of Liberty is in New Jersey, The Sopranos was filmed in New Jersey, and, yes, the Jersey Devils won the Stanley Cup that year.
The encores kicked off with "Hungry Heart," and the boisterous audience was all too happy to sing its part. Then the house lit up for "Born to Run."
Garden encores focused on material from Bruce's first two albums; "Growin' Up," "Spirit in the Night," "4th of July Asbury Park (Sandy)," and "Incident on 57th Street" all made appearances. On June 27, Bruce performed a rollicking "Blinded By the Light," for which the crowd again showed its loud approval. Material from Greetings From Asbury Park, N.J. was quite rare in 1999 and 2000; we got two such songs on June 27.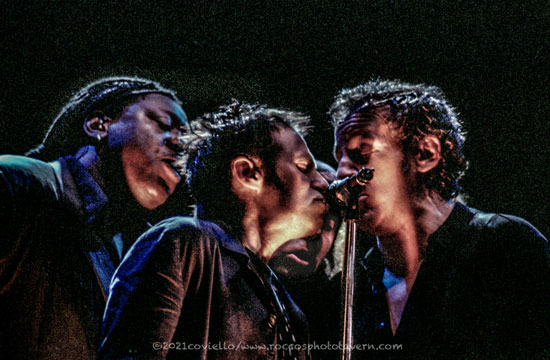 Closing the show with "Thunder Road," "If I Should Fall Behind," and the then-unreleased "Land of Hope and Dreams" reaffirmed the E Street Band's rededication and also looked ahead. While Springsteen made a statement at all ten Garden shows with "American Skin," there was another statement that he and the Band made: They were reclaiming the title of best rock 'n' roll band on the planet, and this recording of June 27, 2000, is conclusive evidence.
Also read: Erik Flannigan's latest nugs.net blog entry, "These Promises We Make at Night"
- March 12, 2021 - Flynn McLean reporting - Flynn co-hosts the podcast None But the Brave - All photographs 6/27/2000 by Rocco Coviello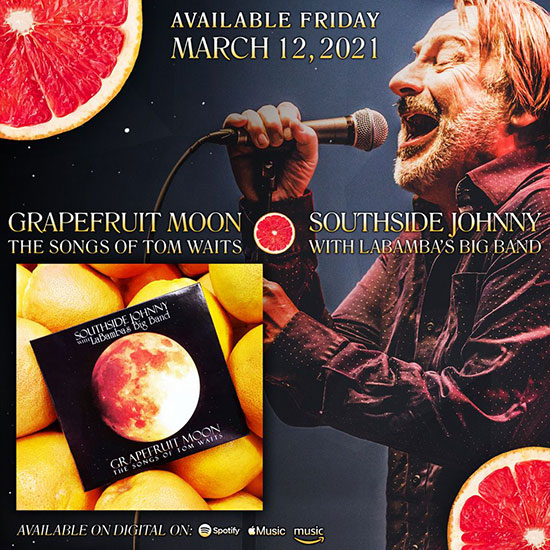 LA BAMBA CELEBRATES BIRTHDAY WITH GRAPEFRUIT MOON REISSUE
Long-lost Tom Waits tribute album gets a new coat of paint
In June 2005, Southside Johnny and Richie "La Bamba" Rosenberg and his Big Band joined forces at the first of five live recording sessions with a rhythm section and multiple horn players. Over the following 18 months, at Sanctuary Sound II in New Jersey and Avatar in New York, they created a remarkable labor of love.

The result of their considerable efforts was Grapefruit Moon: The Songs of Tom Waits, released in September 2008 on Leroy Records. A critical and artistic success, it nevertheless failed to achieve the sales that it deserved.

Today, as La Bamba celebrates his birthday, San Diego-based Pacific Records re-releases Grapefruit Moon in a remastered version. Available initially in digital form, it will also appear on CD and vinyl in the near future.
The album originally comprised 12 Tom Waits songs reworked in Big Band style. These included "Walk Away" (a duet between Southside and Waits himself), and "New Coat of Paint," which Southside and the Jukes had previously recorded for In the Heat in 1984. The new reissue adds a live version of Waits' "Straight to the Top" (with Southside and La Bamba on vocals) from the Big Band album release show at the Nokia Theatre in New York on October 24, 2008.

While Southside's vocal contribution to the album is not inconsiderable, he would be the first to acknowledge that La Bamba was responsible for the lion's share of work on the project. La Bamba arranged and orchestrated the material and conducted the musicians in the studio. We spoke to him this week as release day approached.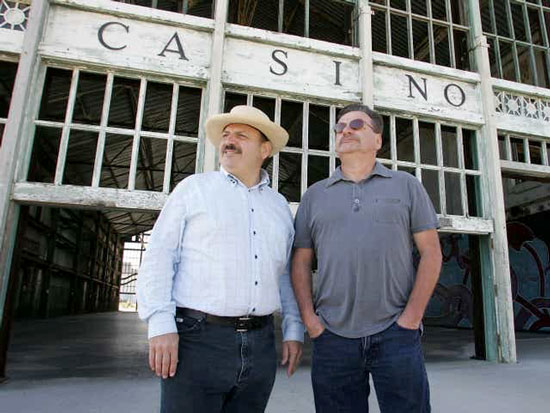 La Bamba and Southside in Asbury Park, 2008 - photograph by Tom Spader
Who came up with the original concept?

It was completely Johnny's idea. He asked me to orchestrate everything. I was literally given a blank canvas. He also gave me my choice of producer. I chose my friend Dan Gralick from the Jersey shore. Johnny picked the first four tunes. We shared up the other titles. I tried to pick ones that had the most developed structure in them.
Tell me about your work creating the arrangements.

It was painstaking. Back then I was scoring on paper music pads, with pencil and eraser. A computer novice. After I'd finished a score, I would give it to Eddie Manion, who had started using Sibelius Music software. He would copy what I wrote onto the software and print out parts. It was very tedious work. Evan Barker came in to copy charts, too. I wrote for 13 horns, guitar, piano, bass, drums, and more. Barely any ad-lib at all. There was no time frame.

What was the atmosphere like in the studio?

Thrilling! It was like standing in front of an orchestra at a Sinatra session. We had rehearsals before the sessions. That's the first time Johnny heard the charts. He looked like he was blown away. I know he had confidence in me, but this was more than we both expected. Dan did a masterful job producing. He has not received enough credit.

The Southside/Waits duet is fun. Were they in the same room together?

Yes. Johnny, Dan, and Joe Prinzo went to Tom's studio. I stayed back to do a Conan show. Wish I had gone!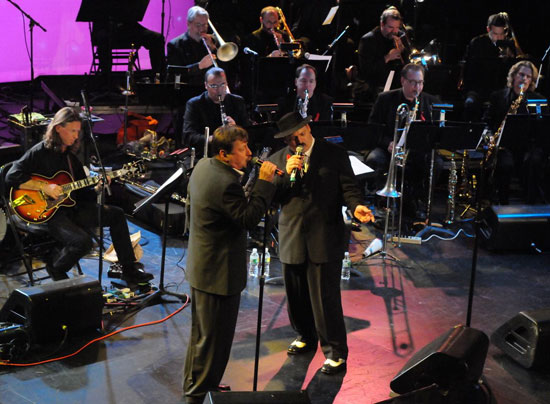 Southside, La Bamba, and the band at the Nokia Theatre album release show, October 24, 2008

What do you remember about the Nokia Theatre concert?

I scored "Straight to the Top," which was a tune Johnny had mentioned for the album. The concert itself was very difficult to put together. We had a huge moon light made. Awesome!
Were you disappointed the record wasn't more successful first time around?

Very. We didn't shop it enough. I was shocked that a decision was made that it was landing on Leroy. Big mistake. It got a second chance on the Jazz market. Did great on Jazz radio, where it belonged. It got listed in the Grammys under "Big Band With Vocal." Pacific is going to try for that Grammy again, and get it placed in a movie soundtrack.
The album is a highlight of your respective careers. You must be very proud of it.

It is. And we most certainly are.

"Southside and La Bamba's Grapefruit Moon record is an absolute masterpiece, a work of art that needs to be heard," echoes musician, producer, and Pacific Records CEO Brian Witkin. "It's an honor and a privilege to play a small role in helping give the record another shot. All of us at the label are beyond thrilled for the release."
- March 12, 2021 - Mike Saunders reporting


WHERE THE "FANS AND BANDS" ARE
Bruce kicks out jams of musicians and their muses in FMHTY #19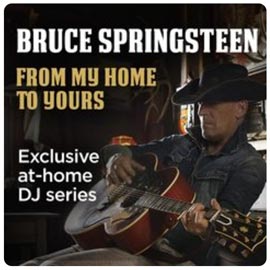 The night before this new episode aired, I swear, I was mentally formulating a "meta" playlist — Songs That Know They Are Songs. Like Elton John's "Your Song," or Carly Simon's "You're So Vain," Barry Manilow's "This One's For You" — but, y'know, songs we might want to hear. Going through Bruce's catalog in my head, I got as far as "Bobby Jean" and "Somewhere North of Nashville" before I fell asleep.
Springsteen mined similar meta territory in his playlist for the 19th episode of From My Home to Yours. Its theme, in essence: rock 'n' roll songs about rock 'n' roll bands — and the fans who love and inspire them in turn.
Greetings, Earthlings! Gentlemen! Ladies! Fans! Friends! Listeners from coast to coast and around the world. This is Bruce Springsteen, and allow me to welcome you to Volume 19 of From My Home to Yours, titled "Fans and Bands." This is an episode based around musicians and their muses: the folks and fans who inspire us, keep us in cheeseburgers, and keep us coming.
We can break down today's playlist roughly into three categories, using its classic track from the MC5:
Those who kick out the jams ("Let me up on the stand… put a mic in my hand")
Those who wanna be where the jams are (with "the sound that abounds and resounds and rebounds off the ceiling")
The "muses" to whom many of the jams are directed ("You know you can't get enough, Miss Mackenzie")
In some songs, of course, like this one, they get hazy and bleed together. But from his own catalog, Springsteen cued up three tracks that illustrate these elements clearly. "Last Man Standing" falls in the "songs about bands" column, based on his first, the Castiles; "Where the Bands Are" is one of the greatest songs about the thrill and joy of being in the crowd; and "Letter to You" is addressed to his audience, his muses — you, us.
Springsteen calls "Kick Out the Jams" a "raging tribute to playing rock 'n' roll" and unleashes a reading of motherfucker that's up there with Samuel L. Jackson. Also in the Bands category, he spins "Pumping Iron," a song he's performed live numerous times with "my Pittsburgh brother" Joe Grushecky and the (then-Iron City) Houserockers. "Battle of the Bands" by roots rocker Webb Wilder (also an original satellite radio DJ on XM) describes a "a parking lot party for the local music fan" and recalls the same early rock scene as "Last Man Standing," down to mentions of "Summertime Blues" and "C.C. Rider."
"You Made It" by Teddy Thompson ("son of the great guitarist and songwriter Richard Thompson, from Teddy's great album, Separate Ways") looks at the downside of success in the field. The downside of Fans, too: "Walk down the street, people you meet think they own you," Thompson sings in a verse. But the Band perspective in the chorus is what Springsteen remarks on with a laugh, singling out "the classic lyrics, 'You made it, what you gonna do now?' Whoa! That is the question!"
Slim Dunlap's Stonesy "Rockin' Here Tonight" visits "Where the Bands Are" territory. (Rockin' Here Tonight was also the title of a benefit compilation album in the Songs for Slim series, when Fans and Bands came together in the wake of Dunlap's 2012 stroke to record his songs and help with medical costs.) This is Dunlap's second FMHTY appearance — in Vol. 2, Springsteen called him "simply one of the best songwriters we have" — and for Replacements fans, another chance to appreciate Springsteen's appreciation of the Mats.
Slim Dunlap was born in Plainview, Minnesota, and is best known as a member of The Replacements with Paul Westerberg. He released two solo albums, The Old New Me and Times Like This, both required listening for any true-hearted rock 'n' roll aficionado.
For the Muses, you'll find numerous tracks written to or about women: Robyn Hitchcock's "Sally Was a Legend," Masters of Reality's "Jody Sings," "Girl From Washington" by The Windbreakers. Much of the FMHTY fun remains getting to hear what obscurities Bruce has found, like any great DJ, digging up jewels (for Sophia and otherwise), his commentary shining a light on artists listeners may never have heard of.
The Windbreakers — a group that included our opener, Bobby Sutliff, and hailed from Mississippi, and also included singer/guitarist Tim Lee — best known for their 1985 album Terminal. I first heard "Girl From Washington" on their compilation Time Machine (1982-2002). Great Band.
Former Windbreaker Tim Lee, who Bruce mentions, now resides in Knoxville and fronts the garage-punk/power-pop combo Bark, featuring Susan Bauers Lee on drums. The band has been compared to the Cramps and the Gun Club; their most recent album, Terminal Everything, was released in 2019.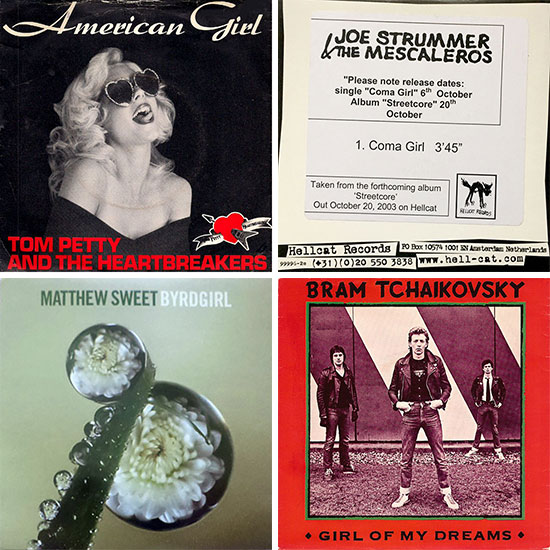 Girls! Girls! Girls! Music for muses in FMHTY Vol. 19
It's striking that this is Bruce's first playlist with all male lead vocals, and all the muses are women. But rather than see that as "problematic" (we know he loves female singers — hell, he married one of 'em), we'll chalk it up to a playlist inspired by personal experience, down to his nightly inspiration on the concert stage:
So you're onstage, an hour into the show, and you haven't quite caught fire yet. That's an unpleasant feeling, that far into the night. So you're casing the crowd, eyes on the front rows, looking for a little inspiration, searching for some gasoline to throw on the fire.…
Of course, a Muse isn't always about that kind of fuel. Joe Strummer & The Mescaleros' "Coma Girl," which Bruce also spun in Vol. 15 (and now the first repeated track in the From My Home to Yours series)was inspired by Strummer's daughter, Lola, who at 16 came along with her dad on the Festival circuit.
Joe was a religious attendee of the Glastonbury Festival, and that's where it feels like this song came from. Quote: "I was crawling through a festival way out west… Through all the stages I wandered… Coma Girl and the excitement gang / Mona Lisa on the motorcycle gang." A classic fans tribute from my brother from another mother, Joe Strummer. You are deeply missed.
The Byrdsy "Kings of Flannel" by Bobby Sutliff is a Band song — "a perfect song about band life," Bruce says — and it's paired with the Muse song "Byrdgirl," by Matthew Sweet. This opening two-fer also establishes a sonic thread that runs through much of the episode. Much of the time, you'd be forgiven for thinking this is a jangle pop playlist. Blue Cartoon's "She's a God," the power pop masterpiece "Girl of My Dreams" by Bram Tchaikovsky ("the fabulous one-hit wonder")… Is that what this theme "sounds like" in Springsteen's head? Maybe it's the richest genre vein to tap, of songs about American Girls and dream girls. Or are these artists writing more self-referential lyrics? Again, we flash back to Vol. 15, which was largely music about music — that episode also included The Byrds ("So You Want to Be a Rock 'n' Roll Star"), the Raspberries ("Overnight Sensation"), and even a song called "Jangleholic."
In any case, these regular dips into the power pop sugar bowl tie Volume 19 together as a particularly enjoyable playlist. And who doesn't like the glimpses we get when Bruce goes on about his love for the Raspberries?
"Where the Bands Are," by yours truly, written in 1979, in my bedroom, late at night, on Telegraph Hill Road in Holmdel, NJ — influenced heavily by the Raspberries on this one. It's a tribute to the beauty and thrills of fandom, reflecting my many joyful nights that I spent at The Stone Pony, watching and sitting in with local acts, flirting with the waitresses, under the spell of blackberry brandy. Returning home in my white C10 pickup at 3 a.m., with the Raspberries blasting over my radio and that sweet ringing in my ears as I fell off to sleep. Those were the days of good feelings. Of being a part of something. Of a real community of musicians and locals, of folks who when Saturday night rolled around, had some place to go, somebody to see, something to dedicate yourself to. And music: music, music, music, to play, to listen to, to live to.
Such a story highlights another of this series' enduring pleasures: Springsteen placing himself on both sides of the Fans/Band line.
Having done thoroughly kicked the jams out — and cued up one more perfect pop record in Tom Petty's "American Girl" for the outro — Springsteen signs off "with love and a thank you to all the folks, all of you who've inspired me and acted as my muse over the years. Please keep on coming. There's many miles and a long road ahead before sunset."
From the Fans side, we're with you all the way, Boss. I'll add "Girl From Washington" to the Songs That Know They Are Songs playlist, too.
Playlist:
Bobby Sutliff - "Kings of Flannel"

Matthew Sweet - "Byrdgirl"
Slim Dunlap - "Rockin' Here Tonight"
Bruce Springsteen - "Where the Bands Are"
The Windbreakers - "Girl From Washington"
Bram Tchaikovsky - "Girl of My Dreams"
Bruce Springsteen - "Last Man Standing"
Iron City Houserockers - "Pumping Iron"
Joe Strummer - "Coma Girl"
Robyn Hitchcock - "Sally Was a Legend"
Webb Wilder - "Battle of the Bands"
MC5 - "Kick Out the Jams"
Masters of Reality - "Jody Sings"
Teddy Thompson - "You Made It"
Blue Cartoon - "She's a God"

Kish Mauve - "I'm in Love With Your Rock and Roll"

Bruce Springsteen -"Letter to You"
Tom Petty & the Heartbreakers - "American Girl" (live)
- Updated March 11, 2021 - Christopher Phillips reporting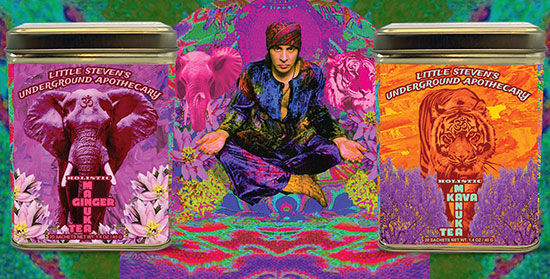 I KNOW HE'S TALKIN' ABOUT THE WAY WE FEEL
SVZ launches Wicked Cool Wellness and Underground Apothecary
"I have always demanded the very best from myself and of everyone around me," says Steven Van Zandt, "and my new wellness brand Little Steven's Underground Apothecary is no different. These products are the best I can find in the world. So enjoy, be well, and stay focused on the only part of our destinies we totally control — what we choose to put in our bodies."

It's for real, baby: Stevie has partnered with The Wakaya Group to create Wicked Cool Wellness and Little Steven's Underground Apothecary. They've been working together to create boutique teas and other holistic health-oriented products using The Wakaya Group's organically grown and/or harvested ingredients, including ginger, kava, manuka honey, and turmeric.
First to the Underground Apothecary shelves are Kava Manuka Tea and Ginger Manuka Tea, available in individual 20-sachet packages or in discounted double-package combos. Gift certificates for Little Steven's Underground Apothecary also can be purchased. Click here for more information and to shop online at Wicked Cool Wellness and Little Steven's Underground Apothecary.
Other products expected to become available from the Apothecary later this year include "FlowerPower Pops" — handmade lollipops in ginger, kava, and turmeric flavors — which can be enjoyed on their own or stirred into teas. A line of coffee, hand-poured scented soy candles, and an organic hot sauce are on the horizon, too.
Ten percent of all profits from Little Steven's Underground Apothecary products will be donated to TeachRock.org. This sustained donation will continue to support TeachRock's ongoing efforts to provide K-12 educators, students, and individuals – free of charge - with engaging, multicultural lesson plans for history, social studies, language arts, music, and science classrooms, using the history of popular music for learning at all levels.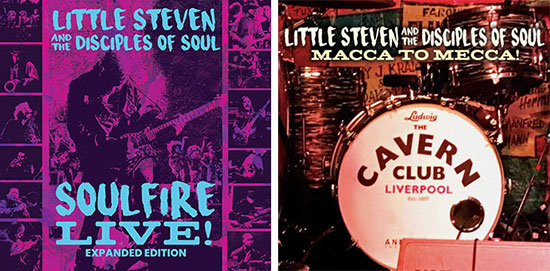 For anyone also keeping up with Stevie's long history of organic rock 'n' roll products — promoting the health and wellness of your auditory system and your spirit — he has released two Disciples of Soul live sets already in 2021: the four-disc Soulfire Live! Expanded Edition and the two-disc Macca to Mecca! Sweet as manuka honey, and in stock now at Backstreet Records.
- March 10, 2021 - Shawn Poole and Christopher Phillips reporting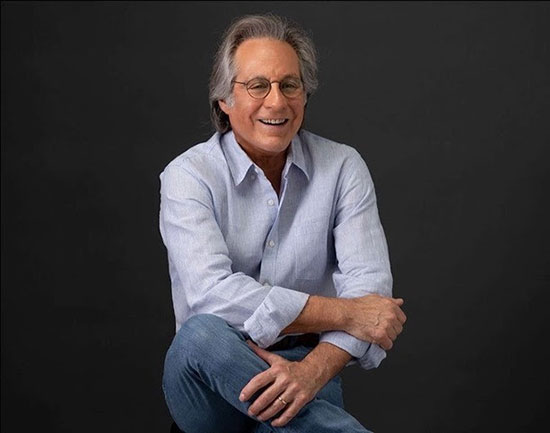 STREAM TOMORROW'S LIVE SITDOWN WITH MIGHTY MAX
And more Grammy Week action from the Bruce Archives and MusiCares
The Bruce Springsteen Archives and Center for American Music at Monmouth University, in collaboration with the university's Alumni Association, will present a live-streaming interview with E Street Band drummer Max Weinberg, in conversation with founding Grammy Museum executive director Bob Santelli, on Tuesday, March 9, at 7pm ET.
The exclusive conversation will also provide a red carpet Grammy preview and an update on the Springsteen Archives. Click here to register for this live event. There is a $10 registration fee, $5 of which will benefit the Monmouth Fund.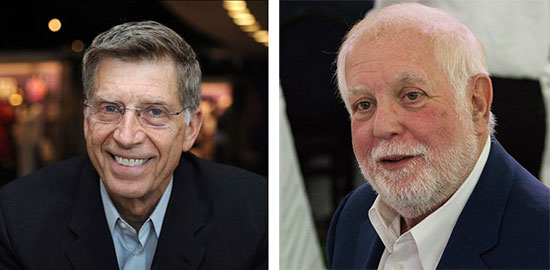 Santelli [above left] and the Springsteen Archives will have another Grammy-related interview on offer this week, leading up to the 2021 Grammy Awards show (which airs on Sunday, March 14 on CBS), and this one's free: Soundstage welcomes former Grammy producer Ken Ehrlich [above right] to talk about Springsteen's appearances at the live events he helmed over the years, in a new episode launching on Thursday, March 11 at 10am ET.
Soundstage is an online series presented by the Springsteen Archives, exploring new works, trends, and contemporary issues in American music. In this new episode, Ehrlich discusses working with Springsteen on the Grammys as a performer, a nominee, and a Grammy recipient (while Bruce isn't on the ballot for this year's awards, he has 50 career nominations and 20 Grammy wins).
Soundstage streams free on Facebook and at springsteenarchives.org.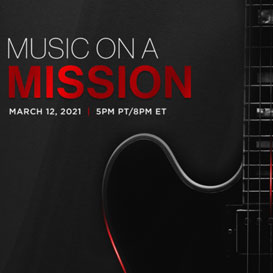 One more Grammy note: Music on a Mission is a MusiCares virtual concert and fundraiser airing this Friday night, a Grammy Week event taking the place of their traditional Person of the Year concert. Springsteen has performed at these events over the years and was honored himself as Person of the Year in 2013 (that tribute concert was released on DVD/Blu-ray).
One of Springsteen's MusiCares performances from the vault will be part of the Music on a Mission virtual concert, this Friday, March 12 at 8pm ET. Visit musicares.org for tickets and additional information.
- March 8, 2021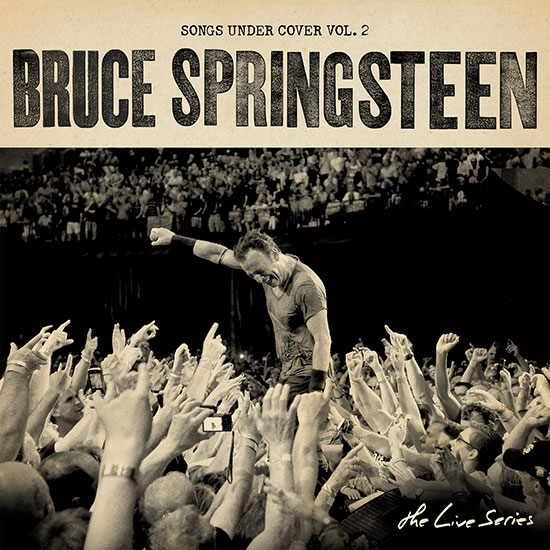 LAND OF HOPE AND STREAMS
The Live Series returns, plus a supplemental Renegades playlist
While the this month's full-concert release from the Springsteen Live Archive isn't expected until Second Friday, March 12, fans do have two new official playlists online to check out, one of which is the streaming debut of previous Archive tracks.
Let's hit that one first — the first new installment in The Live Series since July is a sequel to an earlier entry, Songs Under Cover, which was released in February 2020.
Songs Under Cover Vol. 2, appearing on DSPs today, gathers high-quality recordings of 15 more cover songs performed live by Springsteen, both with and without the E Street Band. As with all Live Series playlists, these songs previously appeared in the context of full-show releases from the Archive and are now available for streaming via Apple Music, Spotify, etc. (in addition to the nugs.net app).
Like the first Under Cover volume, this new collection of covers spans Bruce's career from 1975 to 2017. The playlist includes rare, classic performances from the '70s ("Mountain of Love," "Goin' Back" "Rave On"), the '80s ("Drift Away," "Lonely Teardrops"), the '90s ("Highway 61 Revisited," "It's Been a Long Time"), and into the 21st Century ("Royals," "Rebel Rebel"). Plus his unique take on hit songs from favorite artists like Elvis, The Clash, and CCR — with still enough choice material remaining for a future Vol. 3.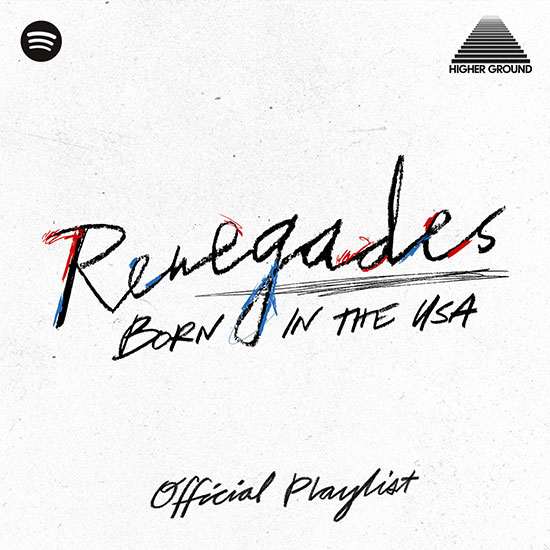 Also online now is a lengthy playlist to supplement the eight-episode Renegades: Born in the U.S.A. podcast, in which Springsteen and Barack Obama mostly let the talking do the talking.
For the music that forms the backbone of much of their conversation (as in the latest episode, "Amazing Grace: American Music"), there's now Renegades: Born in the U.S.A. - The Official Playlist.
This Spotfiy playlist is intended to "celebrate the series, the connecting power of music, and the songs that inspire these two icons." It's a fantastic mixtape of some crucial music by generally towering, largely American artists.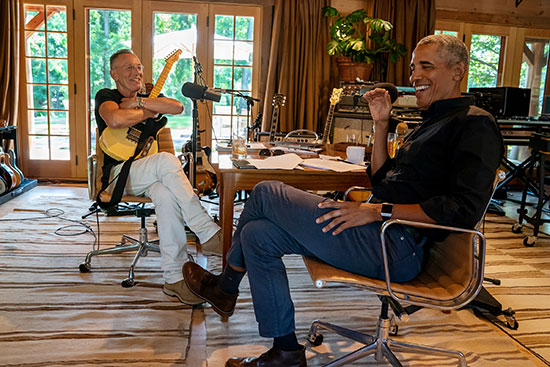 Among the playlist's 44 tracks are nine by Springsteen himself, with two different takes on "Born in the U.S.A." as bookends. There's also one from Patti Scialfa, one from Clarence ("Paradise by the C" with his Temple of Soul band), and numerous other Boss covers by female artists: Patti Smith's "Because the Night," Natalie Cole's "Pink Cadillac," Donna Summer's "Protection," Bat For Lashes' "I'm on Fire," "Fire" by the Pointer Sisters, and "Light of Day" by Joan Jett & The Blackhearts.
Al Green's "Let's Stay Together" is here — but not Obama's Apollo Theatre rendition. So maybe there's Vol. 2 potential for this playlist, too.
All Renegades audio — podcast and playlist — can be found on Spotify's Higher Ground hub.
- March 5, 2021 - photograph by Rob DeMartin


"I REMEMBER YOU, MY FRIEND"
New "Dreams" video pays tribute to Frontier's Michael Gudinski
Following lyric videos for "Letter to You," "Ghosts," and "The Power of Prayer," we now have a fourth standalone clip from Letter to You: "I'll See You in My Dreams." Directed and edited once again by Thom Zimny, with more archival footage of departed friends and E Street past, the video is dedicated to the memory of Melbourne native and "Godfather of Aussie music" Michael Gudinski.
Gudinsky, who died earlier this week at 68, was a giant in the industry Down Under — heck, he signed Split Enz, and his Mushroom Records label was home to artists like Jimmy Barnes, Kylie Minogue, and Paul Kelly. As Chairman of the Mushroom Group, he oversaw eight record labels, with arms in music publishing, distribution, merchandising, booking, promotion, and film. Most pertinent to our purposes was his work as a promoter — Gudisnki was the founder and face of Frontier Touring, which brought Springsteen to Australia and New Zealand again and again, as recently as 2017.
In the first three decades of his career, Springsteen made two trips Down Under, in 1985 and 1997. He's made twice as many in the last 20 years.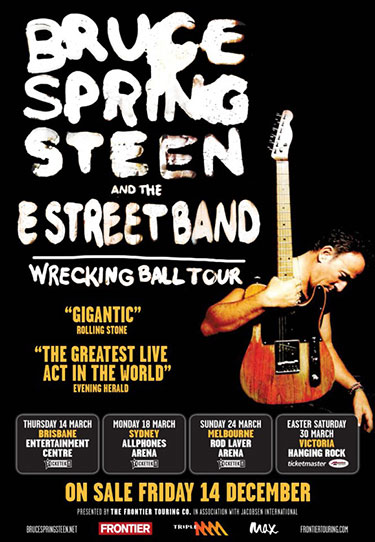 The E Street Band visited in 2003 for the Rising tour, but it was really the Wrecking Ball trek in 2013 that cemented this latter-day love, as it was followed quickly by return trips on the High Hopes (2014) and River tours (2017). On stage in Melbourne in 2014, Bruce reflected on their shows there just one year prior: "Something happened... you got in our blood in some way."
Whatever that "something" was, we can surely attribute the newfound love not only to his appreciation of the land and the wonderful audiences there, but also to the the efforts and charms of Michael Gudinski.
This week, Springsteen released a statement "on the death of our great Australian Promoter":
My friend Michael Gudinski was first, last, and always a music man. I've toured the world for the last fifty years and never met a better promoter. Michael always spoke with a deep rumbling voice, and the words would spill out so fast that half the time I needed an interpreter. But I could hear him clear as a bell when he would say, "Bruce, I've got you covered." And he always did. He was loud, always in motion, intentionally (and unintentionally) hilarious, and deeply soulful. He will be remembered by artists, including this one, from all over the world every time they set foot on Australian soil. My deepest condolences to his wife and partner Sue and to the whole Gudinski family, of which he was so proud.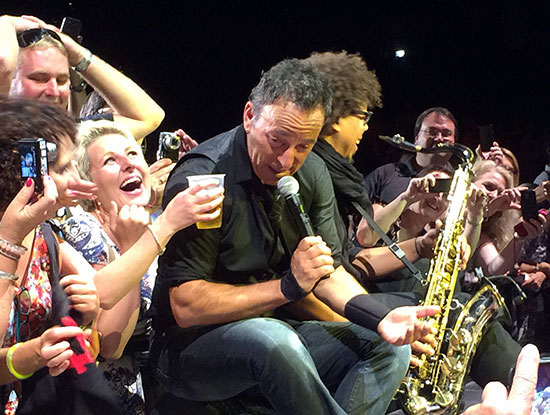 This is a beer: Aussie love in Adelaide, 2/11/14 - photograph by Christopher Phillips
Given that they'll see each other in dreams, here's one Bruce related from the stage in Hunter Valley, Australia, in the February summertime of 2014:
I dreamed I was in a land far away from my home... a land on the very edges of the Earth, populated by strange animals of all kinds: wombats... kangaroos... koalas! Now, in this land, all the women were beautfiul. And all the men were very handsome. And all the children were exceptional students! And everyone greeted you in a strange language that sounded like... g'dayg'day'gday!"
Bruce's tongue may have been half in his cheek, but you still get the sense of the legitimate magic he felt when he came to visit, and the magical, memorable nights that ensued there, in concert with the Aussies. Our deep thanks to Gudinski as well, and our sympathies to his family.
- March 4, 2021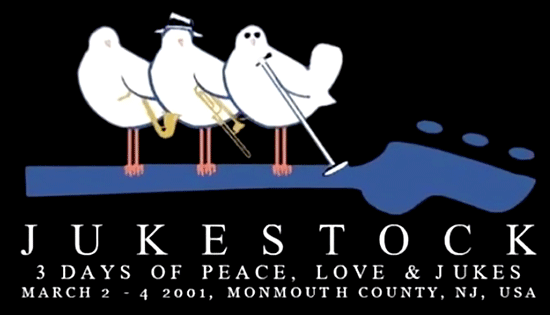 IT'S BEEN A LONG TIME: JUKESTOCK REVISITED
Twenty years on, organizers, attendees, and musicians look back at "Three Days of Peace, Love and Jukes"
"Let's be honest, how many folks really thought Southside wouldn't at one point go off the rails in some grand fashion, with a long weekend of peace, love, music, and trivia in the tight confines of a low-ceilinged Holiday Inn ballroom, just off the Garden State Parkway? He absolutely loved it. Who knew? Literally and metaphorically, The Man is incapable of following the setlist." — JEFF KAZEE
Exactly two decades ago, 300 dedicated fans flocked to the Holiday Inn in Tinton Falls, New Jersey, to attend Jukestock, the world's first (and so far only) fan-organized Southside Johnny and the Asbury Jukes convention. This unique event took place over the weekend of March 2 - 4, 2001 and featured an epic-length performance by Southside and his band as well as other sets by Jukes keyboard player Jeff Kazee's occasional outfit Professor Crewcut, the Bobby Bandiera Band, the Mark Pender Band, and a much-expanded, horn-dominated La Bamba and the Hubcaps.…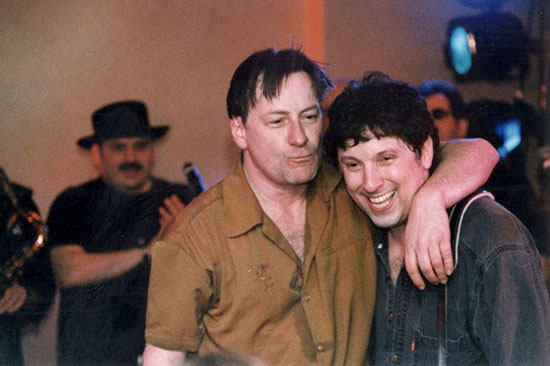 Continue reading "Jukestock Revisited"
- March 3, 2021 - Mike Saunders reporting - photograph by Rene van Diemen

YOURS SINCERELY, WASTING AWAY
NJ.com revisits Tillie, the "unmistakable symbol of Asbury Park"
There are two Tillie murals in Asbury Park. One sits proudly atop the Wonder Bar, gazing over Ocean Avenue a block from the Boardwalk. The other, the original — the one famous for cameo appearances in movies and on television and as the backdrop for the E Streets Band's first widely circulated photo in 1973 — is a few blocks away, hidden from view in a plywood box.
Now, as the legendary Tillie reaches age 65, a news crew at NJ.com has poignantly documented the history and condition of Asbury Park's unofficial mascot, 17 years after it was last seen in public.
Being hidden from view isn't the way this was supposed to happen. In 2004, the State of New Jersey approved demolition of Palace Amusements (of "beyond the Palace…" fame) conditioned upon Tillie and 31 other artifacts being brought back to public display. The showcase was supposed to be the wall of a new waterfront building.
Instead, developers put in a parking lot and left the artifacts wasting away, without making any attempt to preserve their visual integrity. (Read the 2005, 2014 and 2016 reports on inspections of the Palace artifacts storage, conducted by conservator Paul Himmelstein, at savetillie.com.)
While reporting for this new video, NJ.com's Natalie Paterson, Alex Napoliello, and Andre Malok became the first news crew given access to Tillie since 2004. Their account, and the retelling of Tillie's role in the cultural history of Asbury Park, is a story of remembrance, neglect, and a ticking clock. Watch it on YouTube, and share via social media to help spread the word.
- March 3, 2021 - By the Editors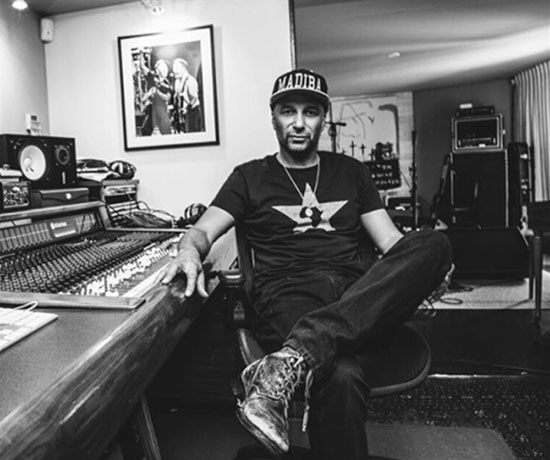 GUERILLA RADIO
Beginning this week, Tom Morello is expanding his SiriusXM radio presence in a big way. The guitar hero, activist, and E Street pinch hitter is fast becoming a microphone fiend in the DJ booth: already host of the successful weekly show Tom Morello's One Man Revolution on SiriusXM's Lithium channel, he's now launching extensive new programming for the satellite radio company, on multiple channels and platforms.
"When SiriusXM approached me about doing a new slate of shows," says Morello, "I only had one condition: I say what I wanna say and I play what I wanna play. When the right combination of rhythm and rhyme washes over a huge throng or transmits through an ear bud, it can provide a spark for action or a life raft for survival. Music matters. And I'm very much looking forward to inflicting on listeners the music that matters to me."
Tommy — as only his mother and Bruce Springsteen call him, we'll try to get away with it once — spoke about his plans in a new Live From E Street Nation interview last week (listen here), and we'll be keeping up with his programming that's of particular interest to Springsteen fans.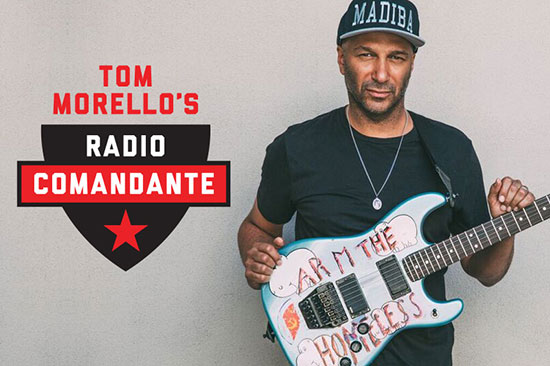 Each episode of his new weekly show Tom Morello's Radio Comandante will be dedicated to a particular musical theme, spotlighting the wildly diverse songs that have influenced Morello as an artist. In the show's debut tomorrow, the focus is on Springsteen's "The Ghost of Tom Joad" (a song the host has influenced in turn, both with and without Springsteen). Morello will be examining the 80-year history behind the song, as it relates to the theme of American class consciousness.
Radio Comandante will channel hop, airing each week on a SiriusXM channel that best suits the current episode's theme; first up is E Street Radio (SiriusXM channel 20). Tune in for the first airing on Tuesday March 2, at 10am ET with additional E Street Radio replays in the days to come:
Tuesday, March 2 - 10am and 4pm ET
Wednesday, March 3 - 8am and 5pm ET
Thursday, March 4 - 12pm and 6pm ET
Friday, March 5 - 12am, 9am, and 8pm ET
Saturday, March 6 - 10am and 4pm ET
Sunday, March 7 - 6am and 2pm ET
All Radio Commandante episodes also will be available on-demand via the SiriusXM app and online player.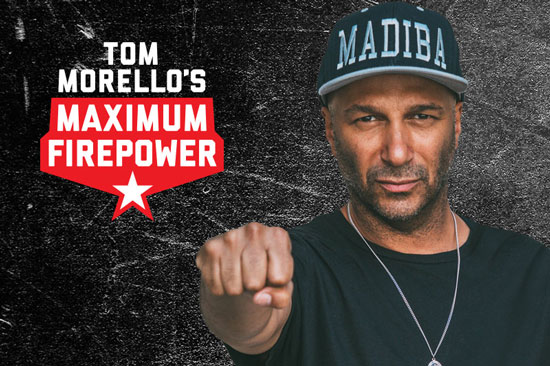 Another Morello program sure to interest Springsteen fans is an upcoming episode of the new weekly podcast Tom Morello's Maximum Firepower that will feature the host discussing "Race on E Street" with Jake Clemons. No further details on airdates and times are available yet, but stay tuned for more information, inflictees!
For further details, the SiriusXM blog has much more on Morello's SiriusXM expansion, which includes three new streaming-music channels in addition to the shows and podcast above.
- March 1, 2021 - Shawn Poole reporting - special thanks to Vinny Usuriello at E Street Radio