HALLOWEENSTEEN MEMORIES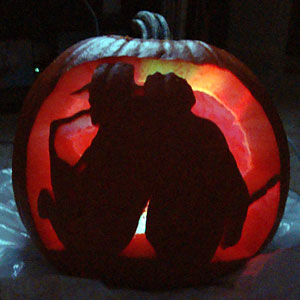 "Over the weekend here in Chicago" writes in Mike Campuzano, "Chicago's own Michael McDermott held his third annual Halloweensteen. People come from all over throughout the year just to see a McDermott show; he's considered one of the best lyrically.. .a real poet. Once a year (and one night only), close to Halloween, McDermott will play Springsteen songs. The shows are always a sell out and tickets go fast." Here's McDermott taking on "One Step Up" on Saturday night; you can also see "Thunder Road" online from Halloweensteen 2010.
And some nice knifework from Ramsey, NJ's Scott Donnelly, who last night passed along a shot of his "freshly cut jack-o-lantern inspired by the Born to Run photo shoot. It's not exactly the cover shot, but one of [Eric Meola's] 'Unseen Photos' used as a silouhette." Looks too good to smash — you gotta make that sucker into a pie today.
- November 1, 2011


A GHOST FROM HALLOWEEN PAST
Thirty-one years ago tonight, Springsteen opened the second show of the River tour's fall 1980 Los Angeles Sports Arena stand by emerging from a coffin for a cover of Jumpin' Gene Simmons' 1964 hit, "Haunted House," originally recorded in 1958 by Johnny Fuller.
- October 31, 2011


HAPPY HALLOWEEN!
Our annual Monster T-Shirt Sale is on now, with every shirt in stock 20% OFF through Halloween night. That includes our Backstreets tees, our vast array of official Springsteen concert shirts, and even the Promise documentary DVD package with the bonus Darkness tee. A few have asked if we have any shirts with Clarence and Danny on them — we point to E Street Band shirts from both the Magic and WOAD tours.
We have shirts for men, women, boys, and ghouls... all of them are 20% off for the day, while sizes last, the discount applied when you use the coupon code JERSEYDEVIL at checkout.
- October 30, 2011

TICKET ALERT: LIGHT OF DAY 12, ON SALE MOVED TO SATURDAY, NOV. 5
For the 12th annual Light of Day, the core of Bob Benjamin's benefits to fight Parkinson's Disease has been expanded to five days of activities in Asbury Park, NJ. More than 100 artists will play at at least 16 different events to be held at nine different venues in the city from Jan. 12 -16, 2012; Asbury Park Mayor Ed Johnson and the City Council have proclaimed it "Light of Day Week," in honor of the concert series which annually brings several thousand music fans to the city.
Tickets go on sale at 10 a.m. this Saturday, October 29, noon on Saturday, November 5, available through Ticketmaster.com, Ticketmaster charge-by-phone at 1-800-745-3000, all Ticketmaster outlets (including selected Walmart stores), and the Stone Pony box office.
The big night, as usual, is Saturday at the Paramount Theatre, January 14, when Vincent "Big Pussy" Pastore will host a line-up inlcuding David Bromberg, Joe Grushecky & the Houserockers, Willie Nile, Joe D'Urso and Stone Caravan, Garland Jeffreys, John Eddie, and the RockNRoll Chorus.
One night prior, on Friday, January 13, the Stone Pony will feature a tribute to the "Asbury Angels" — the musicians and other members of the local music scene who have passed on in recent years. Those being honored include Clarence Clemons, Danny Federici, Kevin Kavanaugh, Donnie Bertleson and John Luraschi. The concert will be headlined by the Sensational Soul Cruisers featuring J.T. Bowen, and will also feature the Nick Clemons Band, Jason Heath and the Greedy Souls (featuring Jason Federici), Boccigaluple & the Bad Boys, JoBonnano and the Godsons of Soul, and more.
For further information about the week's events, keep an eye on lightofday.org.
Update: Information above edited to reflect postponed onsale, now set for noon on Saturday, November 5 according to the Light of Day Foundation.
- updated October 30, 2011

DATES SET FOR SPRINGSTEEN MUSEUM EXHIBIT'S EAST COAST RUN
The National Consitution Center made their official announcement today — the anniversary of the date Bruce Springsteen appeared on the covers of both TIME and Newsweek in 1975, as their press release points out — regarding the Rock and Roll Hall of Fame's Springsteen exhibit coming to Philly next year.
"It is fitting that the Center — the only museum dedicated to America's constitutional freedoms — is the first and only venue in the nation to host this exhibition from the Rock and Roll Hall of Fame and Museum," said NCC President and CEO David Eisner. "We are certain that our visitors, from the most devoted Springsteen fans to those experiencing his music for the first time, will be inspired by his commitment to illuminating the struggles and triumphs of 'We the People.'"
From Asbury Park to the Promised Land will run at the Center from February 17 to September 3, 2012. Click here for tickets.
- October 27, 2011

HAPPY BIRTHDAY, GARRY!
Mr. Garry W. Tallent turns 62 today, born October 27, 1949. Big birthday wishes go out from the woods of Caroline to the Tennessee Terror. Live long, player.
Garry's Christmas CD, To Kate: A Benefit For Kate's Sake, is available again in our online shop, if you want to pick up a little something to mark the occasion. With the holidays on the horizon, it's a great Americana mix to have on hand with Christmas cuts from Joe Ely, BR549, Buddy & Julie Miller, Jim Lauderdale, John Prine, Jason & the Scorchers, Raul Malo, Steve Earle & Allison Moore, and more, all curated by the Foundation of the E Street Nation.
- October 27, 2011 - photograph by A.M. Saddler

OFF E STREET: CATCH MAX & NILS LIVE IN JERSEY THIS WEEK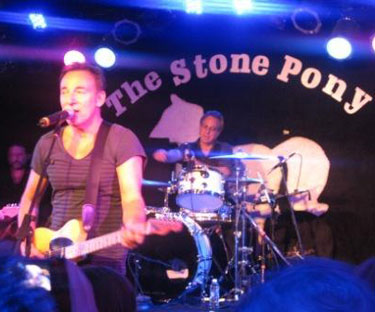 Fresh from Springsteen's Boston College benefit [right], Max Weinberg has another Jersey Shore gig lined up for later this week — and a public one, at that! The Max Weinberg 7+ comes to the Count Basie Theatre in Red Bank on Thursday, October 27, for a much anticipated show rescheduled from September due to Hurricane Irene.
Max and his outfit are teaming up with Grammy Award winning vocalist, songwriter and Hammond B3 player extraordinaire Bill Champlin, and saxophone sensation Mindi Abair to create an evening of pop, funk and great rock 'n' roll guaranteed to kick out the jams. "Killer" Joe Delia and Thieves will open. Recipients of the proceeds from this charity event include the Light of Day Foundation, the Monmouth County-based Prevention First, and the Save U.S. Pets Foundation.
Tickets are still on sale and availabe at CountBasieTheatre.org, the Count Basie box office, or by phone at (732) 842-9000. Not a bad way to celebrate Garry Tallent's October 27 birthday, either!
More E Street action down the Shore Friday nght, October 28, as Nils Lofgren brings his acoustic duo format to the Pollak Theatre at Monmouth University. Tickets are available in person at the Monmouth University Box Offices or online at Ticketmaster.com. Ticket prices are $30 and $40, with limited Gold Circle seats for $75 which include a pre-show meet and greet with Nils.
- October 25, 2011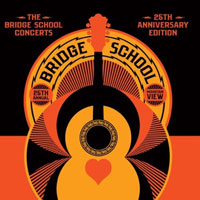 IN STOCK NOW AT BACKSTREET RECORDS: BRIDGE SCHOOL LIVE SETS, 2012 BRUCE CALENDAR
Just released this week: the 2-CD and 3-DVD sets celebrating the 25th year of Neil and Pegi Young's Bridge School Benefits. Springsteen played the inaugural Bridge show back in 1986, and his (very first!) acoustic "Born the U.S.A." from that night kicks off both the CD and DVD set (which are otherwise pretty different).
We've got both in stock now at Backstreet Records and currently on sale as new releases.
Also just in: the official 2012 Bruce Springsteen calendar from Thrill Hill Productions. It's another beauty — maybe the best yet — with striking Darkness-era (or is that The Promise-era?) photography from Eric Meola and Frank Stefanko, and design that evokes Bruce's notebook from the Darkness deluxe reissue. Get a jump on the holidays and order yours now!
See all new arrivals at Backstreet Records
- October 25, 2011

"THUNDER ROAD" AN ALL-TIME GREAT
Time magazine has selected the 100 "most extraordinary English-language pop recordings since the beginning of Time magazine in 1923" for their All-TIME 100 Songs. The unranked list, covering ten decades, inlcudes "Thunder Road" — the only track here from Springsteen, but hey, the Beatles only get one, too. As does Dylan. (As does Richard Thompson, we were pleased to see, with "1952 Vincent Black Lightning.")
Of "Thunder Road," Time's Josh Sanborn writes that "the E Street Band's wall of sound — Springsteen's talking guitar; the excitable, majestic piano; the high-pitched bells over the top throughout — encapsulated the music that the band would perfect throughout the 1970s and into the '80s."
- October 25, 2011

BRUCE JOINED BY MAX, ROY, AND J.T. BOWEN FOR B.C. BENEFIT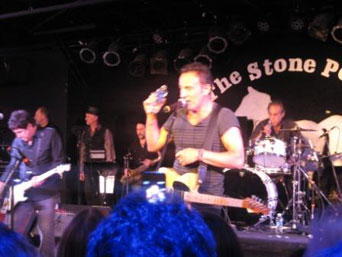 Springsteen's Third Annual Boston College Bar Band Bash took place Saturday night at the Stone Pony, another of Bruce's patented private affairs to raise money for his kids' schools. Bobby Bandiera's band, as usual, backed Bruce all night, along with extra E Street muscle from Max Weinberg on drums and Roy Bittan on piano. As Stan Goldstein reports for NJ.com, those in attendance incuded Governor Chris Christie, Tim Robbins, and Brian Williams.
The set was, as usual, a mix of originals and covers: "634-5789" is the now-traditional opener, and the Soul Cruisers' "Screamin'" Steve Barlotta added tenor sax to "Seven Nights to Rock," among others. Springsteen's own material was plucked straight from the uptempo bin: bar band classics from the Born in the U.S.A. album, a stunning "Pink Cadillac" with a stripped-down first verse, and '70s classics "Spirit in the Night" and "Tenth Avenue Freeze-out."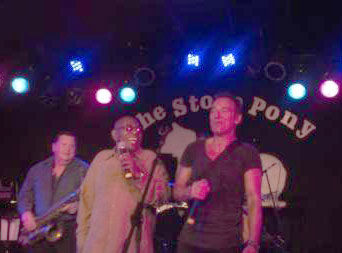 While Springsteen has got his template figured out at this point and most know what to expect, you never know what he might shake up. This time, the curveball was Red Bank Rocker J.T. Bowen taking the soul singer guest spot usually reserved for Southside Johnny, bringing Rescue songs to the set ("Savin' Up," "A Woman's Got the Power") and bringing the house down with "Soul Man."
"I was particularly struck by 'Tenth Avenue,'" a showgoer tells Backstreets. "There was a huge crowd reaction to 'the change was made uptown.' And it could have been just me hearing what I wanted to hear, but I heard a consoling Bruce, and it was about Clarence and the future of the band and the music and everything."
Weinberg spoke to Tom Cunningham the following morning, calling that particular performance "quite emotional": "The third verse, where Bruce sings 'the change was made uptown and the Big Man joined the band,' we stopped and the whole audience [sang the sax break]. It was chilling. I actually got chills when that happened."
But of course, Springsteen steered the mood to pure partydom by the end of the more than two-and-a-half-hour show. Imagine hanging out at the Pony while Bruce, Max, Roy and a whole stageful of Jersey pros close a private concert with a run of "Rosalita," "Havin' a Party," an audibled "Twist and Shout," and finally, Bruce alone for an acoustic "Thunder Road." As one attendee said afterward: "Holy mother of pearl, what a show."
For the full setlist from this and other recent performances,
see our Setlists page.
- updated October 24, 2011


WHAT'S ON THEIR IPOD?
In the new issue of Rolling Stone, "your favorite artists pick their favorite songs" for The 2011 Playlist Special. (And in a nice touch, RS.com has even provided links to the playlists on Spotify.)
Taking part this time around is Patti Scialfa, who focuses on Girl Groups for her top ten: "'It was the first time I heard young girls singing about emotion and sexuality,' recalls Scialfa of her earliest experience listening to girl groups from the Fifties and Sixties. 'They expressed the things you were supposed to hide.'" You'll recognize a few songs on her list from her spotlight moments at Springsteen's school benefits, including The Crystal's "Da Doo Ron Ron" and The Exciters' "Tell Him."
And then there's Melissa Etheridge, whose entire 15-song playlist is dedicated to Bruceuuuuuuu, "an American poet writing about my world in a way I could recognize and feel." It's well-annotated, too; she says of "Independence Day," "Sometimes Bruce is like Norman Rockwell with a sense of darkness underneath — a little David Lynch mixed in too. He's writing about the picture and what's going on underneath."
- October 21, 2011

WONDER BAR TO HOST RELEASE PARTY FOR CLARENCE CHRISTMAS SONGS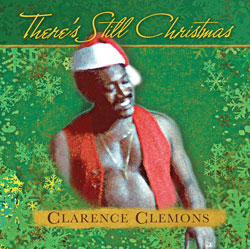 On Friday, November 18, The Wonder Bar in Asbury Park, NJ will host a very special record release party for "The Undiscovered Clarence Clemons Christmas Songs." In 1981, producers Dennis Bourke and Jim Nuzzo joined Clemons in a New Jersey studio to record the Bourke original (co-wrtitten by the late Stevie Betts), "There's Still Christmas." Clemons sings the tender lead vocal. The team also recorded an instrumental of the classic made famous by Nat King Cole, "The Christmas Song," featuring Clemons on sax.
Bourke and Nuzzo recall that Clemons wore "Santa gear" as he recorded the tunes. A photo taken during the 1981 session is featured on the artwork for the tracks.

These songs have never been released. An iTunes on-sale is expected in the near future; view the Facebook fan page here.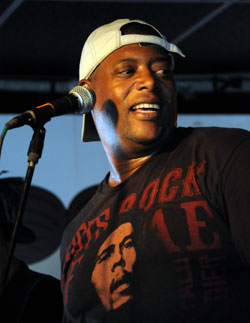 The release party will be headlined by The Nick Clemons Band, fronted by Clarence's son, Clarence Clemons III (Nick, shown left — no family resemblance whatseoever!). The night will also feature the new Christmas songs, special guests The Bob Polding Band, Lisa Bianco and the Fury, and the Bar-Top Bandits dancers, and a presentation by Move for Hunger. That charitable organization, recently endorsed by Bruce Springsteen, mobilizes moving companies to collect and donate non-perishable food left by customers to local food banks. Move for Hunger is one of five finalists up for a One Million Dollar Chase Grant.

Thrilled to have achieved this release with the support of the Clarence Clemons Trust and Nick Clemons, the producers state, "Clarence has a parting Christmas gift to us all with these soon-to-be holiday classics. Open up your hearts and listen to the 'Big Man' say Merry Christmas to the world." Tickets are on sale through Ticketmaster and at the Stone Pony box office, Experience Asbury (4th Ave. at Boardwalk), and at the Concierge at Grand Arcade (weekends only).
- October 21, 2011

SPEAKING OF GROWIN' UP...
The Bruce Springsteen Special Collection is off to college
"The Collection has almost a thousand books and magazines on myself and the band... more stuff than every place except my mother's basement!"
—Bruce Springsteen, 2001
Ten years ago, when Backstreets gathered together the thousand or so publications that seeded the Bruce Springsteen Special Collection, we didn't imagine it would grow to the nearly 15,000-item, preeminent research collection that it has become. Well, sure, we had pipe dreams... but thanks to the generous contributions of fans around the world and supporters in the Friends of the Special Collection, dreams have become reality. As we reported earlier this week, the staggering growth of this "Springsteen Rare Book Room" has led to its relocation to Monmouth University, announced on Monday. And it's making the news:
- October 20, 2011

THEY GROW UP SO FAST!

It seems like only yesterday that Little Steven's Underground Garage was just toddling around on chubby little legs, learning to say things like "Hey Baby" and "Joey Ramone." Would you believe it's coming up on its 500th episode? Nearly ten years in, Steven's weekly syndicated radio program now has 1.2 million listeners in the U.S. alone and is broadcast on 148 stations in over 200 markets, making it the most successful Rock music radio program in the past 30 years.
Celebrate the milestone this Friday, October 21, from 6 to 10 p.m., with a live video stream of the 500th Show Celebration at Times Square's Hard Rock Cafe; the episode itself will air on terrestrial radio around the country and around the world over Halloween weekend, October 28 -30. Check here to see local affiliates.
Hey Stevie: Congratulations, baby.
- updated October 20, 2011


FROM ASBURY PARK TO THE PROMISED LAND... TO PHILADELPHIA
Earlier this year, we reported that the Rock and Roll Hall of Fame's extensive Bruce Springsten exhibition would ride again, with plans to travel to Philly in 2012. Things are gettin underway for that East Coast debut in February at the National Constitution Center — according to the above, the first and only venue where From Asbury Park to the Promised Land is currently slated to travel.
- October 19, 2011


WEIRD AL'S BARBECUE
Years before Bruce Springsteen recorded "Used Cars" for what became Nebraska, young Alfred Yankovic's song about his family's pre-owned vehicle also was "recorded on a cheap cassette player in his own bedroom." 2011 marks the 35th anniversary of the radio debut of "Belvedere Cruisin'" on the weekly syndicated radio show hosted by the legendary Dr. Demento...quite an exciting moment for young Yankovic, being at the time just another teenaged Demento fan who also happened to be quite adept on the accordion. Since then, "Weird Al" Yankovic has become the world's most commercially successful song-parodier. He recently marked his 35th anniversary in show-biz by releasing yet another top-ten album, Alpocalypse (featuring a great Lady Gaga parody that almost didn't make the cut), and a best-selling children's book, When I Grow Up. In 2009, Weird Al even topped a Rolling Stone readers' poll on artists who belong in the Rock and Roll Hall of Fame.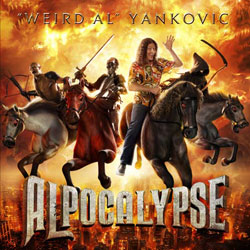 The Alpocalypse Tour hit Red Bank, NJ's Count Basie Theatre last week, deep in the heart of "Springsteen country." After the show, Al was kind enough to meet briefly with Backstreets for a special photo session, "Weird Al"-style. When it comes to The Boss we hoped to impress, but it looks like Al still prefers Alfred E. Neuman's take on the subject.
Though Yankovic has yet to release a parody of a Springsteen song, there still have been some notable Weird Al/Bruce intersections over the years. A "collaboration" of sorts occurred on the 1986 CBS television special Weird Al's Guide to the Grammys. Al conducted a hilarious "interview" with Bruce that included a nod to the classic "No soap, radio" non-punchline. Later on in the show, "America's Polka King" Frankie Yankovic (no relation, believe it or not) joined Al for a polka medley of Record-of-the-Year nominees, leading off with "Born in the U.S.A." And in the heyday of MTV, whenever Weird Al had a new album to promote, he'd often appear on the channel hosting Al-TV and spoofing music-videos, including this "alternate version" of the "Brilliant Disguise" clip.
While performing "Glory Days" during the June 5, 1992 "Dress Rehearsal" radio broadcast launching his Human Touch/Lucky Town tour, Springsteen yelled to his band, "I see those albums, man... I see them goin' back up them charts!... I can see them all the way up past Weird Al Yankovic, even!... Oh, wait a minute... Al's got a hold of me... we're slippin' down them charts... uh-oh... outta sight...."
An episode of the late-'90s CBS Saturday morning series The Weird Al Show also guest-starred Clarence Clemons, lending his beautiful bass voice to a "song about cheese." Big Man apparently was a Big Fan of Weird Al and almost appeared on a Bo Diddley/"She's the One"-style track from Yankovic's album Poodle Hat. As Weird Al told Dr. Demento in a 2003 on-air interview, when first approached Clarence "was all excited about being on a Weird Al album, until he found out the name of the song was 'Party at the Leper Colony.' Then he kinda gracefully bowed out."
- October 18, 2011 - reporting and art direction by Shawn Poole - photographs by A.M. Saddler

SPRINGSTEEN SPECIAL COLLECTION MOVES ON
What's the difference between the Bruce Springsteen Special Collection of 2001 and the Collection today? Well, if you like big numbers, try this: the number of books, magazines and other printed ephemera donated by fans increased the size of the Collection by a staggering 1,385% since the Collection was dedicated on December 8, 2001.
That's produced a repository exceptionally rich in rare and hard-to-find Springsteen documents. It also blew out the Collection's original storage capacity, precipitating a relocation to new digs on the campus of Monmouth University in West Long Branch, NJ, as announced today by the University.
In its new home, the Collection will be housed in a Jersey Shore community with a deep connection to Springsteen performance history, dating to 1968 concerts by The Castiles. The Collection will have triple the amount of shelf space, allowing for expansion, and will operate as a collaboration between the University and The Friends of the Bruce Springsteen Special Collection, the longtime managers and archivists of the Collection. According to the University, the Collection is scheduled to reopen November 1 and will be publicly accessible by appointment.
Read more about the move on our Special Collection page, and follow the Collection at www.brucespringsteenspecialcollection.net.
- October 17, 2011

"THE SOUL OF ASBURY PARK" CONCERT SET FOR NOV. 12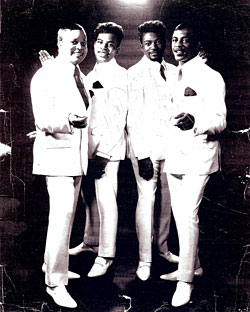 Following a standout show at the Wonder Bar this past April that featured Asbury Park legends Nicky Addeo and Southside Johnny and a surprise appearance by Bruce Springsteen, the Asbury Park Historical Society is sponsoring another concert celebrating the music of Asbury Park's West Side. The Soul of Asbury Park concert is scheduled for Saturday Nov. 12 at the Paramount Theater, and will include many of the same artists, including Billy Brown (Ray, Goodman & Brown) and Bobby Thomas, who will appear in a tribute to doo-wop legends The Orioles.
The concert will also feature "Mr. Asbury Park" Lenny Welch ("Since I Fell For You") and a reunion of The Broadways [pictured righ], who were mentioned several times by Bruce as a band he had opened for with The Castiles.
"This will be a special concert," says Historical Society president Don Stine," and if you missed our sold-out April 2 concert at the Wonder Bar, then this is probably your last chance to see all of these truly great Asbury Park West Side performers all together --ever again. We are urging everybody to get dressed up and make this the truly special, historic event that it is."
Tickets are $20 to $50, and are available through Ticketmaster or at Experience Asbury (Asbury Park boardwalk at Fourth Avenue). A limited number of tickets for the pre-show VIP reception (including a meet-and-greet cocktail hour with the performers) are also available at $100.
- October 14, 2011 - Lisa Iannucci reporting - photograph courtesy of Don Stine

TICKET ALERT: BRUCE & JOE IN PITTSBURGH, ONSALE 10/18

Last November, Bruce Springsteen reteamed with Joe Grushecky to celebrate the 15th anniversary of their American Babylon record, with two shows at Pittsburgh's Soldiers and Sailors Memorial Hall. This year... looks like it's a Sweet Sixteen party! Springsteen becomes an honorary Houserocker once again for two more shows, November 3 and 4 at Soldiers and Sailors.
Tickets for "Joe Grushecky and the Houserockers with Special Guest Bruce Springsteen" will go on sale Tuesday, October 18, at 10 a.m. through Ticketmaster. There is a four ticket limit per customer.
See all upcoming scheduled performances on our Tour/Ticket Info page
- October 13, 2011 - photograph by John Cavanaugh [Soliders & Sailors, 2010]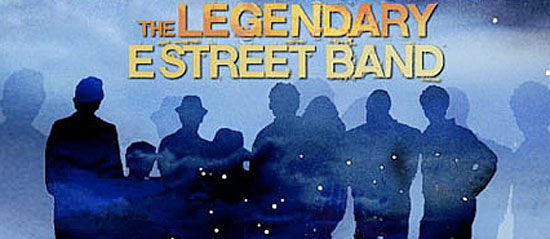 E STREET BAND UP FOR NEW JERSEY HALL OF FAME: VOTE NOW!
It may not be the Rock and Roll Hall of Fame... we're still waiting for that one... but the E Street Band has been nomintaed for the New Jersey Hall of Fame's Class of 2012. From now through Jaunary 1, the public will have a chance to vote for the E Streeters as the first group to receive the honor, the band being among the nominees announced today in the Arts & Entertainment category along with Alan Alda, Celia Cruz, Christopher Reeve, Connie Francis, Dionne Warwick, Dizzy Gilespie, Joe Piscopo, Michael Douglass, and Sarah Vaughan.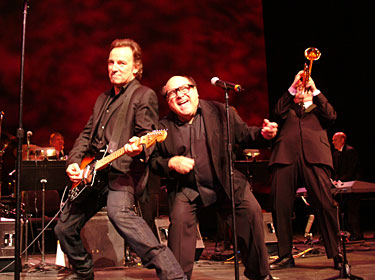 Springsteen himself is a New Jersey Hall of Famer already, embracing the honor with good humor and a magnificent speech when he was inducted with the inaugural class in 2008. Danny DeVito gavehis induction speech, and two years later, Bruce came back to return the favor, inducting DeVito in 2010. With any luck — and votes from the likes of us — Springsteen might just have a good reason to turn up again for the fifth annual ceremony.
Now through January 1, everyone can vote online at the Hall of Fame website: www.NJHallofFame.org. Inductees will be announced later that month. Let's help get them in: The Legendary! E! Street! Band!
- October 11, 2011 - photograph by Gary Gellman

HE WAS SOMETHING TO OBSERVE
Speaking with Andy Greene for Rolling Stone, Peter Gabriel lays to rest that apocryphal story about his future Human Rights Now! tourmate inspiring "Solsbury Hill." Gabriel also remains consistent about his "favorite gig list" with Springsteen, as ever second only to Otis Redding:
On a very random point, I've always read that "Solsbury Hill" was inspired not only by your decision to quit Genesis – but a Bruce Springsteen concert you saw in London in 1975. Is there any truth to that?
I'm trying to think, because I think that was written prior . . . I don't know. I saw Bruce's first gig in London, I think at the Odeon house. That blew me away. Second only in my favorite gig list to Otis Redding in 1967. But I don't think it's connected to "Solsbury Hill."

The story goes that Bruce is the "eagle that flew out of the nest" and you were so inspired that you wanted to leave Genesis and do your own thing. Is that just a bunch of hogwash?
I think that is hogwash. Because when I left Genesis, I just wanted to be out of the music business. I felt like I was just in the machinery. We knew what we were going to be doing in 18 months or two years ahead. I just did not enjoy that.

I remember that once I met Bruce at CBS. He had an armful of Roy Orbison records under his elbow. So I think he drew from rich veins of rock history and absorbed and pulled them together in a very interesting way with a great band.
- October 11, 2011


"BRUCE SPRINGSTEEN: JUST THE STORIES" AVAILABLE NOW
First Red Dust, now this... our shelves are filling up!
- October 10, 2011 [broadcast October 8]


STONE PONY AS WE KNOW IT FACING FAMILIAR THREAT
Despite the slumping economy, Asbury Park master developer iStar Financial has plans to resume its oceanfront redevelopment schedule in the near future, and once again, the Stone Pony is in jeopardy.
Hopes were high that the historic venue would stay put when a planned relocation was put on hold several years back, and owners Madison Marquette have since invested significant time and money on structural improvements of the historic building.
But the Pony and surrounding block sit squarely in the redevelopment zone, and the Asbury Park Press recently reported that iStar is already moving on plans to build townhouses at the nearby intersection of Kingsley Street and Asbury Avenue. With the current plan calling for yet more condominium development along the Ocean Avenue corridor, iStar is looking to relocate the Stone Pony southward to a revamped Casino, where, surrounded by high-end retail and restaurants, it would be refashioned as a sort of "Hard Rock by the sea."
The move has not been finalized, and the city is still accepting input from the public; email the planning board at asburyplanning@gmail.com to voice your opinion.
- October 10, 2011 - Lisa Iannucci reporting - photograph by Mike Black


HOMESAFE CLASSIC SALUTES THE BIG MAN WITH FRIENDS & FAMILY
FREE DOWNLOAD: Clarence's unreleased "Garden of Memories"
On Saturday night, while Springsteen was feting Sting in NYC, other friends, family and fans of the Big Man gathered in Florida for this year's HomeSafe Classic. Clarence had been the spokesman and host for HomeSafe's annual event, raising funds to aid abused children and victims of domestic violence. This year the Classic was a trbiute to him, and the event raised nearly $300,000 for the cause.
John Colby, Clarence's long time music director, produced, played keyboards and led the house band The Temple of Soul, Clarence's band based in South Florida, and was joined on organ by Mark Stein (Vanilla Fudge).
The evening began with with a drum jam: as Alan White (Yes) and Bobby Blotzer (RATT) played, the evenings' MC Nicko McBrain (Iron Maiden) joined on a third kit. "The School of Rock" featuring 2011 American Idol's Brett Lowenstern performed "Crazy Little Thing Called Love " and" Let It Be" live to video tributes to Clarence, featuring photos by James Shive, Barbara Pyle and Joe Lopez.

Pat Riley attended and spoke of his long relationship with Clarence and the meeting of their uncommon worlds: both had entertained thousands of people in thousands of arenas all over the world, spending decades perfecting what they did best. They even shared the same hip replacement doctor. Riley then introduced Clarence's widow Victoria.

Following Victoria's poignant tribute, in which she spoke much of joy and love, Clarence's nephew Jake Clemons performed the "Jungleland" solo with The Temple of Soul. "Jake just nailed it," says Colby, "he plays just like Clarence. And we synced it up with a video tribute using Barbara Pyle's photographs — it was unbelievably powerful."

"Pink Cadillac" followed, adding Clarence's brother Bill Clemons on baritone sax.

Davy Jones of the The Monkees' performance ("I'm a Believer" / "Daydream Believer") was followed by JT Bowen [pictured above with Jake Clemons], Clarence's lead singer with the Red Bank Bank Rockers ("Woman Got the Power" / "Jumpstart My Heart" / "Savin' Up" / "I Can't Turn You Loose" / "Knock on Wood" / "Mustang Sally" / "Try a Little Tenderness").


Gary U.S. Bonds performed next, joined by Alto Reed (Bob Seger Silver Bullet Band ) on sax, Mark Leimbach on guitar, and vocalists Laurie Anderson and Laurie Anderson Jr. ("Jole Blon" / "New Orleans" / "Out of Work" / "Dedication" / "Daddy's Come Home" / "This Little Girl" / "Quarter to Three"). The night concluded with everyone on stage for "You're a Friend of Mine."
The presence of Bruce Springsteen was felt throughout the evening with the music he wrote for Clarence & Bowen ("Savin' Up") and Bonds, as well as in the video tributes focusing on Scooter and the Big Man. "So many great old photographs of them together," says Colby, "the incredible journey of two guys as they conquered the world."
Having played shows with Clarence numbering into the triple digits, for Colby, Saturday night's event brought the reality of the loss home. "Everything up to this point, the services, it was all just surreal. What's more surreal than someone's passing that's unexpected? But this was the reality of not having Clarence there, unlike so many gigs before. The music ws really joyful, and yet of course it was bittersweet — especially the passing of the torch, watching his nephew channeling him right in front of us. For me, this was the night it became real."
To mark the occasion, we have a FREE download of a previously unreleased Clarence Clemons song, "Garden of Memories." Clarence's Temple of Soul shows usually ended with "Pink Cadillac," but he and Colby would often encore with this elegiac Big Man composition.
Get "Garden of Memories" now on our Downloads page.
- October 6, 2011 - photographs by Larry Marano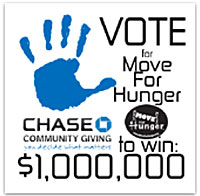 HELP BRUCE HELP MOVE FOR HUNGER
For decades, Bruce Springsteen has been helping hunger relief organizations around the country — sometimes quietly, always at his concerts — fight the good fight. Now, he's looking for help obtaining a milliion-dollar grant for Move For Hunger, which helps redistribute food around the U.S. As posted on brucespringsteen.net:
Move For Hunger works with moving companies to pick up the unopened, non-perishable food items people often leave behind, and deliver them to their local food bank. What started with one family moving company has grown to work with over 160 movers in 37 states. To date, we have collected over 330,000 lbs of food for those in need.

Move For Hunger is the ONLY hunger relief organization in the running for a million dollar grant through Chase Bank's Chase Community Giving. The organization needs your vote!

To Vote on Facebook: 1) Click Here. 2) Click the "Vote" button next to the Move For Hunger logo. Click "Allow Access."

Thanks!
Founder & Executive Director of MFH Adam Lowy says: "When Bruce gave us his support, we were blown away! When I first started Move For Hunger, I never could have dreamed of having someone as amazing as him become involved with our organization. He and his wife have always championed feeding the hungry. He mentions it at his concerts and has truly been a great advocate for the cause. As someone who was born and raised in New Jersey, it is unbelievable to have the Boss on our side!"
Let's help make it happen: read more here, or vote now!
- October 4, 2011

SPRINGSTEEN MEETS SOPHOCLES
The River provides soundtrack for Greek tragedy in Chicago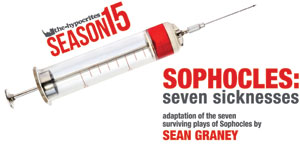 Songs from The River set the mood for a current theater production in Chicago. (What could be a better combination than Sophocles with "Wreck on the Highway" and "Point Blank"?) Sophocles: Seven Sicknesses presents the playwright's seven surviving plays adapted by one of Chicago's most inventive theater directors — Sean Graney of The Hypocrites, a small but feisty company. I'm told that Graney was listening to songs about murders to accompany gory stories such as Oedipus, Elektra and Antigone and some lesser known plays such as Philoktetes and Ajax. He found the soundtrack he needed in The River album and chose about ten songs, which he excerpted, and in some cases revised the lyrics.
Cast members sang parts of the songs with minimal musical accompaniment: Elektra sang "Sherri Darling" in a muddy mad scene as she waited for her long-lost brother Orestes to return; Creon sang "The Ties That Bind" during a particularly dysfunctional family scene. Blood and gore were everywhere, but fortunately the plays were set in a contemporary hospital emergency room, so nurses and mops were on hand. Other songs performed in part were "Wreck on the Highway," "Stolen Car," "Fade Away," "The Price You Pay," "Drive All Night," "The River," "Two Hearts," and, to accompany gunfire, "Point Blank."
The seven plays were adapted to 20-30 minutes each, and the experience is close to four hours in all, including a dinner break with meal provided. But time flies! Finally, at the end and after enthusiastic audience applause, I was happy to hear the Springsteen cut of "Two Hearts" over the theater's sound system. It may sound odd, but the music really worked as illustrative of the human condition. And both Sophocles and Springsteen have something to tell us today. Sophocles: Seven Sicknesses runs until October 23 at the Chopin Theatre building in Chicago's Wicker Park neighborhood.
- October 4, 2011 - Nancy S. Bishop reporting


WE'LL SLEEP IN THE FIELDS OF GOLD IN THIS, ER, HARD LAND
Or, I Guess It's All True What Your Girlfriends Say
Springsteen joined his old Human Rights Now! tourmate Sting at the Beacon in New York last night, for the Tantric One's 60th birthday concert. Performing material from his Police and solo careers, Sting was joined by numerous guests including Stevie Wonder, Billy Joel, Branford Marsalis, and particularly stellar turns from Rufus Wainwright, Lady Gaga, will.i.am, and Metropolitan Opera star Bryn Terfel. Around 25 musicians were on stage at any time, with the back row containing a brass and string section. Sting kept the groove jazz-heavy, with only his duet with Bruce on "Can't Stand Losing You" and Lady Gaga's killer version of "King Of Pain" (on piano, she was pounding the keys with her foot at one point) as the two songs which rocked out hard.
Springsteen was the final guest of the night to take the stage, three hours into the four-hour show — at which point the birthday boy left it to him. Bruce was the only guest artist who got stage to himself. He did three songs, all Sting-penned: "I Hung My Head" on the Telecaster; a you-could-hear-a-pin-drop version of "Fields of Gold," solo acoustic; then his duet with Sting on the Outlandos d'Amour classic "Can't Stand Losing You." Jaw-dropping.
The energy level in the room dialed way up when Bruce took the stage, and of course he brought up the legend of Sting having sex for days on end: "Happy birthday, buddy. I've known Sting for 23 years; we met in 1988 on the Amnesty tour and established a long friendship. It's very unusual, when I read about him, I never recognize him as the guy I know. I pick up a magazine and read that Sting can make love for 29 hours. I wonder why he never mentioned that to me? After four hours, I think you're supposed to seek medical attention. Most last for 28 hours, 55 minutes less... Stay hard, brother!" The crowd was howling.
Bruce and the whole entourage came out for "Every Breath You Take," making the song swing. Billy Joel and Lady Gaga were trading choruses on a shared mic, having a great time. Finally Bruce was there, too, for a closing serenade of "Happy Birthday" that found Sting's wife Trudie leading a Gaelic bagpipe troupe as they marched from the lobby down the aisles, a lengthy celebratory number. Sting said it was the best birthday he ever had. A great night for the rest of us, too, and good to see Bruce back on stage doing his thing.
- October 2, 2011 - Bill Noke reporting; additional reporting by Brian Lattman

ROCK 'N' ROLL SATURDAY NIGHT
Tomorrow, October 1, is a big night: Down in Florida, it's The Classic Rock & Roll Party: A Tribute to Clarence Clemons, a benefit for HomeSafe. For the last five years Clarence hosted this top-notch charity event, raising considerable funds for the non-profit organization to help victims of child abuse and domestic violence. For this year's Classic, family and friends come together to continue and honor Clarence's work. With Bill Clemons now on board, that brings the number of Clarence's family members involved to three: Brother Bill on baritone sax, nephew Jake on lead sax, and wife Victoria giving a live, personal tribute to her husband. Also performing will be Gary U.S. Bonds, JT Bowen, the Temple of Soul, and more.
In addition to live entertainment, Eric Meola has donated a signed artist's proof to the charity, to be auctioned off at the Seminole Hard Rock Hotel & Casino on Saturday night. This image [above], from the book Born to Run: The Unseen Photos, is Eric's favorite image from that shoot and was the inspiration for Clarence and Bruce's back-to-back stance for 2009's E Street Band Super Bowl appearance. Watch for a couple more Meola prints to be auctioned for HomeSafeonline in the coming weeks.
Also on Saturday: Springsteen will take the stage at NYC's Beacon Theatre, joining Sting to celebrate Mr. Sumner's 60th birthday. If you're attending the festivities, we'd greatly welcome your report!
- September 30, 2011 - photograph by Eric Meola

BRIDGE SCHOOL SHOWS GET 25th ANNIVERSARY COMP, DUE OCT. 24

With the Tom Joad and Devils & Dust tours (and numerous other strumfests over the last 20-something years), we've become accustomed to Bruce in stripped-down mode. But back around the Born in the U.S.A. stadium days, Springsteen hadn't played a full acoustic set since the early '70s — until he took the Shoreline Amphitheater stage for Neil Young's Bridge Benefit on October 13, 1986. With that 25th anniversary fast approaching, a new release will celebrate a quarter-century of Young's now-annual concerts supporting the Bridge School.
With so many great nights to draw from, a compilation like this was bound to be a goldmine of performances, while not exactly a goldmine for Bruce or any other individual artist. So there's nothing here from Springsteen's return appearance in '95, which previewed the Joad tour. But the set — both the 2CD and 3DVD packages — kicks off with his stunning, unprecedented acoustic "Born in the U.S.A." from '86. It joins "Fire," on Springsteen's Video Anthology, as another officially released clip from 10/13/86.
The Bridge School 25th Anniversary Edition CD and DVD sets drop on October 24. For more details, including a trailer and full track listing for each, visit the title's Reprise webpage.
- September 28, 2011

FOR YOU RAFFLE ENDS SUNDAY, OCTOBER 2
In support of the Marathon of Hope - The Terry Fox Run, Lawrence Kirsch, publisher of For You: Original Stories and Photographs by Bruce Springsteen's Legendary Fans and The Light in Darkness, is holding a raffle with a chance to win a brand new copy of For You. The book has been sold out since December 2008 (first edition copies of For You often sell for hundreds of dollars on eBay, and there are currently no plans for a second edition), and this one is signed by Kirsch. Raffle tickets, proceeds of which benefit cancer research, can be purchased until Sunday, October 2 — click here for the full scoop.
- September 27, 2011


"I DON'T GET NERVOUS FOR MUCH..."
Above, Tom Morello talks about performing "The Ghost of Tom Joad" with the E Street Band as an inspiration for his latest Nightwatchman effort, World Wide Rebel Songs. Watch him take on "Joad" again in a recent performance for Rolling Stone here. And don't forget we've got a free Nightwatchman mp3 available now on our Downloads page.
- September 26, 2011

THE 2011 BOSS DAY SALE AT BACKSTREET RECORDS
A lotta stores have Presidents' Day sales... here, we've got Boss Day. To help celebrate Springsteen's 62nd, we're having a shop-wide sale: get 9.23% off your entire Backstreet Records order of any amount! From now through the weekend, that's 9.23% off everything we sell. Just use the coupon code BOSSDAY11, and the discount will be applied across the board at checkout.
To everybody who took advantage of our pre-order sale for the new edition of Frank Stefanko's book of Springsteen portraits: we received our stock of Days of Hope and Dreams this week, and your copy is on its way to you now. Thanks for pre-ordering with us.
This new, second edition, unlike the first edition, is a hardcover, coffee table edition with a new cover photograph. If you missed the pre-order sale, the book is in stock now, and this Boss Day sale is another chance to get a discount! This and many other Springsteen books and songbooks and... well, everything we sell, all 9.23% off through Sunday midnight.
Don't forget to use the coupon code at checkout: BOSSDAY11
- September 23, 2011

62 CANDLES
Raise a glass, people — today the man himself turns 62. And as usual, Springsteen is looking forward, not back: this very morning comes news from the Associated Press that "Steve Van Zandt says Bruce Springsteen and the E Street Band will get together over the next couple of weeks to discuss how the band will proceed without Clarence Clemons."
The Big Man — "'That's a void we will never replace' Van Zandt said. But the E Street Band guitarist feels they will still play music until the end because he says: 'That's what we do'."
Happy birthday, Boss Man — good luck figuring it all out, and may the year to come hold joyful noise, for you and for all of us.
- September 23, 2011


A NIGHT SO TENDER
Last month Graziano Romani held his annual fan gathering in Italy, which this year was dedicated to Clarence Clemons. Here's "Jungleland." And at the risk of sounding like a broken record: if you like the sound of this, consider it an appetizer and check out his tribute disc, Soul Crusader: The Songs of Bruce Springsteen. From song selection (nothing obvious) to performance, a very tasty dish. Not the easiest thing to find here in the States, but Graziano makes sure our larder is stocked.
- September 21, 2011

CATCH MAX LIVE NEXT WEEK — IN NYC, OR ONLINE
Live HD webcast on Thursday 9/22


As announced yesterday, Max Weinberg will be sharing a stage with Springsteen at the Stand Up for Heroes benefit in November, leading his Big Band. If you want to catch Max sooner, you'll get a chance next week with a Max Weinberg 7 performance that's being broadcast live online — in 24-track HD audio and HD video, no less. The Max Weinberg 7 plays a series of shows at Manhattan's historic Iridium (best known as the home of Les Paul), September 22 - 24. View the entire first night at theiridium.com/iridiumlive, Thursday 9/22 beginning at 8:00 pm. For more information on the three-night stand visit theiridium.com, with tickets onsale now at ticketweb.com.
9/18 update: The shows are still happening, but the Livestreaming no longer is.
- updated September 18, 2011

HOMESAFE TRIBUTE TO CLARENCE COMING UP ON OCT. 1
Jake Clemons, Bowen, and Bonds to honor C in South Florida

Following Clarence Clemons' death, HomeSafe was designated by his family as the officially-named recipient of donations being made in his honor and memory. For the last five years, the Big Man helped raise millions for the South Florida non-profit, hosting his Clarence Clemons Classic Rock & Roll Party annual fundraiser. This year, that event becomes The Classic Rock & Roll Party — A Tribute to Clarence Clemons.
On October 1 at the Seminole Hard Rock Hotel & Casino in Hollwood, FL, the benefit will being together the Temple of Soul as house band, Jake Clemons, Gary U.S. Bonds, J.T. Bowen, Davy Jones, and more for night of music to honor the Big Man's and HomeSafe's continuing mission of helping victims of child abuse and domestic violence. Clarence's longtime music director John Colby is doing the honors production-wise, and Nicko McBrain (did you know Clarence was buddies with the Iron Maiden drummer?) will emcee. Victoria Clemons, Clarence's widow, will give a live, personal tribute to her husband followed by a video tribute.
Tickets are $500 per person, and include a full course meal, beverages, and live entertainment. For more information, tickets, and sponsorship opportunities, visit theclassicforhomesafe.org.
- September 15, 2011

BRUCE BACK AT THE BEACON FOR WOODRUFF "HEROES" BENEFIT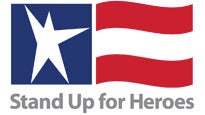 For the fifth year, Springsteen will perform at the annual Stand Up for Heroes benefit in November, a New York Comedy Festival benefit for the Bob Woodruff Foundation. Also returning are the Max Weinberg Big Band and Jon Stewart, with Ricky Gervais and Jim Gaffigan on the bill as well. This "night of hope, healing and laughter" takes place at the Beacon Theatre on November 9.
The general onsale is tomorrow, September 15, at 10 a.m. through www.ticketmaster.com, www.beacontheatre.com, or www.nycomedyfestival.com; an American Express pre-sale runs through 11 p.m. tonight.
- September 14, 2011

THE MAN FROM MARS STOPPED EATIN' CARS, AND NOW HE ONLY EATS GUITARS
Sure, there have been plenty of new-album rumors flying around lately, but who the heck saw this coming? As The Onion reports: "Bruce Springsteen Releases New Sci-Fi Concept Album About Struggles of Poor Miners Working on Mars."
Songs on the new Red Dust include "Dead Man's Home," "Icecap Cadillac," "Solid Ground" and "Martian Shoulders." Springsteen says,"These are songs about growing up on a tough planet... The Martians aren't trying to run away from their lives or make excuses. They're proud of what they do and where they're from, even if the high-impact ion-compression carbonate mining industry isn't what it used to be."
Get the full scoop at theonion.com!
- September 14, 2011

IN PJ20, SPRINGSTEEN LOOKS INTO THE REARVIEWMIRROR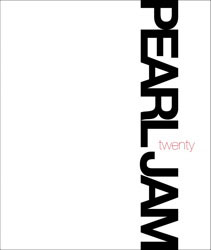 "The first songs I heard of Pearl Jam's, I believe, were 'Alive' and then 'Jeremy'... I knew from that tremolo and the power of their band that Eddie and Pearl Jam were going to find themselves smack dab in the middle of it all."
Today is the release of Pearl Jam Twenty, the companion book to the documentary of the same name marking that band's 20th anniversary. A comprehensive look of the history of that band, authored by Jonathan Cohen, the book includes quotes and photographs from many friends and admirers, including one Bruce Springsteen.
In original interviews conducted specifically for the book, Bruce speaks about his first exposure to the band, Eddie's appearances onstage with the E Street Band, and his thoughts regarding the reason for the band's success and longevity.
Most notable is Bruce's observation of Eddie's 10/13/04 appearance with the E Street Band at the Continental Airlines Arena as part of the Vote For Change tour:
"Eddie joining us was a small revelation. As we broke into 'Better Man,' it became obvious, as the audience sang loudly along, that they were as familiar with Pearl Jam's music as they were with mine."
There's also an interesting observation about Bruce from Eddie Vedder. Discussing the day after the 2004 elections: "I didn't get out of bed," Vedder remembers. "However, while I couldn't get myself out of bed, I heard that Springsteen on that day was making a call to someone he makes with records with saying, 'I have to make a record.' Two different approaches there."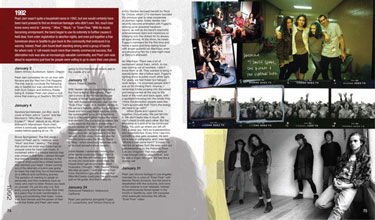 The book is a remarkable package of history from the band's perspective, filled with photographs and information from every one of the band's 20 years together. Bruce's final comment about the band's longevity echoes some of the things he's said about the E Street Band over the years:
"To keep your band alive for a long period of time requires the questions you're writing and dealing with to remain open. That can be uncomfortable and difficult if not impossible to sustain for a lot of artists, but it constantly pumps fresh blood into your group. That sense of continuing adventure, along with the ability to physically and emotionally hold it together, thwarts most artists aspiring to long careers."
The book is a beautiful and exhaustive autobiography chronicling the band's history through their perspective.
- September 13, 2011 - Caryn Rose reporting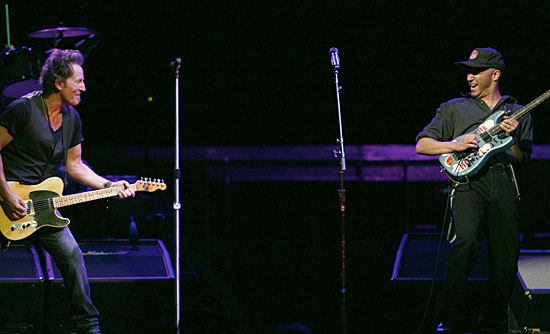 FREE DOWNLOAD: TOM MORELLO THE NIGHTWATCHMAN
Rage Against the Machine's Tom Morello blew minds on the Magic tour when he joined Bruce and the E Street Band for a scorching "The Ghost of Tom Joad." Their initial performance was captured for posterity on the Wrecking Ball 10-inch and, in both audio and video formats, the Magic Tour Highlights digital EP.
That electric version notwithstanding, it was actually Springsteen's Tom Joad troubadour mode that inspired Morello's solo project, The Nightwatchman. "My transformative live experience — the first time I saw Bruce and was bowled over — was the Ghost of Tom Joad tour," Morello tells Backstreets. "I was very moved at how heavy and powerful a solo acoustic performance could be. That definitely planted the seeds for my later Nightwatchman work."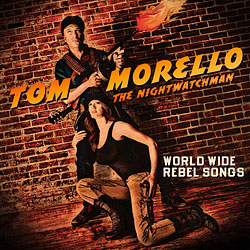 As Springsteen said in his concert intro, "Tommy also makes great acoustic records." But as time has gone by, Morello's Nightwatchman recordings have evolved to encompass a wider sonic spectrum, reincorporating Rage-style riffs. He tells us that his new one, World Wide Rebel Songs, is "Part Johnny Cash, part Che Guevara, and part Marshall stack. That was the modus operandi. This is the 14th studio record of my career, and I figured if I'm not comfortable now with all elements of my artistic personality, I'm never going to be."
The vinyl LP drops tomorrow, and the CD is avaialble now. Thanks to Tom, we've got a FREE download of a track from World Wide Rebel Songs, "It Begins Tonight" — check it out on our Downloads page now. "The song 'It Begins Tonight' I wrote as an opening song for the concert. I wanted somethng that would encapsulate both musically and personally what I'm about this time around: it has the political angst and the somewhat bleak world view... but it's got a hell of a guitar solo," he laughs.
Download "It Begins Tonight" now,
and find more online at nightwatchmanmusic.com.
- September 12, 2011 - photograph by Levi Pervin [levrock.com]


JACKET'S ON, I'M OUT THE DOOR
Some classic Stone Pony memorabilia is on the auction block now: two of Pony DJ Lee Mrowicki's satin jackets. Both eBay auctions end tomorrow — check out his black jacket from 1977, and the silver staff jacket from the '80s.
- September 12, 2011

A DREAM OF LIFE

"First people were saying to me that it was a 9/11 album," says Dave Marsh of The Rising. "And I'd say no, it's about 9/12. And then as I listened more I realized: well, that's an element of it, but it really is about coming to terms with our mortality."
Marsh spoke at length with Los Angeles DJ Mike Stark shortly after the album was released, and LA Radio Studio now presents a three-part podcast that integrates Marsh's observations with the album itself, for a track-by-track analysis. If you're spending any time listening to The Rising today, as many are, you'd be well served to check out this "extended remix," hosted at spinbridge.com. Listen online, or download mp3s of the podcast: Part 1 - Part 2 - Part 3.
- September 11, 2011


ONE FOR THE WEEKEND
Rose Center for Earth and Space, New York City, August 29, 2002.
- September 10, 2011

FREE DOWNLOAD: NILS LOFGREN'S "WHEN YOU ARE LOVED"
Nils Lofgren has written a new song regarding 9/11, which he's sharing in memory of all who were, and continue to be, affected by this tragic day. Titled "When You Are Loved," it's a song honoring heroes, victims, and families. Says Nils:
"When You Are Loved" is a song written to honor the love, courage and spirit of the 9-11 victims and their surviving family members. In this instance, a grieving wife and mother, with a young son, finds the strength and spirit to carry on, honoring her fallen husband and loving their child.

Whether a fireman, policeman, EMT or any of the hundreds of first responders and citizens who heroically gave their lives saving others, in addition to the thousands of victims, the surviving parents and family of every age, now have a mountain of grief to navigate and we all remain inspired and grateful at their dignity and spirit on this lifelong, overwhelming journey.

May God bless you all and may God bless America.
—Nils Lofgren
Get the "When You Are Loved" mp3 now on our Downloads page.
Plus: Nils will be a special guest on Tom Cunningham's Bruce Brunch this weekend, a special three-hour edition on Sunday morning, September 11. "The songs from The Rising will naturally be the cornerstone of the show," Tom tells us, along with classic Springsteen NYC songs and those about "community & friendship & faith & hopes & dreams." WhyHunger founder Bill Ayres guests, too. Tune in an hour earlier than usual, at 8 a.m. Eastern, to catch the full three hours. The Bruce Brunch is on 105.7 The Hawk at the Jersey Shore and streaming everywhere at 1057thehawk.com.
- September 9, 2011


FLASHBACK: ON THE STREETS OF COPENHAGEN
Bruce Springsteen's recent busker-do in Boston Public Garden is a story with legs, being picked up this week by outlets including CNN.com. For many fans, it was a flashback to another Boss encounter from way back in the Tunnel of Love era — a busking performace that lasted far longer than 27 seconds.
On July 23, 1988, Springsteen encountered Icelandic street musician Jón (Sir JoJo) Magnússon on Stroget, the popular car-free strolling zone in Copenhagen, Denmark. The Friends of the Bruce Springsteen Special Collection recently spoke with Magnússon: performing for change in front of a shuttered porn theater that day, he was approached by "a guy who asked me if I could play some Bruce songs for Bruce, because he would be coming down the street. I was used to that kind of joke, so I didn't believe him. Then I looked and I saw somebody walking with a tall man, and thought that he could be Bruce Springsteen. So I called out 'Hey Bruce, why don't you come and play us the real thing?'"

As Magnússon told The Friends, he and other musicians on the streets of Copenhagen were "running with one another, playing cafes and chasing rainbows. We were very poor at the time, just making money for beer and butter." Then, a strange twist. "The guy I was playing with had gone to get a beer, to get ready for the cafes." So when he called out to Springsteen, Magnússon had an extra guitar.

At first, Springsteen kept walking, but suddenly he made a U-turn and walked back. Magnússon handed him a guitar. A small crowd gathered, all "too surprised to know what their reaction should be. Superstars didn't do stuff like this." Springsteen, however, launched into "I'm on Fire" with Magnússon as stunned as anyone. "I felt a moment like this wouldn't come again, so I went behind his back and started strumming along — I didn't really know how to play his songs, except in a street [sort of] way. I saw he got a little bit, 'Wow, what's going on?,' but he just kept on playing."

After the last "ooh, ooh, ooh I'm on fire" faded away, people started calling out requests. Springsteen proposed "Hungry Heart." Magnússon didn't know the chords, but he knew some for "The River," which seem to suit Springsteen. Thereafter, unwilling to stop at two, Magnússon suggested "Dancing in the Dark." "He got on with that, too, though he knew by then that I was just another street kid making the best I could out of the instrument I had."

When the three-song set came to an end, Springsteen resumed his stroll, and Magnússon continued "busking streets and clubs up and down Europe" until 2001, when he settled down "in my little hometown, Reykjavik, Iceland." There he does charity work, helping young people with their musical careers, and getting involved in anti-violence campaigns. He's working with Austrian musician Nikolaus Kattner to bring attitude-laden street music indoors and has recorded Icelandic folk rock with a variety of guest musicians.

Initially, Magnússon looked back on that day with a mixture of emotions. Even a street musician fleetingly connected to Springsteen suddenly finds that "people start placing you into a frame to be something that you aren't, so it was a bit of frustration and confusion from time to time and I certainly was not really prepared to live up to it. But for real, I never did see this as so serious as so many have since. For me this was just a moment of fun. The rich man and the poor man. For us street players everyone simply is a star on the street, but I'm forever thankful for the joy and the love he shared with us all — as he still does as a great musician and performer."

Magnússon donated the guitar Springsteen played that day to an underground auction in support of opening a music house in Reykjavik. "It still even had the same strings"" says Magnússon.

For more on The Bruce Springsteen Special Collection, visit brucespringsteenspecialcollection.net.
- September 9, 2011

THAT SAME UNBELIEVABLE BLUE
One of our favorite writings on 9/11 and The Rising, by Toby Sullivan, is back online:
The night before the solstice in June we sat in the kitchen in Uganik Bay staring at the water in front of the cabin and the sun falling into the mountains on the mainland. There were twenty-six hundred pounds of red salmon on the day's fish ticket tacked to the wall, and after supper we just sat there putting off doing the dishes, content in our exhaustion, listening to the radio chatter of the other fishermen in the bay. The voices slowly died off and then the only sounds were the low surf on the beach, the shifting of one of us in his chair, a bottle touching a glass, my eleven-year-old son's spoon stirring his cocoa. I thought about calling it a day and going to bed, but then Jeremy, a friend I had hired as a crewman, got up and put on Bruce Springsteen's The Rising. "You gotta hear this," he said. "It's about 9/11, but y'know, I think it fits tonight. I'm not sure why."
Continue reading "That Same Unbelievable Blue" at anchoragepress.com.
- September 8, 2011

GLORY DAYS IN RIMINI IS BACK FOR LUCKY 13

The annual Springsteen weekend in Italy, Glory Days in Rimini, is being held for the 13th year, this year a whopping five days dedicated to Bruce: from September 29 to October 3, 2011. This year's "Gotta Get That Feeling" gathering is being dedicated to the memory of Clarence Clemons. Fans from all over Europe will gather for a weekend that kicks off on Thursday with an unplugged show, and continues through Monday with Bruce-centric performances from Miami & the Groovers, Daniele Tenca, Daniele Rizzetto, Antonio Zirilli, Glory Days host Lorenzo Semprini and more. Saturday afternoon will bring a special look at Zurich '81. All events are free — find out more at www.glorydaysinrimini.net.
- September 8, 2011 - photographs by Eric Meola

SOUNDCHECKING THE RISING
Today on WNYC's Soundcheck, film critic A.O. Scott looks back at The Rising: "powerful and popular... full of hope... [a] tribute to sacrifice and redemption." Listen here.
[The Gawker ain't buying it.]
- September 8, 2011


HOW FAR I'VE GONE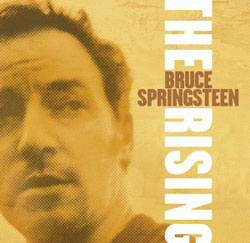 The Rising won't turn ten until next year — July 30, to be precise — but the milestone is being marked early, thanks to the ten-year anniversary of 9/11 this coming Sunday. In the Philadelphia Inquirer, Dan Deluca writes: "When it comes to music inspired by Sept. 11, nothing looms larger than The Rising.... [the album] stands apart for the scope of its ambition, and its typically Springsteenian acceptance of a job that needed to be done."
The National Catholic Weekly America delves into The Rising and its message from a spiritual standpoint:
...Springsteen and his E Street Band opened a kind of contemplative space, through music and poetry, for the possibility of something unexpected in the wake of evil: a moment for self-examination, healing and grace. Now, nearly 10 years later, the album deserves fresh consideration, not least for the way it navigates the vexatious relationship between memory and hope—hope, that is, for something more than the same cycle of retribution, bloodshed and despair.
There's The Rising as teaching aid, and as solace: with "Measuring Time: Music for 9/11/11," New York's WNYC has been polling its listeners on what music they'd like to hear "as you thunk about the events of ten years ago." According to guardian.co.uk, The Rising has been tracking at number 3, topped only by Samuel Barber's "Adagio for Strings" and Ralph Vaughan Williams' "The Lark Ascending."
9/7 update: Across the Atlantic, the Netherlands Broadcasting Foundation has a piece called "Popcultuur verwerkt 9/11 voorzichtig (Pop culture processes 9/11 carefully)," which leads with a look at The Rising: "Tragedy can inspire.... The Spanish Civil War gave us Picasso's Guernica. The First World War gave us the British War Poets. Without Vietnam, no Apocalypse Now. But it's remarkable how all the different forms of art needed its own period of incubation after 9/11. One of the first artists who reacted with his work on the attacks was Bruce Springsteen...." [Thanks to Mary'sPlace for the translation.]
- Updated September 7, 2011


SOMEWHERE ACROSS THE BORDER
After Springsteen borrowed busker David Gonalez's guitar and strummed one of his tunes (see video below), local media spoke with the Argentinian native for some back story. In addition to the WHDH report above, the Boston Globe reports:
The busker told the Boss he'd never seen him in concert, but tried in 1989 when Springsteen... played a benefit for Amnesty International in Buenos Aires. Gonzalez was living in Patagonia at the time and couldn't afford the trip.

"I told him the music I make is music therapy," said Gonzalez. "Music is the only way we can win from oppression. We need it every day. That's what I told him."

He then asked if Bruce wanted to play a song. Smiling, Springsteen politely declined, but he did strum a riff from one of Gonzalez's songs....

As he was leaving, Bruce put his hand in his pocket and dropped a few bucks into the guitar case. Gonzalez won't say how much, but it was generous.

"He said, 'This is for that trip you never made,' " said Gonzalez.
- September 5, 2011

MAN MEETS ALBUM AND THEY FALL IN LOVE
Saf Manzoor, author of Greetings From Bury Park, champions Springsteen's perennially underrated Tunnel of Love:
Rock music can sound hopelessly naïve as one enters adulthood; songs become vehicles for nostalgic time travel. The genius of Tunnel of Love is that its themes have become more pertinent with time; adulthood is after all a process of accepting the absence of absolute certainty and Tunnel of Love is a record riddled with doubt and the impossibility of truly knowing oneself or those to whom we entrust our love: in the words of Brilliant Disguise: "God have mercy on the man who doubts what he's sure of." I know of no other album that has better captured the messy three dimensional reality of relationships.
Read "My favourite album: Tunnel of Love by Bruce Springsteen" at guardian.co.uk.
- September 2, 2011


SECRET GARDEN
It's back-to-school time, and Bruce is back in Boston... which led to this suprise bit of busking in the Boston Public Garden yesterday, as reported on the Boston Herald website. Springsteen sure is getting stingy with his concert performances, though. Remember when they were, like, five-hour marathons? Yeah, this was an acoustic show... but still.
- September 2, 2011

OCTOBER 1: FOR STING'S 60th, A NYC SERENADE FROM BRUCE
Well, it ain't a tour... but there's at least one performance now scheduled for the Boss this fall. Sting, celebrating his 60th birthday as well as 25 years as a solo artist, is hosting a big benefit concert in New York on October 1; according to Sting.com, his old Human Rights Now! tourmate Bruce Springsteen will be among the night's "special guest performers." The concert will benefit the Robin Hood Foundation to fight poverty in New York City.
Besides reuniting Springsteen with fellow guest Lady Gaga, the concert will also put him back on stage with E Street alum (now-longtime Sting keyboardist) David Sancious. Also announced as guests: Billy Joel, Stevie Wonder, Branford Marsalis, and more. Unfortunately tickets won't be availabe to the general public, but Sting.com fanclub members get a shot as of today. See Sting.com for further details.
- August 31, 2011


WHAT HAPPENED IN VEGAS: NILS LOFGREN, 8/27/11
Thanks to the amazing talent of the man the Boss so accurately introduces as "the great, great Nils Lofgren," a highly enthusiastic crowd of about 400 was treated to an incredible night on Saturday here in Las Vegas. Nils was in amazingly good form at the Sunset Station Casino in Henderson — or as he put it, "great to be back here in Henderson, Nevada... and surrounding suburbs." Along with Greg Varlotta, the multi-faceted musician who served as, in Nils' words, "our band tonight," Nils illustrated why he has long been revered as one of rock's great, and greatly underrated, musicians. Not only did he perform some scathing electric and acoustic solos, but added electric harp and even some sort of "walking stick" to his list of instruments he mastered for the evening's performance.
Highlights of the evening included a beautiful opening tune, best described perhaps as Neil Young-esque in the best sense of that term, called "Too Many Miles"; a few well placed nods to his solo '80s hits; and a lovely version of his "Black Books" as featured on The Sopranos. A beatific, and both heartfelt and heart-wrenching "I Miss You C" was dedicated to his "close friend" who recently passed, the once, and future, Biggest Man You'll Ever See. But the most memorable moment was a scorching version — featuring that solo we've all come to know and shake our heads in disbelief at — of the Boss' "Because the Night." (But hey, don't take my word for it, watch the video and shake your own head.)
Of course, Nils being Nils, he also graciously stayed after the show to sign autographs, and pose for photos with grateful fans.
As you may have read, we've been going through some pretty tough times here in Sin City in recent years — but one of the few great things remaining about living here in America's Foreclosure Capital is being privy to great entertainment, and specifically, getting to see wondrous shows such as this one, in an intimate setting, by one of this country's greatest living musicians.
In a year of much sadness, and as the E Street Nation begins to pick up the pieces in a "post-C" world, I was reminded after this inspiring show of the late Teddy Kennedy's speech in which he said: "the work goes on, the cause endures, the hope still lives, and the dream shall never die." Because, as we were reminded on Saturday, the night (still) "belongs to us."
Nils hits the road again in October, for a string of shows in the northeast. See nilslofgren.com for dates.

- August 31, 2011 - Phil Levine reporting - photograph by Scott Harrison