REGISTER BY SUNDAY NIGHT FOR NEXT BROADWAY ONSALE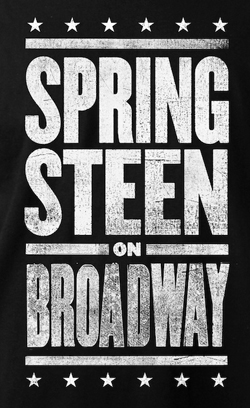 The additional run of Springsteen on Broadway dates, from December 5 through February 3, will go on sale on Thursday, September 7.
As with the first onsale, prospective ticket buyers must register (if you haven't already) for Ticketmaster's Verifed Fan process in order to have a shot at purchasing. Registration is here, and it closes this Sunday, September 3, at 10pm Eastern.
According to Ticketmaster, Verifed Fan "registration is open now to all fans who did not register for the initial onsale and for those who successfully completed a ticket purchase." Anyone who registered initially and did not get tickets (whether on standby or just didn't purchase for any other reason) does not need to reregister.
Brucespringsteen.net states that "Verified fans will be notified September 6 for the September 7 on-sale"; it's worth nothing that for the first onsale, that night-before notification came via email, at approximately 9:30pm Eastern.
For further information, see the link above as well as Ticketmaster's Springsteen on Broadway #Verified Fan Onsale FAQ, which has been updated to reflect the extended run and new onsale.
All dates are now listed on our Tour/Ticket Info page.
- August 31, 2017



BROADWAY ONSALE: THE MORE YOU KNOW
Many fans have questions as we head toward tomorrow's Springsteen on Broadway ticket sale, and not just "Will I score?" We don't have all the answers — "Will tickets be transferable?" is still an open question — but we should be able to clarify a few things here.
Tickets for Springsteen on Broadway go on sale at 10am Eastern tomorrow, August 30, for Verified fans only. Registration to become a Verified Fan closed on Sunday night — though you can think of it as more of an application to become one, since verification isn't guaranteed. For those who registered, Ticketmaster Verified Fan alogrithms are intended to differentiate fans from bots and scalpers: "This unique fan-first technology levels the playing field to combat bots and get real tickets into the hands of fans who intend to go to the event."
E-mails today/tonight
Blink and you'll miss it, but at brucespringsteen.net/broadway is this statement: "Verified fans will be notified August 29 for the August 30 onsale." We were able to ask a Ticketmaster representative what that means:
"All fans who register and are verified will receive details to prep for the onsale via email on August 29. These emails will arrive to fans in the late afternoon/evening and will help provide details for the best purchase experience. Please read in full, we included helpful tips to navigate your purchase."
So watch your inbox later today/tonight for an email, and be sure to check your spam folder just in case. But bear in mind that receipt of an email does not guarantee an offer code.
Codes tomorrow, starting ~6am
If you receive the email notice tonight that you've been Verified, the next step comes tomorrow morning, two-four hours prior to the 10am onsale, when offer codes will be sent out via text. Not all verified fans will receive a code. As specified at the Springsteen on Broadway Verified Fan Onsale FAQ, Verified fans will be "randomly selected to receive an offer code to purchase tickets."
Ticketmaster tells Backstreets that the codes are not transferable: "They will be linked to the Ticketmaster account the fan registered with."
10am onsale tomorrow
Getting Verified, getting an offer code... those are the preliminary hoops to jump through. Then there's the onsale itself, the sort of thing you're used to by now, with no guarantees of a score. Again from the FAQ: "Receiving a code does not guarantee you will get tickets.... If you receive an offer code you will have the chance to unlock access to tickets. However, due to demand the ability to purchase tickets is not guaranteed."
There is a ticket limit of two. Ticketmaster was unable to detail pricing tiers for us beyond the previously stated range of $75-$850, but we did get some insight into how date selection will work: "A fan can pick a show date. There won't be an 'any date at all' option." So picking a particular performance is a decision you'll need to make.
Presumably the email sent out tonight will have further details and information for fans gearing up for tomorrow. We'll be especially curious to see whether it addresses transferability of tickets from one fan to another. In the meantime, you can visit links above for further information, and also check out Chris Jordan's piece in yesterday's Asbury Park Press, "Bruce Springsteen on Broadway: The Ticketmaster factor."
And may the Verified Ticket Gods be with you.
4:25pm update: Ticketmaster has updated the Springsteen on Broadway Verified Fan Onsale FAQ with additional information, worth reading in full, including the indication that tickets will be transferable between Ticketmaster accounts.
- August 29, 2017


MIGHTY MAX ON THE BRUCE BRUNCH
Tom Cunningham hosted Max Weinberg on his weekly Bruce Brunch program yesterday, talking about the Mighty One's Jukebox tour — which stops at the Stone Pony this week — as well as his Broadway days. Listen above, with thanks to Tom and audio editor Gary Titus. Originally aired August 27, 2017, on the Jersey Shore's 105.7 The Hawk.
- August 28, 2017



BRUCE TO CLOSE INVICTUS GAMES TORONTO 2017 NEXT MONTH
Mere days before Springsteen on Broadway preview performances begin, Bruce Springsteen will be playing a venue far larger than the 960-seat Walter Kerr Theatre, returning to Toronto's Air Canada Centre for the 2017 Invictus Games.
Springsteen has signed on to perform at the Closing Ceremony on September 30, to "honor the achievements of the 550-plus wounded, ill and injured service members and veterans from 17 nations during the third edition of the Invictus Games." Also on the bill: Bryan Adams, Bachman & Turner, Kelly Clarkson and Coeur de Pirate.
Springsteen says, "At the Invictus Games, it's not just about the hurdles that competitors experienced during competition, but about overcoming the obstacles that life has presented them. The Games are a remarkable opportunity for brothers and sisters in arms to join forces and demonstrate the true strength of their spirit. It is an absolute honor and privilege to perform for them at the Closing Ceremony as a send-off to a week of competition in Toronto."
Further information is available at brucespringsteen.net, and tickets are available through ticketmaster.ca.
- August 28, 2017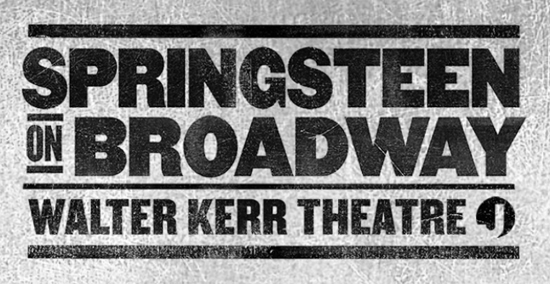 BRUCE ON BROADWAY: LAST CALL TO REGISTER
To even have a chance at tickets for the Broadway onsale on Wednesday, Verified Fan registration is required — and it closes tonight at 10pm Eastern. If you haven't already, sign up at springsteen.tmverifiedfan.com.
- August 27, 2017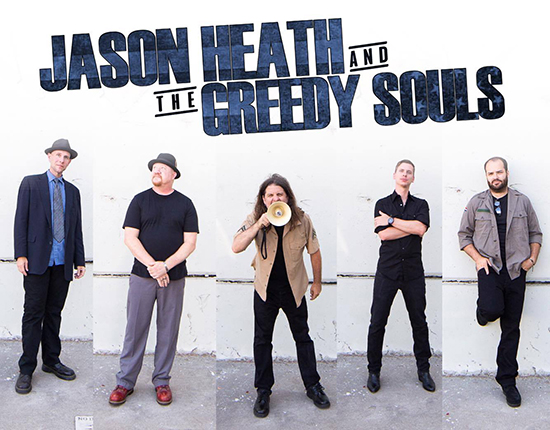 HELP JASON FEDERICI'S BAND FINISH UP THEIR NEW ALBUM
New PledgeMusic pre-order campaign also benefits The Danny Fund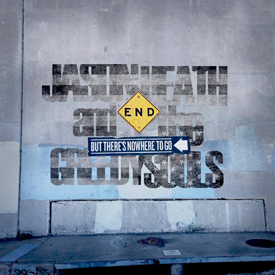 Jason Heath and the Greedy Souls, which features Danny's son Jason Federici [second from left above], has launched a PledgeMusic campaign for their new album, But There's Nowhere to Go. Supporting the campaign will help the band finish the mixing, mastering and pressing — and get you a pre-order for the record and other merch you might select as well.
Guests on the album include Nels Cline, Wayne Kramer, and Tom Morello. Federici tells Backstreets, "We're currently in the studio putting the finishing touches on the album, and we couldn't be happier with the results so far. We're looking forward to finishing and letting y'all have a listen."
For a taste, the Greedy Souls have offered us a free track especially for Backstreets readers — you can listen to or download "In Love With My Gun" here. "I played my Dad's Vox Super Continental on that one," Federici tells us, adding with a laugh, "not to mention my wicked background vocals."
The campaign is also raising money and awareness for The Danny Fund, which Jason started in his father's memory to help in the fight against Melanoma. See the PledgeMusic campaign here.
- August 25, 2017


Sonny Burgess, quoted in 1997 in the liner notes for One Step Up/Two Steps Back: The Songs of Bruce Springsteen: "I met Garry Tallent in Nashville at a Cowboy Junkies/John Prine show. Before that, Max Weinberg and Garry used to come up to New York City to see The Sun Rhythm Section at The Lone Star, of which I am a member. I've never met Bruce, but Max and Garry are fine guys. Bruce sure surrounded himself with some dandies. Garry produced the record [Sonny Burgess] at his studio. He remembered that Bruce had this song called 'Tiger Rose,' and said if Bruce would let us do it, we should put it on the record. So Bruce said yes and called down to the studio to leave the words on the answering machine. We sat down and copied the words off the machine and Garry remembered how the song went and sang it to me. I do it at all the shows now; it's a great song."

Burgess and Springsteen eventually got to meet and perform the song together, as well. Click here for the October 19, 2001 performance of "Tiger Rose" by Sonny Burgess and the rest of The Sun Rhythm Section with Bruce Springsteen and Garry Tallent.
- August 22, 2017 - Shawn Poole reporting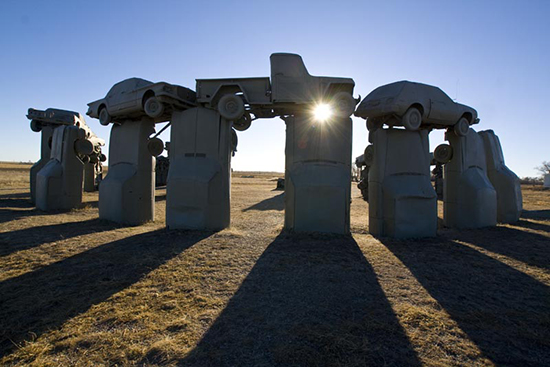 TOTAL ECLIPSE OF THE HUNGRY HEART
As millions prepare to witness the first total solar eclipse in the contiguous United States since 1979, folks are celebrating the big event as we so often celebrate big events: with music, including Springsteen music.
Nashville, aka "Music City," lies in the path of totality and certainly is living up to its nickname on the Music City Solar Eclipse section of its official tourism website, which features an "Eclipse Playlist." Included in the playlist is Bruce Springsteen's "Blinded By the Light," as recorded in 1976 by Manfred Mann's Earth Band (who made it the first Springsteen-penned number-one single), and Bonnie Tyler's 1983 worldwide number-one hit "Total Eclipse of the Heart," which featured Roy Bittan on piano and Max Weinberg on drums.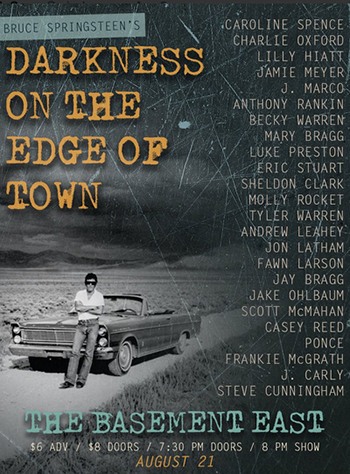 Springsteen fans in or near Nashville also can continue celebrating after witnessing the eclipse, at a Nashville-area musicians' tribute to... Darkness on the Edge of Town, of course. On Monday night at The Basement East, local artists will perform all of Darkness along with other Springsteen songs. Click here for details.
And from the town of Alliance, Nebraska, the total eclipse also can be experienced in a very Springsteenian way: in the shadows of a Cadillac Ranch-like structure known as Carhenge. Visit carhenge.com for further details. Just remember what Mama always told you about not looking into the sights of the sun... at least not without appropriate eye protection.
- August 19, 2017 - Shawn Poole reporting - photograph via carhenge.com

GRACELAND INSIDERS GET FIRST TASTE OF ZIMNY & LANDAU'S ELVIS DOC
Thom Zimny's HBO documentary Elvis Presley: The Searcher isn't coming until next year, but in Memphis this week — the 40th anniversary of Presley's death — a small group got a sneak peak. At Monday's Official Graceland Insiders Conference, part of Elvis Week 2017, director/producer Zimny took the stage along with executive producers Jerry Schilling and Priscilla Presley to present a clip from the three-hour, two-film doc and reveal more about this project he's been working on with producer Jon Landau.
Based on Thom's remarks, and as is evident in the sneak preview, the doc will be focused squarely on Elvis' music, his legacy as an artist and musician. No kitsch. Graceland granted Zimny access to rare footage, documents, and stills; he also worked with collectors to include additional photos, Super-8 and other never-before-seen footage. Noting what a "great experience" it was to work closely with Landau again, Thom spoke of conducting more than 50 interviews for the project, with subjects including Bruce Springsteen, Tom Petty, Robbie Robertson, and Emmylou Harris.
The preview Zimny showed is the first time any of the documentary has been seen outside production, and the surprised crowd ate it up. Springsteen's voice could be heard in the clip — discussing Presley as a musical pioneer, "out on the frontier" — over footage ranging from Sun Studios to the '68 Comeback Special; Scotty Moore also spoke, from the last interview he gave before his death. These were voiceovers rather than talking heads, however, as Zimny kept the visuals sourced purely from the archival materials he's gathered — based on our eyes in the room, a decision that's effective and refreshing.
Set for 2018, Elvis Presley: The Searcher is an HBO Documentary Films Presentation in association with Sony Pictures and will be, as ElvisPresley.News reports, "a comprehensive creative journey from his childhood through the final 1976 Jungle Room recording sessions."
- August 17, 2017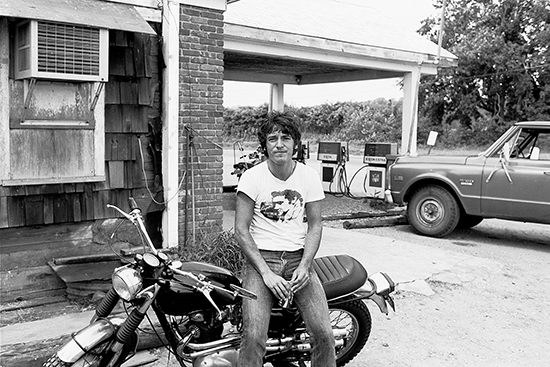 40 YEARS AGO TODAY: "YOU DIDN'T HAVE TO DIE"
On this date in 1977, Elvis Presley died far too young at 42. His death did nothing, of course, to stop his enormous and enduring cultural significance, influence and meaning. It was, however, the final, tragic result of an unnecessary decline — a process that enabled Presley to deny himself a long, rewarding life. It also denied his worldwide multigenerational audience many more years of great music and performances.
On the day that the sad news reverberated around the planet, Bruce Springsteen was in New Jersey. He was scheduled to leave the next day for a photo-shoot journey through the Utah and Nevada deserts with photographer Eric Meola.
Certainly Meola, who shot the 1975 Born to Run album cover featuring Springsteen sporting a Presley fan-club button on his guitar strap, already knew what a major Elvis fan Bruce was. Therefore it wasn't surprising that, as Meola recently related to us, Springsteen seriously considered not making the trip in the wake of Presley's death. Fortunately, Eric helped to persuade Bruce to go anyway, resulting in some of the most iconic and beautiful Springsteen photographs ever taken. Check out Meola's recent Facebook essay about how their time in the desert also led to Springsteen's creation of "The Promised Land," a song deeply connected to Chuck Berry's classic "Promised Land." In the mid-1970s Elvis covered Berry's "Promised Land;" it is one of Presley's greatest later records.
While Meola and Springsteen were out west, writer Dave Marsh contacted Springsteen by telephone to get his comments on Elvis' passing for Rolling Stone's special memorial issue. "I could not imagine that guy dying," Springsteen, then in his late 20s, told Marsh. "He was so incredibly important to me, to go on and do what I want to do. When I heard the news it was like somebody took a piece out of me. He was not primitive, like people think. He was an artist and he was into being an artist. Of course, he was also into rockin' his ass, but that was part of it. Onstage, he encompassed everything — he was laughing at the world, and he was laughing at himself, but at the same time, he was dead serious. To me, he was as big as the whole country itself, as big as the whole dream. He just embodied the essence of it, and he was in mortal combat with the thing. It was horrible and, at the same time, it was fantastic."
Within a month or so of Presley's passing Meola also shot some stunning photos of Bruce wearing a t-shirt with an Elvis image on it, while Springsteen rode his motorcycle near his home in Holmdel, NJ. Backstreets is honored that Eric Meola has allowed us to share these untouched photographs on this special anniversary date.
The shirt Bruce wore in these photos actually was a souvenir from the first location of the legendary Providence, RI rock club Lupo's Heartbreak Hotel, incorporating imagery from the 1956 picture sleeve for Elvis' Heartbreak Hotel EP. Click here and here to see images of punk rock legends Johnny Ramone and Joe Strummer also sporting Lupo's Heartbreak Hotel shirts. (Some additional photos of Strummer wearing his Lupo's shirt can be found here and here.)
Over the four decades following Elvis's death, Springsteen often has commented publicly about it. Onstage talk about "how it was that somebody who seemed like such a big winner could lose so bad in the end" occurred frequently during Bruce's concerts in the 1980s. Eventually, he even released two recordings about the tragedy: "Come On (Let's Go Tonight)" (recorded shortly after Elvis' death and available on The Promise box set) and "Johnny Bye-Bye" (released B-side version recorded in 1983 and later available on the Tracks box set).
Just last year, Springsteen again offered his insight on Presley's early demise and so many others like it. This time, however, he did it from the perspective of a mature, lifelong artist approaching his 70s, writing in his autobiography Born to Run:
The heart of rock will always remain a primal world of action. The music revives itself over and over again in that form, primitive rockabilly, punk, hard soul and early rap. Integrating the world of thought and reflection with the world of primitive action is not a necessary skill for making great rock 'n' roll. Many of the music's most glorious moments feel as though they were birthed in an explosion of raw talent and creative instinct (some of them even were!). But... if you want to burn bright, hard and long, you will need to depend upon more than your initial instincts. You will need to develop some craft and a creative intelligence that will lead you farther when things get dicey. That's what'll help you make crucial sense and powerful music as time passes, giving you the skills that may also keep you alive, creatively and physically... Now, some guys' five minutes are worth other guys' fifty years, and while burning out in one brilliant supernova will send record sales through the roof, leave you living fast, dying young, leaving a beautiful corpse, there is something to be said for living. Personally, I like my gods old, grizzled and here. I'll take Dylan; the pirate raiding party of the Stones; the hope-I-get-very-old-before-I-die, present live power of the Who; a fat, still-mesmerizing-until-his-death Brando — they all suit me over the alternative. I would've liked to have seen that last Michael Jackson show, a seventy-year-old Elvis reinventing and relishing in his talents, where Jimi Hendrix might've next taken the electric guitar, Keith Moon, Janis Joplin, Kurt Cobain and all the others whose untimely deaths and lost talents stole something from the music I love, living on, enjoying the blessings of their gifts and their audience's regard. Aging is scary but fascinating, and great talent morphs in strange and often enlightening ways. Plus, to those you've received so much from, so much joy, knowledge and inspiration, you wish life, happiness and peace. These aren't easy to come by.
Amen, hallelujah and rest in peace, Elvis.
- August 16, 2017 - Shawn Poole reporting - photographs by Eric Meola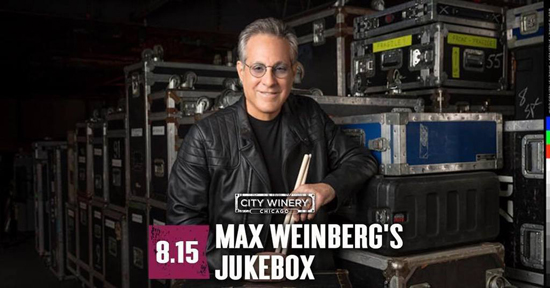 TUESDAY NIGHT LIVE STREAM FOR MAX WEINBERG'S JUKEBOX
Max Weinberg's Jukebox returns tomorrow night, following up his sold-shows at NYC's City Winery in July with a night at City Winery Chicago. And thanks to Coffee Cup Productions, we'll be able to watch from home. The 7pm August 15 concert will be live streaming in multi-cam HD — visit Coffee Cup Productions on Facebook.
Max tells Backstreets that the Jukebox shows have "been going over great. The audience picks the songs and we play them — all requests." In New York the set included "Fire" and "She's the One"... tune in tomorrow night to watch what Chicago brings.
- August 14, 2017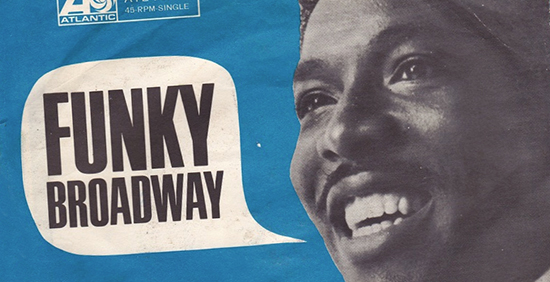 FLASHBACK FRIDAY: OUR REGARDS TO FUNKY BROADWAY
Back in 1970, Bruce Springsteen was gigging around New Jersey and Virginia with his band Steel Mill, often opening with "He's Guilty (The Judge Song)." That Springsteen original was finally officially released last year on Chapter and Verse. On April 24, 1970 at Monmouth College (now Monmouth University), they added an intro: "Funky Broadway." Who knew that 47 years later Springsteen would have his own Broadway show?
Coincidentally (or perhaps not so coincidentally, given Springsteen's strong sense of occasion as a setlist constructor), that Monmouth concert was a last-minute replacement for a cancelled performance of the Broadway musical Hair.
According to Brucebase, Springsteen has only performed the Dyke & the Blazers/Wilson Pickett classic three known times. He revisited "Funky Broadway" again at the Stone Pony in 1977, playing guitar with The Shots, the band that first replaced Southside Johnny & The Asbury Jukes as the Pony's house band. Bruce later performed "Funky Broadway" with Southside, the Jukes, Jon Bon Jovi, Patti Scialfa and Max Weinberg at the Pony's 20th anniversary celebration on July 16, 1994.
- August 11, 2017 - Shawn Poole and Christopher Phillips reporting - thanks to Flynn McLean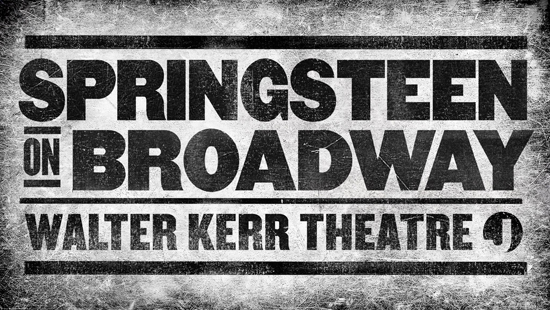 'CAUSE I CAN PLAY THIS HERE GUITAR
It's official: Bruce Springsteen to be a star on Broadway
Bruce Springsteen is headed to the Great White Way this fall, for an eight-week solo run called "Springsteen on Broadway." As Springsteen says in this morning's announcement, "My show is just me, the guitar, the piano and the words and music. Some of the show is spoken, some of it is sung. It loosely follows the arc of my life and my work."
Bruce Springsteen will make his Broadway debut this fall with "Springsteen on Broadway," a solo show at the Walter Kerr Theatre (219 West 48th Street). Performances for "Springsteen on Broadway" begin Tuesday, October 3, with an official opening on Thursday, October 12. Springsteen will perform five shows a week through November 26th.

Tickets for "Springsteen on Broadway" will go on sale August 30 at 10am ET exclusively through Ticketmaster Verified Fan®. This unique fan-first technology levels the playing field to combat bots and get real tickets into the hands of fans who intend to go to the event.

Ticketmaster Verified Fan registration begins today and will close August 27. Verified fans will be notified August 29 for the August 30 onsale. Visit brucespringsteen.net/broadway for more information about how to pre-register and details on the show.

"I wanted to do some shows that were as personal and as intimate as possible. I chose Broadway for this project because it has the beautiful old theaters which seemed like the right setting for what I have in mind. In fact, with one or two exceptions, the 960 seats of the Walter Kerr Theatre is probably the smallest venue I've played in the last 40 years. My show is just me, the guitar, the piano and the words and music. Some of the show is spoken, some of it is sung. It loosely follows the arc of my life and my work. All of it together is in pursuit of my constant goal to provide an entertaining evening and to communicate something of value," says Springsteen.

"Bruce Springsteen is one of our greatest musical storytellers, and Broadway is built on a beloved tradition of musical storytelling. What a once-in-a lifetime thrill for all of us at Jujamcyn to welcome Bruce home to his rightful place in the Broadway legacy," says Jordan Roth, President of Jujamcyn Theaters, which owns the Walter Kerr.

The creative team for "Springsteen on Broadway" includes Heather Wolensky (scenic design), Natasha Katz (lighting design) and Brian Ronan (sound design).

For more information on the show and how to register for tickets, visit brucespringsteen.net/broadway.
Ben Sisario has more on the Verfied Fan system in the New York Times, where he also quotes Springsteen manager Jon Landau: "Bruce has had this specific idea in mind since last December. It came into focus slowly and then all at once last January."
Sisario writes, "In addition to his music, the show will feature Mr. Springsteen, 67, reading excerpts from his 2016 autobiography, Born to Run, and performing other spoken reminiscences written for the show."
According to brucespringsteen.net/broadway, the show is expected to run approximately 2 hours with no intermission.
- August 9, 2017


"Beautiful singing voice, a pure tone, and simple presentation. He was never fancy, wasn't singing all over the place. It was simple on the surface, but there was a world of emotion underneath."
— Bruce Springsteen in the film Glen Campbell: I'll Be Me
For more on Glen Campbell's enduring impact on E Street, click here to read Shawn Poole's 2015 feature on Springsteen's involvement with the award-winning documentary about Campbell's struggle with Alzheimer's disease.
- August 9, 2017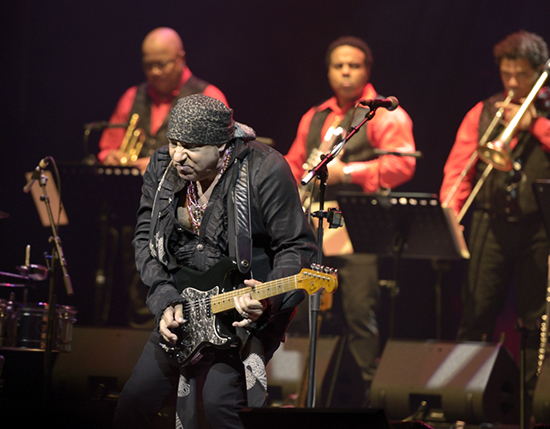 SOULSVILLE U.S.A.
Steven and his Disciples announce Sep/Oct North American Tour
Following their early summer visit to Europe, Little Steven and the Disciples of Soul have announced dates for a North American tour for the fall. Ramping up with a September 21 appearance at the Holdmdel, NJ Laid Back Festival (featuring a Gregg Allman tribute with Jackson Browne and Peter Wolf), Stevie will begin his tour proper on September 23 in Port Chester, NY, the first of 17 dates for this leg of the Soulfire Tour 2017.
Of course the itinerary is heavy in the Northeast, where stops include the Gramercy Theater in NYC, the Orpheum in Boston, and the Electric Factory in Philly. But Stevie and his Disciples will also be heading out to the West Coast, via Chicago and Toronto, and wrapping up in Texas and Florida in late October.
General onsale dates are later this week, on Friday and Saturday; see below for dates and links, and read on for details on special VIP packages that go on sale tomorrow.
2017
Venue
City
On Sale
Sat,
Sep 23
The Capitol Theatre
Portchester, NY
Aug 11
Mon,
Sep 25
Gramercy Theater
New York, NY
Aug 12
Wed,
Sep 27
St. George Theater
Staten Island, NY
Aug 12
Fri,
Sep 29
Orpheum Theatre
Boston, MA
Aug 12
Sun,
Oct 1
Electric Factory
Philadelphia, PA
Aug 12
Mon,
Oct 2
Modell Performaing Arts Center at The Lyric
Baltimore
Aug 12
Wed,
Oct 4
Paramount
Huntington, NY
Aug 12
Fri,
Oct 6
Hard Rock Live
Northfield, OH
Aug 12
Sun,
Oct 8
House of Blues
Chicago, IL
Aug 12
Mon,
Oct 9
Danforth Music Hall
Toronto, ON
Aug 12
Fri,
Oct 13
The Fillmore
San Francisco, CA
Aug 12
Sun,
Oct 15
Showbox SoDo
Seattle, WA
Aug 12
Wed,
Oct 18
Humphrey's Concerts By the Bay
San Diego, CA
Aug 11
Thu,
Oct 19
Orpheum Theatre
Los Angeles, CA
Aug 12
Sun,
Oct 22
The Bomb Factory
Dallas, TX
Aug 12
Tue,
Oct 24
Tobin Center
San Antonio, TX
Aug 11
Thu,
Oct 26
Revolution Live
Ft. Lauderdale, FL
Aug 12
For those who care to shell out a little more, there will be a Soulfire Soundcheck Super VIP Package available for each show, with a meet-and-greet and much more — from attendance at soundcheck to some serious schwag. These VIP Packages will go onsale tomorrow, August 9, at 10am.
"The Jersey Guy" Rich Russo fills us in on what's included: "We believe we've come up with a really cool VIP package. Besides a premium ticket, you get to go to a soundcheck, you get to meet Stevie and get a photo, plus a bobblehead, a lunch cooler bag, and lots of other goodies. The coolest may be this limited-run, purple vinyl 7-inch single with an outtake from Soulfire: a cover of a 1968 song by the Electric Flag, "Groovin' is Easy." On the flipside is a live version of "The Time of Your Life" recorded and mixed by Bob Clearmountain at the Count Basie this past May. Both songs were mastered by Bob Ludwig. The single has a special Little Steven insert and picture sleeve... this whole package is over the top."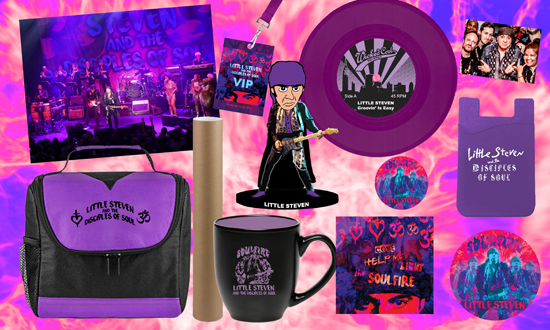 Only 2,000 copies of the 7-inch are being pressed, and there are no other plans to release these tracks. Special to Backstreets, here's a taste of "Groovin'":
And if you like the sound of those horns... get thee to a show!
- August 8, 2017 - concert photograph by Rene van Diemen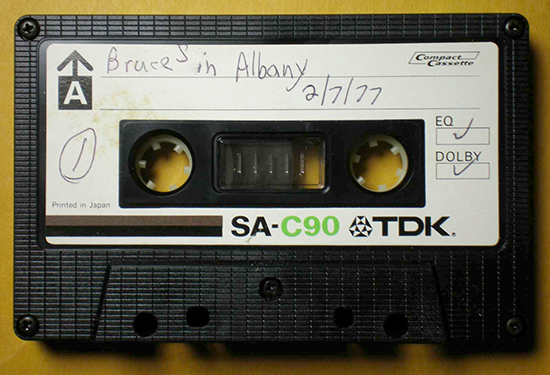 BOPPING TO THE '77 BEAT
Below, Jonathan Pont tells the story of the new pair of live releases from the 1977 tour, their journey from TDK tapes to your digital device, and the current state of the archive series. Over on the Nugs blog, don't miss a piece from another Backstreets writer, Erik Flannigan, who focuses on the performances themselves.
As we've seen in a few tweets and e-mails, some fans weren't even aware of the underexposed "Action in the Streets," a song played both nights that lent its name to the two-show bundle. As Erik writes:
Amazingly, this download marks the first ever official release of "Action in the Streets." The Springsteen original was performed nearly every night of the '77 tour, but would never be played again with the E Street Band. There is also no known studio recording of the delightful soul rave-up, making its inclusion on these tapes all the sweeter in a version so embryonic, the chorus does not yet feature the song's eventual title!
For more highlights of this '77 doubleshot, opening night in Albany and the following night in Rochester, read Erik's post at blog.nugs.net.
- August 6, 2017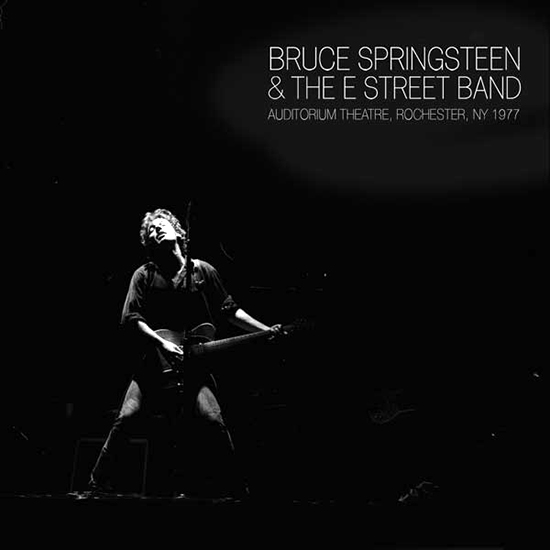 ACTION IN THE STREETS
Albany, Rochester 1977 recordings arrive
Forty years on, Bruce Springsteen's 1977 tour continues to earn laurels, a remarkable feat for an outing that lasted less than eight weeks and played to relatively few people. Its powerful, streamlined sets featured newer, unreleased songs like "Rendezvous" and "The Promise," and long, intricate reworkings of familiar ones, like "Incident on 57th Street" and "Backstreets." Though well documented by a bevy of excellent audience tapes, no soundboard recording from this tour ever circulated.
Now, that part of the '77 mystique gets stripped away, with archive releases from February 7 in Albany, New York, and February 8 in Rochester. According to Brucebase, no tape of the former has ever surfaced, so most fans will hear this show for the first time. Initial plans indicated that the file set would include only 45 minutes of Albany, and Rochester as a complete show; in a last-minute twist, save for a few songs that were clipped, both performances appear to be complete.
Compact shows and consistent workshopping of new material were hallmarks of the '77 tour, a mere blip comprised of 33 shows in the Midwest, Canada, and Mid-Atlantic. It closed out the Born to Run era and hinted at directions Springsteen might take on Darkness on the Edge of Town. Its music was extraordinary: fans consistently place the March 25 concert at the Boston Music Hall as one of his all-time best. People who saw this tour speak of it in superlatives. That we can celebrate official, high-quality, soundboard recordings is a true high-water mark.
As far back as Live/1975-85, whether a tape from this tour existed was an open question. Aside from the "Thunder Road" opener, the massive 1986 retrospective skipped this era altogether. That felt like an omission back then, but in 1977, mired in litigation and unable to record in the studio, Springsteen probably had neither the desire nor the resources to bring a mobile recording unit with him on the road.
But tapes, in fact, did exist. That became clear earlier this year, when Florida-based sound engineer Chas Gerber sent a cache of cassette tapes to Springsteen's longtime archivist Toby Scott. Gerber, who now runs Florida-based Gerber Acoustic Systems, worked as Springsteen's front-of-house (FOH) sound engineer circa 1975-77, getting the sound mixed just right every night. From time to time, Gerber did something else: he threw a cassette tape into a high-end deck and pressed record.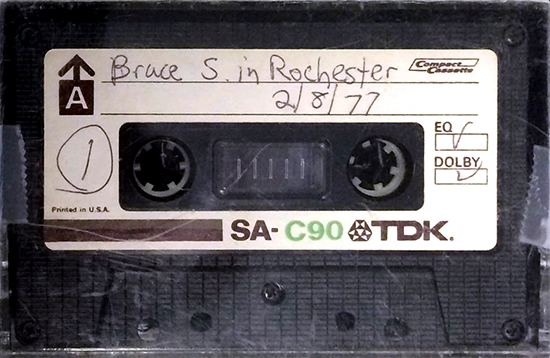 "I kept my tapes," Gerber told Backstreets in an unpublished 2015 interview. "I never gave copies to anyone." Over the years he meant to digitize them but never got around to it. In fact, Gerber hadn't even listened to them. But a series of chance encounters over the past couple years led to the tapes joining others in the Springsteen archive; there, they could be transferred, conserved, and evaluated. Grateful Dead followers know a similar story: their legendary sound engineer Betty Cantor-Jackson lost scores of reels she had recorded; those "Betty Boards" eventually made their way home, too, and delighted listeners this year with a four-show box set to commemorate the band's spring '77 tour.
Jamie Howarth, whose Plangent Processes helped improve the 1977 sound for both artists' recordings, said he was impressed by what he found on the Springsteen cassettes. "The fidelity is surprising," Howarth said. He credits Gerber for capturing a complex dynamic range, from the low-end kick to Max Weinberg's cymbals.
"There's a constant balancing and re-balancing that goes on, whether it's pushing Roy Bittan's piano up or pulling it back, and then Bruce has to stay above that the whole time." Gerber's tapes have that, and more. "The guy captured the drama," Howarth said, pointing out one such moment, when the band kicks in to "She's the One." (Albany and Rochester mark a milestone for Howarth: it's the first cassette-sourced commercial release for Plangent. Howarth used a heavily modified Nakamichi 680ZX for the task, whose only stock parts, he said, are the head and the Dolby chip — he's customized many of its elements, including the audio outputs).
That Gerber's underlying recording is mono likely stems from the fact that the front-of-house PA was not mixed in stereo, meaning the same sounds were sent to both the left and right PA speakers. Because the tape is the FOH mix, it too is in mono; modest post-production can widen the soundscape, making even a mono tape sound more like a stereo recording.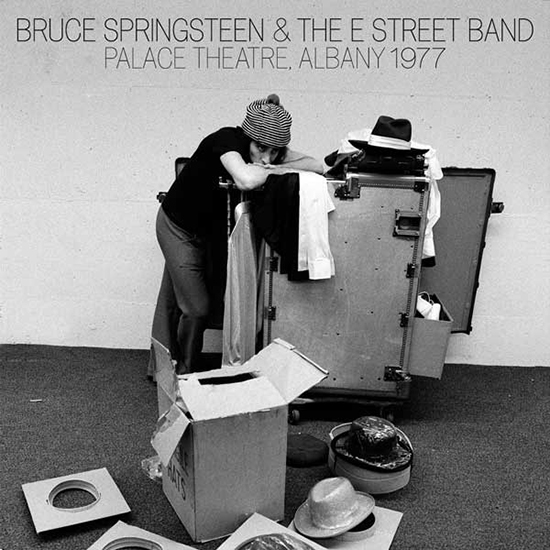 The '77 installment shows how much terrain the archive program has covered since its 2014 inception. Then, Springsteen chose a 2012 concert from the Apollo Theater to inaugurate the series, and which artist wouldn't reach for something vital and contemporary to lead off? In the past two years, the archive has put out everything from the first complete line recording from the Born in the U.S.A. tour to a sweet-spot Devils & Dust show. The Christic Institute Benefit Concert? Both nights, thank you.
In an instance where the mix wasn't right, the camp went back and fixed it. When the Tempe '80 film didn't allow for the full audio, the missing songs got posted. And while recent releases have leaned heavily on the past decade or so, it was hard to argue against any on its merits, whether Helsinki, the longest show ever, or Buffalo, with its complete reading of Greetings From Asbury Park. And the 2008 show from St. Louis is reason enough to have a series like this.
Moving forward, the plan Brad Serling outlined in his August 2 appearance on SiriusXM's E Street Radio calls for more frequent releases. Now slated to occur on the first Friday of each month, an initial batch of 25 performances will appear over the next two years.
Does the archive hold everything we'd wish for? Probably not. But with the 1977 two-fer and the program essentially having its option picked up for the next two years, it's hard not to applaud what looks like a pivot point. This holistic approach is now more closely aligned not only with fans' hopes, but also with the whole point of having recorded Springsteen's shows in the first place: so people could hear them.
While the plan calls for 25 shows spanning all eras, it's worth considering that ideal recordings from all eras likely don't exist. The Grateful Dead and Pearl Jam have the advantage of having recorded nearly everything; Springsteen didn't professionally record everything until sometime in the 2000s. Still, Albany and Rochester demonstrate that anything is possible.
- August 4, 2017 - Jonathan Pont reporting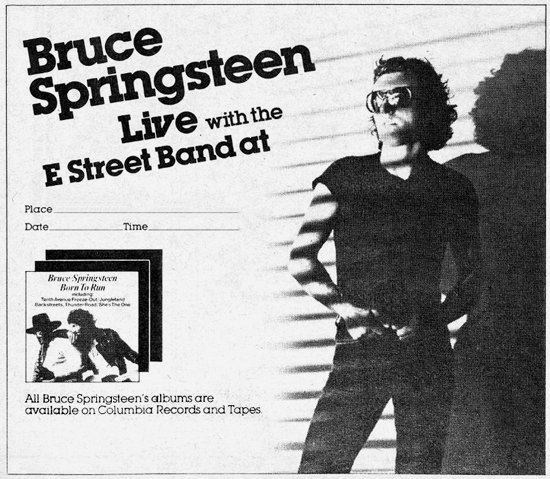 SOMETHING IN THE NIGHT
Official 1977 archive release coming Friday, August 4
In a surprise announcement on E Street Radio, fans learned that music from the 1977 tour would comprise the next download from the Bruce Springsteen live archive. Combining music from two New York concerts, Albany (February 7) and Rochester (February 8), the upcoming installment presents unheard music: no Albany recording has ever surfaced, and no 1977 performance has ever circulated from a soundboard source.
Speaking with host Jim Rotolo, Nugs.net's Brad Serling said that the 1977 tapes were part of a larger cache of tapes made by Chas Gerber, Springsteen's sound engineer from the middle of 1975 through the spring of 1977. These recordings, made for reference on the fly, are typically in mono and often incomplete: that's the case with Albany (of which about 45 minutes will appear). Rochester, also in mono, runs about two hours and is complete save for a couple of tape flips (post-production magic should make these less noticeable).
Without question, Gerber's tapes are of enormous historical significance, representing an era that fans consider one of Springsteen's most deserving of greater attention. And Friday's release calls on two of the five recordings that Serling said he had auditioned from the Gerber tapes, so another release from '77 isn't out of the question.
Serling talked at length about the archive program, stating that the release schedule will now target the first Friday of each month for a new concert. Right now, 25 shows have been identified and approved, covering most eras of Springsteen's career. Not every era exists in the archive; the Gerber tapes, however, greatly expand what's available.
Before today, even the existence of an official 1977 recording was an uncertainty. But this release makes more than good on Serling's hint last month that the archive program would soon take a "deep dive." For many fans, '77 is just that.
- August 2, 2017 - by Jonathan Pont, with Flynn McLean reporting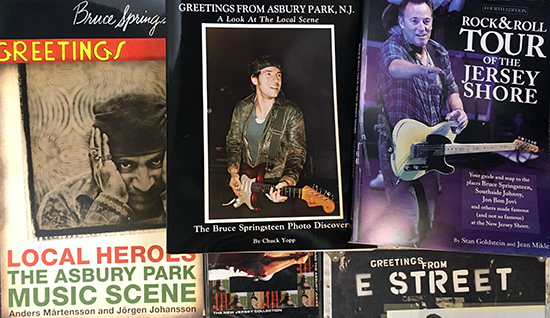 CELEBRATE THE GARDEN STATE WITH BACKSTREET RECORDS
Free music map: I've been to Freehold, Red Bank, Asbury, Belmar...
7/31 Update: the giveaway continues!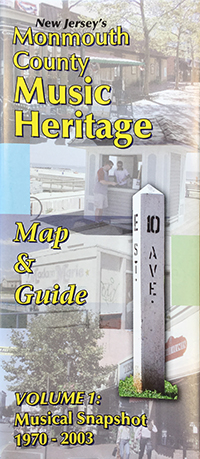 Today is the first annual National New Jersey Day, and to celebrate at Backstreet Records — since, y'know, we've got a Jersey-related thing or two on our shelves — we've got a free giveaway for anyone who places an order.
We recently came across a pristine stack of these Monmouth County Music Heritage Maps, created in 2004 to guide tourists to music landmarks in Freehold, Red Bank, Belmar and Asbury Park. It's a handy folded guide for any Springsteen fan, including his childhood homes, his Catholic school, early venues, and more. We'll be including a free copy with every package we ship out.
For any serious music pilgrimage to the Shore, we always recommend Stan Goldstein & Jean Mikle's Rock & Roll Tour of the Jersey Shore, now in its fourth edition. But for something simple to stick in your pocket, the price is hard to beat. Add it to your collection, keep it in your glovebox for your next visit... you can even wipe your fingers on it.
From now through the weekend, EVERY order from Backstreet Records, large or small, will ship with one of these maps. No coupon code necessary.
Here at Backstreet Records we carry hundreds of Springsteen and Jersey Shore-related items, from CDs and vinyl to T-shirts and books. See all of the Latest Additions in our shop here, and browse further by category. Thanks for your support, and happy New Jersey Day!
7/31 Update: We've still got maps left, and we'll keep enclosing them FREE with all orders all week — come and get 'em!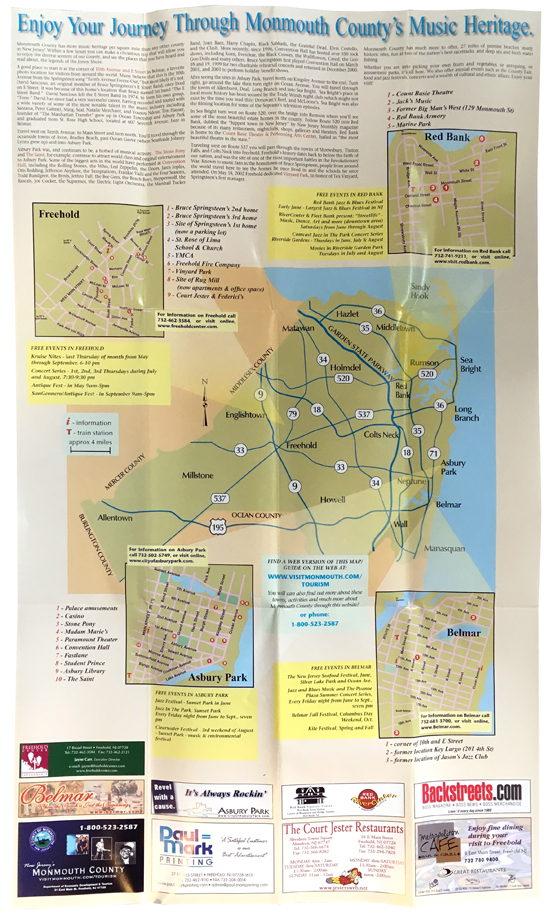 - July 27, 2017 - updated July 31, 2017


WELL, BLOW ME DOWN, DOWN, DOWN, DOWN...
It'sk National New Jersey Day!
Today is the first-ever National New Jersey Day, and Jersey boy Frank Caruso, who collaborated with fellow New Jerseyan Bruce Springsteen on Outlaw Pete, has created something special to celebrate. Caruso's "day-job" is serving as Vice President of Creative Services for King Features, where one of his many important tasks is preserving and expanding the legacy of Popeye The Sailor Man. Frank has created a new Popeye "AniMinute," part of an ongoing series of short online Popeye films, for the occasion. This one's got a New Jersey theme, of course, with a bit of Springsteen's music added for the score.
"He lent me 'Paradise by the 'C','" Caruso tells us, "which made this Popeye AniMinute a culmination of my entire life. I think you guys will dig it." Popeye even strikes a familiar pose against a familiar backdrop in a nod to one of the Garden State's greatest musical exports. Popeye's National New Jersey Day AniMinute, featuring Bruce Springsteen & the E Street Band's Live/1975-85 version of "Paradise By The 'C'," can be viewed on YouTube now.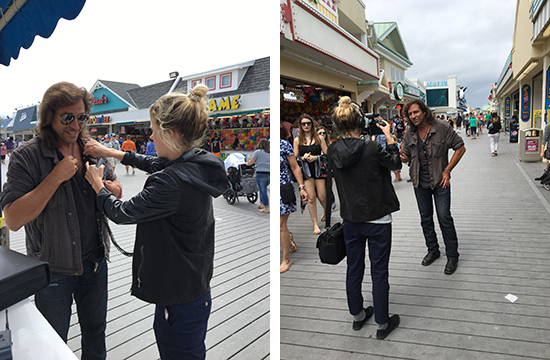 In anticipation of the release of his new Popeye AniMinute, the Asbury Park Press interviewed and filmed Frank Caruso on the boardwalk in Point Pleasant, NJ where, Caruso tells us, "I worked in an arcade as a teenager and also won my first Popeye doll as a kid." From small thingsk, big thingsk one day come. Happy National New Jersey Day to all!
- July 27, 2017 - Shawn Poole reporting - Point Pleasant, NJ boardwalk photos by Laurie Tritini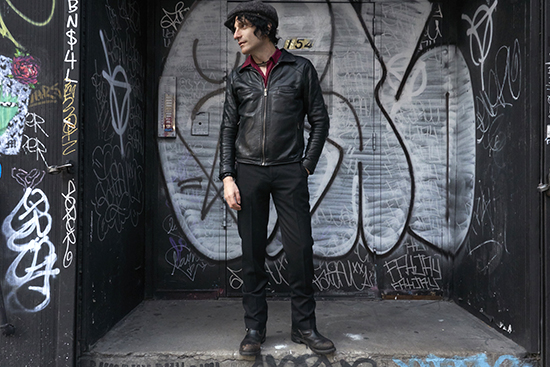 STRUMMERTIME: JESSE MALIN'S TRIBUTE TO JOE AT THE STONE PONY
Plus, Jesse's new EP, summer tour, and a video premiere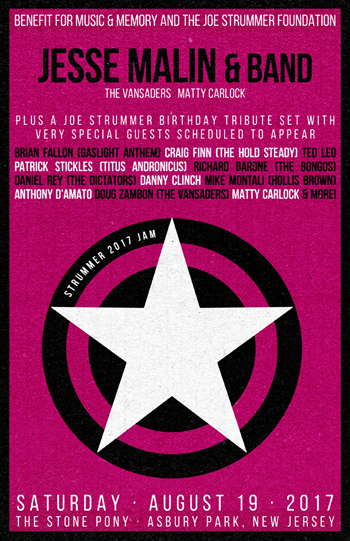 Next month, Jesse Malin and his band are returning to Asbury Park — where he first joined Bruce Springsteen on stage, back at the 2003 holiday shows — to play the Stone Pony and host a tribute to Joe Strummer.
A benefit for Music & Memory and The Joe Strummer Foundation, Jesse's August 19 Stone Pony show will include a special set celebrating Strummer's birthday (Joe would have turned 65 on August 21) along with some fine friends including Brian Fallon, Craig Finn, Ted Leo, Danny Clinch, Patrick Stickles of Titus Andronicus, Anthony D'Amato, and more.
Tickets for the Strummer 2017 Jam are available now via Ticketmaster.
The Pony show is part of a summer tour for Malin and his band that picks back up tomorrow night in Pittsburgh, in support of his new EP Meet Me at the End of the World. Upcoming dates:
July 27 - Pittsburgh, PA - Café Club
July 28 - Lexington, KY - Cosmic Charlie's
July 29 - Columbus, OH - Rumba Café
July 30 - Cleveland, OH - Beachland
Aug 1 - Minneapolis, MN - 7th St. Entry
Aug 2 - Milwaukee, WI - Shank Hall
Aug 4 - Chicago, IL - Lollapalooza
Aug 6 - Evanston, IL - SPACE
Aug 13 - Dewey Beach, DE - Bottle & Cork
Aug 19 - Asbury Park, NJ - The Stone Pony
Aug 24 - New York, NY - The Liberty Belle - Rocks Off Cruise (w/ Lucero)
Nov 18 - Port Chester, NY - The Capitol Theatre (w/ Cheap Trick)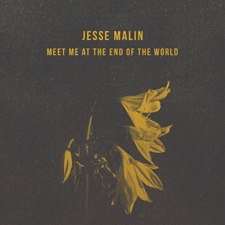 Produced by Joseph Arthur, Meet Me at the End of the World is a four-track EP available now on limited edition vinyl from Velvet Elk Records, including the title track, the Clashy "Fox News Funk," "Revelations/Thirteen" (the latter a Big Star cover), and "London Rain." It's the pre-cursor to an Arthur-produced full-length coming next year.
"The songs were written on tour looking out the van window," Malin says. "We were driving around America just watching the frightening and embarrassing ascension of the current administration amidst a really dark and manipulative international media blitz."
Get a taste of it here with a Backstreets premiere, the Ilaria Conte-directed video for "Fox News Funk."
- July 26, 2017 - photograph by Ilaria Conte

BOOGALOO DOWN BROADWAY 2: ACOUSTIC BOOGALOO
Still nothing official... but the second New York Post story from Michael Riedel on a Broadway-bound Bruce Springsteen puts a finer point on what may be in the works: not a stadium show on a theater stage, as previously suggested, but rather, "He'll be reading from Born to Run, his best-selling memoir, and picking up his guitar from time to time to illustrate a point or a moment from his life with one of his songs." Read on with the requisite grain of salt: "More details emerge about Bruce Springsteen's Broadway debut."
- July 20, 2017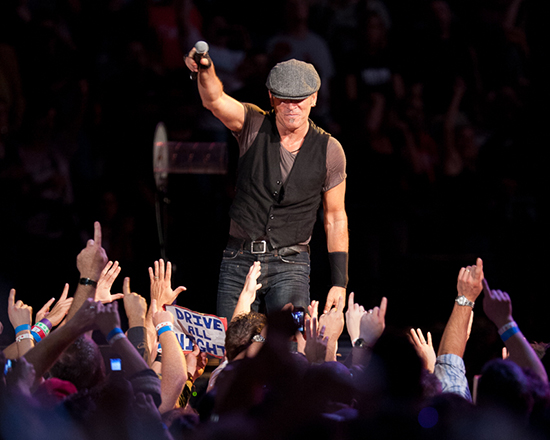 THROWBACK THURSDAY: LOOK WHILE YOU LISTEN, 10/20/09
Last week, the final night of the Working on a Dream tour's four-night stand in Philly became the latest entry in Bruce Springsteen's live archive series, a spectacular Jon Altschiller mix of the October 20, 2009 show.
Photographer A.M. Saddler was there that night to shoot for Backstreets, and he kindly revisited his files for us, for some extra visuals to go with the audio. These are mostly never-before-seen images from the occasion, both inside and outside the Spectrum, Bruce and the E Street Band's last-ever performance there before the venerable venue's date with the wrecking ball.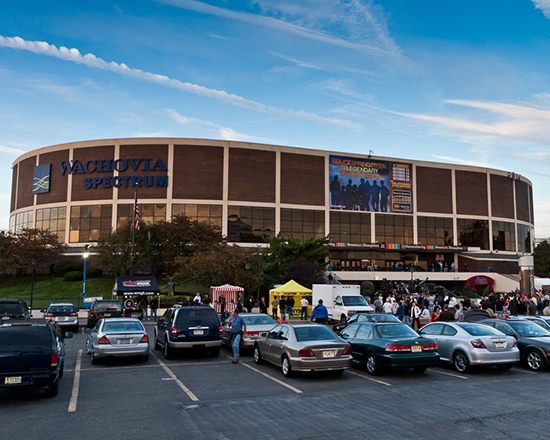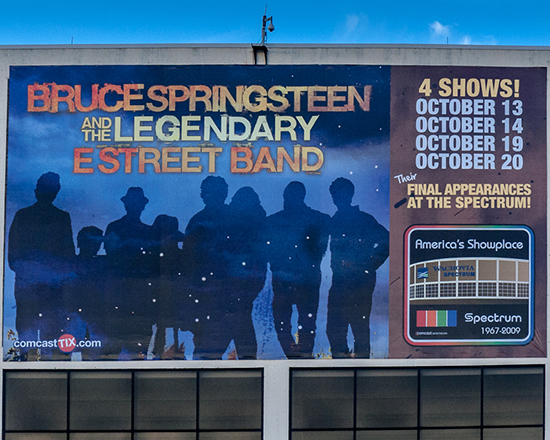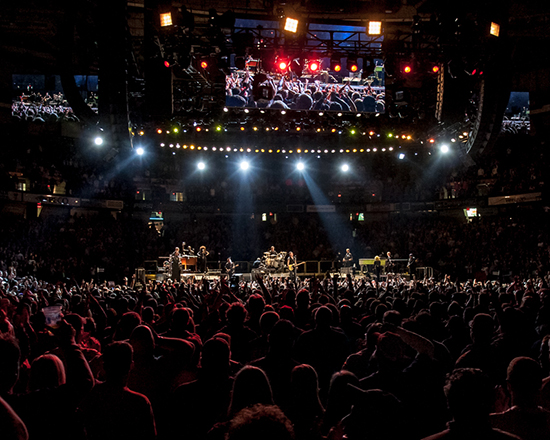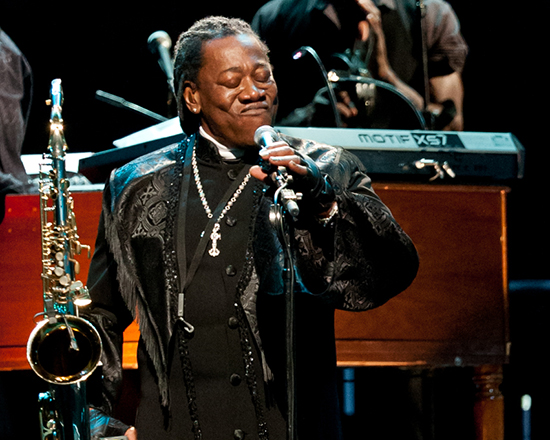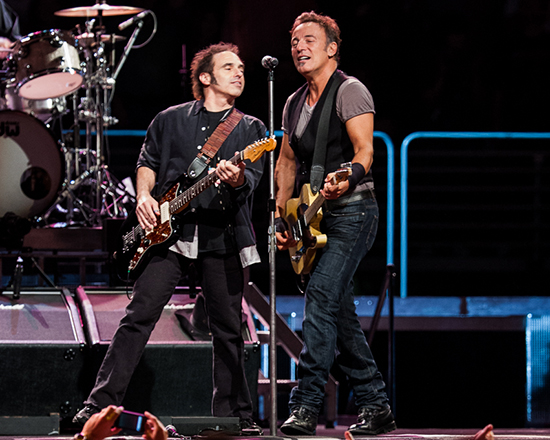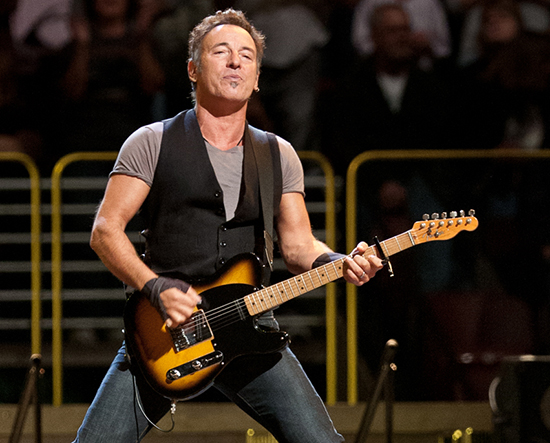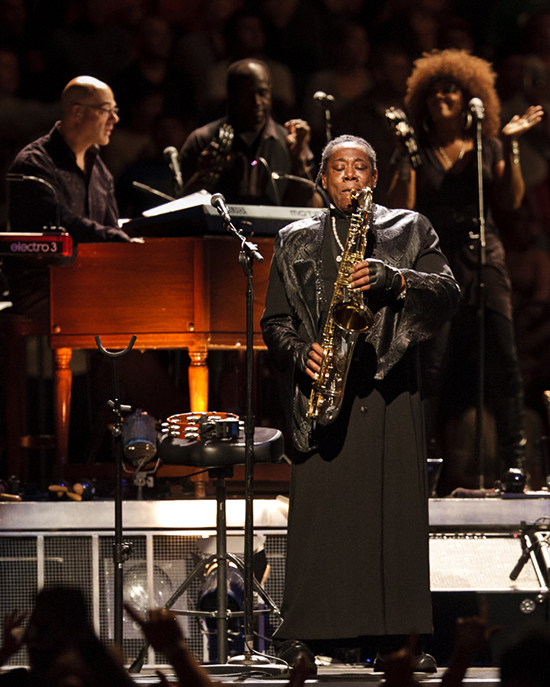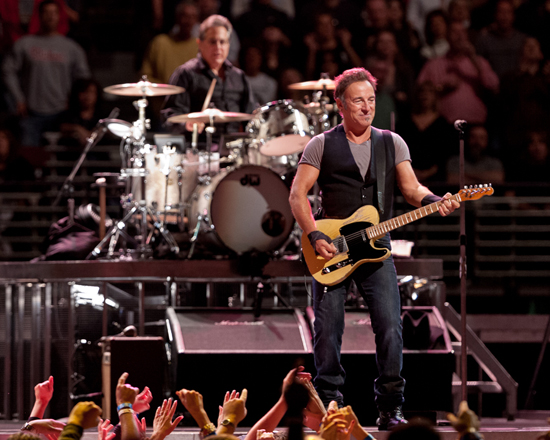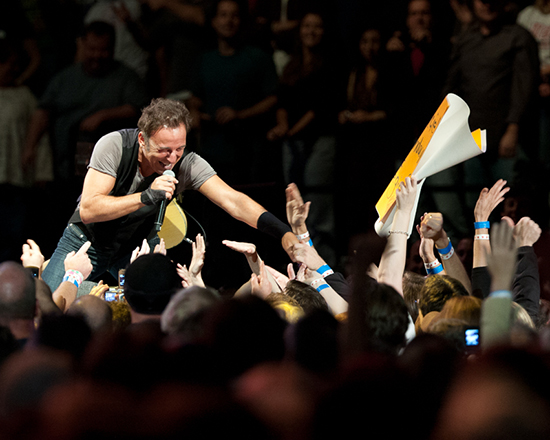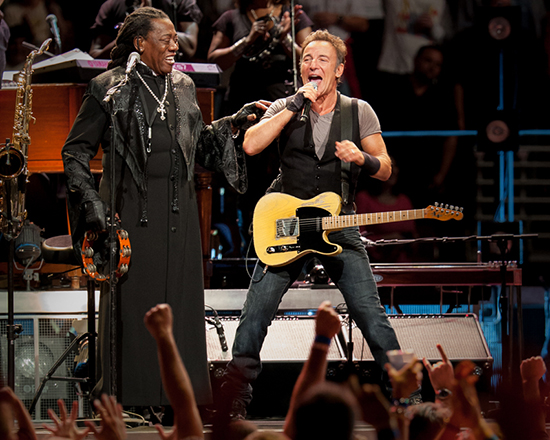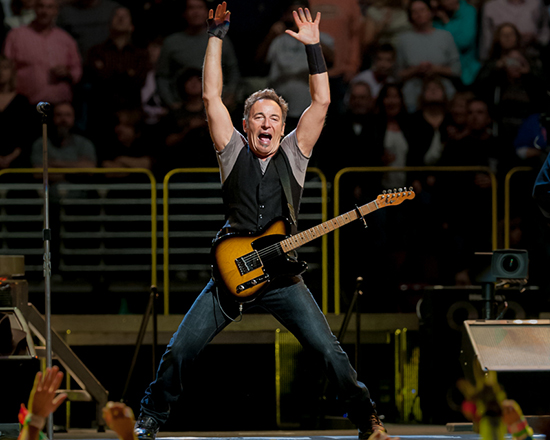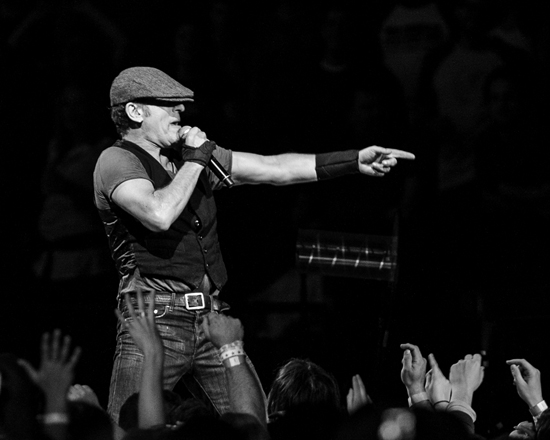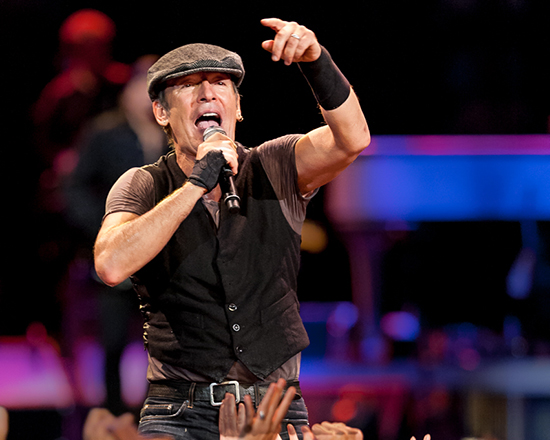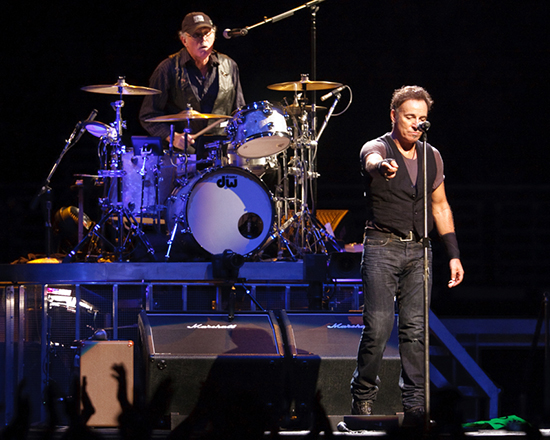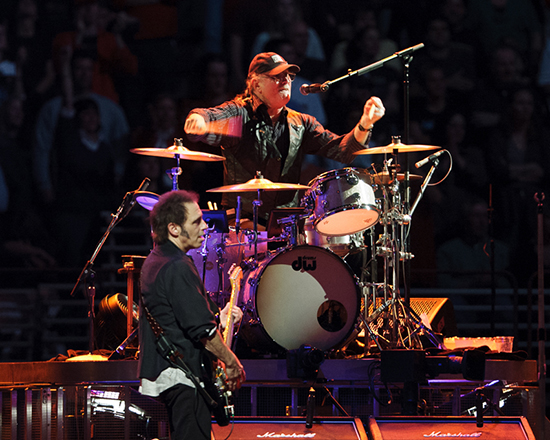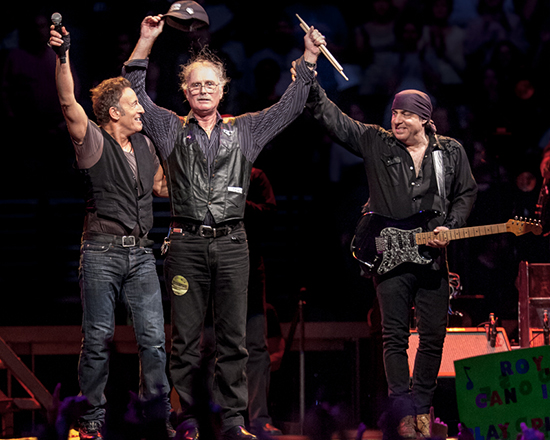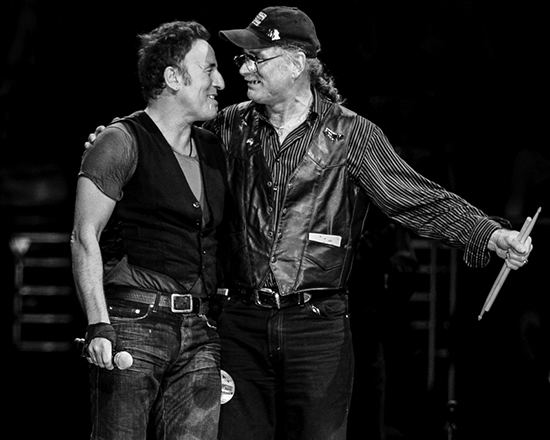 - July 20, 2017 - photographs by A.M. Saddler


"LET ME HEAR THE COWBELL!"
Our cowbell fever just got funkier, thanks to longtime reader Brad Stalnaker (a Backstreets subscriber from the beginning), who recalled a Wild & Innocent-era radio broadcast featuring yet another campana player on E Street. Check out this rare acoustic version of "Rosalita (Come Out Tonight)" performed live on Boston's late, great WBCN-FM on April 9, 1974. Bruce Springsteen introduces his backing musicians (shortly after the "percussion solo" that begins around the 3:50 mark) as follows: "Now on the saxophone we got Clarence Clemons, on the accordion Danny Federici, on the tambourine Mr. Dave Sancious, and on the — let me hear the cowbell! — on the cowbell, Mr. Garry Tallent!"
- July 19, 2017 - Shawn Poole reporting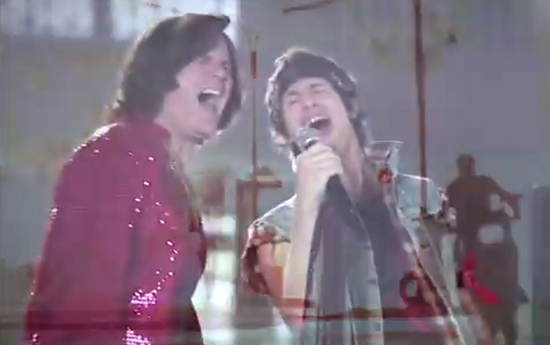 "MORE COWBELL!"
For Ferrell @ 50, a cowbell-comprehensive celebration of campana on E Street
Funny guy Will Ferrell (pictured above playing Neil Diamond to Andy Samberg's Bruce Springsteen in The Lonely Island's "Cool Guys Don't Look At Explosions") turns the big 5-0 today. And just a few months ago, Ferrell listed his now-classic Saturday Night Live "More Cowbell" skit as his favorite SNL skit. In his honor, today we celebrate the history of cowbell on E Street.
Ferrell co-wrote the "More Cowbell" skit, aka "Recording Session," with Donnell Campbell. First aired in April 2000, it featured Ferrell and SNL guest-host Christopher Walken in a parody of VH1: Behind The Music and the recording of Blue Öyster Cult's classic "(Don't Fear) The Reaper." It was later referenced briefly but hilariously in Bruce Springsteen & The E Street Band's London Calling: Live in Hyde Park Blu-ray/DVD. Check out the moment in "Glory Days" when Bruce's eyes bulge in mock-shock upon seeing Clarence Clemons' enormous hands using an actual cowbell onstage, followed by Springsteen yelling the only appropriate reply: "More cowbell!"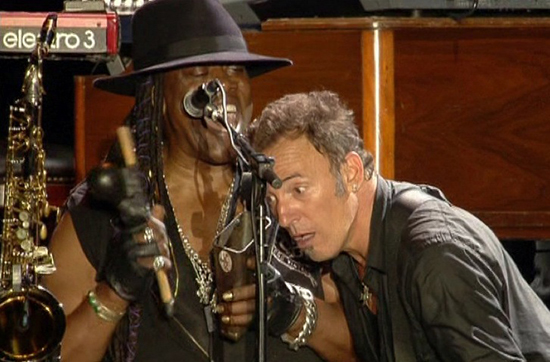 Nevertheless, The Bruce Springsteen couldn't have been so surprised. The cowbell, or campana, began its rock 'n' roll-staple life as early as 1957's "Little Darlin'," first recorded by The Gladiolas. It also has a rather long if sporadic history of appearances on E Street, with Big Man clearly being the most visible cowbell-player over the years, though video/photographic evidence also implicates Steve Van Zandt and even Springsteen himself in the E Street Cowbell Conspiracy.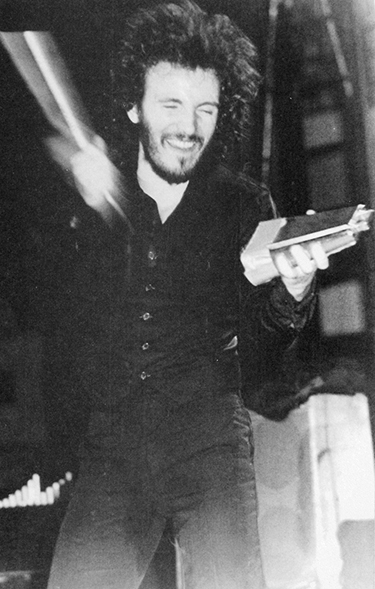 A Collegiate Times review of Bruce Springsteen and the E Street Band's April 22, 1976 concert at Virginia Tech noted that Bruce "whoops" on the cowbell on his "new tune," "Frankie." "Frankie" didn't get released officially, however, until a 1982 studio version (sans cowbell) finally saw the light of day on Tracks. Click here to hear the live '76 cowbell-whooping version of "Frankie" from Springsteen's April 7, 1976 show at Cleveland's Allen Theatre.
Right: Springsteen whoops on the cowbell in '76. Photo by the late, great Phil Ceccola, as featured in Backstreets #57
Speaking of Blue Öyster Cult connections, in 1978 Bruce made a count-off-only cameo appearance (at the 2:10 mark) on The Dictators' "Faster and Louder," produced by Murray Krugman and Sandy Pearlman, co-producers of "(Don't Fear) The Reaper." Not surprisingly, "Faster and Louder" also features a cowbell prominently.
Springsteen's 1973 recording of "Seaside Bar Song" included a cowbell, but like "Frankie" the track wasn't released officially until its inclusion on Tracks in 1998. As far as I can tell, the first officially released Springsteen recording to feature a cowbell was "Crush on You" from The River. (I've often thought I've heard a cowbell in the 1973 studio version of "Incident on 57th Street," but I'm pretty sure now that my ears were playing tricks on me.) "Crush on You" sounds like what might have happened if Clarence Clemons' publicly stated dream to someday play saxophone with The Rolling Stones had ever come true. Therefore, it's only fitting that a cowbell should be featured on a track that echoes the band responsible for the cowbell classic "Honky Tonk Women." You can catch a glimpse of Clarence on cowbell during the live version of "Crush on You" in Thom Zimny's Tempe 11/5/80 film (starting at 1:29:32.)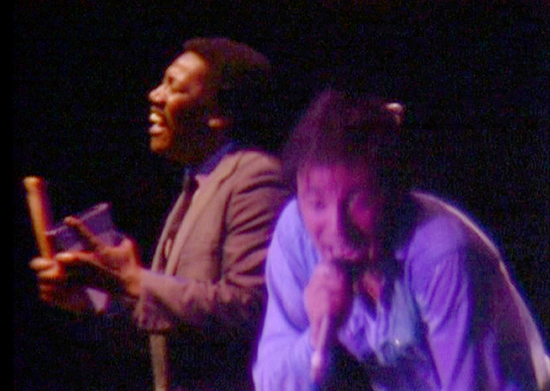 The cowbell didn't return to E Street until the release of Born in the U.S.A., where it is featured prominently on "Darlington County," a song first recorded for Darkness on the Edge of Town. (It remains unknown if a cowbell was played on the uncirculated Darkness-sessions recording of "Darlington" as well.) The live version of "Darlington" on Bruce Springsteen & The E Street Band Live/1975-85 features a cowbell, too, though it's a bit more difficult to hear it. In addition, the cowbell can be heard during the false-ending section of Live/1975-85's version of "Born in the U.S.A.," as well as at the beginning of the version of "Seeds" that follows it.
On occasion, Springsteen has offered a one-two-cowbell-concert-combo, mixing a bit of "Honky Tonk Women" into "Darlington County." Click here to see the beginning of this tradition at the May 8, 2000 show in Hartford, CT. A snippet of the "Honky Tonk Women" riff, as well as a bit more cowbell, even sneaks into the version of "Darlington County" during the full-album performance of Born in the U.S.A. on the latest official archival release, Wachovia Spectrum, Philadelphia, PA 10/20/09, where you also can find some more cowbell in that false-ending section of "Born in the U.S.A.," of course.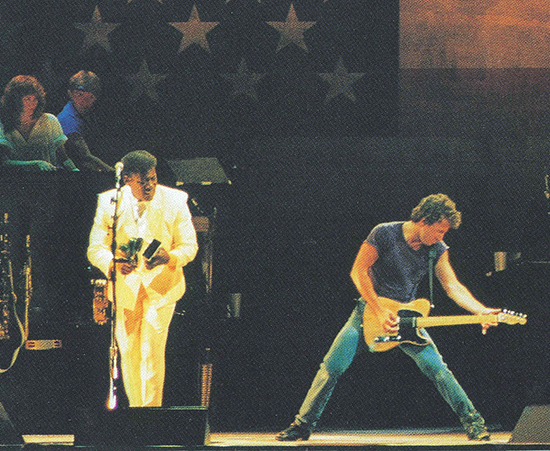 Clarence on cowbell, from the Live/1975-'85 liner notes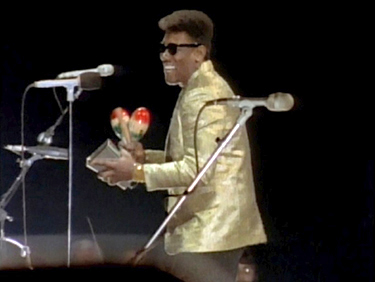 Cowbell-playing has never been credited officially on any Springsteen release. Therefore, the actual identity of E Street's main cowbell-whooper remains a bit of a mystery. All available clues, however, point to Clarence "Big Bell Man" Clemons. In Live/1975-85's lyrics booklet, there's a gorgeous two-page color photo of the full band playing in front of a huge U.S. flag. Clarence, resplendent as usual in a yellow suit, can be seen clearly holding maracas in one hand and a campana/cowbell in the other. Clarence is seen holding the same instruments near the tail-end of John Sayles' music-video for "Born in the U.S.A." Images like these, combined with the smoking-gun footage of his cowbell-playing in the London Calling DVD, make it easy to understand why Big Man usually got album credits for saxophone, vocals and percussion.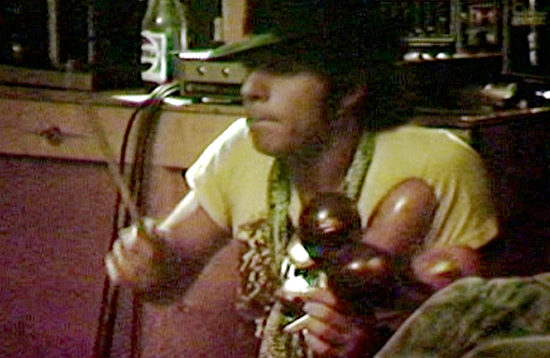 Following London Calling, oddly enough, The Promise box set was the second official 2010 Bruce Springsteen release to feature video of an E Street Band member wailing away on a cowbell. In the "Thrill Hill Vault 1976-1978" video of the band rehearsing "Candy's Boy" in Holmdel, Steve Van Zandt ("Miami… lookin' good!") can be seen supplementing his black fedora and printed scarf with some maracas and a cowbell, on which he ably assists Max Weinberg in the percussion department. (The cowbell also pops up in the completed track on The Promise 2-CD set, though the continued lack of official cowbell credits make it unclear exactly who's playing it there.)
Before London Calling and The Promise, the most recently released use of the cowbell by Bruce Springsteen & the E Street Band got buried deeply in the mix near the end of "Livin' in the Future" on Magic. Bruce's work with the band he put together for We Shall Overcome: The Seeger Sessions, however, featured a much more prominent cowbell appearance. On their follow-up live album and video, Bruce Springsteen with The Sessions Band Live In Dublin, drummer Larry Eagle handled the cowbell duties adeptly in that fantastic klezmer-meets-campana version of "Blinded By the Light."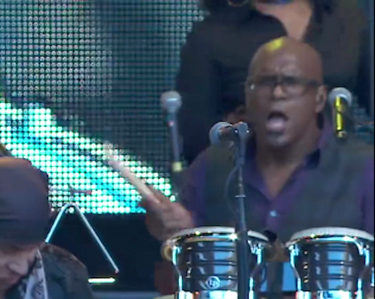 In March 2012, at the conclusion of Late Night with Jimmy Fallon's week-long celebration of the release of Wrecking Ball, Fallon himself (who also appeared in SNL's "More Cowbell" skit) ably joined Springsteen and the E Streeters on cowbell during the band's grand finale performance of "The E Street Shuffle" with Late Night's house band The Roots. On the 2013 European leg of the Wrecking Ball Tour, Everett Bradley snuck a bit of campana into that great by-the-seat-of-their-pants performance of Chuck Berry's "You Never Can Tell" live in Leipzig, Germany (at the 8:14 mark.)
Over the past year or so, the cowbell has continued to ring the rafters on E Street. On the spring U.S. leg of The River Tour 2016, Bruce referenced SNL's classic skit once more during "I Wanna Be With You" live in Columbus, OH (at the 2:52 mark,) and Jake Clemons honored his late uncle's legacy as E Street's cowbell king.
In the fall of 2016, the release of Springsteen's Chapter and Verse brought with it an official release of one of his own earliest cowbell-heavy tracks: "He's Guilty (The Judge Song)", as recorded with Steel Mill in 1970. (There might even be some more early-'70s, pre-E Street cowbell moments to be found in the vaults, as evidenced by Albee Tellone's epic bell-banging on "Jumbeliah" from the fourth and final performance of Dr. Zoom and the Sonic Boom.) And finally, almost 50 years later, Bruce's Steel Mill and E Street Band-mate Steve Van Zandt also gives the cowbell a serious workout in "I Saw the Light" on this year's Soulfire.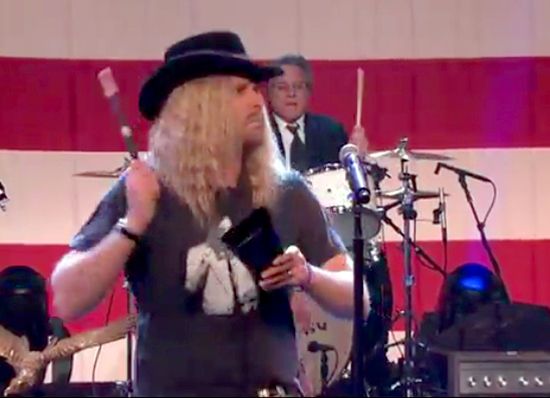 Will Ferrell and Max Weinberg on the final episode of The Tonight Show with Conan O'Brien, January 22, 2010
Clearly down on E Street they've still got the fever, oh they've got the fever, and the only prescription… is MORE COWBELL!
- July 16, 2017 - Shawn Poole reporting

LITTLE STEVEN ANNOUNCES RETURN TO EUROPE; US DATES EXPECTED SOON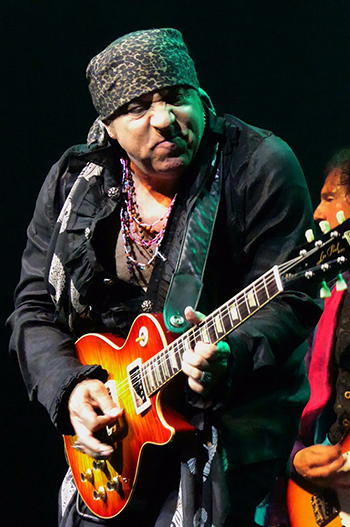 Less than a week after returning home from their European summer tour, Little Steven and the Disciples of Soul are all set to cross the Atlantic again in the fall, with this week's announcement of a seven-date UK tour. It begins at the Roundhouse in London (November 4) and continues at branches of the O2 Academy chain in Bristol (11/6), Leeds (11/8), Birmingham (11/10), Glasgow (11/12), Liverpool (11/14) and Newcastle (11/16). Tickets are already on sale for these shows, and further appearances on the European mainland are likely to follow, which should extend the tour into December.

The just-completed European tour comprised 15 shows in Denmark, Sweden, Finland, Germany, Ireland, Belgium, The Netherlands, France, Switzerland, Italy, Austria and the UK, between June 7 and July 8. (A sixteenth show in Ljubljana, Slovenia, was cancelled.) The band played in a variety of different-sized venues, indoors and out, from rock and blues festival sites to clubs and theatres, including the Vienna State Opera House, the tiny 1,300-capacity Cigale in Paris, and the Royal Theater Carre in Amsterdam, which hosted the most memorable show of the tour on June 25. Running close to 150 minutes, it included a guest appearance from Southside Johnny (who played the Paradiso with the Asbury Jukes the night before) for two encores.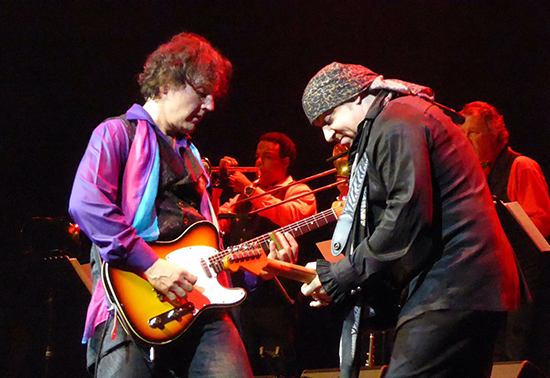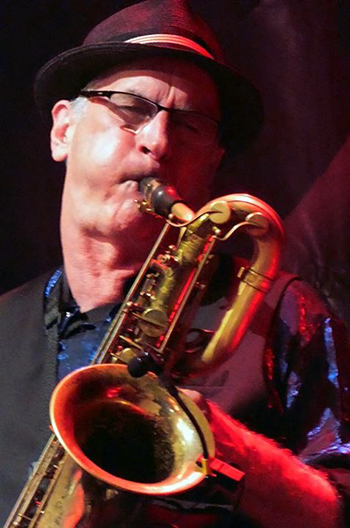 The band line-up for the tour was the same as that which played the Red Bank show on May 27: musical director and guitarist Marc Ribler [above with Steven]; Charley Drayton (drums); Jack Daley (bass); Andy Burton (B3 organ and accordion); Lowell "Banana" Levinger (piano and mandolin); Everett Bradley (percussion); Ed Manion (horn section leader, baritone sax) [right]; Stan Harrison (tenor sax and flute); Ron Tooley (trumpet); Ravi Best (trumpet); Clark Gayton (trombone); and Jesse Wagner, Erica Jerry and Yahzarah Saint James (backing vocals).
Due to prior commitments, Alison Carney replaced Yahzarah Saint James for one show in Sweden, and ex-Asbury Juke and original Disciple Rusty Cloud took over from Andy Burton for the last seven shows.

Fellow Backstreets contributor Dan French and I met several members of the band for a nightcap after the Paris show on June 28. Although we'd regularly exchanged emails over the previous seven months, this was my first face-to-face meeting with Marc Ribler, the subject of my recent interview for Backstreets. After only a few minutes in their company, it became apparent that the new Disciples of Soul were a mutual appreciation society who enjoyed being together both onstage and off. Everett Bradley revealed that being in the band was "ten percent music and ninety percent hanging out."

Featuring virtually all of Soulfire and selections from Little Steven's other albums, the two-hour shows inspired rave reviews from fans and critics, but the final word should come from the musicians themselves, who had at least as much fun as the audience every night and shared their thoughts on social media at the end of the five-week trip. "It has been a pleasure beyond words," said Jack Daley. "Touring with Little Steven is like a never-ending trip to your Italian grandparents' house. He always makes sure the band is taken care of and then some."

"This has been an immensely fun, crazy, invigorating and joyful run of shows," echoed Jessie Wagner. "The band has become like family, and on top of that, they can play their behinds off. Little Steven has been a pleasure to work for. He's funny, talented, and kind, and we are so grateful to have been a part of this group."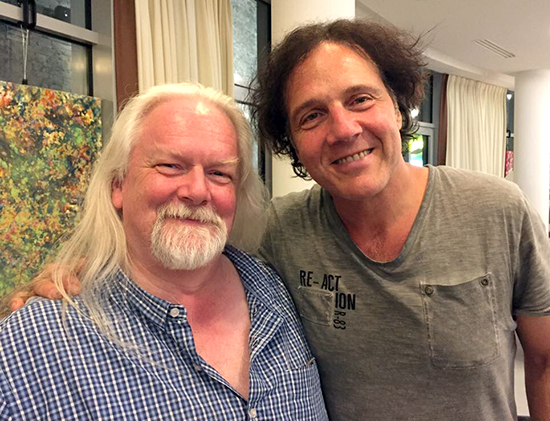 - Author Mike Saunders with Marc Ribler, Paris, 6/28/17 - photograph by Dan French
"I'm feeling very blessed," added Ribler. "Sending big love and thanks to the Disciples of Soul. First and foremost to our fearless and faithful leader Stevie Van Zandt for making our first tour feel like family. Everyone brought their heart and soul each and every night. We won Europe one city at a time."

Those patiently awaiting news of North American appearances should expect an announcement concerning shows in September and October shortly. (The only known booking so far is at the Laid Back Festival in Holmdel, NJ, with Jackson Browne on September 21). Little Steven has been replying to regular enquiries on his Twitter page with "Working on it" for some time now, but it appears that the wait is almost over. Watch this space.
- July 14, 2017 - report and concert photographs by Mike Saunders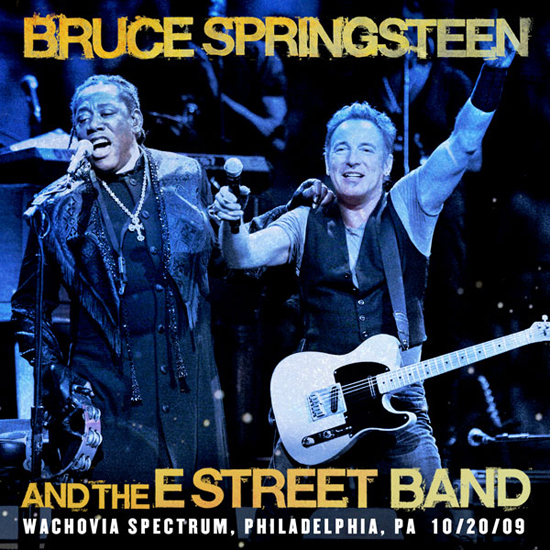 GOODBYE, SPECTRUM... HELLO, LIVE ARCHIVE
The Springsteen archival download series returns to the splendid home stretch of the Working on a Dream tour to present Philadelphia, PA 10/20/09, the final concert Bruce and the E Street Band ever played at the Spectrum.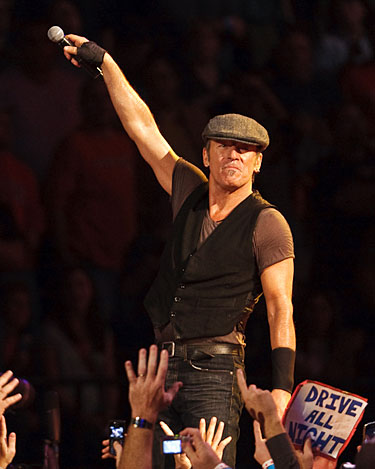 "This is our last night in this old sweatshop," a newsboy-capped Bruce told the crowd on this night. "We're so proud to be in one of the last great rock 'n' roll arenas." If Philly was Springsteen's home away from home, the Spectrum was his pied-à-terre, with a stretch of 32 shows (according to Brucebase) that dates back to opening for Chicago in 1973.
This October 20 show was the last of a four-night stand that closed the curtain on Springsteen's Spectrum years with deep cuts and full-album performances, not to mention the appearance of Philly Elvis on the 19th. The final night's 31-song set is full of highlights but marked by the return of two classic songs in particular. The first was a shocking show opener, the long-desired River treasure "The Price You Pay," which hadn't been performed since the European tour of 1981. The second, via sign request, was Jackie Wilson's "(Your Love Keeps Lifting Me) Higher and Higher," performed so memorably to close out the 1977 tour in Boston and also unheard since.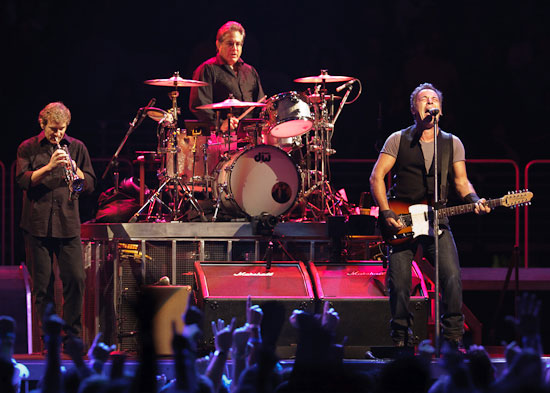 Both portended things to come, as "Higher and Higher" remained in the encore for all but one show on the remainder of the tour, and "The Price You Pay" ultimately previewed the full return of River material in 2016. Trumpeter Curt Ramm, who guested on both songs, would soon make the jump from occasional spot color to horn section fixture.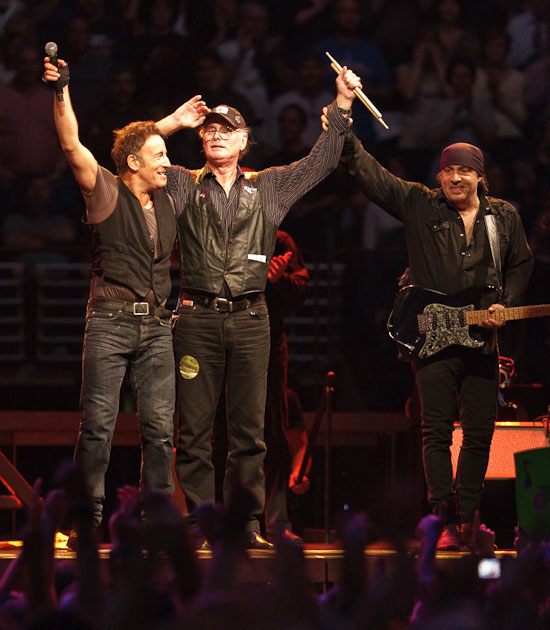 There's plenty more to Bruce's Spectrum farewell, including a fitting cover of The Drifters' "Save the Last Dance For Me"; a welcome appearance by Mad Dog himself, Vini Lopez ("Behave yourselves, or he'll come out there and slap your asses around!") sitting in on drums for "Spirit in the Night"; a rollicking "Kitty's Back," again featuring Ramm; a full-album performance of Born in the U.S.A.; "Loose Ends" by request; and even Bruce's mom showing up to dance with him during "Dancing in the Dark."
Nugs.net's Brad Serling says, "Before we dive deep into the Springsteen archives we wanted to get this one out." Philadelphia, PA 10/20/09 is available now in MP3, Lossless, HD-Audio, DSD or good, old-fashioned CD at live.brucespringsteen.net.
- July 13, 2017 - Erik Flannigan and Christopher Phillips reporting - 10/20/09 photographs by A.M. Saddler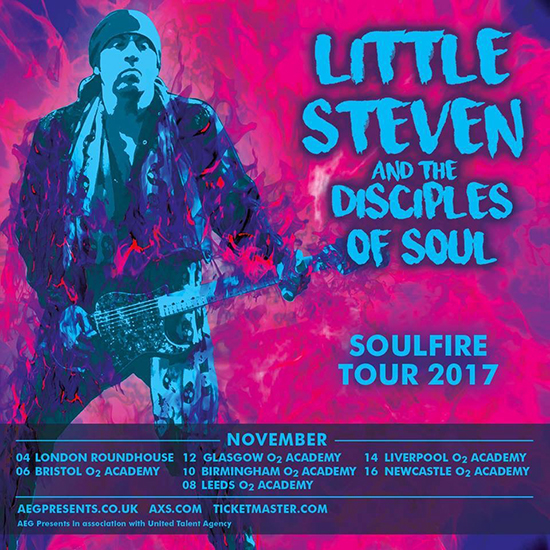 LITTLE STEVEN: LIVE AT LEEDS, LIVERPOOL, LONDON AND MORE
After previous shows in London (before recording Soulfire) and Manchester (after its release), Little Steven and the Disciples of Soul will be returning for a full-on U.K. tour in November. Tickets go on sale tomorrow, Friday July 14, at 9am. See aegpresents.co.uk for onsale links.
- July 13, 2017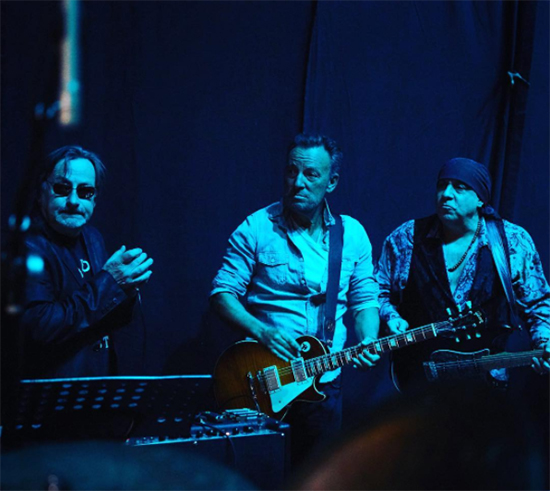 "ROCK 'N' ROLL DREAMLAND"
In April, the Asbury Park Music and Film Festival's Upstage Jam brought Southside Johnny, Bruce Springsteen, and Steven Van Zandt back together on the Paramount Theater stage. Danny Clinch was also there to play harp — but that didn't mean he didn't have his camera handy, too. Clinch captured this moment backstage: "Right before the curtain rises.... Very few knew Bruce was there until the curtain opened. It was so cool. This was NJ rock 'n' roll dreamland in Asbury Park that night!"
A print is up for auction now at charitybuzz.com, donated by Danny to benefit WhyHunger. There's a little more than a week to bid, with the auction closing Thursday, July 20.
- July 12, 2017


ME AND HER WE HAD US SOME FUN
Over at NJArts.net, Jay Lustig has lured us back down into another YouTube rabbit hole with him, with the fifth installment of his series "Springsteen Covered by Women: The Best of the Best." Part 5, the lengthiest yet, brings the number of entries to 100 with some wonderful performances and discoveries. In addition to familiar recordings from the Cowboy Junkies, Emmylou Harris, Patti Smith and 10,000 Maniacs, Part 5 also includes some uncommon treats from the likes of Kelly Clarkson, The Chromatics, Grace Potter and the Nocturnals, and Juliette Lewis with the Sex Pistols' Steve Jones. See Part 5 here, and there's also an index to all 100 songs.
- July 6, 2017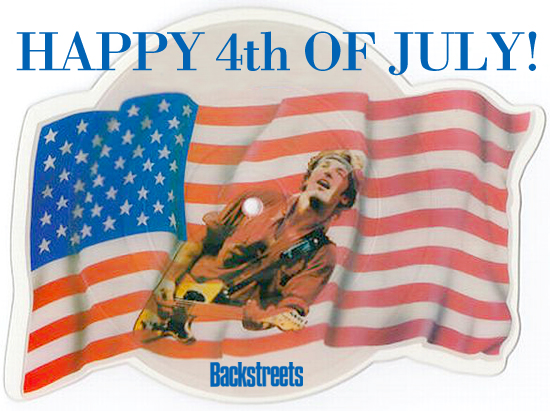 - July 4, 2017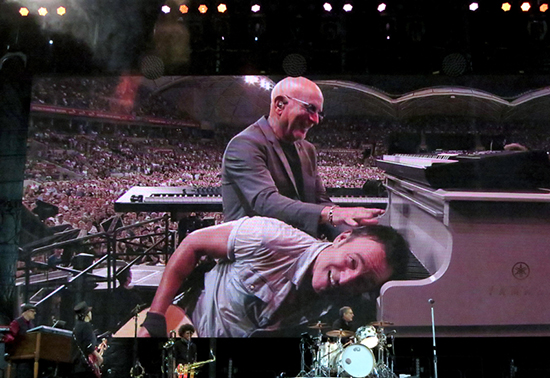 HAPPY BIRTHDAY TO THE PATHOLOGICAL PIANO-POUNDING PROFESSOR
Actually, Professor Roy Bittan tends to keep his head when all about him are losing theirs. Happy 68 to the master of all 88 keys, born July 2, 1949!
- July 2, 2017 - photograph by Rene van Diemen [Melbourne, 2/4/17]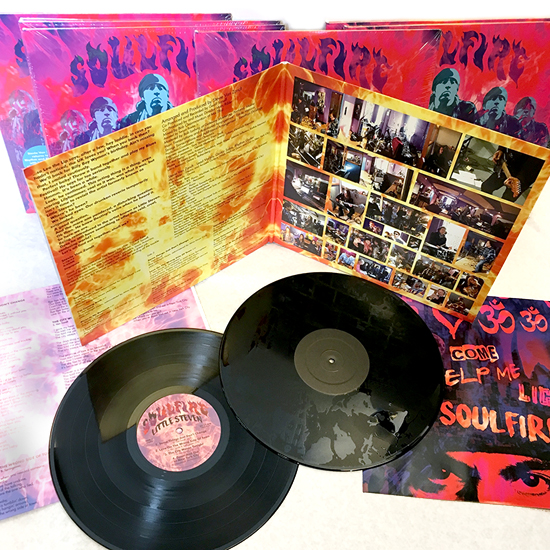 HOT WAX: SOULFIRE VINYL IS HERE
Today's the release day for the 2LP set of Little Steven's Soulfire — and you knew Stevie would do it right, baby: gatefold jacket, lyric inner sleeves, and nice heavy slabs of vinyl. In stock now at Backstreet Records.
- June 30, 2017

PRE-ORDERING FURTHER ON UP THE ROAD
Pre-ordering continues in our online shop for Frank Stefanko's Further Up the Road, a spectacular collection of his Springsteen photography being published by Italy's Wall of Sound. Due in November, with an introduction by Springsteen himself, this limited edition (a total of 1,978 copies) may well sell out via pre-order before publication. Choose an edition below to reserve your signed/numbered copy. The Collector edition is $380 plus shipping, and the Deluxe edition (including a signed and numbered exclusive print) is $630 plus shipping.