THE COMING ATTRACTION
"Hunter of Invisible Game" short film to premiere July 9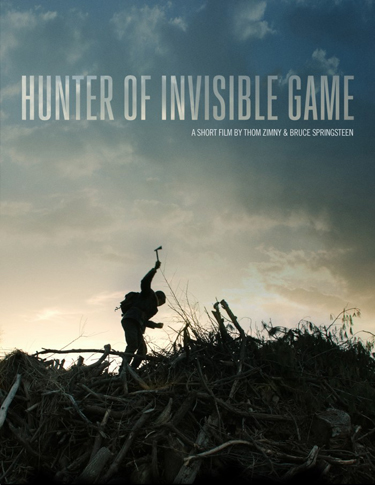 In May at Mohegan Sun, Springsteen told Dave Marsh on E Street Radio: "We've got a lot of projects of all different kinds comin' up. We have a beautiful video of 'Hunter of Invisible Game' that I'm currently working on that hopefully we'll have very soon; I think Thom Zimny's outdone himself on it."
A couple weeks ago, a mysterious image appeared on Bruce's official site, accompanied by just two words: "Coming Soon."
Today, a new version of that image connects those dots, with text revealing it as a movie poster for "Hunter of Invisible Game," a short film by Thom Zimny & Bruce Springsteen. The video will premiere on Wednesday, July 9, at noon Eastern on brucespringsteen.net, where a downloadable poster is available now.
- June 30, 2014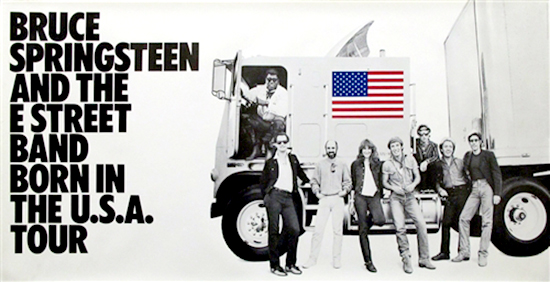 WITH THESE DRUMS AND THESE GUITARS
30 years ago today, the Born in the U.S.A. Tour began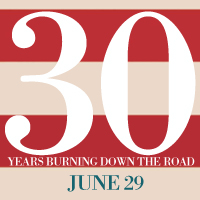 "Missed ya!" shouted Bruce Springsteen to the crowd after officially opening the Born in the U.S.A. Tour with "Thunder Road" at the Civic Center in St. Paul, MN, 30 years ago tonight. "Thunder Road" launched Springsteen's first tour in almost three years. At the time, the period between the end of the River Tour and the launch of the Born in the U.S.A. juggernaut marked the longest-ever wait between tours for Springsteen fans, since superseded only by the wait between the end of the 1988 Human Rights Now! Tour and the 1992-93 World Tour.
The opening concert on June 29, 1984 included a rare double-performance of a song, necessitated by director Brian De Palma's completion of filming for the "Dancing in the Dark" music video, which began in the Civic Center on the previous day.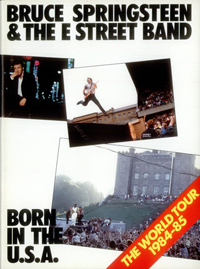 In his recent speech inducting the E Street Band into the Rock and Roll Hall of Fame, Bruce referred to this period of his career as one of "rebirth" for him and his band. Certainly the 1984-'85 Born in the U.S.A. Tour would break much new ground, including the introduction of new band members Nils Lofgren and Patti Scialfa, as well as Bruce's first-ever series of outdoor stadium concerts.
The Born in the U.S.A. Tour is also when Springsteen began his long-standing tradition of giving onstage support to local food banks and other community organizations. As he still often does on his tours, Bruce took just a minute or two during each concert to talk to his audience about the work of a local food bank or other group which he felt was addressing the concerns expressed in his music. The group would be permitted to take donations inside the venue where Bruce and the E Street Band were performing that night; Bruce would encourage his audience to support the group in whatever ways they could and he also would quietly make a contribution of his own.
Dave Marsh's book Glory Days revealed that Bruce had discussed with Steve Van Zandt the idea of doing "something that would leave something behind" as early as the River Tour. The idea didn't really take off, however, until the first Born in the U.S.A. Tour concert held after President Ronald Reagan tried to ingratiate himself with Springsteen fans in a Hammonton, NJ re-election campaign stop. Jon Landau told Marsh that Bruce viewed supporting various grassroots organizations as a way of offering a concrete, constructive response to Reagan's actions rather than just a negative one. Springsteen still felt it necessary to publicly refute the attempts of both Reagan and his Democratic Party electoral opponent Walter Mondale to wring endorsements from Bruce. He also told Landau, however, that he saw publicly supporting groups like Pittsburgh's United Steelworkers of America Local 1397 food bank (the very first beneficiary of Bruce's support on the BITUSA Tour) as ultimately more important because "rather than reacting to somebody else, this is the best way for me to get across my ideas about things in general."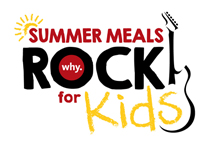 Since 1984, Bruce and his audiences have helped many groups working with poor and working-class people who are struggling simply to survive, including many military veterans and their families. One of the groups that Bruce has been most active with over the past two decades has been WhyHunger, which coordinates, networks with and supports many local anti-hunger organizations. As a founding member of WhyHunger's Artists Against Hunger & Poverty, Bruce has been most recently supportive of this season's Summer Meals Rock For Kids campaign. What better way to commemorate this summer's 30th anniversary of the BITUSA Tour than to give whatever you can in support of this campaign?
- June 29, 2014 - Shawn Poole reporting

BOBBY WOMACK, 1944-2014
Before there was any Incident on 57th, you could find it all Across 110th Street. We're saddened to report that Rock and Roll Hall of Famer Bobby Womack, a major influence on both the rock and soul music at the core of Bruce Springsteen's work, died Friday at 70.
Over a six-decade recording career, from his first single at the age of ten to 2012's The Bravest Man in the Universe, Bobby's voice sounded built for him — for his life, for what he wrote and sang about. You knew that rough-hewn sound had been forged well after midnight, and not always in wholesome ways. It lent massive credibility to his songs, steeped equally in soul and reportage.
In 1985, Womack joined Bruce, Clarence Clemons, Steve Van Zandt and the other Artists United Against Apartheid in recording "Sun City", with Womack pointedly pleading the line, "Somebody tell me why we're always on the wrong side!"
On stage in the 2000s, Springsteen would often drop in lines from "Lookin' for a Love," Womack's 1962 hit with his brothers in The Valentinos, when searching for his baby: "I'm lookin' here and there, I'm searchin' everywhere...." In Kansas City on the Magic tour, Bruce and the E Street Band broke out a one-off of "It's All Over Now" (written by Womack, the first #1 hit for the Rolling Stones). Click here for audio of Nils Lofgren and Springsteen rockin' out on Womack's classic at the Stone Pony back on August 18, 2001.
- June 28, 2014 - Shawn Poole reporting, with Christopher Phillips and Jonathan Pont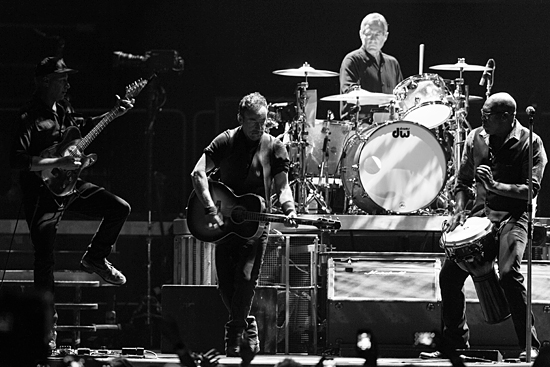 LAST CHANCE FOR HIGH HOPES TOUR DOWNLOADS
Our "Burning Down the Road" columnist helps make some picks
As announced this week, Monday June 30 will bring an end to the sale of High Hopes tour live downloads. With all that wristband hoopla in the rearview mirror, the real takeaway from this effort is an incredible thing: the unprecedented availability of official live recordings from (nearly) every show on a Springsteen tour. One of the most frequently asked questions on Facebook, Twitter, and BTX over the last month or so has been, "Which shows I should download?" This question is not an unusual one — it's asked after every tour wraps up. But given that the downloads are available for purchase this time, the financial investment (rather than hard drive space and torrent site ratios) becomes a potentially limiting factor. And with the downloads headed off the market next week, the question has been asked with more urgency.
So for anyone looking for last-minute guidance, we've sampled all the wares and can recommend some top picks. One thing to keep in mind is that these releases, although professionally recorded from the soundboard, are not going to sound like Live in New York City, Hammersmith '75, or Live in Hyde Park. Bruce and Company spent hours tweaking those in the studio to get everything as close to perfect as possible. The 2014 tour downloads were made available within a week of each show (give or take a day or two), essentially on the fly. Do similar releases from other bands sound better than Springsteen's? Maybe, but since these was their first foray into the official downloads arena, we can cut them some slack.
For this tour's setlists overall, Bruce touched on just about every part of his career (not to mention other artists' careers), playing at least one song from every album except for Devils & Dust. Songs from The Promise and Tracks became more frequent, and even the '92 material was pulled out on a near-regular basis. That said, the "quality" of the setlist on any given night is incredibly subjective and a matter of taste; everyone will have a different opinion as to what kind of setlist they want in the shows they buy. Some will prefer the early stuff, others will want a show heavy on the post-'84 material; for you, there may be a particular song that's a must-have. Most shows, though, featured a good combination of all periods from his career.
Top Five Backstreets Recommended Downloads
So, choices, choices. Looking at setlists or our show-by-show reports may tell you all you need to know. Via Twitter, Tom Morello recommends Melbourne #1 and May Day in Florida. Some fans may just want the show(s) they saw, others may want the full run. For anyone in between, read on. Please note: these selections are based on the recordings, rather than the actual concert events — the magic of a show doesn't always translate to good listening after the fact (looking at you, Mohegan2). Some nights you just gotta be there. So this is not the Top Five shows of the tour — but if you're looking for five great shows to listen to, you can't go wrong with these.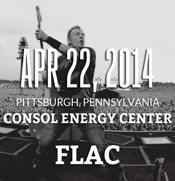 1. April 22, 2014 - Pittsburgh, PA: Bruce opened the show with a cover of The Clash's "Clampdown," and things just got wilder from there. "Stand on It" and "Seven Nights to Rock" within the first five songs gave the show an "encores first" feel, but then two from Tracks — "I Wanna Be With You" and "Back in Your Arms" — put this one over the top. The actual encores don't disappoint, either, with a solo piano "The Promise," the combination of "The Wall" and "Born in the U.S.A.," and the show-closing "Dream Baby Dream." Bruce was in a great mood, and you can hear it in the recording. Complete show review from Backstreets.com.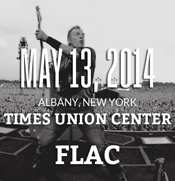 2. May 13, 2014 - Albany, NY: Post-'84 material made up the majority of the Bruce originals at this show, including "Better Days" and a song from The Rising that's not the title track nor has "Day" in the title ("Mary's Place"). An acoustic performance of "Kingdom of Days" had the arena in the palm of Bruce's hand, and the main set-closing "Light of Day" was off the charts due to Bruce's guitar work. This was truly a night where the audience and Bruce were "in concert" with each other, which comes through loud and clear in the recording. Complete show review from Backstreets.com.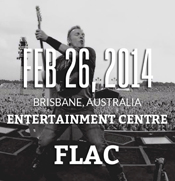 3. February 26, 2014 - Brisbane, Australia: Full album shows don't often get much credit from the die-hards, but when that album is The Wild, the Innocent & the E Street Shuffle, that opinion is often reversed. Bruce blew a few minds just opening with the Bee Gees' "Stayin' Alive," complete with a string section; when the strings returned for a performance of "New York City Serenade," those same minds melted. Add in three songs from The River (including the ultra-rare "Fade Away"), "Save My Love," and another local-flavored cover in "Highway to Hell," and this one becomes legendary. Complete show review from Backstreets.com.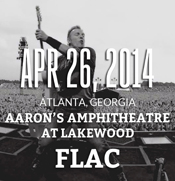 4. April 26, 2014 - Atlanta, GA: "The River, The River, The River!" Conspiracy theorists would say that Bruce spent some time working on a box set from his 1980 double album just prior to this show, but whatever the reason, Bruce played seven songs from that album, plus "Trapped" (debuted on the 1981 tour) at this show. The solo-piano "Independence Day" is a highlight, as is the encore-opening "Drive All Night." Other notables include "Tougher Than the Rest," "Clampdown," and four songs from High Hopes. Complete show review from Backstreets.com.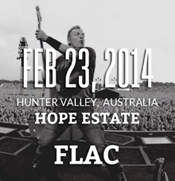 5. February 23, 2014 - Hunter Valley, Australia: The opening "Spill the Wine," a video of which was posted to Bruce's official site, was just the beginning. With "Rosalita" coming out early in the show and "Sandy" opening the encores, Bruce was obviously loose. The one-two combo of "Brilliant Disguise" into "Human Touch" worked incredibly well, and an acoustic "I Wish I Were Blind" perfectly set up the show-closing "Thunder Road." Complete show review from Backstreets.com.
- June 27, 2014 - Flynn McLean reporting - photograph by Michael Zorn



SECOND EDITION OF NASHVILLE POSTER AVAILABLE NOW
A couple weeks ago, we alerted you to a rare, official E Street Band show poster for Nashville 2014, created by Print Mafia. Following our post, the three-color silkscreen quickly sold out. The kind folks at the Kentucky-based print shop kept hearing from disappointed fans, though, so they decided to do something about it: a new edition of the poster is available now. It's the same image as before only smaller (16 x 20) and produced by hand in their studio, hence the "Studio Edition" title.
Print Mafia's Connie Collingsworth tells Backsreets, "We got so many requests from fans who did not get one of the other larger version, and they were pretty heartbroken, so we released this one. We aren't trying to gouge anyone, and the price will not rise on this one — it'll be $30 always. We normally wouldn't do this, but I really want to accommodate all the Boss fans that went to the show and just want something from it." Get yours here.
- June 27, 2014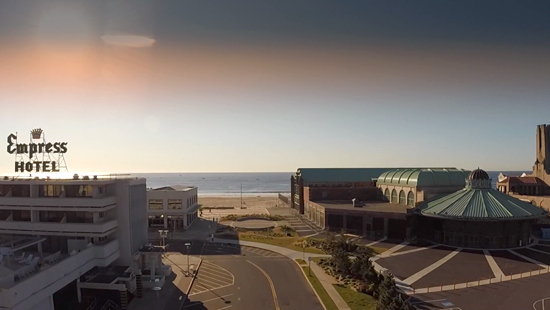 ABOVE THE SHORE EVERYTHING'S ALRIGHT
Here's a use of aerial drones we can totally get behind: gorgeous views of Ocean Grove and Asbury Park shot by Marc Mendoza. In this Vimeo clip you'll see familiar landmarks — including the Stone Pony, Convention Hall, the Casino, and more — from breathtakingly unfamiliar vantage points. Hat tip to Daniel Wolff (who adds, "I mighta used different music, but...") for pointing us to this taste of summer on the Jersey Shore.
- June 25, 2014 - still from Marc Mendoza's "Ocean Grove and Asbury Park"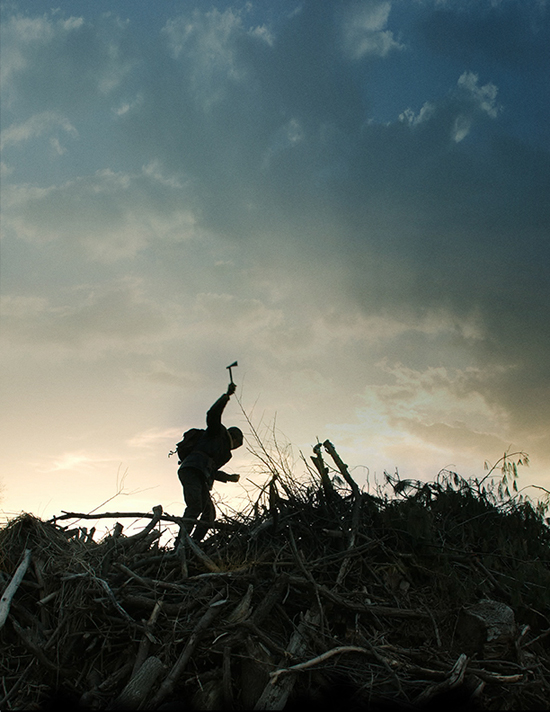 AIN'T NO BREAD FROM HEAVENLY SKIES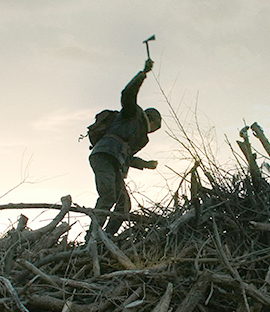 This intriguing image appeared last week on brucespringsteen.net (lightened at right to show detail) with no further information other than "Coming Soon." But there's been plenty of chatter — from BTX to USA Today — about what we might be looking at here. Our agents in the field aren't confirming exactly what this image depicts, but they've ruled a few things out.
Here's what it's not:
1. An extended video for "Just Like Fire Would"
2. A pimp swinging his axe
3. Where they buried the FLAC/mp3 files for the second Melbourne show
4. A new album cover
5. George W. Bush clearing brush
6. Springsteen's lost cameo in a Tobe Hooper film
7. The actual editing process for Live/1975-'85
8. An outtake from Bruce's motorcycle trip photo album (what happens in Florida stays in Florida)
9. Toby Scott redoubling efforts in the hunt for "Electric Nebraska"
10. Anything to do with Mariachi music or a River box set
Someone ask the Jersey Devil, maybe he knows. Or maybe we'll find out later this week...
- June 23, 2014

GERRY GOFFIN, 1939-2014
"The nights of listening to Lieber and Stoller, Goffin and King, Barry and Greenwich, Mann and Weil, the geniuses of early rock 'n' roll songwriting had seeped deep into my bones."
— Bruce Springsteen, liner notes for The Promise - The Lost Sessions: Darkness on the Edge of Town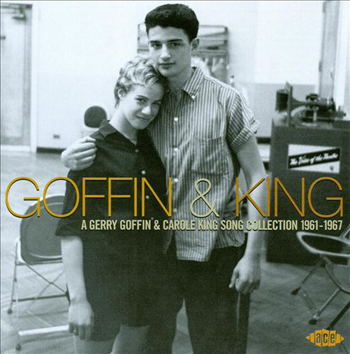 Rock and Roll Hall of Famer Gerry Goffin died at 75 on Thursday. Goffin, with his first wife and songwriting partner Carole King, co-wrote many of the best and most influential songs of the rock and soul era. Jon Landau, who inducted Goffin and King into the Rock and Roll Hall of Fame in 1990 (see video here), called them "two of rock's great writers," serving as a "bridge between the Brill Building styles of the late fifties and early sixties and the modern rock era. And the fact is they started looking forward with their very first hit." That would be "Will You [Still] Love Me Tomorrow?" as originally recorded by The Shirelles, the first "girl group" record to top the charts.
Goffin and King's classic compositions also include "Up on the Roof" as originally recorded by The Drifters, "One Fine Day" as originally recorded by The Chiffons, "Chains" as originally recorded by The Cookies and later recorded by The Beatles, "Don't Bring Me Down" as originally recorded by The Animals and "(You Make Me Feel Like) A Natural Woman" as originally recorded by Aretha Franklin.
A dance done around the house by their teenaged babysitter, Eva Boyd, inspired Goffin and King to co-write "The Loco-Motion." Their demo recording of the song, with Boyd singing it, sounded good enough to get issued as the official release and become a number-one dance craze. (Boyd was dubbed "Little Eva" for the official release.) The drums/sax intro to "The Loco-Motion" sounds very similar to the first few seconds of drums and sax that would later open "Born to Run"; in 1976, Bruce Springsteen joined Carole King onstage at one of her New York concerts to perform "The Loco-Motion." Unfortunately, no recording of that performance has ever surfaced.
Other recordings exist, however, featuring Springsteen performing Goffin/King songs as early as the days of Dr. Zoom and the Sonic Boom. Click the following song-titles to hear partial or complete clips of Bruce and his various bands performing "Will You [Still] Love Me Tomorrow?", "I'm Into Something Good", "Up on the Roof" and "Goin' Back." In 1975, Nils Lofgren also released a wonderful version of "Goin' Back". Click here to see Nils' live BBC performance of the song.
As Bruce himself noted above, the Goffin-King influence on his music runs strong and deep. For example, their song "Up on the Roof," with lyrics by Goffin that turned a potentially low-rent inner-city experience into something far more magical and meaningful, surely must have influenced the urban romanticism of Springsteen songs like "Incident on 57th Street" and even the seemingly slight "Out in the Street." Springsteen biographer, critic, and E Street Radio broadcaster Dave Marsh told Backstreets that Goffin's lyrics had a "unique, up to that time, ability to capture a teen girl's voice. Not just romantically (that was Ellie Greenwich) but with truly kinetic sexuality... way ahead of its time... No way Bruce gets to 'Spare Parts' and gets understood without them."
In a statement posted on her official website, Carole King said, "Gerry Goffin was my first love. He had a profound impact on my life and the rest of the world. Gerry was a good man and a dynamic force, whose words and creative influence will resonate for generations to come. His legacy to me is our two daughters, four grandchildren, and our songs that have touched millions and millions of people, as well as a lifelong friendship. He will be missed by his wonderful wife Michele, his devoted manager, Christine Russell, his five children and six grandchildren. His words expressed what so many people were feeling but didn't know how to say. If you want to join his loved ones in honoring him, look at the names of the songwriters under the titles of songs. Among the titles associated with me, you'll often find Gerry's name next to mine."
- June 21, 2014 - Shawn Poole reporting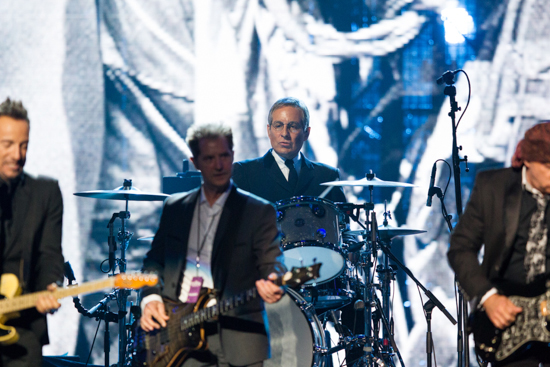 MAX TO HONOR HIS PARENTS AND GRANDPARENTS BY LEADING LIVE AUCTION AT NJ TEMPLE ON SATURDAY
Honoring their parents, Ruth and Bert Weinberg and Jean and Dale Shick, and Max's grandparents, Max and Celia Mindlin (who were founding members of Temple Sharey Tefilo back when the venerable synagogue was in East Orange), Max and Becky Weinberg have donated a week's stay at their private Tuscan villa to the Temple's upcoming fundraising auction on June 21.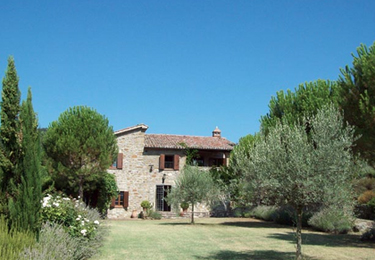 The Weinberg's villa is pictured at right. Max, who was Bar Mitzvahed at the synagogue back in 1964, will be attending the Temple's fundraising event, "Magic in the Night," to serve as guest auctioneer for the live auction of this remarkable opportunity.

There will be pre-auction bidding online, and the highest online bid will serve as the opening bid at the live auction on site. The event this Saturday is open to the public; fans who are interested in attending the event or bidding remotely can contact Leslie Sporn via email at lsporn@tstinj.org to obtain tickets or arrange proxy voting.
- June 17, 2014 - Rock and Roll Hall of Fame Induction photograph by Michael Zorn

IN MEMORIAM: NEW CLASS OF ASBURY ANGELS INDUCTED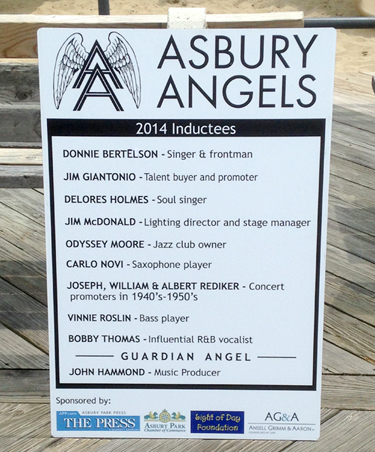 On Saturday, a sundrenched Asbury Park boardwalk hosted the annual Asbury Angels induction ceremony. This year's group includes a pair of significant figures in the history of the city's West Side, a scene which heavily influenced the soulful sound for which the city would become internationally famous: Odyssey Moore, whose Orchid Lounge was home to countless local and national R&B and blues acts, and Bobby Thomas, whose mellifluous tenor graced local bands like The Vibranaires and V-Eights as well as the legendary Orioles.
Also inducted were founding Asbury Jukes saxophonist Carlo Novi; vocalist Delores Holmes, who lent her gospel-tinged sound to countless Jersey Shore projects including the Bruce Springsteen Band and appeared on "My City of Ruins"; Donnie Bertelson, frontman for seminal Jersey Shore R&B band The Shots; and bassist Vinnie Roslin, who with charismatic vocalist Walter Cichon founded The Motifs before joining Steel Mill with Bruce Springsteen and Vini Lopez.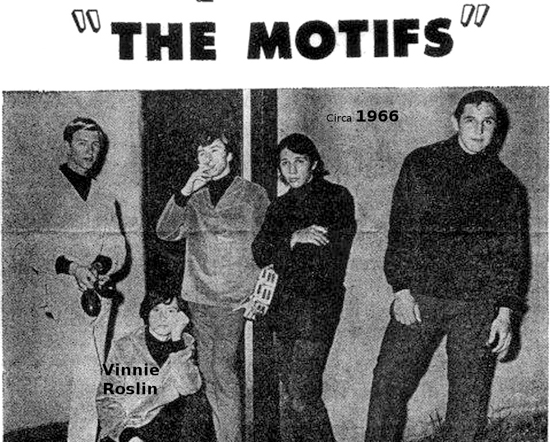 On hand for the festivities were Charlie and Pamela Horner of Classic Urban Harmony, whose dedicated research brought long-deserved recognition to the many West Side artists without whom the Asbury Park sound would not exist, and who were instrumental in organizing a pair of 2011 concerts honoring these musicians, one of which featured a memorable guest appearance by Bruce Springsteen.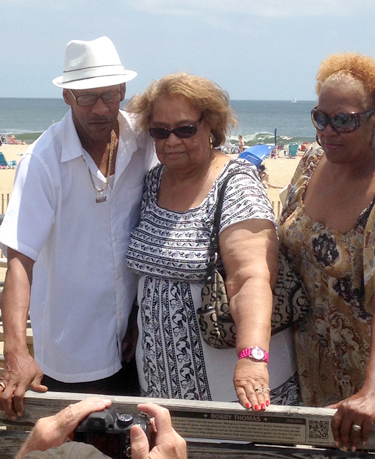 Asbury Angels board member (and founding Juke) Tony Pallagrosi read brief biographies of each inductee, after which their honorary plaques — each permanently attached to a bench on the Asbury Park boardwalk — were unveiled. At the conclusion of the ceremony, the Asbury Angels theme song played over the P.A. as family members gathered to pose for photos on the appropriate bench in what has become an annual ritual [at left, Bobby Thomas's family].
The Asbury Angels web site is an ongoing, interactive enterprise, and fans and friends may contribute photographs, video or comments about any current or former inductees. The official song is available for download on songwriter Marc Ribler's website for $1.99; all profits benefit the Asbury Angels Project.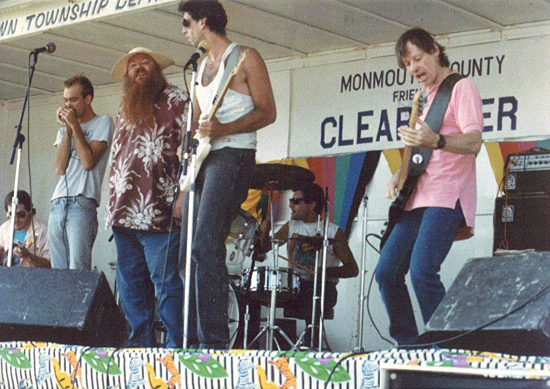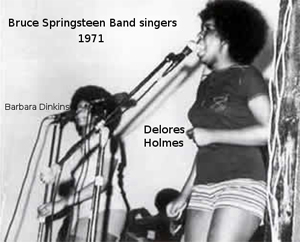 The 2014 Asbury Angels inductees are: Donnie Bertelson; Jim Giantonio; Delores Holmes [right]; Jim MacDonald; Carlo Novi; Odyssey Moore; Albert, Joseph and William Rediker; Vinnie Roslin [above right, at the Clearwater Festival in 1988]; Bobby Thomas; "Guardian Angel" John Hammond. The next group of Angels will be announced on Friday, January 16 at the Stone Pony as part of the 2015 Light of Day benefit.
- June 16, 2014 - Lisa Iannucci reporting - photographs courtesy of Lisa Iannucci (1,3) and Al Schnitzer (2,4,5).


PASSIONATE COVERS
The great Lucinda Williams played the Stone Pony in Asbury Park last night and performed a lovely version of "Factory." Thanks to Michael Brazinski for capturing the moment.
- June 12, 2014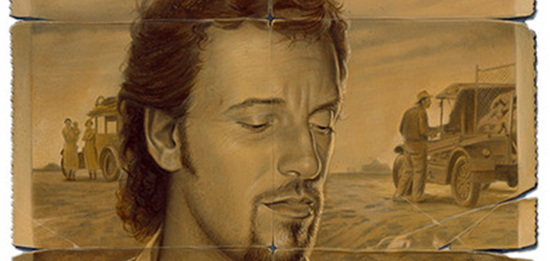 LAST CHANCE FOR BIDS
Reminder: The Friends of Bob Newman Benefit Art Auction [see below] closes this evening, including three Springsteen works by illustrators Tim O'Brien [detail above], Hanoch Piven, and Felix Sockwell. Click here to view the complete auction, where bidding ends at 6pm Eastern.
- June 11, 2014

SOMETHING PRETTY YOU CAN HANG ON YOUR WALL
Show posters for Springsteen gigs are few and far between these days, but they're not totally unheard of. Poster collectors have had good luck in Music City USA, between Hatch Show Print and nearby Print Mafia (based in Bowling Green, KY)... and 2014 keeps the streak alive.

For the April 17, 2014 Nashville show at Bridgestone Arena, Print Mafia created this official poster, a numbered edition of 150. Hand screen printed in three colors on heavy white stock, just a few left — visit printmafia.net to grab one while you can!
- June 10, 2014

THE BOSS, HE WROTE ME A LETTER, PART II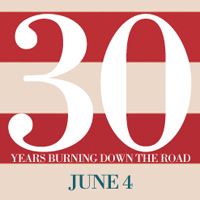 On Friday, we posted a note Bruce Springsteen mailed to a fan 30 years ago, as he was gearing up for the Born in the U.S.A. tour. Turns out, Bruce didn't limit his dip into the fan mailbag to just the one. As Rich Baum tells us: "The Boss wrote more than one letter that day. I couldn't believe my eyes when I saw a copy of a letter Bruce wrote to a fan with the same Jim Thorpe stamp and Bradley beach postmark on the same date!
"My story is slightly different," Baum continues, setting the scene in early June 1984. "My friend and I really wanted to meet Bruce, so we found his house in Rumson (with an assist from the friendliest postman we've ever met). Of course, Bruce wasn't home, and we were hassled by the local police — rightfully so, since we were trespassing. We left dejected, but since I now knew his address, I figured I'd send him a letter and see what happens."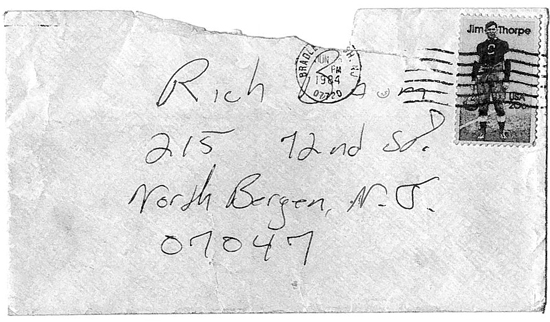 Two weeks later, a handwritten reply in the mail, with the same stamp and postmark as Tony Hyde's. Rich says, "I used the 'you tried to meet Elvis' angle in my letter," which led to one of the nicest "Get off my lawn" letters you'll ever read.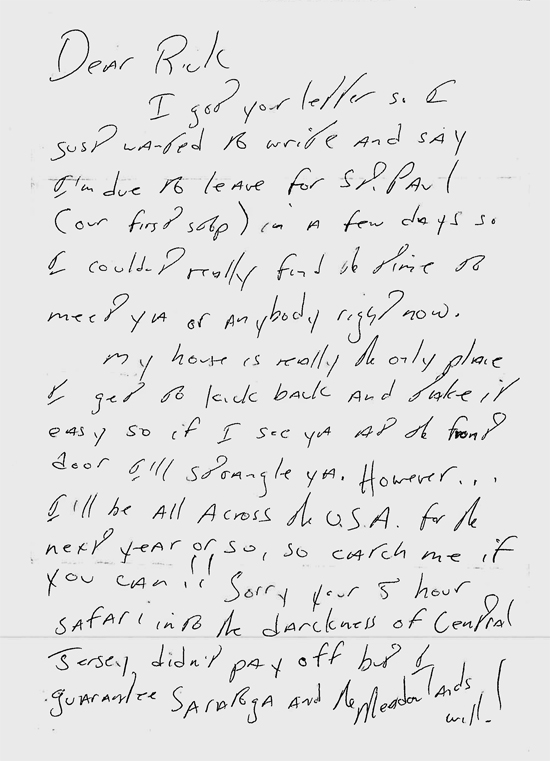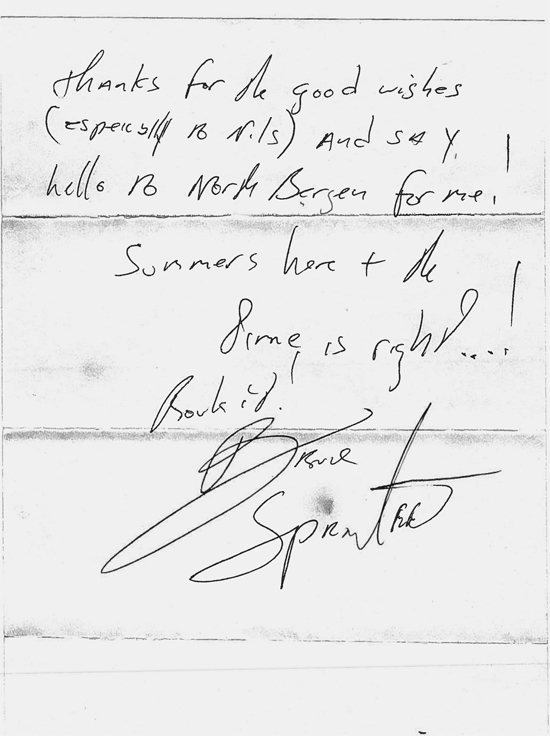 So, that's two... who else received a letter postarked June 25, 1984 from Bradley Beach?
- June 9, 2014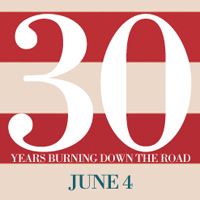 THE BOSS, HE WROTE ME A LETTER
This past Wednesday, while reviewing some of the excitement around the 1984 release of Born in the U.S.A., we included a portion of the Washington Post review by Richard Harrington that could be best be described as tepid. The review was titled "Springsteen's Wrong Turn."
"Though it has its moments, many of the songs are dismissible and the album seems to confirm a creative stasis first noted on 1980's The River," Harrington wrote. "In Pete Townshend's words, 'Meet the new Boss/Same as the old Boss.'"
So if you're a college student in Falls Church, VA and a hardcore Springsteen fan to boot, what do you do when you read such a review? Write a letter to the editor? If you were Tony Hyde, you went straight to the man himself: he sat right down and wrote Bruce Springsteen a letter.
"Oh, I don't know what I was thinking. I read that Post review and I thought 'This is garbage. He just doesn't get it,'" said Hyde from his home in Illinois this week.
But why write to Springsteen directly?
"I went out and bought a second copy of the Post and I cut out the review. I wanted Bruce to know that when he came to DC on tour, that he shouldn't bother sitting down with this guy for an interview. But I also told him how much I loved the Nebraska album and how much I was looking to his upcoming tour. I put my letter in an envelope and sent it to his house.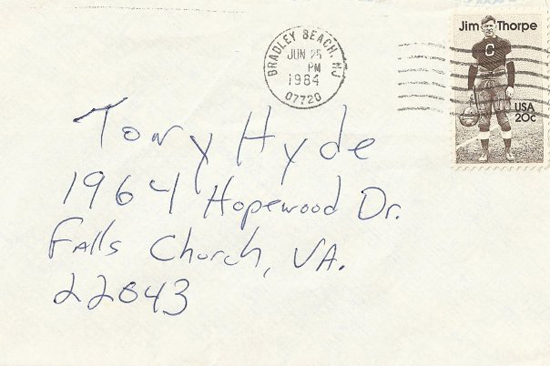 "It must have been a week or two later," Hyde continues. "I had a summer job... I came home, and my mail was on my bed. The first thing popping out at me is this letter. I immediately thought, "Bruce?" Then I saw the Bradley Beach postmark — you've got to be kidding me! I went and got a proper letter opener. I opened it up, and there was a two-page, handwritten letter. I immediately looked at the second page, and there was his signature. I sat down and I read the letter. And then I read it again. And I probably read it a couple more times. Then, I called my friends. "Hey, Bruce Springsteen just wrote me a letter!'"
Springsteen's handwritten reply is interesting for a number of reasons, not least of which is they way he handles Harrington's criticism and Hyde's indignation with humor:
My mother thinks it's a work of genius (but she don't write for The Post)... I wouldn't let it get to you too much, though. It's just something that comes with my job.
Even though he's probably been consumed with all things U.S.A. for the previous several months (and the coming year ahead), Springsteen still takes delight in the artistic release of Nebraska two years prior:
Glad you felt so much about the Nebraska album. It's a record I'm real proud of. When I made it I didn't expect to be hearing much of it on the radio though. But it sure felt good.
Then there's the timing: the postmark on the envelope reads June 25, 1984. Taking a quick look at Brucebase.com, the week before Bruce and the E Street Band had spent almost all of their time in rehearsals for the tour opener on June 29 in St Paul, MN. That Springsteen would take any amount of time to respond to a fan letter at such a busy time says much about Springsteen's commitment to his fans.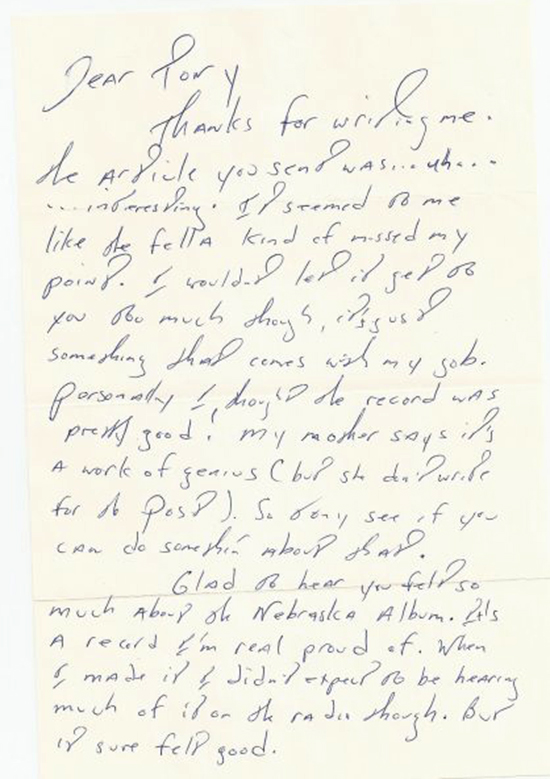 - June 6, 2014 - Bob Zimmerman reporting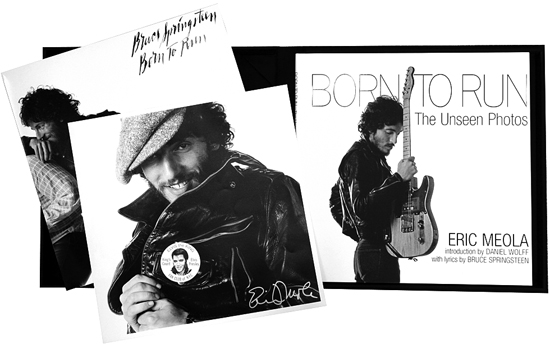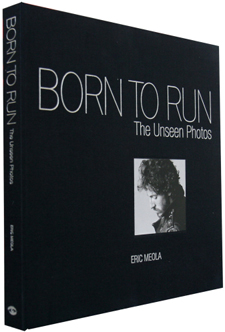 THE UNSEEN PHOTOS
CAN BE SEEN AGAIN!
Long sold out and out of print, we now have the limited edition of Eric Meola's Born to Run: The Unseen Photos back in stock! This 2006 package from Insight Editions (only 1,350 made) includes the hardcover and a bonus print both signed by the photographer, along with a replica of the original Born to Run script cover to protect the photograph, all housed in a black cloth clamshell case.
We just discovered a small supply, and we're able to offer them for the original 2006 list price.
Meola's subsequent Bruce book, the wonderful Streets of Fire, is still available (and we're now offering it on sale for 20% off), but The Unseen Photos has been out of print for years — even the standard hardback edition now commands collectors prices. We certainly never thought we'd see this limited edition package again. Get 'em while they last.
Also from Insight Editions is the hardcover edition of Frank Stefanko's Days of Hope and Dreams, after its first printing was in softcover only. Insight's limited package of Frank's book is long sold out, but we do still have that standard hardcover edition, itself a beautiful book.
- June 5, 2014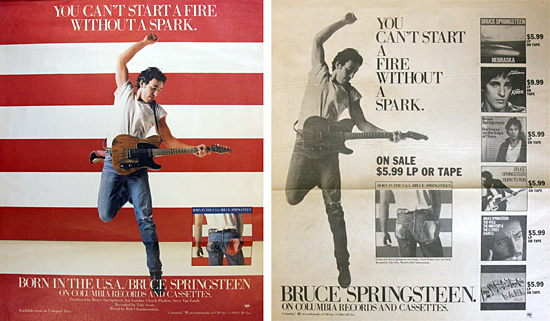 THE SPARK: THE MUSIC ITSELF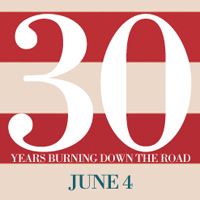 Ah, $5.99 LPs... those were the days. And for one more look back to those glory days as we wrap up today's BITUSA30 coverage, we've got one last item for your listening pleasure, thanks to DJ and Bruce Brunch host Tom Cunningham. "I had a ringside seat for the madness," Tom tells us of 1984's Summer of Bruce. "I was the night guy (and the music director) at WPST in Trenton in '84 and got to experience the hugeness of the album and the tour in a very cool way."
Below you'll find his full show from this past Sunday, celebrating the 30th Anniversary with two hours of music and commentary: "I managed to play the whole album, some nifty B-sides and some equally nifty outtakes." The Bruce Brunch airs every Sunday from 9am to 11am on the Jersey Shore's 105.7 The Hawk. As Tom said on his show, "Grab your bandana, and for the next couple of hours, it's 1984."

- June 4, 2014 - thanks to Tom Cunningham and Gary Titus for the recording.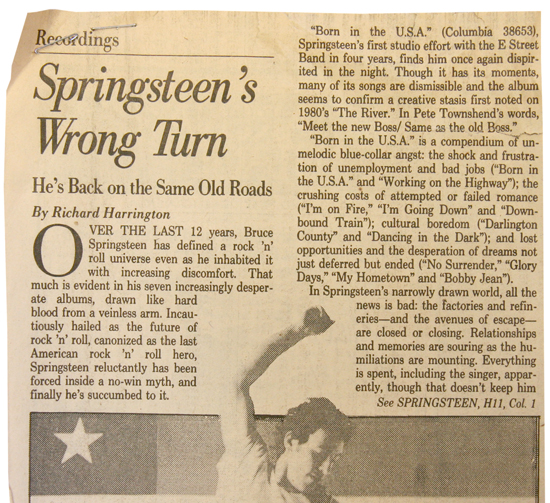 GLORY DAYS: A BITUSA-THEMED DIVE INTO THE SPECIAL COLLECTION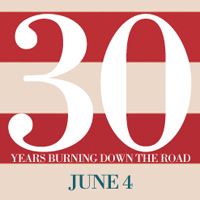 The website of The Friends of the Bruce Springsteen Special Collection has posted a lengthy essay on Born in the U.S.A. and its enduring impact. The essay was culled mainly from Born in the U.S.A.-era reviews and archival material published in the U.S. and other countries (all of it stored in the Special Collection, which is housed and maintained at Monmouth University in Long Branch, NJ). Read it online here — it's a reminder of the varied reception that the album got upon its release (it wasn't all five stars like Rolling Stone decreed; see, for instance, Richard Harrington's take in the Washington Post, above).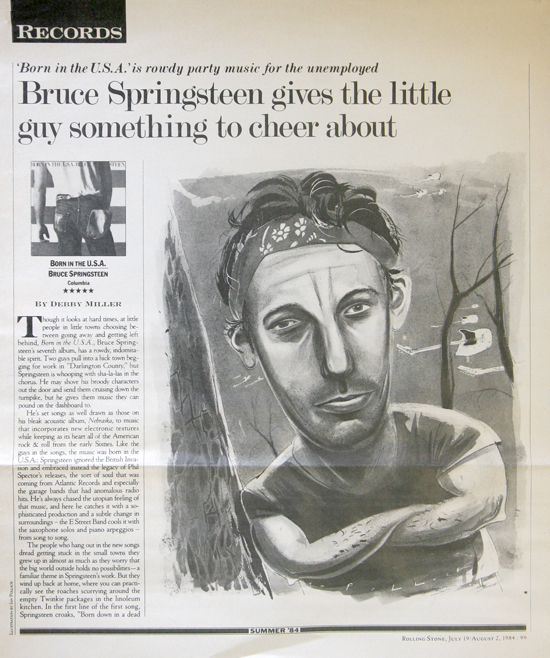 Note to completists: What you can read online is an edited version of a lengthier article that was sent in newsletter form to all members of the Friends. The newsletter version contained an additional 3,000 words or so of archival quotes, citations, etc. To join the Friends and receive these newsletters, click here to become a member.
- June 4, 2014

DID JIMMY CLIFF HELP TO INSPIRE "BORN IN THE U.S.A."?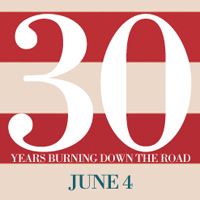 Backstreets contributor Shawn Poole has created a brief sound montage (below) to help support his "working hypothesis" regarding the creation of Born in the U.S.A.'s title track. "To the best of my knowledge," Shawn tells us, "Bruce himself has never commented on this possibility, nor have I ever seen or heard anyone else explore it, but I think that reggae legend Jimmy Cliff's song 'Vietnam' may have played an influential role in the eventual creation of 'Born in the U.S.A.'"
"We know from Dave Marsh's book Glory Days that on the 1981 European leg of the River tour, Bruce bought a Jimmy Cliff compilation cassette in an Amsterdam airport. The only song that we definitely know was on that cassette was 'Trapped,' since Marsh reported that hearing that song on the compilation is what inspired Bruce to begin performing his own versions of 'Trapped' in concert. Yet 'Vietnam' was another big song for Jimmy Cliff — Bob Dylan once called it the best protest song that he'd ever heard – so it's more than a bit possible that it was on that same Jimmy Cliff compilation, or that Bruce was aware of Jimmy Cliff's 'Vietnam' in some other way." Whether it was on that same tape or not, Springsteen clearly became a fan, also going on to cover Cliff's "Many Rivers to Cross" years later and inviting Cliff to perform with him and the E Street Band during their 2012 SXSW appearance.
"In any case," Shawn continues, "before 1981 was over, Bruce began working on a song of his own entitled 'Vietnam,' which he later retitled 'Born in the U.S.A.'"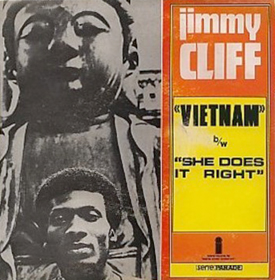 "So we start the sound montage with a bit of Jimmy Cliff's original recording of his song 'Vietnam.' Then we cut to a 1981 recording of Bruce with an acoustic guitar working on his song 'Vietnam,' featuring some lines that he would later work into the song 'Shut Out the Light.' To my ears, at least, Bruce's guitar strumming here has kind of a sped-up, punky reggae-type rhythm to it; but even if you don't hear that, Cliff and Springsteen not only shared a song title, they both sang the single word 'Vietnam' repeatedly in their choruses. When we hear Bruce pause and turn the page of what is presumably one of his famous songwriting notebooks, we cut to a later, more evolved version of the song in which 'Vietnam' has been replaced by the phrase 'Born in the U.S.A.' Finally, to bring this possible reggae connection full-circle, we cut to a 1987 recording of Bruce performing a reggae version of 'Born in the U.S.A." live in New Jersey with Jah Love & The Survivors."
- June 4, 2014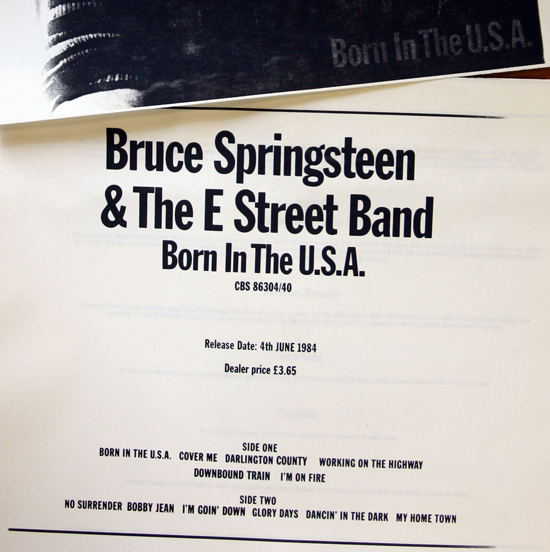 ACROSS THE RAILROAD TRACKS AND ACROSS THE POND
A view of the worldwide phenomenon from England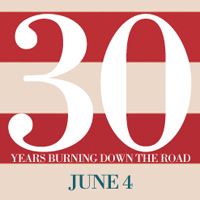 Today Born in the U.S.A., possibly Bruce Springsteen's most iconic — and certainly his most popular — album turns 30 years old. Many die-hard Springsteen fans have not been kind to this record. But for me, a fan since 1979 when I first heard side two of Born to Run, the record has been the soundtrack to my life all these years. So much has been written about the record and the success it brought to Springsteen that I won't repeat the obvious. What I'd like to write about instead is what the album has meant to me.
In 1984, I was working as a reporter on the Star newspaper in Sheffield, a grim but beautiful industrial city in northern England. Once the pride of the north with its famous steel industry, the country's third largest city had fallen into hard times in the early 1980s. Many of the steel and engineering factories which provided jobs to so many of its people had closed down, leaving a depressing urban wasteland of empty factories and idle workers. The daily newspaper for which I worked was filled each day with headlines of companies closing down and laying off scores of workers.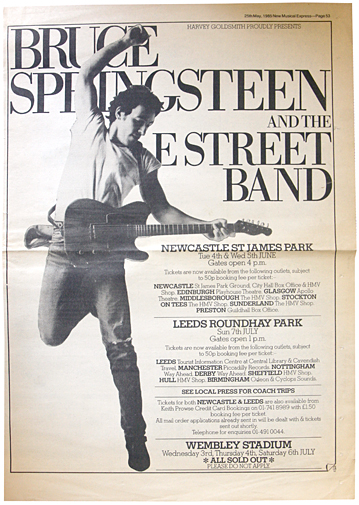 In addition, in 1984, Sheffield was at the forefront of the brutal, bloody national miners' strike that seemed to divide the country into two. As right-wing prime minister Margaret Thatcher waged a relentless war against trade unions and the working class, the leaders of one of the most dangerous industries fought back on the streets and on the picket lines to keep the mines from being gobbled up by private companies. Sheffield was the headquarters of the National Miners Union and so the miners' strike was very much at the forefront of discussion in this sprawling city.
It was against this backdrop that Springsteen's new record was released. I had been a huge fan for five years, my worship of The Boss cemented by an extraordinary performance that I witnessed in London in May 1981 during the River tour. I admired the Nebraska record released the following year, but quite frankly, I didn't listen to it a lot. In fact, I was more in tune with the superb records that were released during this era by the likes of David Bowie, The Police and Michael Jackson.
But in the spring of 1984, there was talk that Bruce's new record was a rock album, and excitement was clearly building. On June 4, I bought the album and played it on my record player in my apartment. I was immediately blown away by the brilliance of the songs. Tunes like "Downbound Train" and "My Hometown" seemed to speak directly to what was happening in Sheffield at that time. The former was particularly evocative.
A sublime piece of work, "Downtown Train" immediately grabbed the listener with its stark, haunting portrait of emotional and economic loss. The opening guitar chords sent us plunging into the heart of darkness as Springsteen weaved a chilling tale of a man who has lost everything and lives in a dream world that's far removed from his grim reality. Max Weinberg's crisp drum work an,d above all, Roy Bittan's mournful synthesizer passages — as heartbreakingly beautiful as Clarence's sax solo on "Jungleland" — perfectly match Bruce's poignant lyrics. "My Hometown" worked as a beautiful album-closer, summing up some of its most recurring themes with some of Springsteen's finest passages. Sheer magic.
The magnificent "Dancing in the Dark" was the theme song for any bored teenager or 20-something wanting that "last chance power drive." Its breathtaking pace coupled with Bruce's hungry vocals made it an instant classic, one that was guaranteed to lift you out of whatever funk you were in. I've listened to it literally thousands of times over the years and never gotten tired of it. "Bobby Jean" and the underrated "No Surrender" spoke of friendship and youthful idealism and did so with gorgeous melodies and brilliant musicianship from the E Street Band.
Just like Born to Run a decade before, the record seemed to be a summation of a lot of American music over the previous 30 years. The title track captured the righteous fury of John Fogerty's protest songs; "Darlington County" had the raunchy crunch of the Stones; the Eddie Cochran-meets-Buddy Holly rockabilly of "Working on the Highway" was Bruce at his most playful, while the sweetness and innocence of "Bobby Jean" seemed like a wonderful throwback to '60s Motown, especially the heartbreak of the Supremes' "My World is Empty Without You." There was also the Johnny Cash-inspired "I'm on Fire" and the brilliant echo of Bruce Channel's "Hey Baby" on the final lines of "Dancing in the Dark."
When I watched the recently released DVD of the Born in the U.S.A. concert in London, it struck me that the record really consists of six set of twins, paired by common themes and sounds. Thus, the anger, angst and paranoia of "Born in the U.S.A." and "Cover Me" give way to the humor and deceptively fun times of "Darlington County" and its cousin "Working on the Highway." The rest of the record follows a similar pattern. That's perhaps what's most amazing about Born in the U.S.A.: even though some of the songs may not be particular favorites, they all work together because Bruce had perfected the art of sequencing a record into a coherent whole. And that's why, as much as I love "Janey Don't You Lose Heart", "Murder Incorporated," "This Hard Land," and others that were left off the record, the final product is still undeniable.
So thanks, Bruce, for giving us an album that has defined what one British music critic described in the 1970s as "survival music" — in other words, music that you listen to as if your life depended on it. I'm sure that 30 years down the road, we're still be saying we learnt more from a 45-minute record than we ever did in school.
- June 4, 2014 - Prakash Gandhi reporting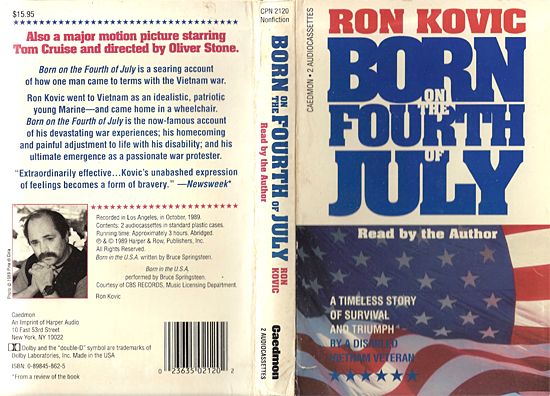 "FOR MY COUNTRY AND ITS PEOPLE": RON KOVIC AND BORN IN THE U.S.A.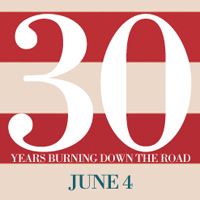 A major inspiration for the creation of "Born in the U.S.A." was Born on the Fourth of July, the 1976 memoir of Vietnam veteran and anti-war activist Ron Kovic. In 1989, Kovic collaborated with filmmaker Oliver Stone on a powerful, Academy-Award-winning adaptation of the book starring Tom Cruise. In conjunction with the film's release, Kovic recorded an audiobook version of Born on the Fourth of July and received permission from Bruce Springsteen to use part of "Born in the U.S.A." in the audiobook's introductory section. Take a listen, from the out-of-print release on Caedmon/Harper Audio:
Twenty years later, on the night that Bruce received his Kennedy Center Honor, Kovic was one of the featured speakers. Before he (literally) saluted Springsteen from the stage that evening, Kovic said, "I met Bruce Springsteen for the first time in 1978 at the Sunset Marquis Hotel in Hollywood, California. I remember on one afternoon seeing a young man swimming in the pool, and when he got out of the pool I went up to him and I said, 'You probably don't know me, but my name is Ron Kovic.... I wrote a book called Born on the Fourth of July, and I'm a Vietnam veteran.' He seemed surprised and he said, 'I just read that book!' We talked for a while, and he invited me to San Francisco to see him perform at the Winterland arena. It was my first Bruce Springsteen concert.... and then somewhere in the middle of that extraordinary performance that night, Bruce looked out into the audience and he said, 'This one's for you, Ron...' and he began to sing 'Darkness on the Edge of Town.' I remember as I sat in my wheelchair, I began to cry, and it was the first time I had cried in a long time. Being born on the Fourth of July has always meant a lot to me and knowing you, Bruce, has made it even more special to have been born in the U.S.A."
Of all that was said about Bruce Springsteen in the year Born in the U.S.A. was released, Rolling Stone magazine chose a quote by Kovic to accompany the Aaron Rapoport photograph in their Yearbook 1984: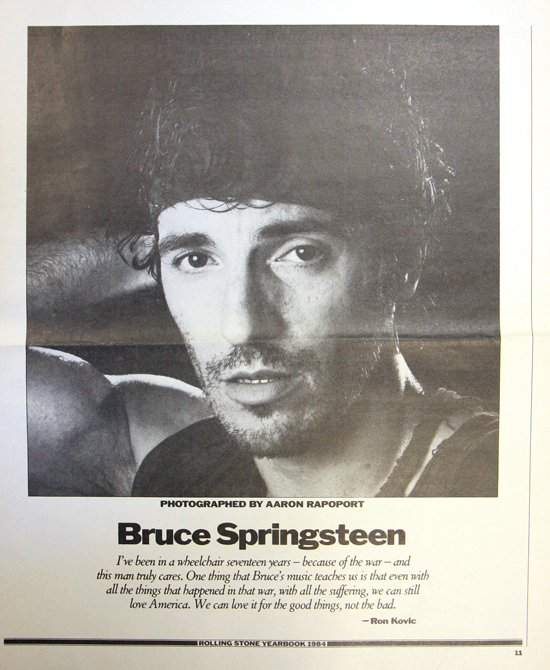 - June 4, 2014 - Shawn Poole and Christopher Phillips reporting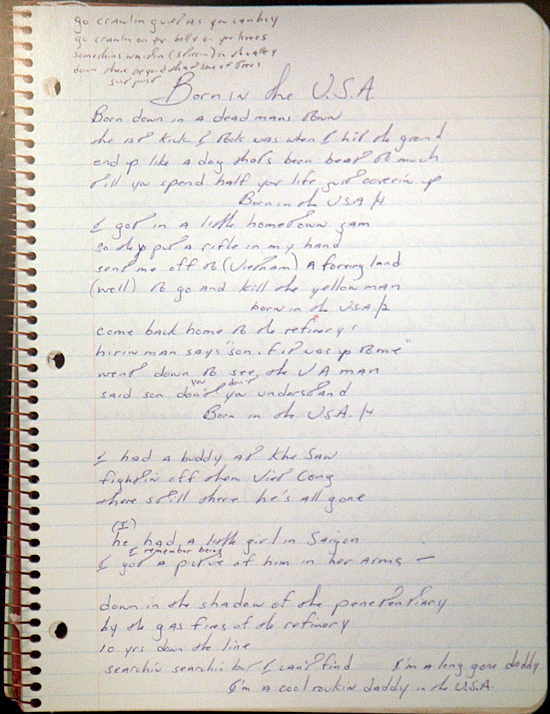 "SOMEBODY CARED WHAT WE WERE GOING THROUGH"
We're honored that Doug Bradley, Vietnam War veteran, educator, blogger and co-author of the forthcoming book We Gotta Get Out of This Place: Music, Survival, Healing, and the Soundtrack of the Vietnam War, has shared with us some of his thoughts on the 30th anniversary of Born in the U.S.A.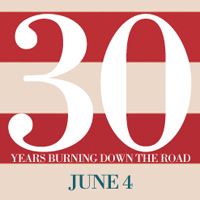 When Born in the U.S.A. burst on the scene in 1984, I'd stopped believing there would be any coherent, constructive Vietnam veterans movement in this country. I'd spent most of my first decade back home working for that, helping vets on issues like unemployment, education, discharge upgrades, housing, and incarceration, but now needed to move on, start a career, do well as a husband and father. I wasn't a spokesman for my community of vets, but I also knew that given our shabby treatment by our government and the public, we really hadn't been able to develop any kind of community in the first place.
But then I heard Bruce's voice, his anger and pain on that title song, and I realized that somebody cared what we were going through, somebody knew, as he put it, that "Vietnam turned this whole country into that dark street, and unless we're able to walk down those dark alleys and look into the eyes of the men and the women that are down there and the things that happened, we're never gonna be able to get home...."
These were more than just words for Bruce Springsteen — they were principles, values that he put into songs like "Lost in the Flood," "Highway Patrolman," "Brothers Under the Bridge," and "Shut Out the Light," that resonated with an entire generation of Vietnam veterans. My colleague Craig Werner and I became aware of this on numerous occasions during our ten years of interviews with Vietnam vets for our forthcoming book We Gotta Get Out of This Place: Music, Survival, Healing, and the Soundtrack of the Vietnam War. Of course, the most frequently mentioned of the songs was "Born in the U.S.A.," also one of the most widely misunderstood songs of the rock 'n' roll era. Originally recorded in a haunting delta blues version for the album Nebraska, the song has never really escaped its enmeshment in the iconography of giant American flags and stadiums full of white people pumping their fists while President Ronald Reagan, who'd declared Vietnam a "noble cause," was cruising towards re-election.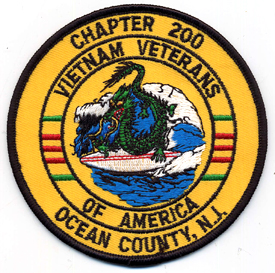 "Born in the U.S.A." still signifies that for some vets who felt scapegoated by America. But it also rang true in other ways for Vietnam vets like Bobby Muller, a former U. S. Marine combat lieutenant paralyzed from the waist down by a bullet in Vietnam. The founder of Vietnam Veterans of America and the Vietnam Veterans of America Foundation, Muller's admiration for Bruce Springsteen and what he's done for Vietnam veterans is immeasurable. And a lot of that has to do with "Born in the U.S.A.," a song which not only speaks the truth about Vietnam, and America, but has Muller as the inspiration for the line "I'm a cool rockin' daddy in the U.S.A."
"We would not have had a unified, coherent veterans movement without Bruce," Muller told us in 2011. "He's a down-to-earth, righteous guy who has respect for people and he maintains a personal integrity and down-to-earth aspect I've rarely seen. He stays in touch with people like me, with the more recent vets. He is my personal hero."
Amen to that. Thirty years on, that song still resonates, that message still stings, that anger feels right. Hopefully it won't take another thirty years for the U.S.A. to get its shit together.
- June 4, 2014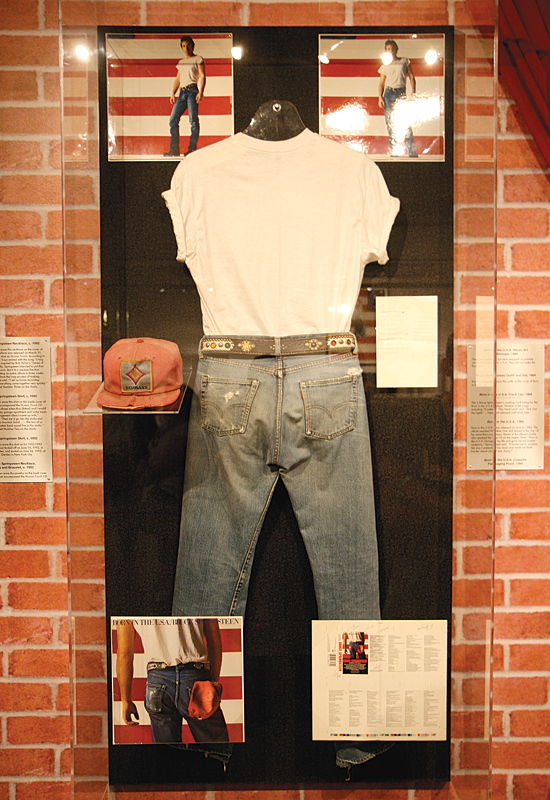 THE JEANS SEEN 'ROUND THE WORD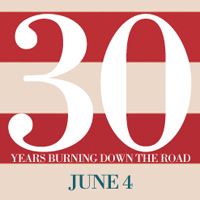 From album cover to museum piece: above, the white T-shirt, Levis blue jeans, belt, and weathered red baseball cap from the cover of Born in the U.S.A., as displayed at the Rock and Roll Hall of Fame's From Asbury Park to the Promised Land exhibit. The front of the cap is revealed to have a Rembass logo — short for Remotely Monitored Battlefield Sensor System — not a bad piece of trivia to keep in mind for any quizzes down the road.
The iconic photograph was taken by Annie Leibovitz, but the cover itself was a project designed and helmed by art director Andrea Klein. In the '80s, Klein spoke with Backstreets about its evolution.
"Bruce hoped to have his face on the cover, because he didn't have it on the cover of Nebraska. When all was said and done, he just didn't like any pictures of himself. He liked this image the best; he picked it."
But Springsteen didn't pick it right away, and at first no one was considering it for the front. "It came from the idea of a back cover," Klein recalled. "Bruce had his hat in his pocket. That's how he is — he sticks his hat in his pocket. Great back cover! Even though some of us talked about it being the front cover, Bruce kept saying, 'Yeah, but I can't put my butt on the cover.'"
Springsteen eventually saw the light, but not before bringing Klein to tears, after seven photo sessions in a year and a half, with nearly as much deliberation as he put into his studio recordings: "He went come one weekend and called me. 'Well, I think we gotta keep fishing.' In other words, start from scratch — and the album was nearly finished! I got off the phone, and I was very depressed. I think I burst out crying. 'Keep fishing'! I thought I was gonna lose my mind!
"The way Bruce has taken his career that's different from other huge personalities is that he just maintains complete control of his own image. And one way he does that is by making sure, from the graphics side of it, he sees and approves every single solitary thing that goes out. It gets down to the slash mark on the cover; he didn't think it should be there. That's how involved he gets."
- June 4, 2014 - interview with Andrea Klein by Arlen Schumer, from Backstreets: Springsteen, the Man & His Music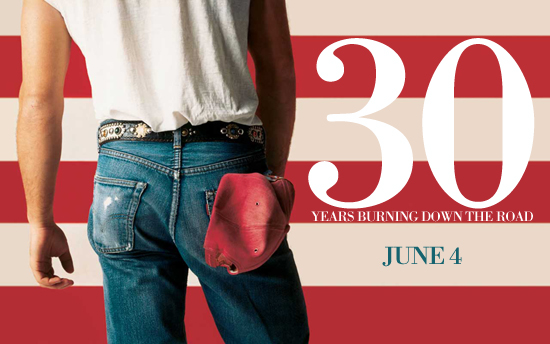 RADIO'S ON AND I'M MOVING 'ROUND THE PLACE
E Street Radio & Backstreets.com celebrate Born in the U.S.A. at 30
Tomorrow, June 4, marks the 30th anniversary of the release of Born in the U.S.A., Bruce Springsteen's biggest-selling record of all time and one that, as he recently noted when he inducted the E Street Band into the Rock and Roll Hall of Fame, served as a "rebirth" for him and his band.
Beginning tomorrow and running through next Tuesday, E Street Radio will air a wide-open country's worth of special programming to celebrate. The week-long birthday celebration officially kicks off early tomorrow at 7am ET, with a special three-hour edition of the channel's fan-DJ program, Be the Boss. The special was coordinated by Kevin Farrell, board member of The Friends of the Bruce Springsteen Special Collection, who has previously recorded more than 35 special Be the Boss programs. This time out, in addition to contributing his own insights, Kevin also arranged for many other fans of Bruce's seventh album, including Backstreets.com's own Chris Phillips and Shawn Poole, to contribute their own individual takes on Born in the U.S.A., both track-by-track and as a complete LP. Here's Phillips's contribution, for a sneak peek at the three-hour program:
This Be the Boss special edition will feature some live and alternate versions of songs from the album as well. It will re-air Wednesday at 5pm, Friday June 6 at 3pm, Saturday June 7 at 12am and 8am, Sunday June 8 at 3pm, Monday June 9 at 4 pm, and Tuesday June 10 at 12am and 8am ET.
After Be the Boss debuts tomorrow, it will be followed at 10am by a special two-hour Born in the U.S.A.-themed edition of Live From E Street Nation with Dave Marsh. Fans are invited to listen and call in (at 877-70-BRUCE) to discuss anything related to the 1984 album, tour, legacy, etc. A replay of this show will air on Sunday, June 8 at 6pm ET.
Cover Me, E Street Radio's weekly show focused on other artists covering Bruce and vice-versa, will air a track-by-track set of Born in the U.S.A. covers by other artists on Thursday June 5 at 12am and Saturday June 7 at 3pm ET. Concert recordings from 1984-'85 will air throughout the week as well, along with tracks and outtakes from the era featured every hour. It''s all happening on Sirius/XM channel 20.
Backstreets.com also has a slew of Born in the U.S.A.-related features lined up for tomorrow in celebration of this major anniversary. Keep checking in with our News page throughout the day as we plan to sit around thinkin' about it with a multi-part set of posts.
- June 3, 2014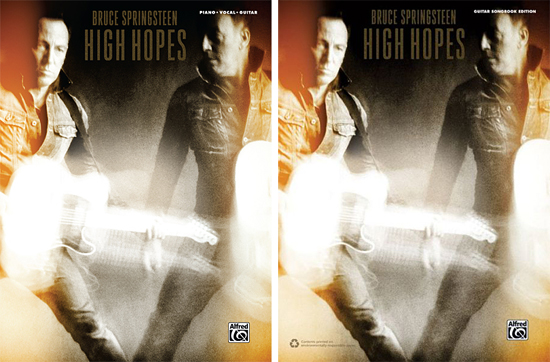 GOT HIGH HOPES SONGBOOKS
The official songbook for the new album has been released, from Alfred Publishing, in both Piano/Vocal/Guitar and Guitar TAB editions. In stock now at Backstreet Records!
- June 3, 2014

LOOK HARD AND LOOK TWICE
HBO Hall of Fame Broadcast in Replay, On Demand & Online
Following its May 31 premiere, the HBO broadcast of the 2014 Rock and Roll Hall of Fame Induction Ceremony, featuring Bruce Springsteen's induction of the E Street Band, will receive multiple re-airings on various HBO channels through the end of June. Click here and then click "Schedule" at the bottom of the page for a complete listing of dates, times and channels. The induction ceremony also is now available through HBO On Demand and online via HBO GO.
A few key items to catch on the replay if you missed them the first time around: Phantom Dan's accordion and Big Man's hat and sax placed reverently onstage behind Bruce just a bit to his right, the moving shot of Jake Clemons at the very end of the E Street Band's segment, and the later quick shot of Jake and Jason Federici rocking out joyfully together during Kim Gordon's performance of "Aneurysm" with the surviving members of Nirvana (at about the 2 hr., 55 mins. mark.)
- June 3, 2014 - Dawn Leinberger & Shawn Poole reporting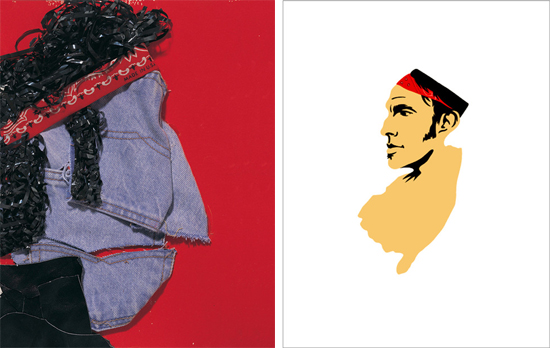 BRUCE ILLOS & MORE IN ORIGINAL ART AUCTION BENEFITTING BOB NEWMAN
The first issue of Backstreets came out in 1980, but the magazine didn't become a real enterprise until a few years later. By then I was also working as an editor at The Rocket, a Seattle music magazine, with Bob Newman. Bob's name would not come up on the list of the top 1,000 Springsteen fans in Seattle in that era but nonetheless he was tremendously supportive of this weird publication Backstreets, and always supportive of me. Backstreets and The Rocket used the same illustrations, designers, and sometimes writers, and both were magazines that in a way didn't make any sense within the business, but made perfect sense to readers, and the writers and editors involved. When Bob moved to New York a few years later for a "real" job art directing the Village Voice, I became editor of The Rocket. Within the magazine industry, Bob continued to get better gigs, but throughout his career he's remained tremendously supportive to other creative types in the industry.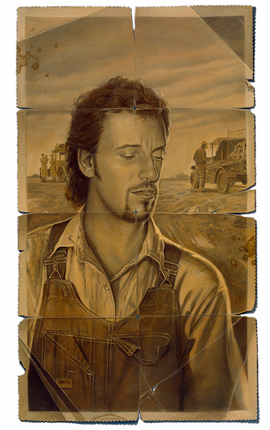 Bob suffered a serious head injury in the spring of 2013 that left him in the hospital for three months, followed by a long period of recovery and rehabilitation. His friends and colleagues have organized a series of benefits to help raise funds to cover ongoing medical and living expenses while he continues his recovery.
A group called Friends of Bob Newman has organized an online art auction to benefit Bob and his family, and that auction includes three illustrations of Bruce Springsteen — tremendous work — done by top illustrators. Many of the other works for auction include illustrations of musicians like John Lennon, Lou Reed, and Pete Seeger.
The auction will run until June 11. This is a rare chance to acquire the work of some of the most noted illustrators in the magazine industry, but it's also a chance to support a great guy who was always a great friend to Backstreets.
Click here to visit the Friends of Bob Newman Benefit Art Auction.
- June 2, 2014 - Charles R. Cross reporting - illustrations by Hanoch Piven, Felix Sockwell, and Tim O'Brien