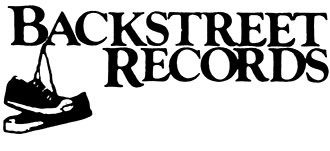 Click here for the Latest Additions to the Shop
Backstreet Records is the mail-order division of Backstreets. If you're looking for all things Boss, you've come to the right place. Springsteen is our specialty, and we carry every official item we can find. From music to memorabilia, our online catalog is packed with Boss merchandise in addition to Backstreets Magazine, and satisfaction is guaranteed. Backstreet Records is mail order you can trust.
Holiday shopping? Unlike every year in recent memory, this year we're unable to provide an order-by date for guaranteed Christmas delivery. Given the supply chain issues and post office slowdowns we've all heard about, we don't want to make explicit delivery-time promises (other than Expedited shipping).
But we DO promise that we'll be working as hard and as fast as we always do at this time of the year to get your stuff on its way to you quickly, and we simply recommend placing your order as early as you can, for the best shot at receiving it in plenty of time.
We're collectors and fans, just like you, so we'll treat you the way we'd like to be treated ourselves.
---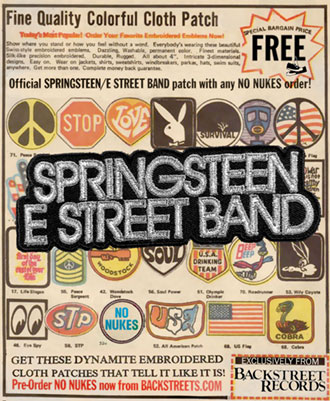 FREE official cloth patch with every order of 'The Legendary 1979 No Nukes Concerts,' whether on CD/Blu-ray, CD/DVD, or Vinyl LP.
This bonus limited-edition item is a shaped, sew-on patch created specifically for the 2021 No Nukes release, die-cut and embroidered with silver metallic thread to echo the album cover.
Official promo item available exclusively to Backstreets customers.
---