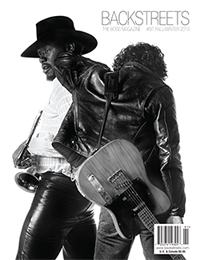 The Fall/Winter 2013 issue, Backstreets #91

Our massive latest issue honors a very Big Man. More than half of the 116-page, perfect bound Backstreets #91 is a tribute to the life and music of... do we have to say his name?

Okay, we will. Our 65-page Clarence Clemons tribute kicks off with Big Man: The Final Chapter, an epilogue to Clarence's book written exclusively for us by his co-author and longtime friend, Don Reo.


After that, page after page of remembrances from longtime friends, colleagues, and fellow musicians, including Little Steven, Robert Santelli, "Stormin'" Norman Seldin of the Joyful Noyze, Vini Lopez, Ernest "Boom" Carter, Mike Appel, J.T. Bowen, Narada Michael Walden, Branford Marsalis, Dale Maharidge, Jo Lopez, Nick Mead, and eulogies from Jake Clemons and Bruce Springsteen.


We've also packed this tribute with stunning images spanning 40 years, from photographers including Eric Meola, Barbara Pyle, Frank Stefanko, Jim Marchese, Rene Van Diemen, Victoria Clemons, James Shive, James Appel, Michael S. Williamson, Teresa Psykaty-Lamicella, Joseph Quever, Guy Aceto, A.M. Saddler, Michael Zorn, and the archives of Billy Smith.


The Clarence tribute section is, appropriately, massive. But it's not the only feature here. We also present the Backstreets Interview with Tom Morello, conducted by editor Christopher Phillips. Over two sessions, and 11 pages in the magazine, Tom discusses his fandom, relationship and work with "the only friend I have who I also subscribe to a magazine about."


Plus: The impending High Hopes, Q&As with Bruce author Peter Ames Carlin and For Music's Sake author Carrie Potter, "fan-based recordings" reviews, and much more. 116 pages, perfect bound, full-color.
If you enjoy our website, we know you'll love the magazine — you can still order a single copy of this issue.


Advertising in Backstreets Magazine
Backstreets is accepting advertising.
For more than 33 years, Backstreets magazine has provided the most in-depth coverage of the professional career of Bruce Springsteen, as well as coverage of other related artists from the Jersey Shore and beyond. The printed publication has won several awards for its design and editorial coverage, and MTV called it "the standard to which all others are compared." We combine features, commentary, and detailed concert reports with new product news and reviews.
Backstreets has a loyal readership nationwide (all 50 states) and internationally (more than 40 countries). Most readers are subscribers, but the magazine also has broad distribution by Ingram, Ubquity, Armadillo and others, from large book and record chains to mom and pop record stores.
While Backstreets magazine itself focuses on Bruce Springsteen, each issue reaches more than 15,000 hardcore music fans of all stripes (we currently print 16,000 copies). Backstreets readers tend to be well-educated, hardcore music-lovers in general: avid collectors, regular concert-goers, and musicians. Most Backstreets readers read the magazine the day it arrives and save their issues for future reference.
Backstreets is saddle-stitched and printed web offset with covers on 70 lb. gloss enamel and interior pages on 50 lb. gloss enamel.
---

DISPLAY ADVERTISING
We offer quarter-page, half-page, and full-page ads, all in four-color. Rates start at $400 for a quarter-page ad (with multiple placement discounts available).

For a complete rate card and mechanical information:
fax a request including your snail-mail address to (919) 968-9622
e-mail a request including your snail-mail address to editor@backstreets.com,
or contact Chris Phillips at (919) 968-9466.
---
CLASSIFIED ADVERTISING
Our classifieds run in the back of each issue, with three sections: PERSONALS, WANTED, and FOR SALE. Classified rates are $1 per word, 10 words minimum, for all commercial ads, trades, wants, or for sales. Personal ads (pen pals, messages and the like) are 50 cents a word, 10 word minimum. No ads selling bootleg or unauthorized materials will be accepted.
To place a classified ad:
Send ad text with payment (check, money order, or MC/Visa/Discover) to:
Backstreets Classifieds
1818 MLK Jr. Blvd #300
Chapel Hill, NC 27514
USA
fax with payment info to (919) 968-9622
or e-mail with payment info to orders@backstreets.com

Backstreets Magazine
New issue contents
Back Issues
Where to Buy


Advertising
Subscriber Services

SUBSCRIBE NOW!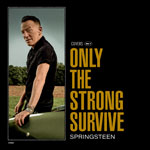 ONLY THE STRONG SURVIVE
The Backstreets Liner Notes, our own song-by-song printed booklet, comes exclusive and FREE with each CD & LP!
ORDER NOW
Backstreet Records is the mailorder division of Backstreets, delivering Springsteen merchandise to fans for more than 25 years. We carry numerous collectibles, tour shirts, books, magazines, and imported CDs and records.
The world's best selection of Springsteen collectibles, all available by mail.
See all the new arrivals in our online shop