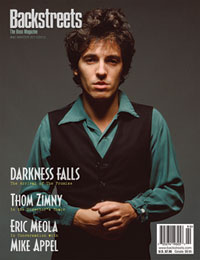 New subscriptions will begin with the Winter 2011/2012 issue, Backstreets #90

Boss coverage from A to Z: that's Appel to Zimny, this issue featuring extensive Backstreets interviews with each.

For our first talk with Mike Appel in 20 years, we asked Born to Run photographer Eric Meola to sit down with Bruce's former manager for a chat. In a wide-ranging discussion of his time with Bruce from the early '70s to their 2009 reunion in Buffalo, Appel describes shows like Sing Sing Prison and the Anne Murray blowout at Central Park along the way.


For our massive interview with Thom Zimny, Backstreets editor Christopher Phillips spent multiple sessions at the filmmaker's NYC studio for an in-depth look at his recent work with Bruce. Part I takes Zimny from "Night with the Jersey Devil" through London Calling: Live at Hyde Park.


In Part II with Zimny, it's The Promise, discussing Zimny's Darkness documentary as well as the Houston and Paramount performance films (and how the latter was influenced by Jean-Claude Van Damme).


Plus: Clarence Clemons, 1942-2011 (our full Big Man tribute to come in issue #91); the Carousel House and other show reports; Bruce and Ed Norton in Toronto; Lisa Lowell; Dropkick Murphys; Springsteen in the comics; rare releases from The Promise; reviews of "fan-based recordings" and Bruce boots, and more. 84 pages, full-color.
If you enjoy our website, we know you'll love the magazine, and subscribing is a great way to offer your support.
If you're not ready to commit, you can order a single copy of this issue.


Backstreets Magazine
Now celebrating 30 years of publishing, Backstreets Magazine is an internationally circulated quarterly focusing on Bruce Springsteen and related Jersey Shore artists. The magazine began in 1980 when the first issue was handed out at a Seattle Springsteen concert. Since then 90 issues have been published, and the magazine is now distributed in all 50 states and has subscribers in more than 40 foreign countries.
We offer a money-back guarantee, as we're sure any Springsteen fan will be pleased with Backstreets. MTV called the magazine "the standard to which all others are compared." In 2008, the Chicago Tribune selected Backstreets for its "50 Favorite Magazines" list, calling it "The gold standard of minutiae mags."
"The gold standard of minutiae mags… Three decades later, Backstreets has matured into a thoughtful, sometimes sharply critical meditation on community, integrity, and rocking."
The Chicago Tribune, 2008
"The definitive source on Bruce Springsteen happenings... Respected, glossy and covers just about anything to do with Freehold's finest."
The Philadelphia Daily News
"Backstreets, the definitive chronicler of all things Boss."
USA Today
"Backstreets, the biggest Springsteen fanzine in America, put out by Super-fans.... concentrates on music rather than gossip about the Boss."
The Toronto Star
"Nationally respected."
The Boston Globe
"This classy fanzine is always impressive, with good writing and excellent makeup."
The Seattle Times
"Backstreets offers insightful coverage without fawning."
The Seattle Post-Intelligencer
"The most authoritative work on Springsteen to date."
The Austin American-Statesman


Backstreets Magazine
New issue contents
Back Issues
Where to Buy
Advertising
Subscriber Services

SUBSCRIBE NOW!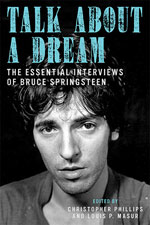 THE ESSENTIAL INTERVIEWS
From Backstreets editor Chris Phillips and Runaway Dream author Lou Masur, TALK ABOUT A DREAM is in stock now
Backstreet Records is the mailorder division of Backstreets, delivering Bruce Springsteen merchandise to fans for over 20 years. We carry numerous collectibles, tour shirts, books, fanzines, and imported CDs and records.
The world's best selection of Springsteen collectibles, all available by mail.
See all the new arrivals in our online shop