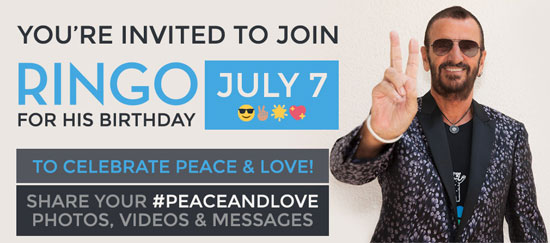 BEATLE'S 75
Happy 75th Birthday, Ringo!
Peace and love, peace and love. It's rather hard to believe, given how active he remains, but Ringo Starr turns 75 today. Visit RingoStarr.com for details on how you can join the birthday party today in a special way. And here's our own Billy Shears' Birthday video playlist, a blast from your past featuring five key moments with Ringo where E Street has met Abbey Road:
- July 7, 2015 - Shawn Poole reporting

BRUCE ON THE AMERICANS: "TO ME, IT'S DYLAN'S HIGHWAY 61"
Sunday's New York Times Magazine features an in-depth profile of photographer Robert Frank, best known for his seminal work The Americans. Among those interviewed for the profile include one Mr. B. Springsteen:
To Bruce Springsteen, who keeps copies of "The Americans" around his home for songwriting motivation, "'the photographs are still shocking. It created an entire American identity, that single book. To me, it's Dylan's 'Highway 61,' the visual equivalent of that record. It's an 83-picture book that has 27,000 pictures in it. That's why 'Highway 61' is powerful. It's nine songs with 12,000 songs in them. We're all in the business of catching things. Sometimes we catch something. He just caught all of it."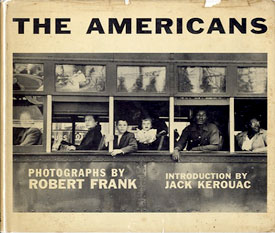 In 1995, Springsteen told Will Percy: "I've also gotten a lot out of Robert Frank's photography in The Americans. I was twenty-four when I first saw the book — I think a friend had given me a copy — and the tone of the pictures, how he gave us a look at different kinds of people, got to me in some way. I've always wished I could write songs the way he takes pictures. I think I've got half a dozen copies of that book stashed around the house, and I pull one out once in a while to get a fresh look at the photographs."
Frank has long been associated with Bruce as a non-musical influence, one mentioned to him early in his relationship with Jon Landau. Eric Meola referenced The Americans while working with Bruce on photography meant for Darkness on the Edge of Town, and the work came up again as Springsteen began to conceptualize the artwork for the Nebraska cover.
The profile is available online at nytimes.com.
- July 6, 2015 - Caryn Rose reporting


THROWBACK FOURTHDAY: JULY 4, 1985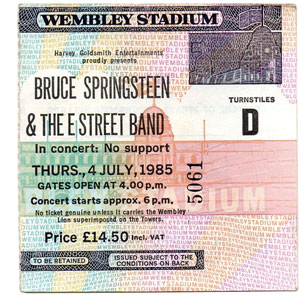 Let's go back 30 years to Independence Day 1985, with Bruce and the E Street Band's European summmer stadium tour for Born in the U.S.A. nearing its end. Thirty years ago tonight, it was 4th of July (London), as Bruce and the Band were in the middle of their first-ever stand at Wembley Stadium. Little Steven joined in all three nights (you can listen on YouTube to his July 4 guest spots on "Two Hearts" and "Ramrod"). Above (courtesy of Brucebase Wiki), some real blast-from-the-past footage from the July 4 and 6 shows, including, appropriately enough, "Independence Day."
Wishing everyone a happy Fourth!
- July 4, 2015 - thanks to Dan French for the ticket stub

TIME AND MEMORY FADE AWAY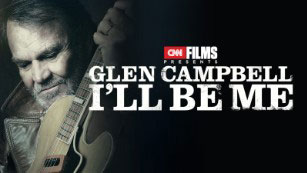 Uncut Glen Campbell: I'll Be Me doc airing on CNN/HLN
One week after making its television debut on CNN (and setting a network record for the largest audience to view a film broadcast,) the complete version of the documentary film Glen Campbell: I'll Be Me will re-air with limited commercial interruption on CNN tomorrow night at 9 pm ET and on CNN's sister network HLN tonight at 9 pm ET. Click here for details.
The moving film follows Campbell and his loved ones as they deal with his developing Alzheimer's disease in a very public and dignified way, making his final recordings and public appearances with a successful tour. Along the way, they help draw attention to the needs of all who are affected by Alzheimer's disease.
Bruce Springsteen is among the famous musicians interviewed in the film, discussing both the significance of Glen Campbell's music and Springsteen's own personal encounters with the effects of Alzheimer's disease. Click here to view a clip from the film featuring Bruce.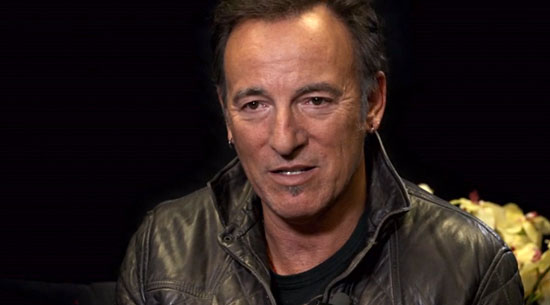 In addition to his successful solo career, Glen Campbell was a highly respected session guitarist and member of the legendary Wrecking Crew, which played on many of the Phil Spector productions that heavily influenced Born To Run. Campbell also frequently contributed to recordings by another major Springsteen influence, The Beach Boys, and even served a three-month Beach Boys concert-tour stint standing in for Brian Wilson, with whom Bruce just performed earlier this week. (Click here for a 2012 report featuring audio of Campbell discussing his work with The Beach Boys.) Finally, Glen Campbell's signature solo recordings of some of songwriter Jimmy Webb's greatest songs were a major influence on Springsteen's Working on a Dream album, and Campbell/Webb's hit "Galveston" plays like a prequel to Springsteen's "Galveston Bay" from The Ghost of Tom Joad.
Jimmy Webb recently visited his old friend and wrote a moving essay about his visit for Glen Campbell's official website. Click here to read it.
Glen Campbell: I'll Be Me will be released as an HD digital download on August 18 and as a DVD on September 1. Click here for details.
- July 3, 2015 - Shawn Poole reporting

4TH OF JULY WEEKEND, ASBURY PARK
Havin' a party with Southside, Max, E Street Radio, Darlene & Stevie
Asbury Park (aka Little Eden) is the place to be this Independence Day weekend. Southside Johnny & The Asbury Jukes return to the Stone Pony tomorrow night. They'll be rockin' the Pony's outdoor Summer Stage with opening act The Weeklings and their special guest Max Weinberg. A limited number of tickets remain available at the Stone Pony's box office or through Ticketmaster. Click here for more information.
If you can't make it to the Pony in person, E Street Radio will be broadcasting Southside's show live. Beginning at 6 pm ET, Jim Rotolo will broadcast his Wild & Innocent call-in-request show from the Pony (with his E Street Radio sidekicks Caroline Magyarits and Vinny Usuriello,) staying on the air until Southside and the Jukes take over the Pony's Summer Stage and E Street Radio''s airwaves. E Street Radio also will replay the entire live broadcast on Saturday July 4 at 8pm ET and Sunday July 5 at 10 am ET.
And while we don't much like to be thinking about the end of summer already, at least there's already something else to look forward to in Asbury Park. Tickets go on sale tomorrow at 12 noon ET for the just-announced Darlene Love CD-release event with special guest Steve Van Zandt at the Paramount Theatre on September 12. Click here to purchase tickets.
- July 2, 2015 - Shawn Poole reporting

OH BABY, IT'S ROY'S BIRTHDAY!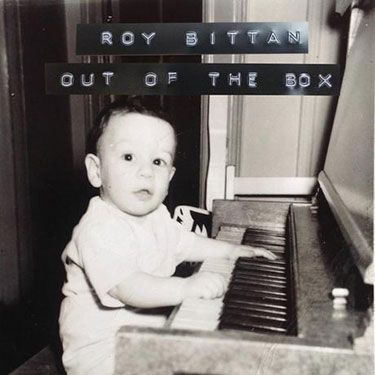 Getting his kicks today: Professor Roy Bittan, who turns 66, born July 2, 1949.
And still banging away at the same instrument he did 65-and-a-quarter years ago: as he tells us of his album cover shot, "I was nine months old in that photo!"
"The album reception has been very gratifying," Roy says of Out of the Box, which he released in late 2014. Hear it for yourself and celebrate his birthday with a copy of Roy's first solo album, available digitally from from iTunes or Amazon.com. Happy birthday, Professor!
- July 2, 2015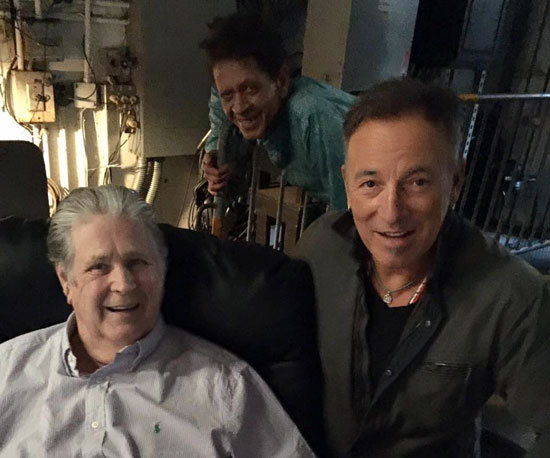 ROCKIN' AND A-REELIN' LAST NIGHT WITH BRIAN WILSON
Some good fun, fun, fun was had in Holmdel, NJ, on July 1 as Brian Wilson played the PNC Bank Arts Center, his band joined toward the end of the show by Bruce Springsteen, unannounced, for two songs. Bruce sang on "Barbara Ann" and "Surfin' USA," strapping on a guitar as well for the latter. See fan footage on YouTube.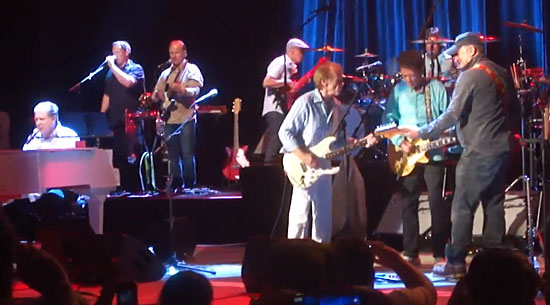 - July 2, 2015 - thanks to Ken Feinleib - backstage photo via Brian Wilson Facebook / Twitter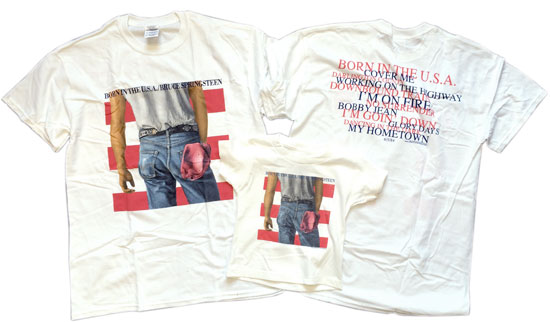 U.S.A.! U.S.A.!
Just in time for the Fourth of July — or as we tend to think of things, the 30th anniversary of Springsteen and the E Street Band's first stand at London's Wembley Stadium, July 3, 4 and 6, 1985, where they were joined by Little Steven — we've got the official Born in the U.S.A. shirts back in stock. We're now fully stocked on all adult sizes, from small to XXL. And the kids'll be alright too, as we found more toddler sizes (which we thought were long gone), the full run from 2T to 5T. Also freshly stocked, the black Backstreets cap, embroidered with our sneakers logo, which we've had trouble keeping on the shelf.
See all Latest Arrivals in the Backstreet Records shop
- July 1, 2015