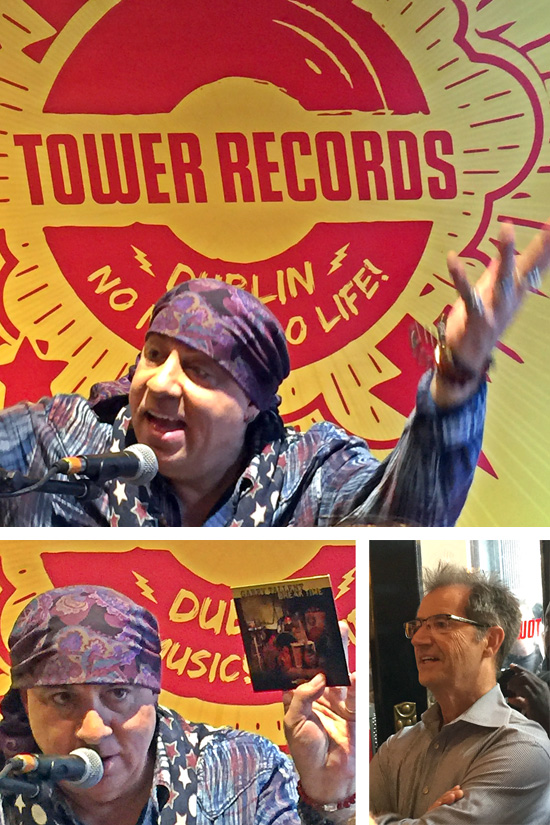 BREAK TIME IN DUBLIN
Over the weekend, in between the E Street Band's two massive shows at Croke Park, Little Steven Van Zandt put his DJ hat on — more accurately, his DJ babushka — for an in-store appearance at Dublin's Tower Records. Our pal Phil Stanley was there: "Steve recorded a live DJ set for his Underground Garage radio show, with a significant portion featuring Irish bands. Garry Tallent was there, too, and Steve used the opportunity to plug Garry's new album and play a song from it." Stay tuned to the Underground Garage to hear the results.
- May 31, 2016 - photographs by Phil Stanley



MAY 29, DUBLIN 2: LET IT ROCK, SON, LET IT ROCK!
Following Bruce Springsteen and the E Street Band's extraordinary performance on Friday, last night the second half of Dublin's 160,000-strong audience filled Croke Park stadium for the seventh concert of the European River Tour. With weather reminiscent of Spain, a gently setting sun bathed Croke Park with warmth and light; half the audience was illuminated, while the other stood in the shade. All were waiting for the band's walk-on music to fire up, and the excitement was palpable. Instead, to much surprise, Bruce alone strolled without introduction onto the stage. As the crowd's surprise transformed into cheers, a relaxed and smiling Springsteen shouted "Hello Dublin!" before taking to Roy Bittan's piano.
The opening chords of "Incident on 57th Street" emanated from the piano as the audience fell with Bruce into the lyrics of his 1973 masterpiece. Continuing with the theme of reinventing early material, which has come to partly define The River Tour, Bruce's solo performance magnetized the audience. The atmosphere of Croke Park was transformed, becoming intimate and exposed, as the singer appeared so absorbed that he didn't once turn his head to the audience. Sitting alone at his piano, Springsteen looked either at the keys or directly ahead, like a man alone at the back of a bar with nothing left but his music.
This intimacy did not, however, translate into a somber tone. "Incident"'s progression was powerful and empowering, with Bruce's playing becoming more intense as the song quaked towards its climax. The crowd of 80,000 swayed together while the final lyrics, "Goodnight, it's all right, Jane" echoed throughout the stadium. The smiling faces and teary eyes of his audience were projected on the screen behind Bruce, which he noticed as his solo performance concluded. Walking back to the center mic, Springsteen invited the E Street Band to the stage. To a familiar roar, the E Street Band assumed their places as Bruce introduced "Spirit in the Night": "Are you ready to testify?!"
"Testify!" Bruce repeated, until the audience became suitably impassioned. Raising his arms to the air, Springsteen led the E Street Band and 80,000 others through "Spirit," which transitioned into to "It's Hard to Be a Saint in the City" and then "Growin' Up." The E Street Band were playing to a massive audience, but also those who know and love Bruce's earliest work. Acknowledging the "triple header from Greetings," they had Croke Park travelling from 2016 to 1973, with the first four songs of the night from Springsteen's first two albums. It was an intimate, warm feel, so different from the blasts of high energy that open many E Street Band concerts.
During "Growin' Up," with the atmosphere just right, Bruce began to tell the story of his childhood and the acquiring of his first guitar. Roy's piano accompanied Bruce as he spoke, providing a rhythm which incorporated rhetoric with verse. "13 years old, I lived on this little L-shaped block, with a church in the middle, Catholic school here, the nuns' convent here, the priests' rectory here, and we had five houses filled with Irish." The crowd cheered and Bruce laughed, continuing, "Now, I come from… O'Hagans, McNicholases, Farrells… and when I was little I was brought up by the Irish side of my family. They were very, very superstitious." Bruce scratched his face, looking whimsical.
"I remember when, whenever it would thunder, my Grandmother, Nana McNicholas, would grab my hand, rush me down to my aunt, and we'd sit in the living room. They'd pull all the blinds down, and when the thunder and lightning started, my Aunt Jean had a little bottle of holy water, and she'd start spraying it all over everybody" — Bruce mimicked this movement and the crowd erupted with laughter — "while telling all these horror stories of neighbors who had been struck by lightning." This clearly resonated with the Irish audience, who indulged Bruce in his storytelling with cheers and laughter. Bruce continued at the microphone, telling the story of finding his first guitar, of muffling the sounds of being in bed with his girlfriends by throwing balls around a pool table, "so it sounded like we were playing pool," and then the moment he first wore his guitar. "And I swear, it was the big Irish voice that came from somewhere, and it said…" Here Bruce adopted an Irish accent… "Let it rock, son, let it rock!"… before returning to an enchanting "Growin' Up."
A familiar setlist followed, carried by the energy of the opening performance. "Youngstown" allowed Nils Lofgren to unleash a blistering guitar solo, nearly levitating as he spun in a circle to the chanting of the crowd. Guitar duelling between Bruce and Steve was a highlight of an intense "Murder Incorporated," which was performed beneath a deep red light.
Bono joined Bruce and the E Streeters for "Because the Night," introduced as "a local boy." The U2 frontman fell around the stage, between notes and missing the odd cue, but was clearly reveling in his chance to join the E Street Band and experience their audience. "Badlands" closed the main set, as Springsteen's voice became noticeably strained, which he acknowledged by the end of the concert. This didn't hamper the performance, however, with "Badlands" proving the appropriate way to conclude a set that had been building a crescendo since the start.
"With whatever voice I have left!" Bruce played a solo-acoustic "Thunder Road" to close the night. "I'm gonna need your help with this one!" With the crowd singing along, Bruce sang softly and, despite the sore voice, harmonized with a near-angelic quality. House light illuminated the massive stadium, with Springsteen looking deeply appreciative of the moment. A smile appeared on Bruce's face as he held his guitar to the sky. "The E Street Band loves you!" and then the greatest cheer of the night, "We'll be seein' ya!"
For the full setlist and reports from this and other recent shows,
see our Setlists page
- May 30, 2016 - Connor Kirkpatrick reporting - photographs by Jan Lundahl


MAY 27, DUBLIN 1: A GOOD THING DON'T COME ALONG EVERY DAY
Shortly after 7:15 pm last night, Bruce Springsteen and the E Street Band took to the stage of Dublin's Croke Park for their 18th concert in the Irish capital and their 6th concert of the European River Tour 2016. A cooler climate than the preceding week's performances in Spain and Portugal, this bared no correlation to the passion of the Irish audience, which deafened the E Street Band as they ascended to the stage. With 80,000 people in a state of near euphoria, Springsteen was clearly awestruck at the spectacle, remarking, "This place is huge! There are so many of you!"
Contrasting with the light atmosphere of Dublin on an early summer's evening, the E Street Band opened with an impassioned "Darkness on the Edge of Town," also reflecting their return to English-speaking audiences. Whereas "Badlands" featured predominantly as an opener in Spain, "Darkness" emphasized lyrical narrative from the outset. With "Darkness," an intensity not only of sound but also of meaning was generated, setting the scene for a performance that would transpire to be one of the tour's strongest thus far.
"Darkness" segued into "Badlands," with Bruce seeming to scream at the crowd, teeth bared, before jumping in place. By request, River outtake "Roulette" followed "My Love Will Not Let You Down," further emphasizing an intensity which fed both the E Street Band and their audience, with Max Weinberg's drumming so powerful that its sound became near physical in its impact.
In a return to 1973's Greetings from Asbury Park, N.J., Springsteen accepted a sign request for "It's Hard to Be a Saint in the City." Caressing their guitars, the E Street Band gently opened the song in a move that transformed the atmosphere of Croke Park from a stadium of 80,000 people to that of an early-'70s backstreet club, with an intimacy that bordered on sensuality. Under purple lights, Roy Bittan's piano seamlessly seeped into the E Street rhythm, evoking a youthful vitality that defined Springsteen's first foray into music. The E Street Band were obviously in their element, as were the audience, who celebrated the song by dancing as it grooved towards its climax.
Another sign request followed, this time for a song Bruce described as "too fucking sad" to play often, "too sad for the E Street Band." Despite being a song for the brokenhearted, "Back in Your Arms" was perhaps the definitive performance of Dublin 1. It's true that the E Street Band are in their element when playing high-powered rock songs; it's also true that when they strip down their performance to the core, they reach something elemental. "Back in Your Arms" exemplified the E Street Band's ability to create magic.
As the band played a gentle, extended intro, Bruce began to speak, like a preacher to his congregation. "I have a question for every man and woman in the house: Have you ever been in love? Have you ever been in love?... And have you ever done something that fucked up a good thing?" There was laughter but little admission, with Bruce quipping, "That doesn't sound like that many… There are 80,000 people here, that means at least 40,000 people are lying." Finally, shouts of acknowledgement from every corner of the massive stadium; Bruce responded, "Thank you." He continued, "And then you had to go back, if you were lucky, and you had to ask for forgiveness. If you had the chance, and you were lucky. And you had to explain how things would be different from here on in.... You had to go back and say —" And from there he crooned the opening lines to a song performed only 21 times in the band's history.
Holding only his microphone, Bruce stood alone for the majority of the song, delivering a soulful, heartfelt vocal. The E Street Band harmonized after the first verse, with Charlie Giordano's keyboard solo giving Bruce a moment of quiet. But then: "Now this, this is a teaching moment. If everything else didn't work, this is where you swallow your pride, and you walk back to that good thing that you threw away, and you get down on your knees. Don't be afraid, fellas! There ain't no shame in it! Because a good thing don't come along every day." Singing, speaking, riffing, Bruce went on: "You've got to say, baby, baby, bay… I've changed. You've got to say that! Even if you haven't." The crowd laughed. "You've got to get your ass there so your brain follows." Bruce and the band powered through the song from there, a ten-minute version, the crowd swaying with each note. The climax of Jake Clemons' stirring saxophone solo cemented "Back in Your Arms" as the magical moment of the night. "Think about it," Bruce said, concluding.
Returning to 1973, the E Street Band continued later in the set with tour premiere of "Lost in the Flood," another sign request. Bruce's voice was gravelly and raw as it echoed throughout Croke Park. With the underpinning of Roy's piano, the song gradually built up towards an epic drum solo from Max. With 43 years of ageing, "Lost in the Flood" has developed a darkness which emanated through the crowd, set alight, with diehards in the pit shouting "thank you" to Bruce as the song ended.
The encores began three hours in, with the European tour debut of "Jungleland." Another return to the '70s, the E Street Band were coupling the experience of their age with the vitality of music which was written in their youth. A sense of time was evoked throughout the concert, with Bruce juxtaposing music from the early '70s with material from the modern era, including Wrecking Ball favorite "Death to My Hometown." This contrast emphasized the importance and limited nature of time, a display of what Springsteen had stated explicitly at the conclusion of each River set on the North American leg. "Jungleland" was delivered as though both for the first time and the last, as Jake's saxophone solo had Bruce visibly moved. With the 80,000-strong crowd lit only by the lights on cellphones, this firefly effect encouraged both the band and the sentiments of the song, before Jake held his saxophone to the sky and Bruce nodded solemnly to his band, which had performed perfectly.
After the "good luck, goodbye" of Bobby Jean, a solo-acoustic rendition of "This Hard Land" ended the 3.5-hour concert, with Bruce reminding us, once again, "the E Street Band loves you!" It was a fitting conclusion to a concert that emphasized the importance of time while making profound use of it.
For the full setlist and reports from this and other recent shows,
see our Setlists page
- May 28, 2016 - Connor Kirkpatrick reporting - photographs by Jan Lundahl

ETHAN HAWKE AND BRUCE SPRINGSTEEN WALK INTO A BAR...
Well, separately. But they meet, as Hawke described to John Benjamin Hickey on SiriusXM's My Favorite Song: "I'm sitting there and I see these two very powerful hands put themselves on my shoulders from behind me, and somebody leans in to whisper in my ear and says, 'Hey, man, I saw that picture you did with the French girl, those two movies, you know, Sunrise and Sunset. I loved those movies, man,'" he said. "Patted me on the back. And that voice sounded familiar, and I turned and I watched Bruce Springsteen walk away, and I couldn't believe it. And I wish the story ended there...." Listen below for the whole story (and a pretty good Springsteen impression).
My Favorite Song with John Benjamin Hickey airs on SiriusXM's Radio Andy (Ch. 102).
- May 27, 2016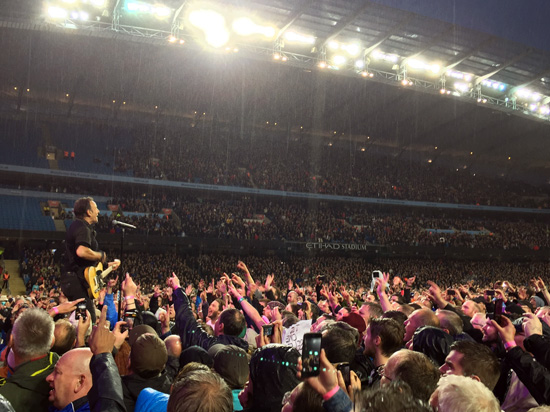 MAY 25: BRUCEY CLAUS CAME TO MANCHESTER TOWN
Bruce Springsteen and the E Street Band knew exactly where they were from the get-go at their first of six stops in the United Kingdom and Ireland. Walking on stage (without Patti) inside Etihad Stadium shortly before 7pm, Bruce immediately addressed the persistent rain that plagued the crowd for most of the day and night: "Hello rainy Manchester… again!" referencing the downpour that accompanied their last show here. He promised that the poor weather would, as usual, only bolster their performance: "We wouldn't have it any other way."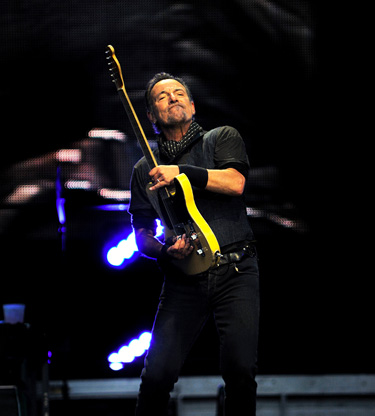 A new country with a new crowd and a new climate called for a new opener, and Bruce replaced the frenzy-inducing "Badlands" with a fitting and impactful "Atlantic City." Though the song almost always goes over swimmingly, it seemed to particularly resonate with this blue-collar city, its somber tone only enhanced by the overcast skies and light rain.
Perfectly building off the power, pace and even themes of this stunning opener, the subtle references to violent organized crime at the end of "Atlantic City" led directly into the more overt "Murder Incorporated." This, too, is a song that implicitly connected to the culture of Manchester given its important role in the history of the Industrial Revolution (it's often credited as being the first industrialized city in the world). It was a killer (pun intended) one-two punch to open the show — perhaps the best opening of the entire tour. And with another fiery guitar duel between Bruce and Steve Van Zandt, the energy of "Murder Incorporated" fed right into "Badlands" in slot three.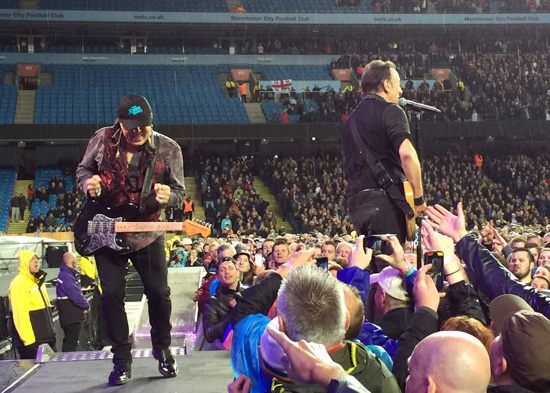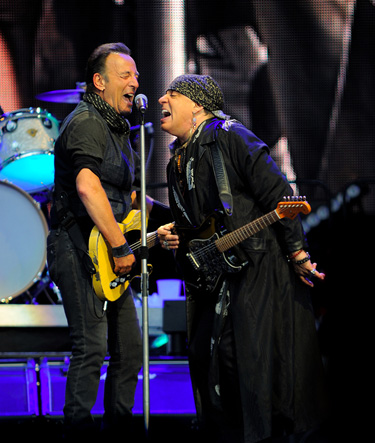 Stevie was immediately engaged, with his vocal harmonies in "Atlantic City" and guitar work in "Murder Incorporated," and his performance tenacity never waned throughout the concert, one of his best of the tour. Yet it was another of Bruce's brothers-in-guitars that provided one of the most memorable moments of the night; right after Bruce and Nils Lofgren finished up their "No Surrender" guitar duet at center stage, Nils turned around, tripped, and took a pretty hard tumble. After making sure he was all right — which Nils confirmed with a sheepish grin — Bruce cracked up and announced: "The raw excitement put Nils right on his ass!"
Though the first few songs were consistently intense, this little mishap transitioned Bruce into more jovial spirits, the first of many mood-shifts throughout the concert (an example of a bi-polar stretch that still totally worked: "Out in the Street" into "Darkness on the Edge of Town" into "Crush on You"). Yet few could have predicted where Bruce would take the show next; still laughing from Nils' fall, Bruce called out a surprising member of the crowd.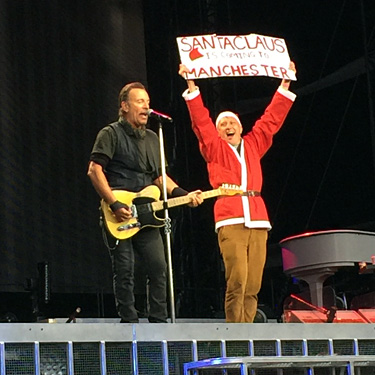 "What's the deal with the guy in the Santa Claus suit?" Bruce asked, addressing an older gentleman in the middle of the pit. "Is there some connection to Manchester I don't know about? Or is it a perverted attempt at a sign request?" Bruce hit the nail on the reindeer's head with his final guess, calling up the man and his "Santa Claus is Coming to Manchester" sign. Even though, as Bruce noted, there were still 270 days until Christmas, the band launched into a joyous performance of "Santa Claus is Comin' to Town." Bruce allowed Santa himself to accompany by singing — hysterically off-key, off-pitch, off-melody, off-everything — Clarence's old "You better be good for goodness sake" part. "Let's hear it for Santa," Bruce concluded at the song's close, "Only in Manchester! This the the only place where that's going to happen."
Sadly, the same could not be said for the rest of the setlist. Though two other sign requests brought only the second tour performance of "Darkness on the Edge of Town" and the European premiere of "Backstreets," the remainder of the show featured a lot of the same stadium crowd-pleasers that have already become staples of this European leg (and since the crowd's energy paled in comparison to their Spanish counterparts, most of these songs didn't play nearly as well).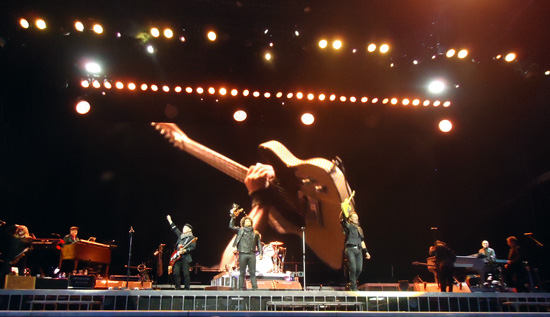 Yes, Bruce happily re-inserted "Crush on You," "You Can Look" and "I Wanna Marry You," which might appease those clamoring for more River songs on this River Tour, but he yet again skipped most of the album's second record in favor of the "greatest hits." Though Bruce and the Band still turned in phenomenal performances of these songs, perhaps fans in Europe would be less disappointed by the lack of River songs if Bruce adhered to his own reasoning he gave in Brooklyn as to why they were going to stop playing the album in full: "We're gonna open up our setlists over in Europe." Much like with his American shows, the latter portion of the night proved the most disappointingly static, which was a shame considering how the opening numbers felt so specifically directed at this Manchester crowd.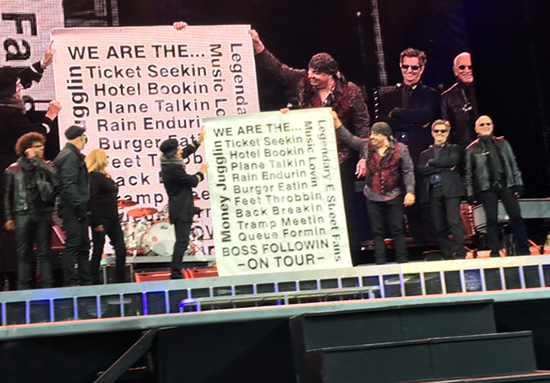 Yet for the tens of thousands of audience members in attendance who aren't setlist watchers, the concert must have played like gangbusters for its entire three-hour-and ten-minute duration, largely thanks to Bruce's incredibly high spirits all night long. As usual, the rain brought out the best in the Boss and the Band. During "Glory Days," Bruce felt inspired to go off script in his back-and-forth with his musical consigliere: "Let's keep this thing rocking now — who cares about the rain! Are you with me, Stevie? Is the Band with me?! Are the Mancherians with me?!"
The deafening response from the crowd said it all.
For the full setlist and reports from this and other recent shows,
see our Setlists page
- May 26, 2016 - Steven Strauss reporting - photographs by Steven Strauss (1,3,5), Steve Goudie (2,4) Daniel Leese (6), and Steve Aitken (7)


MY JACKET 'ROUND YOUR SHOULDERS
During her May 21 Lisbon, Portugal concert at Meo Arena, Adele told her audience a rather unique story about seeing Bruce Springsteen perform at Rock in Rio Lisboa two nights earlier. In the process, she let her "new friends" in on "a little secret" — story starts at 58:10.
- May 25, 2016 - Shawn Poole reporting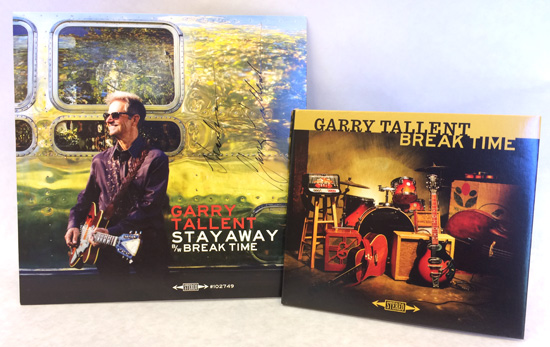 GARRY TALLENT'S BREAK TIME COMES TO CD MAY 27
Garry didn't plan a compact disc edition of his debut album, just a vinyl LP... but the people have spoken. By popular demand, the Break Time CD will be released this Friday. Not only do we have the CD here at Backstreet Records, we've also got a small stack of signed 45s from Garry to bundle with it, if you choose and while they last.
Order Break Time on CD
12 tracks, recorded live to tape, with Garry on guitar and vocals backed by a crack band of Nashville friends

Order the Break Time bundle: CD + signed 7-inch
Along with the CD, get a copy of the rare "Stay Away" single, with the non-LP B-side "Break Time" on the flip, autographed just for us by Garry on the picture sleeve!
See all Latest Additions to the Backstreet Records shop. We also still have supply of the Break Time vinyl LP, released in March in a limited run of 1,500 copies.
Read our chat with Garry about his solo debut in our News Archive.
- May 24, 2016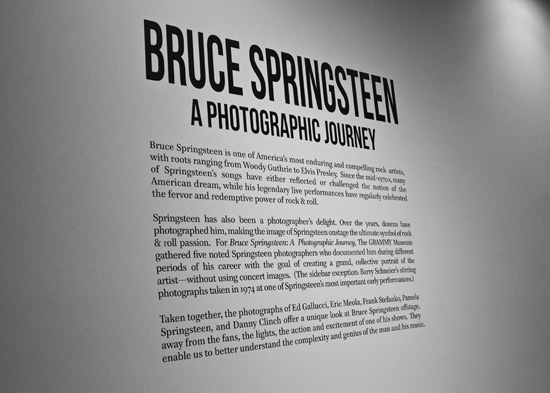 SPRINGSTEEN PHOTO EXHIBIT JOURNEYS HOME TO L.A.
Opening this week at the GRAMMY Museum in Los Angeles is Bruce Springsteen: A Photographic Journey. This traveling exhibition, which debuted at the Woody Guthrie Center in Oklahoma before a stop at Monmouth University in New Jersey, was actually curated by the GRAMMY Museum, where it will be on display for the first time beginning this Thursday, May 26.
Bruce Springsteen: A Photographic Journey features more than 40 iconic images of Bruce taken by noted Springsteen photographers Danny Clinch, Ed Gallucci, Eric Meola, Barry Schneier, Pamela Springsteen and Frank Stefanko. The exhibit will be on display through June 19; visit grammymuseum.org for further info.
- May 23, 2016 - photograph by Mark Krajnak/JerseyStyle Photography

PHILLY GETS A TWO-FER: SECOND DATE ADDED, SEPTEMBER 9
Following their September 7 show at Philadelphia's Citizens Bank Park, Bruce Springsteen and the E Street Band will now be playing a second show there at the home of the Phillies, on September 9. Tickets go on sale this Wednesday, May 25, at 10am ET. Details here.
This expansion of the US River Tour schedule follows the recent addition of a third MetLife Stadium show, which goes on sale tomorrow at noon. For the full schedule with onsale links, see our Tour/Ticket Info page.
- May 23, 2016


MAY 21, MADRID
Marking one week since The River Tour Europe opened in Barcelona, Bruce Springsteen and the E Street Band appeared on stage last night in Madrid for their final Spanish concert of 2016. Home to one of Europe's greatest crowds, the Spanish capital erupted with a roar as the E Street Band ascended to the stage, followed by Bruce Springsteen, to the sight of more than 80,000 people.
Beneath light cloud, Madrid's Bernabéu Stadium radiated both heat and noise, with three sides of the stadium towering with tens of thousands of fans. In contrast to San Sebastián, where Bruce had played to the pit by way of introduction, on stage in Madrid he quickly launched into "Badlands," shouting only "Hola Madrid!" before igniting the fire of the entire Spanish audience. With "Badlands" leading into "My Love Will Not Let You Down," it was clear that Bruce's focus was as much on the 80,000th fan as it was on the 1st. With no pause, the opening continued with "Cover Me," which featured a blistering guitar solo from Bruce — a potent reminder of Springsteen's own guitar prowess, in a band home to Nils Lofgren and Steve Van Zandt. In his element, engaging his audience as much with his electric guitar as with his voice and personality, Springsteen surveyed his massive audience, clearly enjoying the sight: tens of thousands of people jumping with their fists in the air. This image, accompanied by massive a wall of sound, set the tone for last night's concert in Madrid.
Bruce was quick to respond to the intensity of Bernabéu, capitalizing on it with stadium rocker "Wrecking Ball" before one of the defining moments of the concert. Enshrouded in darkness, Bruce paced the stage for a moment before a soft purple light descended upon the E Street Band. "My City of Ruins" made its tour debut, transforming Bernabéu stadium into a cathedral. Walking down to the center thrust deck, Bruce raised his hands in a movement which was mirrored by the crowd. Stripped down compared with the Wrecking Ball Tour, this rendition of "My City of Ruins" was characterized by a simplicity of sound. With fewer musicians on stage, and despite the absence of the conversation that came with the song in 2012, "My City of Ruins" conveyed intimacy while maintaining intensity. With sweat already dripping from his arms, Bruce conducted the E Street Band from the thrust deck as arms raised from the front row to the last. Roy Bittan's piano proved to be spectacular, a sonic metaphor for the narrative of the song itself, as he and Bruce took the crowd to near silence and then almighty crescendo.
This experience was nearly repeated with one of the only sign requests of the night, "Trapped." Few songs showcase the E Street Band's ability to command an audience like this one, with the crowd reduced to somber silence and then brought to an emphatic celebration of hope and determination within the space of only minutes. In Bernabéu, "Trapped" took us from one extreme to the other, much to the satisfaction of Springsteen, smiling as the song reached its climax.
"The River" transitioned into "Point Blank," more poignant and fine-tuned with every rendition, before the River album was put aside, exchanged for a collection of Born in the U.S.A. tracks, which Springsteen must deem more appropriate to please massive crowds. For those who love The River, the 1984 emphasis mid-set can prove disappointing, fun though it is. It might be hard to imagine it in a stadium, but for Springsteen to combine a U.S. River Tour setlist with a European audience would be to create magic.
The main set concluded with another tour premiere: "Land of Hope and Dreams" recaptured the profundity of "My City of Ruins" and offered another moment of communion. The expression on the faces of the E Street Band combined enjoyment with a serious understanding of the profundity of the moment. This juxtaposition encapsulated a memorable sign from the Magic tour: "It's only rock 'n' roll, but it feels like love."
An encore similar to previous nights followed, before the high-powered concert drew to a close with "Bobby Jean" and "Twist and Shout." After this intense but relatively shorter concert of just over three hours, Bruce remained on stage while the E Street Band filed out, taking an acoustic guitar and harmonica from Kevin Buell. Returning to the center microphone, Springsteen led the 80,000-strong crowd in not "This Hard Land" but "Thunder Road," its acoustic premiere on this tour and a true moment of magic.
Before leaving the stage himself, Bruce stood above the audience, holding his guitar into the air. Taking a moment to appreciate the spectacle, Bruce shouted, "Remember, the E Street Band loves you!" Hesitating briefly on the staircase before descending, as though teasing at the prospect of another song, Bruce left the stage and an audience that continued to call out his name. He also left a concert that raised questions as to the nature of the ongoing River Tour. As the tour progresses through the UK & Ireland in the coming weeks, its arc may bend toward the magic of his 1980 masterpiece, or toward a series of concerts lacking in narrative but generating massive energy.
For the full setlist and reports from this and other recent shows,
see our Setlists page
- May 22, 2016 - Connor Kirkpatrick reporting - photographs by Rene van Diemen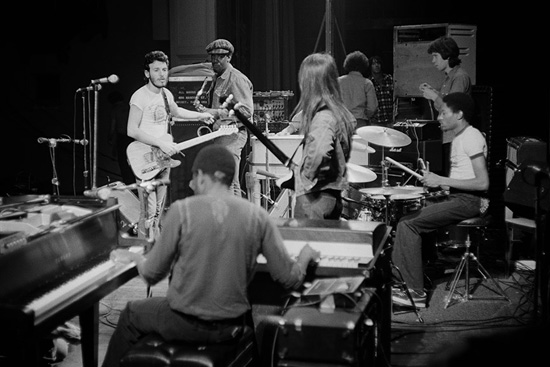 BEING THE BOSS
Sound Check: May 9, 1974, Cambridge, MA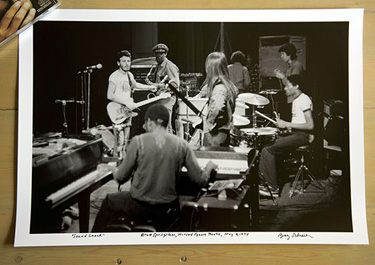 There's plenty of lore behind how Bruce Springsteen earned the name "The Boss." A moment the role was particularly evident: preparing the E Street Band for a night that would go down in history, May 9, 1974. After watching a performance that night at the Harvard Square Theatre, Jon Landau proclaimed that he'd seen "rock and roll future." In Barry Schneier's iconic image from that day entitled "Sound Check," we see a young 24-year-old Bruce Springsteen, before the show, taking command of the E Street Band including Clarence Clemons, Garry Tallent, David Sancious on keys and Boom Carter on drums. Barry's photographs are the only visual record of that night; this image and a selection of other limited archival ink jets prints from that night are now available to Backstreets readers at special prices.
View the print specials at
barryschneierphotography.com/archival-pigment-prints
Here's the story behind the shot from Barry's perspective:
I always made a habit of showing up for sound check when I was shooting shows. I liked the informality of it, the way I could roam the stage, look for the best angles and just a get a feel for what was to come later that evening. It was always a relaxed environment, old friends congregating and new ones being made. Typically, once the gear was ready to go, the bands would play a few notes and then decide where they were going to eat. That wasn't the same for Bruce Springsteen and the E Street Band on May 9, 1974 in Cambridge.

Bruce arrived a little earlier than anticipated and took to the stage immediately. While the casualness of the environment surrounded them, it was apparent that Bruce and the band were approaching their job more seriously.

They were still new guys in town, and tonight Bruce and the E Street Band were the opening act for a local favorite and headliner, Bonnie Raitt. All too often, opening acts —especially relatively unknown opening acts — serve as "filler" for the main event. Bruce must have known this as well as anyone. But it was clear from the moment they plugged in, there would be no filler here. It wasn't sound check to him; it was a rehearsal. And rehearse they did, as he would call out numbers and changes, stop the band and start them again until it sounded right to him. And every time he stopped and gave notes, the band's attention and eyes were all on Bruce.

There was a focus and a sense of seriousness in the way they rehearsed that I hadn't seen before, especially at a sound check. I was so struck by it that I only took a few shots, feeling mesmerized by what I was seeing and just wanting to experience it. I had the feeling that something special was going to happen that night and that I was watching a band with a clear purpose. I believe others did too: as I turned to walk off stage when Bruce and the band were done with their "sound check," I noticed that Bonnie Raitt, as well some of her band members standing in the wings, had been watching as well.
- May 20, 2016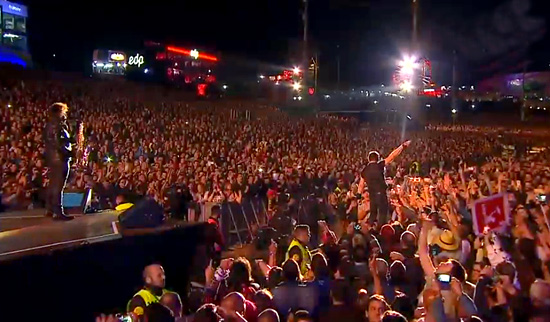 MAY 19, ROCK IN RIO: STREAMING IN THE U.S.A.
And that's why you never underestimate a Bruce Springsteen and the E Street Band concert. Many people had pegged their headlining gig at Rock in Rio Lisboa as a lesser stop on the European itinerary since festivals often entail Bruce-illiterate crowds, poor sound, shorter shows, and greatest hits-filled setlists. Though some of these expectations ultimately proved true, no one could have predicted that the Portuguese crowd stretching as far as the eye could see in Parque da Bela Vista would be treated to five — count 'em, five — tour premieres. Another happy surprise: Springsteen fans across the world were also able to enjoy the concert thanks to a top-notch online live stream.
Casually walking on stage a little before midnight to little fanfare and no introductory music, Bruce and the Band immediately ripped into the same opening three-pack that began Barcelona's concert. Yet the differences between the two shows were immediately apparent: not only was the festival sound system jarringly flat, the crowd, despite its size, initially seemed to be one of the most tepid of the entire tour so far — American leg included — with very few even fist-pumping to "Badlands." Further, the festival's stage design literally separated Bruce from his audience by an uncomfortable distance, figuratively symbolizing the chasm that he would have to cross to engage this more reserved crowd.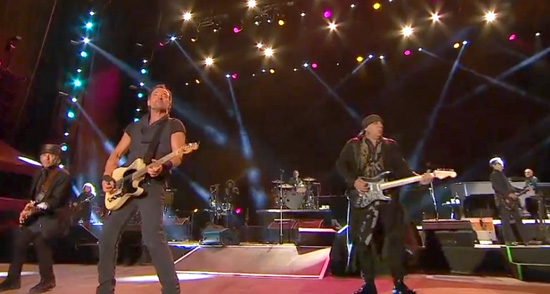 Springsteen, as you'd expect, stepped up his game in the face of such a challenge. Forgoing the usual River songs, he hit the crowd with a killer one-two punch of "Cover Me" and the tour premiere of "Darkness on the Edge of Town." By the time he began physically interacting with the crowd during "Hungry Heart" by walking down the long catwalk and all over the field — which was dwarfed by a colorful Ferris Wheel in the distance and had a zip line (yes, a zip line) literally above it which festivalgoers periodically zoomed across during the concert — Springsteen had already begun massaging the crowd into the palm of his hand. They may not have been familiar with the "wife and kids in Baltimore Jack," but their voices were definitely heard for the chorus.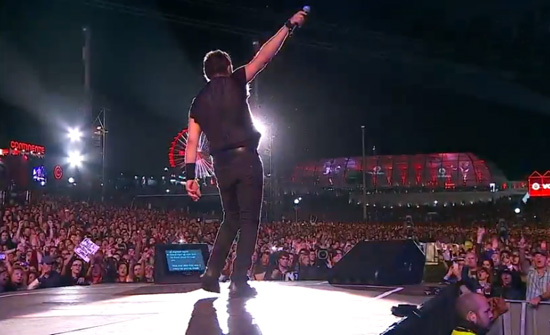 Even though it was technically another stop on The RiverTour 2016, the featured LP on this night was — unsurprisingly, given the greatest hits expectation — Born in the U.S.A, with nine of its 12 songs being played, three times as many as from the tour's titular album.We're now a "My Hometown" away from the entirety of Born in the U.S.A. being played in Europe before the entirety of The River. Though Bruce and the Band brought out the expected heavy-hitters from the 23rd best-selling record of all time globally, the crowd also lapped up the deeper cuts, including the unexpected tour premieres of "Downbound Train" and "I'm on Fire." The latter received the loudest sing-along of the night.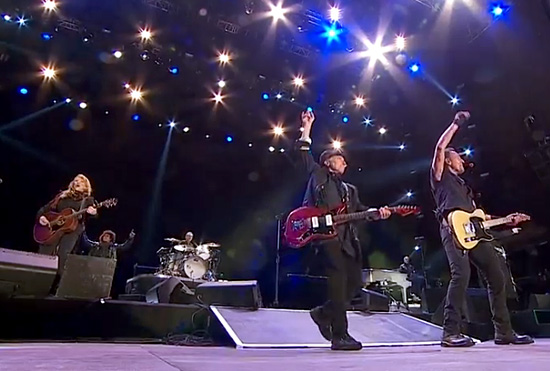 Bruce's focus on Born in the U.S.A. also stretched to the other album from the era, Nebraska, with two songs to satiate fans: "Atlantic City" — unfortunately, a song that really suffers from a lack of widespread crowd involvement — and the tour premiere of "Johnny 99," a rollicking rendition that highlighted the mighty power of the entire E Street Band (we'll forgive Jake for coming in a bit too early with his cowbell). Sandwiched between these two relatively lesser-known-songs were the often-inseparable Born in the U.S.A. twins, "Darlington County" and "Working on the Highway," both of which had Bruce really playing to the crowd on the catwalk and beyond.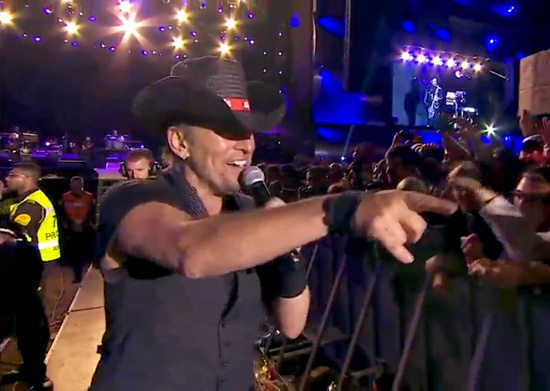 This stretch of four songs encapsulates the subtle brilliance of the evening's setlist construction. Bruce knew he had play to the festival's expected greatest hits crowd, yet he did so without disappointing his loyal fan base. For perhaps the first time all tour, fans truly had no idea what song was coming next (until the encores, but by then everyone was having too much of a blast to care), and it was refreshingly thrilling. Take the "night" two-pack in the middle of the show: for every tour staple like crowd-favorite "Because the Night," Bruce threw in a tour premiere such as "Spirit in the Night," a more obscure track during which he made a point of physically interacting with the audience more than normal to ensure everyone was always along for the ride.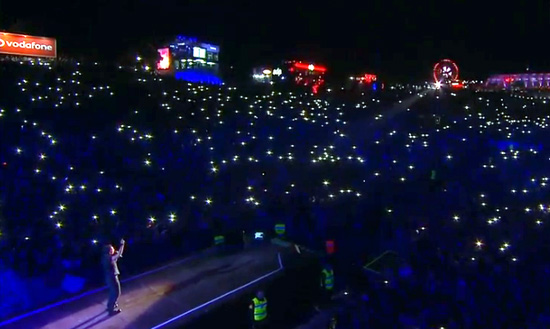 Yet the ride on this night didn't just include those at the concert; thanks to a high-quality live stream, Bruce fans from nation to nation were able to tune in to watch. Even though Bruce had won over the enormous crowd by the end of the show — with the set-closing, acoustic "This Hard Land" eliciting tears from locals in my vicinity — what they lacked in typical E Street Band crowd energy was more than made up for by E Street Nation's participation all across the world. My phone was blowing up throughout the concert, with enthusiastic messages from fellow fans following along at homecommunally sharing in the rock 'n' roll spectacular.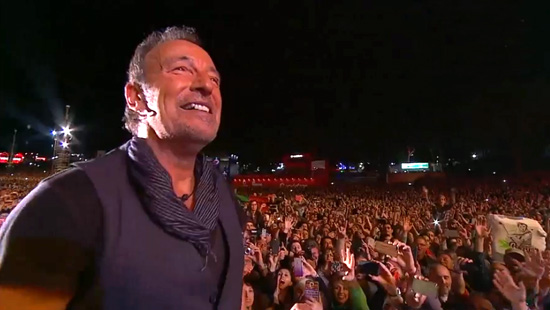 Though the concert was on the shorter side — clocking in at a little over two-and-a-half hours, Springsteen's shortest show in a long time but still the longest set of the day — it served as yet another reminder that no matter the country, no matter the venue, no matter the makeup or size of the crowd, very few people in the world are as good at what they do as Bruce Springsteen and the E Street Band.
For the full setlist and reports from this and other recent shows,
see our Setlists page
- May 20, 2016 - Steven Strauss reporting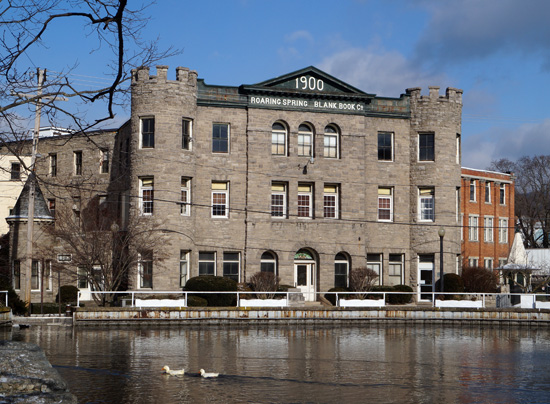 NOTEBOOK OF DREAMS

Get a "Bossinheimer" notebook of your very own!
Today is the first-ever National Notebook Day — true story — and Backstreets is joining the celebration.
Bruce Springsteen's River-era songwriting notebook, as reproduced in the Ties That Bind box set, happens to list the manufacturer right on the cover: Roaring Spring Blank Book Co. in Roaring Spring, PA. And we got to wondering... are they still around?
Turns out the answer is yes, they're still going strong — and they're now reproducing this vintage design just for us.
Trainspotting? Us? You bet. But mama, that's where the fun is. So we're now taking advance orders for this exclusive retro edition of the composition book that Springsteen (aka "Bossinheimer Jones") used circa 1979-'80. This reproduction, a blank spiral notebook known as "The Spring," is being printed for Backstreets by the original notebook's manufacturer, now doing business as Roaring Spring Paper Products.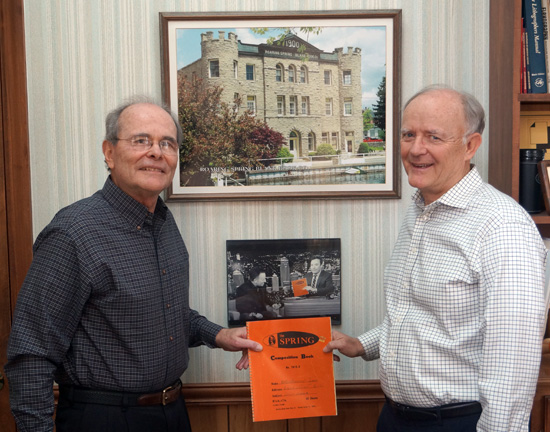 Earlier this year, Backstreets visited the historic Roaring Spring Blank Book Co. building, built in 1900, and met with the family-owned company's president Dan Hoover and executive vice president Bob Allen (pictured above, L-R.) Dan and Bob are fifth-generation descendants of the company's founder, Daniel Bare. During the Ties That Bind box set's production, Dan was contacted by the Springsteen camp for his approval to reproduce Roaring Spring's product design, which he gladly gave. Dan's office wall also proudly displays his company's association with the box set project.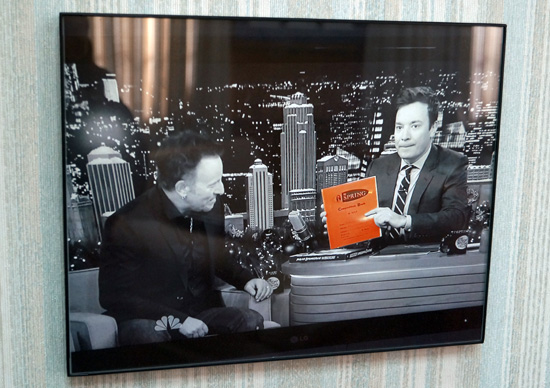 And now, thanks to Roaring Spring, all of you Bossinheimer Janeys and Bossinheimer Johnnys out there soon will be able to fill your own "The Spring" notebooks with your own great ideas. Click here to pre-order yours. Number of pre-orders will determine how many we print; we'll be delivering to Cool Street Bubba and anywhere else in the world come early summer.
- May 19, 2016 - report and photographs by Shawn Poole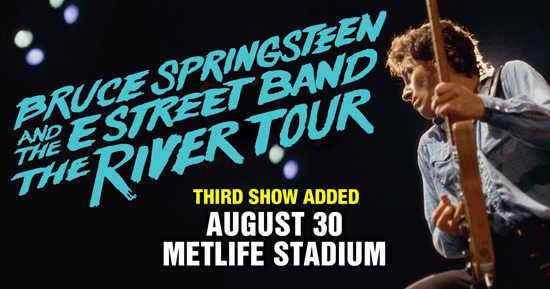 THIRD JERSEY SHOW ADDED, AUGUST 30 AT METLIFE
August's homecoming run at the Meadowlands has just expanded from two shows to three, with the addition of an August 30 concert at MetLife Stadium, "in response to fans' overwhelming demand." Tickets for the August 30 show (which will follow Bruce and the band's 8/28 excursion to Chicago) go on sale Tuesday, May 24 at noon ET. See our Tour/Ticket Info page for the full River Tour itinerary as it currently stands.
- May 19, 2016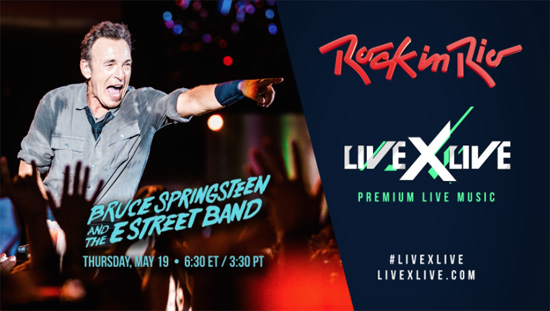 DOWN PERISCOPE! LIVE STREAM TONIGHT FROM ROCK IN RIO
When Bruce Springsteen and the E Street Band take the stage tonight in Lisbon, it'll almost be in the midnight hour. Here in the States, it's more like 6:30pm Eastern, 3:30 pm Pacific... when it looks like we'll be able to watch a live stream of the Rock in Rio show at livexlive.com. Tune in with fingers crossed!
- May 19, 2016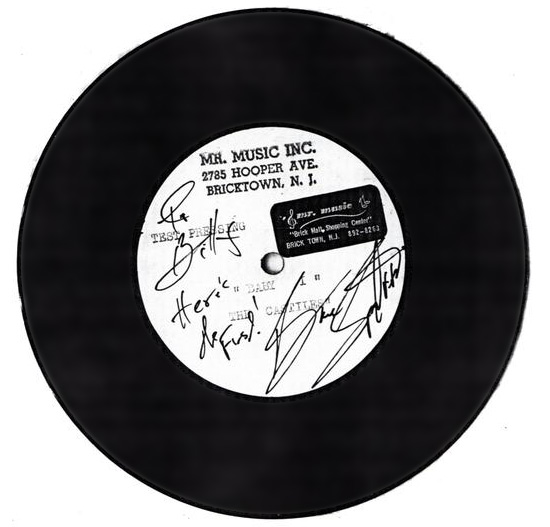 YOU ALWAYS REMEMBER YOUR FIRST
50 years gone by now since Bruce cut his first record with The Castiles
On this date in 1966, Bruce Springsteen and the other members of The Castiles entered Mr. Music, Inc. in Bricktown, NJ. The band traveled to the small-town studio for what would be each member's first-ever professional recording session. The result was the extremely limited-edition single "Baby I" b/w "That's What You Get." Legend has it that Springsteen and fellow Castiles member George Theiss co-wrote the songs during the brief car ride over to the studio. In a March 2009 Rock & Roll Hall of Fame interview conducted at his New Jersey home, Springsteen recalled the session and the studio where it occurred:
It was a tiny little room, maybe half the size of this living room, which is not that big. And they couldn't stand any volume whatsoever going into the microphones. We had to turn all our amps to the wall and literally put covers over them. The guitars sound real clinky, because we had the volume turned down to "1" — we couldn't get any distortion or speaker sound out of it. The recording studio was not set up in those days for any kind of overdrive; they just simply weren't ready to record rock bands in Bricktown, NJ…

But it was a big deal. We saved up — I think it cost us, I don't know, $300 or $100, some enormous amount, what we thought was an enormous amount of money. We saved it up, did a session where we cut those two songs. Of course, they give you your two-track [reel-to-reel tape,] which we recently found, and then they give you the acetates, the little tiny 45-sized acetates. And some of those survived, also.
Shortly before the above interview was conducted [a complete transcript of which is in Backstreets #89], Springsteen told Rolling Stone's David Fricke that the '66 session's surviving two-track tape had been digitized; he even played it for the writer. Until/unless the digitized two-track gets released officially, the rest of the world will have to settle for the acetate-derived audio.
Despite obvious aural limitations, the powerful music, so full of raw talent, skill, ambition, and potential, still shines. It's striking just how good these tracks remain, especially considering how young the musicians were. "Baby I" and "That's What You Get" could be quite at home today on, say, The Underground Garage's playlist. Ultimately, these songs and their recordings serve as fascinating — and fun — relics from the earliest years of a legendary life in music, fifty years on and counting.
- May 18, 2016 - Shawn Poole reporting - acetate image courtesy of Brucebase and Billy Smith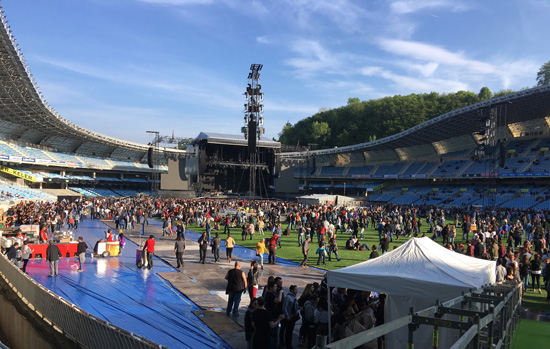 MAY 17, SAN SEBASTIAN: KAIXO DONOSTIA!
Bruce Springsteen and the E Street Band's last performance in Spain's Basque Country occurred in the midst of 2012's Wrecking Ball Tour. With a near-orchestral composition on stage, and performing new material, that 2012 performance provides a stark contrast with the stripped-down E Street Band that emerged on the stage of San Sebastián's Anoeta Stadium last night.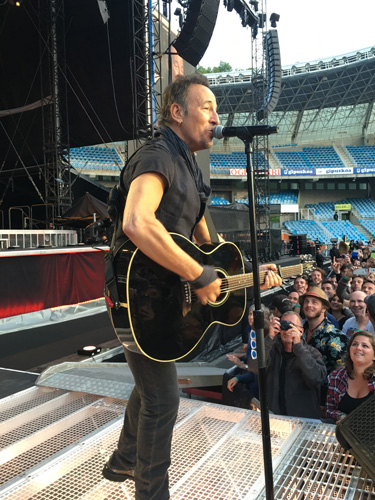 Beneath a warm blue sky, shortly after 9pm, the E Street Band ascended to the stage, followed by Bruce Springsteen, to rapturous applause. Despite the Basque audience being only half the size of their Catalan counterparts, the anticipation was palpable, as Anoeta Stadium erupted with a roar few audiences can achieve. For this second concert of the European River Tour, Bruce arrived armed with an acoustic guitar, clearly relishing the opportunity to indulge in his deafening welcome.
With his eyes set on the center thrust deck, Bruce shouted, "Kaixo Donostia!" — "Hello Donosti! — and smiled as though laughing before dancing down to the thrust deck. Immediately, the opening chords of "Working on the Highway" set the crowd alight, with Bruce thrusting his way into the song. Surrounded by hundreds of fans who had queued for more than two days to achieve their position at the front, Bruce was playing to and partying with the diehards.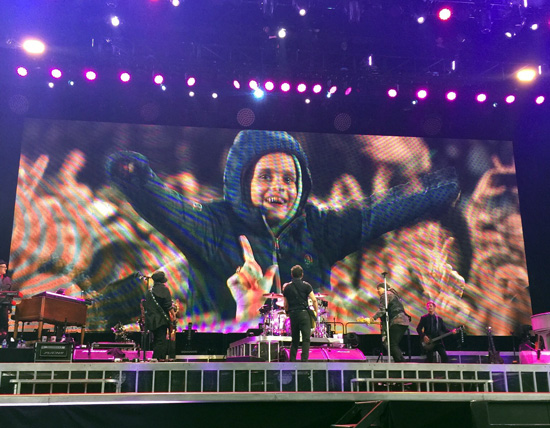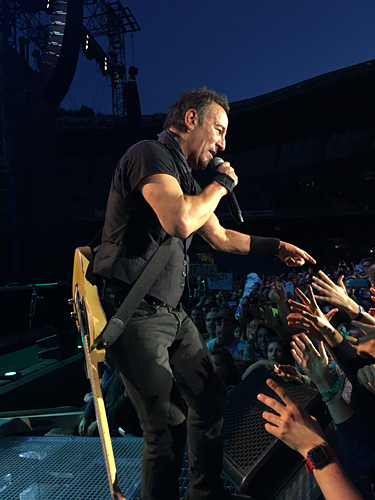 The E Street Band launched into "No Surrender," with Bruce back on the stage and jumping in place, in both a response to the audience's movement and a feeding of their hunger for intensity. This ferocity continued until, upon collecting a sign request, Bruce introduced "Independence Day." Cut from the set in Barcelona three nights earlier, "Independence Day" allowed the E Street Band to transform vigor into intimacy, with Bruce introducing the song as being about "fathers and sons, fathers and sons."
With the complete album performance dropped for the European River Tour, "Independence Day" provided a welcome return to the narrative which defined the U.S leg, in which Bruce felt able to introduce and contextualize music that is now 35 years old. "Independence Day" clearly resonated with the crowd, which fell silent as the E Street Band played cloaked in a purple-blue light. Despite the age of both the song and band, the performance of "Independence Day" felt distinctly youthful: the E Street Band channeled the energy of youth and coupled it with the experience of their age. This culmination created a highlight of last night's concert; to close one's eyes would be to exist either in 1981 or 2016.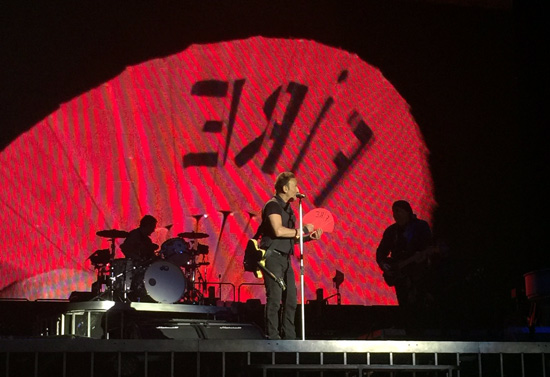 The reinventon of "old" songs continued as Bruce granted a request for "Fire." Springsteen collected the sign, written modestly on the back of an abanico (hand fan), before teasing the crowd with the possibility of it being played. He held the fan to his face, pouting into the camera, flirting with the crowd, before announcing, "We haven't played this in a real long time." With the stage turning red, the renowned bassline of "Fire" echoed through Anoeta Stadium, almost pulsating.
Despite the 35,000 fans in the stadium, Bruce played "Fire" almost entirely to Patti. Beckoning her to the center mic, their lips almost touched as Patti joined Bruce to harmonize. If "Independence Day" channeled the youth of the original River Tour, then "Fire" channeled the sensuality of the Tunnel of Love Express Tour. The band was particularly tight, with Steve and Nils directing, allowing Bruce and Patti to get lost in the lyrics.
"Point Blank" followed "The River," with Roy's piano intro continuing to prove a musical feat. Bruce adopted a serious tone and expression, looking almost angry as the band embodied the song's solemn nature.
"Murder Incorporated" premiered next and allowed for an epic guitar showdown between Bruce and Steve, who traded notes as though dueling. With the entire crowd jumping and throwing their fists to the air, Bruce turned to the camera and screamed, baring his teeth before jumping in place. At this point, Bruce had established Donosti as being a concert which walked a line between profundity and rockabilly party. "Waitin' on a Sunny Day," less profound, had its tour premiere, too — the enthusuastic sign-holder getting a ride on Springsteen's shoulders — before they dug deep again on "Drive All Night."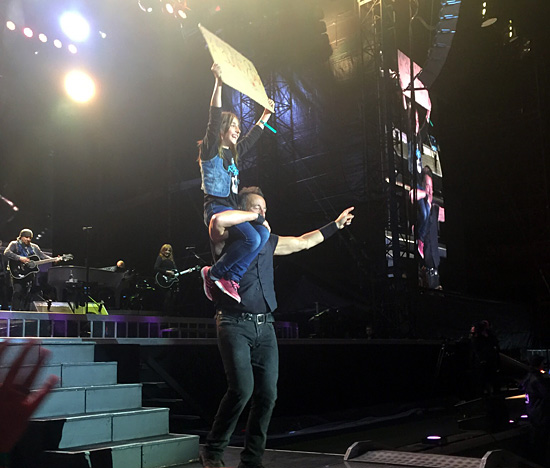 A set similar to Barcelona continued, until the concert ended with a solo-acoustic performance of "This Hard Land." Upon completing "Bobby Jean," Bruce told the Basque audience to "remember, the E Street Band loves you!" It was an emotional climax to a high-energy performance which lasted some 3 hours and 40 minutes. Despite having already played an additional song in the encore, with the E Street Band having left the stage, Bruce paused on the steps while in the process of leaving.
With his head bowed, Bruce took a moment to himself, before turning to smile at the roaring crowd. Clearly moved by his audience, Bruce collected an acoustic guitar and harmonica and returned to the center microphone. With the house lights up, alone on stage, Bruce began strumming the opening chords to "This Hard Land," which the crowd accompanied him in singing nearly in its entirety. To hear a stadium of 35,000 people singing together epitomized the magic that draws fans to Bruce Springsteen & the E Street Band.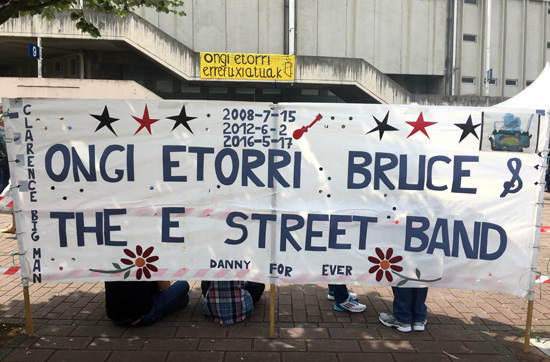 Bruce thanked the audience before reminding them again, "the E Street Band loves you." Leaving the stage, Bruce glanced back and smiled before disappearing into the darkness. With what appeared to be a tear in his eye, Bruce's final expression was one which encapsulated the story of the night: "the older you get, the more it means."
For the full setlist and reports from this and other recent shows,
see our Setlists page
- May 18, 2016 - Connor Kirkpatrick reporting - photographs by Steven Strauss (1,3,5,6,7) and Connor Kirkpatrick (2,4)


THE PRESIDENT WAS MENTIONING MY NAME THE OTHER DAY...
Delivering the commencement address at Rutgers University in the great state of New Jersey yesterday, President Obama dropped an inspirational quote into his speech:
…So don't lose hope if sometimes you hit a roadblock. Don't lose hope in the face of naysayers. And certainly don't let resistance make you cynical. Cynicism is so easy, and cynics don't accomplish much. As a friend of mine who happens to be from New Jersey, a guy named Bruce Springsteen, once sang, "they spend their lives waiting for a moment that just don't come." Don't let that be you. Don't waste your time waiting.
Read the full commencement address at whitehouse.gov.
- May 16, 2016



MAY 14, BARCELONA: THE EUROPEAN LEG BEGINS
Bruce Springsteen in Barcelona. History repeats itself and not many words are needed: Veni, vidi, vici. Springsteen and the E Street Band arrived in the city on Thursday, rehearsed for about an hour, and on Saturday night they delivered a 36-song marathon show (3hr 34min, to be exact) that left 65,000 souls exhausted and in awe. "Hola Barcelona, Hola Catalunya," he saluted in Catalan, drawing an explosive response from the ever-loyal Barcelona crowds who greeted Bruce with a beautiful mosaic sign up in the stands.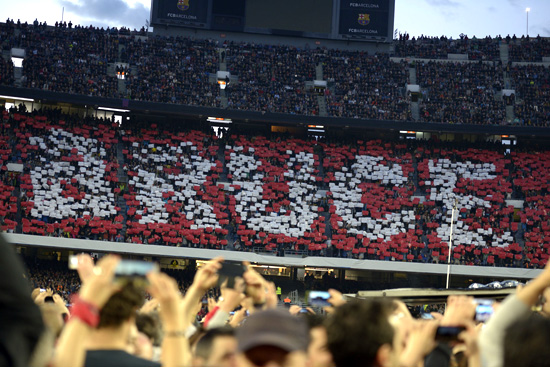 With a full River album performance no longer part of the tour, "Meet Me in the City" was dropped for the first time, too, as the European leg kicked off with "Badlands." Followed by "No Surrender" and "My Love will Not Let You Down," it was a blast of any opening three-pack that put everyone on their feet. Bruce and the band then dove into The River and performed the majority of the double album, 12 out of 20 songs; 16 River songs had been setlisted, but he ended up skipping four of them and also interspersed songs from other eras. "Independence Day" was dropped when Bruce decided to pick a sign for "I'm Goin' Down" instead — funnily, the same song that made us miss "Drive All Night" at the 2008 show in the same venue.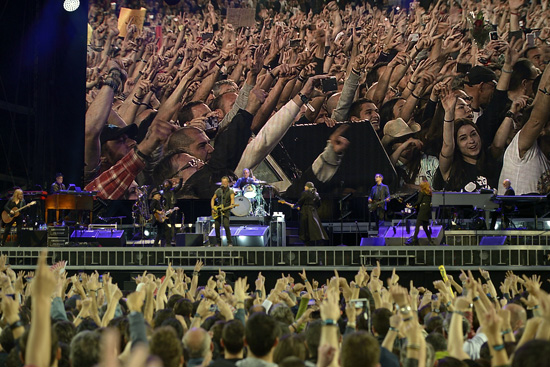 The incursion into The River continued with crowd-pleasers "Hungry Heart" and "Out in the Street," skipping the setlisted "You Can Look" and moving right into the wonderful "I Wanna Marry You," including the "Here She Comes" intro. Bruce took a moment to say, "Enhorabona Barça!" to congratulate the local soccer team, which had just won the national League.
The middle part of the show, which loosely followed The River's second LP, featured some of the night's most memorable performances: "Point Blank," with its amazing piano intro, was followed by an intense "Atlantic City"; it was a powerful juxtaposition that showed off the advantages of Bruce mixing up the setlists again. Later, setting aside "Wreck on the Highway," Springsteen closed the River portion with — finally, for Barcelona — a long, heartfelt "Drive All Night."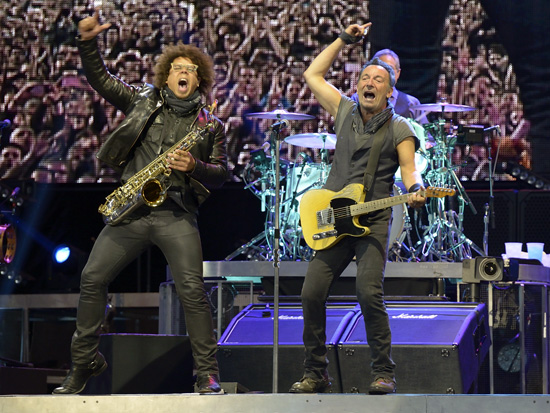 In between, it was sign time. Bruce picked up a lot of requests, skipped "Cadillac Ranch" and "I'm a Rocker," and delivered more crowd favorites: "Darlington County" and "Glory Days." (He showed the other side of that sign, which had "Growin' Up," and allowed the audience to choose; the older gem lost, sadly for hardcore fans). By then the excitement level was off the charts, the crowd's energy feeding the band and vice versa, so it was time to rock some more: "I Wanna Be With You" (finally a River outtake!) was a most-welcomed addition, followed by a loose, butt-shaking "Ramrod" and a beautiful "The Price You Pay."
The post-River segment was a blast, too: intense and hard-rocking, with a great vintage solo from Bruce on "Prove it All Night" and Nils Lofgren's stratospheric guitar on "Because the Night," which was mesmerizing. An audible, "She's the One," brought some of that cherished '70s feeling to the show before a great Bruce/Patti duet on "Brilliant Disguise," always underrated and underplayed.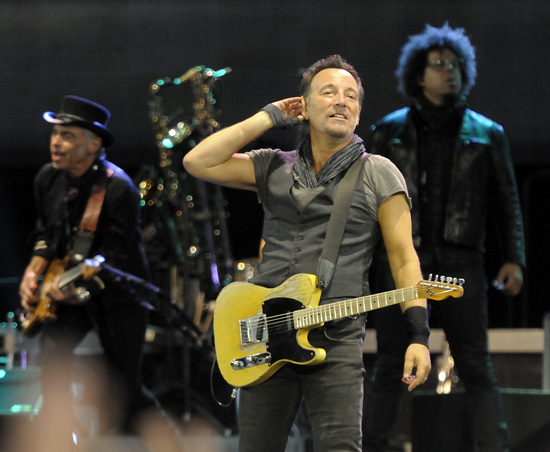 "Thunder Road" closed the main set at the three-hour mark, with the whole stadium singing Bruce's most cherished and unforgettable lyrics. He thanked Barcelona and Catalunya again, as he had on multiple occasions during the night, and surprised us with an unexpected "Purple Rain" to open the encores. With "Born in the U.S.A." — which was loud, louder and beyond that — the whole building was literally moving. That was the beginning of half an hour of total crowd happiness, everyone dancing non-stop, raising fists, singing along, jumping (and some, with too much to drink, literally falling down)… basically, enjoying every minute of it. A moving "Bobby Jean" felt like a bonus song after "Shout," but just when it seemed like could be no more, Bruce came back to the front with his classic "No more! Yeah? No!" routine, which forced another encore and the whole place exploded again to the rhythm of "Twist and Shout."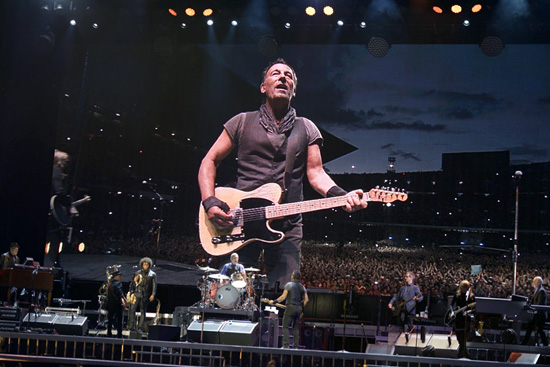 Was this one of his best shows ever? No. Was this up to his best nights in the city? Certainly no. But it doesn't matter. He came, he delivered (plenty), he rocked, he spread tons of happiness, he conquered. Again, and again, and again.
For the full setlist and reports from this and other recent shows,
see our Setlists page
- Updated May 16, 2016 - Salvador Trepat reporting - photographs by Rene van Diemen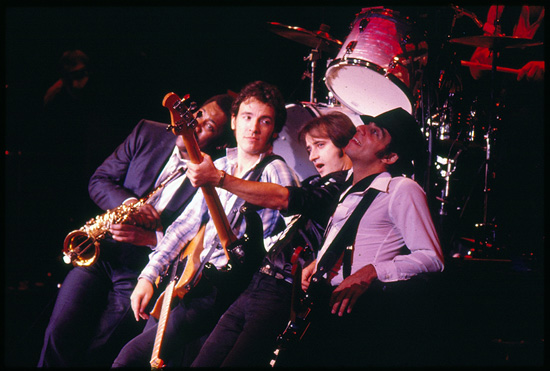 TRACING THE COURSE OF THE RIVER: ART DIRECTOR JIMMY WACHTEL
As we anticipate the 2016 River Tour's debut on European shores this weekend, there's no telling when, if ever, we'll see another start-to-finish live performance of the double album. Springsteen himself said, "We're gonna open up our setlists over in Europe," and this week's Shore Fire press release says that August's return to the US "will feature selections from The River as well as other classics."
But of course, given the tour's title alone, we're still in River mode. Which is why we were particularly glad to hear from John Palisano, author and Springsteen fan, who recently discovered that the art director of The River was also… his neighbor.
John spoke with Jimmy Wachtel for Backstreets. It's a surprising conversation in some ways. To hear, for instance, that the back cover was "not thought out" — given not only Springsteen's penchant for overthinking, but also the thematic ties of Frank Stefanko's store window image, including its depiction of bride(s) and groom, and the first use of the American flag on a Springsteen album. Maybe it was subconscious. Maybe it's just the way Jimmy remembers it 36 years later. Undeniable are the photos he took on the 1980 River Tour, which continued his working relationship with Springsteen, and which we're grateful he dug up just for us.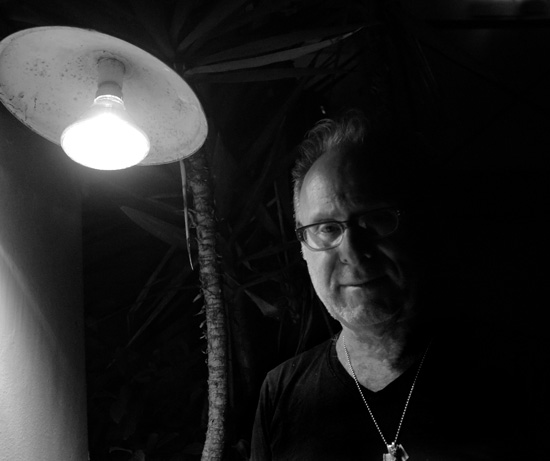 - photograph by Reece Vogel
You wouldn't know how rich art director Jimmy Wachtel's rock 'n' roll history is right off the bat. He doesn't carry himself with any kind of ego for a man who has art directed album covers for Crosby, Stills & Nash, David Lindley, Jackson Browne, Joe Walsh, John Mellencamp, Buckingham Nicks, Bob Dylan, and Bruce Springsteen's The River.
When I first met Jimmy Wachtel several months ago through a neighborhood bulletin board, I didn't have any clue about his history. Jimmy had simply told me he was an art director, which seemed obvious, as his house is very well decorated and put together. Once I learned who he'd made album covers for, I knew we'd have to put some of these stories down. Especially with the River Tour happening. Our schedules finally lined up.
How did you meet Bruce Springsteen?
I met Bruce through Jon Landau, who I knew through a friend of mine, Debbie Gold, who was working for Jon in New York. I used to talk to Jon on the phone all the time, way before he decided to manage Bruce. We'd talk about what I knew about the record business — which wasn't much, other than designing album covers. I was a kind of sounding board for him, and then I got to do this project.
Were you a fan at that point?
I wasn't a Springsteen addict. I just didn't get it. I had this friend who would constantly rave about him. My friend had gone down to the Roxy and seen a show where he blew the place up, finishing by playing as he stood on the tables! He said it was amazing. He was blown away. This guy was proselytizing. I was like, "Really?" And then I saw him, and I got it.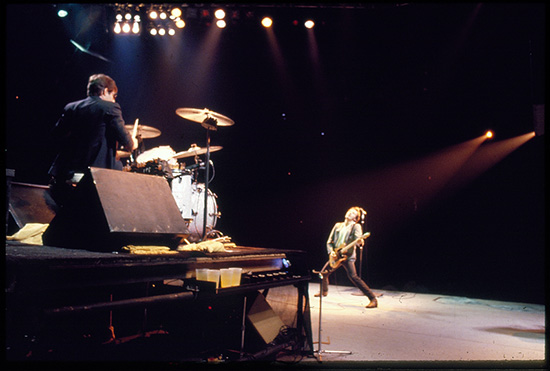 So how did The River come together?
Jon sent me to Arizona where Bruce was staying, to meet him and get to know him in preparation for us working together on his new record. When I was in Arizona, Bruce told me the story that when he was on the cover of Time and Newsweek at the same time, they were broke — they didn't have any equipment and they didn't have any money. I think The River might have been the first album where they really made any money, after those problems with management.
Shortly after Arizona, they were in a studio in Los Angeles. Chuck Plotkin [who mixed the The River, along with Toby Scott] was there. They were using this funky little studio on Santa Monica Boulevard, just east of Vine [Clover Recording Studios]. Bruce was living at the Sunset Marquis… we immediately bonded over King's Hawaiian bread.
So I'd go down there, and we'd go through pictures all day. He had boxes and boxes of pictures. We were trying to figure out which one would be the album cover. It seemed that every time I picked a picture that I liked, he didn't like it. I'd go: "I kind of like it," and he'd go, "Really?" [laughs]
Somehow we got through it: we picked all these pictures, then I put the package together. I placed the pictures, made the montage, added the type, made a mock up, and sent it to Bruce for his approval. All the pictures were approved by him. I wouldn't surprise him with anything.
Did you talk about what he wanted to do?
I don't think when we started that he had any firm idea of the visual. I felt this was a breakout album for him and suggested putting a big picture of him on the front, and he was agreeable to it. I think his management was really interested in this idea.… to put his face out there. Then it was like, let's put something weird on the back. I reached down a grabbed a photo. What's this? [laughs] I don't know where it came from. One of the photographers must have had it and we liked it, and there it was. [Frank Stefanko shot both the back and front cover images.] It's not thought out. Some album covers are more of a concept, but this wasn't, really. Bruce and I got along, and we managed to tie it all together and get it to the record company. Done.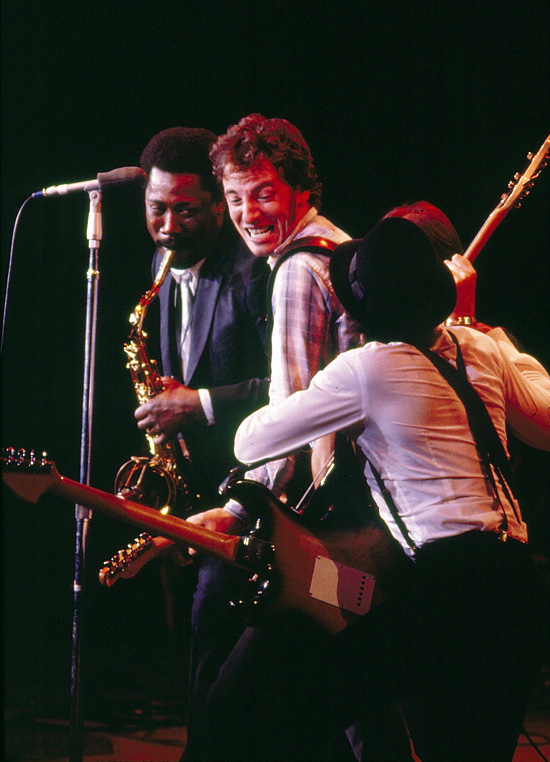 Did you do any other work for Springsteen?
We did some single sleeves — I know I did "Hungry Heart." Songbook, tour program, maybe some ad stuff. We tried to keep the album campaign thematic. Once you turn the album cover into the record company, it's done. It's theirs. It's work for hire. Unless it's your photograph and you own the rights to your photograph. The record company then picks up the type and art and uses it at their discretion.
I went out on tour with them to support the album for quite awhile. I saw lots and lots of shows in lots and lots of cities, taking lots of pictures. At one point he chased me off the stage because I was pretty much right in his face, distracting him, taking pictures. I actually had to see him about that after the show in his dressing room.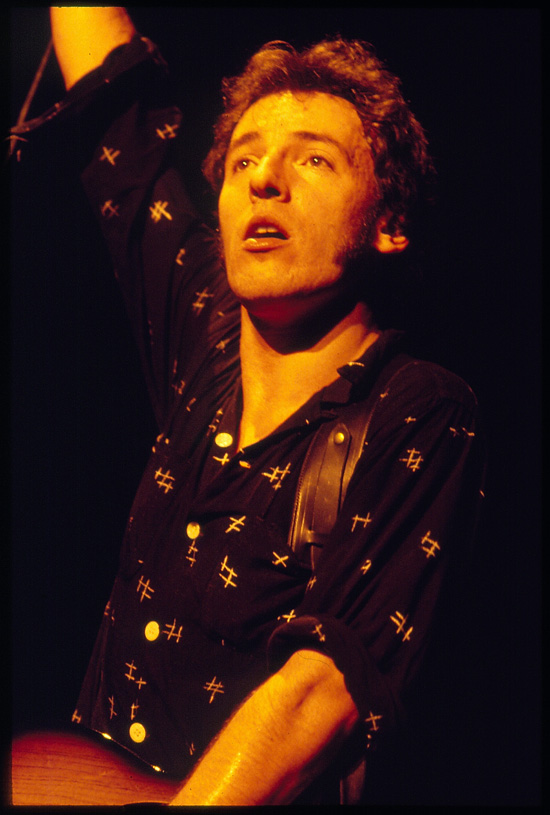 Did you get to hear the record before working on the artwork?
I don't know how much I heard. I went down to the studio a few times. I think I might have heard "Hungry Heart." I didn't go down to the studio and hang like I'd done with other artists in the past. In the old days, I would go down to the recording studio for a "meeting" at nine at night and leave at nine in the morning — it was the 70s! — but Bruce wasn't that way.
What was it like working with Bruce versus other artists?
They call him "The Boss" for a reason. He likes what he likes. There's only so far you can go with him. Sometimes I was walking on eggshells because I didn't know him yet. Other guys like Jackson Browne and Warren Zevon and Joe Walsh and the guys in the Eagles — they were friends, and I knew them.
I was hired by a record company once — it turned out to be a Motorhead album. Hung out with Lemmy for a while. The album cover was not one of my best. He was very tough to get him to do something "arty," but always a sweet guy.
Other than that it was mostly the artists, the managers, or the producers themselves who called me up. I knew people, and they knew people, and someone would say: "Use Jimmy." Somehow I kept going. I wasn't at all into business then. I was into making album covers and making enough money to get by. I was having too good a time in the '70s and '80s. It was years later when I had my movie poster business that I made some decent money.
Have you kept in touch at all?
I haven't spoken to Bruce in years, although I'd run into him when he was living out here from time to time years ago. We weren't tight in that way. We did spend a lot of time together in that hotel room, though [laughs].… And I love the record.
- May 12, 2016 - interview by John Palisano - concert photographs by Jimmy Wachtel

ROCK 'N' ROLL HIGH SCHOOL
River Tour ticket packages benefit Steve Van Zandt's Rock and Roll Forever Foundation; we interview RRFF executive director Warren Zanes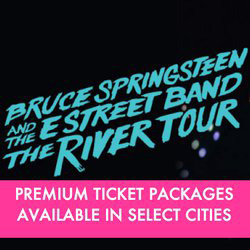 The 11-week European leg of the 2016 River Tour begins in just four days, Saturday in Barcelona.
If you've been eyeing a show or two but don't yet have tickets, Steve Van Zandt's Rock and Roll Forever Foundation makes it nice and easy, continuing to offer ticket packages for shows in Europe. These RRFF packages include not only VIP tickets (your choice of prime seating or front-section GA) but also a meet-and-greet with Stevie before the show.
Click here for more information and to reserve tickets
The work of the Rock and Roll Forever Foundation is to bring the story of rock 'n' roll into classrooms — not just to music departments — in an interdisciplinary way. They provide resources for middle and high school teachers via a free curriculum called Rock and Roll: An American Story, with lessons and activities that engage and empower students in a time when arts education funding is being cut. Steven himself framed out the 40-chapter curriculum — spend a little time with it online at teachrock.org, and you'll quickly see the potential.
Given that this is one of the big hats Steven wears — along with musician, producer, actor, and disc jockey — we wanted to find out more about the work of the Foundation, and where money goes when a fan buys one of those ticket packages. To that end, Backstreets spoke with Rock and Roll Forever Foundation executive director Warren Zanes.
Dr. Zanes, like Van Zandt, is a man of many talents. You might know him as the guitarist from the Del Fuegos, or a solo recording artist; as the author of Petty, the recent, much-lauded Tom Petty biography; as an NYU professor; or as former VP of Education and Programs at the Rock and Roll Hall of Fame. Steven lured Zanes away from the last of these, for his current "day job" overseeing the RRFF.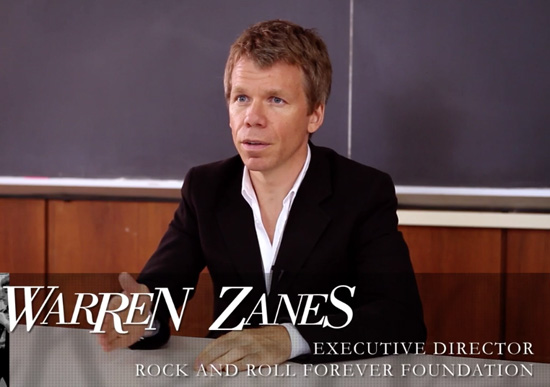 Backstreets: As someone who feels like I've learned a lot about the world from rock 'n' roll — Apartheid and Vietnam are just a couple things that come to mind — the idea of bringing music into the classroom is really compelling. To not only teach the story of this artform that we love, but to have the music foster learning in other areas: history, social studies, English departments…
Zanes: Of course in "No Surrender" there's that line, "We learned more from a three-minute record than we ever learned in school." When I took this job with Steven, I said, "What about that line?" Because in a way, rock 'n' roll has always identified itself as apart from the institution. And here we are trying to bring rock 'n' roll in to the institution.
And he, like me, saw no problem with that. The truth of it is, we're trying to keep the story and the experience of rock 'n' roll alive. You run into an increasing number of young people who don't know a lot about its history and have fewer resources than Steven did when he was young, and I had when I was young, to get into music. So we're just trying to enrich the classroom as far as its music content.
It's interesting that you say fewer resources — in some ways there are too many resources: between YouTube and Spotify and everything else, there's so much music that can hit kids today in a wash, without any context.
Well, agreed. I would say young people are swimming in music. There is more content they can access than ever before, and they do access it. But that doesn't hold true for the classroom. Music in schools is generally left on the margins of the experience — in music departments. And not every school has one that is there to cater to every student. You can go K to 12 and not have much more than a couple general music classes.
But when you leave the classroom, you're swimming in music. And I think where we're failing young people, and we're depriving the classroom of some important energy, is in not looking at music from more perspectives than just playing it. So if there is a music department in a school, it's generally about getting an instrument into kids' hands and getting them some lessons.
Now, that is good. We want to support that. But imagine if we taught literature only to students who we think might become writers? It would be ludicrous. What we're doing instead with literature in schools is we're trying to make better readers. We're trying to teach history through literature; we're trying to give young people a better sense of the world through literature. Why don't we do the same thing with music? Why don't we teach young people to be better "readers" of this cultural phenomenon — popular music? But we don't. Instead they're swimming in it, and we don't have any classroom experience where they can become better at analyzing it and understanding its history, at understanding its power in modern life. Instead we just leave it to them. And I think it's one of American education's biggest missed opportunities that we haven't pulled music over into social studies and into the language arts.…
Continue reading our interview with Warren Zanes
- Updated May 10, 2016 - Christopher Phillips reporting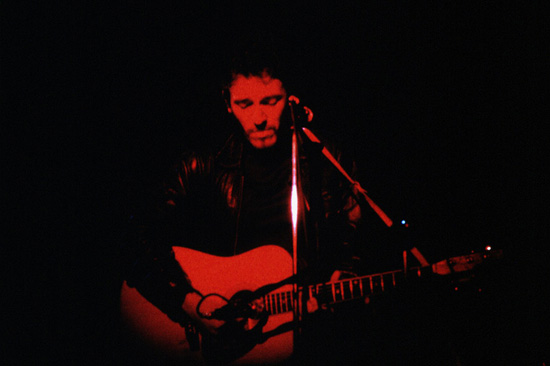 42 YEARS AGO TONIGHT
"I saw rock and roll future and its name is Bruce Springsteen": In the annals of rock 'n' roll history and reporting, there may be no other line that has given such notice to someone's potential and trajectory as Jon Landau's, after seeing Bruce Springsteen perform at the Harvard Square Theatre on the evening of May 9, 1974.
To celebrate this milestone, Backstreets and Barry Schneier Photography have teamed up again to make a special print offer to our readers, featuring images from that night previously not available. These archival ink jet prints in 11x 17 or 13 x19 sizes at special Backstreets prices will only be available for a short time. Then, like the evening itself, they'll be history.
Historical is one way to look at the night. Improbable is another: if not for an interesting set of encounters, Bruce might not have been on the bill. Barry Schneier, the photographer who captured this evening on film, tells this story.
Bruce Springsteen and the E Street Band had been playing regularly in Cambridge bars during the spring of 1974. Still relatively new to the scene, his following was dedicated, though sales of his two albums to date were not what his label was hoping for.

I was living just outside of Boston at the time. A friend brought Bruce's second album over one day, The Wild, the Innocent & the E Street Shuffle, saying he had heard this guy was pretty good. He was. We liked what we heard and decided to check him out at Charlie's Place in Harvard Square.

At the club we took our seats in one of those classic high-back wooden bar booths, squeezed into one side, and ordered a pitcher of beer. I looked around the room and commented on my surprise at how crowded the club was. A patron sitting across from me, hearing my comment said, "You mean you've never seen him before? You just wait. I'm from Philadelphia, and I've been following the band up and down the east coast." I frankly had never heard of anything like that before.

What transpired next has made an indelible mark on me forever. The band came on, six of them squeezed into a corner of the bar in an area about 12 feet by 12 feet. With only a small empty dance floor separating the band and us, they launched into the most incredible set of jazz, R&B, and rock-infused music I had ever heard. They had a presence and a swagger that drew the audience into their songs. When the night was over, two things stayed with me. One, I had never heard music like that before. And two, I had to see them again.

I called my friends at Windowpane Productions, local concert promoters that I was shooting photography for. I simply said, "You have to book this guy!" Ira Gold, one of the partners, came over to my apartment and I played him Bruce's two albums. After hearing them he asked if he could borrow them to play for his production partner, Jeff Hersh, who was also part of Bonnie Raitt's management team. Jeff was equally impressed. My biggest concern then was that I might not get my albums back!

There had been no plans for an opening act for their upcoming Bonnie Raitt show at the Harvard Square Theatre in May of 1974. Ira and Jeff's plans were to really give the whole night to Bonnie. She had been recently delegated to mostly being an opening act, and they felt this was her turn to headline. After listening to the albums I lent Ira, he and Jeff paid a visit to another of Bruce's shows at Charlie's Place in Cambridge. That night a short conversation with Bruce followed the last set of the night. They asked if he wanted to open up for Bonnie. Bruce said, "Sure, why not."
When that night came, Barry was there — the only photographer in the house with camera in hand, capturing moments from the performance as well as the soundcheck on film.
Backstreets and Barry Schneier Photography have selected a few prints to offer to its readership to celebrate this evening, at special prices. Follow this link to see the sale and place an order: barryschneierphotography.com/archival-pigment-prints
- May 9, 2016 - photographs by Barry Schneier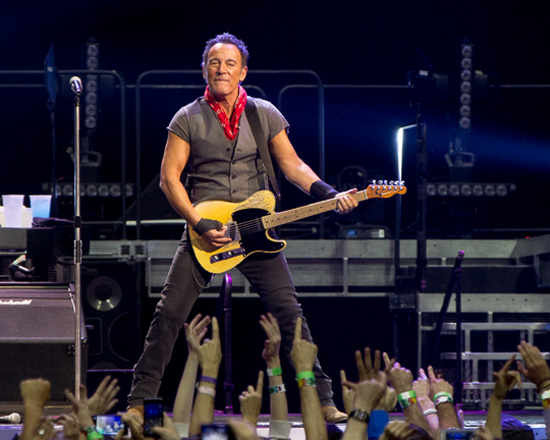 WE WILL BE SEEIN' YA! RIVER TOUR EXTENDED INTO SEPTEMBER
The imminent European leg, which begins this Saturday in Barcelona, won't be the last for The River Tour: Following the scheduled dates overseas that run through July, Bruce Springsteen and the E Street Band will return to stages in the United States for eight more shows in late summer.
These homecoming concerts, from a pair at MetLife Stadium in the Meadowlands (8/23 and 8/25) to a Boston-area show at Gillette Stadium in Foxborough, MA (9/14), won't all be stadium shows. They won't even all be outdoors — we're looking at arena stops in Chicago (United Center, 8/28) and Pittsburgh (CONSOL Energy Center, 9/11), where the tour began this past January.
Additionally, the return of the River Tour will hit ballparks in Washington DC (9/1) and Philadelphia (9/7), and an amphitheater in Virgina Beach (9/3).
Onsales will be spread over a few days this time, beginning this Friday, May 13 (for DC and Virginia Beach), and running into next week.
For all dates, onsale info and links as we have them, see our Tour/Ticket Info page.
- May 9, 2016 - photograph by A.M. Saddler [Brooklyn, 4/25/16]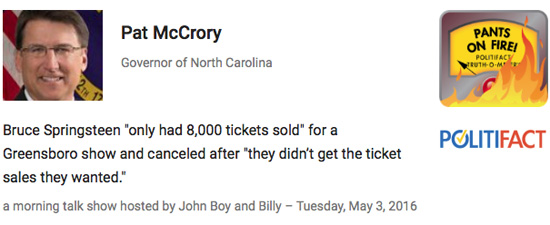 BABY, YOU LIED
Yesterday, North Carolina governor Pat McCrory received notification from the U.S. Department of Justice that he and NC's House Bill 2 are in violation of the Civil Rights Act. The DOJ's determination is in alignment with what Bruce Springsteen wrote about the law a month ago, when announcing his cancellation of the River Tour's Greensboro, NC show: "To my mind, it's an attempt by people who cannot stand the progress our country has made in recognizing the human rights of all of our citizens to overturn that progress."
Governor McCrory had some words about Springsteen a few days ago on the John Boy & Billy radio show, suggesting Bruce just didn't get it: "I doubt he read or understands [the bill]," the governor said. Maybe we can agree to disagree about Springsteen's level of intellect or sophistication when it comes to human rights issues, but it was particularly troubling to see McCrory just making shit up:
"I love Bruce Springsteen," McCrory said. "But he canceled a concert in Greensboro. By the way, they only had 8,000 tickets sold, with all respect. Bruce doesn't mention that. They didn't quite get the tickets sales they wanted, might have had something to do with it."
If 8,000 sounds like a number that McCrory pulled out of his ass (with all respect) to suggest disingenuity on Springsteen's part, PolitiFact North Carolina concurs after fact-checking with a representative from the Greensboro Coliseum. Turns out there's a good reason Bruce didn't mention it: because it's not true.
...Was [Springsteen] really only using a convenient political stance to cover up embarrassing sales numbers?

No, according to the Greensboro Coliseum.

Andrew Brown, the arena's PR director, told us Springsteen had sold more than 15,000 tickets.

"No idea where 8,000 may have come from," Brown said, adding that there were fewer than 100 tickets left when Springsteen canceled with two days' notice.

"It's safe to say it would have sold out," he said...

...the more-than-15,000-tickets number is the same figure the coliseum reported immediately after the cancellation, which was weeks before McCrory questioned the attendance. We appreciate the consistency, which keeps us from dancing in the dark to try to figure out the truth.
According to venue officials, the Coliseum's capacity for the Springsteen show was about 16,000. Based on their research — determining that the venue would have been packed to the rafters, not half-empty — PolitiFact gave McCrory's statement the lowest rating on their Truth-O-Meter: "Pants on Fire!"
- May 5, 2016 - Christopher Phillips reporting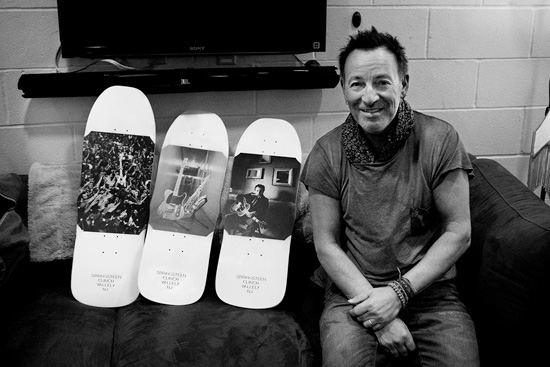 BOARD SIGHS: SPRINGSTEEN x CLINCH x VALLELY x NJ
There's plenty of overlap between the worlds of skateboarding and surfing. Bruce Springsteen and the E Street Band have had plenty of association with the latter, living at Tinker West's surboard factory in 1970 and riding the waves in Asbury Park and Long Branch (a history that's part of a forthcoming documentary on New Jersey surfing, The Endless Stoke). But skateboarding? X-man or the Magic Rat might be able to do an ollie; otherwise you'd be hardpressed to make a Bruce connection. We've seen Springsteen on ice skates, but not a skateboard.
Leave it to Danny Clinch to bridge that boardsports gap.
Teaming up with professional skateboarder (and Black Flag vocalist) Mike Vallely, Clinch has created a new, limited series of handcrafted skateboard decks bearing his photography, paying tribute to Springsteen and their mutual New Jersey roots. Like Clinch, Mike V is a Jersey native and longtime Springsteen fan — a passionate one, who calls Springsteen "peerless... hands down the very best songwriter, performer, guitar player and band leader in all of rock 'n' roll — in its entire history." He's seen "more live Bruce Springsteen shows than I can count."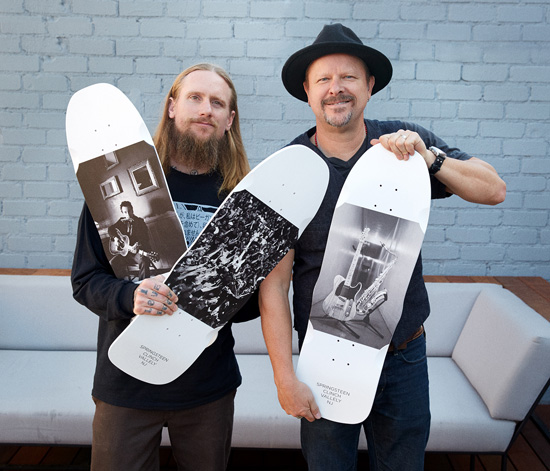 The two [above, Vallely left, Clinch right] "connected at a Bruce show during the Rising Tour," Danny tells Backstreets. "We were introduced and became fast friends. He is a generous guy and immediately sent some decks when he heard my son Max liked to skate. He even stopped by our house to hang and skate with Max and some local kids in the neighborhood.
"Mike is creative and of course so am I — we were always looking for ideas to collaborate on something," Danny continues. So jump forward a decade, and "Mike had the idea of a board with Springteen images on them. I sent a few images for him to work with, and we decided on these three. Mike mocked them up and we realized how cool this could be. We came up with the Springsteen x Clinch x Vallely x NJ idea after a late night brainstorm and back and forth emails, and the final designs became a reality."
The Springsteen x Clinch x Vallely x NJ skateboard decks are available now from Vallely's Street Plant — purchase links are here. And when they say "limited edition," they mean it. Only 75 boards total were made: three designs, 25 of each, using Clinch photographs from 2000, 2005, and 2008.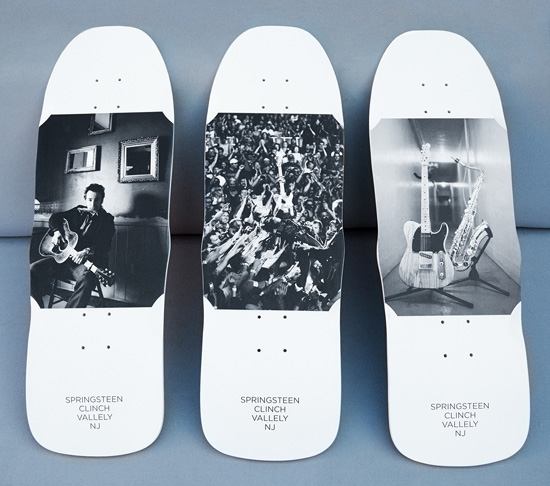 Of course, they got Springsteen's blessing: "I decided to reach out to Bruce after we created a few test boards," Danny tells us. "We didn't want to waste anyone's time so we created them for him to see. I was able to tell Bruce that Mike and I were inspired by the way he is always finding ways to give back to the community."
To that end, all proceeds will go to three charities handpicked by Danny and Mike: the Kristen Ann Carr Fund, the Foodbank of Monmouth and Ocean Counties ("because this is where Bruce and I are from, and to honor my mother, who has been volunteering at New Jersey food banks for years"), and Surfers Healing.
And in the spirit of "pics or it didn't happen," Danny promises us: "I'm hoping to see Bruce get on one of these boards some day, and when he does, I'm gonna be there to get a photograph of it!"
- May 3, 2016 - Christopher Phillips reporting - thanks to Danny Clinch for the photographs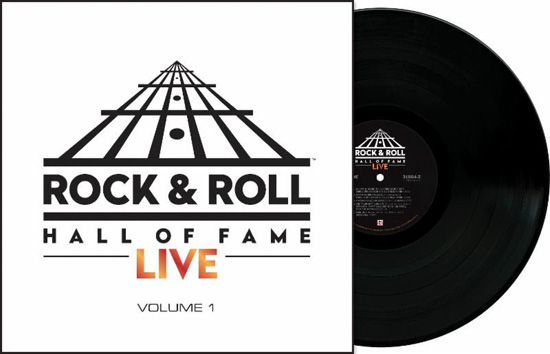 NEW COMPILATION COLLECTS ROCK HALL HIGHLIGHTS ON VINYL
Just out this week is Rock & Roll Hall of Fame Live Volume 1, which captures three Bruce Springsteen performances on vinyl for the first time: 1988's "Satisfaction" with Mick Jagger, 1995's "Johnny B. Goode" with the E Street Band backing Chuck Berry, and 1999's "Tenth Avenue Freeze-out" with the E Street Band, from Springsteen's own induction.
These and seven more live cuts on Volume 1 have been culled from the last 30 years of Rock and Roll Hall of Fame concerts; the album also includes the 2004 performance of "While My Guitar Gently Weeps" featuring Prince on lead guitar. From Time Life, which calls their new vinyl series "a selection of the most memorable moments in the history of the induction ceremony."
According to Time Life, "Volumes 2 and 3 will roll out though 2016, allowing fans to collect even more of these beloved performances on vinyl. Additionally, the net proceeds go to The Rock and Roll Hall of Fame Foundation, which supports the exhibits and educational programs of The Rock and Roll Hall of Fame and Museum."
Order the limited edition, 180-gram Volume 1 now from Backstreet Records.
- May 2, 2016

For older news, visit our News Archives