JAN 22, PERTH 1: "WE ARE THE NEW AMERICAN RESISTANCE"
And on this night in a city either protected or cursed by the tyranny of distance, Bruce Springsteen and the E Street Band took the Perth Arena stage at 7:55 pm and went to battle. A great shadow had passed over the world since they'd last gathered under New England stars in September. Over the course of a herculean media blitz for his Born to Run autobiography, Bruce had let fly with wilting opinions about the man now ensconced in the Oval Office, had performed acoustically in support of the Hillary Clinton campaign and farewelled President Obama and his staff with a private show at the White House. All of this however, had been done on someone else's stage. Tonight, from the mighty bastion of E Street, the cannons were aimed squarely at the forces of hate and division back in the States. The bombardment lasted 3 hours and 25 minutes, victory declared on the jubilant faces of Aussies who'd come for a River show but got gobsmacked instead by a rock 'n' roll reckoning.
For the tenth show in a row Roy's strident piano kicked off the elegant and timeless "New York City Serenade" and in the words of fellow fighter Joe Strummer, war was declared and battle come down. Bathed in blue and perfectly still, Bruce hushed images of early-'70s Manhattan while the 2017 E Street Band recalled the remarkable maturity of the musical gypsies who cut the track in 1973. As is now standard, an impeccably dressed eight-piece string section showered grace on an audience expecting raw six-string power. Familiar lyrics — lyrics spray-painted on the souls of the old bastards who've followed Bruce over lengthening lives — were reset, a simple "Sometimes you gotta walk on" suddenly invigorated by the spectre of protest marches in the States following Trump's inauguration.
As a final denouement of strings brought the masterpiece to a close, Bruce cheerfully thanked his guest musicians as they left the stage and cut to the heart of the matter:
"The E Street Band is glad to be here in Western Australia. We're a long way from home, and our hearts and spirits are with the hundreds of thousands of women and men who marched today in every city in America — and in Melbourne! — who rallied against hate and division and in support of tolerance, inclusion, reproductive rights, civil rights, racial justice, LGBTQ rights, the environment, wage equality, gender equality, healthcare and immigrant rights. We stand with you. We are the new American resistance."
And the cannons roared with an immediate barrage of "Lonesome Day," "Darkness," and "No Surrender." Rockets red glare, indeed.
The adrenaline rush of these stalwarts also brought to mind Springsteen's response to a question posed by Mark Maron on his WTF podcast about whether Bruce had written anything specifically addressing the rise of Trumpism: "I've got a lot of songs that are about it right now… they're there already. I work from the inside out; in other words, I'm inspired by something internally and I make a record based on what I can write about at a given moment. Sometimes it ends up being topical, sometimes it doesn't. We've got a good arsenal of material right now that we can go out and put in service." Perhaps a younger Bruce would have elucidated on this point between songs, but it seems the older Bruce gets, the more impatient he is to put a maximum number of songs in service every night. Lucky us.
In case Bruce's declaration of solidarity with a new American resistance wasn't enough, the playing of only two songs from The River at an arena bursting with River-themed merchandise proved the good intentions of a feel-good retrospective had been kiboshed for the topical. "Out in the Street" started with a bang but ended abruptly when a lukewarm-at-best crowd response seemed to faze Bruce. He chuckled afterwards, acknowledging to the band his unexpected abandonment. It's at this point I hesitate to mention the crowd's enthusiasm because Aussies are, on the whole, less boisterous concert attendees than others around the world. But, aside from hearty pit disciples, this crowd was comatose for 75% of the night.
This American ex-pat was having none of that, however, especially when "Land of Hope and Dreams" rolled into the station. I was lucky enough to have heard its creation while sitting on the sand outside Asbury Park's Convention Hall, so this song always beats from within, but tonight it was a right cross to the face. Everyone on stage seemed to grow a couple inches in anticipation of the fight to come — this train was taking no prisoners. Get on or get the fuck out of the way. Steven's mandolin, Jake's sax, Max's kit, Bruce wailing "Bells of freedom ring," all indicative of a reckless conductor hurling his iron horse down the tracks. A song reborn for an uncharted age, Bruce's on-the-nose lyrical alteration "This train… carries immigrants!" a hammer blow to those who would vilify the historical lifeblood of the U.S.A.
The so-called time machine of songs from 1973 that answer all fans' dreams (well, almost all… there's always someone pining for "Queen of the Supermarket") followed. "Bus Stop" had Bruce contorting like a carnival barker hectoring passersby. "Growin' Up" featured the giddy confession of a 14-year-old Springsteen who "had nothing… but needed something" and so was soon mowing the lawn of his Aunt Dora for 50 cents an hour so he could buy the "cheapest guitar" in town. Once purchased he discovered that while he couldn't play it, he could pose with it — and pose he did, that 14-year-old outcast morphed into a 67-year-old windmilling rock god.
This story is hashed out hilariously in his autobiography, the lawn mowing job proving inadequate and leading to a house-painting gig across the street from Aunt Dora's house. Under different circumstances the Born to Run book would be hailed as a Rosetta Stone to understanding a guy we've all spent too much time analyzing from afar, the blood and bones of songs we like to say "define" our lives actually defined by the guy who wrote them. This "Growin' Up" tale certainly invited a plug for the book but unsurprisingly, there was none.
On "Spirit in the Night," Bruce plucked a cider from a fan who offered him four cans ("Is this for the whole band?") and then chugged its contents back on stage to Max's thunderous prompting. "Lost in the Flood" completed the Greetings portion of the night with head-banging oomph and the night's first blistering guitar solo from Bruce.
What followed may have once been considered a Holy Grail but is now, blessedly, practically commonplace: three Wild & Innocent songs in a row. "Kitty's Back" shined a spotlight on Charlie, Jake, Roy and an extremely hip-looking Garry and ended with Bruce and Steve injecting the sprawling tune with psychedelic guitar work. "Incident" followed. A full-on, blown-out "Incident." Gorgeous, melancholy, rousing and on this night offering a soothing "Good night, it's all right" to a world waiting for shit to go down. Roy's long outro guaranteed "Rosalita" and the folks in the pit getting Bruce, Steve and Jake up close and goofy.
Big finish, big applause, and bam… "The Ties That Bind," the second and last River song of the night. The song melted from E Street Band heat, a furious rendition that set up rousing redneck rockers "Darlington County" and "Working on the Highway." Bruce handed the mic to Nils to sing a "Darlington" refrain, his high-desert vocals an absolute treat; while on walkabout, Bruce pointed his guitar at the band from the rear of the pit and orchestrated the intro to "Highway," a song fuelled, fired, and finished by Max's slapping snare. This double shot of swagger ended with the harmonica intro to "The Promised Land," another song rebooted by current events. Bruce punched the air a la "Jungleland" during Jake's solo, and the crowd, buoyed by the two previous Born in the U.S.A. songs, found its legs. Bruce stalked the stage like a revival tent preacher, shaking his right arm in rhythm to words written 40 years ago but that fit in with the new American resistance just fine, thank you.
The brilliant 2016 release American Band by Drive-By Truckers features a song called "What It Means" that includes these lines: "If you say it wasn't racial / When they shot him in his tracks / Well I guess that means that you ain't black / It means that you ain't black." Fighting words, for sure, and yet mild compared to the raw and ferocious "American Skin (41 Shots)," tonight played at a quick pace but with aching intensity. The image of the lone African-American on stage — and quite frankly, possibly the only African-American in Perth Arena — with his hands up throughout the song nearly broke me in half. As he played the song's sax solo, I began to dread him finishing the solo and returning to his place beside Charlie and putting his hands back up. When he did, and his arms rose far over his head, my heart genuinely sank. Nils ripped a solo that screamed for mercy, the song ended, and Jake's hands fell. Gut-wrenching.
"My Hometown" followed, another song made fresh by the autobiography. On "Candy's Room," a Bruce solo circa 1978 began a roar straight out of Wall Speedway that continued with "She's the One," "Because the Night" (featuring another searing Nils solo), "The Rising," and "Badlands." Signs had been ignored up to this point, but after taking bows Bruce strapped on an acoustic and pointed at a sign asking for "Blood Brothers," an en masse request for a fan named Matty who'd passed away. After running through the chords a few times in practice, Bruce played the song standing perfectly still, locked into the words, perhaps lost in emotion, perhaps not, but playing it like he was standing before all of those he's lost and seeking their blessings.
After this gift of a performance the show rocketed through encore favorites "Born to Run", "Dancing in the Dark," and "Tenth Avenue Freeze-out" before "The Boss" cape came out for a spectacularly campy "Shout." "Bobby Jean" ended the proceedings at 11:20 with the crowd on its feet, tired and happy. A clarion had been blown, the battle commenced, a shot heard 'round the world. On Wednesday night in Perth, the reckoning continues with night 2 of 3. "So walk tall… or baby don't walk at all."
For the full setlist from this and other recent performances,
see our Setlists page
- updated January 23, 2017 - Joe Wall reporting - photographs by Joe Wall (2) and Bill Donohoe (the rest)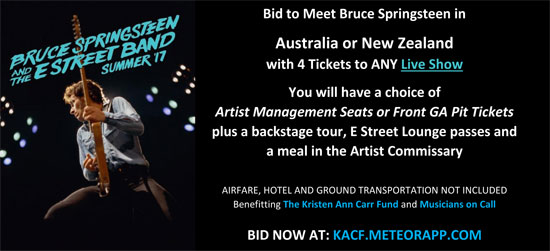 BENEFIT AUCTION INCLUDES 4 VIP TIX TO ANY OZ/NZ SHOW
Bidding is open now for a special package of four tickets to the Australia/New Zealand concert of your choice. Of course, you actually have to get yourself there... but the lot comes with quite a few perks, including prime location, backstage tour, a meal in the artist commissary, and, oh yeah, a meet-and-greet with Bruce Springsteen. The auction benefits both The Kristen Ann Carr Fund and Musicians on Call; head to kacf.meteorapp.com to place a bid.
- January 21, 2017


THE VIEW FROM DOWN UNDER: KING B IS BACK
Bruce Springsteen and the E Street Band's 2017 tour of Australia and New Zealand begins on Sunday. The warm-up has already begun.
- January 19, 2017

MR. SPRINGSTEEN GOES TO WASHINGTON
Bruce thanks POTUS and staff with farewell concert at the White House
Last week, two days after Barack Obama's farewell address to the nation, Presidential Medal of Freedom honoree Bruce Springsteen returned to the White House's East Room to give a farewell of his own to the President and his staff, with a 15-song acoustic performance. Patti Scialfa was there as well and contributed vocals to two songs. The set was crafted to be highly thematic, Springsteen meeting the moment by drawing from more albums than you can count on both hands. His choices ranged from trusty classics "Thunder Road" and "The Promised Land" to rarities like "My Father's House" and "The Wish." A longtime Backstreets reader was there in the East Room and reports for us.
The January 12 event, which feels like a fever dream now, was a thank you for current White House staff with a full eight years in the Obama Administration. We lined up at the southeast gate, behind the Treasury building, and they started letting us in a little after 7pm. There was a lovely reception in the State Dining Room for an hour or so. The vibe in the room, and all night, was very familial. The crowd consisted of people who had worked together for years (I'd estimate 200 or 250 in attendance), and it was nice to see many happy reunions and farewell hugs. There were no special celebrity guests or anything — just staff folk and their significant others. No sign of the President until later. After about an hour, the doors to the East Room were opened, and we filed in to take our seats in rows.
The President and First Lady were announced, and they came in from the Green Room to take their seats front and center. POTUS was in a suit and FLOTUS in a typically stylish tailored black gown, nothing overly formal. Patti Scialfa was already seated in the front row, next to National Security Advisor Susan Rice. Then Bruce was announced and came in from the Green Room himself in dark jeans and a very typical Bruce outfit otherwise (tight dark vest, shirtsleeves, bracelets, etc.). Kevin Buell was set up stage right with a tech area to tune and feed various acoustic guitars to Bruce throughout the night. Pete Souza was seated in the front row to the stage-left side; he was up and down and around the room all night taking photos (and also singing along silently to all the songs).
It was a dream of a setlist. Bruce opened with a very brief note of thanks to the President and the staff who were being honored before launching into "Working on the Highway." That opener led into an incredible "Growin' Up" for a lively start, but not much of the set was so upbeat, with haunting readings of songs like "My Hometown," "My Father's House," and "Devils & Dust." The mood in the room the whole night — both reception and concert — was not exactly somber, but it wasn't festive, either. It was elegiac, I'd say. There was a clear sense of something ending, both with the conclusion of an adventure for the staff and the silent presence of the coming political transition. Bruce's demeanor was definitely in line with that overall vibe.
Springsteen spoke between most of his selections, talking about politics a bit before "Born in the U.S.A." and calling it a "protest song," one that had been misunderstood before and would be misunderstood again. Before "The Wish" he referenced the President's own family and talked about how he'd written this one for his mom, who now had dementia, but had taught him so much "about how to be in the world." Bringing Patti up for "Tougher Than the Rest," Bruce talked about the example set by the President and First Lady through the tough years of the Administration and dedicated this one to them. Patti remained onstage for "If I Should Fall Behind."
"Long Walk Home" — pause a moment and consider this recent masterpiece actually being performed in the White House — was preceded by commentary about being in a difficult moment and maintaining optimism. And then a masterful final pairing of "Dancing in the Dark" and "Land of Hope and Dreams." There was no gap between these two, as Bruce segued right from one to the next. "Dancing" did get almost somber and dark in a way that I've always thought those lyrics merited. The song has some of my favorite Bruce lines, actually, and this was the performance of a lifetime, wrenching and taut, with self-doubt and anxious fire on full display. "Land of Hope and Dreams" was the perfect, fitting closer.
A few final words of thanks from Bruce, and then President Obama hopped on the stage. He thanked Bruce in turn — something to the effect of, "he's been with us for some time now, performing his craft to show his support." But POTUS mostly focused on thanking the staff and their families for all they'd given and given up, "missing kids' soccer games," etc. He wrapped up fairly quickly. Then FLOTUS and Patti took the stage as everyone clapped and the two couples spoke privately among themselves. POTUS led the foursome off the stage and back toward the Green Room, and out they went.
The crowd filed back out into the Cross Hall for some final mingling before the Marine escorts started shooing us toward the coat check and out into the warm winter night. We were among the last folks out the door, and as we strolled up East Executive Avenue toward Pennsylvania, we saw Bruce and Patti walk out of the East Wing toward their car. We were by the northeast gate as they pulled out. I gave a modest "BRUUUCE" and received a nice wave from both Bruce and Patti from inside the car. Outside the White House, you'd have no idea any event had been going on. The street was quiet and empty.
I have seen Bruce Springsteen a lot of places: front row at MSG, rehearsal at Convention Hall, summer runs at Giants, the last show at the old Giants, a surprise appearance in a shopping mall, 2004 Vote for Change, second row at the Lincoln Memorial in 2008, arenas all over.... But this one was a real personal thing, this thing for staff who sacrificed so much over the last eight years. It was a humble, quiet gesture from Bruce to say thanks to President Obama, the staff, and their families. No pomp, no ceremony, no press. Just the man, the guitar, and the songs.
For the full setlist from this and other recent performances,
see our Setlists page
- January 18, 2017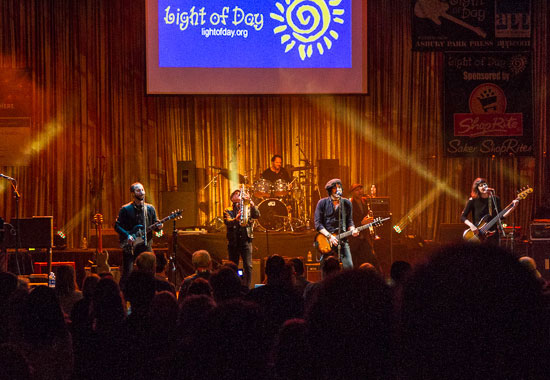 GREETINGS FROM ASBURY PARK: LIGHT OF DAY WINTERFEST 2017
Originating as a birthday party for artist manager Bob Benjamin in 2000, the Light of Day (LOD) effort has always existed as a positive, dynamic force for change. And since its humble beginnings, LOD seems to grow and transform itself each year — existing first as a single benefit concert, then a week-long run of shows, and now playing a dual role as an ongoing international entertainment series and an advocacy and support network for those affected by Parkinson's. As LOD's focus has grown and shifted, so has Benjamin's own focus, as the disease has, over the years, again and again asserted its dominion over his body. Each year, the soft-spoken New Jersey native has issued a brief statement on the state of the movement, weaving in details from his own personal health issues. And each year, despite these setbacks, Benjamin has remained staunchly positive and forward-looking.
But in 2017, LOD's dual roles as entertainment and advocacy organization have been challenged as never before. With the looming threat of substantive changes to a national healthcare system that, despite significant improvement, had sometimes seemed at odds with the struggles of Parkinson's patients and their loved ones as well as the profound post-election feelings of despair and dread that seem to have settled on much of the country at large, the LOD Winterfest in Asbury Park seemed not to be the usual celebratory extravaganza, but instead welcome respite from what some have called "the new abnormal."
Bruce Springsteen, himself a frequent part of the LOD movement since its origins but this year between in a whirlwind book tour and a trip to Australia, was not a part of this year's festivities. Given this scenario, LOD 2017 could have succumbed to the pressure of lofty expectations. Instead, this year's shows in the New York/New Jersey region proved consistently engaging, inspiring and often transformative. Beginning with a celebration of Clarence Clemons' birthday at The Cutting Room in New York City and winding up with a series of acoustic songwriter circles at venues along the Asbury Park boardwalk, the LOD Winterfest 2017, while mostly relying on its core team of performers, gave attendees just the sort of "comfort food" performances that fans hungered for.
The New York event on Wednesday welcomed LOD newcomer Jake Clemons to the fold with a special show highlighting the release of his new CD Fear & Love [see our recent interview], while the Thursday night Asbury Park kickoff at the newish venue House of Independents was anchored by raucous performances by San Francisco's Chuck Prophet (another newcomer) and veteran LOD artist Willie Nile. Friday night saw both the induction of a new group of Asbury Angels at the Stone Pony and a mesmerizing performance by guitar wizard Albert Lee at McLoone's Supper Club. Saturday afternoon featured the return of the popular Asbury Underground music series, which showcases local artists like The Sunday Blues and Arlen Feiles in popup-style performance spaces in downtown Asbury Park, an inspiring History of Protest set by Shannon McNally and friends, and the ever-popular Asbury Blues showcase at the Wonder Bar, which this year featured standout performances from local veterans JoBonanno and Billy Walton.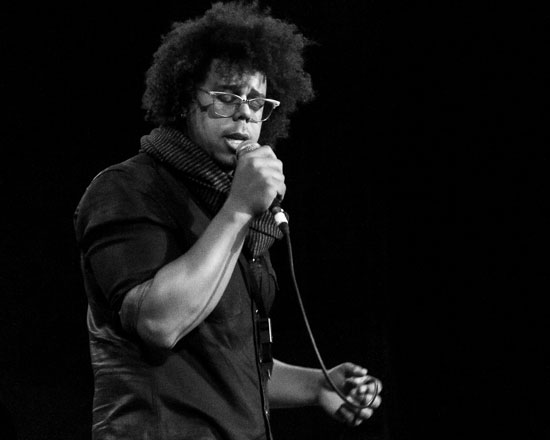 But it's the Saturday night event billed as "Bob's Birthday Bash" that has always been the centerpiece of the LOD movement, this year headlined by Jake Clemons [above]. While there may have been fewer national names on this year's bill, their absence allowed standout up and coming Asbury Park bands like The Battery Electric and Remember Jones and Jersey Shore legend Bobby Bandiera to all but steal the show. Indeed, while longtime LOD participants like Nile and Jesse Malin [top] performed raucous, crowd-pleasing sets before a packed house later in the evening, it was the beginning of the lineup that engaged and inspired early arrivals, and which the late-comers may come to regret missing. Even the night's "walk-in" music — provided by Italian acoustic septet The Fireplaces — was engaging and imaginative....
Click here for the full report from Bob's Birthday Bash
- January 17, 2017 - Lisa Iannucci reporting - photographs by A.M. Saddler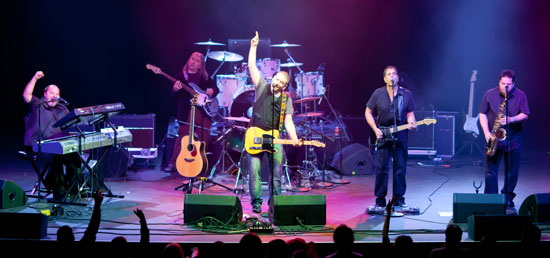 B STREET BAND WITHDRAWS FROM INAUGURAL CELEBRATION
Move "based solely on respect and gratitude" for Bruce and ESB
The B Street Band's scheduled performance at the upcoming Garden State Presidential Inaugural Gala has generated a storm of national news, from New York to Los Angeles, particularly given Bruce Springsteen's clearly articulated feelings about President-elect Trump.
In the wake of the brouhaha, the B Street Band has decided to pull out. Founder Will Forte contacted Backstreets to let us know that, after playing the same New Jersey gala in 2009 and 2013, this one "will no longer will be happening"; he provided us this statement:
With deepest apologies to our fans and the New Jersey Inaugural Ball committee, the B Street Band is withdrawing from performing at this year's inauguration Gala.

Our decision is based SOLELY on the respect and gratitude we have for Bruce and the E Street Band.

Bruce's music has been the foundation of our livelihood. The B Street Band would not exist without the talents of Bruce and our E Street brothers.

We are most grateful to these rock legends and look forward to many more years of emulating and performing the Forever Music, of Bruce Springsteen.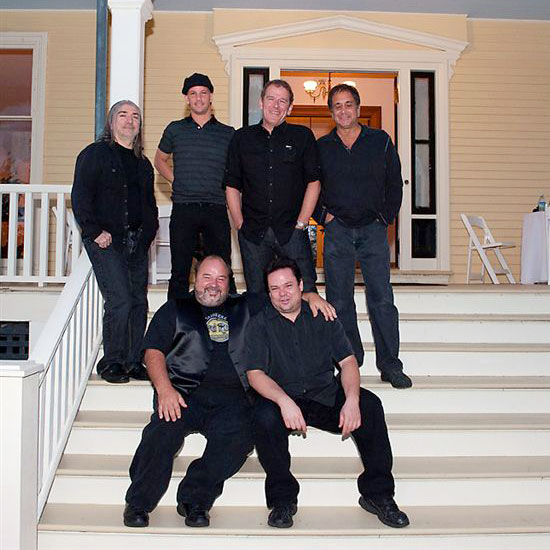 The B Street Band was actually hired for the event back in 2013, long before anyone had a clue who would be inaugurated. As Forte told Rolling Stone: "We're a non-political band... It's not about the candidate or who was elected; it was about the office of the presidency. I was performing for that. C'mon, we're a bar band. It's got nothing to do with politics whatsoever.... The way it's portrayed in the media is that Trump hired us for the inauguration. I don't have any dealings with Trump at all! It's just a New Jersey gala."
To see where the long-running tribute band will be playing — and they typically have a busy schedule — visit bstreetband.com.
- January 16, 2017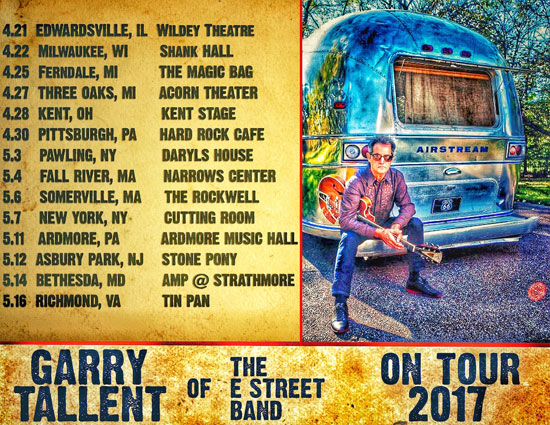 TENNESSEE TERROR TO TOUR
A year ago, Garry Tallent was gearing up for the release of his first solo album, Break Time — and shows in support of it, too, until the River Tour put his own plans on hold. But after the upcoming January/February trip to Australia and New Zealand, it will once again be break time for the E Street Band, and time for Tallent to get back to his own business.
Garry has just announced a series of spring dates, from April 21 in Edwardsville, IL to May 16 in Richmond, VA, including a stop at the Stone Pony in Asbury Park along the way. Garry's songs on Break Time should be a blast to hear live — check out the album on vinyl or compact disc if you haven't already — and grab your ticket!
- January 15, 2017

SPRINGSTEEN ON "THE ALCHEMY OF YOURSELF AND THE AUDIENCE"
With the E Street Band's return to Australia a little more than a week away, The Guardian has a new Q&A with Bruce Springsteen. Lots of talk about making a connection with the crowd, the mindset required for playing large venues, and the differences from one concert to the next: "Every show is so organic. I've never played two shows that are the same, in all the years we've been playing. You're dealing with the alchemy of yourself and your audience, and that's a swirling, changing experience from moment to moment. I go out and I both guide and allow myself to be guided by the audience."
Bruce is also "happy to report that the E Street Band is still filled with people who actually like one another. We may not have everything in common, but there's a deep mutual respect and I believe a real love between the band members that projects from the stage and is very real."
Read: "Bruce Springsteen: This is the only thing I do. It matters how I do it."
- January 13, 2017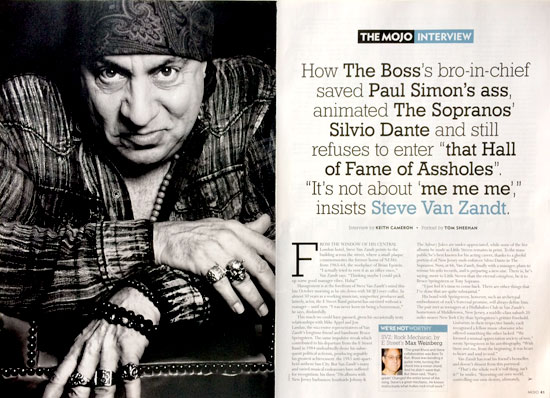 LITTLE STEVEN TALKS TO MOJO ABOUT HIS FUTURE PLANS
In October, while he was in London to play with the new Disciples of Soul at Bluesfest, Little Steven met Keith Cameron of Mojo magazine at his city-centre hotel for a career-spanning interview, which occupies six pages in the February 2017 issue. It's illustrated with nine archive photographs and two more taken at the time of the interview by noted UK photographer Tom Sheehan.
Among the subjects discussed were Stevie's early musical influences, his work with Southside Johnny and the Asbury Jukes, his ongoing membership in the E Street Band, his relationship with Bruce Springsteen, the Sun City project, and his plans for re-activating his long-dormant solo career. Those plans include a new album, a tour, and the re-release of his back catalogue, all of which is currently out of print.
"I just walked away from my career, it was short-sighted of me," he said. "I'm getting back to where I left off, connecting with my first album (Men Without Women) again... I just feel it's time to come back. There are other things that I've done that are quite substantial... Bruce at this point seems more comfortable touring every other year, so if that continues, I'm gonna come back and tour every other year. He's not gonna tour for 2017 (apart from Australia and New Zealand), so I will."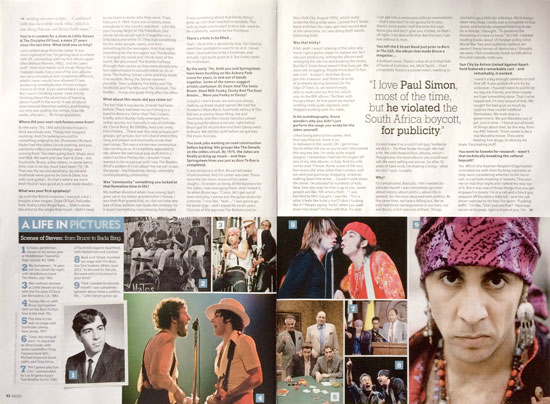 Those who attended the already-legendary London show with the Disciples of Soul witnessed a powerhouse performance of material Little Steven wrote for the Asbury Jukes and numerous songs from his solo albums, all of which deserve to be unearthed and made available to old and new generations of fans alike. If his touring plans come to fruition this year, the opportunity to catch his new band in full flight should not be missed. Just don't expect the shows to be as long as Bruce's recent marathons.
"These things don't happen overnight, you gradually get there," he said. "You're doing a job. The work ethic is what's foremost in your mind. And you follow the leader. He has infinite mentality when it comes to the stage. He's very comfortable there. I think it's always been a bit of a sanctuary for him...He's very inspiring. And he pushes the envelope. I appreciate that, 'cos I'd never do it in a million fucking years! No way. Not for four hours. That's two of my shows. Any Bruce fans coming to my show might be disappointed, 'cos I say 90 minutes is fine!"
Grab the February 2017 issue while it's still on newsstands, or read the interview online at pressreader.com.
- January 13, 2017 - Mike Saunders reporting


WHAT IF MOUNTAINS FALL?
Last night at Light of Day NYC's "Celebrating the Life and Birthday of Clarence Clemons," Jake Clemons performed a lovely acoustic "You're a Friend of Mine" for his uncle's 75th. Watch above, and read our new interview with Jake here.
- January 12, 2017 - video by Mitch Slater

LETTING GO OF A LIFETIME OF FEARS
Talking Fear & Love with Jake Clemons
It's a big week for Jake Clemons. Tonight, he'll celebrate his Uncle Clarence's 75th birthday at the big Light of Day NYC show, part of a bill for the occasion that also includes Willie Nile, J.T. Bowen with the Sensational Soul Cruisers, LOD stalwart Joe D'Urso & Stone Caravan, and more.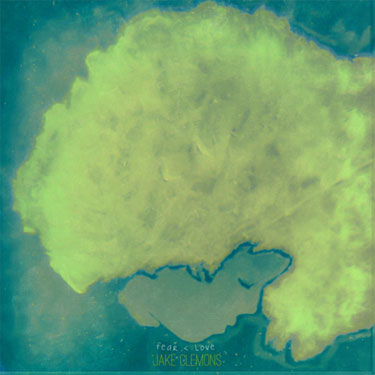 This Friday, January 13, brings Fear & Love, Jake's first full-length album (the follow-up to his 2013 Embracing Light EP) and his first release since signing with BMG.
Saturday night, he'll play for Light of Day again, this time for the "Bob's Birthday Bash" main event in Asbury Park.
Tonight's LOD concert at The Cutting Room, "Celebrating the Life and Birthday of Clarence Clemons," will be Jake's first date in support of Fear & Love, but not his last. "We're still kind of getting ideas as to what the best way to do that is," he tells Backstreets, given a trip to Australia with Bruce Springsteen is on the agenda later this month, "but there will absolutely be a tour for this at some point."
Jake spoke with Backstreets editor Christopher Phillips about the forthcoming Fear & Love, about the communal experience of music, from living rooms to stadiums, and about both literally and figuratively stepping into his uncle's shoes.
Read the Backstreets Fear & Love interview with Jake Clemons here
- January 11, 2017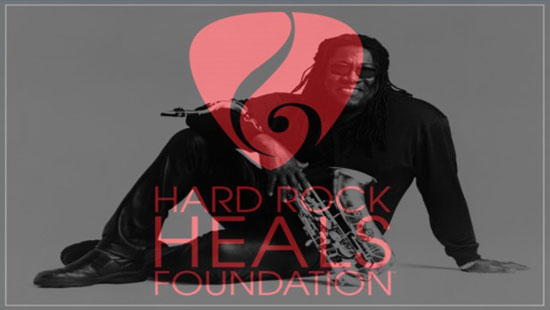 ON HIS 75th BIRTHDAY, HONOR THE LEGACY OF CLARENCE CLEMONS THROUGH HARD ROCK HEALS
In 2009, the Big Man of the Year Award was established, with Clarence Clemons himself receiving the inaugural award. Each year since, the award has been given to a musical luminary who embodies the values of generosity and service and the passion to help others, reflecting Clarence's legacy. Recipients include Bernie Williams, Lady Gaga, Steven Van Zandt, Darlene Love, Jake Clemons and Paul Schaffer.

Today, January 11, 2017, Clarence would have turned 75 years old. To commemorate and celebrate the occasion, the Big Man of the Year organization has launched a new campaign with the Hard Rock Heals Foundation, with the goal of raising $75,111 for Hard Rock Heals in Clarence's honor.
Simply text "BigMan" to #243725 and make a donation or pledge.
This Text to Give campaign will run for the next 90 days, starting today. There are no costs taken from this donation — 100% goes straight to Hard Rock Heals to support community-based music programs.
If you're unable to text or prefer not to, you can support the campaign online at bidpal.net/bigman.
The Hard Rock Heals Foundation exists to improve lives through the healing power of music, providing grants and assistance to individuals who share that goal. Partnerships with like-minded, music-centric organizations allow Hard Rock Heals Foundation the opportunity to improve lives and promote wellness.

Clarence always believed in the power of music and how important it is for children in particular, and his long relationship with Hard Rock International makes this a fitting relationship for his legacy. Because of that conncection, the Estate and Family of the Clarence Clemons fully support the Hard Rock Heals Foundation, joining fans aound the world in this fitting celebration the life of the Big Man, continuing Clarence's efforts of using music to make the world a better place.
Happy birthday, C. Still too big to die.
- January 11, 2017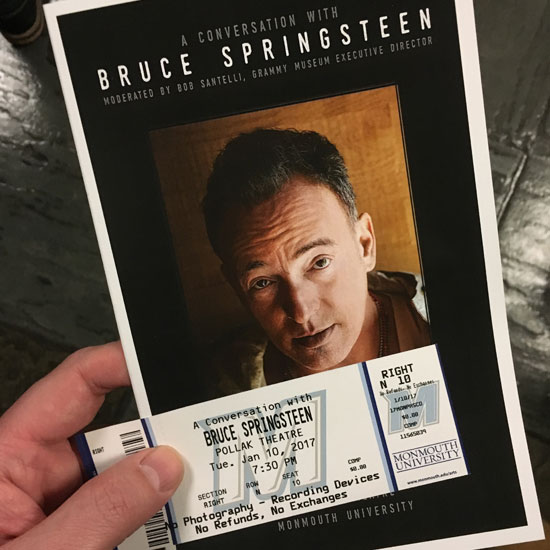 MONMOUTH U. TO BE HOME FOR THE OFFICIAL SPRINGSTEEN ARCHIVES
At tonight's "A Conversation With Bruce Springsteen" event at Monmouth University's Pollak Theater, right up top came a major announcement. Before Springsteen and interviewer Bob Santelli took the stage, Monmouth President Paul R. Brown told the audience:
"I am very eager to share with you some incredibly fantastic, exciting news. Bruce Springsteen and Monmouth University have entered into a partnership, to establish the Bruce Springsteen Archive and Center for American Music. Monmouth University is now the official repository for Bruce Springsteen's written works, photographs, periodicals, and artifacts. Needless to say, this is an exciting moment for Monmouth University as we celebrate one of America's most distinguished artists and, of course, a native son of the Jersey Shore."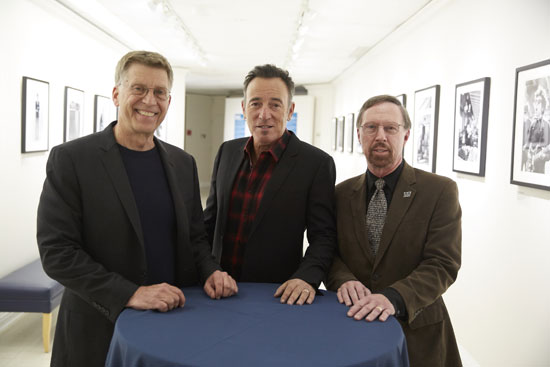 - Santelli, Springsteen, and Monmouth University President Brown - photograph by Danny Clinch
The partnership will add Springsteen's own papers and materials to the Bruce Springsteen Special Collection already housed at Monmouth, which began as a Backstreets undertaking in 2001 to preserve essential historical documents from throughout Springsteen's career with contributions from fans all over the world. We're thrilled that Springsteen has chosen to greatly enhance and broaden the scope and purpose of the Collection with his own invaluable contributions to create the Bruce Springsteen Archive and Center for American Music.
"As long as I don't go off my meds and rob a bank and fuck the whole thing up," Bruce quipped tonight. "Then it'd just be the Center for American Music."
A press release states that the Archives "will preserve and promote the legacy of Bruce Springsteen and his role in American music, while honoring and celebrating icons of American music like Woody Guthrie, Robert Johnson, Hank Williams, Frank Sinatra, and others. The expanded partnership will help to more deeply integrate the history and inspiration of American music into the curriculum and research experience at Monmouth. It will also serve to bolster an already highly successful music industry program at the university, one of only nine university affiliates of the GRAMMY Museum."
The conversation that followed between Springsteen and Santelli — a Monmouth alumnus and executive director of the GRAMMY Museum — kept the focus local, centering on Springsteen's early years with his various bands on the Jersey Shore, and covered subjects not touched on in Springsteen's many other recent interviews. More on that to come.
- January 10, 2017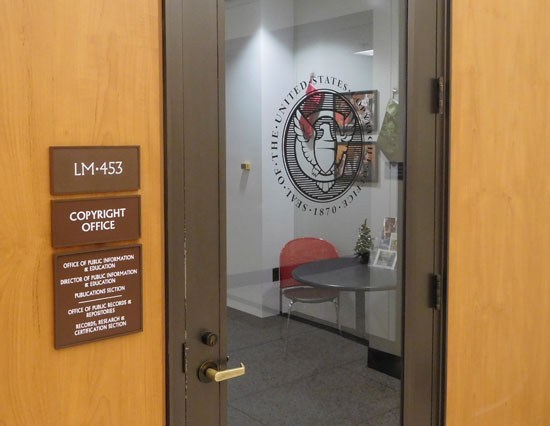 MY UNCLE SAM'S RECORD COLLECTION
A Christmastime visit to hear unreleased Springsteen music at the Library of Congress
You can probably think of quite a few ideal places to experience Springsteen songs, from in the car with the windows down to elbows on the stage. It's doubtful that a government office building would be high on your list. But when that's the only way you can hear these songs, it's a different story. Take it from Shawn Poole:
Last week, on one of my vacation days between Christmas and New Year's Day, I took a roadtrip to spend an afternoon in Washington, DC, listening to some unreleased Bruce Springsteen recordings that most fans, myself included, have never heard before in any form. The recordings are part of Springsteen's U.S. Copyright filing records and, since these records are legal public documents, they are available for public "inspection" — including listening on headphones to the submitted recordings themselves — through the Library of Congress' U.S. Copyright Office (located in the Library's Madison Building, just across the street from the main building.)
Among the recordings available for the public's listening pleasure are the 1995 recordings "Between Heaven & Earth" and "Blindspot," and the 2001 recording "I'll Stand By You (Always)." The last of these got some renewed attention recently, since Springsteen was asked about it during his recent visit to London. Bruce confirmed that he wrote and submitted the song for possible inclusion on the soundtrack for the first Harry Potter film. (Click here for director Chris Columbus's version of that story.)
Many enterprising Springsteen fans have seen these titles show up in an online copyright search, but there's a vast difference between seeing the words on a screen and hearing the work itself in your ear. I've known for a few years now that it's possible to arrange to hear unreleased recordings like these in the nation's capital, but until last week I never got around to doing so (mainly because you just can't do it as a spur-of-the-moment thing; more on that later.) As a fan of the Harry Potter books and films, however, reading again about Bruce's Potter-connected song inspired me to finally arrange the trip to Washington and hear that song and some other unreleased Springsteen music for myself. It made for quite a nice Christmastime treat.
While none of what I heard is on the level of legendary long-unreleased Springsteen material such as "The Promise," "Roulette," or "Murder Incorporated," these recordings nevertheless remain very interesting and often beautiful "roads not taken" in Springsteen's career. Should he ever get around to issuing a Tracks 2 set or similar project, any or all of these tracks certainly would merit inclusion.
Below are my notes on each of three tracks I got to hear last week, along with their copyright registration information for your reference, should you care to arrange your own visit. Instructions for doing so are below as well.
"Between Heaven & Earth"
(Registration Number/Date Pau001840753/1995-04-07)
The first pleasant surprise I encountered upon hearing both this track and "Blindspot" was that these 1995 tracks definitely are not outtakes from the sessions for The Ghost of Tom Joad, as some fans (myself included) have presumed previously. Given the strong hip-hop elements in each recording, it is much more likely that these tracks were part of Bruce's "lost" hip-hop-influenced album of the mid-1990s.

"There's a record that we recorded, mixed and didn't put out," Springsteen said on E Street Radio back in 2013. "Bob Clearmountain mixed it, spent a lot of time on it… didn't put it out. That was, like, '94. And it still intrigues me. I still go back to it. There are still things on it that I really like, and I may go back to sort of say, 'Okay, well, why...?' Sometimes it's timing, you know. There was a particular reason that I didn't put out that group of music. Sometimes the timing just doesn't feel right for that kind of record."

"Between Heaven & Earth" is a ballad that features a hip-hop-style drum track and synthesizer wash a la 1994's "Streets of Philadelphia," with some electric guitar added to the recording's fade-out, presumably played by Bruce. (No musician or production credits were included with any of the copyright records I inspected.) The lyrics are focused on the difficulties of maintaining a marriage and family life, with imagery that includes children and a home's kitchen. The recording also features some nice double-tracked backing vocals from Bruce, using the falsetto voice he was developing at that time.

One other thing I should note here is that all of the tracks I inspected last week were submitted to the U.S. Copyright Office on cassette tapes. Oddly enough, the 1995 cassettes are high-quality Denon Metal cassettes dubbed by New York City's Masterdisk, while the 2001 track was submitted on a plain old Maxell UR normal-bias cassette. All of them have held up very well, however, and their sound quality is still pretty damn good even in this digital age (especially when played back on the U.S. Copyright Office's professional equipment on headphones, which is how you have to listen, of course. You also can bring your own pair of headphones if you prefer to do so.) It helps greatly, of course, that each of these tracks is a fully finished professional studio recording. There is no rough-mix, bootleg-level sound to be found here at all.

"Blindspot"
(Registration Number/Date Pau001840769/1995-04-07)
Like "Between Heaven & Earth," "Blindspot" features a hip-hop-style drum track, synth wash and an electric guitar solo, though this track's solo is more prominent and extended. The rhythm track on "Blindspot" also features the sound of a male shout repeatedly sampled in the same manner that James Brown's and Bobby Byrd's shouts were sampled in Rob Base and DJ EZ Rock's 1988 hip-hop classic "It Takes Two." The lyrics focus on the troubling aspects of interpersonal relationships as well, exploring the darker aspects of our own personalities that can make forging and maintaining our relationships so difficult. Just as everybody's got a hungry heart, so does everybody have a blindspot. Bruce also uses a lyrical image similar to one found in Jackson Browne's "Your Bright Baby Blues" (from The Pretender, produced by Jon Landau) where the singer feels like he's flying at first, but then realizes he's actually on his knees.

"I'll Stand By You (Always)"
(Registration Number/Date Pau002604935/2001-06-13)
This is the only track I "inspected" for which the cassette recording was accompanied by a printed lyric sheet (though absolutely no photography, recording or copying of any of the materials, lyrics, etc. is permitted during the inspection process.) I've placed the word "Always" in parentheses because the title of the copyright record and the handwritten title on the cassette both include the word "Always," while the title on the typed lyric sheet does not. In any case, this is a beautiful little ballad, clearly from the perspective of a parent singing lovingly to a child. The track features piano, synthesizer, and a simple, metronomic drum part. Bruce contributes more multi-tracked falsetto backing vocals, too. There are no specific Potter scenarios in the lyrics, a few ghosts and goblins appearing in a nightmare notwithstanding, but the telling of stories of heroes fighting evil, in order to assuage and comfort a child's fears and insecurities, is a theme embedded throughout.

After the song was rejected for use in the first Harry Potter film, Bruce allowed tropical/salsa music star Marc Anthony to record a version of "I'll Stand By You (Always)." After much pre-publicity from both Sony and Anthony himself that his version of the song would appear on his album Mended, the song was never released in any form by either Anthony or Springsteen. When asked about it in London a few months ago, Bruce said, ""It was pretty good, it was a song I wrote for my eldest son, it was a big ballad that was very uncharacteristic of something I'd sing myself. But it was something that I thought would have fit lovely. At some point I'd like to get it into a children's movie of some sort, because it was a pretty lovely song." Having now heard it myself, I have to agree.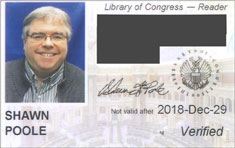 If you're interested in arranging your own visit to hear these recordings (and in the process feel like a Springsteen-scholar mix of Indiana Jones, Woodward & Bernstein and Mulder & Scully all at once), here's how to go about doing so:
Plan ahead: Appointments must be scheduled, and you should submit your request to visit at least six weeks in advance. This will give the Copyright Office staff time to process your fee and acquire/prepare each item you request, which is not stored at the Library of Congress itself, but at an off-site location. Only after all items are acquired and ready for inspection can your visit be scheduled. To start this whole process, first send an e-mail message to copycerts@loc.gov listing the title and registration number/date of each record you wish to inspect. (The specific Springsteen-related information you'll need is listed above.) You'll soon receive a reply explaining what steps to take next.
Allow plenty of time for your visit: The U.S. Copyright Office is open only on weekdays, Monday through Friday (except holidays), from 8:30am - 5:00pm. You'll want to have at least an hour or two to listen (and re-listen) leisurely to this music. And if you bring along some friends (see below), everyone will need a chance with the headphones — again, no speakers here. If you don't already have a Reader Identification Card, you'll also need additional time to first acquire one, which could take a while on especially busy days. While no photography, recording, or copying is permitted, taking notes is fine; notes may be reviewed upon request by Copyright Office staff to ensure compliance with the regulations that protect all copyright holders. It's worth saying that every staff member with whom I interacted before and during my visit was polite, pleasant and very helpful.
Share the wealth (and the expense): There are fees involved in having Copyright Office staff acquire each requested record and arrange for your visit. These fees must be paid in advance. Listening to all of the recordings listed above will cost you a total of $200, but you can decrease this cost substantially by splitting it among a few friends who are interested in joining you for the experience. I was permitted to bring up to three additional people with me during my visit. That worked out to just $50 per person: well worth it, from this fan's perspective, for a chance to hear a set of very interesting Springsteen tracks that currently are unavailable any other way.
- January 5, 2017 - report and photograph by Shawn Poole - special thanks to Erica Ingram and Denina Scott at the U.S. Copyright Office

"A CONVERSATION WITH BRUCE SPRINGSTEEN" AT MONMOUTH U
Bob Santelli will interview Bruce onstage next week, tix on sale tomorrow
A week from tonight, Monmouth University will welcome Bruce Springsteen to its Pollak Theatre stage for an intimate conversation on his career, moderated by Robert Santelli. The event will be held on January 10 at 7:30 p.m., with a very limited number of tickets being sold tomorrow: all tickets are $75 each and will be sold online only, starting at noon on January 4 at tickets.com/se/monmoutharts.
Monmouth University, one of just nine university affiliates in the world of The GRAMMY Museum, has served as the home of the Bruce Springsteen Special Collection since 2011. Monmouth's location in West Long Branch, NJ, just steps from Springsteen's birthplace and the place where "Born to Run" was written, make it a natural home for the collection, which comprises nearly 35,000 items from 47 countries that range from books and concert memorabilia to articles and promotional materials. It serves the research and informational needs of music fans, scholars, authors, and others with a serious interest in Bruce Springsteen's life and career.
Santelli, the executive director of the GRAMMY Museum and former Monmouth University professor, is also a Backstreets associate editor and was our longtime Shore correspondent in the '80s and '90s. Given Santelli's deep local roots, and Springsteen's first such interview appearance on the Jersey Shore, we anticipate especially rich conversation about the early days of his career in the area.
Tickets for the January 10 event are limited to two (2) tickets per household and will be available for pick-up when the doors open for the event only, no exceptions. Patrons must present their government-issued identification along with the credit card used to purchase the tickets at the time of pick-up. Tickets are non-transferable and will not be sold at the venue box office or by phone. Visit tickets.com/se/monmoutharts for event details and to purchase tickets.
- January 3, 2017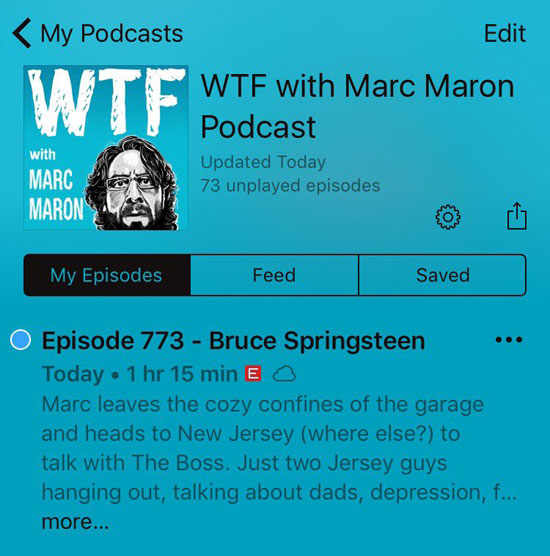 LOCK THE GATES!
Springsteen didn't come to the garage; the garage came to Springsteen. Regardless, it's a momentous occasion having Bruce sit down with Marc Maron (comic, conversationalist, guitar freak, vinyl hound) for episode 773 of the long-running WTF, one of the first and best interview podcasts around. Maron, who is "genetically New Jersey" — he was born there, and his grandparents used to live in Asbury Park — paid a visit to Springsteen's home studio just before Christmas, and the episode went live today. "Just two Jersey guys hanging out, talking about dads, depression, fear, fulfillment and the future. Bruce tells Marc how and why he constructed 'Bruce Springsteen' and what he's learned about the struggle we all go through to become who we really are." Listen at wtfpod.com or subscribe through iTunes.
- January 2, 2017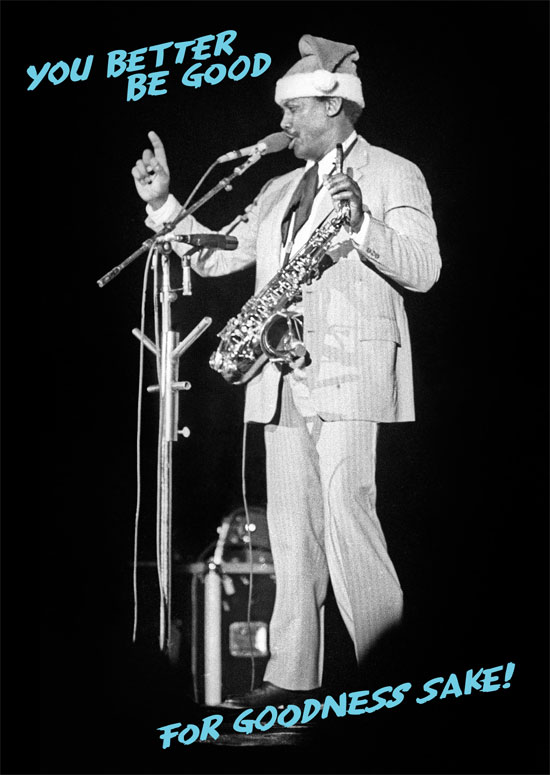 HAPPY NEW YEAR'S EVE!
The photograph we used for this year's Backstreets holiday card was taken 36 years ago tonight, at the E Street Band's legendary New Year's Eve 1980 show. The third night of the original River Tour's three-night stand at Long Island's Nassau Veteran's Memorial Coliseum, the 12/31/80 show stood as Springsteen's longest show ever for decades, a 38-song classic (it was the fourth entry in the official live archive series). Jim Shive of the ShiveArchive was there that night, through "In the Midnight Hour" and "Auld Lang Syne" and into the wee hours of 1981, and he captured the Big Man in this choice moment from "Santa Claus is Comin' to Town" along the way.
We're including this holiday card with every package we ship out from Backstreet Records right now — just place an order of any size to get yours.
Are you ready to send out 2016? We sure as hell are. Wishing every one a happy new year, with hopes that the Grim Reaper gives it a rest, and thinking of our friends Down Under with the Summer '17 tour just a few weeks away!
- December 31, 2016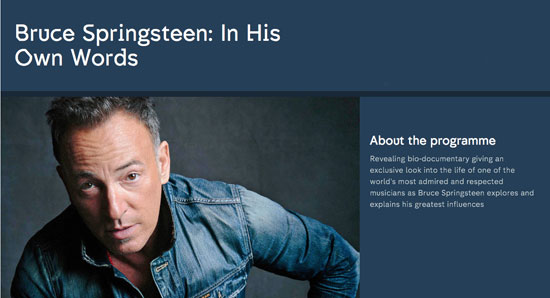 WELL I CAME HOME FROM WORK AND I SWITCHED ON CHANNEL 4
Don't forget, a new Springsteen documentary premieres tomorrow night on Britain's Channel 4. Bruce Springsteen: In His Own Words is an "exclusive Bruce Springsteen bio-documentary that sets out to reveal the man behind the music":
With home video from his youth, and footage from his early years performing solo in Greenwich Village, this 90-minute special provides a unique insight into the man as well as the musician....

In intimate conversation, Bruce explores the seminal moments that fueled his relentless drive to become a musician and which have provided the influence for some of the most critically acclaimed and loved songs of the last 50 years. He also talks about his first foray into prose writing with his autobiography, Born to Run, a book that has been critically acclaimed around the world.

This revealing film gives audiences an exclusive look into the life of one of the world's most admired and respected musicians. Bruce explores and explains his greatest influences, detailing the people and places that have inspired him and what motivates him to continue to tour and write.
Directed by Nigel Cole and produced by Lonesome Pine Productions in collaboration with Thom Zimny, In His Own Words airs on Channel 4 at 10pm on Thursday, December 29. If it works in your area (it doesn't in ours), you can watch live online.
- December 28, 2016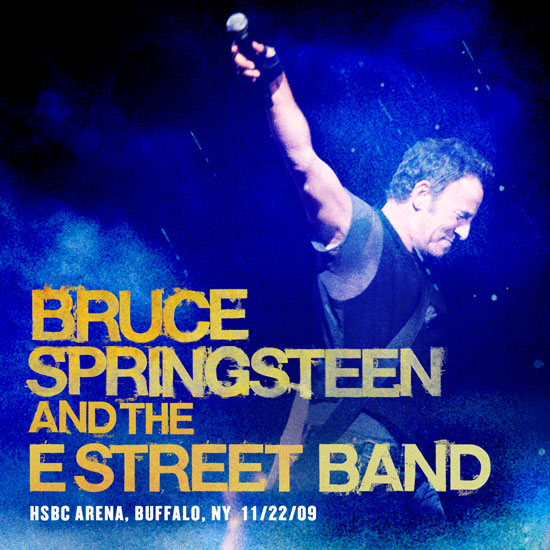 JUST IN TIME FOR CHRISTMAS: THE ARCHIVE SERIES RETURNS
Nugs.net has spent much of the year working on getting out Bruce Springsteen's 2016 recordings — no small task, with 75 stops on this year's River Tour. Now, just as Santa Claus is loading up his sleigh, Nugs returns to the Springsteen archive series, for their first release from the vaults since June's long-awaited Christic set: our holiday surprise is November 22, 2009, in Buffalo, NY. It's a perfect release for the season, with a double-shot of Christmas songs ("Merry Christmas Baby" right into "Santa Claus"), but there are far more reasons this performace will have you raising your egg nog high.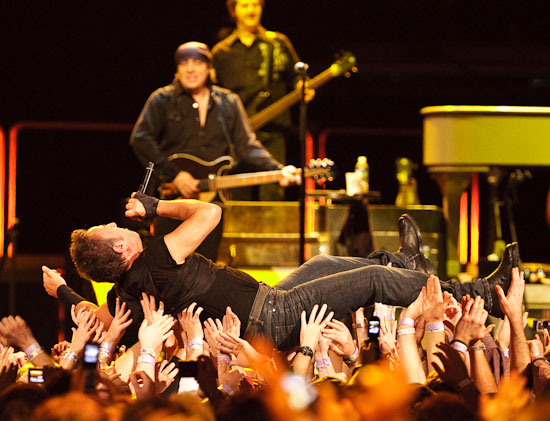 Buffalo was the Last Dance for the Working on a Dream Tour, which, following so quickly on the heels of the Magic Tour, had seen Bruce and the E Street Band on the road for two years straight. The fall of 2009 had them tackling full-album sequences on tour for the first time, leaning heavily on Born to Run, Darkness, and Born in the U.S.A. But as the tour drew to a close, they pulled out one-offs of The River and The Wild, the Innocent & the E Street Shuffle in NYC, and for this last night in Buffalo, the complete Greetings From Asbury Park, N.J, start to finish. Bruce has repeated the others in the years since, but so far his words before Greetings in Buffalo hold true: "Tonight! One time only!"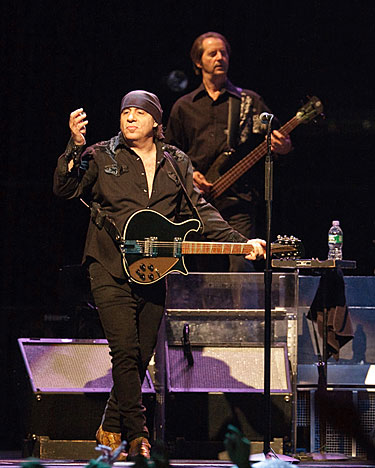 Greetings was far from the only highlight of the 34-song, nearly three-and-a-half-hour set. Unusual stump-the-band sign requests brought us "Green Onions" and "(I Don't Want to) Hang Up My Rock and Roll Shoes." "Surprise, Surprise" was a meaningful one, played for Stevie's birthday (complete with cake!), and the whole thing closed with "Rockin' All Over the World." Best of all: "Restless Nights," the magnificent River outtake from Tracks (and later The Ties That Bind), had its one and only live performance — ever — in honor of Stevie. "For years he's been asking to play this one song," Bruce told the crowd. "This is Stevie's very favorite song of all time, it's very obscure.... We're gonna do this for his birthday tonight." At the end of the song, Bruce had to acknowledge, ""Dammit, he might have been right all these years!"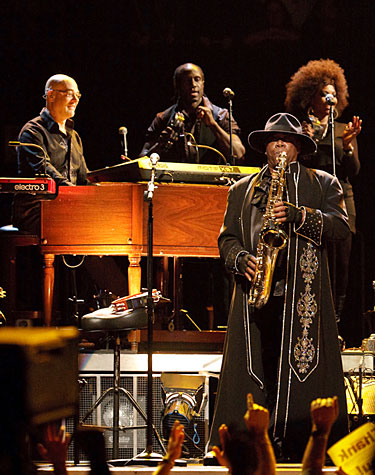 All that, we felt on the night of. What we didn't know, which makes this night particularly special in retrospect, was that it was Clarence Clemons's final full show with the E Street Band. They played together again before his death in 2011, for the small Songs From the Promise film shoot in Asbury Park in December 2010 (another good one to fire up this time of year, with "Blue Christmas" in the set). But for full E Street Band concerts, this was Clarence's Last Dance. It's prescient and moving that the story Bruce decided to tell during the album sequence's "Growin' Up" was of his first meeting with the Big Man, which concluded thusly: "We got into a Cadillac at the end of the nght, drove out to the outskirts of town.... we got very sleepy and we fell into this long, long, long, long, long dream. And when we woke up, we were in fuckin' Buffalo, New York."
You can be too: purchase the new set here, to download immediately as mp3, lossless, or high-res digital files, or as a CD pre-order. Read our full report from the show here.
- December 24, 2016 - photographs by A.M. Saddler (11/22/09)

WISHING EVERYONE A COAL-FREE HOLIDAY!
In Bruce Springsteen's Born to Run memoir, he recalls a time early in his career when his label was so unsupportive that, at Christmastime, manager Mike Appel literally gave record execs coal in their stockings. This from pages 194-195, "There's Gonna Be a Showdown":
When we toured to promote The Wild, the Innocent, few even knew it had been released. I hit one Texas radio station where I was told a representative from my record company had visited and, while promoting several new Columbia recordings, literally told them to remove mine from airplay, adding, "The songs are too long." This was a new twist. My own record company trying to get my records off the radio. It was only the beginning. A battle royale broke out between rock 'n' roll drill sergeant Mike Appel and the new powers that be at CBS. Mike sent all the executives coal in a stocking for Christmas. Ho, ho, ho.
CBS suits weren't the only ones to make Appel's naughty list. He sent charcaol briquettes to radio stations, too, after warning them with a Christmas card. Underneath the photo of four-year-old Bruce on Santa's lap, it reads, "If you don't play Bruce's new Columbia album The Wild, the Innocent & the E Street Shuffle you can expect coal in your stocking for Christmas."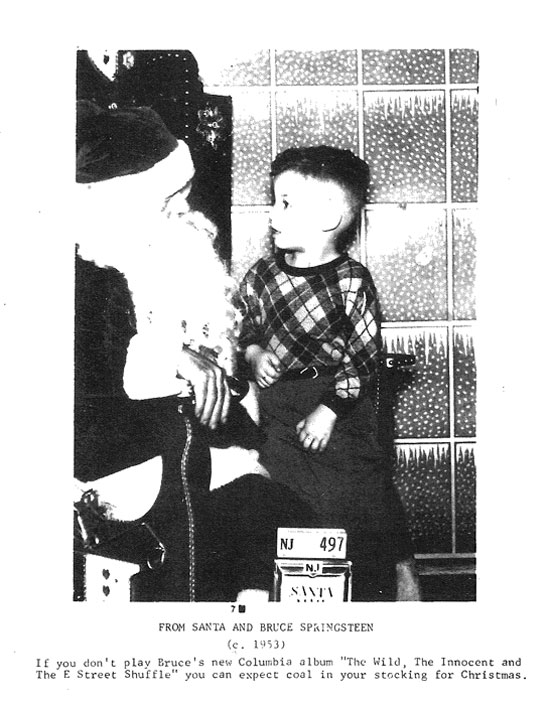 Mike spoke with us about the reputation-cementing stunt in an interview that ran in Backstreets #36:
People always talk about the coal in stockings story. That came up because nobody was playing our record. And one day Bruce came up to me with this Christmas card of him sitting in Santa's lap and I thought it was great. So we sent it out to every radio station hoping that it might help get them to play the record. This was when the record was selling like shit. And we included a note that said that everyone who doesn't play the record will get coal for Christmas.

By Christmas, no one was still playing the record. So we said, "Why not?" We got these charcoal briquettes and we stuck them in plastic bags and we put them in stockings and used silver pain to paint "coal" on the sides and sent them out. We sent them to all the FM radio stations along with the original note again and the picture. But what's funny about it is that after we sent it, a few stations called me up and said, "Sorry, we got your coal but why don't you mail us a record so we can see what this is about?" I didn't realize at the time that the reason we weren't getting played was because CBS hadn't serviced the record."
Merry Christmas and happy holidays to everyone out there — even the DJs, program directors, and label executives. May you all get better stuff in your stocking this year.
- December 23, 2016 - Springsteen and Appel's note to radio stations was repurposed as a Backstreets holiday card in 1990. Special thanks to Charles R. Cross, who conducted the interview with Appel that year, and to Shawn Poole

'TWAS THE WEEK BEFORE CHRISTMAS...
Still holiday shopping? We've got you covered!
If you're still looking for the perfect gift for your favorite Springsteen fan, be sure to visit our online shop — and yes, there's still time! Using our Expedited Shipping services, Backstreet Records can deliver via UPS to any U.S. address in one or two days, and we'll be working this week to make sure everyone gets what they need. Expedited orders placed by 2:00 p.m. Eastern will ship the same day.
For delivery on:
Order by:
Expedited Shipping
Wednesday, 12/21
Tuesday, 12/20, 2:00 p.m.
Overnight
Thursday, 12/22
Tuesday, 12/20, 2:00 p.m.
Wednesday, 12/21, 2:00 p.m.
2-Day
Overnight
Friday, 12/23
Wednesday, 12/21, 2:00 p.m.
Thursday, 12/22, 2:00 p.m.
2-Day
Overnight
Two-day shipping adds $25 to standard shipping charges; Overnight adds $60. Just make sure to specify a street address, as UPS can't deliver to PO boxes.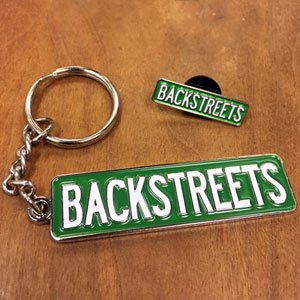 The latest arrival at Backstreet Records: this iron Backstreets keychain, custom made for us by our friends at Print Mafia. It's a companion piece to the new enamel pin, which can be ordered separately, or get the keychain and pin together for a discounted price.
View our Latest Additions page to see what else is new.
For all U.S. customers who ordered by December 10: as promised, your items have been shipped out, scheduled for delivery prior to Christmas. As always, we appreciate you getting your Boss fix through us!
- December 19, 2016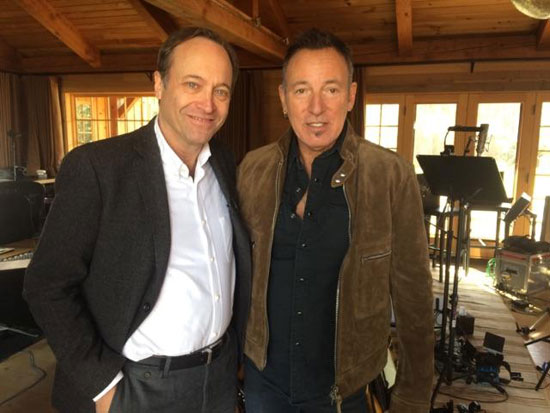 THIS PROGRAM IS BROUGHT TO YOU BY THE LETTER B
Springsteen will appear on PBS NewsHour this week, in a two-part profile with Jeffrey Brown that begins tomorrow. Tune in to your local PBS station on Monday and Tuesday, December 19 and 20, and check out a preview below.

- December 18, 2016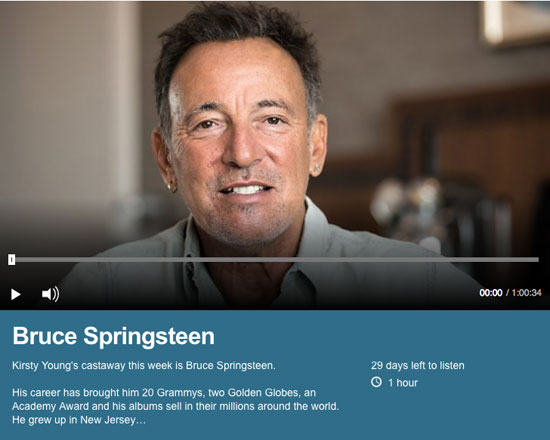 THE DESERT BREAKS: BRUCE IS TODAY'S CASTAWAY ON RADIO 4
Bruce Springsteen was the guest today on BBC Radio 4's long-running Desert Island Discs, selecting eight all-time favoritesq and running through them with host Kirsty Young. You can listen online here, and even download the program as an mp3.
- December 18, 2016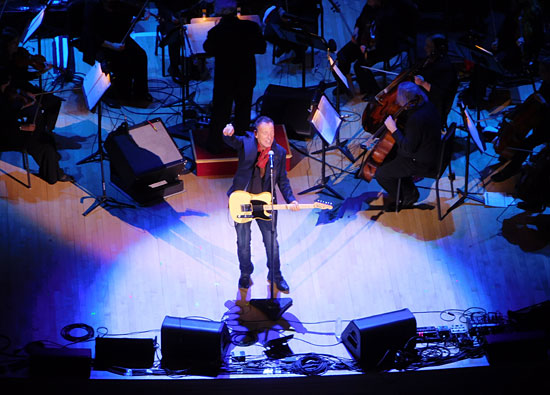 BABY, IT'S SO COLD OUTSIDE... IT'S A FREEZE-OUT!
Santa Bruce decks Carnegie Hall with a soulful triple-shot
Vamping his way from the back of the house through the audience and up to the stage at Carnegie Hall, Bruce Springsteen began to close last night's 2016 benefit concert for The Rainforest Fund with a hearty "Ho! Ho! Ho!" This immediately let all in attendance know (before most of us could even see him) that Bruce indeed had made his setlist, checked it twice, and now was ready to deliver the goods to all boys and girls, naughty or nice.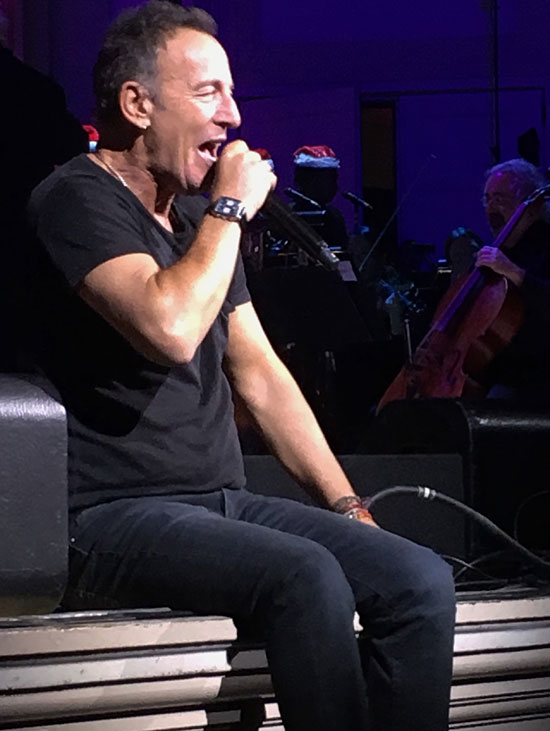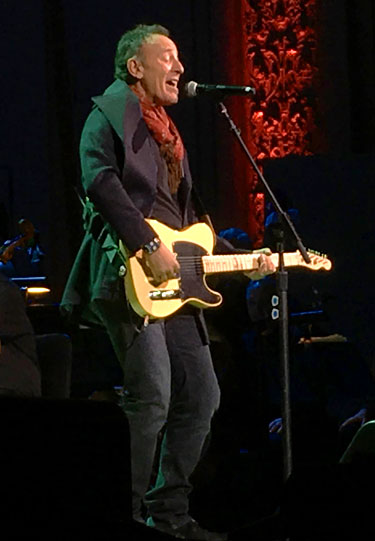 At the beginning of the evening, Rainforest Fund co-founder Trudie Styler explained that since the annual benefit concert had never been held this late in the year before, it was decided to go with a winter holidays theme for the 2016 extravaganza, pointedly entitled Baby, It's Cold Outside (But Getting Warmer). Bruce brought that theme home with solid performances of his well-known Christmastime covers "Santa Claus is Comin' To Town" and "Merry Christmas, Baby." Then, like a snowball thrown with a curve, he hit us with a "Tenth Avenue Freeze-out" — which really has nothing to do with cold weather, but hey, who cares when it's this good?
What made each of these performances unique had much to do with the musicians who accompanied Springsteen. On all three songs, Bruce, like all of the evening's performers who preceded him, was backed by St. Luke's Orchestra (which back in 1991 performed with Max Weinberg, Steve Van Zandt and others on the Killer Joe recording of Springsteen's "Summer on Signal Hill"). The orchestra was anchored by a stellar house band led by drummer, longtime Rainforest Fund musical director and Clarence Clemons collaborator Narada Michael Walden, and filled with some of the New York area's most respected and sought-after backing musicians like CBS Orchestra alums Will Lee and Tom "Bones" Malone. It was quite a yuletide treat to hear Bruce deliver his classic rock/soul versions of "Santa" and "Merry" with a Phil Spector-size assemblage of musicians behind him.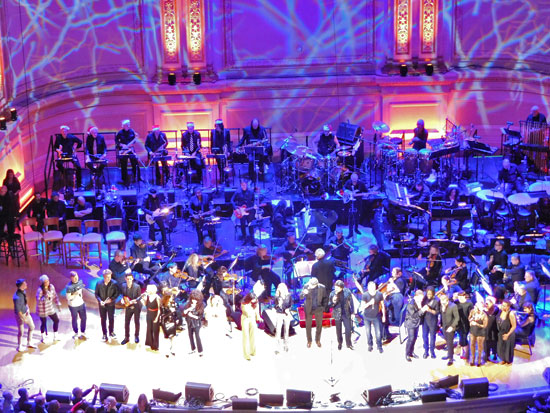 Speaking of Spector, many fans, myself included, held high hopes that having both Darlene Love and Ronnie Spector on the bill with Bruce might lead to at least one Christmastime performance featuring Bruce performing with two (or even one) of his biggest influences. Alas, it didn't occur. Neither Love nor Spector performed a number with Springsteen. They didn't even perform with each other, as they had back in 1992 on "Rockin' Around the Christmas Tree" for A Very Special Christmas 2. (Last night, Love performed "Rockin'" by herself.) Nevertheless, both Rock and Roll Hall of Famers looked and sounded wonderful in their respective performances.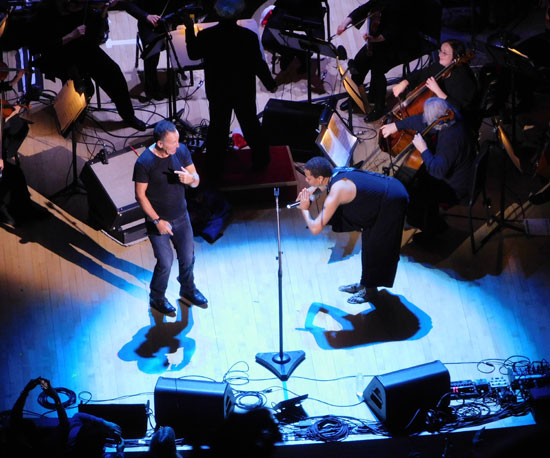 Bruce did, however, close his performance with one hell of a duet partner after all: legendary backup singer Lisa Fischer, a key figure in the documentary 20 Feet From Stardom. Fischer walked those 20 feet or so to Carnegie Hall's center stage. Then, singing and dancing together with Springsteen, they transformed "Tenth Avenue Freeze-out" into a Sam and Dave-style duet, truly taking the song all the way back to those soul styles that gave it birth. It was quite a sight and sound to behold.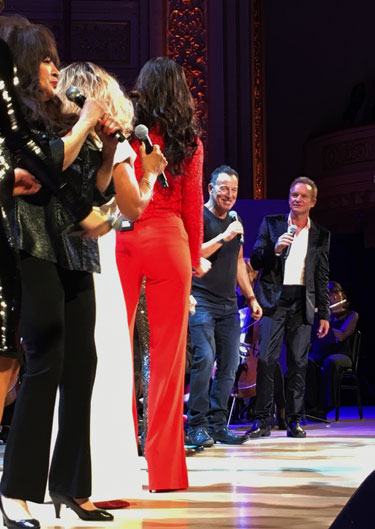 After that, last-minute addition Jennifer Nettles walked out and joked about being foolish enough to agree to follow Bruce Springsteen. Fortunately, Nettles didn't have to do it alone. She was joined quickly by all of the show's other participants, including Bruce, serving as her gospel choir on the closing one-two punch of "Do You Hear What I Hear?" and an ultra-high-energy "Joy to the World."
Thus ended what is most likely to be Bruce Springsteen's final public performance of 2016. But did I hear Santa Bruce exclaim, before he disappeared from sight, something about more 2017 tour-dates and more new music... he just might? Okay, that was only some wishful thinking on my part at this point, but I'll take that vision for my 2016 holiday dreamin' over mere sugar plums any day.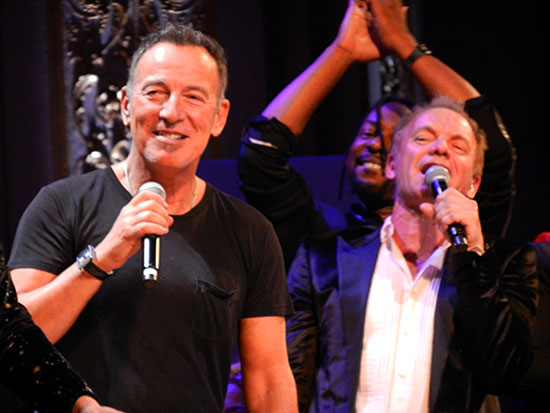 Click here to learn more about The Rainforest Fund and how you can support its efforts.
- December 15, 2016 - report and photographs by Shawn Poole (1,4,5) - additional photographs by William Borner (2,3,6,7) - special thanks to Greg Drew



A LONG TIME AGO, IN A COURTROOM FAR FAR AWAY...
In honor of the opening of Rogue One: A Star Wars Story, we're giving away these Johnny 99 bumperstickers FREE with every order placed today or tomorrow.
No coupon necessary, no need to add this item to your shopping cart. Simply place an order of any size from now through Friday, December 16, and we'll be slipping the sticker in with every package.
Click here for Latest Additions
Please note: our holiday deadline for Standard Shipping has passed, but if it's important to you to get your stuff before Christmas, we can still do that in the U.S. with Expedited Shipping, either 2-Day or Overnight service.
- December 15, 2016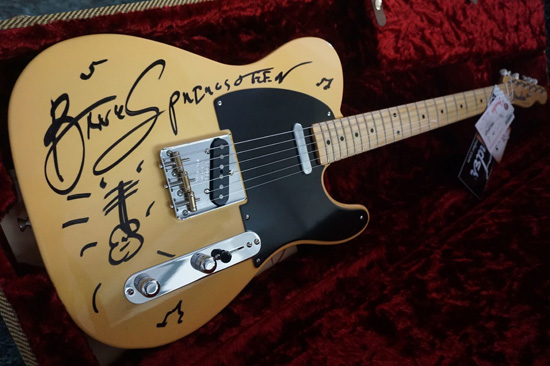 LAST CHANCE TO BID ON SIGNED GUITAR FOR HUNGERTHON
WhyHunger's Hungerthon is soon coming to a close, as online auctions are wrapping up... there's just one day left to bid on this crown jewel, a Springsteen-autographed Telecaster. Bidding closes Wednesday, December 14, at 3pm Eastern, with proceeds supporting WhyHunger's community-based solutions to hunger across the U.S.
- December 13, 2016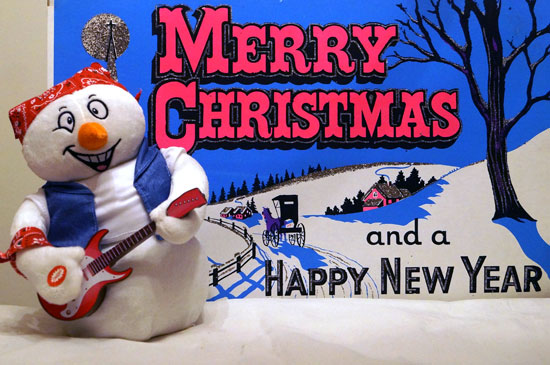 MEET BOSS-TY THE SNOWMAN
Okay, Boss-ty's not his real name. He's actually the "Huntington Home Holiday Snowman," a battery-operated, animated plush figure available from Aldi stores across the U.S. this holiday season. This particular snowman, however, is sporting some vintage bandanas and a denim vest, along with that guitar. And sure enough, when you squeeze his right hand, he begins to dance around — to a version of "Santa Claus is Comin' to Town" that sounds suspiciously like Bruce Springsteen & The E Street Band at C.W. Post College back in '75. See and hear him in action for yourself:
Our friend Patricia Lynn Berdish in Michigan reports that her Aldi aisles also have a Huntington Home Santa figure, who spins around to the same Springsteenesque recording. We almost posted a video of that one too, but we could practically hear you holler, "Stop!"
- December 12, 2016 - Shawn Poole reporting - special thanks to Barry Paripsky and Judi Enright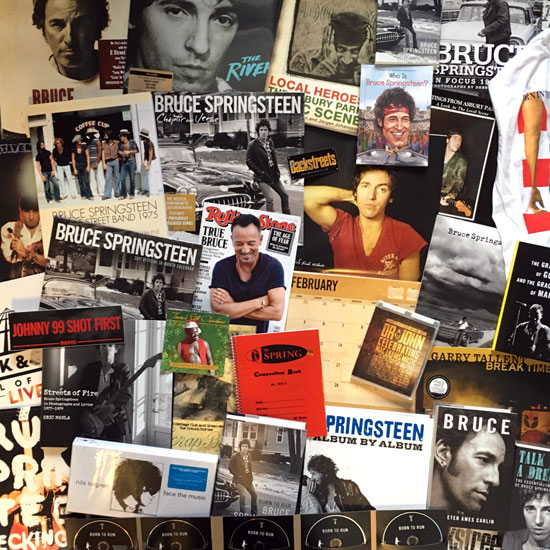 REMINDER FROM BACKSTREET RECORDS:
ORDER BY MIDNIGHT SATURDAY FOR PRE-CHRISTMAS DELIVERY!
As we do every year, we're guaranteeing pre-Christmas arrival for all orders placed by December 10 that are shipping to U.S. destinations. So if you're still in need of some Boss holiday goodies from Backstreet Records, Saturday is the "Standard Shipping" deadline. (We can't guarantee arrival times outside of the U.S., due to customs, but we'll be working hard to ship orders out to everyone as quickly as possible.)
If you wind up ordering later and need something prior to Christmas, you can always select "Expedited Shipping" to have it in one or two days within the U.S... but ordering by midnight Saturday will save you some serious dough on postage.
In addition to the Born to Run book and audiobook, we've got the official 2017 Springsteen calendar in stock, the recent Rolling Stone Springsteen cover, other new Boss books, CDs, records and more in our Latest Additions section... don't forget Christmas CDs from Clarence and Garry... and here are some more categories to peruse:
Concert Shirts • Concert Souvenirs • Signed Items
CDs - Springsteen • CDs - Covers/Tributes • CDs - Other Artists
Vinyl • DVD/Blu-ray • Posters & Prints • Calendars
Books • Songbooks / Sheet Music • Promo / Other
Magazines • Backstreets Back Issues • Backstreets Merch
Thanks for shopping with us and supporting what we do!
- December 8, 2016

THE SPIRIT OF '76
40 years later, new Shive prints — save $76 with Backstreets coupon code
Somehow longtime Backstreets photographer Jim Shive manages to dig up "new" images each year, and this one is no different. Following his River Collection images released last December, Jim and the Shive Archive now bring us the 1976 Collection.

Forty years ago, in 1976, Bruce Springsteen was locked in a legal battle, unable to work in the studio on his Born to Run follow-up. Touring was the only way to keep the band busy — and to share the new songs he was writing, for what would eventually become the Darkness album. The shows were in small theaters, and to be present at any of them, says Shive, was "just magical... it's hard to believe that 40 years have passed." Jim was fortunate to be in front of the stage for several of these shows, most notably on October 13, 1976, a night when he was the only professional photographer capturing this unusual and undersung period in E Street History.

For this holiday season Jim has released new, never-before-seen images from this time, and Backstreets readers get a special deal: order any giclee print from shivearchive.com using the code BACKSTREETS1976 and save 76 bucks.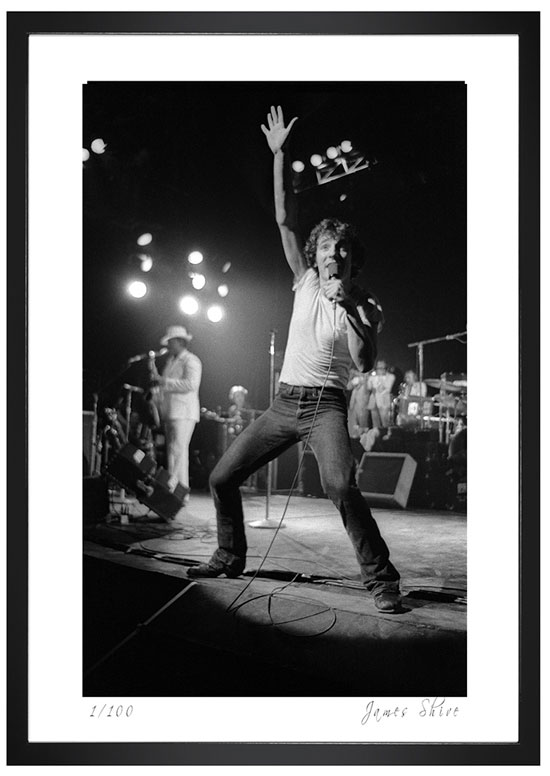 "Tenth Avenue Freeze-out 1976" reminds us that the Miami Horns were a part of the show, with Clarence & Danny in the background too, Springsteen captured at the moment when he sings, "All the little pretties raise their hands." Shive was able to capture the raw energy of this show, standing three feet in front of Bruce and feeling the power of the performance.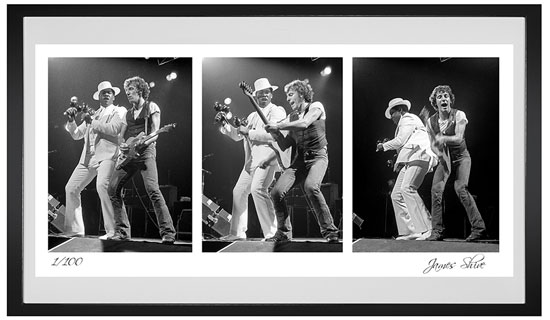 This 20" X 42" triptych revels in the moment when Clarence and Bruce met at center stage on "She's the One," showing the frames before and after Jim's wonderfully composed "sweet spot" in the middle to tell the real story of this live performance. Three dynamic images of Bruce and the Big Man, even better together.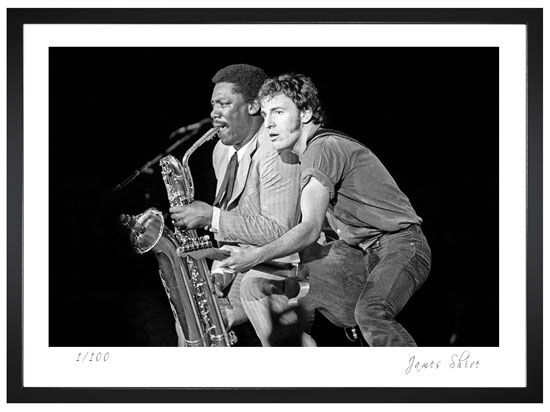 Shive's most popular limited edition image is sold out, but the open edition of the same photo is still available in The River Collection.
Any of these could be just the ticket if you're looking for a premium holiday gift for your favorite fan, and Jim tells us he'll be making sure they ship to arrive before Christmas. Don't forget to enter BACKSTREETS1976 at check out to receive your $76 discount.
- December 7, 2016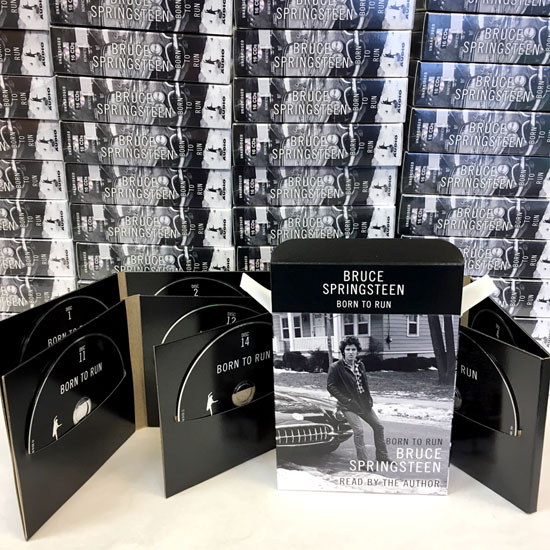 STORYTELLER
The new 16-CD box set from Bruce Springsteen is here
The audiobook edition of Born to Run, read by the man himself, is out today from Simon & Schuster Audio. And as you can see, we've got stacks on stacks on stacks. All Backstreet Records pre-orders are being packed and shipped as we speak, and you can still get our pre-order deal of 25% off + our free exclusive poster when you order now.
Here's a taste: Springsteen reading a moving passge from Chapter 73, "Losing the Rain," on Clarence Clemons.

- December 6, 2016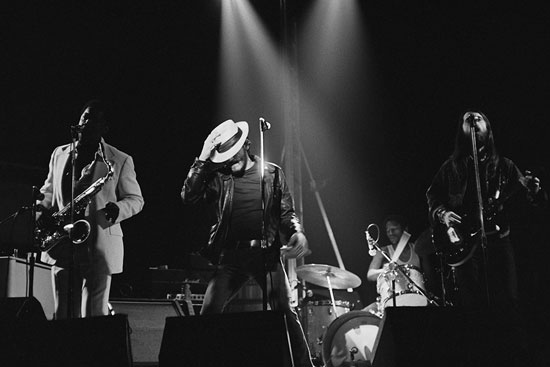 WHAT BETTER PRESENT THAN "ROCK AND ROLL FUTURE"?
The Friends of the Bruce Springsteen Special Collection have arranged a very special holiday gift-giving option for all of those fellow Springsteen fans on your list (and possibly yourself, too.) Through the generous cooperation of photographer Barry Schneier, the Friends are offering beautiful sets of gallery-quality archival ink-jet prints. Each print will be signed by Schneier himself and taken from some of his best work, including "Rock and Roll Future" (above,) shot during Bruce Springsteen and the E Street Band's legendary gig at Boston's Harvard Square Theatre on May 9, 1974, after which Jon Landau wrote his famous essay.
Signed prints from four Schneier photographs are available at great value through this special offer. A set of 8.5" x 11" prints from any two photos of your choice costs only $300, or you can get a complete set of all four 8.5" x 11" prints for only $550. You must order by December 10 to receive guaranteed delivery of prints in time for holiday gift-giving, but the Friends also will continue to take orders through December 15.
Proceeds from all print sales in this special offer will benefit The Friends of the Bruce Springsteen Special Collection, a non-profit organization that helps to maintain the largest collection of material related to the careers of Bruce Springsteen and his bands. Click here to see all available prints and to place your order.
- December 5, 2016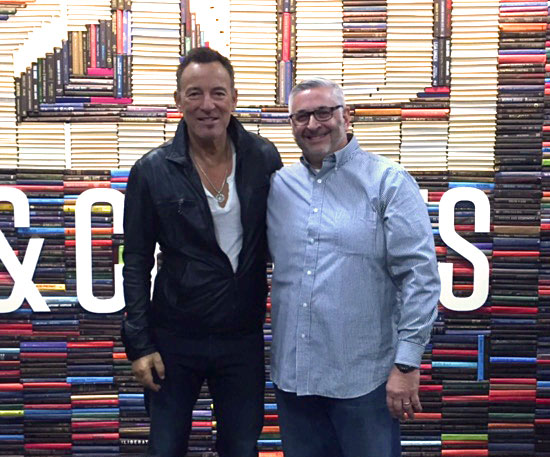 THOSE SECONDS WERE REAL: FRIDAY IN KENNESAW, GA
Bruce Springsteen wrapped up last week's five-cities-in-five-days book tour in the Atlanta area on Friday, at Kennesaw GA's 2nd & Charles. Longtime Springsteen fan and Backstreets reader Craig Schneider, a journalist at the Atlanta Journal-Constitution, wrote about hitting the bookstore event for the AJC, where his editor was amused by his preparation: "You're like a girl going to the prom." Read: "Tramps like us, baby we were born to meet Springsteen."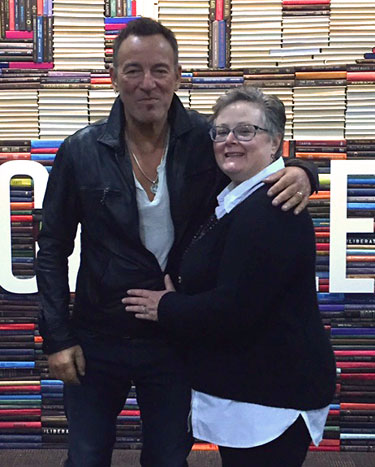 We also heard from George and Terri [both pictured], whose first date was the E Street Band show at Millet Hall, Miami University, in October of 1976. "Following that first date and first Bruce experience, we were hooked. Hooked both on each other — as our 38-year marriage will attest — and on Bruce Springsteen's music and poetry." They drove six hours to be in Kennesaw. Like so many fans we've heard from over the course of the book tour, George and Terri made friends among the fans in line and found the hours of traveling and waiting a small price to pay for each precious second of the meet-and-greet:
As we stood in line, we began sharing stories with those around us. Though from different countries, different parts of the U.S., and different generations, we quickly found common ground — bonded by a passion for all things Springsteen, and by similar histories and experiences of following Bruce and the E Street Band. Terri and I shared our own Bruce history spanning 40 years, ten U.S. cities and nearly 30 shows. We talked about introducing both our children and our grandchildren to Bruce's live performances and how we were proud to have three generations of devotees in our family. We shared that all three generation were in attendance in Indianapolis when Danny made his final appearance with the band, and how I had written the review titled "Danny's Back in Town" that appeared the next day on Backstreets.com.

Our newfound friends all shared similar and amazing Bruce experiences. It was a great way to pass the time as we waited for what we all agreed was a bucket-list opportunity to shake hands and thank the man who means so much to us all.…

I shook his hand and said something like, "Thank you for doing this. What a great way to continue the conversation. Ours started 40 years ago and this is a beautiful way to add another chapter." Bruce Springsteen, whose songs have truly provided a soundtrack for our lives and a source of joy for our family, looked me squarely in the eye, shook my hand and said, "Thank you."

And it was over, lasting no more than 20 seconds. But those seconds were real! He was in the moment, sincere, and that same magic that allows Bruce to play to thousands at one of his shows yet connect with each individual in the audience was evident in our brief time together.
As Schneider pointed out in his article, "Let me say this, Springsteen didn't have to do these meet-and-greet book events around the country. His autobiography is on the bestseller list, and he's already about as rich as they come. I think he did this for the fans."
- December 5, 2016 - photographs courtesy of George Cecere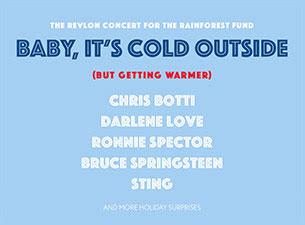 STING & TRUDIE'S CHRISTMAS GIFT FOR YOU
When we posted the news last month that Bruce Springsteen would be returning to this year's Concert for the Rainforest Fund, the bill consisted of Bruce, Sting, James Taylor, and Chris Botti.
Since then, the line-up has expanded to a true wall of sound, with the addition of two girl group greats — also Springsteen friends and collaborators over the years — Darlene Love and Ronnie Spector.
The benefit, now titled Baby It's Cold Outside, will be held at Carnegie Hall on December 14, a week from Wednesday. Tickets are still available.
- December 4, 2016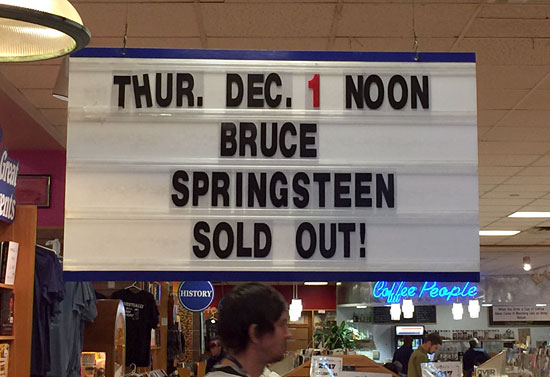 THURSDAY: KEEPING AUSTIN WEIRD (AND A LITTLE BIT JERSEY)
So, my husband and I are among the recent droves to have moved to Austin in recent months. Both born and raised in Jersey and lifelong Bruce Springsteen fans, you can imagine our delight when Bruce announced his book signing at BookPeople. You can also imagine the disappointment when it sold out before my husband scored a ticket. It was challenging to feign sadness for him while my insides were doing the happy dance for me.
Since the hype regarding the traffic in Austin is no exaggeration, the fact that the signing was down the street from my house was just icing on the cake. Although, truth be told, I would literally "Drive All Night" if needed to actually meet Bruce.
The weather was perfect, which made standing in line for three hours an absolute breeze. Being surrounded by fans made it equally enjoyable — it was a reminder of why I love going to Bruce shows. It is always a family affair. Coincidentally, I ended up standing beside a woman introduced to me at the last concert. It was beyond amazing to share in each other's excitement before and after the signing. Springsteen fans are always a class act.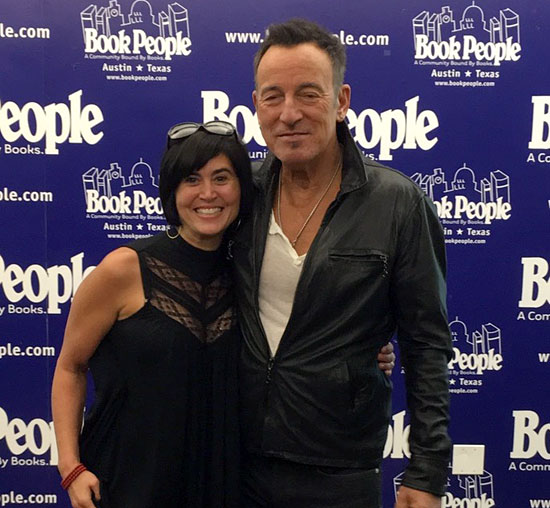 Bruce, of course, did not disappoint. He was so gracious and made each and every person feel special. I even got called "darling" and was given a hug when I told him I was a Jersey girl born and raised to love him. To sum it up, it was pretty much a perfect day for this slightly homesick girl new to Texas. So, y'all, Bruce is truly the real deal, and I feel certain we showed him some real Texan hospitality.
- December 2, 2016 - Krista Doabler reporting - top photograph by Phil Stanley

HAVE YOURSELF A FUNKY LITTLE CHRISTMAHANUKWANZAKAH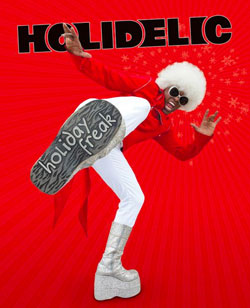 It's that time of year... when E Street percussionist Everett Bradley transforms himself into Papadelic, the bandleader and master of ceremonies for the wonderful, ever-evolving Holidelic, which in Papadelic's words is "the most exclusive, all-inclusive holiday party in the universe. Now, when I say inclusive I do mean WE DO NOT DISCRIMINATE. We celebrate all shapes sizes colors and beliefs. Your only requirement is to bring an open mind, and open heart, and a promise to shake your rump-pa-pa-pump. You DIG?!!"
The 2016 Holidelic Tour begins this Sunday night, December 4 at World Cafe Live in Philadelphia and includes stops at Asbury Park's Paramount Theatre and NYC's Highline Ballroom. Click here for all tour dates, with links to purchase tickets.
- December 2, 2016 - Shawn Poole reporting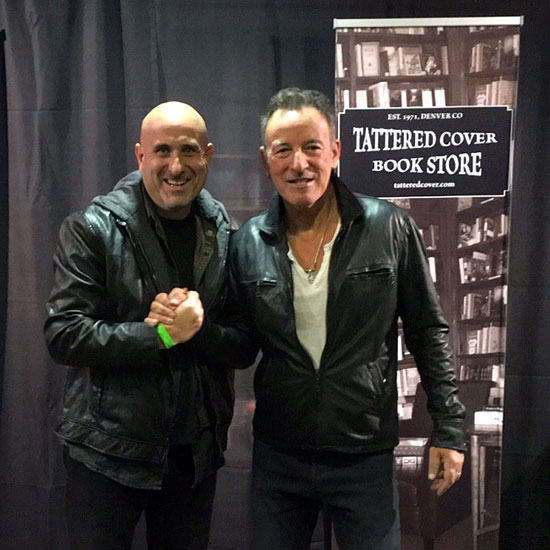 THANK YOUS A MILE HIGH: WEDNESDAY IN DENVER
Ten seconds in the basement of a Denver, Colorado bookstore. Thirty-two years of chasing Bruce Springsteen for a photo, and it came down to $32 for ten seconds in the Tattered Cover basement. What to say in only ten seconds? Well, the answer is, not a lot. So, I just said thank you. And that was it, thank you. The kid from New Jersey meets his local hero, and that was it. Three countries, ten states, 32 years, and 52 shows. Thousands of dollars and miles and smiles. Thank you.
But what I really meant to say was:
Thank you for August 19, 1985. The first concert I ever attended. Thank you for opening with "Born in the U.S.A." and truly changing my life.

Thank you for catching a baseball cap thrown from the upper reaches of the Spectrum in 1988 and putting it on without missing a beat.

Thank you for coming to the Stone Pony big top with Southside.

Thank you for "The Wish" at the Beacon.

Thank you for the story during "Growin' Up" in Foxboro.

Thank you for "My Love Won't Let You Down" to kick off the reunion show at the Meadowlands.

Thank you for Roma! Roma! Roma! at Circus Maximus.

Thank you for joining Joe Grushecky at the Tradewinds.

Thank you for "How Can a Poor Man" in New Orleans.

Thank you for playing in the rain at Wrigley and for the 1978 "Prove It" intro and for inviting Eddie Vedder on stage.

Thank you for "Jungleland" at JFK Stadium during the Amnesty show.

Thanks for asking the Big Man to come out with the other band in 1993.

Thank you for "Frankie" at Fenway Park.

Thank you for "Back in Your Arms" in Dublin.

Thank you for "Get Out Of Denver" in the Mile High City.

Thank you for pointing to my daughter and nodding at her in St. Louis in 2010.

Thanks for "Incident" into "Rosie" at MetLife. Finally!

Thanks for dangling your fingers over my head like a catfish dancing on the end of my line

Thanks for that look during the Seeger Sessions rehearsal show when the crowd sang "low bridge" much to your surprise and delight...
And, finally, thanks for meeting me in the basement of a Colorado bookstore. It's been a long time coming, but now we're here.
- December 2, 2016 - Terence Reilly reporting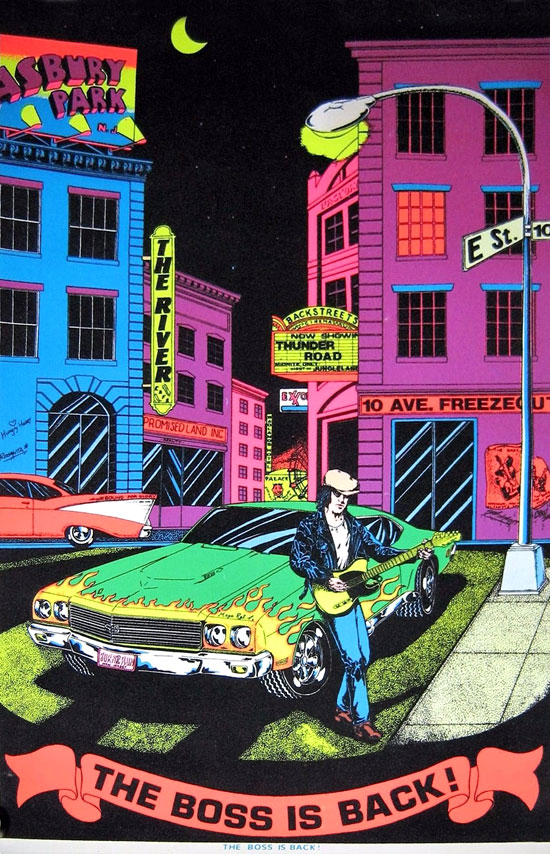 THROWBACK THURSDAY: BLACK LIGHT BOSS
While Bruce Springsteen is spending his week in bookstores (Monday, Chicago; Tuesday, Cincinnati, yesterday in Denver; today in Austin; and tomorrow in Kennesaw, GA), today we're taking you back to Spencer's Gifts, circa 1980. Big tip of the newsboy cap to Jason Mandragona (@JasonM125) for the vintage poster image. Dim all the lights, sweet darlin'... if only The River had a gatefold sleeve!
- December 1, 2016

DAMN YOU, SHAWN MENDES: TUESDAY IN CINCINNATI
Yesterday we woke up just after 4am, piled in to the car at 5:45am, and drove more than four hours to Cincinnati. We stopped at a shopping mall and went in to a nice bookstore. I had my most important business meetings of the year, but at the most crucial moment my phone would be on mute — it was hard to participate while Bruce Springsteen was standing atop the bookstore's staircase, surveying the hundreds of people cramming every aisle of the store.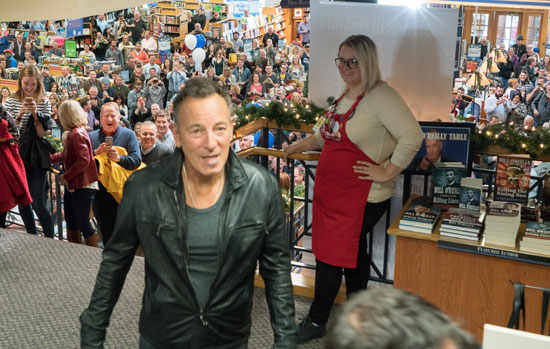 photo by Ron Valle
I thought I had missed the book signings. Last month's event in Toronto was supposed to be the end of it, and I hadn't managed to get myself a ticket. Of course, I could rationalize it: After all, who would really want to drive four hours each way for a firm handshake and a snapshot? < raising my hand /> And who would really want that full-day excursion for a ridiculously below-market rate for a personalized copy of the book? < raising my hand, again />
So the first thing to realize, before any existential questions, is: don't bother rationalizing this. It is what it is. And I'm thinking, yes, it was worth every minute.But I won't do it again... this month.
The book event at Joseph-Beth in Cincinnati was only arranged last week. The store opened at 8am; some confused holiday shoppers wondered why it seemed so crowded. The meeting itself, of course was very brief. I didn't time it, but my thinking is that for every hour of the day's total trip, one second was spent with Bruce.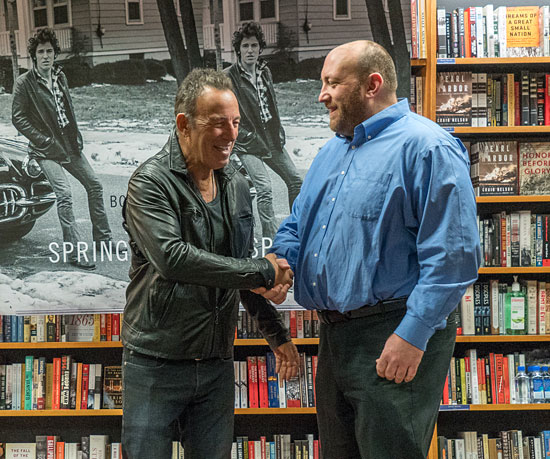 Springsteen greets fan Brian Resnik - photo by Ron Valle
Just like Luca Brasi, I practiced my "speech": I figured I'd get about four seconds, so I shortened it to the bare essentials: It would be an introduction for my daughter, whom Bruce recognized in 2012 when she was 11: "Toronto. 'Thundercrack.' Striped hat. That's her!" The former girl has grown up; there's no more hat, and the long black hair is short and blue. The person is the same.
I practiced test shots on my good camera. Bad lighting; use the flash. The staff was going around reminding people to have their batteries charged and their cameras turned on. One friend came down the staircase, shaking: "We got a family picture!" New goal: Family picture!
At the bottom of the stairs, I asked a store employee about their events. She said, "This is pretty big!" I asked her if this was the biggest. "This year?" You mean, that's not automatic? Okay, this year. "Shawn Mendes was bigger." I had to ask Elianna. Twice.
Attendees were divided in to about 20 groups of 50 each, based on arrival time. We were in the eighth group. From the top of the staircase, before winding around the last aisle, we could see Bruce with some fans up ahead of us. A backdrop had been created from enlarged copies of the book cover (a good choice) and the bookshelf behind Bruce had history books: on one side, The Fall of the Ottomans; on the other, Target Tokyo.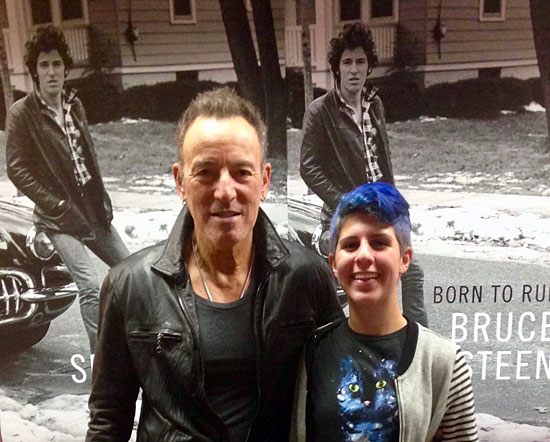 Four years after Toronto, Bruce with Elianna Orel
The meeting moment was as brief as advertised. I said my lines. Bruce said, "Toronto!" I could feel the thought forming... "Toronto... Toronto... what's a Toronto?" The staffer took two quick — and very nice — snapshots, and... too late to ask for the family picture! The next staffer already had Elianna's cell phone in position, and that was that, though not before Bruce whispered a final, "thank you." When we returned downstairs, we traded in our wristbands for signed copies of the book.
I have wondered what Bruce gets out of these sessions. The line has to move super-quickly, and an egalitarian approach pretty much requires treating everyone more or less the same. Handshake, snap pictures, say thank you, next in line! Imagine if Bruce had done something like the Comic-Con circuit, where snapshots and signatures of lesser stars routinely go for much more than $35. But here Bruce is supporting booksellers (I'm sure there were substantial sales to many of us who came for the signing and browsed while waiting) and also affording to his fans a rare — if necessarily short — opportunity to a fairly priced meet-and-greet. I'll take it!
- November 30, 2016 - Matt Orel reporting



ACHTUNG BABY I
Speaking of Germany (see below), while we eagerly await the imminent release of Born to Run the audiobook as read by author Bruce Springsteen, it's worth noting that German-speaking fans have been able to enjoy a Born To Run audiobook for several months now. Author/musician Thees Uhlmann was chosen to read for the unabridged German-language audiobook version of Born to Run, which has been available since Springsteen's autobiography was published back in late September.
Check out Verlagsgruppe Random House's page "Thees Uhlmann im Gespräch über Bruce Springsteen," where if you're a fluent enough listener, you can enjoy a four-part interview with Uhlmann, conducted in German at the audiobook recording sessions by fellow musician, man of letters and Springsteen fan Markus Naegele. Even if you don't understand a lick of German, you'll still get a kick out of the audiobook excerpt of Uhlmann reading from Born to Run's seventh chapter, all about Bruce's (and millions of others') first, life-altering encounter with Elvis Presley. Links to purchase Springsteen's Born to Run, die autobiografie gelesen von Thees Uhlmann also can be found there.
- November 30, 2016 - Shawn Poole reporting

I PITY THE BORDER GUARD AND HIS BORDER LINE
On July 19, 1988, Bruce Springsteen and the E Street Band played one of their most important shows ever. The concert not only attracted 300,000 fans, but it was in East Berlin, on the Communist side of the Berlin Wall. The amazing and events surrounding that concert were captured in Erik Kirschbaum's book Rocking the Wall: The Berlin Concert that Changed the World.
Britain's BBC Radio 4 recently aired a dramatization of the events leading up to that improbable concert. The one-hour program, titled Born in the DDR, was written by Jonathan Myerson and was produced and directed by Jonquil Panting. It follows the exploits of the East German band manager who basically dupes Soviet officials, and to some extent Jon Landau, into approving the show. In the end though, Bruce has the last words, in German no less, and (coincidently?) the Wall comes tumbling down a year later — 27 years ago this month.
Click here to listen to Born in the DDR, available online through December 26.
- November 30, 2016 - Kevin Farrell reporting

MY KIND OF TOWN: MONDAY IN CHICAGO
The Chicago stop on the Born to Run book tour was the icing on the cake of an incredible 2016 Bruce Springsteen Second City year. The January River Tour album show at the United Center, followed up by a pure, joyous, epic concert in late August, leading into the release of the long awaited autobiography and… today. I am just buzzing, as are the 1,249 other lucky ticket holders at Books-a-Million. Chicago truly is Lucky Town.
This was the biggest book event ever for BAM Chicago, and both the Springsteen and Books-a-Million teams should be applauded for the silky smoothness of this event. Staff, fans, and security all simply a model for how the world should be.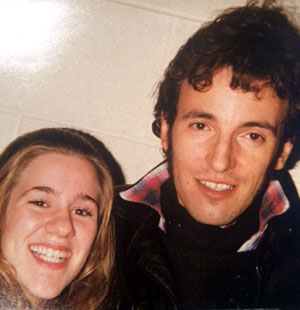 Three hours in the cold rain was a cruel reminder of a nasty Chicago winter to come. Today, though, it brought back golden memories of the original River Tour, and those insanely fun waits in line during the 1980s.
Further, that first euphoric show at the Rosemont Horizon, November 1980 — 36 years ago this month — after which we waited until 4am to meet Bruce. And he did not disappoint. That first picture of Bruce and my Debbie is imprinted in my mind forever. My original if unofficial meet-and-greet. There are so many other great stories I heard waiting in line, on the evening news, and on the radio.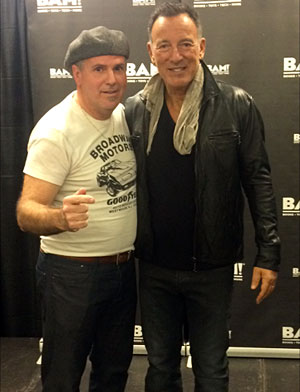 What to wear? What to say? Calm down! You want hours but only have 30 seconds. I dug deep into the vault and sent a text to my son Bobby in Alaska: "Please send me that beat-up Broadway Motors T-shirt I gave you." Add dark jeans and a herringbone newsboy cap — all set. I was going to be a 1980's young man again today.
Now, what to say? My heart and mind were racing, like so many others'.
Show time! Bruce picks up on the Broadway Motors shirt right away, does a quick stare. Big smile: "Oh, man, that's a classic." All I could do was smile back and say, "Yeah, my son Bobby sent it from Alaska, he hopes you can make it up there some day." Nod. Picture time. Parting, I use Bruce's line from this tour, looking him in the eye: "The older you get, the more it matters."
- November 29, 2016 - Bobby Ziegler reporting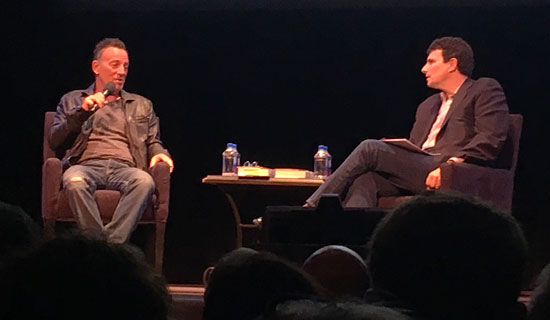 LISTEN TO SPRINGSTEEN & REMNICK ON NEW YORKER RADIO HOUR


Last month, Bruce Springsteen appeared at the New Yorker Festival in conversation with editor David Remnick, what we called "a wide-ranging, free-flowing onstage interview with Springsteen at Town Hall that stands as the best of the bunch on this recent book tour." Hear it for yourself with Episode 58 of The New Yorker Radio Hour.
Listen online, or download the podcast from iTunes.
- November 29, 2016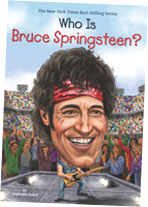 Holiday shopping season is upon us, and there's no shortage of Springsteen stuff on our shelves this year for your favorite fan. Check our Latest Additions page for recent arrivals, from the easy-reader biography Who is Bruce Springsteen? (a perfect stocking stuffer for kids not quite ready for Bruce's own memoir), to a headier book on The Theologies of Bruce Springsteen.
Of course, when it comes to books, there's Born to Run itself, which we also offer bundled with the Chapter and Verse CD, vinyl, or both — all with a free folded poster of the book cover, provided by Simon & Schuster exclusively to Backstreets. The poster is included free with all pre-orders of the Born to Run audiobook too, read by Bruce himself.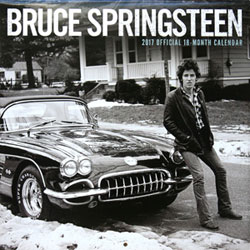 One of our most popular items each year is the official Bruce Springsteen calendar, and for 2017 it's available once again from Thrill Hill Productions. Coiniciding with Bruce's autobiography, the monthly shots inside fittingly span his career, from January's kid on the streets of Long Branch to December's latter day E Street Band.
You can peruse hundreds of Bruce books, CDs, records, and more at Backstreet Records by category, or start with our new arrivals.
To kick off the season, we're offering a couple of FREEBIES to help stuff those stockings. From now through Monday night at midnight:
With any order of $50 or more through midnight Monday, get this postcard pack FREE!
An exclusive set of five postcards, with images of Bruce Springsteen shot by Frank Stefanko, all outtakes from the Darkness/River photo sessions that also yielded the cover of the Born to Run memoir. Previously only available as a bonus with the Ties box.

Order $75 or more and get the postcard pack plus the new Backstreets enamel pin, FREE!
Get the postcards plus this brand-new one-inch pin, made of iron with green and white enamel, custom made for us by our friends at Print Mafia (and matching their series of Springsteen-inspired street sign pins). Sold separately for $10 each.
No coupon necessary, no need to add these items to your shopping cart. Simply place your order between now and midnight Monday, November 28, and we'll send the freebies out with all qualifying orders.
Click here for Latest Additions
Thank you for supporting Backstreets, hope you and yours have had a happy Thanksgiving weekend!
- November 27, 2016

I BEEN OUT ON THE DESERT ISLAND, JUST DOIN' MY TIME...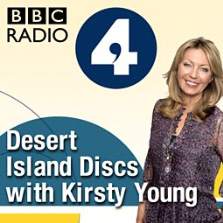 As the BBC reports, Bruce Springsteen will appear this December on Radio 4's Desert Island Discs, selecting his must-have music. The long-running and beloved Desert Island Discs program, which has been airing since 1942 and is now hosted by Kirsty Young, allows each interviewee eight records to take to that proverbial desert island. As Bruce describes his choices, "This is the music that electrified me — they galvanised me into changing my life in some way."
Springsteen will guest on December 18. The program airs each Sunday, and podcast episodes are available indefinitely as MP3 downloads. Check out their vast archive here, going back more than 50 years.
- November 27, 2016


SATURDAY I SAID I'M SORRY
Watch fellow Rock & Roll Hall of Famer Billy Joel, who also happens to own museum/specialty cycle-shop 20th Century Cycles, publicly relate his recent apology to Bruce Springsteen for the Veterans' Day 2016 incident. In the midst of his November 21 Madison Square Garden concert, Joel even threw in a bit of "Born to Run" to precede the tale.
- November 26, 2016 - Shawn Poole reporting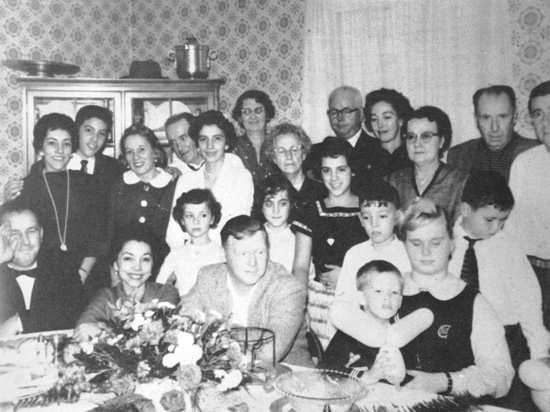 - Bruce Springsteen and family, Thanksgiving Day - November 27, 1958
THANKS FOR THE JOY THAT YOU'VE GIVEN ME
Happy Thanksgiving, 1958 style, with nine-year-old Bruce Springsteen (second standing child from the right) and his extended family. This photo originally appeared in Greetings From Asbury Park: A Look at the Local Scene - The Bruce Springsteen Photo Discovery by the late Chuck Yopp. We have no idea how Chuck acquired this family snapshot, but here stand (and sit) at least a few of the folks we all got to know much better this autumn in Springsteen's bestselling Born to Run autobiography — a book with an epilogue set just a "few weeks before Thanksgiving."
As Bruce wrote, "Here we live in the shadow of the steeple, where the holy rubber meets the road, all crookedly blessed in God's mercy, in the heart-stopping, pants-dropping, race-riot-creating, oddball-hating, soul-shaking, love-and-fear-making, heartbreaking town of Freehold, New Jersey. Let the service begin."
Wherever you may live, if you're celebrating today, we at Backstreets wish you and yours much happiness, love and, of course, plenty of good eats. Let the feasting begin.
- November 24, 2016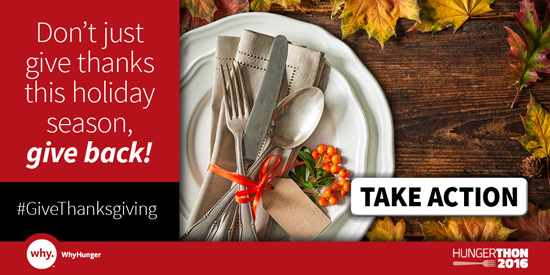 JOIN WHYHUNGER'S HUNGERTHON TO FIGHT HUNGER IN AMERICA
Over more than three decades, WhyHunger's Hungerthon has become a great Thanksgiving tradition, one that we at Backstreets encourage all of our readers to support in whatever ways they can. Since WhyHunger has received strong and consistent support from Bruce Springsteen for many years now, it's no surprise that there are several Bruce-related items up for grabs in this year's online auction: a Springsteen-autographed Telecaster, along with opportunities to co-host E Street Radio's Live From E Street Nation with Dave Marsh or The Wild and the Innocent with Jim Rotolo. See the full auction listing at charitybuzz.com.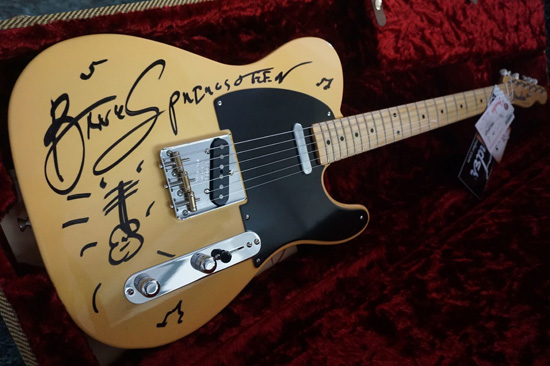 This holiday season, join Bruce and Backstreets in supporting #Hungerthon by visiting hungerthon.org to help — whether it's making a donation (some cool donor gifts available), bidding on auction items, or spreading the word on social media — and make a difference in fighting hunger in America.
- November 23, 2016

LIVIN' IN A DOLLHOUSE
Before receiving the Presidential Medal of Freedom yesterday, Ellen DeGeneres had some Mannequin Challenge fun with her fellow honorees at the White House. Bruce Springsteen played along, and you'll spot Patti Scialfa on the couch, too.
- November 23, 2016


NEW BRUCE INTERVIEW DEBUTS TODAY ON E STREET RADIO
In a new, exclusive interview for E Street Radio, Bruce Springsteen has spoken with hosts Dave Marsh and Jim Rotolo about his Born to Run memoir. Premiering this morning at 9am on SiriusXM Channel 20, it's an in-depth discussion that also touches on fame, race, performing, and his 25-year marriage to Patti Scialfa. Listen to a snippet above, with more on the SiriusXM blog, and tune in to hear the fuil conversation this morning, with replays to follow today and throughout the holiday weekend (all times Eastern):
Today: 9am, noon, 6pm
Thanksgiving: 12am, 6am, 9am, noon, 4pm, 8pm
Friday, 11/25: 10am, 4pm, 8pm
Saturday, 11/26: 12am, 8am, 5pm, 11pm
Sunday, 11/27: 3pm
- November 23, 2016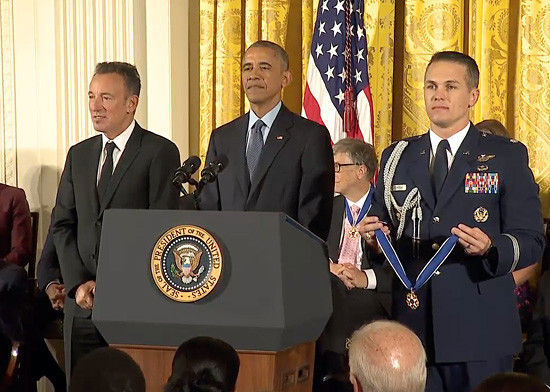 FREEDOM, NO COMPROMISE
This afternoon at the White House, Barack Obama presented Bruce Springsteen — and 20 other "extraordinary Americans" — with the Presidential Medal of Freedom. "This is a particularly impressive class," said Obama of the gathered honorees, comprising scientists, philanthropists, artists, entertainers, athletes, and more: Kareem Abdul-Jabbar, Elouise Cobell, Ellen DeGeneres, Robert De Niro, Richard Garwin, Bill and Melinda Gates, Frank Gehry, Margaret H. Hamilton, Tom Hanks, Grace Hopper, Michael Jordan, Maya Lin, Lorne Michaels, Newt Minow, Eduardo Padrón, Robert Redford, Diana Ross, Vin Scully, Springsteen, and Cicely Tyson.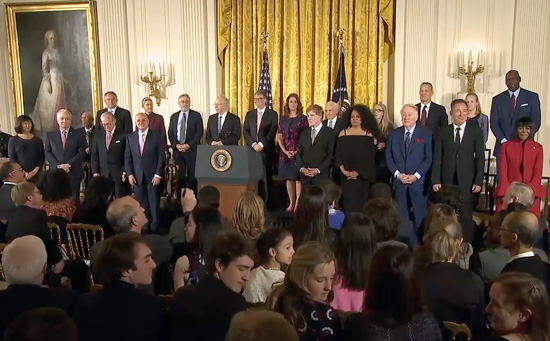 The Presidential Medal of Freedom is the highest civilian honor in the the United States, given to "individuals who have made especially meritorious contributions to the security or national interests of the United States, to world peace, or to cultural or other significant public or private endeavors."
In his remarks, Obama had this to say of Springsteen:
He was sprung from a cage out on Highway 9. Quiet kid from Jersey, just trying to make sense of the temples of dreams and the mystery that dotted his hometown: poolhalls, bars, girls and cars, altars and assembly lines. And for decades, Bruce Springsteen has brought us all along on a journey consumed with the bargains between ambition and injustice, and pleasure and pain, the simple glories and scattered heartbreak of everyday life in America.

To create one of his biggest hits, he once said, "I wanted to craft a record that sounded like the last record on Earth. The last one you'd ever need to hear. One glorious noise. Then the Apocalypse." Every restless kid in America was given a story, "Born to Run."

He didn't stop there — once he told us about himself, he told us about everybody else: the steelworker in "Youngstown," the Vietnam vet in "Born in the U.S.A.," the sick and marginalized on the "Streets of Philadelphia," the firefighter carrying the weight of a reeling but resilient nation on "The Rising," the young soldier reckoning with "Devils & Dust" in Iraq, the communities knocked down by recklessness and greed and the "Wrecking Ball." All of us with our faults and our failings, every color and class and creed, bound together by one defiant, restless train rolling toward the "Land of Hope and Dreams." These are all anthems of our America, the reality of who we are and the reverie of who we want to be.

"The hallmark of a rock 'n' roll band," Bruce Springsteen once said, "is that the narrative you tell together is bigger than anyone could have told on your own." And for decades— alongside the Big Man, Little Steven, a Jersey girl named Patti, and all the men and women of the E Street Band — Bruce Springsteen has been carrying the rest of us on his journey, asking us all, What is the work for us to do in our short time here?

I am the President, he is the Boss. And pushing 70, he is still laying down four-hour live sets — if you have not been at them, he is working. Firebreathing rock 'n' roll. So I thought twice about giving him a medal for freedom, because we hope he remains, in his words, a "prisoner of rock 'n' roll" for years to come.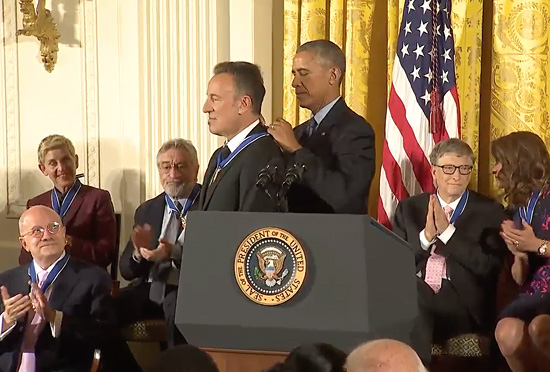 The official citation:
Bruce F. Springsteen. As a songwriter, a humanitarian, America's rock 'n' roll laureate, and New Jersey's greatest ambassador, Bruce Springsteen is, quite simply, The Boss. Through stories about about ordinary people, from Vietnam veterans to steelworkers, his songs capture the pain and the promise of the American experience. With his legendary E Street Band, Bruce Springsteen leaves everything on stage in epic, communal live performances that have rocked audiences for decades. With empathy and honesty, he holds up a mirror to who we are as Americans chasing our dreams and as human beings trying to do the right thing. There's a place for everyone in Bruce Springsteen's America.
In closing, President Obama added, "Just on a personal note. The reason these events are so special to me is because everybody on this stage has touched me in a very powerful, personal way — in ways that they probably couldn't imagine. Whether it was having been inspired by a song, or a game, or a story, or a film, or a monument... these are folks who have helped make me who I am and [influenced how] I think about my presidency. And what also makes it special is, this is America. It's useful, when you think about this incredible collection of people, to realize that this is what makes us the greatest nation on Earth. Not because of our differences, but because in our difference we find something common to share. And what a glorious thing that is, what a gift that is to America."
Congratulations, Bruce.
Full video stream is here.
- November 22, 2016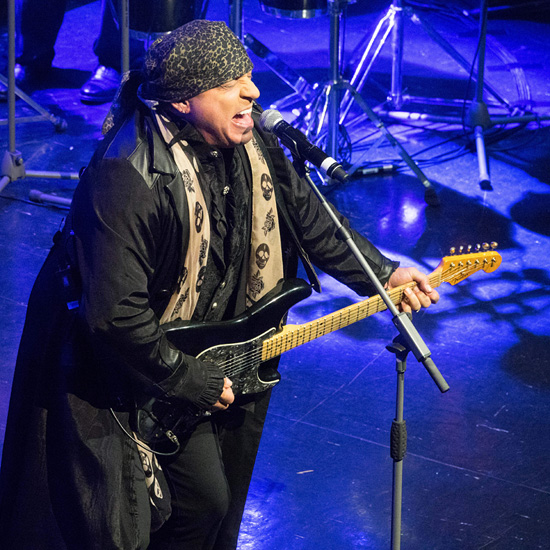 HAPPY BIRTHDAY TO OUR FAVORITE DISCIPLE OF SOUL
On October 29, Little Steven Van Zandt wowed us by bringing back his Disciples of Soul for a glorious performance in London [above]. In the new year, we anticipate him doing it again, and again. In the meantime, in between time, happy birthday Stevie!
- November 22, 2016 - photograph by Geoff Robinson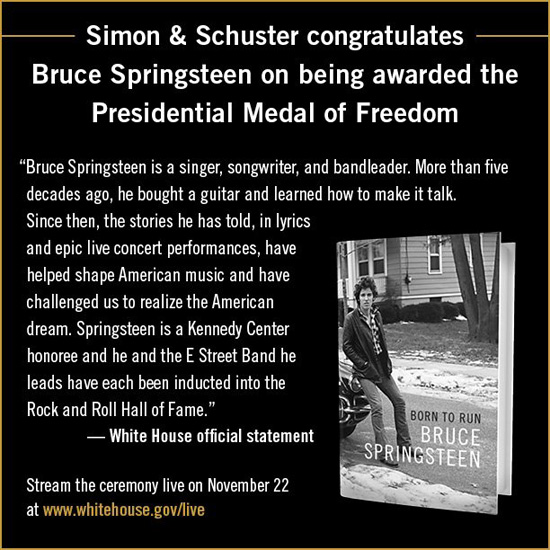 HEAVY MEDAL: WHITE HOUSE CEREMONY TODAY, TUNE IN AT 2:55
This afternoon, Bruce Springsteen will be awarded the Presidential Medal of Freedom, our nation's highest civilian honor. The live stream at whitehouse.gov/ live begins at 2:55pm Eastern.
Update: the ceremony will also air live on C-SPAN.
- Updated November 22, 2016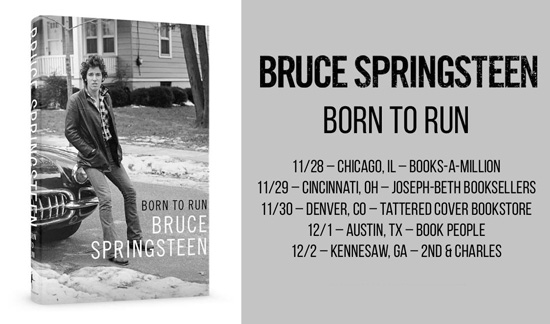 BORN TO RUN BOOK TOUR CONTINUES, FIVE STOPS ON SALE TODAY
After Thanksgiving, Bruce Springsteen will hit the road again to meet fans at bookstores in Illinois, Ohio, Colorado, Texas, and Georgia. Tickets are available today — see the full lineup with ticket links on Springsteen's Facebook Event page.
- November 22, 2016

GET ON YOUR BOOTS
Springsteen guests on new Matt O'Ree Band album, out Wednesday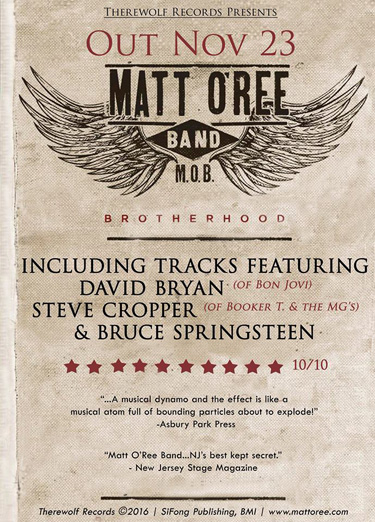 This week brings a new studio collaboration from Bruce Springsteen, who guests on the Matt O'Ree Band song "Black Boots." O'Ree, a celebrated fellow Jersey Shore guitar-slinger — from his own work to touring with Bon Jovi — releases Brotherhood on November 23, on CD and digital download. The lead single, "Black Boots" features Springsteen on guitar and co-lead vocals.
In a press release, O'Ree speaks to how the team-up came together:
"I taught his son guitar for many years. I grew very close to him, he was like my little brother, he really became an amazing friend. One day he asked if I had anything new of mine he could listen to. At the time I was working on 'Black Boots' with Jon (Bon Jovi), one of the first finished versions. After playing it for him, he played it for his dad, without me even knowing. The next week at the lesson, I saw Bruce and he commented that he liked what I was up to. That was a defining moment for me, and with every ounce of courage I had, I asked Bruce if he would be interested in playing on it. With a pause he thought for a second, and then said, 'Sure. Let me see what I can add to it.' All I remember were overwhelming feelings of joy running through me. One incredible moment in an otherwise average day for a kid from Holmdel."
Springsteen himself spoke a few years back about this recording, and O'Ree's bluesy "riff rock," in a December 2013 interview with E Street Radio:
"I started my career as a heavy-metal guitarist... I had a prog rock band, basically. We were a heavy blues, prog rock group, Steel Mill.... Steve and I both were pretty familiar with that kind of guitar [playing]. We literally made a living at it for quite a while, and I actually do miss it.... I just sang on [a yet-to-be-released recording with] Matt O'Ree. He's a local blues player on the Shore. It's riff music, riff rock. It was fun. It's kinda dirty, sexy music... fun to play. I miss that."
For more on O'Ree and "Black Boots," read Chris Jordan's piece in the Asbury Park Press. The Matt O'Ree Band will celebrate Brotherhood in Asbury on Wednesday night, with an album release show at the Stone Pony.
- November 20, 2016

CONFUNDUS! CHRIS COLUMBUS ON "I'LL STAND BY YOU"
Sorcerer's Stone director receives an "amazing, heartbreakingly beautiful song" from Springsteen — and is unable to use it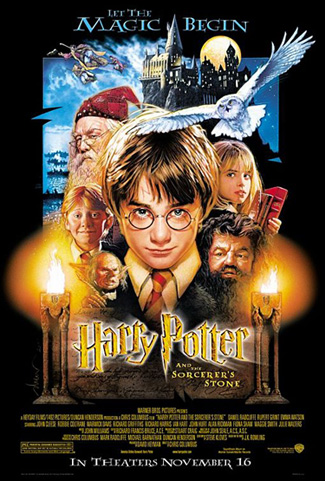 Bruce Springsteen recently talked for the first time about "I'll Stand By You," a rumored but largely uncirculated song he had written and offered for the first Harry Potter film, Harry Potter and the Sorcerer's Stone, in 2001.
A few days ago, as we reported, Potter producer David Heyman told a bit more of the story. According to Heyman, Sorcerer's Stone director Chris Columbus is a "huge fan" of Bruce and wound up writing "a 12-page letter explaining and apologizing for not including" the unsolicited track.
We wondered what the director might possibly have to say over 12 pages to Springsteen — but we didn't have to wonder long, as we soon heard from Chris Columbus himself. After reading the news on Backstreets.com he dropped us a line "to set the record straight" and fill us in: on the inspiration that Springsteen has been to his career, on trying to "will that song into the final credits," and on "I'll Stand By You" itself, which Columbus calls an "amazing, heartbreakingly beautiful song."
Fifteen years ago, on November 16, 2001, Harry Potter and The Sorcerer's Stone was released. Being in a bit of a nostalgic mood, I checked into Backstreets (which I do every day, sometimes two or three times a day). I saw the interview with David Heyman and wanted to respond to it. David got most of the facts right, but there is a little more detail that I wanted to share with you guys...
Continue reading "Confundus! Chris Columbus on 'I'll Stand By You'"
- November 18, 2016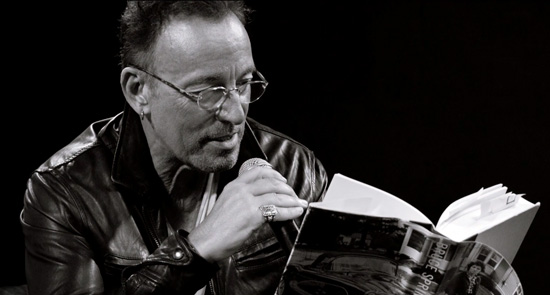 STORY HOUR -- MAKE THAT 18 HOURS -- WITH BRUCE
Lucky attendees at a few of Bruce Springsteen's book events have gotten to hear him read excerpts from his memoir — such moments are captured in a new short film by Thom Zimny posted today at brucespringsteen.net. Soon we'll all have a chance to hear him read the entire thing. After months of wondering, it's 100% confirmed today: Springsteen himself is the reader for the audiobook edition of Born to Run.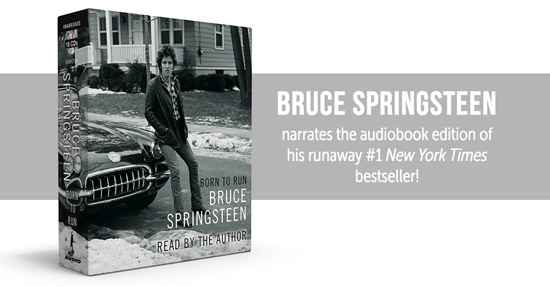 The audiobook will be released on December 6, as a digital download or a mammoth 16-CD set from Simon & Schuster Audio. In addition to his narration (and excerpts from the original studio recordings of "Living Proof," "Long Time Comin'" and "Born to Run"), Springsteen also recorded musical transitions for the audiobook at Stone Hill Studio in New Jersey.
Pre-order the 16-CD set from Backstreet Records now to save 25% off the list price and get a FREE bonus poster.
- November 17, 2016

FRANKIE, WHAT ARE YOU UP TO NOW?
On Monday night, Bruce Springsteen was feted at NYC's Maialino with a book party for Born to Run. Cover photographer Frank Stefanko was there, as we reported earlier this week, and he's kindly filled us in a little more on this shindig attended by — as we all found out yesterday — not one, not two, but three 2016 recipients of the Presidential Medal of Freedom.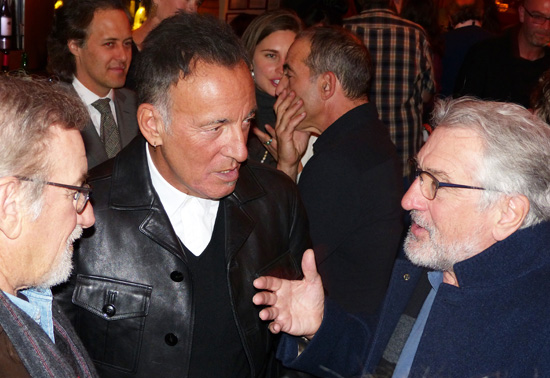 Steven Spielberg, Bruce Springsteen, and Robert De Niro, all soon to be Presidential Medal of Freedom honorees. Frank Stefanko photo.
I was notified several weeks ago about this celebration party for Bruce, based on the obvious success of his autobiography, Born to Run. Of course I was asked not to disclose the details of this party for obvious security reasons.
Since Bruce and Simon & Schuster chose my "Corvette Winter" image for the cover of the book, my wife and I were invited to the party. I was told that Bruce and his people would be there and the Simon & Schuster people would be there. I was looking forward to meeting the folks I communicated with during the production of the book.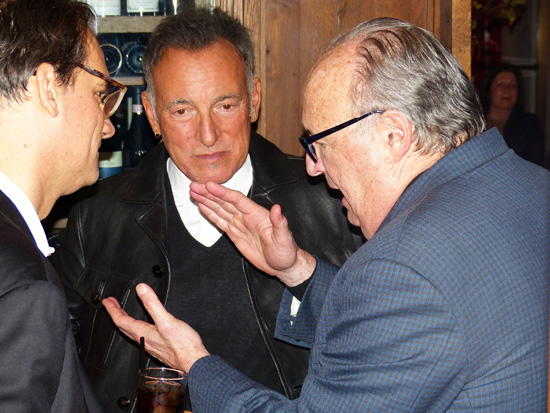 Thom Zimny, Springsteen, and Jon Landau. Frank Stefanko photo.
I had no idea, until I started to notice folks filtering in the room, that there was an A-list of celebrities coming to pay their respects. First I noticed Clive Davis, and that made sense because this was the music industry. But then, I noticed Steven Spielberg and Kate Capshaw, then Ralph Lauren, then Robert De Niro, and then Tom Hanks and Rita Wilson. At this point I just said, This is something I never thought I would witness anywhere, and yet it's all happening here and now, and in this room.
I mentioned to Steven Spielberg that my book cover shot was taken in Haddonfield, New Jersey, knowing that he had lived there for several years. I think he was impressed, because he said to Bruce, "This is Haddonfield, where I used to live!" Bruce looked at me as if to say, "Frankie, what are you up to now?"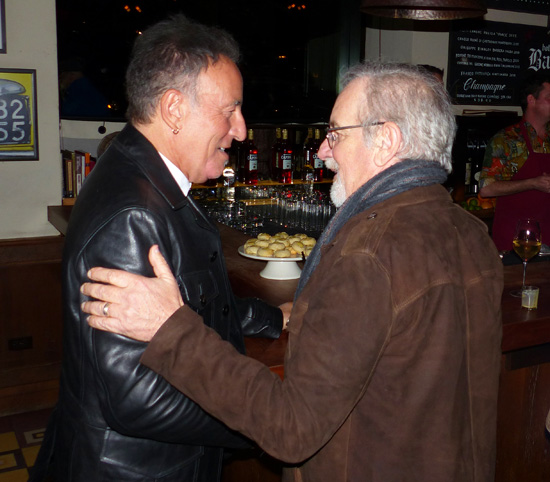 Springsteen and Spielberg, talking Jersey. Frank Stefanko photo.
It was a beautiful celebration. Jonathan Karp, president of Simon & Schuster, gave a lovely toast to Bruce — and rightly so, when you think of what a soul-searching depiction Bruce accomplished in this autobiography and how it is being received almost everywhere on the planet. I was talking to Patti Smith a few weeks ago, and she said, "Frankie... I see this photograph all over the world now."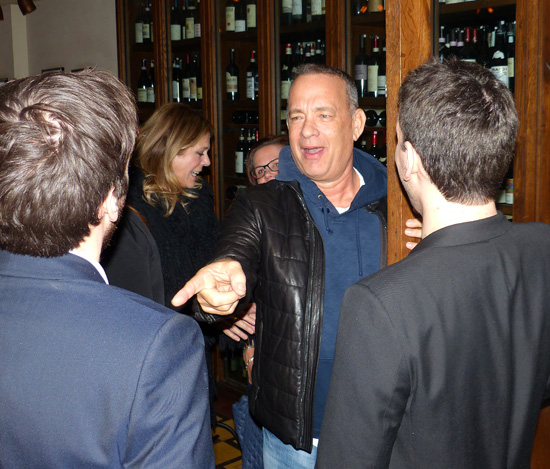 Tom Hanks, enjoying the evening with the Springsteen boys. Frank Stefanko photo.
My wife and I were honored to attend this great function in New York, but eventually the party was over, it was time to head back to Jersey and reality. So we handed in the glass slippers and headed back down the New Jersey Turnpike to a less glamorous, but more stable existence.
- November 17, 2016 - report and photographs by Frank Stefanko

SPRINGSTEEN TO BE AWARDED PRESIDENTIAL MEDAL OF FREEDOM
Congratulations to Bruce Springsteen, named today by Barack Obama as a recipient of the Presidential Medal of Freedom. The award ceremony on November 22 at the White House will be streamed live at whitehouse.gov/live.
President Obama says, "The Presidential Medal of Freedom is not just our nation's highest civilian honor — it's a tribute to the idea that all of us, no matter where we come from, have the opportunity to change this country for the better. From scientists, philanthropists, and public servants to activists, athletes, and artists, these 21 individuals have helped push America forward, inspiring millions of people around the world along the way."
Click here for the full list of 21 recipients, including Bruce's pal Tom Hanks and his fellow 2009 Kennedy Center Honoree Robert De Niro.
- November 16, 2016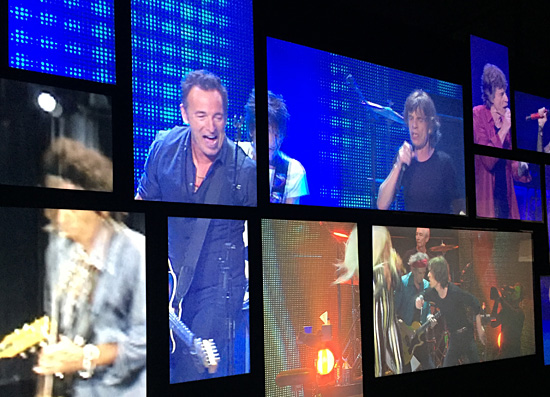 BRUCE SPRINGSTEEN, EXHIBITIONIST
It's a brief appearance, but nonetheless he's there: in the brief intro film that greets visitors to Exhibitionism, the new Rolling Stones exhibit that opened in NYC this past weekend, there's a familiar face. It's a few seconds of Bruce Springsteen's appearance in Newark with the Stones on "Tumbling Dice" in 2012. This is the segment that summarizes the entire 50+ year history of the band, so Bruce appearing here isn't a small thing. The "acne-faced fifteen-year-old kid with the cheap Kent guitar from Freehold, New Jersey" in 1964 would surely agree — as he also wrote in his memoir, "These are the guys who INVENTED my job!"
- November 16, 2016 - Caryn Rose reporting

WHEN HARRY MET BRUCE
Producer says "I'll Stand By You Always" just wasn't "right for the film"
Speaking with Simon Mayo a few weeks ago on BBC Radio 2, Bruce Springsteen discussed a song he had written and offered for a Harry Potter film, "I'll Stand By You Always." "It was pretty good," Bruce said, "It was a song that I wrote for my eldest son, it was a big ballad that was very uncharacteristic of something I'd sing myself. But it was something that I thought would have fit lovely." The track went unused.
David Heyman, producer of Fantastic Beasts and Where to Find them as well as the Harry Potter movies, talked with Uproxx about handling an unsolicited song from The Boss:
Bruce Springsteen recently said in an interview he wrote a song for Harry Potter and it was rejected. How do you turn down a Springsteen song?

Because you do what's right for the film. Chris Columbus is a huge fan.

Bruce seems really happy with that song.

It's a really good song.

It has to be tough to tell Bruce Springsteen no, right?

It is. Chris labored over it and then wrote a 12-page letter explaining and apologizing for not including it, because it was completely unsolicited. He just delivered this song. We didn't go to Bruce first, he just delivered it. But you know, it just didn't feel right to have a song. You know, I really like Pharrell, but having a song at the end of Paddington? A pop song at the end of Paddington in the U.S. was not what ultimately was right for the film. Anywhere else in the world, we don't have it. We had a Gwen Stefani and Pharrell song at the end of the first Paddington. And it's a really lovely song, but it was driven by marketing as opposed to what was right for the film. Nowhere else in the world was that song in the film.

So Bruce basically auditioned and got turned down. That hasn't happened to him in a while.

No. It's a great song, too. Beautiful.
- November 16, 2016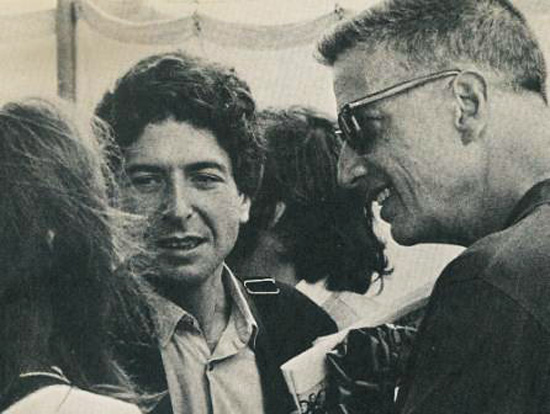 REMEMBERING LEONARD AND LEON
The past week began and ended with the deaths of two more legendary musicians, Rock & Roll Hall of Famers Leonard Cohen, who died at 82 on November 7, and Leon Russell, who died at 74 on Sunday.
Cohen and Springsteen, in addition to being revered musical poets with a lifelong commitment to making music, were both signed to Columbia Records by John Hammond. Pictured above are Cohen and Hammond with Judy Collins, the first person to record his songs. Also covering Cohen way back when: The Castiles, featuring a young Bruce Springsteen on lead guitar and vocals, performed "Suzanne" live at Freehold, NJ's The Left Foot on September 16, 1967 (the same night the band also performed Willie Dixon's Bo Diddley hit "You Can't Judge a Book By the Cover" as heard on Chapter and Verse.)
Check out Cohen/Springsteen fan Allan Showalter's helpful 2008 guide, "How to Determine If You Are at a Bruce Springsteen or a Leonard Cohen Concert." In an e-mail message, Cohen himself expressed appreciation for the compare/contrast, writing, "That's perfect. Why didn't I think of that? We should add it to the concert program." Cohen also displayed his wry sense of humor during his 2008 induction into the Rock & Roll Hall of Fame, on a night when he made even Jon "The Future of Rock and Roll Management" Landau laugh (beginning at the 4:00 mark).
As for the loss of The Master of Space and Time, Nils Lofgren's tweet says it all.
- November 15, 2016 - Shawn Poole reporting

THIS IS SURE STIRRING UP SOME GHOSTS FOR ME...
Streaming live tonight: SVZ and Robbie Robertson in conversation
Tonight at the New York Public Library, as part of their LIVE from the NYPL series, Steven Van Zandt will interview Robbie Robertson in celebration of his new memoir:
On the fortieth anniversary of The Band's legendary The Last Waltz concert, Robertson comes to LIVE to celebrate the release of his memoir, Testimony, reflecting on the group, his own journey, and much more. He is joined by E Street Band's Stevie Van Zandt to discuss the history of rock and the way it shapes their lives.
Event info is here, if you can't be there in person, tune in to the livestream.
- November 15, 2016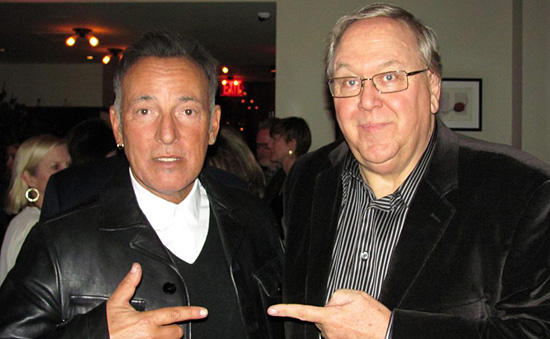 BOOK PARTY OF DREAMS
Last night, "Corvette Winter" photographer Frank Stefanko writes, "Simon & Schuster, publishers of Bruce Springsteen's autobiography Born to Run, hosted a celebration at Maialino in New York. I was fortunate to be invited since I photographed the cover. This is a shot of my friend and me, trying to figure out who each of us are."
Springsteen attended with Patti Scialfa and their three children. Also there to celebrate: Maureen and Steven Van Zandt, Rita Wilson and Tom Hanks, Kate Capshaw and Steven Spielberg, Robert De Niro, Ralph Lauren, and S&S President Jonathan Karp. See more images from the night on Frank Stefanko's Facebook page.
- November 15, 2016 - photograph by Carol Reed

THOM ZIMNY'S BEEN BUSY
New Springsteen and Presley documentaries readied for the small screen
We've got a doubleshot of documentaries coming our way with Bruce Springsteen and Thom Zimny's involvement. First up is a 90-minute Springsteen documentary from Channel 4 in the UK, "produced by Lonesome Pine Productions in collaboration with Thom Zimny," as reported by www.atvtoday.co.uk, with Bruce "in intimate conversation": "Channel 4 has been granted access to Bruce Springsteen for a documentary revealing the man behind the music. With home video from his youth, and footage from his early years performing solo in Greenwich Village, this documentary gives a unique insight into the man as well as the musician." The doc is scheduled to air before the end of the year.
Zimny, Springsteen's film archivist and go-to director, has also directed an Elvis Presley documentary for HBO, which wraps production this month. Announced this afternoon, the untitled doc is a three-hour affair, a "comprehensive journey from Elvis' childhood through the final 1976 Jungle Room recording sessions." Today's press release quotes HBO Miniseries president Kary Antholis:
"The producers came to HBO and Sony with the idea for a film drawing upon very rare footage that captures Elvis' musicianship in a new and exciting way," said Antholis. "The artistry on display in that footage reminded us of the great work by Jon Landau and Thom Zimny on HBO films documenting the studio artistry of Bruce Springsteen, and we are thrilled to have them at the helm to lend their unique cinematic perspectives to this iconic, complex and singular artist."
Jon Landau is an executive producer for the Elvis doc, and Springsteen is among the fim's interviewees.
- November 14, 2016


SVZ'S UNDERGROUND GARAGE TO HOST CONCERT SERIES AT THE BASIE
Jersey Shore music fans will have more to celebrate next year, as the Count Basie Theatre in Red Bank, NJ is set to host a four-show concert series in early 2017 that will support fundraising for its conversion into a multi-faceted entertainment and education facility. The series, presented by Little Steven's Underground Garage, will be curated by Steven and Maureen Van Zandt.
The series will get underway on January 13 and will be presented by Citi, whose cardholders will have early access to tickets via its Private Pass program. The Van Zandts appeared at the Basie for a press conference today, to announce further details regarding both the concert series and the current status of the project.
Says Maureen, "When Steven and I announced our support for the Count Basie Theatre's expansion, we understood the magnitude of impact that growth could make in the community. With the help of Citi and an array of generous donors, the vision for the Basie's future is even closer at hand."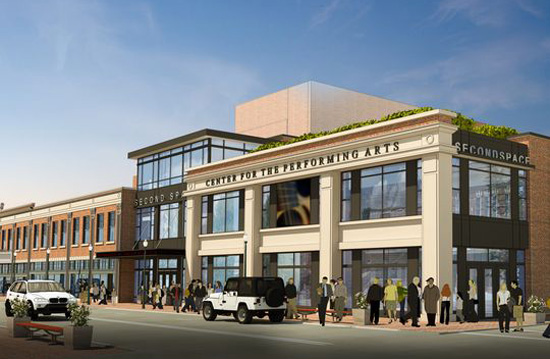 Expansion plans for the theater include a second performance venue, a roof deck and classrooms for community education offered by the Count Basie Performing Arts Academy. At present, the theater is about halfway toward its stated capital campaign goal of $20 million.
You can watch today's press conference on Facebook, and stay tuned to the Count Basie Theatre website for further ticket information and event updates.
- November 14, 2016 - Lisa Iannucci reporting - images courtesy of Count Basie Theatre

VETERANS' DAY 2016: "YOU DON'T LEAVE CASUALTIES BEHIND."
Highly recommended reading for Veterans' Day 2016 is Sean Moores' "Vietnam: The First Rock and Roll War," just published in Stars and Stripes, the U.S. military's independent newspaper. Moores' article is part of an ongoing series, Vietnam at 50, and focuses on developments in the year 1966 and their lasting impact.
The article's penultimate section, "Coming Home," focuses on Vietnam veterans' struggles after surviving the war and returning to the U.S. Not surprisingly, there's much in this section on the crucial support that Bruce Springsteen and his audience provided to nurture and sustain Vietnam Veterans of America. Among those whom Moores interviewed are Vietnam veteran/journalist Doug Bradley and Craig Werner, co-authors of We Gotta Get Out of This Place: The Soundtrack of The Vietnam War (rated by Rolling Stone as the best music book of 2015) and Springsteen biographer/critic Dave Marsh. "The face of rock and roll, on this issue, from the beginning, has been Bruce Springsteen," says Marsh. "And there's a (Vietnam) song on his last album, 'High Hopes,' (called) 'The Wall.' So it's still on his mind.... I think it's just like the Marines; you don't leave casualties behind. You don't turn your back on somebody."
Threaded throughout all of this is The Animals' mid-1960s classic "We Gotta Get Out of This Place," described by Bradley as "the Vietnam vets' national anthem." It was the song most frequently cited by the large, diverse group of Vietnam veterans whom Bradley and Werner interviewed about music they embraced during the war. Here, then, are three distinct live versions of "We Gotta Get Out of This Place" performed by Bruce Springsteen: a great 1976 performance with the E Street Band and the Miami Horns' Steve Paraczky on trumpet, the 2012 SXSW Keynote Address acoustic version where Bruce also spoke about the song's enduring importance and meaning for him, and a ragged-but-right 2013 performance with The Animals' Eric Burdon himself, appropriately sporting a large peace sign on his shirt.
Peace and safety for all of our military personnel, both veteran and active, also remain very much on our minds, as we wish everyone a happy Veterans' Day 2016.
- November 11, 2016 - Shawn Poole reporting

RIVER TOUR TAKES TOP HONORS AT 2016 BILLBOARD TOURING AWARDS
Bruce Springsteen and the E Street Band were awarded Top Tour at the 13th annual Billboard Touring Awards on Wednesday night. Not bad for a last-minute idea to play 24 shows from January to March. Springsteen himself did not attend the ceremony in Beverly Hills, but Roy Bittan was there to accept the award on Bruce and the band's behalf, as Billboard reports:
Bruce Springsteen and the E Street Band's The River tour was 2016's most successful trek. Bittan took time to thank the promoters as well as Jon Landau Management for being there supporting the band through the years.

"Way back in 1974, there were no cell phones. You had to stop by a pay phone to make a call. There was no internet to watch porn on, and if you tweeted, you were a parakeet," he said. "To make it in the music business, you had to create a buzz by playing live. You couldn't make a video and have Scooter Braun discover you. We started a love affair with our fans, and for Bruce and the E Street Band our concerts became our most direct, emotional medium of communication and I believe it still is today, like so many other artists."
- November 11, 2016


THROWBACK THURSDAY: THE 30th ANNIVERSARY OF LIVE/1975-'85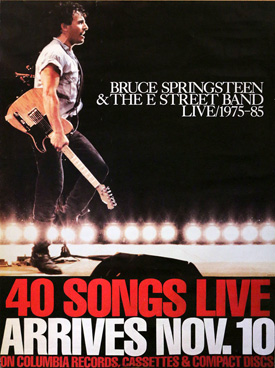 Way before digital downloads, before anyone in their right mind expected an official concert recording series, when bootlegs and traded tapes had been the only way to hear a Springsteen concert after the fact... there was Bruce Springsteen & the E Street Band Live/1975-'85.
Released 30 years ago today, on November 10, 1986, it was the must-have holiday gift that year, a five-LP box set (or three cassettes, three CDs) that stores had a dickens of a time keeping in stock. Before Christmas, at least. The Live box would debut at #1 on the album charts and sell more than three million copies by the end of the year. It was, as David Fricke wrote in the Rolling Stone review, both "an embarrassment of riches" and "not enough."
The following year, David Hepworth's BBC documentary Glory Days captured Bruce, the E Street Band, Jon Landau, and their history to that moment, with the creation of the box set as a springboard. Watch it here and raise a glass to 30 years gone by:
- November 10, 2016

JAKE CLEMONS ON FEAR & LOVE
The new year is bringing a new album from Jake Clemons, with Fear & Love due on January 13. Rolling Stone's Andy Greene spoke with Jake, who calls it "a concept record. It's a story that encompasses the last few years of my life. It starts off with the weight of tragedy and heartbreak and trauma and finds itself recovering from that and exploring a new fearless ability to live."
They also discuss Jake's work with Bruce Springsteen, including balancing his solo career with E Street and touring in 2016; Jake talks about his "Hands Up/Don't Shoot" pose during "American Skin (41 Shots)":
I have not been in a place before to necessarily share my political voice, but the reality is if I get pulled over, my dad taught me to turn the lights on, put your hand on the steering wheel, roll down your window and have your driver's license ready. Now he wasn't telling me that to make sure I was a nice guy. The reality is that when my parents got married, their marriage was illegal. They were living in Virginia and could not get married there since it was against the law. So the realities of where we are in this country, I feel it, man.

I have an eight-year-old daughter. And I can only imagine what went through my dad's mind raising five kids and the realities of what America means. It's heavy. So that's not exactly theater when I put my hands up. I'm feeling it deeply emotionally.
Read: "Jake Clemons on 'Historical' Bruce Springsteen Gigs, Emotional New Solo LP"
- November 10, 2016

LET'S GET OUT THERE AND VOTE!
As long as you're in voting mode today — and if you're in the U.S., you are, right? — why not keep the ball rolling:
Vote for Jay Weinberg in the Modern Drummer Readers Poll. The son of the Mighty One has done his time on E Street, of course, stepping up to fill in on the Working on a Dream Tour in 2009. He's been the drummer for Slipknot since 2014, winning Revolver magazine's Heavy Metal Drummer Poll two years in a row; vote for Jay in the Metal category at moderndrummer.com.
Rhythm magazine in the UK is conducting a similar poll: vote Jay Weinberg for Best Metal Drummer of 2016 at musicradar.com.
Vote for Bruce Springsteen and the E Street Band for the American Music Awards' Tour of the Year. The AMAs, determined by popular vote, air live on Sunday, November 20 on ABC. You can vote once per day, details here. If you're in the US, you can cast your ballot at ama.votenow.tv. Fans worldwide can vote via Twitter, by tweeting @Springsteen Tour of the Year #AMAs — or simply retweeting the below (RTs count).
- November 8, 2016

BRUCE TO ROCK FOR THE RAINFOREST AGAIN, TIX ON SALE NOW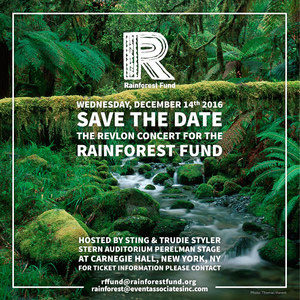 Bruce Springsteen has played Sting and Trudie Styler's Rainforest Fund benefits before — but unlike Stand Up For Heroes, you never know what to expect. In 1995, Bruce's first Rainforest gig brought us his debut of "I'm Turning Into Elvis," and in 2010 he transformed Bryan Adams' "Cuts Like a Knife" into a soul song and sang "Don't Stop Believin'" with the likes of Lady Gaga and Shirley Bassey.
Next month, Bruce is on the bill again, along with Sting, Chris Botti, and James Taylor for the Cool Yule Celebration for the Rainforest Fund at Carnegie Hall on December 14. Tickets are on sale now, ranging from $150 to $600.
- November 8, 2016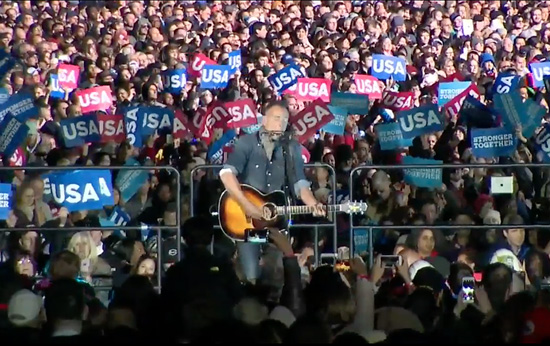 BRUCE IN PHILLY: "THE CHOICE TOMORROW COULDN'T BE ANY CLEARER"
On a packed Independence Mall in Philadelphia tonight, the final night before the 2016 presidential election, Bruce Springsteen performed a three-song set on acoustic guitar for a crowd estimated at 40,000. Following a "Thunder Road" that closed with a slight lyric change for the occasion — "Tonight we're pulling out of here to win" — Springsteen spoke to the gathered masses and made his case for Hillary Clinton:
Good evening! It's an honor to be here with President and Mrs. Obama, President Clinton and Chelsea, and if we all do our part tomorrow, President-elect Clinton.

The choice tomorrow couldn't be any clearer. Hillary's candidacy is based on intelligence, experience, preparation, and on an actual vision of an America where everyone counts: men and women, white and black, Hispanic and Native, where folks of all faiths and backgrounds can come together to address our problems in a reasonable and thoughtful way.

That vision of America is essential to sustain, no matter how difficult its realization.

Hillary sees an America where the issue of income distribution should be at the forefront of our national conversation, where the progress we've made in reducing our unemployment is not enough — we must do better. She has a vision of universal health care for all that will build on the work of President Obama. She sees an America that needs to be fairer, where our highest courts look to protect the rights of all of our citizens and not just the privileged. She sees an America where the issue of immigration reform is dealt with realistically and compassionately. And she calls for an America that participates in the welfare of our planet — both in world affairs and in global science — and where the unfinished business of protecting the rights of women is not an afterthought, but a priority.

That's the country where we will indeed be stronger together.

Now, briefly, to address her opponent: this is a man whose vision is limited to little beyond himself, who has a profound lack of decency that would allow him to prioritize his own interests and ego before American democracy itself. Somebody who'd be willing to damage our long-cherished and admired system rather than look to himself for the reasons behind his own epic failure. That's unforgivable. Tomorrow that campaign is going down.

Let's all do our part so we can look back at 2016 and say we stood with Hillary Clinton on the right side of history. That's why I'm standing here with you tonight, for the dream of a better America.
Springsteen introduced "Long Walk Home" as "a prayer for post-election" and closed with "Dancing in the Dark," finally adding, "Let's get out there and vote tomorrow!"
- November 7, 2016

WATCH SPRINGSTEEN TONIGHT, LIVE FROM PHILADELPHIA
Tonight's Springsteen performance at Hillary Clinton's Get Out the Vote campaign rally in Philly, along with the Clinton and Obama families, will be streaming online on YouTube and also airing on E Street Radio. Tune in starting at 7:30. The rally is being held in front of Independence Hall; click here for further info.
Also on the bill is Jon Bon Jovi. Today for the Asbury Park Press, Chris Jordan revisits Springsteen and Bon Jovi's appearances together over the years.
- November 7, 2016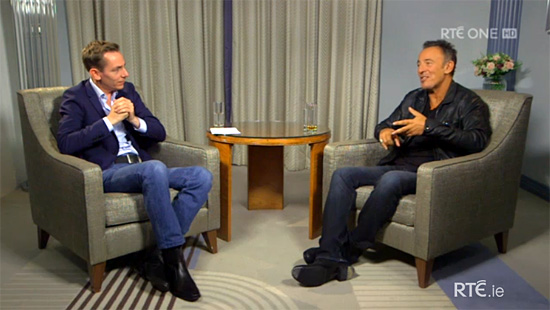 "WHEN THE BOSS CALLS... YOU KINDA HAVE TO ANSWER"
Just after we posted the Euro interview roundup on Friday, one more came along: that night on Ireland's RTE, Bruce Springsteen appeared as a guest on The Late Late Show. Helen Minnes writes us from Dublin: "As the presenter explains, it was the first time in 20 years that the program showed an interview with a guest who was not in the studio. Ryan Tubridy interviewed Bruce in London. As with anything Bruce-related, there was a lot of excitement about this in Ireland — The Late Late Show is an institution." Watch online at RTE.ie (duration 17:16).
- November 7, 2016

SPRINGSTEEN'S NOVEMBER SURPRISE
After actively campaigning for the Democratic presidential candidate in 2004, 2008, and 2012, it looked like Bruce Springsteen might stay off the stump in 2016 — despite his vocal support of a Hillary Clinton presidency and his stated view of Trump as a moron and con man. But here in the final hours of the campaign, Springsteen will bring his political capital to bear tomorrow night, Election Eve, at Clinton's final rally in Philadelphia. He'll perform, as will Jon Bon Jovi, joining the Clintons and Obamas at the Monday evening event on Independence Mall. Click here for details and to RSVP.
- November 6, 2016


DR. ZOOM HONORS DR. JOHN
2014 version of "Right Place Wrong Time" now officially available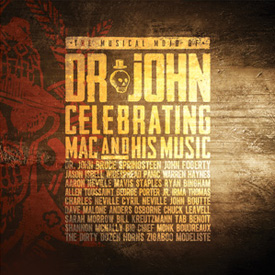 Just in at Backstreet Records is The Musical Mojo of Dr. John: Celebrating Mac and His Music, available as a CD/DVD/Blu-Ray combo or a la carte as a two-CD set or standalone DVD. Recorded at New Orleans' historic Saenger Theatre on May 3, 2014, this tribute concert featured Mac "Dr. John" Rebennack performing a set of highlights from his legendary career with an all-star roster of guest artists, including Bruce Springsteen. Springsteen, Dr. John and his ace band under the direction of Don Was kicked off the evening with a killer performance of The Night Tripper's lone top-ten hit, "Right Place Wrong Time".
This marked the third time that Bruce Springsteen has performed publicly with Dr. John. The previous two performances were the February 8, 2006 Grammy Awards "In the Midnight Hour" all-star memorial tribute to Wilson Pickett (who died a few weeks before) and during Springsteen's April 29, 2012 appearance at the New Orleans Jazz & Heritage Festival, when Dr. John joined Bruce and the E Street Band on Chris Kenner's Crescent City R&B classic "Something You Got".
Click here to order your copy of The Musical Mojo of Dr. John from Backstreet Records — all three formats are in stock.
- November 4, 2016 - Shawn Poole reporting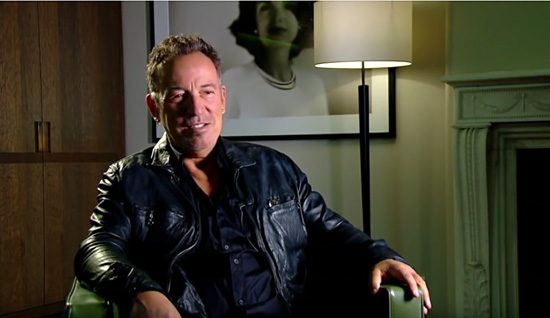 EURO INTERVIEW ROUNDUP
Bruce Springsteen's recent visit to Europe, with stops in London and Frankfurt, not only thrilled fans at a meet-and-greet but also proved quite the media blitz — Bruce noted that he hadn't done "three interviews a day" for a long time. We've noted few of them along the way, but here's the full collection of interviews with online links.
1) TV Interview with Matt Frei, broadcast on Channel 4 News on October 18. Watch on YouTube (duration 17:28).
2) TV Interview with Will Gompertz, broadcast on the BBC 10 0'clock news on October 18. Gompertz wrote about the experience here. You can watch the broadcast clip (duration 3:08) and listen to the extended interview (beginning at the 1:33:29 mark) at bbc.co.uk.
3) Radio interview with Simon Mayo, broadcast on Simon Mayo Drivetime on BBC Radio 2 on October 20. Listen at bbc.co.uk (duration 27:47).
4) Radio interview with Matt Everitt, broadcast on BBC6 Music Breakfast Show on October 21. Listen at bbc.co.uk (duration 12:38).
5) TV interview with Tibet Sinha, Deputy Chief of German Television Foreign News and Documentries, broadcast on ARD. Watch on YouTube (duration 22:30).
6) Print interview with Michael Hann for The Observer, published October 30. Read online at theguardian.com.
- November 4, 2016 - thanks to Mike Saunders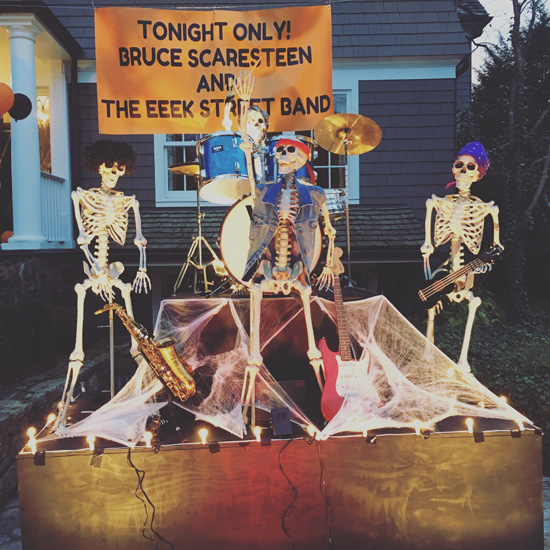 THEIR BRAINS THEY RATTLE AND THEIR BONES THEY SHAKE
Ladies and gentlemen, Bruce Scaresteen and the EEEk Street Band! These legendary grave rockers have just wrapped up a multi-night stand in Rob Gregory's front yard, culminating in Monday night's last dance marathon. Round for round and pound for pound, there ain't no creepier band in town.
Longtime fan and former Publisher of Rolling Stone, Rob tells us, "My daughter and I do a Halloween display every year at our house.... Last year (as a joke!) we did a Trump display. This year we are having a much better response."
He also filled us in on the current line-up. "The EEEk Street Band is: Scary W. Tallent, Steven Van Zombie, Chills Lofgren, Quake Clemons, and Boo-zie Tyrell."
- November 3, 2016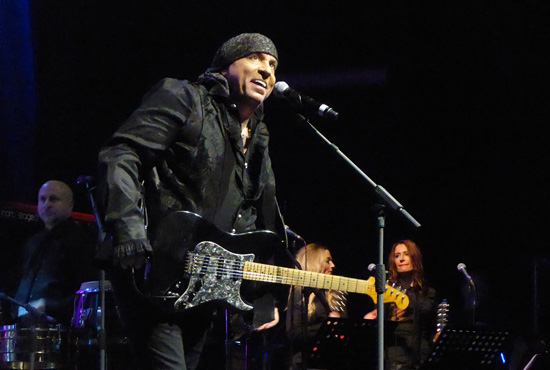 MEN WITH WOMEN: THE TRIUMPHANT RETURN OF LITTLE STEVEN AND THE DISCIPLES OF SOUL
Thirty-five years ago, in the fall of 1981, while the E Street Band were resting and Bruce Springsteen was at home writing what became the Nebraska album, Stevie Van Zandt went into the studio and recorded his first solo record. Men Without Women featured a blend of semi-autobiographical lyrics, rock 'n' roll, soul and Motown rhythms, and his own lead vocals, pitched somewhere between Bob Dylan and Keith Richards. It was an instant classic, though not a big seller. Within months, he had formed his own band, the Disciples of Soul, adopted the name Little Steven, and hit the road.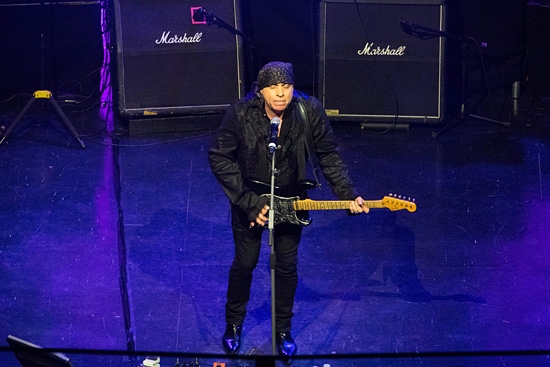 The original Disciples, with their animated rock 'n' roll horn section (featuring La Bamba, Mark Pender and Ed Manion among others), toured North America and Europe in 1982 and 1983, playing sets that featured most of Men Without Women, several of the songs that Steven had written for the Asbury Jukes between 1976 and 1978, and a selection of covers. After that, Steven's career followed a more political path; he dropped the horn section and adopted a more direct '80s-style rock sound. Several more albums and tours followed, but by the end of the decade, the band was no more. Fans old enough to remember the energy and excitement of the original horn-driven Disciples of Soul gigs have been waiting patiently ever since for a second helping.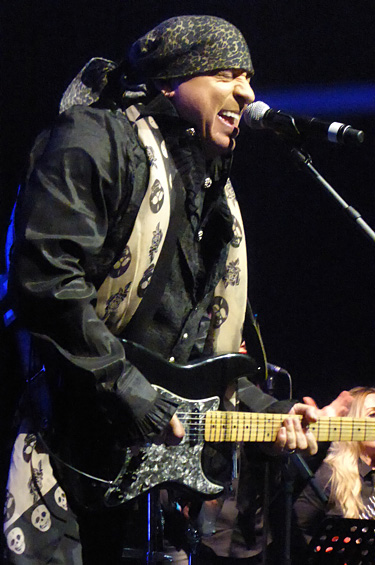 As the years passed, it seemed increasingly unlikely that Steven would ever work with the Disciples again, especially after he rejoined the E Street Band in 1999. But two weeks ago came the unexpected and extremely welcome announcement that Little Steven and the Disciples of Soul were booked to appear at the IndigO2 in London on October 29, as part of the annual Bluesfest — and the horn section was back, baby!
"It's not so much a reunion as a rebirth," said Steven, acknowledging that the line-up changed regularly after the golden years of 1982-83. After several presales earlier in the week, tickets went on sale to the public on October 21, eight days before the show, and were eagerly snapped up. To allow Steven time to attend the Bluesfest double bill of Richie Sambora and Bad Company in the O2 arena next door, it was made clear that the Disciples would not be taking the stage until 11pm, after a support set by The Marcus King Band.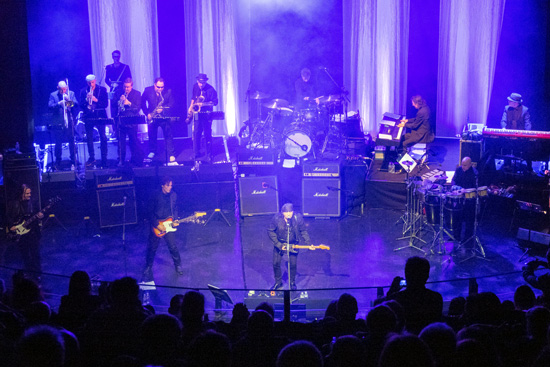 On Saturday night, while the stage crew made their final adjustments, levels of excitement and anticipation gradually increased among the crowd of old fans, Bruce fans, Jukes fans and people who hadn't even been born the last time the Disciples appeared in the UK. Finally, at 11:15, following an introduction by Dave Clark of the Dave Clark Five, the stage curtains parted to reveal the 15-piece Disciples Of Soul orchestra (with five horn players and three female backing vocalists), dressed in black and ready to take on the world after two weeks of rehearsals.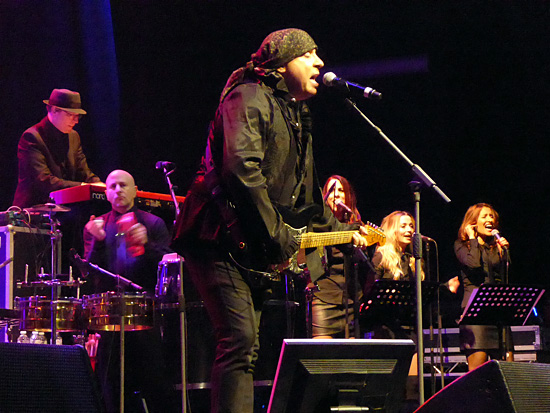 As they blasted into "Soul Fire" (a little-known Van Zandt co-write for The Breakers), it was a thrill to hear that high-volume, intoxicating, invigorating, inspiring wall of sound, propelled by guitars and horns, bolder, bigger, brighter and better than before, evoking past glories and ushering in a new future. Wearing his familiar full-length jacket (similar to the ones worn by the original Disciples in the early '80s), Little Steven contributed impassioned lead vocals and fiery guitar solos, revelling in his rediscovered role as frontman. And so it continued for the next 130 minutes, as the band worked their way through a powerful and varied 22-song set, which included guest appearances from harmonica player Hook Herrera and Richie Sambora, whom Steven had joined during his set at the O2 Arena earlier that night for "Livin' on a Prayer."
The remainder of the original material in the show broke down into several categories: songs from the Men Without Women album ("Forever," "Inside of Me," "Until the Good Is Gone" — not as many as expected); songs from the Freedom No Compromise album ("Freedom," "Bitter Fruit"); songs written for the first three Asbury Jukes records ("I Played the Fool," "She Got Me Where She Wants Me," "Some Things Just Don't Change," "Trapped Again," and "I Don't Want to Go Home," introduced as "The first song I ever wrote"); songs written for the Asbury Jukes comeback album Better Days ("Coming Back," "All I Needed Was You"); plus "Ride the Night Away" (co-written with Steve Jordan and recorded by Jimmy Barnes and later by the Asbury Jukes) and main set-closer "Goodbye" (from the still-unreleased Lost Boys album project).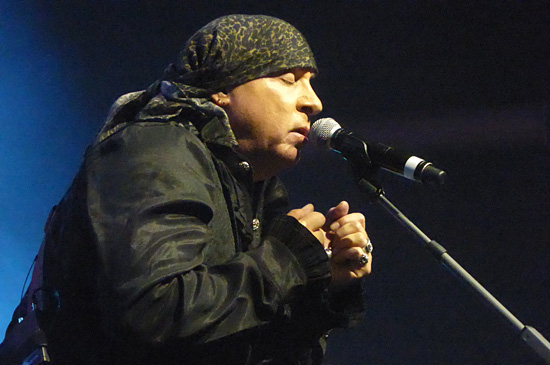 In recognition of Bluesfest, the Disciples proved their flexibility and versatility by including covers of "Killing Floor" (Howlin' Wolf, played in the style of the Electric Flag recording), "The Blues Is My Business" (Etta James), "Groovin' Is Easy" (Electric Flag), "Love Disease" (The Paul Butterfield Blues Band), "Down and Out In New York City" (James Brown), "Walking By Myself" (Jimmy Rogers) and "Can I Get a Witness" (Marvin Gaye), the traditional encore back in the days of the original line-up.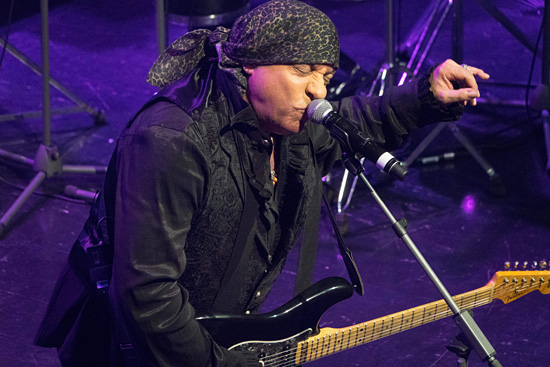 After two hours of high-energy rock, soul, funk and blues (New Jersey-style, by way of New York City and London, England), Little Steven and the Disciples of Soul took their final bows. It had been a triumphant return and a huge success, reminding older fans just how good Steven's original songs are and introducing them to others who had previously been unaware of his musical life beyond the E Street Band. After this masterclass, ticketholders (thoroughly satisfied and perhaps just a little awestruck), could only stand around until security threw them out, talk about what they'd just seen and wish there was a late show, so they could do it all over again. It was nearly 1:30am, but nobody wanted to go home.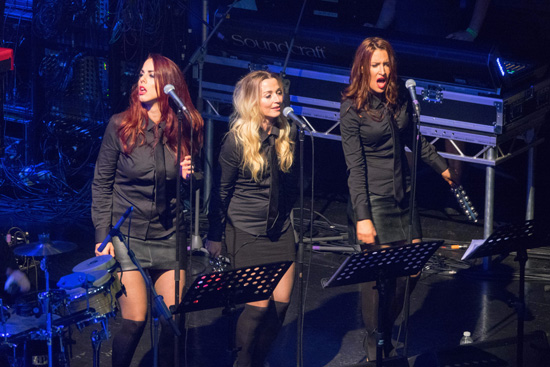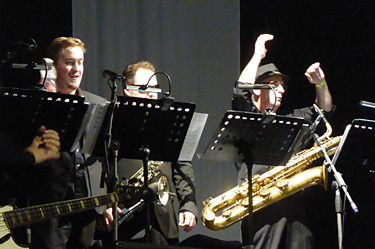 The international line-up of musicians for the show comprised musical director Marc Ribler (guitar), horn section leader (and only surviving original Disciple) Ed Manion (baritone sax) and Bluesfest supremo Leo Green (who personally invited Little Steven to form a band for the occasion) on tenor sax, plus Richard Mercurio (drums), Jack Daley (bass), Andy Burton (B3 organ), Clifford Carter (piano), Danny Sadownick (percussion), Tommy Walsh (trumpet), Matt Holland (trumpet), Neil Sidwell (trombone), George Millard (flute) and the Divas of Soul (Julie Maguire, Sarah Carpenter and Jess Greenfield) on backing vocals.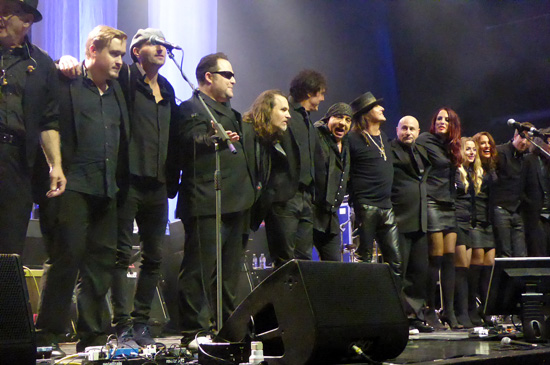 "Thank you London, and everybody who came in from all over," tweeted Steven the next day, "thank you for the wonderful encouragement last night. Very much what I needed." He then celebrated the end of the Bluesfest weekend by attending the double bill of Jeff Beck and Van Morrison at the O2 Arena.
Little Steven now appears determined to reactivate his long dormant solo career next year, after his commitments to Bruce Springsteen in Australia and New Zealand are complete (he has already said that he will not be leaving the E Street Band to pursue his own interests as he did in the '80s). "I've ignored my own stuff too long," he said recently. If everything goes to plan, 2017 will see the release of a new album and the re-release of Steven's older recordings (possibly as part of a retrospective boxed set) in addition to a "proper tour" with the Disciples in the summer on both sides of the Atlantic. Time will tell whether the line-up will feature the same international blend or whether the Disciples will have a more American flavor next time. Given the prohibitive costs involved, it may not be possible to take 15 musicians on the road, so some trimming may be necessary. The setlist would also undoubtedly feature some changes, with fewer covers and more songs from the new album or from Men Without Women. If so, this makes Saturday night's unforgettable London concert even more unique and the audience even more privileged to have witnessed it.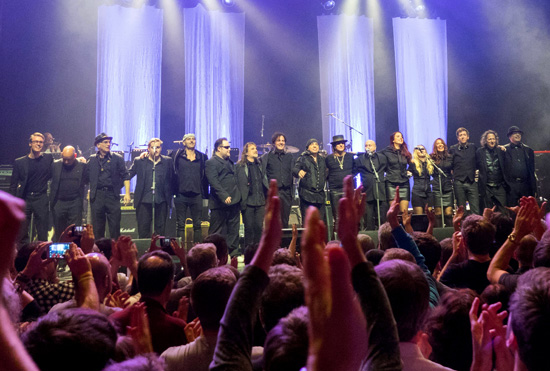 Footnote: Steven has said that he wrote "I Don't Want to Go Home" while he was touring the oldies circuit in the Dovells' backing band in 1973-74. He met many of his musical heroes during that period and originally wanted to offer the song to Ben E King but was too shy to ask. In 1975, he formed The Asbury Jukes with Southside Johnny and the song appeared on their original demo tape, then on their debut album, released in mid-1976. If it was the first song he ever wrote, he started with a classic.
- November 2, 2016 - report and photographs (1,3,5,7,10,11) by Mike Saunders - additional photographs (2,4,6,8,9,12) by Geoff Robinson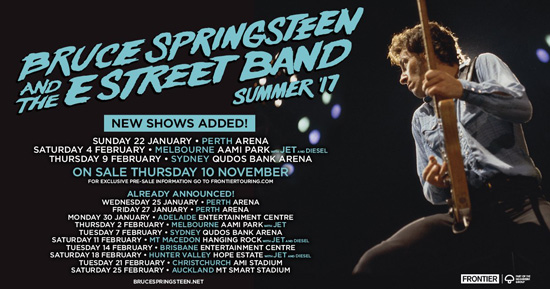 G'DAY! AUSTRALIA/NEW ZEALAND TOUR '17 EXPANDED TO 14 SHOWS
Bruce Springsteen's promoter Down Under, Frontier Touring, has announced three more concerts added to the E Street Band's January/February itinerary: a third show in Perth (giving the tour a new starting date of January 22), and second shows for Melbourne and Sydney. All three will go on sale Thursday, November 10, with Frontier Member presales beginning on Monday, November 7.
For the full itinerary with onsale info and links, see our Tour/Ticket Info page.
- November 2, 2016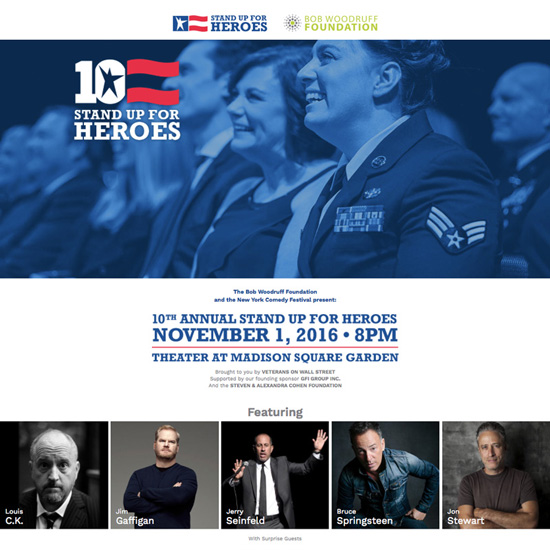 WATCH LIVE TONIGHT: STAND UP FOR HEROES 10
Bruce Springsteen is making his tenth annual appearance at the Stand Up for Heroes benefit tonight in New York, which supports our wounded servicemen and servicewomen through the Bob Woodruff Foundation. Stream it live here.
Update: Only the opening of the benefit wound up livestreamed, so thanks to the Periscopers out there. Springsteen performed "Long Walk Home" and three more solo acoustic (with jokes interspersed) and alone raised $280,000 with an auction lot including a signed guitar, a Cadillac ride with the Boss, a hot dog and hamburger feast at Jersey Freeze, and, once again, his mother's lasagna.
For the full setlist from this and other recent concerts,
visit our Setlists page
Update 2: Rolling Stone has transcribed the jokes.
- Updated November 2, 2016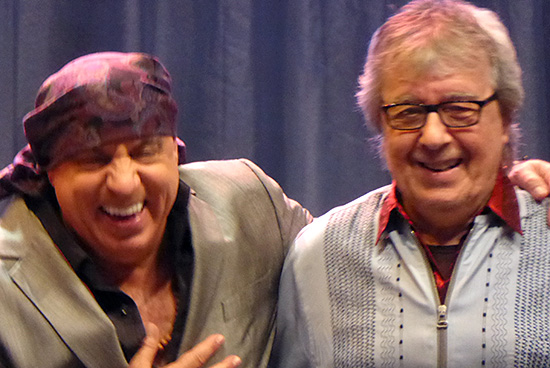 LITTLE STEVEN PAYS TRIBUTE TO BILL WYMAN IN LONDON
No sooner had Bruce Springsteen left London, following several days promoting his autobiography, than Little Steven took up temporary residence. Following on from a week of rehearsals at home, Steven was in town for another week of rehearsals prior to the first Little Steven and the Disciples of Soul gig in over a quarter of a century. It had in fact been 33 years since the original (and best, in this writer's humble opinion) version of the Disciples, featuring that all-important horn section, last trod the boards in the UK.
The announcement of the October 29 show at the 2,350-capacity IndigO2 venue came on the same day as Waterstones tweeted that Bruce would be making a personal appearance at their flagship bookstore in London's Piccadilly on October 17, giving UK fans two reasons for celebration. The one-off Disciples gig was due to take place during Bluesfest, an annual event held in several different-sized venues at the O2 entertainment centre in southeast London, and came about as the direct result of a personal invitation from Bluesfest supremo Leo Green. While rehearsing the 14-piece band (which included musicians from both sides of the Atlantic) for this unique performance, Steven undertook radio interviews for Talk Sport and BBC6 Music.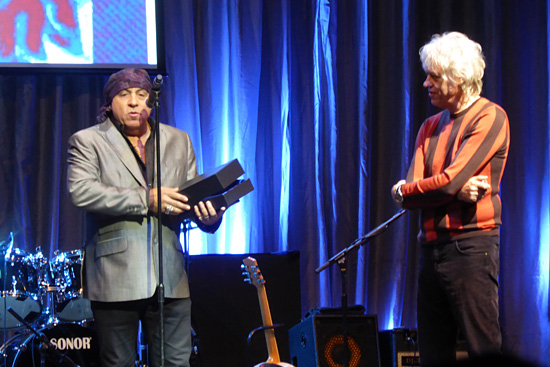 On Friday, October 28, Little Steven took part in Bill Wyman's 80th Birthday Gala at the IndigO2, a three-hour tribute to the ex-Rolling Stone bassist, during which his regular touring band, The Rhythm Kings, backed a revolving series of guest musicians and vocalists, including Mark Knopfler, Van Morrison, Robert Plant, Andy Fairweather-Low, Mick Hucknall and others. Appearing after the interval, Steven gave a speech in which he acknowledged the profound influence of the Rolling Stones (who sent a congratulatory video message but did not appear in person) during his formative years and presented Bill Wyman with the Bluesfest Lifetime Achievement Award. Dispensing with his formal silver-grey jacket, Steven then picked up a guitar and joined the band for versions of "Little Red Rooster "and "Route 66" (each with lead vocals by Bob Geldof, above), returning an hour later for the all-star finale.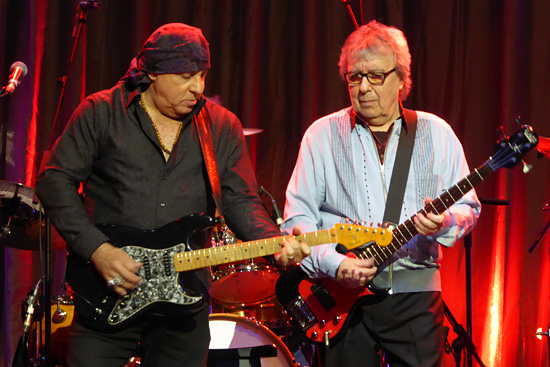 The following evening, Little Steven attended the Bluesfest gig by Richie Sambora (whom he joined for a version of "Livin' on a Prayer") and Bad Company at the O2 Arena, before returning to the adjacent IndigO2 for his 11pm appearance with the new Disciples of Soul. Watch this space for a full report on what was the gig of the year, perhaps even the decade, for all those who attended.
- October 31, 2016 - report and photographs by Mike Saunders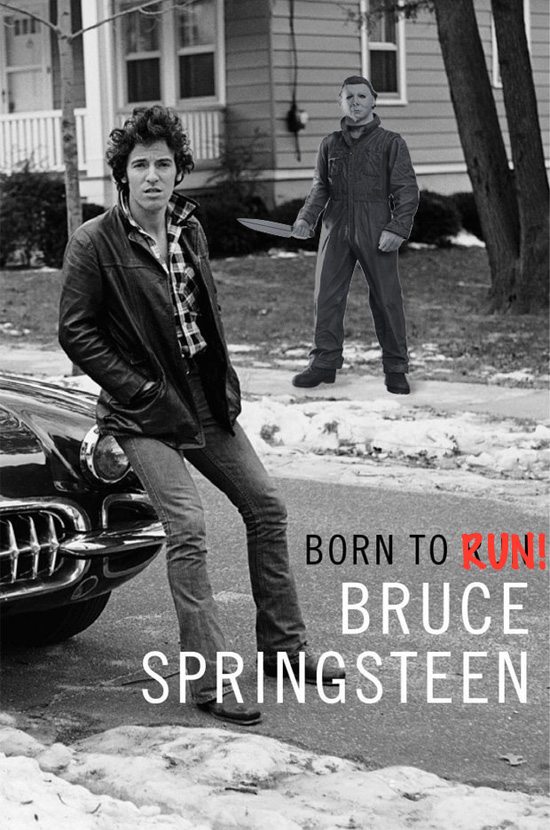 BOOK OF SCREAMS
Happy Halloween!
From Haddonfield, IL '78 to Haddonfield, NJ '78, Michael "The Shape" Myers always finds his prey. Watch out, Bruce (and Frank)!
For your All Hallows' Eve reading (or re-reading) pleasure, you just might want to enjoy these spooky, kooky sections of Booooooooooce Springsteen's Born to Run:
"The Flying Purple People Eater" (Book One, Chapter 8, "Radio Days") - Bruce makes an early reference to his childhood love of Sheb Wooley's 1958 Halloween-mix favorite. (Fittingly, it's in the chapter immediately following Springsteen's description of the first time he ever strapped on a guitar and attempted a performance in front of some neighborhood kids, when he "sang voodoo nonsense" and "smelled blood.") Even before his "Purple People Eater" fame, the late, great Sheb Wooley already made his mark in the annals of great screams, as the person credited for the Wilhelm scream.
"Haunted Castle" (Book One, Chapter 12, "Where the Bands Are") - Okay, so you want a scary story for Halloween? Listen, if you're part of a ragtag group of young, aspiring musicians called The Rogues, it just doesn't get any scarier than this: You're the opening act for the local "instrumental kingpins" The Chevelles at the high school dance, and you end up sounding just horrible in front of them and all your peers. The Kingsmen's "Haunted Castle," the B-side of "Louie, Louie," is among the instrumentals listed by Springsteen that constituted "a typical local band's [like The Chevelles'] set list."
"Terror with Tinker" (Book One, Chapter 18, "Steel Mill") - Bruce gives Stephen King's Christine a run for its money; his account of learning to drive the hard way, with former manager Carl "Tinker" West along for the ride, offers plenty of white-knuckle moments, for sure. Bruce even describes one such moment as a "Halloween horror show of a night."
"Children of the Born..." (Book Two, Chapter 46, "Born in the USA") - "For years after the release of my biggest-selling album, come Halloween, I had little kids in red bandanas knocking at my door with their trick-or-treat bags singing, 'I was born in the USA.'"
- October 31, 2016 - report and collage by Shawn Poole - special thanks to Dawn Leinberger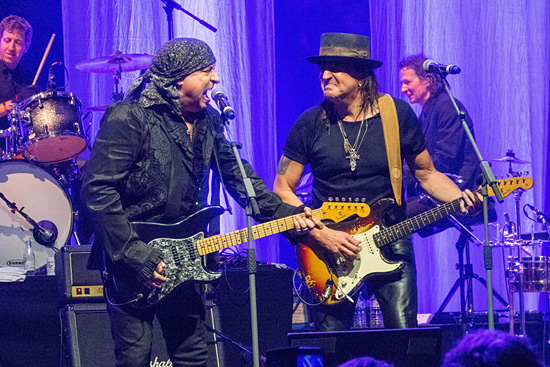 I'M COMING BACK: SATURDAY'S DISCIPLES OF SOUL SET AT THE O2
Last night in London, Little Steven Van Zandt played his first Disciples of Soul show in Forever — or a quarter-century, at least. Richie Sambora guested. Full report to come... in the meantime, can we get a witness to this setlist??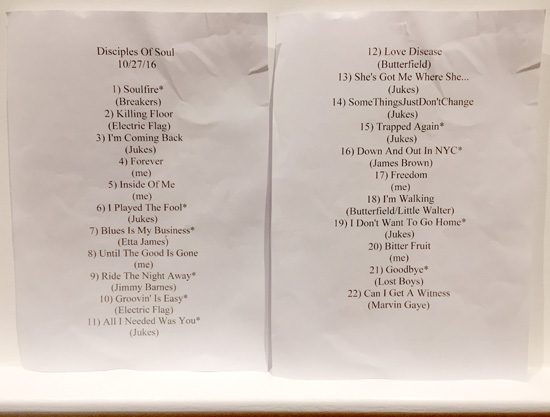 - October 30, 2016 - photograph by Geoff Robinson - setlist courtesy of Royston Deitch

For older news, visit our News Archives