CALIFORNIA LOVE
FOR FRANK CARUSO
This Sunday, February 1, is Super for all sorts of reasons. In addition to the Seahawks vs. Patriots, it's also the kick-off of Grammy Week, which will bring Springsteen to Los Angeles for the MusiCares salute to Bob Dylan on February 6.

And if you're in the L.A. area, Sunday brings a chance to meet Outlaw Pete co-author and illustrator Frank Caruso, who'll be signing at Book Soup on Sunset Boulevard.

This is the only West Coast signing Frank has planned, so get there if you can. The event starts at 1pm, which gives you plenty of time to get home for guacamole dip and chicken fingers.
- January 30, 2015

THIS JUST IN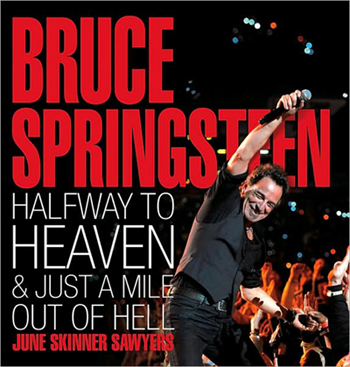 Bruce Springsteen: Halfway to Heaven & Just a Mile Out of Hell, a 2009 coffee table book by June Skinner Sawyers, wasn't distributed far and wide, as it was published for and exclusively sold by Barnes & Noble; we've never stocked it before. But it's a worthy addition to the Boss bookshelf, and though it's out of print, we just scored a small stack.
Sawyers is also the editor of Racing in the Street: The Bruce Springsteen Reader (which we consider essential) and author of Tougher Than the Rest: 100 Best Bruce Springsteen Songs.
In Halfway to Heaven she offers a career overview, tracing Springsteen's development as a performer up through Super Bowl XLIII, along with in-depth analyses of each album and lots of sidebar detours throughout. It's an LP-sized hardcover, packed with color photos and memorabilia that offer some fun visual surprises along the way, even if the history is something you feel you know by heart. Limited quantity available. See all Latest Arrivals here.
- January 29, 2015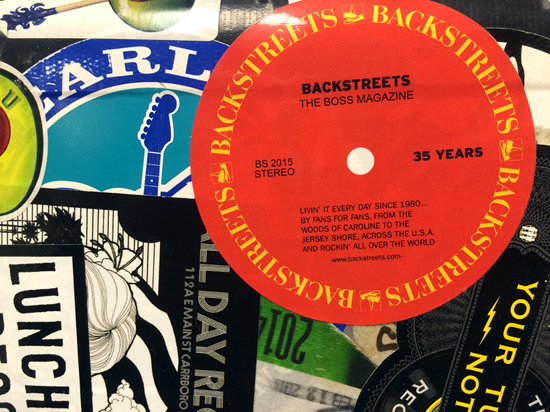 SPIN THE RED CIRCLE
We always try to throw in a little something extra when you order from Backstreet Records; as mail-order record shoppers ourselves we always like being on the receiving end of such things... and we also know your hard-earned dollar could always go somewhere like Amazon instead.
At the moment we're including Backstreets coasters with bigger orders ($75 or more), and with every order we're now including this new red label sticker, just in. The sticker celebrates 35 years of Backstreets — from one vinyl era through to the next — a milestone we'll pass in 2015. Perfect for guitar cases, iPads, amps, Trapper Keepers, laptops, club bathroom walls.... Yours free when you order any ol' thing from our online shop, and we greatly appreciate the support.


HEEDING A CERTAIN CALL, JANUARY 28, 1985
It's been three decades since Bruce Springsteen joined a historic gathering of artists after the American Music Awards, for the recording of "We Are the World" 30 years ago tonight. Springsteen had just wrapped up the U.S. leg of the Born in the U.S.A. tour the night before in Syracuse [video], and he flew to L.A. specifically for the USA for Africa session at A&M Studios in Hollywood. As he said that night, "Any time somebody asks you to take one night of your time to help people who are starving to death, it's pretty hard to say no."
If it has proven to be the catchiest song you never need to hear again, "We Are the World" was phenomenally successful as a benefit project; according to the organization's website, United Support of Artists for Africa raised more than $75 million for poverty and hunger relief in Africa.
"We Are the World" co-writer Lionel Richie later told Playboy that of everyone at the January 28, 1985 session, "I dug [Springsteen] the most. That's because he's business. I didn't have to worry about making him he prima donna. He came in the door and said, 'I came here to do this. Just tell me where to go and I've got it, buddy."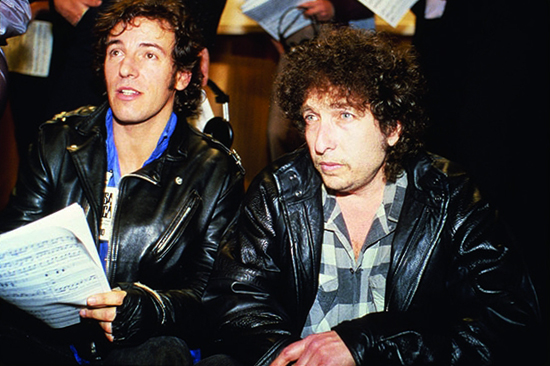 Springsteen didn't actually attend the American Music Awards that night 30 years ago, though for the record, he won the Favorite Pop/Rock Single award, with "Dancing in the Dark" beating out Prince's "When Doves Cry"; Bruce and Prince both lost Favorite Pop/Rock Male Artist to Richie.
- January 28, 2015

BYE BYE JOHNNY, JOHNNY BYE BYE
We here at Backstreets mourn the loss of our friend John Anderson, who succumbed to ALS yesterday morning at the age of 45. Regular readers may remember the wonderful gift his many friends gave him some months back: a backstage visit with Bruce & Co. — John wrote about that special moment for us, "If Dreams Came True, Oh, Wouldn't That Be Nice?"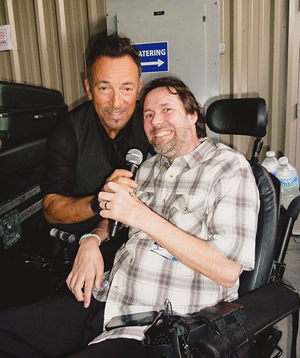 I first met John when he was barely out of high school, when we actually had to sneak him in to shows. He was about the same age as my little brother and was always the guy you could talk into a spur-of-the-moment drive up from DC to hit the Pony on a Friday or Saturday night. We didn't really know anyone from the Jersey Shore scene back then, but we knew we had to be there. We had no money and no place to stay, so most times we'd just turn around and make the three-hour drive right back to DC. John was always up for anything, and he was one of the few people who took me seriously as a Springsteen fan right from the beginning. I'll never forget the long, passionate discussions we used to have about music, the crazy sleepless road trips we'd embark upon. John's sunny personality was the perfect counterbalance to my intense moodiness, and I guess that's why we got along so well. His warm, ever-present smile, his fair-mindedness, generosity and relentlessly positive attitude were always there to lift me up in my darkest moments and to remind me of what was really important in life. Rest in peace, my friend.
- January 27, 2015 - Lisa Iannucci reporting - photograph by Adam Baker

GREETINGS FROM ASBURY PARK: GOIN' OUT WEST
This February, Monmouth University's Pollak Gallery will host an exhibit titled "Asbury Park's Springwood Avenue Harmony – Celebrating the West Side's Unique Musical Legacy." Curated by music historians Charlie and Pamela Horner, the exhibit will feature an extensive collection of photographs and memorabilia showcasing the doo wop, jazz and R&B musicians who forged a singular music scene on Asbury Park's West Side.
The Horners, who publish Classic Urban Harmony, a newsletter and website covering those genres, assembled original photographs both from the estate of vocalist Bobby Thomas and from Madonna Carter Jackson (sister of former E Street drummer Ernest "Boom" Carter). The lovingly restored black and white photos bring to life a bygone era that had, until the publication of Daniel Wolff's 4th of July, Asbury Park in 2005, largely faded from collective memory.
The exhibit expands upon a similar exhibit that ran during Light of Day week at Asbury Park's Heaven Gallery, and will include postcards, sheet music and rare vinyl that evoke a remarkable period in the city's history.
"Asbury Park's Springwood Avenue Harmony" will run Feb 1-28 at the Pollak Gallery on the campus of Monmouth University in West Long Branch, NJ. The gallery is open weekdays from 9 a.m. to 7 p.m., with an opening reception on Wed. Feb. 4. Visit the university's event listings for further information.
- January 26, 2015 - Lisa Iannucci reporting

UNBOXING ROY BITTAN (AND REMEMBERING DANNY ON HIS BIRTHDAY)
Last week, rollingstone.com published Part One of a new Andy Greene interview with Roy Bittan, focusing on his solo album Out of the Box and highlighting his off-E Street collaborations. Now, Part Two is up, with the Professor talking about his career with Springsteen (with the E Street Band and without), their beach photos together, and the Rock and Roll Hall of Fame induction. Read: "Roy Bttan Looks Back on 40 Years in the E Street Band."
For more talk with Roy, see Backstreets #88, our tribute issue to Phantom Dan Federici — who, not so incidentally, would have turned 65 today — in which the Professor spoke with us at length about playing with Danny and Charlie Giordano as well as about his own experiences in Springsteen's bands.
- January 23, 2015

ASBURY PARK PRESS LOOKS TO THE WEST SIDE
With Light of Day lighting up the streets of Asbury Park last week, there's been a lot of good news coming out of Bruce Springsteen's adopted hometown lately. But as ever, it's not all carnival life. Daniel Wolff, author of 4th of July, Asbury Park: A History of the Promised Land, points us to a new Asbury Park Press video regarding the West Side Community Center, "once a valued center for vulnerable Asbury Park youth," as the APP reports, which "has drastically scaled back its programs and its hours."
The West Side Community Center has been a regular beneficiary of Springsteen's local holiday and rehearsal shows over the years, but clearly that hasn't been enough. Wolff writes us, "This story is as old as Asbury Park. The report doesn't clarify why funding has fallen off, but the lack of opportunities for kids, etc. were cited as reasons for the 1970 rebellion that burned down the West Side. We can do better." Watch: "What Happened to the West Side Community Center?"
- January 23, 2015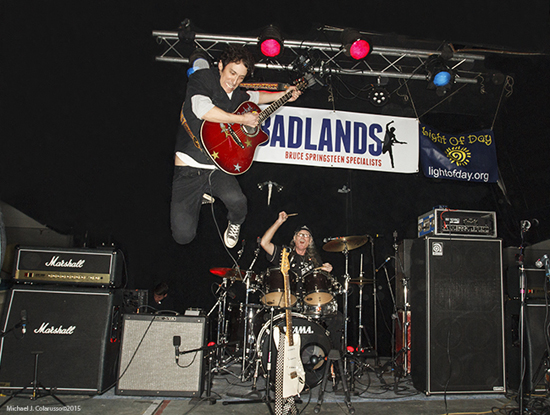 HAPPY BIRTHDAY, MAD DOG!
A week ago, original E Street drummer Vini Lopez was backing Mike Rocket at Asbury Lanes for Light of Day [above]... today, the Rock and Roll Hall of Famer celebrates 66 years on the planet. Have a great birthday, Vini, don't do anything we wouldn't do.
- January 22, 2015 - photograph by Michael Colarusso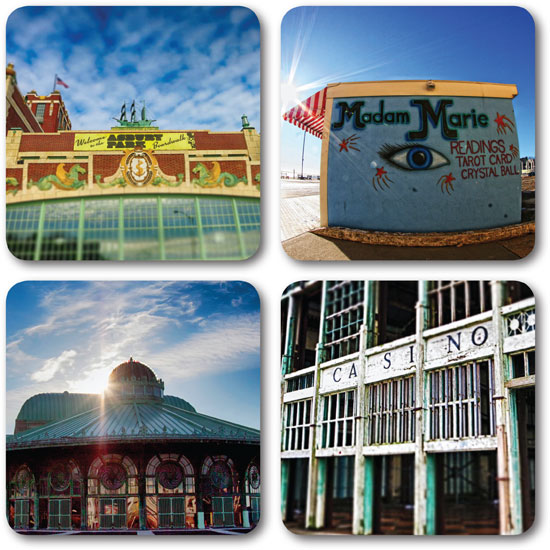 BONUS BACKSTREETS COASTERS: NOT JUST FOR REMASTERS ANYMORE
For The Album Collection Vol. 1 remasters box, we produced these exclusive Greetings From Asbury Park coasters to include as a bonus from Backstreet Records. With beautiful photography by Mark Krajnak, they were highlighted on the PsPrint blog for "Imaginative Printing" and proved popular enough that we had to order up a second batch to get everyone taken care of.
With the rush on the box set behind us, however, that leaves us with a stack of these coaster sets on the shelf, and we don't want them to languish there... a few people have asked us how to get the coasters, if they already have the box set...
So while they last, get this pack of four Backstreets coasters FREE with any order over $75. No coupon required; we'll automatically include the set with every qualifying order, while they last. See fronts and backs below, and start shopping!


THIS IS ARCADE RADIO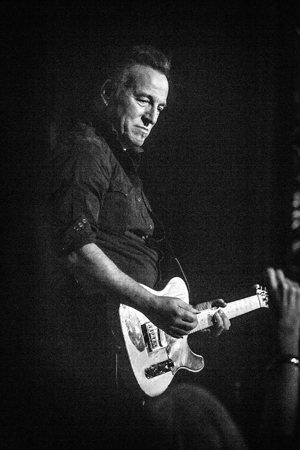 We are happy to introduce Asbury Park's Arcade-Radio.com, the one-stop source for music happenings in Asbury Park. While many music fans visiting the Asbury area come for the history — and a storied history it is — Arcade-Radio.com is focused squarely on the here and now, for those who love music and want to know the latest happenings in the Jewel of the Jersey Shore.
Co-helmed by our pal and longtime Backstreets contributor Tim Donnelly, Arcade Radio was all over Light of Day WinterFest 2015, and their photographer Chris Spiegel delivers the visual goods from the week as well [at right, Springsten on Saturday night].
An Asbury Park resident and dogged crusader for the local arts and music scene, Donnelly says, "Right now we are swirling towards another renaissance. The music and the art being produced here is gaining a healthy momentum. It is drawing attention from the metropolitan voids and the international aristocracy who don't often focus on obscure coastal villages. It is something to celebrate.
"We like celebrations. We love music and art. We, very simply, want to be a vehicle to facilitate, and document, and inform everyone here, there and everywhere about what we have the good fortune to be a part of."
Look to Arcade-Radio.com for show calendars and previews, crowd-sourced videos, and playlists consisting of who is playing in Asbury Park this week. You'll find interviews there as well, like Tim's talk with Jake Clemons conducted at a Stone Pony show in late 2014.
"This site is going to be a utility that does all of that," says Donnely. "We will let you know what is going on all over town from Main Street to the Boardwalk, every night of the week, covering musicians from out of town coming through, and the people who make Asbury Park, Asbury Park."
In addition to the website and its online store, you can also visit the brick-and-mortar Arcade Radio shop, in the Grand Arcade of Asbury Park Convention Hall at 1300 Ocean Avenue, for merch and music from local bands.
- January 21, 2015 - photograph by Chris Spiegel

ROCK SPRINGS ETERNAL: RICHARD FORD ON BRUCE SPRINGSTEEN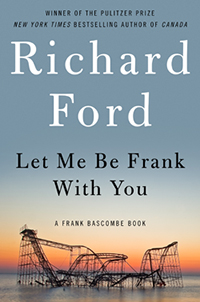 Bruce Springsteen has sung the praises of great American novelist Richard Ford, most recently in the New York Times, where he named the writer a "current favorite" and cited Ford's Frank Bascombe books: "I love the way Richard Ford writes about New Jersey. The Sportswriter, Independence Day and The Lay of the Land are all set on my stomping grounds and, besides being poignant and hilarious, nail the Jersey Shore perfectly."
It's fun to see Ford — already known to be a Springsteen fan, even if the name of his Pulitzer and PEN/Faulkner award-winning Independence Day were any kind of coincidence — return the hat-tip, with a new piece in the Wall Street Journal on "Wild Billy's Circus Story." Ford tells Marc Meyers that the Springsteen song "captures the louche danger and sweet longing of the carnival better than anything I know," and he goes on to describe his Springsteen awakening. He also says flat-out: "Springsteen's New Jersey songbook was instrumental to my believing that the Garden State was a fit subject and setting for what became my Frank Bascombe novels."
Read: "Richard Ford on Bruce Springsteen's 'Wild Billy's Circus Story"
Of course, Ford was careful as to how he let that inspiration play out in his craft. In a 1997 interview with Elinor Ann Walker, the novelist spoke of his resistance to using Springsteen references or lyrics in his writing "because I know I'd have a hard time overcoming their particular authority. If I struck a Springsteen lyric into a line of mine or a scene in the story, I'd be afraid that... the lyric would just suck all of my particular authority out of the scene and into a Bruce Springsteen ethos, and that would be it for me. In fact, there's a scene in The Sportswriter that takes place pretty close to the Jersey shore in which Frank [Bascombe] is in a phone booth, where he actually gets hit by a car, and a girl comes over from the root beer stand. A carhop. And when I got her over to where he was, I write that she was wearing a sweatshirt, and I really wanted to put some catchy Springsteen lyric on it, or else put 'Springsteen Tour 1985' or something like that. But I thought, no, no, no, you keep that out of there, because it'll just gobble up your scene, in addition to making me look like I was poaching, which I probably was."
In 1985, Ford wrote an article for Esquire titled "The Boss Observed"; you can read some of it online at Dwight Garner's ArtsBeat blog. Listening to Springsteen 30 years ago, Ford described being "moved to think that this is rock 'n' roll of a somewhat higher order than I've known up to now."
For further reading, Bruce Springsteen, Cultural Studies, and the Runaway American Dream contains David N. Gellman's essay '''Darkness on the Edge of Town': Springsteen, Richard Ford, and the American Dream."
- January 21, 2015


WILLIE NILE: ONE GUITAR, ONE PIANO
Dig Bruce Springsteen and Willie Nile at Light of Day on Saturday, performing Nile's "One Guitar" (and find more incredible hi-def fan video from the second row here). If you're not too familiar with Nile, we highly recommend checking out this singer-songwriter Little Steven has called "so good I can't believe he's not from New Jersey." The studio version of "One Guitar" can be found on his 2010 album The Innocent Ones, with a re-recording ("One Guitar v2.0") on a digital special edition of 2013's American Ride.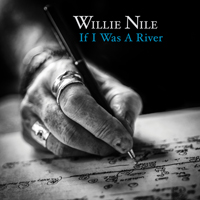 Willie's new record, If I Was a River, came out in November and was recently on an Associated Press list of "top-notch albums you may have overlooked in 2014." It's a departure for Nile, a piano record — recorded on a Steinway Grand that was at the Record Plant in Manhattan for years, which you can hear Willie talking about here. "All the great people who recorded at the Record Plant: Bruce Springsteen, Randy Newman played it, Elton John, David Bowie, John Lennon played it as well. It has a very rich, deep tone. So I made this piano album that I'd been hoping to make for years, and it just so happened that this piano... happened to be in the studio where I was to make this album. The irony for me is that it's the same piano I played 34 years ago at the Record Plant the night John Lennon was killed. He was in Studio C and I was in Studio A." You can watch the video for the title track on YouTube, and purchase the new CD from Nile's online store.
- January 20, 2015


BRUCE BACK AGAIN FOR LIGHT OF DAY 15
Springsteen plays with Willie Nile, LaBamba, Southside, Grushecky & more
On paper, the main event show of Light of Day 15 at Asbury Park's Paramount Theatre was mostly a modest, local affair amongst friends, with longtime Jersey Shore artists like John Eddie, Billy Hector, Vini Lopez, Paul Whistler and Gary U.S. Bonds scattered throughout the bill. Even the main attraction, La Bamba's Big Band, was for many years an Asbury Park mainstay. But savvy followers of the Shore scene probably sensed that this was precisely the recipe for something extraordinary. With the Big Band — including former Jukes Richie "La Bamba" Rosenberg, Mark Pender, Bobby Bandiera and Eddie Manion — fronted by none other than Southside Johnny Lyon, the stage was set for an Asbury Park family reunion, and the boys did not disappoint. There amongst some of his oldest friends, Bruce Springsteen threw caution to the wind and delivered a good old-fashioned jam filled with covers and rarities and nostalgic looks into the past, flubs and wisecracks and laughter and, of all things, James Brown references.
With doors at 6 p.m., it was a long evening of entertainment, and most fans trickled in throughout the early part of the festivities. But latecomers missed some real gems — the edgy Delta blues of the remarkable Guy Davis, and the heartfelt performance of John Eddie, whose self-deprecating style belies a catalog of material that has only in the last decade garnered him the kind of national attention he has richly deserved all these years. They may have also missed a mini-reunion of Highway 9, the power pop band that ruled the scene in the early '90s, or the hard-edged street sound of veteran Garland Jeffreys, who paid tribute to his old friend Lou Reed with a set-closing "I'm Waiting for the Man."
Perennial Light of Day favorite Willie Nile can always be relied upon to get audiences going, and his brief, energetic set, including Jim Carroll's "People Who Died" and a dedication of his own "The Innocent Ones" to the victims of last week's terror attacks in France, proved a spirited call to arms. The anthemic "One Guitar" drew a not-so-surprise appearance by Bruce, who, dressed smartly in black jeans and fitted shirt, wandered on from stage left to contribute guitar and backing vocals.
Old friends Vini Lopez and Paul Whistler (who was a Shore mainstay in the 1970's with bands like The Wheels) followed up with their new project Dawg Whistle, a two-piece blues outfit whose all-original material is laced with sly references to their own shared past in an Asbury Park of yesteryear, including the playful "Three Steps Forward, Two Steps Back."
And then it was time for the frenzied energy of Richie La Bamba and his infamous Big Band. Rosenberg and partner in crime Mark "The Loveman" Pender, notorious both for their stellar musical chops and high-energy hijinks as part of the Jukes horns, had both in full effect in a spirited set that was the highlight of the evening and gift to longtime fans.
The set opened with the usual music vamping by La Bamba and band — often billed as the 18 Pieces of Soul — with Mark Pender blasting out an extended trumpet lead, including a trademark move in which he holds a high note for what seems like an eternity, to which Richie responds in mock astonishment. And then out walked Southside Johnny to perform the Springsteen/Van Zandt tune "When You Dance," a tune that got left off the Jukes' I Don't Wanna Go Home way back when but later appeared on a "best of" CD. The Big Band's jump blues focus is right in the SSJ wheelhouse, and he was truly in his element, wailing on harp and bouncing around the stage in excitement.
And then came the unmistakable backbeat of the Gary U.S. Bonds 1960 hit "New Orleans." All eyes turned stage left, but Southside stayed at the center mic to sing lead vocals — which seemed unusual, Bonds being a billed performer for this set, but then not so much, as the mercurial Lyon habitually throws vintage, seemingly random covers into his sets on a nightly basis. This is a performer known for pulling audience leg on occasion, and there was no explanation of Bonds' absence. This was followed by "It Ain't the Meat (It's the Motion)" from the Jukes' debut album, which included a brief, animated display of Southside/La Bamba ballroom dance moves (SSJ leading, of course) and concluded with Lyon motioning to the horn section to sing part of the call-and-response vocals in unison instead of playing their various instruments. "I don't wanna hear any of that horn bullshit," he shouted by way of explanation. It was hilarious, a total Southside moment.
After the "surprise" of Bonds' failure to appear on what was his signature song, it was no great surprise when Bruce Springsteen returned to the stage to front the Big Band. After all, it was he who unofficially helped christen Rosenberg with his nickname back in the day. But there was a slight problem: Southside finally informed the audience that Gary U.S. Bonds had phoned in sick for the evening. But it was clear that the band had been rehearsing some of his material, and there had been no time to change up the setlist too much with so many moving parts. The result was a Springsteen performance that was for many a dream come true, as covers and rarities that older fans thought they would never live to see ensued.
First came "The Letter" performed a la Joe Cocker (Southside on lead vocals, Bruce on guitar) and then, after a few moments of discussion with Mr. Lyon, the jaw-dropper of the night: Bruce Springsteen performing "This Little Girl," the hit single he had written for Bonds nearly 35 years earlier but had never performed solo.
"I wrote it, but I don't know if I remember it," said Bruce, strumming his guitar tauntingly. But no worries: it was more or less note-perfect, a moment of pure pop joy that can seem all too rare in Springsteen's meticulously executed performances. Fans had barely time to catch their breath when the backbeat morphed into Jackie Wilson's "(Your Love Has Lifted Me) Higher and Higher," a tune occasionally covered by Bruce and the E Streeters but never with the Big Band horns. There were some issues — too many horn breaks, a key change that didn't quite jell — but no one seemed to mind. "Well, that died," said Bruce, smiling. And then, perhaps mixing his metaphors, he cracked, "No one follows James Brown. No one."
"It took two of us to completely fuck that up, two of us!" Bruce continued, to which Southside responded, "Yeah, and between the two of us, neither one of us is Jackie Wilson."
What could follow that priceless exchange but the Van Zandt classic "I Don't Want to Go Home," the two old friends trading vocals as the horns wailed behind them. "Yeah, the two of us used to sit and watch movies in this place," said Bruce after the song concluded. "Who knew?"
The traditional Springsteen/Houserockers set was now to follow, but it would prove difficult to match the pure magic of what had just transpired. First up was a solo Bruce on acoustic, and another relative rarity: the Born in the U.S.A.-era B-side "Janey Don't You Lose Heart," which was given a tender, romantic reading on the darkened stage, a lone spotlight shining above. This was followed by Grushecky & Co. (augmented by Eddie Manion on tenor saxophone) on the always-intense "Adam Raised a Cain." The presence of the Kingfish onstage must have been too tempting to not take advantage of, however, as Bruce began to pace back and forth across the front of the stage in full preacher mode: "How much love do you have in your [bank] account?" he shouted, repeating the exhortation several times for effect. "How much LOVE?"
And with that, the band kicked into the rarely-performed "Savin' Up," a Springsteen-penned tune performed by soul man J.T. Bowen on C.C. & the Red Bank Rockers' Rescue album but only a handful of times by Bruce himself. It was a raucous, loose performance, punctuated with impromptu bits including Bruce, James Brown still on his mind, exhorting the band to "take it to the bridge." And then another singularity, the Chuck Berry homage "From Small Things (Big Things One Day Come)." Always a fan favorite, it's a song that mostly shows up in club jams; tonight it was another gift to longtime fans but seemed to be unrecognized by a fair number of those in attendance. This was followed by a Springsteen/Grushecky duet on "Never Be Enough Time."
Things then slowed down as Bruce donned his harp and began the opening riff of "Racing in the Street '78", aptly supported by the Houserockers but somewhat missing the signature Roy Bittan keyboard part. Photographer and friend Danny Clinch then stepped on to contribute his own harp licks on Grushecky's "Pumping Iron," which was followed by a somewhat hoarse "Darkness on the Edge of Town."
And then Joe turned to address Bruce. "Fifteen years, we been doing this," he said. "Fifteen years. We were just whippersnappers then." The self-deprecating "Still Look Good (For Sixty)" ensued, the two good-naturedly trading wisecrack lines about wrinkles and unwanted hair. This was followed by "Frankie Fell in Love," a newish song world-premiered at last year's Light of Day main event. This was succeeded by another fan favorite and another rare performance: "Hearts of Stone," also premiered (by Bruce, anyway) at last year's event. By this time, it was late and everyone was tired, so it sounded just a bit off, but no one seemed to mind.
And then, as the trademark glockenspiel riff echoed behind him, Bruce introduced "Save My Love" (yet another rarity that seems to mostly show up at this type of show) by talking about its origin. "I wrote this for the Darkness record, but it would've fit really well on Born to Run." He recalled the heyday of Top 40 radio, a time that when you were listening to a song, everyone else was hearing it too. "It was 1975, and I was on a road trip upstate somewhere, a little college in Rhode Island, and I was standing on a corner and a car pulled up. They rolled the window down, and 'Spirit in the Night' was playing on the radio." It was a powerful moment for him, he said, "a feeling I've never forgotten. It seemed like affirmation" of everything he had been working for until that point.
This now-rare moment of personal reflection harkened back to Bruce's glory days with the E Street Band, when it seemed almost every song came with a story attached. And the night could have ended right there, but there was more yet to come, including Grushecky's "Talking to the King," after which Joe went over to speak to Bruce. "Oh yeah," Bruce smiled. "I almost forgot. Are any of those guys still here, Willie, John Eddie? Come on out." The two wandered on obligingly and planted themselves stage left to sing backing vocals as the piano intro to "Because the Night" began echoing throughout the building. Finally, here was one the audience could — and did — sing along with. And, house lights up, the sing-along portion of the program continued, as various Light of Day performers assembled on the stage for the de rigueur group performance of the event's theme song.
"Yeah, La Bamba," said Bruce afterward. He still seemed surprised and pleased at how that impromptu portion of the night had gone, at the reunion of old friends many of whom had last shared the stage at the Jukes' live performance of Little Steven's Men Without Women several years back. "I just saw him face down in the alley a half hour ago. How'd he get here?" he cracked, adjusting the acoustic guitar handed to him by longtime tech Kevin Buell.
"Thunder Road," now seemingly reinvented as an audience tribute/sing-along, followed, after which event founder Bob Benjamin, who had been standing amongst the large crowd now onstage, was brought to the mic. After some words from Bruce about the history of Light of Day and the inspiration that Benjamin has been to him all these years and a response in kind from Bob, many thought the long night of surprises was finally done. But it seemed that only one more song could end this unique event. "Let's do one more," he shouted to the masses onstage; it was a sing-along of "The Promised Land" that would finally conclude the marathon evening.
And so a night that had looked fairly conventional at face value instead became a night of rarities, a loose, fun-filled evening of old friends and shared history that pushed Bruce Springsteen out of his comfort zone and into one of the most spirited performances in recent memory.
- Lisa Iannucci reporting
For Springsteen's full setlist from this and other recent performances,
see our Setlists page
- January 18, 2015 - Lisa Iannucci reporting - photographs by A.M. Saddler

2015 ASBURY ANGELS INDUCTEES CELEBRATED AT LIGHT OF DAY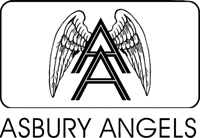 There was a packed house at the Stone Pony last night for the announcement of the 2015 crop of Asbury Angels during a special Light of Day event. This year's group of honorees includes a pair of frontmen — Walter Cichon of the Motifs and John Oeser of Cahoots — and the visionaries behind The Wonder Bar and the original Mrs. Jay's (now the Stone Pony).
Here's the complete list of the Class of 2015: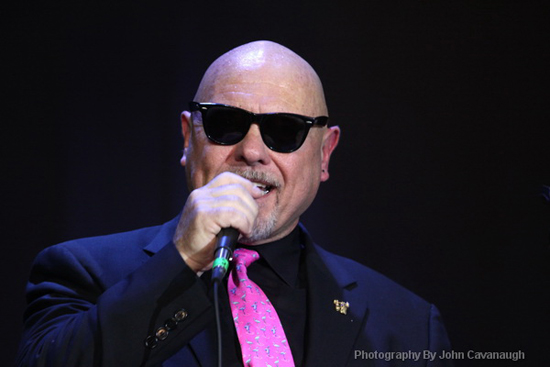 John Oeser [above] – Lead singer and percussionist, Cahoots, Timepiece, Boccigalupe & the Bad Boys
Ahna Loehr Tesche Parker Reimers – Keyboard prodigy and member of The Stardusters, featured band in the Anchor Room at Asbury Park's Lake Park Hotel. Built the Wonder Bar.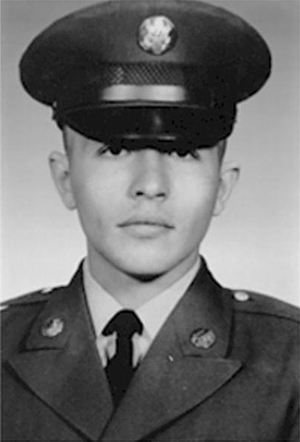 Walter Cichon [right] – Lead singer of the Motifs, described by Bruce Springsteen as "the first person I ever stood in the presence of who was filled with the mystique of the true rock star."
Vivian Eley – Singer, dancer and Broadway star
Sammy Pugh – Blind classically trained pianist who was a fixture on the Springwood Avenue club scene
John & Ida Jacobs and Jeanette Jacob Weiner – Creators/operators of Mrs. Jay's Restaurant and Beer Garden
Joe "Bop" Tomek – Drummer with Mushroom and several other bands Asbury Park-based bands.
Guardian Angel
Walter Reade Sr. – Theater mogul/developer of the St. James and Paramount Theatres
- January 17, 2015 - Lisa Iannucci reporting - Oeser photography by John Cavanaugh - Cichon photograph courtesy of VVMF.org


AFTER 34 YEARS, MEADOWLANDS ARENA IN ITS LAST DAYS
Whatever name you know it by, the Izod Center means something to you if you're a Bruce Springsteen fan. Built for the New Jersey Nets National Basketball Association franchise in 1981, the arena also became the home of the National Hockey League's New Jersey Devils a year later when they moved from Colorado. But over the years the arena became synonymous with something else entirely: it was the site of more Bruce Springsteen concerts than any other venue. The arena had not fared well in recent years, however, as newer facilities were built in the area. A 2005 USA Today poll saw it voted the worst arena in the NBA. The Devils played their last game at the arena in 2007, and the Nets final game there was in 2010. The building has seen little activity in recent years and has been operating at a loss; following a vote by the New Jersey Sports and Exposition Authority yesterday, the news came that the arena will be closed down by the end of the month.
When it first opened its doors on July 2, 1981, the new venue in East Rutherford, New Jersey was known as the Brendan Byrne Arena. (New Jersey's outgoing governor apparently saw no problem with naming the building after himself.) The arena became commonly known as the Meadowlands Arena even though the name was not officially changed until Continental Airlines purchased the naming rights in 1996. Tickets for the 1981 Springsteen shows that opened the arena listed the venue as the Byrne Meadowlands Arena; by the time Bruce returned in 1984 the tickets simply read Meadowlands Arena. The name was changed again in 2007 to the Izod Center.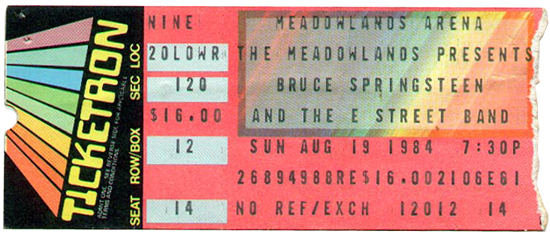 The six shows that served as the arena's grand opening in 1981 were followed by ten in 1984, 11 in 1992, a benefit show to fight hunger in 1993, 15 in 1999, a single show and a public rehearsal show in 2002, the Vote For Change concert in 2004, and three shows each in 2005 and 2007. With the name changed to the Izod Center, Bruce was there twice in 2009 and twice again in 2012. He played a total of 56 concerts in the building under its various names — 28 at the Brendan Byrne (Meadowlands) Arena, 24 at the Continental Airlines Arena, and four at the Izod Center during the building's nearly 34 year history. Additionally, Springsteen appeared as a surprise guest at the Holiday Express Christmas concert there in 2001. (Neighboring Giants Stadium has also figured into Bruce's plans over the years with 24 shows. After the stadium was demolished in 2010, Bruce returned in 2012 for three shows in the new MetLife Stadium.)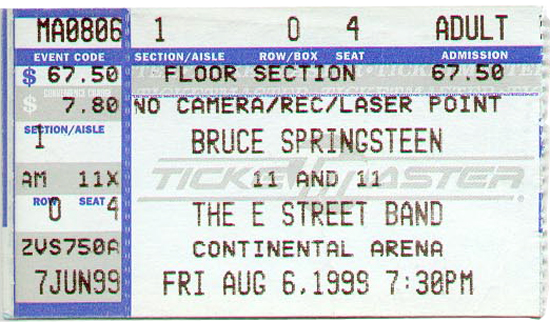 Fans from all over the world to made the pilgrimage to the Meadowlands to see Bruce at what became known as his home arena. It was not unusual to see the flags of many nations flying in the parking lot before a Bruce Springsteen concert in East Rutherford, New Jersey. Under its three (or four) names the venerable arena was the site of some of the most memorable live performances of Bruce Springsteen's career. Whether you lived nearby and headed there after work, or flew halfway around the world to get there, the Meadowlands was the place to experience a Bruce Springsteen concert.

- January 16, 2015 - Robert Bader reporting

GRAMMY WATCH: MIGHTY MAX ON A RECORD IN THE RUNNING
While all eyes are on Asbury Park this weekend, no matter what goes down at the Paramount Theater we're just a few weeks out from Bruce Springsteen's next scheduled performance. Three weeks from tonight, he'll be honoring Bob Dylan at the MusiCares Person of the Year concert that is part of Grammy weekend.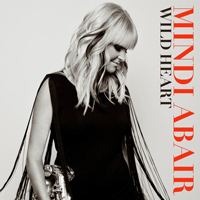 No Grammy nominations for Springsteen himself this year, but there is an E Street horse in the race: Max Weinberg drummed on saxophonist Mindi Abair's Wild Heart, nominated for Best Contemporary Instrumental Album. Max and Mindi have played together numerous times, and in 2011 they even backed Springsteen together on "Spirit in the Night" at Stand Up for Heroes [video here]. "Max means every note he plays," says Abair. "Playing Clarence Clemons' parts with him and Bruce made me delve deeper inside myself — just go for broke and let everything out. I wanted that abandon for my record."
Listen to "The Shakedown" here, Mindi and Max's collaboration on Wild Heart.
"I didn't want to be John Coltrane when I was a kid, I wanted to be Clarence Clemons," Abair said in an interview with Life + Times. She also told the Jazz Times, "If given the chance to bring Charlie Parker back from the dead and play with him or to play with Bruce Springsteen, I'm probably the 1 percent of sax players who would say Bruce. But that's what makes the world go 'round."
- January 16, 2015

LIGHT OF DAY: FRIDAY ON MY MIND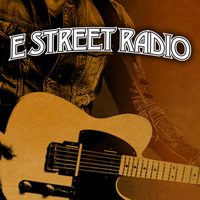 Backstreets is happy to report that our friend and longtime SiriusXM Radio DJ Jim Rotolo will be participating in this year's Light of Day festivities in Asbury Park. On Friday night, Jim will be taking his popular The Wild and the Innocent all-request show to the Stone Pony as part of the evening's Asbury Angels induction festivities.
"I'm thrilled to be broadcasting my show and hosting the Light of Day Winterfest 2015 Asbury Angels event," says Rotolo, who will be presenting his friends Ten Ton Mojo as part of the evening's lineup.
The Wild and the Innocent will be broadcast live at its usual 6 p.m. time slot. Tickets are still available via Ticketmaster; if you can't make it down, tune in to E Street Radio at SiriusXM Channel 20.
- January 14, 2015 - Lisa Iannucci reporting



HONK IF YOU THINK MIXING TANQUERAY AND WINE IS A BAD IDEA
New bumpersticker just in. More stickers here.
- January 13, 2015


JAKE READS CLARENCE FOR NEW BIG MAN AUDIOBOOK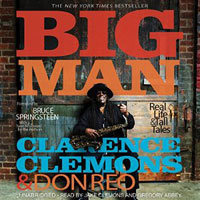 In the afterglow of New Jersey's second annual official Clarence Clemons Day this past weekend (on what would have been Clarence's 73rd birthday,) photographer Michael Zorn shares with us this beautiful, previously unpublished photo of the Big Man. See Instagram for the story behind the shot. And released just in time for Clarence Clemons Day is Big Man: Real Life & Tall Tales, the Audible.com unabridged audiobook edition. Jake Clemons reads all of his uncle's parts (on both the white and the gray pages) while actor Gregory Abbey reads Don Reo's contributions and Bruce Springsteen's foreword. No definitive word yet on whether a CD version will be available, but a digital download can be purchased right now by clicking here, where you also can hear a sample of Jake's and Gregory's readings.
- January 12, 2015 - Shawn Poole reporting - photograph by Michael Zorn

GREETINGS FROM ASBURY PARK: LIGHT OF DAY 2015 PREVIEW
With its ever-growing list of venues and performers and extended concert schedule, and benefit concerts in Canada and Europe to boot, Light of Day continues to attract concertgoers from near and far year after year. But Asbury Park once again becomes the focus beginning this Sunday at the Stone Pony as Light of Day Winterfest 2015 will kick off with a second annual "Cover Me" event highlighting New Jersey's bar band tradition. Featuring a reunion of former Stone Pony house band Cats on a Smooth Surface, the event will assemble many familiar faces, including Glen Burtnik and Bobby Bandiera as well as founding members Harry Filkin and Joel Krauss — with his daughter Alexis (of Sleigh Bells) sitting in.
Other highlights of Light of Day week at the Jersey Shore include the return of Asbury Underground, which features acoustic pop-up sets by 36 musicians at various venues in downtown Asbury Park on Saturday January 17. Billed as a "Downtown Art and Music Crawl," the popular event winds its way through 15 art galleries, coffee shops, and retail stores, with attendees following along at their leisure using maps or the Asbury Underground app.
Also of interest is a free Thursday evening set by Pat DiNizio of the Smithereens at Asbury Yacht Club on the Asbury Park boardwalk. DiNizio has just completed a residency at nearby Langosta Lounge as part of his Confessions of a Rock Star project. And Friday evening the 16th brings the annual Asbury Angels event at the Stone Pony, with a lineup including Steve Conte NYC, Bruce Tunkel, The Weeklings featuring Glen Burtnik and the ever-popular James Maddock, with Boccigalupe and the Bad Boys rounding out the night.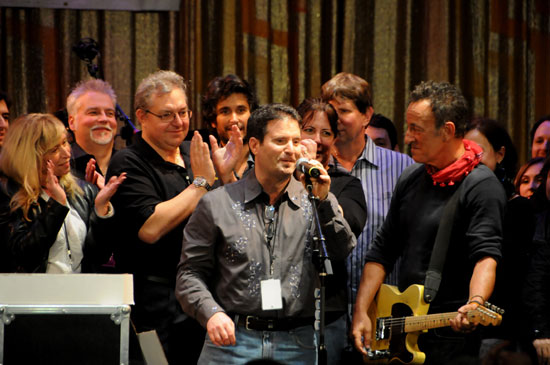 Of course, the highlight of the week for everyone is the perennially sold out Main Event show at the Paramount Theater on Saturday night, the 17th [above, LOD founder Bob Benjamin takes the mic at last year's big Saturday night show]. This year's lineup is a treat for Asbury Jukes fans, as longtime trombonist Richie "La Bamba" Rosenberg brings his legendary Big Band back to Asbury Park with his former bandleader and cohort Southside Johnny joining the festivities. Also on the bill along with headliner Joe Grushecky & the Houserockers are returning favorites like John Eddie and Willie Nile, along with Vini Lopez and Paul Whistler's new band Dawg Whistle and former BoDean Sam Llanas.
The Winterfest concludes on Sunday January 18 with a series of acoustic shows at various boardwalk venues — always an excellent opportunity to wind down after a hectic week of shows — and a "Last Note" show at The Saint feauring local favorite Quincy Mumford. Tickets are still available for most events — visit the Light of Day events page for details.
- January 8, 2015 - Lisa Iannucci reporting - photograph by Terry Camp

FIRST ANNUAL LINCOLN AWARD EVENT HONORS SPRINGSTEEN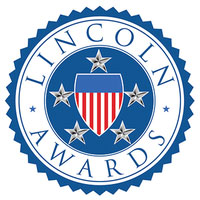 The Lincoln Awards: A Concert for Veterans & the Military Family was held last night at the Kennedy Center in Washington, DC. This will be an annual event to honor service to our military veterans, with awards given each year in ten categories: Veteran, Citizen, Public Service, Medical & Science, Caregiver, Entertainer, Artistic, Standard Bearer, Non-Profit Citizen and Corporate Citizen. In this first year, Bruce Springsteen received the Lincoln Award for Entertainer. Last night the concert itself showcased the honorees and was interspersed with music and comedy performances; Bruce did not attend, though there was a bit of an E Street presence as Ms. Cindy Mizelle was part of the house band.
Brian Williams, Springsteen's good friend and fellow New Jerseyan, was MC for the night and introduced Bruce's tribute (with the usual chorus of Brooocing from the crowd). Williams said that they were holding out hope until the last minute that the man himself would be able to attend, but no such luck; he said that Bruce expressed his thanks and sent congratulations to his fellow honorees. Brian went on to talk about Bruce's contributions to the military community, speaking of his music as resonating across generations of those serving in the military. They went on to play a photo/video montage depicting Springsteen's involvement with veterans and their families, including a short video clip of his homage to the servicemen and women at Stand Up For Heroes. Below is the text from the program; much of this was used as well in the video tribute. All in all, another significant honor for Bruce to add to his collection.
Entertainer: Recognizing outstanding achievement and excellence in supporting and giving back to veterans as a performer
Rock star Bruce Springsteen has been a strong supporter of veterans for several decades, having dedicated many of his tracks and live performances to Vietnam Veterans of America (VVA). His work with VVA began in his early years, when the organization was struggling to gain financial support. In the summer of 1981 Mr. Springsteen dedicated all of the proceeds of one of his sold-out concerts to the organization and its work, and he has continued to show this support throughout his life and his music. His commitment to veterans has been expressed in themes that run through his extensive body of work, with songs like "Long Walk Home," "Lost in the Flood," "Devils & Dust" and "The Wall" inspiring and touching the lives of millions of military families. He has also performed benefit shows devoted to Veterans, including the 2014 Concert for Valor on the National Mall, raising money for, and spreading awareness of, our wounded servicemen all over the United States. It's rumored that when Bob Woodruff woke up from a coma after 36 days, he asked his wife, Lee, when the "guitar man" would come to see him. Apparently Lee, cajoling her comatose husband, had said Bruce Springsteen was coming to visit. Through their friends, this story got back to Mr. Springsteen, and he has been both an inspiration and crucial part of the Bob Woodruff Foundation since it was founded eight years ago. Mr. Springsteen has donated his time, resources, and talents to the Foundation's Stand Up For Heroes event and also supports the Foundation's other work with post-9/11 injured veterans and their families.
- January 8, 2015

SPRINGSTEEN TO PLAY MUSICARES CONCERT HONORING DYLAN, FEB 6
Bruce Springsteen has some history with the MusiCares concert that's part of Grammy Week: he performed at the event to honor James Taylor in 2006, and in 2013 Bruce himself was feted as MusiCares Person of the Year. This year's honoree is Bob Dylan, and the Recording Academy has announced that Springsteen will also perform at this 25th annual benefit on February 6 at the L.A. Convention Center. Our best guess: "Like a Rolling Stone" with a cheerleading squad.
- January 7, 2015


BIG SALE THIS WEEK ONLY: 15% OFF ALL BOOKS IN STOCK!
Even if you were good and Santa brought you exactly what you wanted, chances are we've still got something on our Boss bookshelf the old man didn't know about. So here's a deal for you: now through Friday, save 15% off every book in stock at Backstreet Records. Just use the coupon code NEWYEARNEWBOOKS and the discount will be calculated at checkout. And if the book is already on sale, you'll get 15% off the sale price, too. Check out all books here — this week's discount applies to every last one of 'em, songbooks too. Now through Friday. Happy new year!
- January 5, 2015

GREETINGS FROM ASBURY PARK: BIG MAN B'DAY BASH & MORE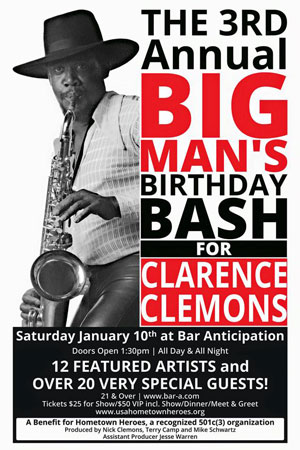 With another holiday season in the books, it's time to look forward to a busy 2015 music calendar at the Jersey Shore. First up is Saturday's Third Annual Big Man's Birthday Bash at Bar Anticipation in Lake Como, NJ. This year's event, which benefits the Hometown Heroes project, will be a daylong celebration hosted by the ever-present Vincent Pastore. The main lineup features Shore stalwarts the Eddie Testa Band, JoBonanno and the Godsons and The Sensational Soul Cruisers assisted by a long list of special guests including Gene Cornish of The Rascals, Vini Lopez, Bobby Bandiera, J.T. Bowen, Norman Seldin, and John Cafferty. Visit the TicketLeap event page for complete lineup and ticket information.
And then there's Light of Day 2015, which runs from Jan. 9-18 at wide variety of venues throughout New York and New Jersey (full preview to come). The main event show at Asbury Park's Paramount Theatre is sold out, but tickets are available for all other events; visit Light of Day website for information.
Finally, Southside Johnny and the Asbury Jukes have just announced a pair of February shows at the Stone Pony. Aside from their annual Fourth of July extravaganza, the Jukes rarely perform at at their old stomping grounds, and last year decided to schedule special theme nights at the Pony as a treat for the fans. This year's model features a showcase of Jukes rarities on night one followed by an evening of Bruce Springsteen material specially selected and arranged by Southside "the way we hear it. Just because." Tickets now onsale via Ticketmaster or at the Stone Pony box office.
- January 5, 2015 - Lisa Iannucci reporting