Tour/Ticket Info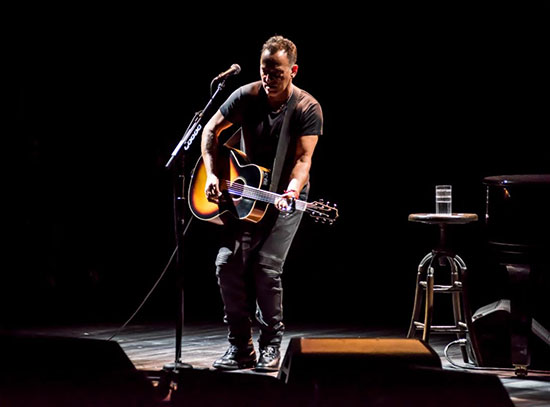 The 2021 return of Springsteen on Broadway, Bruce's latest series of shows, closed at the St. James Theatre on September 4. Photograph by Rob DeMartin
While Bruce Springsteen has publicly expressed his hopes for a 2022 tour with the E Street Band, Springsteen on Broadway closed in September and there are no full Springsteen concerts or tour dates currently announced. See below for other scheduled appearances/performances.
All times are local times unless otherwise stated.
2021
Event/Venue
City
Tickets
Mon, Nov 8
Stand Up for Heroes 15
New York, NY
Sweepstakes - otherwise
sold out
Bruce Springsteen will make his 13th appearance at Stand Up for Heroes, the annual benefit event for our wounded troops that since its inception in 2007 has been part of the New York Comedy Festival. After a virtual event last year, this year's sold-out show will be at Alice Tully Hall at the Lincoln Center for the Performing Arts.

Also on the bill: Nate Bargatze, Jim Gaffigan, Nikki Glaser, Grace Gaustad, Donnell Rawlings, Sing Harlem, and Jon Stewart.

The event will raise awareness and funds for the Bob Woodruff Foundation, whose mission is to find, fund, shape, and accelerate equitable solutions that help the veteran and military community thrive.

An Omaze sweepstakes supporting the Bob Woodruff Foundation will give one winner and a guest a trip to NYC for Stand Up for Heroes, including a backstage meet with Springsteen and an autographed guitar! Closes October 19 — enter now.

Mon, Dec 13
The Town Hall
New York, NY
General: 10/29
The 7th annal John Henry's Friend's Benefit. Springsteen is on the bill for Steve Earle's annual benefit concert. Hosted by City Winery with The Town Hall as the venue, the show will have a solo set from Springsteen along with more music from artists including Rosanne Cash, Willie Nile, and Earle with the Dukes. Some great mix-n-match opportunites. Tickets, pre-sale VIP packages, and other info at citywinery.com
For reports from previous performances,
visit our Setlists page

"All I can tell you is, when this [Covid] experience is over, I am going to throw the wildest party you've ever seen. And you, my friends, are all invited."
— Bruce Springsteen, May 2020
Please note: Backstreets does not sell tickets, and cannot advise as to the best method of obtaining them. We'll provide as much information and links on this page as possible to help inform fans as to what shows go on sale when, and how. Ticket links and times are accurate to the best of our knowlegde, but we strongly encourage you to doublecheck and do your own advance research on that front, to ensure you're going to the right place at the right time for an onsale. If you have any corrected information or better links, please let us know so we can keep this list accurate.
If you don't get lucky when tickets go on sale, or if you have extra tickets that you'd like to get in the hands of other fans (by trade, or for face value), please check out BTX: The Backstreets Ticket Exchange. We established these scalping-free message boards to help fans help each other get in the door. Please read the policies and instructions on BTX carefully and make sure you're posting in the proper forum to help keep things running smoothly, and we hope it helps!

Main News


Tour/Ticket Info
Setlists
Concert Calendar
Save Tillie
Special Collection
Downloads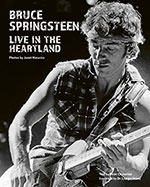 SPRINGSTEEN: LIVE IN THE HEARTLAND
Beautiful coffee table book by photographer Janet Macoska
IN STOCK NOW
with options for signed copies and even an original print — a limited, exclusive photo of Bruce & Clarence, also signed by Macoska.
Backstreet Records is the mailorder division of Backstreets, delivering Springsteen merchandise to fans for more than 25 years. We carry numerous collectibles, tour shirts, books, magazines, and imported CDs and records.
The world's best selection of Springsteen collectibles, all available by mail.
See all the new arrivals in our online shop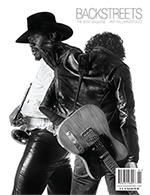 #91 IS HERE!
Our massive new issue honors a very Big Man. More than half of the 116-page, perfect bound Backstreets #91 is a tribute to the life and music of... do we have to say his name?

Full contents list


Subscribe now!


Order a single copy


Back issues
---