Tour/Ticket Info
All dates and links for upcoming Bruce Springsteen performances are listed below as they become official. All times are local times unless indicated. We link to online sales whenever possible; we also recommend following venue links for all ticket sale options.
Please note: Backstreets does not sell tickets, and cannot advise as to the best method of obtaining them. We'll provide as much information and links on this page as possible to help inform fans as to what shows go on sale when, and how. Ticket links and times are accurate to the best of our knowlegde, but we strongly encourage you to doublecheck and do your own advance research on that front, to ensure you're going to the right place at the right time for an onsale. If you have any corrected information or better links, please let us know so we can keep this list accurate.
If you don't get lucky when tickets go on sale, or if you have extra tickets that you'd like to get in the hands of other fans (by trade, or for face value), please check out BTX: The Backstreets Ticket Exchange. We established these scalping-free message boards to help fans help each other get in the door. Please read the policies and instructions on BTX carefully and make sure you're posting in the proper forum to help keep things running smoothly, and we hope it helps!

Main News


Tour/Ticket Info
Setlists
Concert Calendar
Save Tillie
Special Collection
Downloads




PRE-ORDER THE RIVER BOX NOW
Four CDs plus DVDs or Bluray discs, your order of Ties That Bind box set ships with an exclusive postcard pack of River album cover outtakes, only from Backstreets!
Backstreet Records is the mailorder division of Backstreets, delivering Springsteen merchandise to fans for more than 25 years. We carry numerous collectibles, tour shirts, books, magazines, and imported CDs and records.
The world's best selection of Springsteen collectibles, all available by mail.
See all the new arrivals in our online shop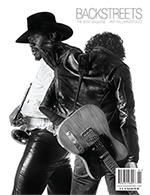 #91 IS HERE!
Our massive new issue honors a very Big Man. More than half of the 116-page, perfect bound Backstreets #91 is a tribute to the life and music of... do we have to say his name?

Full contents list


Subscribe now!


Order a single copy


Back issues
---