---
DEPARTMENTS

---
LETTERS
To the Editors of Backstreets
ON THE BACKSTREETS
Parting Words... from the Big Man. By Christopher Phillips. Read online now.
IN THE NEWS
Things heating up on E Street, so sayeth the Boss. By Gary Graff.
IN MEMORIAM
C is for Cool. Clarence Clemons, 1942-2011. By Glenn Radecki and Caryn Rose.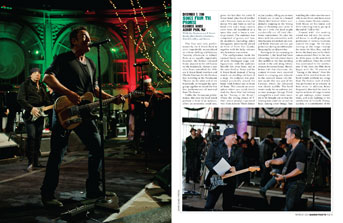 ON STAGE
Merry go round in dreams: Springsteen's off-tour performances include the E Street summit at the Asbury Park Carousel House.
IN REVIEW
Lisa Lowell steps out with Beautiful Behavior. By John J. Kelly.
IN INTERVIEW
Dropkick Murphys' Ken Casey talks "Peg O' My Heart." By David Menconi.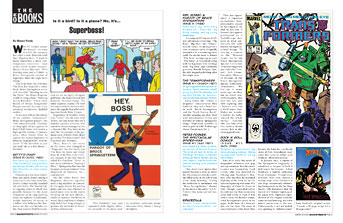 ON THE BOOKS
Superboss! Springsteen in the comics. By Shawn Poole.
GREETINGS FROM ASBURY PARK
What's going on down the Shore. By Lisa Iannucci.
ON THE SIDE
The Jukebox Graduates' middle-school Bruce club, in Granite Falls, NC. By Janie Rickman.
IN REVIEW
The Promise: Darkness in New Light. By Jonathan Pont.
ON DISC
Promises, Promises: releases tied to the Darkness box and beyond. By Peter Schoefboeck.
ON COLLECTING
Tracking the latest sales of Boss rarites. By Eddy Wehbe
UNDERGROUND
Reviews and ratings of "fan-based recordings." By Fred Mills.
BURNING DOWN THE ROAD
Lookin' for that million-dollar sound. By Flynn McLean.
CLASSIFIEDS
Pen pals, messages, and tapes
---
COVER

---
BRUCE SPRINGSTEEN
circa 1977 • New York, NY
Eric Meola Photo
---
OFF THE WALL

---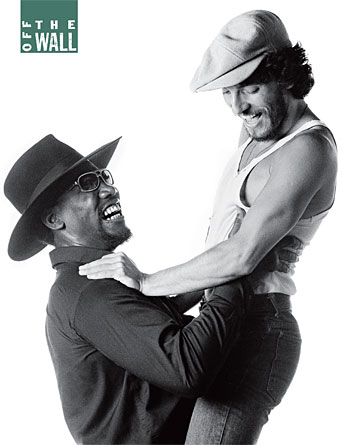 BRUCE SPRINGSTEEN & CLARENCE CLEMONS
June 20, 1975 • New York, NY
Eric Meola Photo