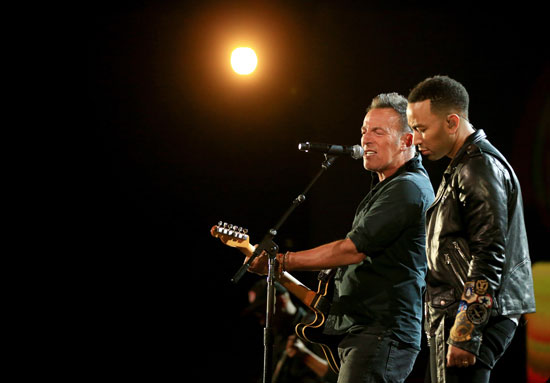 November 18 / Shrine Auditorium / Los Angeles, CA
Notes: Bruce Springsteen has a storied history at the Shrine Auditorium in Los Angeles, topped by the legendary Christic Institute benefit shows 25 years ago along with his first Grammy win in 1985, his biggest-ever, single-night Grammy haul (four statues for "Streets of Philadelphia") in 1995, and even a performance of "Angel Eyes" for Frank Sinatra.
Last night, Springsteen added another chapter to that rich history by joining a cavalcade of musicians and actors at the Shrine to celebrate "hope and humanity" as part of A+E's Shining a Light: A Concert for Progress on Race in America.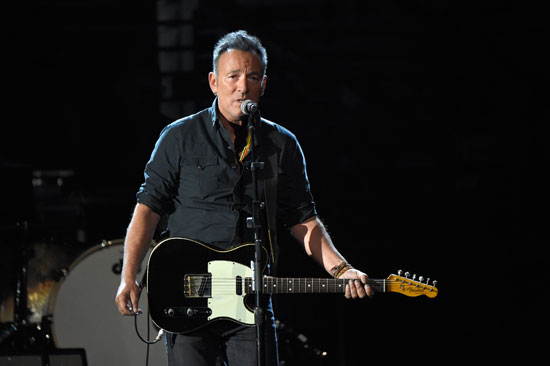 According to concert producer Ken Ehrlich, who addressed the crowd prior to the show, the purpose of the concert was to use the "healing power of music" to encourage a dialogue about race relations in America. With a seemingly ever-present police v. minority narrative in the news, the concert's message was timely and poignant. Springsteen was among a list of musical heavyweights that included Sting, Pharrell Williams, John Legend, Zac Brown Band, Sia and others who lent their talents in hopes of creating a bigger awareness of the race challenges we face as a country.
Performances were intercut with video packages that focused primarily on the tragedies in Charleston, Ferguson, and Baltimore. Williams, Legend and Alicia Keys visited each city respectively to talk with affected citizens and communicate each community's unique, yet common perspective. As Morgan Freeman so eloquently pointed out, the concert intended to bring everyone together to "raise our voices as one, so that we might all be able to better live in our American skin."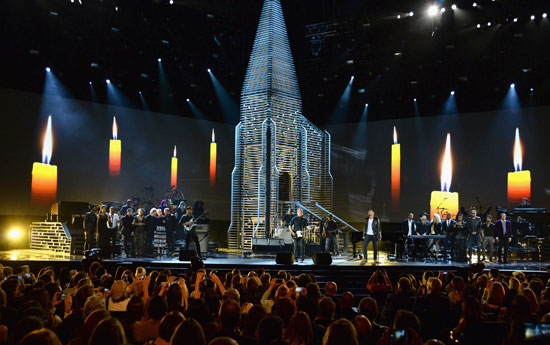 The concert began amid a chorus of "Broooce," which was a bit surprising given the mostly younger demographics in the audience. The familiar notes of "American Skin (41 Shots)" began to fill the building as the lights revealed Springsteen with a guitar, standing against a stylized scenic backdrop that was inspired by the "Mother Emanuel" church in South Carolina, the tragic scene of nine murders earlier this year.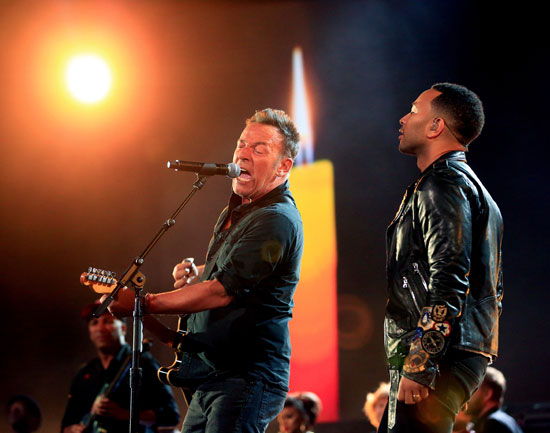 Bathed in a spotlight, Springsteen began singing as tributes to Eric Garner and Freddie Gray played on the giant screens in back of the performers. Midway through the song, the images transitioned to a single, lit candle as John Legend emerged and began trading verses with Springsteen, setting the tone for the inspirational performances of the night. Springsteen was flanked by Tom Morello, E Streeters Max Weinberg and Roy Bittan, as well as the house band headed by Ricky Minor. Though a duet, it was still a familiar modern-day arrangement of the song, Morello infusing a new texture and freshness into the song's guitar solo via his unique and signature sound as he did for High Hopes.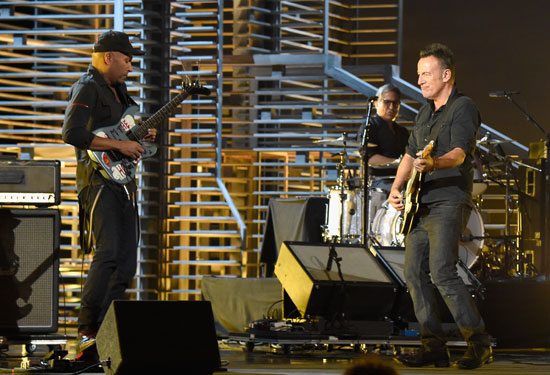 All of the evening's performers came to the stage to join Springsteen and Legend in the final choruses, creating an intense energy that culminated in the appreciative audience giving their first of many standing ovations for the evening. The presence of all the musicians appeared to indicate a finale rather than an opening, however, so until it airs this Friday, it's unclear whether "American Skin" will open or close the broadcast.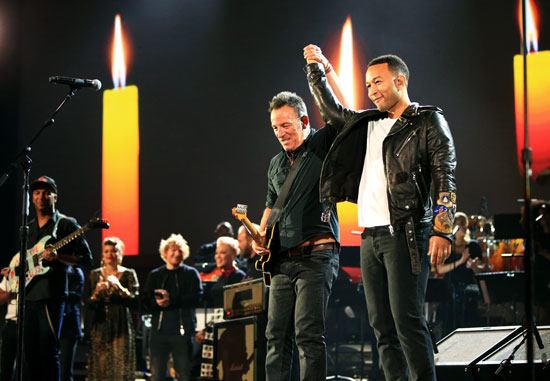 Subsequent to Bruce's performance, Morgan Freeman delivered a powerful speech that name-checked "American Skin" twice and perfectly segued into an evening embodying spiritual uplifting, love, and understanding.
Other strong performances by Zac Brown Band, Sting, and Sia are not to be missed, but without question, the stunner of the night belonged to Jill Scott. Accompanied only by a piano, her powerful and heartbreaking cover of Billie Holiday's "Strange Fruit" was absolutely incredible.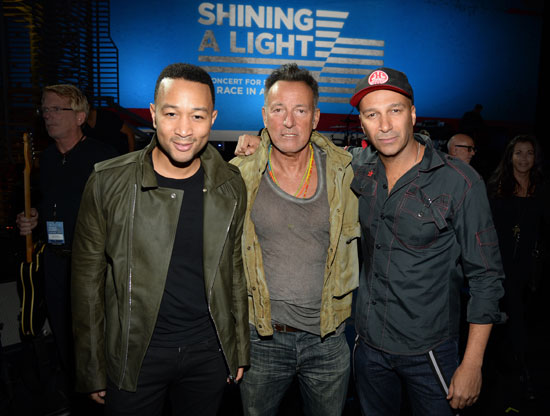 Shining a Light: A Concert for Progress on Race in America airs at 8pm ET/PT on Friday, November 20, 2015, on the A+E Networks portfolio and will also be streaming online and simulcast on hundreds of iHeart radio stations. More information can be found at unitedway.org and aetv.com.
- Neil van Harte reporting - photographs by Getty Images for A+E Networks (Kevin Mazur: 2,3,5,7; Christopher Polk: 1,4,6)
Setlist:
American Skin (41 Shots) [duet with John Legend, featuring Roy Bittan, Tom Morello, and Max Weinberg]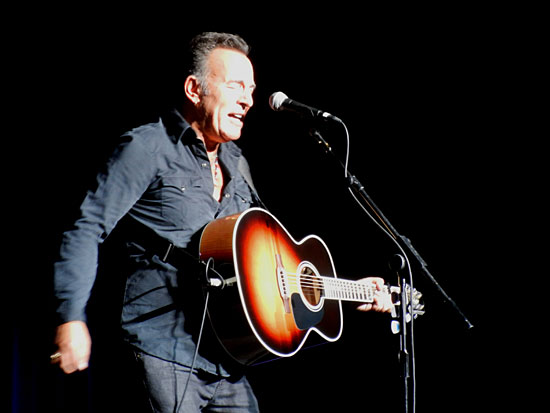 November 10 / The Theater at Madison Square Garden / New York, NY
Notes: For the ninth year in a row, Bruce Springsteen played the Stand Up For Heroes benefit in New York, saluting injured soliders on Veterans Day Eve and supporting the Bob Woodruff Foundation. Following sets from comics Seth Myers, Ray Romano, John Oliver and Jon Stewart, who introduced him, Springsteen played a four-song acoustic set, opening with "For You." Of course, this being a New York Comedy Festival event, Bruce also threw in his own requisite dirty jokes along the way.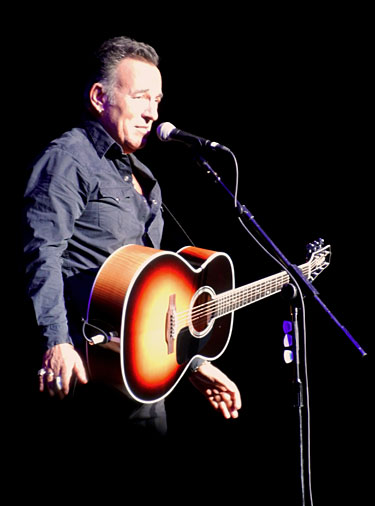 Auctioning off a package consisting of a signed Stratocaster, "the best seats in the house" and a chance to go backstage at a future E Street Band concert — that phrase being good news in and of itself — Bruce eventually threw in his mother Adele's lasagna, bringing in tied winning bids of $370K, raising $740K right there. But "bring your own drugs, because the band doesn't like to share." A Harley Davdison — which Bruce rode out onto the stage — also went for $100K.
The Bob Woodruff Foundation's mission is to ensure injured veterans and their families are thriving long after they return home; they find and fund innovative programs in communities where veterans, their families and caregivers live and work. Learn more and support the cause at bobwoodrufffoundation.org.
- photographs by William Borner
Setlist:
For You
Darlington County [video]
Working on the Highway [video]
Dancing in the Dark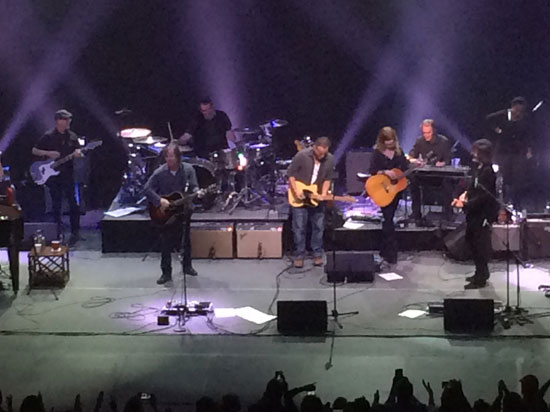 September 22 / Count Basie Theatre / Red Bank, NJ
Bruce Springsteen closed out his 66th year right where he belongs: on stage. After taking in Jackson Browne's concert at Red Bank's Count Basie Theatre from the audience, Springsteen joined him for the last two songs of the night, "Take It Easy" and "Our Lady of the Well." Show-goer Brian Gay tells us, "Bruce sang the second verse on 'Take It Easy,' the choruses and added harmonies throughout. He played some nice leads during a great extended ending which included solos by the other guitarists as well. He looked and sounded great!" Watch their entire performance together below.
- photograph by Brian Gay
Setlist:
Take It Easy
Our Lady of the Well
September 19 / Brush Creek Ranch / Saratoga, WY
The wedding of Allison Williams and Ricky Van Veen on a Wyoming ranch. Tom "Stop Bendin' the Shafts!" Hanks officiated the ceremony, and according to our source in attendance, Springsteen also sang.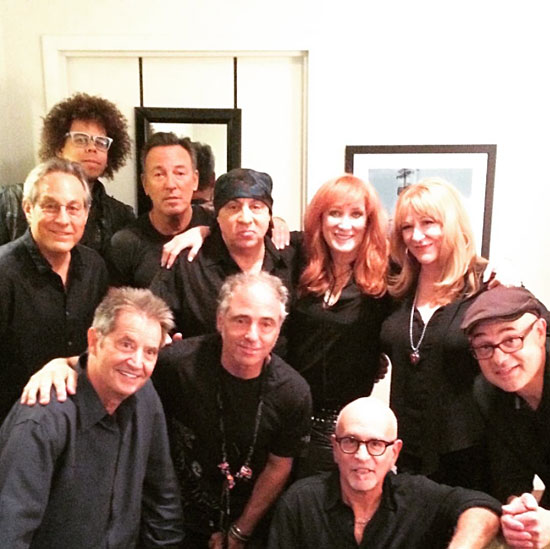 August 6 / Daily Show Studios / New York, NY
Notes: Earlier this year, all Bosswatch eyes were on David Letterman's final show, in case of a repeat of Springsteen's "Glory Days" farewell from NBC in 1993. That one may not have panned out, but it didn't mean Springsteen's late night tellyvision finales were behind him. All eyes this way instead: tonight, Springsteen was on hand — with the entire E Street Band — for a final farewell to his buddy and New Jersey compatriot Jon Stewart's Daily Show. Broadcast on Comedy Central, this was the first full reconvening of the E Street Band since the High Hopes tour's last dance more than a year ago.
After a moving showing from a Who's Who of the show's correspondents from the last 16 years, Stewart dedicated his last moments addressing Camera Three to a rallying cry against bullshit. "The best defense against bullshit is vigilance," he declared. "So I say to you tonight, my friends: If you smell something, say something." It was significant, then, that the folliowng and final segment was Bruce Springsteen and the E Street Band. Longtime heroes for Stewart, of course... but also, in this context, clearly offered as an antidote, a bastion of hope in a world of bullshit.
"An artist I really admire once said that he thinks of his career as a long conversation with the audience — a dialogue," Jon said after the last commercial break [video here]. Springsteen fans at the afternoon taping afternoon had already spied a saxophone and a familiar drum kit as signs of what was to come, but this was the first real indication for viewers at home. "And I really like that metaphor," Stewart coninued, "for many different reasons, but the main one is, because it takes away the idea of finality. It's a conversation: this show isn't ending; we're merely taking a small pause in the conversation.... I thought that was a remarkable way of getting to the idea that nothing ends. It's just a continuation; it's a pause in the conversation. So rather than saying goodbye or goodnight, I'm just gonna say... I'm gonna go get a drink. And I'm sure I'll see you guys before I leave.
"So, that's our show. I thank you so much for the privilege of being able to perform it for you, for the privilege of being able to do it, and so here it is... my moment of Zen."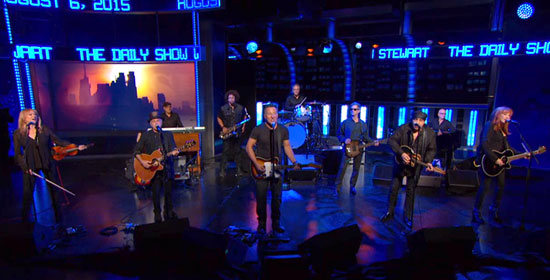 Jon's moment of Zen: the E Street Band, dressed in black to a person, singing "This train" as Bruce Springsteen called out, "This is by request from the man himself! Thanks for everything, Jon, we wish you happy and safe travels." The core modern-era E Street Band was present and accounted for: Jake Clemons; Charlie Giordano; Soozie Tyrell; 30-year vets Nils Lofgren and Patti Scialfa; 40-year vets Max Weinberg, Roy Bittan and Steve Van Zandt; and original E Streeter Garry W. Tallent. (Even without the full E Street Orchestra of recent tours, it was still a big enough ensemble that the stage had to be reconfigured during a break in taping to accommodate them). From the end of the rousing "Land and Hope and Dreams," Bruce and the band segued right into the "Born to Run" breakdown, the rest of that song serving as a celebratory coda as the Daily Show correspondents and staff stormed the stage for a last dance, a last chance power drive, hugs and pogos all around.
After hugging and grasping hands with Bruce and each member of the E Street Band, a visibly and audibly choked up Stewart, holding the drumsticks Max Weinberg just handed him, offered one last, "Thank you, good night." Bon voyage, Jon. See you when we get to that place we really want to go and we'll walk in the sun — or, y'know, just after that drink. Cheers, and thanks. Watch the full episode here.
Setlist:
Land of Hope and Dreams
Born to Run (partial)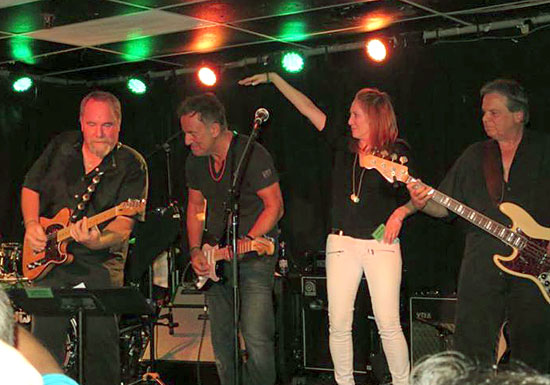 - photograph via Timepiece/Facebook
August 1 / The Wonder Bar / Asbury Park, NJ
All eyes were on Madison Square Garden on Friday night, for the one-last-chance-to-make-it-real appearance of Bruce Springsteen at the end of U2's NYC stand. Fewer eyes were on the Wonder Bar the very next night, as Bruce scaled things right down to jam with his brother-in-law's band at the small Asbury Park club just off the boardwalk. Bruce has played with Timepiece before, notably in 2010 on "Mustang Sally"; this time his appearance stretched out for a true coverfest. Patti Scialfa, whose brother Michael plays keyboards in Timepiece, was also part of the party, singing lead on "You Really Got a Hold on Me" and sharing a mic with her longtime friend Lisa Lowell. Watch below, along with Bruce soloing on "634-5789."
According to reports, Springsteen also stepped to the mic himself to sing lead on classics including "Pretty Woman" and "Born on the Bayou." Saturday's show was Bruce's second performance at the Wonder Bar this summer, having joined Joe Grushecky and the Houserockers there on July 18.
Setlist (partial/order not certain):
634-5789
You Really Got a Hold on Me
Pretty Woman
The House is Rockin'
Born on the Bayou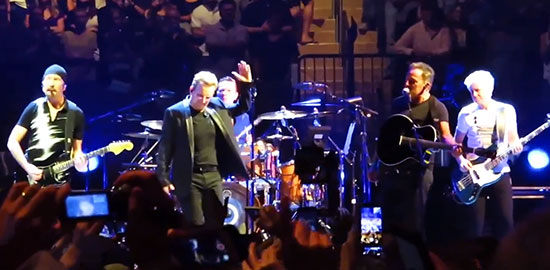 July 31 / Madison Square Garden / New York, NY
Notes: It was the end of what had already been a blistering night, the finale of U2's eight-show run at Madison Square Garden, a run where "Bruce is gonna be here!!" rumors had run rampant each and every night. But tonight, Jessica Springsteen had declared her presence on social media, and Bono had further piqued the crowd's interest by singing a line or two of "Hungry Heart" at the end of "Beautiful Day." Of course, there have been NYC-area U2 shows where Bruce was in attendance and acknowledged from the stage in some fashion but didn't appear on it.
Tonight, however, would not be one of those nights.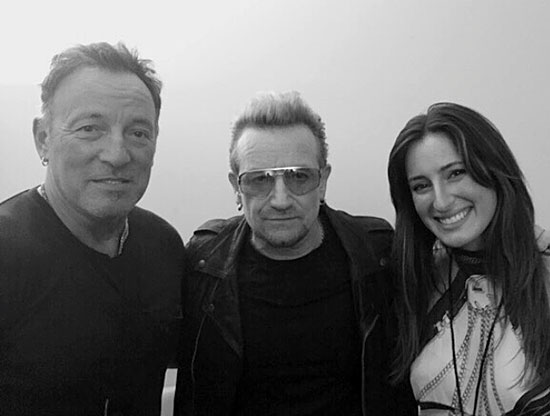 - posted by Patti Scialfa today on her officialrumbledoll Instragram account
At the conclusion of "Where The Streets Have No Name," Bono stepped to the mic and said that he wanted to thank "someone who gave us a reason to be a band, gave us a reason to continue to be a band, and gave us a level that we could never reach, but always aspire to — Bruce Springsteen, we know you're in the house; we'll play this one for you." As the house erupted in BRUUUUUUUCES, techs sprang onstage with microphones and a monitor, and Mr. Springsteen himself strolled in from stage right, relaxed and smiling, carrying an acoustic guitar. He was greeted by hugs and waves from the Edge and Larry Mullen Jr. and of course Bono, who escorted Bruce to his position onstage.
"Earlier when I busted myself up here in the city, and we had a gig in Times Square for (Red), this man showed up, and delivered," Bono declared, as the Edge began the introduction to "I Still Haven't Found What I'm Looking For." "You can sing this," the frontman continued, exhorting the audience to sing the first verse, as both he and Bruce stepped back with satisfied smiles on their faces. When the crowd reached the first chorus, Bruce stepped to the mic and took over, that familiar and trademark baritone soaring to the rafters, before joining along with Bono into the next chorus as the song continued. The two traded lines, Bruce in excellent voice, increasing in intensity as the song built, Bono directing at first, before the two settled into a rhythm that made it seem like this was something that happened all the time.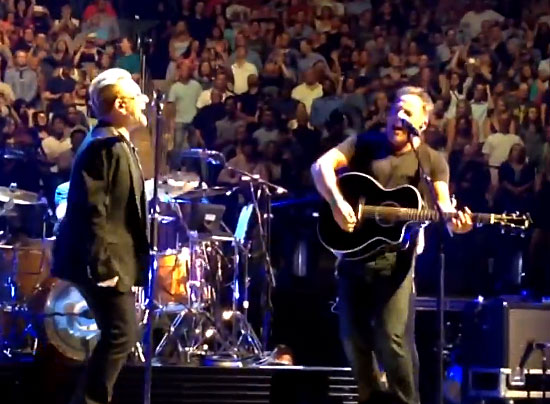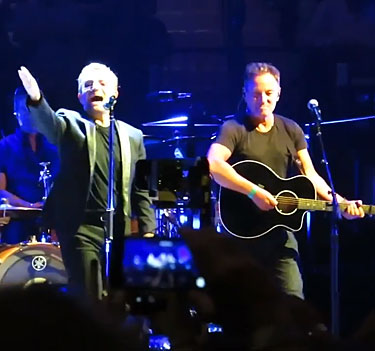 But the best moment of this surprise appearance was yet to come, and completely unscripted. At the last chorus, as the crowd took over, Bono walked over to the Edge and whispered in his ear before heading to Bruce and doing likewise. And then Bono came back to center stage and began to sing the opening lines to "Stand By Me." This was not on the setlist; it was, indeed, a true audible called at Madison Square Garden with Bruce Springsteen onstage. The crowd sang its heart out along with Bono, who was doing likewise, standing sideways, facing Bruce. He gestured to the Edge to take the volume down a bit, before cueing Bruce to take a verse, which he executed with aplomb — you don't need to worry about Bruce Springsteen knowing the words to "Stand By Me" and absolutely nailing it — before the band, and the audience, brought the number to a loud, raucous, triumphant end.
As the crowd cheered its lungs out, Bruce hugged and exchanged handshakes with the band as he left the stage. Bono declared, "The kid's a star... and he gets to keep the guitar!" referencing moments earlier in the week when fans had been brought onstage with the band and then left in possession of one of U2's guitars — moments of surprise, and love, and magic, but none greater than the one we just witnessed.
- Caryn Rose reporting
Numerous videos can be found on YouTube; click here for a complete full-stage view, and here for a periscope view from the front row.
Setlist:
I Still Haven't Found What I'm Looking For
Stand By Me

July 18 / The Wonder Bar / Asbury Park, NJ
On opening of weekend of the Joe Grushecky & the Houserockers: The Asbury Connection exhibit, they go and add yet another to their long tally of magical Asbury nights. Performing at the Wonder Bar last night, Joe and the Houserockers were joined by Bruce Springsteen for the vast majority of their set: nearly two hours and 15 songs together, including "Racing in the Street '78," "Darkness on the Edge of Town" [above], co-write "Code of Silence," and "Frankie Fell in Love." Also on hand was mutual buddy and Joe's recent partner in crime, Eddie Manion on sax.
Setlist:
Never Be Enough Time
Adam Raised a Cain
Darkness on the Edge of Town
Racing in the Street '78
Chain Smokin'
Talking to the King
Save My Love
Frankie Fell in Love
Atlantic City
Pumping Iron
Code of Silence
Because the Night
The Promised Land
Pink Cadillac
Light of Day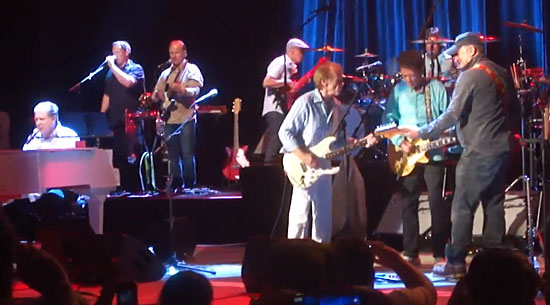 July 1 / PNC Bank Arts Center / Holmdel, NJ
Some good fun, fun, fun was had in Holmdel as Brian Wilson played the PNC Bank Arts Center, his band joined toward the end of the show by Bruce Springsteen, unannounced, for two songs. Bruce sang on "Barbara Ann" and "Surfin' USA," strapping on a guitar as well for the latter. See fan footage on YouTube.
Setlist:
Barbara Ann
Surfin' USA
May 30 / Oakland, NJ

Warm congratulations to Kelly Kilbride, Patti Scialfa's longtime assistant, who was married last weekend on a beautiful estate in Oakland, New Jersey. The Boss — Patti, that is — was on hand at the outdoor reception to sing "Tell Him" with Bobby Bandiera's band. The Boss's husband, Bruce, also joined in under the tent, playing guitar and singing lead on classics including "634-5789" and "Roll Over Beethoven" for a crowd of about 150 wedding guests. The "other" Boss culminated his tribute to Kelly and her new husband Ryan by leading the band through "Jersey Girl" as the newlyweds danced. We wish them a smooth ride through the tunnel of love and a lifetime of happiness together.
Setlist:
634-5789
Roll Over Beethoven
Tell Him (Patti Scialfa lead vocal)
Jersey Girl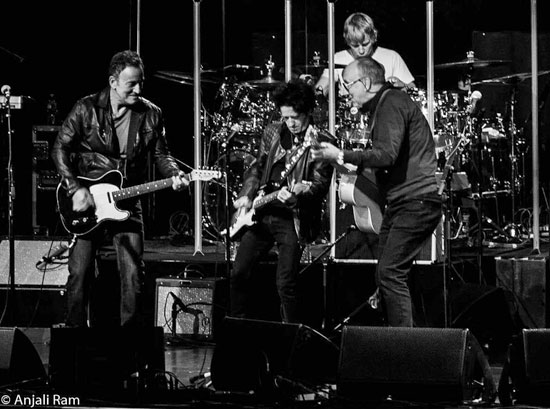 May 28 / Best Buy Theater / New York, NY
Notes: Pete Townshend has often said that without Mose Allison's "Young Man Blues," he wouldn't have written "My Generation." Fifty years later, Bruce Springsteen admits that without Townshend, there would be no "Jungleland" — and "I wouldn't be windmilling a Fender Telecaster." At last night's 11th annual MusiCares MAP Fund benefit concert, I was lucky enough to witness our Boss give the old boss one of the greatest rock 'n' roll award speeches ever. Pete's recent (and typically blunt) remarks about Springsteen to Rolling Stone — "I did [check out his shows] in the early days, but not anymore. It's a bit of blood and glory for me now" — didn't seem to put any sort of damper on Bruce's respect and admiration for Pete as player and artist, or his heartfelt recollection of his "blood bond" with Townshend, the power of the Who and their influence on a young Castile.
Bruce's full speech:
Pete's receiving the Stevie Ray Vaughan Award this year, for his dedication to helping others who struggle with drug and alcohol addiction. Through his work with The Who and his Double O charity, Pete's got a long history of working hard and raising spirits — and money — for worthy causes. Here's just a few: In 1986, Double O promotions put on the Colombian Volcano Relief Concert; 1989, The Who reconvened for an anniversary tour that generated over eight million dollars for children's charities throughout the U.S. and the U.K.; in the past years The Who have helped the Teenage Cancer Trust, raised close to three million pounds to provide cancerwards and screening units. There are plans on this tour to raise funds for charities as various as the Teenage Cancer Trust, the Michael J. Fox Foundation, the Andre Agassi Charitable Foundation for underprivileged children, the Robin Hood Foundation which funds and supports innovative poverty-fighting organizations in New York City…. I could go on and tell you much more about what Pete and The Who have done for others, but I think I'll tell you a little bit about what Pete's done for me.

I wouldn't be windmilling a Fender Telecaster if it weren't for Pete Townshend. It's the summer of '66 or '67, I'm not sure which one, but it was the first American tour that The Who were on, and I'm in a long line snaking out of Convention Hall down the boardwalk. The billboard read, in big type: "Herman's Hermits!"And then [smaller]: "The Who!" I was the young, pimply-faced teenager who managed to scrabble enough together to go see my first rock concert ever. Pete and the Who were young, pimply-faced teenagers with a record contract, a tour, and a rude, aggressive magic. They were, on this tour, of all things, opening for Herman's Hermits. There was no justice!

So I scrambled to my seat in what seemed like a cavernous Convention Hall, and I waited for the rumble to start. The first band out, I think, was a band called the Blues Magoos. They were out of New York City... Oh, there's a few folks who remember the Blues Magoos out there?... I don't believe you. [Laughter] But they had a great song called "Ain't Got Nothin' Yet," and they came out and they had these electric suits, and when all the lights went out in the hall the electric suits lit up, and it was... it was high-level special effects for the time.

Then the Who came out, and I think they played for probably no more than thirty minutes. Pete, in a cloud of smoke, demolished his guitar, bashing it over and over into the floor, and his amplifier. Now, the audience was filled with a significant number of teeny-boppers who were waiting for "Mrs. Brown, You've Got a Lovely Daughter." So they sat there with their mouths agape, wondering, like, of course, "Who are you?" Who are these guys? What are they doing? Why are they doing it? All I knew was, for some reason, this music, and the demolishing of these perfectly fine instruments, filled me with incredible joy. There was something wonderful about the wanton destruction of good, commercial property. It was the joy and giddiness of the riot that the Who somehow managed to safely attain. Semi-safely attain! But all I knew is that it made me happy, and it thrilled and inspired me.

It inspired me to a degree where I was in a young band called the Castiles, I was about 16 years old. We had a gig the next weekend at St. Rose of Lima, Catholic school, in the basement, for the CYO dance. So I went out and I bought a smoke bomb, and I bought a strobe light, and I brought them over to the gig. And as the night neared its end — not being able to smash my guitar, it was the only one I had! — at the end of the night I lit the smoke bomb, in the Catholic school basement, and I turned on the strobe light, and I climbed on top of my Danelectro amplifier holding a vase of flowers that I'd stolen from one of the upstairs classrooms. And with this huge flourish, melodramatically I raised the vase of flowers as the flickering, blinding strobe lit me, with smoke all around me, and as the nuns looked on in horror, I reached up and smashed them onto the dance floor! I jumped off the amp and stomped all over the petunias!

Of course, I looked ridiculous. Like I'd lost my mind. The vase of flowers simply failed to have the grandeur of a newly minted Telecaster being smashed to splinters, but we worked with what we had. I went home smiling, feeling a blood bond with Pete Townshend, and I never looked back.

As I grew older, the Who's music seemed to grow with me, the sexual frustration, the politics, identity… these themes coursed through my veins with every concurring Who album. I always found myself there somewhere in their music. "The Seeker" is the guy in "Born to Run." There'd be no "Down in Jungle… LAND" without Pete's slashing, bloody attack on his instrument.

Pete is the greatest rhythm guitarist of all time. He played such incredible rhythm, that he showed you don't have to play any lead, you know? It's an amazing thing to behold, really. Pete managed to take the dirty business of rock 'n' roll and somehow make it spiritual and turn it into a quest. He may hate this, but he identified the place where it was noble, and he wasn't afraid to go there. I took a lot of that with me as the years passed by. So Pete, I'm here to say, congratulations, well deserved, and thanks for not just Who's Next and 'Who Are You,' but for who I am.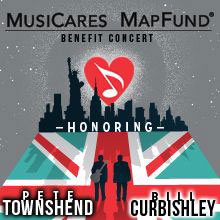 The lucky fans had lined up early at the Best Buy (formerly Nokia) theatre on Times Square to take their lucky and reasonably priced mezzanine seats and bear witness to the first NYC MusicCares event ever. Apparently this will now be an annual soire in the Big Apple. In front of us in the theater were white couches filled with generous donors to the MAP Fund who remained rather mellow throughout the night — until Little Steven and the lovely Maureen Van Zandt, sitting up close and personal, got the crowd on their feet for the mostly dazzling performances. Roger Daltry, observing at one point how subdued the crowd was, said that with all the white couches he felt like he was playing to a bunch of psychiatrists.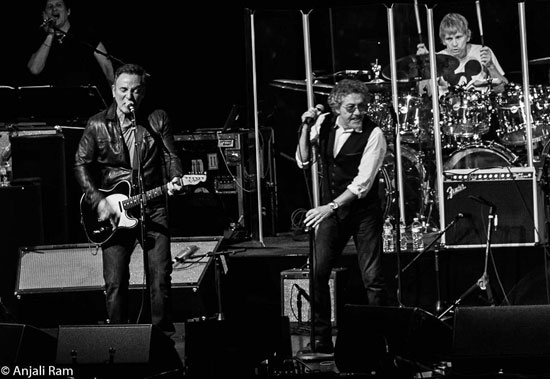 This was an alcohol-free event, in light of the aim of the charity that assists musicians with addiction recovery. The Who touring band (John Corey on piano, Loren Gold on keyboards, Pino Palladino on bass, Frank Simes on keyboards, Zak Starkey on drums, and Pete's brother Simon Townshend on guitars) was the house band for the roughly 90 minutes of music. It was great to see last year's Little Kids Rock honoree Joan Jett perform a killer "Summertime Blues" (though I wanted to see Bruce do that!) as well as "I Can't Explain." Willie Nile, in my opinion the hardest working guy in music, came on and did a yeoman's job on "Substitute" and "The Kids are Alright." Daltrey then joined the band after honoring the other star of the night, Who manager Bill Curbishley; Roger swinging his mic, and his vocals sounded strong on "The Seeker" and that Pete favorite, "Young Man Blues" (kudos from Roger to Zak Starkey on that debut for him).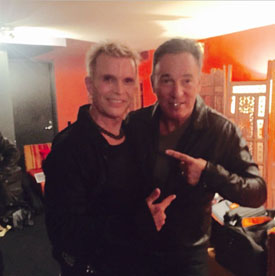 The acoustics were surprisingly excellent for a benefit and really kicked into gear when Billy Idol (with Bruce last night at left, from Idol's Instagram feed) blasted out "The Real Me" and "Who Are You". Idol seemed to particularly enjoy the song's "Who the fuck are you?!" line, repeating it as much as possible. Some in the crowd thought Billy stole the show with his performance.
Speaking of the F-bomb... one can always count on Pete being Pete. After Bruce's heartwarming and sometimes hysterical speech (though I'm not sure Peter Noone of Herman's Hermits or the sisters of St. Lima will like it) Pete took the stage with Roger and asked Bruce to join them on "My Generation". I felt very lucky that I heard this classic the last time Bruce and E Street performed it, at Penn State's Bryce Jordan Center six years ago, in May of 2009. This time Bruce took the f-f-f-fade away verse and brought new life to one of the greatest rock songs ever written [video]. The Bruce fans in the Mezz were SRO and finally on their feet. Pete followed this with "I'm the One" and then was going to play "Eminence Front," but after some tech issues he dropped a few F-bombs himself and shouted, "Let's just go to the finale!" That whole incident reminded me how much Pete is still Pete — and why I love rock 'n' roll and all its colorful characters.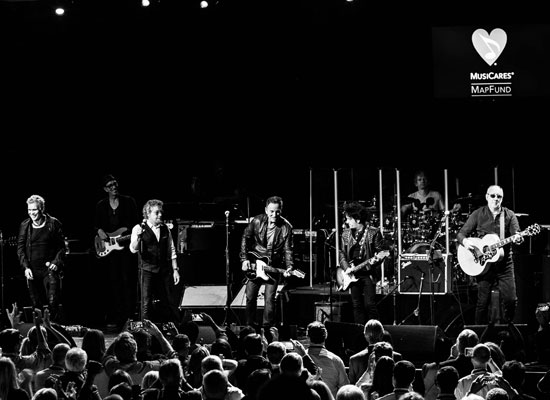 The finale seemed a bit rushed and frenetic after Pete attempted his version of an audible, but with Bruce front and center as either the new or the old boss, "Won't Get Fooled Again" [video] was just great poetry to end a short but sweet night of classic rock.
- Mitch Slater reporting - concert photographs by Anjali Ram
Setlist:
My Generation (with The Who) [video]
Won't Get Fooled Again (with The Who, Billy Idol, and Willie Nile) [video]

May 16 / Tribeca Grill / New York, NY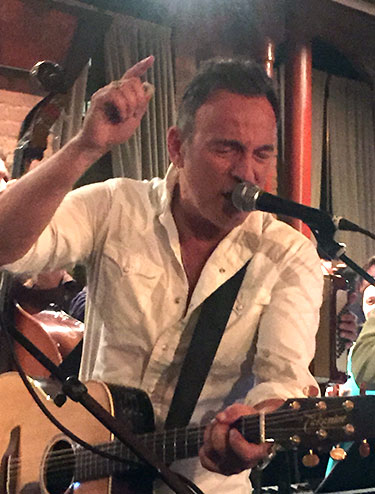 Notes: Saturday night in Tribeca it was a nine-year flashback, as Bruce Springsteen joined a mini-reunion of the Sessions Band the 22nd annual 'A Night to Remember' benefit for the Kristen Ann Carr Fund. The entertainment, known as the Gotham Playboys when they started playing private parties at Springsteen's farm in the late '90s, was billed for the evening as the Tribeca Playboys: Charlie Giordano on accordion, Jeremy Chatzky on stand-up bass, Larry Eagle on drums, Sam Bardfeld on fiddle & vocals, Soozie Tyrell on fiddle & vocals, Lisa Lowell on vocals & guitar (and washboard!), Ed Manion on sax, and Curt Ramm on trumpet — all players from the 2006 tour. After a full set that had Redheaded Women Lisa and Soozie fronting the Playboys for uptempo party tracks like "Fujiyama Mama," "Hound Dog," and "Man Smart (Woman Smarter)," Springsteen strapped on an acoustic to lead them through four Sessions Band classics.
This truly was an impromptu performance, as Chatzky told Backstreets afterward: "We honestly weren't sure that was going to happen at all. I mean, everyone hopes, but you never know. There was talk he might join us for two songs, but then he just kept it going." Asked if there had been any chance to rehearse with Bruce, Tyrell laughed: "We hardly had a chance to rehearse as a band — just a couple days last week." In keeping with the spirit of the Sessions Band, it truly was music being made on the spot, Bruce calling out players to take solos as they went along — "Come on, Sam!... Come on, Charlie!" — relying on muscle memory from 2006 and pure chops.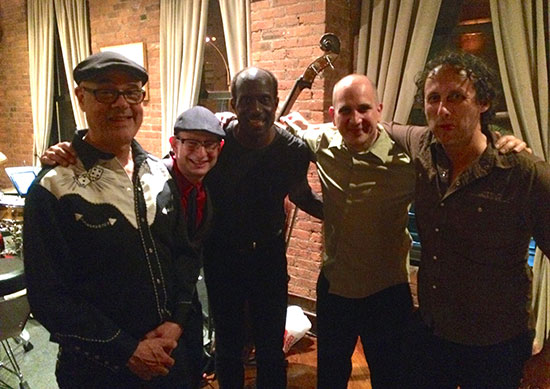 After the gig, L-R: Giordano, Eagle, King, Bardfeld, and Chatzky
Also joining in: Nils Lofgren on guitar, the Sessions Band's Curtis King on vocals, and restaurateur (and venue host) Drew Nieporent on washboard. "Twenty years ago," Drew told us outside his Tribeca Grill later that night, "I had these guys [then the Pinballs] play my 40th birthday party, and I strapped on the washboard for that... now I'm 60, I had to do it again!"
"Sessions Band, Sessions Band," Bruce repeated at the end of "My Oklahoma Home," "They're back! They're back!" While surely he meant just for that rollicking half-hour, it was hard for many in the place not to wish for more.
And as Lisa Lowell told us, "I hope in some dimension Kristen Ann was feeling the love." Visit sarcoma.com to learn more about the KACF and to support the cause.
Setlist:
Pay Me My Money Down [video]
O Mary Don't You Weep [video]
Jesse James [video]
My Oklahoma Home [video]
April 30 / Boston, MA
Notes: Bruce Springsteen, accompanied by Patti Scialfa and Nils Lofgren, performed "I Wanna Marry You" and "If I Should Fall Behind" at the memorial service for the late Lenore Travis.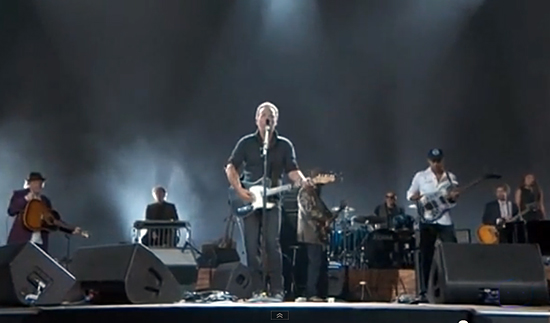 February 6 / L.A. Convention Center / Los Angeles, CA
Notes: On a night when Bob Dylan himself pulled no punches in what amounted to a sort of critical career rebuttal masked as an acceptance speech, Bruce Springsteen more than acquitted himself as a Dylan interpreter by offering a welcome fresh take on one the honoree's best-known tunes.
Joined by his SoCal muse and common-law E Street Band member Tom Morello, Springsteen brought compelling focus and intensity to "Knockin' on Heaven's Door," singing the song with reverence while restoring some depth of meaning to its familiar refrain. While he didn't sound like Johnny Cash, Bruce's performance resonated like an American Recording.
The arrangement too was deft, worked through with the event's crack house band (including Don Was, Buddy Miller, Kenny Aornoff, Benmont Tench and Greg Leisz) during the previous day's soundcheck, and highlighted by Morello's powerful yet admirably restrained guitar work that brought the song to another level without becoming bombastic.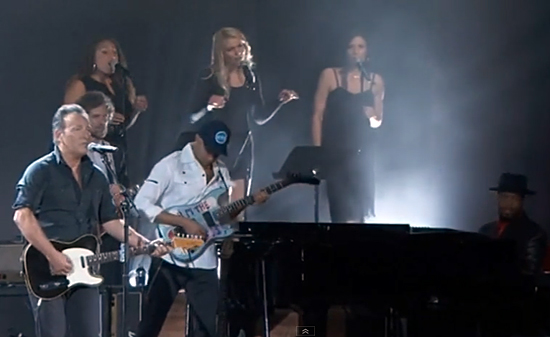 It was one of the clear highlights on a night that veered more folk than rock, the efforts of Beck and Jack White notwithstanding. Other high points came from Jackson Browne ("Blind Willie McTell"), John Doe ("Pressing On"), Tom Jones ("What Good Am I?") and Bonnie Raitt ("Standing in the Doorway").
Morello told Billboard that Springsteen had initially sought to perform "Blind Willie McTell" himself, but it had already been promised to Browne. We had been hoping for "Series of Dreams" from The Bootleg Series Vol. 1-3, a song cited by multiple biographers and writers as having had enormous influence on Springsteen's own writing in the early '90s and, more specifically, as the catalyst to Bruce writing one his greatest songs from that period, "Living Proof."
- Erik Flannigan reporting
Setlist:
Knockin' on Heaven's Door

January 17 / Paramount Theater / Asbury Park, NJ
Notes: On paper, the main event show of Light of Day 15 at Asbury Park's Paramount Theatre was mostly a modest, local affair amongst friends, with longtime Jersey Shore artists like John Eddie, Billy Hector, Vini Lopez, Paul Whistler and Gary U.S. Bonds scattered throughout the bill. Even the main attraction, La Bamba's Big Band, was for many years an Asbury Park mainstay. But savvy followers of the Shore scene probably sensed that this was precisely the recipe for something extraordinary. With the Big Band — including former Jukes Richie "La Bamba" Rosenberg, Mark Pender, Bobby Bandiera and Eddie Manion — fronted by none other than Southside Johnny Lyon, the stage was set for an Asbury Park family reunion, and the boys did not disappoint. There amongst some of his oldest friends, Bruce Springsteen threw caution to the wind and delivered a good old-fashioned jam filled with covers and rarities and nostalgic looks into the past, flubs and wisecracks and laughter and, of all things, James Brown references.
With doors at 6 p.m., it was a long evening of entertainment, and most fans trickled in throughout the early part of the festivities. But latecomers missed some real gems — the edgy Delta blues of the remarkable Guy Davis, and the heartfelt performance of John Eddie, whose self-deprecating style belies a catalog of material that has only in the last decade garnered him the kind of national attention he has richly deserved all these years. They may have also missed a mini-reunion of Mr. Reality, or the hard-edged street sound of veteran Garland Jeffreys, who paid tribute to his old friend Lou Reed with a set-closing "I'm Waiting for the Man."
Perennial Light of Day favorite Willie Nile can always be relied upon to get audiences going, and his brief, energetic set, including Jim Carroll's "People Who Died" and a dedication of his own "The Innocent Ones" to the victims of last week's terror attacks in France, proved a spirited call to arms. The anthemic "One Guitar" drew a not-so-surprise appearance by Bruce, who, dressed smartly in black jeans and fitted shirt, wandered on from stage left to contribute guitar and backing vocals.
Old friends Vini Lopez and Paul Whistler (who was a Shore mainstay in the 1970's with bands like The Wheels) followed up with their new project Dawg Whistle, a two-piece blues outfit whose all-original material is laced with sly references to their own shared past in an Asbury Park of yesteryear, including the playful "Three Steps Forward, Two Steps Back."
And then it was time for the frenzied energy of Richie La Bamba and his infamous Big Band. Rosenberg and partner in crime Mark "The Loveman" Pender, notorious both for their stellar musical chops and high-energy hijinks as part of the Jukes horns, had both in full effect in a spirited set that was the highlight of the evening and gift to longtime fans.
The set opened with the usual music vamping by La Bamba and band — often billed as the 18 Pieces of Soul — with Mark Pender blasting out an extended trumpet lead, including a trademark move in which he holds a high note for what seems like an eternity, to which Richie responds in mock astonishment. And then out walked Southside Johnny to perform the Springsteen/Van Zandt tune "When You Dance," a tune that got left off the Jukes' I Don't Wanna Go Home way back when but later appeared on a "best of" CD. The Big Band's jump blues focus is right in the SSJ wheelhouse, and he was truly in his element, wailing on harp and bouncing around the stage in excitement.
And then came the unmistakable backbeat of the Gary U.S. Bonds 1960 hit "New Orleans." All eyes turned stage left, but Southside stayed at the center mic to sing lead vocals — which seemed unusual, Bonds being a billed performer for this set, but then not so much, as the mercurial Lyon habitually throws vintage, seemingly random covers into his sets on a nightly basis. This is a performer known for pulling audience leg on occasion, and there was no explanation of Bonds' absence. This was followed by "It Ain't the Meat (It's the Motion)" from the Jukes' debut album, which included a brief, animated display of Southside/La Bamba ballroom dance moves (SSJ leading, of course) and concluded with Lyon motioning to the horn section to sing part of the call-and-response vocals in unison instead of playing their various instruments. "I don't wanna hear any of that horn bullshit," he shouted by way of explanation. It was hilarious, a total Southside moment.
After the "surprise" of Bonds' failure to appear on what was his signature song, it was no great surprise when Bruce Springsteen returned to the stage to front the Big Band. After all, it was he who unofficially helped christen Rosenberg with his nickname back in the day. But there was a slight problem: Southside finally informed the audience that Gary U.S. Bonds had phoned in sick for the evening. But it was clear that the band had been rehearsing some of his material, and there had been no time to change up the setlist too much with so many moving parts. The result was a Springsteen performance that was for many a dream come true, as covers and rarities that older fans thought they would never live to see ensued.
First came "The Letter" performed a la Joe Cocker (Southside on lead vocals, Bruce on guitar) and then, after a few moments of discussion with Mr. Lyon, the jaw-dropper of the night: Bruce Springsteen performing "This Little Girl," the hit single he had written for Bonds nearly 35 years earlier but had never performed solo.
"I wrote it, but I don't know if I remember it," said Bruce, strumming his guitar tauntingly. But no worries: it was more or less note-perfect, a moment of pure pop joy that can seem all too rare in Springsteen's meticulously executed performances. Fans had barely time to catch their breath when the backbeat morphed into Jackie Wilson's "(Your Love Has Lifted Me) Higher and Higher," a tune occasionally covered by Bruce and the E Streeters but never with the Big Band horns. There were some issues — too many horn breaks, a key change that didn't quite jell — but no one seemed to mind. "Well, that died," said Bruce, smiling. And then, perhaps mixing his metaphors, he cracked, "No one follows James Brown. No one."
"It took two of us to completely fuck that up, two of us!" Bruce continued, to which Southside responded, "Yeah, and between the two of us, neither one of us is Jackie Wilson."
What could follow that priceless exchange but the Van Zandt classic "I Don't Want to Go Home," the two old friends trading vocals as the horns wailed behind them. "Yeah, the two of us used to sit and watch movies in this place," said Bruce after the song concluded. "Who knew?"
The traditional Springsteen/Houserockers set was now to follow, but it would prove difficult to match the pure magic of what had just transpired. First up was a solo Bruce on acoustic, and another relative rarity: the Born in the U.S.A.-era B-side "Janey Don't You Lose Heart," which was given a tender, romantic reading on the darkened stage, a lone spotlight shining above. This was followed by Grushecky & Co. (augmented by Eddie Manion on tenor saxophone) on the always-intense "Adam Raised a Cain." The presence of the Kingfish onstage must have been too tempting to not take advantage of, however, as Bruce began to pace back and forth across the front of the stage in full preacher mode: "How much love do you have in your [bank] account?" he shouted, repeating the exhortation several times for effect. "How much LOVE?"
And with that, the band kicked into the rarely-performed "Savin' Up," a Springsteen-penned tune performed by soul man J.T. Bowen on C.C. & the Red Bank Rockers' Rescue album but only a handful of times by Bruce himself. It was a raucous, loose performance, punctuated with impromptu bits including Bruce, James Brown still on his mind, exhorting the band to "take it to the bridge." And then another singularity, the Chuck Berry homage "From Small Things (Big Things One Day Come)." Always a fan favorite, it's a song that mostly shows up in club jams; tonight it was another gift to longtime fans but seemed to be unrecognized by a fair number of those in attendance. This was followed by a Springsteen/Grushecky duet on "Never Be Enough Time."
Things then slowed down as Bruce donned his harp and began the opening riff of "Racing in the Street '78", aptly supported by the Houserockers but somewhat missing the signature Roy Bittan keyboard part. Photographer and friend Danny Clinch then stepped on to contribute his own harp licks on Grushecky's "Pumping Iron," which was followed by a somewhat hoarse "Darkness on the Edge of Town."
And then Joe turned to address Bruce. "Fifteen years, we been doing this," he said. "Fifteen years. We were just whippersnappers then." The self-deprecating "Still Look Good (For Sixty)" ensued, the two good-naturedly trading wisecrack lines about wrinkles and unwanted hair. This was followed by "Frankie Fell in Love," a newish song world-premiered at last year's Light of Day main event. This was succeeded by another fan favorite and another rare performance: "Hearts of Stone," also premiered (by Bruce, anyway) at last year's event. By this time, it was late and everyone was tired, so it sounded just a bit off, but no one seemed to mind.
And then, as the trademark glockenspiel riff echoed behind him, Bruce introduced "Save My Love" (yet another rarity that seems to mostly show up at this type of show) by talking about its origin. "I wrote this for the Darkness record, but it would've fit really well on Born to Run." He recalled the heyday of Top 40 radio, a time that when you were listening to a song, everyone else was hearing it too. "It was 1975, and I was on a road trip upstate somewhere, a little college in Rhode Island, and I was standing on a corner and a car pulled up. They rolled the window down, and 'Spirit in the Night' was playing on the radio." It was a powerful moment for him, he said, "a feeling I've never forgotten. It seemed like affirmation" of everything he had been working for until that point.
This now-rare moment of personal reflection harkened back to Bruce's glory days with the E Street Band, when it seemed almost every song came with a story attached. And the night could have ended right there, but there was more yet to come, including Grushecky's "Talking to the King," after which Joe went over to speak to Bruce. "Oh yeah," Bruce smiled. "I almost forgot. Are any of those guys still here, Willie, John Eddie? Come on out." The two wandered on obligingly and planted themselves stage left to sing backing vocals as the piano intro to "Because the Night" began echoing throughout the building. Finally, here was one the audience could — and did — sing along with. And, house lights up, the sing-along portion of the program continued, as various Light of Day performers assembled on the stage for the de rigueur group performance of the event's theme song.
"Yeah, La Bamba," said Bruce afterward. He still seemed surprised and pleased at how that impromptu portion of the night had gone, at the reunion of old friends many of whom had last shared the stage at the Jukes' live performance of Little Steven's Men Without Women several years back. "I just saw him face down in the alley a half hour ago. How'd he get here?" he cracked, adjusting the acoustic guitar handed to him by longtime tech Kevin Buell.
"Thunder Road," now seemingly reinvented as an audience tribute/sing-along, followed, after which event founder Bob Benjamin, who had been standing amongst the large crowd now onstage, was brought to the mic. After some words from Bruce about the history of Light of Day and the inspiration that Benjamin has been to him all these years and a response in kind from Bob, many thought the long night of surprises was finally done. But it seemed that only one more song could end this unique event. "Let's do one more," he shouted to the masses onstage; it was a sing-along of "The Promised Land" that would finally conclude the marathon evening.
And so a night that had looked fairly conventional at face value instead became a night of rarities, a loose, fun-filled evening of old friends and shared history that pushed Bruce Springsteen out of his comfort zone and into one of the most spirited performances in recent memory.
- Lisa Iannucci reporting - photographs by A.M. Saddler
Setlist:
with Willie Nile
One Guitar
with LaBamba's Big Band
This Little Girl
Higher and Higher (with Southside Johnny)
I Don't Want to Go Home
solo acoustic
Janey Don't You Lose Heart
with Joe Grushecky & the Houserockers
Adam Raised a Cain
Savin' Up
From Small Things (Big Things One Day Come)
Never Be Enough Time
Racing in the Street '78
Pumping Iron
Darkness on the Edge of Town
Still Look Good (For Sixty)
Frankie Fell in Love
Hearts of Stone
Save My Love
Talking to the King
Because the Night
Light of Day
Thunder Road (acoustic)
The Promised Land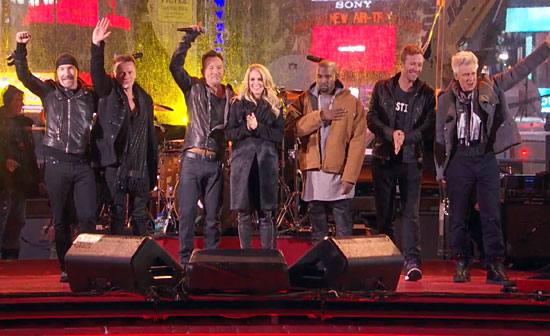 December 1 / Times Square / New York, NY
Notes: Monday afternoon's announcement of a U2 concert to celebrate World AIDS Day, in the middle of Times Square, was enough of a surprise, before the added bonus of a special appearance by Bruce Springsteen (and Chris Martin) to take the place of the Irish band's fallen frontman, sidelined from a bicycle accident a few weeks earlier. The announcement was at 3pm, with the concert slated to begin at 7:30pm, open to the public in the middle of the city in the heart of Times Square.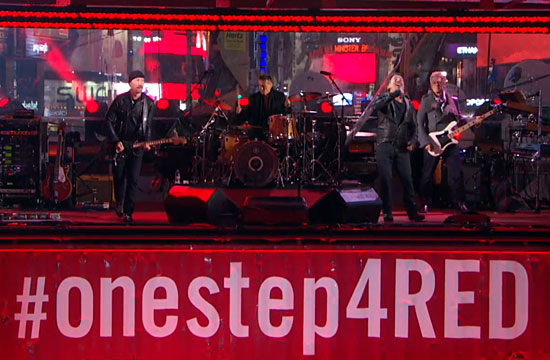 The streets in the area were cordoned off, and concert-goers had to enter the stage area, positioned between 46th and 47th Street, by heading up to Broadway and 50th and walking down. A cold drizzle was falling, which probably explained why there was such a light turnout, and one could secure a space a reasonable distance from the stage as late as 6:30pm, in time to spot Kevin Buell arranging mic stands amongst the U2 crew onstage.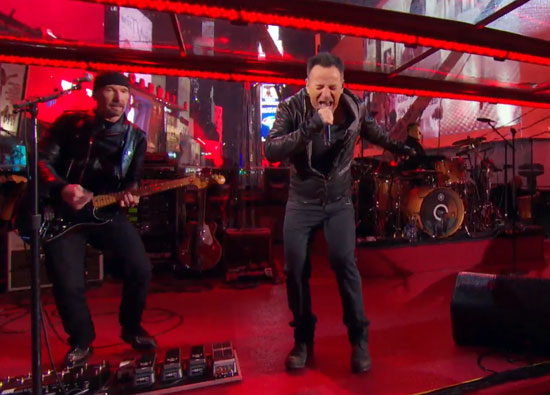 An internet broadcast and a large corporate sponsor ensures that this type of event begins right on time. Once Chris Martin opened the evening, it was obvious that Bruce would close it, coming on after Kanye West. When the time came, the Edge began the unmistakeable opening riff to "Where the Streets Have No Name," and Bruce entered the stage just as the band shifted into full gallop, nodding his head and clapping along until the Edge announced, "Ladies and gentlemen, Mr. Bruce Springsteen!"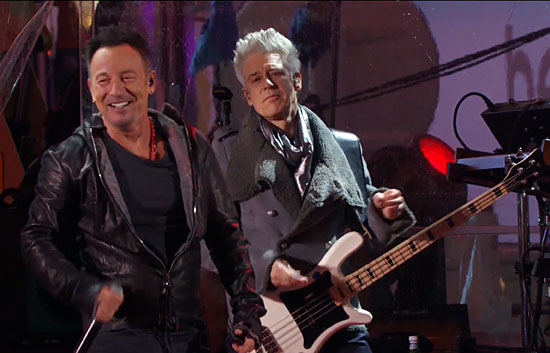 Bruce was in full soul shouter mode, meeting the challenge of this all-time rock anthem and the global audience. He was focused and intense, pretty much sticking to the original vocal line of the song. His satisfaction and relief were palpable at the end, when he fist pumped the air: he knew he'd nailed it. Both Adam Clayton and Larry Mullen Jr. applauded him with big smiles on their faces.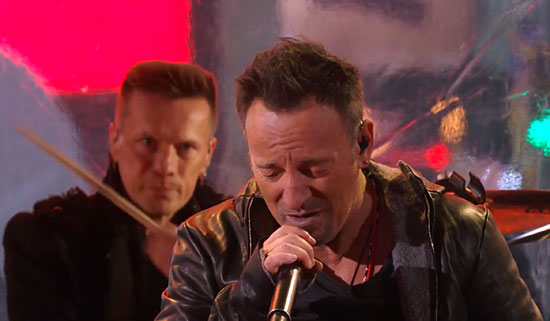 As "U2 Minus One" (as they had billed themselves in the press release) began "I Still Haven't Found What I'm Looking For," Bruce addressed the crowd: "Thank you, New York.... I want to send this out to Bono in Ireland. Be well, my friend." With obvious relish and with a more relaxed (yet still just as committed) approach, Bruce delivered this Joshua Tree hit with style and aplomb. There was a little more swing and air in his voice. "Take me to church now," he exhorted the crowd at the start of the first chorus, and the audience did not disappoint, singing along at the top of their lungs into the night. This would be Bruce's third performance of this particular track, with previous outings at U2's induction into the Rock and Roll Hall of Fame in 2005, and in 2009 at the Rock and Roll Hall of Fame's 25th Anniversary show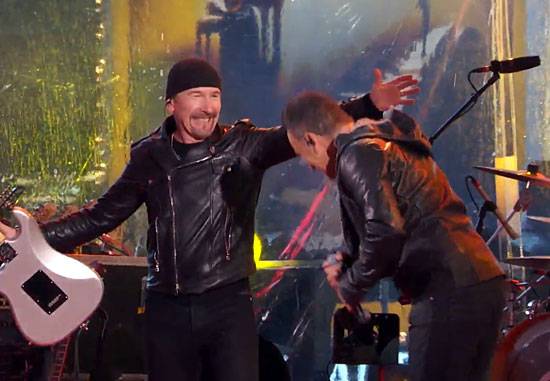 "New York!" Bruce acknowledged the crowd at the end, in familiar fashion. There were more smiles and hugs with both the Edge and Larry Mullen before the rest of the evening's guests joined the four for a bow. Both the crowd and the musicians seemed to want an encore, but corporate sponsors and webcasts also mean that the evening ends in as timely a manner as it began. Waving to the crowd, the musicians left the stage and the crowd headed out into the New York night.
- Caryn Rose reporting
Setlist:
Where the Streets Have No Name
I Still Haven't Found What I'm Looking For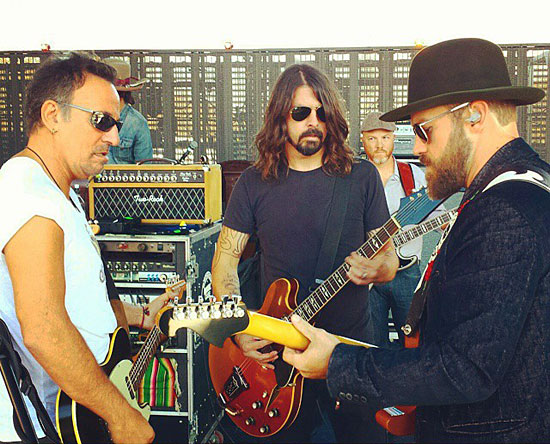 November 11 / National Mall / Washington DC
Notes: Tuesday night's Concert for Valor put Bruce back in two familiar positions — performing a short, three-song set on the National Mall in Washington, D.C. (this time at the other end of the Mall with the Capitol as the backdrop, instead of the Lincoln Memorial, which was the setting for the "We Are One" concert celebrating President Barack Obama's first inauguration) and singing before hundreds of thousands of people. In this case, though, many of them were there to see other artists on the bill and may have been unfamiliar with his catalog.
Bruce first took the stage at the end of the Zac Brown Band's three-song set. While Dave Grohl was introduced as someone Zac Brown loved to play with, Brown's introduction of Bruce was quickly drowned out by cheers of "Bruuuccee" — which was once again mistaken by many Springsteen virgins to be "boos." The trio [pictured in rehearsal above] launched into John Fogerty's "Fortunate Son," which was met by a roar of applause and enthusiasm by the crowd. Bruce played a blistering guitar solo before singing the final verse, and the crowd happily sang along to the song's final chorus: "I ain't no military son... I ain't no fortunate one." It's not clear whether Fogerty's anti-privilege anthem, which was so important to many Vietnam vets, most of whom were drafted, carried the same meaning to tonight's audience, most of whom seemed more interested in an upbeat song and a good jam.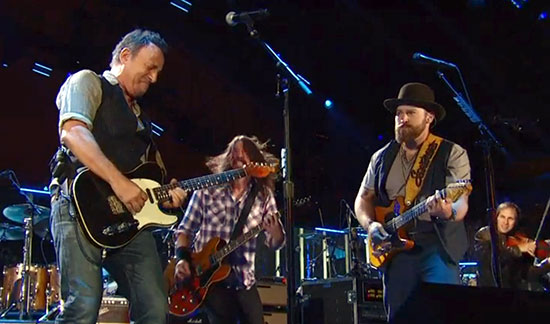 The night's musical performances were interspersed with moving stories of heroism and valor from today's veterans. After a somber and moving short film about a veteran who lost both of his legs to an IED, yet came home and completed an Iron Man triathlon, Bob Woodruff came on-stage to talk about the work his foundation does for veterans and his own injuries covering the war in Iraq. Woodruff then introduced Bruce with a thanks for the consistent support Bruce has given to Woodruff's foundation since it was founded eight years ago.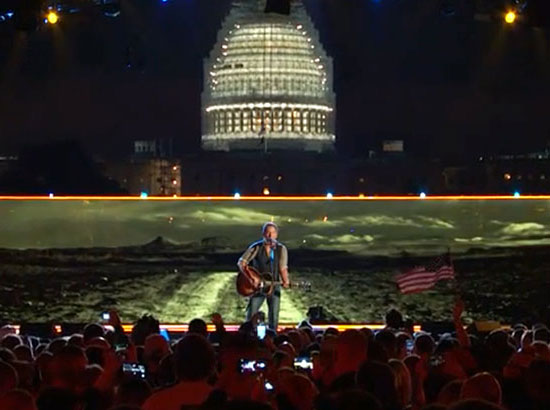 Bruce's introduction resulted in a palpable attitude shift in the crowd. In a demonstration that American crowds could be as quiet and attentive as those overseas, the Mall fell soberly silent as Bruce opened his acoustic set with "The Promised Land." He sent it out as "a prayer for all of our recently returned vets, who deserve the best care this country can give them... we haven't gotten there yet. This is for you guys." As he played, the silence was broken by cheers only when Bruce returned to his harmonica at the end of the song.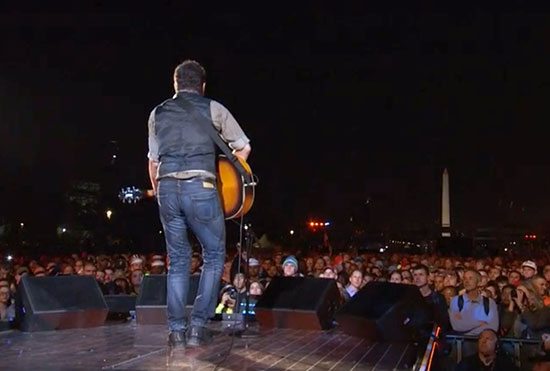 Bruce then shifted to the 12-string with a slide and, as is typical with non-Springsteen crowds, the majority of the crowed responded with a puzzled silence, not recognizing the song in this bluesy rendition until the chorus. But they erupted into a cheer as Bruce intoned — almost to the point of spoken word — I was "Born in the U.S.A." The slower rendition matched the reflective tone of Bruce's entire set. "I wrote this 30 years ago," he said to introduce it, "I think it still holds."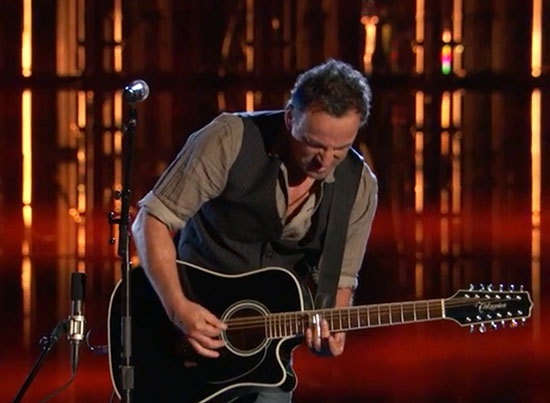 Bruce closed his mini-set by returning to the six-string. Before launching into "Dancing in the Dark" he reminded the crowd about the support our veterans need: "Thanks for coming out tonight and supporting this cause. And remember when you leave, take all these men and women home in your heart with you. Because this is just the beginning: you can't start a fire without a spark." Once again, after taking some time to recognize the song, the audience erupted with a degree of recognition and joy, with the majority of people in attendance singing along to the chorus.
Bruce delivered yet again with a strong set clearly designed to reflect the more somber side of Veteran's Day, while also realizing that most of the crowd was less familiar with his body of work. While there are many songs deeper in the catalog that reflect Bruce's admiration and sympathy for veterans, he made the choice to deliver his message using reworked renditions of familiar songs. The stirring version of "Born in the U.S.A." is sure to be one people will remember. That was truly taking this moment into his hands: we've heard alternate arrangements of "Born in the U.S.A." over the years, driving home the meaning of the song, but never for this large — or this appropriate — an audience.
- Jake Kern reporting - rehearsal photograph by Getty Images for HBO
Setlist:
Fortunate Son (with Dave Grohl & the Zac Brown Band) [clip]
* * *
The Promised Land (acoustic) [clip]
Born in the U.S.A. (12-string acoustic)
Dancing in the Dark (acoustic) [clip]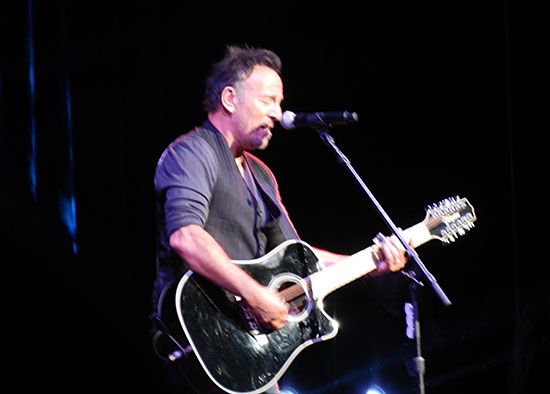 November 5 / Theater at Madison Square Garden / New York, NY
Notes: Wednesday night in New York City, at the 8th annual Stand Up For Heroes benefit that raises money for injured service members, Brian Williams walked onstage to introduce "a talented singer from the state of New Jersey." The crowd's cries of "Bruuuuuce" at that point were understandable... who would have been able to predict that Williams was introducing Martin Dempsey, Chairman of the Joint Chiefs of Staff, there to sing "New York, New York"?
When Bruce did take the stage, he, as usual for this event, came armed with an acoustic guitar and some jokes.
This first story is ripped from the headlines: On the New Jersey Turnpike a truck was hijacked by a group of thieves. A truck full of Viagra. The New Jersey state police are now looking for a group of hardened criminals.
This was the introduction for "Working on the Highway," a rollicking, loose version of the song.
While playing the familiar intro to "Growin' Up," Bruce told a short story (combined with a joke) about the early days of the E Street Band.
When we first started out, the E Street Band and I stayed in some funky hotels. At first it was just six guys in a Chevy driving 13 hours between shows. We'd pull up on the side of the road and sleep in the car. Then we started in staying in little motels by the side of the road. I called down to the desk one night at a place we were staying and, I said, "I got a leak in my sink." The guy said, "Go ahead."
Midway through the song Bruce delivered another joke:
Sometimes I sleepwalk. I woke up the other morning and I rolled over and I said to Patti, "It happened again last night. I got up and I went to the bathroom. God turned the light on for me, and when I was finished God turned the light off." She said, "No, no, you were just pissing in the refrigerator."
With the song finished — and the crowd admonished for its poor attempts to sing along ("Not bad. Not good. Kinda sucky.") — it was time for the next bit of comedy from Mr. Springsteen:
There's a guy sitting next to a nice-looking woman on the airplane. She's reading something. He asks, "What are you reading?" She says, "I'm reading a book about how you get the most sexual satisfaction. According to the book, Native Americans and Polish men are the world's greatest lovers." Then she goes, "Hi, my name's Jill. What's yours?" He says, "Flying Cloud Kowalski."
Calling Patti Scialfa onto the stage, Bruce introduced a lovely duet version of "If I Should Fall Behind" by saying, "We want to do this for the families, the families of our vets tonight."
As Patti exited the stage, Bruce delivered the final joke of the night:
Guy gets pulled over by the side of the road. He has a lot of knives in the backseat of his car. State trooper says, "What's with all the knives?" The guy says, "I'm a juggler. I'm on my way to a show, these are my instruments." The trooper says, you're going to have to prove it to me, step on out by the side of the road and let me see what you can do. So the guys comes out and he starts juggling the knives. Guy passes by and says, "I'm sure glad I quit drinking — look at the test they put you through!"
"Born in the U.S.A." was next, the bluesy 12-string arrangement made even more powerful with the front rows filled with injured veterans.
After finishing his five-song acoustic set with "Dancing in the Dark," Bruce began playing a riff on an electric guitar that was up for auction to raise additional money for the Bob Woodruff Foundation. When the bidding stalled at $60,000 Bruce promised a one-hour guitar lesson, which drove the bidding up to $250,000. Further enticements included a lasagna dinner at his house, a ride around the block in the sidecar of his motorcycle, and the very shirt off his back. Two competing bidders eventually negotiated a deal where they would each pay $300,000 and each would receive the prizes. With the bidding complete, and $600,000 raised, Bruce sang a few bars of "Mystery Train" to close the show.
- Todd Draper reporting - photograph by William Borner
Setlist:
Working on the Highway [video]
Growin' Up [video]
If I Should Fall Behind (with Patti Scialfa) [video]
Born in the U.S.A. [video]
Dancing in the Dark [video]
* * *
Mystery Train (partial during auction) [video]


May 29 / Rock in Rio / Lisbon, PORTUGAL

In 2012, Springsteen joined the Rolliing Stones at their Newark pay-per-view concert for a duet of "Tumbling Dice." Last night in Portugal, they did it again. Onstage at Lisbon's Rock in Rio, Mick Jagger told the crowd, "We've got a special guest for you tonight, one that's gonna play a song with us, we're very pleased and very proud to have him with us. We did this once before — I'd like you to welcome Mr. Bruce Springsteen!"
Backstreets reader Miguel Pinto was there, telling us that Springsteen and the Stones went on to "drive the crowd mad. A great and unexpected moment in Portugal. Bruce was in Lisbon with his family — he was spotted in the city and posed for a lot of pictures with fans."
Video below — watch Springsteen sharing the verses with Mick and hanging with Keef while Ronnie takes the lead. Facing off with Mick for some improvised back-and-forth, Bruce injects some real soul into the proceedings as they strut out onto the thrust together. In fine form after two-plus years of chopping wood on stage (no matter how tired anyone might have thought he looked at the last couple gigs), Bruce really elevated this one. Compare it with 2012's first draft, which feels tentative and leaden by comparison. This is how it's done.
This was Springsteen's second appearance at Lisbon's Rock in Rio, after a Wrecking Ball set two years ago (6/3/12) with the E Street Band.
Setlist:
Tumbling Dice

May 23 / Soldiers & Sailors Memorial Hall / Pittsburgh, PA
Notes: Friday in Pittsburgh, Bruce Springsteen concluded more than two years of touring by performing a second night with Joe Grushecky and the Houserockers at Soldiers and Sailors Hall. While we never know where Bruce might show up, this is the end of scheduled dates, at least for a while. Bruce came on stage at 9pm in his plaid shirt for his initial acoustic mini-set, as the audience lit up in the collected glow of hundreds of cell phones trying to capture the moment. His first song, "Further On (Up the Road)," delivered slowly and sung low, drove him the point.
Bruce said, after that first song, "It's always nice to come to Pittsburgh and try something I haven't tried before." He added that every songwriter is good for about two or three songs their whole life, that "Cadilac Ranch" and "Darlington County" are really the same song, and that "it works if you refresh and rewrite them."
After "I'll Work For Your Love," Bruce explained that he'd had an anxiety attack that day and taken Ativan... perhaps too much Ativan. Did he say "chugged"? Was Bruce's appearance on stage simply an errant figment of one of his many selves, while he drifted in the ether looking for a fun place to touch down? He carried on, introducing an acoustic "Outlaw Pete" by saying, "This next song is a hallucination," and relating his childhood memories that launched the song. The acoustic version revealed to me, for the first time, the imagery of the song's lyrics. During the final verse Bruce brought down the guitar, and I could feel complete silence in the room; for all of the exhaustion, Bruce held the audience in palms of his hands.
After the song, Bruce retreated, walking very slowly and in apparent discomfort, as Joe Grushecky and the Houserockers took the stage for their own mini-set, including a call-and-response on "John the Revelator" that got the hometown crowd worked up. Bruce then returned to the stage for the remainder of the show, beginning with a typically searing version of "Adam Raised a Cain" and including another performance of "Racing in the Street '78."
Last night's show also took a noticeable look at Bruce's often ignored material from Human Touch and Lucky Town, eventually including both title tracks for a total of five songs from that period. This started with "Better Days," a song beginning almost in irony, considering Bruce's apparent exhaustion. But he got better, his voice got stronger, and it was time for some good fun. This started with Joe's song "I Still Look Good (For Sixty)," with Bruce and Joe doing plenty of mugging for the crowd, and then with an audible to "Pink Cadillac," with Bruce throwing in in lyrical references to ass-sizes and to Al Gore. Before "Frankie Fell in Love," Bruce tossed in a playful shot at the time he'd spent rooming with Little Steven, noting that Steven had been "awful" to live with.
The highest point of the evening for me was a three-pack starting with "Save My Love," a song Bruce seems to love playing with the Houserockers at the Pittsburgh shows. Then, starting "Savin' Up," he announced, "Ladies and gentleman, we got a little soul music for you!" Moving much better now and in full voice, Bruce came down the stage left aisle several rows in to the audience, explaining how soul music "administers to the soul, by imparting everyday wisom," and then picking out people in the audience to sing lines like "You may have diamonds, you may have pearls." Grushecky was the recipient of, "You may have a big backyard," as Bruce slapped Joe's rear end. Following was "Hearts of Stone," featuring Eddie Manion on saxophone and driving home, again, that tonight was a last dance of its own.
"Lucky Town" and "Human Touch," back to back, gave Bruce another chance to revisit material from those albums; "Human Touch" included an extended guitar solo. After the Grushecky family joined on "Twist and Shout," "Leavin' Train" rocked, making it easy to wonder why it had never been played in concert until these shows.
After concluding the band portion of the evening with a rollicking "Light of Day," Bruce returned with his acoustic guitar and harmonica. The room fell silent as he sang an achngly beautiful version of "My Beautiful Reward" that once again drove home the finality of the moment. The show could have ended there, but he had one more in him: "from New Jersey to Pittsburgh," a serenade of "Jersey Girl," Bruce joined by Eddie Manion on stage and inviting the crowd to sing along.
And with that, a conclusion to a long and wonderful chapter. The last dance has ended, we've gone down the road apiece, the train has left, and the reward has been searched for and maybe even found. Until we meet again, further on up the road.
- report and photographs by Matt Orel
Setlist:
solo acoustic
Further On (Up the Road)
I'll Work For Your Love
Outlaw Pete
* * *
with Joe Grushecky & the Houserockers
Adam Raised a Cain
Never Be Enough Time
Racing in the Street '78
Pumping Iron
Atlantic City
Better Days
I Still Look Good (For Sixty)
Pink Cadillac
Frankie Fell in Love
I'm Not Sleeping
Junior's Bar
Save My Love
Savin' Up
Hearts of Stone
Talking to the King
Lucky Town
Human Touch
Down the Road Apiece
Twist and Shout
Leavin' Train
Light of Day
* * *
solo acoustic
My Beautiful Reward
Jersey Girl


May 22 / Soldiers & Sailors Memorial Hall / Pittsburgh, PA
Notes: Last night, Bruce Springsteen continued his tradition of special shows in Pittsburgh with Joe Grushecky, this being their third stand at Soldiers & Sailors Memorial Hall together. After nights there with the Houserockers in 2010 and 2011, as well as a campaign stop in 2012, Bruce seems to clearly have an affinity with Soldiers & Sailors, delivering an intimate performance on a lovely spring night.
As he has in past years, Bruce took the stage with an acoustic guitar to open the show, quipping that he was opening for Grushecky. He promised a night of unusual songs and rarities, and he immediately delivered on this promise by starting out with the extremely rare "Mary, Queen of Arkansas" from Greetings. Afterwards he remarked that the song was about a man in love with a transvestite: "Bet you didn't know that. Go back and listen to the lyrics." Who knew! Next up was the "Tunnel of Love" B-side "Two For the Road." Bruce had previously played the song four times on the Devils & Dust tour in 2005, all on piano; this was its first live rendition on acoustic guitar, a truly lovely performance with some very nice whistling at the end.
Bruce introduced the next song as a "song about time passing." He spoke about feeling overwhelmed that events keep occurring, and wishing they would stop, before launching into a gorgeous version of "Kingdom of Days." Just recently played in Albany, it was wonderful to hear again.
Springsteen then ceded the stage to Joe and the Houserockers. They started the rock 'n' roll portion of the show with "East Carson Street," "John the Revelator and "East of Eden" before Bruce reappeared to take charge on "Adam Raised a Cain." Joe took a second to welcome bruce back to Pittsburgh as they went into "Never Be Enough Time." A big crowd favorite, it featured extended guitar solos by Bruce, Joe, and Johnny Grushecky on acoustic guitar. The second performance in a week of "Racing in the Street '78" followed. Although not as impactful as the E Street Band's Mohegan Sun opener, Bruce's vocals and harmonica delivered the poignancy that makes this song so incredible. "Pumping Iron" followed, getting everyone out of their seats and featuring more extended guitar solos from Bruce; Ed Manion also had a nice solo. Another surprise was next, with "Leap of Faith."
A song never played previously with Bruce, "I Still Look Good (For Sixty)" is from Joe's recent album Somewhere East of Eden. They had a fun time trading vocals and engaging in general silliness — Bruce especially seemed to enjoy singing lines such as ''I wish gray hair would stop growing out of my ears." It ended with the pair assuring each other that they did still look good, and Bruce finally saying, "Its good to see you alive."
"Darkness" was followed by "Frankie Fell in Love," with the now-familiar opening suggesting that Shakespeare had it right, that one and one make three. Bruce also professed emphatically that there was too much analyzing going on! The rarities kept coming with "Hearts of Stone," sung just beautifully by Bruce, and "Savin' Up." Bruce started the song by walking up the aisle into the audience inquiring how everyone's bank balances were — their love accounts, not their money. It was a fun song performed well by the Houserockers.
Following the always fun Bruce/Joe classic "Talkin' to the King," the biggest surprise of the evening came with "Leavin' Train," the song's live world premiere. Bruce even confirmed that with an uber-fan he recognized in the audience. It was a fast, smoking version; Bruce and the Houserockers did it justice [video here]. Lets hope this one gets played again.
"The Promised Land" ended the main set, and the encores started with "Code of Silence," another classic Bruce/Joe G. collaboration. Joe sang lead on "I Was Born to Rock," taking a moment to introduce the band including "Bruce Springsteen from New Jersey." "Light of Day" continued the party, wrapping the main set with an onslaught of guitars.
Joe and the Houserockers said goodnight, leaving their friend from New Jersey alone again with an acoustic guitar. He first played "The Wall," perfectly fitting for Memorial Day weekend — the line "you and your rock 'n' roll band were the best this shit town ever had" received a particularly loud response from the local crowd. But Bruce saved the best for last, ending the night with an exquisite solo guitar version of "Incident on 57th Street" [video here]. He had the audience completely mesmerized, everyone still singing as we went out into the beautiful Pittsburgh night.
- Christy Osoling reporting - photographs by Dan French
Setlist:
solo acoustic
Mary Queen of Arkansas
Two For the Road
Kingdom of Days
* * *
with Joe Grushecky & the Houserockers
Adam Raised a Cain
Never Be Enough Time
Racing in the Street '78
Pumping Iron
Leap of Faith
I Still Look Good (For Sixty)
Darkness on the Edge of Town
Frankie Fell in Love
Hearts of Stone
Savin' Up
Talking to the King
Leavin' Train
The Promised Land
Code of Silence
I Was Born to Rock
Light of Day
* * *
solo acoustic
The Wall
Incident on 57th Street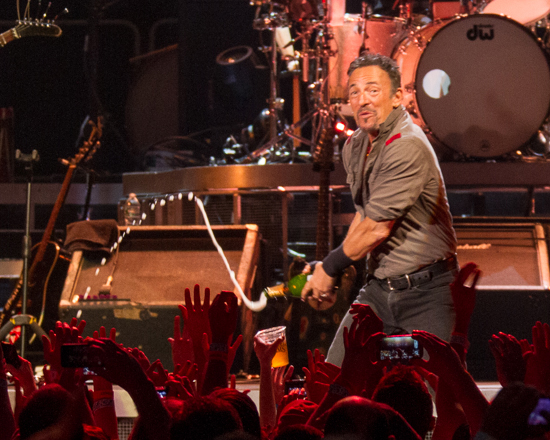 May 18 / Mohegan Sun Arena / Uncasville, CT
Notes: From the celebratory to the melancholy, the last dance was one that didn't follow any rules — except, perhaps, Expect the Unexpected. Clearly relishing the chance to take the E Street Band on a few more laps around the circuit, Springsteen challenged them on this last chance for tour debuts with no fewer than seven of them. Some were anticipated — a casino special to open (after no such nod on night one), and the world premiere of a Human Touch outtake (which had been soundchecked). Others, no way — or else there would have been at least one Santa hat thrown on stage. But who expects Christmas in May? (Not Tom Morello.) All the way through, they barely paused for breath, Springsteen not venturing out or crowd-surfing in the main set. Too busy rocking, here. All those surprises and all that rockage served to keep the melancholy at bay... at least for most of the night.
Let's start, as Bruce did, with the celebratory. Huge cheers as Bruce and Steve took the stage together arms around each other. Gearing up for a rare dip back into 1992, he asked the Mohegan Sun crowd, "Did you lose your money? You must have lost your money!... Either way, we're gonna make you feel lucky tonight!" Eschewing his guitar for the moment, Bruce's first instrument was a bottle of champagne as Roy began his "Roll of the Dice" piano riff. Bruce shook it up and popped the cork, shooting several sprays of the bubbly across the pit before taking a swig himself, then grabbing a tambourine to start singing. And damn, that sounds good wth the E Street Band, blaring horns, Stevie and Bruce trading off "just another roll" at the mic.
Strapping on the guitar and sticking with '92, Springsteen asked, "Are you feeling lucky tonight"? Not "Lucky Town," but a song from Lucky Town, it was the tour debut of a jubliant "Leap of Faith," backup singers on the chorus to take it higher. As with so many rarities tonight, the whole thing played so well with this band, you could stand there asking yourself "Why does he wait until the end to break these out?" Or you could just soak it in and enjoy it. I couldn't help going back and forth.
The only song that wasn't a tour debut in the first stretch of seven was still something they'd only tackled exactly once, Van Halen's "Jump." After that it was on to "Frankie," really stretching out the quiet middle break before the whole thing exploded, with some glorious sax from Jake Clemons. It's worth nothing that on the setlist, "Frankie" was back-to-back with "Frankie Fell in Love" (as if you hadn't already connected them in your head). Tonight Bruce played them both, but threw some audibles between. "Let me see what you've got out there tonight!" As he pulled signs from the stands, the deafening audience reaction for a huge "Santa Claus" placard made it a no-brainer, despite the season. This place was ready for some holiday cheer: a soccer chant even rose up from the crowd, singing along with the opening keys. Also cool here was the double sax solo, as both Jake and Eddie Manion came down front. It was so nice they did it twice, flanking Bruce at the end — a neat trick.
Pulling a sign for Tracks Disc Four's "Seven Angels" sent some shockwaves of elation through a certain portion of the crowd, as one of very few Springsteen songs that he had still never, ever played live. Bruce himself wasn't entirely sure — "I think we might have only played this once before..." "Never! Never!" came a cry from the pit. Springsteen took the cue immediately: "Tonight we have the tour and E Street Band world premiere! Out of all the hundreds of songs that have been played, this has never been played!" And again, the performance would prompt the question, why the hell not? "Featuring Garry Tallent!" And sure enough, there was the Tennessee Terror plugging in funky bass fills between the riffs. The whole thing kicked ass, and at the end, Bruce agreed: "That was pretty good! That one should be played, that one should be played."
"We're breaking out all the rarities tonight — all the rarities!" And it was clear, this was a night and a stand for avid fans. Not one last chance to cement the songs and themes of the last two years — in fact, this was the first night to not feature a single cut from Wrecking Ball — but to blow some hardcore minds. And judging by the volume in the crowd, the arena was full of them.
Out came a sign for "Don't Look Back," another seldom heard Tracks cut, and the last song bumped from Darkness. In a group huddle, they took a moment to work out the chords, the modus operandi being: figure it out, then kill it. Done. "Don't look! Don't look! Don't look!" This night was thrilling so far, even when it took a turn back out of Cloud Cuckoo Land for the next sign request, "Darkness on the Edge of Town" — a perfect pairing even if it brought us back to earth.
We didn't stay there long. Another "Stevie double-header!" brought "You Can Look (But You Better Not Touch)" at breakneck speed, Stevie rocking the solo and exchanging "You can look"s at the mic, into "Frankie Fell in Love." And still, at song's end, we were hardly pausing for breath, or to get sentimental, as Max kept up a thunderous drumroll and Bruce dragged his strings across the mic stand, bringing the noise as they geared up for a four-song guitar onslaught. Starting with "Adam Raised a Cain," with fierce fretwork from Bruce, it was a run that seemed designed to show off the expanded E Street Band's four lead guitarists and their individual styles on one song each: after Bruce on "Adam," it was Tom Morello's turn on "High Hopes," again playing with his teeth; then Nils Lofgren's signature solo on "Youngstown"; and finally, Stevie's tommy gun lead on "Murder Inc."
After "Johnny 99," a River doubleshot brought the horns right back downstage on "Cadillac Ranch" (as we rode "through the Connecticut night," of course), before the tour debut of "I'm a Rocker." Silly or not, it absolutely smoked. Garry stepped right up to share the mic with Steve as everyone chanted "I'm a rocker, baby I'm a rocker," while Bruce played to the back of the stage: "With you!" "Loose Ends" kept us in the River era, a fan favorite that sadly can tend to leave some crowds scratching their heads, but not here tonight. As with "Hearts of Stone" on night one, Steve added subtle but crucial backing vocals.
Skipping over the setlisted "Shackled and Drawn" (and the non-setlisted "Waitin' on a Sunny Day"), it was time for one last Morello spotlight on "Joad," and one last guitar plug solo — still as cool as the first time we heard it. Audibles of "The Rising" and "Badlands" closed the main set. But the energy of "Badlands" didn't have time to subside before the house lights came all the way up for an encore-opening "Born to Run." No acoustic songs here after the four last night, just straight-up roadhousing as Bruce next called for "Steve!" and went into "Ramrod." "Look over yonder see the casino lights?" And for posterity, the classic, no clever twists, "Steve, what time is it?!" "It's BOSS TIME." No mucking about with selfies or gaggles of fans on "Dancing in the Dark," either, but one special dance: Bruce beckoned Steven's wife Maureen up for the honor. "Let's hear it for Mrs. Van Zandt!"
"Tenth Avenue Freeze-out" was Springsteen's first and only foray into the crowd, where he stood one more time on the pit divider, there amidst the fans as images of Clarence and Danny flashed on the screens one last time. "This is the important part."
And so we come to the melancholy. A hush followed the "Freeze-out," Bruce making sure the band was ready for his audible before speaking into the darkness, "For the last dance." He conducted Soozie and Roy in, and we were off to "Jungleland."
So much of the last 26 months has been about moving through the loss of Clarence Clemons, finding a way to "begin again," breathing new life into the E Street Band and integrating Jake among the new players to carry on his uncle's legacy. "Jungleland" tonight felt like the culmination of that journey. Lit by a single spot, Jake poured heart and soul into that solo, shedding tears by the end. Bruce took a quiet moment with Jake before returning to the mic for the last verse, and for those final wordless howls that seemed to take as much out of him. At song's end, with the crowd roaring, Springsteen led the band down front once more for bows. But along with the sense of triumph in the air there were also some blues that would prove hard to shake.
As a rule, this would be where you'd expect him to blow it all out with "Rosalita" or something, "Rockin' All Over the World," or at least the setlisted "Shout." But again, this night didn't follow the rules. As a rule, you'd anticipate a speech thanking the cast and crew. As a rule, you'd expect one last roll call, and a litany of heart-stoppin', pants-droppin' descriptors. Instead, Bruce seemed to chuckle as he remembered and kept it brief — "You've just seen the legendary E Street Band" — before ushering them offstage for the last time on the High Hopes tour. We can't know Springsteen's state of mind at that moment, but if we had to guess, we can imagine him fully spent by that "Jungleland" — and by a show that didn't have an ounce of fat, no kids on stage, minimal shtick — and rightfully ready, for now, to fold up the tent.
Still, there was "One more before we move on down the road." And sitting at the pump organ for "Dream Baby Dream," Springsteen did muster up words of thanks, and a parting wish: "We want to take a moment and thank yourselves for coming out and seeing us, I appreciate the support after all of these years. And I want to thank all the four million-plus people that have seen us on the Wrecking Ball/High Hopes tour. They made this simply one of the greatest musical stretches of our lives, when we're coming out of hard times, and I can't thank all of them and all of you enough. So while we're apart, just remember... Dream baby dream..."
These two incredibly spontaneous shows brought us 49 songs over back-to-back nights, with 19 songs not played the night before. Looking at the overall numbers for the High Hopes tour, we're talking 182 different songs at just 34 shows this year. Other things are much harder to quanitfy. The closer eventually found Bruce down on his knees, bathed in light, beseeching, "I just want to see you smile... I just want to see you smile." Hope you saw it, Bruce. We've all been beaming. Thanks to you and the legendary E Street Band, and everyone behind the scenes who made these last 26 months an astounding, inspiring magic trick, the alchemy of turning devastating loss into pure, uplifting, life-affirming rock 'n' roll.
Springsteen blew kisses to the four corners, and with one last "We'll be seein' ya!" he was gone.
- Christopher Phillips reporting - photographs by A.M. Saddler
Setlist:
Roll of the Dice
Leap of Faith
Jump
Frankie
Santa Claus is Comin' to Town
Seven Angels
Don't Look Back
Darkness on the Edge of Town
You Can Look (But You Better Not Touch)
Frankie Fell in Love
Adam Raised a Cain
High Hopes
Youngstown
Murder Incorporated
Johnny 99
Cadillac Ranch
I'm a Rocker
Loose Ends
The Ghost of Tom Joad
The Rising
Badlands
* * *
Born to Run
Ramrod
Dancing in the Dark
Tenth Avenue Freeze-out
Jungleland
Dream Baby Dream (solo)

May 17 / Mohegan Sun Arena / Uncasville, CT
Notes: After South Africa, Australia, New Zealand, and some off-the-beaten-path stops in the U.S., the final shows of the High Hopes tour have Bruce and the E Street Band getting back to their home turf. No New Jersey or NYC shows, but we're at least in the general neighborhood this week, with Albany and now two nights at the Mohegan Sun Arena to close things out. For anyone trying to predict what special songs Springsteen would break out for the occasion, here in the middle of one of the largest casinos in the U.S., the odds were very much in the house's favor. "Lucky Town," "Roll of the Dice," "Roulette"... all sucker bets. How about "Racing in the Street ('78)" and "The Price You Pay" instead? You didn't pick 'em? Those were the big winners tonight, in an anything goes setlist that harkened back to Shea Stadium 2003, in terms of end-of-tour wildcards.
That alternate "Racing," released on The Promise, opened the show. Only previously played live at the Carousel shows in 2010, it threatened to fall back into the well-worn "standard" version early on, but Bruce and Roy fought through it and found the groove. It's a big, muscular version of the song, and with the backup singers and the horns also playing a part, along with Soozie ably handling David Lindley's fiddle, it was a stunner. "Clampdown" followed, all five horn players banging drums, Tom Morello completely committing to the vocal. "Working hard in Hartford!" And with "Badlands" in slot three, the tone was set for a hard rocking night.
This night was also about the return of Steve Van Zandt. In the band intros, Bruce congratulated Steve on his Norwegian Emmy for Lilyhammer (the commitment that's kept him off the stage since early March), but everyone was glad to have him back to E Street business tonight. Steve himself not least of all — when his hands weren't on his guitar, they were most often skyward, in celebration, egging on the crowd. Huge cheers greeted him as he took the stage. And after "The Ties That Bind" (which was already pointing us to Steven territory), Bruce called out "C'mon, Steve!" for the inevitable and wonderful "Two Hearts." During the "It Takes Two" coda, there was a hilarious impromptu exchange as Stevie played up trying to catch his breath. Steve: "You do this every night?" Bruce: "He's a little out of shape." "Every night you do this?" "Every fuckin' night!"
That wasn't all. "I think we need a Stevie double header!" And out came the seriously underplayed "Frankie Fell in Love," done just once with Steve prior, in February in Perth. "Now Steve," Bruce began, "in school, one and one was two. But not here. Here, tonight, in Connecticut, one and one here tonight — and in art, and in prayer, and in love — one and one always adds up to three. Because here, math isn't math at all — it's magic." Bruce and Steve spent most of the song out on the thrust, sharing a mic with arms slung around shoulders. That was magic, too.
Bruce repeatedly called his consigliere to center stage to share vocals throughout the night, with back-and-forths on songs like "Prove It" and "Radio Nowhere." But not every Steven "moment" was loudly advertised. On the goosebump-inducing "Hearts of Stone" — just the second time Bruce and the E Street Band have done it, ever — Steve added crucial harmonies from the shadows. When Bruce hollered "Doubleshot of Southside!" and "Talk to Me" followed, it was more of that one-and-one make three magic.
While Bruce went wayyy off the roadmap in terms of setlist tonight, he was mostly winging it himself, rather than looking to signs in the crowd. Following "High Hopes" he quickly called out "Raise Your Hand" a couple times to the band and used the audible as the crowd-surf song. Returning to the stage, though, he selected signs for a couple more covers. One was a clock on a paper plate: "This is a very small request for a very old song, used to be one of our encores." And with that, we were swingin' with Daddy G on "Quarter to Three." Or with Daddy E: Eddie Manion stepped up here as he did several times this night, a perfect day for Kingfish. And then a sign for "Stayin' Alive" picturing Springsteen in Travolta's iconic white suit; Bruce struck the Saturday Night Fever pose before taking the band into his ingenious arrangement of the song. And they killed it: Garry and Max holding down a groove, singers down front, Soozie handling disco strings, Morello on wah-wah guitar, and those horns going nuts. Solos from Curt, Clark and Jake before the whole line was down front, wailing away like it was "Johnny 99." But it was "Stayin' Alive." Magic.
The magic reached a peak with "The Price You Pay." Played for only the fourth time since the River tour, it's a song that Bruce has perhaps reluctantly come to realize is special, and he treated it that way tonight. "Everybody ready?" he asked he band quietly before taking them into it, and it was clear that they had really worked to refine it at soundcheck. Some fans have bemoaned the loss of the pure E Street sound in recent years, but here it was in full glory — and not despite the extra players, but because of them. The backup singers, in particular, helped truly bring "Price You Pay" to life, adding the choral effect throughout that's a hallmark of the studio version, on both verses and choruses. Mighty horns at the end were a grand punctuation mark.
While that may have concluded the holy-shit-wow factor for the main set, performance didn't drop a notch. Nils and Tom shone on "American Skin," and we got practically Platonic ideals of "The Promised Land" and "The Ghost of Tom Joad." Only "Jesse James" took a bit of wind out of the show. Great song, fun to get — and to see Garry on standup, Soozie fiddling away at center stage, Everett wearing the washboard — but it was the one selection that interrupted the flow of the night. By the set-closing "Light of Day," we were very much back in action. Bruce began it in total guitar hero mode, riffing away and wrenching chords and train whistle whines from his guitar as Max pounded away behind him.
An unusal encore brought four solo performances. Not an acoustic set, exactly, the standard encore classics were sandwiched between, but Bruce bookended the encore with two solo numbers on either side. "I'll Work For Your Love" to start was a lovely tour-end summation, and then Bruce kept the band at bay to do a little storytelling. "A good song should work with just a guy and a guitar singing it," he said following "I'll Work for Your Love." He talked about testing songs throughout his career by playing them alone. "If they come to life, if they breathe and without all the production, I knew I had something lasting." All the while, he picked out the broken chords of "Growin' Up" as he continued his story:
So this one was probably one of my best songs: old people like it, young people ask for it all the time... and really, it was a song where I wasn't trying to find myself in it, like I am in a lot of my songs. This was a song where I was trying to literally invent some sort of self. You know, you're a kid, you read all the comic books: Batman, nah. Superman, uh-uh. So this was me trying to invent my own superhero whose sneakers I could fill.

It all started a long time ago in the back of a beauty parlor... All that was left were those big machines that the women used to sit under. Believe it or not, there was a moment you could not dry your hair with something you held in your hand! You needed something the size of a friggin' Pepsi machine to dry your hair for ten minutes. And you couldn't talk to anyone while you were doing it. Stone ages! So imagine a whole line of those Pepsi machine hair dryers, all the lights out, and this little kid, this skinny little kid sitting in the back, at an out-of-tune piano. And he's looking around, and he's goin'... "Okay... who the fuck would live here?" So I took a look outside, the moon was high, and I sat down at the piano. I took a deep breath, and I sang... a whole bunch of terrible words before I got to these next good ones. I stood stone-like at midnight...
Alone again for a lovely "If I Should Fall Behind" and "Thunder Road" at the end, after how talking about how "I started out as just a guy and a guitar," it was hard not to wonder if we're already seeing what's on Bruce's mind for his next project. But we're not thinking about that too hard. And we also tried not to dwell on how much emphasis he put on the lines in "Hearts of Stone": "this is the last dance... this is the last chance..." Because only heaven knows what the future will bring. And after all, there's still "another spectacular tomorrow night!" Who's bringing the fuzzy dice?
- Christopher Phillips reporting - photographs by A.M. Saddler
Setlist:
Racing in the Street ('78)
Clampdown
Badlands
The Ties That Bind
Two Hearts
Frankie Fell in Love
High Hopes
Raise Your Hand
Quarter to Three
Stayin' Alive
Hearts of Stone
Talk to Me
The Price You Pay
American Skin
The Promised Land
Prove It All Night
Jesse James
Shackled and Drawn
The Ghost of Tom Joad
Radio Nowhere
The Rising
Light of Day
* * *
I'll Work For Your Love (solo acoustic)
Growin' Up (acoustic)
Born to Run
Dancing in the Dark
Tenth Avenue Freeze-out
Shout
If I Should Fall Behind (solo acoustic)
Thunder Road (solo acoustic)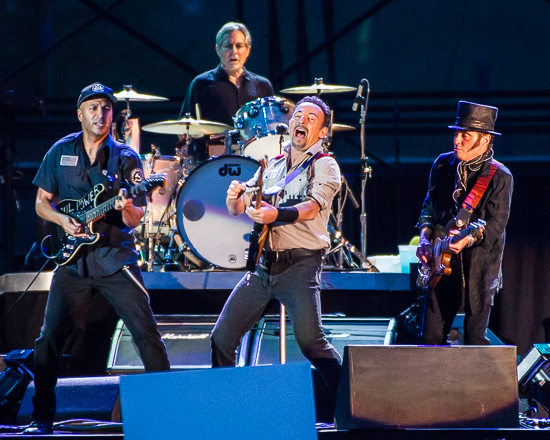 May 14 / Hersheypark Staidum / Hershey, PA
Notes: "Music is magic... not a trick. It is actual alchemy. What that creation is, on a nightly basis, is what happens when you and your audience meet."
— Bruce Springsteen, North America 2014 Tour Program
Since Bruce Springsteen and the E Street Band first performed there about six years ago on the Magic Tour, Hersheypark Stadium quickly has become one of the best venues for that "magic in the night" that happens whenever Bruce and the band connect deeply to an audience. Last night's show was no exception. Thousands of fans young and old, from both the Central Pennsylvania area and elsewhere (including the major neighboring Springsteen fanbases of Philly, Pittsburgh and, of course, New Jersey) filled the 75-year-old stadium. They came ready both to participate and to listen intently, key requirements for any audience seeking an extra-special Springsteen/E Street performance.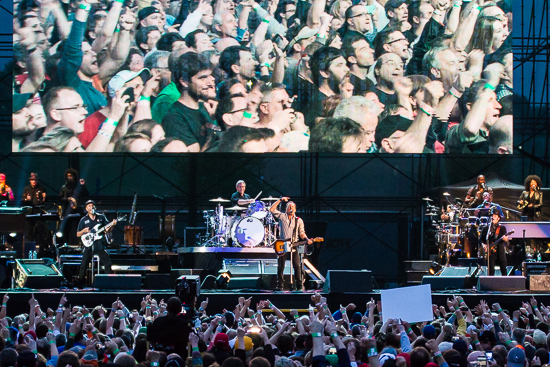 Bruce and the band, currently with Tom Morello along for the ride, responded in kind. They opened with their searing, horns-enhanced cover of The Clash's "Clampdown" that has been a highlight of several recent shows, followed by intense versions of "Badlands" and "Wrecking Ball." The Hershey performance of "Clampdown" marked the first time that the "workin' hard" roll-call near the end of the song actually began with Harrisburg, just as The Clash's original version did. (Pennsylvania's capital city is only about ten miles away from Hershey.) The anti-war lyrics of "Clampdown" also would set the stage for later powerful performances of Vietnam-War-themed songs from both Bruce's first album ("Lost in the Flood") and his most recent one ("The Wall"). Before that, however, the mood was lightened a bit with "Hungry Heart"... at least until the crowd surfing began. There was a brief but genuinely scary "Don't drop The Boss!" moment when it appeared as if Bruce's entire upper torso, as well as the man's head, were heading rapidly towards the ground. Fortunately, fans reacted quickly enough and before long, Bruce was standing back on stage, giggling about the whole moment and looking completely unharmed by it.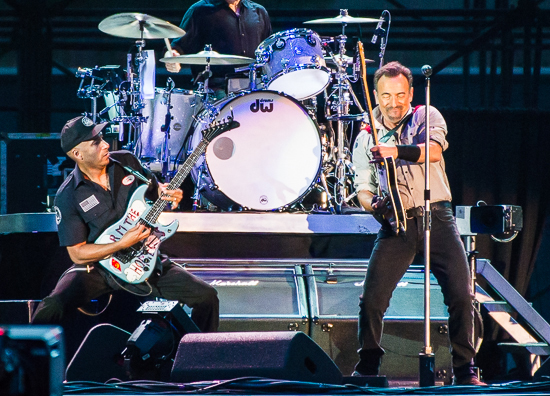 A sign request for "Candy's Room," rewarded with explosive drum/guitar work by Max and Bruce, was likely inspired at least in part by the venue's location near one of the world's largest candy manufacturers. The next song, the stateside tour debut of "Roulette," was just as explosive and also inspired by a nearby locale, though a much more notorious one: the Three Mile Island nuclear power plant, still in operation 35 years after its near-meltdown. Springsteen wrote and recorded "Roulette" for The River in 1979 in the wake of the Three Mile Island disaster. It remained unreleased until its 1988 appearance as a B-side. Last night's version was especially impressive as Bruce sang one of his most difficult, word-heavy lyrics in lightning-fast, punk-rock speed, not slipping up for a second, the band keeping up with him all the way. They then segued perfectly into the equally appropriate "Death to My Hometown."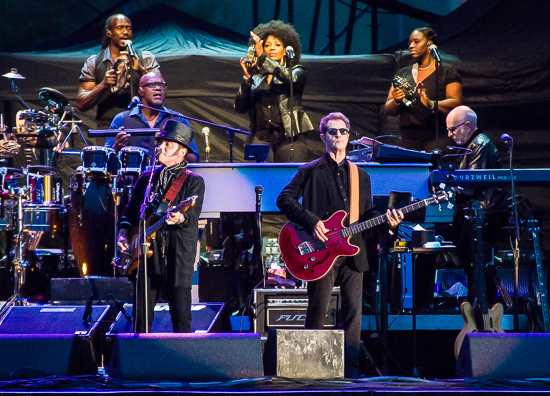 Other stateside tour debuts in Hershey last night included "The E Street Shuffle" (featuring a wonderful percussion duel between Mighty Max and Reverend Everett), a gorgeous solo piano version of "For You" (proving just how great a singer Bruce remains and how well he's cared for his voice over the years), and a sweet solo version, on acoustic guitar and harmonica, of "Surprise, Surprise" performed by request to open the encores. The evening's sole tour debut, the 1981 B-side "Be True," featured Eddie "Kingfish" Manion skillfully reinventing Clarence's sax solo in a lower register.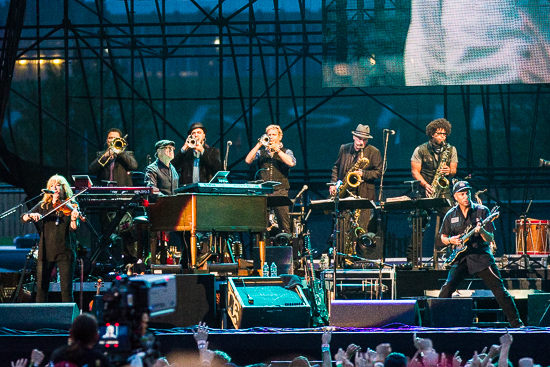 A light, pleasantly cool, misty drizzle crept in during the second half of the show, prompting Bruce to pull another sign from the crowd that read, "'Mary's Place' (Let It Rain)." The performance was as pleasant and intoxicating as the misty rain, with Bruce exhorting the crowd to "give me some of that old soul clapping," a direct nod to Sam and Dave's "I Thank You."
And how about that crowd! They seemed to play their part in the show as well as Bruce and the band: singing along, clapping and dancing when appropriate. ("Dancing in the Dark", incidentally, featured not only an onstage dancer but also some young onstage "jammers with the band.") Just as importantly, however, the overwhelming majority actually shut up and listened when needed. The almost complete silence of the audience during quieter performances like "For You" and "The Wall" was especially impressive in an outdoor U.S. crowd of approximately 30,000. They were rewarded by Bruce with sincere thanks for "a great evening," but the real reward was getting to create that evening together with him and his troupe of musical alchemists specializing in the "everlasting, eternal ass-kicking power of rock and roll!"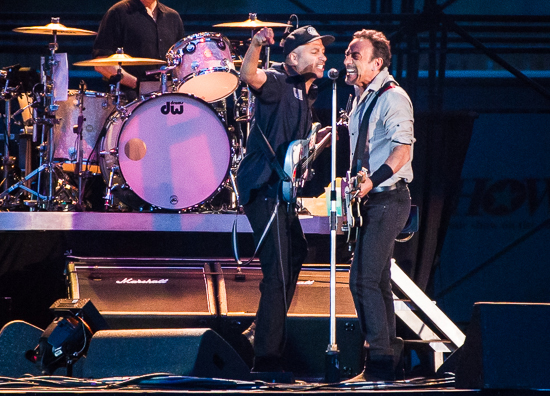 Let's go to the tape: While many may have been expecting another song with the word "Born" in the title to follow "The Wall," following it with "Born To Run" instead of "Born in the U.S.A." highlighted the darker, Vietnam-era aspects of "Born to Run"'s lyrics. (It's worth remembering that "Born to Run" was written, recorded and already on the radio in some major markets before the Fall of Saigon.) Max and Nils also engaged in some fantastic (and, for this pair, relatively rare) drum/guitar "dueling" during "Light of Day." Speaking of guitars, while not enough praise can be heaped on Tom Morello's solo spots (including that jaw-dropping amp-plug solo), it's also worth noting the excellent job he does in stepping back and blending in so well with the rest of the band whenever needed. Stevie remains missed and loved much, of course, but Morello's been filling some very big snakeskin boots with aplomb.
- Shawn Poole reporting - photographs by Joe Papeo
Setlist:
Clampdown
Badlands
Wrecking Ball
Hungry Heart
Candy's Room
Roulette
Death to My Hometown
High Hopes
Be True
The E Street Shuffle
Lost in the Flood
For You (solo piano)
Prove It All Night (with '78 intro)
The Promised Land
Mary's Place
Shackled and Drawn
Waitin' on a Sunny Day
The Ghost of Tom Joad
Lonesome Day
The Rising
Light of Day
* * *
Surprise Surprise (solo acoustic)
The Wall
Born to Run
Bobby Jean
Dancing in the Dark
Tenth Avenue Freeze-out
Shout
Thunder Road


May 13 / Times Union Center / Albany, NY
Notes: One wild night in Albany. Tonight's show circled all the bases and then some, veering from fist-pump anthems to playful raveups, hymnlike reveries to horn-fueled cacophony and back around again. That half the setlist was tossed out mid-stream gives some idea of the show's seat-of-the-pants abandon.
A ferocious rendition of INXS's "Don't Change," to open — its stateside debut, after a one-off in Sydney in February — was sung with such fury you worried Bruce might pop a neck artery. It set the tone for the opening stretch: a relentless, pogo-tastic barrage of uptempo guitar tunes, full of rage and righteous defiance. With his stone-cold scowl, Bruce looked ready for a fight, down to the epaulets on his khaki shirt. "My Love Will Not Let You Down" prompted his first smile of the night, when Tom Morello stepped over to join Bruce and Nils in formation on that buzzsaw guitar break.
"No Surrender" was smartly followed by the U.S. premiere of "This Is Your Sword" (soundchecked but not played last week in Houston). The extra prep clearly made a difference: buttressed by the horns' fanfare, "Sword" worked better live than on record. "Badlands," "Death to My Hometown," and "High Hopes" carried forth the battle-cry theme. (Cool touch: Morello's bagpipe-guitar flourishes on "Death to My Hometown." Somebody's been listening to Big Country.)
Then came the first of the set's many left turns, and just one of six — count 'em, six — cover songs. Introducing a horn-and-organ-drenched workout of Roy Head's 1965 gem "Treat Her Right," Bruce spoke of the romance lessons imparted by classic soul songs. "My parents didn't know it, but if you listened real hard to that junk coming out of the radio, there was wisdom in it!" As if to underscore said lesson, a young woman leapt onstage to do a sultry '60s go-go shimmy, to Bruce's wry amusement.
The laughter over the dancing girl had barely subsided when a familiar piano figure trickled in. It soon swelled to a sparkling cascade — and out of nowhere came the emotional flood of "Something in the Night." Bruce's drowning-man howl silenced the chatter and stopped everyone in their tracks: an astonishing performance, and a master class in drama from the man who wrote rock's script.
It was also a lesson in improv, since neither "Something" nor the six songs that followed were on the handwritten setlist. At this point Bruce simply threw out the map, and we were off on a freewheeling, off-road adventure. "It's audience participation night!" cried our M.C. at one point — and a stretch of six straight requests bore that out. First up: a daughter's wish that Bruce dance with her mom for Mother's Day. Wish granted, to the sweet strains of The Drifters' "Save the Last Dance for Me," in its third-ever airing on E Street. The scene had the beery guy to my left noticeably misty-eyed. ("Allergies," he sniffed — then we both just laughed.)
The criminally underplayed "Better Days" made its first U.S. appearance since 2003, reminding the crowd — and, one hopes, the singer — how underrated his '92 output was and still is. Then came a giddy take on an E Street classic. "You girls really wanna hear this song?" Bruce asked three kids in matching Born to Run shirts, displaying their sign for "Seaside Bar Song." "This song is ten times older than you are!" Roy's roller-rink organ riff filled the air, and we took off on a jaunt to the Shore.
"Mary's Place," blessedly trimmed of its Rising-era bloat, set up the shocker return — for the first time outside Australia — of the Bee Gees' "Stayin' Alive." Newly fleshed out, and tight as Travolta's pants, it inspired a front-of-stage dance-off between singers and horn players; Cindy Mizell's grin was worth the price of admission. But leave it to Bruce to mine the desperation beneath that cocksure disco strut, finding new meaning in those oft-parodied lyrics. (Is "Stayin' Alive" the great lost Springsteen song? Discuss.)
And then a holy-shit moment: "Kingdom of Days," for the evening's final request. That Working on a Dream rarity, unplayed since 2009, had clearly been rehearsed — "for Sharon," said Bruce — and this solo-acoustic rendition was just sublime. The final refrain even brought some lovely, full-throated keening, the sort that takes your breath away, while making you wonder if Bruce's will hold out. It did, and the sheer commitment he brought to the vocal drew a roar of approval from the crowd.
By now Bruce was not just asking his band to turn on dimes, but his audience as well: as he pivoted from "Treat Her Right" to "Something in the Night" and from "Stayin' Alive" to "Kingdom," the mood swings might have been whiplash-worthy — but Albany fans, admirably, held tight for every turn. The main set managed to wrap in semi-familiar fashion, as "Shackled and Drawn," "The Ghost of Tom Joad" (which Morello simply owns at this point), and "The Rising" led into an exuberant "Light of Day," now retrofitted with a great Asbury Jukes–style horn riff.
And can we just take a moment to say: Max freaking Weinberg. The man just can't be stopped, possessed of a stamina to rival his boss's. And his boss certainly put him through the paces tonight, cheekily goading Max on, calling for countless cymbal-splashing segues and tom-pummeling fills that surely had the poor guy flashing back to his audition for the band, 40 years ago this summer.
Switching gears yet again, the encore opened on a reflective note. Bruce's bittersweet recollections of Walter Cichon and Bart Haynes — hometown musical heroes who later died in Vietnam — gave a name to the sorrow behind "The Wall," which, in its gorgeous live incarnation, reveals itself as one of his finest, most poignant compositions. (Just ask Allergy Guy: by the final verse, he was as shattered as I was.) Then, as that mournful trumpet refrain faded away, Bruce counted in the only song that could come next: what else but a blistering "Born in the U.S.A."? (Actually, that song wasn't even on the original setlist, which instead called for "Born to Run.") More Max madness ensued as the world's most durable drummer did his best Animal impression during the extended breakdown.
After that careening go-kart of a set, you sort of knew "Ramrod" would turn up in the encore. An audible after "Tenth Avenue," it had a bumpy start, with Bruce playing off-key on the wrong (tuned-down) guitar, but after a quick Tele swap, he and the band were chugging away. With Steve and Patti both absent tonight, we had the novelty of Nils filling in as comic foil/mic partner on "Ramrod," and of Garry, at stage far-left, singing exuberant backup (while still keeping cool in his new shades). A frenzied "Shout" and a full-band "Thunder Road" took us all the way home. And only as we filed out did we finally catch our breath and ask, "What just happened?"
I'm guessing Bruce isn't too sure either. The handwritten setlist reveals a very different plan: out went "Hunter of Invisible Game," "Heaven's Wall," "Atlantic City," "Johnny 99," "O Mary, Don't You Weep," "American Skin," "Promised Land," "Because the Night," "Lonesome Day," and "Dream Baby Dream"; in their place came "Something in the Night," "Save the Last Dance," "Better Days," "Seaside Bar Song," "Mary's Place," "Stayin' Alive," "Kingdom of Days," "Ramrod," and "Thunder Road."
Did all that make for a better show? Perhaps. Sure, there were no songs from the first two records, only one lone cut from The River, and no so-called "epics." But with all those tour premieres and stateside debuts, including a whopping six covers, it certainly felt epic. Staggering back to my hotel, soaked in sweat, I recalled one of my favorite Springsteen quotes, from an interview with Dave Marsh in 1984: "Our job is, we just blow into town, tell everybody to keep going, and we blow on out."
Job, done and dusted.
- Peter Jon Lindberg reporting - photographs by A.M. Saddler
Setlist:
Don't Change
My Love Will Not Let You Down
No Surrender
This Is Your Sword
Badlands
Death to My Hometown
High Hopes
Treat Her Right
Something in the Night
Save the Last Dance for Me
Better Days
Seaside Bar Song
Mary's Place
Stayin' Alive
Kingdom of Days (acoustic)
Shackled and Drawn
The Ghost of Tom Joad
The Rising
Light of Day
* * *
The Wall
Born in the U.S.A.
Born to Run
Dancing in the Dark
Tenth Avenue Freeze-out
Ramrod
Shout
Thunder Road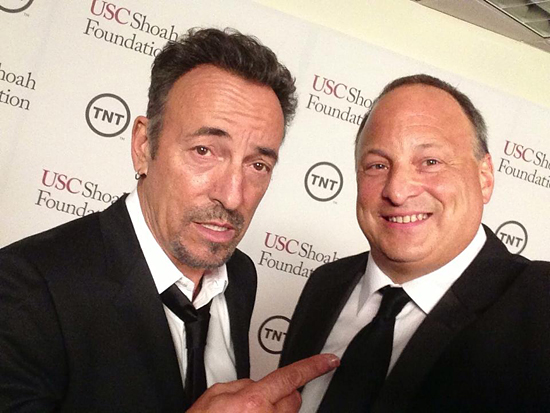 May 7 / Hyatt Regency Century Plaza Hotel / Century City, CA
Notes: Bruce Springsteen performed at a benefit dinner for Steven Spielberg's USC Shoah Foundation last night in Los Angeles, where he shared a table with Spielberg and President Obama. The President was on hand to accept the foundation's Ambassador for Humanity award. According to an AP report, Spielberg called Springsteen "this nation's hardest working lyrical poet for our common humanity" and remarked, "I think anyone who has a boss wishes it was you." In black tie, Springsteen performed two songs on acoustic guitar: "The Promised Land" and "Dancing in the Dark."
The USC Shoah Foundation Institute for Visual History and Education, which Spielberg founded in 1994, is dedicated to making audio-visual interviews with survivors and witnesses of the Holocaust and other genocides a compelling voice for education and action. Before the event, the director said in a statement, "I am personally honored that Bruce, [host] Conan [O'Brien], and Liam [Neeson] are joining me and lending their considerable talents to this year's special 20th anniversary gala. Not only do they entertain and inform us through song, laughter, and words, but by helping us commemorate this significant milestone, they also draw attention to the vital work of the USC Shoah Foundation."
- photograph: Jeff Kravitz/FilmMagic
Setlist:
The Promised Land (solo acoustic)
Dancing in the Dark (solo acoustic)

May 6 / Cynthia Woods Mitchell Pavilion / Houston, TX
With the High Hopes tour making the turn and heading for home, the setlists continue to open up, creating an anything-is-possible atmosphere. Last night's show in the Houston suburbs provided a great template for a career retrospective show, providing everything Bruce Springsteen and the E Street Band should be, without resorting to overused gimmicks. Counting generously, songs from 15 different releases appeared in tonight's set. Six of these songs were from Born to Run, but given the great variety, the show never seemed heavy on the classics, and seemed as fresh and as fun as a more studiously constructed set would have.
It should be no surprise that the show started with an audible. Although a microphone was set up on the center stage extension, Bruce came out and shook his head. The setlist called for the U.S. premiere of "This Is Your Sword," but Bruce opted for the hometown flavor of "Seeds." The crowd reaction indicated that this was a great choice, loving Bruce's extended guitar solo.
After the double shot of "High Hopes" and "Badlands," Bruce took three signs in a row (though only the last of them was a true audible: a sign for "Adam Raised a Cain" correctly predicted its setlist spot, and "She's the One," which included the opening lines of "Not Fade Away" was moved up in the set). The best sign, and the first jaw-dropping moment of the night, was number three. A huge posterboard featuring a picture of Bruce and Patti singing together on the Tunnel of Love tour asked for a trip back to 1988. A beautiful version of "One Step Up" followed, with Patti joining Bruce at the center mic to finish the song. Big difference from 1988: as Patti clutched the mic stand with her left hand while singing, her engagement ring and wedding band shone.
Fresh from Jazz Fest, Bruce then launched into a pair of highlights from the Seeger Sessions shows. Outside of NOLA, Houston may be the most appropriate place for these songs, given how many New Orleans refugees made their way to Houston, with the Astrodome serving as a shelter during those dark days nine years ago. The reminder that the displaced had relatives "all the way from Texas to Baltimore" drew a huge cheer from the crowd.
The intro to "Wrecking Ball" revealed a much smaller number of New Jersey visitors than seems usual, but the local football fans (Cowboys and Texans) made their displeasure at the reference to the Giants known.
"Night" was a sign request from the seated area of the amphitheater, with Bruce pointing to the sign to prompt the band; that resulted in a couple of band members switching instruments after the song started, as they couldn't make out the sign Bruce was pointing to.
For the next request, there was no question what song the band was going into. Twenty-eight-year-old Alex Flores was holding a sign claiming that he "Busted [his] lil brother out of class to sing with The Boss" and asking, "Can we sing?" Bruce took the sign and posed, thinking about it for a while before bringing Alex and 16-year-old Tommy on stage with him to center mic. What followed was possibly the most joyous, exuberant version of "No Surrender" ever, with the Flores brothers nailing every nuance of the song. At their very first Springsteen show, the Flores brothers had a dream come true, and they could not have been more appreciative, not only hugging Bruce, but going around the stage personally thanking every band member individually. The Houston crowd ate it up.
Bruce appropriately followed this with another great song about friendship, taking a sign for our namesake song from the crowd. It was a very special version of "Backstreets," featuring both the spoken "Sad Eyes" middle break and the "Drive All Night" piece. Bruce seemed to find the reaction to "Drive All Night" amusing, chuckling to himself as the crowd roared.

After "Because the Night" and audibles for the album-tracking combo of "Downbound Train" and "I'm on Fire," Bruce began by introducing the next song as one that is rarely played "because nobody likes it." He dedicated "All or Nothin' at All" to a fan who had been carrying a sign for the song for the last few shows, noting, however, that he did not see the sign and that the band must have learned the song too late. A spot-on version followed, with Bruce's pelvic thrusts highlighting the song's message. The crowd reaction showed that Bruce was wrong about people's feelings about the song, and perhaps, a lot of the Human Touch material in general.
The trio of "Shackled," "Joad," and "The Rising" followed ("Sunny Day" seeming to be on a well-deserved vacation), with huge crowd reactions to Tom Morello's contributions to "The Ghost of Tom Joad." The main set closed with another audible to a locally inspired tune, with a standout version of "Light of Day" wrapping things up. The middle break featured an extended guitar solo from Nils, which included him jumping up on the drum riser and bringing Max into it, for a magnificent guitar/drums duet.
Texas favorite Joe Ely made yet another appearance with Bruce, taking lead vocals on "Great Balls of Fire" and giving way to Bruce on "Lucille." These rock classics worked especially well to kick off the encores and lead into "Born to Run." Bruce took the final sign of the night with an air of inevitability, as he seemed to recognize the raucous crowd deserved a visit from "Rosalita."
Introducing the closing acoustic version of "Thunder Road," Bruce spoke lovingly of the band's long history in Houston. He recalled their first visit 40 years ago, which followed the band's first trip by plane to L.A. As the band collectively decided to never travel by air again, the E Streeters traveled from New York to Houston by train, a trip that Bruce recalled took two days. He name-checked their appearance at Liberty Hall and remembered how the crowd embraced the young E Street Band, making the trip worthwhile. Although no longer afraid of air travel, the love of the Texas crowd once again ensured the trip was worthwhile for Bruce and the band. And, of course, Bruce and the band returned the favor.
- Lowell D. Kern reporting - photographs by Alan Chitlik
Setlist:
Seeds
High Hopes
Badlands
Adam Raised a Cain
She's the One
One Step Up
Jesse James
How Can a Poor Man Stand Such Times and Live?
Wrecking Ball
Death to My Hometown
Night
No Surrender
Backstreets
Because the Night
Downbound Train
I'm on Fire
All or Nothin' at All
Shackled and Drawn
The Ghost of Tom Joad
The Rising
Light of Day
* * *
Great Balls of Fire (with Joe Ely)
Lucille (with Joe Ely)
Born to Run
Rosalita
Dancing in the Dark
Tenth Avenue Freeze-out
Shout
Thunder Road

May 3 / Saenger Theatre / New Orleans, LA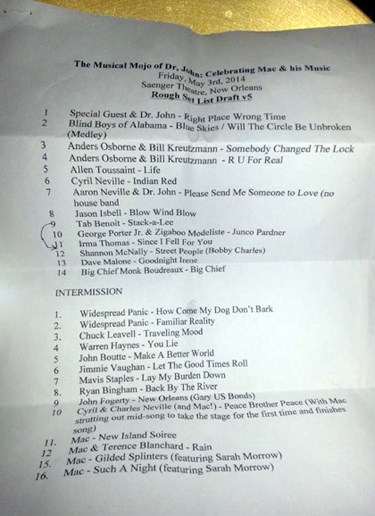 Notes: Springsteen played something of a double-header on Saturday in New Orleans: After his 24-song Jazz Fest set with the E Street Band, he stuck around to open that night's tribute at the Saenger Theater, "The Musical Mojo of Dr. John: A Celebration of Mac & His Music." (Previously, Mac "Dr. John" Rebennack sat in with Bruce and the E Street Band during their 2012 Jazz Fest set.) An unbilled "Special Guest," Bruce kicked off the proceedings at center stage, playing lead guitar and trading vocals on "Right Place Wrong Time" with Dr. John himself on piano.
The tribute, which was filmed for a DVD release, also included guests John Fogerty (fresh from the E Street Band stage himself), Jason Isbell, The Blind Boys of Alabama, the Neville Brothers, Widespread Panic, Irma Thomas, Mavis Staples, and many more.
- typed setlist thanks to PanicStream
Setlist:
Right Place Wrong Time (with Dr. John)

May 3 / New Orleans Jazz & Heritage Festival / New Orleans, LA
Notes: There are Bruce Springsteen shows and then there are Bruce Springsteen festival shows. Not many of those on each tour, and they are not every hardcore fan's cup of gumbo. For others like myself, festivals are a refreshing change that opens the possibility of delightful surprises — like Glen Hansard's emotional co-starring role on "Drive All Night" in Kilkenny last summer.
When it comes to festivals, New Orleans Jazz Fest is not just a different animal; it is more like a beast that creates a myriad of possibilities on stage and an ongoing debate at the Fairgrounds of who just might get the Big Easy invites. This is also a festival for big people who love and know their music, not one for a bunch of drunks. From the moment you arrive in town you discover that Bruce is revered here and has been since his Post-Katrina appearance, a show the Associated Press at the time described as one where he reflected the anger, pain, frustration and resilience of a hurricane-battered city. The response to Katrina, he said from the stage then, was one of criminal ineptitude.
With that certain President far in the rearview mirror painting watercolors, this was not the same pissed-off Springsteen... but, as he says often when grabbing a request, the elephant never forgets.
This day on the big stage started with a jambalaya of Louisiana music: Marc Broussard, Allen Toussaint (with guest Jimmy Buffet) and the Voices of Wetlands All stars. All the while the crowd swelled farther than any pair of eyes could see. This was easily the largest gathering for any one artist in the 45-year history of this festival according to long-timers.
With a 7pm curfew, the band hit the stage at 4:27 with a "High Hopes" that could not better describe this city in 2014, followed by a "Johnny 99" that had Soozie hitting that fiddle like she was in a Cajun band and the horns sounding more like a NOLA brass ensemble that might give Sunday's big stage closer, Trombone Shorty and Orleans Avenue, a run for their money. "Badlands" and a fierce "No Surrender" reminded all the faithful this is still a Bruce Springsteen show.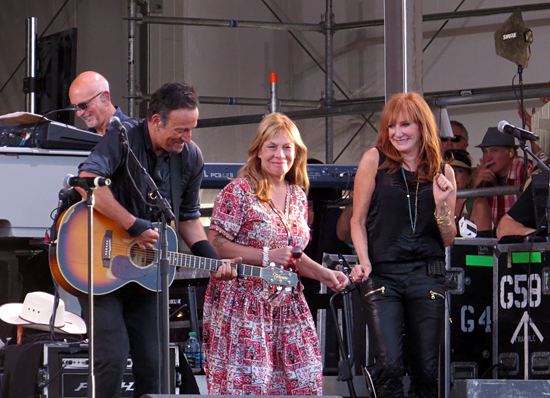 You can't stay angry forever, and when "Hungry Heart" followed Bruce took the deepest foray into the crowd I have ever seen. Had he tried to have the fans surf him back, it would have taken a half-hour. Then it was time to start digging deep into what you would expect here, Seeger Sessions material that started with "Jesse James" and Rickie Lee Jones joining up with Patti Scialfa for a few bars. And the horns, oh those horns, you just cannot get enough of them down here. The lads excelled.
A four-pack followed that was all anyone needs to know about how this man connects with the city: "The River," never more heartfelt than it was here, and "How Can a Poor Man Stand Such Times and Live?" which had the crowd basically saying," brother you got that right," followed by "Wrecking Ball" and, as if it were written for NOLA, "Death to My Hometown." Hope and redemption changed the tone, with "The Promised Land" and a version of "O Mary Don't You Weep" that could have easily been a part of Irma Thomas' spectacular gospel performance the day before.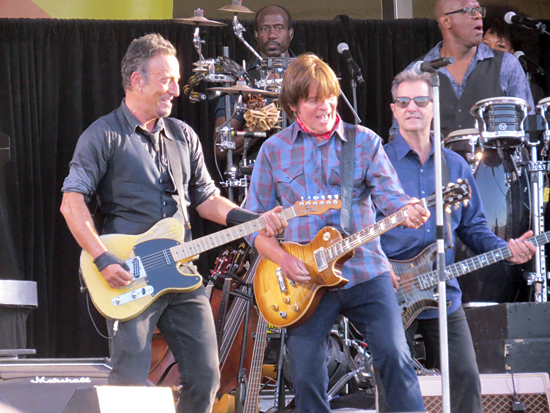 After "Shackled and Drawn" it was time for this tour's staple, "The Ghost of Tom Joad," with Tom Morello taking the guitar riffs even higher and the theatrics a little lower. "The Rising" and "Land of Hope and Dreams" were as good as ever. But now it was encore time, and if John Fogerty is within twenty zip codes of a Springsteen appearance, you know what is coming next, not one but two combos with the man Bruce says he idolized in his early days, "Green River," and for New Orleans you could feel it rolling down the mighty Mississippi, "Proud Mary."
This was not a show for some little kid singing on stage (none) or requests (none) or even for a gaggle of lovelies dancing on stage; there was just one lovely for "Dancing in the Dark," and she got some long, close-up slow dancing with The Boss. "Tenth Avenue" got its rightful place in the setlist, with some people even taking off their hats in respect for Clarence and Danny.
And that is when the show got deeply personal. Bruce hushed the crowd to say, "We wouldn't be who we are today without you, New Orleans. This is for you." Today's version of "When the Saints Go Marching In" was so wonderful, so heartfelt with layer after layer of sound and emotion, it was enough to make a grown man cry. And some of us did.
This American treasure of a city should never be left in tears again, and Bruce won't leave them crying, either — which is probably why he road-tested "Pay Me My Money Down" several times. By the time it got to the Crescent City it might as well have been Mardi Gras all over again.
"Thunder Road" finished off this most amazing experience of decades of watching Bruce, but it was no time to ride the highway solo. This "Thunder Road" was just like the one many of us got on years and years ago. New Orleans adopted the band after Katrina, and today Bruce Springsteen and The E Street Band gave their love back.
Who Dat? Down here Dat the man.
- Mike Collins reporting - photographs by David Hulen (1) and Ron Valle (2-7)
Setlist:
High Hopes
Johnny 99
Badlands
No Surrender
Hungry Heart
Jesse James (with Rickie Lee Jones)
The River
How Can a Poor Man Stand Such Times and Live?
Wrecking Ball
Death to My Hometown
The Promised Land
O Mary Don't You Weep (with Rickie Lee Jones)
Shackled and Drawn
The Ghost of Tom Joad
The Rising
Land of Hope and Dreams
* * *
Green River (with John Fogerty)
Proud Mary (with John Fogerty)
Born to Run
Dancing in the Dark
Tenth Avenue Freeze-out
When the Saints Go Marching In
Pay Me My Money Down
Thunder Road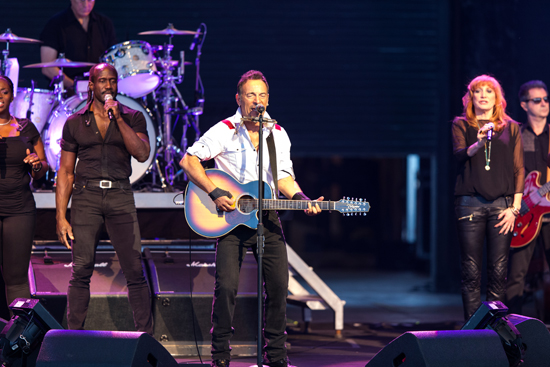 May 1 / MidFlorida Credit Union Amphitheatre / Tampa, FL
Notes:Entering the stage wearing not his usual dark colors but a white shirt, Bruce Springsteen addressed the crowd in Tampa on this International Workers' Day with "Happy May Day! This is a salute for the union folks here tonight." Strumming an acoustic guitar alone, Bruce was soon accompanied by the background singers for the world premiere of "Joe Hill." The 1936 song by Earl Robinson about the Swedish-American labor activist is one often associated with Pete Seeger. Hill himself was a popular songwriter, who sang often about the plight of the worker.


The Clash's "Clampdown" followed once again, with "Badlands," "The Ties That Bind" and "Out in the Street" serving to pump up the Florida crowd on a typically hot spring evening. As Bruce put it here in this outdoor amphitheatre, "Nice and warm, that's how I like it!"

The first E Street Band performance of "Jesse James," and the first performance at all since 2006, gave the first indication of one of the themes of the night, with Bruce explaining, "We gotta tune up for Jazz Fest." The song began with just Nils on banjo and Bruce on an acoustic guitar before the band kicked on in.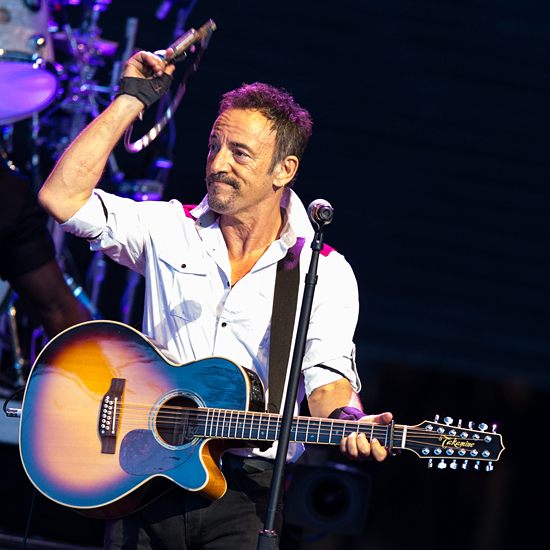 The first U.S. "Candy's Room" this tour, followed by "Darkness on the Edge of Town," led us into only the second-ever E Street Band performance of "Brothers Under the Bridge" (even though Bruce thought it was the first). Bruce introduced the song, explaining, "This is a story about... in the Vietnam War, there were a lot of soldiers who moved back into the mainstream, and they ended up settling in California, and they ended up out in the California mountains. This is the story of one those soldiers who has a young daughter, and she comes out to the mountains looking for her daddy."

Plucking a sign from the crowd for "the only song in my oeuvre that mentions Tampa" — "From Small Things (Big Things One Day Come)" — Bruce encouraged the crowd to cheer when he reached the line mentioning the locale: "I need the cheap applause." Another sign request followed, the first rendition of Them's classic "Gloria" since 2008, whipping the Florida crowd into a frenzy.
Another Jazz Fest tune up, "Pay Me My Money Down", was extended while Bruce, followed by much of the band, entered the crowd. Rather than the the usual quick procession behind the pit, he took a detour to the concourse to visit the bar, returning eventually with drink in hand. "Light of Day" closed the main set, with Bruce directing Max and Nils to an extended jam.

A rare recent appearance of "We Are Alive" was preceded by an introduction:
"You surprised me! I don't know what the fuck's gonna happen up here when I come out. That was fun. We actually made it all the way to the bar out there, and somebody bought me a drink in the middle of the song. That's a first, my friends, that's a first!

"This is a ghost story for May 1st, about all the folks who sacrificed. Sacrificed their lives that other folks would get a better shake. Fought, died, just trying to organize themselves. It's a ghost story, those ghosts they're always all around us. The past never leaves us, it's always at our side."


The last of the Jazz Fest tune-ups, "O Mary Don't You Weep," had Charlie taking Roy's place on the piano, with Roy up front playing accordion. The transition back to normal positions did not quite complete before "Born to Run" kicked in. "Thunder Road" closed the 2:50 set, with Bruce once again remarking on the weather: "A little heat is a good thing!"
- Todd Draper reporting - photographs by Michael Zorn
Setlist:
Joe Hill
Clampdown
Badlands
The Ties That Bind
Out in the Street
Jesse James
High Hopes
Candy's Room
Darkness on the Edge of Town
Brothers Under the Bridge
From Small Things (Big Things One Day Come)
Wrecking Ball
Night
My Love Will Not Let You Down
Gloria
No Surrender
Bobby Jean
Pay Me My Money Down
The Ghost of Tom Joad
Lonesome Day
Light of Day
* * *
We Are Alive
O Mary Don't You Weep
Born to Run
Dancing in the Dark
Tenth Avenue Freeze-out
Shout
Thunder Road (acoustic)


April 29 / BB&T Center / Sunrise, FL
Notes: "Are you ready to be transformed?" Bruce Springsteen asked the Sunrise, Florida crowd as the E Street Band took the stage last night and launched into The Clash's "Clampdown," name-checking Florida cities while trading vocals with Tom Morello. "Badlands" ended without the customary reprise; "High Hopes" and "No Surrender" kept the intensity up.


The initial onslaught done, Bruce asked the crowd for their requests. The first sign asked, "Is you son available?" leading to an amused remark, "That's how you know you're getting old." A so-young-and-in-love couple's sign asked for the rarely played "I Wanna Marry You," which Springsteen performed solo acoustic since "The band doesn't know this one." Offering his sage advice to the singles in the crowd, Bruce noted, "If you meet your partner at an E Street Band show, you don't have to love each other, you can just love me."


And then the crowd was asked a question always sure to thrill the faithful: "Are you ready for an E Street Band premiere? Never been played live... I don't think." Bruce's recall was correct, and we were treated to the world premiere of "Linda Let Me Be the One," nearly 40 years after it was recorded as part of the Born to Run sessions. Midway through, after some confusion, Bruce stopped the song, explaining, "Wait a minute, we fucked the whole thing up right there," before kicking the band back in to finish. He pronounced his own judgement at the song's end: "Close!"

The debut leaves just 17 of the 66 songs from Tracks unplayed.

"Time for some R&B. Look out — I'm warning you!" That was all the warning the crowd received before a searing tour debut of "Boom Boom," with Bruce directing the horns to come down. One longtime fan commented, "I love it when he's a band leader."


More sign requests led us to another debut, the first-ever E Street Band performance of "Hearts of Stone." Bruce explained, "Southside Johnny needed two songs to finish an album. I gave him this one and 'Talk to Me.'" Never one to tease, what followed next was an audible to complete the duo.

"Talk to Me" usually comes with some fun shtick, and this night was no excpetion: "All I know is, it's the same thing I always do," Bruce began riffing mid-song. "I'm just trying to start relating. You're never supposed to go to bed mad, that's what it says in the book. Don't go to bed mad, whatever you do! So you try and get a little chat going." He asked the crowd at the front of the pit, "Who's married out there? Just, now, if I was down on my knees like this... I'll get down there. Down there?" Bruce then jumped into the pit to plead his case to a delighted woman. Both "Hearts of Stone" and "Talk to Me" featured the saxophone of original Asbury Juke Ed Manion.


Introducing "Save My Love", Bruce recounted a beautiful story about the power of radio: "I always remember the first time I heard one of my own songs on the radio. I was in Connecticut, I was standing on a street corner, a guy pulled up, he had his window rolled down, and I could hear 'Spirit in the Night' coming out of the radio. One of the top ten moments of my life. I stood there and I remember thinking about all the people who were listening to that song at that moment. And there was something, when radio is great, and something happens in the air from all those souls converging around one idea at one moment. That's what's happening here tonight. I think that's what I wrote about in this song."

"Prove It All Night" was performed with the 1978 intro, and with an intensity that echoed the performances from that year. "My Love Will Not Let You Down" was perfectly paired with "Prove It," continuing the guitar attack with Bruce, Tom, and Nils trading licks at the front of the stage.

Bruce and Nils duetted on the rear stage on "Darlington County"; near the conclusion of the song Bruce motioned for Jake to join him for his trademark knee slide, the two of them running and sliding toward each other at center stage. A nice idea, though the execution left something to be desired — the two of them collided to highly comedic effect.


Spotting a girl in an AC/DC shirt, Bruce called out, "Tom, you start it!" and the band launched into the now familiar but always welcome cover of "Highway to Hell" to open the encore. A full-band "Thunder Road" closed the show, sending the appreciative crowd home on a high note.

Last night in Sunrise our souls converged, and we were transformed once again by the mighty E Street Band.
- Todd Draper reporting - photographs by Michael Zorn
Setlist:
Clampdown
Badlands
High Hopes
No Surrender
I Wanna Marry You
Linda Let Me Be the One
Boom Boom
Hearts of Stone
Talk to Me
Wrecking Ball
Hungry Heart
Save My Love
The River
Prove It All Night
My Love Will Not Let You Down
Darlington County
Shackled and Drawn
The Ghost of Tom Joad
The Rising
Land of Hope and Dreams
* * *
Highway to Hell
Born to Run
Dancing in the Dark
Tenth Avenue Freeze-out
Shout
The Wall
Thunder Road


April 26 / Aaron's Amphitheatre at Lakewood / Atlanta, GA
Notes: On a hot night in Atlanta, Bruce and the band delivered a show of blistering intensity and joyful exuberance. In the opening song, a commanding cover of The Clash's "Clampdown," Bruce and Tom Morello traded vocals, blending Strummeresque passion with the trademark roar of the E Street Band. The song is so squarely in the E Street wheelhouse, both sonically and substantively, that it is almost unimaginable that it debuted only this week and hasn't been in the band's repertoire for years. "Adam Raised a Cain" followed, with Bruce playing especially fierce solos throughout. After "The Ties That Bind," Bruce said something that many could never tire of hearing: "I think I'm in a River kind of mood," leading into a powerful "Jackson Cage." The thematic threads running through these first four songs, so evidently cohesive in combination, effectively demonstrated Bruce's mastery of the art of setlist construction.
"Jackson Cage" segued into a forceful "She's the One," with a brief "Not Fade Away" intro. But for all that was performed, the well-chosen covers and selections from the breadth of Bruce's canon, tonight was a River night. In all, the setlist featured seven songs from the album, each punctuated by Bruce's enthusiastic introduction, "The River! The River! The River!" Not even the absence of #1 River fan Steven Van Zandt could detract from the enjoyment of the evening (though he will likely lament missing a rare River night).
Introducing "Independence Day," Bruce said, "I've got The River on my mind. Let's see if it's on my mind enough to remember how to play this." He needn't have been concerned. While "Independence Day" was perhaps an unexpected choice for a solo piano performance, it was sublimely evocative. Not to mention that it allowed everyone a moment to catch their breath.
Next were two songs from the current album, "High Hopes" and "Just Like Fire Would." The title track, forceful on record, continues to be an absolute barn-burner live. "Tougher Than the Rest," a sign request, followed. It was a particularly apt choice, with Patti on hand to duet, and also featured some twangy guitar from Bruce.
River night continued with "Cadillac Ranch," with Nils and Soozie both prominently soloing. The arrangement of "Trapped," fully integrating the horns and the choir, gave a new dimension to a song first covered on the River tour. And then a noir-ish version of "Point Blank," with Bruce underlining the mood by repeating and emphasizing phrases in the last verse.
The set continued forcefully through more current material. "Heaven's Wall," as with "Trapped," showcased the choir and the horns, but used them to create an entirely different mood, celebratory and gospel-inflected. "Seeds" included great dueling solos by Nils and Bruce. The energy was unrelenting through "Death to My Hometown," "Wrecking Ball," "Shackled and Drawn" and "The Ghost of Tom Joad." Before "Wrecking Ball," Bruce polled the audience, assessing how many were from Georgia as compared to those from New Jersey. Crowd reaction appeared to indicate about a 50-50 split. Bruce proclaimed that the "great thing is that everybody runs away from New Jersey. Otherwise every place we play would be about half-full!" The main set concluded with "The Rising" followed by "Badlands," in the relatively unusual spot of set-closer.
The encore picked up the River Night theme with a tour debut of "Drive All Night," in a moving, emotional performance that one longtime fan called "best ever." After "Born to Run," it was back to The River for "Ramrod." Before his solo, Bruce cried out, "Plunk your magic twanger!" — a phrase that fans of a certain age will associate with Andy Devine, but which was originated by Atlanta's own Smilin' Ed McConnell. "Ramrod" also notably featured a rare (unprecedented?) appearance in the booty-shaking frontline by the Mighty Max, whom Bruce summoned down from the drum riser for the occasion. "Dancing in the Dark" followed, with a new twist on the by-now-obligatory guest dancer. After dancing with a young girl, Bruce placed her on his shoulders as he played his guitar (causing some concern that she might fall, as he had both hands on his guitar). When he got to the point of the "Hey Baby" call-and-response, he repeatedly dropped down to bring her level with the microphone, in an impressive show of strength and stamina. After frenetic versions of "Tenth Avenue Freeze-out" and "Shout," the evening closed with an unexpected U.S. debut of "Highway to Hell," effectively bookending the show with two covers which might have seemed incompatible with each other, but which the band seamlessly incorporated and made their own.
It's perhaps a funny thing: Bruce has received — and earned — virtually every honor and accolade there is, in addition to the unswerving loyalty of the E Street fans. This is a man with not a thing left to prove, yet he delivered a performance tonight as though everything was at stake, fully invested in every lyric and every note. While there will always be those who will say "you shoulda been there" for a particular tour or some special moment, no one who sees Bruce Springsteen and the E Street Band right now could come away feeling that they did not see them at a peak in their long and storied career.
- Mosley Turner reporting - photographs by Michael Zorn
Setlist:
Clampdown
Adam Raised a Cain
The Ties That Bind
Jackson Cage
She's the One
Independence Day (solo piano)
High Hopes
Just Like Fire Would
Tougher Than the Rest
Cadillac Ranch
Trapped
Point Blank
Heaven's Wall
Seeds
Death to My Hometown
Wrecking Ball
Shackled and Drawn
The Ghost of Tom Joad
The Rising
Badlands
* * *
Drive All Night
Born to Run
Ramrod
Dancing in the Dark
Tenth Avenue Freeze-out
Shout
Highway to Hell



April 24 / PNC Arena / Raleigh, NC
Notes: After back-to-back shows that rattled even the most adventurous setlist watchers, Bruce and the band rolled into Raleigh on Thursday night with the anticipation meter pinned to "high." Instead of curves, knuckles and sliders however, Springsteen delivered a solid, uneventful fastball down the middle — albeit at 95mph. The band blasted through a 26-song set that included only the title track from High Hopes (well, and "Tom Joad"), yet five songs from Born in the U.S.A., going by so quickly that we were in encores by the two-hour mark.
While personal expectations may have steered toward new material, or something more unpredictable, I was surrounded by newbies in the crowd (including my cousin) who had their doors blown off and absolutely loved their first-time experience. It was a raucous and rollicking good time.
Raleigh is a "Boss Town," make no mistake, there was never a need to "get those asses out of the seats." The arena was on their feet from beginning to end, even in the nosebleeds. Although based on Bruce's pre-"Wrecking Ball" Raleigh versus Jersey scream-off, it seemed that half the crowd may have had Jersey roots at one point or another.
Highlights included "Growin' Up," played early in the set and dedicated to his daughter Jessica, right down front, who graduates from nearby Duke University shortly. Bruce called up a trio of elated college dudes to sing the last verse — appropriately, Thursday was National Bring Your Daughter to Work Day, and Jess and a whole bunch of her friends were there to watch Mom and Dad ply their trade. Yes, Patti Scialfa was back onstage, adding a great deal to selections like "Because the Night." Requests weren't nearly as plentiful as Charlotte, but the first produced a fantastic version of the underplayed "Brilliant Disguise" showcasing Bruce and Patti in a tender moment shared at center mic.
Immediately following was the dynamic duo from Nebraska, "Atlantic City" and "Johnny 99," both of which I've heard a million times, but somehow the band keeps reinventing with subtle but impactful changes. In the former, Bruce repeatedly whispered the lyric, "I've been looking for a job, but it's hard to find," in the desperate persona of someone who is at the breaking point, but refuses to give up.
Carolina was represented back to back in "Working on the Highway" and "Darlington County." Shortly thereafter, it was fun to see Morello add a new twist to the "Ghost of Tom Joad" solo, where he now unplugs the guitar and pounds the end of the cord into his hand, which somehow produces an amazing sound that blends perfectly with the track. Having only seen Morello guest with the E Street Band before now, my personal highlight was watching him seamlessly integrate into the group. You can't help but love the man. That said, there's something missing when Stevie isn't part of the show.
The band never technically left the stage for the encores, as Springsteen spied a "Pretty Flamingo" sign that needed to be addressed. Hanging the bird-shaped sign over Nils' mic stand and working out the chord progressions, Bruce echoed calls from the crowd — or perhaps admonished himself — "Tell the story, Bruce! Tell the story!" He went on: "What was the story? It's the same old story. Guy on a porch and a girl walks by. It's the girl... and a little light goes on, in a variety of places!" This rare gem got more of a solo treatment than a band performance, but again showcased an intimate moment between Bruce and Patti, and the band kicked in at the end.
"Glory Days" was played for those graduates, and Jessica was feted one more time during "Dancing in the Dark," brought on stage to dance with Dad. And she was the only one pulled up from the crowd, for what had to be the shortest "Dancing" of the tour. Ultimately the show become one hell of a graduation party for their little girl and her friends. So, thanks for the invite Bruce and Patti: we were all glad we, too, got to attend and witness "the blessed, ass-kicking power of rock 'n' roll."
- Neil Van Harte reporting - photographs by Christopher Phillips
Setlist:
High Hopes
Badlands
Out in the Street
Growin' Up
Hungry Heart
Brilliant Disguise
Atlantic City
Johnny 99
Wrecking Ball
The Promised Land
I'm on Fire
Because the Night
Working on the Highway
Darlington County
Shackled and Drawn
Waitin' on a Sunny Day
The Ghost of Tom Joad
The Rising
Land of Hope and Dreams
* * *
Pretty Flamingo
Born to Run
Glory Days
Dancing in the Dark
Tenth Avenue Freeze-out
Shout
Thunder Road

April 22 / Console Energy Center / Pittsburgh, PA
Notes: Last night in Pittsburgh, Bruce Springsteen put on a show that might have been a hard core fan's dream. A brilliant setlist for the long-time fans, including world premieres and tour debuts, nearly half of the High Hopes album, highlights for all of the band members, and inspired Brucetalk bits. A show that was conspicuously absent of the features so many hardcore fans love to complain about. A show in which more than half of the songs weren't in the set just two weeks ago in Cincinnati. Who on earth changes up their sets that much?
But was it a great show?
Let's start with the almighty eternal everlasting ass-kicking power of the night. And there was a lot of ass-kicking power last night, from the very first note of the evening. Bruce's blue shirt, black vest, and tucked-in tie are gone, replaced by the Joe Strummer look. And last night, we got a bit of the Joe Strummer sound as well, as the band opened with a hard-driving version of The Clash's "Clampdown." Bruce and Tom traded verses while the horn section, backup singers and Max Weinberg combined to form a massive nine-piece drum line. Impressive barely begins to describe it; combined with "Badlands" it created an opening two-pack salvo that left the crowd breathless.
But Bruce was just getting warmed up with his ass-kicking mode, continuing with a roaring "Johnny 99" honky tonk, the band bathed in red light, Curtis King kicking the song up with the cowbell, and the horns coming forward. Bruce called out "C sharp!," which could only mean something rare and unexpected was about to happen, and so it was: a tour premiere of the very rarely played "Stand on It" (the original B-side version without the extra verse that appears on the Tracks version).
Continuing right along with the rockabilly segment of the show, Bruce called out more keys. "D sharp!" ("D sharp??") "E!" And a hysterical performance of "Seven Nights to Rock," featuring the queen of E Street, Patti Scialfa. Anyone who may have forgotten her role as Bruce's partner and on-stage foil needs to hear Patti's vocals on this one, first singing about a "different little boy" in every different town, and then ticking off the days of the week attached to different boys' names. She got through George and Paul, and some guy name Tom (John and Ringo were presumably for next week) before Bruce announced, "What's good for the goose!"
But was it a great show?
As Bruce started "Just Like Fire Would," he shouted to the audience, "C'mon, Pittsburgh, don't be so lazy out there!" For "Hungry Heart," that wouldn't be an issue, as we had a new item: Bruce crowd-surfing with a balloon figure of himself from ballooniacs.com. You think you've seen Bruce crowd-surfing before, but you haven't seen him crowd-surf like this. The balloon Bruce remained seated in various positions at center stage throughout the remainder of the show.
The sign request segment — the only pause for signs this night — produced a tour premiere of "I Wanna Be With You." Sure, Bruce had already soundchecked it, but it always helps to have a sign. He dropped to his knees. He pled his case. And then, a jaw-droppingly brilliant version of "Back In Your Arms," unplayed in the United States since 2009 and a bucket-list song for me. "In life, we don't get many chances to re-do our mistakes..." Then, turning to advice, he added, "Do not hesitate to beg! It's not pretty, but it works, sometimes." As Bruce continued through his intensely soulful singing of the song, I thought, "there goes another $15, I'm downloading this one."
But was it a great show? During "Back in Your Arms," while some fans were mesmerized, there was noticeable chatter in the stands. As Bruce continued with "Wrecking Ball," it became more obvious that much of the audience — the upper bowl in particular — was not coming with him. Oh, Bruce tried to get them back. "Youngstown" had a huge solo from Nils Lofgren. "Mary's Place" had the stage slide — the crowd loved that... and then took their seats again. Tom Morello got them going during "The Ghost of Tom Joad," and "Radio Nowhere" gave Eddie Manion and Max Weinberg a chance to shine. What's wrong with any of these, and why wasn't the crowd more engaged? Was it the omission of crowd-favorites such as "Waitin' on a Sunny Day"? Was it the general lack of direct audience participation? Or the lack of hits or oldies? It may have been a dream set for the hardcore fan, but were the so-called "casual fans" fully engaged?
For the encores, Bruce came out on piano and played "The Promise" by request, referencing again that begging sometimes works. The patrons in section 102 talked right over it. It'll sound great on the download.
A stunning version of "The Wall" followed, introduced by a tribute to Walter Cichon and Bart Haynes. Curt Ramm's trumpet part got two verses, with Bruce doubling the part with keening the second time through. Its pairing with a floor-rattling take of "Born in the U.S.A." finally got the crowd's attention; it should be a permanent part of the show.
Joe Grushecky and family came on for the next suite of encores, including playful versions of "Light of Day," "Frankie Fell in Love," and "Dancing in the Dark," and Bruce announced upcoming dates with Joe at Soldiers and Sailors Hall in May, after this leg of the E Street Band tour concludes (May 22 and May 23). The crowd, now fully re-engaged, helped Bruce out with "Shout" and bathed him in a sea of lights for a beautiful finale of "Dream Baby Dream."
- Matt Orel reporting - photographs by Matt Orel (1,5) and Ron Valle (2-4)
Setlist:
Clampdown
Badlands
Johnny 99
Stand on It
Seven Nights to Rock
High Hopes
Just Like Fire Would
Hungry Heart
I Wanna Be With You
Back in Your Arms
Wrecking Ball
The Promised Land
Youngstown
Lonesome Day
Mary's Place
The Ghost of Tom Joad
Radio Nowhere
The Rising
Land of Hope and Dreams
* * *
The Promise (solo piano)
The Wall
Born in the U.S.A.
Light of Day
Frankie Fell in Love
Born to Run
Dancing in the Dark
Tenth Avenue Freeze-out
Shout
Dream Baby Dream

April 19 / Time Warner Cable Arena / Charlotte, NC
Notes: It's a fantasy of many a Springsteen fan to have the chance to write the setlist for a show. Last night in Charlotte, where there's apparently still something in the North Carolina water, Bruce practically gave an energetic crowd that chance. Keeping with his use of 21st Century concepts (selfies, anyone?), Bruce crowdsourced at least half of the setlist. (Maybe he outsourced his wardrobe as well. Instead of the usual shirt and vest combo, Bruce appeared to have raided Tom Morello's closet — or maybe Joe Strummer's — for a military style shirt, complete with epaulets.)
But we're getting a little ahead of ourselves. The opening number was a breathtaking if somewhat bizarre choice: the first E Street performance of "Iceman" (previously performed only once, by Bruce solo on the 2005 Devils & Dust tour). Given its somber nature and obscurity, it isn't a song you would expect to open an E Street Band concert. But the sheer intensity of the performance made it work in the cavernous arena.
Following that, the crowd was hit with a doubleshot off the High Hopes album, the title cut and the U.S. live premiere of "Just Like Fire Would." It seemed that Bruce was intent on challenging the Charlotte audience: three songs in, and not a single one that a casual fan would likely recognize. But that was promptly addressed by a rocking version of "Cadillac Ranch," complete with not one, but two lyrical references to the Carolinas. And the crowd was eating it up.
It was a little early for sign requests, but Bruce decided to keep the party atmosphere going, opting for only the second E Street performance of "Louie Louie" since the early '80s. Another sign request followed, for "Mustang Sally." While a staple of Bruce's bar sets and performances with Joe Grushecky, it marked only the second time the song was played in concert by the E Street Band. "Mustang Sally" was also a local special, with, as Bruce pointed out, the 50th anniversary celebration of the Mustang happening right here, right now at the Charlotte Motor Speedway.
Sign requests continued with "No Surrender" and "Out in the Street" (featuring the sign maker and her two friends on backing vocals), but since they lacked the "infrequently played" cachet of other signs, it wasn't yet apparent how far off the written setlist Bruce already was. With the fifth sign song of the night, the setlist was clearly out the window: "From Small Things (Big Things One Day Come)," yet another song more typically found in club appearances than E Street Band shows. And sign song number six cemented the claim that the E Street Band is the best bar band in the world, making even "Brown-Eyed Girl" sound fresh. Going back to the audience yet again, Bruce found a sign for "Racing in the Street." A perfect performance of the song showed that the best bar band in the world also has some serious musical chops.
Three Wrecking Ball songs followed, even though only the title cut was on the handwritten setlist. Perhaps Bruce wanted to bring a dose of reality to the party — and where better than Charlotte to sing about the "banker man" in "Jack of All Trades"? Then it was back to the audience again, for another musically spot-on performance, "My Love Will Not Let You Down."
The craziness settled down for the standard "Shackled"/"Sunny Day"/"Ghost"/"Rising" quartet at the end of the main set, but even then, "Light of Day" as the set closer in place of "Land of Hope and Dreams" kept the fire burning, with the na-na-nas from "Land of 1,000 Dances" in the middle break.
Of course, on this night, the encores had to start with a sign request, this one for "Darkness on the Edge of Town." It worked well to set up the mood for the next two numbers. Bruce gave a long, spoken introduction to "The Wall," again referencing The Motifs, the Cichon brothers and Bart Haynes, but expanding the intro to recognize veterans of not only Vietnam, but Iraq and Afghanistan as well. The performance of the song keeps getting better, and paired directly tonight with "Born in the U.S.A." it's shaping up to be a fine encore setpiece. As hauntingly beautiful as "Point Blank" was in Nashville, having the mood setter come first and following "The Wall" directly with "Born in the U.S.A." worked that much better.
Of the planned setlist, the only rarity that was left out was "Save My Love." In all, Bruce dumped the entire handwritten stretch from song 7 to song 15, instead combining crowd requests with his own audibles to create a show that was alive from moment to moment, driven by a feedback loop with an energetic crowd, effectively showing off all of the talents of Bruce Springsteen and the E Street Band: a great bar band, classic rockers, a band with a political conscience. A band that perform songs that make you laugh, songs which make you cry, songs for a party, songs of sorrow and songs that make a statement. And, of course, songs which prove that they are the best live band in the world.
- Lowell D. Kern reporting - photographs by Michael Zorn
Setlist:
Iceman
High Hopes
Just Lke Fire Would
Cadillac Ranch
Louie Louie
Mustang Sally
Badlands
No Surrender
Out in the Street
Hungry Heart
From Small Things (Big Things One Day Come)
Brown Eyed Girl
Racing in the Street
Jack of All Trades
Wrecking Ball
Death to My Hometown
My Love Will Not Let You Down
Shackled and Drawn
Waitin' on a Sunny Day
The Ghost of Tom Joad
The Rising
Light of Day
* * *
Darkness on the Edge of Town
The Wall
Born in the U.S.A.
Born to Run
Dancing in the Dark
Tenth Avenue Freeze-out
Shout
Dream Baby Dream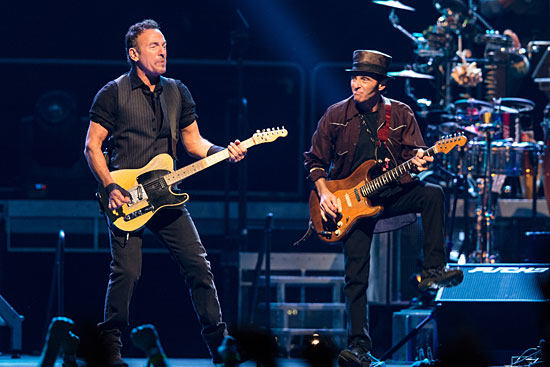 April 17 / Bridgestone Arena / Nashville, TN
Notes: Someone must have been listening as a few of us were chatting before the Nashville show, wishing for something besides the stock encore. Lo and behold, that wish was granted with a remarkable three-song run following "Land of Hope and Dreams," beginning with "The Wall." "This is a song that's on the High Hopes record, but I wrote it a while back," Bruce said, going on to talk about some local heroes who inspired him as a budding musician. These were guys "you could stand in front of and watch while they worked their craft, and they took the time to tutor you and teach you a little bit about their job.
"There were a couple of great men I was lucky enough to have in my life when I was 17, they were the Cichon brothers," Springsteen recalled. "One was a guitarist, the other was a great frontman. He was really the first, I would say rock star, that I ever saw up close. They had a few records out locally; you can't really tell what they were about from their records, but... they were very very raw, very exciting. And when there was nothing else, they gave you a sense of a life you could live, a way you could walk, a way you could be. They were just incredibly valuable. And my good friend Walter [Cichon], and my friend Bart Haynes, who was the drummer of the Castiles, were both killed in Vietnam. So this is a song I wrote with them in mind."
We've heard about that inspiration before, but it was a very fitting story to tell here in Music City USA, where so many young musicians are trying to make their way. Then there was the performance of "The Wall" itself, which has become more tuneful in concert, with lovely keyboard work from both Roy and Charlie, and Curt Ramm's elegiac trumpet to close. From there, instead of leaping into "Bobby Jean" or something, we stayed down in the darkness with a hushed and coiled "Point Blank," a real surprise and a thing of beauty. And it was "Born in the U.S.A." for the trifecta, a very rare airing on these shores (though he plays it regularly overseas, this was the first in the U.S.A. since 2009). "Born in the U.S.A." both tied things back around to "The Wall," and helped blow all that darkness away, to get us ready for the catharsis and joy of the rest of the encore.
In a way, that level of song selection, pacing, and storytelling is Springsteen at his best. It wasn't always evident throughout the show, which, though performed at a very high level by both Bruce and the band, meandered and lacked some focus as a set. There was no Nashville special to ground us or give much of a sense of place (though Bruce and the band did take the stage to Tammy Wynette's "Stand By Your Man"). But there were magnificent performances throughout, and an undeniably high level of energy from Springsteen, "working his craft," dancing, sweating, and pretty much on fire all night.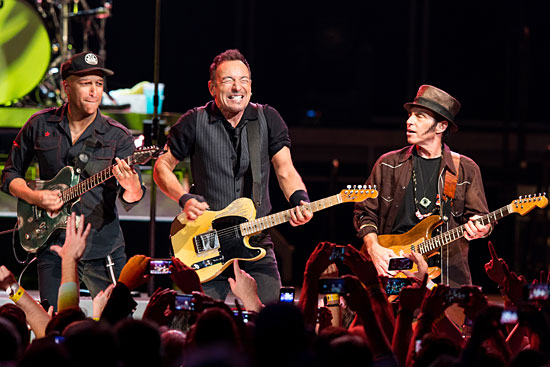 Five rockers in a row kicked things off. Watching Nils join Bruce at the mic on "Badlands," or saluting the guitar trio of Nils, Tom Morello and Bruce on "No Surrender," the opening run gave us a good opportunity to hold two seemingly opposing ideas in mind: it is possible to both cherish these moments where Nils and the rest get to step up and be a bigger part of the show, and to miss the hell out of Steven, both at the same time.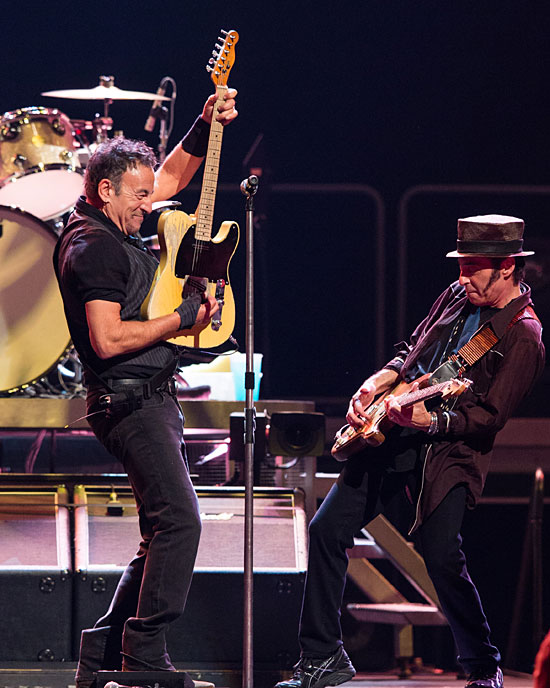 During the "Hungry Heart" crowd-surf, Bruce collected signs as he went, and he sat down to go through them. He read a few out to the crowd: "Is 48 too old to dance? No. It's not.... Congratulations Rock Hall of Fame, E Street Band! Absolutely, absolutely.... Thats a good one... Oh, very obscure!" Finally, he read, "I drove 400 miles to ask the city of Nashville just one question." And while Bruce was a little nervous about it — "This is a real Pandora's Box we're getting ourselves into!" — he trusted the sign-holder enough to hold the mic out: "And that question is?...." His trust was repaid with a mighty yell from the sign dude: "Can you feel the spirit?"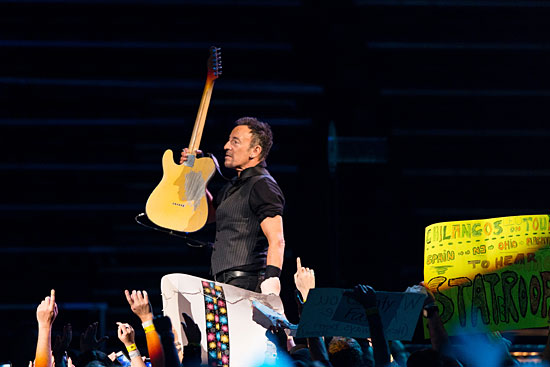 After "Spirit in the Night," it was time to grant some of those more obscure requests. "Now it's time to see if you can stump the E Street Band!" For "Burning Love," Bruce worked through it himself for a moment, telling the band, "Key of D... I'll start it... you guys come in on the B section, B minor." No stumpage here, with the singers and horns knowing just what to do, and Bruce pelvic thrusting in all the right places. A "Satisfaction" sign complete with Stones logo was no stumper either; any bar band worth their salt could do it upside-down. More impressive was the requester, a grade-school girl, who was brought up to hold her own at a mic with Nils and shake a tambourine. It was a fun pair of requests — and if you're one of those who needs more cowbell, Curtis King had you covered — but in some ways it put the brakes on any momentum the show had been building.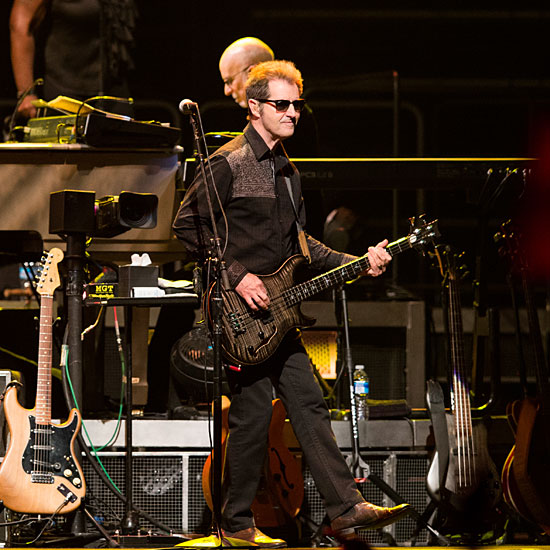 Good thing "Atlantic City" was next. Outside of the encore, the performance was the highlight of the show, beginning with Max's extended intro. The song shone like a diamond, from the stomping horns to Garry's complex basslines, compelling dynamics, Bruce intoning "Fix your hair up pretty" as the backup singers built up a dramatic crescendo... go to the tape on this one, it's a keeper. "Johnny 99" next gave us a Nebraska doubleshot, a horn showcase, fine soloing from Roy and Soozie, and Bruce shaking some serious tailfeathers.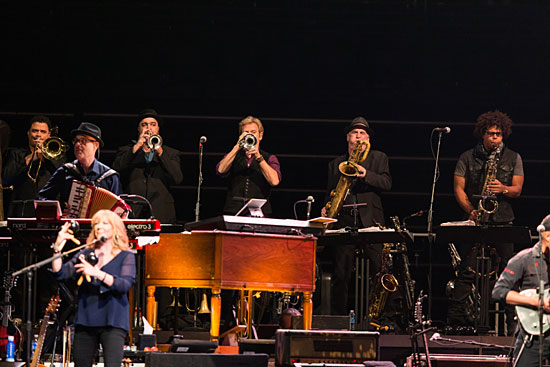 Another compelling doubleshot came with "I'm on Fire" and "Downbound Train," the darker numbers from Born in the U.S.A. and fine exercises in tension and restraint for the E Street Band. It was cool to hear "Downbound Train" get into a groove and go on a little longer than usual at the end, suggesting it would really be worth building up into an extended instrumental coda if Bruce so chose.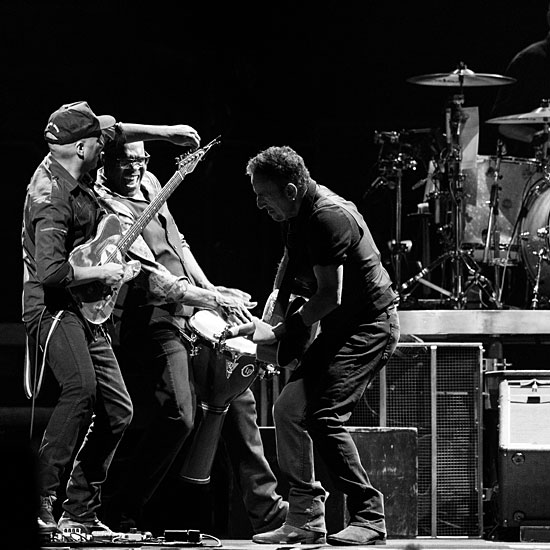 As on "High Hopes" at the beginning," Tom Morello really got a chance to work some magic on "American Skin," an always-welcome additional opportunity for him to take the spotlight. It might do a disservice to Morello to call his playing "tasteful"... but anyone who pegs it as nothing but wikki-wikki-wikki needs to hear his soloing on "American Skin," moving and completely in service of the song. His solo on "Joad," too, inspired one of the biggest cheers from the Bridgestone Arena all night.
Bruce thanked the crowd at the end "for coming out and seeing us — such great crowds here in Nashville. We appreciate the years and years of support and dedication to our band." Waving off the "Dream Baby Dream" pump organ (crew members ran back out to carry it away) Bruce instead offered up a solo acoustic "Thunder Road," smiling and nodding as the crowd carried their part and carried it well. "That's nice!" And it was.
- Christopher Phillips reporting - photographs by Michael Zorn
Setlist:
High Hopes
Badlands
No Surrender
Death to My Hometown
Hungry Heart
Spirit in the Night
Burning Love
Satisfaction
Atlantic City
Johnny 99
American Skin (41 Shots)
The Promised Land
Because the Night
I'm on Fire
Downbound Train
Shackled and Drawn
Waitin' on a Sunny Day
The Ghost of Tom Joad
The Rising
Land of Hope and Dreams
* * *
The Wall
Point Blank
Born in the U.S.A.
Born to Run
Dancing in the Dark
Tenth Avenue Freeze-out
Shout
Thunder Road (solo acoustic)

April 15 / Nationwide Arena / Columbus, OH
Notes: After a balmy, summertime beach bash last Saturday in Virginia, Bruce and the E Street Band came to freezing Columbus, OH (showtime temperature: 35 degrees) for the High Hopes portion of their seemingly Neverending tour.
Hitting the stage just before 8pm, Bruce and Co. opened up with a straightforward but impassioned version of "High Hopes." A song that's never made much of an impression in either recorded version is a smoker live. Bruce's chunky acoustic chords, Everett Bradley's syncopated rhythms, and Tom Morello's wah-wah guitar work in tandem to start the proceedings on the good foot. As impressive as Morello's playing was on "High Hopes," they followed it up with "Adam Raised a Cain," allowing Bruce to ring out a series of fiery solos (which apparently knocked his guitar out of tune; in the middle of the song a replacement guitar was swapped out by Kevin Buell).

On "Death to My Hometown," righteous fury gave way to a brief melodic moment of Soozie's fiddling and Charlie's accordion, sounding beautiful together. "Hungry Heart" had Bruce in the crowd, collecting a ton of signs and taking a noticeably long time to get "surfed" back to the stage. First for the sign requests was a beautifully lit-up sign that simply read, "Bruce, I'm Blinded By Your Light." Bruce started strumming along to the opening chords of the Greetings From Asbury Park opener and shouted out about Vini Lopez: "Oh, where is he? I just saw him the other night!... Madman drummers bummers and Indians in the summer..."


Next up was a very basic magic marker sign for "Prove It All Night '78." The song showcased Roy, Bruce, Max and Nils, an embarrassment of riches all rolled up into a wrenching 9 minutes. On "Trapped" the drum/organ intro was extra long. At one point Bruce started singing in a falsetto and the crowd was chanting along, but they quickly changed course and did a pretty straight ahead version of the song.

Bruce spoke only briefly before playing the title track to "Wrecking Ball": "Good evening, Ohio! Once I thought I was in Ohio when I was in Detroit!," referring to his Spinal Tap moment of several years ago. Upon mentioning Detroit they weren't "Brooocing"...they were booing.


Throughout the show, what I kept coming back to is the versatility and flexibility of the performers on stage. While Little Steven has been absent this go around, Patti was back in the fold — but wait, not tonight. At one point, despite a stage full of musicians, there were only three musicians up there that had been with Bruce since the days of The River: Max, Garry and Roy. The "new guy" Nils is there, as well as recent (long-) "short-timers" Charlie and Soozie. But it's a testament to Bruce and his ability to pick who plays with him to see them integrate so well into the band.


For instance, Tom Morello on guitar: when it's "Morello time," he's all strut and confidence, pulling some great guitar hero moves and adding layers to songs like "American Skin" and seriously owning "The Ghost of Tom Joad." When Morello got done with his solos in "Tom Joad," the crowd just went crazy. And yet at other times he's simply the third guitarist in the band, playing acoustic on "The River" or electric banjo on "Shackled and Drawn," servicing the song and nothing else. Brilliant.

And speaking of Morello, he did well, but he seemed to be holding on for dear life during the tour premiere of "Light of Day," which after such a long layoff felt rowdy, fresh, and alive. Bruce has spoken about wanting a formal studio recording of "American Skin," seemingly to validate it. He also needs to release a formal studio recording of "Light of Day" — it's simply the best song Creedence Clearwater Revival never recorded.


A beautiful "Backstreets" opened up the encores with a brief "Sad Eyes" interlude. "Born to Run," "Bobby Jean," "Dancing in the Dark" and "Tenth Avenue Freeze-out" brought up the houselights and got people shaking their asses. During "Dancing," Bruce brought a woman on stage who had a sign reading, "Can I Kiss Roy's Bald Head?" While she kissed Roy's dome, Bruce brought two girls graduating high school on stage. The woman who kissed Roy then kissed the backup singers, the horn section, hugged Soozie and made her way through practically the whole band.

The band had a pretty tough time with the "Tenth Avenue" ending, with Bruce making them do it over and over again. Though many of the band members were laughing, all eyes were clearly locked on Bruce as they followed his direction. The evening closed with a beautiful "Dream Baby Dream," making just about one third of the night's songs pulled from the latter half of Springsteen's career.

Pre-show reports had Bruce and the band soundchecking "Staying Alive," "Harry's Place," and "The Wall."
- Bob Zimmerman reporting - photographs by Michael Zorn
Setlist:
High Hopes
Adam Raised a Cain
Death to My Hometown
Hungry Heart
Blinded By the Light
Prove It All Night
Trapped
Wrecking Ball
The River
American Skin (41 Shots)
Johnny 99
Darlington County
Shackled and Drawn
Waitin' on a Sunny Day
The Ghost of Tom Joad
The Rising
Lonesome Day
Badlands
Light of Day
* * *
Backstreets
Born to Run
Bobby Jean
Dancing in the Dark
Tenth Avenue Freeze-out
Shout
Dream Baby Dream

April 12 / Farm Bureau Live / Virginia Beach, VA
Notes: If indeed there are no summer tour dates this year (and we don't know any more than you do about that), then we've now had at least one strong summer show. It was in the low-70s at the show's relatively early 7:30 start time in this open-air amphitheater, with the Virginia coast less then 10 miles to the East. The band (no Steve, yes Patti) walked out and assumed full doo-wop formation to open with a cover of Bill Deal & the Rhondels' 1969 single "May I." Deal's band had formed not far away in Portsmouth and were regulars in the Virginia Beach music scene during the 1960s.
From there it was time for some "beach music of our own" and a segue into "Mary's Place." With the 2003 bloat gone from the song, this dovetailed nicely with the opener. Someday an American audience will actually heed the call to "shhhhh" and quiet themselves before the final verse. Virginia Beach was not to be that crowd, but that's okay — they held up their end of the bargain for the rest of the night.
Setlist-watchers will point to the four-song run of "Sherry Darling," "Talk to Me," "Seaside Bar Song," and "Jersey Girl." Even if the temperature was now dipping down to the mid-60s, we were in full July-on-the-Shore mode. "Talk to Me" was great fun, even if Bruce didn't quite know what he wanted to do with his vamping in the middle. So shouts of "Talk to me!" were interspersed with mumblings of getting blow driers thrown at him (as he made his way stage left to stage right). And then (making the full loop from stage right to stage left towards Patti) Town & Country magazines being thrown at him. And Cosmopolitan. And US Weekly. The last periodical being too much for Patti to bear, and she replied — we'll have to go to the tape later to confirm — "I don't read that." Which led to a fun call-and-response between Bruce and Patti of "Talk to me!"... "I don't think so." If this eventually evolves into a routine, Virginians can know they were there when it wasn't yet quite.
And if the rare one-off of "Seaside Bar Song," the beautiful "Jersey Girl," and the noble premiere of "The Wall" (dedicated to Walter Cichon and Bart Haynes) were what made the night notable, we are getting to the point in the tour where the band is setlist-proof. They are just nailing it across the board, and Bruce's energy has never been higher. He was all over the place tonight, running through the pit (no protective barrier in this small venue) during "Hungry Heart" and later on in the night winding up about halfway back in the audience. "Seven Nights to Rock" found him playing piano with his head — or rather, Roy pounding Bruce's head down on the piano after Bruce sprayed water on the E Street Choir.
At the close of "Shout," Kevin Buell came out with acoustic guitar, but Bruce called for the electric to close with a full-band version of "Thunder Road." At the end of the song, Bruce was standing out on far right extension looking at Jake, soloing from the far left extension. The stage was full of newly inducted members of the Rock and Roll Hall of Fame... along with the horn section... and the highly-valued Tom Morello... and Everett... and the vocal power of Curtis, Cindy, and Michelle.
If, as Steve says, Bruce Springsteen and the E Street Band is the legend, then what we're seeing right now is different from the legend. It's still one heck of a show.
- Jon Phillips reporting - photographs by Michael Zorn
Setlist:
May I
Mary's Place
High Hopes
Badlands
Darkness on the Edge of Town
Wrecking Ball
Death to My Hometown
Hungry Heart
Sherry Darling
Talk to Me
Seaside Bar Song
Jersey Girl
Heaven's Wall
Because the Night
She's the One
Darlington County
Shackled and Drawn
Waitin' on a Sunny Day
The Ghost of Tom Joad
The Rising
Land of Hope and Dreams
* * *
The Wall
Born to Run
Seven Nights to Rock
Dancing in the Dark
Tenth Avenue Freeze-out
Shout
Thunder Road


April 8 / U.S. Bank Arena / Cincinnati, OH
Notes: The official opener of the High Hopes tour's U.S. leg is Springsteen and the E Street Band's first stop in Cincinnati since 2008. Six years ago, when Bruce Springsteen and the E Street Band played here on the Magic tour, many longtime fans left the show feeling let down — a rare reaction to a Springsteen show, to be sure. If Cincinnati was owed a debt for that show in 2008, it was repaid in 2014. While this show may have lacked the shocking, out-of-left-field cover — sorry, anyone hoping for the theme to WKRP — it certainly did not lack for power, passion, length, or commitment, and the crowd responded with enthusiasm from the opening notes of "High Hopes."
An always-welcome "Lost in the Flood" was played by request and immediately followed by "Because the Night," with Patti Scialfa adding harmony vocals. The pairing of the two songs worked quite well leading into the U.S. debut of "Heaven's Wall," with Everett Bradley's percussion skills on display and some hot back-and-forth guitar from Nils Lofgren and Tom Morello. Nils had already had his own guitar pyrotechnics display with "Because the Night"; Morello bookended things on the other side with "American Skin (41 Shots)."
Plucking a sign from the crowd that read, "Growin' Up for my birthday," before playing that cut from 1973 Bruce gave us some insight into the psyche of rock musician: "First thing you do, before you write a decent song, before you pick up a guitar, before you play your first gig, you lay in bed at night and you dream yourself up. Everything you weren't in the day. We stand united, all rock musicians, in the great faith of self-loathing and self-hatred: 'I hate my nose!' 'I hate my hair!' So the first thing you do is, you dream yourself to life."
The requester was invited on stage to duet on the final verse of "Growin' Up," after which he, to the shock of Bruce and the fans at the front of the stage, dove into the pit in what was probably an ill-conceived attempt to crowd surf. It seems you have to dream yourself into a bit more of a rock star before you can pull off that move successfully.
Cincinnati's own Isley Brothers classic "Shout" gave a locally connected cover, with Bruce proclaiming at the end that he remains a prisoner of "the everlasting, eternal, ass-kicking power of rock 'n' roll!" The show closed with a beautiful "Dream Baby Dream," performed solo on the pump organ, sending the exhausted crowd home on a wistful note.
On paper, this setlist might look "standard," lacking a deep rarity that many fans chase — the 2008 setlist might look more compelling. This is just another example of why rock 'n' roll doesn't take place on paper, it takes place in the room, with the band, with the fans, where everyone can feel that everlasting, eternal, ass-kicking power. And it was hard to see anyone leaving this show disappointed.
- Todd Draper reporting - photographs by Michael Zorn
Setlist:
High Hopes
Badlands
Death to My Hometown
Night
Hungry Heart
Spirit in the Night
Wrecking Ball
Lost in the Flood
Because the Night
Heaven's Wall
American Skin (41 Shots)
The Promised Land
Pay Me My Money Down
Darlington County
Shackled and Drawn
Waitin' on a Sunny Day
The Ghost of Tom Joad
The Rising
Land of Hope and Dreams
* * *
Growin' Up
Born to Run
Bobby Jean
Dancing in the Dark
Tenth Avenue Freeze-out
Shout
Dream Baby Dream (solo)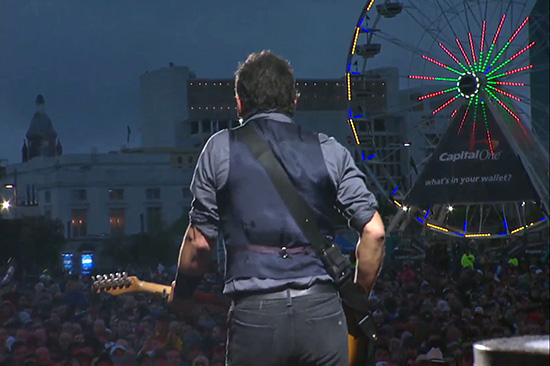 April 6 / Reunion Park / Dallas, TX
Notes: Back in the U.S.A. After almost a year and a half, Bruce Springsteen and the E Street Band played a full show on American soil. Granted, it was a free, corporate, festival show. And granted, it was in Dallas, a city not known for a history of off-the-charts Springsteen shows. And granted, the weather was awful. And granted, the band was dealing with some lineup changes. But so what — Bruce and the band delivered.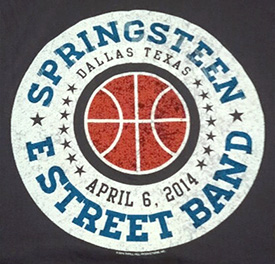 It was the headlining slot of the 2014 NCAA March Madness Music Festival, closing the final night (the Capital One JamFest) of this three-day free music festival held in conjunction with the Final Four Men's Basketball Championship. If you were expecting rarities, or if you were just setlist watching (or even, courtesy of the NCAA, stream watching), you might have just shrugged your shoulders at a 25-song set that was as safe as Bruce can play it. Six songs off Born in the U.S.A. Only the title cut from the latest release. A single Darkness track. Not one song that could be considered a deep track. But, as usual, the box score doesn't tell the whole story.

Festival organizers were expected a crowd of 40,000, with plans in place to advise the public when capacity was reached. But that was never a factor. With the temperature hovering around the 50 degree mark and a steady rain all day, Mother Nature did her best to make sure that only people who really wanted to see Bruce would be there. Openers The Wind and The Wave, Pat Green and fun. each brought a small contingent of fans, but most of the crowd was there to see Bruce. And only the most jaded could have gone home disappointed.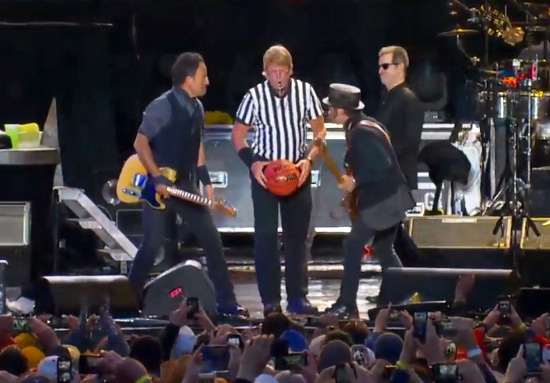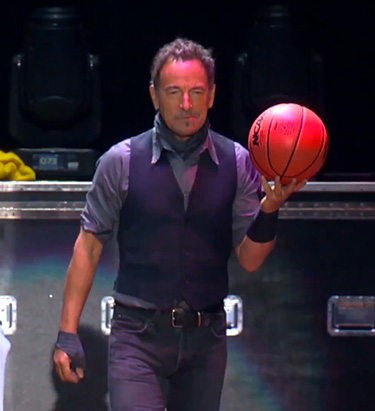 Taking the stage with roundball in hand, Bruce acknowledged that the show "had something to do with basketball." His dribbling technique left much to be desired, but as he'd later tell the crowd, while others were playing basketball, he was "playing basketball gyms."
Kevin Buell tossed up a jump ball between Bruce and Nils, and they swatted the ball into the crowd. And then, continuing the Aussie theme of opening with something topical, the main "wow" moment of the night: a cover of Van Halen's "Jump," a song adopted by basketball arenas across the nation. Tom Morello, in his first U.S. show as a full-fledged member of the band, did a nice job covering Eddie Van Halen's guitar riffs. In fact, Morello handled most of the guitar duties all night, as Bruce's only memorable solo came on "Cover Me."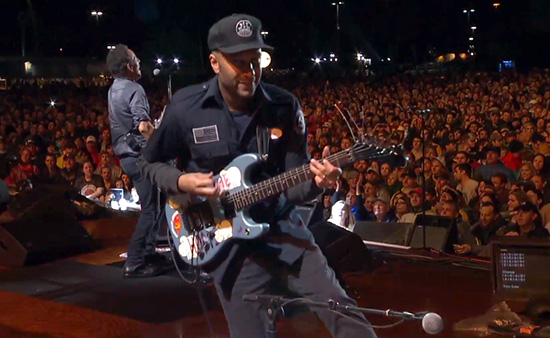 About those lineup changes: Steve is in Norway filming the next season of Lilyhammer, although Bruce never acknowledged his absence. And while it wouldn't be right to say someone took Steve's place, Patti Scialfa made her first appearance in who knows how long, presumably in anticipation of the Rock and Roll Hall of Fame induction ceremony on Thursday. At times, Patti seemed to be finding her way, but one of the nicest moments of the show involved her, and it was something you had to be there for. During the closing acoustic version of "Thunder Road," Patti contributed some vocal color, joining Bruce on a couple of lines, after he asked her to stay as the band was walking off stage. But when she wasn't singing, she seemed to be watching Bruce, and just maybe (maybe it was the rain) getting a little misty-eyed. Clearly, she enjoyed being back, watching Bruce, as much as the crowd enjoyed it.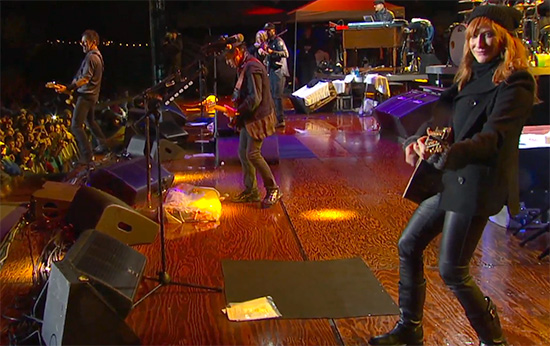 As for the rest of the show, the story isn't the song selection. The story is how perfectly Bruce read the crowd and delivered what was needed on this night. In what Bruce referred to as a "light monsoon," what the largest crowd of the weekend needed was energy, something to make the long wait in the rain worthwhile. And Bruce and the band brought the energy. The rain didn't stop him from venturing into the crowd at all, including the traditional crowd surf on "Hungry Heart" even in the absence of a pit audience that knew it was coming. In fact, the crowd interaction might be the real story of the night.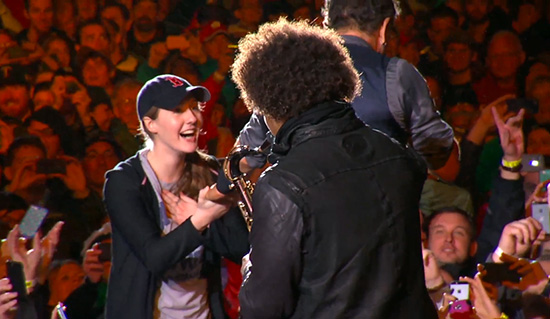 In addition to the expected kid on "Sunny Day," Bruce shared his mic or the stage on a number of other occasions, from a star-struck young lady who couldn't believe her luck on "Spirit," to the boy who was really Steve's replacement at the conclusion of "Glory Days." And, just like the last time Bruce played Dallas, "Dancing in the Dark" turned into a free-for-all that looked something more like a carnival booth, allowing more than a dozen women to take a selfie with Bruce before heading back into the crowd.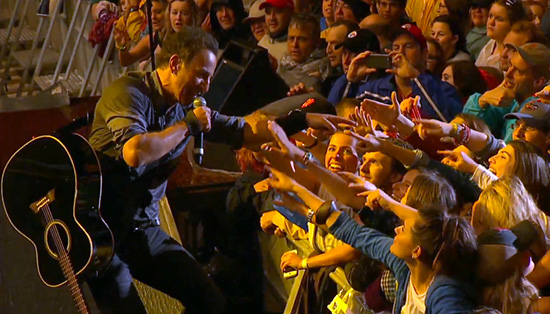 Perhaps the only thing Bruce missed all night was the opportunity presented by "Wrecking Ball." The festival was held on a grass field that was the former site of Reunion Arena, the venue Bruce consistently played in Dallas until the building was replaced by the American Airlines Center. It sure seemed like it was made for some sort of statement by Bruce, about how all the steel and the stories from the old arena were turned into a new concert venue. But again, so what. It was the only note he missed all night.
- Lowell D. Kern reporting
Setlist:
Jump
Badlands
Death to My Hometown
Cover Me
No Surrender
Hungry Heart
High Hopes
Spirit in the Night
Wrecking Ball
The River
Atlantic City
Johnny 99
Darlington County
Working on the Highway
Shackled and Drawn
Waitin' on a Sunny Day
The Ghost of Tom Joad
The Rising
Land of Hope and Dreams
* * *
Born to Run
Glory Days
Dancing in the Dark
Tenth Avenue Freeze-out
Shout
Thunder Road (acoustic, with Patti Scialfa)