Setlists: 2005
You'll find more in the pages of Backstreets! If you're looking for more concert details besides a listing of songs, be sure to check out Backstreets Magazine. The Backstreets.com website was established in 1995 to help pass along the important news and setlists between issues; the magazine itself contains more in-depth coverage, with detailed information on each show, commentary, and concert photographs.

Fore more in-depth reporting from Springsteen shows, with color photos and more... Subscribe to Backstreets Magazine!

And don't forget, we can't do this alone... and we never have. We count on contributions from fellow fans and readers to help us with timely and accurate concert coverage:

If you want to help out, e-mail setlists and concert reports to onstage@backstreets.com. Especially helpful are descriptions of the rarer songs played (tour premieres, etc.), the "feel" of the show (especially compared to others you might have seen), things Bruce said to the crowd-- basically, anything that set the night apart.
To send photos, ticket stubs, concert ads, handwritten setlists, etc., email scans to images@backstreets.com, or mail to Backstreets, 1818 MLK Jr. Blvd. #300, Chapel Hill, NC 27514 USA. Thanks for helping out!
November 22 / Trenton, NJ / Sovereign Bank Arena
Notes: After a remarkable seven months, a tour which was in many ways a fulfillment of the promise of the 1990 Christic Institute benefit shows, we found ourselves tonight at the Last Dance (the Donna Summer song even played over the P.A. when the lights went down.) Like other Springsteen tour-closers of recent years, it was a somewhat meandering show; and it was surprisingly similar to the previous night, including the opening Link Wray tribute, "Rumble," the new arrangement of "Saint in the City," and "Song for Orphans" with Alan Fitzgerald, "the man behind the curtain," returning on the keys. But when this show diverged, it diverged: gotta love four tour premieres at a tour finale. The first came as Bruce sat down at the piano for the first time: "I'm gonna play something tonight I've never played before. Can't let the night pass without one of those!" And while Bruce has actually played "Zero and Blind Terry" before, back in '73 and '74 with the E Street Band, this Tracks tune was near the top of the snowball's-chance-in-hell list until tonight. (Even better, it went right into a magnificent "Backstreets," also at the grand, the only audible of the night.) #2 was "Fire," a stripped-down, playful performance on the harp and bullet mic that was also a nod to the late, great Wray (he and Robert Gordon covered the Springsteen tune on 1978's Fresh Fish Special). For #3, Bruce brought out his "way better half," Patti Scialfa, for a duet on "Mansion on the Hill." (With that performance, just squeaking in under the wire, Bruce has played every song from Nebraska on the Devils & Dust tour.) And for #4, it was the real "attack of the relatives," as Patti came back onstage along with about 15 more friends and family members for "Santa Claus is Comin' to Town." Their kids were part of the throng, Sam sitting on the piano bench next to his dad, as everyone shook tambourines, jingled bells, and sang along for this official start of the holiday season. Bruce had noted the kids' presence in the crowd earlier in the show, as he introduced "Long Time Comin'": "I got my babies in the house tonight, so I'll send this out to Evan, Jessie, and Sam... Daddy's coming home!" (He later dedicated "The Promised Land" to Evan, and "Dream Baby Dream" to Jess.) Bruce had several more shout-outs before this last dance was through, thanking "everyone for giving me a good year," thanking all of the tour crew (even coaxing guitar tech Kevin Buell out for a quick wave), Terry Magovern, and "all the fans": "I really love playing like this... but to do it, you really need a great audience -- and I've had great audiences this year. You did a good job -- and it's a job! That's hard listening! 'We're not talking! We're listening!'" Anytime, Bruce, anytime. And some rare final words as the last "Dream Baby Dream" droned to a close: "See you up the road!"
Setlist: Rumble (instrumental)/Born in the U.S.A./My Beautiful Reward**/Devils & Dust/Empty Sky/Long Time Comin'/Zero and Blind Terry*/Backstreets*/It's Hard to Be a Saint in the City/Fire/All the Way Home/Mansion on the Hill/Reno/All That Heaven Will Allow***/Drive All Night*/The Rising/Further On (Up the Road)/Jesus Was an Only Son*/Leah/Song for Orphans (w/ Alan Fitzgerald*)/Matamoros Banks
Encore: Growin' Up*****/Thundercrack*/Santa Claus is Comin' to Town*/The Promised Land/Dream Baby Dream**
*=piano
**=pump organ
***=electric piano
*****=ukulele

November 21 / Trenton, NJ / Sovereign Bank Arena
Notes: Riding on a wet night into the homestretch, the penultimate night of the tour was a powerful show with a powerful opener. Springsteen emerged with his electric guitar and said, "This is for Link Wray"; news of the guitar great's death earlier this month has just come out in recent days. Bruce went into a blistering, foot-stomping version of "Rumble," Wray's 1958 classic and one of the great rock instrumentals of all time. Ending the song, Bruce left the guitar shrieking with feedback on its stand as he transitioned over to the bullet mic "Born in the U.S.A." Another surprise (to say the least) tour premiere came at the end of the set, in the "Hitter"/"New Timer" slot, as Bruce introduced "an outtake from Greetings... never released... so you're not gonna know this bastard! Though some of you may...." It was the long-lost "Song for Orphans," not played since 1973. To top it off, he brought out "the mysterious Mr. Fitz!" for his "stage debut" -- that's Alan Fitzgerald, Bruce's keyboard tech who has supplemented songs from off-stage throughout the tour, finally getting the spotlight as he accompanied Bruce on grand piano for "Orphans." The whole thing got a standing ovation. Appropriately for Trenton, where Bruce hadn't played since the early '70s, this song was one of five played tonight from 1973 or earlier, along with "Santa Ana," "Thundercrack," "Bus Stop," and "It's Hard to Be a Saint in the City." And "Saint" was a wild new arrangment, a Dylanesque blues version sung through the bullet mic. Stepping forward a couple years, he also offered "Meeting Across the River" as a "happy anniversary" moment, which received a standing-o as well. But you didn't have to be an afficianado of bearded Bruce to enjoy tonight's show -- there was plenty for Nebraskans ("Atlantic City," "State Trooper" into "Nebraska") and Tunnelers ("One Step Up," a very strong "Spare Parts," and B-side "Two for the Road"). "Two for the Road" was an audible dedicated to those who had travelled to follow the tour, especially those from Europe: "That's a hell of a haul! This is for you, goddammit -- I can't get off my couch to go to Asbury Park!" Another audible was "Fade Away" which, along with its River-mate "Drive All Night," had strong, strong vocals on display tonight. Bruce appeared to be feeling good, playing hard, and enjoying himself as the tour nears its end, telling the crowd before "Matamoros Banks": "I'll take this moment to thank the great audiences I've had on this tour... I've gotten a lot out of it, I hope you have too."
Setlist: Rumble (instrumental)/Born in the U.S.A./Devils & Dust/Atlantic City/Long Time Comin'/Fade Away***/Meeting Across the River*/It's Hard to Be a Saint in the City/State Trooper/Nebraska/All the Way Home/One Step Up/Reno/Two for the Road***/Santa Ana*/Drive All Night*/The Rising/Spare Parts/Jesus Was an Only Son*/This Hard Land/Song for Orphans (w/ Alan Fitzgerald*)/Matamoros Banks
Encore: Does This Bus Stop at 82nd Street*****/Thundercrack*/The Promised Land/Dream Baby Dream**
*=piano
**=pump organ
***=electric piano
*****=ukulele

November 19 / Hollywood, FL / Seminole Hard Rock Live
Notes: This make-up show, postponed and relocated due to Hurricane Wilma, gave Florida concertgoers a special treat to make up for the wait as Bruce was joined by not one but two E Streeters. So far on the tour, Nils Lofgren and Patti Scialfa had pitched in; for this Saturday night show, Steve Van Zandt and local hero Clarence Clemons guested, in both the main set and the encore. They came out first for "Drive All Night," adding texture for the musical highlight of the night, with Steve picking on a six-string acoustic and the Big Man nailing the sax part on a stool at center stage. Steve came back for "Two Hearts," joining Bruce on acoustic guitar and vocals, and they both returned for another trio on "Thundercrack" in the encore. This new venue -- a narrow, 6,000 seat hall -- had potential for a really intimate show, but a noisy crowd never quite settled down, despite Bruce's admonition early on: "I can get along without being cheered during the song -- I've been doing this for a while." Could've been the fact that the hall was part of a casnio complex -- which wasn't all bad, as it inspired an audible of "Roll of the Dice," a tour premiere. "Lucky Town" was thrown in for good measure, "Fade Away" and "Meeting" returned, and "Santa Ana" was dedicated to "all of you obsessive-compulsives."
Setlist: Into the Fire**/Born in the U.S.A./Devils & Dust/Lonesome Day/Long Time Comin'/Fade Away***/Meeting Across the River*/Johnny 99/Ain't Got You/All I'm Thinkin' About/One Step Up/Reno/Roll of the Dice***/Santa Ana*/Drive All Night* (w/ Clarence Clemons & Steve Van Zandt)/The Rising/Lucky Town/Jesus Was an Only Son*/Two Hearts(w/ Steve)/The New Timer#/Matamoros Banks
Encore: I Wanna Marry You*****/Thundercrack* (w/ Clarence & Steve)/The Promised Land/Dream Baby Dream**
*=piano
**=pump organ
***=electric piano
*****=ukulele
#=autoharp
November 17 / E. Rutherford, NJ / Continental Airlines Arena
Notes: The second of two in a row at the Meadowlands, and the Born to Run celebration continues. After bringing out "Backstreets" last night, tonight Springsteen returned to the 1975 classic for a pair of premieres: the first-ever solo piano "Meeting Across the River," and an encore of "Born to Run" on guitar and harp. He sent "Born to Run" out to Don Ienner and Columbia Records, and by that point it was practically like a Casey Kasem show with all the dedications. But when they're attached to rarities like these, who's complaining? "Two For the Road" went out to Scott Greenstein and Sirius ("every artist's dream -- you turn on the radio, and all you hear is yourself"; "Used Cars" to Bruce's dad; "Frankie" to a father and son from Holland; "Drive All Night" by request from John to Maria (she got her "Bed" song, too; congrats, ya lovebirds). And then there was "Brilliant Disguise" -- no need for a long-distance dedication there, as Patti Scialfa came out for an up-close-and-personal duet. (While Patti also helped with this one at VH1 Storytellers, and she and Bruce joined U2 last month, this was her first guest spot of the D&D tour.) What's more, the stellar setlist was matched by the performance -- so as for that cold, Springsteen must have sweat it out in the day, because tonight he was riding through mansions of glory. Or at least looser, more relaxed, and in great voice.
Setlist: Born in the U.S.A./Devils & Dust/Atlantic City/Long Time Comin'/Used Cars/Frankie*/Meeting Across the River*/Johnny 99/Ain't Got You/Brilliant Disguise (w/ Patti Scialfa)/Maria's Bed/Cautious Man/Reno/Two For the Road***/Drive All Night*/The Rising/Lucky Town/Jesus Was an Only Son*/Leah/The New Timer#/Matamoros Banks
Encore: I Wanna Marry You*****/Thundercrack*/Born to Run/The Promised Land/Dream Baby Dream**
*=piano
**=pump organ
***=electric piano
*****=ukulele
#=autoharp
November 16 / E. Rutherford, NJ / Continental Airlines Arena
Notes: We've all got Born to Run on the brain this week, and tonight -- the first show since the release of the 30th Anniversary box -- Bruce was right there too, treating the crowd to our namesake, "Backstreets." He dedicated the song, with a "happy anniversary," to Jon Landau. It was only the third time a Born to Run song has been played on this tour, following "Thunder Road" on 10/12 and the debut of "Backstreets" on 8/6. Plus, the second tour performance of "The Wall," the first-ever "Does This Bus Stop" on ukulele, and, as in Atlantic City, Bruce kept "Santa Ana" in the main set and "Thundercrack" in the encore. Also as in Atlantic City, however, he was struggling with a bad cold, and it clearly affected the performance. Some notes were tough to hit tonight, and he called out for some hot tea... but the show went on, as it must, and cold or no, the "One Step Up" falestto was amazing. He didn't let the return to the Meadowlands pass without a mention of his previous visit back on 5/19: "Last time I was here, I cursed out a whole section that was just trying to tell me about an equipment problem. And all I have to say is... don't fuck with me, or I'll do it again." Good to see the sense of humor intact -- "kidding on the square" or not -- and get well soon.
Setlist: Empty Sky/Born in the U.S.A./Devils & Dust/Long Time Comin/The Wall*/Backstreets*/Johnny 99/Part Man, Part Monkey/Ain't Got You/All the Way Home/One Step Up/Reno/Santa Ana*/Lost in the Flood*/Drive All Night*/The Rising/Further On (Up the Road)/Jesus Was an Only Son*/Two Hearts/The New Timer#//Matamoros Banks
Encore: Does This Bus Stop at 82nd Street*****/My Best Was Never Good Enough/Thundercrack*/The Promised Land/Dream Baby Dream**
*=piano
**=pump organ
*****=ukulele
#=autoharp

November 13 /Atlantic City, NJ / Boardwalk Hall
Notes: Well, you'd be a sucker if you didn't bet on "Atlantic City" to be played at the Atlantic City show. But there would be considerably longer odds on the rest of this strong setlist. Like the returning pocket rockets, "Santa Ana" and "Thundercrack" -- not just Philly-only specials after all -- that's some good action. Yes, returning to Boardwalk Hall to play A.C. for just the second time in his career, Springsteen chose to deal out some of the "greatest hits" from the last few weeks of the tour, with tonight's railbirds catching "Fade Away," "Drive All Night," "Janey, Don't You Lose Heart," "Lost in the Flood," and "Sandy." Jackpot, baby! Bruce also brought back an overpair of underplayed songs: "Maria's Bed" (the lock of the night) with a "Brilliant Disguise" kicker. We can't say this show was the nuts, as Springsteen seemed to be (literally) slow-playing his hand and never quite went all-in. But with a setlist like that, no one could call it a flop.
Setlist: Born in the U.S.A./Devils & Dust/Atlantic City/Long Time Comin'/Fade Away***/Santa Ana*/Johnny 99/Open All Night/Maria's Bed/Brilliant Disguise/Reno/Janey, Don't You Lose Heart***/Lost in the Flood*/Drive All Night*/The Rising/Further On (Up the Road)/Jesus Was an Only Son*/This Hard Land/The Hitter/Matamoros Banks
Encore: I Wanna Marry You*****/4th of July, Asbury Park (Sandy)***/Thundercrack*/The Promised Land/Dream Baby Dream**
*=piano
**=pump organ
***=electric piano
*****=ukulele

November 11 /Norfolk, VA / Constant Convocation Center
Notes: Springsteen's Veterans Day show began, appropriately enough, with "Born in the U.S.A." (on the bullet mic, as debuted on 11/8 in Philly). That wasn't his only nod to the occasion as, a few songs later, Bruce delivered a perfectly fitting surprise: "The Wall," previously played only at the DoubleTake benefit shows in 2003. He introduced it as a song he wrote for an old friend from Freehold, a member of The Motifs who died in Vietnam; it's set at the Vietnam Veterans Memorial in Washington DC, where the singer comes to pay his annual respects: "This black stone and these hard tears / Are all I've got left now of you." Still, this was an f-u-n fun show, with a great, respectful crowd and a laid-back Bruce... two laid-back Bruces, in fact. As Springsteen tickled the ivories on "You Can Look," an unimpressed Bruce Hornsby ambled out onstage reading the newspaper. "You better be reading the want ads, Hornsby," Springsteen cried, "I'm here for your job!" The Two Bruces switched off on the grand piano, in probably the funniest bit of the tour. At the very end of the main set, Hornsby was back for a beautiful duet on "Across the Border" -- handling pump organ and then switching to the grand as Springsteen held down guitar and harp -- the first time "Matamoros Banks" has gone unplayed. Other highlights: the rare and hair-raising "Downbound Train" on pump organ in the middle of the set; the return of the visual aid from Philly (a map provided by fan Patty Pappos) for the guided tour of Springsteen's old neighborhood before "Jesus"; "Point Blank" and "Drive All Night" at the keys; and an audible of "Blinded By the Light" in the encore. A fantastic Veterans Day show all around, striking just that right balance of dark and light.
Setlist: Born in the U.S.A./Devils & Dust/Adam Raised a Cain/Long Time Comin'/Point Blank***/The Wall*/Johnny 99/Ain't Got You/All the Way Home/Downbound Train**/Reno/You Can Look (But You Better Not Touch)* (w/ Bruce Hornsby)/Drive All Night*/The Rising/Darkness on the Edge of Town/Jesus Was an Only Son*/Two Hearts/The New Timer#/Across the Border (w/ Bruce Hornsby**-*)
Encore: Growin' Up*****/Open All Night/Blinded By the Light/The Promised Land/Dream Baby Dream**
*=piano
**=pump organ
***=electric piano
*****=ukulele
#=autoharp
November 9 / Philadelphia, PA / Wachovia Spectrum
Notes: If you thought the 24-year gap between performances of "Drive All Night" was something, dig what Bruce broke out for the old-timers at Philly Night 2: "Santa Ana," last played live more than 32 years ago in the spring of '73. While much of the crowd was surely still scratching their heads over that one, Bruce really rattled their brains by stayed at the piano and going right into "Thundercrack," complete with a sing-along at the end. Both of these early gems were released on Tracks disc one, and both were tour premieres tonight. Also making its official tour debut was "Used Cars," last played at the Asbury warm-up back in April. Plus the tour's second "Independence Day"; rare visits from "Adam," "Janey," and "Cynthia"; and a "Dream Baby Dream" that clocked in at ten minutes. A whopping 17 songs not played at the first show makes a total of 41 different songs played at this two-night Philly stand.
Setlist: Reason to Believe/Devils & Dust/Adam Raised a Cain/Long Time Comin'/Used Cars/Janey, Don't You Lose Heart***/Independence Day*/State Trooper/Nebraska/All the Way Home/Cynthia/One Step Up/Reno/Santa Ana*/Thundercrack*/The Rising/Spare Parts/Jesus Was an Only Son*/Two Hearts/The New Timer#/Matamoros Banks
Encore: Growin' Up*****/Waitin' on a Suny Day/The Promised Land/Dream Baby Dream**
*=piano
**=pump organ
***=electric piano
*****=ukulele
#=autoharp
November 8 / Philadelphia, PA / Wachovia Spectrum
Notes: A tour debut first thing, "Born in the U.S.A" opened the first of two Spectrum shows on bullet mic, a la "Reason to Believe." Nice call -- hey, if you can't understand the lyrics, how can you misinterpret them? But the concert's second tour premiere was the take-home moment of the night. Earlier today a friend said to me, "Yeah, I know it's Philly, but what surprises are left?" Well... how about a song that hasn't been played in nearly 25 years? Springsteen brought back "Drive All Night," which hadn't been heard in concert since the European leg of the River tour (6/7/81) -- and of course never on solo piano. This one was "special for Philadelphia," and it was breathtaking. (Can "The Price You Pay," last played 5/27/81, be far behind?) (Probably. But here's hoping anyway.) Though much more recently played, more very welcome returns from The River were "The Ties That Bind," "Fade Away" and its B-side, "Be True." Plus, "Highway 29," "Atlantic City" on guitar, and "Open All Night" in the encore. Like Tampa, another wild show.
Setlist: Born in the U.S.A./Devils & Dust/The Ties That Bind/Long Time Comin'/Highway 29/Fade Away***/Incident on 57th Street*/Johnny 99/Ain't Got You/Atlantic City/Highway Patrolman/Reno/Be True***/Drive All Night*/The Rising/Further On (Up the Road)/Jesus Was an Only Son*/This Hard Land/The Hitter/Matamoros Banks
Encore: I Wanna Marry You*****/Open All Night/The Promised Land/Dream Baby Dream**
*=piano
**=pump organ
***=electric piano
*****=ukulele
November 4 / Tampa, FL / St. Petersburg Times Forum
Notes: For anyone lamenting the two-steps-back setlists leading up to last weekend's filming in Boston, the Tampa show provided the perfect antidote: a truly unpredictable set, exceeding the Recommended Daily Allowance of rarities for anyone who was feeling undernourished. Astoundingly, there was nothing prior to 1980 in the main set, and it was light on Devils & Dust tunes as well -- putting the spotlight on Tunnel of Love ("Ain't Got You," "One Step Up"), Nebraska ("Atlantic City," "State Trooper"), and most of all, The River. Springsteen opened with the second tour performance of "Fade Away," with a deep, rich vocal, and he also played that song's B-side, "Be True," for good measure. Plus three more from the 1980 LP: "Wreck on the Highway," "Two Hearts" and "I Wanna Marry You." "Real World" on piano sounded as impassioned as ever, and that even carried over to a fine "My Hometown." On the downside, the crowd never quite settled down, and echoey sound in this full-arena setup distracted a bit. But when you've got Bruce up there following two electric guitar songs in a row with an auidble of "Cynthia," it's hard to say anything but "Yeah! Yeah! Allll right!"
Setlist: Fade Away***/Reason to Believe/Devils & Dust/Empty Sky/Long Time Comin'/Be True***/Atlantic City*/State Trooper/Ain't Got You/Cynthia/One Step Up/Reno/Wreck on the Highway***/Real World*/My Hometown*/The Rising/Lucky Town/Jesus Was an Only Son*/Two Hearts/The Hitter/Matamoros Banks
Encore: I Wanna Marry You*****/Blinded By the Light/Land of Hope and Dreams/The Promised Land/Dream Baby Dream**
*=piano
**=pump organ
***=electric piano
*****=ukulele
October 30 / Boston, MA / T.D. Banknorth Garden
Notes: With cameras still rolling, take two in Boston was wildly different, a 27-song set with only ten songs repeated from Friday night. While not necessarily a "better" setlist, the second time was the charm in terms of performance, with a high intensity level (see "Reason to Believe") and sense of purpose: Bruce was on a mission. Who knows if/when/how we'll see the results from this weekend, but from just this night alone we're drooling for live film of "Cautious Man," "Real World" piano, "Open All Night," and a real nice "Further." "Black Cowboys" was dedicated to Robert Coles ("if he's still here... we went to the strip club earlier today and were drinking all that Jack Daniels..."); Bruce gave the nod to other local old-timers by dedicating "Lost in the Flood" to anyone who was at Paul's Mall back in the day. In a hilarious bit, he also expanded on his "love songs" rap: "The question all love songs ask is, 'Will you pull your pants down?'" And by example, he riffed: "It's a town full of losers, we're pulling out of here to win... and will you pull your pants down?" "Tramps like us, baby we were born to run... and will you pull your pants down?" Bruce added a dobro to the bullet mic reading of "Johnny 99" to great effect, but the biggest musical shake-up of the night came when, after "The Promised Land," he asked tech Kevin Buell for a B-flat harp. Just when you thought the "Promised Land"/"Dream Baby Dream" closing pair was inseparable, Bruce inserted an impromptu cover of the Standells' "Dirty Water." Aside from harmonica blasts between verses it was an a capella serenade, a love song to a town we can only hope is the setting of his next concert DVD. Oh, Boston, you're my home... and will you pull your pants down?
Setlist: My Beautiful Reward**/Reason to Believe/Devils & Dust/Empty Sky/Long Time Comin'/Black Cowboys/Back in Your Arms***/For You*/Johnny 99/State Trooper/All I'm Thinkin' About/Cautious Man/Reno/Lost in the Flood*/Real World*/The Rising/Further On (Up the Road)/Jesus Was an Only Son*/Two Hearts/The Hitter/Matamoros Banks
Encore: I Wanna Marry You*****/Open All Night/Land of Hope and Dreams/The Promised Land/Dirty Water/Dream Baby Dream**
*=piano
**=pump organ
***=electric piano
*****=ukulele
October 28 / Boston, MA / T.D. Banknorth Garden
Notes: The first of two Boston shows, where entering the building was consent "to have your image used by Thrill Hill Productions." Yes, as rumored, cameras were rolling to capture this Devils & Dust show for the ages, likely the reason the tour has been a bit more "standard" of late (this set was notably similar to the previous show in Richmond). Rather than an end-stage, the venue was set up lengthwise; extra cameras could be seen behind both the piano and the pump organ. Judging by the handwritten setlist, this show was planned as even more of a Model A set, but Bruce shook things up a bit by calling a couple audibles: "Ain't Got You" instead of "All the Way Home," and "Lucky Town" in for "Further On (Up the Road)." And there was some curveball banter as well, Bruce ribbing the Boston crowd for the other Sox series win, and setting the scene for "Growin' Up": "There I was -- I had too much to drink, I was in Atlantic City, in the penthouse of the Trump Plaza, with two hookers and a ukulele...." "All That Heaven Will Allow" was dedicated to longtime fan Obie; "Matamoros Banks" to the Boston Globe's Stan Grossfeld.
Setlist: Idiot's Delight/Living Proof**/Devils & Dust/Lonesome Day/Long Time Comin'/Silver Palomino/You Can Look (But You Better Not Touch)*/The River*/Tougher Than the Rest*/Johnny 99/Part Man Part Monkey/Ain't Got You/Reno/Nothing Man***/All That Heaven Will Allow***/Racing in the Street*/The Rising/Lucky Town/Jesus Was an Only Son*/Leah/The Hitter/Matamoros Banks
Encore: Growin' Up*****/My Best Was Never Good Enough/The Promised Land/Dream Baby Dream**
*=piano
**=pump organ
***=electric piano
*****=ukulele

October 24 / Richmond, VA / Richmond Coliseum
Notes: Back in the the Steel Mill stronghold of Richmond on a cold, rainy night, Springsteen noted it was a "place without which I could not have survived. There were two places we played -- here and Jersey. I'm not sure what the connection was, but it kept us alive for quite a while there." Springsteen dug back to the early days, playing "Incident" and "Sandy" both by request, and the mesmeriziing, Dylanesque "Growin' Up" on ukelele ("Size does matter," he joked). There was also a rousing piano version of "You Can Look," which Springsteen mentioned that he would play despite the presence of his friend Bruce Hornsby in the crowd. "Look over your shoulder, Hornsby!" he called out, "Fear for your day job, brother!" Though the song selection in general did little to warm up setlist watchers in the chilly Richmond Coliseum -- surprises were few -- Springsteen's choice of a back-to-basics set drew comments from some fans that he must be rehearsing for Boston (based on the consistently high quality of shows there, we like to think no matter where Bruce is, he's always rehearsing for Boston). But many of the D&D regulars stood out in this solid show: "Lonesome Day" and "The Rising" in particular sounded rich, the performances strong and supple; plus a stunning "Promised Land" with a pin-drop quiet crowd, a stately "Silver Palomino," and a spot-on falsetto romp through "All I'm Thinkin' About." Extra shout-outs to Springsteen's security detail and arena staff for removing the obnoxious, distracting dope who sat front-row center, marring the first three songs of the evening.
Setlist: My Beautiful Reward**/Reason to Believe/Devils & Dust/Lonesome Day/Long Time Comin'/Silver Palomino/You Can Look (But You Better Not Touch)*/The River*/Tougher Than the Rest*/Johnny 99/Part Man Part Monkey/All I'm Thinkin' About/Reno/Nothing Man***/Incident on 57th Street*/The Rising/Darkness on the Edge of Town/Jesus Was an Only Son*/This Hard Land/The New Timer#/Matamoros Banks
Encore: Growin' Up*****/4th of July, Asbury Park (Sandy)/The Promised Land/Dream Baby Dream**
*=piano
**=pump organ
***=electric piano
*****=ukulele
#=autoharp
October 21 / Providence, RI / Dunkin' Donuts Center
Notes: At times, it felt like the Providence show time-warped back a few months -- "Leah" returned for the first time this leg, along with other early-tour staples like "For You," "The River," and "Part Man Part Monkey." Springsteen revisited a lot of his early stories as well, and there was no electric piano tonight, with six songs all on the grand. But by the end of the set we were back in October, with "The New Timer" on autoharp and "Growin' Up" on ukulele; Springsteen even remarked, "I'm playing a lot of gizmos tonight -- I'm gonna be ready for Ted Mack's Amateur Hour!" Another nice bit of banter was about growing up Catholic: "It's a religion of beauty, poetry, and hideous terror." "Valentine's Day" into "Real World" was a "double-header dedication" at the piano for Kate Landau, and "Jon, her daddy," referenced in the first song's lyric, "A friend of mine became a father last night." Also on piano was a New Orleans-style "You Can Look," with Bruce joking about his limited skills. Not on piano was "Atlantic City" -- played only once previously on the keys, offered up tonight on guitar and harmonica in the encore.
Setlist: Idiot's Delight/Across the Border**/Devils & Dust/Lonesome Day/Long Time Comin'/For You*/You Can Look (But You Better Not Touch)*/The River*/Reason to Believe/Nebraska/Part Man Part Monkey/All the Way Home/Reno/Valentine's Day*/Real World*/The Rising/Darkness on the Edge of Town/Jesus Was an Only Son*/Leah/The New Timer#/Matamoros Banks
Encore: Growin' Up*****/Atlantic City/Bobby Jean/The Promised Land/Dream Baby Dream**
*=piano
**=pump organ
*****=ukulele
#=autoharp
October 20 / Worcester, MA / DCU Center
Notes: A loose Bruce and a rambunctious crowd in Worcester -- mostly that meant that they were just into it, as on the very well received "Brilliant Disguse," here in the town where the Tunnel tour kicked off back in '88. But Bruce did have to ask (relatively) nicely to cool it with the clapping: "You're driving me fucking nuts!" A huge highlight was an 18 Tracks special two-fer, "The Fever" right into "The Promise," both at the keys. While the latter had come out already this summer, "The Fever" on electric piano was a tour debut. "One of those annoying songs fans always request," Springsteen called it laughingly during the intro, but the searing, sultry performance showed that he could still get behind it. "To Southside, wherever you are!" he called out at the end. A particularly driving "Lost in the Flood" was another notable. More rarities: "Sinaloa Cowboys," for only the second time on the tour; "I'm on Fire" on the banjo, last played in Atlanta; and that "Brilliant Disguise," last played in Toronto. And in the encore, Bruce knew this was a good night for audience participation, breaking out "Waitin' on a Sunny Day": "Okay, now you can help me out!"
Setlist: Idiot's Delight/Across the Border**/Devils & Dust/Long Time Comin'/Sinaloa Cowboys/The Fever***/The Promise*/Johnny 99/All I'm Thinkin' About/Brilliant Disguise/I'm on Fire****/Reno/When You're Alone***/Racing in the Street*/Lost in the Flood*/The Rising/Darkness on the Edge of Town/Jesus Was an Only Son*/Two Hearts/The New Timer#/Matamoros Banks
Encore: I Wanna Marry You*****/Waitin' on a Sunny Day/The Promised Land/Dream Baby Dream**
*=piano
**=pump organ
***=electric piano
****=banjo
*****=ukulele
#=autoharp
---
October 17 / Philadelphia, PA / Wachovia Center
Notes: During U2's encore, Bono announces that they want to play 'People Get Ready', but says they need an extra guitar player. The crowd erupts when Bruce Springsteen strolls on stage to reprise a collaboration that first happened in September, 1987, at Philly's now-demolished JFK Stadium. Bono also calls Bruce's wife, Patti Scialfa, on stage to help with vocals. They play an extended version of the song with mostly made-up lyrics ("People get ready 'Cause the Boss is in town," Bono sang.... see U2.com for his customized verses), eventually leaving only Bruce (playing Bono's Irish Falcon guitar) and Larry on stage to close out the first encore. (Thanks to David Miller for the report)
Setlist: People Get Ready

---
October 15 / Madison, WI / Dane County Arena at Alliant Energy Center
Notes: A year after appearing at a Fresh Start for America rally in Madison, Springsteen returned to play his first actual concert there in nearly 25 years, since 2/2/81. And for the occasion, he offered flashbacks to his younger days, with a lot of early material including "Incident," "Lost in the Flood," and an encore trifecta of "Growin' Up," "Wild Billy," and "Blinded." As for later material, Bruce pulled out rarities like "Valentine's Day," "Land of Hope and Dreams," and "Across the Border," played for only the second time this tour (this time on the pump organ). He engaged the crowd quite a bit, making a few jokes about the Vikings sex party that's been in the news (and apparently he was too kind to the Vikings, inspiring some boos here in Packers country), and apologizing for having taken so long to play Madison again. He even promised to come back with the E Street Band. "When? If I knew, I wouldn't be me."
Setlist: Idiot's Delight/Across the Border**/Devils & Dust/Empty Sky/Long Time Comin'/Highway 29/All That Heaven Will Allow***/Incident on 57th Street*/Reason to Believe/All I'm Thinkin' About/Ain't Got You/Nebraska/Reno/Valentine's Day*/Lost in the Flood*/The Rising/Further On (Up the Road)/Jesus Was an Only Son*/Land of Hope and Dreams/The New Timer#/Matamoros Banks
Encore: Growin' Up*****/Wild Billy's Circus Story/Blinded By the Light/The Promised Land/Dream Baby Dream**
*=piano
**=pump organ
***=electric piano
*****=ukulele
#=autoharp
October 13 / Chicago, IL / United Center
Notes: Returning to Chi-town, home of the ultimate D&D debut ("Dream Baby Dream" on 5/11), Springsteen offered no tour premieres the second time around. But it was a solid show, starting late (at 8:30) but worth the wait, a step up from last night's performance in Minneapolis despite the larger venue tonight. Bruce was into it -- especially on "This Hard Land," with an exceptional vocal. And even when his vocal wasn't exceptional, he was having fun: he laughed as he had to sing lines in "All I'm Thinkin' About" multiple times to hit them, and got much applause at song's end for the effort. Mentioning again that the line in "Long Time Comin'" should have been "Ain't gonna fuck it up too bad this time" but it wouldn't fit, he added that if the song had been on his first album he would have gotten all the words in. Other notables: "I Wish I Were Blind," both "State Trooper and "Highway Patrolman," "When You're Alone," and the always-welcome "Racing in the Street" on piano. On the unusual-instrument front, "New Timer" on autoharp took the "Hitter" slot once again, and "Growin' Up" on ukulele opened the encore. And the Stage Rush Watch: there was a stage rush tonight, not stopped by security; rumor has it that the kibosh on the rush in Minneapolis last night was just a local security snafu. But we're betting the whole wait-until-the-encore-to-move thing still stands.
Setlist: Idiot's Delight/Living Proof**/Devils & Dust/The Ties That Bind/Long Time Comin'/I Wish I Were Blind***/Tougher Than the Rest*/Johnny 99/State Trooper/All I'm Thinkin' About/Ain't Got You/Highway Patrolman/Reno/When You're Alone***/Racing in the Street*/The Rising/Further On (Up the Road)/Jesus Was an Only Son*/This Hard Land/The New Timer#/Matamoros Banks
Encore: Growin' Up*****/Bobby Jean/The Promised Land/Dream Baby Dream**
*=piano
**=pump organ
***=electric piano
*****=ukulele
#=autoharp
October 12 / Minneapolis, MN / Northrop Auditorium
Notes: Back in a more intimate theater setting, Springsteen chose this night to revisit "Thunder Road" on the piano, after a long rest for the song following the Storytellers performance. It was only the second time Bruce has drawn from the Born to Run album on this tour, played by request for his "good friend" JJ. Another surprise highlight was the tour premiere of "The New Timer," the least-performed song from The Ghost of Tom Joad, on which Springsteen added yet another new instrument to his arsenal, the autoharp. He introduced it by talking about Journey to Nowhere, the book that inspired several songs on Joad. The stage rush was foiled not once but twice, with security turning rushers back to their seats after both "Matamoros Banks" and "The Promised Land" -- so it would seem Springsteen is serious about this one. And you couldn't say the lack of a stage-side throng negatively impacted the performance; it was a particularly magnificent, droning "Dream Baby Dream" to close.
Setlist: Wreck on the Highway***/Idiot's Delight/Into the Fire**/Devils & Dust/Lonesome Day/Long Time Comin'/Back in Your Arms***/For You*/Johnny 99/All I'm Thinkin' About/Ain't Got You/One Step Up/Reno/Nothing Man***/Thunder Road*/The Rising/Darkness on the Edge of Town/Jesus Was an Only Son*/Two Hearts/The New Timer#/Matamoros Banks
Encore: I Wanna Marry You*****/The Ties That Bind/My Best Was Never Good Enough/The Promised Land/Dream Baby Dream**
*=piano
**=pump organ
***=electric piano
*****=ukulele
#=autoharp
October 9 / Uniondale, NY / Nassau Veterans Memorial Coliseum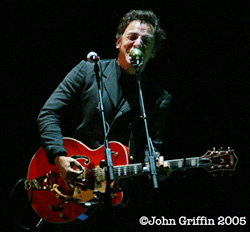 Notes: "Good to be back at the Nassau Coliseum," Bruce said, back in the building that was home to his marathon New Years 1980 show, a venue he hasn't played since 1992. He touched on the common bond between New Jersey and Long Island, living in the shadow of NYC: "The other side of the same tragic coin... You scratch a Long Islander, and there's a New Jerseyan under there." As the Yankees fought it out in the playoffs -- surely, along with the rain, accounting for the surprising number of empty seats -- New Jersey's favorite son played his ninth show at this Long Island venue. And it was only the tenth show on the Devils & Dust tour without a tour premiere. But a nicely varied set -- the first nine songs came from eight different albums -- with highlights including "Stolen Car" to open, "Living Proof" on the pump organ, "Two Faces," and a smoking "Ain't Got You." "Lost in the Flood" stayed in the set, a song that surely can't be heard the same way post-Katrina. And Bruce brought the "Reason to Believe"-style "Johnny 99" back for the first time since very early in the tour, making for two bullet-mic songs tonight (along with "Idiot's Delight"). Revisiting "I Wanna Marry You" on the ukulele, Bruce teased that he's been "working up a mean version of 'Man's Job'" on the instrument. Hey, bring it on! Unless, waitasec, he didn't say "Real Man," did he? 'Cuz, not to seem unappreciative, but maybe we don't need that many tour premieres....
Setlist: Stolen Car***/Idiot's Delight/Living Proof**/Devils & Dust/Lonesome Day/Long Time Comin'/Back in Your Arms***/Two Faces*/Johnny 99/All I'm Thinkin' About/Ain't Got You/Highway Patrolman/Reno/Lost in the Flood*/My Hometown*/The Rising/Darkness on the Edge of Town/Jesus Was an Only Son*/This Hard Land/The Hitter/Matamoros Banks
Encore: I Wanna Marry You*****/The Ties That Bind/My Best Was Never Good Enough/The Promised Land/Dream Baby Dream**
*=piano
**=pump organ
***=electric piano
*****=ukulele

October 7 / Hartford, CT / Hartford Civic Center
Notes: A radically different show from Rochester, with more than half the set changing up on these back-to-back nights. In Hartford, Springsteen promised with a chuckle to assuage the pain of Red Sox fans, and he did so with a 27-song set, the longest yet. He opened with two on the electric piano, "Back in Your Arms" and "Wreck on the Highway"; broke out the ukulele again on "I Wanna Marry You"; revisited classics "Incident" and "Lost in the Flood" on the piano, both to tremendous ovations; and brought back "The Hitter." Keeping on keepin' on were those new arrangements debuted on this third leg, "The Ties That Bind" (a knock-out, its melody wholly reworked) and "Idiot's Delight." And then there were the tour premieres: a rollicking "You Can Look (But You Better Not Touch)" on the piano, and "Something in the Night" on guitar by request. Speaking of requests, a couple of them came from Bruce himself: one he stopped "The Promised Land" to make -- asking the crowd not to clap along, he said he'll handle his own percussion -- and one that he asked the crowd to take home with them. With the stage rush hitting during the somber "Matamoros Banks" set-closer once again, Bruce asked fans to spread the word on the internet, as his fingers mimed typing in the air, "Please tell everyone to stay in their seats until the set is over." Sounds good to us.
Setlist: Back in Your Arms***/Wreck on the Highway***/Idiot's Delight/Devils & Dust/The Ties That Bind/Long Time Comin'/Silver Palomino/Incident on 57th Street*/Tougher Than the Rest*/Part Man Part Monkey/All I'm Thinkin' About/Something in the Night/Reno/All That Heaven Will Allow***/Lost in the Flood*/My Hometown*/The Rising/Lucky Town/Jesus Was an Only Son*/Two Hearts/The Hitter/Matamoros Banks
Encore: I Wanna Marry You*****/You Can Look (But You Better Not Touch)*/Bobby Jean/The Promised Land/Dream Baby Dream**
*=piano
**=pump organ
***=electric piano
*****=ukulele

October 6 / Rochester, NY / Blue Cross Arena
Notes: Nicely warmed up with that Asbury Park benefit two days ago, Springsteen is now back on the road for the fall U.S. leg. Two songs that premiered on Tuesday returned tonight in Rochester: "Idiot's Delight" (in the style of "Reason to Believe") to open, and the new arrangement of "The Ties That Bind." Also returning was the ukulele, which Bruce played this time on "Growin' Up." And for the second show in a row, "Galveston Bay" took the place of "The Hitter," which had been a nightly staple until this leg. Otherwise, back to business as usual as the Devils & Dust tour continues -- and ain't it nice that "business as usual" means more tour premieres? Tonight's was "Independence Day" on the piano, preceded by "My Father's House" and "Long Time Comin'" for a powerful fatherhood suite. Other highlights were "Real World" and "Racing in the Street" back to back, and a nice trio of Tunnel songs: "Two Faces," "Cautious Man," and a glimpse of "what it's like to be the Boss" with "Ain't Got You." "The Promised Land" was played for the late Harold Leventhal, who died on Tuesday at the age of 86. A renowned folk music champion, Leventhal had an astounding career (and impact) as promoter, producer, and manager, working with Woody Guthrie, Pete Seeger, Bob Dylan, and countless others; he was executive producer of A Vision Shared: A Tribute to Woody Guthrie and Leadbelly, featuring Springsteen, in 1988.
Setlist: Idiot's Delight/Living Proof**/Devils & Dust/My Father's House/Long Time Comin'/Independence Day***/Two Faces*/Ain't Got You/Maria's Bed/Cautious Man/Reno/Nothing Man***/Real World*/Racing in the Street*/The Rising/Further On (Up the Road)/Jesus Was an Only Son*/This Hard Land/Two Hearts/Galveston Bay/Matamoros Banks//Growin' Up*****/The Ties That Bind/The Promised Land/Dream Baby Dream**
*=piano
**=pump organ
***=electric piano
*****=ukulele

October 4/ Asbury Park, NJ / Paramount Theatre
Notes: After a seven-week break from the stage, Bruce Springsteen was back at it Tuesday night, back in Asbury Park, and back to his Devils & Dust tour business, this time with a twist. All proceeds from the Paramount Theatre show were donated to the Jersey Coast Chapter of the American Red Cross, a nod to the recent catastrophic events along the Gulf Coast. With his hair slicked back, Springsteen dressed casually in a denim shirt and the show had a workman-like feel to it. Opening with the obscure "Idiot's Delight," a song he co-wrote with Joe Grushecky that appears on Grushecky's Coming Home CD, Springsteen obscured it even more by singing the lyrically topical tune into his "Reason to Believe" bullet microphone. Springsteen did not address the crowd too much until the closing third of the show, when he tried to give some props to his attending Mom and aunts. Unfortunately, except for humor's sake, Mom was off to the lounge and missed her nod from the stage. "She's been waiting her whole life for this!" Bruce mused. Some highlights along the way included a new version of "The Ties That Bind" that had an Orbison-esque feel, a rockabilly-ed "Ain't Got You," the tour premiere of "I Wanna Marry You" (on ukulele!), and a quartet of songs -- "Atlantic City," "Lost in the Flood," "The Rising," and "Lucky Town" -- that had echoes of New Orleans reverberating. Springsteen spoke of the Crescent City as "the birthplace of American music... It's one of the few places that's kept its dirtiness and grittiness and soul... And it's a real big piece of who we are." He spoke fondly of all the great street musicians there, and hoped out loud that when it is rebuilt it's not "Disney-ized." Amen, brother.
Setlist: Idiot's Delight/Living Proof**/Devils & Dust/The Ties That Bind/Long Time Comin'/Silver Palomino/Be True***/Tougher Than the Rest*/Ain't Got You/All the Way Home/One Step Up/Reno/Atlantic City*/Lost in the Flood*/The Rising/Lucky Town/Jesus Was an Only Son*/Two Hearts/Galveston Bay/Matamoros Banks//I Wanna Marry You*****/4th of July, Asbury Park (Sandy)***/The Promised Land/Dream Baby Dream**
*=piano
**=pump organ
***=electric piano
*****=ukulele

August 13 / Vancouver, BC / Pontiac Theatre at GM Place
Notes: Wrapping up the summer leg just across the border in Vancouver, Springsteen lingers over a two-and-a-half-hour show: 26 songs, and a whopping eight of them on piano. "Living Proof" opens, as in Seattle, and son Evan makes the Northwest trifecta, playing guitar tech once again. Tonight's tour premiere: a beautiful "Because the Night" on electric piano, featuring an intense vocal despite the song's wealth of chords noted by Bruce in advance. The electric guitar double-whammy (pun intended) continues, with "State Trooper" into "Ain't Got You." Plus more main-set rarities like "Cynthia," "The Line," "Janey Don't You Lose Heart," and "Paradise." More oldies in the encore: "Blinded By the Light," followed by a surprise step over to the piano for "4th of July, Asbury Park (Sandy)." The latter (played in place of the setlisted "Saint in the City") was dedicated with a chuckle to "the professional stalkers" who have been following the Devils & Dust tour. And surely their job isn't over yet. Springsteen was vague about his plans, but he did refer to this show as the "end of our summer extravaganza" rather than the end of the tour. So we'll be looking for the promised return to the Northeast (and who knows where else) come fall... with the memory of well over 100 songs played on the tour so far to dream, baby, dream about 'til then.
Setlist: Living Proof**/Reason to Believe/Devils & Dust/Lonesome Day/Long Time Comin'/Because the Night***/The Promise*/The River*/State Trooper/Ain't Got You/Cynthia/The Line/Reno/Janey Don't You Lose Heart***/Paradise***-*/Real World*/The Rising/Darkness on the Edge of Town/Jesus Was an Only Son*/Two Hearts/The Hitter/Matamoros Banks//Blinded By the Light/4th of July, Asbury Park (Sandy)***/The Promised Land/Dream Baby Dream**
*=piano
**=pump organ
***=electric piano

August 11 / Seattle, WA / Key Arena
Notes: The second of three NW shows, and the penultimate show of this summer leg. Seattle's tour premiere: the great "Fade Away" B-side and Tunnel tour staple, later on Tracks disc 2, "Be True" on electric piano. Also in the obscurity column, Bruce brought back two Cincy premieres for their second performance: "Living Proof" (previously played on 12-string, tonight on pump organ to open) and "Two for the Road." As in Portland, son Evan was on hand to bring his pop a guitar for "Long Time Comin'," with Bruce telling the crowd, "It costs me a hundred bucks every time he comes out.... Don't clap too much, it'll cost me 200 bucks." Other highlights: "Highway 29," "Frankie" (for the third show in a row), "Ain't Got You," "Nothing Man," and a Greetings two-fer in the encore of "Growin' Up" and "For You," the latter played on guitar for the first time on this tour.
Setlist: Living Proof**/Reason to Believe/Devils & Dust/Highway 29/Long Time Comin'/Be True***/Frankie*/The River*/Part Man Part Monkey/Ain't Got You/Highway Patrolman/Reno/Two For the Road***/Nothing Man***/Racing in the Street*/The Rising/Darkness on the Edge of Town/Jesus Was an Only Son*/This Hard Land/The Hitter/Matamoros Banks//Growin' Up/For You/The Promised Land/Dream Baby Dream**
*=piano
**=pump organ
***=electric piano

August 10 / Portland, OR / Rosegarden Theatre of the Clouds
Notes: Kicking off the three-show Pacific Northwest run, Springsteen said that he'd been trying to do something obscure every night, and with that he sat down at the electric piano for the tour premiere of "Soul Driver." Like "Real World," "Soul Driver" was first aired solo at the Christic shows in 1990, and it's good to see him bring this one back as well. Another Human Touch rarity later in the show was "I Wish I Were Blind," played by request for a Norwegian fan. Springsteen noted the low regard for Human Touch among critics, saying that whenever he read one of his discographies that album was always "star-challenged".... "But it's considered a masterpiece in Norway." A guest guitar tech tonight, none other than Evan Springsteen, who brought out the guitar for "Long Time Comin'" and to whom Bruce dedicated the song (also noting that his son's onstage appearance would cost him a hundred bucks). Addressing the constant question of what it's like to be the Boss, Springsteen said, "the question is a perennial dilemma." His answer? "Ain't Got You" -- including the recent lyric change, "paid a king's ransom for doin' what I'd do for free." Also in the set: "Frankie," "One Step Up," "Valentine's Day," "Lost in the Flood," and "Wild Billy."
Setlist: Soul Driver***/Reason to Believe/Devils & Dust/Black Cowboys/Long Time Comin'/I Wish I Were Blind***-*/Frankie*/Part Man Part Monkey/Ain't Got You/One Step Up/Reno/Nothing Man***/Valentine's Day*/Lost in the Flood*/The Rising/Darkness on the Edge of Town/Jesus Was an Only Son*/Two Hearts/The Hitter/Matamoros Banks//Ramrod/Wild Billy's Circus Story/Bobby Jean/The Promised Land/Dream Baby Dream**
*=piano
**=pump organ
***=electric piano

August 7 / Milwaukee, WI / Bradley Center
Notes: Since Columbus, the D&D shows have really been "anything goes" affairs, and tonight was another wild one. Opening with the "Born in the U.S.A." B-side, "Shut Out the Light," a tour debut on pump organ, the stage was set for a darker show, brooding and intense. Check this four-song run: "Back in Your Arms" into "Ain't Got You," "State Trooper," and "Nebraska." (All leading into "Reno"-- call it the "Isolation Suite"?) There was also the rare "Point Blank," "Racing in the Street," "Darkness on the Edge of Town," and (as in Grand Rapids) a line change on "Long Time Comin'": "I hope I don't fuck it up this time." Five songs from Nebraska in all -- that's half the record -- including "Open All Night" and "My Father's House" (not played since Father's Day). The load was lightened a bit in the encore, with a fun Greetings double-shot: "Growin' Up" and "Bus Stop." Throughout the night, from dark to light, it was a solid, practically faultless performance, with none of the miscues that Springsteen typically laughs off. Even on Milwaukee's most jaw-dropping tour premiere, an ethereal "Frankie" on piano -- you might have expected a few goofs, but Bruce nailed it as if he'd been playing the song nightly. Nice balance of instrumentation, too, with three songs on the electric guitar ("Ain't Got You," "State Trooper," and "Open All Night"). So the engine's wide open as Bruce pulls into the final stretch of this leg, with the Pacific Northwest shows later in the week.
Setlist: Shut Out the Light**/Reason to Believe/Devils & Dust/My Father's House/Long Time Comin'/Frankie*/Back in Your Arms***/Ain't Got You/State Trooper/Nebraska/Reno/All That Heaven Will Allow***/Point Blank***/Racing in the Street*/The Rising/Darkness on the Edge of Town/Jesus Was an Only Son*/Leah/The Hitter/Matamoros Banks//Open All Night/Growin' Up/Does This Bus Stop at 82nd Street?/The Promised Land/Dream Baby Dream**
*=piano
**=pump organ
***=electric piano

August 6 / St. Louis, MO / Fox Theatre
Notes: Back in the theater setting for the only time on this leg, the venue alone makes for a special night, with a respectful crowd and Springsteen taking a moment to note the beauty of his surroundings. Some early electric piano highlights: "Back in Your Arms" opens, and Bruce breaks out the tour premiere of the rarely played "County Fair," a perfect song for late summer. Nothing from Tunnel of Love, but Springsteen delves into Born to Run for the first time in this tour, for a song that's close to our heart: "Backstreets" -- the first-ever solo performance, on piano, played by request for Bobby. The stateside debut of "Lucky Town" follows, and a particularly strong encore, including "Cynthia," "Wild Billy's Circus Story," and a moving "Dream Baby Dream," one of the best there's been.
Setlist: Back in Your Arms***/Reason to Believe/Devils & Dust/Black Cowboys/Long Time Comin'/County Fair***/The River*/Part Man, Part Monkey/All the Way Home/Highway Patrolman/Reno/Nothing Man***/Backstreets*/The Rising/Lucky Town/Jesus Was an Only Son*/Two Hearts/The Hitter/Matamoros Banks//Cynthia/Wild Billy's Circus Story/My Best Was Never Good Enough/The Promised Land/Dream Baby Dream**
*=piano
**=pump organ
***=electric piano

August 3 / Grand Rapids, MI / Van Andel Arena
Notes: Grand Rapids was momentous from the get-go: as of tonight's opener, "Tunnel of Love," every song from that 1987 album has now been played on this tour. (Bruce even later reprised "Ain't Got You" for good measure, which was just debuted at the previous show.) "Tunnel" was on the electric piano, a bluesy and hypnotic reading that reflected the weight of another 18 years on the narrator. At the other end of the emotional spectrum, "Sherry Darling" also premiered on that "magic piano," offered up as a fun summertime song; a couple songs later the crowd was rocking to the second tour performance of "Cynthia," even singing along at the end. But despite such fun, what was most notable tonight was Bruce's focus and intensity: "The Rising," though played nightly, stood out as exceptional, as did "Further," with a particularly aggressive intro and drawn-out ending. "I Wish I Were Blind" was a beautiful reading on the piano (preceded, as it was in Ottawa, by some technical difficulties, this time a dead mic -- what is it about this song?). And leading off the encore, "It's Hard to Be a Saint in the City" on acoustic guitar made for another three tour premieres, for the third show in a row.
Setlist: Tunnel of Love***/Reason to Believe/Devils & Dust/Black Cowboys/Long Time Comin'/Sherry Darling***/The River*/Part Man Part Monkey/Cynthia/One Step Up/Reno/Nothing Man***/I Wish I Were Blind*/Racing in the Street*/The Rising/Further On (Up the Road)/Jesus Was an Only Son*/Two Hearts/The Hitter/Matamoros Banks//It's Hard to Be a Saint in the City/Ain't Got You/Bobby Jean/The Promised Land/Dream Baby Dream**
*=piano
**=pump organ
***=electric piano


August 1 / Cincinnati, OH / U.S. Bank Arena
Notes: Now this is just getting ridiculous. (But for the luvvagod, man, don't stop!) After a jaw-dropper in Columbus last night, Springsteen continues to shine a light on long-neglected material from '88 forward, debuting three more songs tonight. First up, Bruce told the crowd that he opened with something obscure the previous night, and that he was gonna do it again. It was "Two for the Road," the "Tunnel of Love" B-side and Tracks cut, on electric piano. In the electric guitar slot, a Buddy Holly-esque "Ain't Got You" (the Tunnel album-opener, which now leaves the title track as the only song from that album left to be played on this tour). And on 12-string and harmonica, arguably the high water mark of the 1992 albums, "Living Proof." And that's just the tour debuts. Cinci also got the second tour performances of "Janey, Don't You Lose Heart" and "Walk Like a Man" (each played once in Europe), plus "The Promise" and "Open All Night." After "Two Hearts," Bruce added that he should have worked "easier said than done" into the lyric -- it's got the rhyme, after all. But then he noted that there was already a song by that name -- which he started to sing before realizing, "I'm dating myself... nobody knows this!" ("Easier Said Than Done" was a number one hit for The Essex, back in 1963.) Not counting that one, Bruce played 38 different songs in all over these two stunning, back-to-back nights in Ohio.
Setlist: Two for the Road***/Reason to Believe/Devils & Dust/Empty Sky/Long Time Comin'/Silver Palomino/Janey, Don't You Lose Heart***/The Promise*/The River*/Ain't Got You/All I'm Thinkin' About/Living Proof/Reno/Walk Like a Man***-*/Racing in the Street*/The Rising/Darkness on the Edge of Town/Jesus Was an Only Son*/Two Hearts/The Hitter/Matamoros Banks//Open All Night/This Hard Land/The Promised Land/Dream Baby Dream**
*=piano
**=pump organ
***=electric piano


July 31 / Columbus, OH / Schottenstein Center
Notes: Just when you thought you knew what to expect... Springsteen started tonight not on pump organ but on electric piano, confident enough with his falsetto to break out the live premiere of "Lift Me Up," written for the John Sayles film Limbo. And with that, the tone was set early for one of the strongest shows yet of this summer leg, with surprises aplenty, a rapt and respectful crowd, Springsteen in a happy and expansive mood. Soon came the tour debut of "Back in Your Arms," Bruce nailing it with a soulful, heartwrenching version at the piano. "State Trooper" returned, in its Suicide-influenced version heard in Bridgeport and Buffalo (as opposed to the "surf-noir" rendition from Europe). That was immediately followed by the say-what?! highlight of the night: the first-ever acoustic "Cynthia," a rollicking, jangly version that one repeat attendee called "the most rocking song on the entire tour." And the "hits" just kept a-comin', with "One Step Up," "Valentine's Day" (dedicated to Samantha), and a searing "Lost in the Flood." This one'll be hard to top. Then again, you might have thought that after Atlanta, too...
Setlist: Lift Me Up***/Reason to Believe/Devils & Dust/Lonesome Day/Long Time Comin'/Back in Your Arms*/For You*/State Trooper/Cynthia/One Step Up/Reno/When You're Alone***/Valentine's Day*/Lost in the Flood*/The Rising/Further On (Up the Road)/Jesus Was an Only Son*/Two Hearts/The Hitter/Matamoros Banks//Ramrod/Bobby Jean/The Promised Land/Dream Baby Dream**
*=piano
**=pump organ
***=electric piano


July 28 / Pittsburgh, PA / Petersen Events Center
Notes: Some Steeltown specials tonight: the 12-string "Youngstown," not played since Bruce was last in Pennsylvania, in May; and in the encore, Bruce's "old compadre" Joe Grushecky joined in for "Homestead." Sharing the mic with Bruce for dueling verses, Joe also played guitar and harmonica on this song they wrote together. Another tour premiere, "One Step Up" was played on 6-string and received a standing ovation, with Bruce noting "I guess I'll have to play that one again!" (As of tonight, only two songs from Tunnel of Love now remain to be played on this tour: "Ain't Got You," and the title track. Can he make the sweep?) Carrying over from the Greensboro show were "All That Heaven Will Allow" (an audible, as Bruce wanted to play something "happy"), "Two Hearts," and "Waitin' on a Sunny Day." Other highlights were the second tour performance of "Growin' Up," and a particularly strong "Real World." Springsteen told the crowd he'd been playing that one a lot on the tour, adding, "I guess I fucked it up when I recorded it." We're just glad he found his way back to it -- and hey, it's nothing an official live release couldn't rectify, right?
Setlist: My Beautiful Reward**/Reason to Believe/Devils & Dust/Youngstown/Long Time Comin'/For You*/The River*/Part Man, Part Monkey/All I'm Thinkin' About/One Step Up/Reno/All That Heaven Will Allow***/Real World*/Racing in the Street*/The Rising/Darkness on the Edge of Town/Jesus Was an Only Son*/Two Hearts/The Hitter/Matamoros Banks//Waitin' on a Sunny Day/Growin' Up/Homestead (with Joe Grushecky)/The Promised Land/Dream Baby Dream**
*=piano
**=pump organ
***=electric piano


July 26 / Greensboro, NC / Greensboro Coliseum
Notes: Right out of the gate, Greensboro got something unique, with "If I Should Fall Behind" played for the first time on the pump organ. (Previously on this tour, Bruce has played the song on guitar and piano... is a banjitar version next?) But the biggie of the evening came midway through the show, as Bruce sat at the piano and said, "This is a song I've played once, for the first time the other night. I'll give it another shot..." and with that, he went into a majestic and moving "Valentine's Day," which had its live world premiere in Atlanta. It's easy to get worked up over the rarity factor, we do that plenty. But knowing that this was only the second time Bruce has ever played "Valentine's Day" in concert was, well, secondary to the fact that performance itself was simply breathtaking. Add that to the piano double-shot of "All that Heaven Will Allow" (sent out to the Raspberries, Bruce fondly recalling their Greatest Hits cassette in his car stereo in the late '70s, "riding down to the bar, a girl you're going to see") and "Tougher Than the Rest," and the rediscovered Tunnel of Love material continues to provide high points of these sets. A captivating "Galveston Bay" was played for People of Faith Against the Death Penalty. And toward the end of the set, the tour premiere of "Two Hearts" on acoustic guitar was followed by the return of "Leah," bridged by Bruce noting, "Same story, different words." Anyone searchin' for the ghost of Junior Johnson might have been disappointed -- no "Cadillac Ranch," and no "Darlington County" for that matter -- but "All I'm Thinkin' About" has taken over as the Carolina Special, the mention of "Caroline" getting a big cheer as in Charlotte. Bruce also took the opportunity to redeem "Wild Billy's Circus Story," loose at best at the last show, tonight tight as a drum.
Setlist: If I Should Fall Behind**/Reason to Believe/Devils & Dust/Lonesome Day/Long Time Comin'/All That Heaven Will Allow***/Tougher Than the Rest*/Part Man, Part Monkey/All I'm Thinkin' About/Galveston Bay/Reno/Valentine's Day*/The River*/The Rising/Darkness on the Edge of Town/Jesus Was an Only Son*/Two Hearts/Leah/The Hitter/Matamoros Banks//Waitin' on a Sunny Day/Wild Billy's Circus Story/The Promised Land/Dream Baby Dream**
*=piano
**=pump organ
***=electric piano


July 24 / Charlotte, NC / Charlotte Coliseum
Notes: Springsteen clearly has some fondness for Charlotte as the longtime home of his Cousin Frank, and several anecdotes tonight added to the warmth of a relaxed and beautiful performance. "He was a little older than me," Bruce said of his cousin, "He played the accordion, and I thought that was the coolest instrument I'd ever seen." Frank's wardrobe, too, was an inspiration, down to the black socks with white sneakers. "That was the outfit I aspired to," Bruce recalled (before adding, "I don't look right in sneakers"). "Frank raised a whole bunch of kids here, and they all turned out alright," Bruce said, introducing "Long Time Comin'," "so this is for the moms and pops." The mention of "Caroline" got a huge cheer in "All I'm Thinkin' About," and Bruce revealed the inspiration for the setting: "It rhymed with wine." He continued: "Caroline is good, a lot rhymes with it. Jersey's not so good that way... Guernsey?..." Musical highlights included back-to-back Tunnel rarities on the keys, "When You're Alone" and "Two Faces"; and later, the piano trio of "Nothing Man," "Real World," and "Racing in the Street." "Highway Patrolman" was played for People of Faith Against the Death Penalty (based right here in Backstreets' neighborhood of Carrboro). Bruce came back to Frank again later in the show, talking about doing odd jobs for 50 cents an hour to buy a guitar at Western Auto Parts, "and it was actually my Cousin Frank who showed me my first chords on guitar." Maybe it was those memories that inspired the pair of older songs to kick off the encore, the rhyme-laden "Blinded By the Light" into "Wild Billy's Circus Story." The latter was a bit rough... but with a laid-back Bruce enjoying himself as much as the crowd, no need to whine or malign, that was just fine in Caroline.
Setlist: Into the Fire**/Reason to Believe/Devils & Dust/Empty Sky/Long Time Comin'/When You're Alone***/Two Faces*/The River*/Part Man, Part Monkey/All I'm Thinkin' About/Highway Patrolman/Reno/Nothing Man***/Real World*/Racing in the Street*/The Rising/Further On (Up the Road)/Jesus Was an Only Son*/If I Should Fall Behind/The Hitter/Matamoros Banks//Blinded By the Light/Wild Billy's Circus Story/The Promised Land/Dream Baby Dream**
*=piano
**=pump organ
***=electric piano


July 23 / Atlanta, GA / Philips Arena
Notes: For some reason, Springsteen tends to bless Atlanta with world premiere performances. Five years ago, it was "Further On (Up the Road)" and "American Skin (41 Shots)." Tonight, not new songs, but another two-fer -- or in Bruce's words, a "back-to-back, never-played-before double header." The first, on electric piano, was "Sad Eyes," the song released on Tracks in 1998. That was immediately followed by the big one, the only song from Tunnel that had never been played live: "Valentines Day." Springsteen rehearsed the song back in early '88 for the Tunnel of Love Express Tour, but more than 17 years passed before its first-ever in-concert airing, on piano. And the import wasn't lost on the Atlanta crowd, which responded with a standing ovation. The reaction seemed to take Bruce by surprise, and it went on long enough that the house lights came up to illuminate the moment. "There's a light guy earning his money," said Bruce. A number of other highlights -- including "Nothing Man," dedicated to local hero Brendan O'Brien; "All I'm Thinkin' About" ("Sometimes I have the voice for this, sometimes I don't, we'll see...." he warned, but it was a beautiful rendition); "Incident" and "Lost in the Flood" by request -- but tonight will surely be remembered as the Night the Lights Went On in Georgia for "Valentine's Day."
Setlist: My Beautiful Reward**/Reason to Believe/Devils & Dust/Lonesome Day/Long Time Comin'/Nothing Man***/Incident on 57th Street*/Part Man, Part Monkey/All I'm Thinkin' About/I'm on Fire****/Reno/Sad Eyes***/Valentine's Day*/Lost in the Flood*/The Rising/Darkness on the Edge of Town/Jesus Was an Only Son*/If I Should Fall Behind/The Hitter/Matamoros Banks//Does This Bus Stop at 82nd Street?/My Best Was Never Good Enough/The Promised Land/Dream Baby Dream**
*=piano
**=pump organ
***=electric piano
****=banjo

July 20 / Bridgeport, CT / Arena at Harbor Yard
Notes: Back to the land of packed venues, a full house in Connecticut included Jesse Malin in the crowd (to whom Bruce dedicated "The Promise") and Suicide's Alan Vega, songwriter of Bruce's show closer, who also got a shout-out. The longest set yet, at 27 songs, stretching out thanks to some serious piano action. Seven songs at the keys tonight, including tour premieres "All That Heaven Will Allow" and "Nothing Man," both on electric piano. A slight flashback to the Meadowlands, as some sound difficulties before "Racing in the Street" had some in the crowd yelling for a fix; Bruce offered to come out and slap them around. But lessons have been learned in the two months since Jersey, as Springsteen was quickly told about the problem, and he addressed it soon after: "I found out there was a buzz in the P.A. system, and if that's what you were shouting about, I apologize." (Of course, he couldn't resist adding, "If it wasn't that, go fuck yourself.") More highlights: "Highway 29," "Lost in the Flood," "Spare Parts" on bottleneck 12-string... not quite reaching the high bar set in Buffalo for the rarity hunters, but if a measly two tour premieres don't do it for ya, maybe you need some slapping around.
Setlist: Into the Fire**/Reason to Believe/Devils & Dust/Empty Sky/Long Time Comin'/Highway 29/The Promise*/All That Heaven Will Allow***/The River*/State Trooper/Nebraska/Maria's Bed/Reno/Nothing Man***/Racing in the Street*/Lost in the Flood*/The Rising/Spare Parts/Jesus Was an Only Son*/If I Should Fall Behind/The Hitter/Matamoros Banks//Ramrod/Bobby Jean/Land of Hope and Dreams/The Promised Land/Dream Baby Dream**
*=piano
**=pump organ
***=electric piano


July 18 / Buffalo, NY / HSBC Arena
Notes: We'll be the first to point out that the setlist is not necessarily the story of the show. Except on nights like tonight. It was a sparsely attended show in a seemingly sparsely populated upstate burg: "I've been in Buffalo for two days," Bruce said, "These are the first people I've seen. Where is everybody?" But after some Man in Black upgrades consolidated the crowd mostly to the floor and lower-level sides, those who were there saw Springsteen throttle the setlist within an inch of its life. Opening with "Prove It All Night" on acoustic, a particularly loose Bruce played 14 different songs from the previous concert, leaving only the barest of setlist skeletons. Six tour premieres -- that's a quarter of the show: the "Prove It" opener, which was an audible and a new arrangement; "Sandy" on electric piano (by request); piano versions of "Leap of Faith," "When You're Alone," and "You're Missing" (requested as "Everything is Everything," which Bruce admitted had him racking his brain for a few minutes); and "Darkness on the Edge of Town." Many of the non-premieres were rarities or recent absentees which alone would have been highlights. So if you were worried that he'd revert to the "standard" set after Europe... be not afraid.
Setlist: Prove It All Night/Reason to Believe/Devils & Dust/Empty Sky/Long Time Comin'/Black Cowboys/4th of July, Asbury Park (Sandy)***/Leap of Faith*/State Trooper/Nebraska/Maria's Bed/The Line/Reno/When You're Alone***/You're Missing*/The Rising/Darkness on the Edge of Town/Jesus Was an Only Son*/If I Should Fall Behind/The Hitter/Matamoros Banks//Does This Bus Stop at 82nd Street?/My Best Was Never Good Enough/The Promised Land/Dream Baby Dream**
*=piano
**=pump organ
***=electric piano


July 16 / Albany, NY / Pepsi Arena
Notes: Who's the Boss? "You're the Boss!" shouted a fan. "Thanks for clearing that up," Bruce replied, clearly having a good time at his first U.S. show since Boston in May. Springsteen dedicated "Long Time Comin'" to his son Evan, in attendance, and even laughingly got his son's goat by playing a bit of "Pony Boy" as an intro. "Silver Palomino" was dedicated to Evan's friend Tyler (also at the show, and for whom the song was written). Some fine rarities in the set, including "The Promise" and "Paradise," both by request; "Cautious Man" (described, as in Boston, as "one of my favorites") made for three Tunnel songs in the set, along with "Tougher" and "Spare Parts." "Leah" returned to sit alongside its recent replacement, "This Hard Land," for the first time. And in the encore, the tour premiere of "Does This Bus Stop at 82nd Street."
Setlist: Into the Fire**/Reason to Believe/Devils & Dust/Lonesome Day/Long Time Comin'/Silver Palomino/The Promise*/Tougher Than the Rest*/Part Man, Part Monkey/All the Way Home/Cautious Man/Reno/Paradise***-*/Real World*/The Rising/Spare Parts/Jesus Was an Only Son*/Leah/This Hard Land/The Hitter/Matamoros Banks//Ramrod/Does This Bus Stop at 82nd Street?/Bobby Jean/The Promised Land/Dream Baby Dream**
*=piano
**=pump organ
***=electric piano


July 14 / Toronto, ON / Air Canada Centre
Notes: From the "Into the Fire" opener on the pump organ to "Wild Billy" by request in the encore (dedicated to Dana), a wildly unpredictable show with more than half the set changing from the previous Ontario night. "Darlington County" was a tour premiere to kick off the encore (and a rousing one, Bruce encouraging some audience participation), with other rarities like "State Trooper," "Wreck on the Highway," and "Lost in the Flood" sprinkled around. Two songs came out from Tunnel of Love ("Two Faces" and "Brilliant Disguise" by request), and Bruce even flashed back to the Tunnel tour as he sang a bit of "I'm a Coward" during his love-song talk before "For You." Along the way someone yelled out for "Thunder Road" -- the new "Freebird"? -- and Bruce just said, "Ahhhhh, shut up." Fair enough, eh?
Setlist: Into the Fire**/Reason to Believe/Devils & Dust/Empty Sky/Long Time Comin'/Highway 29/For You*/Two Faces*/State Trooper/All I'm Thinkin' About/Brilliant Disguise/Reno/Wreck on the Highway***/Lost in the Flood*/The Rising/Further on (Up the Road)/Jesus Was an Only Son*/This Hard Land/The Hitter/Matamoros Banks//Darlington County/Bobby Jean/Wild Billy's Circus Story/The Promised Land/Dream Baby Dream**
*=piano
**=pump organ
***=electric piano


July 13 / Ottawa, ON / Corel Centre
Notes: Bruce gets back to business after a three-week break, bringing the tour back to North America with its first concert across the border in Canada. And an electrifying show it was, as a lightning strike caused a power outtage in the middle of the set. After "Reno," the stage went dark: "I can't see a goddamn thing... I need lights!" Bruce said -- "I'm good, but I'm not that good." Lights restored, he noted that the next song might be apropos: "I Wish I Were Blind." Later in the show, Springsteen figured out and told the crowd what happened. "We had a good night: the lights went out, the lights came on, the lights went out, we got struck by lightning!" The setlist itself might not have been, er, shocking, but Bruce brought a couple songs back from Europe for their first North American airing on this tour ("I Wish I Were Blind" and "Spare Parts"), with "Tougher," "All the Way Home," "Highway Patrolman," and "Racing in the Street" also in the set.
Setlist: My Beautiful Reward**/Reason to Believe/Devils & Dust/Lonesome Day/Long Time Comin'/Silver Palomino/Tougher Than the Rest*/The River*/Part Man, Part Monkey/All the Way Home/Highway Patrolman/Reno/I Wish I Were Blind***-*/Racing in the Street*/The Rising/Spare Parts/Jesus Was an Only Son*/This Hard Land/The Hitter/Matamoros Banks//Ramrod/Bobby Jean/The Promised Land/Dream Baby Dream**
*=piano
**=pump organ
***=electric piano
****=banjo


June 29 / Keflavik, Iceland / Keflavik International Airport
Notes: On his way from Germany back to the U.S. late Tuesday night, after the Berlin show, Springsteen's plane stopped over in Iceland.... and Bruce apparently had one more encore left in him. As first reported in the Iceland Review, some late-shift workers at the airport were treated to a six-song set: "The employees commented that Springsteen showed no pretense and was very down-to-earth, chatting away with them. His friend asked the airport employees if they would like to listen to a few tunes." While the Iceland Review named "The River" as one of the songs, below is the 2 a.m. acoustic set as reported by the Associated Press.
Setlist: "Dancing in the Dark," "Bobby Jean," "This Hard Land," "Working on the Highway," "Does This Bus Stop at 82nd Street?" and "I'm on Fire."


June 28 / Berlin, GER / ICC
Notes: For the rescheduled Berlin show, nine songs not played the night before in Hamburg, including two tour premieres. "Sinaloa Cowboys" turned up in the main set, and in the encore, frequent German guest Wolfgang Niedecken joined in for "Hungry Heart" (the song for which he filmed a video with Springsteen in 1995). Bruce kept "Spare Parts" in, reprised the "Adam Raised a Cain" opener from Rotterdam, and revisited a number of songs that had dropped out of the set earlier in the leg, like "All the Way Home," "Paradise," and "Two Faces." As with every other show on this leg, the Last Dance for Europe came to a close with what else but "Dream Baby Dream"... ending a month-long run that has North American fans dreaming of European setlists.
Setlist: Adam Raised a Cain****/Reason to Believe/Devils & Dust/Lonesome Day/Long Time Comin'/Silver Palomino/For You*/Two Faces*/Part Man, Part Monkey/All the Way Home/Sinaloa Cowboys/Reno/Paradise***-*/Real World*/The Rising/Spare Parts/Jesus Was an Only Son*/This Hard Land/The Hitter/Matamoros Banks//Ramrod/Hungry Heart/Bobby Jean/The Promised Land/Dream Baby Dream**
*=piano
**=pump organ
***=electric piano
****=banjo

June 27 / Hamburg, GER / Color Line Arena
Notes: The penultimate night of the European tour is the first of the two rescheduled Germany concerts, and how does Springsteen say "Thanks for waiting"? Let us count the ways: the pump-organ "Downbound Train" stays in to open the show after its debut in Stockholm, and in addition to rarities like "Highway 29" and "Highway Patrolman," Bruce pulled out three more tour premieres. On piano, the wonderful B-side/Tracks cut "Janey, Don't You Lose Heart." In the "Further"/"Lucky Town" slot, the last song from Tunnel we'd expect to hear at one of these shows (well, except the ever-elusive "Valentine's Day"), "Spare Parts." And a fine pairing in the encore, as the debut of "Growin' Up" leads into "The Promised Land."
Setlist: Downbound Train**/Reason to Believe/Devils & Dust/Lonesome Day/Long Time Comin'/Highway 29/Tougher Than the Rest*/The River*/Part Man, Part Monkey/All I'm Thinkin' About/Highway Patrolman/Reno/Janey, Don't You Lose Heart***-*/Racing in the Street***-*/The Rising/Spare Parts/Jesus Was an Only Son*/This Hard Land/The Hitter/Matamoros Banks//Ramrod/Bobby Jean/Growin' Up/The Promised Land/Dream Baby Dream**
*=piano
**=pump organ
***=electric piano


June 25 / Stockholm, SWE / Hovet
Notes: What was originally scheduled as the European tour closer is now the third-to-last show of the leg, with two German shows having been bumped to June 27 and 28. But don't think the Stockholm show suffered for it: four tour premieres tonight, and another wild setlist all around. "Downbound Train" opens; "Across the Border" leads into "Reno." On the piano, at long last (and less than a week after Father's Day), "Walk Like a Man." And the encore, Mama, that's where the fun is: a celebration of Midsummer with an impromptu crowd sing-along of the traditional Swedish drinking song "Helan Gar" before breaking out the first "Blinded by the Light" of the tour. Along with these debuts, Springsteen also cuts loose like a deuce with rarities like "The Promise," "Point Blank," "My Hometown," and "Lucky Town." 26 songs in all (note: "Ramrod" was played alone, not with "Cadillac Ranch" as previously reported).
Setlist: Downbound Train**/Reason to Believe/Devils & Dust/Empty Sky/Long Time Comin'/Black Cowboys/The Promise*/The River*/Part Man, Part Monkey/All I'm Thinkin' About/Across the Border/Reno/Point Blank***/Walk Like a Man***-*/My Hometown*/The Rising/Lucky Town/Jesus Was an Only Son*/This Hard Land/The Hitter/Matamoros Banks//Ramrod/Bobby Jean/Blinded By the Light/The Promised Land/Dream Baby Dream**
*=piano
**=pump organ
***=electric piano


June 23 / Gothenberg, SWE / Scandinavium
Notes: An astounding setlist, start to finish, in Gothenberg -- where they're surely accustomed to such things, but still. Let's start with the true jaw-dropper of the night: "Fade Away," played by request. The second single from The River had been inexplicably left to vanish in the night of decades passed, but it came out tonight on electric piano/piano (there's hope for "The Price You Pay" yet, folks!). "Into the Fire" opened the set, which also included "Highway 29"; "Incident" into "Real World" at the piano; both "State Trooper" and "Highway Patrolman"; "Racing," "Lucky Town," "Cadillac Ranch," a surprise "Maria's Bed" in the encore... All in all, looks like this one's hard to top -- but ah, hell, Stockholm's next, so he just might!
Setlist: Into the Fire**/Reason to Believe/Devils & Dust/Lonesome Day/Long Time Comin'/Highway 29/Incident on 57th Street*/Real World*/State Trooper/All I'm Thinkin' About/Highway Patrolman/Reno/Fade Away***-*/Racing in the Street***-*/The Rising/Lucky Town/Jesus Was an Only Son*/This Hard Land/The Hitter/Matamoros Banks//Cadillac Ranch/Bobby Jean/Maria's Bed/The Promised Land/Dream Baby Dream**
*=piano
**=pump organ
***=electric piano


June 22 / Copenhagen, DEN / Forum
Notes: The Circus comes to Copenhagen! No less than three tour premieres brought some thrills and chills to the big top tonight: "Spirit in the Night" on piano (starting and finishing on the electric "ebay" piano); the first "Straight Time" since the Joad tour; and in the encore... just when you thought Bruce might not have many more surprises up his sleeve... just when you thought the encore would be the last place to look for 'em... yessir, "Wild Billy's Circus Story." And that was after cannonballing through rarities like "Incident," "I Wish I Were Blind," and "Cadillac Ranch." Wild, wild stuff.
Setlist: My Beautiful Reward**/Reason to Believe/Devils & Dust/Empty Sky/Long Time Comin'/Silver Palomino/Incident on 57th Street*/Tougher Than the Rest*/Part Man, Part Monkey/All I'm Thinkin' About/Straight Time/I'm on Fire****/Reno/I Wish I Were Blind***-*/Spirit in the Night***-*/The Rising/Further On (Up the Road)/Jesus Was an Only Son*/This Hard Land/The Hitter/Matamoros Banks//Cadillac Ranch/Wild Billy's Circus Story/Land of Hope and Dreams/The Promised Land/Dream Baby Dream**
*=piano
**=pump organ
***=electric piano
****=banjo

June 20 / Paris, FRA / Bercy
Notes: I love Paris in the summer, when it sizzles.... as it does when you've got the trio of "All I'm Thinkin' About"/"I'm on Fire"/"Reno" in the middle of the set, for the third show in a row. A triple-shot on the piano followed, with "Mary's Place" bookended by "Point Blank" and "Racing in the Street"... ahh, romance. If it's tour debuts that get you hot & bothered, Bruce saved the best for last: the encore kicked off with "Cadillac Ranch," in a style similar to this tour's "Ramrod." Immediately following, Springsteen brought Elliott Murphy to the stage (in what's become a Paris tradition -- Murphy guested at the Paris Joad tour finale in 1997, as well as at this very venue on 6/2/99), for the tour premiere of "Better Days." It's also worth noting that Bruce brought the Bush-tweaking "Part Man, Part Monkey" back to the set for the first time since London. Yeah, it's hard to be a saint in Seine City...
Setlist: My Beautiful Reward**/Reason to Believe/Devils & Dust/Empty Sky/Long Time Comin'/Silver Palomino/The River*/Real World*/Part Man, Part Monkey/All I'm Thinkin' About/I'm on Fire****/Reno/Point Blank***/Mary's Place*/Racing in the Street*/The Rising/Further On (Up the Road)/Jesus Was an Only Son*/This Hard Land/The Hitter/Matamoros Banks//Cadillac Ranch/Better Days (with Elliott Murphy)/Land of Hope and Dreams/The Promised Land/Dream Baby Dream**
*=piano
**=pump organ
***=electric piano
****=banjo

June 19 / Rotterdam, NED / Ahoy
Notes: A Father's Day special straight out of the gate, opening with the tour premiere of "Adam Raised a Cain," and later adding "My Father's House," only the second performance of that song this tour. And let's not overlook the sunnier side of fatherhood offered up in "Long Time Comin'," even though it's been a nightly staple since East Rutherford. On the paino: the triple-shot of "For You," "Two Faces," and "The River"; and later, "Countin' on a Miracle" into "Racing in the Street." "This Hard Land" takes "Leah"'s place for the second show running, and a five-song encore makes for a 26-song set.
Setlist: Adam Raised a Cain/Reason to Believe/Devils & Dust/Lonesome Day/Long Time Comin'/My Father's House/For You*/Two Faces*/The River*/State Trooper/All I'm Thinkin' About/I'm on Fire****/Reno/Countin' on a Miracle***-*/Racing in the Street*/The Rising/Further On (Up the Road)/Jesus Was an Only Son*/This Hard Land/The Hitter/Matamoros Banks//Ramrod/Bobby Jean/Land of Hope and Dreams/The Promised Land/Dream Baby Dream**
*=piano
**=pump organ
***=electric piano
****=banjo

June 16 / Dusseldorf, GER / Philipshalle
Notes: From Frankfurt to Dusseldorf, from Wednesday to Thursday, half of the set changes -- in a 25-song set, 12 different songs were played tonight. That included three tour premieres: the first performance of "Highway 29" since the Tom Joad tour; "I Wish I Were Blind," last played at the Rising tour finale, here on piano and electric piano; as well as the first-ever piano version of "Mary's Place." (No knee slides on that one this time.) Also on piano tonight: "Incident," "Tougher," and "Racing." Whew! With all these tour debuts and shake-ups, something else had to give: there were only 7 songs played from Devils & Dust, with "Leah" dropping out for the first time (replaced by "This Hard Land") and "Highway 29" taking the "Silver Palomino"/"Black Cowboys" slot.
Setlist: My Beautiful Reward**/Reason to Believe/Devils & Dust/Lonesome Day/Long Time Comin'/Highway 29/Incident on 57th Street*/Tougher Than the Rest*/State Trooper/All I'm Thinkin' About/I'm on Fire****/Reno/I Wish I Were Blind***-*/Mary's Place*/Racing in the Street*/The Rising/Further On (Up the Road)/Jesus Was an Only Son*/This Hard Land/The Hitter/Matamoros Banks//Ramrod/Bobby Jean/The Promised Land/Dream Baby Dream**
*=piano
**=pump organ
***=electric piano
****=banjo

June 15 / Frankfurt, GER / Festhalle
Notes: "Into the Fire" stays in the set to open, the electric "Open All Night" is back in, and "The Ghost of Tom Joad" is played for only the second time on this tour (it premiered in Fairfax). But the real stand-outs tonight were at the piano: a rare triple-shot early in the set of "For You," "Two Faces" and "The River," and later, "Lost in the Flood" and the first-ever "Countin on a Miracle" at the keys.
Setlist: Into the Fire**/Reason to Believe/Devils & Dust/Empty Sky/Long Time Comin'/Silver Palomino/For You*/Two Faces*/The River*/Open All Night/All I'm Thinkin' About/The Ghost of Tom Joad/Reno/Countin' on a Miracle***-*/Lost in the Flood*/The Rising/Further On (Up the Road)/Jesus Was an Only Son*/Leah/The Hitter/Matamoros Banks//Ramrod/Land of Hope and Dreams/The Promised Land/Dream Baby Dream**
*=piano
**=pump organ
***=electric piano

June 13 / Munich, GER / Olympia Hall
Notes: Just another Munich Monday... What was to be the third of five German shows becomes the first, with Springsteen getting back to the tour-as-scheduled tonight after postponing Hamburg and Berlin. Roaring back, actually, with a wunderbar setlist -- nine songs not played at the previous show, including three tour debuts. The solo tour's first "Into the Fire" opened the set, played on pump organ in place of "My Beautiful Reward." In the encore, Billie Je-- er, "Bobby Jean" was a D&D tour premiere as well (played at the second Asbury warm-up show, but for the first time on the tour-proper tonight). In between, "Lucky Town," "Book of Dreams," "State Trooper," "Real World"... and at the ol' eBay-supplied electric piano, bang bang baby, the tour debut of "Point Blank"!
Setlist: Into the Fire**/Reason to Believe/Devils & Dust/Lucky Town/Long Time Comin'/Black Cowboys/The River*/Book of Dreams*/State Trooper/Maria's Bed/Nebraska/Reno/Point Blank***/Real World*/The Rising/Further On (Up the Road)/Jesus Was an Only Son*/Leah/The Hitter/Matamoros Banks//Ramrod/Bobby Jean/Land of Hope and Dreams/The Promised Land/Dream Baby Dream**
*=piano
**=pump organ
***=electric piano

June 7 / Milan, ITA / Milan Forum
Notes: On the eve of his 14th wedding anniversary to his red-headed woman Patti Scialfa, Bruce Springsteen treated the crowd at the Milan Forum to some romance. Whether it was intended as a long distance dedication or not, Springsteen offered up a trilogy of songs for separated lovers: "Tougher Than the Rest" on piano, followed by the wildly received "Open All Night" on electric guitar, and rounded out by "All I'm Thinkin' About," that beautifully high-pitched ditty played for just the third time this tour. Yes, Bruce has talked about having to hide his love songs within his early work, but hearing these three back-to-back-to-back made you wonder if he was about to make "an all night run to get back to where (his) baby lives." And "Open All Night" (last played at the St Rose of Lima show in late 1996) wasn't the only tour premiere for the rowdy Milanese--"Lost in the Flood" made its tour-proper debut, while both "Brilliant Disguise" and "Lucky Town" stayed in the set from the night before. And how great is the setlist when the last thing we mention is "Wreck on the Highway" on piano? Bravo, Italia, bravo.
Setlist: My Beautiful Reward**/Reason to Believe/Devils & Dust/Lonesome Day/Long Time Comin'/Black Cowboys/The River*/Tougher Than the Rest*/Open All Night/All I'm Thinkin' About/Brilliant Disguise/Reno/Wreck on the Highway*/Lost in the Flood*/The Rising/Lucky Town/Jesus Was an Only Son*/Leah/The Hitter/Matamoros Banks//Ramrod/Land of Hope and Dreams/The Promised Land/Dream Baby Dream**
*=piano
**=pump organ


June 6 / Rome, ITA / Palalottomatica Arena
Notes: For the first time in over a month "My Beautiful Reward" does not open the show, and falls out of the setlist. Instead, Rome is welcomed by the sounds of one of their own, Ennio Morricone, as Bruce entered to the theme from "Once Upon a Time in the West." He then dedicated "I'm on Fire" to Rome and Morricone, and all of a sudden that off-key whistling had a bit more context if you think A Fistful of Dollars. How lucky is Rome? Well, they were also treated to two tour premieres, as "Brilliant Disguise" finally makes its way in, and "Lucky Town" represents for its namesake album. Highlights include both "Incident on 57th Street" and "Racing in the Street" on piano, and the encores where Bruce encouraged the crowd to "Come in 'figli miei' (my sons)." You think Bruce feels a special kinship with Italians? Hey, is the Pope German?!
Setlist: I'm on Fire****/Reason to Believe/Devils & Dust/Empty Sky/Long Time Comin'/Silver Palomino/Incident on 57th Street*/The River*/State Trooper/All the Way Home/Nebraska/Brilliant Disguise/Reno/Real World*/Racing in the Street*/The Rising/Lucky Town/Jesus Was an Only Son*/Leah/The Hitter/Matamoros Banks//Ramrod/Land of Hope and Dreams/The Promised Land/Dream Baby Dream**
*=piano
**=pump organ
****=banjo

June 4 / Bologna, ITA / Palamalaguti Arena
Notes: Bruce keeps digging into Nebraska, with tonight's tour premiere of "My Father's House" joining "Reason to Believe" and "State Trooper." A few songs later, he offered a rare triple-shot on piano ("Paradise" into "Real World" into "My Hometown"), making for six songs on piano for Bologna.
Setlist: My Beautiful Reward**/Reason to Believe/Devils & Dust/Lonesome Day/Long Time Comin'/Silver Palomino/For You*/The River*/State Trooper/Maria's Bed/My Father's House/Reno/Paradise***-*/Real World*/My Hometown*/The Rising/Further On (Up the Road)/Jesus Was an Only Son*/Leah/The Hitter/Matamoros Banks//Ramrod/Land of Hope and Dreams/The Promised Land/Dream Baby Dream**
*=piano
**=pump organ
***=electric piano

June 2 / Madrid, ESP / Palacio De Deportes de la Comunidad
Notes: Madrid gets the European tour premieres of "For You," "My Hometown," and "Highway Patrolman," none of which had been performed since the first half of the U.S. leg. As at its last performance in Arizona, "Highway Patrolman" is at the center of a three-in-a-row "Maria Suite," beginning with "Maria's Bed" and ending with "Reno." How's that for storytelling? Plus, the great surf-noir "State Trooper" stays in the set, played for the third show in a row.
Setlist: My Beautiful Reward**/Reason to Believe/Devils & Dust/Empty Sky/Long Time Comin'/Silver Palomino/For You*/The River*/State Trooper/Maria's Bed/Highway Patrolman/Reno/Paradise***-*/My Hometown*/The Rising/Further On (Up the Road)/Jesus Was an Only Son*/Leah/The Hitter/Matamoros Banks//Ramrod/Land of Hope and Dreams/The Promised Land/Dream Baby Dream**
*=piano
**=pump organ
***=electric piano

June 1 / Badalona, ESP / Pavello Olimpic Badalona
Notes: Bruce returns to the fan haven of Barcelona, home to the 1999 reunion tour kick-off and scene of the official Rising DVD filmed in 2002. "State Trooper" and "Nebraska" stay in the set from Brussels to Barcelona, as do piano notables "Real World" and "Racing in the Street"; otherwise some standard switch-offs: "Lonesome Day" in for "Empty Sky," "All the Way Home" replacing "Maria's Bed," and "Land of Hope and Dreams" back in the encore in place of "My Best."
Setlist: My Beautiful Reward**/Reason to Believe/Devils & Dust/Lonesome Day/Long Time Comin'/Silver Palomino/The River*/Real World*/State Trooper/Maria's Bed/Nebraska/Reno/Paradise***-*/Racing in the Street*/The Rising/Further On (Up the Road)/Jesus Was an Only Son*/Leah/The Hitter/Matamoros Banks//Ramrod/Land of Hope and Dreams/The Promised Land/Dream Baby Dream**
*=piano
**=pump organ
***=electric piano


May 30 / Brussels, BEL / Forest National
Notes: A tour premiere in Brussels, as "State Trooper" got its first live airing since 1996. Bruce played the Suicide-influenced song on his Gretsch guitar, taking the place of "Part Man, Part Monkey," which drops out of the set for the first time. Along with "Nebraska" and "Reason to Believe," that made for three songs from Nebraska; add piano versions of "Tougher Than the Rest," "Real World," and "Racing," and you've got quite a set. The Brussels audience was quiet and respectful, though clearly enthusiastic, rushing the stage for the "Ramrod" encore.
Setlist: My Beautiful Reward**/Reason to Believe/Devils & Dust/Empty Sky/Long Time Comin'/Silver Palomino/The River*/Tougher Than the Rest*/State Trooper/All the Way Home/Nebraska/Reno/Real World*/Racing in the Street*/The Rising/Further On (Up the Road)/Jesus Was an Only Son*/Leah/The Hitter/Matamoros Banks//Ramrod/My Best Was Never Good Enough/The Promised Land/Dream Baby Dream**
*=piano
**=pump organ

May 28 / London, GBR / Royal Albert Hall
Notes: The second show of a two-night London stand brings seven changes from the previous night: "Lonesome Day" was replaced by "Empty Sky," "Silver Palomino" by "Black Cowboys," "Tougher than the Rest" by "Two Faces," "Maria's Bed" by "All the Way Home," "Cautious Man" and "Nebraska" by "The Line," "The Wish" by "Real World," and "Paradise" replaced by "Racing in the Street." The last ten songs of both shows were the same, but with the Saturday night show finding Bruce a bit more upbeat, relaxed and chatty -- not to mention the powerful "Real World"/"Racing in the Street" combo at the piano -- repeat attendees were well-rewarded.
Setlist: My Beautiful Reward**/Reason to Believe/Devils & Dust/Empty Sky/Long Time Comin'/Black Cowboys/The River*/Two Faces*/Part Man, Part Monkey/All the Way Home/The Line/Reno/Real World*/Racing in the Street*/The Rising/Further On (Up the Road)/Jesus Was an Only Son*/Leah/The Hitter/Matamoros Banks//Ramrod/My Best Was Never Good Enough/The Promised Land/Dream Baby Dream**
*=piano
**=pump organ

May 27 / London, GBR / Royal Albert Hall
Notes: There's something about London and "The Wish"... Bruce played the rarity three times there on the Joad tour in 1996, and it came out again tonight at Royal Albert Hall. Also harkening back to Joad, "My Best Was Never Good Enough" returns to the set to shake up the encore a bit, taking the place of "I'm on Fire" and "Land of Hope and Dreams." And Tunnel was well-represented, with both "Tougher Than the Rest" and "Cautious Man." Tonight is the first night of a two-night stand, and it's interesting to note that "Tougher" has only come out at such two-fers so far this tour (the Asbury warm-ups and the Pantages in L.A.). Back to a four-song encore, but a 25-song set -- which means now we know how many songs it takes to fill the Albert Hall. More trainspotting tomorrow...
Setlist: My Beautiful Reward**/Reason to Believe/Devils & Dust/Lonesome Day/Long Time Comin'/Silver Palomino/The River*/Tougher Than the Rest*/Part Man, Part Monkey/Maria's Bed/Cautious Man/Nebraska/Reno/The Wish*/Paradise***-*/The Rising/Further On (Up the Road)/Jesus Was an Only Son*/Leah/The Hitter/Matamoros Banks//Ramrod/My Best Was Never Good Enough/The Promised Land/Dream Baby Dream**
*=piano
**=pump organ
***=electric piano


May 24 / Dublin, IRL / The Point
Notes: Making the leap across the pond, Springsteen picks up right where he left off for the second-leg opener in Dublin. After a raucous standing-o reception welcomed him to Europe, the Irish crowd quickly settled down to respectful silence as the harmonium strains of "My Beautiful Reward" again led off the night. Early tour offerings like "For You," "Waitin' on a Sunny Day," and "My Best Was Never Good Enough" remained back on U.S. shores as Bruce reprised his well-honed, late-U.S. leg show including the five-song encore from "Ramrod" through "Dream Baby Dream." "Nebraska" made the set, with piano highlights including "The River," "Real World," and "Racing in the Street." Springsteen admitted that he probably didn't need to tell an Irish crowd about Catholic guilt, though he didn't shy away from his religious riffs, again likening the selection of the Pope to watching a high-end trade for a sports team he doesn't follow anymore. All in all, a fine venue to display Bruce's "moody Irish side."
Setlist: My Beautiful Reward**/Reason to Believe/Devils & Dust/Lonesome Day/Long Time Comin'/Silver Palomino/The River*/Real World*/Part Man, Part Monkey/All the Way Home/Nebraska/Reno/Racing in the Street*/The Rising/Further On (Up the Road)/Jesus Was an Only Son*/Leah/The Hitter/Matamoros Banks//Ramrod/I'm on Fire****/Land of Hope and Dreams/The Promised Land/Dream Baby Dream**
*=piano
**=pump organ
****=banjo


May 20 / Boston, MA / Orpheum Theatre
Notes: Closing out the U.S. leg of the Devils and Dust tour last night in Boston, Springsteen told the Orpheum Theatre crowd, "We'll be back to do this again... I'll be seeing my fans in New Jersey again, too." Making a specific reference to playing more dates when he gets back from Europe, Springsteen gave his Stateside fans what they'd been hoping to hear--reasons to believe there'll be tour dates after the end of June. On a night that had John Kerry in the house (he received a standing ovation as he found his seat, and Springsteen later dedicated "Leah" to the Senator), Bruce closed out what we can hopefully now call "the first U.S. leg of the tour" in brilliant form. For the second night in a row, Springsteen opted to play "All the Way Home" instead of "Maria's Bed"--sure wish he could find room for both of those--but this night he followed it by introducing the Tunnel masterpiece "Cautious Man" as "one of my favorites." Who knew? Apparently, ever the Cautious Man himself, Springsteen had the song on last night's setlist but went with "Nebraska" instead. Folks, when those are the songs he's choosing between we know that this tour is one big beautiful reward. Let's keep that dream rolling!
Setlist: My Beautiful Reward**/Reason to Believe/Devils & Dust/Lonesome Day/Long Time Comin'/Black Cowboys/The River*/Real World*/Part Man, Part Monkey/All the Way Home/Cautious Man/Reno/Paradise***-*/The Rising/Further On (Up the Road)/Jesus Was an Only Son*/Leah/The Hitter/Matamoros Banks//Ramrod/I'm on Fire****/Land of Hope and Dreams/The Promised Land/Dream Baby Dream**
*=piano
**=pump organ
***=electric piano
****=banjo


May 19 / East Rutherford, NJ / Continental Airlines Arena
Notes: After a dozen shows on the tour proper, Springsteen returned all the way home to New Jersey last night, and his performance at Continental Airlines Arena certainly had an extended-family feel to it. Only problem was this family seemed ready to appear on "Dysfunctional Family Feud." Show #13 was not a lucky one for Springsteen nor a number of fans present. Sure, there was some love in the room, especially in the premium seats where Elvis Costello, wife Diana Krall, Tim Robbins, and Don Mattingly were all spotted. But there was also some anger, poor communication, misunderstanding, and finally, some tension-relieving humor. In what proved to be the main story last night, a bank of speakers on the upper left column (stage right) blew out very early-on and many in the low 200 sections were left without sound. One fan said, "It felt like you were watching the show from outside." What happened next was pretty ugly as disgruntled fans called out with shouts and chants of "We can't hear you!"...which Springsteen misunderstood for disrespectful idiots who might as well have been crying out for "Rosalita." Bruce pulled out a couple STFUs, and told the screamers pointedly that if they had a problem their "money's at the door." (No word yet on if that's going to hold up!) One attendee reported that "it was like a Jerry Springer show broke out" in those sections. Apparently, all equipment worked just fine at soundcheck when Springsteen tested out "Local Hero," but that song, and the good sound that accompanied it, were not present during the first third of the show. Somewhere around seven songs into the set, the problem was identified, fixed, and Springsteen was informed of the reason for the ruckus. Softening the edges and calming some nerves, Springsteen joked about his family causing the disturbance and called the show "Attack of the Relatives!" During his intro to "The Wish," Bruce offered this: "It's kinda boring without the shouting." Hey, some reviewers have felt that way about the whole tour! Maybe the five-song encore, with both "Ramrod" and "I'm on Fire," was his way of saying, "All's well that ends well."
Setlist: My Beautiful Reward**/Reason to Believe/Devils & Dust/Lonesome Day/Long Time Comin'/Black Cowboys/The River*/Real World*/Part Man, Part Monkey/All the Way Home/Nebraska/Reno/The Wish*/Paradise***-*/The Rising/Further On (Up the Road)/Jesus Was an Only Son*/Leah/The Hitter/Matamoros Banks//Ramrod/I'm on Fire****/Land of Hope and Dreams/The Promised Land/Dream Baby Dream**
*=piano
**=pump organ
***=electric piano
****=banjo


May 17 / Philadelphia, PA / Tower Theatre
Notes: Nice to see some things don't change: 30 years ago, touring for Born to Run, Springsteen played a four-night stand at Philly's Tower Theatre; tonight, as on the Ghost of Tom Joad tour, he returned to this nearly 80-year-old venue. "It's great to be back at the Tower," he said, adding that the alley out back had given him flashbacks. Of course, Springsteen's 2005 model is quite a different evening at the theater, and despite his usual penchant for his older tunes in Philly, Bruce played not a single song from that 1975 stand -- "Incident" was the only song in tonight's set that even dated back that far. But it's not like there wasn't anything for the aficionados: "This is something I recorded for the Darkness record, and have never played before... something special for the Tower." And with that, at the piano, he went into "The Iceman," the long-cherished outtake that finally surfaced on Tracks in 1998, here a live world premiere. We can exhale, as "Real World" finally returned to the set (where we hope it stays) as an audible. And a tour debut kicked off the encore, a reworking of "Ramod" on acoustic guitar and harmonica -- a light, upbeat arrangement that borrowed the tune from Nick Lowe's "Half a Boy and Half a Man." So though "Wreck on the Highway" stayed in, tonight wasn't quite as dark as the previous pair of arena shows. Not as much talk from Springsteen (could be he was biting his tongue -- it was a rowdy crowd), but lots of subtle musical differences (like a new intro to "Further On") keep the show moving forward as we near the end of the U.S. leg.
Setlist: My Beautiful Reward**/Reason to Believe/Devils & Dust/Youngstown/Empty Sky/Black Cowboys/The Iceman*/Incident on 57th Street*/Part Man, Part Monkey/Maria's Bed/Silver Palomino/Reno/Wreck on the Highway***/Real World*/The Rising/Further On (Up the Road)/Jesus Was an Only Son*/Leah/The Hitter/Matamoros Banks//Ramrod/Land of Hope and Dreams/The Promised Land/Dream Baby Dream**
*=piano
**=pump organ
***=electric piano


May 15 / Cleveland, OH / CSU Convocation Center
Notes: The first Devils & Dust show without "Long Time Comin'" and "Silver Palomino," while "Youngstown" of course returns to the set for this Ohio stop. But the truly momentous selection of the night came a few songs later, as "Stolen Car" had its first live airing in many a year and its first-ever workout on the piano. Quite a foursome on the black & whites: "Incident" into "Stolen Car," and later, "Wreck on the Highway" (on the electric piano, as in Fairfax) into "Racing in the Street." And Springsteen seems to have found an encore he's happy with, as the four-song show closer has stablized for three nights running, from the new banjo arrangement of "I'm on Fire" to the enthralling "Dream Baby Dream."
Setlist: My Beautiful Reward**/Reason to Believe/Devils & Dust/Youngstown/Lonesome Day/Black Cowboys/Incident on 57th Street*/Stolen Car*/Part Man, Part Monkey/Maria's Bed/The Line/Reno/Wreck on the Highway***/Racing in the Street*/The Rising/Further On (Up the Road)/Jesus Was an Only Son*/Leah/The Hitter/Matamoros Banks//I'm on Fire****/Land of Hope and Dreams/The Promised Land/Dream Baby Dream**
*=piano
**=pump organ
***=electric piano
****=banjo


May 14 / Fairfax, VA / Patriot Center
Notes: Just across the Potomac from Washington DC, Springsteen chose some somber wildcards (including two tour premieres, "The Ghost of Tom Joad" and "Dry Lightning") to make for a slightly more serious night than recent outings. The highlight of the night was a great "Wreck on the Highway," performed on electric piano; "Wreck" was last performed with John Wesley Harding in 1994 and before that in 1985 in Australia. And "Paradise" was again played on Bruce's visit to the area, just as on the Rising tour. As far as Washington-specific commentary, Bruce warned that he might have to sweep the crowd with a chainsaw if he heard any cell phones, adding "I don't want to decapitate any lobbyists or senators." And the evolutionary riff before "Part Man, Part Monkey," addressing that President Bush finds evolution an "iffy" proposition, was slightly more specific tonight: "Evolution is in doubt right here in Washington. If it's in doubt right here, what the hell are they thinking other places? Of course, I personally think the president believes in evolution, but he can't say so. He's been around the block enough; he's doing what he has to so he can do what he wants to. A lot of folks do that.... But out in Kansas, they're taking this shit serious!... They're following the leader." "Dream Baby Dream" remained in the encore and was just was compelling as its debut in Chicago.
Setlist: My Beautiful Reward**/Reason to Believe/Devils & Dust/Lonesome Day/The Ghost of Tom Joad/Long Time Comin'/Black Cowboys/Silver Palomino/The River*/Wreck on the Highway***/Part Man, Part Monkey/Maria's Bed/Dry Lightning/Reno/Paradise***-*/The Rising/Further On (Up the Road)/Jesus Was an Only Son*/Leah/The Hitter/Matamoros Banks//I'm on Fire****/Land of Hope and Dreams/The Promised Land/Dream Baby Dream**
*=piano
**=pump organ
***=electric piano
****=banjo


May 11 / Chicago, IL / Rosemont Theatre
Notes: The Windy City had quite a few heads swirling after last night's show at the Rosemont Theatre. Springsteen delivered an intense set to another great crowd, and they were rewarded with a four-song encore that really energized the place. After the main set ended--and it had its own share of highlights for sure--Springsteen walked back out on stage with a banjo strapped around him. Pickin' on Springsteen? Far from it. In what appears to be the first time Bruce has played the instrument on stage (and there seems to be a lot of that going on this tour!) Springsteen delivered a "sinister" and "twisted" rendition of his mid-80s hit "I'm on Fire." And if a banjo's steely strings had 'em happy and excited, why not try something new on "Land of Hope and Dreams"...like no strings! In a tight spot after busting a few of his guitar strings mid-song ("Well, now we're screwed!"), Springsteen kept the song going, unstrapped his guitar and handed it off to his tech. Singing without instrumentation seemed to really grip this crowd, who rose to their feet, clapping along. (No admonitions here!) A new guitar was delivered soon enough for the last chorus, and Springsteen finished the song by saying, "Thank the Lord for happy accidents!" After a well received "Promised Land," Bruce thanked the crowd for being so attentive, shook hands at the front of the stage and said, "One more for Chicago." Back at the pump organ and without any introduction, he began playing a song called "Dream Baby Dream." Many in the crowd were scratching their heads...is it a new Bruce song? An old Bruce song? A Springsteen/Orbison hybrid? The crowd was certainly into the dreamlike quality of the performance, with its lyrical mantra and droning foundation. Springsteen's voice was unique, too, having a bit of that early 80s quality, lonely and distant. One fan described it as "'Follow That Dream' meets David Lynch's Blue Velvet." A synthesizer could be heard underneath it all, and as Bruce got up from the organ the music kept going. Springsteen grabbed the mic and shuffled to the front of the stage, singing the repetitive lyrics, and scuffling along the front of the stage area. As he walked off for the night the music continued for another minute or so, allowing everyone the chance to shake off the goosebumps and say, "What WAS THAT?" We think we have the answer--there's a song by that name that sounds very similar to that description from the band Suicide who came out of New York City's Lower East Side in the 1970s. If we're right, it's a pretty unbelievable reach as far as Springsteen covers go. Hey, we wanted Bruce to dig deep for songs! Keep digging, Maestro!
Setlist: My Beautiful Reward**/Reason to Believe/Devils & Dust/Lonesome Day/If I Should Fall Behind/Long Time Comin'/Silver Palomino/Incident on 57th Street*/The River*/Part Man, Part Monkey/Maria's Bed/The Line/Reno/Paradise***-*/The Rising/Further On (Up the Road)/Jesus Was an Only Son*/Leah/The Hitter/Matamoros Banks//I'm on Fire****/Land of Hope and Dreams/The Promised Land/Dream Baby Dream**
*=piano
**=pump organ
***=electric piano
****=banjo

May 10 / St. Paul, MN / Xcel Energy Center
Notes: After a couple nights off, the Devils and Dust tour resumed last night at the Xcel Energy Center in St. Paul, Minnesota. Those two days off must have given Bruce the opportunity to think about some different songs to bring into the mix. Fans certainly didn't know what to expect when an old Rhodes keyboard was carried out onto the stage after "Reno," especially after Springsteen had to ask, "Where's the rest of it?" After all parts were accounted for, Bruce unveiled "Paradise" --a quiet tragedy off 2002's The Rising, and performed only once on that tour--reinterpreted here for the crowd of nearly 8000, the largest of the tour so far. The song combines the story of a teenage suicide bomber with that of a woman who loses her husband at the Pentagon on September 11. Springsteen transitioned seamlessly from the Rhodes to the piano to finish the song, but that wasn't the end of the "WOW-factor" this evening. Coming out for the encores, Springsteen mentioned local police officer Sgt. Gerald Vick, who was killed in the line of duty this past week in St. Paul. He then performed "A Good Man is Hard to Find (Pittsburgh)" in honor of Sgt. Vick and his family. It's the first time that "Good Man" has ever been played in front of any audience, but even those who'd never heard of it were touched by its inclusion. Also of note, "Land of Hope and Dreams" is back in the encore, while "Waitin' on a Sunny Day" dropped out for only the second time this tour. "Empty Sky" was bumped up a slot to follow "Devils and Dust," a move that seems to work thematically. And "Book of Dreams" was back again, at the piano, in beautiful tandem with the new arrangement of "The River." Springsteen sure has put together some interesting and exciting setlists for being only eight shows into a tour.
Setlist: My Beautiful Reward**/Reason to Believe/Devils & Dust/Empty Sky/Youngstown/If I Should Fall Behind/Long Time Comin'/Silver Palomino/The River*/Book of Dreams*/Part Man, Part Monkey/Maria's Bed/Nebraska/Reno/Paradise***-*/The Rising/Further On (Up the Road)/Jesus Was an Only Son*/Leah/The Hitter/Matamoros Banks//A Good Man is Hard to Find (Pittsburgh)/Land of Hope and Dreams/My Best Was Never Good Enough/The Promised Land
*=piano
**=pump organ
***=electric piano

May 7 / Denver, CO / Lecture Hall at the Convention Center
Notes: As with the last couple of nights, Springsteen continues to play "only" three-quarters of Devils & Dust, while giving long-overdue attention to underplayed songs from his later catalog: "Real World" and "Cautious Man" return to the set in Denver. A favorite from the 2002 leg of the Rising tour, a solo-piano version of "The Promise" debuts, leading right into "My Hometown." And Bruce didn't seem to want to get outta Denver, as the encore stretched to five songs for the first time, making for a 26-song show.
Setlist: My Beautiful Reward**/Reason to Believe/Devils & Dust/Youngstown/Empty Sky/Long Time Comin'/Silver Palomino/For You*/Real World*/Part Man, Part Monkey/Maria's Bed/Cautious Man/Reno/The Promise*/My Hometown*/The Rising/Further On (Up the Road)/Jesus Was an Only Son*/Leah/The Hitter/Matamoros Banks//Johnny 99/This Hard Land/Waitin' on a Sunny Day/My Best Was Never Good Enough/The Promised Land
*=piano
**=pump organ

May 5 / Oakland, CA / Paramount Theatre
Notes: Setlist-wise, very similar to the previous show in L.A. (not a bad thing at all, considering the setlist), with a few notable change-ups: the second piano performance of "Two Faces," and the tour debuts of "Nebraska" and "Land of Hope and Dreams" on acoustic. (Also debuting in Oakland: a new lamp, after the old one got busted in L.A.) The tour is really hitting its stride in terms of material -- 'My Beautiful Reward' is a magical opener; 'All the Way Home' is working really well in the 'Maria's Bed' slot. And Springsteen's piano-as-a-second-instrument slip-ups wind up being beauty marks, reminding the audience what a bold thing it is he's doing up there. An eager Bay Area crowd got some gentle admonishment about clapping at the beginning of songs ("I know what it is, you know what it is... I feel like I'm in Vegas when I hear that clapping"), and Bruce also discouraged applause for his riff on evolution ("I don't want to feel like I'm preaching to the converted"). But there was nothing wrong with having a laugh, even at his own expense: referencing the recent flap over Starbucks, which just decided not to carry his new album, Bruce told the crowd that Devils & Dust would be available at Dunkin Donuts instead.
Setlist: My Beautiful Reward**/Reason to Believe/Devils & Dust/Youngstown/Empty Sky/Long Time Comin'/Silver Palomino/The River*/Two Faces*/Part Man, Part Monkey/All the Way Home/Nebraska/Reno/Racing in the Street*/The Rising/Further On (Up the Road)/Jesus Was an Only Son*/Leah/The Hitter/Matamoros Banks//Johnny 99/Land of Hope and Dreams/My Best Was Never Good Enough/The Promised Land
*=piano
**=pump organ

May 3 / Los Angeles, CA / Pantages Theatre
Notes: The second night of a spectacular two-night stand in L.A. "Devils & Dust" gets bumped to the third slot as Bruce opens with a tour debut; anyone wondering what that pump organ was doing in the shadows on the first night got their answer here, as Bruce played it on the opening "My Beautiful Reward." Also making their tour debuts: "Empty Sky," "All the Way Home" (the last remaining song to be played from Devils & Dust), "The Line" (from the surprisingly underutilized The Ghost of Tom Joad), and hold on to your hats, a solo-piano version of "The River." An "unbelievable" highlight of the night, "The River" got a standing ovation. Piano versions of "Racing in the Street" and the tour-proper debut of "Tougher Than the Rest" ain't too shabby neither. In the encore, Springsteen tackled "If I Should Fall Behind" on guitar this time (last played in the same show with "My Beautiful Reward" on 3/31/93 in Glasgow). Nils Lofgren joined in again, now for on an extended "Waitin' on a Sunny Day," adding guitar and backing vocals. Fantastic sound in this wonderful old theater, it should be noted; on night two you could even make out the words on the bullet-mic songs ("Reason to Believe" and "Johnny 99"). In the crowd was Bob Clearmountain (along with a gaggle of requisite celebs), and it looked like he approved.
Setlist: My Beautiful Reward**/Reason to Believe/Devils & Dust/Youngstown/Empty Sky/Long Time Comin'/Silver Palomino/The River*/Tougher Than the Rest*/Part Man, Part Monkey/All the Way Home/The Line/Reno/Racing in the Street*/The Rising/Further On (Up the Road)/Jesus Was an Only Son*/Leah/The Hitter/Matamoros Banks//Johnny 99/If I Should Fall Behind/Waitin' on a Sunny Day (with Nils Lofgren)/The Promised Land
*=piano
**=pump organ

May 2 / Los Angeles, CA / Pantages Theatre
Notes: Four tour premieres at the first night in L.A.: the stunning pair of "Incident on 57th Street" and "If I Should Fall Behind," both on piano, one leading right into the other; another Tunnel rarity, "Cautious Man," last played on May 10, 1988 and played here for the second time ever, dedicated to Sean Penn (who was in the crowd); and "Johnny 99" to lead off the encore, Bruce playing dobro and singing into that harmonica mic, a la "Reason to Believe." "Real World" was a highlight once again, with Bruce talking about the debut of that song in L.A. back in 1990 and dedicating it to his Christic stage-mate, Jackson Browne. This longer set featured 11 out of the 12 Devils & Dust songs, with only "All the Way Home" remaining to be played. Also in the crowd: Professor Roy Bittan.
Setlist: Reason to Believe/Devils & Dust/Youngstown/Lonesome Day/Long Time Comin'/Black Cowboys/Silver Palomino/Incident on 57th Street*/If I Should Fall Behind*/Part Man, Part Monkey/Maria's Bed/Cautious Man/All I'm Thinkin' About/Reno/Real World*/My Hometown*/The Rising/Further On (Up the Road)/Jesus Was an Only Son*/Leah/The Hitter/Matamoros Banks//Johnny 99/This Hard Land/Waitin' on a Sunny Day/The Promised Land
*=piano

April 30 / Glendale, AZ / Glendale Arena
Notes: Though "All I'm Thinkin' About" is one of the catchiest songs on Devils & Dust, it's one of the last to be played live. That song had its concert premiere at Saturday night's Phoenix show, also the first show of the tour in one of these half-arena configurations. Comapred to theaters, the setup was a mixed bag in terms of acoustics and atmosphere, but by several accounts it didn't hamper audience attentiveness or the effectiveness of the show (having the concessions shut down during the performance couldn't have hurt). The crowd was rewarded with the ultra-rare "Book of Dreams" (a song only played live a handful of times, and not since the 1992 Plugged performance), on piano for the first time. Bruce described it as "a song about wedding days," before chuckling, "I say 'days' plural, unfortunately...." Also on the piano, "Racing in the Street" brought the biggest audience response of the night; as on 4/22, Springsteen introduced it by talking about the 1971 film Two-Lane Blacktop. "Highway Patrolman" came back to the set, and in the encores, the first E Street guest of the tour: part-time Arizona resident Nils Lofgren on dobro for "This Hard Land."
Setlist: Reason to Believe/Devils & Dust/Youngstown/Lonesome Day/Long Time Comin'/Silver Palomino/For You*/Book of Dreams*/Part Man, Part Monkey/Maria's Bed/Highway Patrolman/Reno/All I'm Thinkin' About/Racing in the Street*/The Rising/Further On (Up the Road)/Jesus Was an Only Son*/Leah/The Hitter/Matamoros Banks//This Hard Land (with Nils Lofgren)/Waitin' on a Sunny Day/My Best Was Never Good Enough/The Promised Land
*=piano

April 28 / Dallas, TX / Nokia Theatre at Grand Prairie
Notes: As the tour swings west into Texas, "Galveston Bay" debuts, naturally. Following "For You," which Bruce had talked about as a love song, he said, "15 years later I wrote another one..." Not "Real World," which had been in that next slot at the previous two shows, but a song he introduced with those magical words, "I haven't tried this one before, so we'll see how it goes." And with that, Bruce dug deep for a Tunnel of Love rarity, the first solo-piano version of "Two Faces" (complete with the organ solo, done vocally note-for-note). "Real World" still made an appearance by request when Bruce sat back down at the piano later in the set (keep it comin', Bruce!). For "Matamoros Banks," Bruce set the scene "just across the border from Brownsville, Texas." And kicking off the encore, a special guest: a duet with Austin singer-songwriter Jimmy LaFave on an off-the-cuff version of Woody & Jack Guthrie's "Oklahoma Hills."
Setlist: Reason to Believe/Devils & Dust/Youngstown/Lonesome Day/Long Time Comin'/Silver Palomino/For You*/Two Faces*/Part Man, Part Monkey/Galveston Bay/Maria's Bed/Reno/Real World*/My Hometown*/The Rising/Further On (Up the Road)/Jesus Was an Only Son*/Leah/The Hitter/Matamoros Banks//Oklahoma Hills (with Jimmy LaFave)/Waitin' on a Sunny Day/My Best Was Never Good Enough/The Promised Land
*=piano

April 25 / Detroit, MI / Fox Theatre
Notes: Just as Devils & Dust is an aural step up from the stark sonics of The Ghost of Tom Joad, so the solo acoustic tour for Devils gussies things up a bit. Sure, the stool is back... but you've also got a chandelier, a Tiffany lamp, and the centerpiece in several respects, the piano. Blessedly, the solo piano "Real World" stayed in the set for opening night (as did all of the piano songs from 4/22, actually), a trend we hope continues. A slightly longer show than the Asbury warm-ups, starting at 8:00 and ending at 10:25, but those rehearsal shows gave a good taste of what was to come. The setlist for tonight's tour opener hewed closely to Friday's matinee, from the boot-stomp accompaniment of "Reason to Believe" at the start to the percussive "The Promised Land" closer (a familiar arrangement from the latter half of the Joad tour). Extending the set: "Black Cowboys" was added back in, and the encore expanded to four songs. "Youngstown" was dedicated "to my Good friend Tommy Morello, playing next door with Audioslave"; Morello was actually in the Fox for the start of Bruce's show before heading to his own gig at the State Theatre. In "Highway Patrolman," cheers rose up at the mention of the "Michigan County line." Springsteen took care to discuss his new songs throughout, and as he wound up the set with "Matamoros Banks," he referenced the Jorge Ramos book Dying to Cross and said, "We need nothing more right now than a humane immigration policy." There were a few minor opening-night snafus, but nothing Bruce wasn't able to roll with. After a bright light lit up the fifth row instead of the stage during "Matamoros," he said, "I knew I shouldn't have given that bottle of Jack Daniels to that spotlight operator." On the plus-side in the technical department, two video screens were set up (with static cameras) to give the whole venue that front-row view. So now that the "Real World" has become reality, what can we wish for next? Well, we don't wanna be greedy, but as long as Bruce is breaking out a Gretsch electric for "Part Man, Part Monkey"... how about rockin' that joint with "Open All Night"?
Setlist: Reason to Believe/Devils & Dust/Youngstown/Lonesome Day/Long Time Comin'/Silver Palomino/For You*/Real World*/Part Man, Part Monkey/Maria's Bed/Highway Patrolman/Black Cowboys/Reno/Racing in the Street*/The Rising/Further On (Up the Road)/Jesus Was an Only Son*/Leah/The Hitter/Matamoros Banks//This Hard Land/Waitin' on a Sunny Day/My Best Was Never Good Enough/The Promised Land
*=piano

April 22 / Asbury Park, NJ / Paramount Theatre
Notes: A benefit for local charities. The second rehearsal show was a Friday afternoon matinee, and hot damn, who cares if this is a run-on sentence, we can't finish it without mentioning "Real World" right up front. For the very first time since its 1990 debut at the pair of Christic benefits, Springsteen sat down at the keys for the much-pined-for, fan-favorite, solo-piano version of "Real World." It brought audible gasps from the audience, and a standing ovation at the end. At last, at last. Yeah, there was a rest-of-a-show, too. A radical reworking of "Reason to Believe" started things off, sung into his electric-harmonica mic -- boot-stompin', distorted delta-blues. After "Part Man, Part Monkey" was the live premiere of "Reno," followed immediately by "Racing in the Street" on piano. Another standing o. (Turns out that whole piano thing was a good idea, huh?) In the encores, "Waitin' on a Sunny Day" and "Bobby Jean" subbed for "This Hard Land" and "My Best." Otherwise a similar set as 4/21, though Bruce tinkered with the order of things a bit, with lots of talk once again; and even though his voice started to give out toward the end, this was an even stronger show. And that's the direction we like to see things going. That's it for the warm-up; next stop is the "real thing" in Detroit on Monday night. Which reminds me, did we mention he played "Real World"?
Setlist: Reason to Believe/Devils & Dust/Youngstown/Lonesome Day/Long Time Comin'/Silver Palomino/For You*/Real World*/Part Man, Part Monkey/Maria's Bed/Highway Patrolman/Reno/Racing in the Street*/The Rising/Further On (Up the Road)/Jesus Was an Only Son*/Leah/The Hitter/Matamoros Banks//Waitin' on a Sunny Day/Bobby Jean/The Promised Land
*=piano

April 21 / Asbury Park, NJ / Paramount Theatre
Notes: A benefit for World Hunger Year. The first of two warm-up shows at the Paramount Theatre, and fans' first real taste of the new tour -- unless you count Storytellers, which does seem to be a real bellwether for the Devils & Dust show. Yeah, Springsteen the storyteller is back: setting the scene, providing context, making with the funny, and generally illuminating the songs and the setlist throughout this acoustic performance. The talk started right after the "Devils & Dust" opener, when he told the crowd that "Tom Joad rules are in effect." (A very quiet crowd complied, other than some sing-along at the end of "Further On" and "This Hard Land," without being otherwise told to STFU.) Some in the crowd might have been flashing back to 1996... but surprisingly, only two songs from The Ghost of Tom Joad made the set. And would you believe that one of them was "My Best Was Never Good Enough"? Other big surprises: Tunnel tour staple "Part Man, Part Monkey," and Joad tour ultra-rarity "Used Cars" (one of two songs from Nebraska). And you knew it wasn't the Joad tour with that piano onstage. Nearly 15 years after the legendary Christic shows, fans finally get the payoff of a solo tour with piano. Bruce tickled the ivories for five songs: "For You," "Tougher Than the Rest," "My Hometown," "Lost in the Flood," and "Jesus Was an Only Son." The stool came out for the two main-set closers, "The Hitter" and "Matamoros Banks," two of nine songs played from the new record tonight. Five of 'em being live premieres. Plus acoustic takes on "Lonesome Day" and "The Rising," and "The Promised Land" to close. And this tour ain't even started yet!
Setlist: Devils & Dust/Youngstown/Lonesome Day/Black Cowboys/Long Time Comin'/Silver Palomino/For You*/Tougher Than the Rest*/Part Man, Part Monkey/Maria's Bed/Highway Patrolman/Used Cars/Further On (Up the Road)/My Hometown*/Lost in the Flood*/The Rising/Jesus Was an Only Son*/Leah/The Hitter/Matamoros Banks//This Hard Land/My Best Was Never Good Enough/The Promised Land
*=piano

April 10 / Asbury Park, NJ / The Stone Pony
Private RCDS benefit
Notes: For the fourth April running, Springsteen played a small, private benefit show on Sunday night for an audience of Rumson Country Day School parents and teachers. He was backed once again by Bobby Bandiera and his band (a very similar line-up to the 2004 holiday jams), who gave the crowd a taste of "Wipeout" and "The Wanderer" before Bruce took the stage for Wilson Pickett's "634-5789." Despite that start, the 2005 Annual Bar Bash wasn't nearly the cover-fest of previous years. While Springsteen did pull out a few golden oldies, he concentrated far more on his own catalog, and the setlist shared many songs with those December 2004 Harry's Roadhouse shows ("Two Hearts," "Spirit in the Night," "Rendezvous," "All That Heaven Will Allow," et al). Southside Johnny played a bigger part than last year, joining in for such Bruce-penned numbers as "Talk to Me" and "The Fever." Still sound like the Harry's concerts, you say? It's true -- for the first time, some fans can actually say they saw a similar show. But the Pony crowd still got the kind of covers the RCDS benefits have been known for: "Seven Nights to Rock," "Bad Moon Rising," "Shake," Patti Scialfa singing "Son of a Preacher Man"... and for the "Twist and Shout" finale, Springsteen brought school staffers on stage to sing along. If only all teachers were this well compensated.
Setlist: 634-5789/Talk to Me*/Seven Nights to Rock/Two Hearts/Spirit in the Night/Rendezvous/All That Heaven Will Allow/Tell Him**/Son of a Preacher Man**/Boy From New York City**/Further on up the Road/Waitin' on a Sunny Day/The Fever*/I Don't Want to Go Home*/Darlington County/Seaside Bar Song/Bad Moon Rising/Stand on It/Shake*/If I Should Fall Behind/Tenth Avenue Freeze-out/Twist and Shout*
*with Southside Johnny
**with Patti Scialfa

April 4 / Red Bank, NJ / Two River Theatre
Notes: Two years ago, Bruce Springsteen held a pair of "Master Class"-style shows in Somerville, MA, offering glimpses into his songwriting craft, explicating songs line-by-line, and even taking questions from the audience. While a stunning change of pace from the recent E Street Band shows, very few fans actually got to witness those performances (and only after paying big bucks) -- and by the time the Q&A session bit the dust on the second night, one kinda had the feeling that it'd never happen again.
Last night at the new Two River Theatre in Red Bank, NJ, Bruce took another swing -- and knocked it out of the park. No steroids necessary. And the best part is, while the tiny venue only held about 300, this one's getting shared with the world when it comes to tellyvision screens in a matter of weeks, on VH1 Storytellers. For the sake of the (rightfully) spoiler-phobic, we'll try to give you broad strokes here; surely you'd rather hear Springsteen's hilarious and poignant musings-on-identity-by-way-of-strip-club-anecdote-as-intro-to-"Brilliant Disguise" for yourself rather than our mind-blown recollection of it. And his imitation of Smokey Robinson singing "Waitin' on a Sunny Day" is something we can't even try to recreate here.
But an overview: for well over two hours, Springsteen regaled the awe-struck shoebox-sized room with performances and discussions of songs from Devils & Dust, The Rising, Nebraska, Greetings, Tunnel, and Born to Run; the setlist selection, he later revealed, was driven by a desire to showcase the different types, styles, and moods of his songs from each stage of his career. He gave premiere performances of two new tracks from the forthcoming Devils & Dust -- the title track on acoustic guitar, and "Jesus Was an Only Son" at the piano. (Oh yes, a grand piano on stage -- along with about 60 fans on risers.) A devastatingly beautiful acoustic arrangement of "The Rising" brought a standing ovation both times it was performed (a second time through was required due to technical difficulties; other songs Bruce tried a second take of "because they told me I could"). Patti joined him for a "Brilliant Disguise" duet, nailed in one take. Springsteen's vision of the evening was beyond the usual scope of Storytellers, stretching out the night with not only candid stories but also Somerville-like line-by-line readings of his songs, stopping to explain his intent along the way. These ranged from enlightening to gut-busting to ambiguous; at times his explanations were more beguiling than the lyrics themselves. Even so, it felt as rare and entrancing as a magician slowing down his act to show you how a trick works -- and you still can't figure out how the hell he did it.
"Waiting on a Sunny Day" had originally been planned as the set-closer, but Springsteen smartly moved it to the middle and instead ended the musical portion with true magic in the night: "Thunder Road." At the piano. Twice. And a third time through to try and show how the rabbit came out of the hat. There was no topping that.
Before calling it a night, however, Springsteen came downstage for a little back-and-forth. One after another, ten fans in the audience had a chance to ask Bruce their "one question," selected by VH1 from among the Backstreets contest winners. This was where Somerville 2 spiraled downward into inanity; not tonight. Springsteen did offer to come out and smack one guy around... but only because he was asking if Bruce ever wanted to "get all Johnny Rotten" on somebody to shake up his nice-guy image. If there was a downside, it was that Springsteen's set had been so long and heavy on the revealing banter, a fair amount of the Q&A wound up treading on recently familiar ground. But if Bruce wanted an audience to be "in concert" with him, it'd be hard to think of a better example. Finally, he raised his guitar, gave a benediction, and left the stage. Persistent cheering and foot-stomping couldn't bring him back; eventually, VH1's Bill Flanagan came out to tell us that was it, Bruce was "on a respirator." Out in the crowd, after a check of the watch and the gradual sinking-in of what we'd just witnessed, it became pretty clear that he'd earned some breathing room. (Storytellers debuts on VH1 on April 23 in the U.S.; international airings to be announced.)
Setlist: Devils & Dust/Blinded By the Light/Brilliant Disguise (with Patti Scialfa)/Nebraska [x2]/Jesus Was an Only Son (piano) [x2]/Waitin' on a Sunny Day/The Rising [x2]/Thunder Road (piano) [x2]

March 14, 2005 / New York, NY / The Waldorf Astoria
Notes: After Springsteen gives the speech inducting U2 into the Rock and Roll Hall of Fame -- and after Bono works "The Promised Land" into "Pride (In the Name of Love)" -- Springsteen joins the band for one song in their four-song set.
Setlist: I Still Haven't Found What I'm Looking For


Main News
Tour/Ticket Info
- 2014 Apr-May Setlists
- 2014 Jan-Mar Setlists
- 2013 Setlists
- 2012 Setlists Part 3
- 2012 Setlists Part 2
- 2012 Setlists Part 1
- 2011 Setlists
- 2010 Setlists
- 2009 Setlists Part 2
- 2009 Setlists Part 1
- 2008 Setlists
- 2007 Setlists
- 2006 Setlists


2005 Setlists
- 2004 Setlists
- 2003 Setlists Part 2
- 2003 Setlists Part 1
- 2002 Setlists
- 2001 Setlists
- 2000 Setlists
- 1999 Part 2
- 1999 Part 1
Concert Calendar
Save Tillie
Library Project
Downloads