BOOGALOO DOWN BROADWAY 2: ACOUSTIC BOOGALOO
Still nothing official... but the second New York Post story from Michael Riedel on a Broadway-bound Bruce Springsteen puts a finer point on what may be in the works: not a stadium show on a theater stage, as previously suggested, but rather, "He'll be reading from Born to Run, his best-selling memoir, and picking up his guitar from time to time to illustrate a point or a moment from his life with one of his songs." Read on with the requisite grain of salt: "More details emerge about Bruce Springsteen's Broadway debut."
- July 20, 2017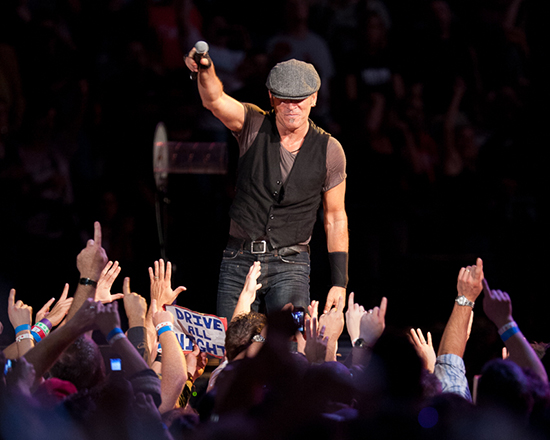 THROWBACK THURSDAY: LOOK WHILE YOU LISTEN, 10/20/09
Last week, the final night of the Working on a Dream tour's four-night stand in Philly became the latest entry in Bruce Springsteen's live archive series, a spectacular Jon Altschiller mix of the October 20, 2009 show.
Photographer A.M. Saddler was there that night to shoot for Backstreets, and he kindly revisited his files for us, for some extra visuals to go with the audio. These are mostly never-before-seen images from the occasion, both inside and outside the Spectrum, Bruce and the E Street Band's last-ever performance there before the venerable venue's date with the wrecking ball.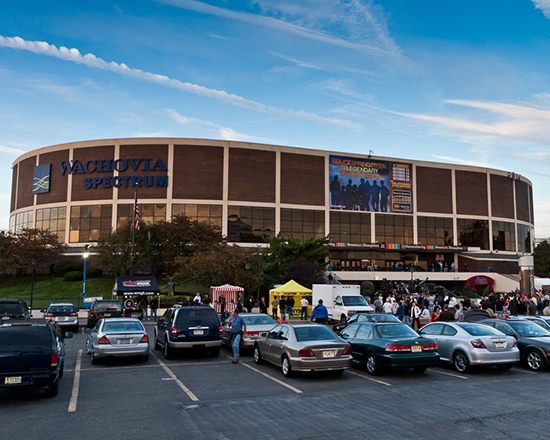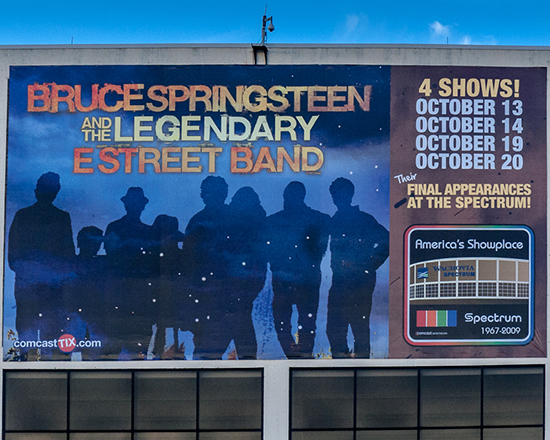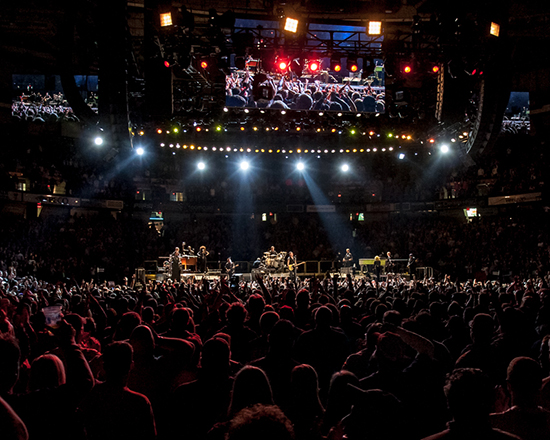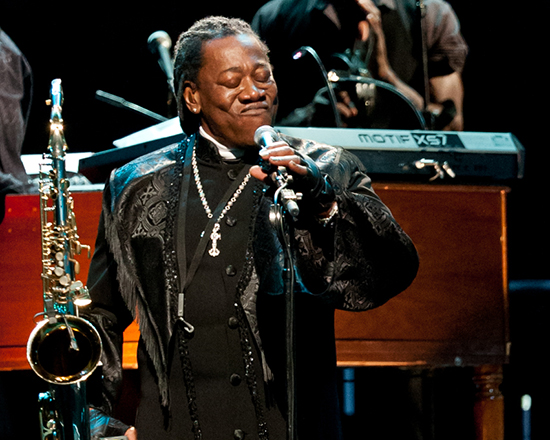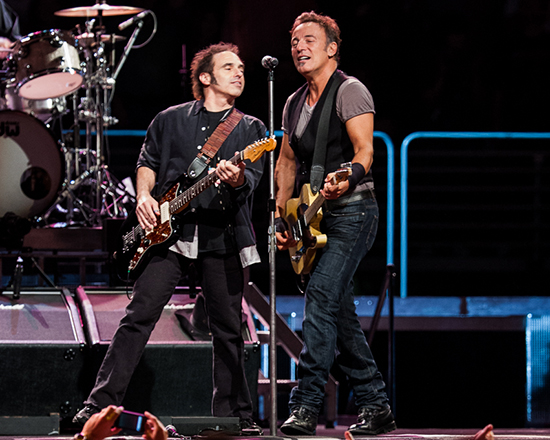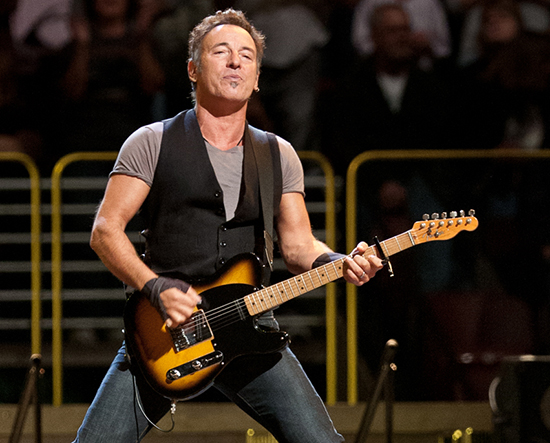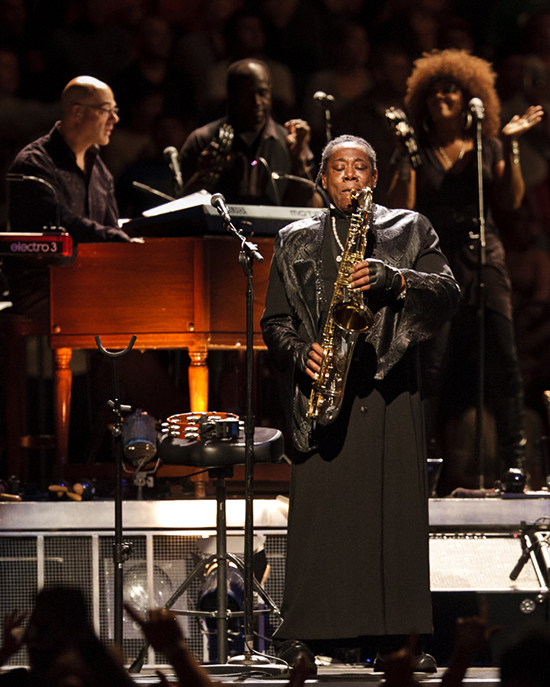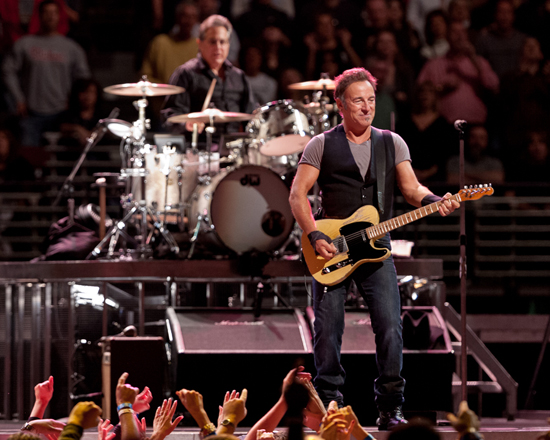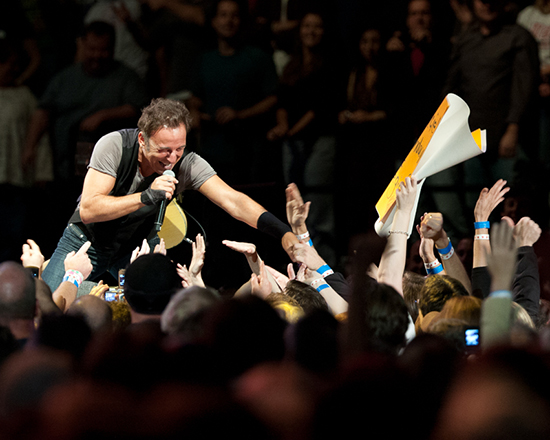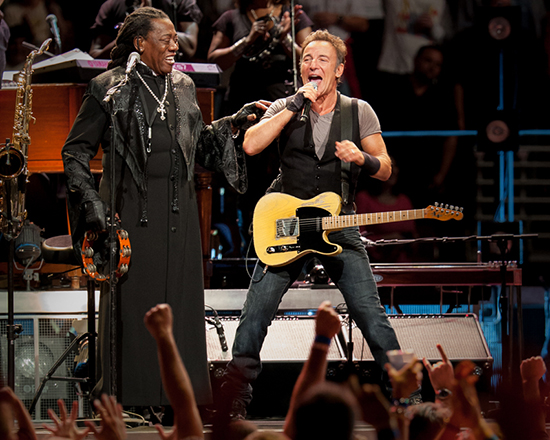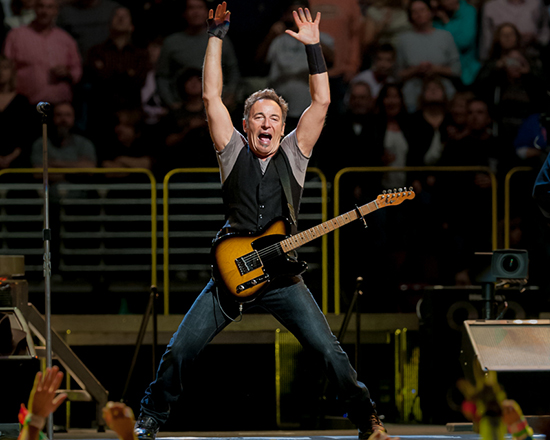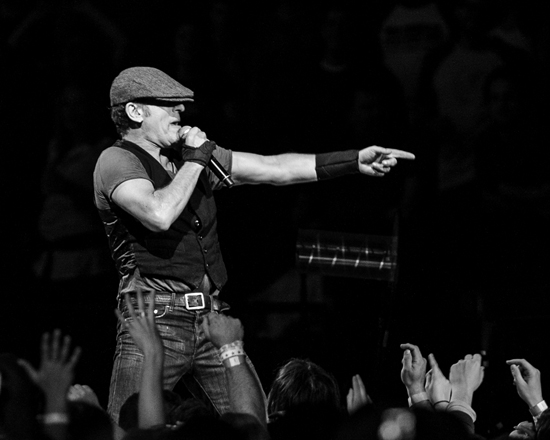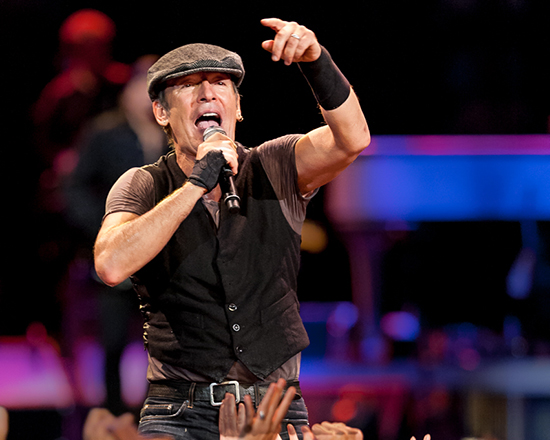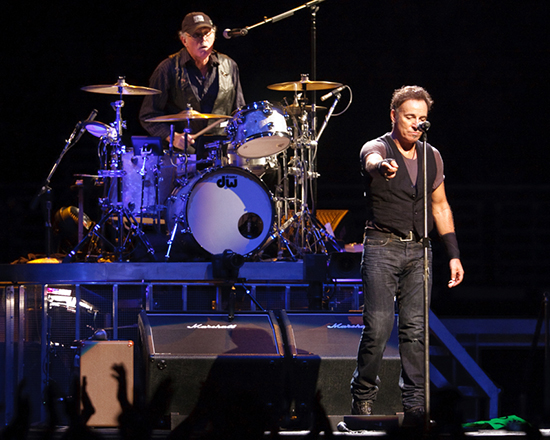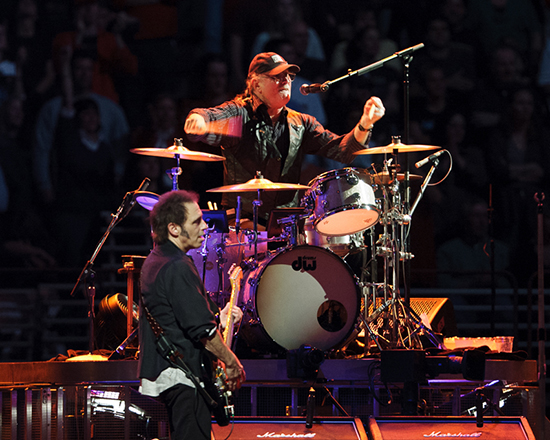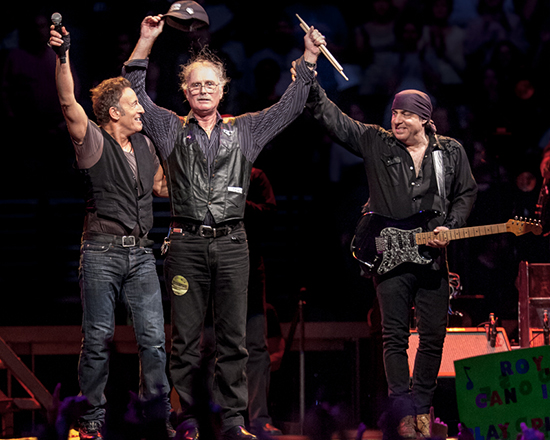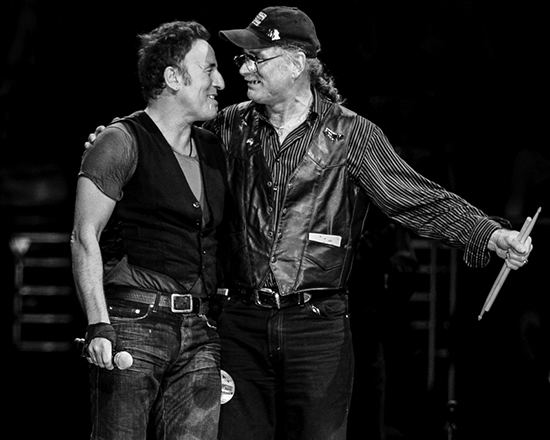 - July 20, 2017 - photographs by A.M. Saddler


"LET ME HEAR THE COWBELL!"
Our cowbell fever just got funkier, thanks to longtime reader Brad Stalnaker (a Backstreets subscriber from the beginning), who recalled a Wild & Innocent-era radio broadcast featuring yet another campana player on E Street. Check out this rare acoustic version of "Rosalita (Come Out Tonight)" performed live on Boston's late, great WBCN-FM on April 9, 1974. Bruce Springsteen introduces his backing musicians (shortly after the "percussion solo" that begins around the 3:50 mark) as follows: "Now on the saxophone we got Clarence Clemons, on the accordion Danny Federici, on the tambourine Mr. Dave Sancious, and on the — let me hear the cowbell! — on the cowbell, Mr. Garry Tallent!"
- July 19, 2017 - Shawn Poole reporting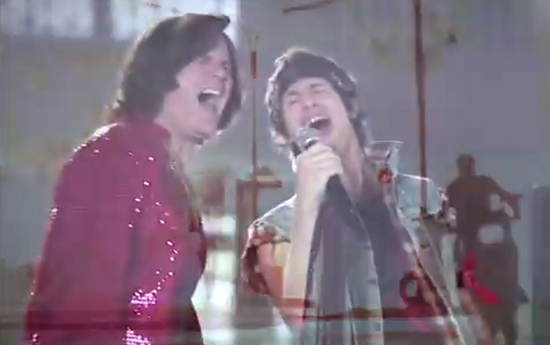 "MORE COWBELL!"
For Ferrell @ 50, a cowbell-comprehensive celebration of campana on E Street
Funny guy Will Ferrell (pictured above playing Neil Diamond to Andy Samberg's Bruce Springsteen in The Lonely Island's "Cool Guys Don't Look At Explosions") turns the big 5-0 today. And just a few months ago, Ferrell listed his now-classic Saturday Night Live "More Cowbell" skit as his favorite SNL skit. In his honor, today we celebrate the history of cowbell on E Street.
Ferrell co-wrote the "More Cowbell" skit, aka "Recording Session," with Donnell Campbell. First aired in April 2000, it featured Ferrell and SNL guest-host Christopher Walken in a parody of VH1: Behind The Music and the recording of Blue Öyster Cult's classic "(Don't Fear) The Reaper." It was later referenced briefly but hilariously in Bruce Springsteen & The E Street Band's London Calling: Live in Hyde Park Blu-ray/DVD. Check out the moment in "Glory Days" when Bruce's eyes bulge in mock-shock upon seeing Clarence Clemons' enormous hands using an actual cowbell onstage, followed by Springsteen yelling the only appropriate reply: "More cowbell!"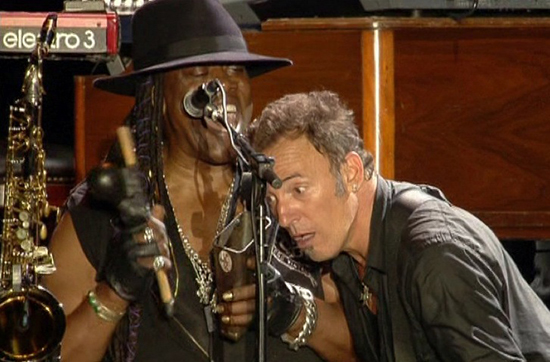 Nevertheless, The Bruce Springsteen couldn't have been so surprised. The cowbell, or campana, began its rock 'n' roll-staple life as early as 1957's "Little Darlin'," first recorded by The Gladiolas. It also has a rather long if sporadic history of appearances on E Street, with Big Man clearly being the most visible cowbell-player over the years, though video/photographic evidence also implicates Steve Van Zandt and even Springsteen himself in the E Street Cowbell Conspiracy.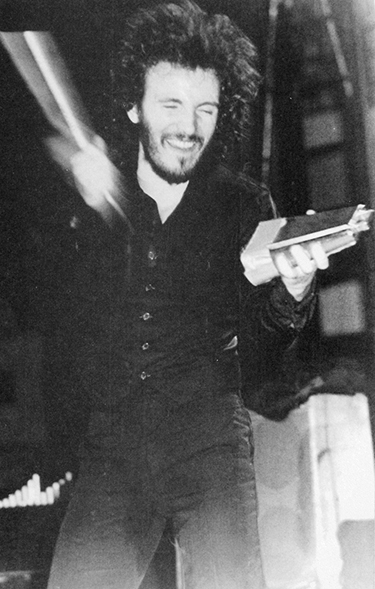 A Collegiate Times review of Bruce Springsteen and the E Street Band's April 22, 1976 concert at Virginia Tech noted that Bruce "whoops" on the cowbell on his "new tune," "Frankie." "Frankie" didn't get released officially, however, until a 1982 studio version (sans cowbell) finally saw the light of day on Tracks. Click here to hear the live '76 cowbell-whooping version of "Frankie" from Springsteen's April 7, 1976 show at Cleveland's Allen Theatre.
Right: Springsteen whoops on the cowbell in '76. Photo by the late, great Phil Ceccola, as featured in Backstreets #57
Speaking of Blue Öyster Cult connections, in 1978 Bruce made a count-off-only cameo appearance (at the 2:10 mark) on The Dictators' "Faster and Louder," produced by Murray Krugman and Sandy Pearlman, co-producers of "(Don't Fear) The Reaper." Not surprisingly, "Faster and Louder" also features a cowbell prominently.
Springsteen's 1973 recording of "Seaside Bar Song" included a cowbell, but like "Frankie" the track wasn't released officially until its inclusion on Tracks in 1998. As far as I can tell, the first officially released Springsteen recording to feature a cowbell was "Crush on You" from The River. (I've often thought I've heard a cowbell in the 1973 studio version of "Incident on 57th Street," but I'm pretty sure now that my ears were playing tricks on me.) "Crush on You" sounds like what might have happened if Clarence Clemons' publicly stated dream to someday play saxophone with The Rolling Stones had ever come true. Therefore, it's only fitting that a cowbell should be featured on a track that echoes the band responsible for the cowbell classic "Honky Tonk Women." You can catch a glimpse of Clarence on cowbell during the live version of "Crush on You" in Thom Zimny's Tempe 11/5/80 film (starting at 1:29:32.)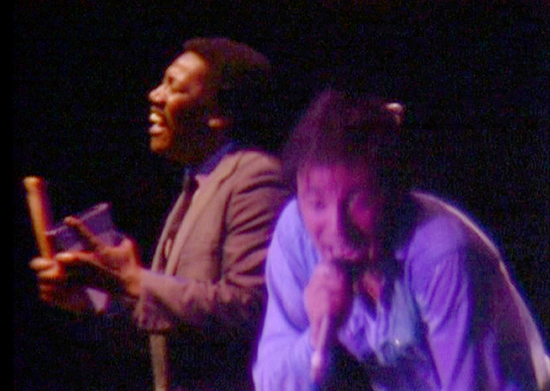 The cowbell didn't return to E Street until the release of Born in the U.S.A., where it is featured prominently on "Darlington County," a song first recorded for Darkness on the Edge of Town. (It remains unknown if a cowbell was played on the uncirculated Darkness-sessions recording of "Darlington" as well.) The live version of "Darlington" on Bruce Springsteen & The E Street Band Live/1975-85 features a cowbell, too, though it's a bit more difficult to hear it. In addition, the cowbell can be heard during the false-ending section of Live/1975-85's version of "Born in the U.S.A.," as well as at the beginning of the version of "Seeds" that follows it.
On occasion, Springsteen has offered a one-two-cowbell-concert-combo, mixing a bit of "Honky Tonk Women" into "Darlington County." Click here to see the beginning of this tradition at the May 8, 2000 show in Hartford, CT. A snippet of the "Honky Tonk Women" riff, as well as a bit more cowbell, even sneaks into the version of "Darlington County" during the full-album performance of Born in the U.S.A. on the latest official archival release, Wachovia Spectrum, Philadelphia, PA 10/20/09, where you also can find some more cowbell in that false-ending section of "Born in the U.S.A.," of course.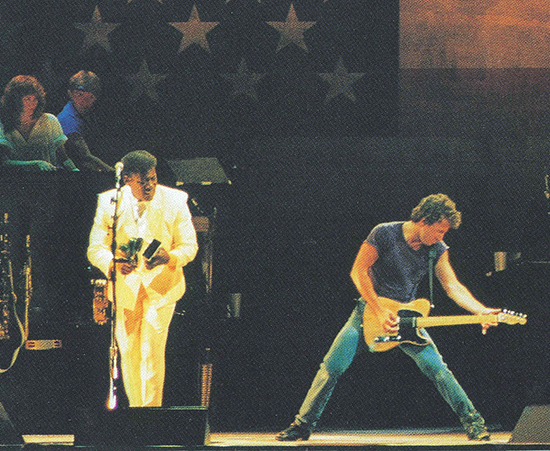 Clarence on cowbell, from the Live/1975-'85 liner notes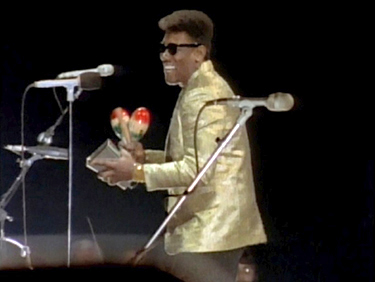 Cowbell-playing has never been credited officially on any Springsteen release. Therefore, the actual identity of E Street's main cowbell-whooper remains a bit of a mystery. All available clues, however, point to Clarence "Big Bell Man" Clemons. In Live/1975-85's lyrics booklet, there's a gorgeous two-page color photo of the full band playing in front of a huge U.S. flag. Clarence, resplendent as usual in a yellow suit, can be seen clearly holding maracas in one hand and a campana/cowbell in the other. Clarence is seen holding the same instruments near the tail-end of John Sayles' music-video for "Born in the U.S.A." Images like these, combined with the smoking-gun footage of his cowbell-playing in the London Calling DVD, make it easy to understand why Big Man usually got album credits for saxophone, vocals and percussion.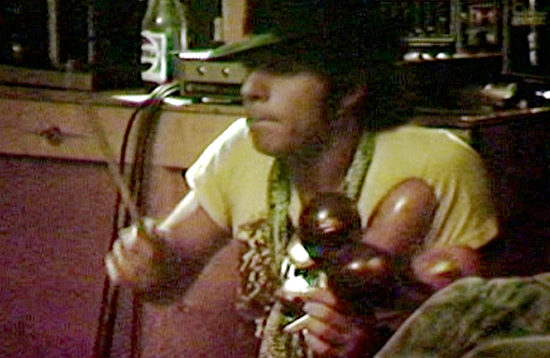 Following London Calling, oddly enough, The Promise box set was the second official 2010 Bruce Springsteen release to feature video of an E Street Band member wailing away on a cowbell. In the "Thrill Hill Vault 1976-1978" video of the band rehearsing "Candy's Boy" in Holmdel, Steve Van Zandt ("Miami… lookin' good!") can be seen supplementing his black fedora and printed scarf with some maracas and a cowbell, on which he ably assists Max Weinberg in the percussion department. (The cowbell also pops up in the completed track on The Promise 2-CD set, though the continued lack of official cowbell credits make it unclear exactly who's playing it there.)
Before London Calling and The Promise, the most recently released use of the cowbell by Bruce Springsteen & the E Street Band got buried deeply in the mix near the end of "Livin' in the Future" on Magic. Bruce's work with the band he put together for We Shall Overcome: The Seeger Sessions, however, featured a much more prominent cowbell appearance. On their follow-up live album and video, Bruce Springsteen with The Sessions Band Live In Dublin, drummer Larry Eagle handled the cowbell duties adeptly in that fantastic klezmer-meets-campana version of "Blinded By the Light."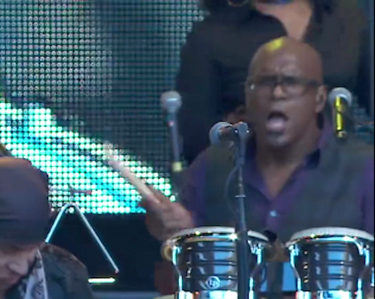 In March 2012, at the conclusion of Late Night with Jimmy Fallon's week-long celebration of the release of Wrecking Ball, Fallon himself (who also appeared in SNL's "More Cowbell" skit) ably joined Springsteen and the E Streeters on cowbell during the band's grand finale performance of "The E Street Shuffle" with Late Night's house band The Roots. On the 2013 European leg of the Wrecking Ball Tour, Everett Bradley snuck a bit of campana into that great by-the-seat-of-their-pants performance of Chuck Berry's "You Never Can Tell" live in Leipzig, Germany (at the 8:14 mark.)
Over the past year or so, the cowbell has continued to ring the rafters on E Street. On the spring U.S. leg of The River Tour 2016, Bruce referenced SNL's classic skit once more during "I Wanna Be With You" live in Columbus, OH (at the 2:52 mark,) and Jake Clemons honored his late uncle's legacy as E Street's cowbell king.
In the fall of 2016, the release of Springsteen's Chapter and Verse brought with it an official release of one of his own earliest cowbell-heavy tracks: "He's Guilty (The Judge Song)", as recorded with Steel Mill in 1970. (There might even be some more early-'70s, pre-E Street cowbell moments to be found in the vaults, as evidenced by Albee Tellone's epic bell-banging on "Jumbeliah" from the fourth and final performance of Dr. Zoom and the Sonic Boom.) And finally, almost 50 years later, Bruce's Steel Mill and E Street Band-mate Steve Van Zandt also gives the cowbell a serious workout in "I Saw the Light" on this year's Soulfire.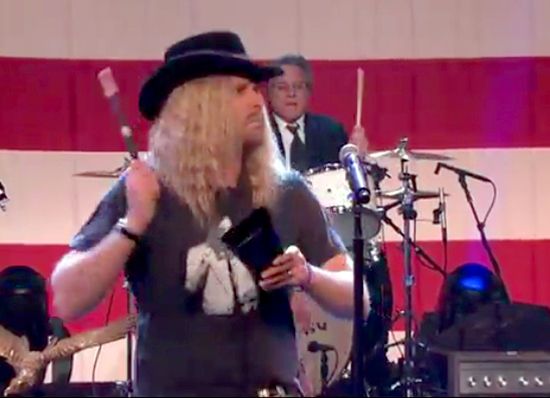 Will Ferrell and Max Weinberg on the final episode of The Tonight Show with Conan O'Brien, January 22, 2010
Clearly down on E Street they've still got the fever, oh they've got the fever, and the only prescription… is MORE COWBELL!
- July 16, 2017 - Shawn Poole reporting

LITTLE STEVEN ANNOUNCES RETURN TO EUROPE; US DATES EXPECTED SOON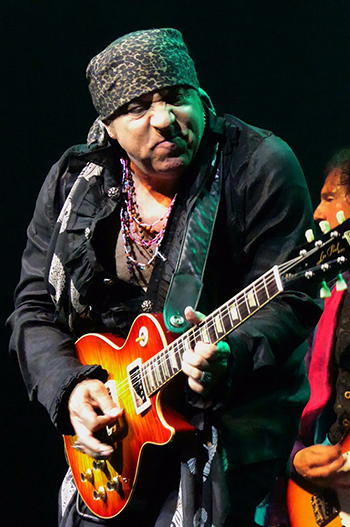 Less than a week after returning home from their European summer tour, Little Steven and the Disciples of Soul are all set to cross the Atlantic again in the fall, with this week's announcement of a seven-date UK tour. It begins at the Roundhouse in London (November 4) and continues at branches of the O2 Academy chain in Bristol (11/6), Leeds (11/8), Birmingham (11/10), Glasgow (11/12), Liverpool (11/14) and Newcastle (11/16). Tickets are already on sale for these shows, and further appearances on the European mainland are likely to follow, which should extend the tour into December.

The just-completed European tour comprised 15 shows in Denmark, Sweden, Finland, Germany, Ireland, Belgium, The Netherlands, France, Switzerland, Italy, Austria and the UK, between June 7 and July 8. (A sixteenth show in Ljubljana, Slovenia, was cancelled.) The band played in a variety of different-sized venues, indoors and out, from rock and blues festival sites to clubs and theatres, including the Vienna State Opera House, the tiny 1,300-capacity Cigale in Paris, and the Royal Theater Carre in Amsterdam, which hosted the most memorable show of the tour on June 25. Running close to 150 minutes, it included a guest appearance from Southside Johnny (who played the Paradiso with the Asbury Jukes the night before) for two encores.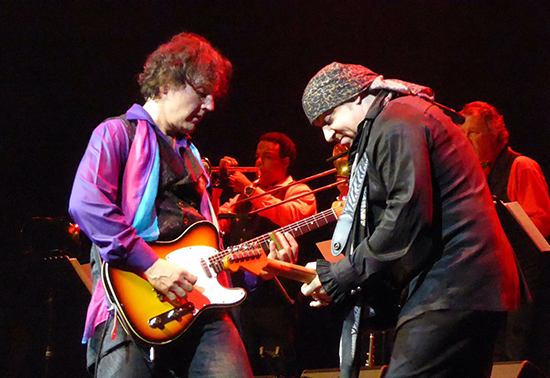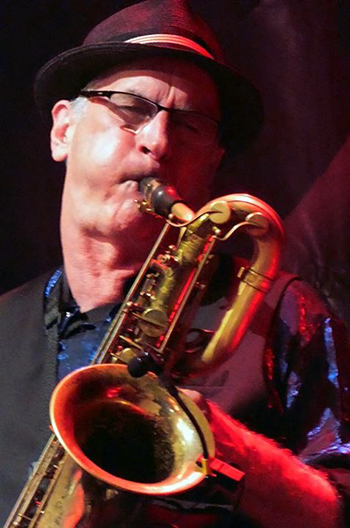 The band line-up for the tour was the same as that which played the Red Bank show on May 27: musical director and guitarist Marc Ribler [above with Steven]; Charley Drayton (drums); Jack Daley (bass); Andy Burton (B3 organ and accordion); Lowell "Banana" Levinger (piano and mandolin); Everett Bradley (percussion); Ed Manion (horn section leader, baritone sax) [right]; Stan Harrison (tenor sax and flute); Ron Tooley (trumpet); Ravi Best (trumpet); Clark Gayton (trombone); and Jesse Wagner, Erica Jerry and Yahzarah Saint James (backing vocals).
Due to prior commitments, Alison Carney replaced Yahzarah Saint James for one show in Sweden, and ex-Asbury Juke and original Disciple Rusty Cloud took over from Andy Burton for the last seven shows.

Fellow Backstreets contributor Dan French and I met several members of the band for a nightcap after the Paris show on June 28. Although we'd regularly exchanged emails over the previous seven months, this was my first face-to-face meeting with Marc Ribler, the subject of my recent interview for Backstreets. After only a few minutes in their company, it became apparent that the new Disciples of Soul were a mutual appreciation society who enjoyed being together both onstage and off. Everett Bradley revealed that being in the band was "ten percent music and ninety percent hanging out."

Featuring virtually all of Soulfire and selections from Little Steven's other albums, the two-hour shows inspired rave reviews from fans and critics, but the final word should come from the musicians themselves, who had at least as much fun as the audience every night and shared their thoughts on social media at the end of the five-week trip. "It has been a pleasure beyond words," said Jack Daley. "Touring with Little Steven is like a never-ending trip to your Italian grandparents' house. He always makes sure the band is taken care of and then some."

"This has been an immensely fun, crazy, invigorating and joyful run of shows," echoed Jessie Wagner. "The band has become like family, and on top of that, they can play their behinds off. Little Steven has been a pleasure to work for. He's funny, talented, and kind, and we are so grateful to have been a part of this group."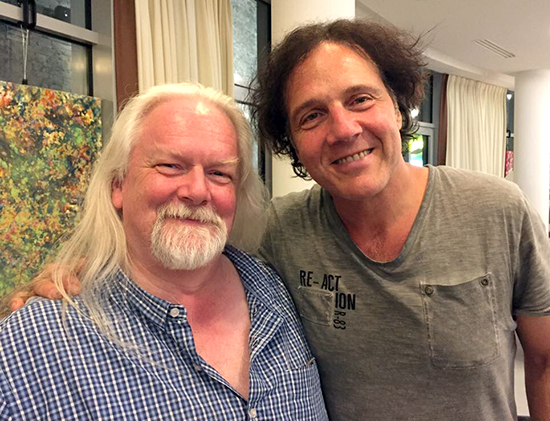 - Author Mike Saunders with Marc Ribler, Paris, 6/28/17 - photograph by Dan French
"I'm feeling very blessed," added Ribler. "Sending big love and thanks to the Disciples of Soul. First and foremost to our fearless and faithful leader Stevie Van Zandt for making our first tour feel like family. Everyone brought their heart and soul each and every night. We won Europe one city at a time."

Those patiently awaiting news of North American appearances should expect an announcement concerning shows in September and October shortly. (The only known booking so far is at the Laid Back Festival in Holmdel, NJ, with Jackson Browne on September 21). Little Steven has been replying to regular enquiries on his Twitter page with "Working on it" for some time now, but it appears that the wait is almost over. Watch this space.
- July 14, 2017 - report and concert photographs by Mike Saunders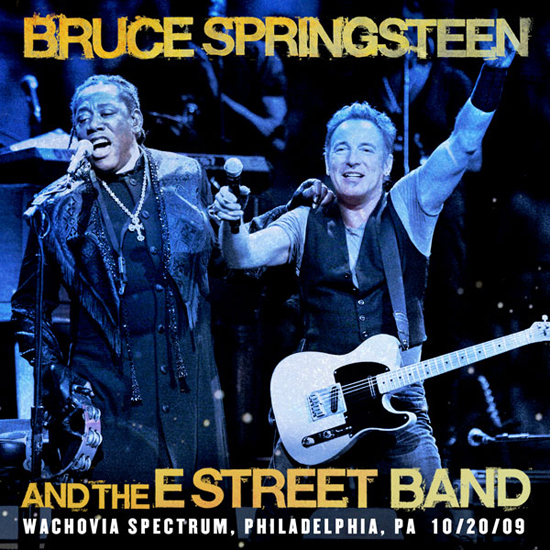 GOODBYE, SPECTRUM... HELLO, LIVE ARCHIVE
The Springsteen archival download series returns to the splendid home stretch of the Working on a Dream tour to present Philadelphia, PA 10/20/09, the final concert Bruce and the E Street Band ever played at the Spectrum.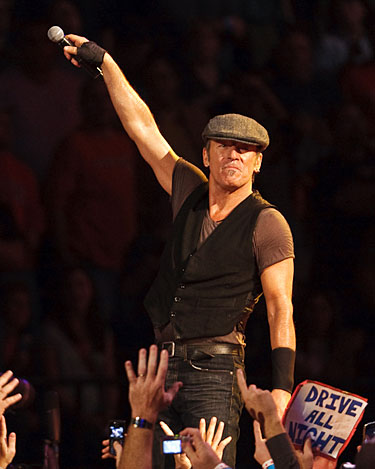 "This is our last night in this old sweatshop," a newsboy-capped Bruce told the crowd on this night. "We're so proud to be in one of the last great rock 'n' roll arenas." If Philly was Springsteen's home away from home, the Spectrum was his pied-à-terre, with a stretch of 32 shows (according to Brucebase) that dates back to opening for Chicago in 1973.
This October 20 show was the last of a four-night stand that closed the curtain on Springsteen's Spectrum years with deep cuts and full-album performances, not to mention the appearance of Philly Elvis on the 19th. The final night's 31-song set is full of highlights but marked by the return of two classic songs in particular. The first was a shocking show opener, the long-desired River treasure "The Price You Pay," which hadn't been performed since the European tour of 1981. The second, via sign request, was Jackie Wilson's "(Your Love Keeps Lifting Me) Higher and Higher," performed so memorably to close out the 1977 tour in Boston and also unheard since.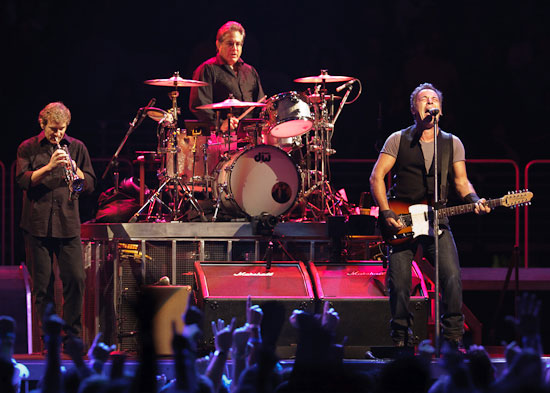 Both portended things to come, as "Higher and Higher" remained in the encore for all but one show on the remainder of the tour, and "The Price You Pay" ultimately previewed the full return of River material in 2016. Trumpeter Curt Ramm, who guested on both songs, would soon make the jump from occasional spot color to horn section fixture.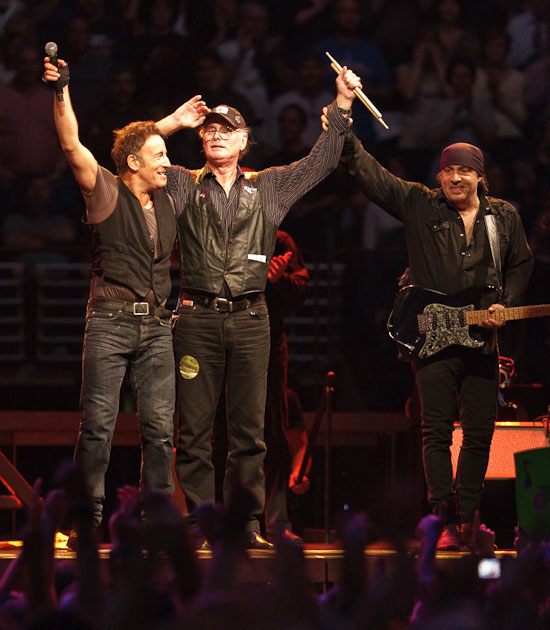 There's plenty more to Bruce's Spectrum farewell, including a fitting cover of The Drifters' "Save the Last Dance For Me"; a welcome appearance by Mad Dog himself, Vini Lopez ("Behave yourselves, or he'll come out there and slap your asses around!") sitting in on drums for "Spirit in the Night"; a rollicking "Kitty's Back," again featuring Ramm; a full-album performance of Born in the U.S.A.; "Loose Ends" by request; and even Bruce's mom showing up to dance with him during "Dancing in the Dark."
Nugs.net's Brad Serling says, "Before we dive deep into the Springsteen archives we wanted to get this one out." Philadelphia, PA 10/20/09 is available now in MP3, Lossless, HD-Audio, DSD or good, old-fashioned CD at live.brucespringsteen.net.
- July 13, 2017 - Erik Flannigan and Christopher Phillips reporting - 10/20/09 photographs by A.M. Saddler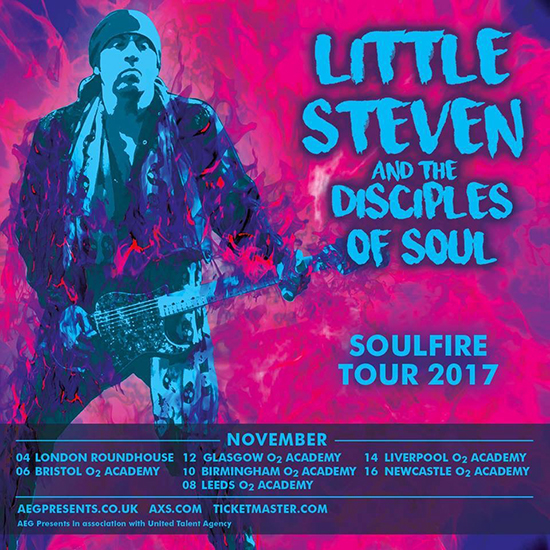 LITTLE STEVEN: LIVE AT LEEDS, LIVERPOOL, LONDON AND MORE
After previous shows in London (before recording Soulfire) and Manchester (after its release), Little Steven and the Disciples of Soul will be returning for a full-on U.K. tour in November. Tickets go on sale tomorrow, Friday July 14, at 9am. See aegpresents.co.uk for onsale links.
- July 13, 2017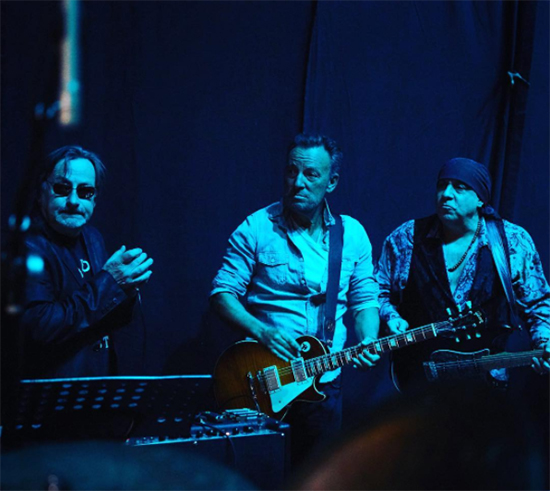 "ROCK 'N' ROLL DREAMLAND"
In April, the Asbury Park Music and Film Festival's Upstage Jam brought Southside Johnny, Bruce Springsteen, and Steven Van Zandt back together on the Paramount Theater stage. Danny Clinch was also there to play harp — but that didn't mean he didn't have his camera handy, too. Clinch captured this moment backstage: "Right before the curtain rises.... Very few knew Bruce was there until the curtain opened. It was so cool. This was NJ rock 'n' roll dreamland in Asbury Park that night!"
A print is up for auction now at charitybuzz.com, donated by Danny to benefit WhyHunger. There's a little more than a week to bid, with the auction closing Thursday, July 20.
- July 12, 2017


ME AND HER WE HAD US SOME FUN
Over at NJArts.net, Jay Lustig has lured us back down into another YouTube rabbit hole with him, with the fifth installment of his series "Springsteen Covered by Women: The Best of the Best." Part 5, the lengthiest yet, brings the number of entries to 100 with some wonderful performances and discoveries. In addition to familiar recordings from the Cowboy Junkies, Emmylou Harris, Patti Smith and 10,000 Maniacs, Part 5 also includes some uncommon treats from the likes of Kelly Clarkson, The Chromatics, Grace Potter and the Nocturnals, and Juliette Lewis with the Sex Pistols' Steve Jones. See Part 5 here, and there's also an index to all 100 songs.
- July 6, 2017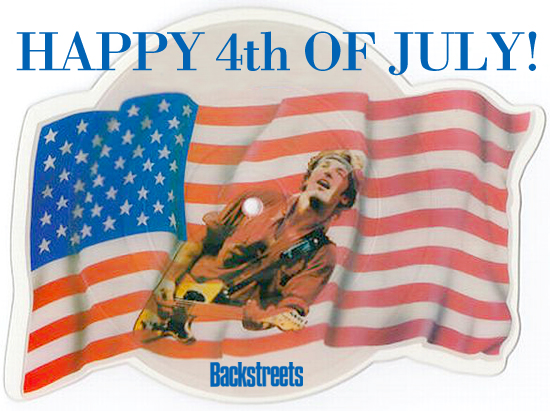 - July 4, 2017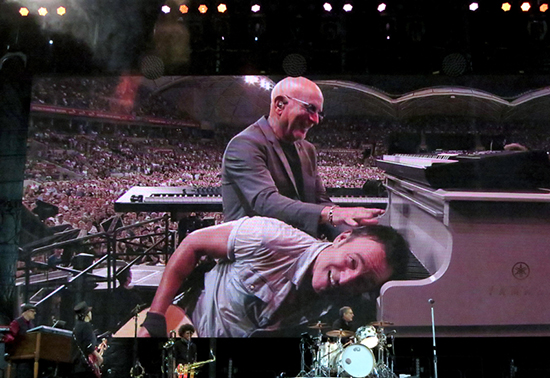 HAPPY BIRTHDAY TO THE PATHOLOGICAL PIANO-POUNDING PROFESSOR
Actually, Professor Roy Bittan tends to keep his head when all about him are losing theirs. Happy 68 to the master of all 88 keys, born July 2, 1949!
- July 2, 2017 - photograph by Rene van Diemen [Melbourne, 2/4/17]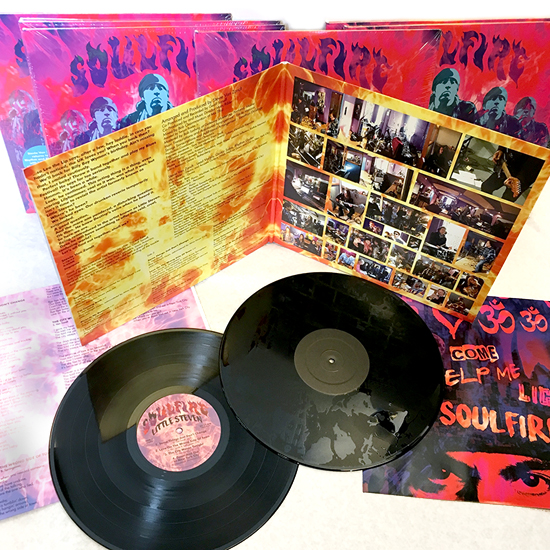 HOT WAX: SOULFIRE VINYL IS HERE
Today's the release day for the 2LP set of Little Steven's Soulfire — and you knew Stevie would do it right, baby: gatefold jacket, lyric inner sleeves, and nice heavy slabs of vinyl. In stock now at Backstreet Records.
- June 30, 2017

PRE-ORDERING FURTHER ON UP THE ROAD
Pre-ordering continues in our online shop for Frank Stefanko's Further Up the Road, a spectacular collection of his Springsteen photography being published by Italy's Wall of Sound. Due in November, with an introduction by Springsteen himself, this limited edition (a total of 1,978 copies) may well sell out via pre-order before publication. Choose an edition below to reserve your signed/numbered copy. The Collector edition is $380 plus shipping, and the Deluxe edition (including a signed and numbered exclusive print) is $630 plus shipping.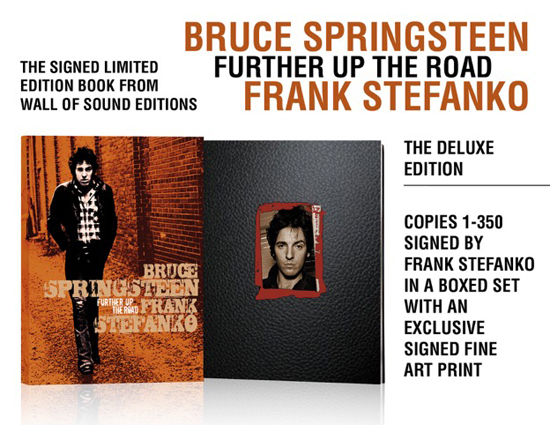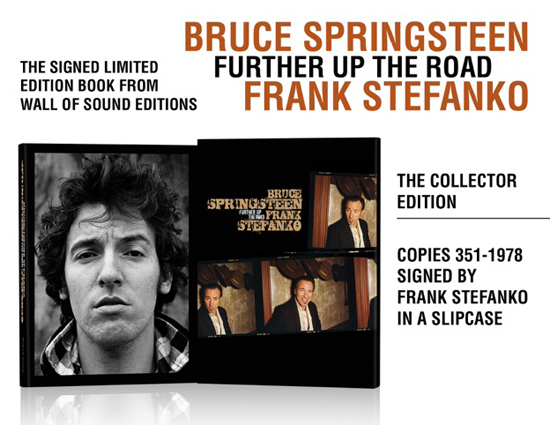 For older news, visit our News Archives