- December 1, 2015


STEVIE ON THE RIVER: "THIS WAS OUR PEAK"
Above, Steve Van Zandt revisits The River. Our friend and Italian journalist Gianni Sibilla tells us, "A couple of weeks ago, I went to Rome and sat down with Little Steven, who was in town promoting Lillyhammer at the Roma Fiction Fest — he was president of the jury. I made a nice interview about The River and The Ties That Bind. No scoops, but he talks nicely about his blood brother Bruce, calling him 'An extreme kind of guy.' The written interview is in Italian, but I also filmed it, with subs."
- December 1, 2015

IN A CAMARO WITH THIS DUDE IN L.A.
Bruce Springsteen comes up more than a few times in Warren Zanes' new biography on Tom Petty (Petty: The Biography; Henry Holt & Company). Some of the stories you've heard before, like Petty's "What's the difference?" reaction to being told by Jackson Browne that the crowd at No Nukes wasn't booing, but Broooce-ing. But the most touching story comes up early in Petty's career, after purchasing his first rock and roll car, a red Camaro:
"Around the time he drove the car off the lot, he got a call from Bruce Springsteen. Petty had seen Springsteen at the Roxy, in the months before Born to Run was released, and liked what he saw, recognized a fellow traveler. Petty didn't know the man, but Springsteen wasn't shy in the way Petty was. The guy from New Jersey put in the call, just to hang out, one rock and roller to another. He asked Petty if he had a car.

"Petty picked him up at the Sunset Marquis. They went down Sunset Boulevard to the water, stopping at Tower Records on the way, picking up half a dozen eight-tracks. They drove until they'd listened to every song on every one of them. The Stones' 12x5 was among the tapes. When 'Congratulations' came on, Springsteen raised his arms to the heavens and said, 'You can take me now!' Petty loved that. He liked knowing another man out there who went to the same church."
The biography is essential rock and roll reading if you're even partially curious about Petty's career, and even if you're a fan, you'll learn things you didn't know before.
- December 1, 2015 - Caryn Rose reporting

- November 27, 2015


WHAT WAS INSIDE, MAN, WAS JUST C'EST MAGNIFIQUE
Unboxing The Ties That Bind: The River Collection, along with our bonus set of postcards.
No need to go shopping, buddy, down to the the mall... we've got your holiday needs right here.
Pre-order The Ties That Bind (DVD) with exclusive postcard pack
Pre-order The Ties That Bind (Blu-ray) with exclusive postcard pack
- November 27, 2015

GIVE OTHERS SOMETHING TO BE THANKFUL FOR THIS SEASON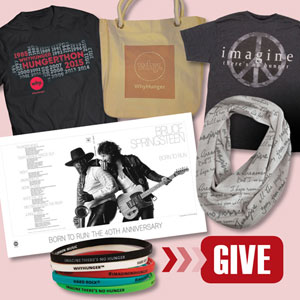 Thanksgiving time is Hungerthon time, and once again we want to remind you of the good work of WhyHunger, the organization (formerly World Hunger Year) that's been connecting Bruce Springsteen with local foodbanks for decades. The non-profit organization is a leader in building the movement to end hunger and poverty, connecting people to nutritious, affordable food and investing in grassroots solutions that inspire self-reliance and community empowerment. Bruce is a key supporter of their work; Southside Johnny performed a radio set yesterday for the cause.
Earlier this year, in conjunction with Eric Meola and the art department at Columbia Records, we created an official Born to Run 40th anniversary poster to benefit WhyHunger, which is also celebrating 40 years in 2015. The poster has been a Backstreets exclusive, but now there's one other place to get it: directly from WhyHunger, when you donate at least $50 to Hungerthon. See all donation gifts here.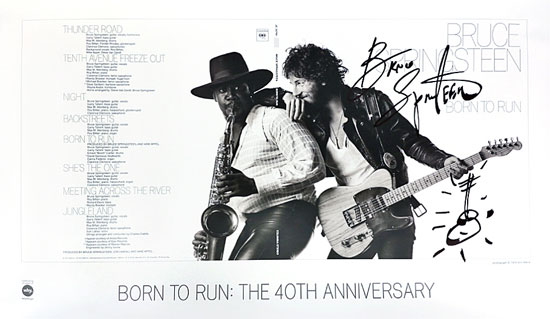 Several Bruce-related items are on the Charitybuzz auction block to support WhyHunger, headlined by the BTR40 poster signed by Bruce Springsteen. [above]. You can also bid to be a guest host on E Street Radio, either with Jim Rotolo on The Wild & the Innocent or with Dave Marsh on Live From E Street Nation. Bidding for all WhyHunger auctions closes on December 8. See all Hungerthon auctions here.
You can make a donation now to help families get the nutritious food they need today and to support sustainable solutions to end hunger for tomorrow. Find out more about the organization and their efforts at hungerthon.org and whyhunger.org.
- November 25, 2015

RADIO, RADIO, HEAR MY TALE
Springsteen to host Ties That Bind special on E Street Radio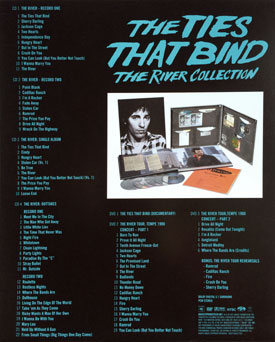 Starting Wednesday morning and running through the holiday weekend and beyond, "The Ties That Bind Radio Special" will be airing on E Street Radio, hosted by none other than Bruce Springsteen. As Sirius/XM announced today, the special has Springsteen taking us "through a preview of the new box set, The Ties That Bind: The River Collection, with rare outtakes, acoustic renditions, live performances from the River Tour and more."
"The Ties That Bind Radio Special" premieres Wednesday, November 25 at 10am ET on Sirius/XM channel 20, with repeat airings at 2pm, 5pm, and 11pm.
On Thanksgiving, you can hear the special at 2am, 5am, 8am, 11am, 3pm, 6pm, and 10pm. So even if you're in a tryptophan coma for part of the day, you'll still be able to find an airtime that works. For the special's daily broadcast schedule through December 3, click here.
Update: The audio of Bruce talking in the special comes from Thom Zimny's The Ties That Bind documentary. It's mixed in with an hour or so of music previews pulled from various elements of the box set, including both of Thom Zimny's films. E Street Radio's Vinny Usuriello informs us that all of the audio in the special came directly from Springsteen's camp, including the Tempe 1980 version of "Stolen Car," a song that was not filmed that night and therefore does not appear in Zimny's Tempe 1980 film. The full track listing for the radio special:
1. "Independence Day" - isolated organ tracks from The River Original Album studio [short excerpt, main melody line]
2. "Two Hearts" (acoustic) from The Ties That Bind documentary
3. "You Can Look (But You Better Not Touch) (Vs 1)" - from The River: Single Album
4. "The Time That Never Was" - from The River Outtakes
5. "Little White Lies" - from The River Outtakes
6. "Independence Day" (acoustic) from The Ties That Bind doc
7. "Sherry Darling" (live) from The River Tour, Tempe 1980
8. "Stray Bullet" - from The River Outtakes
9. "Meet Me in the City" - from The River Outtakes
10. "Stolen Car" - from Tempe bootleg
11. "From Small Things (Big Things One Day Come) - from The River Outtakes
12. "Out in the Street" - from The River Original Album
13. "Whitetown" - from The River Outtakes
14. "The Price You Pay" - from The River: Single Album
- Updated November 25, 2015


DON'T MISS THE "PARTY LIGHTS"
"Meet Me in the City" was our first taste of The Ties That Bind's new collection of River outtakes; today we get a second, in "Party Lights." In the lyrics you'll hear elements of "Point Blank," along with lines that Springsteen would go on to work into his live version of Tom Waits' "Jersey Girl," but "Party Lights" stands up very well on its own. Check it out above, with a Thom Zimny-directed lyric video.
- November 23, 2015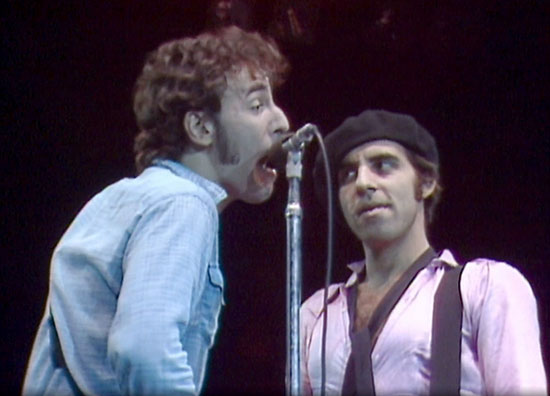 HAPPY BIRTHDAY STEVE!
Stevie Van Zandt: keeping it wicked cool since 1950, keeping a watchful eye on The Boss since not long after that. Happy 65!
- November 22, 2015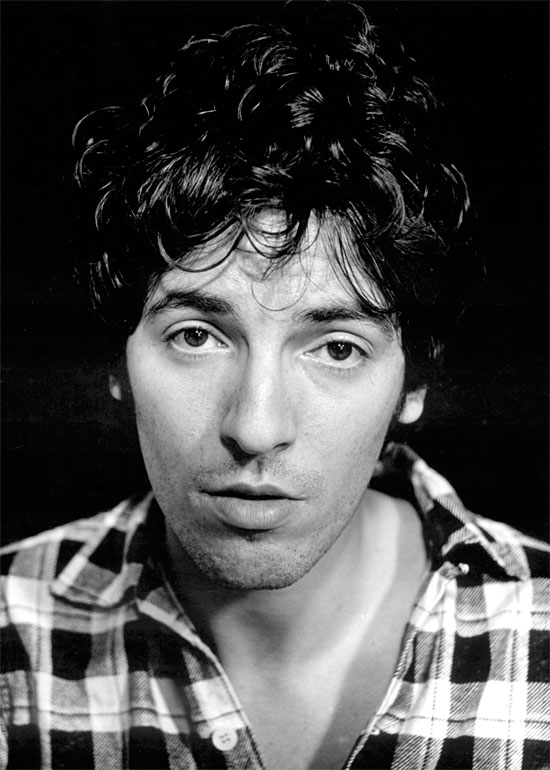 THE EYES HAVE IT
Don't miss our exclusive River postcard set — now upgraded, still free!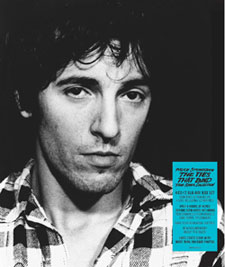 We're just two weeks away from Springsteen's new box set, The Ties That Bind: The River Collection (DVD / Blu-ray), with a reminder:
Everyone who orders the box from Backstreet Records will receive a FREE, exclusive set of Springsteen postcards, beautiful outtake images from the Frank Stefanko session that gave us the album cover for The River.
We're happy to announce that the postcard pack has just been expanded — consider it a reward for a realized "stretch goal." Our pre-sale has gone well enough that we can do some upgrading to our original plan. Instead of 4"x6", the postcards will now be 5"x7". Plus, instead of four postcards, the set will now contain five.
Stefanko has given us a fifth image to work with [top], and it's a prime example of what Frank told us in a previous Backstreets interview: "Bruce is tremendously photogenic in many different ways. He also has such striking features. You know we see eyes first when we do portraiture? First the eyes! Always the eyes. The eyes are truth. And then the rest of the face comes into view. There's a lot going on in those eyes."
Here's the five-card set: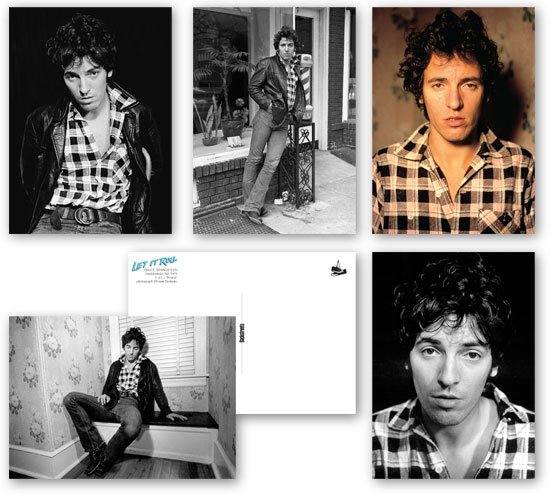 The Ties That Bind: The River Collection will be released on Friday, December 4. We'll be working hard to get everyone's box into their hands as quickly as possible. Pre-order the box set now on either DVD or Blu-ray to guarantee your postcard pack, automatically included for free with each box set we ship. No coupon required. Only from Backstreets.
- November 20, 2015 - photographs by Frank Stefanko


SHINING A LIGHT AT THE SHRINE
Bruce Springsteen has a storied history at the Shrine Auditorium in Los Angeles, topped by the legendary Christic Institute benefit shows 25 years ago along with his first Grammy win in 1985, his biggest-ever, single-night Grammy haul (four statues for "Streets of Philadelphia") in 1995, and even a performance of "Angel Eyes" for Frank Sinatra.
Last night, Springsteen added another chapter to that rich history by joining a cavalcade of musicians and actors at the Shrine to celebrate "hope and humanity" as part of A+E's Shining a Light: A Concert for Progress on Race in America.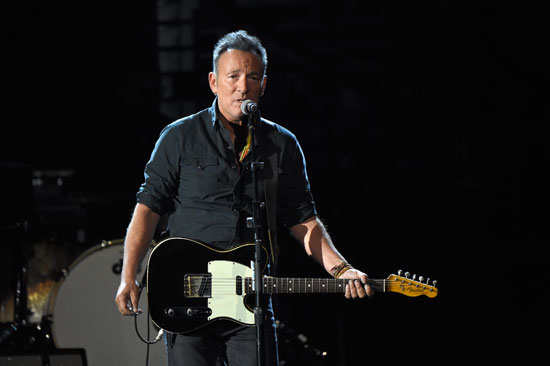 According to concert producer Ken Ehrlich, who addressed the crowd prior to the show, the purpose of the concert was to use the "healing power of music" to encourage a dialogue about race relations in America. With a seemingly ever-present police v. minority narrative in the news, the concert's message was timely and poignant. Springsteen was among a list of musical heavyweights that included Sting, Pharrell Williams, John Legend, Zac Brown Band, Sia and others who lent their talents in hopes of creating a bigger awareness of the race challenges we face as a country.
Performances were intercut with video packages that focused primarily on the tragedies in Charleston, Ferguson, and Baltimore. Williams, Legend and Alicia Keys visited each city respectively to talk with affected citizens and communicate each community's unique, yet common perspective. As Morgan Freeman so eloquently pointed out, the concert intended to bring everyone together to "raise our voices as one, so that we might all be able to better live in our American skin."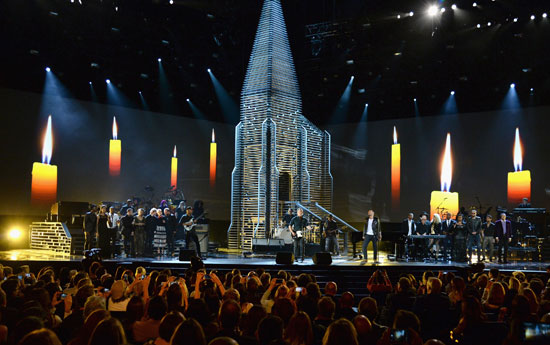 The concert began amid a chorus of "Broooce," which was a bit surprising given the mostly younger demographics in the audience. The familiar notes of "American Skin (41 Shots)" began to fill the building as the lights revealed Springsteen with a guitar, standing against a stylized scenic backdrop that was inspired by the "Mother Emanuel" church in South Carolina, the tragic scene of nine murders earlier this year.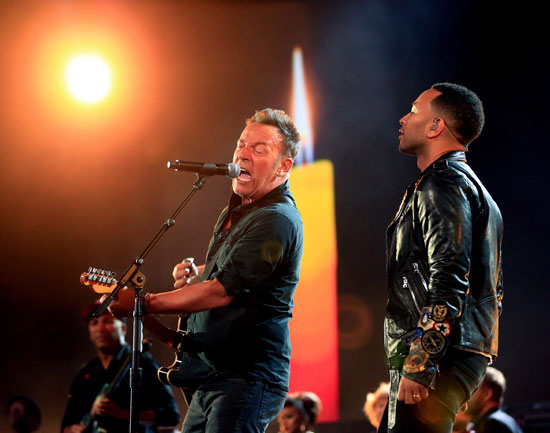 Bathed in a spotlight, Springsteen began singing as tributes to Eric Garner and Freddie Gray played on the giant screens in back of the performers. Midway through the song, the images transitioned to a single, lit candle as John Legend emerged and began trading verses with Springsteen, setting the tone for the inspirational performances of the night. Springsteen was flanked by Tom Morello, E Streeters Max Weinberg and Roy Bittan, as well as the house band headed by Ricky Minor. Though a duet, it was still a familiar modern-day arrangement of the song, Morello infusing a new texture and freshness into the song's guitar solo via his unique and signature sound as he did for High Hopes.
All of the evening's performers came to the stage to join Springsteen and Legend in the final choruses, creating an intense energy that culminated in the appreciative audience giving their first of many standing ovations for the evening. The presence of all the musicians appeared to indicate a finale rather than an opening, however, so until it airs this Friday, it's unclear whether "American Skin" will open or close the broadcast.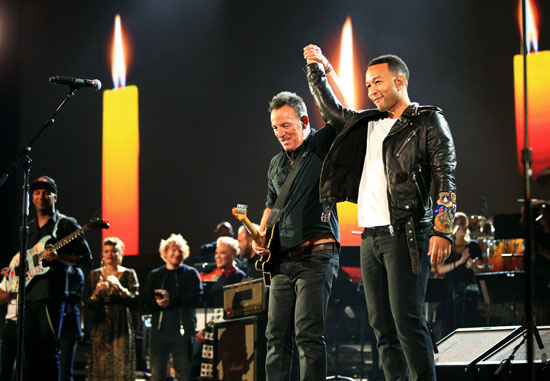 Subsequent to Bruce's performance, Morgan Freeman delivered a powerful speech that name-checked "American Skin" twice and perfectly segued into an evening embodying spiritual uplifting, love, and understanding.
Other strong performances by Zac Brown Band, Sting, and Sia are not to be missed, but without question, the stunner of the night belonged to Jill Scott. Accompanied only by a piano, her powerful and heartbreaking cover of Billie Holiday's "Strange Fruit" was absolutely incredible.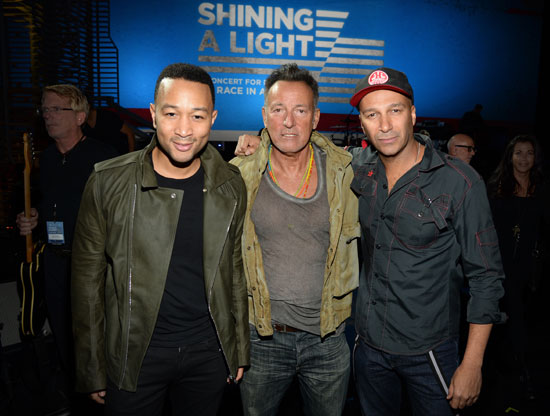 Shining a Light: A Concert for Progress on Race in America airs at 8pm ET/PT this Friday, November 20, on the A+E Networks portfolio and will also be streaming online and simulcast on hundreds of iHeart radio stations. More information can be found at unitedway.org and aetv.com.
- November 19, 2015 - Neil van Harte reporting - photographs by Getty Images for A+E Networks (Kevin Mazur: 2,3,5,7; Christopher Polk: 1,4,6)

LIVE FROM NEW YORK...
It's Bruce Springsteen on Saturday Night Live, December 19.

- November 17, 2015

23rd STREET LULLABY
The Ties That Bind premieres in New York City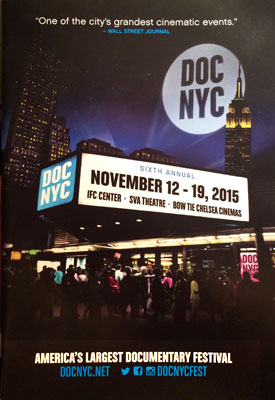 Bruce Springtseen's longtime film collaborator Thom Zimny first appeared at the DOC NYC film festival in its inaugural year, 2010, to screen the world premiere of his Darkness on the Edge of Town concert film. This past weekend, the director returned for the 6th annual DOC NYC with another first: his new documentary, The Ties That Bind, debuted on the big screen to a packed house Saturday night at Chelsea's SVA Theater. Introducing the doc, Thom kept it brief but with some very important instructions: "It's great to see so many Bruce fans here, I'm excited to share this with you... let's play it loud."
The Ties That Bind forms a trilogy with Zimny's Wings For Wheels (2005) and The Promise (2010), each film about the creation of a Springsteen album: Born to Run, Darkness, and now The River. Despite clear connections between them — all tales of record-making, struggling to capture a sound, a theme, a cohesive statement — The Ties That Bind plays differently. We've known for years that the kind of studio footage we saw in the first two docs simply doesn't exist for The River. But rather than hindering the storytelling, that obstacle pushed Zimny to find a different way in, giving us a film that's very much rooted in the now, placing front-and-center Springsteen's recollections, insights, and relationship with material that he wrote and recorded half a lifetime ago.
Thanks to stills and footage from the Joel Bernstein and Barry Rebo archives, there's no shortage of imagery from the 1979-1980 era. And some of it is punch-your-friend-next-to-you astounding: Bruce leading the band at Max and Becky Weinberg's wedding, for instance, and angles from Tempe that we won't see in the concert film. Zimny also makes room for tributes to Clarence Clemons and Danny Federici along the way, making the most of his access to multi-tracks to isolate and highlight their playing.
The Ties That Bind's greatest strength, though, is the intimate conversation with Springsteen, the only voice in the film, reflecting on The River and playing its songs. An impromptu performance of the last verse of "Point Blank" was the hold-your-breath emotional center of the film for me; for a friend it was the acoustic "Independence Day." For you it may be something else — placed at the end of the film as it was at the end of the record, Bruce's performance of "Wreck on the Highway" surprised even Zimny, who said during the Q&A, "I never expected him to sing that." Zimny captures lightning in a bottle here, and it strikes more than once. Rather than marking time or conspicuously taking the place of vintage footage, the performances are compelling, illustrative, and feel well worth revisiting.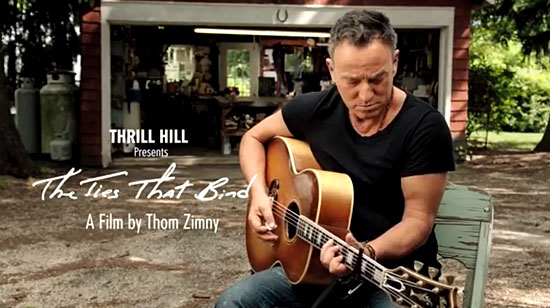 "As an editor," Zimny said after the film, "I rely on the things that are not planned — the mistakes are sometimes the things to keep in the cut." The film even opens with a bit of a goof, setting a tone right away that this is both an intimate and off-the-cuff undertaking. But even as spontaneous as Bruce's monologues may be, the depth of thought is clear, as usual. Right up top, Zimny finds and places Bruce's ruminations on his 30-year-old self struggling to make connections outside his art, a line of thought that becomes the documentary's thesis:

This is what was holding society together, these imperfect ideas of how people connect and relate to one another, or don't. So I wanted to be a part of that. I don't want to be just outside looking in. I don't just want to be a commentator... I don't want to be the observer. I want to be an active part of it. That's a lot of what I was telling myself on The River. The ties that bind: how do you make that... how does that happen? How do people come together, fall apart? I want to be a player. Up to that point in my life, I hadn't had the courage to do that. Or I'd tried and failed so quickly that it didn't add up. So part of The River was trying to find the courage to put my feet in, to jump in with both feet and experience those things myself.
As the film progresses, Bruce sets the scene: moving to the Telegraph Hill farmhouse, which "sat on 160 acres, cost 700 bucks a month to rent... I started to write for The River." He describes how "living in the country" and the "bucolic landscape" affected the songs, along with the fact that he was listening to artists like Roy Acuff, Johnny Cash, George Jones and Tammy Wynette. He describes, after seeing The Ramones at the Fastlane, writing "Hungry Heart" for them "before I went to bed that night," and offers insight into the song's humor: "'We fell in love, I knew it had to end' — that's funny." There's a good bit of reflection on the scope of the sprawling double album, the mixing of ballads with their "glorified bar band" music, taking inspiration from the recordings of Gary U.S. Bonds and finally getting on wax the kinds of songs that made the E Street Band's live shows so thrilling. "I captured my characters," Bruce says, "and I also captured the music they listened to."


As with Zimny's previous documentaries, much of the story revolves around Springsteen's struggles to craft his next statement. The Ties That Bind tallies the number of songs under consideration as it goes along — at one point we're looking at 95 solo demos, 104 E Street Band demos — and Springsteen boils down how he ultimately comes up with a record: "I finally come out with ten songs I can stand." Zimny puts several recordings to good use, including a segment of the album's title track in demo form, with alternate lyrics.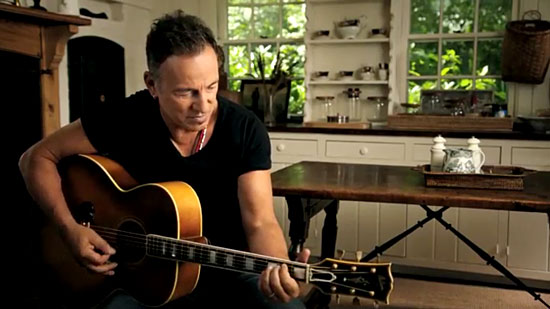 But what the film keeps coming back to is Springsteen's personal struggles at the time, his tendency toward isolation and a growing feeling that he had to figure out how to make connections — especially as members of the E Street Band ("still very much 'the Lost Boys' at the time") were entering adult relationships around him. "I only had music. And if I wasn't doing that right, I didn't know what I was doing on the planet." As Bruce tells it in the doc, The River was his way of imagining his way into a community, the idea of marriage and children, shared lives, and envisioning how to make that real. "A creative life," he reflects, "an imagined life... is not a life."


Is there some revisionist history? Sure, there must be. Thirty-five years and who knows how many therapy sessions later, Springsteen's perspective on that time is as shaded as anyone's would be. But that allows for insight that he might not have been able to articulate at the time. Describing the process with his production collaborators Steve Van Zandt (who liked things "noisy and trashy") and Jon Landau (who appreciated a "classic formality"), Bruce is direct about using their differences to get what he needed: "I would set them up against each other. And I would find my happy medium." And while I find myself, after the fact, curious to hear what players like Landau and particularly Steve Van Zandt might have to say about The River sessions, well, as the saying goes, that's a different story.

Zimny describes The Ties That Bind as a "quiet" film, and in its focus on one man, at home, reflecting on the past, it is; it's also an extremely compelling, at times exhilarating sit-down with a great artist, lucidly recalling his confrontation with the idea that "someday these childish dreams must end... to become a man and grow up to dream again."

After the film's credits, the New York audience was treated to another first, an unseen complete song from the companion concert film, Tempe 1980. "Out in the Street" was a raucous, three-minute blast, complete with big theater sound and Bob Clearmountain's glorious mix from the multi-track audio tapes, culminating with Bruce and Miami Steve at center mic.

Tuesday night in West Long Branch, NJ, Thom Zimny will be on hand for another screening of the documenatry, its New Jersey premiere. Presented by Backstreets, the Friends of the Bruce Springsteen Special Collection, and the Monmouth University Center for the Arts, this special November 17 preview screening will also have something no one else has seen: Thom will be extending the program with an hour-long cut of the Tempe 1980 film on the big screen, for the first and perhaps only time — no other such showings are currently planned. Just a few tickets remain; click here for more information and to secure a spot for Tuesday night. Hope to see you there — we'll play it loud.
- November 16, 2015 - Christopher Phillips reporting


ANOTHER TEMPE 1980 PREVIEW: "THE RIVER"
After we premiered Tempe 1980's "Ramrod" earlier this month, NPR now offers the second full song clip from the Ties That Bind concert film: "The River." As Bob Boilen writes for NPR Music's All Songs Considered, "It takes a good 45 seconds before you see a glimpse of Bruce playing the opening harmonica line, and then almost another 20 to see his young body and mutton chops in focus, but the tension is worth it and the performance is sensational."
Pre-order The Ties That Bind (DVD) with exclusive postcard pack
Pre-order The Ties That Bind (Blu-ray) with exclusive postcard pack
- November 16, 2015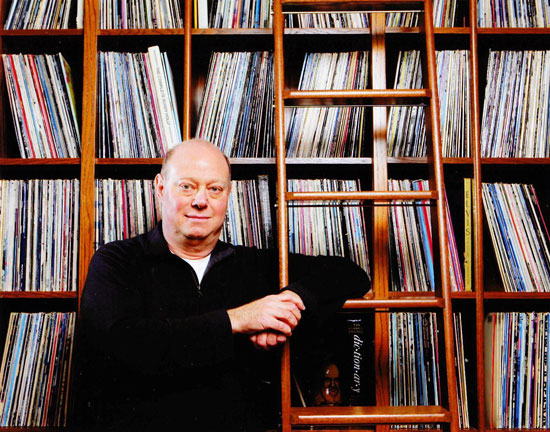 PRESENTING JOHN SCHER: THE BACKSTREETS INTERVIEW
One day in the early '70s, says John Scher, Bruce Springsteen and Steven Van Zandt called him and asked if they could stop by his East Orange, N.J. office.
"I said, 'Yeah, sure.' They were friends,' " remembers Scher, who was already on his way to becoming New Jersey's leading concert promoter of the '70s and '80s. (He still presents concerts in New Jersey and New York through his company, Metropolitan Entertainment.) "And they came to my office. We chatted, and they said, 'Listen, we'd like you to consider being our manager.' And it was very much 'our' at the time, still."
Mike Appel had not yet come into the picture. They were still being managed by Tinker West.
"We talked about it. And I loved their music. Loved it, loved it, loved it. There's nothin' not to love. You'd have to be fuckin' dead from the shoulders up if you didn't love what they were doing. I said to them, 'What about Tinker?' And they said, 'If we work with you, that's gonna be your first job. You've got to get us out of the Tinker contract.' So I said, 'Is there really a contract?' In my own mind, I fantasize that they told me it was like on a napkin or something. But I don't really remember. It certainly wasn't any kind of formal, written contract that would stand up in court.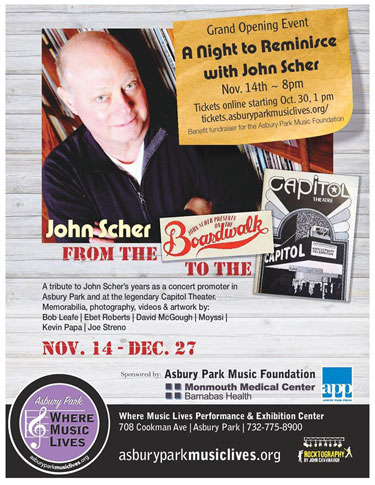 "But they weren't going to go to court. This is their good friend, but they figured that he didn't have the relationships and the connections to move them forward. And even though I was still sort of in my rookie season, I knew more than Tinker did. And they figured that out. And I remember saying, 'Guys, I love you. I love your music. But if you're gonna fire Tinker, you need to fire him. You can't send me to fire him. It's just not right.'
"So, actually, it was never discussed again."
They continued working together, though. Scher was one of Springsteen's first major allies in the music business, though his importance hasn't always been recognized in Springsteen biographies.
Beginning this Saturday, November 14, an exhibit at the Where Music Lives Performance & Exhibition Center in Asbury Park will give the promotor his due. Backstreets asked him to talk in depth, for the first time, about his relationship with Springsteen and the many shows he promoted for him from the early '70s to the early '80s, and he agreed.
Continue reading
'Presenting John Scher: The Backstreets Interview'
- November 13, 2015 - Jay Lustig reporting

BONDS, BOWEN AND MORE NEXT WEEK AT BAR A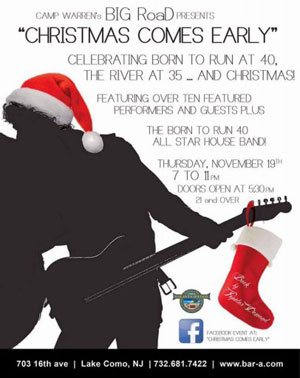 On Thursday November 19, "Christmas Comes Early" to the Jersey Shore, as Bar Anticipation in Lake Como, NJ, will host an all-star benefit celebrating not only the holiday season, but the 40th anniversary of Bruce Springsteen's Born to Run and the 35th anniversary of The River.
The event line-up includes such Jersey Shore favorites as Gary U.S. Bonds, Jobonanno and soulman J.T. Bowen, and all performers will be backed by an "All-Star" house band including the usual assortment of supporting players from the Asbury Jukes, Kings of Suburbia, Holme and others.
The show will benefit the Light of Day Foundation and Holiday Express. Visit the Facebook event page for further information.
- November 13, 2015 - Lisa Iannucci reporting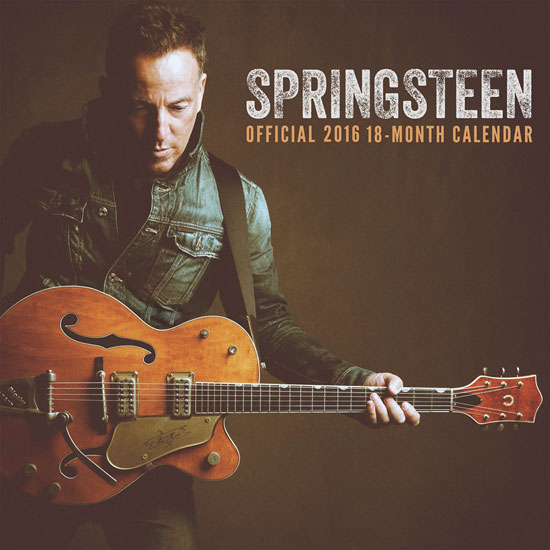 SPRINGSTEEN CALENDARS FOR THE NEW YEAR IN STOCK NOW
After taking 2015 off, Thrill Hill is back with an official Bruce Springsteen wall calendar for 2016, featuring some beautiful portrait photography by Danny Clinch. We've got 'em.
- November 12, 2015

NILS LOFGREN CELELBRATED FOR "OUTSTANDING CONTRIBUTION"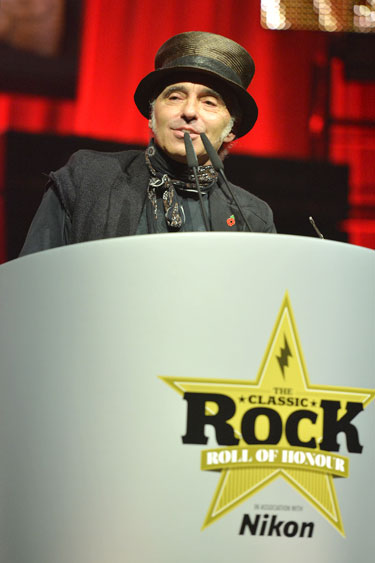 Congratulations to Nils Lofgren, who picked up a big honor at last night's Classic Rock Awards at the Roundhouse in London. Said Nils: "So honored to receive Classic Rock Mag's Outstanding Contribution Award and share the night with Amy and so many great musicians and friends, especially Andy Newmark, my award presenter. The UK has always been a magical music community to me and a second home to perform in. Amazing night!"
The Classic Rock Roll Of Honour is an annual program established in 2005 by Classic Rock Magazine. Each year, the Outstanding Contribution award "toasts the towering figures who have straddled their era, shaken the scene, left their fingermarks on a stellar catalogue and safeguarded the spirit of rock as it rolls on through the decades." Previous recipients include Jeff Lynne, Bob Ezrin, John Paul Jones, Ronnie Wood, and Jeff Beck. As Classic Rock Editor Siân Llewellyn put it, Nils Lofgren is "an artist whose rock 'n' roll résumé is second to none."
The timing was good for Nils to accept the award in person, as he's currently on tour in the UK, where he's playing shows through November 22. See nilslofgren.com for dates and details.
- November 12, 2015 - photograph by Kevin Nixon


TRAV'LING IN THE FOOTSTEPS...
For Allen Toussaint (1938-2015)..."When the Saints Go Marching In" performed by Bruce Springsteen and the Sessions Band at the New Orleans Jazz & Heritage Festival, April 30, 2006: "It's an honor to share the stage tonight with greats like Allen Toussaint... So much of the roots of the music we play here tonight were born right here in this great mother-city of American music."
- November 11, 2015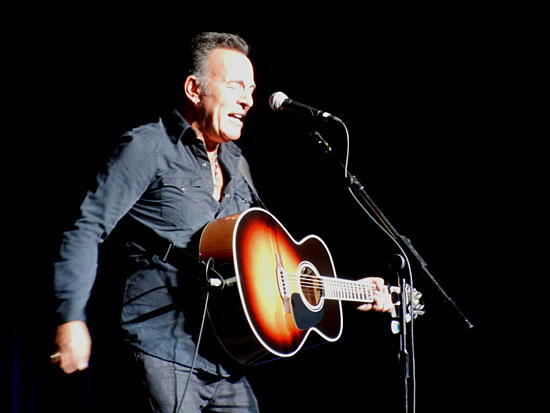 STAND UP FOR HEROES 2015: FOR YOU, ON VETERANS DAY EVE
For the ninth year in a row, Bruce Springsteen played the Stand Up For Heroes benefit in New York last night, saluting injured soliders on Veterans Day Eve and supporting the Bob Woodruff Foundation. Following sets from comics Seth Myers, Ray Romano, John Oliver and Jon Stewart, who introduced him, Springsteen played a four-song acoustic set: "For You", "Darlington County" [video], "Working on the Highway" [video], and "Dancing in the Dark." Of course, this being a New York Comedy Festival event, Bruce also threw in his own requisite dirty jokes along the way.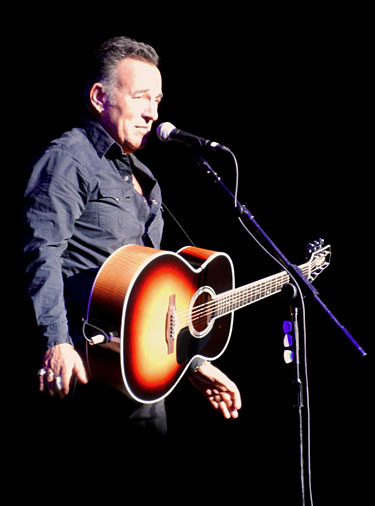 Auctioning off a package consisting of a signed Stratocaster, "the best seats in the house" and a chance to go backstage at a future E Street Band concert — that phrase being good news in and of itself — Bruce eventually threw in his mother Adele's lasagna, bringing in tied winning bids of $370K, raising $740K right there. But "bring your own drugs, because the band doesn't like to share." A Harley Davdison — which Bruce rode out onto the stage — also went for $100K.
The Bob Woodruff Foundation's mission is to ensure injured veterans and their families are thriving long after they return home; they find and fund innovative programs in communities where veterans, their families and caregivers live and work. Learn more and support the cause at bobwoodrufffoundation.org.
- November 11, 2015 - photographs by William Borner

"THEY HAVEN'T BEEN FORGOTTEN"
New book on music of the Vietnam War, including Springsteen's

In both his art and his activism, Bruce Springsteen has long maintained a stance of opposing wars while simultaneously supporting and sympathizing with the men and women who fight in them. Springsteen's stance, which will be evident once more with his presence at tonight's Stand Up For Heroes event, can be traced directly to the Vietnam War, an event that had a deep, lasting impact on his life. Bruce lost several friends to the war and, but for an injury sustained in his late teens, most likely would have been drafted himself.
From his first album's "Lost in the Flood," which opens with a young Vietnam veteran returning home to a nightmarish society riddled with violence and repression, to his most recent album's "The Wall," inspired by the wartime deaths of friends and fellow musicians Walter Cichon and Bart Haynes, the Vietnam War and its aftermath remain major themes in Bruce's music. They continue to hold a heavy influence over his social activism, as well.
Doug Bradley and Craig Werner's new book, We Gotta Get Out of This Place: The Soundtrack of the Vietnam War, explores in depth how and why U.S. troops used music to cope with the complexities of the U.S.-Vietnam War both during their time of service and after returning home. Bradley is a Vietnam veteran, journalist and educator. Werner is a writer and educator whose book A Change Is Gonna Come: Music, Race and the Soul of America was named 1999 Book of the Year by UNCUT Magazine. The authors also collaborate in teaching a course on music, media and the Vietnam War at the University of Wisconsin-Madison.
The book's narrative strength is derived from Bradley and Werner's gathering of personal reflections contributed by a diverse array of Vietnam veterans: black and white, Latino and Native American, men and women, conservative and liberal, officers and "grunts." The vets talk about the records that helped them to process and survive their experiences, and Bradley and Werner supplement the vets' reflections with commentary from many of the musicians who created those records.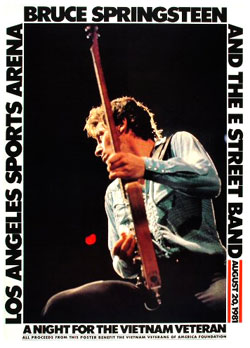 Not surprisingly, the book includes material on Bruce Springsteen's music and activism centered around Vietnam veterans. Bobby Muller, who co-founded Vietnam Veterans of America, recounts Springsteen's now-famous "A Night For The Vietnam Veteran" concert towards the end of The River Tour. (Muller not only was there; he was introduced to the audience by Bruce and given the opportunity to deliver a brief, moving speech just before the concert began.) "When he did that [concert]," Muller recalls, "no joke, he took us out of the shadows and put us in the light of day, made us okay publicly — gave us [Vietnam Veterans Of America] one hundred thousand dollars, a staggering sum of money.... If it wasn't for Bruce coming forward, there would not have been a coherent, national movement on behalf of Vietnam vets."
Bradley and Werner's book has its roots in "The Vietnam Vets' Top 20," a list of the records most frequently mentioned by vets during the authors' initial set of interviews, including Springsteen's most famous Vietnam War-themed song: "Born in the U.S.A." In the spring of 2010, Craig and Doug presented and discussed each record on their initial list at the LZ Lambeau "Welcoming Home Wisconsin's Vietnam Veterans" weekend gathering, which was held inside Lambeau Field, the Green Bay Packers' football stadium. ("LZ" stands for "landing zone," a term that became all too familiar to soldiers in Vietnam with the proliferation of helicopter warfare.) The event, Bradley tells Backstreets, "brought together nearly 70,000 Vietnam veterans and their families.... During our presentation, many heads nodded and many lips moved in sync as we played a bit of 'Born in the U.S.A.'"
Werner adds, "The vets we've talked to have consistently expressed their appreciation and understanding of what Bruce was doing with 'Born in the U.S.A.' No one mistook it for flag-waving jingoism. They understood the struggles and the fight against going under all too clearly; several talked about their own versions of the 'little hometown jam.' But above all, they knew what it meant to be ten or twenty or thirty years down the road, and they knew that way too many guys hadn't found their way home. At LZ Lambeau, the playing field was filled with empty chairs, one for each vet killed in Vietnam. But one of the most moving moments came when Native American vet Jim Northrup, who gave what to my mind was the most powerful speech of the event, reflected on the fact that at least as many vets had died of suicide, one-car accidents, drug, alcohol or Agent-Orange-related health problems since they came back. I think that's what they hear in 'Born in the U.S.A.:' an acknowledgment that they haven't been forgotten and their story didn't end with the fall of Saigon."
For more information on We Gotta Get Out of This Place, including where to buy the book and upcoming events featuring Doug Bradley and Craig Werner, visit wggootp.com, the book's official website.
- November 10, 2015 - Shawn Poole reporting

JOHN SCHER: FROM THE BOARDWALK TO THE CAPITOL THEATRE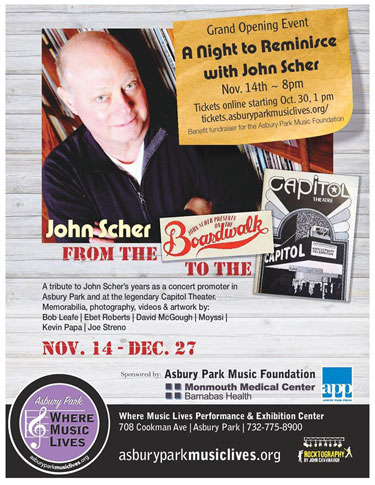 On display this Saturday, November 14, through December 27 at the Where Music Lives space on Cookman Avenue in Asbury Park will be a new exhibit highlighting the extraordinary career of concert promoter John Scher and his work in Asbury and at the Capitol Theatre in Passaic. Scher, of course, promoted numerous Bruce Springsteen and Southside Johnny concerts, including some storied nights at the Capitol Theater and the E Street Band's arena-opening stand at the Meadowlands in 1981.
The new exhibit will feature photographs, video and memorabilia featuring the work of Joe Streno (The Rise and Fall of the Clash), Ebet Roberts and others. Scher will be in Asbury Park for the exhibit's grand opening event this Saturday and will head a guest panel discussing his work in the context of the New Jersey music scene of the 1970s. Proceeds from "A Night to Reminisce with John Scher" will benefit the Asbury Park Musical Heritage Foundation.
- November 9, 2015 - Lisa Iannucci reporting


HBO AIRINGS OF TIES THAT BIND DOC TO LAUNCH ON BLACK FRIDAY
If you have HBO access, you may be feeling especially grateful on Thanksgiving weekend. On Friday, November 27, at 9pm ET, HBO will present the small-screen premiere of The Ties That Bind; Thom Zimny's new documentary about the making of The River will then be available across various HBO channels and outlets, including its online and on-demand services. Click here for additional airdates and information.
Of course you don't have to wait until Black Friday to see The Ties That Bind if you can make it to West Long Branch for our special preview/benefit event a week from tomorrow, on Tuesday, November 17. Zimny himself will be there to present The Ties That Bind on the big screen in Monmouth University's Pollak Theatre. Even better, this NJ premiere of the doc will be accompanied by an exclusive, hour-long cut of Bruce Springsteen & The E Street Band: The River Tour, Tempe 1980, premiering much of that concert footage. We're gonna crank it. Some tickets (reasonably priced at only $15 each) remain available at Monmouth University's box office, via phone (732-263-6889), or online. Get yours before they're gone.
- November 9, 2015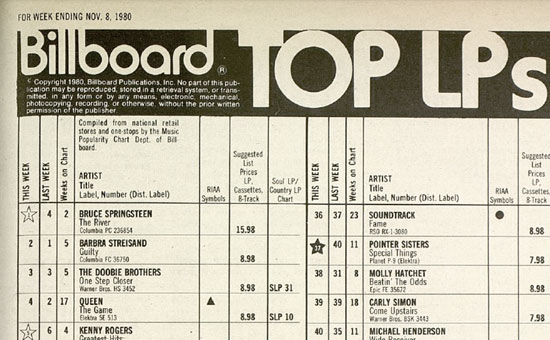 THIS DAY IN BOSS HISTORY: RIVER EDITION
On Thursday, we celebrated the 35th anniversary of Tempe 1980 with "Ramrod"; mere days after that powerhouse show, The River reached #1 on Billboard's Top LPs chart. For the week ending November 8, 1980 — 35 years ago today — the double album jumped from its debut slot of #4 to unseat Guilty and become Bruce Springsteen's very first #1 record. (Though Barbra Streisand would have her revenge on Springsteen: after four consecutive weeks in the top slot, The River was knocked back out of it by Babs's mountain-climbing smash.) That night, Bruce and the E Street Band played their next stop after Tempe, saluting new President-elect Ronald Reagan with "Hail to the Chief" during the band intros at Reunion Arena in Dallas, TX.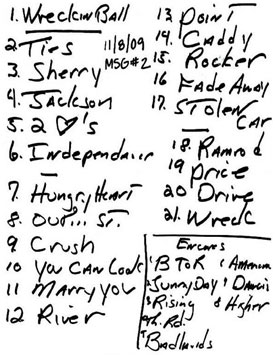 On November 8, 2009, coincidentally 29 years after The River hit the top of the charts, Bruce and the band played the four sides' full sequence in New York City as the Working on a Dream tour neared its end. As we wrote at the time:
"Context has always been important to Bruce Springsteen's music, and he reinforced that notion with a galvanizing performance of The River in its entirety for the first time on Sunday night at Madison Square Garden. In a precise, exhilarating, and high-energy show, Springsteen faithfully reproduced all 20 of its songs. Most have appeared in shows on various tours since the album's 1980 release, and usually to great effect. But hearing the songs in their original order left many in the building gasping in astonishment."
Even after the high bar of the first full Wild & Innocent show the night before, the River performance was a stunner, the first and only time to date that they've attempted it. As Bruce said that night, "It's too long to do it again!" Listen to the entire November 8, 2009 show here.
- November 8, 2015

FOR THE RECORD
On November 5, we described Bruce Springsteen setting up "Ramrod" as "the lead in a series of goodbyes, casting that entire LP side... as 'summational.' Until that detail was revealed in the initial coverage of the new box set, one might never have put two and two together quite that way."

We stand corrected. As Telecaster75 points out in a good discussion on BTX, Dave Marsh wrote this, well before Springsteen made that "summational" observation in The Ties That Bind documentary:

"Any of these songs [on side 4] could have ended the album, 'Ramrod' on a note of false ecstasy, 'The Price You Pay' with unconvincing optimism, 'Drive All Night' with overblown yet poignant romanticism. Yet it's 'Wreck on the Highway' which does end it, and in doing so redeems them all — the finest example of the way these songs work together to make their points. These songs close the album one after another, like a series of shades being drawn, doors being pulled shut, lights being snapped out. Each of them is a farewell."
- November 8, 2015

BRUCE SPRINGSTEEN AND THE E STREET BAND 1975 UPDATE
Author Barbara Pyle now signing for Backstreets customers!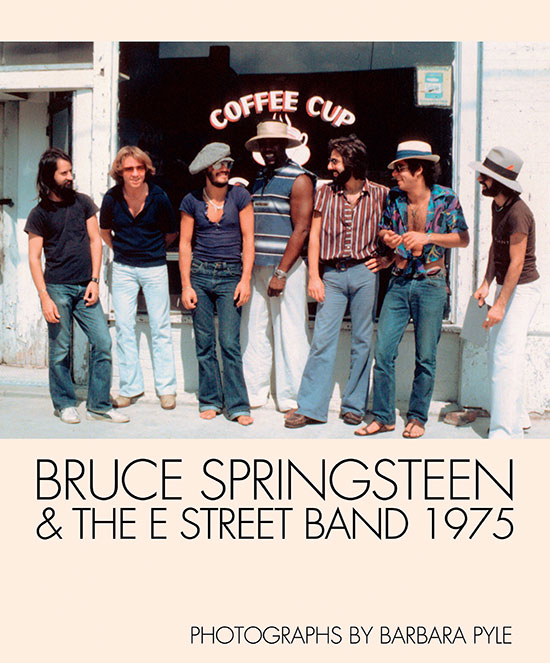 A couple days ago, we offered a look inside Barbara Pyle's forthcoming Bruce Springsteen and the E Street Band 1975, a stellar hardcover collection of her Born to Run-era photos due later this month, and started taking pre-orders for it.
As our regular readers know, we've had quite a run for the past decade of being able to offer Bruce books signed by their authors... but with Barbara in Atlanta, Backstreets in North Carolina, and the book's publisher Reel Art Press in London, the signing logistics were proving just too difficult.
Or so we thought. "If they put up a roadblock, I'll parachute in...." Bookplates to the rescue!
Thanks to Tony Nourmand at Reel Art Press, which is now designing and printing custom archival bookplates specifically for us, and to Barbara, who'll be autographing each one, we'll be able to add another signed book to your Springsteen shelf. We did this with Ryan White's Springsteen: Album By Album too (White lives in Oregon), and the result was a rocker.
If you already placed your pre-order, don't worry, you'll get one of these too — all pre-orders of 1975 will ship with an affixed bookplate signed by the author/photographer.
- November 5, 2015

RAMROD, 35 YEARS AGO TONIGHT!
First look at a full song from Tempe 1980, a Backstreets exclusive
One month and 20 shows into his 1980 tour, Bruce Springsteen took a turn east, from Los Angeles to Arizona. The River, his new two-LP set, was set to top the charts as his first #1 record, which should have put anyone in the best of moods. And even though he was about to play to a Phoenix audience that had supported him going back to 1974, something must not have been sitting well with him as the sun came up on November 5. On stage that night in Tempe, he would tell the crowd, "I don't know what you guys think about what happened last night, but I think it's pretty frightening." It was the day after the landslide election of Ronald Reagan.
That historic event and the performance it helped inspire have been central threads in the Tempe 1980 story. Another is the knowledge that footage of the legendary concert existed, the missing counterpart to the multi-track audio used just once, for "Badlands" on Live/1975-85.
Now, for the first time anywhere, 35 years later to the day, fans can see a complete song from the fabled concert. The film itself, part of the anniversary box set The Ties That Bind: The River Collection, comes out on December 4. In an exclusive first look, we present an excerpt from that two-hour-and-40-minute Tempe 1980 concert film: not "Hungry Heart" or "Badlands," but "Ramrod."
"Ramrod" has always stood out. It was among the first River songs Bruce Springsteen performed (in Pittsburgh, one of the last stops on the 1978 tour), and it was the last great stretch of rock on the album. Its concert arrangements have varied, from straight-down-the-middle on the River tour, to acoustic rave-ups, whether solo in 2005 or with the Sessions Band in 2006. As recently as last year, anyone who wants to know the time will find out soon enough after Bruce tells the E Street Band, "Let's roadhouse!"
On The River, Springsteen set up "Ramrod" not as a rambunctious, pile-driving encore, but as the lead in a series of goodbyes, casting that entire LP side — the last of four, rather than the two he had intended only a year before — as "summational." Until that detail was revealed in the initial coverage of the new box set, one might never have put two and two together quite that way. But it was that attention to detail, sometimes woven into songs that might otherwise come off as simple rockers, with which The River cut a deep bed.
Few songs typify the 1980 E Street Band better than "Ramrod." To the car, the girl, and the story arc, Bruce joined a live-in-the-studio sound he'd been seeking, including a rich Clarence Clemons solo and the complementary work of Roy Bittan and Danny Federici. Max Weinberg called it his favorite song to play. As the tour went on, "Ramrod" gained prominence, often serving as the set-up for "Rosalita."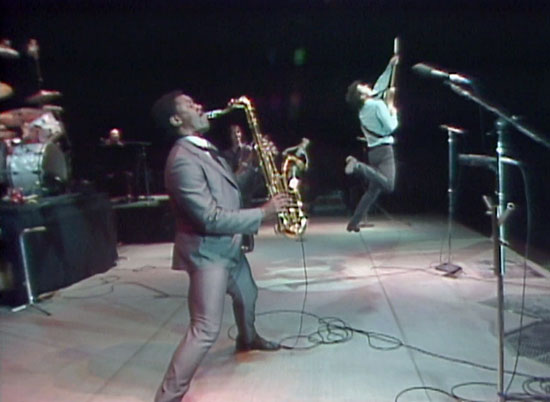 Watching it 35 years later, the first thing one notices about "Ramrod" is the array of wonderful viewing angles. Director Thom Zimny says that a four-camera crew captured the evening's proceedings. Numerous vantage points, including wide shots from the back of the floor, show a vintage performance in ways no other video release has before Tempe. One might easily conclude more than four cameras were present: they seem to be everywhere.
That results in stunning moments, from a zoom to the audience through the Big Man's wide stance, to a close-up of Bruce and Miami Steve at the mic and Bruce's fancy footwork at the end. The interplay between the band members is remarkable, and so is the plain-as-day fact that they're having fun up there. For any longtime fan, the ability to watch what was previously only a listening experience is astounding.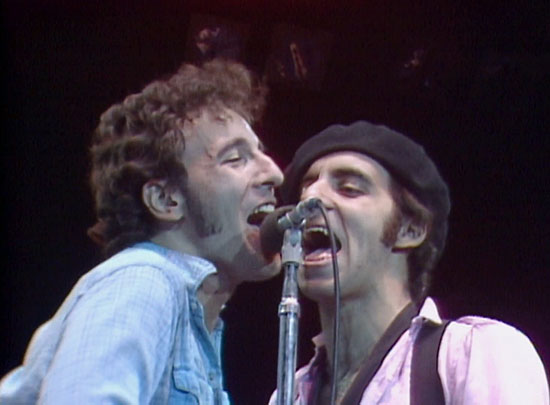 In part, Tempe's legend stems from its availability: a decent soundboard recording of this night has long circulated among fans (though it can't compete with Bob Clearmountain's new juggernaut mix from the original multi-track audio tapes). And speculation about the existence of a video component has bolstered its reputation. But the show's rep (Springsteen performed 18 of the new LP's 20 songs in Tempe), and a clamoring for footage, ultimately comes down to the intensity of the performance.
As he's told it over the years, Springsteen wasn't exactly enthused about being filmed, fearing interference with his audience. But it's good that he tolerated it to the extent that he did; 35 years later, we have a treasure on our hands. Tempe captures a transition, a moment where Springsteen was still largely content to let the music do the talking for him.
Watch "Ramrod" a time or two, and that becomes apparent. A film crew can't hurt, it turns out; elections and hit songs come in handy, too (at the time, "Hungry Heart" was well on its way to becoming Bruce's first Top Ten hit). More than anything, what shines through is the pure, unadulterated joy of Bruce Springsteen and the E Street Band playing rock 'n' roll, like they could do it 'til half-past dawn.
- November 5, 2015 - Jonathan Pont reporting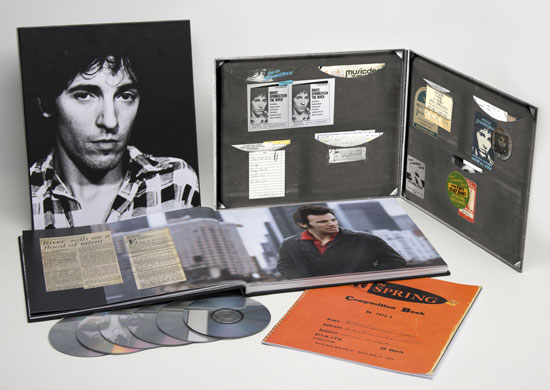 The Ties That Bind: The River Collection, which includes the Tempe 1980 concert film with more than two-and-a-half hours of the 11/5/80 performance, is just one month away. Click here for more details about all of the box set's contents. Update/reminder: Tickets are now available for our November 17 The Ties That Bind Preview Screening, featuring a special one-hour big-screen cut of Tempe 1980 presented by Thom Zimny himself. Click here for details.
Pre-ordering now from Backstreet Records not only guarantees you quick delivery of the box at 5% off list price, you also get an exclusive set of postcards featuring portraits of Springsteen by The River photographer Frank Stefanko [image detail below], outtakes from the cover session. The postcard pack is FREE with all pre-orders, and only from Backstreets.
Pre-order The Ties That Bind (DVD) with exclusive postcard pack
Pre-order The Ties That Bind (Blu-ray) with exclusive postcard pack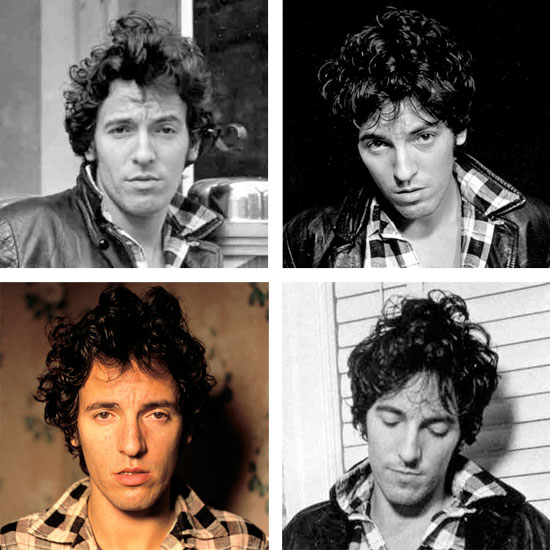 - photographs by Frank Stefanko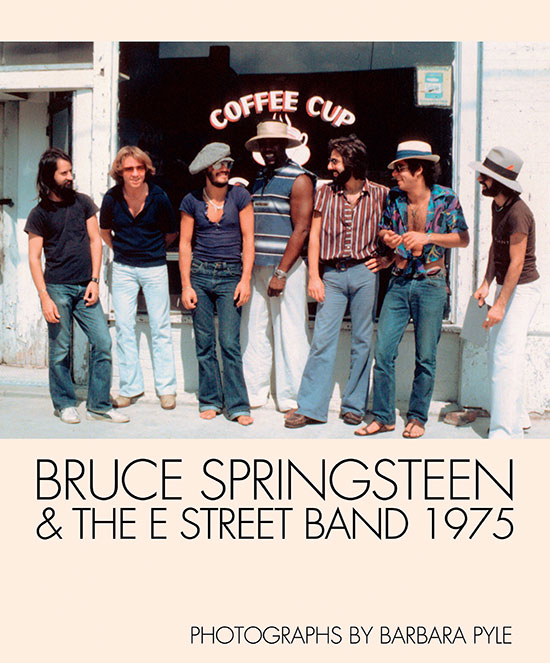 THIS MONTH, BARBARA PYLE TAKES US BACK TO 1975
Treasure trove of Born to Run-era photographs due November 23
The photography of Barbara Pyle is already familiar to many Springsteen fans and Backstreets readers: you've seen her images in both the 1989 and 1992 editions of the Backstreets books, in Talk About a Dream, and certainly, thanks to her kindness and love for the Big Man, all over our Clarence Clemons tribute issue. But you've still never seen this much of it. Packed with more than 150 color and black-and-white photographs, many of them never published, Bruce Springsteen and the E Street Band 1975 is a jewel of a hardback celebrating the 40th of anniversary of Born to Run.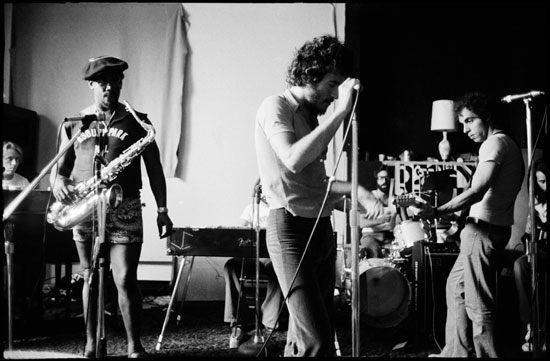 Due November 23 from Reel Art Press, Pyle's first such collection will be a must-have for fans of Bruce and the band. Eric Meola, who wrote the book's foreword, calls it a "monumental piece of rock photojournalism... without question the best book of photographs ever done of a rock band 'in the beginning.'"
Last week, Rollingstone.com offered a peek inside the forthcoming book; here, we have another. As you can see, Pyle was one of those rare photographers to be granted studio access, in addition to capturing her subjects in intimate moments on the road, onstage and off. As she writes, "I drove to as many of their gigs as I could reach. They jokingly started calling me their 'official unofficial photographer.' I was just expected to be there, and I almost always was... I knew I was witnessing history in the making."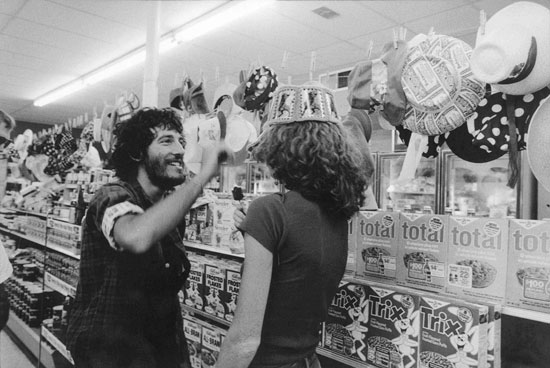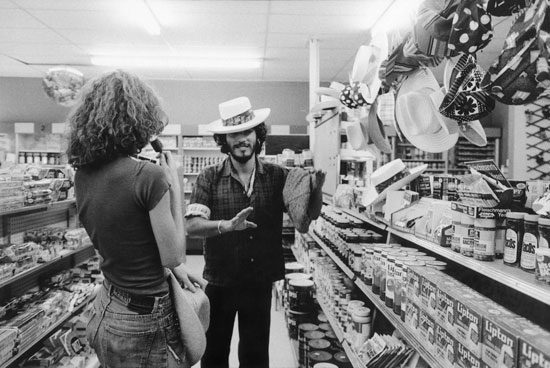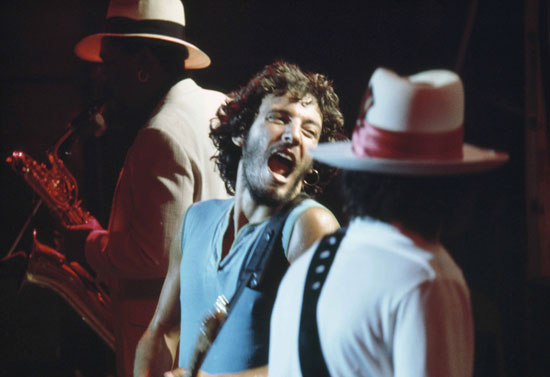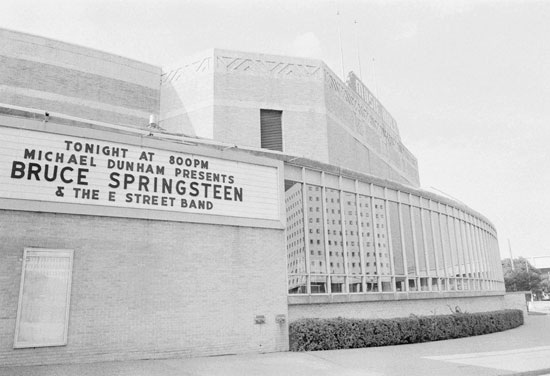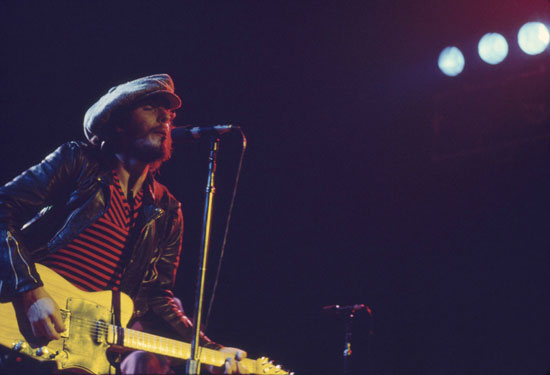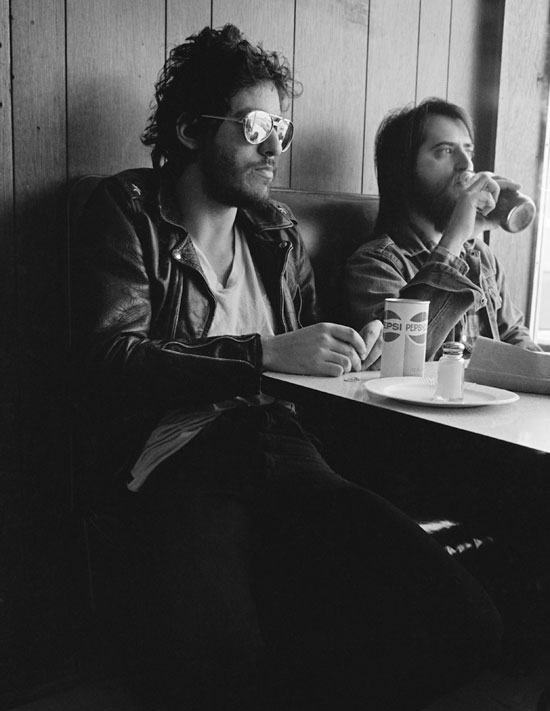 Pre-order now from Backstreet Records for 10% off the list price
This 228-page hardback will make a perfect holiday gift; we'll ship out all pre-orders immediately upon the book's release later this month.
- November 3, 2015 - all images ©Barbara Pyle/Reel Art Press

JOIN US IN JERSEY FOR THE TIES THAT BIND SCREENING, 11/17
Zimny to show Ties doc and an hour of Tempe at Monmouth U
The Friends of the Bruce Springsteen Special Collection, along with Monmouth University and Backstreets, announce a special event to celebrate the 35th anniversary of the release of The River and the forthcoming release of The Ties That Bind: The River Collection box set.
Just a few days after the world premiere of filmmaker Thom Zimny's The Ties That Bind at DOC NYC, the documentary will show on the big screen in West Long Branch, New Jersey. We hope you'll join us at Monmouth University on Tuesday, November 17 for A Celebration of Bruce Springsteen's The River: The Ties That Bind Preview Screening. Along with the 60-minute doc, we'll also get to see an extended preview of the Zimny-edited Tempe 1980 — an hour-long cut — a few weeks before the documentary and the full concert film are released as part of the River Collection box set. Zimny himself will be on hand for the screening at Monmouth's state-of-the-art Pollak Theatre.
Tickets are $15 and go on sale on Wednesday, November 4 at 10am; all proceeds will benefit both The Friends of The Bruce Springsteen Special Collection at Monmouth University. You can purchase tickets by going to the Pollak Theatre box office, telephoning 732-263-6889, or visiting monmouth.edu.
- November 2, 2015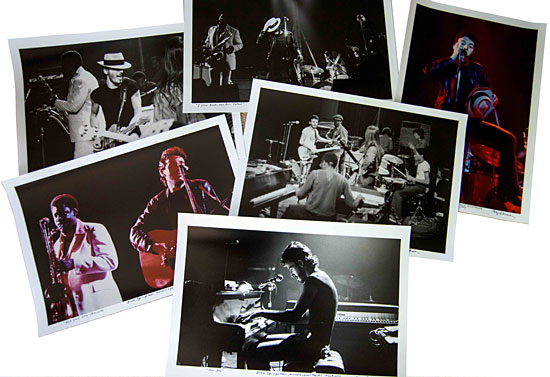 MOVE ON UP!
Last chance to get Backstreets prices on Barry Schneier's photography before we lose him to the big leagues
There's less than a week left to purchase Barry Schneier's historic Bruce Springsteen photos from Bruce's legendary "I saw rock and roll future and its name is Bruce Springsteen," Harvard Square May 9, 1974 performance at special Backstreets pricing.

This archival ink jet print series, which Barry has made available to the Backstreets community, will end this Thursday, November 5, and no longer be available at these prices. Barry's work will then be available through our friends at Morrison Hotel Gallery, which will also feature limited edition, silver gelatin prints of his work for collectors and fine art photography enthusiasts.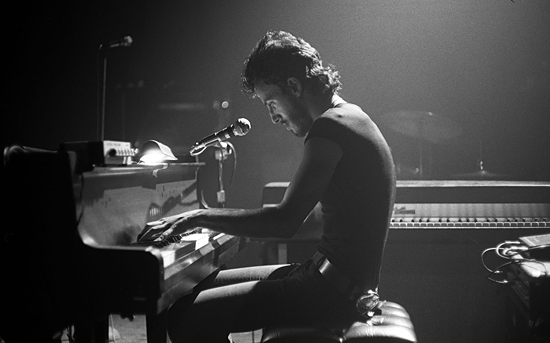 In need of a "next level" holiday gift for a fellow Springsteen fan? This could be just the thing. But whether it's for yourself or a friend, this is your last chance at these prices (starting at just $160), which will be increasing in short order. For those of you who have already snapped something up... thank you, you can feel particularly good about the price you paid, and you can join us in saying "we knew him when." And for those of you who haven't, get 'em while you can.
- November 2, 2015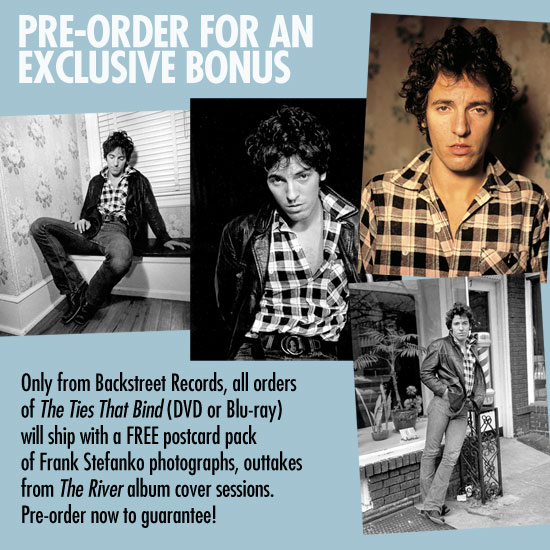 Pre-order The Ties That Bind (DVD) with exclusive postcard pack
Pre-order The Ties That Bind (Blu-ray) with exclusive postcard pack