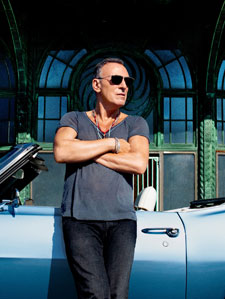 Backstreets:
Living it every day
since 1980
By fans, for fans: Backstreets magazine has been covering the music of Bruce Springsteen and Jersey Shore artists for 43 years.
At Backstreets.com, the online home of Backstreets Magazine, you'll find regular updates with the latest Springsteen news to keep you up to date between issues — recording activities, performances, setlists, and more.
Backstreets is the world's largest community of Springsteen fans but is not directly affiliated with Bruce Springsteen. For Springsteen's official website, visit brucespringsteen.net.
- photograph by Danny Clinch





Take a ride on the Jersey News Turnpike for the latest news from Backstreets about Bruce Springsteen and other Jersey Shore artists. The latest performance reports and setlists, new release information, and other Boss news to keep you up-to-date between issues of Backstreets.

News update:
2/3/23
Setlists update:
6/17/22
Tour info update:
7/19/22



For more information on Backstreets Magazine, including new issue updates, online articles, and back issues. Backstreets has covered Springsteen's recordings and performances more extensively than any other publication in the world since 1980 and received a Music Journalism Award for Best Fanzine.

Latest Issue:
Backstreets #91


BTX was originally set up as a trading post for fans to help each other with tickets, and has since expanded to become a community gathering place. BTX now consists of six forums: three ticket forums; "The Promised Land" for Bruce talk; "The Vineyard" for non-profit music sharing; and "Loose Ends" for everything else.


Check out our online Shop of official and authorized Bruce Springsteen merchandise: tour t-shirts, books, magazines, posters, and imported CDs and records. The world's best selection of Springsteen collectibles, all available by mail.