4th OF JULY, GOTEBORG
Celebrate on Friday with a live broadcast on E Street Radio
Twenty years after the Stockholm live broadcast from the Tunnel of Love tour, Springsteen has another Independence Day offering for his fans, coming to us live once again from Sweden this Friday. On the Fourth of July, as Bruce and the E Street Band play their next stop in Goteborg, SIRIUS Satellite Radio will be broadcasting a portion of the show on E Street Radio (channel 10).
Unlike the July 3, 1988 terrestrial radio event, this won't be the entire set; Dave Marsh will host "the special broadcast of a live July 4th-themed show," according to today's press release, "and will segue into the concert in Sweden to bring listeners selected live songs." The program begins at 1 p.m. Eastern.
SIRIUS recently extended the run of E Street Radio through mid-2009.
- June 30, 2008

BECAUSE THE DAY
belongs to Nils Lofgren!
Happy Birthday to Nils, who turns 57 today, born June 21, 1951.

MORE SUMMERTIME BRUCE FOR THE U.S.
The whole month of August, between the 8/2 Foxboro show and the 8/30 Milwaukee show, has been wide open for a while. As of today, we're looking at an additional 7 tour stops that month. Along with the Hershey and Nashville shows previously reported, Bruce and the band are now scheduled to hit arenas in Jacksonville, Charleston, Richmond, St. Louis, and Kansas City.
Ticket alert: The Hershey show goes on sale tomorrow morning, Saturday, June 21, at 10 a.m.; the rest go on sale next week.
See our Tour/Ticket Info page for full onsale info and links.
- June 20, 2008

MUSIC CITY U.S.A. TO HOST SPRINGSTEEN IN AUGUST
We've got another August U.S. date: just announced, Bruce and the E Streeters will be playing Nashville on Thursday, August 21. And good news for those of us who aren't crazy about gargantuan stadium shows: they're moving back inside for this one (and likely for other August shows yet to be announced), playing the Sommet Center, formerly Nashville Arena, which seats 18,500. Tickets go on sale a week from tomorrow, June 28, at 10 a.m. Central. See our Tour/Ticket Info page for the full current itinerary, more details and links.
- June 20, 2008

CASING THE PROMISED LAND
Springsteen pays tribute to Tim Russert via satellite
At today's televised memorial service for Tim Russert, Luke's "Uncle Tony" (Russert's brother-in-law) performed a beautiful acoustic "Born to Run" in tribute. How do you follow that? Well, Luke and Tom Brokaw had "a little surprise," which Brokaw introduced: "This was the one guest that Tim was never able to persuade to appear on Meet the Press," he said. "But they were great friends, and Tim went wherever he had to to hear him. Ladies and gentlemen, from Europe where he is on tour: The Boss."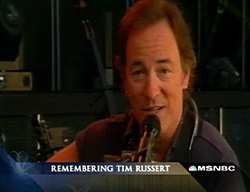 "Luke, Maureen, Big Russ, and the Russert family: we send all our love and prayers from the E Street Band," Bruce said. "We were always flattered and honored to have Tim as part of our E Street Band community. I think Tim had a real belief in that Promised Land, and in the American idea. That was the passion that you heard behind all those tough questions on Sunday morning." Springsteen shared a memory from the September 2007 Today show appearance, and his thoughts on Russert's legacy, before performing an acoustic "Thunder Road." Watch it at msnbc.com.
- June 18, 2008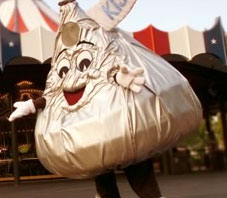 GREETINGS FROM HERSHEY PARK
New outdoor U.S. date added in August
In between Boston and Milwaukee, Bruce and the E Street Band have added a date at Hersheypark Stadium -- a scaled-down stadium which holds 30,000 -- on August 19. Boardwalk rides, the smell of chocolate, and the sounds of Springsteen... does it get any better? Tickets go on sale this Saturday, June 21, at 10 a.m. Eastern. Visit hersheypa.com for more details, and see our Tour/Ticket Info page for the full current itinerary.
- June 18, 2008

JERSEY SHORE GUIDE BACK IN PRINT, WITH EXPANDED THIRD EDITION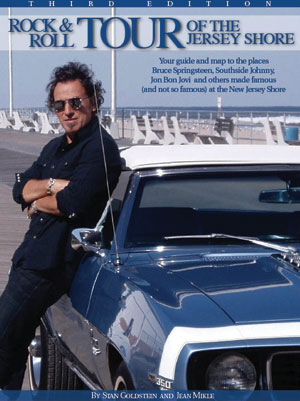 A question we get pretty often is, "I'm making my first trip to the Jersey Shore... where should I go and what should I see?" Thanks to Stan Goldstein and Jean Mikle's book, Rock & Roll Tour of the Jersey Shore, we've got an easy answer. The first and second editions of their book have been out of print for a while, but now -- just in time for summer vacations and Bruce's Giants Stadium shows -- a Third Edition has just been published.
Expanded once again to 202 pages, with updated information and many more photos, this guide to the musical sites on the Jersey Shore is a perfect travel companion for anyone making that pilgrimage. The book details close to 200 locations of historical rock 'n' roll sites in New Jersey's Monmouth, Ocean and Middlesex counties -- including Springsteen-related clubs, houses, street corners and other landmarks in Asbury Park, Freehold, Long Branch, Red Bank and beyond. More than 40 locations are listed for Asbury Park and 30 for Freehold, all well-annotated with maps, addresses and loads of history. Hot off the presses, it's in stock now at Backstreet Records.

You'll find lots more new stuff in our online shop now, too. By popular demand, we're expanding our selection of kids' shirts, with new Born in the U.S.A. tees in youth sizes. Plus new Springsteen books, import CDs, and more! Click here for our Latest Additions. And thanks for shopping with us -- your order helps support everything we do.
-June 16, 2008

A "TRANSFORMATIVE JOURNALIST" -- AND BRUCE FAN -- PASSES ON
I'm still shocked by the news of Tim Russert's death yesterday; as a Sunday morning is about to dawn without the esteemed Meet the Press moderator there to be part of the day, I feel like a word here is in order. Well known to be a huge Springsteen fan (along with his NBC compatriot Brian Williams), Russert told Jon Friedman in a 2007 interview that his "dream 'get'" for an interview was none other than Bruce:
"I'm very intrigued by him," Russert said. "He has a real understanding of the political dialogue, of faith and life in urban America."

Russert already has a connection to "the Boss." "I booked concerts for John Carroll [University] in Cleveland," Russert recalled. "We paid $2,500 to book him on a Tuesday night in February 1974."

Aside from the indelible mental snapshot of seeing a brilliant performer 18 months before he made it big, Russert cherishes the memory for a more practical reason: "I made enough money to pay for my second year of law school."

He said he told Springsteen the story once when he ran into him at a New York City restaurant. Springsteen laughed and said, "That sounds like one of my songs."...

I asked Russert if he had reached out to Springsteen to request an interview. He shook his head, as if he was unworthy of the meeting. It was reassuring to see that even Tim "No Surrender" Russert, the scourge of Washington, could act a little overwhelmed by someone.
Also check out this New York Times blog entry about Bruce's September 2007 Today show performance, when Russert remarked, "I'm just an opening act for the Boss today," and Bruce gave a shout-out to the newsman's haircut.
Russert was married to Maureen Orth, author of the famous 1975 Newsweek cover story on Springsteen, "Making of a Rock Star." Our sympathies are with her and their familiy.
Yesterday, Tom Brokaw called Russert "one of the premiere political analyists and journalists of his time." Walter Cronkite wrote: "a giant in our field -- a standard-bearer of journalistic integrity and ethics." Carl Bernstein: "Tim Russert was a transformative journalist." And yet -- maybe just from knowing how "Born to Run" got his heart pumping, too -- he also felt like one of us. Tim, you'll be missed.
-June 14, 2008

CREATORS OF S.O.A.P COMING BACK TO ASBURY, AUGUST 29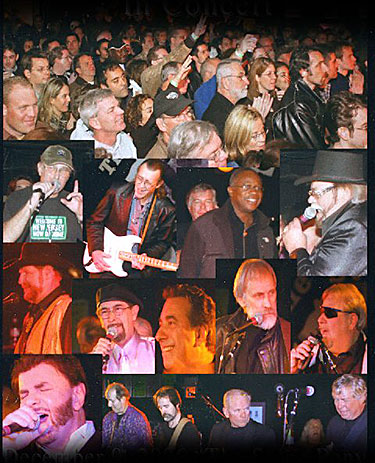 In 2006, a benefit concert featuring the "Creators of the Sound of Asbury Park" reunited many of the founders of the Jersey Shore scene for a night of music at the Stone Pony. This summer, they're doing it again. The press release follows...
On August 29, The Creators of S.O.A.P. will return to Asbury Park once again to perform and support two local charities based in Asbury Park (The Mercy Center & Interfaith Neighbors) with a concert called: The Ultimate Jersey Shore JAM!!!! The Creators of S.O.A.P. , Live, Raw, and Unplugged In Concert.
This time around they bring with them Vini "Mad Dog" Lopez & Steel Mill introducing their new album for the first time, All Man Their Guns for America. Plus a historic reunion event: for the first time together in 40 years on the same stage, the band that set the tone for the new direction of the Sound of Asbury Park, all the original members of The Moment of Truth: Vini "Mad Dog" Lopez, Garry "The Thunder of the E Street Band" Tallent, Rick DeSarno, and Tom Wuorio.
The Creators will also be introducing a hot new band from Virginia Beach, called Wava. Although the band members are only 16 to 18 years old, they have received worldwide acclaim for their self-titled first album release and have managed to incorporate the Sound Of Asbury Park into their music and once again re-invent that classic rock & roll sound and bring it to the next level.
There will a cocktail party the night before the concert, on Thursday August 28 starting at 9 p.m. at the Beach Bar right next to the S.O.A.P. Monument on the boardwalk by Convention Hall. This will be a meet & greet event, where the Creators also intend to announce names that will be added to the S.O.A.P. Monument that were overlooked the first time around.
The Creators and friends will take the stage at the Stone Pony on the 29th in a very relaxed situation, all sitting on stools across the stage. They'll start by swapping stories about those early days of the Asbury music scene, from 1960 to 1970, and fielding questions from the audience about certain players or events of those days. These are stories that you might have read about in the many books published on the history of Jersey Shore Rock 'n' Roll, and some that were never told before. But this time you'll hear the real versions from the people who were there and lived them, and the audience will be able to ask questions concerning the events. This will be the real history of the '60s on the Jersey Shore. During that time some of the Creators will do songs off-the-cuff from those early days on the Shore, whether with just a guitar or piano as backup or a whole band of Creaters joining in to jam -- very raw and very real versions of those favorite songs from the back in the early days on the Shore that laid the foundation for what would be known worldwide as The Sound of Asbury Park.
Please note: only the performers listed publicly and in the promotions to perform at this event will be there on August 29. There will be no surprise guests!
For more information, you can visit these web sites:
http://youtube.com/watch?v=JRrWusiQYS4
http://www.1docholiday.com/soap%202008.htm
http://www.stoneponyonline.com/schedule.html
-June 13, 2008

EASY COME, EASY GO...
Remember that tentative fall leg that was in the works a couple weeks ago? It's no longer in the works. Several sources have confirmed that the plan has now been scrapped. We're looking at a good chance for more dates to be added in August, but right now it appears the August 30 show in Milwaukee stands as the final performance of the Magic tour.
-June 13, 2008

CARDIFF-BOUND?
If you're heading to the Millennium Stadium concert on Saturday, as the stadium leg resumes, newswales.co.uk has some travel tips.
-June 12, 2008

THE FOUNDATION OF THE E STREET NATION
Band has "another album's worth of material recorded," says Garry
Here's a good read as we gear up for the Magic tour to resume on Saturday night. In an interview with bassplayer.com., Garry Tallent takes a quick look further on up the road: "The tour with Bruce goes through the summer. We have another album's worth of material recorded, but no word yet on a release or future tours." Garry also talks about working with Brendan O'Brien, working with Vini vs. Max, his favorite Bruce tracks, technique, gear, and more. Read the full interview here.
-June 12, 2008

LITTLE STEVEN ON THE DEATH OF BO DIDDLEY
"Little Richard invented Rock and Roll as we know it, Chuck Berry is its Poet Laureate, but Bo Diddley was the Grand Daddy of Garage Rock. The most covered artist by the British Invasion, he stole the show at our Underground Garage Festival in 2004 from the likes of the New York Dolls, and Iggy and the Stooges, both of whom covered him in their criminal youth. The Pretty Things named their band after one of his songs, the Rolling Stones were discovered in a club named after another. He rocked the world for 50 years and it'll never be enough. Gonna miss you Bo." [posted today at Shorefire.com]
-June 6, 2008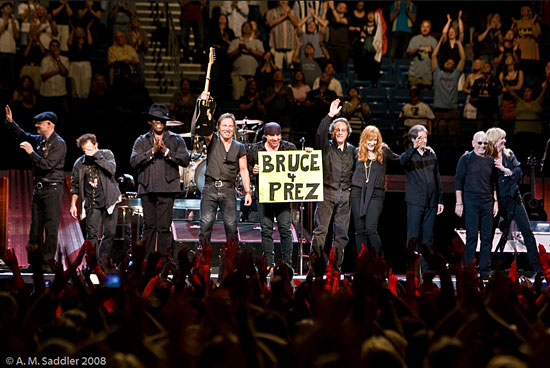 OUR ROVING EYE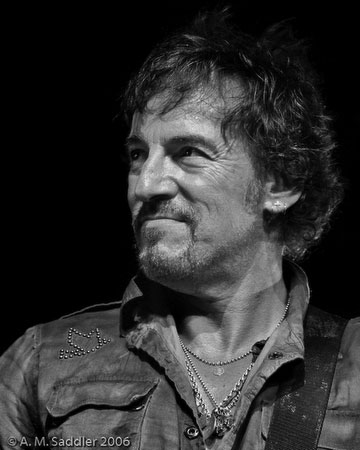 Responsible for many of the Magic tour photos from the you've seen here on Backstreets.com as well as Springsteen's official site, Backstreets photographer A. M. Saddler has launched his own new website.
You'll find many more of his Springsteen images there for your viewing pleasure: Saddler has shot 15 shows on the Magic tour so far, from rehearsal in Jersey to April in Florida, as well as the 2006 Light of Day and 2007 Carengie Hall tribute.
There are also galleries of Phil Lesh, Josh Ritter, Ryan Adams, Jesse Malin, Maybe Pete, and more.
Visit the galleries at www.amsaddler.com, and watch for his work in issues of Backstreets magazine to come.
- June 4, 2008

HEY, BO DIDDLEY... REST IN PEACE
A legend passes
Ellas "Bo Diddley" Bates died today of heart failure at 79. It would be hard to overestimate the rock 'n' roll pioneer and Hall of Famer's impact on the form in general; as for his influence on Springsteen, we surely wouldn't have "She's the One" without him. To say nothing of "Not Fade Away," "Mona," "Preacher's Daughter".... Read the Associated Press obituary here.
- June 2, 2008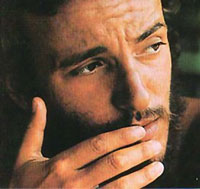 DAVID GAHR, R.I.P.

Long, full life though it was, we're saddened to hear of the death of legendary photographer David Gahr, 85, on Sunday at 85. Renowned for his documenation of folk musicians in the '60s, Gahr shot the classic photos gracing the cover of
The Wild, The Innocent, & the E Street Shuffle
-- the close-up of Bruce on the front, the E Street Band on the back. Read Mark Satlof's reminscence -- Gahr was "irascible to the end" -- on the
Shore Fire blog
.
- May 27, 2008

D30: HAPPY BIRTHDAY, DARKNESS TOUR!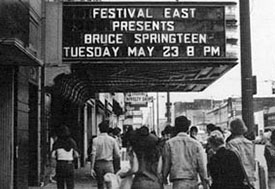 Today marks the 30th anniversary of the beginning of the Darkness on the Edge of Town tour -- Bruce and the band hit the road before the album was released -- which opened on May 23, 1978 in Buffalo, NY.
To mark the occasion, Buffalo's 97 Rock has posted Dale Anderson's original review of that Shea Theatre Show from the Buffalo Evening News: "...three hours and three encores later, it was clear that this powerhouse had everything it needed to go 80 dates in 70 cities. And then some."
Check it out here.
- May 23, 2008

ROCKIN' ALL OVER THE WORLD
After a three-week break (well, "break," considering how much Bruce has played out in that time), the Magic tour resumes tomorrow night. Three nights in Dublin -- Thursday, Friday, and Sunday -- kick off a two-month European leg for Bruce and the E Street Band. Some related notes:
European show-goers, fill us in!: Don't forget, we count on readers to give us their perspectives with show reports, particularly as Bruce and the band head farther afield. If you're catching any of the upcoming European concerts, we'd strongly encourage you to send us a report -- your thoughts on the night, highlights, setlist if you can -- as soon as possible after the show, to help us with our coverage. If you'd like to fill us in, please email to: onstage@backstreets.com. It's much appreciated.
G.A. policy: We've gotten a lot of questions about the G.A. procedure for Europe, and specifically whether the U.S. rules would carry over. We can't say for certain, but our understanding is that the U.S. entrance policy will not be in effect. With festival seating being more common in Europe, venues there tend to have systems already in place -- no need to override them or fix what ain't broke. If that changes, we'll have word here.
Home fires: Remember how we reported that Patti Scialfa would "definitely" be in Europe? As of now it's looking like... maybe not so definite. Just another reminder of how little in this thing of ours is set in stone.
Magical mystery tour: Speaking of not set in stone, a rumored itinerary for fall U.S. dates has been floating around in recent days. Sources tell us that there's truth to it -- we're likely looking at a two-month arena leg in September and October, leading off with Bruce and the band's August 30 Milwaukee show. But as always, we wait for official confirmation; you'll know when it's posted here that a fall schedule is no longer tentative. View the current official itinerary here.
C'mon, Steve!: For the three Giants Stadium shows -- which are confirmed, marking Bruce and the E Street Band's return to the States in July -- a special package is on the auction block at charityfolks.com. Up for bids are two VIP tickets to your choice of the three shows, along with the chance to meet Little Steven. Proceeds benefit Share Our Strength, working to fight childhood hunger and currently providing disaster relief to victims of the Myanmar cyclone.
- May 21, 2008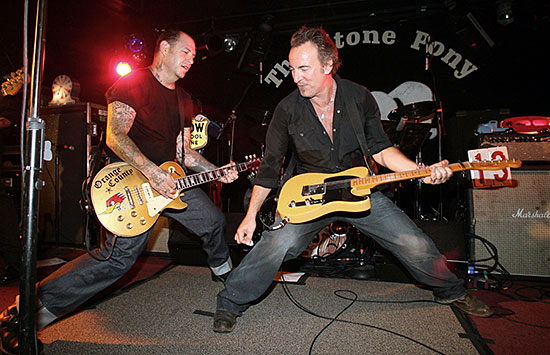 ASBURY PARK SOCIAL CLUB
Springsteen and Social D's Mike Ness rock the Stone Pony
On Saturday night, or the second of two Mike Ness shows at the Pony, the Social Disortion frontman was joined on stage by his friend (and longtime fan) Bruce Springsteen. After watching the show from the soundboard, Springsteen joined in for a four- encore. As Linda tells us, there was "'Misery Loves Company,' the song they did together on Mike's 1999 solo CD, Cheating at Solitaire. Then they did my favorite Social D. song, 'Ball and Chain,' but instead of sticking to the original rocking version, they did it as a slow, country ballad. Bruce sang the second verse, and the crowd went nuts. Next was a 'If You Leave Before Me,' from Cheating at Solitaire, followed by a fun 'I Fought the Law.' What was really cool was seeing the excitement and giddiness of Social D. fans after the show. Most of these fans are guys in their 20s -- tattoos, pierced body parts, part hardcore punk/part rockabilly, and their hot Bettie Page-type girlfriends. They were so happy and excited, and I heard them saying, 'Man, nothing gets better than this!' and 'Wow, can you believe it? How frickin' amazing was that?!'" As Ness asked the crowd, "Aren't you guys glad you came the second night?" [Correction: Ness performed Dylan's "Don't Think Twice, It's All Right" without Springsteen]

Update: Photo by Mark R. Sullivan. Click here to see Mark's gallery from the show.
- Updated May 20, 2008


MP3 OF THE DAY
Mark Wright is a singer/songwriter who was one of the few artists from the UK to feature on the Light of Day tribute compilation, with his version of "Two Hearts." He has rooted himself in American music and has toured with folk legend and friend of Woody Guthrie, Ramblin' Jack Elliott, as well as recording at the birthplace of rock and roll, Sun Studio in Memphis, Tennessee. Now signed to indie label Revolver Records, Mark's second release for the label is Real World: The Bruce Springsteen Project, a new album of ten Springsteen covers, now available from the Backstreet Records shop. This is the title track.
[Downloads] -May 16, 2008

DARKNESS AT 30: "A MAP OF THE FUTURE"
Perhaps no Springsteen album lends itself to retrospection more than Darkness on the Edge of Town, which celebrates its 30th anniversary on June 2. Released to mixed and sometimes confused reviews, the ten tales of regret and failure are now regarded as both masterful and prophetic, told with a new sense of maturity and vision. In "Map of the Future: Darkness on the Edge of Town at 30," two-time Pulitizer Prize finalist Joyce Millman writes that the "affirmations of democratic ideals" Springsteen embraced on Darkness are as "relevant today as commentaries on the darkness of cynicism and the dragons of endless war" as they were 30 years ago. Read Millman's reassessment, written for the Bruce Springsteen Special Collection.
- May 16, 2008

TEMPLE ON SATURDAY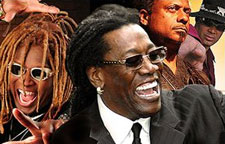 If you're in South Florida, don't miss a catch to see the Big Man in person this weekend -- Clarence Clemons will be making an appearance on Saturday afternoon to sign copies of his new Temple of Soul CD, Brothers in Arms, and to play a few tracks from it, too.
Date: Saturday, May 17
Time: 3:00 pm
Place: Yoshinkan Aikido of Florida
524 North Lake Blvd, Suite B
Lake Park FL 33403
- May 14, 2008

BE TRUE TO YOUR SCHOOL
Springsteen's annual benefit at the Pony, backed by Bandiera & band
While the Magic tour is about to ramp up from arenas to stadiums, Bruce has been spending this break doing some serious downsizing -- last week it was the Count Basie Theatre, and last night it was all the way down to the Stone Pony. Bruce was back on the Pony stage for another school benefit on Tuesday night, once again backed by Bobby Bandiera's band (with horns), and joined by Southside Johnny and Patti Scialfa. By now we're familiar with the basics of the annual set -- classic covers like "634-5789," "Seven Nights to Rock," and "Twist and Shout" intermingling with houserockin' rave-ups from Bruce's own catalog -- this year clocking in at two hours and 20 minutes. "Hold On, I'm Coming" was a particular stand-out, with Bruce and Bobby doing their best Sam & Dave. Patti had a great turn on "It Takes Two," with Bobby shining on the guitar solo, and her vocal on "All I Have to Do is Dream" was another highlight. As for originals, "Girls in Their Summer Clothes" was added to the mix, and this private benefit for parents and teachers continues to bring out some otherwise oft-overlooked tracks. There was "Cover Me," "Rendezvous," "The Fever," "From Small Things," "Pink Cadillac," and an all-too-rare dip into the '92 songbook for "Man's Job." "Thunder Road" may not be a rarity, but try it played solo-electric in the intimate confines of the Pony -- ah, if only we all could -- as a small crowd sings along. Soundchecked but not played: "Sugar, Sugar," "Ain't Too Proud to Beg."
- May 13, 2008



RED HEADED WOMEN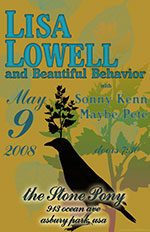 Catching up with "the girls"
Tonight, Lisa Lowell headlines the Stone Pony in Asbury Park, NJ, with her band Beautiful Behavior, including fellow Sessions Band players Jeremy Chatzky on bass and Larry Eagle on drums. [Photo above from a gig earlier this year, by John Cavanaugh.] They'll be performing her original material tonight, "all stuff I've written in the last four years," she told the Asbury Park Press. Look for them to go on at 10 p.m., but there's a great undercard too, including Sonny Kenn and Maybe Pete opening. Visit her site at www.lisalowell.com.
Patti Scialfa rejoined the E Street Band in Red Bank on Wednesday for only her second show with them this year. Previously, she played the April 22 Magic show in Tampa, bringing the band back to full force the day after Danny's funeral, but otherwise has been "soaking up the last hurrah of having all three of the kids in the house at once," she tells Backstreets. "Our oldest is off to college next year, so I wanted to be here and just go through the whole college process with him. I'll do the European tour, and some of the shows at the end of the tour. I miss being there! But I have to say, I'm really enjoying my kids... it's harder to leave as they get older, in a funny kind of way." But Europe is a go? "Oh, definitely -- I'm already booked in. I will be there."

In the meantime, Patti's "honorary First Lady of New Jersey" work with Habitat for Humanity ramps up on Monday, May 12. She'll lead a Wall Raising ceremony for Paterson Habitat's "Women Build" project that afternoon, along with her mom Vivian and her daughter Jessica. That's preceded by a fund-raising luncheon hosted by Greenbaum Interiors. For tickets and more information, visit patersonhabitat.org.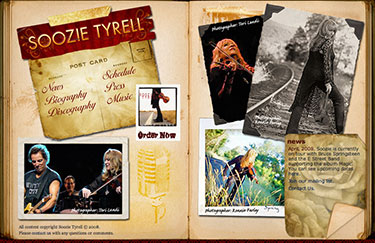 And check out Sister Soozie Tyrell's website, which has just gotten a major redesign and looks great. Of course with so much of her energy going into the Magic tour right now, the schedule listed there matches Bruce's exactly... but this is where you'll find her future gig listings, along with, at present, a full discography, great photos, streaming tracks from her 2003 solo album White Lines, and more, at soozietyrell.com.
- Updated May 9, 2008

The evening began with the Basie's Rusty Young describing the benefit show's mission, to raise money for the restoration of this 80-year-old theater to its original glory -- "when the ceiling wasn't covered in netting" -- and this night alone brought in more than three million dollars. Young noted that Patti Scialfa is the "honorary co-chair of our capital campaign," and after he asked her for ideas... "tonight is her answer." Generous donations also made it possible, Young said, for 37 wounded veterans to attend the show, talking the bus in from Walter Reed.
Patti came out next to a mighty standing ovation -- "I'm supposed to welcome you, and you're welcoming me!" -- speaking of her and the rest of the band's history at the Basie, and of the importance of saving venues like this one. She was followed by NBC anchor Brian Williams, who goes back a long way as a fan and was clearly psyched just to be talking through Springsteen's mic ("the first and last time that will ever happen"). He recalled hitting the Stone Pony and the Tradewinds back in the day, ever on Bruce-watch; he also touched on the recent loss of Danny Federici, saying that "Great families endure. And great, great bands endure." "The netting is just to keep the larger pieces of debris from falling down," he added, "and if there's an entity that could cause the big ones to fall, it's this group here.... Ladies and gentlemen, Bruce Springsteen and the E Street Band!"
And that wasn't the end -- as the needle hit the runout groove, Bruce said, "Let's bring out the horns! We've got a few more for you!" And they used the horn section to maximum effect for the entire encore, four bonus tracks starting off with BTR/Darkness outtake "So Young and in Love." "Kitty's Back" was next -- "and she's got somebody with her!" Bruce teased at the end, "Kitty's back, and she's got somebody with her!" That somebody was "Rosalita," and finally, Eddie Floyd's "Raise Your Hand" made sure we got an R&B cover in there for the full effect of this '70s theater revival.
It was a particular bygone era brought back to life, a celebration of the band's history and just one of its heydays, and a tip of the hat to a couple of 30th anniversaries... yet as ever with Springsteen, it was most notably moving forward and trying something new at the same time. And playing for a take-'em-all-in-with-one-glance crowd from the orchestra to the balcony, a packed theater practically on top of Bruce and the band (at least compared to where they have been and will be playing in this new millenium), it was the perfect crucible for revisiting the passion and the power of these classic records. An experiment, no doubt -- and an electrifying success.
We've determined that these will be the same as the 2005 deluxe reissues from Japan (with the exception of the Japanese-specific packaging content, obi strips, etc.). In other words, no new sound improvements here, just the swell "miniaturized LP sleeve" treatment previously available. More details on the new UK series once we have them in hand; in the meantime, see our online shop for more on the 2005 Japanese reissues, most still in stock.
- May 2, 2008