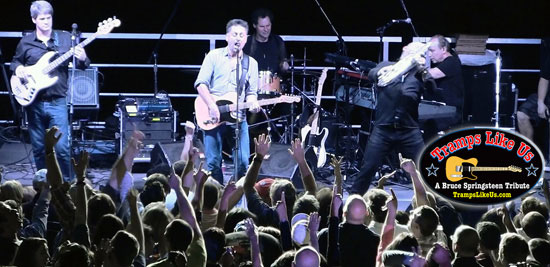 SUPER BOWL XLVIII IN THE SWAMPS OF JERSEY
This year's Super Bowl may happen to be on very familiar ground for Bruce Springsteen, but still no luck getting a halftime show reprise from the man himself. Though as the Asbury Park Press reports, this year's entertainer Bruno Mars does look to The Boss for inspiration: 'One of my favorite [halftime shows] was Bruce Springsteen. I thought he was great.'" And the NFL has done their best to have a Springsteen theme at two of its biggest events outside of the actual game. Tribute band Tramps Like Us performed at the NFL's sold-out Super Bowl Media Day at Newark's Prudential Center this past week. Then on game day, February 2, the band will play the official Super Bowl tailgate party, on a stage the NFL has set up in front of Met Life Stadium. (If you're busy on Super Bowl Sunday, you can also catch Tramps Like Us performing at the legendary Stone Pony on Saturday March 15.)
Of course, we don't generally pick sides when it comes to sporting contests such as these, other than maybe guacamole dip ("step away!") vs. chicken fingers ("put 'em down!")... but with Seattle being home to Backstreets for our first 20 years, it oughtta be said: Go Hawks!
- January 31, 2014

PETE SEEGER: "A HEART OF GOLD AND A SPINE OF STEEL"
The New York Times published a number of rememberances of Pete Seeger this week, including those of his label president Jim Musselman, Steve Earle, Roger McGuinn, Ry Cooder, and more — leading, of course, with Bruce Springsteen:
"When Pete was on the blacklist in the early '60s, his old friend, the legendary music man John Hammond, came to the rescue and signed him to a Columbia Records contract. In the early '70s, the same John Hammond signed an unknown kid from New Jersey to a Columbia record contract. When John died in 1987, both Pete and I were asked to play at his funeral and that was the first time I laid eyes on Pete.

"I had missed most of the Hootenanny folk revival and really didn't have that clear an idea of what Pete actually did. Well, Pete gets up at the memorial, his beautiful voice long since shot, and strums his powerful fingers over his 12-string guitar, ringing out a simple chord, which all by itself sounded simply stirring. He then described the origins of 'We Shall Overcome,' and proceeded to talk the audience through the song until every person at that gathering was singing loud and strong.

"Loud, strong, committed and always in search of America – all of it – with a heart of gold and a spine of steel – that was Pete. We got to know each other in the years that followed, and I wound up being so deeply affected by his music that I released an album called 'The Seeger Sessions,' inspired entirely by Pete's artistry.

"One of my favorite memories is of flying down to D.C. with Pete to perform together at President Obama's inauguration concert. With the great statue of Abe Lincoln behind him and a broad and massive cross section of America at its most hopeful in front of him, he led us all in singing 'This Land is Your Land.' As Pete liked to say, he would only sing it with 'all the verses,' the last several of which are the most radical and are usually left out. And, as I've said before, that, too, was Pete. He always sang 'all of the verses.'
Dave Marsh has posted a remembrance of his own, entitled A Golden Thread, a Needle. It's a longread well worth reading. Tomorrow on Marsh's E Street Radio show "Live From E Street Nation," it's a special "Remembering Pete Seeger" program. Backstreets' Chris Phillips will be in the studio as well — we hope you'll tune in, January 31, 10:30 am EST, on SiriusXM Ch. 20.
- January 30, 2014

A DREAM'S NO LIE IF IT DOES COME TRUE...
Official Live Downloads have begun.
- January 29, 2014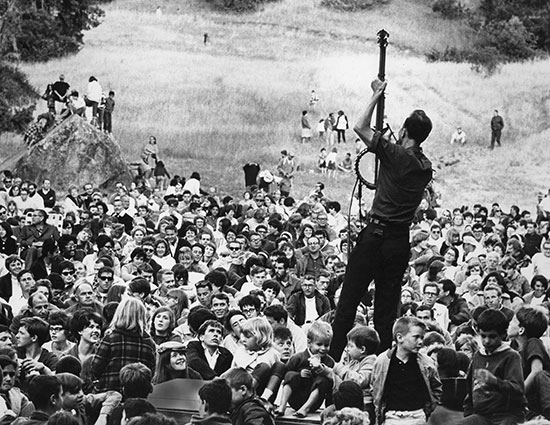 CLIMBING JACOB'S LADDER
Folk pioneer, music legend, and American hero Pete Seeger has passed away at 94
"He sings all the verses, all the time — especially the ones that we'd like to leave out of our history as a people." —Bruce Springsteen
We hardly need to say his name. Pete Seeger had such a profund impact on Bruce Springsteen — to say nothing of American music in general, or even American history — that there's an entire record that bore his name and an entire Springsteen tour inspired by his work. Bruce called him "the very ghost of Tom Joad in the flesh." Last night, Seeger passed away at the age of 94. Seeger's longtime friend Jim Musselman, founder and President of Appleseed Recordings and instrumental in the genesis of We Shall Overcome: The Seeger Sessions, released a statement this morning:
We deeply mourn the passing of Pete Seeger. We believe that nobody is truly gone until all those who are touched or influenced by that person are gone from the Earth... So Pete will live on in the hearts and minds of so many for years to come. His vision of peace and justice and equality for all will live on and continue to influence. His music has been used all over the world for social justice. From the Civil Rights movement to the anti-war movements Pete and his songs have been there on the front lines. Like a ripple that keeps going out from a pond Pete's music will keep going out all over the world spreading the message of non-violence and peace and justice and equality for all. Wherever people are fighting to be free or fighting for equality Pete's songs and Pete's vision will be there with them.
Musselman tells Backstreets this morning, "Bruce and Jon Landau were always wonderful to Pete, and they kept every promise they ever made related to him. Pete told me many times how touched he was by Bruce doing the Seeger Sessions album, and how much it meant to him when Bruce invited him to the Lincoln Memorial to sing. Pete also said to me that Bruce was an incredible human being and a really nice guy." As a man who spent a long lifetime interpreting songs, preserving and passing along musical traditions, Seeger also had great respect for the way Springsteen carried that work forward: "He loved how Bruce covered 'We Shall Overcome,'" Musselman says, "and his version of 'Bring them Home,' too — Pete liked how Bruce had more people joining in the chorus."
With High Hopes at the forefront of Springsteen happenings these days, this is a good time to remember that its studio revisitation of "The Ghost of Tom Joad" wasn't Bruce's first. Prior to reimagining the song with Tom Morello, he re-recorded "Joad" as a duet with Pete Seeger for 2007's Sowing the Seeds: The 10th Anniversary of Appleseed Recordings.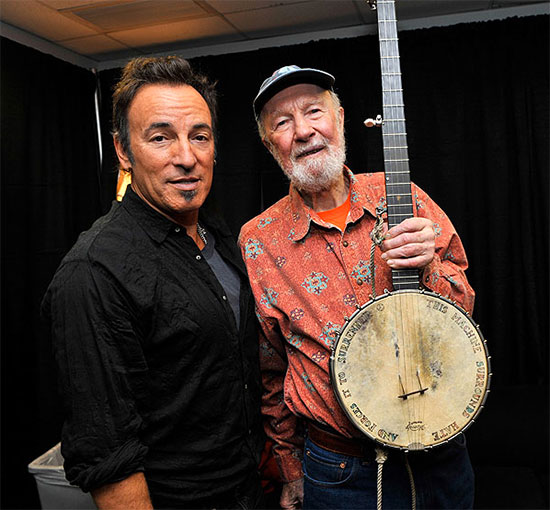 Springsteen and Morello performed the song together acoustically in Seeger's honor on May 3, 2009, at Pete Seeger's 90th Birthday Celebration from Madison Square Garden [above]. It's hard to imagine a more fitting eulogy than Springsteen's remarks to the crowd at the Garden that night, so we'll leave you with this:
As Pete and I traveled to Washington for President Obama's Inaugural Celebration, he told me the entire story of "We Shall Overcome": how it moved from a labor movement song and, with Pete's inspiration, had been adopted by the civil rights movement. That day as we sang "This Land Is Your Land" I looked at Pete, the first black president of the United States was seated to his right, and I thought of the incredible journey that Pete had taken. My own growing up in the '60s, in towns scarred by race rioting, made that moment nearly unbelievable, and Pete had thirty extra years of struggle and real activism on his belt. He was so happy that day, it was like, Pete, you outlasted the bastards, man! It was so nice.

At rehearsals the day before, it was freezing, it was like fifteen degrees, and Pete was there; he had his flannel shirt on. I said, man, you better wear something besides that flannel shirt! He says, yeah, I got my longjohns on under this thing!

And I asked him how he wanted to approach "This Land Is Your Land." It would be near the end of the show, and all he said was, "Well, I know I want to sing all the verses. I want to sing all the ones that Woody wrote, especially the two that get left out, about private property and the relief office." I thought, of course, that's what Pete's done his whole life. He sings all the verses, all the time — especially the ones that we'd like to leave out of our history as a people.

At some point Pete Seeger decided he'd be a walking, singing reminder of all of America's history. He'd be a living archive of America's music and conscience, a testament to the power of song and culture to nudge history along, to push American events towards more humane and justified ends. He would have the audacity and the courage to sing in the voice of the people. And despite Pete's somewhat benign, grandfatherly appearance, he is a creature of a stubborn, defiant, and nasty optimism. Inside him he carries a steely toughness that belies that grandfatherly facade, and it won't let him take a step back from the things he believes in. At 90, he remains a stealth dagger through the heart of our country's illusions about itself. Pete Seeger still sings all the verses all the time, and he reminds us of our immense failures as well as shining a light toward our better angels and the horizon where the country we've imagined and hold dear we hope awaits us.

Now on top of it, he never wears it on his sleeve. He has become comfortable and casual in this immense role. He's funny and very eccentric. I'm gonna bring Tommy out, and the song Tommy Morello and I are about to sing I wrote in the mid-'90s, and it started as a conversation I was having with myself. It was an attempt to regain my own moorings. Its last verse is the beautiful speech that Tom Joad whispers to his mother at the end of The Grapes of Wrath.

Wherever there's a cop beatin' a guy
Wherever a hungry newborn baby cries
Where there's a fight 'gainst the blood and hatred in the air
Look for me, Mom, I'll be there.

Well, Pete has always been there.

For me, that speech is always aspirational. For Pete, it's simply been a way of life. The singer in my song is in search of the ghost of Tom Joad: the spirit who has the guts and toughness to carry forth, to fight for and live their ideals.

I'm happy to report that spirit, the very ghost of Tom Joad is with us in the flesh tonight. He'll be on this stage momentarily, he's gonna look an awful lot like your granddad who wears flannel shirts and funny hats. He's gonna look like your granddad if your granddad could kick your ass.

This is for Pete...
Watch the video here. Pete, it's hard to be too sad today — yours was a long, amazing life, so inspiring to so many people, and truly one to celebrate. May you rest in peace — and may your spirit rise, over and over again.
- January 28, 2014 - Christopher Phillips reporting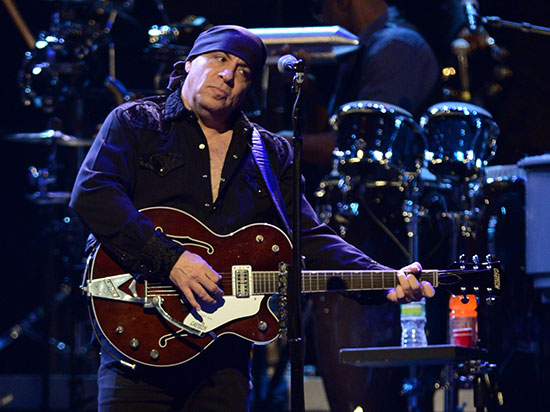 SOUTH AFRICA PREP: VAN ZANDT AND MARSH TALK SUN CITY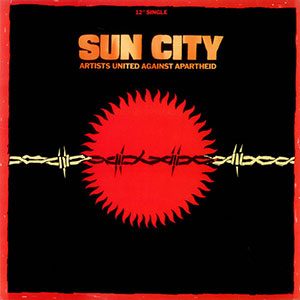 This Sunday, January 26, Bruce Springsteen and the E Street Band will begin a historic run of concerts, their first ever in South Africa. On December 13, 2013, in the wake of Nelson Mandela's passing and following news that the E Street Band would play Cape Town and Johannesburg for the first time, Steve Van Zandt and Dave Marsh recorded a conversation for Sirius/XM satellite radio. Broadcast on E Street Radio — on Kick Out The Jams with Dave Marsh on the Sirius/XM Spectrum music channel and on Live From The Land of Hope and Dreams with Dave Marsh on the Sirius/XM Progress channel — the interview has Marsh and Van Zandt talking in-depth about the Sun City project that contributed to the fall of apartheid, Mandela's release from prison, and a free South Africa.
Transcribed by Shawn Poole, the interview provides insiders' perspective on the scope of the Sun City project and its success, the politics of apartheid, and the very different path of Paul Simon. As Stevie said, "All due respect, Paulie, but not only does art not transcend politics... art is politics."
Read "Talking Sun City with Steven Van Zandt"
- January 24, 2014 - photograph by Alan Chitlik

BRUCE & PATTI DUET ON JACKSON BROWNE TRIBUTE CD IN APRIL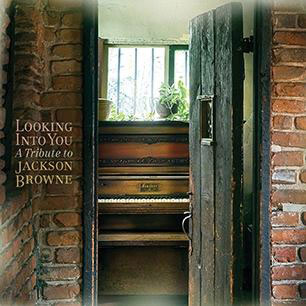 A new Bruce Springsteen and Patti Scialfa duet version of Jackson Browne's "Linda Paloma" will be among the highlights of Looking Into You: A Tribute to Jackson Browne, the first tribute album ever assembled for Browne, whom Springsteen inducted into the Rock & Roll Hall of Fame, Class of 2004. The 2-CD set, featuring many artists covering material from various periods of Browne's long career, will be released April 1 on Music Road Records.
Springsteen and Browne have been friends since September 4, 1972, when fellow musician David Blue introduced Bruce to Jackson before one of Browne's concerts at New York's venerable club The Bitter End. As Bruce noted in his Hall induction speech for Browne, "Jackson was kind enough to let somebody he'd just met get up on stage and play..." Browne later told a radio interviewer that after Bruce's performance that night, he said to Springsteen, "Man, where the hell have you been hiding!" In 1979, Browne performed "Stay" with Springsteen and the E Street Band on their first officially released live recording, as part of the No Nukes concerts/album/film project, which also marked Springsteen's first foray into social activism as a public figure. Browne and Bonnie Raitt later performed with Bruce in 1990 at the now-legendary Christic Institute benefits.
"Linda Paloma" was written and recorded by Browne for his classic 1976 album The Pretender, which was produced by Jon Landau. (While producing The Pretender, Landau also met Chuck Plotkin, who would soon become an integral member of Springsteen's own record-making team.) The song has been part of Bruce's "walk-in music" mixes since as far back as 2005. In his 2004 induction speech, Springsteen included "Linda Paloma" among the songs cited while noting that Browne had written "some of the most beautiful breaking-up music, break-your-heart music, of all... I think that what drew women to Jackson, besides the obvious, was that they finally felt they were listening to a guy who knew as much about love as they did. And what drew men to Jackson, besides the obvious I guess, was that when they listened to him, they realized that they knew more about love than they thought they did."
- January 23, 2014 - Shawn Poole reporting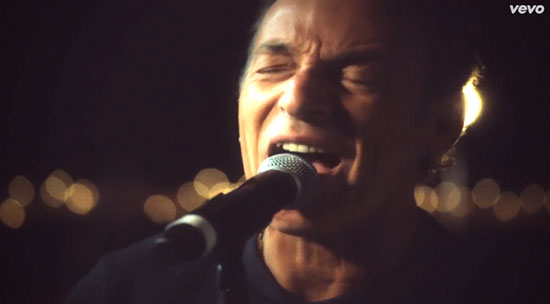 BURNING UP THE CHARTS
As Bruce and the E Street Band haul over to South Africa this week, for concerts beginning Sunday, High Hopes has debuted at #1 on the Billboard 200. As a press release notes, that makes it Springsteen's eleventh #1 album in the U.S.,and his "fourth consecutive chart-topping debut," also heading straight to the top in the U.K, Germany, Switzerland, Norway, Sweden, Finland, Ireland, Holland, Canada, and Spain.
You can see tour preparation in action in the video linked above, posted last night on brucespringsteen.net. This official clip for "Just Like Fire Would," filmed at recent rehearsals in New York, shows that the gang's all here: you'll see the same expanded band that toured for Wrecking Ball in 2012 and 2013, including horns and choir, plus "special guest" Tom Morello. Stevie is conspicuously absent from this rehearsal — likely working on Lilyhammer in Norway, as he was for the Fallon performance — but we know he plans to join the rest in South Africa.
- January 23, 2014

IT'S EVOLUTION, BABY! LIVE DOWNLOAD PROGRAM DONE RIGHT
Sans wristbands, direct downloads at high fidelity and a reasonable price
On Friday, a press release announced that Springsteen's upcoming concerts would be available as official audio downloads, enabled by USB wristbands available at each show and online. On Saturday, we took a closer look at this astounding new development, considering how fans have long yearned for official live audio, with hopes (and also sources suggesting) that this effort would evolve to match the more road-tested distribution methods and pricing of bands like Phish and Pearl Jam. Today... we do the evolution.
Backstreets has just confirmed that, in addition to the USB wristband sales model, Springsteen will also be offering direct audio downloads through his official Live Nation online store following each show on the upcoming leg, with no physical purchase required. There will be two options for audio formats: MP3 (320 kbps) or FLAC (Free Lossless Audio Codec). Pricing will match Pearl Jam's, at $9.99 for MP3 or $14.99 for FLAC. Hard to say fairer than that.
This plan is in place for at least each show on the South Africa/Australia/New Zealand leg. Support it, and it's hard to see why they'd stop there.
- January 22, 2014

ONE AND ONE MAKES THREE: LIVE DEBUT OF "FRANKIE FELL IN LOVE"
Saturday night's Light of Day performance, which was Bruce's tenth year guesting for the annual Parkinson's benefit, added a new song to the regular Springsteen/Grushecky program, "Frankie Fell in Love." Here, the live debut of this High Hopes highlight, just one of many LOD14 YouTube clips posted by Rose Montana. Blow, Kingfish, blow!
For more video from Springsteen's appearance at the Paramount Theatre, see Rose's playlist covering his set with the Houserockers, and more from Backstreets Bev, including a great clip of Bruce and Jesse Malin covering The Ramones.
- January 22, 2014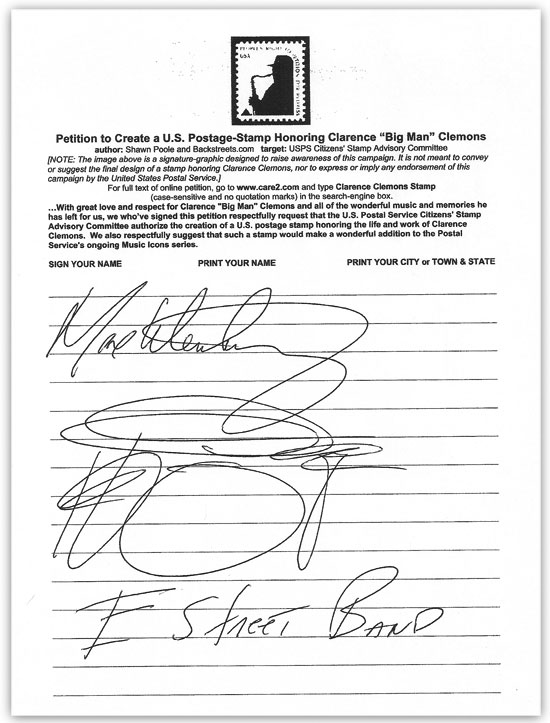 BIG MAN STAMP: MIGHTY MAX GETS ON BOARD
Jim Rotolo of E Street Radio conducted a great, informative interview with the E Street Band's Mighty Max Weinberg last week. At one point, Jim — a friend and supporter of our effort to get the Big Man honored with a postage stamp — mentioned the petition drive to Max. Jim thought that Max replied, "I signed that petition." What Max actually said was, "I'd sign that petition." No problem. We sent over one of our blank paper-and-pen petition signature sheets from the recent Clarence Clemons Day events, and in very short order, we received what you see above. Thanks Max!
- January 20, 2014 - Shawn Poole reporting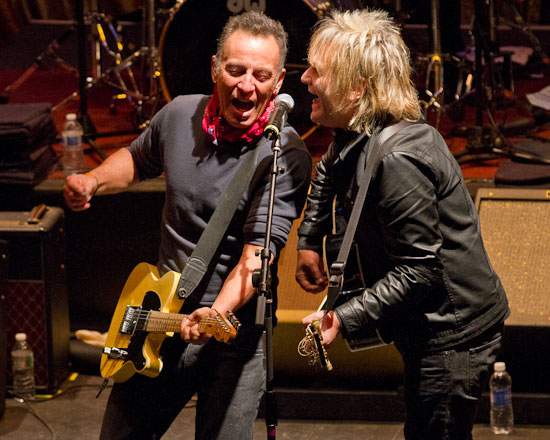 LIGHT OF DAY 2014 BRINGS BRUCE BACK TO THE NJ CONCERT STAGE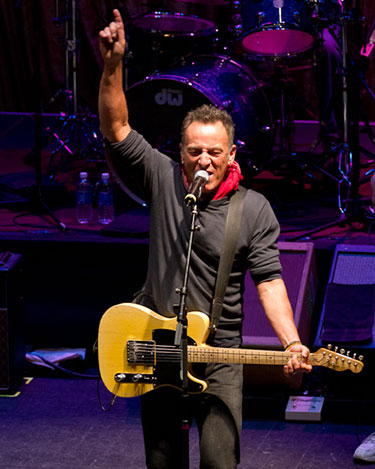 With the return of Bruce Springsteen to the main event last night — his tenth appearance for the annual benefit concert series, and his first Jersey show since 2012 — the only real surprise of Light of Day 2014 was probably the number of attendees. Asbury Park hosted 28 events, and it seemed like most were filled to capacity. More than 100 artists participated in a seven-day event schedule that included not just music, but film and photography exhibits.
Beginning with last Sunday's "Cover Me" event and continuing last Wednesday in New York City's Cutting Room, the focal New Jersey portion of the international concert series fighting Parkinson's Disease began in earnest on Thursday night, with events at three Asbury Park locations. Thursday's highlight was the third annual Rockin' Bowl-a-Thon at Asbury Lanes, with Willie Nile turning in a typically energetic set to close out the evening.
Friday highlights included DJ Rich Russo's "Anything Anything" event showcasing New York and New Jersey bands. This year's lineup included Scott Kempner and Eric Ambel of the Del Lords (whose 2013 release Elvis Club brought the return of this influential NYC band), as well as a solo acoustic set by Mike Peters of The Alarm and a rousing headlining set from John Easdale (Dramarama). Kempner and Ambel delighted the audience with a set-closing take on Lou Reed's "I'm Waiting For the Man"; Kempner gave a heartfelt introduction, speaking of Reed as a "stand-up" guy who was always kind to the Del Lords when the band opened some of Lou's 1986 Mistrial tour. Peters also appeared earlier in the evening at the Stone Pony, which saw the ceremony inducting this year's crop of Asbury Angels, including original Steel Mill bassist Vinnie Roslin and vocalist Delores Holmes of the Bruce Springsteen Band. Roslin was honored earlier in the evening with a special set by his longtime friend and bandmate Vini Lopez and his band License to Chill.
Saturday afternoon's activities included a book signing and presentation by photographer Debra L. Rothenberg, and LOD Downtown, which presented a variety of local and regional artists performing at shops and galleries along Asbury Park's Cookman Avenue, a "Women of Song" event at the Berkeley Hotel's Dauphin Grille, and a blues jam at the Wonder Bar. Alert attendees of the latter event may also have witnessed the arrival of one Bruce Springsteen for the evening's show at the Paramount Theater.
Indeed, the city had been abuzz for several days about a likely Springsteen appearance, and he did not disappoint, arriving at Convention Hall late Saturday afternoon for soundcheck to the delight of assembled onlookers who waved and cheered as he drove by. As the long sold-out main event at the Paramount began, word had spread about Bruce's presence on the premises, and the buzz continued to build as veteran Joe Bonanno's powerful version of Roy Orbison's "Running Scared" and sultry Shore favorite Nicole Atkins led off the evening. LOD veteran Joe D'Urso brought out Mike Peters [pictured at top with Bruce] to front his band on The Alarm's "Sold Me Down the River," but it was local DJ Jeff Raspe who truly ignited the audience, introducing Jesse Malin with cryptic comments about his new sound and lineup. Indeed, the curtain drew back to reveal Malin's new band, which now includes a horn section. Leading off with the brand-new ballad "Bar Life" from his forthcoming, as-yet-untitled CD release, Jesse then turned to welcome Bruce Springsteen, who entered from stage left to the delight of the crowd.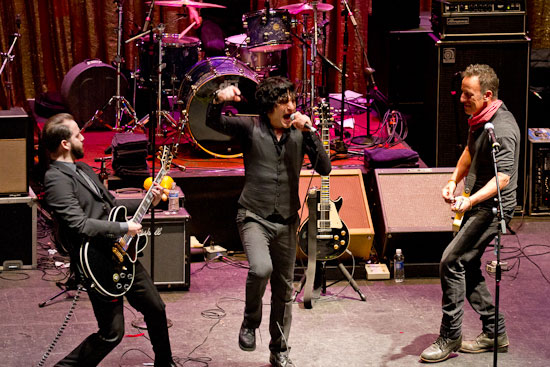 Dressed in black T-shirt, jeans, and boots, and sporting a red bandanna around his neck, Bruce anchored Malin's frenetic take on the Ramones' "Do You Remember Rock 'n' Roll Radio?," contributing a bit of lead vocal here and there but mostly just strumming his guitar and smiling broadly as the band applied the Spector wall of sound treatment to the rousing classic. Following Malin — who was cut a bit short due to time constraints — was another LOD veteran, Garland Jeffreys, whose reggae-tinged set featured material from his critically acclaimed 2013 release Truth Serum. Next up was the frenetic Willie Nile, who also paid tribute to the recently deceased Lou Reed with a cover of "Sweet Jane." Concluding his strong set with the anthemic "One Guitar," Nile once again welcomed his friend Bruce Springsteen to the stage to share vocals along with Mike Peters.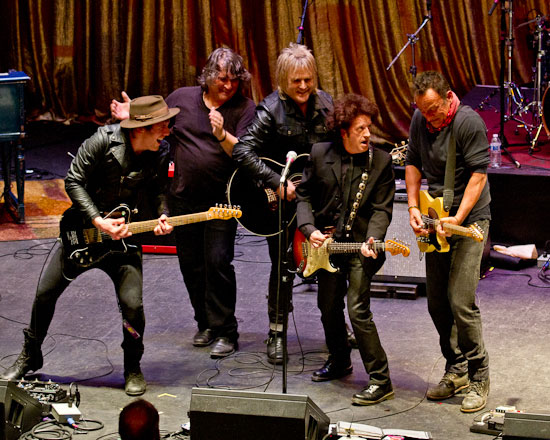 Things then slowed down a bit as the revamped lineup necessitated three acoustic sets in a row, including the Goo Goo Dolls' Johnny Rzeznik, whose heartfelt performance included the set-closing "Iris." Peters (who seemed to be everywhere this past week) came out for a brief but powerful acoustic set that concluded with an audience sing-along on The Alarm's "68 Guns," setting the stage for the introduction of Joe Grushecky and the Houserockers.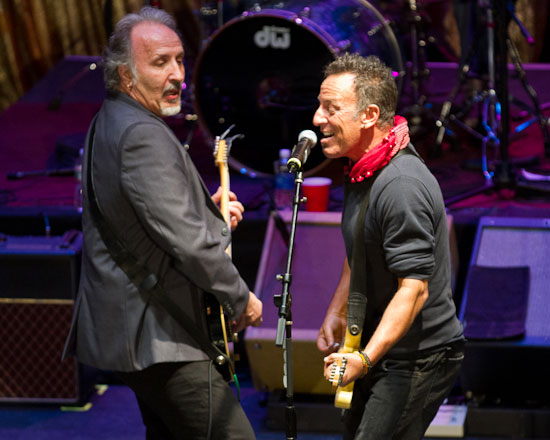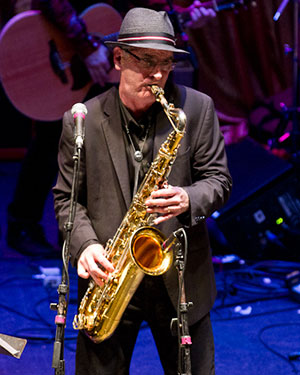 Leading off with an instrumental jam, the Houserockers — featuring guest saxophonist Ed Manion — welcomed Grushecky to the stage, soon to be followed by a third and final appearance by Springsteen. Beginning with "Adam Raised a Cain," Bruce and Grushecky led the band through an hour-and-a-half set that interspersed Houserockers material like "Talking to the King" and "I'm Not Sleeping" with Springsteen classics like "Darkness on the Edge of Town" and "The Promised Land," with crowd pleasers "Atlantic City" and "Because the Night" enticing the audience into mass sing-alongs. But the set was not without surprises. Striding to center mic, Bruce playfully taunted the crowd before elaborately rolling up his sleeves to dive into the world premiere performance of "Frankie Fell in Love" (from the just-released High Hopes). It was rollicking and energetic and romantic and fun, and the audience loved it. Also a surprise was the ultra-rare "Hearts of Stone," Manion's sax highlighting an understated yet intense arrangement that delighted longtime fans, though it seemed unfamiliar to some members of the audience.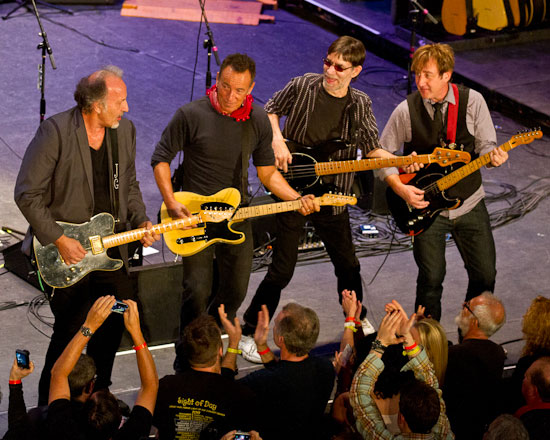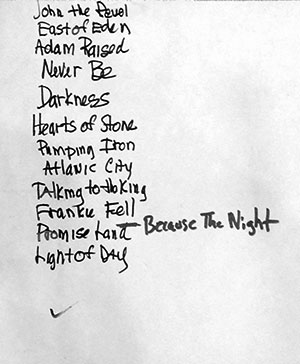 The lilting pop of "Save My Love" soon had everyone up and rocking, and by the time the opening chords of "Light of Day" beckoned all the performers back to the stage, the Paramount was shaking. Standing at center mic, Bruce led the assembled group though the first half of the song before pausing to introduce his friend Bob Benjamin, the inspiration and founder of the Light of Day Foundation. Bob was presented with a large birthday cake that sported the 2014 Light of Day logo, and he accepted the honor with a brief statement of thanks to the enthusiastic crowd, which responded in kind. Concluding the song, Bruce turned to receive a proffered acoustic guitar, and, once again stepping up to the center mic, he led both performers and the audience through a mass singalong of "Thunder Road." Even a slight muff on the lyrics — he stopped, laughing, as the audience sang the correct lyric back to him — didn't dampen the spirit of the assembled masses, and the evening concluded with thanks from both Bruce and Bob for another successful Light of Day weekend.
Sunday's events included a gospel brunch and three Songwriters by the Sea showcases at various Asbury Park boardwalk venues. Tomorrow's farewell brunch at Toast restaurant on Cookman Avenue concludes Light of Day 14 in the Garden State.
For the full setlist from this and other recent performances,
see our Setlists page
- January 19, 2014 - Lisa Iannucci reporting - photographs by A.M. Saddler



COMIN' ON CHANGIN' TIMES
Rollout of live downloads doesn't align with fans' wishlist... yet
A new era is dawning, and it is one that Springsteen fans have dreamed of for decades: official live recordings of full concerts. Friday's press release announced that "on the 2014 tour dates," fans would have the opportunity to purchase and download individual shows, beginning with the January 26 concert in Cape Town, South Africa.
In this first phase covering South Africa, Australia and New Zealand, the method by which concert recordings can be purchased is via a "special USB wristband" onto which a single show can be downloaded "approximately 48 hours after the show." The price point of the wristband, according to Springsteen's official merchandise store, is $40.
First, let us pause to acknowledge that, yet again, Bruce has moved to do something that would have seemed unimaginable 15 or 20 years ago, acknowledging fan yearnings for high-quality live recordings of his shows. It is a MASSIVE step in the right direction and continues an open embrace of what might be called our collective bootleg desires that includes allowing E Street Radio to evolve into the greatest concert jukebox ever.
E Street Radio was a trailblazer in that regard, relying heavily on audience recordings, '70s FM-broadcasts and vintage bootlegs to fill the satellite airwaves with live (and unreleased studio) Springsteen 24/7/365 (Sirius/XM's Grateful Dead channel had a trove of extant archive releases to draw upon).
While the Dead is clearly the forefather of archival releases of multiple concert recordings, dozens of major artists and bands (including Phish, The Who, Pearl Jam, Peter Gabriel, Duran Duran and John Fogerty) have already enabled the release of every show on a tour, some immediately, some after the tour wraps.
Nearly as numerous are the start-up companies that have sought to service the live concert recording market, from early entrants like Instant Live to contemporaries like Seattle-based Lively, which delivers concert recordings to a smartphone app. The category was pioneered by Nugs.net, which began as a fan exchange of live recordings by Phish and Grateful Dead before evolving into what is arguably the most robust concert download platform, servicing both of those bands, along with Pearl Jam, Metallica, Red Hot Chili Peppers and the Black Crowes among many others.

The Springsteen download wristbands are modeled on those offered by Matchbox Twenty (frontman Rob Thomas is credited with planting the seed with Bruce to do live downloads in this fashion). Matchbox Twenty's program is run by Austin-based Music One Live, and Friday's announcement sent fans to social media frustrated that Springsteen appeared to be following an identical model, including pricing.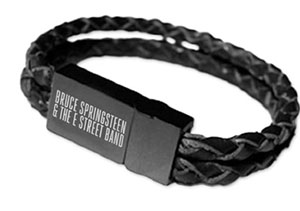 While the wristband approach might strike people as clunky, whoever developed the idea had the concert merchandise table in mind. Selling someone a card with a download code on it alongside a t-shirt is not only unsexy, it lacks a sense of implicit value in what you're buying. The wristband has a practical appeal, too, when sold at a show, in that it won't be easily lost if you wear it, it is a souvenir in and of itself and it is fashionable in a circa-Lucky Town sort of way.
A source close to the tour confirms this was indeed the thinking, with those fans attending in South Africa, New Zealand and Australia the primary target, not the die-hard collector. "This is meant for the other fan — the one who might only see one show on the tour or ever."
The source went on to explain that they never intended this as the way super fans were supposed to collect shows: "We are not expecting them to go to the online store and buy a boatload of wristbands!" Online store purchase of wristbands outside of the show is there more to support those who attended, but didn't buy at the time. The wristband approach, the source assures us, is just the start. Right now it is a piece of merchandise, not the end-all, be-all concert download solution.
Of course, one of the major reasons for Springsteen's devoted concert-going fanbase — and why all those audience recordings are airing on E Street Radio — is that every show is different, materially different. If a review of last year's MB20 setlists is any indication, each shared 95% of the songs of the show that came before it and the show that came after it. Springsteen's set famously changes every night, and it is moments like "New York City Serenade" in Rome last year that are the magic in the night: You never know what you might hear at any given show. Regardless of whether we were in attendance that night, we all wanted to hear that sublime performance.
And that's why Grateful Dead, Pearl Jam and Springsteen live recordings have always been so desired and so collectible. Add to that YouTube (which spans the globe) and E Street Radio, and even average fans have become live recording experts. While Springsteen isn't exactly late to the official concert download space, a big portion of his audience that's likely to buy these recordings is pretty sophisticated at this point, thanks in part to other artists working out the kinks before him.
Pearl Jam started out with physical CDs then MP3s before quickly acknowledging that the fanbase wanted higher quality downloadable formats like FLAC, which have been offered now for several years. Pearl Jam 2013 shows are currently offered at $9.99 for MP3, $14.99 for FLAC, and $19.99 for 24-96 high-resolution FLAC files. It is hard not to feel that what MB20 and now Springsteen are offering is a bit overpriced and under-powered in terms of audio fidelity, but we're assured this at-the-venue merch item is step one down a longer path.
Of course, with ardent Springsteen fans, when the door opens a crack, they are quick to try to push it wide open.
That the first show in the Springsteen program is taking place in South Africa underscores the notion that concert downloads are bigger than a venue souvenir. Surely thousands of fans outside of South Africa are going to want to hear the first night of the 2014 tour, and the idea that they would need to first receive a flash drive on a wristband in order to download it is impractical. As noted above, the camp acknowledges this.
It is no surprise that the expectations of Bruce's core fanbase are more aligned with those of Pearl Jam and Phish than that of Matchbox 20. They will want to buy multiple shows. They will want them in higher quality than MP3s. And they really don't need a wristband when they are ordering from a computer anyway. At the venue, as a piece of merch, is where the wristbands make some sense.
"My hope is that they opt to make the audio tracks available in various formats at a reasonable price," says a second source close to the band. Our tour source goes one step further: "In the future we DO want to address what the super fans are looking for — reasonably priced downloads or CDs of live shows — past and present. The wristband is not a substitute for that."
While immediate fan reaction to the otherwise incredible news of concert downloads might ring of "No good deed goes unpunished," one hopes it isn't taken that way, as something as well-intended and long-desired as official live recordings, both past and present, deserves to be done right. Let's hope the long view on the subject — both from fans and the Springsteen camp — recognizes that getting them right will be an evolution.
- January 18, 2014 - Erik Flannigan reporting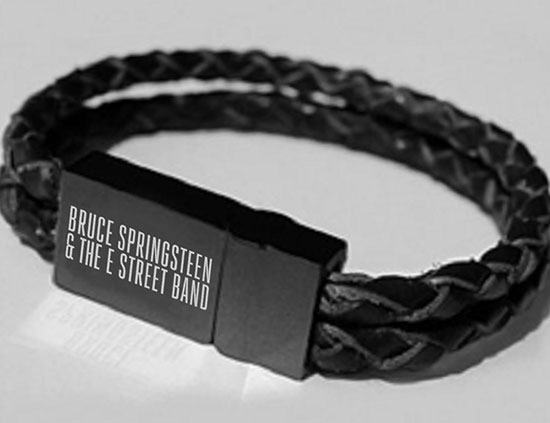 LIVE DOWNLOADS TO BEGIN THIS MONTH; MORE TOUR DATES COMING
We've just received a new press release from Springsteen's publicist, Shore Fire Media, with a few pieces of excellent news [bold below is ours], including the official announcement of the concert recording downloads that Jon Landau first talked about with Backstreets:
Bruce Springsteen Talks About "Triumphant" 'High Hopes' on NPR.org and Expands Tour

Bruce Springsteen spoke about his new recording 'High Hopes' with NPR.org in an hour-plus interview that delves deeply into how the album evolved, how it was recorded and much more. In the wide-ranging interview, Springsteen also talked about his early New York City gigs and mentioned 52 different musicians and bands ranging from Hank Williams to a host of current artists. The entire interview and full list of musicians and bands is here:

http://shorefi.re/1eGNfjs

Earlier this week, Springsteen's 2014 tour dates grew with the announcement of his return to the New Orleans Jazz & Heritage Festival on May 3, with additional tour dates expected to be announced.

On the 2014 tour dates, fans will be able to use new technology to enjoy Springsteen's legendary live concerts. Fans around the world can purchase a special USB wristband, both online and at the tour venues. Starting with the first 'High Hopes' show in Cape Town, South Africa on January 26, they will be able to pick one show of their choice to download on their USB wristband (approximately 48 hours after the show).

'High Hopes'

"A portrait of the artist at the top his 21st-century game... full of surprises, all with a reason for being there." - Rolling Stone, 4.5 stars

"Makes you want to follow Springsteen wherever he may go" - NPR Fresh Air

"Thanks for the awesome bonus, Boss! ['High Hopes'] is purely high points... Here's hoping our hero never quits" - Us Weekly, 4 stars

"'High Hopes' gets everything right" - Washington Post

"Springsteen is once more a man standing with a guitar in his hand, triumphant" - Esquire

"Crackles with immediacy" - Entertainment Weekly

"A compelling, unified statement: part grief and grievance, part love and transcendence." - American Songwriter

"Powerful and appealing" - Newsday

"A potent valentine for diehard fans" - Boston Globe
USB wristbands will be available for purchase online, with one live show downloadable per wristband. As we understand it, if you want more than one show, buy more wristbands. According to a @springsteen tweet, "Online orders begin next week. Stay tuned for more info!"
In our original conversation with Jon Landau, he told us that a conversation with Matchbox Twenty's Rob Thomas inspired Springsteen to make concert downloads available in this fashion. Above, what the MB20 wristbands looked like. These were also reusable as flash drives, able to store and transfer personal files after the USB wristband had been used to download a concert.
- Updated January 17, 2014

NOW WE WAIT FOR THAT CHANGE TO GET MADE UPTOWN…
The Clarence Clemons Stamp Petition Drive Closes
Our online petition to honor Clarence Clemons with a U.S. postage stamp is now closed. In just over a month, we gathered more than 5,500 signatures, including hundreds of additional paper-and-pen signatures collected at this past weekend's Clarence Clemons Day events in New Jersey. While the drive didn't reach its (admittedly ambitious) goal of 15,000 signatures, we still remain hopeful that Big Man will get this honor. After all, a Johnny Cash stamp was issued after the submission of one online petition with only 1,335 signatures. In any case, it now moves out of our hands: with our high hopes, copies of all signatures will now be sent to the U.S. Postal Service's Citizens' Stamp Advisory Committee for its consideration/approval. This won't happen overnight, of course. The Committee meets quarterly, receives thousands of written requests each year for various stamp subjects, and reviews them all. In general, it can take about three years from the submission of a request to the actual creation of a stamp, if the request is approved. Check in with the Clarence Clemons Stamp Petition Facebook Page and/or Backstreets.com for any and all updated news on this front as it occurs. And thanks again to everyone who signed and supported this effort!
- January 17, 2014 - Shawn Poole reporting

SPIRIT OF (PUBLIC) RADIO
Bruce stretches out in an expansive interview with NPR's Ann Powers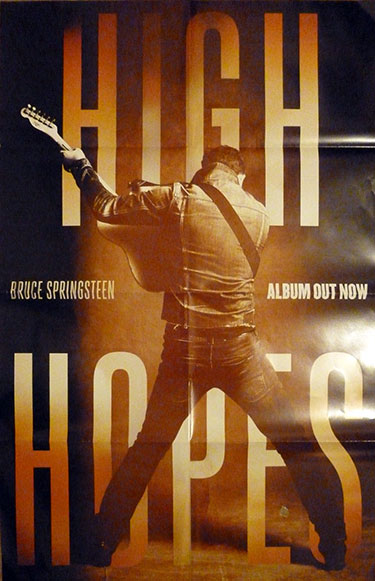 Keeping with High Hopes' anything-goes spirit, NPR correspondent Ann Powers conducted a wide-ranging discussion with Bruce Springsteen in New York on the eve of the album's release. Lasting nearly an hour and twenty minutes, the recording covers a broad swath of territory: Springsteen mentioned other artists, from Odetta to Slim Dunlap to Pearl Jam, 53 times (well, 52 really, because he brought up "White Lines," but not Grandmaster Flash). Late in the discussion, he went through a list of songs on his laptop and plugged ones he likes.
Anyone making the rounds in print or in some form of broadcast or cable media is bound to tell the same story twice, something that a deft veteran like Ann Powers is well aware. And chances are better than even that if you're reading this, you know the general history of High Hopes, Springsteen's desire to recognize songs played live more formally with studio recordings, and Tom Morello's involvement. In covering the current project, the pair take a deeper dive into its supporting elements. Springsteen sounded insightful as he talked about the importance, for example, of a record producer: "I kind of ran out of steam in the '80s," he said, "and you need people who are making a lot of records with a lot of different groups, young and old, who are very current with the way records are sounding at a given moment and also creative with it."
Springsteen accounts for almost all his influences, be it punk, gospel, or the state of modern country music ("It's basically kind of pop-rock music... where rock music continues to have a certain currency"). And while he may not tweet with any regularity, he recounts a moment in South America just a few months ago where the impact of the Internet seemed to hit him. Another gem finds him recounting a dream he had about wandering through the audience during a performance and seeing his parents.
The most striking element was its present-tense vibe. One might notice that, for the years of ambivalence toward live records, Springsteen is considering both an archival series and downloads of shows from upcoming tours. Or that an artist who lent his voice to Little Steven's "Sun City" project in 1985 will this month play in South Africa for the first time. Or that delegating and a more team-oriented approach has resulted in more music coming out.
The only thing left to do, then, is find something that rhymes with orange.
Read, listen, or download: "A Long Road To 'High Hopes': An Interview With Bruce Springsteen" by Ann Powers
- January 16, 2014 - Jonathan Pont reporting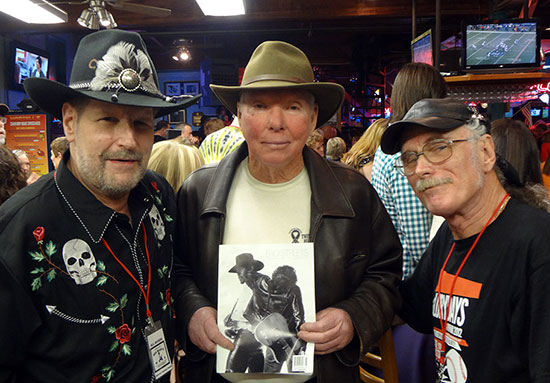 STORMIN' NORMAN, TINKER, AND MAD DOG SALUTE THE BIG MAN
A trio of Jersey Shore legends with Backstreets #91, paying tribute to their old friend Clarence Clemons at Martell's Tiki Bar, January 11, 2014 [L-R]: Stormin' Norman Seldin, Carl "Tinker" West, and Vini "Mad Dog" Lopez.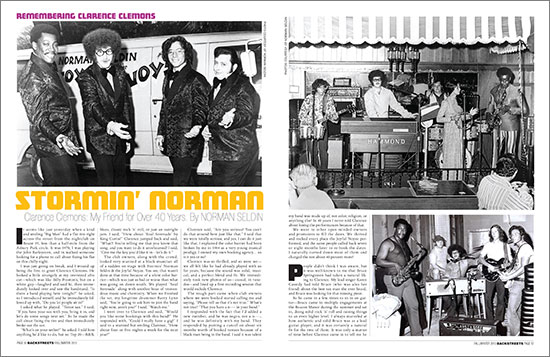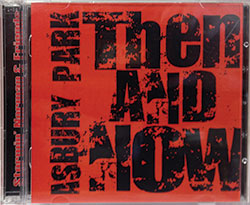 As pictured in the new issue, accompanying Stormin' Norman Seldin's remembrance of Clarence and their time playing together with the Joyful Noyze, a 2CD set collects a great deal of the Sounds of Asbury Park from that era. Asbury Park: Then & Now, by Stormin' Norman & Friends, not only includes five Joyful Noize recordings featuring Clarence — along with eight more Seldin tracks featuring Clarence, Danny, Garry, Roy, and Max in 1980 — it also has a pair of tracks by The Motifs, featuring the Cichon brothers. Springsteen has been talking about that formative band lately, with Walter Cichon having inspired "The Wall"; Seldin managed, promoted, and produced The Motifs until Walter went to Vietnam and lost his life. You'll find "Molly" and "If I Gave You Love" here, written by Walter and his brother Ray.
In the liner notes, Seldin writes: "I created my own record label in 1964-65, Selsom Records... the musical tide was turning. It was the British Invasion. I sought out a long-haired, rough-looking group of guys who seemed like Eric Burdon, Mick Jagger and The Kinks all rolled into one. They were called The Motifs. I signed them and we recorded 'Molly' and 'If I Gave You Love,' finding success across the region."
Asbury Park: Then and Now is available on CD from Backstreet Records and digitally from iTunes.
- January 16, 2014 - photograph courtesy of Butch Gregoria/Stormin' Norman Productions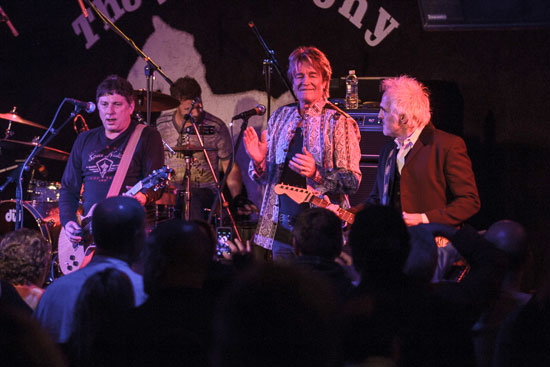 GREETINGS FROM ASBURY PARK: CATS REUNION KICKS OFF LOD '14.
Light of Day 2014 is already underway, as a bustling Stone Pony hosted a Sunday night "Cover Me" event featuring a diverse lineup of Jersey Shore-based cover bands, including veterans like the B Street Band, Holme, JoBonanno & the Godsons of Soul, the Nerds and the Soul Cruisers, as well as a reunion of the Nines, whose fulsome New Wave sound had them working almost nightly in the 1980s. Also performing was longtime Stone Pony house band Cats on a Smooth Surface [above], whose Sunday night slot became a weekly ritual for local musicians and fans; their extended set at the end of the evening included both current and former members — including Vini Daniele, Glen Burtnik and Bobby Bandiera (Asbury Jukes, Bon Jovi) — who took turns on some of the bar band staples that had often drawn their friend Bruce Springsteen to the stage several decades ago.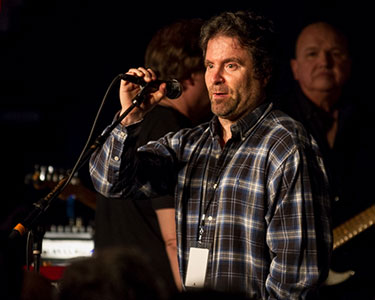 Right: Light of Day founder Bob Benjamin, at the Stone Pony Sunday night.
Also under way in Asbury Park is "In the Light," an exhibit at art629 Gallery showcasing the Light of Day-related work of noted photographers Danny Clinch, Mark Weiss, Debra L. Rothenberg, and others. The exhibit runs through February 2. Rothenberg's work will also be on exhibit at the Where Music Lives gallery through March; she will host a special Light of Day booksigning and presentation this Saturday at noon for her recent release Bruce Springsteen in Focus 1980-2012. Also on Saturday afternoon, art629 Gallery owner Pat Schiavino is presenting LOD Downtown, an extension of his Asbury Underground movement in which singer/songwriters move through a variety of shops and galleries playing free original music. See the official Light of Day site for schedule, lineups and ticket information.
- January 15, 2014 - Lisa Iannucci reporting - photographs by A.M. Saddler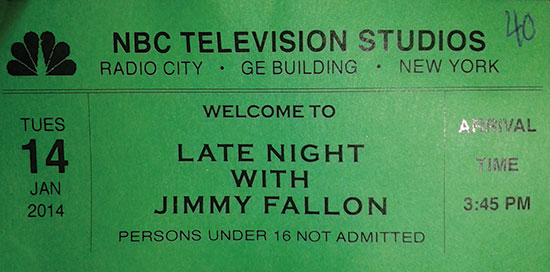 INSIDE STUDIO 6A
For Late Night With Jimmy Fallon's show #951 last night, Bruce Springsteen joined the host for his third appearance on the official release date of his 18th studio album, High Hopes. It is clear the two enjoy their sit-downs together; Fallon's enthusiasm was apparent, and Springsteen was contemplative, comical, and eager to play.
The last group of audience members was ushered in at 4:45 and watched montages of Fallon's musical impressions from prior shows: Tebowie, Jim Morrison, and what seemed to be the crowd favorite, The Chickeneers. The expected cheers of "Bruuuuuuuuuce" could be heard amidst the applause for these "acts." The audience was encouraged to laugh loud and make some noise, which generated a roar from a few of the Backstreets Contest winners, seated in the last rows of the studio. The warmup emcee chuckled: "And not just from those three!"
The Roots took the stage at 5pm, and by the time they were jammin' on "Jungle Boogie," the band members were dancing on the studio floor like a "bunch of Black Baryshnikovs," in the words of Questlove. Steve Higgins, the show's announcer, took his perch to the tune of "Dancing in the Dark." After Jimmy's monologue and the desk segment of the show (Pros and Cons), the studio went dark in anticipation of what has now become an expected standard routine when Mr. Springsteen joins Mr. Fallon. Speculation varied from a "naked" Jimmy swinging in on a wrecking ball to a duet between Governor Christie and Bossman Bruce.For those who leaned toward Bridgegate, the payoff came as a Born in the U.S.A.-era Bruce sang a duet with himself to the tune of "Born to Run" entitled "Governor Chris Christie's Fort Lee, New Jersey's Traffic Jam" [video]. [Photo below: Lloyd Bishop/NBC]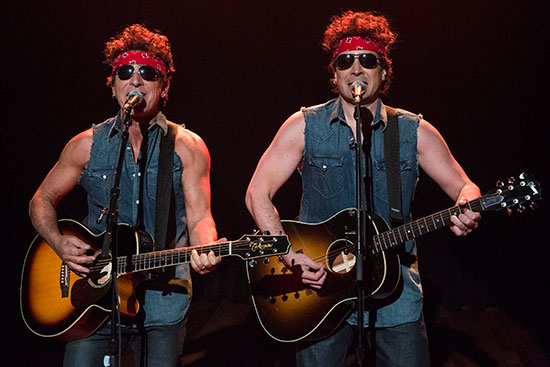 As the identical twin Bruces exited and prepared for the rest of the show, audience members were asked if they had any big plans for the evening. One woman replied, "Motown!" After clarifying she was headed to the musical and not the city, Questlove let her know that she "wasn't gonna make it... because we just might be here through tomorrow." The crowd cheered, and so as not to disappoint her, the band brought Motown the Musical into the studio and gave us a short performance of "Ain't No Mountain High Enough," including choreography. There ain't much The Roots can't do.
At 5:50, Fallon was back at his desk. Springsteen was welcomed with The Roots' arrangement of Jimmy Van Heusen and Sammy Cahn's "High Hopes." Bruce was garbed in a shirt and vest, perhaps because there was a performance ahead, or perhaps to remain unfettered from pesky zippers. The two joked about their duet together and after Fallon commented on how Bruce's guns put his to shame, he showed footage of the two doing push-ups backstage, Jimmy falling to the floor before Bruce.
Fallon noted the 50-year mark of Springsteen beginning to play music. Bruce spoke about the summer of '64, and a Sunday guitar circle on the beach in Manasquan, NJ. He said he felt like he had died and gone to "Beach Boys Live Album Heaven," and it was his goal to play in that circle. Jimmy asked about the record four-hour show in Helsinki last year, which prompted Bruce to talk about some of the great performances in rock history of shorter duration: "It's not the time in your life, but the life in your time." In discussing the current record, High Hopes, he described the process of old songs needing a home, and this project being the place for them.
Fans participated in the interview directly via Twitter, not all of which made the broadcast. Fallon pulled one question out of the bag which has long been a topic of (semi-serious) debate: "Is it sways or waves?" referring to the lyric in Thunder Road. Bruce suggested it was there in the liner notes of the record, and when he turned to the audience expecting a rousing chorus in unison, the one "swaves" and mostly silent room caused him to hoot, "Hey, I thought you said these were my hardcore fans!"

View interview videos on the LNJF Youtube channel: "Bruce Springsteen is Tough to Stump" / "Twitter Questions with Bruce Springsteen" / "Bruce Springsteen Was Born at the Right Time" / "Bruce Springsteen Answers the Horse-Sized Duck Question." Bruce mugged for the camera during the break when Fallon taped the commercial spots for the show's airing in different markets.
Finally, the Band Bench audience members were moved to the performance area during the next commercial break, chatting and waving to the E Street Band as they came out from the wings. Tom Morello and Patti Scialfa were in the house, and Bruce opened the performance with a shout out to Steve Van Zandt, who was absent. Rousing, vibrant performances of "High Hopes" [video], "Heaven's Wall" [video], and "Just Like Fire Would" [web exclusive video] filled the studio. The Roots members were beaming, as was Fallon, crew, and audience at 6:50 when folks departed the studio for home, hopefully with no lane closures.
Watch the full broadcast online now
- Updated January 15, 2014 - Marietta Phillips reporting - photo: Lloyd Bishop/NBC



BRUCE & THE E STREET BAND TO PLAY JAZZFEST IN MAY
U.S. fans: it's on. The first Bruce Springsteen and the E Street Band date announced for North America since 2012, and what we can only hope (highly) is one of many, is a return to the New Orleans Jazz & Heritage Festival on May 3, the final Saturday of Jazzfest. Tickets are on sale now — click here for ticket info.
- January 14, 2014

GOT HIGH HOPES
Today's the official release date in the U.S... watch a cool promo clip here... and here at Backstreet Records, the vinyl is in! Thanks to everyone who pre-ordered it from us, we're working to ship them all out as we speak. It's a quality package — two LPs on nice thick vinyl, it comes with a CD, and even the inner sleeves have inner sleeves. Our pre-sale deal is over, but you'll still stave five bucks off the $34.98 list price in our online shop. Spin the black circles!

FOR TODAY'S FALLON TAPING: #ASKBRUCE
Tweet in Jimmy's direction if you've got a good one...
- January 14, 2014



THEY'RE GONNA BE WHERE THE BAND IS
Happy High Hopes Eve, and thanks to everyone who participated in our contest for Late Night with Jimmy Fallon tickets, with guests Bruce Springsteen and the E Street Band! We're giving away five pairs of tickets to tomorrow's taping, in a contest that closed at 11am today. (We announced it over the weekend on our Outskirts Dispatch email list; if you missed this one, make sure to get on the list for future mailings.)
Congratulations to these five lucky winners and their dates, selected from qualifying entries using the random number generator at randomizer.org, who'll be on the Band Bench on Tuesday afternoon:
RICHARD BROWN, Monroe, CT
ASHLIE GARB, Rutherford, NJ
LEANNE HASSETT, Poughkeepsie, NY
BRIAN MALONEY, Lynbrook, NY
MARIE STACKHOUSE, Staten Island, NY
Calling for only those who could make it to 30 Rock on short notice, we had a total of 862 contest entries, with 765 valid for the drawing. To qualify, entrants had to answer one (easily Google-able) trivia question.
Here's a quote following Springsteen's first appearance on Fallon: "He completely surpassed any expectation I've ever had for any mythical god of rock figure." Who said it?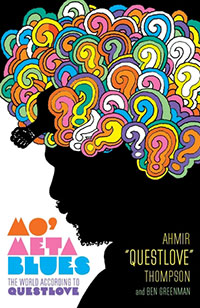 The correct answer: Questlove, drummer, founder, and bandleader for Late Night house band The Roots, author of the fantastic memoir Mo' Meta Blues. The quote is from a Rolling Stone piece, where the drummer also said, "I've done some intense playing on our show, but that was the most intense playing I've ever done."
We also accepted ?uestlove (of course), Quest Love, ?questlove, Questlove Jenkins, Ahmir Thompson, Ahmir Khalib Thompson, and combinations/variations thereof. We let ?estlove, ?eustlove and even uestlove slide (special characters can be tricky). No one offered Questo, but we would have taken it.
We did not accept Guestlove. Or Qwestlove, or ?uestlive. We also did not accept Bono, Bruce, Bruce Ames Carlin, Clarence Clemons, Jimmy Fallon (31 people guessed the host), Lloyd Bishop (6 guesses), NJ Governor Chris Christie, Patrick Doyle, Steve Van Zandt, Steve Higgins, or "The Producer."
Lots of Dutch fans in town for Light of Day, apparently — sorry none of your names were drawn, but hope you enjoy your visit to the States nonetheless! Thanks for playing, everybody — you can't win if you don't play — and be sure to tune in to NBC late night on Tuesday for the broadcast, 12:35/11:35c.
- January 13, 2014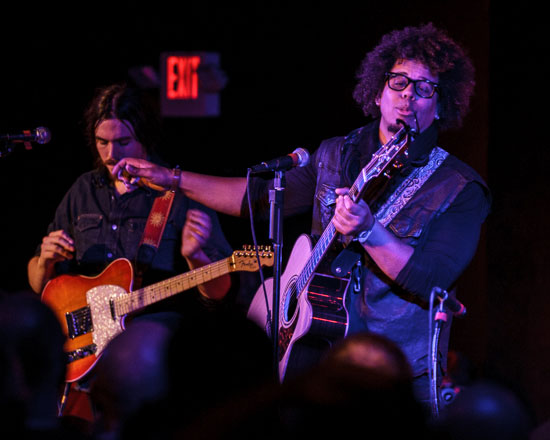 CLARENCE CLEMONS DAY ON THE JERSEY SHORE, PART II
Jake Clemons, Michelle Moore, and more at the Stone Pony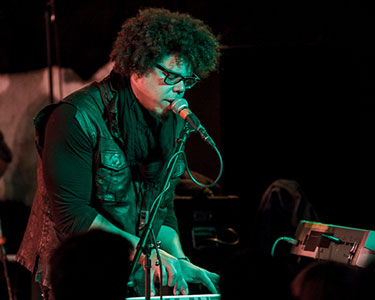 Over at the Stone Pony's Clarence Clemons Day celebration in Asbury Park, Jake Clemons and his band saluted his uncle's special day with a packed house and several Big-Man-themed selections sprinkled throughout their headlining set. Jake opened and closed his show with a moving acoustic version of "You're a Friend of Mine," Clarence's biggest solo hit originally recorded as a duet with Jackson Browne. Before performing "A Fool in Love" from his 2011 EP It's On, Jake told a funny, moving story about being asked by Clarence to be the best man at Big Man's wedding.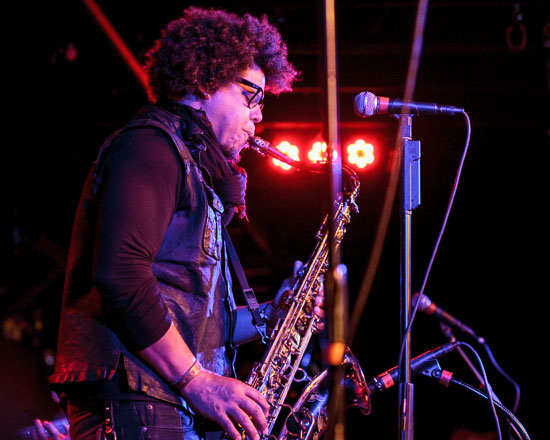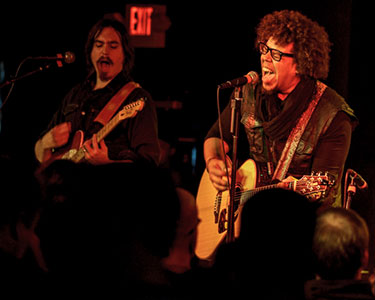 Featured in the encores were two Springsteen-penned, C.-related highlights. First up was an instrumental version of "From Small Things (Big Things One Day Come)," modeled on the version Clarence performed in his mid-eighties appearance on Late Night with David Letterman. Joining Jake and his band on piano in this high-energy workout was Adam Weiner of Low Cut Connie, also on the night's bill. This was followed by a cover of the Red Bank Rockers' classic "Savin' Up," performed as a duet between Jake and Tony Amato of Boccigalupe & The Badboys, featuring backing vocals by Michelle Moore, who performed her opening-act set with The Alliance Singers.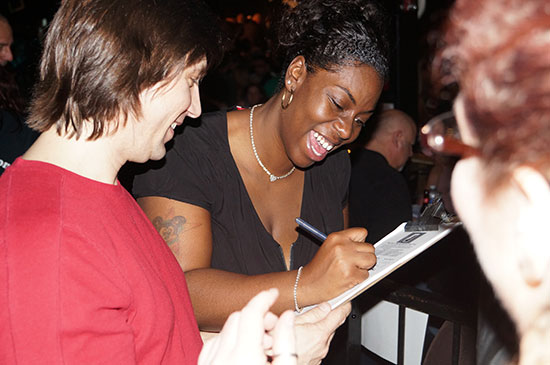 Moore's set included her own version of "Rocky Ground." She also signed the petition to honor Clarence with a U.S. postage stamp [above, E Street Radio's Jim Rotolo, holds while she signs], an effort that wrapped up this weekend (also with a big assist from Barry Paripsky and Audrey Hunn, collecting signatures at the Pony).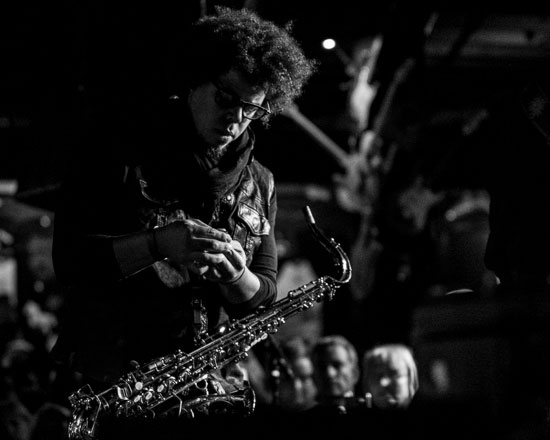 As Jake prepared to leave the stage, after having his band and the entire, ecstatic audience sing along with him on the closing acoustic version of "You're a Friend of Mine," Jake beamed, "On January 11, an ambassador was born who brought joy and love to the universe... Happy Clarence Clemons Day."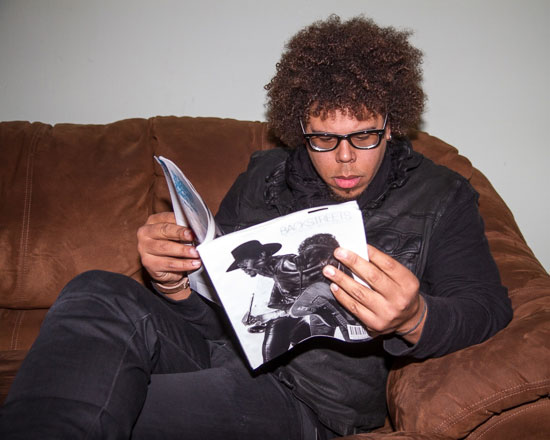 - January 13, 2014 - Shawn Poole reporting - photographs by A.M. Saddler (1,2,3,4,6,7) and Shawn Poole (5)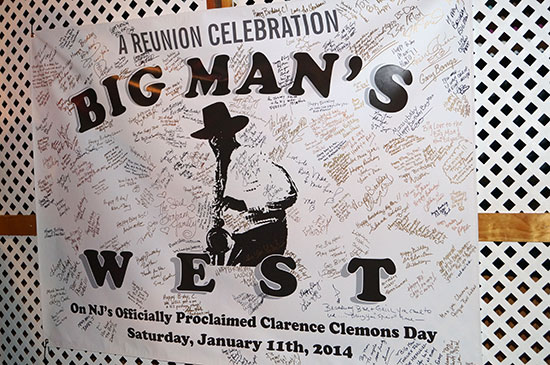 CLARENCE CLEMONS DAY ON THE JERSEY SHORE, PART I
Nick Clemons presents a Red Bank Rockers Reunion at Martell's
As New Jersey (and the world) celebrated the first annual Clarence Clemons Day, it was a family reunion of sorts last night at a bustling Martell's Tiki Bar on the Point Pleasant Beach boardwalk. Fans from as far away as California gathered for a night of music and memories in remembrance of the legendary E Street sax man on what would have been his 72nd birthday. On a windy, foggy, rain-drenched evening reminiscent of the night Clemons first met his lifelong friend and soulmate Bruce Springsteen, the Atlantic surf pounding the shoreline just beyond the neon lights of the boardwalk, the night couldn't have been more suited for a celebration of the life and legacy of the Big Man.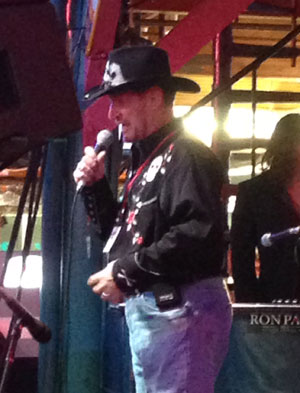 The vast space was awash with many familiar faces from the bygone days at his shortlived Red Bank, NJ, club Big Man's West, from the Stone Pony and Wonder Bar and even from the old Student Prince. The area behind the front bar resembled the Pony back bar in days of yore, as musicians gathered to gossip and reminisce: there was ex-Asbury Jukes bassist "Muddy" Shews (now playing in Nick Clemons' band), former Steel Mill manager and shore impresario Carl "Tinker" West, original E Street drummer Vini "Mad Dog" Lopez (who sat in with just about every band), guitarist Billy Ryan (who played in the Jaywalkers with Steve Van Zandt and Garry Tallent), and Shore legend "Stormin'" Norman Seldin [right]. Seldin's hiring of Clemons for his band the Joyful Noyze was instrumental to the early Asbury Park scene (it was after a gig with Seldin at the Wonder Bar that the historic introduction of Clarence to his future Boss took place, just down Kingsley Street at the Student Prince). There was blues harpist Sandy Mack, and soul man J.T. Bowen, prowling through the crowd looking typically badass in a long black leather coat and shades, and John Cafferty of Beaver Brown fame (who had driven down from Rhode Island with saxophonist Michael "Tunes" Antunes) sitting at the bar in rapt attention as his Patriots defeated the Indianapolis Colts.
Former Stone Pony house DJ Lee Mrowicki lent his dulcet tones and impeccable musical taste to the evening, as fans were treated to familiar sounds from the old days as well as the usual smattering of obscurities, including the Big Man's instrumental version of Bruce's "From Small Things (Big Things One Day Come)." On a table near the entrance were silent auction items benefiting organizer NCB Charities' Big Man Fund supporting arts education in New Jersey public schools (items including an old Red Bank Rockers set list). A merch stand sold special commemorative t-shirts, while Backstreets' own Shawn Poole and Jeannette Amodeo worked to gather signatures for the Clarence Clemons stamp petition drive. And in the dining room overlooking the ocean, candlelit tables adjoined an extensive dinner buffet, which was followed by coffee and dessert; it seemed that promoters had thought of everything.
But the main attraction was, of course, the concert stage, which hosted a plethora of Jersey Shore musical entertainment including Killer Joe & the Lido Soul, Slim Chance & the Gamblers, and Mike "Rocket" Wurtele — backed by the likes of Lopez and tenor saxophonist Joey Stann (formerly of the Asbury Jukes and the Gary U.S. Bonds band) playing classics like "I Don't Wanna Go Home" and "Raise Your Hand" — and, of course, the Nick Clemons Band. Event organizers had ensured that horns — especially saxophones — ruled the evening, as the audience was also treated to the likes of Jerry Mokar of JoBonanno's Godsons of Soul, "Screamin'" Steve Barlotta of the Soul Cruisers, and the aforementioned "Tunes" Antunes from the Beaver Brown Band, as well as the Red Bank Rockers horn section featuring original members Tommy Meares (trombone) and Ronnie Lankone (trumpet). Midway through the evening, Barlotta was honored with an award for his contribution to the Shore saxophone tradition; he responded by playing a note-perfect unaccompanied version of the saxophone solo from "Jungleland" that delighted attendees.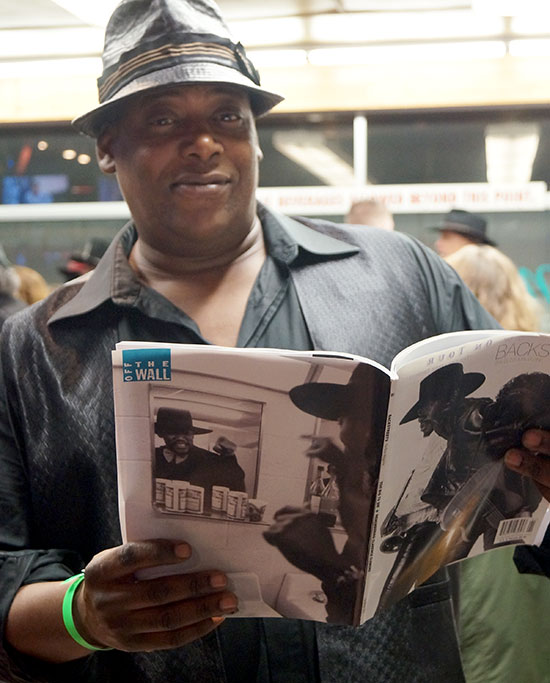 Lopez appeared onstage several times throughout the evening to offer commentary and personal remembrances of his travels with Bruce, the Big Man, and the rest of the E Streeters, and of his longtime friend, the late Danny Federici, keyboardist extraordinaire, who had also been his bandmate in Steel Mill. Nick Clemons — pictured above with the new issue of Backstreets, which pays tribute to his dad — and his band anchored the evening with a set of funk blues jams, while the Eddie Testa Band and Killer Joe brought the classic Jersey Shore R&B.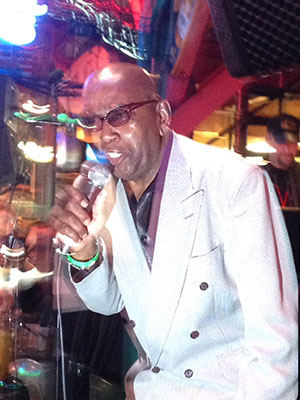 But the night truly belonged to Bowen [left] and his Red Bank Rockers. It was clear that many had come just to see this seminal Shore band (several of the evening's performers, including Nick and a beaming Vini Lopez, could also be seen in the audience), who were reuniting after 30 years for this celebration of their bandleader Clarence Clemons. Keyboardist Jeff Levine (who later anchored John Eddie's touring band) led the band through a heart-stopping set of classic '60s soul (punctuated, of course, by the Springsteen-penned "Savin' Up,"), including Wilson Pickett's "634-5789" and "Mustang Sally" and Sam and Dave's "Soul Man," and finishing up with a floor-shaking, rafters-rocking "Can't Turn You Loose" (Otis Redding). And as always, the slow-building intensity of J. T. Bowen's powerhouse rendition of Redding's "Try a Little Tenderness" midway through the set raised the roof. In black from head to toe, and sporting a pair of alligator patterned black patent leather shoes that glowed with reflected neon light, Bowen was a whirlwind of soul-shouted energy. "It was great to see some of my old friends last night," he said today, "I haven't seen some of these guys in years."
Earlier in the evening, Levine had confessed some pre-set jitters, but the Rockers — guitarists David Landau and Billy Ryan (also of Seldin's Joyful Noyze), drummer Jack Scarangella, and bassist Harvey Brooks's brother, sounded better than they ever had, and when Bowen left the stage with a boisterous "Thanks — we'll see you soon," the sweaty, enthusiastic crowd echoed its approval. Indeed, it would be a shame if these guys didn't get together again soon; this is a band that truly demands to be heard.

Seldin then came to the stage with his band for a handful of tunes. "A lot of people talk to me about making history with Clarence. The truth is, I gave Clarence the opportunity, and he made the best of that opportunity," he declared. Seldin's band was instrumental in breaking color barriers during the early years of the Asbury Park scene that spawned the E Street Band, and he recalled a few occasions when he was told the Big Man couldn't appear as part of his band. "We just told 'em we wouldn't play, and we left," he said. After his set, the stage filled with musicians to share a birthday cake and rendition of "Happy Birthday" in honor of Clemons, followed by a powerful set of rockin' soul by JoBonanno and his band, which included covers of Springsteen's "My Love Will Not Let You Down" and "Kitty's Back," as well as a set-closing duet with Nick Clemons on "You're a Friend of Mine."
The show was running late, so headliners John Cafferty and Michael Antunes (backed by Bonanno's band) could only squeeze in a pair of numbers, but Cafferty was adamant that the evening be finished as originally planned. "Tunes always gives this one something special," he said, introducing his own "Tender Years" (long a favorite of his friend Bruce Springsteen), and indeed, although the song itself was abbreviated, the extended sax outro, usually understated and sad, was played with unusual power and intensity. After the song, Antunes waved for Nick Clemons to come back out, and, turning to face him, he grabbed hold of his hand and stood looking up at him. "I have sons of my own now, and I can see your father in you, in the best ways. In your heart, and in your talent, which isn't the same as his was, but is every bit as strong." Exhorting him to keep the faith, Antunes embraced a misty-eyed Clemons and then, turning back to the audience, he declared, "We can't end the evening on that note!" Whereupon the stage filled with musicians for a traditional set-closing jam on Junior Walker's "Shotgun." And in a denouement reminiscent of 2012's debacle in London in which organizers turned off the power on Bruce, the E Street Band and Paul McCartney, mics were suddenly and unceremoniously cut off mid-song. It was a typical Jersey Shore music end-of-night dissolution, the ragged, shambolic ending to a perfect evening of joy and celebration. I have to think Clarence would have loved it.
- January 12, 2014 - Lisa Iannucci reporting - photographs by Shawn Poole (1,3) and Lisa Iannucci (2,4)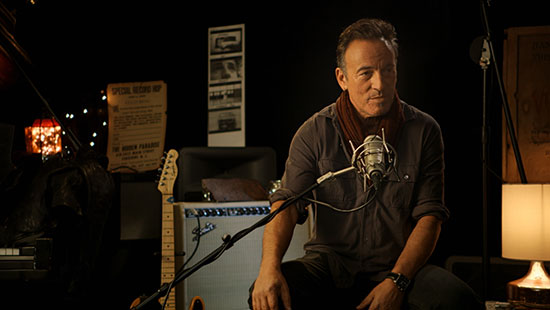 PREVIEWING E STREET RADIO'S HIGH HOPES PREVIEW
Inside Bruce's latest SiriusXM interview, premiering Jan 10 at 11am ET
It's the Thursday before Christmas in midtown Manhattan, and the streets are jammed with holiday traffic, cabs at a crawl. It's no wonder that at SiriusXM headquarters in Rockefeller Center, where Bruce Springsteen will be recording an interview to preview High Hopes, the assembled crew has taken a while to assemble. Just to irk Joanne Kaufman, let's call it a team. The Sony team members are here, leaning against the wall in a narrow white hallway that's practically a one-lane. It takes a few twists and turns to make our way back here — the SiriusXM studios, gleaming and glassy and expansive last time I visited E Street Radio, are currently under renovations, and it feels more like a rabbit warren. The team grows: Shore Fire's here, Springsteen managers Barbara Carr and Jon Landau, E Street Radio dudes. Director Thom Zimny, on duty and deep in work mode, pokes his head out into the hallway from the studio where the interview will take place — things seem to be bustling in there, Dave Marsh is in and out and in and out. But hanging in the hallway, anticipating the arrival of the Man Himself, the team is pretty laid back. Standing here chatting, waiting for Bruce, some still in winter coats, it reminds me of something... shouldn't there be wristbands? But of course the Venn diagram circles of Who Is Here and, say, Who Has Ever Waited in a Drop Line probably intersects in exactly one point, where I'm standing. (TZ, a regular show-goer since the River tour when he was 18, can correct me if I'm wrong.)
Tony Orlando is doing a thing down the hall. He'll have a group of contest winners passing through here soon, and a quick note is made about making sure those decks are cleared before Springsteen shows up. Cliché as it may sound, there really is some excitement in the air. Christmas around the corner doesn't hurt, but it's more of a New Year feel: new year, new tour, new opportunities... that's the stuff that's flying around. Carr is jazzed about the partnership they've just landed with The Good Wife (the episode, "We, the Juries," airs this Sunday, January 12), and rightfully so — in this age of constant struggle to find ways to reach new audiences, it ain't no Jaguar commercial. It's a rare, smart show for adults on a major network, it's got a broad reach, a low crime scene investigator quotient, it's got both big ratings and critical acclaim. "The creators are big fans — I mean, super fans," she tells me. And there's something about the show that seems to fit. Peter Florick looks like somebody you'd find at a Springsteen concert (though in the skyboxes, maybe); Will Gardner would be in the pit. Kalinda always manages to score a setlist before the show. "This is a different kind of album," Carr says, "and we wanted to try something different."
Landau, meanwhile, has a healthy gleam in his eye about Cape Town, South Africa, where the 2014 tour will kick off in late January. The recent death of Nelson Mandela is giving those upcoming shows a particular sense of some convergence of history, considering Steve's (and Bruce's) work with the Sun City project, and the Human Rights Now! tour that took them close but not quite there 25 years ago. But what really seems to be lighting Landau's fire is the basic fact that, this far down the road with Springsteen, they're still doing things they haven't done and going places they haven't gone.
In that vein, Landau fills me in on something else in the works: downloadable concert recordings. Plans aren't totally hammered out yet, but it's something they want to try, potentially after each show, and he says Bruce is on board with the idea. Active discussions are ongoing and in the logistics phase; there are even hopes to make something happen in time for the next leg. Landau clearly understands that this is something hardcore fans have been clamoring for. (Though after fans, for years, have continued to point to what bands like Pearl Jam have been doing, would you believe it was a conversation Bruce had with Rob Thomas that greased the wheels? Well, whatever it takes.) "We're trying to keep the surprises coming," Jon says. "I think we are."
Then, Tony O. fans having squeezed through a while ago, Springsteen is here. In a black coat and burgundy scarf, he makes his way down the hall with hearty greetings to either side, handshakes, and cheek kisses. And then he's gone, zipping into the studio from whence came Zimny's head, to prepare. He'll stay in there until this whole thing's done. A straggling Orlando fan (I have to presume), ambling by, says, "Hey, is that Bruce in there? Can I say hello?" Move along, move along....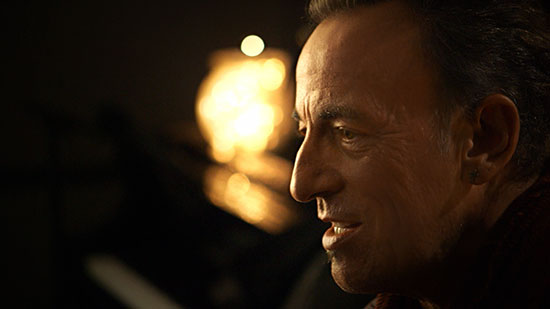 We're in the control room now, widescreen glass looking into the studio where Springsteen sits, having shrugged off his jacket, getting ready to talk. Though this is a satellite radio deal, Zimny's in there with a camera crew, prepping to shoot, and there's been some serious set dressing to warm up the room: drapes hang along the far wall, a baby grand is tucked into the corner, with a couple lamps (of the kind Bruce showed an affinity for on the Devils & Dust tour) adding some ambiance. A few amps are stacked around, and a guitar sits in wait. It's a smart prop to have on hand, with even money that Bruce will pick it up over the course of an interview (though this time you'd lose — he strums it a bit now, but he won't when tapes are rolling). Whether it's because of the renovations or just the way these things are, the rest of the room looks like a storage closet: a sagging metal shelf, a can of Lemon Pledge through the window on the sill.
There's a shift in attention but not much hoopla otherwise as things get underway, Dave Marsh welcoming Springsteen back to E Street Radio, "your home away from home." Which is true to a great extent: Bruce has been granting interviews more selectively than ever in the last ten years, but he's consistently made time to sit with Marsh for the channel, discussing records from We Shall Overcome to Magic to The Promise to High Hopes. This time, Dave is less interviewer than moderator, bringing in, yes, a team of E Street Radio players to be part of the conversation — Jim Rotolo, Caroline Magyarits, and Vincent Usuriello — a roundtable forming a semi-circle in front of Bruce. It looks like he's about to defend a thesis. Four cameras work the perimeter, as unobtrusive as they can be in such a small room. Here on the other side of the glass, the space is just as packed, with more SiriusXM staffers coming in to listen.
The difference between Springsteen's record-making process now vs. the "singlemindedness" of the Darkness era is the first topic of conversation, Bruce naming the previous method "Overthinkers R Us." He describes going from creating an album over two years to doing it in a month, recording 15 songs instead of 30 or 40. "If you don't figure out how to do it a different way," he says, "you don't have a life." But even recording just 15 songs, there are still outtakes — which brings us to High Hopes, and the "small handful of songs that came that close" to making previous records. "Things that were sitting there... 'I'd like to get that out.'"
Hearing him talk, it's quickly clear that that's the story of this record, plain and simple. Not that a great amount of thought didn't go the creation — we're still talking Bruce Springsteen. But if you're coming to this interview looking for Bruce to tie it all together thematically, you'll have to keep on looking. At the Paris press conference for the release of Wrecking Ball, he discussed at length the damage that greed had wrought in this country, and the devastation that a lack of work brings to its people. It's a bit simpler for High Hopes: "I thought, 'This is stuff I thought fans would like to have.'" He makes a potent case for the album's rerecordings of "American Skin (41 Shots)" and "The Ghost of Tom Joad," feeling that these songs, these versions, needed to be "formally defined.... If they're not formally defined, they lose a little of their authority: 'Oh, it only came out on the live record....""
As Barbara Carr said, "It's a different kind of album," and in that way this is a different kind of interview — in some ways more interesting for a stratum of hardcore fans, in that Bruce is talking about his process and his vaults far more than his worldview. "I collect as I go," he says of his writing and recording. "I have a lot of resources I return to — a library of sources that I go to, to shape into an album at this point." As he did with Rolling Stone, he brings up a "lost" record from 1994: "One I keep going back to is 20 years old. It was recorded, mixed, etc., I spent a lot of time on it, didn't put it out. It still intrigues me; I still go back to it." He mentions a "record before Wrecking Ball," also unreleased.
Considering his legendary perfectionism when it comes to recording, it's fascinating to hear how Springsteen has managed to let some things go. He praises Patti Scialfa's proficiency in the studio, having learned to step back and trust her to do her thing — even leaving completely as she adds her vocals. He knows himself: "If I'd have been there, I might have squelched it, I get so nervous and impatient."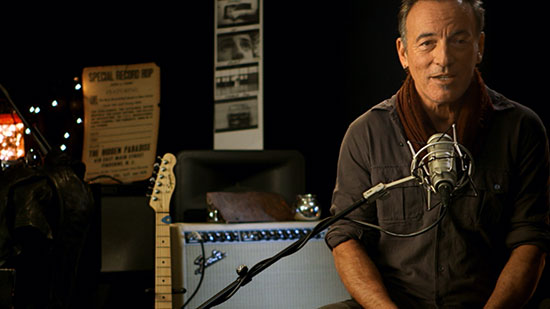 On our side of the window, everyone's rapt. There's not much chatter, let alone movement, other than the arrival of a deli tray. (Not many make a move for that, either, though I find myself "rediscovering" it a la Louis CK). At one point, a big reveal is that Magyarits is from Freehold — she went to St. Rose of Lima, even, where the nuns held sway over schoolboy Bruce. He can hardly believe it. "Freehold! Really?! You're from Freehold?" Landau leans over: "It's like she said she's from Mars."
What you might miss in terms of tying it all together, Bruce makes up for with some fine song-by-song detail. He doesn't remember writing "Hunter of Invisible Game"; Tom Morello prompted him to resurrect it. Of "This is Your Sword": "I almost left that one off, too... that was in the 'No Surrender' slot!" "Harry's Place," which "almost got on Magic," is "about the Bush years." "Frankie Fell in Love": "It's fun — and I look forward to singing it with Steve Van Zandt." On "Heaven's Wall," Morello is in a "guitar battle with himself — I gotta think Nils will be playing half of that when we go to play." Asked about integrating Morello's style with the E Street Band, Bruce points out, "I started my career as a heavy metal guitarist!" (Looking back at that Steel Mill era, he has recently been checking out some bootlegged recordings on YouTube, naming "The Wind and the Rain," for one. "The recordings were not great... but not bad, either!")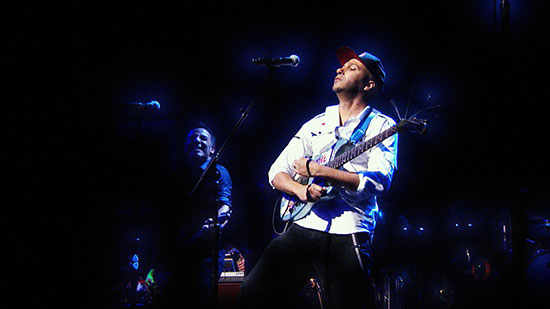 Marsh is uncharacteristically quiet for much of this, graciously letting his panel of cohorts ask most of the questions. But he gets the last one — which he later tells me was one of only two prepared questions for the whole shebang: "How about the E Street Band finally getting into the goddamn Rock and Roll Hall of Fame?"
Bruce has been pretty animated throughout, but never more so than here: "Thank God, the heat is off me now!" It's a laugh line, but there's probably plenty of truth to it, and he goes on to describe just what the E Street Band does for him, not only as a performer, but as a songwriter. Of all the insights Bruce has offered this December afternoon, this has gotta be the most wonderful, the most incisive: "The E Street Band makes me dream in Cinemascope."
Ahh, Tony Orlando is probably saying the same thing right now about Dawn.
The Bruce Springsteen High Hopes Album Preview Special premieres Friday, January 10 on E Street Radio (Sirius/XM channel 20), during Dave Marsh's Live From E Street Nation show, with many encore airings to follow. Live From E Street Nation begins at 10:30am Eastern with the interview scheduled to air at 11am. "Before the show starts," says a new promo for the broadcast, "tune in at 9:30 Eastern 6:30 Pacific tomorrow morning for a special surprise, exclusively on E Street Radio." If you're not already a SiriusXM subscriber, you can get a free 30-Day online trial here.
Rebroadcasts:
Friday, 1/10 - 6pm
Saturday, 1/11 - 12pm, 7pm
Sunday, 1/12 - 8am, 8pm
Monday, 1/13 - 9am, 4pm
Tuesday, 1/14 - 12am, 8am, 3pm
Wednesday, 1/15 - 5pm
Thursday, 1/16 - 10am
Friday, 1/17 - 8pm
Saturday, 1/18 - 2pm
Sunday, 1/19 - 12pm
Monday, 1/20 - 6pm
Tuesday, 1/21 - 10pm
- January 9, 2014 - Christopher Phillips reporting - film stills courtesy of Thom Zimny

DECEMBER ROLLING STONE INTERVEW RUNS IN FULL
Last month, Andy Greene spoke with Bruce Springsteen for Rolling Stone, which ran a piece largely previewing and giving some context to the forthcoming record ("Bruce Springsteen on 'Anomaly of New Album 'High Hopes'"). But that's not all they discussed, in an hour-long conversation that also touched on other projects in works to varying degrees, including a River box set, more unreleased recordings, and Bruce's "memoir." The complete Q&A is up now. There's also more depth on the High Hopes material and its history — you'll want to settle in with this one for sure.
Read: "A 54-Minute Conversation With Bruce Springsteen"
- January 9, 2014



IT'S BEEN A LONG TIME COMIN', MY DEAR...
BACKSTREETS #91 IS HOT OFF THE PRESSES
Our massive new issue, which has just mailed out to subscribers worldwide, honors a very Big Man. More than half of the 116-page Backstreets #91 is a tribute to the life and music of... do we have to say his name?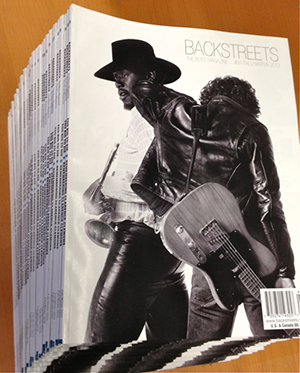 Okay, we will. Our 65-page Clarence Clemons tribute section kicks off with "Big Man: The Final Chapter," an epilogue to Clarence's book written exclusively for us by his co-author and longtime friend, Don Reo. After that, page after page of remembrances from longtime friends, colleagues, and fellow musicians, including Little Steven, Robert Santelli, "Stormin'" Norman Seldin of the Joyful Noyze, Vini Lopez, Ernest "Boom" Carter, Mike Appel, J.T. Bowen, Narada Michael Walden, Branford Marsalis, Dale Maharidge, Jo Lopez, Nick Mead, and eulogies from Jake Clemons and Bruce Springsteen. We've also packed this tribute with stunning images spanning 40 years, from photographers including cover photographer Eric Meola, Barbara Pyle, Frank Stefanko, Jim Marchese, Rene Van Diemen, James Shive, Michael S. Williamson, Joseph Quever, A.M. Saddler, Michael Zorn, the archives of Billy Smith, and more.
The Clarence tribute section is, appropriately, massive. But it's not the only feature here. We also present the Backstreets Interview with Tom Morello, conducted by editor Christopher Phillips. Over two sessions, and 11 pages in the magazine, Tom discusses his fandom, relationship and work with "the only friend I have who I also subscribe to a magazine about." Plus: a Q&A with Bruce author Peter Ames Carlin, reviews of "fan-based recordings," and much more. 116 pages, perfect bound, full-color. Click here for detailed contents list.
Subscribe and save
New subscriptions begin with this issue — subscribe now for significant savings off the cover price, to eliminate shipping charges, and to automatically receive the issues to come.
If you'd like to receive this issue and more, susbcribe online now. Or call our order line to subscribe by phone, at 1-800-326-BOSS. If you enjoy this website, there's a lot more waiting for you in the pages of Backstreets Magazine.
Already a subscriber? Check our Subscriber Services page for more details on when you can expect your copy of the new issue, currently in the hands of the postal service. After such a long time comin', now it's here — we greatly appreciate your patience and hope you enjoy!
- January 8, 2014

SUPER TUESDAY: MORE HIGH HOPES DAY HAPPENINGS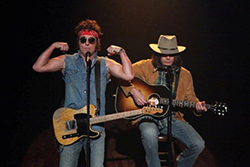 So, Tuesday, January 14: High Hopes gets its official release, and that night, as just announced, Springsteen will guest on Late Night with Jimmy Fallon. As we have for Bruce's previous hair-whipping, knowingly sexy appearances on Fallon, we'll be giving a few lucky fans prime spots in NBC Studio 6A, with a very limited number of "Band Bench" tickets to give away for Tuesday's taping. If you haven't already, now's a good time to sign up for our email list, the Outskirts Dispatch, and stay tuned.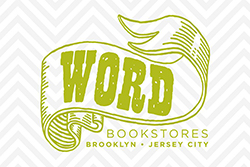 Not enough Bruce in one day for ya? Here's another event to add to the list for 1/14: our pals/authors Caryn Rose (Raise Your Hand) and Marc Dolan (Bruce Springsteen and the Promise of Rock 'n' Roll) are teaming up for a Springsteen night at WORD bookstore in Jersey City. In honor of the new album, it'll be an evening of debate and conversation about Springsteen past, present, and future, co-sponsored by Backstreets and moderated by Kimberly Austin, host of rockbookshow.com. Facebook RSVP encouraged, but not required.
- January 8, 2014


BIG MAN STAMP PETITION DEADLINE APPROACHING...
DON'T LET US SUBMIT IT "WITHOUT YOU!"
As we expected when we launched it last month, our online petition to honor Clarence Clemons with a U.S. postage stamp has generated much enthusiasm in the Springsteen fan community. More than 4,100 people have signed already, many adding their own heartfelt personal messages. We've gotten a ton of support from E Street Radio and other friends, Facebook "likes" from both Jake and Nick Clemons, and each of their Jersey Shore concerts (Jake at the Stone Pony, Nick at Martell's Tiki Bar) this Saturday, what would have been Big Man's 72nd birthday, will be helping to give the petition a final push.
Nevertheless, we remain far short of our 15,000-signature goal, which we still hope to achieve in time for this weekend's festivities celebrating New Jersey's first-ever official Clarence Clemons Day. Given the thousands of fans who visit this website on a daily basis, we still should be able to meet this goal.
So this message goes out to all of you "unsigned acts" out there. Maybe you got distracted by the holidays. Maybe it was all the excitement surrounding High Hopes or Clarence and the rest of the E Street Band heading into the Rock and Roll Hall of Fame. Maybe you only faintly recall snail mail as a distant memory. Whatever the reason, just take a minute or two right now to sign this petition. You can click right here to do it. We've slightly extended our signing deadline to cover all of Clarence Clemons Day weekend, through this Sunday. After that, however, we're closing the petition and submitting it with whatever signatures we'll have gathered by then, when it goes to the U.S. Post Office Citizens' Stamp Advisory Committee for consideration and our high hopes for approval.
As a bit of extra motivation, check out this YouTube clip of "Without You" from the closing moments of the Blood Brothers film. It was filmed at the same 1995 Greatest Hits sessions where Bruce and the E Street Band first recorded "High Hopes," now the title track of his newest album. As an earlier scene in the film shows, during those sessions the band celebrated their own unofficial "Clarence Clemons Day" on C's birthday, just about 19 years ago. While you watch Big Man laugh, sing and dance with his lifelong friends, and hear his sweet sax soar once more, be reminded of the power of community and that we definitely don't want to submit this petition "without you" on it. Sign here now, and get everybody else you know to do the same.
- January 8, 2014 - Shawn Poole reporting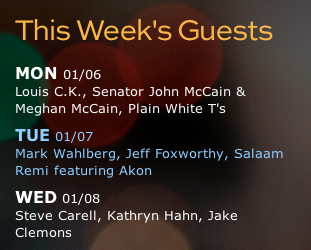 HEEEEERRRE'S JAKEY!
Jake Clemons makes his debut appearance on The Tonight Show with Jay Leno this week, guesting on tomorrow night's show. Tune in to NBC Wednesday night at 11:35/10:35c.
That's in advance of his big show at the Stone Pony this weekend, where Jake will headline a bill that also includes Michelle Moore & the Alliance Singers. It's Saturday night, January 11 — Clarence's birthday, also officially known as Clarence Clemons Day in New Jersey — and a limited number of tickets are available through Ticketmaster. A portion of the proceeds will benefit Little Kids Rock.
- January 7, 2014



HIGH HOPES: LISTEN ONLINE NOW
Don't forget, High Hopes is streaming in its entirety this week at CBS.com/springsteen, through Monday, January 13, at 7pm Eastern.
1/7 update: For streaming outside the U.S., try smarturl.it/highhopesstream
- updated January 7, 2014

ALL MY SORROW AND PAIN
Phil Everly, 1939-2014
Phil Everly of The Everly Brothers, among the very first inductees into the Rock and Roll Hall of Fame, died yesterday at 74. Here are YouTube links for two Everly-related Springsteen performances of note:
"Crying in the Rain" – Bruce and Nils Lofgren provide their best Everly-like harmonies on this extremely rare E Street Band cover performed during a Tunnel of Love Express Tour soundcheck in Tacoma, WA on May 6, 1988. (Click here for the lyrics.) The song was never performed in concert. The same soundcheck included covers of the Everlys' "Let It Be Me" and "Cathy's Clown" (co-written by Phil and his brother Don), also never performed in concert.
"When Will I Be Loved" – The official music video for John Fogerty's 2009 duet with Bruce on this Everly favorite, written by Phil. Look for Bruce's cameo on a Wanted poster at 1:38.
Another Everly Brothers classic, "All I Have to Do Is Dream," written by key collaborators Felice and Boudleaux Bryant, has been performed by Springsteen (sometimes accompanied by Patti Scialfa) at several private parties over the years, including a Ranney School benefit. The Everly Brothers also recorded one of the earlier versions of John Hurley and Ronnie Wilkins' "Love of the Common People," later performed/recorded by Springsteen and released as a bonus track on the CD/DVD versions of Bruce Springsteen with The Sessions Band Live In Dublin.
As Garry Tallent wrote today on Facebook, "One of the most perfect voices on earth has been silenced." Rest in peace, Phil Everly.
- January 4, 2014 - Shawn Poole reporting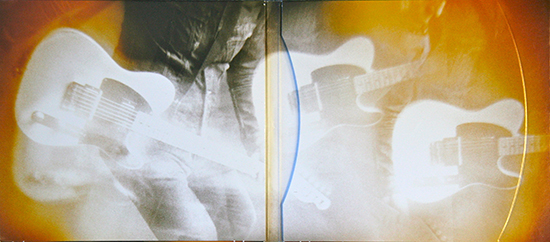 INSIDE HIGH HOPES
Bruce's illuminating liner notes for High Hopes were made available when the album was announced; we also learned producer credits at that time, as well as which tracks feature Tom Morello. With 11 days to go until the official release, here are 11 additional things we've gleaned from a look inside.
• Clarence Clemons appears on two songs, playing sax on "Harry's Place" and "Down in the Hole." Danny Federici played organ on two songs as well, "Down in the Hole" and "The Wall."
• Sam Bardfeld, from the Sessions Band, plays violin on as many songs as Soozie Tyrell does here, appearing on "Heaven's Wall," "Frankie Fell in Love," and "This Is Your Sword." Their Sessions Bandmate and E Street touring organist Charlie Giordano is on four of the 12 songs.
• The 2012-13 horn section of Jake Clemons, Barry Danielian, Clark Gayton, Ed Manion and Curt Ramm, which plays as a unit on four of the album's songs, was joined by Stan Harrison on sax, who also fleshed out the horns at the 2010 Carousel House taping. Harrison has been part of the Disciples of Soul, the Asbury Jukes, Miami Horns and LaBamba & the Hubcaps, as well as a player on Wrecking Ball and The Promise.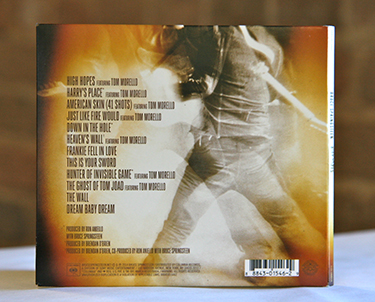 • Appearing on seven tracks, Tom Morello gets a "Lead Vocal" credit on "The Ghost of Tom Joad," a first for anyone else on a Springsteen studio record (on Wrecking Ball's "Rocky Ground," Michelle Moore received "Feature Vocal" credit).
• As the album's press release stated, High Hopes was recorded in New Jersey, Los Angeles, Atlanta, Australia, and New York City. The credits reveal that sessions took place in a whopping 16 studios, including studios in both Sydney and Byron Bay (near Brisbane), and seven different locations in L.A.
• Thanking producer Ron Aniello, who Springsteen started working with after Working on a Dream, Bruce calls him "a tireless partner in the making of these records, his musicality, attention to detail, flexibility, and creativity shine through on High Hopes." As on Wrecking Ball, Aniello contributed much to the music itself, credited here on drum and percussion loops, bass, synths, guitar, 12-string guitar, percussion, organ, farfisa organ, accordion, and vibraphone.
• Springsteen himself plays guitar, percussion, bass, percussion loop, organ, synths, piano, banjo, mandolin, vibraphone, and even drums (on "The Wall").
• And for all that, the core E Street Band is well represented: Roy Bittan is on nine of the 12 tracks, Nils Lofgren on six, Steve Van Zandt on four, Garry Tallent on seven, and Max Weinberg on ten of 12 (session drummer Josh Freese [Devo, Paul Westerberg/The Replacements] plays on "This is Your Sword").
• Patti Scialfa, Soozie Tyrell and members of the "E Street Choir" (Everett Bradley, Curtis King, Cindy Mizelle, Michelle Moore) handle a good deal of background vocals. The more suprising backing singers are the Springsteen kids, on "Down in the Hole." Bruce thanks "(at the time, middle school guest vocalists) Evan, Jess and Sam."
• The official credit for "The Wall" reads "By Bruce Springsteen; Idea and Title: Joe Grushecky." [What Joe himself did with his idea and title wound up on his 2002 Fingerprints album, as "On the Wall."]
• Thanking the Wrecking Ball tour's musicians and crew, Bruce calls it "one of our most inspiring tours."
- January 3, 2014

GREETINGS FROM ASBURY PARK
Clarence Clemons Day and Light of Day this month
It's January at the Jersey Shore, and after digging out from the nor'easter that just dropped nearly a foot of snow, music fans will be gearing up for a pair of annual events that have become highlights of the post-holiday season. First up is January 11, otherwise known as Clarence Clemons Day in the state of New Jersey. The Garden State has long honored Clemons' birthday with tribute concerts, but last year's official designation of January 11 as a state holiday has cemented its status as a day to celebrate the life and legacy of the Big Man.
This year's lineup of activities includes a pair of concerts featuring Clemons family members. At the Stone Pony, Michelle Moore and nephew Jake — both fresh off the Wrecking Ball tour — will appear at a benefit for Little Kids Rock, while Martell's Tiki Bar in Point Pleasant will host a Big Man's West Reunion hosted by Clarence's son Nick.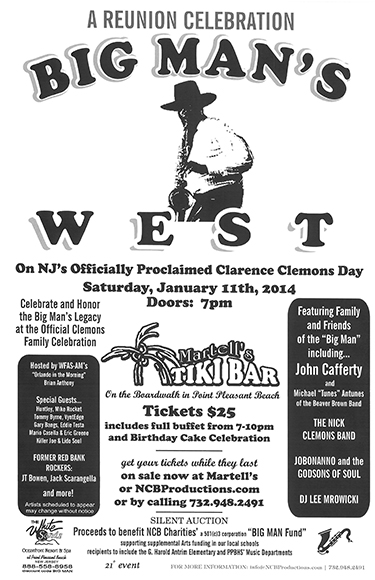 The Martell's event, billed as the "official Clemons Family Celebration," features a strong lineup of Jersey Shore talent, including former Stone Pony house DJ Lee Mrowicki, JoBonanno & the Godsons of Soul, Eddie Testa, and Killer Joe and the Lido Soul, as well as Big Man's regulars John Cafferty and Michael "Tunes" Antunes of the Beaver Brown Band and former Red Bank Rockers J.T. Bowen and Jack Scarangella.
"I will continue to work to preserve the legacy of the Big Man and Big Man's West, and this event will give fans an opportunity to show their love for Clarence Clemons and relive the magic that was Big Man's West for a night," says Nick.
Tickets for this show are available at Martell's, online at ncbproductions.com or by phone at 732-948-2491. Stone Pony tickets are available through Ticketmaster or the Stone Pony box office.
The second major January event is, of course, the 14th Annual Light of Day concert series. This year's activities kick off on Sunday, January 12, as the Stone Pony showcases the best of the Jersey Shore's bar bands, including a reunion of former Pony house band Cats on a Smooth Surface. New events this year include a Gospel Breakfast at the Dauphin Grille at the Berkeley, and "Neil Berg's 100 Years of Broadway" at McLoone's Supper Club, which will feature top Broadway performers recreating some of the biggest moments from Broadway hits. Also new to the lineup this year are the Light of Day film festival at Asbury Park's ShowRoom theater, and Asbury Underground, a series of live acoustic sets by local musicians playing in art galleries and other locations in the downtown area. Headlining Saturday night's main event at the Paramount Theater (temporarily reopened for this event) is Johnny Rzeznik of the Goo Goo Dolls.
The Paramount show is sold out, but individual tickets for the remainder of the event schedule are still available through the usual Ticketmaster outlets. Visit lightofday.org for further information, including complete event schedule and ticket prices.
- January 3, 2014 - Lisa Iannucci reporting

THE EYE HAS IT
CBS to feature High Hopes, with Good Wife placement & online streaming
Can Will and Alicia kiss and make up? Is there a future for Eli and Natalie? Will Florick/Agos get to keep their new furniture? What does the new Springsteen record sound like? Stay tuned to The Good Wife on CBS for answers to these and other burning questions. CBS is giving an early preview of High Hopes not only with the January 12 episode of their critically acclaimed drama, but also with an exclusive stream of the full album beginning this Sunday night, January 5.
Following this Sunday's broadcast of The Good Wife (9-10pm, ET/PT), a special preview for the following week's episode will feature music from the forthcoming album and will prompt viewers to visit CBS.com/springsteen to listen to High Hopes in its entirety. The album will start streaming after the broadcast on Sunday, January 5, through Monday, January 13 at 7pm ET.
Three songs from the album — the title track, "Hunter of Invisible Game," and "The Ghost of Tom Joad" — will be featured in the January 12 episode, titled "We, the Juries." Show creators and Springsteen fans Robert King and Michelle King say in today's press release, "We love using music in The Good Wife, and we always have the music inform the action and the cutting. So when the Bruce Springsteen songs became available, we couldn't believe our luck. We wished we could use the whole album."
So if you didn't get one for the holidays, grab the 2014 calendar now at 2/3 the price, and have Bruce on your wall all year long. No coupon necessary, while they last.
Have a happy and safe New Year's Eve — in addition to more tour dates, we wish you love, peace and fearless sleep in 2014!
- December 31, 2013