News Archive
July 2011


WELL, SURPRISE, SURPRISE, SURPRISE
"Today is your birthday / We traveled so far we two..."
Happy birthday, Patti!
- July 29, 2011


FOR THOSE OF US WEARING SHIRTS
If you have to put a top on during this heatwave, check out these cool new (and lightweight) tees: we've just added a Darkness T-shirt and a women's Born to Run shirt to our online shop, both offically licensed and in stock now!
- July 29, 2011


ON THE BEACH IN THE MIST
Ah, the Legends of Springsteen: the one the elders call The Boss been said to appear unexpectedly from time to time — from balconies in Europe to biker bars in the American Southwest, with sidewalks and boardwalks in between — to to put a smile on the face of a lucky few. The latest sighting: Saturday, July 23, in Long Branch, NJ, a small group of mothers and children at the Promenade Beach Club were treated to a bit of "Born to Run." That much we've confirmed. Tales of red-headed mermaids then calling him back to the sea remain uncorroborated.
- July 28, 2011

WELL, I GOT THIS GUITAR...

The corner of 10th Avenue and E street in Belmar has always been one of the "must-see" spots for visiting Springsteen fans. Now there's another reason to visit the corner: an eight-foot sculpture modeled after Bruce's famous Esquire has been erected on the southeast corner of the intersection, on the grounds of the Belmar Public Library.
Artist Bob Mataranglo designed and built the sculpture in May; he worked with the Belmar Tourism Commission, who also provided funding. The aim was to install it sooner, but as Bob tells Backstreets, "With the untimely death of Clarence Clemons we held off. We didn't want anyone to connect the two events, thinking we were exploiting it. So we delayed it, and quietly erected it last night."
Bob used patent drawings and a Born to Run cover to get it right. "I had the image blown up on a plotter and used it as a template."
Made of half-inch marine grade plywood and stainless steel, the sculpture is just under 8 feet long, not counting the base. The guitar itself weighs 150 pounds. The Belmar Dept. of Public Works dug the hole and supplied the concrete for the base.
"We used three gauges of stainless steel wire for the strings. Denis Nalepa fabricated all the stainless steel."
Bob's untitled piece is in part a reflection of the real guitar's owner: "Springsteen projects a larger-than-life image. He makes you want to get up. He motivates you. He gets you moving."
- July 27, 2011 - report and photograph by Mike Black

PRINCE: SPRINGSTEEN "BRILLIANT... HE HAS SOMETHING SPECIAL"
Prince spends an afternoon in Paris with the Irish Independent, and in addition to drawing a distinction between "a bagpipe" and "some bagpipes," His Purpleness also differentiates between the haves and the have-nots:
"I rarely go to shows at all," he says. "I saw Bruce Springsteen. He was brilliant. He is one of the acts who doesn't phone it in. Usually when I go to shows, I take half of the crowd with me to the parking lot when I leave. That didn't happen with Bruce. He has something special."
Read The Royal Visit
- July 27, 2011

GRAND THEFT BOOGALOO
Speaking with Vulture about his new band the Horrible Crowes, the Gaslight Anthem's Brian Fallon also riffed on the lineage of his stage moves:
I steal Bruce Springsteen's seventies moves, but he steals Van Morrison's seventies moves, and there's a really hilarious clip on YouTube where you find a grumpy old Van Morrison and they ask him: "What do you think of Bruce Springsteen?" because Born to Run just came out, and he goes: [Mimics grumpy old Van Morrison.] "Bruce Springsteen? He steals my moves. My seventies moves." And he says it just like that, and he's all fat and gross and it's so funny.

But yeah, I totally steal. If you watch the London Hammersmith concert, my most stolen move is in "10th Avenue Freeze Out." He swings his arms and claps while he's swinging his arms. That's my most stolen move. But I know Bruce well enough to tell him I steal them. And he's like [in Springsteen rasp], "Look, you took from me, and now my son's taking from you. It all comes full circle." That's how he says it. I do impressions on the weekends.
[We found the Van bit in print... two points for anybody who finds the YouTube clip!]
- July 26, 2011


IN THE CROWD I FEEL AT HOME: PHOTOGRAPHS OF PATRICK HARBRON

Photographer Patrick Harbron shot Bruce Springsteen's concerts in Toronto "many times from 1978-1992, more than any other artist," he says. "He was always a force. He never disappointed."
We love these shots of Bruce in the crowd in 1978 (left) and 1981 (above), both at the Maple Leaf Gardens. Patrick does too: speaking about the River tour image above, from January 1981, he says, "I have favorite photographs from that evening but my first choice is one taken when he jumped into the audience. It is, for me, the embodiment of the ultimate people's musician with his fans... there is a unique connection that has always been a part of Springsteen's success."
Dig Gallery is the first gallery to bring Patrick's work to the U.K., where numbered, signed prints from the Darkness, River, and Born in the U.S.A. tours are now available in sizes ranging from 11x14 to 20x24. Visit diggallery.com to see more.
- July 25, 2011


YOU GUYS KNOW WHAT TIME OF YEAR IT IS?
It's "Christmas in July," of course, with the Big Man
Have you been stranded in the jungle, takin' all the heat Mother Nature's been
givin'? Are you, like us, still missin' the Big Man and Scooter bustin' this city in half? It's clear that we need a little Christmas... in July! On Monday, July 25 at 10
a.m. ET, Backstreets contributor Shawn Poole will host a special "Christmas in July with Clarence Clemons" edition of "You Be The Boss" on E Street Radio (Sirius/XM channel 20). Shawn will be playing some of Clarence's greatest Christmas musical moments with and without the E Street Band (including lesser-known/harder-to-find stuff), telling some fun Clarence/Christmas-themed stories and encouraging listeners to make special "Christmas in July" contributions to two of Clarence's favorite children's charities: the Home Safe Foundation and Little Kids Rock. Tune in and let the spirits of Clarence and Christmas cool you down and warm your heart.
– July 22, 2011 – photograph by Watt Casey, Jr. (11/23/84)


JAKE CLEMONS: IT'S ON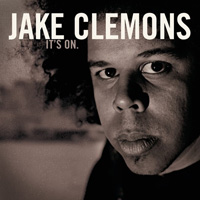 E Street Band fans are probably already familiar with Jake Clemons, Clarence's nephew: he's played with them on stage, toured with The Swell Season, and recently blew a Philly crowd away paying tribute to his late uncle with Eddie Vedder and Glen Hansard on "Drive All Night." Jake was on the sax for that magic moment, but he also plays guiar and piano, and he's stepping out as a songwriter, too — check out the new video for "Love'll Never Change" from his 2011 EP, It's On.
On August 31, he'll play the Stephen Talkhouse in Amagansett, NY — get there if you can! For more on Jake and It's On, which is available now, visit jakeclemons.com.
- July 21, 2011


U2 IN THE SWAMPS OF JERSEY
Returning to the Garden State on the final leg of their "360" World Tour, U2 performed for the first time at the New Meadowlands Stadium and, as they did in their last New Jersey apperance, invoked Bruce repeatedly.
During "I Still Haven't Found What I'm Looking For," Bono thanked "Father Springsteen for the lend of the hall" and added part of the chorus of "The Promised Land" to the end of the song. As the inevitable Bruuuucing broke out at the end of the song, Bono encouraged the crowd to make that "beautiful sound," and joked that the Edge's middle name was Bruce.
As the show came to its end, Bono spied a large fluorescent sign with "For Clarence" written on it and asked for it to be passed to the stage. The band again paid tribute with "Moment of Surrender": "one last goodbye, in the company of some of his people," in remembrance of "this extraorinary man and his eloquent saxophone." They dedicated the song to "the E Street Band, and Bruce, of course," and the end of the song featured Bono reading the words to the final verse of "Jungleland."
- July 21, 2011 - Glenn Radecki reporting


ELVIS COSTELLO ON BRUCE SPRINGSTEEN: SELECTED QUOTES
In honor of our Elvis Costello-signed Spectacle DVD giveaway, we've gone through some interview archives for some historical perspective. Part of the pleasure of watching Elvis and Bruce together on Spectacle is not the joy of seeing two old friends in conversation, not exactly; Costello's relationship to Springsteen has historically been more, shall we say, complicated than that. Three decades ago, he appreciated being called a "new Springsteen" as much as Bruce once liked the "new Dylan" tag. With thanks to the great resource elviscostello.info, see how Costello's stated opinion on Springsteen, once ambiguous at best, evolved as he went from the "angry young man" to experience his own encounters with "showbizz" and fame and contend with the anxiety of influence.
June 1977
The Elvis (Costello, that is) interview - Allan Jones
Melody Maker, 6/25/77
...Always, Costello retains his originality as a lyricist: he avoids conclusively the obvious and tiresome teendream preoccupations of comparative writers like Nils Lofgren (the midget Yank's recent work, at least), Elliott Murphy and Springsteen. No, Elvis' songs possess the cutting clarity of the best of Graham Parker and Van Morrison: indeed, like this latter pair, Costello's music refers constantly to the classic pop/rock standards of the last decade, each song being sharply defined and full of irresistible hooks and delightful instrumental phrasing (for the verve and incisiveness of the album's sound, some considerable credit must be attributed to Nick Lowe, Elvis' producer).
"This influence stuff," says Costello, when several of the aforementioned musicians are mentioned, "is really irritating, 'cos people are always trying to pin you down to sounding like somebody else. I appreciate the comparison you drew with Graham Parker. I suppose that it's because he's currently maybe the only person that's doing anything like me.
"If there's a general musical area that he's working in, then I accept that I'm working in a similar area and the comparison is validly drawn. And I'd rather be compared to Graham Parker than Tom Jones. If someone came along and said that I sounded like John Denver then I'd f------ worry. It's better to be compared to somebody good; but it still doesn't mean that I sit at home trying to think of ways to re-write songs from Heat Treatment. Anyway, if I'd had a record out before Graham Parker, it would all be reversed ... 'cos, you know, the people who're saying that I sound like Graham Parker are the same people who said that Graham Parker sounded like Bruce Springsteen, who are the same people who said that Bruce Springsteen sounded like Van Morrison, who are the same people who said that Van Morrison sounded the same as Bobby Bland or whoever. You know, the people who NEVER listen to the f------ music."
The prospect of being compared to Springsteen, whose panavision scenarios — replete with so much obvious romantic, rock-mythology imagery of a kind quite antithetical to Costello's writing — fills Elvis with anguish and dread. "Springsteen always romanticising the f------ street," he complains, with no little justification. "I'm bored with people who romanticise the f------ street. The street isn't f------ attractive. I mean, I don't pretend to live in the heart of one of the worst areas of the world, right.
"I live near Hounslow. It's a very boring area. It's a terrible place. Awful. Nowhere. Nothing happens. There's nothing exciting or glamorous or romantic about it. There's nothing glamorous or romantic about the world at the moment. There is no place for glamour or romance. Romance, in the old pop song sense, has gone right out of the f------ window for the moment. Nobody's got the time or the money. It's gone beyond all that. But, please remember, I don't sit around wondering how people see the world, or how they feel about things.
"I don't attempt to express their feelings. I only write about the way I, feel. I mean, I'm not arbitrator of public taste or opinion. I don't have a following of people who are waiting for my next word. I hope I never have that kind of following. People should be waiting for their own next word. Not mine."
October 1977
Interview about My Aim Is True - Archie Barneveld and Martijn Stoffer
Oor Muziekkrant [Ear Music-Newspaper], 10/5/77
A lot of people compare you to Graham Parker or Van Morrison, but we don't think you're like anyone else.
"Some hear the similarities with Parker, but I don't notice it at all. The same goes for Van Morrison and Bruce Springsteen. Those three are more like each other than I am like any one of them. My voice is much higher and lighter than their voices. On the record anyway, my voice does sound different live, but when I listen to the record, I think it's just nonsense....
"At a big record company, they could have made me sound very different, maybe they would have wanted me to be the new Bob Dylan, the new Bruce Springsteen, or the new Graham Parker. The big companies have a tendency to do that. They had quite possibly even less imagination than all these journalists, who also wanted to make me into the next 'new somebody'. Instead of just accepting me as Elvis Costello and making the best of it."...
In rock, singers sing about themselves most of the time.
"In rock you often have the Rainbow, Nils Lofgren or Mott The Hoople way of rock & roll, with long guitar solos or jumping on a trampoline. The songs are not of any importance at all. It's only about noise, well not even noise, but it's about utterly boring guitar solos and someone who runs to and fro on a stage, it's all show. As a matter of fact it's much more showbizz than people think. It's all in the showbizz-corner, with spotlights and so on. But I find it very boring, dull, empty and void. There's no feeling behind it at all."
November 1977
Elvis Costello - anti-star of the new wave - Niall Stokes
Record Mirror, 11/26/77
"From the point of view of a show, I really like the idea of being able to go out and do something fresh, 'cos it keeps people on their toes. They're not just coming along to see you do a live version of the album, which is what it's like with a lot of bands."
Don't let the word 'show' deceive you either: "I don't like theatrical things. I'm not very into show business. Well, I'm not very into it — I hate it. I don't regard myself as being in show business at all. I'm just playing songs. I don't think of rock 'n' roll in the Nils Lofgren sense — trampolines and scarves. I don't think of it as another world.
March 1978
ELVIS COSTELLO: Disgust! Irritation? Revenge! Obsession? – Nick Kent
NME, 3/25/78
...surely the crux of the matter is — do you want to get more mature as a person and consequently get less extreme? Or do you consider those extremities, albeit immature or overly neurotic, as still indispensable as basic fuel for your songwriting?
That's a difficult one, you know. It's my "Will he have difficulty relating to success and will he still be as sharp as he was now he's been pulled off the streets?" dilemma. That tends to be the popular one that people get with their second albums. It was like that for Springsteen, wasn't it? Like, "What's he going to do now he's no longer on the streets in New Jersey?"
Ah, but that 'street thing' doesn't apply to you because you were never 'a man of the streets' as such. You were more into emotional extremities.
Right, so with me it's going to be "What's going to happen now he's a success? How are the changes going to affect him?"
O.K., well there are two ways around that. I could find myself 'praying' with people, projecting myself through them in order to write songs. Which I've already done, by the way. And then there's a dimension beyond that where that thing becomes a dimension within itself.
November 1978
Elvis Joins The Circus: A Fantasy - Legs McNeil
Hit Parader #172, 11/78
[Legs McNeil has a strange piece imagining Costello running away and joining the circus. There's nothing about Bruce in the piece, and no quotes from Elvis at all, but it's interesting given the discussion of the circus in the Spectacle interview. McNeil even envisions Elvis as "The Human Cannonball," paralleling the imagery in "Wild Billy's Circus Story," which was performed for the 2009 show. And of course, note the juxtaposition of photos on the cover.]
February 1980
Get Happy!! LP
[Costello releases his fourth album, Get Happy!!, featuring "Temptation." Lyrics are here. See 1996 for Elvis' comments about how the song was inspired by seeing Bruce in Nashville in 1978.]
March 1986
The Happy Death Of Elvis Costello - Nick Kent
Face #71, 3/1/86
Back at the beginning of the Eighties, Costello and Bruce Springsteen were way ahead of the pack, almost neck-and-neck as commercial hotshots. Now, five years on, Springsteen has completely grasped the mass imagination of his country and to a leser extent Europe, whilst Costello is still held in a certain reverence — his songwriting an inspiration acknowledged by the likes of George Michael — but hasn't won over remotely the same kind of majority. As I am saying this I can sense Costello simmering. The subject of Bruce, King of the Heartland, has caused him to aim some untypically cheap shots Springsteen's way over the last couple of years. More pointedly, I recall — back in early 1978 — witnessing Costello, then the young heavyweight contender, reading that Springsteen's yet-to-be-released Darkness on the Edge of Town might be titled Racing in the Streets. The image of his face smirking with triumphant relish as he savoured the tentative vision of shutting down the Boss remains with me still.
"Oh God. I tend to get quoted as always knocking him but... I don't dislike Springsteen. He has written some good songs but I just feel, particularly now, that there's something very wrong imagewise — someone is giving him very bad advice or something, I don't know. But, well, the Rambo parallel is too obvious but... so okay, the guy's been working out at the gym but why does he have to keep showing off his bloody muscles all the time? You know, it's okay Bruce, you can roll yer sleeves back down again. Plus this mentality — 'Hey guys what should we use as a back-drop?' 'Well howzabout the flag?' I don't know. It just seems very crass to my way of thinking.
"The first time I saw him live he was really great. Then the next time I saw him it was at a much bigger venue and he'd lost something crucial in the process. Then, last year I went to see him and found myself in this audience who were all completely immersed in this orgy of mindless rapture.
"No, never have I envied his so-called ascendancy. Not for one milli-second! I would loathe to be in the position he's currently in, absolutely loathe it! When I played the N.E.C. I vowed, 'never again.' Nobody can communicate when they're performing from half-a-mile away. Even Jesus Christ couldn't have pulled that off!"
March 1989
WHO THE EL DOES COSTELLO THINK HE IS? - Francesco Adinolfi
Sounds, 3/4/89
So how was it working on the live TV film, Roy Orbison and Friends?
"That was an exception. It was great. Everyone was there for the right reason — there was no false sentiment or false emotion, everybody had his own little reason for being there, cos they admired the man. And I think they really did a good job. They filmed it well, Roy sang brilliantly, the band played well and we enjoyed ourselves. It's probably the best video of its kind.
"Bruce Springsteen was very cool, he just kept in the background. We had to push him up there and get him in the spotlight. He was really nervous — he admired Roy. I think Bruce handled his appearance on that show with great sensitivity and dignity.
"I've always admired a lot of things Bruce has done, but I feel like his life has been taken over by his fame — it's very hard for him.
"I'm lucky, I've had enough success to keep my career going, but never enough to change my life that much."
July 1989
Floor Singer's Revenge - Colin Irwin
Folk Roots #73, 1989-07-01
"I do think that England is a whorehouse. If anyone takes exception to that line I'll argue the cases where I think it is. And if you qualify everything you're never going to win any arguments or change anything. If you've always got to have a let-out clause... there's no let-out clause in 'The Times They Are A-Changin',' there's no let-out clause in the real version of "This Land Is Your Land."
"It's a much more complicated psychology these days because nothing they say is true. When Woody Guthrie was writing songs it was like "You are worthless dirt farmers and we're gonna kick your butt off this land" — that was a fairly easy thing to understand. They didn't try to dress it up in any way. Now they would have an advertising campaign to explain to you why it's better that they come and steamroller your house. So a song as simplistic as that one won't work any more. It's ironic now. When Bruce Springsteen sings 'This Land Is Your Land' it's really beautiful because it's so obviously not true. It's like when I sang 'All You Need Is Love' at Live Aid I thought it was entirely appropriate because it is so transparently not all we need."
October 1989
Girls + £ ÷ Girls = $ & Girls [a/k/a Girls!Girls!Girls!] LP
liner notes
"'Temptation': This started out as a holier-than-thou snipe at a VERY FAMOUS ROCK STAR, who I imagined was breathing his own artificial atmosphere. However by the time we came to record it I'd had a good lungful of the same poison, but had also located that slippery addictive feeling that you get just before giving in to something wicked. It proved to be the saving of the song, together with a few pints of beer and a riff borrowed from Booker T and the M.G.s."
May 1996
Showbox Theatre, Seattle, WA, 5/17/96
intro to "Temptation"
"It's really hard to fall in love with someone from row 97... This here song is a song I wrote in 1978, in Nashville, Tennessee...I was in row 97 actually, at a concert by a very famous American rock singer. I was looking at him, thinking, 'Wow, this is getting tough for the guy, you know. I know he's real, but it's getting like he's not allowed to be real anymore.' I said, 'That'll never happen to me. Fame will never go to my head.'"
VH1 Storytellers, 5/29/96
intro to "Temptation"
"[The song I'm going to play] for you now was written in Nashville, Tennessee in 1978. I had taken a trip down to Nashville to record a track with George Jones, and the record company that I was pretending to be with at the time decided to really show me the town and bought me a cowboy hat and a shirt with horses on it here and they took me to see Bruce Springsteen at the 'Enormodome'... and I was a very big Springsteen fan — and still am, I admire him greatly — and I was somewhat horrified to find... I thought he was being booed. You know this phenomenon where they all go 'Brooooce, Brooooce'... and to my less than perfect ears I heard that they were booing him and I hated that. I also hated what was happening to the beautiful, sensitive songs that he had sung in the past, that people just wanted him to be one thing. And I thought to myself, 'This will never happen to me. Fame will never go to my head.' Well, that part's true.... So I wrote this song about my feelings about it."
November 2000
Costello's 500
Vanity Fair, 11/1/00
[Costello's selection of the "500 albums essential to a happy life." Presented in alphabetical order by artist, and chronological order with each artist's catalog if more than one album by an artist was selected.]
BRUCE SPRINGSTEEN: The Wild, The Innocent and the E Street Shuffle (1973), "The E Street Shuffle"; The River (1980), "Point Blank"; Tunnel of Love (1987), "Brilliant Disguise"; The Ghost of Tom Joad (1995) "Galveston Bay."
[Three of the four selected songs were performed on Spectacle.]
September 2004
Elvis Costello: The Rolling Stone Interview - By David Fricke
Rolling Stone, 9/22/04
I've heard demo tapes you made in the mid-1970s with your band Flip City. Some of them sound a lot like '72 Bruce Springsteen.
"That's who we were copying. When Bruce came to London for 'the future of rock & roll' gigs in 1975, we were like, "Who are these johnny-come-latelies?" We'd been digging him for years. I loved The Wild, the Innocent & the E Street Shuffle. The songs are so operatic. Then he narrowed it down. I learned something from that. When he wanted to get over, he wrote 'Born to Run.'"
October 2004
Cool, that's Elvis Costello - Kathleen Noonan
Courier-Mail (Brisbane, Queensland, Australia), 10/16/04
Treasured musical memories include the 1987 concert special A Black and White Night with Roy Orbison, filmed in black and white with a remarkable cast of A-list Big O fans as his accompanists. Under the direction of T-Bone Burnett, the stage band included Jackson Browne, Burnett, Costello, kd lang, Bonnie Raitt, J.D. Souther, Bruce Springsteen, Tom Waits and Jennifer Warnes with the rhythm section from Elvis Presley's late 1960s-1970s touring band.
"What a privilege. And it was interesting to see people like Springsteen, huge at the time, so humble. A good lesson."
September 2009
Apollo Theater, New York, NY, 9/25/09
"When I first heard our guest's first two platters, I was just about knocked flat. And certainly he was a man who really had it all. He was a voice from the very edge of town. Sometimes it was roaring with a rocking band, sometimes it dropped to an intimate whisper... An uncommon man for the common man! Family man! Showman! Bandleader! Troubadour! Songwriter! Past, present, future of rock and roll!"
"Spectacle: Elvis Costello with... Season Two," featuring two hours of Bruce and Elvis in performance and conversation, is available now on DVD and Blu-ray. Also see below for a chance to win a copy of the DVD autographed by Costello himself.
- July 20, 2011

SUMMER READING: DEBUT NOVEL FROM BACKSTREETS WRITER OUT NOW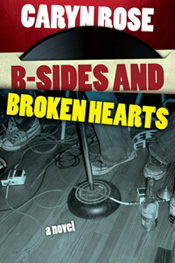 B-sides and Broken Hearts is the first novel from regular Backstreets contributor Caryn Rose. Originally titled Joey Ramone is Dead, it tells the story of Lisa Simon, who, spurred by the death of one of her teenage heroes, examines her life with unexpected results. Early reviews say, "If you believe music changes lives, read this" and "THANK YOU for your book and letting me remember why I fell in love with music so many years ago."
Did we mention the main character is a Springsteen fan, and you'll find mentions of the Capitol Theater '78 show, the urinals at the Stone Pony, and Little Melvin and the Invaders in the book? It's available in paperback and ebook from Amazon [in the US, Canada, UK and Germany] and Barnes & Noble. You can find out more at bsidesandbrokenhearts.com.
Here's Caryn on early-morning tellyvision in New York folowing the death of the Big Man:
- July 20, 2011

AUTOGRAPHS WILL HAPPEN
Win a copy of Spectacle Season Two DVD, signed by Elvis Costello!

See that silver scrawl? That's Elvis Costello's autograph. More to the point, it's Elvis Costello's autograph on the copy of the Spectacle: Elvis Costello with...Season Two DVD we're giving away to a lucky Backstreets.com visitor!
The double-disc set, which features a fantastic two-part episode with Bruce Springsteen, also includes appearances by Bono and the Edge, Sheryl Crow, and Levon Helm (among others), and this one is autographed on the outside cardboard sleeve (the "O-card") by Elvis Costello himself. All you have to do to be eligible to win is send an email to spectacle@backstreets.com with the following:
in the subject line, name an Elvis Costello song that was combined with Springsteen's "Radio Nowhere" for a medley performance at their Spectacle taping on September 25, 2009
in the body of the email, enter your name and shipping address.
We'll run this contest for one month — just make sure to have your entry in by midnight, August 18. Only one entry per email address will be counted. From those that qualify (hint: there are two possible correct answers for the subject line), a lucky winner will be drawn at random to receive this special, one-of-a-kind signed package. Good luck!
And of course, while we only have one autographed copy, we also have the DVD and Blu-ray editions of Spectacle Season Two available now in our online shop, currently 10% off with our new release sale price.
- July 19, 2011


A SENSATIONAL NIGHT AT THE WONDER BAR
It was déjà vu all over again last night, as concertgoers attending a concert in honor of the late Clarence Clemons were treated to a sweaty, boisterous night of R&B at the Wonder Bar featuring a guest appearance by Mr. Bruce Springsteen for the second time this year.
Former Stone Pony DJ Lee Mrowicki led off the night by reminding the crowd that it was an evening not of mourning, but of celebration—both of Clarence's life and of his music. Then, after a brief set by Nick Clemons and band, the aptly named Sensational Soul Cruisers took the stage and promptly had the sweltering crowd singing and dancing along to their classic soul. The band, which features longtime Asbury Juke Joey Stann on baritone sax, opened the night with the instrumental "Paradise by the C"; a staple of Springsteen's live shows in the late 70s, it was the perfect way to begin a night dedicated to the Big Man.
The band's four vocalists then took the stage and led the audience through a tightly choreographed set of '60s and '70s R&B that included familiar tracks by such notables as The Delfonics, The Temptations and Barry White. After a short break, the band returned to the stage to perform Rescue, the debut album issued by Clarence with his band the Red Bank Rockers in 1983. Of course, this could not be done without vocalist J.T. Bowen leading the charge. "Asbury Park, are you ready?" he shouted. "No, are you ready? All right, then!"
"Every town has a sound," he continued. "Tonight we're going to hear the Asbury Park sound." And with that, Bowen and band commenced with their performance of Rescue. The songs were not played in sequence nor was the full album performed, but this did not detract from the energetic set; long-unheard tracks like "Jump Start My Heart," "Money to the Rescue," and "Resurrection Shuffle" still sounded as fresh and timeless as they ever did.
"A Woman's Got the Power," the forgotten gem by Philadelphia band The A's, was followed by the Jackson Browne/Clemons duet "You're a Friend of Mine" and an energetic rendition of Otis Redding's "Try a Little Tenderness"; although these last two are not on the Rescue album, they seemed the perfect way to ratchet up the energy a bit.
This was hardly necessary, as everyone in the room seemed to know what was coming next; on cue, Bruce could be seen making his way through the sweaty crowd toward the stage, clad in long-sleeve plaid shirt, dark jeans, and work boots, and smiling broadly. "I wore the wrong shirt," he cracked as he strapped on a guitar and assumed a position just in front of the horn section at stage left.
But no one had anticipated the surprise that came next, as the familiar horn riff of "Action in the Streets" rang out, driving the already pumped-up audience into a frenzy. Although frequently performed by Gary U.S. Bonds, the song has not been performed live by its author since 1977. Bruce actually seemed at bit surprised at how well it came off; he couldn't stop smiling as he led the band through the chorus and exhorted the audience to join in.
"Now this next song, when we were in the studio, I was trying to make it more white, and Bruce wanted it more black," laughed Bowen. And with that came "Savin' Up," a track written by Springsteen for the Rescue album and previously performed by him only once, at a 1987 jam with local blues band The Fairlanes. Trading soulful vocals with Bowen at center stage in classic Sam & Dave style, Bruce was truly in his element.
Next came a rousing set of R&B staples from Bruce and Bowen, ably assisted by the stellar Soul Cruisers vocalists. Standouts included raucous back-to-back versions of "Sweet Soul Music" and "Shake," and the Dovells' "You Can't Sit Down." A slowish version of "Raise Your Hand" harkened back to the original Eddie Floyd version.
At the end of the set, a short conference ensued, after which Bruce turned to the horn section and mouthed an opening line. The ensemble then launched into a loose, chaotic version of Wilson Pickett's "634-5789." Assuming bandleader stance, Bruce called, "I need a snare shot, and then everyone go into the key of E." They didn't quite get there, nor did they get to the next key change, but no one seemed to care, and the song devolved into an extended instrumental jam with Springsteen in full Steve Cropper mode, trading licks with tenor sax player Screamin' Steve on his borrowed Fender guitar.
And with that, the Cruisers thanked the audience and said good night, Bruce waving to the crowd before turning to walk offstage. Drenched in sweat and exhausted, no one in the audience wanted to leave. But as the P.A. came on and the lights went up, it was certain that there was no better way to remember Clarence Clemons than this.
For the full setlist from this and other recent performances,
visit our Setlists page
- July 18, 2011 - Lisa Iannucci reporting - videos by Rose A. Montana
- photographs by Mike Black (1, 2) and Terry Camp (3)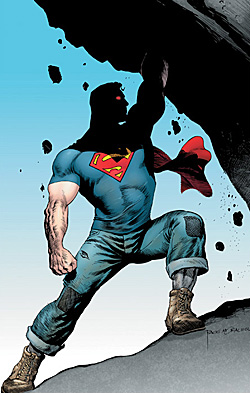 BORN TO FLY
Will Lois Lane become a redhead, too?
DC Comics writer Grant Morrison, interviewed in London's Metro newspaper, on pending revisions to the venerable Superman character, part of DC's planned reboot of its entire line of comic-books this fall:
"I want to make Superman a more contemporary character. We'll be changing how he looks, dresses and behaves. He'll be more like the Superman who appeared in 1938 — more socially active and a champion of the oppressed... With what we're doing he's wearing jeans and a T-shirt — a Bruce Springsteen version of Superman, that's the angle we're taking. The cape's still indestructible but the rest is picked up in a shop."
It's hardly the first time that Bruce Springsteen and the comic-book universe have crossed paths. Backstreets #90 will feature Shawn Poole's overview of Bruce (and some of his associates) as depicted in comic-book form throughout his career. As for the new Superman, drawn by artist Rags Morales above, he makes his debut in Action Comics #1 in September.
- July 14, 2011

NEBRASKA COMES TO BERKELEY, JULY 20
Attention Bay Area Bruce fans! First Person Singular is an all-things literary performance series in Berkeley, CA, with music often playing a big part: past events have included John Wesley Harding reading from his fiction with a chamber ensemble and, and most recently, Greil Marcus celebrating 40 years of writing about Bob Dylan with local singer/songwriter Tom Heyman performing select songs. Up next, they take on Bruce Springsteen, with a performance of Nebraska in its entirety.
On July 20, "Debts No Honest Man Can Pay: Bruce Springsteen's Nebraska" will feature an in-sequence take on Bruce's 1982 album by San Francisco folk-rock duo McCabe & Mrs. Miller — a.k.a. Victor Krummenacher (Camper Van Beethoven, The Monks of Doom) and Alison Faith Levy (The Loud Family, The Sippy Cups). The event is at Pegasus Books in Berkeley, and hey it's free! So put your makeup on, fix your hair up pretty, and visit 1stpersonsingular.com for more information.
- July 11, 2011

FRIEND OF BACKSTREETS MISSING: CAN YOU HELP?
Our dear friend and longtime Backstreets contributor Mike 'Druid' Saunders disappeared from his London flat on July 1, and despite numerous calls, texts and searches in the Muswell Hill and Hove areas, has not been heard of since. He is officially a missing person, reported on police and local media websites in London, Sussex, Brighton. He could be anywhere. His friends are desperate for any news of his whereabouts and wellbeing. If you have any knowledge whatsoever that might help, please call the Missing Persons Unit at 020 8345 1809, or email the Met MPU: YR_Mispers (at) met.police.uk. If you can assist with the appeal for information, please help circulate the poster to your contacts through social networks, blogs, websites or by distributing copies locally. Thank you.
- July 11, 2011

I HAD A FRIEND, WAS A BIG BASEBALL PLAYER...
You know the story: one was walking in, the other was walking out... they went back inside, had a few drinks... and 11 years later it was a Top Ten hit. Waitasec, what? A fascinating story from Freehold historian Kevin Coyne in yesterday's New York Times on Bruce's inspiration for "Glory Days" — speedball-pitcher Joe DePugh — includes the revelation that "this roadside bar" was the Headliner in Neptune, NJ.
Read: "The Boss on Stage, but 'Saddie' Out in Right"
Also in the sports pages of yesterday's Times: "Before Bruce, Clemons Was a Big Man on Campus"
- July 11, 2011

FREE DOWNLOAD: "RADIO NOWHERE" FROM FOR YOU 2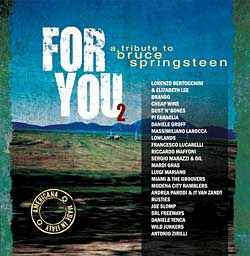 Way back in 1995, Ermanno Labianca — editor of the late, great Italian Springsteen fanzine Follow That Dream, as well as author of books such as Local Hero and Real World — produced a Bruce Springsteen tribute album called For You. For the new millenium, Labianca doubles down with For You 2: A Tribute to Bruce Springsteen, a two-CD set featuring 25 Springsteen covers on his own label, Route 61 Music.
The tribute is heavy with artists from Labianca's homeland, Italy of course being a bastion for Springsteen fandom. But a few artists from the American Land and elsewhere turn up on the set, as Labianca explains the philosophy behind Route 61: "What I have in mind is a connection between my country and the United States, which explains why the motto of the label is 'Americana made in Italy'." Back in April, we made the album's "Be True" available as a download, fittingly a duet between an American and an Italian artist.
Now, again thanks to Ermanno, we have a second Thanks to Ermanno, we're offering a FREE mp3 from For You 2 on our Downloads page: a new recording of of "Radio Nowhere," by Daniele Groff. Labianca himself produced the stunning piano arrangement, telling Backstreets, "I am really proud of this one, because it's an original rendition."
For more on the album, and to order copies of both For You and For You 2, visit Route61music.com.
- July 9, 2011


FROM ASBURY PARK TO THE PROMISED LAND... TO PHILLY!

Earlier this year, visitors to the National Constitution Center in Philadelphia noticed a coming attraction: a display indicating that the Rock and Roll Hall of Fame's celebrated Bruce Springsteen exhibit would be heading there in Spring 2012. "From Asbury Park to the Promised Land: The Life and Music of Bruce Springsteen" had an extended run of nearly two years in Cleveland, but in the months since it closed in February 2011, the Rock Hall hadn't indicated that their exhibit would be traveling. Their recent Liner Notes newsletter [above], however, finally confirms that such plans are indeed in the works.
This comes as great news: "From Asbury Park to the Promised Land," curated by Jim Henke with considerable cooperation from Springsteen himself, is an astounding collection of artifacts from the entirety of Springsteen's career, and we're excited that it will have a life after Cleveland. For more on the exhibit, including a walk-through of the Rock Hall installation and Henke's lengthy interview with Springsteen about the history of the items on display, check out Backstreets #89.
We'll keep you posted on traveling plans for the exhibit — to Philly and, perhaps, beyond.
- July 6, 2011 - photo courtesy of The National Constitution Center & Carol H. Feeley

GOOD NIGHT, IT'S ALRIGHT, JANE
Jane Scott, rock critic — May 3, 1919 - July 4, 2011
Jane Scott, the groundbreaking Cleveland-based music journalist, died yesterday at 92. Holly Gleason, Jim Henke and John Soeder offer excellent recollections/overviews of Scott's 50-year career at The Plain Dealer, during most of which she covered many of rock and soul's historical moments and the people who made them, including Bruce Springsteen (who often gave Jane an in-concert shout-out during his Cleveland gigs). Scott's pioneering career in rock criticism is especially notable for bucking the field's long-held stereotypes around gender and age.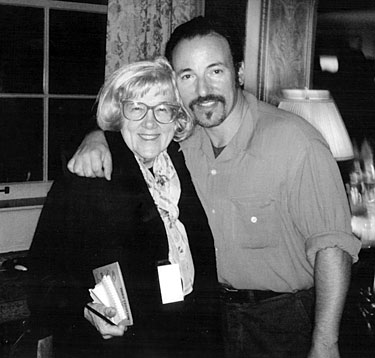 Backstreets #74 featured Eric Schumacher-Rasmussen's wonderful interview with Jane Scott on the occasion of her retirement at age 83. She talked about her first review of a '75 Springsteen show, in which she wrote, "His name is Bruce Springsteen. He will be a superstar." Scott took some heat from her editors for making what seemed to be a rather bold prediction at the time. She stood by her statement, however. "He told these great stories, he was so full of energy, and his voice just took me. I knew in my heart that he was it. He really took me off my feet." She also admitted laughingly that Springsteen quickly became her favorite artist. "I hate to say that when I like so many... But deep down he really is."
Scott's favorite Springsteen encounter came in 1996 backstage at the Rock and Roll Hall of Fame's Woody Guthrie Tribute Concert (later released as 'Til We Outnumber 'Em). Scott approached Bruce with a camera in hand and asked if she could take a picture of him. "No," he replied while grabbing the camera. "I thought for a second that he didn't like me... But then he handed it to a friend and said 'You take it.' I liked the picture so much I gave a copy to the Hard Rock Café here in [Cleveland]." Rest in peace, Jane.
- July 5, 2011 - Shawn Poole reporting - photo courtesy of Jane Scott


IT'S BEEN A LONG TIME: LITTLE STEVEN BACK AT THE PONY WITH SOUTHSIDE JOHNNY AND THE JUKES
Past and present collided at Southside Johnny and the Asbury Jukes' annual Fourth of July weekend appearance Saturday night at the Stone Pony, complete with moving tributes to several deceased fixtures of the Shore scene and a rare guest appearance by E Street's own Little Steven Van Zandt.
The Jukes led off the night (broadcast live on Sirius XM radio) with a performance of Steven's seminal Men Without Women album. After a brief introduction from Southside Johnny, the sold-out crowd was treated to a performance of the classic Disciples of Soul album that featured many of the original participants, including Stan Harrison, Ed Manion, Mark Pender and La Bamba (clad in original Disciples jacket), as well as two of the original three Jukettes, Soozie Tyrell and Lisa Lowell.
At the conclusion of the closing track, "I've Been Waiting," the lights dimmed and Manion made his way to the front of the stage. "Ed has something special for you," said Southside, and with that, the familiar strains of Clarence Clemons' solo from "Jungleland" echoed over the hushed audience as a small projection screen at stage right displayed a slide show of images of the Big Man. Manion, who is often asked to duplicate Clemons' distinctive saxophone style, was more than up to the task. Bruce's own "Hearts of Stone" followed, with Ed Manion playing a moving sax solo in place of the usual guitar break; always an emotional song, it assumed added significance against the backdrop of recent events.
"All right, where's my duet partner?" said Southside, grinning and pretending to search the crowd in front of him."Is he ready or is he still trying to figure out where he is?" After a brief pause, a familiar bandannaed visage appeared from behind the drum riser. Dressed in lavender from head to toe, a grinning Little Steven made his way to the mic at center stage for his first public appearance at the legendary venue since 1987.
After a brief conference, the former bandmates launched into a short set that featured covers of Sam and Dave's "You Don't Know Like I Know" and "Broke Down Piece of Man" and Ray Charles "Let's Go Get Stoned," as well as a pair of Steven's contributions to the Jukes canon, "This Time it's For Real" and the set-closer "I Don't Wanna Go Home."
But loss was on everyone's mind, and Steven was no exception. "It's been a rough month," he said somberly. "We all know about Clarence, but we also lost our original keyboard player Kevin Kavanaugh, who played on our first few albums. We also lost a guy who I talked to every day, a guy who had the vision to sign this crazy guy," he said, throwing an arm around Southside. "If you were listening to the radio in 1976, you weren't hearing this music."
"That's right," interjected Johnny, "there were two music magazines, Billboard and Cashbox, and they both said horn music was dead the week our first album came out."
"Steve Popovich had the bravery to sign the Jukes, and without him there would have been no Shore sound," Van Zandt (a close friend of the former Epic Records executive) continued. "This song goes out to him." With that, the two launched into "It's Been a Long Time" from Better Days, the audience raising glasses in tribute to Popovich and to Clemons and Kavanaugh, too.
After the rousing "I Don't Wanna Go Home," Steven thanked the appreciative crowd — many of whom were seeing him with the Jukes for the first time — and walked offstage behind the horn riser.
After a brief break, the Jukes followed up with a raucous second set punctuated by several selections from their current release, Pills and Ammo. And there were other guests — vocalist Elaine Caswell joined the Jukettes, Mark Masefield of Outside the Box assisted Jeff Kazee on keyboards on several songs, drummer Shawn Pelton (John Eddie, SNL house band) guested on "One More Night to Rock" along with Vincent Pastore, who joined the Jukettes on backing vocals.
The second set featured the usual Jukes shenanigans, including energetic dance moves from the horn section, tossed beach balls (Southside borrowed Glenn Alexander's guitar and had him "pitch" one of the balls to him), caustic asides from Johnny, the occasional raunchy inside joke, and a large sign encouraging audience members to text a message and enter a prize contest. No one in the boisterous crowd wanted to leave, and the Jukes responded with two encores, including an obligatory rendition of "On the Beach" and the closer "Working Too Hard."
It was a night of reunions, of spilled beer and sweat, of smiles and laughter and of somber remembrance. It was a night that celebrated the Shore music scene past and present. But above all, it was a night for reflection, a night that celebrated the healing power of the music that still makes everything seem possible.
- July 4, 2011 - Lisa Iannucci reporting - photographs and video by Michael Zorn

E! STREET! BIRTHDAYS!
We want to wish Roy Bittan a very happy 62nd birthday today, born July 2, 1949... and we also have to send belated birthday love to Nils Lofgren, who hit the big 6-0 on June 21, just a few days after Clarence passed. Nils posted: "I want to thank all of you for so many kind birthday wishes, and condolences for the loss of my dear friend and bandmate, Clarence. As you can imagine, Clarence's passing is a crushing, devastating loss. He has been a beautiful, dear friend to Amy and I, and a vast community of people through his music and his spirit. I will always treasure and honor that gift and memories of all the times and adventures we had together, on and off stage."
- July 2, 2011

4th OF JULY, BACKSTREET RECORDS (SALE)
From now through Tuesday, July 5, save 10% off everything in our online shop with our Independence Day sale. Simply use the coupon code 4THOFJULY during checkout to have the discount applied. For items that are already on sale, this coupon will save you an additional 10%. Enjoy the holiday weekend!
- July 1, 2011

MEN WITHOUT WOMEN COMES ALIVE
From "Lyin' in a Bed of Fire" to "I've Been Waiting," Southside Johnny, the Jukes and guests tackle the Little Steven classic Saturday night

Perhaps not since Southside Johnny and the Asbury Jukes' storied Memorial Day Weekend shows back in 1976 has a Stone Pony show been so hotly anticipated as tomorrow night, Saturday, July 2. The absolutely genius, criminally underappreciated 1982 album Men Without Women will be played in album sequence order on the outside stage of the Stone Pony by Southside and the Jukes. On his website in May, Southside wrote, "I just listened to it again in the car today and cannot believe it wasn't a huge hit. Great songs, great arrangements, and a killer band, along with the most compelling authentic vocals I have ever heard from Steven Van Zandt."
Men Without Women (the title comes from the book of 14 short stories by Ernest Hemingway about bullfighting and relationships) was the debut release by Little Steven and the Disciples of Soul. Steven Van Zandt had reinvented himself with a new name and new mission from the erstwhile Miami Steve Van Zandt, longtime lead guitarist for Bruce Springsteen's E Street Band and former songwriter/producer/manager of the Asbury Jukes.
For his introduction to the world as a solo artist, Van Zandt had reached deep into his soulful, musical heart and came up with ten songs that spoke of love and loss in the most eloquent terms imaginable. The song "Forever" was the first single and ended up residing for nine weeks on the Billboard charts, helped no doubt by the music video which was getting heavy rotation on a very young MTV.
The 1982 Disciples of Soul included Jean Beauvoir on bass and backing vocals, percussionist Monti Louis Ellison, Zoe Yanakis on oboe, and legendary Rascals drummer Dino Danelli. E Street Band members were also present on a few of the sessions: Garry Tallent on bass, Danny Federici on organ and accordion, Max Weinberg on drums, Clarence Clemons on backing vocals, and Bruce Springsteen on backing vocals on both "Angel Eyes" and "Until the Good is Gone."
The album was rife with the Motown/Stax-Volt feel of the first three classic Asbury Jukes albums, which Van Zandt had produced as well as written much of the material for. There was a full horn section including many of the Jukes' horn players at the time (La Bamba, Mark Pender, Stan Harrison, and Eddie Manion).
There are a few records (and I can count them on one hand) that I played so many times that even if I haven't heard them in years, I can still recite the lyrics word-for-word, know when the solos come in, and feel the thrill of the music wash over me like it was (seriously?) 29 years ago. In 1982 and 1983 I played this record every day, at least twice a day, and lived inside those songs.
Besides the music, which remains deliriously fresh and alive, the lyrics will knock you to your knees with their brutal beauty. From the closing ballad, "I've Been Waiting Such A Long Time":
"I've worked hard so I could say nobody owns me / You can spend your whole life trying to forget that you're lonely / Meanwhile the world went by and I paid it no mind / I thought I could close the doors 'cause baby I earned it / I felt I had to prove myself and that meant everything / Then you walked in, and suddenly I realized / I've been waiting such a long time / Waiting here for you, girl."
From the classic "Inside of Me":
"There was a moment in time, we could almost taste the adventure every day / Now I know that we're a little bit older but that don't mean there's nothing new left to say / Now we spend the days walking away instead of trying to do something about it / You oughta be right by my side / Instead of trying to find a place to hide."
From the lyrical and aching "Princess of Little Italy," this throat-stoppingly gorgeous line:
"The rain caught me on Jane Street / Soaked the crease out of my shirt / And baby, by the way nobody's ever gonna take your place."
I asked Southside what it was about this particular record that made him want to spotlight it in such a special way — to play it in its entirety, in album sequence order — seemingly out of the blue. "A man named Joseph Aloisous Prinzolini gave me a copy of the Men Without Women CD," Johnny responded. "I hadn't heard the record for years, and was so blown away by the greatness of the music and the passion of the vocals that I wanted to do the whole album. Some of the songs were recorded by me and the Jukes before we made Hearts of Stone, so I was familiar with the material. Great stuff. Very powerful. Much fun to play."
The Pony doors will open Saturday at 5 p.m., with opening acts the Jody Joseph Band and Pat DiNizio of the Smithereens. At 8 p.m., Southside, his merry band, and a passel of very special guests (La Bamba, Mark Pender, Soozie Tyrell, Lisa Lowell) will take the stage and bring ten amazing songs to life which have remained in the dark for way too long.
"It's gonna be quite an extravaganza," advised Southside. "Don't miss it if you can!"
The final word on the matter must go to Steven Van Zandt: "We always stood on the same block way back then / Waiting to find out where in the world we fit in / Then something on the radio changed everything we'd been / Ever since, I need it, over and over again" (from "Until the Good is Gone").
- July 1, 2011 - Holly Cara Price reporting - lyrics copyright 1982 Blue Midnight Music





Main News


News Archives
- May - Sep 20033
- Oct 2003
- Nov - Dec 2003
- Jan - Mar 2004
- Apr - Jul 2004
- Aug - Dec 2004
- Jan - Apr 2005
- May - Jun 2005
- Jul - Aug 2005
- Sep - Dec 2005
- Jan - Feb 2006
- Mar - May 2006
- Jun - Jul 2006
- Aug - Oct 2006
- Nov - Dec 2006
- Jan - Feb 2007
- Apr - May 2007
- Jun - Jul 2007
- Aug 2007
- Sep - Oct 2007
- Nov - Dec 2007
- Jan - Feb 2008
- Mar - Apr 2008
- May - Jun 2008
- Jul - Aug 2008
- Sep - Oct 2008
- Nov - Dec 2008
- Jan 2009
- Feb - Mar 2009
- Apr - May 2009
- June 2009
- Jul - Aug 2009
- Sep - Oct 2009
- Nov - Dec 2009
- Jan - Feb 2010
- Mar - Apr 2010
- May - Jun 2010
- Jul - Aug 2010
- Sep 2010
- Oct 2010
- Nov 2010
- Dec 2010
- Jan - Feb 2011
- Mar - Apr 2011
- May 2011
- June 2011
- July 2011
- Aug - Oct 2011
- Nov - Dec 2011
- Jan 2012
- Feb 2012
- Mar 2012
- Apr 2012
- May - Jun 2012
- Jul - Aug 2012
- Sep - Oct 2012
- Nov - Dec 2012
- Jan 2013
- Feb - Apr 2013
- May - Jun 2013
- Jul - Aug 2013
- Sep 2013
- Oct 2013
- Nov 2013
- Dec 2013
- Jan 2014
- Feb 2014
- Mar - Apr 2014
- May 2014
- Jun 2014
- Jul - Sep 2014
- Oct 2014
- Nov - Dec 2014
- Jan - Feb 2015
- Mar - Apr 2015
- May - Jun 2015
- Jul - Aug 2015
- Sep - Oct 2015
- Nov - Dec 2015
- Jan - Feb 2016
- Mar - Apr 2016
- May - Jun 2016
- Jul - Aug 2016
- Sep 2016
- Oct 2016
- Nov - Dec 2016
- Jan - Feb 2017
- Mar - Apr 2017
- May - Jun 2017
- Jul - Aug 2017
- Sep - Oct 2017
- Nov - Dec 2017
- Jan - Feb 2018
- Mar - Apr 2018
- May - Jun 2018
- Jul - Aug 2018
- Sep - Oct 2018
- Nov - Dec 2018
- Jan - Feb 2019
- Mar - Apr 2019
- May - Jun 2019
- Jul - Aug 2019
- Sep - Oct 2019
- Nov - Dec 2019
- Jan - Feb 2020
- Mar - Apr 2020
- May - Jun 2020
- Jul - Aug 2020
- Sep - Oct 2020
- Nov - Dec 2020
- Jan - Feb 2021
- Mar - Apr 2021
- May - Jun 2021
- Jul - Aug 2021
- Sep - Oct 2021
- Nov - Dec 2021
- Jan - Feb 2022
- Mar - Apr 2022
- May - Jun 2022
- Jul - Aug 2022
- Sep - Oct 2022
- Nov - Dec 2022
- Jan - Feb 2023



Tour/Ticket Info
Setlists
Concert Calendar
Save Tillie
Library Project
Downloads
Fight the Merger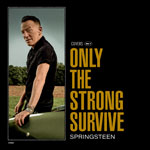 ONLY THE STRONG SURVIVE
The Backstreets Liner Notes, our own song-by-song printed booklet, comes exclusive and FREE with each CD & LP!
ORDER NOW
Backstreet Records is the mailorder division of Backstreets, delivering Springsteen merchandise to fans for more than 25 years. We carry numerous collectibles, tour shirts, books, magazines, and imported CDs and records.
The world's best selection of Springsteen collectibles, all available by mail.
See all the new arrivals in our online shop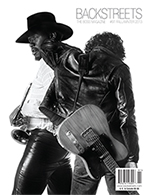 BACKSTREETS #91
Our most recent issue honors a very Big Man. More than half of the 116-page, perfect bound Backstreets #91 is a tribute to the life and music of... do we have to say his name?

Full contents list


Order a single copy


Back issues
---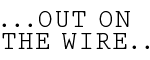 Springsteen vs. Christie for NJ Governor: the numbers [Public Policy Polling]


Take That, Bruce!


"Scalping Battle Putting 'Fans' in the Middle" [NYTimes]

---


We also post all known concert dates for some of our favorite Jersey Shore (and Shore-adopted) musicians:

Willie Nile


Bobby Bandiera


Southside Johnny


John Eddie


JoBonanno


Joe D'Urso... and more.
For more information on upcoming shows such as these, check out our Concert Calendar.

---


SAVE TILLIE
Many from the Springsteen community banded together to preserve this Asbury Park landmark.... and Tillie has now been saved!
Check our Save Tillie page for the latest developments.
---
THE SPRINGSTEEN SPECIAL COLLECTION
Organized by Backstreets in 2001, this storehouse of Boss books and magazines is the largest such collection outside of Bruce's mother's basement. Thanks to the generosity of fans around the world, total holdings are now well over 11,000. But the collection is by no means complete.
Check out the Springsteen Special Collection page for more info.