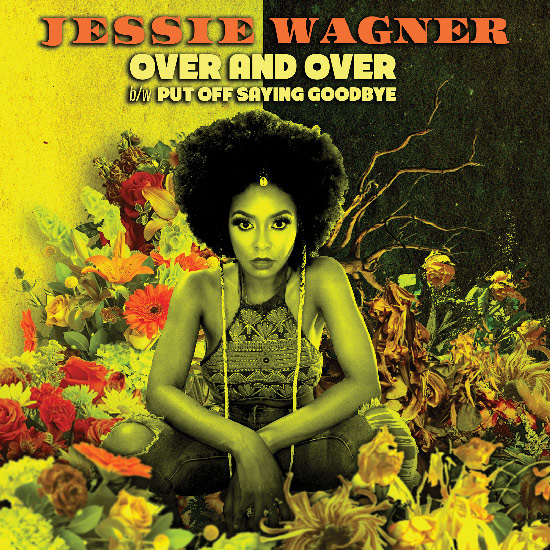 WORLD PREMIERE: DISCIPLE OF SOUL JESSIE WAGNER GOES SOLO
New single "Over and Over" on Little Steven's Wicked Cool Records
You've seen Jessie Wagner on stage with Little Steven — in photographs here on Backstreets, if not live in concert — as she sang and go-go'd her heart out with the Disciples of Soul, on both their Soulfire and Summer of Sorcery tours. Now she's entering a new phase of working with Stevie, as his label Wicked Cool Records is releasing her first solo single.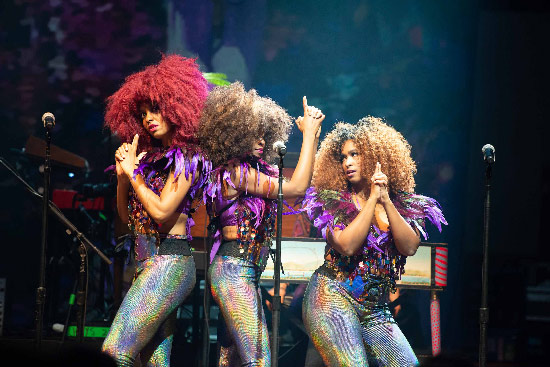 Wagner (left) with the Disciples of Soul, now taking her own shot - photograph by Rene van Diemen
Especially if you love the 20 Feet From Stardom documentary like we do, you'll be jazzed to see Jessie (who has also toured with Lenny Kravitz, Chic, Kid Rock, and Duran Duran) break out on her own. Right at a sweet spot where Soulfire meets Dusty in Memphis, driven by her lustrous lead vocal, "Over and Over" is soulful, sultry, and dripping with horns. And you can hear it here first!
Gearing us up for her solo debut, Stevie says: "You've gotten to know Jessie the Disciple of Soul these past couple of years, now you're about to meet Jessie the Artist. It's an entirely different, very exciting side of her we are very proud to introduce. Her music is eclectic, unique, and impossible to categorize, which makes her the perfect Wicked Cool artist. Turn it up and enjoy!"
"Over and Over" features contributions from two more Disciples of Soul, bandleader Marc Ribler on guitar and longtime E Street ally Eddie Manion on saxophone.
The song, Jessie says, "is my cheeky tune about easily falling in love, but not staying in love. It's a playful take on having a wandering eye, but possibly finding the right guy in the end. Its bluesy, country rock sound perfectly encapsulates the tone of my upcoming album, Shoes Droppin" — also on Wicked Cool Records and expected this fall.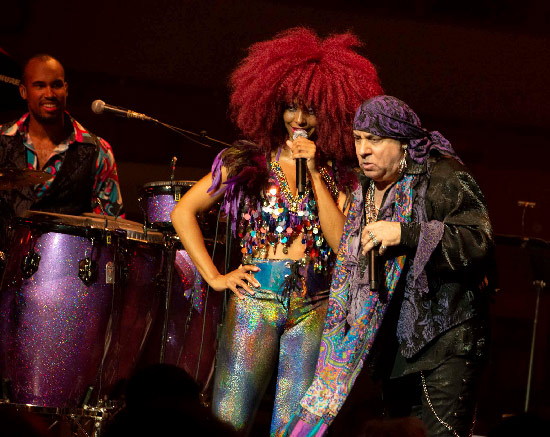 photograph by Rene van Diemen
"Working with Steven is a masterclass in understanding music composition and production," Wagner says. "He has such a keen ear and knows exactly how he wants everything to feel and sound."
And when quarantine is lifted and the Disciples are back in action? "I would gladly do another tour with Steven. He always took great care of the band and I'll always be forever grateful for his generosity and kindness."
"Over and Over" B/W "Put Off Saying Goodbye" will be officially released tomorrow, April 30, on digital platforms as well as on black-and-yellow vinyl from Wicked Cool.
Follow Jessie Wagner on Facebook / Twitter / Instagram; follow Wicked Cool Records on Facebook / Twitter / Instagram.
- April 29, 2020 - Christopher Phillips reporting

LAND OF HOPE AND STREAMS, for APRIL 28
As we all stay hunkered down, while that wild wind blows outside, there's no shortage of new, at-home entertainment to keep our ears and hearts happy, thanks to so many musicians and artists who keep doing their thing. We're grateful to them all. Yesterday we spotlighted Melissa Etheridge's recent all-Springsteen set; there's a lot more new content out there from Friends of Bruce, fans paying tribute, and other related artists. Time for a round-up.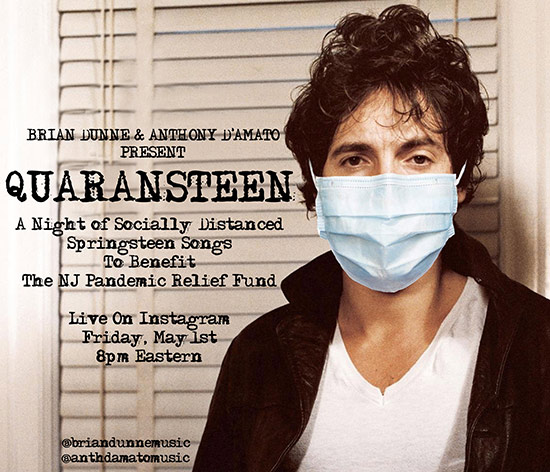 UPCOMING: Quaransteen
This Friday, singer-songwriters Anthony D'Amato and Brian Dunne are teaming up for Quaransteen, a special joint livestream show of Springsteen songs and stories.
D'Amato, a Backstreets scribe before the bright lights came calling, has been quarantined in New Orleans, where he's been living since January. "We were expecting to be back north by now, but the virus has pretty much frozen everything in place," he tells us. "As much as I love New Orleans, my heart is with my family back in New Jersey, and this show is hopefully a way to channel that worried energy into something positive."
Live on Instagram, May 1 at 8pm ET, the performance will benefit the NJ Pandemic Relief Fund. "The show will be free," D'Amato says, "but if people want to support the cause, they can donate any time via and 100% of proceeds will be sent to the NJPRF."
Follow @briandunnemusic and @anthdamatomusic on Instagram for details on how to tune in Friday night.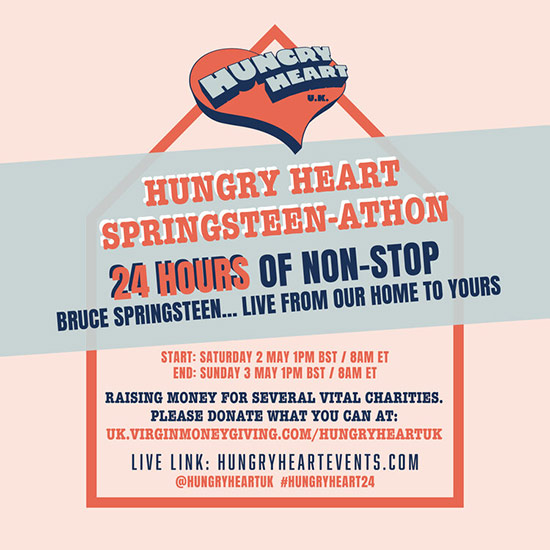 UPCOMING: Hungry Heart U.K. 24 Hour Springsteen-athon
These days, the Springsteen-dedicated club nights sponsored by Hungry Heart U.K. gone virtual like most everything, with Bruce fans connecting online rather than on shared dancefloor to get their ya-yas out. Get a taste of those house parties here. This weekend, they're going one step beyond, rocking around the clock with a 24-hour, non-stop, no-sleep Bruce Springsteen-athon.
Hungry Heart founder Hannah Summers tells Backstreets, "With Springsteen known for his marathon sets, we felt we had to do this! We'll be starting on Saturday, May 2, at 1pm BST (8am ET), through to the same time on Sunday... We'll be going for the duration without sleeping, entirely DJing, and taking requests and shout-outs... or even marriage proposals!"
Of course, not everyone needs to go sleepless in order to participate. "The 24 hours will be divided up into sets, festival-style," Hannah says, with family hours, covers, smooth sessions, and party bangers all featured," so you can tune in at any time.
The weekend event, which welcomes fans from all over the world, is also a fundraiser: "We're aiming to raise £10,000 for several UK charities – Childline, Barts Trust, Trussell Trust, Hospice UK and Age UK." Click here for their Virgin Money Giving page, and you'll find the livestream link and more information at hungryheartevents.com.
ONGOING (weekly): Jesse Malin's The Fine Art of Self Distancing
Every Saturday, you can tune in to a livestreamed couch concert by Jesse Malin, live from his New York City living room. Jesse is "playing songs, telling stories, doing bits and motivational backflips. It's free, but with an option for donations that will help me, the band and road crew get through this crazy time of tour cancellations and postponements." The sixth installment is coming up May 2 at 4pm ET on YouTube.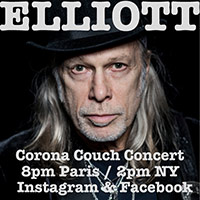 ONGOING (daily): Elliott Murphy's Corona Couch Concert
Like Etheridge, Bruce's pal Elliott Murphy is living it every day, with a daily livestreamed performance:
"Every night just after 8:00PM Paris time (2:00PM EST and 11:00AM PST), Elliott will be live on Instagram and Facebook to play a few songs. Just Elliott and his guitar (well, maybe a few surprises here and there). France is on a very strict lockdown due to the Coronavirous and everyone is confined indoors. What better way to pass the time than to listen to some classic Elliott Murphy songs in a special, intimate setting."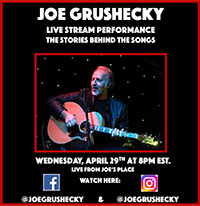 ONGOING (weekly): Joe Grushecky's Live From Joe's Place
Joe Grushecky rocks the house every Wednesday night at 8pm ET, also on Facebook and Instagram, with stories and acoustic performances.
ONGOING (weekly): Jeff Kazee's Live from the Living Room Lounge in Astoria, Queens
Longtime keyboardist, bandleader and collaborator for Southside Johnny and The Asbury Jukes has done five of these Facebook Live concerts so far, every Wednesday night. The next one looks particularly enticing: coming Wednesday April 29 at 8pm, the sixth episode will be an "All New Jersey" special.
Jeff will perform the music of various New Jersey musicians on his home piano and share personal stories of how the musical selections have impacted his life and career.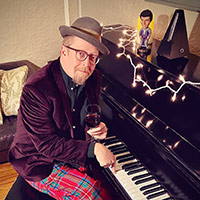 "New Jersey has turned out so many stellar musicians," says Kazee (right), "and I've picked four artists that have been highly present in the playlist of my life: Frank Sinatra, Bruce Springsteen, Bon Jovi, and from the band that I'm in, Southside Johnny & the Asbury Jukes. I've been lucky enough to actually perform with three of these artists in various settings, and I've always been interested in re-arranging some of their songs to fit my style and interpretation. And to do it in a sport coat and pajamas, in my living room? Well, that's quite a bonus."
ARCHIVED: Garry Tallent and the Long Players salute John Prine
Last Wednesday, April 22, E Street band bassist Garry Tallent took part in a tribute to legendary singer/songwriter John Prine coordinated by The Long Players.
The Long Players are an all-star Nashville-based band formed in 2004 by power-pop/roots-rock/country legend Bill Lloyd. Tallent was a steady member until 2008 when, as the Players' website states, he bowed out "for obvious reasons," at which point the bass spot was taken over by musician/songwriter/producer Brad Jones (Jill Sobule, Hayes Carll, Steve Forbert). But Garry rejoins the fold every chance he gets.
"A Sequestered Singer/Songwriter Celebration" features a stellar lineup of the cream of the Nashville scene; along with Garry, Chuck Mead, Kim Richey, Shawn Camp, Radney Foster and others made appearances. As is tradition, the Long Players chose an entire album — as they've done in the past with Darkness on the Edge of Town and Born to Run — and this time the LP in question was the late John Prine's classic, Bruised Orange.
The album is perfomed in its sequential order, and Garry delivers a lively , rockabilly-styled solo acoustic version of the record's second track, "There She Goes," right after Players founder Bill Lloyd's moving version of album-opener "Fish and Whistle." The Long Players' John Prine tribute is online via YouTube, and Garry's track starts at the 4:21 mark.
ARCHIVED and ONGOING: Morrison Hotel Gallery's Behind the Lens
Our friends at Morrison Hotel Gallery have connections with a whole host of rock 'n' roll photographers, and as many of them are featured in their Behind the Lens Instagram Live/IGTV series, the shared stories and images are often of interest to Springsteen fans. Most recently, sister Pam Springsteen was the featured photographer for Episode 12, a wonderful hour (storytelling is in the blood, apparently) and if you missed the live event, it has been archived on Vimeo. Watch here.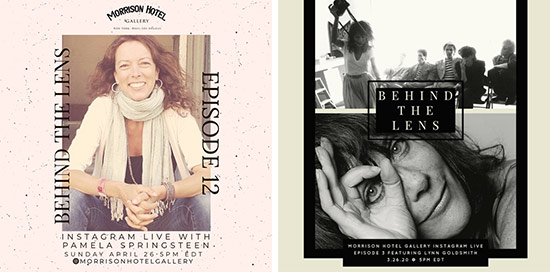 Also of particular interest to Springsteen fans — and archived for online viewing any time — are Episode 2: At Home with Danny Clinch, Episode 3: At Home with Lynn Goldsmith, Episode 5: At Home with Neal Preston, and Episode 10: At Home with Timothy White, . Keep up with future installments on the Gallery's blog.
ARCHIVED and (we hope) ONGOING: Bruce Springsteen
The Jersey4Jersey benefit for the NJPRF was, for a time, only repeatable on AppleTV, the full hour is now on YouTube, including Springsteen and Patti Scialfa dueting on "Land of Hope and Dreams" and "Jersey Girl."
Bruce Springsteen: From His Home to Yours... is his special guest DJ series on E Street Radio, which has now aired two episodes of his suggested "music for troubled times." All fingers crossed for a third (keep an eye on the SiriusXM blog for announcements). You can find scheduled reairings here, and we've recapped Part 1 and Part 2 below, with playlists.
That's it for today... if you know of an upcoming streaming event, or if we missed something here, let us know and we'll spread the word next time. Stay home, stay safe, stay well!
- April 28, 2020 - Christopher Phillips and John Howie Jr. reporting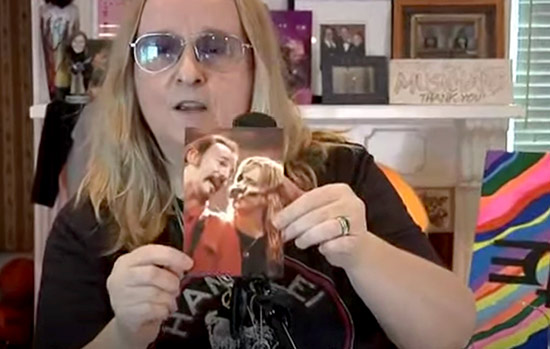 40 DAYS OUT, ETHERIDGE SALUTES SPRINGSTEEN FROM HOME
While hunkered down at home in California, Melissa Etheridge has been delivering a free daily online live concert for her fans. She plays live each day — seven days a week — at 6pm ET via Facebook, and each show is archived on her YouTube channel shortly thereafter. Originally intended to run fifteen minutes or so per day, each of Etheridge's daily performances now averages up to an hour or so of live music every 24 hours. She clearly is enjoying this chance to connect regularly with her worldwide audience.
This past Friday, Day 40 of the series was marked with something special that Etheridge had promised to deliver: an all-Springsteen set. Her in-home "stage" was transformed for the day into Etheridge's own personal Springsteen shrine, complete with a vintage Born in the U.S.A. Tour shirt draped over her mantle, behind a microphone-stand-mounted photo of her performing with Springsteen in Milwaukee on October 2, 1996.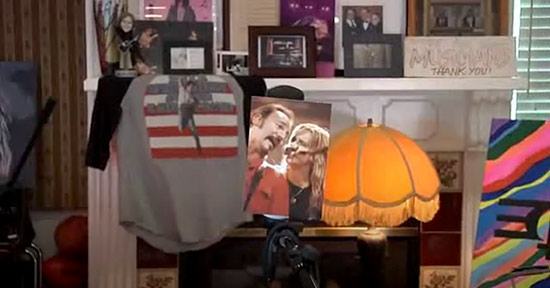 Rather than share any specific setlist details, we encourage you to experience Etheridge's show as it was intended: a totally live, one-woman tribute to Bruce from a genuine fan who also happens to be a talented, world-famous musician herself. There were more than a few surprises along the way; Etheridge assembled a great set of songs to cover, along with some fine introductions and stories to accompany them. In the process, you'll get to hear many new layers of meaning added to Bruce's work when performed by the U.S.'s first openly lesbian rock star.
Dive in on YouTube to spend an hour or so celebrating Bruce Springsteen with Melissa Etheridge at home. You'll be glad you did.
- April 27, 2020 - Shawn Poole reporting

ANDREW "HOOD" KAFAFIAN, R.I.P.
"Mayor of Jukesville" Mike Saunders raises a glass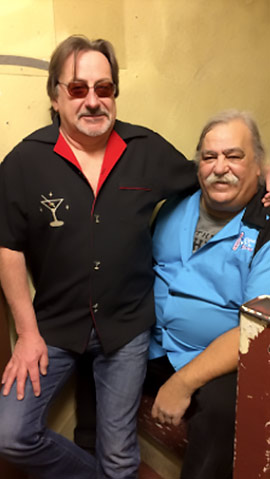 Jukesville has been a sad place these last few days, following the passing of Hood — the legendary stage manager, roadie, driver, load-in/load-out supervisor, expert van-packer, jack of all trades, archivist, one-finger keyboard player for (and huge fan of) Southside Johnny and the Asbury Jukes, who passed away in his sleep several months after surviving a major heart attack.
Since the news broke last week, tributes have been pouring in from Jukes past and present, and from the many fans who'd met him at the shows.
My friend Dave and I (aka The Druids) first met Hood at Jukestock in March 2001, although we'd heard of him long before that. It was our great pleasure to work with him as members of the Jukes road crew on seven tours (85 shows) in the U.K., France, Germany, and the Netherlands between 2001 and 2006.
We travelled many miles together, from the Astoria in London and the Ferry in Glasgow to Le Trabendo in Paris and the Amsterdam Paradiso. After that, we remained friends and would hang out with him at Jukes gigs on both sides of the Atlantic. We last saw him a year ago on the band's most recent U.K. tour. He always greeted us with "My favorite Druids!" and he nicknamed me The Mayor of Jukesville.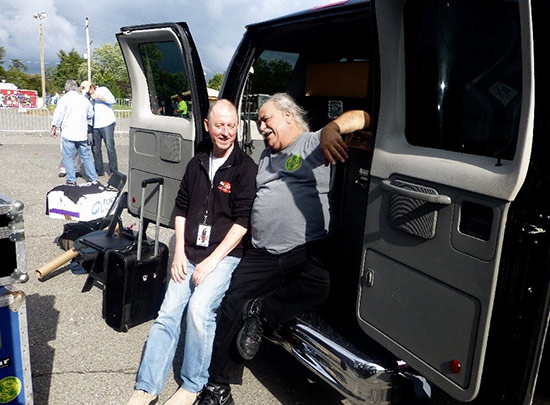 Hood with Druid Dave Percival
When we began working as The Druids in June 2001, Hood took us under his wing, showed us where to position everything onstage, how to plug it in, and how to break it all down again.
For our part, we helped him to acclimatize to temporary life in the U.K. He was like a fish out of water at first ("Why is there no ice? These bills don't stay crisp!"). The food was a challenge, too. If it wasn't a burger or fries, he wouldn't touch it. Sometimes he wouldn't touch it even if it was a burger and fries.
He rarely drank anything but soda and put ketchup on everything, including a traditional British Sunday roast. But finally, after five U.K. tours, he enjoyed one meal so much that he complimented the chef.
In Utrecht in 2003, Hood declined the opportunity to eat at an African restaurant with the band and crew. "I can't eat anything that I've seen running around on TV," he said, then went in search of the nearest McDonald's. The irony was lost on him.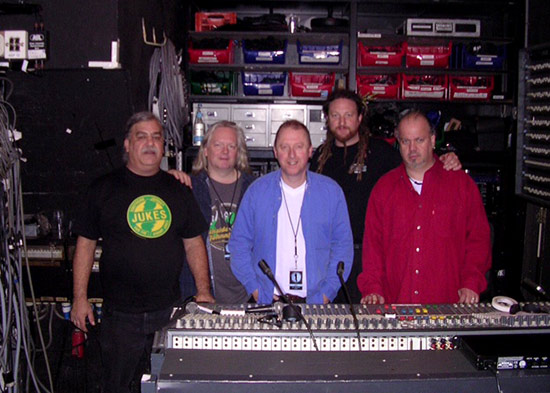 Jukes road crew, Amsterdam, 2005 (L-R): Hood, Mike Saunders, Dave Percival, Sean Giblin, Joe Prinzo
We have many priceless memories of our time on the road with Hood, and a million great stories. Beneath that deceptively gruff exterior lay a heart of gold and the soul of a music fan.
It has to be said that Hood wasn't a man who had much understanding of history or culture. When visiting the Stonehenge ancient monument, he asked: "If it's so popular, why don't they build more of them?" And having been shown around the ruins of a castle, he asked why they didn't just knock it down and build condos.
We would sometimes watch the show from the side of the stage and ended up watching Hood instead. When he wasn't racing across the stage to fix something, he'd be mouthing the words and dancing along. He was the Jukes' biggest fan and had been watching them play since the '70s.
One of my fondest memories is of seeing Hood sitting in the loading bay at Fairfield Hall in Croydon, smoking a joint beside a giant "No Smoking" sign. That summed him up perfectly. It was one of the best pictures that I never took.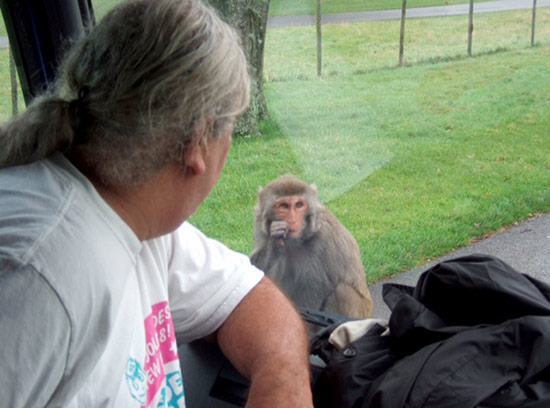 Hood spots a distant relative, Longleat Safari Park, 2008
I also remember, while being driven around Longleat Safari Park in the tour bus in 2008, Hood saw a gazelle walking past and asked, with a straight face, if it was a unicorn.
We thought the worst when he had his heart attack last year — he was in the hospital a long time — but he came through it and had even gone back on the road with the Jukes. By all accounts, his last months were happy ones.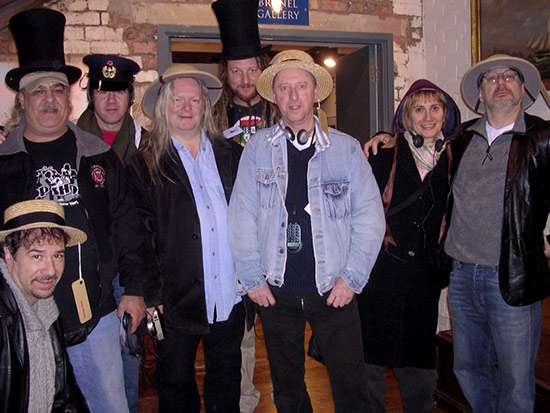 On board the SS Great Britain Victorian steamship, Bristol, 2005
Now he's joined the other Jukes and crew members who've gone before us. He's probably already working with Steve Becker, Louie Appel, George Ruiz, Kevin Kavanaugh, and Carlo Novi. And once he's finished packing the truck, he'll be sharing a joint or three with sound man Sean Giblin and fellow roadie Tim Holland.
My condolences to his partner Karen, to his son, and to the band. Jukesville will never be quite the same. So long, Hood, and thanks for the memories.
- April 27, 2020 - Mike Saunders reporting - photograph of Southside and Hood via southsidejohnny.com - additional photographs from The Druid Archive, courtesy Dave Percival

AND HEAR YOUR SISTER'S VOICE…
Morrison Hotel Gallery's Behind the Lens series has been spotlighting stellar photographers on Instagram Live, including many connected to This Thing of Ours: Timothy White, Neal Preston, Lynn Goldsmith, Danny Clinch... and for the latest episode, Pamela Springsteen.
Tune in today, Sunday April 26, at 5pm ET.
- April 26, 2020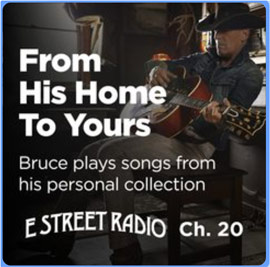 FROM HIS HOME TO YOURS, S01 E02
"Greetings E Street Nation, this is Bruce Springsteen coming from my house to yours with music for troubled times. For the next hour or so, I will be your DJ for youir dancing and listening pleasure."
This morning, Springsteen was back in the saddle as special guest on E Street Radio, for Part 2 of his quarantine DJ series Bruce Springsteen: From His Home to Yours.
The first episode, which premiered April 8, caught us up with how the Boss was handling quarantine, locked down on the farm with Ms. Patti Scialfa. He offered both hard truths and comfort throughout a playlist covering numerous themes relating to these dark days. The playbook stayed much the same for episode two — Springsteen's skill in reflecting multiple facets of a subject recalling Tunnel of Love and The Rising — but the second time around it's arguably an even more powerful set of music. No sophomore slump here.
"I hope you've all been staying safe and staying home, because outside the world is roiling." These words preceded "Ball of Confusion," and for the first half-hour or so, Bruce's introductions were to-the-point — noting his fandom of Jimmy Cliff, Social Distortion, and Future Islands ("a band I stumbled on, watching one of the late night shows about a year or so ago, and they've become one of my favorites").
But around the half-hour mark, Bruce began to talk more expansively, about our current troubles, our fears, our country — "I've lived in the United States for 70 years now, and I have to admit I've often been disappointed in our failure to live up to our ideals... But I've never been able to deny that there's a promise that constantly resides in the American people that could make us the great nation we carry in our hearts and our dreams." A familiar and recurring theme from Springsteen and his work, but reflecting on the current moment and introducing a powerful punk rock cover of his own "The Promised Land," by Blacklist Royals. (Great DJs expose us to new music to love — check!)
Debuting "The Wish" 30 years ago, Springsteen bemoaned the dearth of "mother songs" in rock 'n' roll; over the years he's talked about 2Pac's "Dear Mama" as one of his favorites. He played it today for his mother and for yours, with a moving introduction:
One of the hardest things about recent times is the distance you have to place between you and your loved ones... My mom has had Alzheimer's for 10 years, and she lives in the present: this moment, and this moment only, is hers. So touching her and hugging her and kissing her are very, very important for her life experience right now. One of the things we've had to suffer with is that we can't do that right now. For her safety and for her health. So I wanna send this one out to my mom, and to your mom too.
From there, Bruce moved into "The Fuse" portion of the playlist: "There's one thing I know, there are gonna be some babies made over the next few months! Babies are gonna get made! I mean, what else is there to do? I'm gonna grease the wheels right now with one of the sexiest records ever made by one of the sexiest men who ever lived..." That brought Marvin Gaye's "Sexual Healing," followed by Sam Cooke ("the other sexiest man that ever lived!") and "sexy singer" Johnny Nash. With Nash's "Guava Jelly" closing the three-pack Springsteen joked, "I have got to get into the house NOW with Ms. Patti Scialfa!"
In a truly moving pairing, Bruce followed Bily Joel's "New York State of Mind" with his own "New York City Serenade," for NYC and its people. "New York City has struggled so tremendously with this disease... My son lives there, of course we've been worried about him, and everybody else, too." He sent this dynamic duo out specifically to "all the healthcare workers, the doctors and the nurses who have put themselves on the line."
Even though we were getting to the hour-mark at this point, Springsteen had much more delving to do (this second episode was longer than the first, coming in around an hour-forty).
"One the most frustrating things about this virus," he said, "is not knowing how long we're going to have to live like this.... before people are going to be able to trust one another to congregate in large groups, for music, sports, family gatherings... it's very disheartening." Noting that he's been marking off each day on a blackboard at home, he concluded: "We've got to stay strong, stay home, and stay together, and settle on the fact that it's probably going to be a pretty long walk home."
With that cueing up another one of his own, the modern classic from Magic, it was another fine example of how Bruce's music adapts to the times (think most notably of "My City of Ruins" after 9/11). "Long Walk Home" is sturdy and, perhaps sadly, evergreen.
It's also representative of one thing we turn to Springsteen's music for: hard truths, well said. The full spectrum, even when it ain't pretty. So it shouldn't be a surprise that, in the same hour as "Stayin' Alive," Bruce beheld death, on an intimate level, with George Jones' "A Picture of Me Without You" as he prefaced the song:
I think one of the hardest things in diffifcult times is keeping faith. Not letting the struggle and the pain and the loss grief overcome you. That's very, very hard. There's a lot of people that have suffered a lot of loss over these days. Our thoughts and prayers go out to you. But I know that is cold comfort for those who have lost husbands and wives and sons and daughters.
And finally, Springsteen zoomed back out to take the nation's temperature. He recommended and read from a New York Times op-ed, one "I would advise everyone to read," called "The America We Need." You can read it here.
Bob Dylan's "Not Dark Yet" is breathtaking on any occasion, but in this context, and followed by "Inner City Blues," Bruce's second From His Home playlist has reached and maintained epic proportions. "The current pandemic has laid bare the inequalities in health and wealth that plague our nation… As the great Marvin Gaye said, it makes you want to holler."
After a brush with death and darkness, more delights in the "encore" warm us back up: Springsteen namechecks the Replacements as he cues up a marvelous Slim Dunlap song, the title track from 1996's Times Like This ("Slim Dunlap is, in my opinion, is simply one of the best songwriters we have"), graces us with a second Jimmy Cliff track ("always one of my favorite, favorite musicians"), and delivers some good-for-the-soul gospel.
"I've enjoyed spending this time with you... To take us out, there is a group with a wonderful name — they are called The Consolers. Something we could use a little bit of right now. Until we speak again, stay safe."
Playlist:

Frank Bey and the Anthony Paule Band - "Town Without Pity"
The Temptations - "Ball of Confusion"
Future Islands - "Seasons (Waiting on You)"
Jimmy Cliff - "Sufferin' in the Land"
Bee Gees - "Stayin' Alive"
Social Distortion - "Bad Luck"
Blacklist Royals - "The Promised Land"
2Pac - "Dear Mama"
Marvin Gaye - "Sexual Healing"
Sam Cooke - "Good Times"
Johnny Nash - "Guava Jelly"
Billy Joel - "New York State of Mind"
Bruce Springsteen - "New York City Serenade"
Bruce Springsteen - "Long Walk Home"
George Jones - "A Picture of Me Without You"
Bob Dylan - "Not Dark Yet"
Marvin Gaye - "Inner City Blues (Makes Me Want to Holler)"
Slim Dunlap - "Times Like This"
The Consolers - "Over Yonder"
Jimmy Cliff - "Many Rivers to Cross
Keep an eye on the SiriusXM blog for From His Home to Yours audio clips, as well as additional airtimes — Springsteen's second "channel takeover" will be airing several more times over the weekend. E Street Radio streams for free through May 15.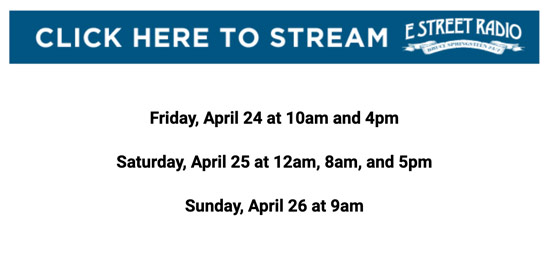 - April 24, 2020 - Christopher Phillips reporting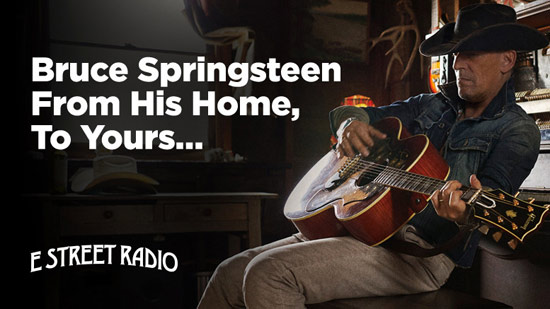 ELECTRIC BOOGALOO
When the Boss played DJ on April 8, a special hour-plus session of words and music called Bruce Springsteen: From His Home to Yours..., we were left hoping it wouldn't be just a one-shot. And sure enough, a second episode will premiere tomorrow on E Street Radio.
So if Bruce spinning tracks from his personal collection and checking in from the farm with words of encouragement sounds good for your heart and soul, be sure to come back for round two. The SiriusXM blog offers a preview of his selections:
During the second episode, Springsteen will once again take over E Street Radio as a guest DJ to spin some of the songs he's been listening to while stuck at home, as well as share more uplifting thoughts. Listeners will hear an eclectic selection of songs by Billy Joel, The Temptations, Tupac Shakur, the Bee Gees, Jimmy Cliff, Future Islands, and more.
Tune in Friday, April 24, at 10am for the first listen; repeat broadcasts will follow starting that afternoon at 4pm. E Street Radio is streaming free on SiriusXM through May 15 for the coronavirus lockdown.
- April 23, 2020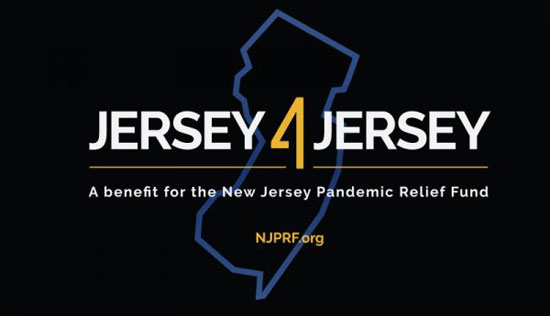 JERSEY 4 JERSEY TONIGHT: HOW TO WATCH/LISTEN
Bruce Springsteen, Jon Bon Jovi, Jon Stewart, Whoopi Goldberg, and many more Garden Staters are taking part in tonight's JERSEY 4 JERSEY broadcast, an hour-long benefit for the New Jersey Pandemic Relief Fund. While Springsteen enterntained us from home with a fine DJ set on E Street Radio a couple weeks ago, this will be our first chance to see him perform since the pandemic began.
For fans around the world hoping to watch, we've rounded up some info that might help.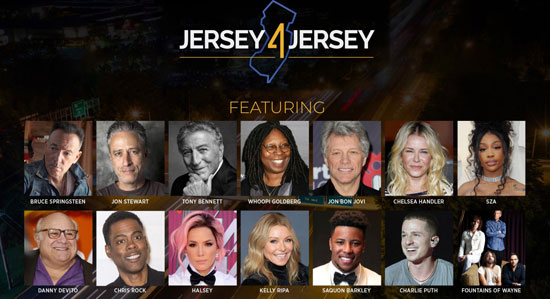 If you're anywhere near the New Jersey Turnpike, you'll have no trouble tuning in tonight — the telethon is being broadcast on multiple networks from Philly to NYC, including ABC, CBS, NBC, FOX, and WPIX. Elsewhere, it could also be worth checking local TV listings, just in case.
AppleTV makes it easy, if you have it, with no subscription required in the U.S. (international streaming is available via Apple with a subscription).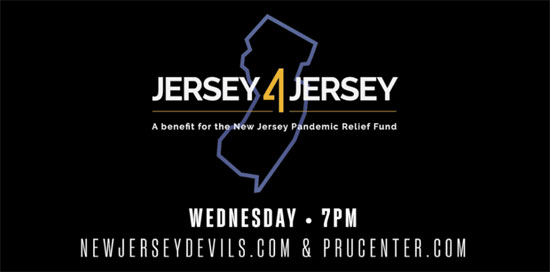 But if those options don't work, your best bet might be to spend a night with the Jersey Devils: the benefit will be streaming at NewJerseyDevils.com/Jersey4Jersey.
The Devils' site also points to their home arena's Prucenter.com, which provides a "Watch on Facebook" link... could be the most promising for those outside of the U.S.
If you'd rather not use your eyeballs, radio options include E Street Radio on SiriusXM, Apple Music, and numerous stations in the region.
How to Watch/How to Listen from NJPRF.org
JERSEY 4 JERSEY is a one-hour broadcast, airing from 7 to 8pm tonight, April 22. Donations to the NJPRF can be made here.
- April 22, 2020

WHERE THE BANDANAS ARE
With the release of
Western Stars,
here at
Backstreet Records
we were able to offer an official Springsteen bandana as a promotional giveaway. With the
Western Stars
movie and soundtrack, a second exclusive bandana design. All cool enough... but of course we had no inkling how
useful
they might turn out to be.
Since seeing these Springsteen bandanas repurposed as masks on social media, a few readers have been asking about them — we cannot sell them outright, since they were provided to us as promotional items. But we DO still have bandanas available.
While the first design (the WS horse on navy) is sold out, the second bandana design (gray, with Bruce and his horse in silhouette, pictured below) is still in stock, still shipping out FREE from Backstreet Records with any format of Western Stars.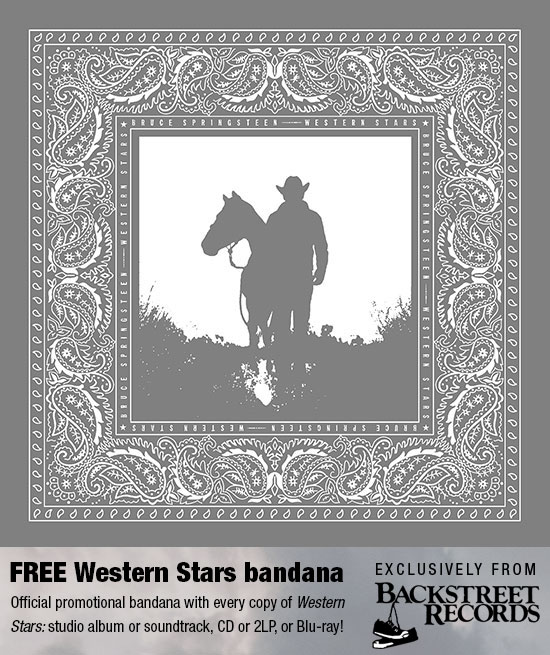 We're sending out a FREE official Springsteen bandana with each of the following:
Of course, we can make no medical recommendations or statements as to the efficacy of improvised face-coverings for health purposes; we point you to CDC guidelines, with useful links from the CDC: Cloth Face Coverings: Questions and Answers and Consumer Reports.
Also note, the CDC recommends multiple layers for an effective face covering. There are useful online tutorials for easily turning a bandana into a face mask with multiple layers of fabric, including this one, or adding a coffee filter.
Stop the spread, stay safe, stay well if you can!
- April 20, 2020

GET-WELL WISHES FOR COVID-19 SURVIVOR EVERETT BRADLEY
Chris Jordan's April 15 Asbury Park Press feature on Jon Bon Jovi's participation in the upcoming Jersey 4 Jersey benefit and other COVID-19 relief efforts was an informative read. Bon Jovi provided a behind-the-scenes glimpse of how the benefit — featuring the involvement of both Bruce Springsteen and his longtime manager Jon Landau —came together, and what to expect from Wednesday's impressive talent lineup.
Bon Jovi also talked about the personal impact that COVID-19 has had on his family and band members. In the process, he revealed information previously unknown to most of E Street Nation: Everett Bradley, who has served stints with the E Street Band as well as with Bon Jovi and many other famous acts, has been battling the coronavirus.
"Everett had it bad," said Bon Jovi, but then quickly added, "He's about 85 percent on the road to recovery."
Alarming news, for sure, though it's a relief to hear that Everett is on the mend. Get well soon, Papadelic; we love you!
- April 19, 2020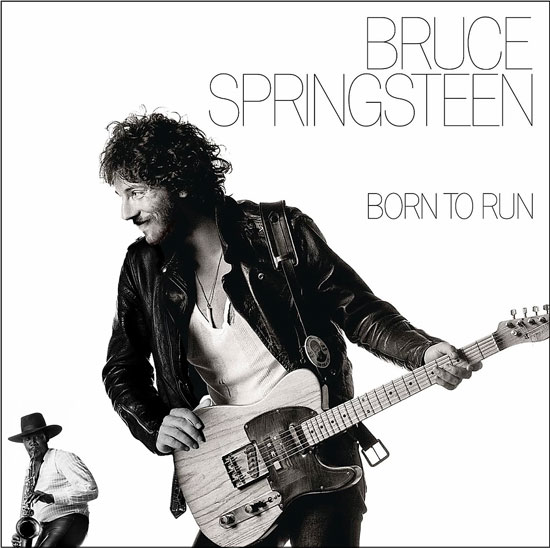 LONG DISTANCE SALVATION
The 6 Feet Covers project, spearheaded by Activista Los Angeles, is promoting social distancing in a creative way: by digitally altering famous album-cover photos so that each subject appears to be at least six feet apart from any other. Among their latest reimaginings: Born to Run, updated for 2020 as a COVID-19-conscious sleeve.
In addition to the social distancing endorsement, the 6 Feet Covers site is also encouraging visitors to support the Feeding America COVID-19 Response Fund.
- April 17, 2020 - Shawn Poole reporting - original Born to Run cover photograph by Eric Meola

AN EPISODE FOR THE VIETNAM VETERAN
None But the Brave podcast explores Springsteen's landmark '81 benefit
One of Bruce Springsteen's best-known concerts is the topic for the newest installment of None But the Brave, the podcast series hosted by longtime Backstreets contributor Flynn McLean and Hal Schwartz. A Night for the Vietnam Veteran, a benefit concert Springsteen and the E Street Band played in Los Angeles toward the end of the 1980-'81 River tour, is credited as a turning point for the Vietnam veterans movement — and a performance high-water mark for Bruce and the band.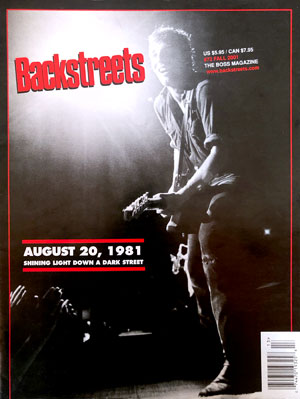 "Whether it's the best show Springsteen played is a matter of debate," says Backstreets Associate Editor Jonathan Pont, who joins the co-hosts for the episode. "There's an unusual intensity about the music that night for sure. What's always been plain is how consequential the Vets Show was, for Bruce himself, and certainly for others."
In 2001, to mark the concert's 20th anniversary, Backstreets #72 (pictured right, now sold out) featured an unprecedented look back on that night; at its center was an exclusive interview with Bob Muller, the Marine Corps veteran whose wounding in Vietnam led him to a life of service — and a fortuitous meeting with Bruce Springsteen in 1981. Muller was president of the Vietnam Veterans of America Foundation, the benefiary of Springsteen's concert on August 20, 1981.
The new episode, the 13th in the podcast's run, uses the Backstreets Q+A with Muller as a way to sift the night's meaning and music.
Pont's None But the Brave appearance marks the first time McLean and Schwartz have invited a guest onto their podcast.
"We all went back and played those magnificent audience recordings," Pont says of preparing for the discussion. "There's so much going in that show, whether the range of covers [Creedence Clearwater Revival, Jimmy Cliff, Woody Guthrie, Roger McGuinn], the public lament for Elvis Presley, or the books Springsteen talks about having read in Europe a few months before — it's the loudest, most grand history lesson rock 'n' roll ever had."
Episode 13 of None But the Brave appears today — subscribe here, or listen on your favorite podcast platform.
- April 16, 2020

A VIRTUAL RIDE TO THE JERSEY SIDE: NJPRF BENEFIT APRIL 22
Last week we got to hear from Bruce Springsteen via E Street Radio, playing DJ from home and sharing some restorative words along the way... but he didn't actually perform. Next week, he will — as part of the JERSEY 4 JERSEY fundraiser to benefit the New Jersey Pandemic Relief Fund. The April 22 broadcast — which will be carried on ABC, as well as other outlets, at 7pm ET — was announced today on Good Morning America.
Further details:
The one-night event featuring Bruce Springsteen, Saquon Barkley, Tony Bennett, Jon Bon Jovi, Danny DeVito, Whoopi Goldberg, Halsey, Chelsea Handler, Charlie Puth, Kelly Ripa, Jon Stewart and SZA, will raise funds to fight the impact of COVID-19

Special evening will be broadcast at 7pm ET on Wednesday, April 22

Today, the New Jersey Pandemic Relief Fund (NJPRF) announced JERSEY 4 JERSEY - a one-night broadcast fundraiser to fight the medical, social and economic impact of COVID-19 on New Jersey's most vulnerable communities.

This special evening will feature New Jersey's biggest champions and celebrities participating from their homes. This recognition of New Jersey's strength and character will also include first-hand accounts from front-line workers and citizens impacted by the pandemic.

Jersey 4 Jersey will be broadcast at 7 PM EST on Wednesday, April 22, on Apple Music and AppleTV apps, worldwide. It will also be broadcast live and rebroadcast on SiriusXM E Street Radio and carried on a variety of television and radio stations.

"New Jersey is on the front lines of this pandemic, making it more important than ever for us to do what Jersey does best – take care of one another," said New Jersey First Lady Tammy Murphy. "That's why we're asking everyone in our state to join the NJPRF and some of New Jersey's finest for some much-needed musical entertainment, levity and Jersey Pride during these unprecedented times."

Besides raising funds for NJPRF.org, JERSEY 4 JERSEY will honor those on New Jersey's front lines, including healthcare workers, first responders and other essential employees. The event also will remind all those tuning in about how they can help stop the spread.

JERSEY 4 JERSEY will be produced by Joel Gallen, who recently produced the iHeart Living Room Concert Benefit for Fox, in addition to numerous other fundraising television events including the award-winning telethon that immediately followed September 11.
- April 14, 2020


HAPPY BIRTHDAY TO MAX WEINBERG, REVISITING HIS ROOTS
For Mighty Max's birthday today, let's spend a little time with him the way we're spending time with all our friends these days... in a small box on the computer screen. This is a great little clip, though, delving into one of his most famous performances — the towering drums on "Born in the U.S.A.", recorded 38 years ago this month, in April 1982. Returning to The Power Station, where The River and Born in the U.S.A. took shape, Max recreates his parts and discusses the famous drum breakdown. "That song, on that night… I think we hit it out of the park." We'll second that. Have a swinging birthday, Max!
- April 13, 2020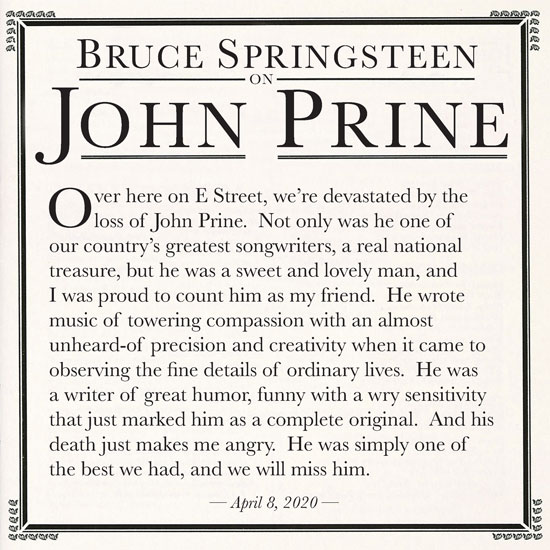 LET US NOW PRAISE JOHN PRINE
Paying tribute to the late, great (well done, hot dog bun) national treasure
As Little Steven announced on Thursday, his Sirius/XM Outlaw Country Channel 60 will be dedicating this whole weekend to John Prine and his music, through Monday April 12 at 4am ET. Special programming includes special tributes from Steve Earle on his regular show The Steve Earle: Hardcore Troubadour Radio and The Buddy & Jim Show featuring Buddy Miller and Jim Lauderdale, along with specials on Prine's Tree of Forgiveness and For Better or Worse albums. Tune in if you can.
Along with Springsteen's thoughts expressed on this week's Sirius/XM radio special [top], Bruce, Stevie, and fellow E Streeters Nils Lofgren and Garry Tallent weighed in on Twitter with their tributes, along with countless other Prine fans. Jason Isbell, one of the finest songwriters and musicians of a generation younger than Springsteen and Prine, who credits them both as major influences, wrote a column for the New York Times. Here at Backstreets — even though we know Prine will surely find the afterlife grand — we all share the community's sense of profound loss.


I never met John Prine, but then again, maybe I did.
If you ever find yourself in the dust bowl emptiness of Oklahoma's panhandle, and you keep driving south to the town of Perryton, you will reach an intersection just south of town. If you're like me, you're likely to jump out and shout, "This is it, we're here, this must be it!"
You may pull over and look at the four compass points going off to infinity and swear that the Earth is flat, just the way it looks at the end of the movie Cast Away. One day I found myself at that crossroads, looking out to where the wind fell off the edge of the world.
The cover of John Prine's album The Tree of Forgiveness, captured by Danny Clinch, is a photograph of someone who has faced down death and reached a point where he looks like a deer caught in the headlights of heaven's door. It is a remarkable image, in the way an artist known for his wry humor just stares out at the viewer to say "Here I am, this is me, this is life."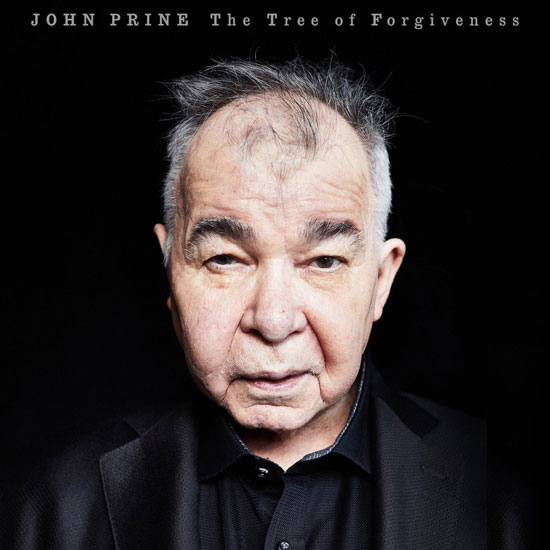 A survivor of two bouts with cancer, Prine looks at the camera with the eyes of one who can laugh at himself and his small place in a universe where he found his voice and brought us into his world.
One day in the late 1970s when Bruce Springsteen was in my photo studio, he handed me Prine's album Bruised Orange and said, "I think you'll like this." The songs didn't grab me out the gate, but they latched onto me and became a haven from everyday life. Over time, Prine's writing became, for me, all the more powerful for the commonplace it embraces and celebrates.
In spite of himself, John Prine wrote lyrics that define what it is to be human, to be alive, and to forever be at the crossroads between laughter and despair; it's with the honesty of his lyrics that he touched us in a way few musicians have, making us laugh every time we heard his warm, raspy voice telling us about how things were going to be. Few artists move us with words the way he did, in quiet ways that resonate deep in your soul.
- Eric Meola


It's all Bruce Springsteen's fault. Though Backstreets may share part of the blame as well.
I knew John Prine's name. But that was all I knew. Back then, I doubt I even knew that John Prine had been a mailman in Chicago, or that he (like Bruce and countless others) had been tagged as a "New Dylan" in the early 1970's.
Then, sometime in late summer or early fall of 1991, I learned — likely from Erik Flannigan via the Backstreets SuperSub hotline — that Bruce was contributing to John Prine's new album. The Missing Years also featured contributions from the likes of Tom Petty, Phil Everly, Bonnie Raitt, and David Lindley. Who was this guy with this many friends in high places?
I bought the CD, listened once (maybe twice), and I was hooked. My John Prine collection grew with each new release (and back catalog purchases along the way), and I believe I caught every tour from the Guthrie Theater in Minneapolis on August 25, 1997 to Symphony Hall in Duluth, MN on June 1, 2019.
What many did not know is that, for years, the Prine organization sold its own modified version of Bruce's will-call (a/k/a jailbait) tickets, intended to prioritize fans over scalpers. Because I was "in the know," I managed to score high quality seats for a dozen or more shows at face value (including dead center front row in Eau Claire, WI a few years ago), and I've always been grateful for that extra effort for the fans.
I am not sure why I adored John Prine as much as I did. One of many reasons I loved him was his ability to write serious songs like "Sam Stone" and "Hello in There," and then offer up songs like "Fish and Whistle," "Let's Talk Dirty in Hawaiian," and "Illegal Smile."
I never heard a bad John Prine album, and I never saw a bad John Prine show. My lasting memory of John Prine will be watching him dancing off the stage at the end of his set in Duluth.
Finally, while I do not believe in heaven, I plan to honor John's passing with a vodka and ginger ale, the world's longest cigarette, and a ride with my pretty girl on a tilt-a-whirl.
When it comes to John Prine, summer's end came way too damn soon.
- Josh Jacobson


Standing By Peaceful Waters
John Prine 1946-2020
John Prine, three-time Grammy award winner, member of the Songwriters Hall of Fame, recipient of the 2016 PEN/Song Lyrics Award, passed away on April 7, 2020 due to complications from Covid-19. Prine was a master songwriter and musician. He was also a very kind, humble, generous, gentle soul who always had a smile on his face and an eye for the best meatloaf dinner in Nashville, Tennessee, his adopted hometown. Prine's independent label Oh Boy Records is based in Nashville, as well.
The paths of John Prine and Bruce Springsteen ran parallel throughout their careers. Prine released his debut album in 1971, just two years prior to Springsteen's Greetings From Asbury Park, NJ. Both artists had a touch of the south in their lives, which anchored them and their songwriting in the everyday lives and moments of many of their characters. Prine was born and raised in Maywood, IL, a suburb of Chicago, but his father's family was from Muhlenberg County, Kentucky, where they often visited his grandparents (which begat one of Prine's most famous songs, "Paradise"). Springsteen, meanwhile, grew up in the "Texas" area of Freehold, New Jersey, home to many migrants of the south who came looking for work in the town's surrounding factories and fields.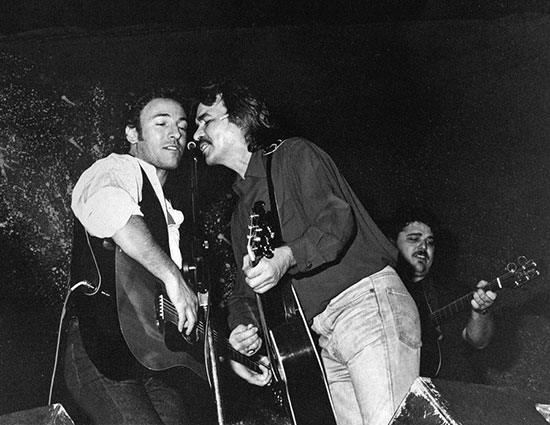 Springsteen and Prine together in Tarrytown, NY, 11/12/88, with Garry Fish on guitar. Photograph by Thom Wolke
Both artists, from the beginning of their songwriting careers, focused on the craft of lyric-writing; musically, they combined many of the same sounds and genres, as can be heard on Prine's "Angel From Montgomery," with its blend of guitars, piano, and organ, adding a gospel touch akin to Springsteen's "Racing in the Street." Prine was a folk songwriter and singer in the vein of Woody Guthrie, with touches of Hank Williams and Bob Dylan, and a love of Elvis, Chuck Berry, and Little Richard running underneath the surface. Both songwriters were able to be economical and spare at times when needed, but both also knew how to form their lyrics to create a vivid, visual image, like watching a screen at a picture show, a new fresh world opening before your very eyes.
They both touched on many of the same topics, including veterans coming home from Vietnam, fighting to regain their place in the country and at home. Prine's "Sam Stone" can be laid next to Springsteen's "Born in the U.S.A." and "Shut Out the Light" in their rage against the treatment of returning service members. Prine and Springsteen both wrote many of their songs with great compassion for the everyday lives of blue collar, working class people, their struggles to work, find some happiness, bear the loss of family members and their communities around them.
In the early years of his career, Prine was more a folk artist with touches of country and bluegrass, but as he continued to record and write, he showed more signs of rock 'n' roll, with songs like "Saddle in the Rain," "She Is My Everything," and "Lake Marie," hard, guitar-driven performances.
Prine and Springsteen would never shy away from humor; take Prine's "It's a Big Old Goofy World," full of similes he pulled from puzzle pages he completed with his mom everyday. Springsteen's "My Best Was Never Good Enough," full of similes, is in very similar vein. Prine's "In Spite of Ourselves," sung in duet with Iris Dement, is chock full of blue material and lyrics like "She gets it on like the Easter Bunny… She takes a lickin' and keeps on tickin'" — it's in the same family as Springsteen's "Red Headed Woman," with it's "Well I don't know how many girls you've dated/But you ain't lived till you've had your tires rotated/By a red headed woman."
The other great gift they share as songwriters and artists was being able to imagine and write about the lives and circumstances of characters beyond their own personal experience, creating a universe all of their own. Coming from working class families, seeing the hard work their parents put in every day to care for their families, both artists display compassion, humility, and very observant eyes and ears for details and the nuances and vagaries of the human heart. From Donald and Lydia, to Spanish Johnny and Puerto Rican Jane. In "Jesus The Missing Years," Prine develops a whole world of what the historical figure of Jesus Christ was doing between the ages of 13 and 30, while Springsteen imagines an alternate universe life of Christ in "Jesus Was an Only Son."
The "New Dylans"
According to an interview from 2017, Prine first encountered Springsteen seated at a piano at New York City club Max's Kansas City, recalling that he came across at the time as "kind of an introspective singer/songwriter."
The two met again a few years later in Washington, D.C., at a stop on Springsteen's Born to Run tour.
"When he saw me, he got a folding chair and put it by the side of the stage, and then he went out to do the show," Prine said. "And then four songs into it — back then, there was no stopping in between songs, Bruce would hit the stage, do four or five songs with no breath for the audience — he leaned over at one point because he was working his way back to the side of the stage where I was. I'm sitting in the folding chair, and he goes, 'How am I doing?' and the place was coming apart!"
It was a moment that Prine never forgot. "All of a sudden, he was not this introspective singer/songwriter; he was Chuck Berry, Little Richard, Elvis, Bob Dylan, all of these rolled into one, and he reminded everybody of what rock 'n' roll was like — just like when the Beatles came over and reminded people of what America had started with rock 'n' roll."
On November 13, 1975, Springsteen and Prine were backstage together at Bob Dylan's Rolling Thunder Review concert in New Haven, CT. We have photographic evidence of the occasion, thanks to Ken Regan and Getty Images (Springsteen's then-girlfriend Karen Darvin is also in the shot.) On meeting Bruce and John backstage that night at Veterans Memorial Coliseum, Dylan joked, "There was one of me to my left and one to my right."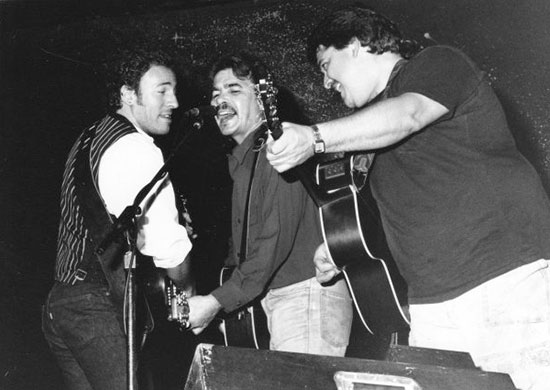 Springsteen and Prine together in Tarrytown, NY, 11/12/88, with Garry Fish on guitar. Photograph by Thom Wolke
Fast-forward 13 years: on November 12, 1988, in Tarrytown, NY, Bruce joined Prine onstage for a performance of Prine's "Paradise." According to Eddie Huffman's book John Prine, after the show, Prine reminded Bruce of their shared "new Dylan" days:
"I knew Springsteen from way back in '74. I met him when we were basically trying to do the same thing, trying to bust loose, and Bruce got Born to Run and all hell broke loose. I reminded him about a New York Times article in about 1973, maybe, and it was like the new Bob Dylan contest. It was Springsteen, Loudon Wainright, Keith Sykes, Elliott Murphy and myself, this big article about who was going to be the new Bob Dylan."
Syphilitic Critics
Both artists' careers were greatly influenced by critics in the early 1970s. Famously, Jon Landau's review for Boston's Real Paper of a 1974 Harvard Square Theatre show named Bruce Springsteen as "rock and roll future… and on a night when I needed to feel young, he made me feel like I was hearing music for the very first time."
In 1970 in Chicago, Prine was lucky to have Sun Times film critic Roger Ebert catch one of his sets at The Fifth Peg. It blew Ebert away to the point that he submitted a glowing review to his editor even though he was not a music critic. "Lyrics like this are earning John Prine one of the hottest underground reputations in Chicago these days," Ebert wrote. "He's only been performing professionally since July, he sings at the out-of-the-way Fifth Peg… and country-folk singers aren't exactly putting rock out of business. But Prine is good. He appears on stage with such modesty he almost seems to be backing into the spotlight. He sings rather quietly, and his guitar work is good, but he doesn't show off. He starts slow. But after a song or two, even the drunks in the room begin to listen to his lyrics. And then he has you." The rave helped push Prine's songs out to more listeners in Chicago and nationally.
Alternatively, and famously, one early Prine review by critic John Segraves from a 1972 Washington DC show contained these lines: "Oh yes, there's that good old trio of realism, pathos and poignancy in Prine's songs. There's also enough gloom and despair to give soap opera scripters enough ammunition for a new series. In the main, he's about as entertaining as a dog bite." Ouch.
Prine famously kept this review taped to his bathroom wall, an appropriate place, as John joked, to peer at from time to time for motivation to keep improving and striving despite some people's negative words. Prine got the last laugh, though. On his last album The Tree of Forgiveness, the last track "When I Get To Heaven" his self-eulogy contains this nugget:
Then as God as my witness
I'm gettin' back into show business
I'm gonna open up a nightclub called
'The Tree of Forgiveness'
And forgive everybody
Ever done me any harm
I might even invite a few choice critics
Those syphilitic parasitics
Buy 'em a pint of Smithwick's
And smother 'em with my charm
It's a Big Old Goofy World
In May of 1991, while Springsteen was working on Human Touch and Prine was gearing up for his first studio album since '86, the two songwriters bumped into each other at a Southern California Italian restaurant. It was the day Prine got to town to get started. Springsteen told him, "When you guys get into the record and have something to play, please invite me over. I'd just love to play guitar or harmonica or sing or whatever."
Springsteen wound up providing harmony vocals on "Take a Look At My Heart," a song Prine co-wrote with John Mellencamp, released in August 1991 on his "comeback" album The Missing Years. The LP won the Grammy Award for Best Contemporary Folk Album. Produced by Heartbreaker Howie Epstein, the album was largely recorded at Epstein's guest bedroom studio in Los Angeles, dubbed "Huh Sound Theater"; Springsteen reportedly recorded his vocals in the bathroom for the sake of acoustics.
In 2006, Prine's Fair and Square beat out Springsteen's Devils & Dust for the Grammy's Best Contemporary Folk Album. Interestingly, both artists drew indignation from some corners in the oughts, for overt criticism of the president and lack of "patriotism" due to songs released during the Iraq War. Prine and Springsteen knew of which they were writing: Prine was drafted and served in the Army during Vietnam as a mechanic in Germany, and while Springsteen was drafted but did not serve, he had close friends killed in action overseas. Springsteen's Magic continued tackling the times with "Long Walk Home," "Last to Die," and the title track; Prine's "Some Humans Ain't Human" contained these humorous but pointed lyrics:
Have you ever noticed
When you're feeling really good
There's always a pigeon
That'll come shit on your hood
Or you're feeling your freedom
And the world's off your back
Some cowboy from Texas
Starts his own war in Iraq
Prine told an interviewer, "Surprisingly some people have written letters or walked out on shows and asked for their money back. They usually preface it by saying they've been fans for years, and I would be thinking, if you've been listening all these years to 'Sam Stone' and 'Your Flag Decal Won't Get You Into Heaven Anymore,' I can't see how you would be aghast because I tore George Bush apart."
In the end, regardless of the new Dylan hype and other barriers placed in their paths, both Prine and Springsteen threw off those labels and quickly became artists in their own rights, developing distinctive musical styles and long careers all their own. Amazingly prolific and steady in output, Prine recorded and released 18 studio albums (compared with Springsteen's 19) during his career, his last being
The Tree of Forgiveness
in 2018. Both artists maintained a high quality of material, ideas, sounds, and performances, with some of their better work coming in the later parts of their careers.
Wherever John is, I hope he's standing on the shores of a lake near the Illinois Wisconsin border, gazing at peaceful waters while four Italian sausages sizzle on an outdoor grill. I hope he's got a big old goofy grin on his face. I hope he's drinking a Schlitz or an Old Milwaukee, strumming his guitar, whistling a tune, and thinking about going fishin': fishin' for a few nice-sized bass for dinner, or fishin' for another great set of lyrics. Sail on, John Prine. We love you and we thank you.
- Ryan Hilligoss

From Fiona Whelan Prine and the Prine family: In lieu of flowers or gifts at this time we would ask that a donation be made to one of the following non profits:
thistlefarms.org
roomintheinn.org
nashvillerescuemission.org
- April 11, 2020


TURN ON, TUNE IN, DROP OUT WITH SPRINGSTEEN
On his E Street Radio takeover, the Boss asks, "Are you alright?"
"Hello E Street Nation! This is Bruce Springsteen coming from my house to yours, with music for these troubled times." So began this morning's special guest DJ appearance from the Boss on E Street Radio (SiriusXM ch 20), Bruce Springsteen: From His Home to Yours.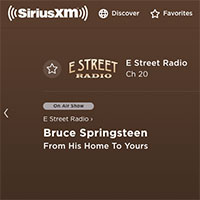 For more than an hour — even longer than originally planned, after last night's crushing news of John Prine's death spurred Springsteen to add one more tune to his playlist — Bruce spoke to listeners sheltered in place, sharing songs of both shadow and light for this moment, from "It's Bad You Know" to "Better Times Are Coming."
Between songs, Springsteen pulled no punches about the current darkness on the edge of town: "These days you can feel like you're looking out over the edge of the apocaplypse." He talked about his sense of loneliness, shared by so many: "I think the hardest thing about what we're going through right now is not being able to see, hug, kiss your loved ones." Saying that he and Patti are "together and we're doing great," he also added, "it's lonely down here on the farm!" Not everyone's there. "Mom — I miss you."
And if you're not with any of your loved ones? "If you're by yourself? That ain't so bad! I spent 35 years by myself in a room! And I liked it!"
Given "that feeling of safety you once had has been stripped away," when Springsteen dipped into his stacks of wax for one of his own, it was "Cover Me." The whole world is rough and just getting rougher.
But he also played "We Shall Overcome." And while not neglecting any concern for the ill, the dead, the health care workers, or "the folks who don't have a safety net," Bruce reminded his listeners that for most of us, this too shall pass. "When these days end — and they will end — there will be a religious celebration, a spiritual celebration."
"All I know is, when this is all over, I'm gonna take Patti to a baseball game."
In 1984, Bruce summarized his live-show approach and goals to the BBC's David Hepworth. "Whatever people want — whatever they take from it — whatever they need at that moment is what I hope that it would be. If you come and you need some inspiration, maybe, I would hope that you could find a little bit of that in it. But if you want to dance... I'd hope it was a combination of all those things." Mission accomplished once again, this time as a DJ. So good to hear from you, Bruce. Here's hoping you'll make this a series.
Playlist:

Lynn Taitt and Baba Brooks Band - "Forty Miles of Bad Road"
Cracker - "Turn On, Tune In, Drop Out With Me"
Wyclef Jean - "Gone Till November"
Don Henley - "End of the Innocence"
Roy Orbison - "Only the Lonely"
R.L. Burnside - "It's Bad You Know"
Bob Dylan - "Beyond Here Lies Nothin'"
Bruce Springsteen - "Cover Me"
Bon Jovi - "Livin' on a Prayer"
Morrissey - "Every Day is Like Sunday"
Marion Williams - "Trouble So Hard"
Common - "Letter to the Free"
Sarah Jarosz - "Ring Them Bells"
Patti Scialfa - "Talk to Me Like the Rain"
Huey "Piano" Smith - "Rockin' Pneumonia & the Boogie Woogie Flu"
Kate and Anna McGarrigle - "Better Times Are Coming"
Bruce Springsteen - "We Shall Overcome"
Lucinda Williams - "Are You Alright?"
Ry Cooder - "3rd Base, Dodger Stadium"
John Prine - "Angel From Montgomery"
Sam Cooke and the Soul Stirrers - "The Last Mile of the Way"
Visit the SiriusXM blog to listen to additional From His Home to Yours audio clips, where we also found this list of additional airtimes — Springsteen's "channel takeover" will be airing at least twice daily for the next week. E Street Radio streams for free through May 15.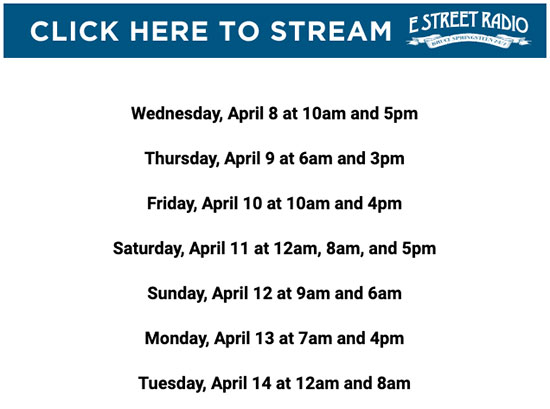 - April 8, 2020 - Christopher Phillips reporting, with thanks to Shawn Poole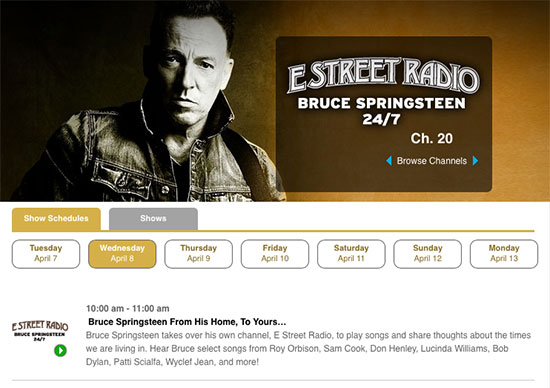 TUNE IN TOMORROW TO BRUCE, "FROM HIS HOME TO YOURS"
Special E Street Radio guest DJ set for "the times we are living in"
A late-March phone call from Bruce Springsteen to E Street Radio let us know that Bruce and Patti were safe and well at home. Tomorrow on the SiriusXM channel, he'll be taking over to host Bruce Springsteen, From His Home to Yours.
Debuting Wednesday, April 8, at 10am ET, the new program is an hour-long guest DJ set from the man himself, recorded at his home. He won't be performing, but rather spinning tracks he's been listening to during lockdown, and, according to the website, sharing "thoughts about the times we are living in. Hear Bruce select songs from Roy Orbison, Sam Cooke, Don Henley, Lucinda Williams, Bob Dylan, Patti Scialfa, Wyclef Jean, and more!"
From now through May 15, you can stream SiriusXM for free. And listen Wednesday morning for Bruce Springsteen, From His Home to Yours on SiriusXM channel 20.
- April 7, 2020

IF WE ARE WISE WE KNOW THAT THERE'S ALWAYS TOMORROW
Remembering Bill Withers, whose music carries on
Along with music fans all over the world, we were saddened by the news that Bill Withers, the legendary American pop/soul singer-songwriter who racked up a number of big hits in the 1970s and 1980s, died last week in Los Angeles of heart complications. He was 81.
Withers, who was born in Slab Fork, West Virginia on July 4, 1938, began his recording career at the relatively late age of 32. Signing to Sussex Records in 1971, he released an astonishing debut LP, the Booker T. Jones-produced Just as I Am. The album yielded the hits "Grandma's Hands" and the Top 5 smash "Ain't No Sunshine," and the cover featured a photo of working-man Withers — reluctant to leave his steady job installing toilets in airplanes — holding his lunch pail on the job site. The following year, Still Bill included Withers faves "Use Me," "Who is He (And What Is He to You)?" and the song that would become the most identified with Withers, his number one hit, "Lean on Me." An immediate classic, the song went on to become the Number 7 song of 1972.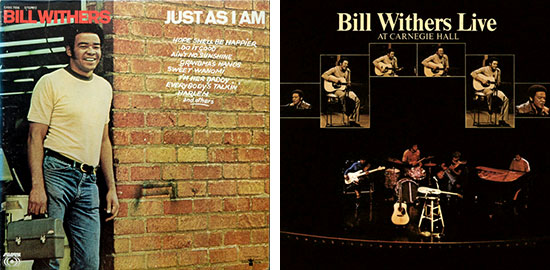 In 1973, Withers released the album that this writer considers his finest, Bill Withers Live at Carnegie Hall. Recorded on a rainy Friday night in October of 1972, it features Withers and his crackshot band in their element, performing a selection of his finest material — much of which centers around the hardships of the Nixon-era marginalized citizens of this country. In that, as a songwriter, he certainly shared an affinity with Bruce Springsteen: disabled veterans, the working class, and those who have failed in love and friendship all get the nod in Withers' world. Indeed, no less an authority than Questlove himself referred to Withers as "...the closest thing black people have to a Bruce Springsteen" in Andy Greene's 2015 Rolling Stone profile.
The early hits are all here on Live at Carnegie Hall, too, and many of the songs are introduced by Bill with the stories that inspired them, giving the listener insight into the background behind much of this magical body of work.
Signing with Columbia Records in 1975, Withers went on to have a few more massive hits as Springsteen's labelmate, including 1977's "Lovely Day," and his duet with saxophonist Grover Washington, Jr., "Just the Two of Us," in 1985. However, frustrated with the music industry in general and his label in particular, Withers bowed out of the business in 1985. He did, however, continue to make occasional guest appearances here and there, and some of his '70s singles were re-released in new remixes. His songs — "Lean on Me," in particular — continued to be covered and sampled with a large degree of success.
Above, you can see Springsteen and Nils Lofgren dueting on the Withers classic, captured at one of Nils' Stone Pony gigs on June 9, 1989. Nils himself tweeted about the clip and noted the power of the song in these times: "Damn I did not even know this video existed #BILLWITHERS Rest In Peace sweet man. No more appropriate song right now."
Little Steven weighed in with a tribute on Twitter as well.
Withers' working-class roots, his determination to remain (in his own words) a "regular guy," and his magnificent, universally relatable body of work all ensure that those kinds of tributes will be rolling in for decades to come.
For more on Bill Withers, his music and his legacy, the 2009 documentary Still Bill can be viewed for free on YouTube.
- April 6, 2020 - John Howie, Jr. reporting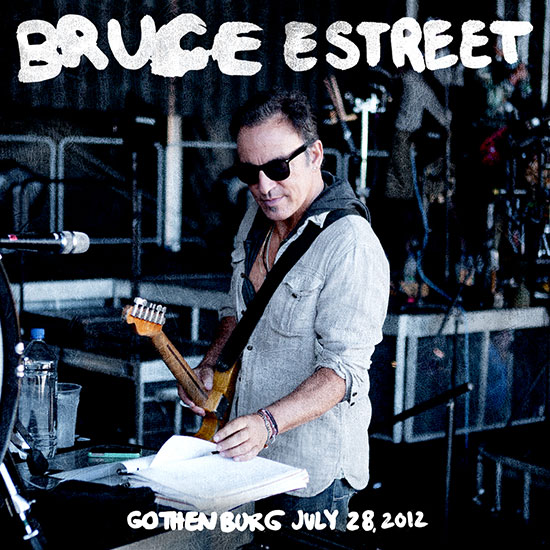 ULLEVI 2012: FIREFLIES IN THE SWEDISH SUMMER RAIN
A Wrecking Ball spotlight shines on night two in Gothenburg, July 28
Ullevi Stadium is the sixth Wrecking Ball show in Bruce Springsteen's Archive Series, a legendary night from the modern era that many fans have hoped would see the light of day. Having experienced this one first-hand in Gothenburg, Sweden — and written a review for Backstreets that was colored by what I had witnessed an hour or so earlier — today's release of Gothenburg July 28, 2012 provides a chance not only to re-live that night, but to validate those feelings eight years later with some perspective.
Just like the Reunion Tour had been a rededication of the E Street Band, Springsteen's decision to tour behind Wrecking Ball became a second instance of rebirth, after the 2011 death of Clarence Clemons. For any fan, imagining an E Street Band show without him was hard. How could the band go on? The tour kick-off at Harlem's Apollo Theater (the first Archive Series release, in 2014) proved that there could be life after the Big Man.
Expanding the E Street Band to a 17-piece ensemble made for a new experience: not better, not worse, just different. After hundreds of Reunion-era concerts, perhaps that's what everyone needed. And it worked. Spring 2012 saw Bruce and the band delivering rock-solid shows in U.S. arenas, showcasing the Wrecking Ball material and turning the reconfigured band into a well-oiled machine.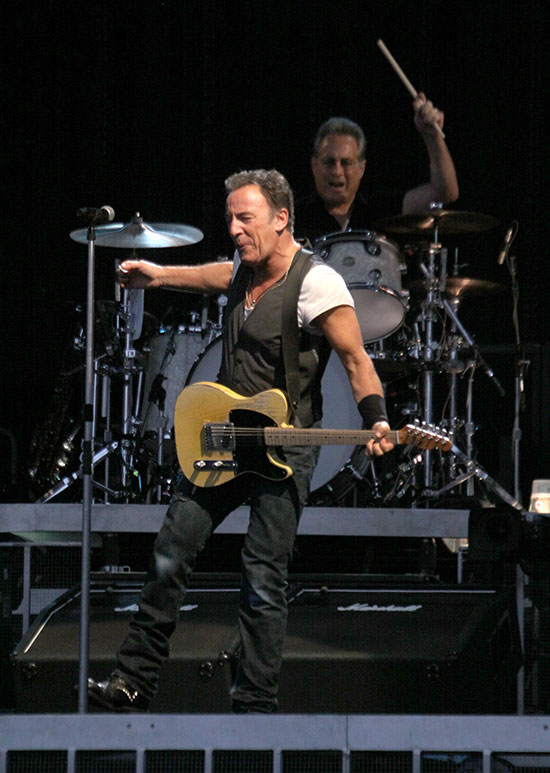 Which brings us to Gothenburg, Sweden, and Ullevi Stadium, which once literally did get "wrecked" by the E Street Band, back in 1985. Sweden was and remains one of the band's favorite places to perform, and any Ullevi show has always stood out among the strongest of any tour. For Wrecking Ball, Ullevi hosted back-to-back shows in late July; today's release captures the second performance.
After a splendid show the night prior, July 28 turned out to be among the rainiest days of the summer, with thunderstorms approaching just before showtime. Messages on the stadium screens informed the crowd how to evacuate in case it would be necessary, surely adding some hesitancy to general expectations.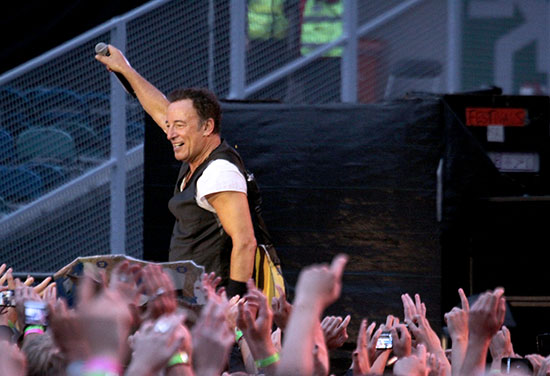 Springsteen took the stage in a white T-shirt (under a black vest), not a common color scheme for any of the E Street Band — was that a sign that something special was about to happen? (Eight years later, that makes it easy to spot pictures taken at this show.)
With the rain pouring down, which continued for most of the concert, a stellar "Who'll Stop the Rain" kicked off the proceedings, followed quickly by "The Ties That Bind" and "Out in the Street." Springteen delivered a Born in the U.S.A. "double header" (in his words): "Downbound Train" and "I'm Goin' Down."
While none of these setlist choices would raise any eyebrows, the razor-sharp, driven, and inspired performances by the E Street Band stand out to this day. Not forgetting the weather, a rare "Lost in the Flood" came early, a wonderful performance by a band at the peak of its powers.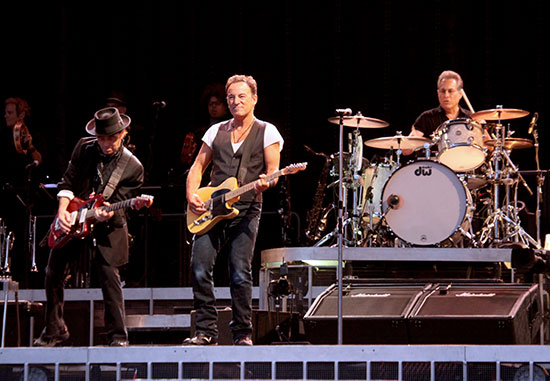 Following a strong if familiar Wrecking Ball three-pack, "My City of Ruins" was one of many emotional highlights of the evening, as fans honored the Big Man with "we are not worthy" bows and waves towards the side of the stage where Clarence once stood.
Sign request segments were common since the Magic tour, but they could break a show's flow and result in the coupling of obscure songs. Yes, this gave setlist watchers a field day, and we got to hear songs we may not have heard otherwise. But listening back to complete Archive Series recordings, those one-off choices of rarities or covers are sometimes just that — without adding any emotional textures that are needed to create a truly great show. Not so in Gothenburg.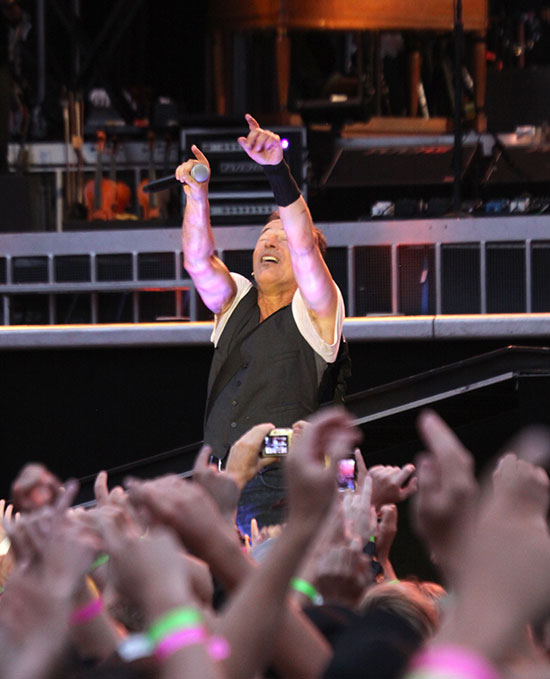 The sign request for "Saint in the City" came at exactly the right time: when we needed to wipe tears from our eyes following "My City of Ruins." Even better, another sign request brought "Frankie," a version that to this day hasn't been topped, in my opinion. Just watch the YouTube clip, with the fireflies lighting up Ullevi on this dark and rainy summer night (okay, so they were lights from cell phones). "The River" and "Because the Night" led us toward the home stretch of the main set, illustrating how well rarities were deftly coupled with more familiar material on this special night.
After three crowd-pleasers maybe aimed at more casual fans, Bruce dedicated the tour premiere of "Where the Bands Are" to the group of fans that had been following the tour all over Europe. An outstanding performance of "Backstreets" followed, delivered with a lengthy interlude evoking the '78 "Sad Eyes" version.
The encores kicked off with "Thunder Road," which I believe is the best spot for this song in any show. A truly earth-shaking "Born in the U.S.A." and a blistering "Born to Run" followed. By the end of the encores, Bruce signaled that his voice was gone, and I remember wondering whether this really could continue for much longer.
As usual on the Wrecking Ball tour, "Tenth Avenue Freeze-out" appeared as a tribute to the Big Man, and Bruce noted after the song ended that "Clarence always had a special connection to Sweden." He went on: "We haven't rehearsed this, but this is for you, and for the Big Man": the tour premiere of "Jungleland."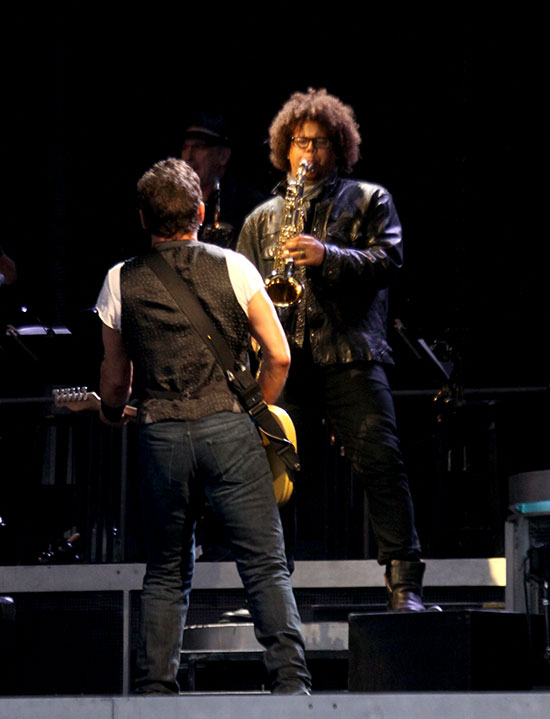 A single spotlight fell on a lone saxophone placed at Clarence's usual stage position, and we heard an extremely moving version of his signature tune, its first play since Clarence's passing. Having masterfully performed the notes usually played by his uncle, Jake got a hug from Bruce, and tears were in everybody's eyes.
As Bruce declared, "We need to send these people home!", it was time for the classic Ullevi stadium-shaking anthem, "Twist and Shout," ending a show that ranks among the best of the tour. It's one to crank up — just not so loud that you break your stereo. Consider yourself warned.
Also read: Erik Flannigan's latest nugs.net blog entry, "Tonight I Wanna Feel the Beat of the Crowd"
- April 3, 2020 - Ivar Noer reporting - photographs by Riku Olkkonen

NO FOOLIN'
Gotta say, we appreciate (most) everyone taking yesterday's April Foolishness with a gracious spirit — we had given the tradition a rest for a couple years, but this felt like a good time to get away from it all for a day and hope to spread at least a few laughs. And if seeing Bruce with a Joe Exotic mullet slightly scorched your eyeballs, we do extend sympathies.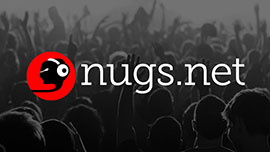 Back to real news today, we're happy to share some good news: Nugs.net's official Springsteen live archive series, which has been dropping a new historic concert on the First Friday of most every month, does not appear to be affected by the pandemic; we are getting continued indications that there will be a fresh new release tomorrow, April 3. We can all use something like this to look forward to. So tune in tomorrow, and of course we hope you'll support the series now more than ever, to keep the concerts coming.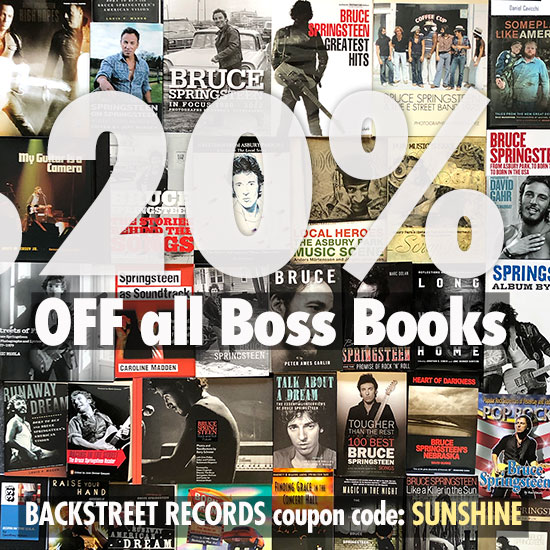 If having new Bruce stuff helps keeps your spirits up during lockdown, another reminder: Backstreet Records is able to remain open at this time, since our mail-order-only shop is in a safe and isolated location, and we're following all CDC guidelines.
So if you'd like something new to keep yourself occupied and keep cabin fever at bay, please check out our online catalog for CDs and records galore — by Springsteen, E Streeters, and other Jersey Shore artists — as well as DVDs/Blu-rays and shelves full of Boss books, which are all currently 20% off with the coupon code SUNSHINE. We hope to keep spreading some of that during this dark time, and we appreciate your support of our very small business!
- April 2, 2020

PLEASE DON'T BURY JOHN PRINE
Sunday's six o'clock news was a stomach sinker: beloved singer-songwriter John Prine is in critical condition after developing coronavirus symptoms.
John has shown that he can take a lickin' and keep on tickin' — he already beat cancer twice. We hope you'll join us, and so many of his fans around the world, in sending love and good thoughts his way. It don't cost very much, but god willing, it lasts a long while.
- March 29, 2020


"I'M JUST CALLIN' TO CHECK IN…"
Bruce (and Patti) send love, laughs, and hope via E Street Radio
Yesterday our friend Jim Rotolo of E Street Radio got to chat over the phone a bit with Bruce Springsteen. This morning, in a special live Friday DJ session, Jim played his recording of the conversation on SiriusXM's all-Springsteen satellite radio channel, and the conversation has since been posted as an on-demand item in the SiriusXM app, as well as online for all to hear (above.)
Bruce said that he called to "check in on you guys, and all our friends and fans out there, hopin' everybody's well and staying safe."
After being asked by Jim about it, Bruce discussed his ongoing support of the New Jersey Pandemic Relief Fund. He reported that he and Patti Scialfa remain well and are enjoying their COVID-19 self-isolation time as much as possible. He spoke of keeping his spirits up by telephoning Steve Van Zandt, "always a source of great entertainment."
In another funny moment, Bruce handed the phone over to Patti while he rummaged around his computer for stay-at-home book recommendations from his reading list. (Much love from Bruce for Richard Ford's Bascombe trilogy, among others, and in discussing his music playlists, a Future Islands Boss endorsement.) Regarding those music playlists, Bruce also noted, "I've got plenty of 'em, and would love to play [E Street Radio] DJ again."
Springsteen expressed his love and concern for old friends Jackson Browne and Tom Hanks, both of whom have publicly confirmed their COVID-19-positive statuses. He also confirmed that he continues working on new music, which is "going well, and hopefully keeps going well."
Finally, Bruce said, "We want to send out our thoughts and prayers to, of course, all our fans and friends in New York, that's really going through such a tough time right now… fans in Italy and Spain, whom we love so much. Stay home, stay safe… Everyone, everywhere, we're thinking about you and praying for you, so God bless. I hope it's over soon."
- March 27, 2020 – Shawn Poole reporting – special thanks to Jim Rotolo and Vinny Usuriello at E Street Radio


HOUSEBOUND AND HOUSEROCKIN'
Let's get out alive, but have a good time: Joe Grushecky will livestreaming tonight, entertaining us all in our little rooms with a solo acoustic performance. "I've got songs to sing and stories to tell," says Joe, and you can hear 'em live online tonight. Tune in to his pages on either Instagram or Facebook at 8pm Eastern for the show.
- March 25, 2020


THE BOSS HELPS LAUNCH NJ PANDEMIC RELIEF FUND
Springsteen fans may now exhale. At least a little. Our first sighting of the man since these "uncertain times" began, alive and well, comes in a video posted today for the newly formed New Jersey Pandemic Relief Fund. "We are practicing social distancing," Bruce notes, "we are staying at home." But there's more that can be done, and Springsteen is joined by other Jersey luminaries (including Jon Stewart, Danny Devito, Whoopi Goldberg, and Jon Bon Jovi) to launch this new effort in the Garden State.
"These are uncertain times," Springsteen says. "What is for certain is the pain, the fear, and the real needs of many of our neighbors, friends, and certainly all of those who are on the front lines of this pandemic."
New Jersey First Lady Tammy Murphy writes on the NJPRF website: "How long will this last? We don't know, but we do know that by banding together we can make the days ahead a bit easier. We have established New Jersey Pandemic Relief Fund to collect donations and distribute funds. One hundred percent of donations received online by NJPRF will be used to fight the medical, social, and economic impact of COVID-19 on New Jersey's most vulnerable, supporting organizations that provide essential services and aiding those on the front line of the pandemic."
Visit njprf.org for more information and to make a donation.
- March 24, 2020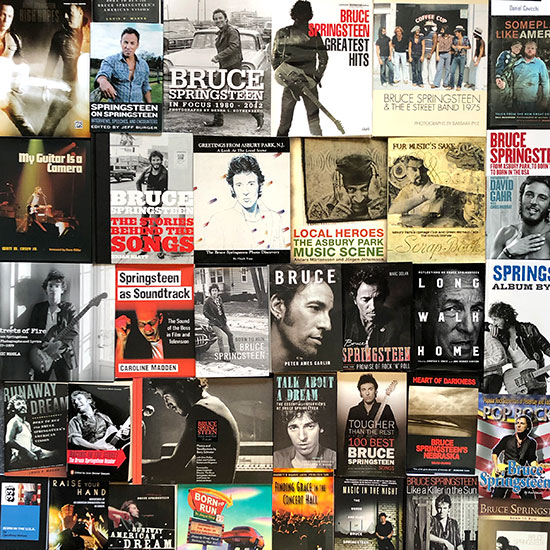 BACKSTREET RECORDS DELIVERS: 20% OFF ALL BOSS BOOKS!
One way we can of use during these troubled times, for any Springsteen fans out there going stir-crazy — here at Backstreet Records, we have shelves and shelves full of Boss ways to pass the time.
An advantage to being a very small business right now is that there only two of us here at Backstreets HQ, working in separate rooms, in a safe and socially distanced workspace. Following all CDC guidelines, we're able to continue to ship to Boss fans in need around the world, and we're continuing to do so as long as it's safe and as long as shipping services continue running. Mail order is our specialty, and we are still here to serve.
With loads of CDs, records, DVDs and Blu-rays, books, back issues and more — surely the most comprehensive if not the only Springsteen-dedicated shop around — we likely have something that can help you through the frustration of physical and social distance. And for that, especially, there's nothing like a good book.
Right now, until further notice, you can save 20% off all books in stock from Backstreet Records, using the coupon code SUNSHINE.
We have a wide variety of Springsteen-related titles for audiences from kids to academics, from small publishers to the big fellas, from biographies to songbooks (we know a lot of folks who are breaking out their guitars right now), several that are signed by the authors. The discount will be applied when you add that coupon code during checkout. For books already on sale, the SUNSHINE code will reduce the price by an additional 20 percent.
We're thinking of all of our friends and longtime readers and customers around the world — hoping you and yours are well, staying safe, and hanging in there. And we also appreciate your support of this small business during this time. Take a look and see if there's anything that would help brighten your bunker — now more than ever, we'd be happy to send you a box of sunshine.
- March 23, 2020

ASBURY PARK MUSIC + FILM FESTIVAL POSTPONED
It should come as no surprise, but still a disappointment that this year's APMFF, originally scheduled for late April, is now on hold. A brief statement was issued over the weekend:
The Asbury Park Music + Film Festival's unwavering commitment to provide music education to underserved kids in and around Asbury Park is still our priority.

With that in mind, we are working on rescheduling events for the summer, and all previously purchased tickets will be honored.

New dates will be announced in the near future. For those unable to attend, refunds will be available upon announcement of these new dates.

We will have more details in the coming weeks. Thank you for your patience and please stay safe.
I'm still looking forward to moderating Thom Zimny's presentation of the Bruce Springsteen Archives at the festival, once this darkness has passed... now more than ever, in fact. Let's all stay well and I hope to see many of you there. We'll keep you posted on new scheduling information as we receive it from the festival.
- March 23, 2020 - Christopher Phillips reporting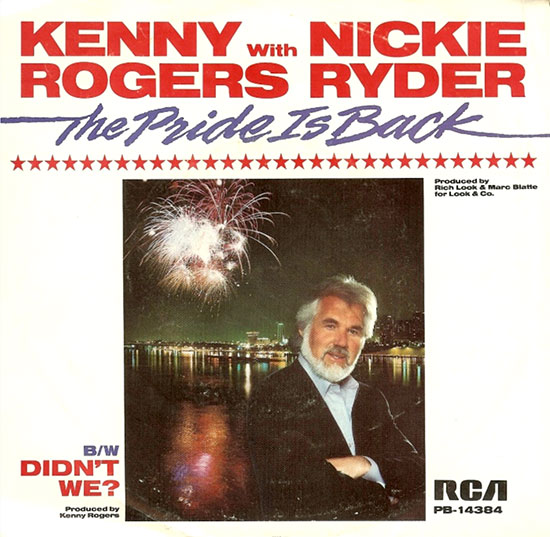 LOVE OR SOMETHING LIKE IT
Remembering when Kenny Rogers became Chrysler's "Plan B" Springsteen
Country-music superstar and Hall of Famer Kenny Rogers died at 81 on Friday. His passing has us recalling Rogers' two tangential but still notable connections to Bruce Springsteen's career.
Rogers performed with Springsteen and more than fifty other major music-industry figures on U.S.A. For Africa's 1985 anti-hunger benefit recording of "We Are the World." Rogers' then-manager Ken Kragen was one of the key figures who organized the famous U.S.A. For Africa effort.
A year later, the careers of Rogers and Springsteen would intersect again, though for less noble reasons. After Bruce turned down an offer reportedly of at least $12 million — a record sum at the time — to license "Born in the U.S.A." for a Chrysler ad campaign, the auto-manufacturer simply shifted gears. Chrysler hired professional jingle-writers to compose a "Born in the U.S.A." knockoff entitled "The Pride Is Back," which became the theme of the company's campaign.
Kenny Rogers sang the male lead on "The Pride Is Back," which also was released as a single that peaked at #30 on Billboard's U.S. Adult Contemporary chart on July 5, 1986. The resonances with "Born in the U.S.A." are even more striking in the full single, if you've never heard it:
"Ironically," Dave Marsh noted in his second Springsteen biography Glory Days: Bruce Springsteen in the 1980s, "the Plymouth minivans being pushed via [Chrysler's] ads weren't 'born in America' in the jingoistic sense ['The Pride Is Back'] intended anyway; they were assembled in Canada." Marsh also wrote that the campaign conveniently ignored "that Chrysler's [1980s] success was built on the backs of concessions by the members of the United Automobile Workers union, who continued to work for the lowest wages in the American automobile industry for more than a year after Lee Iacocca's salary had risen from a dollar a year to several million."
In a neat little circle-is-now-complete twist, a Chrysler "Pride Is Back" television commercial can be seen and heard briefly during a scene in Paul Schrader's 1987 film Light of Day, starring Joan Jett and Michael J. Fox. Schrader's earlier screenplay for that film, then entitled Born in the U.S.A., was sent to Springsteen in the early 1980s for him to consider a starring role. Bruce swiped the title of Schrader's screenplay for what would become the chorus and title of the song he was composing about a Vietnam War veteran. Springsteen later allowed Schrader to use his song "Light of Day" for the film instead, "my polite attempt at paying Paul back for my fortuitous and career-boosting theft," wrote Bruce in his Born to Run autobiography. (Schrader received a shout-out in the Born in the U.S.A. album's liner-notes, too.) In Light of Day's closing credits, Kenny Rogers' female duet partner is listed not as Nickie Ryder, as on the released single, but as Sandy Farina (who's sung commercial jingles for years, played Strawberry Fields in the infamous 1978 film Sgt. Pepper's Lonely Hearts Club Band, and — like Kenny Rogers — was managed by Ken Kragen.)
Finally, on a more personal and fitting closing note, Backstreets staffer and professional country-music singer-songwriter John Howie, Jr. shared this reflection on Kenny Rogers at his best, via his band's drummer Dave Hartman, who encountered Rogers abroad while touring in 1998: "We were in Australia doing shows and press when Tammy Wynette died. So was Kenny Rogers… and because we were all on the same label in a relatively small market, our paths crossed. He was super nice, but most notable was as soon as word about Tammy came, he cancelled the rest of his tour and press, and flew home immediately. Whenever I think about him, that's what I remember."
- March 22, 2020 - Shawn Poole reporting - special thanks to John Howie, Jr.

HEY HO ROCK 'N' ROLL
DJ Tom Cunningham will be live tomorrow for his weekly Boss broadcast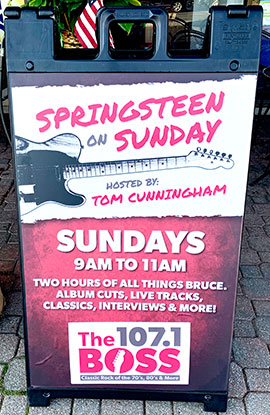 One thing that always helps us through times of crisis — it kinda goes without saying, if you've landed on this page — is music. Warm, familiar voices coming through the speakers. So it was a particular comfort this afternoon when Tom Cunningham told me: "I'm doing the show live in the studio tomorrow morning."
Having seen Tom do his studio thing, I know he can do it solo, and the place isn't so big he'll have an issue wiping down surfaces. So tune in Springsteen on Sunday, as always, Sunday morning from 9 to 11 on 107.1 The Boss at the Jersey Shore. Just, for the luvvagod pal, be careful and safe! Well, that goes for everybody.
"Bruce's music has always fostered a great sense of community around and with his fans," Tom says, telling us about a new idea he had for tomorrow's show. "I wanted to use that connectivity to have some fun this week — sunshine on a cloudy day, if you will — and do something that I'd not done before. All songs tomorrow will be live tracks. Plenty from our backyard here at the Shore, and also performances from as many different countries around the world that I can fit in. It's been fun putting it together, and I can't wait to get in there."
If you're not within the broadcasting radius, you can Listen Live tomorrow morning at 1071theboss.com.
- March 21, 2020 - Christopher Phillips reporting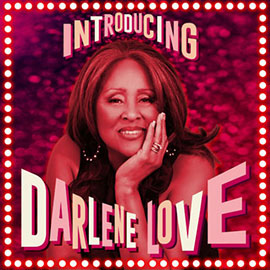 LAND OF HOPE AND STREAMS
Catch Darlene Love live today, plus Southside and Stevie tonight
Major E Street influence Darlene Love will be hosting an hour-long Facebook Live special event today, beginning at 3pm ET.
"We all need some LOVE right now during this unusual and depressing time," Love has posted on her Facebook page, "so I've decided to do a Facebook Live special from my living room on Friday, March 20th from 3-4pm EST to put a BIG smile on your faces. It'll just be me and my husband who will be the camera man. You can ask me any question you like, we can pray together, laugh, I can give you advice if needed and I'll even accept a few songs requests & sing for ya!! This will be my very first daytime talk show! Lol - What should I call it? I hope this will help warm your heart for one hour."
At the suggestion of one of her fans via Facebook, the show has been entitled An Hour of Love. Check out Darlene Love's official Facebook page for details and to link to this afternoon's live event.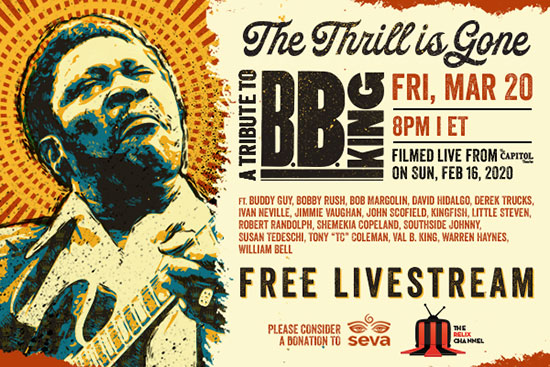 And tonight beginning at 8 pm ET, The Relix Channel will stream for free the complete The Thrill Is Gone: A Tribute to B.B. King concert, filmed last month at The Capitol Theatre in Port Chester, NY. The all-star lineup includes Little Steven and Southside Johnny. Viewers are asked to donate funds to the concert's beneficiary organization, the SEVA Foundation, which supports blindness-prevention and sight-restoration efforts. Click here for details.
- March 20, 2020 - Shawn Poole reporting – special thanks to Hannah McSwain


MENTAL HEALTH BREAK: SINGING FOR THE LONELY
For a few minutes of deep, cleansing breaths, watch young Toby Cohen bring "Thunder Road" to life, earlier this month at the Cutting Room in New York. Pine for the loss of your own upper register, if you choose... or just enjoy a few minutes of this 13-year-old, part of yet another new generation of Springsteen fans, feeling that magic in the night.
Backstreets readers may recall Seth Cohen from his nearly a decade as Bruce's day-to-day PR person at Shore Fire Media. Seth tells Backstreets, "My son Toby has been raised in a home that has tremendous respect for, and gratitude towards, Bruce Springsteen. Toby, of course, knows of my history working with Bruce and has grown up appreciating the music, as we all do. His performance was his way of honoring Bruce, while supporting awareness for a very worthy cause."
Toby's Cutting Room performance was part of a charity concert, raising funds and awareness for Friends of AKIM USA. The organization supports people with intellectual and developmental disabilities, regardless of their age, faith, ethnic background or gender. They currently serve more than 34,500 children, teenagers, adults and senior citizens, as well as supporting their 130,000 family members.

"'Thunder Road' was an ambitious choice for him to attempt at the benefit concert," Seth adds, "because it requires both grace and power. I'm proud of Toby for pulling it off and giving the audience an emotional, authentic rendition. We hope he did right by the song.

"As for the children advocated for by Friends of AKIM USA, they are courageous, talented, resilient young people. These kids and their families are heroes."
- March 19, 2020

HAPPY ST. PATRICK'S DAY, FROM OUR BUNKER TO YOURS
Here in our home state today, bars and restaurants have just been ordered closed (excepting takeout and delivery) by the governor. Even if your local is open, of course, we hope you're staying home regardless. But while we can't meet out in the street or down at the pub tonight, we can raise a glass... and for anyone looking for a way to celebrate, we remind you that as of ten months ago, Live in Dublin — a full show's worth of performances from the end of Springsteen's 2006 tour with the Sessions Band — is streaming in full, for free, on YouTube.
We won't name names, but we know there are fans out there who've never actually sat down to watch this one — whether a busy life, or a resistance to the Seeger Sessions project — and there's no time like the present. There are worse ways to spend a #staythefuckhome St. Patrick's Day than a trip to Ireland with Springsteen, a 17-piece band, and a barnburner of a set. Stream on, stay safe, and sláinte mhaith!
- March 17, 2020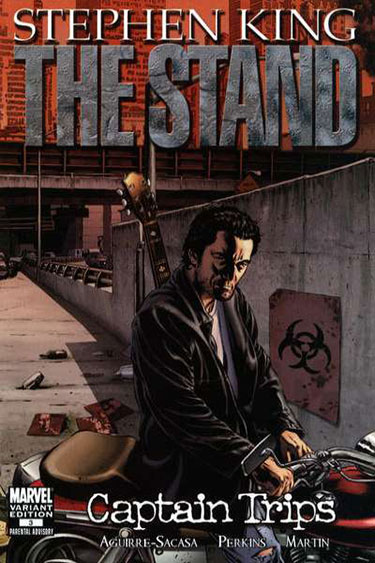 OUTSIDE THE STREET'S ON FIRE IN A REAL DEATH WALTZ
As COVID-19 news seems to get scarier by the update, we're not the only ones thinking of Stephen King's The Stand. King's epic novel, about a pandemic even scarier than the one we're facing now, opens with a direct quotation of the final twelve lines from "Jungleland."
Marvel Comics' take on The Stand cranks the Springsteen knob higher. We previously featured the Marvel adaptation in our overview of Boss depictions in comics, as part of Backstreets Magazine issue # 90 (now out of print). As you can see in the variant cover here and sketches below, artist Mike Perkins clearly used Bruce as inspiration for one of the novel's main characters, professional musician Larry Underwood.
In his forward to the "Complete & Uncut" version of his novel, King contemplated the casting for roles in any film adaptations and noted that Bruce "would seem to make an interesting Larry Underwood, if he ever chose to try acting (and based on his videos, I think he would do very well... although my personal choice would be Marshall Crenshaw.)"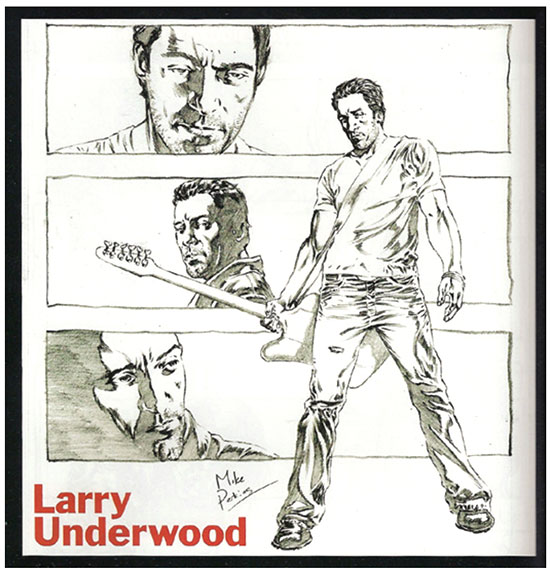 - March 12, 2020 - Shawn Poole reporting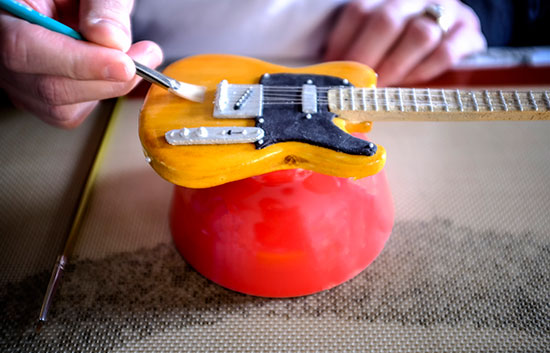 A COOL BAKIN' MAMA IN THE U.S.A.
Bruce Springsteen and his music have been artistically honored in a number of ways — paintings, cartoons, charcoal portraits, metal sculptures, wood carvings….
But as a cookie?
That's exactly the route an artist/baker from Robbinsville, New Jersey, recently took in her quest to win the grand prize at CookieCon, a four-day event held in Louisville, Kentucky. CookieCon is one of the largest gatherings of cookie artists in the world, and the competitive event, CookieCon's Sugar Show, gives artists the chance to win more than $5,000 in cash prizes.
Leslie Marchio, a married mom of four kids (the inspiration for her cookie-decorating business name, Four Peas And A Dog), has a background as an architectural designer. But since 2012, she's been decorating and crafting clean designs and abstract concepts on cookies. Her unique artistic talents are helping her to carve out a niche in the upper echelon of cookie artists across the country.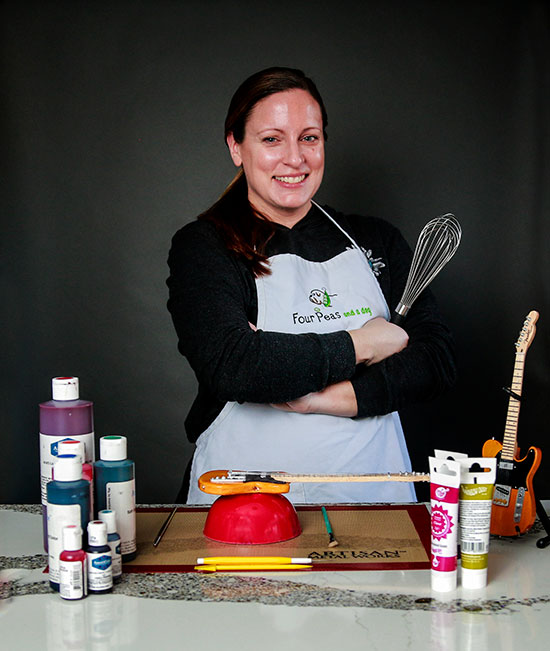 When she saw one of the contest themes at CookieCon 2020 was "Home Sweet Home," she came up with a boss way to illustrate her home state in cookie form.
"I saw 'Home Sweet Home' and of course, my mind immediately went to the New Jersey music scene… and Bruce!" Leslie tells Backstreets.
But with so much Springsteen inspiration to choose from, she had to narrow it down to a concept that was workable and would hit the high notes with the judges.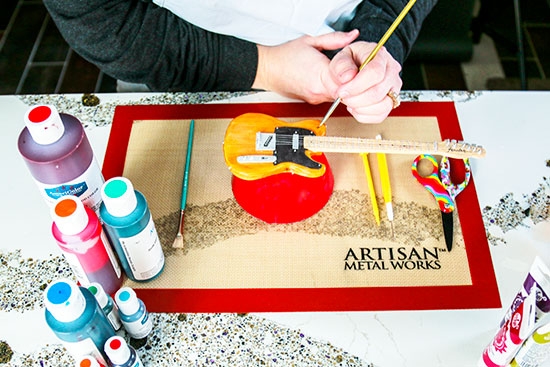 "I feel Born in the U.S.A. is one of Bruce's most iconic albums, and I immediately felt a pull towards it. I really wanted to make this piece worthy of his music, so I knew I had to go above and beyond," Leslie says. "That is where the guitar comes into play. I modeled the cookie after Bruce's one-of-a-kind Fender — in miniature — using all edible materials: gingerbread, royal icing, fondant, and isomalt."
The hardest part creating the guitar out of edible ingredients? The strings!
"I wanted the guitar to look as realistic as possible, so I knew piping lines with royal icing was not going to achieve that look – too thick. I researched other methods of creating edible guitar strings but couldn't find a viable solution, so I devised my own. I figured isomalt" — that's a sugar substitute derived from beets — "would be my best option, but I wasn't sure how it would behave in this fashion."
In the end, Leslie's innovation and faith were rewarded: "It took many attempts, but I finally figured out the best way to use the isomalt to create the thin strings I needed. As I started attaching them to the guitar, I held my breath. By the time I put the last one on, I was so happy when none of the strings broke, I almost cried!"
While the hardest part was creating the guitar strings, creating the cover art for the partner CD was the most fun for Leslie.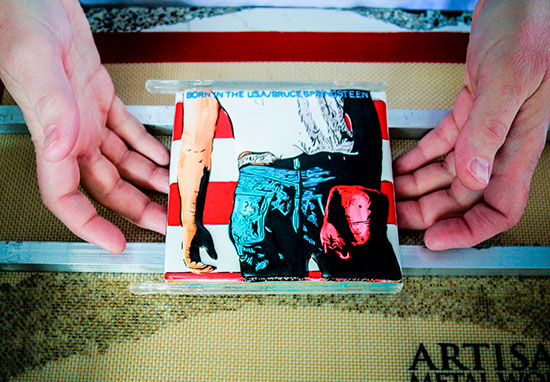 "I work best in cartoon form, so I edited the Born in the U.S.A. cover on my computer to resemble an image that I felt worked best for my style," Leslie says. "I also added some other iconic images of Bruce — a silhouette, his signature, and one of his full body images — to the inside cover and the back of the 'jewelcase'" — also edible! — "to add variety and showcase my technique."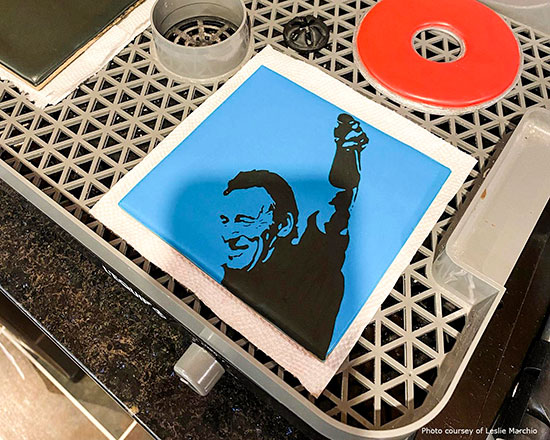 Leslie's hard work, innovative design, and attention to detail paid off. Her Bruce Cookies took third place in the Home Sweet Home category. While she of course wanted to come in first, she was thrilled with the result. "It was really competitive, and the winner was indeed very cool. Many people (and Bruce fans) kept coming up and complimenting me on my Springsteen cookies."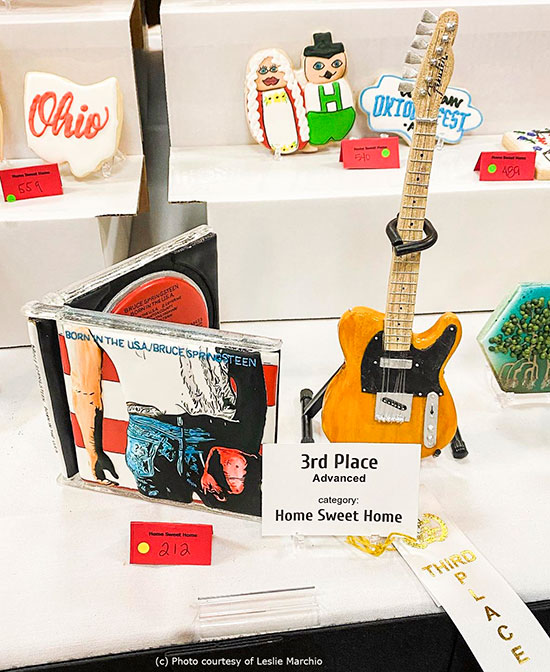 What's next for Leslie? "My ultimate goal is be the go-to cookie artist for musicians and the music industry," Leslie says. "Whether it's for a band's record release event, promotional opportunities, leave-behind collateral… the possibilities are endless… I'd love to help artists bring their musical vision to life… in a tasty treat!"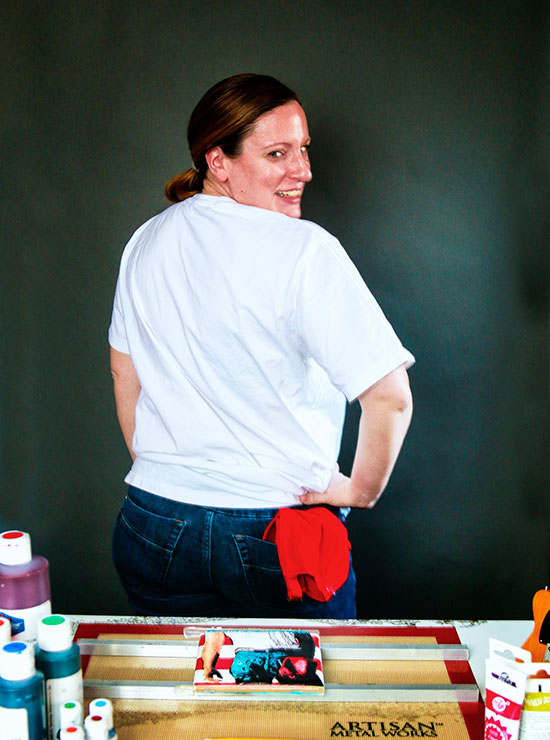 - March 11, 2020 - reporting and photographs by Mark Krajnak/JerseyStyle Photography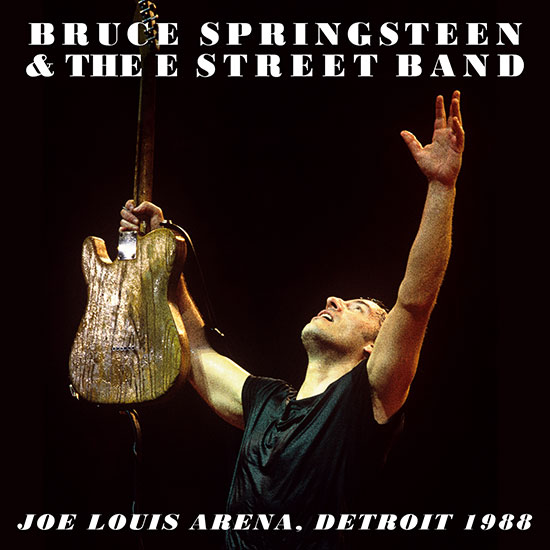 B-SIDES AND BROKEN HEARTS IN DETROIT
Tunnel of Love Express Tour Hits "The Joe," March 28, 1988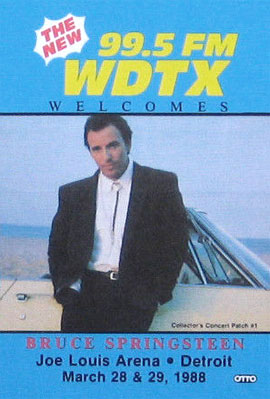 Legend has it that the first time Bruce Springsteen and the E Street Band ever played Detroit, one of his amps literally blew up. Other area shows over the years have seen milestones, from the first-ever "Detroit Medley" to guest appearances by Bob Seger, Mitch Ryder, and Martha Reeves. And in 2009, Springsteen thought he was in Ohio (Little Steven set him straight) only to return in 2012 to announce, "I know where the fuck I am!"
In 1988, Bruce came to Detroit a day early for the band's two-night stand, taking in Terence Trent D'Arby's show in suburban Royal Oak the evening before his first Joe Louis Arena performance — that's today's Live Archive release, March 28, 1988.
Detroit becomes the Archive Series' fourth '88 show. As the Tunnel of Love Express Tour's earliest representation yet, it features the most songs from its namesake album. Springsteen and the E Street Band performed nine songs from Tunnel of Love on this night — including the first live release of "Walk Like a Man" (here, featuring the Horns of Love). There's also a magnificent cover of "Love Me Tender" in the encores. Another tour highlight, "Be True," was captured from this show for the Chimes of Freedom EP; released in August, 1988, the B-side became one of the tour's first official live recordings. Now, we can hear the show in its entirety.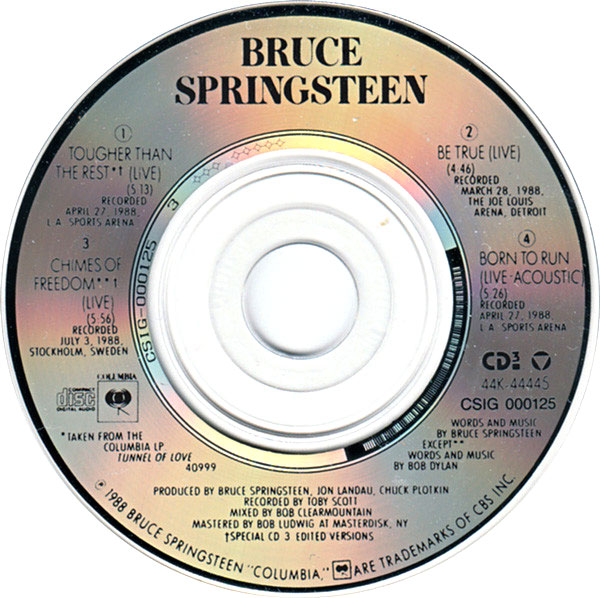 The Tunnel of Love album was deliberately scaled back from Born in the U.S.A., certainly in terms of band participation. "Brilliant Disguise," its first single, is more than a little reminiscent of another Elvis song, "Suspicious Minds," ending with the line "God have mercy on the man who doubts what he's sure of." The second single, the album's title track, concluded this way: "You've got to learn to live with what you can't rise above." Even for an artist whose lyrics had openly wrestled with various forms of darkness over a 15-year recording career, these statements were uncommonly downcast.
A third single, "One Step Up," was released as the tour started that February, and had risen to #28 on the Billboard Hot 100 Chart at the time of the Detroit stop (it would eventually go to #13). A thoroughly miserable song, it was paired on the single with "Roulette," which until then had been among Springsteen's most famous unreleased tracks. Bruce found a spot for "Roulette" in the setlist after "Seeds"; that gave an angry double-gut counterpunch to the sweetness of "All That Heaven Will Allow."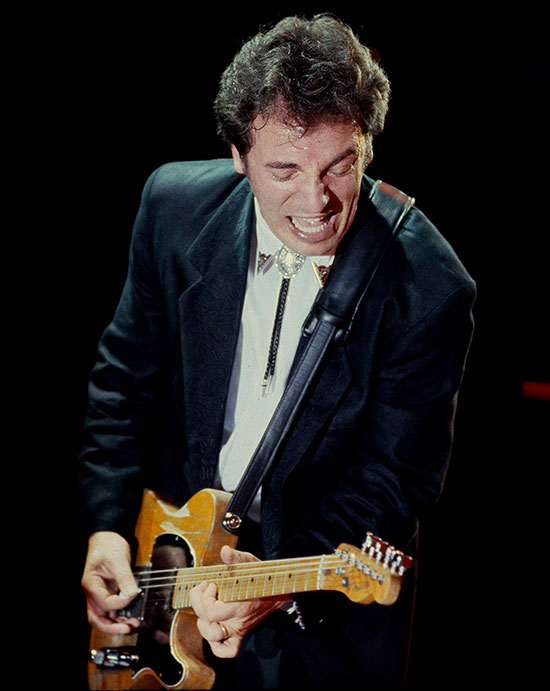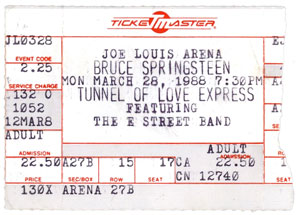 Looking back, it's startling to see how much Springsteen changed the presentation for The Tunnel of Love Express Tour. It wasn't simply a matter of swapping E Street Band members' placement on stage. Look at the 3/28 setlist. The first seven songs — just one of which had been a part of Springsteen's set during his most recent Michigan appearance in 1985 — weave together three from the new album ("Tunnel of Love," "Two Faces," and "All That Heaven Will Allow"), a deep album track ("Adam Raised a Cain," above), and three songs that had not been on any studio LP ("Be True," "Seeds," and "Roulette"). Plenty of hits appeared in the show, but this was hardly a suite of old favorites. As the show started, a sign on stage behind Terry Magovern's ticket booth read "This is a Dark Ride"; by the time the band finished "Roulette," you could be excused for believing it.
The most searing moment comes towards the end of the first set. The band plays "Born in the U.S.A.," laid visually bare without the huge flag. About four minutes in, just before the drum coda, there is Bruce, just there, writhing on the stage, prone, wailing. Somehow beyond mere performance, it's a gut-wrenching howl of painful screaming. How can he do that to his voice? How can he even have a second set, after that? How can he do that same thing, night after night?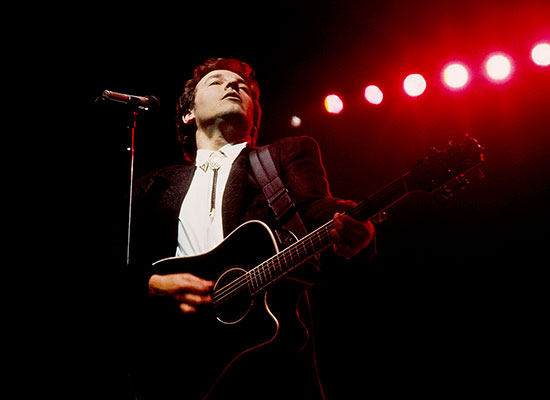 Overall, the concert in Detroit was tight and fast-paced. Although the Tunnel of Love Express Tour was still in its early stages, the performances had gelled. Spoken intros to songs such as "Spare Parts" and "You Can Look (But You Better Not Touch)" are shorter than they'd be by the time of the April 23 show in Los Angeles, previously issued in 2015 as the Live Archive Series' sixth release. As with most tours, Springsteen typically tools with setlists and arrangements; in the live archive thus far, Detroit is closest to the tour's original blueprint he laid out in Worcester.
Although the Joe Louis Arena wasn't even ten years old at the time of the Tunnel of Love Express Tour, these two shows would be Springsteen's last there: he moved on to The Palace of Auburn Hills as his primary Detroit-area large-hall venue in 1992. Both buildings are currently being demolished; the final large beam of Joe Louis Arena came down only this week, on March 4.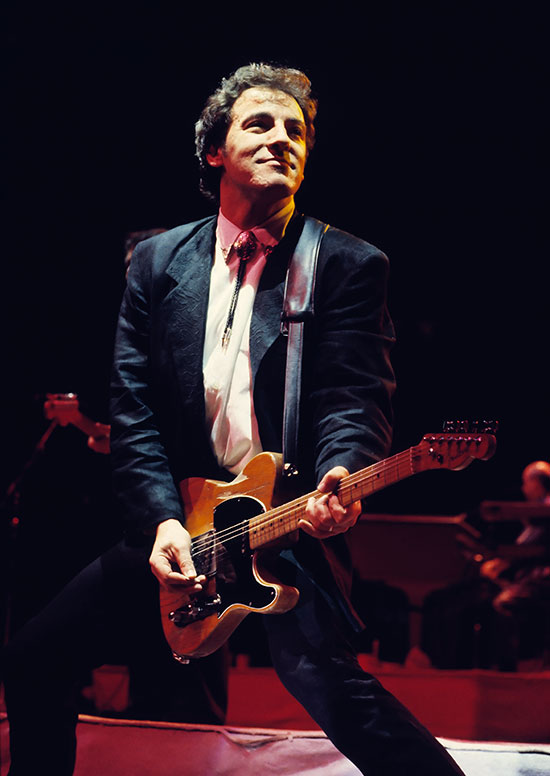 It's not all darkness, though. After a typically rousing "Light of Day," a seven-song encore, anchored by the acoustic "Born to Run" and accented further by "Love Me Tender," helps restore some sense of equilibrium. And the inclusion of "I Hear a Train" (or, maybe "I Hear a Train with a really big horn") during the "Detroit Medley" helps brighten the dark ride even more.
Additionally, today's Archive Series installment is the second to feature a performance from soundcheck as a bonus track — "Reason to Believe" is here, rehearsed at Joe Louis, but never performed in a show that year. For all those who continue to doubt what they're sure of, keep listening after the show proper.
Also read: Erik Flannigan's latest nugs.net blog entry, "Gotta Sing a New Song, That's My Job"
- March 6, 2020 - Matt Orel reporting - 3/28/88 photographs by Ken Settle/kensettlephotography.com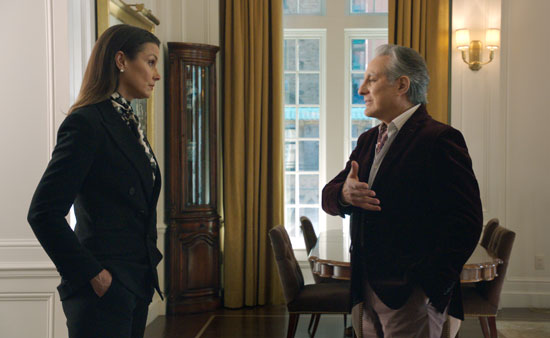 KEEPING UP WITH THE WEINBERGS
Mighty Max returns to tellyvision, Jay gets a new drum throne
Tune in to CBS this Friday night for the return of Max Weinberg as Mario Vangelis. After portraying a recurring character on Hawaii Five-O (gun shop owner Norm) earlier in the decade, the Mighty One is now lending his talents to Blue Bloods, where his character Mario Vangelis, a nefarious NYC real estate developer, first appeared in Season 8. Reprising the role now in Season 10 — and pictured above with Bridget Moynahan as ADA Erin Reagan — Max tells Backstreets, "This episode contains some surprising twists crucial to the arc of the show and these two characters."
Blue Bloods S10e15, "Vested Interests," airs Friday, March 6, at 10pm/9c on CBS.
We're also pumping a fist for Jay Weinberg — once clutch E Street relief drummer, now of Slipknot — voted #1 Rock Drummer in the 2020 Modern Drummer Reader's Poll. They grow up so fast... but we'll always have "Radio Nowhere." Congrats, Jay!
- March 3, 2020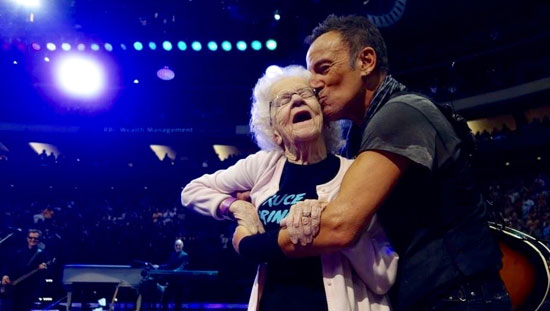 REMEMBERING "MOMMA" JEANNE HEINTZ, 95
It's with sadness but with plenty of admiration, too, that we mark the passing of St. Paul, MN Springsteen fan Jeanne Heintz, who never did hang up her rock and roll shoes. She died on Friday at the age of 95, after seeing more than 300 Springsteen concerts over the decades since the 1988 Tunnel of Love tour (when she was in her 60s) — making them her "golden years" for sure. Common fond recollections of Jeanne include her opportunities to dance on stage with Bruce and her friendships with E Street Band members, but her passion for the music had positive reverberations through many aspects of her life — as her daughter Jackie Heintz tells us, "Momma had E Street Friends from all over the world!"
Jeanne's "superfan" status was enough to earn her notable obituaries in the Star Tribune and Pioneer Press. We're grateful to Jackie for providing us her own:
Jeanne Heintz, age 95, HUGE Bruce Springsteen fan from St. Paul, MN, died on February 28, 2020 from complications of Alzheimer's. She began listening to Bruce in 1978, listening to the album Darkness on the Edge of Town. Her favorite song was "Factory," but she had many, many favorite songs from all of his albums.

Jeanne would listen to her daughter's Springsteen record collection and could sing along to all of his songs. Her first concert was in 1988 at the Met Center in Bloomington, MN. I promised her if Bruce got the E Street Band back together, I would take her to as many shows as she wanted. In 1999, when the band reunited, mom was ready to rock 'n' roll! We traveled extensively, night after night. The entire band called her "Momma." She met Bruce's mom [pictured together below] — Adele couldn't believe someone so close to her in age loved her son!

Jeanne became very close to Clarence and would visit him in Florida. She also became very close to Stevie Van Zandt. In all, she attended 311 shows.

After Clarence died, Stevie took her under his wings. She had the honor of Dancing in the Dark three times: September 20, 2009 in Des Moines, IA; November 11, 2012 at the Xcel Energy Center in St. Paul, MNl; and again at the Xcel Center on February 29, 2016 — which would be her final dance, in front of her hometown crowd.

She wanted one more dance with Bruce, but she's now dancing forever in heaven with Clarence and Danny! She is our superstar. Concerts will never be the same, but as Bruce said, "If we're here, they're here!" I believe that.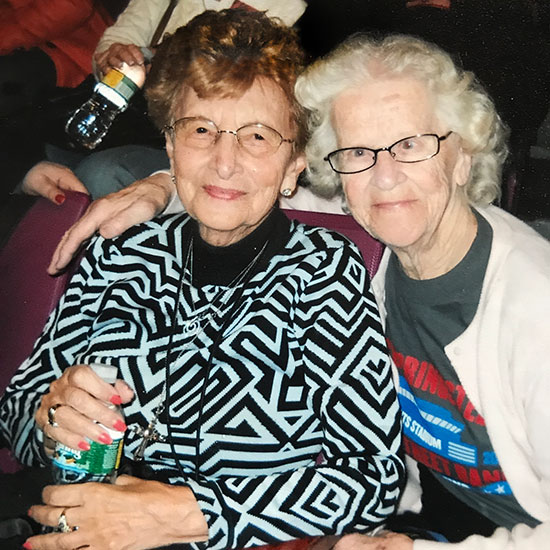 Our condolences to all of the Heintz family, as well as all those E Street Friends all over the world who knew and loved her.
- March 3, 2020 - photographs courtesy of Jackie Heintz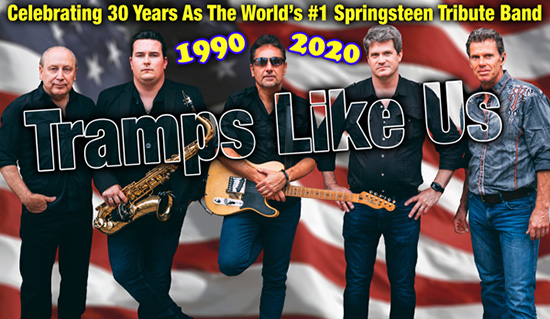 TRAMPS LIKE US CELEBRATES 30 YEARS BURNING DOWN THE ROAD
Catch them live with two upcoming anniversary shows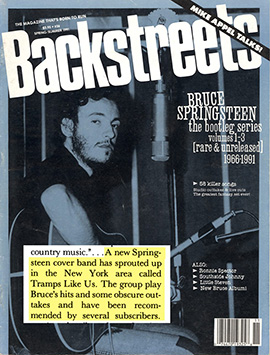 Way back in issue #36 of Backstreets, we reported: "A new Springsteen cover band has sprouted up in the New York area called Tramps Like Us. The group play Bruce's hits and some obscure outtakes and have been recommended by several subscribers."
Fast forward three decades, and Tramps Like Us is still rocking — still recommended! — and still taking on new challenges.
Since forming in New York City in 1990, the Springsteen tribute band has performed more than 2,500 concerts in four countries, for more than million fans. Tramps Like Us carved out a special niche for themselves, focusing on re-creating historic and legendary Springsteen concerts from throughout his career, concentrating on the live renditions and extended set lists from those shows (check out a list of their concert recreations so far). This spring, they'll be celebrating the band's 30th anniversary with two special shows.
This Saturday, March 7, Tramps Like Us will perform a career-spanning setlist of Springsteen deep cuts and classics at The Stone Pony in Asbury Park, NJ. At the time of this story there were only limited tickets left, as a sell out is expected.* Those who plan on attending should purchase in advance to secure entry.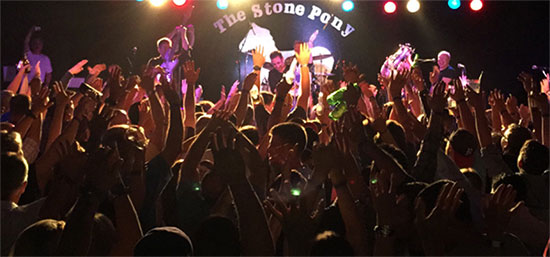 A second anniversary show has been added by popular demand in New York on Friday, April 17 at the Chappaqua Performing Arts Center, in Chappaqua, NY; advance tickets are also available.
Visit trampslikeus.com for more information on the long-running Springsteen tribute band, and long may they continue to run — happy 30th, guys!
*Update: the March 7 Stone Pony show is now sold out. Tramps Like Us will return to the Pony on Saturday, July 4 — watch for tickets to go on sale this Thursday.
- March 2, 2020