"IS ELVIS HOME?" 40 YEARS SINCE SPRINGSTEEN JUMPED THE WALL
Supercut: The Ultimate Graceland Story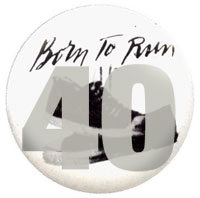 Forty years ago tonight, on April 29, 1976, Bruce Springsteen and the E Street Band stopped in Memphis, Tennessee on their "Chicken Scratch" tour. One of the highlights of the concert that night was the performance of "Knock on Wood" and "Raise Your Hand" with soul singer Eddie Floyd. But what truly marks that date in Springsteen history is what happened after the show. Late that night, along with Steve Van Zandt and publicist Glen Brunman, Bruce took a taxi to visit Graceland, Elvis Presley's home. His attempted meeting with the King has since become legendary among Springsteen fans, Presley fans, and rock fans in general, and it has even made its way into Graceland's Official Guidebook. Bruce has given numerous accounts over the years, both onstage and in interviews, ranging from hilarious to poignant. We've taken the liberty of combining Springsteen's retellings of the tale, as we present the Ultimate Graceland Story.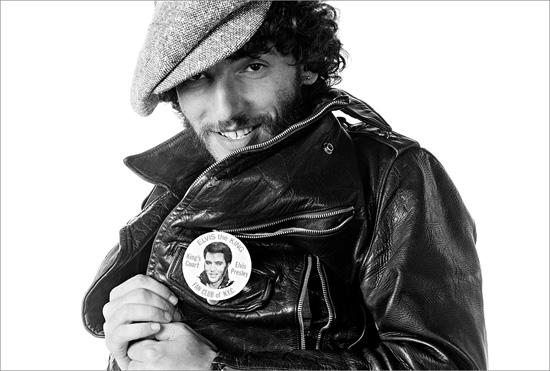 - photograph by Eric Meola
When we played Memphis, I guess I was about 26 — it was 1976, on the Born to Run tour — we played this little auditorium down in the middle of the town. We went back to the hotel after the show. Me and my guitar player, Steve, were sitting around, and we were looking for something to do, and we called up a taxi. It was real late at night — it was three in the morning. We told the cab driver, "Listen, we wanna get something to eat." We said we wanted to eat someplace outside of town. "And this guy says," I know, I'll take you to Fridays." And we said, "We don't want, like, a hangout — we want a place where we can go and eat. Take us some place quiet." And he said "I know a place right out by Elvis's house…." So we said, "Wow, you know where Elvis lives?" He says, "Yeah, yeah." I said, "Take me to Elvis's house right now."
He said, "Are you guys celebrities?" Yeah, yeah, we're celebrities. He says, "Do you mind if I call the dispatcher and tell him where we're going?" Sure, sure. So he calls the guy, says, "Joe, Joe, I got some celebrities in my cab." And Joe says, "Yeah, who ya got there?" And he says "I got, I got…" — then he shoves the mic right in my face, because he doesn't know who we are. So I say, "Bruce Springsteen." They didn't know who I was, but they were pretending to, you know? And the cab driver says, "Yeah, I got them, and we're going out to Elvis's." The dispatcher says, "Damn." He thinks we're, like, going out to have coffee with Elvis or something.
So it was about 3:30 in the morning, and we pulled up in front of Graceland. I remember I got out and I stood in front of those gates that had the guitar players on them, and the gates were all locked up. But there was one little light on in the window. And I said, "Steve, I'll bet that's his bedroom. I'll bet you he's in there reading right now." I said, "I can't stand here — I gotta find out if he's home. Steve, I gotta do it."
So we had the taxi-cab driver with us saying, "No, don't climb over that wall, because they got big dogs over there, and they'll eat you up. You're gonna be in trouble." But I gotta find out. So I climbed up over the wall, and I jumped down on the other side. I was ready to be attacked, but nothin' happened.
I started up the driveway — it's a long walk, 'cause the house is set way back. I started running up the driveway — and later on I thought that this was a stupid thing to do, because I hate it when people do it at my house. I can't say I like it when people come banging at my door at three-thirty in the morning... but I was filled with the enthusiasm of youth. And I was almost at the front door, just getting ready to knock, when I see this guy looking at me from the trees. And I figure I'm just going to go over and I'm going to say hello and tell this guy I just came to see Elvis.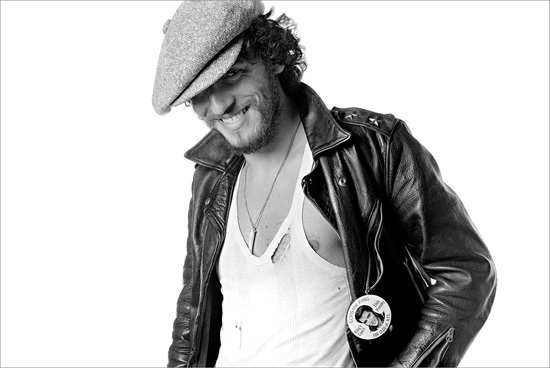 - photograph by Eric Meola
So I walk over towards the woods, and out comes this security guy. And he says, "What are you doing?" I said, "Is Elvis home?" He said, "No, Elvis ain't home. Elvis is in Lake Tahoe.' And I said, "Are you sure?" And he said, "Yeah, yeah." So I said, "Oh. Well, can you tell him, uh, that I was here? Tell him Bruce Springsteen…" And he didn't know me from nobody, from Joe Schmo. I said, "I'm a guitar player, too, and I got my own band, and we played in town tonight, and I have some records that we made.…"
Well, now I'm pulling out all the cheap shots I can think of — you know, I told him I had my picture on the cover of Time and Newsweek… Elvis is my hero, my inspiration… all the things I never say to anybody. Because I figure I've gotta get a message through. I pulled out all the stops trying to, but he looked at me like I was crazy. I don't think he believed me. And he said, "Oh yeah, sure, buddy. Why don't you let me walk you down to the gate. You gotta get out of here." He thought I was just another crazy fan — which I was. So he took me by the arm, these two guards walked me down. They were real nice, and they unlocked the front gate, and they put me back out on the street. I felt pretty good about it, even though I didn't get to see him.
Later on, I used to wonder what I would have said if I had knocked on the door and if Elvis had come to the door. I don't know what I was doing. Sometimes at night I look back, I think, "Who was I expecting to meet?" I never got to meet him. I guess in a way it was better that it worked out like that. And the guard who stopped me at the door did me the biggest favor of my life. Because it really wasn't Elvis I was going to see, but it was like he came along and whispered some dream in everybody's ear and somehow we all dreamed it.
I wrote ["Fire"] in about five minutes, with the idea that I was going to give it to Elvis back in 1976. It wasn't too long after that that he died, and that summer I just started listening to all his old records again and a lot of the new things... And I used to think a lot, and I used to wonder how it was that somebody that seemed like such a big winner could lose so bad in the end. It was so hard to understand how somebody whose music came in and took away so many people's loneliness and gave so many people a reason and a sense of all the possibilities of living could have in the end died so tragically. And I guess when you're alone, you ain't nothin' but alone.
- April 29, 2016 - compiled by Christopher Phillips and Shawn Poole from Bruce Springsteen's retellings to Rolling Stone (1977 and 1987), to Ed Sciaky (1978), and various concert performances in 1981, 1985, and 2008. An earlier version of this piece appeared in Backstreets #80.


THAT'S ALL WRIGHT, MAMA
On the 40th anniversary of Bruce Springsteen attempting to meet The King by climbing the wall at Graceland, Elvis Presley — okay, Mark Wright as 'The King Sings The Boss' — pays tribute with "Fire."
'The King Sings The Boss' will be touring the UK, performing shows after Manchester, Glasgow, Coventry and London on the 2016 UK River Tour. Email Mark at elvis@markwright.co.uk for ticket info, or join his Facebook page.
- April 29, 2016

FOR YOU RAFFLE BEGINS TODAY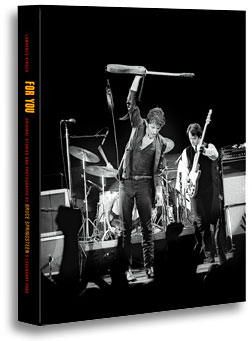 Lawrence Kirsch has published two books of Springsteen photographs and fan stories: the recent The Light in Darkness, which is still available from Backstreet Records, and For You: Original Stories and Photographs by Bruce Springsteen's Legendary Fans, which is long out of print. Here's a chance to score a copy of his hard-to-find first book: In support of the Montreal General Hospital's Spring 2016 fundraising campaign, Kirsch is holding a raffle that starts today with a chance to win a brand-new copy of For You, which has been sold out since 2008.
The book, signed by the publisher, will be shipped to the raffle winner free of charge anywhere in the world, so everyone is encouraged to enter. Each $10 ticket you purchase gives you one chance to win, and a $15 ticket gives you three chances to win. Tickets can be purchased from today through May 9 with donations at theLightinDarkness.com, where the winner will be announced May 12. All funds collected will be donated to the Montreal General Hospital in loving memory of Lawrence's mother, Mrs. Aileen Kirsch. Click here for full details and to enter.
- April 29, 2016

WE SWORE WE'D LIVE FOREVER
In her first piece for NPR Music, Backstreets writer Caryn Rose was inspired by Saturday night's Brooklyn show to meditate on "the power of being able to mourn in public." Beyond tracing commonalities between Prince and Bruce Springsteen, Caryn also connects dots between the 2012 Wrecking Ball tour following the death of Clarence Clemons ("like attending a rock and roll wake every night") and this weekend's "Purple Rain" catharsis. Read: "Bruce Springsteen's Tribute To Prince Is A Lesson In Public Mourning" for All Songs Considered.
- April 28, 2016



BROOKLYN, 4/25: DOWN TO THE RIVER ONE MORE TIME
More than three months after opening in Pittsburgh, the River Tour 2016 had its final stop of this spring leg on Monday night in Brooklyn. Originally envisioned as just a 22-city North American swing, which would have wrapped up more than a month ago, the tour's itinerary has continued to expand from city to city and country to country. So while this show was a punctuation mark with a celebratory feel, it wasn't a last dance: three weeks from now, a two-and-a-half-month European leg of The River Tour will begin in Spain. Though Bruce Springsteen and the E Street Band have brought this "little play" coast to coast and back again, finishing with a fourth show in New York City was no victory lap. Rather, it felt like a final lap, pedal to the metal.
Bruce was definitely standing on it, with a brisk River set where the pace never waned. At times it felt a little rushed, but the overall impression was that he and the band were simply letting her unwind. Vocally, Springsteen put everything on the table, from "you've been judged" in "Jackson Cage" to "pretty baby!" in "Drive All Night," and to say he was in fine voice doesn't cut it. If on many nights the takeaway from the River set is the E Street Band as precision auto, tonight was a reminder of just who sits in the driver's seat, and what a fine-tuned, high-powered instrument his voice is.
Not that you'd ever expect an uncommitted performance from Bruce. But his introduction of The River on Monday gave an extra reason why this 20-song sequence was delivered with such force: because it could be the last. Springsteen put a finer point on Saturday night's remarks about these Brooklyn shows being the final runs through the album sequence: "Tonight this is going to be our last official performance of The River from start to finish.... We're gonna open up our setlists over in Europe. So let's go down to the river one more time and see what we find." Surely there will continue to be speculation among fans, especially with at least one European promoter continuing to promise The River in full. But it seems clear that Bruce has decided to unlock these locked-down setlists. What we take from that "last official performance" statement is that it could happen again; Bruce could call that audible any time he wants. But it'll no longer be a guarantee.
And so, at this last scheduled U.S. show, a River sequence that left nothing in the tank, from Bruce's powerhouse vocals to his windmills on "Two Hearts." Roy Bittan hit the keys with that same intensity on the "Point Blank" intro, as Max Weinberg gave his cymbals the beating of a lifetime. There was just nothing rote about the performance, even the 37th time through. Springsteen was still tweaking certain portions, like the introduction to another breathtaking "Independence Day": "I was 24 or 25 years old and trying to talk to my father. He was never that vocal, so I thought, I'll write him a song. I'll write him a song."
Governor Chris Christie sang along (from his seat) on "Hungry Heart, asses were shaken (because it was "ass-shakin' time") on "Ramrod." Led by Bruce, the full-throated chant of the crowd practically turned "The Price You Pay" into "Badlands," though it's the choral vocals of the E Street Band's full front line on that one that still wows the most. "Drive All Night" built to an especially thrilling, heartwrenching climax, and before you knew it: "That's The River!" During the ovation, a friend said to me, "We may never see that again."
But even assuming, as Garry Tallent tweeted the day before, the River album will be played in Europe "Not in toto and not in sequence," that does open the door for a different kind of E Street magic. And as if to show us just what "opening up our setlist" looks like, Monday's post-River B-set was full of wildcards, an extremely rare stretch on this tour where you just didn't know what was coming next. A massive sign collection got underway after "Wreck on the Highway," and if you figured that Bruce would just find signs for songs he planned to play anyway, a placard for "Boom Boom" put the lie to that. "Alright," said Bruce, "An unusual request! John Lee Hooker!" He was grinning ear to ear as the E Street Band quickly found their muscle memory on this Tunnel of Love Express Tour standard, unrehearsed but a reminder that you still can't stump the E Street Band. "Come on, Professor!" Bruce hollered, and we went twice around with Roy soloing on the keys. Super-tight, they finished by stopping on a dime. Prince would be proud.
Throughout "Boom Boom," a sign for "Loose End" leaned against the drumriser in the background, a bit of a taunt — after all our yearnings for outtakes that came out so rarely, would he really grab that one next? You bet: "Steve Van Zandt's number one favorite right here!" It was a fantastic performance of a fantastic song, with Stevie killing the harmonies as he has since January, that we also hopes help confirm: these lesser-known songs do work live. There was no dip in energy. And if with this outting we're celebrating the River era, and the Ties That Bind box — and, make no mistake, celebrating Steve — then those outtakes are just too good to keep kicking to the curb.
So we had a classic cover and a River outtake instead of the setlisted "Candy's Room" and "She's the One"... surely now we'd get back to business as usual? Nope, another sign: "I've been Blinded By the Light! I'm 10 years old, and I know all the words. Try me!" Springsteen couldn't resist: "Are you sure? Are you sure? Get on up here!" The girl, Diana, hopped up and made good on her claim — no small feat, given that the songwriter himself admittedly couldn't do it. "That's impressive," he told her. "I don't know the words, I read 'em myself!" This was an abridged version of the song, with first only Bruce strumming lightly to accompany her, then the rest of the band coming in softly — after a few verses, he laughed, "Alright, you convinced me!" He gave her a hug and autographed her sign.
And then: "Trapped." Debuted with the E Street Band in 1981, this song harkens back to the original River Tour as much as any of Springsteen's choices so far, from "Here She Comes Walkin'" to the regular appearance of "Because the Night." "Trapped" never fails to work a crowd into a frenzy, and with its River-era connection it's surprising that this one hasn't come out sooner. (If there was any disgruntlement in the crowd at this point, it was from hardcores who had traveled around the country hoping for this kind of set: "He waits until the last night to do this??")
"Badlands" and a breakneck "My Love Will Not Let You Down" brought us back to setlisted tracks, but considering what they do to an audience, it was just an extension of the frenzy. "My Love" is a great example of an outtake that, with repitition, has become a much-loved live cut — you can't win if you don't play (it)! — with Bruce, Steve, and Nils cranking on their guitars in unision at center stage, and Max performing inhuman feats on fills and breakdowns. Cheers came from the crowd as the whole thing kicked back in.
Max turned in an astoundingly physical performance all night, as The River set has come to require. If this night was a victory lap at all, it was for the E Street Band, returning to the very space where they had been welcomed into the Rock and Roll Hall of Fame in 2014. Inducted during the E Street Orchestra era, they returned to the Barclays Center stripped back down to their core, all of them shining individually and as a unit after three dozen full performances of 1980's magnum opus, perhaps the height of the classic E Street sound. And on one more audible, "Prove It All Night," Springsteen threw the song's monster solo to the hero of The River, a rare chance for Stevie to have that moment in the spotlight. But don't cry for Nils: as the encore opened with "Purple Rain," in the same slot where "Rebel Rebel" appeared as a tribute to David Bowie on this tour's opening night, Lofgren and his guitar once again provided a transcendent moment.
Brooklyn ate up the encores, all hands in the air for "Shout," followed by a bonus "Bobby Jean" for good measure, saying good luck and goodbye.... for now. Springsteen thanked the crowd for two great nights before a familiar farewell: "We love ya, we'll be seein' ya!" Count on it. The European River Tour begins May 14 in Barcelona.
For the full setlist and reports from this and other recent shows,
see our Setlists page
- April 26, 2016 - Christopher Phillips reporting - photographs by A.M. Saddler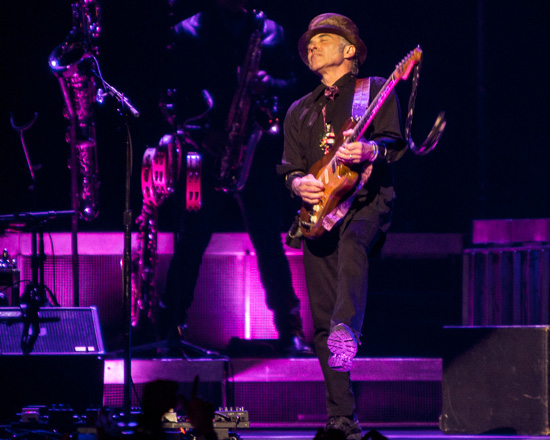 IT'S TIME WE ALL REACH OUT FOR SOMETHING NEW
That means you too: right now you can download Saturday night's performance of "Purple Rain" for FREE from live.brucespringsteen.net. On that page, you can right-click on the mp3 link — control-click on a Mac — to save the file to your computer.
Update: official pro-shot video

- Updated April 25, 2016 - photograph by A.M. Saddler


WHY IS THIS NIGHT DIFFERENT FROM ALL OTHER NIGHTS?
The Color Purple Reigns in Brooklyn, 4/23
Saturday night's performance in Brooklyn should have been something of a celebration. The River tour 2016, now 36 shows deep, was pulling in for two performances before heading to Europe. The tour has been remarkable for casting that record's 20 tracks in such a strong light, particularly because about half of them disappeared for so long after 1981. But the night belonged to just one number, and it was one that Bruce Springsteen neither wrote nor likely ever gave serious thought to performing: Prince's "Purple Rain."
Springsteen and the E Street Band walked on stage underneath purple light, the first sign that the show would mark Prince's passing. Band members wore purple: ties, shirts, and scarves. And their body language conveyed sadness: did the band actually wave and smile as usual? That's lost to the fog and YouTube. Once they took their places, Bruce began a tribute to a departed musician, his third this year.
The take was straight down the middle, heartfelt, and cathartic: the big question got answered early, driven home with a Nils Lofgren solo that sounded and felt like Prince himself might play, or as close as anyone else could get, anyway. "Purple Rain" was an obvious choice, but it fit perfectly: it was Saturday night in Brooklyn after all, and if one song had to reach every last person in attendance, this was it (though a fan's suggestion of "I Could Never Take the Place of Your Man" goes straight to the top of covers the E Street Band could easily make their own).
"Meet Me in the City" came next, played in slot two for the first time, and the musicians barreled through it. Springsteen skipped the usual mid-"Meet" greeting and vamp, speaking first after it concluded. Sounding markedly subdued, he dedicated the evening's music to Prince. "There's never been any better," Springsteen said, citing his comrade's skills as a bandleader, showman, songwriter, and arranger. "Whenever I'd catch one of his shows, I'd always leave humbled. So, I'm going to miss that. And we're going to miss him." (Springsteen also said that Brooklyn marks "the last two nights we're officially playing The River from start to finish," which leaves much to conjecture.)
The River performance was another good one. Barclays Center is enormous, and its floor-to-ceiling dimension must be one of the taller arena configurations anywhere. But the sound is very good (hat tip, Jay Z!) and the place wasn't just full, it sounded full. Springsteen certainly heard the audience singing along all night, and not just its customary parts. It was a full-throated crowd that helped turn a mournful start, in fact, into a remarkable, celebratory rock show. Tempos were up a bit: "Cadillac Ranch" moved closer to the fast lane, and when Bruce didn't have spring in his step, he was on his knees, finishing "Crush on You" down front with an assist from a fan who held the mic so he could play guitar and conduct it to a close.
Purple light appeared throughout the show. It accented "Point Blank," which began with Roy Bittan, Garry Tallent, and Max Weinberg forming their nightly power trio. That song felt especially dark, then went dark, then went red as Steve Van Zandt provided a backdrop for Springsteen's vocal.
"Stolen Car" featured no introduction, and while one could hear Charles Giordano's part just fine, Roy Bittan's piano could have used a boost. It was an odd thing on E Street: the Professor sounds high in the mix on "Ramrod," for example, but not on "Stolen Car." The part everyone did hear loud and clear: toward the end of "Drive All Night," Springsteen delivered one line ("dry your eyes, pretty baby!") with an intensity that shot through the arena. That moment moved the number up a level and will make for an interesting listen on playback. More purple light shrouded "Wreck on the Highway," the one time the music felt rushed. As a finished track, it closes the album gracefully. But in concert, it has an unenviable task, having to close the 20-song cycle. Nonetheless, as Springsteen talked about time, doing good work, and walking alongside mortality, it conveyed more meaning than anyone thought likely, and showed its durability.


From there, the music was simply a blast. On this tour, Springsteen isn't keen on paging through the catalog, but he and the E Street Band have been bounding through what they play (and added "No Surrender" on the fly). Thirteen songs appeared after The River on Saturday, all played well and taken up by the Brooklyn audience (which included his mother, Adele, herself a Brooklyn native, Springsteen said). "Backstreets" became another tribute to Prince, as Bruce held his hands up and repeated "until the end" several times. By "Lonesome Day" the music came like water from a faucet: was the band playing the songs or was it the other way around? It didn't matter: Brooklyn was trying to shake the blues on the Saturday night after a bad week (Did everyone get to vote? Will the Mayor be indicted? Those were two questions New Yorkers asked before Thursday). For more than three-and-a-half hours, we got to turn those blues purple.
For the full setlist and reports from this and other recent shows,
see our Setlists page
- April 24, 2016 - Jonathan Pont reporting - photographs by A.M. Saddler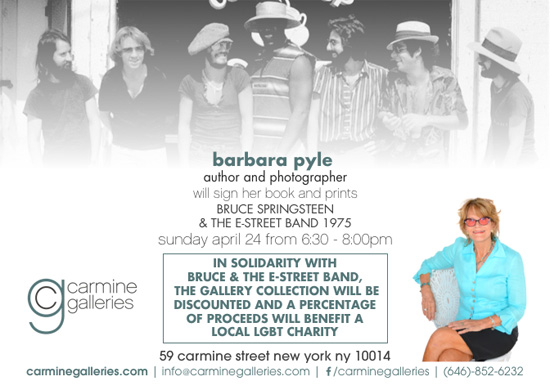 - April 24, 2016


SPRINGSTEEN & THE E STREET BAND BATHING IN THE PURPLE RAIN
Tonight in Brooklyn, Bruce Springsteen and the E Street Band took the stage bathed in purple light to start the show with "Purple Rain" — a beautiful tribute, with Nils Lofgren making his guitar gently weep on lead. "Whenever I saw Prince," Springsteen told the Barclays Center crowd, "I left the show humbled."
Below: Steven Van Zandt backstage before the show, "going to videotape" to get "Purple Rain" just right.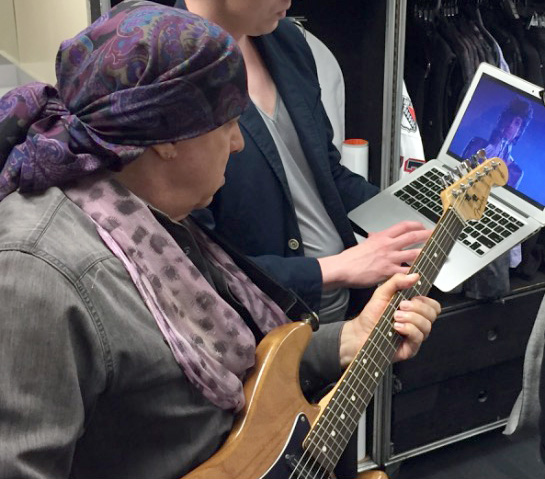 At this first of two Brooklyn concerts, the final stop of the River Tour's spring U.S. leg, Springsteen also said that these would be the last two shows to feature The River played from start to finish. More tomorrow.
- April 23, 2016

THE BEAUTIFUL ONES
Prince and Bruce Springsteen and the spirit of '84
I was 13 in the summer of 1984, when the twin juggernauts Born in the U.S.A. and Purple Rain were released. Prince's previous album, 1999, had been insescapable where I grew up, not only on the radio but at birthday parties and church dances — the title track, "Little Red Corvette," "Delirious," "D.M.S.R" (this was, of course, pre-PMRC). Everybody liked Prince.
But suddenly it was Prince vs. Springsteen. In 1984, in junior high, it honestly felt like you had to pick a side. As a freshly converted Springsteen fan, the idea of buying Purple Rain honestly felt disloyal. So even though I spent every penny I had at the time on records and tapes, and "When Doves Cry" was a mindblower of a first single, and we all quickly learned and recited the "Dearly Beloved" monologue that kicked off single #2... I still steered clear of the album on principle. For a little while. I finally asked my best friend to borrow his cassette, and I vividly remember walking around the neighborhood by myself, 45 minutes with my Walkman, first trying to keep an open mind then being unable to resist. And it was liberating. Can you like the Sharks and the Jets? The Yankees and the Red Sox? Punk and disco? (And as we all wondered about Prince, girls and boys?) Yes, yes you can. And you could love both "Backstreets" and —"it's such a shame our friendship had to end" — "Purple Rain."
Even for my Springsteen-obsessed 13-year-old brain, Purple Rain had it all, an undeniable, showstopping powerhouse of rock, soul, alien funk, passion, beauty, erotic bathtime, purple bananas.… Kids (well, The Kid) flashed guitars like switchblades, and he clearly had a freight train of his own running through the middle of his head. Just try and cool his desire, I dare you. I remember Tipper Gore's outrage over the lyrics to "Darling Nikki," and thinking, "If 'masturbating with a magazine' is shocking to you, what about the music?" After Prince sees little Nikki grind, that's when he and the Revolution get really nasty. But maybe that part scared Tipper, too.
Since then I've bought Purple Rain on cassette, CD, and vinyl. And I'm sure in the wake of Prince's sudden and shocking death yesterday, some new configuration will have me buying it again ("Double-pack with a photograph / Extra track and a tacky badge," anyone?). As '84 became '85, while I was wearing out Bruce's seven singles from Born in the U.S.A., and soon enough anxious for the Live/1975-'85 box set for Christmas '86, my Prince fandom was on a parallel track: on to Around the World in a Day, Parade, and Sign o' the Times, with mixed returns until the last of these, which was a masterpiece of a clincher. It's certainly company for The River in the category of Best Double Albums of All Time.
As for parallel tracks, there were so many similar joys in being a new fan of Springsteen and of Prince at that time. Discovering what came before — digging up Dirty Mind was almost as revelatory as finding Darkness on the Edge of Town — and also digging deep, beyond the albums. No one has a richer catalog of B-sides than these two. And for every hidden gem of Springsteen's, like "Be True" or "Shut Out the Light," there'd be a masterpiece Prince had also relegated to a flipside, like "Erotic City," "She's Always in My Hair," or "Another Lonely Christmas." Outtakes, lost albums (The Ties That Bind, meet The Black Album)... there was always so much to discover and explore, a similar and rarified level of prolific, hungry talent that Prince and Springsteen shared. And that's even before we get into the legendary live shows, and the bootleg recordings I coveted. In the late '80s and early '90s, the only way to get my hands on those live recordings was to go to a semi-annual Record Show, where vendors had such contraband; traveling from table to table, I'd pore through the P section right after the S section, trying to figure out how to ration out that $25 per disc.
At one point in the late '90s, having edited Backstreets for a few years, I was connected with the editor of the Swedish Prince fanzine Uptown; we were surprised to discover that we were huge fans of each others' subject. Though not really surprised, after all — this is one big itch we're all scratching. We exchanged stacks of back issues.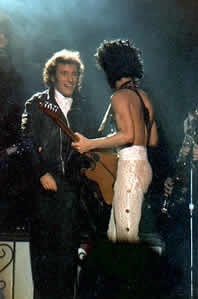 There are so many similarities between Prince and Springsteen, it seems strange that they didn't cross paths more. I was going to say "musical milieus aside," though even there, they share roots in James Brown and R&B. It could be the ten years that separated them; Springsteen's girl groups were Prince's Joni Mitchell. As Caryn Rose pointed out for us yesterday, the only time we know of them sharing the stage was once, for one song, in L.A. in 1985. But if they were ships in the night, they were sailing in the same direction.
Sure, Springsteen's feet took root in the earth, while Prince could seem like he was from another planet. But the affinities: wickedly talented, determined, young guitar-slinging hotshots with a vision, breaking out from a small local scene but bringing a spotlight to it, and to their friends. Prince enjoyed a gang mentality, too, and his rising tide in Minneapolis had a similar effect on its boats as Bruce's on the Jersey Shore. For better, sometimes for worse. Their shadows could be hard to escape. They've both had pointedly integrated bands, where race mattered and didn't matter at all. Lifelong music obsessives, they've mixed genres; confounded expectations; wrote huge hits for other people; wrestled with isolation; run tight ships; disbanded crack bands; embraced and made famous collaborators, sidemen and onstage foils; gone their own way; turned us on; made us cry; made us dance. They've both inspired larger-than-life legends, enough to be the subject of sketch comedy (Ben Stiller, meet Dave Chapelle). They both wrestled with what to do with all this creative output, making what plenty of us have seen as "mistakes" along the way, but also giving us some of the greatest, most cohesive album statements of the last half-century.
And heck, they've even got biblical references in common!
In the beginning God made the sea
But on the seventh day he made me
He was tryin' to rest, y'all, when He heard this sound
Sound like a guitar, cold gettin' down…
And yet, and yet: no jams to witness? No covers to post? You can watch one of them give one of the greatest Superbowl halftime performances of all time, and then you can watch the other do the same. But you won't find them jamming together for the Rock and Roll Hall of Fame, or singing alongside each other at the USA For Africa session (which Prince famously did not attend). Maybe it was a few decades of bad timing; or in the end, maybe they were "just too much of the same kind."
Competition is probably what defined any kind of relationship they had — maybe my initial "Prince vs. Springsteen" feeling wasn't so wrong after all. Springsteen's most famous quote regarding the Purple One was in his liner notes to 1995's Greatest Hits, where he wrote "Damn the Artist Formerly Known as Prince!" for keeping his record out of the number-one slot. He was probably at least half-kidding. But it always felt like a respectful competition, two masters of the game. Prince stated over and over his respect for, even his awe of, Bruce Springsteen as a bandleader. Springsteen, too, was knocked out by Prince on stage, as he told Rolling Stone's Kurt Loder in 1984:
What about Prince? Have you ever seen him live?
Yeah. He is incredible live. He is one of the best live performers I've ever seen in my whole life. His show was funny; it had a lot of humor in it. He had the bed that came up out of the stage — it was great, you know? I think him and Steve, right now, are my favorite performers.

Have you seen 'Purple Rain'?
Yeah, it was great. It was like an Elvis movie — a real good early Elvis movie.
So if Springsteen had taken the title role in Eddie and the Cruisers after all, we might have one more parallel. But where both of their talents truly coalesce is on the concert stage, and after Springsteen, the greatest shows I've ever seen have been Prince, hands down. After witnessing a Prince concert in the early 2000s in Washington DC, my wife Laura and I were trying to put our finger on what made Prince and Springsteen such amazing, yet such different, live performers. I think Laura got it exactly right. Bruce, she said, works his ass off for you — you can see him giving it everything he's got, right down to the James Brown "I can't go on" shtick. He drips sweat, shouts himself hoarse, exhausts himself — and us — by the end of the night. Prince makes it look like breathing. He's performing miracles on stage, and it's effortless.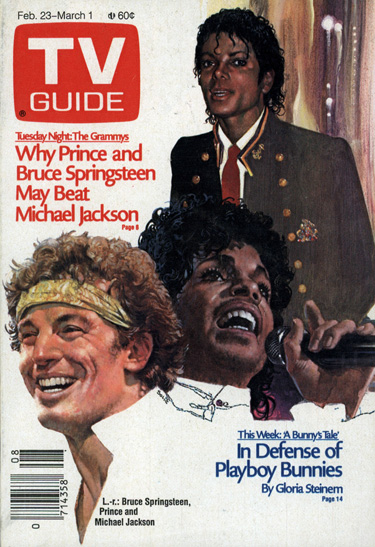 I was devastated yesterday by the news. Stunned, and without words. I needed to do something to mark the moment, and I dug up a magazine cover, one of the few places they ever appeared together, even if just in an illustration. It was the cover of a 1985 TV Guide, with a montage of Prince and Bruce's faces together, along with Michael Jackson. The illustration's a little garish, but it captures a moment in time, very much the Spirit of '84. I posted it to Facebook without a caption, just to say… I don't know, just to say "I miss you, baby." And here you are with my guy.
I checked back a couple hours later, shocked to find negative comments — "Not cool!" "How terrible, on this day!" "Show some respect, Backstreets," and more like that. Panicked, I looked at the image again, still a little confused, but realized that the headline — "Why Prince and Bruce Springsteen May Beat Michael Jackson," a reference to the 1985 Grammys — could be taken different ways, not all of them so cool. I took it right down. It wasn't meant as any kind of morbid snark, and after the year we've all had so far, I'm as terrified and saddened by all these greats dying off as anyone. Show some respect? I'm bleeding purple over here! It made me sadder. I could only blame myself — it's a hazard of social media, and I gave it zero context. But y'know, as the man said, "If the elevator tries to bring you down, go crazy — punch a higher floor."
So this one's for the brilliant Prince Rogers Nelson, the Minneapolis Genius, The Artist, The Kid, Joey Coco, TAFKAP, Alexander Nevermind, the Purple One, The Artist Formerly Known as The Artist Formerly Known as Prince.
I came home after work yesterday to find Laura dancing in the living room to "I Could Never Take the Place of Your Man." I joined her, and I forgot all about the TV Guide cover. The beautiful ones always smash the picture. Always, every time.
- April 22, 2016 - Christopher Phillips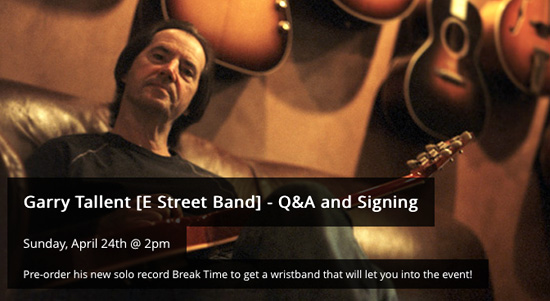 GARRY W. TALLENT INSTORE AT VINTAGE VINYL THIS SUNDAY
This Sunday afternoon, between the E Street Band's two Brooklyn performances, Garry Tallent will be making a stop at Vintage Vinyl in Fords, NJ. His instore appearance, a signing and Q&A, begins at 2pm on Sunday, April 24; you can pre-order the Break Time LP from them for a wristband that'll get you in. Vintage Vinyl tells us they've still got stock, and room for Garry's event — click here to visit their website and place your order.
If you're not in the area, the Break Time LP is also still available from Backstreet Records, where we recently scored an additional supply of the limited vinyl. A CD edition is also coming later this spring, by popular demand; more info on that once we have details.
- Updated April 22, 2016


SOMETIMES IT SNOWS IN APRIL
In 1984, the three biggest stars in the world were Madonna, Bruce Springsteen, and Prince. We lost the last of these today, Prince Rogers Nelson, at the age of 57 in Minneapolis. Prince and Bruce Springsteen have more in common that it might seem at first glance: they're both guitar virtuosos, they both were unabashed about their R&B roots, and most markedly, they were both phenomenal band leaders, a dying art that extends back at least as far as James Brown.

Prince definitely knew what was up with Bruce, and he kept a close eye on his competition. In a 1990 interview with Rolling Stone, Prince said, "I'm not real into Bruce Springsteen's music," he says, "but I have a lot of respect for his talent."

The article went on to share:
Prince and Springsteen occasionally exchange notes; in recalling a Springsteen concert he saw from backstage a few years back, Prince displays the respect of a general reviewing another man's army. "I admire the way he holds his audience — there's one man whose fans I could never take away," he says with a laugh. And how does he compare their stage tactics? "I'm not sure," says Prince. "But at one point, his band started going off somewhere. Springsteen turned around and shot the band one terrifying look. You know they got right back on it!"
Late last year, Prince gave an interview with EBONY (later retracted due to Prince's insistence that the conversation wasn't on the record) in which Bruce came up again. Asked about a rumor that he incorporated horns on the Purple Rain tour after seeing Clarence Clemons on the Born in the U.S.A. tour, Prince replied:
How do you get "Hot Thing" from "Born in the U.S.A."? 'Cause that's where Eric [Leeds] shines, on "Hot Thing." But how do you get Madhouse from "Dancing in the Dark"? I have a lot of respect for Bruce and everything he's done. He's one of my favorite bandleaders of all time. But he wouldn't even say that.
Mr. Nelson riffed for a few more paragraphs before ending the topic thusly:
Clarence Clemons... one of the greatest sidemen in history, and he's a star in his own right. Them two was nothing like that. C'mon, man. That's a whole different thing. Clarence'll smile and you'll forget every solo Eric ever did. Like Louis Armstrong. Beautiful dude. Aura was huge.

And you can't copy Bruce. I would never mess with somebody whom I respect and who was actually gigging at the same time.
Bruce appeared onstage once with Prince, at the Purple One's 2/23/85 show at the Forum in Los Angeles, for the perfectly fitting "Baby I'm a Star." There's a glorious photograph of the two together, Bruce beaming from ear to ear. (Believe it or not, Madonna showed up that night too!)

This is what it sounds like when doves cry.
- April 21, 2016 - Caryn Rose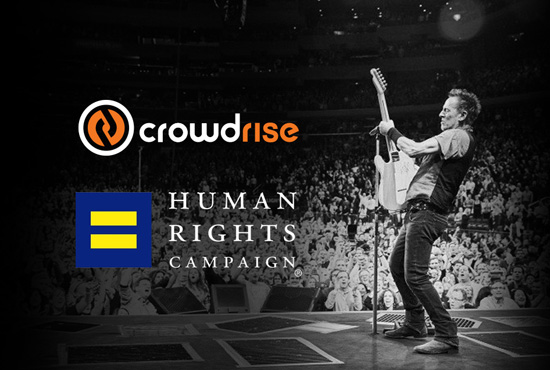 WIN VIP TIX TO SOLD-OUT BROOKLYN SHOW, LAST NIGHT OF U.S. LEG
"Stand With Bruce" fundraiser for HRC offers flight, hotel, and VIP tickets for winner and a friend, as guests of actor Edward Norton — and a chance to meet Bruce Springsteen backstage
Today, with one day left in the Human Rights Campaign's CrowdRise fundraiser to give Springsteen fans a chance to see The River Tour live in Brooklyn, CrowdRise co-founder Edward Norton announced an update to this "Stand With Bruce" contest: in addition to being flown to NYC for the April 25th show, the winner and a friend will be able to meet Springsteen at the show, where they will join Norton and his friends in prime seats and hang out backstage in the VIP Lounge.
"I've been inspired by Bruce's music and storytelling literally since I was a kid," Norton tells Backstreets, "and I've been inspired by his defense of progressive, humanist principles all of my adult life. His statement about the reasons for canceling the NC show was, as always, eloquent and incisive, so I'm happy to find my own small way to combine the fun of his shows with support for one of the organizations doing great work to advance the cause he stood up for."
The fundraiser was launched last week in response to Springsteen's headline-making decision to cancel his Greensboro show in protest of North Carolina's House Bill 2. Springsteen's show cancellation generated substantial praise from HRC and other human rights organizations; the second Brooklyn show takes place on the same day that North Carolina legislature will be back in session, the first opportunity for the bill to be repealed.
Every $10 donation gives donors one entry to win two flights to NYC, two nights accommodations, and VIP seats with backstage passes. Contest ends Friday, April 22, at noon ET. For full rules and to enter to win, visit crowdrise.com/nohate.
- April 21, 2016


APRIL 20, BALTIMORE
Bruce Springsteen and the E Street Band delivered a monster show the last time they were in Baltimore, back at the end of the Working on a Dream Tour, and it seemed that Bruce was very happy to be back at the same (since renamed) arena. Built in 1961, with a capacity of only 14,000, and without any pesky skyboxes, the Royal Farms Arena is the kind of venue that seems close to Bruce's heart, and he made a point to compliment the building. The smaller size was probably a factor in the overall strong crowd, and it is surprising that Bruce didn't perform in this city at all between 1977 and 2009. That this show did not quite, in my opinion, match the last time the band played here is less about specifics of this performance in particular, and more due to the limiting nature of the current tour.
Let's start with the good news. The band was playing quite strongly the last time I saw them just down I-95 in DC in January, but as I had hoped, they've picked up speed and momentum since then. Max is always a machine, but I don't remember ever seeing him so intense. Steve, as many have noted, is having a lot of fun stepping up on this tour. And Jake, having earned his spurs in 2012-2014, was full of confidence. Bruce himself is also more mobile than he was in DC, even on some of the slower numbers.
The rockers that seemed to be a little lagging at the beginning of the tour are now being delivered with the kind of adrenaline and energy we've come to expect. Two of my favorites tonight, "Crush on You" and "Cadillac Ranch," have a little extra grungy muscle and encore-levels of energy — I daresay these songs have never sounded better. "Independence Day" sounds smoother than it did a few months ago — I think Charlie has really gotten the hang of this one. The most emotional moment of the evening came right before "I Wanna Marry You," when Bruce brought an ecstatic couple onstage for a wedding proposal. "You got your courage up!" Bruce observed to the hopeful man, who went down on one knee and was rewarded with a tearful but clear Yes. Not the first time this has happened at a concert, but a very special moment.
The last third of The River is challenging for the crowd, due to the higher number of slow songs. Bruce counteracts this, in part, by cranking up the tempo on a more anthemic "The Price You Pay," but there is no way to rush through "Fade Away," "Stolen Car," or "Drive All Night." With multiple obscure ballads so close together, inevitably the attention spans of crowd members varies. Whether Bruce will continue to play the full album live, once he heads overseas and to larger venues, remains to be seen.
Clearly this is not a tour that rewards multiple show attendance in the same way many of us are used to— we've been spoiled over the years — and while in good spirits, Bruce was in no mood to encourage request signs tonight. Indeed, at this point in the tour it would be naïve for any fan to get their hopes up for a rarity-studded setlist. But as the band surged through another strong but predictable post-River set, what struck me most was just how incredibly similar all these E Street Band live warhorses are: serious, earnest, heavy, dense rock, with precious little roll. In any other setlist, these thunderous classics would be interspersed with lighter, more lively numbers, but so many of these had already been performed as part of The River. So in its own strange way, the awkwardly paced show reminded me of one of the great things about the album being celebrated, The River's fun rock 'n' roll songs counteracting the ballast of its more serious side.
After a slew of "important" rock songs, the high-energy encore with all the house lights on felt like a huge cathartic release. "Dancing in the Dark" saw Bruce bring up first one dancing partner and then, right afterwards, a group of eight enthusiastic young dancers, some of whom were surely up past their bedtime. And I connected more with "Shout" this time than I have ever before – perhaps being closer to the stage helped with that, although it seemed like the whole arena was up and rocking.
I left the show with the usual physical exhaustion, but without my usual yearning for more shows. In trying to recapture the glory days for himself and for us, Springsteen is certainly delivering far, far more than "boring stories" from the stage. But this time, he may be taking us on one nostalgia trip too far. Your mileage may vary, and as we're only approaching the end of the first leg, there is still time for the tour to go in new directions.
For the full setlist and reports from this and other recent shows,
see our Setlists page
- April 21, 2016 - Magnus Lauglo reporting - photographs by Guy Aceto


THROWBACK THURSDAY… BIG-O-STYLE
This weekend will mark what would have been the late, great Roy Orbison's 80th birthday, with the big day itself falling on Saturday. And as the U.S. arena leg of The River Tour 2016 (with Bruce namechecking The Big O every single night in "Thunder Road") opens its final stand on the same day, here's a perfect Throwback Thursday item: a River-era 1981 television appearance by Springsteen discussing Orbison's importance and impact. It's a very interesting historical snippet, most likely Bruce's first televised appearance elaborating on the significance of one of his major musical influences. Much of what he touched upon in this '81 clip would be included and expanded in Springsteen's 1987 speech inducting Orbison into the Rock and Roll Hall of Fame.
Shortly before Orbison's death in 1988, Steve Pond interviewed him for Rolling Stone and referenced Springsteen's memorable quote:
Guys like Elvis and Jerry Lee Lewis seemed like threats to the public decency, but you weren't quite so dangerous.
Yeah, I was milder. And the Everly Brothers, you know, they were milder too. But I'm sure that if I'd have had "Pretty Woman" as my first record, I would have been thought of in a different light.

Your image was more of somebody who was mysterious, and maybe a little weird. Bruce Springsteen once said that the first time he saw you, he got the impression that if he reached out to touch you, his hand would go right through you.
That's probably closer to the truth. I wasn't trying to be weird, you know? I didn't have a manager who told me how to dress or how to present myself or anything. But the image developed of a man of mystery and a quiet man in black and somewhat of a recluse, although I never was, really.
As befitting the man of mystery, there's also a bit of mystery around this clip — we've yet to determine its exact origin. Was this part of an awards show tribute? A television special on early rock 'n' rollers or on Orbison himself? So far our research hasn't uncovered any record of a 1981 Springsteen television appearance of this type anywhere. If anyone out there can help solve the mystery, drop us a line.*
In the meantime, to celebrate Orbison's 80th in high style, blogger Ryan Hilligoss and Backstreets.com's own Shawn Poole have teamed up with E Street Radio to present a special edition of the guest-DJ show Be the Boss. Hilligoss and Poole will take control of the channel for over an hour, offering an extensive discussion and playlist that explores the strong connections between Orbison and Springsteen. The show will debut on Sirius/XM channel 20 today at 5pm ET, followed by repeat plays over the Orbison birthday weekend on Friday at 9am, Saturday at 6pm and Sunday at 11pm. Hilligoss' blog will also provide an online supplement/expansion for the E Street Radio show.
*Update: Robert Bader writes in: "I can solve the mystery of the clip you have up today. Bruce shot this for a Roy Orbison pay-per-view concert broadcast. I think it was after the Rolling Stones' December 1981 Hampton, Virginia pay-per-view, which was one of the first live concert PPV events, so my guess (without digging through the boxes of VHS tapes in my garage) would be that it was shot in 1981 and broadcast in early 1982. These PPV concerts were regular monthly things in those days. I recall watching the Stones event, and later the Who doing Tommy from Atlantic City, and lots of others. In between the mega-acts like the Who and the Stones they would have stuff like Teddy Pendergrass and Roy Orbison."
- April 21, 2016



WHERE DID YOU COME FROM, BABY?
Uncovering the beautiful mystery of "Here She Comes Walkin'"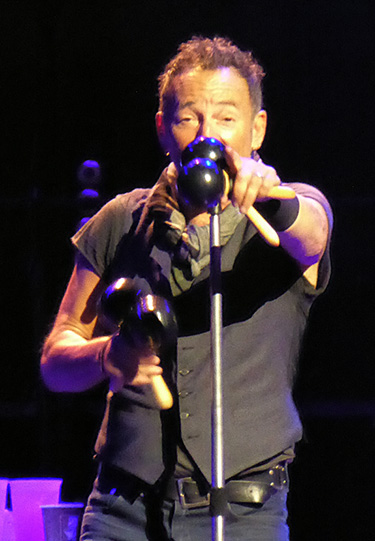 During each nightly performance of The River on the current tour, the audience has been treated to one additional song during the album set that wasn't actually part of the original album. In fact, it wasn't even released officially until late last year, when it was included in Thom Zimny's Tempe, 1980 film for The Ties That Bind box set.
"Here She Comes Walkin'," also known as "Here She Comes," first served as an introduction to live performances of "I Wanna Marry You" during the 1980-81 River Tour. Springsteen has revived this tradition for the 2016 River Tour, featuring some beautiful vocal interplay between himself and Steve Van Zandt. More than a few fans unfamiliar with the history of the song, however, have wondered whether "Here She Comes Walkin'" is an original or an interpolation/cover of someone else's song.
The song is a Springsteen original, with a history that goes further back than The River era. As Backstreets founder Charles R. Cross first reported in our 1989 book Backstreets: Springsteen, The Man and His Music, in the mid-'70s a Springsteen song entitled "Here She Comes Walkin'" was written and considered for inclusion on Born to Run. This was later confirmed by a preliminary Born to Run track listing in the Rock and Roll Hall of Fame's From Asbury Park to the Promised Land exhibit.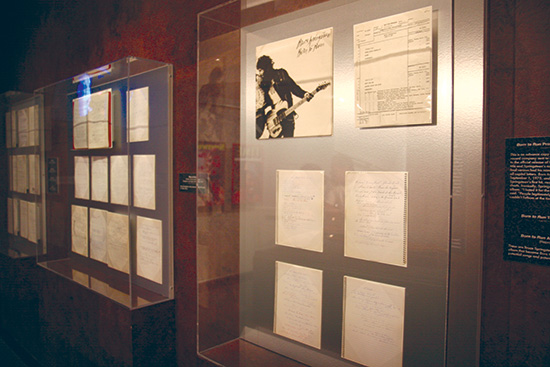 As displayed at the Rock Hall, this early, handwritten lineup for the third album (one of many that Springsteen played around with in his notebooks) listed "Here She Comes Walkin'" and other unreleased titles such as "A Song for Orphans," "Lonely Night in the Park," "and "New Delinquent Lovers" along with "Born to Run," "Jungleland," and "She's the One." Another notebook worksheet from the era also lists the track.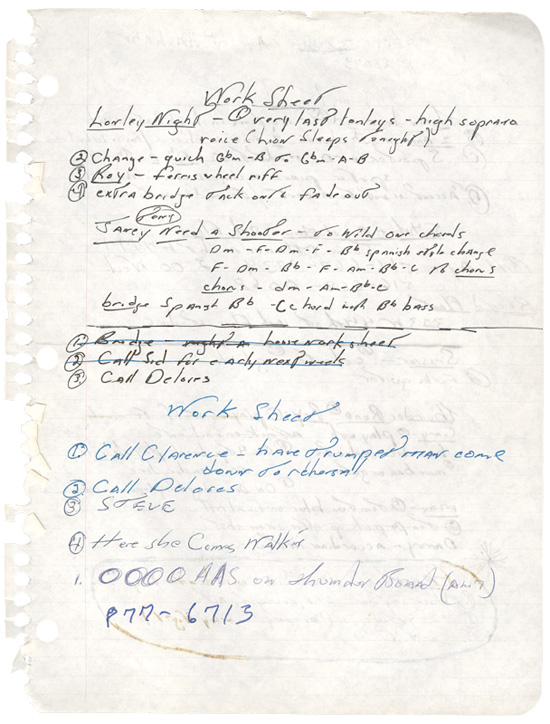 Interestingly, whenever a version of the "Here She Comes Walkin'" onstage intro has been used, it's been accompanied by a girl-watching story similar to what was first told onstage during "Pretty Flamingo" at the 9/13/1975 Houston show on the Born to Run Tour. No studio recording of "Here She Comes Walkin'" has circulated, so it remains unclear how closely the River Tour (1980-81 and 2016) performances resemble the BTR-era composition. But the title — and the idea in general — is one that Springsteen has never quite let go. In the late '80s, Springsteen revisited the concept for the "here she comes walkin'" intro to "All That Heaven Will Allow" (also presaging 2007's "Girls in Their Summer Clothes") on the Tunnel of Love Express Tour:
While Bruce doesn't appear to be covering or interpolating someone else's song with "Here She Comes Walkin'," he does seem to be invoking what Frank Zappa labeled "Archetypal American Musical Icons," which probably has much to do with some fans wondering if the song is a cover. In The Real Frank Zappa Book, Zappa wrote, "The audience doesn't have to know, for example, who Jan Garber or Lester Lanin is to appreciate those textures — the average guy… he knows what that style means."
"Here She Comes Walkin'" evokes the doo-wop and vocal-group roots of "I Wanna Marry You," even for fans who might not be familiar with classics like Don & Juan's "What's Your Name?" or even The Temptations' "Just My Imagination." At the same time, the live performance of "Here She Comes Walkin'" provides a smoother transition from the high-energy antics of "You Can Look (But You Better Not Touch)" into "I Wanna Marry You."
For your listening pleasure, here are two archival fan-based recordings of "Here She Comes Walkin'" from the first month of The River Tour in October 1980: its onstage debut from the October 11 show at Chicago's Uptown Theatre and, with much better sound, the October 24 performance at the Seattle Center on the night that Backstreets was born.
- April 20, 2016 - Shawn Poole reporting - Springsteen photograph by David Bernstein [Dallas, 4/5/16] - Rock and Roll Hall of Fame photograph by Christopher Phillips - worksheet courtesy of Brucebase - special thanks to Charles R. Cross, Dave Marsh and Flynn McLean


APRIL 18, UNIVERSITY PARK, PA
Though this tour has previously ventured to a few college campuses — St. Louis University's Chaifetz Arena and USC's L.A. Memorial Sports Arena, to name just two — none can lay as much claim to being a true college show as University Park. The arena is in the heart of Penn State's campus, which created a novel preshow sight of backpack-toting college students walking past your typical middle-aged E Street Nation lifers lining up for the lottery. Yet a plethora of Lions also lined up (sans backpacks), and they sure made their energetic presence was felt throughout the show, beginning right away with an elongated ovation after "Meet Me in the City" that forced Bruce to take a few extra beats before introducing The River. His response: "That's my kind of crowd."
And thus started the love affair between Bruce and the young-skewing audience that lasted the duration of the nearly three-hour and thirty-minute concert, during which time a shocking lack of asses were planted in seats in favor of properly rocking. Bruce had a blast with the kids all night long, from pointing out a group of bros wearing American flag bandanas and losing their minds in the back of the pit, to a group of shirtless bros similarly losing their minds way up behind the stage. Lest you think he ignored the young female members of the crowd, Springsteen granted a "Dancing in the Dark" sign request that read, "20 years old. 20 E Street shows. Dance with me?" Though she was in hostile territory given her Indiana University hat, no one could be too upset with her — she was also the one who brought the "I Wanna Be With You" sign to Columbus. Not a bad week for the Hoosier.


Above all, it was a vocal audience, resulting in perhaps the loudest and most in-unison sing-along on "Hungry Heart" yet on this tour. Bruce changed up his usual introduction to the song, replacing "Here's another song about leaving home" with more of a call-to-arms-to-party: "State College, are you hungryyyyyyy?!" This seemingly innocuous switcheroo foreshadowed the type of concert we were about to witness. Instead of giving the type of soulful, introspective performance where revealing a thematic connection between "Independence Day" and "Hungry Heart" would feel natural, Bruce — perhaps with an eye on the unique collegiate makeup of his audience — opted for a rock 'n' roll house party vibe. Instead of asking, "Any lovers out there?" before "I Wanna Marry You," he changed it to, "Is there any love out there? Let me feel the love… feels good!"
The crowd's raucous response to such E Street staples as "Out in the Street" only reaffirmed Bruce's more mainstream approach to the concert; he took a noticeable moment before "Crush On You" to look around the arena and appreciate the vocal participation that had just showered down upon the Band. Even though it's been a nightly highlight on this tour, the fact that "Crush On You" was greeted with a relatively tepid reaction from the crowd was the first indicator that this wouldn't be a night for deep cuts (an apropos "Lion's Den" did not rear its regal head). The audience was sufficiently respectful during the side three and four ballads, but it definitely sounded like a majority were waiting to revel in Bruce's "greatest hits."
And once The River came to its hauntingly beautiful conclusion, he gave the crowd exactly what they wanted: his greatest hits, with 10 of the 12 songs in the B-set having appeared on his more comprehensive hits album The Essential Bruce Springsteen. After some of the more obscure tunes on The River, the crowd threw themselves into "Badlands," chanting non-stop, and seemed to love finally recognizing every song. For the first time on the tour, "The Rising," perhaps Bruce's greatest modern hit, was not followed by one of the greatest hits of them all, "Thunder Road." Instead, Bruce referred to "the biggest sign of the tour," which was a collection of 10 individual, neon green, human-sized letters spelling out J-U-N-G-L-E-L-A-N-D held by 10 different people in the pit. Amusingly, being respectful members of the crowd, they had put away the letters by this point in the show. Bruce gave them a few seconds to scramble the sign back in order, but spared little time in launching into a soaring performance of this masterpiece. A deafeningly loud, "down in Junglelaaaand!" rivaled the decibel levels that greeted the song's tour premiere back in Philadelphia (the overwhelming ovations from the crowd throughout the night were probably due to a combination of both the Lions and the Brotherly Love travelers in attendance).
"Born in the U.S.A." is still a rarity on this tour, even though it's now opened the encores at three consecutive shows (perhaps warming it up for Europe, where it seems to be played a heck of a lot more). Even so, it felt like an audible tonight, with "Born to Run" teed up before Bruce called out the change in honor of the bandana-clad bros in the pit. It's undeniably a fiery way to light the initial encores fuse. From the opening synth chords to Max's ferocious final drum solo that captures the intensity of the song's righteous fury, "Born in the U.S.A." basically blows the roof off the place throughout. Combined with "Born to Run," it's an explosive one-two punch that clearly communicates we've hit the homestretch.
After Bruce dedicated the final go-'round of "Shout" to the rafters — "One more time for these guys with their shirts off back here!" — he busted out a nightly dance that he does, raising his guitar and doing a little walk-in-place shuffle while constantly rotating to face the four corners of the arena. Jake Clemons, who the crowd absolutely adored all night (especially during "Jungleland"), decided to switch things up and join in. When the Boss realized he had a new partner in crime, he cracked up and beamed the biggest smile. This increasing reciprocity of energy between Bruce and Jake perfectly encapsulated the relationship between the performers and the youthful Penn State crowd all night long. Though it may have appeared like it was the same old show on paper (true story: there hasn't been a tour premiere since MSG's rescheduled concert back in March), the inexhaustible energy overflowing out of the Bryce Jordan Center really made it a special evening. As Bruce exclaimed at the end of the show, "Wow — what a great audience. We loved every minute of it."
For the full setlist and reports from this and other recent shows,
see our Setlists page
- April 19, 2016 - Steven Strauss reporting - photographs by Guy Aceto



NUGS.NET AND THE GREAT SPRINGSTEEN BAKE-OFF
As the official downloads from The River Tour continue — now up to the March 22 Portland show — series facilitator Nugs.net is continuing to work on archival releases for Springsteen as well. As an example of what his company does, Nugs founder and CEO Brad Serling dropped this tantalizing nugget in a recent interview with Pollstar: "We've gone into this treasure trove of the Bruce Springsteen archives, stuff that had never been released before, had never seen the light of day. We're pulling out 18 reels of half-inch tape of a run of shows from '78. Those tapes, literally, have to be baked in order to get the musical information off of them."
As we all ponder whether said '78 run might be Berkeley... or Passaic... or Madison Square Garden... the full interview ("Concerts Galore From Nugs.net") is worth reading, as Serling discusses the history of Nugs.net, their work with Bruce and other artists, and more.
- April 18, 2016

SNAPPIN' HIS FINGERS CLAPPIN' HIS HANDS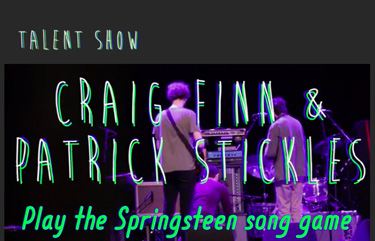 On this week's episode of The A.V. Club's 'Talent Show': Craig Finn of The Hold Steady and Patrick Stickles of Titus Andronicus are vocal about their love of Bruce Springsteen. It's why, when the pair recently went on tour together, it only made sense to try to declare one the king of all things Bruce. In this best-of-three challenge, Finn and Stickles clap out a rhythm and try to name as many Springsteen songs as they can without blanking. Anyone with the River tracklist now etched permanently in their brain could probably steal the crown... but can you clap at the same time?
- April 18, 2016

HAPPY RECORD STORE DAY!
Tom Cunningham talks Songs of Springsteen
Today, Record Store Day 2016, marks the official release of Songs of Springsteen: A Covers Collection From 105.7 The Hawk's Bruce Brunch, a six-track, 10-inch EP masterminded by Brunch host Tom Cunningham. As if putting the whole thing together himself wasn't a big enough task, he even wrote some liner notes just for us. Congrats, Mister DJ — we turn it over to you.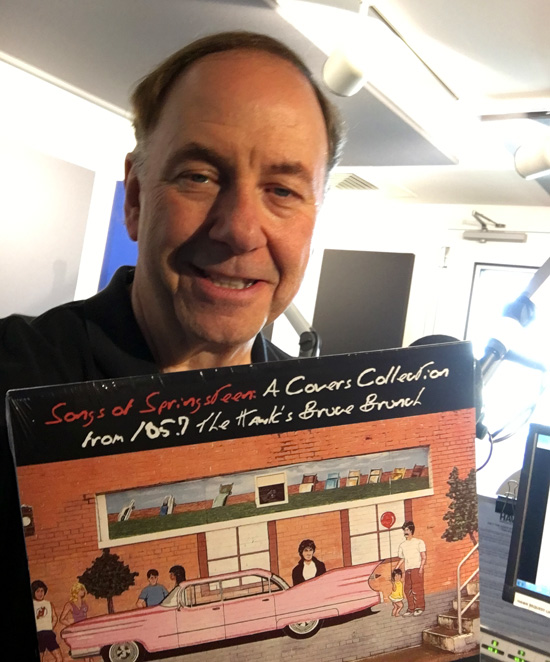 I began plotting what ended up being Songs of Springsteen: A Covers Collection From 105.7 The Hawk's Bruce Brunch two-and-a-half years ago. Yup, extended labor to be sure. Asking musicians to perform live on the radio at 10:30 on a Sunday morning is tough enough… but transforming some of those magic moments to a vinyl release was years in the making.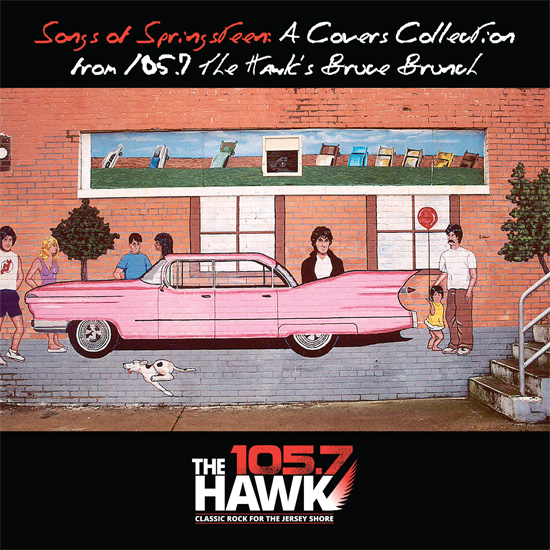 The front cover is a story in and of itself. In 2003, a gentleman named Andre Sabori was contracted by the city of Asbury Park to paint a mural on an old building along the waterfront. Turns out the mural would only be up for about three weeks. However, in that time, the legendary Frank Stefanko happened upon the mural and shot some pictures. The recursive satisfaction of Frank's image of Bruce from the Darkness on the Edge of Town cover being included in the mural has not been lost on anyone who has seen the picture. Toss in a pink Cadillac and a Cadillac Ranch, and you've got plenty of horsepower and magic. Frank graciously donated his image to be used for the cover, but then if I could only track down the guy who painted the mural and get his approval.… For multiple reasons, Eileen Chapman is a treasure and legend at the Jersey Shore. Of course she knew who the painter was and directed me to his website, and that was that.
August 26, 2012, was a textbook summer Sunday at the Jersey Shore. The Bruce Brunch was broadcasting that morning from Martell's in Point Pleasant Beach. James Maddock was to perform live, and Frank Stefanko (there he is again) and Danny Clinch (he'll be back too) were also coming on to talk about an exhibit that they were doing together. When I told James that they would be in the house as well, he sent me a note wondering if Danny would like to accompany him on harmonica. The two had never met, but after some emails, that morning they huddled on the boardwalk for all of about 30 seconds and made their plan. On the air I asked Maddock why he chose of "Hearts of Stone," and he talked about playing in a Southside Johnny cover band (!!) as a kid growing up in Leicester. When I pointed out that Mr. Stefanko, who was seated close by, had also shot the cover of the Hearts of Stone album, the circle got even tighter. James sang his wonderful song "Beautiful Now" and brought Danny up for their duet. And off they went, unrehearsed and undaunted, and flat-out nailed it. James was at the Stone Pony a couple of weeks ago, and talking to him that night he mentioned how Danny's bluesy style fit the mood of the song and the perfect summer morning so well. I couldn't agree more.
Passenger? Mike Rosenberg? Two Brits back-to-back on a record celebrating the Jersey Shore? You bet. I'd met Mike in the summer of 2013. Mike's label, Nettwerk Records, was trying to break through in the U.S. with his song "Let Her Go," which at that point was an international smash but one with no traction whatsoever here in the states. I spent a big chunk of that summer driving him all across the country, visiting radio stations, with him playing shows in small clubs at night and also doing what is (to this day) near and dear to his heart — busking. Naturally, the conversation turned to music more often than not, and Bruce Springsteen's songs became a big part of those discussions. He'd been performing a devastating version of "Dancing in the Dark" that brought the song down to its very core. Somewhere along the way I asked if we could record an interview for the show along with his version of "Dancing in the Dark." Dear friends in Cincinnati at Hubbard Broadcasting let us "borrow" one of their studios for a bit, and we came away with both a great interview and performance. During the course of the interview, Passenger spilled the beans that his father was actually from Vineland, and they spent most every summer in Avalon! Stuff you couldn't dream up or make up. Oh, and "Let Her Go" ended up doing pretty well in the U.S. — to date selling more than 4 million singles!
I first met Emily Grove (a quintessential Jersey Girl from Wall) when she performed on the Stone Pony's side stage at Light of Day 13 in January 2013. She was terrific that night, and there was no doubt that at some point down the line I would ask her to come on the show. She's got this big voice and is fearless as a performer. She's also got excellent social media skills, often posting her songs as well as some cool covers on her various platforms. The more of her work that I saw and heard, the more I looked forward to having her on. It's presumptuous to think that every Jersey Shore musician is in some fashion a Springsteen fan, but most usually are, and happily, such was the case with Ms. Grove. I only suggest songs for artists when asked and very rarely will make a specific request. But I very much had a song in mind that I hoped she'd sing — and to my ever-loving surprise, when she came back with the idea to perform "Tougher Than the Rest" I was thrilled, because that's the one I would have asked for. Pure karma. Her interpretation of the song is exquisite. Hearing the song sung from a woman's point of view was also something I found really telling as well. That morning it was just the two of us in the studio. I "produced" while she sang and played guitar; I was praying that there were no technical screw-ups or anything, because she was killing it from the first note. I pretty much held my breath until she was finished and am pleased that she is a part of this project.
Joe Grushecky has been on the show a bunch of times at this point. He's great and is an easy interview — and more importantly, a good interview. When Joe was on the show on Sunday, 8/11/13, I already had this project in my head. Not only did I want to make sure that Joe was a part of whatever I thought I was doing, this was a rare instance that I requested a specific song. There are only a handful of people who have co-writing credits with Bruce Springsteen, and since there's no one with more of those than Joe Grushecky, I was really interested in one of those Springsteen/Grushecky compositions. Or is it Grushecky/Springsteen? Who knows. Anyway, Joe was in great spirits that day, as I recall (and I also recall that Tony Pallagrosi was in the house as well), and he granted my request with "I'm Not Sleeping" (along with one that Joe wrote specifically wrote for Bruce on the occasion of a special birthday, called "Still Look Good For 60"). The 105.7 The Hawk air studio is pretty much acoustically perfect, and that morning it lived up to its billing. Along with his great spirits, Joe was in great voice as well, and as he was doing his thing, I knew we had a winner. I love that Joe is on the album and especially love that it's one of those very cool co-writes.
Is there anyone at the Jersey Shore who Bobby Bandiera hasn't played with? And played well with? For me, Bobby is in his own class when it comes to artistry and versatility. The man can, and has, played anything and everything. I'd long wanted to have him on the show, and on 12/9/12 he joined us for the Bruce Brunch's ninth anniversary at a place that was then called the RiverWatch in Brick. Bobby told great stories that morning, and I was especially pleased to have him talk on the record about that magical year of 1982, when Bruce spent many a Sunday night playing with Cats on a Smooth Surface at the Stone Pony. To this day, those remain some of the greatest nights of music that I have ever witnessed. "If I Should Fall Behind" had been part of Bobby's repertoire for a while, so that was an easy call, and because of the anniversary implications and a certain degree of nostalgia that came along with it, I also asked him to sing "Young at Heart." He'd (naturally) had a gig the night before, but we were in a wonderful room of people, and he quickly warmed up to the task at hand. What I love about this version of the song is that you can hear Bobby's worldliness, mixed in with just enough weariness that it becomes instantly authentic. Our awesome engineer Tom Trembly was on hand and got a great mix, and it was remarkable how quiet this room full of shiny happy people got while Bobby was doing his thing. I consider Bobby Bandiera to be a Shore treasure.
When Willie Nile released American Ride in June 2013, he and Johnny Pisano came on the show on a perfect summer morning as I was broadcasting live from FirstEnergy Park, the home of the Lakewood BlueClaws. Former Philadelphia Phillies great Mickey Mornadini was managing the team that year and came on with me (and was amazing), and Willie and Johnny were set to perform two songs live for our assembled guests and on the radio. Did I mention perfect summer morning? Turns out not to have been all that perfect, as both "American Ride" and a slinky version of "I'm on Fire" were not recorded properly, lost in the ether of radio nowhere. By the time Willie came back on the show two years later, this project had basically taken shape, and I really wanted them to be a part of it. They came to the studio last May 31, along with Matt Hogan, and ripped through a spirited version of "You Can Look (But You Better Not Touch)." All things considered, I especially like The River implications. Turned out to be the perfect song to wrap things up with. When I saw Willie at the first ever Light Of Day show in Philadelphia in January, he told me that he'd sent the version to Bruce and that Bruce really dug it. That was icing on the cake.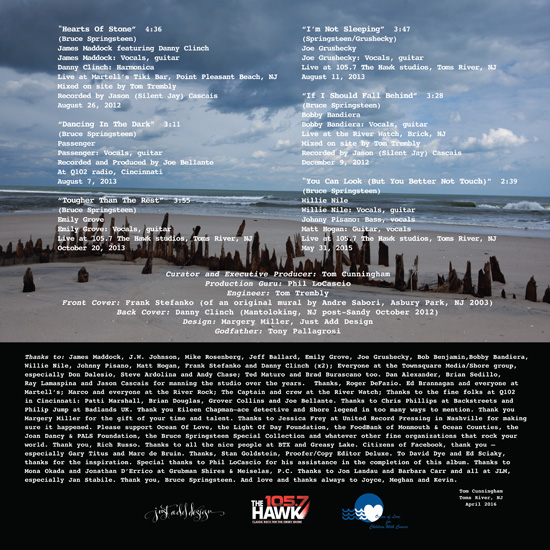 The image on the back cover is a gift from Danny Clinch. As you may know, should know, Mantoloking was one of the hardest hit places at the Jersey Shore by Hurricane Sandy. Danny went there the day after the storm, and his picture is a microcosm of many things. While the ocean is tranquil and serene, it's framed by devastation. If every picture tells a story, this one speaks volumes. And speaking of volumes, here's hoping that this is only number one....
* * *
Songs of Springsteen: A Covers Collection From 105.7 The Hawk's Bruce Brunch sees the light of day today in a limited edition of 500 copies. We're sold out here at Backstreet Records, but Cunningham is also distributing the release through Jack's Music Shoppe, Red Bank; Hold Fast, Asbury Park; Vintage Vinyl, Fords; The Record Store, Howell; the Stone Pony Store, Asbury Park; Princeton Record Exchange, Princeton; Randy Now's Man Cave, Bordentown; and overseas at Badlands UK. Proceeds benefit Ocean of Love.
- April 16, 2016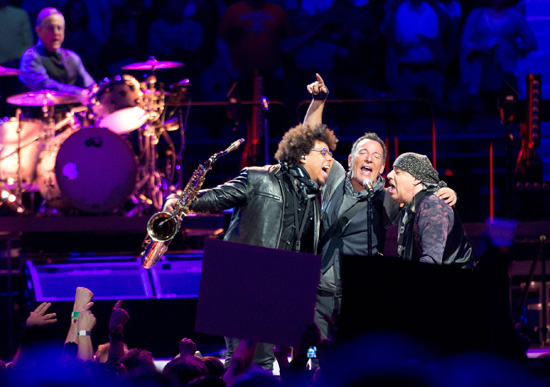 APRIL 14, AUBURN HILLS, MI
When Bruce Springsteen and the E Street Band hit the stage at The Palace in Auburn Hills last night, a question hung in the air among the hardcores. After the loose, barnburner of a show in Columbus two nights earlier, would Bruce continue down that road? Or was Columbus more of a one-off and we'd get a more formal, structured show? It was certainly the latter, but that didn't matter a lick to the 20,000 Detroit-area faithful, and a guest spot from Bob Seger brought the 2016 River Tour full circle from 1980's opening night right here in Michigan.
Springsteen really is in fine voice on this stretch of the tour. Whatever issues there were might have been with winter colds earlier in the tour were not in evidence the last two nights. And while it now seems to be taken for granted, the overall sound for this tour is some of the best Thrill Hill Inc. has had to offer in a long while. Such things are always subjective, but roaming the venue and finding a number of vantage points throughout the night, I was struck by the clarity and mix, which was superb. Sonically, it also hit me that, while this show is less of the E Street Orchestra of recent tours and more E Street Band, the sheer wall of sound is more impressive with seven or eight fewer singers/musicians on stage.
Things seemed pretty scary for a short while when Bruce was crowd surfing during "Hungry Heart." At one point it sounded like Bruce was saying "Shiiiiiit!" as the surf got rough in the middle of the pit. When Jake pulled him onto the stage, Bruce leaned in his ear for a bit, telling him about whatever happened, with Jake laughing along. What else caught my ear and eye during the River presentation: The moment in "I Wanna Marry You" when there's that half-second pause before Bruce's achingly beautiful "Oh Darling!" and the band crashes in behind him to bring the song to its finale? Wonderful. And the "don't cry now" backing vocals by the E Street Band and Jake's sweet saxophone solo during "Drive All Night" are simply gorgeous.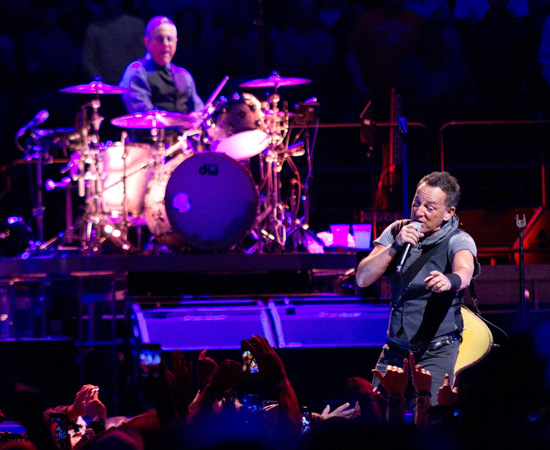 Following "Wreck on the Highway," Bruce announced, "Let's kick it a little bit now." And kick it they did, launching into "Badlands" and lighting up The Palace crowd. From there it was one classic after another, with the emotional highlight being "Backstreets." Charlie's organ part and Bruce's lead guitar drove the song; there was a moment during Bruce's solo near the end when the stage was bathed in a green light, and for 15 seconds it felt like 1978 again.
Bruce tipped his hat to the volunteers from Gleaners Community Food Bank, out on the front lines and accepting donations at the show. And then he touched on possible legislation before the Michigan state government:
"Also just wanted to give you a heads up: Michigan is considering bills similar to the ones that forced us to cancel our show in North Carolina. So just on behalf of the LGBT community and many caring people of this state, we hope the bill doesn't pass, because we love playing in Michigan! So keep your heads up."
A ferocious "Born in the U.S.A." followed, in the set since Bruce's North Carolina announcement.
Throughout the show, no one was singing and jumping, and pumping their fist as much as Bob Seger, located stage left. In 1980, when The River tour opened in Ann Arbor, Seger was there, too — at the Crisler Arena on 10/3/80 Bruce said he'd "admired [Seger's] music for a long time" and called it a "thrill" to bring him up for "Thunder Road." Some 36 years later it didn't appear that history would repeat, but during "Tenth Avenue Freeze-out," while everyone was focused on Bruce on the back catwalk, Steven and Garry called the Michigan native up. Seger stayed on stage playing tambourine and singing with Steven for the "Shout" finale, when Bruce included him in the intros and called him "one of my musical heroes."
For the full setlist and reports from this and other recent shows,
see our Setlists page
- April 15, 2016 - Bob Zimmerman reporting - photographs by Matt Orel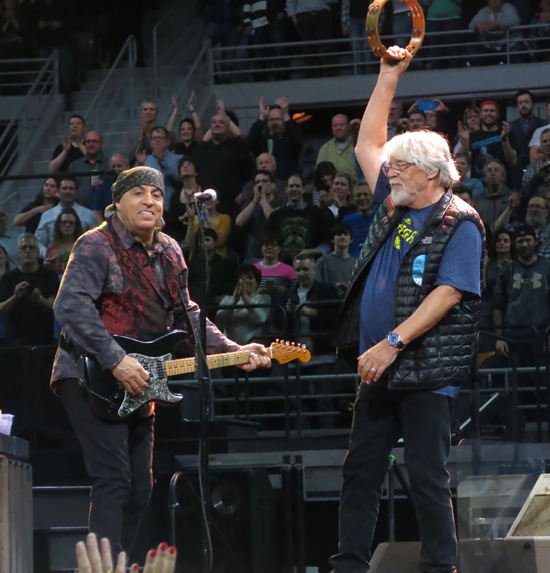 THE SEGER SESSION
Last night in Auburn Hills, MI, Bob Seger on stage with Bruce Springsteen and the E Street Band.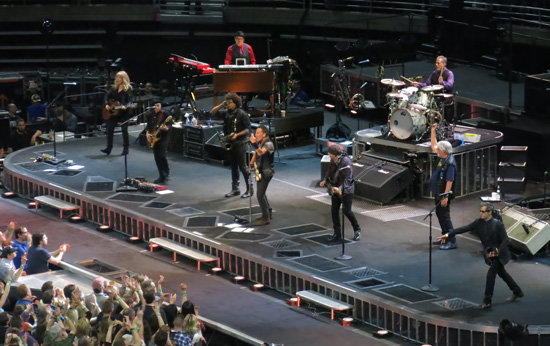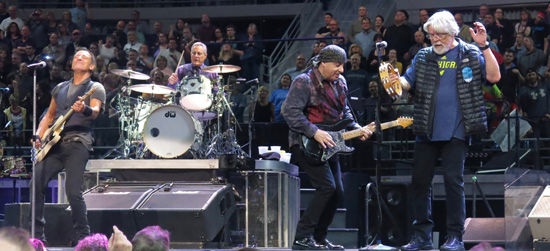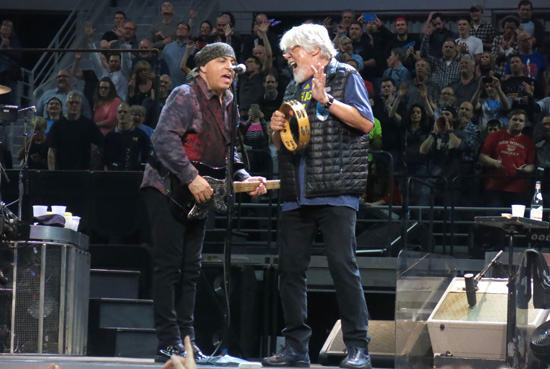 - April 15, 2016 - photographs by Bob Zimmerman

DETROIT'S MEDLEY OF E STREET INTERVIEWS
Gearing up for tonights show in Auburn Hills, MI, Gary Graff spoke with not one but two E Street Band members for the Oakland Press. With the Detroit-born Garry Tallent, he talked about the new Break Time album, the bass player's Motor City roots, and the River Tour's going "completely against the grain" of the typical E Street Band show. And more tour talk with Nils Lofgren: "I'm used to watching Bruce and never knowing what's next... I still have to remind myself to stop being suspicious and to know what I'll be playing next for 20 songs. I've never done that, so it's kind of an interesting thing."
- April 14, 2016

GIVING OPPORTUNITY FOR GREENSBORO'S PROJECT GREEN LEAF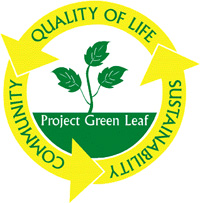 Project Green Leaf, based at UNC-Greensboro and supporting a local agro-food system since 2001, had been tapped as a benefitting charity for the cancelled April 10 show. While our understanding is that Springsteen will still be making his own private donation, as he does for the local charities his tours support in each city, Project Green Leaf missed out on literal bucketloads of fan support.
Backstreets spoke with Project director Susan Andreatta, who told us, "I was selected by Bruce Springsteen's people this time and in the past (2008) because we teach how to grow as well make connections with the public and food providers — farmers and fishermen. Our mission is to provide support and assistance for a local food system."
Whether you were a ticketholder who would have chipped in on Sunday night or just someone who is interested in supporting the cause, we'd like to point you to greenleaf.uncg.edu, where you'll find a donation link (via the Gardens project that Andreatta also runs) they've created at our request specifically for Springsteen fans.
- April 14, 2016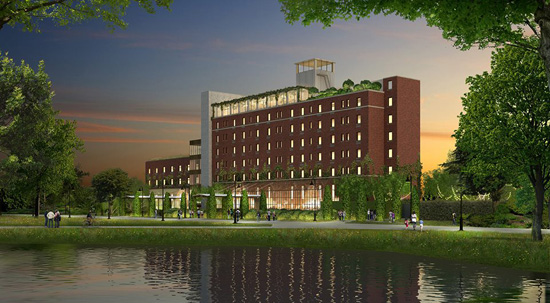 GREETINGS FROM THE ASBURY HOTEL
In a new piece on Asbury Park, NJ, at Bloomberg.com, Mark Ellwood writes, "The seaside town's return to glamour has been predicted for a decade or more..." and we'd come down on the side of "more": the anticipated revival of Asbury Park has been a two-steps-up-and-one-step back proposition at best for multiple decades. But hope gives us hope, and the Bloomberg article provides a look at the latest beacon, a luxury hotel called The Asbury, which opens next month (and is currently hiring). Read: "Inside the Hotel Betting on a Luxury Future for Asbury Park."
- April 14, 2016 - artist's rendering of The Asbury via Facebook

THREE MORE DATES ADDED FOR EUROPE
Just when you thought it was safe to plan your summer vacation... the European leg of The River Tour has been extended by another week, to the very end of July. Following the previously scheduled July 23 stop in Sweden, the third of three shows in Gothenburg, Bruce and the E Street Band will return to Norway, to two venues they've never played: a ski-jump arena in Trondheim on July 26, and back to Oslo on July 28 at Frogner Park. That makes three shows in Norway this summer; as Hans R. writes us, "You know, Sweden is like our big brother and rival, so when they have already gotten three shows, this should make it all up." After that it's on to Switzerland for a July 31 concert at Zurich's Stadion Letzigrund. Tickets go on sale this Friday and Monday, see our Tour/Ticket Info page for and details and onsale links.
- April 13, 2016


APRIL 12, COLUMBUS: SIGNS, SIGNS, EVERYWHERE SIGNS
And happy 65th birthday to Mighty Max Weinberg!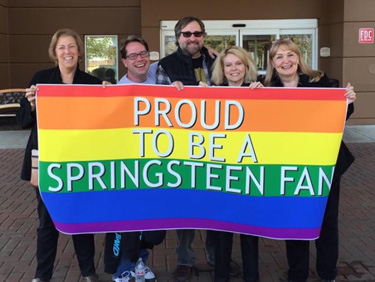 Prior to last night's show at the Jerome Schottenstein Center, there was a fair amount of buzz regarding what we could expect from Bruce. After cancelling Greensboro would there be a short speech from the stage? Would the song choices after The River do the talking? Would we get a Merle Haggard cover song to salute the passing of one of country music's finest? The fact is that Bruce was back to business: E Street Band business. Early in the show, stage right, there was a huge rainbow-themed sign that said "Proud to Be a Bruce Springsteen Fan" [thanks to Ellen for the photo] but other than that display of solidarity, there was nothing explicit referring to recent events during the show in Columbus.
The River portion continues to be the jewel of the night, each band member contributing to the whole of the arrangement. What shows might have lost in spontaneity they've gained in highlighting the musicality of the E Street Band.
Tonight my focus was squarely on the contribution of Max Weinberg, on the eve of his 65th birthday. In the mid-'80s a friend of mine remarked that Max was the "most deliberate drummer in rock 'n' roll." He seemed to insinuate that Max was more metronome than backbeat. While I didn't agree, I knew where he was coming from. And that comment also came long before his time on the Conan O'Brien show, where playing every single night and in a different style, he picked up a swing and a swagger that has served Bruce well since 1999. When the band reformed and Bruce talked about E Street playing better than before, I always thought that applied most to Mr. Weinberg. Max services the song and not his own ego. When the band members come out on stage each night, waving to the crowd, watch Max: he literally nods his head, makes a sharp right, and jumps up on that drum throne which he doesn't leave except to take a five-second stretch during Bruce's harmonica intro on "Thunder Road." And while all of the band has to take it up a notch after the River portion of the show, I don't know if anyone else is as physical as Bruce night after night like the Mighty One. Bravo Max!
Columbus was full of signs, not much different than any other city. But in most other cities, save Seattle, request signs haven't had much of an effect. The River gets played each night, and then a pretty specific set of "hits" that have some rotation, but nothing that signs have significantly altered. Maybe Columbus is the show that will change that. Following "Wreck on the Highway" Bruce asked for requests: "Whattaya got there? Let me see your signs!" Bruce then pointed off to Little Steven's side of the stage and called two ten-year-old boys up. They forgot their signs, and he sent them back to get them. "What do these say?" remarked Bruce. "Growin' Up," replied one of the boys. "My Mom is so pissed I'm here tonight" read the other. And before you know it, a height-appropriate microphone appeared and Bruce sang "Growin' Up" with two young fans. What it lacked in pure performance was made up for with a wonderful interaction between Bruce and his younger fans.
Almost immediately Bruce referenced another sign he saw while on the back catwalk earlier during the show. "20 Years Old, My 20th Show, I Wanna Be With You." With that the band tore into one of the finest outtakes from Bruce's canon. Previously played on this tour only once, and clearly not rehearsed, it wasn't exactly a refined performance. The band chugged along, and Jake's solo was missed well into the instrumental. Springsteen and the band were good-natured about it, and Bruce was screaming for more cowbell. Getting towards the end of the song it was fun watching Steven try to conduct Max and the rest of the E Streeters. It was ragged but right. I'd take that off-the-cuff performance of such a treasure any night.
"That young lady right there is asking for this," Bruce said before tearing into a white-hot "Cover Me." And Bruce referenced a beautifully well-lit request sign for "Born in the U.S.A." before launching into the anthem, another song only played once prior on the River Tour. Again it came back to Max, really tearing it up during the "Born in the U.S.A." drum solo and bringing the song to its fiery conclusion.
So is this the start of a more open dialogue regarding what gets played after The River? Let's head on up to Auburn Hills Thursday night to find out.
For the full setlist and reports from this and other recent shows,
see our Setlists page
- April 13, 2016 - report and photographs by Bob Zimmerman

FANS HAVEN'T FORGOTTEN NC FOOD BANK
One of the unfortunate side effects of the concert cancellation in North Carolina: lost revenue for Second Harvest Food Bank of Northwest NC, one of the many "on the front lines" hunger-fighting organizations Bruce Springsteen supports at his concerts, which would have been collecting donations in Greensboro. However, virtual donation buckets have replaced physical ones: proactive fans have taken it upon themselves to donate regardless. In a Facebook post, the food bank says, "Thank you to the Springsteen fans who have made contributions to Second Harvest Food Bank over the weekend, honoring his commitment to helping to reduce hunger in the Triad, where one in four children are food insecure." Hat tip to Deb Robi, who suggests using the hashtag #BruceSentUs if you'd like to join the effort by donating here.
- April 12, 2016


NOBODY WINS UNLESS EVERYBODY WINS
The view from NC on the night of the cancelled Greensboro show
At this very moment, in a parallel universe, we're just down the highway in Greensboro, NC, reveling in the power and the glory of the E Street Band in concert, with friends and family from our homestate and from much farther afield. Over there, they're at "Born to Run" right about now. Of course, that alternate timeline is one in which Bruce Springsteen doesn't hold the conviction that nobody wins unless everybody wins.
Can't say there's much pleasure in not seeing a Springsteen show tonight, but the sense that this was an important stand to take rules the day. That mix of emotions is a common feeling in our fan community regarding the boycott, from a hardcore fellow traveler like Matt Orel ("I have never been prouder to be a fan, and I have never been happier with any 'statement from Bruce Springsteen.' Which is not to say that I am happy…") to E Streeter Garry Tallent ("I know it is a drag for many, including us. We must do what is right"). Springsteen himself offered "deepest apologies to our dedicated fans in Greensboro" while maintaining that — and this is no small allowance from such a rock 'n' roll believer — "some things are more important than a rock show and this fight against prejudice and bigotry.... is one of them." Surely there's a German word for something that is both the right thing to do and a terrible disappointment.
Consigliere Stevie Van Zandt, who's well-versed in the ins and outs of the boycott since his effective Sun City effort in the 1980s, spoke with the Associated Press on Friday night while in New York for the Rock and Roll Hall of Fame induction ceremony. Steve grants that a cancellation wasn't their only option: "We always try to find middle ground, and we considered it. Should we go there and make a statement from the stage? You consider those things, and then you realize that's just playing into their hands. That's not going to hurt enough… You have to hurt people economically to have them do the right thing morally — that's the essence of a boycott."
Speaking about the kind of discrimination in North Carolina's House Bill 2, (which, as Bruce points out in his statement, goes beyond the much-publicized bathroom provisions, also stymieing lawsuits against workplace discrimination) Steve says, "This sort of thing is spreading like an evil virus around the country, and we felt we'd better try and stop this right now.… [the boycott is] the power of the people, to do the right thing."
Backstreets is based in Chapel Hill/Carrboro, where HB2 has overridden local non-discrimination ordinances. (Greensboro, too, had such ordinances that were eliminated by the bill.) We've heard from a number of North Carolina fans over the past couple of days. Some, like Caroline, are primarily feeling the sting of a lost opportunity:
I am 18 years old, finishing up my freshman year of college. I have been a huge fan of yours since the first time I heard "Badlands" and "Spirit in the Night." I was extremely excited about seeing you for the first time at the Greensboro, NC show.

I can understand your position and respect your convictions, but I have to admit to being very disappointed as soon as I heard the show was cancelled. Although there may be other concert dates near me, it's not easy to get tickets! Plus, the date may not work due to my class and work schedule. I always hear people talk about how incredible your concerts are and I hope I'll be lucky enough to see you live before you decide to retire!
Others, like Sal from Mooresville, NC, aren't so forgiving:
Are you kidding me? I've been waiting to see this show for two months and he walks out on 20,000 of his core fans at the 11th hour? What about us working stiffs who travel, and pay hundreds to see the band? Nothing comes between me and my rock and roll, not even the Boss. Now he is just like the man himself, sticking it to the little guy to further his own personal agenda. I hope he never says "Tramps like us" on stage again, because he is not one of us anymore… he is the establishment now. I know if I tried this at work I'd be fired, so you know what…. I'm firing Bruce as my go-to rock solace. That's the last dime I ever spend on a ticket, a song or anything else from the Band. Thanks for 35 years of great memories; be well.
But most of the voices we hear — at least, after we stopped reading the tens of thousands of Facebook comments — are expressing feelings like whatever that German word might happen to be: disappointment in losing a show, but understanding — even happiness, pride, elation — that Springsteen and the band felt compelled to draw a line in the sand in this case, for the sake of civil liberties and equality. As Nils Lofgren tweeted, "It's about human rights."
Longtime fan Barry wrote in to us: "What Bruce did by cancelling his show says as much about who he is as his music does. When someone of that power, stature and popularity is willing to put it all in the line, knowing it will be unpopular with many, there will be risk. There will be fallout. But most importantly, it will be noticed. And that's why he did it. People will take notice."
There's certainly been plenty of local attention, with news traveling fast to fans and non-fans alike in the area. Reporting in Raleigh's News & Observer, David Menconi quoted our pal Steve Eisenstadt: "As disappointed as I am, this is why we love Bruce Springsteen. Not just his music, but his incredible political awareness and common sense. It's hard to accept that I won't get to see my favorite artist. But it's Bruce being Bruce." (And then there's our friend Brandon, not a Springsteen fan, whose immediate repsonse was, "There goes our Pearl Jam show." Remains to be seen, buddy.) But the boycott has also drawn a great deal of national and international attention to the issue, arguably far more than would a statement from the stage, with articles in the press from the New York Times, Washington Post, the BBC, Time and Newsweek, of course, and on and on. Seriously, "Springsteens toilet-boykot bliver hyldet."
But it's also prompted action. While some have posited that the only effect of the boycott would be to punish ticketholders, we've heard from numerous fans who were moved to add their voices to the protest. Like Gary from our Chapel Hill hometown:
[Springsteen's] decision made me do something that I had thought about for a while, which was to leave a long message with the governor's office about how I felt about the bill. No need to call my Orange County representatives, because they feel as I do. The bill goes a lot farther than just bathrooms, and my concerns have always been where does the legislature stop? Bruce's decision got me to voice my opinion to the governor, so good for him to spur someone on to a little action.

I'm not countin' on a miracle here, but maybe the legislature will reverse course, and Bruce will come to NC and play the most appropriate song for all of what is going on: "Land of Hope and Dreams."
Andrew from Carrboro (a friend and former Backstreets employee) penned a letter to Governor McCrory. "I'd been thinking I ought to, for weeks," he said today, "but this is what finally got me to do it." It reads in part:
I'm pissed. I was very much looking forward to seeing my all-time favorite performer, Bruce Springsteen, and his legendary E Street Band in Greensboro tonight. As I'm sure you've heard that show has been cancelled by Springsteen in response to HB2, the legislation you called for and signed into law without debate late last month. What you and so many insist on calling the Bathroom Bill has far reaching implications to all NC citizens, and yet you seem to be oblivious or unconcerned about this fact. You paint a picture of sinister bathroom behavior where there is none and ignore the blatant elimination of civil rights to the people of North Carolina. The shame you have brought to this beautiful state is immense, and the impact your decision has had and will continue to have will be measured in loss of revenue, jobs, opportunity, and identity.

But if you think I'm mad about Bruce Springsteen canceling his show — about not joining 23,000 fellow fans in Greensboro a few hours ahead of time to eat and drink and have a good time, watching the show as a communal force, inspired by the music and the words; about the lost revenue for the city, the coliseum workers, the downtown businesses, etc. etc. etc. — if you think that's what is in my craw, then you have once again mistaken the issues at hand. I'm mad at you, Governor, for removing rights from the people of your state, for disrespecting and disparaging our brothers and sisters in the LGBT community, and for caving to the worst impulses of your political party. Shame on you. I am proud to call myself a fan of Bruce Springsteen, more so today than yesterday, if that is even possible.

Tonight I'll be at home not spending my money in the marketplace. Hopefully, I'll find some time to listen to The River, and then at some point I will try to explain to my son why my plans were cancelled. I'll tell him that some men live in fear, spending their nights trying to hold others back, while others shine a light on those dark deeds. I'll tell him that we stand with the light; I'll tell him that nobody wins unless everybody wins."
Billy Glidden writes us: "Just a few years back, after the release of his recession-inspired Wrecking Ball, Bruce described the 'angry patriotism' underneath much of his best work. 'I have spent my life judging the distance between American reality and the American dream,' he said. With Friday's announcement, Bruce has once again judged that distance, and deemed it intolerable. And he's doing something about it.'"
And anyone can. As Springsteen later posted, "Voice your opposition of discriminatory legislation like North Carolina's HB2 by contacting your elected officials. Find them here."
- April 10, 2016

THE WILD, THE INNOCENT & THE NO-SHOW POST-SHOW
E Street Radio invites fans to discuss the NC boycott
By Friday afternoon, as usual, E Street Radio's Jim Rotolo was pretty much prepared for his regular Friday-night live all-request call-in show The Wild & The Innocent with Jim Rotolo. He already had chosen an interesting little topic— "What's your favorite post-Tunnel of Love track?" — and was ready to rock. Then came the official announcement of Bruce Springsteen's cancellation of his April 10 Greensboro, NC concert as part of ongoing anti-HB2 boycott efforts. Rotolo's show quickly morphed into something else: an engaging, respectful forum where fans across the spectrum of opinion, including more than a few from the North Carolina area, could weigh in on Bruce's decision. Quite simply, it was one of Rotolo's and E Street Radio's finest two hours, accompanied by a well-chosen-by-the-audience mix of some of Bruce's best music from 1992 onward, to boot. If you missed it, the replay airs this Sunday, April 10, at 10 am ET on Sirius/XM channel 20.
The discussion will continue, as well, on E Street Radio this Monday, April 11, beginning at 12 pm ET. Dave Marsh, Rotolo and the rest of the Live From E Street Nation gang already were planning to host a special Monday afternoon edition of their regular Wednesday morning call-in show, in order to have a post-show discussion of the Greensboro, NC concert. Now that the concert's been cancelled, Monday's show instead will offer fans another opportunity to discuss, debate and learn more about the decision to cancel Sunday's show and the reasons behind the cancellation. They'll also have a special call-in guest: veteran North Carolina-based activist Mandy Carter. Again, tune into Sirius/XM channel 20 to catch this and all of E Street Radio's other programming.
- April 9, 2016 - Shawn Poole reporting


APRIL 7, KANSAS CITY
With the last two shows struggling a bit with crowd issues (one way or another), The River Tour rolled into Kansas City, MO, on Thursday night looking to find its sea legs again and lock in with the audience. Springsteen appeared to make that connection his primary mission, greeting the crowd with an opening scream, "Kansas City, here I come!"
Bruce worked the crowd early and often during the River set, frequently playing to stage right and left during "The Ties that Bind," "Sherry Darling" and "Jackson Cage." As has been noted here however, The River is a difficult ask for the casual fan, and that left many upper-deck asses in their seats during the album performance, despite Bruce's best efforts to engage them.
Of course, Springsteen could have helped his own cause by name-checking the correct state. Twice he called out to "Kansas," perhaps not aware that the Kansas City he was performing in was on the Missouri side. But the man worked hard to bring the crowd to life during barnburners like "Out in the Street," "Cadillac Ranch," and "I'm a Rocker," reaching out to fans down front, heading to the second stage, using everything in his arsenal to reach the nosebleeds. The crowd gradually engaged with Springsteen throughout the night; it was just a slow burn.
Upper decks and wrong states notwithstanding, the band was firing on all cylinders, with Bruce in fine voice and the front of house mix sublime. Crowd response began to swell in the lower sections during "Hungry Heart," singing the first verse with great aplomb. Bruce's crowd surf was a larger concern, however, as the pit wasn't nearly filled enough along his typical pathway back to the stage. Sensing that potential danger, Bruce had to summon people from left and right sides of the pit to ensure his trip was a safe one.
There were no real surprises in The River performance beyond the return of the true "roadhouse" version of "Ramrod," which reemerged in Dallas and feels like an old friend has come home. Patti's absence also left some holes in the set's harmonies. But the real magic of the album performance is the details. Perhaps no longer shackled by the pressure of setlists made up on the spot or playing by the seat of their pants, the E Street Band can focus on subtleties and fine points that bring more power and emotional focus to the album. "Crush on You" is muscular and in-your face, "Independence Day" places you in the midst of that father/son conversation, "Drive All Night," with its powerful "don't cry now" refrain that builds to a heart-wrenching climax… these all have a power that really can't be captured in an album recording. While Bruce had intended to capture the essence of an E Street performance with The River, well… you still kind of just need to be there, because the two don't compare.
The biggest takeaway of the night is the presence and importance of Steven Van Zandt to these performances. While this is perhaps an obvious statement for obvious reasons, the Kansas City show, for me, reinforced the fact that he is the vital thread, the consigliere, even more than he has ever been. "Two Hearts" has always been a Bruce/Stevie staple, but there's a subtext that is poignant and central in the context of The River performance: "It takes two, baby… me and you."
It's Van Zandt's deft contributions that take songs to new heights and new interpretative places. His more resonant harmonies, his omnipresent interplay, his Dick Dale-esque solo on "Cadillac Ranch," his killer 12-string on "The River." Let's not forget about "Point Blank" — my god, "Point Blank" is just exquisite. A first-time observer noted that Steve's twangy Gretsch on "Point Blank" helped "give that song the darkness it deserves." So very true.
With The River, Bruce talks about the journey you take through life and the people you choose in your effort to do something good. Bruce and the E Street Band have been together more than 40 years, and Steven has been a primary catalyst and partner in that journey. It's wonderful to see their relationship celebrated within the context of this album. And for the record, this album performance is something that is not just good —it's great. KC gave it the standing ovation it deserved.
Turning the corner for the "house party" extravaganza, the first song slot in the B-set appeared to be an audible. Bruce, Steve and Nils were in heavy discussion for what ultimately turned into "Badlands." Many in attendance had hoped that a Merle Haggard tribute may have been in the plans, but alas, that was not to be. Perhaps Bruce had intended to do something different in that post-"Wreck" slot, but sensing that he was this close to putting this crowd over the top, he went for the sure thing.
From this point on, the energy level was akin to being at a completely different show. The response from the audience gave Bruce what he'd been striving for all night, so he put the pedal to the metal with "No Surrender," "Candy's Room," and "Because the Night." Nils's solo in the latter was so well received, Bruce asked him to jam out another just before the end of the song. The crowd ate it up.
Next up, a four-shot from Born to Run: "She's the One," "Backstreets," 'Thunder Road" and the title track. The sequence left some wondering if Bruce said, "Fuck it, we're doing this album, too."
"Dancing in the Dark" saw a young girl come to the stage who was celebrating a birthday. As they began to dance, the girl asked Bruce if her mother could join them onstage, and as it turned out, Mom looked an awful lot like a 1984-era Courteney Cox. Their enthusiasm was contagious, and Bruce gave them a turn with the song's chorus. With house lights up, the transformation was complete, all the tides had turned, Bruce had the entire place on its feet, and the energy continued to swell through "Rosalita," "Tenth Avenue," and "Shout." What began as a potentially low-energy show turned into a force awakened by night's end.
Springsteen wrapped the night, fittingly, with "Bobby Jean." The song, long attributed to his relationship with Van Zandt, is the perfect coda to one of Springsteen's lifelong journeys, taken with a friend, to do something good. No — to do something great.
For the full setlist and reports from this and other recent shows,
see our Setlists page
- April 9, 2016 - report and photographs by Neil van Harte

SPRINGSTEEN AIN'T GONNA PLAY NC
As announced today, the E Street Band's River Tour stop planned for this Sunday night in North Carolina has been canceled, "with deepest apologies to our dedicated fans in Greensboro." Tickets will be refunded at point of purchase. The cancellation is, as Bruce Springsteen wrote in a statement published this afternoon on brucespringsteen.net, "in opposition to those who continue to push us backwards instead of forwards," referring to our state's discriminatory House Bill 2.
A statement from Bruce Springsteen on North Carolina
As you, my fans, know I'm scheduled to play in Greensboro, North Carolina this Sunday. As we also know, North Carolina has just passed HB2, which the media are referring to as the "bathroom" law. HB2 — known officially as the Public Facilities Privacy and Security Act — dictates which bathrooms transgender people are permitted to use. Just as important, the law also attacks the rights of LGBT citizens to sue when their human rights are violated in the workplace. No other group of North Carolinians faces such a burden. To my mind, it's an attempt by people who cannot stand the progress our country has made in recognizing the human rights of all of our citizens to overturn that progress. Right now, there are many groups, businesses, and individuals in North Carolina working to oppose and overcome these negative developments. Taking all of this into account, I feel that this is a time for me and the band to show solidarity for those freedom fighters. As a result, and with deepest apologies to our dedicated fans in Greensboro, we have canceled our show scheduled for Sunday, April 10th. Some things are more important than a rock show and this fight against prejudice and bigotry — which is happening as I write — is one of them. It is the strongest means I have for raising my voice in opposition to those who continue to push us backwards instead of forwards.
- April 8, 2016


MERLE HAGGARD, "MOTHER LOVER," 1937 - 2016
Country legend Merle Haggard passed away yesterday of complications related to pneumonia. Haggard died on his 79th birthday, and tributes began rolling in as soon as the news got out. E Street band bassist Garry Tallent — who recently released his own rootsy solo album – was among the luminaries weighing in. Tallent tweeted, "Not a happy birthday after all. RIP Merle Haggard. One of the all time greats turned 79 today and then passes away."
Tallent's tweet is not the only connection one can find between Bruce and Merle. Bruce himself brought up the Hag in a 1997 New York Times interview. Referring to the period following Born to Run, Bruce said, "Country musicians like Hank Williams and Merle Haggard asked the hard questions I was beginning to ask myself." Springsteen also name-checked Merle in a list of "mother lovers" before debuting "The Wish" at the Christic Institute benefit in Los Angeles on November 17, 1990. Indeed, Haggard's closeness to his mother would seem to rival that of Bruce's with his own mom. One of Haggard's hits, 1969's "Mama Tried," was also mentioned by Springsteen in his 1998 interview with Charlie Rose.
Going deeper, we find that Haggard, like Springsteen, had a troubled youth in terms of his relationship with his father; Haggard's dad died when Merle was 9, sending him into an emotional tailspin that would manifest itself in Haggard being jailed, a situation from which he escaped 17 times, by his count. Both Springsteen and Haggard are recognized for consistently writing about and championing the working class. Indeed, Haggard has often claimed that one of his better known songs, "Okie From Muskogee" — a song Richard Nixon himself once asked Johnny Cash to perform — was often misunderstood and appropriated to suit the needs of political situations. Sound familiar?
One of the keys to Merle's widespread appeal may have been his stubborn insistence on not being tied down, stylistically or lyrically. For every seemingly reactionary number, like "Okie" or "The Fightin' Side of Me" ("If you don't love it, leave it," etc.), Haggard had songs like "Irma Jackson" (about an interracial love affair) and "Are the Good Times Really Over," a song whose lyrics long for a time "back before Nixon lied to us all on TV." Indeed, a song like 1981's "Rainbow Stew," with hopeful lyrics about "days when the air clears up" and a time when the "dream of peace comes true," seem about as far from the reactionary rhetoric of some of his 1970s singles as one could get.
In addition to his accomplished songwriting abilites, Merle was an inventive artist. He was no slouch as a musician either, learning to play the fiddle for his 1970 salute to Bob Wills, A Tribute to the Best Damn Fiddle Player in the World, and drawing attention to the blues-loving "Father of Country Music," Jimmie Rodgers, on 1969's Same Train, A Different Time, practically inventing the country music tribute album in the process.
By the 1980s, Haggard had also become an in-demand duet partner, recording hits with the likes of Willie Nelson ("Pancho and Lefty"), George Jones (a brilliant cover of Willie's "Yesterday's Wine"), and Janie Fricke ("Natural High"), all the while releasing his own great albums like Big City, Kern River, and Back to the Barrooms. The '90s and 2000s found Haggard recording critically acclaimed albums for labels as disparate as Curb and ANTI-, a sister label to punk rock label Epitaph, at a time when country radio was given to ignoring so-called "legacy artists."
In the end, it seems clear that Merle Haggard loved America and its people, choosing to focus in particular on the myriad day-to-day struggles the lower classes endured. Songs like "A Workin' Man Can't Get Nowhere Today" and "Working Man Blues" articulated the plight of those living paycheck to paycheck in a way that few others have, and Merle even touched on the aching pain of single parenthood in "Holding Things Together." Throughout, he tempered his socially aware numbers with the finest love songs imaginable.
Merle's last studio album was 2015's Django and Jimmie, an album of duets with Willie Nelson, with whom Haggard was touring when he died.
- April 7, 2016 - John Howie, Jr. reporting


TAKE ME DOWN TO THE HOSPITAL
The Dallas Morning News reports: "E Street Band members Nils Lofgren and Charlie Giordano play for patients at the Children's Medical Center of Dallas in Dallas Wednesday April 6, 2016. Lofgren and Giordano played as part of the nonprofit organization called 'Musicians On Call,' whose mission is to bring live and recorded music to the bedsides of patients in healthcare facilities. Dallas is the 18th city where 'Musicians On Call' has played for patients."

Learn more about the nonprofit at musiciansoncall.org, where you can also bid on River Tour ticket packages that support both Musicians on Call and the Kristen Ann Carr Fund.
- April 7, 2016


APRIL 5, DALLAS: DO WE HAVE ANY COWGIRLS OUT THERE?
At a Bruce Springsteen and the E Street Band concert, everyone expects the former's presence to be felt more than anyone else's in the building. Yet at their sole stop in the Lone Star state on this River Tour 2016, the Boss wasn't the lone star of the evening. Stationed mostly around the side platforms in the pit was an overwhelming bevy of Born in the U.S.A.-styled, dolled-up Texas "cowgirls," emphasis on the latter half of that term. They were indeed more girls than women, a majority of them probably a decade away from being able to enjoy an adult beverage, with none of them looking a day over 30. Yet even without liquid courage, these gals (who have made appearances at shows of Texas past, or perhaps it was their sisters) were complete balls of vivacity, and Bruce not only fixated on them but derived increased energy from their liveliness from the very first note, which in turn further ignited the crowd. On a night when the setlist provided no real surprises — only one song differentiated it from OKC's two evenings prior — these young ladies certainly helped set the night apart. Mostly for the better; sometimes, regrettably, for the worse.
But since it was primarily those lucky enough to make the pit who were affected by the negative side of their antics, let's first focus on all of their positives that the majority of those inside Dallas' American Airlines Center enjoyed throughout Tuesday night's show. From the moment Bruce walked onstage, he couldn't help but notice the young mademoiselles joyously waving their red bandanas at every single song. He played a majority of the songs to them, which led to a lot of blocking changes for The River performance; he led Stevie and Jake to a side platform to elicit some loud "Texas-style party noises" from them before playing to the rear seats.
Bruce first addressed them directly at the end of "Crush On You," when he grabbed one of their signs to show the crowd: "We got on a crush on you, Bruce" was printed on a — you could have guessed it — pink sign. Before launching into another fun performance of "You Can Look," he yelped at them, "Shake those hankeys!" referring to their bandanas. Speaking of yelping, Springsteen walked to the side platform again during his "I Wanna Marry You" introduction where he repeated his OKC question, "Do we have any cowgirls out there?" As Bruce held his microphone toward the gaggle, the crowd was greeted with an unsurprising yet alarmingly loud chorus of squeals. He responded, "I'm not even going to ask the cowboys, because you can't top that."
What also couldn't be topped on Tuesday night were the southern-style rockers on the second half of The River. After a particularly haunting "Point Blank" that felt more like a spoken word performance, a rollicking "Cadillac Ranch" — a landmark located around 350 miles away from Dallas — turned the arena into a hoedown, featuring Bruce and Jake side-stepping and sashaying to the cowgirls' platform during the sax solo. The performance clearly put Bruce in a rocking mood, which had him shimmying behind the rear-pit cameraman during "I'm a Rocker."
The highlight of the night may have been an absolutely raucous "Ramrod," perhaps the best of the tour. Imploring the crowd to "shake your ass to a little roadhouse music," Bruce brought back a lot of his older, more extended "Ramrod" shtick. Instead of launching right into this evening's particularly strong "Boss Time" solo, Bruce revived a stretched-out "What time is it?" call-and-response with the crowd. Even Garry was feeling the roadhouse vibe: he pulled off an impressive "foot to the floor" shuffle, moves no one thought such a cool and collected cat could bust out.
The post-River portion of the set largely mirrored that of OKC (the night's only substitution was "Backstreets" in for "Lonesome Day"), but those cowgirls were still making their presence felt and setting the night apart. The added vitality that they instilled in Bruce throughout the night obviously had a powerful effect on the crowd, too, which was much more vocal than those who were greeted to basically the same show in OKC. Bruce complimented the crowd multiple times, from proclaiming, "Dallas rocks!" at the beginning of the encores to exclaiming, "You put on a hell of a show!" at the end of the evening.
But before the end, in a move that may have been even more predictable than the first 21 songs of the show, Bruce invited the cowgirls on stage for "Dancing in the Dark." One came up, and then another, and then more from the other platform, and then it was just a flood, quickly making up for any gender imbalance from Patti's absence. Though security was trying to limit the numbers, Stevie just kept imploring more and more to crowd around Bruce. And boy, did they ever. I'm no Bruce archivist, but I feel safe saying that this night featured more dance partners than any show in E Street history. Just look at this madness:
By the time Bruce and Co. managed to wrangle all of them offstage — which took an excessive amount of time, especially since none of them showed any interest in leaving — the Boss had a rare look on his face: exhaustion. "Oh my fucking God," he concluded, using language that the girls' mothers might not approve of, "That was a lot of fucking children." Bruce mostly left the children behind for the rest of the show, only jokingly inviting them back on stage for "Shout" before finally referencing them in his usual, "We ain't got nothing left" spiel by saying, "The little kids took everything out of me!" Stevie brought over a cold towel and pretended to help a ragged Bruce off the stage before launching into an increasingly customary "Bobby Jean" finale.
Yet before I reach the finale of this recap, I have to address the negative aspects of the cowgirls' presence, which the picture above sort of captures; finding Bruce is like playing "Where's Waldo," largely because they seemed concerned less with letting Bruce do his job and more with being in the spotlight themselves. Though up to that point Bruce probably only saw their unwavering energy, it was apparent to many pit-goers that they were more consumed by getting noticed and being invited onstage than by the music itself. Nobody wants to bemoan their enthusiasm, but it definitely seemed odd that they were waving their bandanas just as vigorously for "Independence Day" as they were for "Hungry Heart" (especially since most stopped waving them after "Dancing in the Dark"). There was even an obnoxious "I ♥ U. Pull us onstage" sign that blocked other fans' view for much of the night. They chatted loudly through the slower songs, some even doing so on their cell phones. They actually may have been talking to their friends on the opposite platform — throughout the night a lot of the girls were running back and forth based on where they expected Bruce to go next, often making the floor feel more like a playground than a rock concert. A few were applying more makeup in the middle of "The River."
Though I don't condone any of this behavior, it by no means ruined the show; anyone who may have been bothered was free to move to a different spot in the pit less overrun with cowgirls. And I think it's important to stress "most" and not "all" in describing their behavior. We simply can't make definitive statements about their intentions, and it's unfair to group the entire mass of cowgirls together as one unified entity. There was immediately plenty of chatter on the message boards, and while some of these kids may have been at the concert for the "wrong" reasons, it's really a matter of conjecture. There may have been some real fans in the bunch, and perhaps being on stage with their idol was one of the highlights of their lives. This tour has seen Bruce time and time again focusing on the younger members of the crowd, for as he nightly looks back at his own youth on The River, he's also looking ahead at how the youth of today will be the ones to take his music into the future. It was fitting that he changed his blocking for "Fade Away" so that he sang parts of the song on both of the cowgirls' platforms; some of these girls will be the reason his music doesn't fade away for future generations. It may have felt like a playground at times, but Bruce definitely played better because of them.
Even though he was surrounded by an inordinately youthful pit, Bruce showed his age twice by amusingly forgetting the lyrics to "The River" and "Thunder Road," songs that have been played every single night of this tour. Maybe he was just distracted. But for the most part, Dallas witnessed Bruce in spirits that defied his age, largely thanks to the cowgirls. Some in the pit may disagree, but most people in attendance at any Bruce Springsteen and the E Street Band concert would happily accept some annoying behavior in the name of seeing such a phenomenally spirited performance.
For the full setlist and reports from this and other recent shows,
see our Setlists page
- April 6, 2016 - report and photographs by Steven Strauss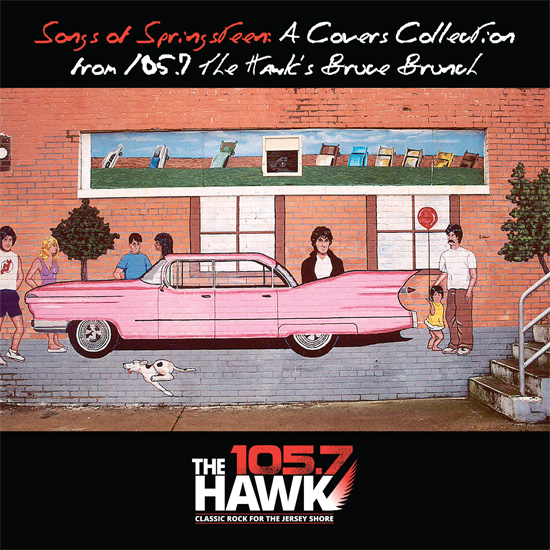 SONGS OF SPRINGSTEEN COLLECTS LIVE COVERS FROM BRUCE BRUNCH
On limited 10-inch vinyl for Record Store Day (4/16), pre-order now!
DJ Tom Cunningham, host of the weekly Bruce Brunch radio show, has quite the treat up his sleeve for Record Store Day. He announced it on Sunday: "Through the years, as we've done our live broadcasts and had guests in the studio, there have been some amazing performances of Bruce Springsteen songs on this very program. It's long been a dream of mine to get them out, into your hands."
Now, he's made his dream come true, with his labor of love as a limited-edition release on 10-inch vinyl.
Songs of Springsteen: A Covers Collection From 105.7 The Hawk's Bruce Brunch, due April 16, collects six covers performed exclusively for the radio show: "Hearts of Stone" by James Maddock featuring Danny Clinch; "Dancing in the Dark" by Passenger; "Tougher Than The Rest" by Emily Grove; "I'm Not Sleeping" by Joe Grushecky; "If I Should Fall Behind" by Bobby Bandiera; and "You Can Look (But You Better Not Touch)" by Willie Nile.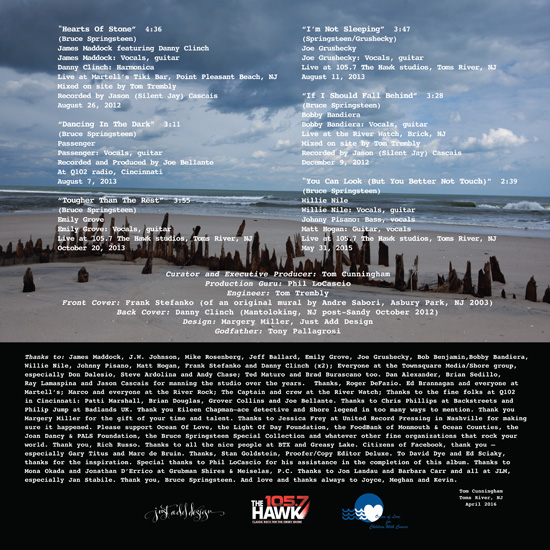 The 10-inch, featuring front cover photography by Frank Stefanko and back cover photography by Clinch, benefits the Ocean County non-profit Ocean of Love.
It's vinyl-only, with just 500 copies pressed — "once it's gone, we ain't making any more!" says Tom — and distribution will be limited, but we'll have it here at Backstreet Records. Pre-order ASAP to guarantee yours, and listen to Tom's announcement below from Sunday's program. He's excited, and so are we — congrats, Mr. C, on making it happen!

- April 5, 2016 - thanks to Gary Titus for the audio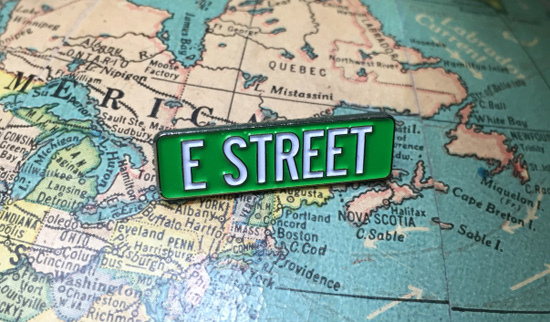 NEW "E STREET" PIN FROM PRINT MAFIA
Our friends at Print Mafia in Bowling Green, KY are fellow Bruce fans with some kick-ass stuff coming out of their shop over the years, including several official Springsteen show posters. Check out the latest addition to their catalog: a handsome and hot 1-inch metal pin that'll mark you as a fan no matter where you shuffle.
- April 5, 2016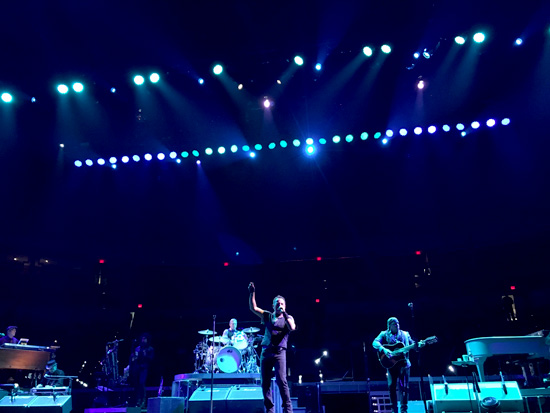 APRIL 3, OKLAHOMA CITY
Bruce Springsteen and the E Street Band touched down in Oklahoma City on Sunday for a rare visit: It was the band's first gig in Oklahoma City proper since 1975, and the first in the region in almost as long, dating back to a December 1978 appearance in nearby Norman, home of Oklahoma University. Perhaps as a result of the long drought, ticket demand was soft and tickets were as easy to get as they will ever be. In the days before the show, tickets were selling on StubHub for as little as $7 — the actual price of that show in 1978, and less than tickets on the original River Tour. Outside the arena concertgoers were literally giving them away.
Those who ventured inside were treated to the type of show that has made this band legendary: non-stop energy and musical perfection, along with the usual assortment of Bruce's antics. As he has said since the beginning of his career, Bruce takes his responsibility to the audience very seriously, because there may be someone who has never seen him before or had to scrape together the money to be there. During his romp around the floor during Hungry Heart, one audience member proved his point: a woman who had the opportunity to slap Bruce's hand was immediately overcome with emotion, bursting into tears and nearly fainting.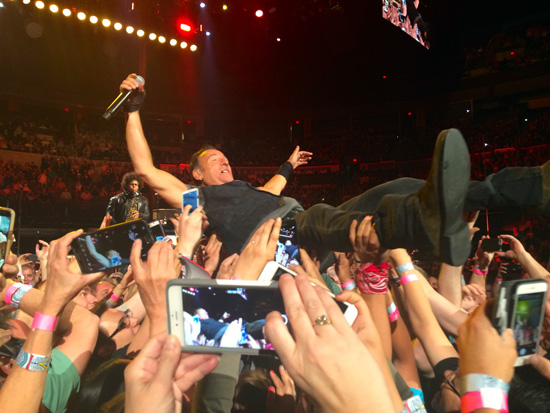 That said, I don't think I've ever been at a Springsteen show with less crowd energy overall. There were people in the back who never stood and didn't even applaud at the end of The River or even at the end of the show. Sometimes magic happens when Springsteen plays a show off the beaten path, for a fanbase that's been deprived; there's no such story on this Sunday night in Oklahoma City. You could tell Bruce was struggling to supply the energy from the very start — and, the professionals that he and the band are, they kept it up — but the extra elevation that occurs when a crowd gives it right back to them wasn't happening here.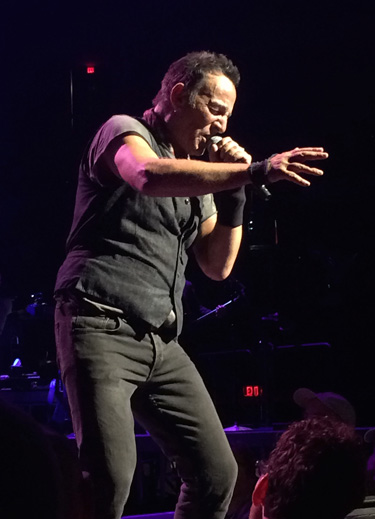 Regardless of how many fully appreciated it, 29 shows into The River Tour, the band's command of the album has reached near-perfection, and in Oklahoma City, a rested Springsteen was in fine voice as well. The 20-song album now flows like a single piece, a rock opera, if you will. There's no mistaking that the hopeful singer seeking ties that bind in the opening song is the same one sitting in the dark in the final song, scared by the rending of those ties caused by a fatal accident. Likewise, you can imagine the woman trapped in the "Jackson Cage" being the same one whose life has reached a breaking point in "Point Blank." During his intro to the expanded "I Wanna Marry You," Bruce explains that the song is a dream of "love without consequences," an emotional set-up for what's about to come next: the unplanned pregnancy of "The River" that has the singer asking, "Is a dream a lie if it don't come true?"
As a fan of the song, I'm glad Bruce has done a 180 on "Crush on You." At the start of the tour, he said that it was the one song he wished he hadn't included on the album and was introducing it during the show by sarcastically calling it "my masterpiece." Now that it's being performed nightly in the midst of a crucial hard-rockin' segment of the album, it gets its proper due, with Springsteen shouting, "Oklahoma City, I've got a crush on you!" as he launches into the song.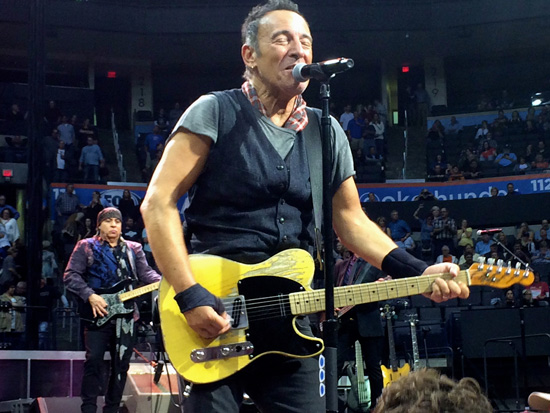 No sign-wavers were rewarded with requests, but a chorus line of dancers made their way to the stage during "Dancing in the Dark": a woman whose sign said, "Dance with my Navajo family," another whose sign said, "Dance with me, Jake," and a father and son who enthusiastically made their way all over the stage, with the dad taking the opportunity to say hello and grab hugs from Soozie, Nils, Steve and Garry, while the son took up a guitar and joined Bruce and company up front. For these lucky fans and the thousands who were on their feet singing along and pumping their fists, it was a long-awaited night with the Boss that they'll never forget.
For the full setlist and reports from this and other recent shows,
see our Setlists page
- April 4, 2016 - report and photographs (2,3,5) by Jon Greer - additional photos (1,4) by Scott Neal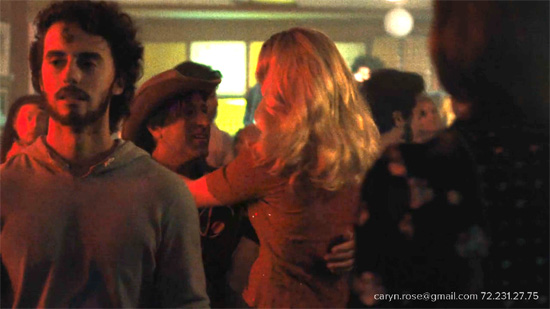 WATCH THAT MAN
Springsteen finally makes an appearance in Scorsese's Vinyl
Given that the show is set in the music business in New York City during the summer of 1973, it was only a matter of time before Bruce Springsteen would have to appear in Vinyl, the new HBO drama from Martin Scorsese and Mick Jagger.

In Sunday's episode, we go to Max's Kansas City where none other than the Wailers are onstage — all Springsteen fans know that the Wailers opened for Bruce at the legendary venue in July of 1973, so your Spidey senses will immediately be tingling.

Devon (Olivia Wilde) and Ingrid (Birgitte Hjort Sorensen) are walking through the club when Ingrid stops to greet a friend: "Kinky!" she says, hugging a short Texan in a cowboy hat. "You know Bruce?" he asks, and we get about 15 seconds of a scruffy '70s Bruce look-a-like walking through the room. And luckily, that will be the entirety of Bruce's appearance in this episode of Vinyl.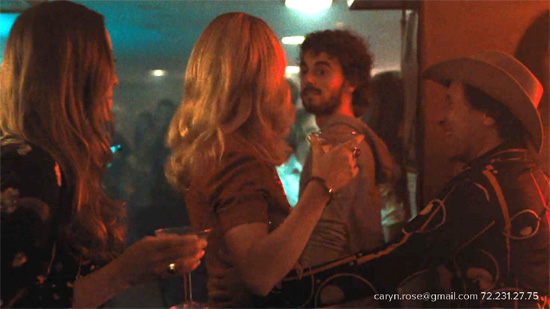 It is curious that, for all the action that happens in the series of scenes at Max's, the show uses three songs from the Wailers, instead of trying to either use an actor to portray Bruce with actual Springsteen music in the background (sort of what they tried to do with David Bowie), or tried to fake it badly, like they did with Robert Plant. Given that track record, probably a wise move.
Backstreets' own Caryn Rose has been fact-checking Vinyl from a music history perspective each week for Salon. You can follow her reports on the series here.
- April 3, 2016


MARCH 31, DENVER
Minutes after Bruce Springsteen and the E Street Band (sans Patti) bounded onto the stage of Denver's Pepsi Center for their first stop on The River Tour's Midwestern swing, Bruce had a special introduction for the Mile High City. Referencing the state's most popular local resource during "Meet Me in the City," Bruce posed a new question to the crowd: "What I want to know is… WHERE ARE THE MARIJUANA GUMMY BEARS?!" Receiving an expectedly huge ovation – including many around me offering their own personal stash to the Boss – the joke set the whole mood for the night: Denver was an out-and-out party, with Bruce, the band, and the crowd on a pure rock 'n' roll jovial high from beginning to end.
Denver is undoubtedly a Music High City in addition to being the Mile High City, and it showed in the audience. Though properly loud and participatory throughout the night, perhaps even more importantly, they understood that a loud crowd isn't necessarily a good crowd: the entire arena fell completely silent for the many beautiful ballads contained on The River. This temporary, appropriate quiet seemed to rejuvenate the crowd throughout the night, allowing them to come back with even more energy for the conventional rockers.
On the final night of Bruce and the Band's dump-destroying run of shows at the Los Angeles Sports Arena, fans added a new dimension to "The Price You Pay" by contributing their own "oooh-oooohs" to match the song's instrumental introduction and conclusion. Bruce clearly liked this addition, as he's begun chanting it himself to get the audience to join him at every show since — and in Denver, the entirety of the Pepsi Center was communally chanting the beginning and end of "The Price You Pay" at the top of their lungs.
The fact that Bruce is now incorporating the Los Angeles audience's impromptu chant into his nightly performance of "The Price You Pay" further emphasizes how much importance he places in the type of crowd participation that was so electric in Denver. We're an integral part of the magic that is a Springsteen concert, so much so that we can actually change how he performs a song every night. Another case in point: the "fireflies" that the crowd now provides nightly with cell phones to illuminate the entire arena during "Drive All Night." I'm not 100% positive about this (enunciation has never been Bruce's forte), but I'm fairly sure he added a "stars in the night" line during the "Dream Baby Dream" portion of the song.
Bruce increasingly fed off that participatory party energy, which was reflected in his post-River setlist choices. A sign request for the sha-la-las of "Darlington County" started things off, a rollicking performance that included Bruce kissing a girl in the front row and haphazardly tossing his mic halfway across the stage to one of the tech guys who miraculously caught it; elongated, dual sax and violin solos from Jake and Soozie; and a finish that featured Bruce briefly cutting out the band so he and Stevie could get one last guitar riff in.
All of the non-tour staples called for audience participation of some kind, from "She's the One" to "Backstreets": during the latter's interlude, Bruce intoned, "on the Backstreets until the end… until the end… until the end…" over and over and over again." It of course ended with Bruce giving his all to the song's signature howl into the void, and on this night in Denver the crowd joined in mightily, reminiscent of the earlier "Price You Pay" chant. Finally "Bobby Jean" was a post-"Shout" reward to the crowd from Bruce, who just kept yelling "I! CAN'T! STOP!" without a single trace of altitude fatigue.
For the full setlist and reports from this and other recent shows,
see our Setlists page
- April 1, 2016 - Steven Strauss reporting - photographs by Alan Chitlik

NEW RELEASE FRIDAY: WHAT I'M TALKING ABOUT HERE IS...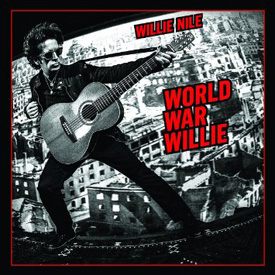 War! Good god, y'all: it's World War Willie, the new album from Willie Nile, out today. As he describes it, "It's a full on rock album complete with fire and brimstone, love, passion, humor, revolution, rebellion, heart, more love and passion, politics, poetry, piss and vinegar, the occasional offensive diatribe, did I say humor, along with some guitars, drums, bass, pianos, glockenspiels, huge choirs, lowlifes, tightrope walkers, gypsy cabs, and more heart, plus some new twists and turns along the way. Needless to say, I'm very excited about it."
Today at americansongwriter.com, Hal Horowitz concurs: "Those disappointed, or just confused, by 2015's ballad-heavy, piano-based If I Was A River can rejoice as Nile reverses course, cranks up the volume and tears into these tunes with the same hunger, passion and exuberance he displays in his legendary sweat-soaked shows."
Pick up a copy for yourself at willienile.com. Willie celebrates the new release with an in-store performance and signing tonight at Vintage Vinyl in Fords, NJ, and tomorrow (Saturday) night with a big album release show at the Stone Pony. Tickets available from Ticketmaster.
- April 1, 2016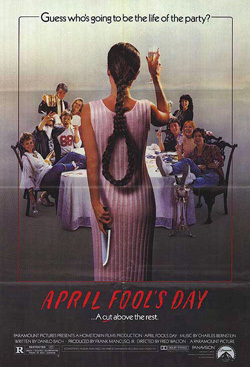 THROWBACK APRIL FOOLS' DAY:
SPRINGSTEEN! STILL THE BOSS
Something different for April Fools' Day 2016: a look back at a real bit of pop culture, from 30 years ago this week. The underrated 1986 slasher film April Fool's Day was released just in time for the titular day that year (it airs tonight on Starz Entertainment's Encore Suspense channel and also is available On Demand and online.)
While nobody's ever gonna confuse it with Citizen Kane, April Fool's Day was nonetheless a rather clever entry in the sub-genre of holiday-themed slasher flicks (Halloween, Christmas Evil, New Year's Evil, My Bloody Valentine, etc.) It also was released while '80s-style Bossmania was still in full swing, during the afterglow of the Born in the U.S.A. Tour that preceded the release of the Live/1975-85 box. Which explains the clip below: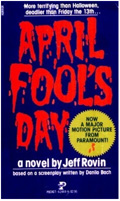 Jeff Rovin's novelization of April Fool's Day, based on Danilo Bach's screenplay, is notably different from the film, especially in how it ends. Even the Springsteen reference plays out a bit differently in the book:
Skip walked over, his eyes lighting briefly on a Bruce Springsteen badge pinned to the brim of Hal's hat.
"You like Bruce?" he asked.
"Springsteen? Yeah, he's still the boss."
Thirty years on, as Bruce continues to raise the bar on what it means to be a vibrant, active and popular musician well into his 60s, it's more true than ever. Springsteen? Still the boss. And that's no joke.
- April 1, 2016 - Shawn Poole reporting


THE RIVER WAS ABOUT TIME
The River Tour's Night 3 in Los Angeles — the last-ever event at the L.A. Sports Arena — from soundcheck to load-out, in 22 seconds. Time lapse by Andrew D. Bernstein. Also see his memories and photography from the venue here, and his bird's-eye view of Springsteen on 3/19/16 here.
- Updated March 31, 2016

BTX EXPERIENCING TECHNICAL DIFFICULTIES, PLEASE STAND BY
BTX is currently unavailable, and we are investigating the cause. Thanks for your patience as we work to get it back up and running as soon as possible.
Update: Back in action again as of this morning; we apologize for any inconvenience.
- Updated March 31, 2016


MARCH 28, NYC: A BLAST OF SPRING IN THE BIG ROOM
No, it's not a 40th anniversary reenactment of the Chicken Scratch tour, which took its name in part from a meandering itinerary. But Monday's show at Madison Square Garden fell between gigs a week apart in Seattle and Denver.
Routing was just one unusual element of the New York show, rescheduled after a January snowstorm forced a postponement. It was a River show, all right, but the audience sounded primed for what came after, which was something of a blowout performance. The Garden was packed, and the floor looked especially full. And the sound system wasn't just clear, it was loud: that gave the advantage to the rockers all night long. Nevertheless, the audience was slow to warm up to the River material. On "Sherry Darling" Bruce Springsteen and Patti Scialfa danced a cha-cha down front then shared a mic with Steve Van Zandt: hey, hey, hey, what do you say, New York? Bruce walked back to work the audience behind the stage, leading to an extended vamp as the band kicked into "Jackson Cage." On "Independence Day," Springsteen paused during the introduction but kept his composure and sang a slightly changed-up vocal. On this song the volume paid its first dividend: Soozie Tyrell's fiddle part was clearly audible. With a steady musical performance everywhere else on stage, too, this song was a standout.
By side two, the arena began to come around. A stress test ensued during the crowd surf in "Hungry Heart," as Bruce dipped below the surface more than once. Then he got turned around, and it appeared he might reach the stage feet first. "You can do it!" he told his supporters. And they did. By "Out in the Street," the audience had joined in fully at last. The E Street Band made this stretch of rock music glorious.
That was the vibe in the Garden: it was a big loud rock show, played as if the E Street Band were mere sprouts, trying out alongside acts they admired who'd actually come along before in the building, like The Who or Led Zeppelin. Perhaps that's what Springsteen had in mind when he told the crowd at the outset that "we're going to make it up" after having to scrub in the winter.
On "Ramrod," Springsteen grew visibly distracted, his gaze fixed to a row of seats just up the stairs from the floor, stage left. Soon, everyone else looked, too, and saw his mom, Adele Springsteen, rockin' the roadhouse and smiling non-stop. Bruce made his way up to her seat for a few measures, ending with the two of them shaking it for all to see. "She's still got the moves," Bruce said. (He introduced her at the end of the show, and she rightfully earned applause alongside the E Street Band.)
The ballads had to compete for space, and that resulted in a performance of The River that wasn't quite even. It didn't stop Bruce and the band, however, from building "Drive All Night" to a monumental ending. It was a beautiful, all-together-now moment, and the whole place rose as fans turned on cell phone flashlights and waved them liked lighted metronomes. That was the high point for the album, and if the band and audience had to search for a place for it to coalesce, they could have hardly done better.
A rousing "Badlands" led the B-set, and the crowd greeted it with a roar of its own. Stay for the hits, it suggested, and get The River as a free bonus first. That's how this performance unfurled, and there was simply no fighting it. A flubbed lyric, as in "Brilliant Disguise," or a miscue that led to part of a verse missing in "I'm a Rocker" were inconsequential: Bruce was loose and gained momentum as the night went on. Still, introducing "Stolen Car" as "a love song" raised an eyebrow, as did his recounting a different story than he'd told earlier in the tour about where he and Patti Scialfa first got together.
But there was no mistaking geography when Roy Bittan began to play the introduction to "Meeting Across the River," its first appearance on this tour. Once again, the sound system helped out immensely, as Garry Tallent's bass notes rolled out to gird the piano part. It was a striking version: as it concluded, Springsteen let the ovation play out, and the dramatic pause became part of the show. "Jungleland" followed, and it sounded sublime. If Bruce is holding this one back for nights that he deems special, he and the E Street Band are matching it with performances that count.
Springsteen played to his mom again during "Thunder Road," then thanked a "hell of a crowd, inspiring for us." The encore that followed felt like one: loud, fast, and furious. And fun. A trio of partners made for a messy attempt at the vocal coda for "Dancing in the Dark," but Bruce pivoted quickly, making lemonade from it all the same (and a YouTube moment, too). "Rosalita" had him going back and forth between "New York!" and "New Jersey!" several times (New Jersey won this time). And if he couldn't find the right chords at first for "Shout," no matter: this show's lone soul number (okay, save for "Fade Away") still made for a stomping finish.
For the full setlist and reports from this and other recent shows,
see our Setlists page
- March 29, 2016 - Jonathan Pont reporting - photographs by A.M. Saddler

ON THE BACKSTREETS, 3/24/16
By Charles R. Cross
There were many surreal moments about Bruce Springsteen's Seattle show — now widely suggested as the best of the tour by those in the know — but for me the strangest part of the night happened an hour before the show even began. My 16-year-old and I had picked up our tickets and dutifully gotten in the long line to get into KeyArena. KeyArena was once called the Seattle Center Coliseum, back when the Beatles and Jimi Hendrix played there in the '60s. It also had that name in October 1980, when Springsteen and the E Street Band's "original" River Tour stopped here. So this night was a reprise of sorts.
As we waited to get in, my son Ashland peppered me with questions, which he often does. He's got a better memory than I do, and I often forget the stories of my life that I've told him, so he's frequently asking me more details about an event that I didn't know he was even aware of. As the line moved up, and we were 100 yards away from the entrance, he remembered something that happened two decades before he was born, but that I'd told him about a few years back. "Isn't this where you standing handing out the first issue of Backstreets?"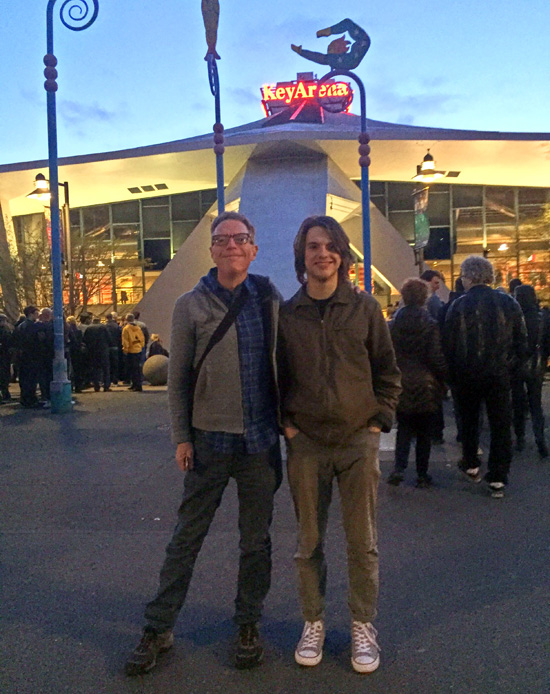 The line had stalled at that particular moment, and we were standing directly at the spot I was positioned in 1980, handing out free copies of the first issue of Backstreets to those waiting to get in to that concert. Ashland and I ended up in that same exact place. We paused, delaying the line, and asked someone behind us to snap a photo. They took a blurry picture, perhaps because they had no idea how consequential that particular piece of asphalt had been to my life, and because they wanted to hurry to get in.
Ashland also recited back a telling of that October day, 35 years ago: "And this is where you suddenly looked up, and saw all those thousands of issues of Backstreets thrown away and littered. And you had to walk by all those." Yes, this was that spot, where I felt disheartened that this fanzine I'd printed up, essentially as a gift to other fans, had been tossed away by the thousands, wadded up and floating away on a rainy fall Seattle day. I was wet and cold at that point in 1980, and my then-girlfriend and I walked past those thrown-away copies and into the venue. There was a reward inside: we had front-row dead-center seats in an era when there was no pit or GA. Bruce spent what seemed like most of the concert standing on the ground in front our seats, including singing "Crush on You" to my then-girlfriend (who, by the way, I would later marry, and in a twist out of Tunnel of Love, would also divorce).
That piece of turf in front of KeyArena where I stood is hardly hallowed ground, but it was where Backstreets started. There is a part of our history, though, I haven't always told correctly: Backstreets #1 was called #1 more sarcastically, as a joke. At that point I didn't think I was starting a fanzine that would be read decades later, or that would have a large circulation, or that would ever had a reach outside the Seattle concert goers of that particular concert. The #1 was tongue-in-cheek.
If I knew that the first issue would end up so collectible, or in a bizarre way important, I certainly would have picked up those copies on the ground. When I tell people I do not actually have a single copy of the original issue of Backstreets, I am not kidding. I saved very few back then, and those that were saved were sold over the years, trying to prop up the operation during the many lean years. But I have the memories, and memories are the only thing that keeps youth alive.
At the time of that first issue of Backstreets, I was a rosy-cheeked college kid, studying English at the University of Washington, and the idea that I would edit and run a Springsteen fanzine was absurd. I wanted to write books, which I would eventually do, but I also wanted to have a huge record collection. When Backstreets actually began as a "real" fanzine, with #2, months after that Seattle 1980 show, I saw the magazine almost entirely as a way to connect with other record collectors. It was 1984 when the newsprint fanzine turned into a magazine. The timing then was fortuitous with Born in the U.S.A. just around the corner, and superstardom due for Bruce. No one at that original River concert could have predicted that stardom, certainly not the thousands of people who threw away their free copy of Backstreets #1. Most people didn't actually throw it away: they used it to cover their heads from the rain, which ruined them too.
When the March 2016 version of The River tour let out last week — just a few minutes before midnight — we walked by the Mercer Arena on the way to our car. This is a now-shuttered facility on the Seattle Center grounds that hasn't been used for concerts in ages. But it was there (December 20, 1978) when I saw the best Bruce Springsteen concert that ever happened in Seattle (and ever will happen). That show, legendary beyond belief in part for all the crap I've written about it (Springsteen came out after the show was over to play more, when half the crowd had left, and the P.A. system had been dismantled, yadda yadda) was what inspired Backstreets. "I wanted to write about that show," I told my son, "and my friend Rex had some great pictures that I wanted people to see." So I started a fanzine basically to run one article, with a couple of photographs. That was birth of Backstreets.
The March 2016 show was better than my expectations — my son argues that the Wrecking Ball tour was better, "because it was more soulful," and he has a point. But neither 1980, 2012, or 2016 touched 1978. "After that 1978 show got out," I told my son, "it was so late that Seattle's monorail was no longer running. Which meant I couldn't get back downtown to catch a bus home." I was a penniless college student at the time, barely able to afford a few bucks for a ticket, much less a cab ride home. So on that December night in Seattle, I walked home. I remember it taking forever, but now Google Maps can tell me it was exactly 5.7 miles from Mercer Arena to the University of Washington, and it should have taken an average walker and hour-and-a-half.
We did not walk home last week. I handed my 16-year-old — a student driver with a learner's permit — the keys. At the end of the River set Thursday night in Seattle, Springsteen had attempted to give meaning to what he'd done with his career, and every parent understood his subtext. If you've seen the tour, you've heard it, since he essentially says the same thing about time clicking away in every city: "You walk alongside of your own mortality to do your work, to raise your family, to try to do something good."
There was a point in my life when I was prouder of Backstreets than anything else I'd accomplished. Later, I think I was prouder of my magazine The Rocket, which helped create the Seattle music scene, and then later still I may have been prouder of the books I've written. But one achievement makes all those professional ones look inconsequential.
That achievement took my car keys and drove us home. We went together, roughly, on the same route that I had once walked alone. Unlike some of my life, it was not a dark ride.
- March 28, 2016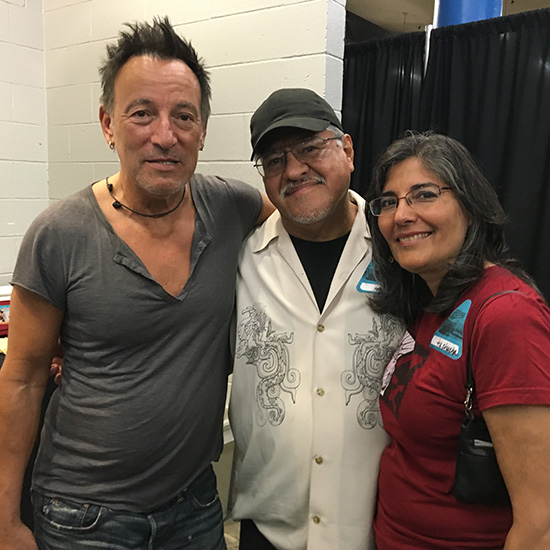 THIS POEM THAT I WROTE FOR YOU
A special essay from L.A.'s Poet Laureate Luis J. Rodriguez
Among Bruce Springsteen's special guests during his final L.A. Sports Arena concerts last week was Luis J. Rodriguez, the official Poet Laureate of Los Angeles. Rodriguez and Springsteen have known each other since 1984. In a 2007 Rolling Stone interview, Bruce recalled, "I met a fella named Luis Rodriguez, a writer and a poet, who had a... cultural center in Los Angeles. These are people I've known and worked with for a long time. These are the people trying to fill the holes that should long ago have been filled by government. Those are the people who give me optimism. They're relentlessly hopeful, and they face it all on the front lines on a daily basis."
The benefiting organization for Springsteen's final L.A. Sports Arena show was Tia Chucha's Centro Cultural & Bookstore, co-founded by Luis and his wife, author-activist Trini Rodriguez. Dave Marsh's photo above beautifully captures Bruce's reunion with his old friends backstage at the Sports Arena on 3/19/2016. (Tia Chucha's, incidentally, was named after one of Luis's beloved aunts.)
Backstreets is honored to present a special essay by Luis J. Rodriguez, in which he writes in poetic detail about his friendship with Bruce Springsteen and what Bruce's music has meant (and continues to mean) to him, his city and his country. Click here to read "Springsteen's Post-Industrial Songs of Loss and a Haunted Los Angeles."
- March 27, 2016


MARCH 24, SEATTLE
More than 35 years later, the 2016 River Tour returns to the venue where Backstreets was born on the original River Tour in 1980, Seattle's Key Arena (then the Seattle Center Coliseum). From the moment Bruce Springsteen bolted up the stairs and onto the stage for Thursday night's rip-roaring concert, it was clear he was in rare form. Yes, Bruce almost always looks like a man on a mission, but after skipping the Emerald City on the last three tours, this stop felt like it included a release of over eight years of pent-up energy from both the Boss and the Boss-ravenous crowd. And for one of the first times all tour, we got a bevy of something we've been been clamoring for since Pittsburgh: surprises.
An elongated introductory "Maaaaaaaaaax!" to kickstart "Meet Me in the City" confirmed Bruce's ludicrously high spirits — as well as the impression that he has finally gotten over the cold that has somewhat strained his voice recently. His pipes sounded pitch-perfect, and he really found ways to add some nice vocal flourishes throughout the album performance, including an extended "It Takes Two" coda at the end of "Two Hearts" (though no mention of Little Steven's American Idol appearance at any point in the evening); some beautiful ad libbing in the "I Wanna Marry You" intro as he repeatedly sang, "I'm in a sweeeeet mood tonight"; beginning "Cadillac Ranch" by slowly yelling at the crowd, "Bury me down in the Ca-ca-Cadillac Ranch!," and starting "Ramrod" by imploring the audience to "get down and dirty at the roadhouse."
Along with these welcome embellishments, Bruce even had the band changing up on the fly their customary renditions of some River songs. Beginning "Crush on You" by showering the audience with "Seattle — I got a crush on you!" he launched into an absolutely raucous version of the song (which has become a nightly highlight of this tour), leading to his call for an extended breakdown at the end. It caught the band completely off guard. Bruce, of course, took it in stride, saying, "We just fucked up that ending so bad — but that's all right, because the E Street Band knows how to save the day!"
Bruce doubled the length of the call-and-response portion of "Cadillac Ranch" — throwing Soozie this time, and her early jump back in on fiddle had him laughing maniacally. On "Ramrod," soloing after Stevie called for "Boss Time," Bruce hollered, "And I'm the Boss!" Happily, it wasn't only the rockers that got these flourishes. Bruce's hour-after-hour power nearly blew the roof off with those, but he was so engaged with the music that he easily converted his off-the-wall energy into intense focus for the ballads, including some fittingly eerie whispers of the track name over the instrumental denouement of a raw "Point Blank." In short, the Bruce was loose.
He also deviated from his usual scripts for a lot of the song introductions, beginning with calling his nightly stated intentions behind recording The River "a mighty quest." He adopted a much more conversational tone throughout the night, most memorably when introducing "I Wanna Marry You." After posing his usual, "Any lovers out there?" question, he responded to the audience's cheers with, "Pretty good. In some cities, everyone hates each other. But not Seattle! All that rain makes you wanna cozy up by the fire and get comfortable with your baby." He went on to claim that the original title for "I Wanna Marry You" was "Baby Steps of Love." After cracking up at his own joke, he told Stevie that he was going to use that title for a new song on the next record.
Post-River, for those who feared that his insane mood wouldn't translate into some insane surprises, that concern was quickly nullified when he immediately went into the pit and grabbed a bushel of signs upon the conclusion of "Wreck on the Highway." A creative fan had already made a sign requesting "Baby Steps of Love," which elicited more laughter from Bruce. First up: Bruce exclaiming "Oh, yeah, we know that one goddammit!" before launching into a rollicking version of "I'm Goin' Down," only the second performance of the Born in the U.S.A. song on this tour.
"Badlands" followed, and right at the point where Bruce calls for the audience chant to lead the band back into the final breakdown, he suddenly sprinted to the center platform to collect even more signs from behind the pit as the band kept vamping. After running back to the main stage and guiding the band through the final breakdown (because he was taking absolutely no shortcuts around rocking), he picked out "She's the One" from the now-large pile of signs behind him. Though a somewhat uninspired request given how often he's played the song on this tour, Bruce still found a way to change it up during his harmonica solo by bringing Jake down to the main mic to play his "I Wanna Marry You" maracas, a reminder that Bruce had already written a song before The River that could've been called "Baby Steps of Love."
And then, the highlight of the night (or so I thought at the time): a sign for the tour premiere of "Adam Raised a Cain." With a typically heated build to start and a cataclysmically fiery and lengthy guitar solo from Bruce, it was a heart-pounding performance that matched the lyrical intensity of this Darkness on the Edge of Town gem. Another scorching guitar solo followed — this time from from Nils — on "Because the Night" before Bruce went back to his pile of signs for a passionate rendition of "Tougher Than the Rest," largely thanks to Patti's welcome presence in Seattle. Bruce still wasn't done with the signs, though picking out one for the tour staple "The Rising" felt hardly necessary.
Yet the biggest surprise of all was still to come, and it was one that no one would have even dreamed of requesting on a sign: the encores began with Seattle's Eddie Vedder popping over to the arena from his nearby home to lend his soaring vocal talents to "Bobby Jean." Vedder was greeted with such a warm welcome that Bruce even joked, "Damn good reception for the hometown boy – I get booed in my hometown!" (A necessary aside to note: big ups to Pearl Jam for agreeing to match all donations made to the West Seattle Food Bank.) They each sang half of every verse, and even though Eddie messed up the order of some of the lyrics, it was a soulful version of the song, with the Pearl Jam rocker dancing back to back with Jake center stage during the sax solo to end the song.
Monday's rescheduled show at New York City's famed Madison Square Garden will be a good indicator as to whether the shows in LA and now Seattle are the first signs that this River tour has rounded a new bend in regards to predictability. But even if the rest of the tour only were to include shows like Seattle, there would be hundreds upon thousands of happy campers dancing out of arenas and stadiums in the coming months. Everyone should be lucky enough to see Bruce joyously lose his mind for damn near four hours like he did at Key Arena (by my count, it was the second longest show of the tour, a smidge behind LA3). It's nights like these that make it so clear how much Bruce utterly and completely loves what he does, and we're just lucky he not only shares that love with us, but we're an integral part of that love; he was feeding off the neglected-in-recent-years crowd's rapturous response all night long.
For the full setlist and reports from this and other recent shows,
see our Setlists page
- Updated March 26, 2016 - Steven Strauss reporting - photographs by Cristina Arrigoni


MARCH 22, PORTLAND: KILLER TRACKS FROM THE RIVER
A chief advantage of seeing Bruce Springsteen in Portland: the quiet its audience typically fosters. That was the case in 1996 where silence added a dimension to the Tom Joad performance. "Magic" and "Jungleland" were beneficiaries eight years ago. On Tuesday night, The River got its turn. And it was a doozie: one old-timer called it a "killer" performance of the LP. It was equally revealing.
A stillness rose to meet the ballads. On "Drive All Night," which began nicely and got stronger as it went along, it was easy to hear Steve Van Zandt's intricate guitar pattern, and easier still to listen as the number progressed. Earlier, Springsteen sang "Stolen Car" to an audience that sounded like it was holding its breath. Sure, one heard the odd cheer of one sort or other, but there was little else to distract. That made the Moda Center sound more like a cathedral as Charlie Giordano led the song to an end and made fans its congregants. Audiences in every city should be so lucky. And so attentive. Bravo, Portland!
"Hungry Heart" didn't get quite the ovation one might expect for a Top Ten hit, and the crowd surf, which looked dicey from the start, ended with Springsteen needing a hand up from both Jake Clemons and Nils Lofgren. But side two soon kicked into high gear as Springsteen pogoed to end "Out in the Street" before scoring points with the one-two punch of "Crush on You" and "You Can Look (But You Better Not Touch)." His guitar work and theatrics were the attractions there. Afterward, the "Here She Comes" segment sounded especially soulful; Bruce tacked on a few extra lines before counting off the transition to "I Wanna Marry You." The crowd voiced its approval of "The River," and rightfully so: Patti Scialfa added a terrific backing vocal, and Springsteen sang a stirring falsetto on the outro.
The most striking element from this concert was the complexity of The River itself. Arranged and presented this way, we hear turn-on-a-dime transitions we might not otherwise. We hear disparate themes in quick succession. On the one hand, a staple like "Ramrod" sounds dialed back relative to previous Reunion-era renditions. But that's only to fit the overall narrative. On the other hand, "Crush on You," which Bruce hits hard, is finally getting a fair hearing (it was the first River song he dropped from the set in 1980, and once held the record for length of time unplayed).
Was this complexity apparent in other cities? Probably so. But Portland felt like a concert where one may know the 20 songs, but not what comes next. Maybe the record resonated here more deeply at the time it came out, which might account for more meaningful applause tonight for the title track than for the hit single. (In 1980, the E Street Band played "On Top of Old Smokey" to acknowledge the eruption earlier that year of Mount St. Helens, a 70-mile drive north of Portland. Eruption, a just-released cultural history of that event by Seattle writer Steve Olson, tells stories from just up the road that line up thematically with several Springsteen songs from that era.)
The enthused response carried over to the B-set. Leading a near-flawless four-pack, "Because the Night" found Max Weinberg drumming to accentuate Nils Lofgren's solo. A brisk "Brilliant Disguise" followed, as did fine versions of "The Rising" and "Thunder Road."
In the encore, the last song ("Shout") had all hands reaching for the roof. It was a remarkable sight, looking around to see an audience whipped up like that. Bruce had the joint flipping, and he exhorted the audience to give him everything they had, which is exactly what they'd been doing all along.
For the full setlist and reports from this and other recent shows,
see our Setlists page
- March 23, 2016 - Jonathan Pont reporting - photographs by Alan Chitlik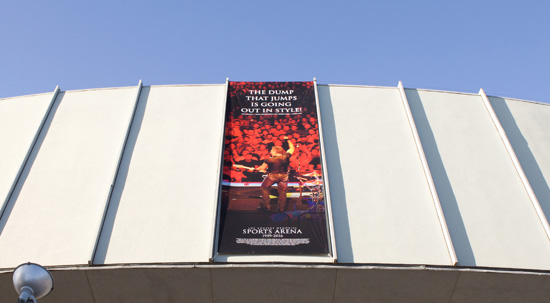 - photograph by Joseph Quever
GOING OUT IN STYLE
With the three-night Los Angeles stand behind us, the River Tour has now rounded a corner: past the itinerary that was originally planned as "just a short leg" to end on March 17, and on to the next wave of added dates. Before we follow Bruce and the Band up to the Pacific Northwest for tonight's Portland stop, let's take another look back at their week in L.A., the final events at the venerable Los Angeles Sports Arena before the wrecking ball.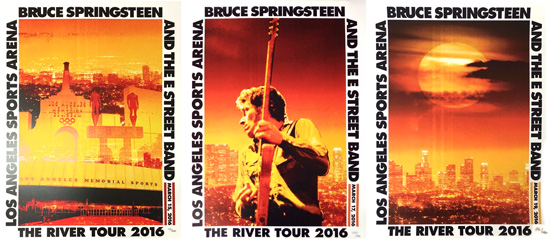 The first multi-show stop of the tour brought 45 different songs performed over the course of three nights (including the apropos "Wrecking Ball," played twice). Of course, we've already reported show-by-show (3/15, 3/17, 3/19), but we've got some additional assets to share before moving on. Like that poster triptych above, for starters. We've been enjoying the unique show posters each night, a first on this tour, but never more than when they reflect a sense of history, as this trio's nod to the A Night for the Vietnam Veteran poster design from the Sports Arena in 1981.
Some cosmic kids were on stage in L.A.; on nights two and three, Springsteen welcomed some of E Street: The Next Generation, including sons and daughters of Clarence Clemons, Danny Federici, and Garry Tallent.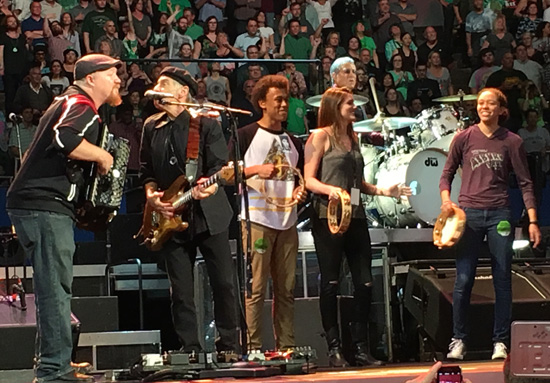 - March 17, photograph by Erik Flannigan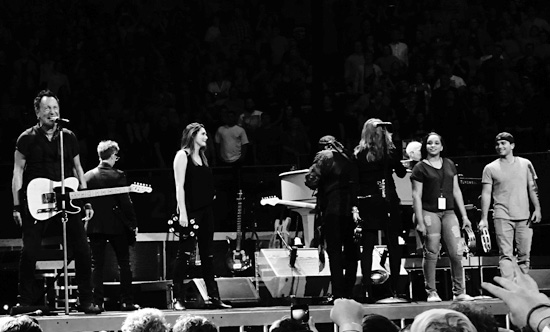 - March 19, photograph by Erik Flannigan
Music blogger extraordinaire Bob Lefsetz, who was there at the Sports Arena for the original River tour back in '81, returned 35 years later and found "Bruce Springsteen and the E Street Band blew us away Thursday night," as he wrote in his latest Lefsetz Letter:
...This was a tunnel to the past, exuding a certain amount of love, but there was no pretext that Bruce Springsteen still mattered, was still hip, was still ruling the charts. By playing The River complete and a bunch of hits not only did Bruce give the audience what it wanted to hear, he could be loose, he had nothing to prove.

Other than he was the best damn rock star on the face of the planet.

That was the scary part. After the two hours of The River the Boss did an hour of hits and…he started out at 11 and stayed there. I can't say a negative thing about it, it was positively thrilling, it's how he built his career, but I couldn't help thinking what a screwed-up guy he was, that he needed to do this, he had us at hello, when he took the stage, never mind went into "The Ties That Bind."

But at this point, deep into the show, the audience was no longer individuals but a great big mass, you see Bruce was in a trance, he was home, in his element, it was what he lived for, he was gonna give us that high and get one in return.

No one does this anymore....
Read "Springsteen at the Sports Arena" at Lefsetz.com.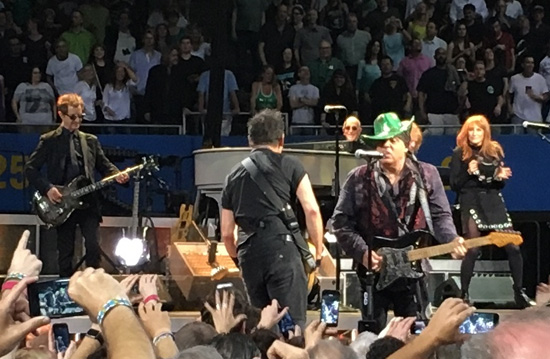 - March 17, photograph by Erik Flannigan
The show Lefsetz wrote about also happened to be St. Patrick's Day, when Bruce and the band brought a touch of the Irish to the night with the tour premieres of both "Death to My Hometown" and "American Land." And a green hat. Thanks to Mitch Slater, we've got some nice close video of all of the above.
Some of the credit for Bruce's longstanding connection to the Sports Arena has to go to the late Bruce Jackson, the audio engineer who toured with Springsteen for more than a decade. In his last interview before his death in 2011, Jackson talked with Backstreets' Shawn Poole about revamping the venue's acoustics for the original River tour — and making the dump jump:
"We'd run into places that were acoustically 'less-than-perfect' — just horrible-sounding. Bruce would say, 'Hey, B.J., what can we do about this?' And I'd say, 'Well, we can hang curtains, do this, do that...' There were a whole bunch of little bits and pieces we could change; we could change the way the P.A. is set up, etc., and actually get around a lot of that. So we did that in quite a few different venues back when people really weren't conscious of that sort of stuff at all.

"For example, we played The Forum in Los Angeles [in 1978] and they were not very nice to us; they turned the lights on during the last songs, etc. So come the next tour [The River Tour] Bruce said he's never gonna play The Forum again. And he asked what other options were available. The only one was the L.A. Sports Arena, which had a horrible reputation for sound, so he met [Tour Director] George Travis and me there and said to me, 'Well, this is where we're gonna play. What can we do?' So I ordered up all of these custom-made drapes, and we put them all over the room. It was a major, major change in this venue, and the differences were night and day. People were just astounded. In fact, they kept using it; the Sports Arena became a popular venue, after not having done many shows at all, because of our success, and they actually kept a lot of that acoustic treatment."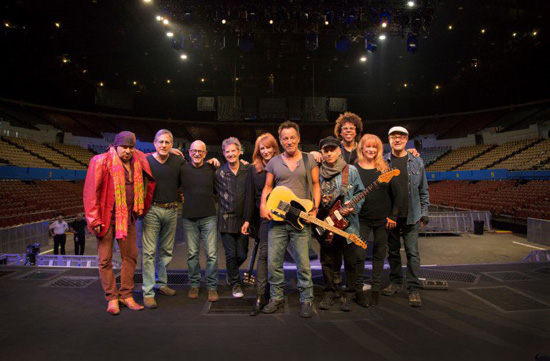 - photograph by Pam Springsteen, via brucespringsteen.net
Over on Brucespringsteen.net are some beautiful images by Pam Springsteen not to be missed: backstage, onstage, and during soundcheck...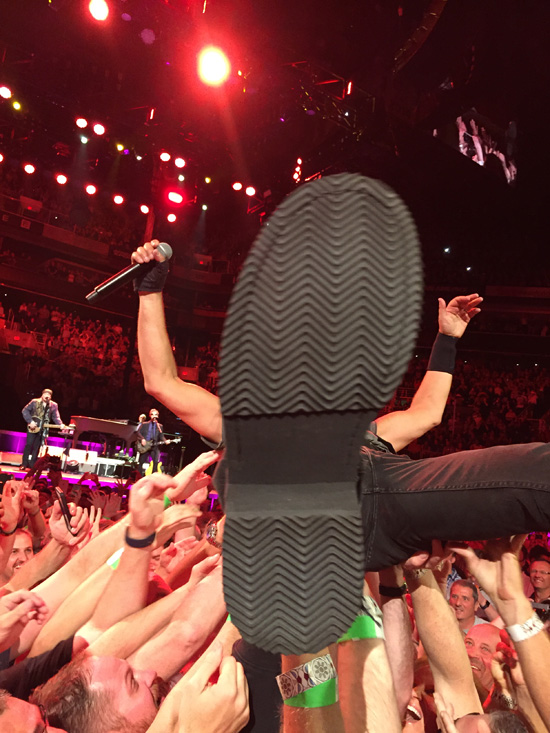 - photograph by David Lubliner
You ain't got no sole if you don't appreciate that one...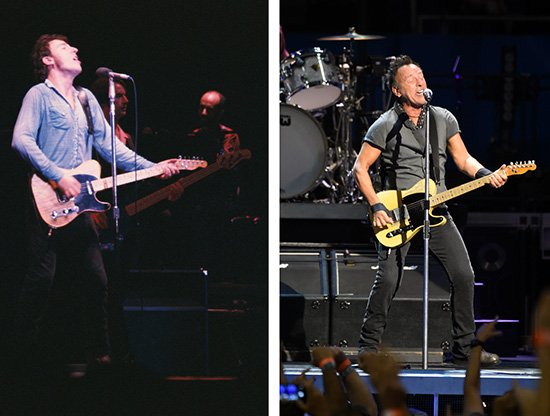 - L.A. Sports Arena, 1981 / 2016 - photographs by Andrew Bernstein
And finally, thanks to official Sports Arena photographer Andrew D. Bernstein, we have some Then & Now images from The River Tour(s) in Los Angeles. Bernstein was there with his camera in '80 and '81, and again 35 years later. Read on for his memories, and more of his images:
"My Journey With Bruce and 'The Dump That Jumps.'"
Correction: A bit of California haze got to us, as we erroneously placed the below in L.A.... it was the show prior in Oakland. But still a keeper as we look back at the Golden State before heading north. On March 13 at Oakland's Oracle Arena, as Jon Greer reported for us, excitable boy Steven Strauss (also known as "the guy in the checkered shirt") got his mind re-blown as Springsteen singled him out during the show yet again, this time to join him onstage for the last verse of "Growin' Up." It's worth watching:
That's pretty much what joy looks like. To read more about Steven's experience, check out his blog at writeallnite.wordpress.com.
- Updated March 23, 2016


MARCH 19, L.A. NIGHT 3: SATURDAY NIGHT SPECIAL
River performance the last for LA's historic Sports Arena
For Bruce Springsteen fans, closing night comes with raised expectations for either a special song or an unusually energized show. On Saturday night in Los Angeles, the audience got both over the course of a long, exceptionally well-performed concert.
Reprising a role they'd played in 2009 for the closing of Giants Stadium in New Jersey, Bruce and the E Street Band became the final act to appear at the Sports Arena, which is slated to be torn down. Springsteen made clear his connection to the building: "We're going to miss this old place," he said. "It's a great place to play, and we've had fabulous crowds every time."
Just like his first appearance at the Sports Arena in 1980, the final one focused on The River. The latter, of course, included a complete, sequenced performance of the record, followed by 14 songs in a high-energy B-set — 35 in all, clocking in at a cool three hours, 45 minutes.
Those might be enough for some customers, but numbers tell only part of the story. This tour began just over two months ago in Pittsburgh, an opener that was by turns competent and exciting. In Los Angeles, the E Street Band was a well-oiled machine, showing its mettle in a number of ways, whether it was an extra Max Weinberg fill on "The Ties That Bind," the harmony vocals that provide extra lift whenever they appeared, or just watching as Springsteen worked through the songs.
In "Jackson Cage," for example, he set his marks for the night, showing both the precision and focus he's brought to bear on the 20-song suite. He sounded deliberate in setting up songs like "Independence Day" and "Stolen Car." And when he wasn't working the audience or playing guitar, he was standing still at center mic, as he did on "Point Blank." Don't let that fool you: he was working just as hard on that one as he did on any of the rockers. Bruce still managed to end up atop his amplifier cabinets as "Ramrod" drew to a close.
"The Price You Pay" sounded exquisite, and, at the very front of the stage, Springsteen looked amused as the crowd added its voice to the instrumental parts. If fans have been chasing this song, tonight the E Street Band sounded like it was never far behind. The audience stood and cheered for the song as its long identity crisis — whether it has this verse or that one, or this arrangement, or a second, or third, or played at all — seems as distant as its absence from the set. All along, the way it appeared on The River (and on stage this tour) was the right call. That was evident, plain for anyone to hear.
In the B-set, Springsteen was in a mood for music, not sentiment. Everything the E Street Band played sounded refreshed. "Wrecking Ball," written for just such an occasion, brought a shift in lyrics to suit the California setting (and where "Rams play the game," once again). "Prove It All Night" has undergone something akin to a revival, with Springsteen delivering remarkable guitar work. And "Tougher Than the Rest" was in the wheelhouse. The E Street Band beat the demo on this one, playing just right as Springsteen and Patti Scialfa sang a fine duet.
The unquestioned highlights on Saturday were "My Love Will Not Let You Down," which Max Weinberg played with skill the likes of which no one could recall hearing. When his drumming didn't thunder, guitars chimed, and Springsteen, in good voice all night long, sang with high conviction and strong emotion. It was a great version, and coming after a very good airing of The River, that made it even more remarkable. "Jungleland" sounded especially crisp, whether the simpatico pairing of Soozie Tyrell and Roy Bittan to start the song or Jake Clemons' beautiful sax solo. And from start to finish, Bruce was right where he needed to be on the song, "a little something," he said, "for our last night at the Sports Arena."
The house lights merely began to warm up for "Born to Run," giving that song an old-school look, apropos for its last Sports Arena performance. Bruce chose "Dancing in the Dark" partners of both sexes ("Dancing is a Man's Job," one sign read). On "Tenth Avenue Freeze-out," children of Danny Federici and Garry Tallent joined in on tambourine. It was a sprint to the end, well-paced but a sprint nonetheless, and Springsteen added "one more!" for the Sports Arena twice: first "Shout," then "Bobby Jean."
Being Los Angeles, many well-known people attended, like actor Harrison Ford and director J.J. Abrams. Also spotted: behind the stage at the Sports Arena, an old clock keeps time, just not for much longer. Its image would have made a fitting one on the night's commemorative poster.
For the full setlist and reports from this and other recent shows,
see our Setlists page
- March 20, 2016 - Jonathan Pont reporting - photographs by Joseph Quever


MARCH 17, L.A. NIGHT 2: GOLD COMES RUSHING OUT THE RIVER
Night two in the City of Angels was the first true second night of the entire tour, undoubtedly raising expectations for setlist changes. Five variants to LA1 would come, two of them tour premieres in honor of St. Patrick's Day, but first things first.
How should we consider The River Tour 2016 and specifically the performance of the 1980 double album in its entirety? Is it a revisit? A re-creation? A re-imagination? Entering the Dump That Jumps with those questions in mind, Thursday night's show hit notes of all three.
First and foremost the show is a structured performance, not only with the album songs in sequence (and "Meet Me in the City" as an invitation at the top to join in), but with Bruce as Narrator at the open and close of the River set, which felt a bit like the playwright addressing the audience in a theater on opening night.
Album performances of the last few years acknowledged, The River '16 feels like the first leg of the Tunnel of Love tour in '88 in its deliberate intentions. As such, the first three songs ("Meet," "The Ties That Bind" and "Sherry Darling") felt a wee bit perfunctory, and it took "Jackson Cage" to get those on and off stage truly in the moment. That song followed by "Two Hearts" offered genuine 1980-revisited stuff (albeit with the "It Takes Two" tag), featuring Steve on full co-lead (not backing) vocals. Great to see the 12-string electrics back on stage, too — case in point: Van Zandt's gorgeous, understated playing behind an austere "Independence Day."
On balance, The River's ballads, its darker and moodier songs, fared better tonight than the rockers, even as it was great to hear the latter played at pacier tempos than on some of the first stops of the tour. Bruce was clearly having a blast, turning "Crush on You" into an audience call-and-response and hammering home a positively pile-driving "Ramrod." Unfortunately, the house mix didn't do the loud songs any favors, with instruments getting lost in an overwhelmed mix to the point where even Max's snare was nearly inaudible during "Cadillac Ranch."

Conversely, songs like "Fade Away," "The River," "Stolen Car," and "Drive All Night" were aural nirvana, letting individual bits of brilliance shine through like Garry's hollow-body bass notes and Soozie's violin textures (e.g. a droning bit in "Stolen Car" that really adds something). Charlie's accordion at the end of "The Price You Pay" is another example of the fine level of detail in these 2016 arrangements, when you can hear them.
In terms of re-creation, "Point Blank," featuring Roy's stark, unsettling piano prelude, and the "Here She Comes" intro to "I Wanna Marry You," especially Steve's exceptional singing, brought the 1980-81 tour brilliantly back to life. We surely have the Tempe recording to thank for sparking memories of both. This cadre of songs also brought out some of Bruce's best vocals of the evening, notably "Fade Away," which just killed.
The same can be said for Max and Jake when they brought home the big third act of "Drive All Night" with power and grace. The only song of this darker ilk that didn't quite work was the last, "Wreck on the Highway." A reimagined lush arrangement seemed to take the song from a haunting coda into a full-bodied closing number, losing something poignant in the process. Roy's "taillights fading" piano refrain was an unwelcome casualty of a bigger but not necessarily better "Wreck."
With that, the second part of the show commenced, and "Badlands" brought the entire house to its feet, in a sort of "You know you want it. We know you want it. Let's just do it" kind of way. Acknowledging St. Patrick's Day, Bruce went Irish for the tour debut of "Death to My Hometown," which was well-rehearsed and played with spark. Another variant followed in "The Promised Land," and Bruce eschewed the setlisted "Because the Night" in favor of "Backstreets," performed with conviction more so than emotion.
The emotion was definitely there for "Brilliant Disguise," one of the night's strongest songs, as Bruce and Patti hearkened back to five great shows played at the Sports Arena in 1988. The second tour premiere was a lusty "American Land" that put every member of the band in high spirits, especially Charlie and Roy on their accordions.
The good vibes continued through the encore as Springsteen made it a family affair. First he pulled Danny Federici's daughter Madison on stage to dance during "Dancing in the Dark." She returned moments later, along with her brother Jason Federici, The Big Man's son Jarod Clemons, and Garry's daughter Olivia Tallent. Jason played accordion while the other three tapped tambourines. It was fun to see Patti in full-on mom mode as she moved around the stage, encouraging the kids to step up to the microphones and sing.
It wouldn't be a Springsteen show in Hollywood without a few celebrities, including the brothers Lowe (Rob and Chad, both of whom are regulars at L.A. gigs), long-time pal Tim Robbins, Conan O'Brien, Colin Hanks and Hilary Swank.
The lengthy set undoubtedly left the audience satisfied, and Bruce lingered long enough after "Shout" to let you know he felt that same way. If any question hung in the air it was how this show, built around a brilliant piece of work from 1980, connects to today. Sure, many of its themes are still relevant (as are "Death to My Hometown" and "American Land"). But in an election year, this election year, given Springsteen's recent political history, it did feel odd that the work was left to speak for itself on present matters.

Maybe, as those kids in Tempe must have felt 35 years ago, one hoped to hear something like, "I don't know what you guys think about [what might happen in November], but I think it's pretty frightening."
For the full setlist and reports from this and other recent shows,
see our Setlists page
- March 19, 2016 - Erik Flannigan reporting - photographs by Joseph Quever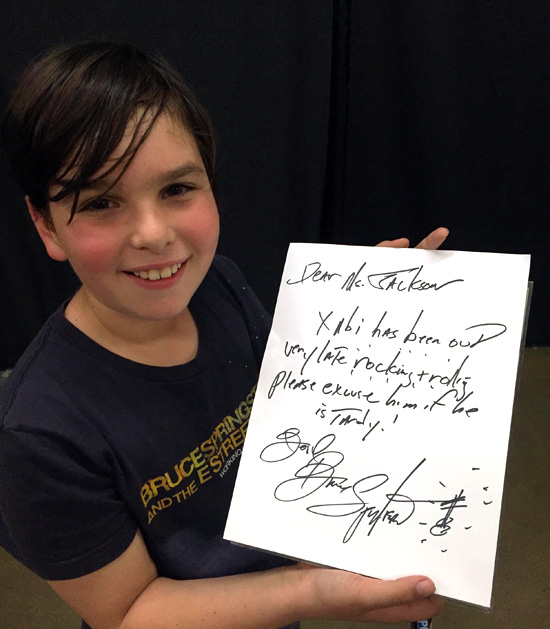 LEGENDS OF SPRINGSTEEN: DEAR MS. JACKSON...
Nine-year-old Xabi Glovsky stayed up way past any fourth-grader's reasonable bedtime on Tuesday night. But of course it was for a very good reason, attending the first night of Bruce Springsteen and the E Street Band's River Tour stand in Los Angeles. Fans likely saw his sign hanging behind the stage, where Xabi was sitting: "BRUCE, I WILL BE LATE TO SCHOOL TOMORROW PLEASE SIGN MY NOTE :)" Well, Bruce saw it, too. And he came through for the kid with flying Sharpie.
Xabi's dad Scott tells us the story: "As Bruce walked off stage after the show, he looked up and saw my son's sign... he pointed to us and pointed to one of the security crew. About three minutes later, security came to our seats and escorted us backstage.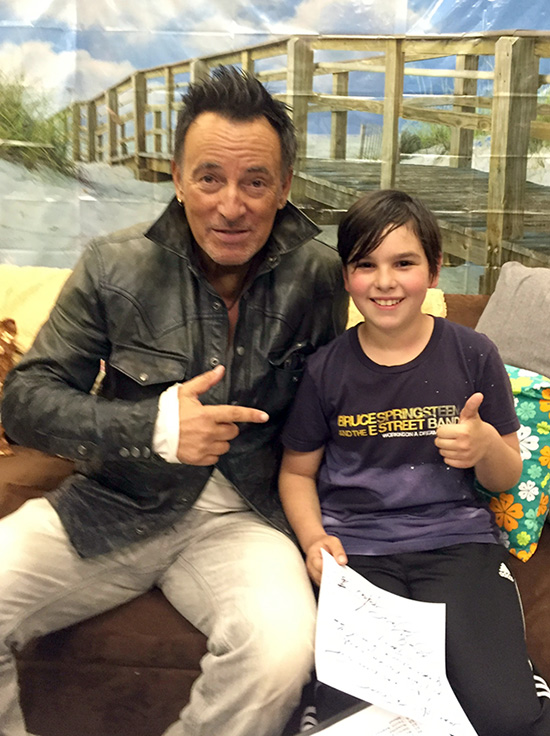 "We waited outside Bruce's dressing room, then he came to the door and invited us in. Although there were many musicians and celebrities at the concert, we were the first people to see Bruce after the show. He said, 'There's the big guy!' to my son. It was just the three of us. He then said, 'I understand that you need a note, I think I can help you out.'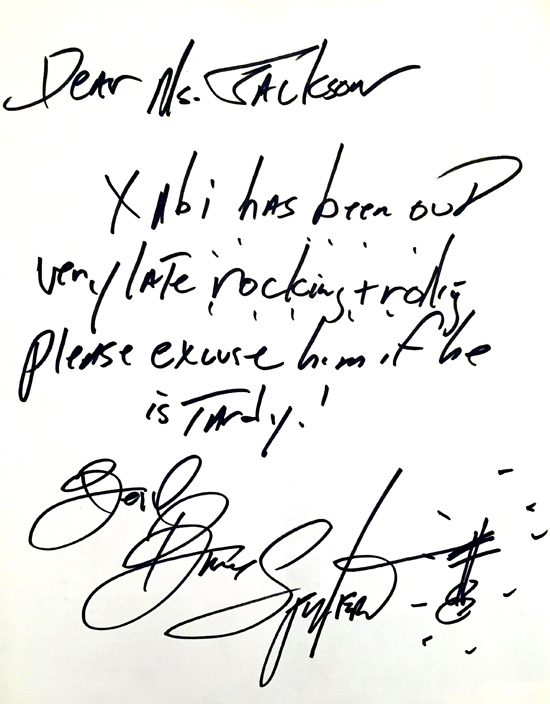 "Bruce sat down on a couch and started to talk with Xabi, asking for the name of his teacher and how Xabi spelled his name, pulling out a piece of paper and a pen. As Xabi sat next to him on the couch, Bruce thoughtfully and artistically created this beautiful note. It was very interesting to watch the artist at work. They talked for a few minutes, and Bruce was incredibly nice, caring and gracious."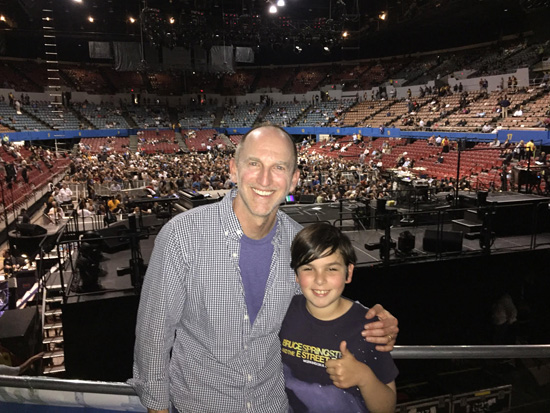 Scott [above, with Xabi, at the Sports Arena before the show] has been "a devoted fan for more than three decades, and having attended more than a hundred shows, it was a very special night for me." Most importantly, "Last night Bruce made a little boy's wishes come true."
Xabi, of course, slept in the next day. With an excuse like that — not to mention all the late-night rocking and rolling — what fourth-grader wouldn't?
- March 17, 2016


MARCH 15, LOS ANGELES NIGHT 1
Bruce Springsteen has become a bit of a connoisseur when it comes to closing aged, dilapidated sports arenas. The Los Angeles Memorial Sports Arena, AKA "The Dump That Jumps" is set to become the latest on Springsteen's resume of arena going away parties. As The River Tour rolled into Southern California for a three-night stand, banners adorning the facade of the bleak structure proclaimed, "The Dump That Jumps is Going Out in Style!"

This stand will no doubt resonate with Springsteen as this venue has largely been his Los Angeles home since the original River Tour, arguably featuring some of his most fabled performances including the legendary Vietnam Veterans benefit in 1981. There may have been a performance inside a casket as well, but we digress.


Make no mistake, this place is a shithole, but its character has kept Bruce coming back for more than 30 years. And you know what? It's a great place to see a Springsteen show. The celebration of the building's rich history — along with the tour's incredible plaudits, and this ending up as the first multi-night stand of the tour — pushed the anticipation meter to maximum for Boss fans in Southern California.

While Tuesday's concert saw no big surprises, this show was, for me, a revelation. Backstreets writers have done an excellent job describing the subtleties and nuances of this tour's narrative and performances, but it's difficult to articulate just how exquisite this show is. Seeing it for the first time answered any lingering questions about how Springsteen can continue to push the envelope, continue to evolve, or continue to somehow top himself, especially when touring behind a 36-year-old album.


This 36-year-old album is, in fact, evergreen. Its themes of love, connection, struggle, mortality and transformation are ongoing human conditions that will always be fresh and always evolve. What makes Springsteen unique is his ability to communicate these experiences — "Life, fun, dancing, laughter, jokes, love, sex, faith, lonely nights and teardrops" — to a room of 20,000 as if he were sitting in your living room. The intimacy and freshness with which The River was communicated was by far the greatest highlight of the show.


Other highlights include the return of the First Lady of E Street, Patti Scialfa. Her presence helped round out the incredible new harmonies, new arrangements, and textural layers in songs such as "Independence Day," "Point Blank," "Stolen Car," and "Drive All Night." The rich, fuller sound adds poignancy, making you feel like you're hearing these songs for the first time. Bruce's haunting falsetto at the end of the album's title track was chill-inducing, and who knew that "Crush on You" could be so badass? Amazing, amazing, amazing. A book's worth of praise could be articulated here, but most have already read the reviews. Experiencing the performance was a privilege, and that is probably the best compliment that can be offered. The crowd's standing ovation confirmed that the appreciation was unanimous.

Special acknowledgement to Jake Clemons, who faced an almost impossible task in joining the band after Clarence's passing. Watching his confidence, his poise, and incredible talent in tackling a very difficult, sax-heavy setlist was nothing short of extraordinary. He is clearly forging his own well-deserved place on E Street, and you can't help but smile when you watch him play.


As if The River performance wasn't enough of a gift, there were still 14 more songs on tap, and the eager crowd at the Sports Arena was ready to dive in. Kicking off with a simple "Let's go," Springsteen ratcheted up the energy with a blistering "Badlands" that began the house party celebration, cranking through favorites such as "Because the Night," "She's the One," "Thunder Road," "Rosalita," and "Tenth Avenue Freeze-out." Hell, even "Shout" was big, beefy, and fun.

Bear in mind, this is simply a summary — there's no way to fully encapsulate the experience beyond actually being there. Yes, he's pushing the envelope. Yes, he's topped himself. Yes, that's why we continue this voyage with a deranged 66-year-old captain who thinks it's perfectly fine to sing, yell, cry, scream, and dance your ass off for three and a half hours. Tonight, there would be no mutiny. Nobody dared leave when when the captain taunted us at 11:40pm, yelling, "Do you have anything left?!"
Yes! Yes, we do!

And "The Dump" jumped again.
For the full setlist and reports from this and other recent shows,
see our Setlists page
- March 16, 2016 - Neil Van Harte reporting - photographs by Joseph Quever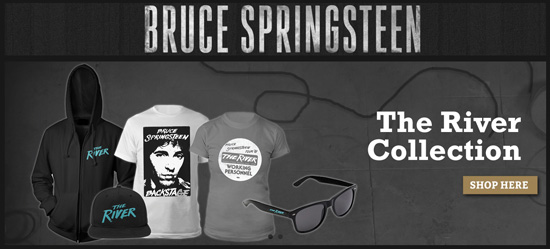 OFFICIAL RIVER TOUR MERCH AVAILABLE ONLINE
We've heard from a number of fans looking to score shirts and more from the current River tour. Some of the new designs are only available at the shows, but you can also order from "The River Collection" online, featuring official tour merch — including that black & white flannel shirt that evokes the River cover — as well as some web exclusives: shop for Springsteen merch at the official store.

- March 14, 2016


MARCH 13, OAKLAND
In a 1978 interview with Richard Neer on WNEW radio in New York, Bruce Springsteen said something that has always stuck with me: "I'm not just in the show, I'm at the show. And you're not just at the show, you're in the show." That was certainly my experience of Bruce's stop in Oakland as the 2016 River Tour came to California for the first of four shows in the Golden State.
When you are lucky enough to watch the show from the pit, it's pretty obvious that you are part of the show, adding energy and intimacy with booty-shaking, sign-waving, picture-taking, and general hysteria. The pit is something of a living organism, moving in waves as fans rush to the edges to catch an even-closer glimpse and reach for a high-five or a backslap from the Boss.
Bruce typically makes his first trip around the pit during "Hungry Heart," ending it with his nightly crowd-surf starting at the little stage in the middle of the floor. In Oakland, I decided to move from my spot in front of Steve's mic over to the little stage and found myself right in front of it as Bruce got ready to fall into the crowd. He briefly scanned the crowd looking for the right spot to land, and there I was, my arms extended and my hands in the tabletop position as I silently communicated with him: "That's right, I'm ready. Just go for it." And with that, Bruce Springsteen turned around and flopped right into my hands for the start of his trek back to the stage. Honestly, it felt like the most natural thing in the world, not like I was suddenly holding an international rock star in a crowd of 20,000 people. It actually took me a couple of seconds to realize that my next job was to start handing him back into the sea of hands waiting to transport him, but soon enough, others took up the burden and Bruce started his journey. I gave him a couple of pats on the back as he left my arms, as if to say, "That was fun. Happy I could help out — have a great rest of the show!"
Aside from all the other amazing and special things about him, Bruce's generosity of spirit is unrivaled in pop music, and arguably, in the world at large. During this tour, he seems to be making a very conscious effort to include the full generational spectrum of fans, coinciding with the passage-of-time, coming-of-age themes of the night's centerpiece, the full 20-song rendition of The River. And it's not just during "Dancing in the Dark," when he often pulls a young person out of the crowd for a dance. You can also see it in the way he has embraced and included Jake Clemons in the show. Jake — who was born in 1980 during the recording of The River — has assumed a central role in the show, bringing both his own unique talents and channeling his Uncle Clarence's spirit at the same time. I love watching him shimmy and slide as he wails on the sax, and it makes me really happy to see him join in on background vocals right up front with Bruce and Steve, representing Clarence while simultaneously being his own self.
The 35-song Oakland setlist was almost identical to the previous show in Phoenix, with only two changes: "Prove It All Night" in the post-River set and "Growin' Up" — "by request from somebody out there!" — to open the encores. During "Growin' Up," Bruce looked over to the crowd in front of Soozie Tyrell for a young man in a checkered shirt — "that's right, you, come on up here!" — calling up Backstreets contributor Steven Strauss for a duet on the last verse of "Growin' Up." Steven, who has been adding non-stop manic energy to the pit as he follows the tour to most of its stops, flawlessly joined the show, clowning and dancing and playing to the audience like a member of the band (check out Steven's full report on his experiences in his write-up of the Albany, NY show). Bruce clearly appreciates Steven's nightly contribution and rewarded him on this night with a twirl on stage. Right on cue, Steven played his part — because he was not just at the show, he was in the show.
For the full setlist and reports from this and other recent shows,
see our Setlists page
- March 14, 2016 - Jon Greer reporting - photographs by Joseph Quever


MARCH 10, PHOENIX
"Are there any lovers out there tonight?" Bruce Springsteen asks at the start of "I Wanna Marry You," at the Talking Stick Resort Arena in Phoenix. "I'm gonna send this one out to Miss Patti, because I'm in a lovin' mood," gently shaking the maracas as he eases into the extended "Pretty Flamingo"-like intro that he has brilliantly added to the song. It turns out that he wasn't kidding about having that lovin' feeling, because his 35-song, three-hour-and-21-minute show was particularly heavy on the joys and complexities of humanity's most mysterious emotion.
As he seems prone to do, Springsteen set himself up for an artistic challenge when he decided to take the 20-song River album on tour. For the last several full-band tours, his entire setlist typically ranged from 24 to 27 songs, leaving him with a bit of an arithmetic problem as he planned the set for this tour. So at age 66, rather than slowing down like the typical aging rock 'n' roller, Bruce added upwards of 10 songs to his nightly setlist, giving him room for some thrills and surprises that tell more of his story. In Phoenix, that added up to a love-themed three-pack of "Candy's Room," "Because the Night," and "She's the One," as well as a springtime-in-Arizona special of "Glory Days," prompted by a sign reading "Spring Training + The Boss = Glory Days."
As the surprisingly festive Phoenix crowd got things off to a strong start by loudly singing along to "Meet Me in the City," one marvels at the fact that after all these decades and with hundreds of well-known songs in the Boss' playbook, fans are still embracing newly uncovered gems.
And then it was on to the show-within-the-show. "The River was my coming of age record," Bruce says. "By the time I got to The River, I had taken notice of things that bind people to their lives – work, commitments, families. I wanted to imagine and write about those things. And I wanted to make a record that felt like life — or an E Street Band show. I wanted it to contain fun and dancing and laughter and jokes and sex and faith and lonely nights and teardrops." With that, Bruce and the band launch into the theme-setter for the entire record, "The Ties That Bind," in which the singer struggles with those very commitments Bruce had just talked about.
It's useful to remember that when The River was initially recorded and sequenced, it was intended to be a two-disc, four-sided record, and that Bruce has always insisted that "the album," not the individual song, is his preferred unit of full artistic expression. Each of the four sides of The River is its own mini-set, sequenced to tell the story of life through Bruce's eyes.
The first mini-set outlines all of Bruce's central themes, including his own family-of-origin struggles. So after "Ties" and the jokes-and-sex song "Sherry Darling," Bruce moves on to the intense "Jackson Cage" about a woman's lonely nights and teardrops, then on to the insistent "Two Hearts" — the two hearts needed to produce a baby, the two hearts that come together to form the essential human bond in life, the family. Side One closes with "Independence Day," a song Springsteen insists was his first song about fathers and sons, even though his performances in the 1970s, when the song was written, were famously filled with references to his contentious relationship with his own dad.
Flip over the first disc to side two, and it's on to the second mini-set, led off by the light-hearted "Hungry Heart," which itself often served as the opener to the second set on the original River tour. "Out in the Street," "Crush on You," and an incendiary "You Can Look (But You Better Not Touch)" bring the show-within-the-show to a fever pitch before Bruce settles it down for the sweet stylings of "I Wanna Marry You." Closing the mini-set in dramatic fashion, and standing on a nearly dark stage with only his harmonica and Little Steven beside to play acoustic guitar, Springsteen kicks off "The River," putting one of his signature songs perfectly in context as the emotional thunderbolt it was written to be.
As "The River" ends, Springsteen turns to the back of the dimly lit stage, raises his right hand and twirls it in the air, symbolically switching the record for Part Two. Having finished addressing the universal themes he learned as part of a family, he now turns to his observations about how they play out in other peoples' lives. Roy Bittan responds in kind with a brief swirling riff on the piano before continuing into the haunting extended intro to "Point Blank," a devastating song about the struggles that living brings to one woman's life. Max Weinberg uses his left hand to strike a wood block and create an unmistakable tick-tock symbolizing the passage of time, and the beating heart. As he closes the song, Springsteen sings, "bang bang baby, you're dead," and just like that, Max stops striking the wood block. Amazing.
Did someone mention death? Because the very next song is "Cadillac Ranch," a lively rocker set in a graveyard of luxury cars that have seen better days. In the end, all the singer wants is to be thrown in the back of that long-and-dark, shiny-and-black ride, bound for life's junkyard.
The story continues, and in Part Two, the 2016 audience is treated to one rarity after another on a nightly basis, including "I'm a Rocker," "Stolen Car," "The Price You Pay," "Wreck on the Highway," and the most surprising song of the show-within-the-show, "Drive All Night." On the record, the song is brooding and quiet, never reaching much of a crescendo, but in concert, it breathes deeply and comes to life, with the whole band helping Bruce build to a stunning climax.
As the closing strands of "Wreck" die down and Bruce concludes his remarks about this monumental record, he says, "It's about time. That clock starts ticking, and you walk along side not only the people you've chosen to live your life with, but you walk along side your own mortality, and you realize that you only have a limited amount of time to raise your family, to do your job, and to try to do something good."
Twenty-one songs into the concert, it's now officially Boss Time. When other artists might be taking bows, Bruce grabs his trusty Fender and rips into "Badlands" and another baker's dozen. An audible of "Lonesome Day" precedes the aforementioned three-song love suite, and as the main set ends with "Thunder Road," Bruce cruises back to stage right and calls for the sign he saw about spring training, bringing it up to the mike to signal the start of "Glory Days."
Since Bruce isn't taking many requests these days, most of the sign-wavers are petitioning for a chance to dance on stage to "Dancing in the Dark," and in Phoenix the honors went to five pre-adolescent girls who were "hopping" to dance with Bruce and demonstrated it by wearing bunny ears. They formed an impromptu chorus line, bringing the unmistakable energy of youth to a show centered on an album first performed when their parents were no older than they are now.
As the lights come up and the roadies start their nightly chores, Bruce has one more treat for attentive ears: an elegiac a cappella rendition of "Down to the River to Pray" from the soundtrack of O Brother, Where Art Thou. The Boss doesn't miss a beat.
For the full setlist and reports from this and other recent shows,
see our Setlists page
- March 11, 2016 - Jon Greer reporting - photographs by Alan Chitlik

BY THE TIME I GET TO PHOENIX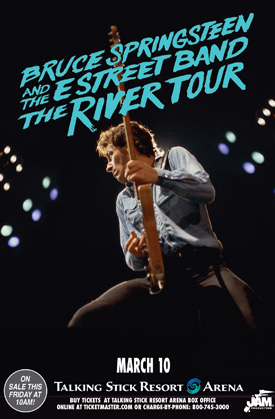 The River Tour heads west, with a stop on the way to the Golden State tonight in Arizona: home of Nils Lofgren, land of Live in Tempe '80, and one of the first markets outside of the Northeast to catch on to the power and the glory of Bruce and the E Street Band. The Phoenix New Times has a new piece about that phenomenon, recalling Bruce and the band selling out Phoenix's Celebrity Theatre (both an early and a late show) way back in July 1974. A quote from Peter Ames Carlin's Bruce: "I have no idea why we became so popular in this particular spot. We don't sell out a place that size, ever," Springsteen says. "I don't know what's goin' on down here." Fans in other historical Springsteen hotspots, in the U.S. and abroad, may take issue with the article's title — No City Loves Bruce Springsteen the Way Phoenix Does — but it's a great read, with good historical context for tonight's show.
Also from the Phoenix New Times, a new Q&A with their homestate hero: Nils Lofgren of the E Street Band Recalls the First Time He Heard The River.
- March 10, 2016


NOW DON'T YOU CALL JAMES BOND OR SECRET AGENT MAN
Bruce Funds continues to find Bruce tix for fans in need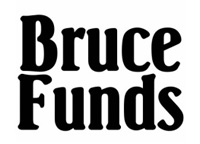 With The River Tour 2016 in full swing, our good friend Donna Gray, founder of Bruce Funds, remains very busy and happily so. Founded in 2012, Bruce Funds continues to connect Springsteen fans seeking to donate tickets and/or money to fans in need who are unable to see a single show otherwise. To date, more than 150 fans have been assisted. Each has gotten to see a show in one of more than 50 U.S. and international locations. (Bruce Funds' policy is to assist any individual fan one time only.) Recently, Bruce Funds successfully completed a campaign to send a young Russian fan to her first-ever Springsteen concert in June.
If you're a fan in need, would like to nominate someone in need and/or you'd like to support Bruce Funds with a ticket donation or a financial contribution of any size, please click here for more information. And tune into Live From E Street Nation on E Street Radio (Sirius/XM channel 20) on Wednesday March 9 at 10 am ET, when Gray will be Dave Marsh's special guest, sharing more information and stories about Bruce Funds' important work.
- March 8, 2016 - Shawn Poole reporting

MARCH 6, ST. LOUIS: MAGNETIC FORCES
The effort Bruce Springsteen and the E Street Band are putting in each night to deliver a letter-perfect version of The River is evident. Last night at Chaifetz Arena at St. Louis University, it all seemed to come together.
Performing The River in a college arena seems fitting — remember, the original River tour opened in Crisler Arena at the University of Michigan. But this arena is not at a Big Ten school; it's the smallest venue the band will play this tour. Maybe that was why the delivery seemed so crisp. With no upper deck to play to, and the faces at the opposite end of the arena actually visible, Bruce really seemed to connect with the "St. Loooo" crowd.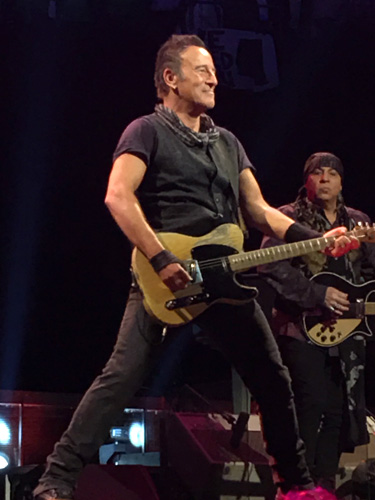 Playing such a small building seemed to have Bruce in nostalgic mood, laughing at himself when he referred to The River as an "album." And, in what may be a preview of his upcoming autobiography, during the intro to "I Wanna Marry You," Bruce called St. Louis a "romantic city," revealing that it was in St. Louis that he he and Patti first got together. Patti herself was not present, though here in spirit as Bruce reminisced about taking a walk with her under the Gateway Arch and being drawn in by the "magnetic forces."
Showing only the faintest remnants of a cold, which left Bruce a little hoarse by the end of the show, the delivery of the album material was dead on. Everything just seemed to click. Charlie Giordano really stood out on the soaring organ parts that are the trademark of the River material. Patti's missing vocals were more than ably covered by Garry Tallent, who seemed to be singing backup on almost the entire album. Even the final push, from "Stolen Car" to "Wreck on the Highway," somehow seemed lighter. Slight variations to the arrangements of "The Price You Pay" and "Wreck" made the album seem more hopeful than the somberness of some of the material suggests.
But the desire to make The River magical seems to take a toll on Bruce. After the album presentation is concluded, he appeared emotionally drained; apparently there's a price you pay for inhabiting the characters on the album in a way only he can. That would be the best guess as to why the "second set" has been heavy with the tried-and-true, instead of the plethora of outtakes that some fans were hoping for. Last night's second set featured three songs from the Darkness on the Edge of Town era and three songs from the Born in the U.S.A. era, plus "The Rising" and "Thunder Road." (It's actually surprising that the title cut to Darkness hasn't made its tour debut yet, given how that song has always seemed like a security blanket.)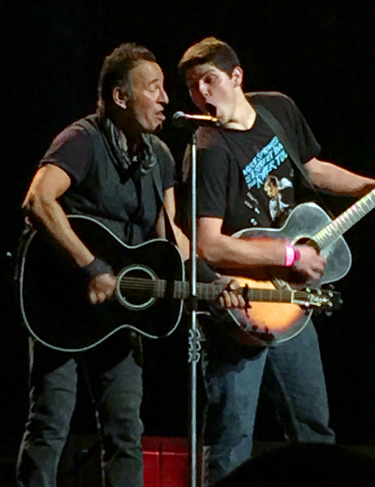 However, even the desire to stay with the familiar didn't detract from the spontaneity. After concluding the album portion, Bruce brought up a special guest named Tom. Not Morello, but a fan in the pit with a huge sign asking if he could "work on the highway with the E Street Band." After checking with the band to figure out what key they play the song in, and confirming with the fan that he could play the Born in the U.S.A. song in the key of C, saying to him "I hope you know what you're doing," Bruce invited Tom up on stage. Outfitted by Kevin Buell, Tom first played the dutiful sideman, sharing a mic with Little Steven and doing background vocals. But as the song progressed, Tom ended up center stage with Bruce, to the amusement of the rest of the band.
His guest's energy, and that of the enthusiastic crowd, seemed to rub off on Bruce. The second set featured him on guitar more than usual, with "Prove It All Night" and "My Love Will Not Let You Down" being particularly powerful. St. Louis has a recent history of outstanding E Street Band shows, and last night was no exception.
For the full setlist and reports from this and other recent shows,
see our Setlists page
- March 7, 2016 - Lowell D. Kern reporting - photographs by Christy Osoling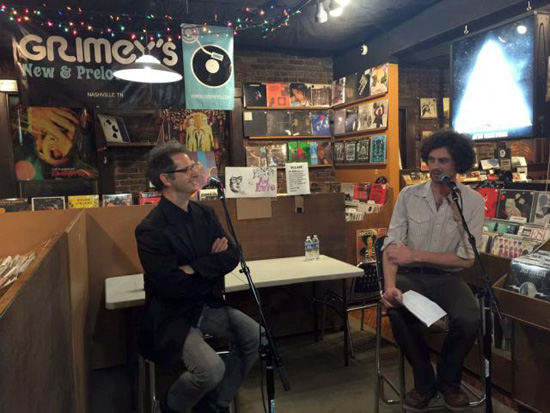 A TOUR BREAK FOR BREAK TIME: GARRY AT GRIMEY'S IN NASHVILLE
E Street Band bassist Garry Tallent came back to Nashville on Friday, during a break between River Tour shows in Milwaukee and St. Louis. In addition to catching up on his laundry, Garry managed to squeeze in a record release Friday appearance at his hometown record store, Grimey's New & Preloved Music. Dropping his debut solo record, Break Time, was a long time in waiting for the 66-year-old Rock and Roll Hall of Famer. It was also somewhat of a surprise, in that Garry rarely sings backing vocals for Bruce and has only sung on rare occasions with his other band, Nashville's classic-album re-creators, The Long Players.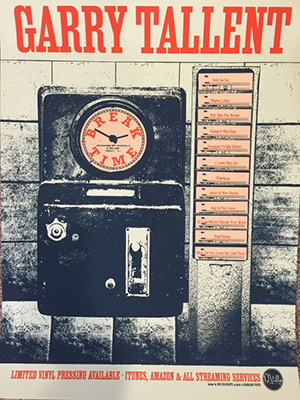 The event was announced only the day before in the store's weekly newsletter. But still, Grimey's vinyl room was packed with about 75 fans for the 20-minute interview by Grimey's staffer and Springsteen nut Tyler Glaser. On hand to listen were several of Garry's musician friends: fellow Long Players Steve Allen and Bill Lloyd as well as Chuck Mead, Jimmy Letser, Fats Kaplin and Kristi Rose.
Garry arrived early carrying a box of Break Time on vinyl — a relief to all, since the limited pressing (that comes with a digital download) had already sold out through mail order. (A CD release is expected to follow; digital files can be purchased now from Amazon and iTunes.) Everyone buying the record received a Break Time poster (expertly designed by local artist/musician Bob Delevante) and a "Garry Tallent"-branded 45rpm record spindle.
Young Tyler had a great list of questions prepared and also took some from the crowd before Garry starting signing LPs. Still carrying a fairly strong Jersey accent, here is some of what Garry had to say.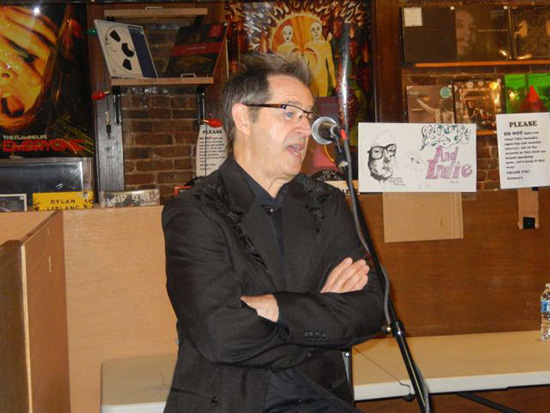 In comparing New Jersey vs. Nashville musicians, he called the Jersey guys "very competitive, in a healthy way" while Nashville players were more open to helping other musicians. He saw the Jersey guys as unwilling to share with you what they knew. He spoke of the early Jersey bar scene as being pretty much all cover bands. While a little kid, he befriended bouncers who let him in to listen. He shared a funny story about making his way into an afternoon Danny and the Juniors soundcheck at Mrs. Jay's in Asbury Park: "They stunk," and what followed was a feisty little Mrs. Jay telling them not to come back and hiring another band for the evening.
Garry also told how a bunch of Nashville friends getting together to lovingly share vinyl records led to the formation of The Long Players. His favorite record they performed was The Pretenders ("All the women got to sing!"), and the hardest was Who's Next ("Trying to copy Entwistle, since he was such a unique player.")
As to his singing on the Break Time, "It was terrifying." He did not learn until just a few years ago that he was a "backwards breather": "I would get light-headed doing backing vocals." After working his way through this, he discovered that although he didn't have a great voice, he enjoyed singing.
Making a record was a lifelong dream. Growing up, "I wanted to be Elvis," but when he realized he couldn't, he decided that "being Ringo wouldn't be too bad either." Break Time was recorded very quickly, but it took a few years to complete. After knocking out six songs the very first day, it eventually got put on hold for further recording and finishing touches until after the last Springsteen tour ended.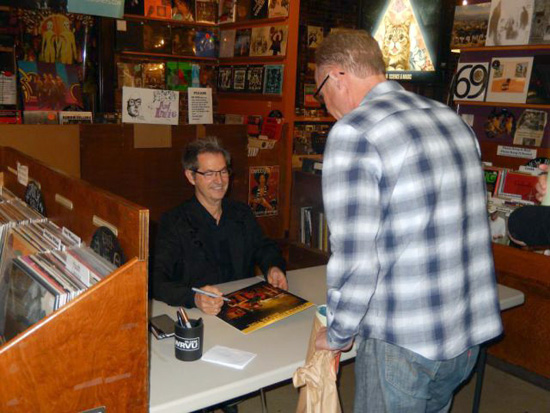 The first fan question was tongue-in-cheek, asking if the Long Players would be doing The River as their next record. "Not with me, they're not," laughed Tallent. He then noted that his initial rules for the band's repertoire insisted on no Springsteen or Fleetwood Mac, without explaining his disdain for the latter.
The most interesting fan query was about Garry's audition for The Rolling Stones when Bill Wyman retired around the same time Bruce had let the E Street Band go. Tallent was at the top of the list ("That was nice") and the only one of the 50 hopefuls who got a phone call from Mick Jagger to come by to "just play and jam," not audition. Garry then flew at the Stones' expense to New York City in a first class cabin that to everyone's surprise was full of bass players! As for the "jamming," having not played in three years, "the guys really stunk." And since the E Streeters did get back together, I am sure Garry prefers his current E Street status as opposed to being someone "off to the side in the dark" and not a real member of a band.
There were plans to do some live shows in February to promote Break Time. Strangely, it was in the process of working with a booking agent that Garry first learned of the River Tour. The agent returned his call saying, "You know that other band you play with? The one that makes money? They have these dates booked." When Bruce's office confirmed ("Yeah, we were getting around to telling you that.…") Tallent's tour was postponed. Garry did say that the possibility remains that there will be some club dates using the local players from the record. Let's hope so — that would be big fun.
- March 7, 2016 - report and photographs by Mike Bodayle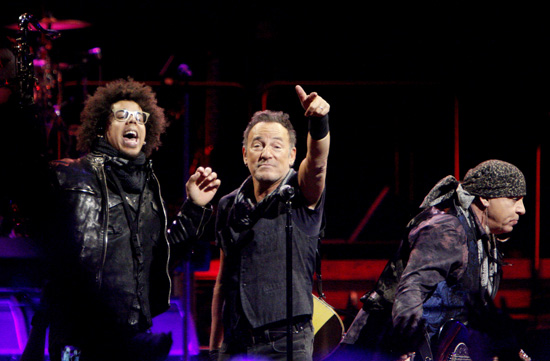 MARCH 3, MILWAUKEE: STILL LOOSE AFTER ALL THESE YEARS
It happened very late in the show, after "Rosalita," as Bruce exhorted the crowd, "Milwaukeeeeee!! Have you had enough?" Steve took several quick strides toward Bruce, tapped him on his shoulder and whisper-shouted a reminder in his ear of something the Milwaukee old-timers were waiting — no, needing — to hear Bruce say. Message delivered, Bruce spun around and approached his microphone again: "Milwaukeeeeee!! Are you loose?? I said, are you loose?" And with that, the running joke about the legendary 1975 Milwaukee "Bomb Scare" show — when Bruce and the E Streeters famously wet their whistles while waiting to retake the stage — has lived to see another tour.
The Bradley Center in downtown Milwaukee has some of the best acoustics of any the arenas the band plays on each tour. Which is why it was a bummer to hear Bruce say, "This is the last time we'll be playing this building. They're gonna be tearing it down... and we're here to help them do that."
Since the December 2015 release of The Ties that Bind box set, I've mulled over which of the outtakes were lost opportunities that should have made the official 1980 release of The River double album. There are a lot of similar-sounding songs, all heavy on the glockenspiel, snare drum, and organ and piano chords in the upper registers. "Meet Me in the City," which opens the show, does not set itself apart sonically from "The Ties That Bind," "Two Hearts," "I'm a Rocker" and others that did make the cut. So while it doesn't add much we haven't heard already from The River era, Bruce aptly chose it because it serves as an invitation to the audience to join him for the trip down the river.
As has been reported here, The River and its length challenges the attention span of many an audience member. But this Milwaukee crowd was phenomenally attentive, and the sound was loud and enveloping, which had the delightful effect of drowning out chitchat during slow stretches of "Point Blank," "Fade Away," and "Stolen Car."
"Hungry Heart" got everybody on their feet after a poignant "Independence Day." In preparation for his crowd surf, Bruce signaled the people on whom he was about to fall to make sure to support his shoulders and his butt. There was no shortage of grabbers to oblige him. "Crush on You" has become a highlight for me, with Bruce's full-throated commitment to the goofy lyrics. Keeping time with his hand he spit out "She makes Venus de Milo look like she's got no style / She makes Sheena of the Jungle look meek and mild" like a 21st century rapper saddled with 1960s pop culture references for rhymes.
Patti was absent for the show, and her harmonies were missed. It did open the door for Garry to contribute backing vocals, something he may have been ready for given the imminent release of his first solo record. Steve Van Zandt, however, hasn't been this busy on stage, with guitar solos and harmonizing, since, well, the original tour in 1981. Steve is also sporting a pair of Jack Sparrow-esque earrings, long chains with feathers on the bottom. During "Ramrod," Steve glanced at a nonexistent watch on his wrist and declared, "Boss Time!" before Bruce's withering guitar solo. Tonight's "Ramrod" also featured a four-man, one-woman, backs-to-the-audience booty-shake before the first of two false endings.
Other highlights were Bruce's vocals on "The Price You Pay" and his falsetto on "The River." Nils' solo on "Because the Night" featured "4,320" in snowboarders' parlance (12 complete revolutions!), which brought the house down. Bruce called "Jungleland" as an audible: "This is for my man down here in front. We haven't played it much on this tour. We'll see how we do." The hairs stood up on the back of my neck for the entirety of the song. Bruce nodded approvingly during Steve's guitar solo and pointed his finger to the heavens as Jake Clemons soared through his late uncle's signature sax solo. The audience cheered him on in waves, and Bruce thanked him with a pat on the shoulder.
"The E Street Band loves Milwaukee!" Bruce said at the close of the show. "We'll be seein' ya!" Yes you will, and we'll be loose!
For the full setlist and reports from this and other recent shows,
see our Setlists page
- March 4, 2016 - Marya Morris reporting - photographs by Suzanne Tennant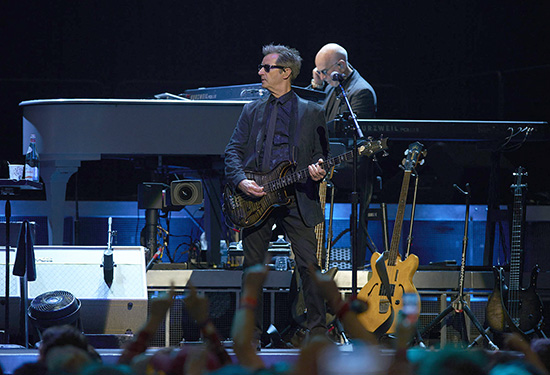 THESE ARE THE BREAKS
With today's release of Break Time, catch GWT on SiriusXM and in Nashville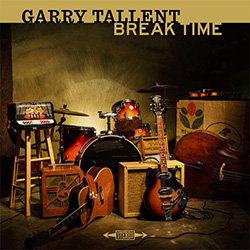 The foundation of the E Street Nation, Mr. Garry W. Tallent, officially releases Break Time today, his first-ever solo album, on limited-edition vinyl and as a digital download. [We recently spoke with Garry about his debut, below.] With the vinyl LP already a sell-out, we're told that a compact disc is in the works after all, due to demand; we'll be taking pre-orders for the CD as soon as we have details. In the meantime, the digital tracks are available online as of today from Amazon, iTunes, etc.
To celebrate the momentous occasion, "Funk" is taking over E Street Radio. Tune in this afternoon to hear Garry as Guest DJ, playing songs from the new album as well as some of his favorite musical influences. Listen today, Friday March 4 at 4pm ET on Sirius/XM channel 20. You also can catch replays on Saturday March 5 at 12 and 8 am, Sunday March 6 at 3 pm, Monday March 7 at 4 pm, Tuesday March 8 at 12 and 8 am, and Wednesday March 9 at 5 pm.
If you're in Nashville, Garry will be appearing in person tonight at Grimey's, his hometown record shop, for an in-store record release event to meet fans and sign copies of the album. Event begins at 6pm.
We also highly recommend The Jersey Guy Does Jersey show's recent monster episode with Garry, which originally aired on SiriusXM's Underground Garage channel and is available On Demand starting today on the Underground Garage app. Hosted by Rich Russo, the program includes fascinating tidbits about the pre-E Street band days including how Garry ended up playing with Vini Lopez due to a high school vending machine incident; how Garry booted his original keyboardist when he first heard Davey Sancious; the time Garry took SVZ shopping for a bass for Steel Mill; why Garry isn't on the recordings of "Blinded By the Light" and "Spirit in the Night"; and how the guitar was in Garry's hands before Bruce ended up with it. The show also includes some never-before-heard recordings of Garry's early bands. Click here for a playlist; it's two-and-a-half hours of music and interview, a must-hear.
And congratulations to Garry on his big debut — we think you're going places, kid.
- March 4, 2016 - photograph by Tony Nelson [St. Paul, 2/29/16]


THE INTERNET AS A FORCE FOR GOOD: "THUNDER ROAD" SUPERCUT
Bear witness to 41 years of magic in the night, with Phil Whitehead's video supercut of "Thunder Road" posted to Vimeo this week. As Whitehead writes, "In this video, I wanted to explore how a song like 'Thunder Road' has changed, not only in the way Springsteen performs it, but also how its meaning evolves… as Rolling Stone said of 'Thunder Road,' 'the lyrics hint at a perspective beyond his years.' I also wanted to look the evolution of live recordings, both professional and homemade."
- March 3, 2016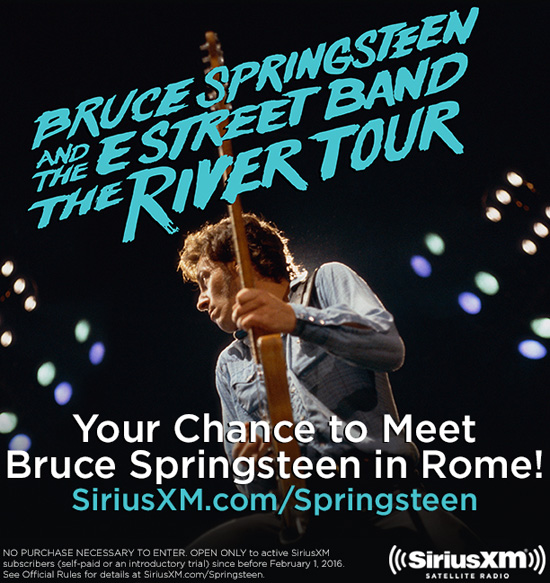 CONTESTUS MAXIMUS
SiriusXM offers the chance to meet Bruce on a Roman Holiday
When Bruce Springsteen and the E Street Band play Rome's Circus Maximus in July, a lucky Grand Prize winner in this SiriusXM/E Street Radio contest (along with a guest) will be flown there, put up for three nights, get tickets to the show, and meet Springsteen himself. No purchase necessary; the contest is open only to active SiriusXM subscribers since before February 1. For official rules and to enter, visit siriusxm.com/springsteen before April 29.
- March 3, 2016


FEBRUARY 29, ST. PAUL: IN A LOVE-FILLED MOOD
A winter's night in the Midwest is not for the faint of heart. Yet on Monday night in the Twin Cities, the cool of the night took the edge off the heat in the Xcel Energy Center.
It has been 35 summers since The River was released, and Bruce describes it as a "coming-of-age record" where he was trying to create something big, "that felt like life, felt like an E Street Band Show." At a whopping 20 songs, the sequence ensures that there are plenty of opportunities to sing, dance, laugh, cry, and ponder the hidden complexities of Springsteen's lyrics. This is the 17th show on The River Tour 2016, and the 18th time that The River has been performed in its entirety. While the first two-thirds of each 2016 setlist has been the same, however, neither Bruce Springsteen nor the E Street Band put on the kind of show that can be defined by song titles on paper.
The St. Paul crowd was in full swing tonight. From the moment the band hit the stage at 7:59pm, we were ready to be transformed and be taken through our favorite double album. When "party noises" were requested of us prior to "Sherry Darling," we were right there; we felt the conviction in "Jackson Cage," returned the joy that Little Steven Van Zandt and Nils Lofgren exuded during "Two Hearts," and carried the first verse, as well as The Boss himself, on "Hungry Heart."
The prelude to "I Wanna Marry You" recognized something that Bruce seemed to be very excited about on this February 29, if not quite sure of the history: Leap Year. Shaking his maracas and smiling, he exclaimed, "It's Leap Year! Yes! It's the year of love. Back in the old days it was when a woman could turn and propose to a man, or ask them out on a date, or ask them for a kiss... I forget." Clearly so enamored with the perfectness of being in love for the first time, he missed the downbeat to the song. Laughing, he called himself out and blamed it on getting "in such a love-filled mood."
Dancing was also a large part of the show tonight. During "Cadillac Ranch," there were necks of guitars waving, reminiscent of the same moves on the original River tour. Though it was "Ramrod" that had the slickest moves of all. Bruce jumped around, Jake Clemons did a very endearing shuffle, and Garry did kicks that would put the Rockettes to shame. If the line that told us to "look over yonder, see them Twin City lights" didn't get us to cheer and pay attention, then Bruce's for the entire band to "Shake your booty!" certainly did. You could see the band was having fun, and we were so glad to be a part of the wild, the innocent, and E Street shuffle that was taking us down to the river.
An incredibly powerful and beautiful "Drive All Night" and sentimental "Wreck on the Highway" closed out the The River, a "record that was about time. Time slipping away..." And we were left with the words of wisdom that "You have a finite amount of time... to do something good."
The 13-song encore kicked off with "Badlands" and soon another Darkness classic in "Prove It All Night," which featured some fierce shredding on the guitar by Bruce. Nils impressed us all with his now legendary, semi-possessed twirls during "Because the Night;" it was fitting that he got to show off in the first city he performed in with the E Street Band, in 1984. The return of "Tenth Avenue Freeze-out," after its tour premiere over the weekend, enabled us to remember Clarence Clemons and Danny Federici, and to end the night, "Shout" had us all on our feet and dancing.
With their finite three hours and 26 minutes, the E Street Band not only did something good, but something unforgettable.
For the full setlist and reports from this and other recent shows,
see our Setlists page
- March 1, 2016 - Erica Schwartz reporting - photographs by Tony Nelson