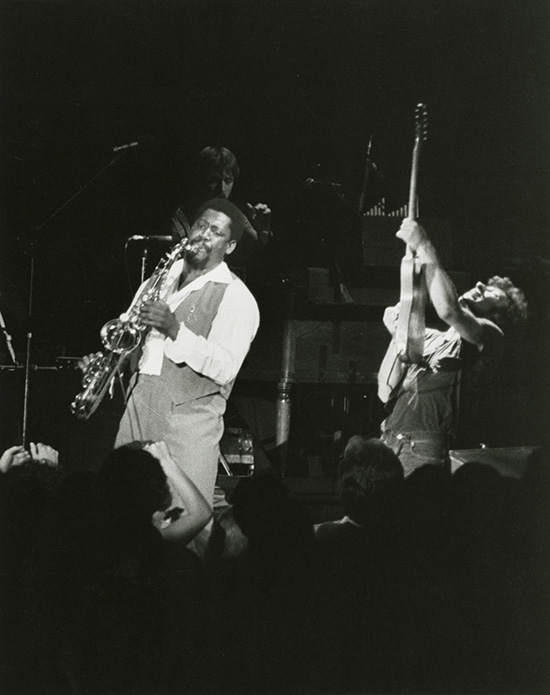 - L.A. Sports Arena, 1981 - photograph by Andrew D. Bernstein
Andrew Bernstein, official photographer for the Los Angeles Memorial Sports Arena, reflects on shooting both River Tours at his home venue, and on the 35 years between.
Bruce Springsteen describes The River during every show on the current tour as being about time. His characters are growing up and learning the painful lessons and pitfalls of adulthood, while also still enjoying the youthful joy of being alive. They are also faced with the hard facts of mortality for the first time. The double album was released when Bruce was 30 years old and unmarried; he is now on the other side of much of what he sings about, having become a father of three along the way, a husband and, let's just say, a well seasoned adult "counting the wrinkles and the grays." My personal and professional journey in many ways parallels his, and the Los Angeles Memorial Sports Arena is the tie that binds us.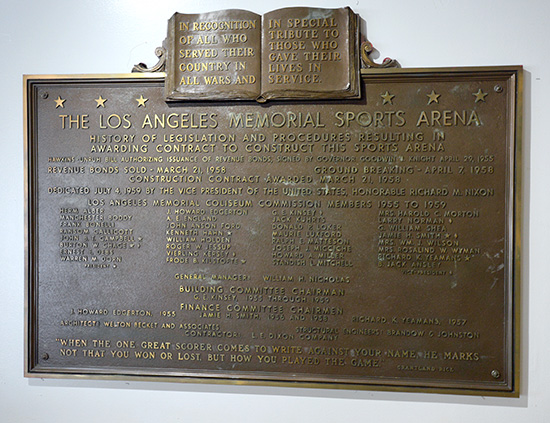 - L.A. Sports Arena, 2016 - photograph by Andrew D. Bernstein
It has been a humbling and exhilarating experience to follow my own path through The River — from my idealistic, somewhat naive, and driven days of the '80-'81 tour to today. Joy, sorrow, mistakes, redemption, despair, success, failure, love… all the themes of The River. They all combined to shape the man, husband and father I am today.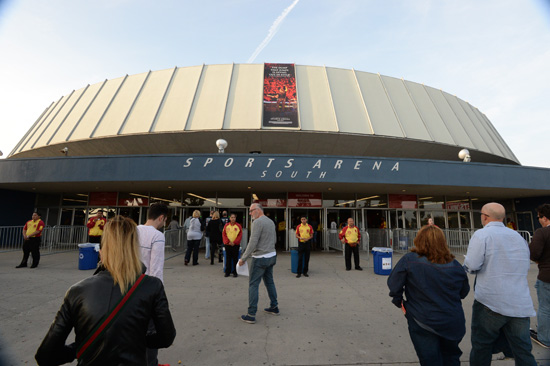 - L.A. Sports Arena, 2016 - photograph by Andrew D. Bernstein
Well there she sits, buddy, just a-gleamin' in the sun
There to greet a working man when his day is done
Those lyrics from "Cadillac Ranch" could have very well been written to describe the venerable Los Angeles Memorial Sports Arena. It is a relic of indoor arena innovation and greatness that time has passed by, but it still stands proudly and welcoming to any person who enters — including Bruce and the E Street Band. Opened by then-Vice President Richard Nixon in 1959, it has been the home to so many historic events: JFK accepted the nomination for President there in 1960; Wilt Chamberlin made his professional debut on its hardwood; the Lakers, Kings, Clippers and various other LA teams made the Sports Arena their home. The fight scenes from Rocky were filmed there. USC basketball as well as indoor track meets, a Final Four, ice shows, family shows, the circus, and a multitude of concerts over the years including Madonna, U2, Pink Floyd, the Grateful Dead, and Michael Jackson were all part of her resume. But no one has played more concerts inside "The Dump That Jumps" than Bruce Springsteen and the E Street Band: 34 dates since the original River Tour, ending with three shows on the current tour this past weekend.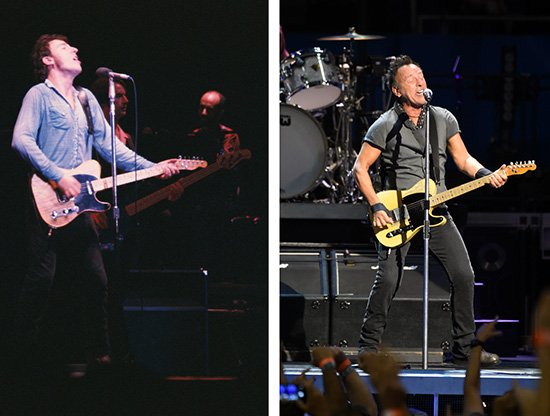 - L.A. Sports Arena, 1981 / 2016 - photograph by Andrew D. Bernstein
I have attended many of Bruce's Sports Arena shows over the years as a fan. As Official Photographer of the Sports Arena during the '80's, I had the incredible opportunity to photograph many of the band's shows, including both times around during the original River tour in 1980 and 1981.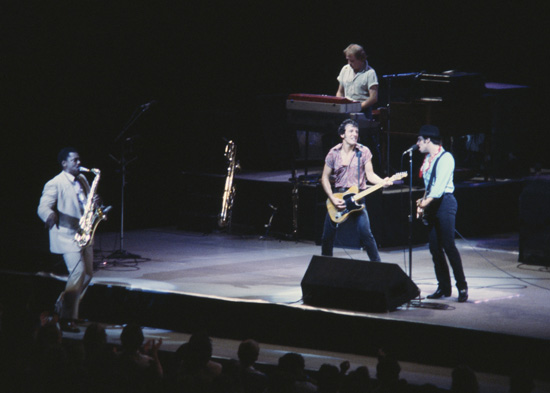 The first leg of the first River Tour: Los Angeles Sports Arena, 1980 - photograph by Andrew D. Bernstein
My experiences shooting a Bruce concert are somewhat similar to that of my main gig, as the longest tenured official photographer for the NBA (34 years and counting) — a Bruce show is like an NBA Finals game for me. Lots of anticipation and preparation leading to very conscious concentration once the lights go out or ball goes up at tip-off. I have to turn a mental switch from being a fan to doing my job. Nervous energy has to transform into creative energy. If I take my eye out of the viewfinder to watch, even for a second, I will miss a shot. To make matters even more intense, the other media photographers and I are only permitted to shoot the first three songs of a Springsteen show (normal protocol at most big concerts), so the pressure to get great photos and stay mentally focused is crucial for that short amount of time. As a maniac Bruce fan for almost 40 years, that is definitely a challenge, as all hell is breaking loose around me at the start of show — just as it happens at the end of the deciding game of an NBA Finals. I have a job to do, and that's my one and only mission in the moment.

- L.A. Sports Arena, 2016 - photograph by Andrew D. Bernstein
One of my greatest memories shooting Bruce at the L.A. Sports Arena is from the 1988 Tunnel of Love Express Tour, when I was granted permission to shoot an entire show from beginning to end, with no restrictions on where I had to be. I had full access to the arena and shot from virtually every nook and cranny, angle and section. My best shots actually came from behind the stage, when Bruce played to the fans there. I was high up shooting down on him, with a sea of adoring fans in the background. I was also allowed to shoot right up against the front of the stage, which is not permitted today. Many intimate and cool shots were made from that vantage point.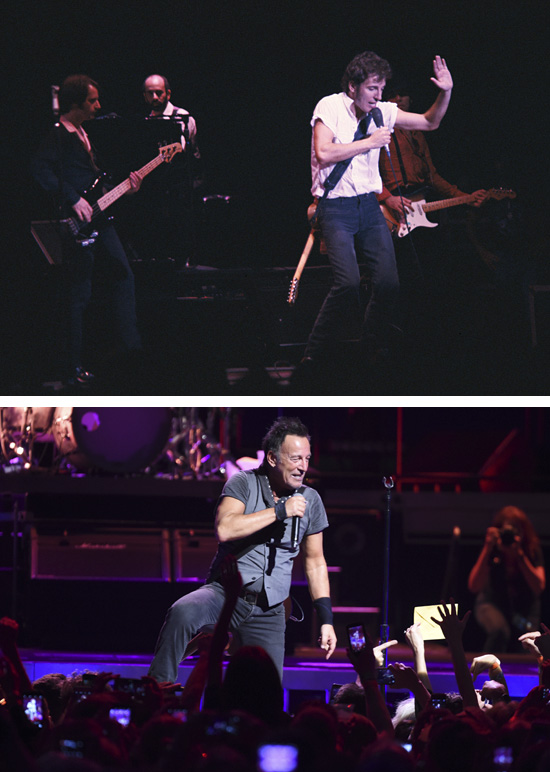 - L.A. Sports Arena, 1981 / 2016 - photograph by Andrew D. Bernstein
So, fast forward 36 years to the final show — the final event ever — to be held at the Los Angeles Sports Arena before the wrecking ball tears the proud and grand building down to make way for a new soccer stadium: Bruce's March 19 concert on the 2016 River Tour. So many mixed emotions, so much of my own personal history racing through my head. Like Bruce and his journey through The River, I grew up in the arena. I started my career there back in the late '70s while still in college, shooting indoor track meets and college basketball. Trying to figure things out — who I was at the time, where I was headed, what I wanted in life and career. Bruce's '80-81 shows were the first concerts I shot professionally. I remember the nervous energy and adrenaline rush of hoping I had all the technical stuff down as second nature.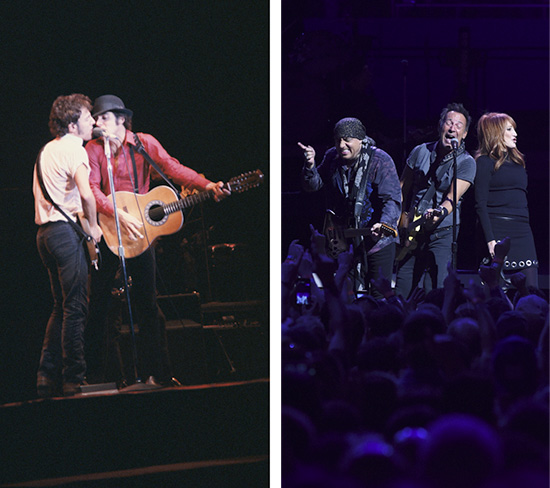 - L.A. Sports Arena, 1981 / 2016 - photograph by Andrew D. Bernstein
That was during the film days and manual exposure and focus cameras. Stage lighting wasn't like it is today, and film didn't come close to digital in terms of exposure and speed. I remember anxiously waiting for the film to be developed at a lab the next day, and spending hours looking through my many rolls for those perfect shots. Today it is all instant gratification, as I can see what I just shot with a touch of the preview button. Adjustments can be made instantly — not so back in the film days. You had to know your equipment and everything that went along with type of film, exposure, composition and focus. I look at those photos today and am amazed anything came out! I think I was a nervous wreck. But I still had those familiar butterflies as the lights went out on his March 19 show.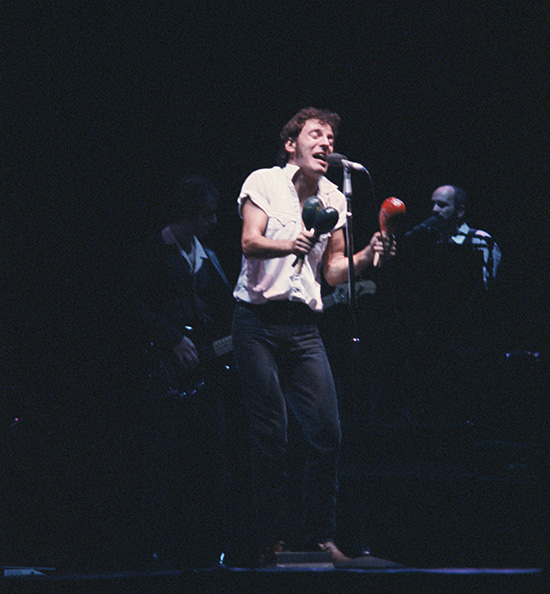 - L.A. Sports Arena, 1981 - photograph by Andrew D. Bernstein
I spent many, many nights working in the Sports Arena in the '80s and '90s. The Clippers moved there in1984, and I shot almost every one of their home games as their team photographer until they moved to Staples Center in 1999. The grand old building slowly started to lose the rest of its tenants — USC built a new arena on campus, so their men and women's basketball and volleyball teams permanently moved to the new Galen Center. Staples Center and the newly refurbished Forum gobbled up most of the big concerts and most of the family shows, ice shows and other events found other venues. The Arena still held on and had a couple of minor facelifts, some earthquake retrofitting, and still managed to host events throughout the years. But it became time to face the music and give way to progress.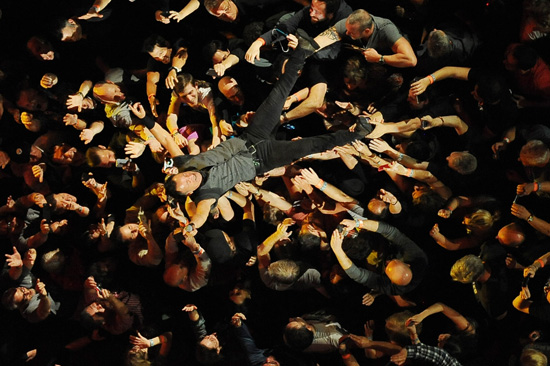 - L.A. Sports Arena, 2016 - photograph by Andrew D. Bernstein
Only Bruce could give her the respect she deserved as he played the final notes of "Bobby Jean" as everyone in the building waved (goodbye?) in unison. Bruce and all of us there understood the significance of he and the band closing the arena for good.
The River was a gift that Bruce gave to all of us. It was his personal coming-of-age album and a preview for what was to come in his music and life. The Los Angeles Memorial Sports Arena was a vessel for his message. She may "fade away" under the weight of the wrecking ball, but her legacy and memories will live forever in my heart.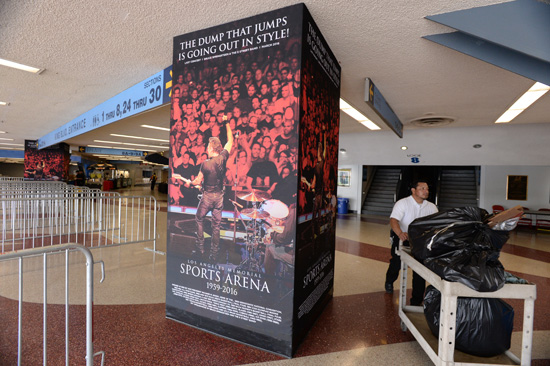 - L.A. Sports Arena, 2016 - photograph by Andrew D. Bernstein