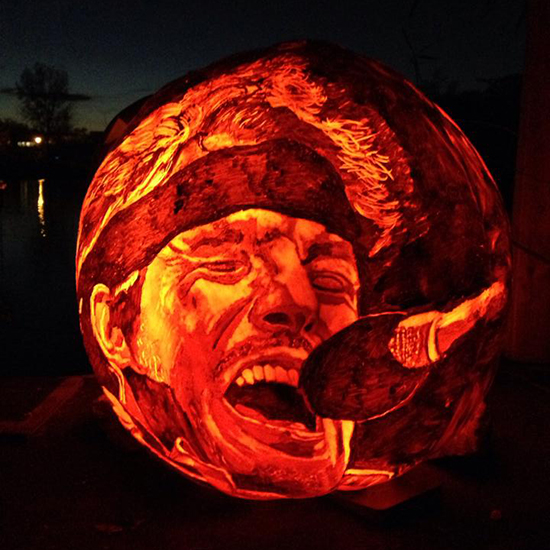 RAM'S HEAD, FORKED TAIL, CLOVE HOOF, GOURD BANDANA
This spine-chilling Jersey Devil was spotted at the Jack-o-Lantern Spectacular in Providence, RI.
But that was days ago... so if it's on the loose, it could very well be anywhere tonight. Stay alert! The life you save may be your own! Happy Halloween!
- October 31, 2013 - photograph by Chris Cioci, courtesy of Jim Rotolo

WHICH BRILLIANT DISGUISE WILL PHISH WEAR TONIGHT?
Since 1994, whenever Phish has played a gig on or near Halloween, they've donned a "musical costume" at some point during the show with a complete, track-by-track cover of an album by other musicians. (Click here for an overview of what's been covered so far.) Exactly which album gets covered remains a well-kept secret until the band plays its opening notes. As usual, speculation is running high on who/what will get covered by Phish at tonight's Jersey show in Atlantic City's Boardwalk Hall. Relix Magazine concludes its online series of speculative essays today with Phish Halloween 2013: The Case for The Wild, The Innocent & The E Street Shuffle. Should Bruce's sophomore album (or one of his others) actually wind up being this year's Phish Halloween costume, tonight's sold-out show can be purchased as an official live webcast and/or post-show mp3 download. Visit livephish.com for details.
- October 31, 2013 - Shawn Poole reporting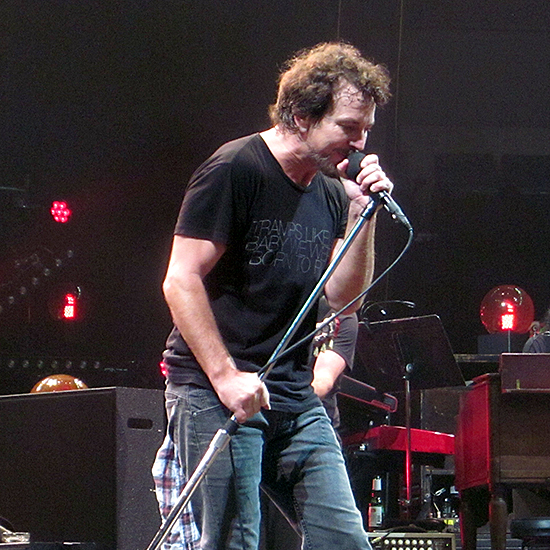 SHIRT OF E.
Eddie Vedder in one of his favorite tees, at last night's Pearl Jam show here in North Carolina.
- October 31, 2013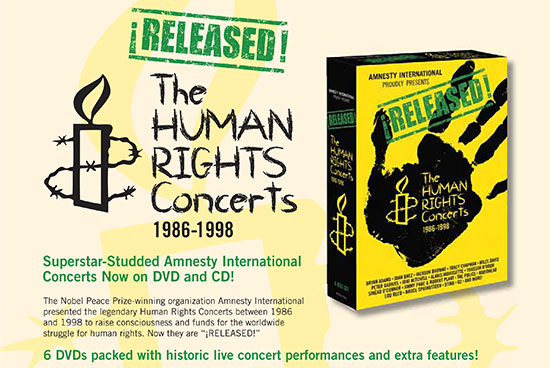 GAZE UPON THE CHIMES OF FREEDOM FLASHING
2013 marks the 25th anniversary of Bruce Springsteen's worldwide Human Rights Now! tour for Amnesty International, with Peter Gabriel, Sting, Tracy Chapman, and Youssou N'Dour. A concert film from the last night of that tour, October 15, 1988 in Buenos Aires Argentina, was broadcast on HBO on December 10, 1988, the 40th anniversary of the Universal Declaration of Human Rights.
It was, as they say, kind of a big deal. Talking to Backstreets recently, Tom Morello cited that 1988 HBO broadcast as what really turned him on to Springsteen: "The first time I ever got it was when I saw the Amnesty International HBO special from Buenos Aires. That's the first time where it transformed from sort of the, 'Oh my goodness, what the heck is happening in that 'Dancing in the Dark' video?' to, 'Holy shit—that is awesome!'"
But the film was broadcast just that once, and in the DVD era it's conspicuous (along with the No Nukes: The Muse Concert, which at least was on VHS) for never having been released. Until now, of course. After a two-DVD set whetted appetites earlier this year, a six-DVD box set from Amnesty International due November 5 collects four Human Rights Concert films in their entirety, from 1986, 1988, 1990, and 1998. Springsteen had a role in two of the four, and Little Steven performed at another.
These are not the complete concerts in every case, but the complete concert films as they were originally broadcast — or released, in the case of 1998, the only one of these previously on home video. For instance, at that December 10, 1998 Paris show, Springsteen also performed "The Ghost of Tom Joad," not included here nor on the original DVD, The Paris Concert For Amnesty International: The Struggle Continues. As with the original HBO broadcast of the Human Rights Now! show from Buenos Aires, songs not included in the film are "The Promised Land," "Cover Me, "Cadillac Ranch," "War," "My Hometown," "Dancing in the Dark," and "Glory Days." But to relive what HBO aired on Human Rights Day 1988, this has been 25 years coming.
The films have been digitally remastered, with a plethora of bonus footage added as well. Springsteen sat for a new interview, presented here in a 20-minute featurette called "No Retreat: Bruce Springsteen's Support for Human Rights"; he's also part of a longer documentary about the concerts that's new for this set, "Light a Candle! The Story Behind the Human Rights Concerts."
The six-disc DVD set is due next Tuesday, November 5.
Click here for a full track listing for all six discs,
plus our pre-order sale price.
In the U.S., a two-CD set of highlights also called Released! will hit stores the same day (yellow sleeve above), with only very slight differences from the Get Up! Stand Up! CD set that came out earlier this year. (The main difference for Springsteen fans: where Get Up! Stand Up! included "I'm on Fire" from Buenos Aires '88, Released! will have "Chimes of Freedom.") Worth tracking down instead will be the titles released outside of North America — a different CD set for each concert — the two key sets for Springsteen being 1988: Human Rights Now! and 1998: The Struggle Continues....
See further details at humanrightsconcerts.com, including special theatrical screenings in New York and L.A.
- October 30, 2013


LOD 2014 SCHEDULE ANNOUNCED, TIX ON SALE SATURDAY 11/2
While the long-term future of Asbury Park's Paramount Theatre remains in doubt, the historic venue will be available for the Light of Day Foundation's 14th annual benefit concert series, which is set to run January 16-20, 2014. Over 100 artists will perform at nine different Asbury Park venues, and John Rzeznik of the Goo Goo Dolls will once again headline the main event extravaganza on Saturday Jan. 18 with host Vincent Pastore.
This year's proceedings will feature several new Light of Day New Jersey (LOD NJ) events, including a film series, an evening highlighting the Jersey Shore's long tradition of great cover bands, a gospel breakfast, a "100 Years of Broadway" show, and Asbury Underground, a music and arts celebration that will feature live acoustic sets by local musicians playing in art galleries and other locations in downtown Asbury Park.
Each year, the concert lineup includes artists new to the LOD family, while longtime participants like Jesse Malin, Joe Grushecky & the Houserockers, and Boccigalupe & the Bad Boys are once again among the diverse array of local and national talent slated to appear in 2014. The LOD NJ event calendar will also include the third annual "Asbury Angels" tribute concert at the Stone Pony, during which the Asbury Angels Project will announce its third set of inductees.
Tickets go on sale at noon Saturday, Nov. 2 for the full LOD NJ 2014 schedule and will be available online through Ticketmaster, by phone, and at all Ticketmaster outlets. A variety of ticket packages as well as individual event tickets will be available. Read the Light of Day Foundation's press release for further details.
Artists will be added to the concert lineups through January; visit LOD's Facebook page and follow its Twitter feed, @lod_foundation, for continuous updates. Visit the lightofday.org for complete information on all Light of Day events in the United States, Canada, and Europe.
- October 29, 2013 - Lisa Iannucci reporting


"IF YOU SHOULD SAY GOODBYE, I'LL GO ON LOVING YOU"
Bruce and Lou Reed doo-wopping together, backing Dion in 1987
As we mourn the loss of Lou Reed, here's a wonderful moment from the 1987 benefit concert for The New York Children's Health Project where Lou served with Bruce Springsteen (as well as Ruben Blades, Billy Joel, Paul Simon and James Taylor) as Dion's backup singers on "Teenager in Love." Lou sang bass, standing next to Bruce.
Moments like these undercut the one-dimensional image (sometimes cultivated by Reed himself) of coolly eloquent cynic. The look of playfulness and pleasure on Reed's face, as he joined others in singing music that he loved so deeply, could melt even the coldest cynic's heart. And there were indeed many such moments throughout Reed's work, from The Velvet Underground onward. This is the side of Lou Reed that gave us "Sweet Jane," "Rock and Roll" and "I'll Be Your Mirror." It's from where even the plea for absent love at the end of the jarring "Street Hassle" emanated. It's also why Lou Reed was among the very first musicians to join Artists United Against Apartheid.
Rest in peace, Lou. The rock 'n' roll music that you loved and helped to shape will live on and continue to have an impact, cynicism be damned.
- October 28, 2013 - Shawn Poole reporting



SOUTH AFRICA 2014 ANNOUNCED TODAY, ON SALE THIS WEEK
Twenty-five years ago, the Human Rights Now! Tour took Springsteen and the E Street Band to some of the farthest-flung locales they've ever played, including Costa Rica, Japan, India, Greece, Zimbabwe and the Ivory Coast. Where they did not play, of course: Sun City, or anywhere in South Africa, then under apartheid. Zimbabwe was close, but when Bruce and the band play Cape Town and Johannesburg in early 2014, just announced today, it will be their first-ever performances in South Africa. Three concerts there will be in advance of the band's Februrary excursion to Austraila.
Tickets for two shows in Cape Town (January 28 and 29) will go on sale Friday, Nov. 1, at 9 am SAST. Tickets for Johannesburg (February 1) go on sale Wednesday, Oct. 30, at 9 am SAST.
For the full itinerary with onsale info and links,
see our Tour/Ticket Info page
- October 28, 2013

LOU REED, 1942-2013
"And something flickered for a minute / Then it vanished and was gone"
The news this past March that Lou Reed needed a liver transplant came as a shock, but fans were relieved when Reed announced afterward that he was "stronger than ever." Sadly, there were complications, and the legendary Lou Reed passed away on October 27 at age 71.
It would be a disservice to his iconic and diverse trajectory across the cultural scene to call it a "career." Reed refused to be defined by others' expectations, and fans who only know him as a member of the Velvet Underground, or his solo career in the 1970s, and the author of such classics as "Rock and Roll," "Sweet Jane," "Walk on the Wild Side," "Satellite of Love," and "Dirty Boulevard," know only a small portion of his work. His experiments — whether with ambient noise and feedback loops or concept albums and protest songs — pushed assumptions about music's place in American culture. Over the past two decades, he often collaborated with performance artist Laurie Anderson, whom he married in 2008. The scope of his work is extraordinary, whether The Velvet Underground and Nico (1967); Transformer (1972), which David Bowie co-produced; Sally Can't Dance (1974); The Blue Mask (1982); New York (1989), considered by many a masterpiece; Ecstasy (2000); The Raven (2003), a concept album about Edgar Allan Poe; or Lulu (2008), a collaborative work with Metallica.
Lou Reed was a commercially successful and well-established performer when Springsteen hit the New York scene in the early '70s. In 1978, Bruce was at the Bottom Line for one of Reed's performances that would be released later that year as Live: Take No Prisoners. During the lengthy introduction to "Walk on the Wild Side," he said hello to Bruce and declared "Springsteen is all right" before going on to trash the critics who turn quickly on artists.
Earlier that year, Bruce could be heard in non-credited spoken vocals at the beginning of the "Slipaway" section of the near 11-minute Street Hassle, the title song of Reed's eighth solo album:
Well hey, man, that's just a lie
It's a lie she tells her friends
'Cause the real song, the real song
Where she won't even admit to herself
The beatin' in her heart
It's a song lots of people know
It's a painful song
A little sad truth
But life's full of sad songs
Penny for a wish
But wishin' won't make you a soldier.
With a pretty kiss for a pretty face
Can't have it's way
Y'know tramps like us, we were born to pay
In an interview with Rolling Stone in 1989, Reed explained that he and Bruce were both at the Record Plant and an engineer suggested inviting Bruce over to record the vocals. The last line was Reed's, written with "Born to Run" in mind.
Reed never allowed others to define for him the meaning of rock 'n' roll. The Rolling Stone interview begins by recounting a heckler shouting at Reed as he sang "Halloween Parade," a song about lost voices and faces from New York, which he was performing in its entirety. The heckler wanted the old rock hits. Reed responded, "This is rock 'n' roll. It's my rock 'n' roll."
- October 27, 2013 - Louis P. Masur reporting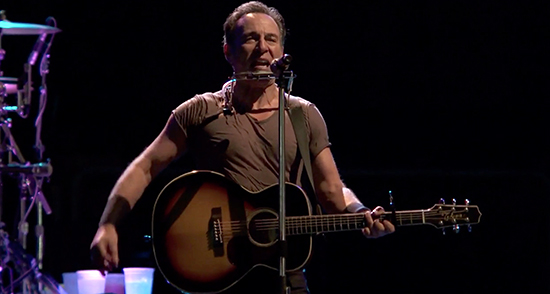 ICYMI: PRO-SHOT "THIS HARD LAND" FROM EURO TOUR CLOSER
Don't miss the video from July 28, 2013, posted yesterday on brucespringsteen.net, continuing to give us closure on the Wrecking Ball tour. Bruce introduces the clip: "As we've been on break we've had a chance to look back on some of the tour highlights. Here's 'This Hard Land' from our last night in Kilkenny."
- October 26, 2013



33 YEARS BURNING DOWN THE ROAD
Happy birthday to... us! On October 24, 1980, fans coming to Springsteen's River tour stop at Seattle Center Coliseum were handed Backstreets #1. It was 4 pages; #91 will be >100.
- October 24, 2013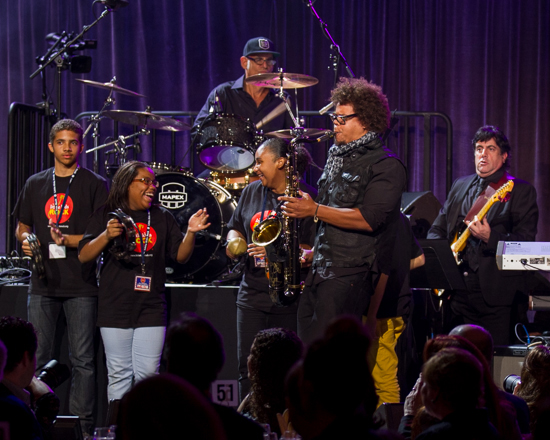 JAKE NOW ON THE ROAD, OPENING FOR GARLAND JEFFREYS & MORE
Following his appearance last week at the Little Kids Rock benefit [above], Jake Clemons has hit the road for a several-week jaunt that will take him through the Northeast and into the Midwest. Jake is supporting his recently released single "You Must Be Crazy," from his forthcoming EP due out next month. His next few dates will be headlining shows, including tomorrow night in Vermont and Saturday night at the Mercury Lounge in NYC. After that he'll be opening for Robert Randolph & the Family Band for a four-night run (November 7-10) and then opening for Garland Jeffreys in Minneapolis and Chicago.
Jeffreys is touring in support of his new album Truth Serum, which Bruce Springsteen called "stellar." Catch Garland's shows with Jake opening on November 15 in Minneapolis (tickets) and November 16 in Chicago (tickets).
Dates for Jake Clemons and Garland Jeffreys are on our Concert Calendar.
- October 24, 2013 - photograph by A.M. Saddler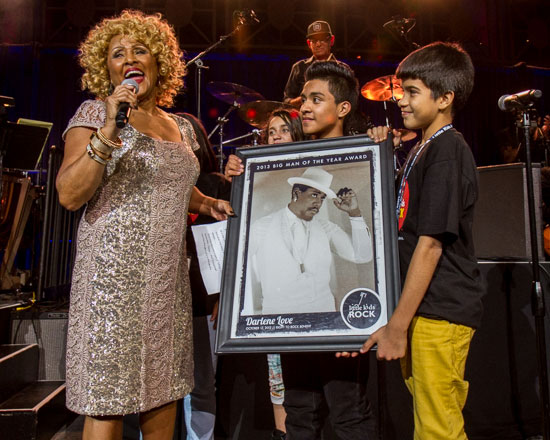 A BIG HONOR FOR DARLENE LOVE AT RIGHT TO ROCK 2013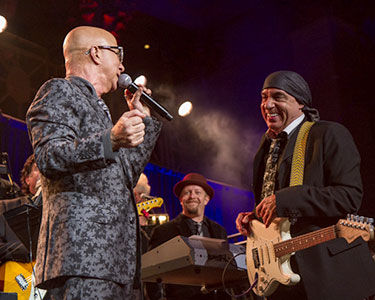 Thursday night, Darlene Love was honored as "Big Man of the Year" by Little Kids Rock during its annual Right to Rock Celebration at Cipriani Wall Street in New York City.
Receiving the Big Man of the Year award is the most recent event in Darlene's long career arc from uncredited session singer, well documented in the recent film Twenty Feet From Stardom, to widely heralded national treasure. Fittingly, on hand to help honor Darlene were two people who have been instrumental in helping raise her public profile: last year's Big Man of the Year Steven Van Zandt, who has collaborated with Darlene both on his own and with the E Street Band, and whose tireless advocacy helped enshrine Darlene in the Rock and Roll Hall of Fame; and Paul Shaffer, with whom Darlene has performed "Christmas (Baby Please Come Home)" every year since 1986 on the David Letterman show.
LKR's annual benefit dinner and awards ceremony raises money to fund its efforts in music education and instrument donation in school districts throughout the country, which has become increasingly vital in an era of budget cuts and government shutdowns.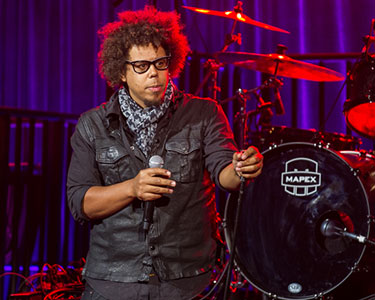 Jake Clemons began the proceedings describing LKR's mission as "spreading a message of hope, inspiring teachers and kids and their peers, sharing in what it means to really love something, and I'm sure, in some cases, simply what it means to be loved." Jake then joined students from Jersey City's Franklin L. Williams Middle School to start the musical portion of the evening (full setlist below).
NYC Hit Squad served again this year as the house band, with a powerful E Street injection: Steven, Jake, Ed Manion, Barry Danielian, Curtis King and Cindy Mizelle. In addition, the band included an 11-piece string section, all of which created a Wall of Sound appropriate to the occasion.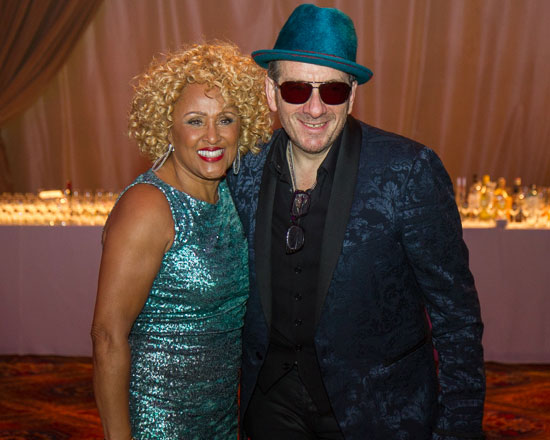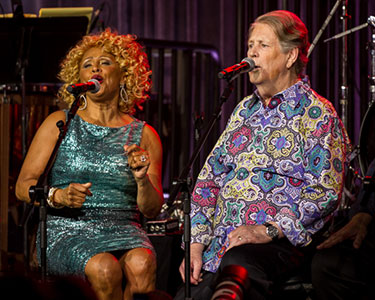 Brian Wilson made effective use of that Wall of Sound performing three Beach Boys classics, including a stunning "Don't Worry Baby" with Darlene. Wilson was followed by Elvis Costello, who spoke of writing his song "Still Too Soon To Know" and having "a dream that Darlene Love sang it." To his obvious delight, that dream came true.
Next, Jim Allen, chairman of Hard Rock International, was recognized as LKR's 2013 Corporate Honoree — or, as Steven called it, "the corporate guy award." Steven paid tribute to Allen's efforts in "systematically restoring and promoting more and more rock," but couldn't resist mentioning "the great Hard Rock Calling Festival in London, which we had a lot of fun with until somebody pulled the plug on us. It wasn't Jimmy, I can assure you." Steven also divulged that Allen "would have been a rock 'n' roller, if only he could carry a tune."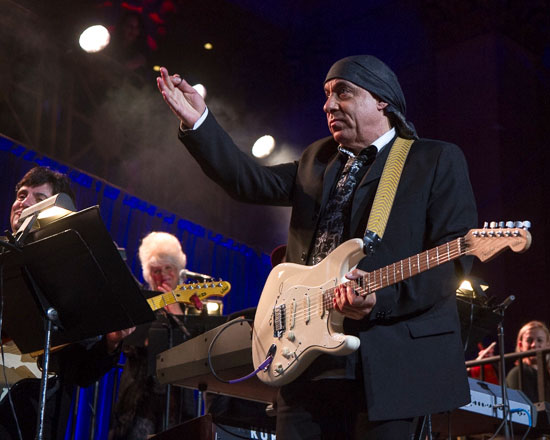 Ashley Nunez and her fellow fourth-graders from Manhattan's P.S. 98 followed, performing "She's Got a Lot Going On," a song about Hurricane Sandy.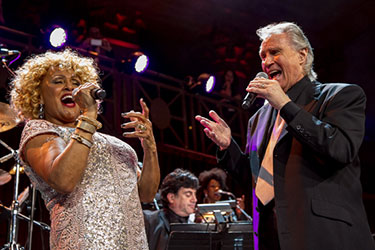 Bill Medley sang two songs with Darlene, "(You're My) Soul And Inspiration" and "You've Lost That Lovin' Feelin'", which resonated with the richness of their history together.
And then it was time for Darlene to receive the award. Shaffer spoke of her long career and introduced a video of her career highlights, including Darlene's performance with Bruce and the E Street Band at 2009's 25th Anniversary Rock & Roll Hall of Fame Concert. Calling Darlene "a force of nature," Shaffer recalled a time he and Steven were "playing behind Darlene, and we came off, and Steven said, 'She keeps getting better and better.'"
In accepting the award, Darlene spoke of "the legend of Clarence Clemons," saying, "I am humbled by this entire evening and the outpouring of love, time, and talent generously given tonight by my fellow musicians, all in the name of music. And what that music will mean to all the young people that have become a part of Little Kids Rock, yesterday today and tomorrow. This is not about me, but about them, the wonderful young people: what it will do for them now, and what music will mean to the rest of their lives."
Darlene followed with a majestic performance, providing, as she had the entire evening, a master class for all the little — and big — kids in dedication to one's craft and in the life-affirming collaborative force of music. And most of all, proving that she does, in fact, keep getting better and better.
Setlist:
Franklin L. Williams Middle School (Jersey City, NJ) student musicians:
Medley/Mash-Up
He's a Rebel (with Jake Clemons)
Brian Wilson:
California Girls
God Only Knows
Don't Worry Baby (with Darlene Love)
Elvis Costello:
(What's So Funny 'Bout) Peace, Love, And Understanding
Not Too Young to Get Married
Still Too Soon to Know (with Darlene Love)
P.S. 98 (Manhattan, NY) fourth-graders featuring Ashley Nunez:
She's Got a Lot Going On
Bill Medley:
(You're My) Soul and Inspiration (with Darlene Love)
You've Lost That Lovin' Feelin' (with Darlene Love)
Darlene Love:
Today I Met the Boy I'm Gonna Marry
He's Sure the Boy I Love
River Deep – Mountain High
Marvelous
Christmas (Baby Please Come Home)
- October 23, 2013 - Beppe Cohen reporting - photographs by A.M. Saddler

SPRINGSTEEN & I FILM ON iTUNES NOW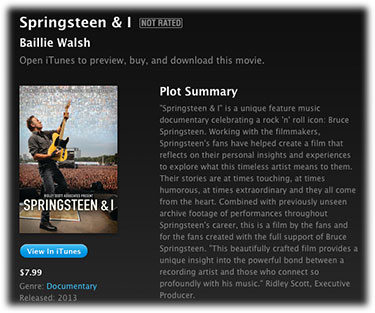 The Springsteen & I documentary, which will be released next week on DVD and Blu-ray, is available a week early for digital download: it's on iTunes now. The Baillie Walsh-directed, Ridley Scott-produced, Springsteen-approved film is in the iTunes shop for $7.99 high definition and $5.99 standard definition, also in advance of its Showtime premiere this coming weekend.
If you're waiting for a hard copy, we're still taking pre-orders for both the DVD and Blu-ray editions in our Backstreet Records online shop. Both formats are 10% off list price, due out on October 29, and pre-orders will ship to customers immediately upon availability.
- October 22, 2013

BRUCE & ESB UP FOR 10TH ANNUAL BILLBOARD TOURING AWARDS

Billboard has announced the finalists for their 2013 Touring Awards, with Springsteen, the E Street Band, and Jon Landau Management in the running in several categories. On the list of Finalists, Bruce and the Band are up for both "Top Tour" (based on gross) and "Top Draw" (based on attendance); JLM is up for "Top Manager."
While the awards are based largely on Boxscore data, the Fans' Choice Award is based on popular vote. Bruce and the E Street Band are among 25 artists fans can vote on for Best Tour of the Year, sponsored by Eventful; vote for Bruce Springsteen & the E Street Band here. Unless, of course, you'd rather leave it to One Direction, New Kids on the Block, Justin Bieber...
Gary Dell'Abate (that's Baba Booey to y'all) will host the award ceremony on November 14 at the Roosevelt Hotel in New York.
- October 22, 2013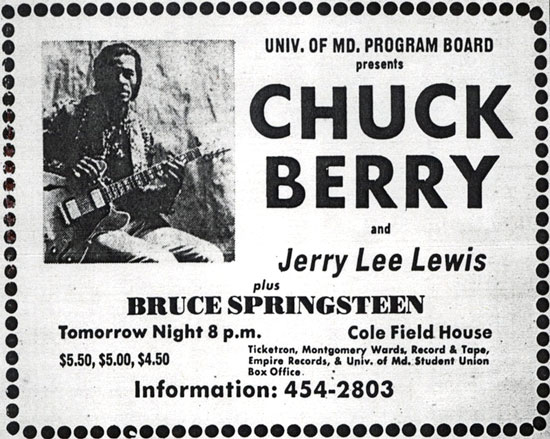 "NEVER STOP ROCKIN'..."
Celebrating the lasting impact of Chuck Berry at 87
Bruce Springsteen still rocks at 64 for sure, but 23 years further on up the road is Rock and Roll Hall of Famer Chuck Berry, the first artist to share a co-writing credit with Bruce on an officially released Springsteen recording ("Johnny Bye-Bye"). Berry, a major and enduring influence on Springsteen and countless other rockers, will turn 87 tomorrow and still plays one gig per month at Blueberry Hill in his hometown of St. Louis. (His next concert is set for November 13, just two months shy of Berry's landmark 200th show at the club.)
2013 also marks 40 years since Bruce first performed with Chuck, on an April 28, 1973 triple-bill with Jerry Lee Lewis at the University of Maryland. Two decades later, Bruce and the E Street Band appeared onstage again with both Berry and The Killer at the September 2, 1995 inaugural Concert for the Rock and Roll Hall of Fame and Museum in Cleveland.
E Street Radio is celebrating Chuck Berry's 87th birthday this week with a special edition of its fan-as-guest-DJ show You Be the Boss, hosted by Bruce/Berry fan and blogger Ryan Hilligoss. The show, full of Berry-influenced Springsteen tracks and some of Chuck's own classics, debuts today on Sirius/XM channel 20 at 5pm ET, with repeat broadcasts airing tomorrow (October 18, Chuck's birthday) at 9am, Saturday October 19 at 6pm and Sunday October 20 at 11pm. For more on Chuck Berry and his lasting impact, check out Hilligoss' new blog essay "Let It Rock!!! The Music of Chuck Berry and Bruce Springsteen," as well as Berry's page at the Rock and Roll Hall of Fame site and his official website.
- October 17, 2013 - Shawn Poole reporting - vintage newspaper ad thanks to Brucebase


ON THE HORIZON LINE WITH WILLIE AND EMMYLOU
Willie Nelson has been turning out albums faster than the average fan can listen to them these days. His most recent outings have found him comfortably leaning into his past. Just a few months back he released a set of standards, Let's Face the Music and Dance, revisiting the feel of Stardust, followed this month by To All the Girls..., an all-duets album with the best female voices Nashville has to offer. The latter is of particular note for Springsteen fans, as it features a fine rendition of The Ghost of Tom Joad's "Dry Lighting" together with Emmylou Harris.
Harris has been no stranger to the Springsteen songbook. In addition to joining Bruce in concert, in the past she recorded a fine version of "Mansion on the Hill" on her At the Ryman album, "Racing in the Street" on Last Date, "The Price You Pay" on Cimarron, "My Father's House" on Thirteen, and "Tougher Than the Rest" on Brand New Dance. (A vocal admirer of Patti Scialfa's songwriting, she also covered "Spanish Dancer" on her most recent album with Rodney Crowell, Old Yellow Moon, and "Valerie" on Western Wall.)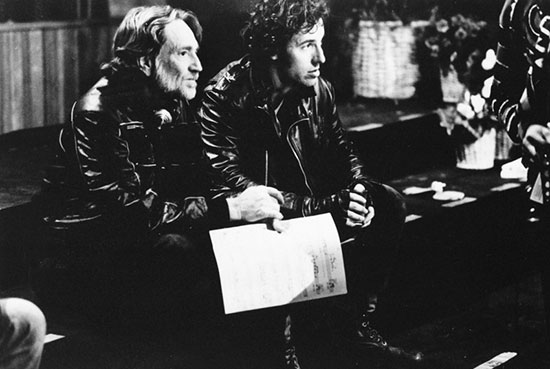 For Willie, though, this is more of a rarity. To date his most notable encounter with Bruce would have to be on "We Are the World" [above], though the two have also been involved in other multi-artist efforts like the1988 Woody Guthrie & Leadbelly tribute Folkways: A Vision Shared, Jerry Lee Lewis' Last Man Standing album, and the 9/11 telethon America: A Tribute to Heroes.
If you pick up To All the Girls... for the Springsteen track, be sure not to discard the rest. Though Nelson never steps out of his comfort zone, there's not a bad cut on there. Standout tracks are a rousing "Bloody Mary Morning" with Wynonna Judd and the absolutely dreamy "No Mas Amore" with Alison Krauss. Other highlights have him teaming up with the legendary Loretta Lynn, Muscle Shoals upstarts the Secret Sisters, and the ever-fine Norah Jones.
- October 17, 2013 - Alex Verhoeff reporting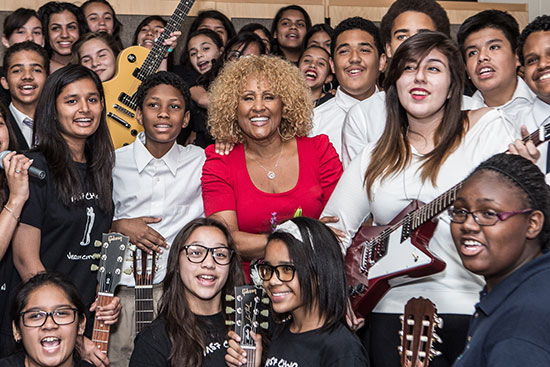 "BIG MAN OF THE YEAR" CROWN PASSES FROM STEVIE TO DARLENE
Thursday's Little Kids Rock gala includes an Aussie package up for auction
Little Kids Rock, a charity that donates rock 'n' roll music education and instruments to 110,00+ kids, honors the legacy of Clarence Clemons each year at the Right to Rock Benefit with the presentation of the Big Man of the Year Award. Following Steven Van Zandt, Lady Gaga and the Big Man himself, this year's recipient will be the legendary Rock and Roll Hall of Famer that Bruce Springsteen once called a "one-woman wall of sound," Darlene Love.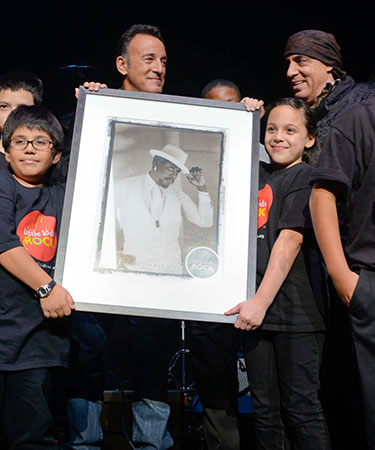 The 2013 Right to Rock Benefit is this Thursday night, October 17, in New York. Steven, last year's recipient (pictured here at the 2012 gala with Bruce) will be producing the concert once again, with a bill that also includes Elvis Costello, Brian Wilson, and Jake Clemons.
In celebration of Ms. Love's desire to help Little Kids Rock keep music in the classroom, the charity is holding an online auction where fans supporting the cause can win some incredible donated prizes: there's Barbara Pyle's historic 1975 photograph of Bruce and the band Pyle called "Dawn Rehearsal"; there's lunch and shopping with Maureen Van Zandt; and there's a major lot for the E Street Band's 2014 Australia leg. That one includes the chance to see Bruce Springsteen and the E Street Band twice (4 tickets to each show) in Melbourne, Australia, along with a meet-and-greet with Little Steven and Jake Clemons, not to mention a seven-night stay at a luxury resort.
Visit charitybuzz.com/lkr to see all of the auction packages.
Visit littlekidsrock.org/righttorock2013 to reserve your seat at Little Kids Rock's Right to Rock Benefit.
- October 15, 2013 - photographs by Mark Jaworski (1) and Matthew Carasella (2)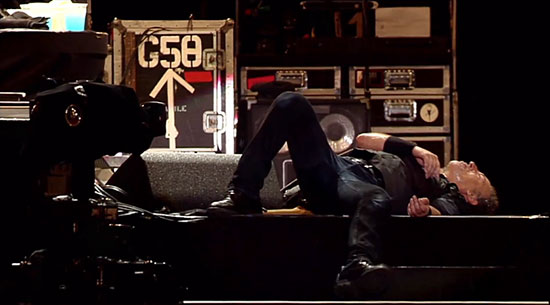 "A REAL INTENSE JOURNEY"
Zimny talks "Dream Baby Dream" on E Street Radio
Thom Zimny was a special call-in guest on Friday's edition of E Street Radio's Live From E Street Nation with host Dave Marsh, offering considerable insight into the creation of the new "Dream Baby Dream" video. Springsteen's constant collaborator on video projects — also the hand behind the Clarence & Danny tribute montage from the Wrecking Ball Tour — Zimny continues to speak of his editing work as guided greatly by Bruce's own director-like choices. "I think it's that kind of collaboration... on every project. And this one was a real intense journey where every day we talked about it, and every day he was giving these ideas of where we can take it in terms of the message."
According to Zimny, work on the video began before the Wrecking Ball Tour ended. "It started in the classic Bruce way of just a simple text and just the ["Dream Baby Dream"] track arriving, then a conversation with Jon [Landau], and it kinda grew from there.... It was great because it gave me a chance to go through a lot of the great stuff that Chris Hilson and the team captured throughout the tour. The great thing with Bruce is that he has this memory of those shows; it's very clear. So he would reach out to me and say, 'You've gotta get this show.... This moment happened.... These people were there....' And at times it was just that sort of direction — his memories of the show and [his] impressions. And then I would go search through footage and really try to get what he was getting at in terms of a tone."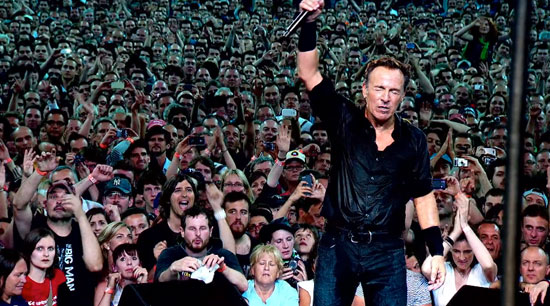 "There's a great thing that Bruce gave me in terms of direction," Zimny continued, "which was to sort out those quiet moments and look in the footage for those faces that are translating the scope of the show. So you have moments of humor and moments of seriousness, to try to get within the one video the full range, and I think that was his greatest direction."
Zimny initially cut footage for the video using the previously released live version of "Dream Baby Dream" from the Devils & Dust tour, but shortly thereafter he received a copy of the new studio version. Working with the new version of the song took the editing of the video to "another place," said Zimny, "because there's a lot of great things to work with, with the different rhythms and the background sounds and the way it's produced.... I've listened to it so many times, and there's so much going on in the background that I always am amazed. The way it picked up at the end is just really powerful — and really helped with the cutting, because it was a point of working with Bruce on the shot of people carrying him through the audience, and where that comes in musically, those sorts of details. How long that shot is on, and where he is placed in the journey of this story, those were things that I talked about and worked out with him every day, because it was a concentration on the show and the community and the fans."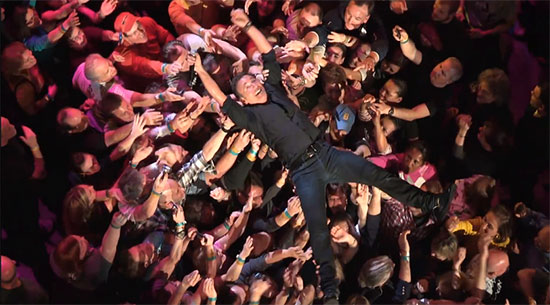 Catch the rebroadcast of Zimny's appearance on Live From E Street Nation with host Dave Marsh this Sunday, October 13 at 8 pm ET, exclusively on E Street Radio, Sirius/XM channel 20.
- October 12, 2013 - Shawn Poole reporting - stills from the "Dream Baby Dream" video, shot by Chris Hilson and edited by Thom Zimny


WITH NOTE AND VIDEO, BRUCE EXPRESSES "THANKS FROM ALL OF US"
In a letter to posted to his official site last night, Bruce Springsteen writes, "As our Wrecking Ball tour comes to its close, the E Street Band and I want to thank our friends and fans for the love and support we've received over the past year and a half."
As no small token of that thanks, an accompanying video is a moving collection of dreamers and other highlights from the Wrecking Ball tour, shot by Chris Hilson, edited by Thom Zimny, and set to a new recording of "Dream Baby Dream." Bruce had previously released a live cover of the Suicide song, which he performed regularly on 2005's Devils & Dust tour, but this is the first studio version to see the light of day. The track was produced by Ron Aniello with Springsteen, mixed by Bob Clearmountain. Considering that Bruce spoke about recording in Australia earlier this year, along with the notion that he'll want to put out new material before returning there in February, this new studio track could be a sign of things to come.
In his gracious thank you note, Bruce looks toward the future, too: "You have reignited in us a great passion for what we do. We'll do our best to honor it."
The full text is below, and at brucespringsteen.net.


STONE PONY TO HOST ROTHENBERG BOOK LAUNCH ON SATURDAY
Debra Rothenberg, recently on The Artie Lange Show to promote her new book of Springsteen photographs, is celebrating with an official launch party this weekend in Asbury Park. This Saturday afternoon, October 12, the Stone Pony presents Debra Rothenberg's book release party for Bruce Springsteen: In Focus 1980-2012, from 3:00 to 7:00pm (no cover charge). The book has already gotten rave reviews, including the Wall Street Journal naming it one of "The Best Photo Books for Fall." The release party will be followed by Springsteen tribute band Tramps Like Us at 8:30pm (discounted $10 cover charge for all who purchased Deb's book, either at The Stone Pony or with purchase receipt from elsewhere). See Facebook for more detals about Saturday's launch party.
For those who ordered In Focus from Backstreet Records — Deb kindly spent much of yesterday and today signing for us, and those books will be in transit to us shortly... so we should be able to start fulfulling pre-orders next week. Thanks!
- October 10, 2013


HEART AND SOUL, FROM GLEN AND EDDIE AND JAKE
"Drive All Night" is a song that Glen Hansard has taken to and really made his own, covering it with hs band The Swell Season onstage and off, often with Jake Clemons, and with Eddie Vedder, too. This summer, Glen played it with the man himself in Kilkenny. Later this year, he'll be releasing a studio version for the first time, on a four-track vinyl EP November 26 (followed by a CD release on December 3) from the Anti label. Icing on the cake: both Jake and Eddie are special guests.
- October 9, 2013

NEW FROM JOE GRUSHECKY: SOMEWHERE EAST OF EDEN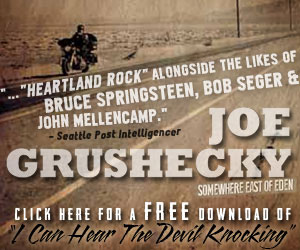 Today marks the release of Joe Grushecky's 14th album since his days as an Iron City Houserocker. Somewhere East of Eden — Joe's first album since 2009's East Carson Street, which featured the Springsteen co-write, "Another Thin Line," — consists of 12 tracks, ten of them originals, recorded just over the Pennsylvania state line in Weirton, West Virginia, with longtime co-producer Rick Witkowski.
Grushecky's anthemic blues-rock is at its consistent best on this collection, though the musical boundaries are stretched to satisfying effect: "When Castro Came Down From the Hills," a love story set in the 1950s Cuban Revolution, is marked by period-appropriate Latin horns and rhythms, while Grushecky puts his own stamp on a cover of "Save the Last Dance For Me," no mean feat considering the song has been recorded by everyone from the Drifters to Emmylou Harris. In Grushecky's hands, the song ends up as a sparse lament that wouldn't have sounded out of place on Tunnel of Love.
There are, of course, plenty of classic meat-and-potatoes Grushecky tracks for fans to sink their teeth into, musically and lyrically. The title song delves into the problems faced by an Iraq War veteran returning to the states, while "Prices Going Up" takes on the issues average Americans face in these troubled economic times. The entire album is effectively delivered in Joe's trademark growling croon, and the co-writer of "Code of Silence" has never sounded better.
While Grushecky self-deprecatingly sings of his appeal to the opposite sex in "Still Look Good (For Sixty)," rather than still sounding just "good," the man is in his prime on Somewhere East of Eden.
Click here to download a FREE mp3 from the album,
"I Can Hear the Devil Knocking"
Click here to order now from Joe's site, on CD or mp3
- October 8, 2013 - John Howie, Jr.

ROCKTOBER EVENTS THIS WEEK
Wednesday, October 9: Louis Masur, Rutgers professor of American Studies, will be giving a talk tomorrow called "Talk About a Dream: Bruce Springsteen's American Vision, from New Jersey to the World." Masur is the author of Runaway Dream: Born to Run and Bruce Springsteen's American Vision and co-editor of Talk About a Dream: The Essential Interviews of Bruce Springsteen. Masur's lecture, part of a series at at Montclair State University called Jersey: A Sense of Place, will "discuss Bruce Springsteen's New Jersey origins and how his American vision was shaped by his Jersey roots and then carried to the world," Wednesday afternoon from 4 to 5pm in Brantl Hall at Dickson Hall. Read more about the Jersey lecture series at northjersey.com.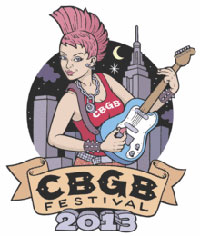 Saturday, October 12: Nick Mead, director of Clarence Clemons: Who Do I Think I Am?, will be in New York this weekend for a rare screening of his documentary as part of the CBGB Festival's Film Conference. Following his latest cut of the film, Mead will be leading a workshop. "It's going to be about making a film without a script, seeing where it goes and making the most of it," he tells Backstreets. "About overcoming the obstacles thrown in your way, which include, but are not limited to, the passing of your leading man on one hand and the arrest of your leading man on another. How the three-month 'bit of fun' turns into a seven-year odyssey, and your well-funded enterprise fast turns into a labor of love." Nick will be bringing along some outtakes from the film to show, in discussing how the current cut got to where it is. This CBGB Festival screening/workshop is at the Indie Screen theater in Brooklyn, 11am on Saturday, with tickets available through brownpapertickets.com.
- October 8, 2013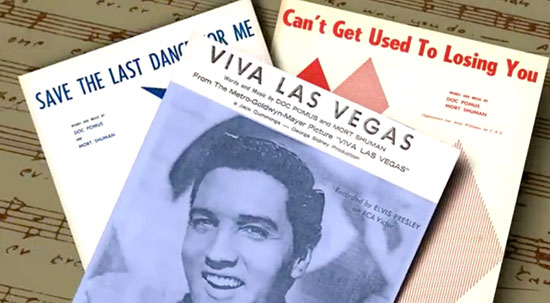 I NEED A QUICK SHOT, DOC…
More screenings of AKA Doc Pomus, featuring Bruce & Southside
Peter Miller's documentary film AKA Doc Pomus explores the amazing life and work of the great songwriter who influenced Bruce Springsteen and so many others. (Our detailed take on the film is archived here; click here for a more recent trailer.) The film also features brief appearances by Bruce and Southside Johnny Lyon, with a longer appearance by Springsteen biographer/critic Dave Marsh, who knew Pomus personally.
Miller recently shared with us the good news of more screenings across the U.S., starting with this weekend's New York City screenings. Here's an up-to-date listing with links to buy tickets:
Miller also tells us that additional screenings and venues will be announced soon. Visit akadocpomus.com for updates.
- October 3, 2013 - Shawn Poole reporting

SPRINGSTEEN & I COMING TO SHOWTIME AND DVD/BLU-RAY
The unique fan-filmed documentary Springsteen & I will receive its premiere cable television broadcast on Showtime on Friday, October 25 at 9pm Eastern. So far it looks like Showtime will be airing only the film itself, with none of the extra footage included in its theatrical run (see below.) The film will receive eight additional Showtime broadcasts through October 31, and also will be available via Showtime On Demand from October 26 through November 22. Click here for details.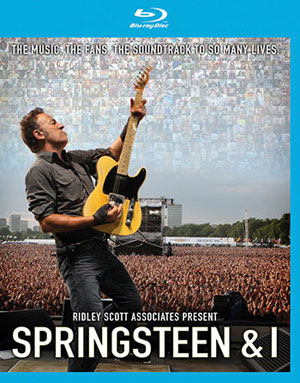 Eagle Rock Entertainment will release Springsteen & I in DVD and Blu-Ray formats on October 29. Based on what the audience saw at the recent big-screen Blu-Ray preview benefiting The Friends of The Bruce Springsteen Special Collection, the DVD/Blu-Ray will include everything featured in the film's initial theatrical screenings in July. That would be the complete documentary, six filmed performances from the 2012 Hard Rock Calling show (including Paul McCartney's appearance) and a brief, funny and moving epilogue to the documentary that involves Bruce meeting some of the fans featured in the film. As an additional bonus feature, there also will be several more fan-submitted clips that didn't make the final cut of Springsteen & I. The clips will be viewable in a separate suite of clips, concluding with the theatrical epilogue.
MyPlay Direct is now taking pre-orders for special bundles that include a T-shirt and poster for the film. All fans who pre-order bundles on or before October 7 will have their names added to the poster. For the poster, T-shirt and Blu-ray, it's $49.98; for the poster, T-shirt, and DVD, it's $44.98. Click here for details.
If the bundle is more than you need, Backstreet Records is taking pre-orders now for just the individual Blu-rays/DVDs, at the pre-order sale price of $13.50 for the DVD and $18 for the Blu-ray.
- October 2, 2013 - Shawn Poole reporting