HAPPY HOLIDAYS FROM BACKSTREETS!

What a year, huh? With E Street Band stadium shows around the world, "boutique" concerts from Somerville to Asbury Park, and even a couple new shiny things for the CD and DVD shelves, 2003 has been one of the busiest we can remember. (As our
new issue
, which just rolled off the presses at a massive 64 pages, can attest.) We just wanted to take a sec and say thanks: Thanks for following it all with us this year; for your patronage; for your patience while we reconstructed BTX in the spring; and for all the kindnesses we've received from fellow fans this year, whether it was a nice email out of the blue or a beer in the parking lot. We've got high hopes for the new year, too — whatever happens in the world of the Boss, may 2004 bring you many sunny days.
Holiday hours: We'll be here up until the end of the day on December 23, making sure holiday packages get out to everyone in time. Don't forget, we do offer overnight service, if you need a last-minute gift for a Boss fan. You can place an overnight order as late as 2 p.m. on December 23, for delivery to anywhere in the U.S., for arrival on Christmas Eve. While the website and online shop will remain open 24/7, the Backstreets office will be closed from December 24 until the first Monday of the new year, with our normal hours resuming on January 5. We hope your holidays are happy and safe!
- December 22, 2003

ROLLING STONE POLL ENDS DECEMBER 23
Vote for Bruce and Backstreets.com in RS Readers' Poll


The end-of-the-year lists are right around the corner, and once again one of the most watched will be from Rolling Stone. Springsteen fans should be quite familiar with the magazine's annual "Artist of the Year" award, something Bruce himself has won approximately 57 times. The format will be similar to years past, with both a critics' poll and a readers' poll, and there are just a few days left to make your voice heard and your vote count — polls close on December 23.
Fill in your choice for Artist, Tour, Video, and Band of the year — and then skip on down to #19 and let 'em know where you heard about the poll in the first place! That's right, this year you can also vote for the BEST FAN WEBSITE. If you do appreciate our site, we would most definitely appreciate your vote. Sure, we might be a tad biased, but Backstreets.com really looks good in a swimsuit, and her Mama thinks she can sing like an angel. She wants the flowers, she wants the tiara, and she wants the "Best Online Fan Site 2003" sash that comes with it. If she does win, Backstreets.com promises to promote world peace, uphold all the duties of the title, and never pose nude for amateur photos. So check it out now at RollingStone.com, and we'll be sure to post any interesting results right here on the news page. It's your civic duty!
- Updated December 19, 2003

FUNERAL FOR A FRIEND

Shortly after financier and philanthropist John Mulheren died on Monday, Bruce Springsteen said in a statement: "When my friend John Mulheren died last night, it felt like our town had lost half of its population, such was the size of his presence and the feeling of loss among those of us who knew him. He was always doing, always building, always moving. Whatever he touched he changed, whether it was our community or your life. His great generosity, spirit and friendship will be deeply missed." On Friday, December 19, Springsteen and Jon Bon Jovi were among those attending
Mulheren's funeral
in Rumson; at the request of Mulheren's wife, Bruce closed the ceremony with a performance of "Santa Claus is Coming to Town."
- December 19, 2003

THE BOTTOM LINE: DOWN BUT NOT OUT
While a judge ruled against The Bottom Line at a December 3 hearing in the Greenwich Village club's rent dispute vs. NYU, the struggle continues... but who knows for how long. For now, the Bottom Line has yet to be evicted, and on December 19 a demonstration was held outside the club to try and save it. For more, including what you can do to help, visit www.savethebottomline.com.
- December 19, 2003

100 DAYS BURNIN' DOWN THE ROAD, THEY GAVE IT A NAME

As a
Reuters
story reports, "Attention Bruce Springsteen: you have a friend at the San Diego zoo." The cool rockin' giant male panda born there in August (and by Chinese tradition, not named until 100 days after birth) has just been given the name
Mei Sheng
— which translates to "Born in the USA." Mei Sheng is only the second US-born giant panda to survive past 4 days.
- December 17, 2003

WHAT A DIFFERENCE A STADIUM MAKES
Touring grosses are in, and according to Billboard.com, Springsteen's 2003 tour for The Rising was the second-highest earner of the year, at $181.7 million. Springsteen and the E Street Band were topped only by the Rolling Stones (and, as several readers pointed out, the Stones were raking in quite a bit more $ per ticket). The rest of the year's top ten touring acts in descending order: Fleetwood Mac, Dixie Chicks, Eagles, Dave Matthews Band, Aerosmith/Kiss, Metallica's Summer Sanitarium, and Billy Joel/Elton John.
- Updated December 17, 2003


PETE YORN GETS ON THAT COAST CITY BUS
Pete Yorn has been known for throwing in Springsteen covers at his live shows, and he's already released his versions of "Dancing in the Dark" and "New York City Serenade." True to form, the singer/songwriter's first live album, due January 6, will include his take on "Atlantic City." The two-CD set, called Live from New Jersey, was recorded in October in Morristown, and will be available only from www.peteyorn.com.
- December 16, 2003

2003 HOLIDAY SHOWS: PEACE, LOVE, UNDERSTANDING, AND SOUL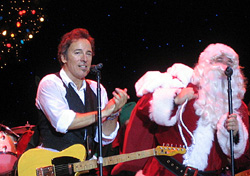 After a 2002 hiatus, the Springsteen & Friends holiday shows returned to Asbury Park's Convention Hall for three nights in early December. A snow day moved the 12/6 concert to 12/8, but otherwise the shows went off without a hitch, the Max Weinberg 7 impressive as usual (despite only two days rehearsal time) as the hard-working houseband. The nightly peak had to be Sam Moore's set -- getting over a cold (though you'd hardly have known it), Moore's voice grew more powerful each night, and Bruce seemed to be as awed as we were. "Soul Man" in particular, with the additional power of the MW7 horns and the Alliance Singers, had Convention Hall rocking like it was "Rosalita." Other highlights were the live premiere of "None But the Brave," a "prayer for peace" in the blistering "What's So Funny About Peace, Love and Understanding," Bruce and Jimmy Vivino's mind-blowing guitar duel in "Thundercrack," Nils Lofgren's fearless center-stage turn on "Because the Night," Little Steven's tribute to Joey Ramone, and what has become an annual holiday gift, a horn-filled "Kitty's Back." Danny Devito and Jon Bon Jovi each put in a night's work, with multi-night guests including Moore, Jesse Malin, Garland Jeffreys, Southside Johnny, Bobby Bandiera, Willie Nile, the Victorious Gospel Choir, the Alliance Singers, Lisa Lowell, Soozie Tyrell and other E Streeters Little Steven, Nils Lofgren, and Danny Federici (only Patti Scialfa, Roy Bittan, Clarence Clemons, and Garry Tallent were missing). And this one was for the kids: proceeds from these benefits went to the Asbury Park High School Band and the Asbury Park Blue Bishops Junior Pee Wee football team.
Additional beneficiaries: City of Asbury Park Community Center Fund, Boys & Girls Club of Monmouth County, Epiphany House, Family & Children's Service, Hispanic Affairs & Resource Center of Monmouth County, Hope Academy Charter School, Interfaith Neighbors, Prevention First, Save Tillie, S.T.A.R.S. Community Development Corporation, and The Center.
- Updated December 16, 2003. Photo: Mike Brazinski
For the full setlists from each Holiday Show, as well as from Springsteen's other recent performances, go to our setlists page.


THE NEW REPUBLIC: A FAIR AND BALANCED LOOK AT BRUCE?


For the cover of their latest issue, The New Republic asks: "Tramps Like Who?" Well, for starters, there are the Tramps who would notice an error in the cover story's very first sentence: "Thirty years ago this fall, Bruce Springsteen released his first album, Greetings From Asbury Park, New Jersey." (Bruce's second album was released that fall; Greetings came out in January of '73.) In any case, if this kind of thing grabs you -- "The image of Bruce Springsteen is one of the greatest inventions in the history of rock and roll. But what is the reality?" -- head on over to The New Republic website.
- December 10, 2003

SATURDAY NIGHT HOLIDAY SHOW MOVED TO MONDAY
"We're going to blow this storm out of Asbury Park!" Bruce said on Friday night, and while it was by several accounts one of the strongest holiday shows yet, it wasn't enough to affect local weather systems.
Because of current conditions, tonight's show (Saturday, December 6) has just been rescheduled to Monday, December 8. Tickets for the Saturday show will be honored on Monday. If you have tickets but are unable to attend Monday night's performance, call Ticketmaster to refund your tickets immediately. This information comes from the shows' promoter, Concerts East. Nothing has changed regarding the Sunday, December 7, show, which is still expected to proceed as planned.
If you're already in the Asbury Park area, The Stone Pony will be open on Saturday night, with Bill Chinnock performing.
- December 6, 2003

ASBURY PARK HOLIDAY SHOW PROCEDURES
The weather outside may be frightful, but new rules for this year's Holiday Shows seem designed to keep standing outside in the cold to a minimum (at least, there's no good reason to stand on a wind-whipped boardwalk all day). As of noon Friday, here's the word on how it's gonna work:
G.A. ENTRANCE:
THERE IS NO LOTTERY OR LISTS FOR GA ENTRANCE.


ENTRANCE WILL BE ALPHABETICAL, LINED UP BY LAST NAME OF THE TICKETHOLDER.


FOUR (4) LINES WILL BE FORMED AT 5:00 PM— A-F, G-L, M-R, S-Z.


ALL FOUR LINES WILL ENTER SIMULTANEOUSLY.


THE LINES WILL BE IN STRICT ALPHABETICAL ORDER, NOT IN THE ORDER IN WHICH YOU ARRIVE. THUS, EVEN IF "APPLE" HAS BEEN WAITING AROUND SINCE TUESDAY, "ACORN" WHO SHOWS UP AT 4:55, GETS ON LINE AHEAD OF APPLE.

IF "APPLE" AND "FISH" BOTH HAVE TICKETS IN THEIR OWN NAMES, EVEN IF THEY CAME TO ASBURY TOGETHER AND WANT TO STAND TOGETHER, FISH IS STILL AT THE BACK OF THE LINE.

AFTER CONVENTION HALL PERSONNEL CUT OFF THE LINE AT 5PM, ANYONE ARRIVING AFTER 5 WILL BE ADDED TO THE BACK OF THE LINE IN THE ORDER THEY ARRIVE.

PLEASE COOPERATE BY GETTING YOURSELVES IN LINE IN ALPHABETICAL ORDER. HAVE PHOTO ID AND THE CREDIT CARD USED FOR PURCHASE READY.

ALL TICKETMASTER TICKETHOLDERS USE THE SOUTH BOARDWALK ENTRANCE. THOSE LUCKY ENOUGH TO AVOID THESE PROCEDURES (I.E., BAND WILL-CALL) USE THE NORTH ENTRANCE. NO EXIT AND RE-ENTRY.
DROP LINE: DROP IS EXPECTED TO BE MINIMAL. IT WILL BE DONE BY LOTTERY. ONE (1) TICKET PER PERSON ON THE DROP.
THE GOAL: DOORS AT 7:30, MUSIC AT 8:00.
DRESS WARMLY.

And travel safe! For any additional details or clarifications, visit the promoter's website at Concertseast.com.
- December 5, 2003

ZEVON AND SPRINGSTEEN SHARE A GRAMMY NOD
It's already Grammy time? But the scars had just started to heal! Well, you might have thought this would be a sitting-it-out year for Springsteen, but he is indeed is on the list of Grammy nominations announced this week. Together with Warren Zevon, Bruce is up for the Best Rock Performance by a Duo or Group with Vocal award, for "Disorder in the House" (from Zevon's final album, The Wind). Even better, they're not up against Norah Jones. The competition: "Times Like These" by Foo Fighters; "There There" by Radiohead; "Calling All Angels" by Train; and "Seven Nation Army" by the White Stripes. "Disorder in the House" also got a nomination for Best Rock Song (a songwriters' award) for Zevon and Jorge Calderon; The Wind received five nominations in all. The 46th Grammy Awards will be held on February 8 in Los Angeles and broadcast on CBS.
- December 5, 2003

HOLIDAY SHOWS BEGIN TONIGHT!
Springsteen's 2003 Holiday Shows begin Friday night December 5, the first of three benefit concerts in Asbury Park this weekend. Surprise guests have been a regular part of this new holiday tradition, with the bill including the Max Weinberg 7 "and Friends"... this time, some guests have been confirmed in advance. Returning for a second year will be Garland Jeffreys, who was part of the 2001 Convention Hall festivities (and who has already played with Bruce this year at Giants Stadium, Shea, and the Stone Pony). And new to the Holiday Show stage will be Jesse Malin, whose cover of "Hungry Heart" appeared on the Uncut and Light of Day tribute CDs earlier this year. If you want to prep for this weekend, we highly recommend picking up Jesse's The Fine Art of Self Destruction. Others coming down Santa Claus Lane: Soozie Tyrell also confirms that she'll be there, Southside Johnny will be bringing his usual holiday spirit, and soul legend Sam Moore is expected as well. Moore, who contributed vocals to "Soul Driver," "Real World," and "Man's Job" on Human Touch, last joined Bruce on 10/15/99 for "Soul Man." According to www.foxnews.com, look for Jon Bon Jovi, Richie Sambora, and the possible return of Elvis Costello on Sunday night.
UPDATE: The Associated Press has reported a couple beneficiaries of this year's Holiday Shows: the Asbury Park High School band (to which Springsteen will be donating not only some of the proceeds, but also 30 instruments and complimentary tickets to band members) and the Asbury Park Blue Bishops Junior Pee Wee football team.
- Updated December 5, 2003

BACKSTREETS #78 AT PRINTERS NOW
The upcoming issue of Backstreets Magazine is a wrap. Issue #78 covers the entire Summer Tour 2003 from Giants to Shea stadiums, in detail with full-color photos. Plus the Backstreets Interview with Shane Fontayne (marking ten years since the '92-93 tour came to a close), the fourth annual Light of Day benefits, new and forthcoming Boss books, Essential, and more — a new record for our biggest single issue ever. We'll post more on the new issue after the Holiday Shows, including when you can expect it to arrive, but for now this is a last call: if you've moved, be sure to submit your change of address, and if you've been meaning to subscribe or renew your subscription, now's the perfect time.
- December 4, 2003

NEW CONCERT SHIRTS IN STOCK NOW FROM SUMMER TOUR 2003
Just in time for holiday shopping at Backstreet Records
So: you've been making a list and checking it twice, and still don't know what to get your favorite Boss fan? From 2004 Bruce Calendars to new summer tour T-shirts, Bruce books, CDs, video, and more, Backstreet Records specializes in Springsteen and nothing but. "Santa Claus is Comin' to Town" on CD? Got it. And now is a great time to visit our online shop, as we're gearing up to help get holiday gifts sent to our customers in plenty of time.
For orders placed before December 10, our "standard shipping" will guarantee delivery before Christmas to any address in the U.S. If you need something fast, we also offer Expedited shipping to U.S. addresses, either 2-Day or Overnight. For orders shipping internationally, we recommend ordering just as soon as you can if holiday delivery is important, as it's harder to gauge exactly how long overseas delivery will take at this time of year. Follow this link to the Backstreet Records storefront, or go straight to the Latest Additions page to see what's new.
And don't forget: in addition to all the Bruce items in our shop, you can also give the gift of Backstreets Magazine. Use our gift subscription form to send a year's worth (or two, or three) of Backstreets to a friend. The form also allows you to let us know how you'd a card to be signed. We'll take care of it from there. When it comes to gifts that keep on giving, it sure beats the jelly-of-the-month club.


SHOP ASBURY PARK MERCHANTS FOR A CHANCE AT HOLIDAY TIX
Tickets sold out lickety-split for this year's Holiday Shows, but once again you've got a chance to win a pair—and to meet Springsteen himself as part of the prize—by shopping and dining in Asbury Park. Beginning Friday, November 28 and continuing through Saturday, December 6 at 3 p.m., shoppers will receive a contest entry for every $10 they spend at a participating Asbury Park retail store or restaurant. A grand prize drawing will be held on December 6 at 3:30 p.m., with two lucky winners. Each winner will receive a pair of tickets for the final night in Convention Hall (12/7), a backstage visit with Bruce, and the chance to join in onstage during "Santa Claus is Comin' to Town." Visit asburypark.net and cityofasburypark.com for detailed contest rules and a list of participating merchants.
- Updated December 5, 2003

FIRST "DIFF'RENT STROKES," THEN "JAKE AND THE FAT MAN"...
...now "My Wife and Kids." Watch for a guest turn from Clarence Clemons on the Damon Wayans sitcom, Wednesday November 26 on ABC (8/7c). Titled "Michael's Band," the episode features the Big Man (star of prime-time tellyvision!) as Johnny "Saxophone" Watson.
- November 25, 2003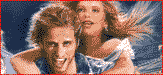 SAVE ON "GLASSIC LYRICS" BARWARE
Our friends at Tenth Avenue Productions have made some pretty cool barware based on Springsteen songs — they've got two different sets of glasses, a Wild & Innocent collection and a Born to Run collection. (Each has four different designs, with Wild & Innocent glasses inspired by "The E Street Shuffle," "Kitty's Back," "Rosalita," and "Wild Billy's Circus Story"; the Born to Run collection has "Thunder Road," "Jungleland," "Backstreets," and "Born to Run").
Just in time for the holidays, they're now offering a special deal to Backstreets readers: Order either complete set of glasses, and save $10 off the set. You can tell 'em Backstreets sent you by following this link to the Tenth Avenue Productions website, order one of the Glassic Collections, and enter coupon code "btr" in the coupon field to subtract $10 from your order.


WHAT TIME IS IT?
It's B-b-birthday Time. A happy one to Little Steven, born 11/22/50

THE TRADITION IS BACK: 2003 HOLIDAY SHOWS ARE ON!
Well, lookee here at what Santa's got in his bag: Just two months after the Rising tour ended, Springsteen will take the stage again for three shows at Asbury Park's Convention Hall, spreading his own brand of holiday cheer as he did in 2000 and 2001. As in years past, Springsteen shares the bill with the Max Weinberg 7 and Friends, and proceeds will benefit local charities. This year's shows are planned for the first weekend in December: Friday 12/5, Saturday 12/6, and Sunday 12/7. Tickets go on sale through Ticketmaster charge-by-phone only (no outlet or internet sales) this Saturday, November 22, at 10 a.m. Eastern. Be sure to see our tour/ticket info page for additional ticket sale specifics. And a merry ho ho ho...
- Updated November 21, 2003

DROP THE NEEDLE DON'T PLAY?
Many fans have been experiencing problems with disc two of "Live in Barcelona," with some DVD players unable to navigate the on-screen menu or access the special features. Sony is aware of the problem, and says that they will replace defective discs by mail. If yours doesn't work correctly, you'll find contact information for their Quality Management Department on the back of the DVD package.
In the U.S., the number to call is 1-800-255-7514 (New Jersey residents call 856-722-8224). You'll be asked for the DVD's catalog number (which is C2D56390), so have that handy, along with your name, address, and telephone number; according to the QM Dept., Sony will be sending out envelopes for the return of the defective discs, to be replaced with copies that actually work. It seems not everyone has gotten a bum disc; we'd recommend testing yours before calling Sony.
- November 19, 2003

ESSENTIAL CHART WATCH: A TOP 15 DEBUT
Essential enters the Billboard charts this week at #14 with 90,000 copies sold. Nipping at its heels is "Lost Dogs," Pearl Jam's two-disc set of rarities, which came in at #15 with 89,600 copies sold, just a few hanging chads away...
- November 19, 2003

GOBBLE GOBBLE! "FENWAY PARK SPECIAL" SET FOR NOV. 27
A tellyvision special focusing on Springsteen's Fenway Park stand, to be broadcast by New England Sports News (NESN), is scheduled for Thanksgiving night at both 8p.m. and 10 p.m. The special will be re-broadcast on Wednesday, December 10 at 10:30 p.m. and Monday, December 15 at 7:00 p.m. NESN is available on basic cable for the majority of the New England region, as well as on some satellite dish services.
The half-hour program, "The Boss in Boss Town: Bruce Springsteen at Fenway Park Special," is a "making of"-style feature on the Fenway shows, the first time the network has produced an original program that is not sports-related (the special was written, videotaped and produced by NESN). It documents the massive undertaking required to transform Fenway Park from a baseball stadium to a concert venue and features footage of Bruce and the E Street Band performing live on stage. NESN President Sean McGrail says, "The concept for the program stemmed from the historic nature of these concerts. The two shows marked the first ever rock concerts at Fenway Park, and NESN wanted to provide a documentary of the event to Red Sox and Springsteen fans alike."
- Updated November 18, 2003

COME ON COME ON COME ON COME ON COME ON COME ON COME ON!
Yeah, "Essential" has been the soundtrack here at Backstreets HQ as we've been taking care of CD and DVD orders and working on the new issue of Backstreets Magazine — y'know, in between playing "count the errors" in the booklet. Look for our report on Essential in Backstreets #78, due in December. The "Live in Barcelona" DVD hits store shelves tomorrow — and in addition to the full Barcelona show, that "Night of the Living Boss" Fenway video is included. If you missed it online (as part of Amazon's Holiday A-List, reported below), or just wanted to see it in better quality, you're in luck. You won't find "Night of the Living Boss" in the on-screen menus, but it's on disc two, after the "Drop the Needle and Pray" documentary. (And Essential isn't the only one with credit errors; the Fenway performance of "Diddy Wah Diddy" is incorrectly listed and credited as "Do Wah Diddy Diddy," rather than the 1966 hit for Barry and the Remains.) Thanks to everyone who ordered one or both of these titles from Backstreets, we always appreciate the support, and we've done our very best to get this new Bruce Juice out to you quickly. Check back soon for Essential chart action...
- November 17, 2003

BRUCE INCLUDED IN LEIBOVITZ'S NEW "AMERICAN MUSIC"
Famed photographer Annie Leibovitz launched her new exhibition, "American Music" at the Experience Music Project in Seattle on November 7. The exhibition coincides with her book by the same name, with portraits of musicians around the country including a two-page, color shot of Springsteen. Taken in Philadelphia in 1999, the photo shows Bruce taking notes for his setlist for the next show. Answering questions at EMP, when asked how she decided to shoot color versus black and white, Leibovitz pointed out pictures of legends like June Carter and Johnny Cash and and Emmylou Harris, saying the timelessness of their work made black and white seem the right choice. When asked why Springsteen was shot in color, she explained that she'd photographed Bruce many times over the years, and he's been pictured as a "rock star" icon so frequently, she felt that it'd been done. So her photo is in color, showing him sitting at a table with his guitar, making notes—with a bowl of soup within reach. The EMP show runs through January 19, 2004. (Thanks to Christine Hess for the report.)
- November 12, 2003

A PLACE WHERE THE DANCIN' IS FREE... BUT THE GUITARS AIN'T!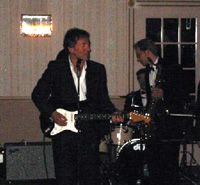 It was Bruce and his baby on a Saturday night as Springsteen and Patti Scialfa attended a November 8 fundraiser, with Bruce treating the crowd to "Jersey Girl." At the Muscular Dystrophy Association Gala in Aberdeen, NJ, Bruce donated a signed guitar that went for $15,000 in a live auction. On "Jersey Girl," played for an audience of roughly 550, Springsteen strapped on another guitar and sat in with the house band. One person in attendance tells Backstreets, "A great performance, considering it was probably unrehearsed with the band. The band started a little shaky but finished extremely strong."
For setlists from other recent performances, go to our setlists page.


TICKET ALERT: SOUTHSIDE'S NEW YEARS SHOW ON SALE NOV. 10
While we're still waiting for official word on possible Holiday Shows from Springsteen this year (with fingers crossed that he'll return to the tradition he started in 2000 and continued in 2001), it's not too early to start making plans for some holiday rock 'n' roll. Southside Johnny has announced his annual New Years Eve show, with the Asbury Jukes, back at the Ocean Place Resort in Long Branch, NJ. Tickets for the show will go on sale for $65 on Monday, November 10 at 9 a.m. through Ticketmaster. The festivities also including a signing session with the band after the show. Ring in the new year with the Jukes!
- November 8, 2003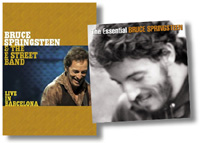 ORDER "ESSENTIAL" AND "LIVE IN BARCELONA" FROM BACKSTREET RECORDS
As reported below, two Springsteen releases are coming in mid-November: the Essential CD set (due 11/11), and the Live in Barcelona DVD set (due 11/18).
We'll be carrying both in our online shop, where your order directly supports Backstreets.com and BTX. Plus, if you place your order with us early, you'll take advantage of a special sale price, below retail. We're taking pre-orders for both Essential (with the bonus Disc Three) and Live in Barcelona now, with a pre-order discount for each, and we'll ship each title as soon as they're available. (We recommend ordering these individually for fastest delivery, unless you don't mind one combined package.) As always, we appreciate your support.

UPDATE: Our pre-order sale for Essential has ended; thanks to everyone who pre-ordered the 3-disc set from us, we'll be working hard to get them shipped out just as quickly as possible. We're continuing to take orders for Essential and pre-orders for the Live in Barcelona DVD (still at the sale price) in our online shop. Thanks for supporting Backstreets!
- November 8, 2003


THE MUSIC HAS GOT TO BE RIGHTEOUS
Bobby Hatfield, half of the Righteous Brothers (and vocalist on Springsteen's "I Wish I Were Blind"), died at 63 on November 5.
R.I.P.

DIDDY WAH DVD? "LIVING BOSS" FENWAY CLIP ONLINE TODAY
Halloween may be over, but brace yourself for "Night of the Living Boss" — no, not a Jersey swamp-zombie flick, but a video clip of footage from Springsteen's second Fenway show, 9/7/03. It's a one-song video montage, currently streaming online "as a special gift to his fans," to kick off Amazon.com's Holiday A-List. "Night of the Living Boss" shows Bruce and the Band arriving at the ballpark and taking the stage to the strains of "Take Me Out to the Ballgame," before busting into "Diddy Wah Diddy," with a montage of footage and stills from the show as the live audio plays (for an effect much like the classic "Born to Run" video, which used stadium footage from '85). "Night of the Living Boss" is being called "a special Live in Barcelona DVD Preview," leading us to believe that this mini-feature may be included on the Barcelona DVD itself. In any case, check out "Night of the Living Boss" today at Amazon.com, with no purchase necessary — though you will need Windows Media Player.
- November 3, 2003

FOUR YEARS RUNNING, BRUCE PLAYS LIGHT OF DAY BENEFIT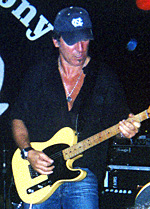 The first of this year's two Light of Day benefit concerts brought Springsteen's first public performance since the Rising tour. At the packed-to-the-gills Stone Pony on Saturday night, Springsteen stood by the soundboard, UNC cap pulled low, to check out Willie Nile (including "I'm on Fire") and Soozie Tyrell do their thing. After watching most of Garland Jeffreys' set, Bruce finally took the stage, taking a guitar lead toward the end of one of Jeffreys' songs before going into "96 Tears." "See you later," Bruce said at the close of the set, and that was the truth: At 1 a.m., after Joe Grushecky and the Houserockers played a few songs, Joe brought the Boss back onstage for an hour-and-a-half blowout. Their set together included a mix of Grushecky songs, Springsteen songs ("From Small Things," an impromptu "Fire," "Johnny 99," "Murder Incorporated," "Light of Day"), and some -- like "Code of Silence," with Joe and Bruce sharing lead vocals -- that they wrote together, with the Houserockers never missing a beat. The show closed with a pair of covers: "Dirty Water," and a sprawling "Twist and Shout" that brought many of the night's performers (like Jeffreys, Nile, Boccigalupe, Joe D'Urso, and JoBonanno) back onstage. Other guests during the course of the set included Johnny Grushecky on "Murder Inc.," and on "Light of Day," Michael J. Fox, star of the movie that brought us that title song, sharing a mic with Springsteen. Like concert organizer Bob Benjamin, Fox suffers from Parkinson's; the Light of Day concerts benefit the Parkinson's Disease Foundation. The players also saluted Benjamin with "Happy Birthday." With this Saturday night performance, Springsteen has been part of the Light of Day benefits four years in a row. (Joe Clark Photo)
No Bruce for Night Two: This was the first year that Light of Day stretched over two nights; but traditional headliners Grushecky and the Houserockers were unable to make the line-up for the Sunday night show, and Springsteen followed suit. As John Eddie told a crowd bracing for a Bruce no-show, "I'm just like you — I hope he shows up, too...." Springsteen's music was still well-represented, with Eddie including "She's the One" in his set, the righteous Jesse Malin doing "Hungry Heart," and Dan Bern's take on "Thunder Road. The incomparable Gary U.S. Bonds, whose set was the highlight of the night, offered up "Rendezvous" — but that was as close as Sunday night got to another meeting with the Boss.
For the full setlist from 11/1/03, as well as setlists from Springsteen's other recent performances, go to our setlists page.