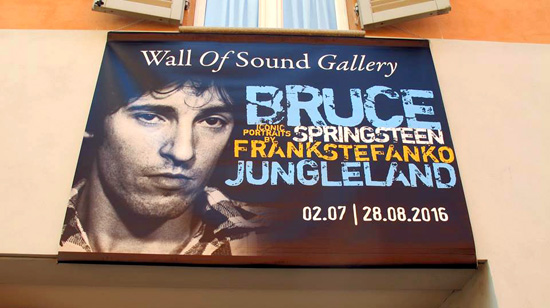 CIAO FRANKIE!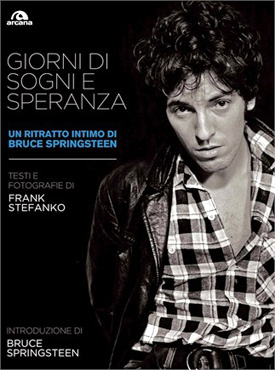 This weekend, as The River Tour brings Bruce Springsteen and the E Street Band to Italy, The River cover photographer Frank Stefanko is coming, too. "Jungleland," the first Italian exhibition of Frank's photographs, opens this Saturday, July 2, at Wall of Sound Gallery in Alba. Beautiful River-era images will be on display along with other shots from those 1978-1982 days of hope and dreams, and you'll also get to see Stefanko's photographs of Springsteen from as late as 2004 on the gallery walls.
Frank himself will be at Wall of Sound for the grand opening, which is at 3pm this Saturday; he'll be signing copies of his book, Days of Hope and Dreams, now published in Italian by Arcana as Giorni di sogni e speranza. Later that afternoon, Wall of Sound's Guido Harari will host Frank for a 5:30 slideshow and talk at the nearby Nuova Sala Beppe Fenoglio [Below, Harari and Stefanko (L-R) in New Jersey, planning the exhibition] Both events are free to the public.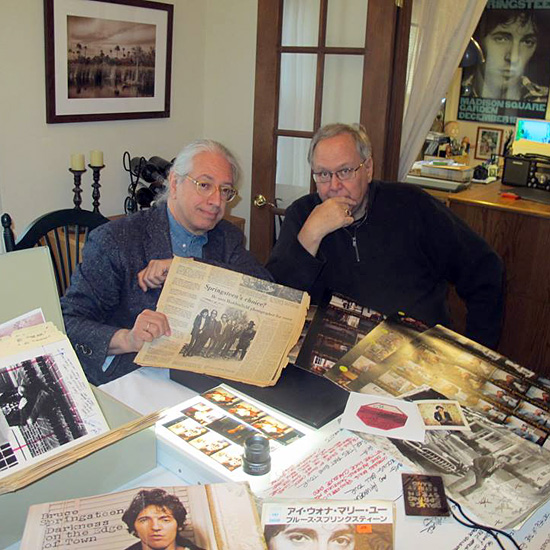 So if you're in Italy for the Milano shows, be sure to swing by if you can. Frank's one of the nicest guys you'll meet, and your eyeballs will thank you, too. The exhibit runs through August 28. More info for visitors at wallofsoundgallery.com.
- June 30, 2016 - photographs via Guido Harari/Facebook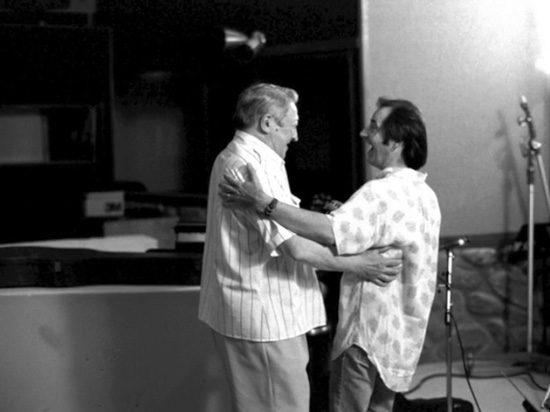 THROWBACK THURSDAY: SCOTTY MOORE EDITION
As we continue to celebrate the life and legacy of Scotty Moore, let's take a special look back at (and a listen to) one of Scotty's in-studio encounters with E Street's own Garry W. Tallent — that's the two of them together, above. Beginning in 1996, Garry got involved on both the production and performance end of a Grammy-nominated recording project that was released the following year as All The King's Men. The project united D.J. Fontana and Scotty, who then were the two surviving members of Elvis Presley's earliest bands, with some of the famous musicians whom they inspired.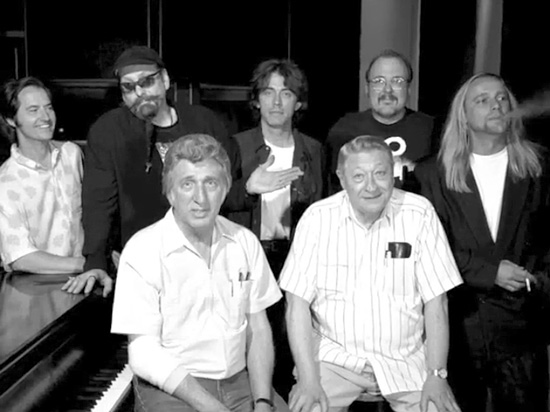 From the archive of the late Dan Griffin, one of All The King's Men's executive producers, come these wonderful photos of Garry producing a June 1996 session — 20 years ago this month — with D.J., Scotty and Cheap Trick. Every person pictured here has since been inducted into the Rock and Roll Hall of Fame, and rightfully so.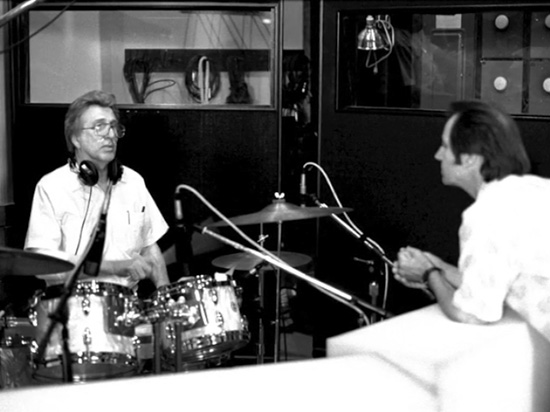 Griffin's archive also lets us hear the original stripped-down, raw and rockin', unreleased version of Robin Zander and Mike Campbell's song "Bad Little Girl," recorded by Cheap Trick performing with D.J. Fontana and Scotty Moore, and produced by Garry W. Tallent at that June '96 session in Woodland Recording Studio, Nashville, TN. Rest in peace, Scotty, and thanks for all the great music.
- June 30, 2016 - Shawn Poole reporting

JUNE 29, OSLO

It's hard to describe my feelings before the show. On one hand I knew it was going to be a great evening as always, but the seeming lack of a theme to the shows recently and the palpable disappointment among the faithful on the message boards led me to be somewhat apprehensive. The weather before the show didn't help, either: heavy black rain clouds hung overhead throughout the afternoon and evening. Also, the Norwegian audience is one that Bruce himself diplomatically describes as a crowd that "listens harder" rather than going wild. So, this was going to be a difficult evening, right?
O ye of little faith.
For some reason this was the first time Bruce had played at Ullevaal. It's a smallish stadium, capacity 30,000, giving the setting an intimate arena feel. Perhaps that was what tipped the balance in our favor, perhaps it was the dark clouds that seemed to enclose the stadium… perhaps some things will never be explained.
As a statement of intent, the "Prove It All Night"/"My Love Will Not Let You Down"/"No Surrender" start can't be bettered. There was an urgency to the proceedings, as if sheer force of will would get the job done: I don't care if the weather's bad, the crowd is quiet, and it's daylight — you will experience the mighty force of the E Street Band. And as if by the magic Bruce provides, my concerns melted away, and I was swept up into that place. There was no one else at the show but me. Faith will be rewarded.
We were raised up with the opening three-pack, brought down to earth by "Darkness," and then we were off on a ride down The River. The first nine songs in a row from that album, in sequence, from "The Ties That Bind" through to "You Can Look." Stevie was in on the act and in a hugely good mood, giving away a plectrum to a boy in the crowd during "Jackson Cage." Would we get the whole of the first record? Alas, no, but who on earth would complain?
"Independence Day" deserves a particular mention. Not only because as is often the case my favorite parts of a show are the more serious parts, but because since becoming a father it hit me in the gut, full and square. Reflecting on my relationship with my own father and imagining myself and my son at that kitchen table was more than my tear ducts could handle. And that's the thing, isn't it? Throughout the show I saw people crying, smiling from ear to ear and experiencing their private moments, "Point Blank" later of course being one of those songs that many hold dear.
So we didn't get the full first record, but "Lost in the Flood," "Trapped" (harkening back to the '81 tour), "The River," and "Point Blank" all carried on with the darker nature of the show. At that point I had won the lottery, Christmas had come and it was my birthday all at once. "The River" was really the first song that the whole stadium knew, and the crowd finally seemed to loosen up. After that the hits came thick and fast. "Because the Night" was fantastic with Nils playing his signature solo, and even the predictable moment with a child vocalist guesting on "Sunny Day" was great fun. Four-year-old (!) Hope wore a woolly hat and knew all the words, even kickstarting the band! "Norway's got talent," Bruce smilingly remarked as he returned to the stage.
There was one final twist in the tail, as a stunning "Backstreets" led into the home stretch. Adding "Ramrod" to the by-now pretty standard encore brought Oslo a total of 13 tracks from The River album. Clearly Bruce had not forgotten that this was The River Tour after all. After "Shout," the band left the stage and Bruce went to get his acoustic guitar. "Thunder Road," maybe? But no. The harmonica was left with Kevin Buell, and a gentle strumming revealed the most downbeat and heartfelt "For You" I've ever heard. Amazing.
For the full setlist and reports from this and other recent shows,
see our Setlists page
- June 30, 2016 - Graeme Johannessen reporting - photographs by Jan Lundahl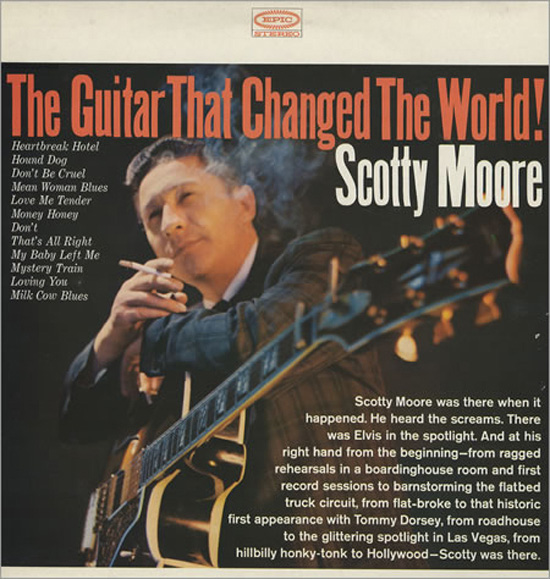 THE GUITAR THAT CHANGED THE WORLD
Scotty Moore, 1931-2016
Yet another major figure in popular music has left us: Rock and Roll Hall of Famer Scotty Moore, who died yesterday at 84. Scotty played lead guitar on all of Elvis Presley's groundbreaking Sun Records recordings. He toured extensively with Presley, also performing with him on his famous 1950s television appearances. He even served as Presley's first manager. Along with bassist Bill Black and Elvis himself on acoustic rhythm guitar, the trio known as Elvis, Scotty & Bill constituted what many consider to be the first rock 'n' roll band… and did almost all of it without a drummer! (Amazingly, for all their power and rhythmic drive, only four of the Presley records cut at Sun featured any drums. By the time Elvis moved to the RCA label, drummer D.J. Fontana had been added to the band.)
Scotty continued recording with Elvis through his early years at RCA. Remaining friends with Elvis even after The King began working with other musicians, Scotty was invited to perform again with Presley on his famous 1968 comeback television special. Keith Richards is famously quoted as saying, "Everyone wanted to be Elvis. I wanted to be Scotty."
Scotty Moore worked with members of the E Street Band and was a friend to us here at Backstreets, as well. Scotty's first intersection with E Streeters occurred when he contributed guitar work to the track "Bigger Than Elvis" on Sonny Burgess' self-titled 1996 album for Rounder Records, produced by Garry Tallent. A year later, Garry worked again with Scotty on the all-star project All The King's Men, which paired Scotty and D.J. Fontana performing in-studio with many of the famous musicians they inspired, among them Garry Tallent, who also did recording/production work on the project. While in New York for the 1998 Grammy Awards (with All The King's Men among the nominees,) Scotty and D.J. performed with The Max Weinberg 7 on Late Night with Conan O'Brien.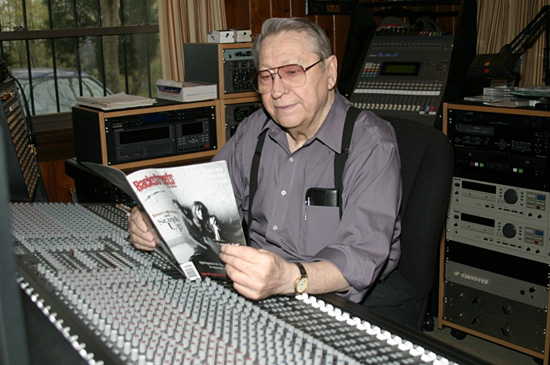 As for Scotty and Backstreets, we had the huge honor and thrill of receiving a photo of the gentleman himself reading a copy of Backstreets Magazine issue #80, which contained our massive feature on all things Bruce/Elvis. The photo also was posted at Scotty's official website, along with an extensive article exploring Scotty's E Street connections. Click here to read it.
We at Backstreets extend our sincere condolences to all of Scotty Moore's family and friends. Scotty certainly will be missed, but the truly revolutionary music he helped to create lives on.
- June 29, 2016 - Shawn Poole reporting


PRO-SHOT VIDEO FROM TONIGHT IN OSLO
Just when you thought it was safe to snark that it's not The River Tour anymore... Bruce and the E Street Band played 13 of the double album's 20 tracks tonight at Oslo's Ullevaal Stadium, including the first nine in sequence. "Trapped" also brought the spirit of '81. Watch pro-shot highlights from the first three songs above ("Prove It All Night," "My Love Will Not Let You Down," and "No Surrender"), view the full setlist here, and as usual we'll have a full report with photos tomorrow.
- June 29, 2016

MAN OF CONSTANT SORROW
Dr. Ralph Stanley, 1927-2016
Bluegrass and country-music pioneer Ralph Stanley died last week at 89 of complications from skin cancer. Click here to read David Cantwell's appreciation.
The Stanley Brothers' "The Drunkard's Hell" and Ralph Stanley's version of "O Death" from the O Brother, Where Art Thou? soundtrack were first added to Bruce Springsteen's walk-in music on the Devils & Dust Tour. And in his Glory Days biography, Dave Marsh compared Springsteen's "Reason to Believe" to the Stanley Brothers' classic "Rank Stranger" from 1960. (Hard to believe that such a traditional-sounding song was written and first recorded in the second half of the twentieth century.) "If there's another song much like ['Reason to Believe'] in American music, it must be the Stanley Brothers' haunting bluegrass hymn," wrote Marsh, calling the latter "a song suffused with mysticism and terror." Comparing "Rank Stranger" to the versions of "Reason to Believe" on the newly released The Christic Shows can be particularly revelatory.
Springsteen would later use the term "rank strangers" in his lyrics for "Long Walk Home," while Marsh, writing in 2012 with Danny Alexander, also returned to citing "Rank Stranger" in relation to Springsteen's music, to open the extensive essay entitled "To Set Our Souls Free: A different view of Bruce Springsteen's Wrecking Ball."
- June 28, 2016 - Shawn Poole reporting - special thanks to Jeff Calaway


JUNE 27, GOTHENBURG, NIGHT TWO: LET IT RAIN!
After a four-hour marathon on Saturday, hopes were high for the second Gothenburg show — Bruce and the E Street Band's tenth performance at Ullevi Stadium — that would close Sweden's Midsummer celebrations. However, as the rain poured down during the hour before the show, summer already seemed long gone, and many had their bets on "Who'll Stop the Rain" as the opener. Monday's proved to be a very different show all around — which, for a multi-night stand, happens to be exactly what you hope for.
As Bruce took the stage together with the whole E Street Band (as opposed to Night One's solo kick-off), we got the tour premiere of "Mary's Place" to get this thing started. Bruce asked if we were ready for a "Swedish houseparty." He made a note of the weather conditions but added, "We don't care," a sentiment echoed in the opener's "let it rain" refrain. Following this unusual but surprisingly fitting opener, the rain stopped as the concert went along, and the E Street Band kicked into full speed with "Out in the Street." This was quickly followed by a stirring "My Love Will Not Let You Down" and a rousing "No Surrender" before taking a breather with a fantastic performance of "Something in the Night." As on the Darkness album itself this was followed by a great "Candy's Room," the first of many effective couplings throughout the evening. A thunderous "She's the One" got the whole stadium into the Bo Diddley groove with Bruce skipping the harmonica solo, instead focusing on the guitar during the song's outro.
While during recent stops the tour has moved further and further away from the River concept, tonight was a different case altogether. Three River rockers, capped by "Two Hearts," followed in quick succession before "Independence Day," complete with a moving introduction from Bruce, saying it was the first song he wrote about fathers and sons. It was a stand-out performance, clearly among tonight's highlights and a showcase for a song that hopefully will be played more often. Again tracking the original River album sequence, Bruce and the band followed "Independence Day" with "Hungry Heart."
The first sign request of the night kept the River theme rolling in a different way, with "Jole Blon" making a surprise visit — a very fitting tour premiere, as this was among the gems first mined on the original European River tour in 1981. Even though Bruce seemed unsure whether it should be in the key of C or B-flat, once they started the performance was flawless — a great moment.
However, there were even better things to come: another sign request, this time for "The Price You Pay" (not played since the European opener in Barcelona), really confirmed that we were now being brought back to The River territory. A masterful performance, with the crowd giving all they had during the opening and closing chant. Next, to reinforce the feeling of The River even further, Bruce kept the title track in the set; another masterstroke came when he followed that with an outstanding "Racing in the Street." The Darkness song was an incredible a showcase for Roy Bittan, of course, but moreover the sequence of these three songs really created a very different and more somber tone than what we have seen during recent shows, and it gave room to revisit some of the emotional depth found on The River album.
Another surprise tour premiere came by sign request for "Lucky Town," with great backing vocals from Steve and blistering guitar solos from Bruce. After "The Promised Land," Bruce called out for "I'm a Rocker," keeping the spotlight on River tracks and also mixing up the setlist in places where it has appeared quite static during recent shows ("Waitin' on a Sunny Day" took a well-deserved rest). With Patti Scialfa back in the fold, "Tougher Than the Rest" replaced "Tunnel of Love" from Saturday as a showcase for The Queen of E Street. Patti also displayed her fine vocal form on "Because the Night," which again sounded convincing and better than ever.
After "Badlands" closed the main set, the encores opened with "Jungleland." As always, an emotional moment with Jake looking towards the sky following his note-perfect solo. Following a truly inspired "Born in the U.S.A., "Ramrod" returned to the encores, with Bruce not letting an opportunity to refer to the "Gothenburg lights" pass by. "Thunder Road" was skipped all together, as Bruce closed the show with a solo acoustic "This Hard Land" before thanking Sweden and saying, "You are a very special audience to us."
Clocking in at 3:29, half an hour shorter than on Saturday, this performance really proved the point that a longer show isn't necessarily a better show. While setlist watchers and for those going to multiple concerts clearly enjoyed that of the 34 songs played, 17 were not played during the previous show, it was Bruce's ability to throw us onto an emotional rollercoaster which made this night a fantastic one. That's what both Bruce's music and life's about anyway, isn't it? Let's hope for more deep River tracks when we head off to Oslo for Wednesday's concert.
For the full setlist and reports from this and other recent shows,
see our Setlists page
- June 28, 2016 - Ivar Noer reporting - photographs by Riku Olkkonen


JUNE 25: MIDSUMMER IN GOTHENBURG, NIGHT ONE
Midsummer is the biggest annual celebration and national holiday in Sweden, so there is most likely no coincidence that two of this year's three Gothenburg concerts were scheduled during the last weekend of June. Previous Midsummer appearances by Bruce in Sweden include 1999, 2003 and 2005, and these shows seem to always be special to both Bruce and his Swedish audience. This concert marked Bruce's ninth appearance at Ullevi, continuing a long, loving relationship with this stadium, which famously almost broke down (literally) following the two Born in the U.S.A. shows on June 8 and 9, 1985. With the sun creating a lovely midsummer atmosphere, the crowd of 70,000 were ready once again to have a go at Ullevi.
Shortly before the 8:15 showtime there was considerable activity around Roy's piano with a mini teleprompter being set up, indicating that we might get a solo piano performance from Bruce to start the show. So it was not a big surprise when Bruce appeared on stage without the band to greet the audience saying "mitt folk," Swedish for "my people." Without any further introduction, he launched into the tour premiere of "The Promise," the first time this song has ever started a show. It surely takes some guts and confidence to start a stadium show with this kind of song, but the whole place greeted it with respect — you could almost hear a pin drop inside the stadium.
With the full E Street Band on stage and Patti Scialfa back in the fold, things kicked off with hot versions of "Badlands" and "Out in the Street." A welcome return of "The Ties That Bind" followed. While this song for obvious reasons was a stayer on the first U.S. leg, it has taken a rest in Europe; this version felt fresh, delivered with crystal clear sound and Bruce in great vocal form. Haven gotten 70,000 "party noises" joining in for "Sherry Darling," we got this tour's second rendition of "My Lucky Day," with Steven clearly enjoying his solo spot.
The next segment of the show included mostly staples from the Wrecking Ball tour, including the title track. And while we clearly could "feel the spirit" during "Spirit in the Night," this string of songs reinforced the feeling that — with the full River performance have being dropped in Europe — this leg of the tour struggles to find its real purpose and common theme, something we always have been used to during previous tours. But with a lack of a common theme and brand new songs to play (save for the River outtakes, which continue to be a lost opportunity), this has been replaced by an energy level from both Bruce and the band that few or no other performers can match.
The only sign request of the night was "Save My Love," introduced by Bruce as a "Darkness outtake" about "how radio connected everyone." A fine rendition, including an extended coda with Bruce and Jake sharing the solo. "American Skin" has not been played often in Europe over the years, and this song seemed to resonate well with the audience, sadly being as relevant today as it was when it was written 16 years ago. Bruce delivered a smoking guitar solo in the middle of the song, while Nils provided the solo during the closing part. One of the night's highlights.
As usual before these shows, fans discuss what we want to hear and what we can expect to hear. One song that always comes up before an Ullevi show is "Drive All Night," as this is where, back in 2008, we got the first full-band version since the original River tour in '81. Thus, it felt almost like a relief hearing Roy's opening chords to this beautiful tune introduced by Bruce simply saying, "For Gothenburg." Again, an exceptional strong vocal delivery from Bruce (including a "Dream Baby Dream" snippet) and two stunning sax solos from Jake.
Next up were two tour premieres (both soundchecked in the afternoon along with "Seeds"), "Tunnel of Love" and "Shackled and Drawn." With Patti back on stage "Tunnel" seemed to fit well, and the interplay between her and Bruce sent thoughts back to those hot summer days in '88. An extended outro solo from Nils made this a real highlight. Unfortunately, the same can not be said of "Shackled and Drawn," which on the Wrecking Ball tour was heavily centered around the horns and Cindy Mizelle's soulful vocal delivery — it became all too apparent during this version how important their contributions were. "Because the Night" started the "home stretch," and while this song is being played nightly, the delivery always appears convincing, especially with Nils' extraordinary solo. Patti also added some nice harmony vocals, giving this version some added flavor. With the tour premieres being added to the regular last part of the main set, it was already clear before the encores that we were witnessing a show which would be close to the four-hour mark, which always creates some additional excitement.
A thunderous "Born in the U.S.A." kicked off the encores, with Roy's synth and Max's drums literally shaking the whole stadium. "Seven Nights to Rock" seems to be returning to the encores every time the tour moves on to Europe, and the audience participation was particularly strong on this one with lots of dancing. On "Dancing in the Dark," both Soozie and Steve got their own respective dancing partners in addition to Bruce. Bruce's choice of the evening could not resist taking a selfie with him; she took her time, much to Bruce's amusement. While "Twist and Shout" is a trusted choice for the encore at Ullevi (being the "stadium-breaker," as Bruce calls it), we got instead "Shout," which for European audiences is a fresher tune and again, got people dancing and "shaking their asses."
An acoustic "Thunder Road" closed the show again, with a fantastic vocal delivery from Bruce, having first teased the audience that "we have another hour or so to go." While the length of the show clearly made it special, and it had its share of highlights, it was not quite at the level of the July 28, 2012 Ullevi show, which for this writer always will be among the best ever. But with 38 songs for mitt folk and clocking in at approximately 3:58 — after "The E Street Band loves you" and "We'll be back on Monday night" — this proved to be Springsteen's second-longest show ever, just beat by Helsinki in 2012." With three Ullevi shows this summer, how about making one of these a special treat for European audiences with a complete River performance?
For the full setlist and reports from this and other recent shows,
see our Setlists page
- June 26, 2016 - Ivar Noer reporting - photographs by Jan Lundahl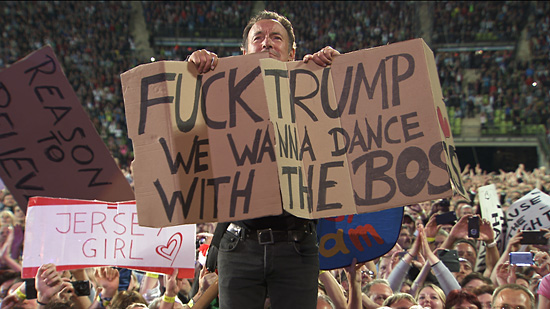 As to what he thinks about the 2016 election, Bruce Springsteen has yet to comment. But there are signs.
- June 24, 2016 - photograph by Paul Whitfield [Munich, 6/17/16]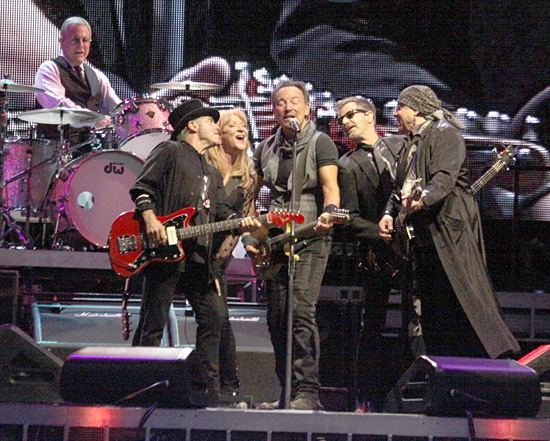 JUNE 22, COPENHAGEN: A TALE OF TWO HALVES
Though most fans have marked Paris as this leg's only indoor arena stop, Copenhagen's Telia Parken fit the bill, too. With a closed retractable roof and a relatively small, square-ish configuration reminiscent of Baltimore's Royal Farms Arena, the venue provided a new atmosphere for a summer European show: dark, intimate, and stiflingly hot. Yet none of these adjectives accurately describe the concert itself, which was full of light, joyful party anthems to please the masses, 3.5 tour premieres in a three-hour-and-15-minute performance that at first felt like a fantastic breath of fresh air … until the second half of the show.
Opener "Out in the Street" perfectly introduced the evening, establishing the joyous, crowd-pleasing vibe of the night, and also an early indicator of a River-heavy set. Perhaps that was thanks to the Band's return (without Patti) to an arena setting — a good sign for the many River-deprived Europeans fans hoping to get the entirety of the record in Paris. On top of the usual suspects, a rollicking "Cadillac Ranch" made an early appearance, the haunting "Point Blank" returned, and, after being soundchecked, Darkness outtake "Rendezvous" (the best known recording of which came from the original River tour) had its tour premiere — a major highlight.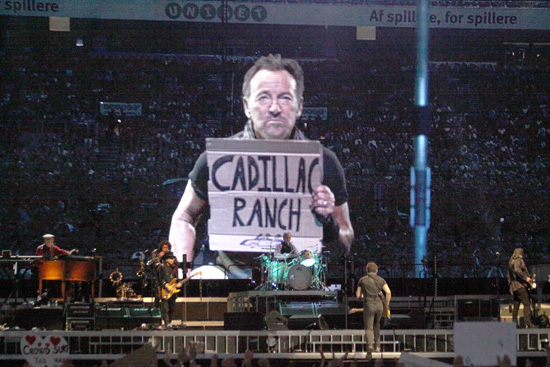 Bruce was in fast-and-loose spirits, calling upon another sign two songs later for the arguable tour premiere of "Blinded by the Light" — arguable because it was partially played in Brooklyn, with lead vocals sung by the little girl who had requested it. In Copenhagen, this Greetings gem was given the full band treatment. Despite a false start, it was a relentlessly fun performance, with Bruce repeatedly wiping rivers of heat-induced sweat out of his eyes to keep up with the flood of lyrics.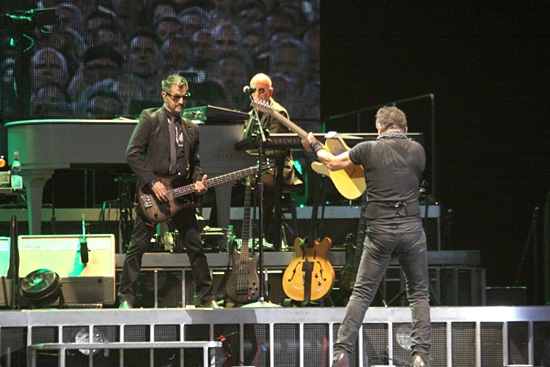 Bruce brought the crowd back to the 21st century with the tour premiere of the soundchecked Wrecking Ball track "We Take Care of Our Own" (two songs were soundchecked but not played: "Boom Boom" and "Shackled and Drawn"). It was a tight, crisp rendition, perhaps inspired by the gun control debate currently raging back in Bruce's homeland, in the news again on Wednesday thanks to a House sit-in. Later in the show, a three-pack featuring gun violence — "Point Blank," "Murder Incorporated," and "Atlantic City" — reinforced this connection.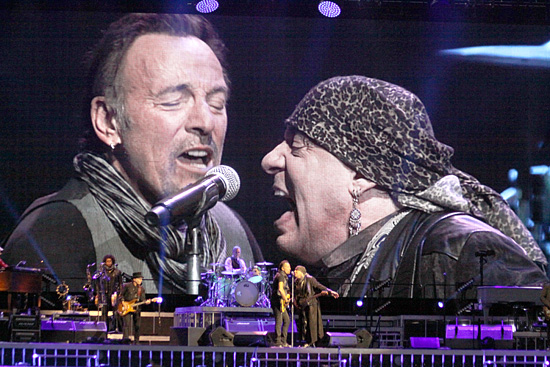 This first half was also striking for the breadth of songs Bruce called upon from throughout his career, from an old classic off his first album to a modern classic from one of his newest records, with outtakes along the way. The man truly has a full career's worth of exceedingly quality tunes from which to choose, and he spread the wealth in Copenhagen by playing songs from 11 different albums, not to mention covers.
The final tour premiere of the night has to be one of Bruce's most popular outtakes: "Pink Cadillac" for a sign that read in pink paint: "Three generations took their pink Cadillac to go dancing in the dark." "That comes later," Bruce responded, "but 'Pink Cadillac' might come now!" The crowd roared, and after briefly talking his way through how to play the song, informing the audience the Band hadn't done so in a while, Bruce launched into a raucous version. The relatively quiet crowd quickly came to life to sing along, their voices echoing off the walls.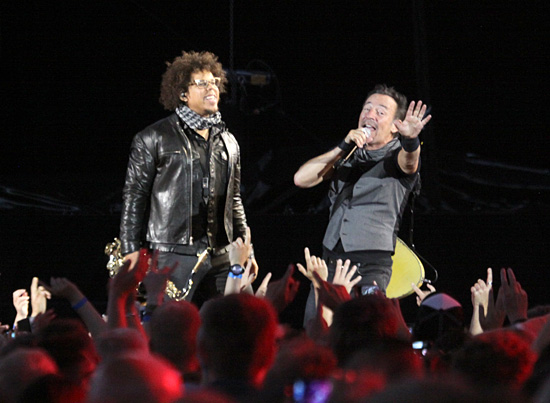 In addition to featuring a wonderful sax solo from Jake, the song also let the lighting team shroud the stage in pink. One of the coolest parts of the concert, in fact, was finally being able to see this team's brilliant design work due to to the arena's enhanced darkness. Also making a return: the cellphone fireflies of the crowd, during both "The River" and "I'm on Fire."
Unfortunately, the return of this arena atmosphere failed to change the latter half of the setlist, which included the same stadium crowd-pleasers that Bruce has been playing at almost every show. True statistic: 15 of the last 16 songs in both Berlin and Copenhagen were the exact same and played in the exact same order — a predictable stretch longer than any of the post-River portions of the setlist that American fans grumbled about on the U.S. leg. Though some have cited how much casual fans seem to love these songs, the range of different albums represented earlier in the show served as a reminder of the seemingly endless depth of Bruce's catalog; there's just no way that the likes of "Working on the Highway," "Darlington County," and "Waitin' on a Sunny Day" are the only songs that can work up the entirety of the crowd into a familiar frenzy.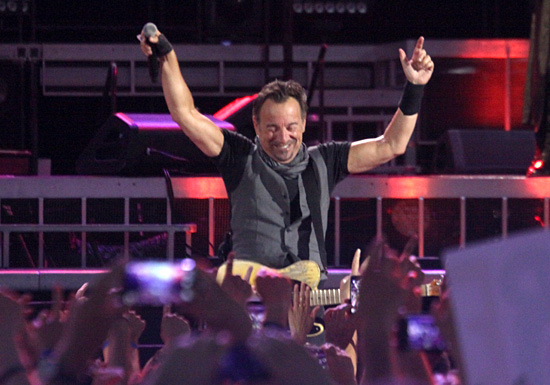 "Waitin' on a Sunny Day" did, however, feature the most surprising moment of the homestretch. Instead of choosing yet another child, Bruce gave the microphone to a passionate fan probably in her mid-20s who had lined up for days to be able to stand in the front row. She absolutely rocked the performance, reveling in her lifelong dream of sharing a stage with the E Street Band. She basically blew the roof off of Telia Parken Arena, energizing the room and bringing a gigantic smile to seemingly everyone's faces, especially Bruce's. Ultimately, her performance served as a reminder of how a small deviation from the nightly script can go such a long way.
P.S. Bruce didn't close with, "We'll be seeing you," even though we know the Band will return to Denmark later in the summer — further proof (for all those with antennas up) that he's not trying to subtly communicate his future plans at the end of each show.
For the full setlist and reports from this and other recent shows,
see our Setlists page
- June 22, 2016 - Steven Strauss reporting - photographs by Riku Olkkonen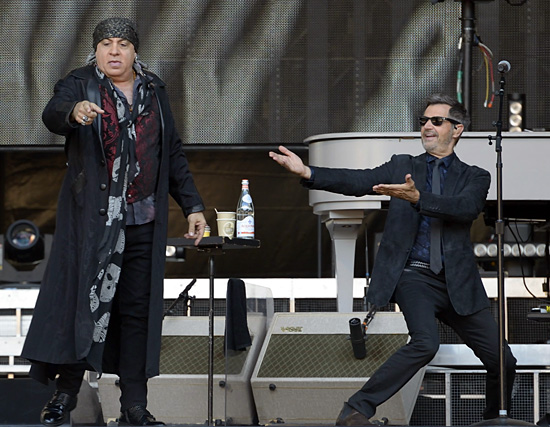 "THIS MUSIC THING IS MORE THAN AN ART FORM"
Stevie Van Zandt talks to Backstreets about his Rock and Roll Forever Foundation and having his mind blown in Europe '81
Now at the halfway point of the E Street Band's 2016 tour of Europe, it's worth reminding fans that you can support the music (and get choice tickets to these shows) another way: through the Rock and Roll Forever Foundation. Steven Van Zandt, who established the non-profit, has taken his mission to preserve "the greatest music ever made" into the halls of education, currently developing an interdisciplinary music curriculum for middle schools. Last month, Backstreets spoke to Warren Zanes, the group's executive director, and now we're pleased to talk with the founder himself.
With the RRFF supported exclusively by private donations — no government funds or corporate sponsorship — Stevie raises money for his Foundation's work by offering meet-and-greet VIP tickets for each stop as the tour rolls on. Click here for more information and to reserve ticket packages, which are now available for the second half of the European leg, as well as the River Tour's return to the U.S. in August and September.
We heard from the man with many hats as he got ready to head to Europe, talking about the work of his Rock and Roll Forever Foundation as well as the significance for him of the original European River Tour. Our complete, River-heavy interview with Stevie Van Zandt will appear in the next print edition of Backstreets, issue #92.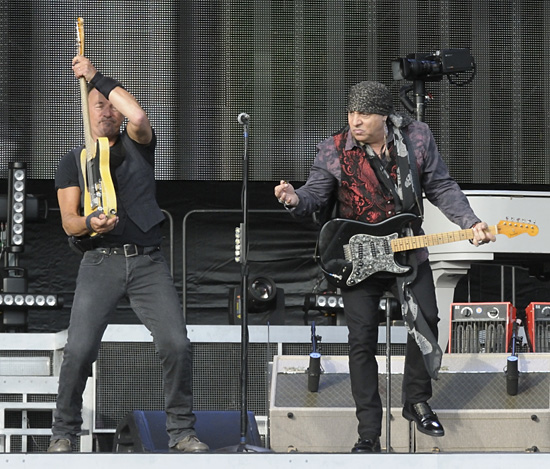 SVZ on developing a rock 'n' roll curriculum with the RRFF:
The Rock and Roll Forever Foundation came from a similar impulse as the [Undergound Garage] radio show. Which was basically thinking that the rock 'n' roll renaissance we grew up in would be around forever — followed by the sudden, shocking realization that it was not going to last forever. It wasn't carved in stone after all. And if action wasn't taken, the greatest music ever made was going to become really hard to find, and inaccessible, and just exist in museums. So that's why we started the radio show — that impulse to keep the music accessible and keep the standards up for new bands so they can actually experience greatness. How are you supposed to aspire to greatness if you don't have access to it?
And now we have the curriculum. At first it was simply a way of replacing the music classes that were all being cut, because of No Child Left Behind legislation. The music teachers of America asked me for my help, so I went to Congress and I spoke to Teddy Kennedy at the time, and Mitch McConnell, and I said, "Listen, I'm sure it's unintended consequences, but you really have caused quite a weird thing to happen in schools: all the arts classes are being cut to make room for the testing of math and science."
They were both very apologetic — and Teddy Kennedy gave me a whole two-hour rap on the Greeks [laughs] and how the arts were just as important as the sciences back in ancient Greece — but basically, in the end, they said this isn't going to get fixed any time soon.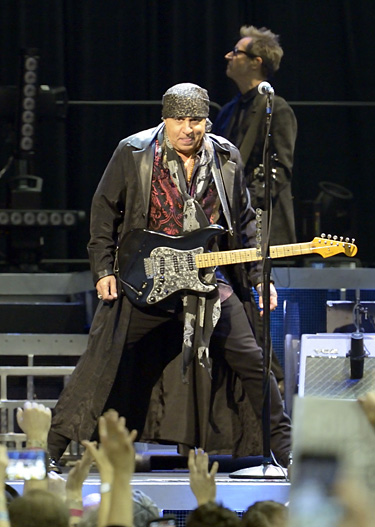 So I came back to the music teachers. I said, listen, we're not going to get music classes back in school any time soon. But let's do something that we can get in, which is a curriculum. We can kinda go in the side door, keep people excited about music, let them learn about the greatest music ever made, the history of that, and make it cross-curricular so that English class can teach it, and History, and Social Studies. We make it as broad as we can, and as flexible as we can. We give teachers as much ammunition as we can give them, so they can add their own personality to it.
As we developed this thing, we also found out that there's an absolute dropout epidemic going on that no one's talking about. One out of two kids in the poor neighborhoods, and two out of five nationally, are dropping out of high school, which is incredible. But the statistics also showed that if the kids like one class, or one teacher, they will go to school. So we want to be that class. Their love of music — because every kid likes music — immediately establishes that most difficult of all things for students and teachers, which is the communication that comes from common ground or common interests. It's there already. Every kid is an expert on music. That immediately establishes a comfort zone for kids, no matter how inhibited they may be. So that really encouraged us to double our efforts.
I outlined 40 chapters, which each have five or six sub-chapters. So we're basically working on 200 lessons. We have about a third of them done. With the expertise of our lesson-writers, and their understanding of the standards that we wanted to meet, the state standards, this can be taught right in the middle of the school day — we didn't just want to be an after-school class. We decided to focus on middle school; we immediately realized that high school's going to be a challenge, with the "testing panic" going on there. But eventually we want to be in every single class, every single grade, every single school. We've got good people. And the bigger we get, the more people we can add, and the faster this can get done. I can't get to 200 lessons fast enough, believe me.
— Steven van Zandt, as told to Christopher Phillips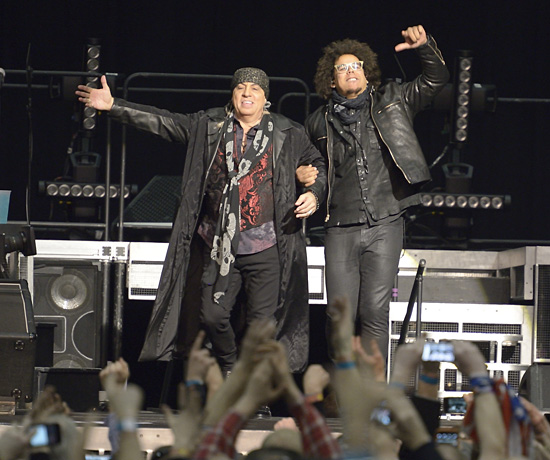 SVZ on the original River Tour, and the impact of touring Europe for the first time in 1981:
It changed my life. Oddly enough — and I wish it wasn't so, looking at it now —it was one of the things that led me to actually to leave the E Street Band for a while, so I could pursue this extraordinary revelation that I experienced on that tour, which was the universality of music, in a very real way. Your first trip to foreign countries is always a bit revelatory, but when they're all singing your lyrics, it really blows your mind. I mean, they don't speak English, but they're singing every word of your lyrics. It suddenly hit me: my God, what an ability to communicate we have! This music thing is more than an art form, more than self-expression, more than entertainment — it is an extraordinarily effective way of communicating person to person. Country to country. Without going through our government, with no sort of filter, no intermediary. And that was an absolute epiphany.
— Steven van Zandt, as told to Christopher Phillips
Click here for River Tour ticket pages that support the work
of the Rock and Roll Forever Foundation
- June 22, 2016 - photographs by Rene van Diemen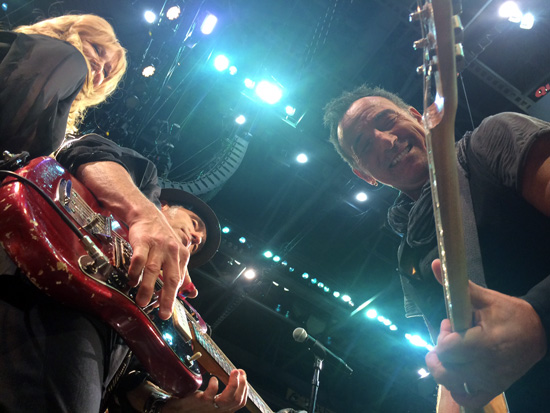 HAPPY 65 TO NILS LOFGREN
Looking up to the great Nls Lofgren, today and every day. Happy birthday Nils!
- June 21, 2016 - photograph by Nancy Calaway



YOU CAN'T SIT DOWN
"Official Platinum Seating" arrives on E Street
In the first new post on our "Fight the Monopoly!" page since 2012, Shawn Poole breaks down the introduction of "Official Platinum Seating" at the upcoming August/September U.S. Springsteen concerts. Click here to read Shawn's report.
- June 20, 2016

JUNE 19, BERLIN

The last time Bruce Springsteen and the E Street Band played at Berlin's historic Olympiastadion, they opened with one of their most obscure covers ever: "When I Leave Berlin." When they came out this time, a few minutes after the scheduled 7 p.m. start on a clear evening, they also had a surprise for us. Not a song with a lyrical reference to the city, but one with a screeching guitar intro. They ripped into a ferocious version of "Adam Raised a Cain," a European debut for this tour. And they nailed it — Bruce's guitar playing was awesome.
With "Badlands" and "Out in the Street" following, we were back on familiar turf. It's interesting to note that after the short break in the European tour Bruce has not only reduced the number of The River songs in the setlist but also given up on the idea of playing them in sequence; the name of the tour feels more and more misleading. But "Sherry Darling" was next, and then we got another big surprise with "My Lucky Day," a tour premiere from Working on a Dream. Although we aren't aware of it being soundchecked, it sounded really good. Exactly the same arrangement as in 2009, with Steve playing the guitar solo at the end.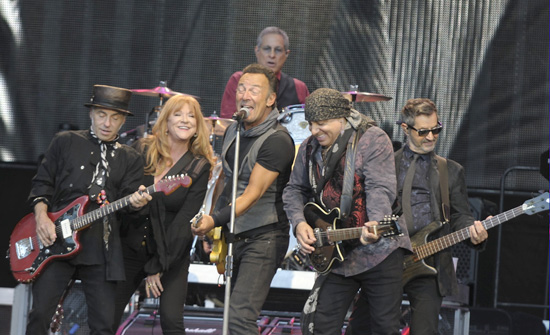 After a strong "Wrecking Ball" Bruce collected a few signs, and we got "Night" for a high school graduate and "It's Hard to Be a Saint in the City" for a birthday girl. "Spirit in the Night" made a nice double-shot of songs from his debut album. Bruce then grabbed a really well-made request-sign, which was actually a cardboard replica of "Candy's Room": a bed, some other furniture, and, most importantly, pictures of her heroes on the wall: Bruce, Eddie Vedder, David Grohl, and miniature Led Zeppelin poster. A great rendition of that song was followed by an audible, "She's the One."
"Hungry Heart," with Bruce walking all around the area in front of the stage, was coupled with another uptempo River track, "You Can Look." Similar to the other German show in Munich two days ago, he again paired "Death to My Hometown" with "My Hometown" and created an interesting thematic arc by following those two with "The River" and "American Skin." The harp solo at the end of "The River" sounded a bit different than usual, something worthwhile to notice on a tour where there hasn't been much in the way of different arrangements or new ideas for the old songs.
The four-pack that followed — "The Promised Land," "Working on the Highway," "Darlington County" and "Waitin' on a Sunny Day" — is the part of the show were lots of fans these days wish for more diversity; it's also the part (together with the encores) that engages the remaining 95 percent of the audience the most. Bruce himself is clearly having fun, as those songs create a lot of interaction with the audience. Of course, they are seldom taking chances by playing unrehearsed songs or taking obscure requests in 2016, compared to 2013 or 2014. That may leave out lots of surprises and disappoint some longtime fans, but one can argue that in the end it will lead to a better performance on the night itself for the majority of the people in the stadium. It's worth nothing that this show in Berlin was — not counting the famous East-Berlin show in 1988 — the one with the highest attendance ever by Springsteen in Germany, at 67,000.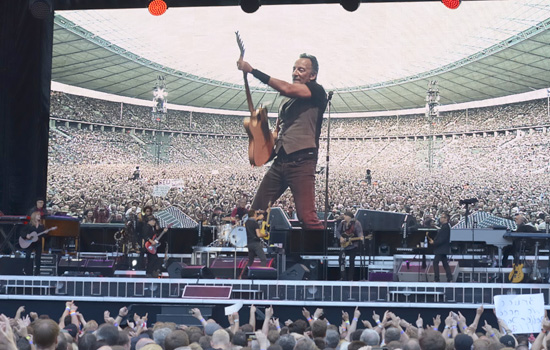 For me the band had been running in fourth or fifth gear until after "I'm on Fire," and then with "Because the Night" turned into the "mighty" E Street Band, firing on all cylinders and running in sixth gear until the end. The main set (can you really make a distinction these days between that and the encores?) ended with a majestic "Land of Hope and Dreams." On the setlist the next song would have been "Born in the U.S.A.," but before that Bruce called an audible, holding his guitar up in the air as Roy started playing the famous piano notes to introduce "Backstreets." It was a marvelous version of that song, clearly one the highlights of this Berlin show.
For me every show on this European tour now feels a bit like one big encore. Song after song after song, with almost no talking to the audience. Tonight in Berlin he greeted us with "We missed you" and left us with "you were fantastic," both in German. While "Born to Run" was shortened with a pretty brief break (he did not leave the stage to let people touch his guitar) we got an extended "Seven Nights to Rock" with solos by Roy, Jake, Nils (playing slide), Steve and even a bit of Max. During "Shout" we got a little more detailed Band introduction, including Roy "88 keys is not enough" Bittan and a plug for Garry's solo album, Break Time. The show finished after 200 minutes with a beautiful solo rendition of "Thunder Road" while the full moon started to appear above the stadium.
For the full setlist and reports from this and other recent shows,
see our Setlists page
- Updated June 20, 2016 - Ralf Dissman reporting - photograph by Rene van Diemen


JUNE 17, MUNICH: "I LOVE YOUR SUN"
The days leading up to the concert in Munich's Olympic Stadium were filled with cold winds, heavy rains, and concerns of flooding or tornadoes. By the afternoon of the show, blue skies and a beaming sun had the gathering masses shedding jackets in favor of concert t-shirts.
Olympic Park — with construction and renovations underway — is a unique venue for a show. The stadium forms the center of large open park, with several ponds, a network of bustling bike paths, a city overlook, and a well-attended biergarten. The stadium itself lies at the top of the hill, rimmed with curved glass overhangs reminiscent of modern art sculptures, with large inclined stepped seating and a single grand entrance from above.
"Sch?n euch zu sheen," Bruce greeted the capacity crowd. "Beautiful day today," he would later say, "All I can remember is the last time. Oh my god. I froze my ass off, and the wind and the rain..." The mood was anything but dampened as Roy played Bruce into a slightly slower tempo "Prove it All Night" with the incomparable '78 intro, its first appearance this tour. Bruce's guitar work on the intro was nothing short of clean and sharp; he seemed much more comfortable than in previous attempts I'd seen on the High Hopes tour. Bruce cut it loose as the tempo and tension built with screaming bends and his agonized facial expressions. Not to be outdone, Steve Van Zandt gave an impassioned, extended solo after the body of the song.
A high-energy block continued with perennial crowd-pleaser "Badlands." An invigorated Steve snarled and goaded the floor section, fans there already bouncing and chanting. Fans swayed and waved their arms in unison while Bruce beckoned to "Meet me out in the Munich street," stopping to point out a young boy on his father's shoulders. Bruce audibled into "Sherry Darling" and met Steve at the center cut-out for the last verse; Steve held out the mic for the same boy to sing the final line.
The energy of the show led to several moments of candid silliness. Bruce and Steve broke out into spontaneous laughter during the "It Takes Two" outro for "Two Hearts." That nervous energy spilled over into "No Surrender," as the band misfired and had to begin again amidst raucous cheers from the crowd. Bruce had some fun with microphones, nearly dropping his into the crowd, and later tossing his mic over his shoulder to an awaiting stage hand, who picked it out of the air mouthing, "Oh my god."
Guitar technique was at the forefront of the show. Bruce let feedback build with plenty of wrist vibrato as an intro for "Youngstown," before Nils Lofgren alighted into his wild, spinning solo just as the sun was setting behind Olympic Stadium. Nils would eventually deliver a second extended solo for "Because the Night." Bruce led "Murder Inc." with a stripped-down intro and a growling solo full of open notes. Even the closing verse of "American Skin (41 Shots)" featured a brilliant, understated background riff from Nils, leaning heavily on deep bends and precise phrasing.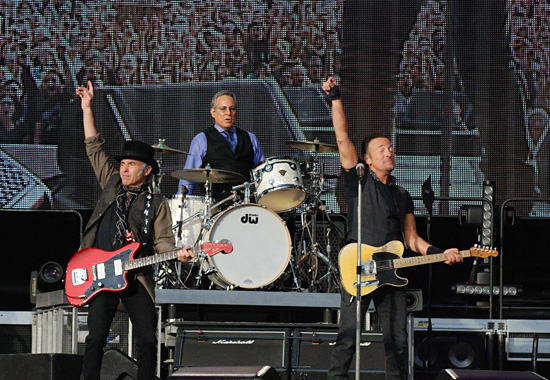 Marking the first of several striking shifts in instrumentation, Bruce was accompanied by Soozie's fiddle, Nils' banjo, Charlie's accordion, and Jake's bass drum for "Death to My Hometown." Nils picked up a slide guitar for a stylish solo during the bridge of "Johnny 99." Jake even took the spotlight with the cowbell after Bruce shouted for the band to "break it down." Steve backed Bruce's vocals on the acoustic twelve-string in a two-man arrangement of "The River" before the full band joined in the second verse.
A hush fell over the crowd as Soozie and Nils picked up acoustic guitars for an emotional "My Hometown" (paired, interestingly, with "Death to My Hometown"). The orchestration relied heavily on persistent keyboard and synth, with Garry and his fretless acoustic-electric bass melody heavily featured in the closing verse. Bruce stood with his eyes closed in soft lighting at center stage as the Band played the outro.
Bruce was impressed with a girl in a bright yellow hat with rays like the sun, pointing at her and later helping her on stage to sing a heavily accented "Waitin' on a Sunny Day." "Danke, Danke," Bruce said, "I love your hat. I love your sun." But soon enough the dusk lit up with stadium lights for the trio of "Born in the U.S.A.," "Born to Run," and a rousing "Seven Nights to Rock," complete with a walking bass line and a Steve Van Zandt guitar riff that was a throwback to the early days of rock 'n' roll.
Bruce looked at Steve and pointed to a sign saying "Let's dance Dr. Zoom" before inviting a woman on stage for "Dancing in the Dark" on her 40th wedding anniversary. The boy who received so much attention earlier in the show made his way to the stage and held up a sign revealing himself as "Little Bruce," showing off his guitar skills. Springsteen himself took a turn for the political, grabbing a "Fuck Trump, we wanna dance with the Boss!" sign, before playing typical show finishers "Tenth Avenue Freeze-out" and "Shout."
The crowd broke out in chant as Bruce ushered the band off stage. By the time the last E Street Band member left, the roar had become deafening. Bruce turned to oblige the masses, grabbing a harmonica and an acoustic guitar and heading back to center stage alone. He fumbled with a few chord sequences before saying, "Alright, let's see if I remember this on guitar." The crowd grew quiet and Bruce closed the show with what had been a recent opener on piano, a slow, haunting "For You." After such a hard-driving night, fans couldn't help but feel the intimacy of this final moment, closing a three-hour-and-21-minute show — it was quiet enough to hear Bruce's voice echo off of the far rim of the stadium.
For the full setlist and reports from this and other recent shows,
see our Setlists page
- June 18, 2016 - Andrew Telesca reporting - photographs by Florian Spintler

KEEPING BIG MAN'S LEGACY ALIVE
For this fifth anniversary of his passing, a website has been created to honor Clarence "Big Man" Clemons. It was designed to maintain the spirit of generosity that Clarence was so well known for. Visit bigmanoftheyear.org to learn more about the Big Man of the Year Award, past and future, and charities that were near and dear to him.
- June 18, 2016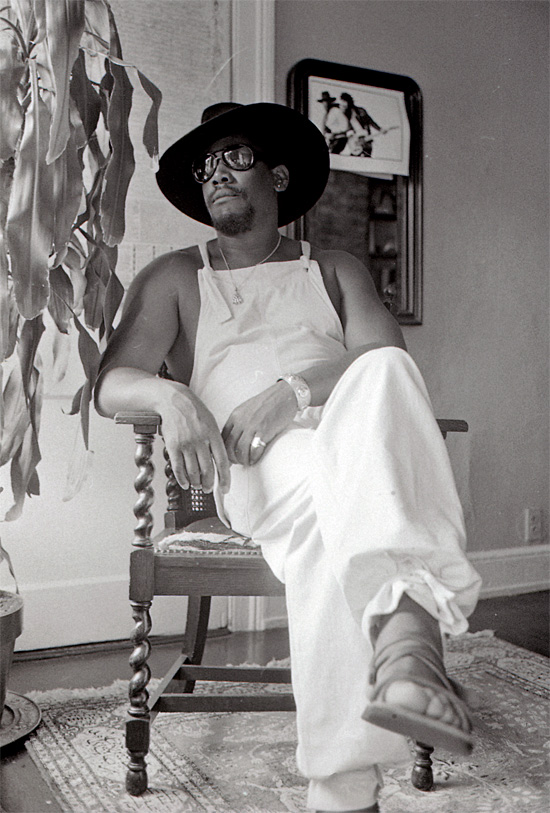 A BEAUTIFUL RIVER IN THE VALLEY AHEAD
Five years on, Clarence's words continue to inspire us
This weekend will mark five years since Clarence Clemons' passing on June 18, 2011. Big Man's physical departure from this universe was an event so... well, big, that in many ways the loss still feels new and strange five years further on up the road, even for those of us who loved him without ever having known him personally. On this anniversary weekend we offer a short read from Clarence himself that remains insightful, comforting and timely, especially in light of Bruce Springsteen & The E Street Band's ongoing River Tour 2016. With special permission, Backstreets is honored to publish online Clarence's beautiful chapter "The River" from Big Man: Real Life & Tall Tales.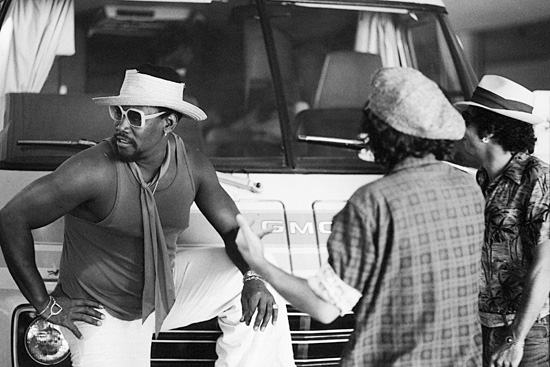 Big Man's co-author, Don Reo, told us this week, "Clarence was many different people. At various times I heard him refer to himself as joy, love, and dreams personified. But one night while we were working on the book, we decided that the word that best defined him was music. He started talking about how music was an integral part of his soul. 'It's like air or water,' he said. 'It's like a river.'

"That was how this chapter came to be. I considered reading it at his funeral, but instead I related a story that was, in essence, one of his dirty jokes. When you consider whom I was eulogizing, this decision was either in very bad taste or absolutely fucking perfect. Probably both. Five years is a long time, and yet it seems like the blink of an eye. I think this piece is truly representative of Clarence. Here he is speaking for himself, and in a way, for all of us."
"The River" by Clarence Clemons
To me music is like a river. I have lived my life beside the river.
Every day I get up and I look at the river. I watch it and notice when it rises or falls. I see how the wind affects the surface and ruffles it, and how the lack of wind leaves it looking like a mirror. I follow the water as it flows over rocks and around obstacles. I have studied the river my whole life. I know it as well as I know myself.
Most days I swim in the river. Sometimes I float on it, looking up at the trees and the sky. Other times I dive beneath the surface and try to become the river. I feel it all around me and I feel like part of it. I find it difficult to distinguish between the water and myself, and I don't know where one begins and the other one ends. And then I am the river.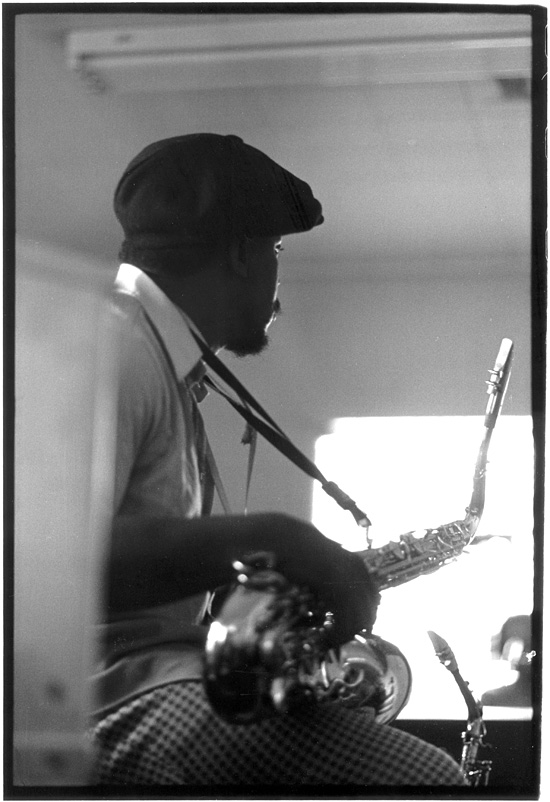 At night I sit beside it. I sit in the dark and listen to it and I feel like the Rain King and I listen to it and I close my eyes and I listen to the river. Some nights it's just noise. A nice noise, a peaceful noise, but just noise. But then something will happen. Something will move beneath the surface and the noise becomes something else. It's discordant like John Cage or Harry Partch, but then it sounds like music almost and it's Captain Beefheart and then Frank Zappa, and the noise turns beautiful and annoying all at the same time, and that's good and so unexpected that it makes me laugh out loud in the darkness.
But on other nights the river sings, and it can sing anything. It's a choir. It's the Edwin Hawkins Singers singing "Oh Happy Day," and it's all gospel all the time until it turns into opera and classical piano and violins and Wurlitzers and Hammonds and big church organs and Al Kooper on "Like a Rolling Stone" and Dave "Baby" Cortez and whoever played organ on Del Shannon's "Runaway," and suddenly there are a million different voices and a million different instruments, and I can hear each and every one of them and they're all good. I can make out Speedo and Ivory Joe Hunter and some group singing about white port and lemon juice and Willie Dixon and Robert Johnson and Son House and Garnett Mimms, and then the Darktown strutters dance by in the shadowy light, followed by the Viscounts playing "Harlem Nocturne" and "The Touch," and the Rockin' Rebels' "Wild Weekend," and then Hank Williams and Johnny Rodriguez and Mickey Newbury from a depot in Frisco, and the music just washes over me and makes me feel whole.
I can't be separated from the river. I cannot be away from it. It follows me; it changes its path to be with me and to stay with me and to define me. It is my purpose and it flows through my soul and it always will, and nothing in this world, including death, can stop that.
- June 17, 2016 - thank you to Don Reo and the estate of Clarence Clemons for their permission - photographs by Barbara Pyle [more of Barbara's photos of Clarence can be seen in Backstreets #91, her book Bruce Springsteen & the E Street Band 1975, and at Carmine Galleries in NYC]


JUNE 14, DEN HAAG, NETHERLANDS
Bruce Springsteen and the E Street band returned from a nine-day break with their first-ever concert In The Hague, the political capitol of The Netherlands. The show was held at Malieveld, an immense field that can hold 67,500 people. Grass was nowhere to be found; the field was changed into a pool of mud after all the rain we had the past few weeks. Fortunately, the sun broke through the clouds at the end of the afternoon, and not a drop of rain fell during the concert.
This show marked the 25th anniversary of Bruce in Holland. He had performed 24 times before in our tiny country, and the last time Bruce and The E Street Band played here, in Nijmegen 2013, he had opening acts. An unusual move, since he hardly ever takes support acts, but somehow in Holland he does: this time, the Stereophonics took the stage around 6pm. The Welsh rock band played a great set, but it was hard to get the audience up on their feet. Literally. Some people decided to give their legs as much rest as possible and sat down during their show. Everybody was waiting for The Boss.
Rather than starting solo, as the past few shows had, Bruce followed the entire E Street Band on stage. With a powerful "one, two, three, four!" they dove into a full-blast "Badlands," the mark that this was going to be an energetic evening. "Nederland, hoe gaat het?" — Netherlands, how are you doing? — was greeted by a large cheer from the crowd. After "No Surrender" and "My Love Will Not Let You Down," it was time for some requests. Bruce took some signs from the audience and decided on "From Small Things (Big Things One Day Come)," a River-era outtake getting its River Tour premiere.
It was only during the seventh song of the evening that Bruce slowed things down a bit; up until then it was just a steam train rolling through, party song after party song, with immense energy. During "My City of Ruins" Bruce preached and held his hand above the audience. It was a religious experience outside a church. Afterward, Bruce stood in a ray of sunshine. For a moment he was quiet, overlooking the audience and clearly enjoying the weather and the moment.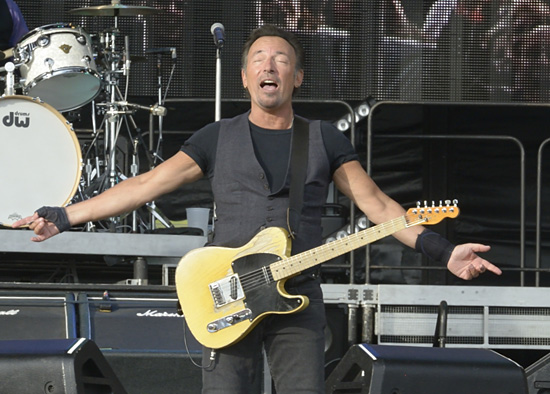 An especially remarkable request was played next. Someone was holding a sign that read, "One dream left." Bruce took that sign but didn't see the back of it right away; the crowd, though, went wild, because on the back of the sign was a request for "Jersey Girl." Bruce decided to play it. "This has never been played outside of the United States," he told the crowd. Even though that isn't exactly true, the next few minutes were something extraordinary: "Jersey Girl" was played in The Hague, and nobody in the audience could believe that it was actually happening.
We were treated to another treasure when Bruce took an inflatable saxophone from the audience, and attached to the sax was a sign that said "Racing." What followed, another tour debut, was a long and intense version of one of the most beautiful songs in his repertoire, "Racing in the Street." The playing of Roy Bittan, in his leading role on piano, brought the audience to ecstasy. However, when the final notes faded away, the audience had hardly time to catch its breath. Bruce immediately picked up his harmonica and started "The Promised Land." Whereas Bruce is a talkative guy at many shows, in The Hague he didn't say much. The steam train kept on rolling.
As soon as I heard the first notes of "The Rising," the Bruce Blues began to creep in; I was already anticipating the post-show emotional hangover and heartache, after looking forward this show for so many months. We were approaching the end of the set list. But I was too early — Bruce had some wonderful surprises left. The encore started with an emotional "Jungleland" for a lady with a sign that read, "This is my last concert, 'Jungleland' please." Bruce saw the sign and granted her wish.
After "Born to Run," everybody partied like crazy on "Seven Nights to Rock," an unusual enough choice, but Bruce still had something else up his sleeve. He was searching for a sign that he had seen in the audience earlier that night. The camera focused on "Atlantic City." Bruce smiled and shouted, "No!" The camera turned to "Backstreets." Bruce smiled and shouted "No!" The camera then found the sign that Bruce wanted to play: "Detroit Medley."
The energy was phenomenal. Bruce and the band clearly had their party hats on. They were dancing on stage, laughing and joking all the way. It was amazing to see that group of friends on stage. It felt as if you were in their living room, joining the party with 67,500 people. The party continued through "Shout," after which the band left the stage. The lights stayed out; Bruce came back with a guitar and harmonica to play a beautiful and quiet version of "This Hard Land."
"The E Street Band loves you!" We all clapped and held our breath, hoping for that one other sentence he often says. And when he did, you could almost hear the relief: "We'll be seeing you!" Yes!
For the full setlist and reports from this and other recent shows,
see our Setlists page
- Updated June 15, 2016 - Liselotte Schuren reporting - photographs by Rene van Diemen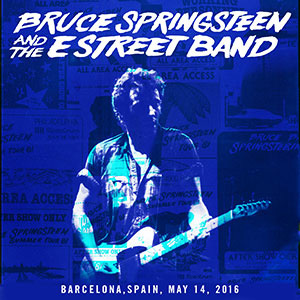 WEEK AFTER WEEK
New Europe downloads every Wednesday, starting tomorrow
Nugs.net's Brad Serling recently issued an important update for fans who've been waiting for official downloads from the European tour. As Serling confirms with Backstreets, the series will begin tomorrow, June 15, with the release of the Camp Nou opener in Barcelona.
"The problem we're having with Europe," Brad told E Street Radio's Jim Rotolo last week, "is the distance and the shuttling of hard drives [containing massive amounts of digital recording information for each show] to New York," where shows are then mixed by Jon Altschiller. During this brief downtime between the London and Netherlands shows, Altschiller has received all hard drives and now continues his mixing of recordings for all of the European concerts that have been performed to date.
One or two shows will be released on live.brucespringsteen.net each Wednesday through the end of July. Each Wednesday's new download(s) will first be sneak-previewed that morning on E Street Radio's Live From E Street Nation with Dave Marsh at 10 a.m. ET. Then at 12 p.m. ET, that Wednesday's download(s) will be released officially at live.brucespringsteen.net.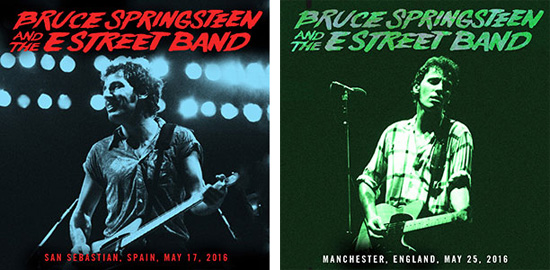 The complete June/July release schedule:
Wednesday, June 15 - Barcelona 5/14
Wednesday, June 22 - San Sebastian 5/17
Wednesday, June 29 - Lisbon 5/19 and Madrid 5/21
Wednesday, July 6 - Manchester 5/25
Wednesday, July 13 - Dublin 5/27 and Dublin 5/29
Wednesday, July 20 - Glasgow 6/1 and Coventry 6/3
Wednesday, July 27 - London 6/5
The European tour is slated to end on July 31. "Once we get into August, all of the hard drives will be coming back to New York," Serling told Rotolo. "So we'll be able to just crank those [remaining European shows] out once all of the drives are back." In the meantime, just keep telling yourself, "See you next Wednesday."
- June 14, 2016 - Shawn Poole reporting

FROM THE ANGLO FILES, PART II
Another look back at the River Tour's shows in England, starting with a rainy night in Manchester, before Springsteen and the band return to mainland Europe tonight. Hat tip to Young Grizzly Adams for these shots from the pit.
Manchester, May 25
Coventry, June 3
London, June 5
For more photos, with reports on top, check out our friend Hannah's blog, Burgers and Bruce. It's a "travel, food and music blog, with a side-serving of burgers and Bruce Springsteen"; Hannah took in Coventry and London, as well as the Euro opener in Barcelona.
- June 14, 2016


PREMIERE: JOSIAH & THE BONNEVILLES COVER SPRINGSTEEN
Check out Josiah and the Bonnevilles' resonant take on "Dancing in the Dark," live at Big Fish. Josiah's debut EP Cold Blood is out now. Follow them on Facebook, and catch them live tonight, Monday June 13, at Mercury Lounge in NYC.
- June 13, 2016

FROM THE ANGLO FILES
After six shows in the U.K. and Ireland, foilowed by a nine-day respite, the European River Tour heads back to the Continent this coming week. Before Bruce and the E Street Band get back to business Tuesday night in The Hague, here's another look at the last couple stops in England, courtesy of photographer Geoff Robnson.
Coventry, June 3
London, June 5

- June 12, 2016 - photographs ©Geoffrey Robinson

THROWBACK THURSDAY: ALI '78 EDITION
Louisville, KY's Islamic Funeral Prayer Program for native son Muhammad Ali occurs today, followed by tomorrow's public memorial service. With the passing of Ali still very much on our minds, we offer another E Street-style one-two punch in memory of The Greatest: recollections of two Ali-connected 1978 performances by Bruce Springsteen and the E Street Band.
After we described Springsteen's 1980 dedication of "Darkness on the Edge of Town" to Ali after a failed comeback, several readers wrote in to note that Bruce made a similar gesture on the '78 tour: "Darkness" was sent out to Muhammad Ali at Springsteen's September 15, 1978 concert in New York City's long-gone Palladium — on what would go down as a much happier occasion in Ali's boxing career. Longtime Backstreets contributor Robert Bader, who has the memory of an elephant on ginkgo biloba, recalls:
It was the night that Ali became the only three-time heavyweight champion when he beat Leon Spinks in their rematch. I remember it particularly well because the fight was aired live on ABC, and everyone in the Palladium was somehow getting live fight updates during the show. I have a vague recollection of the fight starting right around the intermission. I had a friend who swapped a great seat for that show for a crappy balcony seat for the next night because he couldn't miss the fight.
That Palladium performance also marked the first time that Bruce ever opened a show with "Darkness on the Edge of Town." He's since done it only two other times: August 9, 1999 at New Jersey's Meadowlands Arena, and just two weeks ago at the first night in Dublin.
Another 1978 onstage reference to Muhammad Ali can be found in the November 8 Montreal performance of "She's the One." Back in those days, Bruce often ended live versions of "She's the One" with his "I get mad" bit, e.g. "I get mad... like Al Capone... like Jesse James... like Pretty Boy Floyd... like Popeye!" On that night in Montreal, Ali made the list, too. Listen below, starting at the 10:48 mark. This performance also matches up nicely with the officially released live version of "She's the One" on The Promise box set's Houston '78 Bootleg: House Cut DVD, where Bruce got "mad... like Smokin' Joe!"

- June 9, 2016 - Shawn Poole reporting - special thanks to Robert Bader & Flynn McLean


IT TAKES TWO, BABY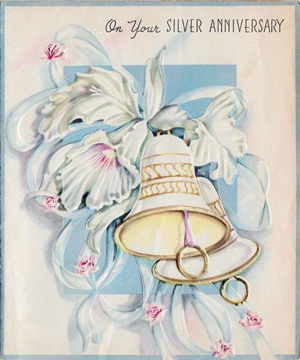 Happy 25th anniversary to Patti and Bruce
One moment that caught our attention on the 2016 River Tour tour happened in Los Angeles. Of course, those performances of The River were remarkable, but in the b-set on March 19, "Tougher Than the Rest" sounded just right: as we remarked in our review, Bruce Springsteen and Patti Scialfa sang "a fine duet."
Is that one their song? More so than, say, "Mansion on the Hill" from the reunion tour? It certainly was that night: everyone on that stage sounded terrific on "Tougher," but the lead and harmony vocal were remarkable and made for a memorable performance.
Having a go-to song that endures after a quarter-century is almost as impressive as a 25-year partnership: Mr. and Mrs. S. were married on this day in 1991.
To mark the occasion, we came up with a few ideas for the next 25 years: songs we think the First Couple of E Street would sound great on together, on a Saturday night or any other.
A number one hit in 1956 for Charlie and Ira Louvin — their only chart-topper — "I Don't Believe You've Met My Baby" sounds like it takes place in the same landscape as "Book of Dreams." And any song that begins with "Last night" and goes on to describe an unsettling dream (though, spoiler alert, there's a happy ending) should automatically be in consideration for a Springsteen cover. (Dolly Parton & Porter Wagoner recorded this one too, but they drop that scene-setting first verse.)

"Pickin' Wild Mountain Berries" was a Grammy-nominated hit for Peggy Scott and Jo Jo Benson in 1968. That was followed by a Conway Twitty and Loretta Lynn duet in 1971, but the original R&B version sounds more like the kind of thing that Bruce and Patti might get up to on a small stage on the Jersey Shore, backed by the Bobby Bandiera Band.

A classic by the late, great Gram Parsons with his duet partner Emmylou Harris, "Return of the Grievous Angel" feels tailor-made for the Springsteens and their years on the road, together and apart. "Twenty thousand roads I went down, down, down / And they all led me straight back home to you."

A Backstreets favorite — not least because it was recorded by our longtime office manager John Howie Jr., as a duet with Tift Merritt — "Suppose Tonight Would Be Our Last" is a magnificent, apocalyptic love song originaly recorded by George Jones and Melba Montgomery in 1963. (Another winner from this latter pair: "We Must Have Been Out of Our Minds".)

The title track of Richard and Linda Thompson's 1974 LP, "I Want to See the Bright Lights Tonight" is less duet material than it is a chance for Patti Scialfa to sing lead. And if "Out in the Street" is a working man's perspective on the urban weekend, this folk-rocker gives a strong counter-narrative from a woman's POV. Another idea, though in a different vein entirely: "Walking on a Wire," from their landmark 1982 LP, Shoot Out the Lights. In fact, if Bruce and Patti want to record an entire record's worth of Richard and Linda Thompson songs, we'd love to hear it.

Charlie Louvin again? And Emmylou Harris again too? You bet — they're both among the greatest duet artists and harmony singers in recording history, and of course both Bruce and Patti are big fans of Ms. Harris. Here the two country greats come together on the yearning "If I Could Only Win Your Love," written and recorded by the Louvin Brothers in 1958 and a 1975 hit for Emmylou.

But it's not like they can only do love songs. We love our "State Trooper"s as much as our "Drive All Night"s. How about a murder ballad, like Nick Cave and P.J. Harvey's "Henry Lee"?

On the E Street stage we associate Marvin Gaye and Kim Weston's "It Takes Two" with Bruce and Stevie, given the coda they regularly add to "Two Hearts." But Weston's vocal is right in Patti's wheelhouse, and we'd love to hear her and her husband tackle the whole thing.

Finally, why look elsewhere? Springsteen's own catalog is rich with under- and un-performed songs, and "When You Need Me" is ripe for rediscovery. In the 1987 recording on Tracks Springsteen harmonizes with himself, but he and Patti would shine on this one as a pair, "standin' together and takin' 'em on." Obvious or not, we could say the same of "Two For the Road," another beautiful Tunnel outtake in this vein:
"Two one-way tickets and a diamond ring / Hell it don't matter what the rain might bring..." Happy anniversary, as we raise a glass to another 25.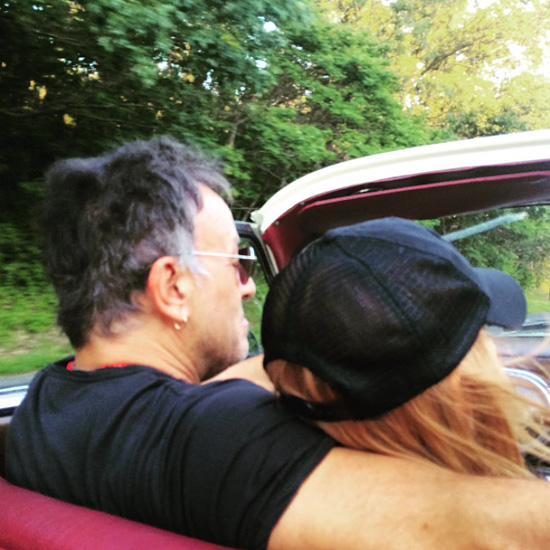 - June 8, 2016 - photographs via Instagram [officialrumbledoll]

ALL MY LIFE I FOUGHT THAT FIGHT
E Street honors and remembers Muhammad Ali, 1942-2016
At their third and final England show of The River Tour 2016, last night in London, Bruce Springsteen & the E Street Band's performance of "Tougher Than The Rest" [video] was dedicated to the great boxer and social activist Muhammad Ali, who died last Friday at the age of 74. "Float like a butterfly, sting like a bee," quoted Bruce. Nils Lofgren, Garry Tallent and Steve Van Zandt have each paid tribute to "The Greatest" via Twitter as well: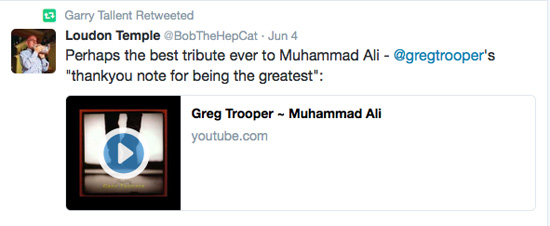 Coincidentally enough, Springsteen and the E Street Band also paid tribute to Ali in concert on the original River Tour. During their October 4, 1980 concert at Cincinnati, OH's Riverfront Coliseum, "Darkness on the Edge of Town" was dedicated to the legendary athlete. You can hear that performance here:
The night before, boxing fans had watched Ali return to the ring from a two-year retirement in an attempt at an unprecedented fourth heavyweight-champion title. Unfortunately, at 38, Ali was nowhere near the boxer he once was and lost the fight to his friend and former sparring partner Larry Holmes. Nevertheless, as he left the ring after his final title fight, many in the audience still cheered the fallen warrior and his lasting legacy of athletic prowess and social consciousness.
Five years earlier, Muhammad Ali also seemed to be on Springsteen's mind as he took the stage in the middle of his legendary five-night stand at New York's Bottom Line nightclub. The first of two shows on August 15, 1975 was broadcast live on WNEW-FM; Richard Neer was introducing the broadcast when Springsteen and the E Street Band walked by on their way to the stage. As Dave Marsh noted in Born to Run: The Bruce Springsteen Story, Springsteen stopped and delivered "a spiel patterned after Muhammad Ali's heavyweight title fight boasts. Tonight he's out to prove that he's the champ." A recording of that moment can be heard here:
Another important link between Ali and E Street is the Light of Day Foundation, which has served with Ali's daughter Maryum "May May" Ali as longtime supporters/participants in New York City's annual Parkinson's Unity Walk. Light Of Day's Facebook and Twitter pages both featured memorial tributes in light of the champ's passing.
Muhammad Ali also joined Bruce Springsteen and many others in the 2001 America: A Tribute to Heroes telethon, following the 9/11 terrorist attacks. In the midst of his own struggles with Parkinson's, Ali still spoke powerfully to a huge live global television audience, cautioning against perverting the fight against terrorism into anti-Islam bigotry: "I'm a Muslim... Islam is peace and against killing. The people doing that in the name of Islam are wrong, and if I had the chance, I would do something about it."
Finally, don't forget to check out pages 112-114 of Big Man: Real Life & Tall Tales by Clarence Clemons and Don Reo. There you'll find Clarence relating his 1985 encounter with Ali in a way that only Clarence could. Here's hoping that right about now, Big Man and The Greatest are together again at an even cooler nightclub in an even more pleasant locale.
- June 6, 2016 - Shawn Poole reporting - special thanks to Jeff Calaway & Flynn McLean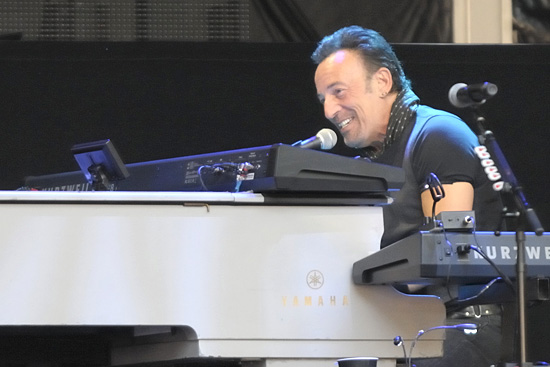 JUNE 5, LONDON
The atmosphere of London's Wembley Stadium was electric when Bruce Springsteen ascended to the stage last night. A warm summer's afternoon, a blue sky contrasted with the vast sea of red of Wembley's architecture as Bruce walked on stage alone. Taking a seat at Roy's piano, Springsteen smiled warmly, opening his performance with a tour premiere.
"Does This Bus Stop at 82nd Street?," the fourth track of Springsteen's 1973 debut, oozed from Bruce's piano. More mature and with a slower rhythm than its original rendition, the performance preserved an enthusiasm synonymous with youthful optimism, Bruce smiling and giggling as he played. Midway through the song he paused, turning to the silent crowd. One fan cheered, which Bruce acknowledged — "at least one of you is having fun!" —before the entire crowd followed with applause. Laughing, Springsteen returned to complete the song, which set the tone of last night's concert: beneath a baking hot sun, Wembley Stadium was set to have fun.
A dark, impassioned performance of "Seeds" followed. Bruce's voice roared, practically spitting out the lyrics, as the E Street Band maintained a mechanical rhythm behind him before launching into the riff that defines this Born in the U.S.A. outtake. Originally known as "Gone Gone Gone," the song allowed Bruce's passion to manifest in a ferocious guitar solo which had Nils Lofgren and Steve Van Zandt grooving alongside him. Springsteen's solo was underpinned by Max Weinberg, his eyes pinned on Bruce, his mighty drums nearly shaking Wembley Stadium.
With the set progressing, Bruce took a sign request for The River outtake/B-side "Be True," only its second performance on this tour. Few songs sound as pure as "Be True," which allowed the E Street Band to truly reassume its 1980 sound. Each member of the band was integral to the performance, with Roy Bittan's piano and Max's cymbals defining its opening. Stevie's vocal accompaniment turned rhetoric into conversation, creating the sense of young men appealing to the love of a girl. Jake Clemons's saxophone brought "Be True" to its climax, as Bruce stood alongside him with a smile on his face.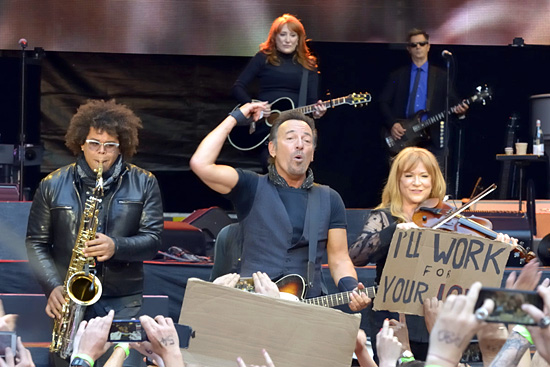 "I'll Work For Your Love," from 2007's Magic, was another sign request; Bruce noted that it was a song "never requested" and was struck by another two signs for it in the audience. Taking an acoustic guitar, Bruce put himself on the spot at the center microphone, trying to recapture a song seldom performed. With the E Street Band either having left the stage or, in the case of Steve, Patti Scialfa, and Garry Tallent, sitting under Roy's piano, Bruce strummed his guitar, working it out. With a couple of false starts, he promised, "After this, it's going to be perfect!" Bruce's voice delicately echoed throughout Wembley Stadium, with the E Street Band smiling as though members of the audience.
Following "American Skin (41 Shots)" — more finely tuned than in Glasgow but still lacking a strong solo — the set continued with familiar crowd favorites. "Badlands" closed the main set before "Jungleland" opened the encores. The Born to Run epic is defined in its opening by Soozie Tyrell and Roy, at opposite sides of the stage, playing violin and piano. Last night, with an explosion of blue lights from the stage, Soozie played her violin to the eruption of the audience. Roy's piano met this energy, before Bruce's vocals —nearly spoken, like poetry — reverberated through the stadium. Singing at Bruce's instruction, the crowd followed the lyrics up to Steve's shredding guitar solo, which seemed to tear through the London air.
Then there was Jake's saxophone solo, the high point of the London concert. As the entire stadium fell silent, the mournful sound of his sax echoed throughout Wembley and beyond. The E Street Band pulsated with prowess and precision behind him, before Jake's spotlight moment concluded with his saxophone held to the sky. Bruce met Jake on the stage, the two sharing a hug, before he returned to the microphone to bring the song to its close. Few songs define the power of the E Street Band as well as "Jungleland." With the atmosphere truly electrified, beneath an ink-blue sky, Springsteen and his chorus of 80,000 sang the closing lines. Although not of The River — an album from which only six songs were played despite it being this tour's namesake —"Jungleland" stood out in a concert that (contrary to the grumbling of some setlist watchers) enjoyed moments of Bruce Springsteen and the E Street Band at their best.
As the concert passed three-and-a-half hours, "Bobby Jean" found the house lights up, emitting an intense brightness, each of the 80,000-strong audience raising their arms to the air, swaying and singing in unison. The E Street Band were truly connected with this audience, lingering on stage before their exit. Springsteen, however, remained.
A solo figure punctuating a plethora of instruments on stage, Bruce closed his performance with an acoustic "Thunder Road." In the city which marked his first performance outside of the U.S.A., in 1975, Bruce closed last night's concert with the first song he ever played in the United Kingdom. Summoning the experience of 40 years, Bruce led his audience through the most passionate performance of "Thunder Road" this tour. Following his vocal at the end of the song, which felt like a lullaby, Bruce looked at the crowd with a glint in his eye and a smile on his face. To an endless roar, Bruce said goodnight: "The E Street Band loves you. We'll be seein' ya!"
For the full setlist and reports from this and other recent shows,
see our Setlists page
- June 5, 2016 - Connor Kirkpatrick reporting - photographs by Rene van Diemen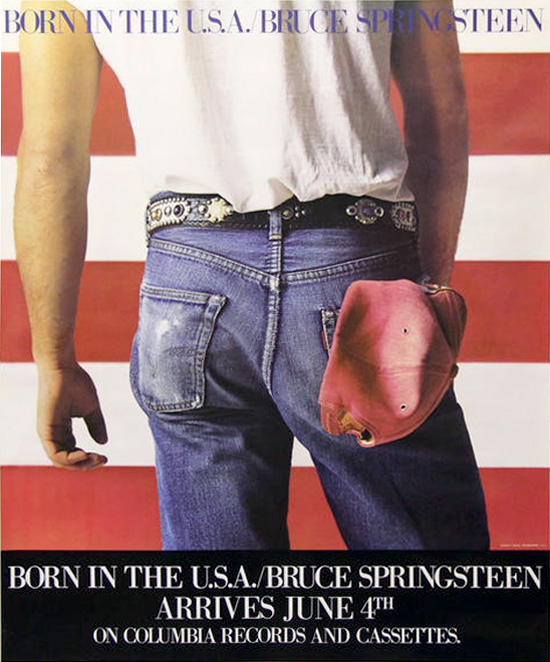 THIRTY-TWO YEARS BURNING DOWN THE ROAD
Born in the U.S.A. arrived on this day in 1984. For lots of anniversary coverage from the 30-year mark, revisit our June 2014 Archive.
- June 4, 2016


JUNE 3, COVENTRY: SAVING MY LOVE FOR THIS TRAVELIN' BAND
Five tour premieres? In Coventry?! Where the hell is Coventry? Bruce Springsteen and the E Street Band clearly knew, and they showed up big time at the relatively small (still 50,000-strong) Ricoh Arena for a three-hour and ten-minute, 33-song spectacular. Though so many tour premieres might suggest the setlist was one of the absolute best of the tour, unfortunately the fact that they were all clumped on either end of the show prevented it from scaling those lofty heights, especially since the stretch in between almost derailed the evening with a series of brutally predictable setlist decisions. The night was ultimately a tale of two great, expertly paced segments, with a subpar deviation separating the two.
The tour premieres kicked off right away with another solo performance on the piano, "For You." Springsteen walked onstage alone a little after 6:45pm (gotta love those 10:30pm English curfews), gave a quick "Good evening" at the mic, and then went straight to work on Roy's perch. Hearing the song in this context recalibrated its emotional effect, scaling back the romanticism for a sadder vibe, fitting the gloomy, overcast skies.
Bruce finished his beautiful rendition with a simple smile, and after the band (sans Patti) unceremoniously walked onstage, they built upon this introductory mood by launching into a second tour premiere that had been worked out at recent soundchecks: "Something in the Night." If a few in the crowd tried to start singing along to the final lines of "For You," this Darkness gem turned into a full-blown haunting sing-along, with Bruce wholly committing to the performance. The European premiere of another Darkness classic, "Prove It All Night," built upon the intensifying pace, and "My Love Will Not Let You Down" at last turned the stretch into the type of rock 'n' roll extravaganza typical of E Street openings, further enhanced in Coventry by how brilliantly Bruce led up to it.
After the expected River triumvirate was broken apart by a sign request for "No Surrender," another sign brought the rare Darkness outtake "Save My Love," which received almost no reaction from the crowd when Bruce flashed it to the cameras. He joked that most were probably asking themselves, "What the fuck is that?!" before explaining the song was influenced by his youthful nights staying up late to listen to the "small squawk box transistor radio underneath my pillow." The performance fit the characteristics of the songs "Save My Love" expertly channels: loose, a little sloppy, but so much fun.
With the stoic crowd receiving the actual song in much the same way they greeted its sign, Bruce made a point of bringing them back into the fold with a particularly rowdy "Hungry Heart," thereby launching into the energetic stretch of The River through "You Can Look" that was one of the nightly highlights of the American leg. Bruce appeared absolutely giddy, yet he perfectly transitioned this intense party vibe into a more serious, passionate intensity with the three-pack of "Death to My Hometown," "Youngstown" (Nils killed the solo), and "Murder Incorporated" (Bruce and Stevie killed theirs, too). By this point Bruce the band were absolutely on fire, with the show having seamlessly built to a blistering pace from the quieter beginning. "The River" and the welcome return of a gorgeous "Drive All Night" brought the show full circle back to the soulful opening. Taken all together, it was a masterclass in how to construct a fluid, fluctuating, and flat-out fantastic setlist.
And then, predictability set in. One song after another, Bruce made the same old second-half setlist choices that have frustrated many European fans (though perhaps he felt the need to stay on safer ground after the crowd's reaction to "Save My Love."). He of course has to play a lot of his crowd-pleasing "greatest hits" for these stadium crowds, but bunching them back-to-back-to-back-to-back-to-back only compounds the effect. More than just being a drag for the many audience members who had made the easy drives to all of the U.K. stops, such familiar stretches seem to make the band a little complacent, letting them get off their musical toes.
As such, there was almost no momentum going into the main set closing "Badlands," which may have been what inspired Bruce to spot out of nowhere a sign for Creedence Clearwater Revival's "Travelin' Band," only its fifth performance in the Reunion era. Simply put, the Band crushed it, scrambling to remember how to play this raucous classic. This curveball re-animated everything — Bruce, the band, the crowd, and the rest of the encores, easily the best of the tour — immediately restoring the level of energy sustained throughout the first half of the show. It clearly doesn't take much to catalyze a setlist in such a way.
And Bruce wasn't done with the surprise tour premiere covers. As "Born to Run" came to a close, he immediately went into the opening riff of "Seven Nights to Rock." The concert had once again gone off the rock 'n' roll Richter scale — Bruce literally banging his head against Roy's keys during the song, humorously almost mocking his show-opening performance — and it would only come back down for another transcendent acoustic performance of "Thunder Road," closing the show in much the same soulful way as it began: Bruce alone on stage, surrounded by 50,000 of his adoring fans, only now with everyone singing along. It was a touching and harmonious bookend. If only every book in between had been on the same level.
For the full setlist and reports from this and other recent shows,
see our Setlists page
- June 4, 2016 - Steven Strauss reporting - photographs by Jan Lundahl


JUNE 1, GLASGOW: I WORK ALL DAY OUT IN THE HOT SUN
Bruce Springsteen and the E Street Band's ascension to the stage of Scotland's National Stadium, Hamden Park, was marked most not by the hot sun baking the stadium, but by Springsteen's decision to respond to it with "Waitin' on a Sunny Day." A definitive crowd- pleaser, the unusual opener was met with the full stadium falling into song, arms waving, as the sun sat high in the sky. With half the audience blinded by the light, and beneath an unbelievably blue sky, Bruce seemed in good — if a little mischievous — form. He pulled a young blonde-haired girl onstage to sing, and the crowd was indeed pleased, though many pit dwellers could only have wished that Bruce had instead played "Girls in Their Summer Clothes" (not only a similarly appropriate song, but a rarity that the E Street Band had soundchecked earlier in the day).
"Spirit in the Night" followed — which continues to allow Bruce to preach to an audience he encourages to "Testify!" — and soon "Rosalita" made an early appearance. Holding a sign request for the song to the camera, the crowd cheered as Bruce and Steve jumped back into 1973 and onto the center thrust deck to party with their audience. Seven songs in, but only slightly after 7pm (owing to a relatively early start time), the sun was unrelenting, shining on a majority of the crowd. A combination of an energetic "Rosie" coupled with the extraordinarily bright atmosphere set the scene of last night's performance; Hampden Park assumed the feel of a summertime party in the late afternoon.
Inviting the band down to the thrust, Bruce was joined at the microphone by Steve Van Zandt and Jake Clemons, who danced and encouraged the ever-developing party atmosphere. Stevie appeared to be in his element, smiling and dancing, flirting with the audience. Jake's saxophone poured sound into the stadium, while Bruce's guitar wailed.
The tour debut of "4th of July, Asbury Park (Sandy)" followed, creating "a Wild & Innocent double header!" as Springsteen accepted a special sign request "for the man who had it as his wedding song." With the sun still warm, and light streaming into the stadium, the audience was naturally quieter than a crowd in darker conditions, which worked perfectly for a song that commands such attention. Roy Bittan assumed an unfamiliar position next to Bruce, accordion in hand, as the E Street Band passionately felt their way into a gorgeous rarity. Despite being 3,500 miles from Asbury Park, seeing a smiling E Street Band groove to the beat of the music, the stadium of 50,000 felt intimate and spirited. As we've seen before on The River Tour, the E Street Band assumed a youthful vitality that allowed them to channel their younger selves, with "Sandy" melting into the audience as though being performed for the first time.
"American Skin (41 Shots)" also had its tour debut, having been soundchecked earlier in the day. One of the strongest performances of the night, "American Skin" was delivered passionately, with Bruce looking furious as he blistered his way through his guitar solo. The E Street Band was tight, and Bruce's vocals pierced the audience as he stared outwards and upwards. A camera centered on Springsteen's face as he parted with the microphone, still shouting "41 shots" as the band prepared space for Nils Lofgren to assume a solo that never quite developed. This was the only sore spot in an otherwise electrifying performance. On the High Hopes tour, Tom Morello's free reign in that moment took this song soaring; on this night, Lofgren's lead felt a little lost in the wider sound of the E Street Band.
"Point Blank" into "Darkness on the Edge of Town" offered a profound combination of The River and Darkness, with the River track continuing to prove a highlight of these concerts. Few sounds epitomize the E Street Band like Roy Bittan's piano, which is prominent on both songs and carries a narrative in itself. Springsteen appeared deeply proud of the band upon completing each song, taking a moment with his back to the audience, smiling and nodding at his bandmates.
"Because the Night" finally allowed Nils Lofgren to fully unleash his guitar, which howled and echoed throughout the stadium. Spinning to the chanting of the crowd, Nils' solo proves to be an enduring treasure of the E Street archive.
"Born in the U.S.A." opened the encores, which found the Glaswegian audience finally digging deep to find the energy on which Springsteen thrives. Earlier, during "I'm Goin' Down," he shouted, "Would you help me out? Jesus!" as the crowd was unusually quiet. But with the sun finally having set behind the stadium, and a cooling breeze, Hampden Park became electric, which Bruce rewarded with a particularly high-energy "Shout." Stage lights behind the band pulsed to the rhythm of the music, as Hampden rocked beneath an ink-blue sky. After three-and-a-half hours, Bruce thanked his Northern audience for years of support — "We always love coming up here" — and, with his voice notably stronger than at the last concert in Dublin, closed on just guitar and harmonica with "This Hard Land."
For the full setlist and reports from this and other recent shows,
see our Setlists page
- June 2, 2016 - Connor Kirkpatrick reporting - photographs by Jan Lundahl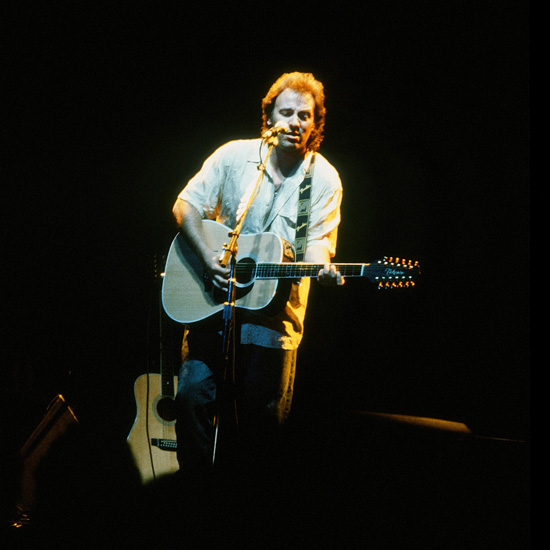 OFFICIAL CHRISTIC RELEASE: BOTH 1990 SHOWS AVAILABLE NOW
While the 2016 River tour rolls through Europe, the Bruce Springsteen archival download series returns with what are arguably two of his most significant and distinctive performances: the November 16-17, 1990 solo shows at the Shrine Auditorium in Los Angeles.
The occasion saw Springsteen follow sets by Jackson Browne and Bonnie Raitt at a pair of benefit concerts in support of The Christic Institute, a left-leaning legal and public-policy organization focused on domestic social reform and U.S. governmental influence in Latin America. Playing for such a cause in 1990 was certainly news, but that would be overshadowed by many factors.
The Christic shows were Bruce's first formal public performances not only since the end of the Amnesty tour in 1988, but since he had informed members of the E Street Band that he would not be requiring their services for the foreseeable future.
He was also performing solo acoustic for only the second time (the Bridge School in 1986 being the other) since his pre-E Street Band days. In hindsight, the 1992-93 acoustic pre-shows as well as the Tom Joad and Devils & Dust tours all tie back thematically to these two appearances. On top of that, the Shrine is the smallest proper concert venue Bruce had played since 1981; he was rumored to be armed with new songs; and he had become a father for the first time just four months earlier. Add it all up and you have a recipe for the most anticipated shows of Springsteen's career.
Before the World Wide Web, social media, and smartphones, some 5,000 people walked into the Shrine that first night with no clue what they were about to experience. I was one of them.
Like most Bruce fans, I'm often asked what's the greatest show I ever witnessed. And given everything noted above and the two incredible performances Springsteen delivered, my answer has long been the Christic shows.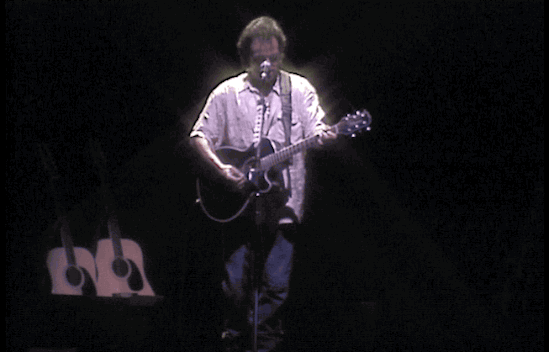 Over the course of 100 or so minutes each night, Springsteen proceeded to stun a rapt audience with the debut of six new songs, including "57 Channels (and Nothin' On)," "When the Lights Go Out," "Real World," "Red Headed Woman," "The Wish," and "Soul Driver." The first three would go on to appear on Human Touch; "Red Headed Woman" snuck out on In Concert/MTV Plugged; the last two wouldn't see release until Tracks in 1998.
Imagine hearing those songs for the first time, with no prior context whatsoever: "Soul Driver," a solemn passion tale with Bruce in the full voice of a gospel preacher; "The Wish," a deeply personal love letter to his mother; "When the Lights Go Out," a stark, cautionary tale apropos to the work of the Christic Institute (the people who, in Bruce's words, "watch what's going on when the lights go out"); "Red Headed Woman," easily the bawdiest song Springsteen had ever performed; and "57 Channels," which offered biting media commentary and a genuine sense of first-person peril.
But the premiere which struck the most resonant chord with the audience was "Real World," which, in this riveting solo-piano form, carried a depth of emotion and musical dynamics that the studio version wouldn't capture. In hindsight, it wouldn't be unfair to say the same of all six songs, which never sounded better than they did these nights.
Beyond debuts, Bruce brought forth striking new arrangements ("Darkness on the Edge of Town") and inspired juxtapositions ("Wild Billy's Circus Story" into "Nebraska"), told personal stories (about the birth of his son Evan), and sat on the piano bench for the first time since 1978 to play "Thunder Road," "Tenth Avenue Freeze-out," "My Hometown," "Tougher Than the Rest" and the aforementioned "Real World."
Happily, we get to hear it all now as, for the first time, complete soundboard recordings of both nights are available as The Christic Shows, November 16 & 17, 1990, the latest live release from the Thrill Hill vault.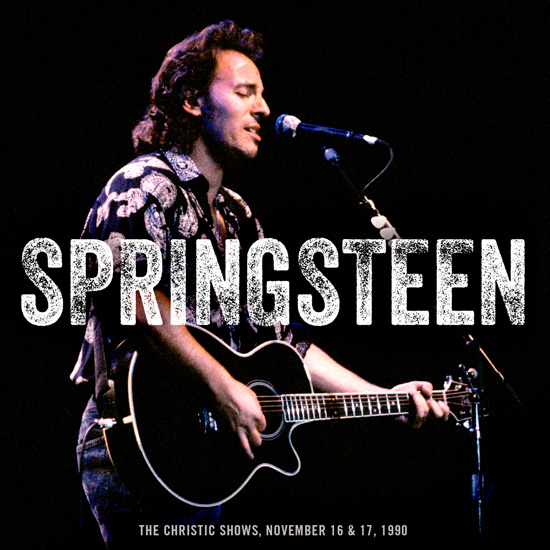 Nugs.net's Brad Serling tells Backstreets the Christic recordings were sourced from direct-to-DAT, two-track masters of the Front of House mix, so, unlike prior archival titles from multi-tracks, there was no mixing involved. Archivist and engineer Toby Scott prepped the DAT transfers for release (battling against diginoise along the way, due to the age of the DAT tapes, but ultimately winning). Adam Ayan at Gateway again handled mastering.
Though the Christic shows were not on the original list of 30 concerts under consideration at the start of the archive series, all involved were well aware of the historic significance of the performances. Collectors have long viewed the Christic shows as essential listening. Multiple audience recordings exist of both nights, and a soundboard tape of the second show surfaced several years ago, albeit with cuts (notably in the beautiful piano version of "Tougher Than the Rest" from night two).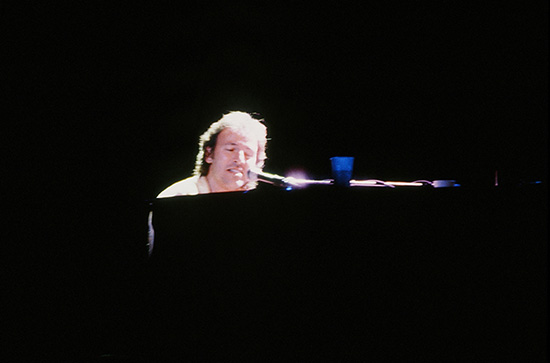 "Listening to this recording for the first time stopped me in my tracks," Serling says. "I'd heard of the shows, but had never actually listened to them until Gateway sent us the mastered version for this release. I have never heard anything like it. On first listen, it made the hairs on the back of my neck stand up. On repeated plays, it took me deeper and deeper into the performance, and I am continually amazed with each new listen."
Serling adds that the new Christic release presents both shows complete, without cuts, sequenced continuously in the order of the performances (on CD, that means they play straight through as two shows across three CDs). "Four CDs would have been needless," says Serling. The Christic Shows set will be made available in multiple formats:
256 kbps MP3: $12.95
Lossless 16 bit/44.1kHz FLAC/ALAC $15.95
3-CD Set: $26.00
HD FLAC/ALAC 24 bit/192kHz: $29.95
DSD64: $44.95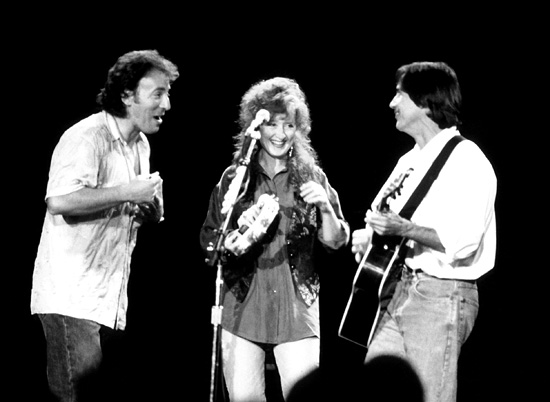 Presenting the complete performances also required getting sign-off from Raitt and Browne, who blessed the release of the encore set featuring all three musicians on covers of Bob Dylan's "Highway 61" and Ry Cooder's majestic 1987 songwriting masterwork, "Across the Borderline."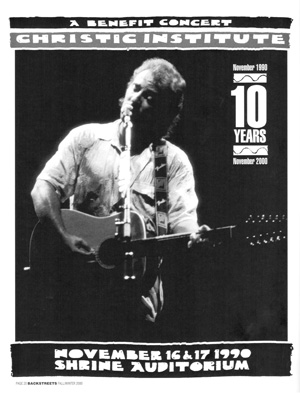 In 2000, on the occasion of the tenth anniversary of the Christic shows, Backstreets Magazine took a look back, with writer Jonathan Pont putting the shows in historical context based on what followed, from Human Touch/Lucky Town to The Ghost of Tom Joad and its solo tour: "What Springsteen did those two nights in November was to get primal, in essence going back to square one….To this day, the Christic concerts bear the mark of an artist searching for the best way to move forward."
You can download the full Christic ten year retrospective from the pages of sold-out Backstreets #68/69 as a PDF here.
Order The Christic Shows, November 16 & 17, 1990, at live.brucespringsteen.net.
- June 1, 2016 - Erik Flannigan reporting - photographs by David Dubois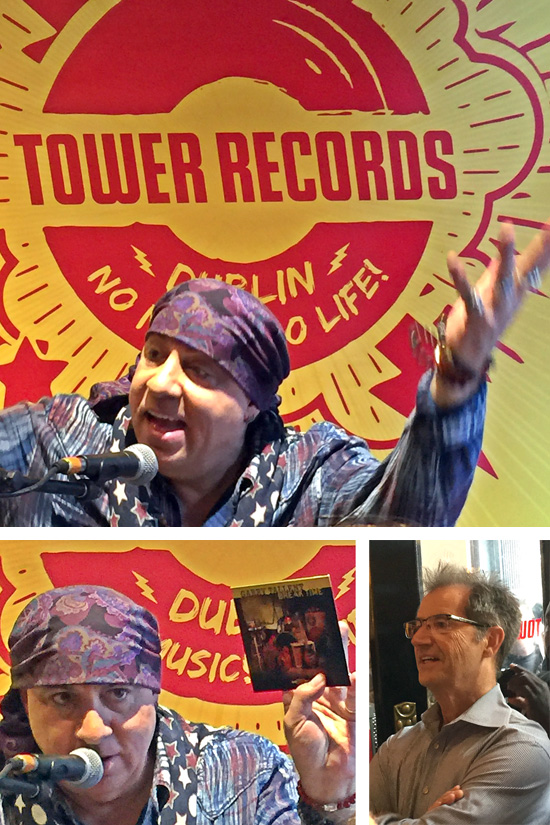 BREAK TIME IN DUBLIN
Over the weekend, in between the E Street Band's two massive shows at Croke Park, Little Steven Van Zandt put his DJ hat on — more accurately, his DJ babushka — for an in-store appearance at Dublin's Tower Records. Our pal Phil Stanley was there: "Steve recorded a live DJ set for his Underground Garage radio show, with a significant portion featuring Irish bands. Garry Tallent was there, too, and Steve used the opportunity to plug Garry's new album and play a song from it." Stay tuned to the Underground Garage to hear the results.
- May 31, 2016 - photographs by Phil Stanley


MAY 29, DUBLIN 2: LET IT ROCK, SON, LET IT ROCK!
Following Bruce Springsteen and the E Street Band's extraordinary performance on Friday, last night the second half of Dublin's 160,000-strong audience filled Croke Park stadium for the seventh concert of the European River Tour. With weather reminiscent of Spain, a gently setting sun bathed Croke Park with warmth and light; half the audience was illuminated, while the other stood in the shade. All were waiting for the band's walk-on music to fire up, and the excitement was palpable. Instead, to much surprise, Bruce alone strolled without introduction onto the stage. As the crowd's surprise transformed into cheers, a relaxed and smiling Springsteen shouted "Hello Dublin!" before taking to Roy Bittan's piano.
The opening chords of "Incident on 57th Street" emanated from the piano as the audience fell with Bruce into the lyrics of his 1973 masterpiece. Continuing with the theme of reinventing early material, which has come to partly define The River Tour, Bruce's solo performance magnetized the audience. The atmosphere of Croke Park was transformed, becoming intimate and exposed, as the singer appeared so absorbed that he didn't once turn his head to the audience. Sitting alone at his piano, Springsteen looked either at the keys or directly ahead, like a man alone at the back of a bar with nothing left but his music.
This intimacy did not, however, translate into a somber tone. "Incident"'s progression was powerful and empowering, with Bruce's playing becoming more intense as the song quaked towards its climax. The crowd of 80,000 swayed together while the final lyrics, "Goodnight, it's all right, Jane" echoed throughout the stadium. The smiling faces and teary eyes of his audience were projected on the screen behind Bruce, which he noticed as his solo performance concluded. Walking back to the center mic, Springsteen invited the E Street Band to the stage. To a familiar roar, the E Street Band assumed their places as Bruce introduced "Spirit in the Night": "Are you ready to testify?!"
"Testify!" Bruce repeated, until the audience became suitably impassioned. Raising his arms to the air, Springsteen led the E Street Band and 80,000 others through "Spirit," which transitioned into to "It's Hard to Be a Saint in the City" and then "Growin' Up." The E Street Band were playing to a massive audience, but also those who know and love Bruce's earliest work. Acknowledging the "triple header from Greetings," they had Croke Park travelling from 2016 to 1973, with the first four songs of the night from Springsteen's first two albums. It was an intimate, warm feel, so different from the blasts of high energy that open many E Street Band concerts.
During "Growin' Up," with the atmosphere just right, Bruce began to tell the story of his childhood and the acquiring of his first guitar. Roy's piano accompanied Bruce as he spoke, providing a rhythm which incorporated rhetoric with verse. "13 years old, I lived on this little L-shaped block, with a church in the middle, Catholic school here, the nuns' convent here, the priests' rectory here, and we had five houses filled with Irish." The crowd cheered and Bruce laughed, continuing, "Now, I come from… O'Hagans, McNicholases, Farrells… and when I was little I was brought up by the Irish side of my family. They were very, very superstitious." Bruce scratched his face, looking whimsical.
"I remember when, whenever it would thunder, my Grandmother, Nana McNicholas, would grab my hand, rush me down to my aunt, and we'd sit in the living room. They'd pull all the blinds down, and when the thunder and lightning started, my Aunt Jean had a little bottle of holy water, and she'd start spraying it all over everybody" — Bruce mimicked this movement and the crowd erupted with laughter — "while telling all these horror stories of neighbors who had been struck by lightning." This clearly resonated with the Irish audience, who indulged Bruce in his storytelling with cheers and laughter. Bruce continued at the microphone, telling the story of finding his first guitar, of muffling the sounds of being in bed with his girlfriends by throwing balls around a pool table, "so it sounded like we were playing pool," and then the moment he first wore his guitar. "And I swear, it was the big Irish voice that came from somewhere, and it said…" Here Bruce adopted an Irish accent… "Let it rock, son, let it rock!"… before returning to an enchanting "Growin' Up."
A familiar setlist followed, carried by the energy of the opening performance. "Youngstown" allowed Nils Lofgren to unleash a blistering guitar solo, nearly levitating as he spun in a circle to the chanting of the crowd. Guitar duelling between Bruce and Steve was a highlight of an intense "Murder Incorporated," which was performed beneath a deep red light.
Bono joined Bruce and the E Streeters for "Because the Night," introduced as "a local boy." The U2 frontman fell around the stage, between notes and missing the odd cue, but was clearly reveling in his chance to join the E Street Band and experience their audience. "Badlands" closed the main set, as Springsteen's voice became noticeably strained, which he acknowledged by the end of the concert. This didn't hamper the performance, however, with "Badlands" proving the appropriate way to conclude a set that had been building a crescendo since the start.
"With whatever voice I have left!" Bruce played a solo-acoustic "Thunder Road" to close the night. "I'm gonna need your help with this one!" With the crowd singing along, Bruce sang softly and, despite the sore voice, harmonized with a near-angelic quality. House light illuminated the massive stadium, with Springsteen looking deeply appreciative of the moment. A smile appeared on Bruce's face as he held his guitar to the sky. "The E Street Band loves you!" and then the greatest cheer of the night, "We'll be seein' ya!"
For the full setlist and reports from this and other recent shows,
see our Setlists page
- May 30, 2016 - Connor Kirkpatrick reporting - photographs by Jan Lundahl


MAY 27, DUBLIN 1: A GOOD THING DON'T COME ALONG EVERY DAY
Shortly after 7:15 pm last night, Bruce Springsteen and the E Street Band took to the stage of Dublin's Croke Park for their 18th concert in the Irish capital and their 6th concert of the European River Tour 2016. A cooler climate than the preceding week's performances in Spain and Portugal, this bared no correlation to the passion of the Irish audience, which deafened the E Street Band as they ascended to the stage. With 80,000 people in a state of near euphoria, Springsteen was clearly awestruck at the spectacle, remarking, "This place is huge! There are so many of you!"
Contrasting with the light atmosphere of Dublin on an early summer's evening, the E Street Band opened with an impassioned "Darkness on the Edge of Town," also reflecting their return to English-speaking audiences. Whereas "Badlands" featured predominantly as an opener in Spain, "Darkness" emphasized lyrical narrative from the outset. With "Darkness," an intensity not only of sound but also of meaning was generated, setting the scene for a performance that would transpire to be one of the tour's strongest thus far.
"Darkness" segued into "Badlands," with Bruce seeming to scream at the crowd, teeth bared, before jumping in place. By request, River outtake "Roulette" followed "My Love Will Not Let You Down," further emphasizing an intensity which fed both the E Street Band and their audience, with Max Weinberg's drumming so powerful that its sound became near physical in its impact.
In a return to 1973's Greetings from Asbury Park, N.J., Springsteen accepted a sign request for "It's Hard to Be a Saint in the City." Caressing their guitars, the E Street Band gently opened the song in a move that transformed the atmosphere of Croke Park from a stadium of 80,000 people to that of an early-'70s backstreet club, with an intimacy that bordered on sensuality. Under purple lights, Roy Bittan's piano seamlessly seeped into the E Street rhythm, evoking a youthful vitality that defined Springsteen's first foray into music. The E Street Band were obviously in their element, as were the audience, who celebrated the song by dancing as it grooved towards its climax.
Another sign request followed, this time for a song Bruce described as "too fucking sad" to play often, "too sad for the E Street Band." Despite being a song for the brokenhearted, "Back in Your Arms" was perhaps the definitive performance of Dublin 1. It's true that the E Street Band are in their element when playing high-powered rock songs; it's also true that when they strip down their performance to the core, they reach something elemental. "Back in Your Arms" exemplified the E Street Band's ability to create magic.
As the band played a gentle, extended intro, Bruce began to speak, like a preacher to his congregation. "I have a question for every man and woman in the house: Have you ever been in love? Have you ever been in love?... And have you ever done something that fucked up a good thing?" There was laughter but little admission, with Bruce quipping, "That doesn't sound like that many… There are 80,000 people here, that means at least 40,000 people are lying." Finally, shouts of acknowledgement from every corner of the massive stadium; Bruce responded, "Thank you." He continued, "And then you had to go back, if you were lucky, and you had to ask for forgiveness. If you had the chance, and you were lucky. And you had to explain how things would be different from here on in.... You had to go back and say —" And from there he crooned the opening lines to a song performed only 21 times in the band's history.
Holding only his microphone, Bruce stood alone for the majority of the song, delivering a soulful, heartfelt vocal. The E Street Band harmonized after the first verse, with Charlie Giordano's keyboard solo giving Bruce a moment of quiet. But then: "Now this, this is a teaching moment. If everything else didn't work, this is where you swallow your pride, and you walk back to that good thing that you threw away, and you get down on your knees. Don't be afraid, fellas! There ain't no shame in it! Because a good thing don't come along every day." Singing, speaking, riffing, Bruce went on: "You've got to say, baby, baby, bay… I've changed. You've got to say that! Even if you haven't." The crowd laughed. "You've got to get your ass there so your brain follows." Bruce and the band powered through the song from there, a ten-minute version, the crowd swaying with each note. The climax of Jake Clemons' stirring saxophone solo cemented "Back in Your Arms" as the magical moment of the night. "Think about it," Bruce said, concluding.
Returning to 1973, the E Street Band continued later in the set with tour premiere of "Lost in the Flood," another sign request. Bruce's voice was gravelly and raw as it echoed throughout Croke Park. With the underpinning of Roy's piano, the song gradually built up towards an epic drum solo from Max. With 43 years of ageing, "Lost in the Flood" has developed a darkness which emanated through the crowd, set alight, with diehards in the pit shouting "thank you" to Bruce as the song ended.
The encores began three hours in, with the European tour debut of "Jungleland." Another return to the '70s, the E Street Band were coupling the experience of their age with the vitality of music which was written in their youth. A sense of time was evoked throughout the concert, with Bruce juxtaposing music from the early '70s with material from the modern era, including Wrecking Ball favorite "Death to My Hometown." This contrast emphasized the importance and limited nature of time, a display of what Springsteen had stated explicitly at the conclusion of each River set on the North American leg. "Jungleland" was delivered as though both for the first time and the last, as Jake's saxophone solo had Bruce visibly moved. With the 80,000-strong crowd lit only by the lights on cellphones, this firefly effect encouraged both the band and the sentiments of the song, before Jake held his saxophone to the sky and Bruce nodded solemnly to his band, which had performed perfectly.
After the "good luck, goodbye" of Bobby Jean, a solo-acoustic rendition of "This Hard Land" ended the 3.5-hour concert, with Bruce reminding us, once again, "the E Street Band loves you!" It was a fitting conclusion to a concert that emphasized the importance of time while making profound use of it.
For the full setlist and reports from this and other recent shows,
see our Setlists page
- May 28, 2016 - Connor Kirkpatrick reporting - photographs by Jan Lundahl

ETHAN HAWKE AND BRUCE SPRINGSTEEN WALK INTO A BAR...
Well, separately. But they meet, as Hawke described to John Benjamin Hickey on SiriusXM's My Favorite Song: "I'm sitting there and I see these two very powerful hands put themselves on my shoulders from behind me, and somebody leans in to whisper in my ear and says, 'Hey, man, I saw that picture you did with the French girl, those two movies, you know, Sunrise and Sunset. I loved those movies, man,'" he said. "Patted me on the back. And that voice sounded familiar, and I turned and I watched Bruce Springsteen walk away, and I couldn't believe it. And I wish the story ended there...." Listen below for the whole story (and a pretty good Springsteen impression).
My Favorite Song with John Benjamin Hickey airs on SiriusXM's Radio Andy (Ch. 102).
- May 27, 2016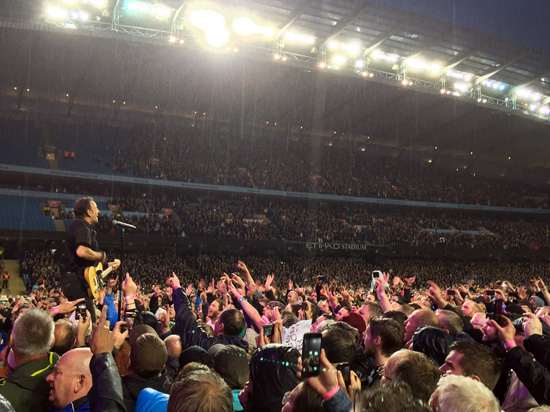 MAY 25: BRUCEY CLAUS CAME TO MANCHESTER TOWN
Bruce Springsteen and the E Street Band knew exactly where they were from the get-go at their first of six stops in the United Kingdom and Ireland. Walking on stage (without Patti) inside Etihad Stadium shortly before 7pm, Bruce immediately addressed the persistent rain that plagued the crowd for most of the day and night: "Hello rainy Manchester… again!" referencing the downpour that accompanied their last show here. He promised that the poor weather would, as usual, only bolster their performance: "We wouldn't have it any other way."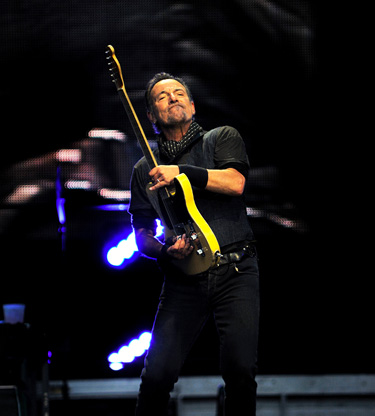 A new country with a new crowd and a new climate called for a new opener, and Bruce replaced the frenzy-inducing "Badlands" with a fitting and impactful "Atlantic City." Though the song almost always goes over swimmingly, it seemed to particularly resonate with this blue-collar city, its somber tone only enhanced by the overcast skies and light rain.
Perfectly building off the power, pace and even themes of this stunning opener, the subtle references to violent organized crime at the end of "Atlantic City" led directly into the more overt "Murder Incorporated." This, too, is a song that implicitly connected to the culture of Manchester given its important role in the history of the Industrial Revolution (it's often credited as being the first industrialized city in the world). It was a killer (pun intended) one-two punch to open the show — perhaps the best opening of the entire tour. And with another fiery guitar duel between Bruce and Steve Van Zandt, the energy of "Murder Incorporated" fed right into "Badlands" in slot three.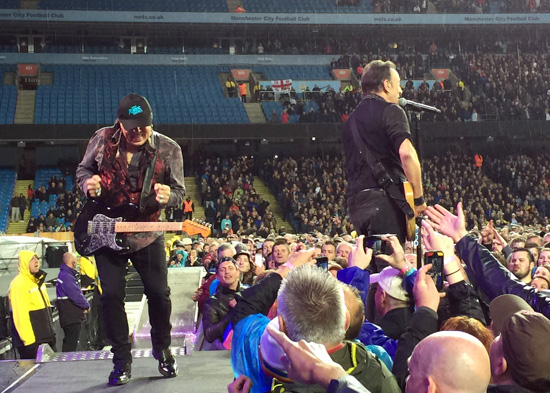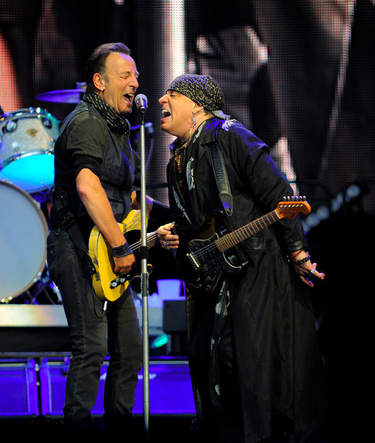 Stevie was immediately engaged, with his vocal harmonies in "Atlantic City" and guitar work in "Murder Incorporated," and his performance tenacity never waned throughout the concert, one of his best of the tour. Yet it was another of Bruce's brothers-in-guitars that provided one of the most memorable moments of the night; right after Bruce and Nils Lofgren finished up their "No Surrender" guitar duet at center stage, Nils turned around, tripped, and took a pretty hard tumble. After making sure he was all right — which Nils confirmed with a sheepish grin — Bruce cracked up and announced: "The raw excitement put Nils right on his ass!"
Though the first few songs were consistently intense, this little mishap transitioned Bruce into more jovial spirits, the first of many mood-shifts throughout the concert (an example of a bi-polar stretch that still totally worked: "Out in the Street" into "Darkness on the Edge of Town" into "Crush on You"). Yet few could have predicted where Bruce would take the show next; still laughing from Nils' fall, Bruce called out a surprising member of the crowd.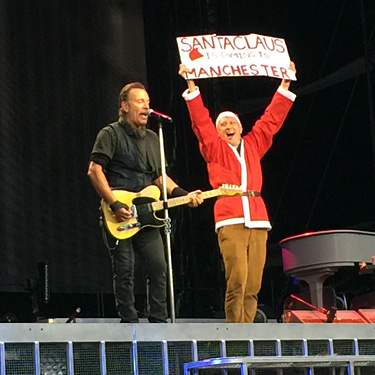 "What's the deal with the guy in the Santa Claus suit?" Bruce asked, addressing an older gentleman in the middle of the pit. "Is there some connection to Manchester I don't know about? Or is it a perverted attempt at a sign request?" Bruce hit the nail on the reindeer's head with his final guess, calling up the man and his "Santa Claus is Coming to Manchester" sign. Even though, as Bruce noted, there were still 270 days until Christmas, the band launched into a joyous performance of "Santa Claus is Comin' to Town." Bruce allowed Santa himself to accompany by singing — hysterically off-key, off-pitch, off-melody, off-everything — Clarence's old "You better be good for goodness sake" part. "Let's hear it for Santa," Bruce concluded at the song's close, "Only in Manchester! This the the only place where that's going to happen."
Sadly, the same could not be said for the rest of the setlist. Though two other sign requests brought only the second tour performance of "Darkness on the Edge of Town" and the European premiere of "Backstreets," the remainder of the show featured a lot of the same stadium crowd-pleasers that have already become staples of this European leg (and since the crowd's energy paled in comparison to their Spanish counterparts, most of these songs didn't play nearly as well).
Yes, Bruce happily re-inserted "Crush on You," "You Can Look" and "I Wanna Marry You," which might appease those clamoring for more River songs on this River Tour, but he yet again skipped most of the album's second record in favor of the "greatest hits." Though Bruce and the Band still turned in phenomenal performances of these songs, perhaps fans in Europe would be less disappointed by the lack of River songs if Bruce adhered to his own reasoning he gave in Brooklyn as to why they were going to stop playing the album in full: "We're gonna open up our setlists over in Europe." Much like with his American shows, the latter portion of the night proved the most disappointingly static, which was a shame considering how the opening numbers felt so specifically directed at this Manchester crowd.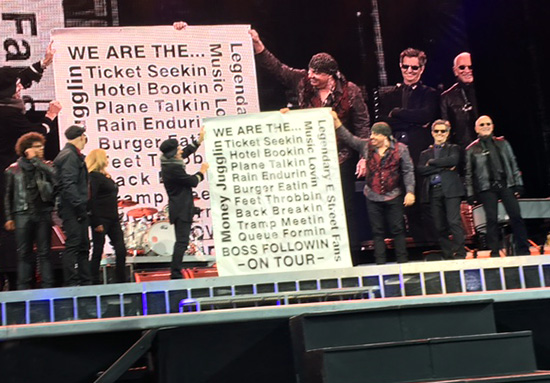 Yet for the tens of thousands of audience members in attendance who aren't setlist watchers, the concert must have played like gangbusters for its entire three-hour-and ten-minute duration, largely thanks to Bruce's incredibly high spirits all night long. As usual, the rain brought out the best in the Boss and the Band. During "Glory Days," Bruce felt inspired to go off script in his back-and-forth with his musical consigliere: "Let's keep this thing rocking now — who cares about the rain! Are you with me, Stevie? Is the Band with me?! Are the Mancherians with me?!"
The deafening response from the crowd said it all.
For the full setlist and reports from this and other recent shows,
see our Setlists page
- May 26, 2016 - Steven Strauss reporting - photographs by Steven Strauss (1,3,5), Steve Goudie (2,4) Daniel Leese (6), and Steve Aitken (7)


MY JACKET 'ROUND YOUR SHOULDERS
During her May 21 Lisbon, Portugal concert at Meo Arena, Adele told her audience a rather unique story about seeing Bruce Springsteen perform at Rock in Rio Lisboa two nights earlier. In the process, she let her "new friends" in on "a little secret" — story starts at 58:10.
- May 25, 2016 - Shawn Poole reporting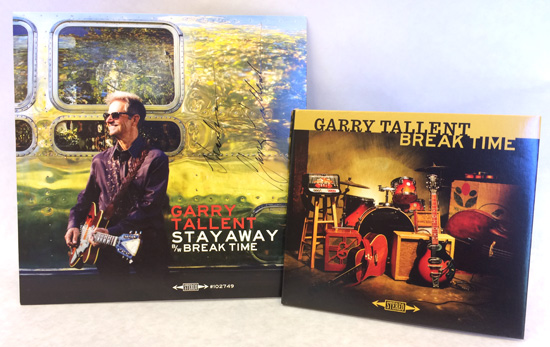 GARRY TALLENT'S BREAK TIME COMES TO CD MAY 27
Garry didn't plan a compact disc edition of his debut album, just a vinyl LP... but the people have spoken. By popular demand, the Break Time CD will be released this Friday. Not only do we have the CD here at Backstreet Records, we've also got a small stack of signed 45s from Garry to bundle with it, if you choose and while they last.
Order Break Time on CD
12 tracks, recorded live to tape, with Garry on guitar and vocals backed by a crack band of Nashville friends

Order the Break Time bundle: CD + signed 7-inch
Along with the CD, get a copy of the rare "Stay Away" single, with the non-LP B-side "Break Time" on the flip, autographed just for us by Garry on the picture sleeve!
See all Latest Additions to the Backstreet Records shop. We also still have supply of the Break Time vinyl LP, released in March in a limited run of 1,500 copies.
Read our chat with Garry about his solo debut in our News Archive.
- May 24, 2016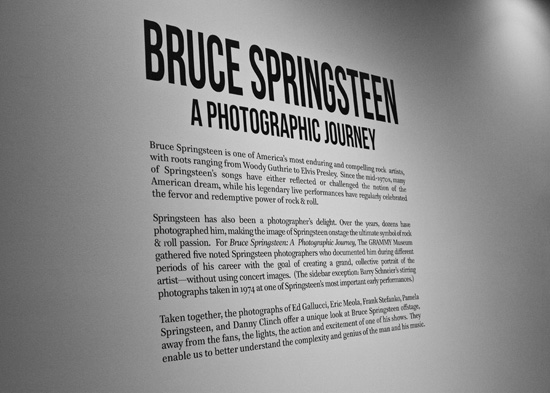 SPRINGSTEEN PHOTO EXHIBIT JOURNEYS HOME TO L.A.
Opening this week at the GRAMMY Museum in Los Angeles is Bruce Springsteen: A Photographic Journey. This traveling exhibition, which debuted at the Woody Guthrie Center in Oklahoma before a stop at Monmouth University in New Jersey, was actually curated by the GRAMMY Museum, where it will be on display for the first time beginning this Thursday, May 26.
Bruce Springsteen: A Photographic Journey features more than 40 iconic images of Bruce taken by noted Springsteen photographers Danny Clinch, Ed Gallucci, Eric Meola, Barry Schneier, Pamela Springsteen and Frank Stefanko. The exhibit will be on display through June 19; visit grammymuseum.org for further info.
- May 23, 2016 - photograph by Mark Krajnak/JerseyStyle Photography

PHILLY GETS A TWO-FER: SECOND DATE ADDED, SEPTEMBER 9
Following their September 7 show at Philadelphia's Citizens Bank Park, Bruce Springsteen and the E Street Band will now be playing a second show there at the home of the Phillies, on September 9. Tickets go on sale this Wednesday, May 25, at 10am ET. Details here.
This expansion of the US River Tour schedule follows the recent addition of a third MetLife Stadium show, which goes on sale tomorrow at noon. For the full schedule with onsale links, see our Tour/Ticket Info page.
- May 23, 2016


MAY 21, MADRID
Marking one week since The River Tour Europe opened in Barcelona, Bruce Springsteen and the E Street Band appeared on stage last night in Madrid for their final Spanish concert of 2016. Home to one of Europe's greatest crowds, the Spanish capital erupted with a roar as the E Street Band ascended to the stage, followed by Bruce Springsteen, to the sight of more than 80,000 people.
Beneath light cloud, Madrid's Bernabéu Stadium radiated both heat and noise, with three sides of the stadium towering with tens of thousands of fans. In contrast to San Sebastián, where Bruce had played to the pit by way of introduction, on stage in Madrid he quickly launched into "Badlands," shouting only "Hola Madrid!" before igniting the fire of the entire Spanish audience. With "Badlands" leading into "My Love Will Not Let You Down," it was clear that Bruce's focus was as much on the 80,000th fan as it was on the 1st. With no pause, the opening continued with "Cover Me," which featured a blistering guitar solo from Bruce — a potent reminder of Springsteen's own guitar prowess, in a band home to Nils Lofgren and Steve Van Zandt. In his element, engaging his audience as much with his electric guitar as with his voice and personality, Springsteen surveyed his massive audience, clearly enjoying the sight: tens of thousands of people jumping with their fists in the air. This image, accompanied by massive a wall of sound, set the tone for last night's concert in Madrid.
Bruce was quick to respond to the intensity of Bernabéu, capitalizing on it with stadium rocker "Wrecking Ball" before one of the defining moments of the concert. Enshrouded in darkness, Bruce paced the stage for a moment before a soft purple light descended upon the E Street Band. "My City of Ruins" made its tour debut, transforming Bernabéu stadium into a cathedral. Walking down to the center thrust deck, Bruce raised his hands in a movement which was mirrored by the crowd. Stripped down compared with the Wrecking Ball Tour, this rendition of "My City of Ruins" was characterized by a simplicity of sound. With fewer musicians on stage, and despite the absence of the conversation that came with the song in 2012, "My City of Ruins" conveyed intimacy while maintaining intensity. With sweat already dripping from his arms, Bruce conducted the E Street Band from the thrust deck as arms raised from the front row to the last. Roy Bittan's piano proved to be spectacular, a sonic metaphor for the narrative of the song itself, as he and Bruce took the crowd to near silence and then almighty crescendo.
This experience was nearly repeated with one of the only sign requests of the night, "Trapped." Few songs showcase the E Street Band's ability to command an audience like this one, with the crowd reduced to somber silence and then brought to an emphatic celebration of hope and determination within the space of only minutes. In Bernabéu, "Trapped" took us from one extreme to the other, much to the satisfaction of Springsteen, smiling as the song reached its climax.
"The River" transitioned into "Point Blank," more poignant and fine-tuned with every rendition, before the River album was put aside, exchanged for a collection of Born in the U.S.A. tracks, which Springsteen must deem more appropriate to please massive crowds. For those who love The River, the 1984 emphasis mid-set can prove disappointing, fun though it is. It might be hard to imagine it in a stadium, but for Springsteen to combine a U.S. River Tour setlist with a European audience would be to create magic.
The main set concluded with another tour premiere: "Land of Hope and Dreams" recaptured the profundity of "My City of Ruins" and offered another moment of communion. The expression on the faces of the E Street Band combined enjoyment with a serious understanding of the profundity of the moment. This juxtaposition encapsulated a memorable sign from the Magic tour: "It's only rock 'n' roll, but it feels like love."
An encore similar to previous nights followed, before the high-powered concert drew to a close with "Bobby Jean" and "Twist and Shout." After this intense but relatively shorter concert of just over three hours, Bruce remained on stage while the E Street Band filed out, taking an acoustic guitar and harmonica from Kevin Buell. Returning to the center microphone, Springsteen led the 80,000-strong crowd in not "This Hard Land" but "Thunder Road," its acoustic premiere on this tour and a true moment of magic.
Before leaving the stage himself, Bruce stood above the audience, holding his guitar into the air. Taking a moment to appreciate the spectacle, Bruce shouted, "Remember, the E Street Band loves you!" Hesitating briefly on the staircase before descending, as though teasing at the prospect of another song, Bruce left the stage and an audience that continued to call out his name. He also left a concert that raised questions as to the nature of the ongoing River Tour. As the tour progresses through the UK & Ireland in the coming weeks, its arc may bend toward the magic of his 1980 masterpiece, or toward a series of concerts lacking in narrative but generating massive energy.
For the full setlist and reports from this and other recent shows,
see our Setlists page
- May 22, 2016 - Connor Kirkpatrick reporting - photographs by Rene van Diemen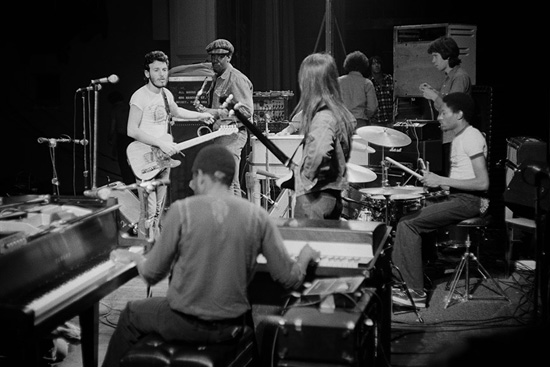 BEING THE BOSS
Sound Check: May 9, 1974, Cambridge, MA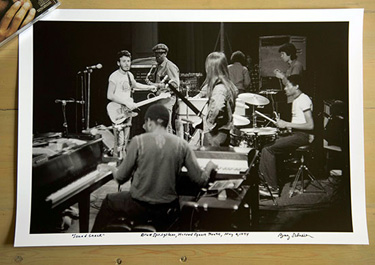 There's plenty of lore behind how Bruce Springsteen earned the name "The Boss." A moment the role was particularly evident: preparing the E Street Band for a night that would go down in history, May 9, 1974. After watching a performance that night at the Harvard Square Theatre, Jon Landau proclaimed that he'd seen "rock and roll future." In Barry Schneier's iconic image from that day entitled "Sound Check," we see a young 24-year-old Bruce Springsteen, before the show, taking command of the E Street Band including Clarence Clemons, Garry Tallent, David Sancious on keys and Boom Carter on drums. Barry's photographs are the only visual record of that night; this image and a selection of other limited archival ink jets prints from that night are now available to Backstreets readers at special prices.
View the print specials at
barryschneierphotography.com/archival-pigment-prints
Here's the story behind the shot from Barry's perspective:
I always made a habit of showing up for sound check when I was shooting shows. I liked the informality of it, the way I could roam the stage, look for the best angles and just a get a feel for what was to come later that evening. It was always a relaxed environment, old friends congregating and new ones being made. Typically, once the gear was ready to go, the bands would play a few notes and then decide where they were going to eat. That wasn't the same for Bruce Springsteen and the E Street Band on May 9, 1974 in Cambridge.

Bruce arrived a little earlier than anticipated and took to the stage immediately. While the casualness of the environment surrounded them, it was apparent that Bruce and the band were approaching their job more seriously.

They were still new guys in town, and tonight Bruce and the E Street Band were the opening act for a local favorite and headliner, Bonnie Raitt. All too often, opening acts —especially relatively unknown opening acts — serve as "filler" for the main event. Bruce must have known this as well as anyone. But it was clear from the moment they plugged in, there would be no filler here. It wasn't sound check to him; it was a rehearsal. And rehearse they did, as he would call out numbers and changes, stop the band and start them again until it sounded right to him. And every time he stopped and gave notes, the band's attention and eyes were all on Bruce.

There was a focus and a sense of seriousness in the way they rehearsed that I hadn't seen before, especially at a sound check. I was so struck by it that I only took a few shots, feeling mesmerized by what I was seeing and just wanting to experience it. I had the feeling that something special was going to happen that night and that I was watching a band with a clear purpose. I believe others did too: as I turned to walk off stage when Bruce and the band were done with their "sound check," I noticed that Bonnie Raitt, as well some of her band members standing in the wings, had been watching as well.
- May 20, 2016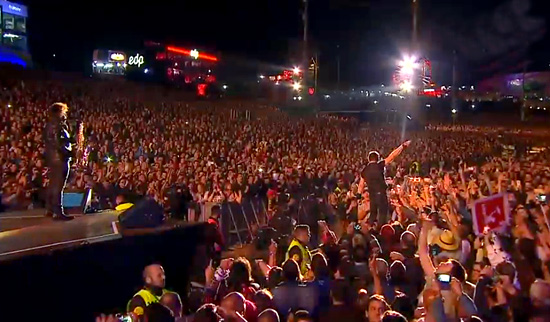 MAY 19, ROCK IN RIO: STREAMING IN THE U.S.A.
And that's why you never underestimate a Bruce Springsteen and the E Street Band concert. Many people had pegged their headlining gig at Rock in Rio Lisboa as a lesser stop on the European itinerary since festivals often entail Bruce-illiterate crowds, poor sound, shorter shows, and greatest hits-filled setlists. Though some of these expectations ultimately proved true, no one could have predicted that the Portuguese crowd stretching as far as the eye could see in Parque da Bela Vista would be treated to five — count 'em, five — tour premieres. Another happy surprise: Springsteen fans across the world were also able to enjoy the concert thanks to a top-notch online live stream.
Casually walking on stage a little before midnight to little fanfare and no introductory music, Bruce and the Band immediately ripped into the same opening three-pack that began Barcelona's concert. Yet the differences between the two shows were immediately apparent: not only was the festival sound system jarringly flat, the crowd, despite its size, initially seemed to be one of the most tepid of the entire tour so far — American leg included — with very few even fist-pumping to "Badlands." Further, the festival's stage design literally separated Bruce from his audience by an uncomfortable distance, figuratively symbolizing the chasm that he would have to cross to engage this more reserved crowd.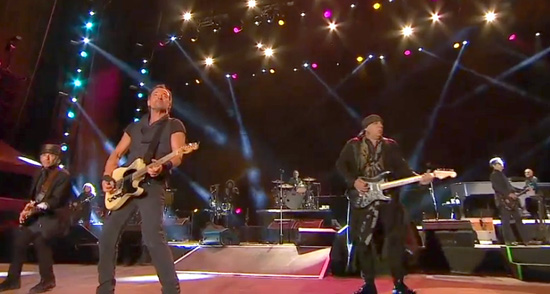 Springsteen, as you'd expect, stepped up his game in the face of such a challenge. Forgoing the usual River songs, he hit the crowd with a killer one-two punch of "Cover Me" and the tour premiere of "Darkness on the Edge of Town." By the time he began physically interacting with the crowd during "Hungry Heart" by walking down the long catwalk and all over the field — which was dwarfed by a colorful Ferris Wheel in the distance and had a zip line (yes, a zip line) literally above it which festivalgoers periodically zoomed across during the concert — Springsteen had already begun massaging the crowd into the palm of his hand. They may not have been familiar with the "wife and kids in Baltimore Jack," but their voices were definitely heard for the chorus.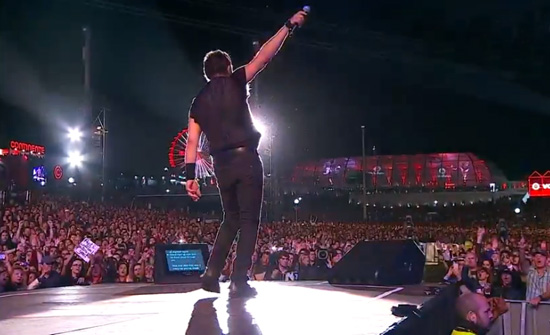 Even though it was technically another stop on The RiverTour 2016, the featured LP on this night was — unsurprisingly, given the greatest hits expectation — Born in the U.S.A, with nine of its 12 songs being played, three times as many as from the tour's titular album.We're now a "My Hometown" away from the entirety of Born in the U.S.A. being played in Europe before the entirety of The River. Though Bruce and the Band brought out the expected heavy-hitters from the 23rd best-selling record of all time globally, the crowd also lapped up the deeper cuts, including the unexpected tour premieres of "Downbound Train" and "I'm on Fire." The latter received the loudest sing-along of the night.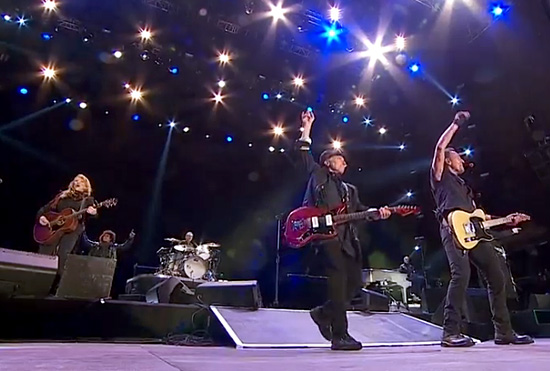 Bruce's focus on Born in the U.S.A. also stretched to the other album from the era, Nebraska, with two songs to satiate fans: "Atlantic City" — unfortunately, a song that really suffers from a lack of widespread crowd involvement — and the tour premiere of "Johnny 99," a rollicking rendition that highlighted the mighty power of the entire E Street Band (we'll forgive Jake for coming in a bit too early with his cowbell). Sandwiched between these two relatively lesser-known-songs were the often-inseparable Born in the U.S.A. twins, "Darlington County" and "Working on the Highway," both of which had Bruce really playing to the crowd on the catwalk and beyond.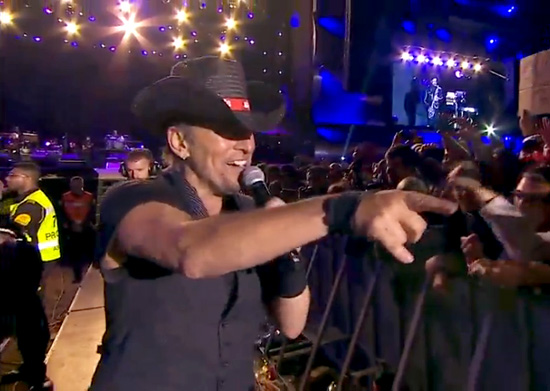 This stretch of four songs encapsulates the subtle brilliance of the evening's setlist construction. Bruce knew he had play to the festival's expected greatest hits crowd, yet he did so without disappointing his loyal fan base. For perhaps the first time all tour, fans truly had no idea what song was coming next (until the encores, but by then everyone was having too much of a blast to care), and it was refreshingly thrilling. Take the "night" two-pack in the middle of the show: for every tour staple like crowd-favorite "Because the Night," Bruce threw in a tour premiere such as "Spirit in the Night," a more obscure track during which he made a point of physically interacting with the audience more than normal to ensure everyone was always along for the ride.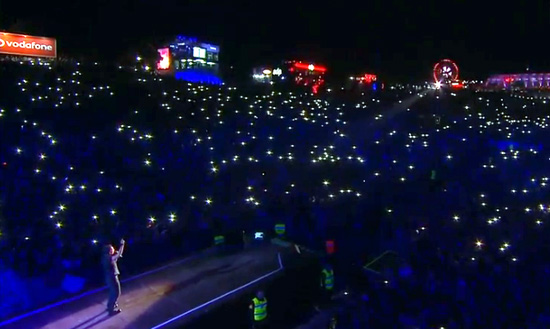 Yet the ride on this night didn't just include those at the concert; thanks to a high-quality live stream, Bruce fans from nation to nation were able to tune in to watch. Even though Bruce had won over the enormous crowd by the end of the show — with the set-closing, acoustic "This Hard Land" eliciting tears from locals in my vicinity — what they lacked in typical E Street Band crowd energy was more than made up for by E Street Nation's participation all across the world. My phone was blowing up throughout the concert, with enthusiastic messages from fellow fans following along at homecommunally sharing in the rock 'n' roll spectacular.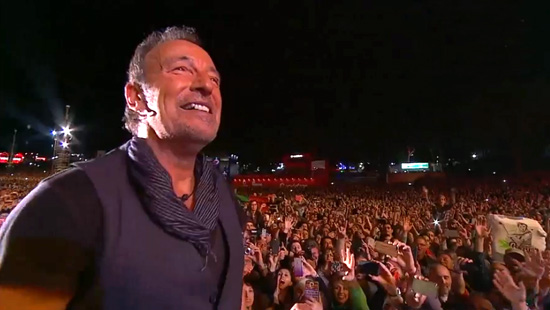 Though the concert was on the shorter side — clocking in at a little over two-and-a-half hours, Springsteen's shortest show in a long time but still the longest set of the day — it served as yet another reminder that no matter the country, no matter the venue, no matter the makeup or size of the crowd, very few people in the world are as good at what they do as Bruce Springsteen and the E Street Band.
For the full setlist and reports from this and other recent shows,
see our Setlists page
- May 20, 2016 - Steven Strauss reporting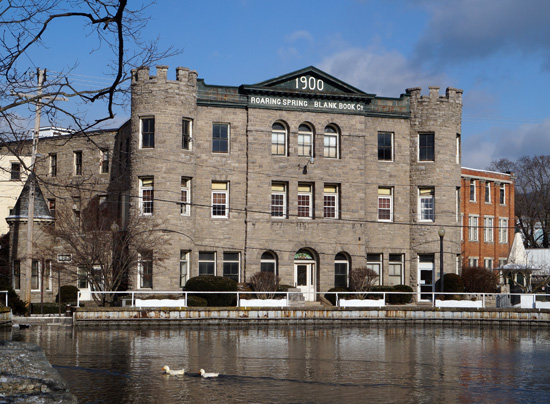 NOTEBOOK OF DREAMS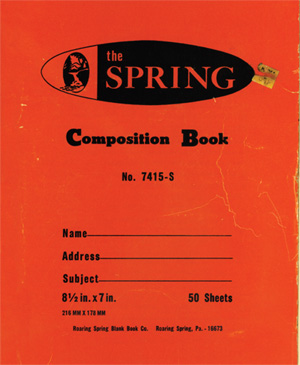 Get a "Bossinheimer" notebook of your very own!
Today is the first-ever National Notebook Day — true story — and Backstreets is joining the celebration.
Bruce Springsteen's River-era songwriting notebook, as reproduced in the Ties That Bind box set, happens to list the manufacturer right on the cover: Roaring Spring Blank Book Co. in Roaring Spring, PA. And we got to wondering... are they still around?
Turns out the answer is yes, they're still going strong — and they're now reproducing this vintage design just for us.
Trainspotting? Us? You bet. But mama, that's where the fun is. So we're now taking advance orders for this exclusive retro edition of the composition book that Springsteen (aka "Bossinheimer Jones") used circa 1979-'80. This reproduction, a blank spiral notebook known as "The Spring," is being printed for Backstreets by the original notebook's manufacturer, now doing business as Roaring Spring Paper Products.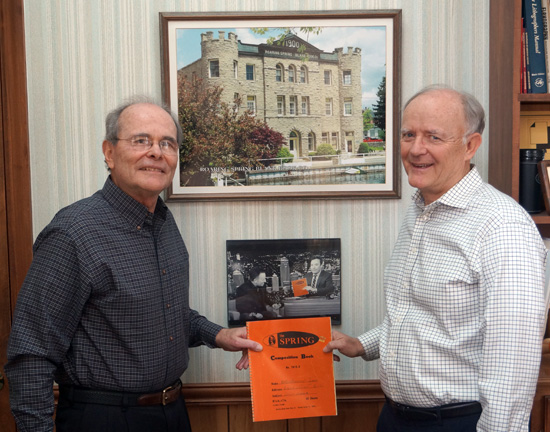 Earlier this year, Backstreets visited the historic Roaring Spring Blank Book Co. building, built in 1900, and met with the family-owned company's president Dan Hoover and executive vice president Bob Allen (pictured above, L-R.) Dan and Bob are fifth-generation descendants of the company's founder, Daniel Bare. During the Ties That Bind box set's production, Dan was contacted by the Springsteen camp for his approval to reproduce Roaring Spring's product design, which he gladly gave. Dan's office wall also proudly displays his company's association with the box set project.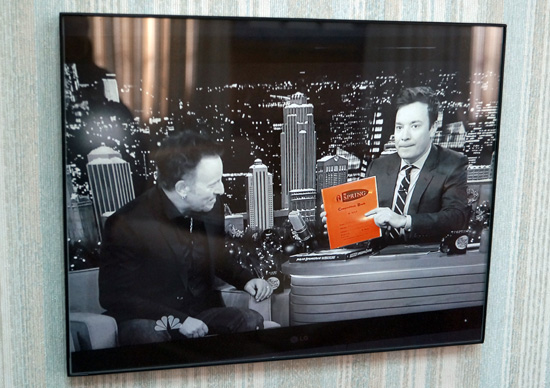 And now, thanks to Roaring Spring, all of you Bossinheimer Janeys and Bossinheimer Johnnys out there soon will be able to fill your own "The Spring" notebooks with your own great ideas. Click here to pre-order yours. Number of pre-orders will determine how many we print; we'll be delivering to Cool Street Bubba and anywhere else in the world come early summer.
- May 19, 2016 - report and photographs by Shawn Poole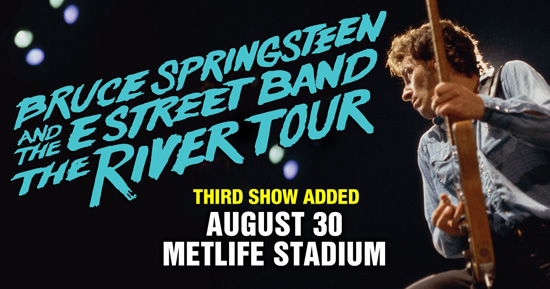 THIRD JERSEY SHOW ADDED, AUGUST 30 AT METLIFE
August's homecoming run at the Meadowlands has just expanded from two shows to three, with the addition of an August 30 concert at MetLife Stadium, "in response to fans' overwhelming demand." Tickets for the August 30 show (which will follow Bruce and the band's 8/28 excursion to Chicago) go on sale Tuesday, May 24 at noon ET. See our Tour/Ticket Info page for the full River Tour itinerary as it currently stands.
- May 19, 2016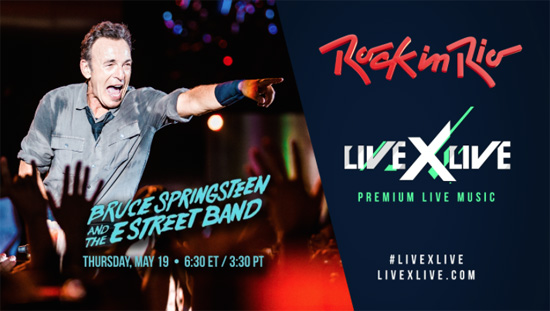 DOWN PERISCOPE! LIVE STREAM TONIGHT FROM ROCK IN RIO
When Bruce Springsteen and the E Street Band take the stage tonight in Lisbon, it'll almost be in the midnight hour. Here in the States, it's more like 6:30pm Eastern, 3:30 pm Pacific... when it looks like we'll be able to watch a live stream of the Rock in Rio show at livexlive.com. Tune in with fingers crossed!
- May 19, 2016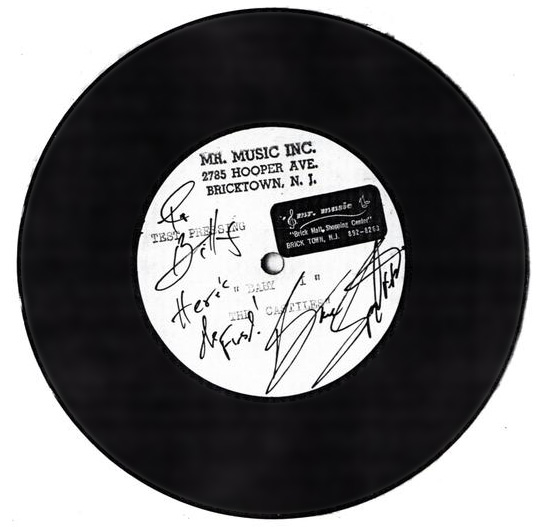 YOU ALWAYS REMEMBER YOUR FIRST
50 years gone by now since Bruce cut his first record with The Castiles
On this date in 1966, Bruce Springsteen and the other members of The Castiles entered Mr. Music, Inc. in Bricktown, NJ. The band traveled to the small-town studio for what would be each member's first-ever professional recording session. The result was the extremely limited-edition single "Baby I" b/w "That's What You Get." Legend has it that Springsteen and fellow Castiles member George Theiss co-wrote the songs during the brief car ride over to the studio. In a March 2009 Rock & Roll Hall of Fame interview conducted at his New Jersey home, Springsteen recalled the session and the studio where it occurred:
It was a tiny little room, maybe half the size of this living room, which is not that big. And they couldn't stand any volume whatsoever going into the microphones. We had to turn all our amps to the wall and literally put covers over them. The guitars sound real clinky, because we had the volume turned down to "1" — we couldn't get any distortion or speaker sound out of it. The recording studio was not set up in those days for any kind of overdrive; they just simply weren't ready to record rock bands in Bricktown, NJ…

But it was a big deal. We saved up — I think it cost us, I don't know, $300 or $100, some enormous amount, what we thought was an enormous amount of money. We saved it up, did a session where we cut those two songs. Of course, they give you your two-track [reel-to-reel tape,] which we recently found, and then they give you the acetates, the little tiny 45-sized acetates. And some of those survived, also.
Shortly before the above interview was conducted [a complete transcript of which is in Backstreets #89], Springsteen told Rolling Stone's David Fricke that the '66 session's surviving two-track tape had been digitized; he even played it for the writer. Until/unless the digitized two-track gets released officially, the rest of the world will have to settle for the acetate-derived audio.
Despite obvious aural limitations, the powerful music, so full of raw talent, skill, ambition, and potential, still shines. It's striking just how good these tracks remain, especially considering how young the musicians were. "Baby I" and "That's What You Get" could be quite at home today on, say, The Underground Garage's playlist. Ultimately, these songs and their recordings serve as fascinating — and fun — relics from the earliest years of a legendary life in music, fifty years on and counting.
- May 18, 2016 - Shawn Poole reporting - acetate image courtesy of Brucebase and Billy Smith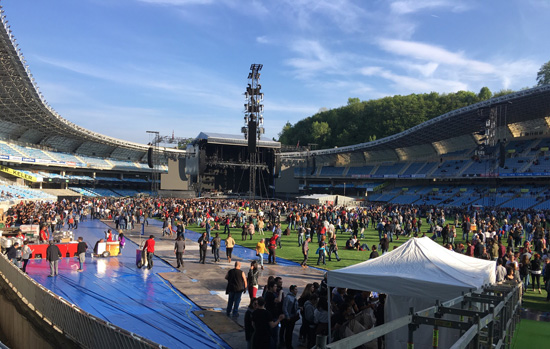 MAY 17, SAN SEBASTIAN: KAIXO DONOSTIA!
Bruce Springsteen and the E Street Band's last performance in Spain's Basque Country occurred in the midst of 2012's Wrecking Ball Tour. With a near-orchestral composition on stage, and performing new material, that 2012 performance provides a stark contrast with the stripped-down E Street Band that emerged on the stage of San Sebastián's Anoeta Stadium last night.
Beneath a warm blue sky, shortly after 9pm, the E Street Band ascended to the stage, followed by Bruce Springsteen, to rapturous applause. Despite the Basque audience being only half the size of their Catalan counterparts, the anticipation was palpable, as Anoeta Stadium erupted with a roar few audiences can achieve. For this second concert of the European River Tour, Bruce arrived armed with an acoustic guitar, clearly relishing the opportunity to indulge in his deafening welcome.
With his eyes set on the center thrust deck, Bruce shouted, "Kaixo Donostia!" — "Hello Donosti! — and smiled as though laughing before dancing down to the thrust deck. Immediately, the opening chords of "Working on the Highway" set the crowd alight, with Bruce thrusting his way into the song. Surrounded by hundreds of fans who had queued for more than two days to achieve their position at the front, Bruce was playing to and partying with the diehards.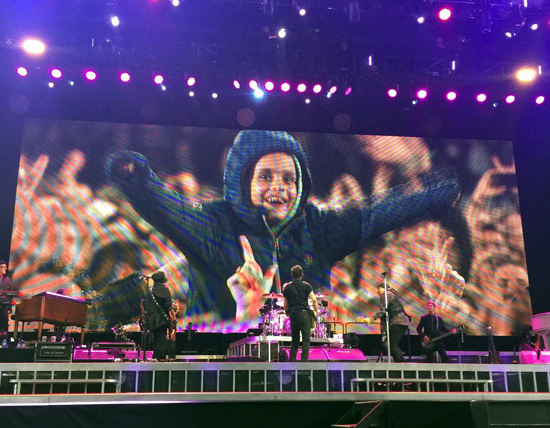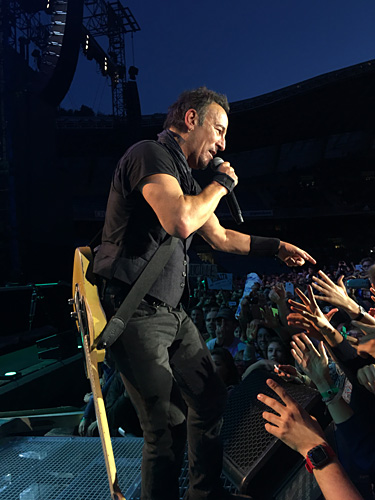 The E Street Band launched into "No Surrender," with Bruce back on the stage and jumping in place, in both a response to the audience's movement and a feeding of their hunger for intensity. This ferocity continued until, upon collecting a sign request, Bruce introduced "Independence Day." Cut from the set in Barcelona three nights earlier, "Independence Day" allowed the E Street Band to transform vigor into intimacy, with Bruce introducing the song as being about "fathers and sons, fathers and sons."
With the complete album performance dropped for the European River Tour, "Independence Day" provided a welcome return to the narrative which defined the U.S leg, in which Bruce felt able to introduce and contextualize music that is now 35 years old. "Independence Day" clearly resonated with the crowd, which fell silent as the E Street Band played cloaked in a purple-blue light. Despite the age of both the song and band, the performance of "Independence Day" felt distinctly youthful: the E Street Band channeled the energy of youth and coupled it with the experience of their age. This culmination created a highlight of last night's concert; to close one's eyes would be to exist either in 1981 or 2016.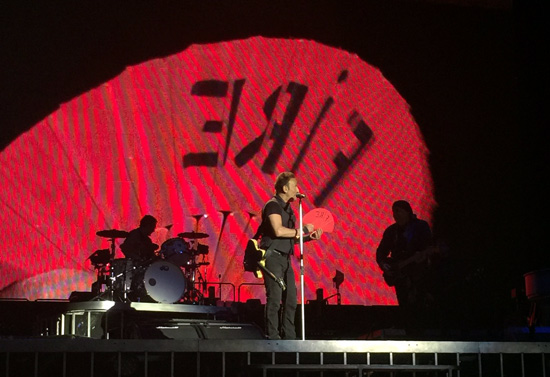 The reinventon of "old" songs continued as Bruce granted a request for "Fire." Springsteen collected the sign, written modestly on the back of an abanico (hand fan), before teasing the crowd with the possibility of it being played. He held the fan to his face, pouting into the camera, flirting with the crowd, before announcing, "We haven't played this in a real long time." With the stage turning red, the renowned bassline of "Fire" echoed through Anoeta Stadium, almost pulsating.
Despite the 35,000 fans in the stadium, Bruce played "Fire" almost entirely to Patti. Beckoning her to the center mic, their lips almost touched as Patti joined Bruce to harmonize. If "Independence Day" channeled the youth of the original River Tour, then "Fire" channeled the sensuality of the Tunnel of Love Express Tour. The band was particularly tight, with Steve and Nils directing, allowing Bruce and Patti to get lost in the lyrics.
"Point Blank" followed "The River," with Roy's piano intro continuing to prove a musical feat. Bruce adopted a serious tone and expression, looking almost angry as the band embodied the song's solemn nature.
"Murder Incorporated" premiered next and allowed for an epic guitar showdown between Bruce and Steve, who traded notes as though dueling. With the entire crowd jumping and throwing their fists to the air, Bruce turned to the camera and screamed, baring his teeth before jumping in place. At this point, Bruce had established Donosti as being a concert which walked a line between profundity and rockabilly party. "Waitin' on a Sunny Day," less profound, had its tour premiere, too — the enthusuastic sign-holder getting a ride on Springsteen's shoulders — before they dug deep again on "Drive All Night."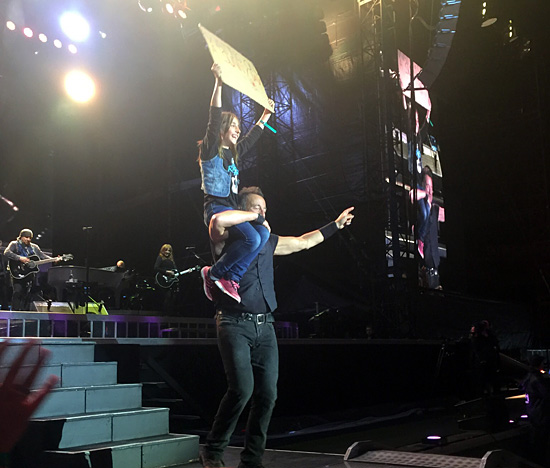 A set similar to Barcelona continued, until the concert ended with a solo-acoustic performance of "This Hard Land." Upon completing "Bobby Jean," Bruce told the Basque audience to "remember, the E Street Band loves you!" It was an emotional climax to a high-energy performance which lasted some 3 hours and 40 minutes. Despite having already played an additional song in the encore, with the E Street Band having left the stage, Bruce paused on the steps while in the process of leaving.
With his head bowed, Bruce took a moment to himself, before turning to smile at the roaring crowd. Clearly moved by his audience, Bruce collected an acoustic guitar and harmonica and returned to the center microphone. With the house lights up, alone on stage, Bruce began strumming the opening chords to "This Hard Land," which the crowd accompanied him in singing nearly in its entirety. To hear a stadium of 35,000 people singing together epitomized the magic that draws fans to Bruce Springsteen & the E Street Band.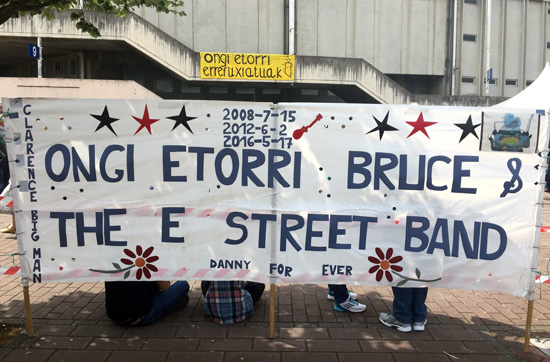 Bruce thanked the audience before reminding them again, "the E Street Band loves you." Leaving the stage, Bruce glanced back and smiled before disappearing into the darkness. With what appeared to be a tear in his eye, Bruce's final expression was one which encapsulated the story of the night: "the older you get, the more it means."
For the full setlist and reports from this and other recent shows,
see our Setlists page
- May 18, 2016 - Connor Kirkpatrick reporting - photographs by Steven Strauss (1,3,5,6,7) and Connor Kirkpatrick (2,4)


THE PRESIDENT WAS MENTIONING MY NAME THE OTHER DAY...
Delivering the commencement address at Rutgers University in the great state of New Jersey yesterday, President Obama dropped an inspirational quote into his speech:
…So don't lose hope if sometimes you hit a roadblock. Don't lose hope in the face of naysayers. And certainly don't let resistance make you cynical. Cynicism is so easy, and cynics don't accomplish much. As a friend of mine who happens to be from New Jersey, a guy named Bruce Springsteen, once sang, "they spend their lives waiting for a moment that just don't come." Don't let that be you. Don't waste your time waiting.
Read the full commencement address at whitehouse.gov.
- May 16, 2016



MAY 14, BARCELONA: THE EUROPEAN LEG BEGINS
Bruce Springsteen in Barcelona. History repeats itself and not many words are needed: Veni, vidi, vici. Springsteen and the E Street Band arrived in the city on Thursday, rehearsed for about an hour, and on Saturday night they delivered a 36-song marathon show (3hr 34min, to be exact) that left 65,000 souls exhausted and in awe. "Hola Barcelona, Hola Catalunya," he saluted in Catalan, drawing an explosive response from the ever-loyal Barcelona crowds who greeted Bruce with a beautiful mosaic sign up in the stands.
With a full River album performance no longer part of the tour, "Meet Me in the City" was dropped for the first time, too, as the European leg kicked off with "Badlands." Followed by "No Surrender" and "My Love will Not Let You Down," it was a blast of any opening three-pack that put everyone on their feet. Bruce and the band then dove into The River and performed the majority of the double album, 12 out of 20 songs; 16 River songs had been setlisted, but he ended up skipping four of them and also interspersed songs from other eras. "Independence Day" was dropped when Bruce decided to pick a sign for "I'm Goin' Down" instead — funnily, the same song that made us miss "Drive All Night" at the 2008 show in the same venue.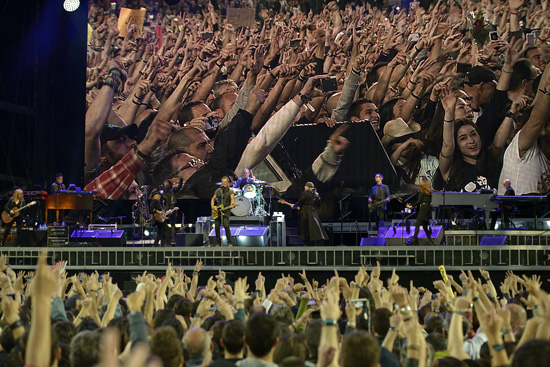 The incursion into The River continued with crowd-pleasers "Hungry Heart" and "Out in the Street," skipping the setlisted "You Can Look" and moving right into the wonderful "I Wanna Marry You," including the "Here She Comes" intro. Bruce took a moment to say, "Enhorabona Barça!" to congratulate the local soccer team, which had just won the national League.
The middle part of the show, which loosely followed The River's second LP, featured some of the night's most memorable performances: "Point Blank," with its amazing piano intro, was followed by an intense "Atlantic City"; it was a powerful juxtaposition that showed off the advantages of Bruce mixing up the setlists again. Later, setting aside "Wreck on the Highway," Springsteen closed the River portion with — finally, for Barcelona — a long, heartfelt "Drive All Night."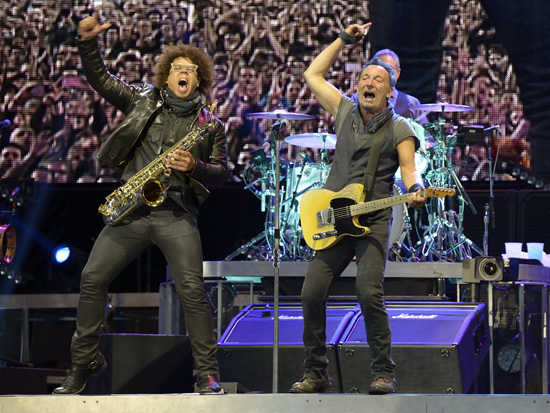 In between, it was sign time. Bruce picked up a lot of requests, skipped "Cadillac Ranch" and "I'm a Rocker," and delivered more crowd favorites: "Darlington County" and "Glory Days." (He showed the other side of that sign, which had "Growin' Up," and allowed the audience to choose; the older gem lost, sadly for hardcore fans). By then the excitement level was off the charts, the crowd's energy feeding the band and vice versa, so it was time to rock some more: "I Wanna Be With You" (finally a River outtake!) was a most-welcomed addition, followed by a loose, butt-shaking "Ramrod" and a beautiful "The Price You Pay."
The post-River segment was a blast, too: intense and hard-rocking, with a great vintage solo from Bruce on "Prove it All Night" and Nils Lofgren's stratospheric guitar on "Because the Night," which was mesmerizing. An audible, "She's the One," brought some of that cherished '70s feeling to the show before a great Bruce/Patti duet on "Brilliant Disguise," always underrated and underplayed.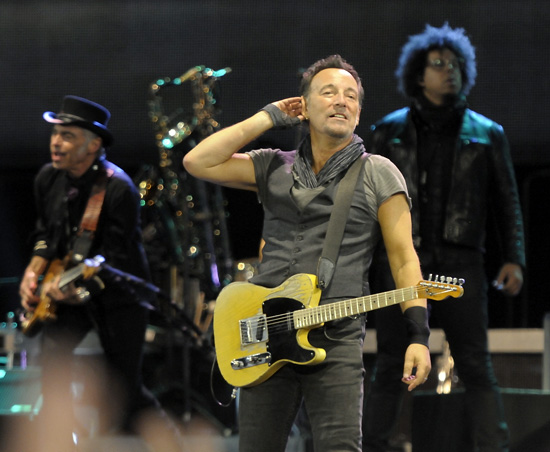 "Thunder Road" closed the main set at the three-hour mark, with the whole stadium singing Bruce's most cherished and unforgettable lyrics. He thanked Barcelona and Catalunya again, as he had on multiple occasions during the night, and surprised us with an unexpected "Purple Rain" to open the encores. With "Born in the U.S.A." — which was loud, louder and beyond that — the whole building was literally moving. That was the beginning of half an hour of total crowd happiness, everyone dancing non-stop, raising fists, singing along, jumping (and some, with too much to drink, literally falling down)… basically, enjoying every minute of it. A moving "Bobby Jean" felt like a bonus song after "Shout," but just when it seemed like could be no more, Bruce came back to the front with his classic "No more! Yeah? No!" routine, which forced another encore and the whole place exploded again to the rhythm of "Twist and Shout."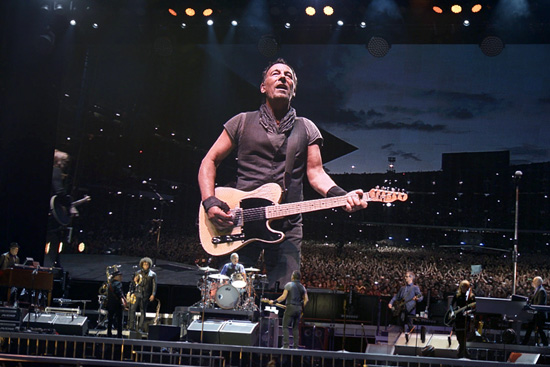 Was this one of his best shows ever? No. Was this up to his best nights in the city? Certainly no. But it doesn't matter. He came, he delivered (plenty), he rocked, he spread tons of happiness, he conquered. Again, and again, and again.
For the full setlist and reports from this and other recent shows,
see our Setlists page
- Updated May 16, 2016 - Salvador Trepat reporting - photographs by Rene van Diemen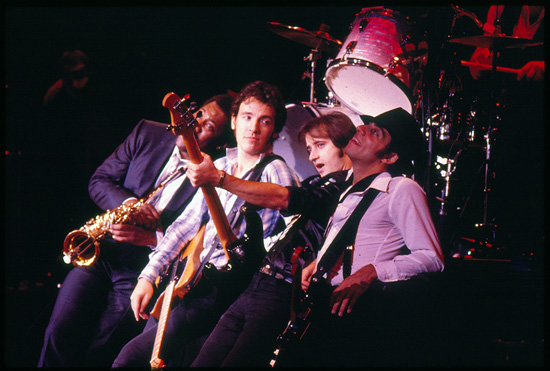 TRACING THE COURSE OF THE RIVER: ART DIRECTOR JIMMY WACHTEL
As we anticipate the 2016 River Tour's debut on European shores this weekend, there's no telling when, if ever, we'll see another start-to-finish live performance of the double album. Springsteen himself said, "We're gonna open up our setlists over in Europe," and this week's Shore Fire press release says that August's return to the US "will feature selections from The River as well as other classics."
But of course, given the tour's title alone, we're still in River mode. Which is why we were particularly glad to hear from John Palisano, author and Springsteen fan, who recently discovered that the art director of The River was also… his neighbor.
John spoke with Jimmy Wachtel for Backstreets. It's a surprising conversation in some ways. To hear, for instance, that the back cover was "not thought out" — given not only Springsteen's penchant for overthinking, but also the thematic ties of Frank Stefanko's store window image, including its depiction of bride(s) and groom, and the first use of the American flag on a Springsteen album. Maybe it was subconscious. Maybe it's just the way Jimmy remembers it 36 years later. Undeniable are the photos he took on the 1980 River Tour, which continued his working relationship with Springsteen, and which we're grateful he dug up just for us.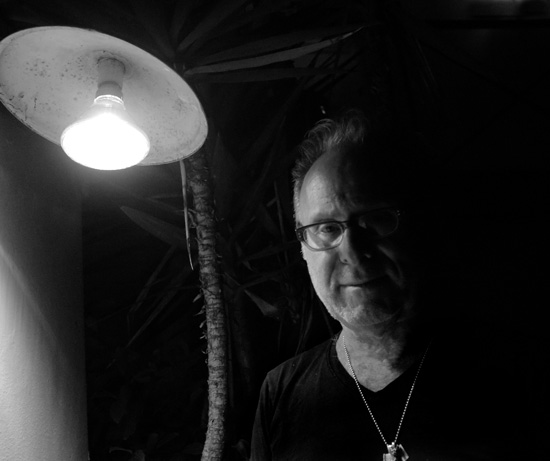 - photograph by Reece Vogel
You wouldn't know how rich art director Jimmy Wachtel's rock 'n' roll history is right off the bat. He doesn't carry himself with any kind of ego for a man who has art directed album covers for Crosby, Stills & Nash, David Lindley, Jackson Browne, Joe Walsh, John Mellencamp, Buckingham Nicks, Bob Dylan, and Bruce Springsteen's The River.
When I first met Jimmy Wachtel several months ago through a neighborhood bulletin board, I didn't have any clue about his history. Jimmy had simply told me he was an art director, which seemed obvious, as his house is very well decorated and put together. Once I learned who he'd made album covers for, I knew we'd have to put some of these stories down. Especially with the River Tour happening. Our schedules finally lined up.
How did you meet Bruce Springsteen?
I met Bruce through Jon Landau, who I knew through a friend of mine, Debbie Gold, who was working for Jon in New York. I used to talk to Jon on the phone all the time, way before he decided to manage Bruce. We'd talk about what I knew about the record business — which wasn't much, other than designing album covers. I was a kind of sounding board for him, and then I got to do this project.
Were you a fan at that point?
I wasn't a Springsteen addict. I just didn't get it. I had this friend who would constantly rave about him. My friend had gone down to the Roxy and seen a show where he blew the place up, finishing by playing as he stood on the tables! He said it was amazing. He was blown away. This guy was proselytizing. I was like, "Really?" And then I saw him, and I got it.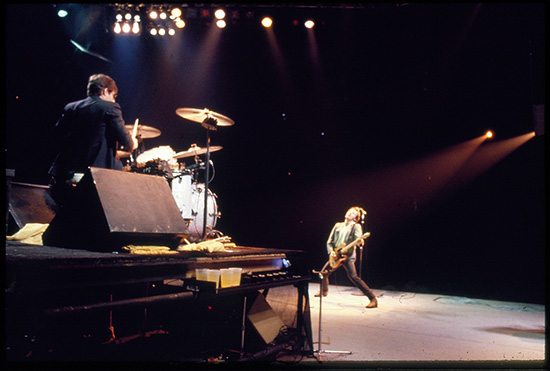 So how did The River come together?
Jon sent me to Arizona where Bruce was staying, to meet him and get to know him in preparation for us working together on his new record. When I was in Arizona, Bruce told me the story that when he was on the cover of Time and Newsweek at the same time, they were broke — they didn't have any equipment and they didn't have any money. I think The River might have been the first album where they really made any money, after those problems with management.
Shortly after Arizona, they were in a studio in Los Angeles. Chuck Plotkin [who mixed the The River, along with Toby Scott] was there. They were using this funky little studio on Santa Monica Boulevard, just east of Vine [Clover Recording Studios]. Bruce was living at the Sunset Marquis… we immediately bonded over King's Hawaiian bread.
So I'd go down there, and we'd go through pictures all day. He had boxes and boxes of pictures. We were trying to figure out which one would be the album cover. It seemed that every time I picked a picture that I liked, he didn't like it. I'd go: "I kind of like it," and he'd go, "Really?" [laughs]
Somehow we got through it: we picked all these pictures, then I put the package together. I placed the pictures, made the montage, added the type, made a mock up, and sent it to Bruce for his approval. All the pictures were approved by him. I wouldn't surprise him with anything.
Did you talk about what he wanted to do?
I don't think when we started that he had any firm idea of the visual. I felt this was a breakout album for him and suggested putting a big picture of him on the front, and he was agreeable to it. I think his management was really interested in this idea.… to put his face out there. Then it was like, let's put something weird on the back. I reached down a grabbed a photo. What's this? [laughs] I don't know where it came from. One of the photographers must have had it and we liked it, and there it was. [Frank Stefanko shot both the back and front cover images.] It's not thought out. Some album covers are more of a concept, but this wasn't, really. Bruce and I got along, and we managed to tie it all together and get it to the record company. Done.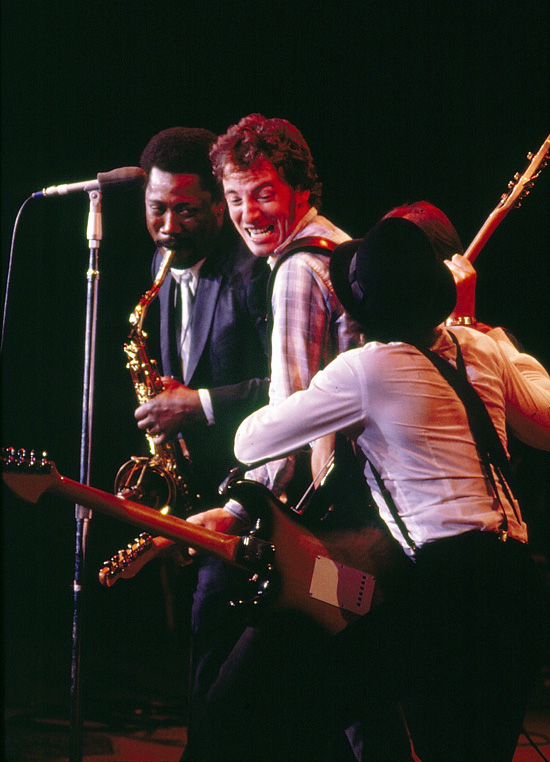 Did you do any other work for Springsteen?
We did some single sleeves — I know I did "Hungry Heart." Songbook, tour program, maybe some ad stuff. We tried to keep the album campaign thematic. Once you turn the album cover into the record company, it's done. It's theirs. It's work for hire. Unless it's your photograph and you own the rights to your photograph. The record company then picks up the type and art and uses it at their discretion.
I went out on tour with them to support the album for quite awhile. I saw lots and lots of shows in lots and lots of cities, taking lots of pictures. At one point he chased me off the stage because I was pretty much right in his face, distracting him, taking pictures. I actually had to see him about that after the show in his dressing room.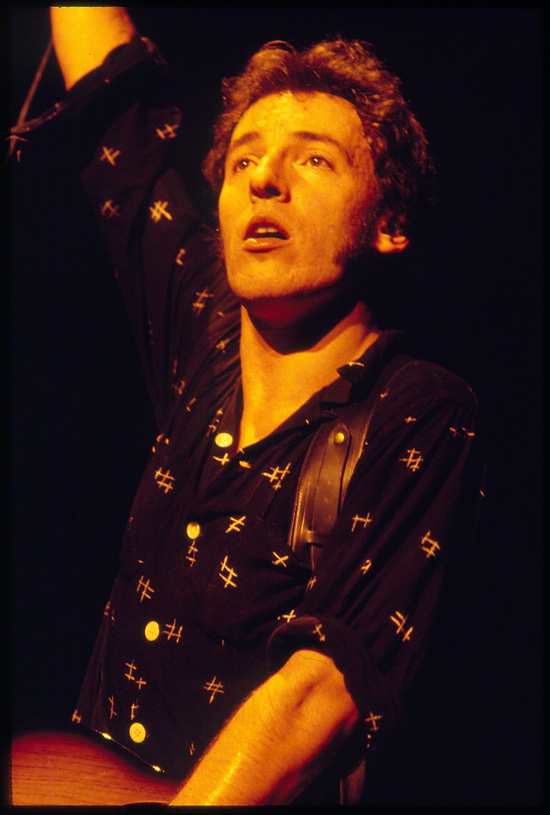 Did you get to hear the record before working on the artwork?
I don't know how much I heard. I went down to the studio a few times. I think I might have heard "Hungry Heart." I didn't go down to the studio and hang like I'd done with other artists in the past. In the old days, I would go down to the recording studio for a "meeting" at nine at night and leave at nine in the morning — it was the 70s! — but Bruce wasn't that way.
What was it like working with Bruce versus other artists?
They call him "The Boss" for a reason. He likes what he likes. There's only so far you can go with him. Sometimes I was walking on eggshells because I didn't know him yet. Other guys like Jackson Browne and Warren Zevon and Joe Walsh and the guys in the Eagles — they were friends, and I knew them.
I was hired by a record company once — it turned out to be a Motorhead album. Hung out with Lemmy for a while. The album cover was not one of my best. He was very tough to get him to do something "arty," but always a sweet guy.
Other than that it was mostly the artists, the managers, or the producers themselves who called me up. I knew people, and they knew people, and someone would say: "Use Jimmy." Somehow I kept going. I wasn't at all into business then. I was into making album covers and making enough money to get by. I was having too good a time in the '70s and '80s. It was years later when I had my movie poster business that I made some decent money.
Have you kept in touch at all?
I haven't spoken to Bruce in years, although I'd run into him when he was living out here from time to time years ago. We weren't tight in that way. We did spend a lot of time together in that hotel room, though [laughs].… And I love the record.
- May 12, 2016 - interview by John Palisano - concert photographs by Jimmy Wachtel

ROCK 'N' ROLL HIGH SCHOOL
River Tour ticket packages benefit Steve Van Zandt's Rock and Roll Forever Foundation; we interview RRFF executive director Warren Zanes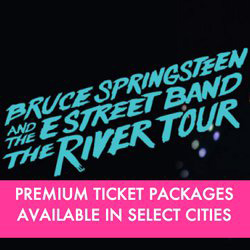 The 11-week European leg of the 2016 River Tour begins in just four days, Saturday in Barcelona.
If you've been eyeing a show or two but don't yet have tickets, Steve Van Zandt's Rock and Roll Forever Foundation makes it nice and easy, continuing to offer ticket packages for shows in Europe. These RRFF packages include not only VIP tickets (your choice of prime seating or front-section GA) but also a meet-and-greet with Stevie before the show.
Click here for more information and to reserve tickets
The work of the Rock and Roll Forever Foundation is to bring the story of rock 'n' roll into classrooms — not just to music departments — in an interdisciplinary way. They provide resources for middle and high school teachers via a free curriculum called Rock and Roll: An American Story, with lessons and activities that engage and empower students in a time when arts education funding is being cut. Steven himself framed out the 40-chapter curriculum — spend a little time with it online at teachrock.org, and you'll quickly see the potential.
Given that this is one of the big hats Steven wears — along with musician, producer, actor, and disc jockey — we wanted to find out more about the work of the Foundation, and where money goes when a fan buys one of those ticket packages. To that end, Backstreets spoke with Rock and Roll Forever Foundation executive director Warren Zanes.
Dr. Zanes, like Van Zandt, is a man of many talents. You might know him as the guitarist from the Del Fuegos, or a solo recording artist; as the author of Petty, the recent, much-lauded Tom Petty biography; as an NYU professor; or as former VP of Education and Programs at the Rock and Roll Hall of Fame. Steven lured Zanes away from the last of these, for his current "day job" overseeing the RRFF.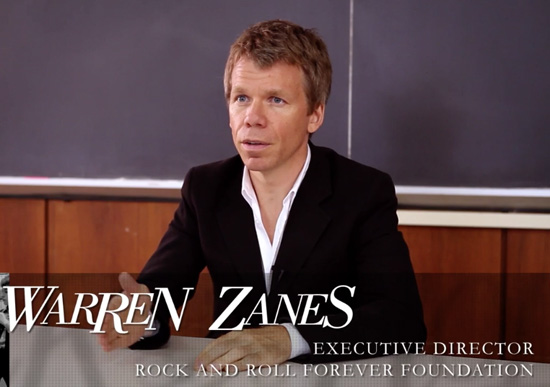 Backstreets: As someone who feels like I've learned a lot about the world from rock 'n' roll — Apartheid and Vietnam are just a couple things that come to mind — the idea of bringing music into the classroom is really compelling. To not only teach the story of this artform that we love, but to have the music foster learning in other areas: history, social studies, English departments…
Zanes: Of course in "No Surrender" there's that line, "We learned more from a three-minute record than we ever learned in school." When I took this job with Steven, I said, "What about that line?" Because in a way, rock 'n' roll has always identified itself as apart from the institution. And here we are trying to bring rock 'n' roll in to the institution.
And he, like me, saw no problem with that. The truth of it is, we're trying to keep the story and the experience of rock 'n' roll alive. You run into an increasing number of young people who don't know a lot about its history and have fewer resources than Steven did when he was young, and I had when I was young, to get into music. So we're just trying to enrich the classroom as far as its music content.
It's interesting that you say fewer resources — in some ways there are too many resources: between YouTube and Spotify and everything else, there's so much music that can hit kids today in a wash, without any context.
Well, agreed. I would say young people are swimming in music. There is more content they can access than ever before, and they do access it. But that doesn't hold true for the classroom. Music in schools is generally left on the margins of the experience — in music departments. And not every school has one that is there to cater to every student. You can go K to 12 and not have much more than a couple general music classes.
But when you leave the classroom, you're swimming in music. And I think where we're failing young people, and we're depriving the classroom of some important energy, is in not looking at music from more perspectives than just playing it. So if there is a music department in a school, it's generally about getting an instrument into kids' hands and getting them some lessons.
Now, that is good. We want to support that. But imagine if we taught literature only to students who we think might become writers? It would be ludicrous. What we're doing instead with literature in schools is we're trying to make better readers. We're trying to teach history through literature; we're trying to give young people a better sense of the world through literature. Why don't we do the same thing with music? Why don't we teach young people to be better "readers" of this cultural phenomenon — popular music? But we don't. Instead they're swimming in it, and we don't have any classroom experience where they can become better at analyzing it and understanding its history, at understanding its power in modern life. Instead we just leave it to them. And I think it's one of American education's biggest missed opportunities that we haven't pulled music over into social studies and into the language arts.…
Continue reading our interview with Warren Zanes
- Updated May 10, 2016 - Christopher Phillips reporting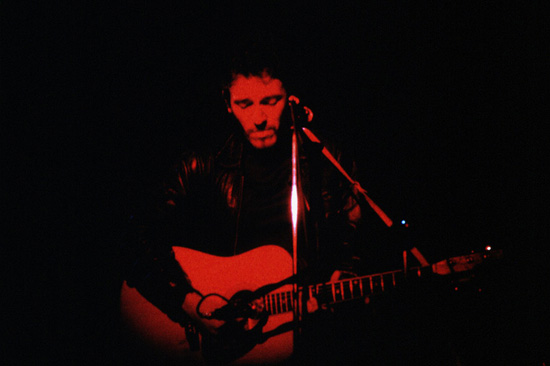 42 YEARS AGO TONIGHT
"I saw rock and roll future and its name is Bruce Springsteen": In the annals of rock 'n' roll history and reporting, there may be no other line that has given such notice to someone's potential and trajectory as Jon Landau's, after seeing Bruce Springsteen perform at the Harvard Square Theatre on the evening of May 9, 1974.
To celebrate this milestone, Backstreets and Barry Schneier Photography have teamed up again to make a special print offer to our readers, featuring images from that night previously not available. These archival ink jet prints in 11x 17 or 13 x19 sizes at special Backstreets prices will only be available for a short time. Then, like the evening itself, they'll be history.
Historical is one way to look at the night. Improbable is another: if not for an interesting set of encounters, Bruce might not have been on the bill. Barry Schneier, the photographer who captured this evening on film, tells this story.
Bruce Springsteen and the E Street Band had been playing regularly in Cambridge bars during the spring of 1974. Still relatively new to the scene, his following was dedicated, though sales of his two albums to date were not what his label was hoping for.

I was living just outside of Boston at the time. A friend brought Bruce's second album over one day, The Wild, the Innocent & the E Street Shuffle, saying he had heard this guy was pretty good. He was. We liked what we heard and decided to check him out at Charlie's Place in Harvard Square.

At the club we took our seats in one of those classic high-back wooden bar booths, squeezed into one side, and ordered a pitcher of beer. I looked around the room and commented on my surprise at how crowded the club was. A patron sitting across from me, hearing my comment said, "You mean you've never seen him before? You just wait. I'm from Philadelphia, and I've been following the band up and down the east coast." I frankly had never heard of anything like that before.

What transpired next has made an indelible mark on me forever. The band came on, six of them squeezed into a corner of the bar in an area about 12 feet by 12 feet. With only a small empty dance floor separating the band and us, they launched into the most incredible set of jazz, R&B, and rock-infused music I had ever heard. They had a presence and a swagger that drew the audience into their songs. When the night was over, two things stayed with me. One, I had never heard music like that before. And two, I had to see them again.

I called my friends at Windowpane Productions, local concert promoters that I was shooting photography for. I simply said, "You have to book this guy!" Ira Gold, one of the partners, came over to my apartment and I played him Bruce's two albums. After hearing them he asked if he could borrow them to play for his production partner, Jeff Hersh, who was also part of Bonnie Raitt's management team. Jeff was equally impressed. My biggest concern then was that I might not get my albums back!

There had been no plans for an opening act for their upcoming Bonnie Raitt show at the Harvard Square Theatre in May of 1974. Ira and Jeff's plans were to really give the whole night to Bonnie. She had been recently delegated to mostly being an opening act, and they felt this was her turn to headline. After listening to the albums I lent Ira, he and Jeff paid a visit to another of Bruce's shows at Charlie's Place in Cambridge. That night a short conversation with Bruce followed the last set of the night. They asked if he wanted to open up for Bonnie. Bruce said, "Sure, why not."
When that night came, Barry was there — the only photographer in the house with camera in hand, capturing moments from the performance as well as the soundcheck on film.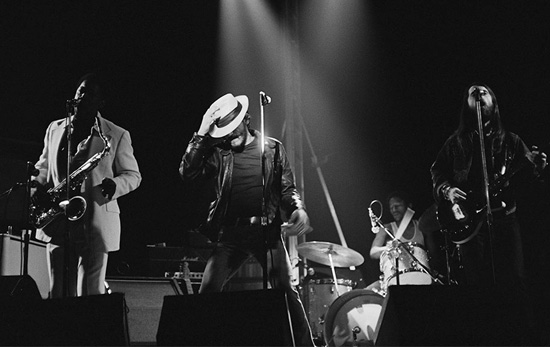 Backstreets and Barry Schneier Photography have selected a few prints to offer to its readership to celebrate this evening, at special prices. Follow this link to see the sale and place an order: barryschneierphotography.com/archival-pigment-prints
- May 9, 2016 - photographs by Barry Schneier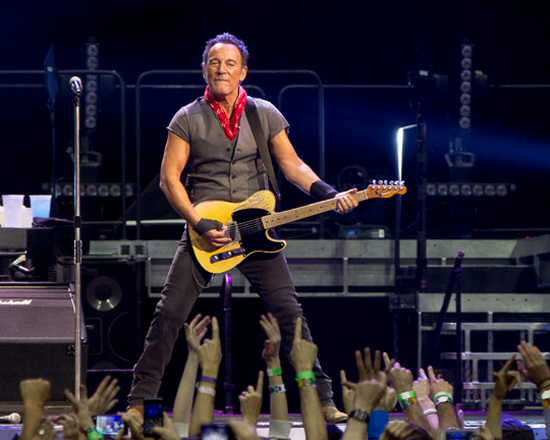 WE WILL BE SEEIN' YA! RIVER TOUR EXTENDED INTO SEPTEMBER
The imminent European leg, which begins this Saturday in Barcelona, won't be the last for The River Tour: Following the scheduled dates overseas that run through July, Bruce Springsteen and the E Street Band will return to stages in the United States for eight more shows in late summer.
These homecoming concerts, from a pair at MetLife Stadium in the Meadowlands (8/23 and 8/25) to a Boston-area show at Gillette Stadium in Foxborough, MA (9/14), won't all be stadium shows. They won't even all be outdoors — we're looking at arena stops in Chicago (United Center, 8/28) and Pittsburgh (CONSOL Energy Center, 9/11), where the tour began this past January.
Additionally, the return of the River Tour will hit ballparks in Washington DC (9/1) and Philadelphia (9/7), and an amphitheater in Virgina Beach (9/3).
Onsales will be spread over a few days this time, beginning this Friday, May 13 (for DC and Virginia Beach), and running into next week.
For all dates, onsale info and links as we have them, see our Tour/Ticket Info page.
- May 9, 2016 - photograph by A.M. Saddler [Brooklyn, 4/25/16]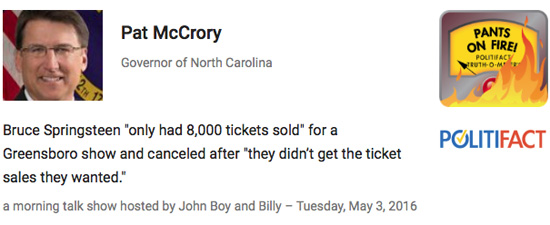 BABY, YOU LIED
Yesterday, North Carolina governor Pat McCrory received notification from the U.S. Department of Justice that he and NC's House Bill 2 are in violation of the Civil Rights Act. The DOJ's determination is in alignment with what Bruce Springsteen wrote about the law a month ago, when announcing his cancellation of the River Tour's Greensboro, NC show: "To my mind, it's an attempt by people who cannot stand the progress our country has made in recognizing the human rights of all of our citizens to overturn that progress."
Governor McCrory had some words about Springsteen a few days ago on the John Boy & Billy radio show, suggesting Bruce just didn't get it: "I doubt he read or understands [the bill]," the governor said. Maybe we can agree to disagree about Springsteen's level of intellect or sophistication when it comes to human rights issues, but it was particularly troubling to see McCrory just making shit up:
"I love Bruce Springsteen," McCrory said. "But he canceled a concert in Greensboro. By the way, they only had 8,000 tickets sold, with all respect. Bruce doesn't mention that. They didn't quite get the tickets sales they wanted, might have had something to do with it."
If 8,000 sounds like a number that McCrory pulled out of his ass (with all respect) to suggest disingenuity on Springsteen's part, PolitiFact North Carolina concurs after fact-checking with a representative from the Greensboro Coliseum. Turns out there's a good reason Bruce didn't mention it: because it's not true.
...Was [Springsteen] really only using a convenient political stance to cover up embarrassing sales numbers?

No, according to the Greensboro Coliseum.

Andrew Brown, the arena's PR director, told us Springsteen had sold more than 15,000 tickets.

"No idea where 8,000 may have come from," Brown said, adding that there were fewer than 100 tickets left when Springsteen canceled with two days' notice.

"It's safe to say it would have sold out," he said...

...the more-than-15,000-tickets number is the same figure the coliseum reported immediately after the cancellation, which was weeks before McCrory questioned the attendance. We appreciate the consistency, which keeps us from dancing in the dark to try to figure out the truth.
According to venue officials, the Coliseum's capacity for the Springsteen show was about 16,000. Based on their research — determining that the venue would have been packed to the rafters, not half-empty — PolitiFact gave McCrory's statement the lowest rating on their Truth-O-Meter: "Pants on Fire!"
- May 5, 2016 - Christopher Phillips reporting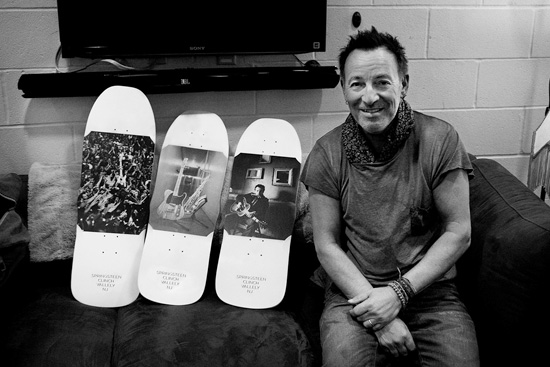 BOARD SIGHS: SPRINGSTEEN x CLINCH x VALLELY x NJ
There's plenty of overlap between the worlds of skateboarding and surfing. Bruce Springsteen and the E Street Band have had plenty of association with the latter, living at Tinker West's surboard factory in 1970 and riding the waves in Asbury Park and Long Branch (a history that's part of a forthcoming documentary on New Jersey surfing, The Endless Stoke). But skateboarding? X-man or the Magic Rat might be able to do an ollie; otherwise you'd be hardpressed to make a Bruce connection. We've seen Springsteen on ice skates, but not a skateboard.
Leave it to Danny Clinch to bridge that boardsports gap.
Teaming up with professional skateboarder (and Black Flag vocalist) Mike Vallely, Clinch has created a new, limited series of handcrafted skateboard decks bearing his photography, paying tribute to Springsteen and their mutual New Jersey roots. Like Clinch, Mike V is a Jersey native and longtime Springsteen fan — a passionate one, who calls Springsteen "peerless... hands down the very best songwriter, performer, guitar player and band leader in all of rock 'n' roll — in its entire history." He's seen "more live Bruce Springsteen shows than I can count."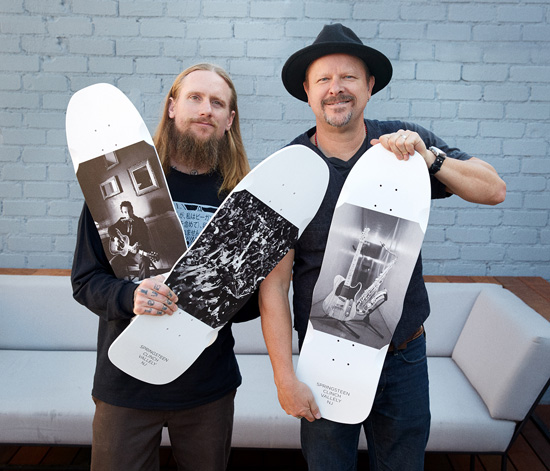 The two [above, Vallely left, Clinch right] "connected at a Bruce show during the Rising Tour," Danny tells Backstreets. "We were introduced and became fast friends. He is a generous guy and immediately sent some decks when he heard my son Max liked to skate. He even stopped by our house to hang and skate with Max and some local kids in the neighborhood.
"Mike is creative and of course so am I — we were always looking for ideas to collaborate on something," Danny continues. So jump forward a decade, and "Mike had the idea of a board with Springteen images on them. I sent a few images for him to work with, and we decided on these three. Mike mocked them up and we realized how cool this could be. We came up with the Springsteen x Clinch x Vallely x NJ idea after a late night brainstorm and back and forth emails, and the final designs became a reality."
The Springsteen x Clinch x Vallely x NJ skateboard decks are available now from Vallely's Street Plant — purchase links are here. And when they say "limited edition," they mean it. Only 75 boards total were made: three designs, 25 of each, using Clinch photographs from 2000, 2005, and 2008.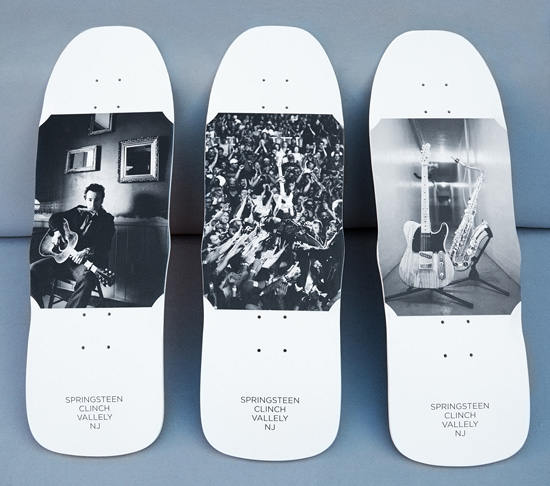 Of course, they got Springsteen's blessing: "I decided to reach out to Bruce after we created a few test boards," Danny tells us. "We didn't want to waste anyone's time so we created them for him to see. I was able to tell Bruce that Mike and I were inspired by the way he is always finding ways to give back to the community."
To that end, all proceeds will go to three charities handpicked by Danny and Mike: the Kristen Ann Carr Fund, the Foodbank of Monmouth and Ocean Counties ("because this is where Bruce and I are from, and to honor my mother, who has been volunteering at New Jersey food banks for years"), and Surfers Healing.
And in the spirit of "pics or it didn't happen," Danny promises us: "I'm hoping to see Bruce get on one of these boards some day, and when he does, I'm gonna be there to get a photograph of it!"
- May 3, 2016 - Christopher Phillips reporting - thanks to Danny Clinch for the photographs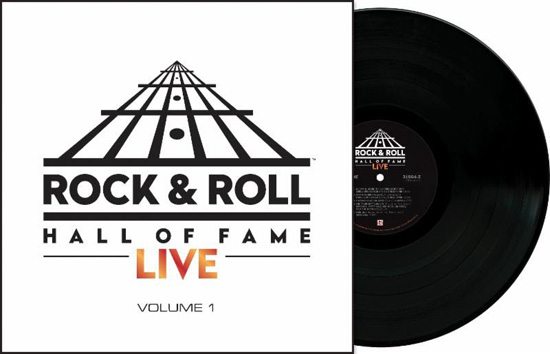 NEW COMPILATION COLLECTS ROCK HALL HIGHLIGHTS ON VINYL
Just out this week is Rock & Roll Hall of Fame Live Volume 1, which captures three Bruce Springsteen performances on vinyl for the first time: 1988's "Satisfaction" with Mick Jagger, 1995's "Johnny B. Goode" with the E Street Band backing Chuck Berry, and 1999's "Tenth Avenue Freeze-out" with the E Street Band, from Springsteen's own induction.
These and seven more live cuts on Volume 1 have been culled from the last 30 years of Rock and Roll Hall of Fame concerts; the album also includes the 2004 performance of "While My Guitar Gently Weeps" featuring Prince on lead guitar. From Time Life, which calls their new vinyl series "a selection of the most memorable moments in the history of the induction ceremony."
According to Time Life, "Volumes 2 and 3 will roll out though 2016, allowing fans to collect even more of these beloved performances on vinyl. Additionally, the net proceeds go to The Rock and Roll Hall of Fame Foundation, which supports the exhibits and educational programs of The Rock and Roll Hall of Fame and Museum."
Order the limited edition, 180-gram Volume 1 now from Backstreet Records.
- May 2, 2016