FIRST LOOK: OFFICIAL TRAILER FOR HBO'S ELVIS PRESLEY: THE SEARCHER
The Jon Landau-produced, Thom Zimny-directed, three-hour documentary premieres April 14 at 8pm on HBO.
- February 28, 2018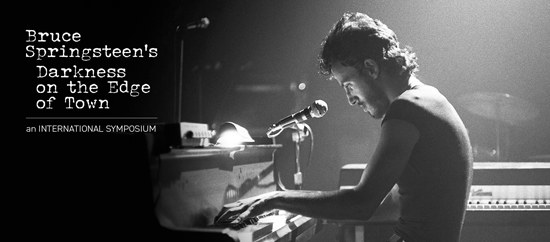 REGISTER NOW FOR APRIL SPRINGSTEEN SYMPOSIUM
April's Bruce Springsteen's Darkness on the Edge of Town: An International Symposium at Monmouth University is open now for registration. The first academic conference sponsored by the Bruce Springsteen Archives and Center for American Music, the symposium will be held April 12-15 in West Long Branch, NJ and celebrate the 40th anniversary of Springsteen's 1978 Darkness album. Keynote speakers include Bruce author Peter Ames Carlin, photographer Frank Stefanko, film/video archivist and director Thom Zimny, and '70s Columbia product manager Dick Wingate. Click here for further details and to purchase tickets.
- February 23, 2018 - photograph by Barry Schneier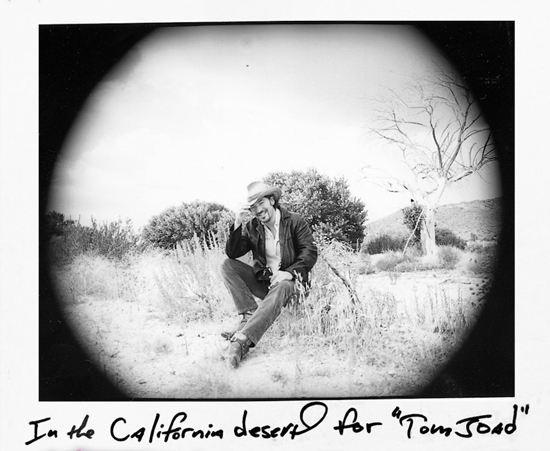 THIS HARD LAND
Thanks to eagle-eyed BTXer stldan for spotting a disturbing Bruce Springsteen-related anecdote found in Martin Arax's riveting "A Kingdom From Dust," recently published in The California Sunday Magazine.
Arax, who co-wrote the 1995 Los Angeles Times report that inspired Bruce's song "Sinaloa Cowboys," details the economically, environmentally and socially perilous state of farming in the San Joaquin Valley, focusing on the rise and reign of Stewart Resnick, the United States' richest farmer. At one point in "A Kingdom From Dust," Arax briefly recalls Springsteen's October 23, 1996 visit to the San Joaquin Valley during his Ghost of Tom Joad tour.
"I once wrote a story about farmworkers who moonlighted as meth cookers to make ends meet," writes Arax. "Bruce Springsteen turned it into a song on his Ghost of Tom Joad album. More than one ballad was about the valley, so he came to Fresno. The William Saroyan Theatre was packed that October 1996 night. Halfway through his solo performance, he interrupted his set to tell us a piggy bank had been set up by the exit to donate money to the 'hardworking men and women in the fields.'" [Before performing "The New Timer" at this show in Fresno, Springsteen asked his audience to learn about and support the work of California Rural Legal Assistance, which had been invited to set up an information/fundraising table in the theater's lobby.]
"When the concert was over, I took my wife and children backstage to meet him. As we sat down to chat, one of his assistants leaned over and whispered into his jewel-studded ear. Springsteen shook his head and smiled a thin, ironic smile. Then he turned and faced me. 'Tell me,' he asked, though it wasn't entirely a question. 'What kind of place is this? Not a single penny was put in that piggy bank.'"
Read: "A Kingdom From Dust" by Mark Arax.
- February 20, 2018 - Shawn Poole reporting - photograph by Pamela Springsteen via Twitter/@springsteen

CELEBRATING SPRINGSTEEN ON CELEBRATION ROCK
The Celebration Rock podcast, hosted by Uproxx music critic Steven Hyden, has returned from hiatus with a new multi-part series called 20th Century Boss. It's shaping up to be a deep dive worth taking, some eight hours of continuous thunder for Springsteen fans. Also the author of Your Favorite Band is Killing Me, Hyden writes:
Similar to our series on Pearl Jam last year, we will be digging deep into the discography of an American rock 'n' roll institution, Bruce Springsteen. The series is called "20th Century Boss," and as the title suggests, it covers every studio album released by Springsteen from his 1973 debut, Greetings From Asbury Park, N.J. up through 1995's The Ghost of Tom Joad.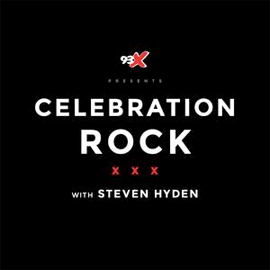 The first two episodes premiered this week and are available now: Part 1, titled "Bruce Begins," has guest Brian Fallon (Gaslight Anthem) talking about Greetings and The Wild, the Innocent & the E Street Shuffle. Part 2 focuses on Born to Run, with guest Jeff Rosenstock.
Hyden will continue with a different guest for each episode: "I also wanted to talk exclusively to musicians for this series, and there are few artists that are as influential, or name-checked as often, as Springsteen. Luckily, I had little problem finding great guests who were willing and able to speak insightfully about what exactly makes Springsteen great. The result, I believe, will fascinate long-time fans and provide a handy primer for neophytes."
Upcoming episodes will feature Julien Baker on Darkness; Patrick Stickles (Titus Andronicus) on The River; Phoebe Bridgers on Nebraska; Patterson Hood (Drive-By Truckers) on Born in the U.S.A.; John Darnielle (The Mountain Goats) on Tunnel of Love; and Tim Showalter (Strand of Oaks) on "Bruce in the '90s" (Human Touch, Lucky Town, and Joad).
You can subscribe to Celebration Rock on iTunes, Sticther and Spotify.
- February 15, 2018


HAPPY VALENTINE'S DAY: "THE THIRD LONELIEST DAY" OF THE YEAR!
"Valentines's Day: a day of love... but a day of heartbreak, too." This is Bruce Springsteen introducing "Back in Your Arms" in Australia, one year ago tonight. "There is no lonelier day of the year — maybe Christmas Eve... maybe New Year's Eve... It's the third loneliest day. Just a little holiday! But, if you've blown a good thing, this is a day you're gonna remember." And February 14, 2017 was a night to remember, as Springsteen and the E Street Band treated the Brisbane crowd to a number of rare songs of love — and of heartbreak, too. Enjoy "Janey Don't You Lose Heart," "Rendezvous," "Be True," "Back in Your Arms," "Leap of Faith," and "Secret Garden," all fan-shot and all from Valentine's Day 2017. And we hope today your scales are tipping toward love.

- February 14, 2018

LAST CALL FOR NILS AUTOGRAPHS
Nils Lofgren has produced a limited-run DVD edition of his Blind Date Jam film, and he's signing copies especially for us. The number of pre-orders we receive determines how much signing he does, and that time is almost upon us... so order now to guarantee yours!
Blind Date Jam is an 80-minute impromptu jam session that we recorded to capture the magic of the moment at Cattle Track gallery in front of a small group of friends.

Featuring Greg Varlotta on guitar, keys, trumpet, trombone and tap dance, Gary Bruzzese on drums, and John Willis on bass. You'll see me presenting ideas on the spot, talking through the chords brießy and launching in to each piece. It's primitive, rough and inspired jamming that I feel and hope as music fans you'll enjoy. Amy designed a beautiful southwest set for us to play on and produced the adventure with me. I hope some of you decide to check it out.

I'll autograph copies of this limited run DVD ordered through Backstreets. If you try it and enjoy it, please spread the word for us as this is a grassroots, homegrown endeavor. Best and enjoy! — Nils
- February 9, 2018

THIS IS US: NOTHIN' BUT TEARDROPS
So I'm watching what has become known as the saddest show on television this past Tuesday night, and a Springsteen connection comes across the screen that just sends me right down to Thunder Road.
Most of America will know what I'm talking about, but for those who don't, the show is This Is Us, and the past two episodes have dealt with what has become known quite simply as "Jack's death" — the subject matter the entire show revolves around.
Jack Pearson, father of three, beloved and devoted husband of wife Rebecca, perished from smoke inhalation after going back into the family home which was engulfed in flames to save his daughter Kate's dog. Jack was the father and husband we all want to be. Flawed yet perfect at the same time.
But what we did not know is that Jack was also a huge Springsteen fanatic. This first comes to our attention early in the episode where Jack and Kate discuss the similarities between Bruce and Alanis Morisette (who, if you follow the show's timeline, had just released Jagged Little Pill). Kate loves Alanis, so Jack puts on a cassette of "My Beautiful Reward" to show why he loves Bruce.
But that's just the beginning. You see, Jack, being the husband/father of the year kind of guy, left a huge surprise for the family. On the morning of his burial, an envelope with five tickets to see Bruce and the band is found in the glove compartment of the family car. That's where the tear ducts open up. If you're a parent and if you love Bruce, one of the biggest joys in life is taking your kids to see the band for the very first time. I have done it with my own daughters. It is without question a thing that we all do, and something that we never forget. Trust me on that fact.
The show ends with the family heading to see the show in Pittsburgh the same night as Jack's funeral. The acknowledgement that life will go on and everyone will be fine — or as fine as they can be — sets the tone for the finale. And the fact that Bruce Springsteen and the E Street Band will help them get there is just perfect and as real as the show can be. The music has been there for all of us.
Also read:

"This Is Us Presents Alternative Bruce Springsteen Tour History" [ultimateclassicrock.com]
Bruce Springsteen concert helps Pearsons mourn lost father on NBC's This Is Us" [app.com]
"This Is Us: Which Bruce Springsteen Song is Each Character?" [ew.com]
- February 8, 2018 - Joe Amodei reporting

- February 8, 2018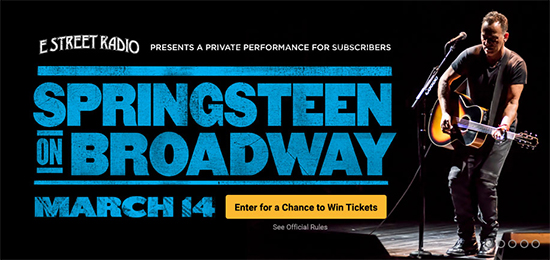 WHEN YOU CAN'T FIND A TICKET, YOU'VE STILL GOT THE RADIO
SiriusXM contest to get subscribers in for a private Broadway performance
Bruce Springsteen will perform Springsteen on Broadway for a selected audience of SiriusXM subscribers at the Walter Kerr Theatre — including faithful E Street Radio listeners, of course — on Wednesday, March 14.
SiriusXM subscribers will have the opportunity to win tickets to this private SiriusXM performance through giveaways on E Street Radio and through an invitation sent by email. Plus, SiriusXM subscribers since January 23, 2018 can enter for the chance to win the grand prize: a trip to New York City including airfare, hotel stay and a pair of tickets to the show. See Official Rules for complete details and enter the sweepstakes at siriusxm.com/Springsteen. Entries are being accepted through 3:00am ET on March 7, 2018.
E Street Radio will host pre-show and post-show broadcasts, where hosts Dave Marsh and Jim Rotolo will be discussing Springsteen on Broadway and talking to SiriusXM subscribers in attendance. The pre-show will air on Wednesday, March 14 at 6pm ET, and the post-show will begin at 10pm, on channel 20 and on the SiriusXM app.
- February 7, 2018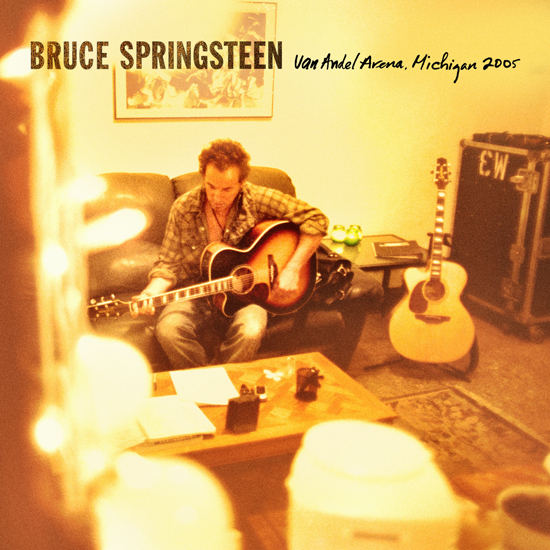 GRAND RAPIDS '05: THE WHOLE DAMN THING WAS GRAND
Archive series returns to Devils & Dust high point; ten new songs
The Tower Theater. Madison Square Garden. The Agora. Van Andel Arena. Van Andel Arena? Well, yes, actually: Bruce Springsteen's 2005 appearance in Grand Rapids, Michigan, probably didn't show up on many fans' shortlist for release the way its more famous counterparts might. But it's an excellent concert, and today it arrives as the second installment from the solo acoustic tour behind Devils & Dust.

That year, Springsteen mounted his first extended series of shows alone on guitar and piano, setting the stage for Springsteen on Broadway today. The August 3 performance happened in the middle of an extraordinary Midwest run, arguably the apex of the 2005 tour, where Springsteen complemented the music from his new LP with a seemingly endless array from his songbook. Some numbers he played just once, like "Lift Me Up," which opened a show in Columbus, Ohio, four nights earlier. Columbus, of course, appeared in 2015 as the archive series' first — and until today, the only — official 2005 release.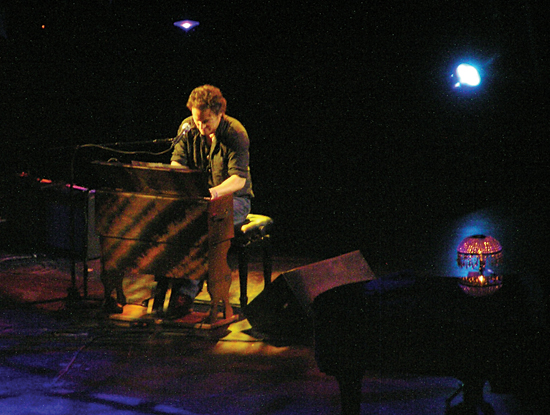 Like that date, Grand Rapids reflects the creative streak that made this summer stretch special. Its 25-song set includes ten selections not performed in Columbus on 7/31. "Sherry Darling" and "Saint in the City" make their first tour appearances, and so does "Tunnel of Love," right out of the gate: "I'm gonna start with something I haven't played before," Springsteen said. Performed on electric piano, this version not only became an instant rarity but also completed a cycle, giving all songs from his 1987 LP at least one play on the 2005 tour. And just listen: slowed down, framed by basic chords and sung with deliberation, the arrangement sounds more like a Colts Neck bedroom than a Shore amusement park. Springsteen never played it that way again. Few performances merit an official release as much as this one does, making 8/3 a must as soon as the lights go out.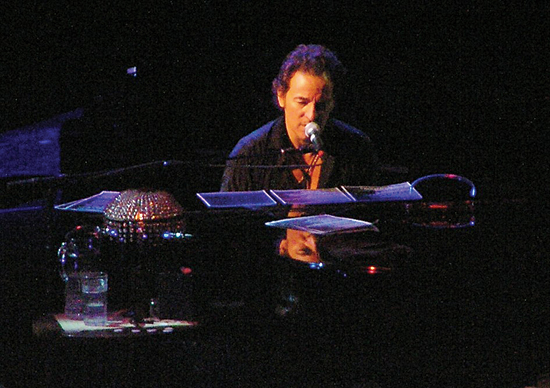 But that's just the first number. August 3 features seven songs from Devils & Dust, including "Black Cowboys," a personal and overland journey narrative (and the least-performed track from the record). It shows up fourth, completing an intense segment near the top of the show. "Long Time Comin'" and "Sherry Darling" lighten the mood; Springsteen calls the River party tune a "good summer song" and plays it on electric piano, a concert first (though he and Steve Van Zandt mugged their way through the song on keys in the studio, shown in The Promise).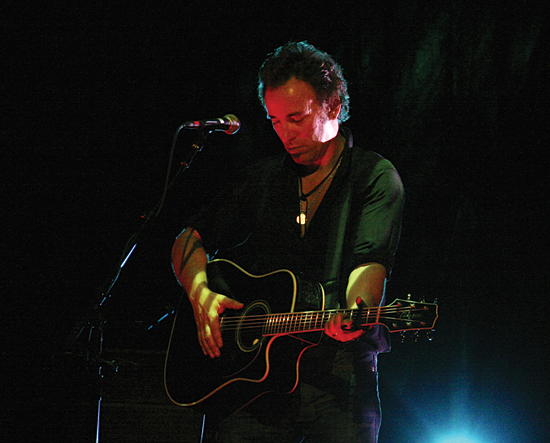 The set plays out as other dates did that summer: Springsteen accompanies himself with different stringed instruments and keyboards, reprising the Joad tour version of "The Promised Land" before finishing with Suicide's "Dream Baby Dream." And despite good humor — Springsteen speaks often, joking that he'd gone out looking for the rapids, and though he didn't find any, "the whole damn thing was grand!" — a dark thread runs throughout. That's apparent in remarks around "Part Man, Part Monkey" ("we've come a long way, baby… and we're going back") and "Matamoros Banks" ("we're in hard need for a humane immigration policy") and in the last verses of "Tunnel of Love" and "Racing in the Street."
One fan pointed to arrangements that shifted subtly from previous ones, giving "Cynthia" a less cheerful tone than the studio recording. And "Saint in the City" sounded like more like the early demo recording from 1972, when a 22-year-old kid sang for a shot at a recording contract. In reviewing Grand Rapids, Backstreets.com noted Springsteen's "focus and intensity: 'The Rising,' though played nightly, stood out as exceptional, as did 'Further On (Up the Road)' with a particularly aggressive intro and drawn-out ending."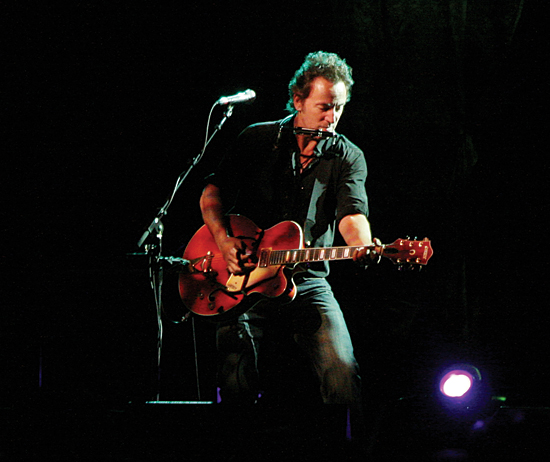 It may seem early to return to a tour that Columbus represented so well. But Springsteen truly made the most of the solo acoustic format, and as July 2005 turned to August, tour premieres and lesser-played numbers began to fall like summer rain. In the five shows from Columbus through Milwaukee, 61 different songs appeared, remarkable by any performer's standard. Grand Rapids brings the first official releases of keyboard arrangements for "The River," "Nothing Man," "I Wish I Were Blind," and "Racing in the Street"; the last song played here (and again, not in Columbus) is "Ain't Got You." A virtual box set from that week would make an astounding document. But not yet: fans await official recordings from tours that have yet to emerge (The Rising 2002/'03; The River 1981), ones that are surely in the works.
Order now from live.springsteen.net. Also read Erik Flannigan's latest essay on the nugs.net blog, "On Any Given Wednesday: Bruce Springsteen Devils & Dust Tour 8/3/05."
- February 2, 2018 - by Jonathan Pont, with additional reporting by Jason Berkley - Devils & Dust tour photographs by Riku Olkkonen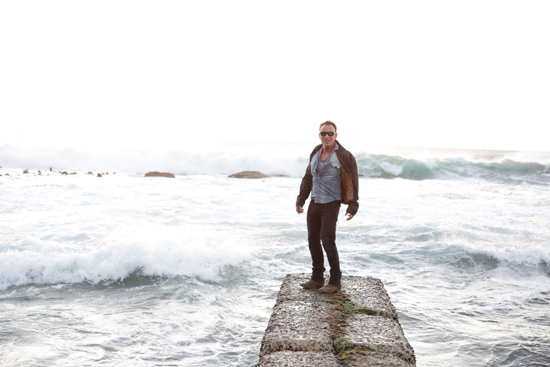 JO IS ROLLING DOWN THIS TRACK
Jo Lopez, an old friend of Clarence Clemons who became his saxophone tech, also wound up becoming the tour photographer for Bruce Springsteen and the E Street Band. You've seen his work at brucespringsteen.net, as the band toured the world for Working on a Dream, Wrecking Ball, and High Hopes, as well as on the covers of London Calling: Live in Hyde Park and Rolling Stone, and in the pages of Backstreets (see #91 for our interview with Jo).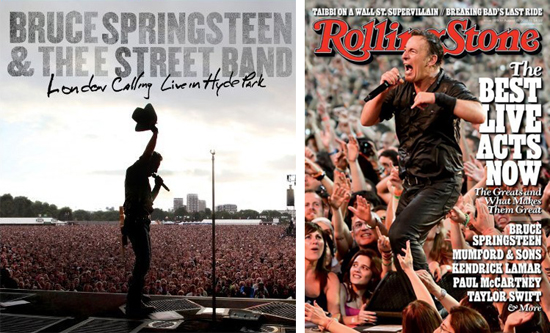 This summer, you can see his work up close in the U.K., as his new exhibition "Photographing Bruce Springsteen" has 12 stops across the country, one-night-only events at British horse racing courses and motor racing circuits.
Organized by Off Beat Lounge, "Photographing Bruce Springsteen" features
stunning on- and off-stage images, including rehearsal and "down-time" shots never seen by the public before, from New Jersey to Cape Town, and Sao Paolo to Barcelona. Lopez will be in attendance himself, talking about his work with Clarence and Bruce.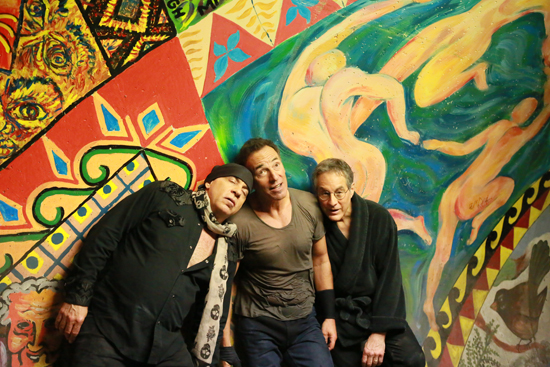 "I'm delighted to be able to tour this collection of photographs," Jo says. "The time I spent with Bruce and the band is very special to me, and selecting the images for this tour has fired up many wonderful memories. I'm delighted that fans will get to see some of my more close-up work. It means a lot to have originally selected these shots with Bruce at the time, too!"
July 10 - Newmarket Racecourse - Suffolk
July 12 - Brands Hatch Race Circuit - Longfield
July 13 - Brands Hatch Race Circuit - Longfield
July 17 - Carlisle Racecourse - Cumbria
July 19 - Aintree Racecourse - Liverpool
July 20 - Cheltenham Racecourse - Gloucestershire
July 24 - Exeter Racecourse - Devon
July 26 - Epsom Racecourse - Surrey
July 27 - Epsom Racecourse - Surrey
July 31 - Oulton Park Race Circuit - Taporley
August 1 - Oulton Park Race Circuit - Taporley
August 3 - Warwick Racecourse - Warwick
All events will run from 7:30pm to 9pm for standard admission tickets, with VIP ticket holders gaining access at 6:30pm for a Q&A session with Jo and private viewing. Visit offbeatlounge.co.uk for tickets and more information.
- January 31, 2018 - photographs by Jo Lopez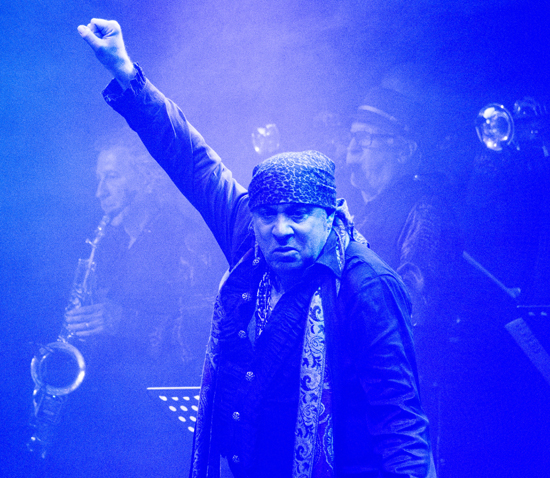 THE PRIDE OF MIDDLETOWN, NEW JERSEY
Congratulations to Steven Van Zandt: the New Jersey Hall of Fame is pulling him in. After being announced as one of 51 nominees for the honor in November, the 2014 Rock and Roll Hall of Famer has been named as one of 21 to be inducted in the Jersey hall's Class of 2017. As NJ.com reports, Governor Phil Murphy made the announcement today at Trenton's New Jersey State Museum, with some of Steven's fellow inductees including Debbie Harry, Meryl Streep, Al Leiter, and the Four Seasons.
The New Jersey Hall of Fame currently has no permanent physical location, but the induction ceremony will be held in a space Stevie and many of us know well: at the Paramount Theater on the Asbury Park boardwalk, May 6.
- January 30, 2018 - photograph by Geoff Robinson [London, November 4, 2017]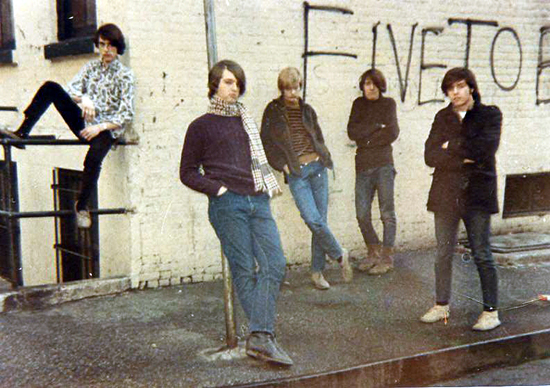 SUNDAY IN THE POST WITH GEORGE
Today's Salisbury Post catches up with local resident George Theiss, Springsteen's bandmate and vocalist in the Castiles 50 years ago: "Springsteen, George and [his wife] Diana have reconnected in the past year. Near the end of 2016, Springsteen called George out of the blue, only to learn his old bandmate was in the hospital, having just been diagnosed with lung cancer.... Through radiation and chemotherapy, the 68-year-old Theiss is 40 pounds lighter but doing well and enjoying his retirement with Diana."
The Post's Mark Wineka talked with Theiss about his pre-Castiles bands (The Five Diamonds, The Sierras), practicing at Marion and Tex Vinyard's house, the Freehold High School principal ordering the Castiles to get haircuts, and more. Read "George and the Boss: Theiss is forever linked to his glory days of playing, writing songs with Springsteen."
- January 28, 2018 - The Castiles (c. 1967) photograph courtesy of Billy Smith [L-R: Vinnie Maniello, Theiss, Curt Fluhr, Springsteen, Paul Popkin]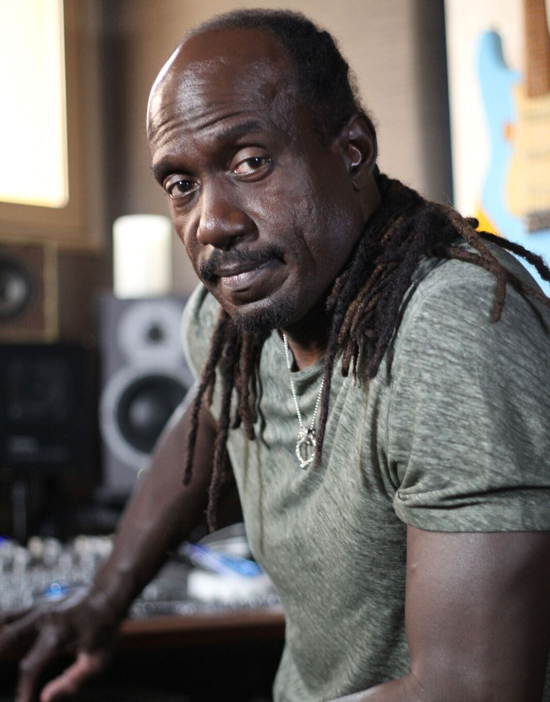 photograph courtesy of 825 Records
CURTIS KING JR. SINGS THE CHANGES: THE BACKSTREETS INTERVIEW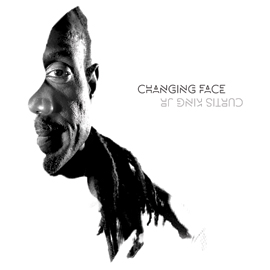 Vocalist Curtis King Jr. is certainly recognizable to Bruce Springsteen fans the world over. He first started working with Bruce in 2006 as a part of the touring Seeger Sessions Band and later became a member of the extended E Street Band for the 2009-2014 tours.
In addition to his work with Springsteen, Curtis has had a long and successful career in the music business. As a backup singer and studio musician for more than three decades, Curtis has worked with a who's-who list of music industry giants: from Duran Duran, David Bowie, and Billy Joel, to Madonna, Joe Cocker, and countless others. Curtis has also appeared over the years on Saturday Night Live and on Late Show with David Letterman, backing up musical guests like Stevie Wonder and Darlene Love.

Curtis was nice enough to sit down recently with Backstreets writer Erik Remec to talk about the release of his very first solo album Changing Face and about his experiences working 20 feet from Springsteen.
You've had a very successful career in the music business for over 30 years, so what made you decide that this was the right time to put out your first solo album?
I started going into the studio around 1996 and tried recording just to see if I could do it. I played around in the studio a bit, but then the tours called. I got a call from Duran Duran to go out on tour, and then Carly Simon asked me if I would go out on tour with her [while I was on tour with Duran Duran]. As crazy as it was, the open dates I had were the dates that she had booked. So she flew me back and forth between Duran Duran and her tour. Along the way I recorded a song here and there; you know, at least I was writing, but it just wasn't coming together.
I had a lot of songs, but it became a whole other journey of finding the songs that I felt fit me. I had written songs that I liked, but they were not necessarily for me — maybe a cool song from a writer's perspective, but now I'm thinking of me as the artist, so I had to start writing from that vantage point. It just took awhile to kind of find my own voice in all of that.
I officially started, believe it or not, just the year before Bruce called for the Seeger Sessions Tour, in 2005. My [Changing Face] co-producer Butch Jones had been bugging me about really locking in on the album, and as soon as I lock in, Bruce Springsteen called.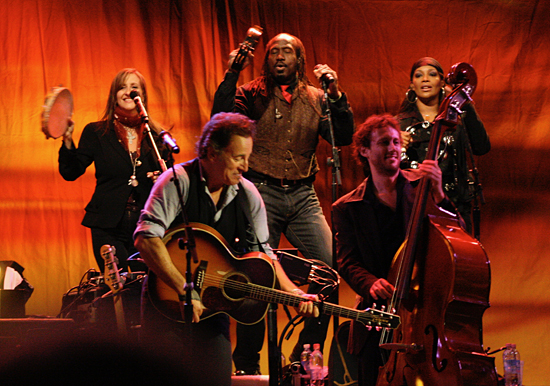 Verona, Italy, October 5, 2006 - photograph by Mauro Regis
So how did the whole Bruce thing start?
I got a call from Steve Jordan [drummer/producer who has worked with Patti Scialfa among many others] in 2006. He said that Bruce Springsteen had been auditioning male singers for the Seeger Sessions Band and hadn't come up with anybody that he liked, and he thought I would be the perfect guy for him. I'm really grateful to Steve Jordan for helping me out like that.
The band was rehearing at the Convention Center, I think, at the time. So I walk in, and Bruce introduces me to the guys, and then he starts to sing and asks me to harmonize with him. I sang some harmonies, and Bruce says, "Okay, that sounds good, come up on stage." I said, "But I don't know the material!" And Bruce says, "Don't worry — you'll learn it along the way." That was my audition!
Continue reading our Q&A with Curtis King Jr.
- January 26, 2018 - interview by Erik Remec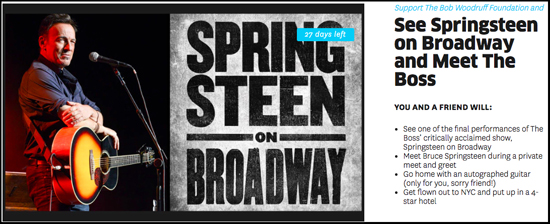 LAY DOWN YOUR MONEY
A couple of online opportunities to score a pair of Springsteen on Broadway tickets have cropped up recently. Over at eBay, there's an auction of two 11th Row Center Orchestra seats for the April 11 performance. All auction proceeds will be donated to the Sister District Project. Bidding closes Monday, and right now the minimum bid is $6,999. Anyone who wants to skip the bidding process altogether may consider buying the pair outright for $9,999. Click here for details.
1/26 Update: The minimum bid has been lowered to $2,499.
If the Sister District Project's politics run too blue for your blood, or if your pockets just ain't that deep, don't forget the ongoing Springsteen on Broadway contest over at Omaze.com. As we reported previously, the winner will receive not just a pair of tickets to one of Springsteen on Broadway's final performances, but also a private meet-and-greet with Bruce, an autographed guitar, and air transportation to and from New York City with four-star lodging in the Big Apple. Entries to this contest are made via donations to the Bob Woodruff Foundation. An online donation as small as $10 generates at least 100 entries into the contest; the more you donate, of course, the better your chance to win. Click here to enter the contest, which ends on February 20 at 11:59 pm PT. The winner will be announced on or around March 1.
- Updated January 26, 2018 - Shawn Poole reporting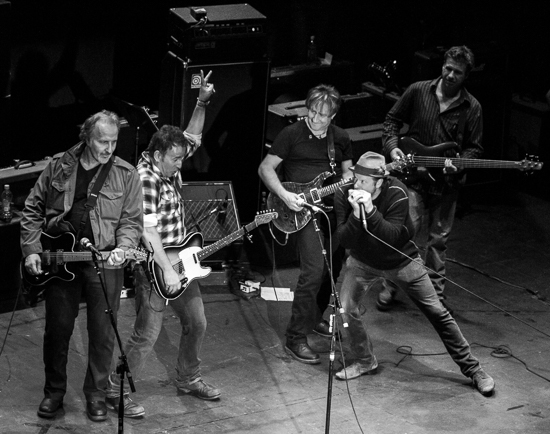 THREE IS A MAGIC NUMBER
And for the birthday trifecta, it's Danny Clinch — shown here at a Light of Day jam, because when he puts down his camera it's usually to pick up a harp. Happy birthday Danny!
- January 24, 2018 - photograph by A.M. Saddler


BEFORE HE WAS THE PHANTOM
Young Danny Federici's mom was very proud of her boy — wouldn't you be? Thinking of Danny today on his 68th birthday, and reminding you that the Danny Fund continues its good work supporting melanoma research.
- January 23, 2018 - photograph courtesy of Danny Federici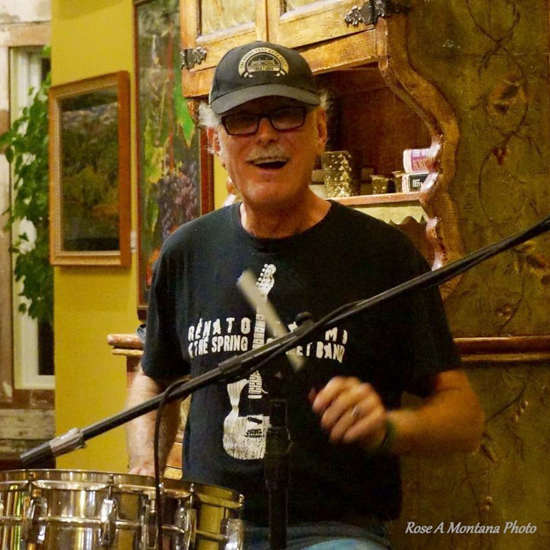 HAPPY BIRTHDAY VINI!
Original E Street Band drummer Vini "Mad Dog" Lopez is 69 today, born January 22, 1949.
- January 22, 2018 - photograph by Rose A. Montana

"LATE NIGHT LEGEND MAX WEINBERG ON DRUMS!"
Max Weinberg returned to
Late Night
last week to kick off a mighty tellyvision two-fer: Thursday night, above, he was back at 30 Rock to hold down the beat for Glen Hansard, performing "Roll on Slow" on
Late Night with Seth Meyers
. On Friday, Max's episode of
Blue Bloods
aired on CBS, with his guest turn as Mario Vangelis. You can watch "Erasing History" now at
CBS.com
.
- January 22, 2018


HEY, SOMEBODY HAD TO DO IT!
Thank goodness it turned out to be somebody with the necessary chops. For one night only (at least for now,) Philly-based professional musician Jim Boggia is bringing Bruce Off Broadway: A Ukelele Tribute To The Boss to the Big Apple on Saturday, January 27 at Arlene's Grocery. Tickets are a whopping $10 each and yes, there is a "Verified Fan" process that works as follows: Got ten bucks? Congrats; you're verified. Now click here to buy your tix.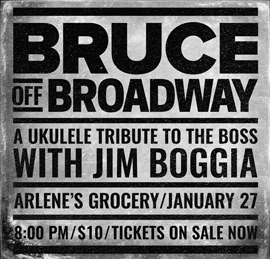 Go ahead, laugh it up — after all, that's a big part of the idea. At the same time, however, this also promises to be an evening of well-performed Springsteen covers by somebody who actually has learned how to make his ukulele talk. Boggia, who's performed or recorded with many famous musicians in addition to gigging and recording on his own over the past two decades, is a talented pro as well as a Springsteen fan.
For a preview of what to expect, check out Boggia's recently released video clip of him and his uke taking on "Tenth Avenue Freeze-Out" and a 2016 clip of "Thunder Road" getting ukefied, too (with a bit of "Born to Run" playing as the credits roll.) Act fast before Bruce Off Broadway sells out and you're forced to pay secondary-market prices as high as... FIFTEEN bucks!
- January 18, 2018 - Shawn Poole reporting

THE NEW CHRISTIE MINSTREL
On January 16, Chris Christie's second term as the 55th governor of New Jersey came to an end. On January 17, the first day of the rest of his life, Christie crossed the river to take in some theater: Springsteen on Broadway, of course. Today, the New York Times set the occasion to music.
Well they kicked the old governor out of Trenton last night
Kicked him out of the mansion, too
But down on Broadway, he was getting ready for a night
Seems like the Boss can carry him through...
Continue reading Nick Corasaniti's "On Stage Was Springsteen, in the Audience, Chris Christie"
- January 18, 2018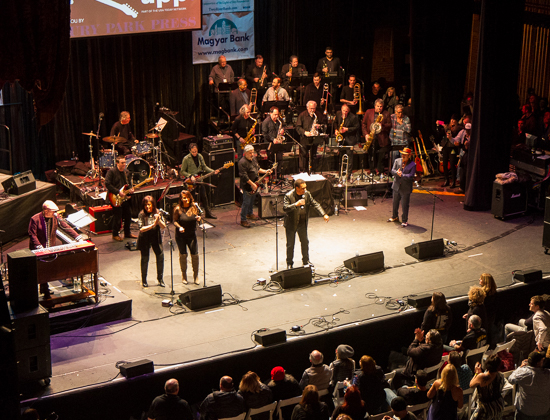 GREETINGS FROM ASBURY PARK: GOOD TIMES ROLL AT LIGHT OF DAY 18
January 2018 has been both frenetic and freezing, bringing with it another Light of Day Winterfest without Bruce Springsteen. Unlike other years in which Bruce was absent from the festivities, however, concertgoers purchased tickets for the annual event knowing its longtime champion would not be appearing on the Paramount Theatre stage for Saturday night's main event. But as they've done for the last couple Bruce-less years, fans showed up to support the musicians, the organization and its cause. The more-than-respectable attendance figures for this year's 18th annual Light of Day festivities demonstrate that the event has indisputably transformed Asbury Park into a winter destination for music tourists of all stripes regardless of Bruce's plans.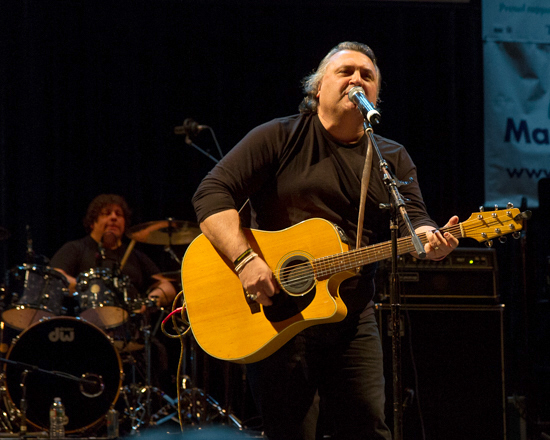 Light of Day stalwart Joe D'Urso - photograph by A.M. Saddler
This year's optimistic theme was "Eighteen to Life Without Parkinson's," and Light of Day founding artists Joe Grushecky, Joe D'Urso, and Willie Nile once again were the backbone of the operation, supporting not just Saturday night's Birthday Bash for the indomitable Bob Benjamin, but the entire international concert series. Other returning artists included John Easdale (Dramarama), Jeffrey Gaines, Garland Jeffreys, and James Maddock, as well as the standout Remember Jones, whose dynamic, versatile band has gained a nationwide following performing both originals and tribute shows.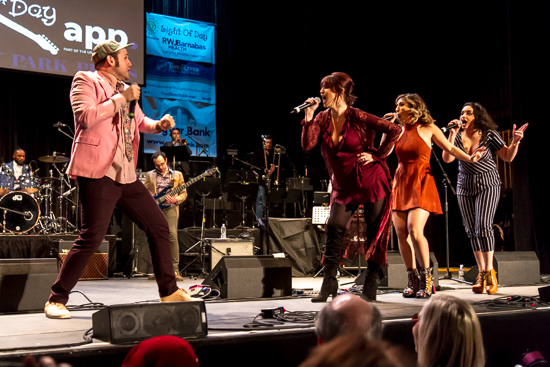 Remember Jones - photograph by A.M. Saddler
The evening, which was capped by the return to Light of Day of Richie "La Bamba" Rosenberg and his Big Band, followed typical LOD structure of full-band main stage performances interspersed with emcees and acoustic performers like Gaines, whose melodic cover of Sam Cooke's "Twistin' the Night Away" was one of the highlights of the evening.

Rob Dye (left) with Danny Clinch on harp - photograph by A.M. Saddler
Over the years, Light of Day performances have also become fitting moments to pay tribute to those who have passed on. This year was no different, as D'Urso honored recently deceased Smithereens singer/songwriter (and former Light of Day performer) Pat DiNizio with a set-opening "Behind the Wall of Sleep," and Nile opened with a cover of Tom Petty's "Running Down a Dream." Willie Nile was his usual ebullient self, and he had the audience up and dancing for the duration of his set, while Grushecky and band turned in a workmanlike performance that included standards like "Code of Silence" and "Pumping Iron, Sweating Steel" along with a couple of new songs from his upcoming album More Yesterdays Than Tomorrows.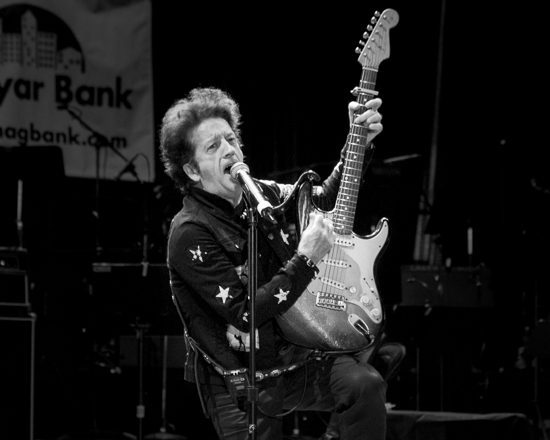 Willie Nile, workin' on a mystery - photograph by A.M. Saddler
But the night belonged to La Bamba and his band; this year's iteration included both current and former Asbury Jukes like guitarist Bobby Bandiera, trumpeters Rich Gazda and Mike Spengler, saxophonist Stan Harrison, and keyboardist Jeff Kazee. In fact, there were so many exceptional ex-Jukes in the extra-large horn section that one hardly missed Ed Manion (who was just up the road in Red Bank with another ex-Juke named Van Zandt) or Rosenberg's onstage foil and partner-in-crime, Mark "The Loveman" Pender.
La Bamba has always used the Big Band format to satisfy his eclectic musical taste, and in typical fashion, Saturday night's set veered from jazz instrumentals to jump blues like "Let the Good Times Roll" to Curtis Mayfield's "Move on Up" to '70s urban soul like Bobby Womack's "Across 110th Street" before switching gears to honor Clarence Clemons with a rousing "Paradise by the C." Always a natty dresser, Rosenberg cut quite the figure in a shiny purple suit and matching fedora as he ran around the stage directing traffic.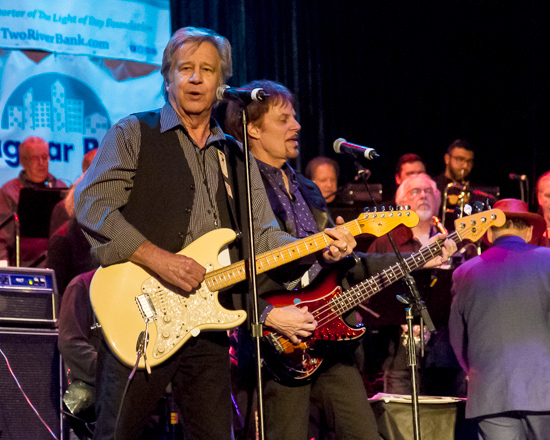 Greg Kihn has a rendezvous with La Bamaba's Big Band - photograph by A.M. Saddler
Joining the festivities later in the set were Greg Kihn — who dropped in after his headlining show at nearby McLoone's to treat the audience to a couple power pop tunes including his cover of the Springsteen gem "Rendezvous" — and the irrepressible Gary U.S. Bonds, who was in rare form. Having spent most of the evening backstage waiting to go on (and consuming a glass of wine or two), he proceeded to rile up the crowd with snarky comments before getting down to business with "New Orleans," a rowdy audience sing-along on the Springsteen-penned "This Little Girl," and his classic "Quarter to Three."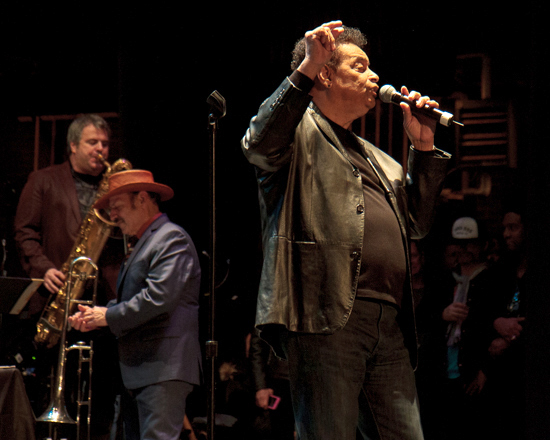 Bonds fronts the swinginest band they'd ever had - photograph by A.M. Saddler
But they weren't done yet, as familiar strains of Jackie Wilson's "(Your Love Has Lifted Me) Higher and Higher" began to echo through the dusty rafters of the Paramount. (What good is a big band with an extra big horn section if you're not going to play some Jackie Wilson?) Bonds, ably supported as usual by his wife and daughter on backing vocals, enthusiastically traded verses with La Bamba as other performers meandered onstage to help close out the night. Indeed, the end was near, but not before an audience sing-along/band introduction on "Havin' a Party."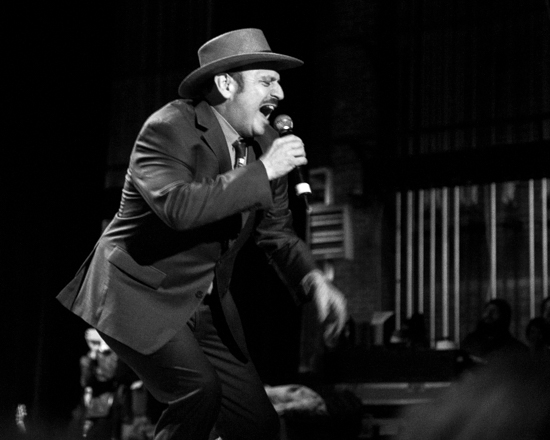 Richie "La Bamba" Rosenberg - photograph by A.M. Saddler
It was a long evening and a long week. There were plenty of late nights and drafty venues from Convention Hall to Cookman Avenue. And between the weather and a little thing called Springsteen on Broadway, this year's Light of Day Winterfest could easily have been overlooked by music fans. But the strength and durability of the idea, driven by its indomitable founders and staff, by the countless artists who year after year devote their time and efforts, and by the fighting spirit of its inspiration, Bob Benjamin, have turned Light of Day into an essential annual ritual. After 18 years, it's about time.
- January 17, 2018 - Lisa Iannucci reporting - photographs by A.M. Saddler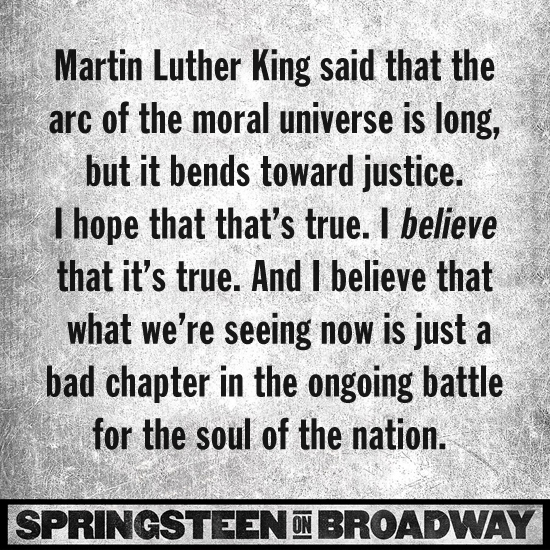 - January 15, 2018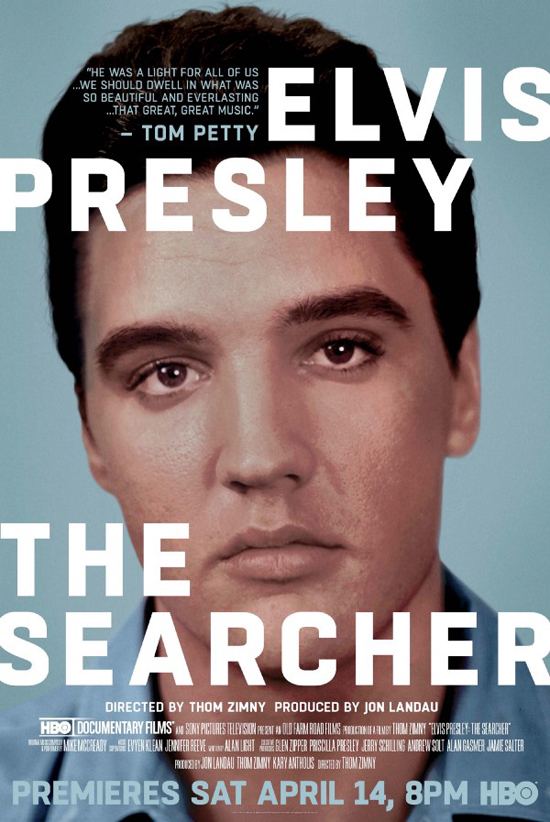 THE SEARCH IS OVER APRIL 14
42 years after Bruce jumped the wall, Zimny & Landau take us inside Graceland
Finally, the world is ready for Thom Zimny's Elvis doc. Of course, you might remember Thom from such films as Wings For Wheels, The Promise, and The Ties That Bind.... As we've reported previously, Elvis Presley: The Searcher is his latest directorial project, an extensive HBO documentary he's been working on with producer Jon Landau, and we now have a premiere date: Saturday, April 14 at 8pm ET/PT.
This three-hour, two-film presentation focuses on Elvis Presley the musical artist, taking the audience on a comprehensive creative journey from his childhood through the final 1976 Jungle Room recording sessions. The films include stunning atmospheric shots taken inside Graceland, Elvis' iconic home, and feature more than 20 new, primary source interviews with session players, producers, engineers, directors and other artists who knew him or who were profoundly influenced by him.The documentary also features never-before-seen photos and footage from private collections worldwide, and includes an original musical score composed by Pearl Jam lead guitarist Mike McCready.
Bruce Springsteen is one of the many interview subjects represented in the film, along with late greats Scotty Moore and Tom Petty.
One month prior to the premiere, Zimny and Landau will appear at the SXSW Festival in Austin, for a March 14 panel discussion also featuring executive producer Priscilla Presley. Further details in the HBO press release.
- January 12, 2018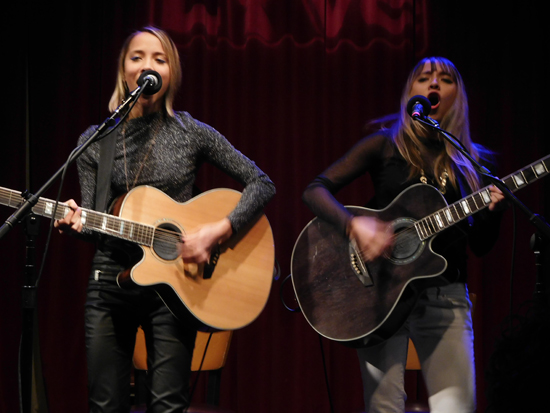 NALANI & SARINA TAKE CARE OF THEIR OWN
New single and new Springsteen cover from Jersey-based duo
Nalani & Sarina have started off 2018 right with "Young & Inexperienced," the debut single from their forthcoming album. They also kindly recorded another Springsteen cover for us to share with our readers: "We Take Care Of Our Own," in a beautiful arrangement for two guitars and voices.
The twenty-something Flemington-NJ-based Bolton twins, who perform regularly both on their own and backed by a full rock band, recently talked to us about "Young & Inexperienced," "We Take Care Of Our Own," and the connections they make between the two songs.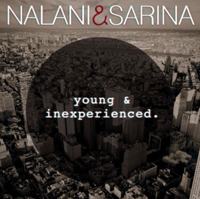 "'Young & Inexperienced' was based on some of our closest friends, people we've known since at least high school," said Nalani. Finding decent-paying, meaningful work after college has proven to be much more difficult than their friends expected. Of course one of them eventually uttered the oft-heard complaint, "I can't get the job without the experience, but I can't get the experience without the job." For these people, it was "a real punch in the gut," added Sarina. "This is the real world." Yet Nalani & Sarina themselves have known about that world for quite some time, since deciding to pursue full-time careers in music right after high school.
Writing and recording "Young & Inexperienced" was a way for them to give voice to all-too-common concerns about finding work, money and, most important, respect.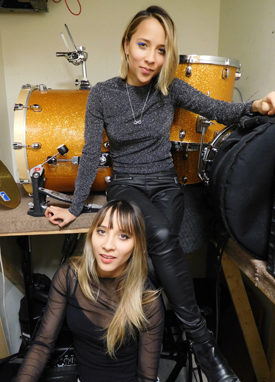 As for their recording of "We Take Care Of Our Own," first and foremost it's one of their favorite Springsteen songs. "Being younger fans," they told us, "the first Springsteen album we really got into was Wrecking Ball. The version of 'We Take Care of Our Own' that opens the album, of course, just rocks, but we also were bowled over by his solo acoustic version, like the one he performed at Stand Up For Heroes." They also agree that Springsteen's line "Where's the work that'll set my hands, my soul free?" connects especially well with the issues raised in "Young & Inexperienced," and both songs take phrases that have become clichés and convert them into meaningful pleas for recognition and dignity.
Their FREE mp3 of "We Take Care of Our Own" is on our Downloads page, where you also can check out other recordings that Nalani & Sarina have shared previously. "Young & Inexperienced" is available from online music services including Apple Music, Spotify, and Amazon. For more, visit NalaniSarina.com.
- January 12, 2018 - report and photographs (from Light of Day Philly 2018) by Shawn Poole

PRE-ORDER NEW NILS LOFGREN DVD NOW FOR A SIGNED COPY
Originally available as a digital download, Nils Lofgren's Blind Date Jam is now on DVD for the first time — and Nils will be autograping copies just for us. Click here to pre-order and reserve yours!
Blind Date Jam is an 80-minute impromptu jam session that we recorded to capture the magic of the moment at Cattle Track gallery in front of a small group of friends.

Featuring Greg Varlotta on guitar, keys, trumpet, trombone and tap dance, Gary Bruzzese on drums, and John Willis on bass. You'll see me presenting ideas on the spot, talking through the chords brießy and launching in to each piece. It's primitive, rough and inspired jamming that I feel and hope as music fans you'll enjoy. Amy designed a beautiful southwest set for us to play on and produced the adventure with me. I hope some of you decide to check it out.

I'll autograph copies of this limited run DVD ordered through Backstreets. If you try it and enjoy it, please spread the word for us as this is a grassroots, homegrown endeavor. Best and enjoy! — Nils
See all Latest Additions at Backstreet Records here.
- January 11, 2018



HAPPY CLARENCE CLEMONS DAY
Thinking of Clarence Clemons on his 76th birthday, we can't help but smile at this series of images shared with us by director/photographer Nick Mead (click to enlarge). As work continued on his Who Do I Think I Am? documentary, Mead put this triptych together from a personal shoot he did with his friend.
"It's another example of Clarence taking me out of my comfort zone — even when he's no longer physically around," Mead tells Backstreets. "Two things I avoid when photographing are color and laughter. Here they are in all their glory. Blessed to share this image on his birthday. Miss him every day."
We hope Clarence Clemons Day brings you color and laughter, too.
- January 11, 2018

THE LIGHT OF DAY KIHNECTION
Greg Kihn makes his first appearance at Light of Day this Saturday night in Asbury Park, playing at McLoone's Supper Club along with the Ben Arnold Band. Showtime is 7pm; it wouldn't be at all surprising to see him turn up later that evening on the big stage across the boardwalk at the Paramount Theatre for the LOD Main Event (aka Bob Benjamin's Birthday Bash), headlined by La Bamba's Big Band featuring Gary U.S. Bonds.
Kihn covered Bruce Springsteen's "For You" on 1977's Greg Kihn Again, his second album. He also famously released Springsteen's "Rendezvous" way before Bruce ever did, on his 1979 album With the Naked Eye.
Always curious about the backstory, I was excited to have him on the Bruce Brunch on 105.7 The Hawk at the Jersey Shore this past Sunday. He delivered and then some. Plus, he talks about playing Alcatraz with The Big Man. Tough to beat that. Listen below.
Light of Day hits New York City tonight, with Bonds headlining the Cutting Room, and then takes it to the streets of Asbury Park on Thursday, Friday, Saturday and Sunday. The festivities will include a live broadcast of the Bruce Brunch on Sunday morning from the Anchor's Bend in the Grand Arcade at Convention Hall, including plenty of bleary-eyed special guests. Come hang with us!
Full details about this year's festival at lightofday.org.
- January 10, 2018 - Tom Cunningham reporting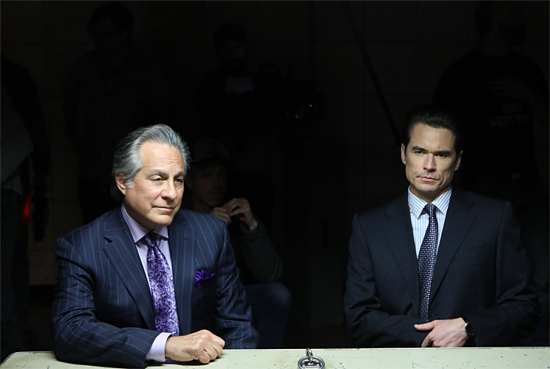 WORKING BLUE: MAX IS BACK ON CBS
Max Weinberg is flexing his acting muscles again, following his recent recurring role on CBS's Hawaii Five-0 with a guest spot on Blue Bloods. In a new episode on January 19 called "Erasing History," the Mighty One is featured as a character by the name of Mario Vangelis.
"I play a mobbed-up New York real estate developer who is 'liked' for a hit on a guy," Max tells Backstreets. "I had an absolute blast doing several scenes with Donnie Wahlberg and Marisa Ramirez, who plays his partner Baez — both fantastic actors and people!"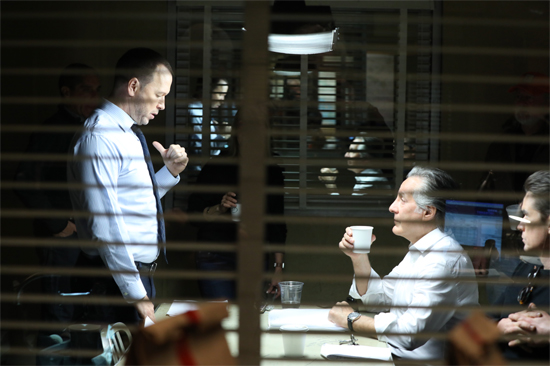 Above, Wahlberg and Weinberg rehearse Mario's interrogation; below, Mr. Vangelis speaks with Detective Baez.
Tune in to Blue Bloods on CBS, Friday, Janauary 19, at 10pm Eastern. Also visit Max's new site at maxweinberg.com for tour dates (including Jukebox, Big Band, Quintet, and speaking engagements), as well as news, videos, and photos.
- January 10, 2018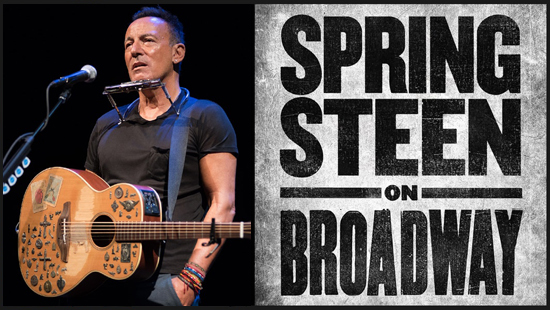 BACK ON BROADWAY
Tonight, Bruce Springsteen returns to the stage for the first time in 2018, to resume the regular Tuesday-to-Saturday schedule of Springsteen on Broadway after a holiday break. Last time Bruce performed the show, shortly before New Year's, Patti Scialfa had been out with the flu for five shows running (see 2017 setlists here). We hope she's feeling tip-top and back on the boards again tonight.
Springsteen on Broadway is currently booked to run through June 30 at the Walter Kerr Theater. In addition to the ongoing Lucky Seat lottery for each performance, the Bob Woodruff Foundation offers another chance at seeing the show: their donate-to-win contest includes not only tickets for one of the show's final performances, but also a meet-and-greet with Springsteen, an autographed guitar, travel and lodging.
Visit Omaze.com to donate and enter, with all proceeds benefitting the Bob Woodruff Foundation and their efforts to stand up for heroes.
- January 9, 2018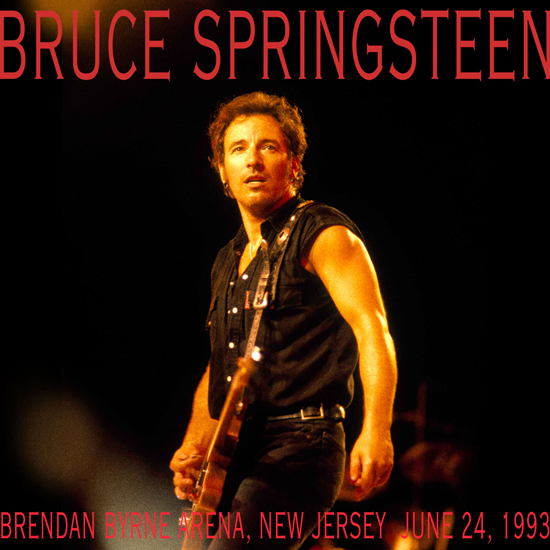 LIVING PROOF: NEW JERSEY '93 IS HERE FOR FIRST FRIDAY
Benefit show with "new" band is a 35-song stunner
As hard as it is to believe, we're more than 25 years past the time when Bruce Springsteen released dual solo records, Human Touch and Lucky Town, and undertook a year-long tour to support them — his first without the E Street Band. Today's archive series installment marks the first complete show from that era to emerge: Brendan Byrne Arena in East Rutherford, New Jersey, June 24, 1993, a benefit billed as "A Concert to Fight Hunger." It touches all the bases that made the music from that era compelling and features a guest segment that shook the building. And the recording restores a moment that many know about but few actually got to hear.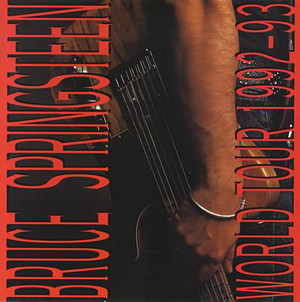 This performance came at the end of a time where listeners found themselves divided over Springsteen's bold new step. No band can match the power of the E Street Band, which for my money is the best there ever was. In 1992 and '93, many fans wouldn't accept anyone on stage with Springsteen except the E Streeters. Sprung from his comfort zone, however, he basked in the freshness his new backing musicians brought. And he worked his ass off, playing more lead guitar than on E Street tours in the '80s and huge performances throughout. Full disclosure: I loved it. I saw 21 shows in 1992 and '93 and had a blast. To this day, two remain among my personal favorites: the Count Basie rehearsal show on March 23, 1993 and the one released today.
A year earlier, Bruce had played 11 nights in the same building, the first ones in the U.S. with his new band. Then, setlists combined material from the new albums and earlier classics. Some fans who otherwise were accepting of the new band thought the shows didn't depart enough from the E Street era. Among them was Los Angeles Times rock critic Robert Hilburn, who laid out his thoughts in a provocative feature during the New Jersey stand. When the tour resumed in Los Angeles (perhaps not coincidentally the writer's home base) in the autumn, sets included more '92 material and less from before, meeting Hilburn's challenge. He wrote again, stating, "I never thought I'd again see a Springsteen performance as stirring as the one he put on Thursday at the Los Angeles Sports Arena." Yet more change came when the tour headed back to Europe in the spring of 1993.
That model carried the June 24 performance: ten songs from the new records, the new opening acoustic set, more prominent use of the backing singers, and of course the surprise appearances by Clarence Clemons and fellow E Street Band members who joined for a long encore. There was no debate about direction or which songs belonged: it was a night of celebration. Judging from the resounding crowd response, all fans were on board 100 percent and loved every minute. It was the best performance of the 1992-'93 tour.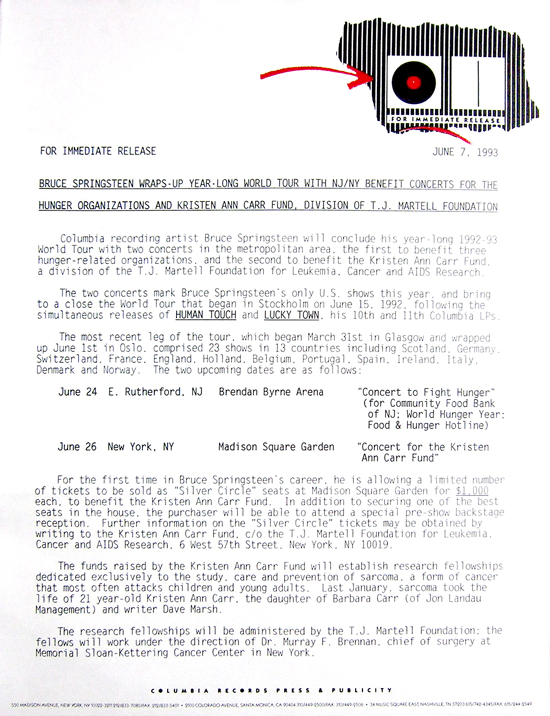 The sole New Jersey date was something of a homecoming one-off (the tour would end two nights later at Madison Square Garden, a concert to benefit the Kristen Ann Carr Fund), and fans anticipated something big would happen. The afternoon of the 24th, Clarence Clemons went on WFAN radio with Mike and the Mad Dog and revealed that he would be in the building. That fueled the fire even more: as the lights went down, there was a buzz in the air.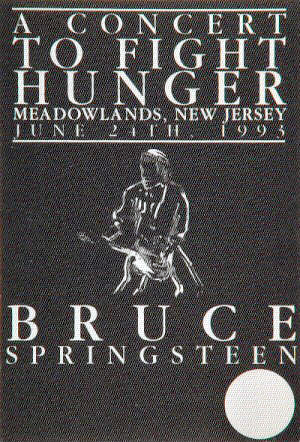 In keeping with the evening's theme, Springsteen opened with a beautiful take on Woody Guthrie's "I Ain't Got No Home," with Bruce's friend Joe Ely joining for a verse. Three solo acoustic numbers followed, including fan-favorite "This Hard Land" — the outtake wouldn't be officially released until 1995, and its debut at the Count Basie rehearsal show had stunned fans. Otherwise, the first set stuck to the 1992-'93 standards, starting with fiery takes of "Better Days" and "Lucky Town." It concluded with its customary trifecta: "Leap of Faith," "Man's Job," and "Roll of the Dice." One notable addition: a gorgeous take on Emmylou Harris' "Satan's Jewel Crown." This arrangement shone, just the kind we'd waited to hear with this new cast of players.
At intermission, rumors of guest appearances by much of the E Street Band circulated. Buzz gave way to shock when the second set opened with Bruce and Roy Bittan on "Does This Bus Stop At 82nd Street?" (Its surprise performance at the Count Basie was the first since December 31, 1975.) "Because the Night" followed and brought the energy higher. Patti Scialfa joined for "Brilliant Disguise" and "Human Touch." Later, a spine-tingling thematic sequence began with "Who'll Stop the Rain" and tour staple "Souls of The Departed."
Usually, "Souls" led into "The Star Spangled Banner"/"Born in the U.S.A.," but on this night, Bruce dropped in a note-perfect version of "Living Proof," with a powerful vocal that was stunning. He was a new father, and the song's theme clearly translated — and from a unique place, too: except for this night, the song always appeared in the first set. Normally "Souls"/"Born in the U.S.A." made for a dark pairing but here, he brought light to the sequence with one of the era's pivotal songs. On "Born in the U.S.A.," listen for an altered vocal delivery, distinct from other performances on the tour. The set closed with the standard "Light of Day," capping the best set of music I saw the 1992-'93 band play.
Joe Ely returned to open the encore with a blistering version of his own "Settle For Love." The opening line "You say you want drama, I'll give you drama" would prove prophetic: there was much drama to come. "Glory Days" followed with special guest Little Steven, the first confirmation that the buzz might be true. "Thunder Road" was next, which Bruce and Roy played, as they had every night of the tour. Then the cavalcade of guests continued: Bruce introduced Southside Johnny with some gentle ribbing about the South's move to Connecticut. Standing together at center stage, Bruce, Steve, and Southside launched into "It's Been a Long Time," singing about decades of friendship together. At its conclusion, Southside thanked Bruce for all the help over the years.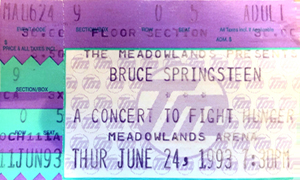 Then Bruce turned back to the mic and counted the band into "Tenth Avenue Freeze-out." The crowd let out a roar of recognition. At the back of the stage, the Miami Horns appeared. A quarter century on, I remember this moment like it was yesterday. I was in the fourteenth row, and the entire crowd on the floor was standing on their chairs. As the horns burst in, the crowd's energy rose even higher, like everyone had just received a shot of adrenalin. And then Bruce arrived at the middle of the song and sang, "Well, the change was made uptown…" Suddenly, the building was shaking in a way you wouldn't think was possible, with the most thunderous ovation I've ever heard. If I close my eyes, I can still hear that roar. The Big Man had joined the band.
The song came to a close. The ovation at that volume continued for a full minute. Bruce and Clarence hugged. Bruce remarked, "Damn, can't have the Big Man here without doing this one. It's the Jersey set here. Only for the Garden State!" and launched into "Born to Run." The crowd's frenzy continued.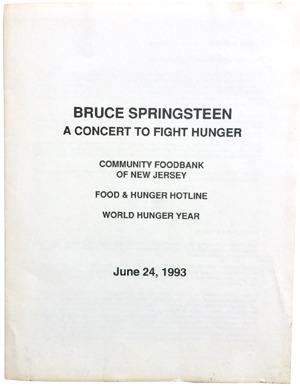 Now, as exciting as "Tenth Avenue" had been, there was one minor problem: Clarence's sax was pretty much inaudible. Bruce was aware of this, so as the "Born to Run" sax solo approached, he stuck his mic into Clarence's sax. This time, the classic solo, perhaps the signature E Street Band moment, boomed throughout the arena. In a way, it was fitting. Fortunately, today's release includes the "Tenth Avenue" solo, and whatever problem kept the sax from being heard in the monitors and PA is gone. Now, all these years later, this important moment in Bruce's performing history is fully audible and accounted for.
The guests left the stage. A beautiful version of "My Beautiful Reward," the closing track from Lucky Town, gave fans a chance to catch their breath. Joe Ely came back out with Patti and Soozie Tyrell for a foot-stomping "Blowin' Down This Road." The Jersey theme continued with a rollicking "Having a Party" with Southside, Steve, and the horns, making an arena in East Rutherford feel like a hot summer night on the Shore. It was now after midnight but the show wasn't over yet: another E Streeter, Mighty Max Weinberg, took the stage to drum on "Jersey Girl." As the final notes faded, Bruce thanked everyone for coming out and slid right into Curtis Mayfield's and The Impressions' "It's All Right." Incredibly, it was the 35th song of the night. The song's refrain "it's all right to have a good time" was the perfect note to send people out on, ending a night that lucky fans will always remember.
Aside from a live version of "Leap of Faith" (recorded on August 6, 1992, at Brendan Byrne), the only official material released from this tour was XXPlugged, recorded at Warner Hollywood Studios on September 22, 1992. Today's addition replaces an audience recording that fans traded (and Crystal Cat released as Meadowlands Night). Different versions of the recording shared a glaring issue: "Born to Run" cut off just before the final verse. Now we have a complete account, the first from the 1992-'93 tour, and hope the series finds a spot for the March 23 rehearsal show at the Count Basie in the future!
- January 5, 2018 - Hal Schwartz reporting
Editor's Note: As we finished today's review, news broke that Brendan Byrne, who served two terms as New Jersey governor, passed away last night at age 93. Springsteen played the first concert in the arena named for Byrne in 1981; this release documents the 28th and final time he played there before the name of the venue was changed. Backstreets offers its sympathies to Governor Byrne's family and friends.

A BIG DOC FOR A BIG MAN
If you're snowed in like we are, this could be the perfect time to settle in with The Story of the Big Man, a fan-made documentary that runs more than five hours long. Created by Dennis P. Laverty, who has also posted lengthy docs to Vimeo on Southside Johnny and the Asbury Jukes and Elvis Presley's Influence on Bruce Springsteen, his new labor of love similarly culls and compiles extant footage to tell the story of Clarence Clemons. No need to fall down a YouTube rabbit hole when Laverty does it for you, sequencing an abundance of obscure footage to recount Clarence's life and career.
Thanks to Jay Lustig for pointing us to the film — read more about it at his site, njarts.net.
- January 4, 2018


"THE LAST LINE OF DEFENSE IN MUSIC OR IN SPORT"
Courtesy of NHL Studios, Max and Jay Weinberg at Monday's Winter Classic, where Max Weinberg's Jukebox served as house band.
- January 4, 2018

OBAMA TAPS SPRINGSTEEN FOR HIS BEST-OF-2017 LIST
Bruce Springsteen may not have released an album or a single in 2017, but he still made Barack Obama's list of his favorite music of the year. On Facebook, Obama shared "the books and music that I enjoyed most... From songs that got me moving to stories that inspired me," and he included a live performance from Bruce as a bonus selection: "'Born in the U.S.A.' by Bruce Springsteen (not out yet, but the blues version in his Broadway show is the best!)"
Though Springsteen on Broadway is dark this week for a little New Years vacation, Springsteen will get back to playing that "Born in the U.S.A." blues and all the rest of it, Tuesday through Saturday nights, beginning January 9.
- January 2, 2018