LET'S MAKE IT THE BEST TIME
Little Steven and TeachRock ring out 2020 and ring in 2021 with FREE streaming for all of this year's Stand With Teachers event
A special announcement, just in from TeachRock: Little Steven and TeachRock.org's Stand With Teachers event is now available to stream for free and extended through January 3, 2021.
Catch unique and beautiful performances by Eddie Vedder (delivering a cover of Bruce Springsteen's "Growin' Up," official audio of which has just been released on Vedder's new Matter of Time digital EP,) Margo Price, Melle Mel, Jackson Browne, and Springsteen himself (performing a solo-acoustic "Letter to You.") Also enjoy special appearances by Tom Morello, Steve Buscemi, Bobby Cannavale, Whoopi Goldberg, Sammy Hagar, Lowell "Banana" Levinger, Edward Norton, Vincent Pastore, Maureen Van Zandt, and Trønd Fausa Aurvåg and Steinar Sagen of Lilyhammer, and learn a bit more about Steven Van Zandt's ongoing work to keep arts in the DNA of public schools in the process.
Check out a preview here:
Visit teachrock.org/standwithteachers to watch the full special, gratis! Just click the "Get Tickets" option and select the $0.00 Stand With Teachers Event Pass. You also still can choose to donate whatever you can afford, if you wish. Thanks and Happy New Year to everyone who's supported TeachRock's important work in 2020 and beyond.
- December 30, 2020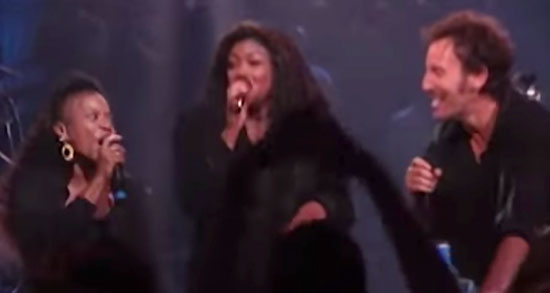 JUST AROUND THE CORNER TO THE LIGHT OF DAY
Support the GoFundMe campaign for '92-'93 band member Cleo Kennedy
We were saddened to learn recently that the house of Cleo Kennedy, the great gospel/pop singer and Civil Rights Movement activist who also was one of the backing vocalists in Bruce Springsteen's 1992-'93 touring band, sustained extensive damages in a November 2019 fire.

Cleo Kennedy in the official music video for "Leap of Faith"
Fortunately neither Cleo — who is now in her 70s — nor anyone else was harmed physically in the fire, but she lost many of her most treasured personal mementos, and rebuilding since then has been extra-difficult for her in light of the COVID-19 pandemic.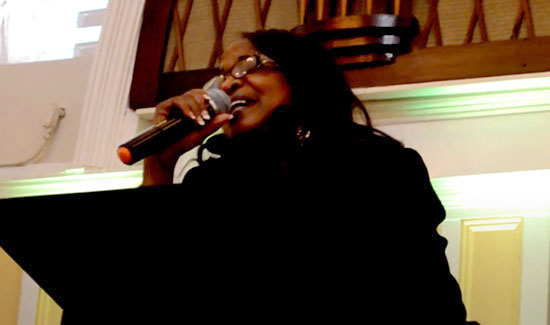 Cleo in February 2018, singing "Freedom Medley" at Selma, Alabama's Tabernacle Church
Gospel music historian Bob Marovich has launched a new GoFundMe page to assist Cleo with her rebuilding expenses. We at Backstreets encourage our readers to give whatever you can to help. In addition to being a great singer and activist, she is one of the kindest and most persevering people we've had the pleasure of getting to know. Cleo and Bob also want everyone to know that every donation counts and is appreciated greatly, no matter the size.
Click here to support the GoFundMe campaign for Cleo Kennedy
Click here to read our 2012 feature on Cleo.
And for your listening and viewing pleasure, from the 1992 MTV Plugged television special, here are two of Cleo's greatest moments singing with Bruce Springsteen:
- December 29, 2020 - Shawn Poole reporting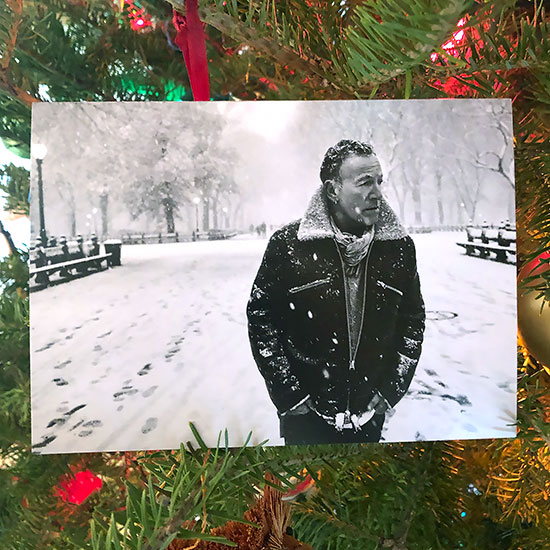 BOLD AND STARK IN CENTRAL PARK
We're grateful to photographer Danny Clinch, for very kindly providing the perfect image for this year's Backstreets holiday card. It's an outtake from the wintry Central Park photo sessions that provided the Letter to You cover, in which you can imagine its subject looking ahead to a New Year of sunshine and all this darkness past.
We're still sending out these cards from Backstreets HQ — if you'd like one for yourself, simply place an order for anything in our online shop. Maybe there's something you wish you'd been given? Well, if you treat yourself now, you'll get this 4x6 card as a bonus. We're inserting one of these beauties in every package that we ship out, throughout the holiday season.
We hope everybody is able to enjoy some relaxing downtime over these Winter holidays, staying safe and well as we get ready to put 2020 to bed!
- December 27, 2020 - photograph by Danny Clinch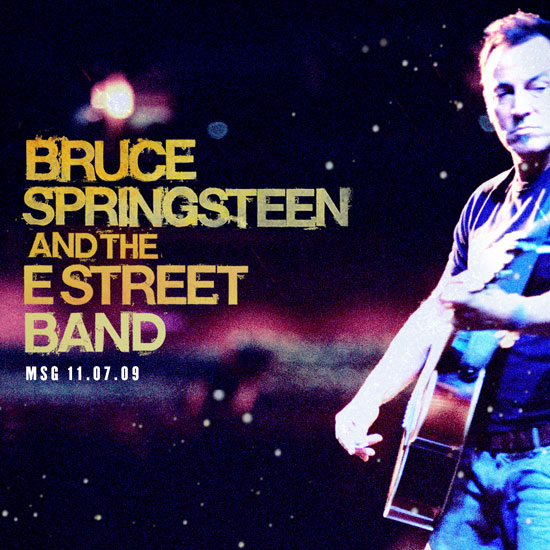 NEW YORK CITY, 2009: FROM THE SHUFFLE TO THE SERENADE
First full Wild and Innocent performance is Archive Series' 2020 Holiday Bonus
Six years ago, with only its second-ever release, the Springsteen Archive Series started what has become a glorious annual tradition: a "surprise" pre-Christmas bonus. With today's release of Madison Square Garden, November 7, 2009, the tradition continues.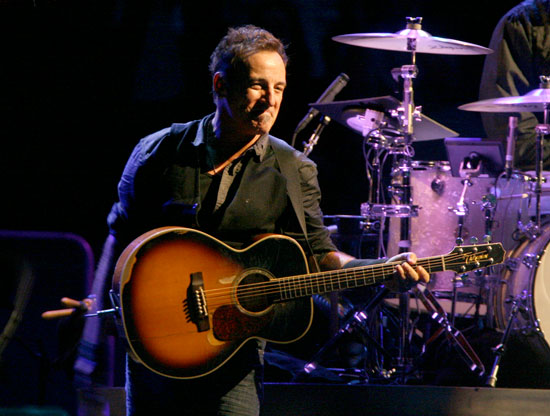 While it may no longer be much of a surprise to see a new release at this time of year, the choice of show certainly is. In an August 2017 interview on E Street Radio, Nugs.net founder Brad Serling revealed that a mix of this show had been attempted, but a technical issue with the recording's hard drives prevented its release. Happily, that issue has been resolved. Now, the Archive Series welcomes the other half of an acclaimed pair of shows from Madison Square Garden at the end of the Working on a Dream tour. (Here's hoping for similarly good news about the Rising tour technical issues in the coming year.)
In 2009, full album performances were new to the E Street audience, and Springsteen built anticipation (and may have filled a few otherwise-empty seats) by declaring in advance what he would play. Most cities were Born to Run shows; longer stands in New Jersey and Philadelphia got a rotation between Born to Run, Darkness on the Edge of Town, and Born in the U.S.A.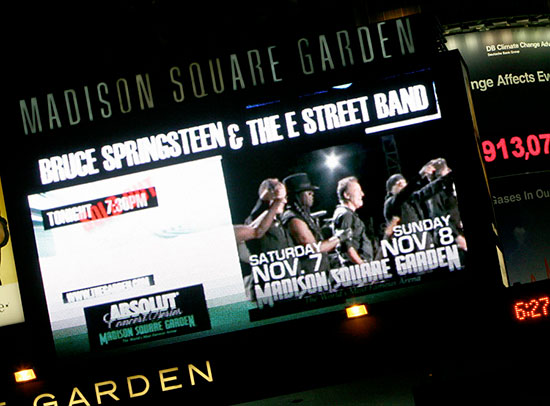 But an announcement was conspicuously absent for two weekend shows at Madison Square Garden in early November. Then, four days prior, Bruce announced that night one would feature The Wild, the Innocent & the E Street Shuffle, with The River following on night two, raising the pre-show buzz considerably. The result was one of the most anticipated weekends of the E Street Band's Reunion era. Tellingly, the latter show became an archive release in May 2018, and now the first night, on which the E Street Band did "something that's never been done before," takes a rightful place alongside it today.
After downloading the show (or loading the CDs) one might be tempted to jump right ahead to "The E Street Shuffle." Of course, the album sequence defined this show and is the key reason why it's available officially. But this was also a show with the E Street Band at the peak level it so often reaches in the final stretches of long tours. In particular, the intense "Seeds" near the outset and a post-album "Human Touch" demonstrate the range of top performances from the band on this new release.
In the original concert review for Backstreets (which appears below), I characterized the performance as one for the history books. At the time, it seemed impossible that Bruce could ever match his performance of the album that night, or that he would again gather all the additional guest musicians necessary to perform "Kitty's Back" or "New York City Serenade" as they were meant to be played.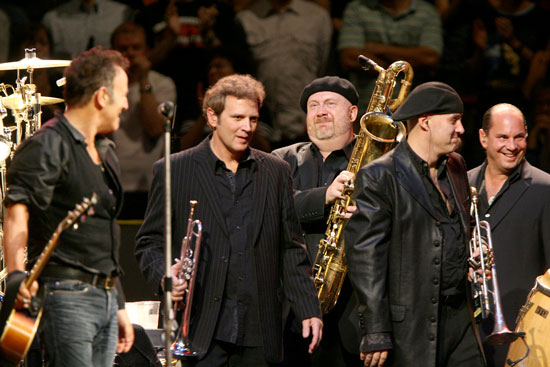 Yet in the 11 years since, Bruce added a full horn section to the E Street Band (for tours behind Wrecking Ball and High Hopes). He made "New York City Serenade" — and its guest string section, comprised of local musicians — a regular feature (on the last legs of the 2016/17 tour). Overseas, he considered repeating the full-album performance, but left out a few songs (Rome, 2013) and then, with some apprehension, carried through on the plan (Brisbane, 2014). Then there is the matter of the very next night at the Garden: the first performance of The River, the entirety of which (not unfairly) overshadowed this night a bit (in 2016, it even got its own tour).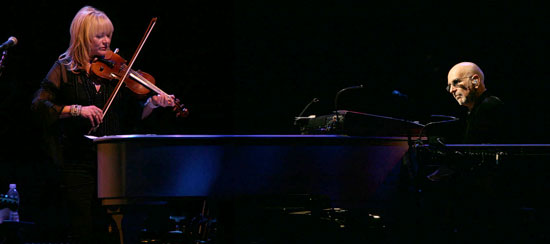 Regardless, the debut of The Wild, The Innocent & The E Street Shuffle album remains one of the finest E Street Band performances of the Reunion era. The thoughtful attention to detail, the quality of the performance, and the responsive energy of the crowd mixed perfectly on that Saturday night in November, 2009. In this difficult 2020, the Archive Series' slate of outstanding picks has been a consistent bright spot, and it continues with this bonus. Happy Holidays!
Original Review:
Noting that there were only eight shows left on the tour, Bruce paused before the sixth song of his set on Saturday night at Madison Square Garden to say that he and the band appreciated the support of their fans over the past few years and that they wanted to do something that was a "nice treat for the fans and for us."
So began the first-ever top-to-bottom performance of The Wild, the Innocent & the E Street Shuffle. Bruce shushed the audience, tapped a baton against his microphone stand, and turned to face the horn section (set up on the back riser behind the piano) to conduct them as "The E Street Shuffle" kicked off an amazing seven-song performance. Bruce completely followed through on his intent to treat the audience, as he unquestionably went above and beyond to ensure a performance that did his second album proud.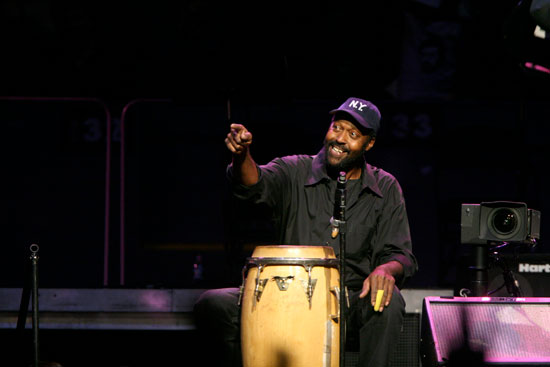 Richard Blackwell (who played on the original record) was on stage to add conga to "New York City Serenade." There was a full five-piece horn section for "The E Street Shuffle" and "Kitty's Back." There was an eight-piece string section (led by the Session Band's Sam Bardfeld and conducted by Charlie Giordano) for "New York City Serenade." Bruce had even started the evening's proceedings with "Thundercrack," indicating that it was "an outtake" from the album (here's hoping for "Restless Nights," "Take 'Em as They Come," or "I Wanna Be With You" for Sunday!)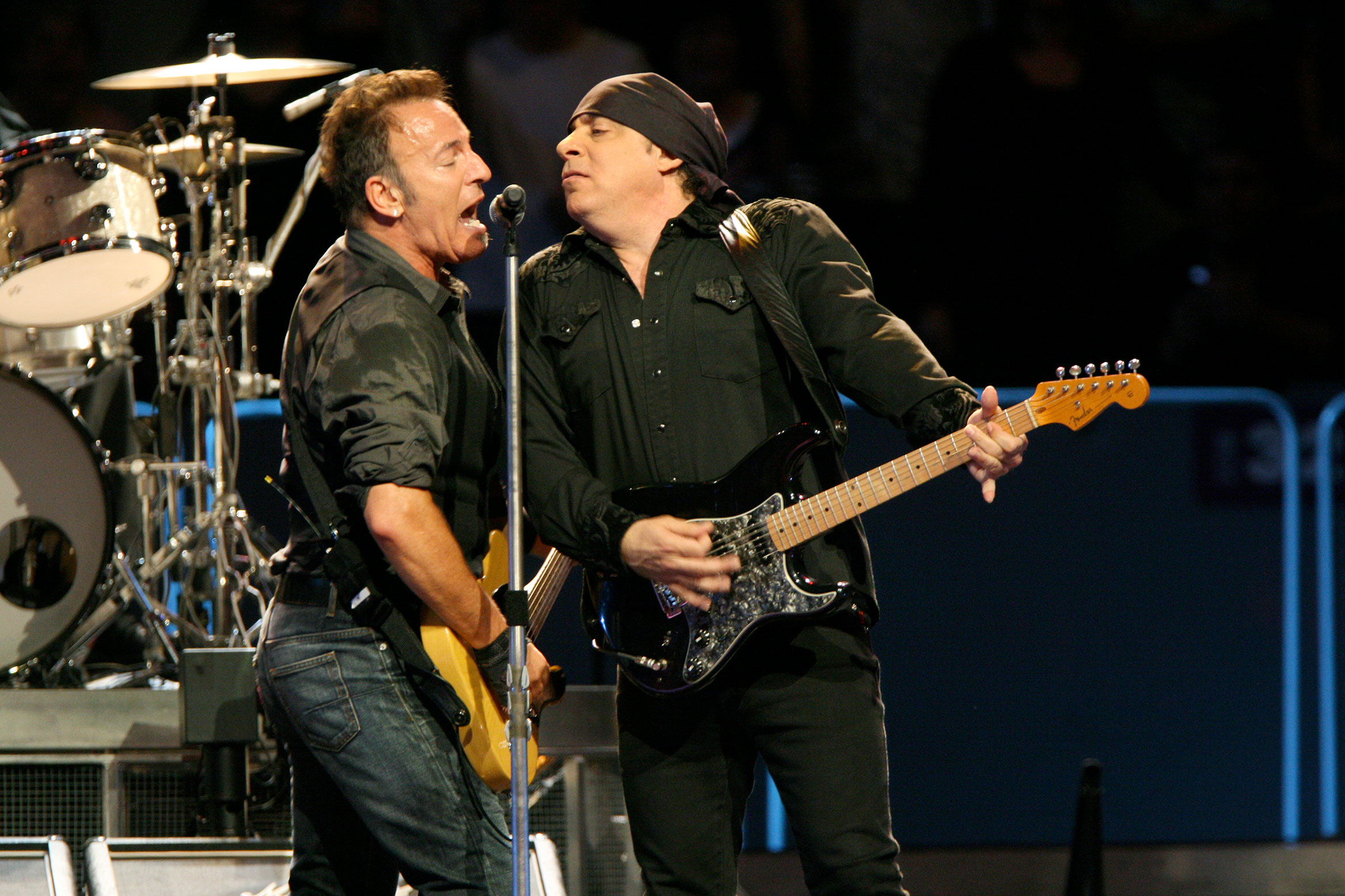 Highlights from the performance of the album... well, it was an embarrassment of riches. Some of the most prominent included Bruce's fantastic guitar solo at the end of "Incident on 57th Street," finding variations of the melodic theme to end the song; Roy's piano introduction to "New York City Serenade," with Bruce on acoustic guitar to replicate the album arrangement; various members of the band and horn section soloing on "Kitty's Back," or even the sparse "Wild Billy's Circus Story" with Roy on accordion and Garry on tuba.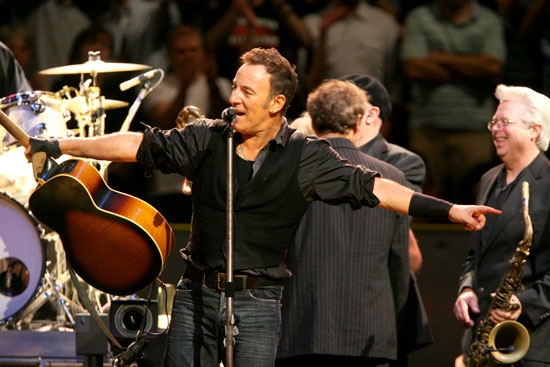 The energy in the building, with an elated New York City crowd well aware of the momentousness of the occasion, was off the charts for most of the night. With the album understandably the predetermined highlight, it was difficult for Bruce to keep the entire show at that same level — how could he? But "Bus Stop," via sign request, and an intense "Human Touch," with Patti Scialfa back on stage tonight, were additional high points. And the encore wrapped up quite nicely as surprise special guest Elvis Costello joined the band for "Higher and Higher," singing lead on the first verse. Back on stage with Bruce after the taping for Spectacle six weeks earlier, Elvis brought much of the same soul-singer showmanship that Bruce does — and that the song requires — to great effect.
But really, the story of this show will always be the magnificent recreation of Bruce's second record. That performance, "something that's never been done before," will forever be in the "very special" category of the Bruce history books.
Also read: Erik Flannigan's nugs.net blog post on today's holiday bonus, "I Can Stand Up and Face the World Again."
- December 24, 2020 - Glenn Radecki reporting - photographs by Guy Aceto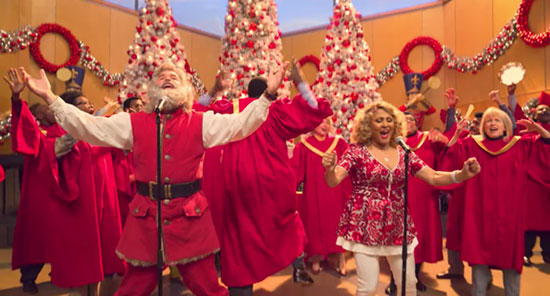 THE "SPIRIT OF CHRISTMAS" CHRONICLES
Stevie Van Zandt, Darlene Love, and Chris Columbus discuss their Christmas collaborations — Past, Present, and Future
As we reported recently, Steven Van Zandt has written and produced a new Christmas song entitled "The Spirit of Christmas" for writer/director/producer Chris Columbus' new film The Christmas Chronicles 2, now streaming on Netflix.
Stevie's new song is performed in the film as a duet between Kurt Russell (as Santa Claus) and Darlene Love (as harried airline worker Grace), backed onscreen by a gospel choir that magically appears out of thin air. It's a full-scale song-and-dance production number, requiring eight days of filming, set in Boston's snowed-in Logan International Airport on Christmas Eve 1990. Offscreen, Love and Russell also were backed by Van Zandt's band the Disciples of Soul.
This marks the second time that Columbus, Russell, and Van Zandt have collaborated on a Christmas Chronicles film. Two years ago, Columbus co-produced the original Christmas Chronicles film (which remains available exclusively on Netflix, too), featuring Russell as Santa performing "Santa Claus Is Back in Town" in a jail cell — with a group of prisoners played by Little Steven and the Disciples of Soul, joined by Stevie's wife Maureen. Steven arranged and produced that recording of "Santa Claus Is Back in Town" as well.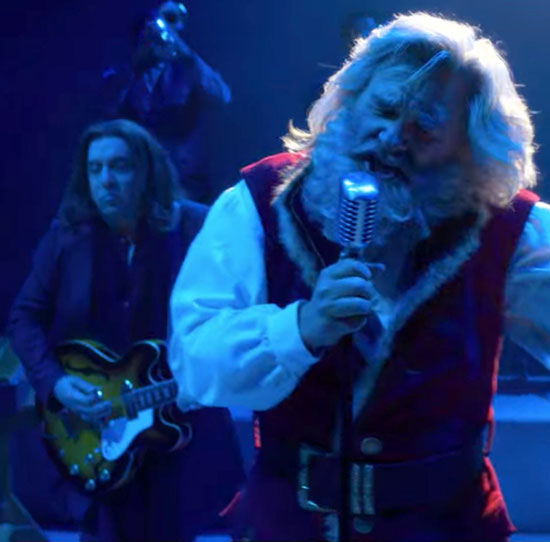 Stevie and Santa Kurt in The Christmas Chronicles (2018)
"The Spirit of Christmas" also reunites Darlene Love with Columbus and Van Zandt, almost 30 years after she recorded Stevie's song "All Alone on Christmas" for Columbus' film Home Alone 2.
Backstreets recently got to interview this trio of merry music and movie makers. They shared the history of their Christmas collaborations together, both Past and Present, and Stevie even teased the possibility of at least one more collaboration with Darlene Love for Christmas Future.…
Continue reading "The 'Spirit of Christmas' Chronicles"
- December 23, 2020 - Shawn Poole reporting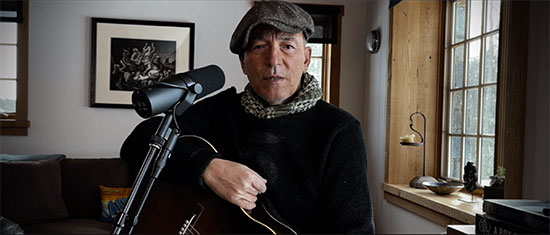 "THIS IS BRUCE SPRINGSTEEN, AND I STAND WITH TEACHERS."
Stevie's TeachRock fundraising event, packed with Boss goodness, now streaming through New Year's Eve
Last night's premiere of TeachRock's 2020 holiday fundraising and celebratory event, Stand With Teachers, closed with Bruce Springsteen's solo acoustic performance of "Letter to You," filmed at his home especially for the occasion. It's a beautiful, moving version, professionally shot and recorded, that alone is worth the cost of admission to this streaming fundraiser.
Don't worry if you missed the premiere — for anyone with a Stand With Teachers event pass, still available here, streaming access has been extended for watching and re-watching through December 31, 2020.
And this just in, TeachRock is now offering a special discount to Backstreets readers who have yet to grab their ticket: take 20% off with the discount code BKSTRTSWT.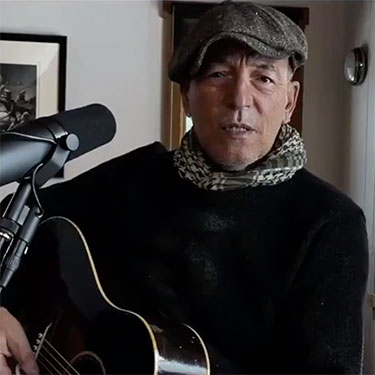 Sporting a newsboy cap very much like the one he wore during the Born to Run album cover sessions, Bruce sang "Letter to You" and closed by turning to the camera, saying simply, "This is Bruce Springsteen, and I stand with teachers."
Surrounding him in the room where his performance was filmed were several items connected to Springsteen's own history, as well as musical and cultural history in general. In the spirit of event host TeachRock, the organization founded by Bruce's longtime friend and bandmate Steven Van Zandt, let's briefly connect some musical and historical dots:
• The Greetings From Asbury Park, NJ pillow on the sofa – Not only the title of his first album, but a nod to the city's vibrant and unique interracial musical scene of the late 1960s and the early 1970s, a community of musicians that fundamentally shaped Springsteen's musical and social identity in longstanding ways.

• The two items on the table to Bruce's left – Further evidence that Elvis remains very much alive where Bruce lives: the Elvis Presley box set A Boy From Tupelo: The Complete 1953-55 Recordings (the original 2012 edition issued by Follow That Dream, the specialty label for serious fans and collectors of Presley recordings), which rests under a copy of photographer Annie Leibovitz's book American Music, with its cover photo of Elvis Presley's record player at Graceland, still holding the last record Elvis played on its turntable, an advance copy of an album by one of his vocal backup groups, The Stamps.

• The framed lithograph on the wall – Youth Music, a 1974 work by artist Thomas Hart Benton, later featured on the cover of the 1976 New World Records LP Country Music in the Modern Era 1940s-1970s.
In addition to Springsteen's performance, the Stand With Teachers event features his fellow TeachRock Founders' Board member Jackson Browne, performing "The Rebel Jesus"; groundbreaking hip-hop MC Melle Mel, performing "Ms. Rose"; Nashville's Margo Price performing "Long Live the King"; and for some extra Boss synergy, Pearl Jam's Eddie Vedder covering Springsteen's "Growin' Up."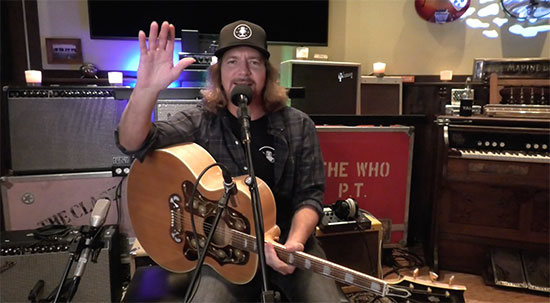 Strafing his old high school? Eddie Vedder takes a cue from Bruce's throw pillow and covers "Growin' Up"
The hour-long event included extensive insights and reports from main man Stevie Van Zandt and his fellow guitar-slinger Tom Morello (whose mother Mary Morello is a veteran teacher and activist) on TeachRock educators' inspiring efforts this year during the COVID-19 pandemic, along with renewed demands for social and economic justice.
There's also an all-star reading of MAD Magazine's 1960 classic "Up-To-Date Version of 'The Night Before Christmas' – New MAD 'Hip' Version." And after the main event ended, viewers were treated to a 50-minute Wicked Cool Records "Holiday Video Jukebox" mix assembled by Little Steven himself.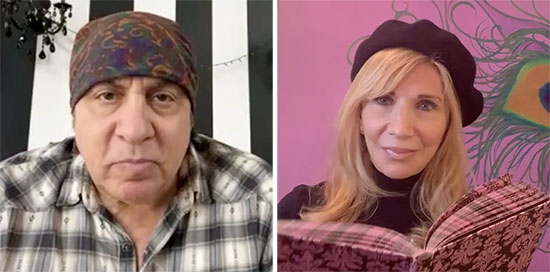 TeachRock founder Stevie Van Zandt and the ever-lovely Maureen Van Zandt, who also appears in Stand With Teachers
If you haven't yet purchased your streaming access to the complete Stand With Teachers event, now available for the remainder of this year, click here to do so, and use the code BKSTRTSWT to save 20%. All proceeds will be used to support TeachRock's important, ongoing work.
You can also donate to TeachRock via TeachRock.org/donate, or by texting SWT to 243725.
- December 22, 2020 - Shawn Poole reporting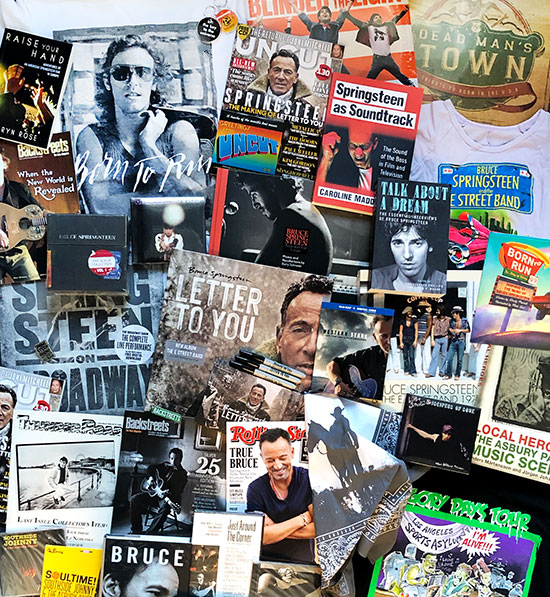 'TWAS THE WEEK BEFORE CHRISTMAS...
Still holiday shopping? We've got you covered!
If you're still looking for the perfect gift for your favorite Springsteen fan, be sure to visit our online shop — and yes, there's still time! Our Standard Shipping deadline has passed, but using Expedited Shipping services, Backstreet Records can deliver via UPS to any U.S. address in one or two days, and we'll be working this week to make sure everyone gets what they need.
For fast delivery this week, we recommend two-day shipping, which adds $25 to standard shipping charges (overnight service is available, but it gets pretty cost-prohibitive). Please make sure to specify a street address, as UPS can't deliver to PO boxes. Expedited orders placed by 2:00 p.m. Eastern will ship the same day.
Standard and International orders will still be fulfilled ASAP in the order received, we're just unable to guarantee delivery time — especially given the postal service's troubles this holiday season.
Everything you see in the photo above is here on our warehouse shelves at Backstreets HQ and ready to ship. And much more!
Start with our Latest Additions page to see what's new.…

Check out the items that come with Free Exclusives, only from Backstreets…

We've flagged some good Stocking Stuffers…

Signed Items include books signed by their authors and solo albums autographed by Nils Lofgren and Garry Tallent...

Or you can shop by category: Springsteen on CD, other artist CDs, T-shirts, Vinyl, DVD & Blu-ray, Posters & Prints, Magazines, Backstreets Back Issues, Books, Songbooks & Sheet Music, and more.
As always, we appreciate you getting your Boss fix through us!
- December 20, 2020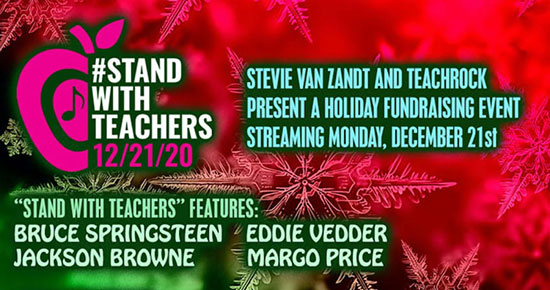 YOU DON'T NEED NO TICKET, ALL YOU GOT TO DO IS…
Teachers can stream TeachRock's holiday event for free!
"Teachers are the plainclothes superheroes in our midst," says TeachRock founder Steven Van Zandt. "They deserve to be heard and celebrated."
Van Zandt also wants all teachers to know how they can stream the December 21 Stand With Teachers holiday event (featuring a musical performance from Bruce Springsteen) free of charge. It involves doing something at which teachers have gotten very adept in 2020: creating and posting a video online.
Teachers, here's how to score your free ticket for Monday's stream (which also can be watched, re-watched, and enjoyed through Christmas Eve):
Film a short video in which you tell everyone:

Your name
Where you're from
Where you teach
Why you #StandWithTeachers or believe others should stand with you and your colleagues

Post your video to your social media account, being sure to include the following text:

Twitter & Facebook - Join @StevieVanZandt @TeachRock & me to #StandWithTeachers 12/21 www.teachrock.org/standwithteachers
Instagram - Join @StevieVanZandt @Teachrockorg & me to #StandWithTeachers 12/21 www.teachrock.org/standwithteachers
TikTok - Join @LittleStevensTeachRock & me to #StandWithTeachers 12/21 www.teachrock.org/standwithteachers
LinkedIn - Join @Rockandrollforeverfoundation & me to #StandWithTeachers 12/21 www.teachrock.org/standwithteachers

IMPORTANT NOTES:

Please make sure your post is set to PUBLIC, otherwise TeachRock can't see it, or share it.
When copying the above text into your post, please make sure the text with the "@" sign before it becomes a hyperlink. To do this, put your cursor after the last letter and add a space and you should see the magic happen. This will alert TeachRock that you've posted.
Have fun! Check out this epic #StandWithTeachers submission from TeachRock's new friend Bill Leaseburg in Harrison County, WV


IMPORTANT FINAL STEP:

Share a link to your video on TeachRock's Google form and they'll send you a ticket to the show!
Not a teacher? Click here to purchase your ticket for Monday's show and support TeachRock's important work.
- December 19, 2020 - Shawn Poole reporting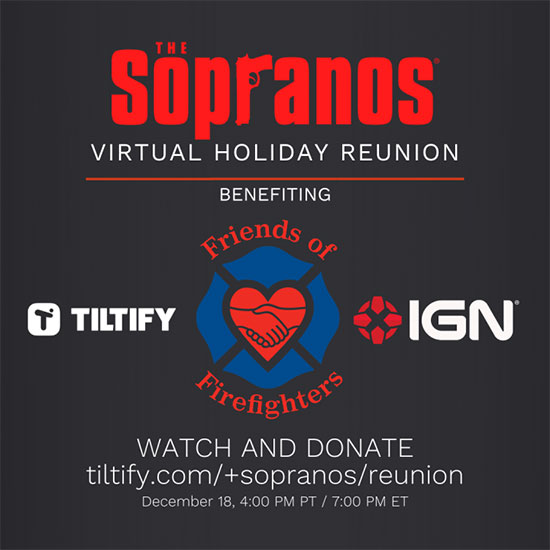 THE RETURN OF SILVIO, AND MUCH MORE FROM STEVIE
Little Steven revisits The Sopranos, Stands With Teachers, ushers in "The Spirit of Christmas," creates a holiday playlist, and readies release of Macca to Mecca and expanded Soulfire Live!
Not content with his prominent role on the Letter to You album and documentary and last weekend's performance with the E Street Band on Saturday Night Live, Little Steven has several other ongoing and future projects.

Tonight at 7pm ET, Steven and Maureen Van Zandt will take part in a two-hour live virtual reunion of the cast and creators of The Sopranos. The reunion benefits Friends of Firefighters, a non-profit organization founded in the wake of 9/11 to support firefighters and their families. Among other cast members scheduled to appear are Edie Falco (Carmela), Jamie-Lynn Sigler (Meadow), Robert Iler (AJ), Michael Imperioli (Christopher), Drea De Matteo (Adriana), Vincent Pastore (Big Pussy) and Lorraine Bracco (Dr Melfi). The benefit will feature a Q&A session and a live table read of a new original sketch by creator David Chase and writer/producer Terence Winter. This will be the first reunion since the 20th anniversary celebration early last year and it will be live streamed by fundraising platform Tiltify.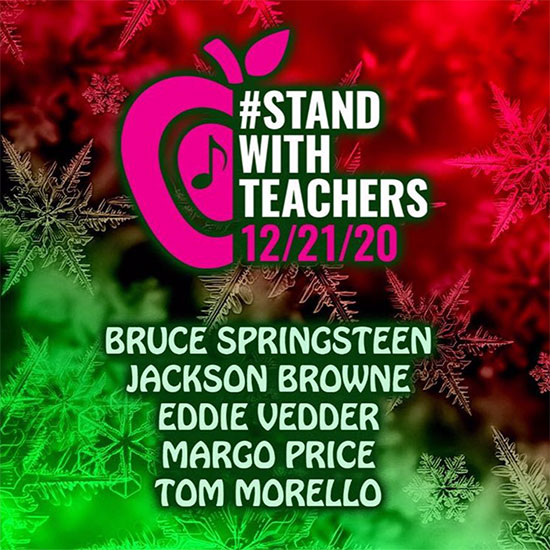 On Monday 21 December at 8pm ET, as previously reported, Steven and Maureen will be joined by Bruce Springsteen, Jackson Browne, Eddie Vedder, Whoopi Goldberg, Edward Norton, Tom Morello, actors from The Sopranos and Lilyhammer and other artists for Stand With Teachers. The streaming holiday fundraiser for Stevie's TeachRock curriculum is billed as "a night of music and conversation"; Backstreets is a frontline sponsor for the event.
"Being an educator has never been easy, but 2020 posed greater challenges than any schools have ever faced. As usual, teachers rose to the occasion," explained Steven. "Teachers continue to risk their health to serve students and families. Teachers are the plain-clothes superheroes in our midst. They deserve to be heard and celebrated, and that's why we're going to have Stand With Teachers on December 21." Although he is, of course, listed in the line-up, Steven is not expected to perform (performers are listed on the graphic above). Tickets (priced from $25 to $150) are available from teachrock.org.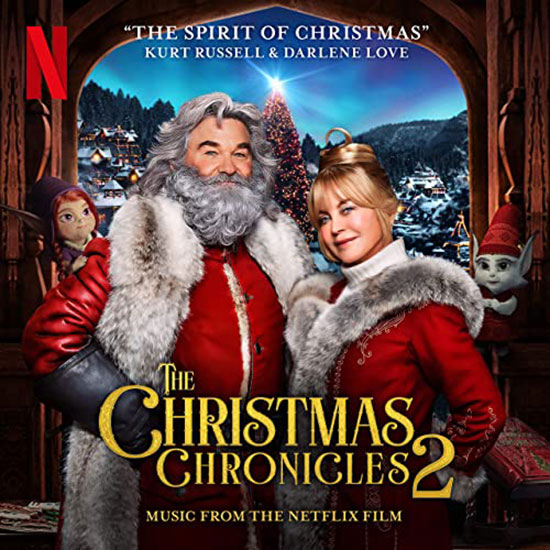 Two years ago, Little Steven and the Disciples of Soul appeared in the first Christmas Chronicles movie, backing Kurt Russell as Santa Claus on a cover of "Santa Claus Is Back in Town" in a Jailhouse scene. Although the band doesn't appear in the sequel, The Christmas Chronicles: Part Two (directed and produced by longtime Little Steven collaborator Chris Columbus and streaming now on Netflix), they can still be heard backing Kurt Russell and Darlene Love on the new Van Zandt original "The Spirit of Christmas" in a scene set in an airport terminal.
Described in the press release as "a joyous soul-filled romp," the song's backing track and lead vocals were recorded at Steven's Renegade Studios in Manhattan in the fall of 2019 (a gospel choir replaced the band's backing vocalists), continuing the creative partnership that began when he wrote "All Alone on Christmas" for Home Alone 2 in 1992.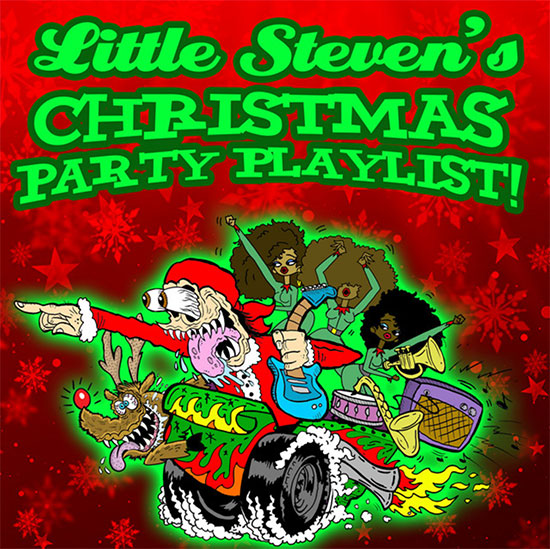 "The Spirit of Christmas," "All Alone on Christmas," and the Disciples of Soul's version of The Ramones' "Merry Christmas (I Don't Want to Fight Tonight)" (released as a download in 2017) are all included on Little Steven's Christmas Party Playlist on Spotify. It was compiled by Van Zandt himself and features some of his favorite holiday songs. Chuck Berry's classic "Run Rudolph Run" makes an appearance, alongside other material by Bob Seger, The Kinks, Slade, Brian Setzer, Jan & Dean, Louis Prima, Joe Pesci, Dion and Ringo Starr.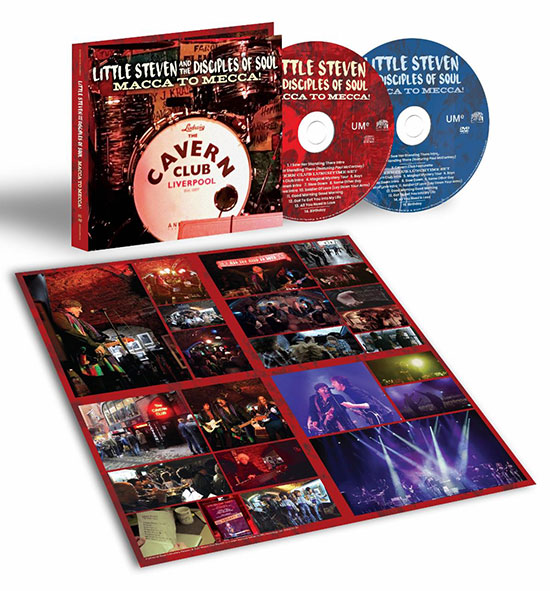 On January 29, 2021, Little Steven releases Macca to Mecca, a two-disc CD/DVD set via Wicked Cool/UMe, featuring his Liverpool Cavern Club Beatles tribute performance with the Disciples of Soul on November 14, 2017, originally only available on the vinyl and blu-ray formats of Soulfire Live! On the same date, the Soulfire Live! CD boxed set will be re-released as an expanded 4-disc package that will include the Cavern material.
Announced only three days before it took place, the free Cavern Club gig had a capacity of 200 and was advertised as "first come, first served." Macca to Mecca will feature the entire eight-song lunchtime set, which was divided equally between songs the Beatles covered in their early years ("Boys" by The Shirelles, "Slow Down" by Larry Williams, "Some Other Guy" by Richard Barrett, and "Soldier of Love" by Arthur Alexander) and Lennon/McCartney originals ("Magical Mystery Tour," "Good Morning Good Morning," "Got to Get You Into My Life," and "All You Need Is Love"). The new release is rounded off with covers of "I Saw Her Standing There" (with guest Sir Paul McCartney) from the Roundhouse in London on November 5, 2017, and "Birthday" from Leeds O2 Academy on November 8. All ten songs are featured in audio and video form, while the DVD adds a mini-documentary with behind-the-scenes material, interviews, rehearsals and footage of Little Steven's name being added to the Cavern Wall of Fame across the street.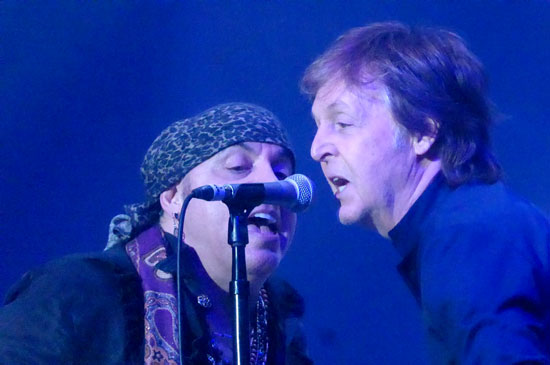 November 5, 2017 at London's Roundhouse - photograph by Mike Saunders

Finally, check out A Big Chat With Little Steven by Bobby Oliver at NJ.com, an in-depth interview that discusses his busy schedule (largely carried out under Covid house arrest), his Twitter obsession, Sun City, The Sopranos (he's never watched it all the way through), America's political future, Underground Garage, the Letter to You sessions, his relationship with Bruce, the future of the E Street Band, and the possibility of another tour.
- December 18, 2020 - Mike Saunders reporting - many thanks to Disciples of Soul Music Director Marc Ribler for clarification on several points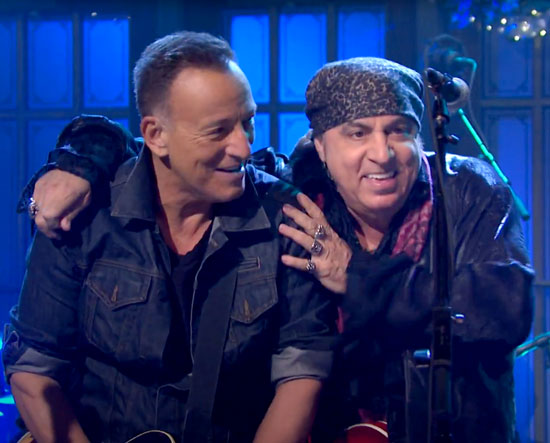 SPRINGSTEEN STANDS WITH TEACHERS AND TEACHROCK
Bruce to perform on Stevie's holiday fundraising stream, December 21
Last month, Bruce Springsteen stood up for heroes; now, he'll stand with teachers — Stevie Van Zandt and TeachRock have just announced that Bruce will be performing for their Stand With Teachers holiday fundraiser on Monday night.
Eddie Vedder and Margo Price were originally billed as performers for the streaming event; today's announcement adds Bruce to that list along with old friend Jackson Browne.
Sammy Hagar has been addded to the list of those making appearances in the fundraiser: Steve Buscemi, Bobby Cannavale, Whoopi Goldberg, Melle Mel, Tom Morello, Edward Norton, Vincent Pastore, Maureen Van Zandt along with Trønd Fausa Aurvåg and Steinar Sagen of Lilyhammer, all to honor the dedication of educators who have helped students and families survive throughout 2020.
The hour-long evening of music and conversation streams Monday, December 21, at 8pm ET. Ticket prices range from $25 to $150 and are now available to purchase by visiting teachrock.org/standwithteachers.
Ticket purchases are tax deductible to the extent permitted by law, and ticket-holders will also be available to stream on-demand for three days following the 12/21 premiere.
A Holiday Video Jukebox, featuring Little Steven and the Disciples of Soul, Darlene Love, Reggae legend Dean Frasier and a host of Wicked Cool records artists and others, will follow the main event.
- December 17, 2020 - still from Saturday Night Live, 12/12/20

"HITS OF THE WEEK" IN A HOLIDAY WRAPPER
Volume 16 of Springsteen's radio program is a musical winter wonderland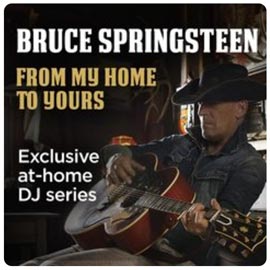 Whenever Bruce Springsteen wants to ease up a bit on the Bruce side of things, that's a good time to listen even closer. His holiday shows at the dawn of the aughts are a perfect example: those limited runs found a relaxed Springsteen playing music for sheer enjoyment.
Today's installment of his semi-monthly radio program, From My Home to Yours, was the 2020 equivalent: no commentary, no message, just great music. And like the holiday shows, covers abounded: whether the Pet Shop Boys take on the Village People ("Go West"), AG's "I Wanna Be Your Man" (Beatles), or Thea Gilmore's enchanting version of "I Dreamed I Saw St. Augustine" (she recorded a version of the Bob Dylan LP John Wesley Harding nearly a decade ago).
Springsteen noted how Glen Campbell had influenced Western Stars, singling out his genius interpretations of others' writing, but he played a Campbell original ("Strong," co-written with Julian Raymond). His own "Further On (Up the Road)" got the Man in Black treatment: Springsteen said hearing Cash's voice covering your song is "always an honor."
The program continues to serve as a platform for music of all genres, and Springsteen loves to champion recent discoveries, like J.S. Ondara. He recounts how Ondara got his break when songs he uploaded to YouTube got picked up by a Minneapolis radio station. "So, singer-songwriters persevere!" said Springsteen. "You never know where or when it's going to happen."
Really, the only hits Springsteen singled out in "Hits of the Week" were The Weeknd's "Blinding Lights" and The Pet Shop Boys' 1987 chart-topper "It's a Sin." But that's the joy of these hour-long segments: chances are high that Springsteen's audiences for these audio adventures aren't hip to as much new music as they'd once been, whether it came out in this century or the one before. But you get a free spin of the Dreidel if you had picked this segment for including not just one Korean-language song but two, from a compilation called Beautiful Rivers and Mountains: The Psychedelic Rock Sound of South Korea's Shin Joong Hyun 1958-1974.
Other than its musical gifts, Volume 16 had no holiday theme (though Springsteen's familiar recordings of "Merry Christmas Baby" and "Santa Claus Is Comin' to Town" make cameos). His other contributions came through in recent numbers where he sat in with Bleachers and Bon Iver. You may know those, and you'll have plenty of time over the next couple weeks to enjoy the other ones, too.
Playlist:

Intro: Bruce Springsteen and the E Street Band - "Merry Christmas Baby"
Bleachers (with Bruce Springsteen) - "chinatown"
Glen Campbell (with the Dandy Warhols) - "Strong"
AG - "I Wanna Be Your Man"
Johnny Cash - "Further On (Up the Road)"
Larkin Poe - "Easy Street"
Lee Jung Hwa - "I Don't Like"
J.S. Ondara - "Saying Goodbye"
The Weeknd - "Blinding Lights"
Pet Shop Boys - "It's a Sin"
Pet Shop Boys - " Go West"
Thea Gilmore - "I Dreamed I Saw St. Augustine"
Bon Iver (with Bruce Springsteen) - "AUATC"
Jang Hyun - "Please Wait"
Bleachers - "Alfie's Song (Not So Typical Love Song)"
Outro: Bruce Springsteen and the E Street Band - "Santa Claus Is Comin' to Town
- December 16, 2020 - Jonathan Pont reporting

SWEET SIXTEEN: NEW FROM MY HOME TO YOURS TOMORROW
Bruce Springsteen's radio show returns tomorrow with From My Home to Yours Volume 16: "Hits of the Week." The new episode features songs Bruce has been listening to all week: music from Bleachers, Johnny Cash, The Weeknd, Pet Shop Boys, and more on E Street Radio, Sirius XM Channel 20.
First airing is Wednesday December 16 at 10am ET, with encore broadcasts scheduled through December 26 — click here for the full schedule.
- December 15, 2020



SPIRITS FILLED WITH LIGHT ON SNL
It isn't so much that we wanted to see this. Not even that we were really, really excited for it. No, as a flower needs rain and a ringmaster needs a circus, all of E Street Nation absolutely needed this.
To see Bruce Springsteen and the E Street Band perform on stage together for the first time in nearly four years felt like a vaccine — which may not bring us health (though there's a case for mental health) but certainly brought us hope. Most everything in 2020 has seemingly gone from bad to worse, with good news hard to come by, so to see a guitar-strapped Bruce at the mic, Stevie Van Zandt by his side, Max Weinberg on his drum kit, Roy Bittan on his piano, was to see pure joy. It was, in essence, to relish the past but see a tomorrow.
When Bruce and the gang hit the stage last night in Rockefeller Center's iconic Studio 8H as the musical guest on Saturday Night Live, for a moment or two, all was right with the world. Their prior appearance on SNL was also a December telecast, hosted by Tina Fey and Amy Poehler in 2015. On that night, they opened with "Meet Me in the City," came back with "The Ties That Bind" (then the title track of their new release), and offered up "Santa Claus Is Comin' to Town" for the closing credits.
To the many who believe, and add me to this list, that "Ghosts" will be the logical opening number when the next tour begins (fingers crossed), "Ghosts" was also the smart bet to mark Bruce and the band's return to SNL.
Looking thin and with a tight Joe Strummer haircut for the occasion, Springsteen launched into "Ghosts" without a count-off, wasting no time diving in to one of the true standouts of Letter to You. He looked serious through the first stanza and into the chorus, seemingly in back-to-business mode. Then about halfway through, just as he was launching into "Your old Fender twin from Johnny's Music downtown," he loosened up and a big smile crossed his face — initiated, of course, by Steve's antics to his immediate left.
It was right at this moment that Steve sidled up to the mic next to Bruce and let the world know this was, undoubtedly, the most fun he's had since March. No way was he going to come out of lockdown and strum along mindlessly and not bring his natural-born frivolity into the proceedings. If Lilyhammer and The Sopranos have taught us anything, the man was born to act.
With call outs to Roy ("C'mon Professor!") a "Jaaaake" and, lastly, a "Steve!" the conclusion of "Ghosts" had a band community feel to it that was both familial and incredibly comforting.
While there was some vocal strain, as you might also have heard on the 2016 River Tour, Bruce seems to have long understood that he's not going to hit the high notes that might have been easier in younger days. He picks and chooses his spots to vocally dig a little deeper when a lyric's urgency is dependent on him getting to that tough-to-reach spot.
While choosing "Ghosts" as the first number didn't take a Sherlock Holmes-level of guesswork, predicting the second song was tougher. But if I'm guessing, "I'll See You in My Dreams" was probably not near the top of anyone's list.
It was an effective choice, offsetting the hard-rocking "Ghosts" and, more importantly, capturing this exact moment in time. With the pandemic surging and the death toll rising alarmingly, "Dreams" can be heard as a reflection of where we are right now. If the song can bring Jon Landau to tears as it did in the Letter to You documentary, how it might have resonated with the millions watching at home —with many of those families touched by COVID — could be significant.
Granted, it's hard to gauge the emotional impact of a song about losing loved ones at the end of a 90-minute comedy show, but Bruce has never been one to make conventional choices when it comes to constructing his setlists. The performance was a reminder that, aside from any solemn message or deliberate statement, it's a beautifully crafted song. Given how well the track translated to the stage, feeling even more like an E Street rock song in performance, it's difficult to imagine it won't have a prominent slot among the other Letter to You entries on the next tour.
"I'll See You in My Dreams" gave other bandmembers a chance to shine, with Charlie Giordano's wonderful riff on organ and some nice work by Nils Lofgren on guitar. Max and Roy were as solid as ever. As previously announced, both bassist Garry Tallent and violinist Soozie Tyrell didn't make the trip to NYC due to COVID concerns; for Garry, Disciples of Soul bassist Jack Daley filled in.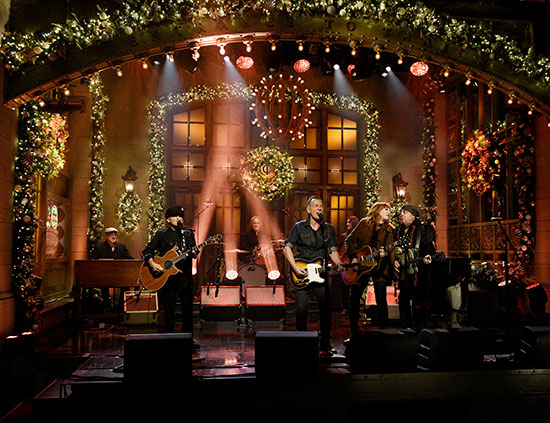 While hopes were high among fans for a third song, that's a very rare occurrence on SNL, and Springsteen wouldn't repeat the 2015 trick. In the show's final segment he and the band, as is tradition, were standing around host Timothée Chalamet, who made a few closing remarks before the credits began to roll.
While this SNL appearance wasn't a Springsteen concert in any sense and can't take the place of a tour, it was undoubtedly meaningful. Letter to You has been one of the blessings of 2020. Luckily for us, Bruce and the band recorded the album just a few months before the pandemic forced everyone to limit social contact and stay at home (we're fortunate they wasted no time in recording, or the record might not exist). For fans looking back some years from now, Springsteen and the band finally getting the chance to bring its songs to life on SNL well feel like a turning point in what the country is experiencing; in the moment, it's a encouraging chance to think about what's ahead of us.
On the same weekend that vaccines have been approved in the United States and there may, finally, be a light at the end of this horrendous tunnel, we saw a future. It's a future that envisions sold-out venues reuniting a community of thousands of fans. It's a future with people clamoring for pit wristbands, feeling the blood shiver in their bones, with a shout-out to the Big Man during "Tenth Avenue Freeze-out" as the E Street Band kicks in to overdrive. It's what makes us come back time and time again. Most of all, it's a future with a reason to believe.
- December 13, 2020 - Stuart Levine reporting


GETTING READY FOR NOT READY FOR PRIME TIME
Despite the sad state of touring this year, we still get to see Bruce Springsteen and the band tackle some Letter to You material on the concert stage — we're anticipating two full-band live premieres tonight, as Bruce returns to Saturday Night Live for his fourth musical guest appearance, and the E Street Band's third. They were last on the show together five years ago, when they performed "Meet Me in the City" and "The Ties That Bind."
Not all the E Streeters will be at 30 Rock tonight — as you can see behind the masks in the promo above, and as Springsteen announced earlier this week, Garry Tallent and E Street "compatriot" Soozie Tyrell will have to miss this one "due to COVID restrictions and concerns."
Jack Daley, filling in on bass for the SNL performance, worked for years with Lenny Kravitz, but we know him best as a current Disciple of Soul, both on the road and in the studio for Little Steven's Soulfire and Summer of Sorcery albums.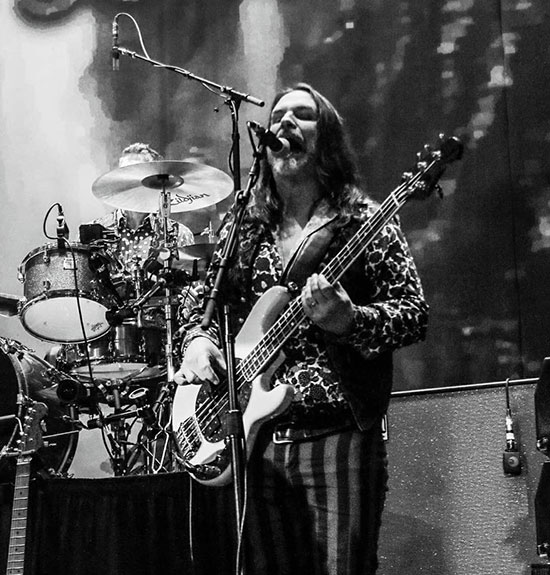 Jack Daley playing with Little Steven and the Disciples of Soul in 2019 - photograph by Mark Krajnak/JerseyStyle Photography
"Garry and his family are fine as is Soozie," Springsteen tweeted, and GWT himself confirmed he's just playing it safe:
Live from New York,
Saturday Night Live
airs tonight at 11:30 ET/PT on NBC, and will also be streaming on
Peacock
and
Hulu
. In the U.K,
Sky Comedy
airs the program on Sundays at 9pm GMT.
- December 12, 2020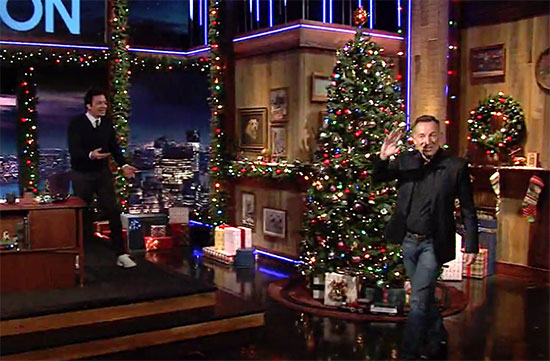 IT'S BOSSTIME AT CHRISTMASTIME!
Bruce's return to The Tonight Show Starring Jimmy Fallon, extended online
Bruce Springsteen made his first post-pandemic personal appearance before an actual live (albeit masked-up) audience on last night's episode of The Tonight Show Starring Jimmy Fallon. While Bruce did not perform any music, his interview with Fallon was very much centered around music and music-making. The show's set featured Christmas decorations, and the conversation between also had a distinct Christmas-themed thread running through it.
After being introduced by Fallon, Bruce walked out to house band The Roots once again playing "Wiggle Wobble," a nod to a great moment that occurred a decade ago during Springsteen's November 2010 appearance on the old Late Night with Jimmy Fallon show. It was a move clearly understood and appreciated by Bruce, who twice shouted, "Wiggle Wobble!" to the band before taking his socially-distanced seat for the interview.
Fallon kept the trip down Memory Lane going with his funny recollection (aided by an archived video clip) of being invited to play spoons with Springsteen and the Sessions Band on Conan O'Brien's old Late Night show.
"The first song I ever learned was a song called 'Greensleeves,'" Bruce told Fallon, as he also noted in his Born to Run autobiography. The Elizabethan-era folk song's melody later became the melody, of course, for the popular Christmas carol "What Child Is This?" By the end of the first interview segment, Questlove and The Roots had done some more of their trademark on-the-spot homework, delivering a great cover of "Greensleeves/What Child Is This?" that clearly echoed The Ventures' surf-instrumental version (entitled "Snow Flakes" on The Ventures' Christmas Album,) heading into the break.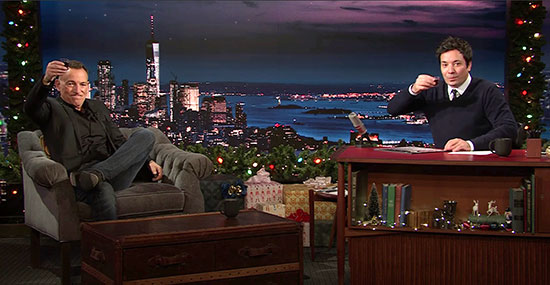 In the second segment, the conversation turned to the fact that Springsteen and the E Street Band's December 12 appearance as musical guests on Saturday Night Live will occur on the 45th anniversary of the recording of their now-beloved version of "Santa Claus is Comin' to Town."
Springsteen related how their 12-12-1975 version of "Santa Claus" was derived from The Crystals' version on Phil Spector's classic A Christmas Gift For You album. Fallon then asked Bruce if he's ever considered recording an entire album of Christmas music.
"We did some big Christmas shows in Asbury Park for a while, and I tried to piece something together from those shows," Bruce said, "but I didn't really have it. We'd have to go into the studio. The thing is, you only want to do it around Christmastime — but you don't want to do it then, either, because it's around Christmastime, and you don't feel like working. Then Christmastime goes away, and you gotta do it in the summertime when you just don't feel like it. So we haven't gotten around to it; maybe one of these days."
The Tonight Show Starring Jimmy Fallon's YouTube channel has posted extended versions of both interview segments, featuring more from Bruce on the creation and meaning of Letter to You and the late John Berg's role in designing the Born to Run album cover.
Neither, however, includes "Wiggle Wobble" or "Greensleeves" — to hear those, click here for the complete televised version of last night's show.
Bonus — more with The Roots:
- December 11, 2020 - Shawn Poole reporting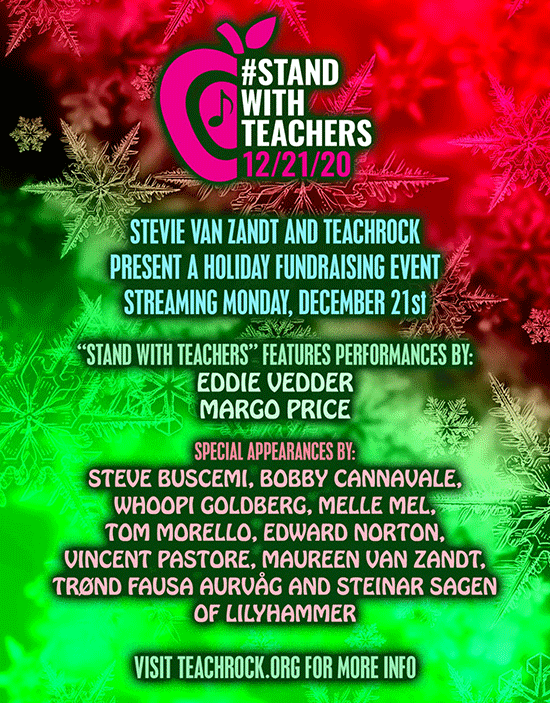 LAND OF HOPE AND STREAMS: HOLIDAY EDITION
Little Steven, Everett "Papadelic" Bradley, and Darlene Love are bringing it all back home for the holidays
Celebrating the holidays E Street-style has to be done differently this year, of course, but we're still havin' a party online — while supporting some worthy causes, too.
Steven Van Zandt and TeachRock, the organization he founded, have announced their Stand With Teachers holiday fundraising event, streaming on Monday, December 21 at 8:00 PM ET. The hour-long evening of music and conversation will include performances from Eddie Vedder and Margo Price as well as appearances by Steve Buscemi, Bobby Cannavale, Whoopi Goldberg, Melle Mel, Tom Morello, Edward Norton, Vincent Pastore, and Maureen Van Zandt, along with Trønd Fausa Aurvåg and Steinar Sagen of Lilyhammer. Stand With Teachers will be produced by Steven Van Zandt and TeachRock.org, the education component of his Rock and Roll Forever Foundation.
Ticket prices range from $25 through $150 and are now available to purchase by visiting teachrock.org/standwithteachers. Ticket purchases are tax deductible to the extent permitted by law. Ticket holders will also be able to stream on-demand for three days following the pre-recorded streaming on December 21. All ticket-holders are invited to stick around following the one-hour event for a special edition Renegade Nation Holiday Video Jukebox.
"Being an educator has never been easy," says Van Zandt in the press release, "but 2020 posed greater challenges than any schools have ever faced. And, as usual, teachers rose to the occasion. When schools shut down overnight, teachers rallied and moved classes online. But that's not all — like the essential workers they are, teachers continue to risk their health to serve students and families, be it to distribute tech to keep students connected, or meals to help families in need. Teachers are the plainclothes superheroes in our midst. They deserve to be heard and celebrated, and that's why we're going to Stand With Teachers on December 21st."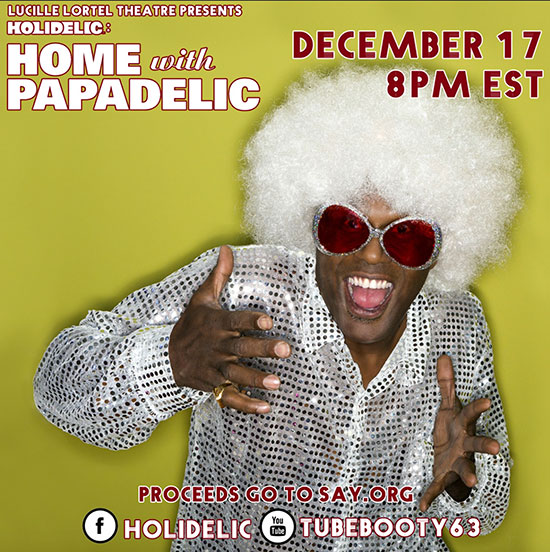 Meanwhile, the E Street Orchestra's Everett Bradley is planning to funk up our holidays with his joyful, annual Holidelic tradition. Once again, Everett will transform himself into "Papadelic," the funky hybrid of George Clinton and Santa Claus. Unfortunately, due to the ongoing COVID-19 pandemic, Papadelic and his merry band of music-makers cannot safely deliver the funk live and in person anywhere this year. Instead, Holidelic: Home with Papadelic has been filmed at Bradley's home by acclaimed theatrical and television director Michael Heitzman. Papadelic will head over "to the videotape deck" and present in his inimitable manner a compilation of recorded performances from past Holidelic events.
Holidelic: Home with Papadelic will stream on Thursday, December 17 beginning at 8 pm ET. Viewers can stream the show free of charge at either the Holidelic Facebook page or Everett Bradley's YouTube channel. In lieu of paying to stream the show, viewers are asked instead to donate whatever they can to SAY (The Stuttering Association for the Young), a favorite charity of Bradley's.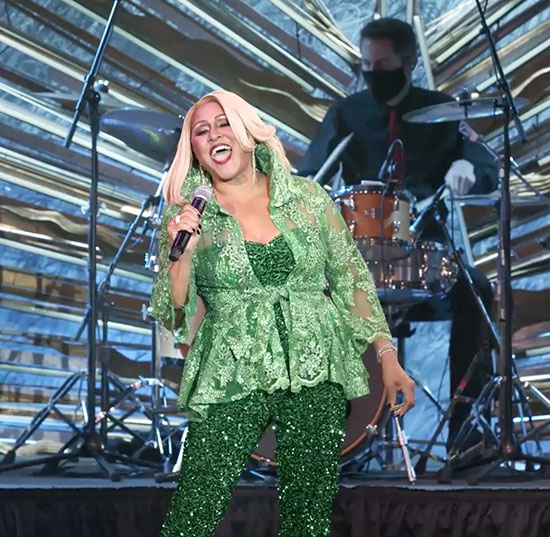 And finally, major E Street influence and Rock and Roll Hall of Famer Darlene Love is presenting her annual Love for the Holidays show as a one-hour streaming event this year, filmed safely without a live audience at Sony Hall in New York City. Love's great backing band includes saxophonist Jerry Vivino, veteran of Bruce Springsteen & the E Street Band's Super Bowl XLIII horn section and both of the Max Weinberg-led bands that backed Conan O'Brien on late-night tellyvision.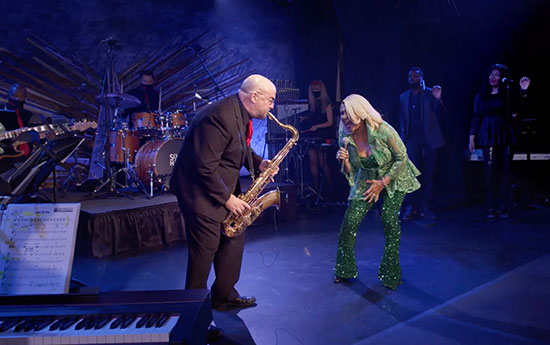 Expect to hear Love perform some of her best Christmas- and non-Christmas-themed material, featuring two songs written by Steve Van Zandt, who in 2015 produced the excellent Introducing Darlene Love album. One of those songs, of course, is the modern Christmas classic "All Alone At Christmas", Van Zandt's unofficial sequel to Love's earlier yuletide classic "Christmas (Baby Please Come Home)".
Click here to purchase your live-stream ticket for Darlene Love: Love for the Holidays, which remains available to stream now through Christmas Day.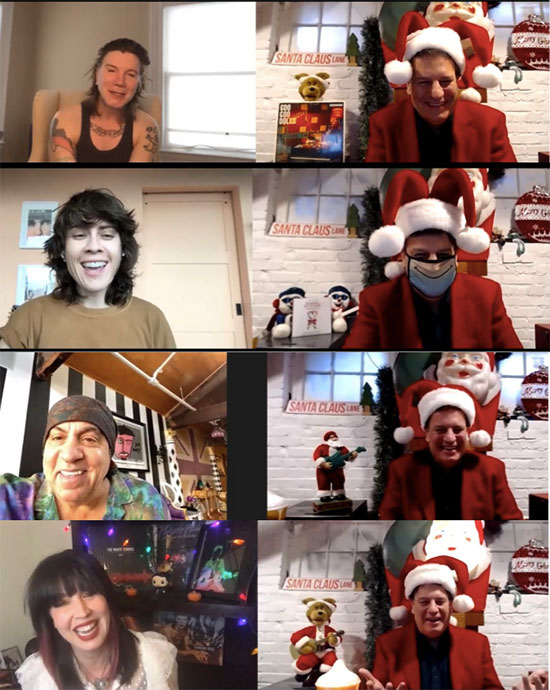 Update: we also highly recommend tuning in to the series "A Christmas Chord with Rich Russo" — all of Season 1 remains online from last year, and Season 2 has just kicked off this morning with a new episode featuring guest John Rzeznik of the Goo Goo Dolls.
A stalwart of freeform radio, Russo's Anything Anything is celebrating its 12th year of being one of the country's leading weekly freeform shows and The Jersey Guy Does Jersey is now its fifth year on Little Steven's Underground Garage. A true music aficionado and record collector, Rich boasts a collection of vinyl and CDs estimated to have reached an astonishing 100,000 pieces — and he taps it for some serious holiday fun on "A Christmas Chord."
"The Christmas music genre is fascinating; there's just so much that has not been heard," he says. "Some of the reasons are logical, and others just got lost in the shuffle, but it's fun to get them out there and to discuss and show some factoids that pop up while the song is playing. This year I added a twist by interviewing some of my favorite artists who have released new holiday music, and it's neat to hear how they came up with their songs."
Russo has 11 new episodes lined up for Season 2, and they'll premiere each weekday at 10am ET from today through Christmas Eve, with upcoming guests including Tegan Quin and Steven Van Zandt. Watch 'em all at richrusso.net/achristmaschord.
- Updated December 10, 2020 - Shawn Poole & Christopher Phillips reporting

INSTAGRAM TAKEOVER GRAND FINALE
Today's the last day of photographer Jim Shive's takeover of the
Backstreets Instagram
— for the past week, he's been posting some killer Springsteen & the E Street Band shots from his vast Shive Archive, some classics and some new discovereies.
Tune in and catch up today to check out some vintage Springsteen photos no one has ever seen, as well as some of Jim's favorites for a grand finale before he sneaks out the back door.
And if you see an image you love, visit shivearchive.com where our readers save 75 bucks on Shive Archive print purchases with the code INSTAGRAM2020.
- December 9, 2020

TWENTY-SEVEN FACES HAVE I
Welcome to the Interdimensional Council of Springsteens
All of the "you"s are in one car, and as you get older, you add another one. You add the you that's 60. You add the you that's 70. You have the you that's 30 in the car. You have the you that's 24 years old and first signed. All of those folks are in the car that you're driving. A lot of it depends, of course, at any given moment, on who's at the wheel. Consequently, I can pull up different parts of my internal life and my internal history, and I can go to those moments and find something in common with that voice that connects. It's a bit of a time trip that connects from that moment and lays a bond through all of those years to who you are right now.
— Bruce Springsteen, interviewed by Stephen Colbert on October 21, 2020
In the vision of comics artist and Springsteen fan Steve Winchell, the inside of Bruce's mental car also seems to function a lot like Doctor Who's TARDIS. Welcome to the Interdimensional Council of Springsteens, a project that Winchell completed earlier this year and is now available for purchase as a high-quality print.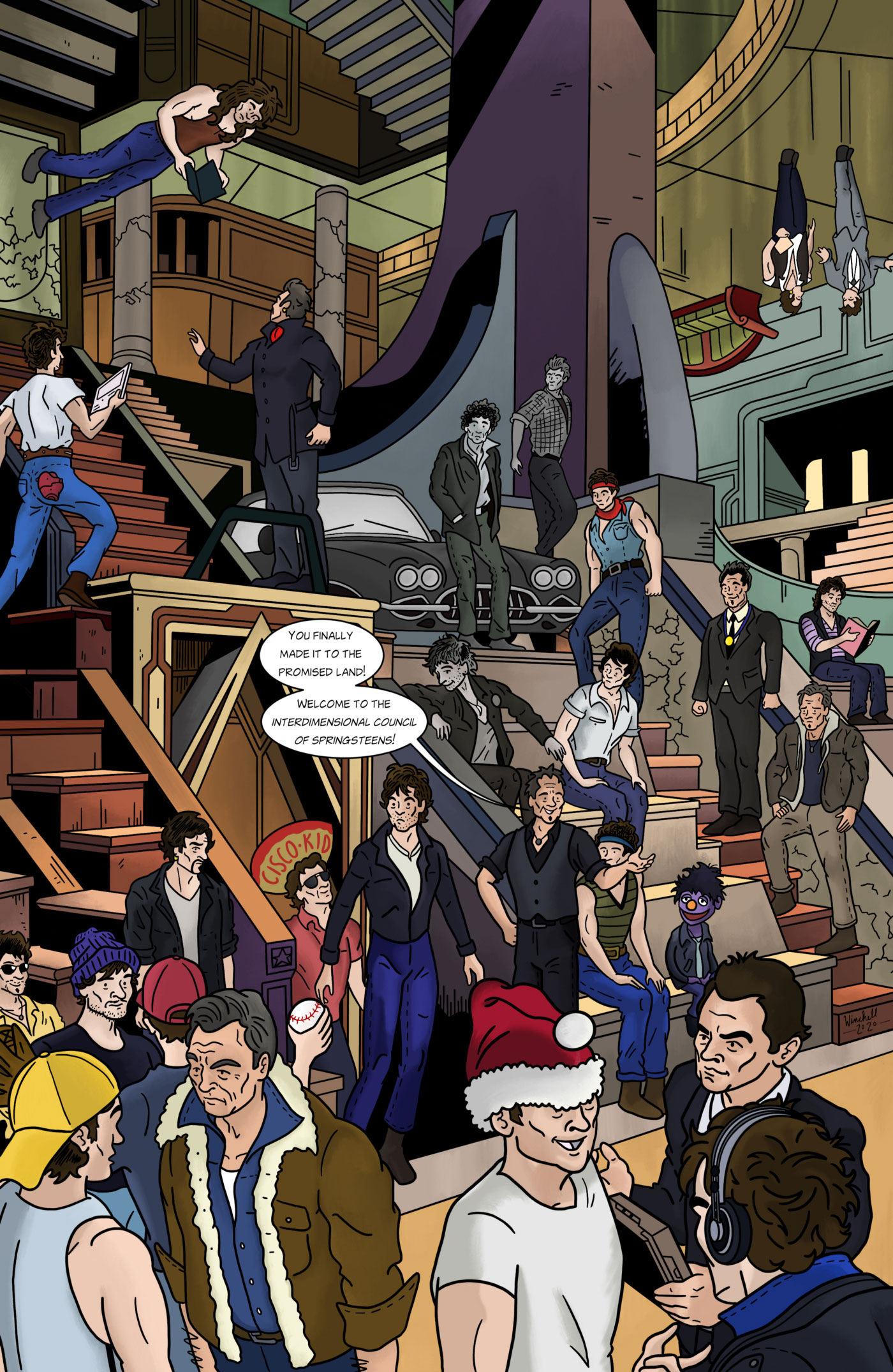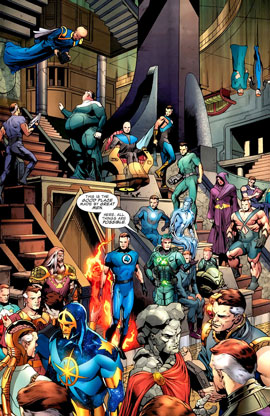 "This illustration," Winchell tells us, "is based on a fan favorite splash page [right] from a 2009 Fantastic Four comic, written by Jonathan Hickman and drawn by Dale Eaglesham. In the comic Reed Richards is welcomed into 'The Interdimensional Council of Reeds,'a group of Richards from all sorts of strange places in the Marvel Multiverse. So our beloved blue spandex-wearing Mr. Fantastic is introduced to a Reed Richards made of stone, a Reed Richards in wizard robes, an extremely muscular Reed Richards.… It's a really striking image and left a real impression on me.
"Flash forward to April of this year when the thought just popped in my head: what if instead of Reed Richards, it was a room full of Bruces? It's one of those nonsense gag ideas that usually comes and goes, but something about this one planted a seed. It became something I had to see happen.

"There are so many lives to Bruce, and so many of us know so many of them without thinking too hard about it. He also fits really well in a comic book setting — he's so iconic in how he dresses and how he looks. In a way, each life comes with its own costume. The Bruce of the Born in the U.S.A. cover has all the same iconic touchstones as the Superman symbol or the Spider-Man costume. He really just slots right into the escalated superhero world of Marvel Comics pretty effortlessly.

"It was a bit of a challenge to come up with 27 different Bruces to include on this. I wanted to make sure his whole career was reflected, from Steel Mill to the-then most recent album Western Stars. I wanted to include easily accessible Bruces — like the Darkness on the Edge of Town Bruce or the black-and-white Born to Run Bruce — but I also wanted to pull some weird, more obscure ones to fill out the drawing. His "Cover Me (Undercover Mix)" cover outfit and the Muppet spoof Bruce Stringbean were really fun to recreate, and I also found out about his softball team the E Street Kings while researching this piece."
Here's a legend for all 27 Springsteens in the Council: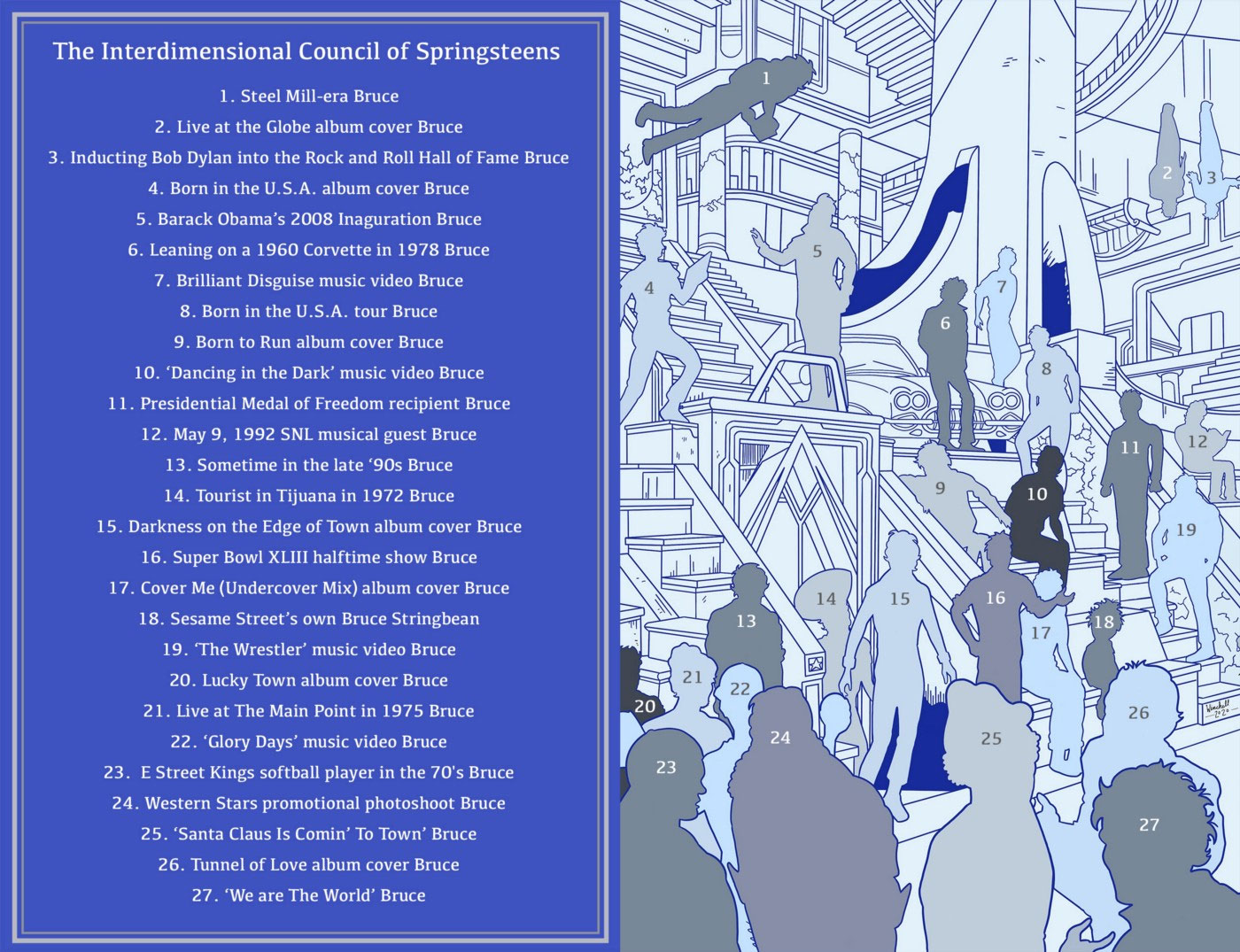 "I've been a Springsteen fan for a long time," Winchell says, "but this year I've really come to rely on his music. He's often pretty sad and brutally honest about the world, but he never loses that spark of optimism. I put on Wrecking Ball all the time to keep my head above water as this pandemic keeps going on. In a lot of ways, making this illustration kept me sane during 2020. I'd throw on some random album of his or put on Springsteen on Broadway and just plug along on my tablet for hours and hours."
Click here to purchase your own print of the Interdimensional Council of Springsteens from Steve's Etsy shop. At only $25 per print with free shipping to anywhere in the U.S., it's a cool holiday gift idea this year, especially for any comics-loving Springsteen fan in your life.
And anybody who digs Winchell's print also is likely to dig Steve Szynal's "This Life" print, which remains available through Backstreet Records.
- December 8, 2020 - Shawn Poole reporting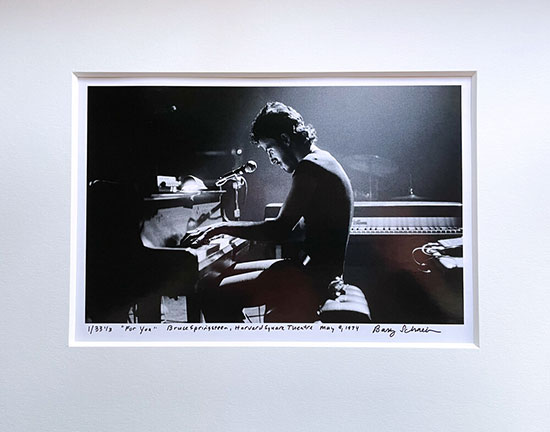 NEW SCHNEIER LIMITED EDITIONS OF 33-1/3
Photographer Barry Schneier, who we had the pleasure of working closely with on Bruce Springsteen: Rock and Roll Future from Backstreets Publishing, has a new offering for the holidays: he has selected four of his finest shots from the storied May 9, 1974 show at the Harvard Square Theatre, creating 8x10 matted prints of each in Limited Editions of 33-1/3.
All four images of Springsteen and the E Street Band were featured in Barry's book; each museum quality silver gelatin print is mounted in an 8-ply, 11 x 14-inch custom matte. These fine art prints have never been offered before in this size and will not be offered again when sold out.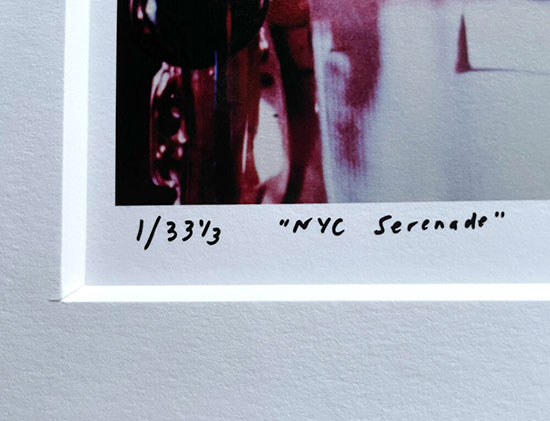 And there really is a "one-third" print in each edition — after 33 prints of an image sell, the final one will be a 4 x 5-inch print in a 5 x 7 inch matte, making this offering one of a kind.
Visit barryschneierphotography.com to purchase directly from the photographer — Barry tells us that December 13 will be his ordering deadline to deliver prints in time for Christmas — and on the order form, please type "Backstreets" in the "source" field so he knows we sent you!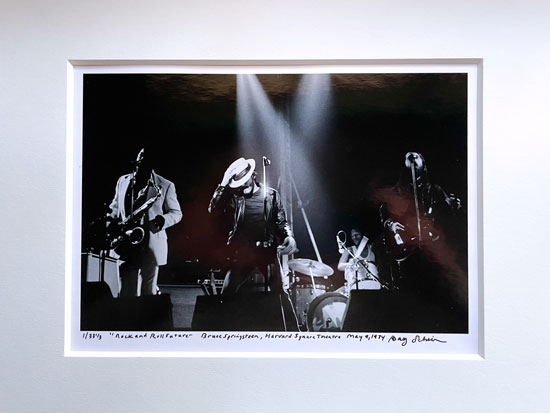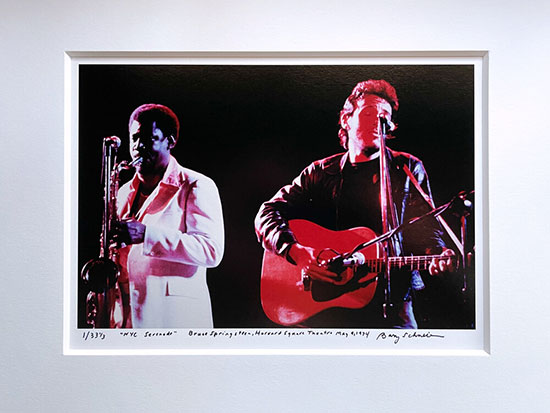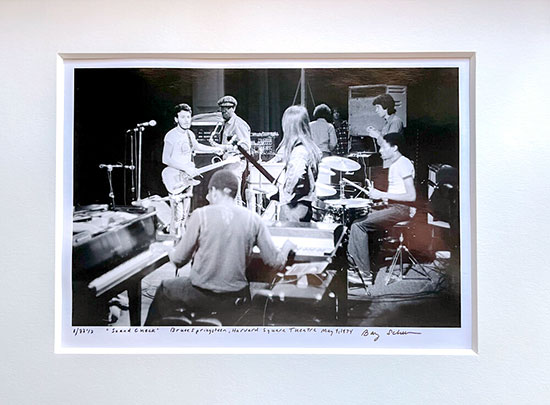 - December 7, 2020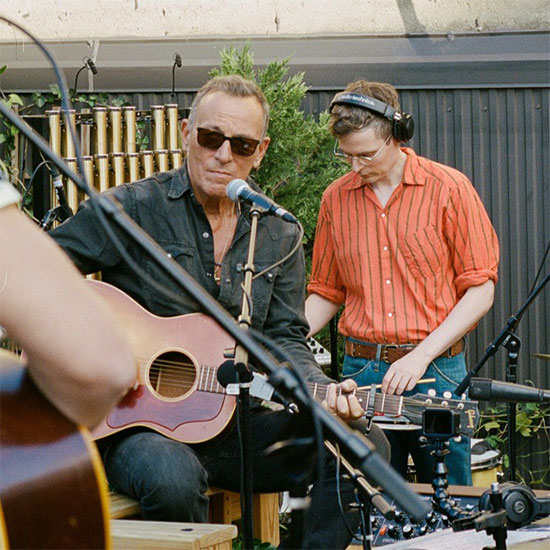 UP ON THE ROOF
Rooftop Boss/Bleachers performance to premiere Monday
A few weeks ago, Jack Antonoff and his band Bleachers unveiled their new single, "chinatown," which features a major turn from Bruce Springsteen.
Tomorrow, they'll share the "first ever live performances" of the A- and B-sides, again featuring Springsteen in the mix. According to a band tweet this morning, Bruce and the Bleachers played "chinatown" and "45" for the cameras on the roof of Electric Lady Studios in Greenwich Village.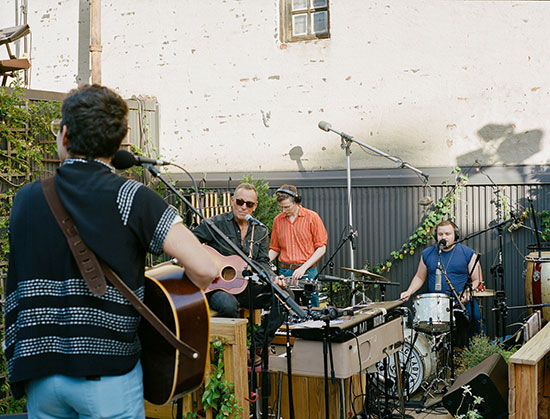 Tune in to YouTube tomorrow (Monday, December 7), where the clips will premiere at 12 noon Eastern.
12/7 Update: Goin' down to "chinatown":
- Updated December 7, 2020 - photograph via Twitter/@bleachersmusic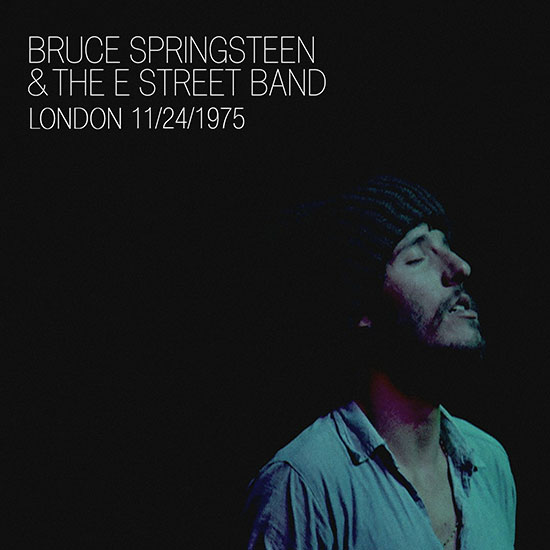 FINALLY, THE WORLD IS READY FOR LONDON NIGHT TWO
November 24, 1975 at Hammersmith Odeon, a "blaze of a show"
With today's Live Archives release of Bruce Springsteen's second 1975 appearance at London's Hammersmith Odeon, an important chapter in his career gets documented in full. The 22-song set — long considered the better of the two gigs, for the E Street Band's dynamic performance and Springsteen's audible, sunny determination — closed out a four-date European tour on one high note after another.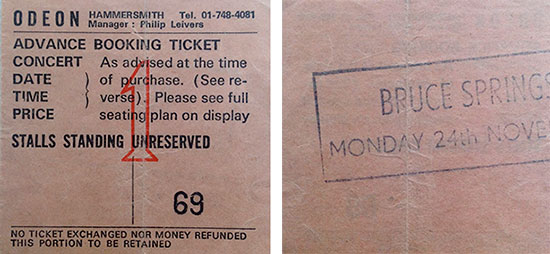 On paper, the mini-tour marked the beginning of a beautiful friendship with a dedicated European fanbase, but it took another six years before Springsteen again ventured overseas. Then, the E Street Band's 1981 European tour lasted for two months, playing 21 cities in 12 countries; they were rapturously received by audiences from Barcelona to Stockholm to London, and the relationship endures to this day. As Jon Landau recently pointed out, Springsteen is "simply more popular in Europe than he is in most of North America." In large part, one can trace that back to the original River tour.
Stevie Van Zandt, for whom the 1981 trek was literally life-changing, had a much different feeling in '75."After that first experience, we were lucky we went back a second time," Van Zandt told Backstreets recently. "It was very foreign to us, and we were not ready for it. We were 24 or 25, and it just didn't feel very welcoming at that point. It was really just four shows — London, Stockholm, Amsterdam, London — and nobody knew us at all. So it was all very foreign, and very weird."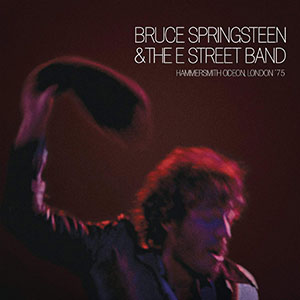 The first London show, on November 18, 1975 — their first performance on European soil — was Springsteen's first concert recording to appear officially in full, as the film Hammersmith Odeon, London '75 (in the Born to Run 30th anniversary box set) and later as standalone releases on both CD and four-LP vinyl. Liner notes feature Bruce's recollections about the night. To date, it is the only soup-to-nuts E Street Band live album released by Columbia Records.
In all likelihood, however, it is not the best of that four-show European run — or even the better London '75 concert. Enter today's new Live Archive Series set, the official release of London 11/24/1975.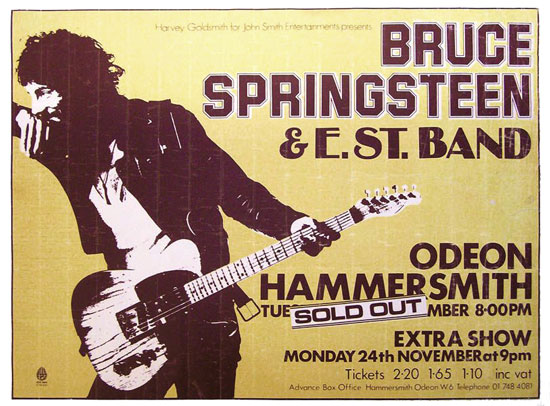 With this bookend, we now have official recordings of half of the 1975 European tour, and, given the famously lukewarm London reception at the time, further proof that you can't believe everything you read. Or viewed another way, evidence that concert recordings, stripping the experience down to sound and vision, do not necessarily reflect what it felt like in the room — or more specifically, in the artist's head.
Neither Hammersmith document squares with how Bruce long remembered the shows. "I've always been haunted by the two gigs we played here back in '75," he told a British interviewer upon his return to London in 1981. "I was a heap of nerves, and because it wasn't working, I kinda went inside myself. I saw my whole career collapsing while I was playing those songs. It was painful… I've got absolutely total recall of those shows, because the first one was so bad I was ready to blow up fuckin' Big Ben."
But he wasn't alone in his perception. "Disaster set in on a brief European jaunt," wrote Dave Marsh in Born to Run, and he chronicled the setbacks: "The tour went by in a daze — the All-American eating habits of the band were confounded by European cuisine, the brevity of the tour left little time to recover from jet lag, and on the final night, in his London hotel, Clarence Clemons was denied permission to bring his — black — friends up to his room."
The experience was traumatic enough that, some 40 years later, Springsteen would dedicate an eight-page chunk of his memoir to it (read "London Calling," pages 226-233).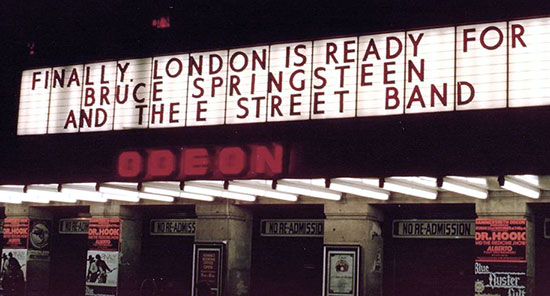 The first night in London is particularly storied, with tales of Springsteen ripping down posters at the Hammersmith Odeon and throwing the venue into "pre-show chaos," as he described it, due to the overwhelming hype and "jive." FINALLY. LONDON IS READY FOR BRUCE SPRINGSTEEN AND THE E STREET BAND read the marquee, and as Bruce described his reaction in Born to Run, "I'm frightened and I'm pissed, really pissed. I am embarrassed for myself and offended for my fans."
He went into the performance feeling "existential angst" and "the noose upon my neck," he wrote in the Hammersmith liner notes. "From the very anxious heavens of our first trans-Atlantic flight we descended into… well… hell, as I would soon come to know it."
Local press further fueled the hellfire. Reviewer Tony Tyler wrote in NME: "Let me state that on Tuesday I didn't see the Future Of Rock 'N' Roll, or The New Bob Dylan.… [the E Street Band] was] almost totally terrible."
And it wouldn't be just the British press. Rolling Stone's 1/1/76 "Random Notes" column perpetuated the story of the night under the subhead "Blunder Road." After noting that Bruce "ordered that the boxes of 'I have seen the future of rock 'n' roll at the Hammersmith Odeon' buttons not be given out," the magazine reported: "Springsteen's pique seemed to carry over in his performance. He hardly moved around onstage; guitarist Miami Steve Van Zandt later said, 'I've never seen him so subdued.'… The next day critics also sniped at Springsteen's messiah build-up, though he got good reviews. Still, a British CBS executive thought Springsteen could have tried harder, saying, 'We were disappointed.'"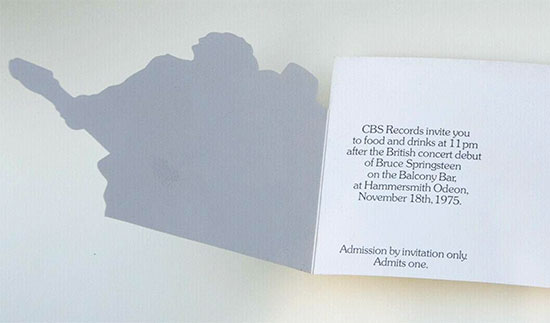 Bruce himself felt little better after the show: "For me, the set went by like a freight train," he recounted in the 2005 liners. "Later, all I remember is an awkward record company party, that 'what just happened?' feeling, and thinking we hadn't played that well."
Now, anyone who has watched the Hammersmith film might think, "If that's 'subdued,' I'd love to see a wild night in '75!" And revisiting the tale of the Night One tape 30 years later for its release, Bruce himself was able to admit: "I was wrong."
And he was wrong. Based on the official document, that first night in Hammersmith was an outstanding performance. In his memoir he termed it "a tough but excellent set."
But you know what's better? The second night at Hammersmith.
Following their rocky European debut, the E Street Band hit Stockholm and Amsterdam, then came back for one more chance with Londoners before heading home. One has to think, if there were ever a night when Springsteen truly felt he had something to prove, it was November 24, 1975. Though its structure is the same, the return features eight different songs, changing more than a third of the 11/18 set. How hot was it? Well, it spawned one of the worst bootleg titles of all time, but not for its inaccuracy: Shit Hot & Rockin'.
"Springsteen delivered a very different performance," Clinton Heylin writes of Night Two in his book E Street Shuffle, "one which represented the way forward for him and his band — if not rock 'n' roll itself." Compellingly, Heylin pinpoints the span between these two London shows as determinative for E Street Future: "The E Street Band of yesteryear was laid to rest somewhere over Stockholm. After six days on the road, Springsteen returned to play a set stripped of its wilder, more innocent moments. Out went 'E Street Shuffle' and 'Kitty's Back,' the two regular concessions to the Sancious era. In their place came a checklist of Invasion influences any semi-educated Brit could relate to."
Beginning mid-show with "Pretty Flamingo," cover songs begin to roll in one after another, as Springsteen treats the crowd to a rock 'n' roll history lesson. A second Manfred Mann cut, "Sha La La," wasn't far behind (almost certainly an audible), and neither was the tour debut of "Wear My Ring (Around Your Neck)." Those covers — nine of them, and that's counting "Detroit Medley" as one — are partly responsible for the celebratory vibe that carries November 24. And why not celebrate, to mark what surely must have registered as an accomplishment?
The majestic-sounding "When You Walk in the Room" follows a show-stopping solo-piano "For You" and leads a final covers parade, as Springsteen calls on five old favorites in succession to close the show. Back-to-back Chuck Berry numbers — "Carol" and a spur-of-the-moment "Little Queenie" — play to an audience that sounds all-in. "We did everything!" Springsteen says, as the crowd clearly wants one more. He and the band vamp a bit more on "Carol" before finding the right gear for the last number.
From the top, Springsteen's originals account for themselves with just as much verve, whether the by-now standard 1975 piano-based arrangement of "Thunder Road" or galloping takes on "Spirit in the Night" and "Lost in the Flood." Though business-like and surely more practiced, he and the band sound more relaxed, too. The first verse of "Jungleland" comes off as downright conversational; whatever was going on his head, Springsteen sounds less like he's trying to go over than painting a colorful picture of New York City.

Writing in Melody Maker that Night Two "invalidated" criticism of the band's initial impression, Michael Watts put it this way: "The facts are that Springsteen played three-quarters of an hour over time, returned to the stage five times and did ten encores in all…. It was a night on which one's emotions were completely exhausted."
In Born to Run, Springsteen recalls "going back to London for another crack at the Odeon, this time with the boogeymen in my head held at bay. There we played a blaze of a show that left us feeling there might be a place for us there amongst our hallowed young forefathers after all. It was freeing and left a sweet taste in our mouths as we headed back home."
Whether London was ready on the first night, it was Springsteen who was ready on the second. Who needs a poster when you've got the music?
Also read: Erik Flannigan's latest nugs.net blog entry, "The New Jersey Hustle"
- December 4, 2020 - Christopher Phillips and Jonathan Pont reporting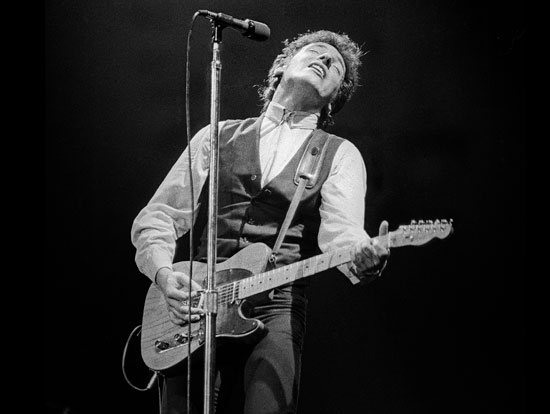 INSTAGRAM TAKEOVER 2: SHIVE'S REVENGE
As the Shive Archive borrows our Instagram keys for a second holiday season takeover, watch for some exciting and new images that have never been seen. As the pandemic left many of us home with some time on our hands, photographer Jim Shive spent those first few weeks of quarantine in front of his computer, scanning "new" images from his archive — hoping to find some great unseen photos of not only Bruce Springsteen, but the rest of the E Street family as well. Come along for the ride on Instagram.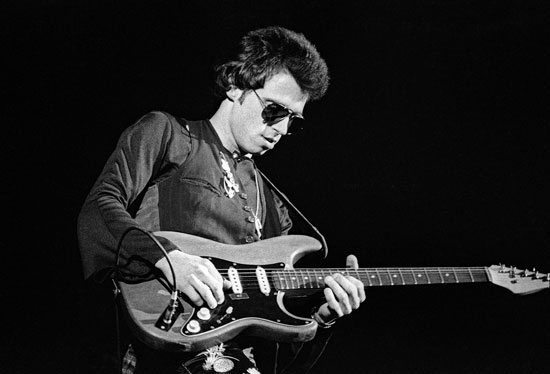 He'll be revisiting some of his well-known shots, too, and if you decide that any of these would look great in your own home, office, or as gifts, ShiveArchive is offereing special discount for Backstreets followers.
If you see an image you love, visit shivearchive.com where our readers save 75 bucks on Shive Archive purchases with the code INSTAGRAM2020.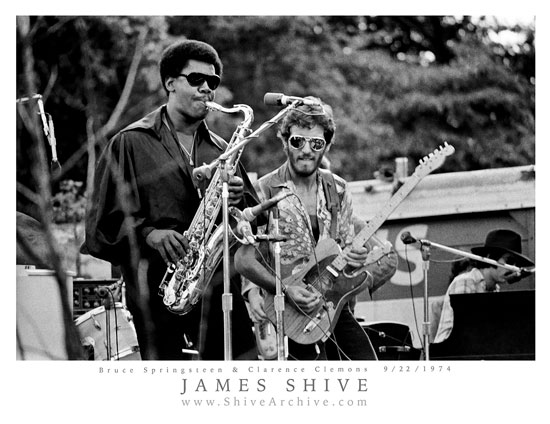 A lifelong professional photographer, Shive produced thousands of images of rock 'n' roll's most illustrious concerts from the mid-1970s through the mid-'80s, providing a dense visual record of these formative years and enduring live performances. For many Springsteen concerts, Jim Shive was often the only professional photographer in front of the stage during this time period — and we're always happy to see what he digs up when he dips back in.
Follow along on our Instagram account
- December 3, 2020 - all photographs by James Shive/ShiveArchive.com



BRUCE JOINS PLAY ON BENEFIT FOR WHYHUNGER & LDF
But will he play on Play On? One-hour special airs December 15
Three days after Bruce Springsteen's musical guest performance on NBC's
Saturday Night Live,
he'll be taking part in a benefit broadcast on CBS,
Play On: Celebrating the Power of Music To Make Change
on December 15. Hosted by Kevin Bacon and Eve, the fundraiser will benefit the
NAACP Legal Defense and Educational Fund (LDF)
and a favorite Springsteen charity,
WhyHunger
.
Other artists to appear on the multi-venue, multi-genre broadcast will include Jon Batiste, Bon Jovi, Sheryl Crow, The Highwomen, Steve Jordan, John Legend, LL Cool J, and Ringo Starr. A late addition to the one-hour concert special, Springsteen is said to be making a "guest appearance," rather than listed among the performers, so set your expectations dial accordingly; tune in to find out for sure on Tuesday, December 15 at 8pm ET on CBS and CBS All Access. For more information, visit PlayOnLive.org.
- December 3, 2020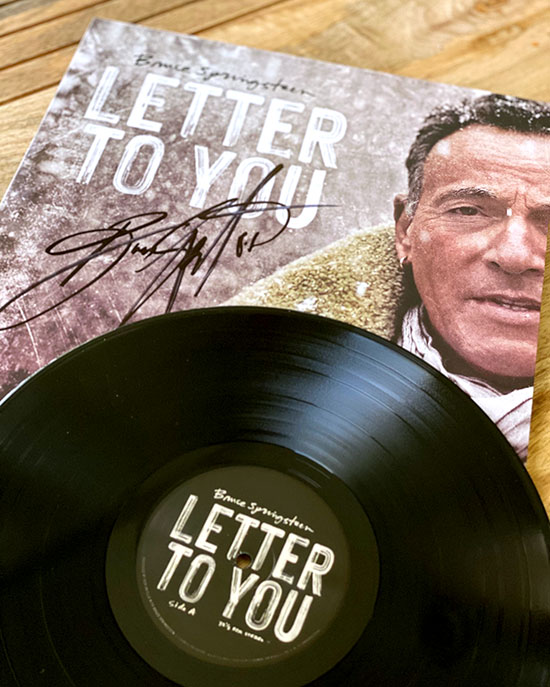 LETTER TO YOU VINYL GIVEAWAY SWEEPSTAKES
Bruce Springsteen has autographed a Letter to You record jacket, quite handsomely, which is being given away in an official sweepstakes. It's open to U.S. residents only — sweepstakes regulations being what they are, mysterious beyond the ken of mere mortals — but if you're 15 or older and live in the U.S. (and don't mind being added to Springsteen's email list), you can enter here by Thursday, December 4 for a chance at the prize.
- December 2, 2020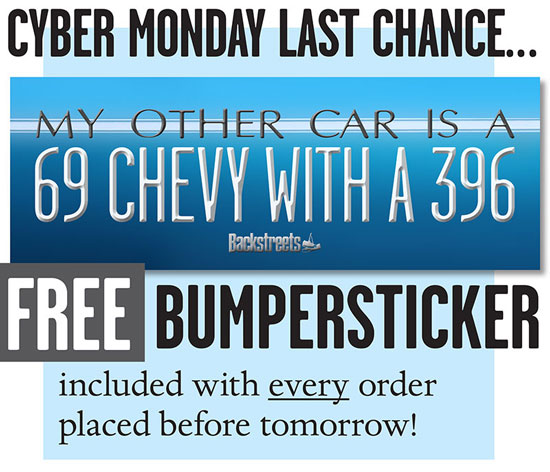 SHE'S WAITIN' TONIGHT AT THE BACKSTREET RECORDS SHOP…
Our '69 Chevy bumperstickers are back! After being sold out for a few years, we've overhauled this classic with a new 8" x 2.75" redesign — based on Springsteen's actual '69 Chevelle — for a new reprint. For this holiday weekend only, get one FREE with any order from Backstreet Records!
No minimum purchase required, no coupon code necessary, we'll be inserting one with all orders that come in through Monday night.
Start shopping with Backstreet Records here — we appreciate your support!
- Updated November 30, 2020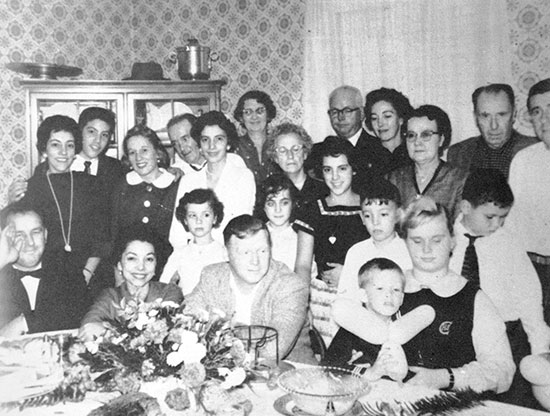 THANKSGIVING PAST: IT'S ME AND YOU, FRANK!
Thanksgiving Day, November 27, 1958: That's nine-year-old Bruce Springsteen (second standing child from the right) and his family, as recently seen in Thom Zimny's Letter to You film, first published in the late Chuck Yopp's book Greetings From Asbury Park: A Look at the Local Scene. Watch for a close-up in Letter to You beginning at the 1:03:04 mark. Cousin Frank Bruno, who also features in Letter to You and taught Bruce his first guitar chords, is the first man standing on the left.
Backstreets wishes all of our readers a happy, safe, and healthy Thanksgiving Day 2020!
- November 26, 2020


RECAP: VOLUME 15, "WE'RE A WINNER"
Less elation about elections, more music about music.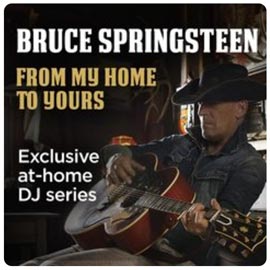 With a new album, a flood of media appearances, and some election closure in recent weeks, it might seem like the year is looking up for Springsteen fans.
2020 isn't quite done with us yet, though, as it reminded us with a SiriusXM outage this morning that kept many fans from listening live to Bruce's latest installment of From My Home to Yours.
Fortunately, I was one of the seemingly few who were able to get the signal in real time; for anyone who missed the initial broadcast, SiriusXM On Demand and E Street Radio replays (starting today at 6pm) will be your friends for Volume 15: "We're a Winner."
Leading in with this episode's title track, the Black Pride anthem and 1967 Top 20 hit by Curtis Mayfield and The Impressions, Bruce sounded jubilant: "Joe Biden is the 46th president of the United States, and democracy has squeaked by one more time!" He called this a "post-Election Day special," but, he promised, "We're not gonna sit here and gloat... at least not too much."
Wishing his Trump fans "better luck next time," Bruce officially opened the show with a special dedication, wishing President 45 "better luck and maybe a little insight" before spinning his own brilliant but underrated political metaphor "Your Own Worst Enemy." The Magic track has what I've previously described as "devastating, penetrating, accusatory lyrics that operate perfectly on two levels at once."
"We can all learn something from that one," Bruce remarked afterwards. "I certainly have."
And then the DJ threw us a curve ball: "That's it for our politics today. I'm not gonna drum on that. Today I wanna do a set that's… music about music."
The theme was likely inspired by his own Letter to You; as he said in a previous interview about the album, "The subject is the music itself… It's the first time I chose that as my subject. It's about rock 'n' roll, it's about being in a band." No surprise that two of its songs appear on this playlist, and with Letter to You's "Ghosts" switching the gears, the rest of Volume 15 was exclusively "great rock 'n' roll made about rock 'n' roll."
Springsteen fans have long known about Bruce's love for The Raspberries, and today he shared one of his favorites, their 1974 Top 40 hit, "Overnight Sensation." He called it "one of my favorite all-time records about rock 'n' roll. What a fabulous production, great sound… The Raspberries had at least one full album of stone cold classics. At the time, they were not considered cool because they had hit after hit after hit after hit, but they were damn good."
"Time to Pretend" continued the theme: "a great, great song about making it… and what comes with it." It's also a song that Bruce and his son Evan were able to catch live when they saw MGMT play their hit single at Bonnaroo in 2009.
From Bonnaroo, we took a trip across the pond to the U.K. to check out a couple of great English bands. First up: Oasis, with their 1996 hit, "Champagne Supernova." Bruce noted that the Gallagher brothers "were known for fighting each other, but when they weren't fighting they were fabulous."
Lingering in Manchester, Bruce introduced "I Wanna Be Adored," which he called "every rock star's dream." The Stone Roses track opened their self-titled debut album, a Britpop classic, and it was a Top 20 hit — fittingly, today's show is hit-heavy and light on the obscurities. "Before Oasis there was The Stone Roses… they started it all." Who knew Bruce had an eye on the Madchester scene?
Back in the U.S.A., Bruce took us deep down in Louisiana (close to New Orleans), reciting the entire lyrics to "Johnny B. Goode" before playing the seminal 1958 rock 'n' roll single by "the Mark Twain of rock and roll, the never-to-be-equaled Chuck Berry."
Returning back to 1967, where we started today's show, Bruce reminded us that "The Byrds had a good question for us: So you wanna be a rock and roll star?" Bruce's answer? "I heard this record and said, 'Fuck yes!''"
After The Byrds, Bread. Bruce sounded a bit sheepish about including their 1972 hit, "The Guitar Man," admitting, "I am generally not a huge fan of Bread, but I love that song. It does kinda say a lot about what it's like to be a guitar player, and I just love the general sound of it."
Joe Strummer's "Coma Girl" evoked another music festival: Bruce performed the song at Glastonbury eleven years ago, and he noted that the song was inspired by the festival, a favorite of Strummer.
Another Friend of Bruce, Robert Gordon, was in the late-70's punk band Tuff Darts, and Bruce played their greatest hit. "I've thought about covering this song many times," he said of "All For the Love of Rock and Roll." "It's one of my favorite records from an early CBGB compilation."
Les Fradkin's 2006 tribute to the jangle-rock greats, "Jangleholic," was "for all you twelve-string guitar, Tom Petty- Byrds-lovers out there — Les Fradkin wrote your anthem."
Bruce recited the lyrics to Jeffrey Foskett's "Cool and Gone," written by Bill Lloyd, "one of my very favorite songs about the arc of a rock and roll career":
A hundred million years ago
Running to the record store
All out of breath for you
I caught my death for you
That was me inside your song
But now it feels like something's wrong
Like somehow you let me down
No queen left to wear that crown
Cool and gone
Cool and gone
Nothing stays the same for long
How can anything so strong be so cool and then be gone?
Springsteen brought us home with "Last Man Standing," one of his favorite tracks off his new album. "I enjoyed writing this song because I had a chance to relive going back to all the little bars we played when we first started... it just reminded me of those pretty innocent moments, playing for five, ten, 15 dollars with local guys from your high school."
Bruce wrote the song after the death of his Castiles bandmate George Theiss, when he realized he was truly the last man standing: "I was surprised at how very much I missed them all."
Wrapping up around the hour mark, our host circled back to how he began: "Shoutin' out a congratulations to Joe Biden and the American people!" But in keeping with the episode's major theme, he left us with "perhaps the most beautiful song ever written about the essence of rock and roll," The Lovin' Spoonful's, "Do You Believe in Magic?"
Volume 15 of My Home to Yours didn't turn out to be the political victory lap fans had either hoped for or feared; instead, Springsteen gave us a wonderful companion piece to Letter to You — a winning tribute to the power and glory of rock 'n' roll.
Playlist:

The Impressions - "We're a Winner"
Bruce Springsteen - "Your Own Worst Enemy"
Bruce Springsteen - "Ghosts"
The Raspberries - "Overnight Sensation"
MGMT - "Time to Pretend"
Oasis - "Champagne Supernova"
The Stone Roses - "I Wanna Be Adored"
Lyric reading: Chuck Berry's "Johnny B. Goode"
Chuck Berry - "Johnny B. Goode"
The Byrds - "So You Want to Be a Rock 'n' Roll Star"
Bread - "The Guitar Man"
Joe Strummer & The Mescaleros - "Coma Girl"
Tuff Darts - "All For the Love of Rock and Roll"
Les Fradkin - "Jangleholic"
Lyric reading: Jeffrey Foskett's "Cool and Gone"
Bruce Springsteen - "Last Man Standing"
The Lovin' Spoonful - "Do You Believe in Magic"
- November 25, 2020 - Ken Rosen reporting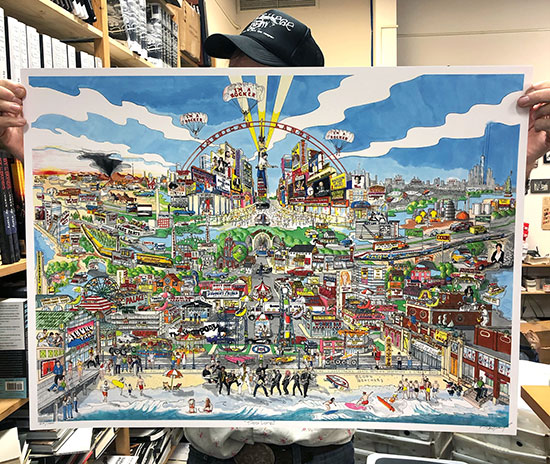 'THIS LIFE': JAMMED WITH CHROME INVADERS AND SO MUCH MORE
We keep noticing new things in Steve Szynal's 'This Life' — you will, too, from that giant Exxon sign to a Tucson train... from Bruce's childhood tree in Freehold to Springsteen on Broadway's Walter Kerr Theatre. It took us a while to pay attention to the cars: there's a pink Cadillac, a '69 Chevy, Bruce's own black Corvette, his first car (a '57 Bel Air), even Tinker West's Woody. And it just hit me: the semi truck from that Born in the USA tour poster!
In all there are hundreds references to Springsteen songs and E Street history in Szynal's colorful 30"x22" illustration. Moving geographically from the Jersey Shore to NYC, Philly, and way out west, the New Jersey artist packs Boss in-jokes and Easter eggs galore into to his depiction of Springsteen's American Land.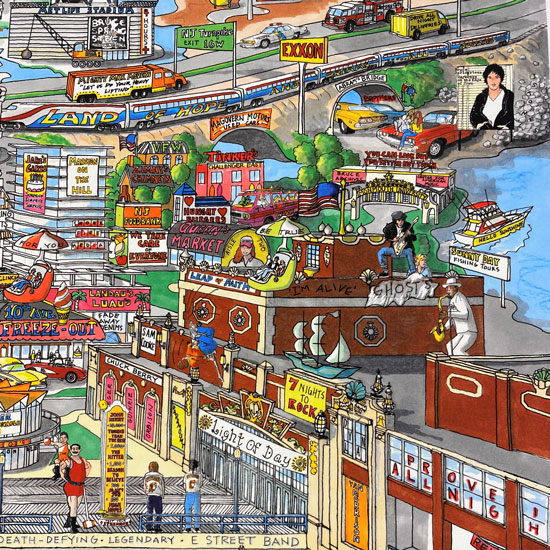 'This Life' [Detail] by Steve Szynal
"My original hand drawing took more than 450 hours to create," says Szynal. "It's intended as a somewhat humorous visual tribute to Bruce, his band, and his work throughout his illustrious career."
Just in at Backstreet Records is a fine art quality print of 'This Life,' printed with archival inks on acid-free paper, that sure looks pretty hanging on the wall. Signed and numbered by the artist for $125, in an edition capped at 1,000.
See 'This Life' in our online shop
for more details, close-ups, and to order
Also available directly from the artist: in a more limited edition of 100, Steve has taken this work a few steps further, making it truly pop by creating 7-layered, multi-dimensional, collages from his print, framed shadowbox-style. Take a look at the video below to get an idea of the effect (as well as the amount of work inolved). If you're a bigger spender (framed collages are $3,000 each plus shipping) learn more about these 3D collages at steveszynal.com or email Steve at sszynal31@verizon.net. Be sure to tell him Backstreets sent you!
- November 24, 2020



BABY THAT'S THE "POWER OF PRAYER" VIDEO
Following "Letter to You" and "Ghosts," the third track from Letter to You to get a lyric video is "The Power of Prayer," out today. It's again crafted by Thom Zimny, combining his E Street album sessions footage with additional archival film. (It also, unfortunately, propogates the "Benny King" typo from the album's lyric sheet... it'll be a magic moment when someone makes that small correction in the master doc. Do it for Ben E.!)
- November 23, 2020


AIR MAIL: LETTER TO YOU RECEIVED ACROSS THE POND
Springsteen delivers Letter to U.K. and Ireland, continues conversation, tops chart, makes history
One year ago, Bruce Springsteen spent five days in his home studio with the E Street Band, recording the songs that became Letter to You. As the first anniversary of those sessions approached, he probably spent an equivalent amount of time in that same studio, his own house of a thousand guitars, giving an extensive series of interviews (including Apple exclusives, TV talk show appearances, radio interviews, and podcasts) to promote the album and its Thom Zimny-directed documentary companion piece, for broadcast, online, and print media.
Following the well-documented U.S. blitz, we now turn our attention to international affairs.

In the U.K. and Ireland, Springsteen's broadcast media appearances were aired on release day, Friday October 23, and continued into Saturday morning. They included a return to BBC One TV's The Graham Norton Show and, as if by magic, at approximately the same time, an interview with host Ryan Tubridy on The Late Late Show on RTE One TV (recorded the previous day and on October 16, respectively).
Unlike his in-person GNS debut last year, during his brief London promo blitz for Western Stars, Springsteen's remote appearance with Norton was restricted to just seven minutes; they focused on now-familiar stories about the album's back-to-basics, tequila-toasted recording method and the guitar on which he wrote the new material.


The Late Late Show interview was more than twice as long and featured a Springsteen-related studio backdrop as well as a more diverse, Irish-centric line of questioning. The conversation covered Bruce's Irish/Italian background (except for a "lone Dutchman, which is how I ended up with the name"), his Catholic upbringing ("I live with it easily, I have faith but I am not religious"), his Irish fans ("One of our greatest audiences"), his admiration for Shane McGowan ("The master — 100 years from now, Shane's music will be remembered and sung")…
…the misinterpretation of "Born in the U.S.A." ("To understand the song, you have to hold two contradictory ideas in your mind at the same time and realize that they're both true"), his belief that Donald Trump would lose the Presidential election ("If not, make some room for me in Ireland!") and the state of his soul ("Struggling as always").
Finally, to dispel doubts about exactly who his Letter is addressed to, Bruce pointed at Tubridy and said, "It's you, my friend — and whoever else is listening. It's a general letter to my fans, lovers, partners, neighbors, audience. To whom it may concern!"
View another clip of the Tubridy/Springsteen Late Late Show interview at RTE.ie.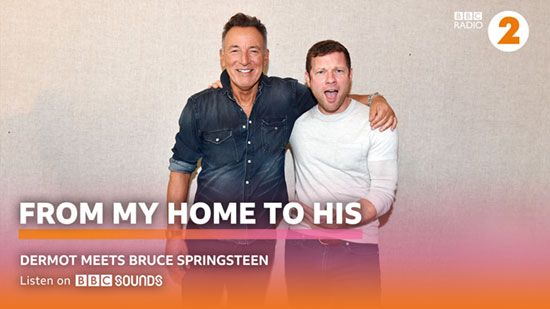 A pre-recorded, hour-long Springsteen interview special with DJ and TV presenter Dermot O'Leary aired at midnight: BBC Radio Two's From My Home to His. This replaced their weekly (edited) broadcast of Bruce's DJ series From My Home to Yours. Seven hours later, O'Leary's regular Radio Two show repeated excerpts from his midnight special plus unbroadcast material, ensuring listeners had to catch both shows to hear the entire interview (which was conducted remotely; photos used to promote it were taken in 2019).
Peppered with less predictable album tracks, the Radio Two special was the most interesting of the broadcasts, likely because O'Leary is a big fan who steered the conversation in directions not explored by other presenters. He began by explaining that "The E Street Shuffle" was the first Springsteen song he ever heard, and he asked about its horn arrangement.
"That's a quirky tune," said Bruce. "That Salvation Army sound was played by the E Street Band. These different guys played what they knew of horns. We played rock and soul and funk and a little bit of jazz. It was a very eclectic group of musicians. I took the main riff from ['The Monkey Time'], the Major Lance song, and wrote my own song around it. Then I took the last part, where the band jams like crazy, from a Curtis Mayfield song that I was into at the time. So it was a crazy piece of music."

Asked about the inspiration behind "Meeting Across the River," Springsteen explained, "Central Jersey in the '60s and '70s was a hotbed of the local Italian mob." He said many stories about mob activity had "floated around in our neck of the woods" back in the day, "so I put myself in some shoes and wrote a little ballad about it."
Bruce later acknowledged that "Land of Hope and Dreams" was among his very best songs. For the Reunion tour, he wanted "to have one new song to be our manifesto, for why we were back together and what we hoped to accomplish."

While covering the recording of Letter to You, O'Leary observed that the last time Springsteen recorded live in the studio with the E Street Band was for Born in the U.S.A. in the early '80s.
"The only cut that is actually live is 'Born in the U.S.A.' — maybe 'Glory Days,' I'm not sure," Bruce explained. "Everything else we cut as a track and overdubbed to it, and I would overdub a vocal. This [new] record is unique. I can't think of another record where we cut the entire band, the entire instrumentation, and kept the vocal that I sang while we were cutting the track. So it's completely live. Every vocal is a first take. It's the 'livest' recording we've ever done inside of a studio."
Springsteen then revealed that the band template he wanted was the one used to record "Darkness on the Edge of Town": "The last thing we cut for Darkness was that song, in a studio that had been ripped apart. They left only the cement walls up. The band was resonating like crazy. We cut it live. That's a live vocal." For Letter, he required only "two keyboards, guitars, bass, drums and sax. I [didn't] want any horns, any strings. I got that out of my system on Western Stars."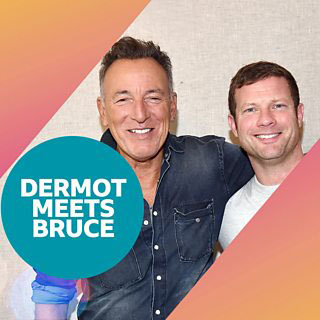 This interview was one of the first to reveal that Bruce recorded "Janey Needs a Shooter" with the band "a year or two [ago]" with a view to releasing it as a single for Record Store Day, but when he heard the playback, he decided to keep it for a more substantial project. This inspired him to select two other songs of similar vintage ("there was an album's worth of them") for the E Streeters to tackle. The result was "a blend of me as a young man, the band today, and me in my current voice singing those ideas."
The inclusion of these almost 50-year-old songs among recent material that indirectly references The Castiles creates a sense of "time travel between 1965 and the E Street Band to this day," Bruce said. "It's the first record I've done where my subject is music itself, being in a rock band."

Springsteen spoke to the subject of Covid-19: "It's altered everybody's world entirely, that's all there is to it. My day is not radically altered, but everything around it is. It seems like all my old hangouts are either closed or only serving outside. A lot of friends who own restaurants are struggling to keep their heads above water. I've just tried to stay as busy as I could. The radio show helped me to continue to talk to my fans through music, which I've loved doing, playing my favorite records and groups. I've had the record and film to keep me busy for a while. I'm always trying to keep a project going."
Asked how he finds music for his radio show, Bruce revealed, "Like everybody else, I surf the internet. I hear one thing, it leads me to something else. I'm always digging, like some maniac record collector".
The extra material on O'Leary's Saturday show focused on the inspiration behind "The Power of Prayer." "When I was a kid, not only was my sense of fun, joy, sexuality awakened by popular music," Bruce recalled, "but so was a certain spirituality I found in the sounds of the singers that I loved. For me, these three-minute singles were tremendous meditations. This song ends at that moment where the guy's in a club and Ben E. King's voice fills the dancefloor. It sounds like a prayer to him. It's one of my favorite songs on the record. It's got a lot of great pop hooks to it, also."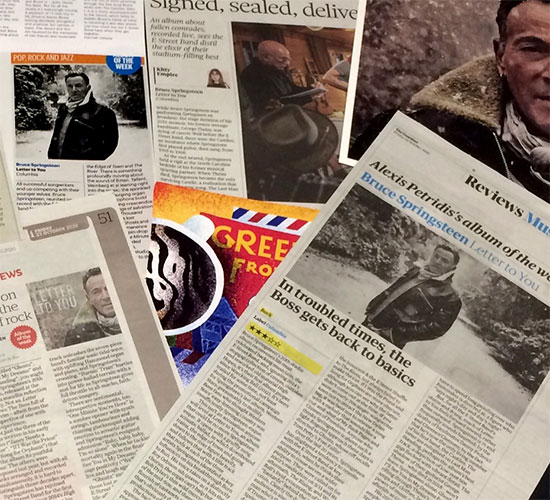 In addition to his radio and TV work, Springsteen took part in a Zoom call for European press, with a number of journalists taking part. Questions were submitted in advance and channeled through intermediary Edith Bowman, who performed the same task last year at the Western Stars London press screening. Thom Zimny also made a brief appearance. Joe Breen captured much of it for The Irish Times in a piece titled "Bruce Springsteen's 2020: I swam. I kept busy. I made an album."

The national newspapers on this side of the pond weighed in with a series of unfailingly positive reviews of Letter to You. While the following is not an exhaustive list, it includes all the major pieces, some of which were included in Shawn Poole's earlier review roundup.
United Kingdom
Ireland
There were also smaller reviews in the following:
The Daily Mirror - "Epic and intimate with several instant classics," uncredited (4 stars)
The I - "The Boss on loss and the solace of rock" by Elisa Bray (4 stars)
The Sunday Times Culture Magazine - "A love letter to the past, his and ours" by Dan Cairns (Album of the week).
The Mail on Sunday (Irish version) - "'Burnin' Train' is a glorious major chord wall of sound," uncredited (4 stars).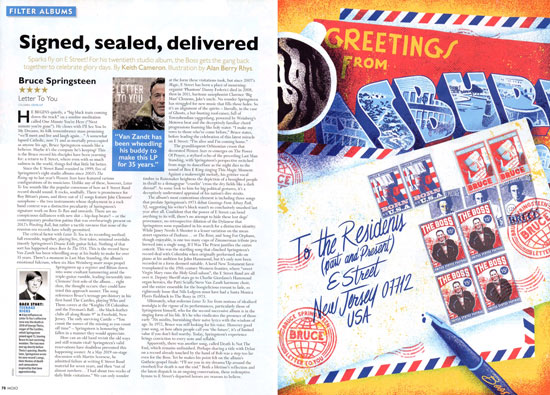 The music monthlies were equally effusive. In addition to the December issue of Uncut magazine, which featured a major 13-page front-cover "making of" feature and review by Peter Watts and Richard Williams [see Backstreets coverage here], its only remaining competitor (after the demise of Q) Mojo ran a two-page, four-star review by Keith Cameron [above].
"This is the record Steve Van Zandt has been wheedling away at his buddy to make for over 35 years," Cameron wrote, "There's a moment in 'Last Man Standing' when six Max Weinberg snare taps propel Springsteen up a register and Bittan down into some exultant hammering amid the three-guitar tumble, leading into Clemons' first solo of the album. Right there, the thought occurs: they could have tried this approach sooner. Both a lifetime's reflection and the latest dispatch in an ongoing conversation, these redemptive hymns to E Street's departed heroes are reasons to believe."
In the online-only NME, Leonie Cooper gave the album five stars, describing it as "triumphant," "a powerful synthesis of past and present" that "shows us the strength that can be found in sorrow."
In Ireland's Hot Press magazine, Pat Carty observed that "Ghosts" is "a song that has you jumping out of your chair punching the air while simultaneously bursting into tears. I would follow this man into hell for the heaven that's promised here. As the world dims, and hope seems extinguished, the light of rock 'n' roll is more important than ever. Springsteen is the keeper of that flame, a holy charge that he remains more than equal to."
In addition, Hannah Vitesse reviewed both the album ("reflective rockers a mixed bag," 3 stars) and documentary ("visual accompaniment to LP gives welcome context," 4 stars) in the December issue of Record Collector; Andrew Mueller awarded the documentary 7 out of 10 in the January 2021 issue of Uncut magazine ("Springsteen possibly oversells his gruff narration, but it is a nevertheless gripping and affectionate portrait of an extraordinarily durable institution"); and Keith Cameron appraised the film in the January 2021 issue of Mojo ("Springsteen magic occurs post-credits, as he and cousin Frank jam 'Baby I.' Frank taught the teenage Bruce a few basic chords. The look on Springsteen's face says that if this letter is to anyone, it's him"). Finally, the year-end round-ups of the Top 75 albums of the year in Uncut and Mojo placed Letter to You at number 20 and number 45 respectively.
Seven days after its release, it was announced that Letter to You was Number 1 in the U.K., having consistently sold more copies than the rest of the top five combined throughout the week. The Official Charts Company revealed that it was the fastest-selling album of 2020, with 95% of its total 51,800 sales in physical or download format. (Only Madonna's Chromatica beat it in terms of first-week sales, amassing 53,000 in June).
Springsteen also made U.K. chart history by being the first solo artist to have a Number 1 album in each of the last five decades (if you count 2020 as the first year of a new decade). Similar feats were repeated in Ireland and around the world, prompting Little Steven to tweet: "The universe has voted! Letter to You! Number 1! Every fucking place!"
Also worthy of note is Springsteen's guest appearance on the Norwegian-Swedish talk show Skavlan [above], hosted by journalist Fredrik Skavlan. They discussed perspectives gained with age, absent friends, awareness of mortality, insecurities in Bruce's personal and professional lives, his mental health challenges ("I'm on drugs, which puts me in a pretty good mood most of the time!"), parental advice for his grown-up children, the effect of his isolation on the farm, the achievements he's most proud of (work came third to raising a family and overcoming illness), and how he reconciles the fact that some of his fans may be Trump supporters: "I have Trump voters in my family, I have motorcycle buddies who are Trump voters, for a wide variety of reasons, most of them wrong!"
Echoing the thoughts of fans around the world, Bruce told Dermot O'Leary: "To put this music out and to not to be able to play it is heartbreaking." When Ryan Tubridy asked him to speculate when Irish fans might be able to see him perform at Croke Park again, Bruce said, "My antenna tells me that will not happen before 2022 — and I would count ourselves lucky if it happens then, because I don't believe this virus is going to go away. We've got to find better ways to handle it: a vaccine, therapeutics. Hopefully over the next year or two we will have developed methods that will allow us to get back to some form of normalcy. I'd be very happy if we were able to tour in 2022."
Amen to that!
- November 23, 2020 - Mike Saunders reporting - special thanks to Tom McCormack for assistance with the Irish reviews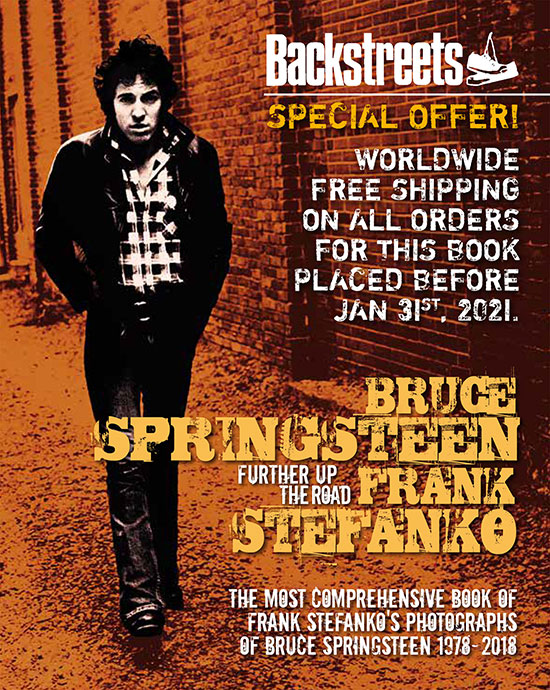 FURTHER UP THE ROAD SHIPS FREE FOR LIMITED TIME
Normally, free shipping might not make much of a difference... but when we're talking $40 or more in savings, that's another story. Thanks to Wall of Sound Editions, who published the massive Bruce Springsteen: Further Up the Road and ships it direct to our customers from Italy, the following shipping fees are waived from now through January 31:
To addresses in the U.S.: $44 Free!
To addresses in Italy.: $11 Free!
Anywhere else in Europe.: $40 Free!
Anywhere else in the world: $55 Free!
So if you've been eyeing this limited-edition book, for yourself or a holiday gift, now's a great time.
In this numbered Collector edition of Bruce Springsteen: Further Up the Road, each book is housed in a slipcase and personally signed by author/photographer Frank Stefanko. The book itself is a beautiful, 400-page artist's monograph with more than 40 years of largely unseen images, all shot by Stefanko throughout Springsteen's epic career. The book features an introduction by Bruce Springsteen himself, with image captions and text by Stefanko, and forewords by fellow Springsteen photographers Eric Meola and Danny Clinch.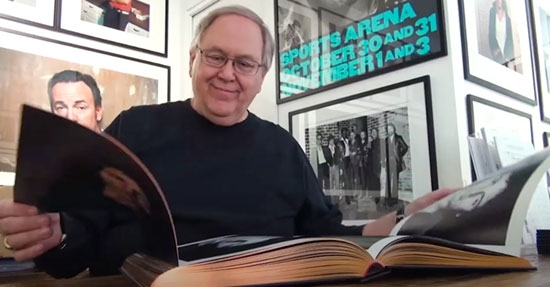 While that free shipping is a significant savings, some may still wonder how the book itself could be this expensive... well, Wall of Sound pulled out all the stops, and the video below may give you a better sense of it. Take a look at Frank himself flipping through this treaasure trove, with all the thought and care that went into its creation — gatefolds, print quality, different paper stocks — and you'll get an idea of what's in store.
Stefanko has spent more than four decades working closely with Bruce Springsteen. He shot the iconic covers for Darkness on the Edge of Town and The River albums, as well as the cover of Springsteen's best-selling Born to Run autobiography and accompanying album Chapter and Verse. In addition to images and outtakes from those classic sessions, Further Up the Road features a never-before-published shoot with Springsteen from 2004, at his residence in Colts Neck, NJ, and to round things out, in April 2017 Springsteen granted Stefanko a brand new, exclusive shoot at his studio in Colts Neck, specifically for inclusion here.
"Frank's photographs were stark. His talent was he managed to strip away your celebrity, your artifice, and get to the raw you. His photos had a purity and a street poetry to them. They were lovely and true, but they weren't slick. Frank looked for your true grit and he naturally intuited the conflicts I was coming to terms with. His pictures captured the people I was writing about in my songs and showed me the part of me that was still one of them. We had other cover options but they didn't have the hungriness of Frank's pictures."
-- Bruce Springsteen (Reprinted by permission from Born to Run, Simon & Schuster, 2016)
Order Further On Up the Road here
Signed and slipcased,
ships from Wall of Sound Editions in Italy
in time for the holidays!
- November 20, 2020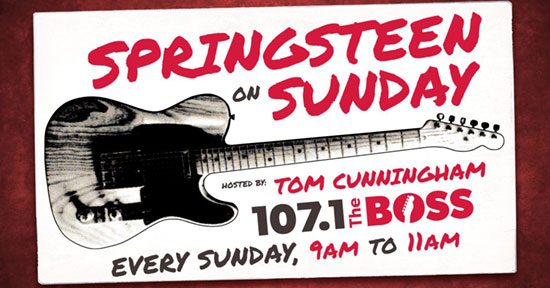 15TH ANNUAL ALL-REQUEST SHOW TO FIGHT HUNGER
Let Springsteen on Sunday FULFILL your request
The annual all-request edition of the Springsteen on Sunday radio program is returning for its 15th year, with all proceeds benefiting FULFILL (formerly, The Foodbank of Monmouth and Ocean Counties). Hosted by Tom Cunningham on 107.1 The Boss, the weekly show features the music of Bruce Springsteen and other Jersey Shore legends every Sunday morning.
Requests will be taken this Sunday, November 22 beginning 9am ET by calling 732-643-5831, with donations being accepted via credit card payment. Requests will also be taken from Bar Anticipation in Lake Como, NJ, where Cunningham will be broadcasting this Sunday's live program.
Listeners are welcome to pick the Bruce Springsteen song of their choice and include a personal dedication as well. There's space for 20 songs and a $25 (minimum) donation for each song, with proceeds going to FULFILL.
Says TC: "Every year that we do this it's important and, obviously, the stakes are much higher this year. I love that we'll be live at Bar A this time around, and I'm excited that Fulfill's Kim Guadagno and team will be in the house. As always, I can't wait to see what the 20 songs will be."
After the requests are in, the special three-hour, all-request program will air on Sunday, November 29 beginning at 9am ET on 107.1 FM at the Jersey Shore, and streaming online.
- November 20, 2020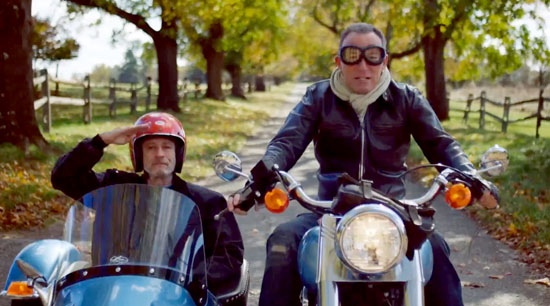 TWO MEN WALK INTO A BARN...
Springsteen & Stewart ride again for military vets and families in need
Fresh off the worst Uber ride he's ever had, Jon Stewart was joined by his three-star driver Bruce Springsteen to kick off the 14th annual Stand Up For Heroes benefit from Springsteen's Stone Hill Farm barn. The barn has become a familiar setting for Springsteen fans recently, serving as the backdrop for last year's Western Stars film.
In addition to Springsteen, the hour-long virtual event featured comedy skits and taped musical performances from Sheryl Crow, Brad Paisley, and Mickey Guyton.
While the other musical artists were filmed in Nashville, Springsteen's three acoustic performances — "House of a Thousand Guitars," "Long Walk Home," and "I'll See You in my Dreams," interspersed through the second half of the program — were recorded in the barn. Unlike in years past, there were no dirty jokes between songs, or humorous auctions of lasagna and guitars. Choosing to let the music speak for itself, with only a brief introduction from Stewart before each performance, Springsteen offered a message of optimism and hope for our veterans, military families, and country after an unprecedented and challenging year.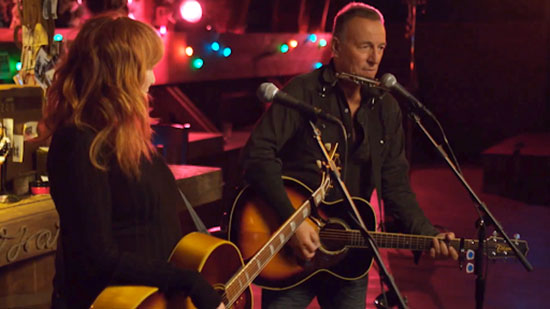 A half-hour into the show, Stewart introduced Bruce and Patti Scialfa for the first of Springsteen's three-song "set" — the live premiere of "House of a Thousand Guitars." With a pair of acoustic guitars, Bruce and Patti reimagined the midtempo, piano-driven ballad as an unembellished hymn.
The sparse arrangement, with Springsteen's harmonica filling the bridge, puts the focus square on the song's lyrics (including its reference to the "criminal clown") and emphasizes the song's call to shake off our troubles, wake in search of the lost chord, and rise together 'til we fire the spark. The "li, li, li's" at the end echo the similar prayerful spirit of "The Rising."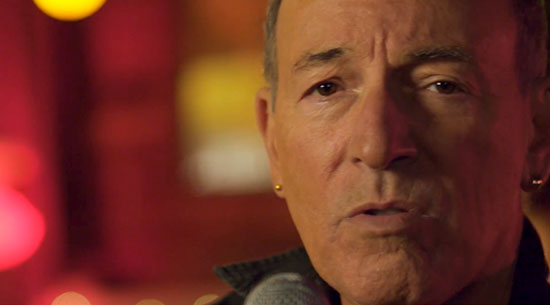 Fifteen minutes later, Stewart was back to introduce, "from 2007's Magic…" a solo acoustic version of "Long Walk Home." Fans are familiar with this version, slow and deliberate, with the camera tight on Springsteen's face as he sang the third verse to remind us of the meaning of "that flag flying over the courthouse."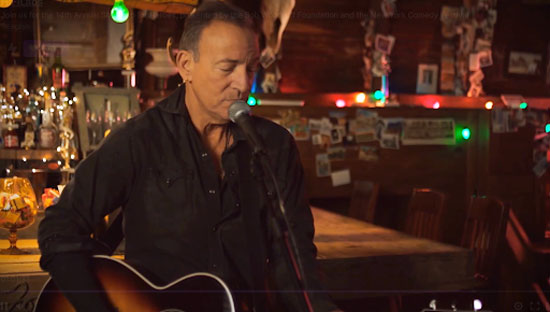 Taken with the earlier performance of "Thousand Guitars," it's a one-two punch of modern-era Springsteen that tells of the redemptive power of community and fellowship to point the way through these difficult days.
Closing the event, Patti again joined Bruce for one of Jon Stewart's "absolute favorites" off Letter to You,"I'll See You in My Dreams." As with "Thousand Guitars," Patti sang harmonies and traded lines on the final chorus, while Bruce employed his harmonica in place of the piano and organ fills during the song's bridge. The song was a sweet and uplifting end to the event, reiterating a message of optimism and hope even in the face of sadness and loss.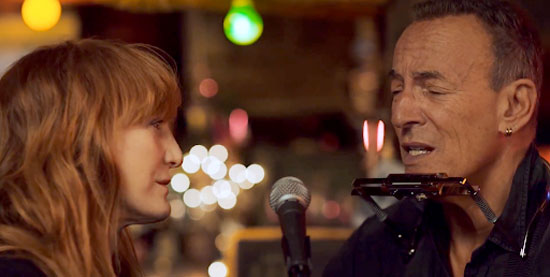 It's only a matter of time until we're back at Madison Square Garden and we can live and laugh in person again — and who knows, maybe Bruce's dirty jokes will return — but this year's Stand Up for Heroes was an inspiring virtual tribute to the real heroes who make our country great, a reminder of their sacrifice and the importance of a strong community to surround and support them.
The full livestream is is archived to watch online, on the Stand Up For Heroes website or via YouTube:
Stand Up for Heroes is presented by the Bob Woodruff Foundation and the New York Comedy Festival, for more information or to donate visit: https://standup.bobwoodrufffoundation.org/
- November 19, 2020 - Dante Cutrona reporting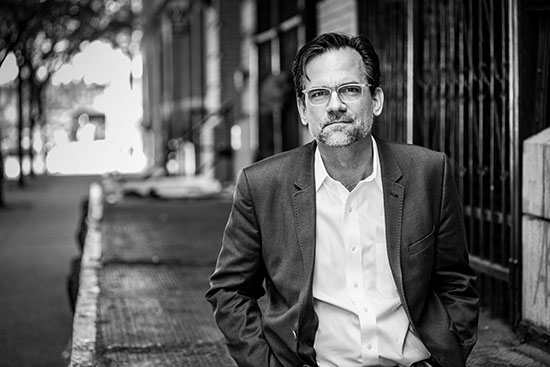 WHAT'S UP WITH THOM ZIMNY?
A new episode of What's Up on E Street? is online this week, with Thom Zimny the focus of this latest installment in the Bruce Springsteen Archives series. Host Bob Santelli catches up with the Letter to You director, discussing the new film, his creative process, and his work on E Street that goes back 20 years.
"You prepare a lot," Thom says of the various projects he's been a part of with Springsteen and Jon Landau, "but you have to remain open to what the universe throws you — or what Bruce throws you."
Watch below, or on the Archives' website and Facebook page.
For more with Zimny on Letter to You, don't miss our latest Backstreets Interview with the filmmaker, "Inside the House of a Thousand Guitars."
- November 18, 2020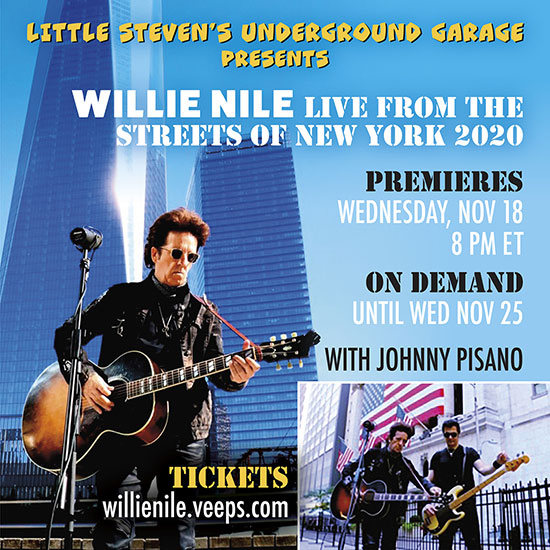 CITY OF A THOUSAND GUITARS
Starting tomorrow night, you can watch Willie Nile doing his own New York City serenade, in a new streaming special called Live From the Streets of New York 2020. Presented by Little Steven's Underground Garage, it looks like the kind of virtual visit that'll do our homebound hearts some good.
"My bass player Johnny Pisano and I went around NYC to interesting locations and sang songs along the way," Willie tells Backstreets, "It's a trip through a bit of NYC with music and stories" — including an Edgar Allan Poe poem outside where the writer once lived. Their musical tour also hits the Statue of Liberty, the World Trade Center, Washington Square Park, local Greenwich Village haunts, Buddy Holly's apartment, and more,
The show premieres Wednesday, November 18 at 8pm; but if you're planning to watch Stand Up for Heroes, don't worry about the conflict — Willie's show will also be available on demand for a week, through Wednesday, November 25.
Watch a preview below, and visit willienile.veeps.com for tickets.
- November 17, 2020


SPRINGSTEEN & BLEACHERS FIND TOMORROW IN "CHINATOWN"
Back in July, on From My Home to Yours, Patti Scialfa talked about working with fellow New Jerseyan Jack Antonoff on her new material. The songwriter/producer/Bleachers frontman helped provide the "something missing" from her song "You're a Big Girl Now," a recording she'd been working on with producer Ron Aniello. As she told her husband on the radio show, "Ron and I were like, 'Let's see what Jack thinks of this song, what he'd do,' and Jack took it in, just roughed it up a bit, and just put some horns on it and made it earthier."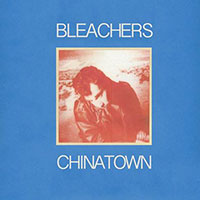 With Jack's own band Bleachers, apparently the "something missing" on the stirring new song "chinatown" was Bruce Springsteen.
Out today, the new single has Antonoff and his home state hero and joining forces, with Springsteen singing on the track and appearing in the video — listen and watch above. "chinatown" and its B-side "45" are sneak peaks at the third Bleachers album, scheduled for 2021. Both songs are available digitally as well as on 7-inch (which we'll be tyring to track down).
In today's press release, Antonoff talks about the new songs:
"chinatown" starts in NYC and travels to new jersey. that pull back to the place i am from mixed with terror of falling in love again. having to show your cards to someone and the shock when you see them for yourself. thinking you know yourself and where you are from…. having to see yourself through somebody who you want to stay… i started to write this song with these ideas ringing in my head. to further understand who you are pushes you to further understand where you are from and what that looks and sounds like. there are pieces in that that are worth carrying forever and pieces worth letting die. "chinatown" and "45" are both the story of this – "chinatown" through someone else, "45" through the mirror.

as for bruce, its the honor of a lifetime to be joined by him. he is the artist who showed me that the sound of the place i am from has value and that there is a spirit here that needs to be taken all over the world.
Previously, Antonoff co-produced an artist and album Springsteen has raved about, Lana Del Rey's Norman Fucking Rockwell, along with big records for Lorde and Taylor Swift. He's put on an annual music festival in Asbury Park since 2015 — as Springsteen on Sunday host Tom Cunningham tells Backstreets, "Shadow of the City has become one of the go-to summer events at the Stone Pony Summer Stage."
Antonoff wears a "Welcome to New Jersey, Now Go Home" T-shirt in the video, which also features the Jersey state line and very familiar-looking Cadillac. As he tweeted when "chinatown" dropped today: "this ones for new jersey."
- November 16, 2020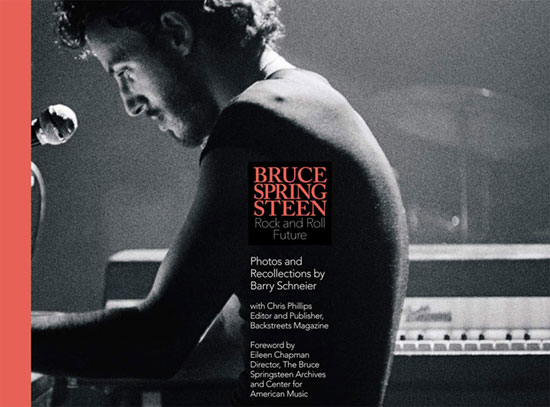 I'VE SEEN THE FUTURE AND IT WILL BE
Tipping our hat to the newly minted Hall of Famer Jon Landau, more from our book Bruce Springsteen: Rock and Roll Future
One evening in April 1974, on the recommendation of a friend, photographer and music lover Barry Schneier went into Charlie's Place in Cambridge, Massachusetts, to hear a new artist from New Jersey who'd been generating local buzz. Barry would say afterwards that Bruce Springsteen's show that night was one of the most amazing performances he had ever witnessed, and he left with one thought in mind: he had to see Bruce and the band again.
The next day Barry introduced the band's music to his friend and concert promoter Ira Gold, insisting Ira book Springsteen and the band and bring them back to the Boston area. Ira borrowed the albums, and as Bruce's four-night run at Charlie's Place went on, Ira went to the club with his producing partner Jeff Hersh so they could see the act for themselves. By the end of that night, they offered Bruce a new opportunity: opening for Bonnie Raitt in May at Cambridge's Harvard Square Theatre — a show previously planned with no supporting act.
During that same Charlie's Place stand, another music lover, Jon Landau, also ventured in to see Springsteen for the first time. Landau, too, was blown away by what he heard.
Stars aligned at the Harvard Square Theatre a few weeks later, when Bruce opened for Bonnie. Barry photographed in a professional capacity, capturing the night from soundcheck to the end of the second set, while Jon famously reviewed the show for the local publication, The Real Paper.
As Landau recalled last weekend in his Rock and Roll Hall of Fame Induction speech:
On May 9, 1974, I went to a concert at the Harvard Square Theater, and I was so overwhelmed by the performance that I went home after the show and wrote those famous words that I'm still so proud of: "I've seen rock and roll future and its name is Bruce Springsteen." That night, I decided that I would somehow find a way to work with Bruce on his music and career. And so I did, for the next 45 years as his co-producer, manager, and most importantly, as a partner and friend who loves him deeply.
Through the words and images of Barry Schneier, Backstreets Publishing's Bruce Springsteen: Rock and Roll Future provides a look at that very night, as well as the events that led up to it, Landau's review, and its seismic impact. With both color and B&W images, this hardcover book is a narrative and photographic celebration of the magic of rock 'n' roll, set against the evolution of an incredibly vital era in music and culture, while showcasing how it all magically came together one night in a small theatre in Cambridge — and thanks to Landau's review, reverberated around the world.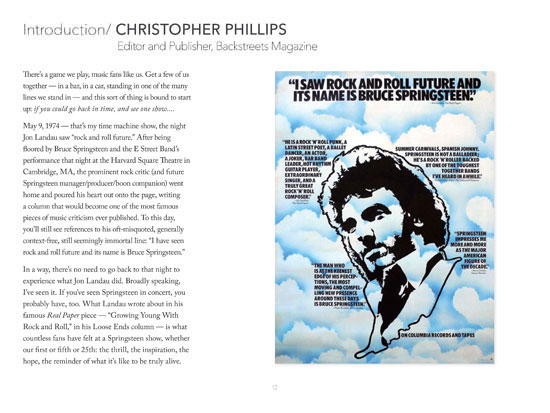 In honor of Jon Landau's induction into the Rock and Roll Hall of Fame, we're putting the book's Introduction online for the first time. Written by Christopher Phillips, the Intro is a history of the most famous concert review of all time, providing more context for Barry's journey through the night and additionally detailing Bruce's sentiments after being declared "rock and roll future." While Jon may have been certain about his declaration, Springsteen's feelings were decidedly mixed….
Read the Introduction to
Bruce Springsteen: Rock and Roll Future
HERE
For a limited time, purchase Bruce Springsteen: Rock and Roll Future (First Edition hardcover) directly from Backstreets and receive a FREE bonus set of four 4x6 postcards, showcasing four of Barry's images from May 9, 1974.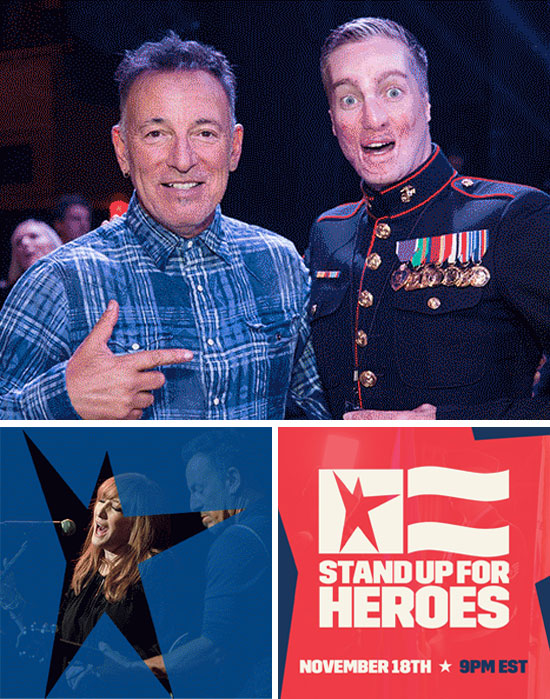 STAND UP FOR HEROES GOES ONLINE, STREAMING NOV. 18
Springsteen & Scialfa stand back up for military familes
Next week, Bruce Springsteen will return for his 13th Stand Up for Heroes appearance — he's only missed one in the annual benefit's 14 years. Patti Scialfa, his frequent duet partner at these shows, will perform as well. Of course, this one's easier to show up for, since presumably they won't have to leave home — for the first time, Stand Up For Heroes is being presented all-virtual online.
The New York Comedy Festival event promises "hope, healing and laughter honoring our nation's veterans and their families"; we also anticipate some corny, dirty jokes from Bruce, as has become customary. Jon Stewart will host, with additional performers Nate Bargatze, Ronny Chieng, Sheryl Crow (last year, she dueted with Bruce on "Redemption Day"), Mickey Guyton, Tiffany Haddish, Brad Paisley, and Iliza Shlesinger. Special guests will include Jeannie Gaffigan; Prince Harry, Duke of Sussex; and Ray Romano.
Stand Up for Heroes raises "awareness and funds for the Bob Woodruff Foundation, whose mission to help veterans and military families thrive is especially vital as veterans face increased challenges due to the COVID-19 pandemic," accoridng to this week's press release. "Since its inception in 2007, SUFH has raised more than $55 million to create long-lasting, positive outcomes for our nation's injured veterans, service members and their families."
Tune in Wednesday, November 18 at 9pm ET, when SUFH airs on ABC News Live, TikTok, Facebook, Cheddar, Twitch, and Armed Forces Network.
- November 12, 2020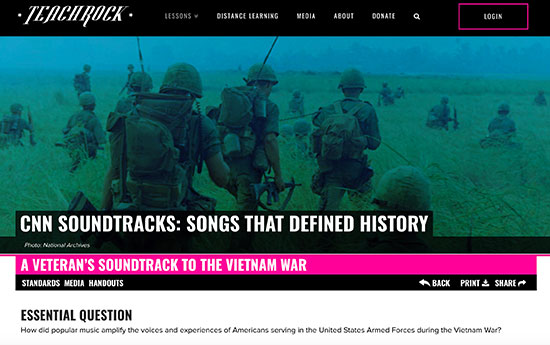 FOR VETERANS DAY 2020, A NEW LESSON FROM TEACHROCK.ORG
TeachRock.org, the organization founded by Steven Van Zandt and funded by the Rock and Roll Forever Foundation (including Founder's Board member Bruce Springsteen), continues to provide a free online curriculum and free resources for teachers who seek to use the history of popular music and culture to better engage their students. Working in partnership with the producers of CNN's series Soundtracks: Songs That Defined History, TeachRock has provided high school teachers with a new lesson just in time for Veterans Day 2020: "A Veteran's Soundtrack to the Vietnam War."
The essential question that the lesson seeks to helps students explore is, "How did popular music amplify the voices and experiences of Americans serving in the United States Armed Forces during the Vietnam War?" One of the lesson's key objectives is to increase students' awareness and understanding of "particular songs that informed and represented the experience of Americans serving in the armed forces during the Vietnam War, and their life afterward in the U.S. as veterans."
Not surprisingly, one of those songs is Bruce Springsteen's "Born in the U.S.A." In one of the CNN Soundtracks video clips that accompany the lesson, students get insights on Springsteen's song from musicians Ben Harper and John Mellencamp. Before reading some of the song's lyrics, Harper warns, "I don't know if I can read these lyrics without crying, but I will try."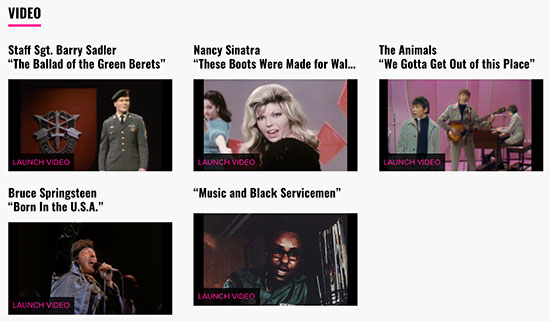 Additional insights are provided by Vietnam War veterans Doug Bradley (co-author of We Gotta Get Out of This Place: The Soundtrack of the Vietnam War) and Roger Steffens (founder of the Roger Steffens Reggae Archives.)
Finally, students hear from Bruce himself, via archival interview video.
"What led me to write about it… just felt central," says Springsteen. "I lived in a little town, a small town, and there were lines drawn everywhere," he continues, recalling a highly divided time in the U.S. not unlike this current period. "In the United States it was a defining moment in American culture…. You felt things really change. There was before and there was after, and the world and the United States felt like a different place."
In the latest edition of the newsletter sent to all of TeachRock's registered educators, Patrick McGuire, a teacher at Mountain Vista High School in Highlands Ranch, Colorado who co-wrote the A Veterans Soundtrack to the Vietnam War lesson plan, writes:
My dad, Kenneth James McGuire of Jersey City, is a Navy man. He served proudly in World War II, and then headed back for the Korean War. He also kicked COVID's behind at age 95, but that's another story. The idea of honoring those who serve was never in question in our family. It came naturally and comfortably. That never wavered even as my hair got longer, my social awareness got broader, and my sixties experience got crazier. Respect and honor for military service was a non-negotiable — for my dad's crew as well as the friends of my older brother heading off to this faraway place called Vietnam.

My front row seat in a wonderful New York Italian/Irish family gave me a personal perspective bearing witness to these times. My Dad was shaped by his military experience, and we were all very proud of him. Yet, the Vietnam War was causing a division in our country that flew in the face of what he stood for, and believed was right. That turbulence inevitably found its way into our house, and it got bumpy. Yet, as the war ground on, I witnessed a transformation in my father. This war was different, and it demanded a new perspective. I like to think his four cool kids helped with the greatest records in history as the soundtrack. It was unavoidable and incredible.

Music was our wonderful bond. Weekends were made for music, and the family stereo was usually cranking. Sinatra, Bennett, and Ellington from his collection. I would return the favor with any carefully chosen not too aggressive cut. Lennon and McCartney, Wonder, and Robinson, never let me down. Here's this Greatest Generation hero of mine and me, this long haired, peace and love, musician, music freak Boomer son of his engaged in a face off sharing music. We got to know each other better. Music was the common ground for a generation gap wider than ever before. The beautiful noise bringing harmony to dissonance. Sounds like a TeachRock lesson.

All of this; the years I grew up, my family, and my music are always alive and well in my writing, my performing, my parenting, and my teaching.

My work on "A Veteran's Soundtrack to the Vietnam War" was personal. I was raised to separate the soldier from the conflict, see both sides, and always focus on the humanity in the big story. Our veterans deserve to be heard, and their stories told. What better way to spotlight people than listening in on the songs that comforted them, motivated them, and inspired them. There is no greater force in uniting, understanding, and illuminating the human experience. Turn the music up. All the way up.

To all the men and women who served the country in war or peace, we are thinking of you on this Veterans Day.

Especially my dad.
If you're an educator who wishes to receive the TeachRock newsletter via email, click here to register with TeachRock. Registration is free, as are all TeachRock lesson plans and resources.
And to all of our nation's military personnel, whether active or retired, we at Backstreets wish you a peaceful and safe Veterans Day 2020.
- November 11, 2020 – Shawn Poole reporting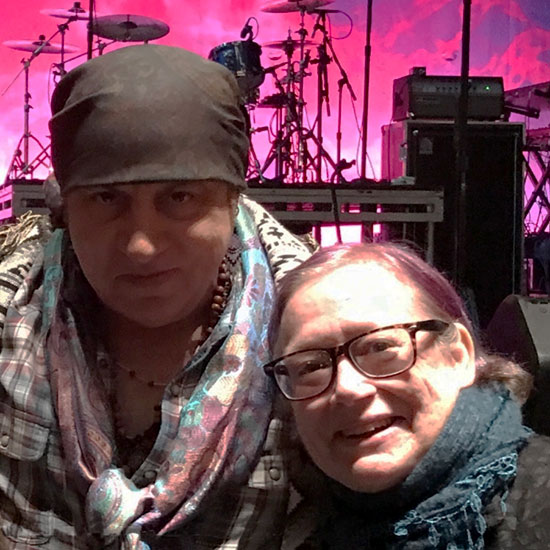 Little Steven Van Zandt with "lifelong assistant" and "true Disciple of Soul" Holly Cara Price - photograph by Ken Lesnik
MISS HOLLY CARA PRICE, 1955-2020
Farewell to a true Disciple of Soul
For those who knew and loved Holly Cara Price — and there were many of us — this past weekend was one of serious highs and lows.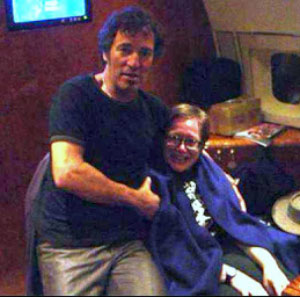 As many around the U.S. literally danced in the streets on Saturday, Holly passed away. A hardcore E Street fan since the late '70s who went on to work the other side of the velvet rope, Holly had lived with cancer for a decade — and truly lived.
Throughout her treatment, she remained an inspirational spirit for so long, often wearing her "Fuck Cancer" hat, but her health took a turn for the worse when she lost her mother over the summer. While Holly's passing on November 7 may not have come as a huge surprise to all those who kept in touch, read her online updates, or generously donated to Holly's Stage IV Cancer Campaign on GoFundMe, it's heartbreaking nonetheless.
A reassuring thought — especially for someone who cared so much about progressive politics, and music, and where the two meet — is that she died peacefully in her sleep after hearing the news about the Biden/Harris victory, while Letter to You played.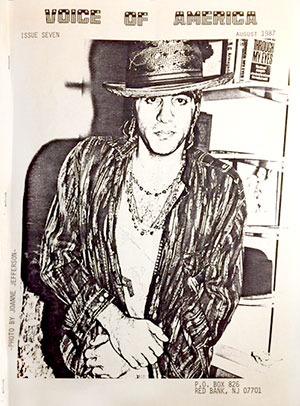 I was first familiar with Holly through her work as the publisher of Voice of America in the 1980s — a fanzine dedicated to Little Steven. A skilled editor, writer, researcher, and "agent provocateur," she became a longtime friend of and contributor to Backstreets. I recall a few "business calls" with her in the early '90s, but we really connected in 1998, as I was looking for someone to write about Bruce Springsteen's summer 1982 club appearances, for Backstreets magazine.
"Oh, you've got to talk to Holly," a mutual friend told me, "Not only was she there in '82, she kept a diary!" Soon Holly and I were back on the phone, but this time getting to know each other as she excitedly took me through that magical summer on the Shore; in Backstreets #60 we ran an edited version of her diary including photos she had taken along the way at Big Man's West.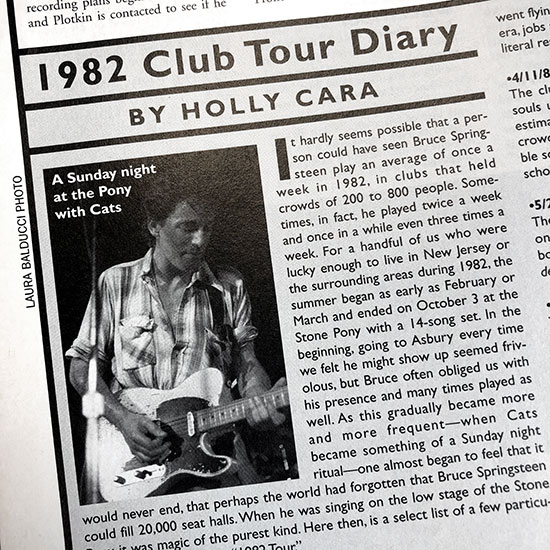 A year later I met her in person, as the Reunion tour got under way; we were soon friends, reconnecting at pre- and post-show gatherings over the years, speaking on panels together, and as she worked tirelessly for Little Steven, helping each other spread the word of the Disciples of Soul. I fondly remember her making sure to introduce me to Steven at his 2000 Tower Records meet-and-greet, taking the picture of us personally to make sure I got a good one.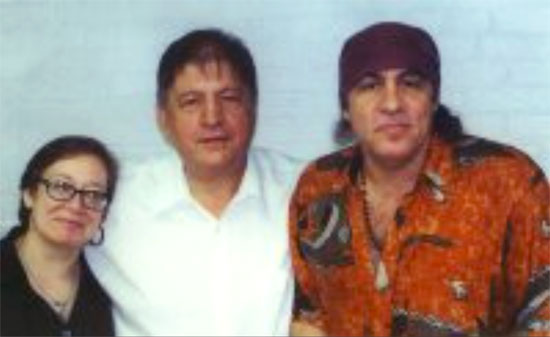 Holly and Steven with music industry legend Steve Popovich — she wrote a wonderful piece on HuffPost.com when he died in 2011, read it here
Holly's passion for the music never wavered, and it warmed my heart every time she said "Yes!" to something I hoped she'd write. Which was every time. Even when the answer was, "Yes! That's a perfect time for me to write something, since the worst of tomorrow's chemo treatment should be over by then."
Her writing ran on Backstreets.com as recently as May of this year, when she told the story of Springsteen's 7/9/81 Meadowlands show upon its Live Archives release; last year she wrote up the 11/24/96 Asbury Park release for us.

There's been an outpouring of love for Holly online in the wake of her death, from so many whose lives she touched, including the Van Zandt and Lofgren families. A card-carrying Disciple of Soul, she truly walked it, talked it, in her heart.
With special thanks to Mike Saunders, Ken Lesnik, and Dan French, we have more tributes and remembrances of Holly Cara Price — please read on!
- November 10, 2020 – Christopher Phillips reporting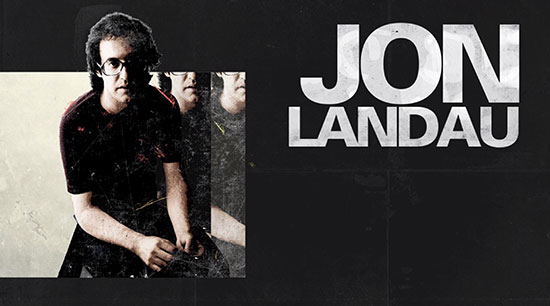 "I WELCOME YOU, GOOD FRIEND, TO THE ROCK AND ROLL HALL OF FAME."
Springsteen inducts Landau, with a little help from Browne, Iovine, Wenner, and Zimny
Introducing The Rock and Roll Hall of Fame 2020 Inductions, which had its initial airing on HBO over the weekend and featured the induction of longtime Springsteen friend/manager/producer Jon Landau as a recipient of the Ahmet Ertegun Award, there was no other way that Dave Grohl could begin the evening than by acknowledging the continuing reality of COVID-19. "This rock 'n' roll family of ours," said Grohl, "like so many others, unfortunately can't gather together in person to induct the Hall of Fame Class of 2020."
The ongoing pandemic forced this year's induction ceremony to be delayed by more than six months and rendered unsafe any onstage speeches, celebrations, or performances before a live audience of peers and fans. Nevertheless, the induction ceremony's producers still managed to create something special that stayed true to the spirit of past induction ceremonies and of the Hall itself. "Tonight," continued Grohl, "we celebrate this new class of the Rock Hall as we've never done before, and as we tell their stories, we tell ours, too."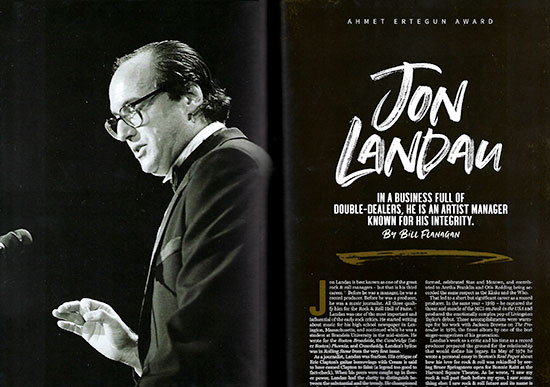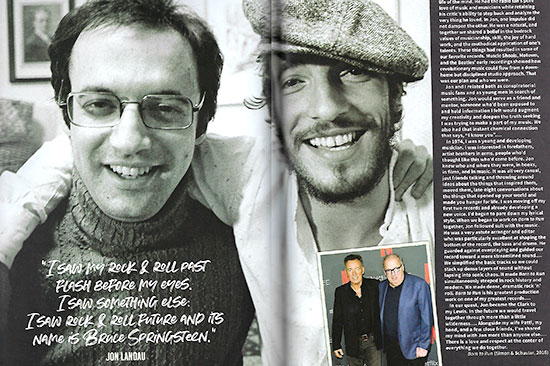 "In a business full of double-dealers, he is an artist manager known for his intergrity": Bill Flanagan's feature on Landau in the Rock Hall's 2020 Induction program
Unsurprisingly, it was Bruce Springsteen who officially inducted Jon Landau — but not live onstage in Cleveland, as planned originally, or even via a remote live feed. Instead of having Springsteen deliver one of his trademark induction speeches, his remarks were embedded into Thom Zimny's short Landau tribute film The Big Picture, along with additional insights from Jackson Browne, Jimmy Iovine, Landau himself, and Jann Wenner.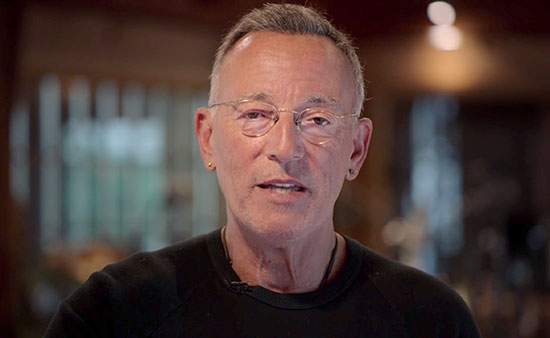 Below is everything Bruce said about Jon Landau in Zimny's film, serving as a transcribed induction speech in absentia:
One of my first recollections of Jon Landau was his trashing of The Blues Project in Crawdaddy!, which held the very first of rock criticism. And I was going, like, 'Who does this guy think he is?! Who's Jon Landau?!' As a critic, he was measured, very thoughtful, but he could take you down.

[Regarding Jon's most famous sentence, 'I saw rock and roll future and its name is Bruce Springsteen,'] first of all, when he said it, we didn't think it was going to turn into some iconic quote that people will still bring up 40 years later, you know? He just saw a future in us.

[As a producer,] Jon had the initial idea of doing something I had never even heard of, and it was something he called… editing. You mean, take something out?! No, no, no! We're the guys that put everything in! I don't take anything out! To this day, I think that's my favorite of Jon's production efforts: the work we did together on Born to Run.

There was an innate sort of intellectualism that was always part of the music we were working on. Thinking about what rock 'n' roll meant, its place in society, its place in our own maturing…

As a writer, Jon was in the forefront. As a producer, critical. And he created a management style based around not just the business but nurturing the highest artistic goals, along with the personal growth. No one did that before Jon Landau, and I don't think anyone's done it as well since. And he's always been an incredible friend. I welcome you, good friend, to the Rock and Roll Hall of Fame.
And a transcription of Jon Landau's complete acceptance speech, which you also can watch above.
To begin at the beginning, I love my mom and dad for gifting me with their humanity, but tonight I particularly want to thank them for taking me to a Pete Seeger concert when I was four years old. Right then and there, while Pete was singing and playing his loud, shiny banjo, I suddenly felt my entire mini-consciousness exploding. And that's when I knew that I would spend my life in music. So thanks to my childhood hero Pete Seeger.

I thank my wife Barbara, who I've loved for the last 43 years, our children Kate and Charlie, and my brother David. I love you all. Thanks to my most dedicated and loyal partner at JLM, Barbara Carr, and George Travis, Alison Oscar, Jan Stabile, and my dear friend Chuck Plotkin. I love you all, as well.

Now, I started writing about music in 1962, while a junior at Lexington High School, and from there I met the late Paul Williams in 1966, who I thank so much for having published me in his pioneering Crawdaddy! magazine. And that in turn led to ten years of writing about music at Rolling Stone, where I earned my PhD in life. So, love and thanks to my friend of a lifetime, Jann Wenner.

On May 9, 1974, I went to a concert at the Harvard Square Theater, and I was so overwhelmed by the performance that I went home after the show and wrote those famous words that I'm still so proud of: "I've seen rock and roll future and its name is Bruce Springsteen." That night, I decided that I would somehow find a way to work with Bruce on his music and career. And so I did, for the next forty-five years as his co-producer, manager, and most importantly, as a partner and friend who loves him deeply.

So as I offer my thanks to the Hall of Fame for this extraordinary recognition, I also want to thank some of the other artists with whom I've worked, among them Wayne Kramer, Rob Tyner, Fred "Sonic" Smith, and the extraordinary MC5, Livingston Taylor, my longtime friend Peter Wolf and the J. Geils Band, Natalie Merchant, Shania Twain, Train, and Alejandro Escovedo. I offer my special thanks and love to the extraordinary Jackson Browne, whose faith in me back in 1976 gave me the confidence to reach for the sky.

And of course I reserve my most heartfelt thanks for Bruce, who gave me the chance, the encouragement, and the love that I needed to fully realize who I am and what I have to contribute, and without whom this moment could never have happened.
As one would expect, "The King" remains eloquent and concise. (It's also reassuring to know that even the author sometimes misquotes his most famous sentence.) We congratulate Mr. Landau on this well-deserved honor, with gratitude from all of us for the major behind-the-scenes role he's played in helping to create so much great music and so many great memories.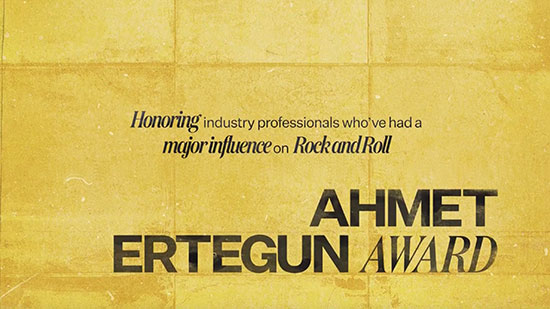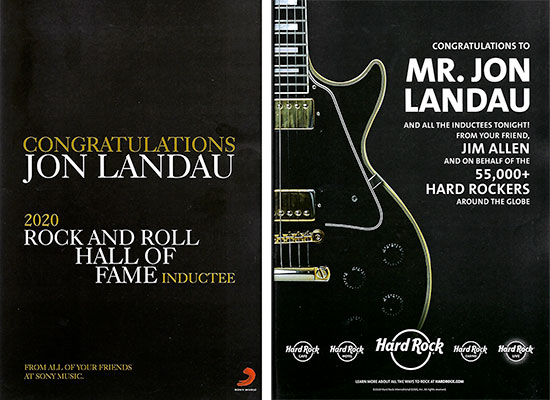 The Rock and Roll Hall of Fame 2020 Inductions ceremony is airing exclusively on HBO. It is also available via HBO On Demand and streaming via HBO Max. Click here for more information.
- November 9, 2020 – Shawn Poole reporting



LOOKING FOR THE MAP THAT LEADS ME HOME
The music was Boss during Saturday's historic event
Clearly there's at least one E Street fan in the Biden/Harris circle. Even before U.S. Vice President-Elect Kamala Harris introduced U.S. President-Elect Joe Biden during Saturday's historic address to the nation, and Biden ran onstage to the strains of "We Take Care of Our Own," Little Steven and the Disciples of Soul's "Soulfire" was part of the event's walk-in (make that drive-in) music.
"Soulfire" could be heard on the live audio feed that was widely televised as various news outlets began linking to the address. For a day or so, you could hear it at the very beginning of the officially archived YouTube video, though the pre-event music since has been excised. Here are time-stamps, however, for everything else Springsteen/E Street-related that remains:
11:25 - Harris introduces Biden, who runs onstage to "We Take Care of Our Own" — a complicated lyric that's not quite as simple as the rousing chorus might suggest (sound familiar?), but representative of the complex way Springsteen's patriotism often manifests in his work. As he said at the time of the song's release, "There is a real patriotism underneath the best of my music, but it is a critical, questioning and often angry patriotism."

27:41 - Biden ends his speech and the post-speech celebration begins to the strains of Jackie Wilson's classic "(Your Love Keeps Lifting Me) Higher and Higher," a song frequently covered by Bruce Springsteen, with and without the E Street Band (perhaps most famously on October 29, 2009 as part of the 25th Anniversary Rock and Roll Hall of Fame Concerts, with Bruce and the E Street Band joined by John Fogerty, Billy Joel, Darlene Love, Sam Moore, and Tom Morello).

39:35 - As Biden, Harris, and their respective family members begin leaving the stage, Eric Church's "Springsteen" begins playing. In fact, the very last word heard on the Biden-Harris team's archived video of this event is Church singing the word "Springsteen."
Presumably all of the recorded music played at the event had none of the permissions issues that often have dogged political campaigns, but who put together that playlist? Forget about "Deep Throat" and the various "Anonymous"es over the years, there's only one political secret identity that interests us right now: Secret Springsteen Fans on the Biden/Harris team, reveal yourselves!
- November 9, 2020 – Shawn Poole reporting – special thanks to Hannah McSwain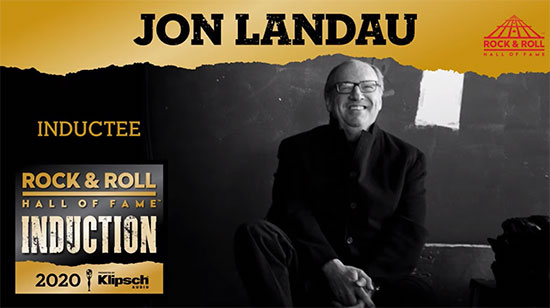 NEVER HANGING UP THOSE ROCK 'N ROLL SHOES
Jon Landau looks back with Backstreets on the occasion of his induction into the Rock and Roll Hall of Fame
It has to be said, just this once: We saw Rock and Roll Hall of Fame Future, and its name is Jon Landau.
Tonight.
When Bruce Springsteen was inducted into the Hall in the spring of 1999, he had words of deep gratitude for each of his comrades-in-arms in the E Street Band, but perhaps none as rich as those he saved for his longtime manager and friend:
Jon's given me something beyond friendship and beyond guidance: his intelligence, his sense of the truth, his recognition of my intelligence. His creative ability as a producer and editor… his ability to see through to the heart of matters, both professional and personal, and the love that he's given me has altered my life forever. What I hope to give to my fans with my music — a greater sense of themselves and greater freedom — he, with his talents and his abilities, has done that for me. There's no "thank you" tonight that's gonna do the job, and it's a debt that I can't repay — and one I treasure always.
In 2014, Springsteen delivered the speech to welcome the E Street Band into the Cleveland-based institution; tonight, in the 35th annual Induction, he will lead the Rock Hall in honoring Landau himself.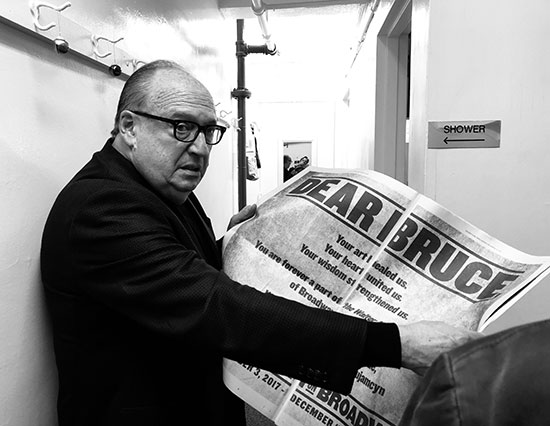 Landau's induction into the Rock and Roll Hall of Fame comes in the form of the Ahmet Ertegun Award. Named for the esteemed co-founder and president of Atlantic Records (as well as co-founder and chairman of the Rock Hall itself), the honor is one Landau will share with such towering previous inductees as Frank Barsalona, Clive Davis, Brian Epstein, Leo Fender, John Hammond, Jac Holzman, George Martin, Sam Phillips, and his old friend Jann Wenner.
The Ahmet Ertegun Award award honors "industry professionals," those outside the performance arena — songwriters, producers, managers, journalists, inventors, disc jockeys — "who have had a major influence on rock and roll." Over his nearly 60-year career (and counting), Landau has not only pursued three of these professions — critic, producer, manager — he's climbed to the top of each field.
In an exclusive interview with Backstreets, Landau confirms this trifecta as the basis for his Rock Hall induction: "I've come to understand that the powers that be who provided me with this honor were looking at three things. My journalism and the leadership role I had in the development of rock criticism was a component, in addition to my production work and my approach to management, which was pretty unique. My career has ranged over some very diverse territories and turfs."…
Continue here to read the full article
- November 7, 2020 - Christopher Phillips reporting - thanks to Thom Zimny, Ali Oscar, and Jon Landau Management for the photographs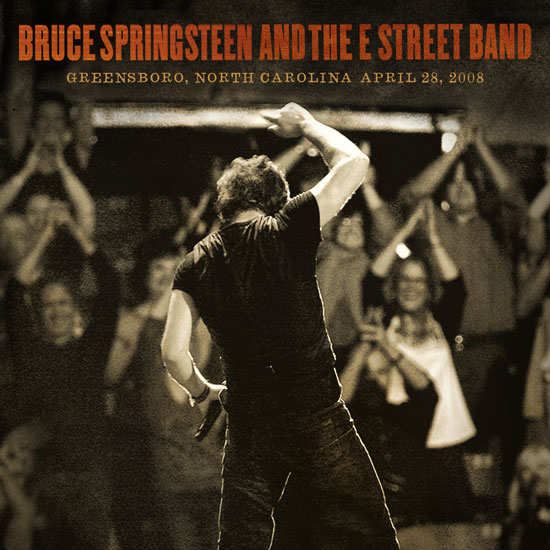 TURNING IT UP IN STEENSBORO
Magic, rarities, and an all-in audience combine for new Archive Series release
In the Reunion era of frequent tours by Bruce Springsteen and E Street Band, it would be folly to pick any one American city as having the "best Springsteen audience." But crowds in the Carolinas, and in particular those at the Greensboro Coliseum, have nonetheless developed a well-earned reputation for being exceptionally welcoming, active, and engaged. It's little surprise that Bruce and the band consistently turned in strong performances in Greensboro, tour after tour — the cancellation in 2016 still stings for having missed a chance at one more. The Magic tour's visit, Greensboro Coliseum, April 28, 2008, is accordingly welcome as today's addition to the Live Archive Series.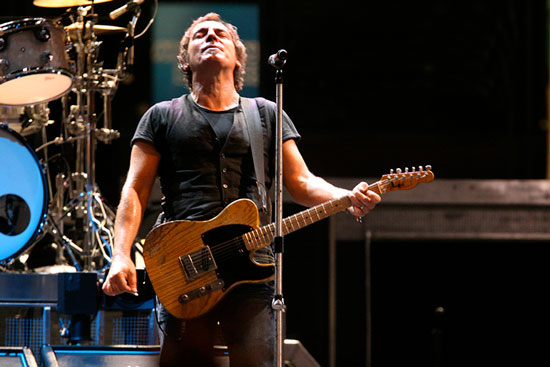 This release comes from a sweet spot in the spring 2008 arena leg. The tour had turned a corner in the Pacific Northwest in late March and built steam through the West Coast, Texas, and Florida. Springsteen remained firmly committed to the new material from Magic, but the shows had grown slightly longer as he dipped more extensively into his song catalog when crafting each night's setlist. He boosted excitement by breaking out different songs to start each show, with a streak of 15 unique openers as they headed to Greensboro.
On night 16, Bruce did not disappoint, opting for the always-intense "Roulette," which immediately set the tone and pace for the night. Just starting a show with "Roulette" is itself a blueprint for a great concert, but Greensboro also benefited from a double-dip into Tracks, with an inspired choice of "Don't Look Back" in the second slot. A true live rarity — this was its only performance between 2000 and 2012 — the Darkness outtake was another tip of the hat to the connoisseurs in the crowd.
Streamlined sets and quick transitions between songs were hallmarks of the Magic tour overall, but from the surprise opener through the first half of the 4/28 set, extra oomph was palpable. With a simmering "Trapped" and the insertion of "Darkness on the Edge of Town" between the tour's common pairing of "Because the Night" and "She's the One," Bruce kept his foot on the gas.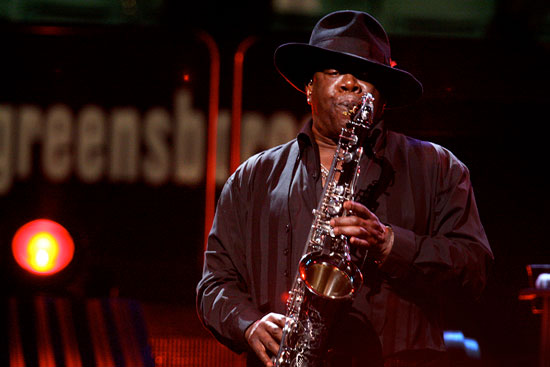 Greensboro was only the fifth show after the death of Danny Federici. As it had at the four prior shows, a tribute video set to "Blood Brothers" played at the start of the night. The April 22 Tampa show, itself an Archive release in February 2019, was in many ways the public memorial service for Danny. Six nights later, while the band was understandably still playing with heavy hearts, there was more levity in Greensboro; the tribute moments here came across as more celebratory.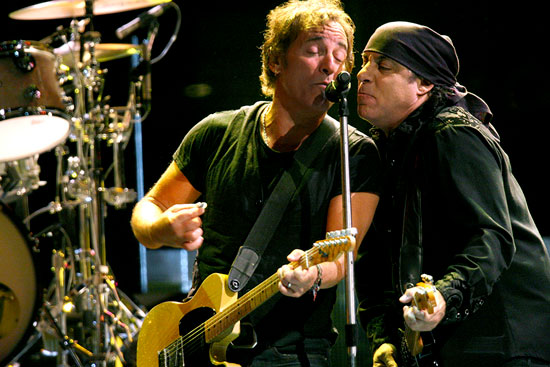 After "Gypsy Biker," Bruce paused to remember Danny with stories that sounded like outtakes from his eulogy: further examples of how Danny "had nine lives, and used up about five of mine." Bruce regaled the crowd with Danny's penchant for acquiring gadgets while on the road — including a massive jukebox speaker, as well as the up/down elevator buttons from the band's motel — as an introduction to "It's Hard to be a Saint in the City," dedicated to "our old pal."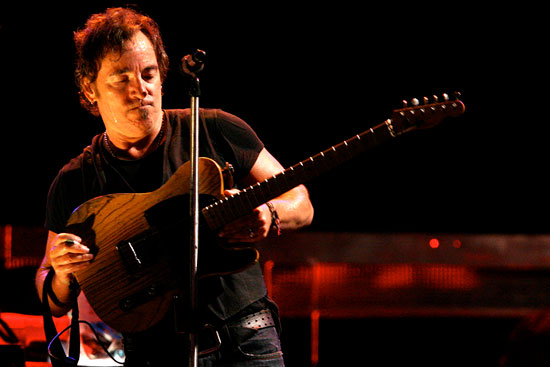 Even with large portions of the set fixed each night, Greensboro features nine changes from Tampa, including an excellent "Devil's Arcade," in one of its last performances before it dropped out during the stadium shows, as well as the poignant inclusion of "Bobby Jean" following an encore-opening "Backstreets."
In the middle of the set, Bruce led the band into the first "Mary's Place" of the tour. Surely we can all remember a time or two when the Rising tour mainstay had worn out its welcome, but this performance is revealing: it's a really good song! (Especially when presented without band introductions, audience-shushing before the final verse, or the infamous "build me a house" introduction.) "Mary's Place" was a perfect thematic addition as the band grieved, asking the question "How do you live broken-hearted?" and of course, answering: "Turn it up!"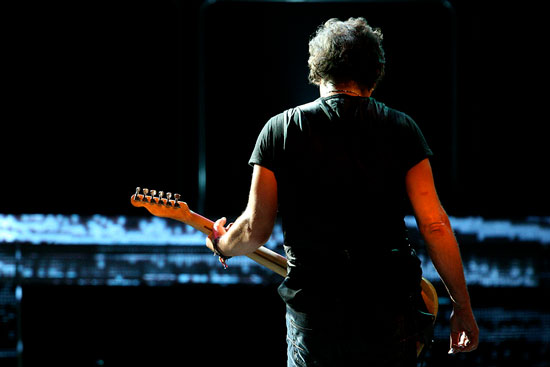 Fans greeted "Mary's Place" with a cheer, and Springsteen, looking to build on the excitement, pulled out "Waiting on a Sunny Day" to feed off that energy. And yes, even "Sunny Day" worked quite well in this set, performed in its purest form, without extended sing-alongs or guests from the audience on stage. The Carolina crowd didn't need a party trick to get them engaged: they were already there, from "Roulette" through "Mary's Place," through the multiple false endings in "Badlands," and into the encores, sealing a great performance — and Greensboro's reputation — deep in the heart of the Magic tour.
Also read: Erik Flannigan's latest blog entry for Nugs.net, "We Made It Through The Heart Of A Hurricane"
- November 6, 2020 - Glenn Radecki reporting - all photographs (including cover image) by Guy Aceto, 4/28/08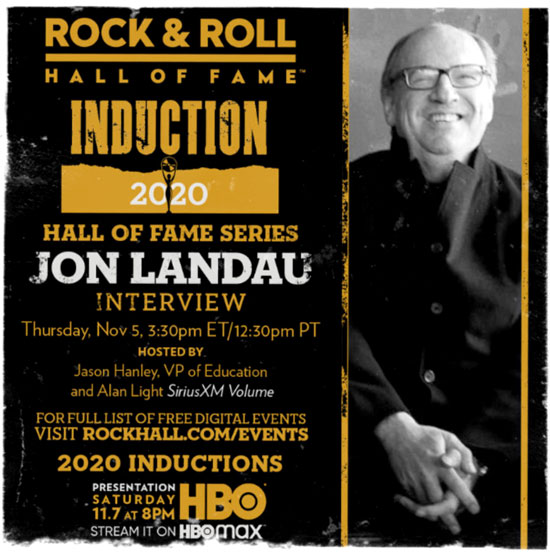 Q&A WITH THE "KING"
Rock Hall streams live interview with Jon Landau, a 2020 inductee
As part of the events leading to the 2020 Rock and Roll Hall of Fame induction ceremony this weekend, future Rock and Roll Hall of Fame inductee Jon Landau sat down Thursday afternoon with Jason Hanley (the Hall's VP of Education) and journalist Alan Light to talk about his career, accomplishments, and history within rock 'n' roll.
"It's a very meaningful form of recognition for me, I'm thrilled about it," Landau expressed as he entered the YouTube channel. Over the course of the next 70 minutes, Mr. Lan-DAU painted a vivid picture of how he came to be sitting there today.
A story about attending a Pete Seeger concert at the age of four, which Landau feels cemented his future in music, transitioned into details of the 2008 Obama Inaugural Celebration with Seeger at the Lincoln Memorial. Landau described how he managed to replace a planned sing-along finale of "God Bless America" with the delight that was Pete — with Bruce Springsteen —singing all of the verses of "This Land Is Your Land."
We learned that he does call Bruce "Boss," and that Bruce's nickname for him is "King."
While recalling his early years as a music journalist and a musician himself, Landau shared a hilarious anecdote of being called to Detroit to provide Elektra Records' Jac Holzman with a critical assessment of a new band they'd just signed: the MC5.
"It was my top five of pure peak experiences, of just sheer excitement," Landau said of the band commencing their live set. "You could not believe what you were seeing." He went on to produce their Back in the USA album, his first production job.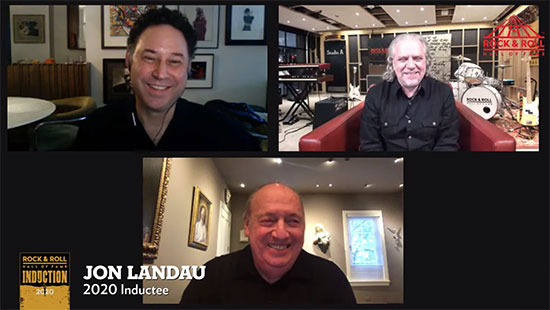 Of course, the discussion soon turned to his working relationship of 45 years with Springsteen, which he characterized as follows: "Bruce has created an amazing body of work, and I have done a good job assisting him."
Landau shared an anecdote about the making of Born in the U.S.A.: concerned about the direction of the album, he called Jimmy Iovine for advice. Iovine asked, "Is 'Born in the U.S.A.' still on the album?" "That, he's never touching," Landau assured him. Iovine's counsel was that there was nothing to worry about, as long as that was the case.
Speaking fondly of Born in the U.S.A. as "our singles album," Landau also noted how Bruce liked to give his singles away, specifically mentioning both "Fire" and "Because the Night" as tremendous hits for other people. When asked how he negotiated that kind of conversation with an artist, Landau says he "found the right voice to do it in so I could be constructive and not destructive."
A fan asked a question about Landau's role in Letter to You, to which he responded: "My contribution to Letter to You was to watch with enthusiasm while it got made." He said he might have offered some suggestions about the album's sequencing ("I have a good feel for it, with some usable ideas") but in the end, "when you have the E Street band in the studio, live, with the material that Bruce wrote, and with Ron Aniello producing… a tremendously constructive presence and talent… I'm a happy watcher!"
Watch the archived interview here:
The 2020 Rock and Roll Hall of Fame Induction Ceremony will air on HBO this Saturday, November 7, at 8pm. Jon Landau will be inducted by Bruce Springsteen.
- November 5, 2020 - Caryn Rose reporting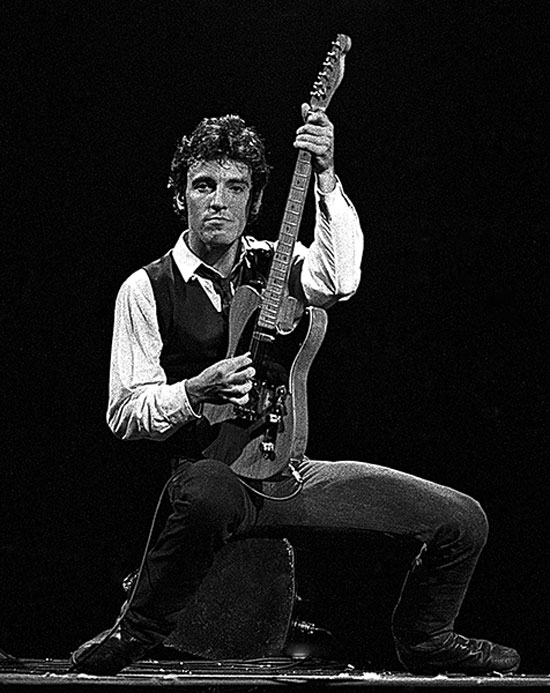 Fox Theatre, September 30, 1978 - Courtesy ©Rick Diamond. All images ©Copyrighted
SOUTHERN STARS AT THE FOX
Atlanta photographer Rick Diamond talks Fox '78, Brendan O'Brien & more
Some good news this week: so soon after Letter to You, Bruce Springsteen's Live Archive series from Nugs will deliver a new entry this Friday, bringing us a fresh listen.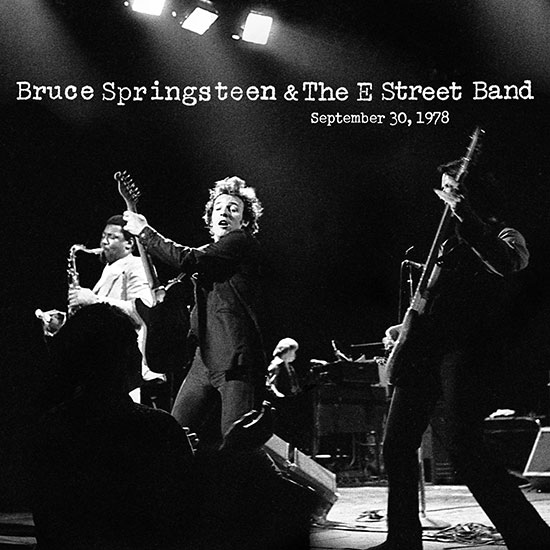 Before we move on to the November drop, let's spend a little more time with October's: September 30, 1978, from the Fox Theatre in Atlanta, GA. A long-anticipated installment, it completed the official set of five Darkness tour broadcasts.

The cover [right] bears a dynamic concert photograph by our pal P. Jay Plutzer, which is era-appropriate as usual for the series. Backstreets has also since tracked down Rick Diamond, one of the South's preeminent photojournalists, who was shooting at the Fox that night. He shared images from the show along with his recollections.

A long-time fixture in his home base of Atlanta as well as Nashville, Diamond worked for WireImage and Getty, spending considerable time with the Eagles as the official photographer on their Long Run tour. He was also one of the first still photographers hired to provide complete coverage of the Grammy Awards. Diamond has been retired for the last three years, but his legend in the ATL looms large.

Atlanta-based journalist Nikki Wooten spoke of Diamond's willingness to work with writers and the legacy he's left in his hometown: "Across decades of print and the web, Rick's photos demonstrate how Atlanta became one of the most vibrant music cities in the world. As seen in publications such as Rolling Stone and The New York Times, his snaps of tour stops by Springsteen, Stevie Wonder, and U2, plus hometown happenings by R.E.M. and hip-hop stars TLC and Outkast have continuously elevated the status of our city's music scene, its venues and fans."
The 9/30/78 Fox Theatre broadcast, though seemingly overshadowed by the others in larger markets, was in some ways more important in spreading the word of Bruce Springsteen and the E Street Band. At the time considered a Northeast phenomenon, it's clear Springsteen wanted to break nationally. The Atlanta broadcast was key to breaking Bruce in the South.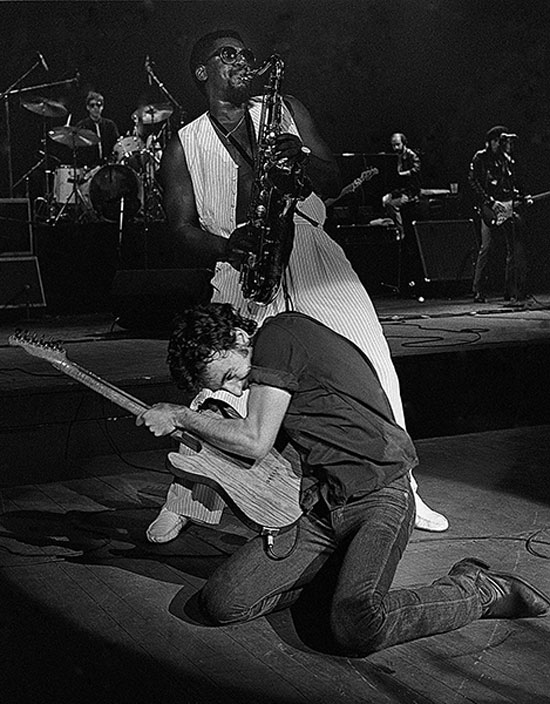 Fox Theatre, September 30, 1978 - Courtesy ©Rick Diamond. All images ©Copyrighted

Dick Wingate, Springsteen's marketing manager at Columbia Records in 1978, spoke to that notion in an email to Backstreets: "Marketing around the Darkness tour in '78 became the linchpin for our strategy, because seeing (or hearing) Bruce live was the key to gaining new fans and selling records. So the live radio broadcasts were designed for each region of the country as part of this strategy. New Jersey for the Northeast, Cleveland for the Midwest, Atlanta for the South, and Los Angeles and San Francisco for the West (those two western shows were 5 months apart). In each market we would buy radio spots, print ads, do ticket and retail contests, and sometimes merch these events.

"Atlanta was definitely the gateway to the south," Wingate continues, "just as San Francisco was a gateway to Pacific Northwest. L.A., New Jersey, and Cleveland were already hot spots for Bruce."

Rick Diamond was a natural to talk to, as he covered both the Atlanta broadcast show and a second Fox concert on October 1 for CBS Records' Atlanta branch. Along with sharing his beautiful photographs with us, Rick shared his memories of the Atlanta '78 shows, running into Springsteen years later in New Orleans, and aiding the Boss in pranking Atlanta producer Brendan O'Brien.

"That first night did not sell out," Rick recalls of the '78 Fox two-nighter. "But 96 Rock in Atlanta broadcast it live. Some of the radio stations were the key stations in the South — Z93 was a Billboard reporter — but 96Rock is where he wanted to be, and once he broke he was on every station. The Program Director knew Springsteen was great… he must have seen him up north or something.
"I remember there was going to be a meet-and-greet and backstage, which was a pretty common thing for that market. That first night we all went to the area where these events happened. Mert Paul was the CBS Branch Manager — I loved him because he loved to be photographed, and he would buy all kinds of photographs, good, bad or ugly. That was Mert!"

Mert Paul, Atlanta branch manager for CBS, with Bruce Springsteen - Fox Theatre, September 30, 1978 - Courtesy ©Rick Diamond. All images ©Copyrighted

"I went up with them to bring Bruce downstairs," Diamond continues, "and that's where I took some of those pictures with the white shirt. He was skinny as a rail."

Diamond recalls a backstage story from that night: "We were about to go into the party, and security had a guy they were taking out of the party, who for some reason wasn't supposed to be there. At that moment Bruce saw him, and the guy saw Bruce. If it had happened 20 seconds later, the guy would have been up the elevator and out of the venue. Bruce stopped [security]; he said something to them, and they let the guy go. Bruce walked the guy back into the room, into the far corner — he just told him, "Come with me" and took him aside, bringing him to the part of the room where nobody was. Bruce looked at the 40 or 50 people who were there to meet him and said, 'Just give me a second, and I'll be there.'

"I could see Bruce's face," Diamond continues. "I couldn't see the guy, but I could hear the story. The guy told Bruce, 'Tomorrow night I'm going to be here. I'm going to ask my girlfriend to marry me before the show, at dinner. We're going to be sitting to your right, about 15 rows back.' He told Bruce's his name and his girlfriend's name, and I think he asked him to play 'Thunder Road.' I took some pictures. The guy was crying, and he thanked Bruce before he was escorted out."

On the second night at the Fox, Springsteen made a dream come true. As Rick tells it: "Bruce walked to stage right, and he pointed out into the crowd and said, 'Man, I met this cat last night… and I hope his girlfriend is now his fiancee. And I can't remember your names… but this one is for you two' — and he fucking played "Thunder Road"! My friend Derek St. Holmes, who at the time was Ted Nugent's lead singer — he lived in Atlanta and is a good friend of mine — said, 'Man, I was sitting behind this guy, and it must have been him because he was bawling the whole time!'"

There's a coda. "Twenty years later, I'm at my studio, and I get this phone call. And this woman says, 'Is this the Rick Diamond who took pictures at [the Fox in 1978]?' and she goes into this story. She says, 'I've been trying to find you for 20 years.' She told me about her husband, and I said, 'Oh yeah, I remember him.' She asked if I still had that picture. She said she'd like to come by and buy a big one and get it framed for their 20th anniversary.

"I told that story to Billy Bennett [who worked at the CBS Atlanta branch]," Diamond recalls, "and he supposedly passed that along to Bruce. That's one of the most rewarding things about being a photographer. You take these little pictures that might not mean anything to anybody else except for them. I was so happy when she came by the studio — I didn't even charge her for the picture."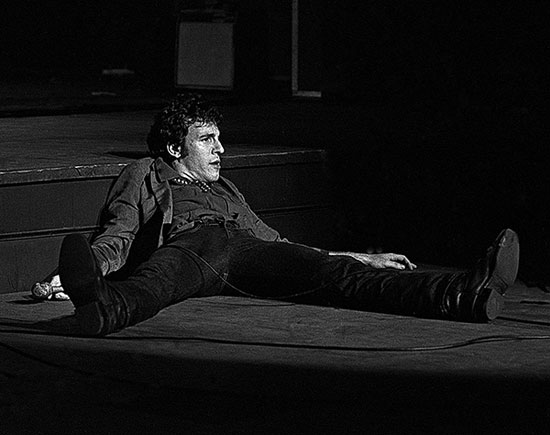 Fox Theatre, September 30, 1978 - Courtesy ©Rick Diamond. All images ©Copyrighted

Did the broadcast do what it was designed to do? According to Diamond, when he left the Fox that night, it already appeared that the efforts behind Springsteen had paid off.

"Like I said, that first night wasn't sold out. But sometime during the broadcast or just after it, 96Rock announced that more tickets for the next night's show would go on sale tomorrow at 10 a.m., only at the Fox Theatre box office. There was no Ticketmaster or anything; sometimes you could buy tickets at a local record store. They just said they would have the remaining tickets at the box office, because that second show hadn't sold out, either."

Thanks to the broadcast, it did — quickly. After finishing up inside the theater, Diamond says, "I walked out the front door to go to my car, and the line was already literally around the block. It went around the back side of the Fox, and it just kept going back. It must have far exceeded the number of tickets left. When I walked out I could see people had transistor radios and boomboxes — they had obviously heard this on the radio. My understanding was that the Fox decided to open the box office at midnight or 1 a.m., because there were already enough people there to sell it out; there was no reason not to go ahead."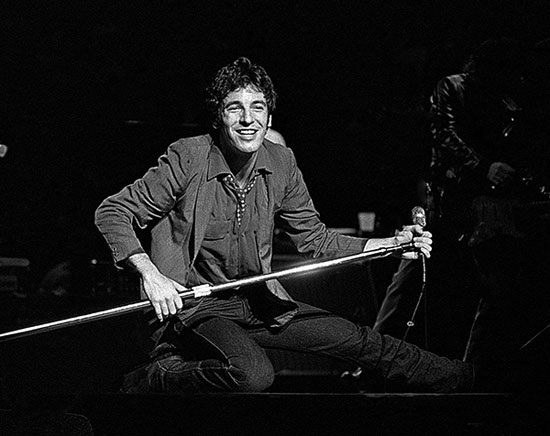 Fox Theatre, September 30, 1978 - Courtesy ©Rick Diamond. All images ©Copyrighted

In more recent years, Springsteen spent a considerable amount of time in Atlanta following the 1999-2000 reunion tour, recording at Southern Tracks studios with producer Brendan O'Brien. "I would often shoot some of Brendan's sessions," Rick says, "but for Springsteen they brought in Danny Clinch." Still, Diamond's experiences with pre-fame Bruce paved the way when the two again crossed paths in New Orleans in 2014.

"The last time that I got to talk to Bruce, I was in New Orleans for a Dr. John celebration (The Musical Mojo of Dr. John: A Celebration of Mac and his Music), and I was the only photographer allowed backstage. Bruce was unannounced, but he was playing at the New Orleans Jazzfest — we were told he was going to finish his Jazzfest show, get a police escort over, go right on, and then head out of town.

"So I was backstage, and I was taking photos of everyone. We did portraits of everybody, other than Springsteen. One of his managers, Barbara Carr, advised me, 'Don't ask him to pose — just shoot from a little distance.' When Bruce came out of his dressing room area to see Dr. John, that was a photo I wanted. I knew Mac [Dr. John] at that point very well, and I really wanted a shot of them together. So I looked at Mac, he waved me in, and I was able to shoot a bunch of candids."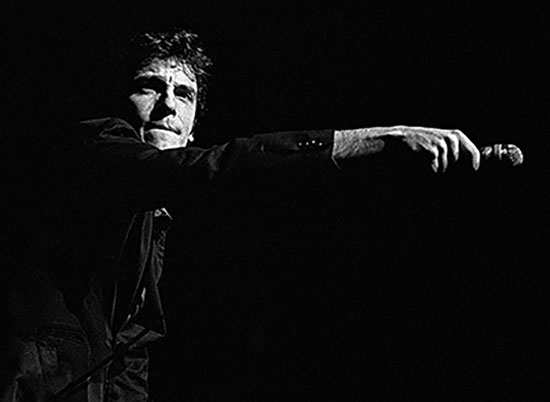 Fox Theatre, September 30, 1978 - Courtesy ©Rick Diamond. All images ©Copyrighted

Diamond recalls what he spoke with Bruce about that night at the side of the stage: "I brought up Brendan [O'Brien]. I just wanted to break the ice. With Vince Gill I talk about golf, because he loves to golf. So I mentioned Brendan to Bruce, and he was immediately all about talking to me.

"I've known Brendan forever; he was always in great local bands — and he was always the reason these bands were great," Diamond says. "So I said, 'I've got pictures of Brendan in a band called Samurai Catfish, where he had hair that was so big, it was bigger than his body!'

"Bruce said, 'You have got to send me that picture for me to play a joke on him.'

"I sent it to his manager," Rick laughs. "It was so unlike Brendan to do these rock poses, sucking in his cheeks… but the publicist would dress these guys and tell them how to pose. Brendan wasn't mad — he thought it was funny — but said he knew there was only one place Bruce could have gotten that picture."
- November 4, 2020 - Bob Zimmerman reporting - follow Rick Diamond on Instagram, Twitter, and Facebook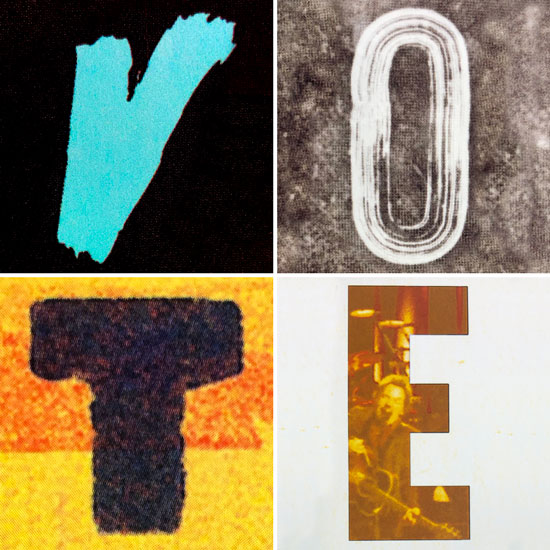 "A MOMENT TOO IMPORTANT TO SIT OUT"
As America votes, Bruce Springsteen steps up for Joe Biden
In the run-up to today's election, Bruce Springsteen's political activism reached a new medium: Twitter. That's where hundreds of thousands of viewers saw a pair of political advertisements featuring his music in recent weeks, including the latest one he narrated for the Biden campaign — as "My Hometown" played underneath — to remind voters about the candidate's character and roots in Scranton, PA.
The new 60-second spot, above, joined an earlier, longer one, "America Needs Pennsylvania," below, produced by author Don Winslow with Springsteen's blessing. Played out over "Streets of Philadelphia," this one essentially serves as an empathy check.
Both aimed squarely for the hearts and minds of Pennsylvania voters; Biden's aired on television in the state, including this past Saturday's Penn State game. Springsteen's shorthand for song construction is apt: Winslow's "Pennsylvania" is the blues, and "Hometown" is the gospel. Both address the disruption of 2020, particularly the pandemic.
In all likelihood, that kept Springsteen from performing to support Biden: no acoustic versions of "The Promised Land," as in previous years' rallies, or swing-state road shows with friends like Pearl Jam and R.E.M. But work got done in other ways: these of-the-moment ads dovetail neatly with the sounds he's made and complement the powerful testimony — like his reading last week of a fabulous poem by Elayne Griffin Baker — heard in episodes of From My Home to Yours, his bi-weekly radio program on Sirius XM.
In the new ad simply titled "Hometown," Springsteen says that in towns like Scranton "across America, times are harder than they ought to be. Lives on pause. Dreams on hold. Futures in doubt." Whoever you feel has the best chance to improve our condition as a nation, we hope you'll make your voice heard today and vote.
By the Editors - November 3, 2020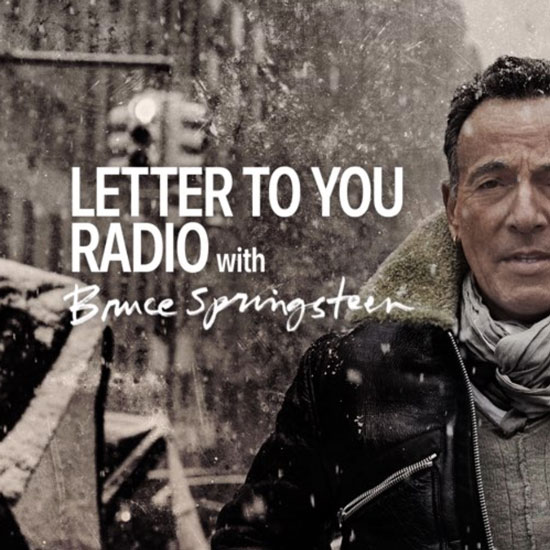 I GOT ROCK 'N' ROLL MUSIC — AND SOME FRIENDS — ON THE RADIO
Recapping Springsteen's five-episode Letter to You Radio series
As part of the Letter to You promotional push, Bruce Springsteen took to a format near-and-dear to his heart — radio — to craft a five-part limited series tracing his career in music from the early '70s, when he first signed with Columbia Records, through November 2019's album sessions.
Unlike the From My Home to Yours series, each episode of Letter to You Radio (or for those with Apple Music, a podcast) is built around a conversation with A-List guests, discussing a particular era in Springsteen's career (with key tracks from each era interspersed between dialogue), and the experiences (some shared) and lessons learned along the way.
Daily episodes appeared in the week leading up to Letter to You, via Apple Music and on SiriusXM's E Street Radio. The series both complemented and set the stage for the album and the film, offering listeners another means to appreciate the new work and understand all that goes into making music with a band — one that has endured for nearly 50 years.
With a warmth and presence honed by months of pandemic radio practice, Springsteen as host easily guides each Letter to You Radio conversation. That gave both long-time fans and the uninitiated a glimpse into his philosophy and approach to his music, career, and vision for the Letter to You project.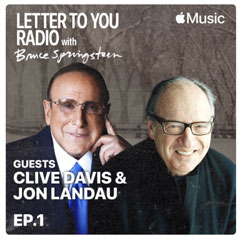 EPISODE 1
Guests: Clive Davis & Jon Landau
Tracklist:"Growin' Up" / "It's Hard to Be a Saint in the City" / "Blinded By the Light" / "Spirit in the Night" / "Rosalita (Come Out Tonight)" / "Does This Bus Stop at 82nd Street?" / "The E Street Shuffle" / "Thunder Road"
Recap: The Letter to You Radio series kicks off with a walk down memory lane featuring two industry titans who were instrumental in the development of Springsteen's career.
With the first half hour dedicated to Clive Davis (who has seen his own legend recounted in recent years), the iconic exec recounts key steps he took to mold Springsteen's career. He notably sent Bruce back to Jersey when he felt the Greetings album lacked radio-friendly singles (hello, "Blinded"and "Spirit"); fought to protect Springsteen from the ill-fated "New Dylan" label (a "negative strategy" that doomed young singer-songwriters like Eric Andersen and others who came before); and brought Bruce and the band to Los Angeles (Bruce: "the first flights we ever took") to perform at a Columbia showcase on the extended stage of the Ahmanson Theater.
The last of these is notable not just for its archival footage, but for prompting a discussion between Davis and Springsteen about the need to adapt his live shows from the cramped stages of the early clubs to the larger venues he would eventually come to play. According to Davis, Springsteen invited him to be his guest at the legendary Bottom Line stand two years later. Davis, then newly-minted as Arista Records' CEO, reminisced that a grinning Bruce greeted him afterwards, asking, "Clive, did I move around enough for you tonight?"
Springsteen's conversation with Landau is compelling from a fan perspective: beyond 1995's Blood Brothers documentary, there are few recorded conversations between the two friends of 46 years. In the absence of such context, Landau can be perceived in some fan corners as the impersonal, controlled side of Springsteen Inc., sometimes a lightning rod, often a cipher. This conversation between the two as friends affords unique insight into their personal and professional relationship.
The two discuss how they met in the cold of Cambridge, Mass.; their early bond over late-night discussions about music and records (who knew there were competing versions of the Philly soul-staple "Love Train"?); and the decision made on the way back to New York City from 914 Studios to bring Landau into the room as they completed Born to Run. As Landau put it, "If I had the talent, what you're doing [is] what I would do…. If I could be part of it, and maybe add something to it, that's what I wanted to do… and I decided that the first night I saw you… everything else was destiny."
Even Bruce Didn't Know: At the end of the first half-hour, Clive Davis reveals that he had approached Landau to join Arista as his head of A&R in Los Angeles. Landau respectfully declined the opportunity because he had decided, instead, to become Springsteen's manager. Bruce: "Glad that didn't work out!"
EPISODE 2
Guests: Eddie Vedder & Dave Grohl
Tracklist: "Born to Run" / "Tenth Avenue Freeze-out" "/ Atlantic City" / "Backstreets" / "Dissident" (Pearl Jam) / "Everlong" (Foo Fighters) / "Badlands" / "Darkness on the Edge of Town" (live at Tower Theatre, December 1995)
Recap: Back in the '90s, I wouldn't have predicted that two pioneers of the Seattle alternative rock scene would be paying homage to the power of the mighty E Street Band and swapping stories with Mr. Human Touch himself, but, 2020…
In all fairness, Bruce's close relationship with Eddie Vedder has been documented for years, and Vedder's guest appearances at E Street Band shows (in both the Northern and Southern hemispheres) have become the stuff of legend. (Hello, Nugs? 2004. Continental Airlines Arena. You know what I'm talking about.) So it shouldn't come as much of a surprise that the two have stayed in close contact throughout the pandemic, with Eddie getting an early opportunity to screen the Letter to You film and exchanging tips on recording equipment (more on that below).
Here, the two have a frank conversation about the anxiety of breaking through. Ever the surfers, both men talk about riding the waves of success, keeping their heads above water, and watching band members or peers get caught in the undertow. Interestingly, Springsteen juxtaposes his experience coming out of Jersey ("We didn't come out of a scene with a lot of peers… we didn't come out of an intensely big scene") with the Seattle explosion, where you could learn from the ups and downs of contemporaries.
It's clear that all three musicians miss performing in a band. Vedder praises scenes in Letter to You in which the band arranges the music in real time, describing how he teared up at the images of members hugging each other ("We haven't been able to do that!"). Grohl, who praised Springsteen in a heartfelt piece in The Atlantic this past summer on the absence of live music during the pandemic, reminisced about watching the E Street Band's induction to the Rock and Roll Hall of Fame (Nirvana was inducted the same year). For Grohl, seeing everyone on stage — former members, widows, family members, etc. — drove home that ideal of creating a community, building something greater than the music or the band itself.
Springsteen's conversation with Grohl fascinates in part because they lack a shared history or well-documented friendship. Moreover, Grohl is forthcoming about his experiences starting out, readjusting after Kurt Cobain's death, and staying busy during the pandemic. Staying on theme, both men hit their strides when talking about their bands: Grohl remembers how, when on tour, six vans would pull up to greet the Foo Fighters at the airport, yet they'd still all pile into the same vehicle to get to the hotel; while Springsteen talks sincerely about the life-changing honor and obligation of having the ability to perform in front of his audience on a nightly basis. A great exchange.
Beats Audio: That distant, eerie sound heard on Nebraska? It was all thanks to a boombox. Even if one has heard the story before, it's compelling when Bruce tells it: mixing the demos down from a four-track tape to a two-track cassette, he used an old-school boombox with wonky batteries, which altered the pitch and gave the recording a sense of "darkness" that permeates the record (and which could not be replicated in the studio). The "haphazard, happy accident" seems to be one that Eddie Vedder is interested in replicating.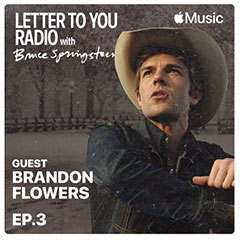 EPISODE 3
Guest: Brandon Flowers
Tracklist: "Dancing in the Dark" / "When You Were Young" (The Killers) / "Born in the U.S.A." (Tracks); "Born in the U.S.A." (Live/1975-85)" / "The Wish" / "Glory Days" / "Tunnel of Love" / "The Ghost of Tom Joad" / "Girls in Their Summer Clothes"
Recap: Bridging the gap between Nebraska and his early 2000s output, Springsteen invites The Killers' frontman Brandon Flowers along for a conversation about fame, commercial success, and the choices one makes to ensure personal survival in the face of it.
Discussing the "map" he made for himself, Bruce shines a light on the lessons he learned and the experiences that influenced him as he came face-to-face with mega-success in the Born in the U.S.A. era. For avid fans who read the Born to Run autobiography or saw the Broadway show, these stories will sound familiar. However, in speaking to Flowers as someone following the trail he blazed, Springsteen reframes experiences as essential to his personal survival. Bruce cites the lessons in hard work and character he learned from his mother, and points to how two generations of American rock 'n' roll stars before him (who "wrote their own maps either well or poorly") influenced his conscious effort to get his work life "right," to ensure that the things he treasured most — his relationship with his audience, his band, and his work — persevered.
The conversation touches on parallels between Springsteen's superstardom and The Killers' decision to transition their writing style, after and despite the wildly popular reception to their debut album, Hot Fuss. But the focus of the hour remains on Springsteen's journey, and less about his influence on The Killers' music (including 2020's Springsteenesque Imploding the Mirage) — not to mention the music of many of their mid-to-late 2000's contemporaries, who adopted the "Springsteen sound." Maybe that discussion could frame an Episode 6?
One Step Up: Yes, it was a conscious effort on Bruce's part to follow-up his more commercial albums like Born in the U.S.A. or The Rising with music that takes a "smaller approach." As he puts it, "I need to make those records to make my other records" — "to empty out the cupboards" and keep the band relationships "fresh."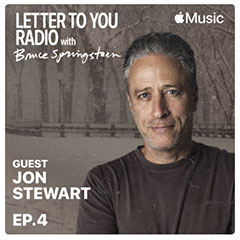 EPISODE 4
Guest: Jon Stewart
Tracklist: "Wrecking Ball" / "Born in the U.S.A." / "We Take Care of Our Own" / "American Skin (41 Shots)" / "Land of Hope and Dreams" / "Working on a Dream" / "Magic" / "Letter to You"
Recap: It's never easy to cover the "dubious topic" of the nexus of politics and music, but Bruce brings in his good friend and interviewer extraordinaire Jon Stewart to help guide this often-tricky conversation.
Stewart frames each segment with a thoughtful question that receives an equally reflective response from Springsteen. While Bruce addresses the "dark moments" that we in the U.S. are experiencing right now — as well as his past performances in support of candidates Kerry, Obama, and Clinton — he steers each question towards a conversation that centers less on explicit politics than on community, spirituality, and transcendence. Those themes have been front-and-center in recent projects including Letter to You: "a record of its times, without being topical… a record of our spiritual times at the moment."

Bruce characterizes his approach to music and politics as less about "changing minds in an instant" and more about creating music that "transcends politics itself and reaches for something more wholly recognizable in the human spirit." Connection with community, family, or "your own inner soul" are his "greater goals" each night. And from his vantage point at center stage, it's not so much about song content or performer intent, but the mechanics of the music itself, and using those mechanics to elevate the audience to achieve these goals. Bruce goes so far as to acknowledge that good-intentioned, honest "hokey schtick" is an integral component of those E Street mechanics and tricks.
Ah, what we wouldn't give to have one more sing-along chorus of "Hungry Heart" and crowd surf right about now...

This Land Is Your Land: We always knew the European crowds were legendary, but Springsteen acknowledges his largest audience isn't in the U.S. but abroad ("probably at least two-thirds of our audience is throughout Europe"), where he believes the fan base is more curious about the American idea than those of us here in the States.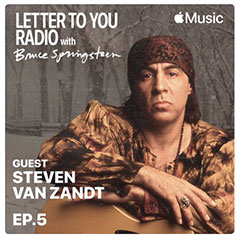 EPISODE 5
Guest: Steven Van Zandt
Tracklist: "Letter to You" / "Ghosts" / "Burnin' Train" / "Last Man Standing" / "Summer of Sorcery" (Little Steven) / "Rainmaker" / "Western Stars" / "If I Was the Priest" / "Hungry Heart" / "I'll See You in My Dreams"
Recap: These two need a podcast — or at least a regular, standing radio show. Bruce's 2011 interview series on Little Steven's Underground Garage and Little Steven's guest appearance on Bruce's From My Home to Yours also qualify as can't-miss radio for music fans of any genre — if only because nothing can compare to the effortless rapport and banter between two legends and lifelong "brothers in arms" talking about their art and trade: music and making music. Here, we even have the late-career film stars talking about movies and making movies, as well.
For a few all-too-brief moments, we hear their shared joy over the Letter to You sessions. They rave over a recording process that they could only have dreamt of back in the '70s and '80s: making music free from the pressures that accompanied high expectations and a major record deal; free from the overengineering and separation that was all the rage among studio engineers of that era; heck… free from the pressure of having to rent studio space! They describe a musician's paradise, being able to record at home, living and working together in the same space. Considering the Letter to You sessions were in November 2019, they also recognize it would not have been possible, as a band, a few short months later.
The recording process for Letter to You has formed a consistent theme throughout Bruce's public conversations about the album and served as the foundation of the film. A similar thematic focus on recording and making music runs through this series. Bruce and Jon Landau tell of the experience at 914 Studios and the need for Bruce to have "first rate" recording studios to be a "first rate artist." He and Eddie Vedder discuss the demo process — how the fatigue and cost of the Darkness and River sessions left Bruce with little in the bank and drove him to his house and the Nebraska sessions. Here, at the end, we have the Boss and the Consigliere reminiscing about how 45 years later, they found the sweet spot their success has afforded, celebrating the album and experience that it yielded.
Guys, if you're listening… keep the conversations coming...we'd love to hear more about that dinner with Paul McCartney, or who won the Jeff Beck Group/Led Zeppelin debate from back on the early bus ride.
Freedom… and Compromise: It is well known that Little Steven fought to include "No Surrender" on Born in the U.S.A.… but he also lobbied Bruce to drop "Dancing in the Dark" from the final album. In the end, we're glad these two best buds knew how to compromise.
- November 1, 2020 - Dante Cutrona reporting