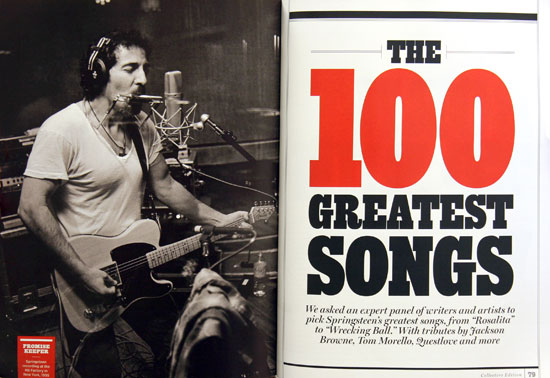 BRUCE: ROLLING STONE COLLECTORS EDITION OUT NOW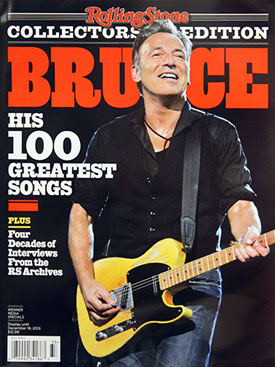 A new 122-page, all-Springsteen special from Rolling Stone, out now, ranks "His 100 Greatest Songs," from "Born to Run" at the top of the heap to "Fire" coming in under the wire at 100. The songs were voted upon by a panel of "17 Springsteen experts," largely a mix of music journalists and musicians: Win Butler, Andy Greene, Dr. Lauren Onkey, Jackson Browne, Mikal Gilmore, our own Christopher Phillips, Peter Ames Carlin, Brian Hiatt, Rob Sheffield, Bethany Cosentini, Alan Light, Steven Van Zandt, Bill Flanagan, Edward Norton, Warren Zanes, David Fricke, and Tom Morello. The 24-page feature gives each of the 100 their due.
That's less than a quarter of this Collectors Edition, which also selects "20 Essential Shows" ("in chronological order... the best 20 shows you can hear in great sound quality") and reprints seven classic Springsteen interview features from the pages of the magazine. There's choice photography throughout — from Jo Lopez, Eric Meola, Frank Stefanko, A.M. Saddler, Danny Clinch, Barbara Pyle, Jim Marchese, and many more.
See this item in our online shop for more details and to order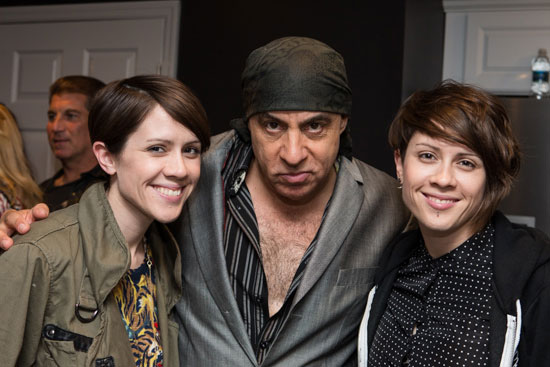 LAST NIGHT IN NJ, THE "ANYTHING, ANYTHING" 5TH ANNIVERSARY SHOW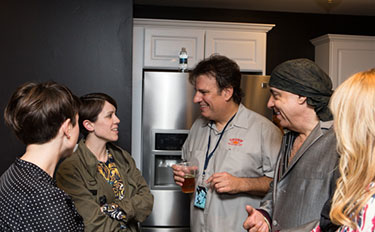 In Sayreville, NJ, last night, DJ and Friend of Backstreets Rich Russo celebrated five years of his "Anything, Anything" show with a concert at the Starland Ballroom. A man of multifarious and darn near impeccable tastes, Rich has been known to, for instance, world premiere a new Springsteen cut now and then. Nice of the Coolest Little DJ in the USA show up to fete the King of Freeform Radio: Steven, pictured above with headliners Tegan and Sara (though he did not perform), attended with lovely wife Maureen [all above right]. Also on the bill, the great Willie Nile and Plastiq Passion.
Rich announced from the stage that he's remixing a Tegan and Sara song with involvement from some E Street Band members. In some Shore-related news, he also announced his newest radio affiliate: Belmar-based 95.9 The Rat, which covers the Monmouth ocean market, will air "Anything, Anything" at 10pm Sundays beginning October 6.
Happy anniversary, Russo — and long may your freeform flag wave.
- September 28, 2013 - photographs by Michael Zorn/WireImage

LAST NIGHT'S BRUCE TRIBUTE IN ATHENS, INSIDE OUT
The respective musical reputations of Bruce Springsteen and Athens, Georgia were cemented long ago, but rarely do those communities get to overlap the way they did on Wednesday night. Though Bruce has played in both Athens, Greece and Athens, Ohio, he has never made it to the "Classic City" just a short drive up Route 316 from Atlanta in Northeast Georgia. Peter Ames Carlin (author of the 2012 biography Bruce) and Patterson Hood (lead singer of Athens band Drive-By Truckers) brought a host of friends with them to bring the spirit of Bruce himself to a packed house at Hendershot's Coffee Bar. The evening also served to raise money for Nuci's Space, a non-profit health and music resource center in Athens.

Musicians in the double digits from the Athens music scene and beyond combined to create a 23-song setlist that would have diehard fans ready to sacrifice a limb to hear Bruce play it in concert. For one night there was no "Born to Run," there was no "Waitin' on a Sunny Day" singalong; instead we were treated to country-tinged acoustic takes on songs like "Downbound Train" and "Stolen Car" and beautiful renditions of rarities like "Shut Out the Light" and "Bye-Bye Johnny."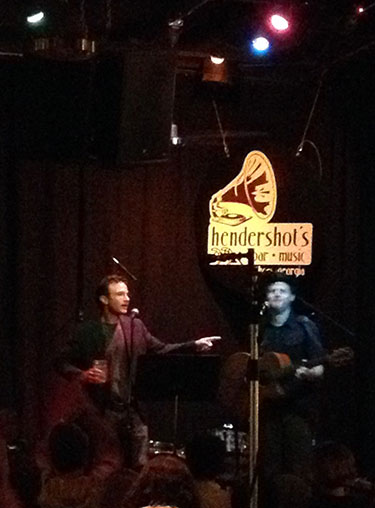 One of the true highlights of the evening was a reading by Peter Ames Carlin [pictured, with Casey Neill on guitar] set to a suite of "Thunder Road," "Brilliant Disguise," and "Land of Hope and Dreams." Carlin began with a story of sharing pizza and beer with Bruce in Freehold while writing his book and flashed back to the moment when he first became a fan.
There were mysteries in [his eyes], and I had been pursuing them since December 20, 1978 when I saw Springsteen tear into the opening bars of "Badlands" in the smoky dark of the Seattle Center Arena. I was a sophomore in high school, 15 years old and chubby, but when that wiry 29-year-old guitarist attacked the microphone with proclamations about "trouble in the heartland" and a head-on collision smashing in his guts, man, I heard something so furious and wild it could only be the truth.
While Carlin was likely the only person in Hendershot's (and maybe in the state of Georgia) lucky enough to have shared a pizza and thrown back some beers with Bruce, his story of that Seattle night in 1978 was shared in some way, shape, or form with every person in that room who has been touched by Bruce's music. In concert Bruce's passion and energy are enough to bring crowds all over the world together as one; without Bruce in the flesh, it was the thoughtful interpretations of Bruce's music that brought all kinds of folks together on this rainy Athens night.

It was more than just a occasion for fans to be reminded of their love for Springsteen, though. It was also a night to see how indelibly a mainstream rock 'n' roll icon has informed the present state of one of the great college music scenes in America.

Even when the song choices were relatively mainstream, the musical interpretations were delightfully screwy. The three hardest-rocking songs of the evening came courtesy of Don Chambers and John Barner, and all were cuts from Nebraska: the title track, followed by "Atlantic City," and an intense version of "Reason to Believe" played only on the rim of a snare drum and with a heavily distorted guitar.
Carlin took the stage for the second time and pulled out the rarity of all rarities. Telling a story of Bruce's early life in Freehold with an acoustic guitar slung on his back, Carlin performed a cover of "Randolph Street," a song sometimes called "Master of Electricity" that Bruce recorded around 1972 and has never performed live. Carlin's performance may well be the first public performance of that song anywhere, so the Athens locals were treated to a little bit of history as well as a fine rendition of a lost treasure.
Patterson Hood played a quartet of songs drawing from the era that he said influenced him the most — the period from Darkness to Nebraska — highlighted by a duet with Drive-By Truckers bandmate Jay Gonzalez on "Adam Raised a Cain." The piano-heavy arrangement was a sharp departure from the E Street Band's usual blistering guitar work on that song, but it gave room for Hood's signature wail to develop into a guttural howl that tapped into the fury at the song's core.
Hood's final two songs — "State Trooper" and "Wreck on the Highway" — created some additional resonance played back-to-back in that anachronistic order. Though "State Trooper" was released two years later, it was easy to imagine the songs as a two-part suite in which the unnamed narrator in the former ends up as the titular wreck in the latter.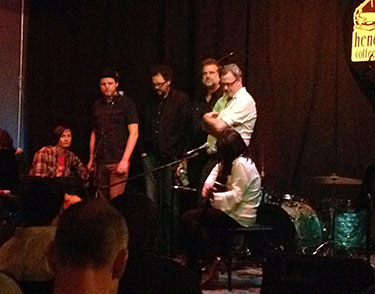 Athens' own Thayer Sarrano [right] was the lone female on the bill and provided a remarkable change of pace that brought the boisterous crowd to a respectful stunned silence. Sarrano, who has played with Athens band Of Montreal, delivered a beautiful take on "I'm on Fire" with Dead Conferate's T. Hardy Morris (complete with melodica) and then performed a haunting cover of "Because the Night" with a full complement of male vocalists backing her during the chorus. The night closed with the only full-band arrangements of the evening: a 1978 double-shot of "Factory" and "Darkness on the Edge of Town" from Athens band Moths.
Carlin will be conducting a similar event in Seattle this Saturday night; if you are anywhere near the city (or anywhere in the Pacific Northwest, for that matter), it would be well worth checking out. For fans like myself, born one generation too late to pack into a small venue in a college town to hear "rock and roll future," a night like Wednesday is surely the next best thing.

Setlist:
Downbound Train (Chad Evans solo acoustic)
Long Time Comin' (Chad Evans solo acoustic)
Tougher Than the Rest (Dave Marr solo acoustic)
The River (Dave Marr solo acoustic)
Brilliant Disguise (Dave Marr solo acoustic)
Stolen Car (Todd McBride acoustic guitar, Jay Gonzalez piano)
Shut Out the Light (Todd McBride acoustic guitar, Patterson Hood backing vocals)
Thunder Road/Brilliant Disguise/Land of Hope and Dreams (Peter Ames Carlin speaking, Casey Neill acoustic guitar/vocals, Jay Gonzalez piano/vocals)
Frankie (Casey Neill solo acoustic)
The Rising (Casey Neill solo acoustic)
Racing in the Street (Casey Neill acoustic guitar, Jay Gonzalez piano)
Nebraska (Don Chambers electric guitar, John Barner drums)
Atlantic City (Don Chambers electric guitar, John Barner drums)
Reason to Believe (Don Chambers electric guitar, John Barner drums)
Randolph Street (Peter Ames Carlin solo acoustic)
Bye-Bye Johnny (Patterson Hood solo acoustic)
Adam Raised a Cain (Patterson Hood acoustic guitar, Jay Gonzalez piano)
State Trooper (Patterson Hood acoustic guitar, Jay Gonzalez piano)
Wreck on the Highway (Patterson Hood acoustic guitar, Jay Gonzalez piano)
I'm On Fire (T Hardy Morris acoustic guitar, Thayer Sarrano on melodica)
Because the Night (Thayer Serrano acoustic guitar and company)
Factory (Moths)
Darkness on the Edge of Town (Moths)
- September 26, 2013 - report and photographs by Kevin Copp

CAUGHT IN THE CAROUSEL WITH PETER AMES CARLIN
If you can't be in Athens GA for tonight's "Cover Me: A Reading and Musical Tribute to Bruce Springteen" with Peter Ames Carlin, you can get yourself a healthy dose of PAC online now at Caught in the Carousel. Paul Gleason conducted a fascinating, lengthy interview with the Bruce author in which they talk a great deal about Springsteen's cooperation for the book, what he was like as an interviewee and a living, breathing biography subject:
"...even after Bruce got super involved and they really opened up everything and gave me access to virtually anything I wanted, Bruce and Jon were insistent and repeatedly insistent that they expected me to be an independent; that they were giving me access, but they had absolutely no intention to manipulate what I wrote....

"I think one of Bruce's motivations was that he wanted people to understand that he wasn't a superhero, that he has no intention of seeming like one. He told me, 'When people talk to me like that, I feel diminished.' One thing he wants people to understand is his complexity and his darkness. He insisted and refused, especially at the end of the process, said, 'If there's anything anyone said or anything that you learned that you felt uncomfortable in the book because you think it might embarrass me or something, put it in.'"
Gleason tells us, "The stuff about Carlin's experiences eating pizza with Bruce are pretty great — if I do say so myself." We completely agree.
Read: "All Springsteen Considered: An Interview with Peter Ames Carlin, the Author of Bruce"
- September 25, 2013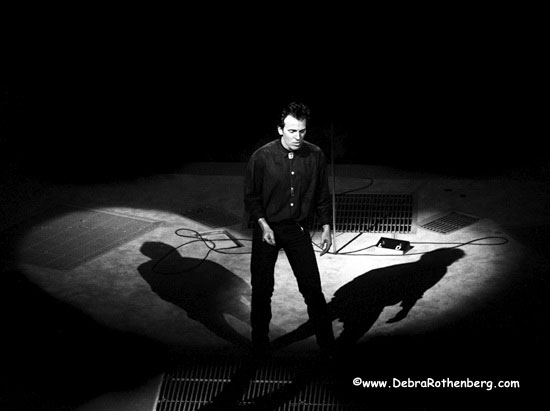 Q&A WITH IN FOCUS PHOTOGRAPHER DEBRA ROTHENBERG
Backstreets has exclusive signed bundle of Rothenberg's new Bruce book
Update: Final hours to pre-order signed book/photo package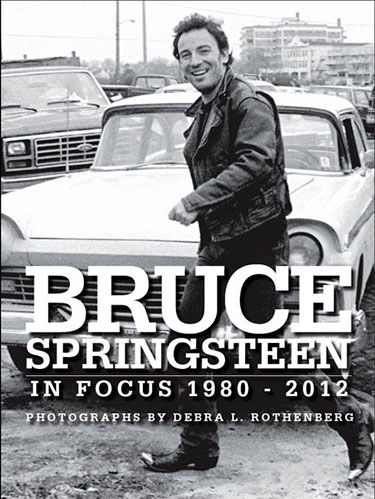 To those who know her, it seems like Debra L. Rothenberg has always been behind a camera. The New Jersey native fell in love with photography while a student at Rochester Institute of Technology, and from her early days on the Jersey Shore working the local music scene to the fast-paced world of New York corporate clients and show-biz megastars, her passion for the medium has always shone through. Though she wasn't the first photographer to haunt the legendary Stone Pony, Debra was a fixture there in the '80s, capturing some truly iconic moments in the life of the venue and in the careers not just of Bruce Springsteen, but of dozens of local musicians who defined the era's music scene. Her photos appeared regularly in Rolling Stone and brought the Stone Pony international recognition; a montage of some of her work has held a place of honor near the Pony's back bar for nearly 20 years.
The peripatetic Rothenberg moved to New York in 1999 and has established herself as one of the city's premier photographers not just of pop culture but of the life of the city itself. The career retrospective Bruce Springsteen: In Focus 1980-2012, scheduled to be released in early October, is the book her friends and fans have looked forward to for years. The collection is supplemented by essays not just from Springsteen aficionados (more than a few of them Backstreets staff), but from Rothenberg herself, who lends insight into how she forged a photography career from her passion for Springsteen through personal stories about how some of her most memorable photos were taken. Backstreets' Lisa Iannucci recently spoke to her about the project and about life as a photographer in the world's busiest media market.
Backstreets: What made you decide to finally do a book?
DLR: I met my publisher while on a shoot with my husband (also a photographer), and she approached me after seeing lots of my photos. We sat down and spoke, and I loved the fact that her publishing company is out of New Jersey, and that she was open to me doing the book my way. I didn't want to just hand over my images and have someone do what they wanted with it, and I didn't want the book to be another book telling about the life of Bruce Springsteen.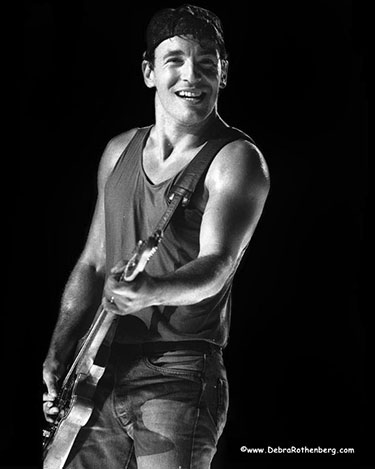 What's your favorite photo and why?
There are a few. I love the shot where he is smiling at the camera with the baseball hat on backwards from 1985, the cover image, a super-close-up shot from the Stone Pony from 1988, a portrait backstage from Little Steven's Underground Garage Concert, the fans carrying him back to the stage, flying through the air — leaping — at the Stone Pony.
What photos do you feel closer to, the arena shows or the clubs?
There are some from both. In an arena, Bruce is all over the stage, and you can tell he is feeding off the energy of the crowd, so it changes what is happening on the stage, and it shows in the photos. The clubs, because they are smaller, are more personal, and it's a way to capture smaller moments that have bigger impacts.
Do you still enjoy shooting Bruce after all these years?
I do, but to be honest, I enjoy shooting everything after all these years. I just celebrated my 29th year as a full-time working photographer, and I am very blessed: it still feels like a hobby, but I get paid for it.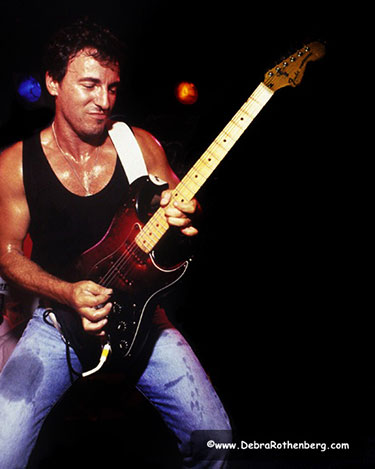 When you first started shooting Bruce in and around Asbury Park, it was a completely different ballgame from how it is now. You had to fight to get your camera in. How did you do it?
Once I started to get known in the area, it was pretty easy to get the camera in — I had photo passes. But being 5'2", what was the hardest was waiting in line, sometimes for hours, to get a spot up front. There wasn't a photo pit [a designated area just for photographers] so there was a lot of time put in to get those images.
There are some great stories in your book. What's your favorite memory of shooting Bruce?
December 2, 1980 will always hold a special memory: it was the first time I saw/shot him [in Rochester, New York], and I was with a very close friend. February 15, 1988, passing him on the street in Bradley Beach [New Jersey] and then seeing him outside the Wonder Bar — that was a great day. July 31, 1987 when he played a few songs with Marshall Crenshaw [at the Stone Pony]. March 2, 2012, when he played the Apollo Theater, which is as legendary as the Stone Pony. The Little Kids Rock concert from last October, because I saw so many old friends, and it was so relaxing, sitting and shooting from the balcony with two old friends — we usually get three songs and we are cramped in. The list can go on.
How has your approach changed since the advent of digital photography?
My approach pretty much hasn't changed — I have never been a photographer who keeps their finger on the shutter, constantly shooting. I really don't take a lot of frames — I wait until I see something that is worthy of a photo. Digital is much more time consuming since we have to sit in front of the computer editing, and most of the time I am on a tight deadline, and I have such a low attention span that I don't have a desire to sit in front of the computer for hours on end editing.
You made the move to New York City after spending a few years in New Jersey. What made you decide to do it?
Good question, and 14 years later, I still really don't know. I was on staff at my previous job for 12 years and I was very restless — I moved around a lot, so 12 years was a lifetime. One day at 5 a.m. while sipping coffee at the Grand Canyon with a friend, I just made the decision. My mother was the only one supportive of this move at first, but after awhile, everyone came around and realized I did the right thing. I was terrified of NYC and rarely left my neighborhood after dark for about the first year. It proved to be the best thing I ever did, personally and professionally. I met my best friend who became my husband on a shoot 11 months later, and my career really took off to another level.
What's a typical day like for you?
Being a freelance photographer, I don't know what the word "typical" means. In the summer when I shoot the concert series for either the Today show or Good Morning America, I am up at 4 or 5am and shooting from 8:30 to 9am, roughly. Then it's onto a Starbucks or some place to sit and get the edit out fast. After that I can have a few hours off, and then a corporate or public relations shoot. Sometimes after that, there will be a concert in the evening. A typical day can be three shoots, or one. My husband and I photograph over 50 law firms (everything from portraits to award ceremonies to parties), so there are times when all the lights and backdrops are brought on location. He also flies helicopters (and a Cessna airplane) so we shoot a lot of aerials as well. If I have a shoot outside of the city, I will leave several hours early just in case of traffic.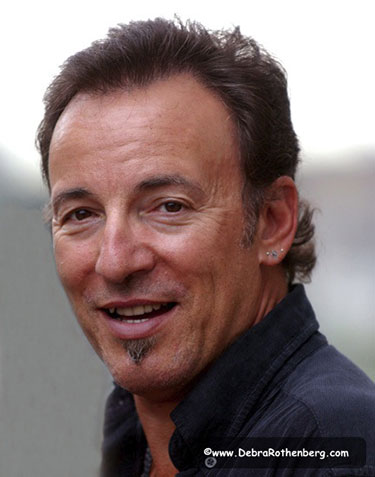 What is your advice to folks who are just starting out in the field?
Diversify! I was once [with] a group of younger photographers that went to hear another photographer spea, and her advice was to pick one specialty and stick with it. When I heard that, I said that is one way to fail. You can have one aspect of photography that you prefer or excel at, but if you only shoot one thing, you may fail. The more you shoot, the better you will become. Also, don't copy what everyone else is doing — especially the way too many are over-processing their work. Take business courses. Too many photographers don't know anything about business. They think if they give away their services that it will lead to jobs... but it will lead you to get known as the free or cheap photographer. Learn lighting. Lighting is the key to photography.
Who's your favorite photo subject besides Bruce?
My family! Music-wise, Pink and Lady Gaga — great performers that I don't think I could ever get tired of shooting. A friend recently asked me if there was any performer I would go on the road with, and at first I said no one, but then Pink came to my mind. Like Bruce, she has a certain energy and connection to her audience. And everything else! I love what I do, and it has never felt like work. I am as in love with photography now as I was when I first discovered it as a kid. I am already working on my second book, and it is totally different than this one, and I think it will shock a lot of people — including my family, since I have always been a "people" photographer and there may not be any people in the next book.
Bruce Springsteen: In Focus 1980-2012 will be released in October from Turn the Page Publishing and will be available from Backstreets as well as the usual outlets. Rothenberg will host several promotional appearances in the New York metropolitan area, including a release party at the Stone Pony on October 12.
EXCLUSIVE SIGNED BUNDLE FROM BACKSTREET RECORDS:
Pre-order Bruce Springsteen: In Focus, 1980-2012 now to receive the first edition hardback signed by author Debra L. Rothenberg.
PLUS, if you order before this week's deadline, your book will be accompanied by a bonus 8x10 photograph of Springsteen, also signed by the photographer, and exclusive to Backstreets. The specific image will be a surprise. Only orders received by Thursday, September 26, at 9am Eastern will include the exclusive signed print.
Pre-order now to guarantee yours!
- Updated September 25, 2013 - interview by Lisa Iannucci - all photographs by Debra L. Rothenberg from the book Bruce Springsteen: In Focus, 1980-2012


BOSS B'DAY BASHES IN JERSEY, ON E STREET RADIO & ONLINE
Mending a fuse, doing the garden, digging the weeds... or rocking the bejeezus out of Rio de Janeiro, as he did Saturday night [above]. Who could ask for more? Sixty-four looks good on Bruce, who reaches that Beatles milestone on Monday, September 23. In the mix to celebrate the big day:
Some tickets remain available for the special New Jersey benefit screening of Springsteen & I. Click here to order online or call 732-263-6889.
E Street Radio will celebrate both Bruce's birthday and the 40th anniversary of The Wild, the Innocent & the E Street Shuffle. (The album was officially released in November of '73, but its recording sessions were completed four decades ago this month.) A live Springsteen Community Conference on the album, hosted by Dave Marsh, will be broadcast 8-11pm ET on Sirius/XM channel 20. (See the channel's website for information on repeat broadcasts.) During the conference's third hour, listeners will be invited to phone in their questions and comments to Marsh and his guests. Kevin Farrell, Board member of the Friends of the Bruce Springsteen Special Collection, also will host a special two-hour edition of fan-guest-DJ show Be The Boss devoted entirely to Wild & Innocent's 40th, at 10am.
Online radio station The Penguin, programmed by Beyond The Palace author Gary Wien, is filling its annual Bruce Springsteen Day with eight solid hours of Springsteen music beginning at 9am ET. Wien, who regularly hosts a daily hour on The Penguin focusing on New Jersey artists, comments: "New Jersey has such a great music scene... And, to me, New Jersey's music scene always comes back to Bruce. We hope Springsteen fans tune in at work and celebrate his birthday with us. They're bound to hear incredible covers they've never heard before. Due to special rules that apply to internet radio, setting up a day like this is quite a challenge. It's something we started about five years ago that has simply grown with each year. We've got famous covers by artists like David Bowie and Manfred Mann alongside rarities by Frankie Goes to Hollywood, the Pet Shop Boys, and Vampire Weekend. We've even got never before heard songs given to us just for the show. Each year we search the Internet for new songs to play. I think we're playing about 40 covers this year that we've never played before! Whether we're spinning Springsteen himself or a cover, the day's music will prove what an amazing songwriter he truly is." Click here to tune in.
Birthday greetings, Bruce, bottle of wine and all that. And here's to many more!
- September 22, 2013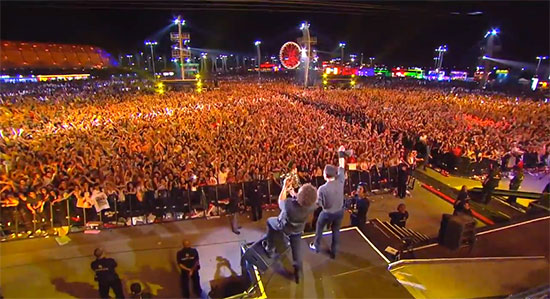 SEPTEMBER 21, ROCKIN' RIO AT ROCK IN RIO
The final night of the South American leg, featuring the Born in the U.S.A. album start to finish, and the very last dance for the 2012-2013 Wrecking Ball tour. But don't worry about Bruce hanging up his rock 'n' roll shoes any time soon: "I want to thank Brazil for giving us such a warm welcome. We will be back again very, very soon! I promise! We love you. Thank you. Thank you for keeping faith with us, all those years when we weren't here; we're not gonna let that happen again!"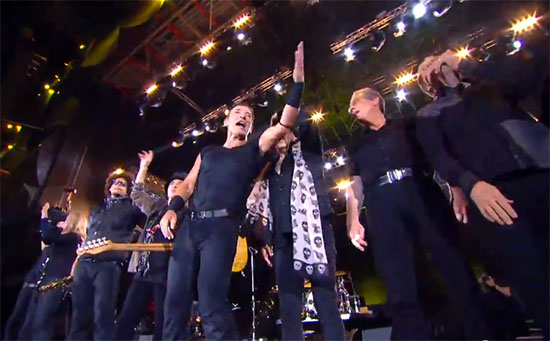 For the full setlist from this and other recent shows,
see our Setlists page
- September 22, 2013

ROCK IN RIO TO OFFICIALLY WRAP THE WRECKING BALL TOUR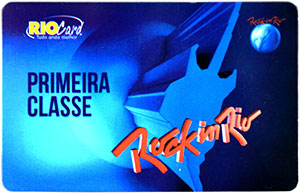 Saturday night in Brazil, that's gonna be all she wrote for Bruce and the expanded E Street Band's 2012-13 tour. Rock in Rio streams its concert events live on YouTube; via the official Rock in Rio channel, this video has Bruce's set slated for live broadcast (along with John Mayer and Phillip Phillips). We hope that's not too good to be true... and do they plan to stream the entire set? Just portions? Remains to be seen, but that's where our eyeballs will be on Saturday night. If only to get some closure on the countdown. Until then... please stand by.
Update: Springsteen is scheduled to go on, and the live stream to start, at 3:05am GMT (11:05pm Eastern).
- Updated September 21, 2013

CATCHING UP WITH PETER AMES CARLIN
Bruce out now in softcover, author hopping time zones for readings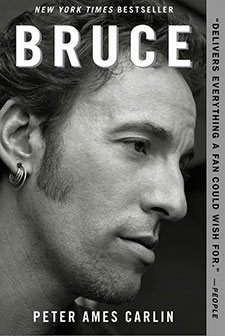 The author of Bruce, Peter Ames Carlin is in Brazil for the end of the Wrecking Ball tour, and he gives us some interesting persepctive on Springsteen's São Paulo performance: "I did a reading last night, and everyone was buzzing about 'Sociedad Alternativa.' A huge deal, because Raul Seixas was a kind of Bob Marley figure here and his songs are very precious to them. Most thought Bruce's version — and its place as a show opener — was terrific: respectful, thrilling, a perfect way to open his first real show here. A small minority grumbled about his using the song in a less pure way, but they were far outnumbered. There's much excitement and anticipation that it will return in Rio."
Back in the States next week, Carlin has two cool events lined up in conjunction with the softcover release of Bruce. On Wednesday, September 25, he'll be in Athens, GA for the Drive-By Bruce tribute show, a night of all Springsteen songs with Carlin reading and Athens musicians playing. "The music part is being coordinated by Patterson Hood from the Drive-By Truckers, one of my fave bands these days," Peter tells us. "Patterson's going to play and has a lot of other great musicians on tap." A similar deal (minus the Drive-By part) follows on Saturday, September 28, with a Bruce tribute show in Seattle.
The softcover edition of Bruce is out now; we also still have the hardcover and a very few copies of the signed hardcover in stock our online shop.
- September 20, 2013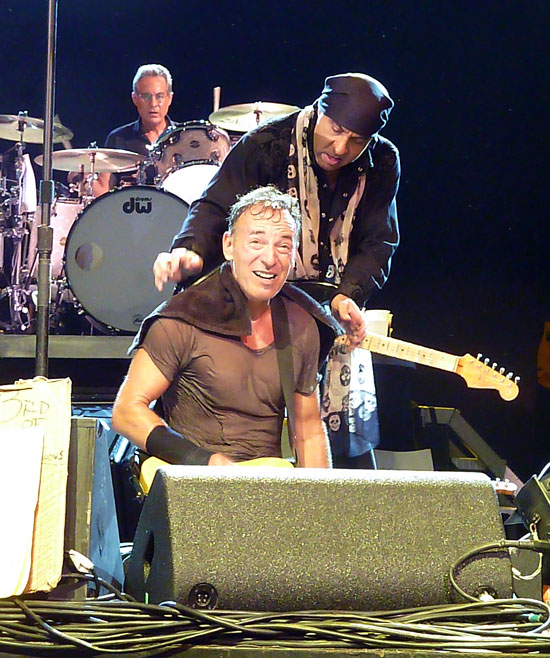 SEPTEMBER 18, SAO PAOLO, BRAZIL: OLÉ OLÉ OLÉ!


"This Hard Land" has almost become Bruce's confessional. With a heartfelt apology for not coming down to South America since '88, a revealing insecurity as to whether fans would know what he'd been doing, and an acknowledgment that fans are as great here as anywhere in the world, the São Paulo show was not only fun and loose, it was a triumph.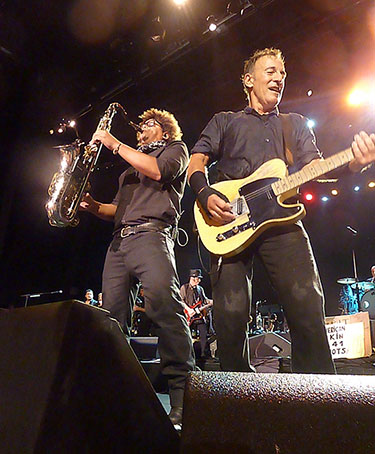 Coming after two gratefully received shows in Chile and Argentina, the train rolled into São Paulo for the first of two Brazilian shows that officially end the Wrecking Ball tour. As hot as Paris in 2012, with a healthy waft of marijuana, the venue had to be the smallest of the tour, the Espaço das Américas comprising just a single floor space, no stands, and about 8,000 fans.
Bruce and the E Street Band opened with a soundchecked "Sociedade Alternativa," by the "Father of Brazilian Rock," the late Raul Seixas [see official pro-shot video]. It was a powerful statement and continued the theme of playing important local songs by influential artists in the region, even if it threw the opening sequence a little off-kilter; "We Take Care Of Own," "Badlands," and "Death to My Hometown" seemed to lose the audience until a crazy "Spirit in the Night" and a 50-meter crowd surf bought it all back together.
From there on in it was a request show, as the best bar band in the world ran through its staples, including a blistering '78 "Prove It," a powerful "American Skin," and a good dose of Born in the U.S.A. classics, all delivered with no effects of the heaviness that Bruce referenced in Kilkenny. This was a party atmosphere, for certain. Indeed, it was almost the alternative Wembley show, where Bruce asked whether we wanted requests all night or the Darkness on the Edge Town album.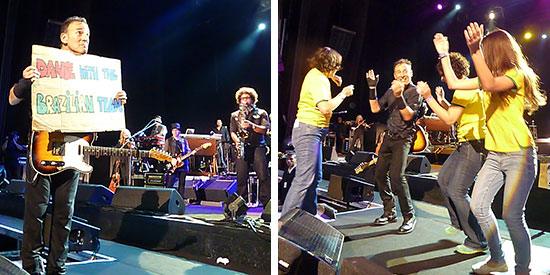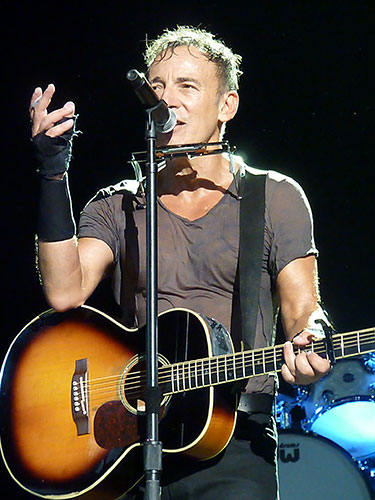 In true bar band style, they stopped the show during "She's the One" to allow a guy to propose to his gorgeous girlfriend onstage (she said yes), and Bruce spent significant amount of time in the crowd: kissing elderly women, chugging beers, seemingly without a care in the world.
And yes, we had the "Sunny Day" kid, and no there were no rarities, but frankly, who cares? Certainty not the Paulistanos, who sang every word from start and finish, to a point that Bruce himself was visibly taken aback. And when the crowd brings it, Bruce does too. Olé Olé Olé Olé Bruce-y Bruce-y!
On to Rio de Janeiro, our last stop until Australia — we think, as Bruce did promise that he'd be back in South America "very very soon."
For the full setlist from this and other recent shows,
see our Setlists page
- Updated September 20, 2013 - Steve Milton reporting - photographs by Carlos Blanco

STEVE JUMP, 1957 - 2013
To many in the community of Bruce Springsteen fans, Steven Jump was the larger-than-life figure who ran Badlands in the U.K. with his brother Phil. Badlands has long been kind of the U.K. sister organization to Backstreets; like us, they are an "unofficial" fan club and point of connection. Badlands also published For True Rockers Only and later The Ties That Bind fanzines. Over the years, we shared many readers, and, sometimes, content. In the '90s, I talked to Steve Jump at least once a week about the record business, and Bruce news. His phone calls were a welcome reprieve from what felt like the isolation of publishing a very odd magazine that few in the print world could understand. Steve could understand.
So the news that Steve died suddenly on September 14, 2013 saddened me, and surprised many in the larger fan community. To E Street fans, Steve most certainly was one "of our own," and his death at 56 was sudden. To many fans, Steve was one of them, jostling his way towards the front at shows, and organizing tours of fans to travel throughout Europe to catch every second of every tour.
To me, Steve was more than just the gregarious patriarch of Badlands: he was the first Englishman I ever came to know well. It feels a bit like they broke the mold of Englishmen after they made Steve. He was educated, but opinionated, and quick to say that something "took the piss" out of him. He was funny and sarcastic, but also passionate about music. Though he loved some of Springsteen's music, his heart, truth be told, was always more with Bob Dylan and the Rolling Stones. Before you sharpen the knives on that fact, let me remind you that the same could be said of Springsteen himself. Also, I got to know Steve during the era of Human Touch, which he pronounced as "utter rubbish." The Ghost of Tom Joad helped shift that, as it should have.
Badlands began as a record shop in Cheltenham, and it quickly was recognized as one of the best independent music stores in England. Bruce was a small part of Badlands stock, which for years was kept on a special floor of their High Street storefront.
Steve brought Erik Flannigan and myself over to Leicester in 1990 for the Badlands convention. This was a start for many of connections in the Springsteen fan world that exist still to this day, as fans from all over Europe came together to talk Bruce. There's a little bit of video and photographic evidence of that convention floating around, but the picture I cherish most was one Steve took but wasn't in: it was a shot of Erik, myself, and a guy named Sid who worked for Badlands, at Brian Jones' grave in Cheltenham. Steve was proud that his hometown had spawned Jones, and it was a sacred spot to him.
Steve and Phil organized a few other fan conventions, and they eventually morphed Badlands' Bruce division into a travel organization that would book tickets, accommodations, and airfare for hundreds. It was perfect for Steve because it required negotiating, and it fit his personality well. He was an ideal host, always quick with his wit. He worked the ticket system well, but was also generous, and many fans have stories to tell of him getting them into sold-out shows. There are pictures of Steve on Facebook just from the last part of the recent European tour, smiling, walking through the crowd with two pints in his hand, perfect in his element.
Steve was the first person to take me to an English pub. This was on my first trip to England in 1990, and mind you, this was at eleven in the morning. The fact that I didn't drink, or eat red meat, or smoke, and that I got up early in the morning to go running, was almost as unimaginable to Steve as English pub culture was to me: "Seattle meet Cheltenham." But Steve wasn't the type to judge anyone else, and with a pint before him, and a fag in his mouth, he was as wonderful a storyteller as you could ever find. He knew much about British history, and more about Dylan than almost anyone.
It was shocking to hear of Steve's death, but more so because the very day he passed, I was telling my young teen son a story about sitting in a Beverly Hills restaurant with Steve the day after the Christic Institute concerts. Steve had something like 18 beers during lunch but still was telling stories, and he was able to get up and walk out. He, of course, loved the Christic shows, which were to all of us in that era a lifeline. Between Steve's stories, and the warmth and passions brought by the Italians present, it was one of the wildest weeks of my entire Bruce history. Steve's oversized personality seemed fish-out-of-water in Beverly Hills. There could be a sitcom in there.
Steve's own penultimate Bruce moment came in November 2004, during a trip he'd organized to Asbury Park. He was in Harry's Roadhouse there, pint in hand, when Bruce walked in. He looked at Steve, and saw something out of kilter with this vision of England sitting there on the Shore, and said, "Don't I know you?" Everyone knew Steve, even Bruce.
Though Steve was a bit older than Phil Jump, in my mind, and that of most, they were forever a plural: "the Jumps." Two great blokes, and its hard to imagine Phil now without his brother by his side. Badlands still is one of the last, great record shops, and deserves "Blue Plaque" status in my mind; it should be part of the National Trust.
Steve himself was a bit like that, too. He always seemed like he was from an earlier century of English history, back maybe when Charles Dickens was writing novels, and Admiral Nelson ruled the waves. If there is a pub in the rock 'n' roll afterlife, Steve is there already, and in a heated debate about when Bob went electric. Everybody there already knows Steve Jump. They would have to.
- September 18, 2013 - Charles R. Cross

BRASIL '13: O MAIOR SHOW DA ATUALIDADE!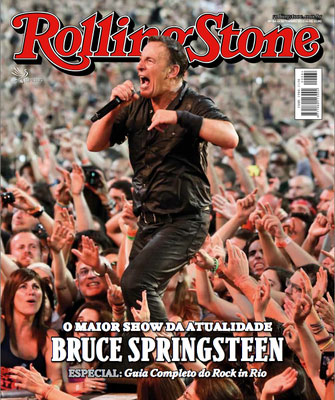 The new Bruce Springsteen cover of Rolling Stone Brazil, naming him as the greatest live act today, coincides with the E Street Band's two-stop visit to the country, which begins tonight. Bruce and the band take the stage at Sao Paolo's indoor Espaço das Américas tonight, and the outdoor Rock in Rio festival on Saturday night in Rio de Janeiro. These two Brazilian shows are the final two of their South American visit, and of the 2012-2013 Wrecking Ball tour.
Springsteen recently appeared on the Brazilian variety show Fantástico for an interview, talking about the shows in 1988 and saying how grateful he is that people are coming to see the band after so many years between visits. Reminded that he gave a small speech in Portuguese last time, Bruce laughs, "I did? I'll try it again!" Asked if his work ethic has to do with his working-class upbringing, Bruce talks about his troubled dad and optimistic mom; he describes the musical and cultural diversity of the band as "a cross-section of American life."
The Fantástico segment also has Justin Timberlake talking about "The Boss": "He might be the coolest 64-year-old I've ever seen." Watch below (Springsteen portion starts at 1:15):

- September 18, 2013 - thanks to Carlos Blanco for translating


I KEPT MY PROMISE
Onstage at Estadio G.E.B.A. on Saturday night, Springsteen told the Argentina crowd that he'd learned a song in Spanish especially for them... but he was afraid he'd mess it up, so he promised to film it and put it on the web instead. Here it is, as promised.
The song is León Gieco's "Only Ask of God"; Bruce writes on his website, "There is a song I planned to sing at our Buenos Aires concert that I learned from the wonderful Argentine singer, Mercedes Sosa. I wasn't quite prepared that evening so I'm glad to send this out now to all of our friends and fans in Argentina."
Update: A translation of Bruce's introduction: "In 1988 I came to Buenos Aires on the Amnesty International Tour. My memories of that time are very much alive. We came to Argentina when the country was going through a hard time and was struggling for a future. For a foreigner, Argentina was alive and promising, so it's a big inspiration for me to be back. I want to dedicate this song to the people of Argentina."
For a translation of the lyrics, visit brucespringsteen.net.
- Updated September 18, 2013

LUCKY 13: MORE SHOWS ADDED FOR AUSTRALIA 2014
Three more dates have been added to the 2014 Australian run, with a third show in Perth moving the leg's start date up to February 5, plus second shows in Adelaide and Hunter Valley. That brings to total number of shows on this Feb/March leg to a baker's dozen. General onsales are September 26, with Frontier member pre-sales beginning on Bruce's birthday, Monday, September 23.
For the full itinerary with onsale info and links,
see our Tour/Ticket Info page
- September 17, 2013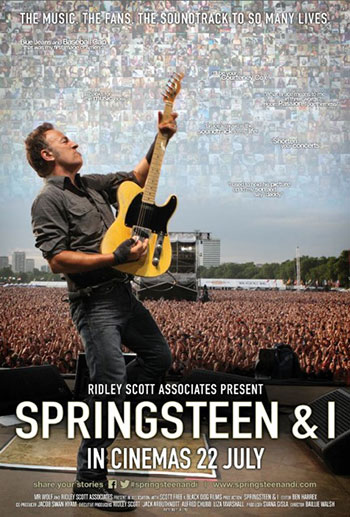 SINGIN' OUR BIRTHDAY SONGS
Announcing a special birthday screening of Springsteen & I in NJ
The Friends of the Bruce Springsteen Special Collection have just announced a special New Jersey benefit screening of the documentary film Springsteen & I in celebration of Bruce's 64th birthday on Monday, September 23 at 7:30pm. The screening will be held at Pollak Theatre on the campus of Monmouth University, the home of the Special Collection. All ticket-sale proceeds will benefit the Friends of the Bruce Springsteen Special Collection and Monmouth University.
This will mark the first time that Springsteen & I will be screened in Monmouth County, the NJ county that includes both Bruce's hometown of Freehold and his adopted musical hometown of Asbury Park. It also will be one of the final chances to catch the film, featuring fan-filmed testimonials along with exclusive live footage from Springsteen's official archives, presented on a big screen with hundreds of fellow fans.
In addition to screening the film, the Friends are planning a few extra activities to celebrate Bruce's birthday in style at the theatre shortly before the lights go down and the movie begins. As the Friends' recent advance message to members noted, "If you're a Springsteen fan and can make it to this event, you'll be glad you were there."
Ticket sales for the Bruce's Birthday screening of Springsteen & I begin tomorrow, Monday, September 16, at 9am ET. Tickets are $15 each and can be purchased online through Tickets.com or by telephone at (732) 263-6889.
- September 15, 2013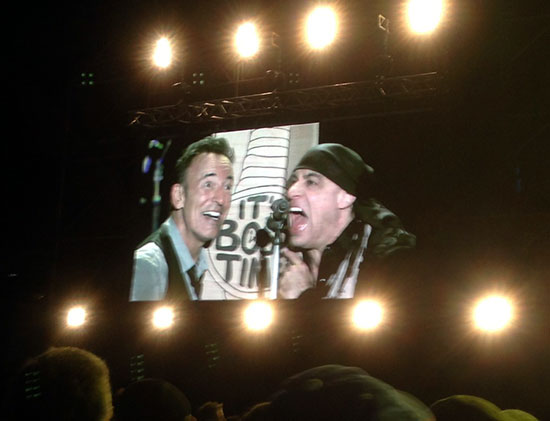 SEPTEMBER 14: BOSS TIME IN BUENOS AIRES
On a cold night in Buenos Aires — 46 degrees and windy, concertgoers at this outdoor venue in coats, scarves and winter hats — Springsteen and the E Street Band brought the heat, playing a 30-song, 3:17 show for a very enthusiastic crowd. "I never would have expected the welcome we received here," Bruce said. So enthusiastic and loud, in fact, that he didn't play the song he learned especially for Argentina — didn't want to "fuck it up, with all the noise we made tonight!" — and promised to post it to his website instead. Changing a full third of the set from the previous show in Chile, they broke out rarer cuts including "Downbound Train" (inspired by the nearby railroad tracks), "Something in the Night," "American Skin," and "Cover Me" by request.
"Last time we came here I was 38. Argentina was struggling with its political future," Springsteen told the crowd. He went on to pledge a return visit: "This is the closing and, I hope, the opening of a cirlce... We will be back. I promise."
For the full setlist from this and other recent shows,
see our Setlists page
- September 15, 2013 - report and photograph by Andrew Bernstein; thanks as well to Beverly Porway

"I WAS KILLED IN 1963 ONE SUNDAY MORNING IN BIRMINGHAM..."
Tomorrow, September 15, will mark 50 years since the racist terrorist bombing of the 16th Street Baptist Church in Birmingham, Alabama. Four young girls were killed in the attack, a failed attempt to stop churches like 16th Street Baptist from playing a leading role as the Civil Rights movement grew and began to transform the United States.
The bombing also is an event of great significance in the music of Bruce Springsteen. One of the murdered girls speaks directly to us in Springsteen's "We Are Alive," asserting that she and others who are physically gone still stand with us today, and urging us to continue fighting everywhere "shoulder to shoulder and heart to heart" for social and economic justice.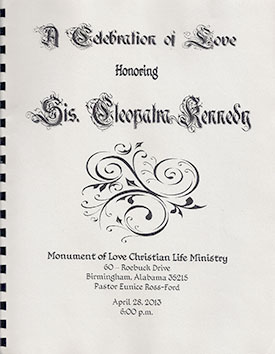 Cleo Kennedy, the great gospel singer who was a member of Bruce's 1992-93 touring band, also was an active member of 16th Street Baptist Church and the Civil Rights Movement when the bombing occurred.
Backstreets interviewed Cleo Kennedy last year about the Birmingham bombing and her feelings upon first hearing "We Are Alive" [archived here]. She told us that track "really touched my heart. We are still alive, after all that we have been through and all of the stuff that happened during that time. We are still alive; we're still here, and it took a lot of faith, a lot of determination, a lot of standing up."
Earlier this year, we also were honored to contribute a full-page statement in the program for the "Celebration of Love" event recognizing Cleo at her current Birmingham church, Monument of Love Christian Life Ministry, focusing on the continued importance of Sister Cleopatra Kennedy and her efforts for freedom and peace.
- September 14, 2013 - Shawn Poole reporting



SEPTEMBER 12, SANTIAGO: A CHILEAN MANIFESTO
Springsteen and the E Street Band's first show in South America in 25 years, since the 1988 Human Rights Now! Tour for Amnesty International. The first of four South American shows to close out the Wrecking Ball tour. Springsteen opened the encore with Victor Jara's "Manifesto," which he sang in Spanish, 40 years after the torture and execution of the folk singer in the 1973 Pinochet coup. Bruce's introduction:
En 1988 tocamos para Amnistía Internacional en Mendoza, Argentina, pero Chile estaba en nuestros corazones. Conocimos a muchas familias de desaparecidos, con fotografías de sus seres queridos. Fue un momento que se queda conmigo para siempre. Si ya es un músico político, Victor Jara continúa siendo una gran inspiración. Es un regalo estar aquí y lo tomo con humildad.

In 1988 we played for Amnesty International in Mendoza, Argentina, but Chile was in our hearts. We met many families of Desaparecidos, which had pictures of their loved ones. It was a moment that stays with me forever. A political musician, Victor Jara, remains a great inspiration. It's a gift to be here and I take it with humbleness.
For the full setlist from this and other recent shows,
and the lyrics to "Manifesto," see our Setlists page
- September 13, 2013 - thanks to Salvador Trepat at Point Blank for the translation

AUTHOR CRAIG STATHAM ON HIS NEW BRUCE BOOK, SAINT IN THE CITY
New this month from Soundcheck Books, Springsteen: Saint in the City, 1949 - 1974 focuses on Springsteen's early years and early bands: The Rogues, The Castiles, Earth, Child, Steel Mill, Friendly Enemies/Dr Zoom and the Sonic Boom, Bruce Springsteen Band and the birth of the E Street Band. Author Craig Statham fills us in on the motivation behind his new book.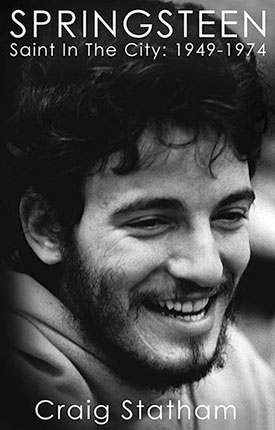 WHY WRITE A BOOK ABOUT Bruce Springsteen, a man whose life and career have spawned almost as many books as Bob Dylan? Is there anything left to write? Well, quite simply, the answer is, "Yes, lots." Where past research of Bruce Springsteen has failed, in my opinion, is that it has not delved deeply enough into his early life. Only with the recent publication of Peter Ames Carlin's Bruce did his early life start to receive substantial attention. Without an understanding of Springsteen's youth, one cannot fully understand his later songs.
Only a child of the '50s and '60s, brought up on a movie diet of westerns, could write the swathe of western-themed songs which culminated in the wonderfully cinematic "Evacuation of the West. Without the influence of The Animals, how different would Springsteen's later work have been? We certainly wouldn't have had the intro to "Badlands." Given this general lack of detail about Springsteen's early years one, could be forgiven for believing that his pre-E Street Band life was made up entirely of poor treatment by nuns, an extended argument with his father, playing in a band named after a shampoo, and driving across country to play some gigs in California.
As well as a lack of in-depth research, I became aware that many of the stories about Bruce's early life were being lost. In a single edition of Backstreets magazine were the obituaries of three men who played with Bruce or were linked to his early years — Bob Alfano, Billy Chinnock and Danny Gallagher — and their stories were now gone. Around this time Danny Federici also passed away. So, driven by these factors, I set out to tell the full story before it was too late.
But how best to do it? Most of the major players had already told their stories, and I did not want to simply regurgitate what had already been relayed. So I decided to try to speak to those who had never put their stories into the public domain. I set out to track down this raft of potential new interviewees. I called on my research skills (from my day job as a genealogist) and used the tool that many previous biographers had not had access to: the internet. I came across a cast of characters whose stories fell onto a gap-laden canvas and began to fill the blank spots. The names of Jay Gibson, Craig Caprioti, Doug Alt, Gary Pulz, Jim Hutcheson, Frank Craig, Joe McHugh, Bill Alexander, Robert Doswell, Chuck Wrenn, Donnie Walton, Walter Planer, John Garrett Andrews, James Segelstein and Tony Bramwell, amongst others, are virtually unknown even amongst the fanatics. Whilst only the fanatics would know those of John Graham, Sam McKeith, Jeannie Clark, Robin Nash, Bob Spitz, Barbara Dinkins, Kip Cohen and Dick Wingate. Underpinning this vast array of people who passed through Bruce's early life I also interviewed the usual suspects: Robbin Thompson, Frank Marziotti, Tinker West, Mike Appel and the wonderfully talented and unerringly helpful Albee Tellone.
I was somewhat taken aback by their willingness to speak to this stranger, someone who had no link to the music of Bruce Springsteen other than his love of it. But speak to me they did, and little by little their incredible stories began to fill in the gaps and remove the errors, revealing a rich tapestry of a story, the surface of which had barely been scratched since the events occurred. So rich were many of the stories that I was worried the book was going to become too detailed for the everyday fan. How important is it to know that when Bruce arrived back from California the heels of his boots were worn down to the nub? Well in my opinion, hugely important. This was solid (and colorful) evidence the band members were living on the breadline, that they had nothing to their names. So I put in virtually every story I was told, as long as its veracity could be proven.
But as well as filling in the gaps and removing the errors, I needed something else thing to make the book stand out: unique stories, something to make the fanatic stand back and say, "I didn't know that." I definitely achieved that goal, from finding out about a video recording of Steel Mill's Parking Deck show in Richmond (and the fact it still exists!), an in-depth insight into what drove Tex Vinyard, the discovery of the show when a Richmond piano player stood in for an ill Danny Federici, finding out where Bruce bought his Gibson Les Paul goldtop, to uncovering the history of his early acoustic recordings (although I couldn't persuade the interviewee to give me the names of the songs).
But for me, one of my favorite moments was tracking down Jay Gibson, a member of Bruce's little-known first band The Rogues. Jay was incredibly open, answering any questions I asked and even furnishing me with a copy of a photograph of his and Bruce's first class at St Rose of Lima School. Jay led me to another band member named Craig Caprioni. Between them they uncovered the history of The Rogues — the band members, where they practiced, where they played, even the very first song Bruce played live. What a coup! When I had this information I knew I had a unique document.
But one can't write about the Jersey Shore and its musicians with any sense of authority without having visited. So for one week I took in Freehold and Asbury Park, undertaking a series of interviews and immersing myself in the haunts of Bruce Springsteen's youth. It wasn't nearly enough time; a trip to the New York Public Library was augmented with a walk 'round the old clubs Bruce once played, guided by his old booking agent, the charismatic Sam McKeith. A great day, if a little depressing to see what had become of legendary clubs such as Max's Kansas City and The Bottom Line.
A hundred small stories, many seemingly inconsequential. But bring them together and mix them in with the part of the story that is already known and you begin to fill in the missing information and remove the errors. They provided the basis for my book, allowing me to tell the story as it has never been told before. The result is Springsteen: Saint in the City, 1949-1974. No doubt it will be added to in coming years as more stories emerge, but for now I believe it is the definitive document of Bruce Springsteen's early life. —Craig Statham
Springsteen: Saint in the City, 1949-1974
is available from Backstreet Records
- September 12, 2013


HEY BABY! IT'S SHOWTIME IN SANTIAGO!
There's Little Steven at the studios of Chile's Futuro 88.9 FM, where he guested on the radio yesterday, calling out for you (and your friends, and your family) to come out to tonight's concert. The Santiago show is "gonna be a lot of fun," he said on the air, predicting a passionate crowd: "The audience here will come to participate, not just to observe." Futuro FM tweets that they have tickets they'll be giving away today, and that tickets will also be available at the Movistar Arena ticket office starting at 12:30pm.
Preparing for tonight's South American kickoff, after a month-and-a-half off the road, Bruce and the band (minus Patti Scialfa) were in Santiago a couple days early, where they had a Tuesday rehearsal at Movistar Arena that was opened up to local media.
As Latercera reports, Bruce had a few questions of his own to ask the local journalists about the state of human rights in Chile, Bruce "knowing his visit coincides with the 40th anniversary of the military coup [that put Pinochet in power]." Says Bruce [and bear in mind, this has been translated from English to Spanish and back], "I didn't know my concert would so significantly coincide with what happened in Chile. When we got here I realized, through people and newspapers, that it is an issue that is still alive." He also spoke specifically about Victor Jara, the Chilean folk singer who was taken as a political prisoner, tortured, and killed during the 1973 coup: "For all those who write about music of political or social topics, Victor Jara is very inspiring."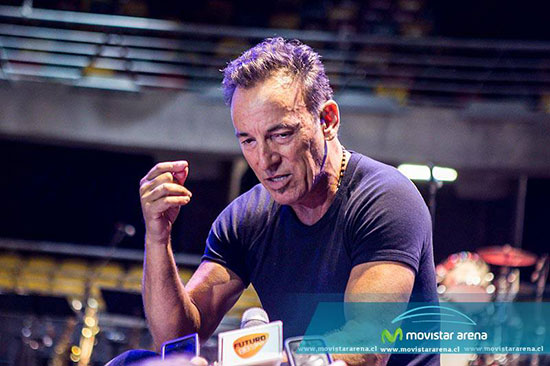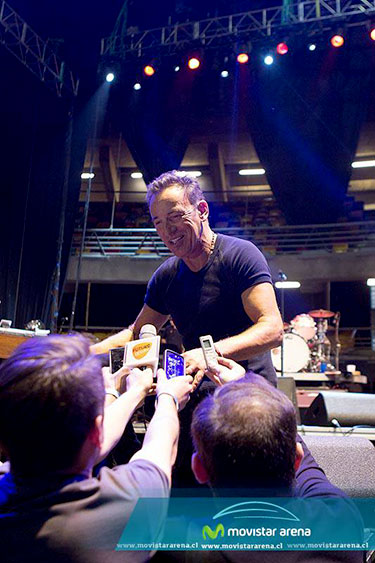 Another translation, from 24horas.cl: "I did not realize [our conert] would come so close to the anniversary, and I have personal memories... as a musician, Victor Jara is very powerful, and his story also provides a very important experience for us, musicians who write political songs."
As for his own performance, Bruce spoke of "leaving everything on the stage" and of the life-changing power of music, and being excited to perform for people who were less familiar with his music or who had never seen him before. Asked about Rolling Stone naming Bruce and the E Street Band the best live act today, Bruce laughed, "They are absolutely right!"
The Sao Paulo newspaper O Estado De Sao Paulo quotes Bruce talking about his last visit to South America, 25 years ago for the Amnesty International's Human Rights Now! Tour in 1988. "It was very powerful visiting [South America]. In Argentina, it was amazing to play for the mothers and grandmothers of the disappeared. Here in Chile, there was also a very harsh reality — very sad. It was a time when music and art could speak for many."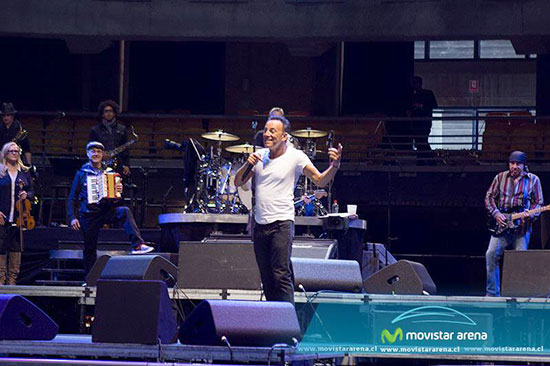 He said he's sorry it took so long to come back after the Amnesty tour. "After that, the band split, and I had children to raise! So it took 20 years. It will be great if fans still remember me!"
On the rider, according to showbiz.publimetro.com: some Chilean wine.
Update: A highlight video is here.
- Updated September 12, 2013 - special thanks to Carlos Blanco for help gathering news reports and translations


THE MAN IN BLACK, TEN YEARS GONE
Tributes on E Street Radio, at post offices, and in Asbury Park
Tomorrow, September 12, will mark the tenth anniversary of Johnny Cash's death. The night after Cash died, Bruce Springsteen opened the E Street Band's DC-area concert with an elegiac version of "I Walk the Line," highlighted by Soozie Tyrell's mournful violin, paying heartfelt tribute to one of Springsteen's major influences.
Fans of both Cash and Springsteen will get to hear that recording and many other Cash-related tracks in a special one-hour edition of Be the Boss, the fan-guest-DJ show on E Street Radio. The hour, featuring recordings of Bruce covering Johnny's songs and Johnny covering Bruce's songs, will be co-hosted by Backstreets.com contributor Shawn Poole and unionavenue706 blogger Ryan Hilligoss. The special Johnny Cash Tribute edition of Be The Boss will debut on Sirius/XM channel 20 on Thursday, September 12 at 5pm ET. Repeat broadcasts will air on Friday 9/13 at 9am, Saturday 9/14 at 6pm, and Sunday 9/15 at 11pm.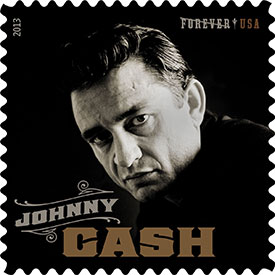 Cash also was honored recently with a U.S. Postal Service commemorative stamp. The stamp is available at local post offices and/or online. Click here for details.
Finally, the Asbury Park Musical Heritage Foundation's newest exhibit is entitled Greetings from Johnny Cash: The Asbury Park Years. The exhibit focuses on Cash's friendship with Asbury Park developer Henry Vaccaro and their involvement in one of the more famous attempts to revitalize the town. An opening reception with Vaccaro in attendance will be held on Saturday, September 14. Click here for further information.
- September 11, 2013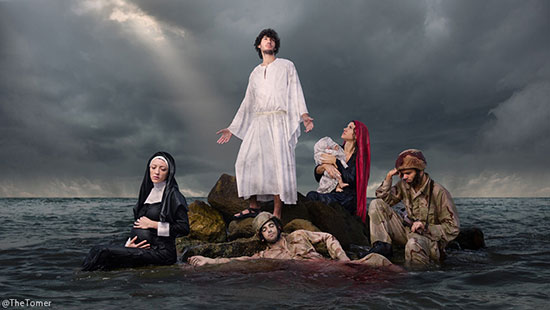 HEY, MAN, DID YOU SEE THAT?
Above, a vision of Bruce Springsteen's "Lost in the Flood," photographed by Tomer Jacobson and Maxim Golovanov. If you're even remotely interested in photography, check out the Behind the Scenes piece on fstoppers.com for the story behind the image and a making-of video:
Tomer Jacobson and Maxim Golovanov, conceptual photographers based in Israel, recently started a very interesting project together: they take songs they like, and transform them into visual photographs. They analyze each song, and try to understand who are the characters and what is the story behind them. Their most recent song-photoshoot was "Lost in the Flood" by Bruce Springsteen and the E Street Band. This was a complicated shoot and it involved shooting out in the water with a lot of equipment and many people. Check out the behind the scenes video...
Michael Zorn, who shoots concerts regularly for Backstreets, is impressed: "As a photographer I'm astounded by their level of patience to get the shot they wanted. Exactly how they wanted it. Sometimes as a photographer we don't have the luxury of patience, which is something we learn early on. 'Just wait for it, it will happen again' — most photographers hear that at one point or another only to fail more often than not at the simplest of things: doing nothing. When I first saw the level of patience and discipline on 'set,' I knew this would be worth waiting for. Couple that with their incorporation of a Springsteen song to not just add music for effect, but to use the song as the set's Director...? And such an in-depth song? This ain't no shot of a beach with a few margaritas in the foreground. As each take rolls by, just as the waves wash the junk off the horizon and help clear up some of the ankles caked in mud, you can see the set, lighting, and shot get closer with each take. Finally they knew they were close. A few tweaks, a big rip current, and voila!"
Read/watch: BTS Video: Photographing a Bruce Springsteen Song
- September 10, 2013



STANDING UP FOR HEROES: BRUCE ON THE BILL AGAIN IN 2013
The line-up has been announced for this year's Stand Up for Heroes benefit, and the ever-reliable Bruce Springsteen will once again be standing up (and telling a moderately dirty joke or two) for the Bob Woodruff Foundation to help injured vertans. The November 6 New York Comedy Festival event, held this year at The Theater at Madison Square Garden, will also feature Jerry Seinfeld, Roger Waters, and Jon Stewart. Tickets are on sale now.
- September 9, 2013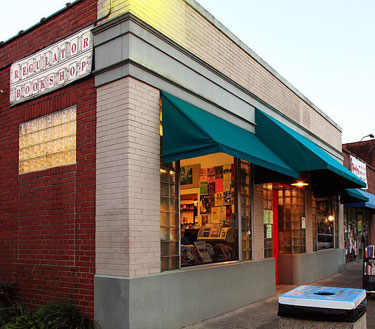 BOOKSTORE OF DREAMS
Backstreets' Chris Phillips will be at the Regulator Bookshop in Durham, NC, for an event on Friday night, September 6, reading and signing the new book Talk About a Dream: The Essential Interviews of Bruce Springsteen. He's bringing some rare interview audio clips, too. The Regulator is at 720 Ninth Street in Durham — if you're in or near the Triangle area, come on out at 7pm!
If you can't make it in person, you can get a signed copy here.


NOW WE KNOW THEIR NAMES
In 1948, Woody Guthrie penned "Deportee (Plane Wreck at Los Gatos)" about the crash of a plane filled with migrant workers being taken back to their native Mexico after picking fruit in California's Central Valley. The song centers on the de-humanization of the migrants, some of whom were in the U.S. legally as temporary workers, noting that reports of the fiery crash said simply that the 28 Mexicans were "just deportees." Covered by dozens of artists, Bruce Springsteen introduced the song to his audience in 1981 [audio above from the August 28, 1981 live debut at the Los Anglels Sports Arena] and released another version on the 2000 Guthrie tribute album, Til We Outnumber 'Em.
Sixty-five years later, we finally know their names. The New York Times reports that following a years-long effort by a researcher and some of the victims' descendants, a memorial listing all 28 names opened on Monday in the Fresno, CA, cemetery where they were originally buried anonymously in a mass grave.
- September 5, 2013 - Jon Greer reporting

DOWN UNDER TOUR WATCH: MORE DATES EXPECTED
Presale for second New Zealand show starts Thursday
Sizable gaps in the 2014 Australasia itinerary should be filling in soon, as the Courier Mail reports. Speaking with promoter Michael Gudinski of Frontier Touring, the paper describes "daily negotiations with reps of The Boss to extend the tour of Australia and New Zealand... It is believed the announcement could be as early as next week."
Read: "Bruce Springsteen set to announce more shows for E Street tour to beat scalpers in Australia"
And on the promoter's website:
The Frontier Touring Company is in discussions about adding additional shows. While the locations and dates of these shows are yet to be finalised it is strongly recommended that fans wait for the announcement of these shows, rather than risk buying from scalpers.

Chairman of Frontier Touring, Michael Gudinski said; "The demand for additional shows is absolutely massive and we're currently in talks with management to determine where it is possible for additional shows to be added in the run. I'm confident that a lot of the markets will secure another show, although at this point I'm unable to confirm if all markets will. There are numerous logistics and availabilities that need to be factored in, but we hope to have this all finalised very soon."
A sceond night in New Zealand has recently been added, with a Frontier Members presale starting Thursday and the general onsale on Monday, September 9. See our Tour/Ticket Info page for full intinerary and links.
- September 3, 2013


LONDON FOR LABOR DAY: HARD ROCK CALLING 2013 AIRS THIS WEEKEND
This holiday weekend, footage from Springsteen and the E Street Band's second London stop this summer will be broadcast on VH1 Classic and Palladia. Hard Rock Calling 2013 is a one-and-a-quarter-hour program that includes "I'm on Fire," "Atlantic City," "I'm Goin' Down," "The Rising," and "Cover Me" from Bruce's headilning set, plus Alabama Shakes, Zac Brown, and the Black Crowes. Upcoming airdates:
Friday, 8/30, 9pm - VH1 Classic
Sunday, 9/1, 1pm - VH1 Classic
Sunday, 9/1, 10pm - VH1 Classic
Monday, 9/2, 7:30am - Palladia
Wednesday, 9/4, 9pm - VH1 Classic
Thursday, 9/5, 9am - Palladia
Friday, 9/6, 7pm - Palladia
That's what it looks like in our area; check your local listings to be sure. Enjoy the long weekend!
9/1/ update: You can watch the whole program online now, at VH1.com.
- Updated September 1, 2013