SPRINGSTEEN ON BROADWAY, SET WING TO WING
As Bruce Springsteen prepares for tonight's second show of his summertime residency, pro-shot video takes us inside the theater for a few minutes of Saturday's opening night — above, watch Bruce's first entrance on the St. James stage, a good chunk of "Growin' Up," and the curtain call with Patti Scialfa.
- June 29, 2021

LIGHTS UP TONIGHT
Saturday's return of Springsteen on Broadway — and Broadway itself
June 26 / St. James Theatre / New York, NY
The tears started before Bruce Springsteen ever said a word.
Ecstatic applause welcoming him to the St. James Theatre stage would have gone on for minutes last night had Bruce not shut it right down, forcefully motioning the crowd to their seats with his hands as if he had the power to do so. (And it seems he did.)
"If you want to be a rock star…." he began, before immediately flinging his first, heartfelt, post-pandemic "Shut the fuck up!" to an audience that was understandably having trouble containing its enthusiasm. And just like that, all seemed right with the world.
Except, of course, that all wasn't right with the world — and that fact hovered over and infused the June 26 season premiere of Springsteen on Broadway.
More revival than reprise, the 2021 edition of Springsteen on Broadway follows the same plot, but the script has been extensively revised and updated along with several musical numbers new to the show.
That only stands to reason: the Broadway show wasn't just a story, it was his story. Three years on — Springsteen on Broadway originally ran for 236 performances in 2017 and 2018 — his story had grown. It's only natural that he'd have newfound perspective on his life and journey after the last year. Haven't we all?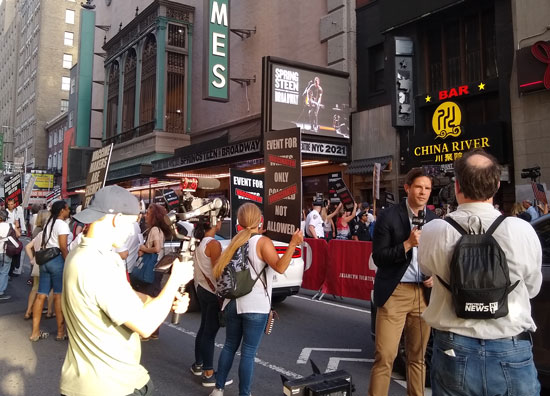 Photograph by Matt Orel
None of us, Bruce included, imagined at the close of the original run that we'd be together again in such changed circumstances, and it's not something the artist could just brush off in performance. After all, we'd all entered the theater past a loud crowd of protesters who took issue with the theater's vaccination requirement for attendees, and we could still hear their chanting through the first two songs. Springsteen expressed empathy for them, acknowledging how understandable it is to be frightened and confused in the world we've found ourselves in.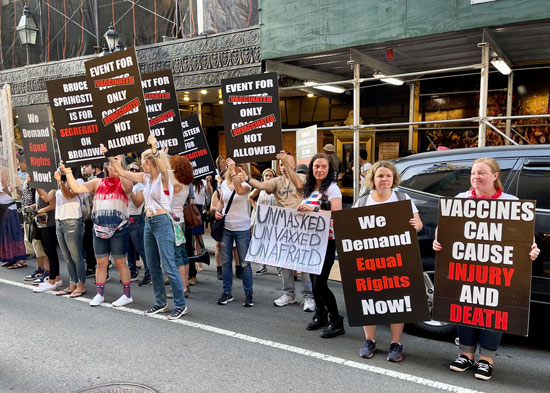 Photograph by Eason Jordan
Bruce ripped and replaced entire sections of the script in order to freshen the show, a fact that was evident from the start. Gone was the prologue about his magic trick and favorite tree (although awkwardly, both were referred to in the epilogue, just one of many places where the seams of Bruce's tailoring showed); tossed was the "Born to Run"/"I live ten minutes from my hometown" comic relief intro to "My Hometown."
Instead, Bruce addressed the events of the past year from both a personal and societal perspective, his personal lens often providing a healthy dose of self-deprecating humor. He acknowledged his arrest (which made waves at the beginning of this year, though charges for drunken and reckless driving were dismissed), confessed to his heinous crime, and walked us through his trip to "Zoom Court" for the case of "The United States vs. Bruce Springsteen" — words which were as strange for us to hear as they were for him. It was the comic highlight of the night, and it served as a great set-up for "My Hometown": "New Jersey — they love me there!"
His arrest became a bit of a running gag, in fact — when telling his familiar story of being stopped by the police in 1972 for moving his belongings after dark, Bruce quipped: "It's kinda my thing."
For most of the show, the songs were the same, and their scripted introductions addressed the same themes. Those of us who had seen Springsteen on Broadway before knew where Bruce was headed with each story, though their power was undiminished. The moment he first broke into song with the opening riff of "Growin' Up"… well, it was like the pivotal moment in The Wizard of Oz. As Bruce strummed those notes, all color returned to the world.
"My Father's House" and its accompanying story were as potent as ever — this was probably the segment that changed the least. But its companion segment about Bruce's mom was a reminder that time hadn't paused since the original Broadway run.
Bruce's mother, Adele, is now 95 and a decade in to Alzheimer's Disease. She can no longer talk, but she makes a particular noise when she sees Bruce that lets him know she recognizes him. She can no longer walk, but she rocks and leans toward him as if she can still dance. It must have been a harder piece to recite than in the previous run, but he did it with composure and grace, leading into "The Wish" with a simple and direct "I love her."
Bruce's vocals were in fine, warm form throughout — particularly breathtaking in "Thunder Road," which featured (I swear) a silent sing-along, and "Tenth Avenue Freeze-out," which threatened to transcend its acoustic arrangement at any moment and flat-out rock. Bruce's nod to the E Street Band always generated the most enthusiasm among theatre-goers, but with Little Steven in the house (he'd made a very noticeable entrance before the house lights dimmed), the applause was thunderous.
"Born in the U.S.A." was even more powerful than before, and his setup story this time focused less on Ron Kovic and more on Walter Cichon and Bart Haynes, his contemporaries lost to war.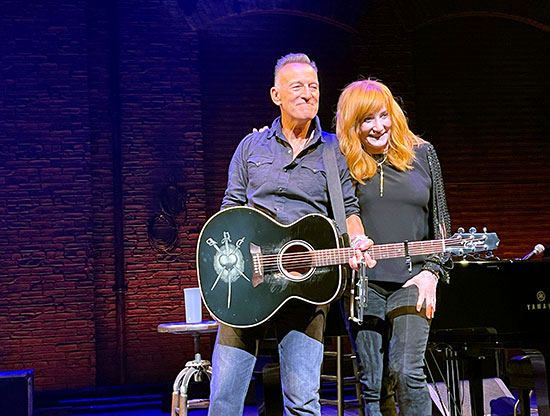 Photograph by Ken Rosen
Until this point in the show, the "setlist" (if we can call it that) was still the same as in the original run, but when Patti Scialfa took the stage, Bruce took us off-road. The pair still performed two duets together, and an unintentionally abridged "Tougher Than the Rest" ("Oops, I think forgot the last verse," he realized in time to circle back to it) was still the first. But where they used to perform "Brilliant Disguise" together, they now performed "Fire," setting it up with an acknowledgement of their 30th wedding anniversary.
Now, I'm "one of those ones," as a friend put it yesterday: I admit to growing more than a bit uncomfortable with the lyrics of "Fire" over the years, for the same reason that a song like "Baby, It's Cold Outside" has aged poorly. No means no. But "Fire" worked perfectly in this spot, because it was performed as a duet. Much like "Brilliant Disguise" (which it replaced in the show), "Fire" transforms when sung by two people instead of one, in this case becoming a song about the undeniable chemistry that brings them together despite all efforts to hide their desire. (I still missed "Brilliant Disguise.")
The surprises continued with the displacement of "The Ghost of Tom Joad" in favor of "American Skin (41 Shots)," the only one of the evening's substitutions I actually suspected might be coming, given the events of the last year.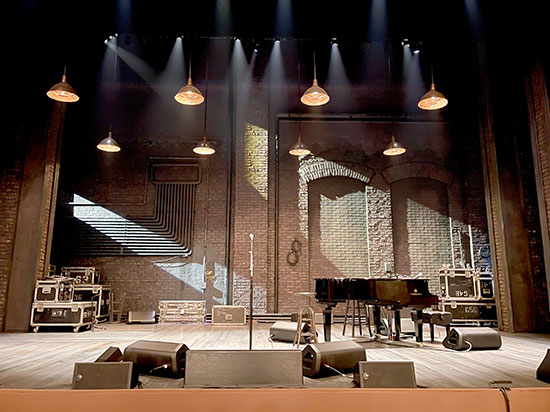 Photograph by Eason Jordan
From there, the show returned to its previous setlist, with "The Rising" still speaking for itself, and "Dancing in the Dark" still serving as a reminder to find our joys where we can.
"Land of Hope and Dreams," though… I struggle to find the words to describe the power of Bruce's performance last night. This has been my favorite Springsteen song since the first time I've heard it, and I've heard it many times in many arrangements. But never like this. Bruce summoned his warmest, purest, most passionate vocals of the night, with an arrangement that seemed like it couldn't have possibly been acoustic (though, of course, it was).
"Land of Hope and Dreams" was always the emotional climax of the show for me, but when Bruce sang it last night, it didn't just fill the theater — it filled the last four years.
I knew that "Born to Run" was coming next to close the show. Or at least, I thought I did. But Bruce had one last surprise in store for us, and I was completely unprepared for it. I think he might have been unprepared for it, too.
In his final spoken piece of the night, Springsteen expressed how thankful he was for the opportunity to perform his show again this summer, because it affords him the opportunity to visit with his father again on a nightly basis. That was his favorite part of the original run, he admitted — the nightly visitations with his ghosts. Not just his father, but with Clarence as well.
At this point, already teary-eyed, Springsteen's voice broke. As he named his ghosts — his father, Clarence, Danny, Walter, Bart, family members dead and gone — Bruce openly wept, sniffing and wiping his eyes. He concluded the piece with a simple but husky "I miss them," and we held our collective breaths (those of us who weren't audibly sobbing), willing Bruce the strength to get the words out.
And it occurred to me in that moment that while we'd often heard and seen Bruce speak and sing about his loss, we'd rarely seen him reveal his grief. On that stage last night, a human being surrendered to his grief in full public view, and it was the bravest thing I've ever seen anyone do on stage. And then he performed the final song the night: Letter to You's "I'll See You in My Dreams," which gave the show the emotional capstone it had always deserved.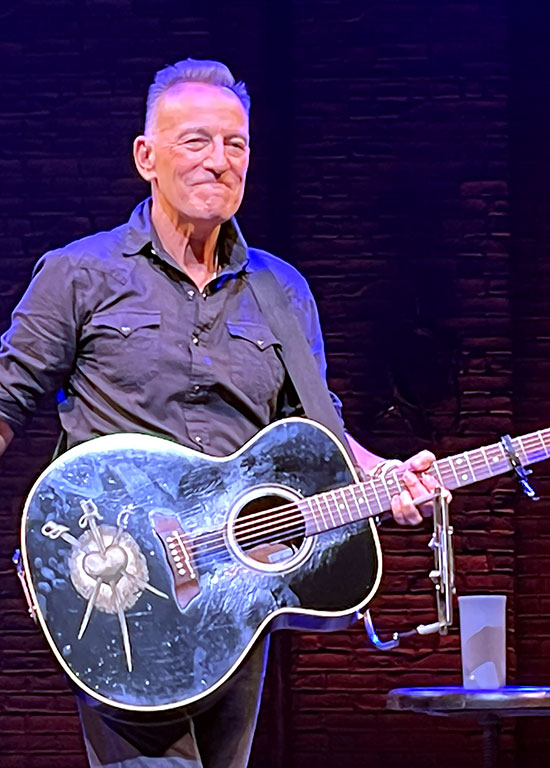 Photograph by Ken Rosen
The new finale was a breathtaking way to end an unforgettable evening, marred only by the awkward references to Bruce's "magic trick" and favorite tree that now had no antecedents, due to his heavy revisions for the new staging.
Based on opening night, Bruce's reappraisal of his Springsteen on Broadway book proves to be both the highlight and the challenge of this revival. Every one of the new and revised scripted segments were outstanding on their own. But the problem is that Springsteen on Broadway was written at a particular time, in a particular voice… and the author has lived more since then. The shift in voice and style often took me out of the moment, where the original held my rapt and full attention throughout. At times, it seemed like the show should have been titled, Bruce Springsteen Performs Selections from Springsteen on Broadway.
But even that, alone, would rightfully be cause for celebration, as Springsteen leads the way in relighting the lamps on Broadway after 15 dark months (as the New York Times reports today: "On Saturday, Springsteen on Broadway became the first full-length show to take the stage since the Covid-19 pandemic forced performances to shut down in March 2020.") And there's every reason to believe that, as this 31-show residency continues and Bruce gets his stage legs firmly under him once again, those seams I mentioned will be more and more difficult to detect.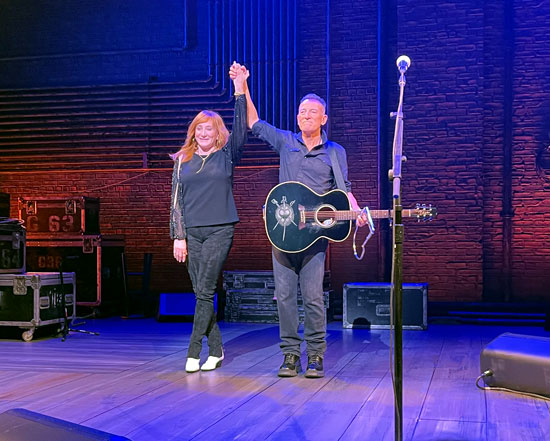 Photograph by Ken Rosen
As of its 2021 opening night, how does the new edition compare to the original Springsteen on Broadway? Less cohesive and rougher around the edges, but also far more emotionally powerful. As a work of art, the revival doesn't hold a candle to the original; as a rite of communion, it completely transcends it.
In the Crowd: Pete Buttigieg, David Fricke, Jon Landau, NJ Governor Phil Murphy, Ridley Scott, Steven Van Zandt, Brian Williams
Setlist:
Growin' Up (guitar)
My Hometown (piano)
My Father's House (guitar)
The Wish (piano)
Thunder Road (guitar)
The Promised Land (guitar)
Born in the U.S.A. (guitar)
Tenth Avenue Freeze-out (piano)
Tougher Than the Rest (piano) - with Patti Scialfa Springsteen
Fire (guitar) - with Patti Scialfa Springsteen
American Skin (41 Shots) (guitar)
The Rising (guitar)
Dancing in the Dark (guitar)
Land of Hope and Dreams (guitar)
I'll See You in My Dreams (guitar)
- June 27, 2021 - Ken Rosen reporting



HIGHWAY '81 REVISITED CONCLUDES WITH PART 4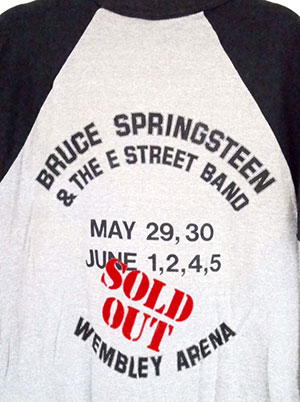 Forty years ago, Bruce Springsteen and the E Street Band were enjoying a brief stretch of downtime between River Tour's U.K. leg and the North American victory lap.
Mike Saunders has been taking a deep dive into that 1981 U.K. tour for us, and today he brings it all home with Part 4 of his three-part series (hey, good stories often grow in the telling): "Highway '81 Revisited: Bruce Springsteen's Longest U.K. Tour."
In Part 1 Mike covered the six-year interval between the '75 Hammersmith shows and the band's '81 return, the rumors and near misses as U.K. fans remained on standby. In Part 2 he explored the reschedulings that kept them waiting even longer. In Part 3, 'steen is seen, as the papers would have it: the wait is over and the concerts begin.
In today's final installment, we wrap with London finally ready for Bruce's return, the Birmingham finale, encounters with Pete Townshend and U2, and more.
Read HIGHWAY '81 REVISITED Part 4:
"Wembley, Birmingham, and Beyond"
- June 23, 2021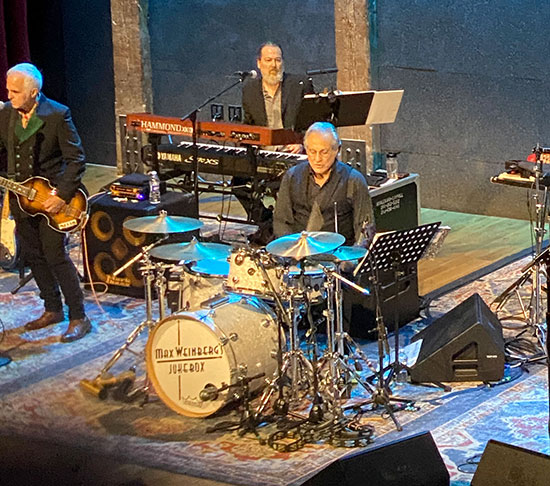 MAX WEINBERG'S JUKEBOX KEEPS ON ROLLIN'
Max Weinberg celebrates a personal milestone today, 40 years of marriage to wife Becky — we can't mark all these 1981 River Tour anniversaries without raising a glass to Becky and Max, too. They were married between the '81 tour's European and final North American legs, 40 years ago today, with a little wedding combo called the E Street Band on hand to entertain guests. Four decades later Max continues entertaining, with a post-lockdown series of his Jukebox shows that began last week in NYC — Brandon Shaw was there and reports for Backstreets.
Minister of the Big Beat Max Weinberg was back to performing last week, at the newly renovated, world class City Winery in New York. Overlooking the Hudson, the venue made for a perfect return for the newly 70-year-old drummer. Back with his Max Weinberg's Jukebox, it was a crowd participation evening as the bandleader drew on crowd requests from a scrolling list on video screens above the stage.

The Strangeloves' "I Want Candy" kicked the night off before a decades-spanning selection of covers including Bryan Adams' "Summer of '69," Tommy Tutone's "867-5309," Bob Seger's "Night Moves," Creedence epic "Proud Mary," and others with Max's steady drumming ricocheting beautifully around the unique venue.

Following a brief rehearsal with the band (his E Street experience has taught him well!) Max and his band brought "Dead Flowers" to life, the highlight of the evening. Cheap Trick's "Surrender" packed a punch, and a fully electric "Like a Rolling Stone" reminded us of another key E Street influence.

In a relaxed mood and clearly glad to be performing again, Weinberg quipped, "I never thought I'd be a retired Jew living in Florida!" But "the pandemic brought us all home — so here I am, now a temporarily retired Jew, in Florida, watching Law and Order."

The City Winery performance kicked off a busy schedule for the back half of 2021; Max Weinberg's Jukebox shows are now lined up from July through December, when the Count Basie Theatre will host back-to-back nights in Red Bank, NJ. The concert was a balm for so many of us who've missed music made live and on the fly; it's also hard to sit in a performance space like this and not crave the full E Street Band in the not-too-distant future — which I was able to ask Max about before the show. If asked, he will serve.
How did you pass time during the pandemic?

Certainly it's been an awful time for the world, but we're seeing some daylight ahead. Since the age of seven I've pretty much always worked, so the last 15 months have been a bit like retirement. My wife Becky and I really caught up on our reading, and fortunately for me she's an incredible cook! I also played drums to my favorite Beatles and Stones songs, most days.

What excites you most about this round of upcoming shows?

Besides the obvious, being able to perform again: as I'm not a songwriter, I've always enjoyed playing the Top 40 classics that I grew up with, seeing people dance and having a good time.

What are you listening to these days?

NPR on the radio, mostly, but of course, the Underground Garage, the E Street Radio channel, and Sinatra on Sirius/XM for music.

What's your favorite track off of Letter to You?

A fabulous experience, making that record. I think "Ghosts" is the one I'd pick, for the B-section going into the bridge and Bruce's vocal. But then again there's "Janey," "Priest...

Letter to You was a highlight of the lockdown for so many of us. What stands out from that experience for you?

All of us recording together at once again, that was so great. And sitting between Bruce and Steve, as they played musical ping-pong with ideas.

Do you think material from Western Stars makes it into the set next time around? What songs from that record would you most like to perform live?

They're all great, so I try to do my best on each single one. It's pretty simple: Bruce calls 'em, we play 'em...

E Street tour next year?

I'm happy to serve if asked!
Next on the Max Weinberg's Jukebox itinerary is this Saturday, June 26, in Kokomo, IN. Visit maxweinberg.com for more dates, details, and links.
- June 22, 2021 - report and photographs by Brandon Shaw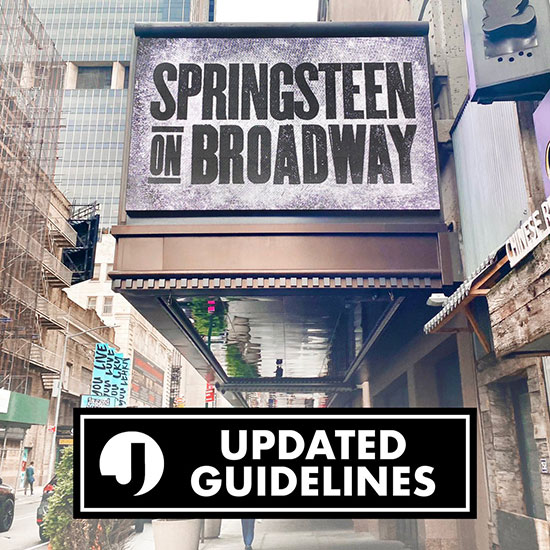 HIT 'EM WITH THE DOUBLE SHOT
As Deadline reported yesterday, "Springsteen on Broadway Reverses AstraZeneca Vaccine Policy" — good news for fans who received vaccines in Canada and Europe, who may still have COVD-related travel difficulties, but it's a major hurdle removed to see Bruce back on the Great White Way.
The original requirement for entry was full vaccination with an FDA-approved vaccine, but as Jujamcyn Theaters has announced, World Health Organization-approved vaccines like Oxford/AstraZeneca now have the green light as well in their updated guidelines:
Following amended New York State guidelines, we are now permitted to welcome guests who meet the following requirements: Guests will need to be fully vaccinated with an FDA or WHO approved vaccine in order to attend SPRINGSTEEN ON BROADWAY and must show proof of vaccination at their time of entry into the theatre with their valid ticket. "Fully vaccinated" means the performance date you are attending must be:

at least 14 days after your second dose of a FDA or WHO approved two dose COVID-19 vaccine, or
at least 14 days after your single dose of a FDA or WHO approved single dose COVID-19 vaccin
See jujamcyn.com/SpringsteenFAQ/ for further details.
- June 21, 2021

NEVERMIND THE 12-INCH, HERE'S THE ENTIRE SHOW
Darkness Tour 1978 VOL. 2 begins with July 1, Berkeley, California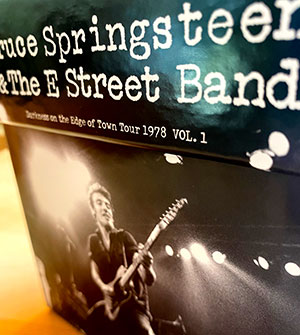 Earlier this year, Nugs.net offered a slick box for sale, to house all of Bruce Springsteen's Live Archive CD sets released so far from the Darkness tour. Custom-sized to fit eight concert releases — all five radio broadcasts, plus The Summit in Houston and second shows at both the Capitol Theatre and Winterland — the box traps and keeps eight digipaks, totaling 24 CDs. It's a hefty chunk of amazing audio from 1978.
Good thing they printed VOL. 1 on the lid, though. Already, Darkness tour documents in the Archive series have outgrown that container thanks to today's new entry, Berkeley, July 1, 1978.
Straight out of the gate, this one generates excitement as a performance that fans have never heard in full from a beloved era. Though a portion of it made the rounds among collectors — a soundboard, no less, but only about half the show — and an audience tape exists from the prior night at the same venue, a complete recording from Berkeley 2 has simply never circulated. Until the appearance of today's 21-track set, we hadn't even been sure of the entire setlist.
Much attention has been paid to the five 1978 broadcasts and rightly so: they are, without exception, phenomenal and even legendary performances. These recordings, each now an official Live Archive release, converted many a fan and cemented Springsteen and the E Street Band's live reputation (as well as the Darkness tour's rep as a live peak). Few would begrudge the space they've occupied in the Archive series, even if we'd already heard fine recordings countless times. A professional, top-notch release is an honor each deserves.
But an unheard Darkness show scratches a different kind of itch.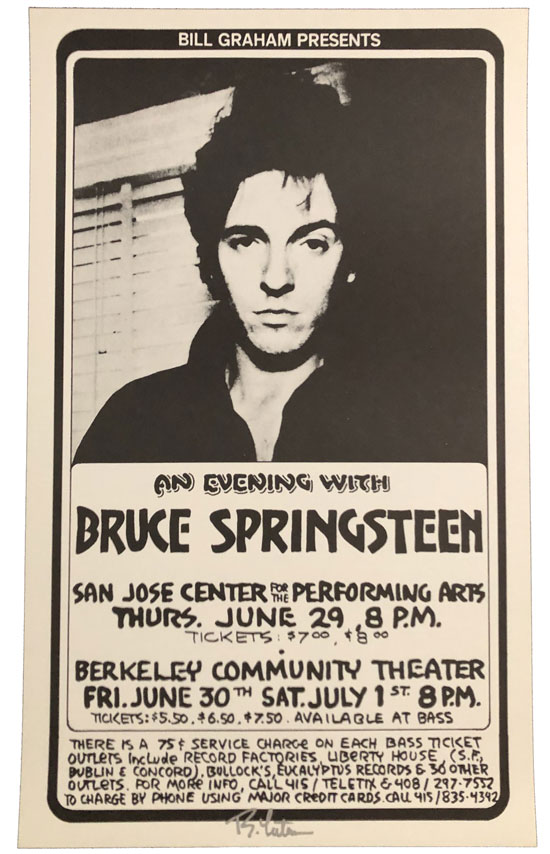 Randy Tuten's poster for the summer '78 Bay Arena shows, one in San Jose and two in Berkeley
When Springsteen and the E Street Band hit California in late June of 1978, the seven-month Darkness tour was only a month old. Word of Springsteen's live act was still spreading, particularly outside of the Northeast hotbed — none of the aforementioned broadcasts had occurred yet — and the band was playing small theatres, with crowd size ranging from 2,000 to 5,000. Following a swing through the Pacific Northwest, including a hop over the border to Vancouver, B.C., the tour came down the coast to hit San Jose before two nights at the Berkeley Community Theatre.
This early in the tour (Bruce hadn't even graffiti'd his billboard on the Sunset Strip yet, that was a few days away), the setlist was still in its Model A stages. In fact, only one song differentiates this July 1 setlist from June 30 in Berkeley — though it's a notable one, with "Because the Night" replacing "Tenth Avenue Freeze-out" in the encore.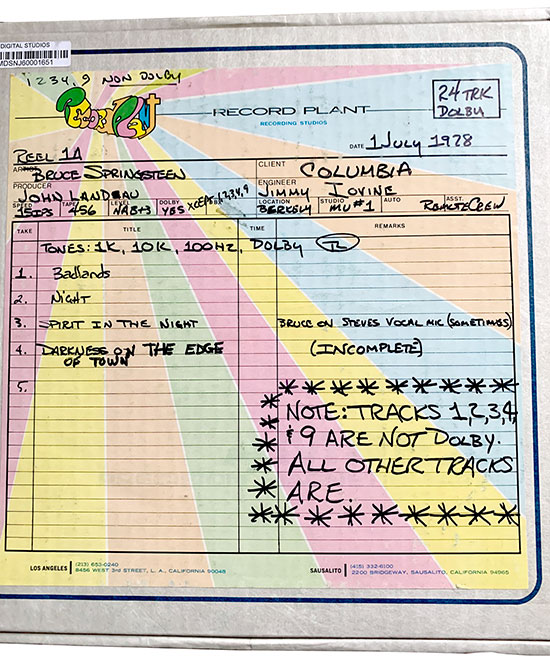 Despite that switch, this is really the first Archive release to present the early-'78 setlist, hitting the ground running with "Badlands" (no "Good Rockin' Tonight," no "Rave On," "Oh Boy!" or "Summertime Blues") with "Night" and "For You" among the opening numbers. A week later, as the first broadcast went out from The Roxy in Los Angeles, the set would loosen up and further evolve, but here we welcome the early iteration of the show, including… let's get right to it… "The Promise."
The Darkness on the Edge of Town outtake (and quasi-sequel to "Thunder Road") didn't make the album, but it was a fan favorite thanks to performances in '76 and '77 and remains a crucial cut in the Springsteen catalog. Following a single full-band performance in May, on the tour's opening night in Buffalo (5/23/78), "The Promise" became a consistently moving showcase for Springsteen alone at the piano. Bruce played it more often than not in the first couple months of the Darkness tour, including both nights in Berkeley. In crystal clear sound, this solo arrangement of "The Promise" is without question the crown jewel of today's release.
"I'm gonna do this for my Pop," Bruce says to introduce it, with both of his parents and his little sister "Pammy" having come up from San Mateo to see the show. The piano practically sparkles, and even at its softest, every nuance of Springsteen's yearning vocal is right in your ear.
Well now my daddy taught me how to walk quiet
And how to make my peace with the past
And I learned real good to tighten up inside
And I don't say nothin' unless I'm asked
Within a month, the song would drop out of the set completely, not to return for 21 years. These lyrics about his father don't appear in most incarnations of "The Promise": not in its 1999 release on 18 Tracks, nor in the title track of the 2010 album; not in '76/'77 performances, nor those in recent years. They're exclusive to 1978. And as Bruce sings of being "far away from home" — here where Douglas Springsteen and rest of his family resettled less than a decade before — and learning "to walk among the remains," you'll feel what a treasure it is not only to have "The Promise" '78 in the Archive series at last, but this specific rendition.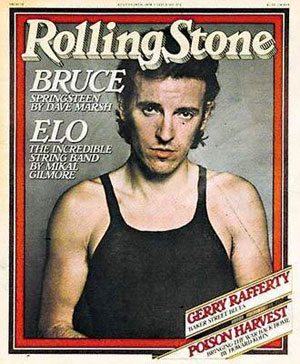 Though this set marks a debut for the concert as a whole, selections from it have been part of the historical record. Just days afterward, KMET-FM broadcast "Prove It All Night" and "Paradise by the C"; not much later, a wider audience heard them on the syndicated radio show King Biscuit Flower Hour and beyond.
Writing for Rolling Stone (the August 24, 1978 cover story, RS272), Dave Marsh described Springsteen staying "up all night mixing tapes recorded at his last concert," which is this very show:
…Jon Landau, Bruce and I disappear into Springsteen's room to play the Berkeley concert mixes. There are two mixes of an eight-minute rendition of "Prove It All Night" that shatters the LP version, and one mix of an unnamed, shorter instrumental, often called "Paradise by the 'C,'" which opens the second half of his concerts. Even on a small cassette player, it's clear that something considerable is going on.
(Marsh also notes: "in a couple of the songs that did not make it onto Darkness, particularly 'The Promise' and 'Independence Day,' he has chronicled his preoccupation with fathers as thoroughly as did John Steinbeck in East of Eden, the film that inspired 'Adam [Raised a Cain].'")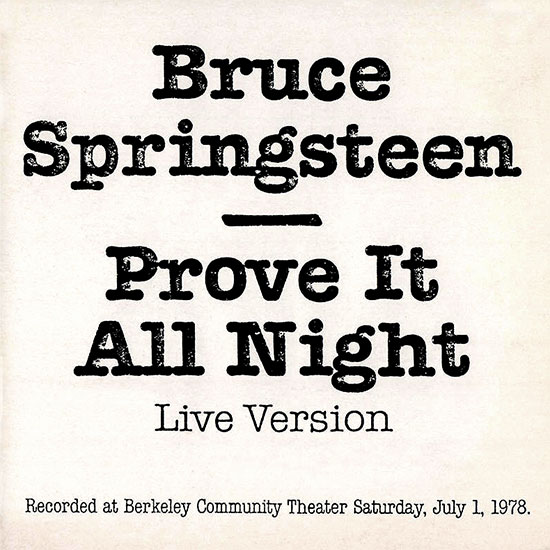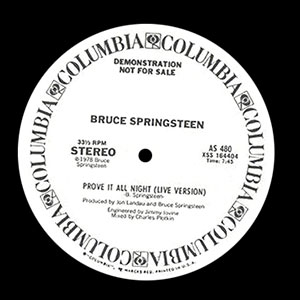 Above and right, sleeve sticker and label mock-up for the live 7/1/78 "Prove It All Night" 12-inch that almost was, which would have clocked in at 7:45 on the A-side.
Brother Dave is right about "Prove It" — in fact, this very recording of the song was seriously considered for an official release as a 12-inch.
Who knows why the idea was nixed; who knows why the Berkeley recording wasn't tapped at all for Live/1975-'85; but today we finally reap the reward of that show being so well captured on multi-tracks nearly 43 years ago.
The tape boxes reveal that Jimmy Iovine was brought in to engineer the live recording, and a new Plangent Process transfer gives us the best playback possible. A track sheet for the tapes shows tracks 23 and 24 designated to the audience itself, left and right, and with that venue ambience balanced just right in the soundscape of Jon Altschiller's mix, this is simply a fantastic listen.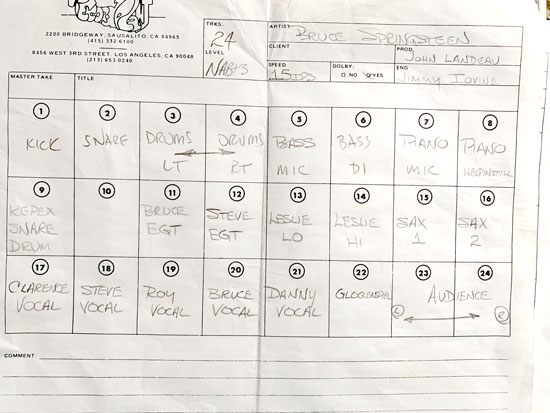 Dig those dynamics in "Spirit in the Night," after "we closed our eyes and said goodbye" — silent enough to hear isolated whoops in the crowd, then a quick crescendo to a wild, wild night as the band kicks back in and Clarence Clemons unleashes torrents of saxophone. "Prove It All Night" sure sounds like it would have lit up the request lines: it may not have the lengthiest or most dramatic of '78 intros, but it's still a tight, potent example of the form. With "Because the Night," spurred by the success of Patti Smith's single, finding its place in the show after just one earlier tour performance, it's got in-progress lyrics for your brain and a minute-and-a-half of hot guitar for your ears, before a novel, abrupt finish.
The shiver-inducing intimacy of the "Promise" vocal, something almost magical, materializes throughout the show: in "Racing in the Street," in "Growin' Up," even in "Fire." But there's just as much magic in the urgency of "Thunder Road," of "Darkness," of "Backstreets" complete with a "Sad Eyes" interlude. Marsh was right, "something considerable is going on" here for sure. And after Bruce lets loose his familiar cry in "Quarter to Three" at the end of the night — "I'm just a prisoner… of rock 'n' roll!" — he then adds, "and you got a life sentence!"
Guilty as charged. Which is why we'll happily fill up another box with these babies as long as they keep putting them out.
- June 18, 2021 - Christopher Phillips reporting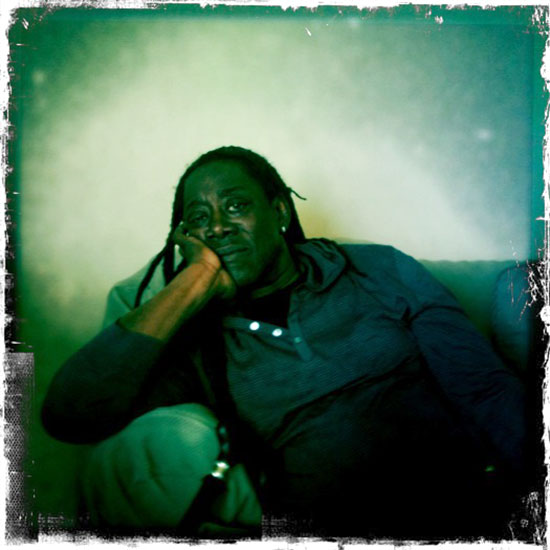 DEATH IS NOT THE END
Big Man: Real Life & Tall Tales co-author Don Reo remembers his wondrous friend Clarence Clemons
Ten years.
The number just doesn't compute. Ten years? A full decade that C has been gone?
Impossible. I still expect to see his name on the screen when my phone rings.
He's got a new dirty joke to tell in that deep, rumbling voice that may or may not have been his true sound.
He was a magic man. A shape shifter. A mystical seer. And a world-class boulevardier.
Ten years.
He never saw our 45th President.
He never experienced a global pandemic.
He didn't see the E Street Band record Letter to You.
He would've been so proud of Jake.
He missed many things he would've loved and many he would've hated.
Time passes.
Life moves on without us.
I'm not one to mark the anniversary of someone's passing. It's usually a dark place to go and can fill the day with pain and sorrow. We who are left behind can only mourn, regret, and get lost in what could have been. As Yeats said, "The world's more full of weeping than you can understand."
But this anniversary is somehow different.
Different because Clarence occupied so much space, the hole he left is big.
Bigger than the sky.
Too big to ignore.
And, to borrow a phrase, Clarence did not believe that death was the end. He truly believed in that beautiful reward.
So this is not a lamentation. The time for tears has passed. Instead this is an elegy to someone wondrous. A song to a giant. A celebration of the spirit of our friend who has gone on ahead of us carrying the light. Showing each of us the path out of the darkening trees and down to the river.
The river.
The beautiful river.
This is my favorite chapter from our book. It came from several relaxed — you could say languid — conversations that found us aggressively conserving energy and discussing what music meant to him.
"Music is God's first name," he'd say. "Laughter is His last name."
The words that follow are all Clarence's, and the story they tell is his story.
Dive in.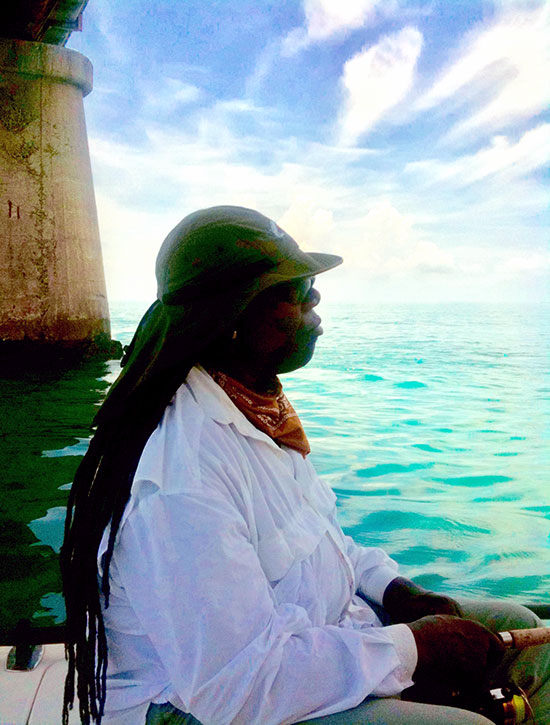 The River

To me music is like a river. I have lived my life beside the river. Every day I get up and I look at the river. I watch it and notice when it rises or falls. I see how the wind affects the surface and ruffles it, and how the lack of wind leaves it looking like a mirror. I follow the water as it flows over rocks and around obstacles. I have studied the river my whole life. I know it as well as I know myself.
Most days I swim in the river. Sometimes I float on it, looking up at the trees and the sky. Other times I dive beneath the surface and try to become the river. I feel it all around me and I feel like part of it. I find it difficult to distinguish between the water and myself, and I don't know where one begins and the other one ends. And then I am the river.
At night I sit beside it. I sit in the dark and listen to it and I feel like the Rain King and I listen to it and I close my eyes and I listen to the river. Some nights it's just noise. A nice noise, a peaceful noise, but just noise. But then something will happen. Something will move beneath the surface and the noise becomes something else. It's discordant like John Cage or Harry Partch, but then it sounds like music almost and it's Captain Beefheart and then Frank Zappa, and the noise turns beautiful and annoying all at the same time, and that's good and so unexpected that it makes me laugh out loud in the darkness.
But on other nights the river sings, and it can sing anything. It's a choir. It's the Edwin Hawkins Singers singing "Oh Happy Day," and it's all gospel all the time until it turns into opera and classical piano and violins and Wurlitzers and Hammonds and big church organs and Al Kooper on "Like a Rolling Stone" and Dave "Babyface" Cortez and whoever played organ on Del Shannon's "Runaway," and suddenly there are a million different voices and a million different instruments, and I can hear each and every one of them and they're all good. I can make out Speedo and Ivory Joe Hunter and some group singing about white port and lemon juice and Willie Dixon and Robert Johnson and Son House and Garnett Mims, and then the Darktown strutters dance by in the shadowy light, followed by the Viscounts playing "Harlem Nocturne" and "The Touch," and the Rockin' Rebels' "Wild Weekend," and then Hank Williams and Johnny Rodriguez and Mickey Newbury from a depot in Frisco, and the music just washes over me and makes me feel whole.
I can't be separated from the river. I cannot be away from it. It follows me; it changes its path to be with me and to stay with me and to define me. It is my purpose and it flows through my soul and it always will, and nothing in this world, including death, can stop that.
- June 18, 2021 - photographs by Don Reo

A FAIRYTALE SO TRAGIC
"We gotta do Dustland one day"
Bruce Springsteen's collaboration with The Killers, a revisitation of their "Dustland Fairytale" in a re-recording called "Dustland," is out today. In addition to the video above, you can find the track on multiple digital services here.
A letter from frontman Brandon Flowers shared by The Killers on social media provides liner notes for the single:
February 29, 2020
JFK terminal 2
Destination: Salt Lake City, Utah

I'm a little more anxious than usual about tonight's flight. Universal just sent out an umbrella email to all artists: "Continue promotion AT YOUR OWN RISK." There's a new virus going around, and it's shutting down the promotional run for our latest and greatest — Imploding the Mirage. We're dead proud of the record and can't wait for the world to get a load of it. But what was meant to be a rocket launch, stadium shaking, saliva-inducing tour run was about to come to a screeching halt. There's plenty of time before boarding, so I get a burger at Wendy's and call Tana. She's excited to get her husband home early. And I have to be honest, I'm a little relieved to be getting home early myself.

Around the time I find my gate, I start getting some texts from a number I don't have marked in my phone. "Watching Glastonbury. You guys have become one hellacious live band my brother! Love the gold suit! We gotta do Dustland one day." Signed off with: "Bruce."

Now I've got 3 options here:
1. Some cold-blooded monster is playing a cruel trick on me.
2. It's Bruce Hornsby. But I haven't talked with him since 2015ish.
Or
3. It really is Bruce Springsteen (I forgot to put both Bruce's numbers in that phone).

So I google the area code. It's from Freehold, New Jersey, and I'm still not convinced. So I text Evan (Bruce and Patti's son who has become a buddy of mine) and get verification that the number really is coming from his old man.

And then, Covid Happened. We were sorry that we didn't get to tour it, but genuinely happy that we were able to release Imploding the Mirage as some sort of consolation. This is what we do, and this is what we have to offer. A joyful record about unity and perseverance. Our interpretation of that promised light that lives just beyond the boundary of sorrow.

I have always sought to find and reflect that elusive light in my songs. It's a trait I inherited from my mother Jean. She died from a brain tumor back in 2010 at the age of 64… Sixty Four! I'm turning 40 next week and I'm starting to realize just how young that is. Too young. She was married to my father Terry for 44 of those years. Dustland was written in the middle of her battle with cancer. It was an attempt to better understand my dad, who is sometimes a mystery to me. To grieve for my mother. To acknowledge their sacrifices and maybe even catch a glimpse of just how strong love needs to be to make it in this world. It was my therapy. It was cathartic.

That's where Bruce comes in. Before I really became a fan of his, I was in the business of stadium-size everything. Larger than life EVERYTHING. Certainly larger than the lives of Jeannie and Terry Flowers. But Bruce has written a lot about people like my parents and found a whole lot of beauty in otherwise invisible people's hopes and dreams. Their struggles, and their losses.

I'm grateful to him for opening this door for me. I'm grateful to my parents for their example to me. Now go find something new out about your dad, give your mom a big hug, and for god's sake listen to Bruce Springsteen.
- June 16, 2021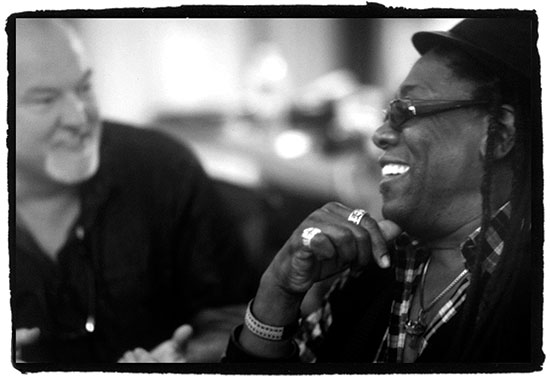 Nick Mead, director of Who Do I Think I Am?, with Clarence Clemons - photograph by Jo Lopez
A HELPING HAND FOR NICK MEAD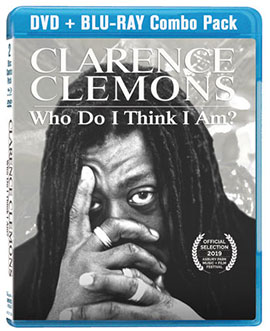 Film director Nick Mead met Clarence Clemons in 1998, when he cast the Big Man in his feature film Swing. But many E Street fans will be more familiar with the Mead/Clemons collaboration that came later, the documentary Clarence Clemons: Who Do I Think I Am?
The pair traveled to China together and worked together on a film about the journey. Clarence got to be there for the premiere of an initial cut at the 2011 Garden State Film Festival, and in a note of gratitude to his filmmaking partner he called the whole experience "one of the greatest things that I have ever done."
After the Big Man's death nearly ten years ago, Mead worked long and hard with Virgil Films' Joe Amodei to complete the film for an official release, reworking it as a loving, posthumous tribute to its subject.
We found out today that Nick has been hospitalized following a motorcycle accident and is now facing multiple surgeries. A GoFundMe campaign has been organized on his behalf by his friend Brian Samelson, who writes: "Nick is the type of guy that is always there for others — but now others need to be there for him. Nick could use a hand as this accident has left him unable to work with a long road of rehab ahead."
When Nick asked if I'd appear in Who Do I Think I Am? to share some thoughts and memories of The Biggest Man I'd Ever Seen, I imagined it would entail an hour or so in front of the camera and nothing more. I was right about the camera time… but I didn't anticipate the rest of the weekend in Washington DC, as Nick and I clicked: we went barhopping, trading Clarence stories and raising more than one glass to him; had a late-night Japanese feast with Nick's son in Georgetown; even took a trip to the Library of Congress together (along with our buddy Shawn Poole) to listen to some rare Springsteen material on file. We became fast friends — not something that I've found happens often, later in life, but then you don't often meet someone who directed videos for Motorhead. Over the years, in addition to sharing some cool footage with us of Clarence and others, Nick contributed a four-page story with beautiful photographs to our Big Man tribute issue.
I'll stop before this reads like an obituary, because it's not. I've got every hope that Nick is gonna pull through. But I'm feeling for him, my thoughts are also with Cynthia and the rest of his family, and I hope that, if you were moved by his film about Clarence and you're able to swing it, you'll consider donating to the GoFundMe campaign.
As of today, until he's back behind a camera, all proceeds from our sales of Clarence Clemons: Who Do I Think I Am? will also be donated to the campaign, a "Helping Hand for Nick Mead."
- June 15, 2021 - Christopher Phillips reporting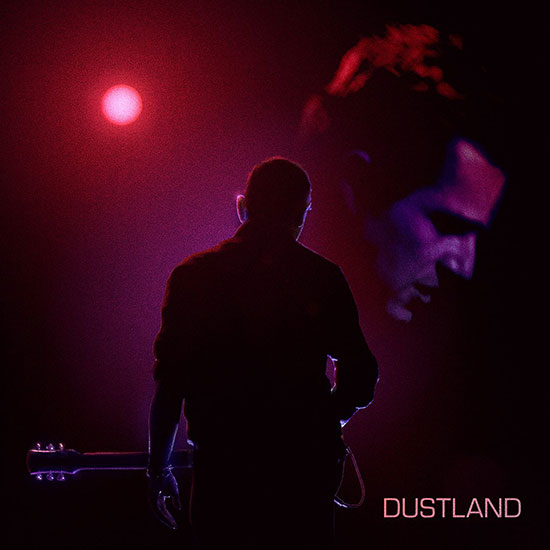 "DUSTLAND": A FREEFORM RADIO FAIRYTALE
DJ Rich Russo on the impending release of Bruce Springsteen's collaboration with The Killers on "Dustland" — coming Wednesday, June 16 — and the magic of radio.
In November of 2008, my radio show Anything Anything was in its infancy on New York's now-defunct WRXP. It was my third-ever show on the radio. A few days prior I had picked up The Killers' third album, Day & Age, and I was blown away by track 5, "A Dustland Fairytale."
Channeling what freeform radio legend Vin Scelsa would often do with a song he loved, I played "A Dustland Fairytale" a few times back-to-back. I went into a long, somewhat rambling diatribe about The Killers and the song, how special it was, and the importance of a landmark statement song and the third album. I continued playing the song and talking about it.
Unbeknownst to me, the label guy and someone from the Killers' team were together, driving back from somewhere on a Sunday night, and they were tuned in. They heard me play the song a few times and heard my thoughts about it, and then they told the band.
After a few months went by, they were discussing the third Day & Age single and video, and they agreed on "A Dustland Fairytale" — because of that Sunday night freeform guy on the radio in New York.
The song was only released as a single in the U.S., while the rest of the world was given "The World We Live In" as the third single from the album. Soon after, The Killers performed the "A Dustland Fairytale" on The Late Show with David Letterman with a full orchestra, and it made the top 40 on the Billboard Alternative chart.
At this point I was still unaware my radio show had anything to do with all of this. I was just happy that a song I loved from the moment I heard it — and one I was the first DJ to play — was getting wider exposure.
But soon the legendary Leslie Fram, who was the Program Director at WRXP, called me and filled me in, telling me that Brandon Flowers was going to call into my show on an upcoming Sunday night.
I was skeptical. We had a fun staff at WRXP, and I was thinking, I'm being punked — because I was the new guy on the radio, and we were always playing jokes on each other. If Brandon Flowers is going to call the radio station, he's going to call Matt Pinfield, who he's close to (Matt was the inspiration for The Killers' song, "All These Things That I've Done"). There's no way Brandon is calling my show. It has to be a joke, some sort of rookie DJ hazing ritual.
Now it's a Sunday night in August of 2009. "A Dustland Fairytale" has been out as a single over the summer, and it's been doing well. The Killers are playing in the area soon. I'm on the air doing my show, and an email comes in with "Brandon" in the address, with an mp3 attached, saying to play it after we talk. Greg, my board op, has downloaded the mp3; he's not saying what it is, and I'm sure he's in on this joke as well.
While I'm playing Bruce and E Street's version of "Thunder Road" from No Nukes, the hotline lights up. Greg tells me there's a call — it's Brandon Flowers. I tell him to patch it through after the song ends, while I roll my eyes, anticipating being the butt of this now-elaborate joke…
Well, the song ends, and I take the call… and it really is Brandon Flowers! We talk about Bruce bringing him on stage to do "Thunder Road" at Pinkpop, and of course about "A Dustland Fairytale." And the mp3 he sent over is an exclusive live version of "A Dustland Fairytale," from the soundboard, that he has given me to on my radio show.
Twelve years later, it's wild that this has come full circle: my favorite artist (who is also now a fellow freeform DJ!) Bruce Springsteen is doing a version of my favorite Killers song with them — a song that quite possibly might never have had mass U.S. exposure, if it wasn't for a freeform DJ giving it a few spins back-to-back on a Sunday night way back then.
Here's a clip of that call with Brandon:
- June 14, 2021 - Rich Russo continues to host Anything Anything weekly, now on multiple affiliate stations up and down the East Coast (and streaming online via TuneIn.com), and DJs on Little Steven's Underground Garage, SiriusXM channel 21 - Find archived episodes of Anything Anything on Mixcloud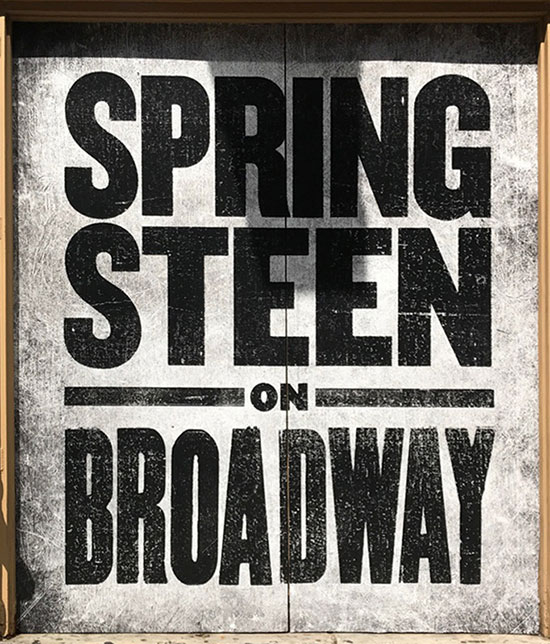 "THERE ARE THINGS WE'RE WORKING ON…"
Broadway talk opens the door to other project updates as Bruce calls in to SiriusXM's E Street Radio
His latest DJ set isn't Springsteen's only new appearance on E Street Radio this week. This morning, as fans far and wide prepared to virtually queue for this summer's Springsteen on Broadway, the man himself called in to chat live on-air.
"It's going to be quite a thing," Bruce told host Jim Rotolo of the upcoming St. James Theatre run — referring as much to the mere fact of it, after the long lockdown, as the performances themselves. Life has "only felt remotely normal recently," he said as the world works to move past the pandemic, "so I'm just looking forward to standing in front of an audience, and I'm looking forward to the audience just being there… seeing them there. I'm glad to be working."
The call only lasted about as long as "Drive All Night," but with a lot of tantalizing information in those eight minutes, touching not only on Broadway but on a variety of upcoming projects.
Some tea leaves to be read, and other highlights, straight from the Boss's mouth:
2022 E Street Band tour — but while you wait…
[Springsteen on Broadway] will give me something to do this summer, so I won't be just lazing around at the beach [laughs]. Jon [Landau] originally mentioned [a return engagement] to me, and I said, "Well, I don't know." Because I knew we were going to tour with the band next year. So I said, well, maybe I'll just take the time off.
But then Jordan Roth, our producer from Broadway, called — literally the next day, very strange — and asked if we'd be willing to go back for a limited amount of shows. Just for the opening of Broadway. So I started to think about it.
Then I had a friend who got so enthusiastic about it to me that he talked me into it. Sitting on my couch one night, I said to him, "Aaah, I don't know if…" — "Are you kidding me?"
So the next day I said, "Okay, we'll do some shows." And so it really came around kind of casually. It'll be nice to be back there again and hope we can lend a hand [as New York theater comes back].
Broadway revival
I have the script; I haven't looked at it; I haven't done any rehearsing [laughs]. But the truth is, I didn't rehearse much the first time! My recollection is we played a few dress rehearsals, I played it once down here at Monmouth College, but that was all I did. It's not something you can stand there and sort of talk to yourself in the afternoon [laughs]... I'm not going to tell myself those same stories. Part of it is the element of spontaneity, even though the script is relatively fixed.
But I've got it set up for Monday, actually: I'm going to start freshening up the script and going through it again to see if I'm going to make any changes — any small changes — or not. It's pretty much going to be the show that it was, because that's what people expect and that's what I have.…
It lasted for 236 shows pretty much the way it was. It got a little longer, which means I probably added things; I would like to tighten it up a little bit, if anything. I would like to get it a little closer to the way it was when I initially debuted it on Broadway than it was towards the end.… But it'll be ready [laughs].
Life… right now
[From My Home to Yours] has been fun… keeps me digging into music, which I've found to be very satisfying. It keeps me finding new things — new groups, and old things that I didn't know existed or hadn't heard — so the radio show continues to be enjoyable. And then Patti and I had our 30th anniversary last week, so that was a big thing!
Vault projects
There are things we're working on. We have something that's going to come out in the fall; I don't know if it's been announced yet [It has not. —Ed.]… I've got projects I've been working on, basically, that are slated for release either next year or in the fall. Not new records, but things that fans I think are really going to be interested in.… I think these are things that the fans will have fun with, coming up. We've worked on a lot of things from the vault… well, I'll let it be a surprise.
Greetings from Bloomington
I worked on three songs on John [Mellencamp]'s album, and I spent some time in Indiana with him. I love John a lot. He's a great songwriter, and actually we've become very close. I've had a lot of fun with him. So I sang a little bit on his… terrific record that I think is coming out in the fall.
Killers in the sun
I did a nice thing with Brandon Flowers, with The Killers… they're a terrific band, and we did something together that I think is going to come out soon. Like, in a week or so! So I've been staying busy.
6/11 update: partial audio
- June 10, 2021 - updated June 11

RECAP: FROM MY HOPE TO YOURS VOL. 23, OLD BONES
"Old bones… Hell yes, I got 'em!"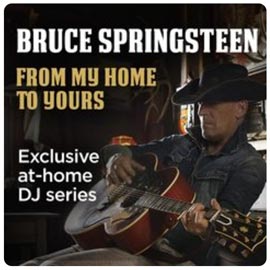 One of the greatest aspects of Bruce Springsteen's artistry is the major role he's played in establishing the template for a long-term career in rock 'n' roll. Burning out versus fading away turns out to be a false choice.
There was a time, not so long ago, when the age of 30 would be considered the natural end of a rock star's power and glory — or at least their relevance. Certainly can't trust 'em after that. But in recent decades, along with the staying power of the genre itself, there have been more than a few major rock figures, Springsteen chief among them, demonstrating that you can stay healthy, stay active, and continue producing great music well into your later years.
Volume 23 of Springsteen's SiriusXM series From My Home to Yours, new this week and going out to "senior citizens from coast to coast and around the world" on E Street Radio, celebrates the triumph of an extended, rewarding life over a tragic, early death. "Old Bones" also explores the complex emotions and issues — orthopedic and otherwise — that inevitably accompany the aging process.
"Old bones… Hell yes, I got 'em!" Springsteen declares at the top. "And they speak to me every day. They snap, pop, or crack inside my knees. My knees have a language all of their own — and I listen to them."
Crackles and pops aside, Springsteen clearly prefers old age to the alternative. "Hell, I'm 71!" he exults, after spinning a song called "Don't Be Ashamed of Your Age." "Anybody who wants to do something about that, you know where to find me!"
Artists tackling the theme in Vol. 23 range from American and British indie acts like Guided by Voices and The Would-Be-Goods to first-generation rockers Jerry Lee Lewis (accompanied by the late, great country music legend George Jones) and Carl Perkins, with old-school crooner Murray Ross in the mix, too.
As he so often has done in this series, Bruce shines a spotlight on the "father of [his] country," Bob Dylan — especially apropos since Dylan recently celebrated his 80th birthday. This time around we get to hear Dylan performing one of his originals, another artist covering a Dylan song, and finally Dylan covering one of Sinatra's classics to close out the show.
Springsteen's contemporaries Elvis Costello, Joe Grushecky, and John Mellencamp get some love as well. Bruce offers some insights on the Costello/McCartney composition "Veronica": "a beautiful song about Alzheimer's… inspired by Elvis's own grandmother, who experienced severe memory loss." The selection is especially moving given what Bruce has said onstage (and likely will say onstage again) in Springsteen on Broadway about his mother's struggle with the disease. Bruce spins Grushecky's "I Still Look Good (For Sixty)," a song that he's performed live with Grushecky a few times over the years. (Which brings to mind John Eddie's "Forty," but maybe that number's too far in the rearview mirror to make the cut here.)
Before playing "my good friend" John Mellencamp's "Don't Need This Body," Springsteen confirms that he "played on a few of Johnny's tracks on his upcoming record… we had a great time out there in Bloomington."
Despite that aforementioned shift in rock 'n' roll — best not to die before you get old after all — country music is the dominant musical genre in this setlist. Of the episode's 15 tracks, four of them feature some of country's honky-tonk heroes and heroines, new and old: Moe Bandy, Lefty Frizell, Toby Keith, and Kitty Wells (with "her lovely interpretation" of Dylan's "Forever Young."). Add in George Jones — as well as his duet partner Jerry Lee Lewis and Carl Perkins, each of whom also made significant forays into country music — and you're looking at just under half of the setlist featuring performances by country musicians.
The penultimate track is Springsteen's own "Kingdom of Days," one of the most beautiful songs ever written and recorded about the joys of growing old alongside someone you love. Along with the rest of this stellar episode, it echoes what Bruce wrote so concisely, eloquently, and insightfully in his Born to Run autobiography:
"The rock death cult is well loved and chronicled in literature and music, but in practice, there ain't much in it for the singer and his song, except a good life unlived, lovers and children left behind, and a six-foot-deep hole in the ground. The exit in a blaze of glory is bullshit."
Playlist:
Guided by Voices - "Old Bones"
Toby Keith - "As Good As I Once Was"
Murray Ross - "Old Bones"
Jerry Lee Lewis featuring George Jones - "Don't Be Ashamed of Your Age"
Carl Perkins - "Class of '55"
Bob Dylan - "Restless Farewell"
Moe Bandy - "Till I'm Too Old to Die Young"
John Mellencamp - "Don't Need This Body"
Elvis Costello - "Veronica"
Lefty Frizzell - "I'm An Old, Old Man (Tryin' to Live While I Can)"
Joe Grushecky - "I Still Look Good (For Sixty)"
The Would-Be-Goods - "Too Old"
Kitty Wells - "Forever Young"
Bruce Springsteen - "Kingdom of Days"
Bob Dylan - "Young at Heart"
- June 10, 2021 - Shawn Poole and Christopher Phillips reporting

See our Tour/Ticket Info page
for full schedule, further details and links
- June 9, 2021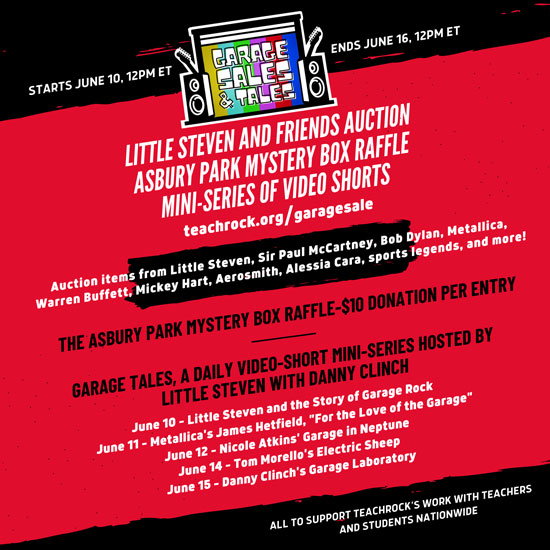 BIDDING ALL DAY IN MY BUDDY'S GARAGE
Little Steven & Friends launch Garage Sales & Tales to benefit TeachRock
Got a chunk of change burning a hole in your pocket? Looking to donate to a great cause and acquire something special for yourself or — Father's Day being just around the corner — someone else? Little Steven and his crew have some offers you might not want to refuse.
Beginning tomorrow, Thursday, June 10, at noon ET, and continuing through noon next Wednesday, June 16, Garage Sales & Tales will offer music, sports, and pop-culture fans the opportunity to bid in an online auction of unique items donated by Stevie Van Zandt and some of his friends, all to benefit TeachRock.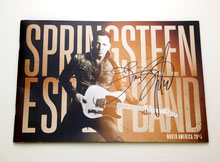 On the auction block will be rare and unique items signed by Van Zandt and other such notable figures as Aerosmith, Troy Aikman, Warren Buffet, Alessia Cara, Cheap Trick, Bob Dylan, Mickey Hart, Reggie Jackson, Daniel Jones, Ang Lee, Metallica, Paul McCartney, Frank Robinson, Martin Scorsese, Pete Souza, Bruce Springsteen, Frank Stefanko, and Masahiro Tanaka.
Of particular interest to Backstreets readers will be the various articles of clothing (including custom-made sports jerseys) donated by Stevie, as well as books and tour merch signed by Bruce.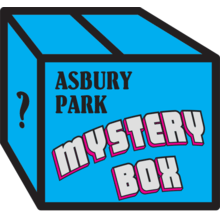 In addition to the online auction items, virtual raffle tickets will be available to purchase at a cost of only $10 per ticket for a chance to win the "Asbury Park Mystery Box."
Valued at $3,000, the box contains items donated by Little Steven, Danny Clinch, and "maybe others… Only the winner will know! Feel lucky?"
The Garage Sales & Tales website also will feature a series of video shorts presented over the week-long online event. Each short will be hosted by Little Steven with Danny Clinch. Here's the full schedule of shorts:
Thursday, June 10 - Little Steven and the Story of Garage Rock
Friday, June 11 - Metallica's James Hetfield: "For the Love of the Garage"
Saturday, June 12 - Nicole Atkins' Garage in Neptune
Monday, June 14 - Tom Morello's Electric Sheep
Tuesday, June 15 - Danny Clinch's Garage Laboratory
Visit teachrock.org/garagesale, where the garage door goes up tomorrow at 12pm ET. All funds raised will support the important ongoing work of TeachRock, the organization founded by Little Steven along with Bono, Jackson Browne, Martin Scorsese, and Bruce Springsteen. TeachRock continues to offer free lesson plans and online resources to teachers of classes K-12, successfully reaching and engaging students by integrating popular music and its history into all subject areas.
- June 9, 2021 - Shawn Poole reporting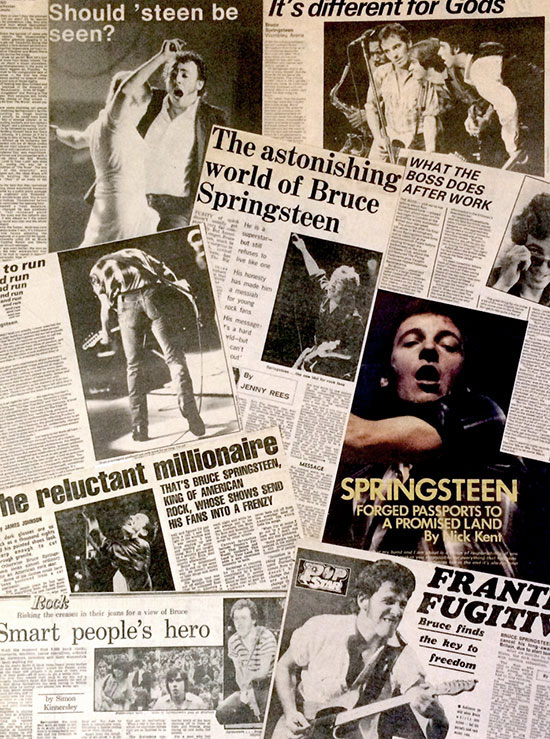 "HIGHWAY '81 REVISITED" CONTINUES WITH PART 3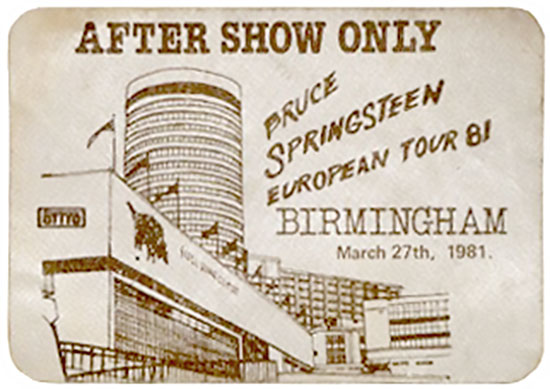 On this day in 1981, Bruce Springsteen and the E Street Band's monumental European tour for The River came to a close.
The last concert of the run was June 8, 1981 in Birmingham (don't mind the date on the pass at right, printed before the schedule change) after nearly three months overseas and a month of shows in the U.K. alone
Mike Saunders has been taking a deep dive into that U.K. leg for us, and today to mark its end we have Part 3 of "Highway '81 Revisited: Bruce Springsteen's Longest U.K. Tour."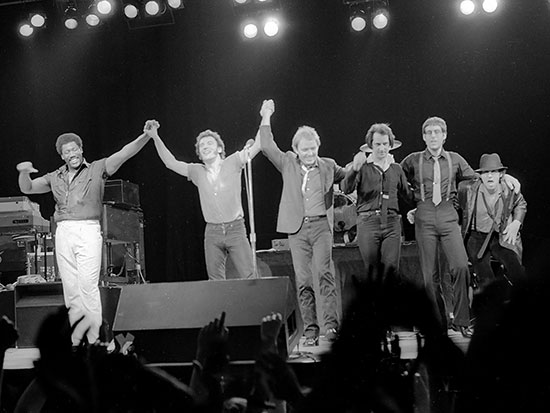 In Part 1 Mike covered the six-year interval between the '75 Hammersmith shows and the band's '81 return, the rumors and near misses as U.K. fans remained on standby. In Part 2 he explored the reschedulings that kept them waiting even longer. In today's new installment, 'steen is seen, as the papers would have it: the wait is over and the concerts begin.
Read HIGHWAY '81 REVISITED Part 3:
From Newcastle to Brighton
- June 8, 2021 - photograph (Brighton, 5/27/81) by Tony FitzPatrick

ENCORE! ENCORE!
Springsteen on Broadway revival, June 26 - September 4
As 2021 dawned, Springsteen said he had some surprises up his sleeve for the new year — today's news of a Broadway return engagement certainly qualifies:
Says Springsteen: "I loved doing Springsteen on Broadway and I'm thrilled to have been asked to reprise the show as part of the reopening of Broadway."
The much-lauded, Tony Award-winning Springsteen on Broadway originally ran for more than a year at the Walter Kerr Theatre, from October 3, 2017 to December 15, 2018. The Thom Zimny film premiered on Netflix as the curtain came down for what we thought was the final time.
Since there was no tour for Western Stars (or, of course, for Letter to You, which released mid-pandemic) Broadway remains Springsteen's most recent performance series.
While we all await "the biggest party you've ever seen," as Bruce has looked ahead hopefully to a potential 2022 band tour, we imagine reviving Broadway will allow him to stretch his performance muscles again as the world continues the process of reopening this summer.
Proceeds from Opening Night, June 26, will be donated to a group of local New York and New Jersey charities including the Boys and Girls Club of Monmouth County, Broadway Cares/Equity Fights Aids, Community FoodBank of New Jersey, Food Bank for New York City, Fulfill (Monmouth & Ocean Counties Foodbank), Long Island Cares, NJ Pandemic Relief Fund and The Actor's Fund.
The St. James Theatre, like the Walter Kerr, is part of the Jujamcyn Theatres company; in terms of seating capacity, it's nearly twice the size, holding 1,710 as opposed to the Walter Kerr's 975.
Audience members will be required to provide proof of full COVID-19 vaccination in order to enter the theater.
Ticket sales begin on June 10 at noon Eastern, via SeatGeek.com (no Ticketmaster Verification this time). For show dates and ticket links, visit brucespringsteen.lnk.to/broadway with further details at jujamcyn.com/SpringsteenFAQ.
- June 7, 2021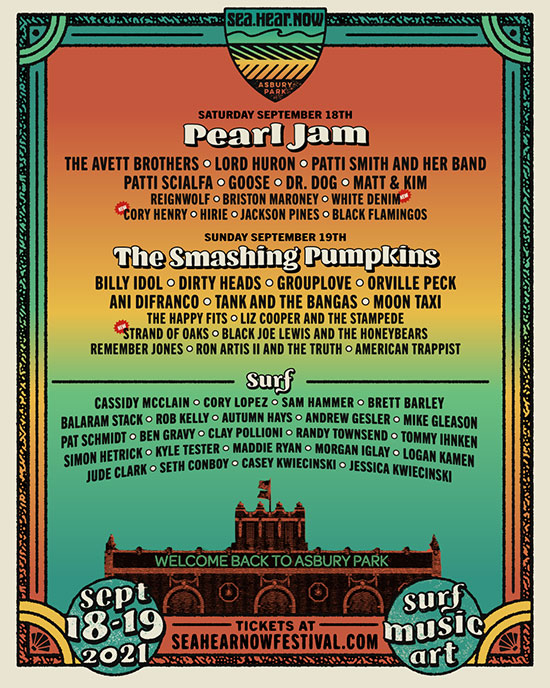 SEA.HEAR.NOW FEST READY TO RUMBLE
Patti Scialfa booked for September 18 in Asbury Park
Danny Clinch's Sea.Hear.Now Festival in Asbury Park is back on for 2021, after having to cancel last year's event. Daily line-ups have now been announced for the two-day festival on September 18-19th, and it confirms good news for Patti Scialfa, as well as fans excited to see a rare center-stage performance from the First Lady of E Street.
The festival is bringing back many of the artists who were on last year's bill, and that will include Ms. Scialfa on day one, Saturday 9/18, sharing the top of the bill with Patti Smith and her band, Avett Brothers, Lord Huron, and headliners Pearl Jam.
Clinch tells Variety, "To have Pearl Jam playing on the beach in Asbury Park is just incredible. This has been a long time coming for us.... we're so grateful to them and all the other artists on the lineup to have stuck with it. Very few people returned their tickets, and all the Pearl Jam fans are super excited that this will be their first U.S. show in more than three years."
Late last summer, Patti was lamenting the 2020 cancelation in an interview with Rolling Stone, after telling writer Andy Greene that she was itching to play shows of her own:
I was all ready. Danny Clinch holds this festival in the summer, Sea. Hear. Now. It's in Asbury Park. He asked me to play, and it was going to be big, something like 10 or 20,000 people on the beach. I was going to come out and play a 45-minute set. I went, "What a great way to get going!" It was booked, and I was on the list. Then it was just done.
Like most of our plans for 2020. But after playing it as it lays for a year, live music is coming back, to Asbury Park and around the world. Visit seahearnowfestival.com for further details, the full line-up for both days and ticket options still remaining.
- June 4, 2021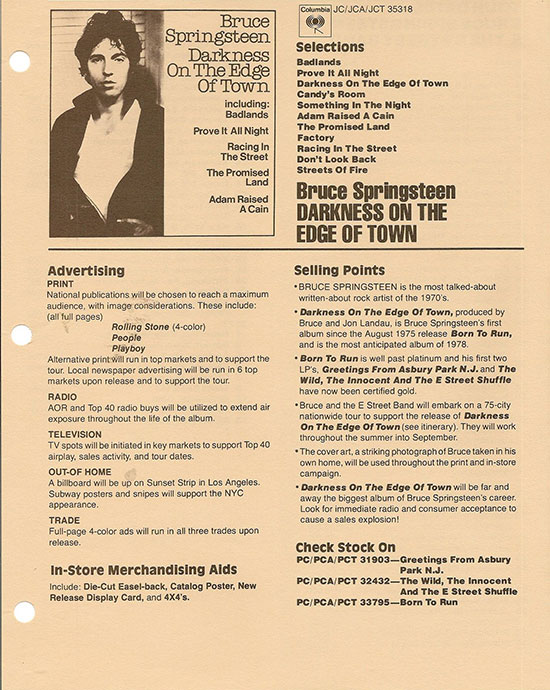 PUTTING A FOOT TO THE FLOOR FOR DARKNESS
Let's look back, actually — at 1978's "most antcipated album"
On this day in 1978, Columbia Records released Bruce Springsteen's fourth album — his "samurai record, all stripped down for fighting" — Darkness on the Edge of Town. Above, we present the label's advance marketing plan (known as their Buyways) for "the most anticipated album of 1978."
"Don't Look Back," the Darkness outtake that eventually surfaced 20 years later on Tracks, came very close to making the final album sequence, only to be stripped at the eleventh hour; above, you can see proof positive. Coincidentally, "Don't Look Back" was the final song Springsteen debuted in 1977, joining compositions like "Rendezvous," "The Promise," and the track that did make the cut, "Something in the Night."
The exact reason for "Don't Look Back" being left off isn't known. But Dick Wingate, who was Springsteen's product manager at Columbia from 1976 to 1978, noted that one late-in-the-game change — a decision to include a guitar solo in "The Promised Land" — could be one clue. "That required remastering, and once that happened, 'Don't Look Back' was no longer in the sequence." It could have been a technical decision to preserve sonic quality, or a thematic one.
Another curiosity is the sequencing, which probably wasn't final by the time Wingate met with Springsteen in Los Angeles to discuss how Columbia would — and wouldn't — market the new record. Springsteen was adamant about its elements being plain and avoiding anything that might be perceived as hype, which had dogged him in the Born to Run era. Even the television spots that aired in a half-dozen markets during Saturday Night Live were brief (ten seconds) and to the point. "Stripped down," you might say. And Springsteen famously approved everything.
You'll also that, as part of the planned Darkness promotion, "A billboard will be up on Sunset Strip in Los Angeles." That's the very billboard, of course, that Springsteen and an E Street cohort would tag with spray paint come July. Bruce told Dave Marsh shortly thereafter, "I wanted to get to my face, and paint on a mustache, but it was too damn high."
Our thanks to Dick Wingate for the page of history above — Dick authored those words, including "Look for immediate radio and consumer acceptance to cause a sales explosion!" The album went platinum by the end of the month, and it was certified triple-platinum by the end of the century. Its explosive acceptance continues 43 years later. Keep on can't-stopping, Darkness.
- June 2, 2021 - Christopher Phillips and Jonathan Pont reporting


FOR MEMORIAL DAY: I REMEMBER YOU, MY FRIEND
On Memorial Day 2021, it's especially worth remembering that Bruce Springsteen's latest album Letter to You and its accompanying film were inspired by and dedicated to the members of his early band The Castiles, one of whom was killed as a soldier during wartime. That band's first drummer, Bart Haynes, left the group to join the United States Marines and was killed in 1967 during the Vietnam War.
For everyone today who's remembering a loved one killed in military service (or any other lost comrade-in-arms), we wanted to share the 2020 Stand Up For Heroes acoustic version of Letter to You's closing track, "I'll See You in My Dreams," performed by Bruce Springsteen and Patti Scialfa for the Bob Woodruff Foundation:
As Bruce observes in the Letter to You film, "Where do we go when we die? Maybe we go nowhere, or maybe… everywhere. Maybe our soul resides in the ether, in the starless part of the sky, and resonates outward like a stone dropped into a still lake whose circles are the lives of people we've touched over the course of our lives. No one knows where or how far their soul may sound, may travel… I don't know… But those passed never completely disappear. We see them on familiar streets, in empty clubs, and in late nights of long ago. They move in shadow, glimpsed only from the corner of our eyes. We see them in our dreams."
- May 31, 2021

RECAP: VOLUME 22, RADIO RADIO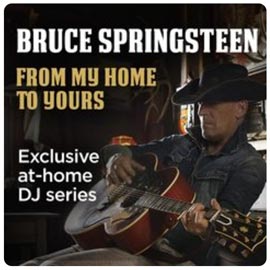 Boppin' through the wild blue, Springsteen sends another FMHTY down the line to you
Do you remember rock 'n' roll radio? Bruce sure does, and this week's entry into the From My Home to Yours canon goes a little meta — with our host talking about radio... on the radio.
In a crisp 40-minute program, Springsteen doesn't mention the streaming services or downloadable apps that constitute modern "radio," nor does he use the time as an opportunity to weigh in on the current state of affairs in the radio biz — offering no "Last DJ"-style critiques of the mega-conglomerates or business decisions that replaced the heart of old-school "rock 'n' roll radio" with the iHeart of algorithms and one-size-fits-all playlists.
Instead, he's talking, and playing songs, about those old-school transistor radios: boxes with dials, protruding knobs, and antennas. And he starts it all off with a nostalgic look back on how those devices, with their translated sounds and signals, transported young Bruce to a universe far beyond his small town.
Like past shows about summertime, cars, or bands, "Vol. 22: Radio Radio" is built around a memory of a moment or medium that played a key role in Springsteen's search for connection, community, and a world beyond Freehold — a connection that provided a little bit of escape, magic, and fun. It's not hard to envision that same desire for connection and community driving Springsteen back to radio just a little over a year ago to escape a global pandemic, provide a little spark, and connect with a distant audience amid the isolation and solitude of a homebound quarantine.
Previous to cable, previous to satellite, previous to the prominence of popular music in the New York area, you had your choice of two — two! — AM radio stations, and for teenagers, one listening device: the Japanese-built transistor radio. It was approximately the size of your iPhone. The transistor was your only connection to the rocking, swinging sounds and culture that was teenagedom in the greater world in the '50s and '60s.

WMCA and WABC were our two stations. I hopped between the two, coming to favor ABC with Cousin Bruce Morrow spinning the gold.

The power and importance of my radio could not be overstated. I lived with it: tucked it in my school bag during the day, and tucked it beneath my pillow all hours of the night. This… this… this music... this was something worth living for. This was speaking to me. There were people who knew and respected who I was and who I wanted to be.

There I could find the answer to the only question my dead little town could not afford to ask: Is there anybody alive out there?
Speaking of "magic," the show leads off with a one-two punch of Magic's "Radio Nowhere" and Elvis Costello's "Radio, Radio." There's no shortage of history between these two artists, let alone these particular songs. Costello initially put pen to paper on "Radio, Radio" with Springsteen's Wild & Innocent album in mind, but he ultimately built it into a pithy power pop masterpiece. Fast forward nearly two decades, and a kindred anthemic, hook-laden melody drove Springsteen's search for connection in 2007's "Radio Nowhere." The two artists teamed up to perform both of these songs (along with Costello's even more acerbic "Radio Silence" from 2002's When I Was Cruel), as part of a medley recorded and aired in 2009 on Costello's Spectacle TV show.
The Rayvns' "Raised on the Radio," a radio single off 1982's Fast Times at Ridgemont High soundtrack, kicks off a three-pack of songs from lesser-known, indie bands. The Fast Times soundtrack boasted a veritable Who's Who of early '80s California rock, thanks in part to the film's producer (and Eagles manager) Irving Azoff, but Bruce gives this Baltimore band, and its respelled name, a FMHTY shout-out. He even drops a personal connection to the film — no, not Brad Hamilton's "Jersey Devil" T-shirt, but Bruce's own "fabulous" little sister, Pam, and her big-screen turn as one of Spicoli's cheerleader classmates.
More power pop follows with "It's on the Radio" from Oakville, Ontario's The Nines (from 2011's Polarities), a synth-driven song that would fit at home among Springsteen's late-2000s pop-focused ear candy (hello, "Hurry Up Sundown"). Changing up the pace from pop to R&B, the Mighty Mike Schermer Band's "My Big Sister's Radio" reminisces about dancing around the "little transistor" while channeling a funky blues groove. Springsteen recognizes Schermer, a Bay Area "club scene fixture," now based in Austin, TX, for his "heavy set of bona fides" as a sideman for artists like Bonnie Raitt and Elvin Bishop before venturing on a solo career.
Changing direction for the final half of the show, Springsteen shifts the spotlight from underappreciated bands to a series of songwriting legends.
"One of the 20th century's greatest songwriters," Joni Mitchell, sends her signal to an old flame (or indifferent DJs?) on 1972's "You Turn Me On, I'm a Radio." Mitchell's first Top 40 hit leads into Van "The Man" Morrison's "Hey Mr. DJ," an unabashed tribute to Sam Cooke's "Having a Party," Gene Chandler, and the sounds of '60s radio.
The Blasters, Phil and Dave Alvin — "one of my all-time favorite bands that I had the pleasure of sitting in for a whole set at the Hard Rock in Los Angeles one California night... masters of Americana, blues, soul, punk, R&B... a beautiful group" — follow with 1981's "Border Radio," a piano-driven piece of sub-three-minute rockabilly.
Like quite a few Warren Zevon songs, "Mohammed's Radio" is open to interpretation, but when he asks, "Do you wanna rock and roll all night long?" it's not hard to think he's talking about being enchanted by some spiritual power coming through the speakers. Somewhat less ambiguous, Brian Wilson and The Beach Boys leave no room for doubt that the spiritual power that was the pop-and-hiss of AM radio is exactly what they're talking about in 2012's "That's Why God Made the Radio."
"Until next time... turn on, tune in, and rock out" — with that benediction, Springsteen sends us on our way with "Save My Love." If Springsteen ever had a "transistor radio" song, the Darkness outtake (reworked for The Promise) might be it. When introducing the song in 2014 [below] he not only revisited his memories of staying up all night with the transistor radio tucked beneath his pillow, but further added that this was "a song about when there was just a few stations, and everybody was gathered together listening to the same thing, hearing the same whisper in their ear."
"Save My Love" is a fitting coda to Springsteen's opening narration and captures his demonstrated commitment over these past 14 months to keep sending signals down the line until he's back home on stage and reunited with his band, audience, and community.
Playlist
Intro: The Ramones - "Do You Remember Rock 'n' Roll Radio?"
Bruce Springsteen - "Radio Nowhere"
Elvis Costello - "Radio Radio"
The Ravyns - "Raised on the Radio"
The Nines - "It's on the Radio"
The Mighty Mike Schermer Band - "My Big Sister's Radio"
Joni Mitchell - "You Turn Me On, I'm Radio"
Van Morrison - "Hey Mr. DJ"
The Blasters - "Border Radio"
Warren Zevon - "Mohammed's Radio"
The Beach Boys - "Radio Station Jingles"
The Beach Boys - "That's Why God Made the Radio"
åBruce Springsteen - "Save My Love"
- May 29, 2021 - Dante Cutrona reporting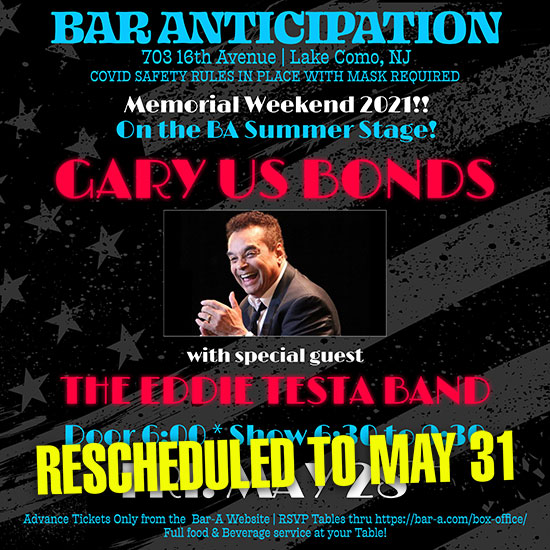 RENDEZVOUS WITH BONDSY POSTPONED TIL MONDAY
Originally planned to kick off Memorial Day Weekend tonight, the Gary U.S. Bonds concert at Lake Como, NJ's Bar Anticipation has been postoned until Memorial Day itself, Monday, May 31. Statement with details from the promoter:
Due to circumstances beyond our control and the safety of our patrons, the sold-out Gary U.S. Bonds show scheduled for today, Friday, May 28, has been postponed to Monday, May 31, at 3:30pm. Doors 3pm.

All tickets will be honored on that date and no further action is required by you. We apologize for any inconvenience this may cause. All involved are equally disappointed.
- May 28, 2021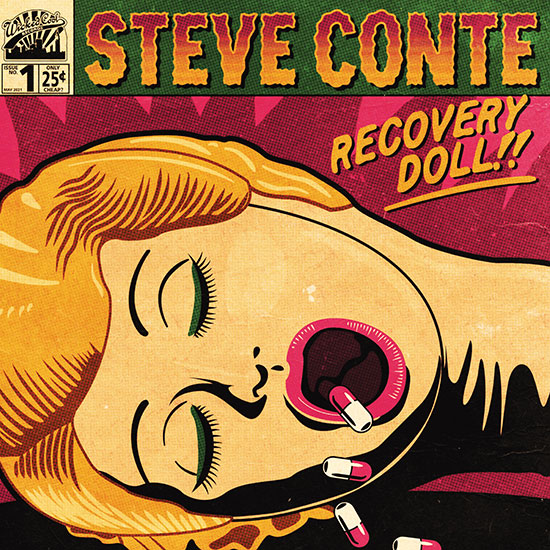 WELL HEY LITTLE DOLLY…
A wicked cool Backstreets premiere from Steve Conte, glow-in-the-dark vinyl and more for Recovery Doll
As you may know, Stevie Van Zandt handpicks everything for release on his record label, Wicked Cool. For the latest Stevie-sanctioned single, we have a Backstreets.com premiere in advance of its official release tomorrow. So maybe we can beat the Underground Garage to the punch and name Steve Conte's "Recovery Doll" this week's Coolest Song in the World.
Or Coolest Songs in the World, considering Recovery Doll with "Rock and Rye Queen (Demo)" on the flip could well have been a double A-side single.
While many may know Conte as a member of last decade's reconstituted New York Dolls — and his website is SteveConteNYC.com — the Matawan, NJ-raised guitarist/singer/songwriter is also very at home across the river, where he's been heavily involved in the Asbury Park music scene in recent years. Steve's brother John has been the bassist for Southside Johnny and the Asbury Jukes since 2008, and he plays on "Recovery Doll," too, holding down the low end while Steve's out front on lead vocals and guitar.
The drummer on the track, Charley Drayton, has played with the Replacements and Keith Richards' X-Pensive Winos — and fans of those acts should find this "groovin' rock 'n' roll track," as Conte calls it, right in their sweet spot. Also appearing on the new A-side: Steve's 11-year-old son Zia, among those glossy backing vocals.
"'Recovery Doll' deals with a female artist who struggles with addiction," says Steve, "and how common it is for people in recovery to relapse. But to balance it out, I wanted the track to be uplifting... to celebrate the things that we love about her."
Recovery Doll is Conte's second single from Wicked Cool, following 2017's Gimme Gimme Rockaway — which was picked by Underground Garage listeners as one of the Coolest Songs of the Year.
"It's a pleasure and an honor to be back working with Stevie Van Zandt and to be on his label, Wicked Cool Records," Conte tells Backstreets, adding that Van Zandt "has been a big supporter of my music since the first time he heard it, which I am grateful for. And of course, I'm a fan of his, too. I mean, you can't go wrong with an Italian who plays guitar, sings, writes songs, produces records and acts!"
You might have caught Steve Conte performing at Light of Day a few years back, around the release of his 2014 album Steve Conte NYC. The B-side of the new single is a demo of that 2014 album's "Rock and Rye Queen," again with John Conte on bass, conjuring that Mats-style rock 'n' roll that's harder and harder to find these days.
"Recovery Doll" b/w "Rock and Rye Queen" (Demo) will be released tomorrow, May 28, digitally and on glow-in-the-dark 7-inch vinyl, a limited edition. Get it here.
Follow Steve Conte on Facebook / Twitter / Instagram
Follow Wicked Cool on Facebook / Twitter / Instagram
- May 27, 2021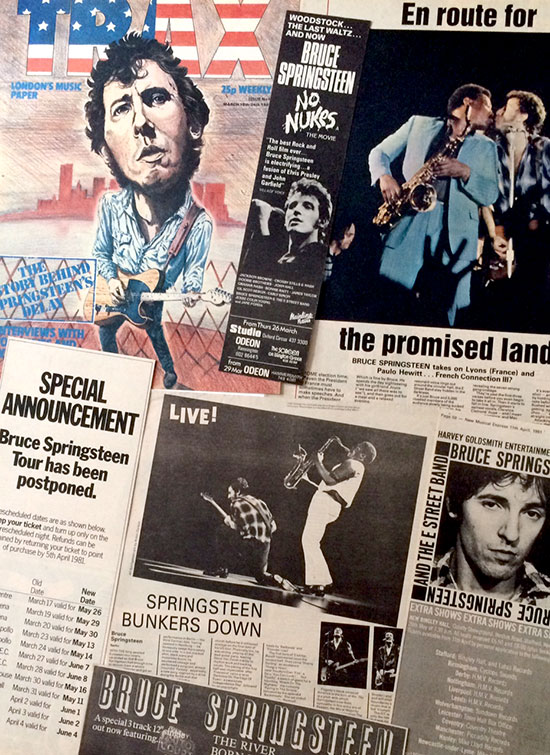 "HIGHWAY '81 REVISITED" CONTINUES WITH PART 2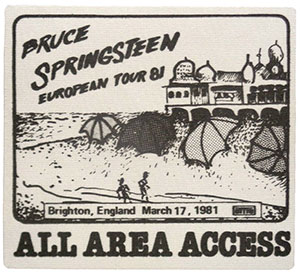 On this day in 1981, Bruce Springsteen and the E Street Band's European tour for The River finally made it to Brighton, England, a show rescheduled from March 17.
That seaside show, night one of two in Brighton, was the first-ever Bruce concert for our trusty correspondent across the pond, Mike Saunders, so today is a fitting day to bring you the next installment of his three-part series, "Highway '81 Revisited: Bruce Springsteen's Longest U.K. Tour."
In Part 1 Mike covered the six-year interval between the '75 Hammersmith shows and the band's '81 return, the rumors and near misses as U.K. fans remained on standby. Now in Part 2 he digs deeper into the reschedulings that kept them waiting even longer after the following news was announced on, fittingly, Friday the 13th of March:
Bruce is simply exhausted and suffering from the assorted ailments that can crop up during a gruelling tour. While his health is not in serious danger, doing his first full tour of the U.K. without adequate rest would run the risk of later cancellations. Bruce regrets any inconvenience to his fans and looks forward to seeing everyone in May and June.
So the shows in England and Scotland would close the European tour, rather than open it as planned. But some related events went ahead anyway (March '81 had, after all, been dubbed "Springsteen Month" by CBS U.K.), like the premiere of the No Nukes film, a "scorching" new album produced by Bruce and Stevie, and how about that "East" Street Band?...
Read HIGHWAY '81 REVISITED Part 2:
Rested, Rescheduled, and Recovered
- May 26, 2021


Bob Dylan and his band perform "Forever Young" with Bruce Springsteen at the Concert for the Rock and Roll Hall of Fame, Municipal Stadium, Cleveland, OH, September 2, 1995
FOREVER YOUNG: CELEBRATING DYLAN AT 80
Happy 80th Birthday to Bob Dylan, one of the biggest influences on the life and music of Bruce Springsteen. Just how big? Let Bruce himself tell you, via his Born to Run autobiography:
Bob Dylan is the father of my country. Highway 61 Revisited and Bringing It All Back Home were not only great records, but they were the first time I can remember being exposed to a truthful vision of the place I lived. The darkness and light were all there, the veil of illusion and deception ripped aside. He put his boot on the stultifying politeness and daily routine that covered corruption and decay. The world he described was all on view, in my little town, and spread out over the television that beamed into our isolated homes, but it went uncommented on and silently tolerated. He inspired me and gave me hope. He asked the questions everyone else was too frightened to ask, especially to a fifteen-year-old: "How does it feel…to be on your own?" A seismic gap had opened up between generations and you suddenly felt orphaned, abandoned amid the flow of history, your compass spinning, internally homeless. Bob pointed true north and served as a beacon to assist you in making your way through the new wilderness America had become. He planted a flag, wrote the songs, sang the words that were essential to the times, to the emotional and spiritual survival of so many young Americans at that moment.

I had the opportunity to sing "The Times They Are A-Changin'" for Bob when he received the Kennedy Center Honors. We were alone together for a brief moment walking down a back stairwell when he thanked me for being there and said, "If there's anything I can ever do for you…" I thought, "Are you kidding me?" and answered, "It's already been done."
Not much we can add to that ourselves, except to note that what's especially great about celebrating Dylan entering his eighties is that he remains, like Springsteen in his seventies, an active and vital artist, still performing and making records well worth checking out. In fact, we'd argue that Rough and Rowdy Ways, released just last year, contains some of his best all-time work.
To celebrate, here are links to eight of our favorite Dylan covers performed by Springsteen through the years — including that moving Kennedy Center Honors performance Bruce refers to above — one for each decade that Dylan has been on the planet. Happy birthday, Bob, and many more!
- May 24, 2021 - Shawn Poole and Christopher Phillips reporting



LAST CALL FOR WOMEN SPRINGSTEEN FANS TO TAKE PART IN SURVEY
In case you missed it, researchers (and longtime fans of Bruce Springsteen) Lorraine Mangione and Donna Luff are currently surveying fellow female Springsteen fans, to gather their current thoughts on the Boss and his recent activities.
We helped put out the call earlier this month, and we're gratified to hear that hundreds of women have filled out the survey in the last ten days.
Luff, a writer and sociologist, tells us, "We're delighted by the response from women fans! Thanks to everyone who has taken part so far. We're hearing so much about what Bruce's work has meant to fans over the last few years."
"We'd love to hear even more," adds Mangione, a professor of psychology at Antioch University, "so we can represent the views of as many women as possible."
If you'd like to take part, please fill out the online survey here by this Thursday night, May 27, at midnight ET.
The survey takes about 15-20 minutes to complete, and all information collected will be anonymous. Revisiting their previous research project on the subject, which they presented at a Monmouth University Springsteen Symposium, Lorraine and Donna will use the information to further understand women fans and their relationship to Springsteen's work; the survey results will contribute to a book they aim to write about women fans.
- May 23, 2021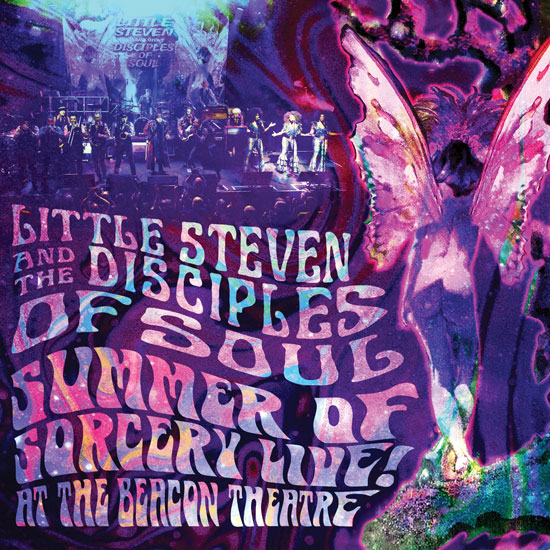 LITTLE STEVEN UNLEASHES SUMMER OF SORCERY LIVE!
July 9 release captures final concert of 2019 tour in multiple formats
Little Steven and the new Disciples of Soul travelled the world between their debut at the Indigo O2 in London on October 29, 2016 and their most recent performance at the Beacon Theatre in New York on November 6, 2019.
During those three years, they undertook multiple tours of the U.S. and Europe and even made it down to Australia and New Zealand, playing material from the studio albums Soulfire (2017) and Summer of Sorcery (2019) and much more besides.
This intense period of touring has been well documented on audio and video, on Soulfire Live!, Macca to Mecca, and now on the upcoming Summer of Sorcery Live! At The Beacon Theatre (Wicked Cool Records/UMe), which presents that two-and-a-half-hour, 25-song final show in its entirety. The new title will also add an additional hour of live material from 2017-2019, which Little Steven says was "too good to leave on the shelf."
Arranged and produced by Little Steven and Geoff Sanoff, mixed by Bob Clearmountain, and mastered by Bob Ludwig, SOS Live! will be available on Blu-ray (with stereo or 5.1 surround sound options), as a 3-CD set, or in a limited edition 5-LP box on 180-gram Psychedelic Psorcery Pswirl colored vinyl.
Introduced by counterculture icon Wavy Gravy, the full show includes the entire Summer of Sorcery album, material from Little Steven's other records ("Forever" from Men Without Women, "Los Desaparecidos" from Voice of America, "Bitter Fruit" from Freedom No Compromise, and "Camouflage of Righteousness" from Born Again Savage), an Asbury Jukes trilogy ("Little Girl So Fine," "Trapped Again," and "Love on the Wrong Side of Town"), a cover of Bruce Springsteen's "Tucson Train", and a guest appearance by Peter Wolf on "Freeze Frame" and "Sun City."
A video for "Camouflage of Righteousness" is available to watch now:
The extras comprise a version of Van Zandt and Steve Jordan's "Ride the Night Away" with Jimmy Barnes, plus covers of The Dovells' "Bristol Stomp" (played many times by Steven when he was a member of their backing band in 1974); The Animals' "Club a Go-Go"; The Electric Flag's "Groovin' Is Easy" with original lead singer Nick Gravenites; The Showstoppers' "(Ain't Nothin' But a) Houseparty" with Peter Wolf; and "Moon Tears" with its composer Nils Lofgren.
There is also a star-studded performance of "Sun City" that edits together international guest appearances by Jimmy Barnes and Peter Garrett (Australia), Sam Fender and Courtney Hadwin (U.K.), Jake Clemons and Garland Jeffreys (Canada), and Bruce Springsteen (U.S.A.).
Summer of Sorcery Live! At The Beacon Theatre will include sleeve notes by Little Steven and personal comments about each performance.
"We were born freaks, misfits, and outcasts. We got into this business because no other would have us," he explains. "While we were here we figured we might as well create a world of our own, because we didn't fit in the one we were being offered. Being on the road with a band is the ultimate manifestation of that fantasy. Together you travel, you perform, you dispense joy, and you get to see the world while avoiding it at the same time."
"Such was the case with the troubadour missionaries and part-time exorcists known as the Disciples of Soul as they sprinkled enlightenment to a dark world. First, as the Soulfire was lit in the overture, and finally as the Summer of Sorcery played out its magical denouement. Herein embodies the still sparkling evidence of the latter, which began as stranger's prayers imagined and ended as a family's promise fulfilled. Enjoy it as much as we did at whatever volume is required to force your neighbors to call the cops."
To coincide with the July 9 release, Backstreets will be talking to Music Director Marc Ribler and other members of the Disciples of Soul about those three years on the road and their memories of the Beacon Theatre performance.
- May 21, 2021 - Mike Saunders reporting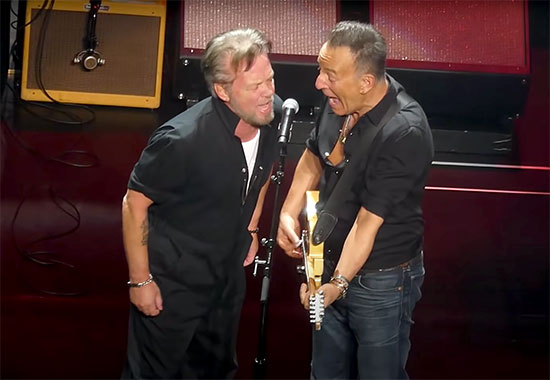 December 9, 2019, Beacon Theater, New York, NY
THE BOSS IN BLOOMINGTON
Mellencamp: "Bruce is singing on the new record and playing guitar"
Shortly before COVID-19 hit, a pairing that had been a long time coming performed at the 30th Annual Rainforest Fund Benefit: Bruce Springsteen and John Mellencamp, together at last.
Cut from similar cloth in several ways, the singer-songwriters had been categorized together in the mid-'80s, for better or worse, as "heartland rockers" — a useful tag at the time, but also a diminishing one for musicians of their varied talents. Since then their paths have certainly crossed; Mellencamp performed "Born in the U.S.A." in tribute to Springsteen at the 2009 Kennedy Center Honors. But another decade on at the Rainforest concert, any competition, frustration, or resentment (real or imagined) between them felt truly like a thing of the past as they shared center stage on key songs from that heyday, "Pink Houses" and "Glory Days."
Now, with travel and face-to-face gatherings back on the rise thanks to COVID vaccines, comes word that they've gotten together again, this time in Indiana to record for Mellencamp's next album.
The news comes out of a May 15 virtual Grammy gala hosted by Clive Davis; Mellencamp featured at the event, talking about his early career with the legendary A&R man, who chose not to sign him as a young artist. Melinda Newman reported on the exchange in Billboard:
"It's a decision that's come to haunt me," Davis said, although Mellencamp said Davis made the right move.

At the time, Mellencamp was getting compared to Bruce Springsteen, and now, he revealed, he and The Boss have worked together. "Bruce is singing on the new record and is playing guitar," Mellencamp said. "I finished the record a week ago today."
Mellencamp's announcement helps explain a sighting of the two last month in Bloomington, Indiana (where Mellencamp lives and works), having a mid-afternoon meal at the Uptown Cafe.
"What a great surprise, great honor, uplift [after] this past year," Uptown owner Michael Cassady told Bloom Magazine of Springsteen's visit. "We are the same age, and he affected me a great deal with his heartfelt driving rock 'n' roll.… He was with John Mellencamp, John's two guitarists, and John's assistant.… Bruce had our New Yorker Cheeseburger, fries, and a coke. All others had biscuits and gravy."
The real gravy fans were looking for was to know what the two were doing together, but as the Indiana Daily Student reported, no one had an answer as to "why Springsteen might have been in town."
The new Mellencamp album has yet to be officially announced. According to his official website, Mellencamp.com, he had "already cut ten tracks" prior to the pandemic, with "plans to record another 17" to complete what will be his 25th album. More here as we know it.
- May 20, 2021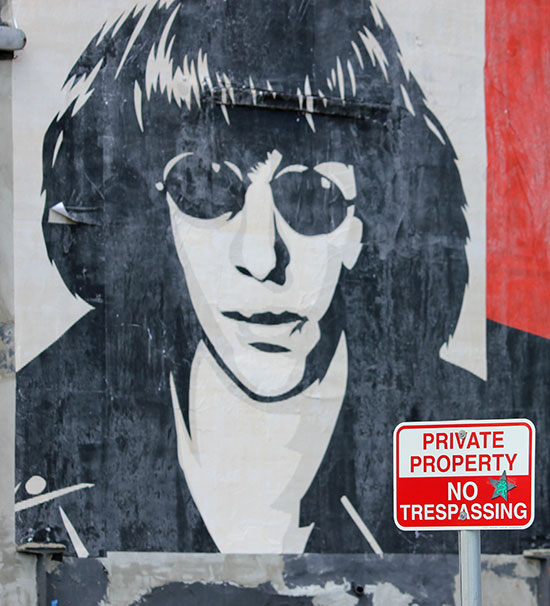 Joey Ramone in Shepard Fairey's 2011 "Mount Rushcore" mural on the side of Asbury Park's legendary, long-gone Fast Lane Club (where in 1979 Springsteen saw the Ramones perform and was asked by Joey to write a song for them) - photograph by Chris Rotolo at speakimge.com
DREAMIN' OF THE LATE, GREAT JOEY RAMONE AT 70
And remembering his on-air visit to E Street in 1992
Today marks what would have been the 70th birthday of Rock and Roll Hall of Famer Joey Ramone, remembered by many Springsteen fans with the same affection, respect, and passion with which one remembers rock 'n' roll radio. Joey and the Ramones had some interesting intersections with E Street over the years, most notably as the inspiration behind Bruce's first top-ten hit, "Hungry Heart."
One of the lesser-known intersections occurred when Joey Ramone delivered a somewhat ragged but definitely righteous on-air performance of the Ronettes/Ramones classic "Baby, I Love You" at the studios of the now-defunct WXRK-FM (aka "K-Rock") in New York on November 22, 1992.
Listen here to Joey backed by an all-star band, featuring E Street Band members Clarence Clemons, Danny Federici, Garry Tallent, and Max Weinberg:
The live broadcast was part of K-Rock's annual Hungerthon fundraising efforts for the organization then known as World Hunger Year and now known as WhyHunger. The other members of the all-star band were Joyce Leigh Bowden, Marshall Crenshaw, Joe Delia, Don Dixon, Catherine Russell, Jules Shear, and Jimmy Vivino (who provided the hilarious count-off). Listeners could call in, make a contribution, and request a song to be performed by the band.
Legendary New York DJ Vin Scelsa, who co-hosted the Hungerthon, can be heard at the end of the performance exclaiming, "Man, I never thought I would ever to live to see the day… Joey Ramone and all these wonderful musicians…"
Joey's reply: "I must be dreamin'."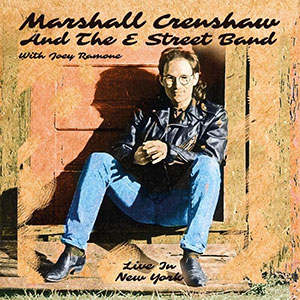 The entire 1992 Hungerthon broadcast has been released as a quasi-legal 3-CD set by Greece-based label Rox Vox and misleadingly entitled Marshall Crenshaw and the E Street Band with Joey Ramone – Live in New York.
Despite its title, the set is well worth tracking down to hear well-preserved recordings of the complete on-air jam sessions and loose, conversational interplay with this group of legendary musicians. Two other tracks featuring Joey and the band (though without Clarence or Danny) are a cover of the Kinks classic "Tired of Waiting for You" and a performance of Ramone's masterpiece "I Wanna Be Sedated."
Toward the end of the broadcast, Ramone also can be heard telling Scelsa that he meant to bring a pair of Ramones shirts with him: one for Scelsa and one for the Big Man.
"I've got Clarence's address," Scelsa replied, "so we'll take care of that." If anyone out there has photos of Clarence Clemons wearing a Ramones shirt, please get in touch.… and happy birthday, Joey! Ramones forever, baby.
- May 19, 2021 - Shawn Poole reporting - special thanks to Michael Mehalick and Chris Rotolo at speakimge.com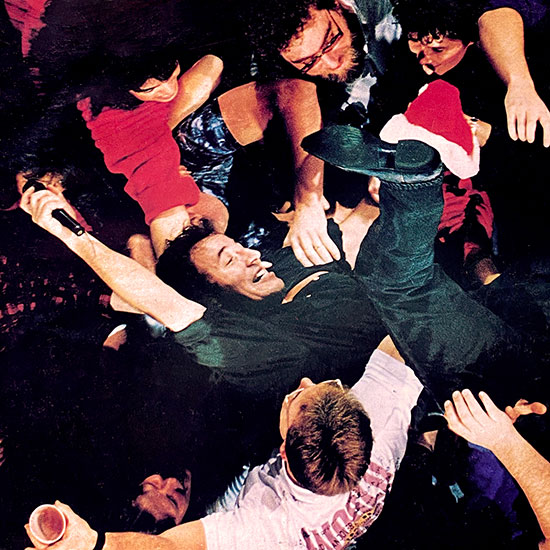 Boston Garden, December 13, 1992 - photograph (detail) by Stan Grossfeld for the Boston Globe, as it appeared on the cover of Backstreets #43.
IN YOUR HEART YOU MUST TRUST
The Making of One Cool Photograph
Earlier this month, Bruce Springsteen's Archive Series released a 1992 performance from the Boston Garden, one brimming with material from the Human Touch and Lucky Town LPs. It reminded us of an image from that very December date that first appeared in the Boston Globe immediately after the concert; seeing it at the time, we bought the rights and placed it on the cover of Backstreets #43 the following spring.
The photo's appeal was clear: it captured a moment long after most press photographers had been ushered out (which typically happened by the fourth song) as Springsteen made his faithful leap into the crowd. The angle was unique, too: a bird's-eye view. To coincide with Boston December 13, 1992, Globe photographer Stan Grossfeld — a two-time Pulitzer Prize winning photojournalist — looks back at that night to tell Backstreets how his picture came to be.
By Stan Grossfeld
The catwalk of the Boston Garden was a scary place. There was no handrail, just a waist-high wire strung on each side. It was dark, and there were electrical wires running across it — some taped down, some not. The old building had rats, too, and while it was being demolished, workers found a petrified monkey who apparently abandoned the circus up in the rafters.
Springsteen had arrived here for the Bruce Springsteen 1992/93 World Tour (aka "the other band" tour) for a couple of nights.
Meeting my rock 'n' roll heroes is not something I sought out; the problem being, if they are jerks, the music is ruined forever. In this case, it was not. I met Springsteen earlier, and he was cool — and more than gracious, asking me about places I had photographed.
I told him about taking his music to people living in crypts in Egypt (Souls of the Departed) and Siberia (Tenth Avenue Freeze-out) even though in the latter case the tape player eventually froze, making it sound oh so slooooooow. He laughed and tossed me his harmonica as a present.
I wondered if I could photograph him jumping into the crowd in "Leap of Faith" looking down from the Garden rafters, and I got the OK from his team of Jon Landau, Barbara Carr, and George Travis.
I asked Bruce where he was going to jump in, so I could scout the best location. He shrugged and said it's a last-second decision — he prowls the stage and eyeballs the crowd, looking for a suitable landing space. Fair enough.
I climbed up the catwalk with Globe chief electrician Mike McHugh, who had hooked up my cameras to a set of strobes in the ceiling. You have to make sure the camera equipment is secure; one false move, and you could hurt somebody.
Besides the secondhand reefer smoke rising to the top, and fear of rats, I am not thrilled with heights. But who could pass up an opportunity to hover above the Boss? Somehow great music transcends fear, and eventually we were dancing in the dark.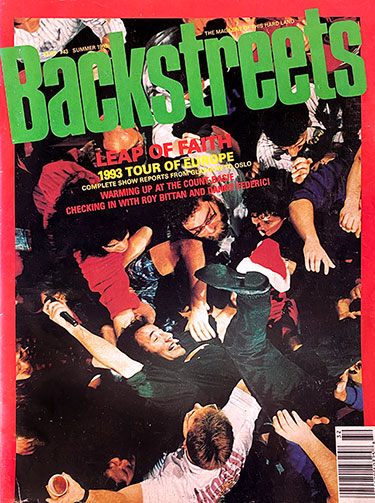 Forty-five minutes into a four-hour show, Springsteen patrolled the lip of the stage, pumping up the crowd as only he can, before suddenly leaping into the crowd.
For a horrifying couple of seconds, he disappeared completely, swallowed up by the masses.
Uh-oh, I thought, this isn't going to work.
There were fans tugging at him and his clothing. I could see the microphone — and his hands clutching it for dear life — but I couldn't see his face. No face, no picture. And I was getting a little dizzy looking down and focusing the telephoto lens.
As Globe writer Patricia Smith wrote, "Then his feet appeared, then half his legs, waving like insect antennae, black denimed and upside down in a crazed sea of worship."
Springsteen rallied, and soon the music was working its magic. A burly security guard waded in and provided a little buoyancy. Bruce was soon crowd surfing — a sweat-drenched, well-buffed human beach ball — and it looked like he was having the time of his life.
I guessed right on the location and framed him with my Nikon 200mm lens. He's out of his mind, I thought, but that's the beauty of rock 'n' roll. Nearly 30 years later, he remains a national treasure.
The words of the song had rung true that day, and I got my shot.
It takes a leap of faith to get things going
It takes a leap of faith you gotta show some guts
It takes a leap of faith to get things going
In your heart you must trust
- May 18, 2021 - Our thanks to Stan Grossfeld for the memories - See below for the our report on the 12/13/92 Archive Series release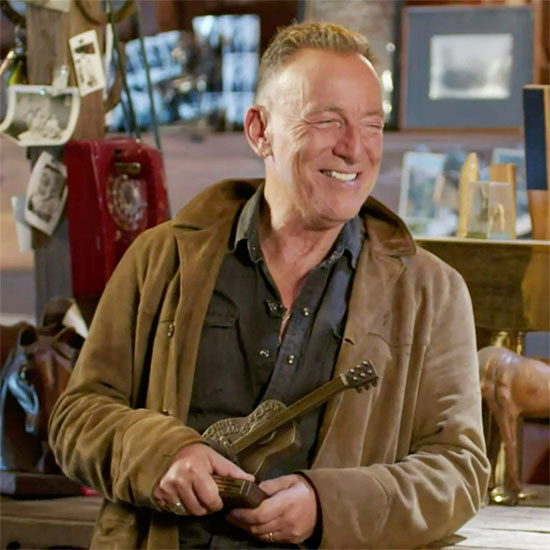 THIS PRIZE IS YOUR PRIZE
Accepting Woody Guthrie honor, Springsteen talks and plays 4-song set
"Woody's immigration song… our immigration laws are a mess to this day," was how Bruce Springsteen, winner of the 2021 Woody Guthrie Prize, introduced a performance of Guthrie's "Deportee (Plane Wreck at Los Gatos)" during Thursday night's virtual acceptance event. The program was live-streamed from Springsteen's now-familiar Stone Hill Farms barn in Colts Neck, New Jersey, for members of the Woody Guthrie Center, located in Tulsa, Oklahoma, and produced in conjunction with the Bruce Springsteen Archives & Center for American Music
Nora Guthrie, Woody's daughter, presented Bruce with the award one-on-one, and their "speeches" were casual and warm — hanging out at the bar, quite literally. Later, music historian Robert Santelli (who also hosts the Springsteen Archives' What's Up on E Street? online series) gently facilitated further conversation between the two, and then things were left to just Bruce, to play some music.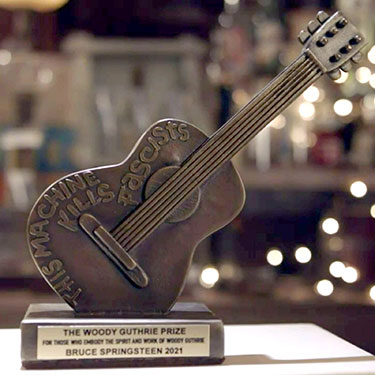 The annual Woody Guthrie Prize is given "to an artist of any medium who continues in the footsteps of Woody Guthrie: A champion for the voiceless with an understanding of how a platform can be used to shine a light on our world, showing us what needs to be fixed and how to fix it." Previous recipients include Pete Seeger, Joan Baez, Chuck D, John Mellencamp, Norman Lear, Kris Kristofferson, and Mavis Staples. The prize itself is a small bronze replica of Woody's guitar, replete with THIS MACHINE KILLS FASCISTS inscription on the upper curve of the body; its plaque reads, "For those who embody the spirit and work of Woody Guthrie."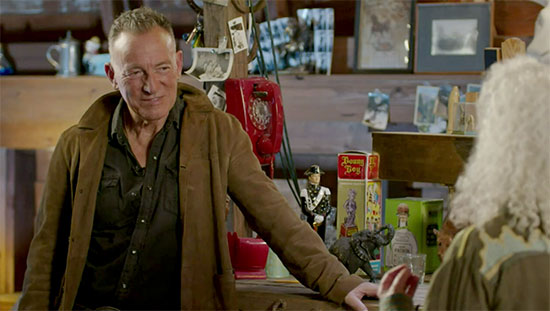 Nora, co-founder of the Guthrie Center, prefaced the handover with a knowledgeable and sincere appreciation of Bruce's work, its importance, and how she viewed his work through the lens of her father's influence.
Quoting her father, who said, "You've got to vaccinate yourself into the big stream in the blood of the people," Guthrie added, "Bruce never left that stream. His words have always consistently flowed in that stream and blood of the people. No different than my dad's."
She spoke to Bruce directly: "First, you attracted us, but then you magnetized us — you held our attention. Then, you spoke to us, and you spoke for us, and to top it off, you entertained us, and we could dance with you as you preach. We can dance until, unbeknownst to all of us, we all come through the doors of your church. And when we get there we only find it's not Bruce's church. It's the church of all of us."
Visibly moved by Guthrie's tribute, Springsteen accepted the statue and gave her a big hug, and he began to speak of Woody's influence.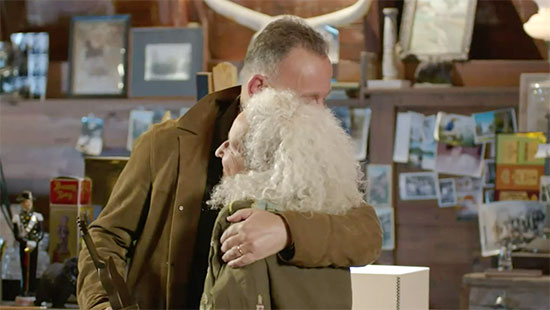 "I always said that Bob Dylan was the father of my country," Bruce said. "But your father was the grandfather of my country. His was the first music where I found a reflection of America that I believed to be true. Where I believed that the veils had been pulled off, and that what I was seeing was the real country that I live in."
Bruce spoke about that moment in his work when he and the band added "This Land Is Your Land" to the set, towards the end of the first leg of the 1980River tour, at Nassau Coliseum. "Without [Woody's] influence coming at that exact moment, when I was 30 years old… I don't know if I would ever have gotten there — if I would have ever found that kind of hope, that kind of dedication to putting your work into some form of action."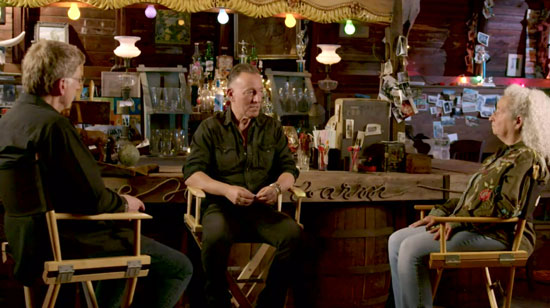 Robert Santelli joined Bruce and Nora for a short chat that dug a little deeper into Springsteen's affinity with Woody Guthrie's work. Bruce shared the familiar story of getting better acquainted with it through Joe Klein's Woody Guthrie: A Life. Santelli noted that he always saw Woody's role in Bruce's music as enabling him to travel beyond New Jersey; Springsteen responded with thoughts on his time in the West, as well as an exciting hint of things to come: "You can inhabit a lot of different Californias," Bruce said of his early-'90s home. "California was an enormous influence on some of my most topical writing through my '90s, 2000s… and even now, on a record coming out soon that's set largely in the West."
Nora shared that her first Springsteen album was 1982's Nebraska — via a signed copy that had been sent to her mother — though she attended the aforementioned Nassau Coliseum show when the band debuted their version of "This Land Is Your Land." The Guthrie Center's prize citation specifically references Springsteen's performance of that song at the first Obama Inauguration, and Nora also mentioned it earlier in the evening and then again during the conversation. The January 18, 2009 rendition was an electrifying event, Bruce on the steps of the Lincoln Memorial, with Pete Seeger alongside him and a gospel choir behind him, and they sang all the verses.
According to Bruce it was actually Patti Scialfa's idea to invite Seeger, and Nora praised the historical nature of their Inauguration performance. "I've always wanted to thank you for allowing that moment in history," she said. "Because, first of all you allowed it — they asked you, and then you got the ball rolling with everything else."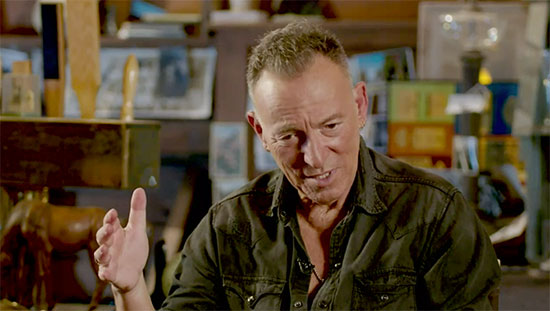 Bruce's response was to try to downplay it, but Guthrie wasn't having it.
"I was alone in my house watching that night," she said. "And I swear, I looked up, I started crying, and I looked at my father [gestures skyward] and said, 'So that's why you wrote this song.' There was that moment with the first African American president with the gospel choir, the kids in the background, with you next to Pete, who has been blacklisted his whole friggin life, and you totally took that story and wrapped it up and tied it with a bow. So that Pete Seeger could sing in front of the President of the United States at his Inauguration."
Nora also reminded us that following the McCarthy-era blacklist, Seeger was banned from appearing on television for 25 years. There was a charming moment earlier when Bruce admitted to some trepidation in picking up the phone and inviting Pete to come along; judging by his reaction to Nora's statement, he hadn't considered the amount of karma that he'd set right by that action.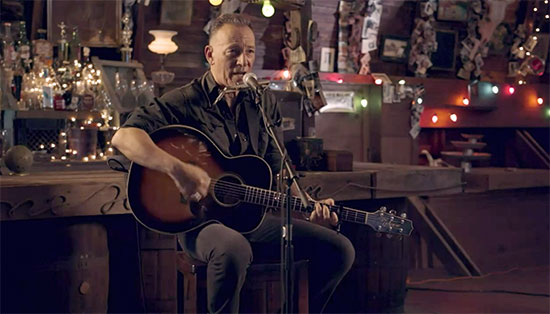 After the conversation, Bruce picked up the black Takamine and played four songs himself: two of his, two of Woody's. "Tom Joad Pt. 2" — Guthrie's influential composition that Bruce had worked into his set a few times on his own Ghost of Tom Joad tour — was masterful and commanding; "Deportee," which Springsteen first played nearly 40 years ago and also hasn't sung since the Joad tour, was deeply moving — even, it seemed, for Bruce himself.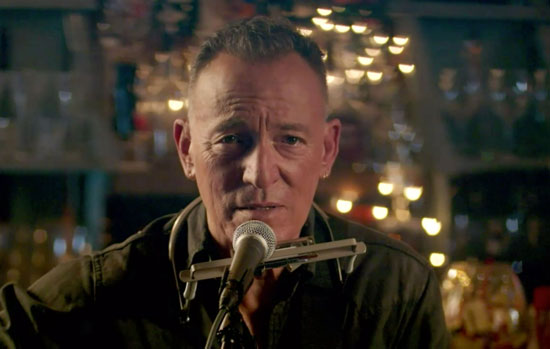 Segueing into his own material, Springsteen sang a version of "Across the Border" that even through a computer screen effectively conveyed the song's elements of, yes, hope and dreams. "The Ghost of Tom Joad" closed the set so perfectly you'd kick yourself for not realizing it was the only possible choice here. As a story, it never gets old; as a song, it serves as record and warning and faith and prayer. All of which can describe any number of Woody Guthrie songs.
5/13/21 Setlist:
Tom Joad Pt. 2 (acoustic)
Deportee (Plane Wreck at Los Gatos) (acoustic)
Across the Border (acoustic)
The Ghost of Tom Joad (acoustic)
- May 14, 2021 - Caryn Rose reporting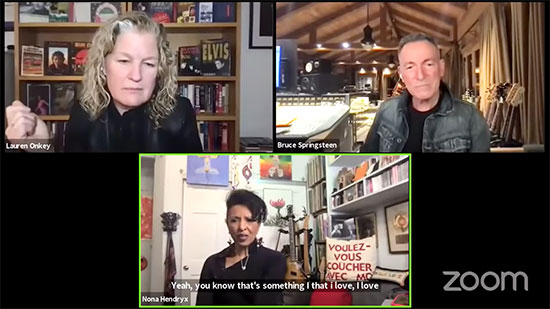 EVERY TIME THAT YOU LOG IN TO ZOOM
Marsh conference brings together Nona Hendryx & Bruce Springsteen
There are times when Bruce Springsteen sits for an interview and is professional, polished, and "on message"; and then there are those rare times when he visibly warms to the discussion and, as a result, veers into areas he's rarely touched on. Saturday night's livestreamed conversation with Nona Hendryx, facilitated by Lauren Onkey as part of Land of Hope and Dreams: A Celebration of Dave Marsh's Work and Vision, was one of those latter moments right out of the gate.
All credit goes to Dr. Onkey, who opened the conversation by talking about the musicians' connection to the girl groups — Nona as a participant, and Bruce as an avid fan. Of course, one of the key examples was "I Sold My Heart to the Junk Man," which was a hit by Hendryx's alma mater, Patti LaBelle and the Bluebelles, 12 years before Springsteen added it to his set at the Harvard Square Theater in May of 1974.
"I heard the title before I heard the song," Bruce said to open the conversation, "and I said, that's got to be fantastic. I mean, it's just one of the great titles of all time." Then he began connecting the dots for us: "I was deep into all of the Phil Spector girl groups and Top 40 Girl groups from the early '60s, and it was enormously influential as far as just the sound of those records... It was a fascinating moment in popular music: first of all, it was dominated by women, by young women who really tore up the charts at that particular... brief period, just pre-Beatles and post-'50s rock 'n' roll."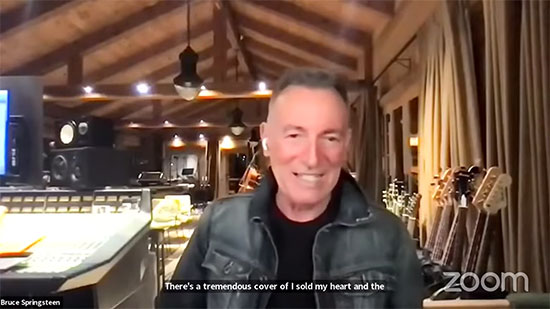 Bruce further went on to say that in the '70s, he was focused on trying to get a woman into the band in order to make it possible to perform those songs. Then he got into exactly why he wanted to do so: "The naive romantic-ness of those records would be hard to recapture… and that's really what attracted me. That was really the element that I pulled into my own music; they were just romantic records, and they had drama and tension. Certainly and particularly the records that Phil Spector made had that, you know. They sounded like they were the last records you're ever going to hear before the world was going to explode. And I love that apocalyptic grandeur of so many of those."
What's remarkable is not that Bruce used to play songs by the girl groups — most famously, the transformation of the Crystals "And Then He Kissed Me" into "And Then She Kissed Me," which at the time seemed forward-thinking and kinda cute, but looking at it now, with Bruce's explanation? He was playing the songs to try to figure out how they worked, how he could make them work for him. Would it work if he flipped the pronouns in the song? Or take Jackie DeShannon's "When You Walk In the Room" — ostensibly written from a woman's point of view, but the lyrics are neutral, with no third-person pronouns — what were the mechanics there? If we play it enough maybe we'll figure it out.
And it isn't that Bruce Springsteen managed to write a girl group song, but instead, he wrote songs that had drama and tension and even some of that "apocalyptic grandeur." When Greil Marcus wrote in Rolling Stone that Born to Run sounded like a "a '57 Chevy running on melted down Crystals records," he heard what was going on. And yes, we all heard what was going on, it's hard to not hear someone trying to emulate Phil Spector — but the reasoning behind it, and the study Springsteen put into trying to make it happen, is something that he had never detailed quite so explicitly before.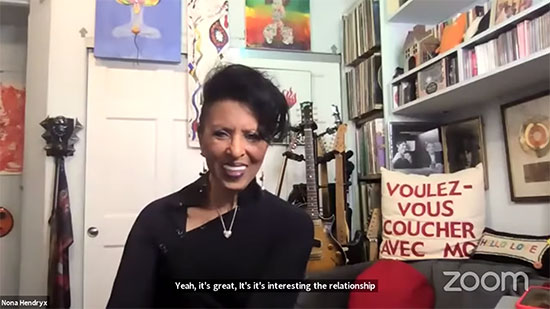 Dr. Onkey also noted that the girl groups and their sound didn't have the respect that they do now, back when the E Street Band was covering them; it also wasn't common for a rock guy like Bruce Springsteen to be covering that kind of music. She went on to note that the virtual conference's honoree, Dave Marsh, also championed those artists and advocated for their place in the Rock and Roll Hall of Fame and rock history in general.
As Nona discussed her favorite girl groups — the Shirelles, the Chantelles — Bruce audibly exclaimed with the kind of enthusiasm that a Springsteen fan might reserve for someone who was at the Main Point in 1975. He shared his story of seeing the Shirelles at the Osprey in Manasquan, recalling it as the first night he took a drink. And as jealous as Bruce would get of Nona, as she recalled touring with the likes of James Brown and Jackie Wilson, I was of him at that moment, as he described watching the Shirelles in gold lamé gowns performing "hit after hit." There is nothing quite like watching someone whose music brings you so much joy describe the music that moves him, and that, more than anything else, is why I'd encourage everyone to watch this panel.
If this were a mainstream music magazine, I'd dutifully transcribe all of the great moments and bon mots, but this is Backstreets, and you should just watch it and get the benefit and enjoyment of doing so, instead of reading me telling you about it.
Land of Hope and Dreams concludes this weekend with a conversation with the man of the hour himself, Marsh talking with Daniel Wolff on Friday night at 8:30, and a series of panels on Saturday to close things out. All of the panels, including the one with Mr. Springsteen, are archived on YouTube.
"It's music of liberation," Bruce described his feelings about rock 'n' roll, rhythm and blues, and soul music, "It frees your soul, it frees your body, it frees your mind."
- May 13, 2021 - Caryn Rose reporting



NEW ONLINE SURVEY OF SPRINGSTEEN'S WOMEN FANS
Calling all women fans! Researchers want to hear your thoughts about the last several years of Bruce Springsteen's work and what the future may bring.
In 2014, Lorraine Mangione, Professor of Psychology at Antioch University New England, and collaborator Donna Luff, a writer and sociologist, offered a survey for women fans via Backstreets that led to a book chapter, a journal article, and presentations at the Springsteen Symposia at Monmouth University. Both longtime fans themselves, Lorraine and Donna extend their thanks to all the women who responded.
Of course, Springsteen has busy creatively in the seven years since then — new albums, a bestselling memoir, and a Broadway show, to name a few — so Lorraine and Donna want to check in again with Springsteen's female fan base. We hope you will take part in their new short survey, which is active now.
The survey takes about 15-20 minutes to complete, and all information collected will be anonymous. Lorraine and Donna will use the information to further understand women fans and their relationship to Springsteen's work in recent years; the survey results will contribute to a book they aim to write about women fans. If you fit that bill, we encourage you to take part and appreciate you taking the time!
- May 13, 2021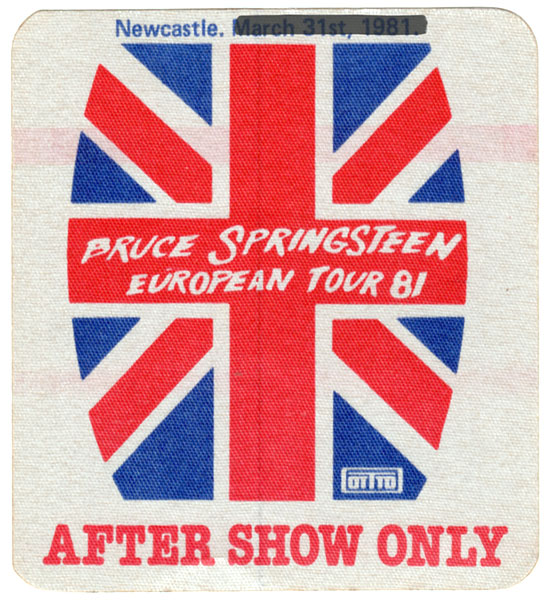 HIGHWAY '81 REVISITED: SPRINGSTEEN'S LONGEST U.K. TOUR
Part One: From the Thames to the Tyne
Forty years ago tonight, Bruce Springsteen and the E Street Band entertained a capacity crowd of 2,000 at the City Hall in Newcastle, the smallest venue they've ever played in England. This was Bruce's first U.K. concert since his pair of performances at London's Hammersmith Odeon in November 1975, and it took place in a hall half the size and 300 miles away from the capital.
Newcastle was the opening night of his first (and still his longest) U.K. tour, which comprised 16 shows in four weeks, in support of The River in 1981. It was also the last to include E Street Band shows in comparatively small theatres and concert halls; it represented both the beginning and the end of an era in his U.K. touring career.
It's often been assumed that the reason for the six-and-a-half-year gap between Bruce's appearances beside the Thames and the Tyne was caused by frustration with his hype-ridden first Odeon performance and reluctance to return to these shores afterwards. But given the success of his subsequent shows in Stockholm and Amsterdam, and his comparatively triumphant return to Hammersmith a week later, this doesn't necessarily ring true.
Given the regularity of rumors in the intervening years, and the fact that on several occasions U.K. shows were apparently being considered immediately after an album release (even in advance of American gigs), it seems more likely that Bruce was willing to come back sooner, but circumstances (the Appel lawsuit, protracted sessions for Darkness on the Edge of Town and The River, constantly changing plans) prevented it.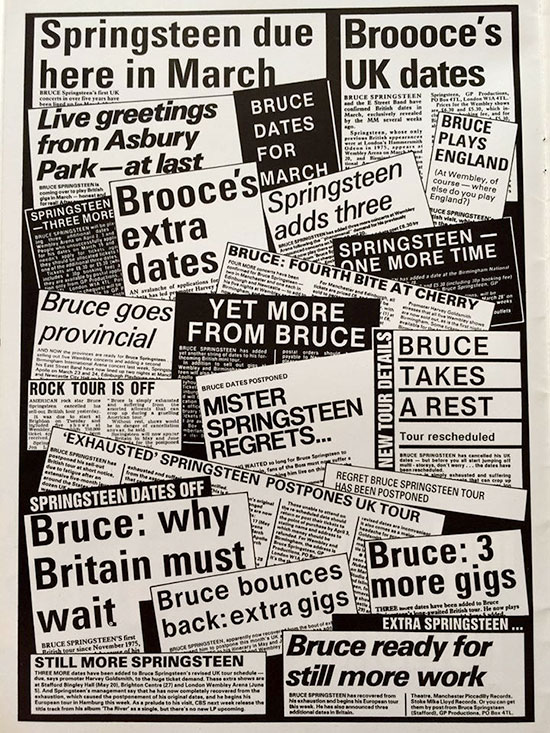 Four decades is less than the blink of an eye in the arc of human history, but the world was a very different place for Springsteen aficionados in 1981. The younger reader may have difficulty imagining everyday existence without the Internet, computers, cellphones, email, texts, tweets and social media. It was a world where we communicated by phone and post and paid by cash or check. Tours were announced in print media — local and national papers, and music weeklies Melody Maker, New Musical Express, Sounds and Record Mirror. Vinyl was king, and music (albums and singles) was a physical product bought from record stores with actual money. Professionally printed concert tickets were obtained from box offices and other outlets by turning up in person or ordering by post. There was no "print your own" option, no instant access to music beyond the radio, and information was harder to obtain.
To fully understand the background behind Bruce Springsteen's 1981 U.K. tour, we need to go back to that world: to a time when his career was still on the rise; when fatherhood, marriage, and megastardom were distant dreams; when Patti Scialfa sang with Southside Johnny and the Asbury Jukes, Nils Lofgren was a solo artist with past Neil Young associations, and Miami Steve still lurked in the onstage shadows. Back to an era before stadium concerts, videos, and extended remixes, when the Springsteen operation was comparatively small-scale outside of the U.S., his public image virtually non-existent, and the small amount of media attention he received focused on the music. Back to a time of wildness and innocence. Back, some might say, to the good old days.…
Continue reading
HIGHWAY '81 REVISITED Part 1
- May 11, 2021 - Mike Saunders reporting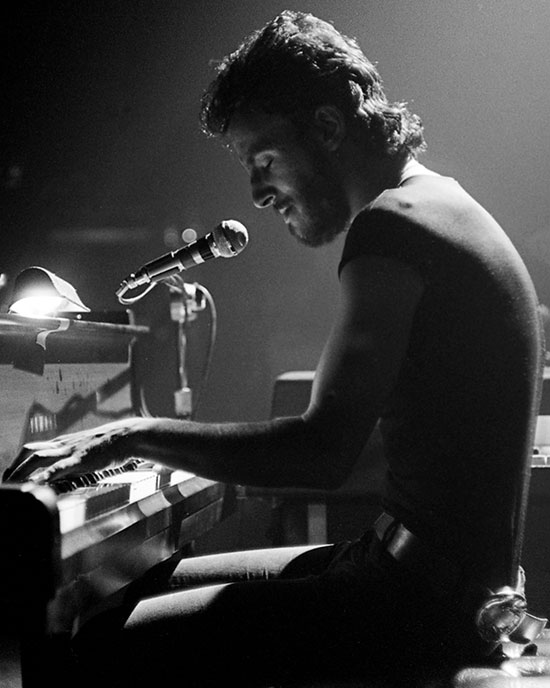 Bruce Springsteen, Harvard Square Theatre, May 9, 1974 - photograph by Barry Schneier
"WE DID NOT NEED AN OPENING ACT… BUT I INSISTED"
Promoter Ira Gold on lining up a "history-making show" 47 years ago
On this date in 1974, a young guitar-slinger and his band from New Jersey opened up for Bonnie Raitt at the Harvard Square Theatre in Cambridge, Massachusetts. You likely already know this part of the story: sitting in the eighth row on May 9, 1974 was record producer and rock critic Jon Landau, on assignment for Boston's The Real Paper, who would famously state in his review, "I saw rock 'n' roll future and his name is Bruce Springsteen."
Rock and roll future wasn't always in the cards that night. Concert promoter Ira Gold and his partners with Windowpane Productions had originally planned on giving the evening to Bonnie Raitt alone. The idea of an opening act came late in the game, after local music photographer Barry Schneier was floored by a Springsteen show at a smaller Cambridge venue and recommended his friend Ira check them out — and bring them back to town as soon as possible.
Barry invited Ira over to his apartment to hear the records — at the time, just Greetings and The Wild, the Innocent & the E Street Shuffle — to make his case. Soon enough, Ira was offering Springsteen the opening slot at the Harvard Square Theatre, which would prove to be a turning point in Bruce's career.
Recently Ira sat down on camera and reminisced about that night 47 years ago, a landmark event in his own career as well, and for the first time Backstreets readers can hear how that night came to be from the producer of the show, with some additional memories of what happened next (Gold also had Springsteen headlining with Dr. John at Boston's Music Hall that fall). And to think it began on a suggestion to come by and listen to some records.
To commemorate this anniversary, we're offering signed copies our book about the May 9, 1974 Cambridge show, Bruce Springsteen: Rock and Roll Future, signed on the title page by both Barry Schneier and collaborator Christopher Phillips for the first time since the Kickstarter campaign and our initial book-signing events.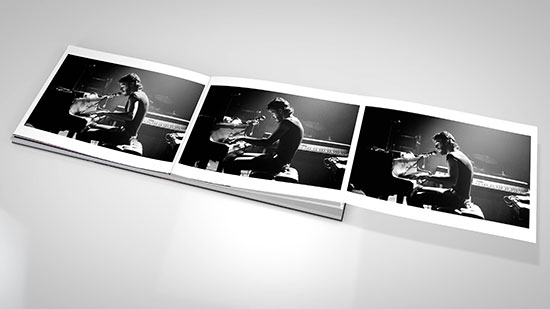 Rock and Roll Future is the definitive visual and narrative record of that night, told through Barry's writing and photographs, images that are the only visual capture of this history-making show. Signed copies are available now, only from Backstreet Records.
- May 9, 2021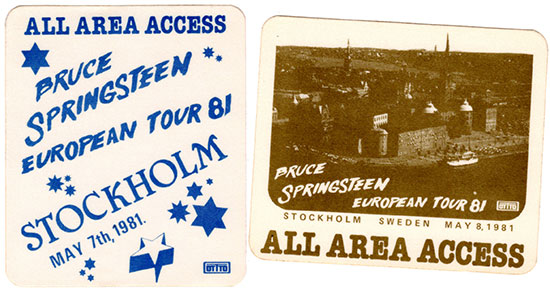 RIVER OVER EUROPE '81: STOCKHOLM SYNDROME
Who wouldn't want to be a prisoner of this rock 'n' roll?
What the 1978 FM radio broadcasts were to the Darkness tour, recordings of the May 7 and 8, 1981 concerts in Stockholm were to the European River tour — revealing to Springsteen fans everywhere, around the world, the triumph as it played out for a Swedish audience in an old hockey arena.
Forty years ago tonight, Bruce Springsteen and the E Street Band performed a 31-song set — widely considered a tour highlight — at Johanneshovs Stadium, the second of two nights there that would wrap the shows on the continent before the tour headed to the United Kingdom.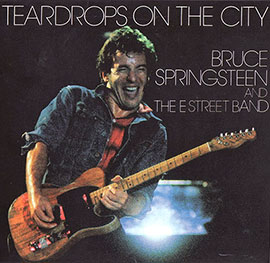 Teardrops on the City, an unofficial vinyl release of the May 8 concert, remains perhaps the most impressive bootleg fans ever heard and saw, impeccably designed, capturing the adventure, spirit, and music of that tour. It still looks and sounds sharp to this day, and it conveyed, as Bruce said on this night in '81, "the importance of the audience."
Highlights were numerous, punctuated by key River cuts from "The Ties That Bind" to "Wreck on the Highway" and even "The Price You Pay," a European tour first. But the track that stands out most is the opening "Run Through the Jungle." Like their take on Jimmy Cliff's "Trapped," Springsteen and the band's reading of the CCR song went beyond a mere cover version; it was an adaptation, a darker, more mysterious interpretation that added extra verses and stark, ethereal instrumentation.
While the vinyl Teardrops on the City didn't present the whole song, here is a complete version:
Another marvelous reimagining began the first Stockholm show the night prior, Springsteen and the band greeting fans in Sweden on May 7, for the first time since 1975, with a take on Elvis Presley's "Follow That Dream." Removing the novelty of the original, Springsteen channeled a more reflective reading, one that better fit his music and outlook at the time. It worked well and stayed in the set for the remainder of 1981. (Springsteen recast the song a second time in his Hollywood Hills home studio in 1983 and reprised that version for the Born in the U.S.A. tour.)
Photographer Jim Marchese had been embedded with Bruce and the band for the majority of this European tour, and he, too, captured something particularly special in Stockholm — perhaps our favorite image among his incredible body of work from '81 — which he titled "Stars."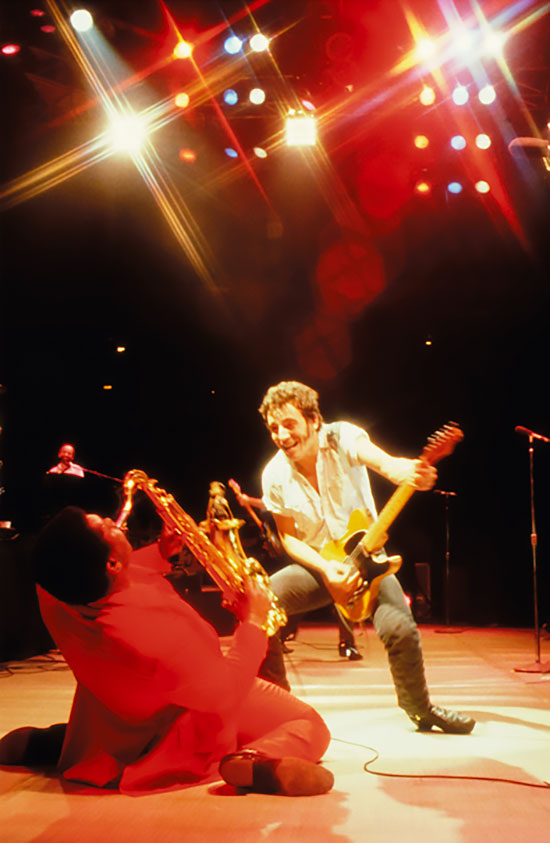 "Stars": Scooter and the Big Man in Stockholm, photograph by Jim Marchese.
By this point, Marchese was very familiar with the dynamics and flow of the performance. "For this shot, I knew Bruce was about to run to Clarence," he tells Backstreets. "I used a star filter (which I didn't often choose) on the lens, because it just seemed to be right at that moment — to have the light shoot down and point at them. Watching Bruce play to Clarence, and Clarence playing on his knees, that always gave me chills.… it was magic."
- May 8, 2021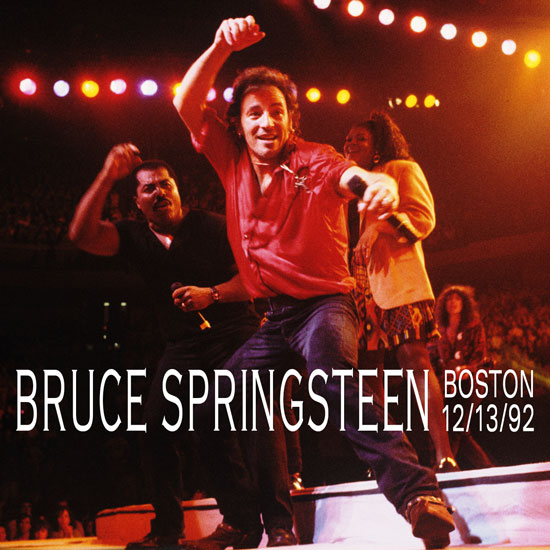 BOSTON, 12/13/92: OLD BUILDING, NEW BAND, NEW MUSIC
The '92/93 band gets to play '92/93 music in new Archive release
Jersey Specials: That's how you could classify the two previous Archive Series entries from the 1992-93 World Tour, with neither presenting a pure "Setlist A." The initial date, Meadowlands July 25, 1992, mixed an evolving setlist from early in the tour with the need for variety during the 11-night East Rutherford stand. Of the first three songs played after the intermission — "All or Nothin' at All," "Ninety-nine and a Half (Won't Do)," and "Real Man" — only "All or Nothin'" would be played again on the tour, just one more time in Philadelphia. Not exactly representative.
The later date, Brendan Byrne Arena, New Jersey June 24, 1993, captured a special event at the end of the tour, with the effects of the recent European leg (an opening acoustic set, "Satan's Jewel Crown," etc.) plus the setlist craziness of a guest-laden New Jersey benefit.
It's only now, with today's release of Boston December 13, 1992, that we have a Night 1 show from the heart of the tour, with a whopping 16 songs from Human Touch and Lucky Town.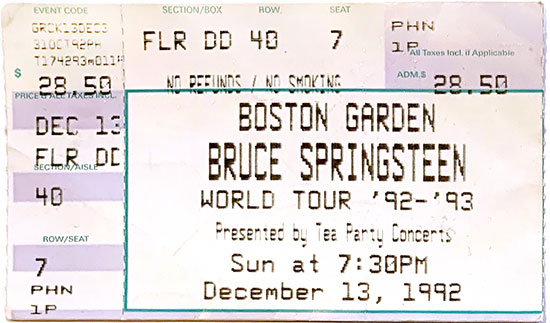 After a trip down South and up through the Midwest, Bruce and the band were returning to the Northeast. And many of us who currently hail from the Southern states have to admit: the crowds down here aren't quite the same. I remember walking into the Dean Dome in Chapel Hill, North Carolina, for the November '92 show and thinking, "Oh, wow, down here the seats behind the stage don't get sold!" Not so in Boston a few weeks later — the old-school Boston Garden was packed 360 degrees to the rafters on December 13, in an arena that famously did not have air conditioning.
It had been more than ten years since Bruce had played downtown Boston; after the River tour in 1980, the entire city used to haul itself an hour west to Worcester to see a show, even if you had to catch a Strawberries Records bus to do it. So when Bruce says with emphasis before "Living Proof" that he was glad to be "in town," we Bostonians knew what he meant. It's "easy to sweat in this building"? Wholeheartedly agreed. And it was that kind of night.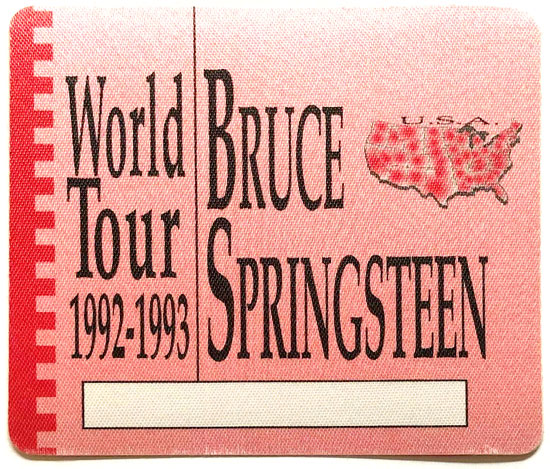 The show opens with the standard four-pack, from the blow-your-hair back opening chords of "Better Days" through the Stonesy gospel goodness of "Local Hero" into "Lucky Town" and "Darkness on the Edge of Town." This fine reading of "Darkness" is one of nine older E Street songs in the set, along with a couple of covers that the "old band" practically owns, too, but frankly, Springsteen classics performed by his new band are not the reason to pick up this set.
Foremost among the 16 HT/LT songs in the set, we're lucky to have both "Living Proof" and, for the first time in the Archive Series, the full-band "Real World" together in this release. Each is a crucial touchstone from its respective album, and both make a strong showing here.
Until the 6/24/93 concert mentioned above, "Living Proof" rarely resonated like it should have in the live show (the stellar Saturday Night Live performance notwithstanding). There it finally found a home in the setlist between "Souls of the Departed" and "Born in the U.S.A." My working theory is this: many want "Living Proof" to be a touching song about being a Dad, complete with a warm introduction about kids and how much you love 'em even though they pee on your leg. If that's what you're looking for, fire up "Long Time Comin'" — that's a better version of that song. There's a reason that one got played on Broadway.

The heart of "Living Proof" is the second verse and the bridge. It's a song about guilt, loss (a pretty stark acknowledgment of "sad and hurtful things"), weakness, love, and redemption. It is… wait for it… "Badlands." Put it in the set where "Badlands" might have been, and we'd just need some audience-participation "whoa whoa whoas" to put it over the top. (I nominate the melody from Roy's keyboards in the coda, which gets me every time. Get the audience to belt that out between the second and third verse, and you've got a set-closer.)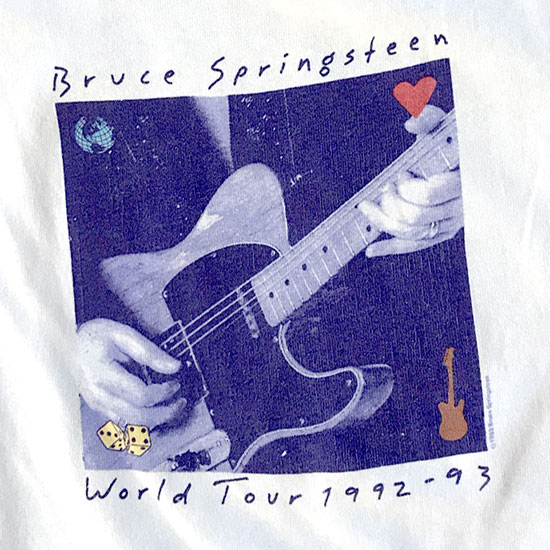 For some, particularly after the song's production on the Human Touch album, the Christic Institute performance of "Real World" is the only one that matters. And if you're not listening closely to the version from this Boston show, you might be tempted to think, "Oh here's Bruce once again turning a four-minute song into a ten-minute song with a gospel riff." But this is not "Mary's Place." And aside from "I'm a Coward" on the Tunnel tour, Springsteen's preacher shtick had yet to take root in the show. Here, on this "Real World," he and the band do a strong job incorporating an acoustic opening, driving guitar, and a heartfelt line reading, while excising the church bells. And you realize: this is the soulful new live sound that Bruce was searching for post-E Street.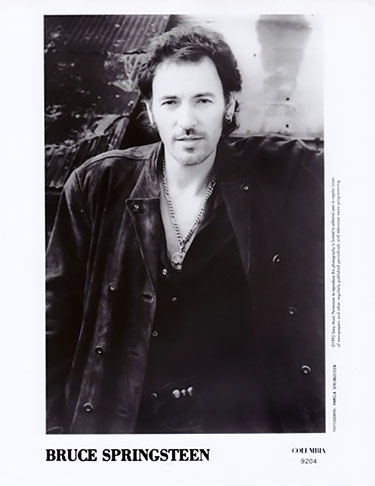 As Springsteen says at the end of the first half of the show, they'd be back after the intermission for more "rock and soul entertainment for you." AND soul. That's part of what made this tour different and important. Bruce always loved soul and gospel music, but it would be a hard sell to go out and tour purely on that sound, à la the Seeger Sessions. (Heck, with 2021 hindsight, it wouldn't even be a good look.) But go back and watch Bruce with Sam Moore on "Hold On, I'm Comin'" and "Soul Man" at the The 25th Anniversary Rock and Roll Hall of Fame Concerts. How great is that? How happy does Bruce look?
Sam Moore sang on the Human Touch record, and Bobby King is his admirable stand-in for the tour. "Man's Job," "Roll of the Dice," even "Local Hero" share the soul elements that make this performance way more than an E Street-lite show (and Bruce would go on to further embrace the gospel side in Europe with "Many Rivers to Cross" and "Satan's Jewel Crown.") So don't listen to these shows waiting to see how the Other Band treats E Street material — enjoy them partly for how close Bruce allowed himself to get to a different kind of performance.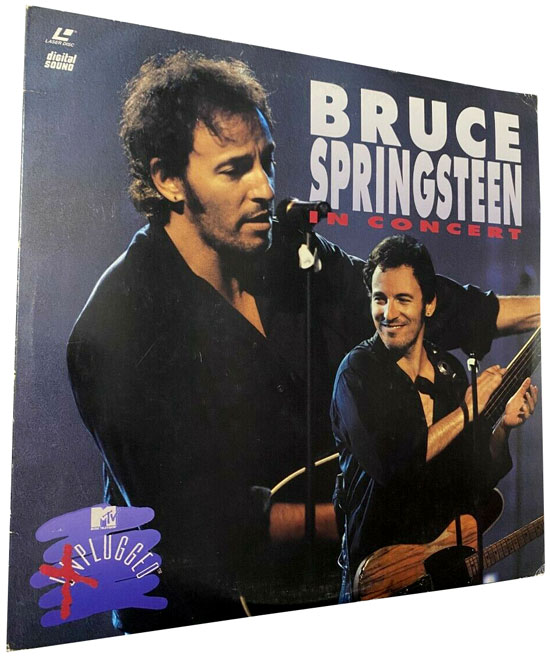 No Peter Wolf on this Night 1 (he'd show up on the 14th), but it's great to have Patti Scialfa's vocals here on both "Brilliant Disguise" and "Human Touch." If you can pick out Jon Landau's guest guitar on "Glory Days" and the show-ending "Santa Claus is Comin' to Town," well, your ears are better than mine. Did you bury him in the mix, Altschiller? I kid, I kid. But Mr. Landau showing up on stage gives that extra sense of the end of the leg, the end of the era for this particular version of the show.
The band would play two nights in Boston, and on the third day, the 15th, we all ran to Tower Records to pick up our VHS (or Laserdisc!) copies of MTV UnPlugged. So go watch a couple of clips from that MTV performance and then fire up this show — a perfect A/V time capsule of the heart of the 1992-93 World Tour.
Also read: Erik Flannigan's latest nugs.net blog entry, "Thousands of Miles for Some Rock and Soul"
- May 7, 2021 - Jon Phillips reporting


RIBLER DEBUTS SECOND SINGLE FROM WHOLE WORLD AWAITS LP
New song blends jangly Rickenbacker pop with socially conscious lyrics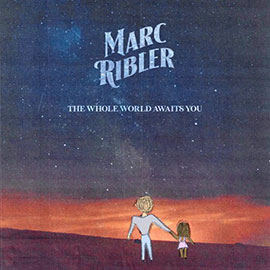 "Just when you start to think you've seen it all, it's time to fasten your seat belt," says guitarist and songwriter Marc Ribler about the story behind his new single, "Who Could Ask for Anything More," out as a digital download today.
The new song will appear on his upcoming new album The Whole World Awaits You, produced and arranged by Ribler and Steven Van Zandt, mastered by Bob Ludwig, and due for release on Wicked Cool Records on July 16.
Americana Highways exclusively premiered "Who Could Ask for Anything More" yesterday, commenting that the song delivers a "verdict on contemporary society in deadpan electric rock 'n' roll. Head nods and Beatles-esque folk harmonies add to the wry, enjoyable effect."
"While delivered tongue-in-cheek, the song has serious implications," explains Ribler. "It's about taking a good, hard look at the damage done by greed. It certainly seems to lead to insensitivity and indifference. For example, shutting down the George Washington Bridge for political gain and manipulation. Creating plastic islands on our vast beautiful oceans, or simply creating multibillion dollar industries that benefit from the diverse proliferation of unhealthy citizens due to social, environmental, nutritional and drama-based pollution."
"That being said," he concludes, "all this crazy shit gives a songwriter much to write about. Perhaps that's the bright side of greed, mayhem, death and destruction."
The video, directed by Tom Parr, features a band performance of "Who Could Ask for Anything More" intercut with animation by Pasquale Dorsi that illustrates the lyrical content. Musicians featured are Ribler's fellow Disciples of Soul Rich Mercurio (drums), Jack Daley (bass), and Andy Burton (keyboards), plus old friend Alan Chaput (guitar).
Pre-order personally signed copies of The Whole World Awaits You (CD or vinyl) now at marcribler.com.
- May 7, 2021 - Mike Saunders reporting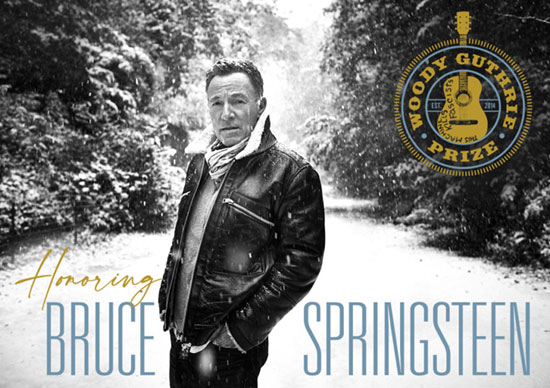 "WELCOME BROTHER!" GUTHRIE CENTER HONORS SPRINGSTEEN
Bruce to accept the 2021 Woody Guthrie Prize in May 13 virtual event
Congratulations to Bruce Springsteen, who will be recognized next week as this year's recipient of the Woody Guthrie Prize. He'll accept the honor in event set to stream online on Thursday, May 13, exclusively for members of the Woody Guthrie Center.
The Woody Guthrie Center, which opened in Tulsa, Oklahoma in 2013, awards the prize annually (past recipients are Joan Baez, Chuck D, John Mellencamp, Norman Lear, Kris Kristofferson, Mavis Staples, and Pete Seeger) to "an artist of any medium who continues in the footsteps of Woody Guthrie: A champion for the voiceless with an understanding of how a platform can be used to shine a light on our world, showing us what needs to be fixed and how to fix it."
Springsteen's endeavors fit that criteria to a tee, as the Center notes: "Springsteen has been at the forefront his whole career, connected to the traditions of Guthrie that he continues to exude today."
"I'm honored to receive the 2021 Woody Guthrie Prize," Springsteen says. "Woody wrote some of the greatest songs about America's struggle to live up its ideals in convincing fashion. He is one of my most important influences and inspirations."
On the 1980-'81 River tour, Springsteen described to audiences his discovery of Joe Klein's book Woody Guthrie: A Life. For Springsteen fans who have been listening from that tour's performance of "This Land is Your Land" through Nebraska, "I Ain't Got No Home" and "Vigilante Man" from Folkways: A Vision Shared, his own "The Ghost of Tom Joad" (and performances of Guthrie's own "Tom Joad"), the 1996 Rock Hall event Hard Travelin': The Life and Legacy of Woody Guthrie and beyond, it's been clear the extent to which Springsteen has been helping to keep Woody's legacy alive.
In its announcement of this year's prize, the Woody Guthrie Center further details the Guthrie-Springsteen connection:
Over 20 studio albums, Springsteen has used his storytelling ability to write songs that connect with people who faced the hard times and celebrated the good times. Often backed by the E Street Band, Springsteen's music provides a soundtrack of resilience, strength, heart, and joy despite or even in spite of the struggles thrown our way. Drawing from his experiences growing up in New Jersey, Springsteen's songs have connected on a universal level with fans worldwide. And those who have seen Springsteen perform live have seen his sweat, drive, and dedication to music and to his fans.

Springsteen's connection to Woody Guthrie is direct, frequently discussing how Guthrie's work inspired his own music and performing Guthrie songs regularly, including "This Land is Your Land" with fellow Woody Guthrie Prize recipient Pete Seeger before the inauguration of Barack Obama in 2009. Springsteen has sold 120 million records worldwide, has earned 20 GRAMMY Awards, an Oscar and a Tony Award, was inducted into the Rock and Roll Hall of Fame in 1999, received the Kennedy Center Honors 10 years later and in 2016, was presented the Presidential Medal of Freedom.

"As an observer of the human condition and a reporter about the plight of common people, Bruce Springsteen is a true child of Woody Guthrie," said Woody Guthrie Center Director Deana McCloud. "He continues Woody's work by writing about our struggles in this land of hope and dreams, and provided one of our favorite performances of "This Land is Your Land" with Pete Seeger at the first Obama inauguration. The Woody Guthrie Center is proud to present Bruce with this well-deserved recognition for his lifetime of speaking for the disenfranchised and inspiring generations to find the power of their own voices."…

"We've been hoping that Bruce would join our extended family — which includes the spirit sons and daughters of Woody, Pete Seeger and Lead Belly — as we gather this year to say 'thank you for caring and for speaking out.' Welcome, brother!" said Nora Guthrie, president of Woody Guthrie Publications and Woody's daughter.
The 2021 Woody Guthrie Prize will be presented in a two-hour virtual event, May 13 from 7-9pm. Tickets for the members-only event are $60. Visit woodyguthriecenter.org to become a member or for further information.
- May 5, 2021