The Darkness tour was a watershed moment for Springsteen in many ways, among them, granting his first real television interviews on the road. Notably, in New York, Cleveland, and Los Angeles, Bruce invited cameras backstage and spoke with local TV news journalists about his audience and his shows. These interviews wound up as feature segments on local news, which paired the backstage chat with live performance footage.
Our gift to you this year are these three feature interview segments just as they aired in 1978. The video offers the broadcast news appearances in best-ever quality (though still showing some ill effects of being 33-year-old footage as expected). The 16-minute compilation features:
WABC New York with Joel Siegel (Madison Square Garden, August 21, 1978)

WDVM Washington, DC "The 9 Muses" segment with Henry Tenenbaum (interview from Richfield, OH Largo, MD, backstage at the Capital Centre; footage from Largo, MD, August 15, 1978)

KABC Los Angeles with JJ Jackson, Bruce's first-ever televised interview (The Forum, July 7, 1978)
Special thanks to the Dick Wingate Archives for providing the video and the Brucebase Wiki for source info.
- December 24, 2011 - edited December 27, 2011

'TWAS THE NIGHT BEFORE THE NIGHT BEFORE CHRISTMAS
Everybody out there been good? Or what? We'll just assume that's most everybody, for the sake of sharing good news... Santa Claus may not be leaving a new Springsteen album under the tree this year (or even, just yet, a release date), but we can at least put this in your stocking: The record is finished.
When Bruce checked in a month ago to let us know that he's "incredibly excited about everything that we're planning for 2012," the word on the new album was that "the music is almost done (but still untitled)." You can take out that "almost": we're hearing definitively that the album is complete. That alone gives us reason to smile as we're nestled all snug in our beds this Christmas. And of course, as soon as there are any further official announcements about the album and/or tour, we'll have the news right here.
Speaking of things that are complete, the long, long-awaited Backstreets #90 is finished as of this morning, and we're off to the printer. This issue features lengthy interviews with Thom Zimny, about The Promise as well as his other recent film work for Springsteen; and with Mike Appel, our first talk with Springsteen's former manager in roughly 20 years, conducted by photographer Eric Meola.
As the Twelve Days of Christmas go by, presses will be rolling on this Winter 2011/2012 issue, which will be on its way to subscribers and newsstands shortly after the new year. Watch for further details on the news page in the coming week or two.
Thanks to everyone for your patience and support of the magazine as we keep striving to get back to a regular publishing schedule. Issue #91, our big Clarence Clemons tribute, has also been in the works, and we'll now turn our attention fully to getting that one wrapped up. Including "The Big Man: The Final Chapter" from Clarence's friend and co-author Don Reo, as well as a remembrance by Nick Mead, director of the Clarence documentary Who Do I Think I Am?, and much more, we'll be making sure that Spring 2012 issue is on its way to subscribers before things fully heat up on E Street.
And we're not quite done here before a little Christmas break... check in tomorrow for a Christmas Eve treat!
- December 23, 2011

"WHEN I NEED TO GET BY I PLAY THESE SONGS"
Brother Lefsetz knows how to annotate a mixtape. Check out Bob's latest "Welcome to My World" playlist at Rhinofy.com: "Some Bruce." The majesty, the mystery, and the ministry of rock 'n' roll, in a concise 8 tracks. There's a Spotify link, too, which is always cool. But you know the tracks — read the notes.
- December 23, 2011

12 DAYS OF CHRISTMAS WITH CLARENCE CLEMONS
The Wild, the Innocent & The E Street Shuffle's credits listed the E Street Band's saxophonist as one Clarence "Nick" Clemons, but perhaps that credit should have been Clarence "St. Nick" Clemons instead. No other E Streeter is so closely identified with yuletide joy as our beloved, gone-but-never-forgotten Big Man. As his autobiography revealed, Clarence's musical career and Christmas first intersected when he was still just a little Big Man, long before he started playing Kris Kringle onstage during all of those performances of "Santa Claus is Comin' to Town" through the years.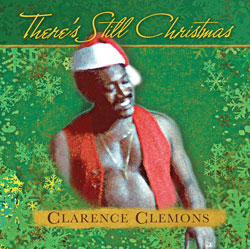 With this year's release of the "There's Still Christmas" EP, fans can now enjoy a Christmas-related Clarence item for each of the Twelve Days of Christmas (December 25 - January 5). Backstreets contributor Shawn Poole, drawing from extensive research begun in preparation for last summer's "Christmas in July with Clarence Clemons" on E Street Radio, has made his list and checked it twice for this upcoming holiday season. Here's a Big Man's dozen, with links that might aid the post-Christmas-Day giving plans of true loves everywhere:
1. Big Man: Real Life & Tall Tales – The book's very first story details how Clarence's parents decided to ask Santa to bring their son a saxophone for Christmas. The rest, of course, is history (at least on the white pages, according to Clarence).
2. "Santa Claus is Comin' to Town" (with Bruce Springsteen & the E Street Band) – The now-classic live version, recorded on 12/12/75, has been released in many official forms over the years, and just last year an additional live E Street Band version of "Santa" got officially released in home-video form on the Houston DVD (12/8/78) included in The Promise box set. Both versions feature plenty of hearty "ho-ho-ho"s and a joyful sax solo from the-Big-Man-as-Santa.
3."Merry Christmas, Baby" (with Bruce Springsteen & the E Street Band) – recorded on 12/31/80 and released originally in 1986 as the B-side of the "War" single. Later included in the 1987 compilation A Very Special Christmas (the first of the series). Based on Otis Redding's version of this chestnut.
4. "Santa Claus is Comin' to Town" (with the Pointer Sisters) – also included on the first A Very Special Christmas album back in '87. This merits its own separate entry for two reasons. Not only does this version feature Clarence performing on "Santa" without Bruce and the other E Streeters (except Roy Bittan, who also co-produced with Jimmy Iovine), but it also has an extra verse and bridge not sung in Springsteen's version.
5."There's Still Christmas," 6. "The Christmas Song" and 7. "The Christmas Song (Extended Version)" all get an official release this year on Clarence's posthumous holiday EP, after thirty years in the vaults.
8. "What Can I Give for Christmas?" (with Mark Fromm, Eric Andersen, Rick Danko, Maria Muldaur, et. al.) – a wonderful, upbeat track from 2002 that also was recorded to benefit many worthy charities. Fromm is pictured at right with Clarence, who again played Santa, this time singing a few lines as well as playing the sax. Still available from markfromm.com
9. "All Alone On Christmas" (with Darlene Love) – See our recent post on this track here.
10. "I Listen to the Bells" (with Luther Vandross and Darlene Love) – Featured on the 1995 Luther Vandross album This Is Christmas (still in print), this track also has backing vocals sung by the great Cindy Mizelle, who has performed with both The Seeger Sessions Band and The E Street Band.
11. "Grift of the Magi," episode # 235 of The Simpsons (first aired on December 19, 1999) – Clarence served as the unseen narrator (and therefore unanimated, unfortunately) in this strange-but-hilarious Christmas episode, also guest-starring the late Gary Coleman, with whom Clarence had previously appeared on Diff'rent Strokes. Available on the Christmas With The Simpsons DVD and The Simpsons: The Complete Eleventh Season DVD box-set.
12. "Blue Christmas" (live at the Carousel House with Bruce Springsteen & the E Street Band; December 7, 2010) – Available as part of the "Songs from The Promise" film on the single-disc release of The Promise: The Making of Darkness on the Edge of Town. The final song in Big Man's final public performance with Bruce Springsteen & The E Street Band. Christmas will be bluer this year without Clarence's physical presence in our universe, but like Santa Claus himself, the Clemons Christmas spirit of love, joy and laughter preserved in these 12 items remains immortal. God rest ye merry, Big Man.
- December 22, 2011 - Shawn Poole reporting


CASTILES DRUMMER VINNY MANNIELLO, R.I.P.
Freehold, New Jersey's Vincent Manniello, who laid down the beat for Bruce's early band The Castiles, passed away on Monday, as reported in today's Asbury Park Press. In 1966, Vinny "Skibotts" Manniello [far right] replaced drummer Bart Haynes, who shipped out to Vietnam and was later killed in action. Manniello was part of the line-up that recorded the "Baby I" single in May of '66, Springsteen's first record. Our sympathies go out to his friends and family. [Above, L-R: George Theiss, Springsteen, Curt Fluhr, Paul Popkin, Manniello.]
- December 21, 2011

LAST-MINUTE HOLIDAY SHOPPING? WE'VE GOT YOU COVERED
If you're still looking for the perfect gift for your favorite Springsteen fan, be sure to visit our online shop -- and yes, there's still time! Using our Expedited Shipping service, we can deliver via UPS to any U.S. address in one or two days, and we'll be working through the week to make sure everyone gets what they need.
Overnight shipping adds $35 to standard shipping charges; 2-Day adds $15. Expedited orders placed by 2:00 p.m. Eastern will ship the same day! Just make sure to specify a street address, as UPS can't deliver to PO boxes.
For delivery on:
Order by:
Expedited Shipping
Wednesday, 12/21
Tuesday, 12/20, 2:00 p.m.
Overnight
Thursday, 12/22
Tuesday, 12/20, 2:00 p.m.
Wednesday, 12/21, 2:00 p.m.
2-Day
Overnight
Friday, 12/23
Wednesday, 12/21, 2:00 p.m.
Thursday, 12/22, 2:00 p.m.
2-Day
Overnight
Procrastinators' Sale
And hey, last-minute shoppers, take advantage of our Procrastinators' Sale! For three days only, from now through Thursday at 2:00 p.m Eastern, take 15% off any order of $50 or more! Simply enter the coupon code BETTERNOTCRY at checkout, where your discount will be applied across the board.
View our Latest Additions page to see what's new.
For all U.S. customers who ordered by December 10: as promised, your items have been shipped out, scheduled for delivery prior to Christmas. As always, we appreciate you getting your Boss fix through us!
- December 19, 2011


NEW WASHINGTON POST GALLERY: BRUCE SPRINGSTEEN ON AMERICA
With "Best Books of the Year" lists all over the place these days, we've got hands in the air for Dale Maharidge and Michael Williamson's Someplace Like America: Tales from the New Great Depression. Springsteen wrote the foreword, and we've hosted the authors' video blog, "The Road to Someplace Like America."
For more of a taste of what the book holds, see the new photo gallery at washingtonpost.com, "Bruce Springsteen on America." Williamson is a photographer for the Post (his shot above is Bruce backstage in Baltimore), and this slideshow of his photographs is set to text excerpted from Bruce's foreword. For a hard copy, grab Tuesday's "Style" section.
- December 19, 2011 - photograph by Michael Williamson/The Washington Post


"JERSEY SHORE ROCK & ROLL ROYALTY" SALUTING THE BIG MAN
A reminder that tickets are on sale now for the double-shot of Clarence Clemons tribute concerts in Norfolk, VA just a few weeks away... For the Saturday night show at the Norva, "the legends of the Jerey Shore pay tribute to the Big Man" with a bill that includes Garry Tallent, Vini Lopez, Southside Johnny, John Cafferty, Gary U.S. Bonds, Bobby Bandiera, the Nick Clemons Band, Jake Clemons, and JoBonanno.
Friday, January 6 will be a formal "tribute concert" with members of the Clemons family in attendance at the historic Attucks Theatre, known during its heyday as the "Apollo Theatre of the South." Tickets here.
Saturday, January 7 will be a "celebration concert" at The Norva, built in 1917 and restored as a premiere concert hall in 2000. Tickets here.
For more information, visit www.sevenvenues.com or www.thenorva.com.
- December 16, 2011


A THIRD LOOK AT "AMERICAN SLANG"?
Yes: Pro-shot. Gaslight Anthem's Brian Fallon told the crowd last Friday, December 9, "This is your Christmas present, get your iPhones out!" But as much as we love the immediacy of a good mobile-device-based recording... ain't nothin' like the real thing, baby.
- December 15, 2011

KEEP THE CHURCH BELLS RINGING
This weekend at Monmouth University, Jake Clemons is playing a benefit for the restoration of a 202-year-old church: the Old First United Methodist Church, in West Long Branch. The Big Man's nephew will be joined by some other local favorites: Red Bank's Woodfish, and 2010 "Best Blues Band" Asbury Music Award-winner Jo Wymer. The concert is Saturday night, December 17, at Pollak Theatre; visit monmouth.edu for full details and ticket info.
- December 14, 2011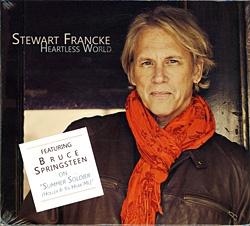 HOLLER IF YOU'VE HEARD IT
Earlier this year, Detroit's Stewart Francke released his eleventh album, Heartless World, featuring his duet with Bruce Springsteen on "Summer Soldier (Holler If Ya Hear Me)," and Mitch Ryder guests, too. Francke kindly let us host two free tracks on our Downloads page. The album's doing well, with more than 15 AAA radio adds so far for "Summer Solider," and Stewart passes along "thanks to the E Street Nation for their support of our duet." To give the gift of Heartless World, pick up the physical CD with liner notes and photos at stewartfrancke.com, or you can download the album from iTunes, Amazon, or anywhere digital music is sold.
- December 14, 2011

HOLIDAY ORDERING REMINDER
Get your stuff when you need it!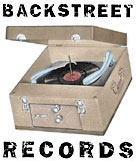 Backstreet Records customers, thanks for taking care of your Boss needs through us! Just a reminder and an assurance: all U.S.-destined orders placed by this past Saturday, December 10 are guaranteed to arrive before Christmas.
But even if you missed that standard-shipping deadline, you can still place an order to receive your stuff by Christmas... or the first night of Hanukkah... or well before, using expedited shipping. Orders placed before 2 p.m. Eastern that specify either 2-DAY or OVERNIGHT will be sent out that day. Expedited orders placed after 2 p.m. will ship out the following day.
- December 12, 2011


"CHECK THIS OUT!"
Another angle from Friday night.
- December 12, 2011


A CHRISTMAS GIFT FOR ASBURY PARK AS BRUCE JOINS GASLIGHT
Reprising the guest appearances he made in June of 2009 in England, Bruce again joined the Gaslight Anthem to perform the title track of their current album. This time, however, the performance took place much closer to their homes: in front of a sold-out crowd last night at the Asbury Park Convention Hall.

Gaslight frontman Brian Fallon attempted to engage the crowd in some playful banter about "what have you done for me lately?" but the expansive grin on his face gave away the surprise as Bruce walked out on stage to a wild reception from the audience.

Performing "American Slang," Bruce contributed rhythm guitar as well singing harmony vocals, joining Fallon at the center microphone briefly at the end of the song.

Come the end of the show, Fallon thanked Bruce not only for giving the audience a "present," but that Brian's mother could be there to see them play together in person, noting that "she doesn't believe in DVDs."
Tonight in Asbury, Jesse Malin plays his annual Toys for Tots holiday show at the Stone Pony.
- December 10, 2011 - Glenn Radecki reporting

REMINDER FROM BACKSTREET RECORDS:
ORDER BY MIDNIGHT SATURDAY FOR PRE-CHRISTMAS DELIVERY!
As we do every year, we're guaranteeing pre-Christmas arrival for all orders placed by December 10 that are shipping to U.S. destinations. So if you're still in need of some Boss holiday goodies from Backstreet Records, Saturday is the "Standard Shipping" deadline. (We can't guarantee arrival times outside of the U.S., due to customs, but we'll be working hard to ship orders out to everyone as quickly as possible.)
If you wind up ordering after December 10 and need something prior to Christmas, you can always select "Expedited Shipping" to have it in one or two days within the U.S... but ordering by midnight tomorrow will save you some serious dough on postage.
Below are pictured the newest arrivals in our shop: Christmas A Go-Go, a compilation CD from Little Steven's Wicked Cool label (featuring the E Street Band backing Darlene Love, among many other yuletide tunes from the Underground Garage); and a newly discovered stack of "Save My Love" records, the limited 7-inch released last year. You'll find these and many more in our Latest Additions section, and here are some more categories to peruse: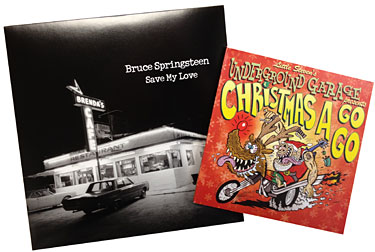 Shopping in our online store helps support all things Backstreets, and we appreciate it!
- December 9, 2010

"ESSENTIAL READING," SAYS BRUCE, FROM THE LATE, GREAT PAUL NELSON
Springsteen fans will find some very interesting material in two recently published works focusing on the tragic life and enduring work of critic Paul Nelson. In the early sixties, Bob Dylan himself dubbed Nelson a "folk-music scholar." While serving as co-founding editor of The Little Sandy Review and managing editor of Sing Out!, Nelson was inspired by Dylan's legendary electric set at the 1965 Newport Folk Festival to make his own foray into rock 'n' roll. In short order, Nelson began to produce groundbreaking criticism and features for Rolling Stone and other publications. He later served a stint in A&R at Mercury Records, where he signed the New York Dolls. By the early eighties, however, Nelson's personal demons began to curtail his career and continued to haunt him until his death in 2006 at the age of 70.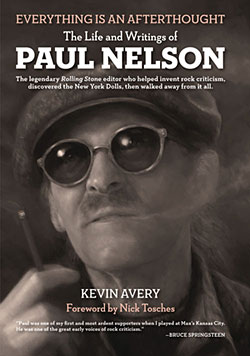 Everything Is an Afterthought: The Life and Writings of Paul Nelson is a unique collection that serves as both a biography of Nelson and an anthology of his work, written and compiled by Kevin Avery. It features special chapters on and interviews with many of Nelson's favorite artists, including Bruce Springsteen. (Nelson was the first music writer to see Springsteen perform as a freshly signed Columbia recording artist in a 1972 Manhattan "showcase.")
Of Nelson's writings, Springsteen says, "If you were a fan of mine at the time, they were just essential reading... Paul's writing meant a lot to me emotionally... enough to just flick that switch so that when you went onstage that night you remembered: Hey, you're working on a promise to keep, not to just yourself but to him. He put his ass on the line for you in that last story, so you better be good." The Springsteen chapter includes Nelson's prophetic 1975 Village Voice piece "Is Springsteen Worth The Hype?" (restoring the previously edited section on Bruce's encounter with David Bowie during the recording of Young Americans), his Rolling Stone review of The River, and his Musician review of Nebraska. Interestingly, Nelson was one of the few major critics who disliked Nebraska, at least at first. His review outlines the process that led him to discover the album's glories, along with a unique footnote about a possible cinematic influence on the title track's lyrics.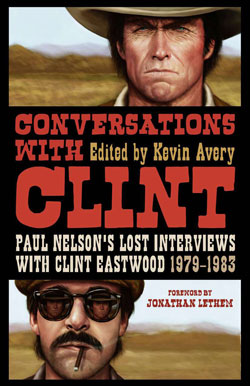 That footnote also reveals that Nelson shared with Springsteen a love of movies, including the great Spaghetti Westerns of Sergio Leone, many of which helped to launch the film career of Clint Eastwood. Conversations with Clint: Paul Nelson's Lost Interviews with Clint Eastwood, 1979-1983, also edited by Kevin Avery, compiles a series of interviews that Nelson conducted with one of his favorite actor/filmmakers for a never-completed Rolling Stone cover story. During an interview conducted on October 3, 1980 — interestingly, the opening night of the River tour — Nelson and Eastwood discussed music at great length. Eastwood (who has since composed scores for several films, including his own) mentioned in passing, "That record you gave me by Bruce [Springsteen] was terrific." Unfortunately, no further details are available on exactly which Springsteen record Eastwood enjoyed.
Fans in the NYC area may want to check out the December 13 event at Brooklyn's BookCourt featuring Kevin Avery and Elliott Murphy. (Murphy was another of Nelson's favorite artists; Nelson was the first person ever to play a Springsteen record for Murphy (Greetings From Asbury Park, NJ), and he personally introduced the two musicians to each other after taking Murphy to one of Bruce's gigs at Max's Kansas City.)
- December 9, 2011 - Shawn Poole reporting

BRUCE-SIGNED GUITAR RAFFLE TO BENEFIT IRENE RELIEF IN VERMONT
The Friends of the Valley Foundation, in their efforts to help revive the Wilmington, Vermont community after Hurricane Irene's devastation, are hosting a holiday open house on December 19. Attendees will have the chance to purchase an exclusive raffle ticket for a Bruce Springsteen concert ticket & guitar giveaway: the winner receives two tickets to see Bruce in one of his upcoming 2012 performances, hotel and airfare for two, and an autographed Springsteen Fender guitar (valued at $10,000). Tickets are $100 a piece and only 750 are to be sold. Raffle tickets may also be purchased online.
- December 9, 2011

TWO RARE MEOLA PRINTS TO BENEFIT HOMESAFE

Clarence Clemons was an advocate and benefactor of HomeSafe, the South Florida non-profit helping victims of child abuse and domestic violence; after his passing, HomeSafe became the officially designated charity for donations in his name. A few items are being auctioned now by Charity Buzz to raise funds for HomeSafe in Clarence's honor, including these two prints donated by photographer Eric Meola.
"Scooter and the Big Man" (top) and "Blowin' That Saxophone" (bottom) are each on 20"x30" paper in a 32"x25" in matted frame. Both are from the 1975 Born to Run photo shoot, of course, and both are extremely rare artist's proofs. Also on the auction block is a drum kit donated and autographed by Bon Jovi drummer Tico Torres, donated in memory of Clarence.
Learn more about these items at charitybuzz.com, and consider a bid to help Clarence's charity of choice. Auctions end in one week, on Thursday, December 15, with plenty of time for winners to receive the items as holiday presents.
- December 8, 2011


Earlier this year, the Pulitzer Prize-winning team of writer Dale Maharidge and photographer Michael Williamson provided us with a fascinating series of videos on their years of work together, traveling the country and documenting America's "new underclass." Their book Journey to Nowhere inspired two songs on The Ghost of Tom Joad; their latest book, Someplace Like America: Tales From the New Great Depression, features a foreword by Springsteen.
We've just added their latest video to "The Road to Someplace Like America" — if you haven't spent any time with this video blog, hosted exclusively here at Backstreets.com, we encourage you to start at the bottom and take a ride on the rails that leads to "sweet Jenny" in Youngstown and beyond.
Someplace Like America, like all of Maharidge and Williamson's work, is a compelling and unflinching look at the state of our nation and of its working class. As Springsteen writes in his foreword:
In reality, the lives of American workers, as well as those of the unemployed and the homeless, make up a critically important cornerstone of our country's story, past and present, and in that story, there is great honor. Dale and Michael have made the telling of that story their life's work. They present these men, women, and children in their full humanity. They give voice to their humor, frustration, rage, perseverance, and love. They invite us into these stories to understand the hard ties and the commonality of experience that can still be found just beneath the surface of the modern news environment. In giving us back that feeling of universal connectedness, they create room for some optimism that we may still find our way back to higher ground as a country and as a people. As the folks whose voices sing off these pages will tell you, it's the only way forward.
For anyone who appreciates that vein of Springsteen's work — the plight of those living on the margins, and the search for "higher ground as a country and as a people" — we highly recommend Someplace Like America as a gift. It's available now from Backstreet Records.
- December 8, 2011

I LIKE THAT UNUSUAL ROCK AND ROLL
Today's music ain't got the same soul... but Bob Seger still knows more about Bruce's forthcoming new record than most. Or at least he's willing to go on the record about it. After talking with Springsteen backstage at Madison Square Garden, Seger tells Andy Greene for Rolling Stone: "He's mastering it right now... He says it's really unusual and that it's the best thing that he's done in years."
- December 7, 2011

NILS LOFGREN QUIZ: THE ANSWER SHEET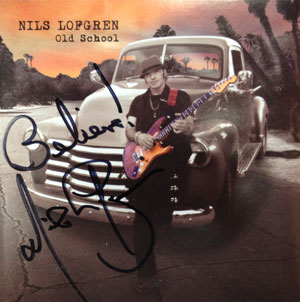 Our Old School quiz ended yesterday, and we've finished grading papers. Nice job, class. Everybody gets a gold star... and rom the correct answers, we used the random number generator at random.org to select one winner of a Nils Lofgren-signed CD for each question.
1. Which song on Old School has Nils performed live with rewritten lyrics in tribute to the Big Man? [We'll accept either title]
Nils reworked the album's "Miss You Ray" as "Miss You C" in concert over the summer and into the fall.

Out of 416 correct entries, the signed CD goes to:
TOM GOLEMBESKI, LAFAYETTE,NJ
2. What friend of Nils inspired the song title "Ain't Too Many of Us Left" on Old School?
Sam Moore and Clarence Clemons were popular answers, but as Nils tells the story in our recent interview: "I was just about to start my rehab. And the phone rang — I was getting calls through the day and well wishes — and it was Neil Young. Amy put the phone up to my head, and I had a great pep talk from Neil I'll never forget. He finished up by saying, 'Get well, there ain't too many of us left.' I filed that away and knew someday it would be a song."

Out of 230 correct entries, the signed CD goes to:
TRICIA MATHISON, LAKE MARY, FL
3. What song marks Nils Lofgren's first appearance on a Bruce Springsteen record?
Nils overdubbed harmonies on the Born in the U.S.A. outtake "Janey, Don't You Lose Heart" for its 1985 release as a B-side to "I'm Goin' Down."

Out of 157 correct entries, the signed CD goes to:
MAUREEN SALVATI, POUGHQUAGE, NY
4. In the Born in the U.S.A. tourbook, nicknames were given for each of the E Streeters. Roy Bittan: Professor. Clarence: The Big Man. Danny Federici: Phantom. What nickname was listed for Nils?
Not "Godfather of the Guitar," as several guessed, or "Little Swede," as one answer came in... but "Lefty." Nils may play a right-handed guitar, but he is indeed a southpaw.

We overestimated the difficulty of this question, or at least underestimated how many had a copy of the Born in the U.S.A. tourbook at hand. Out of 237 correct entries, the signed CD goes to:
DAN SMITH, FREDERICK, MD
5. In 1984, prior to the release of Born in the U.S.A and before Nils joined the band, he went to New Jersey for what was essentially an audition, to jam privately with Bruce and the E Street Band. Where did they play?
Bruce, Nils and the band rehearsed at Clarence Clemons' old nightclub, which closed in 1983. Nils told Backstreets in 2002: "When I got up to Jersey, we went to Big Man's West in Red Bank, which had closed prior to that, and we jammed for a few days... fortunately for me, Bruce and the band felt that it went together well enough to offer me the spot in the band, which was a huge, huge honor." (We also accepted the site's address, 129 Monmouth Street.)

Out of 104 correct entries, the signed CD goes to:
CAROLYN DIOMEDE, ASTORIA, NY
You lucky five will have your autographed CDs on their way to you shortly. Thanks to everybody for playing, and thanks again to Nils and MVD for making the quiz possible.
- December 7, 2011

JANUARY BRINGS CLARENCE DOUBLE-HEADER TRIBUTE IN NORFOLK
Next month, the weekend before what would have been Clarence Clemons' 70th birthday, the city of Norfolk, Virginia will host two concerts in honor of one of its favorite sons, January 6 and 7. Gary U.S. Bonds, also a Norfolk native, is one of many on the bill. From the press release:
Rock and Roll legend Gary U.S. Bonds notes that "in addition to being a big man, Clarence has a big heart. I'm so glad we're finally able to pay tribute to him in my hometown of Norfolk. We talked about Norfolk all of the time!" Mr. Bonds and Clemons were close friends having known each other growing up in Norfolk. Bonds, as the architect of the "Norfolk Sound," was critically influential on Clarence's music style, enabling him to further Norfolk's contribution into rock music throughout world.
Other confirmed artists include Garry Tallent, Vini "Mad Dog" Lopez, Vini's Steel Mill bandmate Adam Glenn, Southside Johnny, Bobby Bandiera, John Cafferty, The Nick Clemons Band, and Jake Clemons. Proceeds will benefit the Clemons Community Center in Chesapeake as welll as a scholarship in Clarence's name at Norfolk State University.
Friday, January 6 will be a formal "tribute concert" with members of the Clemons family in attendance at the historic Attucks Theatre, known during its heyday as the "Apollo Theatre of the South." Tickets on sale Thursday, December 8, at 10am.
Saturday, January 7 will be a "celebration concert" at The Norva, built in 1917 and restored as a premiere concert hall in 2000. Tickets on sale Saturday, December 10 at 10am.
In addition to Ticketmaster.com, tickets can be purchased at the Scope Arena Box Office (tribute concert), Jewish Mother Backstage (celebration concert), and through all Ticketmaster outlets or by phone at 1-800-745-3000. For more information, visit www.sevenvenues.com or www.thenorva.com.
- December 7, 2011

FROM SPAIN: SECOND BARCELONA SHOW ADDED; SEVILLE ONSALE MOVED
The second stop on the 2012 European leg, Barcelona, has just been expanded to two nights: Springsteen and the E Street Band will now play Thursday, May 17 and Friday, May 18 at the Olympic Stadium. The newly added May 18 show goes on sale December 15 at www.ticketmaster.es.
For the opening night of the leg, Sunday, May 13 in Seville, the ticket sale has been pushed back to December 16 at 10 a.m.
See our Tour/Ticket Info page
for all official dates, links, and details as they roll in
- Updated December 7, 2011

REMINDER: NILS CONTEST CLOSES TODAY AT 5 P.M.
Last week we announced a trivia quiz to give away autographed copies of Nils Lofgren's Old School CD to five Backstreets readers. Just a little bit of time left to get your entries in — pencils down this afternoon at 5 p.m. Eastern! Take the quiz below for your chance to win a signed CD.
- December 6, 2011



HELP MOVE FOR HUNGER WIN THE MILLION
In October, Bruce Springsteen put the call out for help to obtain a one million dollar grant for Move for Hunger, through Chase's American Giving Awards program. Thanks to all your votes, the non-profit — which works with moving companies across the country to pick up unwanted, unopened food from those who are relocating and deliver it to local food banks across the country — passed a big hurdle, making it into the top five.
Now, you can can vote again for Move For Hunger, in the second and final round, to win the American Giving Awards and receive the full $1,000,000. Move For Hunger is the only hunger relief organization in the nation up for this award, and with 1 in 6 Americans struggling to find their next meal, there has never been a better time to take action.
To vote, log onto your Facebook account and click here.
Voting ends on Thursday, December 8, and you can vote once per day. Watch the American Giving Awards on December 10 at 8pm on NBC, hosted by Bob Costas.
- December 6, 2011

SPRINGSTEEN SPECIAL COLLECTION RAFFLE ON NOW
Join the Friends and qualify to win this '78 photo of Bruce & Clarence

This Thursday, December 8, 2011, marks the 10th anniversary of the Bruce Springsteen Special Collection, the nearly 15,000-piece repository of books, magazines, fanzines and other items covering the history of Bruce Springsteen and his bands.
Now, as the Collection enters a new phase on the campus of Monmouth University in West Long Branch, NJ, organizers are offering for a limited time three-year memberships in The Friends of the Bruce Springsteen Special Collection, capped by an opportunity to win a large, striking photo of Bruce and Clarence Clemons taken at the Spectrum in 1978 by James Shive.
Shown at right, this is the same photo used by Rolling Stone in its Clarence tribute, and the 16" x 24" print will be awarded at raffle on February 1 to a new or renewing member in The Friends. By joining the non-profit Friends organization, you're supporting the permanent preservation of items in the Collection and the eventual expansion into new genre.
Click here for all the details about the raffle and joining the Friends.
Photographer James Shive, who so kindly donated the above print to the cause, is also making available Limited Edition prints of more of his '70s/'80s live Springsteen images at shivearchive.com. On special sale now is the image below of Bruce and the Big Man at Nassau Coliseum on New Years Eve 1980, one of the bands longest shows ever. A 16 x 20 Limited Edition print, only 50 copies will be offered — get it now for $50 off the regular price, this week only!


WHO THE F*&# IS LINDA CHORNEY?
A Grammy nominee from the Jersey Shore, that's who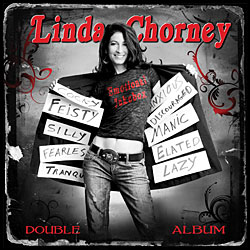 When the 2012 Grammy nominations were announced, fans of the Asbury Park music scene rejoiced — and it wasn't just for the nomination of Bruce Springsteen's The Promise package. Local artist Linda Chorney, a fixture on the NJ Shore scene and a regular performer at the Light of Day shows, received a nomination in the Best Americana Album category with her release Emotional Jukebox.
Catching Linda as she headed west to shoot a video, she explained that she was as surprised as anyone, first receiving congratulatory texts before anyone officially contacted her, then seeing that, indeed, she was nominated alongside icons Ry Cooder, Emmylou Harris, Levon Helm, and Lucinda Williams.
Never known to censor herself, she was quick to proclaim, "My new name is 'Who the fuck is Linda Chorney,'" adding that she is hearing a lot of "where did she come from?" Which is just fine by her. She is quick to use politically charged terms to describe her efforts to get where she is, now, as she says, "Occupying Grammys!"
"There were close to 200 people considered for Best Americana Album, and it's like the 99% of us versus 'The 1% Club': the famous, established artists that everyone knows, that are generally the lay-ups, and the rest of us slobs, the 99% who are just trying to get people to listen to us, so we might have a shot."
For her, the nomination was that much better coming from peers with ears. "When they voted, they didn't know who I was — it was all about the music."
Linda will be one of the main acts at Light of Day 2012, playing the Paramount Theatre show as well as the Songwriter's Circle. Her album can be downloaded on CD Baby, iTunes, and Spotify. For hard copies, that she will sign, go directly to Lindachorney.com, where you can, as Linda says, "follow my blog of the experience, day to day, of this incredible nomination!"
- December 5, 2011 - Mike Black reporting
- photograph of Linda and Bruce Springsteen [backstage at the Paramount Theatre during LOD 2010] by Joy Bodnar - album cover photo by Danny Sanchez


NOW THAT'S A WALL OF SOUND
The weekend that was, with Steve Van Zandt
Friday night's American Christmas Carol concert at Carnegie Hall featured musical direction by none other than Steven Van Zandt, as the night included a special tribute to Darlene Love. The 2011 Rock and Roll Hall of Famer performed hits such as "He's a Rebel," "Da Do Ron Ron," and "The Boy I'm Gonna Marry," with a sharp-dressed Steve joining her onstage on guitar at every turn. She also pulled out a number of holiday songs, of course, like "White Christmas," "When Christmas Comes Around," and "All Alone on Christmas," the Van Zandt-penned tune they recorded together in 1992.
If you're not familiar with the track, the E Street Band and the Miami horns backed Love for the recording of "All Alone on Christmas" (for the Home Alone 2 soundtrack), classic wall-of-sound holiday cheer that sounds like it could have come straight from Phil Spector's A Christmas Gift For You. Complete with a Big Man solo, Max Weinberg's pounding drums... well heck, let's watch it!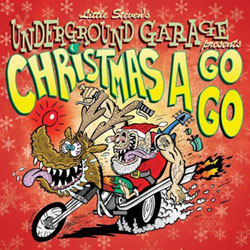 "All Alone on Christmas" is available on Little Steven's Underground Garage Presents: Christmas A Go-Go, a rockin' holiday compilation that also includes Christmas cuts from Keith Richards, Bob Seger, the Ramones and the Kinks, along with newer Underground Garage faves like the Cocktail Slippers and the Chesterfield Kings. It's the Latest Addition to our shelves at Backstreet Records.
On Sunday, Steve guested on Q104.3's Breakfast with the Beatles with Ken Dashow [Below, L-R: Dashow, Van Zandt, Mark Rivera]. Asked about the upcoming tour, Steve replied that it was "quite a serious question"... but if he was unusually tight-lipped, it may just be that there's not that much to say at the moment: "the band has not gotten together and sorted everything out." Referring to the loss of Clarence as "shoes you can't fill," Steve said that "it was tough losing Danny, and we have lost several people in the organization recently. Clarence's spirit is always there." But what the future of the E Street Band has going for it: "Bruce still writing fantastic music. Music is vital, tours are not nostalgic, and music is always interesting."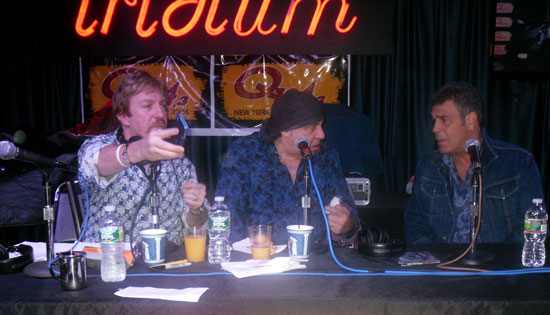 - December 5, 2011 - Darlene Love photograph by Eileen Colton; Breakfast with the Beatles photograph courtesy of Steinlight Media


COME HOLIDAY SHOPPING AT BACKSTREET RECORDS
Santa Claus is comin' to town... and with the biggest collection of Springsteen and Springsteen-related merch under the sun, Backstreet Records can meet your Boss needs.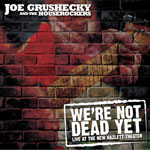 From official tour shirts to rare vinyl and CDs to new books and 2012 Calendars, we've got something for every Springsteen fan. Our latest arrival: a new live 2CD set from Joe Grushecky & the Houserockers, recorded in Pittsburgh in September, titled We're Not Dead Yet.
U.S. orders placed by December 10 are guaranteed for pre-Christmas delivery via standard shipping! Due to Customs, we're unable to guarantee delivery times outside the U.S., but we're working hard to get all orders sent out as quickly as possible.
Enter the Backstreet Records online shop
- December 2, 2011

FREE DOWNLOAD: ELLIOTT MURPHYS "POISE 'N GRACE"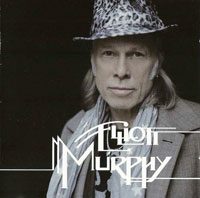 When Bruce returns to Europe in 2012, odds are that singer-songwriter Elliott Murphy will join him onstage along the way. The American expat and buddy of Springsteen's — they were both saddled with the "New Dylan" tag in the early '70s — most often turns up in his hometown of Paris, but he's taken the stage with Bruce in Spain and Italy as well.
Thanks to Elliott and GB Music, we've got a free mp3 from Elliott's latest, self-titled studio CD. The lead-off track, "Poise 'N Grace," contains a tip of the hat to his old friend:
Greetings from Honolulu
From Sioux City and Asbury Park
I've been listening to Nebraska
Johnny 99 hits 100 as the New Jersey sky turns dark
Get "Poise 'N Grace" now on our Downloads page
Also newly available from Elliott are a new live album, Just a Story From New York, and a remastered reissue, Apres le Deluge. See elliottmurphy.com for ordering details and much more.
- December 2, 2011


SPRINGSTEEN & SEGER SOOTHE THE SOUL IN NYC, 12/1/11
"We've got a little treat for you," Bob Seger told the crowd at his Madison Square Garden concert last night, "a little Christmas treat: Mr. Bruce Springsteen!" And you'd have thought Bruce slid onstage in just his briefs, the way the crowd went nuts. Bruce played guitar and, given his own mic, took harmonies on the chorus and shared verses with his old brother-in-arms on "Old Time Rock and Roll."
Check out a Springsteen/Seger performance from more than 30 years ago: "Thunder Road" in Michigan on the opening night of the River tour, 10/3/80.
- December 1, 2011

SPRINGSTEEN TO DELIVER KEYNOTE ADDRESS AT SXSW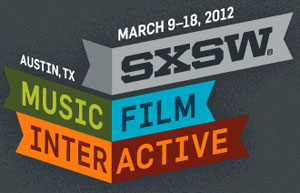 While we await U.S. tourdates for the E Street Band, here's a mighty prominent 2012 U.S. appearance for the bandleader himself just added to the schedule: South By Southwest has announced Bruce Springsteen as the keynote speaker for the 2012 SXSW Music and Media Conference and Festival. The keynote will take place on Thursday, March 15, 2012 at the Austin Convention Center, the hub of SXSW Music events.
The Bruce Springsteen keynote will be open to Music and Platinum registrants and registered showcasing artists. In the tradition of legendary artists delivering the main event at SXSW, Springsteen joins notable keynote alumni including Johnny Cash, Carl Perkins, Lucinda Williams, Robert Plant, Pete Townshend, Smokey Robinson, Bob Mould, and Neil Young.
Visit SXSW.com for further information on the annual festival, including registration, which is open now.
- December 1, 2011

PROMISE BOX GARNERS A GRAMMY NOD
With Grammy nominations announced last night, The Promise: The Darkness on the Edge of Town Story is up for "Best Boxed or Special Limited Edition Package." Congratulations to Columbia Records' Dave Bett & Michelle Holme, art directors on the Darkness treasure trove.
Also in Grammy news, the Born in the U.S.A. album is one of 25 recordings selected for the Grammy Hall of Fame in 2012, along with the Rolling Stones' Exile on Main Street and Dr. Martin Luther King Jr.'s "I Have a Dream" speech. Born to Run was inducted in 2003. The full collection of 906 titles is on display at the Grammy Museum in Los Angeles.
- December 1, 2011

SCHOOL'S IN: YOUR CHANCE TO GET A SIGNED NILS CD
It's called Old School… did you think there wouldn't be a quiz?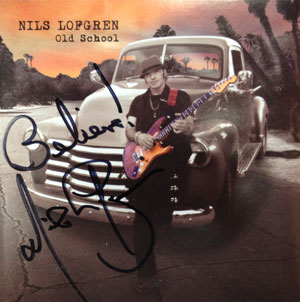 Thanks to the kindness of Nils Lofgren and Music Video Distributors, we have five autographed copies of Nils' new CD, Old School, to give away to Backstreets readers. Each is handsigned in black ink on the cardboard sleeve's cover: "Believe! Nils Lofgren"
To find these babies good homes, we'll tap your Nils knowledge with a series of trivia questions. Pencils ready? For each question below, a signed copy of Old School awaits...
DIFFICULTY LEVEL 1: Which song on Old School has Nils performed live with rewritten lyrics in tribute to the Big Man? [We'll accept either title]

DIFFICULTY LEVEL 2: What friend of Nils inspired the song title "Ain't Too Many of Us Left" on Old School?

DIFFICULTY LEVEL 3: What song marks Nils Lofgren's first appearance on a Bruce Springsteen record?

DIFFICULTY LEVEL 4: In the Born in the U.S.A. tourbook, nicknames were given for each of the E Streeters. Roy Bittan: Professor. Clarence: The Big Man. Danny Federici: Phantom. What nickname was listed for Nils?

DIFFICULTY LEVEL 5: In 1984, prior to the release of Born in the U.S.A and before Nils joined the band, he went to New Jersey for what was essentially an audition, to jam privately with Bruce and the E Street Band. Where did they play?
You may answer any number of these: just one, or all five. Simply send a separate email for each answer to contest@backstreets.com, with:
your answer in the subject line, and

your name and shipping address in the body of the email.
No need to specify which question you're answering; we'll know. One entry per question, please; if you know all five answers, you should send five emails, but no more. Duplicate entries will be deleted.
From the entries with the correct answers, we'll hold random drawings, one per question. The higher the difficulty level, the better your odds!
We'll keep this contest short, in case anyone will want to use their freebie as a holiday gift. Submit your entry or entries by Tuesday, December 6 (the album's official release date), at 5 p.m. Eastern.
Read our recent interview with Nils here. The (unsigned) Old School CD is available now from Backstreet Records.
- December 1, 2011

DUBLIN: SECOND SHOW ADDED
After more European onsales this morning — including Live Nation "pre-sales" in England — we have a second date on the schedule for Dublin, Ireland's RDS Arena: July 18, 2012.
- December 1, 2011

PATTI SCIALFA, RODEO QUEEN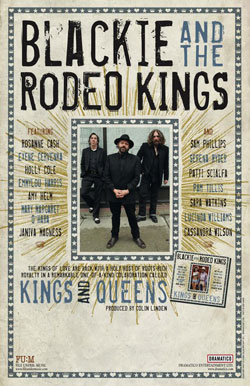 Colin Linden of Blackie & the Rodeo Kings promises that tapping Patti Scialfa to guest on the country trio's acclaimed latest album, Kings and Queens, was not at all a ploy to either meet Bruce Springsteen or get better access to tickets on the upcoming 2012 tour.
In fact, Scialfa — who sings on Buddy and Julie Miller's "Shelter Me Lord" — is the only one of the 14 female guest singers to appear on the album that Linden and his mates have not met. "I still to this day have never met her, never spoken to her. She's the only one on the record I didn't actually record, physically, myself," says Linden, who produced Kings and Queens.
Getting Scialfa on the album was, in fact, a "cold call" to Jon Landau management, Linden says. "I was a big fan of her albums, especially Rumble Doll and Play It as It Lays. They're just beautiful records, all three of them really, and my wife and I are such big fans. I thought, 'Wouldn't that be amazing...' I didn't know anybody from her organization, but they treated me with nothing but respect. They got back to me immediately and said, 'Detail what you want to do and we'll pass it on to her.'
"I guess [Scialfa] liked it and said, 'Sure, I'll do it.' She gave me two completely, fully realized versions of a duet vocal, plus that fantastic five-part thing at the end that she does. The only instruction I got, they only thing they said after they sent the files back to me, was, 'If there's anything else you want us to try, let us know and we'll go back in.' I was really blown away by how gracious she and her management representatives were, and what a wonderful job she did."
Kings and Queens also features Emmylou Harris, Rosanne Cash, Lucinda Williams, Cassandra Wilson, Nickel Creek's Sara Watkins, and Exene Cervenka, among others.
- November 30, 2011 - Gary Graff reporting

"BRUCE... I WANTED TO KICK YOU IN THE ASS"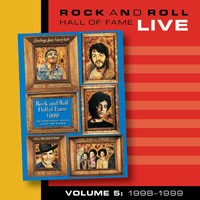 Probably the only time another performer said this to Bruce Springsteen's face on stage, Wilson Pickett uttered this memorable phrase to Bruce after being invited up during Bruce's Rock and Roll Hall of Fame induction ceremony in 1999.
Pickett's full statement and many selections from Springsteen can be found in the recent release of Rock and Roll Hall of Fame Live, a ten-volume, digital-only audio collection of performances from induction ceremonies between 1986 and 2009. While three of the tracks were previously released earlier this year on a best-of album, there are many new official releases here. Numerous tracks include Bruce as either main performer or guest along with a Who's Who of rock 'n' roll greats like Jerry Lee Lewis, Chuck Berry, John Fogerty, Mick Jagger, George Harrison, Ringo Starr and U2.
Highlights include:
Volume 5

: 1999 induction performances with full E Street Band, one month prior to their "reaffirmation" tour. Includes: "The Promised Land," "Backstreets," "Tenth Avenue Freeze-out," and a powerhouse, Stax arrangement of "In the Midnight Hour" with a full horn section behind them. If you somehow missed it before, this performance will only clarify the influence of Pickett, Sam and Dave, Otis Redding and many other soul musicians of Stax and Atlantic studios, among others, on Bruce's music over the years.

After Bruce gave the 1993 induction speech of Credence Clearwater Revival, he appeared as a "Friend" with John Fogerty on "Who'll Stop the Rain," "Green River," and "Born on the Bayou" (on

Volume 2

).

1994 appearance with Axl Rose on "Come Together" for a celebration of John

Lennon's music. An inspired and funky collaboration of two artistically disparate artists and stage performers (on

Volume 2

).
Click here for the full 10 Volume listing with links to iTunes.
- November 30, 2011 - Ryan Hilligoss reporting

EKSTRAKONSERTS!
Along with quick sell-outs in Scandinavian onsales this morning come two extra concerts added to the schedule. Our friend Tommy Beck Kobberoe writes from Denmark:
Quite an interesting morning here in Europe. The ticket sale for Gothenburg, Bergen and Oslo opened this morning, and within an hour two extra concerts were announced, one in Bergen and one in Gothenburg.

As three of these concerts are sold out and the other two close to, it means that around 200,000 people have bought tickets this morning. And the single (for now, at least) concert in Denmark has not even been on sale yet. So no one can say that it wasn't a good idea to go on tour... It will be interesting to see how many extras we are gonna see in the coming weeks, when ticket sales open up around Europe.
The new dates:
See our Tour/Ticket Info page
for all official dates, links, and details as they roll in
- November 30, 2011


SALE ON NOW AT SHIVE ARCHIVE
In August, James Shive's photograph taken in 1978 of Bruce Springsteen and Clarence Clemons at The Spectrum in Philadelphia was featured in a full-page opening memorial to the Clarence in Rolling Stone magazine. Now this print is available as a Limited Edition Print and reduced by $50.00 this week only. See other Limited Editions here. Open edition prints are also available, along with more holiday specials and many other gift-worthy Springsteen images, at www.shivearchive.com.
- November 30, 2011

HAVE BREAKFAST WITH STEVIE ON SUNDAY
Not enough SVZ on the radio for ya? This Sunday, Little Steven takes over yet more airwaves when he guests on Ken Dashow's "Breakfast with the Beatles." The weekly radio show on Q104.3 FM dedicated to the music of the Fab Four will be broadcasting live December 4 from The Iridium in NYC, a free event with free breakfast for all in attendance. Fans are encouraged to reserve a seat in advance by calling at (212) 582-2121. If you go, bring some non-perishable breakfast stuff for rock Can roll, collecting at the door; if you're content with your own breakfast at home that morning, stream the show live online at iheart.com.
- November 29, 2011


Today only, everything at Backstreet Records is on sale. Use the coupon codes below to save... or save more! Visit our Latest Additions page to see what's new, or peruse by section, including: Stocking Stuffers, Calendars, Concert Shirts, Springsteen CDs, Covers/Tribute CDs, Related Artist CDs, Vinyl, DVDs, Books, Songbooks, Magazines, Backstreets Back Issues, and Backstreets Merchandise (including shirts, stickers, and baseball caps).
Order $40 or more in merch and save 10%: coupon code SANTA10
Order $80 or more in merch and save 15%: coupon code SANTA15
You'll be prompted for a coupon code at checkout, when the discount will be applied across your entire order. Sale ends Monday night, November 28, at midnight. Thanks for supporting Backstreets with your holiday shopping!
- November 28, 2011

PINKALICIOUS: EUROPEAN SCHEDULE FILLS OUT
Pinkpop and Roskilde festivals added, plus Prague, Zurich, and more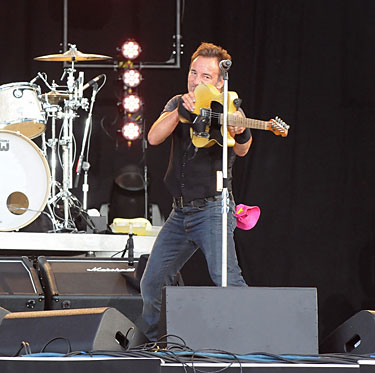 While many of us here in the States were basting our turkeys (and eating leftovers), over in Europe they were adding multiple dates to the E Street Band's 2012 tour itinerary.
The latest add: a return to the Pinkpop festival in the Netherlands, which Bruce and the E Streeters played for the first time in 2009 [right]; in 2012, they're headlining the final day of the fest on May 28.
Other fresh additions: the Roskilde Festival in Denmark; Zurich, Switzerland; and Prague, Czech Rebublic. That's in addition to shows announced over the previous week in the UK, Spain, Germany, Portugal, Italy, France, Austria, Ireland, Norway, and Sweden.
See our Tour/Ticket Info page
for all official dates, links, and details as they roll in
- November 27, 2011 - photograph by Rene van Diemen


Our online shop is loaded with Boss goodies for the holidays, including 2012 Springsteen calendars and more New Arrivals, plus a whole bunch of trinkets and such in our Stocking Stuffers section.
To kick off the holiday shopping season, we wanted to offer you a little extra somethin' — this year, a couple of freebies. From now through the end of Thanksgiving weekend:

Order $30 or more in merchandise
and get this promo-only lyric booklet FREE!
This graphics-rich companion booklet to Working on a Dream, at 32 pages and measuring 6" x 8", spotlights the lyrics to all the songs from Bruce's last record, with full-color photography throughout. Issued by Columbia as a limited promotional item upon the album's release

Order $50 or more and get the lyric booklet plus the Clarence Clemons Christmas CD-single FREE!
This new holiday EP features previously unreleased holiday tracks from 1981 sessions with the Big Man: "There's Still Christmas," with Clarence on sax and lead vocals, and a sax-driven instrumental "The Christmas Song (Chesnuts Roasting on an Open Fire)."
No coupon necessary, no need to add these items to your shopping cart. Simply place your order between now and Sunday night, November 27, and we'll send the freebies out with all qualifying orders.
Thank you for supporting Backstreets, and have a great Thanksgiving!
- November 23, 2011

19 YEARS LATER, THE BOSS IS BACK IN PORTUGAL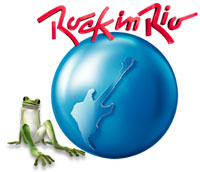 Another festival date added to the summer schedule: Bruce and the E Street Band will play Rock in Rio in Lisbon on June 3. Tickets go on sale December 3.
Fernando writes, "For us Portuguese fans this is an historical event, since it's only the second time Bruce plays here... and the first with the E Street Band. We always travel to Spain, France and England to see the Boss, and now it's our time to welcome Bruce and all the fans around the world."
See our Tour/Ticket Info page
for all official dates, links, and details as they roll in
- November 23, 2011


NILS LOFGREN: THE 2011 BACKSTREETS INTERVIEW
Less than 48 hours after the announcement of a 2012 tour, Backstreets had the opportunity to speak with E Street Band guitarist Nils Lofgren, who seems just as excited by the news as the rest of us:
Up until a couple of days ago I could honestly say there were no plans that I knew of. Rumors are just that — I learned that as a kid working with Neil Young. Everyone talks about ideas, but they are just ideas until they are made a reality; until then you have to ignore them and get on with your own life. At the end of every tour, inlcuding two years ago, you think is this the last show I'm ever going to play with this great band.... At least I know by summer I'll be playing with some dear friends and as great a band as has ever been. That is a blessing. The fact that I've got a good record out now, thank God I did it when I did.
Lou Masur, author of Runaway Dream, spoke with Nils for Backstreets about that new record, Old School, and much more — including his double hip replacement, the loss of his dear friend Clarence, his work on the new Patti Scialfa project, and tap dancing.
Read the 2011 Backstreets Interview with Nils Lofgren here
- November 23, 2011 - photograph by John Cavanaugh

LIVE FROM E STREET NATION SPECIAL EPISODE, TONIGHT AT 6:00
Bruce Springsteen and the E Street Band are hitting the road and putting out new music in in the new year — call in and talk to E Street Radio's Dave Marsh and Jim Rotolo about Springsteen in 2012, this evening from 6 to 7pm Eastern. The number: 877-70-BRUCE. If you miss this show, catch rebroadcasts Thursday 11/24 at 8am and Saturday 11/26 at 7pm.
- November 23, 2011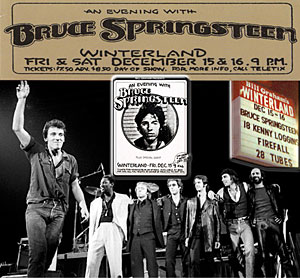 WALKING IN A WINTERLAND WONDERLAND
Just in time for the holidays, Tramps Like Us to recreate legendary 12/15/78 show
If you missed what is now considered a classic Springsteen concert from years past and wondered what it would be like to have been there in person, Tramps Like Us is here to help your imagination along. Currently with six historic concerts in their repertoire, Tramps Like Us is the first and only band to re-create Springsteen concerts in their entirety, in order, with all versions played by the E Street Band on that particular night.
The Winterland concert from 12/15/78, originally simulcast on Bay Area station KSAN, is one of the most widely circulated bootlegged Springsteen concerts of all time, not to mention one of the most legendary: a 30-song, three-and-a-half hour rock 'n' roll marathon. Take a trip to the past with Tramps Like Us next month as they bring that Darkness show to life...
Friday, December 2: The Canal Room in NYC. Tickets Here.
Saturday, December 17: The Stone Pony in Asbury Park, NJ. Tickets Here.
Friday, December 23: Showcase Live in Foxboro, MA. Tickets Here.
Visit trampslikeus.com for more information.
- November 22, 2011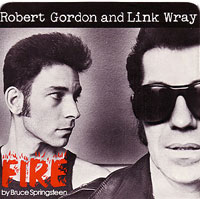 WHAT ARE YOU DOING THANKSGIVING EVE?
Rockabilly legend Robert Gordon will be making a special cameo appearance performing tunes like "Fire" and "Someday Someway" with Jobonanno & the Godsons for their 30th Annual Thanksgiving Eve concert event tomorrow night. Thirty years ago, they performed their first Thanksgiving Show at Clarence Clemons' Big Man's West; this year they'll honor the Big Man by performing a few of his favorite tunes. The concert is Wednesday, November 23, at Tim Mcloone's Supper Club on the boardwalk in Asbury Park, NJ. Admission is $15; doors at 7:30, showtime is 8:30.
- November 22, 2011


STEVE CELEBRATES MORE THAN ONE MILESTONE THIS WEEK
Happy birthday to Little Steven, born November 22, 1950
Steve Van Zandt — today's birthday boy, as well as the coolest little DJ in the U.S.A — ispreparing to kick off "Robbie Robertson Week" on SiriusXM, highlighted by an extensive interview he's done with the founding member of The Band. The first segment of their in-depth talk will air on Thanksgiving day, November 24, at 4:00 Eastern on Little Steven's Underground Garage, channel 21. The additional interview segments will air throughout the week on Underground Garage and the Van Zandt-created and -produced Outlaw Country, channel 60.
"Robbie has had an amazing influence as a seminal Garage Rock guitar player with The Hawks and Bob Dylan, and as a songwriter with The Band," says Steve. "The Band pretty much invented and certainly popularized the entire Americana genre, changing rock music forever, influencing literally everybody. That kind of music needed a home and it's why I created Outlaw Country at SiriusXM, which includes three groups of artists: Country legends, Alternative Country artists, and Rock artists with a country influence. The archetype of this last genre was The Band, who, after changing music history, somehow found themselves in the twenty first century without a format. That is the great thing about SiriusXM. It provides the greatest music in history a permanent home."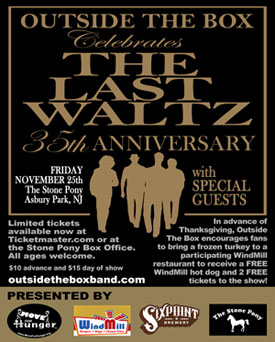 Steve's "Robbie Robertson Week" coincides with the 35th anniversary of The Band's historic farewell concert, documented as The Last Waltz, on Thanksgiving 1976.
That milestone will be celebrated on the Jersey Shore as well, with Outside the Box recreating the performance this Friday, 11/25, at the Stone Pony in Asbury Park, NJ. (They're teaming up with the Springsteen-endorsed charity Move for Hunger to give away free tickets to those who take part in a turkey drive — click here for details.)
For a complete "Robbie Robertson Week" schedule please visit siriusxm.com/undergroundgarage or siriusxm.com/outlawcountry.
- November 22, 2011
- photograph by Alexander Vail, Renegade Nation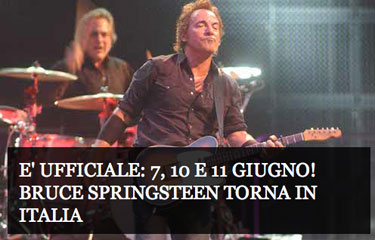 ITALY: E' UFFICIALE!
As announced by Italian promoter Barley Arts, we now have three Italian dates on the schedule, preceding the U.K. dates in June.
Bruce and the E Street Band will play stadiums in Milan (June 7), Florence (June 10), and Trieste (June 11). Tickets for Milan go on sale on Thanksgiving (this Thursday, 11/24), with the other two cities on sale the following Thursday, 12/1, through ticketone.it.
See our Tour/Ticket Info page
for all official dates, links, and details as they roll in
- November 22, 2011


SIGNED GUITAR ON THE HUNGERTHON AUCTION BLOCK, TUESDAY ONLY!
We've already pointed you to several Springsteen-related auction items that benefit WhyHunger's Hungerthon 2011: two beautiful photographs and a guest spot on E Street Radio, all viewable/biddable online here. But the piece de resistance of this year's Hungerthon benefit is an item that will be auctioned on the radio only.
Springsteen has donated an autographed 1952 reissue butterscotch Fender Telecaster to the cause, pictured above, and you'll have the opportunity to bid on it in a one-day auction tomorrow, Tuesday, November 22. Tune in to New York City's Sports Radio 66 WFAN on 11/22 between 1-6:30 p.m. Eastern, and bid by calling 1-800-5HUNGRY (1-800-548-6479).
Join Bruce Springsteen in supporting WhyHunger's annual Thanksgiving Hungerthon. www.hungerthon.org to learn more.
- November 21, 2011


FROM SMALL THINGS BIG THINGS ONE DAY COME
Photographer Eric Meola's Born to Run book reimagined on a grand scale
Those 2012 tour dates aren't the only big thing coming out of the U.K. today. To get a sense of just how big we're talking, check out the photo above. At the top, in the background, you'll see Eric Meola's 12" x 12" 2006 book Born to Run: The Unseen Photos, now out of print. In the foreground, with its slipcase, the brand new, gargantuan, 2011 book Born to Run Revisited.
Guy White of Snap Galleries in London — which specializes in rare and iconic photographs of rock 'n' roll music legends, and which has hosted Meola exhibitions in the U.K. — has started a new publishing division called Ormond Yard Press. The first book from the new publisher is Born to Run Revisited, a strikingly large and painstakingly produced volume filled with black-and-white 24" x 36" spreads from photographer Eric Meola's famous 1975 session with Bruce Springsteen and Clemons. The 14-pound, tritone-printed book is printed on extra heavyweight paper in an edition limited to 500 signed, numbered and slipcased copies.
White says, "Somehing revelatory happens when a photograph is presented in a very large format: hidden details come to light, and the power and impact of the image are magnified exponentially. Unless you go to a gallery and see a large format print on the wall, you can't experience this."
For Meola, this book closes a circle that began in June of 1975, and reached a coda, of sorts, in June of this year when Clemons passed away: "Thirty-six years have passed since Clarence Clemons and Bruce Springsteen walked into my studio in New York City, but if there is one day in my life I remember clearly, it's that day. Over the last few decades I have received so many inquiries about the session for the cover, and there have been so many misconceptions about it, that I felt compelled to address them. So when Guy White approached me with a concept for the first in a series of prodigious volumes that celebrate epic moments in the history of rock 'n' roll, this book of larger-than-life photographs from the Born to Run photoshoot suddenly seemed very relevant."
Looking through the hundreds of images he made on that day, Meola [above] doesn't hesitate when asked about the scale of his latest book: "The size of the images is, even for me, a revelation; and for the first time ever it feels as though I'm back on that day in 1975 when I wanted more than anything to make images for what I knew would be one of the most significant albums of my generation."
The 96-page, 18.5" x 24.5" Born to Run Revisited is limited to 500 signed (on vellum) and numbered copies. It includes a felt-lined slipcase printed with the book's front and back cover photographs. (An additional 26 signed and lettered copies will be produced, with several set aside for charity auctions and special events.)
For more information, more views, and to order, visit snapgalleries.com
- November 21, 2011


YOU JUST NEVER KNOW WHAT YOU'LL FIND AT THE LIBRARY
Darkness on the Edge of Town album-cover photographer (and good sport) Frank Stefanko with Cuteness on the Edge of Town; Ocean County Library, Point Pleasant Borough Branch, November 19, 2011.
- November 21, 2011 - photograph by Shawn Poole

ENGLAND'S DREAMING: FIRST 2012 EUROPEAN DATES ANNOUNCED
Less than 12 hours after Springsteen's official site confirmed a 2012 tour, we have four dates on the calendar, all in the U.K. On July 14, Springsteen and the E Street Band will come back to the site of their Live in Hyde Park performance for a Hard Rock Calling return engagement, preceded by their first performance at the Isle of Wight Festival and stadium stops in Sunderland and Manchester in June.
Ticket sales are just around the corner, with Isle of Wight on sale the day after Thanksgiving, and both Sunderland and London on sale December 3.
See our Tour/Ticket Info page
for all official dates, links, and details as they roll in
- November 21, 2011

ABSOLUTELY CORRECT: BRUCE TO TOUR WITH E STREET BAND IN 2012
New album "almost done," further details to come "real soon"
The lifting of the traditional cone of silence is almost as welcome as the news itself! Just posted tonight on brucespringsteen.net:
Well, things are starting to heat up down on E Street.

A lot of you have been hearing that Bruce Springsteen and the E Street Band will be on tour in 2012. That is absolutely correct. The European dates run from the middle of May until end of July and are being announced this week. Info on the US dates and the World tour dates will coming up shortly.

In addition, we want you to know that the music is almost done (but still untitled), we have almost settled on the release date (but not quite yet), and that we are all incredibly excited about everything that we're planning for 2012. That's all the info we have for right now, but we'll get back to you — real soon.
If you didn't already have plenty to be thankful for... that's a hell of a way to kick off Thanksgiving week.
- November 20, 2011

BUT STILL... STAY IN SCHOOL, KIDS
One more image from the Springsteen/Swift summit Thursday night in Raleigh. Zoe Atchinson writes: "My dad sent you the link to Taylor's tweet with the picture of Bruce. It was a great show. When she came on stage, we noticed Bruce's lyrics from 'No Surrender' written down her arm. We found pictures from the local Raleigh newspaper, the News & Observer." She's absolutely right: check it out here, taken by the N&O's Scott Sharpe. Thanks, Zoe!
- November 19, 2011


NEW, OFFICIALLY RELEASED SPRINGSTEEN PERFORMANCE, FOR FREE?
THERE'S AN APP FOR THAT.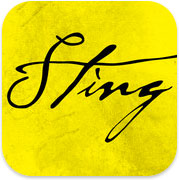 No need for iPad users to hang their heads. This week marked the release of Sting 25, an impressive new iPad "appumentary" focused on "the past 25 years of Sting's career as a renowned musician and humanitarian." Among its voluminous content: exclusive concert and behind-the-scenes footage from Sting's October 1 Sixtieth Birthday Celebration concert, including a complete, professional audio/video recording of Bruce Springsteen performing Sting's "I Hung My Head," a major highlight of the evening. It's a free app, to boot, available for instant downloading here. Read more at sting.com about this "whole new type of music documentary," which already has caught the interest of at least one other unnamed-but-famous musician. Here's hoping that Sting's been sharing his enthusiasm for this project with his old pal from New Jersey.
- November 18, 2011 - Shawn Poole reporting

TURN ON THE RADIO: THE SIXTH ANNUAL ALL REQUEST BRUCE BRUNCH
With the scent of Thanksgiving in the air, Hungerthon isn't the only radio event on our radar [see below]... it's also time again for the yearly All Request Bruce Brunch to benefit the FoodBank of Monmouth & Ocean Counties. Tom Cunningham will host his annual all-request show on 105.7 The Hawk at the Jersey Shore (and everywhere else at 1057thehawk.com) on Sunday, November 27. The show expands an extra hour this year, to run from 9 a.m. to noon.
This Sunday morning, November 20, is when you'll be invited to call into the FoodBank with your requests/dedications. For a donation of $25, TC will play anything from the Springsteen canon (with the exception of a side visit to Reno). Have your request/dedication (and credit card) handy on Sunday morning and call the FoodBank at (732) 918-2600. The number of slots are limited, so be ready to roll early. The 6th Annual All Request Bruce Brunch: a Jersey Shore Thanksgiving tradition on 105.7 The Hawk.
- November 18, 2011


A SWIFTLY TILTING CAMERA
Just down the road from Backstreets HQ, Taylor Swift played Raleigh, NC last night and received a special backstage visitor. As she posted today on taylorswift.com, along with the above self-shot, "I'll never forget when Bruce Springsteen played 'Dancing in the Dark' backstage at my show on my guitar, then signed it. Such a beautiful night in Raleigh."
- November 18, 2011

IT'S THE HIPSTER, THE HIPSTER, JUST THE HIPSTER LIFE
No kitties on this one, but as long as we're in Mental Health Break mode today, enjoy: "Bruce Springsteen's 'Factory' If His Dad Had Been a Brooklynite Working in Transmedia Platforming."
- November 17, 2011

TRYIN' OUT HIS ATTITUDE ON ALL THE CATS…
Springsteen gets his "Kitten Cover"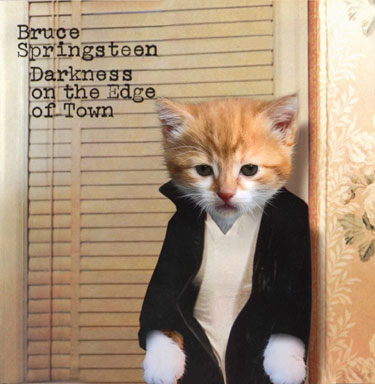 Ah, the internet and cute cat photos. They were made for each other, were't they? A new site stands out from the online deluge of adorable kitty material, with a unique combination of laughs and "awwwww" moments for all of us fans of both felines and fine music. The Kitten Covers transforms famous LP/CD covers into "albums from a world dominated by kittens."
Alfra Martini, a Brooklyn-based artist and musician, created the site and all of its fantastic covers to date (including The RaMEOWnes). She maintains an impressive rate of four new covers per week, all while working several jobs, managing her musical career and an independent label, to boot. Alfra recently informed us that a Bruce Springsteen album was "in the queue... but I have a personal rule not to use human bodies... so it's gonna be a challenge!"
Challenge met: Cuteness on the Edge of Town, along with an album by "John Kittentrane," debuted on the site yesterday. Okay, everybody, let it all out... awwwwwwwwwww!
- November 17, 2011 - Shawn Poole reporting

CASING THE PROMISED LAND
As we get closer to 2012 — and with any luck, a Bruce Springsteen tour to which all signs continue to point — chatter builds regarding a potential itinerary, where Springsteen will be headed when. As always, we prefer to wait until a schedule is set before thinking too hard about any of it. Still, it's hard not to be intrigued by what the Tel-Aviv-based daily newspaper Yedioth Ahronoth is now reporting: that Springsteen "is in advanced talks for a concert in Israel."
Ynetnews.com sums it up: "Israeli producers have been trying for years to get him to perform in Israel, but have been unsuccessful. This time, the talks are said to be taking a positive direction. The American rock icon is expected to arrive in Israel for one concert in June 2012, most likely at the Ramat Gan Stadium."
Hold your mazel tovs for now... a quote from the office of prodcuer Shuki Weiss, thought to be handling the booking, provides a reality check: "It's too early to rejoice. Once we have something to report, we'll do so." As will we.
- November 16, 2011

HUNGERTHON IS HERE
Large prints from photographers Clinch and Saddler to benefit WhyHunger
With Thanksgiving fast approaching, our minds as usual turn to WhyHunger (formerly World Hunger Year, always a favorite charity of Springsteen's) and their annual Hungerthon. This year they've got a bevy of auction items running now on CharityBuzz, including two different 16 x 20 prints, both stunning, sure to be of interest to Backstreets readers.
A Danny Clinch photograph from 2000 pictures Bruce's guitar and Clarence's sax, side-by-side. An A.M. Saddler photograph [pictured right] captures Bruce and Clarence themselves onstage in 2009. Bidding is on now, with both lots closing on November 30.
Many more items are up on the auction block for Hungerthon, including guest DJ spots on E Street Radio and other SiriusXM channels, tickets to the Daily Show and Colbert, and more. See the full Hungerthon auction list here, and more Hungerthon items available (for donations starting at $10) here.
For more on the cause and its upcoming radio broadcasts, visit Hungerthon.org.
- November 15, 2011


HAVE A GOOD TIME BUT GET OUT ALIVE
Rolling Stone's Andy Greene talks with Joe Grushecky about his day job, his friendship with Springsteen, and their collaborations, including the recent concerts at Solders and Sailors Memorial Hall:
On the second night, the show stretched to three and a half hours. "We had a setlist," says Grushecky. "But before we went out, Bruce and I discussed that if we were having a good time, we were just going to let it go at the end. It was truly one for the ages. If you're a football player, you want to play with Joe Montana. If you're a baseball player, you want to play with Mickey Mantle or Roberto Clemente. Just to be able to keep up with him and hold our own says a lot for the band. We're the guys down the street who have a band. We're not highly paid professionals. One guy in the group is a physical therapist. One guy works in wholesale, and another is a welder."
Read: " Joe Grushecky Talks Working with Springsteen — and Teaching High School"
- November 15, 2011 - photograph by John Cavanaugh [11/4/11]

FRIENDS OF BRUCE FIGHTING HUNGER IN BUFFALO, 11/18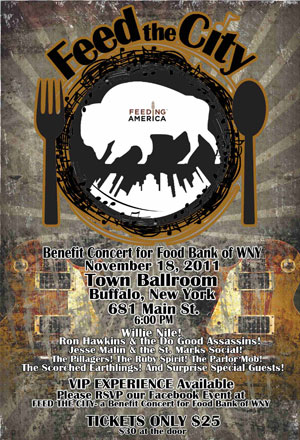 Willie Nile and Jesse Malin & St. Marks Social, along with numerous other acts, are playing a benefit this Friday night in Buffalo in an effort to brighten the Thanksgivings of needy local families. The November 18 Feed the City Benefit Concert for Food Bank of WNY is hosted by Buffalo original rock band The Pillagers, along with a group of Buffa-Lovers called the Feed the City Committee, the Town Ballroom and Funtime Presents. The event's goal is to raise $50,000 in one night in order to buy 350,000 pounds of food for Thanksgiving dinners.
Gary Zoldos, lead singer of the Pillagers and Feed the City Committee Member, sums it up like this, "Our committee is not just setting out to prove that we can raise $50,000 in one night in the third poorest City in America. We're also setting out to prove that people can truly make a difference, if they choose to do so. We know that the City of Good Neighbors will join us for an outstanding rock concert and support our local citizens that need assistance the most by doing so."

A memorabilia auction taking place at the concert will include a harmonica donated by Bob Dylan, as well as donations from Bob Gruen, Alice Cooper, Pete Townshend, Kiss, The Goo Goo Dolls, Melissa Etheridge, Dan Akroyd, Jeff Beck, Paul Rodgers, The Tragically Hip, Burton Cummings and Randy Bachman. Tickets are $25.00 in advance and $30.00 day of show. Purchase tickets in advance in person at the Town Ballroom or online at www.tickets.com.
- November 14, 2011

SOUL DRIVERS: 12th OF NOVEMBER, ASBURY PARK
There were few surprises at last night's "Soul of Asbury Park" concert at the Paramount Theater, but there was plenty of history, including the first public performance by Lenny Welch in his old stomping grounds in 50 years. Welch, formerly of the Mar-Keys, left the Asbury Park-based vocal group in the late 1950s and went on to chart success with hits like "You Don't Know Me" (later recorded by Ray Charles) and "A Taste of Honey."
The evening, which followed up last April's Wonder Bar show, once again celebrated the 1950s and '60s music scene of Asbury Park's West Side with a lineup featuring much of the talent that formerly graced the stages of Springwood Avenue clubs like Big Bill's and the Turf Club (attracting future E Streeter Garry Tallent, who could often be found at a nearby record store).
Hosting the evening was vocalist Nicky Addeo, who introduced the evening as "a show to honor those who made music central to the landscape of Asbury Park." Bobby Thomas (The Vibranaires) led off with a tribute to The Orioles, followed by vocalist Johnny Petillo (cousin of SOAP member Pat Petillo), who recalled how he once polished his vocal chops at the Siciliano household on Asbury Avenue, terming it a "boot camp for doo-wop" in Asbury Park. Indeed, the West Side was also home to the city's Italian American population, and performers like Addeo and "Patsy" Siciliano often appeared onstage with the likes of Thomas and fellow vocalist Billy Brown. (Brown and fellow Broadways member Robert Conti later befriended a teenage Bruce Springsteen, who opened shows for them at area venues as a member of The Castiles. Springsteen later returned the favor by hiring Conti for his 1977-78 road crew.)
The Broadways, who were performing together in Asbury for the first time in 40 years, evoked the smooth sounds of The Temptations, and Nicky Addeo charmed with the doo-wop classic "Gloria." But it was clear that the night belonged to the city of Asbury Park, as the festivities became a high school reunion of sorts, the audience of friends and family responding to shout-outs from the stage with laughter and applause, and everyone decked out in their finest.
The grand finale brought all the performers to the stage for a group rendition of "Stand By Me" led by Brown, who commented that he was glad to see that Asbury Park was once again becoming a place where people wanted to be.
Finally Addeo, who had brought in a film crew to document the event, exhorted "Let's do this again," closing the curtain on the old school soul revue in true Asbury Park fashion.
- November 13, 2011 - Lisa Iannucci reporting


A SOLDIER'S JOURNEY
Following U.S. Marine Lieutenant Andrew Kinard to this week's Stand Up For Heroes concert, where he comes face to face with one of his own heroes.
- November 11, 2011

SOUL OF ASBURY PARK COMES TO THE PARAMOUNT ON SATURDAY
Tomorrow night, the Paramount Theater will host the Asbury Park Historical Society's "Soul of Asbury Park" concert. The concert celebrates the music of Asbury Park's West Side, and will include many of the artists who appeared at the Wonder Bar this past April, including Nicky Addeo, Billy Brown (Ray, Goodman & Brown) and Bobby Thomas, who will appear in a tribute to doo-wop legends The Orioles. The concert will also feature "Mr. Asbury Park" Lenny Welch ("Since I Fell For You") and a reunion of The Broadways, who were mentioned several times by Bruce as a band he had opened for with The Castiles.
The Wonder Bar show, which included featured Southside Johnny and a guest appearance by Bruce Springsteen, was an emotional, unforgettable affair, and this one promises to be every bit as memorable. Don't miss out on what may be your last chance to see this lineup of great Asbury Park West Side artists performing on the same stage.
Tickets are still available at $20 to $50, through Ticketmaster or at Experience Asbury (Asbury Park boardwalk at Fourth Avenue), or at the Paramount box office on the day of the show. A limited number of tickets for the pre-show VIP reception (including a meet-and-greet cocktail hour with the performers) are also available at $100.
- November 11, 2011

HAPPY VETERANS DAY
Then...
"The war veterans from Vietnam gave a legitimacy to the anti-war movement.... One of the slogans we used to encounter when we'd march is, 'We support our boys.' And we'd say, 'We are the boys.' End of conversation.... Without Springsteen, there would be not be an organized Vietnam Veterans movement in America."
—Bobby Muller, founder and president, Veterans for America
And now:
"I'll send this one out to all the men and the women, the guys and gals in uniform tonight. Your service and your sacrifice has humbled us."
—Bruce Springsteen, Stand Up For Heroes benefit, 11/9/11]
Our gratitude to all those serving, and all those who have served.
- November 11, 2011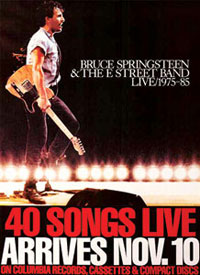 THIS DAY IN BOSS HISTORY:
NOVEMBER 10, 1986
Bruce Springsteen & the E Street Band's Live/1975-85 was released a quarter century ago today. And we're not just celebrating any old arbitrary anniversary here: as the first Springsteen album that included the name of the Band right there on the cover, it means that, for any sticklers among the Rock and Roll Hall of Fame Foundation's nominating committee, we have to think the E Street Band is now officially eligible for induction.
In his New York Times review, Stephen Holden callled the E Street Band's box set "an unprecedented event in popular recording. A three-and-a-half-hour, 40-song career summary, recorded over a 10-year period in clubs, concert halls, and stadiums across the United States, is the sort of anthology one expects to be released late in a performer's career, or posthumously.... Live/1975-85 brings to a magnificent synthesis just about all the impulses that have fueled rock music since it surfaced in the mid-'50s as a mass cultural movement. You can get caught up in the visceral charge of its engines, sing along with its chunky tunes and dream its romantic dreams and still feel the cold wind of the history blowing through its pages."
Prakash Gandhi writes in:
I'm sure many Backstreets readers can remember the excitement and anticipation surrounding the release of the set, which went straight to number one on the charts — the first album in more than 10 years to do so. I still recall the long lines at the record stores (remember them?) back in November 1986.
If I remember rightly, not too many box sets had been released at that point. So the Springsteen release was not only an event for Boss fans, but for music in general. One of the things perhaps forgotten about the box, particularly after it was shrunk down to its current CD format, was the sheer size of the thing. Looking back, I recall being awestruck by the packaging as well as the music. The accompanying LP-sized booklet was crammed with beautiful photos which perfectly reflected the lyrics of the songs on the page.
Of course, there were the endless arguments about what was not in the box set, particularly such essential live songs as "Jungleland," "Prove it All Night," and "Dancing in the Dark." And "Incident," which was at least released as a B-side. All these years later, what's remarkable is not so much what was left out — and I was one of the complainers back in 1986 — but how so much of what's included works so well.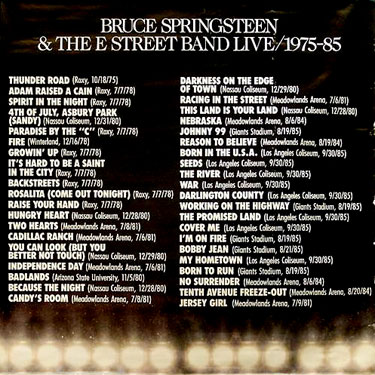 Holden's review was an insightful and deeply moving piece, beautifully articulating the various themes that run through the box set. Bruce planned the set as a thematic journey of sorts, which is why some songs made it, and others didn't. One can certainly see how the importance of friendship comes full circle from the opening "Thunder Road" through "No Surrender," both presented acoustically. Holden stressed the connection of the core songs on the set — "The River," "Seeds," "War," "Born in the U.S.A" — to the Vietnam War, such an essential event for so many of Springsteen's generation. Perhaps the most remarkable achievement of the set as a whole was that it felt both spine-chillingly intimate and almost ridiculously bombastic at the same time.
And as performances, it's hard to argue with most of the choices here, even though of course many felt it would have been better to release a full-length concert, such as Winterland or Nassau. Seldom has Bruce introduced a song so poignantly as he does here with "The River," which ends with one of the greatest group performances ever captured on vinyl. One can also argue that the incendiary performances of "Because the Night," "Badlands," and "Darkness on the Edge of Town" are as good as any on the 1978 tour, and that the versions here of "Independence Day" and "Racing in the Street" are stronger than their studio forebears.
Of the buying frenzy and resulting sell-outs 25 years ago today, a distributor told Billboard at the time, "Nobody has seen anything like this since the madness when Elvis died. It's the craziest I've seen it since then, I wish I had a pressing plant." In retrospect, the Live set — and not the Born in the U.S.A. album — might be considered the high water mark, commercially, of Bruce's career. It was a remarkable achievement for a massive box set to top the charts, and Brucemania was truly at its peak with this record. As one critic pointed out, Bruce Springsteen truly represented a center in music that doesn't exist any more: he was not only the biggest rock star on the planet, but widely considered to be the best. So another way to consider the Live set, as we look back 25 years on, was that it marked the end of one era, and the beginning of another one.
- November 10, 2011


STAND AND DELIVER
Springsteen at Stand Up For Heroes, NYC 11/9/11
Given that Bruce Springsteen had appeared at all five previous Stand Up For Heroes benefit galas, one might expect this year's performance to be not unlike those of previous years. Au contraire mon frère. A couple of bad jokes aside, Springsteen deviated from the script of previous years in a significant way. Sporting a very short-cropped haircut, he delivered a surprising and visceral set after being introduced by Jon Stewart at New York City's Beacon Theater Tuesday night.

Together with Max Weinberg's Big Band, pitching in as the evening's house band for the second year, Bruce again opened his set with a rearranged, big-band rendition of "Open All Night" that sounded not unlike you would imagine it could with a 10+ piece horn section driving the melody. The vocals were a little rushed, but the overall impact was nothing short of barnstorming, and Bruce enjoyed the hell out of it.


From there into completely new territory, as the band broke into a familiar vamp that sounded like... yes, it really was, "Sprit in the Night." Here the big-band arrangement stayed truer to what we know, but what came completely by surprise was Springsteen coming down the aisle into the audience and singing the song standing on top of a seat like it was the Capitol Theater 1978 not the Beacon Theater 2011.

"Spirit" was hugely satisfying, and the crowd clearly could not believe the man had gotten so close to them. Bruce returned to the stage and put on his acoustic guitar and harmonica (which, along with its harmonica holder and the shirt off his back, would later command $160,000 in a live auction to benefit the Bob Woodruff Foundation) for a long, poignant, solo-acoustic "Land of Hope and Dreams" dedicated to "all the men and woman, guys and gals in uniform.... Your service and your sacrifices humble us tonight." Towards the end, Bruce tagged the song with a few lines from its inspiration, Curtis Mayfield's "People Get Ready."

The guitar/harmonica/shirt auction followed and took enough time to compel NBC News' Brian Williams to point out that the union would charge them exorbitantly if they ran past 10:55. Bruce returned to Max's Big Band for a brief version of "Long Tall Sally" that ended almost as quickly as it started but was still a burst of fun. Joe Delia played tremendous, Little Richard/Jerry Lee Lewis-style piano on this one, and on "Open All Night" as well.

Some auction logistics followed for which Springsteen stayed on stage and was a very good sport. Then it was time to say good night to a surprisingly energetic performance that couldn't help but suggest that someone is itching to perform again.

For the full setlist from this and other recent performances,
see our Setlists page.
- updated November 10, 2011

CLARENCE XMAS EP AVAILABLE NOW; NICK TO APPEAR ON E ST. RADIO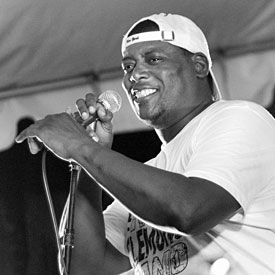 With the November 18 Clarence Clemons Christmas Songs release party just a week away, Clarence's son, Nick, will appear live on E Street Radio at Sirius XM this Friday, November 11 at 11:00 a.m with Dave Marsh. The interview will feature the newly-released Clarence Christmas tracks, and Nick will discuss the history behind the songs, how the project came together in recent months and, of course, the release party at Wonder Bar in Asbury Park featuring The Nick Clemons Band and many guests.
The Clarence Clemons There's Still Christmas EP is now available digitally on iTunes, Amazon.com and at all premium download online sites, and in physical form, on CD, from Backstreet Records.
- November 7, 2011 - photograph by Connie Freestone

NILS DEDICATES OLD SCHOOL TO "C," BEGINS RECORDING WITH PATTI
Nils Lofgren, who has just released Old School, spoke with rollingstone.com about his new album, revealing some yin and some yang: " I don't know what's gonna happen with E Street. I'm so heartbroken Clarence is gone. We were dear friends.... So that's heartbreaking, and I don't know where it's gonna lead. Meanwhile, I got a new record, and I'm excited."
Talking to RS's Steve Baltin, Nils continues, "It's been a long road to get a new record. I feel great about it... The writing was almost complete when [Clarence passed away]. But for instance, there's a song called 'Miss You Ray' about Ray Charles' passing, and it's a metaphor for saying goodbye to family and friends. [I've been singing it as] 'I miss you, C, and I've rearranged the lyrics live to apply to my friend Clarence."
Nils also talks about working with Patti Scialfa last month — "we did some session work, started a new record of hers" — along with producer Steve Jordan, when he and Bruce got into Wack Brothers mode.
Read: "Nils Lofgren Dedicates New Album to Clarence Clemons"
- November 9, 2011


BACKSTREETS RECOMMENDS... FRANK STEFANKO LIVE IN PERSON, 11/19

Darkness photographer and all-around swell fella Frank Stefanko will be making a Jersey Shore appearance in a couple weeks, not only to sign the latest edition of his Days of Hope and Dreams book, but also to give a talk complete with slide show. Saturday, November 19 at 2:00 p.m., at the Point Pleasant branch of the Ocean County Library... is that anywhere near you? If so, run, don't walk. Click here for information; you can also register online for the event to make sure you don't miss out.
- November 7, 2011 - photographs by Frank Stefanko


ROLL YOUR TAPES
More clips from Pittsburgh, with a tip of the Backstrets cap to all those preserving for posterity. Above: a closer look at "Incident." Below: Springsteen guests with openers The Composure (featuring Johnny Grushecky on guitar), and more acoustic rarities.

- November 7, 2011


NIGHT TWO: INCIDENT ON FIFTH AVENUE
Springsteen & Grushecky at Soldiers and Sailors Hall, 11/4/11

"People have come from the four corners of the world to be in Pittsburgh," Bruce laughed at this second of two shows, "that's even crazier than coming from the four corners of the world to be in Asbury Park! People come from perfectly wonderful places... and they leave them!"
Not only that, but some of them come to see two nights running. Good thing, then, that there were some nice changes from one night to the next: a lengthier show, better sound, and more surprises in the song selection, most notably a second mini acoustic set from Springsteen to bookend the night. Playing with the Houserockers finds Springsteen typically more carefree, enjoying the bar-band looseness that comes with having not having to deliver a message or serve a greater narrative. And while The Grushecky/Springsteen Experience is fairly well locked in at this point, the setlist shake-ups on night two showed you can never tell exactly what to expect.
Two out of Springsteen's three opening numbers were switched up, starting with "You Own Worst Enemy," into the highlight of the night, Bruce's first ever solo "Inicdent on 57th Street" on acoustic guitar. It came by request from his host, and it was sublime. As Bruce said at song's end, "Good call, Joe Grushecky... good call."
Additions in the main set were a very strong "Darkness on the Edge of Town," "Radio Nowhere," "A Good Life," and "Adam Raised a Cain," the last of these with particularly smoking guitar from Springsteen. That right into another incredible Boss solo to start off the set-closing "Light of Day."
The encore is where things really mixed up, opening with "Hungry Heart" — that one was pretty rough, but they had plenty of time to make up for it, adding "Brown Eyed Girl," a fun "Pink Cadillac," and "Twist and Shout" after "Down the Road Apiece," which had been the band's final song the night before. And really stretching it out, Bruce added four more acoustic songs once the band was done: "No Surrender" by request from the balcony; "Does This Bus Stop at 82nd Street"; "Surprise, Surprise," Bruce saying it's the first time he's played this one alone (he also noted that it's the only one out of many songs that have come to him in dreams that turned out to be any good by the cold light of day); and finally "Thunder Road" once again, this time bringing Grushecky out to share the vocal. The crowd did their part too, closing out what will likely stand as Springsteen's longest performance of 2011 — three hours and twenty minutes from the time he took the stage to the end — as buzz of a 2012 tour continues to build.
For the full setlist from this and other recent performances,
see our Setlists page.
- updated November 5, 2011 - photographs by Guy Aceto


NIGHT ONE: WORKING FOR YOUR LOVE IN PITTSBURGH
Springsteen & Grushecky at Soldiers and Sailors Hall, 11/3/11

After a year of no Springsteen concerts, coming to Pittsburgh to see him play with Joe Grushecky and the Houserockers was a bit akin to getting a fix. Everything seemed exciting coming in. The Pennsylvania hills were as beautiful as any landscape painting I've ever seen, and of course the Soldiers and Sailors Hall in Pittsburgh is a gem.
Having seen Bruce play with Grushecky three times previously, I pretty much knew what to expect: Bruce taking lead on most songs, plenty of guitar work and good fun, a bunch of hits, mostly Bruce's, with occasional Grushecky favorites thrown in and perhaps a surprise or two. That, of course, was precisely what the show delivered.
The good news in the show was Bruce's form. His voice was clear and strong, and he shared it happily. I had to remind myself a couple of times that he has passed his 62nd birthday. His guitar work was even better. He took extended solos over and over again. And over again. And then some more. Not just on his own songs, but also on Grushecky numbers such as "Never Be Enough Time" and "Pumping Iron." As for Bruce's songs, when he really decided to rock it, the roof blew off. "Light of Day" was perhaps the biggest highlight, in which Bruce singlehandedly filled the room with his sound.
Bad news? For me, it was that the show offered nothing at all new, besides confirming that Bruce is still in performing shape. A first-time-ever acoustic performance of "I'll Work For Your Love" was the closest we came to a surprise in the setlist. That, and a seeming ad lib by Houserockers drummer Joffo Simmons during the band intros portion of "Down the Road Apiece," in which he launched in to The Safaris' "Wipe Out," with Bruce and then the band quickly joining in.
Two other problems were that itwas very hot in the hall, and that — except for during the acoustic numbers — the sound was pushed way too high, with nothing to deaden it. The effect was of distorted sound literally bouncing off the 110-year old walls back at the audience on the floor. Here's hoping they dial it down a notch or three tomorrow night.
For the full setlist from this and other recent performances,
see our Setlists page.
- November 4, 2011 - Matt Orel reporting - photographs by Michael Zorn


NILS TAKES FANS BACK TO SCHOOL

Nils Lofgren just wrapped up a string of East Coast dates; Harry Stadler caught last week's show in New Hope, PA:
In a word, Nils was awesome. He played his full two-hour set with energy and joy. From his opening harp solo through "Because the Night" as the last song before the encore, to his tap dancing (yes, tap dancing) in "I Came to Dance," the man just gave of himself throughout. And as is his M.O., he comes out after the show, signs everything you ask him to sign and takes pictures with whoever asks. Who does such things?

Again, this is nothing new. I remember seeing him do the same thing perhaps 15 years ago on a rainy weeknight at a late show at the Bottom Line when there were probably only 100 people in the hall. The fact that he "brings it" night after night, regardless of the size of the crowd, is just wonderful. The music and the performance are what it is about and such consistent brilliance should not go unnoticed.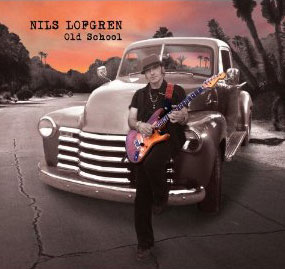 And just as Nils comes off the road, his new record is out: Old School, a collection of 12 brand new recordings, has just been released on CD. Here's what Nils has to say about it:
Old School has many different types of songs and feels, some rough bluesy tracks to haunting acoustic songs. There's some interesting and controversial characters in these songs and I look forward to your reactions to them. I finally included my "Irish Angel" cover, the great Bruce McCabe song I've been singing for years in the acoustic shows. Also, years ago I wrote a ballad with Root Boy Slim, an old friend and great DC area artist, that I've always wanted to share but never got it together until now. Sadly, Root Boy's not with us any longer, but I know there's fans out there that will appreciate this touching, haunted country type ballad of ours. Also, there are three guests vocalists whom I consider some of the greatest singers of all time, who have graced the album with soulful performances; Paul Rodgers, Lou Gramm and Sam Moore. Thanks guys!
Read more (and hear a preview of the album's "Ain't Too Many of Us Left," featuring Sam Moore) at NilsLofrgen.com... and we have Old School in stock now at Backstreet Records.
More CDs from Nils HERE

All our Latest Arrivals — including Hearts of Stone on 180g vinyl, and the official Springsteen calendar for 2012 — HERE
- November 3, 2011 - photographs by John Cavanaugh [10/28/11]

A RUSH OF BOSS TO THE HEAD
Talking with SPIN about the new Coldplay album Mylo Xyloto, singer Chris Martin names Bruce as an inspiration for its third-person perspective: "You can sometimes get your own feelings across more strongly if you pretend that you're singing it from someone else's angle. But it's always from me. It's just a new way of framing it. That's definitely from listening to so much Springsteen."
- November 3, 2011

SO PUT YOUR EAR CLOSE TO THE PHONE...
The new iPhone 4S includes the much-touted virtual assistant, Siri. By all accounts she knows what she's doing... but Adam Aresty of Morristown, NJ, wanted to make sure she knew her Springsteen from her Tony Danza: "I 'asked' my new iPhone a very important question... Here's what she came up with!"

Anybody asked her yet if Mary's dress "sways" or "waves"?

- November 3, 2011

MARISSA NADLER GOES DOWN TO "THE RIVER"
Boston singer-songwriter Marissa Nadler is releasing a 13-song collection next week called Covers Volume II; right now, you can download her take on "The River" for free at xpn.org. The self-released full CD will be available November 8 in her Etsy shop.
- November 3, 2011

FAN GATHERING IN BOSS-TON THIS WEEKEND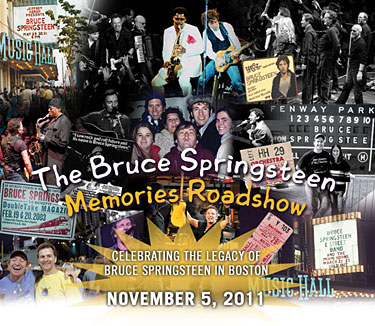 Thursday and Friday: Springsteen in Steeltown. Saturday? The Bruce Springsteen Memories Roadshow comes to Beantown for a gathering at Boston Beer Works on Canal Street. On hand will be photographer Rocco Coviello, who has been shooting Springsteen in concert for Backstreets and others since 1978, and Lawrence Kirsch, publisher of The Light in Darkness. Rocco will be displaying Boss photos from Boston Garden to Fenway Park, and Lawrence will be signing copies of his book. We also encourage you to bring your Springsteen mementos, photos, ticket stubs, and stories to share with other fans who have appreciated Springsteen's appearances in the Boston area since 1973. From the historic shows at Charli''s Place in Cambridge to the last two full concerts with Danny Federici in November 2007, Boston has a special place in the hearts of Springsteen fans — come hang out with others who know it, Saturday, November 5, at 8:00 p.m.
- November 2, 2011