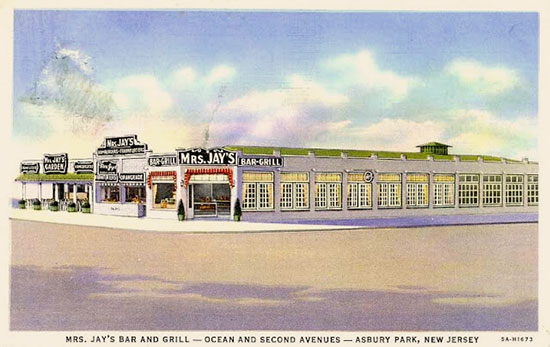 GREETINGS FROM ASBURY PARK: STONE PONY CELEBRATES 40 YEARS
The legendary Stone Pony turned 40 this year, and the world famous music venue has been celebrating with a series of shows highlighting artists who have graced its stage over the years. In the past few weeks, veteran Pony artists like John Eddie, Bobby Bandiera and Lord Gunner have returned to their old stomping grounds to honor this important milestone in Jersey Shore music history.
The Stone Pony, which had previously been a restaurant/beer garden called Mrs. Jay's, originated as a local hang-out bar presenting cover bands; even Southside Johnny & the Asbury Jukes, its original house band, performed mostly cover material early in their storied career. In its infancy, the Pony was a place where all local musicians were welcome to show up and jam. Bands that became fixtures — Cahoots, La Bamba & the Hubcaps, Cats on a Smooth Surface — were formed around friendships that had begun years earlier with gigs at Jersey Shore roller rinks, Hullabaloo clubs and late-night jams at Asbury's Upstage, and the jam tradition continued at the Pony, where any musician who happened to be in the audience might be called up onstage to join the festivities. And in the loose, carefree days when New Jersey's bars were open until 3am, these jams could last well past closing time.
The Stone Pony music scene and its late-night jams were a secret kept among locals in those days. It was a place where Bruce Springsteen could sit at the back bar amongst his friends and fellow musicians and, as just one of the bar's regulars, be virtually undisturbed. That low-key atmosphere was more or less taken for granted, until the overwhelming success of the Born in the U.S.A. album and tour changed everything; what was once a neighborhood joint became internationally famous, and tourists came from as far away as Japan and Australia to see it for themselves.
Indeed, things are very different down the shore since those halcyon days; the longstanding cover band tradition has come full circle, as many of the national acts who grace the Stone Pony stage now honor the rich history of the Asbury Park music scene by covering the music of Bruce Springsteen, Southside Johnny, and other local heroes. Autographed guitars and concrete flooring have replaced the cheap carpeting, promo posters, and parquet dance floor. More than a few of the artists who played on that famous stage are now deceased. But Southside Johnny still plays every Fourth of July weekend, and local musicians can still be found at the back bar every now and then. And every once in a while, those who were there still come together to recapture the glory days of the Stone Pony.
Fortieth anniversary festivities will be ongoing for the remainder of the year. Visit the Stone Pony website for details on upcoming shows and ticket availability.
- February 28, 2014 - Lisa Iannucci reporting

ROCK HALL CEREMONY ON SALE SATURDAY, PRE-SALES RUNNING NOW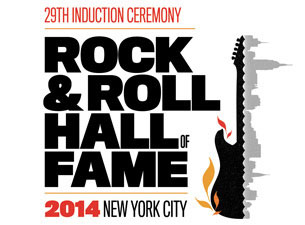 On Thursday, April 10, the E Street Band will be inducted at last into the Rock and Roll Hall of Fame with the Award for Musical Excellence. If you'd like to attend the ceremony at the Barclays Center, this is the first time the event has been open to the public in New York.
The Rock Hall is offering four levels of "VIP packages" for the general public, explained here. Purchase online now at Ticketmaster.com. An American Express pre-sale is also currently underway; both of these pre-sales run through tonight at 10pm Eastern.
The public onsale will begin this Saturday, March 1 at 10am, with a 6-ticket limit per transaction. For further details, visit rockhall.com.
- February 28, 2014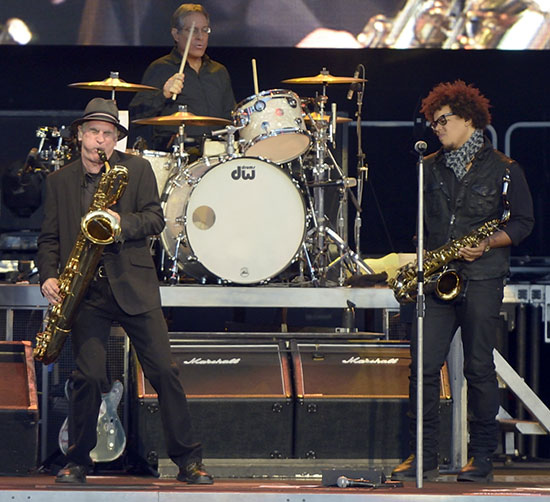 A DOUBLESHOT OF BIRTHDAY LOVE
Yesterday was Jake Clemons's day, today is Eddie Manion's... happy birthday to the E Street saxmen!
- February 28, 2014 - photograph by Rene van Diemen (Hope Valley, Australia, 2/22/14)

NEW MATTHEW RYAN SINGLE BENEFITS CAUSE CLOSE TO OUR HEARTS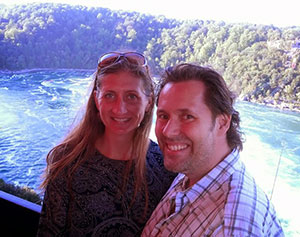 Singer/songwriter Matthew Ryan has released a single today to benefit John Anderson and his wife Amanda. John's an incredible guy, huge Springsteen fan, and Friend of Backstreets... and he's also in the last stages of his three-year struggle against ALS. It's the same disease that Terry Magovern worked to fight when he founded Joan Dancy & PALS.
Ryan wrote on his blog: "ALS is ruthless, and now the realities in addition to the disease are bearing down on John and Amanda. When visiting them a weekend ago I was shook by the toll the disease is taking on both of them. Not only via the obvious sad and hard health changes a diagnosis like this brings, but also via the emotional stress and real-world complications (and obstacles) of the financial weight of this disease... What John is going through is sad, but it's just as hard and sad for Amanda. And it's for both of them that I felt compelled to at least try and do something."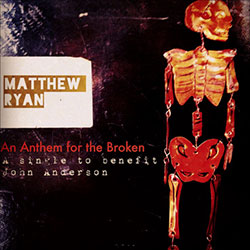 What he's doing is putting a new song out there, an advance single from his new album, called "Anthem for the Broken," with Gaslight Anthem's Brian Fallon on guitar. "'An Anthem for The Broken' is not a sublime lament," Matthew writes, "but a punkish lean for the better parts of our nature and a purer ethos. John has always loved and advocated for that mysterious ability rock 'n' roll has to throw fists in the air and inspire hope against tough odds. I want you to buy the song, I hope it offers some of that fire that music, friendship, language and the arts are capable of. But frankly the song is secondary to the hope that this effort can rally some help to some dear friends at a horrible intersection."
Purchase the song for a dollar — or more, if you choose — on Bandcamp, with all proceeds going directly to John and Amanda.
- February 26, 2014

- February 26, 2014

BIRTHDAY BOY IN BLACK
E Street Radio celebrates Johnny Cash's birthday with expanded tribute
With today being the late, great Johnny Cash's birthday, E Street Radio will present an expended reairing of last September's Be the Boss tribute to Johnny, first aired in commemoration of the tenth anniversary of his passing. Featuring over an hour's worth of Springsteen/Cash-related tracks and talk, the guest DJ program was co-hosted by blogger Ryan Hilligoss and Backstreets.com's own Shawn Poole (who proudly shares his birthday with Cash today.) The expanded replay will feature a newly added track and some additional material from Poole. You can catch it today at 4pm, Thursday, 2/27 at 5pm, Friday 2/28 at 9am, Saturday 3/1 at 6pm, and Sunday 3/2 immediately following that night's episode of Springsteen Live at approx. 11pm (all times ET.)
Also worth checking out online is Hilligoss' new essay "Come Along and Ride This Train: The Music of Johnny Cash and Bruce Springsteen," built (with some help from Poole) around the playlist and script for today's E Street Radio broadcast. Happy Birthday to the Man in Black, whose music and influence on Bruce Springsteen endure.
- February 26, 2014

A DOUBLESHOT OF NEW RELEASES COMING THIS SPRING
MusiCares Tribute video due March 25, American Beauty EP on April 19
Bruce Springsteen has celebrated the annual Record Store Day quite nicely since its 2007 beginnings, releasing several singles on our favorite new international holiday in April as well as the associated Black Friday in November. This year, RSD will bring new Springsteen music with American Beauty, a four-track record consisting of all previously unreleased songs. The vinyl EP will include the title track, "Mary Mary," "Hurry Up Sundown," and "Hey Blue Eyes."
These are songs that were considered for High Hopes but ultimately didn't make the final lineup. Producer Ron Aniello mentioned three out of the four late last year when Rolling Stone asked if there were songs cut from the album: "Well, there's a song called 'Cold Spot' I really liked, but it didn't make it. There's a song called 'Hey Blue Eyes' that I also loved, but it didn't make it. Another was called 'American Beauty' and there was also 'Mary Mary.' Those are the ones that come to mind. There might have been five more."
"Hey Blue Eyes" may also see release in a different form, as earlier this year Tom Morello told Music Radar: "Bruce was kind enough to loan me a song called 'Hey Blue Eyes' for my next record. It's a really great song. I'm looking forward to trying to do justice to it."
While American Beauty will be a 12-inch vinyl release for Record Store Day, April 19, we're told that a digital download is likely to follow.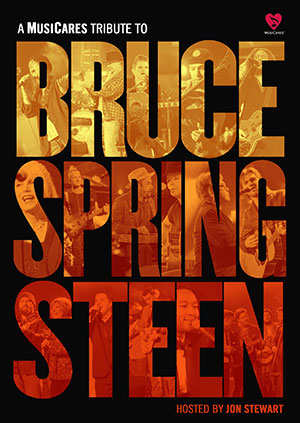 A month prior, we'll get new recordings of a different stripe, as The MusiCares Tribute to Bruce Springsteen sees official release on DVD, Blu-ray, and digital download on March 25. The February 8, 2013 event, an annual Grammy Week benefit, honored "Springsteen's extraordinary creative accomplishments as well as his significant charitable work." Hosted by Jon Stewart, the night included numerous artists tackling Springsteen songs, including Alabama Shakes, Neil Young, John Legend, Kenny Chesney, Emmylou Harris, Patti Smith, and more. Morello joined two different singers, Jackson Browne and Jim James, for "American Skin (41 Shots)" and " The Ghost of Tom Joad," respectively, as well as Springsteen himself. To close the night, Bruce took the stage for five songs with a mix of E Streeters including Jake Clemons, Nils Lofgren, Patti Scialfa, Roy Bittan, Garry Tallent, and Max Weinberg. The entire program is captured on the DVD. See our original report from the night here.
- February 24, 2014

FOR THOSE ABOUT TO ROCK AT HUNTER VALLEY
A different GA procedure will be in place for this weekend's two shows at Hunter Valley's Hope Estate Winery: for those who want to be among the first patrons to enter the Front GA standing area, the entry process will be randomized via lottery. This means that there will be no advantage to arriving early, as long as you've picked up your lottery wristband and are present by 2:00pm at the latest.
Here's the schedule:
From

7:00am

:
Lottery wristband pickup at the main entrance of Hope Estate on event day.

1:00pm

:

Parking lot opens

1:30pm

:

Patrons line up for the lottery in wristband order

2:00pm

:

Lottery wristband pickup closes
From

2:00pm

:

Lottery conducted
No one is required to take part in the lottery; if you have a ticket for the Front GA standing area, there will be space for you.
For complete entry details, please view this PDF from the Springsteen org.
- February 19, 2014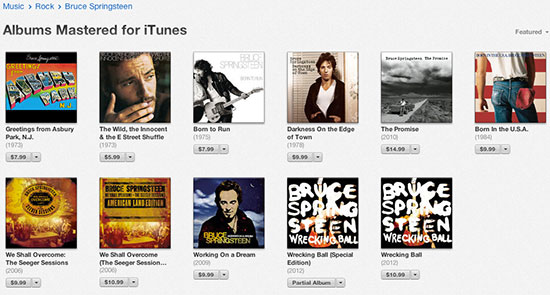 ALBUM REMASTERS JUST ADDED TO ITUNES
Talking with Rolling Stone in December about Springsteen archival projects, manager Jon Landau said, "...we're doing some remastering work on his first two albums as we speak. Those will be forthcoming." Today, a press release announces those two albums and eight more as newly mastered for iTunes:
Five of the records — Greetings from Asbury Park, N.J., The Wild, the Innocent & the E Street Shuffle, Born to Run, Darkness on the Edge of Town, and Born in the U.S.A. — have been transferred from analog to digital using new technology for the first time. All ten albums, remastered by Bob Ludwig, are available today.

Over the last two years, under the supervision of Bruce Springsteen and engineer Toby Scott, Jamie Howarth of Plangent Processes utilized new audio technology capable of repairing pitch and timing errors embedded in analog recordings to transfer Springsteen's early album with improved definition. Plangent Processes' unique technology for archiving original source tapes eliminates many of the inevitable distortions inherent in vintage recordings, resulting in greater transparency, detail and clarity. After the transfers were made, they were remastered by Ludwig.
Read more about the transfer system at plangentprocesses.com, where Ludwig gives a testimonial: "We were recently working on a remastering project that used the Plangent Process and I was thrilled with the result. The process not only corrected speed slips that had always been a problem with these tapes but, more importantly, the Plangent Process gave all of this music a new width and dimension that made it connect with me emotionally in a more profound way than I had ever experienced before."
These remastered album downloads are available from itunes.com/BruceSpringsteen.
- February 18, 2014


STEVIE VAN ZANDT, SECRET AGENT MAN
Miami, Sugar, Little Steven, Silvio Dante, Frank "The Fixer" Tagliano, and introducing... The Chameleon! So now the E Street Band has the Professor and the Nutty Professor.
- February 18, 2014


SHE'S BRINGIN' IT IN AGAIN...
Round two, may the ticket gods smile upon you. May 1 - Tampa, FL, too.
For the full itinerary with venue and onsale details and links,
see our Tour/Ticket Info page
- February 15, 2014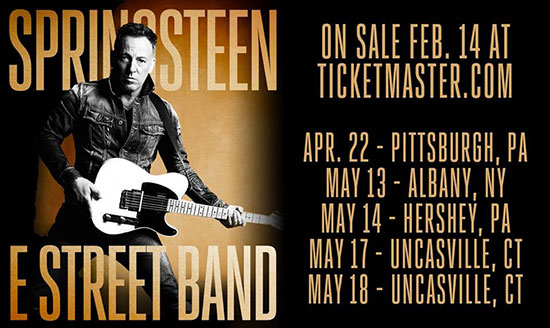 HAPPY VALENTINE'S DAY
And good luck as U.S. onsales begin!
For the full itinerary with venue and onsale details and links,
see our Tour/Ticket Info page
- February 14, 2014

U.S. TOUR IS ON! SIXTEEN DATES IN THE STATES
Leg runs April 8 - May 18, with onsales beginning Valentine's Day
This spring, Bruce Springsteen and the E Street Band will play their first U.S. tour dates since 2012. The 2014 U.S. leg, now with 15 dates just announced on either side of the Jazz Fest show, is notable for focusing on cities and regions not visited (or hit early) on the 2012 Wrecking Ball tour, beginning in Cincinnati on April 8. No dates at all in New Jersey, or on the West coast... but fans in Florida, Texas, and numerous patiently waiting Eastern cities will get their first taste of the E Street Orchestra.
April 8 - Cincinnati, OH
April 12 - Virginia Beach, VA
April 15 - Columbus, OH
April 17 - Nashville, TN
April 19 - Charlotte, NC
April 22 - Pittsburgh, PA
April 24 - Raleigh, NC
April 26 - Atlanta, GA
April 29 - Sunrise, FL
May 1 - Tampa, FL
May 3 - New Orleans, LA
May 6 - Houston, TX
May 13 - Albany, NY
May 14 - Hershey, PA
May 17 - Uncasville, CT
May 18 - Uncasville, CT
A mix of indoor and outdoor venues, these dates will also provide a rare opportunity catch the E Street Band in amphitheatres. Ticket sales begin February 14, for shows in the Northeast, with other onsales to follow this month.
For the full itinerary with venue and onsale details,
see our Tour/Ticket Info page
- February 10, 2014


BACKSTREETS #91 UPDATE
We've been hearing from subscribers around the globe — from the UK to Japan, Poland to Australia — that Backstreets Magazine #91 is arriving in many overseas mailboxes this week. So if you've still been waiting for yours, know that the magazines are still making their way to many locations via international post, and you should have yours soon.
If you're not a subscriber, don't forget that you can purchase #91 as a single issue: no commitment, and this massive Clarence Clemons tribute is one you won't want to miss. Check out the preview video above to see what awaits. We've just completely sold out of the previous issue of Backstreets, #90, which is no longer available as of today... so guarantee your copy of #91 by ordering now!
- February 7, 2014

JON LANDAU ON THE DOWNLOAD PROGRAM SO FAR
Rolling Stone's Andy Greene spoke with Springsteen manager Jon Landau about the live downloads, their quick response to the wristband hue and cry ("there was an immediate fan demand for these direct-download formats that caused us to accelerate the pace at which we moved ahead"), and what's being done to the audio before release:
"Bruce thought that we should really go for the raw feeling of the show rather than reworking anything in a studio... [Front-of-house mixer John Cooper] does a very quick and light remix for continuity and simple adjustments in balances, including bringing the audience mics into the picture. Our goal is to have each show up and ready to be downloaded in not more than seventy-two hours, and hopefully less. I have been thrilled with the initial shows. They are exciting, raw and different than the approach that we have often taken in the past."
Landau also confirms that there is at least discussion of making archival releases available as well.
Read: "The Inside Story of Bruce Springsteen's Official Live Downloads"
- Updated February 7, 2014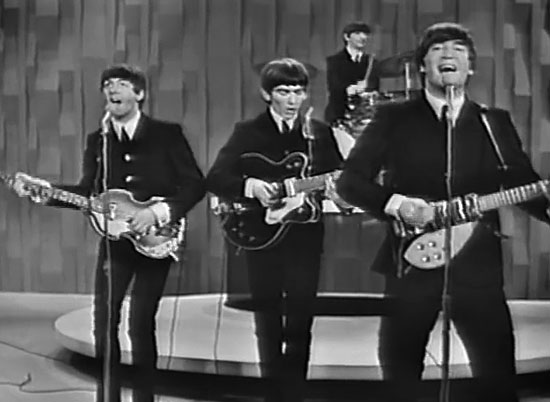 "THE EXPLOSION"
50 years since The Beatles' US TV debut sent sparks flying on E Street
This Sunday, February 9, will mark the fiftieth anniversary of The Beatles' first U.S. television appearance on The Ed Sullivan Show during their initial U.S. visit. Here's what it meant (and still means) to some then-adolescent New Jerseyans who witnessed the historic live television broadcast:
Bruce Springsteen - "When I was nine or ten, there was Elvis. That lit a small fire, but then that sort of passed.... The explosion was the British Invasion and literally everything that I thought about and wrote came out of that.... The battle lines were drawn on February ninth on 68 South Street [laughs]. That was it."
Steve Van Zandt - "I think Meet the Beatles was the first album for me.... Everything changed. That was the beginning when we saw them on Ed Sullivan, February ninth. Everybody saw that. For me, I didn't have the thing of wanting to be [a musician] until that moment. It was the band thing that appealed to me. Individuals didn't appeal to me in the way I wanted to do it. I liked them, I'd buy occasional records, but it wasn't until The Beatles came."



Max Weinberg - "More than any other drummer, Ringo Starr changed my life. The impact and memory of that band on Ed Sullivan's show in 1964 will never leave me. I can still see Ringo, in the back, moving that beat with his whole body, his right hand swinging off his sock cymbal while his left hand pounds his snare. He was fantastic. But I think what got to me most was his smile. I knew he was having the time of his life. I wanted some of that. A few years earlier [Elvis' drummer] D.J. Fontana had introduced me to the power of the Big Beat. Ringo convinced me just how powerful that rhythm could be."
Special Jersey Beatles Symposium this Saturday: Monmouth University in Long Branch, NJ and Los Angeles' GRAMMY Museum will co-host a celebratory symposium on The Beatles' lasting impact tomorrow, entitled Ladies and Gentlemen…The Beatles! The keynote speaker will be GRAMMY Museum Executive Director (and Backstreets Magazine Associate Editor) Bob Santelli. Panelists will include legendary Jersey Shore musicians Bobby Bandiera and Vini Lopez. This event, which also will feature several Beatles-related musical performances by Monmouth students, is free and open to the public. Only standing-room tickets remain available now and registration is required to attend. Click here to register.
- February 7, 2014 - Shawn Poole reporting - Ringo photo thanks to Billy Smith - Comments from Bruce Springsteen & Steve Van Zandt excerpted from Little Steven's Underground Garage 9th Anniversary Celebration ("The Bruce & Stevie Show"), part 1, first broadcast April 3, 2011. Comments from Max Weinberg excerpted from the book The Big Beat: Conversations with Rock's Great Drummers by Max Weinberg with Robert Santelli (Contemporary Books, 1984.)

GREETINGS FROM ASBURY PARK: UPSTAGE BUILDING FOR SALE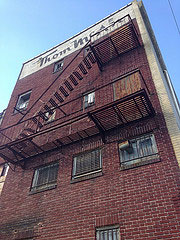 The Upstage Club— a true Asbury Park landmark—is once again for sale. Owner Richard Yorkowitz, who purchased the building on Cookman Avenue in 2009 in hopes of reopening it as a music venue, put the property on the market about a month ago. Carrie Potter Devening, granddaughter of original owners Tom and Margaret Potter, has expressed interest purchasing the long-vacant building and transforming it into some sort of cultural/arts space.
"I'd like the opportunity to drive it toward an organization that would do something for young people, like Steven Van Zandt's Little Kids Rock," she told the Newark Star-Ledger. The current asking price is $1.8 million — including a liquor license — and Devening has established a fundraising site in hopes of keeping the pioneer spirit of her grandparents alive in the three-story brick structure on which the painted Thom McAn shoe store logo is still visible.
Yorkowitz had spent several years working with the city of Asbury Park to obtain the necessary permissions but is no longer in a position to execute his original vision, due to what he told the Star-Ledger were "unforeseen personal circumstances." Yorkowitz had rescued the building from developers hoping to transform the building into condominiums.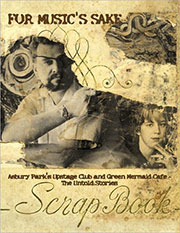 Devening's recent book, For Music's Sake, details the history and culture of the Upstage. Weaving personal reminiscences with over 1,000 previously unseen images of the club in its heyday, the book sheds new light on a time and place that shaped so many lives and careers. "It was important to share what I had with the people who remembered the club and those who were never there but had heard so much about it," she tells Robert Santelli in the current issue of Backstreets. Devening tells longtime contributor (now associate editor) Santelli how she conducted interviews from her home in Texas and reveals some of her plans for the one-of-a-kind materials she has carefully preserved. Says Devening, "I certainly want to make sure that these images and stories are preserved for future generations to see."
The Upstage, once a proving ground for the likes of Southside Johnny, future E Streeters Vini Lopez, Garry Tallent, David Sancious, Steve Van Zandt and Danny Federici, and Asbury Angels Dan Gallagher and John Luraschi, has been closed since 1971. Several years ago, Bruce Springsteen revisited his old haunt after a 40-year absence.
- February 6, 2014 - reporting and photograph by Lisa Iannucci

NEW EDITION OF JERSEY SHORE GUIDEBOOK AVAILABLE NOW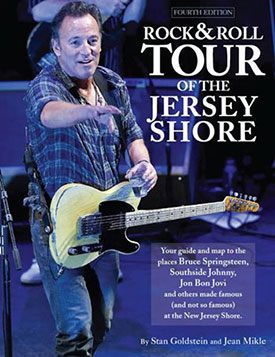 There's a question we get asked a lot. It's "Can you get me Bruce Springsteen's autograph?" There's another question we get asked almost as much: "I'm making the pilgrimage to New Jersey for the first time... where should I go?" In recent years we've been happy to have just the thing to recommend: Stan Goldstein and Jean Mikle's book, Rock & Roll Tour of the Jersey Shore. One of the best ways to experience the sites of The Sounds of Asbury Park is to take Stan and Jean's walking tour, and they've done a fantastic job of putting it all down on paper and then some, with photos, maps, and detailed text telling you what happened where.
The book had recently been out of print, but we have the new Fourth Edition in stock now. Published in December of 2013, this latest version has 200 pages with more than 600 photos of Springsteen, Jon Bon Jovi, Southside Johnny and many others who made their mark on the Asbury Park and Jersey Shore music scene over the years. The book details close to 200 locations of historical rock 'n' roll sites in New Jersey's Monmouth, Ocean and Middlesex counties — including Springsteen-related clubs, houses, street corners and other landmarks in Asbury Park, Freehold, Long Branch, Red Bank and beyond. More than 40 locations are listed for Asbury Park and 30 for Freehold, all well-annotated with maps, addresses, and loads of history... perfect for armchair traveling, too.
- February 5, 2014

READY TO GROW YOUNG AGAIN: SPRINGSTEEN IN SOUTH AFRICA
Bruce Springsteen landed in Perth earlier today, where he and the E Street Band will begin a month-long Australia/New Zealand run on Wednesday night. But before we turn our full attention to Oz, let's take one more look at Bruce's first visit to South Africa, which wrapped up on Saturday. These four shows constituted a massive road trip for writer Connor Kirkpatrick, who flew 14,000 miles in covering Cape Town and Johannesburg for us. But we also wanted to hear from someone who wasn't traveling, but rather traveled to — someone for whom South Africa is home. Alta Cloete, who administers a Bruce Springsteen South Africa Facebook page, found Springsteen's first visit to her homeland "a tremendous experience."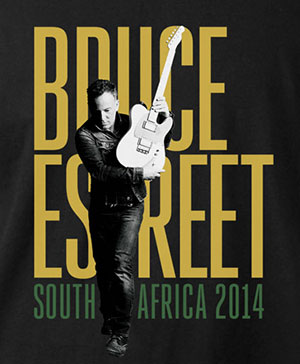 When I was privileged to see Bruce Springsteen for the first time in the UK in 2012, I never thought for one moment that he would ever come to South Africa. For that matter, when I became a fan in late 2009 I never thought I would ever get to see him live.
Bruce has proved me wrong again and again. He taught me to dream and to work for my dreams. So I, not an adventurous traveler and aged only a few years younger than Bruce, made it to the pit in Sunderland — and survived to tell the story. It ain't no sin to be glad you're alive!
When I came home after those two shows, I tried to convince myself that it was a once-in-a-lifetime experience, that I will never spend so much money and endure so much stress to see Bruce again. But the notorious post-show Bruce blues hit me with a vengeance. It was only when I admitted that I would try again, if and when the opportunity arises, that I got back on track.
When the second round of dates for Australia and New Zealand was announced last year, the thought started sneaking in: Would it not be possible for them to make a pit stop in South Africa? Well, the rest is history. Bruce Springsteen not only came to South Africa, he also did three shows at a small venue less than an hour's drive from my home, and I could make it to the fourth in Johannesburg.
The first night I was jittery with excitement and anxiety, anxious because I did not know what to expect from the SA audience, because I thought he would still be very much jetlagged, because it was the start of the new tour and people did not know High Hopes yet. Also because my friend from Johannesburg could not come to Cape Town and I was left to the mercy of my non-fan husband, who luckily happens to love me very much. Oh, and I was worried about the effect of the heat on Bruce and on me. A real old worrier, me.
The night was a blast. My hubby did his best to let me enjoy myself. The Bellville Velodrome is small (Bruce made sure we knew that he came 8,000 miles to play a place which feels exactly like the Convention Hall back home). We had a good standing place against the railings at the side of the pit. Already in the queue people were friendly and chatty, and I even landed myself on TV News and YouTube for about ten seconds.
Bruce came out like a happy child on a huge playground. Yes, I know he is always like that. But one must still see it to believe it. He worked the crowd like an inspired man (which he is, of course), passed right by us at least five times, kissed the ladies, crowd-surfed right across the pit. Found a child with a great voice for "Sunny Day." Had at least four women on stage for "Dancing in the Dark." Leaned backwards into the crowd several times and let himself be probed and patted. Let people touch and "play" his guitar during "Born to Run." Oh, and I forgot the piano: Not many 64 year olds can stand on a piano, dripping wet and sweaty in a thin T-shirt and just look drop-dead sexy. (If Bruce taught South Africans one thing this last week, it must be what a 64-year-old can look like if he abandons the classic SA lifestyle of too much food and too little exercise.)
With friendly fans around me I found it easy to let go. Yes, it was hot. Yes, it was cramped. But my, oh my, was it fun! As with my first two shows, my sense of utter joy was overwhelming.
For the second show I felt like an experienced fan. Gone were the anxiousness, the jitters, and the fear of the unknown from Sunday night. In was the heady feeling of something great drawing near. I knew the venue, how the process of entering is handled, where I like to stand, what to expect of the audience.
Of course I knew what to expect of Bruce. Has he ever had a bad show in his life? The audience was much more jubilant and expectant than on Sunday night, even outside the gates. It was mostly international fans who got numbers and went for the pit, but even among them the atmosphere was filled with more excitement than the first night. I am sure many friendships had been formed or renewed among them. One also noticed quite a few reddish necks: although it was cooler and cloudy, the African sun still took its toll. Not that it seemed to bother anybody. One of the things that made me happy was seeing so many international fans who came out for the shows, who seemed to be enjoying Cape Town tremendously.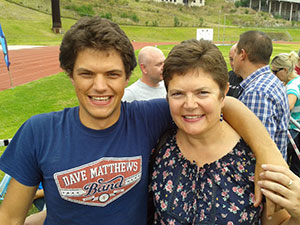 Before the first show, the early birds right after the pit-goers queued quietly and calmly. On the second night there was a more determined shuffle to get in right after the guys getting in the pit. No stampede, but lots of energy and good-humored maneuvering. Thanks to my 24-year-old non-fan companion (with his Dave Matthews T-shirt!) we made it to a good position and were able to get the same spot against the railing right outside the pit (and, importantly, right on Bruce's way to the little stage center front). The almighty roar that went up the moment Bruce came onstage I will not forget easily. People were ready to party from the word go.
Outside I noticed several signs for "No Surrender," one of my great favorites and symbolic of the way I try to live my life. After "Free Nelson Mandela" (a choice that most people did not understand, because they are not familiar with Stevie's campaign in the '80s) Bruce immediately grabbed a sign and blew me away with "No Surrender." After that "Two Hearts"... after that... Well, you have seen the set list. Lots and lots of different songs from the first night. Energy. Passion. Joy. Sweat, beer, emotion.
I am no great fan of "Spirit in the Night," but it was a blast. As was the rest of the show. (Of course I am not being objective here. Who wants to be objective?) Crowd-surfed right across the pit again. The landing seems to be a bit more difficult nowadays, with Nils and Jake quickly coming in to support him, which I think is very wise. He kissed fewer women, I think. Spent quite some time with a group of girls with Courteney Cox photos used as masks. Danced with a lady who survived breast cancer and gave her so much close attention, it was just beautiful to see. Shouted "Security! Security!" when a girl snuck onstage near the end of the show. He made it sound like a joke, but I think they got the message that he does not want that to happen again.
Bruce was jubilant and funny (again the routine of the SA ass sending the message to the SA brain) and energetic, but clearly sad when talking about Pete Seeger and what he stood for, and singing a beautiful "We Shall Overcome." He was also more serious than usual during "Born in the U.S.A."
Next to me stood a couple about my age who had been ripped off on the internet and paid R10,000 for their two tickets. I told them they would get their money's worth. Judging by their faces, they did.
I made various interesting discoveries, mostly about myself and mostly not very positive, during the third show in Cape Town. Firstly, I need to feel at home, even in a crowd of strangers, to really enjoy myself. Unfortunately I could not really relate to the fans around me, simply because they were not fans.
There were clearly more young people in the audience than the previous nights, which was good, as Bruce has surely made some new fans. The fact is, however, that many of them did not know the music and they did not care. (Of course, I was more than willing to share my great knowledge of all things Springsteen with anybody acting vaguely interested.) They were there to have a great time, and they had just that. Of course, Bruce always delivers, and they were surely in for a few surprises. Probably firstly that he is so OLD. Secondly that one can be old AND stunningly sexy. Thirdly, just the sheer energy that he exudes. Fourthly, the frequent interaction with the audience. And finally, the length of the show. I am sure Bruce made many, many new fans in South Africa among young and old alike.
In my opinion, Bruce had to work much harder to get the crowd engaged than on Night Two, especially, when the audience was ready for a party from the very beginning. But of course we know he is not scared of hard work. "Shackled and Drawn" must surely be rated among the most moving performances of the three nights, for the sheer enthusiasm he puts into it alone.
So, sadly, I did not experience quite the overwhelming joy I felt during the first shows. But Bruce can not be accused of lack of trying. Although he must have been tremendously tired, there was no slackening of the pace. I do think he went into the audience and on to the small stage center back of the pit fewer than the previous nights, and the crowd surfing was a bit shaky at a time, although at least he managed to get delivered feet-first this time.
I think there were 16 changes to the setlist: one really got the feeling that he was trying to share the maximum number of songs with us. I expected that to some extent, but when he charged into "Adam Raised a Cain" and "Something in the Night," I was quite surprised after starting with "We Take Care of Our Own," "Night" (not one of my favorites), and "Rosalita" (also not one of my favorites, and yes, I know most people would disagree with me), one really got the feeling that everything could happen. What happened was that I got another few of my absolute favorites, especially "Wrecking Ball," "Tougher than the Rest" (Bruce laughingly took great care to emphasise that the sign said: If you play "Tougher Than the Rest," I will give him a blow job, not you). My real treat was the tour premiere of "This Is Your Sword," a song I fell for at first hearing. Some fun was added by Stevie clearly reading the lyrics from the teleprompter after being called to center stage.
The one song where Bruce certainly lost the audience was "Sun City," as he had by opening with "Free Nelson Mandela" the previous nights. The ironic fact is just that there were very few members of the audience who knew anything about the role those songs played in the struggle history. I am constantly wondering if Bruce and the band are conscious of this irony. Actually, I am quite sure he is.
On Saturday afternoon in Johannesburg six formidable women (yes, I include myself!) packed themselves into a sexy silver 4x4, turned Wrecking Ball up real loud, and got ready to grow young again. As we went barreling along the highway way above the speed limit, I felt like I was living dangerously for the first time in my life. (Yes, I know that's a bit sad, but so be it.)
Of the dangers of Johannesburg I did not see anything. I saw thousands of excited people streaming into the beautiful stadium affectionately dubbed The Calabash, and groups of friends preparing Boerewors (sausage) on gas fires and drinking lots of beer. I saw diehard fans from Europe who had spent the day in the African sun for that treasured place right in front. I experienced a level of anticipation that I have never felt at any other show of an international artist.
Bruce Springsteen had not only conquered Cape Town during the last week, he had conquered South Africa and evoked much more media attention than I had anticipated. On Saturday the nation (or rather the rock-loving part of the nation) was ready for him.
We only had to spend one hour in the hot sun (and got moderate tans) before we were led to the golden circle right on time. After a quick scramble we could sit down and settle in for some serious waiting and beer drinking (not my strong point). Anticipation was in the air. I was silently hoping that the show would not start as late as in Cape Town as I watched the stadium slowly filling up.
And then it happened: a few guitar chords and people frantically scrambling to their feet. Bruce was there for a few pre-show songs. I am not sure how I got to my feet so quickly. Nor do I know if people realized he only does a pre-show on special occasions when he really wants to thank fans for their dedication and the hardships (including financial ruin) they are prepared to face for his shows. He looked relaxed in his sunglasses and checked shirt and immediately grabbed a sign that read I was your first black fan in South Africa. A short chat (which we could not really hear) and "Working on the Highway," "I'll Work For Your Love" (a great treat for me) and "Growin' Up" set the scene for a great evening.
Then the hardest wait started as we hopefully watched the guys in black on stage, watched that white rope going up, coming down, going up, coming down... It was 20:50 when I was the first in my surroundings to spot Nils and Max and shout: "Hier is hulle!" (Here they are!). And at that moment, everything becomes worth your while. The money, the arrangements, the stress, the non-understanding of non-fans, the travelling, the waiting, the standing, the drunks around you, the elbows in your face (not mine, I am too tall), everything suddenly makes sense when Bruce and his "small army" fill the stage and proceed to blast 60,000 people (give or take a few cynics) away.
I won't discuss the show song-by-song. All real fans probably already know all the details, like the fact that this show consisted of 31 songs plus the three of the preshow, that it lasted three hours and 22 minutes and contained five tour premieres, bringing the total for the four shows to, I think, 63 different songs. After four shows in one week, details tend to blur into one great haze of happiness. It is the emotion that stays with you (and easily develops into the classic post-Bruce blues). It is the passion and energy I will remember, the solidarity of the crowd in the pit, the sweat and the tears and the laughs and the rain.
Yes, the rain. It started gently, drifting through the echoing lines of forty-one shots... forty-one shots.... People were reluctant to break their concentration to put on rain gear, many just opting to get wet and enjoy it. The rain seemed to bring the show to another level, with Bruce (of course) coming out into the rain, also bringing the horns, getting thoroughly wet and just enjoying it. Surely it invigorated a man in his fourth three-hours-plus show less than a week after arriving from across numerous time zones. But something more happened than the physical. The spiritual aspect of the show became more pronounced, making one think of a baptism, of the cleansing of sins, of new beginnings, of forgiveness and hope. The image of that soaking wet man, standing with his face turned into the rain, has captured the minds of many South Africans. Bruce Springsteen at that moment became a symbol of what can be done in this country, of what we believe in, of what a great joy life can be despite difficulties and setbacks.
I could not take my eyes off Bruce's back when he slowly walked backstage after the third lovely acoustic version of "Thunder Road" I had the privilege to hear in a week. I was not the only one. And it was certainly a bonus to catch another glimpse of him appearing next to the stage as we were ascending the stairs to leave.
The six women in the silver 4x4 were quiet on their way home. They will never by quite the same. In a good way, a very good way.
When we reached home at two in the morning, I could not sleep. The atmosphere, the exuberance in the rain, the happy faces, the raised arms lingered with me through the night, waking me early with Tom Morello's guitar screaming in my head and Bruce's face turned to the rain in my mind's eye.
For one week, Bruce Springsteen brought to South Africa a little bit of the magic we had lost with the passing of Nelson Mandela. Bruce brought the sheer joy and gratitude for being alive that we had experienced when a nation grieving for their leader turned their grief into a celebration of life. He brought an example of an honest man living a clean life, working hard and giving freely of himself. He showed us how to defy age and death and keep on working on your dream. Bruce Springsteen made an impact on South Africa that will linger for a long time.
Of course, he first of all brought the music. The music that breaks your heart and makes you dance at the same time. The music that evokes a sense of fun, of sensuality, of hard work, of determination and dedication. The kind of music that penetrates your life and makes you a better person.
Yes, life goes on. Bruce and the Band have already left for Australia. But for thousands of South Africans the memories will linger for many, many years to come. For me they will stay forever.
For full setlists and reports from all four South Africa shows,
see our Setlists page
- February 4, 2014 - Alta Cloete reporting