MARAH, MALIN, NILE & MORE PLAYING NYC BENEFIT THIS WEEKEND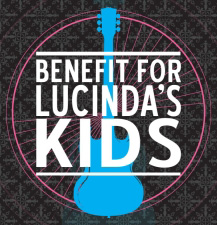 This Sunday and Monday, April 29 and April 30, there's a two-night, all-star benefit concert and auction at The Bowery Electric in New York with a bunch of names and faces that are surely familiar to Backstreets readers, including no fewer than three performers who've shared space on record and onstage with the man himself.

Marah, Jesse Malin, and Willie Nile, are all on the Sunday night bill; Monday brings a full line-up of other great acts including HR (from Bad Brains), Tommy Stinson (The Replacements, G'n'R) and Alan Vega (Suicide), who Bruce himself has pointed to as a direct influence and inspiration (Bruce regularly covered Vega's "Dream Baby Dream" on the Devils & Dust tour).

This line-up will support a great cause, and the story behind it is a tragic one. Lucinda Gallagher, a New Jersey girl and a rabid music fan, took her own life just before Christmas, leaving her two teenaged kids in need. The New York/New Jersey-area musical community is stepping forward to help Lucinda's kids the best way they can, with a rock 'n' roll fundraiser. Jesse Malin spoke with BlackBook about the shows, about Lucinda and her kids.
Fans who can't attend but want to help can make a direct donation through FundRazr; there's also a Benefit for Lucinda's Kids auction taking place, with items viewable and up for bids online through biddingforgood.com. Photographers Danny Clinch, A.M. Saddler, and Debra Rothenberg have all donated images of Springsteen to the cause, and there are dozens of other great items from other notable donors including Bob Gruen.

Benefit For Lucinda's Kids is allied with the Samaritans NY, who run the 24 hour suicide prevention hotline in Manhattan. Nearly all the proceeds will go directly to Lucinda's Kids, aside from a smaller portion donated to Samaritans. See more info on Facebook; tickets are available online now for Night One and Night Two.
- April 26, 2012


THE CONTINUING ADVENTURES OF FRANK & DANNY

Following the Soho success of the Morrison Hotel Photographic Gallery show, "From Darkness to a Dream" in New York back in October 2010, Springsteen photographers Frank Stefanko and Danny Clinch are taking their show on the road... all the way to Stockholm, Sweden this May.
This great combination of early classic Bruce photographs by Stefanko and the more contemporary iconic works by Clinch fuse together harmoniously and beautifully. if you happen to be in Stockholm on May 12, stop into the Pelle Unger Galleri, Grev Turegatan 18, between 1:00 p.m. and 4:00 p.m. and say "hej" to Frank and Danny, who will be on hand to greet customers and fans. The closest subway stop is Ostermalmtorg. The exhibit itself runs May 10 - June 20.
Watch Backstreets for additional information regarding a return trip to Sweden in late July by Frank and Danny. They will bring their show to Gothenburg at the same time Bruce will be appearing in concert there, and Patti Smith will be in Ostersund, Sweden — the Swamps of Jersey come to the land of Svenska!
- April 24, 2012 - photograph by Bob Zimmerman

LET'S PLAY TWO
Yep, the E Street Band is doubling up at Wrigley Field, with a second Chicago show added for Saturday, September 8 (following the Friday, Sepember 7 concert, which sold out over the weekend). Tickets go on sale Saturday, May 5, at 10 a.m.
See our Tour/Ticket Info page
for the current itinerary with onsale info and links
- April 23, 2012


"ROCKY GROUND"/"THE PROMISE" RSD SINGLE IN STOCK NOW
For a very, long time, it was hard to believe you'd ever see such a sight... but there it is, "The Promise" live on 45, the B-side to the "Rocky Ground" Record Store Day single. For anyone unable to find this little treasure on Saturday, we've got it in stock at Backstreet Records. While they last!
- April 23, 2012



SUBMISSION DEADLINE APPROACHING FOR SPRINGSTEEN SYMPOSIUM
The deadline for submission of proposals for Glory Days: A Bruce Springsteen Symposium is coming up on April 30, 2012. If you're interested in presenting, the submission requirements for a panel or paper are straightforward: submit a 250 word abstract for a 15-20 minute paper and/or panel suggestions for this international conference devoted to the life, work and influence of Bruce Springsteen. The conference, sponsored by the University of Southern Indiana, Monmouth University, and Penn State Altoona, has historically been comprised of a mix of scholars, artists, photographers, and just plain fans talking about and examining Bruce's work: his history, influences, who he has influenced, the E Street Band and earlier bands including Steel Mill, and of course, his work as a songwriter and artist. Click here for information on submissions.
- April 23, 2012


VISIONS OF 45s DANCE IN OUR HEADS... HAPPY RECORD STORE EVE!

In the midst of the onsales today and tomorrow, don't forget that Record Store Day is Saturday, too. Springsteen and Columbia keep doing their part to support the indies, with yet another exclusive vinyl offering this year: a 7-inch record that pairs "Rocky Ground" with the live version of "The Promise" from the Asbury Park Carousel, the latter's first audio release. Housed in a B&W picture sleeve, this record will be available exclusively at independent record stores — click here to find participating shops.
If you're unable to find the new single at a mom & pop store near you, check in with us next week — as always, we'll be doing our best here at Backstreet Records (our own mom & pop shop) to score extra copies for fans in need. But we highly encourage you to get out there on Saturday and support your local brick-and-mortar indies.
- April 20, 2012


NEXT WEEK'S E STREET RADIO GUEST DJ: PHOTOGRAPHER JIM SHIVE
Longtime Backstreets contributing photographer Jim Shive will take over as Guest DJ next week when he hosts Sirius/XM's E Street Radio on Monday, April 23, at 4 p.m., with replays on Tuesday, April 24, at 12 a.m. and 8 a.m.
Jim, who recently donated one of his classic images to support the Friends of Bruce Springsteen Special Collection, will be telling stories about his timeless Bruce Springsteen & the E Street Band images (including the one above, a personal favorite), along with what it was like to actually grow up on the streets Bruce sings about, and to be a part of one of the hottest music scenes ever in Asbury Park, NJ.
Join the Shive Archive on Facebook for the latest updates and to hear more about other images from the rock photographer, and tune in to Sirius/XM Channel 20 next week.
- April 19, 2012

FEELING THE SPIRIT
New Jersey Governor Chris Christie responds to "scurrilous" reports that he caught some winks a couple weeks ago at a Madison Square Garden Springsteen show:
"What happened was during 'Rocky Ground,' which is kind of a really spiritual song, people sat, so I sat on the seat, put my head back, closed my eyes and listened to the song. I have never fallen asleep at a Bruce Springsteen show and I will never fall asleep at a Bruce Springsteen show."
Read the full story at Bloomberg.com.
- April 19, 2012


"THE ONLY DRUMMER WHO CAN MAKE YOU CRY"
Levon Helm, 1940-2012
Legendary gets bandied about too widely these days, but the passing of drummer and vocalist Levon Helm from throat cancer, which he fought for over a decade while never allowing it to stop him from performing, should compel all rock 'n' roll fans to pause and take note. Born in Arkansas on May 26, 1940, Helm as a youngster saw Bill Monroe and his Blue Grass Boys perform and the experience changed his life. "This really tattooed my brain. I've never forgotten it," he said.
He also heard Johnny Cash, Carl Perkins, and Elvis Presley with Scotty Moore on guitar, Bill Black on bass, and D.J. Fontana on drums. In 1957 he joined the Hawks, a group fronted by Ronnie Hawkins. Relocating to Canada, they would recruit Richard Manuel, Rich Danko, Garth Hudson, and Robbie Robertson. Their sound was new, raw and rocking, and they had great success. The musicians would leave Hawkins in 1963 and continue for a time as Levon and the Hawks, or the Crackers, or the Canadian Squires.
Bob Dylan recruited the Hawks as his backing band in 1965, but Helm found the highly charged scene oppressive and, after a few shows, left for Arkansas. He later explained, "for the first time I couldn't stick to my policy, which was to whistle while I worked."
In 1967 he returned to his mates who had taken up residence in Woodstock, NY, where they came to be known as The Band. Music from Big Pink appeared in 1968; by 1976, after several more influential albums including a live recording, the group was no more. The Last Waltz, Martin Scorcese's famous documentary, captures that final performance.
In Mystery Train, first published in 1975, Greil Marcus explained the significance of The Band: "Their music gave us a sure sense that the country was richer than we had guessed; that it had possibilities we were only beginning to perceive. In the unique blend of instruments and good rhythms, in the shared and yet completely individual vocals, in the half-lost phrases and buried lyrics, there was an ambiguity that opened up the world with real force."
In 1984, Max Weinberg interviewed Helm for his volume The Big Beat: Converations with Rock's Great Drummers. Weinberg observed, "Levon plays the drums and sings with a conviction and emotional intensity that rings true. That he does both at the same time is remarkable. His beat is lively, whatever the mood of the song. The muffled cadence of "The Night They Drove Old Dixie Down," the tumble-down tom-toms of "Up on Cripple Creek," and the weary yet determined backbeat of "The Weight" show Levon to be one of the rare breed of drummers that are able to set not only the beat but the scene of a song's story as well. Perhaps this is what journalist Jon Carroll meant when he said that Levon is the only drummer who can make you cry."
Great groups pass, blazing meteors across the cultural landscape. But music continues, and Helm's work as a solo artist, as a member of a reconstituted Band, and for the last decade as the impressario of the "Midnight Ramble" — performances at his studio in Woodstock, NY, with the Levon Helm Band, which included his daughter Amy Helm — brought new and different triumphs.
Springsteen and Helm performed together at least once, at the Stone Pony on August 22, 1987 [rough video here]. Bruce joined Levon for "Up on Cripple Creek" and "Lucille." And on Jericho, released in 1993, Helm and the Band covered "Atlantic City." Everything dies, baby, that's a fact/but maybe everything that dies someday comes back. Levon has passed, but his beat carries on.
- April 19, 2012 - Louis Masur reporting


THE OTHER ROXY: BRUCE'S FIRST PHILLY HEADLINER APPEARANCE
A taste of the history to be found at Saturday's Philly Roadshow event
In 1973, Bruce Springsteen began building his Philadelphia-area fan base with a string of now-legendary shows at The Main Point in the Philly suburb of Bryn Mawr, PA. In June of that year, Bruce and the E Street Band (which wasn't yet known by that name) played their first official, though non-headlining, gig within Philadelphia's city limits: at the Spectrum arena, opening for the jazz-rock band Chicago. Springsteen's first Spectrum appearance famously became the only time to date that he's ever gotten many boos — not Bruuuces — from a Philly-area crowd (not counting a recent round of good-natured razzing when he mentioned those pesky Giants during "Wrecking Ball").
The very first time that Bruce ever headlined in Philly proper, however, was a little-known, two-show appearance (one early, one late) with the E Street Band on November 17, 1973. The shows took place at the long-gone Roxy Theatre in the city's Roxborough section. This venue is not to be confused with the upscale Roxy (Screening Room) Theatre in Center City (downtown) Philadelphia, nor the famous Roxy Theatre in Los Angeles, site of legendary '70s Springsteen shows.
The only known photographic record of this historic appearance comes from professional photographer and Springsteen lighting crew member Art Reilly. At the time, Reilly was in his mid-20s, with extensive experience as a combat photographer during his military stint in the Vietnam War. After his tour of duty ended, Reilly settled in the Philadelphia area and used his expertise to photograph numerous Philly-area shows by the likes of the Allman Brothers, Jimi Hendrix, and the Rolling Stones.
While working at Edmund Scientific, a nationally-known science-equipment store located in nearby New Jersey, Reilly met lighting designer Marc Brickman, who hired him to work for his then-fledgling lighting company. In short order, Brickman's crew was contracted to work for "this guy from the Jersey shore that everybody's talkin' about." Reilly worked on Springsteen's lighting crew through 1974 and also caught some amazing photos of those early Philadelphia-area performances.
Art Reilly will be among the special guests at this Saturday's Philadelphia Springsteen Memories Roadshow at McFadden's Citizens Bank Park, located at the Phillies ballpark where Bruce Springsteen and the E Street Band will make yet another visit to the City of Brotherly Love later this year. Reilly will be on hand to meet fans, share some great stories and display some beautiful historic photos, as well as handwritten setlists from one of those early Philly shows. Ready-to-frame mounted prints of his work will be available for purchase, too.
Fans old and new, from the Philly area and elsewhere, are invited to bring their own memories and treasures to share as well on April 21. There's no admission charge, but please be prepared to donate whatever you can (cash only) to our two beneficiary charities: the Kristen Ann Carr Fund and Philabundance. If you plan to spend Saturday morning trying for tix to Bruce's next Philadelphia show(s) and maybe the rest of the day at the Springsteen exhibit at the National Constitution Center, you can keep the Philly Springsteen party going with us that night. Click here for more info.
- April 19, 2012 - Shawn Poole reporting - photographs by Art Reilly

DICK CLARK, 1929-2012
From Little Steven's Underground Garage Show 470 – The Bruce and Stevie Show – Part 1 (archived streaming audio excerpt starts at 13:04):
BRUCE: Philadelphia was influential... because we were in New Jersey, and we were halfway to Philly. On my television set, I got all of the New York stations and then we also got [Philadelphia channels] 3 and 6. We got all of the Philadelphia stations, so I used to see all of the Philadelphia teen shows: Jerry Blavat...
STEVIE: Oh, yeah...
BRUCE: ...the Steel Pier [show] from Atlantic City... All of the great teen shows came out of Philadelphia.
STEVIE: Dick Clark, Bandstand.
BRUCE: All of those guys.
STEVIE: Yeah, it's amazing how much rock 'n' roll was on TV.
BRUCE: Every day. When you came home from school... it was on every day, after school.
STEVIE: Amazing... amazing.
Read the Rock and Roll Hall of Fame's obit for Dick Clark (Class of '93); Backstreets scribe Caryn Rose has a remembrance as well.
- April 18, 2012 - research by Shawn Poole


PIT OR GREAT SEATS? YOUR CHOICE IN CHARITY AUCTION FOR SAN JOSE
In need of April 24 San Jose tickets? Here's a chance to go in style, while supporting a very worthy cause. A hot pair is on eBay now, provided by Bruce himself to benefit the charity of his longtime engineer Toby Scott. Winner will get their choice of The Pit or excellent reserved seats, plus a pair of passes to the E Street Lounge.
100% of auction proceeds will benefit the Whitefish School Music Programs and the North Valley Music School, located in Whitefish, Montana. Toby Scott tells us, "My son goes to NVMS and Whitefish Middle School along with Garry Tallent's son; his daughter attends the high school."
"Music education is not cheap," Scott continues. "The music departments always need money for instruments and road trips." He mentions a recent band trip to play an event in Southern California: "This was two busload of kids, with overnight stops and stays there totaling up to quite a few bucks, as it is 1,500 miles from here to there." Then there are purchases of a practice piano for the high school and a saxophone for the middle school — for budding Professors and Big Men — as well as a set of Timpani, which alone falls into the "not cheap" category.
"Bruce has often given me tickets to raffle or auction to benefit the music departments," says Scott, "and it has helped greatly." You can help, too. See the eBay lot for further info and to bid now. Hurry... auction ends Friday!
- April 18, 2012

SECOND PHILLY SHOW ADDED; PRESALES FOR PHILLY AND JERSEY
With a pre-sale underway for Philadelphia (with a presale code made available to members of the ComcastTIX Cyber Club), a second show has been added at Citizen's Bank Park: Monday, September 3. The public onsale for both Philly shows is Saturday, April 21, at 10 a.m.
A "courtesy pre-offer" for the MetLife Stadium shows in New Jersey takes place tomorrow, Thursday April 19, from 10 a.m. to 10 p.m. According to the Ticketmaster page, "A select number of tickets have been made available for this pre-offer. Comparable tickets will be released during the onsale Friday, April 20 at 10am."
See our Tour/Ticket Info page
for the current itinerary with onsale info and links
- April 18, 2012


SIGNED GUITAR, PHOTOS, AND MORE ON KACF AUCTION BLOCK

The Kristen Ann Carr Fund's annual A Night to Remember benefit is coming up on Saturday night, April 21, this year honoring Jon Landau Management's Alison Oscar.
Anyone not attending the event can still support the cause through Charity Buzz, which is hosting numerous lots for this weekend's KACF auction items. Springsteen-related goodies up for bids include:
All proceeds benefit the Kristen Ann Carr Fund. More items to be added soon... click here for more information and full listing.
- April 16, 2012

THE PROMISE TO SCREEN AT MONTCLAIR FILM FESTIVAL
"It's Sundance. Only Jersier." That's a tagline for the first annual Montclair Film Festival, getting off the ground in May with Thom Powers and Raphaela Neihausen overseeing programming and Stephen Colbert on the Advisory Board (read more in the New York Times). And to help amp up the "Jersier" aspect, the MFF will bring a rare chance to see The Promise: The Making of Darkness on the Edge of Town on the big screen, with Thom Zimny expected to attend. The Promise screens twice, on Saturday May 5 and Sunday, May 6 — click here for details and tickets.
- April 16, 2012

I GOT ROCK 'N' ROLL MUSIC ON THE RADIO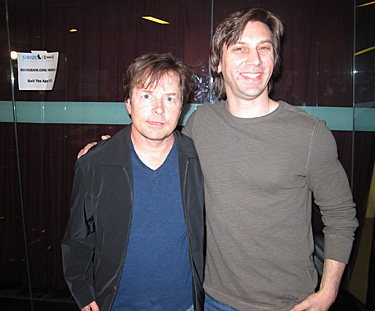 E Street Radio has a special Guest DJ this week — promoting Parkinson's Awareness Month, Michael J. Fox stopped by the Sirius/XM studio to play some of his favorite Springsteen songs. Pictured right with host/producer Jim Rotolo, the actor and activist shares stories about his favorite concert experiences, the Light Of Day movie, and the recent show at the Apollo.
Tune in to Sirius/XM Channel 20 on Monday, April 16 at 4 p.m. Eastern, with rebrodcasts that night at midnight, Tuesday 4/17 at 8 a.m.; Friday 4/20 at 4 p.m., Saturday 4/21 at 12 a.m. and 8 a.m.
- April 15, 2012

THE DANNY FUND KEEPS ON RUNNING
Jon Kilik, longtime E Street friend and fan, and award-winning film producer who teamed up with Bruce on Dead Man Walking and 25th Hour among others, will be running the Boston Marathon this Monday, April 16 for The Danny Fund. If you would like to help Jon honor Danny, click here.
Wednesday, April 17, marks the fourth anniversary of Danny's passing. Good luck Jon, and thanks to all working so hard in the name of The Danny Fund.
- April 15, 2012


HAPPY 61 TO THE MIGHTY ONE
Today's announcement of late summer dates in North America coincides nicely with Max Weinberg's birthday... the beat goes on! Enjoy the day, Max, and the birthday show tonight in Buffalo.
- April 13, 2012 - photograph by A.M. Saddler [NYC, 4/6/12]

DATES ANNOUNCED FOR SECOND NORTH AMERICAN LEG
First show is Boston 8/18, onsales begin 4/20
Bruce Springsteen & the E Street Band's 2012 Wrecking Ball World Tour will continue in the US and Canada with new dates in late summer. The freshly announced outdoor stops include the tour's first visits to Canada and Chicago, with Wrigley Field among several ballparks on the list.
August 18 – Boston, MA – Gillette Stadium (on sale 4.28)
August 24 – Toronto, ON , Canada– Rogers Centre (on sale 4.20)
August 26 – Moncton, NB, Canada – Magnetic Hill (on sale 4.21)
August 29 – Vernon, NY – Vernon Downs Raceway (on sale 4.28)
September 2 – Philadelphia, PA – Citizens Bank Park (on sale 4.21)
September 7 – Chicago, IL – Wrigley Field (on sale 4.21)
September 14 – Washington, DC – Nationals Park (on sale 4.27)
September 19 – East Rutherford, NJ – MetLife Stadium (on sale 4.20)
September 21 – East Rutherford, NJ – MetLife Stadium (on sale 4.20)
September 22 – East Rutherford, NJ – MetLife Stadium (on sale 4.20)
The "Death to My Hometown" video, posted this morning on brucespringsteen.net, was compiled from live performances and rehearsals at the Apollo Theater, Atlanta, and SXSW featuring Tom Morello.
See our Tour/Ticket Info page
for the current itinerary with onsale info and links
- Updated April 13, 2012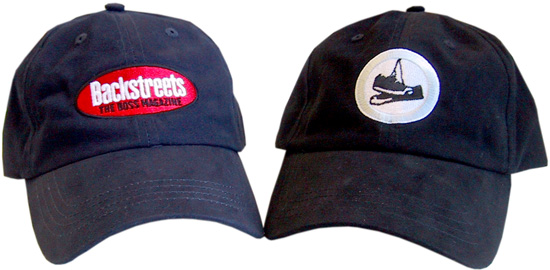 PLAY BALL!
Just in time for baseball season, Backstreets caps are back in stock. First class all the way: high quality embroidery on unstructured brushed twill, metal buckle and cloth strap. The navy cap bears the classic Backstreets Magazine logotype; the black cap has our sneakers logo in a silver circle on the front and backstreets.com embroidered on the back. Get both and save 4 bucks!
Also available: the official baseball cap from Springsteen's 2006 tour.
- April 12, 2012

BRING ON YOUR MATZO BALL
After that great New York Times story about the rock 'n' roll Seder at Madison Square Garden last week, the Old Gray Lady reports that the Museum of Jewish Heritage has taken notice. Read: "After a Seder on E Street, a Museum Beckons"
- April 12, 2012

ASBURY PARK MUSICAL MEMORIES FILM SCREENING EVENT KICKS OFF MUSICAL HERITAGE FOUNDATION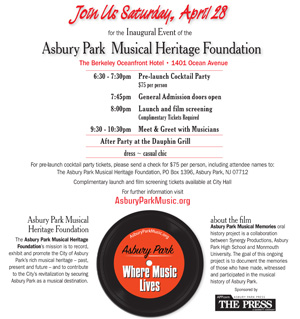 After the success of two concerts celebrating the history of Asbury Park's West Side music scene (one of which featured a surprise appearance by Bruce Springsteen), the city is launching the Asbury Park Musical Heritage Foundation. The mission of the foundation is "to record, exhibit and promote City of Asbury Park's rich musical heritage — past, present and future — and to contribute to the City's revitalization by securing Asbury Park as a musical destination."
The establishment of the foundation will be celebrated with an inaugural event at the historic Berkeley Oceanfront Hotel on Saturday, April 28 at 8 p.m. The event will feature a screening of Asbury Park Musical Memories, a documentary detailing the musical history of the city from the 1930s to the 1970s through dozens of interviews with local musicians past and present, including Asbury Park musical icons Billy Brown (Ray, Goodman & Brown), Bobby Thomas (The Vibranaires), The Orioles, Bobby Bandiera, Nicky Addeo, Vini Lopez, and blues guitarist Willie Mitchell (Aretha Franklin, Bobby Blue Bland). The event will be followed by a one-hour meet-and-greet with some of the musicians featured in the film.
The film is part of an ongoing oral history project initiated in conjunction with last year's New Harmonies exhibit, a traveling musical heritage museum installation sponsored by the Smithsonian Institution and hosted by the Asbury Park Public Library. The project, a collaboration between local filmmaker Susan Pellegrini's Synergy Productions, Asbury Park High School and Monmouth University, sends students out into the community to collect recordings of the musicians and residents who participated in the city's musical history; a second film focusing upon the period from the 1970s to the present is already in the works.
The film screening will be preceded by a pre-launch cocktail party at 6:30 p.m. Tickets for this event are $75 per person and are payable by check to: The Asbury Park Musical Heritage Foundation (APMHF), P.O. Box 1396, Asbury Park, NJ 07712.
Complimentary tickets for both the film and meet-and-greet are available at Asbury Park City Hall. Call 732-502-5749 for more information. Please visit: www.asburyparkmusic.org for further information on the Asbury Park Musical Heritage Society.
- April 12, 2012 - Lisa Iannucci reporting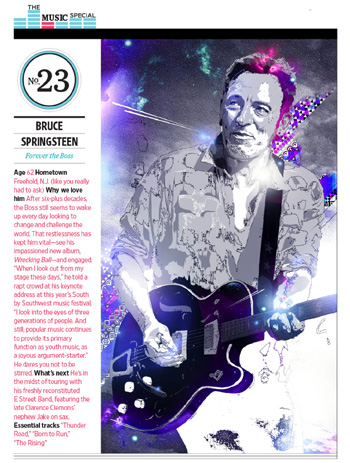 CHALLENGING THE WORLD
Though Springsteen hasn't exactly been doing a media blitz — last month's Rolling Stone cover stands as his sole magazine interview for Wrecking Ball — he's still making the scene on newsstands. Bruce made the list for the recent cover feature in Entertainment Weekly,"The 30 Greatest Artists Right Now." With the vast majority of musicians on the list in their 20s and early 30s, Springsteen skews the curve as the only representative of an old guard:
After six-plus decades, the Boss still seems to wake up every day looking to change and challenge the world. That restlessness has kept him vital — see his impassioned new album, Wrecking Ball — and engaged.
Hot off the presses, Springsteen is featured on the cover of the April 30 issue of The Nation, with a piece by Eric Alterman on "Bruce Springsteen's Political Voice." Alterman is author of It Ain't No Sin to Be Glad You're Alive: The Promise of Bruce Springsteen, as well as his latest, The Cause: The Fight for American Liberalism From Franklin Roosevelt to Barack Obama, from which this Nation article is adapted:
It's hard to find an analogue for Bruce Springsteen anywhere in American history. Musically, he is an amalgam of so many disparate influences it looks ridiculous to list them together. (Don't believe me? OK, here goes: Elvis, Dylan, James Brown, Chuck Berry, Hank Williams, Woody Guthrie, Frank Sinatra, Sam & Dave, the Shirelles, King Curtis, the Rolling Stones, the Animals, Roy Orbison, Gary "U.S." Bonds, the Sex Pistols, Pete Seeger, the Swinging Medallions, Sam Cooke, Smokey Robinson, Jackie Wilson, Wilson Pickett…) But it is equally difficult to locate a proper political antecedent for Springsteen in American history. Woody Guthrie and Pete Seeger are the obvious nominees, but the fact that they were associated with the Communist Party, as well as pretty orthodox folk singers, significantly limited their ability to be heard by many Americans...
Read the full Nation article online now.
- April 12, 2012

"THIS YEAR AT THE GARDEN, NEXT YEAR IN JERUSALEM"
One of our favorite stories from the E Street Band's NYC stand comes from the New York Times: "At the Garden, Spending Passover With Springsteen." Longtime fan Warren Rosen found a way to solve the Springsteen/Seder conflict by putting the two together:
For those of the Jewish faith, the central question of Passover is familiar: Why is this night different from all other nights?

For 18 people gathered around a table in the upper reaches of Madison Square Garden on Friday night, above the clamor of the Bruce Springsteen crowd filing inside, it was unclear where the answer should begin.

This was Passover on E Street, where fans clutched a customized Haggadah featuring the singer's face emblazoned onto the cover; where an original song, "Matzah Ball," sung to the tune of Mr. Springsteen's "Wrecking Ball," made its debut; and where, in a city with many superfans of the band and many more Jews, a group of devotees was able to have its holiday Seder, and its Springsteen, too...
Even Jake Clemons stopped by to take part. Read the full story here.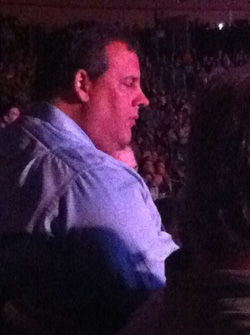 Another NYC story making the rounds, this one from Monday night, is of New Jersey Governor Chris Christie attending the concert (his 128th?) and reportedly succumbing to the sandman. Originally published in the New York Post, it's been picked up by the Huffington Post and New York magazine. From the New York Post's "Page Six":
"The governor was very active during the show," said a spy. "Bruce started talking about 'supporting food banks in New York and New Jersey,' and 'how people have been hit hard,' and Christie was riveted. Then Bruce performed 'Rocky Ground,' and Christie visibly started fading."

A picture sent from another fan shows the hardworking Republican, dressed in a casual blue shirt, resting his head on his hand, apparently taking a disco nap...
We were sent the same picture, above. We won't judge, lest we be judged... but it does strike us that "Waitin' on a Sunny Day" might be a better time for some shuteye.
- April 11, 2012

PICK UP THE ROCK, CARRY IT ON
Noted author has college students Bruce-blogging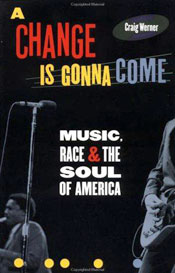 Craig Werner teaches at the University of Wisconsin-Madison and is the author of A Change is Gonna Come: Music, Race & the Soul of America, featuring extensive material on Bruce Springsteen (including a unique cropping of a Bruce/Clarence photo for its original cover, and an encounter with Springsteen himself in the revised edition.) With Vietnam War veteran and fellow educator Doug Bradley, Werner is currently completing We Gotta Get Out of This Place: Music in the Experience of Vietnam Veterans, which also will feature much Springsteen-related material.
This semester, Werner began teaching a freshman-level college course entitled Bruce Springsteen's America. According to Werner, initially most of the class "didn't know much of Springsteen's music beyond 'Born in the U.S.A.' and 'Born to Run.'" Since then, of course, they've delved deeply into Springsteen's music and the personal and social history to which it relates. They're also sharing their thoughts on what they're learning in a blog hosted by The Huffington Post.
The blog includes posts from younger listeners with fresh, interesting takes on the music, including essays analyzing Springsteen in relation to Glenn Beck, Green Day, Wisconsin politics, and even one student's "Uncle Bob." Werner intends to keep the conversation going past the end of this course and introduce new threads to it as he begins another course next fall entitled Dylan, Springsteen and America Since the Sixties. The entire blog can be found here, along with Werner's own essay on his "call-and-response" teaching methods.
- April 4, 2012 - Shawn Poole reporting

PHOTOS ON SALE AT SHIVEARCHIVE.COM, NOW THROUGH NYC STAND
The Shive Archive is thrilled to welcome Bruce Springsteen and the E Street Band back home to New Jersey and New York City and, to celebrate, has dropped the price on every 8 x 12 Giclee fine art print. All of these rarely seen images from photographer James Shive were taken in the NYC area between 1974 and 1984.
These museum-quality prints are from live several concerts photographed at the Palladium in NYC in 1976, Nassau Coliseum on New Years Eve in 1980-81, and some really rare images of the band playing a free outdoor concert in September 1974 during the time they were recording Born to Run.
These rare images are available and on sale now at www.shivearchive.com, but don't wait, because like Bruce, they will not be in town for very long.
- April 4, 2012 - photograph by James Shive
So we want to thank you for your patience during our growing pains, and we'd also like to ask for your help, since it takes considerable time and funds to keep all this online stuff going.