VOL. 4 OF ACADEMIC SPRINGSTEEN JOURNAL ONLINE NOW
Managing editor Caroline Madden takes us through the new BOSS
BOSS: The Biannual Online-Journal of Springsteen Studies is proud to announce the release of its fourth issue.
For those unfamiliar with BOSS, it is an academic journal that "seeks to encourage consideration of Springsteen's body of work primarily through the political, economic, and socio-cultural factors that have influenced his music and shaped its reception." I am the managing editor, and the preeminent Springsteen scholars Jonathan D. Cohen, Roxanne Harde, and Irwin Streight serve as editors. We welcome articles from all disciplines that study Springsteen's songwriting, performances, and place in popular culture. Our goal is to bridge the gap between fans and academics who want to think more deeply about Springsteen's work.
With the continued preservation and contemplation of Springsteen's life and work at institutions such as The Bruce Springsteen Archives & Center for American Music, the Springsteen Symposiums at Monmouth University, and the His Hometown exhibit at the Monmouth County Historical Association, analysis of Springsteen's cultural legacy has never been more imperative.
It was at the Glory Days: A Springsteen Symposium in 2011 that BOSS founder and editor Jonathan D. Cohen realized "how much awesome work was being done on Springsteen. The top one percent or so of papers would have a chance at getting published in a top American Studies or musicology journal, but the vast majority would never see the light of day (no pun intended)." BOSS offers Springsteen enthusiasts the opportunity for publication and access to such papers.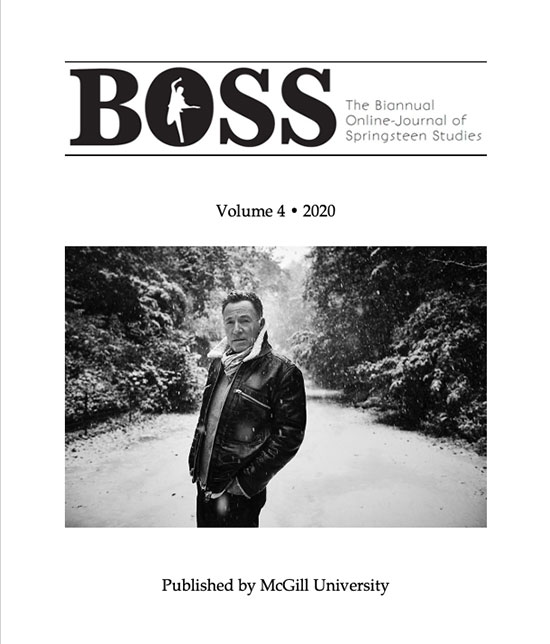 Written and edited over the past two years, Vol. 4 is unique from past BOSS issues because each paper is united by the singular theme of Springsteen's connections to other musicians. This is especially apropos in the wake of the Letter to You release, on which Springsteen invites us to honor the ghosts of music past — the various inspirations and muses that helped erect his house of a thousand guitars.
The three articles in Vol. 4 also explore Springsteen's contemplation of American identity — namely our "need for collective redemption" and relentless pursuit of the American Dream, ideas that Springsteen recently advocated in his stirring "The Middle" prayer disguised as a Jeep commercial.
"As much as Springsteen fans are always looking forward to what's next — a new tour, a new album, Tracks 2 — I think they should spend some time, too, reflecting on Springsteen's impact — how he has shaped other artists and, by extension, how other artists shaped him. This issue provides that opportunity," Cohen says.
Brian Conniff, Professor of English at the University of Scranton and author of The Lyric and Modern Poetry, explores Springsteen's relationship with one of his greatest influences, Elvis Presley, in the insightful article "Everyday People: Elvis Presley, Bruce Springsteen, and the Gospel Tradition."
Conniff assesses how Presley influenced Springsteen to incorporate his own faith into his music. The most intriguing aspect of this article is Conniff's contention that Springsteen viewed the King as "the ultimate cautionary tale of Rock and Roll stardom — which led him to reimagine his own career and persona." Conniff draws surprising conclusions about how Elvis's career trajectory affected Springsteen's own artistic journey. Conniff also points out how Springsteen "has come to see his work as part of a living tradition, grounded primarily in gospel, that seeks redemption in community — and a tradition that seeks the redemption and restoration of communities," a notion that has significant relevance in our current fractured political climate.
In "Signifying (and Psychoanalyzing) National Identity in Rock: Bruce Springsteen and The Tragically Hip," musicologists Alexander Carpenter and Ian Skinner address the broader issues of national identity and geography in popular music by juxtaposing Springsteen's definitive American identity and the Tragically Hip's nebulous Canadian-ness. Whereas Springsteen's music is distinctly tied to American place and space, the Tragically Hip purposefully disavow a nationalistic agenda "of which there is none." What is most interesting about this article is their use of musical analysis to break down the "aspirational melodic structures and succession of non-resolving chords" found in "Born to Run" that "signify a sort of never-ending pursuit" reflecting the elusiveness of the American Dream.
Barry David is a humanities and philosophy scholar who uses his extensive article "Bruce Springsteen's 'Land of Hope and Dreams': Towards Articulating and Assessing Its Inclusiveness" to explore the past versions of Springsteen's anthem "Land of Hope and Dreams." David carefully studies the song's gospel roots in "People Get Ready" by Curtis Mayfield; "This Train"/"This Train is Bound for Glory" by Sister Rosetta Tharpe, Big Bill Broonzy, and Woody Guthrie; Johnny Cash's "This Train is Bound For Glory (a.k.a. "The Bible Train"); and Bob Dylan's "Slow Train Coming." David concludes that, unlike those predecessors' trains, Springsteeen "proclaims the redemption and redeeming of all" and promotes the imperative "to work for a better community in the here-and-now." When Springsteen stood on the steps of the Lincoln Memorial and sung "Land of Hope and Dreams," he implored America to practice the same ideals that David explores in his absorbing article.
We round out the issue with a review from Prudence Jones on Long Walk Home: Reflections on Bruce Springsteen, a collection of essays that offer a captivating retrospective of Springsteen's body of work and impact on popular culture. Long Walk Home was edited by Cohen and June Skinner Sawyers and featured numerous Springsteen scholars from a wide range of disciplines and perspectives.
Vol. 4 of BOSS: The Biannual Online-Journal of Springsteen Studies provides thoughtful analysis of Springsteen's work and is highly recommended to all Springsteen fans, even if you're not an academic. We are consistently looking for new papers. Submit a 15-25 page article that touches on Bruce's singing, songwriting, or fan community and conforms to the Chicago Manual of Style to springsteenstudies@gmail.com. I hope this issue encourages a deeper understanding and discussion of Springsteen's ongoing legacy and wellspring of musical knowledge and inspirations.
- February 28, 2021 - Caroline Madden reporting - Madden is author of Springsteen as Soundtrack: The Sound of the Boss in Film and Television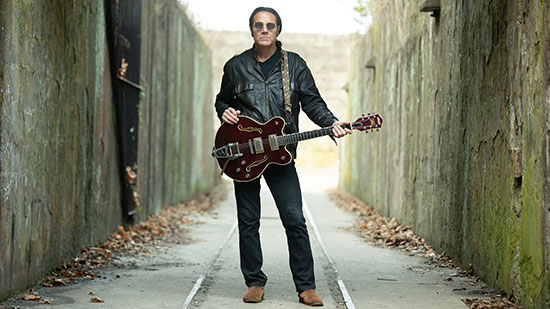 THE WHOLE WORLD AWAITS MARC RIBLER
Disciples of Soul music director announces new album, releases first single, "Shattered"
Veteran Jersey shore musician, songwriter, and producer Marc Ribler, best known in recent years for being the music director for Little Steven and the Disciples of Soul and Darlene Love, will release his third solo album, The Whole World Awaits You, on Little Steven's Wicked Cool Records on July 9. Ribler co-produced the record with Little Steven, and the first single, "Shattered" b/w "Hand Me Down" (available in both vinyl and download formats) is out today.

In January, Ribler filmed live performances of both songs at the Paramount Theatre in Asbury Park for broadcast on the first day of the virtual Light of Day Winterfest, which ran from February 12-14.
The basic tracks for the album were laid down in two days in February 2017 with engineer Joe DeMaio at Shorefire Studios in Long Branch, New Jersey, with fellow Disciples Andy Burton (keyboards), Jack Daley (bass), and Rich Mercurio (drums).
Speaking to Backstreets this week, Ribler explained, "After we finished recording Soulfire in December [2016], I had a break while Steven did two months touring with the E Street Band in Australia."
With no time to complete more than preliminary mixes, Marc spent the next three years on the road and in the studio with Little Steven and the Disciples of Soul. After multiple tours of North America and Europe, and a trip to Australia and New Zealand, they wound up at the Beacon Theatre in New York on November 6, 2019. The show was filmed and recorded and is due for DVD release this summer.
During the band's subsequent downtime, Marc turned his attention back to his long incomplete third album. Steven asked to hear it, provided advice and assistance, and the rest is history: "I finished all the production and arrangements with Steven this past May through July 2020, all done Covid-safe, virtually over the phone and internet."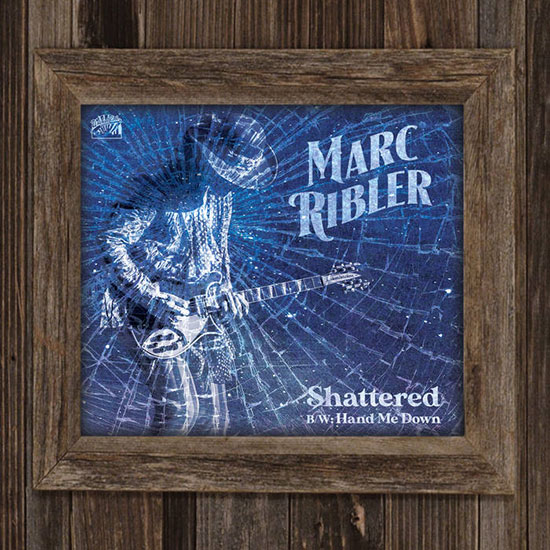 Described as "a driving East Coast heartbreak rocker" during Marc's recent interview with Robert Dye for American Songwriter, "Shattered" was written over a decade ago with Marc's friend, Nashville songwriter Christina Aldendifer, who wrote the song "Bottle" with Gary Burr for LeAnn Rimes' Spitfire album. Marc says "Shattered" is about "the one that sets your world on fire and leaves nothing but a garden hose to extinguish the burning hellfire flames. For a fleeting moment you thought you had her, but you were the one that's been had all along."

"'Hand Me Down' is one of my favorite songs recorded for the album," reveals Ribler. "It was the 13th song; we could only fit 12 on the vinyl LP. It was a tough decision but the right one. We made this very special recording the bonus B-side of 'Shattered,' featuring Jack, Andy, and Rich from the Disciples, plus Jonathan Dinklage masterfully performing my string arrangement on violin and viola, and Dave Anthony's brilliant performance on East Indian percussion — tabla, djembe."

Careful listening to each song reveals the enduring influence of '60s psychedelic pop, The Hollies, George Harrison, The Byrds, some Tom Petty, a touch of Rolling Stones. This is no coincidence, given Marc's favorite musical eras and the instrumentation, which features prominent Rickenbacker guitar. The music pays tribute to the past, has modern-day production values, and deserves to enjoy a bright, jangly future.
Marc recently filmed a video for "Shattered" with his Disciples of Soul bandmates and director Tom Parr, which is due to appear in the next two weeks; he also spoke to Chris Jordan of the Asbury Park Press. Further advance singles are expected.
Digital and "shattered glass clear vinyl with blue splatter" options of the new single are available from Wicked Cool via Bandcamp.
Limited-edition signed copies of the vinyl single as well as Marc's first two CDs, Life Is But a Dream and This Life, can be purchased from marcribler.com.
The download is also available from all the usual online vendors.
Watch this space for an extensive two-part interview with Ribler around the time of his album's release, and a conversation with the Disciples of Soul about their live DVD and three years of touring.
- February 26, 2021 - Mike Saunders reporting - photograph by Tom Parr


I GOT A GOOD IDEA OF THE GAME YOU'RE PLAYING…
Ken Rosen takes print-and-play Boss board game for a spin
I didn't know the world needed a Springsteen-themed board game, but Søren Kitaj and Knud Jønsson did. These two lifelong friends from Denmark envisioned, designed, developed, and published Becoming the Boss, an incredibly detailed — and free to all — board game experience sure to intrigue even casual Springsteen fans and absolutely delight hardcore ones.
In Becoming the Boss, players get to live (or relive) the early days of the Asbury Park music scene. To win the game, all you have to to do is form a band, claw your way to the top, score a record deal, and make the covers of Time and Newsweek. You know, just like Bruce did.
But despite its name and inspiration, it would be a misrepresentation to classify the game purely as Bruce biography. In Becoming the Boss, Søren and Knud have crafted a loving tribute to the entire Jersey Shore music scene of the early 1970s. With its vivid cast of characters chasing their dreams across a romantic landscape of legendary locales, the mythology of the Jersey Shore translates perfectly to the gaming table.
All the big names are included...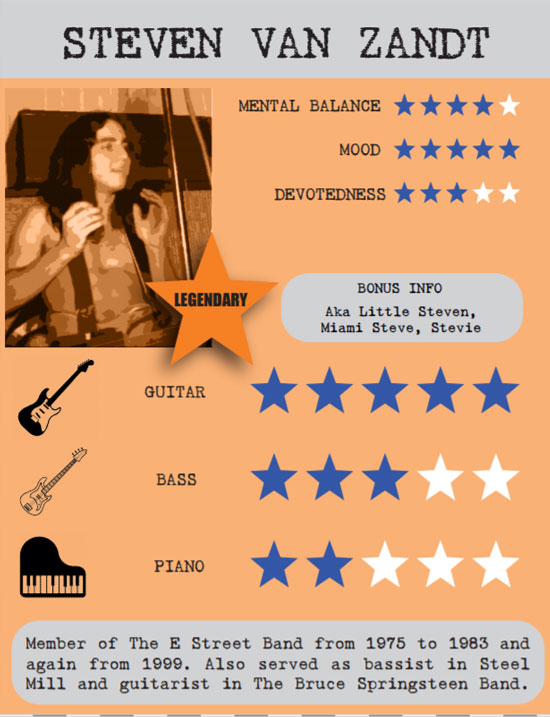 ...and the supporting players, too.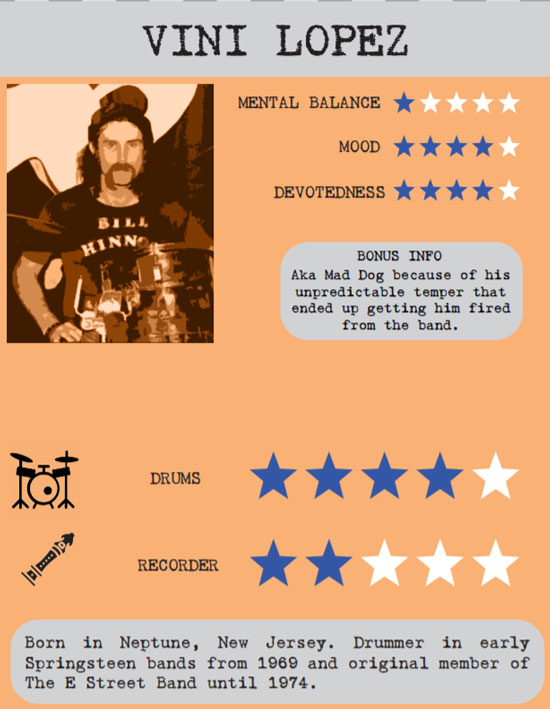 Even the obscure but notable local legends are present, rewarding actual or spiritual habitués of the early Asbury music scene.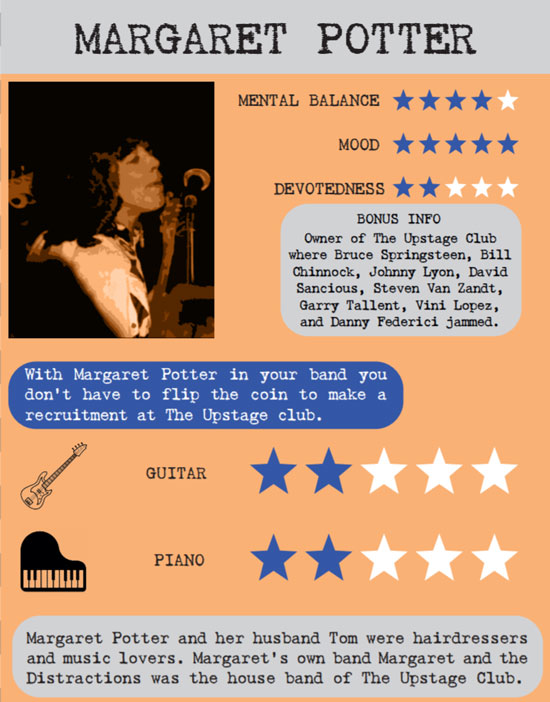 Becoming the Boss is incredibly rich in detail, accessible to uninitiated but chock full of detail, arcana, in-jokes, and lore sure to please the hardcore Springsteen fan.
"It will never be the family board game of the year," laughs co-creator Knud Jønsson.
But that's by design.
Søren and Knud have been friends since high school. Their professional paths couldn't have been more divergent — Søren works in corporate communications while Knud is a researcher of bird evolution at the University of Copenhagen — but their shared passion for Bruce's music and their appreciation for its circumstances of origin has been a continual core of their friendship over the years.
They went to their first gig when the Reunion tour came to Germany in 1999 (Knud was wearing his souvenir T-shirt from that show when we spoke), and as with much of E Street Nation, that first taste of live Springsteen led to an everlasting addiction.
They attended more shows together, schooled themselves on Bruce's life and music, and eventually — inevitably — made the pilgrimage to Asbury Park. Making the most of their trip to the U.S. during the 2016 River Tour, Søren and Knud took a side trip to Asbury and Atlantic City ("and Flemington!" Søren adds), and the landscape of their imagination came to life.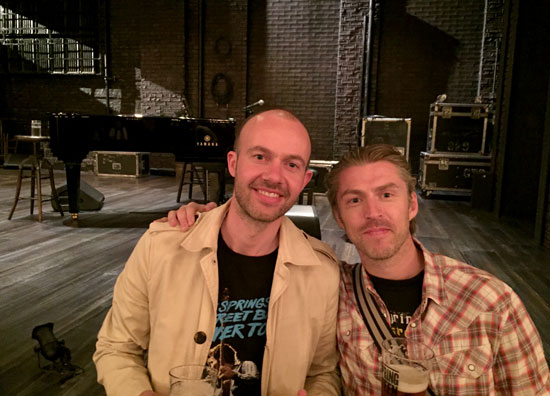 Søren Kitaj, left, and Knud Jønsson in 2018, at the Walter Kerr Theatre
The pair made a subsequent trip in 2018 to see Springsteen on Broadway, and they even managed every fan's dream: they caught a surprise Springsteen appearance at the Wonder Bar when Bruce showed up to dance with his mom one stormy April day.
Reminiscing on a late spring day about a year and half ago, Knud made an off-hand comment that Bruce's escape from New Jersey might make for a great board game. Søren immediately latched on to the possibility and refused to let it go: "That is actually a very good idea."
They envisioned the basic structure of the game that same evening: the proximity of Asbury Park's famous locales to each other made for a natural, classic board game layout, and as far as gameplay went, Søren and Knud were inspired by the trailer parks, supermarket openings, and all the small venues the local artists played on their long upward climb. They planned an experience centered on earning a reputation via band battles and songwriting, and by the end of the evening what started as a lark had become a commitment.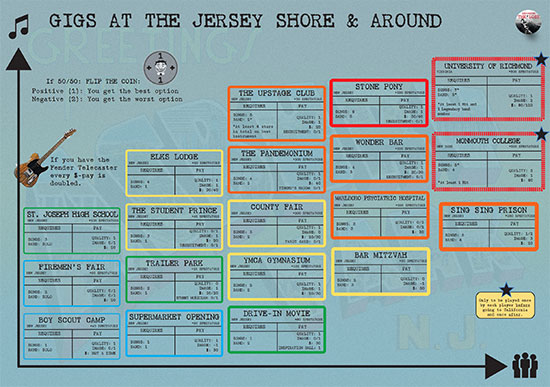 They were also inspired by Bruce's internal struggles, sensitively incorporating his depression and dark days into the gameplay as well. And they knew Bruce's early sojourn in California and eventual arrival in New York City had to be included, too.
In short: they put the story first, and the gameplay second. They admit to having been asked: Can't you make the game generic? Becoming a Rock Star, maybe? "No we cannot," says Knud. "That is not the game we are making."
Still, as Søren notes, "It was important to us not to not give any advantage to those who know him better than others," so while devoted fans will likely derive more enjoyment from the game, when it comes to gameplay, even the uninitiated have a fighting chance to win the game. There's a fair bit of strategy required, but just like in Asbury Park at the time, "you need a bit of luck and magic to make it happen."
The basic game came together quickly. Like Bruce's classic albums, though, refining the gameplay took more than a year. "We very quickly had down what we needed," said Knud, "and then the rest of it has just been playing the game over and over and finding out, 'Oh man, you win every time if you do this, we need to do something about it.' All little changes and refining, what outtakes should be in, what non-E Street members should be in..." Søren concurs: "Ninety percent of it came quick, but the last ten percent took a lot of time."
Some of the simplifications were painful, but the guys kept their focus on the balance between lore and gameplay. Says Knud: "The last six months were basically us asking: can we make it simpler? Easier? For example, the first battle of the bands was immensely complex. You had to flip coins like 25 times to find out who won."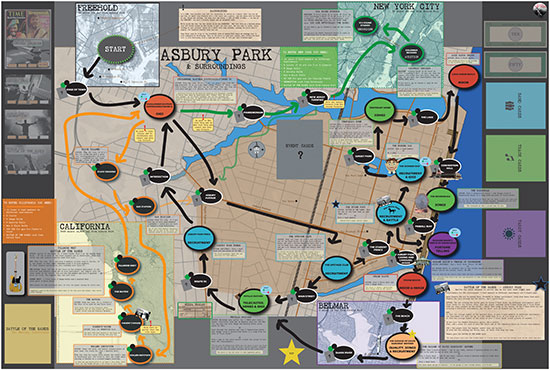 The game is finished now, released in January 2021 after a total of 18 months in development, and it's free to all, a gift to E Street Nation from Søren and Knud. You can play it simply by downloading and printing the materials and assembling a few household items.
Plan to spend as much time playing the game as you would at an E Street Band concert, though. Two players will take about three hours to make it through the game. Søren and Knud once played with four and didn't quite finish even after five hours. But Bruce didn't take the shortcut to success, so why should players?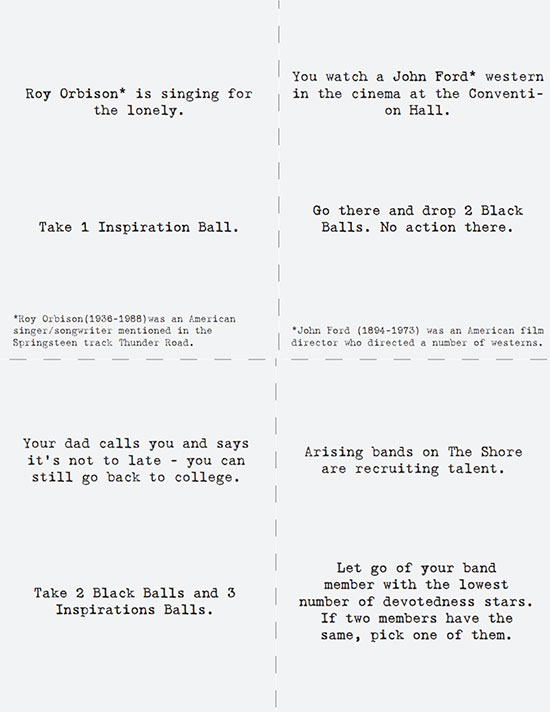 When asked if they'd ever considered abbreviating the game for, say, one-hour gameplay, Knud flatly answered, "No. That is not the game we are trying to make. It's not for people who think 'Born in the U.S.A.' is Springsteen's best track. It's for people who think it's a lot of fun when you pull up that event card [above] and understand the reference."
Still, the guys admit to take a few designers' prerogatives, particularly with the subjective ratings assigned to the songs and characters. I told them had a bone to pick: how could they give "New York City Serenade" only three stars out of five?

"We'd like to give them all five stars, but we need a certain balance, that's part of the game!" defended Søren. "If we gave it three stars, we of course didn't think it was one of his best tracks, but it's subjective, our opinion."
Still, if players disagree with the gamemakers' ratings, they have their blessing to change them. In fact, Søren expects and hopes for some debate about their ratings on the game's Facebo­­ok page.
When I asked the guys if there will be a sequel, they demurred. "We're not going to do a Bob Dylan one, or a Neil Young one." So unlike their hero, Søren and Knud are happy being one-hit wonders.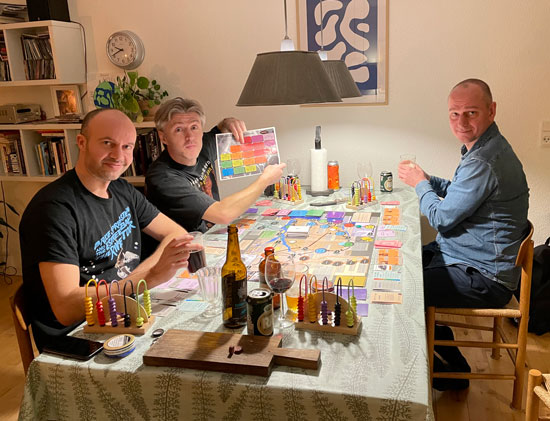 Game designers Kitaj and Jønsson take a friend on a test drive
My last question for the guys was perhaps the most important one: can Becoming the Boss be played virtually? Because if so, quarantine may have just become a little less tedious.
They glanced at each other and shrugged. "Why not? We haven't considered that, to be honest."
Which only leaves one lingering question in my mind: anyone up for a game?
Download the full game for free here.
- February 26, 2021 - Ken Rosen reporting - Visit his blog at estreetshuffle.com

IF I WAS THE PRIEST
Vol. 18 of From My Home to Yours offers up complex spirituality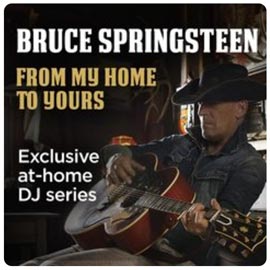 Bruce Springsteen's From My Home to Yours Volume 18: "New Born Soul," this week's new episode on SiriusXM's E Street Radio, is one of the shortest in the ongoing series, clocking in at just over 50 minutes. But it has one of the most complex and intriguing themes he's chosen for the series to date.
"Our theme today will be the rebirth of all things good, the essentialness of new transformations and good times in your life, and the nurturing of your spirit. So as you can see, we have our work cut out for us," said Bruce as he introduced both the show and its opening track: The Staple Singers' "New-Born Soul," which also inspired the episode's title.
This was some interesting territory. First, in a rare move for this series, Springsteen's brief spoken intro was the only moment when he verbally expressed precisely what he was aiming for thematically, letting the music do almost all of the talking on that front for the rest of the show. At the same time, the theme itself addressed things that have such extremely individualized and often private meanings.
To further raise the stakes, he opened this episode with an explicitly Christian gospel song, performed by one of the most famous and respected groups to straddle the line between the spiritual and the secular. It's a rather eyebrow-raising move for those of us familiar with Springsteen's long-standing, complicated history with concerns of religion and spirituality.
If you happen to be not quite as familiar with that history, here's an easily accessible source that can get you up to speed in short order: Chapter Three, "The Church," in Springsteen's Born to Run autobiography. For good measure, in case you're ever tempted to think all of that gospel/religion-inspired imagery in songs like "Land of Hope and Dreams" and "I'll See You in My Dreams" settles the case decisively, you can add two more sentences from Bruce's most recent AARP Magazine interview, when he was asked about the existence of some kind of afterlife: "It's a nice idea. I wouldn't count on it."
After the Staples finished testifying via "New-Born Soul," a much more secular approach towards celebrating good times and new beginnings dominated the first half of the show. Yet interestingly enough, all but one of these next six tracks were performed by artists who have undergone some significant spiritual oddyseys and/or have strong gospel music connections in their backgrounds.
Van Morrison's "Glad Tidings" began the sweep. It's the closing track from Morrison's 1970 Celtic soul masterpiece Moondance, the title track of which was interpolated by Bruce and the E Street Band during the Hammersmith Odeon, London '75 version of "Kitty's Back." Springsteen also recruited Moondance drummer Gary Mallaber for Lucky Town.
Next up was Gene Chandler's "Gonna Be Good Times," followed by Sam Cooke's similarly themed "Good Times." In introducing Chandler's record, Bruce engaged in a bit of the legendary tall-tale storytelling he's known for onstage. "I have seen Gene Chandler [perform] live," testified Bruce, "and his voice literally blew the roof off the place." (We have yet to come across any reports of Chandler's singing causing such extensive venue damage anywhere, but we're keeping an eye out for corroborating accounts.)
Another thematic double-shot followed: "New Morning" by From My Home to Yours regular Bob Dylan was paired with "Morning Train," performed by the late, great Precious Bryant.
Jay-Z and Kanye West's "New Day," featuring a brilliant sample of Nina Simone's "Feeling Good," was up next, proving Bruce Springsteen isn't the only major artist who can navigate so well those deep and often dark waters between fathers and sons. Speaking of brilliant sampling, after the record ended, Springsteen returned to speak over a musical bed consisting of a snippet of "Tristessa" by Italian prog-rockers Orchestra Njervudarov (aka Frogs,) which was sampled in Jay-Z and Kanye's "No Church in the Wild."
"Now, if you want the rebirth of the soul," advised Bruce, "you will need the gospel." By "the gospel," of course, he meant the deeply emotional and powerfully uplifting Black gospel music that also gave birth to rock 'n' roll and soul music. To prove his point, Springsteen hit us with a double-shot of the Soul Stirrers featuring Sam Cooke ("at his most youthful and maybe at his best," quoth Bruce) performing "Jesus, I'll Never Forget," followed by The Voices of Victory (later renamed The Victory Baptist Choir) performing "I Am So Glad Jesus Lifted Me."
But lest you feared that our spiritual guide for the day might have forgotten the darker side of Christianity's history, next up on his playlist was Warren Zevon's Crusades-set "Ourselves to Know." (Incidentally, Bruce may not have forgotten his history lessons, but he does seem to have forgotten how to pronounce Warren Zevon's last name — despite previously getting it right in his moving "My Ride's Here" concert tribute following Zevon's death.) Introducing "Ourselves to Know," Springsteen recited a beautiful and mysterious couplet from poet Ciel Sainte-Marie: "The city of the dead does not want your worship. The spirits want to be free to join the next incarnation of our world."
Bruce then offered up a "triplicate" of his own recordings from the early-1990s Human Touch/Lucky Town period of recording and touring. "As a good Catholic boy," he said in introducing them, "I have spent my time pondering redemption, damnation and rebirth, over and over again. It of course has found its way into an enormous amount of my own work."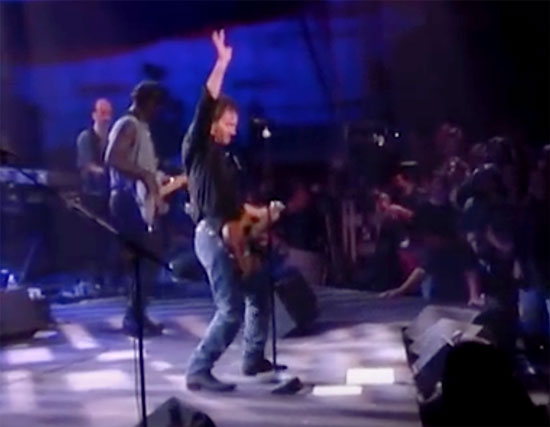 The three tracks he chose to play — "Real World" (featuring Sam Moore) from Human Touch, "Living Proof" and "My Beautiful Reward" from In Concert - MTV Plugged (above) — not only fit in perfectly with the theme of the show, but resurrected and connected some powerful, moving tracks from an underappreciated portion of his career. (If he can think of other ways to provide that material with a rebirth — say, performed live with the E Street Band a la Darkness at the Paramount? — that would nurture our spirits for sure.) Thanks especially to the presence of Sam Moore, this trifecta also emphasized the importance of Black gospel music to that period of Springsteen's work, something we explored in our 2012 profile of 1992-93 band member Cleo Kennedy as well.
Then, before we knew it, the day's sermon had come to its close. "And that's our show for today, pilgrim," Springsteen informed us. "So keep searching, keep searching, and until we meet again, go in peace."
And the track chosen as a benediction for today's meeting? Why, Jerry Lee Lewis' classic version of "Great Balls of Fire," of course. It is, after all, the first rock 'n' roll song to convert Bible-based imagery into a sexual metaphor. If you're seeking complex spirituality, you won't find anything better than that, pilgrim.
Playlist:
The Staple Singers - "New-Born Soul"
Van Morrison - "Glad Tidings"
Gene Chandler - "Gonna Be Good Times"
Sam Cooke - "Good Times"
Bob Dylan - "New Morning"
Precious Bryant - "Morning Train"
Jay-Z & Kanye West - "New Day"
Instrumental Interlude: Orchestra Njervudarov - "Tristessa"
Sam Cook with the Soul-Stirrers - "Jesus I'll Never Forget"
Voices of Victory - "I Am So Glad Jesus Lifted Me"
Warren Zevon - "Ourselves to Know"
Bruce Springsteen - "Real World"
Bruce Springsteen - "Living Proof" (Live, MTV Plugged)
Bruce Springsteen - "My Beautiful Reward" (Live, MTV Plugged)
Jerry Lee Lewis - "Great Balls of Fire"
- February 25, 2021 - Shawn Poole reporting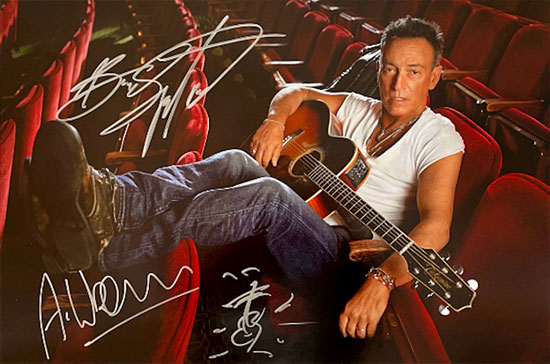 KRISTEN ANN CARR FUND AUCTION CLOSES WEDNESDAY
"A Night to Remember" is a date on the yearly spring calendar for many Springsteen fans: usually an annual event in support of the charity Bruce helped launch back in 1993, the Kristen Ann Carr Fund. No surprise that there will be no Night to Remember this spring, though it's not out of the question for 2021; we're told that a late fall/early winter event remains up for consideration, depending on the status of COVID-19.
But right now — as in, for the next 24 hours — KACF is holding an auction to raise funds for their good work, and it's chockablock with Boss items.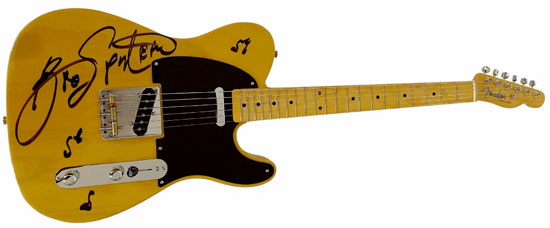 The KACF Winter Guitar Auction features a 1952 reissue Telecaster signed by Springsteen (above), plus additional guitars signed by Stevie Van Zandt, Jake Clemons, Tom Morello, Pearl Jam, and more.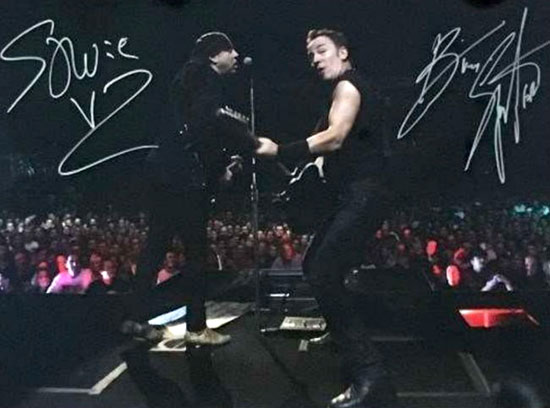 You'll find other autographed items — a Jo Lopez print signed by both Bruce and "Stevie VZ" (above), and additional Springsteen-signed photographs from Danny Clinch and Alexi Lubomirski for Esquire (top). Additionally, Bruce put his John Hancock on a Born to Run LP, a vintage Born to Run promo poster, Frank Stefanko's Further Up the Road book, and more... with a Little Steven-signed Disciples of Soul show poster on the block, too.
See all lots here, and act fast if you're interested — bidding closes Wednesday, February 24, at 4pm ET. Learn more about KACF at kristenanncarrfund.org.
- February 23, 2021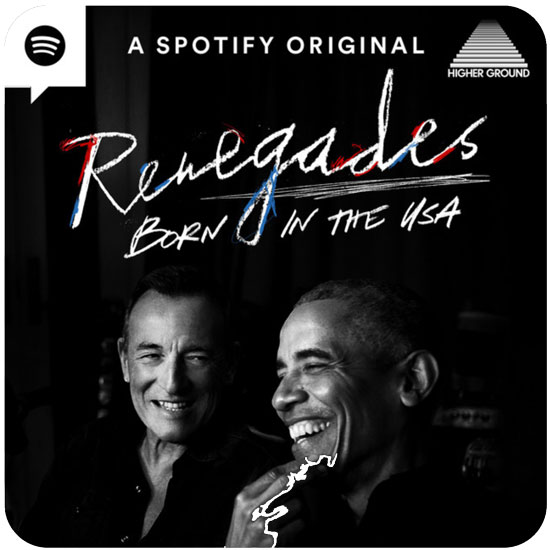 SCOOTER AND POTUS BUST THE PODCAST IN HALF
The Obamas' production company announces podcast with Springsteen, 'Renegades: Born in the USA'
During Spotify's Investor Presentation Monday morning, the streaming service announced that President Barack Obama and First Lady Michelle Obama's production company, Higher Ground, will drop the second original podcast from their ongoing partnership. This one will be a partnership with a certain New Jerseyan rocker, called Renegades: Born in the USA.
In this author's opinion, as someone who was fortunate enough to spend some time in the Obama White House, it's hard to imagine a listening experience more poignant, more timely, and more personal than my former boss and my perennial boss chatting it up on the most important topics in life.
Renegades will be an eight-episode podcast featuring President Barack Obama and Bruce Springsteen in deep and revealing conversation with each other, exploring a wide array of topics including race, fatherhood, marriage, and the state of America. It is a personal, in-depth discussion between two friends exploring their pasts, their beliefs, and the country that they love — as it was, as it is, and as it ought to be going forward.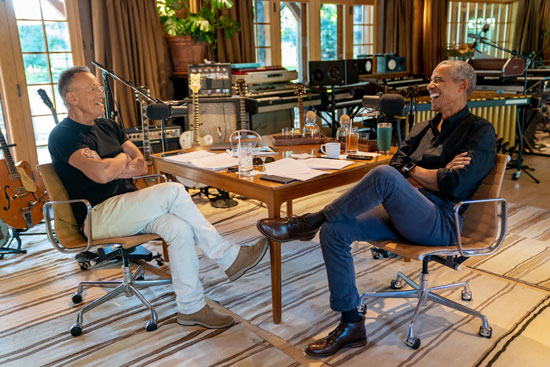 Beginning today, the first two episodes will be available exclusively to the hundreds of millions of Free and Premium Spotify users around the world.
As we know, Obama and Springsteen have formed a deep friendship since they first met on the campaign trail in 2008. Bruce's solo-acoustic performance in January 2017 at the White House, of course, is said to have spurred the idea for the Springsteen on Broadway show.
Now, for the first time ever, Higher Ground and Spotify invite listeners to a true fly-on-the-wall experience as the duo discuss their hometowns and role models, explore modern manhood, and confront the painfully divided state of America today and how we can all move forward together. The eight-episode series will bring listeners a groundbreaking, music-rich dialogue between the former President and one of America's most iconic artists.
Obama introduces the first episode of the podcast:
How did we get here? How could we find our way back to a more unifying American story? That topic came to dominate so many of my conversations last year — with Michelle, with my daughters and with friends. And one of the friends just happened to be Mr. Bruce Springsteen.

On the surface, Bruce and I don't have a lot in common. But over the years, what we've found is that we've got a shared sensibility. About work, about family, and about America. In our own ways, Bruce and I have been on parallel journeys trying to understand this country that's given us both so much. Trying to chronicle the stories of its people. Looking for a way to connect our own individual searches for meaning and truth and community with the larger story of America.
Episode 1, which drops today, is "Outsiders: An Unlikely Friendship," in which President Obama and Bruce discuss the making of an unlikely friendship, growing up as outsiders.
Episode 2, available today as well, is "American Skin: Race in the United States," with President Obama and Bruce reflecting on their early experiences with race and racism and the uncomfortable conversations we need to have.
- February 22, 2021 - Brandon Shaw reporting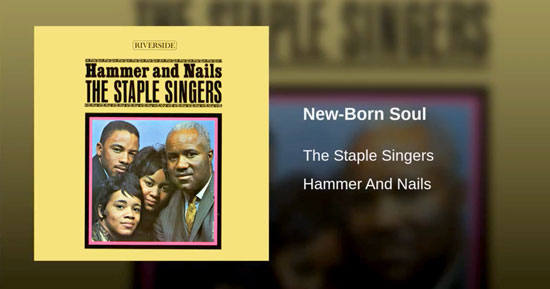 FROM MY HOME VOL. 18 CUED UP FOR WEDNESDAY
This week, Bruce Springsteen returns to the satellite airwaves for a new volume of From My Home to Yours, the first since Lawyers, Guns and Money: An Inaugural Special five weeks back.
This will be the 18th episode of the series that answers Springsteen's own question, "How can I stay in contact with my audience?" As he went on to tell Jim Rotolo during their New Year's Eve interview, "I just started off with music that asked the questions that I was puzzling about myself at that moment, and it's gone on. I've enjoyed it very much.… It reinvolved me with music itself, both current and past."
From My Home to Yours Volume 18: New Born Soul will have its first airing on Wednesday, February 24, and we wouldn't be surprised by a gospel theme, given the Staple Singers song that likely inspired the show title, 1962's "New-Born Soul." (Of course, you can bury the old one and dance on its grave.)
In addition to the Staple Singers, Bruce will be spinning some music of his own plus tracks by Sam Cooke, Van Morrison, Bob Dylan, Warren Zevon, and more.
Catch the one-hour Volume 18 at 10am and 6pm ET on Wednesday, with more rebroadcasts to follow (schedule will be here), or on the Sirius XM app.
- February 21, 2021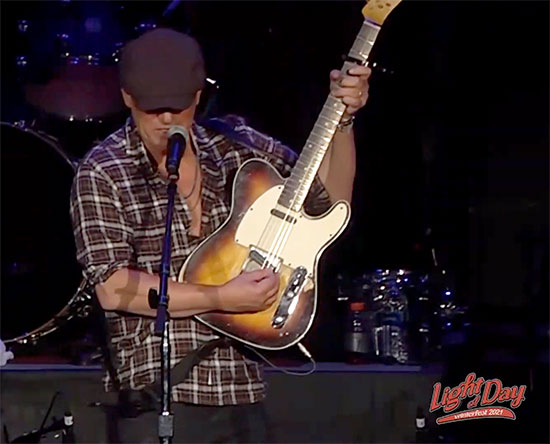 TWO LODs ARE BETTER THAN ONE
Light of Day Canada continues the good work — and the good sounds
The past weekend, the 2021 Winterfest brought Light of Day's annual Asbury Park festival online, mixing newly recorded performances with concert footage from the 2020 Winterfest (when no social distancing was required). You can still watch online, via the Light of Day Foundation's YouTube channel; for those specifically looking for Springsteen content, see LOD Bob's Birthday Bash, which includes the premiere of multi-cam, pro-shot footage of Bruce's participation in 2020, much of it with Joe Grushecky and the Houserockers.
If you like what you see, consider donating to the cause, which you can also do by puchasing LOD '21 merch — now on sale (50% off masks, 25% off apparel) — at lodstore.org.
And get ready to do it again this coming weekend, as we look across the border to the north: the Light of Day Canada Foundation for Parkinson's Research and Care has put together another killer lineup for their own Virtual Festival. Steve Earle, Tom Morello, John Cafferty, and Wayne Kramer will join a roster of dozens of artists, including Shore favorites and reliable Light of Day regulars, for "two great nights of music, stories, friendship and Parkinson's/Cancer awareness."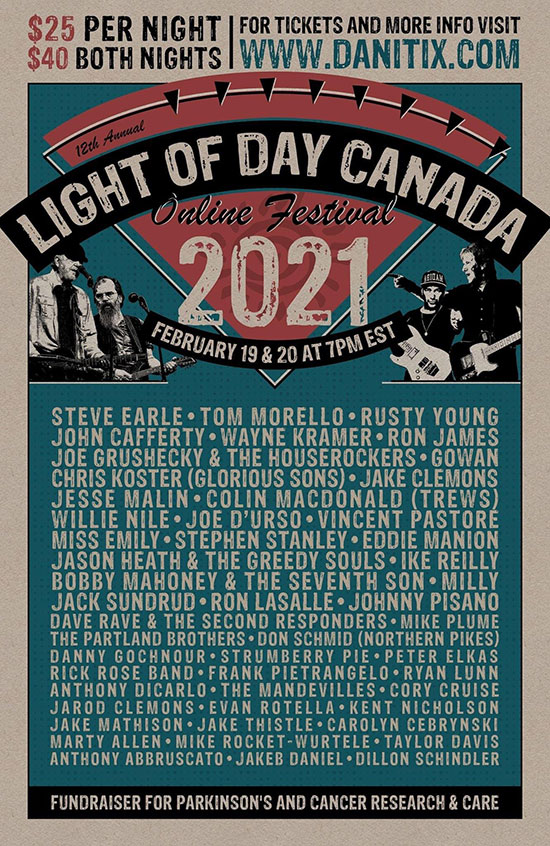 Light of Day Canada 12 will stream across two nights, Friday February 19 and Saturday February 20. The prices in the poster above are in Canadian dollars; tickets are $20 USD per night, with a combo ticket getting you both nights for $32 USD. (Additional packages with posters and/or T-shirts are also available.)
Jake and Jarod Clemons are each contributing a performance, as are Jason Heath & the Greedy Souls (featuring Danny Federici's son Jason). Returning Light of Day performers from last week's Winterfest include Joe D'Urso, Eddie "Kingfish" Manion, Jake Thistle, Willie Nile, Jesse Malin, and, to close Saturday night, Joe Grushecky and the Houserockers. Light of Day executive director Tony Pallagrosi will speak both nights. Full schedule at danitix.com.
Event merch is also available online, and check out the LOD Canada 2021 Auction, which includes several superb and limited-edition photograhic prints of Springsteen and Stevie Van Zandt, bidding closes Sunday at noon ET.
- February 18, 2021


FROM THE BIG WHITE HOUSE TO THE PARKING LOT
This Presidents' Day, a reminder that it ain't so easy being man at the top.
This Springsteen original, a Born in the U.S.A. outtake from 1984, was finally released on Tracks in 1998, and he has only performed the song live three times ever: twice on the Born in the U.S.A. tour (above is the second time, 8/5/85 at RFK Stadium in Washington, DC) and then once more, nearly 30 years later, on the Wrecking Ball tour in Kilkenny, Ireland.
For bonus points, Nils Lofgren has covered the song himself, solo-acoustic at the 1986 Bridge School Benefit, and for the 2003 2CD covers collection, Light of Day: A Tribute to Bruce Springsteen. Been going on forever, it ain't ever gonna stop…
- February 15, 2021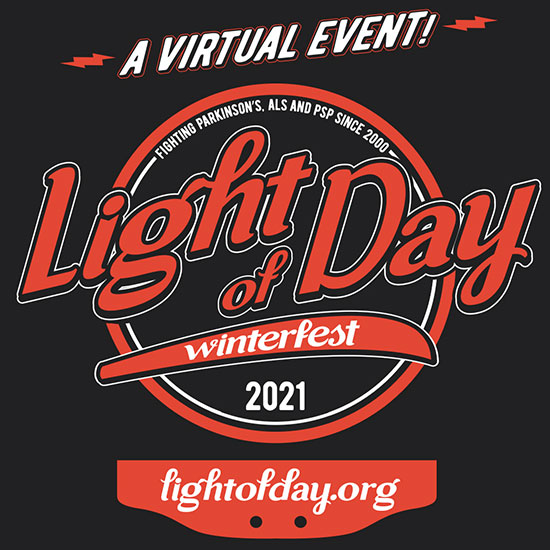 SOME LIGHT AT THE END OF THIS TUNNEL
Just around the corner, LOD's virtual Winter Love Fest begins Friday
You know what'll feel especially good this weekend? Some loud, loud music. Dim lights and thick smoke are up to you... well, the volume is up to you, too. But after an exhausting week — with much of our collective attention taken by reports that remain unclear, with contradictory details emerging daily — we could all use a weekend to scrub off the dirt and enjoy some live music. Whatever facts emerge, we'll report once we have the full story, if/as it impacts Bruce Springsteen's professional activities. For now, as is customary, we remain focused on the music.
Enter Light of Day. Though a month later than usual, the Light of Day Foundation hosts its annual, multi-day Winterfest concert event despite the pandemic, beginning online Friday afternoon, February 12.
One silver lining of going virtual: for the first time since its inception, the Light of Day shows will be viewable by fans far and wide (with participation from far-away artists as well), streaming live on Facebook and YouTube. Another silver lining: with live film in the can from before the pandemic, they've been able to announce Springsteen's participation in advance.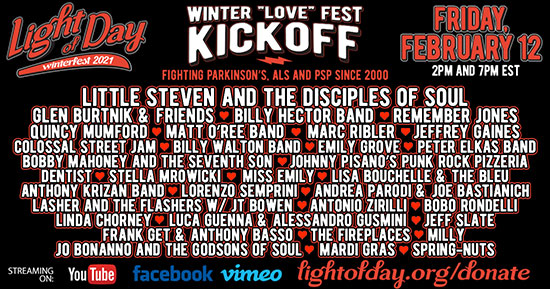 Dubbed "Winter Love Fest 2021," the annual event, which in the last few years had taken place over a couple weeks, happens over a few days, from February 12 to 14. The kick-off is tomorrow, Friday at 2pm ET (repeated at 7pm), with a bill headlined by Little Steven and the Disciples of Soul. Light of Day is also encouraging artists to conduct livestreams on their own platforms on Saturday February 13 during the focal "Bob's Birthday Bash" event.

"As they say, the show must go on, and thanks to the passion of our artists, sponsors, supporters and our good friend technology, it will," says event Co-Founder and Executive Director Tony Pallagrosi.

Over the past year of lockdown we've enjoyed individual live streams by artists like Joe Grushecky, Jesse Malin, and Low Cut Connie; they're just a few of the artists who are joining virtually for Light of Day 2021. More than 12 hours of streaming will include new and pre-recorded performances by more than 60 artists, many of whom have are LOD veterans. Also noteworthy in this year's lineup are Joan Jett & the Blackhearts, The Weeklings, John Eddie, Eddie Manion, Willie Nile, and longtime mainstays Joe D'Urso & Stone Caravan. The fan organization Spring-Nuts will also be part of the stream, having helped raise $10,000 for Light of Day with collaborative T-shirt sales.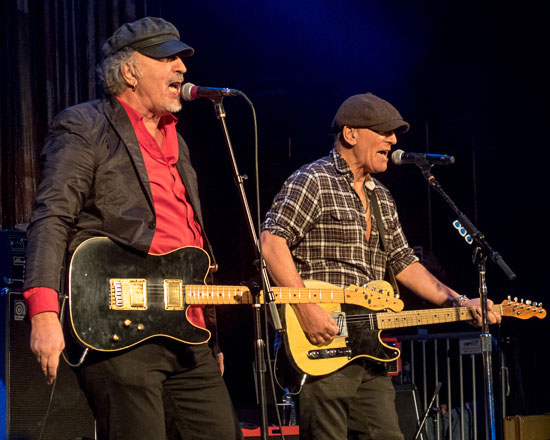 Grushecky and Springsteen at LOD Winterfest 2020, their 75-minute set to stream as part of the 2021 Winter Love Fest - photograph by A.M. Saddler
Light of Day is also taking advantage of the streaming format to bring us a recorded highlight from last year's Winterfest event: Bruce Springsteen's guest performance with headliners Joe Grushecky and the Houserockers. That set will be spread throughout the Bob's Birthday Bash streams on Saturday (plus Bruce's one-song sit-in with Jesse Malin the same night), featuring exclusive footage with newly mixed audio. Click here for our report and setlist from Winterfest 2020; and here for the (tentative) 2021 Birthday Bash running order.

"The Main Event: Bob's Birthday Bash" will stream at 2pm and 7p.m. ET on Saturday, February 13. Long the central event of Light of Day, the annual concert has its roots in a birthday party held for the organization's co-founder and inspiration, artist manager and music industry veteran Bob Benjamin, who was diagnosed with Parkinson's disease in 1996.
View the full schedule of events here.
All Light of Day 2021 merchandise will be available online, as will the annual Light of Day auction featuring vintage prints from the collection of noted music photographer Mark Weiss.

Light of Day continues its mission of raising funds and awareness to fight Parkinson's and its related illnesses (Amyotrophic Lateral Sclerosis) and PSP (Progressive Supranuclear Palsy); donations gratefully accepted here.
And if we need another virtual rock 'n' roll blowout next weekend, put Light of Day Canada 12 on your calendar. Many of the Winter Love Fest artists (and more, including Steve Earle and Tom Morello) will be taking part for two more days of streaming for the cause, February 19 and 20.
- February 11, 2021 - Lisa Iannucci and Christopher Phillips reporting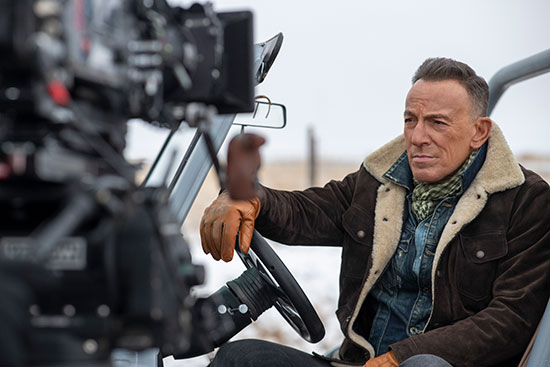 "TO THE REUNITED STATES OF AMERICA"
With the Zimny-shot The Middle, Springsteen partners with Jeep and turns Super Bowl Sunday attention away once again from the guacamole dip
Just over a decade after his Super Bowl halftime appearance with the E Street Band, Bruce Springsteen returns to make a splash on Super Sunday — this time with a two-minute commercial film titled The Middle, directed by Thom Zimny, that will have a one-time television airing during the big game.
A collaboration between Springsteen and Jeep, The Middle was filmed in locations across the United States over five days in late January and early February. Locations included the grounds of the U.S. Center Chapel in Lebanon, Kansas — which stands on the geographical center of the United States of America's lower 48 — as well as Oronoque, KS; Golden, CO; Denver, CO; and Hastings, NE.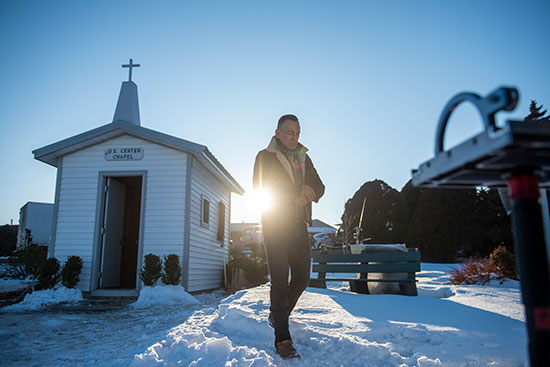 Though Springsteen has performed at corporate-sponsored festivals in recent years, this is the first time in his career that he has agreed to appear in a commerical advertisement. In the mid-'80s, he famously turned down a $12 million offer from Chrysler for the use of "Born in the U.S.A."; it's worth noting that, though he scored the backing music for this Jeep commerical, there's still no Springsteen song associated with the brand. Fears of "I'll See You in My Jeep"? You may exhale.
In addition to appearing in the ad, Springsteen delivers a voiceover that addresses the "common ground" that we share as Americans, during a time in which many politicans with varying motives and opposing goals are calling for unity. The title, The Middle, nods not only to the middle class but the commonalities of all of our citizens, harkening back to something he expressed in the most recent episode of From My Home to Yours:
We need shared beliefs and common values, to give us the ties that will bind us into a country and a people that will define our character and deepen our national soul. These days, I know those things are hard to come by. But they're there.
Acording to a press release, "Bruce Springsteen was intimately involved in creating The Middle and worked closely with longtime director Thom Zimny. He wrote and produced the original score with frequent collaborator Ron Aniello."
And you don't need to wait for the Super Bowl telecast to see it.
"The Middle is a celebration of the Jeep brand's 80-year anniversary," says Global Chief Marketing Officer of Stellantis Olivier Francois, "and, more timely, it is a call to all Americans to come together and seek common ground as we look collectively to the road ahead.… Bruce Springsteen was instrumental in crafting this joint message. His experiences and perspective have often been called upon to bridge a divide. Now seems to be a time when a message like this is greatly needed."
Springsteen manager Jon Landau says, "Olivier Francois and I have been discussing ideas for the last 10 years and when he showed us the outline for The Middle, our immediate reaction was, 'Let's do it.' Our goal was to do something surprising, relevant, immediate and artful. I believe that's just what Bruce has done with The Middle."
Speaking to Variety, Francois said Springsteen "looked at this as a prayer," that the artist was "100% sincere, and honest and authentic. This is an attempt to contribute, to heal. This is not an attempt to pick a side… [Springsteen] felt it was time for him to be this guy in the middle of America, talking to America from this little chapel in the epicenter of America, and stand for the middle and nothing else."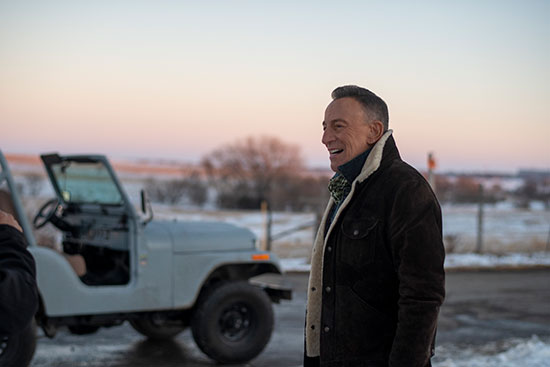 The full script:
There's a chapel in Kansas.
Standing on the exact center of the lower forty-eight.
It never closes.
All are more than welcome.
To come meet here, in the middle.
It's no secret…
The middle has been a hard place to get to lately.
Between red and blue.
Between servant and citizen.
Between our freedom and our fear.
Now, fear has never been the best of who we are.
And as for freedom, it's not the property of just the fortunate few; it belongs to us all. Whoever you are,
wherever you're from.
It's what connects us.
And we need that connection. We need the middle.
We just have to remember the very soil we stand on is common ground.
So we can get there.
We can make it to the mountaintop, through the desert...
and we will cross this divide.
Our light has always found its way through the darkness.
And there's hope on the road… up ahead.
- February 7, 2021 - photographs by Rob DeMartin

SPRINGSTEEN ON SUNDAY CELEBRATES 21 YEARS OF LOD
Long distance dedication or just around the corner, get your pick in for the all-request Valentine's Day show!

Springsteen on Sunday on 107.1 The Boss at the Jersey Shore will be celebrating both Light of Day 21 and Valentine's Day with a special all-request/dedications edition of the show next Sunday, February 14.
This weekend, on Sunday February 7, phone lines open to place your request: starting at 9am ET, call (732) 531-5059, and for a minimum $25 donation to Light of Day, Springsteen on Sunday host Tom Cunningham will play your song on Valentine's Day as part of his special three-hour edition of the show.
The Springsteen canon contains so many incredible songs about
amor,
so this will certainly be an extra-special Valentine's morning. Requests are first-come, first-served, and space is limited to 21 songs, in honor of the Light of Day Foundation's 21-year battle to defeat Parkinson's Disease and its related illnesses. Listen live every Sunday, streaming at
1071theboss.com
.
- February 6, 2021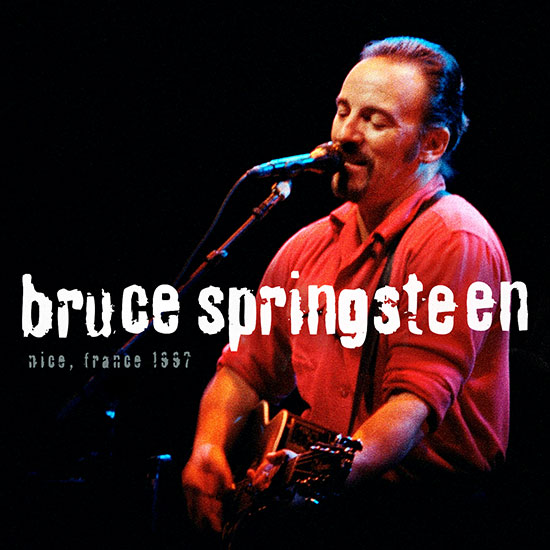 C'EST MAGNIFIQUE!
Tom Joad tour stop in Nice, France, is 1997's first Archive entry
The Springsteen Archive Series has been not only a treat for hardcore fans, but also an essential tool in telling a deep and rich story about the artist's live performance history. Bruce Springsteen has received piles of accolades for his many talents, but in the end historians will remember him most as one of the greatest live rock performers ever. The Archive releases show us why.
Whether showcasing legendary shows or lesser-heralded nooks and crannies — think of Leeds 2013, or 12/29/80 at Nassau Coliseum, or Wembley 2006 — the series makes the case for Springsteen's live rep. Let's just say it: on any given night, anywhere in the world, a Springsteen concert will be a compelling and often riveting experience. Palais des Congres Acropolis, Nice, France May 18, 1997 is one of those shows.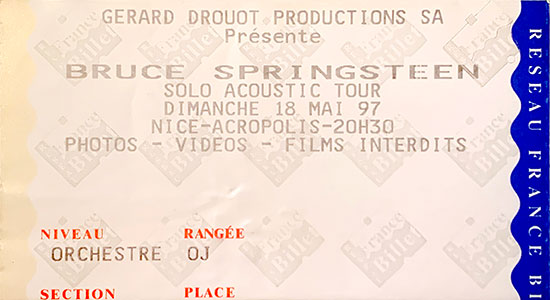 The Nice performance came at the end of the tour, in a 13-show run in May 1997 through Vienna, Warsaw, Prague, Florence, Naples, and six nights in France. This final leg appears to have been scheduled in response to Springsteen receiving the Polar Arts Prize in Stockholm on May 5. It marked his first tour stops ever in Austria, Poland, and the Czech Republic.
Nice 1997 is the fourth Joad concert in the Archive Series, but really only the second traditional one (joining King's Hall, Belfast, March 19, 1996). The Freehold and Asbury releases from November '96 are outliers in terms of the tour's customary setlist and structure, as Bruce dug into his catalog for one-offs to mark their location. Those Jersey specials opened him back up to songs from the start of his career, however, and influenced the remainder of the tour — as with wonderful versions of "Saint in the City" and "Growin' Up" in Nice.
More than any other release, Nice showcases a challenge that Bruce faced with Joad tour audiences: an increasingly devoted, happy, and rowdy European audience that can't quite settle down — which is frequently audible in the set. The most hilarious moment is in "Two Hearts," when he hesitates before finishing "…than one," and an audience member can't resist shouting the lyric. "I can do it," Bruce responds. Throughout, he forges ahead with the stories he told at U.S. shows, although at times they don't quite resonate with an audience filled with speakers for whom English is not their first language.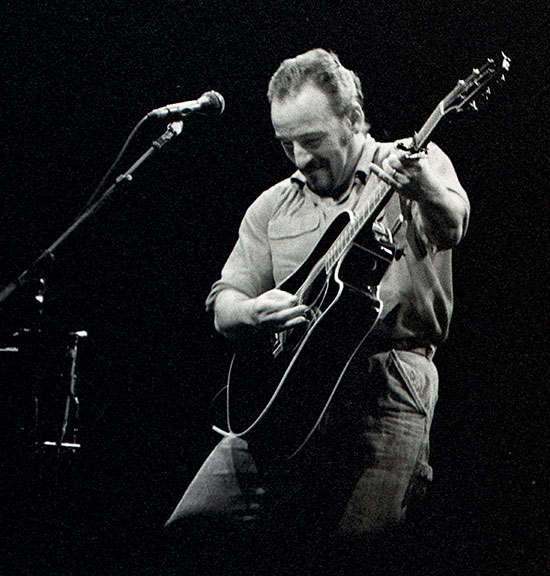 When the Tom Joad tour kicked off in November of 1995, it was hard to imagine that it would run so long. It was a complete departure from anything Springsteen had done on stage before, and the material was a challenge to an audience who'd come to expect rock 'n' roll. But it continued on in 1996, of course, with incredible shows across Europe and the United States, often at historic, beautiful, small theaters with personality and history. The following year brought him to Japan and Australia for the first time in a decade. Bruce visited cities he'd never played before and found a way to make a set of devastatingly dark songs inviting and communal. His vocal work, in particular, was a breakthrough.
In Born to Run, Bruce reflected on the tour: "I found new subtleties in my vocals, developed a high falsetto, and learned to use my guitar for everything from a drum to a feedback-screeching canvas of sound. By the end of that first night, I felt I'd discovered something not as physical but as powerful as what I did with the E Street Band that spoke to my audience in a new tongue. I devised a new repertoire of guitar tunings and voicings, refreshed by fingerpicking techniques, and used the full power of my voice throughout its range."
All of those new tools are on display in Nice, with so many performances under his belt. The dynamic range of sounds, from near silence in "Balboa Park" to the full-on power of "Darkness on The Edge of Town" on 12-string, make for a set with a lot of twists and turns. The contrast between the deadly serious depictions of how we treat our poor and the silliness of songs like "It's The Little Things That Count" and "Red Headed Woman" feels like two sides of the same take on the absurdity of life.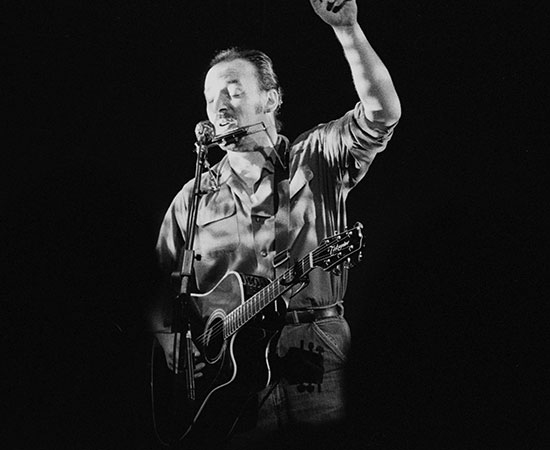 This set includes some great rarities, adding official Joad tour versions of "Saint in the City," "Highway Patrolman," and "Long Time Comin'" to the Archive Series as well as a tour debut of "You Can Look (But You Better Not Touch)" dedicated to Elvis Costello, who was in attendance.
In his memoir, Bruce wrote "These concerts revived me." Throughout all these wildly different songs and moods, you can hear his passion for performing and for working with the audience. It's been a year since I've heard live music, and we've got a long way to go. This'll help.
Also read: Erik Flannigan's latest Nugs.net blog entry. "One Minute You're Right There, and Something Slips"
- February 5, 2021 - Lauren Onkey reporting - Cover and additional photographs by Rene van Diemen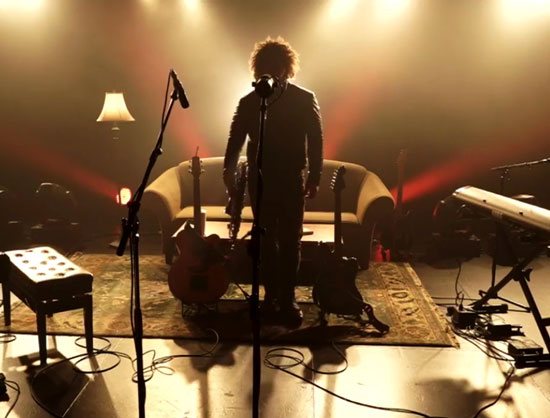 "HERE'S TO A NEW YEAR AND A BETTER US"
Jake Clemons sees a little light in solo livestream
On Saturday, January 30, Jake Clemons treated fans to his first livestreamed performance since the pandemic began, with the wish, "Here's to a New Year and a better us." Now a resident in Canada, Jake originally planned his Vimeo event as a full-band show, using the high production values of the Empire Theatre in Belleville, Ontario to offer his audience as interactive an online experience as possible; that idea might still take shape in future, if the technology permits. In the meantime, all Jake really needed was himself, taking the Empire stage alone for a more intimate experience on Saturday night.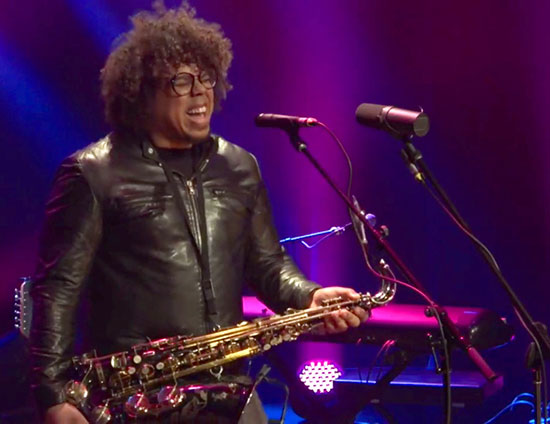 Jake as a solo performer is a treat a lucky few have had, witnessing his living room shows a few years ago; for others this was a rare opportunity to appreciate the many facets of his multi-instrumental talents. Starting on acoustic guitar, Jake switched to electric guitar, keyboards, and of course saxophone throughout his hour-long set, even looping several instruments to build his accompaniment on the fly, as he's previously done during band gigs.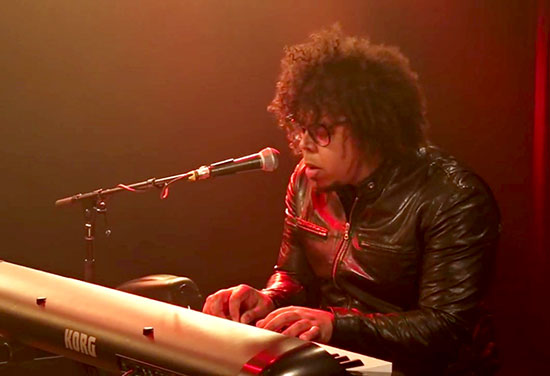 His setlist was a cross-section of his recording career to date, drawing on the Embracing Light EP (2013), Fear & Love (2016), and Eyes on the Horizon (2019). As well as bringing some new, effective solo arrangements to familiar tunes, the 11-song concert gave him the chance to debut the brand-new, unreleased "All I Need Is a Miracle." As usual, Jake's passionate musical performances were accompanied by thoughtful and heartfelt introductions, the artist musing empathetically on the current state of the world and concluding with an encouragement to "Keep the light," as he stood silhouetted from behind.
Considering this was his first time playing live without an audience, Jake seemed remarkably unfazed by the strangeness of performing in such a vacuum. He offered a powerful, assured presentation, superbly filmed and staged, with excellent sound quality and atmosphere. Let's trust it's only the first from him, and there may be more to come — with or without his band — until we can all come together in person once again.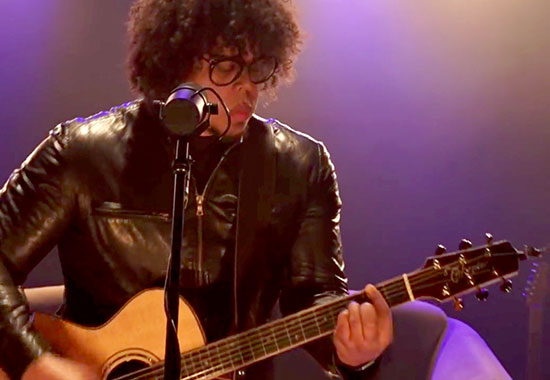 Setlist: You Must Be Crazy / Sick, Broke & Broken / Move On / ¡Ayuda! (When the Sun Goes Down) / All I Need Is a Miracle / All I Need / Embracing Light / Say Your Prayers / Without / Song For Hope / Eyes On The Horizon
In December, Jake released a remixed single from Eyes on the Horizon, "We the People (Remix)." To stay updated on his activities, visit jakeclemons.com and follow him on Twitter, Instagram, and Facebook.
- February 2, 2021 - Dan French reporting

FLASHBACK FRIDAY: BILLY RYAN GETS BLUESY ON E STREET
As we continue to remember the late, great Billy Ryan (see below), check out these two tasty 1980 Norman Seldin tracks featuring Ryan making some bluesy, joyful noise with Seldin and others, including E Street Band members Clarence Clemons, Danny Federici, Garry Tallent, and Max Weinberg.

It's especially moving to hear Billy Ryan's guitar mingling with Federici's keyboard work, since Ryan passed just a day after what would have been Danny's 71st birthday last Saturday.
"Billy Ryan was a real blues master," wrote Bruce Springsteen in his Born to Run autobiography. You couldn't find better proof than these two gems, and we like to think that right about now, there's a heavenly blues joint in some other realm that's filled with the sound of Billy jamming all night with Big Man and Phantom Dan.
Billy Ryan is featured on these tracks and others compiled by Norman Seldin in his beautiful, extensive historical collection Asbury Park Then and Now, which remains available as a 2CD set from Backstreet Records and in digital form via Amazon and Apple Music.
More on Seldin's long friendship with Billy Ryan and their many years of making music together will be included in Seldin's biography, written by music historian Charlie Horner and scheduled for publication later this year. Seldin also tells us that he's planning a new CD/vinyl release to follow the book, in collaboration with many notable veterans of the Asbury Park music scene. Stay tuned…
- January 29, 2021 - Shawn Poole reporting - special thanks to Norman Seldin


SAYING GOODBYE TO SHORE GUITAR-SLINGER BILLY RYAN
The Jersey Shore is mourning the loss of one of its guitar heroes. Billy Ryan, who was a staple of the Asbury Park scene of the '60s and '70s, died Sunday of complications arising from COVID-19. Ryan was 76.
Best known for his blues-influenced guitar, Ryan played in early Asbury bands such as the Jaywalkers alongside Steven Van Zandt and Garry Tallent and with Clarence Clemons in Norman Seldin's Joyful Noise. Ryan would later reunite with Clemons as part of the Red Bank Rockers in 1981.
Ryan was an integral part of the Upstage in Asbury Park, the short-lived but legendary after-hours club where an emphasis on original music helped launch the careers of Bruce Springsteen, Steven Van Zandt, and Southside Johnny Lyon. He was featured in the 2019 feature film Asbury Park: Riot, Redemption, Rock 'n Roll, which chronicled the Upstage and the 1970 race riot which sent the town into a spiral for decades. As part of that film, he played on the Asbury boardwalk alongside Springsteen and his Upstage cohorts one last time to a packed Paramount Theater.
Away from the stage, Ryan was an accomplished photographer and carpenter. He is survived by his wife of 50 years, Michele, and their daughters Meghan and Kristen.
- January 26, 2021 - Tom Jones reporting

RECAP: VOLUME 17, LAWYERS, GUNS AND MONEY
Springsteen presents "An Inaugural Special" on FMHTY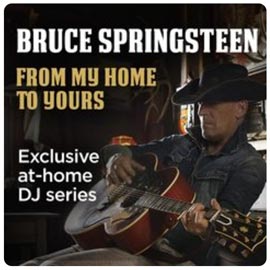 Between Donald Trump exiting stage left (to the pomp and circumstance of the Village People's "Y.M.C.A.") and President Biden entering stage right to take the oath of office, Bruce Springsteen dropped Volume 17 of his FromMyHometoYours radio series on Wednesday.
This was the first installment of 2021 and his first broadcast since the "shit hit the fan" on January 6. With the insurrection in the U.S. Capitol clearly on his mind, Springsteen opened the show with a "masterpiece of paranoia… perfect for this moment" — Warren Zevon's "Lawyers, Guns and Money" — and tailored much of the 12-song playlist as an arc from a moment of darkness to the light of a new day, shining to the sound of a thousand guitars.
It's not a stretch to draw parallels between the mania of Zevon's protagonist and that of a down-on-his-luck, desperate man who summoned lawyers to state capitols (and urban landscaping centers) across the country and, to a tragic degree, called on his followers to send money and raise arms, all in furtherance of what Bruce calls a "cheap, easily disproven lie."
Following Leonard Cohen's synth-driven "First We Take Manhattan," a late-'80s look into the mind of an antagonist guided by delusion into terroristic thoughts, Springsteen spoke directly and candidly to his fans and listeners about January 6. He described his emotions as he watched the stunning events unfold on TV: "My responses went from 'What?' to 'Huh?' to 'Whoa!' to surprise… to shock… to becoming infuriated… to depression… to deepening anger as the days passed by."
While it is clear that Springsteen's anger is directed toward the "dime store seditionist" who used to inhabit the White House, he uses his first spoken piece to convey a direct message to those who fell for the ruse:
I ask my good American brothers and sisters to value yourselves and your allegiances more deeply. Donald J. Trump does not deserve your good soul and your honest and heartfelt commitment. Your country, your real country, awaits and needs you….

So I say this with pain and love in my heart: don't waste your compassion on those who do not deserve it. You are better and worth much more than that. In this world, God's world, no infallible truth resides in just one man.

There is only one truth — God's truth — and it is a truth of deep inquiry, humility in the face of facts, and it is grounded in the faith, love, and respect you carry for your neighbors and your country. Let us all pray to God we have the strength to see clearly with our mind, heart, and eyes, and that we may hold our faith high, humbly, and in service of our country and the truth.
You can feel the heartache in his voice; Springsteen sounds less like a political proselytizer and more like a loving parent, speaking to a child who has fallen for the wrong person. And you can sense that Springsteen, like that parent, would do anything he can to help those who have been hurt see the light beyond the lies and move towards a better future.
Bruce credited the inspiration for his spoken-word prayer in part to a January 14 Opinion column by David Brooks in the New York Times, "Trump Ignites War Within Church," and he followed it with a musical prayer of his own, one that he would also offer later that night from the steps of the Lincoln Memorial: "Land of Hope and Dreams."
From here, Springsteen got back to the music, spinning sendoffs to the exiled Manhattanite bunkered down in Mar-a-Lago: Jay-Z's "Heart of the City," Run the Jewels' "Thursday in the Danger Room," and Green on Red's "You Couldn't Get Arrested." The last of these, a western slow dance of a diss track from 1989's This Time Around, Springsteen expressly dedicated to the former President. It's a song one could imagine Bruce discovering, along with Dan Stuart and Chuck Prophet's desert rock sound, during his Southern California sojourn at the dawn of the '90s.
A pair of driving, amped-up Bob Dylan covers appeared: Link Wray's "majestic, deadly version" of "It's All Over Now, Baby Blue" from 1979's Bullshot, and Neil Young's raging cover of "All Along the Watchtower." Springsteen took the time to bring proper attention to Wray — a "visionary guitarist" who "invented the power chord… ask Pete Townshend" — whom he came to know in the late 1970's when Wray worked with Robert Gordon.
Nearing the end of the hour, Springsteen revisited the sardonic wisdom of grade-A songwriters Leonard Cohen and Warren Zevon. He spun Cohen's "The Future," a dark, fatalistic look at the state of the world in the wake of the fall of the Berlin Wall and the L.A. riots; and Zevon's wry, tongue-in-cheek reflection on having seen it all and survived, "I Was in the House When the House Burned Down."
Pivoting from his 1982 composition "Reason to Believe," Springsteen emphasized that this day is for celebration, reminding us of our shared beliefs and values and sending "a small prayer out to Joe Biden, to Kamala Harris, to you, and our country." As with his with Stand Up for Heroes appearance in November, Springsteen offered "House of a Thousand Guitars" as a closing hymn, echoing the themes of faith, hope, and love that exist throughout his music and that bind our shared community.
The time has come to wake and shake off our troubles, friends.
Playlist:

Warren Zevon - "Lawyers, Guns and Money"
Leonard Cohen - "First We Take Manhattan"

Bruce Springsteen - "Land of Hope and Dreams" (Wrecking Ball album version)

Jay-Z - "Heart of the City"

Run the Jewels - "Thursday in the Danger Room" (feat. Kamasi Washington)

Green on Red - "You Couldn't Get Arrested"

Link Wray - "It's All Over Now, Baby Blue"

Neil Young - "All Along the Watchtower"

Leonard Cohen - "The Future"
Warren Zevon - "I Was in the House When the House Burned Down"

Bruce Springsteen - "Reason to Believe"

Bruce Springsteen - "House of a Thousand Guitars"
- January 22, 2021 - Dante Cutrona reporting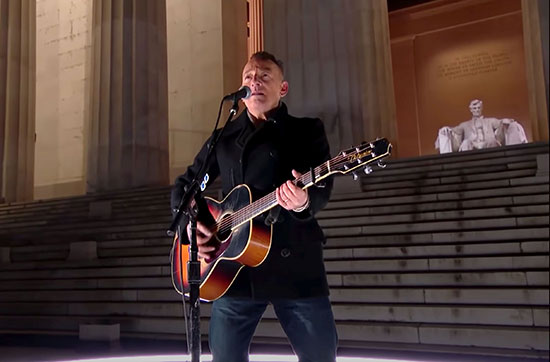 TOMORROW, THERE'LL BE SUNSHINE
All aboard this train, as Springsteen returns to the Inaugural stage
Just over four years ago, on January 12, 2017, Bruce Springsteen performed a private show at the White House, a farewell concert for President Obama and Vice President Biden. For his final goodbye in the East Room, Bruce closed that 15-song performance with one of his most stirring compositions, "Land of Hope and Dreams."
Last night, Springsteen played the song again — offered as a solemn "prayer" to welcome the newly inaugurated Joe Biden as our 46th President, and Kamala Harris, the nation's first woman Vice President. After the four years that passed between these two performances, it's hard to think of a moment when this couplet rang more true:
Dreams will not be thwarted
Faith will be rewarded
As the cold open for Celebrating America, "Land of Hope and Dreams" kicked off a 90-minute prime time special serving as a capstone to the day's official Inaugural events. In another instance of coming full circle, Springsteen performed live on the steps of the Lincoln Memorial in Washington DC, just as he had 12 years ago for the Obama/Biden Inauguration in 2009.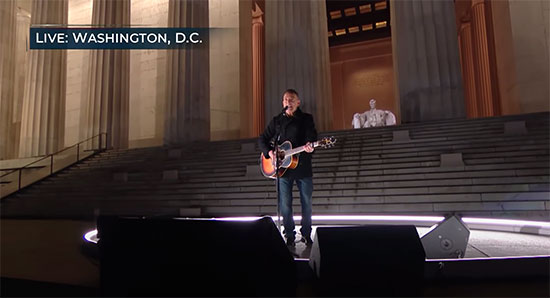 A marked difference underscored our changed circumstance: this time, Springsteen appeared alone at the Memorial — no choir, no fellow music legends, not even an audience. But his old friend Tom Hanks was there, socially distanced and waiting in the wings to host the special. Despite the pandemic, Hanks and Springsteen both travelled to Washington DC to broadcast live on location (most of the night's appearances originated from other cities, many pre-taped).
"Good evening, America!" Springsteen greeted viewers across the nation (and around the world) in a coat and scarf, a familiar, battered Takamine acoustic around his neck. "I'm proud to be here in cold Washington DC tonight, and I want to offer this small prayer for our country."
The lack of a crowd shifted focus to just the performer and the still majesty of his surroundings, lights illuminating the empty Washington mall and its monuments. Laid just as bare as his venue, the message of "Land of Hope and Dreams" was most prominent over Springsteen's spare acoustic accompaniment. Echoing lightly in the space, many lyrics resonated in a completely new way as he sang such lines — written more than 20 years ago — as "Tomorrow there'll be sunshine / And all this darkness past."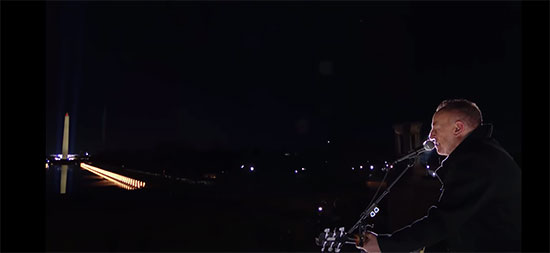 "Land of Hope and Dreams," its title an apt description of "the country we carry in our hearts," has proven itself perhaps the sturdiest Springsteen song of the Reunion era. The first new composition he performed with the reunited E Street Band in 1999 became a statement of purpose for that tour, yet "Land of Hope and Dreams" went on to live many lives. It's been an encore staple for hundreds of E Street Band shows, and Bruce reworked the song for solo acoustic performances on the Devils & Dust tour and for the Sessions Band in 2006. It became such an integral part of the canon that, after years of availability only as a live recording (on 2001's Live in New York City), "Land of Hope and Dreams" was finally recorded and released in a studio version on 2012's Wrecking Ball.
As with last night's Celebrating America performance, Springsteen often reaches for the song on special occasions — for Jon Stewart's final Moment of Zen (on The Daily Show), for charity (at benefit concerts such as Flood Aid, Stand Up for Heroes, and The Concert for Sandy Relief), and for the sake of the Obama/Biden reelection campaign, at multiple rallies in 2012.
The aforementioned 2017 White House concert was a unique, one-off set, but it led directly to the Tony Award-winning, 236-show residency Springsteen on Broadway. Each night, the acoustic "Land of Hope and Dreams" held a place of honor at the end of the set, coming out of "Dancing in the Dark" with a summational benediction before the "Born to Run" finale.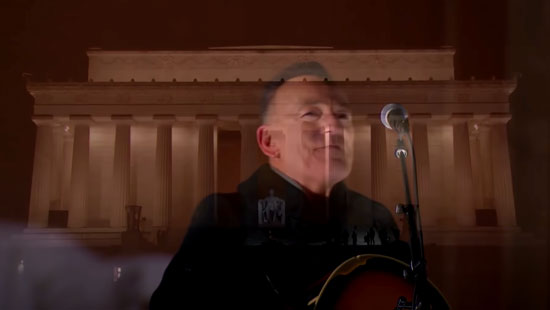 In his Born to Run memoir, Springsteen described his intent behind "Land of Hope and Dreams" when he brought it to E Street Band tour rehearsals in 1999: "I wanted something new to start this new stage of the band's life with. 'Land of Hope' summed up a lot of what I wanted our band to be about and renewed our pledge to our audience, to point the way forward and, once again, become a living presence in our listeners' lives."
As bells of freedom ring a little more loudly this week, America embarks on its own journey of renewal. May the song serve this rededication just as well.
- By the Editors - January 21, 2021

- January 20, 2021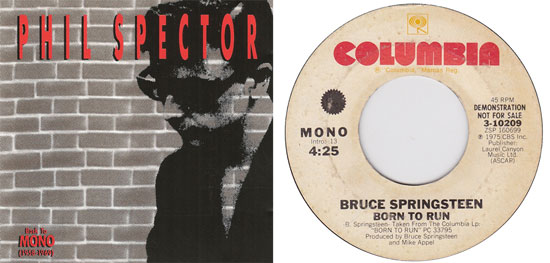 PHIL SPECTOR, 1939-2021
To know him was to love him, hate him, fear him, and pity him.
Rock and Roll Hall of Famer Phil Spector, who died of COVID-19 complications on Saturday, was a deeply troubled, violent, and dictatorial man who spent his final years serving a prison sentence for the murder of Lana Clarkson. He was also a musician, songwriter, and producer who played a major role in creating much of rock 'n' roll's most beautiful, visionary, revolutionary, and romantic music. And, of course, his body of work had a huge influence on the formation of Bruce Springsteen's musical identity, especially during the recording of Born to Run in 1974-75.
"I wanted to make a record with words like Bob Dylan that sounded like Phil Spector," Springsteen would recall two decades later at the 1987 Rock and Roll Hall of Fame Induction Ceremony. A quarter-century after that, in his 2012 SXSW Keynote address, Springsteen again identified the enduring beauty and influence of Spector's trademark "Wall of Sound" production, a style developed and embedded in so many classic, beloved 1960s hit records like "He's a Rebel," "Da Doo Ron Ron," "Be My Baby," "Then He Kissed Me," "A Fine, Fine Boy," "Baby, I Love You," "He's Sure the Boy I Love," "You've Lost That Lovin' Feelin'," and "Black Pearl."
Spector created each of these sonic masterpieces not just by himself, but by leading intense in-studio collaborations with a large, immensely talented company of singers and groups (almost all of them female and of African-American, Native American, and/or Puerto Rican heritage) like The Crystals, Darlene Love, The Righteous Brothers, and The Ronettes, as well as his songwriting partners and the stellar, diverse collection of musicians, arrangers, and engineers who collectively became known as "The Wrecking Crew."
"Phil's entire body of work," said Springsteen at SXSW 2012, "could be described by the title of one of his lesser-known productions, 'He Hit Me (And It Felt Like a Kiss).' Phil's records felt like near-chaos, violence covered in sugar and candy, sung by the girls who were sending [Roy Orbison] running straight for the anti–depressants. If Roy was opera, Phil was symphonies, little three-minute orgasms, followed by oblivion. And Phil's greatest lesson was sound, sound… Sound is its own language. I mean, the first thing you would think of with Phil Spector is [vocally mimics the opening drumbeat of 'Be My Baby.'] That was all you needed."
The great rock critic Greil Marcus perfectly summed up the deep mid-seventies influence of Spector on Springsteen's sound. In his ecstatic 1975 Rolling Stone review of Born to Run, Marcus described the album as "a '57 Chevy running on melted-down Crystals records." In sequential order, the Born to Run tracks on which Spector's sonic influence can be heard at its strongest are "Night," "Backstreets," "Born to Run," "She's the One," and "Jungleland."
Furthermore, Bruce Springsteen and the E Street Band's live version of "Then [S]he Kissed Me" — a song first released as a Spector-produced recording by The Crystals — was a major highlight of the tour that accompanied Born to Run's release, especially during their legendary August '75 stand at The Bottom Line. An officially released live version of "Then She Kissed Me" is available on Bruce Springsteen & the E Street Band - Scottrade Center, St. Louis 8/23/08. And their official December '75 live recording of "Santa Claus Is Comin' to Town," which has long been a Yuletide staple, was based on The Crystals' version featured on Phil Spector's classic A Christmas Gift For You album.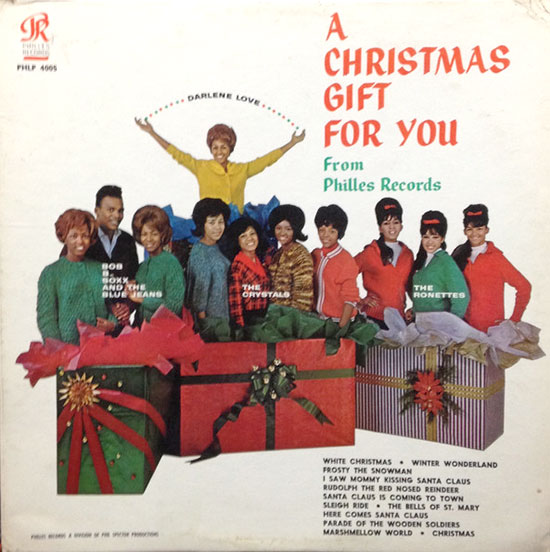 In his Born to Run autobiography, Springsteen added this observation on the major inspiration that Spector provided to the creation of Born to Run's title track: "From Phil Spector came the ambition to make a world-shaking mighty noise. I wanted to craft a record that sounded like the last record on Earth, like the last record you might hear… the last one you'd ever NEED to hear. One glorious noise… then the apocalypse."
No less an authority than Darlene Love herself recently related to us, "I told [Stevie Van Zandt] a long time ago that Bruce and [the E Street Band] together sound so much like Phil Spector. Everything that you need is there. And I guess what a lot of people don't realize is that most of it is all rhythm: the drums and the bells and everything. Phil overdubbed all of that stuff, and it just got better and better." Click here for officially released audio of Darlene Love performing "A Fine, Fine Boy" with Bruce Springsteen & the E Street Band during the 2009 25th Anniversary Rock and Roll Hall of Fame Concerts at Madison Square Garden, and here for an excellent audience-based recording of them performing "Da Doo Ron Ron" together during the same event.
In the wake of Springsteen's Born to Run breakthrough, he got invited to meet with Phil Spector and attend a 1975 recording session that Spector was producing for Dion's album Born to Be With You. Dave Marsh described the meeting in his Born to Run biography: "Spector was reserved about Springsteen, but only up to a point. When one of the producer's friends suggested that the meeting was like introducing the great Sixties pitcher Sandy Koufax to the new Dodger star Don Sutton, Spector corrected him, 'No, it's more like Babe Ruth and Hank Aaron.' Home-run kings."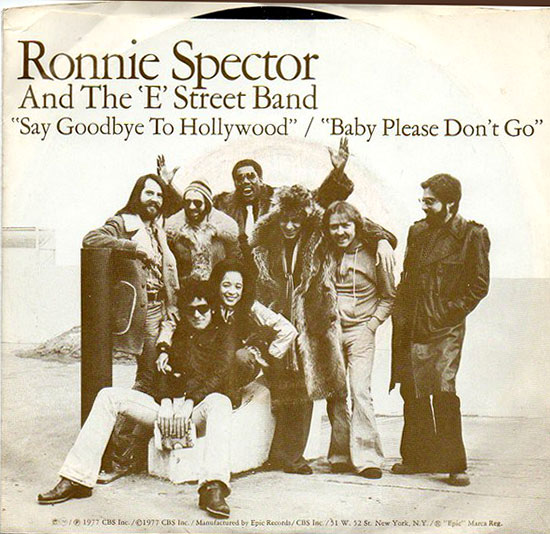 Ronnie Spector, Bruce Springsteen, and the E Street Band on the picture sleeve for Spector's 1976 single "Say Goodbye to Hollywood." Steven Van Zandt produced her version of the song, which was written by Billy Joel and inspired by Phil Spector's classic "Wall of Sound" productions.
In the end, Phil Spector's odyssey also became the greatest example of a phrase frequently heard on E Street over the years: trust the art, not the artist. The best Spector records created a massive sonic space where so many beautiful, diverse voices and musical styles are united into a whole that is so much bigger than the sum of its parts, dominated by visions of love, respect, and a brighter future. But from the very beginning, that space has coexisted with much harsher realities. Even one of Spector's earliest songs, "To Know Him Is to Love Him," took its title from the epitaph on the tombstone for his father, who committed suicide by carbon-monoxide poisoning due to crushing family indebtedness when his only son was just eight years old.
Whatever sadness and darkness eventually led Phil Spector to bully and cause so much harm to others during his lifetime, ultimately betraying the dreams his greatest songs and records inspired, still can't completely kill the power for those of us who still believe in them. So don't, don't, don't, don't let them slip away.
- January 18, 2021 - Shawn Poole reporting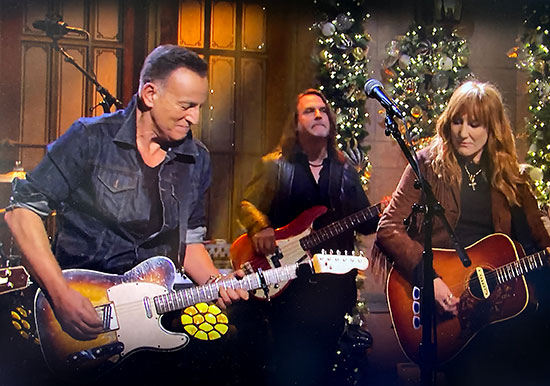 JACK DALEY, DISCIPLE OF SOUL, ON HIS RIDE DOWN E STREET
"I just tried to do my best musically and not do anything that would put too much of a spotlight on me"
On December 12, bassist Jack Daley added a significant new entry to his professional resume as he subbed for Garry Tallent on Saturday Night Live with Bruce Springsteen and the E Street Band. A highly experienced and well-respected musician, producer, mixer and studio owner, Daley has worked with various artists including Shawn Colvin, Beyoncé, Jay-Z, and Mick Jagger. He recorded and toured with Lenny Kravitz for 14 years and has been a member of Little Steven's new Disciples of Soul from day one.
Daley was brought in when Tallent could not make the SNL performance due to Covid-19 concerns and restrictions — the first known occasion Garry had missed a band performance in 50 years. Jack spoke to Backstreets about the experience of pinch-hitting for E Street's ace of bass.
How long before the event did you get the call? I guess Steven recommended you.
Yes, Steven called me the Friday evening (December 4) a week prior to the show. He said, "I may need you to step in on this." I mentioned that I had a session; he let out a Silvio Dante-type groan, and I immediately agreed to make myself available!
Did you learn the songs with the band or by yourself?
Once it became official that I would be doing it, I learned the songs on my own on Monday and Tuesday (December 7-8) at my studio in Asbury Park. I was given everything I needed by Rob Lebret, Bruce's engineer, to be as accurate as possible.
Were you asked to reproduce Garry's parts or could you improvise a little? How does his style compare to yours?
I was not really given any exact instructions. But we are talking about stepping in for an original band member of one of the world's most iconic bands. We are also there to promote Bruce and the band's new record, so the idea of improvising or changing the parts in any way made no sense to me. My style and Garry's have common ground, and I have learned several of his parts during my tenure with the Disciples of Soul — which is why Steven called me in the first place.
How long did you rehearse and where?
We rehearsed for probably two to three hours at Bruce's studio. We just played the songs a couple of times, and Bruce made a few changes for live performance. Very straightforward. We also did run-throughs at SNL for sound and camera blocking.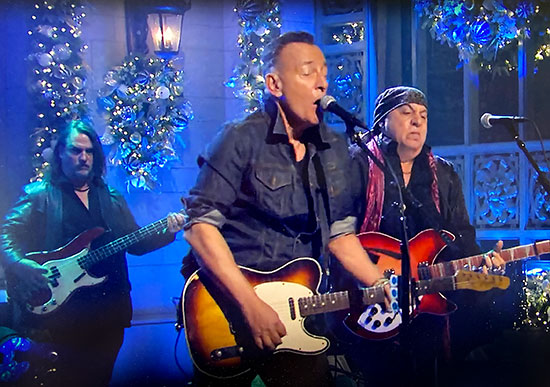 Saturday Night Live, December 12, 2020
How well did you know the E Streeters beforehand?
Of course, I've spent four years in Steven's band, both live and in the studio. We have a great relationship.
I had met Max, Nils, Charlie and Jake in the past but never worked with them. Max came to a Disciples of Soul gig and seemed to really enjoy it. We played "Moon Tears" in Phoenix with Nils, which was fun. Jake came to see us when we played in his hometown. I met Garry in Nashville at one of Steven's DJ nights while on tour; he came to see the show the following night. I remember him saying it sounded like a record. Very sweet guy.
This was my first time meeting Roy — a musical genius. We had some great conversations about Yamaha pianos, because I am in the market for one for my studio. Loved hearing him play from that perspective.
So it was mostly all Disciples of Soul affiliation. Also Bruce has sat in with us probably five times now.
Were any other songs rehearsed in addition to the two that you played?
There was some talk of "If I Was the Priest" being a possible song, but we never rehearsed it. I did, however, learn that one and "The Power of Prayer" just in case. Never good to be caught off guard. I also brushed up on two Christmas E Street classics, in an abundance of caution.
What was the testing and isolation regime like before and after the show?
I received six Covid tests: five prior, and one ten days after. SNL is doing a fantastic job keeping everyone safe, and Bruce's people did the same.
How much live TV had you done before? I know you'd been on SNL in the past.
I have done a tremendous amount of live TV. This was my third or fourth SNL. Probably 15 or more Letterman performances alone — Lenny would play that show with every new single. American Music Awards, VH1 Fashion Awards with Iggy Pop and James Brown, Conan with Josh Stone, Good Morning America with Five for Fighting, Arsenio Hall, Ellen Degeneres, Jay Leno. I've played Later With Jools Holland four times, starting back in 1992. Having said this, SNL is easily the most intense. It's New York, baby!
For the musicians out there, what kind of bass did you use and why?
I used my 1965 Candy Apple Red P-bass. I was told Garry used a P-bass on the record, so that was an easy choice. The first electric bass, and still the best. Leo Fender was a super genius!
How many people were watching it live in the studio?
The audience is reduced to the upper tier due to Covid. I would guess it was about 50 to 100 people.
Charlie and Jake sat out one song each. Was that due to virus-related studio rules?
That is possible. I know that they have a limit of people allowed on stage due to Covid. But I also think it worked out as the proper instrumentation for these songs.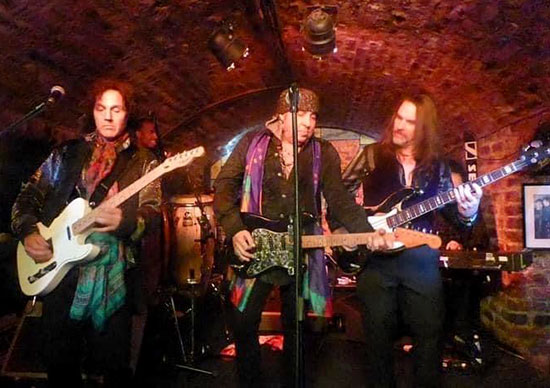 L-R: Marc Ribler, Steven Van Zandt, and Jack Daley on November 14, 2017, when the Disciples of Soul played the Cavern Club in Liverpool - photo by Mike Saunders
How would you compare playing with the E Street Band to playing with the Disciples of Soul?
That is a tricky comparison! I think with the Disciples of Soul, with the exception of Eddie (Manion) and Stan (Harrison), we all came in as new members. Marc (Ribler) had some history with Steven as Darlene Love's musical director, but it was limited. You can't really compare that type of vibe to walking into a room of iconic band members that have invested the better part of five decades establishing themselves. Musically, we have much common ground. And both bands have Steven, which is huge.
How did the performance go from a personal point of view? And were Bruce and the band happy with it? It looked like everyone was having fun.
I think everyone was very pleased with it. With live TV, you want to be able to call safe when you're done. Did I play what I wanted and did everything go as planned? Yes. Did I mess up at all? No. I just tried to do my best musically and not do anything that would put too much of a spotlight on me. Later on, you watch and see if you looked good, if they caught your worst stupid face!
I was pleased, and I thought that Bruce addressed the fans in a way prior to the performance that was helpful for people to know why I was there instead of Garry — and to not hate on me too much! Steven told me after the fact, "You did great, just like I knew you would." What more could a boy from Troy, NY, ask for?
I think people really connected with the emotion of the performances. Something very much needed in a year with so much loss and suffering.
I'm sure you count SNL as a career highlight, albeit a short one. If you got the call, would you do it again?
Playing on SNL with Bruce and E Street will be hard to top. And yes, if I got the call, I would be there, no question. It was a huge honor to be asked. Steven could have called anyone, but without hesitation, he called me. The significance of that is not lost on me. And I don't want to hear that "Silvio groan"! Having said all this, let's hope Garry will be doing it for another 50 years. Long live Bruce Springsteen and the E Street Band!
- January 17, 2021 - interview by Mike Saunders

SPRINGSTEEN TO PERFORM FOR INAUGURAL SPECIAL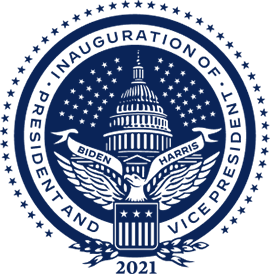 As the New York Times reports, Bruce Springsteen has been added to the list of performers to celebrate the January 20 Inauguration of Joe Biden and Kamala Harris in a prime-time special that night. We don't anticipate a Lincoln Memorial appearence with full choir, but then these are different times.
Celebrating America will air on Wednesday, January 20, at 8:30pm ET. Tom Hanks will host, with additional performances by Demi Lovato, Justin Timberlake, Jon Bon Jovi, Foo Fighters, John Legend, and more "to celebrate the beginning of a new national journey toward an America united. The program will showcase the American people's resilience, heroism, and unified commitment to coming together as a nation to heal and rebuild."
Springsteen and the other artists will "will perform from iconic locations across the country"; Biden and Harris will also make remarks.
The 90-minute program will be carried on multiple networks including ABC, CBS, CNN, NBC, PBS, and MSNBC, and streamed live on YouTube and Facebook as well. Visit bideninaugural.com for further details.
- January 15, 2021


WE PLAYED LETTER TO YOU LIVE BEFORE BRUCE!
A Backstreets Q&A with Italian tribute band Blood Brothers
Were 2020 a normal year, we might now be in the middle of a Letter to You tour by Bruce Springsteen and the E Street Band, singing our hearts out to the new songs for the first time on stage, the ultimate gift to fans who've dreamt for 40 years of hearing "Janey Needs a Shooter" played live.

Last year wasn't that generous, but never underestimate Springsteen fans — especially if they can sing and play. Not being able to hear the originators, many people on November 3 tuned in to a Facebook live stream to listen to the Italian tribute band Blood Brothers, who performed the entire Letter to You album — start to finish — in a club without an audience. The result sounded great, earning praise from E Street founding member Garry Tallent and Letter to You producer Ron Aniello.

In a perfect iteration of the E Street Band's eight-person line-up from the Born in the U.S.A. era, on stage were Francesco Zerbino (voice and guitar), Dario Orlandini (bass), Luca Pasquadibisceglie (drums), Filippo Ghezzi (sax), Manuele Vanzi (piano), Lorenzo del Ghianda (organ and accordion), Lorenzo Marianelli (guitar) and Elisa Arkanz (vocals).

To find out more about this adventure, we interviewed the band's singer and guitarist, Francesco "Zerbo" Zerbino.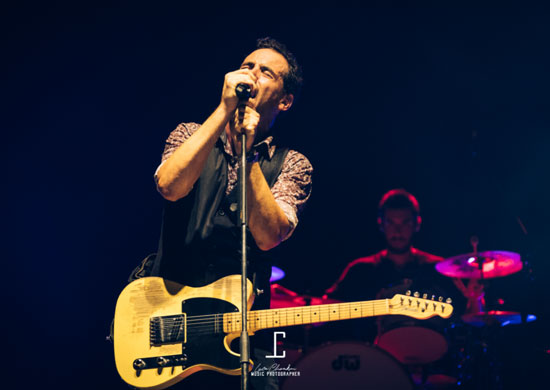 Where and when were Blood Brothers born? How many concerts have you played so far?

Blood Brothers formed in 2013 in Livorno, Tuscany, where all of us in the band live. In 2012, the [E Street Band] concert in Florence under a flooding rain convinced me to try to recreate that magic on stage. So I put together a group of very good professionals ranging in age from 21 to 45, and since then we've played 178 shows!

When did you begin loving Bruce's music? And how many concerts of his have you seen so far?

I discovered Bruce's music when I was 16 or 17, in the '90s. I remember riding a bicycle to the sea with a book of his lyrics under my arm. I saw him live six times: the first was in 2003 in Florence with an acoustic "Born in the U.S.A." and "Kitty's Back," although the best concert for me was at the Circus Maximus in Rome in 2016. That sunset over the Roman ruins was wonderful.

Have you played entire Bruce albums live in the past? I've seen that you even played "New York City Serenade" with strings.
Yes, we did Born in the U.S.A. and Born to Run in full. As for the rest, we've got about 150 songs in our repertoire, and we try to follow Bruce's example in surfing an energy wave that goes up and down; if they let us, we can gladly play for three and a half hours, alternating sad and happy moments according to that energy wave.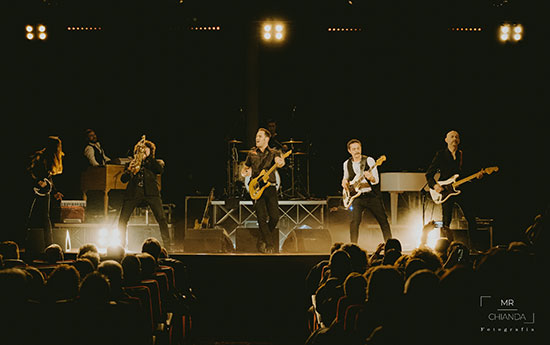 What do you think of Letter to You?

Each Bruce album for me is a new story from a friend you meet in the pub, who tells you what he did recently. And if you've been listening to him for a lifetime, it's basically like you know him as a friend. The album is great, and I loved the film. It actually really shocked me: it is one of the most powerful messages Bruce has given us so far.

And how did the idea of playing it live come about?
As a band, we've been standing still since March. We live thanks to the love of the audience that follows us, so realizing we wouldn't be able to play this past year was tough. I had been doing some live streams by myself on our Facebook page that were very well received, and I thought the band needed it, too. It was a challenge for us to play an album so soon after its release, to study it even with the fear of not being able to accomplish it, but it was a great challenge and a way to keep us active and get back to work.

Your show was on November 3; the album was released on October 23. How did you learn the songs so quickly and play them so perfectly? Aside from watching the Letter to You movie, you didn't even have a live video to steal some tricks. Even the E Street Band might have taken longer to fully learn the songs!
Maybe, but I wouldn't be so sure! I'm usually a kind of a freak about this: I study Bruce's hands to discover his "secret chords," open tunings and stuff. This time we couldn't, but I have total faith in my bandmates: each studied their own part. We are professionals, and so we were able to play it by ear.
When did you meet to rehearse?

I had had the idea before the release of the record. As soon as it came out, we started listening; I think we played it a couple of times in its entirety and then on November 3. After advertising it on our social networks, we met to play it live at the Villa del Colle venue, near Livorno.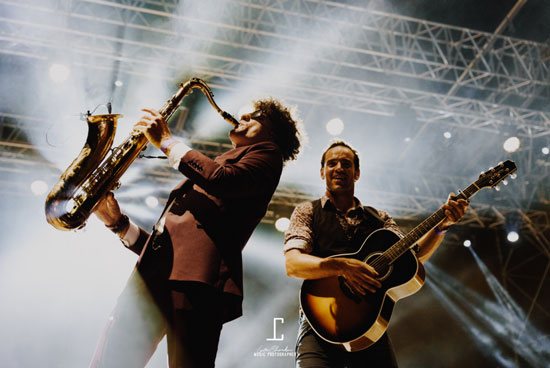 Which song on the album did you like the most playing? And which one gave you more trouble?

My favorite is "Ghosts," a truly wonderful song, both musically and lyrically. There I see Bruce talking to himself as a young man and asking him to give him that energy that sometimes can be lost with age. The most difficult, on the contrary, was "Rainmaker." It's a strange piece, musically, but we made it in the end!

How thrilling was it to get Garry Tallent's compliments?

It was really cool, we were super pleased. Even though we have done so many things over the years, with full theaters, etc., we never had such attention. Ron Aniello as well saw the live broadcast and commented, calling it excellent. I'd like to think that it reached Bruce, too!

It must be very gratifying to know that you've played this album on stage before Bruce Springsteen. You must have made him jealous... I think it's a world first!

I liked the idea of beating him! Joking aside, I could have never expected this response, with over 30,000 views on YouTube and compliments from all over the world. The idea of an Italian band playing a record of his after only ten days was a good one.

In December you played live once again with another Facebook streaming event, "A Springsteen Carol for Onconauti." What can you tell me about that?
Well, in 2018 we played in a sold-out theater during a play about Bruce's life called No Surrender in Bologna, organized by a woman who was battling cancer, Anna Guidi. She unfortunately passed away a few months later. But it was great for us to help make her dream come true. She was helped by a group that supports cancer patients. They are beautiful people, and we decided to support their cause in 2019 with a fundraiser, and then again last month with the Facebook show — we did "Santa Claus Is Comin' to Town," some tunes from Letter to You, once again from the same venue with no audience. Anyone who wants can follow us on the Blood Brothers Facebook page and donate via Paypal (paypal.me/zerbomusica) — we hope to see more viewers from all over the world!
I hope you'll get to be back on stage soon with a full audience... and Bruce too!
Thanks! And… Bruce takes precedence!
- January 14, 2021 - Guglielmo Latini reporting - special thanks to Jonathan Pont - photographs by Luca Chiandoni

- January 11, 2021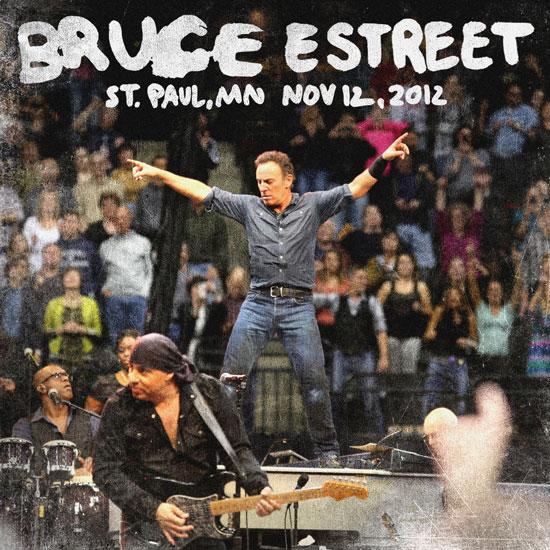 INTENSITIES IN A TWIN CITY
Changes are made on Night Two in St. Paul, 2012
The year 2020 had more downs than ups, but Bruce Springsteen's Archive Series might have had its best one yet, finishing with the unexpected (but much welcomed) release of Madison Square Garden, November 7, 2009 over the holidays. Today, the series' seventh year starts with a seventh selection from the Wrecking Ball World Tour: St. Paul, November 12th, 2012.
The 133-date tour behind Bruce's 2012 LP splits roughly into halves: one honoring Clarence Clemons' passing and the revival of the E Street Band, and another featuring setlists opened up to anything and everything. Previous Archive releases from that era exemplified an in-between phase, where aspects blended for an experimental and captivating series of performances: the July 28 marathon from Gothenburg, and the "birthday show" from the Meadowlands.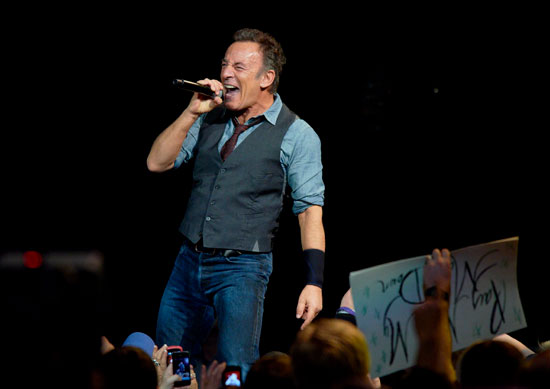 This month's Archive Series installment moves deeper into autumn. Featuring a diehard's dream of a setlist, the second of two nights in St. Paul has been one of the tour's more sought-after recordings. Night one featured a tremendous version of "Savin' Up" (as recorded by Clarence and the Red Bank Rockers), but for the follow-up, like that second night from Gothenburg, Bruce went the extra mile and then some for St. Paul, MN, November 12, 2012. In a wave of song changes, two tour debuts stand out: a rarely played River album gem, and a thrilling first-ever arrangement of a song many never imagined they would hear the E Street Band play.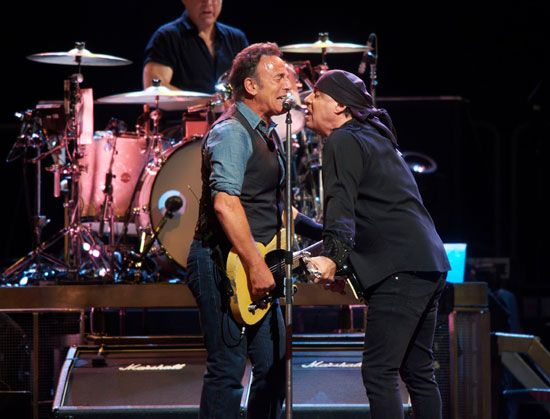 With Wrecking Ball staples pushed down the card for the evening, "My Love Will Not Let You Down" had been pencilled in to kick off proceedings, but Bruce calls an instant audible, and "I'm a Rocker" takes its place to start. The message for the night is clear, with a tilt toward the unpredictability of rock 'n' roll. In a show featuring 15 changes from November 11, you'd have been hard-pressed to find anyone inside the Xcel Center who could have predicted the songs to come.
The retained "Hungry Heart" follows, leading to a delicacy of a four-pack: "No Surrender," "Night," "Loose Ends," and "Something in the Night." It's only bettered by the tour debut of "Stolen Car" — the song's first turn since Madison Square Garden in November 2009. Then, "Stolen Car" may have been overlooked by the immensity of the first-ever full River album performance, but not here. The Xcel Center adds a beautiful ambiance to Bruce's despondent vocal, drifting from strong to broken, as Little Steven and Nils Lofgren add ghostly harmonies in the background.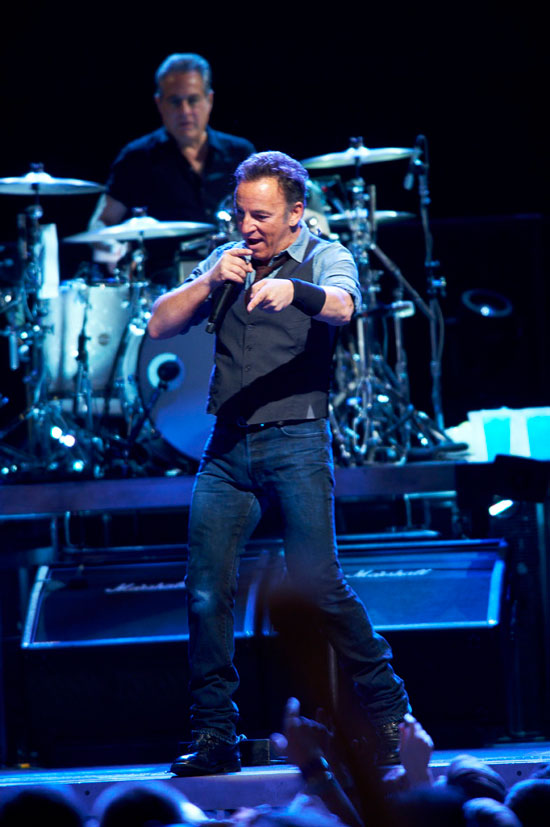 After the riveting seven-song start, the tour's staples provide a sense of respite. "My City of Ruins" regularly featured Bruce singing a snippet of Sam Cooke's "Sad Mood" to express his sorrows about who was and wasn't in the house, and considering the performances of "Savin' Up," "Jungleland," and "Tenth Avenue Freeze-out," the shows in St. Paul were particularly inspired by Clarence's spirit.
This night calls on the power of that striking declaration of "the change was made uptown." Singing the line once is emphatic enough (especially when it would bring "Tenth" to a halt and lead into Clarence's tribute video); to hear Bruce sing it twice over three hours tells us everything we need to know about the significance of that moment, and the importance of this lyric. A similar tribute happens in "My City of Ruins," then the uncommon combo of "The E Street Shuffle" and "Pay Me My Money Down" makes for an outright party and full band exhibition.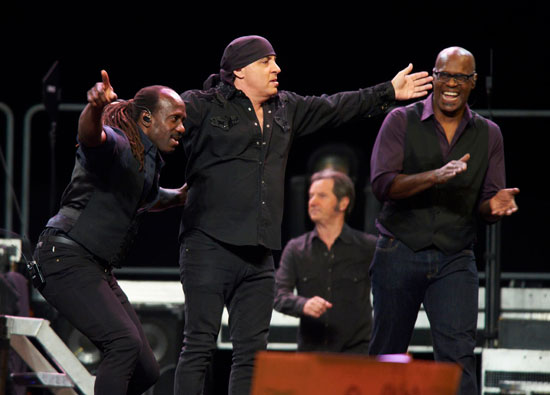 For Veteran's Day, Bruce introduces something special: "Devils & Dust," played with the full band for the first time ever. It's the set's only deep dive into the theme of politics, and given the power of this performance, it's the only one needed. Last August's London 2006 release showed how instrumentation can add to the song; here, the E Street Band doesn't disappoint. The stunning horns and harmonies are still there, but the stand-out aspects of this are undoubtedly Bruce's two phenomenal guitar solos.
With tour debuts and new arrangements anchoring the first half, the second is stocked with moments of its own. Fiery, spirited takes of "Youngstown" (featuring a hearty audience reaction for Northern Minnesota's "Mesabi iron range"), "Murder Incorporated," and "She's the One" follow, with the spotlight moment for Nils Lofgren and an awesome Bruce-Little Steven duel, before Cindy Mizelle and a young audience member shine in "Shackled and Drawn" and "Waitin' on a Sunny Day."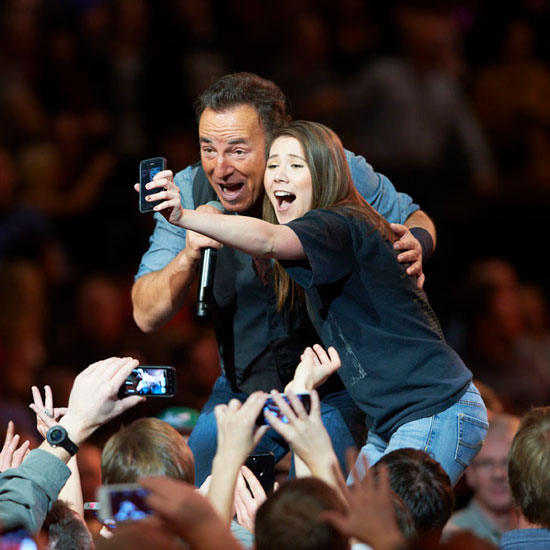 The home stretch sees a rousing eight-song finale, the first to feature in this exact combination on a 2012/13 tour release. The pick of the bunch is "Jungleland," its sixth nod since its tour debut in Sweden. One goal of the Series is to track Bruce Springsteen's evolution as a live performer, but to hear Jake Clemons' growth as a member of the band and his delivery of his uncle's solo might well be my favorite thing about these particular tour releases.

"Jungleland" is a final song of sombreness, as the last four are full of celebration. "Dancing in the Dark" and the veteran brought onstage to dance give us another chapter in Bruce's ever-evolving "feud with the selfie," before a thoroughly enjoyable version of "American Land" brings the two nights in the Xcel Energy Center and the treasures that came with them to a rocking end.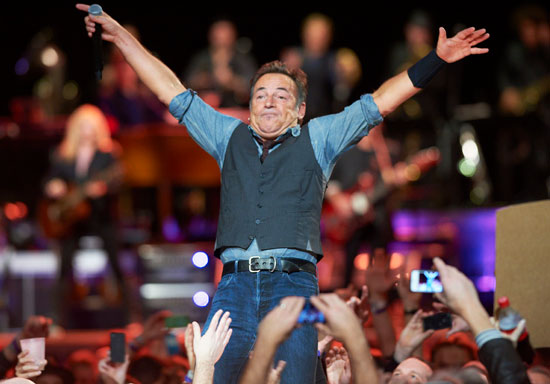 Equally fun shows in Omaha, Kansas City and Denver rounded out the second North American leg of the tour, but this night in St. Paul ranks as a Wrecking Ball World Tour favorite. Thanks to the Archive Series, we can appreciate why it stayed with everyone who attended. Both a party and a meditation on the harshness of life, in equal parts, the strength we hear in this set is in how songs of celebration and passion are followed by songs of solace. That makes November 12, 2012 one of the more pure Wrecking Ball World Tour releases yet.
Also read: Erik Flannigan's latest nugs.net blog entry, "Looking for a Moment When the World Seems Right"
- January 8, 2021 - Kieran Lane reporting - photographs by Tony Nelson (11/12/12)


BETTER DAYS
Cleo Kennedy's GoFundMe campaign reaches its goal
Some good news, from gospel music historian Bob Marovich, organizer of the GoFundMe campaign for Cleo Kennedy (on which we originally reported below):
The campaign to help Cleo Kennedy reached its $5,000 goal! Thank you to everyone who made it possible. This will enable Cleo to replace the things she lost in the fire and start the new year with a new set of appliances and furniture and other household items. You rock!
The GoFundMe page also will remain active for the time being, just in case anyone else who hasn't donated yet still wishes to do so. Any and all additional donations of any size will continue to help Cleo with rebuilding/recovery, and all are greatly appreciated. Cleo wants to thank everyone again from the bottom of her heart for supporting her during her time of need, and she wishes a very Happy New Year to all.
- January 7, 2021 - Shawn Poole reporting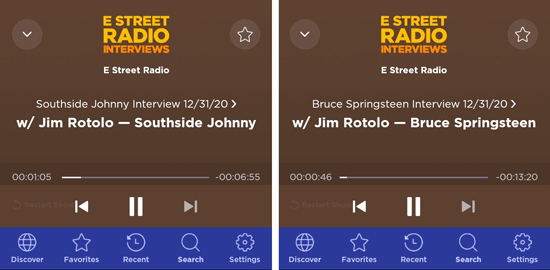 A DOUBLE SHOT OF HOPE AND DREAMS FOR 2021
New Year greetings from Springsteen and Southside on E Street Radio;
Bruce talks future touring plans and "secret" projects
Bruce Springsteen and Southside Johnny called in special Happy New Year messages to E Street Radio's Open All Night New Year's Eve celebration, a live call-in request show hosted "house-party-style" by Jim Rotolo, broadcasting remotely from his home.
Southside was up first, checking in on-air from his Ocean Grove, NJ home shortly after 10:30 pm ET. "I'm doing great," said Southside, normally found performing live on stage (and live on E Street Radio) every December 31, "except I'm itching to play, and tonight's gonna be tough. This is the first New Year's I haven't played in 50 years — except for the one year I said 'Im gonna take this year off,' and that was the year Stevie Van Zandt married Maureen in New York City, and I had to go into the city anyway." He also added with typical Southside humor that he didn't get paid that New Year's Eve, either. "But if you're a musician, New Year's is the big payday. It really is a fun night, and you usually make more money, but I guess it just wasn't meant to be this year."
Rotolo then asked Southside about how he and the Asbury Jukes coped with their limited performing options in 2020, once the pandemic safety restrictions curtailed traditional live gatherings. Southside shared how fortunate they were to be able to perform some drive-in concerts midway through the year. "We were very grateful for that opportunity. It's weird playing to automobiles, but my fans are great. They put big pictures of themselves in the windshields, and they [were allowed to] get out of the cars and dance a little bit. They honked their horns and flashed their lights, and we were just so grateful to play. I mean, it had been months — and it's been months — since we played. You can't do it now with the cold weather, but if we're not out of all of this shutdown stuff by spring, I would imagine we're going to be doing more of those, and people really do seem to like them."
Southside also addressed the difficulties that he and his songwriting collaborators have faced in trying to remain creative during the ongoing pandemic crisis. "We've been trying to write, but there's a lack of inspiration when these things happen. You become kind of numb. I've tried to write as much as I can, but mostly I'm reading. I read book after book after book, trying not to go crazy. It's tough. In the words of Steven Van Zandt, 'better days are coming; it can't get no worse.'
"But I'm hopeful, I'm positive, I'm sure next year we're gonna be touring, and when that happens, I will be a very happy guy. Happy New Year to everybody!"
Springsteen's conversation with Rotolo was the final segment before the E Street Radio DJ (dressed to the nines for the occasion) would give a live on-air countdown of the final seconds of the year. Most of their 13-minute talk was focused on how Bruce managed to stay connected to his audience during 2020, beginning with the 16 episodes of his ongoing series From My Home to Yours.
"When March hit," said Bruce, "I think everybody was sitting around wondering, 'What can I do?' And I said, 'Well, how can I stay in contact with my audience?' So the idea of the radio show came up, [along with] the circumstances where there was something specific to address.
"The summer of 2020 was as tumultuous a summer as I can remember since around 1968. There was a lot going on: you had the pandemic, you had the Black Lives Matter movement, you had the resistance against President Trump. There was a lot in the air, as much as I can remember since I was a young man. So there were a lot of things to push back on and to address, and I said, 'Well, the radio's a good spot for me to go right now and try to do this with the music that I've loved.'
"So that was just the natural gestation of the radio show. I just started off with music that asked the questions that I was puzzling about myself at that moment, and it's gone on. I've enjoyed it very much. It's been a very pleasurable experience. It's kept me busy, when I'm not doing the show, just sort of cataloging music that I might want to play, haven't heard, need to hear, want to hear, wanted to get into but never took the time. It reinvolved me with music itself, both current and past. So that's been an enjoyable side-benefit of the shows for me. It's really gotten me back into a lot of great music that's out there."
Turning to reflect on May's one-off benefit gig performing two songs remotely with Dropkick Murphys in an empty Fenway Park, Springsteen recalled with some hearty laughter: "One of the few things we were able to pull off. All I can say is that all of them were done with great difficulty. If you tried to do anything this year, it was really hard…. The concert with the Murphys, figuring that out — how I was gonna appear with them as they were playing — was a tricky thing to sort through. But I love that band, and it was a lot of fun doing it.
"Everything [in 2020] was different; it was as simple as that. Everything was different this year than it had ever been any year before, and so you just had to get used to it and you had to adapt. We were lucky that we [already had completed the recording and filming of Letter to You], so we had that under our belt and were able to finish [mixing and editing] it without too much difficulty. Some, but not too much difficulty, so we lucked out there in that we got that big batch of work done just before the pandemic hit.
"But even playing Saturday Night Live was quite challenging. It was a lot of [COVID-19] testing; everybody was incredibly careful, to play on that show under those conditions. It ended up being a wonderful thing. I said, 'We gave fans a record this year, we gave fans a film this year. The only thing we haven't done is let them see the band playing live anywhere.' And so when SNL came up, it was like, yeah, that's what we oughta do. They assured us they had precautions that had been working for them, where everyone would be safe. It would take a certain amount of dedication, but it was worth it in the end. We had a great night there, and fans got a chance to see the band play some of the new music live. [All of the pre-show concerns disappear] the minute you count the band in. Then you're just involved in the moment, and in the thrill and the fun of playing your new music. It's just always transcendent — and we got a chance to do it several times that day. You do the soundcheck, a dress-rehearsal show, and then the real show. But to hear the band gear up behind me and come on full-force, on a small stage like that, was very exciting.
"The interesting thing was that we were only allowed to have eight people on stage [at a time]. So we had to decide, 'Okay, on this song, you're gonna play, and you're gonna sit out, and then we'll switch for the next song. And Jake, you'll sit out, and Charlie will play the organ, because we really need the organ on this song. We really need the sax on this [next] one…' COVID precautions and COVID restrictions, and so we had to sort out how that was going to work."
Rotolo asked Springsteen about any plans he's been able to make for the new year ahead and beyond.
"According to the people that I know who should know," said Bruce, "they say it'll take until fall for a large percentage of the country and the world to get vaccinated, and that somewhat normal conditions — perhaps even conditions where you'll be allowed to perform again — should return somewhere in, let's say, a year from now. I mean, it could happen quicker, but I don't know if you're going to be seeing a lot of large-scale playing sooner than a year from now. So that kinda takes 2021 out of it, and people are going to be spending another year doing things in different ways and finding different things to do as best as they can… as far as what I know, and if things go according to what Dr. Fauci is projecting. As soon as we can, we'll be out there, and that might be somewhere in the new year of 2022. And I'm completely projecting, because no one really knows, but that's what I think, according to all of the information that's available at this moment, will be able to happen."
"I have some projects coming up this year that I won't tell," teased Springsteen amidst some Santa-like chuckles, "'cause it's gonna be a secret, and then a big surprise, but I do have things to keep me busy [in 2021] that I'll be doing that should give the fans something to bide their time with."
Finally, Bruce expressed a heartfelt wish to all listeners for a better, more hopeful 2021.
"I want to thank all of the fans," Springsteen said. "I want to thank all of the guys and the girls in my band. As hard as [2020] was for us, and we were the very lucky ones — the very lucky ones — I have to thank everybody for their commitment and just for the times we had together. And I've got to send my prayers and blessings out to all of those who lost loved ones and went through much, much harder times than anything that we saw. Patti and I, and all of the folks over here on E Street, send our blessings and prayers out to those who lost a family member or lost a friend, and we wish for a better year comin' up... Happy New Year to all."
Jim Rotolo's complete New Year's Eve conversations with Bruce Springsteen and Southside Johnny are available on-demand to all SiriusXM subscribers who can listen online and/or via the SiriusXM app. (Just type "Bruce Springsteen" in the search box, then scroll down and click on the "E Street Radio Interviews" folder under "Shows and Episodes.")
- January 3, 2021 - Shawn Poole reporting