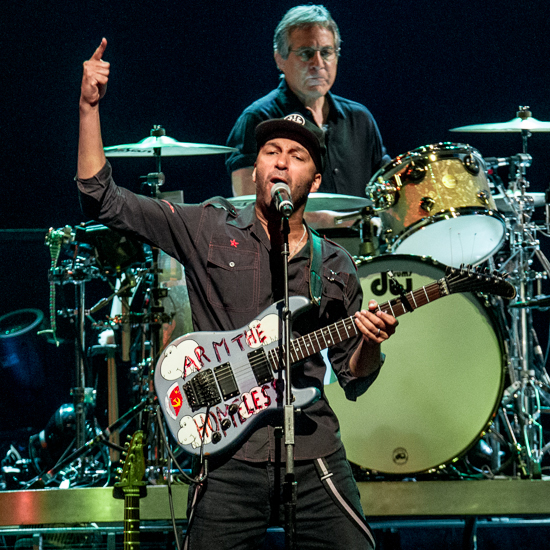 LOOK AT FIFTY, AND YOU'LL SEE ME. (YEAH!)
So that, friends, is what 50 looks like. Happy birthday to Tom Morello — honorary E Streeter, Nightwatchman, Street Sweeper, raging as ever against the machine — born May 30, 1964.
- May 30, 2014 - photograph by A.M. Saddler [Uncasville, CT, 5/17/14]


E STREET BAND ENTERS THE HALL OF FAME HANDSOME AND HOT
And a sneak peek at the "Shuffle" from Saturday's HBO broadcast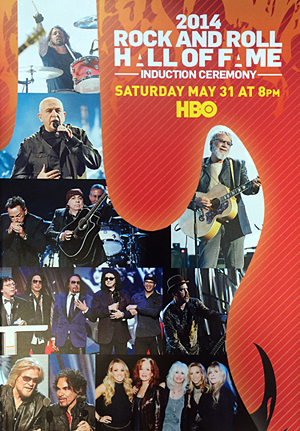 We offered extensive coverage of the E Street Band's induction into the Rock and Roll Hall of Fame last month with a transcription of Bruce's speech and full audio of each member's acceptance, as well as Michael Zorn's photography and Chris Phillips' report. From that original text, HBO offers up an abridged version, with the May 31 premiere of the 2014 Rock and Roll Hall of Fame Induction Ceremony, which begins this Saturday at 8 p.m. The actual ceremony was around five hours, and the advance screener from HBO clocks in at a little over three. So while there was extensive editing, this is a wonderful selective scrapbook of the induction of the E Street Band, as well as Nirvana, Hall & Oates, and more.
First, don't miss E Street "Comrade in Arms" Tom Morello's induction of KISS earlier in the show. It's a funny and righteous and rock 'n' roll barn burner. An hour or more later, Bruce and the band make their appearance with "E Street Shuffle" (thanks to HBO, we have an exclusive early look above), dressed in their formal finery and backed by two drum kits, with both Max Weinberg and Vini Lopez on stage. "The River" was played that night but did not make the cut for broadcast, while an extended "Kitty's Back" is interwoven with clips from each member's speech.
While the show does a good job of focusing on the band and not just Springsteen — they are the part of The Legend being honored here, after all — it is Bruce's induction speech that offers the most touching moment during E Street's portion of the ceremony. While he recounts his conversation with Steve Van Zandt in his darkened kitchen 15 years earlier, and his sadness that Danny Federici and Clarence Clemons were not there on this night, the camera fully reveals the regret in his eyes. Interspersed with shots of Steven in the audience, it's a real moment.
Saturday night, 8 p.m., HBO. Don't miss it.
- May 30, 2014 - Jon Phillips reporting


ROCKING AGAIN IN RIO: BRUCE IN EUROPE LAST NIGHT WITH THE STONES

In 2012, Springsteen joined the Rolliing Stones at their Newark pay-per-view concert for a duet of "Tumbling Dice." Last night in Portugal, they did it again. Onstage at Lisbon's Rock in Rio, Mick Jagger told the crowd, "We've got a special guest for you tonight, one that's gonna play a song with us, we're very pleased and very proud to have him with us. We did this once before — I'd like you to welcome Mr. Bruce Springsteen!"
Backstreets reader Miguel Pinto was there, telling us that Springsteen and the Stones went on to "drive the crowd mad. A great and unexpected moment in Portugal. Bruce was in Lisbon with his family — he was spotted in the city and posed for a lot of pictures with fans."
Video below — watch Springsteen sharing the verses with Mick and hanging with Keef while Ronnie takes the lead. Facing off with Mick for some improvised back-and-forth, Bruce injects some real soul into the proceedings as they strut out onto the thrust together. In fine form after two-plus years of chopping wood on stage (no matter how tired anyone might have thought he looked at the last couple gigs), Bruce really elevated this one. Compare it with 2012's first draft, which feels tentative and leaden by comparison. This is how it's done.
This was Springsteen's second appearance at Lisbon's Rock in Rio, after a Wrecking Ball set two years ago (6/3/12) with the E Street Band.
- May 30, 2014 - images courtesy of @RollingStones twitter feed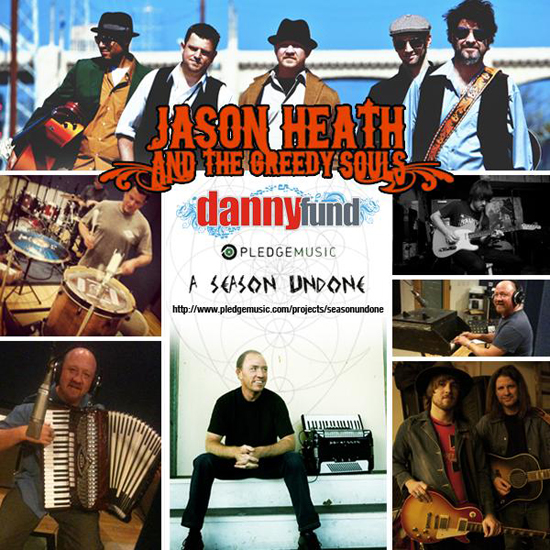 PLEDGE MUSIC DRIVE ON NOW FOR NEW MUSIC FROM JASON FEDERICI
Jason Federici just filled us in on a forthcoming album in the works from his band Jason Heath & the Greedy Souls — an effort you can help with, through Pledge Music. "We just started a Pledge Music campaign, to fund our new record and tour," Federici tells us, "and to help raise money for The Danny Fund, too. We've been in the studio now for the last few months working on our new amazing record, A Season Undone, but we ran out of money — so we're asking our fans to help us out by pre-ordering the album." In addition to album pre-orders, there's some other fine swag available for pledges, including T-shirts, posters, a Danny Fund bundle (including two of Danny's solo albums), house concerts, Jason playing accordion for you (on your song, or just as an outgoing message), or even his accordion itself. Check it out at pledgemusic.com/projects/seasonundone, where you can view a video about the new record — and be a patron of the arts!
The band is also offering a free download of a new song, "On My Street." Jason says, "It won't be on the album because we recorded it a few months back for a child literacy project we were involved with." To download, click here.
Visit The Danny Fund online at dannyfund.org. May is Melanoma Awareness Month — everyone is at risk for melanoma, so stay aware and protect your skin.
- May 27, 2014


MAY 23, PITTSBURGH: RIDING ROUND HEAVEN'S WHEEL
Friday in Pittsburgh, Bruce Springsteen concluded more than two years of touring by performing a second night with Joe Grushecky and the Houserockers at Soldiers and Sailors Hall. While we never know where Bruce might show up, this is the end of scheduled dates, at least for a while. Bruce came on stage at 9pm in his plaid shirt for his initial acoustic mini-set, as the audience lit up in the collected glow of hundreds of cell phones trying to capture the moment. His first song, "Further On (Up the Road)," delivered slowly and sung low, drove him the point.
Bruce said, after that first song, "It's always nice to come to Pittsburgh and try something I haven't tried before." He added that every songwriter is good for about two or three songs their whole life, that "Cadilac Ranch" and "Darlington County" are really the same song, and that "it works if you refresh and rewrite them."
After "I'll Work For Your Love," Bruce explained that he'd had an anxiety attack that day and taken Ativan... perhaps too much Ativan. Did he say "chugged"? Was Bruce's appearance on stage simply an errant figment of one of his many selves, while he drifted in the ether looking for a fun place to touch down? He carried on, introducing an acoustic "Outlaw Pete" by saying, "This next song is a hallucination," and relating his childhood memories that launched the song. The acoustic version revealed to me, for the first time, the imagery of the song's lyrics. During the final verse Bruce brought down the guitar, and I could feel complete silence in the room; for all of the exhaustion, Bruce held the audience in palms of his hands.
After the song, Bruce retreated, walking very slowly and in apparent discomfort, as Joe Grushecky and the Houserockers took the stage for their own mini-set, including a call-and-response on "John the Revelator" that got the hometown crowd worked up. Bruce then returned to the stage for the remainder of the show, beginning with a typically searing version of "Adam Raised a Cain" and including another performance of "Racing in the Street '78."
Last night's show also took a noticeable look at Bruce's often ignored material from Human Touch and Lucky Town, eventually including both title tracks for a total of five songs from that period. This started with "Better Days," a song beginning almost in irony, considering Bruce's apparent exhaustion. But he got better, his voice got stronger, and it was time for some good fun. This started with Joe's song "I Still Look Good (For Sixty)," with Bruce and Joe doing plenty of mugging for the crowd, and then with an audible to "Pink Cadillac," with Bruce throwing in in lyrical references to ass-sizes and to Al Gore. Before "Frankie Fell in Love," Bruce tossed in a playful shot at the time he'd spent rooming with Little Steven, noting that Steven had been "awful" to live with.
The highest point of the evening for me was a three-pack starting with "Save My Love," a song Bruce seems to love playing with the Houserockers at the Pittsburgh shows. Then, starting "Savin' Up," he announced, "Ladies and gentleman, we got a little soul music for you!" Moving much better now and in full voice, Bruce came down the stage left aisle several rows in to the audience, explaining how soul music "administers to the soul, by imparting everyday wisom," and then picking out people in the audience to sing lines like "You may have diamonds, you may have pearls." Grushecky was the recipient of, "You may have a big backyard," as Bruce slapped Joe's rear end. Following was "Hearts of Stone," featuring Eddie Manion on saxophone and driving home, again, that tonight was a last dance of its own.
"Lucky Town" and "Human Touch," back to back, gave Bruce another chance to revisit material from those albums; "Human Touch" included an extended guitar solo. After the Grushecky family joined on "Twist and Shout," "Leavin' Train" rocked, making it easy to wonder why it had never been played in concert until these shows.
After concluding the band portion of the evening with a rollicking "Light of Day," Bruce returned with his acoustic guitar and harmonica. The room fell silent as he sang an achngly beautiful version of "My Beautiful Reward" that once again drove home the finality of the moment. The show could have ended there, but he had one more in him: "from New Jersey to Pittsburgh," a serenade of "Jersey Girl," Bruce joined by Eddie Manion on stage and inviting the crowd to sing along.
And with that, a conclusion to a long and wonderful chapter. The last dance has ended, we've gone down the road apiece, the train has left, and the reward has been searched for and maybe even found. Until we meet again, further on up the road.
For the full setlist from this and other recent performances,
see our Setlists page
- May 24, 2014 - report and photographs by Matt Orel


MAY 22, PITTSBURGH: SOLDIERS & SAILORS NIGHT 1
Last night, Bruce Springsteen continued his tradition of special shows in Pittsburgh with Joe Grushecky, this being their third stand at Soldiers & Sailors Memorial Hall together. After nights there with the Houserockers in 2010 and 2011, as well as a campaign stop in 2012, Bruce seems to clearly have an affinity with Soldiers & Sailors, delivering an intimate performance on a lovely spring night.
As he has in past years, Bruce took the stage with an acoustic guitar to open the show, quipping that he was opening for Grushecky. He promised a night of unusual songs and rarities, and he immediately delivered on this promise by starting out with the extremely rare "Mary, Queen of Arkansas" from Greetings. Afterwards he remarked that the song was about a man in love with a transvestite: "Bet you didn't know that. Go back and listen to the lyrics." Who knew! Next up was the "Tunnel of Love" B-side "Two For the Road." Bruce had previously played the song four times on the Devils & Dust tour in 2005, all on piano; this was its first live rendition on acoustic guitar, a truly lovely performance with some very nice whistling at the end.
Bruce introduced the next song as a "song about time passing." He spoke about feeling overwhelmed that events keep occurring, and wishing they would stop, before launching into a gorgeous version of "Kingdom of Days." Just recently played in Albany, it was wonderful to hear again.
Springsteen then ceded the stage to Joe and the Houserockers. They started the rock 'n' roll portion of the show with "East Carson Street," "John the Revelator and "East of Eden" before Bruce reappeared to take charge on "Adam Raised a Cain." Joe took a second to welcome bruce back to Pittsburgh as they went into "Never Be Enough Time." A big crowd favorite, it featured extended guitar solos by Bruce, Joe, and Johnny Grushecky on acoustic guitar. The second performance in a week of "Racing in the Street '78" followed. Although not as impactful as the E Street Band's Mohegan Sun opener, Bruce's vocals and harmonica delivered the poignancy that makes this song so incredible. "Pumping Iron" followed, getting everyone out of their seats and featuring more extended guitar solos from Bruce; Ed Manion also had a nice solo. Another surprise was next, with "Leap of Faith."
A song never played previously with Bruce, "I Still Look Good (For Sixty)" is from Joe's recent album Somewhere East of Eden. They had a fun time trading vocals and engaging in general silliness — Bruce especially seemed to enjoy singing lines such as ''I wish gray hair would stop growing out of my ears." It ended with the pair assuring each other that they did still look good, and Bruce finally saying, "Its good to see you alive."
"Darkness" was followed by "Frankie Fell in Love," with the now-familiar opening suggesting that Shakespeare had it right, that one and one make three. Bruce also professed emphatically that there was too much analyzing going on! The rarities kept coming with "Hearts of Stone," sung just beautifully by Bruce, and "Savin' Up." Bruce started the song by walking up the aisle into the audience inquiring how everyone's bank balances were — their love accounts, not their money. It was a fun song performed well by the Houserockers.
Following the always fun Bruce/Joe classic "Talkin' to the King," the biggest surprise of the evening came with "Leavin' Train," the song's live world premiere. Bruce even confirmed that with an uber-fan he recognized in the audience. It was a fast, smoking version; Bruce and the Houserockers did it justice [video here]. Lets hope this one gets played again.
"The Promised Land" ended the main set, and the encores started with "Code of Silence," another classic Bruce/Joe G. collaboration. Joe sang lead on "I Was Born to Rock," taking a moment to introduce the band including "Bruce Springsteen from New Jersey." "Light of Day" continued the party, wrapping the main set with an onslaught of guitars.
Joe and the Houserockers said goodnight, leaving their friend from New Jersey alone again with an acoustic guitar. He first played "The Wall," perfectly fitting for Memorial Day weekend — the line "you and your rock 'n' roll band were the best this shit town ever had" received a particularly loud response from the local crowd. But Bruce saved the best for last, ending the night with an exquisite solo guitar version of "Incident on 57th Street" [video here]. He had the audience completely mesmerized, everyone still singing as we went out into the beautiful Pittsburgh night.
For the full setlist from this and other recent performances,
see our Setlists page
- May 23, 2014 - Christy Osoling reporting - photographs by Dan French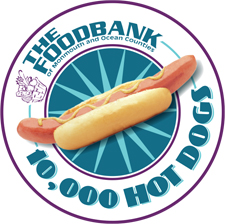 UP ON THE ROOF
Southside & the Jukes kicking off Memorial Day weekend at the Windmill
For those who can't wait until July 3 to get their Asbury Jukes fix, Southside Johnny and the boys will be performing a brief set Beatles-style on the rooftop of the flagship West End, Long Branch, NJ location of the Windmill Hot Dogs restaurant tomorrow at 3pm. The event begins the FoodBank of Monmouth and Ocean Counties "10,000 Hot Dogs" fundraiser, which is being held in partnership with the iconic Jersey Shore hot dog stand and Sabrett. The campaign, which is set to run all summer, will deliver 15 meals for each $5 donated, and Sabrett will match contributions by donating up to 10,000 hot dogs. Donations will be accepted via the fundraiser website.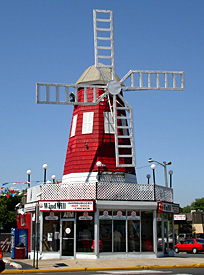 Southside says, "As a lifelong Monmouth County resident myself, I feel strongly about helping our neighbors put food on the table. We're all part of the same community and should look out for one another, like we've always done on the Jersey Shore. It's really great to be named an honorary chair to this important campaign and I look forward to having some fun on the rooftop of the Windmill with the Jukes on Friday afternoon, to kick off Memorial Day weekend."
The Long Branch Windmill location is several blocks from one of Bruce Springsteen's early residences, and due to its late-night hours has long been a favorite amongst the local musicians' community. Indeed, some years ago, Bruce walked behind the counter and helped serve hot dogs and hamburgers to startled fans. More recently, the blades of the building's windmill were damaged in Superstorm Sandy. The family-owned Windmill Hot Dogs company has a longstanding tradition of fundraising in the Jersey Shore community.
- May 22, 2014 - Lisa Iannucci reporting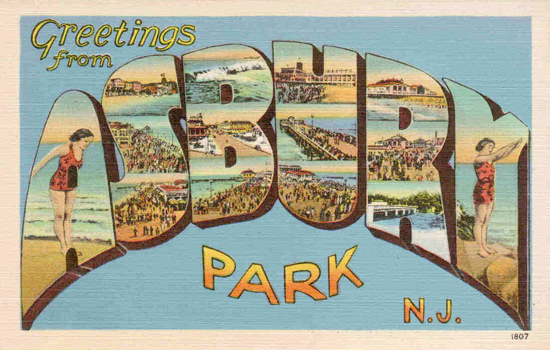 GREETINGS FROM ASBURY PARK: SUMMERTIME DOWN THE SHORE
With the Wrecking Ball/High Hopes tour in the books, music fans in search of a Jersey Shore fix have a lot to look forward to this summer, with both local and national acts gracing stages from Long Branch to Point Pleasant. To kick things off, New York's WCBS-FM is hosting "Back to the Shore" on the Asbury Park boardwalk adjacent to McLoone's Asbury Grille. The event features a live broadcast from 6-10 a.m. featuring Tim McLoone's band The Shirleys as well as longtime shore favorite John Cafferty & the Beaver Brown Band.
Farther south in Point Pleasant Beach, Martell's Tiki Bar will officially open its summer season with a day-long event featuring longtime Shore favorites Mike Dalton and JoBonanno & the Godsons of Soul. The venue hosts live music afternoons and evenings all summer with these and other artists including Bobby Lynch (Asbury Jukes) and a regular Thursday night slot headlined by the Sensational Soul Cruisers.
The Headliner in Neptune will start its summer schedule with a Kick-Off Party featuring The B Street Band, while former Asbury Juke Bobby Bandiera and his band will return to their regular Sunday evening slot at The Columns in Avon as well as a handful of appearances at McLoone's Supper Club .
The summer lineup at the Stone Pony is especially strong this year; the indoor stage lineup includes Lucinda Williams, Sleigh Bells, John Eddie, Lucero, Old '97s, and Guided by Voices, while the Summer Stage will host Drive-By Truckers/The Hold Steady and Primus as well as package tours like The Summer Nationals lineup featuring Bad Religion and The Offspring and the Under the Sun tour featuring Smash Mouth and Blues Traveler. This Saturday, Tramps Like Us kicks off summer with a Memorial Day Weekend show that will include the Born to Run and Darkness albums in sequence. Southside Johnny & the Asbury Jukes will also be making their annual appearance at the Summer Stage on July 3.
Also in Asbury Park, Asbury Lanes will host punk legends like 7 Seconds and Jello Biafra as well as a surf music festival, while The Saint's summer lineup includes the return of artists like Wreckless Eric, Eric Lindell and Mary Gauthier.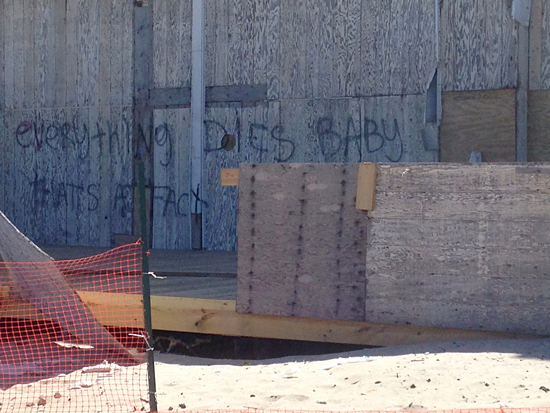 Over at the boardwalk, the Wonder Bar is the place to be for both local and national artists this summer; local favorites like JoBonanno, the Soul Cruisers, Bob Burger, the Nines and Sunday afternoon blues jams with Sandy Mack & Friends are scheduled, while national acts like Dramarama, Dick Dale and Joe Grushecky & the Houserockers will also return to the popular venue. Finally, Convention Hall is once again open for business throughout the summer and will host the return of the popular Punk Rock Flea Market.
Events continue to be added throughout the summer; please visit venue websites for complete schedules. Come down to the shore and support local businesses and live music!
- May 21, 2014 - report and photograph by Lisa Iannucci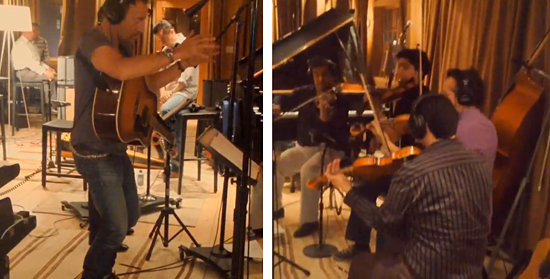 HERE'S WHERE THE STRINGS COME IN
The hashtag is Patti's: #newmusic. Posted last night, a 15-second Instagram video from her officialrumbledoll account shows Bruce Springsteen rehearsing/recording a Mariachi real de Mexico string quartet, for a project called The Lost Charro. Which, of course, is both a lot of information and not nearly enough information. Speculate away!
- May 21, 2014

SOUL MECHANICS
Bruce stops by live pre-show at Mohegan Sun, discusses the 2014 model ESB and why it works, recordings of "classic shows," and more
When they said they'd have some "special guests," they sure weren't foolin'. Bruce Springsteen himself was the very first surprise guest on E Street Radio's live pre-show broadcast from Mohegan Sun Night 2, stopping by for a brief chat before his final prep for the final show of what he's rechristened "the Wrecking Ball/High Hopes Tour." Bruce spoke for about 15 minutes with E Street Radio's Jim Rotolo, Dave Marsh, Caroline Magyarits and Vinny Usuriello (below L-R, the same crew he met with late last year for his E Street Radio interview launching High Hopes). Right off the bat, Marsh confirmed with Bruce that Sunday night's show definitely was the last show of the tour, and then asked him if he knew how long it would be before he'd tour again.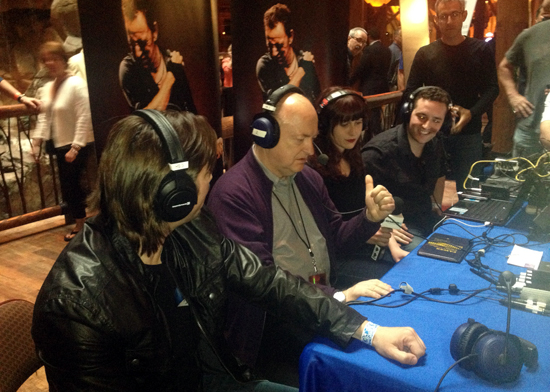 "Don't know," responded Bruce, "but... something different will be happening next; I'm not sure exactly what. We did almost 170 shows and I have no idea how many songs in a lot of different countries and we're ready for a little break, but we couldn't have had a better experience."
Bruce went on to call this combined tour and the musicians who played on it "the greatest E Street Band of its kind that we've ever staged, and the greatest show that we've ever put on, because it's so unbelievably fluid and flexible. And then a lot of things that could've really hurt other groups — the loss of Clarence, the loss of Danny, Steve comin' and goin' — we managed to find ways to be creative with those things that could've diminished other bands. Somebody up there likes me and sent me Jake Clemons... Tom Morello... Everett [Bradley]...Charlie [Giordano]... We take big chances at night on things that could fall flat, but I have a lot of confidence in the band and its musicians. I figure we'll pull it off somehow."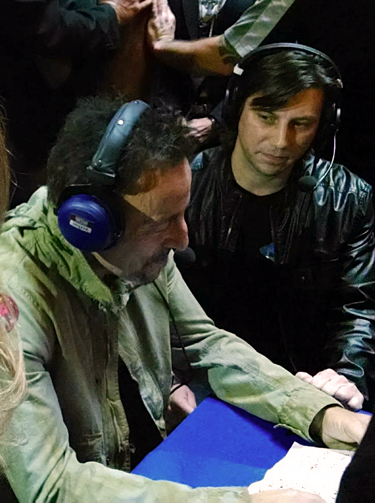 Springsteen then provided a rare behind-the-scenes breakdown of his in-concert interactions with the band: "What you're looking at is really three separate units. There's the [core] E Street Band; that's the rhythm section, the guitar players and keyboards. There's the horn section; that's a separate entity run by Curt Ramm. And there's the singers; that's a separate entity run by Curtis King. Those men have got to get those entities to act like one thing, so that when I turn around I'm not lookin' at 17 people; I'm kinda lookin' at four or five people who are able to respond to me like a very tight, small unit because those units themselves are so very, very tight. That then allows me to pull signs out of the crowd and do just about anything that comes into my mind within reason, and know that those units are tight enough to where five guys are gonna figure out a horn arrangement, three vocalists are gonna figure out a vocal arrangement... And so it's left us very, very free, with a very deep and broad palette of sound to get things done."
Delving more deeply into the E Street Band's continued existence after major losses and transitions, Bruce said, "I think people are happy to see that we're still there, to see that we're still intact, to see that the alchemy with which we make our magic hasn't lost anything. You're always gonna feel the loss of those great memories, and they are always going to be missed on every single night, and that's as it should be. But what the band does cannot only not lose power... it can gain power by being creative and engaging the right people. And everybody on that stage feels as intensely about why they're there as Danny did and Clarence did. They understand the soul mechanics of the band. That's why people leave satisfied. If we'd just gotten the mechanics right, it would've felt hollow, but we got the soul mechanics right, and that's what makes it feel, as we say at the end of 'Tenth Avenue,' 'it's alright.'"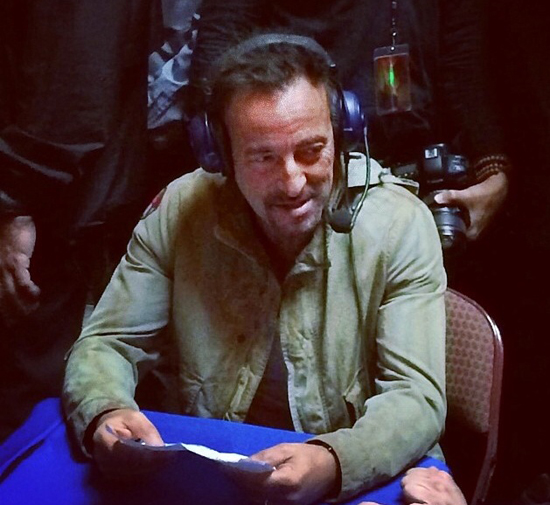 Bruce also expressed his enthusiasm for the "very special" videos and downloads that he and his audio-visual team have posted at brucespringsteen.net: "We've got a version of 'Friday On My Mind' that was really just explosive, and took a very angrier approach than The Easybeats. We've also got a version out there right now of 'The Wall' that is one of the best things we've ever posted, and a really lovely version we did the other day of 'Joe Hill' into 'Clampdown.' That was terrific. And of course, 'Stayin' Alive', which gets requests now, and the tremendous post of 'New York City Serenade' from Rome. These are definitive versions of those pieces of music. I'm very proud of them, and we're going to continue posting once the tour is over. I'm going to continue to go through the catalog and post things...
"Our next step will be to go back in history and dig out classic shows, get them remixed and be able to make those available to our fans. That'll be another thing that we'll be workin' on... I'm still hearing things [on E Street Radio] that make me go, 'I've gotta go back and find that!' So you guys are doing a good job of curating the stuff, a really good job, and we appreciate it. I've made quite a few discoveries on my way to the gym, and we will keep E Street Radio alive and actively involved in what we're doing. We've got a lot of projects of all different kinds comin' up. We have a beautiful video of 'Hunter of Invisible Game' that I'm currently working on that hopefully we'll have very soon; I think Thom Zimny's outdone himself on it. So it's all coming to... a lovely break; I won't say 'close.'"
Finally, before leaving to prepare for his final show on this epic tour, Bruce had one more important message to impart: "I just wanted to get a chance to thank all of the fans who came to all of the shows. We've had incredible audiences in Europe, South America, Africa, down under in Australia and here in the United States. Our reach has been greater than it's ever been before, the audiences have never been greater, and we're looking forward to nothing but more in the future."
The complete E Street Radio Mohegan Sun Pre-Show conversation with Bruce Springsteen will be re-aired multiple times this week during broadcasts and rebroadcasts of staple E Street Radio programs Cover Me with Nick Masi, Live from E Street Nation with Dave Marsh and The Wild and the Innocent with Jim Rotolo. Here's the complete rundown of scheduled airtimes (all listed times ET) on Sirius/XM channel 20:
Tuesday, May 20, 6 pm
Wednesday, May 21, 12 am & 10 am
Thursday, May 22, 3 pm
Friday, May 23, 6 pm
Saturday, May 24, 4pm
Sunday, May 25, 10am & 6pm
- May 20, 2014 - Shawn Poole reporting - photographs courtesy of Lisa Purcell (1,2) and Vinny Usuriello (3)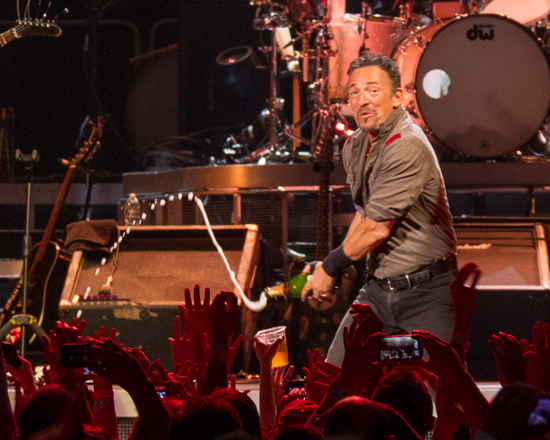 MAY 18, UNCASVILLE NIGHT 2: PLAYIN' FOR ALL OF THE STAKES
From the celebratory to the melancholy, the last dance was one that didn't follow any rules — except, perhaps, Expect the Unexpected. Clearly relishing the chance to take the E Street Band on a few more laps around the circuit, Springsteen challenged them on this last chance for tour debuts with no fewer than seven of them. Some were anticipated — a casino special to open (after no such nod on night one), and the world premiere of a Human Touch outtake (which had been soundchecked). Others, no way — or else there would have been at least one Santa hat thrown on stage. But who expects Christmas in May? (Not Tom Morello.) All the way through, they barely paused for breath, Springsteen not venturing out or crowd-surfing in the main set. Too busy rocking, here. All those surprises and all that rockage served to keep the melancholy at bay... at least for most of the night.
Let's start, as Bruce did, with the celebratory. Huge cheers as Bruce and Steve took the stage together arms around each other. Gearing up for a rare dip back into 1992, he asked the Mohegan Sun crowd, "Did you lose your money? You must have lost your money!... Either way, we're gonna make you feel lucky tonight!" Eschewing his guitar for the moment, Bruce's first instrument was a bottle of champagne as Roy began his "Roll of the Dice" piano riff. Bruce shook it up and popped the cork, shooting several sprays of the bubbly across the pit before taking a swig himself, then grabbing a tambourine to start singing. And damn, that sounds good wth the E Street Band, blaring horns, Stevie and Bruce trading off "just another roll" at the mic.
Strapping on the guitar and sticking with '92, Springsteen asked, "Are you feeling lucky tonight"? Not "Lucky Town," but a song from Lucky Town, it was the tour debut of a jubliant "Leap of Faith," backup singers on the chorus to take it higher. As with so many rarities tonight, the whole thing played so well with this band, you could stand there asking yourself "Why does he wait until the end to break these out?" Or you could just soak it in and enjoy it. I couldn't help going back and forth.
The only song that wasn't a tour debut in the first stretch of seven was still something they'd only tackled exactly once, Van Halen's "Jump." After that it was on to "Frankie," really stretching out the quiet middle break before the whole thing exploded, with some glorious sax from Jake Clemons. It's worth nothing that on the setlist, "Frankie" was back-to-back with "Frankie Fell in Love" (as if you hadn't already connected them in your head). Tonight Bruce played them both, but threw some audibles between. "Let me see what you've got out there tonight!" As he pulled signs from the stands, the deafening audience reaction for a huge "Santa Claus" placard made it a no-brainer, despite the season. This place was ready for some holiday cheer: a soccer chant even rose up from the crowd, singing along with the opening keys. Also cool here was the double sax solo, as both Jake and Eddie Manion came down front. It was so nice they did it twice, flanking Bruce at the end — a neat trick.
Pulling a sign for Tracks Disc Four's "Seven Angels" sent some shockwaves of elation through a certain portion of the crowd, as one of very few Springsteen songs that he had still never, ever played live. Bruce himself wasn't entirely sure — "I think we might have only played this once before..." "Never! Never!" came a cry from the pit. Springsteen took the cue immediately: "Tonight we have the tour and E Street Band world premiere! Out of all the hundreds of songs that have been played, this has never been played!" And again, the performance would prompt the question, why the hell not? "Featuring Garry Tallent!" And sure enough, there was the Tennessee Terror plugging in funky bass fills between the riffs. The whole thing kicked ass, and at the end, Bruce agreed: "That was pretty good! That one should be played, that one should be played."
"We're breaking out all the rarities tonight — all the rarities!" And it was clear, this was a night and a stand for avid fans. Not one last chance to cement the songs and themes of the last two years — in fact, this was the first night to not feature a single cut from Wrecking Ball — but to blow some hardcore minds. And judging by the volume in the crowd, the arena was full of them.
Out came a sign for "Don't Look Back," another seldom heard Tracks cut, and the last song bumped from Darkness. In a group huddle, they took a moment to work out the chords, the modus operandi being: figure it out, then kill it. Done. "Don't look! Don't look! Don't look!" This night was thrilling so far, even when it took a turn back out of Cloud Cuckoo Land for the next sign request, "Darkness on the Edge of Town" — a perfect pairing even if it brought us back to earth.
We didn't stay there long. Another "Stevie double-header!" brought "You Can Look (But You Better Not Touch)" at breakneck speed, Stevie rocking the solo and exchanging "You can look"s at the mic, into "Frankie Fell in Love." And still, at song's end, we were hardly pausing for breath, or to get sentimental, as Max kept up a thunderous drumroll and Bruce dragged his strings across the mic stand, bringing the noise as they geared up for a four-song guitar onslaught. Starting with "Adam Raised a Cain," with fierce fretwork from Bruce, it was a run that seemed designed to show off the expanded E Street Band's four lead guitarists and their individual styles on one song each: after Bruce on "Adam," it was Tom Morello's turn on "High Hopes," again playing with his teeth; then Nils Lofgren's signature solo on "Youngstown"; and finally, Stevie's tommy gun lead on "Murder Inc."
After "Johnny 99," a River doubleshot brought the horns right back downstage on "Cadillac Ranch" (as we rode "through the Connecticut night," of course), before the tour debut of "I'm a Rocker." Silly or not, it absolutely smoked. Garry stepped right up to share the mic with Steve as everyone chanted "I'm a rocker, baby I'm a rocker," while Bruce played to the back of the stage: "With you!" "Loose Ends" kept us in the River era, a fan favorite that sadly can tend to leave some crowds scratching their heads, but not here tonight. As with "Hearts of Stone" on night one, Steve added subtle but crucial backing vocals.
Skipping over the setlisted "Shackled and Drawn" (and the non-setlisted "Waitin' on a Sunny Day"), it was time for one last Morello spotlight on "Joad," and one last guitar plug solo — still as cool as the first time we heard it. Audibles of "The Rising" and "Badlands" closed the main set. But the energy of "Badlands" didn't have time to subside before the house lights came all the way up for an encore-opening "Born to Run." No acoustic songs here after the four last night, just straight-up roadhousing as Bruce next called for "Steve!" and went into "Ramrod." "Look over yonder see the casino lights?" And for posterity, the classic, no clever twists, "Steve, what time is it?!" "It's BOSS TIME." No mucking about with selfies or gaggles of fans on "Dancing in the Dark," either, but one special dance: Bruce beckoned Steven's wife Maureen up for the honor. "Let's hear it for Mrs. Van Zandt!"
"Tenth Avenue Freeze-out" was Springsteen's first and only foray into the crowd, where he stood one more time on the pit divider, there amidst the fans as images of Clarence and Danny flashed on the screens one last time. "This is the important part."
And so we come to the melancholy. A hush followed the "Freeze-out," Bruce making sure the band was ready for his audible before speaking into the darkness, "For the last dance." He conducted Soozie and Roy in, and we were off to "Jungleland."
So much of the last 26 months has been about moving through the loss of Clarence Clemons, finding a way to "begin again," breathing new life into the E Street Band and integrating Jake among the new players to carry on his uncle's legacy. "Jungleland" tonight felt like the culmination of that journey. Lit by a single spot, Jake poured heart and soul into that solo, shedding tears by the end. Bruce took a quiet moment with Jake before returning to the mic for the last verse, and for those final wordless howls that seemed to take as much out of him. At song's end, with the crowd roaring, Springsteen led the band down front once more for bows. But along with the sense of triumph in the air there were also some blues that would prove hard to shake.
As a rule, this would be where you'd expect him to blow it all out with "Rosalita" or something, "Rockin' All Over the World," or at least the setlisted "Shout." But again, this night didn't follow the rules. As a rule, you'd anticipate a speech thanking the cast and crew. As a rule, you'd expect one last roll call, and a litany of heart-stoppin', pants-droppin' descriptors. Instead, Bruce seemed to chuckle as he remembered and kept it brief — "You've just seen the legendary E Street Band" — before ushering them offstage for the last time on the High Hopes tour. We can't know Springsteen's state of mind at that moment, but if we had to guess, we can imagine him fully spent by that "Jungleland" — and by a show that didn't have an ounce of fat, no kids on stage, minimal shtick — and rightfully ready, for now, to fold up the tent.
Still, there was "One more before we move on down the road." And sitting at the pump organ for "Dream Baby Dream," Springsteen did muster up words of thanks, and a parting wish: "We want to take a moment and thank yourselves for coming out and seeing us, I appreciate the support after all of these years. And I want to thank all the four million-plus people that have seen us on the Wrecking Ball/High Hopes tour. They made this simply one of the greatest musical stretches of our lives, when we're coming out of hard times, and I can't thank all of them and all of you enough. So while we're apart, just remember... Dream baby dream..."
These two incredibly spontaneous shows brought us 49 songs over back-to-back nights, with 19 songs not played the night before. Looking at the overall numbers for the High Hopes tour, we're talking 182 different songs at just 34 shows this year. Other things are much harder to quanitfy. The closer eventually found Bruce down on his knees, bathed in light, beseeching, "I just want to see you smile... I just want to see you smile." Hope you saw it, Bruce. We've all been beaming. Thanks to you and the legendary E Street Band, and everyone behind the scenes who made these last 26 months an astounding, inspiring magic trick, the alchemy of turning devastating loss into pure, uplifting, life-affirming rock 'n' roll.
Springsteen blew kisses to the four corners, and with one last "We'll be seein' ya!" he was gone.
For the full setlist from this and other recent performances,
see our Setlists page
- Updated May 20, 2014 - Christopher Phillips reporting - photographs by A.M. Saddler


MAY 17, UNCASVILLE NIGHT 1: A KILLER IN THE SUN
After South Africa, Australia, New Zealand, and some off-the-beaten-path stops in the U.S., the final shows of the High Hopes tour have Bruce and the E Street Band getting back to their home turf. No New Jersey or NYC shows, but we're at least in the general neighborhood this week, with Albany and now two nights at the Mohegan Sun Arena to close things out. For anyone trying to predict what special songs Springsteen would break out for the occasion, here in the middle of one of the largest casinos in the U.S., the odds were very much in the house's favor. "Lucky Town," "Roll of the Dice," "Roulette"... all sucker bets. How about "Racing in the Street ('78)" and "The Price You Pay" instead? You didn't pick 'em? Those were the big winners tonight, in an anything goes setlist that harkened back to Shea Stadium 2003, in terms of end-of-tour wildcards.
That alternate "Racing," released on The Promise, opened the show. Only previously played live at the Carousel shows in 2010, it threatened to fall back into the well-worn "standard" version early on, but Bruce and Roy fought through it and found the groove. It's a big, muscular version of the song, and with the backup singers and the horns also playing a part, along with Soozie ably handling David Lindley's fiddle, it was a stunner. "Clampdown" followed, all five horn players banging drums, Tom Morello completely committing to the vocal. "Working hard in Hartford!" And with "Badlands" in slot three, the tone was set for a hard rocking night.
This night was also about the return of Steve Van Zandt. In the band intros, Bruce congratulated Steve on his Norwegian Emmy for Lilyhammer (the commitment that's kept him off the stage since early March), but everyone was glad to have him back to E Street business tonight. Steve himself not least of all — when his hands weren't on his guitar, they were most often skyward, in celebration, egging on the crowd. Huge cheers greeted him as he took the stage. And after "The Ties That Bind" (which was already pointing us to Steven territory), Bruce called out "C'mon, Steve!" for the inevitable and wonderful "Two Hearts." During the "It Takes Two" coda, there was a hilarious impromptu exchange as Stevie played up trying to catch his breath. Steve: "You do this every night?" Bruce: "He's a little out of shape." "Every night you do this?" "Every fuckin' night!"
That wasn't all. "I think we need a Stevie double header!" And out came the seriously underplayed "Frankie Fell in Love," done just once with Steve prior, in February in Perth. "Now Steve," Bruce began, "in school, one and one was two. But not here. Here, tonight, in Connecticut, one and one here tonight — and in art, and in prayer, and in love — one and one always adds up to three. Because here, math isn't math at all — it's magic." Bruce and Steve spent most of the song out on the thrust, sharing a mic with arms slung around shoulders. That was magic, too.
Bruce repeatedly called his consigliere to center stage to share vocals throughout the night, with back-and-forths on songs like "Prove It" and "Radio Nowhere." But not every Steven "moment" was loudly advertised. On the goosebump-inducing "Hearts of Stone" — just the second time Bruce and the E Street Band have done it, ever — Steve added crucial harmonies from the shadows. When Bruce hollered "Doubleshot of Southside!" and "Talk to Me" followed, it was more of that one-and-one make three magic.
While Bruce went wayyy off the roadmap in terms of setlist tonight, he was mostly winging it himself, rather than looking to signs in the crowd. Following "High Hopes" he quickly called out "Raise Your Hand" a couple times to the band and used the audible as the crowd-surf song. Returning to the stage, though, he selected signs for a couple more covers. One was a clock on a paper plate: "This is a very small request for a very old song, used to be one of our encores." And with that, we were swingin' with Daddy G on "Quarter to Three." Or with Daddy E: Eddie Manion stepped up here as he did several times this night, a perfect day for Kingfish. And then a sign for "Stayin' Alive" picturing Springsteen in Travolta's iconic white suit; Bruce struck the Saturday Night Fever pose before taking the band into his ingenious arrangement of the song. And they killed it: Garry and Max holding down a groove, singers down front, Soozie handling disco strings, Morello on wah-wah guitar, and those horns going nuts. Solos from Curt, Clark and Jake before the whole line was down front, wailing away like it was "Johnny 99." But it was "Stayin' Alive." Magic.
The magic reached a peak with "The Price You Pay." Played for only the fourth time since the River tour, it's a song that Bruce has perhaps reluctantly come to realize is special, and he treated it that way tonight. "Everybody ready?" he asked he band quietly before taking them into it, and it was clear that they had really worked to refine it at soundcheck. Some fans have bemoaned the loss of the pure E Street sound in recent years, but here it was in full glory — and not despite the extra players, but because of them. The backup singers, in particular, helped truly bring "Price You Pay" to life, adding the choral effect throughout that's a hallmark of the studio version, on both verses and choruses. Mighty horns at the end were a grand punctuation mark.
While that may have concluded the holy-shit-wow factor for the main set, performance didn't drop a notch. Nils and Tom shone on "American Skin," and we got practically Platonic ideals of "The Promised Land" and "The Ghost of Tom Joad." Only "Jesse James" took a bit of wind out of the show. Great song, fun to get — and to see Garry on standup, Soozie fiddling away at center stage, Everett wearing the washboard — but it was the one selection that interrupted the flow of the night. By the set-closing "Light of Day," we were very much back in action. Bruce began it in total guitar hero mode, riffing away and wrenching chords and train whistle whines from his guitar as Max pounded away behind him.
An unusal encore brought four solo performances. Not an acoustic set, exactly, the standard encore classics were sandwiched between, but Bruce bookended the encore with two solo numbers on either side. "I'll Work For Your Love" to start was a lovely tour-end summation, and then Bruce kept the band at bay to do a little storytelling. "A good song should work with just a guy and a guitar singing it," he said following "I'll Work for Your Love." He talked about testing songs throughout his career by playing them alone. "If they come to life, if they breathe and without all the production, I knew I had something lasting." All the while, he picked out the broken chords of "Growin' Up" as he continued his story:
So this one was probably one of my best songs: old people like it, young people ask for it all the time... and really, it was a song where I wasn't trying to find myself in it, like I am in a lot of my songs. This was a song where I was trying to literally invent some sort of self. You know, you're a kid, you read all the comic books: Batman, nah. Superman, uh-uh. So this was me trying to invent my own superhero whose sneakers I could fill.

It all started a long time ago in the back of a beauty parlor... All that was left were those big machines that the women used to sit under. Believe it or not, there was a moment you could not dry your hair with something you held in your hand! You needed something the size of a friggin' Pepsi machine to dry your hair for ten minutes. And you couldn't talk to anyone while you were doing it. Stone ages! So imagine a whole line of those Pepsi machine hair dryers, all the lights out, and this little kid, this skinny little kid sitting in the back, at an out-of-tune piano. And he's looking around, and he's goin'... "Okay... who the fuck would live here?" So I took a look outside, the moon was high, and I sat down at the piano. I took a deep breath, and I sang... a whole bunch of terrible words before I got to these next good ones. I stood stone-like at midnight...
Alone again for a lovely "If I Should Fall Behind" and "Thunder Road" at the end, after how talking about how "I started out as just a guy and a guitar," it was hard not to wonder if we're already seeing what's on Bruce's mind for his next project. But we're not thinking about that too hard. And we also tried not to dwell on how much emphasis he put on the lines in "Hearts of Stone": "this is the last dance... this is the last chance..." Because only heaven knows what the future will bring. And after all, there's still "another spectacular tomorrow night!" Who's bringing the fuzzy dice?
For the full setlist from this and other recent performances,
see our Setlists page
- May 18, 2014 - Christopher Phillips reporting - photographs by A.M. Saddler

E STREET RADIO PRE-SHOW TOMORROW NIGHT
Tune in to E Street Radio on Sunday for a special two-hour live broadcast from Mohegan Sun Arena before Bruce Springsteen and the E Street Band take the stage for their final performance of this High Hopes tour leg. On-air personalities Dave Marsh and Jim Rotolo will be chatting with fans attending the concert and other "special guests." (Concert attendees who wish to watch the broadcast and/or possibly be interviewed on the air can find the E Street Radio section inside the arena near the Spring Gateway.) The E Street Radio Mohegan Sun Pre-Show will air tomorrow, Sunday May 18, 6-8 pm ET on Sirius/XM channel 20.
- May 17, 2014

THE PRODIGAL STEVE RETURNS!
Following the E Street Band's February/March trip Down Under, Steve Van Zandt had to take a little exit off E Street to shoot the next season of Lilyhammer. He's been "thankful to Tom Morello for being there to help out," as have we, and the E Street Band has continued to bring the power hour after hour... but from Dallas to Hershey, we've sorely missed him.
For a while, it looked like this entire leg would be Stevie-free, but as Bruce and the band look to wrap it up with two shows at Mohegan Sun this weekend, there's great news from @StevieVanZandt:
(We can only assume this means Tracks Disc 2 from start to finish, right? Right?)
- May 16, 2014


MAN ON FIRE
Count Barry Gibb as a fan of Springsteen's take on "Stayin' Alive": earlier this week the Bee Gee told the Boston Globe he thought Bruce's cover was "Amazing. I'm a huge Bruce Springsteen fan and, believe me, I'm going to pay the compliment right back." He did just that last night, opening his North American tour at the Boston Garden, where he called Springsteen "my inspiration" and sang "I'm on Fire" [video].
- May 16, 2014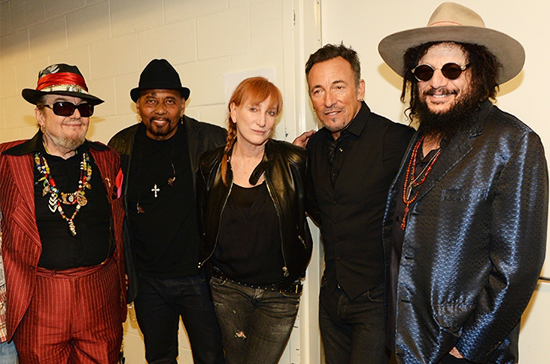 MUSICAL MOJO
A behind-the-scenes glimpse from last weekend's "The Musical Mojo of Dr. John: A Celebration of Mac & His Music." L-R: Dr. John, Aaron Neville, Patti Scialfa, Bruce Springsteen, and Don Was, backstage at the Saenger Theatre in in New Orleans.
- May 12, 2014 - Photo: Getty Images


LIMITED TIME: HIGH HOPES IN SOUTH AFRICA DOC ONLINE
Just out today from Sony Music Netherlands comes this 45-minute documentary with unique footage from Bruce's first-ever concerts in South Africa, as well as January 2014 soundchecks and press gatherings. Dutch journalists and filmmmakers Leon Verdonschot, Art Rooijakkershad and Erik van Bruggen had extensive conversations with Little Steven and Tom Morello and followed South African fans at their homes, work and at the shows in Cape Town and Johannesburg.
Hat tip to Jos Westenberg, one of our longtime Dutch brothers-in-arms as publisher of Be True, who alerts us, "The movie was released today in The Netherlands and they published it on YouTube. It will be available only for the next 48 hours."
- May 10, 2014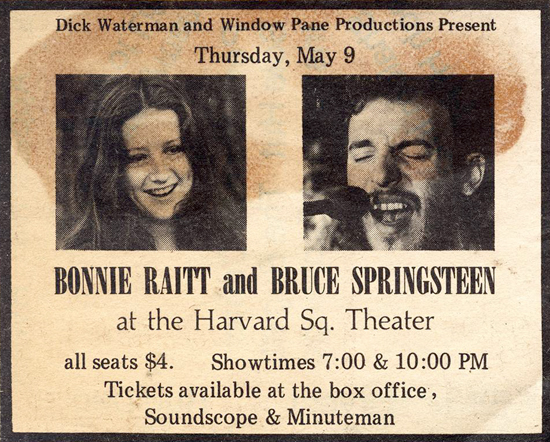 SELLING HIS HEART TO THE JUNKMAN, 5/9/74
In addition to Barry Schneier's amazing photographs from the Harvard Square Theatre 40 years ago today [below], there is a surviving audio document of the performance as well.
Springsteen and Bonnie Raitt played two shows that night, early and late. It was the late show that Jon Landau attended, and unfortunately, no recording of that set has ever surfaced. But there is a fine field recording by SH of the first show on that legendary night, a set that included a one-off cover of "I Sold My Heart to the Junkman." Brucebase calls the song a "Dinah Washington/Etta James, WWII-era blues classic... performed by Bruce in the 'comedy mode' as recorded by The Starlets in 1961, the likely inspiration." It starts with a wonderful story and features a fine vocal performance from The Big Man. At the 2:40 mark, you'll hear a bit of arrangement that Bruce would re-appropriate for "Santa Claus Is Coming to Town." Take a listen to "I Sold My Heart to the Junkman," recorded 40 years ago tonight:
- May 9, 2014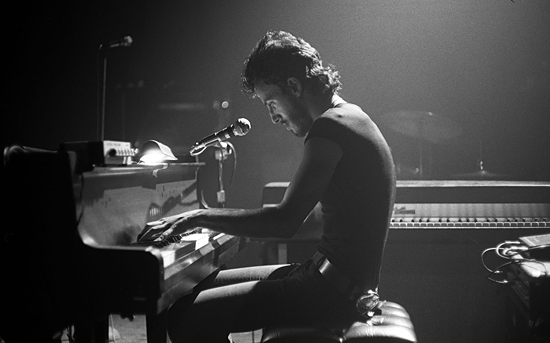 READY TO GROW YOUNG AGAIN: ROCK AND ROLL FUTURE, 40 YEARS ON
Forty years ago, on May 9, 1974, Bruce Springsteen and the newly christened E Street Band played a career-altering gig at the Harvard Square Theatre in Cambridge, MA. With rock critic Jon Landau in the audience for the Thursday night late show as Bruce opened for Bonnie Raitt, this was the performance that inspired the immortal words "I saw rock and roll future and its name is Bruce Springsteen."
In Landau's Real Paper article "Growing Young with Rock and Roll," Bruce's soon-to-be manager and producer also wrote, "When his two-hour set ended I could only think, can anyone really be this good; can anyone say this much to me, can rock 'n' roll still speak with this kind of power and glory? And then I felt the sores on my thighs where I had been pounding my hands in time for the entire concert and knew that the answer was yes." [For more on this night and Landau's history with Springsteen, read today's piece by Dave Lifton for Ultimate Classic Rock.]
Also there at the Harvard Square Theater 40 years ago tonight was photographer Barry Schneier, who captured the image above. Barry sets the scene for us: "Halfway through the second show, the one Landau saw, I decided I wanted to take a break from shooting and sit down and listen. I sat on the drum cases, just in the wings stage right, when all of a sudden I saw the E Street Band walk off stage in my direction, and I thought, 'Great, I finally sit down and they finish!' But the show wasn't nearly over. The band stopped and stood to my side as Bruce came over and sat on the piano, three feet in front of me, and began that soulful, slow rendition of 'For You.' Well, I knew I had a prize moment in front of me, and I reloaded my camera immediately and shot a series of shots of him, which became the shots people seem to know the most."
Photograph collectors take note: you can now visit gallery591974.com if you're interested in a very limited edition print of Bruce at the piano 40 years ago (for just to read more of Barry's story). One hundred prints of this photo will be released beginning today, with five prints donated to non-profit organizations, five prints given away to the general public (become eligible by giving the Facebook page a "like"), and 90 offered for $5,000.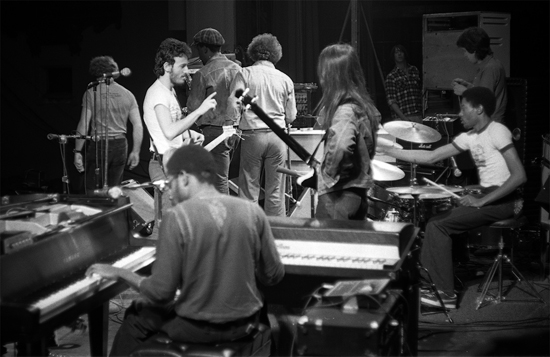 Of course, that wasn't the only frame Schneier shot that legendary night. Here the photographer shares with us some never-before-seen images to mark this milestone, including the above from soundcheck, a rare shot capturing both Boom Carter on drums and Davey Sancious on piano.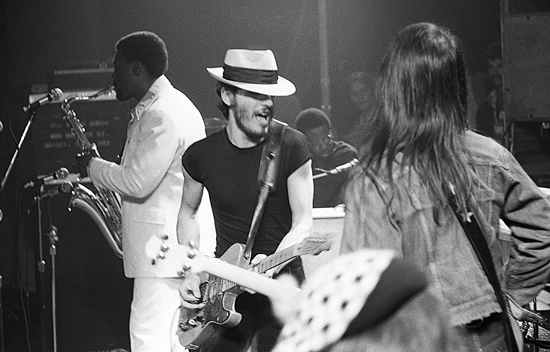 "During soundcheck," Schneier tells Backstreets, "I remember how focused Bruce was on rehearsing the band. Most bands just a play through a few riffs to set levels and then leave. But he was very focused, very serious in directing the band. And they also listened very intently to his direction. I knew he meant business, but in an artistic way. I really hadn't seen anything like that before."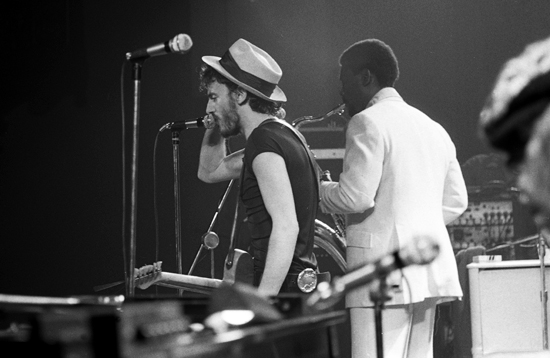 Gallery 5.9.1974 tells more of the story:
Having Springsteen on the bill that night was not part of the original plan. Windowpane Productions, a music promotion company based in Boston, booked the Harvard Square Theatre for May 9th, 1974 with the intention of only having Bonnie Raitt perform. Raitt was a regional favorite and the promoters wanted to present her as a headliner in an intimate setting: she would be the only act on the bill.

But Schneier, the photographer for Windowpane, saw Springsteen perform a month earlier at Charlie's Place [also in Cambridge, MA] and was so impressed he told the promoters they had to book him for a show. At Barry's apartment in Brookline, MA, Ira Gold, one of the promoters, listened to The Wild, the Innocent & the E Street Shuffle and was taken by his unique sound. Ira and his production partner followed up with a visit to see Bruce at Charlie's Place.... Ira, interested in showcasing new and upcoming acts to bring to the public, suggested to his partner that even though it was late in process, they add Bruce to the bill. Since the tickets weren't printed yet, they decided they could do it and offered Bruce the opening slot, to which he replied, "Sure."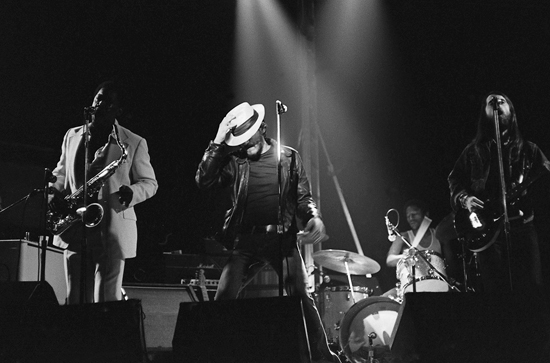 Landau's Real Paper piece, when it was published on May 22, served to confirm what Barry Schneier felt himself, as he tells Backstreets: "When I had suggested that Windowpane put him in a show, part of my mission was just to see him perform again. When I first saw him at Charlie's Place a month earlier, my reaction was I didn't know music like this existed in the universe. So when I read Landau's review he validated what I felt. I realized I wasn't crazy after all."
- May 9, 2014 - Christopher Phillips reporting - photographs by Barry Schneier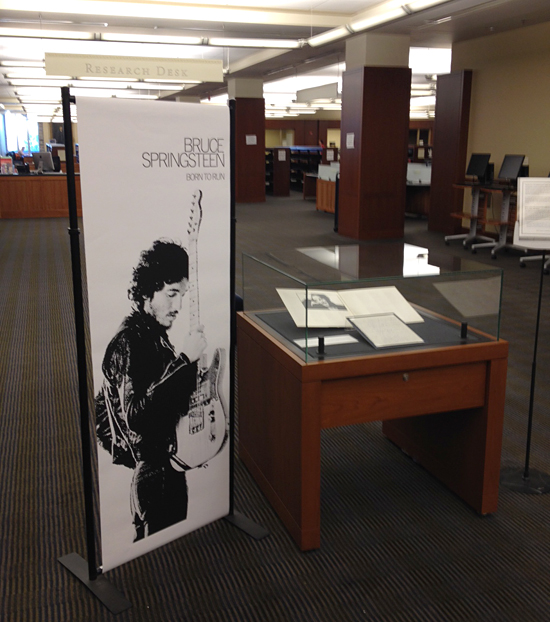 WHERE WILD ANGELS DIE IN AN EVERLASTING KISS
"Born to Run" draft exhibited on Duke campus starting today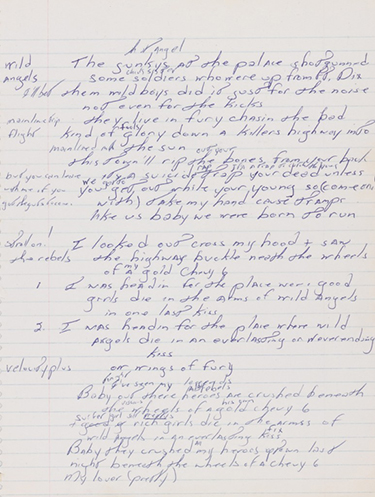 Beginning today, a handwritten first draft of "Born to Run" will be on display at Perkins Library on Duke University's West Campus. The manuscript was purchased in a high-profile Sotheby's auction late last year by Floyd Bradley, who is making the notebook page viewable to Duke visitors over graduation weekend and through June 27. (Bradley's daughter, like Springsteen's, just finished her senior year at the university).
If you haven't already, it's worth taking an up-close look, for almost-there lines including "This town'll rip the bones from your back / It's a sucide rap your dead unless / You get out while your young"
As the Duke University Libraries blog reports, "Visitors to campus are invited to stop by the library and view this special piece of music history."
May 8 – 11
On exhibit in front of the Circulation Desk, 1st Floor of Perkins Library
Thursday and Friday, 9:00am - 6:00pm
Saturday and Sunday, 1:0pm - 5:00pm
May 12 – June 27
On exhibit in the David M. Rubenstein Rare Book & Manuscript Library, 3rd Floor of Perkins Library
Monday - Friday, 9:00 a.m. – 5:00 p.m.
Saturday, 1:00pm - 5:00pm (closed May 24 for Memorial Day Weekend)
Closed Sundays
- May 8, 2014 - photograph by Eric Ferreri (photograph-in-photograph by Eric Meola)


"THE PROMISED LAND" ACOUSTIC, MAY 7 LOS ANGELES
Springsteen at last night's USC Shoah Foundation benefit: "Songwriters are kind of conservators of emotional memory. Before we can write, we listen. We listen to voices: we listen to the voices of the dead, we listen to the voices of the living. The dead are always speaking to the living. They call out from their graves, our better angels, they're here in this room tonight." [Setlist]
- May 8, 2014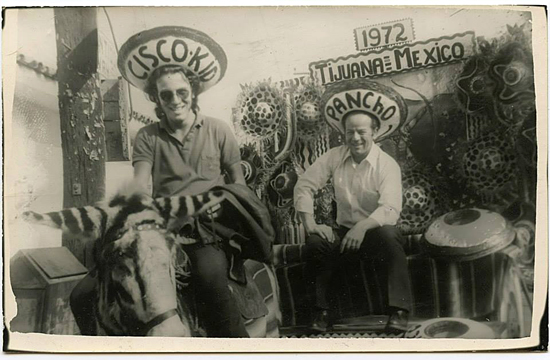 THE CISCO KID IN FULL COSTUME DRESS
No, you're not hallucinating. That really is Bruce Springsteen sitting on a donkey painted like a zebra, with his father Douglas, in 1972, wearing Pancho and Cisco Kid hats. We'll give you a minute to let that soak in. The photo has been making the rounds online after being posted on Michael Crane's new Blinded By the Light/Bruce Springsteen Museum Facebook page.
Thing is, we actually knew this photograph existed, even if few had ever seen it — hat tip to our pal Ben Lazar, who remembered this passage from Dave Marsh's 1978 feature on Bruce in Rolling Stone ["Bruce Springsteen Raises Cain," 8/24/78]:
"When my folks moved out to California," Bruce begins in response to a question about whether he really knows "a pretty little place in Southern California/Down San Diego way" as he claims in "Rosalita," "my mom decided — see my father and I would fight all the time — and she decided that we should take a trip together. She decided that we should take a trip together. She decided that we should go to Tijuana [he laughs his hoarse laugh, reserved for the truly absurd]. So we got in the car and drove down there, arguing all the way. First I drove and he yelled at me, and then he drove and I yelled at him.

"Anyway, we finally got there, and of course, my old man is the softest-hearted guy in the world. Within fifteen minutes, some guy has sold him some watch that must've run for all of an hour and a half before it stopped. And then some guy comes up and says, 'Hey, would you guys like to have your picture taken on a zebra?'

"Well, we looked at each other — who could believe this, right? Zebras are in Africa. And so we said, 'Well if you've got a zebra, we definitely want to have our picture taken.' So we give him ten bucks and he takes us around this corner, and he's got… he's got a damn donkey with stripes painted on its side. And he pulls out these two hats — one says Pancho, one says Cisco — I swear — and he sits us on the donkey and takes our picture. My mother's still got that picture. But that is all I knew about Southern California at the time I wrote 'Rosalita.'"
Alternate lyric: "By the time we meet in the morning light, I will hold you in my arms on my zebra donkey." You know, looking back, it does seem funny.
- May 8, 2014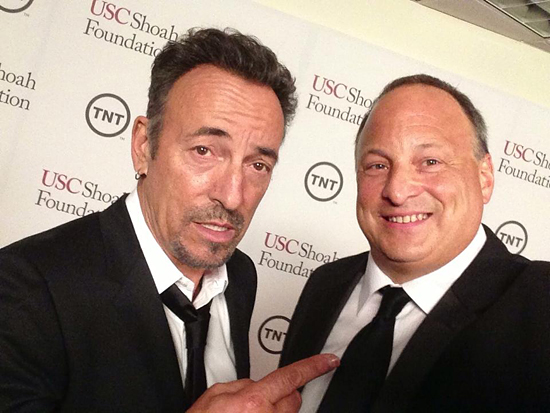 BRUCE PLAYS FOR 20TH ANNIVERSARY OF SHOAH FOUNDATION
Bruce Springsteen performed at a benefit dinner for Steven Spielberg's USC Shoah Foundation last night in Los Angeles, where he shared a table with Spielberg and President Obama. The President was on hand to accept the foundation's Ambassador for Humanity award. According to an AP report, Spielberg called Springsteen "this nation's hardest working lyrical poet for our common humanity" and remarked, "I think anyone who has a boss wishes it was you." In black tie, Springsteen performed two songs on acoustic guitar: "The Promised Land" and "Dancing in the Dark."
The USC Shoah Foundation Institute for Visual History and Education, which Spielberg founded in 1994, is dedicated to making audio-visual interviews with survivors and witnesses of the Holocaust and other genocides a compelling voice for education and action. Before the event, the director said in a statement, "I am personally honored that Bruce, [host] Conan [O'Brien], and Liam [Neeson] are joining me and lending their considerable talents to this year's special 20th anniversary gala. Not only do they entertain and inform us through song, laughter, and words, but by helping us commemorate this significant milestone, they also draw attention to the vital work of the USC Shoah Foundation."
- May 8, 2014 - photograph: Jeff Kravitz/FilmMagic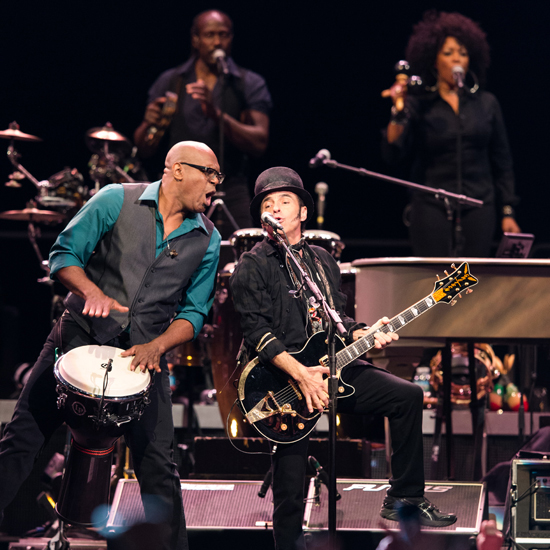 REVEREND EVERETT SWINGING OFF E STREET TO DAYTIME TV
Congrats to Everett Bradley: come September 8, the E Street Band's touring percussionist will be bandleader for The Meredith Vieira Show [press release here].
- May 6, 2014 - photograph by Michael Zorn


RIGHT PLACE RIGHT TIME: BRUCE TWICE IN NOLA ON SATURDAY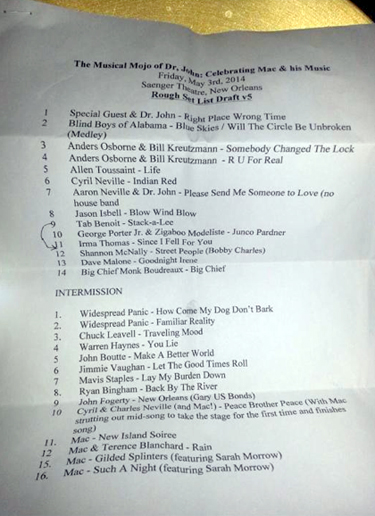 Springsteen played something of a double-header on Saturday in New Orleans: After his 24-song Jazz Fest set with the E Street Band, he stuck around to open that night's tribute at the Saenger Theater, "The Musical Mojo of Dr. John: A Celebration of Mac & His Music." (Previously, Mac "Dr. John" Rebennack sat in with Bruce and the E Street Band during their 2012 Jazz Fest set.) An unbilled "Special Guest," Bruce kicked off the proceedings at center stage, playing lead guitar and trading vocals on "Right Place Wrong Time" with Dr. John himself on piano.
The tribute, which was filmed for a DVD release, also included guests John Fogerty (fresh from the E Street Band stage himself), Jason Isbell, The Blind Boys of Alabama, the Neville Brothers, Widespread Panic, Irma Thomas, Mavis Staples, and many more.
- May 5, 2014 - typed setlist thanks to PanicStream


MAY 3: JAZZ FEST BECOMES A LOVE FEST
There are Bruce Springsteen shows and then there are Bruce Springsteen festival shows. Not many of those on each tour, and they are not every hardcore fan's cup of gumbo. For others like myself, festivals are a refreshing change that opens the possibility of delightful surprises — like Glen Hansard's emotional co-starring role on "Drive All Night" in Kilkenny last summer.
When it comes to festivals, New Orleans Jazz Fest is not just a different animal; it is more like a beast that creates a myriad of possibilities on stage and an ongoing debate at the Fairgrounds of who just might get the Big Easy invites. This is also a festival for big people who love and know their music, not one for a bunch of drunks. From the moment you arrive in town you discover that Bruce is revered here and has been since his Post-Katrina appearance, a show the Associated Press at the time described as one where he reflected the anger, pain, frustration and resilience of a hurricane-battered city. The response to Katrina, he said from the stage then, was one of criminal ineptitude.
With that certain President far in the rearview mirror painting watercolors, this was not the same pissed-off Springsteen... but, as he says often when grabbing a request, the elephant never forgets.
This day on the big stage started with a jambalaya of Louisiana music: Marc Broussard, Allen Toussaint (with guest Jimmy Buffet) and the Voices of Wetlands All stars. All the while the crowd swelled farther than any pair of eyes could see. This was easily the largest gathering for any one artist in the 45-year history of this festival according to long-timers.
With a 7pm curfew, the band hit the stage at 4:27 with a "High Hopes" that could not better describe this city in 2014, followed by a "Johnny 99" that had Soozie hitting that fiddle like she was in a Cajun band and the horns sounding more like a NOLA brass ensemble that might give Sunday's big stage closer, Trombone Shorty and Orleans Avenue, a run for their money. "Badlands" and a fierce "No Surrender" reminded all the faithful this is still a Bruce Springsteen show.
You can't stay angry forever, and when "Hungry Heart" followed Bruce took the deepest foray into the crowd I have ever seen. Had he tried to have the fans surf him back, it would have taken a half-hour. Then it was time to start digging deep into what you would expect here, Seeger Sessions material that started with "Jesse James" and Rickie Lee Jones joining up with Patti Scialfa for a few bars. And the horns, oh those horns, you just cannot get enough of them down here. The lads excelled.
A four-pack followed that was all anyone needs to know about how this man connects with the city: "The River," never more heartfelt than it was here, and "How Can a Poor Man Stand Such Times and Live?" which had the crowd basically saying," brother you got that right," followed by "Wrecking Ball" and, as if it were written for NOLA, "Death to My Hometown." Hope and redemption changed the tone, with "The Promised Land" and a version of "O Mary Don't You Weep" that could have easily been a part of Irma Thomas' spectacular gospel performance the day before.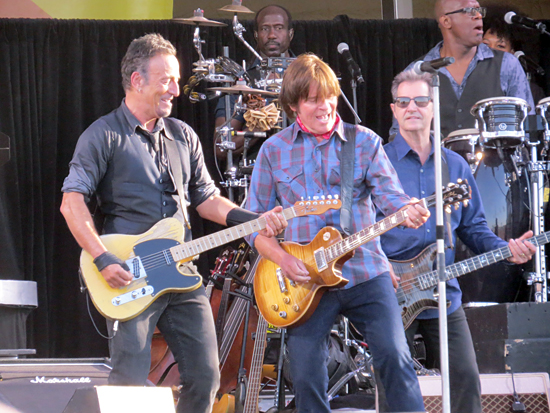 After "Shackled and Drawn" it was time for this tour's staple, "The Ghost of Tom Joad," with Tom Morello taking the guitar riffs even higher and the theatrics a little lower. "The Rising" and "Land of Hope and Dreams" were as good as ever. But now it was encore time, and if John Fogerty is within twenty zip codes of a Springsteen appearance, you know what is coming next, not one but two combos with the man Bruce says he idolized in his early days, "Green River," and for New Orleans you could feel it rolling down the mighty Mississippi, "Proud Mary."
This was not a show for some little kid singing on stage (none) or requests (none) or even for a gaggle of lovelies dancing on stage; there was just one lovely for "Dancing in the Dark," and she got some long, close-up slow dancing with The Boss. "Tenth Avenue" got its rightful place in the setlist, with some people even taking off their hats in respect for Clarence and Danny.
And that is when the show got deeply personal. Bruce hushed the crowd to say, "We wouldn't be who we are today without you, New Orleans. This is for you." Today's version of "When the Saints Go Marching In" was so wonderful, so heartfelt with layer after layer of sound and emotion, it was enough to make a grown man cry. And some of us did.
This American treasure of a city should never be left in tears again, and Bruce won't leave them crying, either — which is probably why he road-tested "Pay Me My Money Down" several times. By the time it got to the Crescent City it might as well have been Mardi Gras all over again.
"Thunder Road" finished off this most amazing experience of decades of watching Bruce, but it was no time to ride the highway solo. This "Thunder Road" was just like the one many of us got on years and years ago. New Orleans adopted the band after Katrina, and today Bruce Springsteen and The E Street Band gave their love back.
Who Dat? Down here Dat the man.
For the full setlist from this and other recent performances,
see our Setlists page
- Updated May 4, 2014 - Mike Collins reporting - photographs by David Hulen (1) and Ron Valle (2-7)