"WE NEED YOU NOW"
Somewhere across the border, a photograph, a song, and a plea for action
To be honest, I only looked at the photograph once. That's all I could handle. But it was enough. If you haven't seen it yet, you will. But allow me to describe the image, photographed by Julia De Luc, originally published this week by La Jornada and quickly spread around the world. Face down in the dank, turbid water of the Rio Grande is a dead man in a T-shirt and jean shorts. To his left is a small girl, his daughter. She is inside his shirt, her tiny body stretching the material. It must have seemed a good idea: that way they wouldn't be separated in the brown, rushing waters. In the end, father and daughter drowned together.

Their names were Óscar Alberto Martínez Ramírez and Angie Valeria. She was 23 months old. The girl's mother, Tania, watched hopelessly on Sunday night as the river swept them away, according to news reports. They were from El Salvador, which means the family travelled 1,470 miles, probably on foot, to reach the border and a chance at a better life. Late Monday their bodies were discovered on the Mexican side of the river.

And if your thoughts immediately fix on Bruce Springsteen's "Matamoros Banks," from 2005's Devils & Dust, no one would blame you. That is precisely where they were found, directly across from Brownsville, on a riverbank littered with beer cans.

It is instinctive to reach for songs to contextualize tragedy, especially in times of tragedy, and especially songs that are prophetically accurate and right there in front of you, like now. We've all known "Matamoros Banks" described a very real and often repeated tragedy. Thousands of migrants lie decaying in the southwest, never to be discovered, many never named, but forever mourned in faraway places.

The website humaneborders.org maintains a database of bodies identified by the Pima County Medical Examiner, just one county along the U.S./Mexico border. On a map you can see thousands of red dots. Each dot is a life ended, and whether named or not they all tell a story. There will never be enough songs for all of them. And almost none of them will become a photograph we share in our curated shock over morning coffee.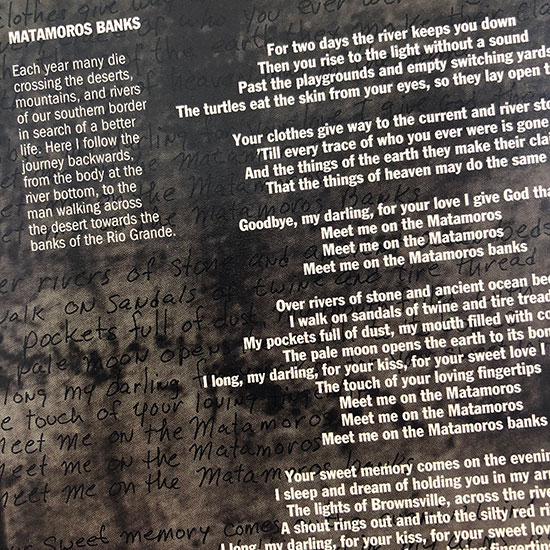 I grew up thinking rock 'n' roll could save the world. Maybe you did, too. In the fires of my youth, I was convinced that just the right performance, or just the right song, could transform the public consciousness and provide a cathartic, communal experience. Remember Live Aid? The next day Bob Geldof took out a full-page ad and told us all, "remember on the day you die someone in Africa is alive because one day you watched a pop concert." That concert did save lives, and it challenged a generation to look at new ways to tackle foreign aid and disaster relief. We were naïve to think it solved the problem, but it was nice to believe it, just for a while.
And I'm sure we all remember the story of the man who called out to Springsteen on a Rumson street shortly after the September 11 attacks. "We need you now," he yelled. Soon after, work on The Rising began, and the long process of healing from our worst modern national tragedy was made slightly easier by its invitation to grieve communally. It wasn't a cure-all, but it helped.
With this picture, this crisis, we've reached another "we need you now" moment. But who is needed, and who is asking? With the divisions we now face as a people, as a nation, what could rock 'n' roll possibly do in this situation? In both 1985 and 2001 there was unity, a collective sense of empathy or outrage, at least. The images moved us. The music compelled us. But the picture of those two bodies in the river will simply not move some people anymore. They're already turning it into horrible memes and disinformation. No need to look.
In a review of Western Stars a week ago, I wrote that the album may serve as a fitting epilogue to the stories of the West that Springsteen has told across the canon of his solo albums. So much of The Ghost of Tom Joad and Devils & Dust took place in or near the borderlands. The songs painted a varied and expansive picture of life on the edges of America, literally and metaphorically.
We cannot blame Bruce Springsteen for not making a more pointed political statement on Western Stars, or furthering the stories he told in "Matamoras Banks," "Balboa Park," or "Sinaloa Cowboys." That's his muse to follow.
But I look at that photograph again, and I think, "we need you… now." Trouble is, I'm not sure who I am begging. Springsteen? I can't say it didn't occur to me, as I can imagine a well-organized concert, a barnstorming tour of the border states, or a special download of "Matamoras Banks" benefitting No More Deaths, the group facing federal prosecution for the unspeakable crime of leaving water in the desert. But rather than looking elsewhere, perhaps the connection between the song, the image, the singer, and his priorities demands something of all of us.
"We need you now." Maybe it is their voices, the dead bodies on the side of the river among the rushes and bass beds, calling to us. Because this is not terrorism or a war that is causing this. And as a nation we are not ill-equipped to address it. We've spent $21 million an hour since September 11 fighting wars. We simply lack the compass. It is a failure of leadership, of resolve, of compassion, of the very reason we empower people to act for us in government.
I just know that rock 'n' roll alone seems inadequate for the task. I still believe music can inspire us to reach for higher ground. But I fear we're unprepared, all of us, to do the heavy lifting. As a father I am sickened. As an Irish descendent whose forebears crossed the Atlantic half-starved, I am ashamed. As an American I feel completely impotent. And God is watching. More importantly, our own daughters and our own sons are watching.
Whomever Bruce imagined the tender, steadfast voice in "Matamoras Banks" to be, he now has a name, and a family. And we cannot claim we didn't hear the message. The songs told us. So have nameless, countless others. And now Oscar and Angie and her grieving mother Tania have told us. Will it ever be enough? Are we even able to listen anymore? The country we carry in our hearts is still waiting. We still have a chance to create it, for everyone. Or we could just as easily lose it for good.
We encourage readers to contact their representatives and senators to demand a humane border and immigration policy that protects children, values human life, and allows unrestrained access to detention facilities by aid agencies and human service organizations. We also encourage you to visit these sites for more information and ways you can help:
- June 28, 2019 - John Duffy reporting - Duffy is a father and a high school English/Social Studies teacher living in Elizabethtown, PA. He's been writing about music and culture for 25 years. He reviewed Western Stars for Saving Country Music and presented a paper on Springsteen, the Tragically Hip and national identity at the recent Darkness on the Edge of Town: A Bruce Springsteen Symposium, at Monmouth University. This is his first contribution to Backstreets.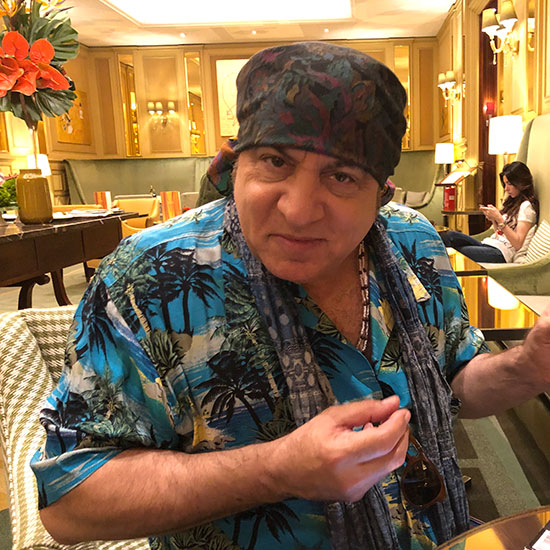 "EVERYONE IS DEPRESSED, AND I'M LIKE, 'COME ON, LET'S DANCE!'"
Little Steven Q&A, Milan, Italy, 6/13/19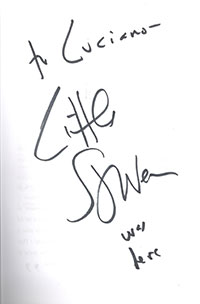 Following Sunday night's concert in Paris, Little Steven and the Disciples of Soul have just wrapped up the first European leg of their tour for Summer of Sorcery. After just a few days off, they'll begin a North American trek this Friday night. In between, let's catch up with the chief sorcerer.
On Friday, June 13, the morning after Stevie's performance in Milan, longtime Italian fan Luciano Gardini had the opportunity in his hometown's Principe di Savoia Hotel to catch up with Van Zandt.
"It was a really fantastic moment for me," Gardini tells Backstreets. "I told him that I'm an occasional freelance writer for an Italian rock magazine — this month he's on the cover, and he'd seen it. He was so patient and helpful. I was there with a friend of mine, Tiziana, and we sat and talked about a lot of things — the Milan concert, the tour, and music life in general — and we took some pictures, of course!"
Luciano: Hi, Stevie, how are you doing?
Stevie: Great! It was the best show of the tour, last night. Hamburg was really good, and Zurich, too… but Milan was the first time the audience started to know the music, the melodies.
Wow! You say this just because you're in Italy?
No — because finally the audience is starting to learn the record. [Summer of Sorcery] has been out five weeks now, and last night, for the first time, the audience is singing the songs.
Just one date in Italy. Why? How is it possible?
Yeah, we had a change, a new promoter, and… you know, we'll try to get more. I want to do more, of course, but at the moment it's difficult, business-wise. We'll try.
It's very different from the Soulfire tour. Do you feel it's something better?
Very different — completely different shows from the Soulfire tour. We kept only three or fours songs out of 23 or 24; the others are new. The Soulfire tour was fantastic, and I thought we'd have trouble doing a better show than that, but I think we did. I think the show is actually better.
On this tour you're more confident, isn't that so?
Yes, that's true. As a frontman, you know, as a singer, it was like starting from zero — because the last time I did it was in the '80s. Thirty years ago, a long time! So, I've had to learn to be a frontman again. I think another couple of tours and I'll be all right! [Laughs]
So you'll be ready for another one?
It depends on Bruce and what he wants to do next year. If I go out with him, two years go by.
Anything else about the Summer of Sorcery Tour?
It has been difficult during these last two years, very difficult. To come back and reconnect people to my music… you know, there's not too many people from 30 years ago. Maybe five or ten percent.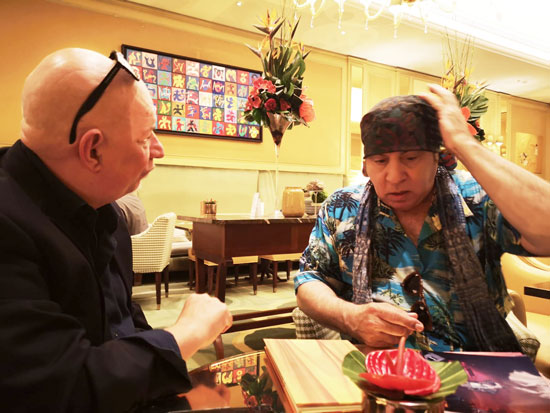 Stevie, I want to make a question not about the music. How do you feel about the situation in the world?
Big trouble. I think we're going into another dark age. I think the world is more nationalist, more fascist, with more religious extremes, everywhere you look. It's terrible, terrible, terrible times. For a while. I don't think it's gonna be better for few years. So we have to try to survive, and we need some good news right now.
That's why I wanted to do a positive album, hopeful and optimistic, which is Summer of Sorcery. That's what my usefulness is right now.
It's funny because in the '80s, for my first solo five albums, everybody was rich and happy, having a party. I put out the records and sing: "Everything is fucked!" I was the bad news in the '80s. Now, everyone is all depressed, and I'm like, "Come on, let's dance!" [Laughs]
Because we have no choice. We need a balance. In the '80s we had some realities… everybody was having a party, and at the same time people were suffering all over the world. So, you try to be useful to the society.
In the music world, there's not another one like you.
Not exactly… there are many artists with positive thinking and doing positive things.
But not like you, with your message and your voice.
Well, I'm extreme. I was always extreme, you can't compare me to… but there are good people around: Eddie Vedder of Pearl Jam, good guy; Dave Grohl, Foo Fighters; Green Day.
What kind of music are you listening to now?
Well, different things...
One or two names you like at the moment?
Believe it or not, I like a lot of newer artists. I like Bruno Mars. I like Billie Eilish, too.
Okay, Stevie, we've finished. Thank you so much for the time, and please, let me hug you… Best wishes for the tour. I hope to see you as soon as possible.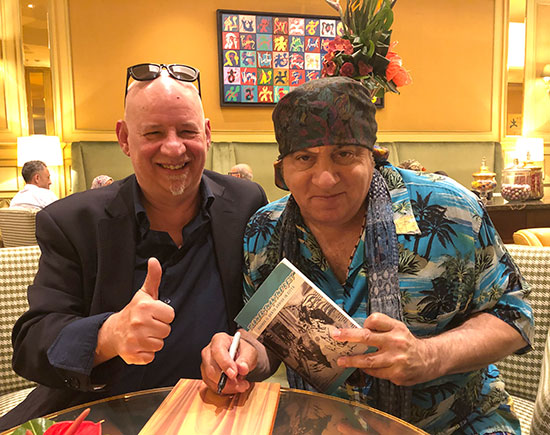 Catch Little Steven and the Disciples of Soul as the Summer of Sorcery Tour 2019 continues all summer and into the fall: North America in June and July, with a return to Europe to follow in August. Dates and ticket links are at littlesteven.com/on-tour.
- June 25, 2019 - interview and photographs courtesy of Luciano Gardini


WESTERN STARS JUMPS UP THE CHARTS (AND TOPS MANY, MILES FROM HOME)
Plus: our record review rodeo round-up
As Billboard reports, when the new Billboard 200 U.S. album chart is published tomorrow, Bruce Springsteen's Western Stars will debut at #2. Madonna's Madame X, "bolstered by a concert ticket/album sale redemption offer with the Queen of Pop's upcoming theater tour," took the top spot. "Damn the Artist Formerly Known as Madge," you might say... but this does make for Springsteen's 20th career Top Ten on the Billboard 200. Not at all shabby for a guy with only 19 studio albums.
Around the world, Western Stars is making Springsteen the Man at the Top in numerous other countries, so far charting at #1 in Australia, Belgium, Germany, Holland, Ireland, Italy, New Zealand, Norway, the Netherlands, and the U.K.
Lots of ink, much of it glowing, has been spilled over the new album, including our own Backstreets review and a heartwarming rave from Drive-By Truckers' Patterson Hood. Now that most have a had a chance to spend some time under those Western stars, this feels like a good time for a review roundup.
If you read only one, we'd have to point you to this beauty from Ann Powers via NPR Music: "All He Wanted Was to Be Free: Where Bruce Springsteen's Western Stars Came From." In a way, the Powers piece is an outlier — not in suggesting the album is a success, as most have, but in astutely plucking "The Ballad of Easy Rider" out of Springsteen history as a reference while most eyes have been on the Jimmy Webb circles. Springsteen performed the Roger McGuinn song only once (at his landmark 8/20/81 "Night for the Vietnam Veteran" benefit), but it's no less significant for that. Easy Rider becomes a potent touchstone for the "masculine damage" and "state of being lost" that pervades Western Stars, and Powers pulls in other compelling song cousins from the Vietnam and post-Vietnam era. Bonus points for her Companion Playlist:
On with the round-up! Click through on each for full context.
THE GOOD
"It's possible to trace the path taken by Springsteen's new, highly orchestrated solo album, Western Stars, all the way back to his decision to cover 'The Ballad of Easy Rider' thirty years ago..... Reworking it in concert, the Boss also paid tribute to a type of hit he often emulated on his own albums: the big, highly produced existential rock ballad, whose rise dates from around the time Easy Rider redefined the road movie as an expression of young people's confusion and weariness as the 1960s ended and the Nixon era began."
Ann Powers, NPR Music
"Western Stars shows Springsteen pulling back the curtain on his craft in much the same way Springsteen on Broadway did. In fact, in its elliptical narratives, it might have the makings of a good musical itself."
Will Hermes, Rolling Stone (4 out of 5 stars)*
*"Rolling Stone SLAMS Bruce Springsteen With Rare Four-Star Review; The merely enthusiastic rating is the worst they've given him in nearly 25 years."
Rhodes Murphy, Slate
"...an absolutely gorgeous collection of excellent songs. It's an album that pushes him into new, uncharted territories as a singer and performer, all while standing proudly alongside his classic albums of yesteryear."
Patterson Hood, Tidal
"Springsteen albums are usually grand affairs but he's never made one that sounds so vast and luxurious throughout."
Sam Sodomsky, Pitchfork (7.9 out of 10)
"...both unexpected and of a piece with its author's back catalogue. Normal service may well be resumed in due course, but Western Stars is powerful enough to make you wish Bruce Springsteen would take more stylistic detours in the future."
Alexis Petridis, The Guardian (4 out of 5 stars)
"It's not an album courting new young fans or claiming any 2019 zeitgeist. It's more like a speculative alternate history: What if Springsteen's music had taken a very different direction at the start?"
Jon Pareles, New York Times
"The record is haunted by the Utopian romance of the Western frontier, but, because this is a Bruce Springsteen album, it's encountered mainly in brokenness and loss. When the album is strong, which it is far more often than not, it manages to refresh those clichés, partly with lucid lyrical detail, but especially sonically."
Carl Wilson, Slate
"Springsteen drives proceedings with acoustic strumming, the rough tones of his voice rooting the symphonic gorgeousness in gritty reality. It stands comparison with his very best solo albums."
Neil McCormack, The Telegraph(5 out of 5 stars)
"By structuring the music around an orchestra, he has achieved a remarkable freshness. It is important to stress that the orchestral setting, executed with invention and subtlety, is integral to almost all 13 tracks. It is not mere ornamentation...."
Joe Breen, Irish Times
"Placing intricately detailed portraiture on massive musical backdrops has been a Springsteen trademark for years, of course, and Western Stars continues this legacy, transforming the enormous into the intimate. That's the sort of magic Springsteen specializes in conjuring — and he clearly has little interest in slowing down his ride."
Maura Johnston, Entertainmemt Weekly(A-)
"Springsteen adapts his singing to the sweeping backdrops, favoring the soaring high end of his natural range on songs like the advance single 'There Goes My Miracle.' At his age, these operatic flourishes don't come easy, and the strain in his voice gives the record an extra layer of vulnerability. This fragile quality is just right for an album about getting older, experiencing loss, and staying in the game in spite of it all."
Mark Richardson, Wall Street Journal
"...it is quite unlike anything else he's ever done. If his recent meta-musings cleared some space between Springsteen the man and Springsteen the icon, Western Stars feels like the start of a new creative path unburdened by his own rich history."
Steven Hyden, Uproxx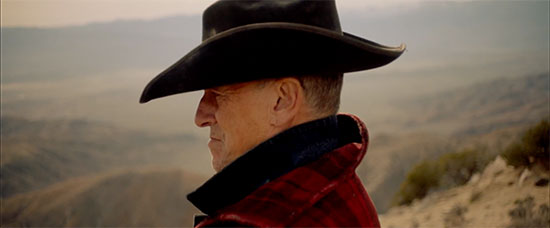 "...well worth a ride. It features some of his most confident 'solo' work ever and is remarkably consistent in the face of his recent mediocre material in recent decades.... Majestic in its scale, but traditional in its subject matter and narratives, Western Stars is a wonderful thing."
Thomas Smith, NME(4 out of 5 stars)

"Sonically, there's nothing quite like Western Stars in Springsteen's (mostly) stellar back catalogue and he deserves full credit for pushing his own creative boundaries.... Springsteen conjures up a shamelessly nostalgic, romantic view of America. Perhaps it's the blue collar firebrand's way of dealing with his nation's troubled times, providing us with an antidote rather than delivering a polemic."
Simon Cosyns, The Sun

"...Springsteen has had some moments of greatness in 1992-2019, too, and Western Stars, I believe, should be regarded as one of his best albums of that time period. And let me remind you, now, that Springsteen is 69 years old: I can't think of another artist who has, at that age, released an album that has been so solid in its songwriting as well as such a big departure from the artist's sonic norm."
Jay Lustig, NJArts.net

"Despite the lower volume, Bruce Springsteen sounds positively invigorated on Western Stars. With a new sonic palette and renewed focus on the LP as a means of writing short stories, it's easily his best album of new material since 2007's Magic."
Dan Caffrey, Consequence of Sound

"...with Western Stars, Springsteen largely succeeds in the tricky task of working within an established genre, and nonetheless delivering a personal statement that fits with the themes he's been exploring his entire career."
Dan DeLuca, Philadelphia Inquirer

"...hauntingly brilliant... Springsteen, ever the searcher, on highways near and far, looking for emotional and spiritual fulfillment."
Chris Jordan, Asbury Park Press

"That Springsteen remains willing to try new things on his 19th album, on the cusp of turning 70, is another testament to his imagination. Few musicians at his age, or his level of success, work as hard to challenge themselves while staying so connected to the musical vision they've been pursuing all along."
Eric R. Danton, Paste


"...nothing short of a late-period masterpiece.... beneath the John Williams-style crescendos and Pacific Palisades twinkles, Springsteen's sublime portraiture of the American struggle — his protagonists walking with him through the ages of life as he goes — endures.... Where most rock superstars sink into trad tedium by 69, Springsteen is still crafting sophisticated paeans of depth and illumination, a rock grandmaster worthy of the accolade."
Mark Beaumont, The Independent

"Unlike 'Outlaw Pete,'... Springsteen's writing here is masterfully concise, sharply observed, and self-aware.... This album balances gravitas and grace, burden and beauty, as well as any in Springsteen's canon."
Ken Capoblano, Boston Globe

"The clichés are intentional. All of its allusions to the culture of the '60s and early '70s... conjure a collective memory of a time when hippie ideals faded in the dawn of the '70s. This isn't a piece of nostalgia on Springsteen's part, though. These references deepen a collection of songs that are sweet, sad, and searching, songs that feel finely etched on their own terms but gather a deep, lasting resonance when collected on this enchanting album."
Stephen Thomas Erlewine, AllMusic

"How do you follow the runaway success of The Broadway Show.. of The Best Seller? You swing into a completely new sonic genre. A place where stories unfold, with a lush musical soundtrack that vividly colors the scenery, without ever running it over.... It's a bold statement, hinged on a bold vision. It's an American masterpiece."
Tom Cunningham, 105.7 The Hawk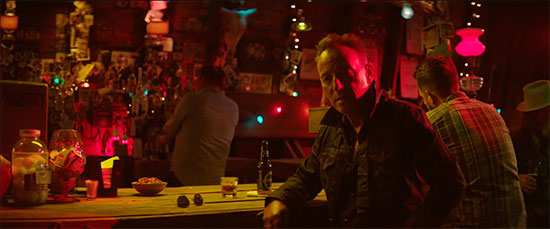 THE MIXED
"Nothing pushes too hard here, and few songs appear to be future Springsteen classics, at least on the surface. But it's a lush, gorgeous record that sounds unlike anything Springsteen has recorded in the past.... When the album coalesces, as it often does, it's Springsteen's most satisfying since 2002's The Rising."
Michael Gallucci, Ultimate Classic Rock
"There's never been a release in Springsteen's catalog of 19 studio outings that counts as a genre exercise quite the way this one does. So even though he's not adhering strictly to one template, your appetite for Western Stars may come down to how much of your life you've spent in 'Galveston' or clocking what hour it'll be by the time you get to Phoenix … that is, how much predilection you have for old-school California pop about sad sacks in the desert states."
Chris Willman, Variety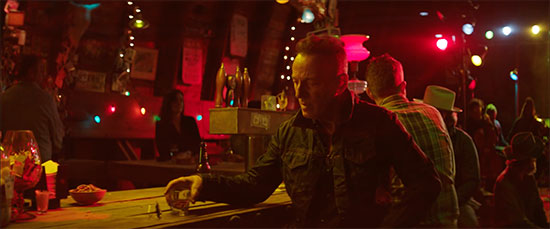 THE BAD
"It's a delight to hear the man summon the musical spirits of his past, but it's all a bit overly tasteful and mannered to have the force of his usual work. The rough-around-the-edges element of his music has always been a highly calculated aspect of Springsteen's perfectionist tendencies, but in crafting this record of genteel retro Americana, his smooth sound is missing some bite."
Alex McLevy, AV Club
"Simple orchestral riffs and warm west coast production are thickly glooped onto a collection of songs that otherwise may have been too mellow for his rock canon, yet too nice for a stripped-down solo Bruce record. God, 'nice' is a damning word."
CJ Thorpe-Tracey, The Quietus
"He croons. He swims in a sea of strings and horns. He sounds smooth. He shifts Broadway bombast a couple thousand miles west, to a Vegas lounge.... The large-scale orchestrations rarely complement the mood. Instead, they barge in, a river of syrup that drowns the sense of betrayal in 'Stones,' gushes through 'The Wayfarer' and inspires some of Springsteen's most egregious Gene Pitney-style over-emoting in 'Sundown' and the disastrously overdone 'There Goes My Miracle.'"
Greg Kot, Chicago Tribune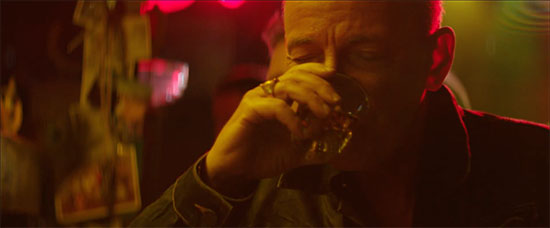 THE UGLY
"During each of Bruce Springsteen's marathon stadium concerts — amid all the joy, conviction and chest-pounding rock grandeur — there is a bathroom song.... what if The Boss released an album composed almost entirely of 'let me go pee real quick' triggers? Such is life on Western Stars, Springsteen's highly anticipated and profoundly tedious new solo record — the most disappointing studio project of the New Jersey icon's nearly 50-year career."
Bobby Oliver, NJ.com
- June 24, 2019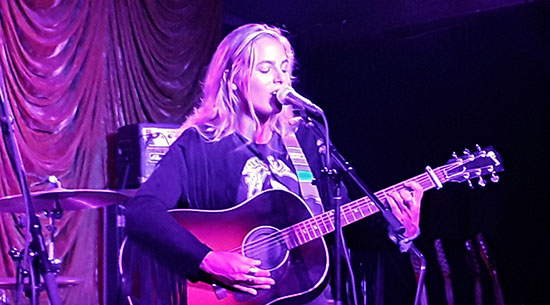 NO SAINT IN THE CITY
Listen to Lauren Jenkins guest DJ this week on E Street Radio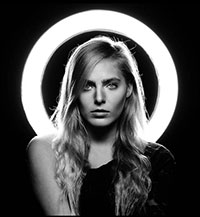 Lauren Jenkins is a young singer-songwriter who released her highly acclaimed debut album No Saint on Big Machine Records earlier this year. She is touring the U.S. and Europe through the summer, with a series of solo-acoustic and band-backed gigs.
Jenkins also is a big Springsteen fan who recently recorded a Guest DJ session for E Street Radio. It will receive its debut airing on SiriusXM channel 20 today — Monday June 24 — at 4pm ET, with replays airing tonight at 11:59 pm, Tuesday June 25 at 8am, Wednesday June 26 at 6pm, Friday June 28 at 4pm and 11:59 pm, and Saturday June 29 at 8am. (All times are ET.)
Jenkins boldly has promised E Street Radio listeners to "make you cry." Her playlist will feature some of Bruce's darker, more complex songs about relationships and the struggle to sustain them. Familiar territory, of course, for everyone who's been digging Western Stars lately, as has Jenkins. ("Hello Sunshine," the only officially released Western Stars track available at the time her Guest DJ session was recorded, was a shoo-in for her playlist.)
This is fitting, since Jenkins' own music often covers similar ground. Standout tracks on No Saint include "Give Up the Ghost," "Payday," "Running Out of Road," "Blood," and the title track. And like much of the music on Western Stars, Jenkins' music incorporates many country elements but is impossible to label as "pure" country — or "pure" any other genre of music, for that matter.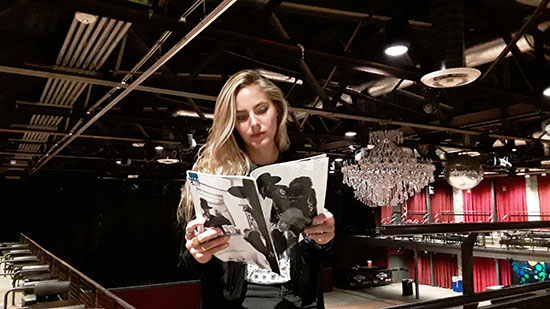 Speaking to Backstreets after a recent performance in Philadelphia, Jenkins told us that she prefers it that way. "The alternative would be to make some different creative choices in order to fit into a box, and I don't play nicely in the boxes," she said with a laugh. "Yeah, it's definitely made it more challenging and it makes the road longer, but it's better... for me, anyways."
Jenkins also counts Springsteen among the major influences on her own work. She first discovered his music as a teenager, rummaging through her father's record collection, which featured Born in the U.S.A. At the time, she thought that album was good, but Springsteen's artistry didn't really hit her until she got to hear tracks like "Stolen Car," "Reno," "Highway 29," "Secret Garden," and "Nebraska." "I was listening to all of the dark, sad 'songwritery' songs. So some of his amazing, energetic, and horn-section stuff... that's not what I was seeking out at first, but now, later in life, I'm a fan of absolutely all of it."
Check out Lauren Jenkins on E Street Radio this week and learn more about her music and upcoming concerts at laurenjenkins.com. There you can even score a copy of No Saint bundled with a bandana, à la the Backstreets-exclusive bandana-bundled editions of Western Stars. A chance connection... but hey, collect 'em all!
- June 24, 2019 - report and photographs by Shawn Poole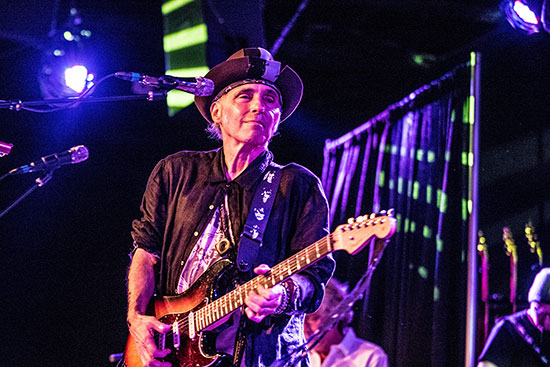 BIRTHDAY WITH NILS
Sending best wishes out to the great Nils Lofgren today, born June 21, 1951, and pictured above in May on tour for Blue With Lou. (Photographed by Jerry Frishman at the Birchmere in Alexandria, VA.) That leg with the Nils Lofgren Band wrapped on June 2, but we've got fingers crossed that he'll head back out for another round — keep your eyes on nilslofgren.com for any updates. Below, some of the amazing press the new record has garnered... congratulations, Nils, and happy birthday!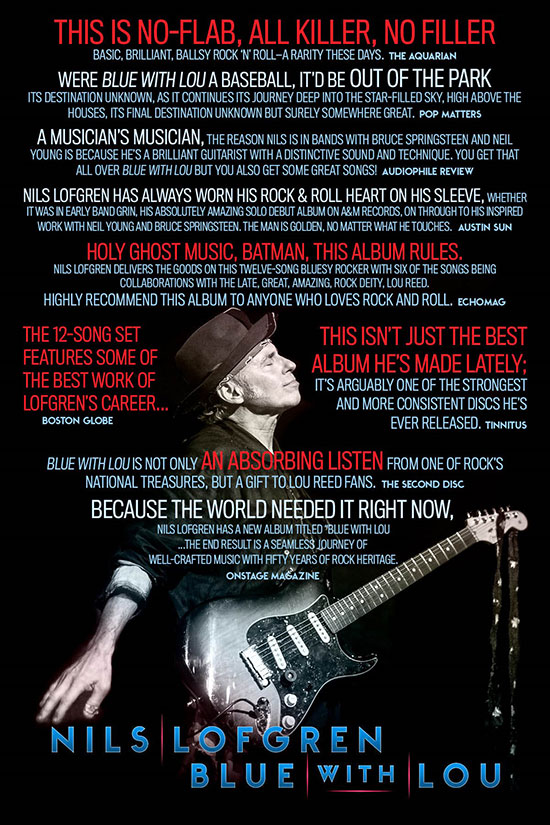 - June 21, 2019 - top photograph by Jerry Frishman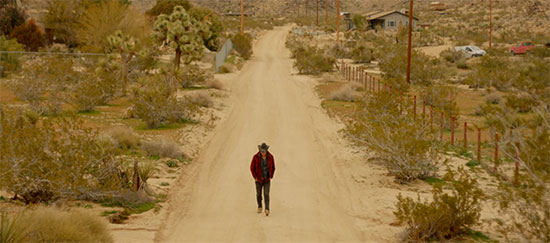 TROUBLE ON MY MIND
Clearly, many of the characters in Western Stars are alone. Either by choice or by circumstance, they have left loved ones or been left by the same. But in "Sundown," could Bruce Springsteen be touching on a different kind of isolation, one that sadly has become all too familiar for him and members of his own family?
On the surface, "Sundown" seems to be a location, a place with bars and cafes, and where the character is "wishing you were here with me." But perhaps Springsteen also could be referring to a neurological phenomenon known as "sundowning" or "sundown syndrome" that is associated with confusion and restlessness in patients with some forms of dementia.
"Sundowning isn't a disease, but a group of symptoms that occur at a specific time of the day that may affect people with dementia, such as Alzheimer's disease," according to the Mayo Clinic website, explaining that sundowning behaviors can include "confusion, anxiety, aggression, ignoring directions … pacing or wandering." In most human circadian rhythms, sunset naturally triggers melatonin production as the body prepares for sleep. In individuals with dementia, however, research shows that melatonin production may be decreased, possibly leading to sundowning behaviors. The night's fading light can also introduce different, confusing shadows for those affected.
There is a lot of information available online about sundown syndrome and how to manage symptoms and mitigate triggers, but even knowing a little about the phenomenon provides another lens through which to view Springsteen's song. Our character finds himself in Sundown, which "ain't the kind of place you want to be on your own" and where "all I've got's trouble on my mind." There are references to time being skewed, from the sense of "a hundred years since you've been near to me" to the feeling of "long, hot, endless days and cold nights all alone. The character feels isolated "here in lonely town" and may even be aware of his altered state, pointing out, "that little voice in my head's all that keeps me from sinking down." (Medical experts say patients likely understand that their behavior is out of the ordinary.)
Springsteen began speaking extensively onstage about his mother's struggle with Alzheimer's during the Springsteen on Broadway run. He also has spoken publicly about his late father-in-law's struggle with the disease, and in his Born to Run autobiography he recounted his father's depression and mental illness. But perhaps another reason that Bruce may have wanted to address this kind of personal isolation on Western Stars has to do with one of the album's major influences: Glen Campbell.
Bruce already has stated on record that the music on Western Stars was greatly inspired by the work of the multiple Grammy award-winner and Country Music Hall of Fame inductee. Springsteen also was interviewed in the 2014 documentary Glen Campbell: I'll Be Me, which chronicled some of Campbell's last years before his death in 2017 and offered an intimate look at how Campbell and his loved ones lived with his having Alzheimer's.
"Sundown" features a guitar line that sounds like it could've been played by Campbell himself. The lyrical references to "trouble on my mind" and "the county line" also could be interpreted as bittersweet nods to two of Campbell's biggest hits: "Gentle on My Mind" and "Wichita Lineman."
"My father-in-law passed away from Alzheimer's," Bruce says in I'll Be Me. "So I've seen it in every stage from that first day when suddenly somebody looks at something and goes, 'What's this?' And it's a lock.... And then to where it snows overnight, and: 'How did that get here? What is that?'"
Springsteen talked about his mother's progression with Alzheimer's during his Springsteen on Broadway run. In the performance recorded and filmed for posterity, Bruce shared that Adele Springsteen, who was 93 at the time, had been battling the disease for seven years.
So if Western Stars' "Sundown" does allude to the medical phenomenon of sundowning, perhaps it's only fitting it's one of the more danceable tracks on this brilliant album. "Dancing and that desire and need to dance is something that, it hasn't left her," Bruce said on Broadway. "It remains an essential, primal part of who she is. It's beyond language. It's more powerful than memory. And when she comes in the door, we make sure there's music on. She wants to dance, you know? These things were the embodiment of my mother. They were her heart. She carried on and she carries on as if they never, never deserted her."
- June 17, 2019 - Nancy Calaway reporting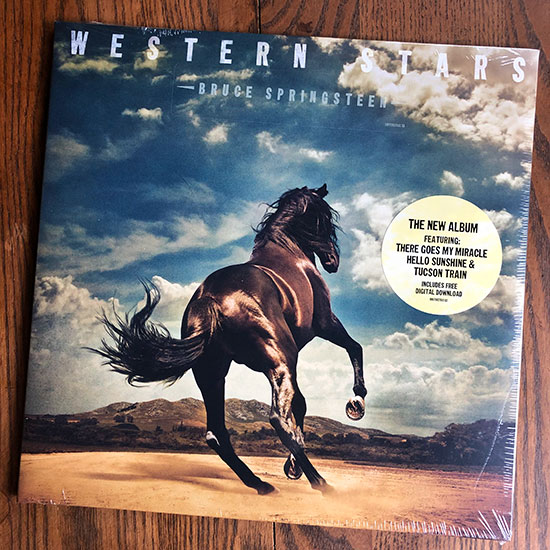 MEN WITHOUT WOMEN
Here's to the cowboys: Springsteen does his time in the desert on Western Stars
Bruce Springsteen, by his own admission, is no stranger to finding inspiration in the music he loves. As a songwriter, it's one of the aces up his sleeve. There's the Wall of Sound production of "Born to Run," the Suicide-esque "State Trooper," homages to Chuck Berry, the Raspberries, and the Beach Boys. Nods to the Drifters, Smokey Robinson, Van Morrison, Roy Orbison, The Animals... heck, like it or not, the guy was a "new Dylan" at one time. Don't forget Gary U.S. Bonds (what was "Sherry Darling" if not Bruce's stab at his own "Quarter to Three"?) and Elvis Presley ("Fire" says it all). "Man's Job" is such an effective Sam & Dave-style number, Bruce even got Sam Moore to sing it with him. While other artists attempting this trick may rarely go beyond pastiche, Springsteen manages to make it all... Springsteenian.

Western Stars, the inspired solo album that's long been Bruce's worst-kept secret (both he and Jon Landau have teased it in the press for years), sustains that trick for its entire running time....

Continue reading:
MEN WITHOUT WOMEN
The Backstreets Review of Western Stars

- Updated June 14, 2019 - Christopher Phillips reporting

ON THE EVE OF WESTERN STARS
Coming tomorrow: the release of Bruce Springsteen's 19th studio album. Coming later today: the Backstreets Review of Western Stars. In the meantime, some sneak peeks inside the package here — inner LP sleeve fronts and backs, all photographs by Danny Clinch — with more on our Instagram page.
- June 13, 2019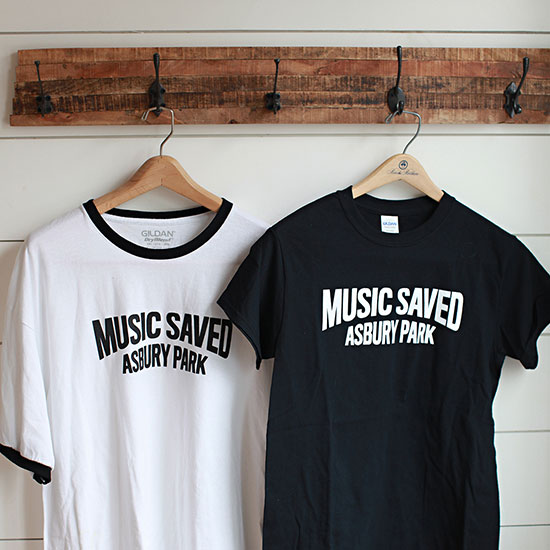 GREETINGS FROM THE ASBURY PARK MUSIC FOUNDATION
Asbury Park: Riot, Redemption, Rock 'n' Roll makes a good case for how music saved Asbury Park... and after recent screenings of the documentary helped benefit the Asbury Park Music Foundation, these Music Saved Asbury Park T-shirts will further help the Foundation's work with music education in the area. Get yours now, with these shirt designs and several others — plus hoodies, caps, and mugs — now available in their new APMF online shop.
The proceeds from the sales of the Music Saved Asbury Park T-shirts and merchandise help fund music education for in-school programs, after-school programs, summer camps, instruments and scholarships to underserved youth in the city of Asbury Park. Scholarships to The Music Saved My Life youth music education programs are delivered through a partnership between Asbury Park Music Foundation and Lakehouse Music Academy. These programs provide engaging music education and life-changing experiences to the youth in the Asbury Park, one the most challenged communities in the country.
The Asbury Park Music Foundation also provides free summer concerts to the community. Music Mondays in Springwood Park affords opportunities for the residents to see live music at no cost and to engage with people from all over the city. Asbury Park Live on Wednesday nights at the 1st Avenue Green provides music from emerging talent. In its 74th season, the AP Concert Band provides a big band sound every Thursday evening in front of Robinson Ale House. Both concerts are on the Asbury Park boardwalk. Merchandise is available for sale at all of the Foundation's summer events.
For more information on the Asbury Park Music Foundation and its mission please visit asburyparkmusiclives.org
- June 10, 2019


DID I MENTION IT'S MY BIRTHDAY?
Archive Release #41 lets you eat cake, capturing 9/22/12, New Jersey
As the summer of 2012 waned, September 22 brought the last of three Wrecking Ball shows at MetLife Stadium, and it carried particularly high expectations: New Jersey! Saturday night! Bruce Springsteen's birthday eve!

As if to wring every ounce of anticipation out of the evening, a major thunderstorm swept through East Rutherford just before showtime. The threat of lightning forced attendees to remain in the stadium's concourse level for a two-hour wait. Despite the tedium, the delay held quite the silver lining: Bruce would be playing on his birthday. Weather, cake, and music: this show has it all, and now everyone can listen, as the 34-track East Rutherford, NJ 09.22.12 is the latest release in Springsteen's live archive series from Nugs.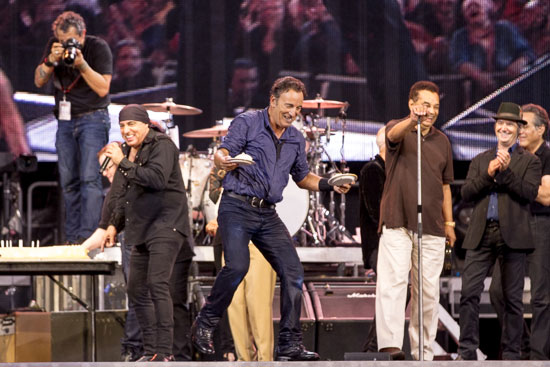 The delay also fueled speculation: with a start after 10pm, would Bruce play a full show? That would mean he'd play until almost 2am. Doubters had little ground to stand on: Springsteen had played for more than four hours that summer in Helsinki — would he really play a shortened show in the Great State of New Jersey? The answer, of course, was no. While the show didn't beat Helsinki in terms of length, no one went home disappointed in a performance that stretched to nearly three-and-a-half hours.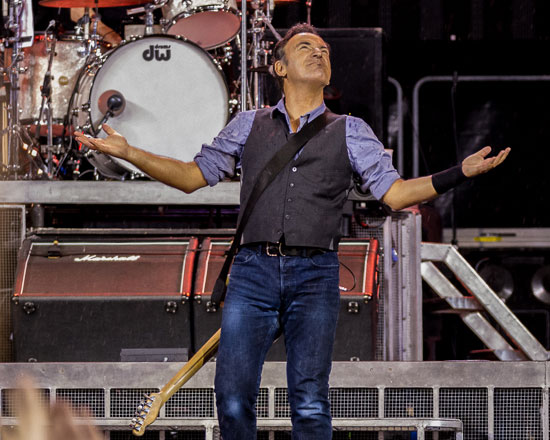 With a light drizzle still falling, Bruce and the E Street Band took the stage to the strains of Wilson Pickett's "In the Midnight Hour" over the PA (spoiler alert: not the last time that song would play that night) and Bruce addressed the crowd: "I think I just invited 55,000 people to my birthday party!" Then, to make sure the rain delay hadn't sapped any energy from the building, he counted off "Out in the Street." Judging by the crowd's response, the party started with a bang.
And what a party it was. The set was a perfect mix of new music from Wrecking Ball, rarities, E Street classics, guest appearances by old friends (and relatives), and appropriate covers. (At home, "setlist watchers" logged on to the Backstreets message board BTX — moments after the show began, the system logged 471 concurrent users, its highest ever.)
"Cynthia" was the first surprise. A handwritten setlist showed the Born in the U.S.A.-era outtake in the opening slot, but Bruce waved it off in favor of a couple of E Street classics to get going. Once warmed up, attendees were ready for something different. Addressing the titular character — and the crowd — at the end of the song, Bruce mentioned his new number: "You're lookin' good… but at 63, everybody looks fuckin' good!" This marks the first official release of an E Street Band live performance of "Cynthia." Another outtake from that era — "Janey, Don't You Lose Heart" — appeared later in the show, its only full-band arrangement of the tour.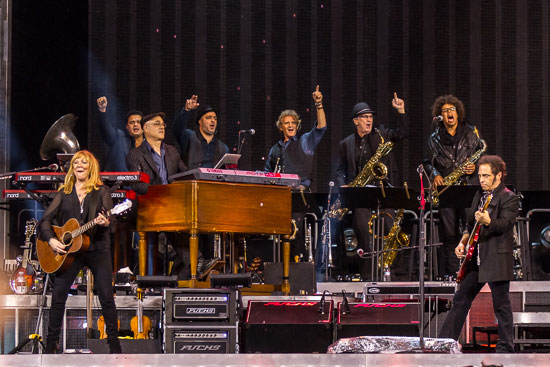 The opening stretch included a thematic three-pack of "Who'll Stop the Rain," "Cover Me," and "Downbound Train." Each appears infrequently in the Reunion era, and the rain imagery — literal and figurative — was a perfect fit for this concert.
"We Take Care of Our Own" began a four-song sequence that typified the heart of a Wrecking Ball show. This night, the burn seemed brighter: fans cheered more than usual on the applause lines in "Wrecking Ball" ("swamps of Jersey," "my home's here in these Meadowlands," and "Giants played their games"); vocals on the chorus and the "hard times come and hard times go" refrain sounded more defiant. Introducing "My City of Ruins," Bruce tried to recall the last time he played on his birthday (it was in Oakland on the 1988 Human Rights Now! tour).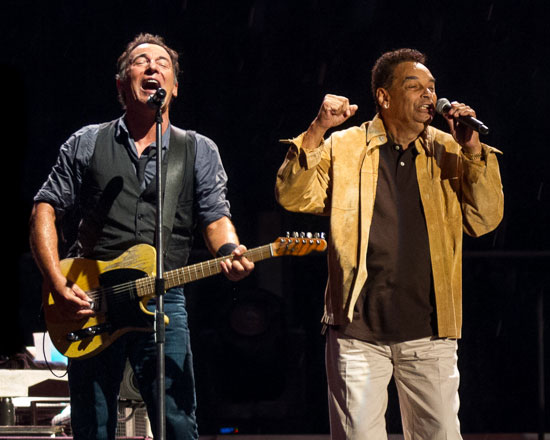 Gary U.S. Bonds joined for "Jole Blon" and "This Little Girl," songs from the album Dedication. The crowd's enthusiastic response indicated the reprise from the night before was most welcome, as the best word to describe these two old friends performing together is "fun." The fun carried through into the next song, "Pay Me My Money Down," with tons of crowd involvement.
The clock struck midnight during "Janey, Don't You Lose Heart," and fans sang the evening's first rendition of "Happy Birthday." Bruce then gave himself a little present, leading the E Street Band in their first performance of "In the Midnight Hour" since New Year's Eve 1980, calling out the chord progressions before counting into the song.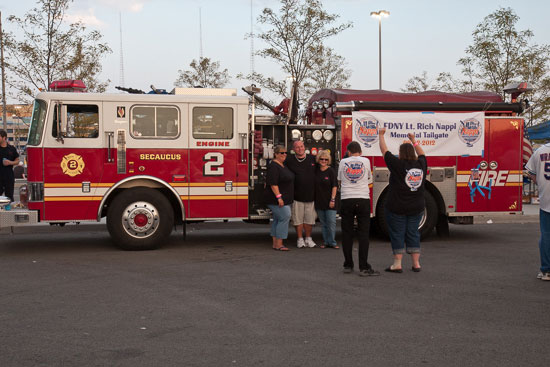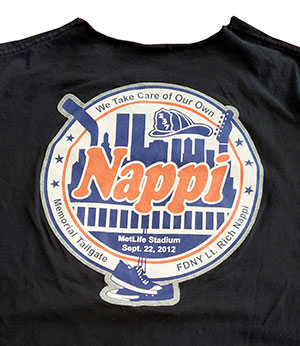 Of the four tour debuts, "Into the Fire" was the most poignant: Springsteen dedicated it to Rich Nappi, a decorated veteran of the Fire Department of New York, who died on April 16, 2012, while battling a warehouse fire in Brooklyn.
Nappi was also one of "us," a huge Springsteen fan whose screen name — Firerich7 — was familiar to those who frequented Springsteen internet fan forums as far back as the '90s. At shows in the New York/New Jersey area, he was a presence. Friends organized a memorial tailgate before this performance, and commemorative t-shirts reached Bruce's road crew — some wore them that night.
Springsteen was aware of Rich's passing and the tailgate, and he dedicated "Into the Fire" to Rich and his wife Mary Anne. The only tour performance of the song was achingly beautiful.
A cross-section of the E Street canon followed, starting with a '70s double-shot of "Because the Night" and "She's the One." "Shackled and Drawn" followed a loose "Working on the Highway," and the stretch ended with the crowd-pleasing "Waitin' on a Sunny Day."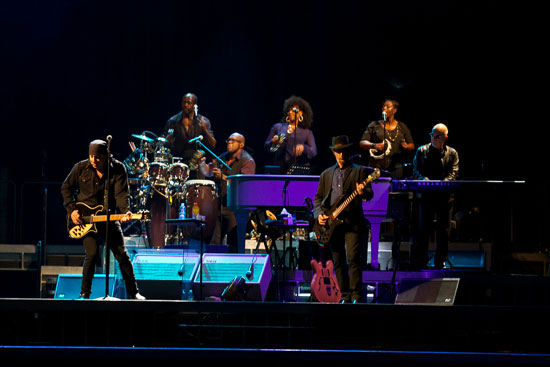 Ideal conditions greeted the pairing of "Meeting Across the River" and "Jungleland": a misty rain falling at nearly 1am in New Jersey. Jake Clemons' solo on the latter earned the crowd's approval. If the original album sequence was meant to reflect a long day, the end of "Jungleland" felt like the early morning hours. They got as close to the original vision as ever this night.
Introducing "Rocky Ground," Bruce thanked everyone for their patience, adding, "Glad I got to see you on my birthday!" The expanded E Street Band shone on this underplayed song, with a Curt Ramm trumpet solo to start, Michelle Moore's verse to end, and tons of horns and gospel-like voices in between.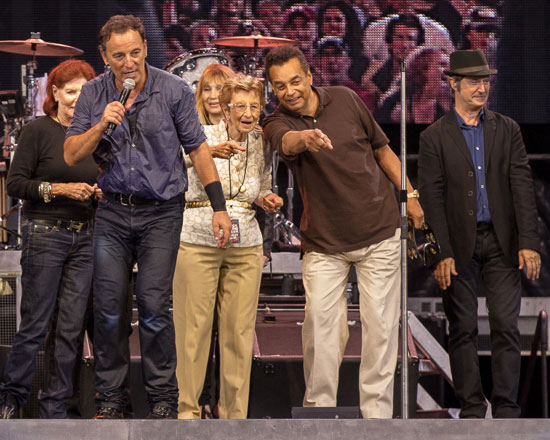 Then the party was on: "Born to Run," an appropriate "Glory Days," "Seven Nights to Rock," "Dancing in the Dark," and "Tenth Avenue Freeze-out." At its conclusion, a large cake was wheeled out, and Bruce's mother Adele ("the boss of bosses!"), sister Ginny, mother-in-law Pat Scialfa, brother-in-law Michael Scialfa, Gary U.S. Bonds, and Maureen Van Zandt led a reprise of "Happy Birthday."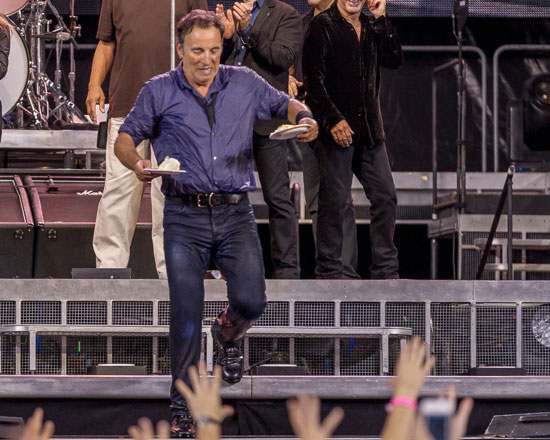 Bruce served (with plates and forks!) birthday cake to fans in the front rows; appropriately, "first fan" Obie received the first slice. The friendly "attack of the relatives" stayed on stage for the show-closing "Twist and Shout," adding background vocals and dance moves.
This is the archives series' fifth release from the Wrecking Ball era, taking a one-show advantage over the Darkness tour. But variety abounds: 15 songs from September 22 don't appear on the other 2012-'13 recordings, making this one unique. And it's the third "birthday" show to appear, joining 9/20/78 (Passaic, NJ) and the September '79 No Nukes concerts.
There's quite a difference between those two and this one. In Passaic, Bruce gladly accepted gifts from fans who passed them to the stage; a year later, however, he unceremoniously threw a cake that someone had brought to Madison Square Garden into the audience ("Send me the laundry bill," he said). In 2012, just after the clock struck midnight, Bruce actually encouraged the crowd to sing "Happy Birthday." No intermission, longer shows, and bigger venues must mean that turning 63 is easier than turning 30. And if you went home wearing cake in the wee hours of September 23, 2012, it's your own damn fault.
Also read: Erik Flannigan's latest nugs.net blog entry, "That's When My Love Comes Tumbling Down"
- June 7, 2019 - Flynn McLean reporting - photographs by A.M. Saddler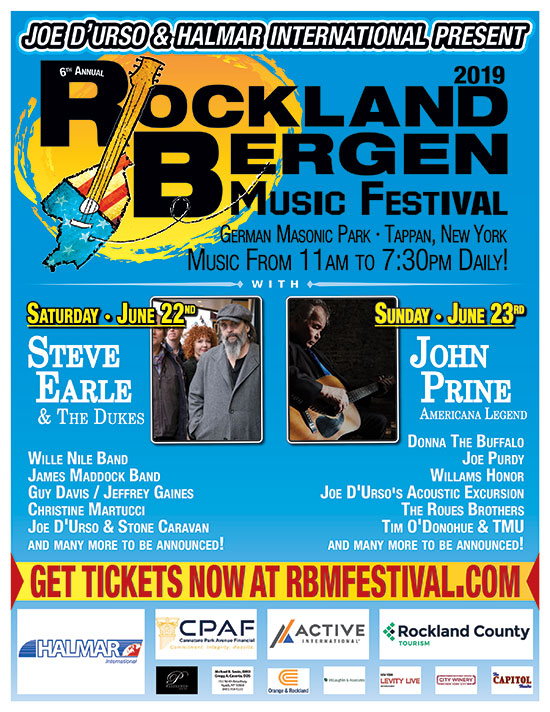 STEVE EARLE, JOHN PRINE HEADLINING THIS MONTH'S RBMF
Coming up in just a couple weeks: the return of Joe D'Urso's annual Rockland Bergen Music Festival, for its sixth year. Joe tells Backstreets that this one is "the best to date," and just looking at those headliners, it's hard to argue: Steve Earle & The Dukes on June 22, and John Prine on June 23. Willie Nile returns to the festival, and D'Urso will be playing, too, with Stone Caravan on Saturday and acoustically on Sunday.
"When I first started this festival five years ago on my 50th birthday," the Light of Day veteran says, "I hoped to see it grow and bring in many of the world's best songwriters as well as involve more local charities and communities in both Rockland and Bergen counties. Both counties have been underserved with outdoor entertainment/national talent over the years. I had a few 'goal' songwriters in mind when I started, and I am extremely proud to present John Prine and Steve Earle this year as they were part of the 'goal' writers I was thinking about."
With events beginning on Wednesday, June 19 with the First Annual Rockland County Music Awards, the Festival again lands at German Masonic Park in Tappan, NY, for the weekend.
In addition to his work with Light of Day, D'Urso is also on the Board of Directors for WhyHunger, one of the many organizations the festival will benefit. Joe tells us, "We'll have 16 charities on site each day, in keeping with my love of Harry Chapin and Pete Seeger... I am still very much grass roots: no Live Nation, no Ticketmaster, and no 15-dollar beers!"
For tickets and more information, visit rbmfestival.com.
- June 6, 2019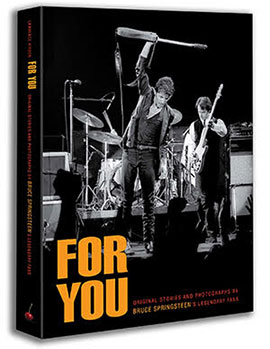 FOR YOU: IS IT FOR YOU?
After ten years of being hard to find, Lawrence Kirsch's For You might be coming back into print — if enough fans say it's for them.
Originally published in 2007, the limited edition book For You: Original Stories and Photographs by Bruce Springsteen's Legendary Fans has been sold out since 2009, occasionally appearing on eBay or Amazon for hundreds of dollars.
Publisher Kirsch is considering a second printing — an exact reprint of the original book, including all the rarely seen photos, stories, and memories from fans in more than 30 countries — and he is reaching out to the Bruce Springsteen fan community to gauge interest.
If you missed it the first time and would like another chance to own a copy, take the For You book survey at ForYouBrucebook.com.
- June 4, 2019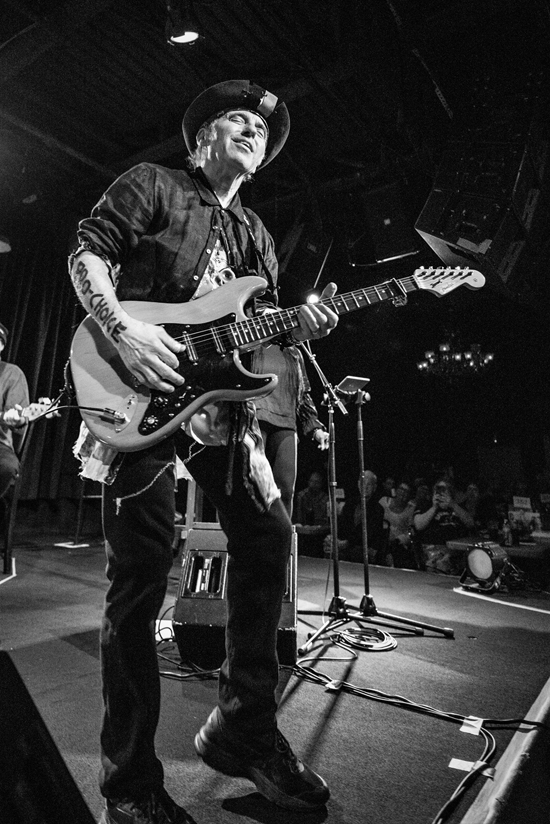 NILS WALTZING ACROSS TEXAS THIS WEEKEND
There are just a few dates left to catch Nils Lofgren and his band on tour for Blue With Lou — seen here through the lens of photographer Jerry Frishman, who was on hand to capture the Birchmere show in Alexandria, VA last week.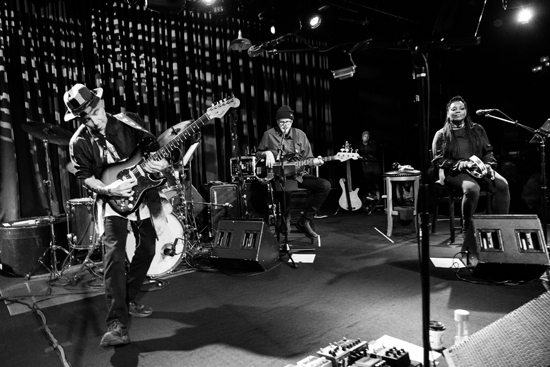 The Nils Lofgren Band includes brother Tom Lofgren on guitars, keys, and vocals; Andy Newmark on drums; Kevin McCormick on bass and vocals; and E Street darling Cindy Mizelle on vocals.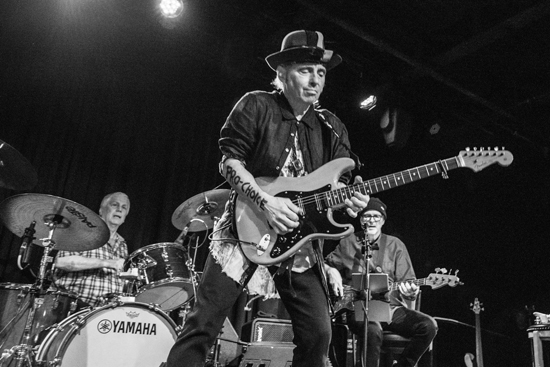 The band's current itinerary runs through this weekend, with the last stop on Sunday night. If you're in Texas, you're in luck: Nils will be in Houston tonight, Beaumont on Saturday, and Dallas on Sunday. Visit nilslofgren.com for venues, details, and links. And of course we'll keep you posted with fingers crossed that Nils will extend the tour, which we've only heard raves about. As Barry Schneier wrote, reviewing Lofgren's Boston stop a couple weeks ago, "The man is clearly a master of his craft, and it was on full display."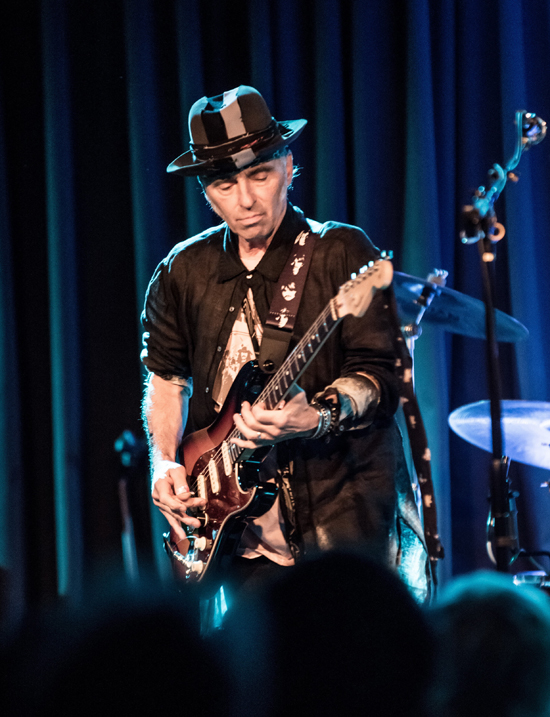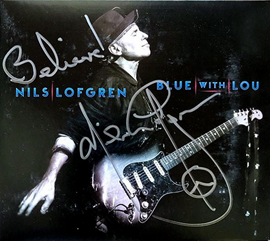 Once Nils is back home next week, he'll be signing another batch of his new album for us. If you haven't already, pick up a copy of the Blue With Lou CD from Backstreet Records to have yours autographed by the great Nils Lofgren!
For PopMatters, Jedd Beaufoin writes of the new album: "Were Blue With Lou a baseball, it'd be out of the park, its destination unknown, as it continues its journey deep into the star-filled sky, high above the houses, its final destination unknown but surely somewhere great." New Jersey's The Aquarian also considers the album a home run: "This is no-flab, all killer, no filler, basic, brilliant, ballsy rock 'n' roll — a rarity these days."
- May 31, 2019 - photographs by Jerry Frishman

SUNSHINE, WON'T YOU STAY
A Letter to the Editor we received this morning recommends a new article at rollingstone.com: "All-American Despair," by Stephen Rodrick. It's not unusual for a Rolling Stone piece to mention Bruce Springsteen (which this one does), but it is rare for one to come to us with a trigger warning. As the subhead reads: "For the past two decades, a suicide epidemic fueled by guns, poverty, and isolation has swept across the West, with middle-aged men dying in record numbers."
Dear Editor:

I am a longtime Backstreets reader, and I wanted to share this Rolling Stone article — about about the rise of suicide, specifically among white men in the western U.S. — because I think it's incredibly well written, and as I read it I really could not help but think of one of Bruce's new songs. Ample warning: sorry in advance for the morbidness of the contents of the article.

The story talks about the great number of men who feel isolated, work intense jobs, and deal with a turbulent family life, who have no access to mental health facilities and are surrounded by guns. It's an astonishing look at a particular group of people and a lifestyle that many of us can't fathom.

As I was reading about these people struggling to find ways to overcome their depression, I couldn't help but think of Bruce's new song, "Hello Sunshine." Sure enough, the article specifically mentions a man in Wyoming who finds solace in that particular song and relates it to his life.

For such a heart-wrenching article, it is encouraging to see that people from all walks of life dealing with the same things across the country can find similar meaning in some of Bruce's songs. I know Rolling Stone has published plenty of articles and notes on Bruce in recent days, but I wanted to make sure you saw this one — the Bruce mention is a quick sentence in an otherwise very long article, but it's all certainly worth a read.
Evan Higgs
via e-mail
Read: "All American Despair" by Stephen Rodrick
For those who are experiencing crisis, please call the National Suicide Prevention Lifeline at 1-800-273-TALK (8255), or contact the Crisis Text Line by texting TALK to 741741.
- May 31, 2019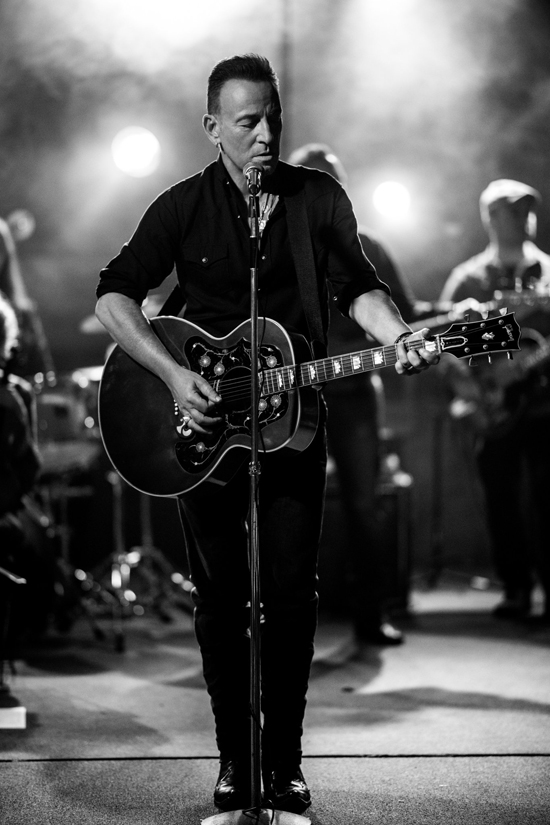 WATCH FOR THAT TUCSON TRAIN COMIN' DOWN THE TRACK...
Next up from Western Stars, look for the imminent release of the third track from the album, "Tucson Train." According to Springsteen's Twitter account, a video for the song is "coming soon"... and as these stills show, it will be the first performance video from the new record, following lyric videos for "Hello Sunshine" and "There Goes My Miracle." Our friend Hannah Summers, who attended an album listening party last night in the U.K. that included the video's premiere, calls it "orchestral, cinematic, special."
Update: the "Tuscon Train" video is now set to premiere tomorrow morning, Thursday May 30, at 8am Eastern. Watch it here!
- Updated May 29, 2019 - stills by RobDeMartin via Twitter/@springsteen


TO LIVE AND DIE IN ROMA
Springsteen touches on Wetern Stars, a 2020 E Street Band tour, global warming and more over Memorial Day weekend in Rome
In the Eternal City on Friday to attend an equestrian competition, Bruce Springsteen spoke a Repubblica reporter for an impromptu interview. Those who approached Springsteen at the Piazza di Siena horse show earlier in the day didn't come away with a story, as Gabriele di Donfrancesco recounts: "'When I'm with my family I don't talk to journalists,' he says to those who try to stop him before he sits in the grandstand, jeans, boots and sweater, next to his wife Patti Scialfa." But di Donfranscesco had better luck in the evening, when it was time for a drink back at the hotel. "I'll answer anything," Springsteen told the reporter, "just don't ask me questions about politics."
Read (in Italian): "Bruce Springsteen: 'Amo Roma, ci tornerò anche con il tourero" ("Bruce Springsteen: "I love Rome, I'll be back with the tour")
As excitement is building not only for Western Stars, nearer on the horizon, but also for a future E Street Band tour — which Bruce teased earlier this month at FYSee and discusses here as a plan for 2020 — it's worth some Q&A translation for all those non-Italian speakers interested. Be sure to note: details and nuances may literally be lost in translation, and we're unable to confirm certain details — like the exact nature of a Western Stars-related film. So take it all with a grain of Italian sea salt... but none of this can exactly be considered rumor, when it's coming from the horse's mouth.
Repubblica: What do you love about this city?
Springsteen: It is simply so alive: one of the most alive cities on Earth. I always say: if I could choose where to live, I'd choose Rome. If I could choose where to die, I'd choose Rome [laughs]. Absolutely. It is one of the most incredible cities in the world.

Does it seem changed?
I don't live here, I can't tell. But the thing I love most about this city is that, if you are a foreigner and you come to Rome, it always seems to you that things have not changed much. And if you come from the United States, it's a beautiful thing. There is nothing like it in the States, and it is this eternal being that constantly brings you back. As an American, I seem to be surrounded by beauty for as long as I am here. And it's really nice.

Yesterday there was also the second global strike against climate change here in Rome. In Europe the movement is growing a lot.
A few weeks ago my wife and I read in the newspapers how many species are about to become extinct due to climate change. And unfortunately in the United States our government is completely ignoring them — it's a crime against humanity. So yes, we are on the side of people trying to do something to slow down global warming.

(His new album will be released worldwide on June 14th.)
It's called Western Stars, it's a good [album], I'm very happy. We also shot a backstage film, in which we filmed the whole recording process from start to finish, at my house. The album contains many small narratives set in the American West.

Will there be a tour, and will it also stop in Rome?
We will go on tour next year. I will go into the studio to record with the E Street Band, starting in the fall, and when we finish we will go on tour. Of course, I always come to Rome. I love it.
- May 28, 2019


"BEEN THERE, FELT IT, NEED TO GO BACK": MIGHTY MAX NEEDS NZ
"I Need New Zealand" contest will send one of our readers to feel it, too
The E Street Band's more frequent trips to the Southern Hemisphere have clearly given Mighty Max Weinberg a special place in his heart for New Zealand. After visits with Springsteen to Auckland in 2014, Auckland and Christchurch in 2017, the drummer finds the country "spectacular," as he says in the new 60-second spot above for I Need New Zealand.
Max's current involvement in their tourism campaign involves not only being a spokesperson, but also, since I Neeed New Zealand creates customized NZ vacations, selecting his own favorite experiences — like stargazing on Tekapo South Island (little did we know The Mighty One has an astronomy bent).
So here's a cool opportunity for Backstreets readers in the U.S.: after discovering Max's favorite NZ spots, I Need New Zealand wants to bring a Backstreets reader there to experience them, too. Yep, one lucky winner and a guest will win a rockin' trip to the other side of the world, the land of Lorde, to take in some Max-curated sights. Enter the drawing for a trip for two to New Zealand here.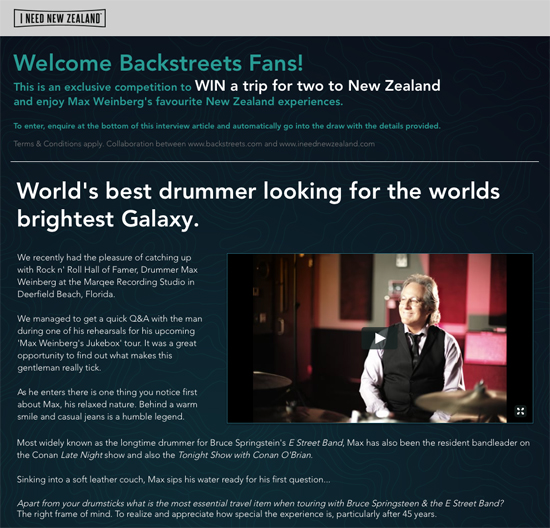 During rehearsals for his current Max Weinberg's Jukebox tour, I Need New Zealand sat down with Max for a fun Q&A lightning round: over the course of more than 30 quick questions, Max names his favorite movies, favorite musicians, and the best street food he's ever tasted ("Roy Bittan's favorite bratwurst joint in Zurich"). He touches on his love of architecture, offers relationship and travel advice, and of course talks about playing with his longtime bandmates:
Apart from your drumsticks what is the most essential travel item when touring with Bruce Springsteen & the E Street Band?

The right frame of mind. To realize and appreciate how special the experience is, particularly after 45 years.
Asked to choose between bungee jumping or skydiving, Max laughs: "Drumming for Bruce Springsteen is the most thrilling thing I do!"
Read the full Max Weinberg interview here,
where U.S. readers can also enter WIN a trip to New Zealand
- May 24, 2019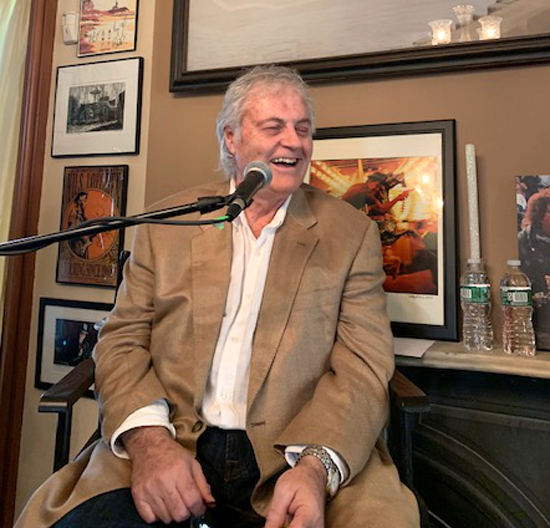 MIKE APPEL IN THE HOUSE
Appel shares the spirit of '74 at Staten Island house concert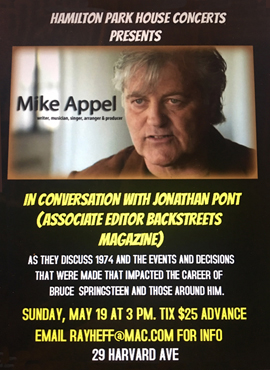 Mike Appel is not a man of few words. Ask him to recall a story from 1974 and you're going to get all the details as if it happened yesterday. Speaking in front of an audience in Staten Island, New York, on Sunday, May 19, Bruce Springsteen's first manager and producer shared colorful memories of Springsteen's rocky start and rise to stardom.
The nearly two-hour conversation, moderated by Backstreets Associate Editor Jonathan Pont, was part of the Hamilton Park House Concert series at the home of Ray Heffernan and Maureen Campbell. While there were many areas that could have been covered, Pont focused on 1974: the events and music of the year that shaped Springsteen leading up to Born to Run and the simultaneous covers of Time and Newsweek in 1975.
"There really was no plan in 1974," Appel said. "The plan was for Bruce to write hit songs, and for me to get promotion and to make money."
Appel, who first met Springsteen in 1971, set the scene by recalling that "Bruce wasn't writing hits, something that mainstream radio wanted. He was writing 'Blinded by the Light' and 'Spirit in the Night.'" When Bruce auditioned for John Hammond at Columbia Records, as Appel related the story, Hammond told them, "I have the power to get you on Columbia Records."
Columbia CEO Clive Davis was a big Bruce ally but was fired in May of 1973 after accusations of misappropriation of funds. That left Bruce without internal record company support and, within a year, he was almost dropped from the label.
"The executives were excited about Billy Joel at the time, and it was sort of a competition between Bruce and Billy at Columbia," Appel said. Things were rough in the Springsteen world when The Wild, The Innocent & The E Street Shuffle, which came out in November of 1973, didn't even sell as well as Greetings From Asbury Park, N.J., according to Appel. Going into 1974, he said, "We were very down."...
Continue reading
"MIKE APPEL IN THE HOUSE"
- May 23, 2019 - Stan Goldstein reporting - photograph by Frank Fontana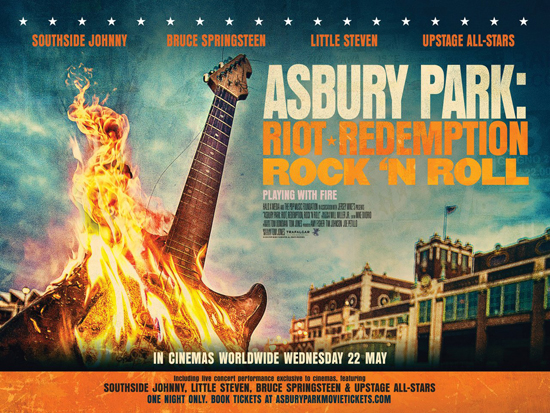 TONIGHT'S THE NIGHT
Asbury Park is calling out around the world tonight, with Tom Jones' documentary about the city and its music showing on theater screens internationally for a special one-night-only event. Asbury Park: Riot, Redemption, Rock 'n' Roll is a must-see for fans of the Jersey Shore music scene and anyone curious about the real history behind Bruce Springsteen's line "troubled times had come to my hometown."
With first-person accounts of the 1970 riots, and plenty of testimony from other side of the coin — the music that brought the city's people together — the documentary gathers important voices from the community for an entertaining, enlightening, and moving look at the Jersey Shore music scene in historical context. As film critic Caroline Madden wrote for Backstreets, covering last month's premiere at the Asbury Park Music + Film Festival, the film shows "how music cut across the tracks — literally — and brought the town together in the darkest of times."
As TimeOut reports this week, "Springsteen fans will love a new documentary about the glory days of the place where he honed his New Jersey Sound — and the riots that nearly burned it to the ground."
Visit AsburyParkMovieTickets.com to find a theater near you and purchase tickets. Fans in the U.S. get a second shot next week, if you can't make it tonight, with another opportunity to see the film in theaters on May 29.
Proceeds from these special screenings will benefit various programs for kids' music education in Asbury Park and beyond, including Lakehouse Music Academy (featured in the film), Beat Bus, and more, inspired by Stevie Van Zandt's TeachRock project. Director Jones is passionate about this cause, as he told Backstreets last month when discussing the fundraising aspect of the cinema event: "We're going to be able to do something significant for both Asbury Park and kids in general. That's the part I'm excited about. The only thing that'll be covered on the film are the hard costs, and everything else goes right to those programs."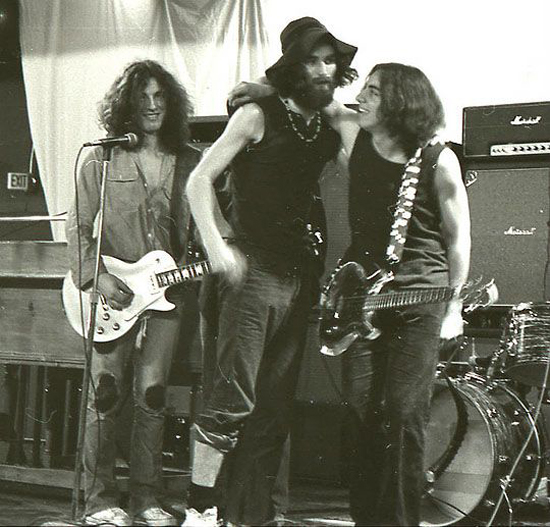 Bruce Springsteen, Vini Lopez, and Steven Van Zandt - from the film Asbury Park: Riot, Redemption, Rock 'n' Roll
With Little Steven currently on tour in the U.K., fans in Bristol will get an extra bonus tonight: Stevie is not only playing Bristol's O2 Academy with the Disciples of Soul but also making an appearance at the 5pm Everyman Cinema screening prior to his performance.
Steven is one of many musicians featured in the film, shown revisiting his old haunt at the Upstage and interviewed inside. Stevie has talked about the documentary in recent press, telling the Boston Herald, "It's a little unusual for me, but I was glad somebody was interested in this and talked about the history of the town." He told digitaljournal.com, "It turned out to be a really cool movie, which I am very happy about. It is a good piece of history to document. I wanted to encourage Tom to get it done. I wasn't sure that it was ever going to turn into a real movie. It sure turned out great and I am glad it got done."
Also featured in the documentary: Springsteen (also interviewed inside the Upstage, as well as shown performing live with the Upstage All-Stars), Southside Johnny, David Sancious, Ernest Carter, Garry Tallent, Bobby Bandiera, Max Weinberg, Albee Tellone, Tinker West, Vini Lopez, and many more.
- May 22, 2019


A FAMILY AFFAIR
The Nils Lofgren Band
City Winery, Boston, MA
May 18, 2019
In support of his new release, Blue with Lou, Nils Lofgren and band arrived at the City Winery in Boston on Saturday, after just completing the first week of the tour. Nils was quick to say onstage how happy he was to be back in Boston, reflecting on days past when he performed at local landmark venues Paul's Mall and the Jazz Workshop. Those two rooms, in their heyday from 1963-1978, were the go-to places in Boston to see great music. Nils performed there in 1976. That was then, this is now — Nils still loves it here, and at the City Winery, Boston loved him right back.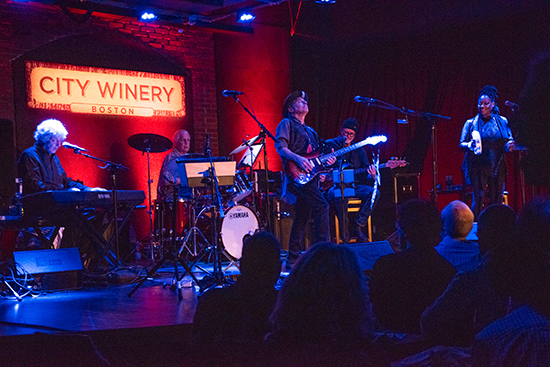 Lofgren co-wrote half of Blue with Lou's songs with the late Lou Reed, and on this night Nils was happy to share with audience the story of their collaboration. He recalled when working on his 1979 solo album, his producer connected the two songwriters. Nils had six songs with melodies intact but no libretto; a phone meeting with Lou revealed that Lou had words but no music. So a plan was hatched, and Nils sent a cassette. After a few weeks without hearing back, Nils was ready to keep moving — until a fateful morning (4:30am, to be exact), when Lou returned his call, excited and in full manic mode, declaring he'd been up for three days straight listening to the cassette and was ready to dictate. Dictate? Nils, with landline in hand, put on a pot of coffee and wrote the lyrics down by hand as Lou reeled them off over the phone. As Nils said, it's the first album he ever wrote in his sleep.
A few of those collaborations were recorded and released over the years, but fast forward to 2019, when the bulk of them found a home at the Lofgren residence. Nils based his latest offering around these songs, recording in his home state of Arizona with his wife, Amy, co-producing as well as designing the band's tour merchandise. The circle is complete, and the band hits the road.
Joining Nils on tour is Andy Newmark on drums, Kevin McCormick on bass and vocals, and E Street favorite Cindy Mizelle on vocals, all of whom perform on the album. Nils remarked that the ability to tour with musicians that you recorded with is a rare treat. Add to the lineup brother Tom Lofgren (who was part of Nils's first band, Grin) and you have a family affair.
Early into the set was a gutsy performance of "Attitude City," the opening track from Blue with Lou. Reflecting on this Reed collaboration, Nils spoke to how the song reflects the "sickness" that comes with power and money — written years ago, but sadly still relevant today. Nils drew attention to his beautiful Gretsch Black Falcon guitar as he introduced the song. He told a story of early days touring with the E Street Band where wardrobe on stage was up to the individual. After that experiment failed, Bruce decided band members could wear whatever they wanted… as long as it was black. Nils had been pining for the white version of the guitar but, upon this declaration by the band's leader, he opted for black.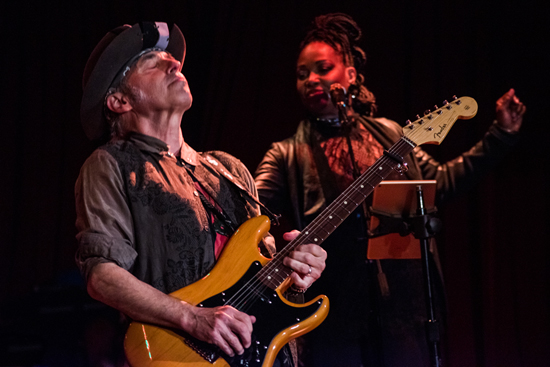 "Too Blue to Play" filled the room with sweet harmonies as Cindy took us to church with her gospel-infused vocal style. One might not necessarily make the connection between the latest album's title and the bluesy sound that dominated much of the night;" Cut Him Up" showcased Nils's deft piano skills while giving Tom a chance to showcase his solid guitar chops ripping out a sensuous blues solo. Family ties are strong on this one.
Considered by many to be one of the most proficient guitarists practicing, Nils has the ability to create sounds that range from tough and tenacious to poignant and tender. The audience clearly approved, often applauding many of his solos. David Byrne states in his recent book How Music Works that, in his opinion, Nils is the preeminent guitar player around today. The man is clearly a master of his craft, and it was on full display.
Taking a turn back to his 1975 solo release, Nils gave us "Goin' Back." That classic Goffin/King cover capped off a brief discourse into the benefits of recording with live tracking versus multi-tracking. Nils talked about the joy of a band playing as one, live in the studio, doing something together that you can't recreate any other way. His love for his band and his love for playing music were themes that he would come back to throughout the night, along with sharing a few personal gems from his own history. Nils said that when he worked with Neil Young on After the Gold Rush, he was asked to play piano. Nils at first wasn't ready to comply, but the producers insisted that since he could play the accordion, piano would be a natural. To prep for the session, Nils would bang out a few melodies, which he then demonstrated on stage: one that caught Neil's attention in the studio at the time and became the foundation for "Southern Man."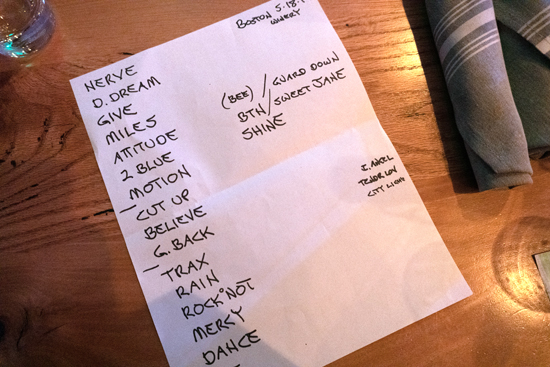 The two-hour set closed with the triumphant "Shine Slightly" from Nils's 1979 solo release, the same album that heralded his first collaboration with Lou Reed, bringing the night full circle and the audience to its feet.
The Nils Lofgren Band continues their U.S. tour this month and into June — see nilslofgren.com for dates and ticket links.
- May 21, 2019 - report and photographs by Barry Schneier


LOOK WHAT HE'S DONE: SECOND SINGLE FROM WESTERN STARS IS HERE
After countin' on a miracle for so long, Springsteen watches it walk away on the second released track from Western Stars, "There Goes My Miracle." With a bigger, more sweeping sound than lead single "Hello Sunshine," you'll hear more of the orchestration that has been associated with the forthcoming record. The string section was conducted by Scott Tibbs, who Springsteen and co-producer Ron Aniello have worked with before, most notably on the High Hopes recording of "American Skin (41 Shots)." It's the multi-talented multi-instrumentalist Jon Brion on that Bacharachian tympani. And this is one of four tracks on the new album with vocal arrangements by Patti Scialfa, who sings backup along with Michelle Moore and singer/songwriter Matthew Koma (who previously co-produced the "Rocky Ground" remix). But the performance highlight has to be Springsteen's own vocal, bold and clear on the soaring chorus. Available now from the usual DSPs.
Pre-order Western Stars compact disc
+ exclusive Springsteen bandana
Pre-order Western Stars 2-record set
+ exclusive Springsteen bandana
- May 17, 2019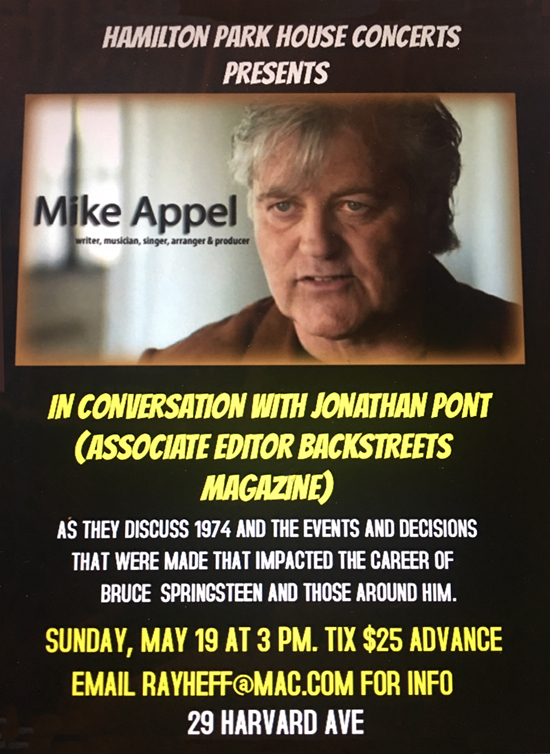 MIKE APPEL "HOUSE CONCERT" THIS SUNDAY IN NYC
If Staten Island is in reach, be there this Sunday afternoon for a live conversation between Springsteen's first manager and producer Mike Appel and Backstreets Associate Editor Jonathan Pont, in a very intimate setting — part of the Hamilton Park House Concerts series. They'll be talking about the events and music that shaped 1974 for Springsteen, leading up to the success of Born to Run.
"One of the the topics I'll be talking about is how Bruce Springsteen almost got himself dropped from Columbia Records," Mike says, "when Clive Davis, the CEO of Columbia, was himself fired.... He was our champion, he was our advocate, and losing Clive was a devastating blow and almost got Bruce Springsteen's career sabotaged."
And then there's the tme "when I decided to be a 'promotor for a day,' so to speak, I almost got myself killed — and a number of other people. It was one of the most difficult days I can remember on tour. It's just because I was lucky that nothing bad happened, but it's an incredible story and you'll hear it."
Appel will also discuss the Born to Run studio sessions, tell the story behind the simultaneous covers of Time and Newsweek, and take questions from the audience — all in what might as well be your living room, for what should be a unique experience.
"In Conversation: Mike Appel" takes place this Sunday, May 19, at 3pm on Staten Island. See the Facebook event page for further details and advance tickets.
- May 16, 2019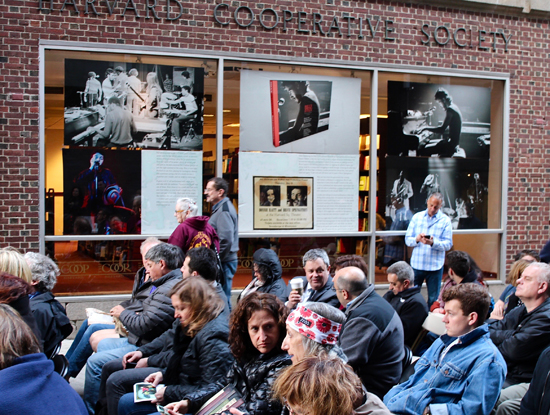 ROCK 'N' ROLL FUTURE IN HARVARD SQUARE, 45 YEARS LATER
This past Thursday, May 9, the Harvard Coop in Cambridge, MA and the Harvard Square Business Association celebrated their neighborhood's contribution to rock 'n' roll history by hosting a book signing and celebration for Barry Schneier's Bruce Springsteen: Rock and Roll Future in the same block where it all happened in 1974.
A chilly May evening didn't stop fans from turning out to hear Boston Globe music and arts contributor Jon Garelick sit in conversation with author Schneier to discuss the book, the era, and the impact that one night — the E Street Band's May 9, 1974 performance at the adjacent Harvard Square Theatre, 45 years prior — had on Bruce Springsteen's career.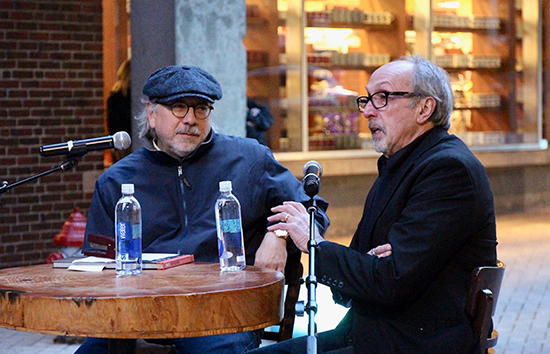 Jon Garelick, left, with author/photographer Barry Schneier, May 9, 2019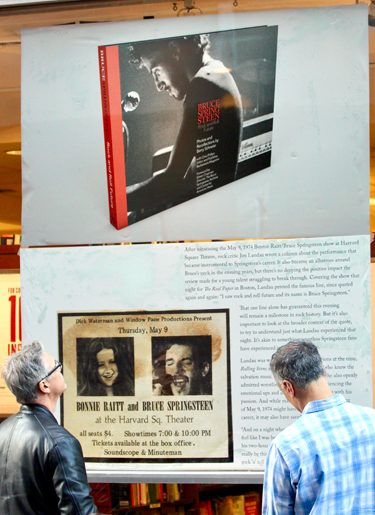 Garelick, a long-time contributor to the local music scene, reflected on the era in music and shared his admiration for Bruce's musical contributions over four decades. He reminisced about his own experience first seeing Bruce at Charlie's Place in Cambridge in the spring of 1974 — interestingly enough, just two days before Schneier did.
Jon and Barry discussed first witnessing the uniqueness of Bruce's musical approach, in both his songwriting style and his performance. They agreed on the feeling of seeing a star in the making in 1974, one that they both needed to tell the world about (not unlike the themes in Jon Landau's concurrent Real Paper review in which he "saw rock and roll future"). Garelick read excerpts from Schneier's book to the assembled Harvard Square crowd, emphasizing the uniqueness of the community that was forming around Bruce's music at the time, which, he noted, has increased in numbers no other artist today can rival.
Additionally, the two veterans of the 1970s Boston and Cambridge music scene examined in-depth the exceptionality and informality of the era, when rock musicians were still finding their way and photographers could roam the stage freely.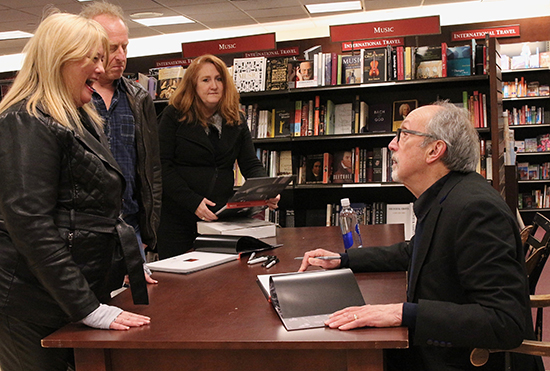 The evening began with local favorite Mike Hastings performing acoustic versions of many Springsteen favorites and concluded with a book signing inside the Coop.
Schneier's Bruce Springsteen: Rock and Roll Future, from Backstreets Publishing, is available now in hardcover and in an exclusive slipcased edition from Backstreet Records.
- May 15, 2019 - photographs by Cary Mulcahy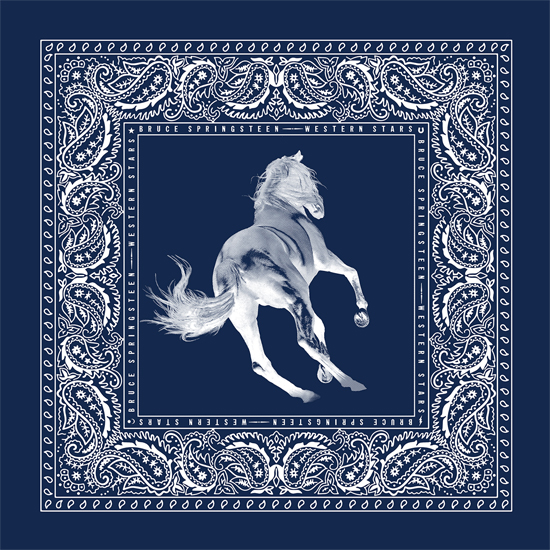 WHERE THE BANDANAS ARE
Official promo Western wear with your Backstreets pre-order
Bruce Springsteen's Western Stars, coming June 14, is now available for pre-order from Backstreet Records. All copies of the new album, on either vinyl or CD, will ship from us with a FREE bonus: this Western Stars bandana, an official promotional item for Springsteen's 19th studio album.
A Backstreets exclusive. Quantity is limited, order now to guarantee yours!
Pre-order Western Stars compact disc
+ exclusive Springsteen bandana
Pre-order Western Stars 2-record set
+ exclusive Springsteen bandana


A SPRINGSTEEN / VAN ZANDT DOUBLE SHOT ON PRIMETIME TELLYVISION
The Backstreets Interview with Billions co-creator Brian Koppelman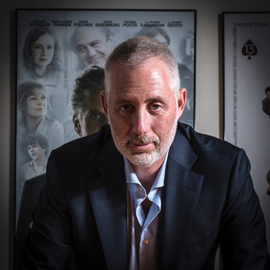 Showtime's breakthrough series Billions recently proffered a two-fer for Springsteen fans (S4 Ep3), featuring not only a track from the Boss himself, but from consigliere Little Steven. Regular Billions viewers know that music plays a critical role in the show's storytelling, with past episodes featuring artists from the Springsteen "sphere" such as Bob Dylan, The Hold Steady, Son Volt, Tom Morello, and Southside Johnny. Show co-creators Brian Koppelman [right] and David Levien have not been shy about their Springsteen fandom, so it was only a matter of time before Bruce's music made an appearance.
Photograph by Ben Lazar
We recently had an opportunity to chat with Koppelman via email about Springsteen and all things Billions.
You've mentioned Bruce Springsteen a number of times in interviews as well as your own podcast, and you recently tweeted: "Nebraska is one of the most important albums of my lifetime." Tell us how Bruce first appeared on your radar and what influence he subsequently had on you as a fan and as a writer.
The first album I actually bought with my own money was The River. I remember listening to "The Ties That Bind" over and over before I even went on to the next song. His influence on me as a writer is immense, of course. After I got into The River, I went backwards, and from the moment I heard "Meeting Across the River" I became kind of obsessed with the story of that song — with who they were, what their coded language meant, all of it. I am sure the echoes of that are felt in my work. I should point out that my creative partner, David Levien, was also hit quite hard by that song and story.
As for Nebraska: the stories on that record have also haunted me since I first heard them. That album kept me company on some of the worst, coldest (externally and internally) nights of my life, when I was 19 years old.
Season four, episode three of Billions featured Bruce's "Atlantic City" and Little Steven's "Soulfire" in an episode called "Chickentown." This marked the first time a Springsteen song was featured on Billions. While the song choice seems like a no-brainer given the show title, can you give us a little background on how that came to be?
David and I had the idea to use "Atlantic City" the second we decided on the story for that episode. Of course, we had no idea whether Bruce would give us permission. The day that he did was a day of a lot of high-fiving around the ol' Billions offices.

Almost immediately after we hear Bruce's version of "Atlantic City," Kelly AuCoin [as Dollar Bill Stearn] sings the opening lyrics to the staff at Axe Capital. Kelly sold it like a fan. Did that take much coaxing?
If Kelly "Dollar Bill" AuCoin is one thing, it is game. He dove into it with zero hesitation and a ton of heart. And the man crushed it.

The addition of "Soulfire" was a surprise bonus after hearing Bruce at the head of the episode. Was that a happy coincidence?
That Stevie album killed me when it came out a couple years back. I listened to it all summer. Dave and I have always loved Little Steven's music. And I know Stevie a little bit, so I asked him if we could use the song. His only request was that we not "bury" it. I assured him the song would be noticed. And it was.
Billions is brilliant in its ability to deftly integrate music into each episode's narrative. In some instances, actual song lyrics [e.g. Gerry Rafferty's "Baker Street"] are woven into the script. It seems the entire writing staff is made up of deep music aficionados. Tell us about the process of music selection for the show and how the writers work with Eskmo, the original music composer.
David and I pick all the songs in the show. Sometimes an editor or writer will make a suggestion, but 98 percent of the time, it's coming from us. We have spent a lifetime listening to music together, talking about it, sending songs back and forth. We are steeped in this stuff, and obviously how it works against picture, to amplify the stories we are telling.
Eskmo is crucial to our show. His score is as identifiably Billions as our dialog is. We work closely with him, and our music editors, to really tailor his music to the given scenes. He is a master, and it's a privilege to work with him.
How does music influence your writing? Do you hear specific songs in your head while navigating plot points?
I listen to music all the time as I write. Right at this moment, as I respond to your questions, I'm listening to The Mountain Goats, and they are helping my fingers move across the keyboard.
Music doesn't generate plot, though. It locks in tone, voice, spirit. When writing dialog, I have to find a song that feels like it is pushing me closer and closer to the mindset of the characters, to the mood of the scene in question.
Bruce has often cited novels and films as great influences on his work, particularly with his character development. Do you find yourself doing the same through artists like Bruce, Dylan and others?
Yes. Of course. Dylan, Bruce, Joni, David Baerwald, Michael McDermott, Craig Finn, Jason Isbell, Aimee Mann, Randy Newman, Lou Reed, and many, many others. If you are a writer and love music, you have to notice the economy of language deployed by the best songwriters.
Dylan, Metallica and a few other artists have made multiple appearances on Billions. Possible we'll hear more Springsteen should the story call for it?
I hope so!
Brian Koppelman is co-creator of Billions on Showtime and host of his own podcast, The Moment.
- May 10, 2019 - Neil Van Harte reporting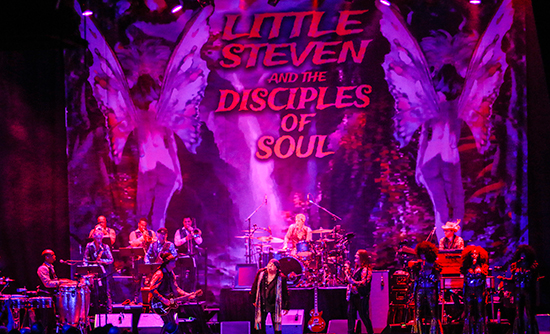 A SUMMER OF SORCERY STARTS IN ASBURY PARK
Little Steven and the Disciples of Soul celebrated SOS release at the Paramount last night, with special guest Bruce Springsteen
There are signs of summer popping up all around the Jersey Shore. Ice cream shops, long dormant for the winter, are starting to re-open. Announcements about Memorial Day parades dot Main Street as you drive through Bradley Beach and other shore towns. And when you step onto the boardwalk in Asbury Park, the salt air of the Atlantic Ocean hits your nose.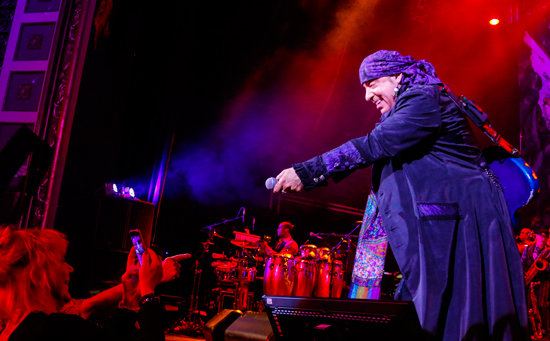 But summer started off early in the Paramount Theater on Wednesday night, May 8, as Little Steven & the Disciples of Soul raised the roof and blew down the doors to kick off the East Coast leg of their tour in support of the new album, Summer of Sorcery.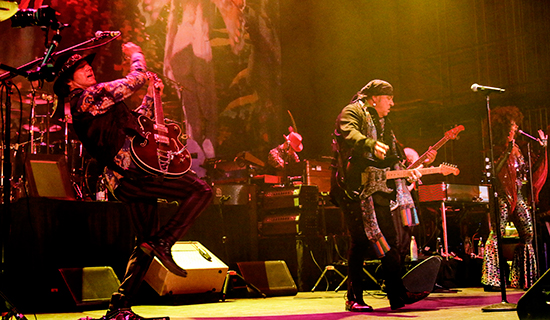 Led by bandleader Van Zandt, music director Marc Ribler [above left], and horn director Eddie Manion, the Disciples of Soul powered through 24 tunes, all 12 from the new album and many classics as well.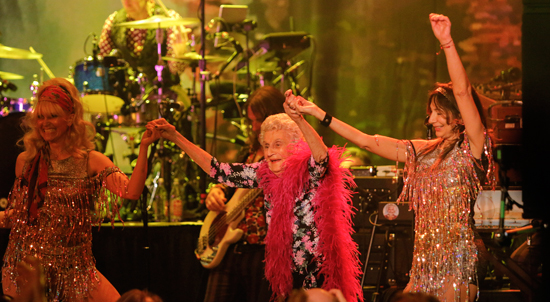 The whole night had a party atmosphere to it — from when the Disciples horns section strutted on stage via the Paramount's center aisle to the all-out jamming and twisting that featured 92-year-old Bea Slater [above] in a red boa, to the delight of the crowd.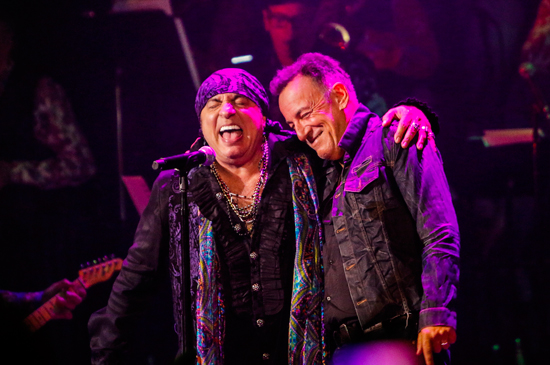 The crowd was even more delighted when Stevie's old buddy, Bruce Springsteen, joined the fun to the opening horns of "Tenth Avenue Freeze-out."
"They made the change uptown when Little Steven joined the band!" sang Bruce, pointing to his long-time dreaming buddy. Bruce stayed on stage with the band for "Sun City" [video] and the ever-popular "I Don't Want to Go Home" [video] — a sentiment, as ever, shared by everyone in the building — before Steven and the Disciples closed out their show with "Out of the Darkness."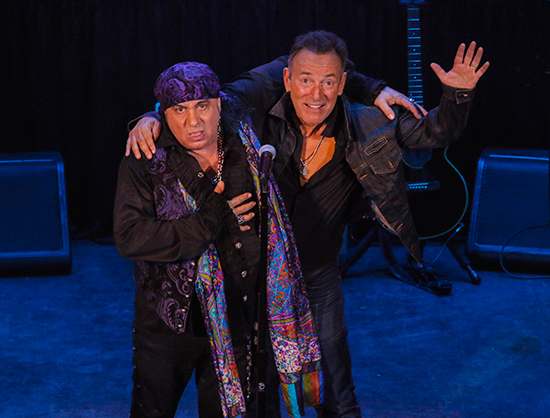 This was the East Coast record release concert to kick off Little Steven's Summer of Sorcery World Tour 2019. Last weekend, the West Coast version happened when the band hit the stage at the Saban Theater in Los Angeles, where Bruce joined in the fun as well. Little Steven and the band will now embark on an epic world tour, beginning May 16 at Liverpool, UK's 02 Academy, and continuing through the year.
Every U.S. headline date on the Summer of Sorcery Tour 2019 will benefit Van Zandt's TeachRock education initiative and offer an introduction to the Teachrock.org curriculum. Earlier in the day before the Paramount show, the TeachRock staff hosted a free professional development workshop designed to engage educators with techniques and content through which they can comfortably use music to inspire students, even if they've never touched an instrument.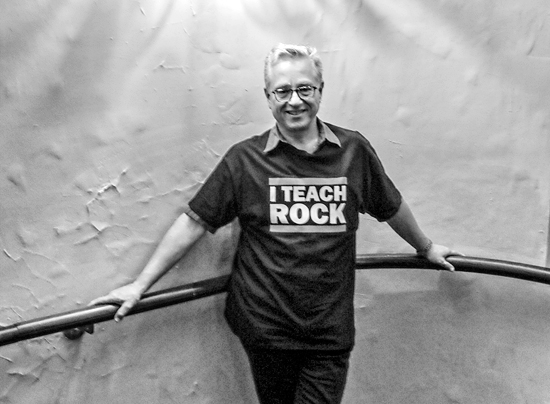 According to John Zurka [above], a teacher in Union, NJ, about 200 educators, including himself, attended the workshop, which featured an appearance by Little Steven. Several teachers were in the audience, too, including Tom Evans of Tunkhannock, Pennsylvania, and Annette Dahlin, of Sweden. Many proudly sported their I Teach Rock t-shirts.
Sometimes-Springsteen collaborator and often-times Light of Day performer Jesse Malin also was on hand to take in the show, but he did not take up the guitar. Malin will headline The Stone Pony on May 17.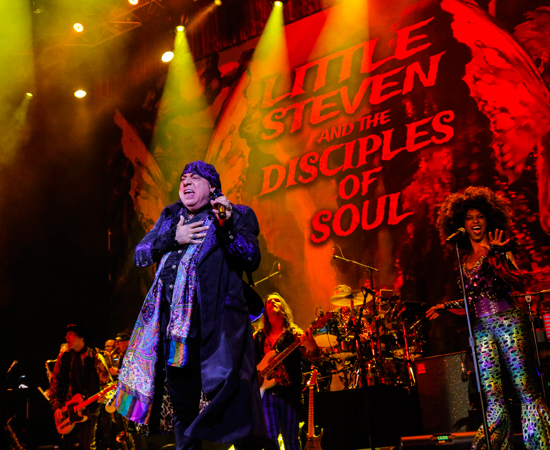 But the night belonged to Little Steven and his Disciples of Soul. Not only did they kick off their tour in a grand way, they also kicked off the summer at the Jersey Shore in rockin' fashion as well.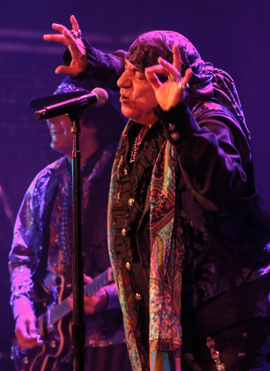 Setlist:
Communion
Camouflage of Righteousness
Party Mambo!
Love Again
Education
I Visit the Blues
Gravity
Los Desaparecidos
Little Girl So Fine
Trapped Again
Love on the Wrong Side of Town
A World of Our Own
Suddenly You
Vortex
I Am a Patriot
Superfly Terraplane
Bitter Fruit
Forever
* * *
Summer of Sorcery
Soul Power Twistin'
Tenth Avenue Freeze-Out (with Bruce Springsteen)
Sun City (with Bruce Springsteen)
I Don't Want to Go Home (with Bruce Springsteen)
Out of the Darkness
- May 9, 2019 - report and photographs by Mark Krajnak / JerseyStyle Photography. Follow Mark on Instagram at @jerseystyle_photography


PRETTY SOON IS NOW
Nils Lofgren's new video for "Pretty Soon," from his new album Blue With Lou. The video was directed by Kii Arens, shot on the Gila River Indian Reservation. Andy Greene writes, "The song is about a young man that joins the military to impress his girlfriend. 'He becomes "woke"in a war zone and is determined to get back to her,' Lofgren tells Rolling Stone. 'Rough journey, though I think he makes it.'" As the Washington Post reports, "Guitarist Nils Lofgren used to to do backflips at concerts. Now he tap dances"; that latter skill is also on display in the new clip.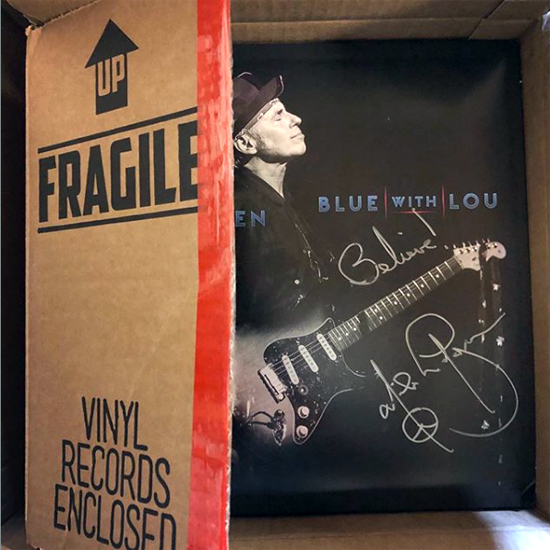 Blue With Lou is out now on Lofgren's Cattle Track Road Records. For those who ordered the signed double LP from Backstreet Records, the autographed vinyl has just arrived from Nils and we'll be shipping it out this week. The Nils Lofgren Band is on the road now in support of the album — visit nilslofgren.com for news, tour dates, and more.
- May 9, 2019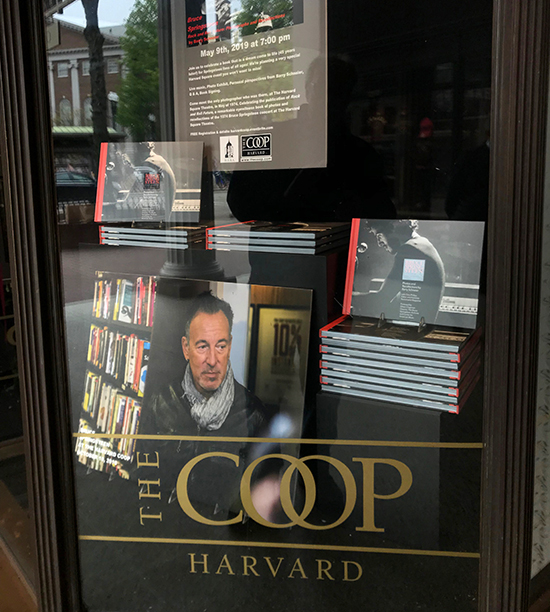 CALLING ALL BOSTON-AREA BRUCE FANS
Block party in Harvard Square celebrates the anniversary of 5/9/74 with an evening of music, stories and photographs
Tomorrow, Thursday May 9, the Harvard Square Business Association and the Harvard Coop proudly present an evening of all things Springsteen, as they celebrate the 45th anniversary of his legendary career-making performance at the Harvard Square Theatre.
Featured will be photographer Barry Schneier, returning to the scene in Cambridge, MA, where he documented Springsteen and the E Street Band opening for Bonnie Raitt on May 9, 1974, for this book launch party. The press release notes: "Schneier's newly released book, Rock and Roll Future, is a remarkable eyewitness account of photos and recollections of the seminal concert." Tomorrow's event will take place on Palmer Street, which will be closed for the evening and converted block-party-style for the festivities. (Palmer Street in Cambridge actually borders the building in which the Harvard Square Theatre, now shuttered, is housed.)

6:30pm: Harvard Square favorite Mike Hastings returns to the Square after his crowd-pleasing set at Make Music 2018, for a performance of Springsteen covers.
7:30pm: Photographer Barry Schneier, in conversation with Jon Garelick, freelance writer, who currently writes for the Boston Globe, DownBeat, Jazziz, and other publications.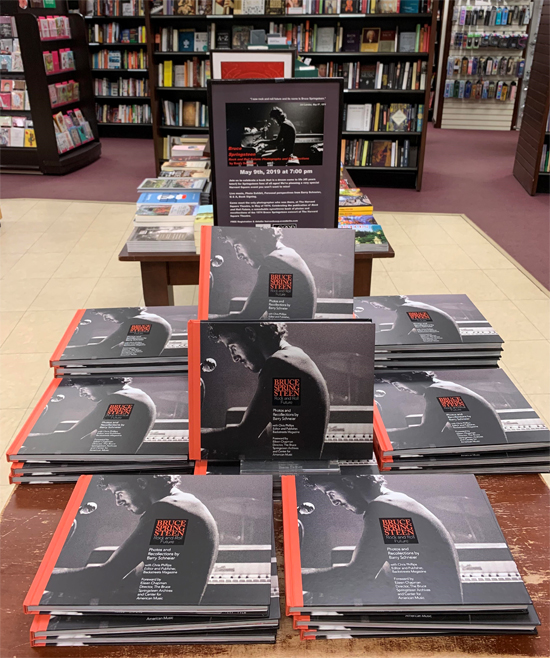 Following the discussion, attendees are invited inside the Coop to meet Schneier as he signs copies of his book, which will be available for purchase. Barry's photographs will be on display in the Coop windows.
Attendees may also enter a raffle to win a First Edition hardcover copy of Born to Run, signed by Bruce himself! (You must be present at the event to enter and present at the drawing to win.)
In the event of rain, this event will be moved inside the Harvard Coop.
Free registration is requested and greatly appreciated, but not required. Seating is first come, first served. Registration does not guarantee a seat. Late arrivals will be admitted and/or seated at the discretion of the event manager.
- May 8, 2019

45 YEARS AGO THIS WEEK, SOMEONE SAW "ROCK AND ROLL FUTURE"
And someone else photographed it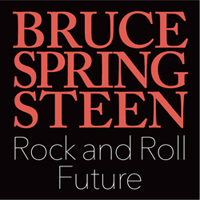 This week, a look back at a watershed moment in Bruce Springsteen's career and also a look inside the book Bruce Springsteen: Rock and Roll Future, which celebrates that evening in stories and photos.
This Thursday, May 9, will mark the 45th anniversary of the historic evening in Cambridge, MA, when Jon Landau famously "saw rock and roll future" at the Harvard Square Theatre as Springsteen and the E Street Band opened for Bonnie Raitt. Backstreets Publishing is proud to have teamed up with photographer Barry Schneier to produce Bruce Springsteen: Rock and Roll Future. The book looks at the night through the lens of Barry's camera as well as taking a narrative deep dive into the concert, the era, the events that led up to the evening and what followed after. Though Barry's work with Springsteen and other music luminaries has since been internationally recognized and exhibited, many images included in the book have never before been seen.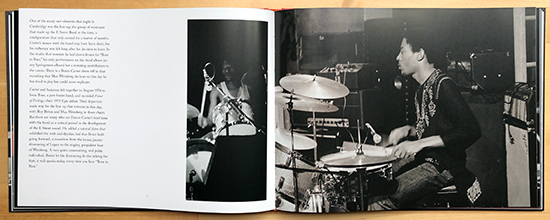 Also contributing to the narrative are early members of the E Street band: bassist Garry Tallent, drummer Ernest "Boom"" Carter, and pianist David Sancious, all of whom performed that night in Cambridge.
First, let's hear from Boom.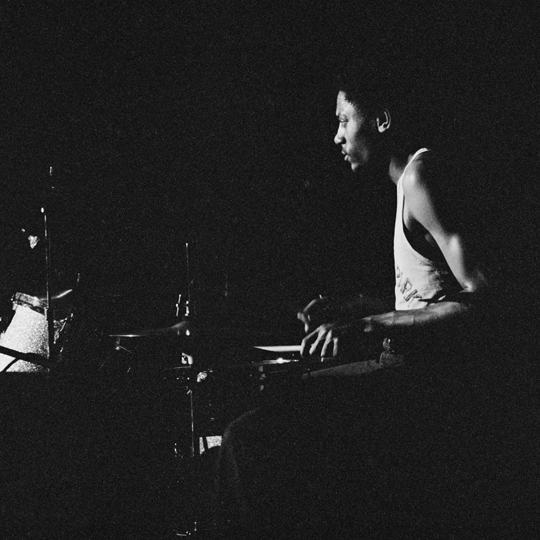 LOOKING BACK: ERNEST CARTER, 2018 (EXCERPT)
Bruce was very focused, not a party dude. And I liked that. I don't like to just hang out. I don't haul all my drums around for nothing. I like to work, and that was a good environment. It was a little difficult at first, because I had to find the groove to his music. It wasn't anything I hadn't heard before, but the way he constructed his music was new to me. His songwriting — it was different. It was rock. It was soul. And the lyrics! I never played with anybody who did all that talking and singing.
So I figured it out with a little help from Garry — feeling out the rhythm section, coming in after Vini's style — and David, and Danny, and everybody. I picked it up quick in some ways. We had to go right out and do a show. But I had to do a lot of homework.

It came down to paying attention to Bruce's body language, and his approach to guitar. I played a lot off of what he was doing on his guitar. You know that lick people talk about that I do on "Born to Run"? That riff was inspired by the guitar lick that Bruce was playing — my drumming matches what he's doing a little bit. That's where that came from.
You had to pay very close attention to him, because you'd never know what was going to happen. Maybe that's why I don't have memories of this performance. I've thought about it, but it's just… life on the road and another gig, I guess. Flying together. All together — we all moved together. I do remember Bonnie Raitt's show. I couldn't take my eyes off her. It was just amazing. I'd never seen her before, and I had never heard a sound like that before. Her band was just smoking.
My whole thing, playing with Bruce, was not to think about anything else but the music. Next thing you know, the show's over and you don't even know what happened — except that you just did your job. You can't think about what happened before, or how the audience liked that last song. You're thinking about the next thing. That was my main focus: watching Bruce and making sure I didn't miss a beat.
Looking at these photos, it's like… just when I thought I was out, they pull me back in. I didn't think anybody had any history of me playing with the band, except for that one photo in that greatest hits album. Photos of me are rare. I'm really thrilled to see these — especially my Asbury Park Track shirt. And I think, how freaking young we look. I look at that Rogers pink champagne drum set, which I wish I had in my possession again. I think about playing with the fellows and the good times we had. Good music and good people — no problems with anybody in that band. Just a good bunch of human beings. That's what they were.
- as told to Barry Schneier, from the book Bruce Springsteen: Rock and Roll Future
Listen to E Street Radio tomorrow, Wednesday May 8, to hear Schneier and editor Chris Phillips guesting in the studio on "Live From E Street Nation," to talk about the Harvard Square Theatre anniversary, the book, and more. The program airs from 10am to noon ET on SiriusXM channel 20.
- May 7, 2019 - all photographs by Barry Schneier, May 9, 1974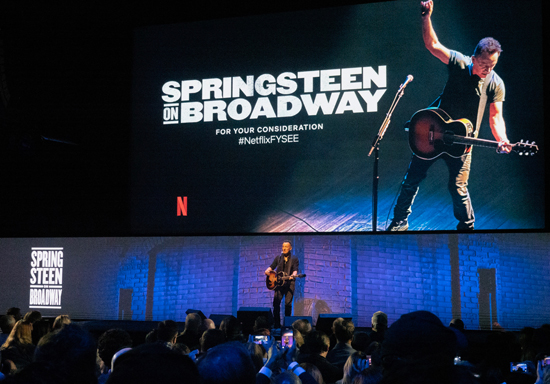 Photograph by Hal Schwartz/@shotsfromthecrowd
ARE YOU CONSIDERIN' ME?
Springsteen discusses new E Street material and more with Scorcese at May 5 Netflix FYSee
It's Emmy For Your Consideration (FYC) season, and Academy of Television Arts and Sciences members are being bombarded with invitations to events put on by the networks and studios in attempts to get Academy members to nominate their shows. With so many broadcast, cable, and streaming platforms available, you have to do something above and beyond the standard screening/moderated panel discussion/reception formula to stand out and be remembered when voting starts in June. Netflix is one of the streaming platforms that always stands out, and when you have a show like Springsteen on Broadway on your platform, it brings FYC to another level.
In this case, that level included an in-person appearance by Bruce Springsteen himself, at Hollywood's Raleigh Studios for Sunday night's Netflix FYSee Opening Night. The event began with Springsteen on Broadway director Thom Zimny introducing an abbreivated, edited version of the Netfilx concert film, saying that after working with Bruce for 19 years, this film was his master class in storytelling. After the screening, Chief Content Officer of Netflix Ted Sarandos talked about remarkable things that happen, such as Greetings From Asbury Park, NJ and Mean Streets being released at the same time. He then introduced their creators, Bruce Springsteen and director Martin Scorsese.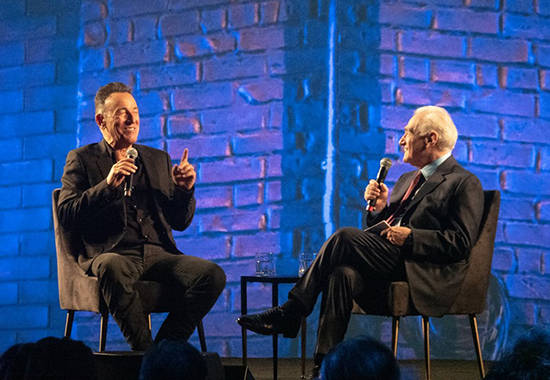 Photograph by Hal Schwartz/@shotsfromthecrowd
Instead of Scorsese interviewing Bruce, it was a conversation between old friends. They talked about meeting at the Roxy in Los Angeles in 1975, when Scorsese brought Robert De Niro to hear the band. A day later, the director screened Mean Streets for Bruce.
Scorsese: "…They wind up wounded, and not even dead…"
Springsteen: "That was Mean Streets."
The pair went on to talk about the use of music in Scorsese's films and the influence of Catholicism on both their lives and work; they discussed trust, loyalty, betrayal, and faith as themes that run through both Bruce's music and Scorsese's films. Bruce spoke about always wanting to base the heart of his work in the dark side of things then find his way to earn the light. He went on to say that the artists he finds interesting are the ones he wants to know, "What's bothering that guy?"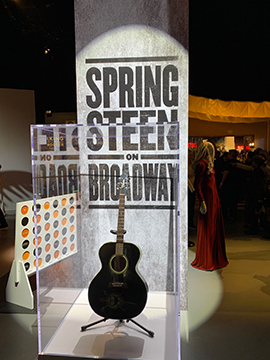 They next talked about how Springsteen on Broadway evolved almost by accident thanks to President Obama, during the last weeks he was in office, inviting Springsteen to play at the White House. Bruce said he rewrote sections of his autobiography as a spoken word piece, in order to play around 90 minutes in the East Room of the White House. That was the genesis of the Broadway show. They compared the common ground between how Scorsese shot The Last Waltz and how Springsteen on Broadway was treated by Tommy Zimny. Springsteen and Scorsese also spoke about how the show was a gateway to a larger experience, and how "…as the songs come out of the monologues, it's as if you never heard those songs before." They talked about how the creative process in both film and music is akin to capturing a small piece of the divine.
Springsteen: "Raging Bull to me is like one long, violent prayer, man."
Scorsese: "That's all of your thing, one long, noisy prayer"
Springsteen: "That's my life, that's it, that's my job."
One of the biggest takeaways: during the conversation Bruce revealed that he hadn't written any new band material since Wrecking Ball, but that in the last month he realized he had written almost enough songs for a new E Street Band album — enough, even, for another tour.
"I've spent about seven years without writing anything for the band. I couldn't write anything for the band. And I said, 'Well, of course... you'll never be able to do that again!' It's a trick every time you do it, you know? But it's a trick that, because of that fact that you can't explain, cannot be self-consciously duplicated. It has to come to you in inspiration.

And then about a month or so ago, I wrote almost an album's worth of material for the band. It came out of just... I mean, I know where it came from, but at the same time, it just came out of almost nowhere. And it was good, you know? I had about two weeks of those little daily visitations, and it was so nice. It makes you so happy. You go, 'I'm not fucked!' There'll be another tour!"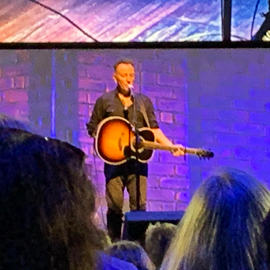 Springsteen went on to praise Scorsese for the music he chooses for his films. The event concluded with Bruce choosing some songs of his own, performing two tracks from Springsteen on Broadway — "Dancing in the Dark" and "Land of Hope and Dreams" — on acoustic guitar for the enthusiastic Emmy voters.
For more from the Springsteen/Scorcese summit, read Melinda Newman's article for Billboard, "Bruce Springsteen on the Next E Street Band Tour, Catholicism, His Netflix Special and Funeral Crashing." Watch video at deadline.com.
- Updated May 7, 2019 - Report and additional photographs by Larry Lerner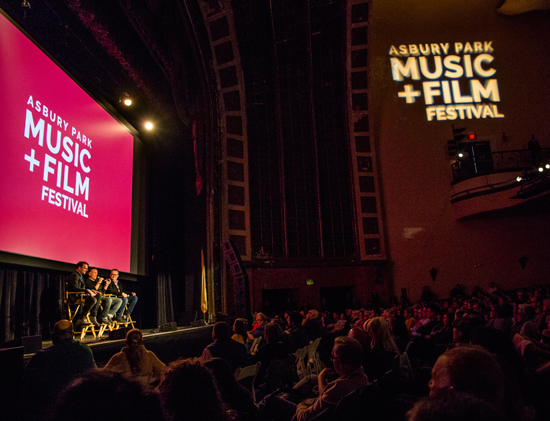 Photograph by Chris Spiegel/Asbury Park Music & Film Festival
APMFF: BONUS FEATURES
More highlights from last weekend's Asbury Park Music + Film Festival
The Asbury Park Music & Film Festival is unique in that it highlights the town's extensive musical history — the very fabric of its identity. The festival not only offers films and documentaries centered on music and its makers, but also a plethora of concert performances. One of those, on Friday April 26, gathered prominent Jersey Shore favorites Joe Grushecky, Bobby Bandiera, Jeff Levine, and Boccigalupe for Gary U.S. Bonds' Unusually Big Birthday Bash.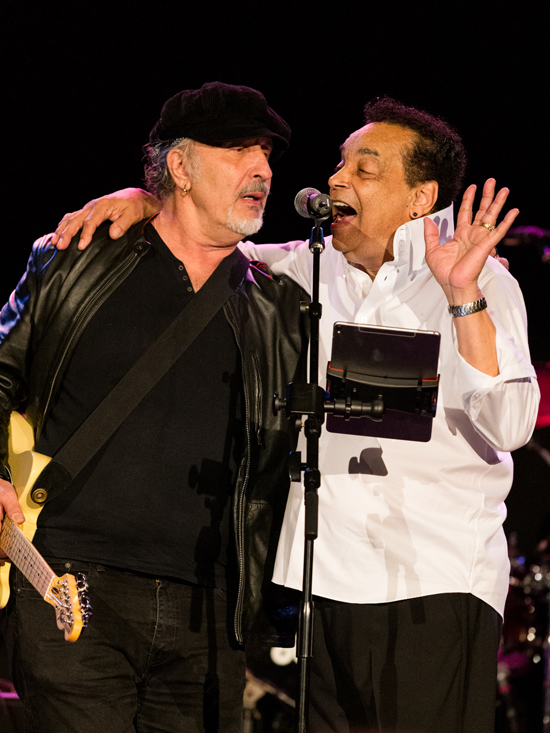 Still the swinginest at 80, Bonds [right] with Grushecky - photograph by Michael Zorn
Pittsburgh's Grushecky and the Houserockers ushered in the evening with their hard, driving sound. Joe tipped his hat to Bruce Springsteen for his contributions to "Another Thin Line" and "Never Be Enough Time," collaborations that irrevocably changed his life. Gary U.S. Bonds arrived onstage with flashy panache in his gold lamé jacket. It was hard to believe he was celebrating his 80th birthday, as he and the band crackled with an infectious, spirited energy. Backed by a three-piece horn section, the rich, rocking songs — many of which were produced or written by Bruce and Steven Van Zandt, including as "Jole Blon," "Rendevous," "Soul Deep," "Club Soul City," "Daddy Come Home," and "Dedication" — filled the auditorium with a vivacious enthusiasm. Bonds dedicated "Talk to Me" to Southside Johnny, who was playing a gig in Connecticut that night. Before performing "Out of Work," Bonds joked that he was annoyed with Bruce for writing better than himself about being poor despite being so rich. Bonds closed his set with the exuberant hits "This Little Girl" and "Quarter to Three," prompting the audience to leap out of their seats and dance. The lively encore of "(Your Love Keeps Lifting Me) Higher and Higher" was an invigorating finale that culminated with a fan sweetly bestowing Bonds a birthday balloon.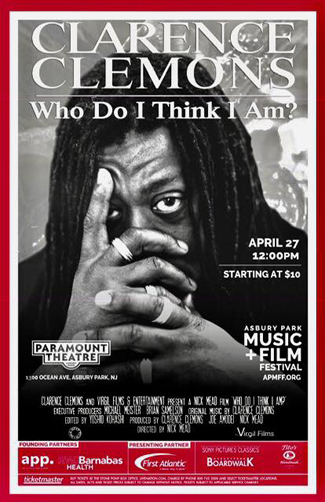 The documentary Clarence Clemons: Who Do I Think I Am? that premiered on April 27 met the unique challenge of originally being shot when Clarence was alive and then reformulated after his death, forging a moving work that is half personal manifesto and half eulogy.
Clarence appeared in interviews with his booming voice resounding through The Paramount, his final words in a film that he desperately wanted to make so that the world would know who he truly was, as someone more than just an E Street Band luminary. Slow-motion black and white close ups of Clarence waxing poetic about his own journey of self-discovery and living life to the fullest — interspersed between interviews from band members, family, and friends rhapsodizing about their dear friend — positioned him as a heavenly figure, like a watchful god benevolently looking after his loved ones. Director Nick Mead described him as having an "aura of greatness," while former President Bill Clinton said he was the kind of person who made you feel you were together the day before even if it had been months or years since your last meeting. Clarence was consistently described as someone who loved his friends dearly and would help them in any way he could — a man who let everyone in, was open and loving.
Noticeably absent from the interviews was Bruce Springsteen himself, but there were plenty of clips and photographs of their spectacular performances together; these were the only few spots of color in the documentary, emphasizing their blissful significance in Clarence's life. The documentary also touched upon on how Clarence's innate positivity combated the racism and segregation he grew up with. Jake Clemons mentioned in the panel discussion afterward that his uncle had to learn how to run away from dogs that were trained to kill black men. In the film, Backstreets writers Shawn Poole and Chris Phillips discussed how Clarence effortlessly integrated within the white rock world, particularly through the action of his soul kiss with Bruce. Clarence was the emotional pull of Bruce's songs and indispensible to his sound, the most notable example being the legendary "Jungleland."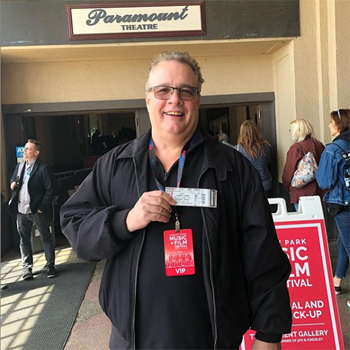 Right: Joe Amodei, producer of Who Do I Think I Am?, ticketed and ready for the big premiere - photograph by Christopher Phillips
If there was one thing that Who Do I Think I Am? impressed upon the audience, it the Big Man's deep spirituality. Mead accompanied Clarence on his pilgrimage to China, where he remained largely anonymous and played saxophone on the Great Wall. As Clarence confessed, he believed it was the hand of God that caused the car accident that forced him to leave football behind and pursue music instead. One of the best moments of the documentary was when he listened to one of his saxophone solos in the recording studio. With his eyes shut and mouth spread in a wide, rapturous grin, he gently absorbed the sounds that seemed to belong to the higher power he placed so much faith in. He let the delicate way he could hold "power and peace in the same breath," as bandmate John Colby said, wash over him. The documentary never touched on his complicated personal life and was arguably very rose-colored, but it firmly focused on what Clarence wanted to do the most: bring joy and light in the world. Nils Lofgren's mournful "Miss You C" as the credits rolled was the perfect cap to a bittersweet documentary that shed light on the hulking Big Man and what lied beneath his looming star presence. During the panel discussion, Clarence's nephew Jake remarked, "I just lost 20 pounds of tears. It's a beautiful, beautiful film," while Nick Mead rejoiced in knowing that Clarence's dream of his film playing again in Asbury Park — after the 2011 Garden State Film Festival premiere of an earlier cut — had come true.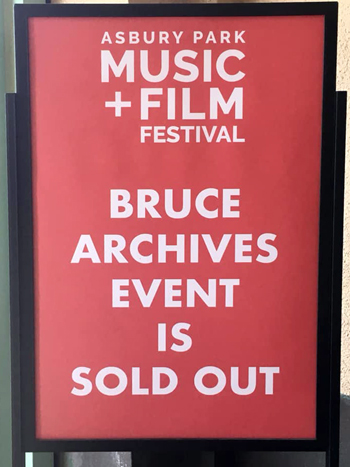 The most memorable event of the weekend for Springsteens fans was the Springsteen Archives screening on April 27. Lucky fans were treated to never-before-seen clips ranging from 1973 to 2012, and The Boss himself made a guest appearance on the panel to discuss Thom Zimny's ongoing archival project, talking on stage with Backstreets' Chris Phillips before a sold-out festival crowd. The atmosphere in the Paramount during this delightful presentation was almost that of a real concert, with the entire audience rapt in euphoric wonder, moved by the power and life-affirming quality of the footage.
For more on the Archives event and Springsteen's participation on the panel, read here. For more on what Bruce had to say from the stage about his 2006 Jazz Fest performance (complete film of which was released one week after this Archives event), read here.
Screening the following day in the same venue was Asbury Park: Riot, Redemption, Rock 'n' Roll. The documentary had premiered at the Asbury Park Music and Film Festival in 2017 under a different title, still a work in progress and missing a crucial component of the city's motley music scene: Bruce Springsteen. After attending that 2017 screening, Bruce phoned the director Tom Jones and asked, "Why am I not in this?" as he joked to audiences at the Archives show the previous day. Jones quickly secured an interview with Bruce inside the Upstage, now incorporated into the new cut.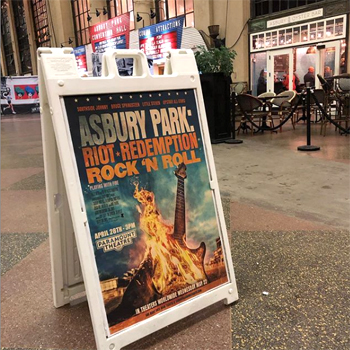 Inside the Convention Hall Grand Arcade - photograph by Christopher Phillips
The documentary opened with an arresting shot of a guitar on fire, nestled in the sand beside the beautiful Convention Hall, before cutting to gorgeous aerial shots of the city by the sea. As the title indicates, the breezy documentary is divided into the three sections as it explores the town's rock 'n' roll history, riots and history of racism, and eventual redemption. Many prominent musicians appear in interviews, including David Sancious, Ernest "Boom" Carter, Steven Van Zandt, Garry Tallent, Max Weinberg, Southside Johnny, Bobby Bandiera, Vini Lopez, and many more. Several clips of The Who, Rolling Stones, and The Doors performing at Convention Hall during the '60s were a treat to see.
Much attention was paid to the Upstage, an electrifying club Southside Johnny said was "like our college," where young musicians performed until the early hours of the morning. Bruce described them as "alchemists" who "combined all the sounds on the shore." The Upstage was a glorious haven for "freaks," as self-described by Van Zandt, to hone their craft. This rock 'n' roll section featured lots of great pictures from the era (thanks to Carrie Potter Devening's trove of photos from her grandparents, who ran the club) and video snippets of a young Bruce. It was the Upstage, as well as a surplus of other clubs, that made Asbury Park the "Liverpool of America."
On July 4, 1970, the racial tensions between the East and West Side that had been fermenting since the town's inception in 1871 exploded. Molotov cocktails rained in the streets, setting Springwood Avenue ablaze. Jones glides his camera over the newspaper articles and photographs from the cataclysmic event to give the audience an overwhelming sense of what it was like to experience the chaos. Bruce recalled watching the smoke billow from high above a water tower near Tinker West's surfboard factory. The documentary offered a fair perspective of the riots, as many of the interviewers agreed it was a difficult situation and natural for those on the West Side to be fed up with their decrepit living conditions. As Springsteen said, it was a "sad moment in the city's history but it probably needed to happen"; he also expressed a need for the West Side to have the same prosperity as the East Side today, a sentiment clearly shared by the filmmaker. After the riots, it was concerts and events at the Stony Pony that gave people a reason to come back to Asbury again. "Local bands are the thread that holds us together . . . We are the fixers of broken things," Bruce explained.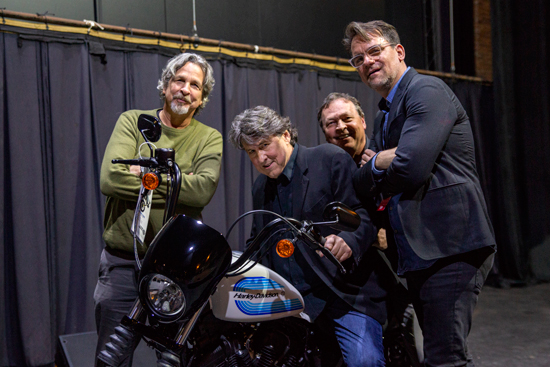 The Farrelly Brothers, Cameron Crowe, and Thom Zimny, all in town for APMFF events, backstage at the Paramount Theatre - photograph by Chris Spiegel/Asbury Park Music & Film Festival
The documentary valiantly takes care to spotlight the fact that Asbury Park also owes much of its recent resurgence to the LGBTQ community. Their ideals of pure love and acceptance pervade the town. Music is once again at the heart of Asbury Park's new life, and Jones shifts his focus to the generations to come with footage of the Lakehouse Music Academy, a place where kids of all different upbringings now unite over the glory of music — a quality the Lakehouse shares with the Upstage, as Phillips and Jones discussed in the post-film Q&A. The film caps off with footage of Bruce and other past Upstage regulars enthusiastically jamming with the young Lakehouse Junior Pros, captured at the APMFF in 2017.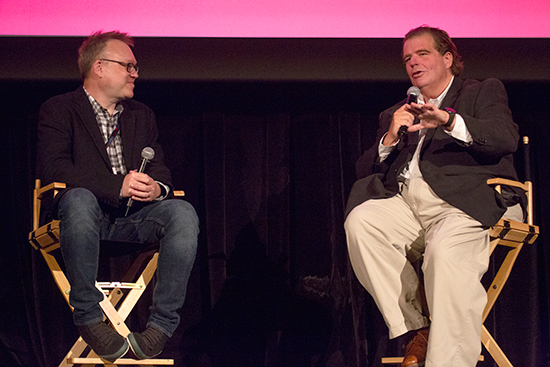 Phillips and Jones at the Paramount, following the Asbury Park documentary screening - photograph by Chris Spiegel/Asbury Park Music & Film Festival
During the panel discussion, the enthusiastic Jones said he wanted to show how music cut across the tracks — literally — and brought the town together in the darkest of times. His documentary proves how music is intertwined into Asbury's identity. Asbury Park: Riot, Redemption, Rock & Roll had a quick pace and buoyant energy, tied together with sleek graphics, taut editing, and the deep voiceover narration of Big Joe Henry that was engaging and propelled the film's steady flow. The poetic final shot showed Bruce as the last one to exit the Upstage club before its renovation into apartments. After the screening, the brilliantly talented Lakehouse Junior Pros performed hard-rocking songs such as "Piece of My Heart" and "Livin' on a Prayer," demonsrating the documentary's insistence that the storied Asbury Park is a haven for rock 'n' roll talent. The Asbury Park Music and Film Festival once again validated the notion that the city's rich musicality and values of inclusivity will prosper for years to come.
- May 6, 2019 - Caroline Madden reporting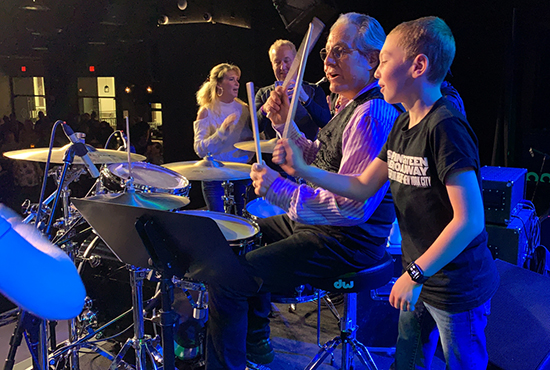 BACKBEAT OF E STREET REVVING UP HIS SPRING/SUMMER JUKEBOX TOUR
Mighty Max returns to New York's Capital Region, talks "Electric Nebraska"
Max Weinberg's Jukebox performed for the third concert at the newly opened Skyloft Theater last week in Albany, NY, the band's second area appearance this year. With mostly tables scattering the floor, it seemed as though it took the audience a little while to warm up, but not Max and his band — they hit the ground running from the first song. The band opened with "Mony Mony" and then jumped into a hard-rocking version of "You Shook Me All Night Long."
From here out Max took requests the rest of the evening with his magical Jukebox, including two they'd never played before. His first Springsteen cover of the night was "Tenth Avenue Freeze-out," which included a throwback to the audience for the "Big Man joined the band" line. One of the changes from his previous appearance in January was that this was only one of three Bruce songs (last time he played many more). Max and the band tapped a wide array of selections including "Bus Stop," "I'm a Loser," "Brown Sugar," "She's the One," "I Want You to Want Me," "Daydream Believer," and "I Want to Be Sedated."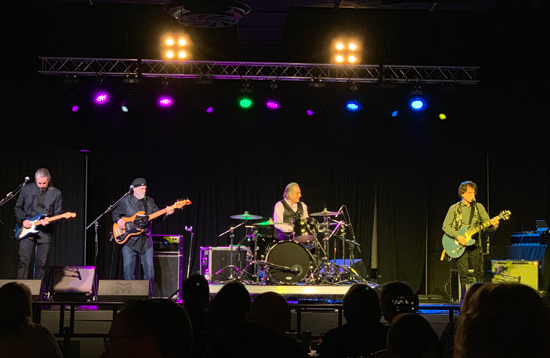 The band included two members of New Jersey's the Weeklings, Bob Burger and John Merjave on guitar, with Greg Hollister on bass replacing Weekling Glen Burtnick from last visit They did a fantastic job as Max's band, nailing both of the show's two "world premieres." A fan asked Max if there was one song on the list that they hadn't played yet, and "Night Moves" came to the fore. Merjave took on the lead vocals and guitar, and you wouldn't have guessed it was the first time out. Max clearly enjoys playing with this band, and it's fun to watch him sing along to the music.
When Max started to talk about song arrangements, he discussed Springsteen's Nebraska album and how the E Street Band tried electric versions of those songs in the studio, saying he prefers them to what was released.
The band then rolled through "White Room," "Pretty Woman," "My Generation," and an incredible "I Can See For Miles," with some amazing Keith Moon-style drumming from Max. The second debut of the night came from an audience member who asked for a song not on the list. It was a potential "stump the band moment' — Max does say at the outset that they only play songs from his list — but he looked back at Berger when Tom Petty's "Running Down a Dream" was requested and got a nod. They did a blistering, inpromptu version of Petty's song and brought the house to its feet.
The show ended with Elvis Costello's "Pump It Up" before moving into the encore for "Glory Days," when Max invites the audience on the stage to dance and take pictures, or play his drums. While the performance was shorter in length and songs from his earlier show in January, Max once again demonstrated his talent as a drummer, bandleader, and host, fully enjoying being the showman that he is. Catch 'em if you can, with more tour dates listed at maxweinberg.com.
- May 6, 2019 - report and photographs by Howard Kibrick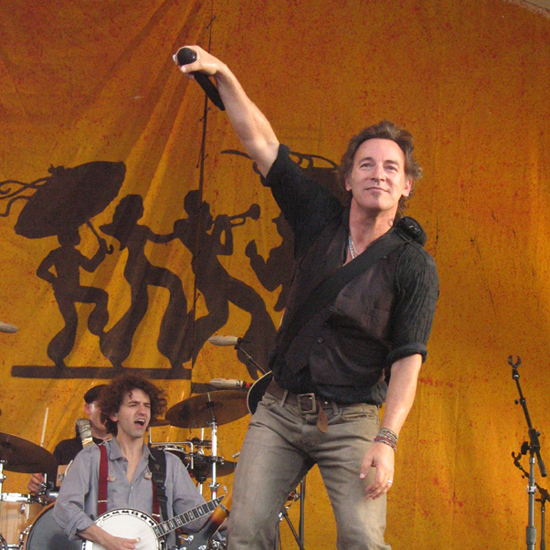 JAZZ FEST 2006 CONCERT FILM COMES MARCHING IN
This final weekend of the 50th New Orleans Jazz & Heritage Festival, Bruce Springsteen has his own way to say happy anniversary: with a brand new concert film of his legendary first Jazz Fest performance in 2006, available now — for free — on YouTube. The concert film, edited by Thom Zimny, captures the debut of the Sessions Band on April 30, 2006, just eight months after the devastation of Hurricane Katrina.
The performance of "My City of Ruins" from this new film screened last weekend at the Asbury Park Music and Film Festival, where Springsteen and Zimny were both on hand to talk with Backstreets editor Chris Phillips on stage at the Paramount Theatre.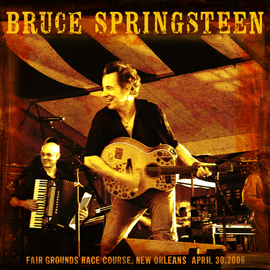 "The nice thing is, we have the entire film of the band at Jazz Fest that we just finished, so that's gonna be coming out," Springsteen revealed. "We had LaBamba, we had the Loveman [Mark Pender] on the trumpet, so there was a lot of the Asbury/Steve Van Zandt/Southside horn section alumni getting to do their New Orleans thing, and it was just a great, great and lovely day."
"We came down the day before," Springsteen recalled, "and we went down to the Lower Ninth Ward and saw a lot of the devastation. Rock 'n' roll is at its best when there are high stakes on the table. That's when something much, much larger than yourself can happen. It's music that's meant to push up against things, whatever they may be: against troubles, against hard times. It's a lovely and fortuitous day to be able perform a small service for people… it's one of my favorites, one of the Top Five of my lifelong musical experiences."
In December 2017, the full audio from 4/30/06 was officially released as part of Springsteen's live archive series. Reporting for Backstreets, Alison Fensterstock wrote, "Every live recording, of course, is unique, but the New Orleans 2006 Jazz Fest set is something else entirely: a snapshot of raw joy and pain, anger and uncertainty, true American history caught on tape."
"The Sessions Band was just a great band," Springsteen said last Saturday, adding, "I want to do that again sometime." In the meantime, enjoy their auspicious debut in full color and in full — and happy 100th to Pete Seeger.
- May 4, 2019 - photograph by Ruth Barohn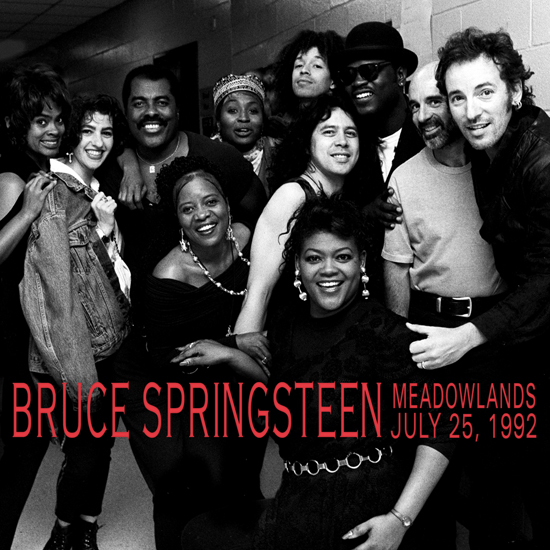 1992: ALL OR NOTHIN' AT ALL
Another month, another release, an "Other" band — 7/25/92, New Jersey
One carryover from the E Street era to 1992's new one: Bruce Springsteen's commitment to performing at the highest level. Like hundreds that came before, shows that year were generally terrific. Today's archive release brings us Meadowlands July 25, 1992, the second date of 11 at Brendan Byrne Arena. Played to a full and enthusiastic house on a Saturday night, its robust, well-paced, 30-song set looks great on paper and sounded even better at the time.
As a First Friday installment, 7/25 joins 1993's Concert to Fight Hunger as a complete performance from the "Other Band" era. Captured near the outset of the year-long World Tour 1992-'93 — the July/August Meadowlands stand kicked off the North American leg, which would run through December — this new live set affords a chance to reassess how Springsteen approached Human Touch and Lucky Town, the LPs he'd released that March after a four-and-a-half year absence from record shops.
At that moment, new country, hip-hop, and a genre some called "alternative" were in the ascendant, and MTV had a hit with its acoustic series Unplugged. Seeking reinvention, acts like R.E.M. and U2 moved away decisively from their '80s roots. Springsteen's dismissal of the E Street Band was a more profound change than others made in musical styles and setlists, which seemed cosmetic in comparison.
Initial steps in his decade-long shift away from E Street encountered a mixed response: when the U.S. tour began, with Roy Bittan on keyboards and a group of newly-hired musicians, Lucky Town sat, Springsteen remarked incredulously, at "a hundred and fucking five" on the charts. Yet his support of the records was unwavering, and he appeared energized and happy.
While the new band generated a range of opinions, few could fault the experience overall. Back then, Backstreets founding editor Charles R. Cross heaped praise on Springsteen himself: "His performance was exceptional, and he played more guitar than he has in years. He jumped into the crowd… and he struggled to prove himself again onstage with the difficult task of presenting the new material. He was, in a word, loose. As the Meadowlands stand wore on, he got even looser, and towards the end you wondered if even he knew what he might do next."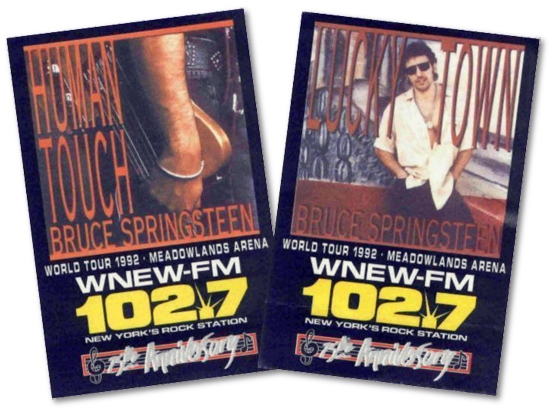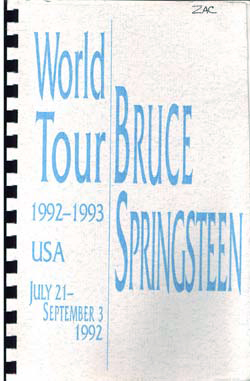 Framed by an amalgam of gospel and '90s gloss, the high-energy rock show focused on the present. Domesticity and parenthood provided recurring themes, newly-discovered joys tempered by numbers like "Souls of the Departed," which encapsulated the lament of the serviceman and the civilian alike. The novelty "57 Channels (and Nothin' On)," written to bemoan the state of cable TV, got recast as a bitter and timely reminder that holds up today. Throughout, Springsteen's guitar playing was excellent: "Lucky Town" and "Cover Me" from this night reveal as much.
July 25 includes other elements that made 1992 remarkable. Anyone who saw or heard Springsteen cut loose on "Living Proof" knew how deeply he'd invested in his new music (listen for a timely sweetener afterward). On this night, that verve reached "Real Man," perhaps the catalog's most maligned track. "What can I say?" he asked as he set it up. "It's how I feel" — an honest appraisal before the song's last-known performance. Though played fewer times overall, "All or Nothin' At All" fared much better, giving the second set a rousing start. Springsteen beckoned fans from their seats and the concession stands; with an eminently singable chorus and good crowd response, why it didn't appear more remains a mystery.
A stirring "Ninety-Nine and a Half (Won't Do)" followed. Based on a song made popular by Wilson Pickett, it featured vocalists Bobby King and Angel Rogers and had much to recommend — maybe too much. It matched the tone of '92, voices rose beautifully, but its full potential seemed to elude them. An "A" for effort — and an improvement over the other time they tried it, in an unaired segment after a June radio broadcast — it never got played again. A few tweaks could have yielded a showstopper.
Conversely, "Open All Night" was a resounding success. One reason: the mostly pre-dawn narrative squarely contrasted with Springsteen's newer material, not to mention his station in life at the time. Reprising a story from the Born in the U.S.A. tour, Springsteen gets in the car in search of an old Jersey haunt; the masterstroke comes as he recounts a waitress who bridged the two worlds. The entirety was pitch-perfect. Accented by Shane Fontayne and Roy Bittan, this version shines as an ensemble piece, even more with its rave-up ending.
Though the band acquitted themselves admirably every night, these two songs brought them to a place of origin and exemplified their ability to collaborate. That was a chance they deserved, and on which they made good. More than a quarter-century later, far from "other," these instances evoke a place one wishes they would have gone more often, or perhaps dwelt.
Springsteen knew the demands of the audience and what was tenable in a show that stretched close to three hours. Fans always want to hear familiar songs, and they weren't disappointed: strong showings here include "Darkness on the Edge of Town," "The River," and "Tougher Than the Rest" (oddly enough, for the final time on the tour). Greatest hits packed the encore: "Glory Days" clocked in at over 13 minutes, a gospel-tinged "Hungry Heart" hinted at an earlier reimagination, "Thunder Road" became acoustic, and a new cast turned "Born to Run" into something like its old self.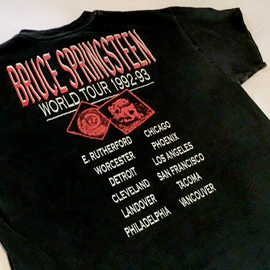 As the run continued, a debate over Springsteen's new direction took shape: was it new enough? Maybe a better time to ask was after this series of homecoming shows, which by its nature required more frequent set changes and a lot more older material. Moving on in September, Bruce plugged in a tailored version of a typical 1992 setlist for his Unplugged segment. That was an unexpected choice for the performer who'd delivered towering acoustic sets for the Christic Institute two years before, but befitting the same one who believed in his new music, record sales be damned.
By the time the U.S. tour ended in Lexington in December, audiences in most cities saw the band play a single night. Relieved of the duty of having to entertain repeat customers — a factor that undoubtedly makes this recording appealing — Springsteen brought new focus to tracks like "The Big Muddy," "Gloria's Eyes," and "Soul Driver."
That made the autumn shows the most representative ones of the 1992 tour; by year's end, another tour of Europe was in the offing, where Springsteen altered the show's structure considerably — the Concert to Fight Hunger generally followed that model. Each leg offered something different, and that makes a future archive installment from late '92 a worthy proposition.
Also read: Erik Flannigan's latest nugs.net blog entry, "Ninety-Nine and a Half Won't Do"
- May 3, 2019 - Jonathan Pont reporting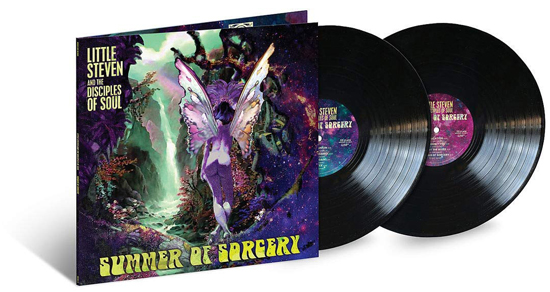 THE TIME IS RIGHT: SUMMER OF SORCERY IS HERE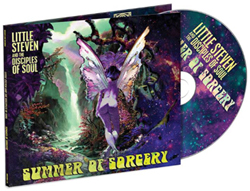 Little Steven's follow-up to Soulfire has arrived! Out today, the 12-track Summer of Sorcery is available now on compact disc and 2LP vinyl, an album Stevie describes as "our labor of imagination to serve as part of your soundtrack to the summer of 2019."
Little Steven afficionado, historian, and all-around authority Mike Saunders has spent some time with SOS, he's soulfired up, and he's written all about it for Backstreets:
Two years ago, Little Steven reactivated his long-dormant solo career with Soulfire, which featured his own recent recordings of material that he'd written for other artists. It re-introduced his songwriting skills to the world at large but primarily celebrated his past achievements. Having previously adopted different musical genres on each album, he'd returned to his rock-meets-soul blueprint for the first time in 35 years and revealed that he wanted to "push it forward in an evolutionary sense." Instead of heading in a new direction, he planned to "stick with it and see where it can go. What happens with the lyrics and the stories? I don't know yet."Summer of Sorcery provides the answer.

Recorded at his own Renegade Studios in Manhattan last September, produced by Little Steven with Marc Ribler and Geoff Sanoff and mixed and mastered by Bob Ludwig and Bob Clearmountain, Summer of Sorcery retains Soulfire's cavernous wall of sound and stylistic blend, but the album largely abandons the personal and political subject matter that dominated his previous solo records in favor of fictional material.

"The concept was capturing and communicating that first rush of summer," Steven explained in an extensive press release in early March. "The electricity of the feeling of unlimited possibilities. Of falling in love with the world for the first time. Obviously there are occasional personal references, and a bit of what's going on socially scattered throughout, but I achieved what I set out to do. I'm quite proud of it."
For much, much more, read Mike Saunders'
SUMMERTIME, BLUES, AND PSYCHEDELIC HUES
Master magician Little Steven conjures cinematic Summer of Sorcery
- May 3, 2019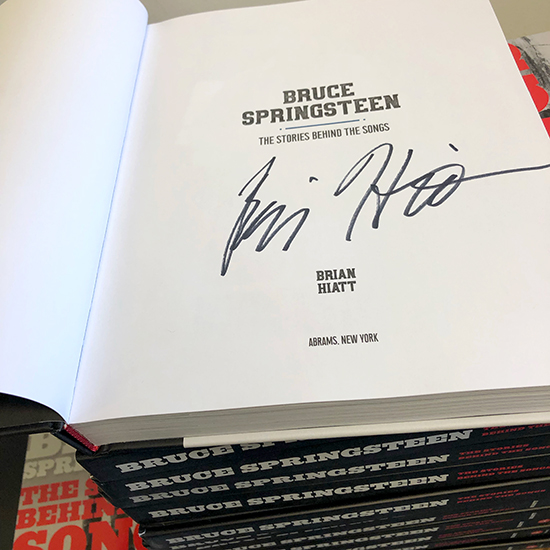 BACKSTREET RECORDS UPDATE: SIGNED STORIES BEHIND THE SONGS
With all the logistics involved, it's taken us longer than we'd hoped to get our signed copies of Brian Hiatt's new book down to Backstreets HQ, but the eagle has landed! Bruce Springsteen: The Stories Behind the Songs, autographed by the author on the title page, is in stock as of this morning and will be shipping out ASAP to all those who pre-ordered from Backstreet Records. Thanks to Brian for signing for us, to the folks at Abrams for making it happen with the multiple shipments required, and most of all to our customers for waiting. We might have saved some time and hassle by doing bookplates instead, but we think you'll dig that nice big signature scrawled right on the title page, and we appreciate your patience. Shipping out just as fast as we can pack 'em up.
If you missed it, read our lengthy Backstreets Interview with Brian Hiatt: "The Stories Behind The Stories Behind the Songs."
- May 2, 2019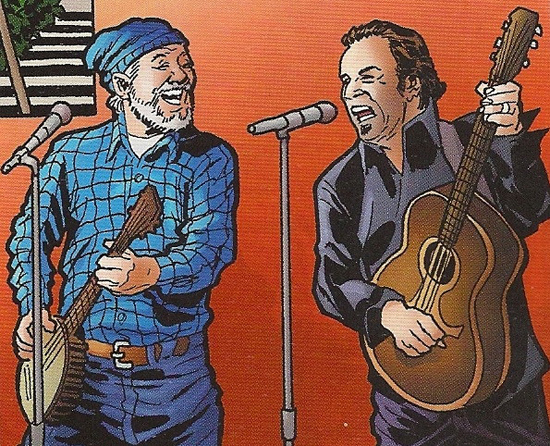 CELEBRATING SEEGER AT 100
This Friday, May 3, will mark the 100th anniversary of the birth of a real-life superhero: Pete Seeger. Seeger died in January 2014 at the ripe old age of 94, but his life and work continue to influence both music and politics all over the planet. Pete Seeger also remains the only artist for whom Bruce Springsteen has ever recorded an entire album's worth of songs in tribute: 2006's We Shall Overcome: The Seeger Sessions.
E Street Radio is starting the celebration a bit early and continuing it through the weekend. Beginning tomorrow, Thursday May 2, the satellite radio channel will air a special expanded edition of its fans-as-DJs program Be the Boss. This Seeger@100-themed episode will be hosted by blogger Ryan Hilligoss, with special contributions from Backstreets.com's own Shawn Poole, who recently sat down with Appleseed Recordings founder/president Jim Musselman [pictured below] to discuss Musselman's major role in getting Springsteen to begin recording material associated with Seeger. Excerpts from Poole's conversation with Musselman will be played throughout the show, along with plenty of great music, of course, including Appleseed's most recently released Springsteen recording of a Seeger song (co-written with fellow Weavers member Lee Hays), "If I Had a Hammer," available on Appleseed's 21st Anniversary: Roots and Branches.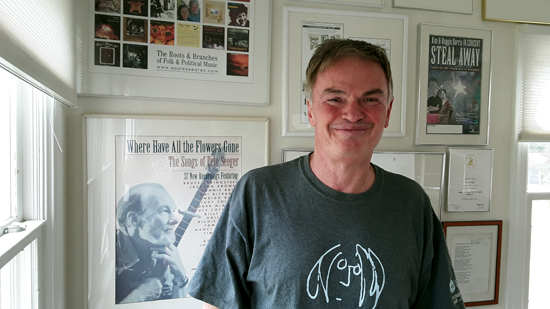 Here's a short preview of the show, with Jim Musselman talking about Pete Seeger's feelings on NBC News' post-9/11 usage of "We Shall Overcome," Springsteen's recordings and performances of songs associated with Seeger, and what it was like for Seeger to perform "This Land Is Your Land" with Springsteen at the 2009 inaugural ceremonies for newly elected President Obama:
Catch E Street Radio's special tribute to Pete Seeger at 100, airing exclusively on Sirius/XM channel 20 on Thursday May 2 at 5pm, Friday May 3 at 9am, and Saturday May 4 at 6pm (all times ET.) Also check out Ryan Hilligoss' blog entry adapted from the E Street Radio show's script, "The Power of Music: Pete Seeger and Bruce Springsteen"
- May 1, 2019 - comic panel from IDW's Barack Obama: The Comic Book Biography - photograph of Jim Musselman by Shawn Poole