WELL THE RANGERS HAVE A HOMECOMING...
And Mighty Max is driving his sleek machine, with his Jukebox as house band
On New Year's Day, Max Weinberg comes back to network television for the 2018 Bridgestone NHL Winter Classic, as Max Weinberg's Jukebox will serve as the house band at Citi Field. With the Buffalo Sabres and New York Rangers facing off at the home of the Mets for this outdoor game, Max's band will be playing throughout.
In keeping with his Jukebox shows, Max has been taking requests for this performance as well — you can vote in polls on Twitter and Facebook. And tune in to watch the live broadcast on NBC, Sportsnet and TVA Sports, on January 1 at 1pm Eastern.
The New Year's Day show kicks off another busy year for the Mighty One: Max is playing the City Winery NYC on January 3 with his five-piece Max Weinberg Jazz Quintet, and then again on January 4 with the Jukebox. View his 2018 schedule so far — with new dates being added weekly — at maxweinberg.com.
- December 29, 2017

TONIGHT, THE ROLE OF PATTI SPRINGSTEEN WILL BE PLAYED BY...
The show must go on, and of course with Springsteen on Broadway there are no understudies. Patti Scialfa has been ill and unable to perform the past couple nights (12/26 and 12/27), giving rise to a couple of changes in the set: following "Tenth Avenue Freeze-out," Springsteen replaced their duets with "The Ghost of Tom Joad" (which had been tried in previews) and "Long Time Comin'" (which had not).
With these first substantive changes to the performance since opening night, Springsteen talked a bit about fatherhood between the two songs (saying something to the effect of, "I guess I'll say something about the kids instead") after explaining that Patti had been sick over Christmas weekend. 'Tis the season.... flu season... and we wish her a speedy recovery.
See the Setlists page for these and other recent show reports,
as well as our review of Springsteen on Broadway
- December 28, 2017


MERRY CHRISTMAS, MERRY MERRY MERRY CHRISTMAS
It's so exciting, baby. After you've laughed and shaken like a bowlful of jelly, you can purchase Stevie's new single here. And further for your holiday playlist, ICYMI: from 9/20/78, the surprise new release in Bruce Springsteen's live archive series, "Santa Claus is Comin' to Town" is available as a free MP3. Merry Christmas and happy holidays to all!
- December 24, 2017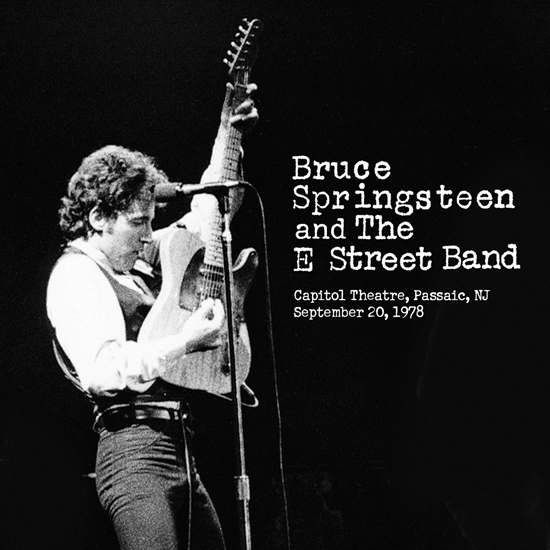 HAVE YOU HEARD THE NEWS?
Passaic '78 — second night! — released as holiday bonus
When it comes to discussions of Bruce Springsteen's greatest tour, the 1978 outing for Darkness on the Edge of Town usually tops the list. Many of its dates became legendary, not only because of the high-intensity performances, but also because of that tour's radio broadcasts. There were five that year, beginning in July at the Roxy in Los Angeles and going on through December at Winterland in San Francisco. To date, only one of these has seen an official, standalone release: the magnificent August 9 performance at Cleveland's Agora Ballroom.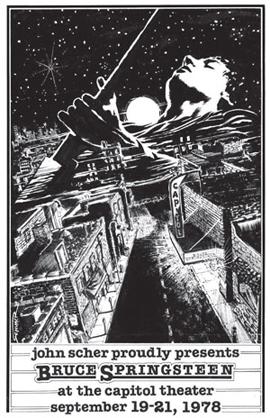 Enter our holiday gift from Springsteen and Nugs: a recording from September 20, 1978, at Passaic, New Jersey's, Capitol Theater. Separate from the First Friday release schedule, Passaic is a midwinter treat, an underheard Darkness gem that's proximal to a classic broadcast (September 19, also at the Capitol). It's the first complete 1978 show to come out as a fully-mixed document (the Agora relied on a two-track stereo mix, and the recent Promise companion audio set from the Houston Summit used soundman Bruce Jackson's front-of-hall mix). Bob Clearmountain returns to the console, reprising a role he's taken for Springsteen's studio and live recordings, and unveils something new in the process.
Right: artwork created for the Capitol Theater program by Arlen Schumer, who also designed the marquee for the stand
Before the last notes floated over the airwaves on the 19th, Passaic had made its first-ballot Hall of Fame case. But the three-night stand was just getting started. Springsteen led the 20th with a fun, humorous edge. "It's just me and you tonight," he says with a laugh, alluding to not being on the radio. Counting off "Good Rockin' Tonight," he points at the start to a set list that turns out to be less formal than the one from the night before. A rare-for-'78 "It's My Life" appears in the first set; after intermission, Springsteen adds the first "Santa Claus is Comin' to Town" since 1975 (complete with fake snow falling on stage). It's a rollicking version that sounds like it delights the band as much as it does the audience. New and unreleased songs include "Independence Day" and "Point Blank," both in fresh-off-the-line arrangements, and Springsteen steps out for an extended solo on an excellent take of "Because the Night."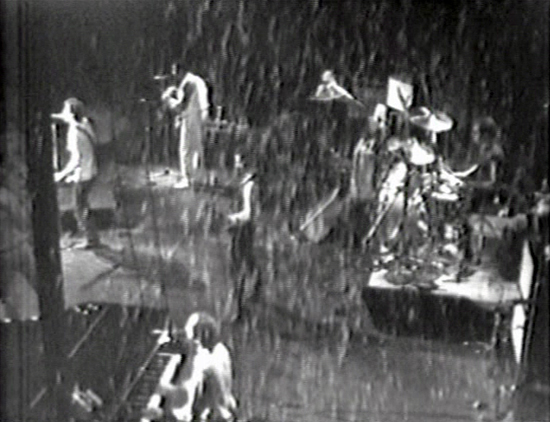 Through the "snow"... Santa Claus comes back to town after three years away, 9/20/78
Throughout, Springsteen is loose, making his way amiably through a steady stream of early birthday gifts from the audience (T-shirts, bourbon, junk food, and later, arguably the best one: a vinyl seven-inch single of Elvis Presley's "Follow That Dream," which Springsteen would cover in the '80s). Phil Petillo, the New Jersey-based luthier, gets a shout-out for his care and upkeep of Springsteen's trusty guitar, known as the Esquire. That inspired "Prove It All Night" (with its '78 intro, of course), dedicated to Petillo. The entirety is a classic Darkness performance, one that features more rarities than usual, including an intricate, jazzed "Kitty's Back" and the catch-it-if-you-can pairing of "Incident on 57th Street" and "Rosalta" to close the second set.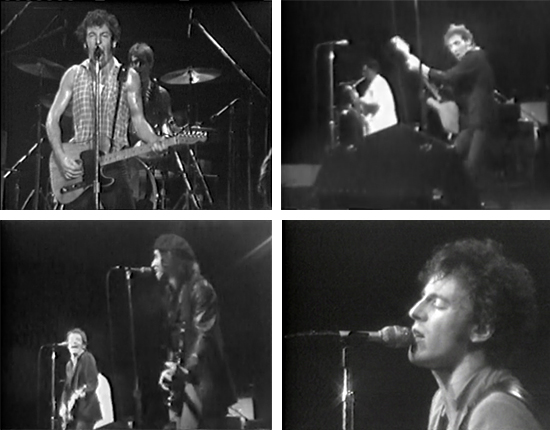 Before today's release, September 20 existed as an eminently watchable black-and-white video (from the Capitol's in-house system — spotting himself on a monitor during "Spirit in the Night," Springsteen stops and asks, "We're on the TV?" as he looks around for the camera). Separately-sourced audio, circulating as Douceur de Vivre, is outstanding (and so is its name, a clever night-two play on Piece de Resistance, the vinyl set of the previous night and one of the more famous bootlegs of all time). But even the most careful and attentive fan-based effort can't match the quality and dynamics contained by professionally recorded multi-track master tapes. Sourced this way, Passaic now has the hallmarks of an official live release, whether it's the separation between instruments, overall liveliness, or the lack of imperfections on the version (like dropouts and patches applied to make songs complete) that found its way to collectors.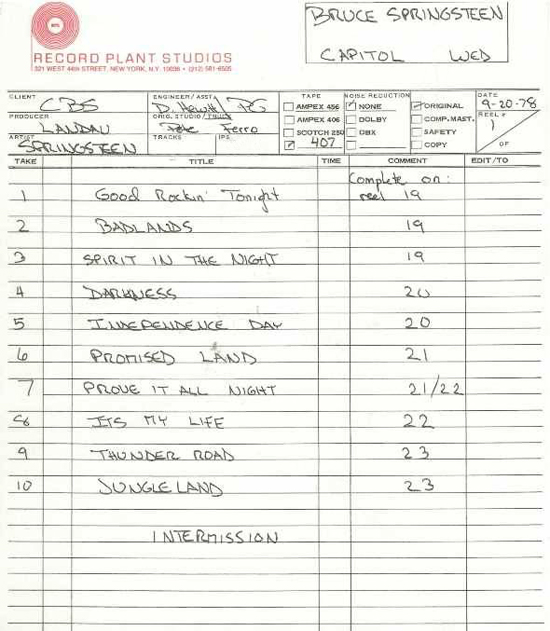 Each of the five broadcasts from '78 has its appeal, but Passaic is unique because New Jersey was home. Like the music and the mythology, the radio signal originated there. Whether on fans' tapes or bootleggers' vinyl, what people heard helped fuel the "you-have-to-see-him" ethos that carried Springsteen and the E Street Band into the '80s. In time, one could imagine a more prominent commercial role for something that was a Darkness-era standard bearer. But the archive series' design allows for that great second night, the one where the FM station played something else but the tape kept rolling in the truck outside. That's part of what makes September 20 a great choice, especially as a holiday surprise. The rest you'll have to hear for yourself.
- December 22, 2017 - Christopher Phillips and Jonathan Pont reporting


COUNTIN' ON OUR MIRACLES
On the first day of Christmas, E Street Radio plays commercial-free... 100 Springsteen songs, then some Southside on New Year's Eve!
The satellite radio channel recently collected from its listeners over 31,000 votes for their favorite Springsteen songs. Now Dave Marsh and Jim Rotolo will co-host The E Street Shuffle, a countdown of the top 100 vote recipients. It will feature songs introduced by the fans, including some famous fans like Kevin Bacon, Maria Bello, Roy Bittan, Ed Burns, Jake Clemons, Nils Lofgren, Michael J. Fox, Rob Lowe, and more.
The countdown debuts on Christmas Day at 9 am ET and will repeat continually through New Year's Eve at 10:30 pm ET. Then the channel will commence its annual live broadcast of Southside Johnny and the Asbury Jukes' New Year's Eve Show at Red Bank, NJ's Count Basie Theatre, with an encore presentation at noon ET on New Year's Day. Catch all the action on Sirius/XM channel 20.
- December 22, 2017 - Shawn Poole reporting

SOUTHSIDE JOHNNY TAKES A DETOUR FOR HIS SECOND RELEASE OF 2017
Catching up with the Grinch as a busy year nears its end
Legendary Jersey Shore icon Southside Johnny, along with his Asbury Jukes, have long been known for their associations with a broad array of genres, styles, and musicians with whom they collaborate. Add a new notch to that belt, as Southside recently released his highly-anticipated, sincere tribute to the incomparable Billie Holiday.
Detour Ahead: The Music of Billie Holiday, debuted November 24 on Leroy Records as part of Record Store Day's Black Friday offerings. Johnny tells Backstreets in a new interview, "This was very much a jazz-inflected album, so people took it seriously — which is against my nature." (He says half-seriously.)
The eight-song, vinyl LP was arranged, produced and mixed by longtime Asbury Jukes saxophonist John Isley and recorded in January 2017, featuring "Don't Explain," "Ain't Nobody's Business," "Lover Man," "Crazy He Calls Me," "Detour Ahead," "In My Solitude," "Billie's Blues," and "You Don't Know What Love Is." The CD version is set for release tomorrow; visit Southside's online shop here.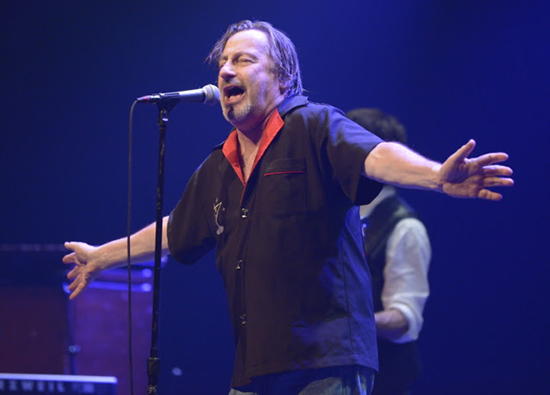 - Amsterdam, June 24, 2017 - photograph by Rene van Diemen
The Jukes have enjoyed a very busy 2017, with the continued success of their latest studio CD Soultime!, touring throughout the country, and performing overseas in London, Paris, Amsterdam, Tokyo and Osaka, Japan. Earlier this year, they also released a limited run EP, Live on E Street (also known as Live From 10th Avenue), recorded live at The Stone Pony. To wrap up the year, the Jukes are preparing to return to the Count Basie Theatre in Red Bank, NJ, for their annual New Year's Eve extravaganza on Sunday, December 31.
On his way to Virginia for back-to-back shows last week, Southside spoke via phone with Brandon Shaw for Backstreets about the new record, his longtime influences, and his intention not to slow down, now or ever. John called 32 hours prior to the scheduled call, explaining that he runs on "Southside time," which seems to be the free-flowing style with which Johnny Lyons lives his life. Following is an edited excerpt of that phone interview.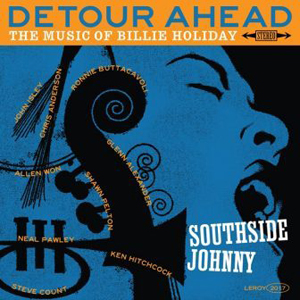 What was the impetus for the Billie Holiday record?
My parents loved Billie, and they would come home and play the records. I really had heard her voice since I was an infant. You know, this is very unique for me, it's a unique idea: There's no rock 'n' roll with these. The songs that she's associated with — of course, a lot of them I know, but a few of them I had to learn. This whole record was distinctive for me in that yes, in some ways it was very easy for me, but different than the Jukes records of the past: there was very little overdubbing, and it felt very natural. Old school, but in a way that fuels the recording, that makes it full and raw and is rare today but gives it that incredible sound.
It was more fulfilling — it's hard to say fun, but more enjoyable in the sense that you felt like you were creating something. Recording with the Jukes is usually more fun, obviously, more off the cuff; this was very much a jazz-inflected album, so people took it seriously — which is against my nature. I'm not sure recording ever felt more like work than it did on this particular record, but that is something that goes along with the nature of this music.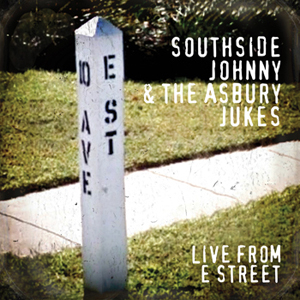 What's the story behind the Live on E Street record?
Every February, we do something for the fans at the Pony to break up winter. This year, we'll do love and not love songs, love good and bad at the Pony. Last year, I decided we'd do an E Street songs show. The entire set was songs that Bruce had written — some of which we had done before, obviously, like "The Fever" and "Sherry," but most were just new for us to learn and rehearse and to come out on the Shore and do. It came out well enough that we figured we'd put some of it out.
Steve Van Zandt has jumped back into his solo career, and you guys have played together a few times ths year — talk to me about his influence on you, how he's impacted your career and the Jukes.
Obviously, performing Steven's music live, his collaboration with me over the years, his friendship, has all been invaluable. I'm amazed at the productivity we've had, and the people who I'm surrounded with want to do great things, want to do musically interesting things. It's a cliche, but the people who are there with you really do shape the direction you take — or of course, in some cases, you don't. We've been blessed to have some of the best folks along for the ride.

- Asbury Park, April 21, 2017 - photograph by Mark Krajnak
Where do you see things going for the Jukes over the next decade or so? Do you feel some level of nostalgia, or are things just looking upwards and forwards?
If I have a whim, a crazy idea, these guys make it real, as I say. We're writing the next Jukes album right now. It has been a very productive ten years or more. It's gone a lot better than I ever imagined. I wanted to try and keep the band going, and we have. It's not really nostalgia — I'm just astonished that people know the songs!
You've collaborated, on record and on stage, with so many artists over the years. Anyone you'd like to write with, to perform with, to collaborate with, that you haven't yet had the opportunity?
Bonnie Raitt is probably among the top of the list, I'd love to do a duet with her; Ry Cooder, that whole kind of roots, great players stuff. We did a show with Jeff Beck — I played Saturday and he played Sunday — at one of these charity shows. I'd love to have him come up and play with us.
I love the charity things like that, it's for a good cause, but it's always fun, because people let loose and we do lots of strange things on stage. There's a freedom in that, the camaraderie of knowing these same Chuck Berry songs, these same Bo Diddley songs, you throw out anything and everyone can play it. That same enjoyment — of knowing most of the chords, and the thrill of learning those you may not know — draws back to my first point, of why this Billie Holiday record is so important, and so fulfilling to me.
I've seen you a few times out here on the West Coast: at the world famous Whiskey A Go Go, at The Canyon Club in Calabasas. The last time I saw you out here, Richie Sambora got up for "It's Been a Long Time," and a few more.
Again, back to the shared history. We all came up together, played the same bars, the same songs, went through many of the same challenges and enjoyed our successes together. So in each city, if there's someone that can get up and rock the joint with me, I love that. Obviously, Richie is ridiculously talented, and to be able to infuse that Jersey soul wherever we might be is great fun.
Next time, I want the three of us together on "Sherry Darling," please. Toss me a Telecaster and I'll fake my way through "The Fever" as well.
You, me, and Richie? Sure. Bring your own Tele, though.
- December 21, 2017 - Brandon Shaw reporting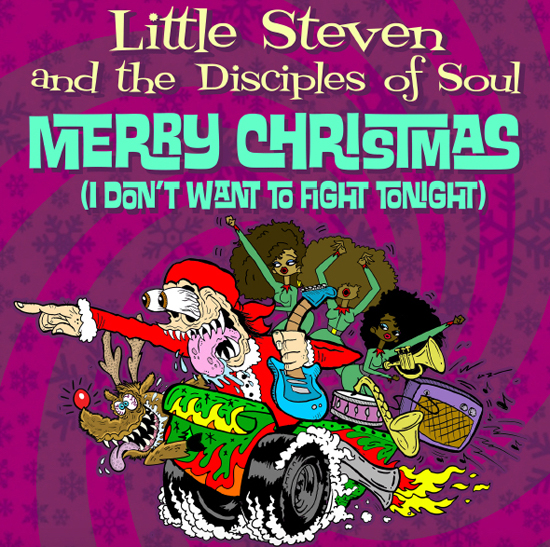 HEY! HO HO HO! LET'S GO!
Just in time for Christmas comes a wonderful new present from Little Steven and the Disciples of Soul. Their new single is a soulful, Spectorian, horns-laden version of the late, great Joey Ramone's "Merry Christmas (I Don't Want to Fight Tonight)," now available on multiple digital-music platforms. Click here to pick your option.
Recorded just last month during a soundcheck in Utrecht, Netherlands, Stevie's version of "Merry Christmas" clocks in at 5:05, over twice as long as the original Ramones recording. The additional length accommodates an additional verse:
Where is Frosty, baby, and his snow?
Where did all of the Christmas carolers go?
Where's the love, baby? Where's the peace from above?
"I channeled Joey," Steve told Rolling Stone, "and wrote what I feel is the third verse he would have written. His brother, Mickey [Leigh], heard the record and gave me his blessing."
The Ramones' original version of "Merry Christmas (I Don't Want to Fight Tonight)" was released in 1987 as the B-side of their "I Wanna Live" single and then in 1989 as the closing track of their Brain Drain album. It was produced by Disciples of Soul alumnus Jean Beauvoir.
Joey Ramone's ballad-tempo solo recording of the song (which also is over twice as long as the original Ramones recording) was released posthumously in 2002 on the EP Christmas Spirit... In My House. A decade later, a slightly tweaked version of that recording was included on Ramone's second posthumous solo album "...ya know?" Little Steven wrote that album's liner notes and contributed overdubbed performances on several of the album's tracks, though not "Merry Christmas."
Little Steven and the Disciples of Soul's "Merry Christmas" digital single comes with a digital booklet featuring artwork by Louis Arzonico. Arzonico did similarly styled artwork, inspired by Ed "Big Daddy" Roth, for the cover of Little Steven presents Christmas A Go Go. That 2008 compilation features some of Stevie's favorite Yuletide records, including of course the Ramones' version of "Merry Christmas."
Speaking of Christmas and Little Steven, his 2017 dates with the Disciples of Soul wrap up this week with two holiday-themed shows: the First Annual Holiday Bowl A Go Go at Brooklyn Bowl on December 20 and the Holiday Homecoming at Red Bank, NJ's Count Basie Theatre on December 23. Visit littlesteven.com for details.
- December 19, 2017 - Shawn Poole reporting

BRUCE BRUNCH BONUS
Hear Pat DiNizio perform "Downbound Train" and more from 2013
For this past Sunday's Bruce Brunch, host Tom Cunningham planned a tribute to the late Pat DiNizio, with an interview and performance from the archives. Unfortunately, due to a technical glitch, it was unable to run on the 105.7 The Hawk radio show. So we'll send it out here over the Backstreets airwaves — over to you, Tom.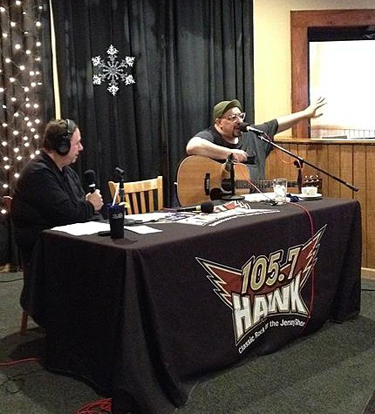 Pat DiNizio was the musical guest for the show's 10th anniversary wingding on December 8, 2013. We were live that morning at the River Rock in Bricktown and awash in drummers, with surprise guest Max Weinberg and a return appearance of the very first guest I'd ever had on the show, Vini Lopez. Stan Goldstein was on too, to talk about the book he co-authored with Jean Mikle, the latest edition of The Rock & Roll Tour of the Jersey Shore.
I'd long wanted to have Pat on the show, and it was worth the wait. The Smithereens are New Jersey rock 'n' roll royalty. Pat wore Jersey on his sleeve — both of them, actually. I had the good fortune to have had a front row seat as their albums on Capitol began to be released beginning in 1986. Their songs always jumped out of the radio, and we took great pride in helping to break them out of Jersey at WPST, where at that point I was the music director and eventually program director.
They'd recorded a version of "Downbound Train" for the 1997 Why Hunger Year project One Step Up/Two Steps Back: The Songs of Bruce Springsteen. This was the first time that Pat performed it live by himself. He also graced up with a killer version the band's "Blood and Roses."
Thanks to Gary Titus for all his help pulling this together. And thanks, Pat DiNizio — a man who could turn pop songs into rock songs and make sweet music that'll last the test of time.

- December 19, 2017

MAKING A LIST, CHECKING IT THRICE, FOR TOMORROW'S ONSALE
Are you Verifed? Have you even been Verified? Well, watch your email.
Tickets for Springsteen on Broadway's new dates, for the extended run through June 30, will go on sale Tuesday, December 19 — to a pool of fans who had already registered and been authenticated for Verified Fan earlier this fall. With so many already-Verified Fans still without tickets, the powers-that-be elected not to reopen registration for this third onsale. As The Guardian notes, "the list — run by Ticketmaster's Verified Fan process — is closed, and is likely to remain so."
As for who on that list will get a code, the selection process is again random. As with previous Springsteen on Broadway onsales, notification emails are sent out the night before the sale — that's tonight — to those selected for codes:
If you've been authenticated by Ticketmaster Verified Fan, you'll receive an email on December 18 confirming if you've been randomly chosen to receive a code. Those Verified Fans with codes are then eligible to purchase tickets when they go on sale December 19; however, receiving a code does not guarantee you'll get tickets.
For any further clarifications, we point you to Bruce Springsteen's Facebook page, where the Springsteen Team have been responding in the comments to questions about the process.
- December 18, 2017

'TWAS THE WEEK BEFORE CHRISTMAS...
Still holiday shopping? We've got you covered!
If you're still looking for the perfect gift for your favorite Springsteen fan, be sure to visit our online shop — and yes, there's still time! Our Standard Shipping deadline has passed, but using our Expedited Shipping services, Backstreet Records can deliver via UPS to any U.S. address in one or two days, and we'll be working this week to make sure everyone gets what they need. Expedited orders placed by 2:00 p.m. Eastern will ship the same day.
For delivery on:
Order by:
Expedited Shipping
Wednesday, 12/20
Tuesday, 12/19, 2:00 p.m.
Overnight
Thursday, 12/21
Tuesday, 12/19, 2:00 p.m.
Wednesday, 12/20, 2:00 p.m.
2-Day
Overnight
Friday, 12/22
Wednesday, 12/20, 2:00 p.m.
Thursday, 12/21, 2:00 p.m.
2-Day
Overnight
Two-day shipping adds $25 to standard shipping charges; Overnight adds $60. Just make sure to specify a street address, as UPS can't deliver to PO boxes.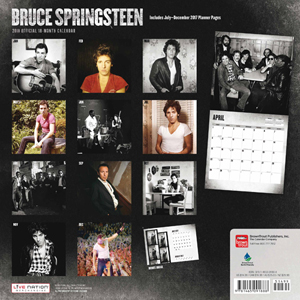 Please note: the one item that can't be guaranteed by Christmas is Frank Stefanko's Further Up the Road, which ships directly to our customers from the publisher in Italy.
But everything else we offer is here on our warehouse shelves at Backstreets HQ and ready to ship, including copies of the official Bruce Springsteen calendar for the new year, always a hit.
View our Latest Additions page to see what else is new.
For all U.S. customers who ordered Standard Shipping by December 12: as promised, your items are scheduled for delivery prior to Christmas. As always, we appreciate you getting your Boss fix through us!
- December 18, 2017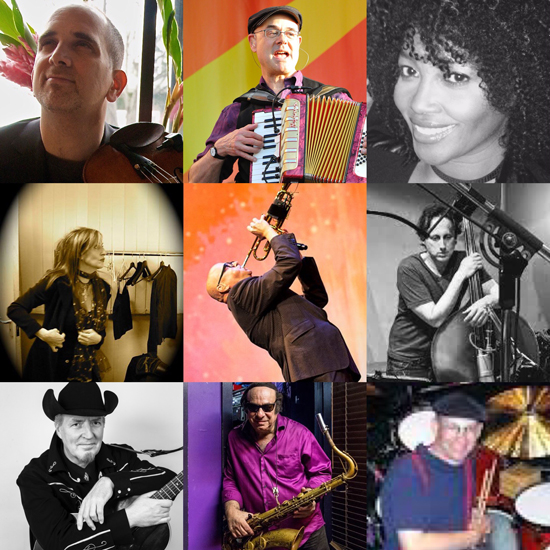 WHAT ARE YOU DOING NEW YEAR'S EVE?
At NYC's Tribeca Grill, you can party like it's 2006
Another mini-reunion of the Seeger Sessions Band is just a couple weeks away. After much of the gang got back together in 2015 for the Kristen Ann Carr Fund's A Night to Remember, they're doing it again at Tribeca Grill for New Year's Eve.
An evening of dining and music at the New York resturant on December 31 includes a five-course menu and a live performance by The Big Band, a group put together for this event by Sessions Band fiddler Sam Bardfeld.
Restaurateur (and longtime Bruce Springsteen fan) Drew Nieporent called Sam up about six weeks back, hoping he could put something together for New Year's Eve that was "in the spirit of the Seeger Sessions project."
Bardfeld tells Backstreets, "It was impossible to get all 18 of us — and that one singer dude was especially pesky about not missing his gig uptown — but I'm real excited about our nine-piece band.
"Seven out of the nine of us are Bruce associates and Sessions Band members," Sam continues, "including Cindy Mizelle, one of the greatest singers in the world; Mark 'Loveman' Pender (trumpet/vocals); original Sessionette Lisa Lowell (vocals); Charlie Giordano (accordion); Jeremy Chatzky (bass); Larry Eagle (drums); and myself on fiddle." Those Sessions players will be joined by Arno Hecht on tenor sax (Rolling Stones, Tom Waits, etc.) and Gene Casey (The Lone Sharks) on guitar and vocals.
"Mark Pender is flying in from L.A. just for the occasion, and we're all excited to be making music together — and who knows, maybe we'll have a guest or two."
Much like the original Sessions Band, The Big Band will be serving up a mix of American genres: "We'll be focusing on American roots and soul music from about 1945-1970," says Sam, "with a special nod to music from New Orleans and Memphis, and we're planning on burning the house down. So we'll go from zydeco, rockabilly, Irma Thomas, Big Mama Thornton and Louis Jordan up through Dusty Springfield, Tina/Ike Turner and The Band."
The five-course dinner and the evening's entertainment is priced at $195 per guest (exclusive of beverages, tax & gratuity). Reservations can be made by calling (212) 941-3900.
- December 17, 2017


ESPECIALLY FOR YOU
Pat DiNizio, 1955-2017
The Smithereens were always accessible, with little to divide them from their audience. After forming in New Jersey in 1980, they enjoyed modest success, though they weren't a "college" band like R.E.M. and would never get as big, either. They never got the cred that a band like The Replacements had in the '80s or Uncle Tupelo did in the '90s. But they made good records, played great live shows, and, being from New Jersey, they rocked it like they walked it, never in anyone's shadow.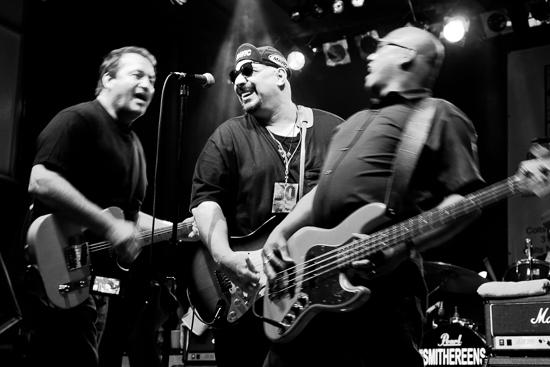 Any shadow they cast was their own, and even within their range, the darkness gave songwriter Pat DiNizio a pretty cool palette to work with. He cut his teeth on The Beatles and Buddy Holly and found inspiration in the works of Japanese writer Yukio Mishima and film noir, which found their way into songs like "In a Lonely Place," "Spellbound," and "Evening Dress." DiNizio's songs brimmed with messy love affairs, that one last cigarette, and sad endings. Some of that played out in the band's commercial life: catchy songs and the odd Top 40 hit — "A Girl Like You," from 1989's Smithereens 11 — never translated into huge sales. Which in the case of that record or the one before, 1988's Green Thoughts, is really too bad.
Being a New Jersey band in the mid-'80s could have been a dicey proposition. But the Smithereens sounded nothing like Bruce Springsteen and had loads of talent and plenty of hooks to help them forge a place. Dennis Diken is a first-rate music historian and a powerful drummer: listen to his fills at the end of "Room Without a View." Guitarist Jim Babjak is as good as any other, and DiNizio consistently wrote good songs, sometimes great ones. They had far more in common with The Kinks and The Who than they ever did with Bruce Springsteen (their cover of "Downbound Train" will tell you as much). Nirvana admired them: as the story goes, the Smithereens' pop sensibility followed the band from a tape played repeatedly in their van to Van Nuys, where they recorded Nevermind. Kurt Cobain knew good music when he heard it, especially when it was just beyond the grasp of the mainstream.
But to the end, the Smithereens worked their asses off and their fans loved them for it. After its initial success, the band endured a cultural shift toward "alternative" music, and later, the departure of founding bass player Mike Mesaros and DiNizio's health struggles. Through it all, they chugged along, making a Christmas record here, a tribute to The Who's Tommy there, and gigged regularly. DiNizio appeared in a one-man musical and spoken-word retrospective, toured the country as a house concert mainstay, and ran for public office.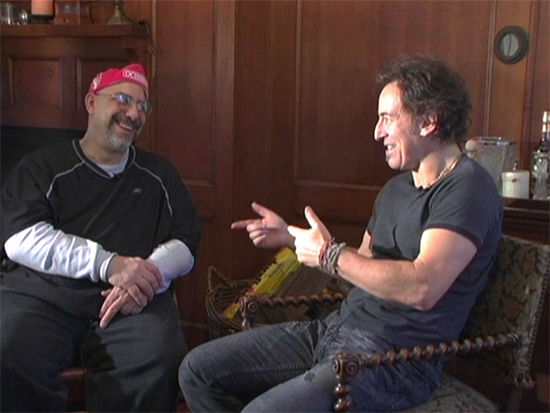 - Pat DiNizio and Bruce Springsteen in a still from 7th Inning Stretch
In 2006, DiNizio pursued a "vision quest" to play minor league baseball; that story was documented in an ESPN special 7th Inning Stretch, and featured his pal Bruce Springsteen. You can watch the entire documentary here. The Smithereens and Springsteen crossed paths, but never in an opening-band capacity, at least as far back as 1992. Early that year, DiNizio told Rita Wilde on the radio call-in program Rockline that they'd only visited while working at A&M Studios in Hollywood.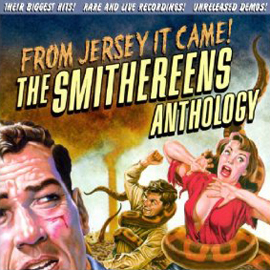 A couple of months ago, DiNizio announced intentions to turn his childhood house (and birthplace of the Smithereens) in his Scotch Plains, New Jersey hometown into a space for music. Whether in rock or in the community, his heart was in the right place. In fact, his presence on the Jersey Shore was consistent in his last years. He not only performed a weekly show in Asbury Park, but also at Light of Day benefits. The Smithereens headlined Bob's Birthday Bash in 2016. That fit exactly for a band that called a 2004 compilation From Jersey It Came!
Rock in peace, Pat DiNizio.
- December 15, 2017 - Jonathan Pont reporting - photographs by A.M. Saddler


- December 14, 2017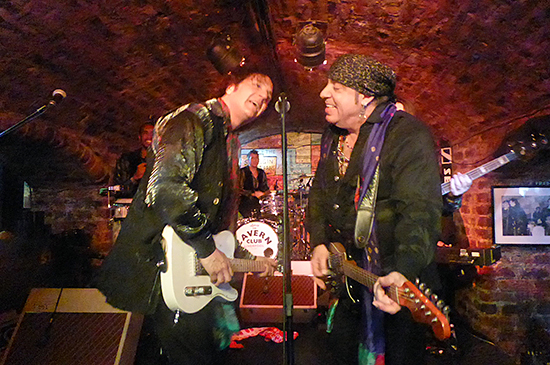 LITTLE STEVEN'S FAB FOURTEEN STAGE NEW BRITISH INVASION
A roundup of the Disciples of Soul's just-wrapped European tour
A strong sense of popular music history and the enduring influence of The Beatles loomed large over the recent U.K. tour by Little Steven and the Disciples of Soul, their first since 1987 and their longest since the original band's debut tour in 1983. Between November 4 and 16, they played seven shows (six in England and one in Scotland) in the country that exported so much timeless music to the world over half a century ago. Effectively staging a British Invasion in reverse, they walked onstage each night to the sitar-dominated sounds of the Beatles' "The Inner Light," the George Harrison-composed, 1968 B-side to "Lady Madonna."...
- December 13, 2017 - reporting and photographs by Mike Saunders

FOR MY CHILD AND YOUR CHILD, TOO
E-Street-Meets-Broadway music from Christmas Past, featuring Everett "Papadelic" Bradley
Springsteen on Broadway is hardly the first time that E Street has intersected with The Great White Way. Both before and after they joined the E Street Band, several members established Broadway ties. Back in the early 1970s, the pre-E Street Roy Bittan and Max Weinberg could be found working in the orchestra pit for Broadway productions like Godspell. In 2013, Steven Van Zandt and his collaborators brought The Rascals: Once Upon a Dream to Broadway, and Stevie has since continued to explore production of other Broadway and off-Broadway shows.
No other E Streeter, however, can top E Street percussionist Everett Bradley's Broadway credentials. Long active in live theater both on and off-Broadway, Everett received the prestigious Theater World Award in 2000 for his debut Broadway performance in Swing!, the musical to which he also contributed arrangements.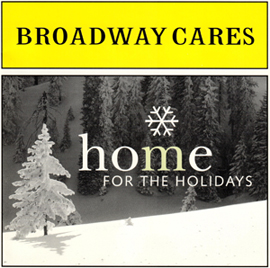 A year later, Everett was featured on the benefit CD Broadway Cares: Home for the Holidays. He joined many other Broadway figures in the 2001 yuletide compilation to support Broadway Cares/Equity Fights AIDS — the same organization for which Springsteen recently raised more than a million dollars with his Broadway opening. Everett's contribution to the holiday album was a version of the classic Bowie/Crosby duet "Peace on Earth/Little Drummer Boy," recorded with Broadway star Anthony Rapp, who made headlines recently as one of the Silence Breakers.
Seventeen Christmastimes later, you still can purchase the Broadway Cares: Home for the Holidays CD and support Broadway Cares/Equity Fights AIDS. Click here to purchase the CD. You also can get the album or just Everett's track through Apple Music or as an iTunes download. Click here to link to the album/track via Apple Music or the iTunes store.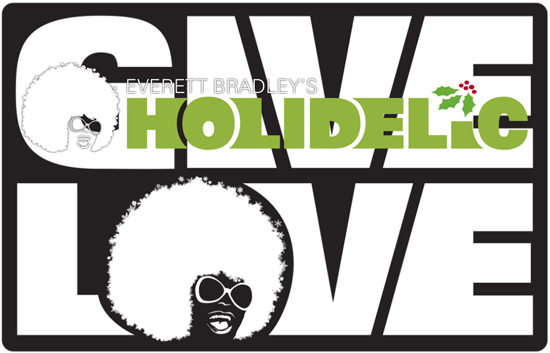 And as for Christmas Present (as well as Hanukkah Present and Kwanzaa Present), Everett Bradley once again is transforming himself into "Papadelic" and presiding over Holidelic, Bradley's wonderful annual "holiday funk-tacular... a show for all races, creeds and lifestyles... even for all ages with a little parental guidance!" Click here for tickets and further information.
- December 12, 2017 - Shawn Poole reporting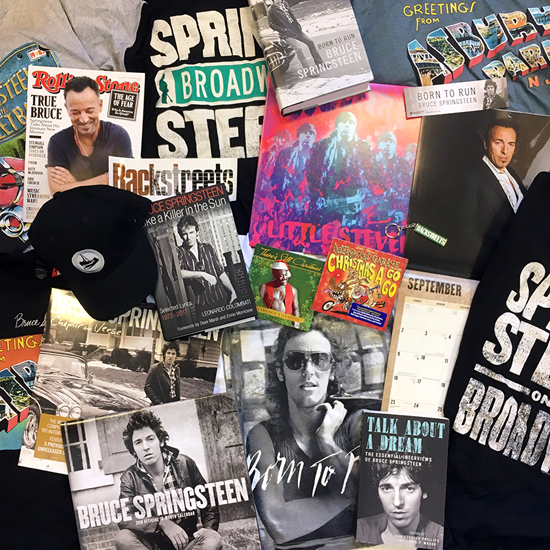 HOLIDAY SHOPPING AT BACKSTREET RECORDS:
ORDER BY MIDNIGHT TUESDAY FOR PRE-CHRISTMAS DELIVERY
This year, we're guaranteeing pre-Christmas arrival for all orders placed by December 12 that are shipping to U.S. destinations. So if you're still in need of some Boss holiday gifts from Backstreet Records, Tuesday is the "Standard Shipping" deadline. (We can't guarantee arrival times outside of the U.S., due to customs, but we'll be working hard to ship orders out to everyone as quickly as possible.)
If you wind up ordering later and need something prior to Christmas, you can always select "Expedited Shipping" to have it in one or two days within the U.S... but ordering by midnight tomorrow will save you some serious dough on postage.
Check out lots of new T-shirts in stock, the official 2018 Springsteen calendar from Thrill Hill, signed copies of Like a Killer in the Sun, and other new Boss books, CDs, records and more in our Latest Additions section... plus many more categories to peruse:
Concert Shirts • Concert Souvenirs • Signed Items
CDs - Springsteen • CDs - Covers/Tributes • CDs - Other Artists
Vinyl • DVD/Blu-ray • Posters & Prints • Calendars
Books • Songbooks / Sheet Music • Promo / Other
Magazines • Backstreets Back Issues • Backstreets Merch
Thanks for supporting Backstreets and shopping with us!
- December 11, 2017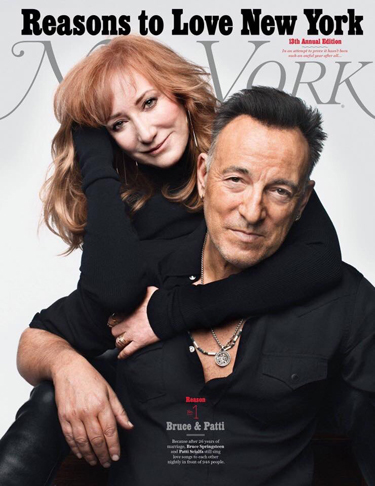 NEW YORK SERENADES THE SPRINGSTEENS
"In an attempt to prove it hasn't been such an awful year after all," New York magazine presents its 13th Annual "Reasons to Love New York" list.
Not only making the list but featured on one of three covers for this issue as "Reason No. 1": Bruce and Patti Springsteen.
"Because after 26 years of marriage, Bruce Springsteen and Patti Scialfa still sing love songs to each other on Broadway — and their run was extended for four more months."
Click here for the full listand more great photography from Danny Clinch.
- December 11, 2017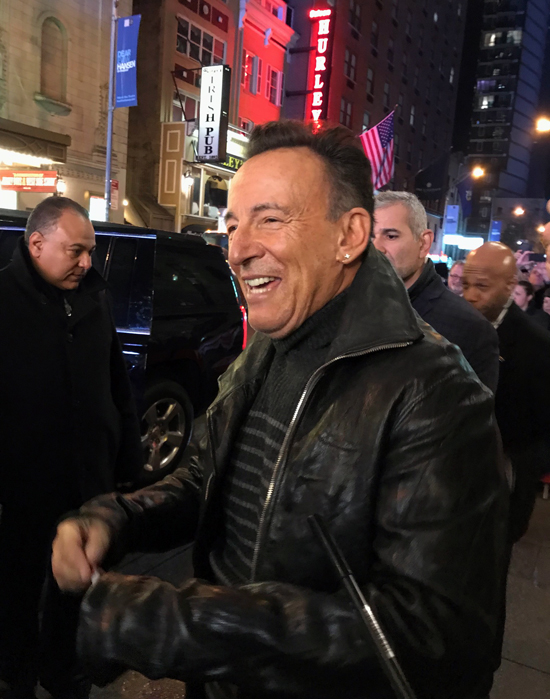 BRUCE SPRINGSTEEN IS MOST INTRIGUING
We knew that, but People makes it official as year-end lists start rolling in. Bruce Springsteen leads off their 2017 list of 25 Most Intriguing People of the year, "the heroes, icons, and shining stars who helped shape society and light up a dark time." People writes, "Is there anything the Boss can't do? He's got the rock star thing down, his 2016 memoir topped bestseller lists, and now he's the hottest ticket on the Great White Way."
Springsteen tells the magazine, "I've got a job where thousands of people call my name. Why would I retire from that?"
- December 8, 2017 - photograph by Jim Shive

THROWBACK THURSDAY: SURPRISE, SURPRISE (SURPRISE!)
That time when Springsteen became Jim Nabors' "opening act"
The passing of Jim Nabors last week brought to mind one of the strangest, funniest Springsteen stories we ever reported in Backstreets. On the weekend of August 8, 1996, Bruce attended the wedding of Toby Scott in Whitefish, Montana and performed at the reception with local band The Fanatics. Their 40-minute set included rock and soul classics like "Around and Around," "You Send Me," "Hold On, I'm Coming," "Mustang Sally," "Long Tall Sally," and "Shake, Rattle and Roll."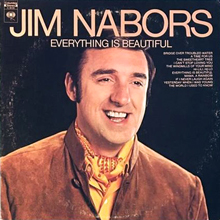 Among the celebrities attending the reception were Dave Clark (who later would perform his Dave Clark Five classic "Because" with The Fanatics,) Danny DeVito, Rhea Pearlman... and longtime Whitefish resident Jim Nabors.
After Bruce left the stage, as Charles R. Cross reported in Backstreets #54, "Jim Nabors joined the band — apparently on his own accord — and proceeded to reprise 'Long Tall Sally,' thanking Bruce 'for being such a great opening act.'"
We're not sure which concept is odder: that of Bruce Springsteen opening for Jim Nabors, or that of Nabors actually performing his own version of "Long Tall Sally." No matter how you slice it, this story still delivers some chuckles over two decades later. Thanks for that, "Gomer," and rest in peace.
- December 7, 2017 - Shawn Poole reporting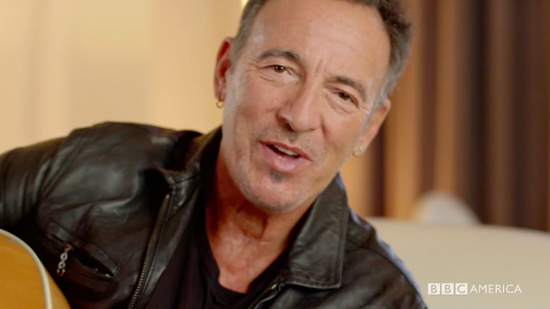 BRUCE AT THE BEEB
Finally the U.S. is ready for Bruce Springsteen: In His Own Words. Through Christmas Day, U.S. cable/satellite customers with access to BBC America can catch the 2016 British documentary both on-demand and online: click here to stream.
After airing in the U.K. a year ago, and on HBO Canada in May, Bruce Springsteen: In His Own Words made its BBC America debut on November 26. It was directed by Nigel Cole and is a collaborative effort between London-based Lonesome Pine Productions and Springsteen's own Thrill Hill Productions.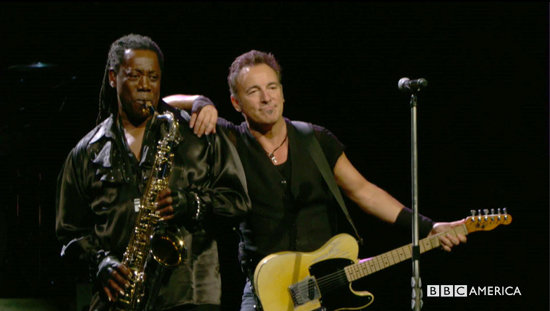 The 70-minute film offers an overview of Bruce's life and career centered around the structure of his Born to Run autobiography. It includes extensive footage from a 2016 conversation with Springsteen that Thom Zimny conducted and filmed specifically for In His Own Words, as well as many clips from the official Thrill Hill film/video archives, some of which have never been released previously.
- December 6, 2017 - Shawn Poole reporting


TONIGHT: LITTLE STEVEN ON DAN RATHER'S THE BIG INTERVIEW
If you've got AXS TV, tune in tonight for the premiere of Steven Van Zandt on The Big Interview with Dan Rather at 9pm Eastern/8pm Central. A sneak peek above has Stevie talking about his conversion to the religion of rock 'n' roll and his relationship with Bruce Springsteen: "We really couldn't do anything else... were the last two guys left standing when everybody else took a job." If, like many of us, you don't have access to AXS, you can buy episodes online for two bucks apiece.
- December 5, 2017


YOU BETTER WATCH OUT, YOU BETTER NOT CRY...
"You better not lie to the F.B.I...." Jimmy Fallon revisits a favorite impression with "Robert Mueller's Comin' to Town" from last night's The Tonight Show.
- December 5, 2017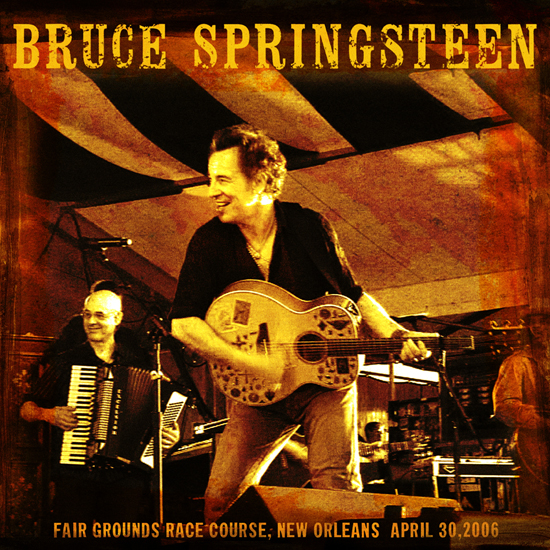 JAZZ FEST 2006 RISES UP FOR FIRST FRIDAY
New live archive release captures a "defining musical moment" for both Bruce Springsteen and New Orleans
The 2006 edition of the New Orleans Jazz and Heritage Festival, the first time Bruce Springsteen appeared at that venerable event, came very close to not happening. In the aftermath of Hurricane Katrina and Hurricane Rita, the New Orleans Fair Grounds Race Course, where the festival had taken place since 1972, was in rough shape. Five feet of sludgy water had flooded the grassy infield and dirt-track perimeter, wind had torn gaping holes in the roofs of buildings, and plumbing and electrical systems were wrecked. Even beyond the ravaged festival grounds, which would take an as-yet-unassessed but surely huge amount of time and money to repair, there was the city itself to consider: basic services like water, transportation, hospitals and police were wobbly, not to mention hotels and restaurants.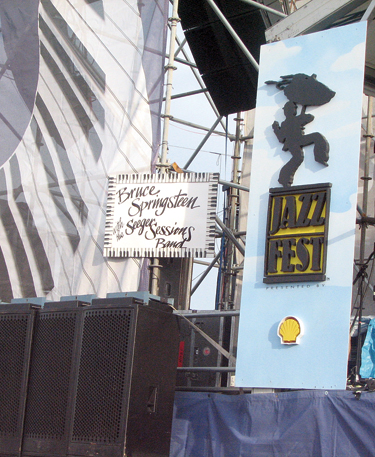 A couple of New Orleans' other major festivals decided to either take a powder for the year or heavily modify their presence. Essence Fest (which was also produced at the time by Jazz Fest producer and director Quint Davis) held its 2006 event in Houston, and the Voodoo Music Experience put on a free, scaled-down version of its show. Even the Mardi Gras parade schedule was shrunk to accommodate diminished resources.
But Jazz Fest decided to press forward and make it happen. The initial lineup, announced in early February, actually didn't include Bruce Springsteen. According to longtime New Orleans music critic Keith Spera's 2011 book Groove, Interrupted, which chronicles the first few years of recovery and rebuilding post-Katrina in the New Orleans music community, it took some convincing. First, Wynton Marsalis wrote a letter to the Springsteen camp encouraging him to perform. Then, at rehearsals for the 2006 Grammy Awards telecast — where Springsteen performed with a gang of both New Orleanians and passionate fans of the city's music, including Dr. John, Irma Thomas, Allen Toussaint, Elvis Costello and Bonnie Raitt — Quint Davis repeated the invitation to Bruce in person, while telecast producer Ken Ehrlich urged his management to consider the gig.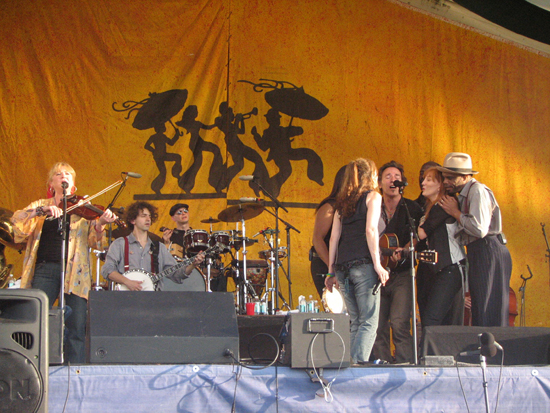 Apparently, the question really wasn't the tenuous state of the city. The Seeger Sessions album was set for release April 25, 2006, the same week that Jazz Fest (which always takes place during the last weekend of April and the first weekend of May) was set to open. The headlining festival slot on Sunday, April 30 would be the official start of Springsteen's tour and the launch for the album.
"Would [the] new Seeger Sessions band," Spera wrote, "be ready in time?" As we know now, of course, they weren't just ready; they presided over a perfect storm of sound and emotion that's gone down in the New Orleans history books as one of that city's defining musical moments.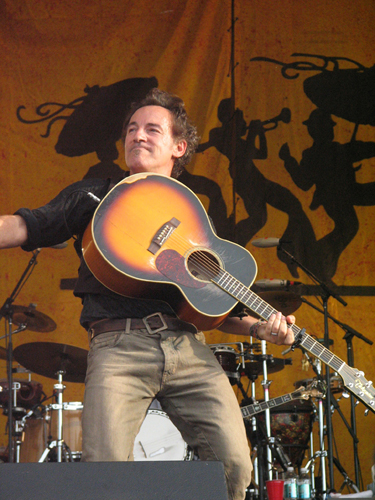 Today, that complete performance becomes the new entry in Springsteen's live archive series: Fair Grounds Race Course, New Orleans April 30, 2006. This is the first archive release featuring the Sessions Band, joining Live in Dublin as an official document of Springsteen's sui generis 2006 tour and capturing one of his most acclaimed concerts of the new millennium. The music speaks for itself, but the context of the performance, the momentousness of the occasion, has a powerful bearing on this set like none other yet in the series.
In April 2006, eight months after the floods, New Orleanians were feeling rough, raw and battered. They had lost homes and jobs. Plenty had lost friends and relatives — the sick and elderly, and those without the means to evacuate — to the water itself, the stifling heat, or to the lingering effects of the trauma. They had watched, horrified, on motel room TVs, as their neighbors sat trapped on rooftops and highway overpasses for days on end, hoping for some kind of rescue or response, steaming in the August humidity, or they had waited on those rooftops and overpasses themselves. They heard themselves called "refugees," on the news, in their own country. They listened to pundits blaming them for living there in the first place and debating whether the city should be rebuilt at all.
Jazz Fest is the peak of the embarrassment of riches that is the New Orleans live music calendar, and serves as a sort of microcosm of the whole city: two main stages host marquee guests like Springsteen, and the rest of it is given over to zydeco, gospel, blues, traditional and contemporary jazz; artisans demonstrate how to carve a pirogue; chefs sell gumbo, crawfish, and trout sautéed as elegantly as in one of the city's old-line Creole dining palaces. Second-line clubs and Mardi Gras Indians parade through the grounds. To have it return, when the real-life health of all those traditions was so shaky, was going to be intensely powerful already.
The plainspoken songs on We Shall Overcome: The Seeger Sessions, vernacular folk and gospel tunes, were adopted by Pete Seeger into his repertoire because of their deep, DNA-level place in the body of American music: the way they harnessed the beauty of the country and its people at their best, championed them, and sought to buoy them up when they faced hardship. Lord knows New Orleans needed that: songs that sounded like they knew what we were going through, songs we could get angry to, songs that reminded us that some things were still beautiful.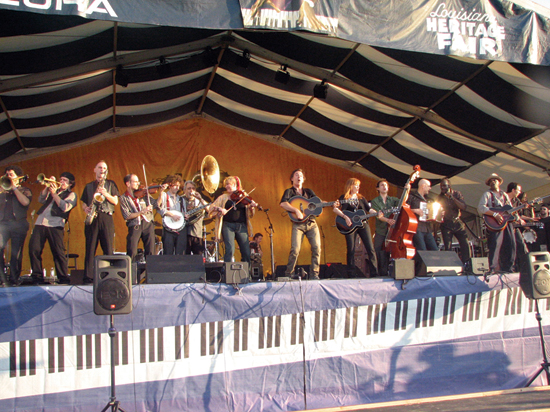 Some of the Seeger Sessions songs, like the opening "O Mary Don't You Weep," with its old-time jazz horn and barrelhouse piano, and Springsteen's own "You Can Look (But You Better Not Touch)," reworked with bouncy zydeco accordion and scratching washboard, had New Orleans and Louisiana sonic signifiers that made them feel personal. Other songs in the two-hour set took on extra resonance the way every heartbreak song feels like it's about you when you're going through a breakup, except more so. "My City of Ruins" in particular, with its images of rain, wind and empty streets — punctuated by the repeated "rise up!" — was chilling and cathartic.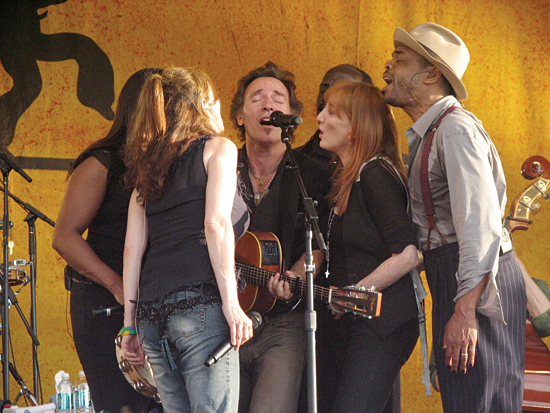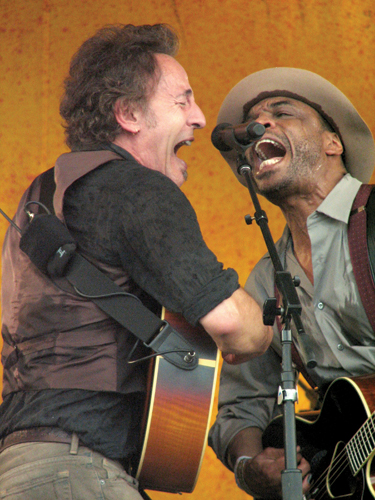 One of the most intense moments of the show resonated all the more, with those who were there, for feeling like it was about the people who couldn't be. Huge swaths of the population were still scattered around the U.S., their homes gone or in the case of public housing dwellers, shuttered; many of those who fell victim to the water and the heat, of course, were the poorest of the poor. "How Can a Poor Man Stand Such Times and Live?" was a fierce rallying cry, with new lyrics written in response to the Katrina debacle: "Them who's got, got out of town, those who ain't got left to drown." Bruce, who had toured the wreckage in the Lower Ninth Ward the day before the show, said he'd seen "sights I never thought I'd see in an American city. The criminal ineptitude makes you furious." Jabbing at George W. Bush's lackluster response to the emergency, he dedicated the song to "President Bystander." The jangling bombast of the performance felt like a punk anthem.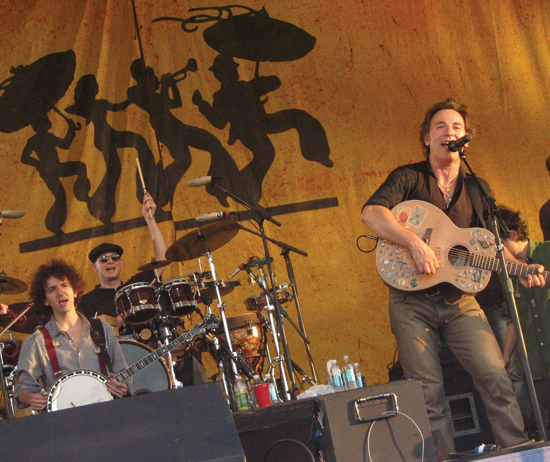 What turned out to be a legendary Jazz Fest moment, not to mention one of the most storied Springsteen shows in recent years, didn't get there easily, though. It was a relatively sparse crowd for the mainstage; the event as a whole saw an understandable dip in attendance that year. Those who made it out that Sunday, even the Bruce diehards, were still seeing a new band playing a set of largely new material in the always-tricky setting of an outdoor festival, with its particular acoustic challenges. The band had to work hard to get the vibe rolling, and work they did — not just because, with a long tour ahead, they had to get the show in shape, but because, as Springsteen wrote later, they knew how much it meant. In Born to Run, Bruce writes that the 2006 Fest set was "not only one of the finest of but one of the most meaningful of my work life."
"I understood the great symbolism the festival would have to New Orleans that year and I wanted to make sure we honored it," he went on. "They'd been through hell, with half the population lost, their city destroyed; people would be attending for deep, deep reasons and that would need to be taken into consideration."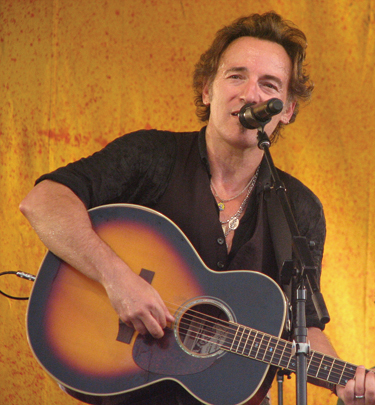 It was those feelings, meditating on the heavy task facing him on the Jazz Fest stage, he wrote, that led him to study "When the Saints Go Marching In" — which is, as he writes, "the city's unofficial theme song."
A church tune, in New Orleans (and by bands seeking to evoke a New Orleans good-time vibe) "When the Saints Go Marching In" is most often played in rollicking, hanky-waving, upbeat second-line style, but Springsteen reimagined it: he played it as a wistful, acoustic-guitar-led coda to the set, half-whispering the less-commonly-sung lyrics he'd sought out. It felt like a promise, as he sang "Now some say this world of trouble / is the only one we'll ever see / But I'm waiting for that morning / when the new world is revealed."
Listening to Bruce close with that gospel song, as the audience generated as much sobbing as applause, it felt like a reminder of how music unlocks our most primal emotions — especially when we experience it together. Every live recording, of course, is unique, but the New Orleans 2006 Jazz Fest set is something else entirely: a snapshot of raw joy and pain, anger and uncertainty, true American history caught on tape.
- December 1, 2017 - Alison Fensterstock reporting - photographs by Ruth Barohn

WHEN THAT TRUMPET SOUNDS
Backstreets reconnects with Steve Paraczky, horn player on the '76/77 tour
"I'll never forget that first night in the Phoenix Coliseum. I had to play the intro to 'Something in the Night' with Roy Bittan. I was shaking in my boots. All I could see was an ocean of faces. Pretty scary stuff for a 21-year-old."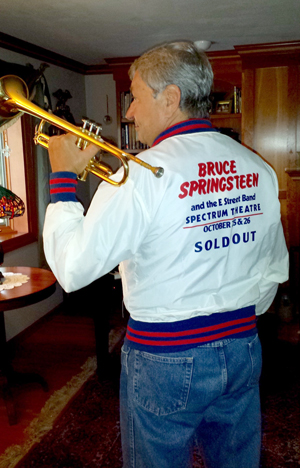 That nervous 21-year-old was Steve Paraczky, one of two trumpet players in the four-piece Miami Horns line-up that took part in Bruce Springsteen's "lawsuit tours" in late 1976 and early 1977. The recent release of live 1977 recordings from Albany and Rochester has thrown those 40-year-old concerts into sharper focus, allowing long term fans, new converts, and Paraczky himself to hear high-quality audio from that period for the first time.
Steve first shared his memories with Mike Saunders in Backstreets #88. Now, in the wake of those 1977 releases, Mike and Steve have worked together again to expand and update the original interview, which provides a fascinating glimpse into life on tour with Bruce Springsteen and the E Street Band in the mid-'70s.
"It was a wonderful life experience," says Steve. "A little overwhelming, although it was the right time in my life to do it. It was great fun being a rocker for a while. Wish it could have lasted a lot longer!"
Read the full Backstreets Interview with Steve Paraczky
- November 30, 2017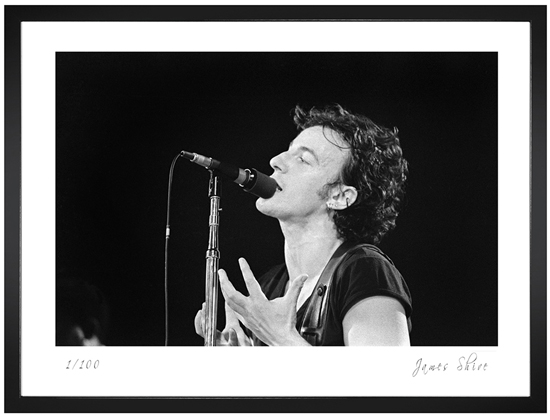 "THE 1977 COLLECTION" FROM PHOTOGRAPHER JIM SHIVE
Every year at this festive time, rock photographer Jim Shive — a longtime contributor to Backstreets — digs deep into his vast archive of rock 'n' roll images for some special prints of Bruce Springsteen and the E Street Band. In 2015, he went down to the river in honor of Bruce's revival River Tour, curating choice images that he was privileged to photograph during the original River Tour in 1980. In 2016, he celebrated the Spirit of '76, delving even further into his vault to offer vintage photographs taken on the 1976 tour for Born to Run.
Now to commemorate the recently released recordings of Bruce's phenomenal shows in Albany and Rochester, NY, Jim is offering the perfect companions to those soundtracks in an extensive selection of prints called "The 1977 Collection." Jim captured these images of Bruce and the E Street Band during the same stretch of shows in March 1977; 40 years later, he revisited his seemingly bottomless vault of negatives and slides to resurrect and carefully restore them — images that have never been seen before or offered to the public until now.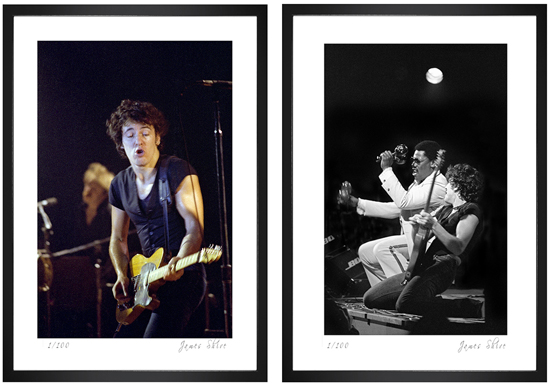 "The 1977 Collection" provides Bruce fans and collectors the unique opportunity to add to their personal memorabilia some classic images of Bruce and the E Street Band performing live in 1977, in prints that are both in black & white and color.
In addition to the '77 Collection, this year Jim is also extending his offering to three new prints that are affordably priced, exclusively to the Backstreets community, all of which are available on a limited basis while prints last: shivearchive.com/backstreets-special-editions
View more of Jim's work at shivearchive.com.
- November 29, 2017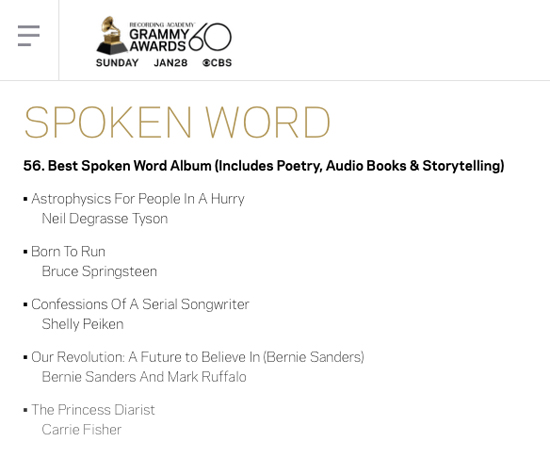 STEP INTO THE RING, NEIL DEGRASSE TYSON
Before Springsteen turned his memoir into a one-man Broadway show, he read the whole damn thing cover to cover for the 16-CD Born to Run audiobook — which has just been nominated for a Grammy, in the Best Spoken Word Album category. The 60th annual Grammy Awards will be broadcast Sunday, January 28, on CBS.
- November 28, 2017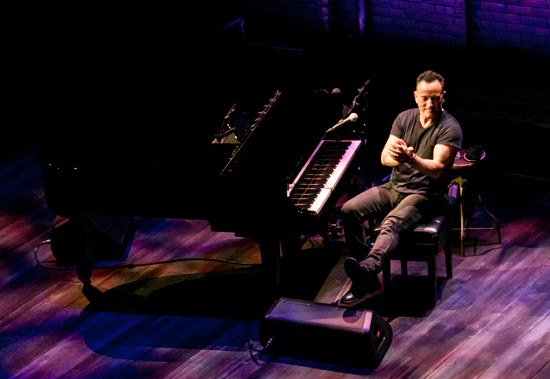 ENCORE! SPRINGSTEEN ON BROADWAY EXTENDED THROUGH JUNE
Bruce's Broadway run just got broader: rather than closing on February 3, Springsteen on Broadway has been extended with four additional months of performances, February 28 to June 30.
Tickets for the newly added dates will go on sale on December 19, with only those who have already registered for Verified Fan being eligible. As noted on brucespringsteen.net/broadway:
Due to overwhelming participation in the original Onsale powered by Ticketmaster Verified Fan®, there will be no additional registration for this extension. Fans who previously registered and were verified but placed on Standby and did not receive a code, and fans who received a code but were unsuccessful in purchasing tickets will be contacted by Ticketmaster with further information about the added shows.
The digital lottery at luckyseat.com will also continue for the new dates.
- November 27, 2017 - photograph by Raphael Pour-Hashemi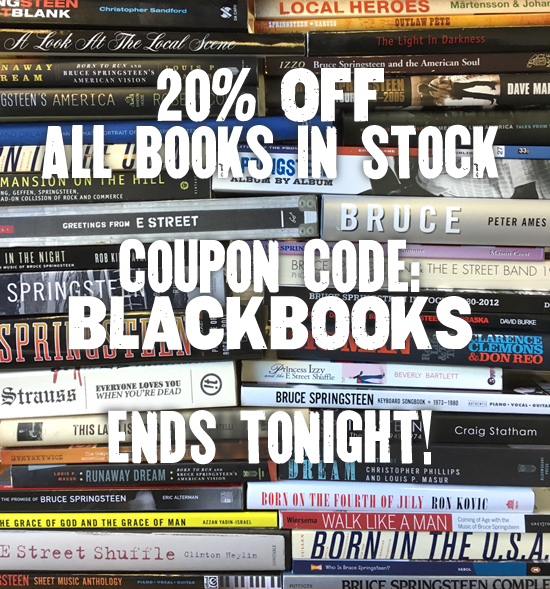 LAST DAY FOR BIG BOSS BOOK SALE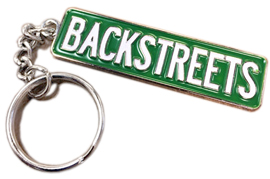 Our Thanksgiving Weekend sale ends tonight — order before midnight to save 20% on all books in stock, including songbooks, blank notebooks, and signed books too.
Use the coupon code BLACKBOOKS to have the discount applied at checkout, and if a book is already on sale, you'll get an additional 20% off the sale price.
Plus, a FREE Backstreets keychain with any order of $75 or more.
Start shopping Latest Additions here
- November 27, 2017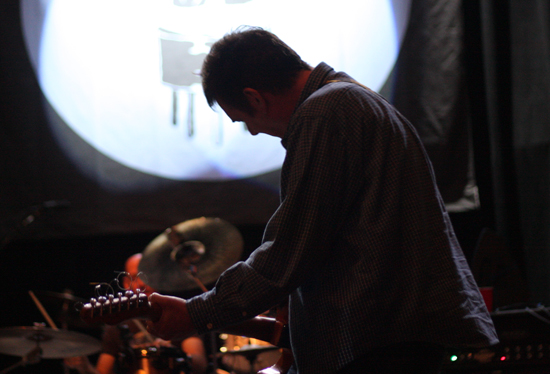 R.I.P. TOMMY KEENE (1958-2017)
The dear departed power pop great on Springsteen and Darkness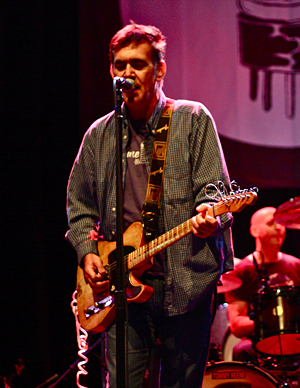 Sad news in the world of rock 'n' roll, as underground power pop/rock journeyman Tommy Keene passed away on Thanksgiving morning at the age of 59. In addition to having a lengthy career as a pioneering indie musician, Tommy was a lifelong Bruce Springsteen fan. He grew up in Bethesda, MD and graduated from Walter Johnson High School, the same high school attended by E Street band member Nils Lofgren. In fact, Nils's younger brother Mike Lofgren played in one of Tommy Keene's first bands. In 2006, Keene told Magnet about the experience:

"Yep, we played in a band together. He was a year older than me in junior high school. I used to go see Nils's group, Grin, a lot back then. In fact, Nils was really a huge influence on my guitar style and my songwriting. When people ask my influences, I always say the Beatles, Who and Stones, but I think the people that influenced me the most were the people I came into contact with when I was learning how to play. Nils's brother Mike basically showed me how to play guitar."

While Keene's music style more closely resembled early- and mid-'60s British Invasion bands, many of his jangly, tight, driving songs could have comfortably fit on a mythic Springsteen album that contained "Loose Ends," "Take 'Em as They Come" and "Restless Nights."

Keene also told Magnet that Bruce's influence could often be found in his music, despite their sometimes-disparate styles: "A little bit of Bruce always seeps in. For example, the lead break in 'Driving Down the Road in My Mind" is a total Springsteen-style bombastic arena solo. But I'm so far away from him vocally and personally, in terms of how he grew up. I'm not a working-class guy from Jersey, I'm a middle-class suburban kid from Maryland."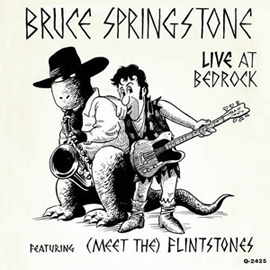 In 1982, Tommy Keene was recruited by singer Tom Chalkley to play the guitar parts on the Springsteen novelty single Bruce Springstone Live at Bedrock ("Meet the Flintstones" b/w "Take Me Out to the Ballgame"), recorded at Rockville Maryland's Hit & Run Studios. The single was released the same week as Springsteen's Nebraska.

His solo career took off when he released the Places That Are Gone EP on Dolphin Records, receiving a lot of airplay on DC indie station WHFS. Keene followed up Places with another terrific EP featuring one of the '80s most gorgeous songs, the title song "Back Again (Try...)."

A major label signing to Geffen Records in the late 80's failed to ignite as Geffen was more about Don Henley, Guns & Roses and Whitesnake than power pop during that time. Keene worked with Guided By Voices lead singer Bob Pollard in the band The Ascended Masters, and he was Paul Westerberg's guitarist for the 1996 Eventually tour. Most recently, he opened a U.S. tour for Matthew Sweet that ended just a few months ago.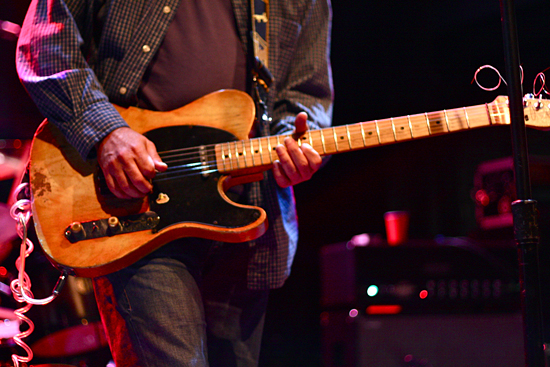 Back in late 2010, Backstreets was trading emails with Tommy Keene regarding his thoughts about the Darkness on the Edge of Town album, with the imminent release of Springsteen's box set The Promise. Tommy was gracious enough to type out his thoughts and let us know how much Bruce, Darkness, and the 1978 tour meant to a young indie musician.
I first saw Bruce Springsteen in February 1975, at DAR Constitution Hall in Washington DC, though I pretty much had to be dragged there by my older brother's friends. I'd heard Bruce's first two albums and was impressed but not ecstatic. The songs I remember liking were "Growin' Up" and "It's Hard to Be a Saint in the City." The show opened very theatrically with Bruce in jeans, white T-shirt, and a black leather jacket, emerging like Brando out of the shadows to sing the opening lines of "Incident on 57th Street."

The show was very jazzy with a heavy Van Morrison influence, and Bruce played hardly any guitar. It was enjoyable, but a little outside my musical sphere as a15-year-old rock fan.

Born to Run came out that fall, and the greatness of that LP coupled with his triumphant show at Georgetown University's McDounagh gym completely won me over. By the time the Born to Run tour came back around six months later to the same venue, Bruce had begun rocking out a little more. He was taking long guitar solos, and the endings of the songs were getting longer, a feature of later shows.

In 1977 everyone had heard about Bruce's lawsuit with his former manager, Mike Appel. Bruce was touring relentlessly because he wasn't legally permitted to enter a recording studio. I was a freshman at the University of Maryland, and a friend of my brother's was a cousin of Bruce's legendary light man, Marc Brickman. As my brother's friend and an accomplice took off following the band for a month of shows at colleges in the snowy northeast, I begged them to take me along. Unfortunately, there was no room for a +2.

The tour eventually came to Towson State College, and I got a ticket in the third row. Bruce had really changed his look by shaving off his beard and donning a cool black vintage suit. After opening with "Night," the band tore into a new song, "Don't Look Back." It was obvious that he'd been listening to a lot of English punk bands, especially The Clash. Bruce's performance was transcendent. He rocked out like there was no tomorrow, and maybe that was how he felt, considering his legal troubles.

A year or so later when Darkness on the Edge of Town finally came out, I saw the first DC area show at the Capital Centre (captured on a bootleg called Summertime Blues). This time the show centered on Bruce's guitar playing. When he stomped the footswitch to kick in his overdriven Fender Bassman, his transformation from '70s troubadour to full-out rock 'n' roll god was complete.

The moments when Bruce lets loose on guitar are still, for me, the highlights of his shows today. I'll always associate this transformation with the Darkness album, and that's what has kept me coming back to his shows — 60 or so and counting — all these years.
Our hearts go out to Tommy's family and friends.
- November 26, 2017 - report and photographs by Bob Zimmerman



THROUGH THANKSGIVING WEEKEND: 20% OFF ALL BOOKS IN STOCK!
From now until Monday, every book in stock at Backstreet Records is on sale: take 20% off with the coupon code BLACKBOOKS. You'll find loads of Boss books in our Springsteen specialty shop, including our own Talk About a Dream, and the sale applies to songbooks, blank notebooks, and signed books too.
Discount will be applied when you enter the code at checkout, and if a book is already on sale, you'll get an additional 20% off the sale price. (Sale does not apply to Frank Stefanko's new Further Up the Road, which ships to customers directly from the publisher in Italy.)
Plus: with any order of $75 or more, we'll incude this Backstreets keychain FREE, nickel-plated solid iron and normally selling for ten bucks. Offers end Monday night, November 27 at midnight EST.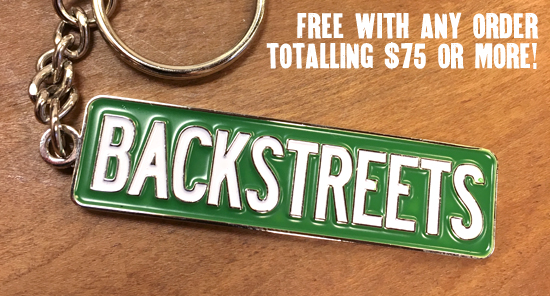 We've got lots of new Springsteen items in stock, including official calendars for the new year and a big batch of fresh T-shirts including Broadway and more, so there's plenty to put in your sack for the holidays!
Start shopping Latest Additions here
- November 23, 2017


COUNTING OUR BLESSINGS
Thanksgiving and the holiday season following it offer many of us some prime opportunities to inventory and appreciate our good fortune. Our friends at E Street Radio certainly have gotten into the spirit. Over Thanksgiving weekend, Jim Rotolo will host a countdown of the top ten performances from Bruce Springsteen's official 2017 archival releases. You can catch the countdown at Sirius/XM channel 20 on Thanksgiving Day at 9am and 4pm, Friday 11/24 at 6am, 3pm, 6pm and 10pm, Saturday 11/25 at 11am and 5pm, Sunday 11/26 at 10am and 4pm and Monday 11/27 at 8am and 7pm (all times ET.)
And beginning today, fans also will be able to vote for E Street Radio's Top 100 Springsteen songs countdown, which will air on Christmas Day with repeat airings scheduled through New Year's Day. Cast your online votes from now through December 14.
- November 22, 2017 - Shawn Poole reporting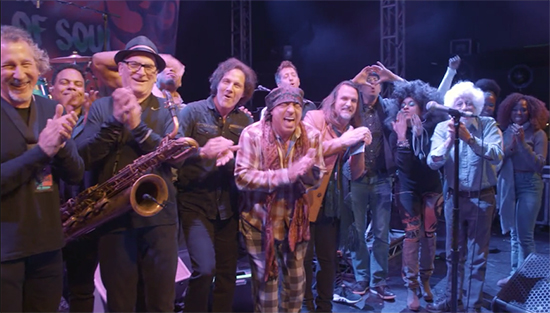 HE SAYS IT'S THEIR BIRTHDAYS
Earlier this month, Steven Van Zandt said this Beatles classic would "come in handy," as he and the Disciples of Soul played it for the first time in honor of his wife's birthday. And he's right — it comes in especially handy today, as we celebrate his own. Happy birthday, Stevie — and a belated just-as-happy one to Maureen!
- November 22, 2017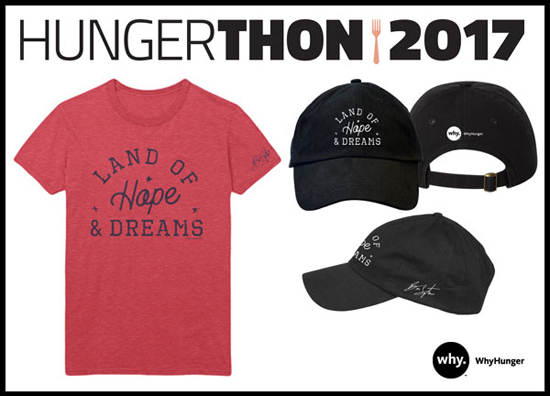 HUNGERTHON'S ROLLING DOWN THIS TRACK
With Thanksgiving upon us it's Hungerthon time again, and WhyHunger has some special new Springsteen items to support their annual campaign. Among the gifts available when you support the cause are a 2017 Bruce Springsteen "Land of Hope & Dreams Tee," for a donation of $50, and a 2017 Bruce Springsteen "Land of Hope & Dreams Baseball Cap," for a donation of $40.
You can also take part in the Hungerthon 2017 auction at charitybuzz.com. Some notable lots currently open for bids:
Hungerthon is an annual Thanksgiving radio tradition started in 1975 by WhyHunger to raise awareness about hunger and poverty and to invest in long-term solutions that help people in need in communities across the country. Funds raised through Hungerthon support innovative community-based solutions that fight hunger and poverty at its root causes. Donations help 41 million Americans, including more than 13 million children, get the healthy food they need.
- November 21, 2017

LITTLE STEVEN'S WORLD CAFE DEBUT TOMORROW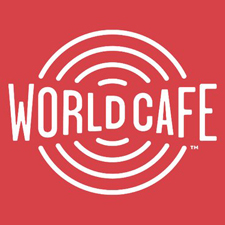 Little Steven Van Zandt will be making his first-ever appearance on the critically acclaimed World Cafe radio program on Tuesday, November 21. The long-running NPR show — for more than a quarter century — is based out of WXPN in Philadelphia and runs on over 200 radio stations across the country.
World Cafe Executive Producer and WXPN Program Director Bruce Warren makes a rare appearance, stepping out from behind the scenes to the mic to interview the guest of honor.
Stevie and the Disciples of Soul also recorded three songs for the program in September (9/19/17) at Carroll Music Studios in New York City.
Station list is here, check local station for air time — or stream on WXPN at 2pm Eastern.
- November 20, 2017 - Tom Cunningham reporting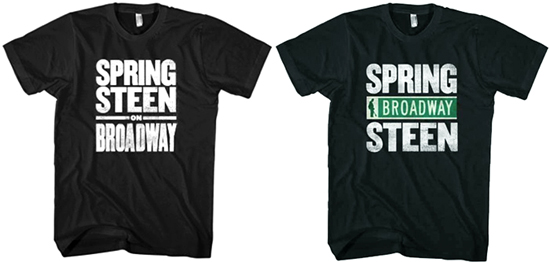 BROADWAY SHIRTS ARE HERE
Just in at Backstreet records, official Springsteen on Broadway T-shirts! From Thrill Hill Productions: the regulation "Springsteen on Broadway" white on black, as well as an exclusive not sold at the show featuring the Broadway street sign. Both are available now, in all sizes ranging from small to XXL.

Plus three more new shirts have just arrived: the Pink Cadillac design from the '84-85 tour on a ringer tee, and Greetings From Asbury Park T-shirts in both black and heather blue. Again, all sizes from small to XXL are currently in stock. Just in time for the holidays... come and get 'em!
- November 17, 2017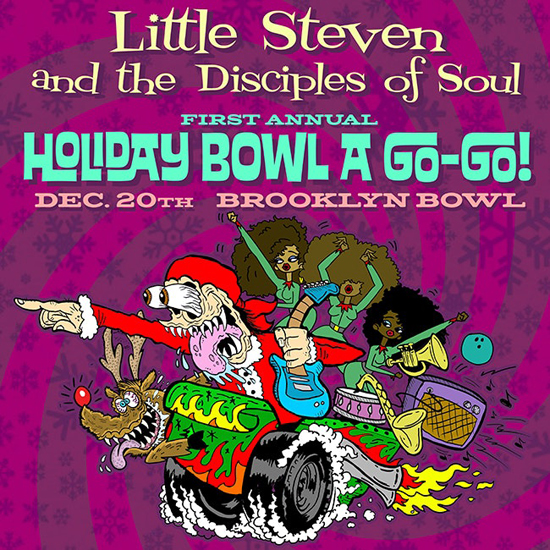 HAVE A BALL WITH LITTLE STEVEN & THE DISCIPLES OF SOUL
Lace up your dancing shoes and your bowling shoes: tickets have just gone onsale this morning for Little Steven and the Disciples of Soul's first annual Holiday Bowl-a-Go-Go, December 20 at Brooklyn Bowl. In addition to regular GA tickets, a VIP Soundcheck package includes a meet-and-greet and a big ol' gift bag. Both are available now through Ticketfly.
The Brooklyn show will be the penultimate concert of the year for Stevie and the Disciples, followed by their Count Basie Theatre gig on December 23. That one's sold-out, but Basie ticket holders can still upgrade to a VIP Soundcheck package package here.
- November 17, 2017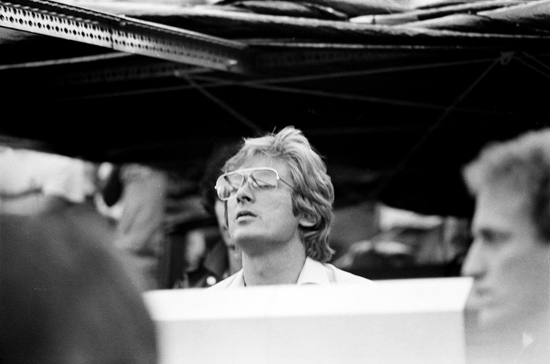 "THE OTHER BRUCE"
The Backstreets Interview with Bruce Jackson, Sonic Genius (1949-2011)
2017 has become a particularly good year for remembering the legacy of the late, great Bruce Jackson, the pioneering Australian concert-sound expert. Jackson served as Bruce Springsteen's Front of House (FOH) Engineer for the decade spanning from the Darkness on the Edge of Town tour through the end of the Tunnel of Love Express Tour.
After his retirement from the position, Jackson continued to be consulted on occasion for concert-sound issues and even returned briefly as FOH Engineer for the legendary 1990 Christic Institute shows. Jackson's recorded mix of those shows served as Springsteen's official 2016 Christic Institute release; this year's benefit release of The Summit, Houston, TX, December 8, 1978 marked the second summer in a row in which Springsteen fans had Jackson to thank directly for the sound of an official archival recording.
This year also marks the 50th anniversary of Jands, the highly influential Australian concert-sound company that Jackson co-founded. And finally, as 2017 nears its end, "the other Bruce" (as he occasionally referred to either Springsteen or himself, depending on the situation) gets much love in veteran concert photographer Watt Casey, Jr.'s beautiful new book My Guitar is a Camera. Bruce Jackson is one of two people to whom the book is dedicated, and his significant role in Casey's career is lovingly documented. Casey, whose live Springsteen photographs have been used for several official releases over the years, got to work with the Springsteen camp thanks to Jackson's enthusiastic endorsement of his photography.
In celebration of the publication of Casey's book, which also contains a chapter on his Springsteen photography and an excerpt from the interview below, Backstreets is proud to present our previously unpublished complete 2011 interview with Bruce Jackson, conducted by Shawn Poole shortly before Jackson's untimely death.
Click here to read
"THE OTHER BRUCE:" The Backstreets Interview
with Bruce Jackson, Sonic Genius (1949-2011)
- November 16, 2017 - photograph [River tour at Red Rocks, August 17, 1981] by Watt Casey, Jr. from the book My Guitar is a Camera

COOKBOOK OF DREAMS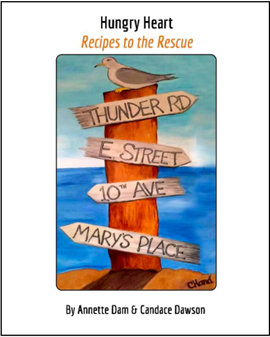 As the holiday season draws ever closer, many Springsteen fans' thoughts are turning to food, glorious food and feasts with loved ones. Seeking something extra-special for your holiday table this year? Look no further than Hungry Heart - Recipes to the Rescue, the cookbook that seeks to answer the question, "What would you be really proud of serving, should Bruce or any E Streeter stop by for a visit?"
Co-editors Annette Dam and Candace Dawson compiled recipes, artwork and photography from Springsteen fans of all ages, and from all over the planet: 27 countries in all. Best of all, 100% of their book's net sales proceeds will be donated to WhyHunger, the anti-hunger organization long supported by Bruce Springsteen.
There's something for everybody here: appetizers, side dishes, main courses, vegan/vegetarian items... and desserts, desserts, desserts! You want clever, cutesy titles? Check out dandies like "Bruce Stringbeans," "Cosmic Kid Cookies," "Hungry Hearty Chili," "Lasagna of Hope and Dreams" and "Risotto in the Street."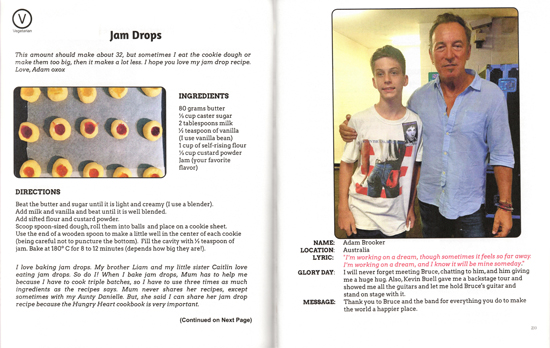 There's even a section on "In The Spotlight Chefs" where you'll find recipes from the Clemons, Lofgren and Mizelle families' kitchens, along with contributions from Jason Heath and the Greedy Souls (including Jason Federici) and longtime WhyHunger supporter and board member Joe D'Urso. (Not to mention Steve Van Zandt's unique "contribution" to this section, which is as hilarious as one would expect.)
You still can get your copy of Hungry Heart - Recipes to the Rescue in time to plan next week's Thanksgiving feast, but it's a book to be referenced and enjoyed year-round, not just during holidays, especially knowing that your purchase helps to provide crucial continued support in the ongoing fight against hunger. Click here to order yours.
- November 15, 2017 - Shawn Poole reporting

BRUCE BRUNCH REQUEST LINES OPEN SUNDAY AT 9am

It's time again for The Bruce Brunch's annual all-request edition, with all proceeds benefiting Fulfill (formerly The FoodBank of Monmouth and Ocean Counties). For the 12th year running, host Tom Cunningham will be playing all requests on the Sunday after Thanksgiving, with request lines opening up the Sunday before.
For this special all-request show The Bruce Brunch expands from two hours to three; that gives space for 20 songs, with a $25 (minimum) donation for each song with proceeds going to the foodbank. Listeners are welcome to pick the Bruce Springsteen song of their choice and include a personal dedication along as well.
"I look forward to the all-request show every year," Tom says. "In addition to helping to raise thousands of dollars over the years for our local food bank, the folks who participate always come up with some amazing requests and dedications. Collecting donations to end hunger touches people on a most local and fundamental level. I can't remember the last time that I've walked out of one of Bruce's shows and there's not been someone from a local food concern accepting donations. It's 12 years in, and I'm very proud to continue to partner with the Bruce Brunch, everyone at The Hawk, and the great team at the Townsquare Media Shore to help benefit Fulfill."
Requests will be taken on Sunday, November 19 beginning at 9am ET via telephone at (732) 643-5891 with donations accepted by credit card. The special request program will air on Sunday, November 26 from 9am to noon ET on 105.7 The Hawk.
- November 14, 2017


LITTLE STEVEN AND THE SISTER CITIES OF SOUL
At his gig last week in Bristol, England, Little Steven treated the audience to a rare blast from his past, when he worked the early-1970s "oldies circuit" with acts like The Dovells and Dion. For a local special, he led the Disciples of Soul through a sharp-as-a-pistol version of "The Bristol Stomp."
The Dovells' hit was recorded and released in 1961 by Philadelphia-based Parkway Records and inspired by a dance craze that began in the working-class Philly suburb of Bristol. More than 50 years later, Steven and his band built quite an impressive bridge connecting Bristol, Pennsylvania to Bristol, England, especially since, as he noted onstage, he and the Disciples never played "The Bristol Stomp" together before, "not even in soundcheck."
Little Steven and the Disciples of Soul's Soulfire Europe tour continues through the next month. Visit littlesteven.com for ticket information.
- November 12, 2017 - Shawn Poole reporting


HAPPY VETERANS DAY
"This is for any of our veterans out there — not just Vietnam, but Iraq, Afghanistan... this is a short prayer for my country," Bruce Springsteen said as he performed "The Wall" on tour in 2014.
Three years later, Springsteen talks about Walter Cichon and Bart Haynes again, and the Wall in Washington, as he introduces "Born in the U.S.A." in Springsteen on Broadway. "Having paid body and soul," Bruce says, "our veterans — our Vietnam veterans, our Iraq veterans, our Afghanistan veterans — have earned the right many times over to claim and shape their birthplace, their piece of home ground."
- November 11, 2017

BRUCE TICKETS CONSIDERED
Yesterday on NPR's All Things Considered, Robert Siegel introduced a piece on "one of the hottest tickets on Broadway" — you can guess which one. "Bruce Springsteen on Broadway Comes With an Economics Lesson" has Planet Money's Kenny Malone taking a look at Bruce tickets, the Endowment Effect, and economic irrationality. Listen below.

- November 10, 2017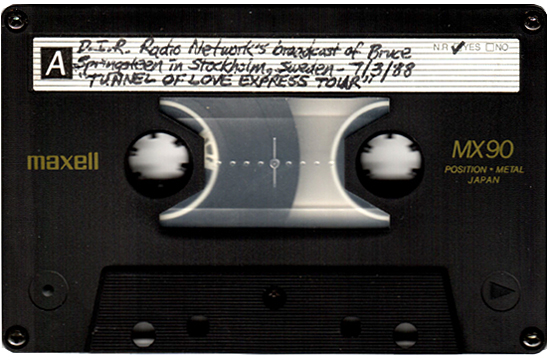 FLASHBACK FRIDAY: "THE MOMENT IS AT HAND"
From the original worldwide live radio broadcast, as carried here in the U.S. over DIR Broadcasting's radio network, here's a moment that didn't get included in the new Stockholms Stadion, Sweden 1988 official archival release. Before we got to hear the E Street Band play a note in Stockholm, we broadcast listeners first got to listen as they took the stage to Freddy "Boom Boom" Cannon's 1962 hit "Palisades Park" (written by the late Chuck Barris.) In the DIR feed of the broadcast, the walk-on moment had running commentary by radio legends and longtime Springsteen supporters Kid Leo and the late Scott Muni. If you haven't yet listened to last week's archive release — a great improvement over our old cassettes — let this set the scene:

- November 10, 2017 - Shawn Poole reporting

SPRINGSTEEN OFF BROADWAY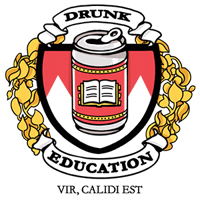 Brooklyn's "Drunk XEd Talks" takes him on
Drunk Education was the vehicle, Littlefield was the venue, Brooklyn was the borough. And Bruce Springsteen was the subject for last night's 90-minute "Like a Boss" multimedia production, where five performers took an equally engaged audience through different Springsteen-related topics. Academics have been doing this for years, using his work to explore theology, sociology, and the like. "Drunk Ed" — part spoken-word, part stand-up, part PowerPoint — uses the popular TED Talks series as its model and is no less serious (despite the laughs) or authoritative (despite the name).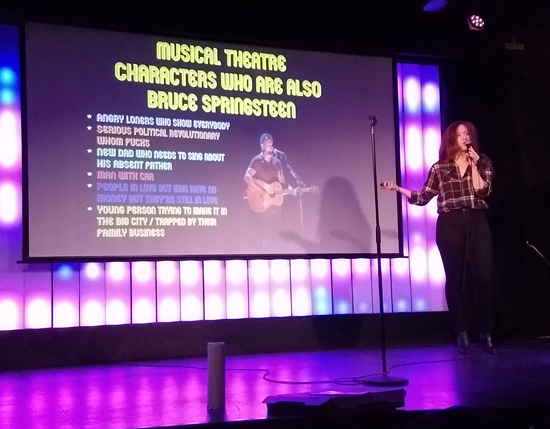 Each presenter made that the case: Helena Fitzgerald compared Springsteen with musical theater, calling Grease a piece that "wants to be a Bruce Springsteen song when it grows up." Blythe Roberson imagined him riding shotgun for her set on road trips, and Brittany Spanos explored the use of fire as an image in his songs (which neatly dovetailed into an homage to Springsteen's firefighter son, Sam).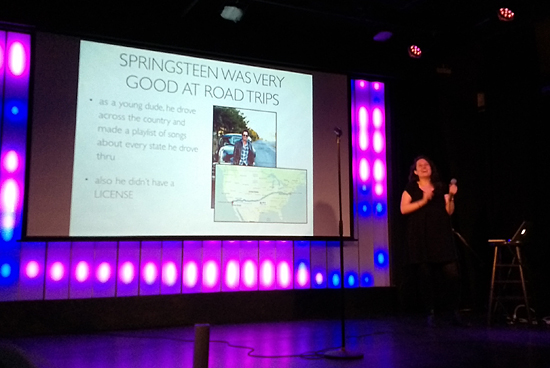 Billed as "An Appreciation," the evening had no stuffy hallmark of academia: it was packed with laughter, beginning with Backstreets contributor (and the evening's co-host) Caryn Rose's inquiry into questionable lyrics and just how much Springsteen knows about the inner workings of the automobile.
Lindsay Zoladz spoke of Chris Christie's relationship with Springsteen. Framed by the former's string of public pronouncements and the latter's consistent rejoinder of "no comment," Zoladz's piece became an exquisitely-timed exploration of illusion.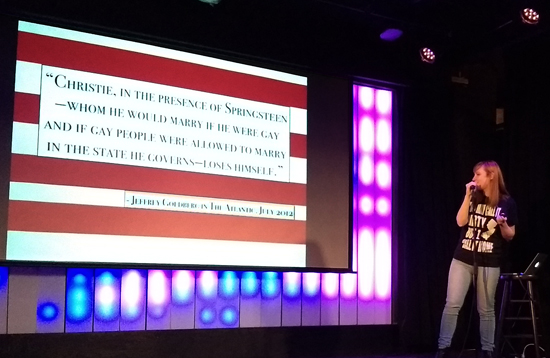 This one-night-only installation hit the mark. Whether on stage or off, the entirety skewed younger, which gave it a burst of energy. The presenters' facility with Springsteen's work couldn't have been more obvious. That showed in the originality of the material and the audience's reaction. And the venue was tidy, wired for sound just right, and, befitting the evening, stocked with a range of signature cocktails at the bar. The evening's top ticket was the only ticket, setting one back by eight dollars (with no need to verify ahead of time). Like its competitor over at the Walter Kerr Theater, the thoughtful "Like a Boss" appreciation is a performance a fan only need see once, but most probably won't. And that's too bad, because everyone should have the opportunity.
- November 9, 2017 - report and photographs by Jonathan Pont

STEFANKO CELEBRATES AT MORRISON HOTEL GALLERIES
Last week, Frank Stefanko celebrated his massive new monograph of Springsteen images with an exhibition opening at Morrison Hotel Gallery in Los Angeles. Some notable friends also turned up — Frank fills us in:
The evening was a wonderful surprise. With the final game of the world series, and the last chance for the L.A. Dodgers, we expected a light turnout. Not only did we get a great turnout, and a successful show, but some of the people who showed up were really special. Great photographers, such as Timothy White, Ellen Berman, and Guido Harari. Legendary song writer Jeff Barry, who, with his wife Ellie Greenwich and Phil Spector, wrote so many of the great girl-group songs of the '60s, including "Be My Baby," "Chapel of Love," "Then He Kissed Me," "Leader of the Pack", "River Deep - Mountain High," and many more. Jeff has also worked with Steven Van Zandt on some projects as well.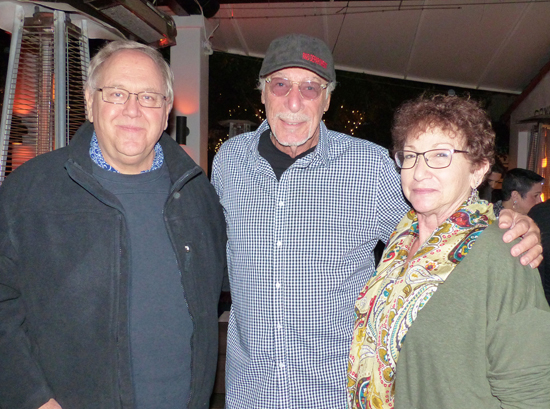 L-R: Frank Stefanko, Jeff Barry, Frank's wife Carol Reed - photograph by Guido Harari
But the best part of the night was when my friend Pam Springsteen stopped by and spent most of the evening. I showed her my new massive book, Bruce Springsteen - Further Up the Road, and she went through all 400 pages carefully. At times she laughed, and at times she seemed to become melancholy, but mostly she remarked at how beautiful the book was. She actually got to see it before her brother.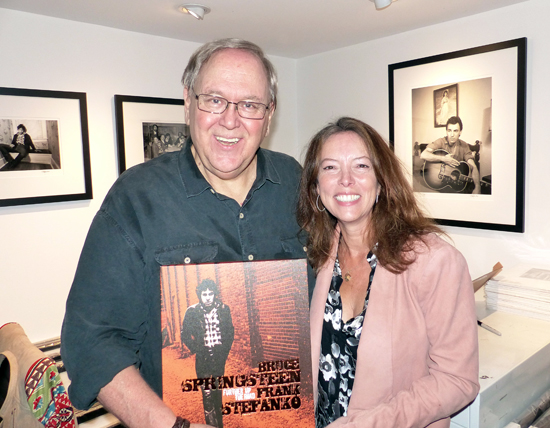 Stefanko and Pam Springsteen - photograph by Carol Reed
We will continue this celebration of my 40 years of working with Bruce this week with another gallery show opening Thursday night, November 9, at the Morrison Hotel Gallery on Prince Street in Soho. Guido Harari will attend this show as well before we all take off for the third, and last, gallery show opening at his Wall Of Sound Gallery in Alba, Italy on November 18.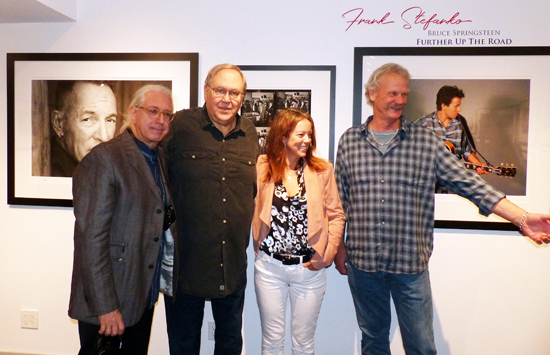 L-R: Further Up the Road publisher Guido Harari, Stefanko, Springsteen, and MHG's Peter Blachley - photograph by Carol Reed
If I can survive all this, I should hopefully make it home for Thanksgiving, and this year, with this new book, and three gallery shows, I have a great deal to be thankful for. —F.S.
Tonight's opening at NYC's Morrison Hotel Gallery is by invitation only, but the exhibit will be open to the public for at least three weeks in the Soho location, beginning Friday, November 10. Further Up the Road is still available for pre-order from Backstreet Records in Deluxe and Collector editions, but for not much longer: Guido Harari's Wall of Sound will be shipping books directly to our customers shortly.
- November 9, 2017 - all photographs courtesy of Frank Stefanko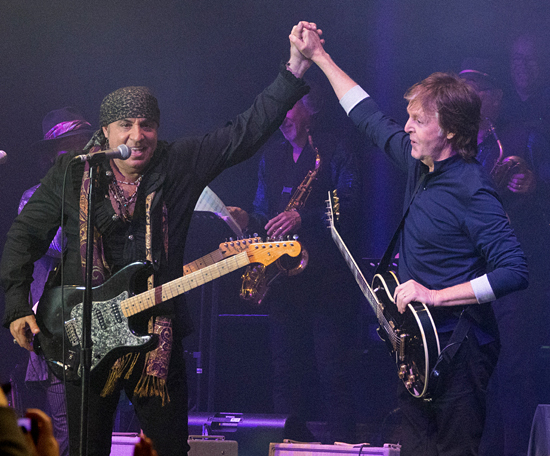 "UNFINISHED BUSINESS": STEVIE & SIR PAUL IN LONDON
Pretty much goes without saying that Steven Van Zandt is a Beatles disciple. On Saturday night, November 4, he and his own Disciples of Soul got a special treat as they were joined in performance by none other than Paul McCartney. As Stevie and his band kicked off their European tour at the Roundhouse in London, Sir Paul put the cherry on top with an encore guest spot on a horn-fueled "I Saw Her Standing There." McCartney played lead guitar, shared the center mic, and declared at the end, "We love you, Stevie!" Watch it here:
Little Steven's tour continues through the UK for the next week or so, after which the Disciples will hit Sweden, Norway, Denmark, Germany, the Netherlands, Italy, and Spain. See littlesteven.com for the full itinerary.
- November 8, 2017 - photograph by Geoff Robinson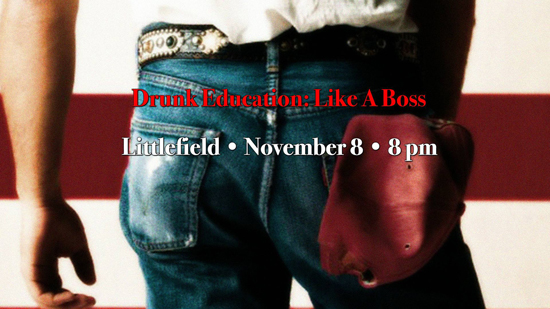 'TIL YOU GET YOUR FILL: ALL-BRUCE DRUNK ED, 11/8 IN BROOKLYN
New York City! It's been a rough year, but Drunk Ed is ending it with a bang: a full-on appreciation of Bruce Springsteen. Join a slate of excellent writers and comedians at 8pm this Wednesday night, November 8, at Littlefield in Brooklyn as they ask the important questions about The Boss. Is he the only good white man? How many people has he tricked into visiting New Jersey? What the hell is a dynamo and why are there so many people near it? Featuring talks by Helena Fitzgerald, Blythe Roberson, Brittany Spanos, Lindsay Zoladz, and co-hosted by Eric Thurm and Backstreets' own Caryn Rose.
Drunk Ed (formerly Drunk TED Talks) is the world's premiere source of drunk knowledge since 2013. Tickets are available via Ticketfly, and more information is available at drunkeducation.com.
- November 6, 2017



THIS IS RADIO STOCKHOLM… COMPLETE!
The view from Sweden, July 3, 1988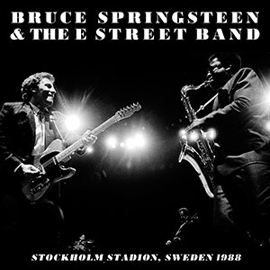 When Bruce Springsteen's archive series began, a release of the Tunnel of Love Express Tour in Stockholm — the source of a high-profile live broadcast on July 3, 1988 — seemed like a given. Then in 2015, a Los Angeles Tunnel show from April appeared, and it felt like Stockholm could take a while longer. But just two years later, here it is. And a fine show it proves to be, in full, beyond the broadcast first set: 35 tracks, including 12 songs not performed in L.A. and 11 in a long encore.
For most non-Swedes, it's hard to imagine just how big Springsteen was here at the time. When each of the evening papers features an insert of a dozen or more pages before the shows, and that seems perfectly normal, you know something major is happening. Already, national media had reviewed both the U.S. and European premieres (in Worcester and Turin, respectively); the frenzy continued when news broke that the second Stockholm show would be broadcast live via satellite around the world. Or at least the first half would be. So while Swedish newspaper readers overdosed on Springsteen coverage, the first 14 songs — and the announcement of the upcoming Amnesty International tour — were heard by millions, making this set a familiar affair to many.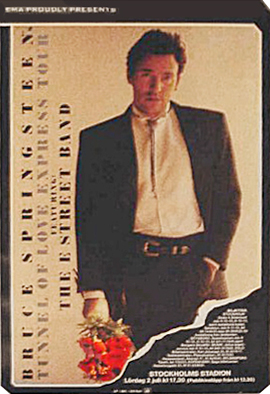 The 1988 Stockholm performances took place in the middle of the European tour. That's when the warhorses that Springsteen had set aside at indoor shows in the U.S. began to appear. Still, the Tunnel of Love album and tour featured new sounds and themes. A different stage set-up, not to mention placements of the E Street Band members. A horn section. A different look, less rock 'n' roll and more… adult. And it's an LP from the first third of Bruce's album career. Looking back, it looks like both the start of the new Bruce, and the end of the old.
On the road, the tour evolved from one thing to another like no previous one had. Despite what many say, this was not the Born in the U.S.A. tour, Part Two. Of the 12 songs played here and not at the LA show, at most half — like "The River," "Downbound Train," "Because the Night" — could be called staples from the previous tour. The other half, "Boom Boom," "Chimes of Freedom," "Paradise by the 'C'," and "Quarter to Three," take us back to The River tour or earlier.
The shows took place at the 33,000-capacity Stockholms Stadion. Even for the middle of summer, it was incredibly warm: plenty of audience members would faint and get lifted across the fence at the front. At the time, there was no pit or partition to control the push and crush of the audience. Having been up front the day before, I decided to stay a little safer and watched the show from about halfway back on the field.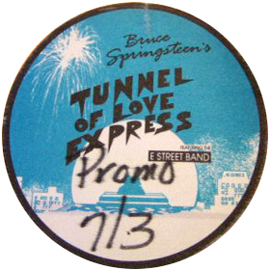 These were the first of several shows I saw on the tour. Almost 30 years on, it's hard to recall more than short details: the start with the ticket booth and the way the band walked out; the frantic "Roulette" making its European debut; and "Tougher Than the Rest," which this night sounded particularly good. It's still a favorite of mine, and while there's no bad version, the freshness of Bruce and Patti's relationship at the time added a hard-to-sustain element.
Springsteen announced the Amnesty International tour near the end of the first set, confirming what some already knew. I remember from that speech thinking he must have been bitten by something because while he was talking, he kept scratching his face. If that sounds like a weird memory to keep for 30 years, it's because it looked weird. I had to Google it to see if I remembered correctly.
Next came a personal highlight. I had always loved the one-off "Chimes of Freedom" done in Detroit, September 1, 1978, a great show and favorite boot. I couldn't believe my luck in hearing it twice this weekend. I somehow had missed news of its tour premiere in Rotterdam a few days earlier. (I must have been so busy that I forgot to call the Backstreets hotline to find out what had been played there.)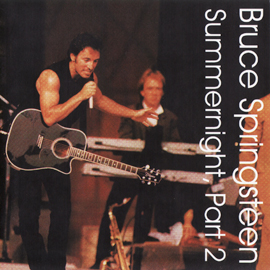 Now, obviously what is most exciting is getting to hear the rest of the show in excellent quality. Having heard the first set many times, it still took a decade or so for a decent recording of the second set to surface (on the Piggham label). Prior to this new archive release, few have been as familiar with this part of the show, which was not broadcast. It began with "Paradise by the 'C,'" a track played in 1978 (and brought back in Rotterdam). It was an exciting rarity and one that never appeared after 1988. After a great start to the second set, Springsteen added the tour's first "Downbound Train" and picked up steam again with "Because the Night." Nils Lofgren's guitar and dancing on the latter has made it a favorite of the Swedish audience.
Then we got to the 11-song encore, one of the longer ones on record (tied with one played in Philadelphia, 8/29/92). Clearly, Springsteen was having a great time onstage, and the whole stadium was in party mode along with him. "Can't Help Falling in Love," another favorite since the '81 shows in Stockholm, hushed the audience for a few minutes; otherwise, it was a singalong dance party for the last hour or so. And when we thought it was all over save for the obligatory "Twist and Shout," Springsteen said, "We haven't played this one for a long time." As I looked at my friend for a millisecond, wondering what that could be, the band jumped into "Quarter to Three." I went nuts — I think I launched about three feet in the air.
Coincidentally, both "Roulette" and "Chimes of Freedom" would have made the top ten in a list of songs I would love to hear performed but probably never would. Number one on that list: "Quarter to Three," which Springsteen had played a lot in the '70s. After a few airings on the (original) River tour, it seemed retired for good. Making it even more of a longshot, it wasn't a well-known number here. But "Twist and Shout" certainly was, and sounding as lively as ever, a nine-minute version closed the show.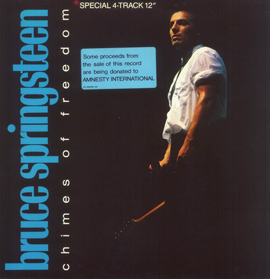 Whether the broadcast itself, the aforementioned L.A. release, or any number of bootlegs, many fans interested in a show like this have likely heard recordings from this tour. Toby Scott was on hand to mix the broadcast and did a fine job of capturing the show. The result quickly became one of Springsteen's most bootlegged recordings. "Chimes of Freedom," of course, served to anchor an official release, a four-track EP released that August to coincide with the Amnesty International tour, complete on vinyl but edited to accommodate space limitations of the CD-3 format.
Nearly 30 years later, Jon Altschiller presents a new mix. And the quick verdict is that he hits it out of the park. Granted, it will take a few more listens to be sure, but for now I can't think of another archive release that seems to get as much right in regards to the mix. This sounds really good, like every instrument and certainly Springsteen's voice — which sounds excellent throughout, just like I remember — is more prominent compared to the broadcast. That of course had the relative disadvantage of satellite transmission and FM compression, not to mention on-the-fly mixing. So it's not really a fair fight. But generally, this mix just sounds correct: nothing seems out of place. There might be a solo missed somewhere, but if there is I haven't noticed. A sonic flaw at the 3:42 mark of "Born in the U.S.A." gets fixed; another, where Nils Lofgren's effects didn't work on his "Tunnel of Love" solo, remains. Whether it could have been fixed in post-production or would have required a re-recording, it merely sounds now as it did then, and that's okay.
Overall, the crowd sounds slightly louder in this mix. For most of the show they can be heard as they should, at a distance so you can hear that it's a live concert, but not so loud that they disturb the listening. Still, for the first verse of "Hungry Heart" it appears that no microphones aimed to capture the crowd. They're heard, but not loud enough for the singing parts. But other times, like the call-and-response in "Raise Your Hand," they sound just right.
Considering that this took place 29 years ago, it's strange to hear the second part like this. It's like you're back in 1988 and the radio people forgot to turn off the signal. Today, Stockholm remains one of the tour's better shows — some say its best — with a compelling setlist and a great mix; these elements make this release a must-have. Stockholms Stadion, Sweden 1988 is available now in MP3, Lossless, HD-Audio, DSD or CD at live.brucespringsteen.net.
- November 5, 2017 - Johan Bjernick reporting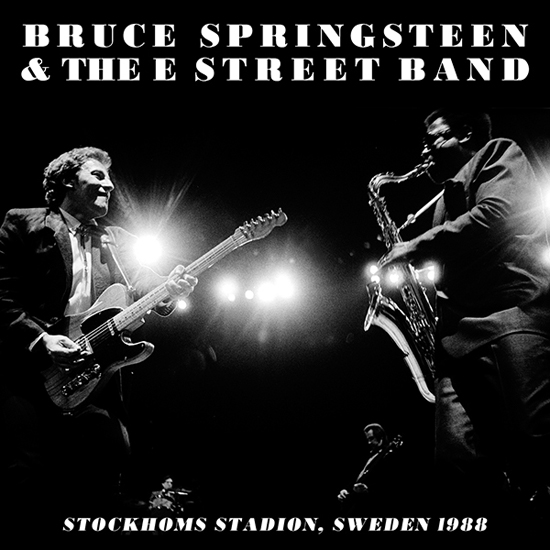 BOUNCING OFF A SATELLITE
New download: Stockholm, July 3, 1988, with never-broadcast second set
Touring with the E Street Band behind Tunnel of Love in 1988, Bruce Springsteen's first radio broadcast in a decade had much to recommend. The 14-song first set neatly encapsulated a terrific range of material: new songs, older ones, hits and covers. That applied to the second set, too, which included surprising break-outs and a dazzling, 11-song encore. Trouble is, the broadcast only included the first set.
Making good on tapes stored in the archive, the November "First Friday" installment now offers fans a complete version of July 3, 1988, the second concert in Stockholm on the Tunnel of Love Express Tour.
The entire show and a new Jon Altschiller mix — an upgrade for sure — complement another 1988 performance (from Los Angeles, April 23), which was an early archive release in 2015. Stockholm features a dozen different songs. And it's where Springsteen told the world about the upcoming Human Rights Now! Tour for Amnesty International, a global trek he and the E Street Band would take that fall with artists like Peter Gabriel and Tracy Chapman. A live cover of Bob Dylan's "Chimes of Freedom," recorded here, became the foundation for a four-song EP and an Amnesty-era touchstone.
Fans around the world heard the first set on the radio, and the broadcast quality kept it in unofficial circulation for years. Now, joined by the second set, everyone can hear what happened after the broadcast ended, nearly 30 years ago. Backstreets will publish a complete review shortly. Stockholms Stadion, Sweden 1988 is available now in MP3, Lossless, HD-Audio, DSD or CD at live.brucespringsteen.net
Read: Erik Flannigan's "The Tunnel of Love is Open to Everyone" at blog.nugs.net.
- November 3, 2017 - Jonathan Pont reporting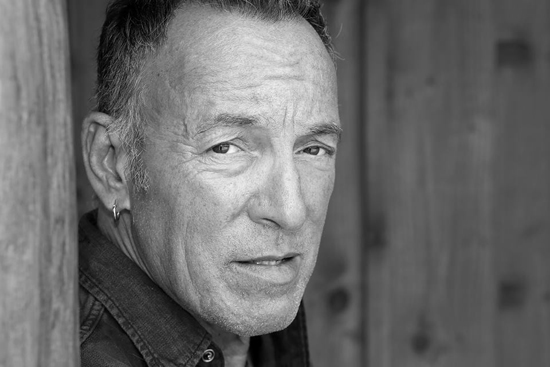 "Hard Land" 2017 Colts Neck, New Jersey © Frank Stefanko
FRANK STEFANKO'S FURTHER FESTIVAL
Photographer Frank Stefanko is in the news a lot this week, from Time to Rolling Stone, to mark the impending publication this month of Further Up the Road, a lavish anthology of his Springsteen images from the last 40 years. Published by Italy's Wall of Sound Editions, the book collects photographs (seen and unseen) from the Darkness and Nebraska eras Frank is known for, as well as from numerous shoots since — including one this year in Colts Neck specifically for the book. "With me, in terms of portraits, it's always the eyes first, then the rest of the face comes into view," Frank has said. As you can see from "Hard Land" above, he's still got it.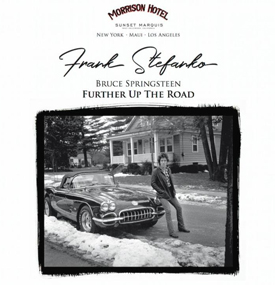 Stefanko's photography will be the subject of several gallery showings in conjunction with the book, beginning in Los Angeles. Frank himself will be there tonight at Morrison Hotel Gallery in West Hollywood for the opening of Bruce Springsteen – Further Up the Road: A Forty Year Photographic Retrospect, which will be open to the public from November 2 through November 12.
The exhibit will be up at Morrison Hotel's Soho location in New York City for a three-week run starting November 10, a must-see for anyone in town for Springsteen on Broadway.
From there, Frank will head to Italy and the home of Wall of Sound Gallery in Alba, where an exhibition will begin on November 18 and run through January 28, 2018. Frank will join Further Up the Road publisher and editor Guido Harari at the opening to inaugurate their creation two years in the making.
Further Up the Road is still available for pre-order from Backstreet Records in both the Deluxe edition and Collectors edition, but we're getting to last call: pre-order now if you'd like your copy shipped directly to you from the publisher in Italy later this month. Weighing in at 10 pounds and 400 pages, with transparencies and fold-out pages, it's a limited edition of just 1,978 copies, celebrating the year that Stefanko and Springsteen began working together.
"It's Bruce's life," Stefanko tells Rolling Stone of Further Up the Road, "as I've seen it by working with him. I've had the rare privilege of vicariously taking this journey with him for about a 40-year period. That to me is awesome. I hope the people who look at this book will take the journey with me, and appreciate the intimacy as how I see Bruce Springsteen."
- November 1, 2017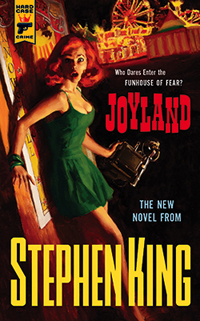 SIR, I GUESS THERE'S JUST A MEANNESS
IN THIS WORLD
Eagle-eyed readers Ben Watson and Gene Casaretto reminded us of one more nod to Count Clarence from the pen of Stephen King, writing in the voice of his central character/narrator Devin Jones:
"The world has given me a good life since then, I won't deny it, but sometimes I hate the world anyway. Dick Cheney, that apologist for waterboarding and for too long chief preacher in the Holy Church of Whatever It Takes, got a brand-new heart while I was writing this — how about that? He lives on; other people have died. Talented ones like Clarence Clemons."
— Joyland (2013)
- November 1, 2017