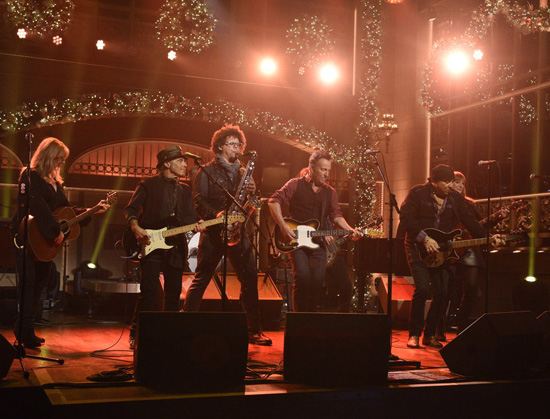 December 19 / 30 Rock, Studio 8H / New York, NY
Three musical performances from Springsteen last night on Saturday Night Live [Season 41, Episode 9], giving us our first glimpse of the River Tour-ready, 2016 model E Street Band — and likely prompting a whole new generation to ask, "Are they saying 'boooo'?"
Bruce and the band kicked off with the first-ever live performance of "Meet Me in the City," a blazing, all-hands-on-deck rendition that we can't wait to see on the road.
Breaking out the title track of the new box, "The Ties That Bind" gave Jake Clemons a second chance to shine, this being his first time as the only horn player on the E Street stage.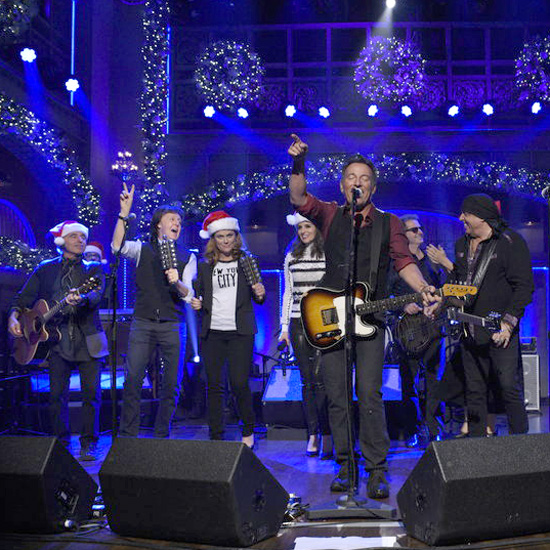 And finally, as the credits rolled, a surprise performance of "Santa Claus is Comin' to Town" that brought the entire SNL cast to the stage along with, oh holy night, Paul McCartney. Of course, whenever Paul joins Bruce the plug seems to get pulled — the live East Coast feed ended before the song did — but you can watch the entire "Santa Claus" here.
Setlist:
Meet Me in the City
The Ties That Bind
Santa Claus is Comin' to Town

November 18 / Shrine Auditorium / Los Angeles, CA
Notes: Bruce Springsteen has a storied history at the Shrine Auditorium in Los Angeles, topped by the legendary Christic Institute benefit shows 25 years ago along with his first Grammy win in 1985, his biggest-ever, single-night Grammy haul (four statues for "Streets of Philadelphia") in 1995, and even a performance of "Angel Eyes" for Frank Sinatra.
Last night, Springsteen added another chapter to that rich history by joining a cavalcade of musicians and actors at the Shrine to celebrate "hope and humanity" as part of A+E's Shining a Light: A Concert for Progress on Race in America.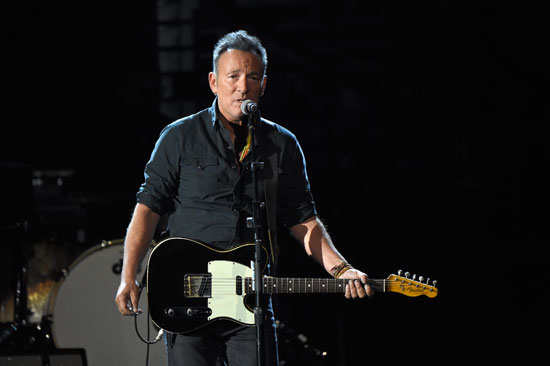 According to concert producer Ken Ehrlich, who addressed the crowd prior to the show, the purpose of the concert was to use the "healing power of music" to encourage a dialogue about race relations in America. With a seemingly ever-present police v. minority narrative in the news, the concert's message was timely and poignant. Springsteen was among a list of musical heavyweights that included Sting, Pharrell Williams, John Legend, Zac Brown Band, Sia and others who lent their talents in hopes of creating a bigger awareness of the race challenges we face as a country.
Performances were intercut with video packages that focused primarily on the tragedies in Charleston, Ferguson, and Baltimore. Williams, Legend and Alicia Keys visited each city respectively to talk with affected citizens and communicate each community's unique, yet common perspective. As Morgan Freeman so eloquently pointed out, the concert intended to bring everyone together to "raise our voices as one, so that we might all be able to better live in our American skin."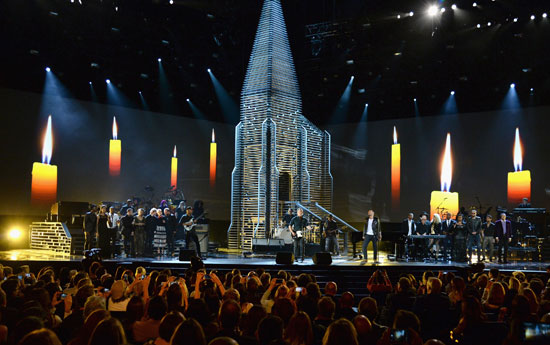 The concert began amid a chorus of "Broooce," which was a bit surprising given the mostly younger demographics in the audience. The familiar notes of "American Skin (41 Shots)" began to fill the building as the lights revealed Springsteen with a guitar, standing against a stylized scenic backdrop that was inspired by the "Mother Emanuel" church in South Carolina, the tragic scene of nine murders earlier this year.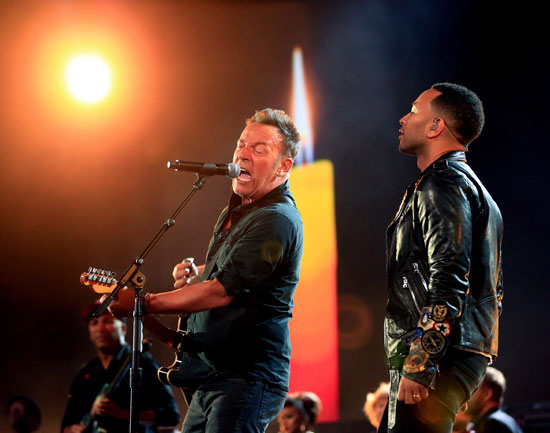 Bathed in a spotlight, Springsteen began singing as tributes to Eric Garner and Freddie Gray played on the giant screens in back of the performers. Midway through the song, the images transitioned to a single, lit candle as John Legend emerged and began trading verses with Springsteen, setting the tone for the inspirational performances of the night. Springsteen was flanked by Tom Morello, E Streeters Max Weinberg and Roy Bittan, as well as the house band headed by Ricky Minor. Though a duet, it was still a familiar modern-day arrangement of the song, Morello infusing a new texture and freshness into the song's guitar solo via his unique and signature sound as he did for High Hopes.
All of the evening's performers came to the stage to join Springsteen and Legend in the final choruses, creating an intense energy that culminated in the appreciative audience giving their first of many standing ovations for the evening. The presence of all the musicians appeared to indicate a finale rather than an opening, however, so until it airs this Friday, it's unclear whether "American Skin" will open or close the broadcast.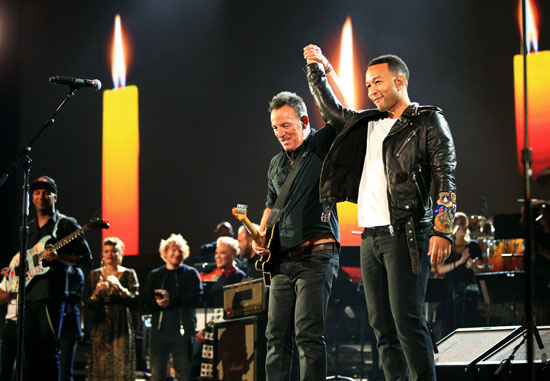 Subsequent to Bruce's performance, Morgan Freeman delivered a powerful speech that name-checked "American Skin" twice and perfectly segued into an evening embodying spiritual uplifting, love, and understanding.
Other strong performances by Zac Brown Band, Sting, and Sia are not to be missed, but without question, the stunner of the night belonged to Jill Scott. Accompanied only by a piano, her powerful and heartbreaking cover of Billie Holiday's "Strange Fruit" was absolutely incredible.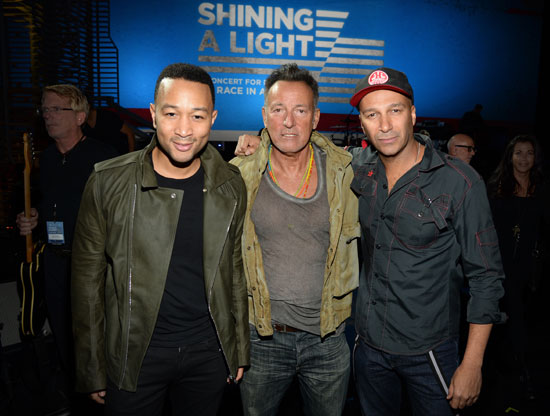 Shining a Light: A Concert for Progress on Race in America airs at 8pm ET/PT on Friday, November 20, 2015, on the A+E Networks portfolio and will also be streaming online and simulcast on hundreds of iHeart radio stations. More information can be found at unitedway.org and aetv.com.
- Neil van Harte reporting - photographs by Getty Images for A+E Networks (Kevin Mazur: 2,3,5,7; Christopher Polk: 1,4,6)
Setlist:
American Skin (41 Shots) [duet with John Legend, featuring Roy Bittan, Tom Morello, and Max Weinberg]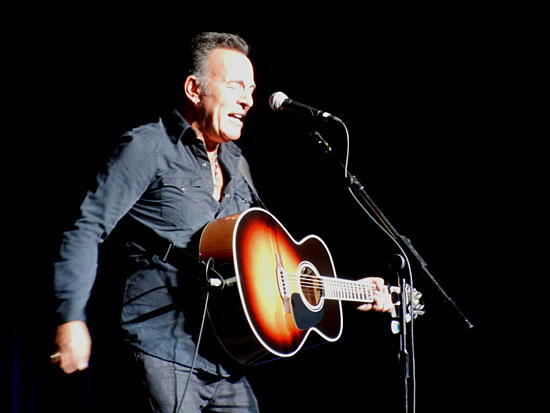 November 10 / The Theater at Madison Square Garden / New York, NY
Notes: For the ninth year in a row, Bruce Springsteen played the Stand Up For Heroes benefit in New York, saluting injured soliders on Veterans Day Eve and supporting the Bob Woodruff Foundation. Following sets from comics Seth Myers, Ray Romano, John Oliver and Jon Stewart, who introduced him, Springsteen played a four-song acoustic set, opening with "For You." Of course, this being a New York Comedy Festival event, Bruce also threw in his own requisite dirty jokes along the way.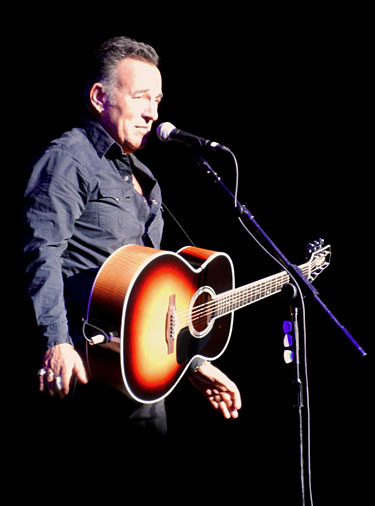 Auctioning off a package consisting of a signed Stratocaster, "the best seats in the house" and a chance to go backstage at a future E Street Band concert — that phrase being good news in and of itself — Bruce eventually threw in his mother Adele's lasagna, bringing in tied winning bids of $370K, raising $740K right there. But "bring your own drugs, because the band doesn't like to share." A Harley Davdison — which Bruce rode out onto the stage — also went for $100K.
The Bob Woodruff Foundation's mission is to ensure injured veterans and their families are thriving long after they return home; they find and fund innovative programs in communities where veterans, their families and caregivers live and work. Learn more and support the cause at bobwoodrufffoundation.org.
- photographs by William Borner
Setlist:
For You
Darlington County [video]
Working on the Highway [video]
Dancing in the Dark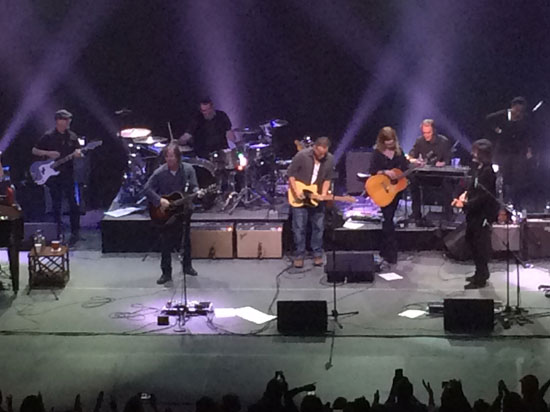 September 22 / Count Basie Theatre / Red Bank, NJ
Bruce Springsteen closed out his 66th year right where he belongs: on stage. After taking in Jackson Browne's concert at Red Bank's Count Basie Theatre from the audience, Springsteen joined him for the last two songs of the night, "Take It Easy" and "Our Lady of the Well." Show-goer Brian Gay tells us, "Bruce sang the second verse on 'Take It Easy,' the choruses and added harmonies throughout. He played some nice leads during a great extended ending which included solos by the other guitarists as well. He looked and sounded great!" Watch their entire performance together below.
- photograph by Brian Gay
Setlist:
Take It Easy
Our Lady of the Well
September 19 / Brush Creek Ranch / Saratoga, WY
The wedding of Allison Williams and Ricky Van Veen on a Wyoming ranch. Tom "Stop Bendin' the Shafts!" Hanks officiated the ceremony, and according to our source in attendance, Springsteen also sang.

August 6 / Daily Show Studios / New York, NY
Notes: Earlier this year, all Bosswatch eyes were on David Letterman's final show, in case of a repeat of Springsteen's "Glory Days" farewell from NBC in 1993. That one may not have panned out, but it didn't mean Springsteen's late night tellyvision finales were behind him. All eyes this way instead: tonight, Springsteen was on hand — with the entire E Street Band — for a final farewell to his buddy and New Jersey compatriot Jon Stewart's Daily Show. Broadcast on Comedy Central, this was the first full reconvening of the E Street Band since the High Hopes tour's last dance more than a year ago.
After a moving showing from a Who's Who of the show's correspondents from the last 16 years, Stewart dedicated his last moments addressing Camera Three to a rallying cry against bullshit. "The best defense against bullshit is vigilance," he declared. "So I say to you tonight, my friends: If you smell something, say something." It was significant, then, that the folliowng and final segment was Bruce Springsteen and the E Street Band. Longtime heroes for Stewart, of course... but also, in this context, clearly offered as an antidote, a bastion of hope in a world of bullshit.
"An artist I really admire once said that he thinks of his career as a long conversation with the audience — a dialogue," Jon said after the last commercial break [video here]. Springsteen fans at the afternoon taping afternoon had already spied a saxophone and a familiar drum kit as signs of what was to come, but this was the first real indication for viewers at home. "And I really like that metaphor," Stewart coninued, "for many different reasons, but the main one is, because it takes away the idea of finality. It's a conversation: this show isn't ending; we're merely taking a small pause in the conversation.... I thought that was a remarkable way of getting to the idea that nothing ends. It's just a continuation; it's a pause in the conversation. So rather than saying goodbye or goodnight, I'm just gonna say... I'm gonna go get a drink. And I'm sure I'll see you guys before I leave.
"So, that's our show. I thank you so much for the privilege of being able to perform it for you, for the privilege of being able to do it, and so here it is... my moment of Zen."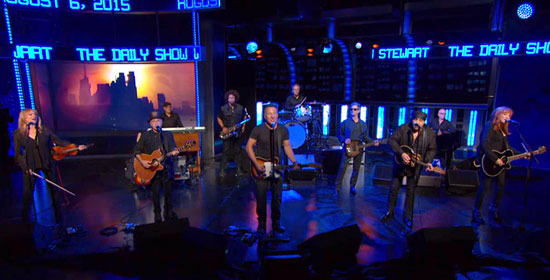 Jon's moment of Zen: the E Street Band, dressed in black to a person, singing "This train" as Bruce Springsteen called out, "This is by request from the man himself! Thanks for everything, Jon, we wish you happy and safe travels." The core modern-era E Street Band was present and accounted for: Jake Clemons; Charlie Giordano; Soozie Tyrell; 30-year vets Nils Lofgren and Patti Scialfa; 40-year vets Max Weinberg, Roy Bittan and Steve Van Zandt; and original E Streeter Garry W. Tallent. (Even without the full E Street Orchestra of recent tours, it was still a big enough ensemble that the stage had to be reconfigured during a break in taping to accommodate them). From the end of the rousing "Land and Hope and Dreams," Bruce and the band segued right into the "Born to Run" breakdown, the rest of that song serving as a celebratory coda as the Daily Show correspondents and staff stormed the stage for a last dance, a last chance power drive, hugs and pogos all around.
After hugging and grasping hands with Bruce and each member of the E Street Band, a visibly and audibly choked up Stewart, holding the drumsticks Max Weinberg just handed him, offered one last, "Thank you, good night." Bon voyage, Jon. See you when we get to that place we really want to go and we'll walk in the sun — or, y'know, just after that drink. Cheers, and thanks. Watch the full episode here.
Setlist:
Land of Hope and Dreams
Born to Run (partial)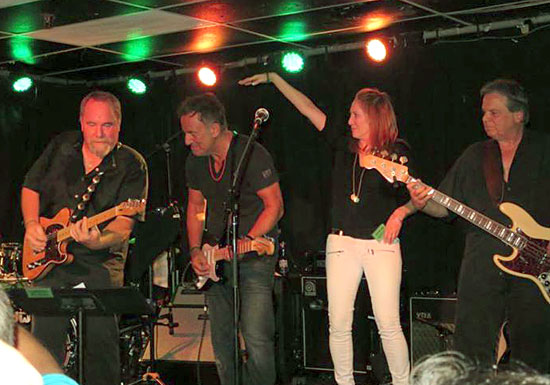 - photograph via Timepiece/Facebook
August 1 / The Wonder Bar / Asbury Park, NJ
All eyes were on Madison Square Garden on Friday night, for the one-last-chance-to-make-it-real appearance of Bruce Springsteen at the end of U2's NYC stand. Fewer eyes were on the Wonder Bar the very next night, as Bruce scaled things right down to jam with his brother-in-law's band at the small Asbury Park club just off the boardwalk. Bruce has played with Timepiece before, notably in 2010 on "Mustang Sally"; this time his appearance stretched out for a true coverfest. Patti Scialfa, whose brother Michael plays keyboards in Timepiece, was also part of the party, singing lead on "You Really Got a Hold on Me" and sharing a mic with her longtime friend Lisa Lowell. Watch below, along with Bruce soloing on "634-5789."
According to reports, Springsteen also stepped to the mic himself to sing lead on classics including "Pretty Woman" and "Born on the Bayou." Saturday's show was Bruce's second performance at the Wonder Bar this summer, having joined Joe Grushecky and the Houserockers there on July 18.
Setlist (partial/order not certain):
634-5789
You Really Got a Hold on Me
Pretty Woman
The House is Rockin'
Born on the Bayou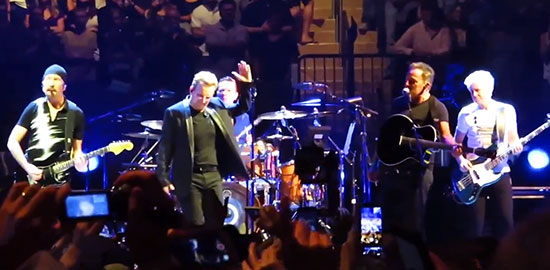 July 31 / Madison Square Garden / New York, NY
Notes: It was the end of what had already been a blistering night, the finale of U2's eight-show run at Madison Square Garden, a run where "Bruce is gonna be here!!" rumors had run rampant each and every night. But tonight, Jessica Springsteen had declared her presence on social media, and Bono had further piqued the crowd's interest by singing a line or two of "Hungry Heart" at the end of "Beautiful Day." Of course, there have been NYC-area U2 shows where Bruce was in attendance and acknowledged from the stage in some fashion but didn't appear on it.
Tonight, however, would not be one of those nights.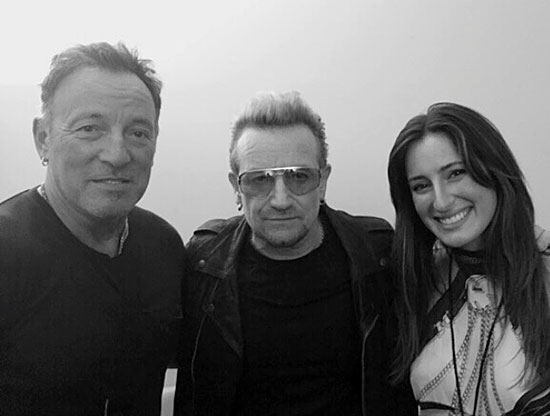 - posted by Patti Scialfa today on her officialrumbledoll Instragram account
At the conclusion of "Where The Streets Have No Name," Bono stepped to the mic and said that he wanted to thank "someone who gave us a reason to be a band, gave us a reason to continue to be a band, and gave us a level that we could never reach, but always aspire to — Bruce Springsteen, we know you're in the house; we'll play this one for you." As the house erupted in BRUUUUUUUCES, techs sprang onstage with microphones and a monitor, and Mr. Springsteen himself strolled in from stage right, relaxed and smiling, carrying an acoustic guitar. He was greeted by hugs and waves from the Edge and Larry Mullen Jr. and of course Bono, who escorted Bruce to his position onstage.
"Earlier when I busted myself up here in the city, and we had a gig in Times Square for (Red), this man showed up, and delivered," Bono declared, as the Edge began the introduction to "I Still Haven't Found What I'm Looking For." "You can sing this," the frontman continued, exhorting the audience to sing the first verse, as both he and Bruce stepped back with satisfied smiles on their faces. When the crowd reached the first chorus, Bruce stepped to the mic and took over, that familiar and trademark baritone soaring to the rafters, before joining along with Bono into the next chorus as the song continued. The two traded lines, Bruce in excellent voice, increasing in intensity as the song built, Bono directing at first, before the two settled into a rhythm that made it seem like this was something that happened all the time.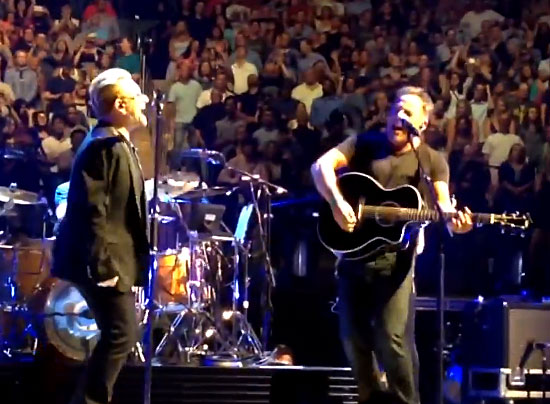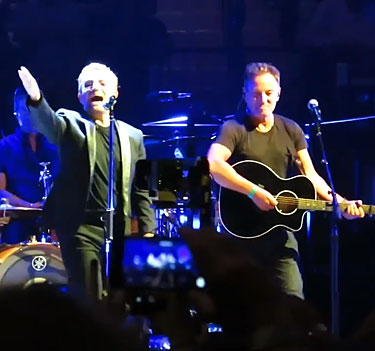 But the best moment of this surprise appearance was yet to come, and completely unscripted. At the last chorus, as the crowd took over, Bono walked over to the Edge and whispered in his ear before heading to Bruce and doing likewise. And then Bono came back to center stage and began to sing the opening lines to "Stand By Me." This was not on the setlist; it was, indeed, a true audible called at Madison Square Garden with Bruce Springsteen onstage. The crowd sang its heart out along with Bono, who was doing likewise, standing sideways, facing Bruce. He gestured to the Edge to take the volume down a bit, before cueing Bruce to take a verse, which he executed with aplomb — you don't need to worry about Bruce Springsteen knowing the words to "Stand By Me" and absolutely nailing it — before the band, and the audience, brought the number to a loud, raucous, triumphant end.
As the crowd cheered its lungs out, Bruce hugged and exchanged handshakes with the band as he left the stage. Bono declared, "The kid's a star... and he gets to keep the guitar!" referencing moments earlier in the week when fans had been brought onstage with the band and then left in possession of one of U2's guitars — moments of surprise, and love, and magic, but none greater than the one we just witnessed.
- Caryn Rose reporting
Numerous videos can be found on YouTube; click here for a complete full-stage view, and here for a periscope view from the front row.
Setlist:
I Still Haven't Found What I'm Looking For
Stand By Me

July 18 / The Wonder Bar / Asbury Park, NJ
On opening of weekend of the Joe Grushecky & the Houserockers: The Asbury Connection exhibit, they go and add yet another to their long tally of magical Asbury nights. Performing at the Wonder Bar last night, Joe and the Houserockers were joined by Bruce Springsteen for the vast majority of their set: nearly two hours and 15 songs together, including "Racing in the Street '78," "Darkness on the Edge of Town" [above], co-write "Code of Silence," and "Frankie Fell in Love." Also on hand was mutual buddy and Joe's recent partner in crime, Eddie Manion on sax.
Setlist:
Never Be Enough Time
Adam Raised a Cain
Darkness on the Edge of Town
Racing in the Street '78
Chain Smokin'
Talking to the King
Save My Love
Frankie Fell in Love
Atlantic City
Pumping Iron
Code of Silence
Because the Night
The Promised Land
Pink Cadillac
Light of Day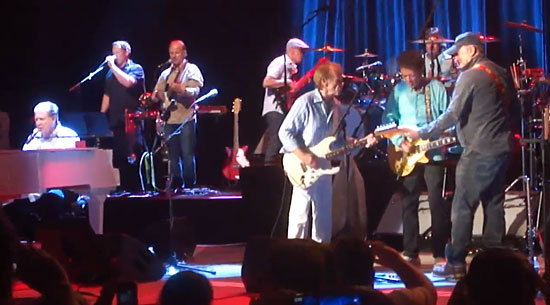 July 1 / PNC Bank Arts Center / Holmdel, NJ
Some good fun, fun, fun was had in Holmdel as Brian Wilson played the PNC Bank Arts Center, his band joined toward the end of the show by Bruce Springsteen, unannounced, for two songs. Bruce sang on "Barbara Ann" and "Surfin' USA," strapping on a guitar as well for the latter. See fan footage on YouTube.
Setlist:
Barbara Ann
Surfin' USA
May 30 / Oakland, NJ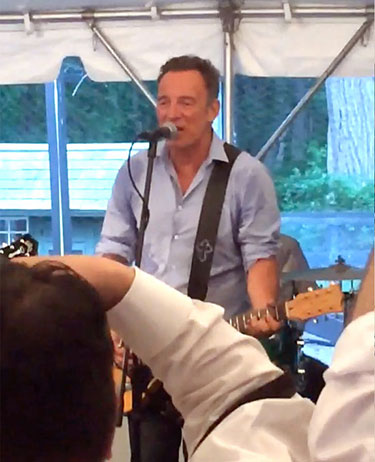 Warm congratulations to Kelly Kilbride, Patti Scialfa's longtime assistant, who was married last weekend on a beautiful estate in Oakland, New Jersey. The Boss — Patti, that is — was on hand at the outdoor reception to sing "Tell Him" with Bobby Bandiera's band. The Boss's husband, Bruce, also joined in under the tent, playing guitar and singing lead on classics including "634-5789" and "Roll Over Beethoven" for a crowd of about 150 wedding guests. The "other" Boss culminated his tribute to Kelly and her new husband Ryan by leading the band through "Jersey Girl" as the newlyweds danced. We wish them a smooth ride through the tunnel of love and a lifetime of happiness together.
Setlist:
634-5789
Roll Over Beethoven
Tell Him (Patti Scialfa lead vocal)
Jersey Girl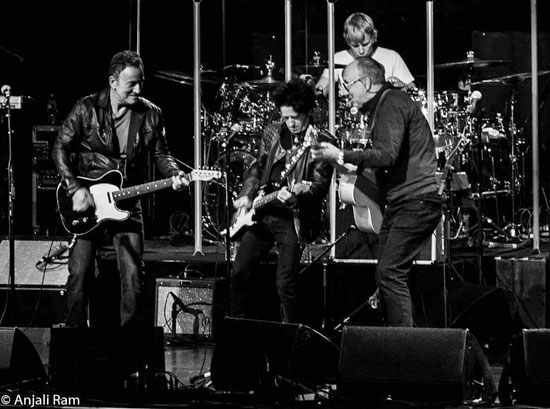 May 28 / Best Buy Theater / New York, NY
Notes: Pete Townshend has often said that without Mose Allison's "Young Man Blues," he wouldn't have written "My Generation." Fifty years later, Bruce Springsteen admits that without Townshend, there would be no "Jungleland" — and "I wouldn't be windmilling a Fender Telecaster." At last night's 11th annual MusiCares MAP Fund benefit concert, I was lucky enough to witness our Boss give the old boss one of the greatest rock 'n' roll award speeches ever. Pete's recent (and typically blunt) remarks about Springsteen to Rolling Stone — "I did [check out his shows] in the early days, but not anymore. It's a bit of blood and glory for me now" — didn't seem to put any sort of damper on Bruce's respect and admiration for Pete as player and artist, or his heartfelt recollection of his "blood bond" with Townshend, the power of the Who and their influence on a young Castile.
Bruce's full speech:
Pete's receiving the Stevie Ray Vaughan Award this year, for his dedication to helping others who struggle with drug and alcohol addiction. Through his work with The Who and his Double O charity, Pete's got a long history of working hard and raising spirits — and money — for worthy causes. Here's just a few: In 1986, Double O promotions put on the Colombian Volcano Relief Concert; 1989, The Who reconvened for an anniversary tour that generated over eight million dollars for children's charities throughout the U.S. and the U.K.; in the past years The Who have helped the Teenage Cancer Trust, raised close to three million pounds to provide cancerwards and screening units. There are plans on this tour to raise funds for charities as various as the Teenage Cancer Trust, the Michael J. Fox Foundation, the Andre Agassi Charitable Foundation for underprivileged children, the Robin Hood Foundation which funds and supports innovative poverty-fighting organizations in New York City…. I could go on and tell you much more about what Pete and The Who have done for others, but I think I'll tell you a little bit about what Pete's done for me.

I wouldn't be windmilling a Fender Telecaster if it weren't for Pete Townshend. It's the summer of '66 or '67, I'm not sure which one, but it was the first American tour that The Who were on, and I'm in a long line snaking out of Convention Hall down the boardwalk. The billboard read, in big type: "Herman's Hermits!"And then [smaller]: "The Who!" I was the young, pimply-faced teenager who managed to scrabble enough together to go see my first rock concert ever. Pete and the Who were young, pimply-faced teenagers with a record contract, a tour, and a rude, aggressive magic. They were, on this tour, of all things, opening for Herman's Hermits. There was no justice!

So I scrambled to my seat in what seemed like a cavernous Convention Hall, and I waited for the rumble to start. The first band out, I think, was a band called the Blues Magoos. They were out of New York City... Oh, there's a few folks who remember the Blues Magoos out there?... I don't believe you. [Laughter] But they had a great song called "Ain't Got Nothin' Yet," and they came out and they had these electric suits, and when all the lights went out in the hall the electric suits lit up, and it was... it was high-level special effects for the time.

Then the Who came out, and I think they played for probably no more than thirty minutes. Pete, in a cloud of smoke, demolished his guitar, bashing it over and over into the floor, and his amplifier. Now, the audience was filled with a significant number of teeny-boppers who were waiting for "Mrs. Brown, You've Got a Lovely Daughter." So they sat there with their mouths agape, wondering, like, of course, "Who are you?" Who are these guys? What are they doing? Why are they doing it? All I knew was, for some reason, this music, and the demolishing of these perfectly fine instruments, filled me with incredible joy. There was something wonderful about the wanton destruction of good, commercial property. It was the joy and giddiness of the riot that the Who somehow managed to safely attain. Semi-safely attain! But all I knew is that it made me happy, and it thrilled and inspired me.

It inspired me to a degree where I was in a young band called the Castiles, I was about 16 years old. We had a gig the next weekend at St. Rose of Lima, Catholic school, in the basement, for the CYO dance. So I went out and I bought a smoke bomb, and I bought a strobe light, and I brought them over to the gig. And as the night neared its end — not being able to smash my guitar, it was the only one I had! — at the end of the night I lit the smoke bomb, in the Catholic school basement, and I turned on the strobe light, and I climbed on top of my Danelectro amplifier holding a vase of flowers that I'd stolen from one of the upstairs classrooms. And with this huge flourish, melodramatically I raised the vase of flowers as the flickering, blinding strobe lit me, with smoke all around me, and as the nuns looked on in horror, I reached up and smashed them onto the dance floor! I jumped off the amp and stomped all over the petunias!

Of course, I looked ridiculous. Like I'd lost my mind. The vase of flowers simply failed to have the grandeur of a newly minted Telecaster being smashed to splinters, but we worked with what we had. I went home smiling, feeling a blood bond with Pete Townshend, and I never looked back.

As I grew older, the Who's music seemed to grow with me, the sexual frustration, the politics, identity… these themes coursed through my veins with every concurring Who album. I always found myself there somewhere in their music. "The Seeker" is the guy in "Born to Run." There'd be no "Down in Jungle… LAND" without Pete's slashing, bloody attack on his instrument.

Pete is the greatest rhythm guitarist of all time. He played such incredible rhythm, that he showed you don't have to play any lead, you know? It's an amazing thing to behold, really. Pete managed to take the dirty business of rock 'n' roll and somehow make it spiritual and turn it into a quest. He may hate this, but he identified the place where it was noble, and he wasn't afraid to go there. I took a lot of that with me as the years passed by. So Pete, I'm here to say, congratulations, well deserved, and thanks for not just Who's Next and 'Who Are You,' but for who I am.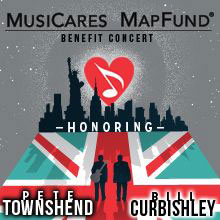 The lucky fans had lined up early at the Best Buy (formerly Nokia) theatre on Times Square to take their lucky and reasonably priced mezzanine seats and bear witness to the first NYC MusicCares event ever. Apparently this will now be an annual soire in the Big Apple. In front of us in the theater were white couches filled with generous donors to the MAP Fund who remained rather mellow throughout the night — until Little Steven and the lovely Maureen Van Zandt, sitting up close and personal, got the crowd on their feet for the mostly dazzling performances. Roger Daltry, observing at one point how subdued the crowd was, said that with all the white couches he felt like he was playing to a bunch of psychiatrists.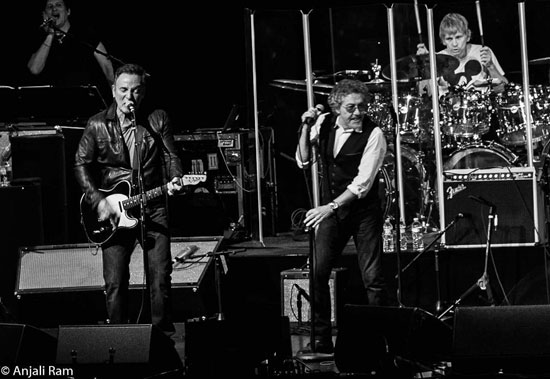 This was an alcohol-free event, in light of the aim of the charity that assists musicians with addiction recovery. The Who touring band (John Corey on piano, Loren Gold on keyboards, Pino Palladino on bass, Frank Simes on keyboards, Zak Starkey on drums, and Pete's brother Simon Townshend on guitars) was the house band for the roughly 90 minutes of music. It was great to see last year's Little Kids Rock honoree Joan Jett perform a killer "Summertime Blues" (though I wanted to see Bruce do that!) as well as "I Can't Explain." Willie Nile, in my opinion the hardest working guy in music, came on and did a yeoman's job on "Substitute" and "The Kids are Alright." Daltrey then joined the band after honoring the other star of the night, Who manager Bill Curbishley; Roger swinging his mic, and his vocals sounded strong on "The Seeker" and that Pete favorite, "Young Man Blues" (kudos from Roger to Zak Starkey on that debut for him).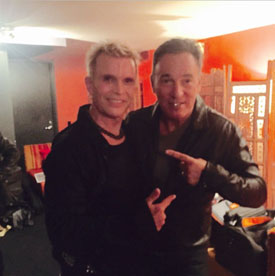 The acoustics were surprisingly excellent for a benefit and really kicked into gear when Billy Idol (with Bruce last night at left, from Idol's Instagram feed) blasted out "The Real Me" and "Who Are You". Idol seemed to particularly enjoy the song's "Who the fuck are you?!" line, repeating it as much as possible. Some in the crowd thought Billy stole the show with his performance.
Speaking of the F-bomb... one can always count on Pete being Pete. After Bruce's heartwarming and sometimes hysterical speech (though I'm not sure Peter Noone of Herman's Hermits or the sisters of St. Lima will like it) Pete took the stage with Roger and asked Bruce to join them on "My Generation". I felt very lucky that I heard this classic the last time Bruce and E Street performed it, at Penn State's Bryce Jordan Center six years ago, in May of 2009. This time Bruce took the f-f-f-fade away verse and brought new life to one of the greatest rock songs ever written [video]. The Bruce fans in the Mezz were SRO and finally on their feet. Pete followed this with "I'm the One" and then was going to play "Eminence Front," but after some tech issues he dropped a few F-bombs himself and shouted, "Let's just go to the finale!" That whole incident reminded me how much Pete is still Pete — and why I love rock 'n' roll and all its colorful characters.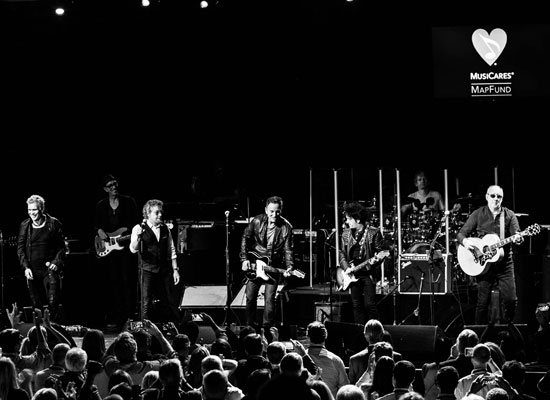 The finale seemed a bit rushed and frenetic after Pete attempted his version of an audible, but with Bruce front and center as either the new or the old boss, "Won't Get Fooled Again" [video] was just great poetry to end a short but sweet night of classic rock.
- Mitch Slater reporting - concert photographs by Anjali Ram
Setlist:
My Generation (with The Who) [video]
Won't Get Fooled Again (with The Who, Billy Idol, and Willie Nile) [video]

May 16 / Tribeca Grill / New York, NY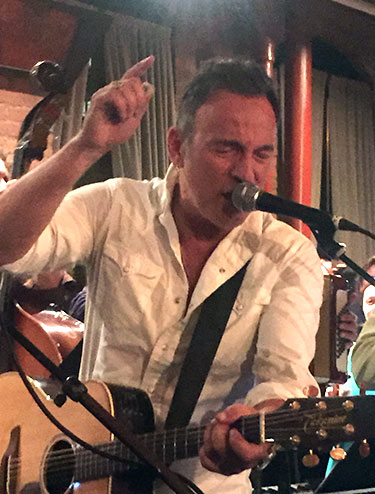 Notes: Saturday night in Tribeca it was a nine-year flashback, as Bruce Springsteen joined a mini-reunion of the Sessions Band the 22nd annual 'A Night to Remember' benefit for the Kristen Ann Carr Fund. The entertainment, known as the Gotham Playboys when they started playing private parties at Springsteen's farm in the late '90s, was billed for the evening as the Tribeca Playboys: Charlie Giordano on accordion, Jeremy Chatzky on stand-up bass, Larry Eagle on drums, Sam Bardfeld on fiddle & vocals, Soozie Tyrell on fiddle & vocals, Lisa Lowell on vocals & guitar (and washboard!), Ed Manion on sax, and Curt Ramm on trumpet — all players from the 2006 tour. After a full set that had Redheaded Women Lisa and Soozie fronting the Playboys for uptempo party tracks like "Fujiyama Mama," "Hound Dog," and "Man Smart (Woman Smarter)," Springsteen strapped on an acoustic to lead them through four Sessions Band classics.
This truly was an impromptu performance, as Chatzky told Backstreets afterward: "We honestly weren't sure that was going to happen at all. I mean, everyone hopes, but you never know. There was talk he might join us for two songs, but then he just kept it going." Asked if there had been any chance to rehearse with Bruce, Tyrell laughed: "We hardly had a chance to rehearse as a band — just a couple days last week." In keeping with the spirit of the Sessions Band, it truly was music being made on the spot, Bruce calling out players to take solos as they went along — "Come on, Sam!... Come on, Charlie!" — relying on muscle memory from 2006 and pure chops.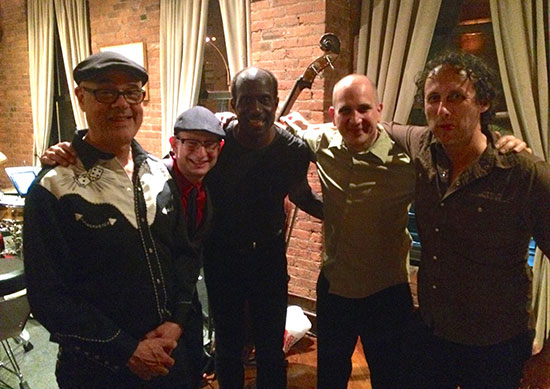 After the gig, L-R: Giordano, Eagle, King, Bardfeld, and Chatzky
Also joining in: Nils Lofgren on guitar, the Sessions Band's Curtis King on vocals, and restaurateur (and venue host) Drew Nieporent on washboard. "Twenty years ago," Drew told us outside his Tribeca Grill later that night, "I had these guys [then the Pinballs] play my 40th birthday party, and I strapped on the washboard for that... now I'm 60, I had to do it again!"
"Sessions Band, Sessions Band," Bruce repeated at the end of "My Oklahoma Home," "They're back! They're back!" While surely he meant just for that rollicking half-hour, it was hard for many in the place not to wish for more.
And as Lisa Lowell told us, "I hope in some dimension Kristen Ann was feeling the love." Visit sarcoma.com to learn more about the KACF and to support the cause.
Setlist:
Pay Me My Money Down [video]
O Mary Don't You Weep [video]
Jesse James [video]
My Oklahoma Home [video]
April 30 / Boston, MA
Notes: Bruce Springsteen, accompanied by Patti Scialfa and Nils Lofgren, performed "I Wanna Marry You" and "If I Should Fall Behind" at the memorial service for the late Lenore Travis.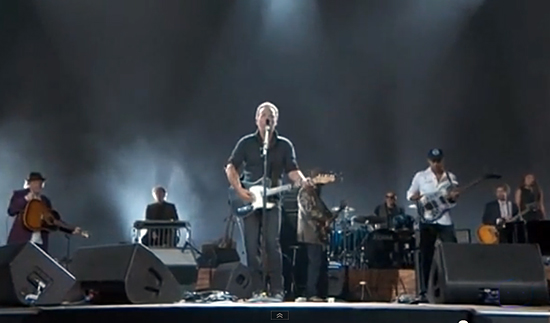 February 6 / L.A. Convention Center / Los Angeles, CA
Notes: On a night when Bob Dylan himself pulled no punches in what amounted to a sort of critical career rebuttal masked as an acceptance speech, Bruce Springsteen more than acquitted himself as a Dylan interpreter by offering a welcome fresh take on one the honoree's best-known tunes.
Joined by his SoCal muse and common-law E Street Band member Tom Morello, Springsteen brought compelling focus and intensity to "Knockin' on Heaven's Door," singing the song with reverence while restoring some depth of meaning to its familiar refrain. While he didn't sound like Johnny Cash, Bruce's performance resonated like an American Recording.
The arrangement too was deft, worked through with the event's crack house band (including Don Was, Buddy Miller, Kenny Aornoff, Benmont Tench and Greg Leisz) during the previous day's soundcheck, and highlighted by Morello's powerful yet admirably restrained guitar work that brought the song to another level without becoming bombastic.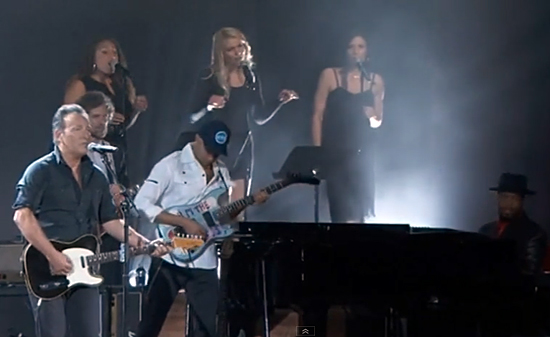 It was one of the clear highlights on a night that veered more folk than rock, the efforts of Beck and Jack White notwithstanding. Other high points came from Jackson Browne ("Blind Willie McTell"), John Doe ("Pressing On"), Tom Jones ("What Good Am I?") and Bonnie Raitt ("Standing in the Doorway").
Morello told Billboard that Springsteen had initially sought to perform "Blind Willie McTell" himself, but it had already been promised to Browne. We had been hoping for "Series of Dreams" from The Bootleg Series Vol. 1-3, a song cited by multiple biographers and writers as having had enormous influence on Springsteen's own writing in the early '90s and, more specifically, as the catalyst to Bruce writing one his greatest songs from that period, "Living Proof."
- Erik Flannigan reporting
Setlist:
Knockin' on Heaven's Door

January 17 / Paramount Theater / Asbury Park, NJ
Notes: On paper, the main event show of Light of Day 15 at Asbury Park's Paramount Theatre was mostly a modest, local affair amongst friends, with longtime Jersey Shore artists like John Eddie, Billy Hector, Vini Lopez, Paul Whistler and Gary U.S. Bonds scattered throughout the bill. Even the main attraction, La Bamba's Big Band, was for many years an Asbury Park mainstay. But savvy followers of the Shore scene probably sensed that this was precisely the recipe for something extraordinary. With the Big Band — including former Jukes Richie "La Bamba" Rosenberg, Mark Pender, Bobby Bandiera and Eddie Manion — fronted by none other than Southside Johnny Lyon, the stage was set for an Asbury Park family reunion, and the boys did not disappoint. There amongst some of his oldest friends, Bruce Springsteen threw caution to the wind and delivered a good old-fashioned jam filled with covers and rarities and nostalgic looks into the past, flubs and wisecracks and laughter and, of all things, James Brown references.
With doors at 6 p.m., it was a long evening of entertainment, and most fans trickled in throughout the early part of the festivities. But latecomers missed some real gems — the edgy Delta blues of the remarkable Guy Davis, and the heartfelt performance of John Eddie, whose self-deprecating style belies a catalog of material that has only in the last decade garnered him the kind of national attention he has richly deserved all these years. They may have also missed a mini-reunion of Mr. Reality, or the hard-edged street sound of veteran Garland Jeffreys, who paid tribute to his old friend Lou Reed with a set-closing "I'm Waiting for the Man."
Perennial Light of Day favorite Willie Nile can always be relied upon to get audiences going, and his brief, energetic set, including Jim Carroll's "People Who Died" and a dedication of his own "The Innocent Ones" to the victims of last week's terror attacks in France, proved a spirited call to arms. The anthemic "One Guitar" drew a not-so-surprise appearance by Bruce, who, dressed smartly in black jeans and fitted shirt, wandered on from stage left to contribute guitar and backing vocals.
Old friends Vini Lopez and Paul Whistler (who was a Shore mainstay in the 1970's with bands like The Wheels) followed up with their new project Dawg Whistle, a two-piece blues outfit whose all-original material is laced with sly references to their own shared past in an Asbury Park of yesteryear, including the playful "Three Steps Forward, Two Steps Back."
And then it was time for the frenzied energy of Richie La Bamba and his infamous Big Band. Rosenberg and partner in crime Mark "The Loveman" Pender, notorious both for their stellar musical chops and high-energy hijinks as part of the Jukes horns, had both in full effect in a spirited set that was the highlight of the evening and gift to longtime fans.
The set opened with the usual music vamping by La Bamba and band — often billed as the 18 Pieces of Soul — with Mark Pender blasting out an extended trumpet lead, including a trademark move in which he holds a high note for what seems like an eternity, to which Richie responds in mock astonishment. And then out walked Southside Johnny to perform the Springsteen/Van Zandt tune "When You Dance," a tune that got left off the Jukes' I Don't Wanna Go Home way back when but later appeared on a "best of" CD. The Big Band's jump blues focus is right in the SSJ wheelhouse, and he was truly in his element, wailing on harp and bouncing around the stage in excitement.
And then came the unmistakable backbeat of the Gary U.S. Bonds 1960 hit "New Orleans." All eyes turned stage left, but Southside stayed at the center mic to sing lead vocals — which seemed unusual, Bonds being a billed performer for this set, but then not so much, as the mercurial Lyon habitually throws vintage, seemingly random covers into his sets on a nightly basis. This is a performer known for pulling audience leg on occasion, and there was no explanation of Bonds' absence. This was followed by "It Ain't the Meat (It's the Motion)" from the Jukes' debut album, which included a brief, animated display of Southside/La Bamba ballroom dance moves (SSJ leading, of course) and concluded with Lyon motioning to the horn section to sing part of the call-and-response vocals in unison instead of playing their various instruments. "I don't wanna hear any of that horn bullshit," he shouted by way of explanation. It was hilarious, a total Southside moment.
After the "surprise" of Bonds' failure to appear on what was his signature song, it was no great surprise when Bruce Springsteen returned to the stage to front the Big Band. After all, it was he who unofficially helped christen Rosenberg with his nickname back in the day. But there was a slight problem: Southside finally informed the audience that Gary U.S. Bonds had phoned in sick for the evening. But it was clear that the band had been rehearsing some of his material, and there had been no time to change up the setlist too much with so many moving parts. The result was a Springsteen performance that was for many a dream come true, as covers and rarities that older fans thought they would never live to see ensued.
First came "The Letter" performed a la Joe Cocker (Southside on lead vocals, Bruce on guitar) and then, after a few moments of discussion with Mr. Lyon, the jaw-dropper of the night: Bruce Springsteen performing "This Little Girl," the hit single he had written for Bonds nearly 35 years earlier but had never performed solo.
"I wrote it, but I don't know if I remember it," said Bruce, strumming his guitar tauntingly. But no worries: it was more or less note-perfect, a moment of pure pop joy that can seem all too rare in Springsteen's meticulously executed performances. Fans had barely time to catch their breath when the backbeat morphed into Jackie Wilson's "(Your Love Has Lifted Me) Higher and Higher," a tune occasionally covered by Bruce and the E Streeters but never with the Big Band horns. There were some issues — too many horn breaks, a key change that didn't quite jell — but no one seemed to mind. "Well, that died," said Bruce, smiling. And then, perhaps mixing his metaphors, he cracked, "No one follows James Brown. No one."
"It took two of us to completely fuck that up, two of us!" Bruce continued, to which Southside responded, "Yeah, and between the two of us, neither one of us is Jackie Wilson."
What could follow that priceless exchange but the Van Zandt classic "I Don't Want to Go Home," the two old friends trading vocals as the horns wailed behind them. "Yeah, the two of us used to sit and watch movies in this place," said Bruce after the song concluded. "Who knew?"
The traditional Springsteen/Houserockers set was now to follow, but it would prove difficult to match the pure magic of what had just transpired. First up was a solo Bruce on acoustic, and another relative rarity: the Born in the U.S.A.-era B-side "Janey Don't You Lose Heart," which was given a tender, romantic reading on the darkened stage, a lone spotlight shining above. This was followed by Grushecky & Co. (augmented by Eddie Manion on tenor saxophone) on the always-intense "Adam Raised a Cain." The presence of the Kingfish onstage must have been too tempting to not take advantage of, however, as Bruce began to pace back and forth across the front of the stage in full preacher mode: "How much love do you have in your [bank] account?" he shouted, repeating the exhortation several times for effect. "How much LOVE?"
And with that, the band kicked into the rarely-performed "Savin' Up," a Springsteen-penned tune performed by soul man J.T. Bowen on C.C. & the Red Bank Rockers' Rescue album but only a handful of times by Bruce himself. It was a raucous, loose performance, punctuated with impromptu bits including Bruce, James Brown still on his mind, exhorting the band to "take it to the bridge." And then another singularity, the Chuck Berry homage "From Small Things (Big Things One Day Come)." Always a fan favorite, it's a song that mostly shows up in club jams; tonight it was another gift to longtime fans but seemed to be unrecognized by a fair number of those in attendance. This was followed by a Springsteen/Grushecky duet on "Never Be Enough Time."
Things then slowed down as Bruce donned his harp and began the opening riff of "Racing in the Street '78", aptly supported by the Houserockers but somewhat missing the signature Roy Bittan keyboard part. Photographer and friend Danny Clinch then stepped on to contribute his own harp licks on Grushecky's "Pumping Iron," which was followed by a somewhat hoarse "Darkness on the Edge of Town."
And then Joe turned to address Bruce. "Fifteen years, we been doing this," he said. "Fifteen years. We were just whippersnappers then." The self-deprecating "Still Look Good (For Sixty)" ensued, the two good-naturedly trading wisecrack lines about wrinkles and unwanted hair. This was followed by "Frankie Fell in Love," a newish song world-premiered at last year's Light of Day main event. This was succeeded by another fan favorite and another rare performance: "Hearts of Stone," also premiered (by Bruce, anyway) at last year's event. By this time, it was late and everyone was tired, so it sounded just a bit off, but no one seemed to mind.
And then, as the trademark glockenspiel riff echoed behind him, Bruce introduced "Save My Love" (yet another rarity that seems to mostly show up at this type of show) by talking about its origin. "I wrote this for the Darkness record, but it would've fit really well on Born to Run." He recalled the heyday of Top 40 radio, a time that when you were listening to a song, everyone else was hearing it too. "It was 1975, and I was on a road trip upstate somewhere, a little college in Rhode Island, and I was standing on a corner and a car pulled up. They rolled the window down, and 'Spirit in the Night' was playing on the radio." It was a powerful moment for him, he said, "a feeling I've never forgotten. It seemed like affirmation" of everything he had been working for until that point.
This now-rare moment of personal reflection harkened back to Bruce's glory days with the E Street Band, when it seemed almost every song came with a story attached. And the night could have ended right there, but there was more yet to come, including Grushecky's "Talking to the King," after which Joe went over to speak to Bruce. "Oh yeah," Bruce smiled. "I almost forgot. Are any of those guys still here, Willie, John Eddie? Come on out." The two wandered on obligingly and planted themselves stage left to sing backing vocals as the piano intro to "Because the Night" began echoing throughout the building. Finally, here was one the audience could — and did — sing along with. And, house lights up, the sing-along portion of the program continued, as various Light of Day performers assembled on the stage for the de rigueur group performance of the event's theme song.
"Yeah, La Bamba," said Bruce afterward. He still seemed surprised and pleased at how that impromptu portion of the night had gone, at the reunion of old friends many of whom had last shared the stage at the Jukes' live performance of Little Steven's Men Without Women several years back. "I just saw him face down in the alley a half hour ago. How'd he get here?" he cracked, adjusting the acoustic guitar handed to him by longtime tech Kevin Buell.
"Thunder Road," now seemingly reinvented as an audience tribute/sing-along, followed, after which event founder Bob Benjamin, who had been standing amongst the large crowd now onstage, was brought to the mic. After some words from Bruce about the history of Light of Day and the inspiration that Benjamin has been to him all these years and a response in kind from Bob, many thought the long night of surprises was finally done. But it seemed that only one more song could end this unique event. "Let's do one more," he shouted to the masses onstage; it was a sing-along of "The Promised Land" that would finally conclude the marathon evening.
And so a night that had looked fairly conventional at face value instead became a night of rarities, a loose, fun-filled evening of old friends and shared history that pushed Bruce Springsteen out of his comfort zone and into one of the most spirited performances in recent memory.
- Lisa Iannucci reporting - photographs by A.M. Saddler
Setlist:
with Willie Nile
One Guitar
with LaBamba's Big Band
This Little Girl
Higher and Higher (with Southside Johnny)
I Don't Want to Go Home
solo acoustic
Janey Don't You Lose Heart
with Joe Grushecky & the Houserockers
Adam Raised a Cain
Savin' Up
From Small Things (Big Things One Day Come)
Never Be Enough Time
Racing in the Street '78
Pumping Iron
Darkness on the Edge of Town
Still Look Good (For Sixty)
Frankie Fell in Love
Hearts of Stone
Save My Love
Talking to the King
Because the Night
Light of Day
Thunder Road (acoustic)
The Promised Land