December 14 / Carnegie Hall / New York, NY
Notes: Vamping his way from the back of the house through the audience and up to the stage at Carnegie Hall, Bruce Springsteen began to close last night's 2016 benefit concert for The Rainforest Fund with a hearty "Ho! Ho! Ho!" This immediately let all in attendance know (before most of us could even see him) that Bruce indeed had made his setlist, checked it twice, and now was ready to deliver the goods to all boys and girls, naughty or nice.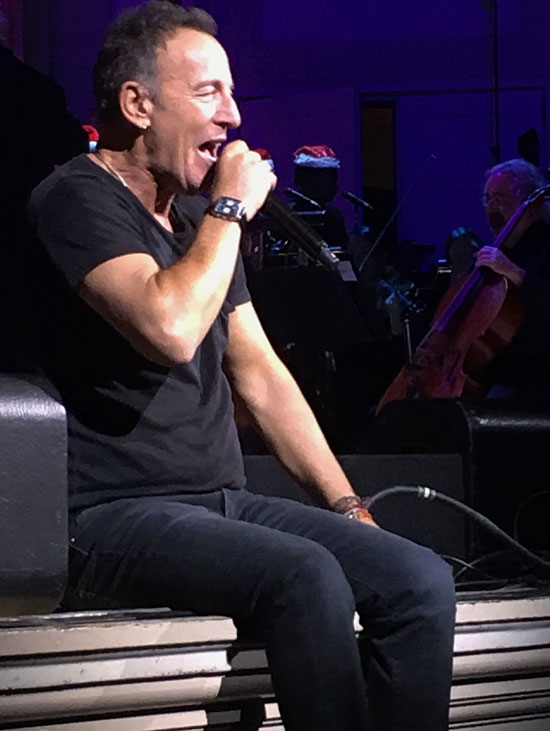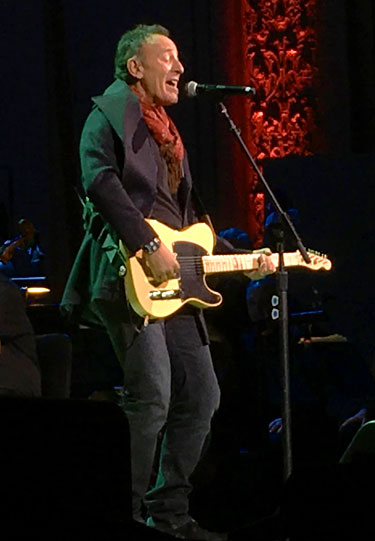 At the beginning of the evening, Rainforest Fund co-founder Trudie Styler explained that since the annual benefit concert had never been held this late in the year before, it was decided to go with a winter holidays theme for the 2016 extravaganza, pointedly entitled Baby, It's Cold Outside (But Getting Warmer). Bruce brought that theme home with solid performances of his well-known Christmastime covers "Santa Claus is Comin' To Town" and "Merry Christmas, Baby." Then, like a snowball thrown with a curve, he hit us with a "Tenth Avenue Freeze-out" — which really has nothing to do with cold weather, but hey, who cares when it's this good?
What made each of these performances unique had much to do with the musicians who accompanied Springsteen. On all three songs, Bruce, like all of the evening's performers who preceded him, was backed by St. Luke's Orchestra (which back in 1991 performed with Max Weinberg, Steve Van Zandt and others on the Killer Joe recording of Springsteen's "Summer on Signal Hill"). The orchestra was anchored by a stellar house band led by drummer, longtime Rainforest Fund musical director and Clarence Clemons collaborator Narada Michael Walden, and filled with some of the New York area's most respected and sought-after backing musicians like CBS Orchestra alums Will Lee and Tom "Bones" Malone. It was quite a yuletide treat to hear Bruce deliver his classic rock/soul versions of "Santa" and "Merry" with a Phil Spector-size assemblage of musicians behind him.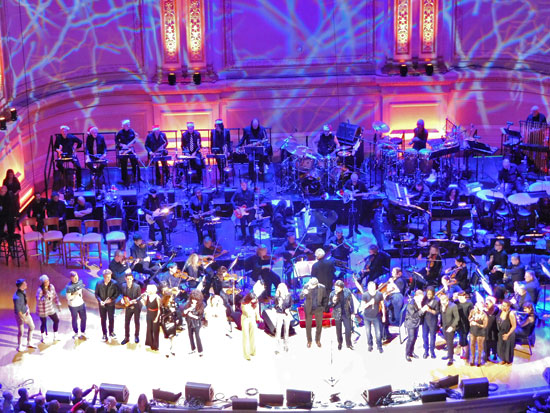 Speaking of Spector, many fans, myself included, held high hopes that having both Darlene Love and Ronnie Spector on the bill with Bruce might lead to at least one Christmastime performance featuring Bruce performing with two (or even one) of his biggest influences. Alas, it didn't occur. Neither Love nor Spector performed a number with Springsteen. They didn't even perform with each other, as they had back in 1992 on "Rockin' Around the Christmas Tree" for A Very Special Christmas 2. (Last night, Love performed "Rockin'" by herself.) Nevertheless, both Rock and Roll Hall of Famers looked and sounded wonderful in their respective performances.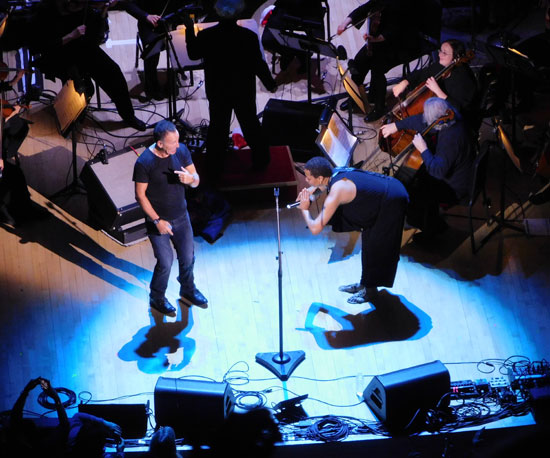 Bruce did, however, close his performance with one hell of a duet partner after all: legendary backup singer Lisa Fischer, a key figure in the documentary 20 Feet From Stardom. Fischer walked those 20 feet or so to Carnegie Hall's center stage. Then, singing and dancing together with Springsteen, they transformed "Tenth Avenue Freeze-out" into a Sam and Dave-style duet, truly taking the song all the way back to those soul styles that gave it birth. It was quite a sight and sound to behold.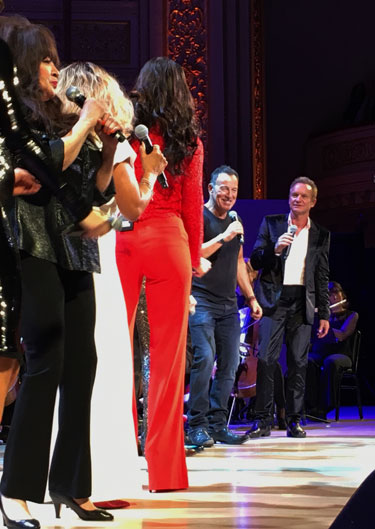 After that, last-minute addition Jennifer Nettles walked out and joked about being foolish enough to agree to follow Bruce Springsteen. Fortunately, Nettles didn't have to do it alone. She was joined quickly by all of the show's other participants, including Bruce, serving as her gospel choir on the closing one-two punch of "Do You Hear What I Hear?" and an ultra-high-energy "Joy to the World."
Thus ended what is most likely to be Bruce Springsteen's final public performance of 2016. But did I hear Santa Bruce exclaim, before he disappeared from sight, something about more 2017 tour-dates and more new music... he just might? Okay, that was only some wishful thinking on my part at this point, but I'll take that vision for my 2016 holiday dreamin' over mere sugar plums any day.
Click here to learn more about The Rainforest Fund and how you can support its efforts.
- report and photographs by Shawn Poole (1,4,5) - additional photographs by William Borner (2,3,6,7) - special thanks to Greg Drew
Setlist:
Santa Claus is Comin' to Town
Merry Christmas Baby
Tenth Avenue Freeze-out (with Lisa Fischer)
Do You Hear What I Hear (with all)
Joy to the World (with all)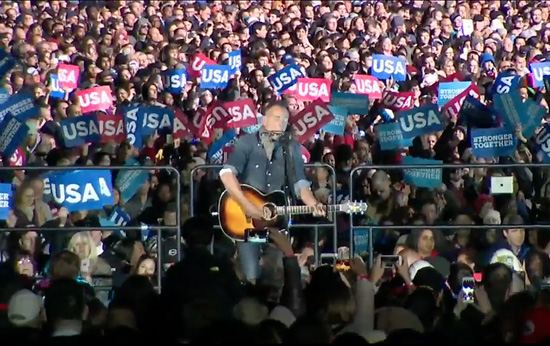 November 7 / Independence Mall / Philadelphia, PA
Notes: On a packed Independence Mall in Philadelphia tonight, the final night before the 2016 presidential election, Bruce Springsteen performed a three-song set on acoustic guitar for a crowd estimated at 40,000. Following a "Thunder Road" that closed with a slight lyric change for the occasion — "Tonight we're pulling out of here to win" — Springsteen spoke to the gathered masses and made his case for Hillary Clinton:
Good evening! It's an honor to be here with President and Mrs. Obama, President Clinton and Chelsea, and if we all do our part tomorrow, President-elect Clinton.

The choice tomorrow couldn't be any clearer. Hillary's candidacy is based on intelligence, experience, preparation, and on an actual vision of an America where everyone counts: men and women, white and black, Hispanic and Native, where folks of all faiths and backgrounds can come together to address our problems in a reasonable and thoughtful way.

That vision of America is essential to sustain, no matter how difficult its realization.

Hillary sees an America where the issue of income distribution should be at the forefront of our national conversation, where the progress we've made in reducing our unemployment is not enough — we must do better. She has a vision of universal health care for all that will build on the work of President Obama. She sees an America that needs to be fairer, where our highest courts look to protect the rights of all of our citizens and not just the privileged. She sees an America where the issue of immigration reform is dealt with realistically and compassionately. And she calls for an America that participates in the welfare of our planet — both in world affairs and in global science — and where the unfinished business of protecting the rights of women is not an afterthought, but a priority.

That's the country where we will indeed be stronger together.

Now, briefly, to address her opponent: this is a man whose vision is limited to little beyond himself, who has a profound lack of decency that would allow him to prioritize his own interests and ego before American democracy itself. Somebody who'd be willing to damage our long-cherished and admired system rather than look to himself for the reasons behind his own epic failure. That's unforgivable. Tomorrow that campaign is going down.

Let's all do our part so we can look back at 2016 and say we stood with Hillary Clinton on the right side of history. That's why I'm standing here with you tonight, for the dream of a better America.
Springsteen introduced "Long Walk Home" as "a prayer for post-election" and closed with "Dancing in the Dark," finally adding, "Let's get out there and vote tomorrow!"
Setlist:
Thunder Road
Long Walk Home
Dancing in the Dark
November 1 / Theater at Madison Square Garden / New York, NY
Notes:
Bruce Springsteen made his tenth annual appearance at the
Stand Up for Heroes
benefit in New York, which supports our wounded servicemen and servicewomen through the
Bob Woodruff Foundation
. Also on the bill: Louis C.K., Jim Gaffigan, Jerry Seinfeld, and Jon Stewart. Springsteen performed four songs solo acoustic (with
jokes
interspersed) and alone raised $280,000 with an auction lot including a signed guitar, a Cadillac ride with the Boss, a hot dog and hamburger feast at Jersey Freeze, and, once again, his mother's lasagna.
Setlist:
Working on the Highway
I'll Work For Your Love
Long Walk Home
Dancing in the Dark

September 14 / Gillette Stadium / Foxborough, MA
Notes: "Hello, Foxborough! You're looking good!" Bruce Springsteen greeted the vast expanse of Gillette Stadium as the E Street Band took the stage for the last night of The River Tour 2016. As has become the new normal over the previous nine shows, the band opened the evening yet again with "New York City Serenade." "Yet again" seems like such an improper way to address the fact that everyone who showed up got to see this elusive masterpiece, but clearly, that's how Bruce wanted it. "Serenade" is such a rich, diverse number that it can take on different shades and tones based on Bruce's mood, the audience, the venue, or general feeling in the air. Tonight it was loose and languorous. It felt like the end of summer, Bruce vamping, "Sometimes you gotta walk on… just walk on" at the end, as though the older version of the song's narrator was offering some sage advice to Billy and Diamond Jackie. (Or maybe it was just the Junkman talking.)
With a nod to Roy Bittan, the piano introduction to "Prove It All Night" began, making it obvious that this wasn't any "Prove it," but "Prove It '78," complete with the accompanying Springsteen guitar wizardry. Tight and compact, his intro solo was executed with precision, strong, almost linear. And then, as Bruce brought the guitar neck down for the last time, the band came thundering right into place and the body of the song kicked in. There are so many of those moments to watch at a Springsteen show, but this one was breathless as you followed the solo, waiting for that moment of, well, climax. The power of the arrival of the band was a declaration of intent: the E Street Band is here and ready for business. It was almost a second opener.
The now-familiar '73 run of songs (which was not on the printed setlist; this was originally meant to be a Darkness night) featured Bruce in prime storytelling, end-of-tour summational mode. He offered versions of many of the tales he's been telling over the last few weeks, presumably inspired by what we'll soon be able to read in Born to Run. A tale of living above the beauty salon in Asbury Park prefaced "Blinded by the Light": Bruce had handed his record in to the record company, and they said, "'There's no hits on it! There's nothing we can play on the radio!' So I went home; I got out my rhyming dictionary, and I looked out my window. And I saw Mad Dog Vincent Lopez in a tirade on the street in front of me! He was assaulting a young man for taking his parking place. And I thought…" With that, Bruce launched into "Blinded by the Light," madman drummer bummers and all.
"Saint in the City" began with the tale about arriving in front of Columbia A&R exec John Hammond. Introducing "Growin' Up," Bruce proudly crowed, "Before my upcoming smash biography, this was my biography — 'Author, author!'" He also included the now-familiar story of how he earned his first guitar, "the only honest work I would do in my entire life," performing a series of tasks for his various relatives at the price of 50 cents an hour.
But let's not overlook the performances of the actual songs. "Saint in the City" was a locomotive, the band driving hard and Bruce egging Steve on at the solos. "Steve!" he yelled at the first lick, and then again, affectionately, but still: "Steve!" until Van Zandt delivered to the Boss' satisfaction. "Lost in the Flood" was delivered with martial precision. And "Incident" was drop-dead gorgeous and ethereal, making you feel like you were there at that moment. The music marshalled attention and what felt like an impossible silence throughout the stadium at the second to last verse: Johnny sitting on the fire escape, Garry Tallent oh-so-effortlessly providing both the bottom and the melody to move Bruce through the song. You felt the seasons change; you knew summer was gone. And then, that tumble once again into "Rosalita," that utter explosion of joy.
A large sign collection effort followed "Rosalita," but Bruce clearly didn't get everything he wanted, as he would keep shuffling through them. Unlike many of the shows this leg, the signs didn't just map to what he'd already decided he wanted to play. The signs resulted in a surprisingly passionate "Boom Boom," which Bruce had tremendous fun with, in full blues shouting mode. "I mean RIGHT NOW," he would — goddamn! — testify. That level of driving power would continue into "Darkness on the Edge of Town," another choice from the sign pile, where it felt like Bruce was raising the level of intensity from verse to verse. By the time he reached that last "on the edge of TOWnnnnnnn," you felt it, hard, right along with him. It was visceral. The sign for "Radio Nowhere" garnered a strong response from the front pit, but Bruce needed a few seconds to run through the chords. "I think I got it," he said, as he ran his fingers along the fret board. There were many excited shouts of anticipation, to which Bruce responded, laughing, "I'm going as fast as I can!" (The people at the top of Gillette Stadium are probably still wondering what on earth was going on down there.) Later, a sign referencing the Patriots' Deflategate would spur a frenetic, rave-up version of the "Detroit Medley," which felt like a Hullaballoo Club dance party with the E Street Band. "Light of Day" wasn't from a sign, but it would be the perfect follow-up to the Medley, the crowd not needing an engraved invitation to sing on the "Land of 1,000 Dances" refrain, spurring Bruce's energy yet further.
Despite this being a tour closer, the mood tonight was buoyant, loose, celebratory. Bruce's unmistakable cackle would be heard multiple times, and he grinned ear to ear pretty much nonstop. The mood was matched by the rest of the band, whose expressions ranged from delighted to bemused, especially at moments like Bruce miscalculating how long it would take him to run back to the pit divider for "Spirit in the Night." (Jake Clemons would also seemingly lose track, having to flat-out sprint off stage in order to get back there in time.) "If you're gonna Bruuuuce me, Bruuuce me right," he giggled in the middle of "Growin' Up." When he reached the key line of "Bus Stop," he leaned forward, cupped his hand around his ear, and urged the crowd to shout, "Man, the dope's that there's still hope!" back at him. That resulted in yet another delighted cackle when the line was delivered at a volume that met his satisfaction.
"4th of July, Asbury Park (Sandy)" was the result of another sign, resulting in a mad scramble by Roy to get the accordion and scurry over to the other side of the stage, only for Bruce to stop the band and announce that he'd let them know when they would come in. He said he wanted to try something different. "Something different" would end up being just Bruce and the electric guitar, with a delivery that felt less like the hipster beach bum of the original story, more like he'd grown up and was telling us about a life that he used to live, relating it warmly and affectionately. It felt like Bruce was reinterpreting it for himself right in front of us, figuring it out as he went along. The band kept watching him with an eagle eye the way they always have to, waiting for him to cue them in. (Roy looked like he was thinking, "This thing is heavy, Boss.") And Bruce knows they're standing there ready to jump in, and he gently stage-whispers, "Not yet," before taking another verse, and another, before letting them finally come in at the end, finishing things up beautifully. The song felt like that last warm week after Labor Day, when the tourists are gone and the locals get the beach to themselves.
"American Skin" maintained its spot in the show, never faltering, always there to remind us that we don't have the luxury of not remembering. Plenty of fans held their hands up in solidarity alongside Jake Clemons' gesture of silent protest. But again, as it should be, "American Skin" was backed up by "The Promised Land," reminding us — as we'd get in a minute, with "what we'll do and what we won't" — that we should be doing better.
This theme would continue in the encore, after the nod to the local hunger initiative, the Food Project. "This the last night of our tour," Bruce told the crowd. "We've been through the United States, and we've been through Europe and back here for these ten shows…. They've meant a tremendous amount to us, I can't tell you how much we appreciate you folks coming out and seeing us tonight. It never gets old. It's an amazing thing to see all the people who still support your music after all these years. So along with all of you, I've had to live through the election campaign, and I gotta say, it's gotta be one of the ugliest I've ever seen. And there was just a lot of speaking to our worst angels. You let those things out of the bottle, all that ugliness — the genie doesn't go back in the bottle so simple. Anyway, I'm going to do this with that in mind. This is 'Long Walk Home'." As in Pittsburgh on the previous weekend, it was fantastic to hear this underrated Magic number take pride of place again, the crowd on the refrain, just Bruce and acoustic guitar, stripping the song down to its barest essentials, perhaps in hope it wouldn't be misunderstood.
The epic for Boston was "Jungleland," guitar aloft in tribute, the crowd on their feet, shouting along, living the journey with Bruce as he took us through it one more time. It's something that never gets old, the hoots of joy and satisfaction from the old timers who are happy to hear it one more time, and the smiles and high-fives between the kids in their 20s who are glad to get to hear it. It is ritual and remembrance and so much about the reason we are all here. That organ line on "from the churches to the jails" never fails to deliver goosebumps, and Jake Clemons once again delivered a strong interpretation of the sax solo, earning another decisive embrace from Bruce at its completion.
The sight of the entirety of Gillette Stadium on their feet as the house lights came on for "Born to Run" was gorgeous; it's always the best thing to look around at that moment and see the elation and the excitement and remember what it was like to hear that song for the first time, when it was all so new. It wouldn't be a Springsteen show in Boston without Peter Wolf showing up, which he did for "Shout," doing his best to provide background vocals precisely accurate to the Isley Brothers original.
Then the sequined cape comes out. The becaped Boss crawls down the stairs, still holding a guitar, and actually sits on the top step of said stairs. "The Boss has left the building," Steve tells the audience, glancing backward. "No, that is not him that you see idling at the top of the stairs." The camera cuts to Bruce, hamming it up and shaking his head "Noooooo" just before he leaps up and reappears, dropping to his knees and striking that Elvis "American Eagle" pose from Aloha from Hawaii. (And I swear that Max matched it with the same drumbeats that Elvis used at that entrance). It is a great bit of showmanship that hearkens back to the music that influenced every single person on that stage, and it is gratifying to watch this bit of rock 'n' roll history preserved.
Speaking of rock 'n' roll history: the big surprise was next, as those unmistakable chords heralded "Rockin' All Over the World," ringing out across the Foxborough night. It would be the perfect ending, the absolute right decision, the crowd singing loud and proud, the band smiling approval across the stage, Bruce continuing the tradition, Bruce tying his music back to its roots, making that explicit connection once again.
What's that? One more? Of course: it's time for "Bobby Jean," one more stadium waving back at Bruce, that song of goodbye and remembrance and memory, before the band comes to the front and waves and smiles and blows kisses and points at fans in the crowd. Bruce reminds us, as though we'd ever forget: "The E Street Band loves you!" After Bruce's final wave goodbye after ushering the band offstage, Donna Summer's "The Last Dance" comes on over the PA, instead of the usual choice of Alison Krauss' lovely "Down to The River to Pray." It ended the night on that celebratory high note, making you dance off the field, out of the stands and home, another E Street Band tour put to bed — at least, until the next one.
[For the record, tonight would clock in at 4:02:15, Bruce's third-longest show in history.]
- Caryn Rose reporting - photographs by Barry Schneier (1-8, 11) and Caryn Rose (9-10)
Setlist:
New York City Serenade (with strings)
Prove It All Night ('78 intro)
Does This Bus Stop at 82nd Street?
Blinded by the Light
It's Hard to Be a Saint in the City
Growin' Up
Spirit in the Night
Lost in the Flood
Kitty's Back
Incident on 57th Street
Rosalita
No Surrender
Boom Boom
Darkness on the Edge of Town
Radio Nowhere
Hungry Heart
Out in the Street
Detroit Medley
Light of Day
4th of July, Asbury Park (Sandy) (solo electric)
American Skin (41 Shots)
The Promised Land
Because the Night
The Rising
Badlands
* * *
Long Walk Home (solo acoustic)
Jungleland
Born to Run
Dancing in the Dark
Tenth Avenue Freeze-out
Shout (with Peter Wolf)
Rockin' All Over the World
Bobby Jean

September 11 / CONSOL Energy Center / Pittsburgh, PA
Notes: "Back where we started," Bruce Springsteen remarked to the packed CONSOL Energy Center at the onset of Sunday night's stellar 3:45 concert. Before the show even began, there was a lot to distinguish this penultimate stop on the 2016 River Tour: not only was it a return to the stage where the nine-month trek kicked off in January, it was also a rare arena stop at this point on the tour, and most significantly, the first time Bruce and the E Street Band would play a concert on September 11 following the 9/11 tragedy 15 years ago.
They were back where they started, sure, but not much was "full circle" about the return to Pittsburgh. This was a radically different setlist and performance — more than two hours went by before a single song repeated from the January show. With the full River sequence just a dot in the rearview mirror, Springsteen combined the 1970s wayback machine of recent concerts with an extended, moving 9/11 memorial as well his most explicit commentary to date on the 2016 election. Even if sorta by proxy. (In the same city, it's worth nothing, where he responded to Ronald Reagan in 1984.) Taken together, the 9/11 Pittsburgh performance was a time-hopping, peaks-and-valleys look at the state of our nation. Trouble in the heartland, to be sure... but plenty of rising up, too.
If finding something more breathtaking than the opening "New York City Serenade" would seem like a challenge, Springsteen rose to it by cueing up "Into the Fire" right away in the second slot. The first of four songs in a row from The Rising, "Into the Fire" had been performed once before on this tour, in Paris over the summer. But given Sunday's occasion — and the immediate confirmation that Bruce and the band would be marking it — it was a powerful moment up there with the biggest setlist surprises. That was the case with the cathartic "Lonesome Day" that followed, too: less of a rarity, but it came with with a visceral thrill: "Oh, we're doing this." In context, paired with "Into the Fire," "Lonesome Day" hadn't hit me this way since the Rising tour 13 years ago.
But the real intake of breath came next, as Roy Bittan began his lullabye introduction to "You're Missing": unplayed since the Devils & Dust tour in 2005, and not with the E Street Band since the Rising tour. Springsteen stood still at center stage to deliver the heartrending vocal, and the years melted away. "Mary's Place" lifted us back up, with Bruce in high spirits — "Now listen," he said, "shhhhhh," as he always does, and then with a barely contained smile, "Don't Bruce me! Don't Bruce me right now. I'm workin'!" After pacing the lip of the stage, calling to "Let it rain! Let it rain!" and joining with the band for the final gospel harmonies, Springsteen had Max keep the drums rolling as he grabbed a new guitar from Kevin Buell. The moment of tension stretched out: would it be a fifth song from The Rising? No, we were on to "Darkness on the Edge of Town." But it became clear, "I lost my faith when I lost my wife" resonating so soon after "You're Missing," that this song was part of the same arc. Bruce called "Darkness" as an audible; as he sang about "lives on the line where dreams are found and lost," less than 90 miles from the Flight 93 National Memorial, you knew why.
But so much of the night, as with the opening song, was a New York story. This leg's amazing run of early material not forgotten, Bruce took us further back in the next bit of time travel to the New York and New Jersey of the early '70s, when the towers still stood. Following "Does This Bus Stop at 82nd Street?" Springsteen gave some narration that tied it all together: "So I'm on the bus. I've got my busted-up old guitar. I'm going to New York City for my big record label audition. I'm shitting my pants!" Soon we're on the elevator with him, rising "up… up… way up above the street... up past the clouds... up past the angels singin'... up! I get out, I go to the office of John Hammond, one of the greatest record executives of all time... I sit down in my chair, and I say: I had skin like leather and the diamond-hard look of a cobra..."
"It's Hard to Be a Saint in the City" was diamond-hard for sure, highlighted as usual by Bruce and Stevie facing off on guitar as the crescendo builds and builds and Max pounds his way to the end. On a joyous "Growin' Up," it was story time again. Bruce took us even further back in the time machine (after saying one more time, "Don't Bruce me!"). It's almost like the guy's been writing his memoirs or something:
There I was, stranded in my little town, in 1964. Shortly after the disappearance of the dinosaurs. Very unfriendly place, little New Jersey town in 1964. Very unfriendly. And I was a little bit of a frrreak! So I had to find something — I needed something I could do. Something I could do that would make me feel good. I had one thing... [crowd laughs]... there's only so many things you can do for four hours! So I was looking for something else. And I walked past a Western Auto store that sold guitars and car parts, and I saw this old, funky, acoustic guitar in the window.

And I knew to get that guitar I was gonna have to work! So I want to my aunts and uncles, my Uncle Warren came out, showed me how to cut the hedges with the shears, mow the lawn.... I painted the house across the street. Tarred the roof in mid-summer heat, 95 degrees. For 50 cents an hour. And that was the last honest work I ever did.

I went downtown, I picked out that guitar, I took it home, and I started to practice. Practice. Practice. One hour. Ten hours. 100 hours, 200 hours, 5,000 hours. Did that guy [Malcolm Gladwell] say 10,000 hours? Takes more than that! 20,000 hours! Until soon, I picked it up one day, and it went...
Well, you know how it went. Goosebumps as the band rumbles in and Bruce is off to take his vacations in the stratosphere. "Spirit in the Night" had him circling the pit and deciding, "Love in the dirt... I think that's the title of my next album!" The Greetings fest continued with "Lost in the Flood," full power and glory on display as Springsteen cranked out a jawdropping lead, bathed in red light, and Roy's magnificent piano bookended the song.
Next Wild & Innocent gave us three in a row, with the jazz exursions of "Kitty's Back" followed by the reuniting of "Incident" and "Rosalita" after a night apart in Philly. And it felt so good. "Incident" was musically magnificent as usual, with spotlight on Garry Tallent before the whole thing swells at the end, Bruce letting his guitar talk. The transition from "Incident" was not lost on the Pittsburgh crowd — you could kinda feel the room holding its breath and hoping — and then "Rosie" had the whole place rocking to the rafters. Riding that uptempo wave, local hero Joe Grushecky and son Johnny came out for "Light of Day" (they'd actually been in Jersey for that very event when the E Street Band played here back in January).
And then it was on to another powerful and poignant arc, one that brought the thematic time machine right back to this millennium. "Streets of Fire" set the scene; "American Skin (41 Shots)" was a true tour de force, one of the most moving songs of the night (which is saying something); and "The Promised Land" blew it all away. Think of how much history Springsteen packed into one set already: from the mean-ish streets of small town New Jersey, to boogalooing down Broadway, to Amadou Diallo, to the 9/11 attacks and their aftermath, to "Hands up, don't shoot," and still the promise up ahead. And still time for a bit of River history too, on The River Tour, eschewing go-tos like "Hungry Heart" and "Out in the Street" for deeper cuts "Cadillac Ranch" (an audible) and "I'm a Rocker."
Another peak came with "My City of Ruins" into "The Rising," bringing the night's total to six songs from 2002 album. (And none of them "Waitin' on a Sunny Day"!) There was definitely magic in the night on "My City of Ruins," as the place lit up with "fireflies," points of light dotting the floor and the stands throughout the venue. Bruce and the band's call to "rise up!' — and the crowd's too — was explosive. "The Rising" on a night like this would surely have had plenty of potency on its own, but with "My City of Ruins" as a lead-in, that title track felt more vital than it has in years.
Just when you thought we might be done with current events (especially after "Badlands" tied it all up with a big effing bow) Springsteen called an audible to start the encore alone — and address the most current. Rather than leading the band into the setlisted "Secret Garden," he worked out some chords on his guitar and held up what looked like a pamphlet. "Somebody gave me a copy of the Constitution of the United States," he told the crowd to loud cheers. "Uh, it does say 'Fuck Trump' on the front of it." The cheers for that were even louder. "And this was his request." Movingly performed alone on acoustic guitar, "Long Walk Home" was a long time coming, a stand-out from Magic that remains all too appropriate during this bizarre election season — eight years later, a perfect song for the moment. Performed in this stripped-down fashion for the first time, the lyric was heard loud and clear, and one of Springsteen's greatest modern verses was met with the applause it deserves:
"...that flag flying over the courthouse
Means certain things are set in stone
Who we are, what we'll do and what we won't."
Follow all that with an intense, beautifully delivered "Backstreets," and you've earned a lights-up, dance party blowout. Which of course was provided. It was one of those nights when Springsteen seemed to grow younger as the night went on, shedding years and gaining energy. The man was moonwalking during the encore and giddy enough during "Shout" that when the cape routine kicked in, you didn't believe he was actually exhuasted for a second.
"Thank you Pittsburgh, for everything," Bruce hollered at the end. "Another fantastic Pittsburgh crowd... thank you for opening the tour, and closing!" Now, everyone at Gillette Stadium for the last dance will surely have a different take on the matter — including Bruce and the E Street Band. But in the moment, you knew what he meant. That's how it felt.
- Christopher Phillips reporting - photographs by Guy Aceto - video clips by Nick DominicOH
Setlist:
New York City Serenade (with strings)
Into the Fire
Lonesome Day
You're Missing
Mary's Place
Darkness on the Edge of Town
Does This Bus Stop at 82nd Street?
It's Hard to Be a Saint in the City
Growin' Up
Spirit in the Night
Lost in the Flood
Kitty's Back
Incident on 57th Street
Rosalita
Light of Day (with Joe Grushecky and Johnny Grushecky)
Streets of Fire
American Skin (41 Shots)
The Promised Land
Cadillac Ranch
I'm a Rocker
Downbound Train
Because the Night
My City of Ruins
The Rising
Badlands
* * *
Long Walk Home (solo acoustic)
Backstreets
Born to Run
Dancing in the Dark
Tenth Avenue Freeze-out
Shout
Bobby Jean


September 9 / Citizens Bank Park / Philadelphia, PA
Notes: It might already be September, but the weather and the E Street Band cooperated to create a hot summer night at Citizens Bank Park in Philadelphia Friday evening. It was warm and sultry in the twilight as the string section once again took their places on the riser behind Roy Bittan before the band entered, Bruce came onstage, and the unmistakable introduction of "New York City Serenade" filled the ballpark for the second night. "Serenade" remains this incredible jewel of a moment, and the band still seems slightly amazed by the beauty that is created in those ten minutes at the start of these shows. "I'm a young man, I talk it real loud," Bruce sang, with echoes of remembrance and longing. Roy once again excelled in performance tonight, with an energetic crispness to the notes. It's also lovely how absolutely psyched the string players seem, and their enthusiasm shines through their performance.
At the end, the very end, Bruce is telling us about the junkman, and he's singing, and singing that last refrain, stepping back from the mic a bit, giving the vocals some more room to grow. Part of it was probably to encourage the audience to raise their voices, but it just seemed like he didn't want to break the spell. Finally, however, the song came to a close, and Bruce regarded the band and the auxiliary musicians with a warm, satisfied smile before acknowledging the strings as they stood for a bow and left the stage.
"How we doing tonight?" Bruce asked. "It's hot!" he said, stating the obvious, especially to those at the front of the stage who had been standing in 90-degree heat for the last four hours. The show would kick off with "Out in the Street" and "Sherry Darling" before a lengthy sign collection interlude — almost as though Bruce was trying to clear the sightline to the stage, because there were so very, very many — and as a result, tonight would veer all over the place.
The first result of this collection would be a version of "From Small Things (Big Things Come)" that echoed St. Louis more than Memphis, Roy channeling his best Johnnie Johnson. "I'm Goin' Down" was a crowd sing-along favorite. "Loose Ends" was a welcome surprise to the audience, but it seemed like a not-so-welcome surprise to Jake Clemons, who did not seem to be acquainted with the sax solo. He eventually figured it out, but not before cracking up Bruce and various members of the band as a result.
"I'd like to bring out an original member of the E Street Band," Bruce said, bringing on "Saint Vincent Van Gogh Lopez" aka Vini "Mad Dog" Lopez. "This kindly looking senior citizen was a freakin' mad dog in 1973," Bruce assured the audience. Vini would contribute his tambourine stylings to a strong "It's Hard to Be a Saint in the City," complete with sizzling guitar duel between Bruce and Steve. Vini also waved the tambourine around on "Spirit in the Night," which ended with Bruce howling at the moon, literally hanging over the very top of the stadium in the back.
"4th of July, Asbury Park (Sandy)" was soft and perfect, dedicated to anyone from the Shore, but then the opening notes of "Kitty's Back" brought the room to attention, sparking off Bruce's fretboard. "Kitty" is always interesting, but let's be honest: live, it's an extended, free jazz exploration that can, sometimes, veer off course, or meander a little too much — it's just the nature of the composition, the risk you have to take to get the end result. Tonight, however, was another story. The song swung like nobody's business. The band was tight yet loose, weaving together, soloing in a compact, concise fashion with no bloat. Charlie Giordano's solo embodied some of the late Phantom's swing and lift; Jake's solo was sharp and melodic; and once again, the Professor just brought it home with a strong, authoritative run, Max Weinberg crisp behind him, and Garry Tallent holding the bottom down almost invisibly. Bruce urged them all on, intently watching every note. And then of course, he took his own solo, sweat visibly pouring down his fingers. It was the E Street Band at its best. (Props to the audience member on screen wearing a full-head cat mask, jumping up and down holding a sign reading "Kitty.")
From here, Bruce decided it would be a good idea to jump straight into "Rosalita," bypassing "Incident on 57th Street" entirely. To be fair, it was very hot, and "Kitty" was huge, and intense, and it might be greedy to expect it after the previous four shows following that form. But "Rosalita" did not work here; it threw the audience off completely, and it just didn't make sense. This is probably why Bruce went back to the signs, pulling out one reading "Can a College Student Play 'No Surrender,'" with impressive notation about capo placement and chords. The young man was brought up onstage to accompany Bruce on acoustic guitar. While an audience member might not generally expect to pay $196 for a talent show, the gentleman did actually possess talent and personality, and Bruce had a great time up there with him.
The next sign would end up supplying the emotional heart of the show, when Bruce pulled a sign out of the audience reading "We Rose Up" and displaying a photograph of the World Trade Center. "My City of Ruins" was next, and it was a great moment — but what made it even greater was the fact that Bruce chose to follow it with "American Skin," huge and raw as it ever was, and how it always is, Jake Clemons holding the "hands up, don't shoot" pose in the back, quietly, persistently. And then, the coup de grâce, the only possible follow-up, the logical conclusion: "The Promised Land." It was tremendous. It was strong. It was bold, it was courageous, and it was undeniable. You stood there, afterwards, vibrating from it all, not believing that it just happened.
"Candy's Room" and "She's the One" brought us back to mundanity, and then, another sign would steer the set back to course: "Racing in the Street." For some reason, this was like putting up a sign that read "Everybody Talk Now." But it didn't matter, because it was "Racing in the Street." Those opening chords, tender and tragic; the opening lines, matter-of-fact and tragic. The organ comes in to decorate a little, bring in some light. Sometimes Bruce is telling a story, sometimes he's in the story, but he always makes you believe it before handing you over to Roy Bittan. And tonight, Roy's solo was astonishing, and extraordinary: it was rich and expressive, full of complexity and shadows, a palette of color and emotions. And the interplay with Max was enormous, this piano/drum improvisation that you felt in the center of your chest. The instrumental is the end of the story; it's what goes on after Bruce finishes singing to you, the conclusion. Sometimes it's bright; sometimes it's deep; tonight it was borderline Coplandesque, making you feel a sense of hope and promise.
"Lucky Town" is always a welcome thing to hear, and it would be the last off-track rarity as the band charged into the back stretch of hits. "Streets of Philadelphia" would be dedicated to the evening's charity beneficiary, Philabundance. "Streets of Philadelphia" is the oddest candidate for a stadium, and most people were cheering the word "Philadelphia," but it remains one of Bruce's best opening lines, and it is an undeniably powerful and important song that should actually get played in more places besides the city in its title.
The epic tonight would be "Backstreets," guitar aloft in tribute, the audience at attention. And it was during this song that you knew that part of what you'd miss if you couldn't see this band anymore was the communal feeling of standing shoulder-to-shoulder with people who are singing the same words as you are, the words you've sung for years, feeling the shared goosebumps, that collective energy that you can only get from seeing live music, from only this group of musicians. And it's "Backstreets" — "We swore we'd live forever," Bruce sang, with all of the pathos necessary to deliver this song. You never think he doesn't mean it; you can't phone "Backstreets" in. At the end, over the piano refrain, Bruce would murmur, "Forever friends" repeatedly, both arms aloft, eyes closed, visibly moved, and you would swear it wasn't sweat at the corner of his eyes — or maybe it was yours, too.
And then, that moment, that guaranteed moment of awe and delight, that count you'd know in your sleep: "One, two!" "Born to Run" careened off the stage for yet another night. There would be dancing and tribute and more dancing. Bruce introduced the band by running down everyone's educational achievements: Roy the only college graduate, Garry graduated high school, Stevie didn't get out of grammar school. That delightful James Brown cape moment — where does one order a sequined cape reading "The Boss" anyway? — is extended as Bruce retreats down the stairs, and Stevie is left to vamp at the mic: "Bruce is crawling back up the stairs…" "Bobby Jean" comes back because Bruce clearly loves the sight of an entire stadium waving back at him, and then there's "Jersey Girl," and there's more sweat pooling near the corner of Bruce's eyes (and again, maybe yours) before the fireworks go off and you turn into a pumpkin, your feet suddenly hurt and your hands ache from clapping and your throat is sore from singing and yelling. You've just seen the E Street Band.
- Caryn Rose reporting - photographs by A.M. Saddler
Setlist:
New York City Serenade (with strings)
Out in the Street
Sherry Darling
From Small Things (Big Things One Day Come)
I'm Goin' Down
Loose Ends
It's Hard to Be a Saint in the City (with Vini Lopez)
Spirit in the Night (with Vini Lopez)
4th of July, Asbury Park (Sandy)
Kitty's Back
Rosalita
No Surrender
My City of Ruins
American Skin (41 Shots)
The Promised Land
Candy's Room
She's the One
Racing in the Street
Lucky Town
Hungry Heart
Darlington County
I'm on Fire
Because the Night
The Rising
Badlands
* * *
Streets of Philadelphia
Backstreets
Born to Run
Dancing in the Dark
Tenth Avenue Freeze-out
Shout
Bobby Jean
Jersey Girl

September 7 / Citizens Bank Park / Philadelphia, PA
Notes: Last night, Bruce Springsteen and the E Street Band began the final week of The River Tour 2016 by returning to Pennsylvania, the state where it all began. It was the first of two Philadelphia shows in the Phillies' ballpark, to be followed by a return on Sunday to Pittsburgh's Consol Energy Center, January's tour opener, before ending the tour in Boston next Wednesday.
At this point, The River Tour 2016 has morphed into something very different, at least in terms of Bruce's choice of material. In that sense, it's now pretty much The River Tour 2016 in name only, with only two songs from The River being performed last night, as was also the case with the preceding Virginia Beach show. The spirit behind this tour, however, remains very much intact. Each night, Bruce and the band continue to present much of his classic material from various phases of his career. None of these songs are new, of course, but many new shades of meaning, connections and musical approaches continue to be found. And most important of all, Springsteen and the E Streeters are still firing on all cylinders, delivering some of their best performances ever.
Returning to Philly, a town that has showered Bruce with much love and support since his recording career began, always raises expectations, and they certainly were met last night. Springsteen not only set a new record for longest North American show (for the fourth time in two weeks), but he did it with the first half of the show consisting solely of songs he recorded for his first two albums.
The evening began with members of the evening's string section taking their seats before Bruce and the band took the stage, signaling that they would once again open the show with a gorgeous version of "New York City Serenade," a hallmark of this leg. On a beautiful late-summer Philly night, a ballpark filled with thousands of concert-goers immediately felt as if it were transformed into the legendary Main Point, the long-gone Philly-area club that served as one of Springsteen's earliest venues for his many legendary local shows. Following "Serenade" with a hard-driving version of "Does This Bus Stop at 82nd Street?" kept the time-machine vibe going, and that vibe continued for the next two hours or so as each 1972-'74-era song was performed.
This was not, however, a mere nostalgia trip. With his much-anticipated Born to Run autobiography just weeks away from publication, and its recently previewed foreword focusing on the "why" of what he does as an artist, this lengthy portion of the show seemed designed to highlight (for what is now a large, multi-generational audience) the depth and vision Bruce already had even as a young songwriter, and how that vision remains connected to his later work.
It also helps greatly, of course, that this material holds up so damn well, especially with the live arrangements utilized last night. These sprawling songs really showcase the interplay and performance prowess of the E Street Band, with Roy Bittan a particular standout. It seemed like everybody in the crowd, no matter what their age or history with this phase of Bruce's career, couldn't help but dig "It's Hard to Be a Saint in the City," "Growin' Up" (which included a full "There I was..." story about the meaning and importance of Bruce's first guitar,) "The E Street Shuffle," the one-two punch of "Incident on 57th Street" straight into "Rosalita," etc. (Well, almost everybody, with almost every song. I must confess that while I love the album version of "Kitty's Back," when it comes to all of that extended soloing on the live version, my personal take is if I wanted that much noodling with my Springsteen music, I'd have brought some ramen with me to the tailgate. Your mileage may vary, of course.) They capped off this lengthy stretch with two tour debut Philly specials, "Thundercrack" and the sign-requested "The Fever."
After a hard-rocking "Night" moved the time-travel controls a bit forward into 1975 territory, the second half of the evening was a much more heterogeneous mix of material that moved both backward and forward through various albums and eras. Nevertheless, the thematic connections remained strong throughout the evening. When Bruce sang of "these romantic dreams in my head" in "No Surrender," I couldn't help but think back to all of that romanticism in the early material we'd just heard in the first half. And how could the moralistic railing against religious hypocrisy, war and violence in "Lost in the Flood" not be linked to the righteous indignation of "Death to My Hometown" and the heartbreaking mass of contradictions and denial in "Jack of All Trades" (in its beautiful, new strings-and-harmonica arrangement), especially since they all flowed from the same songwriter's pens? For that matter, even "closets are for hangers" in "Rosalita" could be linked to the plea, sung in the encore, to not "leave each other alone like this on the streets of Philadelphia," especially given the somewhat bewildered depictions of queer culture found in some of Springsteen's early work.
Lest we sat (or stood) around thinkin' about all of this high-falutin' stuff a bit too much, the evening also was filled with plenty of healthy, off-the-charts joy and frivolity. Highlights included Bruce rocking a straw cowboy hat during "Darlington County" and "Working on the Highway," an ingenious Kevin Buell impersonator (go Emily!) pulled onstage during "Dancing in the Dark" (to the delight of everyone — possibly even Mr. Buell himself, who danced with her like a good sport), and a wonderful new twist on the whole James Brown/Elvis-influenced cape routine during "Shout." Stevie Van Zandt offered his best take on the late, great announcer Al Dvorin, who immortalized the phrase "Elvis has left the building" by announcing it at the end of each evening during Elvis Presley's 1970s concert tours. "The Boss has left the building," announced Stevie gravely after helping an "exhausted" Bruce descend the steps off stage with his "The Boss" cape draped over his shoulders. The giant video screens revealed Bruce sitting on the steps, listening intently for the crowd's response. "Wait a minute," Stevie said. "He's hiding in the stairwell. Bring him back! Bring him back! Bring him back, Philadelphia!"
And we did, of course. All in all, one of the best shows I've ever seen by anyone, let alone Bruce. Thanks for letting us bring you and your great band back to Philly, Boss. See y'all again tomorrow night.
- Shawn Poole reporting - photographs by Joe Papeo/irocktheshot.com
Setlist:
New York City Serenade (with strings)
Does This Bus Stop at 82nd Street?
It's Hard to Be a Saint in the City
Growin' Up
Spirit in the Night
Lost in the Flood
Kitty's Back
The E Street Shuffle
Incident on 57th Street
Rosalita
The Fever
Thundercrack
Night
No Surrender
The Ties That Bind
My Love Will Not Let You Down
Death to My Hometown
Jack of All Trades (with strings)
American Skin (41 Shots)
The Promised Land
Hungry Heart
Darlington County
Working on the Highway
Downbound Train
Because the Night
The Rising
Badlands
* * *
Streets of Philadelphia
Jungleland
Born to Run
Dancing in the Dark
Tenth Avenue Freeze-out
Shout
Bobby Jean


September 5 / Veterans United Home Loans Amphitheater / Virginia Beach, VA
Notes: When the storm was rolling into Virginia Beach late last week, we were advised that the Bruce Springsteen concert was the only event not cancelled at the time — and we knew we were in for a good show. When Saturday's show was eventually rescheduled, we knew we were in for an even better one come Monday night. We were not disappointed. Clocking in at 3:49 and 32 songs, the makeup show at Veterans Home Loan United Amphitheater took its rightful place in line as another great "quality show" on this leg, even if the quantity was a bit smaller than the recent recordbreakers. But just a bit. Bruce and the band were embraced by the fans waiting and believing we'd be getting some magic — and of course we did.
For the first hour, the show felt more like he was touring behind Greetings From Asbury Park, N.J. (and wonderfully so) than the advertised The River. As I noticed the string section was not present for the evening, Bruce came out alone for a soft opener — something besides "New York City Serenade" for the first time on this leg. Instead, he settled in at Roy Bittan's piano to start with a solo "For You." For the full-band hard opener, "Does This Bus Stop at 82nd Street?" was on point — and it was the second of what would be six straight songs from Greetings. Where better than a beach town?
As Roy played the familiar beginning notes of "Growin' Up," you could feel the energy of the crowd practically bursting. Reflecting once again on his now-legendary 1972 audition for John Hammond at Columbia, Springsteen was really throwing us back to a time in his early career when Virginia was a home away from home. As the band rolled into "Spirit in the Night," the fifth song from the debut album, the crowd was ready for their audience-participation role. As always, Bruce was very interactive with the crowd, and they gave it right back to him ten-fold. The required response of "all night!" resonated throughout the amphitheater.
Number six was "Lost in the Flood." I was surprised there weren't more rain-related songs played this evening — but was this one played! From there into "Kitty's Back," we were leaving the Greetings album and stepping into The Wild, the Innocent & the E Street Shuffle with no idea how far we would go into Springsteen's second album of 1973.
Pretty far, it turned out, with four out of its seven tracks following right in a row. After "Kitty" was the tour premier of "The E Street Shuffle," Bruce looking around for guidance as to what key he needed to be in. The highlight for me was seeing Garry Tallent singing some back-up, as he also would again on "Rosie"… but not before "Incident," of course. "Incident" going straight into "Rosie" was a heart stopping moment. It's always a treat to hear "Rosie" early in a show, but when you hear it coming right out of "Incident," one can't help but feel blown away. Seeing Garry make his way to center stage again for this song made most around me literally do a double-take to see if this was really happening.
Being in Clarence Clemons' old stomping grounds was not lost on anyone around me. As I was reflecting on how this past Sunday was the anniversary of the first time Bruce and Clarence played together some 45 years ago, I believe you could hear a giant sigh come over Bruce as he brought up The Big Man and his roots in Virginia.
Bruce took a good walk around, looking for signs to fill the next hour or so. First up, a sign request for a full-band "Thunder Road" — for a marriage proposal, no less. Rather than heading over to each end of stage during the last bit of this song as usual, Bruce and Jake remained on the center platform to help celebrate with the couple that just got engaged. From there we were treated to a slowed down, bluesy version of "Pink Cadillac" — only the second time performed on this tour, another sign request. A little storytelling had Bruce comparing ancient Mesopotamia and South Jersey, as well as telling the crowd just what Eve really accomplished by pulling the apple from the tree.
Introducing "Save My Love," Bruce namechecked Lonnie Donegan and reminisced of days long ago, when he'd walk the streets late at night with his transistor radio. "The streets were all mine," he said. He found it almost impossible that anyone in the audience would remember those tiny transistor radios.
"We got a little something for you today," Springsteen told the crowd after a "Candy's Room"/"She's the One" combo, introducing the tour premiere of "Factory" in recognition of Labor Day. Also in the back half of the set, Bruce remembered The River with "Hungry Heart (including the return of the crowd surf) and "Out in the Street." "Mary's Place" made a rare appeareance, as it did when they last played Virginia Beach in 2014 (when Bruce called it "some beach music of our own"), though this time he had to ask the band to "stop the fucking music!" "Because the Night" was accompanied of course by a breathtaking solo from Nils Lofgren, and "Land of Hope and Dreams" closed the main set.
In the encore, "Backstreets" was followed by the usual suspects. "Dancing in the Dark" gave me flashbacks to April's cowgirl fest in Dallas. But Bruce closed the show much like he opened it, all by himself. This time on acoustic guitar, he gave us a stunning "This Hard Land" to say goodbye, played often this summer in Europe but a U.S. tour premiere.
- Ali Scales reporting - photographs by Jerry Frishman
Setlist:
For You (solo piano)
Does This Bus Stop at 82nd Street?
It's Hard to Be a Saint in the City
Growin' Up
Spirit in the Night
Lost in the Flood
Kitty's Back
The E Street Shuffle
Incident on 57th Street
Rosalita
Thunder Road
Pink Cadillac
Save My Love
Candy's Room
She's the One
Factory
American Skin (41 Shots)
The Promised Land
Hungry Heart
Out in the Street
Mary's Place
Because the Night
The Rising
Badlands
Land of Hope and Dreams
* * *
Backstreets
Born to Run
Dancing in the Dark
Tenth Avenue Freeze-out
Shout
Bobby Jean
This Hard Land (solo acoustic)
September 1 / Nationals Park / Washington, DC
Notes: How do you follow the show heard 'round the world? That was the question facing Bruce Springsteen and the E Street Band for their stop at Nationals Park in America's capitol, a mere two days after their instantly legendary concert at New Jersey's MetLife Stadium on Tuesday. They provided an answer almost immediately: simply do it all over again. Instead of resting on their laurels, they put on another whopping 34-song, 3:45 extravaganza that was every bit as impressive as — and closely followed the template of — its Garden State predecessor.
The similarities began from the start with "New York City Serenade" accompanied by a string section. Though their recent performances of this masterpiece have been uniformly majestic, they somehow keep upping their game (due in no small part here to Nationals Park's crystal clear sound, with the exception of a few sporadic echoes). Bruce repeated a few lines in an effective bit of spoken word delivery during the orchestral sections. As he and the band become more comfortable with the song's nuances, their renditions have gotten increasingly looser, allowing the song more room to breathe.
This held true for a majority of the night's performances, especially for those rarities played in Jersey that made reprisals here: the E Street Band repeatedly improves upon their own high standards when they get to revisit a seldom-played gem multiple times, especially when they're as totally locked-in as they were in DC. This phenomenon was on display for "Summertime Blues" — a fitting choice for this balmy summer night in an outdoor baseball stadium, the first venue of the tour that houses America's favorite summer sport — but really showcased over the stretch beginning with "Growin' Up." That sign request kicked off eight consecutive songs predating Born to Run. All but one of them ("Lost in the Flood") also made appearances at MetLife 3 and were somehow given superior performances here. Bruce even added an introduction to "It's Hard to Be a Saint in the City":
"This is the song I sang to John Hammond when I went up to his office to audition for him at Columbia Records. I wrote it in an abandoned beauty parlor on the mean streets of Asbury Park…. Well, not so mean; just unkind."
This story served as a reminder of the stark differences between the recorded versions of many of these early songs and their live counterparts. Whereas Greetings from Asbury Park, N.J. sounds folksy, acoustic, and very guitar-lite, its songs become dynamically alive in concert thanks to the full power of the E Street Band, which Bruce gives ample time to shine through a plethora of solos, most notably on "Bus Stop." Despite Mr. Hammond diminishing the sonic role that Bruce wanted guitars to play on the album, they are the most remarkable aspect of these live renditions, from Bruce's introductory licks in "Growin' Up" to his duel with Stevie at the end of "Saint in the City." Stevie even added some nice fills over Max's opening drumbeat on "Spirit in the Night."
Bruce's blistering guitar work on "Lost in the Flood," a searing solo to close the song, proved a breathtakingly perfect — let me repeat: perfect — lead-in to the guitar-heavy, walloping Wild, the Innocent & the E Street Shuffle three-pack of "Kitty's Back," "Incident on 57th Street," and "Rosalita." The beloved transition from "Incident" into "Rosie" hinges upon the differentiated tempos between Bruce's gorgeous yet somber playing during the former and the rollicking wall of guitars in the latter, crucially connected by Roy's coda. Bruce's guitar prowess on "Lost" and "Kitty" added greater fuel to this glorious shift. Ultimately, the slow, intense burn that is "Incident" feels like a dynamite fuse leading to the rock 'n' roll explosion that is "Rosie," the combination of which worked this very strong crowd into an absolute frenzy.
Yet instead of slowing down the pace like he did with "Pretty Flamingo" on Tuesday, Bruce built upon the unbridled momentum of "Rosie" with "Night," a sign request for "Trapped," and the only tour premiere — and my personal highlight — of the night: "Better Days." It was only the fourth E Street Band performance of this song in America in the 21st century. Even so, their execution made it sound like a tour staple, and the crowd actually ate it up as such. Combined with "Living Proof," these top-shelf renderings will hopefully convince Bruce that he should delve further into his underrated early-'90s albums, which contain some of his most soulful, emotionally autobiographical writing.
After Bruce made time for a social statement with "American Skin" mere blocks away from the Capitol Building in America's political center, the remainder of the setlist actually felt like an elongated encore, full of warhorses and greatest hits. Two standout exceptions: "Secret Garden," another one building on its surprise appearance at MetLife 3; and the more-than-welcome return of "Seven Nights to Rock," which raucously elevated the actual encores.
Even the more conventional second half had its fair share of memorable moments. Bruce was given flowers during "Hungry Heart," and he then threw them to an ecstatic little girl in the front row (she was later invited on stage for "Dancing in the Dark"). Jake seemingly forgot to join Bruce on the mid-audience platform for "Hungry Heart," so he had to play his solo while sprinting around the pit; he soon got a chance to redeem himself by singing Soozie's part on "Out in the Street." Nils sang an entire verse of "Darlington County" by himself, and Patti elevated "Because the Night" with her unique vocal stylings. Jake literally made it rain with his "Jungleland" solo. Bruce decided to lie down on the back stairs instead of leaving the stage for his exhausted, James Brown-cape-shtick during "Shout" — needless to say, the man deserved a break after this phenomenal run of shows.
Speaking of which, everyone is going to ask the obvious question: was MetLife 3 or DC better? Honestly, it's a complete toss-up. The oldies seemed to resonate more in Jersey, because they're so inextricably linked with his early career and locales only a few miles away from the stadium. And of course there was more novelty in experiencing the '73 stretch without having any idea what would come next ("Incident" into "Rosie," for instance, didn't have quite the same wow effect the second time… but it was still amazing because, you know, "Incident" into "Rosie" is "Incident" into "Rosie"). On the other hand, the performances in Washington were more refined and hard-hitting, not to mention the vastly improved sound and louder (albeit equally yappy) crowd.
But really, does it honestly matter which is "better"? That's like choosing between your two favorite children. What interests me is why Bruce has suddenly felt compelled to reach way back into his past by so heavily relying on his first two records. The answer, I believe, brilliantly conforms to the original purpose of this tour. During the full album performances of The River — which has largely been left behind on this leg, with only three songs from it being played here — Bruce and the band were making a 35-year-old record come alive again in such a vital way that so many of its songs and themes felt pressingly relevant today. Now that they're reaching the end of this tour, they're making even older music feel even fresher in the midst of epic-beyond-epic concerts that'd make you believe they're just now entering the dawn of their career instead of the dusk. In doing so, they hopefully allow themselves and the crowd to feel as young as they were back in 1973, except with the knowledge and experience that only time can bring. Youth and wisdom are often oxymoronic, but in Bruce Springsteen and the E Street Band's world, that's the type of combination only rock 'n' roll can provide… every night.
- Steven Strauss reporting - photographs by Guy Aceto
Setlist:
New York City Serenade (with strings)
Summertime Blues
Sherry Darling
No Surrender
Growin' Up
It's Hard to Be a Saint in the City
Does This Bus Stop at 82nd Street?
Spirit in the Night
Lost in the Flood
Kitty's Back
Incident on 57th Street
Rosalita
Night
Trapped
Better Days
The Promised Land
American Skin (41 Shots)
Hungry Heart
Out in the Street
Darlington County
Working on the Highway
Downbound Train
I'm on Fire
Because the Night
The Rising
Badlands
* * *
Secret Garden
Jungleland
Born to Run
Seven Nights to Rock
Dancing in the Dark
Tenth Avenue Freeze-out
Shout
Bobby Jean


August 30 / MetLife Stadium / E. Rutherford, NJ
Notes: The third night in the Meadowlands was a night of epics, of grandeur, of the E Street Band occupying the cavernous expanse of MetLife Stadium with the full range of their talent. It was also a night of hits, of the big songs you remember singing on the radio, the ones everyone remembers the best. And it would be another one for the record books, with Bruce breaking his own U.S. record yet again, with a show that clocked in at 4:01.
Night three kicked off the same as before, with the spectacle of "New York City Serenade" to open the show. It might seem like a curious choice for the opening song for a rock show held in a football stadium, but surprisingly, it just works. "Serenade" lived up to the promise of the recorded version: the performance was soaring and operatic, executed with intricate emotion and the kind of depth you wouldn't expect to experience in such a large venue. Roy Bittan was absolutely outstanding here (and for the entirety of the evening, for that matter) playing that rolling intro with his usual verve and brio. The rowdiest of bros fell silent quickly, wowed by the power in the performance — and this is why it works as the opener. It takes advantage of the generosity of the audience in those initial excited moments. Bruce's voice was strong and clear, impassioned and poignant, and he appeared happy and satisfied by the end of the song.
"We're going to play a bunch of things we didn't play the other two nights," Bruce announced, taking the band into "Blinded by the Light," which would be followed by a surprising string of favorites from the first two records. "Does This Bus Stop at 82nd Street?" would feature yet more sharp, incisive playing from Roy, while "It's Hard to Be a Saint in the City" — dedicated to "you New Yorkers" — was near-perfect, Bruce squaring off and facing Steve before peeling off an almost visible guitar line, tossing it to Steve for the next one, then back to Bruce again, then back to Steve, until the two blended together to drive the song to its conclusion.
"Spirit in the Night" led to a sign collection effort (most of which, like "Incident," had been soundchecked), out of which came "Summertime Blues." "4th of July, Asbury Park" was pretty much a perfect companion to that, Roy coming to the front of the stage, accordion in hand. "Who's from down the shore?" Bruce asked before launching into a warm, wistful recollection that felt immediate, like it wasn't something written more than 40 years ago. "Love me tonight, and I promise I'll love you forever," he sang, lingering on that last "forever," and it felt like a promise.
"Kitty's Back" was tight and swinging, Bruce conducting the individual solos with energy and enjoyment, swaying back and forth, gesturing with the beat. And just when we'd recovered from that, once again, Roy Bittan's hands fly across the keyboard, and here's Spanish Johnny and Puerto Rican Jane: "Incident On 57th Street." "Good night, it's alright, Jane," the audience sang, seemingly all the way up to the top of the stadium. It was beautiful, and ethereal, and at the end, the very end, the audience was singing along with Bruce, and then, of course, Roy came back in, a coda echoing that intro passage — we all know how it goes, that magic segue from "Incident" to "Rosalita." Usually, when "Incident" shows up in the set, Roy just wraps things up nicely, and the song ends. But tonight, he kept going, and going, and the song wasn't ending, and you could feel the collective anticipation of the diehards in the audience, everyone thinking, "Do it!" everyone thinking, "Oh, god, please, please, please...." And with this small grin, that "Yep, I know exactly what I'm doing" kind of smile, Bruce's hands hit the guitar strings and the audience's heads exploded as the band segued neatly into "Rosie." It's a lovely thing, having "Rosalita" in the middle of the set sometimes; it recharges the song's energy, it makes the band approach it differently, it makes you as an audience member interact with it in a new way.
When "Pretty Flamingo" is the thing that acts as the chaser for the first half of the show, well, it's been quite a show. Bruce grabbed the maracas and got the band to ease down a couple of gears, Charlie Giordano vibing some organ underneath while Bruce rapped to the crowd.
"This is a story: sad but happy! Bright but dark! I used to live over a luncheonette, and I had a routine. Because I am a creature of habit. I don't like change!" Patti shoots him one of those eye rolls. "Don't change on me, baby! I don't like too much change! So I am a creature of habit, and I used to wake up in the morning, I would roll over, I would throw on my jeans and a t-shirt, and I would go down to the luncheonette.
"Now, morning for me was about one o'clock in the afternoon, way back when. And so I used to go into the luncheonette, and I used to order a ham sandwich, with cheese, and lettuce, and a lot of mayonnaise — but no mustard! Don't give me no fucking Grey Poupon! I don't like any mustard. I don't like it on my hot dog, I don't like it on my sandwiches, no. So I would have ham, cheese, lettuce and a lot of mayonnaise, on white bread. And I'd sit there.
"And every day around 1:20, there'd be this... lovely woman that would come walking down the street. And I would sit in a seat by the window, and I'd just watch her come on. And watch her pass. And I would do this regularly, five days a week. [Laughs] No, her name is not Cynthia. And she had something about her that was so... transcendent... that when she would come by, I would want to walk out onto the street and tell everybody to stop shopping! Stop driving! Stop doing whatever you're doing! And just... stop for a minute."
The band stops.
"Out of respect. And then she'd pass on by, cross the street, go up that way. And then..."
The band starts again.
"Life would go on. Like it has to. Five days a week. And I'll tell you what we used to call her. Remember, when I say 'stop,' we're gonna stop."
The band stops.
"Out of respect."
After "Flamingo," "Atlantic City" would kick off a string of later hits, your Born in the U.S.A. stadium specials, five in a row, the crowd bouncing from "I'm Goin' Down" through "I'm on Fire." The River Tour 2016 would be briefly acknowledged with "Hungry Heart" and "Out in the Street," only for Bruce to return from his traditional round-the-pit sojourn and dedicate the next song to his son Evan. Astute observers would get their hopes up and would be rewarded with the tour debut of none other than a full-band "Living Proof." Sadly, the crowd's energy wasn't with Bruce for this one, and the band seemed to struggle with finding the song's groove, despite a full soundcheck rendition earlier in the day.
The set then went back into familiar territory for a handful of usual songs before concluding with "Badlands." As the the band took the short onstage pause that nowadays acts as the encore break, the crowd kept singing the refrain back, over and over, patiently waiting for Bruce to hydrate and band members to finish conferring. It was a lovely show of energy and tribute.
"Do we have any lovers in the audience? No? That's sad — I'll ask it again. Do we have any lovers in the audience? That's better! When we start this next song, I want you to turn and kiss your baby," Bruce instructed before, improbably, launching into "Secret Garden" for only its third lifetime public concert appearance. This was also run through at soundcheck, but it had some issues with rhythmic cohesion at the start before the band came together about one-third of the way through.
Next, Bruce stands center stage, lights out, arms outstretched — something big is coming, but we're not quite sure what yet — and then Soozie's violin comes in and the crowd roars in approval to the intro of "Jungleland." This is a song that's had its challenges since we lost Clarence; it's always good to hear, but it hasn't always reached its potential every time it's been played. Tonight, however, "Jungleland" was absolutely massive. It lived up to every single legend behind it. And Jake Clemons performed a stunning version of the solo that was as much his own as his uncle's; when he finished, he stood there, motionless, until Bruce came up and embraced him fiercely. It was phenomenal.
And then, of course, the houselights fire up with that familar "One! Two!" intro before "Born to Run" comes to life, and the parade of hits comes marching through, the James Brown cape routine and all, "Glory Days" being added for good measure, and then the fireworks and "Jersey Girl" bringing the Jersey summer stand to a close. The enormous, warm, content smile on Bruce's face as he effusively thanked the crowd would be the final reward of the evening.
- Caryn Rose reporting - photographs by A.M. Saddler
Setlist:
New York City Serenade (with strings)
Blinded by the Light
Does This Bus Stop at 82nd Street?
It's Hard to Be a Saint in the City
Spirit in the Night (with Rickie Lee Jones)
Summertime Blues
4th of July, Asbury Park (Sandy)
Kitty's Back
Incident on 57th Street
Rosalita (Come Out Tonight)
Pretty Flamingo
Atlantic City
I'm Goin' Down
Darlington County
Working on the Highway
Downbound Train
I'm on Fire
Hungry Heart
Out in the Street
Living Proof
Candy's Room
She's the One
Because the Night
The Rising
Badlands
* * *
Secret Garden
Jungleland
Born to Run
Dancing in the Dark
Tenth Avenue Freeze-out
Twist and Shout
Glory Days
Shout
Jersey Girl

August 28 / United Center / Chicago, IL
Notes: With two super-sized MetLife Stadium shows in the books last week and a third happening this Tuesday, Bruce and the band made a quick trip out to Chicago for a rare indoor show on this final leg of the 2016 River tour. Giving a nod to the subtropical weather of last week at the Meadowlands, Bruce said, "Hello Chicago! You look good. It's so nice to be inside where there's air conditioning!" A local string section was seated behind Roy, and with Bruce as maestro they and the band launched into this tour's sweet, jazzy telling of "New York City Serenade." The guy next to me burst into tears when he realized what it was.
"Prove it All Night" was next, serving as the hard open of the show, and as it has throughout this tour, Steve Van Zandt's blistering solo sent the crowd into its first of many a frenzy. That was followed by a stretch of four often-played tunes which no doubt had setlist watchers' eyes rolling back in their bored heads at home. But the crowd itself was so energetic and appreciative, you could see Bruce kick the intensity of the operation up several notches during his solo in "My Love Will Not Let You Down."
Bruce was clearly making a deliberate effort to connect with people in the audience as he took his time reading and reacting to numerous signs. That said, the first granted sign request was "The Promised Land," an odd choice considering he's played it often on this tour and maybe shoulda coulda used that slot for a rarity. But "Mary's Place," which followed, was inspired by a sign that he walked out more than 200 feet just to grab. The absolute highlight of the first half of the show was "Racing in the Street," off a big placard on which Bruce was pictured as the Dos Equis beer commercial's Most Interesting Man in the World. The sign read:
I don't often play Racing in the Street
But when I do it's because I see a unique sign
That politely requests that I do.
The song began with Roy's beautiful piano and Bruce standing with a backlight only, his guitar slung over his shoulder with both arms at his side. Roy's double and triple notes added a luster to the extended outro, which just built and built to a gorgeous crescendo, as Bruce nodded his head to keep time until his guitar came back in at the end.
The fourth sign request was "None But the Brave," held up by a young guy named Scotty from Youngstown, Ohio. Bruce spotted it at the back of the pit. He took a moment to work out the key, strumming his guitar and half-singing while Roy helped. Bruce said, "This is an outtake from Born in the U.S.A. I always have to check the beginning — if we get that, the rest of the song is cake." Nils and Bruce doubled up for the guitar solo, with Bruce pointing to Nils' guitar and giving the "turn it way up" sign to the sound guy.
During the "Hungry Heart" crowd surf, somebody shoved what looked like a brochure into Bruce's hand. He's apparently comfortable being held aloft, because he took a moment to look at it as he was being delivered to the waiting arms of Nils and Jake at center stage. "Somebody just passed me a copy of the Constitution," Bruce said back at center mic. "That's the kind of crowd I get these days!" My friends and I took this to mean people like Mr. Khizr Khan, who suggested in his speech at the Democratic National Convention that Donald Trump should read and learn from the Constitution.
Surprisingly, Bruce went around gathering another bunch of signs at the end of "Out in the Street," although the only two subsequent requests in the main set were "Waitin' on a Sunny Day" and "American Skin (41 Shots)," both already regularly played in this stretch of the tour. (Earlier he had grabbed a sign for "Streets of Fire," which unfortunately went unplayed.) "American Skin" and "Murder Incorporated" were played back to back, a thematic pairing that was not lost on this Chicago crowd (as is regularly reported in the news, this city is in the midst of a prolonged epidemic of gun violence). "Murder Incorporated" featured a guitar face-off, with Steve in a low crouch as Bruce banged out those power chords just inches from his face.
Other highlights to round out the main set: As he reached the platform at the back of the pit during "I'm a Rocker," Bruce grabbed a guy's beer, taking four or five huge gulps before handing it back and saying, "Thanks, that was good!" A girl about 10 years old who was seated off to the side of the pit was chosen to sing "Sunny Day." Bruce brought her up, and she proceeded to take over the place much to his bemusement, marching to center stage then down the peninsula while singing on key and showing some very rehearsed choreography. "Sign her up! The future of rock n' roll!" he exhorted. Max missed a cue before "Candy's Room," instead pounding out what sounded like the "Light of Day" intro before Bruce gave him the "cut!" signal.
Finally, the encore set began with "Backstreets" (yet another sign request) and ended a full hour later with "Bobby Jean." In a delightful bit of shtick at the end of "Shout," Bruce clung to the microphone stand, seemingly too tired to play anymore, as Steve draped a black and white sequined cape over his shoulders. Bruce exaggeratedly shuffled down the ramp off the stage as the band vamped. Bruce then popped his head back out from under the stage not once, not twice, but three times like a little prairie dog before hustling to the microphone for one last reprise. "Thanks for a great night, Chicago!" Bruce hollered at show's end, and off they went back to the swampiness of Jersey.
- Marya Morris reporting - photographs by Alan Chitlik
Setlist:
New York City Serenade (with strings)
Prove It All Night
My Love Will Not Let You Down
The Ties That Bind
Sherry Darling
Two Hearts
The Promised Land
Mary's Place
Racing in the Street
None But the Brave
Hungry Heart
Out in the Street
Death to My Hometown
Jack of All Trades (with strings)
The River
American Skin (41 Shots)
Murder Incorporated
Cadillac Ranch
I'm a Rocker
Waitin' on a Sunny Day
Candy's Room
She's the One
Because the Night
The Rising
Badlands
* * *
Backstreets
Born to Run
Dancing in the Dark
Rosalita
Tenth Avenue Freeze-out
Shout
Bobby Jean



August 25 / MetLife Stadium / E. Rutherford, NJ
Notes: Yet another for the record books. Clocking in at almost exactly four hours, Thursday's mammoth set at MetLife Stadium eclipsed Tuesday's homestand opener as Bruce Springsteen and the E Street Band's longest-ever stateside show. Doubtful any who attended aren't still feeling it today. (Rolling Stone's Rob Sheffield on Twitter last night: "After 8 hours of Springsteen in 3 days I am now officially the graduation gown in rags at Mary's feet.") Me, I'm as bone-weary and wobbly-legged as I was staggering out just after midnight. And I wasn't even playing a real guitar—think how the 60-somethings onstage must feel. Not that anyone could tell.
So does a longer show mean a better one? Not always. But an intense, locked-in performance does, as well as a setlist that veers from heartfelt soul to howling rage to raucous abandon and back again, hitting nearly all the notes between.
It starts, like night #1 on Tuesday, with a setpiece of shimmering beauty. With a misty rain falling, the air swamp-thick and sultry, an octet of violinists (led by Seeger Sessions vet Sam Bardfeld) emerges just before 8pm to assume their positions on the riser. The rest of the band takes the stage, followed by Bruce with his telltale Takamine acoustic. "Let's do it again," he says with a grin, in his best Ernie Banks "Let's play two" impression. He circles the air twice, points to Roy's piano, and for the second straight show — in only its twelfth appearance since the Ford Administration — we're treated to a magnificent rendition of "New York City Serenade." When it rains, it pours.
The confident performance improves on Tuesday's, as will many of tonight's repeated songs: with the band in a jazzier groove, it's funked up a bit, Garry's syncopated basslines accented by the strings' pizzicato stabs. Bruce, eyes closed, channels his beatnik poet of yore with a fully committed vocal: "Listen to your junkman," he urges, in a whisper so insistent it could carry clear to the Pine Barrens. Leisurely building to a crescendo, "Serenade" takes its sweet time, unfolding over nearly 13 minutes — which still feels too quick for a song many of us waited a lifetime to hear.
Then we fast-forward to the stripped-down, late-'70s E Street sound, with "Prove It All Night" bulked up by Steve's muscular solo. And speaking of proving it: Tonight marks 41 years to the day Bruce's third album hit stores (August 25, 1975). "It's Born to Run birthday day!" he shouts, and off we scream into "Night." The rest of the show ends up being as much a tribute to that record as to this tour's namesake, with five songs from Born to Run (including fully half the album in the encores) and five from The River. It's also the first show this tour that The River's title track has gone unplayed.
"Wrecking Ball" gets the home team bellowing at the local namechecks, which for any other artist (or crowd) might be enough in itself. But for all the red-meat Jersey-bait, the lyric also echoes the key themes of The River, in its balance of dread and delight, of joy in the face of fear — raising up our glasses as hard times come and go.
"Sherry Darling" marks our first foray back to 1980, during which a three-year-old girl sings along exuberantly from her dad's shoulders: "Hey hey hey / Whattaya say!" she shouts, to Bruce's grinning approval. "She knows the words!" he marvels. (The three-year-old will return for another cameo a few songs later.)
A round of sign-collecting follows the rousing "Spirit in the Night," with Bruce settling on a request from an Italian fan for "My City of Ruins," in tribute to the victims of the devastating earthquake in Italy. "I originally wrote this song for my adopted hometown of Asbury Park, which has suffered so long, but is finally having a nice little renaissance," he says. "It's good! People on the beach, people on the boardwalk, people in the street!" Along with "our friends in Italy," he dedicates the song to anyone who's "ever been knocked down, and had to build yourself up again." An efficient yet powerful rendition was sweetened by a gorgeous organ solo from Charlie Giordano.
Eight songs, eight different albums — an encouraging start. The ninth breaks the streak, and perhaps some of the mood: "Waitin' on a Sunny Day" is played at the behest of the aforementioned three-year-old, who clambers onstage to chime in (quite impressively). "You got guts, kid!" says Bruce.
And then, as if to say "enough with sunny days," Bruce steers us straight into the ink-black night, with a passionate "Darkness on the Edge of Town." (Goosebumps ensue at his final howl of "toooowwwwn!!") Next, by request for a fan who's chased it across 150 shows, a rare and glorious "Lost in the Flood," with some torrential guitar wailing from the man himself. We're back in the land of trouble and darkness, which, apparently, is right where this crowd wants to be — the bleaker, angrier songs are among the night's best-received. Hot fun in the summertime? Sure, says the Boss, but you're gonna have to work for it.
Roy's haunting outro to "Flood" still hangs in the air when — oh, right, we're at a River show! — Max rolls into an exuberant "Hungry Heart," which sees Bruce venturing waaaaaayyy out to the 50-yard-line and onto the catwalk with Jake. (Someone needs to address the wireless-mic delay when Bruce is out on the field, though; the lag between vocals and band made for a sloppy-sounding performance.) "Out in the Street" keeps the mood festive and light, and then out comes special guest Tom Morello, to an appreciative roar. His guitar and spirited shouts set the tone for a defiant march through "Death to My Hometown."
"Death" kicks off a mid-set pack of hard-edged political songs, a standout of Tuesday's show as well. But while Bruce was content that night to let his lyrics do the talking, tonight we get his first direct comments on this election season, which he calls "the ugliest I've ever seen." So many people, he reminds us, "have been hurt so hard by American de-industrialization, by globalism, by NAFTA — and that can get lost in all the noise." The stagelights go red as a blast furnace, and we're lost in the raging noise of "Youngstown." It features the first of two knockout solo turns from Nils Lofgren ("Because the Night" will come later), clearly invigorated by Morello's A-game.
The violins are back onstage for a reprise of "Jack of All Trades" from Tuesday, greatly enhanced by the string arrangement, though it still loses a portion of the crowd. (Some were hopeful the strings might be better deployed on "Hunter of Invisible Game," from 2014's High Hopes — but, Wrecking Ball aside, Bruce seems disinclined to revisit his last decade of work.)
"American Skin," capped off by another elegiac Morello solo, reveals itself as one of Bruce's finest latter-day compositions, both lyrically and musically; alas, 16 years on, its stories remain all too relevant during this long, hot summer. As the band builds to that final refrain, Jake Clemons raises both hands above his head, and many in the crowd follow suit. One imagines the song will keep its pivotal place in the set for these final American shows.
"The Promised Land" delivers us out of that darkened stretch, and then we're party-bound in a hemi-powered "Cadillac"— giving a rest to its more familiar half-brother, "Darlington County" — and then roaring up to a loose-and-rowdy "I'm a Rocker." Another high point follows, as Patti steps to the mic for the slow-burning "Tougher Than the Rest." It's an ongoing mystery why Tunnel of Love songs have been so underplayed this tour; as Bruce himself has said, Tunnel picks up where The River's relationship stories left off, revisiting their characters and advancing their plots. But hey, we only have four hours.
"Because the Night" whirls us back to the River era with a searing-hot rendition of that '80-'81 tour staple. Morello returns for a seething "The Ghost of Tom Joad" that segues into "Badlands," and by now the stadium is positively vibrating. At the start of the next tune, the 20-year-old beside me drops to his knees and kisses the beer-soaked floor, howling with glee at his first-ever "Backstreets." Arguably Bruce's most emotional song — for him and his audience alike — it's sung with all the intensity of 41 summers ago. The guy beside me goes misty-eyed, and Bruce himself seems to well up during the "til the end" interlude. I think of what a friend once said of "Backstreets": it's the one song off Born to Run with not a single half-baked phrase or overheated or dated detail — nothing Bruce would be embarrassed to sing four decades later. The lyric is just pure, undiluted feeling, which only gets stronger and more distilled with the passing of time. It's a towering performance, as has been consistently the case this year.
Any other band would have quit after that — and the floor-kissing guy was decidedly spent. But by now you know the rest: bandleader and band kept going, and going, and going some more, hitting the four-hour mark at midnight. At which point my companion turned to me and said, "It's as if Bruce wants to make these shows last as long as youth itself. Or at least his youth."
So, again: a better show? No doubt some elements were missing. There were no tour premieres (though "Cynthia" was reportedly soundchecked), and perhaps some missed opportunities (signs for "Incident," "Racing," and "None But the Brave" were collected but passed over). Bruce's storytelling, a high point of Tuesday's show, took a backseat to the music tonight. The River itself ran fairly dry, with only a quarter of the album played. And yes, the encore selections were mostly tried-and-true, as they've been throughout the tour.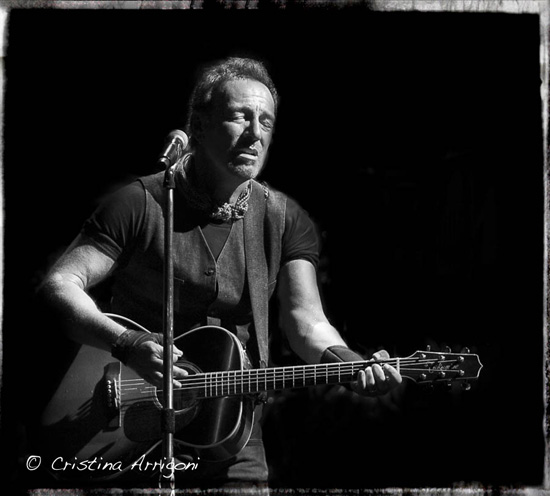 But leave the griping to the setlist-watchers. That encore culminated in a moment you simply had to witness to appreciate. Halfway through a lovely, plaintive reading of "Jersey Girl," Bruce broke off mid-verse, distracted by some front-row commotion. "What's goin' on down there?" he asked. The camera zeroed in on a beaming young woman in the pit, holding up her brand-new engagement ring. "Well, don't do it down there," Bruce chided. "Come on up here and do it!" The couple took the stage, a mic was obtained, and the proposal re-enacted for 55,000 fans.
"This is my girlfriend, Jill," said the groom-to-be, wearing a T-shirt that read The House That Bruce Built. "We've been together eight years, have been to a ton of shows together, and this is by far the highlight of them all. Jill, you're my best friend — I love you more than anything else in the world. I love you more than music itself. Hell, I love you more than Bruce! (Sorry, Bruce.) I'm so happy you said yes, and I can't wait to spend the rest of my life with you."
If you've ever wondered what 55,000 people saying "Awwwww" in unison sounds like, you got your wish. "Give her a little dance, man!" Bruce urged the groom-to-be, then he restarted the third verse, tweaking the final line:
I know a place where the dancing's free
Oh baby, won't you marry me?
Cue the fireworks, both literal and figurative, as soaring flares and thunderbursts filled the sky to that sha-la-la refrain. And indeed, down the shore—or at least here in the sultry, sticky swamps of Jersey — everything was inarguably, irrefutably alright.
- Peter Jon Lindberg reporting - photographs by Cristina Arrigoni
Setlist:
New York City Serenade (with strings)
Prove It All Night
Night
No Surrender
Wrecking Ball
Sherry Darling
Spirit in the Night
My City of Ruins
Waitin' on a Sunny Day
Darkness on the Edge of Town
Lost in the Flood
Hungry Heart
Out in the Street
Death to My Hometown (with Tom Morello)
Youngstown
Jack of All Trades (with strings)
American Skin (41 Shots) (with Tom Morello)
The Promised Land
Cadillac Ranch
I'm a Rocker
Tougher Than the Rest
Because the Night
The Rising
The Ghost of Tom Joad (with Tom Morello)
Badlands (with Tom Morello)
* * *
Backstreets
Born to Run
Dancing in the Dark
Rosalita
Tenth Avenue Freeze-out
Shout
Thunder Road
Jersey Girl


August 23 / MetLife Stadium / E. Rutherford, NJ
Notes: Asking five different Bruce Springsteen fans "where's the best place to see him in concert?" would probably yield five different answers — most likely because there is no definitive choice. The answer to "where's a good place to see a very long show?" is quite a bit clearer: the opening night of a Meadowlands stand is a pretty good bet. Like the marathons that opened the 2009 run at Giants Stadium and Bruce's first ever show at MetLife stadium in 2012, Tuesday's was a lengthy affair — and then some! At 3:52:01, it was the longest Springsteen show ever played in the U.S.A. (It ranks third all-time in total show length).
Fittingly, the night began with Bruce's longest song, "New York City Serenade," which tops many diehard fans' wishlists of performances they've never seen. A string section accompanied the band (that's been the case each time the song has been performed since 2009), taking their places on the back riser before the lights went down, building anticipation of what was to come.
The performance was excellent, having been rehearsed during soundcheck, even sublime — though still a strange choice to open a stadium homecoming show. It was almost akin to the acoustic pre-sets that Bruce has occasionally done as a treat for the early arrivals at shows in recent years: a bonus for the big fans that isn't part of the "main event."
Although The River was still the most-represented album (with seven songs performed), the show the band played on Tuesday had little resemblance to the River Tour that was last on American shores in April. Instead, Bruce was more focused on providing a soundtrack to a New Jersey summer. "Wrecking Ball" has become a crowd favorite in New Jersey, with its numerous local references, and two songs later Bruce was telling a story over the piano introduction to "Something in the Night": "Back when I was in my twenties, the bars along the shore used to stay open until 3 a.m. — 3 a.m.! Then you used to go out to the diner and get something to eat. Around 4 or 4:30, you come stumbling out of the diner, into a night like we were having last week. Where the air is so thick, it feels like nothing can move — and everything becomes so quiet — it feels like the apocalypse is just around the corner."
The stories about summer in New Jersey continued with Bruce's introduction to "Mansion on the Hill," referencing his trips to Jersey Freeze as a child, and his preference for ice cream cones rather than the chocolate or vanilla options they had "back in the day." Bruce preceded "Independence Day" with some of the same details he used earlier in the tour, about how it was set on a late summer night at a kitchen table. But he also included a much longer version of anecdote about his father that he revealed during his Rock and Roll Hall of Fame induction speech from 1999. For a moment, it seemed as if the crowd might have been getting a small preview of Bruce's upcoming autobiography:
"I come from a small town. It's kind of your classic middle American town, not far from here. All those Victorian houses down main street, tall shade trees. It could feel pretty welcoming. I love it now. I felt different about it at the time — it just felt very, very small. And particularly if you didn't fit so well. So of course all you could think about was, I want to get away. 'Born to Run!' So, this was a song — one of the first songs I wrote about my father. And, he was non-communicative. So I figured when I started songwriting, the way I could have a conversation with him was through my music.
"So I would make my records, I'd bring them over to the house. And I know that my mother was forcing him to listen to them all, so I knew he was hearing them. But years went by. I'd write another song, and another song, and nothing. No response. Nothing at all. About 40 years went by. And my father was close to his death, finally I said, 'Dad, what are your favorite songs that I've written?' He said, 'Oh, the ones about me.' Okay! So, you've got to take your satisfactions where you can get them."
Setlist staples "Spirit in the Night" and "Rosalita," complete with their New Jersey references, kept the crowd engaged and contributed to the evening's theme, which was bookended with a moving version of "Jungleland." Bruce dedicated "Jungleland" to his home state, and he tapped his hand to his heart in reaction to the crowd's participation on the song.
With Tuesday, the first show in the United States after two-and-a-half months in Europe, one might also have asked if Bruce was going to have anything to say about the upcoming presidential election. In 2003, Bruce had a new "public service announcement" that he first delivered at the start of a run at Giants Stadium. Additionally, while sometimes coincidental and sometimes deliberate, Springsteen has toured in the United States in every presidential election year since he signed his first recording contract. There were no specific comments made from the stage this time, but the political nature of a seven-song sequence in the middle of the set, including "Death to My Hometown," "My Hometown," "The River," "American Skin (41 Shots)," and "The Promised Land" was unmistakable.
Included therein was the tour premiere of "Jack of All Trades," in a new arrangement welcoming the eight-piece string section back to the stage. Bruce started on acoustic guitar before Roy joined in on piano, and the strings came in for the first solo, accompanied by Bruce on harmonica. The performance was particularly rewarding because of Springsteeen's willingness to challenge his audience. "Jack of All Trades" was not a hit or a staple of classic rock radio, but he was able to successfully execute it in a giant stadium through the power of its performance.
The first show of a multi-night Springsteen stand often gets a "standard" setlist, and with a run of usual live favorites at the end of the set in the encore, this show largely fit that mold (although any setlist with "New York City Serenade" is not exactly "standard"). Bruce did have a few surprises via sign requests, with an energetic version of "Growin' Up," and also "Santa Claus is Coming to Town." When showing the "Santa" sign to the crowd, Bruce's facial expression could probably be best described as, "I've got a catalog of over 300 songs, and this is what you really want to hear?" But the crowd ate it up, and Bruce exclaimed "Happy Summer!" at its end. Plus, with Patti Scialfa back on stage, the set included treats from the underrepresented Nebraska and Tunnel of Love albums. (Here's hoping he remembers the Magic album for Thursday).
As the show headed toward record-breaking status, Bruce eschewed his common acoustic ending to the show. Instead, to roaring approval, he led the band into his beloved cover of "Jersey Girl." Fireworks from behind the stage were set off during the final chorus as this lengthy Jersey summer night came to an end.
- Glenn Radecki reporting - photographs by A.M. Saddler
Setlist:
New York City Serenade (with strings)
Wrecking Ball
Badlands
Something in the Night
The Ties That Bind
Sherry Darling
Spirit in the Night
Santa Claus is Comin' to Town
Independence Day
Hungry Heart
Out in the Street
Growin' Up
You Can Look (But You Better Not Touch)
Death to My Hometown
Mansion on the Hill
Jack of All Trades (with strings)
My Hometown
The River
American Skin (41 Shots)
The Promised Land
Working on the Highway
Darlington County
Because the Night
She's the One
Brilliant Disguise
The Rising
Land of Hope and Dreams
* * *
Jungleland
Born to Run
Dancing in the Dark
Rosalita
Tenth Avene Freeze-out
Shout
Bobby Jean
Jersey Girl