HAPPY HALLOWEEN!
Don't let the Jersey Devil git ya...
10/30, NEW YORK: SURPRISE, SURPRISE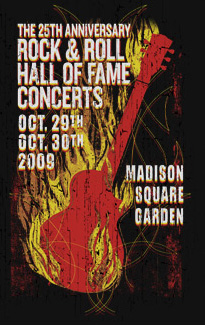 Night two of the Rock and Roll Hall of Fame 25th Anniversary Concerts brought Bruce Springsteen back to the Madison Square Garden stage, this time as an unnanouced special guest during U2's closing set.
Bono noted that Madison Square Garden was a "very special venue for this band" and accordingly, they were going to do a song that was "very special... It's a Bruce Springsteen song, so we'd like to ask him to join us, and it's also a Patti Smith song" as a second surprise guest came on stage, with Bono noting there was "royalty in the house."
The crowd went appropriately nuts as Roy Bittan started "Because the Night" on the piano, but all of the stars performing weren't quite properly aligned; as a result, cues were missed, choruses sung over a hot Bruce solo, and things ended in shambles. No worries: the collabaration was so important that after some brief discussion, "Take 2!" got off the ground and the moment's potential was much better fufilled as Bruce, Patti, and Bono all took lead vocals (using the Patti Smith lyrics) on what ultimately was one of the big highlights of the night.
Bono then took a moment to speak about the importance of rock 'n' roll, noting that "for a lot of us here, rock and roll means just one word: liberation — political, sexual, spiritual liberation." As he finished Bruce added, "Let's have some fun with that!"
And they certainly did, as Bruce and Roy remained on stage for a reprise of U2's 2005 induction ceremony: a very strong version of "I Still Haven't Found What I'm Looking For." Bruce played rhythm guitar and took the second verse's lead vocals, and he also traded lines and echoed Bono's call-and-response at the end of the song.
BACKSTREET RECORDS: MEETING YOUR BOSS WARDROBE NEEDS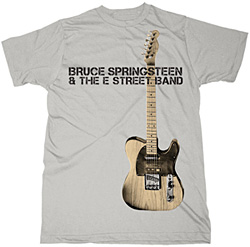 We just got a huge shipment of T-shirts in: a couple new designs as well as some old favorites back on the shelves. First up, a new Esquire T-shirt, this one's light gray as pictured here, a new design for the E Street Band's Working on a Dream tour.
For the smaller set, we finally have one that's been much-requested: a Born in the U.S.A. shirt for toddlers! Sizes 2T, 3T, and 4T.
And we've restocked a fair number of previously sold-out items, including the in-demand "Tramps Like Us" shirt, which returns in all Adult sizes from Small to XXL.
See all shirts here, and all new items here. And thanks for shopping with Backstreet Records!
- October 30, 2009


10/29, NEW YORK: BRUCE AND FRIENDS TAKE THE ROCK HALL'S 25th HIGHER AND HIGHER
At the first of the two Rock and Roll Hall of Fame 25th Anniversary Concerts at Madison Square Garden, Bruce and the E Street Band turned in a fantastic performance to cap off an evening that featured performances from Crosby Stills & Nash, Paul Simon and Stevie Wonder with numerous guests each.
Bruce, too, had several friends in the house: backed by a full-strength E Street Band plus a horn section including Curt Ramm, Clark Gayton and Eddie Manion, Bruce and his special guests recreated many of his greatest live collaborations from the past decade. Returning to the E Street stage were John Fogerty, Tom Morello and Sam Moore, plus new friend Darlene Love and surprise guest Billy Joel. Bosstime was an hour and 45 minutes, closing a show that didn't end until 1:30 in the morning.
After Bruce opened with "Tenth Avenue Freeze-out," he brought out his mentor Sam Moore, the man from whom Bruce has frequently admitted — including during this show — he's "learned so much about leading a band." "The Original Soul Man" traded verses with Bruce on "Hold On, I'm Coming" and "Soul Man," instantly elevating the show the way they did in Asbury Park in 2003.
After Springsteen and Fogerty repeated two of their prior duets, Bruce took an opportunity to recall playing with one of his heroes at the Rock and Roll Hall of Fame induction in 1988, Roy Orbison. Bruce admitted, "I wouldn't try by myself," but with John present they were able to "take a ballpark swing at Pretty Woman," a highlight of the evening. Darlene Love brought her "one-woman wall of sound" on "A Fine, Fine Boy" and "Da Doo Ron Ron" while Tom Morello turned heads not only with his now-familiar solo on "The Ghost of Tom Joad" but also with his solo and lead vocals on an exciting performance of "London Calling."
With many of the guest artists' songs being performed, Springsteen songs only made up a small portion of the setlist, yet a very strong performance of "Jungleland" mid-set was not only perfect for the event and the location, it made it clear that Bruce was capable of transfixing a crowd with his own material as well.
The encore opened with a humorous introduction, reminding the crowd that prior to the continental drift, "New Jersey and Long Island were actually joined in one continuous land mass" and "tonight there will be a reunion," as Bruce welcomed "the king of Long Island," Billy Joel, to "the bridge and tunnel summit meeting right here right now." Joel played piano at center stage, singing three of his own songs as well as a verse of "Born to Run." Bruce contributed vocals to "New York State of Mind" as well.
The night's festitivies ended as Springsteen brought all of the guests back on stage for another exciting take of "Higher and Higher," with each singer, including Darlene Love and Sam Moore, taking a different verse for lead vocals. Bruce was again at his most energetic and loose as the song provided a fitting cap to an evening not to soon be forgotten by lucky showgoers.
WE CAN MAKE IT IF WE RUN
Danny Federici's good friend Jon Kilik will be running the NYC marathon on November 1 to raise money for the Danny Fund. All of the proceeds will go to Danny's doctor at Memorial Sloan Kettering, Dr. Paul Chapman, to help find a treatment and cure for Melanoma. Below is a letter from Danny's wife; we encourage you to give if you can.
Dear Friends,

On November 1, a very dear friend of ours will be running in the New York City Marathon with Fred's Team to support The Danny Fund at Memorial Sloan-Kettering Cancer Center. Jon Kilik was by Danny's side throughout our fight with Melanoma, and his constant support and positive energy helped us tremendously when we needed it most. He is one of the most talented, loving, and caring human beings I know, and am honored that he will be part of the DannyFund.

A couple of weeks ago, it was announced that there is a promising new treatment for treating Melanoma headed by our Doctor, Paul Chapman of Memorial Sloan kettering. It was because of Danny and all of the support we received that this historical medical
breakthrough was made possible. Dr. Chapman is one trial away from FDA approval for an effective new drug to shrink Melanoma Tumors. Thanks to Dr. Chapman, the Melanoma community worldwide has not seen anything this groundbreaking in 40 years. Danny's vision that Dr. Chapman would someday find treatment for Melanoma is almost actualized. It was made possible through your help and donations to the DannyFund.

Let us show our support to Jon, Dr. Chapman and our fight against cancer by making a donation and making a difference. Thank you all in advance for helping us. Your efforts are greatly appreciated.

Maya Stendhal Federici
To make an online donation, please go to Jon Kilik's Fred's Team webpage.
- October 29, 2009
AND THE BEAT GOES ON
Jay's band The Reveling releases debut EP, takes over Sirius XM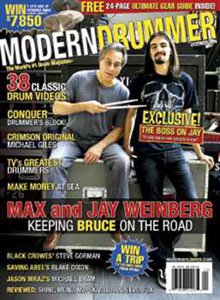 Look for Max and Jay Weinberg together on the cover of the December issue of Modern Drummer magazine. Writer Patrick Berkery tells us it's "a look at how Jay came into the fold, how he adapted, how Max feels about it, how Max is adapting to the new Conan gig, some trade secrets, quotes from Bruce about Jay... lots of stuff." Look for the magazine on newstands on November 2.
Meanwhile Jay's band, The Reveling, are on a roll. They've just released 3D Radio, available now on iTunes. In support of the EP (and their Release Party on November 6 at The Knitting Factory in Brooklyn), the band also just recorded performance and Guest DJ spots at Sirius XM studios in New York. Sirius XM air plans:
Jay Weinberg guest hosts on E Street Radio (featuring The Reveling) on Monday, 11/02 at 4:00 pm Eastern (rebroadcast Tuesday, 11/03 at 12am and 8am).
Jay Weinberg takes over Liquid Metal on Wednesday, 11/04 at 12:00 pm Eastern (rebroadcast Thursday, 11/05 at 6pm).
The Reveling takes over Faction's "D.I.Y." on Sunday, 11/08 at 8:00 pm Eastern.
The band will be interviewed and perform on Dave Marsh's "Kick Out the Jams" on The Loft channel on a date to be determined.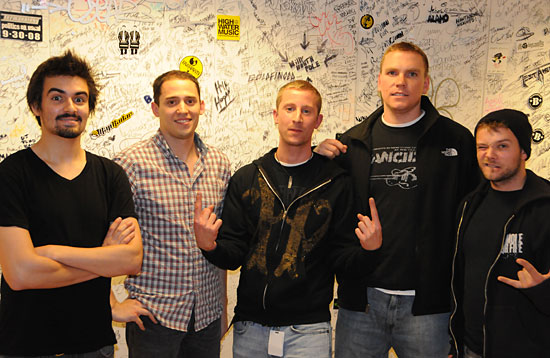 Above: The Reveling with E Street Radio Musical Director, Tom Wilkinson, on October 28 in front of the artist signing wall at SiriusXM [photo by Terry Camp].
The band has re-launched websites at www.myspace.com/thereveling and www.thereveling.com.
- Updated October 30, 2009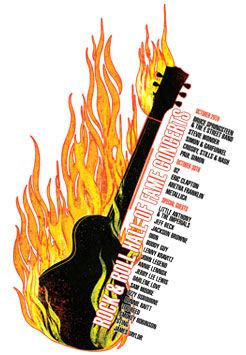 HAVE YOU HEARD THE NEWS?
GOOD ROCKIN' TOMORROW NIGHT...
The first of two concerts for the Rock and Roll Hall of Fame's 25th anniversary is Thursday night at Madison Square Garden; joining Bruce and the E Street Band on the bill are Stevie Wonder, Simon & Garfunkel, Paul Simon, and Crosby, Stills, Nash & Friends. Joining Bruce and the Band during their set will be Sam Moore and Darlene Love, as announced at rockhall25.com.
According to this official site, "Bruce Springsteen & The E Street Band will be performing material from their vast catalog of music and will be inviting these and other special guests onstage for never-before-seen collaborations. Check back soon to see who else they'll be performing with."
- October 28, 2009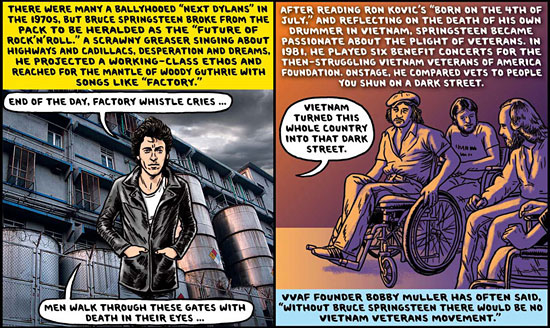 SON, DON'T YOU UNDERSTAND
Check out cartoonist Ward Sutton's Dancing in the Dark: The 25-Year Legacy of "Born in the U.S.A.," a smart primer on one of the most misinterpreted songs of all time, at Boston.com.
- October 28, 2009
THE SHOW GOES ON
Rollinstone.com's Rock & Roll Daily reports: "Despite canceling last night's show in Kansas City, Missouri, due to the death of his assistant road manager/cousin, Bruce Springsteen and the E Street Band will take the stage Thursday night at New York's Madison Square Garden as part of the historic duo of concerts celebrating the Rock and Roll Hall of Fame's 25th anniversary."
LENNY SULLIVAN, R.I.P.
From brucespringsteen.net: "Lenny Sullivan, Bruce's cousin and the assistant road manager of the E Street Band for the last ten years, passed away today at the age of 36. A warm and sensitive person, he was beloved by Bruce, the Band, the crew, and the entire Thrill Hill family."
Our deepest condolences to all those who knew him and loved him.
- October 26, 2009
KANSAS CITY, MO. (Oct. 26, 2009) Due to a death in Bruce's immediate family, tonight's show at Sprint Center has been unavoidably cancelled. All tickets will be refunded at the point of purchase. Bruce and The Band deeply appreciate the understanding of our Kansas City audience and look forward to returning at the earliest opportunity.
ST. LOUIS ENTRY INFO
For Sunday night's show, fans with GA tickets for will enter the Scottrade Center via the 14th Street Entrance. Lottery wristbands will be distributed there between 1:30 and 4:30 p.m. For full details, see scottradecenter.net.
- October 24, 2009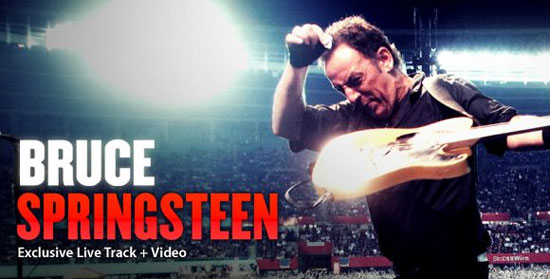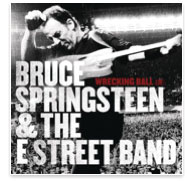 IF YOU'VE GOT THE GUTS, MISTER...
AND IF YOU'VE GOT A BUCK-NINETY-NINE...
Columbia Records has released a live recording of Bruce Springsteen & the E Street Band's "Wrecking Ball," available exclusively in the iTunes Store. The bundle includes the audio single (mixed by Bob Clearmountain), plus a music video shot during their five-night stand at Giants Stadium. The video was edited by Chris Hilson and Emmy and Grammy Award winner Thom Zimny and is different from the footage that was previously streamed on brucespringsteen.net.
- October 22, 2009

SATURDAY NIGHT SPECIAL: HAVIN' A PARTY AT THE PONY
"Well, I'm going down to the Pony tonight and I'll think I'll drink until I get my fill" was the lyric change in "Glory Days" as Bruce performed at a private fundraising benefit for his son's school on Saturday night. Despite it being his his weekend off between shows at the Spectrum in Philadelphia, Bruce brought his act to a much smaller venue for a nearly three-hour set in Asbury Park. Backed by Bobby Bandiera's band, Bruce also handed over lead vocal duties to Patti Scialfa and Southside Johnny for several songs each, before wrapping up the night with a solo acoustic version of "Thunder Road."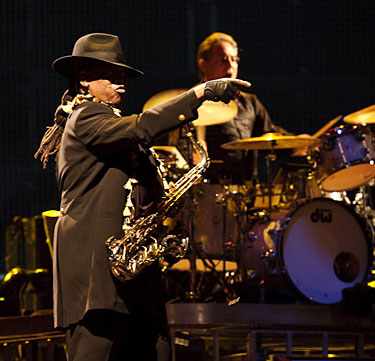 SOMETHING BIG!
Hear that sound? Something big is coming... this Wednesday, October 21, is the official release date of Clarence Clemons' long-awaited autobiography, Big Man: Real Life & Tall Tales.
Written with his good friend, television writer/producer Don Reo, this is the story of the E Street Band, told through the eyes and the soul of the Big Man. It's also the inside story of Clarence's life before, during and beyond the E Street Band. It includes never-before-told-stories with Bruce Springsteen, the band, and an incredible cast of other famous characters, including:
The amazing story behind the final hours of making Born to Run
What happened when Clarence and Ringo Starr were sitting in a hotel room and Clarence got the call that Bruce was breaking up the band.
How Bruce and Clarence met that dark, stormy night at the Student Prince
The E Street band's show at Sing-Sing prison where all of their equipment blows out right as they took the stage
In addition to untold stories shedding light on the almighty E Street Band, Big Man also features a foreword by Bruce Springsteen and many other notable musicians contributing to the book.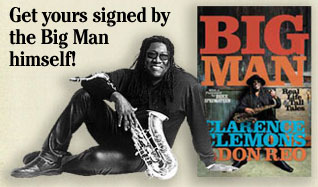 A special offer from Backstreet Records: Clarence has graciously volunteered to sign copies of his book for Backstreets readers. Pre-order your copy now, and we'll make sure yours is autographed by the Big Man himself! (Please allow a little extra time for shipping following the Oct. 21 release date for Clarence to do his thing; you wouldn't want to rush the Big Man, would you?) Quantity limited — order now to guarantee a signed copy!
If you're in the New York/New Jersey area, there's also a chance to have your book signed in person. Clarence will be doing a number of in-store appearances to sign books in the week of its release. Meet the man here:
Sun, Oct 18, 1:00 Chester County Book & Music Company, West Chester, PA
Wed, Oct. 21, 7:30 Barnes & Noble (Broadway & 66th), New York, NY
Fri, Oct 23, 7:00 Borders (290 Commons Way), Bridgewater, NJ
Sat, Oct 24, 1:00 Bookends (232 E. Ridgewood Ave), Ridgewood, NJ
Tues, Oct 27, 7:00 Barnes & Noble (3535 US Route 1), Princeton, NJ
For further details and more promotional appearances, see bigmanthebook.com.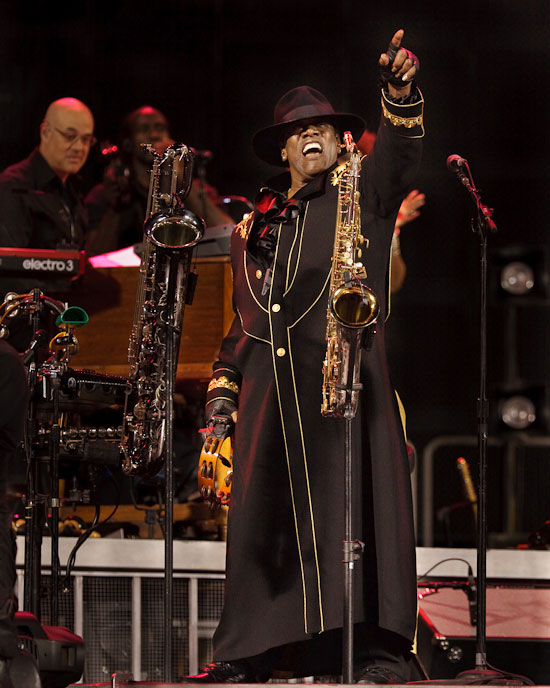 More Clarence in the news:
Find out more about Big Man: Real Life & Tall Tales on the book's official site, bigmanthebook.com.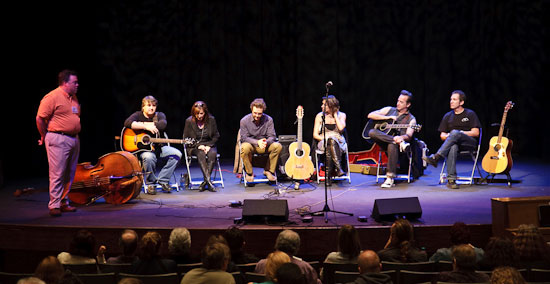 LOOKING BACK AT THE GLORY DAYS
The second installment of "Glory Days: A Bruce Springsteen Symposium," run by Virginia Tech with Penn State Altoona and hosted by Monmouth University, ran from September 24-27. We asked symposium organizer Mark Bernhard for a debriefing, once it was all said and done; after a well-deserved recovery period, Bernhard offers us a wrap-up:
About 200 participants from 30 states and nine other countries (Canada, Germany, Italy, Australia, Sweden, United Kingdom, France, Norway and Mexico) enjoyed a grand weekend of lively discussion, musical entertainment, and community building around all things Bruce Springsteen. Among the highlights:
A Tribute to Danny Federici led by Bob Santelli of the Grammy Museum and featuring Vini Lopez and Tinker West; during this session, it was highlighted what a great musical arranger Danny was, and that he had such great knowledge, along with David Sancious, of musical theory. Participants also learned that Danny really had to come with grips with his celebrity. Danny was the shiest member of the band, liked to be anonymous, and had to learn to persevere with celebrity in 1975 and particularly in 1984 when Bruce and the band became the biggest band in the world.
A thought-provoking presentation by medical experts Dennis Charney, Steven Southwick, and Linda Godleski on Bruce and resilience. Discussion included how great music can change your life and your brain. The importance of social networks for resilience, as well as religion and spirituality was also discussed.
An amazing singer-storyteller session with Joe Grushecky, who discussed his collaborations with Bruce and his life as an educator with at-risk youth in Pittsburgh. Joe also world-premiered an acoustic version of "Code of Silence."
A compelling panel discussion on Bruce and social consciousness/activism featuring Bob Benjamin, Joe D'Urso, Kathleen DiChiara and Jen Chapin. DiChiara showed some great pictures of Bruce volunteering at the food bank, noting how Bruce has given willingly of his time to the food bank, and that all he cared about when volunteering his time was that there not be any publicity. This comment was echoed later in the day when Eric Alterman spoke of Bruce's passion for giving a good deal of money to causes but remaining anonymous.
A wonderful "Songwriters by the Sea" session was another highlight of the symposium. [See photo above; Bernhard at far left] Joe D'Urso, Joe Rapolla (with flute accompaniment), Jen Chapin (with husband Stefan Crump on stand-up base), Scott Kempner, and Lisa Lowell (with piano accompaniment) each played several original songs followed by Springsteen covers: "The River" (D'Urso), "Born in the U.S.A." (Chapin/Crump), "Johnny 99" (Kempner), "Because the Night" (Lowell), and a rousing "Spirit in the Night" (Rapolla and all artists).
Participants were treated to an evening talk at Danny Clinch's photo exhibit on the Asbury Park boardwalk. Danny also showed up at The Stone Pony later that evening to play harmonica on a couple of tunes with Joe Grushecky and the Houserockers. Speaking of the live music, it was an incredibly good time with three nights of great music at The Stone Pony.
The final day of the symposium was highlighted by three compelling presentations. Jim Musselman, President of Appleseed Recordings, talked about Bruce and folk music. He discussed how diving into the Seeger Sessions led Bruce to become more spontaneous with his recording, something that can be seen on his albums subsequent to We Shall Overcome, and that you can hear the folk in songs such as "Tomorrow Never Knows." Musselman quoted Bruce: "Doing folk songs is like going for a ride on a playground." He also described Springsteen's generosity toward Pete Seeger in giving Pete one of his two allotted song slots for President Obama's inauguration, noting that Pete was very moved by Bruce's gesture. Lauren Onkey of the Rock and Roll Hall of Fame followed Musselman's talk with a presentation on Springsteen over the last ten years. Her presentation spoke to Springsteen's incredible productivity this past decade with seven tours, close to 600 scheduled concerts, and several albums covering a variety of genres. She talked about how Bruce has gone from "Put those fuckin' signs down" in 1999 to embracing sign requests and making cover tunes a key part of his shows on the past two tours. Her talk echoed many of the breakout presentations that spoke to the continued relevance of Bruce Springsteen as an artist.
The final talk of the day returned participants to Bruce in the mid-1970s at the time he was recording Born to Run. Marilyn Rocky was Bruce's "landlordess" at the time Bruce was living in the house at 7-1/2 West End Court (the house Bob Dylan recently got in trouble looking for). Marilyn told lots of funny stories and shared some of Bruce's notes in his signature handwriting to her, including one that read:
Dear Landlordess,

This is the only water bill I have. I think there was one other one but it wasn't much and I took care of it myself. Anyway they haven't sent any notices so I guess it's o.k. Sorry the rent is late this month but I forgot to tell the office in NY that they were gonna send it out. If you don't have it by now it's in the mail and should arrive tomorrow or the next day.

Your ever gracious tenant,
Bruce Springsteen.

P.S. Do you like this classy writin' paper?

P.S.S. I'm practicing my autograph. Whadya think?
Marilyn also talked about a potential Holy Grail of Bruce collectibles being out there somewhere. There was a piano in the house that — as Marilyn found out from Clarence Clemons years later at the dentist's office — was signed by members of the E Street Band. When Marilyn heard this, she rushed over to the house to discover that the tenant had put the old piano out by the side of the road and it had mysteriously disappeared. Whether it no longer exists or is now in the possession of another person remains a mystery!
All in all, a great weekend had by all, and perhaps in a couple of years, there will be a third installment. —Mark Bernhard
- October 16, 2009 - photograph by A.M. Saddler
TONIGHT WITH CHARLIE G
Night One in Philly is also Charles Giordano's birthday show — the new kid on E Street was born October 13, 1954. Happy birthday, Charlie!
- October 13, 2009
FROM ONE WRECKING BALL TO ANOTHER
Having given one last send-off to Giants Stadium, Bruce and the E Street Band now head to Philadelphia to shut another one down. Their four-night final stand at the Spectrum begins tonight.
First things first, GA procedure info from the Wachovia Center is here. On the day of each show, lottery wristbands will be distributed between 1:00 and 4:00 at the Broad Street entrance.
For all four shows, the B Street Band will be providing pre-show entertainment outside the Spectrum beginning at 5:00 p.m. Open to the public, no ticket necessary.
Looking ahead to the stand, Nils Lofgren talks about his memories of the venue: "'Bruce and all of us were fans that had been in and out of that building as many times as people in the audience... Luckily, now as successful performers. We all share some of the history with The Spectrum.''
- October 13, 2009
MEETING ACROSS THE (MISSOURI) RIVER
St. Louis will get Born to Run live on October 25, and the next night Kansas City gets Born in the U.S.A.... Cleveland will be another Born to Run night on November 10.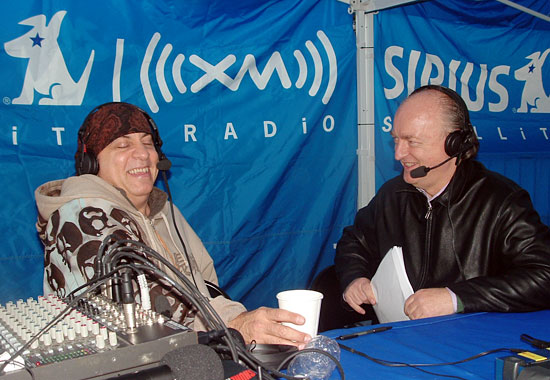 LIVE FROM THE PARKING LOT
Last Friday, Dave Marsh broadcast from an E Street Radio tailgate at the Meadowlands, the Sirius/XM host shown here chatting with Little Steven Van Zandt before the October 2 show. Dave will be re-airing some of the interview tomorrow, in between these final two nights at Giants Stadium.
Tune into his "Live From E Street Nation" show tomorrow (and every Friday) at 10:30 a.m. Eastern, and at 5:00 p.m. he'll host one more tailgate broadcast before they bring on the wrecking ball.
- October 8, 2009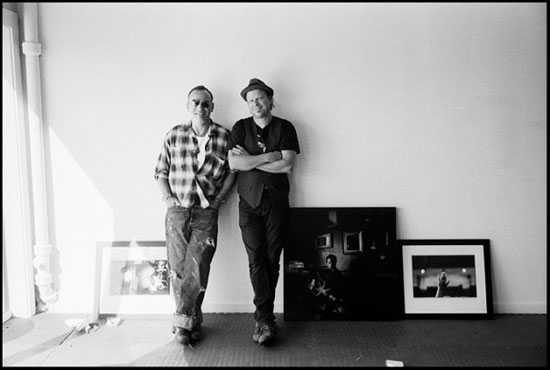 PICTURES IN A FRAME
After an extended run, Danny Clinch's "Be True" photography exhibition of Bruce Springsteen in New Jersey closed at the end of the weekend — and who should turn up for the load-out but the man himself. The above photo of Bruce and Danny is from the Asbury Park Boardwalk's Facebook page, which also has a quote from Springsteen: "I'm in ecstasy. I never expected the Boardwalk to come back like this so quickly, and I love the excitement and diversity."
- October 8, 2009
"WRECKING BALL" AND MORE ON BRUCESPRINGSTEEN.NET
In case you haven't been to the official site lately, don't miss the streaming version of "Wrecking Ball" currently posted on www.brucespringsteen.net, from October 2 at Giants Stadium. You'll also find additional photographs and show reports from Backstreets correspondents there, in our Tour Notes section on the right-hand side. And the "Hangin' Out on E Street" section continues to expand as well, with Tim Brantley's take on "Spirit in the Night" recently added. The newest Hangin' Out installment can be seen on YouTube: PT Walkley takes on "For You" in a video directed by Ed Burns and edited by Thom Zimny.
- October 7, 2009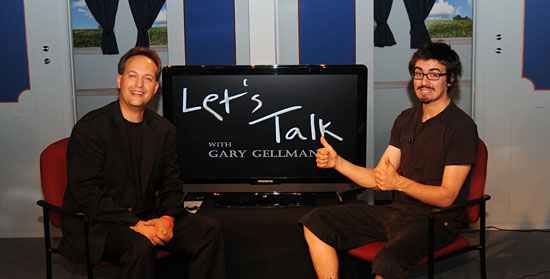 A CHIP OFF THE OLD BLOCK
Gary Gellman's Let's Talk program spotlights Jay Weinberg with an in-depth interview, discussion ranging from nine-year-old Jay's first impression of his dad at work on the Reunion tour to playing with the E Street Band himself. Watch it here.
- October 7, 2009
TICKET ALERT: STAND UP FOR HEROES BENEFIT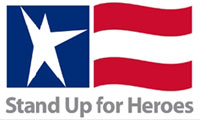 Bruce Springsteen will once again be appearing at the annual Stand Up For Heroes benefit this fall, part of the New York Comedy Festival on November 4. Hosted by Brian Williams, the bill includes Louis CK, Stephen Colbert, and Lisa Lampanelli along with musical performances by Five For Fighting's John Ondrasik and Bruce.
The night benefits the Bob Woodruff Foundation. While Remind.org lists tickets as going on sale on October 12, both NYComedyFestival.com and Ticketmaster.com currently state that the onsale beginsTickets go on sale tomorrow, Wednesday October 7, at noon.
- October 6, 2009
"SEA OF HEARTBREAK" DUET OUT NOW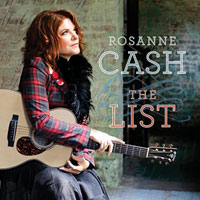 Released today: Rosanne Cash's new album, The List, featuring a duet with Bruce Springsteen on Don Gibson's "Sea of Heartbreak." "It's kind of a perfectly constructed country song," she recently told WHYY's Terry Gross. "It embodies that longing that is in so much of country music really, really well." The material is well matched by the longing in Springsteen's voice, too — listen to a clip now at the beginning of Terry Gross' Fresh Air interview with Rosanne Cash at NPR.org. When asked why she wanted Bruce to sing on this one, Rosanne replied, "Because he's just a dream date... the embodiment of the perfect male voice."
The List features 12 songs from a list of "100 Essential Country Songs" passed on to her by her father, Johnny. In addition to Springsteen's guest spot, she's also joined by Elvis Costello ("Heartaches By the Number"), Jeff Tweedy ("Long Black Veil"), and Rufus Wainwright ("Silver Wings"). The List is in stock now and on sale at Backstreet Records.
- October 6, 2009
"ANOTHER THIN LINE" EMERGES ON NEW GRUSHECKY ALBUM
On the Fan Talk section of his website, Joe Grushecky has revealed that his old pal Bruce Springsteen will be guesting on his forthcoming album, East Carson Street. Of particular interest is "Another Thin Line," a rocker he and Springsteen co-wrote more than a decade ago, along with "Code of Silence." Both songs were debuted by E Street Band at the end of the reunion tour in 2000. "Code" was included as a live cut on The Essential Bruce Springsteen; Grushecky and Springsteen later recorded a studio version together for 2006's A Good Life. "Another Thin Line," on the other hand, has gone unreleased until now.
East Carson Street's studio take of the song has Springsteen joining Joe on lead guitar and vocals. Bruce also plays lead guitar on "Broken Wheel," and rhythm guitar on the title track. Grushecky is having a release party for the new album at the end of this month, on Halloween night at the Altar Bar in Pittsburgh.
- October 6, 2009
FULL ALBUMS IN PHILLY AND BEYOND
Three shows into the Giants Stadium stand, audiences have now gotten a taste of all three albums that Bruce and the E Street Band are playing top to bottom: Born to Run, Darkness, and Born in the U.S.A. Later this week, Born to Run and Born in the U.S.A. will be reprised at the final two nights of the stand, Thursday and Friday nights, respectively.
But the swamps of Jersey won't be the only place to hear this trio: the Spectrum has just announced that Bruce and the band will be giving Philly audiences the same treatment when that stand starts next week: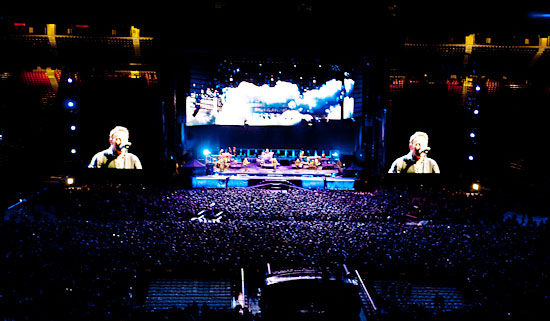 PULLING OUT OF HERE TO WIN
On the front page of Tuesday's New York Times, David M. Halbfinger wrote about a particular quirk of NJ's Republican gubernatorial candidate Christopher J. Christie, Jr.: "In New Jersey, Would-Be Boss is Big Boss Fan." Christie has seen Springsteen in concert 120 times [see sidebar], and many Backstreets readers will identify with his passion for the music (as well as the reaction of his wife and friends). Christie's politics, however, clearly differ from Springsteen's. Halbfinger writes:
Mr. Christie said he thought he and Mr. Springsteen might agree on ideals like equal opportunity. But he said he did not share the rock star's oft-stated credo, "Nobody wins unless everybody wins."

"I think that in life there are winners and losers — there just are," Mr. Christie said. "We can't make everybody winners. But you can make more people winners."
It's surely this quote that made for an interesting undercurrent at Wednesday night's Giants Stadium opener — a show, as the article suggests, that Christie planned to attend. Deep into the encore, Bruce stopped to offer some thoughts on that idea he'd frequently expressed in his live shows in the past. He said that for many years prior to playing "Born to Run," he had invoked the phrase "nobody wins unless everybody wins," but that "I stopped doing that for a while. I stopped because I felt it was naive. It's not the way the world goes 'round."
Springsteen went on to note, however, the struggles of the middle class "since the Reagan administration," and the current need for health care for all Americans, summing up his current take on the nobody wins notion: "We're on the precipice. That idea is all we have."
That served to introduce "Hard Times," and if the point hadn't already been made, Bruce again specifically invoked the "Nobody wins unless everybody wins" phrase both before the song started and after it was finished.
- Updated October 2, 2009 - additional reporting by Glenn Radecki - photograph by Michael Zorn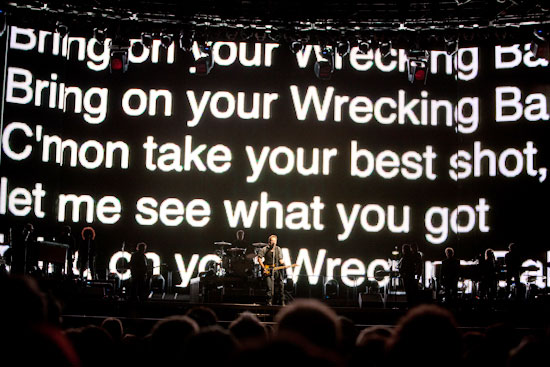 MEET ME AT THE WRECKING BALL
A new Springsteen song debuts for Giants Stadium opener
"Evenin', New Jersey! Nice to be in my back yard!" Springsteen hollered out to the crowd on Wednesday night, 9/30, going on to reference the fact that this five-night E Street stand will be the stadium's final concerts. "Join us tonight to shut the old lady down! We've had a lot of great nights here, let's make this another one." And then some magic words: "This is something I wrote for tonight..."
Yes, Bruce opened with a brand new song, the first new one of the tour, written just for the occasion: I was raised out of steel here in the swamps of Jersey, some misty years ago / Through the blood and the beer, and the mud and the cheers, I've seen champions come and go..." Springsteen began "Wrecking Ball" solo, just strumming a telecaster, but the mighty power of the E Street Band soon kicked in, even adding a trumpet solo from Curt Ramm. "Bring on your wrecking ball," Bruce spat in the chorus, "Take your best shot, see what you've got... Bring on your wrecking ball."
Bruce Springsteen performs his new song Wrecking Ball at Giants Stadium
GIANTS STADIUM, OPENING NIGHT: SIBILANCE... SIBILANCE...
Another glimpse from our eye in the sky: today's soundcheck, as Bruce and the band get ready to kick off their homecoming stand tonight. More at www.wcbs880.com.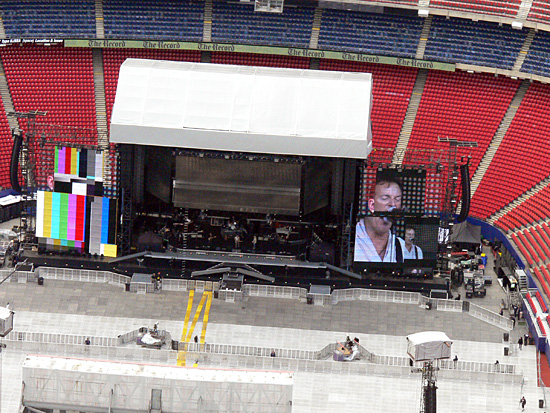 THE SKY'S BEEN CLEARED BY A GOOD HARD RAIN
And from above Giants Stadium, photographer Tom Kaminski provides us some overhead views from this morning of the venue being prepped for Bruce Springsteen and the E Street Band's final stand.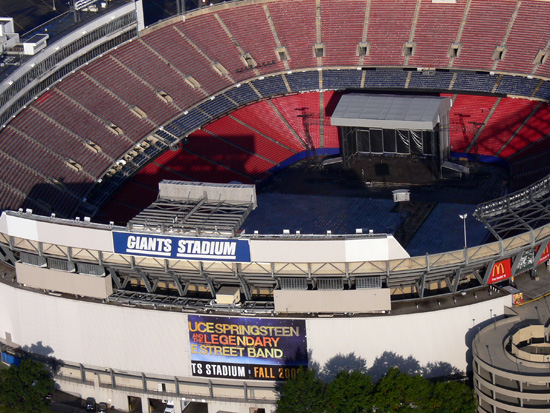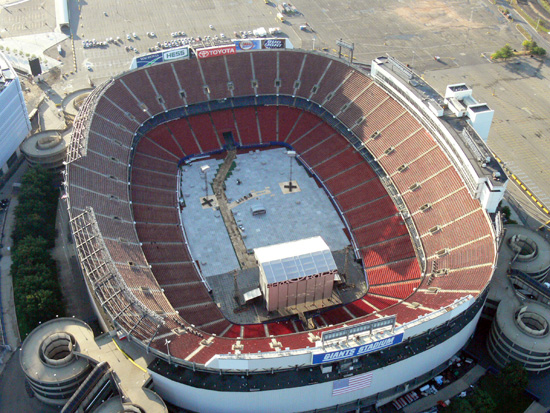 See more at www.wcbs880.com.
- September 29, 2009 - courtesy Tom Kaminski / WCBS Chopper 880
YOUR FAVORITE RECORD'S ON THE TURNTABLE...
Live BTR, Darkness, and Born in the USA album sequences coming to NJ
When the Giants Stadium stand begins tomorrow night, the crowd will be treated, as they were in Chicago, to a performance of the complete Born to Run album, start to finish. But that's just the beginning: Bruce and the E Street Band will be offering up a complete album sequence each night of the five-night stand. From the press release:
In response to the overwhelming fan enthusiasm at Chicago's Bruce Springsteen and the E Street Band live performance of the album Born to Run, Springsteen has decided to perform one classic album each night at Giants Stadium:

Wed, Sep 30 - Born to Run

Fri, Oct 2 - Darkness on the Edge of Town

Sat, Oct 3 - Born in the U.S.A.

Thur, Oct 8 - Born to Run
Fri, Oct 9 - Born in the U.S.A.

In Chicago, Bruce began with a varied set list, performed the album portion of the show in the middle of the concert, and continued the show through its grand finale. Said long time manager Jon Landau, "Chicago convinced us that this was really worth doing. The audience was so supportive of the concept that it convinced us to go ahead with this at Giants Stadium."
While Bruce and the band performed Born to Run and Darkness last year in Red Bank, the complete Born in the U.S.A. in sequence will be a concert first.
- September 29, 2009
NEXT UP: FIVE NIGHTS IN THE SWAMPS OF JERSEY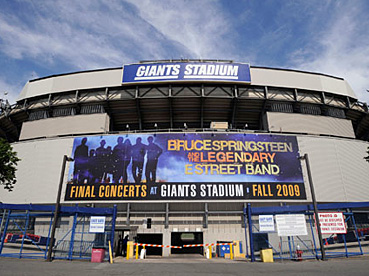 As the Working on a Dream tour resumes this week, Bruce Springsteen and the E Street Band begin their final stand at Giants Stadium — the final stand at Giants Stadium. The five-night run begins Wednesday night and continues through next week.
For anyone planning to attend, we've got extensive info courtesy of the New Jersey Sports & Exposition Authority (njsea.com). Whether you're looking for GA entry details, travel information, parking, drop line, or otherwise, please download this PDF to answer any questions you might have.
Of particular note: The General Admission line will form at Gate B. Lottery wristbands for the pit will be distributed beginning at 1:00 p.m. on the day of the show, with the starting number randonly selected at 4:30. Get another chance at a spot in the pit by bringing five or more non-perishable food items for the Community Food Bank of New Jersey. At each of the first three shows, a donor will be randomly selected to win pit access. Again, we point you to the PDF for complete details.


Getting there: NJ TRANSIT now serves the stadium for major events with its New Meadowlands Rail Line. From New York, take PATH trains to Hoboken where you can board NJ TRANSIT trains for direct service to the Meadowlands Rail Station. From New Jersey, catch a NJ TRANSIT train and connect at Frank R. Lautenberg Station at Secaucus Junction. Many fans will plan on taking the train, so expect large crowds and lines to board the trains. Service begins at 3:20 so travel as early as possible. Be sure to purchase your round-trip tickets in advance at your origin station from a Ticket Vending Machine or Ticket Agent. For more information, visit njtransit.com/meadowlands.
- September 28, 2009

SPRINGSTEEN AND COSTELLO: SHOWTIME AT THE APOLLO
Last night, over the course of a nearly four-hour Spectacle taping at the Apollo Theater in Harlem, Bruce Springsteen and Elvis Costello discussed everything from their Catholic upbringings to fatherhood to being labeled "The Next Dylan" to Asbury Park to the role of the songwriter in a democratic society. They talked quite a bit about where and how their paths crossed over the years, including Roy Orbison's "Black & White Night" performance. It's unlikely that nearly all of last night's absolutely engrossing conversation will make it to air; the only consolation to seeing some of these insightful artistic musings fall on the cutting room floor is that they'll be left out to make room for the music. My God, the music!
- September 26, 2009 - Anthony D'Amato reporting - photograph by Frank Stefanko
"BE TRUE" PHOTOGRAPHY EXHIBIT EXTENDED
Rock photographer Danny Clinch has extended the run of his acclaimed gallery show "Be True: Bruce Springsteen in New Jersey, 1999-2009" until October 4, 2009.
"We decided to extend the run until October 4 in the interest of fans coming from overseas to attend the final shows at Giants Stadium," said Clinch. "We really want to share the Jersey Shore experience with them, and this is our way of doing it."
Clinch's online auction of two Springsteen-signed prints benefitting the Asbury Park Fire Department and the Foodbank of Monmouth and Ocean Counties closes on October 1, 2009: view/bid online now at charitybuzz.com.
Entertainment is scheduled for Friday, September 25 with the NYC/Jersey Shore band The Roebucks slated to perform at 8:30 pm; Saturday, September 26, at 5 pm it's Ocean Grove-via-Dublin singer/songwriter Steve Reilly.
LOCATION: 3rd Ave. Pavilion (3rd and Ocean Ave), Asbury Park, NJ
HOURS: SUNDAY-WED: 12-8 PM THURS-SAT 12-11PM
- September 25, 2009
TICKET ALERT: LAST CALL!
Come tomorrow, all of the Working on a Dream dates will have gone on sale. The remaining two onsales happen Friday morning at 10 a.m. Eastern:
Update: Live Nation has announced: "In addition to the extensive catalogue of Bruce Springsteen & the E Street Band hits, both DC and Baltimore evenings will consist of Born to Run being performed in its entirety!" Thanks to all who let us know.
- Updated September 24, 2009
BIRTHDAY WISHES FROM U2 FOR THEIR R&R HALL OF FAME INDUCTOR
Rumors of a Bruce appearance never came to fruition, but Springsteen was invoked plenty at Wednesday night's U2 concert at Giants Stadium. Bono started during "I Still Haven't Found What I'm Looking For," wishing a happy birthday to Bruce in his home state before exhorting the crowd to "sing it for the Boss!"
The real treat was the next song, a cover of "She's the One," with Bono staying mostly faithful to the lyrics, only altering the end of each verse to become "ohhh, he's the one!" Rehearsed at soundcheck, U2 played two verses of Springsteen's tune, the crowd singing along, before morphing into their own "Desire." The masterful Bo Diddley beat-mashup finally ended with another touch of "She's the One." "Excuse us, Bruce!" was Bono's comment at the end of a fitting tribute. Watch it here and here.
- Updated September 24, 2009 - Glenn Radecki reporting
COME HEAR THE SOUNDS OF ASBURY, THURS- SAT AT THE STONE PONY!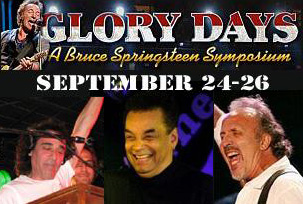 As part of this weekend's Glory Days Symposium, there will be great music at the Stone Pony this Thursday, Friday and Saturday. On Thursday, Boccigalupe and the Badboys will headline a night that will also feature Hans Ludvigsson and the Hungry Heart Band (all the way from Sweden!) and Jon Caspi and his band. On Friday, Gary "U.S." Bonds will highlight an evening that will also feature Jobonnano and the Godsons of Soul and up-and-coming artist Jillian Rhys. And to cap the weekend off, Joe Grushecky and the Houserockers headline an evening that also features two other wonderful, award-winning acts: Willie Nile and Stewart Francke. Tickets for each night are $25 and can be purchased through the Stone Pony website or at the door each night.
The Glory Days Symposium, which is set up to be a wonderful weekend of all things Bruce, still has room for those who wish to register on site. Walk-in registrations will be accepted at the Sheraton Eatontown Center on Friday from 7:30 am to noon and then at Monmouth University's Pollak Theatre lobby on Friday from 2 to 5 pm, Saturday and Sunday. The symposium fee is $345 with single-day fees costing $195 (students can attend the entire event for $195). There are also two songwriter events on Friday afternoon and Saturday afternoon at the Pollak Theatre, with tickets costing $15 to each event and available at the registration table in Pollak Theatre lobby up to showtime. Joe Grushecky will be performing a solo-acoustic show with storytelling on Friday from 4:30-6, and Joe D'Urso, Joe Rapolla, Jen Chapin, Lisa Lowell, and Scott Kempner will perform Songwriters by the Sea from 4-6 pm on Saturday.
Glory Days: A Bruce Springsteen Symposium is organized by Virginia Tech's Continuing and Professional Education department in conjunction with Penn State Altoona.
- September 23, 2009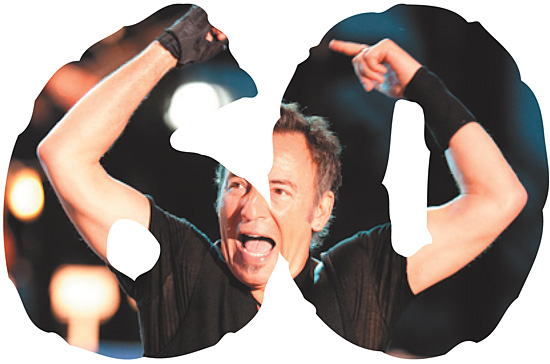 HAPPY BIRTHDAY, BOSS!
"I'm a lifetime musician; I'm going to play music forever. I don't foresee a time when I would not be onstage somewhere, playing a guitar and playing it loud, with power and passion. I look forward to being sixty or sixty-five and doing that." —Bruce Springsteen to Jim Henke in Rolling Stone, 1992
We have friends who consider every September 23 an honorary National Holiday, and proceed accordingly. A little much? Maybe. Just an excuse to take the day off? You know and I know that ain't the case. We feel pretty much the same, except for the fact that today is not a day for us to take off work. Birthday tidbits and tributes here as they come in...
Last night, Pearl Jam wished Bruce a happy early 60th from the stage as they launched their Backspacer tour in Seattle, Eddie Vedder dedicating the Who's "Real Me" to "someone who, for me, really holds the fabric of the flag together... Mr. Bruce Springsteen!"
National Public Radio and World Cafe-producing station WXPN in Philadelphia, XPN is airing Bruce requests and covers from 10 a.m. to 2 p.m. today. Tonight, beginning at 7:30 p.m. they'll have a "Boss' Birthday Bash" concert broadcast & webcast from World Cafe Live. Hosted by XPN Host Helen Leicht, the concert will feature live performances from XPN Local Artists, dubbed the Phill-E Street Band for this occasion, who will play the entire Born to Run album as well as other surprises.
If you haven't checked it out already, don't miss AARP Magazine's "The Boss Turns 60" cover story from their Sep/Oct issue. The feature, "Red, White, and Bruce," is available online, along with a whole bunch of extras including "Glory Days," "More Glory Days" Online Extra, a Frank Stefanko photo gallery, and more.
NJN News is airing a two-part series in conjunction with the big day, five-minute segments using concert footage and interviews with fans. They'll air today and tomorrow. News airs at 5:30 pm on Channel 13 (PBS), and at 6, 7:30 and 11 PM on NJN; the programming will be archived at www.njn.net.
Runaway Dream author Louis P. Masur writes about the milestone for PopMatters.
Plenty of birthday coverage in the Asbury Park Press.
"60 Springsteen Facts for Bruce's 60th Birthday" at mentalfloss.com.
Sleater-Kenney's Carrie Brownstein pays tribute with some video clips on her NPR Music blog, Monitor Mix.
ESPN's Sports Guy, Bill Simmons is Twittering away—fun stuff.
Sickles Market and the Petite Café worked together to develop a special cupcake to honor their local hero. Working with Bruce's favorite flavors, "The Boss" cupcake was created. The vanilla and açaí berry flavored cupcake is filled with a blueberry mousse and topped with vanilla icing. These cupcakes are currently sold only at Sickles Market near the Jersey Shore.
Tonight on BBC Radio2, "Johnnie Walker digs into the BBC archives to hear the very best from thirty years of interviews with the Boss: from his first interview with Bob Harris in 1979, through to talking about turning 60 with Steve Lamacq."
Stan Goldstein presents "60 special memories" on his Bruce Blog at NJ.com.
According to Bruce's official birth certificate (available online here, along with an extensively researched family tree), Bruce wasn't born until 10:50 p.m. Eastern. As of this writing, that technically means that both he and we still have a few more hours to enjoy his "fifties period." In any event, here's to many more great musical moments in his sixties and beyond. —Shawn Poole, Philadelphia, PA
Over in Italy, they're celebrating with the 11th annual Glory Days in Rimini, a two-day fan gathering.
An interesting selection of Springsteen covers to celebrate the day, on the Cover Lay Down blog.
More links on Blogness on the Edge of Town.
Rolling Stone celebrates "a true titan of rock."
From Paste, "Five Videos That Show Why He's the Boss."
The New York Times stepped up with a snazzy graphic, and a mention in Jon Pareles' U2 concert review as well.
In poll results released on Bruce's birthday, he ties with Elvis Presley for New Jersey's favorite rock 'n' roll artist.
Happy 60th, Bruce — may we all look so good. May we all move so good. And many more...
- updated September 24, 2009 - photograph by Michael Zorn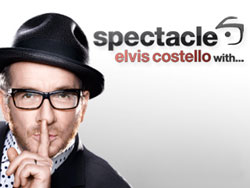 CREATING A SPECTACLE
Elvis Costello begins taping episodes this week for another season of Spectacle, his hit talk/music show on the Sundance Channel, and Bruce Springsteen will be one of his guests for Season Two.
Spectacle: Elvis Costello with... fuses the best elements of talk and music television and invites viewers to enjoy an intimate conversation between the host and his guests, punctuated by rare musical performances by his guests and a wide variety of musicians. Season One guests included Sir Elton John, Tony Bennett, John Mellencamp, The Police and President Bill Clinton. Costello also performs, starting each episode with an original, never-before-seen interpretation of a song by the featured guest, or a song connected to them.
The Springsteen episode tapes this Friday evening, September 25, when Bruce will join Elvis on stage in front of a live audience in New York City, just two days after his 60th birthday. We'll have a report right here following the taping, as well as Season Two broadcast information once more is known.
Thanks to everyone who participated in our drawing for tickets!
Backstreets is helping to fill the audience for Friday's show, giving away 100 tickets to fans in a random drawing. The contest, announced late last week via our email list, ended this morning at 10 a.m. Eastern, with a total of 1695 valid entries; from those entries, we'll randomly select 50 winners of two tickets each. By today's end, we'll have drawn winners (using a random number generator) and begun contacting them by email. All winners will be conatcted by tomorrow at the latest, and we'll post a notice here once all the email notifications have gone out.
Please remember: We want to get as many of our folks as possible in the door. It's heartening that they want fans there, not just anybody, and we're happy to oblige. Please help us out with the effort: If your name is selected and it turns out you can't go, please RSVP to spectacle@backstreets.com to let us know as soon as possible, so that we can free up your tickets for other fans. We'll select additonal winners at random to make up for cancellations.
- September 21, 2009
E STREET BAND LOOKS AHEAD TO HIATUS
Steve Van Zandt, Roy Bittan, and Nils Lofgren participated in a conference call with journalists yesterday, and our pal Gary Graff has a nice round-up of the news at Billboard.com.
The lead item is something we all kinda figured, but there it is in black and white: after this leg, the E Street Band will be taking a break. "As far as I know we'll wrap up at Thanksgiving, and that'll be it for the time being," said Nils. Steve: "We are gonna take, I don't know how long -- a year, year and a half, two years." While, as usual, the band's future seems open-ended, Steve did add, "You never know, do ya? It could be the last show, could be the last tour. You never know. We do every show like it's our last show, anyway. But don't wait around; if you're waiting to come see us, come now. This is a good time to see us." [And hey, we'll ediorialize, there are still tickets left for Buffalo!]
Other subjects of discussion: Clarence's memoir due net month, Roy's solo album in the works called Out of the Box. Read Graff's full story here. Another report from the same call is at LiveDaily.com.
- September 17, 2009


BRUCE TO PLAY "CONCERT FOR AUTISM SPEAKS" NOV. 17
On November 17, between the Milwaukee and Nashville stops of the Working on a Dream tour, Bruce Springsteen will take the stage at Carnegie Hall. The occasion: A Concert for Autism Speaks, headlined by Jerry Seinfeld and emceed by NBC News' David Gregory. Springsteen's participation is billed as "a special appearance."
Autism Speaks is the nation's largest autism science and advocacy organization. Proceeds from the concert will go toward funding research into the causes, prevention, treatments and a cure for autism, which is now diagnosed in one in every 150 American children. Visit Autismspeaks.org for more information about the concert and the cause; click here for a Plegde form PDF detailing sponsorship packages, ticket prices, and more.
- September 17, 2009
WHY BABY WHY
Join World Hunger Year in the fight against hunger, and get a chance to attend a sold-out Saturday night at Giants Stadium in style.

World Hunger Year has been working with Bruce Springsteen for more than 25 years to support local and national efforts to end hunger and poverty. The effort continues as WHY offers VIP Tickets (in Section 130, rows 31-40), reserved parking, and a pre-show party (with hosts Vincent Pastore of The Sopranos fame and ESPN's Matthew Berry) for the October 3 E Street Band show at Giants Stadium—the only Saturday night show of the stand. It's a package available when you make a charitable donation to help WHY end childhood hunger in America.
There are two ways to participate: Get your tickets now by emailing sue@whyhunger.org or calling 212-629-8850, ext 31; or enter to win four tickets and the extra perks at www.whyhunger.org/bruce. WHY's Concert Sweepstakes ends on Bruce's birthday, September 23.
- September 16, 2009
CLINCH'S "BE TRUE: BRUCE SPRINGSTEEN IN NEW JERSEY 1999-2009"
Photo exhibit opens Friday; entertainment and online auction to coincide Acclaimed rock photographer and Jersey Shore resident Danny Clinch is pleased to announce details for an online auction of two Bruce Springsteen signed 16x20 prints. All proceeds from the auction will benefit the building efforts for a new fire house for the Asbury Park Fire Department and support the Foodbank of Monmouth and Ocean Counties in these trying economic times.
Log on to Charitybuzz.com to register to bid on these rare items that will make a difference at the Jersey Shore. The auction begins on Thursday, September 17 at noon Eastern and ends Thursday, October 1 at noon.
"My mother, Linda, has been volunteering at soup kitchens in Ocean County for years," says Clinch, of Toms River. "I feel that this auction is a great way of honoring her and her hard work, as well as helping those who need it the most during this economic climate."
Family is also a reason that "Be True" producer Tim Donnelly has brought the Asbury Park Fire Department on board for the auction. "My great-grandfather, grandfather, father were firefighters in Elizabeth, NJ, and my brother is on the job there now, so when I saw that the Asbury Park Fire Department was working out of a dilapidated fire house, I had to do something," said Donnelly.
Entertainment is scheduled for the "Be True" opening starting at 7:30 PM on Friday, September 18, with an acoustic set from internationally renowned singer/songwriter Nicole Atkins of Asbury Park. A raucous performance from Toms River's eclectic collective, River City Connection, is set to follow.
"Giving the new generation of Shore musicians a platform is extremely important during the revitalization of Asbury Park, a town that has been built on music, and celebrating Bruce with this new crop of musicians is a great way of doing it," says Clinch.
The gallery is located at Third Ave. Pavilion (Third and Ocean), Asbury Park Boardwalk. Hours are noon to 10 p.m.
- September 16, 2009
GREENVILLE G.A. ADMISSION PROCEDURE
We have the impression that a blanket admission policy is still being ironed out for paperless ticketing shows; we'll be sure to pass it along if and when such a thing is available. In the meantime, we'll keep posting the details in full for each show, continuing with Wednesday night in South Carolina:
In an effort to help provide fair and equal opportunity for close access to the stage for general admission customers, a random numbered wristband lottery will be performed the afternoon of the show to determine which patrons will be first to enter the general admission floor area. Patrons may choose to enter the lottery in an attempt to gain closer access to the stage.

General Admission Floor ticketholders who choose not to participate in the lottery are free to enter the show at the publicized opening time of doors (or later) and will have access to the floor area located behind lottery participants. A limited number of lottery "winners" will gain access to a small designated "front GA floor" area closest to the front of the stage. Below are some of the rules and procedures pertaining to the lottery:

1. On the day of the show, sequentially numbered wristbands will be distributed beginning at 1:00 pm. This will take place at the CHARTER COMMUNICATIONS ENTRANCE. Wristbands will be distributed until 4:00 pm. At that time the opportunity to enter the lottery is over. No more wristbands will be distributed until after doors are open.

2. The Primary cardholder (ORIGINAL ticket purchaser) must be present with a valid government issued photo I.D. and the credit card used to purchase the tickets along with the remainder of persons who will be attending the show on that ticket order. ALL people entering the show on each Ticket order must be present to be eligible for the lottery.

3. After the cardholder has been verified as having a GA ticket order. All persons on that order will have wristbands affixed to their wrists.

4. Wristbanded patrons may leave the premises but must return at 4:30 pm.

5. When lottery participants return they will be directed to line up sequentially according to their numbered wristbands. When this is done, a patron will draw the starting number. This number will be announced at the gate. Patrons participating in the lottery process MUST be present at this time and should be prepared to stay as the entry process will begin immediately following the drawing. Patrons will again need their valid government issued photo I.D. and the credit card used to purchase the tickets at this time.

6. The patron wearing the wristband that matches the starting number will be first in line.

7. All other patrons with GA ticket orders who have been given a wristband should begin lining-up sequentially behind that patron. This line will then be processed and escorted onto the floor, when the venue/tour is ready to open doors.

8. A limited number of people, beginning with the starting number from the lottery drawing, will gain access to the Front Area of the floor. Anyone who receives a numbered wristband prior to doors has a chance to be first in line to enter the Front Area, provided they abide by all lottery rules and procedures. However, a wristband does not guarantee a place in the Front Area.

9. A second wristband will be required to enter the Front GA Area. This will be applied to the wrist of patrons in the "winning" lottery range upon entry.

10. The purpose of the random number distribution is to insure that all GA patrons have the same chance of being first in line, eliminating the need to camp out. This policy also helps to insure customer safety and provides for an effective means of crowd control.

ALL WRISTBANDS WILL BE ISSUED AT THE CHARTER COMMINCATIONS SIDE DOORS GA/PAPERLESS ENTRANCE GATE. PLEASE LOOK FOR SIGNAGE AT THE CHARTER COMMINCATIONS ENTRANCE.
"DANNY FEST" RESCHEDULED TO OCT. 17 DUE TO RAIN
Postponed one month, The Danny Federici Festival is now Federici Rocktoberfest. This just in from Jason Federici:
We made a decision to postpone the Danny Federici Festival due to mother nature today. There's rain forecasted from Wednesday till Sunday, and we feel it would be a mess for the fans and the artists involved. We're going to go for Saturday, Oct 17, and hopefully have a beautiful day to rock out. If you currently have tickets for the show, they will be honored on that day or you can receive a refund from Ticketmaster.

We're going to regroup over the next couple of days, revamp our talent list a bit, and post the update here and on the Loudoun Summer Music Fest web page.

I sincerely apologize for any inconvenience this may have caused but this will give us a fighting chance to make a great event happen. For more information and to purchase tickets, please visit www.liveatbelmont.com or call (703) 327-9096.

Hope to see you there!
Jason
DANNY'S SON REVISITS LITTLE EDEN
Thanks to Jason Federici for letting us host his band's new cover of "4th of July, Asbury Park (Sandy)." Jason plays accordion and organ, just like his dad, and he tells us, "I've been blessed to be a part of Jason Heath and the Greedy Souls. It's a great band with a great heart. Our version of 'Sandy' came about as a tribute to my father who loved that song. I hope you think of him when you listen to it and visit dannyfund.org to help us with the battle against melanoma."
DC AREA FEDERICI FEST, COMING SEPT. 19
Cracker, Wayne Kramer, and more to play for melanoma awareness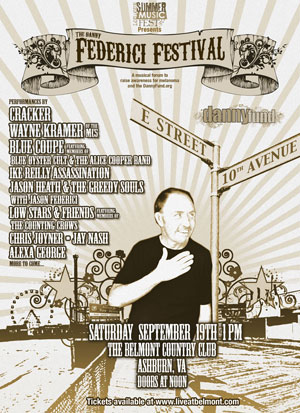 On Saturday, September 19, musical artists from an array of bands will honor the late, great Danny Federici with a concert in Ashburn, VA, to raise awareness for melanoma research.
Headlined by Cracker, The Danny Federici Festival will be held at 12:30 p.m. on the lawn of the Toll Brother's Belmont Country Club as the final event of the Loudon Summer Music Fest's 2009 lineup. In addition to Cracker, other acts scheduled to appear at the event are Jason Heath & The Greedy Souls (of which Danny's son Jason Federici is a band member), The MC5's Wayne Kramer with Gilby Clarke from Guns 'N Roses, Counting Crows members David Immergluck and Charlie Gillingham, Blue Oyster Cult members Joe and Al Bouchard, Alice Cooper Band member Dennis Dunaway, The Ike Reilly Assassination, Low Stars, Chris Joyner, Jay Nash, Alexa George, and more.
Gates open for the event at the Belmont Country Club at noon on Sept. 19, with the concert beginning a half hour later. Tickets cost $40 for Gold Seating and $30 for Lawn Seats. Tickets for both areas are general admission and can be purchased through Ticketmaster by or can be bought at the gate on the day of the show. For more information, visit www.liveatbelmont.com.
- September 10, 2009
FT. LAUDERDALE G.A. ENTRY INFO
Courtesy of the venue, you'll find it here -- of particular interest for anyone wondering how the pit entry would work with the new Paperless Ticketing system, as the tour moves inside to arenas.
- September 10, 2009
MORE GIANTS STADIUM TIX TO BE RELEASED AT 2 P.M. TODAY
This just in:
Additional Tickets Available Due to Production Releases

Sept. 10, 2009 - Additional tickets will be released today at 2 PM ET for the Bruce Springsteen and the E Street Band concerts at Giants Stadium. Tickets are available due to production releases and include general admission and reserved seats for all five dates. Bruce Springsteen and the E Street Band will be the final major musical act to play Giants Stadium on Sept. 30, Oct. 2-3, 8-9.

Released tickets go on sale at 2 PM today and can be purchased at the IZOD Center Box Office, online at ticketmaster.com, by phone at 800-745-3000 or at any Ticketmaster outlet. Additional fees may apply. Visit meadowlands.com for more information.
For the full schedule and links, see our Tour/Ticket Info page. [Buffalo onsale info just added -- tickets on sale Saturday at 9 a.m.]
- September 10, 2009
WAY DOWN IN F-L-A
After the better part of three weeks off, the Working on a Dream tour is back on the road this weekend. Springsteen and the E Street Band hit the stage for two shows in Florida: Tampa on Saturday, and Ft. Lauderdale on Sunday. The St. Petersburg Times gears up for the weekend with a pair of essays, Springsteen fan "origin stories" from staff writers, a 29-year-old and a 60-year-old.
For those attending the Tampa show with G.A. tickets, here's the entry procedure:
To determine the order in which G.A. Orchestra Pit ticket holders will enter the GA Pit area, the following lottery system has been put into place: Between the hours of 2:00pm and 5:00pm, sequentially numbered lottery tickets will be distributed to G.A. Orchestra Pit ticket holders at The VIP entrance located on the West Side of the Property. At 5:05pm, one numbered ticket will be drawn at random to determine who gets entry first; all other G.A. Orchestra Pit ticket holders who have been given a lottery ticket will then be lined up in sequential order according to their numbered lottery ticket (i.e., if number 89 gets drawn, the person holding the lottery ticket numbered 89 will be the first person in line; number 90 will be the second person in line, and so on). Between 5:30pm and 6:00pm: the people who have already been lined up sequentially and wristbanded, will then be escorted to the GA Pit area. Anyone who has a G.A. Orchestra Pit ticket and arrives after 5:00pm will then receive their wristband after they enter the Ford Amphitheatre, as they enter the GA Pit area.
We hope to have the general entry procedure for future "paperless ticketing" shows soon, stay tuned!
- September 9, 2009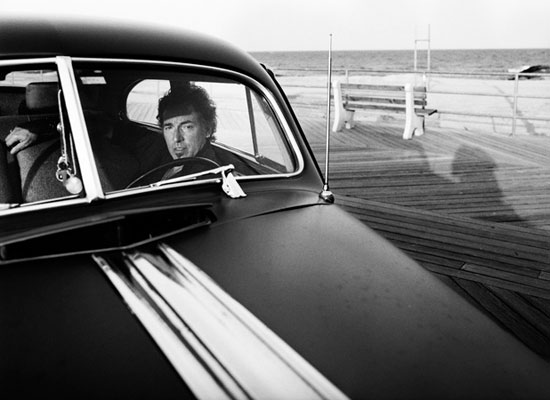 BRUCE IN NEW JERSEY, THROUGH THE LENS OF DANNY CLINCH
Asbury boardwalk to host "Be True" photo exhibit, Sept 18-27
Acclaimed rock 'n' roll photographer and New Jersey native Danny Clinch is pleased to announce "Be True," a photography exhibit featuring Bruce Springsteen photographed exclusively in New Jersey. The gallery show will be held in the Third Ave. Pavilion on the historic Asbury Park Boardwalk, opening on September 18th and closing on September 27, 2009.
The photographs will reflect Springsteen solo, with the E Street Band, and the Sessions Band, documenting the ten years Clinch has photographed Springsteen, which has resulted in album covers for The Rising, We Shall Overcome: The Seeger Sessions, and Working on a Dream. Clinch also contributed to every tour book since 1999 and served as director for the Grammy-nominated music video for "Devils & Dust."
There are reasons even closer to home for Clinch to hold the exhibit of his fellow Jersey Shore resident. "One, it falls during Bruce's 60th birthday," says the photographer. "Two, I am really excited about what is happening now in Asbury Park. I've been here through the good and the bad, I'm excited to see how far it's come in the past couple of years, especially the vibe on the boardwalk."
The Garden State locations that serve as the inspiration for "Be True" range from Springsteen's home studio in New Jersey horse country, the now-shuttered Fort Monmouth, the soon-to-be-demolished Giants Stadium, and such iconic Asbury Park locations as the Stone Pony, Paramount Theater, Convention Hall and the revitalized boardwalk.
"I've traveled the world photographing Springsteen and The E Street Band, but I thought it would be cool for it to focus it all on New Jersey," Clinch says. "He's been such a champion and a supporter of New Jersey, especially the Shore. He's been true to his roots and I want to show that part of him."
Staying true to the Springsteen ethos, Clinch will have two photographs that will be raffled off to benefit the Asbury Park Fire Department and The Food Bank of Monmouth/Ocean Counties.
Bruce and Danny's working relationship has grown over the years, and their trust level shows through their body of work. "He is great to work with, he gets involved in the process, he's a collaborator, he participates in the shoot. He's not one of the guys that just stands there," laughs Clinch.
"He loves photography as well, so he puts 100 percent in what we are doing together. Having a relationship with an artist like him, I am able to document these rare moments, that work into my love and respect for his music."
- September 9, 2009
SPRINGSTEEN: KENNEDY CENTER HONOREE
Salute to Bruce and others on Dec 6; CBS broadcast Dec 29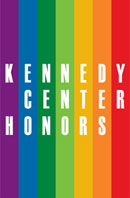 Just announced this morning, Bruce Springsteen has been selected for this year's Kennedy Center Honors, the 32nd annual national celebration of the arts. "This year, the Kennedy Center celebrates five extraordinary individuals whose unique and abundant artistry has contributed significantly to the cultural life of our nation and the world," says Kennedy Center Chairman Stephen A. Schwarzman of Bruce and his fellow 2009 honorees Mel Brooks, Dave Brubeck, Grace Bumbry, and Robert De Niro. "With his gritty and honest songs that speak to the everyman, Bruce Springsteen has always had his finger on the pulse of America." Further details from today's announcement:
On Sunday, December 6, in a star-studded celebration on the Kennedy Center Opera House stage, produced by George Stevens Jr. and Michael Stevens, the 2009 Honorees will be saluted by great performers from New York, Hollywood, and the arts capitals of the world. Seated with the President of the United States and Mrs. Obama, the Honorees will accept the thanks of their peers and fans through performances and heartfelt tributes.

The President and Mrs. Obama will receive the Honorees and members of the Artists Committee who nominate them, along with the Kennedy Center Board of Trustees at the White House prior to the gala performance. The 2009 Kennedy Center Honors Gala concludes with a supper dance in the Grand Foyer.

The Kennedy Center Honors medallions will be presented on Saturday, December 5, the night before the gala, at a State Department dinner hosted by Secretary of State, Hillary Clinton.

The Honors Gala will be recorded for broadcast on the CBS Network for the 32nd consecutive year as a two-hour primetime special on Tuesday, December 29 at 9:00 p.m. (ET/PT).
Congratulations, Bruce!
- September 9, 2009
"SUPERBOWL JOURNAL" SET FOR LABOR DAY U.S. PREMIERE
"Working on a Dream: A Super Bowl Journal," Thom Zimny's behind-the-scenes documentary about the Springsteen Super Bowl Experience, debuted on European teevee sets this summer, while the tour was overseas. Now, we get our first look at it here in the states when it airs on the NFL Network on Labor Day. From today's press release:
"Better than Super" is how the St. Petersburg Times described Super Bowl XLIII. More people watched Pittsburgh defeat Arizona 27-23 on NBC – 151.6 million – than watched any other program in the history of American television. And Bruce Springsteen & The E Street Band gave fans a Super Bowl XLIII Halftime performance for the ages. Now, fans will get a guided, behind-the-scenes tour of the Super Bowl XLIII Halftime Show. For the first time, the talent – Springsteen himself – narrates the special 60-minute "Working on a Dream: A Super Bowl Journal"...

In the documentary, Springsteen takes viewers inside the band's trailer prior to performing, marvels at how an "army of ants" assembled the halftime stage, and relays the sights and sounds he experienced from center stage.

"The NFL threw us an anniversary party the likes of which we'd never throw for ourselves with fireworks and everything" Springsteen said. "I love playing long and hard, but it was the 35 years in 12 minutes…that was the trick. You start here, you end here, that's it."

"Fans will get an inside look at this iconic performance in Bruce's own words," said NFL vice president of programming Charles Coplin. "This documentary is a dream combination of football and music that will bring fans back to that most memorable of halftime shows."
The program debuts at 8:00 p.m. Eastern on Monday, September 7, with repeat airings scheduled throughout the week.
Note: According to the press release, this is an hour-long program; the NFL Network schedule only has it blocked out for 30 minutes. Half-hour (~24 minutes playtime) and hour-long (~45 minutes) versions of this program were broadcast in Europe. We'll see...
- September 2, 2009