FUTR UPDATE: LAST CALL TO GET YOUR NAME IN THE BOOK!
Pre-ordering is open now in our online shop for Frank Stefanko's Further Up the Road, a spectacular collection of Springsteen photography being published by Italy's Wall of Sound. Pre-order by Thursday night, June 29, to have your name included in the book's acknowledgements. The book won't be out until November, but sections are going to print shortly, and that includes the Acknowledgements list of early supporters. Everyone who orders by Thursday night will be listed inside by name and country.
Choose an edition below to reserve your signed/numbered copy of this very limited photography book. The Collector edition is $380 plus shipping, and the Deluxe edition (including a signed and numbered exclusive print) is $630 plus shipping.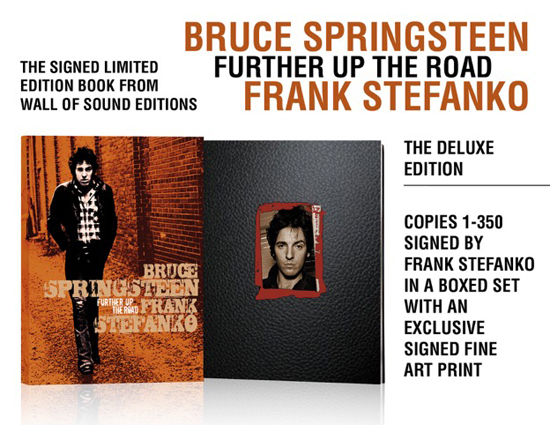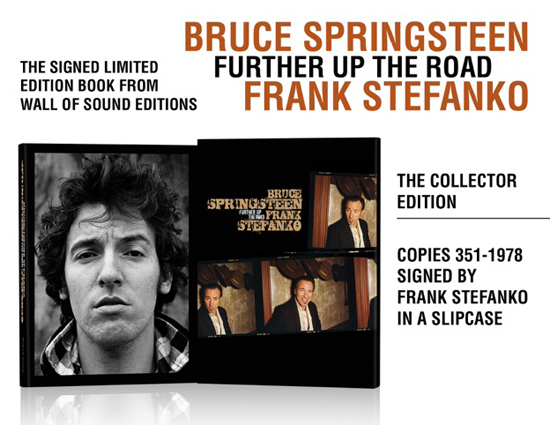 - June 28, 2017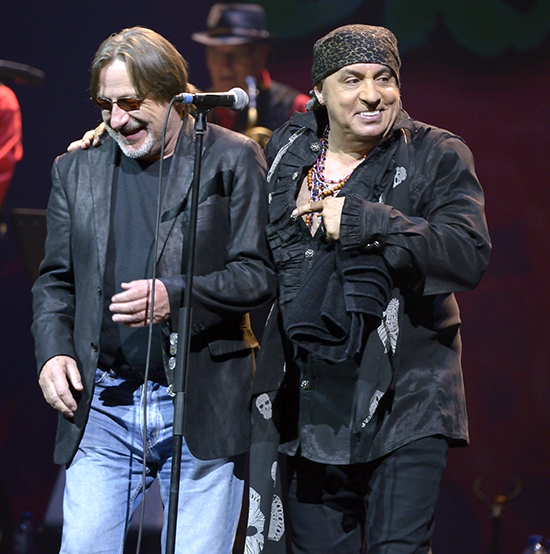 STEVIE & SOUTHSIDE MAKE A SOUL CONNECTION IN AMSTERDAM
Little Steven and the Disciples of Soul
June 25 / Koninklijk Theater Carre / Amsterdam
Amsterdam seemed like just another exit on the Jersey turnpike over the weekend, with a Southside Johnny concert one night and Little Steven the next. Southside told us from the stage on Saturday that he was attending Stevie's show the following night — and not only did he attend, he closed it, the two joining forces at the end of Sunday's spectacular Disciples of Soul gig. While Southside has toured Europe constantly over the years, Little Steven famously took a few decades off. But with a show this good, one really has to wonder, what took him so long?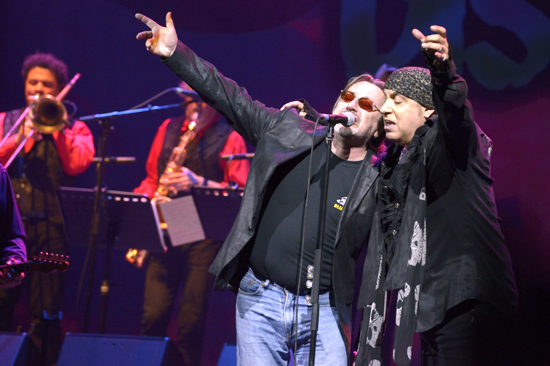 We know Steven Van Zandt as the keeper of rock 'n' roll's flame. Through his syndicated radio show and satellite channel productions of Underground Garage and Outlaw Country, he has singlehandedly elevated rock 'n' roll's earliest pioneers to the statesmen's status they so richly deserve while ensuring their place in the American songbook. More than just introducing a new generation to the earliest rock 'n' rollers, he has erased years and boundaries, shapeshifting time to connect them to today's performers in ways that are, in hindsight, so obvious how did we not notice before?
Through his TeachRock curriculum, Steven inspires teachers to explain world and national events through the songs that shaped and were shaped by the times. The Rock and Roll Forever Foundation puts music back into the schools and into the hands of kids who may be the next great thing or may just have been given a gift that will bring them joy for the rest of their life.
So yes, Steven VanZandt carries a lot of titles — actor, Springsteen sideman, producer — but it all started with musician. And it was clear watching him on stage in the Carre Theater Sunday night that this was one happy man. He was a bandleader controlling his stage, a performer who had created a show for the ages, all of that, but clearly this was a musician who loved where he was right at that moment. Doing what he loved for people who loved him for it. Playing for that soulfire.
Early in the show, during "Until the Good is Gone," Steven touched on world events, saying the world was crazy and would wear you down. You need something in your soul that would keep you strong. Sometimes you just have to shut out the world, find a sanctuary — you have to get to that place deep down, to "that soul place." He said, "We all have it, it's there, where we can feel the good.... We are going to get there tonight. Get you to that soul connection."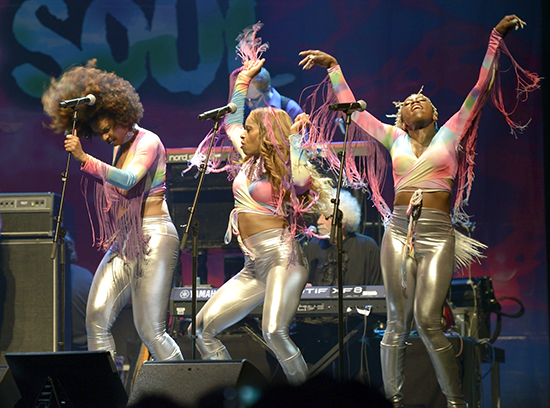 Who better to lead you to that soul place than the Disciples of Soul? At stage left was a visual and musical delight to the senses, the trio of backup singers. Clad in silver leggings with rainbow-fringe-lined halter tops, the three paid homage to all those girl groups of the '60s. But, make no mistake about it, they weren't just eye candy, they were a force to be reckoned with: the hardest working musicians on stage, standing right at the front, the first disciples calling out to us to come join the movement.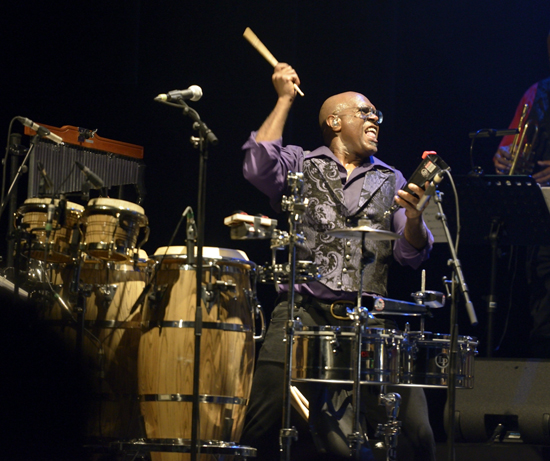 Stage right on percussion is the Reverend Everett Bradley A familiar face to many in the crowd, his beaming smile was a joy to behold. You want to get to that soul place? The way to "Salvation" (my new favorite song) is through his drums, but you can't take your baggage with you, no sir. He will beat those cares away, and you will emerge on the other side happy for it.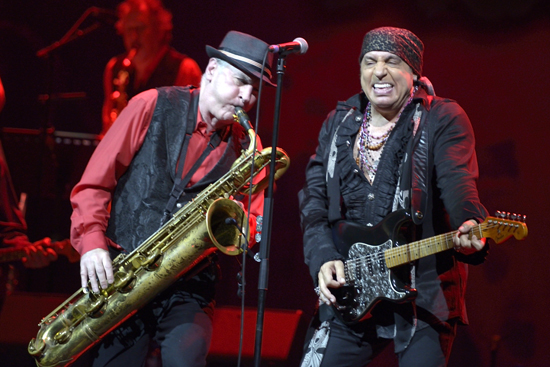 The Reverend's percussion started off "Standing in the Line of Fire," in part a tribute to western movie composer Ennio Morricone. The sound built up layer upon layer, joined first by Eddie Manion leading his red-shirt-clad horn section, and then the guitar, organ and other players including Lowell "Banana" Levinger of Youngbloods fame, with guitarist Marc Ribler handling music direction. The result was a wall of sound so big and so strong that not even Clint Eastwood could break through it. After this song, it was clear, there was no going back. There was only one way to go on this journey now — forward to our soulfire.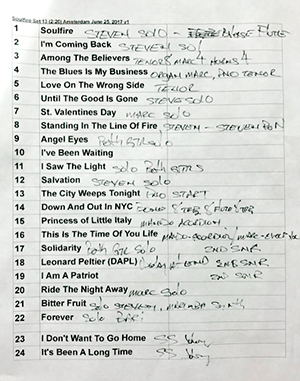 Steven stepped in here to remind us to gather in the love we would need to sustain us on our quest. He dedicated the next two songs to his wife Maureen and played a dedication from Twitter, "I've Been Waiting." Then Mr. VanZandt, the coolest history teacher in the world, schooled us in the times with "Princess of Little Italy," a timeless tale of love and family anchoring a set of dreamy psychedelic songs from the '70s on one side and Steven's own protest songs on the other. Reminding us that while we are rejuvenating in our soul place there is still much work to be done, and music will always be our weapon and our shield.
If I give you my heart will you love me forever? Oh yes. A sublime "Forever" closed out the show, but it wasn't over yet. There were encores. And that's when Southside Johnny joined the soul connection — making some playful banter about seeing his horn section in the back — along with the Jukes' keyboardist Jeff Kazee, who took over the organ for the last two numbers.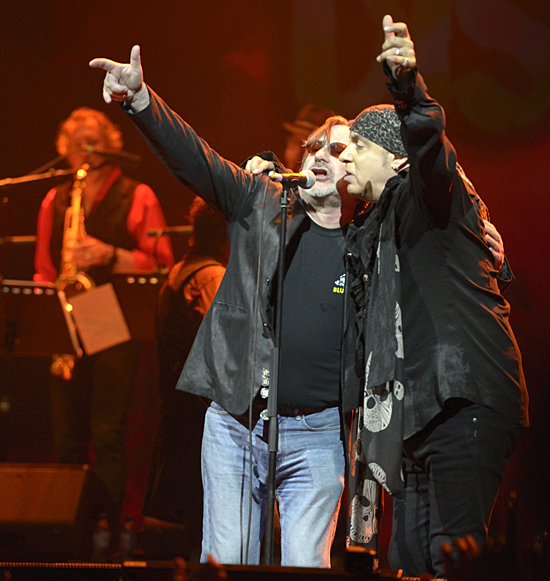 Stevie and Southside were singing "I Don't Want to Go Home" when something magical happened. The music, our shared sense of history and place intertwined, erasing the line between audience and performers, leaving only us and our two friends from New Jersey. Together we sang out "It's Been a Long Time." Singing from that soul place of friendship and the bonds that can't be broken. Chanting whoa, oh whoa oh oh... Arm in arm, Little Steven and Johnny waltzed off the stage together, confident that they had taken us to that place where our soulfire lives.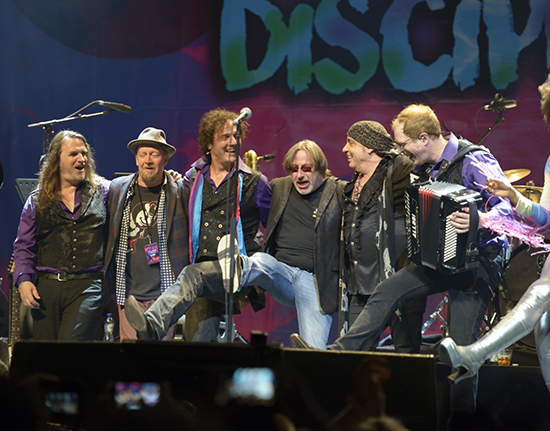 - June 27, 2017 - Brenda VanHorn reporting - photographs by Rene van Diemen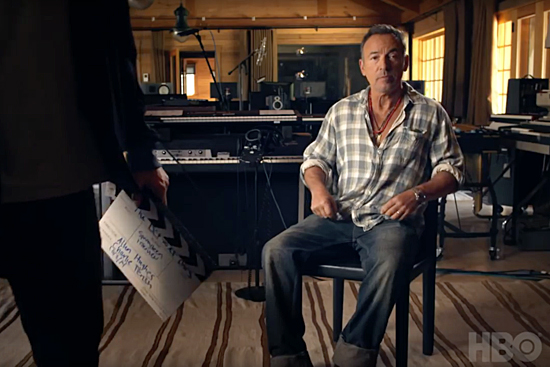 "FEAR IS A POWERFUL THING": HBO'S DEFIANT ONES PREMIERES JULY 9
Bruce Springsteen and Jon Landau both appear in the new HBO documentary The Defiant Ones, premiering July 9 at 9pm. The four-part doc series tells the story of the partnership between Jimmy Iovine and Dr. Dre. Of course, before Beats, before Interscope, Iovine was at the Record Plant in New York; part of his story is his work with Springsteen in the '70s, engineering on Born to Run and Darkness on the Edge of Town. "Bruce taught me a work ethic," Iovine says in the trailer. "I had to work harder than the next guy just to do as well as the bext guy. And to do better than the next guy, I had to kill." Another prominent Iovine quote from the doc is also a Springsteen lyric: "Fear is a powerful thing." Watch the trailer on YouTube, and see hbo.com for more.
- June 26, 2017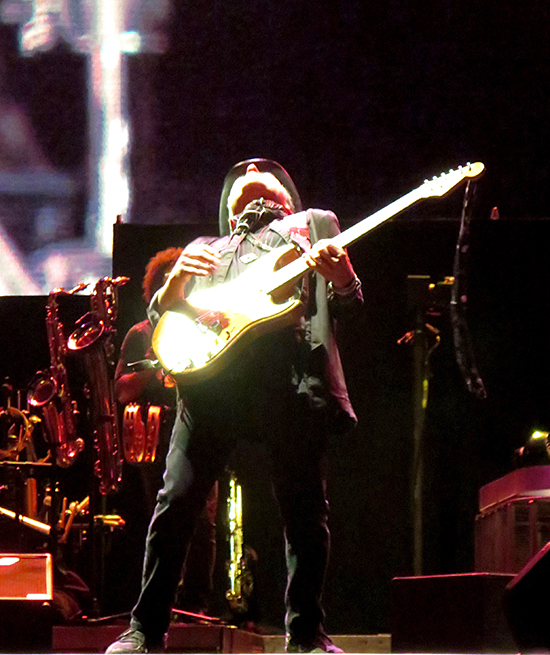 STILL SHINING AT 66
Happy birthday to the great Nils Lofgren, born this day in 1951. Keep up with his latest at nilslofgren.com, including his new musical project, Blind Date Jam.
- June 21, 2017 - photograph by Joe Wall (Christchurch, NZ, 2/21/17)

MY DAD'S HANDS
For Father's Day. By John Micheal Santulli
"We honor our parents by carrying their best forward."
– Bruce Springsteen
In one of his songs, Bruce Springsteen writes, "I remember how rough your hand felt on mine, on my wedding day." There are many lyrics that fans of Springsteen identify with, but for me, this was always one of the strongest. My dad was the working-class father that Bruce often writes about in his songs, and my father's hands are one of the strongest images in my life, from childhood to adulthood.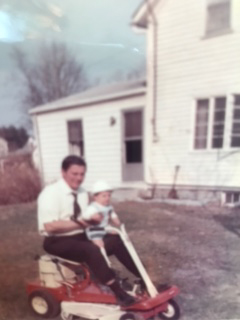 My dad owned his own gas station along with his partner, my Uncle Richie. As a kid, my father's hands were that of any auto shop mechanic. They were rough and callused. The ridges of his fingerprints and the lines in his palms were stained black from the oil, and gasoline, and general dirt that accompanies spending 12 hours a day running a gas station/auto shop/car wash/truck rental business. His hands looked like a treasure map of sorts.
My memory is able to recall so many distinct moments where I can picture my father's hands, and in each memory, his hands are rough and strong.
I remember holding his hand as we waded into the ocean waves of Cape Cod, his seven-year-old son, afraid to swim in the waves all by himself. I remember those same waves crashing along a jetty and my father leading me out to the edge of that jetty to go fishing. He was holding my right hand with his left as we skipped from rock to slippery rock. His right hand held our fishing gear.
I remember my dad gripping a baseball as we played catch in our back yard, and I remember him forcing his meaty fingers into an old baseball glove that his left hand had long since outgrown. The heel of his palm would stick out of the bottom of his old catcher's mitt, and he would tap the red-laced Wilson hardball into the leather once before he would toss it back to me.
I remember my father's hand, gruff and reeking of gasoline, as he would pet my hair as I was pretending to sleep, when he would sneak into the bedroom that my brother and I shared to say goodnight. He would "tousle my hair" and give me a kiss on the head.
And I remember my dad's hand slipping from my grip as we walked down a street in Cooperstown, New York. It was induction weekend at the Baseball Hall of Fame. I was bopping down the sidewalk wearing my newly purchased Pittsburgh Pirate hat (Roberto Clemente was one of my favorite players at the time). My dad stopped dead in his tracks. Almost instantaneously, I noticed a tear running down his cheek. I just looked at him. "It's Campy," he said, as he gazed at his childhood hero, Brooklyn Dodger Roy Campanella.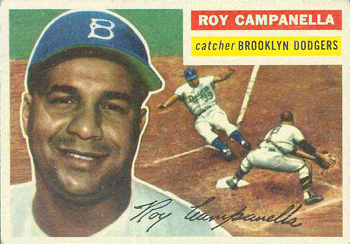 My mom, my brother and sister and I, we were all a little afraid. We had never seen my dad react to anything with such awe and sadness. Campy was being wheeled up a ramp into a handicapped accessible van. My dad walked over and asked if he could shake his hero's hand. I saw my father's strong hands — those of a semi-pro baseball catcher himself — reach out to this hall-of-famer. Campy's arms and hands were huge. Look at some of his old photographs from baseball's glory days. He was known for strong hands, consistently playing through battered and broken fingers, occupational hazards that come with playing the position garbed in the tools of ignorance. But now, these hands, the hands of a Brooklyn saint, were shrouded in what looked like leather men's gloves with the fingers cut off. There was a pad in the palm of the glove, to protect these once powerful, fierce hands from blistering caused by propelling his own wheel chair. My dad shook Roy Campanella's hand — two Brooklyn boys, two catchers, two strong men.
But most distinctly, I remember always shaking my father's hand at church. The priest would say, "Now let us offer each other a sign of peace." My dad would say, "Peace, Muckle," a nickname I picked up from my sister's inability to say the name Michael when just a little child. I would say, "Peace, dad," and we would shake hands.
Unlike the priests in church, my dad didn't preach. He never sermonized lessons, he taught them. His actions, the way he treated people, gave voice to his lessons. I learned a firm handshake from shaking his hand on Sunday mornings in church. He didn't squeeze too hard, and we have never spoken about the importance of a strong handshake, but in a pew in Mount Carmel Roman Catholic Church in Ridgewood, New Jersey is where I learned a proper hand shake — from my father.
During this Sunday ritual is when I would really take notice of my father's hands. I would look at the road maps formed by the oil and gasoline in the groves of his skin. I would take in the roughness and the tenderness at the same time. And I would notice that dad's hands were almost always banged up in some way. There was always a bruise, or a cut of some kind, and sometimes there might be a bad enough wound to warrant a band-aid.
A few minutes after the Sign of Peace we would receive Holy Communion, and I would kneel like my father, put my head in my hands like my father, and pray for his safety, and for the safety of my mom and brother and sister. I was always filled with a dread hiding somewhere just beneath the surface. I was always sure, despite my faith in God, that something terrible was going to happen to my mom or my dad. Mom and Dad are both in their 80s today, I am happy to say.
And I remember my dad's hands on my wedding day, probably very distinctly because of the Springteen lyric. I remember shaking his hand that June day and getting a little hug from him. I always thought my dad was just the right amount of affectionate. He was never overly affectionate to the point of embarrassment for a young boy, but I do remember the comfort I felt from a little kiss on my hair or his holding my hand at just the right moment. I don't remember when the little kisses and the hugs stopped, or when he stopped leading me into the waves. But to this day, he still lets me know he loves me and he provides direction on a daily basis, both usually without saying a word.
I hadn't been to church with my father for a long time until just the other day, the Sunday of Memorial Day weekend. At the Sign of Peace, we shook hands. My dad's hands, the hands of Micheal Ray's and Jack's pop pop, were different. The fingers weren't as meaty as they had once been.
There was still strength in those hands, but the grip had weakened just a little. And the skin was not quite soft and smooth, but it was no longer rough either. His skin has softened, the way the skin of the elderly quite naturally does.
The years have softened the skin on my father's hands, but they haven't weakened the man. My dad complains often that "Old age is a bitch." Then he reminds me, "But it's better than the alternative." He sometimes struggles with not being able to do all the things he used to, how long it takes him to get moving in the morning, his loss of hearing and memory. But, despite some of his personal frustration, I think he is kicking that bitch's ass.
In another one of Bruce's songs he writes about a boy working all day in his daddy's garage. As a kid, that was me. That gas-pumping kid is now begrudgingly approaching the big "Five-O." My father's hopes for me led me out of the garage, so my hands are not as tough as his were. But I hope that I can "take one moment into my hands," as soft as those hands might be, and that I can become, even just for one moment, something close to the man — the friend, the brother, the son, the uncle, the grandfather, the coach, the husband, the father — my father is.
- June 18, 2017 - John Micheal Santulli is the Head Boys Basketball Coach at Westwood High School in New Jersey


"FATHER'S DAY" FOR FATHER'S DAY
Anybody still searching for the perfect Father's Day gift for that Springsteen fan you know and love? Well, how about "Father's Day" itself? You actually won't be able to give this particular version of "Father's Day" to him this weekend, but you can promise to "deliver" it at some point in the near future, especially with summer vacation season rapidly approaching.
"Father's Day" is another of the unreleased Springsteen tracks available for public "inspection" (i.e. listening) at the Library of Congress' U.S. Copyright Office. Click here for the details from last winter's report on how to arrange your own listening session. And here's our full lowdown on "Father's Day," which we returned to Washington DC this spring specifically to hear:
"Father's Day"
(Registration Number/Date Pau001840754/1995-04-07)
This track was submitted to the Copyright Office on the same date in 1995 as "Between Heaven & Earth" and "Blindspot," two unreleased recordings that sound like they were part of Bruce's "lost" hip-hop-influenced album of the mid-1990s. (See our previous report for more details on that album and those two tracks.)

"Father's Day," however, is something quite different, even if it may have been intended for the same aborted project. It's a powerful rocker, built around scorching guitars and pounding drums that bring the noise before Bruce sings a note and continue to do so well after his singing stops.

As usual, there are no backing-musician credits or other session details provided in this Copyright Office submission, so it's impossible to know with certainty whether "Father's Day" was recorded with members of Springsteen's '92-'93 touring band or with the E Street Band (with whom Springsteen briefly recorded earlier in 1995 for the Greatest Hits project) or perhaps even with another group of musicians altogether.

Nevertheless, Bruce and whoever else accompanied him clearly brought their best game. On the basis of the music alone, this track ranks with other great long-unreleased Springsteen rockers of the past like "Roulette" and "Murder Incorporated." (Here's hoping it eventually receives an official release, as those tracks eventually did.)

Perhaps it's the age and limited dynamic range of the Copyright Office's cassette copy, however, that make many of the song's lyrics difficult to make out. (On the other hand, without a lyric sheet, some Springsteen songs are simply that way.) At least one character's name, Bobby, can be heard clearly. There seem to be some other characters involved, too, but it certainly doesn't sound like anyone's having a very happy Father's Day. The song seems to be exploring the impact of fathers who are absent, either physically or emotionally or both.

Even on the face of it, without hearing every word clearly, it's a moving listen, given the well-known history between Bruce and Douglas Springsteen, and also given that this song presumably was written and recorded shortly after Bruce began his own journey as a father. And as usual, the music itself tells much of the story. Arranging your own visit to Washington, DC to hear "Father's Day" and the other unreleased Springsteen music that remains available there will be well worth your time and effort.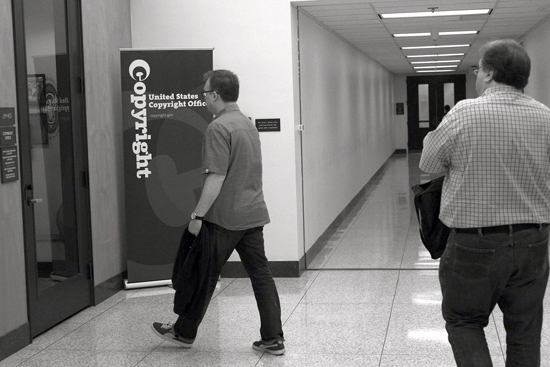 - June 16, 2017 - Shawn Poole reporting - special thanks to Desmond Mathis at the U.S. Copyright Office - photograph of Douglas, Bruce, and Virginia Springsteen from Live/1975-85 - Copyright Office photograph of Chris Phillips (left) and Shawn Poole (right) by Nick Mead

TIME TO BOOGALOO DOWN BROADWAY?
The New York Post's Michael Riedel reports today that Bruce Springsteen is setting up a Broadway residency for later this year: "at the Walter Kerr Theatre for an eight-week run in the fall, The Post has learned exclusively." Other outlets including Playbill and Rolling Stone have picked up the report, but the Post is currently the only source. We've got all ears to the ground and will follow up with any confirmed news.
- June 16, 2017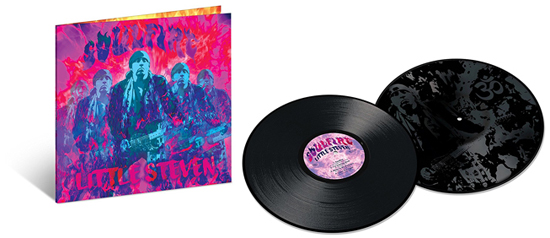 SOULFIRE VINYL DUE JUNE 30, PRE-ORDER NOW
Little Steven's Soulfire, which came out on CD in May, is coming to vinyl at the end of this month. For this two-record set, the album's 12 tracks are spread across three sides of vinyl, with artwork etched on side four. Save 10% when you pre-order now from Backstreet Records.
Here's Stevie talking with Nikki Sixx on Sixx Sense, about Soulfire, acting, rock 'n' roll, and going on with the show:

- June 15, 2017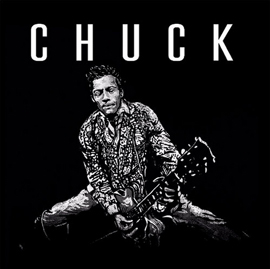 FOUNDING FATHER'S DAY
E Street Radio salutes Chuck Berry and celebrates CHUCK
There's no better time than Father's Day Weekend to honor one of rock's founding fathers — the late, great Chuck Berry — especially as a decades-in-the-making album of new Berry music, simply titled CHUCK, has just been released.
Starting today with repeats throughout the weekend, E Street Radio will air a special one-hour edition of its Springsteen-fans-as-Guest-DJs show Be the Boss. The program will be co-hosted by Ryan Hilligoss, author of the unionavenue706 blog, and Backstreets.com's own Shawn Poole. It will feature a baker's dozen of tracks and talk, celebrating the release of CHUCK while exploring the major, enduring impact of Chuck Berry on E Street and all of rock music.
Catch the premiere airing on SiriusXM channel 20 today at 5pm ET, with repeats airing tomorrow at 9am, Saturday at 6pm and on Father's Day itself at 4pm (all times ET.) You also can check out Ryan's blog for an expanded version of the show's script and playlist.
- June 15, 2017

GIVE THE DRUMMER SOME MORE
Yesterday, we reported four upcoming tour stops for Max Weinberg's Jukebox — today we've got a lot more, with additional dates to come. Meet-and-greets will be available at most of the shows.
July 16 - City Winery - New York, NY
July 17 - City Winery - New York, NY [sold out]
August 15 - City Winery - Chicago, IL
August 17 - Dakota Jazz Club - Minneapolis, MN
August 27 - The Stone Pony - Asbury Park, NJ
October 12 - Daryl's House - Pawling, NY
October 13 - Greenwich Odeon - East Greenwich, RI
October 16 - City Winery - Boston, MA
October 18 - White Eagle Hall - Jersey City, NJ
October 24 - City Winery - Atlanta, GA
October 25 - City Winery - Nashville, TN
- June 14, 2017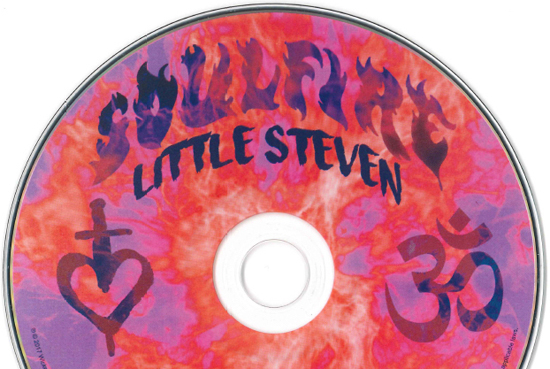 SOUL MEETS FIRE
On the back of the CD booklet for Little Steven's Soulfire, and on the CD itself, can be found two symbols. Each is fraught with meaning — historic meaning, and likely a more personal meaning in relation to Soulfire's music and its creator.
As pictured above, the symbol on the left appears to be a version of the Sacred Heart, a Christian symbol dating back to the 16th century. The symbol on the right is much older. It is a representation of "Om" or "Aum" in Devanagari, an alphabet of India and Nepal which has been in regular use since the seventh century. "Om" is a mantra (sacred sound) that has long been uttered in Buddhism, Hinduism, Jainism and Sikhism.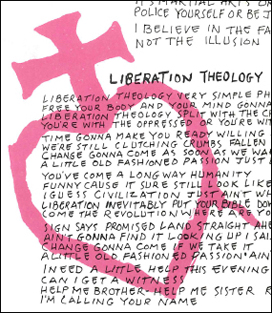 This isn't the first time the Sacred Heart symbol has appeared in the packaging for a Little Steven album. Van Zandt's 1989 album Revolution used a Sacred Heart symbol in its printed lyrics and the back cover's track listing for the song "Liberation Theology."
Both symbols have been used by other famous musicians, as well. A variation of the Sacred Heart symbol appeared in theatrical productions of Green Day's American Idiot: The Musical (both before and after "St. Jimmy" removes his shirt.) The Devanagari "Om" symbol appeared in place of the denominator in the title on the cover of George Harrison's 1976 album Thirty-Three & 1/3. It also appeared in place of the ampersand in the title on the cover of Shankar Family & Friends, released in 1974 on Harrison's Dark Horse label.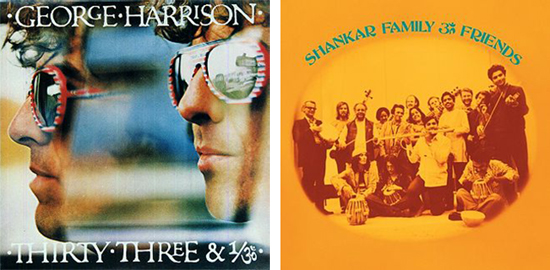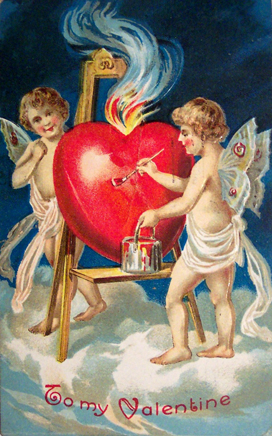 "Om" has multiple meanings but one of its most prominent has to do with one's inner self or "soul." And in many depictions of the Sacred Heart symbol, the area where the cross is placed also appears to be aflame. Therefore, the combination of these two symbols could be taken to mean "soul" + "fire"... Soulfire.
Interestingly, the Sacred Heart symbol also appeared on some of the earliest greeting cards to celebrate Saint Valentine's Day, the holiday that inspired the advance single from Soulfire.
To date, there's been no public comment by Steve Van Zandt on the use of these symbols in his album's artwork. Now that Little Steven and the Disciples of Soul have launched the European leg of their 2017 tour, however, here's hoping that a European interviewer might get him to discuss it in depth.
- June 14, 2017 - Shawn Poole reporting - special thanks to Dawn Leinberger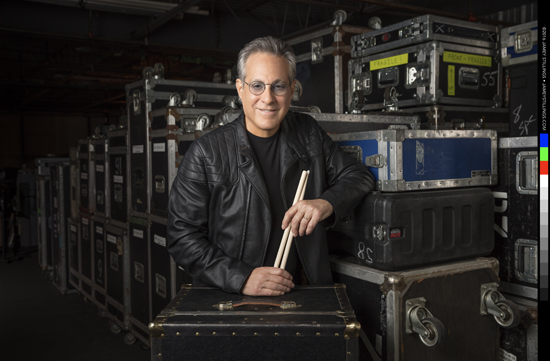 MAX WEINBERG, BY REQUEST
Another E Streeter gigging this summer is Mighty Max, with a new show, Max Weinberg's Jukebox. Of his time off E Street, Max told Rolling Stone in March, "I've got a variety of groups that I play with. One is strictly Stax and Motown oriented, 12-piece band. I have a 23-piece 1950s-style dance orchestra. Occasionally, I play with my 15-piece Count Basie/Buddy Rich–style band, playing the kind of music I loved as a kid."
The Jukebox is something else — a stripped-down rock 'n' roll band, making like Elvis Costello's Spectacular Spinning Songbook but with the audience in control:
A truly interactive experience, Weinberg invites the audience to create in real time the set list he and his crack four-piece group will play that night. Performing songs from the glory days of rock and roll... guests get to choose from a video menu of over 200 songs — everything from the Beatles to the Stones to Bruce and the E Street Band's biggest hits.... That's right — the crowd gets to yell out their choices and Max plays them!
Dates lined up so far:
July 17 - City Winery - New York, NY
August 15 - City Winery - Chicago, IL
August 17 - Dakota Jazz Club - Minneapolis, MN
October 13 - Greenwich Odeon - Greenwich, RI
- June 13, 2017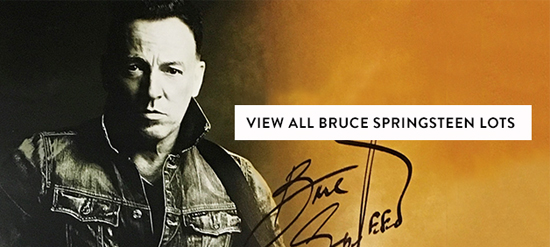 SIGNED SPRINGSTEEN STUFF UP FOR AUCTION, BENEFITTING KACF
There are a number of unique Bruce Springsteen items on the auction block to benefit the Kristen Ann Carr Fund, all on charitybuzz.com and all closing this Wednesday. Four of them are items signed by Springsteen; we're especially drawn to this Pete Souza photograph of Bruce and President Barack Obama, signed by all three.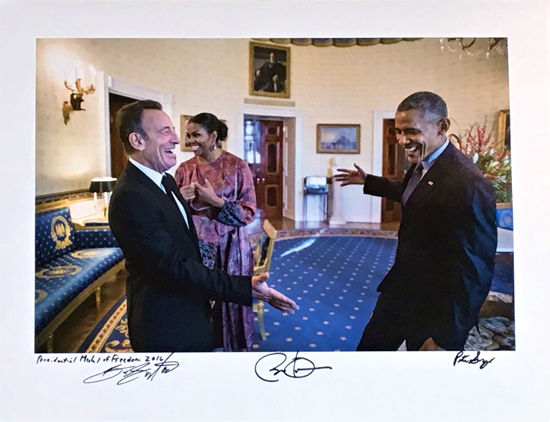 Souza, Chief Official White House Photographer for Presidents Reagan and Obama, says: "This photograph was taken before the annual Presidential Medal of Freedom ceremony. Usually the awardees, accompanied by their family members, greet the President and First Lady in the Blue Room before the formal ceremony begins. My goal was to always be ready for any genuine candid moments that occur during these greets. Of course, being a big Springsteen fan, I was on the lookout for when Bruce and Patti were about to walk into the room. Fortunately, I positioned myself in just the right spot to capture this moment just before their handshake. I think Bruce was laughing mostly because the President was kidding him about his wearing a suit."

Another one-of-a-kind item is this Clarence Clemons-autographed saxophone, which he last played at The Spectrum in Philadelphia on October 20, 2009, just days before the venue's demolition. Clarence signed his horn as a gift for legendary Philly promoter Larry Magid (and recent KACF honoree), who donated it for the benefit auction.
Also on the block: a signed High Hopes promo poster, a Hatch Show Print poster for SXSW 2012 signed by Springsteen and the E Street Band, a day with Outlaw Pete artist Frank Caruso, a guest host slot with Dave Marsh on SiriusXM's Live From E Street Nation, and more. See all KACF lots here... less than 48 hours left to bid!
- June 12, 2017

SET 'EM UP, JOE
D'urso brings Jake Clemons, Grushecky & more to his annual festival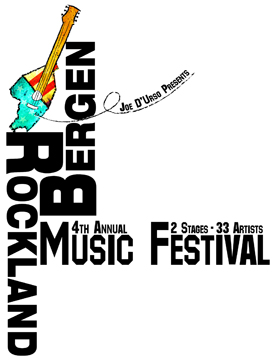 Joe D'Urso's fourth annual Rockland-Bergen Music Festival is just two weeks away, and the line-up is one that'll grab the attention of any Jersey Shore music fan: Saturday, June 24 has Jake Clemons, John Cafferty & Beaver Brown, Joe Grushecky, D'Urso & Stone Caravan, and more on the bill at Tappan, NY's German Masonic Park. See the full schedule for the festival, which runs June 23-25, at rocklandmusicfestival.com.
"As we enter our fourth year, fans can expect a lot of the same things that we have been doing the past few years," Joe says. "Festival fans have said that this is their favorite small music festival, as it feels like a family BBQ with famous and talented people walking around and performing.... that is exactly what I was going for when I started four years ago. The RBMF is a true labor of love... I wanted to bring fantastic music to the border area of Rockland and Bergen counties, as we have never had anything like this in our area. Now, we have had various Grammy winners and Rock and Roll Hall of Fame members. Not bad for a family BBQ!"
D'Urso has dedicated a great deal of his time and energy over the years to non-profits including Light of Day and WhyHunger; both will be on site at the festival, along with Mike Peters' Love Hope Strength Foundation and at least ten other charities, many of them local. "My goal is to have every person who attends to discover an organization and maybe get involved with those folks," says Joe.
Tickets are on sale now through ticketfly.com.
- June 9, 2017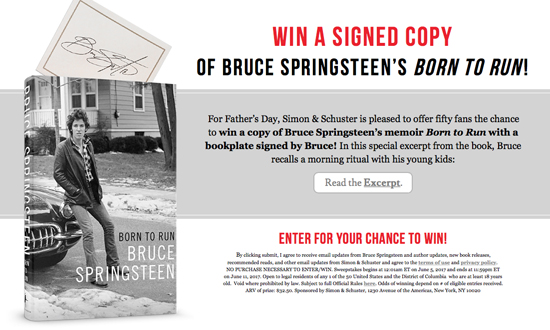 INHERIT THE SINS, INHERIT THE FLAMES, ENTER THE SWEEPSTAKES
Simon & Schuster is giving away 50 signed copies of Born to Run for Father's Day — US residents can enter the sweepstakes now through 11:59pm ET on Sunday, June 11.
- June 8, 2017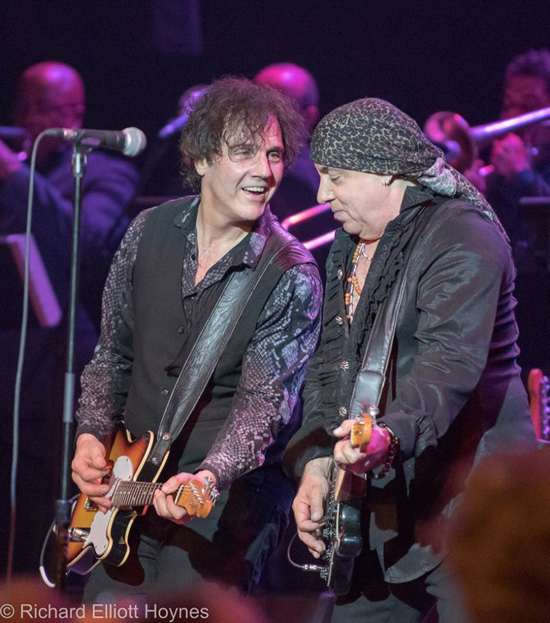 "A BIG-ASS, BRASS ELECTRIC GUITAR EXPRESS TRAIN THROUGH A STACK OF MARSHALLS"
Mike Saunders talks to Marc Ribler, guitarist and musical director of the Disciples of Soul and co-producer of the new Little Steven album Soulfire
Given Little Steven's numerous commitments, his decision to reactivate his long-dormant solo career last year was a surprise, albeit a very welcome one. He's since played concerts in London, Silver Spring, Asbury Park, and Red Bank with new versions of his fondly remembered '80s touring band, the Disciples of Soul, and released the internationally acclaimed new album Soulfire.
The Disciples are Little Steven's band, his vision and his personal creative outlet. But considerable responsibility for the Disciples — recruiting and rehearsing musicians, and ensuring that band activities run as efficiently as possible on a daily basis — falls to his musical director, Marc Ribler. Stevie's guitarist, co-producer, second-in-command, and all-round right-hand man, Ribler would surely have earned the title of "the hardest working man in show business" if it weren't already permanently associated with James Brown.
Born in Brooklyn, Marc relocated to Jackson, New Jersey with his family at the age of nine and started playing at the Jersey shore as a teenager. Since then, as a singer/songwriter/producer and performer with two albums under his belt — 2003's Life Is But a Dream and 2008's This Life (2008) — he has enjoyed a successful and varied musical career, in which his recent recruitments as musical director for Darlene Love and Little Steven are the latest exciting developments.
I spoke to Marc as he prepared for the first Disciples of Soul European tour in almost 30 years, which begins tonight in Copenhagen. Although there were few windows of opportunity in his impossibly busy schedule, Marc was nevertheless a willing participant, providing some fascinating insights into his career, the evolution of the new band, the Soulfire recording sessions, the recent live performances, and the experience of working with Little Steven.
Read the Backstreets Interview with Marc Ribler
- June 7, 2017 - Mike Saunders reporting - photograph by Richard Elliott Hoynes


ONE MORE TIME AROUND
Backstreets founder Charles R. Cross on Chris Cornell
Chris Cornell died a couple of weeks ago. Some Backstreets readers may have seen the piece I wrote for NPR on him. It wasn't the easiest article I ever wrote, since I crafted it moments after learning that someone I knew for three decades had killed themselves. I knew Chris better than most of the Seattle '90s rock stars, in part because I met him in the '80s and saw some of those early Soundgarden shows, and in part because Chris lived far longer than most of his lead singer cohorts. He died at 52, unlike Kurt Cobain (27), Andrew Wood (24), Mia Zapata (24), or Layne Staley (34, though really lost to the world and to addiction by 27).
Chris Phillips, Backstreets' editor, asked me to write something about Cornell that same day, but I was just too destroyed to say more. But now a couple of weeks later, it's worth noting for history his connections with Bruce Springsteen. At the same time I was publishing Backstreets in those days, I was also publishing and editing The Rocket, Seattle's music magazine. I did a number of pieces on Soundgarden, and because everyone in town knew I edited Backstreets, too, in some of those interactions we talked about Springsteen. In the '80s, neither Chris Cornell nor anyone else in Seattle music (other than me, it seemed) was much of a fan of Springsteen. Chris is dead now, so it's worth being completely honest and to say that he (and others) actually ribbed me for publishing Backstreets. "Led Zeppelin, I get," Cornell told me once in the mid-'80s. "Bruce, not really."
Nebraska changed that. "I wasn't a fan until I heard Nebraska," Cornell later told me in the '90s. "Yes," I responded, "because I've been telling you to listen to Nebraska for years." It was about the only thing I could use to convince anyone else in Seattle's hipster rock community to check out Bruce. I think that record allowed indie rockers to overlook the hype of Born in the U.S.A., and to see the craft in the songs as separate from the mass sales success. This kind of discussion I had often with Soundgarden's guitarist Kim Thayil, who was far more cerebral than most rockers (in that way Kim is a lot like Tom Morello), but also with Cornell.
Sub Pop even eventually issued Badlands: A Tribute to Nebraska as an album in 2000. That was the ultimate turnaround in the Seattle scene's perception of Springsteen. If, at the start of Grunge in the mid-'80s, you had told me this would one day happen, I would have been shocked. When I put Springsteen on the cover of The Rocket in 1988 (Bruce was touring through town), some Seattle musicians thought it represented way too much commercialism (The Rocket, to be fair, never was only a local music magazine, but that response indicated how Springsteen's populism struck some in our erudite scene as too compromised). It should be noted, though, that after Soundgarden made it big (the last of the Seattle bands to do so, not really hitting the top of the charts until 1994, after Kurt Cobain died), some of our local, not-yet-famous musicians also thought we were too commercial by putting Soundgarden on our cover.
Cornell did not contribute anything to that Sub Pop Badlands compilation, though when he launched a solo career during Soundgarden's first break-up, he began to play "State Trooper" and "Atlantic City" in concert. I felt some kind of vindication about that, but it also showed that songwriting always wins out over commercial tides that come and go, and perceptions of authenticity. Cornell knew that I'd written a book, with Backstreets' Erik Flannigan, on Led Zeppelin, a copy of which sat in Soundgarden's rehearsal space. We spent far more time ever talking about Zep than Springsteen. Zeppelin had as well faced issues of whether their mass commercialism corrupted them. I argued Led Zeppelin III as the antidote to that.
Soundgarden also faced these concepts — which were really everywhere in rock criticism as indie and punk rock broke big. Early criticisms of Soundgarden were that they were too much like Led Zeppelin, but then when they found success with something that was more accurately categorized as "hard rock," some in Seattle thought they weren't "grunge enough." Soundgarden was one of the first Seattle bands to sign to a major label, and that always made some suspicious, since the idea that you were actually trying to make money with music and have a career — which is what everyone was indeed trying to do — could also get you labeled as a "careerist" (the exact term leveled at Pearl Jam by Kurt Cobain, who himself was most certainly a careerist).
Cornell eventually formed Audioslave with Tom Morello, and that union produced memorable albums. Morello and Cornell made perfect sense, in part because both were well aware of the musical continuum they followed. Both were from hard rock bands with roots in punk rock, aware of cries for authenticity, but also aware of a great chorus. Cornell hired me to write one of that band's press bios, because he argued I was a writer who understood both genres and his history.
I knew about Cornell's addiction issues during that time, and times before that, and times after that, but that part of his story is not unique or special. Addiction and suicide are also issues, as I wrote in that NPR piece, that are not unique to Seattle, or to music for that matter. If past statistics are any indication, 37,000 Americans will die from suicide this year. Nearly a hundred Americans die every single day from opiate overdose.
Audioslave eventually fell apart, in part because of Chris's personal struggles, but the deep musical respect between Morello and Cornell remained. Cornell went solo again. He then released a cover of Michael Jackson's "Billie Jean" and a record with production by hip-hop guy Timbaland. With that, it was my turn to raise questions of authenticity and commercialism about Cornell in a review of that record. Chris did not like that negative review at all, particularly from a writer who had covered his early career and he'd known forever, but we worked that through.
Soundgarden reunited in 2010, and I wrote a short piece for Rolling Stone, and the band was back to business soon thereafter. Last year, his people asked me to write the Temple of the Dog website and bio, because Chris felt I knew the history of that early album, and his early career, as well as anyone. Those two Temple of the Dog reunion shows in Seattle last fall were the single hardest and most expensive tickets ever to come by in Seattle history. That's an indication of two things: how beloved Cornell was in Seattle, but also how fucked up the ticket bot scalping crisis is, something that every Springsteen fans knows much about. It was an issue that Cornell felt strongly needed to be changed, and legislated against, and one, of course, that Springsteen has also made a priority. If you want to honor Chris's memory, write a letter, or an email, and let your voice be heard on this. It was estimated that nearly 90 percent of the Temple of the Dog tickets on their national tour went to ticket bot scalpers.
Chris continued to do solo tours, and in that same era he went back to the songbook for another Springsteen cover, "Thunder Road." He'd end shows with this, an indication of how his appreciation for Springsteen had grown over the years. His version at a Hurricane Sandy benefit at New York City's Bowery Ballroom in 2012 [above] was particularly poignant and surprisingly true to the original. If you watch that video and hear Chris yell at a loud audience member ("shut the fuck up, you cow"), it's a reflection of how much Cornell wanted to emotionally commit to the song without interruption. But it also shows a bit of the Cornell that I knew — passionate about music, but also snarky at times. A full human being with flaws, and strengths, and demons. The last of these, he could not outrun.
If you look at his take of "Thunder Road," you'll see Chris Cornell inhabiting that song for a moment, grabbing it, or maybe it grabbing him. The music of Springsteen meant something to Cornell. Cornell told me that a few times after he finally found his way in with Nebraska. And the music of Chris Cornell, and the man himself, meant something to me.
The Rocket went out of business in 2000 (Backstreets, however, lives on!). But in that footnote of Seattle music history, Soundgarden remains, and will forever remain, the local band The Rocket featured on the cover the most. And amid even in the sadness of this past month, that seems just a bit sweet.
- June 6, 2017 - Charles R. Cross reporting

RECIPES WANTED... NO CHICKEN LIPS OR LIZARD HIPS, PLEASE!
Springsteen fans Annette Dam and Candy Dawson are seeking recipes from fellow fans worldwide for a unique project: an E Street-themed recipe book with all sales proceeds to be donated to the anti-hunger organization WhyHunger, long supported by Bruce Springsteen. Fans around the globe are invited to submit a single recipe per fan that highlights what they would be really proud of serving at their tables, should Bruce or any E Street Band member stop by for a visit.
In addition to recipes, both younger and adult fans are invited to submit their artwork for possible inclusion in embellishing the pages or even the cover of the book, which tentatively will be entitled Hungry Heart - Recipes to the Rescue. The deadline for all submissions is August 31. Click here for more information.
- June 6, 2017 - Shawn Poole reporting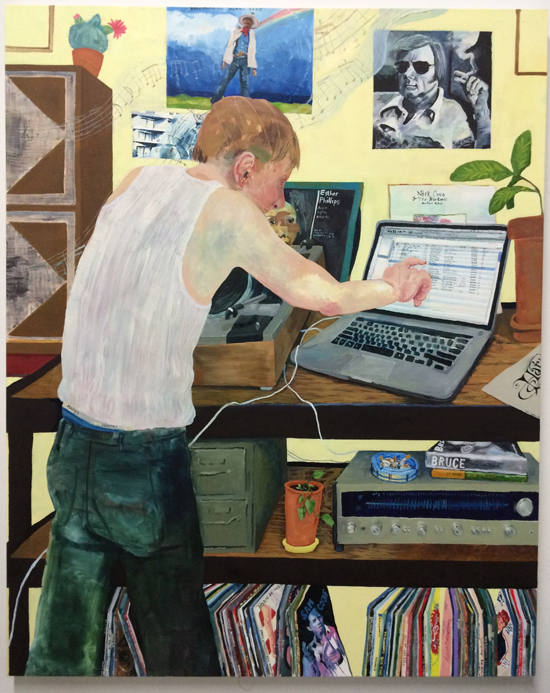 YOU'LL SEE ME
Can you find the two Bruce Springsteen references incorporated into Celeste Dupuy-Spencer's painting Fall With Me for a Million Days (My Sweet Waterfall)? (Hint: One of them makes this a perfect post for today's 33rd anniversary of the release of Springsteen''s biggest-selling album.) If you're in the New York City area, you can see the painting on display through next weekend at the Whitney Museum of American Art's 2017 Biennial. The above image of the painting also can be found at Dupuy-Spencer's Tumblr page.
- June 4, 2017 - Shawn Poole reporting - special thanks to Susan Plass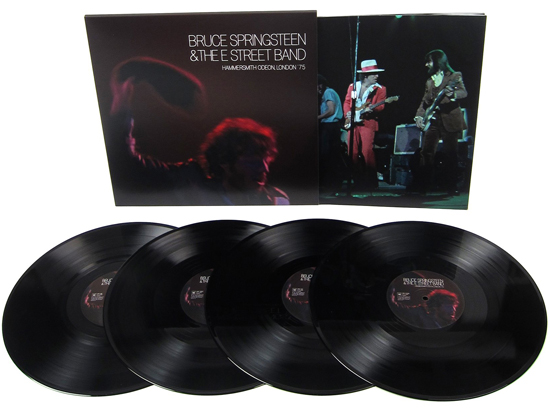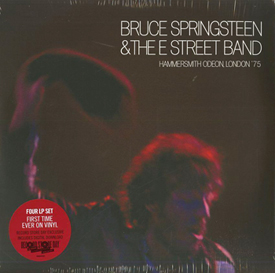 RECORD STORE DAY REVISITED
A couple of vinyl treats were issued for Jersey Shore music fans this Record Store Day, and we now have both on our shelves if you missed out locally. First up, the 4LP vinyl pressing of Hammersmith Odeon, London '75.
It's been on CD for a decade, but this is the Springsteen's first live vinyl LP release since Live in New York City, the E Street Band's complete "Finally London is ready" show from November 18, 1975, spread across eight sides of wax. A general release of this set is coming later this summer, but we have the limited, numbered Record Store Day edition in stock now.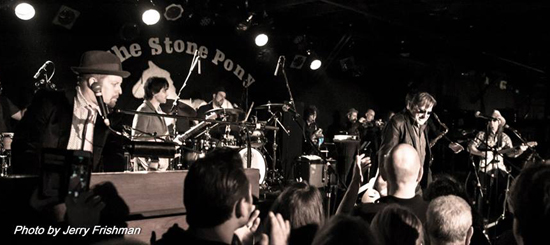 "Southside Johnny and the Asbury Jukes sing Bruce Springsteen," Asbury Park, NJ, February 28, 2015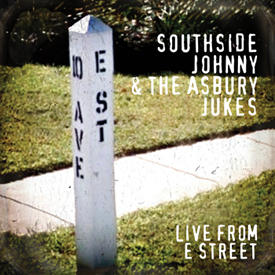 Southside Johnny & the Asbury Jukes' Live From E Street was recorded at the Stone Pony, on a special night in 2015 when Southside and the Jukes covered Springsteen songs all night. Four of those live performances are collected on this vinyl EP: "Jack of All Trades," "Cover Me," Murder Incorporated," and "Tenth Avenue Freeze-out." (The last of these is also represented on Hammersmith — but of course here with a Southside spin, and 40 years apart!) Hard to find — and also in stock now.
See all Latest Additions at Backstreet Records
- June 2, 2017

ANOTHER SWEET SOUL DEPARTED: R.I.P. CHRIS HUNT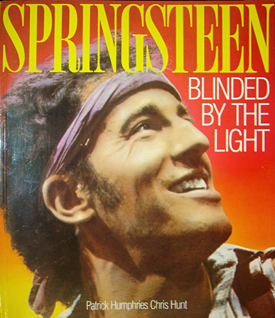 Blinded By the Light was an essential bible for Bruce Springsteen fans like us. Co-authored by Patrick Humphries and Chris Hunt, the 1985 Springsteen book paired biography — handled by Humphries — with Hunt's "The Bruce Files," the sort of stuff that might have been touched on in an appendix anywhere else but here comprised more than half the book. Clearly from the obsessive brain and collection of a hardcore fan, Hunt's portion of Blinded gave us a concert chronology, discography, bootleg guide, listings of Springsteen compositions (released and unreleased) and covers, with images reproduced from a hoard of posters, memorabilia, ticket stubs, records and clippings.
Our fellow traveler Dan French — who was inspired by Chris and his "Bruce Files" to publish his own Springsteen fanzine in the U.K., Point Blank — points out that Blinded was the first Bruce book by British authors and "the first real Springsteen reference book." We have three copies on the shelf here at Backstreets HQ, mainly to make sure we've got at least one complete copy between them; we've flipped through the pages so often over the years, many have fallen out.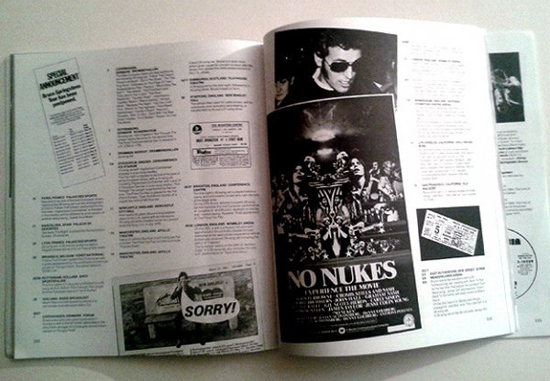 We lost Chris Hunt a few days ago. A heart condition led to further medical complications earlier this year, and he passed away on May 29. Our hearts go out to all of his loved ones. Dan French was one of them — he knew Chris for nearly 40 years, going back to the River days, as a friend, fan, collector and artist, and he shares with us here a wonderful remembrance of his friend and "The Bruce Files": Chris Hunt, 1/29/51 - 5/29/17
- June 1, 2017

"STEVE VAN ZANDT TELLS ALL" ON MUSIC NOW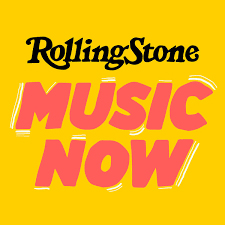 Check out the latest episode of Rolling Stone's Music Now podcast, in which Brian Hiatt and Andy Greene have Steven Van Zandt in the studio — it's a great listen. Of course they talk Soulfire, but the conversation is peppered with Bruce bits too, and early history (including a confirmation of Stevie's lone sonic contribution to the Greetings album).
Discussing the arrangement skills he brought to Springsteen's music (shaping more than 100 songs with Bruce between Darkness and The River), Steven points out the differences between his own style compared to Springsteen's "less conventional" approach. "Why didn't we write more together?" he wonders. "I have no answer for that. I wish we did. I wish we had done more together — we were living together for chrissake!" He adds that he went straight from rooming with Southside Johnny to rooming with Bruce: "Can you imagine? And I survived!" (While Springsteen has painted him as the Walter Matthau of their Odd Couple over the years, Van Zandt maintains it was Bruce who was the "complete slob.") Lots more packed into this half-hour, from LSD experimentation to Stevie's relationship with Jon Landau. Listen or subscribe via iTunes.
- June 1, 2017

THERE 'NEATH THE OAK'S BOUGH
The Indiegogo campaign for Clarence Clemons: Who Do I Think I Am? has come to a close this week, with $23,000 pledged toward the completion of director Nick Mead's documentary. Producer Joe Amodei writes:
Nick Mead and I would like to thank everyone involved at Backstreets and their loyal readers who helped us with our campaign. While we did not reach our goal, we appreciate the outpouring of good wishes we received from so many of you who want to see Clarence's film finished. This is why I got involved in the first place. My goal has always been to finish what Clarence and Nick started a long time ago. Nick has continued to film new interviews and begin the editing process and I will continue the quest to raise the finishing funds needed. I have no doubt we'll get there.

And while the Indiegogo campaign is now closed, you can still take part in the fundraising by emailing me at joe@virgilfilmsent.com. Just go to the Indiegogo page and then let me know what perk you are interested in, and I'll see what we can do. And again, from the bottom of our hearts, we thank you for your help throughout.
We've got one more thing to share from the ongoing project — a short clip director Nick Mead put together for us, showing a particular tree that held some powerful memories in Clarence's world.
Nick writes:
This campaign has been the culmination of what will be about 15 years working on this film. Most of them with Clarence, his input was massive and he wouldn't let it go away.... even when the both of us were sidetracked with other ventures and projects, we always came back to it. The screening which we both attended in Asbury Park was a triumph, and my thrill of it all was seeing the standing ovation that he received at the end of it. It was epic!

Then came the tough part. It was so easy when he was around and could talk about what this journey meant to him, as he did at the Q&A after the Asbury Park screening. But once he had gone there came a whole new wave of responsibilities and challenges. The story of his spiritual journey became his legacy, and the challenge that Joe and I had was to correctly and respectfully represent that legacy.

It's been a long journey and a worthwhile one. Amazing people stepped up, from the aunts who raised him, and his childhood friends, to the impressive list of bandmates as well as a United States President. I never thought for a second that at the end of all this I'd be sitting with President Bill Clinton talking saxophones.

One of the most touching moments was when a childhood friend spoke of the race divide where they were growing up. And how they'd go to separate schools and separate churches, but when they got home they meet at the tree they both used to climb. The tree isn't so big no more, but the foundations are still there. And we got the tree in our film.
- May 31, 2017

REST IN PEACE GREGG ALLMAN, 1947-2017
When Gregg Allman passed away over Memorial Day weekend, we were reminded of this great Asbury Park story as related on Brucebase. It was March 27, 1971, when Bruce Springsteen and Friendly Enemies, his one-off band for the night, opened for the Allman Brothers Band at the Sunshine In. The Allmans-influenced Steel Mill had recently split, but Stevie Van Zandt insisted that they take this gig regardless. Duane Allman saying you've got "one cookin' band"? Not bad for a bunch of young misfits and freaks from New Jersey.
Bruce and Steve Van Zandt were major Allman Brothers fans and during February Bruce lobbied hard to be part of the show, despite the fact that Steel Mill had broken up and Bruce had not yet settled on a new band. Ultimately Bruce decided to utilize the extended clan of musicians he'd been jamming with at The Upstage during preceding weeks and this event is perhaps the ultimate example of Asbury Park performing legend.

The billing name Friendly Enemies was chosen during February. It was actually a week or two prior to this March 27 gig that the famous moniker Dr. Zoom & The Sonic Boom was conjured up, but it was too late to change the name on the promotional material and posters for the show. Indeed, much of the long-standing discrepancy about how many Dr. Zoom gigs were performed stems from the fact that some people count this night's two shows as Dr. Zoom gigs, others don't count them. The two shows on this night weren't billed under the name "Dr. Zoom," but they included all the elements of the two later Dr. Zoom shows in May, in fact they included more musicians and props than the either of the two later "official" Zoom shows.

Apparently, The Allman Brothers got a kick out of Bruce's combination of zany props and inspired music. Backstage between shows, Duane Allman gave some slide guitar tips to Steve Van Zandt and also played some impromptu slide on top of a soundboard tape listening session of Bruce's early show that Tinker West was conducting. Allman was quoted as saying, "That's one cookin' band, man." Sadly this would turn out to be the only Sunshine In appearance for The Allman Brothers Band. Although tentatively booked for a November 1971 return engagement, the death of Duane Allman in a motorcycle crash on October 31 caused the group to cancel.
The Friendly Enemies (there's a future trivia answer for you) also included the freshly christened "Southside" Johnny Lyon, Garry Tallent, David Sancious, Vini Lopez, Albee Tellone, John 'Hotkeys' Waasdorp, Bobby Feigenbaum, Bobby Williams, and, on congas, Tinker West.
Tenor saxophonist Feigenbaum told Peter Ames Carlin in Bruce, "The Allmans were so cool. We were just local boys, but they were so welcoming. And Duane Allman was really into Steve's slide playing. I remember him saying that Steve was the best slide player in the country, except for him."
- May 31, 2017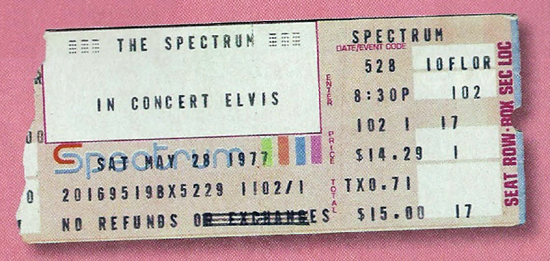 THROWBACK MEMORIAL DAY WEEKEND: 1977
Bruce settles his lawsuit with Mike Appel, sees Elvis' final Philly show and declines an invite to meet The King
Forty years ago today, Bruce Springsteen settled his now-famous lawsuit with former manager Mike Appel. A verbal agreement was reached at 3am on Saturday, May 28, 1977, followed by the formal signing of documents later that same day.
The lawsuit settlement formally severed all business ties between Appel and Springsteen. Appel retained a share of royalties from Bruce's first three albums (which he later sold back to Bruce), but Springsteen no longer was restrained from working with his producer of choice, Jon Landau. Work on Springsteen's fourth album finally could begin, and Bruce also acquired legal control over the production and publishing of all of his music. From then on, no decisions regarding Bruce Springsteen's career could ever be made without his ultimate approval.
After signing the settlement paperwork, Springsteen traveled to Philadelphia to meet his friends, legendary Philly DJ Ed Sciaky — an early/longtime fan and supporter — and Sciaky's wife Judy. That evening the trio attended Elvis Presley's final Philadelphia concert at the now-gone Spectrum arena. The local concert promoters even offered Springsteen, who by then was extremely popular in Philly, a chance to meet Presley backstage before the concert. Springsteen declined the invitation, much to Ed Sciaky's surprise. In his final Backstreets interview before his untimely death in 2004, Sciaky recalled thinking to himself, "I don't believe this... Elvis was his idol."
During a 1978 radio interview with Sciaky, Springsteen offered some insight on his turning down what probably was his only chance to meet The King: "I never liked, you know, going backstage and stuff. I just feel uncomfortable when that happens — I don't know why." Perhaps Bruce also knew instinctively that meeting Elvis Presley in 1977, only months away from his tragic death, would be quite a different experience than meeting Elvis in his prime. Springsteen also gave Sciaky a quick assessment of Elvis' Philly '77 performance: "That wasn't a good night. I saw him at Madison Square Garden [in 1972] and he was really great... on the '68 ["comeback" television] special, he was just the greatest." Yet last year Bruce told Rolling Stone, "I saw Elvis shortly before he died and I remember enjoying the show tremendously." (A low-fi audience recording of the performance is the best available audio from the evening. Click here to hear it.)
Over the years, a bit of an urban legend also has grown around this concert. The legend has it that in a late-1970s interview, Springsteen claimed that Steve Van Zandt joined him and the Sciakys in seeing Elvis' final Philadelphia show. Supposedly Bruce also stated the show was so depressing that afterwards he and Steve drove back to New Jersey without saying a word to each other. A thorough search of archived interviews in The Bruce Springsteen Special Collection, however, revealed no evidence of any such story related by Bruce or Stevie. We recently checked in with Judy Sciaky, too, who told us, "I was there with Ed and Bruce. Steve Van Zandt wasn't."
In a powerful coincidence, seeing Elvis Presley in concert was an experience that bookended Bruce Springsteen's professional relationship with Mike Appel. As Springsteen mentioned to Ed Sciaky during that '78 radio interview, he saw Elvis' Madison Square Garden debut back on June 9, 1972 with Appel, NJ-based musician Pat Karwan, and some other friends. It was the perfect way to celebrate Bruce's official signing to Columbia Records as a recording artist, which had occurred just a few hours earlier. Amazingly, the next time that Bruce Springsteen would see Elvis Presley in concert would be on the very same day that the Appel/Springsteen business relationship officially ended. Speaking to a group of journalists shortly after the lawsuit drama was over, Springsteen said, "In a way, Mike was as naïve as me. His idea was 'You be Elvis and I'll be the Colonel.' Except he wasn't the Colonel and I wasn't Elvis."
- May 27, 2017 - Shawn Poole reporting - ticket stub courtesy of Liz Dobbins, as originally featured in Backstreets Magazine #80 - special thanks to Scott Bluebond, Melanie Paggioli and The Bruce Springsteen Special Collection

BEAR WITNESS: STEVIE AND BRUCE, SATURDAY AT THE BASIE
"I'd like to bring out a friend of mine who's out of work...." Last night in Red Bank, Bruce Springsteen joined Little Steven and the Disciples of Soul on stage at the sold-out Count Basie Theatre for four songs: "It's Been a Long Time," "Tenth Avenue Freeze-out," "I Don't Want to Go Home," and a final encore of "Can I Get a Witness." It's not exactly virtual reality, but thanks to the videography efforts of Mitch Slater, jrovalino, and TheMagikRat, we can take you there without the headset:
- May 28, 2017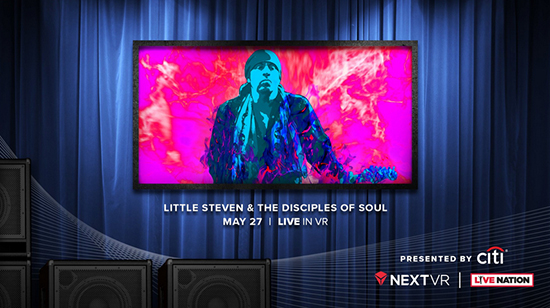 VIRTUAL STEVIE
Don't have a ticket to tonight's sold-out Little Steven & the Disciples of Soul show at Red Bank, NJ's Count Basie Theatre? If you've got a compatible smartphone and the necessary VR gear, you can catch tonight's concert in virtual reality, truly the next best thing to being there. The VR broadcast will be available everywhere except China, free of charge. Click here for details.
And if you have Sirius/XM satellite radio, don't forget that Stevie's own Underground Garage channel (channel 21) also will broadcast the show live, with sound mixed by Bob Clearmountain. The fun starts at 6pm ET, with a two-hour preshow hosted by Underground Garage DJs Rich Russo (the Jersey Guy), Handsome Dick Manitoba, and Palmyra Delran. The preshow will feature live interviews with special guests in the house, including Steve Van Zandt himself, as well as stories, folklore and a special music selection.
- May 27, 2017 - Shawn Poole reporting

CONSULTATIONS WITH DR. VAN ZANDT
Listen here to DJ Tom Cunningham's Soulfire interview with Little Steven
Between releasing Soulfire last week and headlining the Count Basie Theatre tomorrow night, Little Steven has had a number of interviews out there on the world wide web. Check out Brian Hiatt's conversation with him for Rolling Stone, and Steven Hyden's Q&A for Uproxx.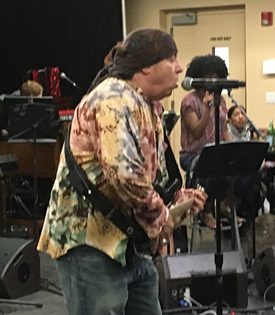 We'll add another one to the online mix thanks to Tom Cunningham, whose interview with Stevie aired Sunday on his Bruce Brunch radio program — listen above via Soundcloud. Taped in New York City in the midst of band rehearsal for tomorrow night's sold-out show, the interview has the pair talking about Stevie's Rutgers commencement address, being the "connective tissue" of the Jersey Shore sound, and, of course, the songs and stories behind Soulfire.
Thanks to Tom for the audio, which was recorded by Jason Greenberg, produced by Rich Russo, and edited by Gary Titus. The long-running Bruce Brunch airs Sunday mornings, from 9-11, on 105.7 The Hawk.
- May 26, 2017 - photograph by Tom Cunningham [NYC 5/17/17]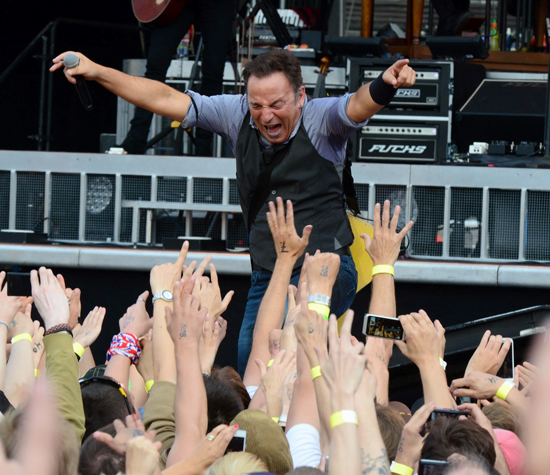 THROWBACK THURSDAY: SOUND & VISION, HELSINKI 2012
Earlier this week, an official live recording of Bruce Springsteen and the E Street Band's 7/31/12 Helsinki show was sprung from the vaults. Photographer Rene van Diemen was at Olympiastadion that night, shooting for Backstreets; here are some more sights to go with the sounds of what is, to date, their longest show ever.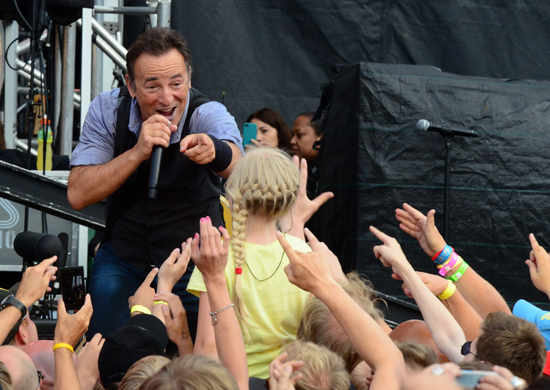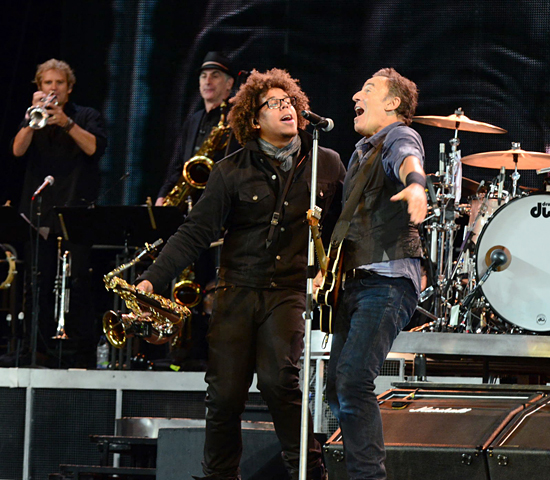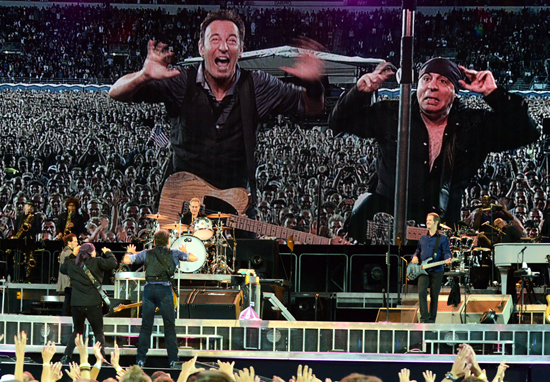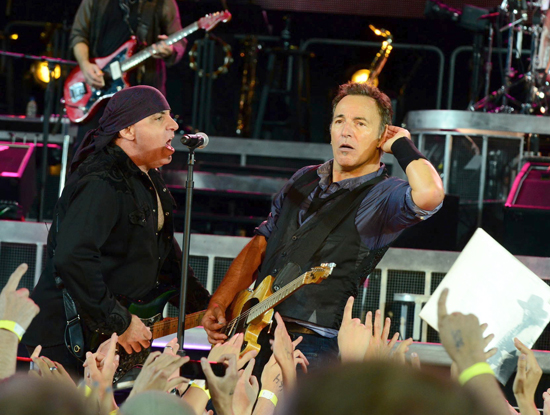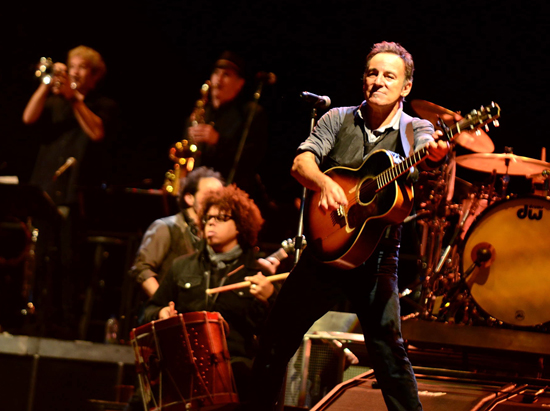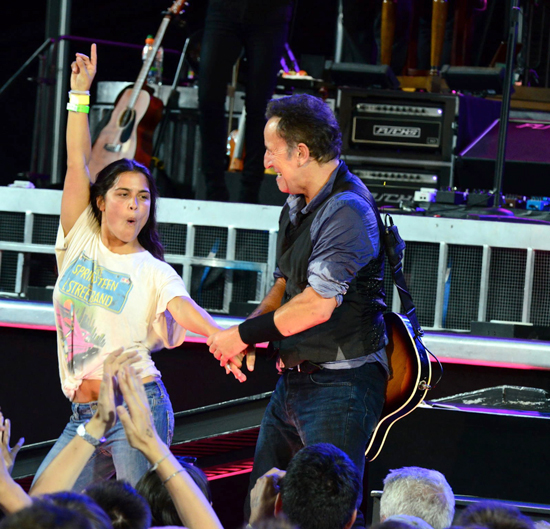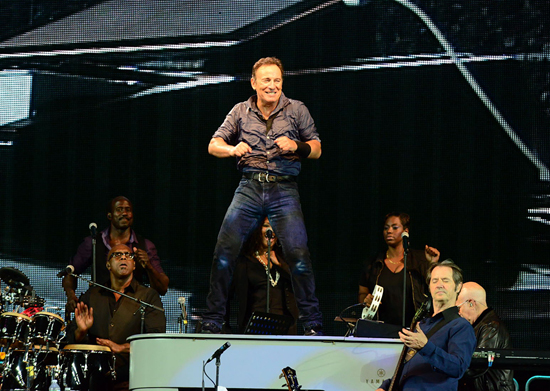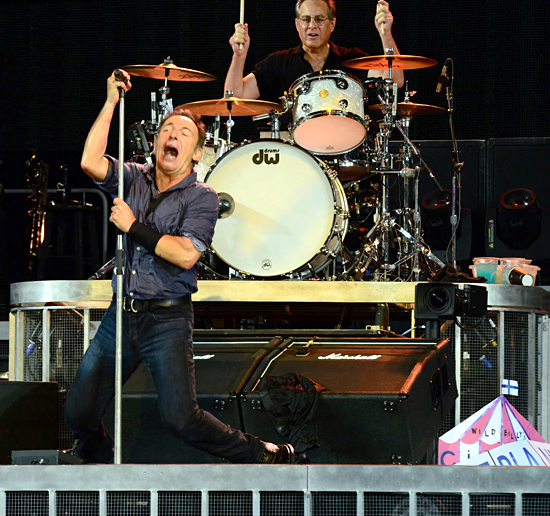 - May 25, 2017 - photographs by Rene van Diemen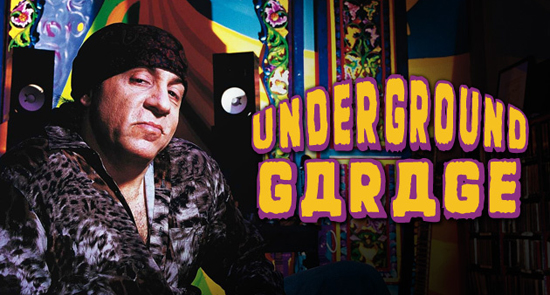 SOULFIRE RECORD RELEASE SHOW AT THE BASIE TO BE BROADCAST LIVE
On Saturday night, Little Steven celebrates Soulfire with a record release show at Red Bank, NJ's Count Basie Theatre. This Disciples of Soul concert is sold out, but if you've got SiriusXM, you can hear it as it happens: mixed by Bob Clearmountain, the performance will be broadcast live on SiriusXM Channel 21, Little Steven's Underground Garage. The show will begin around 8pm ET on Saturday May 27, and there will be a live preshow broadcast at 6pm from the Lobby of the Basie, hosted by Underground Garage DJs Rich Russo (the Jersey Guy), Handsome Dick Manitoba, and Palmyra Delran. The preshow will feature live interviews with special guests in the house, including Stevie himself, as well as stories, folklore and a special music selection.
Stevie's history at the theater goes way back. "The Basie originally was my local theater growing up," he has said, "where I saw A Hard Day's Night, The Nutty Professor, and Bye Bye Birdie. Now it's one of my favorite venues." When it was known as the Monmouth Arts Center in the 1970s, Steven played there with the E Street Band on the Born to Run tour in 1975, and again for a week-long stand including the Miami Horns in 1976. In 1977, Stevie put together two "Asbury Park All-Star Revue" shows there for Asbury Jukes ticketholders, pulling together Bruce Springsteen, the E Streeters, the Jukes, and Ronnie Spector to make up for an ill Southside Johnny. Today, Stevie and his wife Maureen serve on the Count Basie board and are curating an Underground Garage concert series there.
In all those years, this will be Steven's first announced headlining show at the Red Bank venue. Tune in live on Saturday night, or if you miss it, listen for a repeat broadcast at 11am on Memorial Day.
- May 25, 2017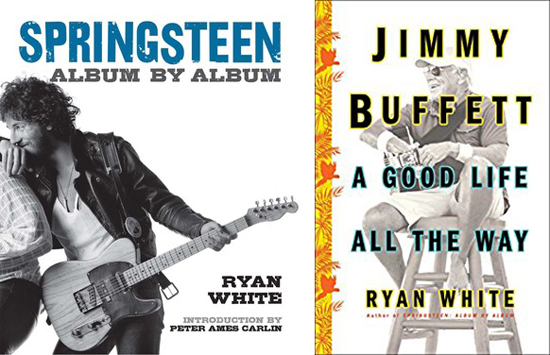 BOATS, BEACHES, BARS, BALLADS & BRUCE
Album by Album author Ryan White on his next stop: Margaritaville
"Well, I will throw names of two big hits off the top of my head. If somebody were going to open a restaurant called 'Thriller,' I don't that could possibly — I don't think that Michael Jackson could possibly be as entitled to a share of that; or someone was going to call a restaurant 'Born in the U.S.A.,' that Bruce Springsteen could be more entitled than Jimmy Buffett is to 'Margaritaville.'"
Aside from the fact that Guy Fieri has to be kicking himself for not running with the Born in the U.S.A. restaurant concept, Irving Azoff was right. That quote is from 1986 and pulled from a transcript of his deposition in a trademark dispute between Buffett and the Mexican restaurant chain Chi-Chi's.
Chi-Chi's had the "Margaritaville" mark, applying it to Tuesday night drink specials from coast to coast. Buffett felt he should have it, and his lawyers took up the difficult task of proving he and his most famous song were synonymous. They eventually prevailed, setting the foundation for what this year will be close to a $2 billion brand.
I began working on the proposal to Jimmy Buffett: A Good Life All the Way almost as soon as I finished writing Springsteen: Album by Album, and Buffett and Bruce would often collide in my thoughts, if not in my reporting. They are, obviously, very different artists. And they also have a few things in common.
Most notably, they know who they are, what they do well, and why people keep coming back. If Bruce is the guy who tells us we can work our way through it, Jimmy's the guy who suggests it's okay to take a day off. In some ways, they're opposite sides of the same solid gold coin.
John Cohlan is the CEO of Margaritaville Holdings, though he prefers a more casual title: Jimmy's friend and business partner for the past two decades. When we finally got a chance to talk at length, talk turned to Bruce pretty quickly. John grew up in New Jersey. Buffett was what went on the radio when the sun came out and women on campus reacquainted themselves with their summer clothes each year. Bruce was year-round.
I mentioned how interesting it was that so many of Buffett's fans have embraced all Margaritaville has to offer, while Bruce's fans, were there to suddenly be a Thunder Roadside Inn, would freak out.
"It's not Bruce's style," I ended up writing in the book, "but even it were, what would that brand be? How do you capture the complications of finding your way into a meaningful adult life while struggling with unresolved issues resulting from a conflicted relationship with your father? What's that hotel room look like?"
Down in Florida, the bathrobes in the Margaritaville Hollywood Beach Resort have palm trees on them.
In the end, I suppose, it's just another route to feeling a little bit better about the day and getting on to the next.
Jimmy Buffett: A Good Life All the Way is out now. Springsteen: Album by Album is currently available in hardcover from Backstreet Records and will be released in a softcover format, gently updated, in October.
- May 24, 2017 - Ryan White reporting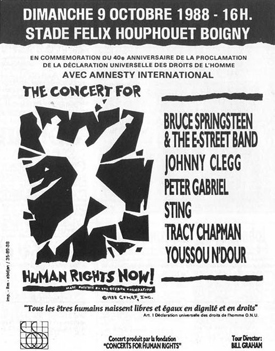 JOHNNY CLEGG'S FINAL JOURNEY
From September 2 through October 15, 1988, Bruce Springsteen and the E Street Band, Peter Gabriel, Tracy Chapman, Sting, and Youssour N'Dour fanned out across the globe to increase awareness of the Universal Declaration of Human Rights and the work of Amnesty International. The Human Rights Now! tour took Springsteen to a number of countries where he had never performed, including Hungary, India, Côte d'Ivoire, Zimbabwe, Greece, and Costa Rica. Night after night, he closed the main bill with perhaps the most intense one-hour of performance of his career. Every night, that is, except night 17 of 20.
On October 9, in Abidjan, capital city of Côte d'Ivoire, Springsteen relinquished the closing spot to popular Ivorian reggae singer Ismaël Isaac and South Africa's most influential cross-cultural musician Johnny Clegg.
Had the geography of their youth been different, Springsteen and Clegg probably would have found one another somewhere in the testing grounds of New Jersey. While Bruce was trading licks with garage bands in Freehold, Clegg was a school-skipper in Johannesburg, learning to play the guitar from Zulu street musicians, eventually forming two enormously popular (but culturally perilous) bi-racial bands at the height of apartheid tensions in South Africa. His addition to the bill in Abidjan made enormous sense both musically and politically since, by then, Clegg's infectious crossover music and outspoken views on human rights and immigration had earned him an enormous following in Europe and throughout Africa, where he is fondly known as Le Zulu Blanc — the white Zulu.
And then, in early 2015, nearly four decades into his career, life changed suddenly for Johnny Clegg when he was diagnosed with pancreatic cancer. Surgery bought time, as did two rounds of chemotherapy, giving Clegg what he now views as a window, a space in time to do what he wants in the way that he wants. Which leads to now, the announcement of dates for Clegg's Final Journey tour in the U.S., starting later this year. Dates have been set for shows in Boston, New York City, Philadelphia, and Washington DC, with more to come and stops in Canada as well — see johnnyclegg.com for the Final Journey itinerary as it's confirmed.
- May 24, 2017 - Bob Crane reporting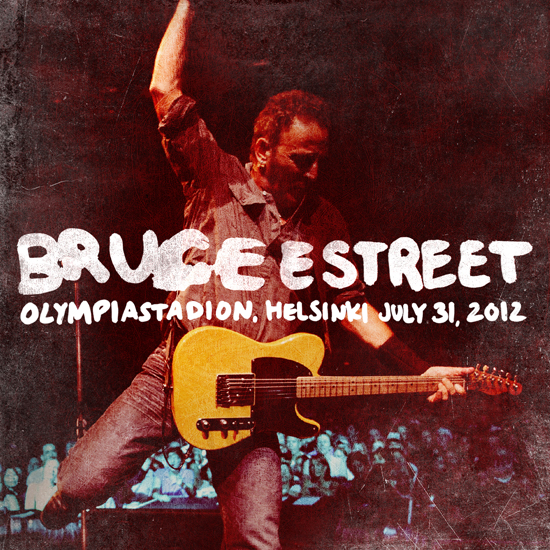 RECORD-BREAKING, FOUR-HOUR HELSINKI 2012 SHOW COMES HOME
It had been building for weeks. The E Street Band's 2012 European tour kept delivering long shows — epically long shows. Concerts in June and July in Madrid, Oslo, and Gothenburg were already setting records as some of Bruce Springsteen's longest ever. With the European tour winding down to its July 31 finale in Helsinki, Finland, fans were talking openly about the possibility of the first-ever four-hour performance like it was Roger Bannister attempting to break the four-minute mile in the 1950s. Intriguingly, there was even a sense that Bruce himself was aware he was approaching the mark.
The line was crossed with a mind-blowing 33-song set at the Olympiastadion, all four hours and several minutes of which are offered as the newest download in Springsteen's live archival series, available now in MP3, Lossless, HD-Audio, DSD or good, old-fashioned CD at live.brucespringsteen.net.
The legend of Springsteen's four-hour concerts has been public folklore since at least the original River tour and maybe even earlier. Back when the concerts still had an intermission, there were nights when something close to four hours passed after Springsteen first took the stage. But until Helsinki, he had never performed on stage without such a break — from show open to the band exit after the final encore — for more than four hours. As Backstreets wrote at the time, Helsinki was "an Olympic feat" that made "the myth real."
While much is made of the duration of Helsinki and the hindsight that Bruce was aware he was breaking the barrier, the setlist speaks for itself. It's loaded with non-album rarities like "Loose Ends," "Be True," and the marvelous "Back in Your Arms." Appropriate cover songs provided more surprises from start to finish, among them John Fogerty's "Rockin' All Over the World," Jackie Wilson's "Higher and Higher," and Steven's classic gift to Southside Johnny, "I Don't Want to Go Home." Throw in "Prove It All Night" with the Darkness tour intro, "Light of Day," "Detroit Medley" (for the first time on the tour), and "Twist and Shout" (featuring Jon Landau himself), and you have the Wrecking Ball tour at its finest.
If you're wondering about the five-song acoustic set Springsteen played before the show as a thank you to fans who had followed the tour, sadly that wasn't recorded.
Desiree Koh covered the show for Backstreets in 2012, and you can find her original review of the Helsinki 2012 show here.
- May 23, 2017 - Erik Flannigan reporting

SWEET SOUL DEPARTED
Jimmy LaFave, 1955-2017
We at Backstreets were very saddened to learn of singer-songwriter Jimmy LaFave's passing yesterday at 61. Click here for today's full report at The Austin Chronicle. You also can scroll a bit below to our May 17 feature on LaFave's artistry and bravery in his fight against sarcoma. Jimmy LaFave's death came just days after he attended and performed at his own sold-out tribute featuring many of Austin, Texas' finest musicians. (Click here for the Chronicle's full tribute-show report and here for its extensive photo gallery.)
One way this Springsteen-centered website can remember Jimmy LaFave today is with his sweet, beautiful version of "Land of Hope and Dreams." It's among the best Springsteen covers out there.
Another way to remember and honor Jimmy LaFave is to donate to The Kristen Ann Carr Fund, an organization supported by Bruce Springsteen since its 1993 inception. KACF continues to be the main financial backer of efforts to prevent and/or cure the kind of sarcoma that took Jimmy LaFave from us far too soon. We at Backstreets extend our deepest condolences to all of Jimmy LaFave's loved ones.
- May 22, 2017


LITTLE STEVEN: THE FAB FOUR IS WITH HIM, BUT THE "FORCE" IS NOT
Stevie helps to launch Sirius/XM's new Beatles channel
The Beatles finally have their own dedicated satellite radio channel on SiriusXM. As part of the The Beatles Channel's launch last week, Little Steven was among the first participants in "My Fab Four," the channel's daily brief Guest-DJ-style show "hosted by musicians influenced by The Beatles, celebrities, and super fan listeners, each playing their four favorite Beatles songs."
Steve took on the daunting task of picking his top four Beatles tracks, making it as democratic as possible by limiting himself to a single lead-vocal performance from each Beatle. His "My Fab Four" playlist:
"Boys" (with Ringo on lead vocal)
"The Night Before" (with Paul on lead vocal, narrowly beating out Paul's performance on "We Can Work It Out")
"You're Going to Lose That Girl" (with John on lead vocal)
"If I Needed Someone" (with George on lead vocal and 12-string Rickenbacker, as noted by the E Street Band's own 12-string guitar enthusiast, who also referenced the Beatles/Byrds connections in his inimitable Underground Garage fashion.)
Lists like these are entirely subjective, of course, and open to endless, enjoyable arguments. The Beatles Channel itself, however, clearly made one major factual error in introducing its esteemed Guest DJ. The name of Little Steven's new album is Soulfire, Beatles peoples, not Soulforce.
Check out The Beatles Channel on Sirius/XM channel 18. (A promotional free-listening period for former subscribers is available through May 30. Click here for details.) And if you'd like to host your own edition of "My Fab Four," e-mail your name, playlist and contact info to MyFab4@siriusxm.com.
- May 22, 2017 - Shawn Poole reporting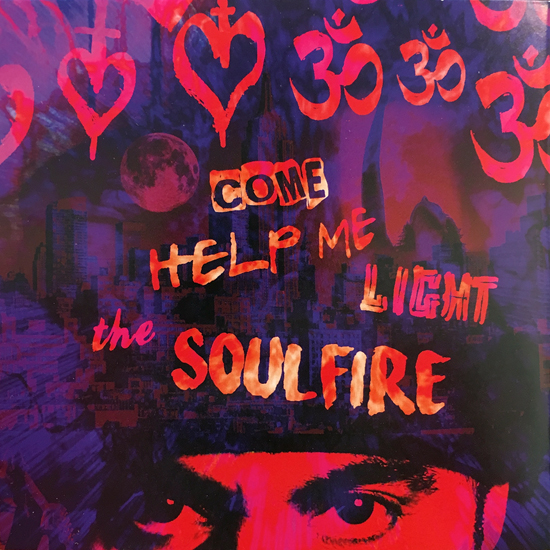 LITTLE STEVEN SERVES UP JERSEY SOUL STEW — WITH HORNS, BABY!
Mike Saunders devours Soulfire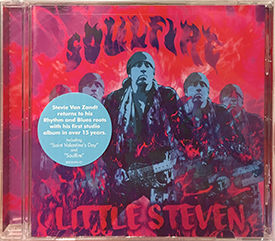 "I'm coming back, back for what's mine," sings Little Steven on his eagerly anticipated, musically diverse and (in a perfect world) potentially million-selling new album Soulfire. The lyric declares his intention to resume the solo recording career that he began 35 years ago and, after blazing an increasingly political trail throughout the '80s, effectively shelved until last fall.
The roots of the new record can be traced directly back to Little Steven's highly regarded debut album Men Without Women, on which he used the musical blueprint that he created with Southside Johnny and the Asbury Jukes a few years earlier, blending rock instrumentation with soulful vocals, Motown influences, semi-autobiographical lyrics and a five-piece horn section, to create a personal statement that has stood the test of time. The international tours that followed in late 1982 and early 1983 with the original Disciples of Soul (featuring La Bamba's Mambomen on horns) provided a unique opportunity to see Steven fronting his own band and singing his own material for the very first time.
Things changed very quickly after that. As Steven's political awareness grew, he dropped the horn section and set off in new musical and lyrical directions. He released Voice of America, the multi-artist Sun City project, Freedom No Compromise and Revolution in quick succession and continued to tour internationally with a smaller, regularly-changing version of the Disciples of Soul until the end of the decade. At that point, he put his recording and touring plans on hold, breaking the silence just once in the next 27 years to release 1999's Born Again Savage. Although each album deserved greater attention and success than it received, it was ultimately Men Without Women that stood apart from the others, arguably the record that was closest to Little Steven's heart. It was the one on which he wore his influences on his sleeve, and the only one to feature that important (and subsequently much-missed) personal trademark, the rock 'n' roll horn section.
As the years passed, aficionados from the old days — and new generations who discovered Men Without Women — became resigned to the fact that given Little Steven's numerous preoccupations as actor, DJ, producer and member of the E Street Band, it seemed unlikely he would ever make another solo album. Let alone one in which he rediscovered his roots, revisited his back catalog, utilized sax, trumpet and trombone again, and invoked memories of his '80s debut. But what goes around comes around, and this impossible dream has now become reality.
After an extensive build-up, promotional interviews, a recent listening party, the staggered introduction of three songs as succulent starters to precede the main course, and a release date that was delayed until September and then reinstated to mid-May, Soulfire will finally see the light of day tomorrow, ahead of an international tour that many believed would never happen again.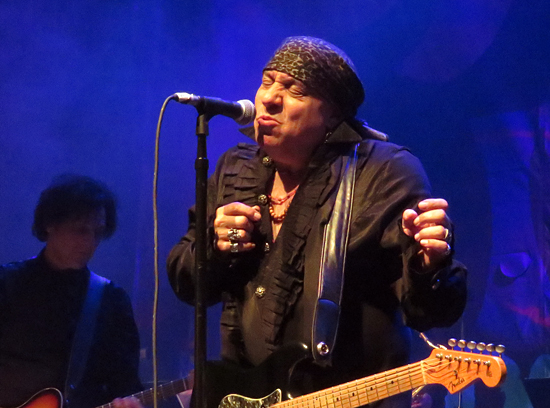 Having already wowed audiences in London, Silver Spring, and Asbury Park (and shortly to do the same in Red Bank), the Disciples of Soul wall of sound is currently being perfected in rehearsals, prior to the band hitting the road next month. In the same way as the original line-up (which included La Bamba on trombone, Dino Danelli on drums, and Jean Bouvoir on bass) stormed through Europe in the spring of 1983, performing songs from Men Without Women, the new band will be repeating history by playing the Soulfire material in venues across the continent, allowing thousands to hear this exciting music live for the first time.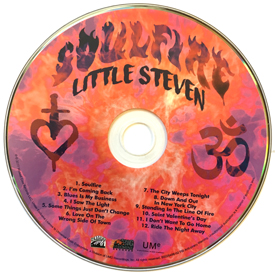 Recorded and mixed between Halloween and Christmas last year, Soulfire is 57 minutes and 12 songs long. Eight of those are Little Steven's own recordings of material that was written specifically for other artists, including the Cocktail Slippers ("Saint Valentine's Day") and The Breakers ("Soulfire"). A further two songs ("I Saw the Light" and "The City Weeps Tonight") are Van Zandt compositions that have never appeared on record before. The remaining two are cover versions of songs recorded by James Brown and Etta James. The musician credits include nine horn players (including original Disciples Ed Manion and Stan Harrison) and six female backing vocalists (including Cindy Mizelle from recent Springsteen tours), all of which adds up to one juicy prime cut of New Jersey rock and soul.
Soulfire features a big, widescreen production, the audio equivalent of IMAX, a modern-day update of Phil Spector's wall of sound. It's an album that grabs the listener by the arm, throws them roughly against a wall and demands that they pay attention while switching genres from blues to doo-wop, funk, jazz and gritty urban soul. One minute they find themselves on the mean streets of New York circa 1973, the next they're listening to an Ennio Morricone soundtrack, watching the Persuasions on a black and white TV in the dark, meeting a girl on the wrong side of town or drowning their sorrows in a late-night bar at the end of a relationship, telling nobody in particular that they don't want to go home.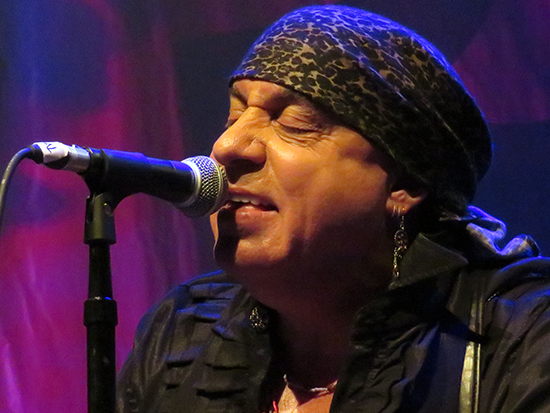 It might be argued that an album consisting of entirely new original material would have been preferable to one that largely revisits the past, but Soulfire is a record that is intended to re-introduce Little Steven as a recording artist to the world at large. It is effectively a "Best Of" collection, a musical CV that spans his four decade writing career. The album features a selection of his best (but not always his most well-known) compositions, from the comparatively obscure Gary US Bonds hit-that-never-was "Standing in the Line of Fire" to his most famous song (and the first one that he ever wrote), "I Don't Want To Go Home." The latter is one of five on Soulfire that he donated to Southside Johnny and the Asbury Jukes. Little Steven's other choices from this era are not necessarily the most obvious. "Some Things Just Don't Change" and "Love on the Wrong Side of Town" first appeared on the band's second album This Time It's For Real, while "Coming Back" and "Ride the Night Away" (originally recorded by Jimmy Barnes in 1985) are from their 1991 CD Better Days.
While the arrangements adhere closely to the original recordings, there are new introductions, different endings, and some alternative instrumentation. Small details continue to emerge with every listen. Possibly the biggest surprise is the lack of any material from the Jukes' third (and arguably best) album, Hearts of Stone. The likes of "Take It Inside," "Trapped Again," "This Time Baby's Gone For Good" and "I Played The Fool" would have fit perfectly on Soulfire. As would "Last Time" from the Gary U.S. Bonds album On The Line. Could volume two of "me covering me" be a possibility?
As it stands, the new album is a magnificent musical feast, containing subtle references to past musical eras while remaining rooted in the present. Soulfire features a bigger, bolder, badder version of Little Steven's original sound and is an important reminder, if one were needed, of how many memorable songs he has written over the years.
With appropriate acknowledgement to "Memphis Soul Stew" by King Curtis, the essential ingredients and basic recipe of Soulfire's magical musical gumbo are as follows:
1) Take one New York recording studio and fill it with recently recruited, highly talented musicians.
2) Choose first-rate original material and carefully selected covers to ensure quality.
3) Incorporate loud electric guitars, thunderous drum fills and soulful female backing vocals.
4) Stir in as many horn players as you can fit in the room and hire Ed Manion to lead them.
5) Overdub passionate lead vocals that reference Bob Dylan and Keith Richards among others.
6) Apply traditional Van Zandt production values, natural arranging talent, and attention to detail.
7) Add a little Disciples of Soul seasoning.
8) Infuse with irresistible hooks, insistent riffs and nagging rhythms.
9) Add more horns.
10) Add more guitars.
11) Add more everything.
12) Sprinkle on some Marc Ribler and Geoff Sanoff co-production effects.
13) Employ the Clearmountain and Ludwig mixing and mastering process.
14) Microwave on full volume for 57 minutes, then allow to be cool.
15) Voila! A strong contender for album of the year.
Soulfire features the sound of a well-rehearsed band that returned from the London Bluesfest concert last October, entered the studio and hit the ground running, ensuring that the songs are infused with an energy that might have been harder to create from a standing start. The recording process was completed extremely quickly, and many of the backing tracks were first takes. It's an indication of the professionalism of the musicians that multiple attempts were generally not required. Some bands would spend months trying to make an album sound as effortless as this. Among the musical highlights are the guitar solos in "Blues Is My Business" and the jazz interlude in "Down and Out in New York City," the Tom Petty-style guitar intro to "I Saw the Light," the highly unlikely but somehow perfectly appropriate spaghetti western trumpet solo in "Standing in the Line of Fire," the unexpected new ending to "Love on the Wrong Side of Town," the superb contribution made by the Soulfire horn section, and the passionate lead vocals and biting guitar work of Little Steven himself.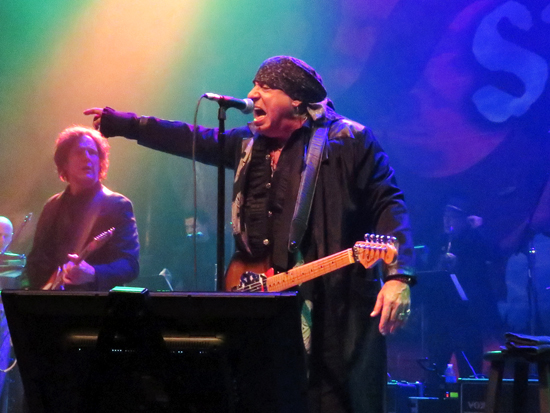 After waiting so long for such a return, fear of hyperbole be damned: Soulfire is an intoxicating, exhilarating, inspirational and life-affirming triumph, a rocket-fuelled adrenaline rush, a heady brew, a melting pot of musical genres and an essential purchase. In a world of bland product, manufactured artists, and fake news, it's the real thing. A shining beacon of quality, intensity, and emotion in a sea of mediocrity. It has loud guitars, chick singers, and a rock 'n' roll horn section to die for. The songs are written by a master craftsman and played by a band on the top of their game. Depending on your personality type, it will either make you dance, punch the air in triumph, sing loudly with headphones on and annoy your fellow passengers, cause structural damage to your apartment by turning the volume beyond maximum, or at the very least, gently tap your foot until it bleeds. A deeply satisfying, sumptuous banquet of an album, Soulfire is good enough to eat. Serve hot, smother in Dr. Van Zandt's secret recipe Disciples of Soul sauce and consume immediately for maximum enjoyment and well-being. Delicious!
Soulfire is available now on CD from Backstreet Records; a 2-LP vinyl release is expected this summer, for which we'll take pre-orders soon.
- May 18, 2017 - Mike Saunders reporting - concert photographs [3/18/17 Silver Spring, MD] by John Borden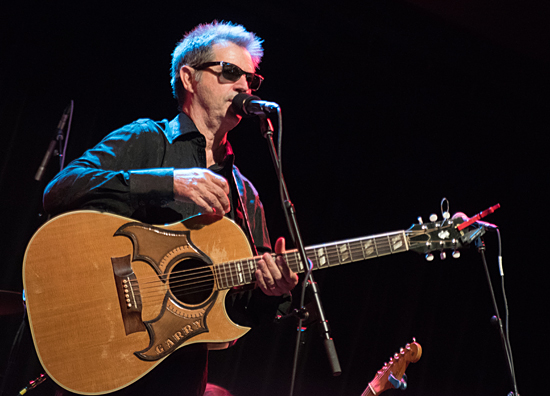 FINALLY, EUROPE IS READY FOR GARRY W. TALLENT
Garry Tallent and his band — and his personalized Gibson, and that sweet Guild — have wrapped the spring U.S. leg of their tour, with just a bit of break time before heading to England next week.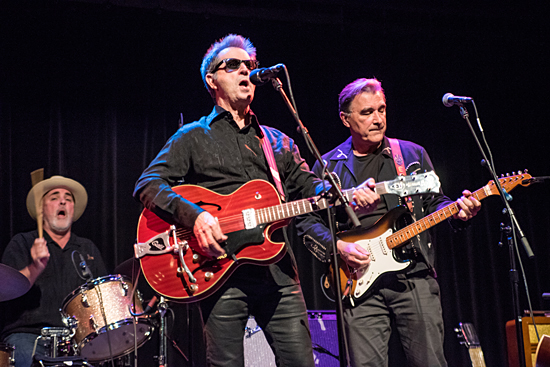 Richard Grosse took in the last U.S. gig, at the Tin Pin in Richmond on Tuesday night, telling us: "It was a great show. He was animated, funny and thankful. What a great experience. His guitar player, Eddie Angel, and drummer, Jimmy Lester, were from Los Straightjackets, and boy were they fun! Garry played his album and also slid into surf rock: he played the Tornados' 'Telstar,' songs by the Ventures, Carl Perkins, Levon Helm... way too much fun!"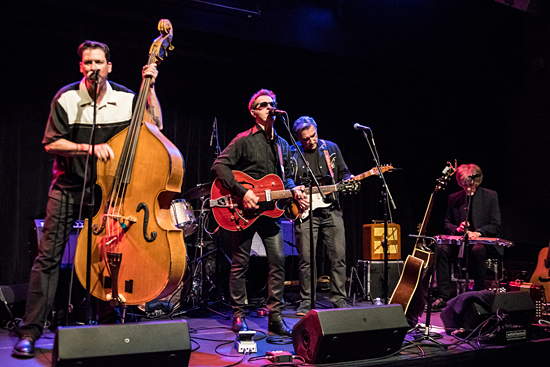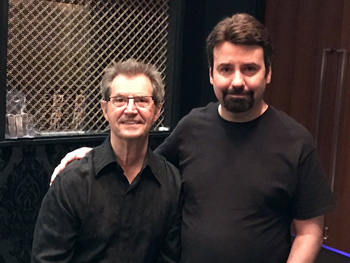 Joe Clark [right], who caught the penultimate stop in Bethesda, echoed what we've heard since the shows started a month ago: "It was a great experience seeing Garry Tallent on his Break Time tour... a solid 90-minute rocking set. Garry was very generous with his time, chatting with fans, taking photos and signing autographs after the show. I highly recommend the show to fans in Europe."
Garry's tour resumes a week from tonight, May 25 in Newcastle, with shows following in Scotland, Northern Ireland, Ireland, and back to England into June. See the full itinerary at garrytallent.com. Break Time is available on CD and vinyl LP from Backstreet Records.
- May 18, 2017 - concert photographs [5/14/17 Bethesda, MD] by Jerry Frishman

JIMMY LAFAVE WALKS TALL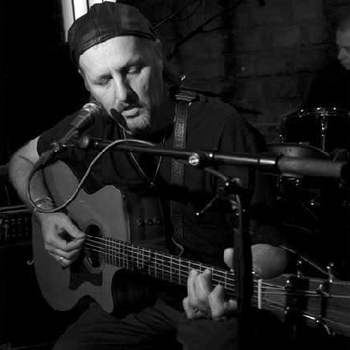 Austin, Texas-based singer-songwriter Jimmy LaFave recently revealed publicly that he is suffering the effects of incurable sarcoma. In addition to being a fine writer and performer of his own material, LaFave has established himself as one of our greatest interpretative singers, shining especially on songs by Bob Dylan and Woody Guthrie. He was invited to perform Guthrie's "Oklahoma Hills" with Bruce Springsteen at his Devils & Dust Tour's April 28, 2005 Dallas show and LaFave has since recorded his own beautiful versions of three Springsteen songs: "Valentine's Day" on 2009's Trail, "Land of Hope and Dreams" on 2012's Depending on the Distance, and "Secret Garden" on 2013's Trail Three.
LaFave also co-produced 2014's Looking Into You: A Tribute to Jackson Browne, which featured Patti Scialfa and Springsteen's version of "Linda Paloma" (along with a wonderful version of Browne's "For Everyman" by LaFave himself.)
Published in anticipation of tomorrow's sold-out Austin Paramount Theatre "celebration of the life and songs of Jimmy LaFave," longtime LaFave fan and friend Dave Marsh (who also lost his daughter Kristen Ann Carr to sarcoma) has written "Jimmy LaFave in the Present Tense" for The Austin Chronicle. Marsh's article details LaFave's greatness as an artist and his bravery as a person, as he chooses to live his shortened life to its fullest — remaining the best musician, friend and parent he can be with the time he has left — in his beloved Austin community.
- May 17, 2017 - Shawn Poole reporting - photograph courtesy of jimmylafave.com


CHASING GREATNESS
Newly minted Doctor SVZ delivers Rutgers commencement address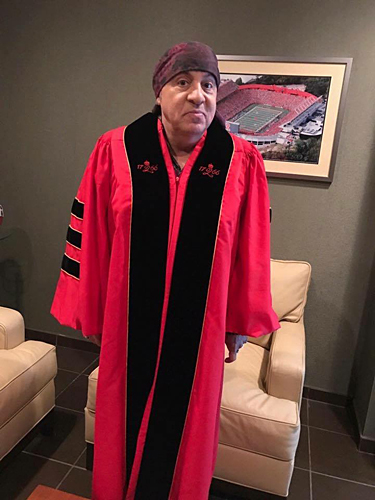 "Professor" Roy Bittan now has a real professor to share the stage with, as Rutgers University awarded Steve Van Zandt an honorary doctorate of fine arts. On Sunday morning, Dr. Van Zandt addressed a stadium full of graduates and family. He began by joking that, as he spoke, his wife Maureen was still correcting the spelling on his speech. "I finally get to go to college in my home state of New Jersey, just as my parents hoped. A little late, but a nice gift on Mother's Day," said Van Zandt, who looked heavenward and shouted, "Top of the world, Ma!"
Van Zandt did not start with his success, but with the price he paid for his political activism after founding Artists United Against Apartheid in 1985. In the aftermath, he could not find work, although he had been in one of the most successful bands in the world. "I was informally, unofficially blackballed by my industry for my political activity," he said. What did he do: "I walked my dog for the next seven years."
With time to reflect, Van Zandt considered the path that had brought him to that juncture, and he came to realize that "what truly motivated me, what inspired me, what attracted my attention, was something called greatness." Van Zandt decided in 1997 that he would devote the rest of life not to mediocrity, but to pursuing greatness. That meant getting things done, working toward something, and taking the time to get there.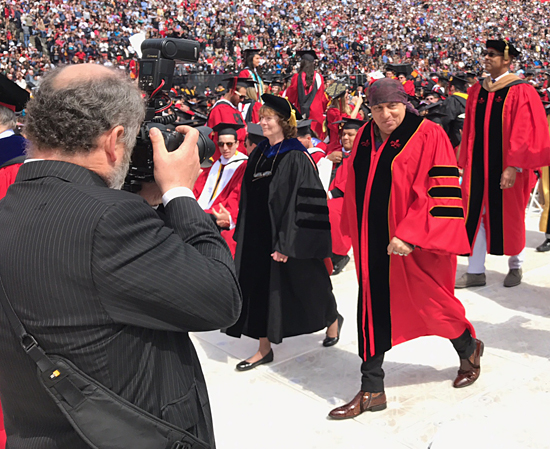 Van Zandt reflected on his post-World War II generation, who did everything. "We invented rock 'n' roll, and then we invented teenagers to dance to it," he remarked. He jested about rock 'n' roll as "a primitive ancient art form" that could still be found on YouTube, but through his Rock and Roll Forever Foundation, Steven has become one of the foremost historians and teachers of the subject. Dr. Van Zandt gave the crowd a quick tutorial. Rock, he said, was the only art form ever created half by blacks and half by whites, with contributions by Latinos and women. This new musical hybrid shaped society, an American melting pot that "would melt in the arts long before it would melt in society."
The resurrection of rock 'n' roll came with "the big bang" of the Beatles' appearance on Ed Sullivan on February 9, 1964. Everyone bought a guitar and joined a band. Van Zandt became devoted to learning the craft. But high school ended, and people disappeared — to college, to the army, to jobs. "When the dust cleared, there were only two guys left standing in New Jersey: me and Bruce Springsteen." Van Zandt confessed that while he would like to tell an inspiring story about dedication and commitment, about following one's dream, the "truth is we were freaks, misfits, and outcasts incapable of doing anything else." Both believed in the redemptive power of rock 'n' roll.
Van Zandt explained that it would take 15 years from the time they first started playing in bands until they had their first hit, a long apprenticeship. Time to develop is the key. "Greatness," Van Zandt proclaimed, "isn't born. It's developed." It is a decision to be great, a habit to commit fully and do it right. But society does not have an expectation for greatness because it does not have the time for it. Van Zandt implored graduates not to let "the desperate panic of mediocrity that is all around you uncomfortably hurry your development process.... It takes time." Van Zandt quoted the poet W. B. Yeats: "The world is full of magic things patiently waiting for our senses to grow sharper."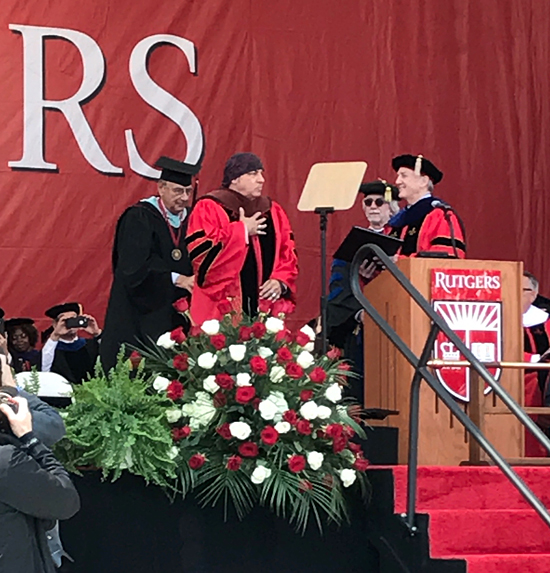 The newly minted doctor of fine arts spoke eloquently about the meaning and importance of the arts, "the common ground spiritual center of all humanity." Building with passion, Van Zandt explained that "art illuminates life.... It will tell you different things at different ages." Slow down, he advised, and your senses will sharpen. He expressed dismay that "we are the only country in the world where art is considered a luxury," calling on the graduates to change that, to put art back in the classroom and as part of the quality of life.
Van Zandt turned to his decision to leave the E Street Band at the moment of its greatest success with Born in the U.S.A., which he co-produced. After someone confronted him about American missiles in Europe, Van Zandt became a student of American foreign policy and was shocked to learn that America was often on the wrong side of democracy. He dedicated himself to "international liberation politics." He explained that while the band was getting rich and buying mansions, he was hiding under a blanket in the back seat of a car, sneaking past a military blockade in Soweto. He jokingly called himself a "schmuck."
But what he learned was that art and politics were connected, and he wrote widely about injustice and atrocity. Van Zandt helped make anti-apartheid a public issue and explained how an economic and cultural boycott would be effective. "Where is the voice of America," Van Zandt asked on his second album. He gathered 50 musicians, including early hip-hop artists, to protest. Such political activism was unprecedented, and Van Zandt made political engagement inseparable from art. Here, he said, is an equation for revolution: "have a righteous cause, do the research, organize, strategize, and execute." We did it once, he thundered, so it can be done again. And more than ever, it needs to be done with the environment, which "is under attack like never before."
Van Zandt closed by returning to his seven-year exile, which ended when David Chase called and offered him a role on The Sopranos, where he became good friends with James Gandolfini, a Rutgers graduate. Van Zandt transferred his high standards from music to acting. "Off I went," he said, "doing what I do best — chasing greatness."
He implored the graduates to be open to unexpected opportunities, to keep their standards high, to compare themselves to the best, to do their homework, to do what they love, to shut out negative voices, to not tolerate mediocrity, to have pride, to slow down, to give back. Not least of all, he advised, have some fun.
- May 14, 2017 - Louis Masur reporting


WRONG SIDE OF TOWN REVISITED
The third preview track from Soulfire, out next week — pre-order now!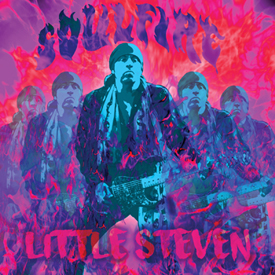 Originally recorded by Southside Johnny for the 1977 Asbury Jukes album This Time It's For Real, "Love on the Wrong Side of Town" was written by Bruce Springsteen and Steven Van Zandt. Here, Stevie revisits the song for his forthcoming Soulfire, which is just around the corner.

"Bruce had the riff and I did the rest," says Van Zandt. "When you wrote, arranged, and produced the original versions, it's not always easy to redo them. They become definitive. You did it that first way for a reason. I found it difficult to do much with this one, but when we got to the end of the song I found an opportunity to change it up a little bit. I changed little things here and there on all the songs on the album but it definitely took a minute."

If you haven't already, you can also hear "St. Valentine's Day" and the album's title track online.

Soulfire will be released on Friday May 19. Pre-order the CD now, which we'll be shipping out next week to Backstreet Records customers. We'll also be taking vinyl pre-orders soon, with the 2LP set expected in July.
- May 12, 2017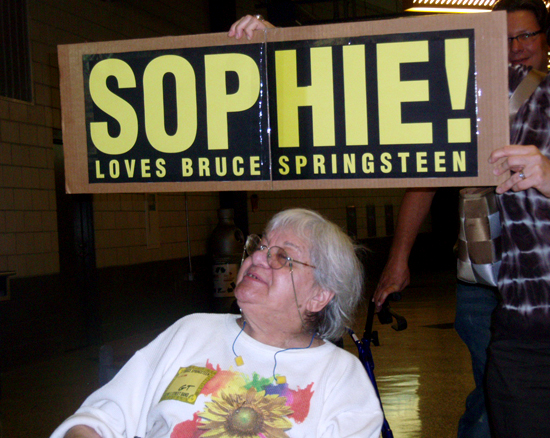 THROWBACK THURSDAY: SOPHIE & THE SATANOVSKYS
Chuck Berry isn't the only St. Louis legend who gets saluted posthumously on the most recent archival release Scottrade Center, St. Louis 8/23/08. The late, great Sophie Satanovsky, who died earlier this year at 92 and was in the audience for Springsteen's 2008 concert, got not one, not two, not three, but FOUR shout-outs from Bruce during the show. As heard on the official live.brucespringsteen.net recording:
"Rendezvous" (1:11 mark, during the sign-collection sequence): "'Sophie, I love you.' Love it."
"Livin' in the Future" (0:47 mark, during the intro): "Miss Sophie!"
"Mary's Place" (0:47 mark again, during the intro): "Sophie, are you ready for a house-party?!"
"Little Queenie" (7:24 mark, leading into "Twist And Shout"): "We're gonna do one for Sophieee!... for Sophie!"
Sophie Satanovsky was the mother of the two Springsteen fans, siblings Lisa and the late Steven Satanovsky, who famously encountered Bruce at a St. Louis movie theater on an off-night for the River Tour in October 1980. Springsteen talked about the encounter in an interview with Dave Marsh that was conducted shortly thereafter and is now archived at Marsh's website. (Bruce confused St. Louis with Denver in that interview, most likely since Denver was his very next stop on the 1980 leg of the River Tour.)
Went to the movies by myself, walked in, got my popcorn. This guy comes up to me, real nice guy. He says, "Listen, you want to sit with me and my sister?" I said, "All right." So we watch the movie (laughs). It was great, too, because it was that Woody Allen movie – [Stardust Memories], the guy's slammin' it to his fans. And I'm sittin' there and this poor kid says, "Jesus, I don't know what to say to ya. Is this the way it is? Is that how you feel?" I said, "No, I don't feel like that so much." And he had the amazing courage to come up to me at the end of the movie, and ask if I'd go home and meet his mother and father. I said, "What time is it?" It was 11 o'clock, so I said, "Well, OK."

So I go home with him; he lives out in some suburb. So we get over to the house and here's his mother and father, laying out on the couch, watching TV and reading the paper. He brings me in and he says, "Hey, I got Bruce Springsteen here." And they don't believe him. So he pulls me over, and he says, "This is Bruce Springsteen." "Aw, g'wan," they say. So he runs in his room and brings out an album and he holds it up to my face. And his mother says (breathlessly), "Ohhh yeah!" She starts yelling. "Yeah," she starts screaming.

And for two hours I was in this kid's house, talking with these people. They were really nice. They cooked me up all this food, watermelon, and the guy gave me a ride home a few hours later.

I felt so good that night. Because here are these strange people I didn't know, they take you in their house, treat you fantastic and this kid was real nice. They were real nice. That is something that can happen to me that can't happen to most people. And when it does happen, it's fantastic. You get somebody's whole life in three hours. You get their parents, you get their sister, you get their family life, in three hours. And I went back to that hotel and felt really good because I thought, "Wow (almost whispering), what a thing to be able to do. What an experience to be able to have, to be able to step into some stranger's life."
Sophie Satanovsky appeared in this 1988 St. Louis TV news feature (which, like Bruce's version of the story, got one of its facts wrong: Springsteen met the Satanovsky family in 1980, not 1981). In it, Sophie noted that Bruce asked her to call his mother and tell Adele Springsteen that her son had a nice, home-cooked meal:
Sophie attended many St. Louis-area Springsteen concerts over the years and always got special on-stage nods of recognition and appreciation from Bruce and the band. Her passing earlier this year makes daughter Lisa Satanovsky the only surviving member of the family whom Bruce Springsteen encountered on that legendary 1980 evening. Yet now, thanks to the release of Scottrade Center, St. Louis 8/23/08, the legacy of the Satanovskys lives on. Rest in peace, Miss Sophie, Irv and Steve Satanovsky.
- May 11, 2017 - Shawn Poole reporting - photograph and additional information courtesy of Jack Eisen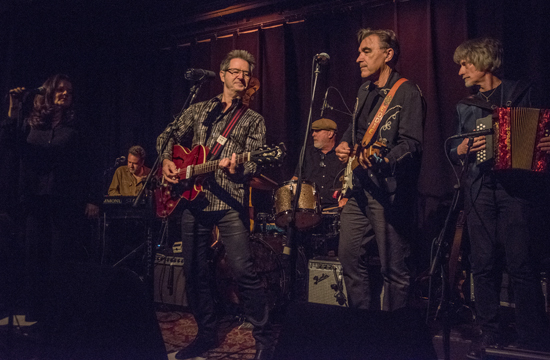 "I'M JUST GETTING WARMED UP!"
Garry Tallent's Break Time tour, Somerville, MA, 5/6/17
You know him on stage as the unassuming one to Bruce's left. Affectionately introduced as "MISTER Garry DOUBLE-YA Tallent," he stands poised, well dressed, and delivers what has been termed as the "Foundation of the E Street Nation," his bass providing the bottom line that the sound of the tightest and greatest live rock band of all time is built upon.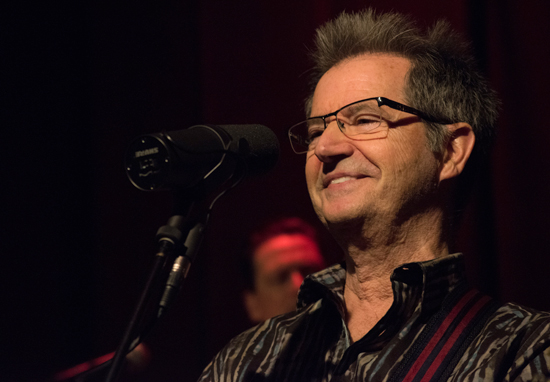 For 45 years Garry W. Tallent has been the bedrock of the E Street Band sound and today remains the only member of the band's original line up. Bass players seem historically content to remain quietly in the background, and Garry has been no exception. So after all that time, as he shifts to guitar for his first solo album and tour, experiencing Garry as a frontman and bandleader is a treat in itself — an unexpectedly delightful and engaging one, of pure entertainment and musical mastery.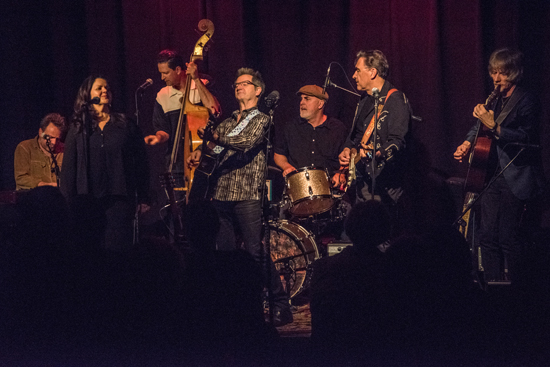 Like many bands that have become the staple of our collective musical experience, individual members often take breaks to explore musical side projects and other endeavors. Hence Garry's release, Break Time, is titled appropriately. But as we know with the E Street Band, its members rarely know when break time really comes.
So there is no complaining when Garry Tallent takes his break in the form of producing and recording a wonderful mixture of rockabilly, Cajun and good old rock 'n' roll and puts together as talented a bunch of musicians as you could possibly find to bring that sound to you live.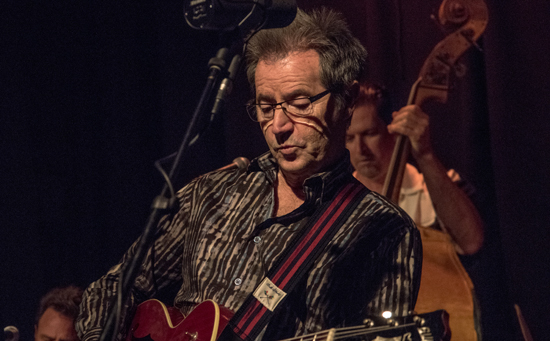 Saturday night at the Rockwell in Somerville, Massachusetts was just that and more. For not only were we entertained to hear Garry play his latest release in its entirety, but we were also treated to Garry Tallent as the frontman and musical leader. Joking around, totally engaged with the audience, and enjoying himself throughout the night, this was pure juke-joint, rockin'-and-rollin' music, served up club style in an intimate environment with an audience totally on board and enthralled. So much so that after his second encore, knowing that the evening had to end, Garry turned to the audience and said, "I don't want to stop. I'm just getting warmed up!"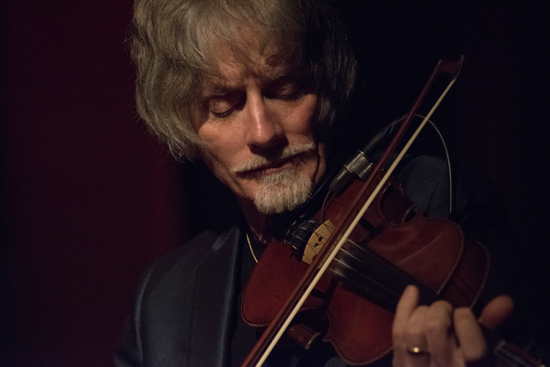 Garry has surrounded himself with a ensemble representing some of Nashville's best whose collective talents represent a range of eclectic genres. Consider drummer Jimmy Lester of the original Los Straitjackets, a Nashville-based surf band. Add in the marvelous husband-and-wife team of soulful singer Kristi Rose and multi-instrumental talent Fats Kaplin on fiddle, tenor banjo and steel guitar (together they're known as Pulp Country). Then sprinkle in the bluesy piano of Kevin McKendree and finally serve up the rockabilly stand-up bass playing of Mark Winchester, and you've got one of the more genre-busting collections of talent that's on the road to today. As some would say, and I know the band would agree, a good time was had by all. Especially Garry.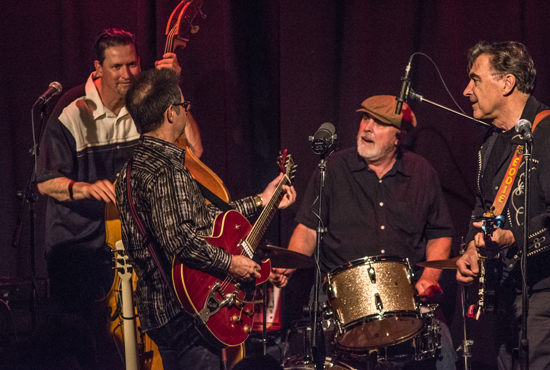 Garry's next stops are the Ardmore Music Hall in Philadelphia tomorrow, and what's sure to be a highlight on the tour, a homecoming at The Stone Pony in Asbury Park on Friday. See the full schedule at garrytallent.com.
- May 10, 2017 - report and photographs by Barry Schneier

RESERVE YOUR COPY OF FURTHER UP THE ROAD NOW
Pre-ordering is open now for Frank Stefanko's Further Up the Road in our online shop. Choose an edition below to reserve your signed/numbered copy of the very limited photography book, to be published in November by Italy's Wall of Sound. The Collector edition is $380 plus shipping, and the Deluxe edition (including a signed and numbered exclusive print) is $630 plus shipping.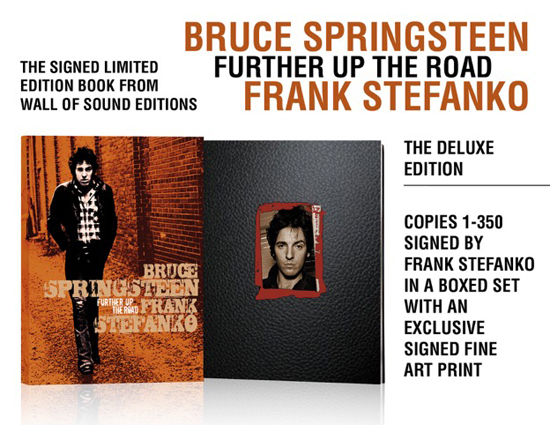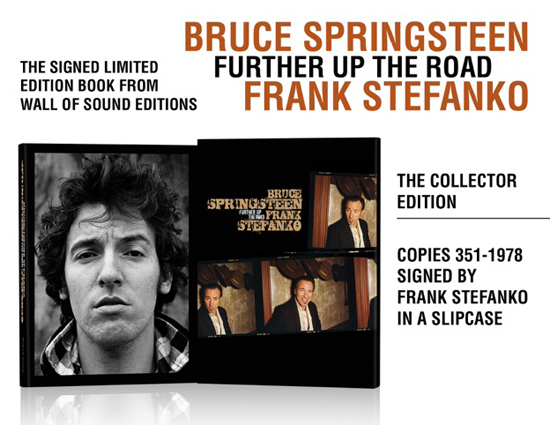 - May 8, 2017


FRANK STEFANKO TAKES US FURTHER UP THE ROAD
Ltd. photography collection due late 2017, preordering starts next week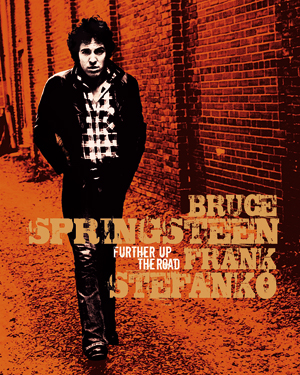 In November, Wall of Sound Editions in Italy will publish Bruce Springsteen: Further Up the Road, a lavish collection of Frank Stefanko's 40 years of Springsteen photography, from 1978 to 2017.
Next week, Backstreets and Morrison Hotel Gallery will be the only two retailers in the U.S. taking pre-orders for this monumental anthology — that begins on May 8. In the meantime, a preview.
Stefanko, of course, shot the cover images for both the Darkness on the Edge of Town and The River albums, as well as the "Corvette Winter" photograph that graces both Chapter and Verse and the Born to Run memoir. Further Up the Road will feature more than 400 photos from Frank's archives. It is the most comprehensive overview of his work to date, including even early concert photos of Janis Joplin, the Rolling Stones and more, stills from Southside Johnny's Hearts of Stone album cover shoot, and images from very early NYC shoots with Patti Smith and other artists.

But Frank's work with Springsteen forms the heart of this anthology. Besides his classic photos of Bruce from 1978 (Darkness and River sessions) and 1982 (Nebraska session), and a treasure trove of outtakes from those sessions, the book also presents a never before published photoshoot with Bruce at his house in Colts Neck from 2004, a selection of never before published concert photos from Bruce's 2012 and 2016 tours, and snapshots from the 2016 Born to Run book celebration party. The cherry on top: just a month ago, Frank was granted a new photoshoot with Bruce at his recording studio in Colts Neck, especially for inclusion in Further Up the Road.
Bruce Springsteen has written the introduction for the new book. Further Up the Road also features forewords by fellow Springsteen photographers Danny Clinch and Eric Meola, and extensive insightful text by Frank.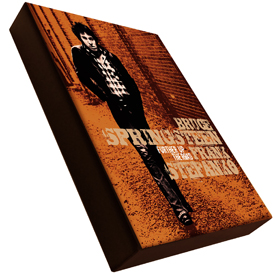 A high-quality, very llimited edition, there will only be 1,978 copies made. Of these, 350 will be Deluxe editions and the remaining 1,628 will be Collector editions.
The Deluxe edition (copies 1-350) will cost $630 plus shipping. It will come in a special box with a unique 10x11" signed/numbered fine art print. The printed image will be exclusive to Further Up the Road and will not be available otherwise.
The Collector edition (copies 351-1978) will cost $380 plus shipping and will be housed in a slipcase.
Both editions will be signed and numbered by Frank Stefanko.
Watch this space, and/or follow us on Twitter, for next week's pre-sale.
- May 5, 2017

MORE EXCLUSIVE PLEDGE PERKS FOR CLARENCE CLEMONS DOC
Last week, the director and producer of Clarence Clemons: Who Do I Think I Am? hooked us up with some special perks for their Indiegogo campaign. Now they're back with a few more. A big one: they've added some additional slots for the exclusive $75 discount on the Secretary of the Brotherhood package ($275 instead of $350), after the first batch was snapped up... and here some more very limted "secret" pledge perks for Clarence fans among our readership who'd like to back the project this week: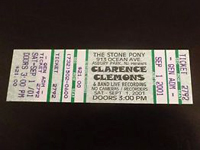 BACKSTREETS ONLY: $175 Intact ticket to see Clarence Clemons at the Stone Pony
ONLY ONE AVAILABLE
Original ticket from September 1, 2001 for Clarence's live recording at the Stone Pony in Asbury Park, NJ
Advanced Digital Download of the film
Thank You Credit
DVD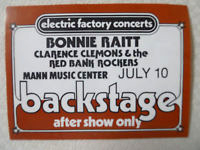 BACKSTREETS ONLY: $150 Backstage credentials: Bonnie Raitt with Clarence Clemons and the Red Bank Rockers
ONLY TWO AVAILABLE
2 backstage passes (unused) to Bonnie Raitt, Clarence Clemons & the Red Bank Rockers, from Mann Music Center (Philadelphia)
Advanced Digital Download of the film
Thank You Credit
DVD
Many other general-public perks are also available to support the film, beginning as low as $15 for early access to a stream of the film and $25 for an advance download. See the full Indiegogo campaign here.
- May 4, 2017


THE FOURTH IS STRONG WITH THIS ONE
This bumpersticker ships FREE with ANY order placed today from Backstreet Records. No coupon required. May the 4th be with you.
- May 4, 2017


POSITIVELY 1105 E STREET: DAVID SANCIOUS ON THE BRUCE BRUNCH
Sancious announces "Treehouse" performance series in Woodstock, NY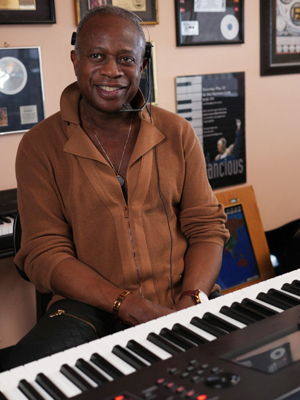 Introducing his latest guest on 105.7 The Hawk's Sunday morning Bruce Brunch, DJ Tom Cunningham called it "an interview that I've been preparing for since 1973." It was keyboard whiz kid and original E Streeter David Sancious in his first appearance on Tom's show, and you can listen above. They discuss Davey's history with Springsteen, from their original Upstage days to last week's Upstage all-star jam: "It was great to play with Bruce again for a while... it was wonderful."
The two also talk about David's special summer concert series that begins this weekend: "The Treehouse Concerts" will be presented in the Rock and Roll Hall of Famer's studio/recital space in his Woodstock, NY home.
As a press release states: "The concerts will run throughout the summer every Saturday and Sunday at 4:00 pm. On occasion, guest artists will join David. The concerts will be followed by a Q&A session with photo and autograph opportunities and post-concert refreshments overlooking a panoramic view of the Hudson Valley."
The schedule so far:
May 6 & 7 - Solo Piano / Solo Synthesizer
May 13 & 14 - Improvisation Duo with Joe Bonadio
May 20 & 21 - Blues Guitar "A Brief History of The Blues" part 1
May 27 & 28 - Solo Piano / Solo Synthesizer
June 3 & 4 - Blues Guitar "A Brief History of The Blues" part 2
June 10 & 11 - Improvisation duo with Will Calhoun from Living Color
June 17 & 18 - Solo Piano / Solo Synthesizer
The setting is "very intimate," with each performance limited to 45 seats. Click here to purchase tickets.
- May 3, 2017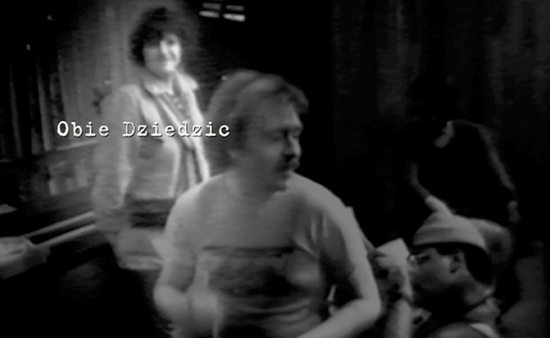 REMEMBERING OBIE DZIEDZIC, "FAN NUMBER ONE"
It was about 1:30 a.m. on Sunday, September 23, 2012 at MetLife Stadium in East Rutherford, NJ. Bruce Springsteen and the E Street Band's Saturday show had crept into Sunday morning due to delays from thunderstorms, giving the 55,000 fans a chance to celebrate Bruce's actual 63rd birthday with him. A giant birthday cake was brought out, everyone sang "Happy Birthday," and Bruce then cut the cake. He brought the first piece to Obie Dziedzic, who was in her normal spot, front and center.
"The first piece goes to Obie, our first fan, right there, " said Steven Van Zandt.
Bruce followed with, "Obie, we love you. Obie was following us when we were 16. We love you, O!"
It was a special moment, one of hundreds Obie shared with Bruce Springsteen for more than 45 years — actually starting when Bruce was 18, not 16, but it sure seemed that way. Bruce called her his "first fan" and "Fan No. 1."
Obie Dziedzic — pronounced "Je-zitz," to answer a question she was often asked — passed away early Monday morning after being ill for the past couple of months. She was a friend to not only Bruce and the E Street Band, Southside Johnny and the Asbury Jukes, but to musicians and music fans around the world.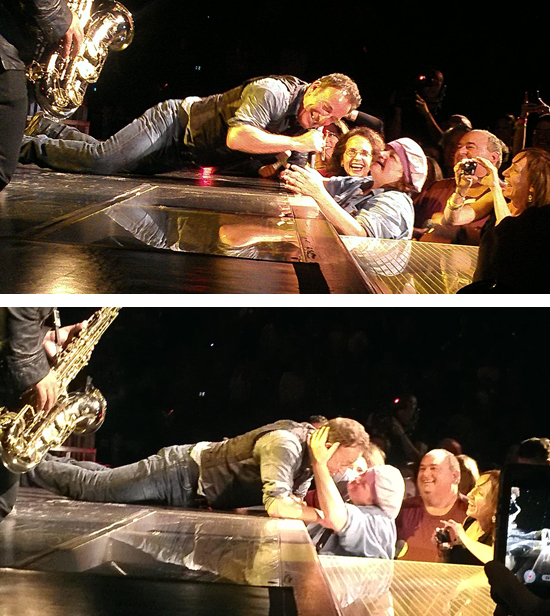 - Hartford, CT, 10/25/12 - Photographs by John Funaro
Obie, known as "O" to her close friends, grew up in Long Branch, NJ and loved music. She attended tons of shows at Asbury Park's Convention Hall, seeing The Rolling Stones, The Doors, The Who, and so many more in the 1960s. But it was one afternoon in 1969 at Long Branch's West End Park, which is still there today at the corner of Brighton and Ocean avenues, that she first saw the young musician who would change her life forever.
"There he was, this Adonis," Obie once told me. It was a then-18-year-old Bruce Springsteen leading the band Child.
Obie saw rock and roll future even before Jon Landau. Right away, she was drawn to this talented, handsome musician and made sure to see him perform anywhere and everywhere. Later when Bruce was in Steel Mill, Obie would bring pizzas to the surfboard factory in Ocean Township, NJ, where they were living. Yet she was too shy to stick around until she got to know Carl "Tinker" West, Steel Mill's manager, who befriended her. Soon she was friends with Springsteen, Van Zandt, Vini Lopez, Danny Federici, and many other musicians. She attended every Steel Mill show she could, standing in line for hours to make sure she was at the front of the stage.
Obie was a fixture at the Upstage in Asbury Park. She later saw Dr. Zoom and the Sonic Boom, and she was there the night Clarence Clemons walked into the Student Prince in Asbury Park to play with Bruce for the first time in 1971. She would drive Bruce to those Student Prince gigs too, although she said on Saturday nights she did have to watch The Mary Tyler Moore Show first.
Driving around the Jersey Shore with Obie was always a treat, as she had so many stories to share. "See that there? It used to be a Carvel," she said, pointing to a building on Ocean Avenue in Long Branch. "That's the place where Bruce told me he had his first album coming out. Garry Tallent used to live in those apartments right across the street." When Greetings from Asbury Park, N.J. was released in January of 1973, Obie found an autographed copy left for her on her doorstep.
When Bruce started to tour with the E Street Band in the early 1970s, playing some theaters, Bruce made sure she was still always up front, promising her, "Obie, whenever and wherever I play, you will always have the two front-row center seats." It was a promise Bruce always honored, for more than 40 years. When Bruce and the E Street Band used a general admission setup on the floor, his security director made sure Obie was in her normal front-row spot. She always wanted to be on the same side as Bruce and Steve.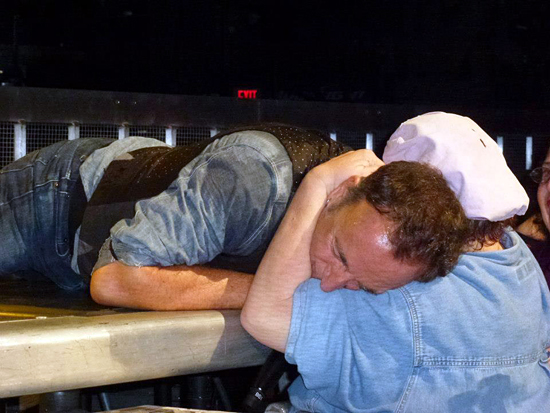 - Hartford, CT, 10/25/12 - Photograph by Lori Davidson
In recent years, she had one firm rule. She did not want Bruce to know she was at a show. She wanted to surprise him when he took the stage. At the April 20, 2016 show in Baltimore that I was fortunate to attend with her, we made a little bet on how long it would take Bruce to see her. It was Obie's first show since that 2012 birthday show. I said second song; she said not until a few songs in. We were both wrong. When Bruce took the stage, he made eye contact with her immediately. A huge smile lit up his face. It was a thrill to watch this bond between the two of them. You can hear Bruce give many shout-outs to Obie on the live recordings from over the years.
Bruce's former tour manager Bob Chirmside shared this post on Facebook:
For the five years I worked on the road with Bruce Springsteen as his road manager we held two front row tickets for Obie at every show. And I mean every show! Promoters knew better than to screw this up. Everywhere from Philly to San Diego those two seats were held by Bruce according to his wishes and the band's rider. It was always good to see Obie in those seats, and it put a smile on Bruce's face having a special someone to play to. Bruce couldn't have asked for a more loving fan. But Obie was much, much more than a fan. During the time I lived with Bruce, Obie altered and sewed his clothes, did errands, and made Bruce his meals. Obie took incredible care of him. Obie loved Bruce and got to see a side of him that few of us rarely do. On a side note. If you're wondering what happened to the front row tickets if Obie didn't attend. Well, 15 minutes before the show began, I quickly exited the venue and gave the tickets to someone that wasn't able to buy tickets. Most people couldn't believe it was for real. It felt good to put smiles on faces. Thank you Obie for the good memories!
"She was hired by Steven first. He needed an assistant at Miami Productions, and he hired her in 1975 when the Jukes got signed and recorded their first LP," said Billy Smith, a historian and Obie's longtime friend. "Steve needed someone at home in Asbury Park to run things while he was touring with Bruce. While she followed Bruce's tours as a friend/fan from the beginning, she didn't work for Bruce until the Darkness tour in 1978. On the road she did everything: coordinated guest tickets, sewed their clothes, cooked, etc. Anything that needed doing, she did it. A personal assistant to everyone."
If you listen to Southside Johnny's live version of "Having a Party," you'll hear the line, "Obie's doing the twist."
Not only did Obie help out Bruce, Steven, and Southside, she was there for John Eddie, John Cafferty and the Beaver Brown Band and others when they were first starting out. She was a fixture on the Jersey Shore bar scene in the 1970s and '80s and always, always friendly to fans. You could go right up to Obie and talk about music, Bruce, Southside. She was also close friends with Peter Wolf.
When the discussion comes up as to who has seen the most Bruce shows outside of Bruce himself, the answer is pretty easy: Obie. She was there for all ten nights of the legendary Bottom Line shows in August of 1975. She even drove Bruce to some of those shows. "We hit traffic on Route 36 in Eatontown headed out toward the Parkway and I was a mess," Obie told me. "But Bruce was as calm as could be."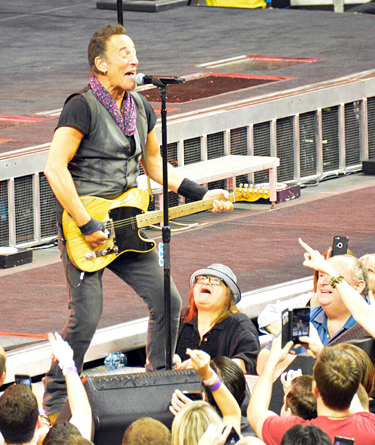 [Right: Photograph by Ken Grille]
Obie, who lived for the past 16 years in Neptune, NJ, never gave an interview; her loyalty was 100 percent to Bruce. She was never, ever going to say anything which might upset him. She had, however, been working on a book, which sadly will never be written now. I was fortunate to have her read to me some of the stories that she was going to include. They were a delight to hear: How she and Bruce would go to the drive-in movie theater In Eatontown, NJ, and put a sofa in the back of his white pickup truck and sit back and enjoy the night. Another was when she was helping Bruce move into a house on Navesink River Road in Middletown in the early 1980s — she swears she saw and talked to a ghost!
Bruce mentioned Obie in his recent autobiography, Born to Run. He told the story how she was with him and Steve and Maureen Van Zandt when they weren't allowed in Disneyland or Knott's Berry Farm in the early 1980s because Bruce and Steve were wearing bandanas.
He also gave Obie credit for helping him select one of two versions he had of "Racing in the Street." Bruce told this story before playing it at the April 22, 2005 Devils & Dust show at the Paramount Theatre in Asbury Park:
I had two different endings. I'm going to dedicate this to you tonight, Obie. My oldest fan is here tonight and I love her very much. This is Obie Dziedzic — a round of applause, the woman's been around since forever.

There were two people that actually helped me with writing the end of this song, and Obie was one of them. I had an ending where there's the two guys, but I had another ending where a woman enters the picture, and I played 'em both for Obie.

Obie said, "I like the one with the girl." I said, "Okay, that's that." Then I played one for Steve, and Steve says, "Well, the one with the girl is what really happens. You got your pals and got the boys' club, and it lasts for a while, and you try to play down all the homoerotic stuff."

I'm gonna do this tonight for Obie. I love you, and thanks for the help.
Bruce told a similar story in the 2010 documentary The Promise: The Making of Darkness on the Edge of Town, in which you can also spot Obie at the 58:49 mark.
There are so many good things to say and write about Obie — the tributes have been pouring in on social media — one of the best is from photographer Lynn Goldsmith. Obie told me this was the best description about her devotion to Bruce that she ever read about herself. To those who had the privilege to know her, it describes her perfectly:
"The girl with her head down is Obie," Goldsmith wrote, describing her 1978 photograph of Springsteen collapsing into an overjoyed crowd. "She was Bruce's biggest fan. She was there when they couldn't sell out a small club. She devoted herself free of charge to washing their clothes and doing whatever needed to be done. She did not get paid except with front row seats and the joy of knowing that she was making it easier for Bruce to be Bruce with her unconditional love. I wished I could have been like her. She inspired me because she was able to give with no strings attached. She gave freely because she believed in the power of love."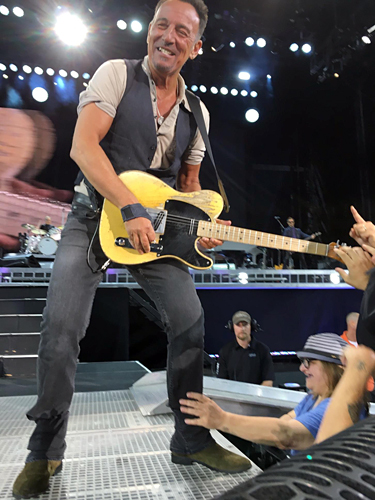 Obie was able to see several shows in the spring and summer of 2016. She was at both Brooklyn shows in April and attended all three MetLife Stadium shows in August. Her final show was on September 14, 2016 at Gillette Stadium in Foxborough, MA.Looking back, it may be fitting this was her last concert, as she told me, "That was the best Bruce Springsteen show I have ever seen."
[Right: Foxborough 9/14/16, photograph by Jeannette Sznajderman]
The final time Obie got to see Bruce on stage was at his conversation with Bob Santelli at Monmouth University in West Long Branch, NJ, on January 10. After the talk, Obie saw that Bruce's coffee cup was still on the little table on the stage. She said to me, "Get that for me!" and I was able to have someone hand it to me. I gave it to Obie. She had one more souvenir. One of the organizers of the event later said to me, "We noticed one of the cups was missing!"
Soon after that, Obie started to not feel well, and she was in and out of the hospital for a couple of months. Bruce, Steve and Maureen, John Eddie and many others made sure to visit her. Once when I checked in at the desk to get a pass to see her in the hospital the guard asked me, "Are you famous? It seems everyone who has been going up to see this patient is famous."
He was wrong. It was Obie who was famous.
Right now she's sitting in the front row in heaven, watching Danny and Clarence play away.
- May 2, 2017 - Stan Goldstein reporting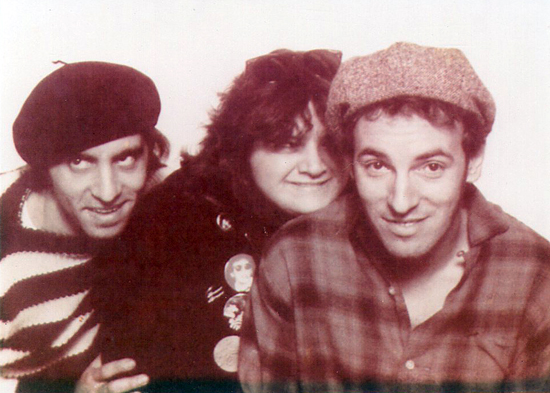 YOU KNOW SHE'S GOT A HELL OF A SEAT
Here at Backstreets HQ we're saddened by the death this morning of Obie Dziedzic, Bruce Springsteen's "first fan": she closely followed his various bands beginning in the late '60s, eventually becoming his cook and personal assistant (Stevie's too) and, most famously, a lifetime front-row-center invitee. In a world in which "superfans" are often infamous, Obie was merely legendary. Our sympathies to her family and many dear friends.
- May 1, 2017 - photograph courtesy of Billy Smith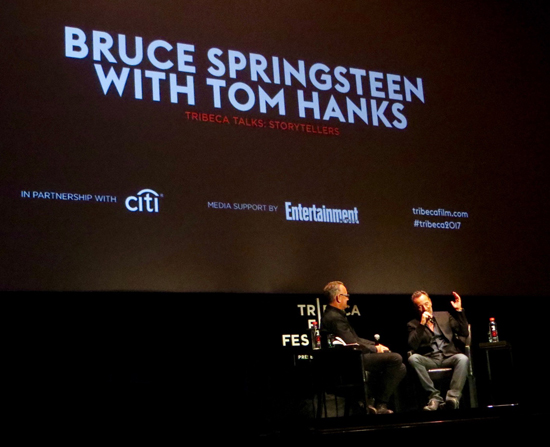 "THIS IS UNCHARTED TERRITORY FOR BOTH OF US, BRUCE"
Tom Hanks and Bruce Springsteen, Tribeca Talks: Storytellers 4/28/17
Walking onto the stage to uproarious applause and a hearty dose of "Broooce"-ing, Tom Hanks and Bruce Springsteen sat down at the Beacon Theater on Friday evening as part of the Tribeca Film Festival's "Storytellers" session. With mock ostentation, Hanks unfurled a reasonably hefty sheaf of notes on the table next to him. He referred to his notes from time to time but, regrettably, did not make sufficient inroads into them during the course of what felt like the world's shortest one-hour conversation.
Celebrities interviewing other celebrities is the kind of scenario that usually sounds like a good idea but in practice rarely pans out. This conversation was an exception to that rule, as it was interesting, informed, and thoroughly enjoyable. Of course, Hanks and Springsteen are longtime friends, but the actor had several other things going for him that ensured his success. One, Hanks is a rabid rock 'n' roll fan (watch his induction of the Dave Clark Five into the Rock and Roll Hall of Fame some time.) Two, while he came prepared with notes, he had the all-too-rare ability to listen to Bruce's answers and follow up, which caused Bruce to go off-script from his typical responses. Three, Hanks is, in many ways, more famous than Bruce Springsteen, and as such, he walked onto the stage with far more confidence than the most experienced writer would ever have. He was not cowed by his subject. Four, as a fan, Hanks definitely wanted answers to certain questions for his own satisfaction. He was not afraid to push Bruce — who, with no guitar to hide behind, spent most of the interview staring at his feet while he talked — and managed to surface a few small revelations.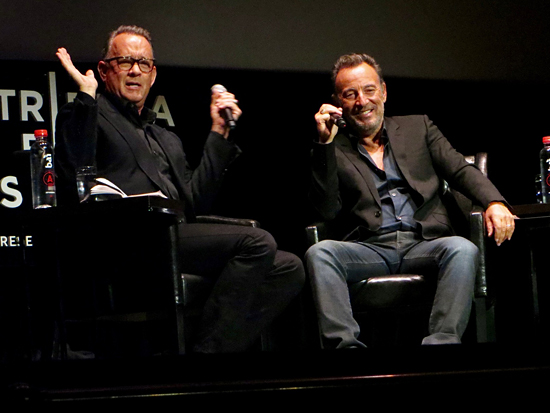 Hanks also seized on the opportunity to be onstage in front of a mostly rock 'n' roll crowd by engaging in the occasional call and response, shouting out a line of a lyric and asking the crowd to finish it. He first asked how many people had read Born to Run. After being satisfied by the enthusiastic response, he continued: "All right, in that case, we're going to have a little bit of an occasional call and response here for the crowd. Just to get a gauge of how hip the seat-fillers are. I'll quote a lyric, and you complete the lyric," Hanks said before shouting out, "My machine, she's a dud, out stuck in the mud…" and receiving the crowd's enthusiastic response, "Somewhere in the swamps of Jersey!" ("One of my best lines," Bruce would note.) This was a source of endless amusement for both Hanks and Springsteen, with Bruce deciding to try to stump the crowd later on by quoting a line from "The Judge Song" by Steel Mill (which got a respectable response, considering). Later, after Hanks threw out the opening line to "The Ties That Bind" for the audience's reply, Bruce laughed, "I am going to start doing this live myself!"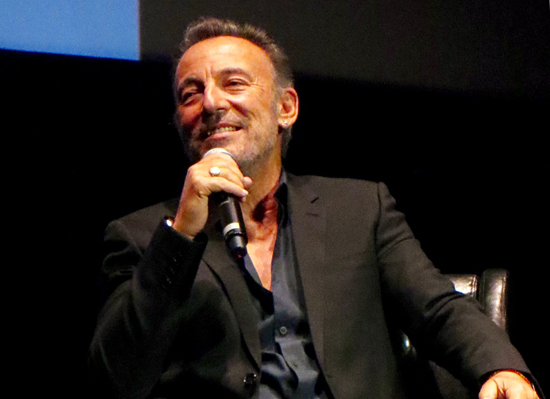 Hanks began by invoking the late Jonathan Demme, noting that "the strongest union of our two names is for the motion picture Philadelphia." Springsteen responded, "He was such an inspirational guy. You know, no Jonathan Demme, no Philadelphia, and no 'Streets of Philadelphia.'"
"Well I have to tell you," Hanks replied, "if you ever want to have a great moment in a motion picture, walk out a door and make sure they just put up a Bruce Springsteen song on the track."
The rest of the conversation followed a loose outline using Born to Run as the guidelines, Hanks consulting his notes and making giant leaps from era to era as he realized how the time was getting away from him.
Bruce was happy to be the straight man, bouncing off of Tom's set-ups, such as this one, coming off of the "Rosalita" call and response:
Hanks: Now, for those of us who grew up on the west coast and had never been to New Jersey, we were stunned to find — there are swamps in New Jersey?

Springsteen: Yes there are. We call it the Meadowlands.
Hanks' enthusiasm got Bruce to warm up and play with the audience as well. As Tom guided Bruce towards a recollection of his childhood, noting Adele Springsteen's love of the radio, Bruce replied, "I mentioned in the book, we'd go out on trash night, and we'd go through every trash can in Freehold, New Jersey, and we'd pick out anything electric." There were pockets of applause from the audience. "Is that for trash, or is that for Freehold, New Jersey?" Bruce asked, giggling, before continuing: "So we'd pick out anything electric, we'd take it back and get a little shed off the side of the house. And he'd just go in there and he'd work on all these old radios. And so for all through my... I was five, six, seven, eight, nine... all I remember is these things crackling to life and hearing music come out of them and preaching come out of them and the radio shows come out of them."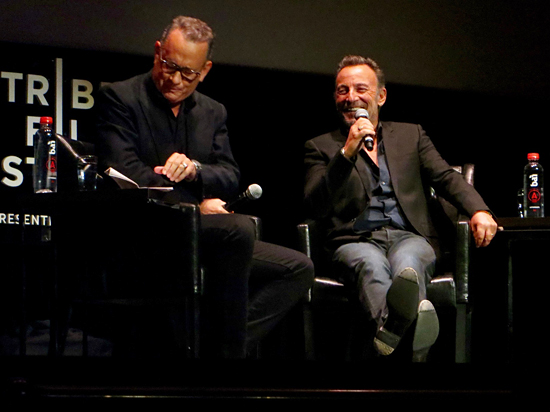 Despite his comfort with his interviewer, Springsteen was still not ready to answer everything. Hanks asked, "If you hadn't been dazzled by the music that came out of the radio, where would you have gotten your first job? How would you have paid your first FDIC taxes?" Bruce listed the few jobs he had as a teenager, and then, just as he was musing, "Where else I would've gone? I don't know, I might have just…" sirens went by the theater outside, and Bruce used it as an escape hatch: "They're coming for me now," he said, laughing it off.
Hanks began a discussion of Springsteen's first band, mentioning that he'd gone through the archive, looking for "a photographic image of Mr. Bruce Springsteen that would, in its entirety, capture everything one needed to know about this man's approach to what he does for a living. His connection to the audience, as well as his understanding of what that audience needs in their lives and what that job does for him."
Bruce turns around to the screen with a visibly wary look on his face. Once the image appeared, Hanks continued: "First of all, nobody else is up on that lifeguard stand. Only the Castiles' rhythm guitarist has climbed up onto the top of that. No microphone, just you and what kind of guitar?"
"Well, this is how we opened the show, so I have on my wide wale, white corduroy pants," Bruce described, laughing. "You can't tell the details. I had on, obviously, a pair of sandals, which I haven't worn on stage in a while, a red turtleneck, and I think I am the coolest fucking thing that has ever lived at that particular moment."
"That might be one of the earliest photographs," Hanks replied, "And we understand that Bruce got this guitar and…" With that, Hanks turned to the crowd, who responded on cue with enthusiasm once again, with the appropriate line from "Thunder Road." (He would later declare, "Eventually, this is just going to become the greatest jukebox-referencing interview on the planet.")
Springsteen: "...Ah, what the fuck were we talking about?"

Hanks: "This is uncharted territory for both of us, Bruce."
Hanks would take Bruce through a discussion of "Born to Run," leading Bruce to a lengthy commentary describing the experience in the studio, repeating the stories about how no one in the studio knew what they were doing, his brow furrowed in frustration as though it were yesterday.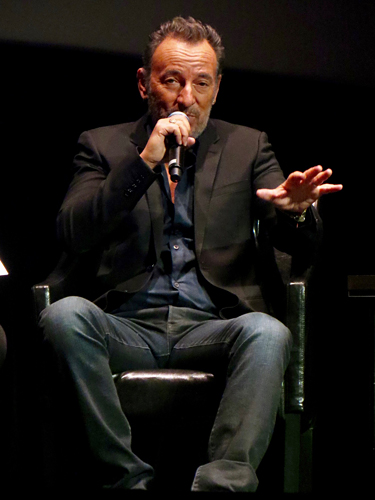 "It was eight in the morning, and we were trying to do something called mixing. Which means you have all of these tracks — maybe 72 — which you've bounced down to 16, 'cause that was all you had in those days. And now you've got to take 16 separate things and break them down to two. Which is your stereo sound. So, you're trying to mix all of this down. It's eight o'clock in the morning. There's no computer. There's no computer mixing. Everyone is moving all of the faders manually. So you have four guys lined up with their hands over the other guy trying to get the sax solo up. Trying to get the drums up here, the guitar up there. Trying to make sure the echo change is here. And when we were done, it was done. And we were never able to do it again. It was something. It only happened once. They wanted us to go back in and put more voice on the record. Couldn't be done. We went back, we couldn't get anywhere near the sound that we got that one time. But, you only have to do it once."
Out of all the questions one could ask Bruce Springsteen in one hour, a discussion of his taxes would seem to be low on the totem pole. However, it did lead to one of the more interesting revelations. Hanks said, "A man has got to go up and pack his lunch box and go to work each day. Gotta do that. But a man also has to pay his taxes. Which you did not do for your entire life. Until, I believe, someone said, 'Hey, Mr. Time Magazine Newsweek cover. Have you ever paid your taxes?'"
"We were Willie Nelson in reverse," Bruce said. "We didn't pay... First of all, I never met anyone in New Jersey who paid any taxes. I mean, you have to understand, the entire state wasn't paying any taxes. And certainly no one under 25 was paying any taxes. So, we never paid any tax. And then when we got with Mike Appel, he was handling all our business. And his thing was, 'We ain't paying any fucking taxes.' And so, years went by — Greetings, Wild & Innocent, Born to Run — all this time went by. Nobody's paying any taxes: me, the band, no one I know. So finally some guy in the IRS must've got smart and said, "Who is this guy on the cover of these magazines, let's see what he's doin'?" And they came after us, and I had to work for a couple of years, like, for somebody else, every night."
Hanks: When you say, "work for a couple of years," you had to go off on those tours that we all saw you on. But you were not working for yourself.

Springsteen: Not for a long time. Not until 1980.

Hanks: 1980?!
The audience gasped out loud at that response. But Bruce philosophically followed up by noting, "Most people's early careers are a mess. Maybe because when you get in the music business, the cards are stacked in favor of the business, and they are stacked against the musicians. Well because what do musicians know? They don't know anything. They don't know about numbers. They don't know about the business side of things. I say in the book, I would have signed anybody's jockey shorts to get to make a record. I would've signed anything — I did sign anything. I don't regret it. Things worked out, obviously."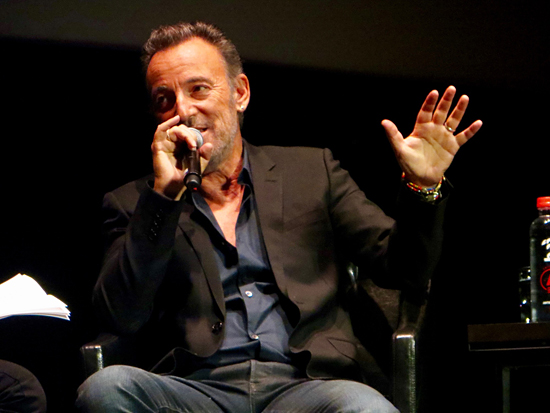 Back to the chronology of the albums, Darkness on the Edge of Town got barely a glance, but Hanks went deep on The River and Born in the U.S.A. Hanks noted the progression of the characters and the stories from Born to Run to Darkness, saying that "whoever that guy is... now probably has a wife and a kid and a grander responsibility, and man, it ain't quite livin' up to the dream as promised in Colgate toothpaste commercials."
"Well, this was 1980. This was post-Watergate," Bruce reminded us. "The whole country had lived through, obviously, the Vietnam War. Watergate, which kind of validated every crook's philosophy on the street, you know. All I remember thinking was, I want to do something that was not that. I wanted them to remember something that felt in opposition to all that we'd experienced in a certain way."
Moving on to Born in the U.S.A., Bruce replied to Tom's audience call and response for "No Surrender" by saying, "I wanted to throw that one off [the record]. Stevie convinced me to keep that song on. I remember at the time thinking, 'It's too glib.'" "You thought it was too glib?" Hanks responded. "Too glib. I think I still think that," Bruce replied. As for the album's title track, Hanks observed that "it comes off as a bit of an auditory Rorschach test… everybody who hears it hears what they want to hear." "Well, that's pop music in general," Springsteen said. "I mean, I always say that's how 'This Land is Your Land' ended up being sung around the campfire at Boy Scout camp."
Hanks transitioned into the Tunnel of Love era, leading Bruce into a highly philosophical conversation about life, and art, and artists, and the power of music. "You've said that work is work, life is life, and life trumps art always," Tom reminded Bruce. "Is that not a lesson that you sort of got to learn over time?" "Hell, yeah," Bruce said. "You feel as though you've completely learned?" Hanks asked. "Generally you beat yourself to death before you learn that one," Springsteen replied. "Particularly if your art and your music is something that you've clung to as a life preserver and as something as a safe space, and you think you can live there." He would later acknowledge Patti Scialfa (who was sitting in the audience with Rita Wilson) for helping him learn his lessons about life.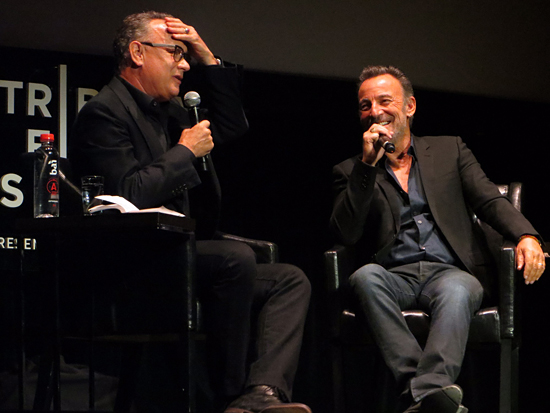 "Bruce, I have notes on 11 more albums," Tom said, holding up his sheaf of paper, with a note of despair in his voice. "Okay," Bruce said, with some trepidation. But alas, time was up all too soon. Hanks instead ended the evening with a rock 'n' roll invocation: "You continue to talk to us in every one of these records. There is always some sort of track or there's some sort of idea, that we should just be swept away in the nostalgia of joining the rock 'n' roll caravan, by going off to Bruce Springsteen and the E Street Band, that will forever make us feel great that that's the way we spent the night.... But what I think with what you have done more special, I think, for all of us, is that you have made us a part of something greater than ourselves." With that, the crowd rose to their feet in applause, and the conversation came to a close.
- May 1, 2017 - Caryn Rose reporting - photographs by Ruth Barohn