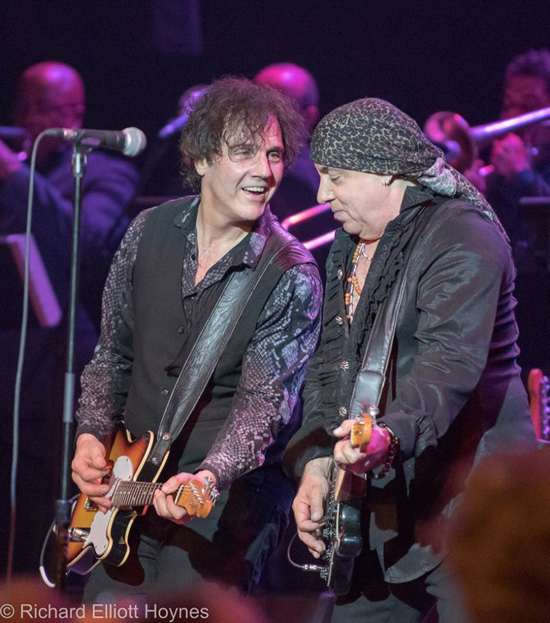 - photograph by Richard Elliott Hoynes
Given Little Steven's numerous commitments, his decision to reactivate his long-dormant solo career last year was a surprise, albeit a very welcome one. He's since played concerts in London, Silver Spring, Asbury Park, and Red Bank with new versions of his fondly remembered '80s touring band, the Disciples of Soul, and released the internationally acclaimed new album Soulfire.
The Disciples are Little Steven's band, his vision and his personal creative outlet. But considerable responsibility for the Disciples — recruiting and rehearsing musicians, and ensuring that band activities run as efficiently as possible on a daily basis — falls to his musical director, Marc Ribler. Stevie's guitarist, co-producer, second-in-command, and all-round right-hand man, Ribler would surely have earned the title of "the hardest working man in show business" if it weren't already permanently associated with James Brown.
Born in Brooklyn, Marc relocated to Jackson, New Jersey with his family at the age of nine and started playing at the Jersey shore as a teenager. Since then, as a singer/songwriter/producer and performer with two albums under his belt — 2003's Life Is But a Dream and 2008's This Life (2008) — he has enjoyed a successful and varied musical career, in which his recent recruitments as musical director for Darlene Love and Little Steven are the latest exciting developments.
I spoke to Marc as he prepared for the first Disciples of Soul European tour in almost 30 years, which begins tonight in Copenhagen. Although there were few windows of opportunity in his impossibly busy schedule, Marc was nevertheless a willing participant, providing some fascinating insights into his career, the evolution of the new band, the Soulfire recording sessions, the recent live performances, and the experience of working with Little Steven.

Tell me about your career before you hooked up with Darlene Love and Little Steven.
I've been a guitarist and an Americana/pop/rock singer-songwriter and producer for most of my adult life, and there have been many ups and downs in this unpredictably insane business of ours. I've had the dream of becoming a "hit recording act" since I was a kid, but as Lennon said, "life is what happens to you when you're busy making other plans." My songs are primarily about the things I observe in this crazy life of ours. I've had the honor of performing with some of my childhood heroes, such as Carole King, Roger McGuinn from the Byrds, Ian Anderson of Jethro Tull, Elvis Costello, and others. In 1985 I had my first cut as a songwriter, "Step Into My Line of Fire," which was produced by Bob Ezrin for Canadian singer Lee Aaron and was a hit in Canada and overseas. I've had several songs in the U..S and international pop charts throughout the years as well as several national TV ads that you may be familiar with, including (of all things) Activia yogurt, which ran for ten years, as well as a very controversial STD and HIV awareness ad for Trojan Condoms. That ran nationally for several years and featured the title track from my second album, This Life. I've also written and produced songs and musical scores for TV and film.
I'm sure there's a downside to that success, given the nature of the business.
Until a few years ago, I was still collecting substantial residuals for "Step Into My Line of Fire" and dozens of other songs that I've written and produced for other artists. Recently these earnings have been greatly compromised by free downloads (formerly known as piracy) and streaming. Many of the corporate giants have made it their business to make sure no one gets paid anything substantial for music except them. Royalty statements have gone from thousands to pennies. It's a crime and a sin.
In the early '90s I had a developmental recording contract with RCA Records, and it looked like I was finally going to get my record deal. But just when they were in the process of negotiating my contract, BMG purchased RCA and dropped 40 of their signed acts and all of their development acts. Needless to say it was a crushing experience. You need a thick skin and nerves of steel in this business. Since that time, I've learned to take things less seriously which has made life a lot more peaceful. I'm grateful to be able to do what I love and cherish as a career. That, I believe, is a gift in itself.
You developed a new appreciation for life after suffering a near-fatal illness in the late '90s. Does this positive outlook help with your relentless schedule?
When you nearly lose all that you thought was yours to keep, such as your home, your life savings, and nearly life itself, you become extremely appreciative of the people and experiences that make life worth living. My health crisis in retrospect was one of the best things that ever happened to me. I can honestly say that what I went through has had a very positive effect on the way I deal with adversity and stressful situations. My first solo album was a philosophical reflection of where I was at post-health crisis. Some songs were written in the late '90s and most when I was in the healing process in 2000 and 2001.
In three minutes, "(Back When They Were) Playin' Our Song" succinctly namechecks your favorite artists, comments on the state of modern music, and wistfully recalls the golden age of rock.
I'm very nostalgic about the music that I grew up with. I feel much of the music of the '60s and '70s is timeless and the best music that's ever been written, produced or performed live. From Jimi Hendrix to Bob Dylan to the Beatles, The Who, the Allman Brothers, Otis Redding, The Band, Traffic, James Brown, The Jackson Five, CSNY, the list goes on and on and on. It was very natural for me to write a song as a tribute to my musical heroes.

- Silver Spring, 3/18/17 - photograph by Guy Aceto
Is a third solo album on the horizon?
I'm in the process of finishing my latest album, which I started in 2012 and scrapped to pay the bills as a musician in the uncharted land of "the new music business." The last thing I expected at that time was that I would be musical director for Darlene Love or Little Steven.
I had a one-month window, while Steven was in Australia this past winter with Bruce, to go in and record my new record at Shorefire Studios in Long Branch, New Jersey, using much of the same rhythm section that we used on Soulfire (Rich Mercurio on drums, Jack Daley on bass and Andy Burton on B3 organ), with a host of other great musicians and background singers. I feel that my upcoming release is some of the most emotionally and spiritually connected music that I've ever recorded, and I think it has everything to do with the fact that the core musicians performed each song simultaneously. Four musicians playing in a room together at the same time with a great engineer (Jersey's own Joe DeMaio) the old-school way, which is the way we recorded Soulfire. It undoubtedly adds to the magic. Most records these days are recorded piecemeal, in many cases by musicians that have never met before, let alone been in the same room together. Ninety percent of the music was done in three days of recording the basic tracks. The rest was overdubbed in my home studio and is now being mixed there as well.
Recording Soulfire with Steven at the helm was incredibly inspiring. It was a beautiful reminder of how we used to make records, and it had a huge effect on the way I recorded my new album.
When did you first meet Little Steven?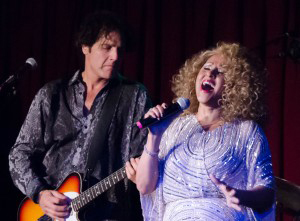 I met Steven in 2014 when I was recommended by my good friends Rich Mercurio and Lee Nadel to play guitar on Darlene Love's latest album Introducing Darlene Love. It was supposed to be a three-hour session that turned into ten.
[Right: Ribler and Love - photograph by Richard Elliott Hoynes]
As I'm sure you know, Steven is one of the true masters of arranging and producing modern music. He was going for a Phil Spector "wall of sound" arrangement for the Bruce Springsteen song "Night Closing In," written for Darlene. It was the final song recorded for her Sony release. Tracking guitars with Steven was a history lesson in how the "wall of sound" was created by Spector back in the '60s. I would tell more about these techniques, but it's not my place to give away the family recipe!
How did the London gig come together and how were the musicians chosen?
Steven and (broadcaster, producer, arranger and Bluesfest director) Leo Green were responsible for it. Leo is a big fan of Little Steven and the Disciples of Soul, Bruce, and Clarence Clemons, being a tenor sax man himself. Steven called me at the end of September, said that he had a gig in London on October 29th, and asked if I would be his musical director and put a killer band together. By some act of fate, all my first-call guys were available. You gotta understand that these cats regularly tour with the likes of John Mayer, Cyndi Lauper, Steely Dan, and James Taylor, but they all just happened to be available, and this was only two weeks before rehearsals started. I think it helped to get them to rearrange their schedules due to the fact that they are all admirers of Steven's work and didn't want to miss the opportunity of being a Disciple of Soul.
Were you aware of the original Disciples of Soul with a horn section in 1982 and 1983?
Yes, I grew up performing at the Jersey shore and was very aware that Steven had gotten signed and started making his own records. They were in regular rotation on our favorite FM radio station, WNEW in New Jersey and New York. I also remember seeing them on MTV and liking it immediately. I feel Steven is more responsible for the "Asbury Park Sound" than anyone else. He invented the rock 'n' roll horn section. They just didn't exist before the Jukes. The horn bands of the day — Chicago, Blood Sweat and Tears, and Earth Wind and Fire —were a very different animal. I can only equate it with five guys playing a big-ass, loud, muthajumpin', brass electric guitar locomotive express train through a stack of Marshalls!
What does your role as musical director involve?
My job first and foremost is to make sure that Steven is satisfied with the band at all times. He is very particular and specific about what he wants, musically and aesthetically. Each musician needs to be advanced enough so that if asked to play a specific part, they should be able to reproduce it immediately, mark it down, and the next time the song is played, to make sure that part is played correctly. Steven is involved with every aspect of the music, and as a band member, you need to take these arrangements very seriously. Working with him the past couple of years, I have developed a pretty good sense of what is expected from the musicians. It's really kind of simple: just be responsible and on the top of your game at all times. Why should it be any other way?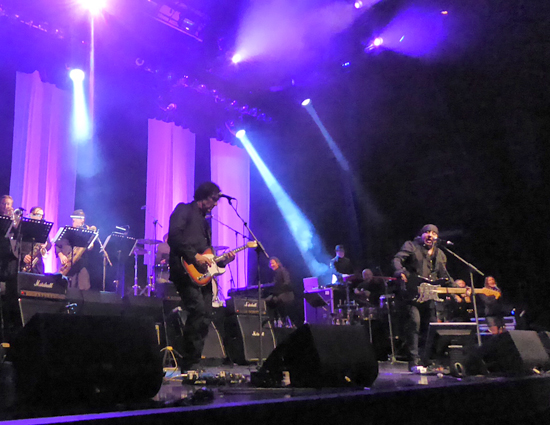 - London, 10/29/16 - photograph by Mike Saunders
How long did you rehearse before the London show?
We rehearsed for one week with the New York horns and backing vocalists. The rehearsals were very thorough and lasted an average of six hours a day. The London rehearsals were quite the same, but only lasted three days. Eddie Manion had all the horn arrangements ready by the time we left for the U.K. I recorded the backing vocalists' individual parts in New York to send ahead of time to the London singers. Me and Eddie were unsure and nervous about what lay ahead, going to that first rehearsal in London. We had no idea what we were in for, but by the end of the first day, we were both quite relieved. The singers had most of the songs memorized. That spoke volumes to me, that they cared enough to put that kind of work in before we got there. The horns did a great job as well.
Did Steven choose the material, or were you or anyone else involved?
It is all Steven. He had a very clear vision of the repertoire. It was a collection of songs that he had written for other artists and some of his favorite rock, soul, blues, and R&B classics. When Steven sent me the original list of 25 songs, I was literally dancing around the house with the excitement of getting to play this deep body of work. I could tell that he put a tremendous amount of thought into it.
Some of my favourites were "I've Been Waiting," "Until the Good Is Gone," "Inside of Me," "Trapped Again," "Down and Out in New York City" (James Brown), "The Blues Is My Business" (Etta James), "Groovin' Is Easy" (Electric Flag), and Paul Butterfield's "Love Disease."
How successful was the show from the band's point of view?
For a first show it couldn't have gone better, especially since we rehearsed our New York band and ended up using local British horns and singers. They were all suggested by Leo Green, and we couldn't have been more satisfied with the outcome. Not one train wreck or noticeable error in 22 highly-arranged songs. Everyone did a sensational job. Steven was very pleased with the band and the reaction from the audience, which was pure and powerful. I don't think they had any idea what they were in for. They seemed ecstatic about what they were hearing.
This music is so fresh, yet classic-sounding. If you didn't know any better, you'd think it was the latest craze, brand new, never done before. We were all very happy with the crowd and the sound at the Indigo at the O2. We thought it was one of the best-sounding venues around. Having the balcony right over our heads made the show even more intimate. It seemed a very natural fit for the Disciples to perform at Bluesfest with the likes of Van Morrison, Robert Plant, Jeff Beck, Bad Company, Bill Wyman and Richie Sambora.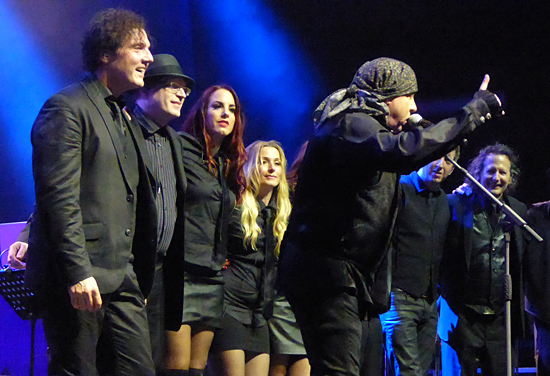 - London, 10/29/16 - photograph by Mike Saunders
How soon after getting back from London did you go into the studio?
We returned from London on October 31st and went into the studio to record the title track "Soulfire" on November 9th. I remember it well: it was the day after Trump got elected, and the vibe in the studio was quite mournful, like we all lost a dear friend. Without getting political, I believe the anger and disappointment was channelled quite constructively into the record that day and going forward. We recorded the entire album at Steven's studio in the Renegade Nation studio/office complex. It took a total of about three weeks recording and a few days of mixing by the mixmaster general himself, Bob Clearmountain.
The sessions were apparently highly productive.
The musicians and I would usually arrive at the studio at 10am and start preparing the songs du jour before Steven arrived. Preparation entailed listening to a demo or original recording, then we would establish a working arrangement. Steven usually arrived shortly thereafter, made some quick, concise changes, and more often than not, we would get the basic track recorded in one take. Steven coined us "The One Take Band." His reference vocals were so inspired that we ended up using most of them on the album. In the case of a song like "Standing in the Line Of Fire," which he wrote and produced for Gary U.S. Bonds in the '80s, we all learned the original record, trying to adapt it to present-day arrangement values before Steven got to the studio, but by the time he got done with it, it turned into this incredible Motown/Ennio Morricone masterpiece.
As co-producer, did you have any creative input?
Steven always has a good fix on how he hears each song. At times I would make suggestions, but nine times out of ten he knows exactly what he wants. We had an amazing crew of musicians that are all very fast on their feet. My duties entailed keeping the sessions organized and moving as swiftly and effectively as possible, while (fellow co-producer) Geoff Sanoff dealt with getting all the instruments sounding amazing for each song. This allowed Steven to do his thing creatively with as little distraction as possible.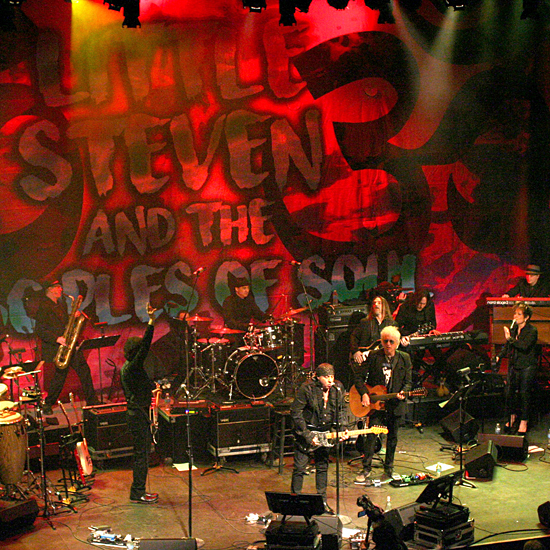 - Silver Spring, 3/18/17 - photograph by Guy Aceto
Tell me about recording the two previously unreleased Little Steven songs, "The City Weeps Tonight" and "I Saw the Light."
As you may or may not know, Steven is a huge doo-wop fan and aficionado. I believe he told me that "The City Weeps Tonight" was written years ago for his first solo record. He called me last November when we were in the middle of making the record and said, "Can you get me a doo-wop group for Monday's session?" This was on a Saturday afternoon.
That evening I was performing with Darlene Love in Poughkeepsie, and as luck would have it, a friend of the '60s singing group The Persuasions happened to be at the gig. He gave me their manager's number, and on Monday morning they were at Steven's studio. They sang on "The City Weeps Tonight" and then we had them sing on "I Don't Want to Go Home."
"I Saw the Light" is a killer. There is a very quirky chord change at the end of each chorus that modulates back to the verse. Highly unusual and very effective! We recently added it to the live show. It has become one of our favorites from the album to perform live.
The covers of "The Blues Is My Business" and "Down and Out in New York City" demonstrate the band's ability to stretch out and play a variety of musical styles.
Yes, being a Disciple of Soul nowadays requires a deep knowledge of rock 'n' roll, soul, funk, jazz, and blues. I would say that all of Steven's primary musical influences are masterfully demonstrated on the album.
I think that Soulfire perfectly captures the band's powerful live sound in a studio setting.
I do believe that first and foremost, this is a result of the incredible band that Steven and I assembled, and the fact that all these songs were recorded very quickly in an incredibly inspired environment.
Are there any outtakes, or did you just record those 12 songs?
We also recorded "Trapped Again," "All I Needed Was You," "I Played the Fool" and a cover of "Groovin' Is Easy" by the Electric Flag. We only needed 12 songs for the album, so they weren't utilized. But who knows, maybe they'll come out at some later date.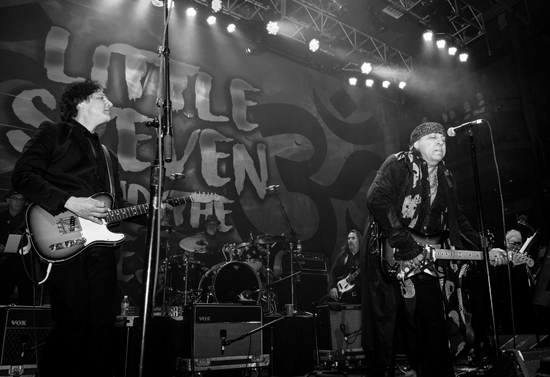 - Silver Spring, 3/18/17 - photograph by Jerry Frishman
The next Disciples of Soul gigs after London were at The Fillmore in Silver Spring on March 18 and the Paramount Theatre in Asbury Park on April 22.
The Silver Spring show was for a very good cause, the Rock and Roll for Children Foundation. It was a good catalyst for getting the ball rolling for the upcoming tour, although many of the musicians used at the show are not currently in the band! The Paramount show was quite spectacular. It was a great release of energy that's been bubbling up since Steven called me to help put the new Disciples of Soul together. Having Fred Wesley and Bruce join us was icing on the electric rock 'n' roll cake.
It must have been a thrill to play the Upstage Jam at the Paramount the previous night, with many of the club's old regulars.
Of course it was an honor to be up there with the masters that paved the way. Everyone seemed quite happy and nostalgic. It was certainly a night to be remembered for the ages. Playing "Voodoo Chile" with David Sancious was not too shabby either!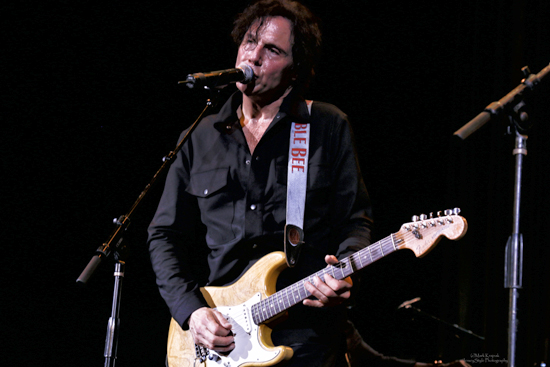 - Upstage Jam, Asbury Park, 4/21/17 - photograph by Mark Krajnak
The most recent Disciples show was in Red Bank on May 27. It was broadcast on satellite radio and in virtual reality, but what was the atmosphere like for those who were actually there?
There were these crazy electrical charges going back and forth between Steven, the band, and the audience all night long. You can see it in the faces and hear it in the audience response. A true Jersey love fest!
How does it feel to be a member of one of the legendary New Jersey bands and, by extension, part of an important chapter in Jersey music history?
Working for Steven is a labor of love, but like every great project and relationship, it has challenges. I take a tremendous amount of pride in being a Disciple of Soul. For a kid that grew up playing at the Jersey shore, it's an auspicious honour to be Steven Van Zandt's wing man. Knowing that Steven puts his faith and trust in me is what fuels the desire to help make this band and music as amazing as it can be. Quality is our most important asset.
Since the original New York rehearsals last year, the line-up has undergone many changes, which means more work for you! Is it difficult to maintain consistency when musicians change so often?
We've been fortunate enough to continually have amazing substitutes. As I've said many times, I'm very blessed to know and perform with some of the best musicians on planet earth and I'm grateful that many of them are joining us in the Disciples of Soul.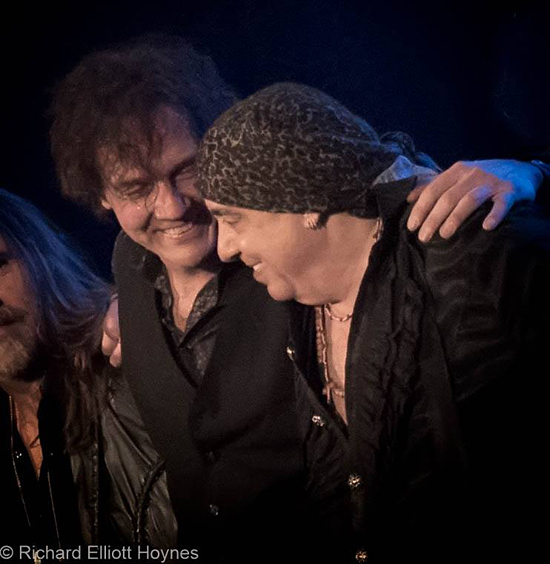 - photograph by Richard Elliott Hoynes

For the record, apart from you as guitarist and musical director and Ed Manion leading the horn section on baritone sax, can you name the current line-up?

Charley Drayton on drums, Jack Daley on bass, Lowell "Banana" Levinger (from the Youngbloods) on piano and mandolin, Andy Burton on B3 organ and accordion, Everett Bradley on percussion, Stan Harrison on tenor sax and flute, Ron Tooley on trumpet, Ravi Best on trumpet, Clark Gayton on trombone, and Jessie Wagner, Yahzarah Saint James and Erika Jerry on backing vocals.

The set list also continues to evolve, with the inclusion of "Princess of Little Italy" and "The Time of Your Life" in Red Bank. Do you think there will be more additions as the tour progresses?

There will be several new songs added to the repertoire as we get out on the road, depending on the venue — festivals as opposed to theaters, etc.

Many thanks for doing this interview for Backstreets, we know you're a very busy guy. The album has received rave reviews and many people are eagerly awaiting the upcoming tour. For those who have yet to see the Disciples of Soul onstage in 2017, what can they expect?

If they're willing to take this ride with us, they can expect to have their souls set ablaze, rocked, shocked, and soothed to the very core of their beings. Minds will be expanded and blown away by the velocity and audacity of the all-new Little Steven and the Disciples of Soul!

- interview by Mike Saunders

For further information on Marc Ribler, including an extensive biography, full details of his musical exploits, solo albums, philosophy of life and more, visit marcribler.com. Also check out his Facebook page and the Facebook group Marc Ribler and Friends, and catch him directing the assembly of the building blocks of the Disciples of Soul wall of sound at a venue near you on both sides of the Atlantic this summer and fall.