'This Life,' by New Jersey artist Steve Szynal, is an illustrated tribute to Bruce Springsteen, a 30" x 22" print celebrating his life and musical works. Signed and numbered by the artist, in an edition of 1,000
With Asbury Park in the foreground, Szynal's highly detailed work packs in countless Bruce references as it moves geographically to take in all of the American Land, from the Jersey Shore to the Utah desert.
"My original hand drawing took more than 450 hours to create," says Szynal. "It's intended as a somewhat humorous visual tribute to Bruce, his band, and his work throughout his illustrious career."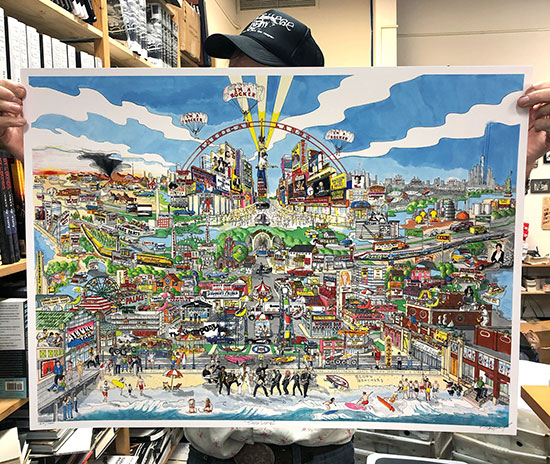 The scene kicks off on the Boardwalk, where you'll find several versions of the E Street Band as well as some of the characters from "Fourth of July, Asbury Park (Sandy)" and "Wild Billy's Circus Story." Musical venues and other landmarks stretch across the piece: there are "Ghosts" on the roof of Conventional Hall, and Elvis can be seen climbing the walls of the Stone Pony ("a little payback for the Graceland incident," Szynal says) to see a performance by Asbury's holy trinity on the Summer Stage. The Big Man's footprints lead from the Wonder Bar to the Student Prince, where he ripped the door from the hinges to play with Bruce for the first time; Tinker's Woody drives up Ocean Avenue (keep looking and you'll find his surfboard factory).
The scene transitions to Freehold, showing the happenings around 87 Randolph St. and St. Rose's Church; there's a boy in a tree, and the aroma of Nescafe coffee is in the air. The Tunnel of Love leads to Times Square and New York City — there you'll find Springsteen on Broadway, the Apollo Theatre, the iconic "Born in the U.S.A." pose, the "Wish" guitar, and much more. Stretching back to the horizon takes in more of Springsteen's America, from the Streets of Philadelphia to the Matamoros Banks.
Steve writes, "Some of my favorite vignettes include dancing 'birth naked' in the graveyard behind the Factory in Freehold, Danny in Times Square as Phantom of the Opera, and Nils taking a 'Leap of Faith' flip off of Convention Hall. See what else you can discover!"
These are only a few of the 150-plus songs that are referenced in 'This Life' — which rewards close viewing (see below) but also just looks fantastic framed on the wall from a distance.

'This Life' Detail: Casino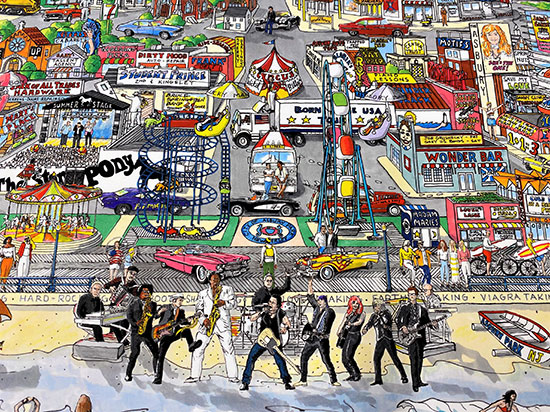 'This Life' Detail: Beach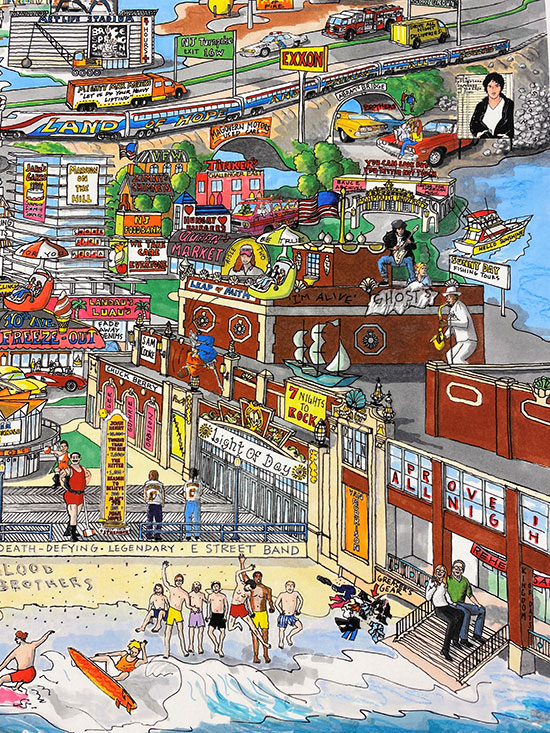 'This Life' Detail: Convention Hall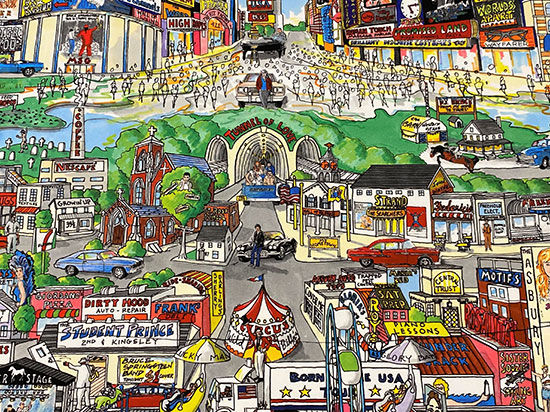 'This Life' Detail: Freehold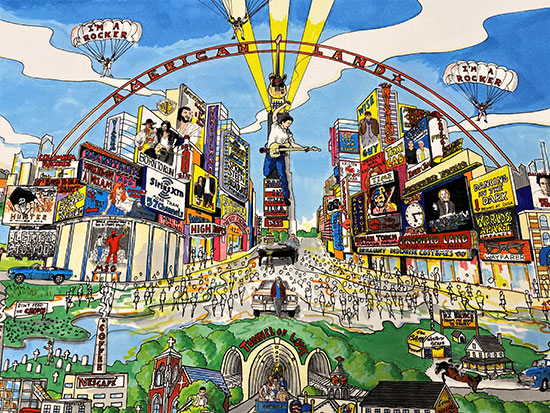 'This Life' Detail: Times Square
A Fine Art quality print, approximately 30" x 22", printed with archival inks on acid-free 230# paper. Each print is signed and numbered by the artist Steve Szynal with an edition size capped at 1,000.
Included along with the print is an information card listing all of the songs, people, and places represented in the image.
Ships rolled, in an artist-approved 3-inch diameter, thick-walled mailing tube.
# # #
BIGGER SPENDER? A more limited edition is available directly from the artist: Steve has taken this image a few steps further, making it truly pop by creating 7-layered, multi-dimensional, framed collages from his print. Check it out below.
That's a lot of X-Acto work! Available in an extremely limited-edition size of 100, each of these shadowbox-style collages are subtitled to correspond to one of the top 100 Bruce songs as voted by fans in 2019. You get to pick which song you want (the fans in Times Square will be holding signs with the song you select). Framed collages are $3,000 each plus shipping. Learn more about the collages at steveszynal.com or email Steve at sszynal31@verizon.net. Be sure to tell him Backstreets sent you!