SOMETHING TO READ WHILE YOU WAIT?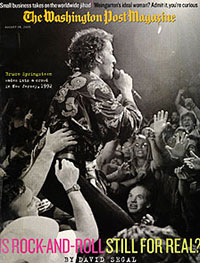 A round-up of some recent press: Springsteen was on the cover of this past Sunday's Washington Post Magazine, illustrating a fine piece by David Segal, the Post's former rock critic (whose tenure, incidentally, coincided with our own term in DC). Segal looks back on his constant hunt for the great Live Concert Moment, that spontaneity that's becoming harder and harder to find. Read "Memoirs of a Music Man." And with the Glory Days symposium coming up next week, news outlets from Reuters to The Guardian to the BBC are getting a kick out of the idea out of an all-Bruce academic conference. For more on Glory Days -- including a new concert put together specifically for those who'll be around on Thursday night -- see below.
- August 31, 2005

FALL TOUR ANNOUNCEMENT COMING SOON
For all of us wondering about the wheres and whens of the D&D tour's fall U.S. leg (and hoping to relax over Labor Day weekend), Shore Fire Media helpfully fills us in: "We expect to announce a third leg of U.S. solo dates before Labor Day." Best we can tell from other sources, look for that leg to run from early October until Thanksgiving, with tickets on sale after Labor Day; we'll post official details here as soon as we've got 'em.
- August 25, 2005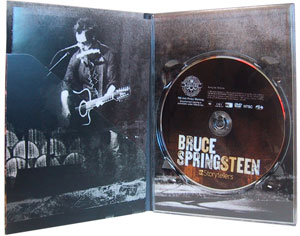 STORYTELLERS DVDETAILS
More scoop on the upcoming VH1 Storytellers release, less than two weeks away... The DVD comes in a digipak-style package, pictured right. A far more representative document of that performance than what was aired on VH1, the complete re-edit on this expanded version was done by Springsteen's go-to guy, Thom Zimny, who also edited the Live in New York City and Live in Barcelona DVDs. And in addition to the performance, a 15-minute bonus feature captures the previously unseen post-show Q&A, when Backstreets contest winners got to put a question to the Boss (and in one case, got offered to be slapped around by him). Total running time is 115 minutes, which breaks down like this:
Show Introduction (1:18)
Devils & Dust - The Song (4:52)
Devils & Dust - The Story (6:30)
Blinded by the Light - Introduction (1:48)
Blinded by the Light - The Song (5:18)
Blinded by the Light - The Story (6:57)
Brilliant Disguise - Introduction (5:46)
Brilliant Disguise - The Song (4:25)
Nebraska - The Song (4:51)
Nebraska - The Story (5:09)
Jesus Was an Only Son - The Song (4:51)
Jesus Was an Only Son - The Story (7:09)
Waitin' on a Sunny Day - Introduction (:32)
Waitin' on a Sunny Day - The Song (4:51)
Waitin' on a Sunny Day - The Story (2:27)
The Rising - The Song (5:13)
The Rising - The Story (8:34)
Thunder Road - The Song (6:28)
Thunder Road - The Story (9:50)
Credits (2:18)
Bonus: Q&A session with fans (15.47)
Get your copy from Backstreets! We're taking orders now in our online shop -- place your order before the September 6 release date to get our special pre-order sale price. As always, ordering from Backstreet Records provides valuable support for everything we do. And as fellow fans, we'll be busting our humps to get your order sent out as quickly and safely as possible. Order now!
- August 25, 2005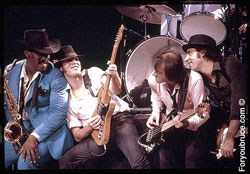 THIS ONE'S FOR YOU
Book due in 2006 to focus on fan stories
Howard Bloom and photographer Lawrence Kirsch are collaborating on a new book called For You, planned for next year. In addition to original concert photos from the 1970s to the present, For You will feature stories and recollections from Springsteen fans around the world.
Bloom tells Backstreets, "We're looking for anecdotes, tales, vignettes... chance encounters with Bruce, traveling to Asbury Park, taking your children to their first Springsteen concert, meeting strangers who have become lifelong friends -- Bruce Springsteen experiences that are so special to you that you'd like to share them with others. We are also looking for original photography to publish in the book." If you've got a story to tell, head to Foryoubruce.com.
- August 24, 2005

"GLORY DAYS " JUST A WEEK AWAY!
Still time to register for Springsteen conference
For those folks interested in attending "Glory Days: A Bruce Springsteen Symposium," the second weekend in September, registration is still open. To save money, register by Friday, September 2. After that date, you can still register on-site at the conference, but the price will include a $30 walk-in fee. To register, go to www.outreach.psu.edu/C&I/Springsteen/
Two concerts at the Stone Pony are scheduled in conjunction with the conference, on September 9 and 10 (with Joe Gruschecky, Gary U.S. Bonds and more); you can also purchase concert tickets at the same web site through September 2. After that, if still available, tickets will be sold at the door on the evening of each show (at a higher rate than the current $25 per ticket price).
"Glory Days" is organized by Penn State, to be held at Monmouth University in West Long Branch and Eatontown, NJ. For more information on speakers, performers, events, etc., visit the conference web site.
- Updated August 31, 2005
In town for "Glory Days"? More area Boss happenings in September:
On Thursday, September 8, a show at The Saint in Asbury Park should give early-bird conference-goers a fun night out. Maybe Pete headlines (10:45 p.m.), with Cool Days End (8:30) and Glenn Burtnick solo acoustic (9:30) opening up. Tickets are $10 in advance (can be reserved at the club's website), and $12 at the door. The Saint is located at 601 Main Street in Asbury Park, (732) 775-9144.
A dance/theatre performance called "Empty Sky... The Rising" will premiere at the Two River Theater in Red Bank, with six performances from Sept. 7 - 11. Choreographed by Bob Boross (who will also be speaking at the symposium), the performance is set to Springsteen's music (11 songs from The Rising, as well as "Land of Hope and Dreams"). Springsteen approved of the use, and donated his licensing fees to the beneficiary of the shows, The Memoria Project. Tickets are available at the box office (732-345-1400, or online at www.trtc.org).
Receive $2 off each ticket by mentioning "Backstreets" when ordering.
Monmouth University is presenting a special, abridged version of the "Springsteen: Troubadour of the Highway" museum exhibit to coincide with the symposium. Featuring the photographs by Pam Springsteen and Frank Stefanko, this slimmed-down "Troubadour" is on view now through Sept. 14 at the 800 Gallery in West Long Branch. Hours are M-Th, 2:30-4 p.m. and Friday by appointment. For information, call (732) 571-3562.
Extended hours: To accomodate conference-goers, the exhibit will be open from 9 a.m. to 5 p.m. on Thursday, September 8.

STREAM, BABY, STREAM!
New Jersey's classic rock station 105.7 The Hawk -- with Tom Cunningham's "Bruce Brunch" on Sunday mornings, and Vini Lopez on Sunday afternoons -- is now online, streaming 24/7. Hit 1057thehawk.com to listen live.
- August 23, 2005

TALLENT READIES CHRISTMAS ALBUM FOR KATE'S SAKE
Ready for an Alt-Country Christmas? E Street Bassist and Southern Gentleman Garry Tallent, who lives and works in Nashville, has put together an incredible roster of Americana artists for a holiday compilation due out this fall -- and it's for a good cause, too. Proceeds from the album, called For Kate's Sake, will go to the Children's Organ Transplant Association (see www.forkatessake.org for more information on COTA, as well as the story of Nashville's Kate Kirk, afflicted with Niemann-Pick Disease Type A/B).
The benefit CD will feature all previously unreleased material from the likes of Buddy Miller ("Away in a Manger"), BR-549 (a Western-swing "The Christmas Song"), Jason & the Scorchers ("O, Holy Night"), Steve Earle, Joe Ely, John Prine, and more. Tallent produces and plays on half of the songs on the record -- including a Rosie Flores original, which features backing by his Nashville-based cover band The Long Players. Garry tells Backstreets that the release is planned for October 18; we'll have more details and ordering information as that date approaches.
- August 22, 2005

"TENTH AVE" SAX PLAYER ILL, IN SEARCH OF DONOR
Saxophonist Michael Brecker, heard on Born to Run's "Tenth Avenue Freeze-out," has recently been diagnosed with a rare form of cancer known as myelodysplastic syndrome. Brecker requires a blood stem cell and bone marrow transplant, but though there are "millions of people on an international registry for bone marrow donors," according to the New York Times, doctors have yet to to find a match. "At the Newport Jazz Festival this month, a table was set up where people could have themselves tested, the Times reports. "Fellow musicians have been spreading the word in music circles, urging people to be tested to find a possible match for Mr. Brecker.... 'I'm trying to tell as many people as I can,' said the pianist Herbie Hancock." Brecker himself told the Times, ""I want as many people as possible to get tested, not just for my sake, but for the thousands of other people who might need what I need." Read "His Saxophone is Silent, His Life is in the Balance."
- August 22, 2005

POINT BLANK
Guitarist Shane Fontayne tells of Cohn shooting
You've surely heard by now that, on Sunday, August 7, Marc Cohn was shot in the temple during an attempted carjacking after a show; tour manager Tom Dube was injured during the incident as well. Amazingly and thankfully, the only casualties were the remainder of their summer tour dates.
What we didn't know was that Shane Fontayne -- Springsteen's guitarist from the '92-93 band, recently touring with Cohn -- was in the van with him that night, sitting in the seat directly behind. Fontayne has written an account of that harrowing incident, now posted on his website: "...In what can only have been a couple of seconds, we realized that he was holding a gun and I clearly saw the look in his eyes of an intent that left no doubt in my mind. I knew for certain that he was going to shoot. Marc yelled, 'Duck!' and I got my head down below the level of the seat. Simultaneously I heard the sound of the gun being fired and the crashing of glass around us...."
Fontayne got Cohn out of the van and seated on the curb, keeping him conscious and talking until an ambulance arrived. A few hours later, at two in the morning, Fontayne was able to visit him in the hospital. "Miraculously, he was okay. He was lying down with an intravenous drip and in front of him was an X-ray of his head, where you clearly could see the bullet, about half an inch long imbedded in his head. It had not entered the skull. The bullet had been extracted without the need for surgery. I looked at him and said, 'There's your next album cover!'..."
Read the entire account at shanefontayne.com.
- August 17, 2005


8/13: "SUMMER EXTRAVAGANZA" ENDS IN VANCOUVER
Wrapping up the summer leg just across the border in Vancouver, BC, Springsteen lingers over a two-and-a-half-hour show: 26 songs, and a whopping eight of them on piano. "Living Proof" opens, as in Seattle, and son Evan makes the Northwest trifecta, playing guitar tech once again. Tonight's tour premiere: a beautiful "Because the Night" on electric piano, featuring an intense vocal despite the song's wealth of chords noted by Bruce in advance. The electric guitar double-whammy (pun intended) continues, with "State Trooper" into "Ain't Got You." Plus more main-set rarities like "Cynthia," "The Line," "Janey Don't You Lose Heart," and "Paradise." More oldies in the encore: "Blinded By the Light," followed by a surprise step over to the piano for "4th of July, Asbury Park (Sandy)." The latter (played in place of the setlisted "Saint in the City") was dedicated with a chuckle to "the professional stalkers" who have been following the Devils & Dust tour. And surely their job isn't over yet. Springsteen was vague about his plans, but he did refer to this show as the "end of our summer extravaganza" rather than the end of the tour. So we'll be looking for the promised return to the Northeast (and who knows where else) come fall... with the memory of well over 100 songs played on the tour so far to dream, baby, dream about 'til then. Next: Watch for the tour to pick back up in early October, in all likelihood, with another month's worth of dates. As soon as there's an official announcement, we'll post it right here.
-August 14, 2005
For the full setlist from this and other recent shows,
see our setlists page.

LITTLE STEVEN, RENAISSANCE MAN
Assuming they smashed lutes during the Renaissance
While the Boss has been out on the road, Steve Van Zandt has been characteristically busy. Yesterday, he could be found with Brian Wilson in Times Square, smashing guitars to celebrate the opening of a new Hard Rock Cafe (check out photos here, here, and here). A Billboard story catches us up on his other recent pursuits, foremost being bringing his Underground Garage show to television ("We're hoping to have something on certainly by the first of the year") and working to save CBGB. He also adds to the Born to Run 30th Anniversary teases: "There is a very cool thing that's going to come out. It's a CD/DVD -- one of those combinations.... I don't think it's a big surprise. I hope it's not a surprise!" Read "Van Zandt Taking 'Underground Garage' to TV."
- August 13, 2005

THIS PROGRAM BROUGHT TO YOU BY THE LETTER "E"
As reported in our Out on the Wire column, PBS stations around the country are running Springsteen and the E Street Band's 2000 concert film Live in New York City this month. It's celebrating the 30th anniversary of Born to Run, as well as providing a solid backbone for PBS pledge drives. Check local listings.
Update: While the website for Austin's PBS station KLRU describes their upcoming broadcast as including footage from Hammersmith '75, we're told that the pledge event program is the same on all PBS channels, simply an edited version of Live in New York City.
- Updated August 10, 2005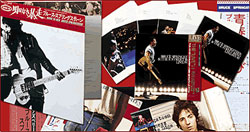 BIG IN JAPAN,
PART 2
The release of the Japanese "mini-LP sleeve" CD reissues continues!
The second wave (Born in the U.S.A. through MTV Plugged) is in stock now at Backstreet Records! Limited quantities of the first wave (Greetings through Nebraska) are also still available.
The third and final wave, due at the end of this month, will bring the whole series up to The Rising (also including mini-LP sleeve packages for Greatest Hits, The Ghost of Tom Joad, 18 Tracks, and Live in New York City). We're taking orders now -- but quantities are limited, so get 'em while they last. These reissues have not been remastered in the standard sense of the term, but for the best available sound and some rockin' packaging, these rarities are highly recommended. You can pick and choose, or we've got package deals available for each wave -- and the best deal for the full set of 17 CDs. Visit our online shop for more details and to order!
- August 2, 2005

THE TIMES, THEY ARE A-PRINTIN' A LETTER FROM BRUCE
In a letter to the editor, printed in the 7/31 edition, regarding "The Boss Bibliography" in the NYT Book Review, Springsteen addresses "the 'saintly, man of the people' thing I occasionally see attached to my name...." Read it here.
- July 30, 2005

NEW E STREET GUESTS CONFIRMED FOR CONFERENCE
Register by Saturday, July 30 for "early bird" rate!
Danny Federici and Vini "Mad Dog" Lopez are both confirmed to speak on an E Street Band panel at "Glory Days: A Bruce Springsteen Symposium," organized by Penn State and held at Monmouth University in New Jersey on September 9-11, 2005. The panel, scheduled for the afternoon of September 10, is being organized by Bob Santelli, artistic director of The Experience Music Project (and longtime Backstreets Associate Editor). One or two additional band members may be confirmed for this panel in the near future, so stay tuned for details.
The early-bird registration for the conference runs through this Saturday, 7/30, so register now to save some money! Other highlighted speakers at the conference include:
Dave Marsh, noted Springsteen biographer
Daniel Wolff, author, 4th of July, Asbury Park: A History of the Promised Land
Barbara Hall, creator of Joan of Arcadia
Bobbie Ann Mason, author, In Country
Joe Grushecky, musician/songwriter
Gretchen Peters, musician/songwriter
Jim Cullen, author, Born in the U.S.A.: Bruce Springsteen and the American Tradition
Frank Stefanko, photographer, Darkness on the Edge of Town and The River
150 presenters from around the U.S. and the world
Tours of Asbury Park and Freehold are planned on Thursday, September 8 and Sunday, September 11, and concerts at The Stone Pony will be held as well. On Friday, September 9, Joe Grushecky and the Houserockers, Boccigaulupe and the Badboys and Steel Mill Retro will play; on Saturday, September 10, Gary "U.S." Bonds and Soozie Tyrell will highlight another exciting night of music.
For more information and to register for "Glory Days: A Bruce Springsteen Symposium," visit the conference website. If you have questions, feel free to email conference organizer Mark Bernhard at mvb8@outreach.psu.edu.
- July 29, 2005

HAPPY BIRTHDAY, PATTI!
July 29 is a red letter day for the redheaded woman, as Patti Scialfa celebrates her birthday today.

RELEASE DAY FOR DANNY
Danny Federici's Out of a Dream hits stores today. Check out a story in today's Star-Ledger ("E Street's Federici keys up new CD"), and see below for an excerpt from an upcoming Backstreets Magazine interview with Danny. Tonight, to celebrate the release, he'll be appearing at Vintage Vinyl in Fords, NJ for an in-store signing at 7 p.m. And visit the Backstreet Records shop to order Out of a Dream by mail, plus much more Boss stuff in stock!
- July 26, 2005

SPRINGSTEEN: "WE MAY DO A LITTLE MORE..."
Getting ready to start swinging the summer leg out of the Northeast, Springsteen again spoke with Larry McShane for the Associated Press. In this new interview, Bruce talks about the ongoing tour, including the likelihood of continuing past mid-August. McShane writes: "Springsteen suggested the tour could be extended to include a few more dates in cities with 'longtime supporters,' which typically includes East Coast strongholds like Boston, Philadelphia and New Jersey. But there was no official word yet on extra shows: 'We may do a little more. There's a few cities we'll try to get back to.'" Bruce also reveals that he's been writing quite a bit on the road (as he did on the solo acoustic tour for Tom Joad), particularly in Europe: "It was a pretty fruitful time. I'd have the guitar with me, and I'd come home and do a good bit of writing." Read the full interview here.
- July 21, 2005

SWEET CAROLINE
Springsteen's dates in Backstreets' backyard are just around the corner... and maybe we should keep our mouths shut since, judging by the performance in Buffalo, Bruce tends to go the extra mile when there's a less-than-packed house... but we wouldn't be Southern gentlemen if we didn't point out that good seats are still available for both Charlotte (Sunday) and Greensboro (Tuesday). It's not too late for a roadtrip!
- July 20, 2005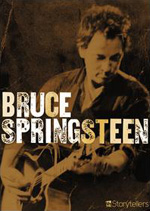 STORYTELLERS COMES HOME!
While Springsteen's April 4 VH1 Storytellers performance was greatly abridged for its TV broadcast (even the "extended" version compressed the show to less than an hour), an upcoming official DVD will give fans a much longer look. The Bruce Springsteen VH1 Storytellers DVD will offer two hours of footage, "completely re-edited"* according to a press release. The DVD will include not only all eight songs played that night in Red Bank, but also the Q&A session that occurred at the end of the night, when Springsteen answered questions from Backstreets contest winners. Release date is set for September 6.
*Update: According to a source close to the project, "completely re-edited" will mean a result significantly different from the VH1 broadcast. For starters, they've gone back to the original tapes for a new edit, choosing different camera angles from the original linecut (simply what the director was calling at the time, a copy of which has recently been circulating among collectors). In addition, the song presentation will be decompressed -- i.e., rather than having Springsteen's musings on top of the performance as voiceovers, the DVD will offer two separate run-throughs of each song (when applicable), one with explanations and one without, as the audience heard them that night.
- Updated July 20, 2005

FIVE REASONS TO READ NICK HORNBY'S INTERVIEW WITH SPRINGSTEEN IN THE OBSERVER MUSIC MONTHLY
Hornby -- whose Bruce fandom is well documented, from his obsession with "Thunder Road" to his new book A Long Way Down being written to the strains of "Prove It All Night" (live '78) -- meets Springsteen for the first time.
If you're like us, you've been waiting for this Q&A at least since Bruce appeared to John Cusack in that High Fidelity fantasy sequence.
A fascinating discussion of stagecraft vs. authenticity, what's in Bruce's mix CD bag, musings on "Dream Baby Dream, and why he hasn't broken out anything from Born to Run, with two "in some fashions" thrown in for good measure.
Footnotes!
It's free, online, at observer.guardian.co.uk.
- July 18, 2005

REST IN PEACE, JOAN DANCY
Joan Dancy, fiance and soulmate of Terry Magovern, Bruce Springsteen's longtime personal assistant, died on Saturday, July 16. Joan, whose passion for music was surpassed by no one, was a victim of ALS (Lou Gehrig's disease), an invariably fatal neurological disease. A private memorial service will be held.
Dave Marsh tells Backstreets, "Joan was a wonderful person, a rock for Terry who is a rock for so many others, and extraordinarily courageous in facing the worst disease I even know anything about, let alone have acutally witnessed in its evil activity."
Our deepest sympathies to those who knew and loved her. Fans who wish to honor Joan's memory may make contributions to the Greater Philadelphia Chapter of the ALS Association. (321 Norristown Rd., Suite 260, Ambler, PA 19002. Phone: 215-643-5434; Toll Free: 877-GEHRIG-1; Fax: 215-643-9307). Please mark any donations to be used for patient support.
- July 17, 2005

CALLING ALL BACKSTREETS IRREGULARS...
We're putting together our tour coverage for the upcoming issue of Backstreets magazine, and we've gotten great reports from fans for most of the first two legs... but we can still use just a little help. If you were at the Madrid, Barcelona, or Gothenberg shows and want to help out, please email your impressions to onstage@backstreets.com. Especially helpful are descriptions of the rarer songs played (tour premieres, etc.), the "feel" of the show (especially compared to others you might have seen), things Bruce said to the crowd-- basically, anything that set the night apart. To send photos, ticket stubs, concert ads, handwritten setlists, etc., you can email scans to images@backstreets.com. We can't do it without you -- thanks to everyone who's been contributing and keeping us posted so far, and please keep 'em coming as the summer leg continues!
- July 15, 2005

SANCIOUS DISCUSSES BTR 30TH ANNIVERSARY SET
Early E Street keyboardist David Sancious spoke with Jay Lustig in today's Star-Ledger, in advance of tomorrow night's show at the Two River Theatre in Red Bank. Along the way, he mentioned his participation in an upcoming 30th Anniversary reissue of Born to Run -- a project that has been in the works more many a month and rumored aplenty, though there has yet to be an official announcement.
Sancious says, "A couple of months ago, I did an interview for a documentary that Bruce's company is making about the 30th anniversary of Born to Run. They got everybody down to New York City in a studio and filmed interviews with everybody who played on [the album], getting people to remember the sessions and tell stories about what went on."
While it's too early for set-in-stone details, the reissue is planned as a lavishly packaged multi-disc affair, including the remastered BTR CD along with bonus material including a long-awaited official DVD of performance footage from the era and the making-of documentary Sancious mentions. Look for a release date in late summer or fall, and we'll have more details right here as it approaches.
- July 15, 2005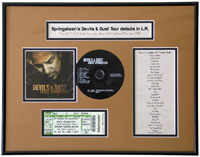 GRAB YOUR TICKET...
Got a box of ticket stubs but the walls are bare? That's My Ticket will capture the memory of your favorite Springsteen show with a unique Ticket Frame that includes show-specific set lists, headlines, and a place for your actual ticket stub. Whether you saw the Chicken Scratch tour or a Devils & Dust show, if you got the stub... Ticket Frame it. Head to Thatsmyticket.com for details and to order. Mention "Backstreets" in the comments section and save $10 off each Ticket Frame.
- July 14, 2005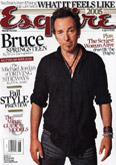 BRUCE'S ESQUIRE (THE MAGAZINE, NOT THE GUITAR)
Once vilified in their pages as "Saint Boss," Springsteen is back on the cover of Esquire with a kinder, gentler story inside. In an "in his own words" piece, Bruce takes writer Cal Fussman through a show from his own point of view: "That first step onstage is an unusual feeling. I'm not sure I can connect it to other people's lives outside of perhaps taking a driver's test. You really want that license." Check the New York Daily News for an online excerpt; look for the August issue on newsstands this week.
- July 13, 2005

HE'S TALKIN' ABOUT THE ROAD: NEW MARSH BOOK DUE
In addition to My Life on E Street, Danny Federici's scrapbook due in 2006 from Chronicle Books, next year will also bring a new Bruce book from Dave Marsh. Marsh has signed a deal with Wenner Books to follow up Born to Run, Glory Days, and Two Hearts with Bruce Springsteen: On Tour. As opposed to his Bruce bios, On Tour will incorporate full color photographs (art direction by Sandy Choron), illustrating a tour-by-tour history. So, what's that last chapter gonna be? Devils & Dust tour? Or beyond? Marsh's book is scheduled to hit shelves by fall 2006....
- July 8, 2005

TICKET ALERT
Pre-sales for Northwest shows begin Thursday
Only three shows for the summer North American leg remain to go on sale: Portland, Seattle, and Vancouver, the last three dates of the leg. Public ticket sales for those NW shows will begin on Friday, but some tickets for all three shows will be available early, through pre-sales for House of Blues members. Visit HOB.com for further details!
On sale Friday, July 8: Portland, OR; Seattle, WA.
HOB pre-sale starts July 7 at 10 a.m.
On sale Monday, July 11: Vancouver, BC
HOB pre-sale starts July 8 at 10 a.m.
Check our tour/ticket info page for the full itinerary, sale times, and links to each on-sale. Good luck!
- July 6, 2005

SANCIOUS TO PLAY TWO RIVER THEATRE, JULY 16
Original E Street Band keyboardist David Sancious is returning to play at the Jersey Shore this month, at the site of Springsteen's Storytellers performance in Red Bank. Tickets for the performance, a special concert to benefit SPARKS International (Students Providing Aid Relief and Kind Services), are $25 and available through the Two River Theatre box office.
Update: Originally planned for July 2, the concert has been rescheduled for Saturday, July 16.
- Updated July 6, 2005

ICELAND, ICELAND BABY
More details on Springsteen's European tour "encore" at an airport in Iceland [see The Return of Legends of Springsteen, below]... According to the Associated Press, Keflavik International Airport employee Federick Johnson confirmed that the 2 a.m.performance was not a hallucination: "It happened," Johnson said, "He just came in and did some songs." While the initial report mentioned "The River," the AP reports six songs played on acoustic: "Dancing in the Dark," "Bobby Jean," "This Hard Land," "Working on the Highway," "Does This Bus Stop at 82nd Street?" and "I'm on Fire."
- July 5, 2005

4th OF JULY, ASBURY PARK!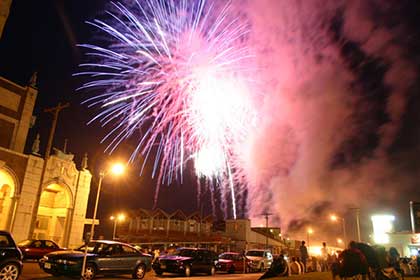 - Mike Black photo, July 4, 2005


E Street Band founding member Danny Federici is following up his 2002 self-titled solo album this month with a new one called Out of a Dream. While Danny self-released his sophomore album for a limited time last year as Sweet, he has since signed with V2 Records, and the reworked album is due July 26. The resulting Out of a Dream, another smooth jazz release from Phantom Dan, includes eight original compositions, plus covers of the Rolling Stones' "Miss You" and Bob Dylan's "Knocking on Heaven's Door." Lisa Iannucci recently spoke with Danny for Backstreets Magazine.
Backstreets: This is your second release in the smooth jazz genre. What's made you want to go back into the jazz thing?
Danny Federici: That's actually what I do; it's the music that I listen to, the kind of music that I was constantly playing. I really don't get to play it with the E Street Band, except for a Christmas show with "Kitty's Back" where Bruce looks the other way and I get to go on a little longer.... It's very hard, with ten people in the band, it's really hard to be heard. I mean, the stuff that we play is really important to Bruce's songs, but I have more to say, too. You know, I write all the time. And it's really what I like: jazzy, bluesy music -- I've played it live, I have a blast doing it. A lot of E Street fans have come out and been really surprised, [they] had no idea that I could play that way.
Yeah, a lot of people don't know that you are a classically trained musician, that you studied classical accordion before you switched to jazz and then rock 'n' roll.
It's hard; I gotta do a little teaching there. I run into that in a lot of areas, even in Los Angeles where I lived -- I would go to do a soundtrack, and they would be like, "Aren't you that drummer or something from the E Street Band?" And I would say, "No, I'm actually an accordion player, and I know what I'm doing."...
It didn't really turn into a whole lot of business out there for me. I came back to New York. I've been back and forth [from there] for the last three years. In probably a year's time I got a record deal and a book deal.
A book deal?
Yeah, I have a book coming out from Chronicle [Books] next year, it'll be Chronicle's lead book in the fall, called My Life on E Street. I started taking pictures when I was 19, and I have boxes full of stuff.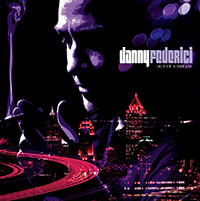 When did the songs for this record get written? Had you been working sort of "on the side"?
I talked about a lot of it in the middle of the [Rising] tour, and I actually wrote a lot of it in Europe. I got really inspired by art, paintings. There are a lot of inspirational moments when you're on tour... you know, I'm in a city and I had three days off, and it's very industrial... it gave me a lot of time, and I'd jot a lot of ideas down and put a couple riffs down on a tape recorder. This is the kind of music that I can play 'til I'm 75.
Has the E Street Band done any studio recording since the Rising record?
No, we talked about doing something right after the last tour, and it really didn't happen, so everybody's off doing what they do and keeping busy.
Should fans start saving up for next year?
Well, let me tell you, they're probably saving their money anyway! I did an interview earlier today, and the guy told me that he read in the Italian press that Bruce commented that he's writing some songs -- "rock songs" -- and that it may be his next project. And I said, "Well, that's good to know," because people always ask me, and I'm always the last to know! Bruce is a lucky man -- he can do what he wants when he wants, and that's really the way he operates.
Will you be doing any live appearances with this new record?
I'm putting a band together with Mark Rivera from Billy Joel's band, and actually I'm going through logistics of it right now. I had no idea how spoiled I am [touring with the E Street Band]. You gotta get a truck, you gotta haul around a lot of instruments.... What am I going to play? How are we going to get it around, how are we going to hook it up? But you know, I did it before when I put a band together and we played a couple shows -- I'm in good shape, I can do it.
Watch for the new www.dannyfederici.net for information and tour dates.
A lengthier version of this interview will appear in the upcoming Backstreets Magazine #83, due in August, with Danny talking more about his new album, the E Street Band, Asbury Park, and more.
Subscribe now!

LET'S BE FRIENDS!
Join the Friends of the Bruce Springsteen Special Collection
Greetings from the Asbury Park Public Library, home to the world's largest public collection of Bruce Springsteen books and magazines. In just four years, thanks to the generosity and passion of fans worldwide, The Springsteen Special Collection has grown to over 3,800 publications from 35 countries. Now, for the first time, you can get more involved by becoming a member of the organization that is in charge of this treasure trove, The Friends of the Bruce Springsteen Special Collection.
The Collection came about because fans around the globe donated publications from their private collections to the Special Collection. In that same spirit, The Friends invites you to visit our website at www.friendsofthespringsteencollection.org for details on becoming either a charter or an annual member. Members will receive Collection newsletters, a membership card, bumper sticker, and other benefits.
Most importantly, your membership will provide vital help to this fan community effort, as the Friends strive to improve this unique Springsteen archive in all respects: size, quality, archival methods, and ease of access. By joining you'll support the critical work of ensuring that these publications are preserved and available for future generations of fans, researchers and authors. You'll also help develop the Collection into a major research center that will encourage more people to visit Asbury Park, now and for years to come.
- July 1, 2005