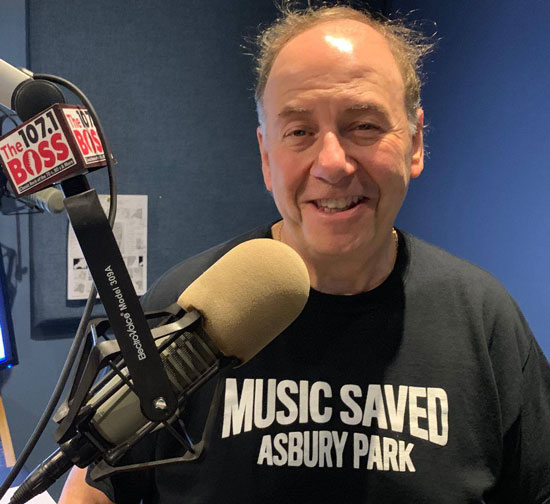 August 19, 2019: DJ Tom Cunningham hosts the 813th episode of his Sunday morning Springsteen radio show, but the first at his new home, 107.1 The Boss
Tom Cunningham doesn't skip church, but on Sunday mornings since 2003 he's had a congregation of his own, as host of a beloved all-Springsteen radio show on the Jersey Shore. The weekly two-hour Bruce block is long-running for a reason: it's a rare example of first-rate programming that can still be done on terrestrial radio, perfectly geared toward a local market but available anywhere thanks to internet streaming, developing a loyal audience in range of the radio towers and well beyond.

This weekend, Tom celebrates his 900th episode of what was first The Bruce Brunch (on 105.7 The Hawk) and is now Springsteen on Sunday (on 107.1 The Boss). A freeform delight for any fan of Jersey Shore music, Tom's show has played host to a multitude of musicians, authors, and other Friends of This Thing of Ours. Those interviews and musical performances are always interspersed, of course, with the music — engaging, timely Springsteen playlists every week, for casual fans and hardcores alike.

Last Sunday afternoon, shortly after he signed off from episode #899, I had the pleasure of turning the tables on TC, getting him to answer the questions for a change. We looked back at the history of his show: origins, highlights, transitions, and (as with most things Springsteen) the community that surrounds it. We also looked ahead to #900, broadcasting this Sunday, April 18 — an event to which all are invited, on the airwaves or in person, as Mister DJ hosts the milestone episode live on location at Bar Anticipation in Lake Como.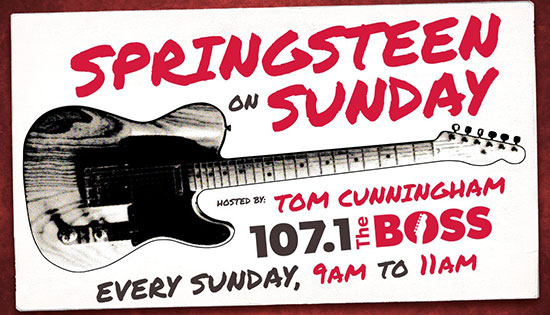 Chris Phillips: Great episode today! I set my alarm to make sure I could get up early and hear all of number 899 — some nice tributes to the Mighty One.

Tom Cunningham: Thank you, sir — and I didn't know it was Max's birthday until I got in there!

So you changed up the playlist on the fly?

Oh yeah, yeah — the good thing is there is never really a playlist, so that makes it easy.

Wait… there's not? You're kind of blowing my mind right at the top here. We definitely need to talk more about that.

Don't tell Max — don't tell Max I forgot it was his birthday!

Well, today already felt like a really good example of what you do and what's fun about the show; there's always logic that ties together what you play. But if you didn't come in there planning for Max's birthday… is the show more impromptu than I think it is?

That's the beauty of it. I mean, I will come in there knowing that I'm going to play A, B, and C. Maybe there's a historical element — you know, a show 30 years ago today, or, this album was released five years ago today. Today, I really wanted to open the show with "The Promise," the Carousel House version, so I knew I was going to play that after "The Star-Spangled Banner." So I will go in there knowing I'm definitely going to play A, B, and C… but what happens around A, B, and C is a mystery to me. Even while it's happening, sometimes.

That's fascinating. I honestly had no idea — I've pictured you working on a playlist all week. I'm sitting here thinking about when "Ghosts" came out last year, you and I were talking on the phone and got to brainstorming what other songs you might play around that. Like "Spirit of the Night," or… I forget what you wound up doing, but it was a nice little three-pack, I think.

Well, I borrowed your idea of playing "We Are Alive" after "Ghosts"…

Oh, that's right.

And that was perfect, so thank you.

I guess it was partly because of that, I pictured you planning your set out in advance. So if you're flying by the seat of your pants for two hours, what are you using to have everything at your fingertips?

I use two CD players — and I'm grateful that I have two functioning CD players in there to use. I'll have Bruce's entire released catalog with me on CD every week, and then I'll also pick and choose from my vast array of stuff. Obviously when a new Archive release comes out I like to spotlight that, and then there'll just be occasions when I'm feeling X song. I ended up playing four songs in a row from London today, inspired by the untimely passing of Prince Philip.

Ah — I was trying to figure out what the connection was there. It's not always overt, which is also fun. I have to ponder, "Okay, why are we in London now?"

Right. So that was that. And the Max thing — I have a notebook that I bring with me every week, which includes everybody's birthday. I usually flip through the book before I come in, but today I looked once I was in there, and I was like, "Oh man, Max is going to be 70 this week!" And so I put together a nice, solid five-pack of Max heavy-hitters.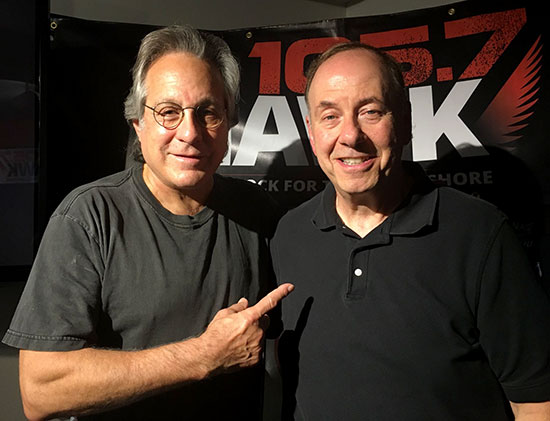 "Max has joined me in the studio multiple times" — here at 105.7 The Hawk, where TC broadcast the first 812 episodes of his show then titled The Bruce Brunch.

And then you had Stevie doing "The Time of Your Life," Bobby Bandiera doing a Bruce cover, you've got studio tracks, live tracks, and even — you know, I'm not sure I had ever actually heard that Red Bank Rockers version of "Fire," when Bruce surprised everyone by showing up.

Right. That was in 1984, at the Ripley Music Hall in Philadelphia — wild stuff.

I know the Archive series has given you a whole lot more material to work into the rotation, but aside from that, can you play anything you want? What's off-limits to you?

Well, no one's ever said to me, "Don't do it. Don't do what you're doing." So I may step close to the line once in a while, perhaps, but I don't make a big deal about it — as long as the audio quality is air-worthy.

I don't think I've ever heard an obvious audience recording on your show.

Back in the day, yes; but now with the invention of the Archive series, which after fire and electricity is the greatest invention of all time.… I mean, what a godsend as a fan and as a broadcaster. It's the greatest thing ever, it really is.
If the anniversary of one of those Archive shows falls on a Sunday I'm always particularly happy. Despite Max's birthday sneaking up on me today, I'm usually cognizant of anniversaries and birthdays, for sure. Brucebase is an incredible resource. Prior to that my go-to's were the Backstreets book — by your friend Charles Cross, I'm sure you know it well — and the Patrick Humphries/Chris Hunt Blinded By the Light book. Flynn McLean and Bernie Ranellone have both been very helpful, not to mention generous over the years. So it's not like I don't prepare at all — I usually do some drilling down on Saturday.

I'm still surprised at the degree to which you're winging it.
I swear that there's divine intervention some days, and it just happens. And to be able to do pure, freeform radio in 2021 live in the studio is a gift that I do not take for granted.

Only freeform radio would give us "Jole Blon," as you did today. So okay, that was episode number eight hundred and ninety-nine. Nine hundred episodes, man, that's crazy. That's a lot of Sunday mornings. I'll let you do the math — how far does that go back? Was it 2003 that you started?

Yes, December 7, 2003 — a date that will live in infamy [laughs]. Magically, one of the all-time great holiday shows took place that night at Convention Hall; so yeah, from top to bottom, that was quite the day.

What did you used to do on Sunday mornings before you had the show? Do you remember?

I went to Mass. So I just switched that to Saturday night.

I was going to ask if you were now a pagan, or excommunicated.

No, we just had to switch to Saturday.… That's okay. It's been worth it. And out of the 900 shows, I'd say that no more than a dozen were pre-recorded — sometimes to the chagrin and dismay of Mrs. C.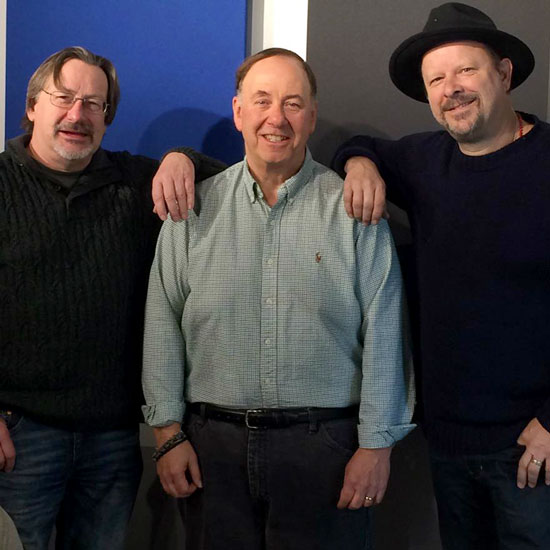 Southside Johnny and Danny Clinch have each guested seperately, but once they accidentally arrived at the same time. TC rolled with it, and "it was pure magic… everything that I know and love about the Jersey Shore with those two guys there."

Take us back to the beginning, when it was The Bruce Brunch. I don't know how you started. Did you pitch it? Was it pitched to you?

My buddy Race Taylor was doing afternoons at WPLJ at the time. I went into the studio with him when he went off the air one evening, and I cut a demo tape. Because I had this idea to do a Springsteen show on Sunday morning at the Jersey Shore — a no-brainer, right? Well, I pitched it to — I'm going to say the name — 90.5 The Night. I pitched it to them, and the gentleman running the operation told me he didn't think anyone would listen to it.

So then The Hawk (WCHR-FM) came along — it was a brand new sign-on in the market — and I'm like, "Okay, new classic rock station at the Shore. They surely have to want to do this show." The kicker is that my former intern, who I actually ended up hiring for her first paid radio position, was running the programming department for the company. But they turned it down.

I figured that it was dead in the water — shot down twice. But then The Hawk got sold, and one of the first things that the new program director did was to scout around to put a Springsteen show on. My buddy Steve Trevelise was working there, and he said, "Hey, this guy's looking…" And I had my demo. So I overnighted that to him, and he said, "Can you start Sunday?" I said, "Yes, I can." And that was December 2003.

Did you have free reign with your show from the beginning?

Phil LoCascio was the program director there; he knew my own background as a program director, and as a radio guy, and he was like, "I'm going to trust you with my radio station. You have the keys to the car every Sunday. Just don't screw it up."

I still have program director genes as part of my make-up, so there have been times where I've had to pull myself back in on some Sunday mornings — I just never wanted to violate that trust.

When you say pull yourself back in, what do you mean?

Too many unfamiliar songs in a row, say, or maybe too many down-tempo songs in a row. Like on a sunny Sunday morning at The Jersey Shore. There are times when I need to remind myself, "Hey, people are doing this, that, and the other thing, and you've got to be the soundtrack of that."

Right, it can't all be deep cuts, and it can't all be "Stolen Car." I hadn't really thought about how much your audience varies — somebody who's just in their car with the radio on, or somebody who's washing their car, and on the other end of the spectrum, this dedicated listener base. I've said many times this is appointment listening for a lot of Springsteen fans. I can see it being a tricky balance to keep those different audiences satisfied.

Yeah, and I'm cognizant of that. Being a former program director, I'm very well aware of what needs have to be met during the course of those two hours.

Can you give a quick summary of your experience in radio? I know you've been doing this a long time.

I started at the University of Dayton, on the school's Carrier Current Station in 1975 — so I got to play "Born to Run" when it was new. I got a job out of that in Dayton, at the big rock station, and then I came home and worked at the massive WPST here in New Jersey for ten years. I was the program director there for four years and did afternoons — it was a remarkable, remarkable radio station and a remarkable time of my life. I'm blessed to have been on the radio in my hometown for ten years, and now to be on a 17-year plus run at my home-away-from-home.

So WPST is where you were in 1984?
Yes, I was doing nights then, and to have been on the air in New Jersey on this massive station during Born in the U.S.A. was… I still can't even describe what it was like, just the mania. The insanity. People revere the '80s so much — and rightly so. Popular music then was just amazing, and MTV was just kicking in, and that of course really helped strengthen the artists and the songs, and then to have Bruce with this massive album in the middle of it was just crazy.

I mean, seven Top 10 singles from that album? And to me there were always nine: "Pink Cadillac" was massive, and then when "Jersey Girl" came out as a B-side, forget about it. We could play "Jersey Girl" every hour on the hour and no one would have complained.

That is the greatest run of B-sides of all time.

Yep. We really might have played "Jersey Girl" every hour. I had a lot of friends in retail at that time. We would do store calls every week with these folks to see what was selling, make sure we were on the right track — an early form of research, if you will. And when the Live box came out, it was just unprecedented what happened with that thing. To be there in New Jersey for it… it's just something that you could never explain. You had to live it.

As that died down… is that around when you moved over to the industry side?

Yeah, I left radio for a life of crime in the record business. But I always missed it. I've loved being in the record business, but once I started doing the radio show, all my bases were covered.

When you started Bruce Brunch in 2003, how long had you been out of radio at that point?

I left full-time in '89. I had done some part-time stuff throughout the early part of the '90s, but 10-plus years for sure.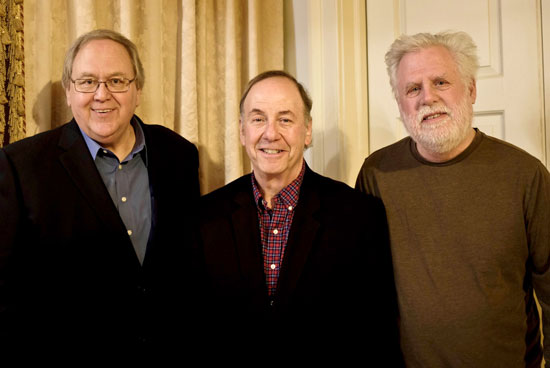 Left to right: Frank Stefanko, TC, and David Dye, who came together in 2017 for a panel conversation at Princeton, Springsteen on the Radio: 1973 to the 21st Century. Watch the event on YouTube.

So you got to play "Born to Run" when it came out in '75. When did you discover Bruce? What's your origin story?

Thankfully, my radio station of choice in 1973 was 93.3 WMMR in Philadelphia. That was my station, those were my guys, those were my people — and naturally, they unquestionably broke Bruce Springsteen. Those guys were my heroes: Ed Sciaky, and Michael Tearson, and David Dye.

Did you know Ed? [The late Ed Sciaky was an early champion of Springsteen and his music; his voice can be heard introducing the legendary 2/5/75 broadcast from the Main Point.]

Once I was an established broadcaster, I would be in peer situations with Ed. Which was mind-blowing to me. I mean, these guys were literally my heroes, and Ed… I became really friendly and close with Ed. Ed had a voracious appetite for music, and when I was on the label side, he always wanted a copy of this, that, and the other thing, and I was happy to send him whatever he wanted. I sat next to him at one of the greatest shows that I've ever seen — Bruce's de facto 50th Birthday Party at the Spectrum on 9/24/99. The E Street Band hadn't played that building since 1988, and not since '81 with Stevie. Ed had a copy of the setlist and kept trying to get me to look at it, which I refused to do. What a night!
When Ed died suddenly at Penn Station in New York, I was working at Jive Records on 25th Street at the time, commuting in and out of there daily. That was a miserable seven-block walk and a brutal train ride home.

What was your first Springsteen concert?

May 24th, 1974, the War Memorial in Trenton.

Wow. That was Sancious and Boom Carter?

Yes. And David Sancious just blew my mind. He was that great. And when I finally got to meet him — to be able to talk to him in great detail about that show and that version of the band — it was literally one of the highlights of my life.

How did you connect with him?

It was the Upstage reunion night, when they had a little reception at The Asbury Hotel. Rightly or wrongly, I will always consider David Sancious to be the greatest musician ever to play in the E Street Band, and I always wanted to have him on the show. So Steve and Maureen [Van Zandt] were on their way over, and I was with my friend Rich Russo.…

Another freeform radio king.

Absolutely. So Mr. Russo and I, we had to stall David Sancious until Stevie got there. I just started peppering the guy with stuff — and he was into it. He was very receptive, telling me stories, and Rich says, "You know, this is great, but this conversation needs to be on the radio." And Sancious looked at me, and he said, "Yeah, it does." I'm like, "Okay!" and he came on a couple of weeks after that.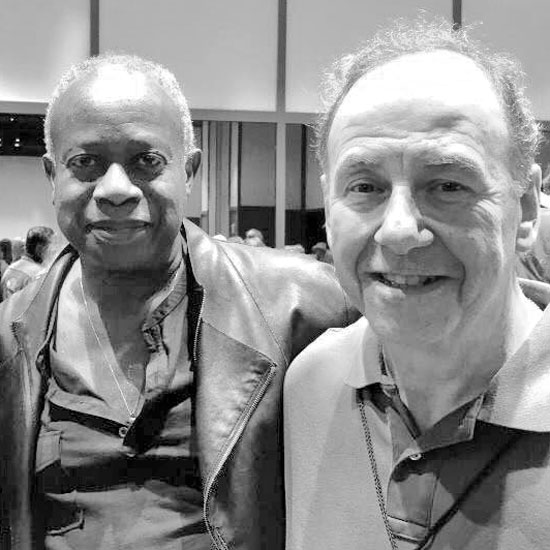 Finally, Tom Cunningham was ready for David Sancious: It was "literally one of the highlights of my life" when Sancious came on the show in 2017.
That is some strong wingman action from Russo, I've gotta say. And it takes us right into special guests. The music you play is just one part of what you do on the show — you've had so many people come on the air with you over the past 899 episodes.

Yes, including you!

That's right — and I can say from experience, you're very good at making guests feel comfortable.
Authors make great guests, especially those who've had intimate conversations with Bruce. Robert Santelli has been on a bunch of times, and he's always great. Even though he's far away he's still a local. Daniel Wolff was very insightful, as was Ryan White. Finding out that Brian Hiatt was a kindred Jersey spirit made his book all the better. I always felt bad for Peter Carlin, who was on the Sunday after Superstorm Sandy — when literally the majority of the potential audience was still without power. Thom Zimny has been a great guest. He adds so much context. Actually he joined us once at Martell's in Point Pleasant Beach for one of the first live broadcasts that I did. To have him there was very cool, and that it was his hometown made it extra special.
And there was the Saturday that I interviewed both Eric Meola and Dave Marsh at the Library in Asbury Park. They both had books out and did presentations, and after all that was done I sat down with them separately to chat. I'd had Dave on one other time, in 1987 when Glory Days came out, and here we were almost 20 years later with his On Tour 1968-2005 book. He was fabulous, of course, and as we were finishing up and I was stowing my gear, I thanked him for coming up with such great answers. He looked over at me and said, "That's because you asked great questions. Great questions always bring great answers." I've carried that with me into every interview that I've done since then.
So you first talked to Dave in '87 — when did you start doing on-air interviews? Is that something you did a lot in the '70s and '80s?

Yeah. In fact, I keep finding cassettes, and I'm like, "I interviewed Brian Wilson!"

When did you start having guests on the Sunday show?

Pretty early on. The first person to come on what was The Bruce Bunch was [Vini] "Mad Dog" Lopez. It was about two months into this thing, and I had Vini on — and what a great way to get your feet wet, with Mad Dog.

And he's been a recurring guest. As I'm thinking about all the people you've had on, it's almost easier to talk about people you have not.

There's only one. [Laughs]. Only one who's not been on. But here's the thing: I'll say not been on yet. Earlier this year, Bruce said he would have a few surprises in 2021. I figure that one of them is going to be coming on the show with me. I've got that checked off as one of his surprises.

The power of positive thinking, my friend. But you've had every member of the E Street Band.…

Yes, including Mrs. Springsteen, who was great. She was unbelievably great. Any time somebody from the E Street Band is on, it's just pure gold. They know that they're going to be treated respectfully, and they know that they'll be asked intelligent questions and not prodded to spill anything that's not to be spilled. At this point, they can be confident of these things — and that, to me, is just over-the-top awesome.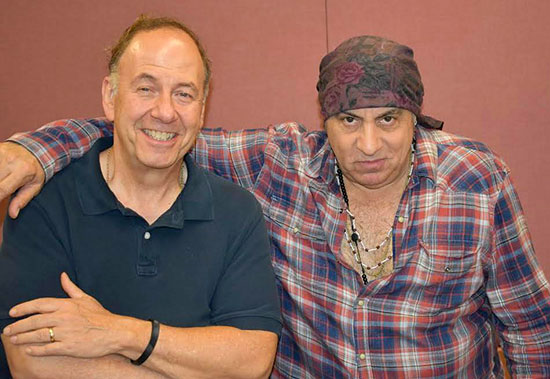 TC and SVZ, on location at NYC's Carroll Rehearsal Studios, May 2017.
And you did something special with Stevie [Van Zandt].

I was so blown away by Soulfire, and the thought of a full-on raging Disciples of Soul tour, that I knew that a phone interview wouldn't be enough. So we worked out a plan where I would sit down with Steven at Carroll Rehearsal Studios, in the city. Things went great. Not surprisingly. It was so wonderful to do it sitting across from him. He was so animated and obviously very proud of the album.

The whole time that we were talking, the band was rehearsing across the hall, and the sound would bleed over into where we were — it gave what we were doing a special sense of authenticity that you couldn't ever predict or hope to duplicate. Then after we wrapped things up, he nodded across the hall and said, "We'll be here for a couple of hours longer, and you can stay as long as you want." I sat on a sound case off in the corner, blown away time and again. It was one of the great days of my life.


Beyond E Streeters, who else occurs to you as memorable musicians you've had on over the years?

Joe Grushecky, of course. The Sensational Soul Cruisers — [vocalist] Alan Smith, God bless him, who passed away a couple of years ago, sang "Club Soul City" live one morning. Pat DiNizio, not long before he passed away sang "Downbound Train" — the only time he's ever performed it acoustically by himself. Joe D'Urso's done some great stuff. Williams Honor, Emily Grove, all these great Jersey Shore folks have graced the airwaves.

So yeah,to be clear, these are not all just interviews, but you've got people performing on the show. Speaking of which, I wanted to bring up that great 10-inch record that you put out a couple of years back, Songs of Springsteen. That thing sold out fast.

Yeah, 500 copies, and it sold out in a heartbeat.

Six songs, all covers performed on the show. You mentioned Emily Grove, she's got a great "Tougher Than the Rest" on there… you had Grushecky, Willie Nile… and Bobby Bandiera's "If I Should Fall Behind," is that the one you played today on-air?

That's the one, recorded live on the show.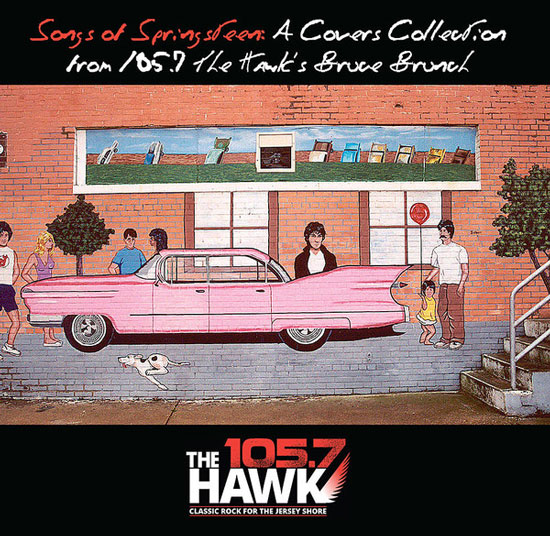 Songs of Springsteen, the limited charity 10-inch released in 2016, capturing six Bruce covers performed live on the show. Frank Stefanko shot the cover image, of a 2003 Andre Sabori mural in Asbury Park.

You mentioned the Pat DiNizio track, and I know there are a lot more performances in the can; any chance you can do a follow-up record? Songs of Springsteen 2?

Well I have never publicly really talked about this, but… this would be a good time. The nice folks at JLM have approved a second one, so thanks again to them for that. It's all been in the can, so to speak. COVID kind of messed around with the plan, like so many things, but once we get clear of COVID, that's on my list of things to readdress immediately. So yeah, I already have an approval from JLM for Volume 2.

That's fantastic. Can you talk about the line-up?

Not yet… but I can say it's a full 12-inch LP this time, with 12 songs.

Thinking about that 10-inch also reminds me of two other guests you've had on your show: the front and back cover photographers for that record, Danny Clinch and Frank Stefanko.

Oh, man. Danny is such a great local cheerleader, and an incredible entrepreneur, not to mention a bad-ass musician.. When he put that [Transparent] gallery there in the Asbury Hotel, that was supposed to be a limited-edition thing. It was only supposed to be there for a little while. But that thing wasn't going anywhere. And Danny is just so giving. His Sea.Hear.Now festival has obviously become this massive event — and I'll be curious to see what happens this year with that. Fingers crossed to see what happens.

And Frank Stefanko? Here's the thing: how many times, when I was a young man, was I looking at the cover of Darkness on the Edge of Town, looking at the cover of The River… and now to be buddies with Frank. That's what makes the world a beautiful thing. You never know. You just never know where life will lead you or take you.

Or where communities will be formed, right? Who'd have thought that that's somebody you could meet and become friends with?

Right. And that all comes back to Bruce's music, and the sense of community that his music fosters at its very best.

You're helping foster that, too, with your show. Like these on-location episodes that you've been doing — I assume you're seeing a lot of the same people coming out.

Absolutely, and these are people who I also see at the Stone Pony, who I see at the Wonder Bar, who I see at MetLife Stadium… and it's a beautiful thing. Being in a position to interact with fans, very like-minded fans — I mean, I walk into MetLife Stadium or the Wells Fargo Center or wherever, and someone will say hi to me. And how do you not treasure that?

When did you start leaving the studio to broadcast on-location?

Pretty early on. It's a good business opportunity for our clients — and a mutually beneficial one, for both the client and the radio station. So as a good businessman, who could say no to that?

Bar A signed on for one Sunday a month, and I was over the moon, because it is just the perfect location. It's got everything that we could ask for, in terms of a place to do the show live from. That first Sunday we were there in January, Southside Johnny came over, and he was great. He could not have been more cordial and pleasant, fun and funny. He hung with everybody, took every picture, signed everything. We had Bobby Mahoney come in February, and he did this version of "Open All Night" that was just smoking.

I think that the most remarkable thing of all is that these performances are taking place place at 10:30 on a Sunday morning — usually following a Saturday night gig. Which is cruel and unusual! But whether it's in the studio or out somewhere during one of these live broadcasts, it does take the show up to a whole 'nother level. A couple of times we were able to be at Lakehouse Studios in Asbury Park, recording sessions with Jack Antonoff from Bleachers, and Matt Nathanson was incredibly special. Jon Leidersdorff is a major asset to the local music scene.

It's been pretty cool that Bar A has found a way to host you even in the middle of the lockdown.

Yeah, it really sucked last year. But we were able to get back there in the fall, outside, for a couple of times, and it's great to be back over there.

When you go out on location, you often work in some kind of benefit for the community.

That's the other great part about doing the show, the charitable endeavors that come along with it. Light of Day has been a big part of my life. Fulfill, the food bank, is an equally big part of my life. And there are of course other charities that I'm always happy to support. Being able to serve the community in that way is very rewarding, needless to say, and you get to meet great people; knowing that you're able to make even a small difference in the community is a beautiful thing.

Your Songs of Springsteen record was a charity fundraiser. And every Thanksgiving you have your all-request show, which seems like a big success every year, where you're raising money for those folks.

For the [Fulfill] food bank, yep. And Light of Day, of course, is its own special monster of awesome. Every year in the fall, board directors Tony Pallagrosi and Jean Mikle come on the show to announce the next annual blow-out. That's always one of my favorite Sundays.

And then there's the "Morning After" Light of Day broadcast, which is on the Sunday morning following Bob's Birthday Bash, at the Anchor's Bend across from the Paramount Theatre in the Grand Arcade. That's become an annual tradition. And it's always a blast to have these musicians — who'd left it all on the stage mere hours before — coming by to chat and recount their exploits. Which was especially illuminating in 2020, because so many of these folks had shared the stage with Bruce.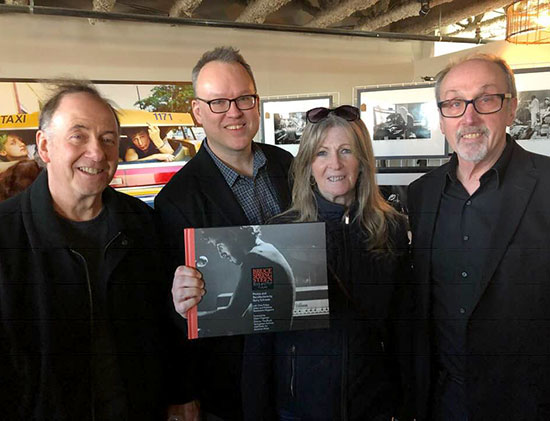 February 9, 2019, when Cunningham moderated a Transparent Gallery event celebrating the Backstreets Publishing release of Bruce Springsteen: Rock and Roll Future. L-R: TC, Christopher Phillips (Introduction), Eileen Chapman (Foreword), and Barry Schneier (Author/Photographer).

Besides broadcasting, what you do every Sunday has also given you a chance to do so much other stuff in the community. When I came up — speaking of Transparent Gallery, which is just a cool event space, to say nothing of all of Danny's stuff there —when I came up with Barry [Schneier] to do the talk about our book, you were the guy to moderate that thing.

And we packed the joint!

We did! And then there are your Light of Day hosting duties — just a lot of interesting opportunities that have come your way.

And again, it comes down to community and meeting people. I have met so many great people in my life, through this music and the culture and the scene, I couldn't begin to tell you. People who are die-hard fans and love the music the same way that you do or I do — if you don't take something positive away from that, then you're really missing the boat.

I've been able to moderate panels at the symposiums that have happened at Monmouth University. My partner-in-multiple-crimes Rich Russo and I… they do the Tuesday Night Record Club over there at Monmouth, and Rich and I generally get to be on the panel for the Bruce Night of that thing. And on and on. I'll go to the Stone Pony, and somebody will say, "Will you introduce us tonight?" "Of course, I'm honored to introduce you tonight."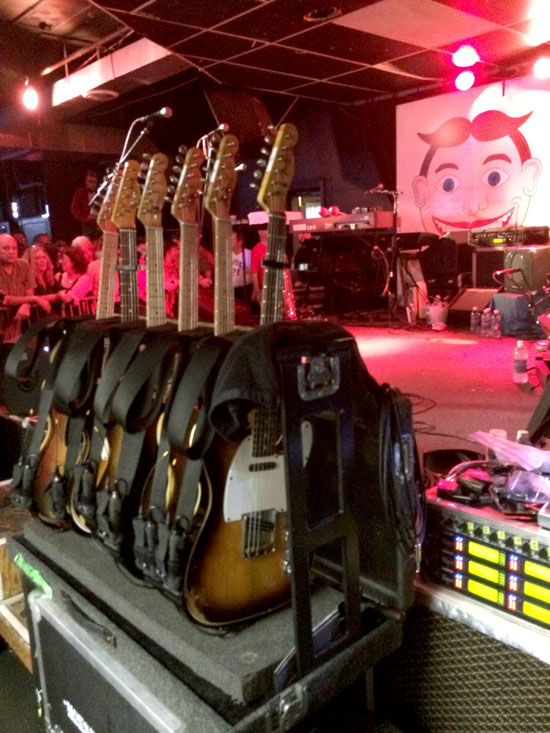 July 18, 2015, guitars waiting for Springsteen's "surprise" performance at the Wonder Bar, photograph by Tom Cunningham. "I saw Tillie, and I saw those guitars," says TC, "but Kevin Buell was right there doing his thing… and when he's working, you cannot mess around with that. So I had to wait until he stepped out of that area, and I didn't have more than a couple of seconds to get that picture. It went viral — that's literally one of the greatest pictures I have ever taken."

I was also on hand to make the introductions at the Wonder Bar show in 2015, when Bruce showed up to play with Grushecky and the Houserockers.

Oh, that was a big night. Longer, even, than their typical Light of Day set.

Yeah, and that's really the last time that Bruce has done a club show, to that extent. And in that small of a place. That was a night that you couldn't make up.

The Thursday night before, John Cavanaugh — a great photographer here at the Shore — had this gallery space on Cookman Avenue, and with Joe and the Houserockers coming in that Saturday, he had a Joe Grushecky exhibit.

At the opening there on Thursday night, I'm talking to Joe, and he says, "Well… I've gotta go." I said, "How can you leave your own thing?" He said, "I have to go." I was like, "Wait a minute… this is your thing!" He says, "Make sure you come see me Saturday before the show, because there's a bunch of stuff that I want you to say before we go on."

I'm like, "How can you leave this thing?" and he says, "I have to go see a guy."

At what point did you "get it"?

I'm the dumbest person ever. [Laughs] I said, "Why… where…"
He says, "I have to go see a guy about a horse," and I said, "All right" — and I still don't get what he's telling me. So off he goes.

So Saturday night comes, the Wonder Bar is of course very small, and people are abuzz with the fact that Bruce is in there. There's no real dressing room at the Wonder Bar, just a little dingy back room, and I know that I have to go in there to get what I need to say from Joe. So I knock on the door.

The angry bouncer guy opens the door and he says, "No one's allowed in here." I said, "Yeah, I know… but I've gotta talk to Joe." [Laughs] And the guy yells into the room, "Anybody here want to talk to Tom Cunningham?" And you hear a chorus of, "No, no, get out of here!" [Laughs] "All right, get him in here." So now I've gotta go in, and there's nobody there except Joe and the Houserockers, Bob Benjamin and his buddy, Kevin Buell, and Bruce.

And you know, my thing is to stay out of the way. Even at Light of Day, where you see Bruce interacting with all these other musicians — which is amazingly cool, he's in his element, and watching him interact with these other musicians is priceless — I keep out of the way.

So Joe's sitting down with a pad, and he's writing down all this stuff for me. He goes, "You've got to say this, this, this, this, and this." I'm like, "Just get me out of here." So we're getting ready, we're going on in a couple of minutes. I look at Kevin Buell and he says, "When you get up there, use Bruce's microphone — but don't touch it."

I look over at Bruce; he shakes his head and goes, "Don't touch it."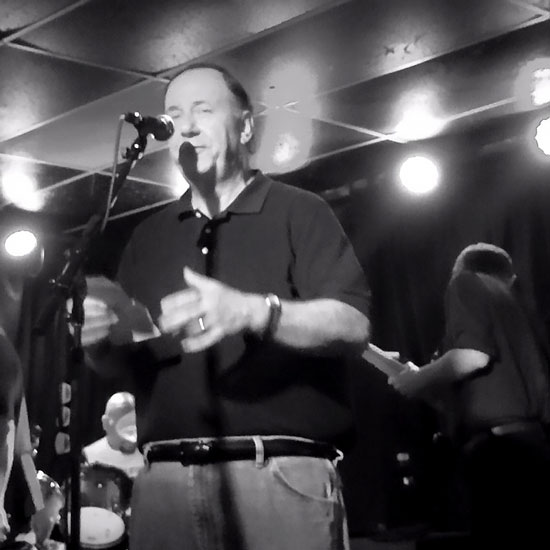 [Laughs] Pre-COVID, just to be clear.

Yeah! I guess, you know, it's set to his specifications. "Don't touch my microphone." So I've got to go out there and be cognizant of the fact that I'm not touching the microphone, and then with the hero of my life standing right there, I've got to do a reasonable job.

Without touching the microphone. But I'm sure you pulled it off without a problem.

I did, and it was my buddy's Rose Montana's birthday that night, and I even got to give her a birthday shout-out from on stage. So how do you beat that? And that's one of the pictures I sent you — that's me not touching the microphone in that picture.

And you did the introduction for that big Southside Johnny drive-in show — to the sound of honking cars!

That was the one of the greatest experiences of my life. It was full-on COVID times, and people were in their cars, with no way to communicate other than blowing their horns! And to walk out there and have people blowing their horn at you… that was amazing. And what a successful event that was for the station — the streaming numbers for that thing were just through the roof. There were people literally listening all around the world.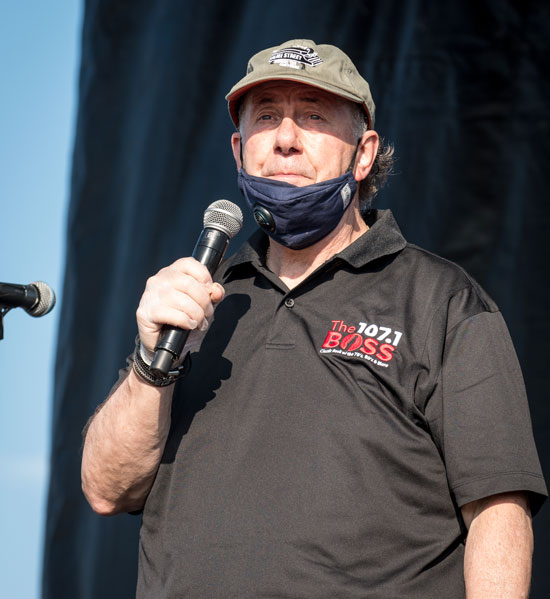 At the Drive-In: a masked-up TC introducing Southside Johnny at the Jukes' Drive-In Live performance, July 11, 2020.

Your show has aired on two different stations since 2003.

The first 812 were on 105.7 The Hawk (WCHR-FM). The 900th episode this Sunday will be number 88 on 107.1 The Boss (WWZY-FM).

Correct me if I'm wrong, but it seems like nothing has really changed except the title of the show — from The Bruce Brunch to Springsteen on Sunday — and the range of people who can listen.

Yeah. It was a business decision. There was no malice; you just want to have as many people as possible hear what you're doing. And I always felt that it was important for my show to be on in Asbury Park and in Monmouth County.

That was a stretch before.

Yeah, and look, radio signals, they are what they are — they are finite. So it was a business opportunity, and I was happy that they wanted me and happy to join the team there.

I have to say, I've seen terrestrial radio take a beating by naysayers over the years, yet the fact remains that 91 percent of all Americans listen to the radio every week. In my "day job" — format editor at the All Access Music Group — I talk shop with some of the most brilliant broadcasting minds in the business, and I always come away inspired. Plus, I steal their good stuff. I like the idea of working for a locally owned company like Press Communications that has a long history at the Jersey Shore. Everyone on The Boss is live and local, and to me that makes a difference. I'm proud to be a part of the team there.

And with the move to The Boss came the challenge of renaming the show, but you came up with the perfect answer — it's practically a no-brainer.

Yes. And you remember, Ed Sciaky's show was Sunday with Springsteen. I actually reached out to [Ed's widow] Judy Sciaky, and talked to her about maybe using that name, but my pal Mark LaSpina, who's an exec at Red Light Management/ATO Records in Nashville, came up with Springsteen on Sunday and that was that.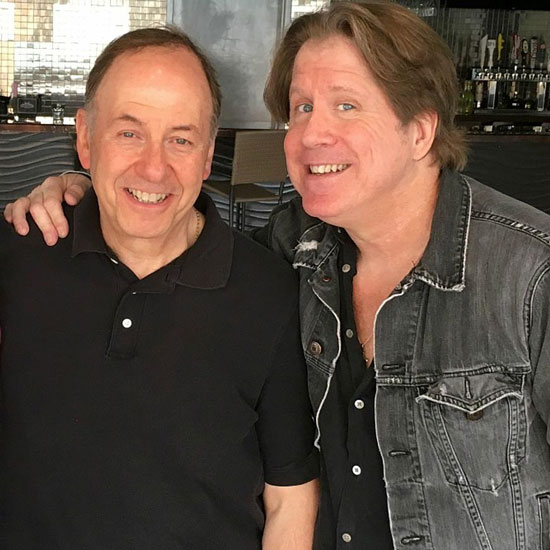 Cunningham with John Eddie, "my dear friend for close to 40 years."
As you've been thinking about the past 899 shows, because I know you have, what else stands out in terms of moments you're proud of, or cool experiences?

I will say, the greatest thing that we ever pulled off: Bruce was nice enough to schedule his birthday on a Sunday in 2018. I had the idea that I wanted to do a live show somewhere, and the Hard Rock in Atlantic City was just kind of coming into their own at the time. "Well, okay, let's see if we can't take this thing to the Hard Rock." They immediately said yes, and it was the greatest morning ever.

John Eddie and his Dirty Ol' Band performed live; Stevie called in, because he had a show at the Hard Rock coming up, and we actually gave away front-row tickets with Steve on the phone. It was just so much fun.
And it was packed! Obviously Atlantic City was on the edge of the station's signal to the South, but it was packed, and it was great. To have John Eddie be part of that, because he's one of my best friends forever, that will always really stand out.

You had that great experience at Stevie's rehearsal studio; have any of the E Street guys been in the studio with you, or have they mostly called in?

Garry [Tallent] was on once with me at the Stone Pony, so that was really cool. Jake Clemons was the first in-studio guest at The Boss, and he performed a super-sweet version of "You're a Friend of Mine" that morning. I volunteered to sing the Jackson Browne parts, but for some reason he passed.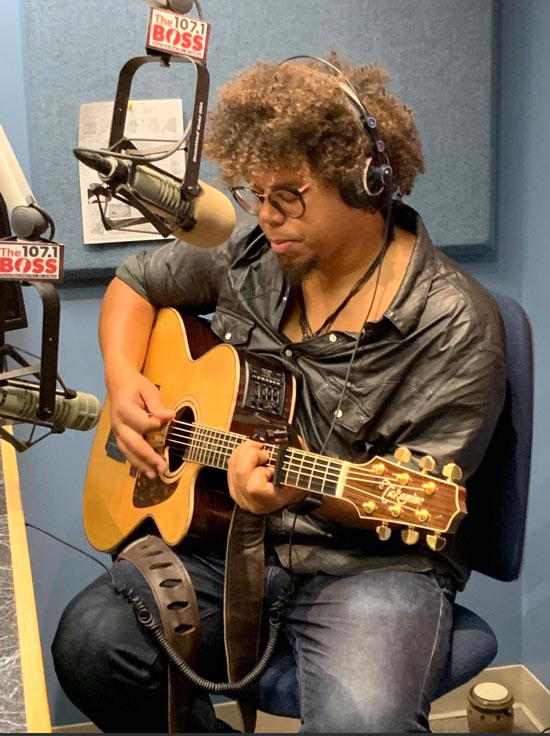 Jake Clemons had a record release party at the Pony the night before, and the poor guy gets up the next morning and comes over to the radio. I always guest musicians to cover one of Bruce's songs, as a longstanding tradition, but I suggested to Jake, "Maybe it would be cool if you sang 'You're a Friend of Mine.'" And he was like, "Oh yeah, that would be cool."
Max [Weinberg] has been in the studio multiple times — and in fact, the only time I think I've ever been speechless in my life was one time when Max was in there. I like to play a song that spotlights whoever is coming on, leading into their segment, and I had "Roulette" on for Max. So we're getting ready to go on the air, and as the song is playing out, Max — in perfect time — plays along to the outro to "Roulette" on the tabletop. I was literally speechless. It blew my mind.

Oh, man, I'm sure. And then do you try to convey what just happened over the airwaves?

I mean… you can't. I was just like, "You've gotta be kidding me!"

Another highlight was having both Southside and Danny Clinch in the studio — that was a chance occurrence, having them there together. They were both scheduled to come in that day, but they ended up there at the same time… and it was magic. That's on YouTube, that interview, and it was just pure magic. It was everything that I know and love about the Jersey Shore with those two guys there. That's a highlight of my 899 for sure.


I'll tell you, the toughest thing I have ever done was the morning after Clarence died. You may remember he died on a Saturday night. Mrs. C and I had this longstanding tradition of five o'clock mass and then out to dinner. So we were at dinner, and my phone started blowing up, with the news that Clarence had passed. The following morning was Father's Day — and I always looked forward to the Father's Day show, because of so many songs that resonate.

Sure. You can easily do two hours right there.

And I do. That's generally the way that day goes. And I was all set and ready to go — but obviously, that had to go out the window. I called the programming guy and asked for an extra hour; of course, he said, "Do what you've gotta do." And it was the hardest thing I've ever done.

On my way into the station that day, I went to Red Bank and sat in front of Big Man's West for a while, just soaking in as many memories as I could out of that place. The fun that was had there, and the great music. Then I went to Asbury, and I sat out in front of the Pony for a while, and there were already people putting flowers and candles and pictures out front. And then I went and did the show. I still can't go back and listen to that.

How much did you talk versus playing music? And how did you choose what to play?

That's the thing, you want to be respectful, and I agonized about which version of which song to play. Clarence had been on the show three times, and I replayed all three interviews that I had done with him. The interview that he had done with me when his book [Big Man] came out was awesome. He was so proud, and so happy — it was really emotional. Plus I had just hosted the Q&A for his movie premiere in Asbury Park a couple of months before he died, so he was very top-of-mind.

I remember the craziness of that time well — from my point of view, along with the shock and the loss, there was just so much to write and so much to reflect on, we were posting constantly… but I can't imagine finding out on a Saturday night and having to immediately do a radio show the next morning.

I knew I was going to be that person. I knew I was going to be the first person that the Springsteen fan community heard talking about C's loss. I was getting text messages, emails: "What are you going to do?" And I was just like, you know what? I'm going to put on my big boy pants and go do it and make the Big Man proud and make the fan community proud.

Clarence called me Tomcunningham, which was one word. Whenever he talked to me, it was, Tomcunningham — and that goes back to the '80s.

For pulling up old interviews on short notice, do you have everything archived? Every show?

Well God bless Marc de Bruin and Gary Titus, the guys who record the show every week. If there's something that I really need, they usually can come up with it.

Thanks to them, we posted the audio for your Ron Aniello interview, which was a major one.

I would say that's the most impactful one that I've ever done: Ron Aniello, March 25, 2012, right after Wrecking Ball came out. No one had heard from this guy, and no one really knew about him or how he was involved. He and I had the most amazing conversation that morning. Hearing him explain what he'd done to get the "Land of Hope and Dreams" sax part onto the studio version and then playing it for Bruce for the first time, I could hear people listening. It was that intense.

Then my buddy at Backstreets posted the interview on the Backstreets News page [laughs]… and I looked yesterday, and 71,400 people have listened to that interview. Yeah. So to have that kind of stuff happen, that's the payoff.
Well, congratulations on the 900 mark, and thank you on behalf of your listeners on my end of the fan spectrum — hardcore Springsteen fans know that you're "one of us," you've got the knowledge and the history and interesting takes. The show is always a thoughtful, entertaining, warm couple of hours where we can feel we're in good hands.
Thank you, and I'll say, I'm especially proud of not missing one show during the COVID lockdown period. I literally went for months without seeing anybody else in the building — which was, respectfully, fine by me. But I could tell by the response that I was getting that there was a high comfort factor from folks who were listening. From wherever they were quarantined. So again, it's another example of Bruce's music making the world a smaller place.

You know, now that Bruce has his own radio show [From My Home to Yours], you've got to watch your back — he only has 880 episodes to go to catch up with you!

What a great extension of him this radio show is. To me it follows the heels of the book, the Broadway show, the voiceovers for the Western Stars and Letter to You movies… I see the radio show in the same vein as that. Obviously completely meticulous — one would expect nothing less — and just beautifully crafted and organized. And I hope that when people are listening to it that they're getting turned onto some of the artists that he's playing, especially the newer bands. I hear people say a lot, "Oh, I only ever listen to Bruce." Why? There are a billion things out there, and I love the fact that he is turning people on to other music with his show.

I completely agree. As for you: another live show on location at Bar Anticipation for the 900th episode, this Sunday. What's on the docket?

Bobby Bandiera, who is a treasure at the Jersey Shore — he and his guitar will be there. The great Frank Stefanko will be there. And Eileen Chapman, who is the den mother of the Jersey Shore music scene — and now she's in these executive roles at the Springsteen Archive at Monmouth University, the Asbury Park Music Foundation, and oh, by the way, she's also a Councilwoman in the City of Asbury Park. She's got some really cool stuff to tell us about that is going to be happening this summer and into the fall.

And if somebody wants to come down there in person, any advice? What time should someone show up?

They open the doors at eight o'clock; I wouldn't get there much later than nine.

What's good on the menu?
Funny you ask — they actually have a Bruce-themed menu on Sunday mornings.
[Laughs] Is that right?

Yeah — a couple of months ago Ron Aniello was there for the show, and he was taking pictures of the menu and texting them to Bruce. So come enjoy the Springsteen-themed breakfast for sure!
— Interview conducted by Christopher Phillips, April 11, 2020

For the 900th episode at Bar Anticipation in Lake Como, the plan is to be outside, and as always there is no cover. All COVID protocols are in place, with proper social distancing and masks required.
Springsteen on Sunday airs at 9am Eastern on 107.1 FM at the Jersey Shore, and in Southern Ocean County at 99.7. For all forms of listening options, visit 1071theboss.com/apps-streaming
Follow Tom Cunningham on social media: Instagram / Facebook