List price: $36
Our price: $34


2021 Expanded Edition adds "Sweet Soul Music" plus a full extra disc containing the Macca to Mecca! live set from Liverpool.

Soulfire Live! is comprised of the best performances from the North American and European concerts on the Soulfire tour by Little Steven and the Disciples of Soul. This 4CD collection (expanded from an earlier 3CD release) features Stevie Van Zandt and his 15-strong band taking listeners through a musical history lesson as they blast through an arsenal of songs spanning rock, pop, soul, blues, funk, doo-wop, reggae and everything in between.

Nearly every song from 2016's Soulfire album is represented, along with loads of inspired covers and classic tracks from his early catalog. Includes guest appearances from Bruce Springsteen on "Tenth Avenue Freeze-out" and "I Don't Want to Go Home," as well as Richie Sambora, Peter Wolf, and Jerry Miller.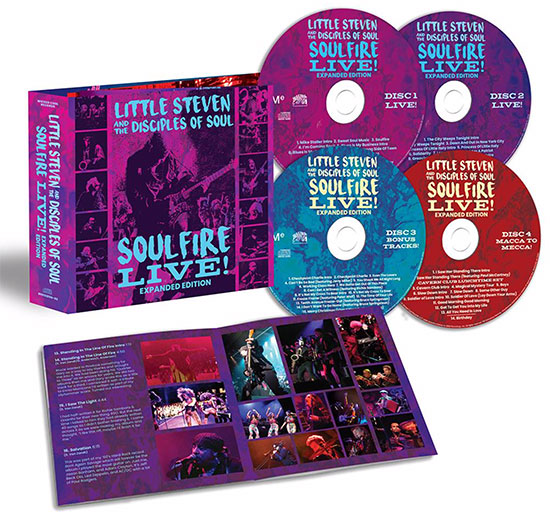 In this new configuration, the set culminates with a fourth disc, a Macca to Mecca!, CD that is Stevie's tribute to The Beatles. It kicks off with a riveting performance of "I Saw Her Standing There" recorded at The Roundhouse in London with a special appearance by Paul McCartney. That's followed by an extraordinary surprise set at Liverpool's legendary Cavern Club, recorded November 2017 during the band's sold-out European tour. (Macca to Mecca! is also available as a two-disc standalone release, which adds a DVD to the CD.)
2021, Wicked Cool Records/Universal Music