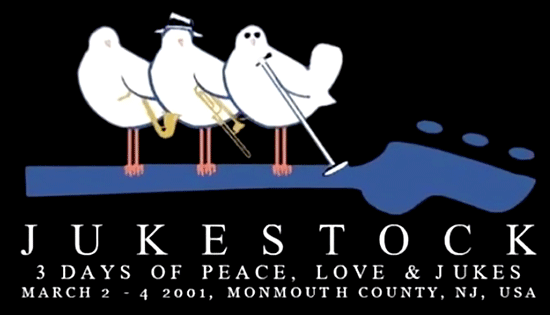 "Let's be honest, how many folks really thought Southside wouldn't at one point go off the rails in some grand fashion, with a long weekend of peace, love, music, and trivia in the tight confines of a low-ceilinged Holiday Inn ballroom, just off the Garden State Parkway? He absolutely loved it. Who knew? Literally and metaphorically, The Man is incapable of following the setlist." — JEFF KAZEE
Exactly two decades ago, 300 dedicated fans flocked to the Holiday Inn in Tinton Falls, New Jersey, to attend Jukestock, the world's first (and so far only) fan-organized Southside Johnny and the Asbury Jukes convention. This unique event took place over the weekend of March 2 - 4, 2001 and featured an epic-length performance by Southside and his band as well as other sets by Jukes keyboard player Jeff Kazee's occasional outfit Professor Crewcut, the Bobby Bandiera Band, the Mark Pender Band, and a much-expanded, horn-dominated La Bamba and the Hubcaps.
The catalyst for this weekend of music and mayhem was the wedding of Stan and Kim Lisowski in August 2000. Stan asked Kim to marry him at the Jukes' 1999 New Year's Eve show, and they booked The Hubcaps to play their reception. Guests Maggie Powell (a Scot resident in Germany) and Jane McCreery (a corporate events organizer from Pittsburgh) were sufficiently impressed by the show to join forces with Debbie May (from Massachusetts) and dream up a supersized, weekend-long version of the wedding reception, a private party for subscribers to Debbie's Southside Digest Internet newsgroup. Over the next six months, with the involvement of the Jukes management, and almost entirely by e-mail, this determined trio transformed a written proposal into a spectacular sold-out event.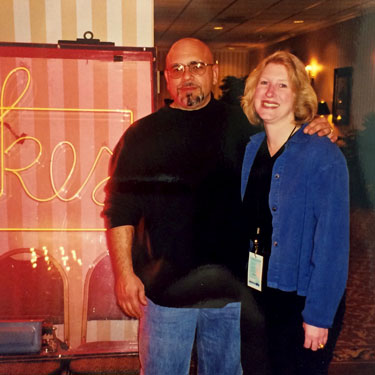 Right: Stan Lisowski and Debbie May - photograph by Mike Saunders
"Seems like forever ago and yesterday at the same time," said Debbie recently. "Jane and Maggie did the legwork with the venue. I worked with Southside's manager, Bill Durborow. I remember being anxious for the e-mail entries to arrive. Would people really pay for this weekend? Yes they would!"
Stan Lisowski added that it was "humbling and heartwarming to think when Kim and I got married, the shindig that we had would inspire some crafty, creative, and crazy-driven ladies to throw a big-ass bash, and be a weekend that we are still talking about 20 years later".
"Jukestock was about Jukes fans putting on a show the best way they could with the resources they had available. Maggie, Debbie, and Jane did an incredible job. I realized on that very special weekend that our hard work in the early days playing every club, college, and small theatre in the U.S.A., U.K., and Europe created a very special sort of lifelong Jukes fan, that would support, promote, and keep us working for years to come. One of the greatest fans we ever had was a member of our crew. I remember Hood fondly as being instrumental in making Jukestock a huge success. His friendships with the fans along the way made this great event possible." — EDDIE MANION
Apart from over ten hours of live music, Jukestock also featured a packed program of events, prominent among which was a three-hour meet-and-greet photo opportunity with Southside and the Jukes on the Saturday morning. There were also memorabilia displays from the legendary Hood and one-time co-curator of the Asbury Park Rock 'n' Roll Museum Billy Smith, plus video footage from Sam Missimer, a presentation by Bob Crane of the Save Tillie campaign, and Jukes and Asbury Park merchandise from Rock Dreams and Cleopatra Steps Out, respectively.
"Jukestock was a lot of fun. That's where I released my new CD, Family Tree, featuring Gary U.S. Bonds on vocal on the title track." — JOEY STANN

"It was nice to see how avid and committed the fans were, although a bit scary! A good time had by all!" — BOBBY BANDIERA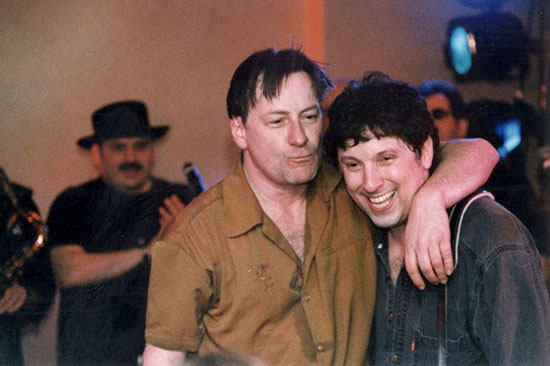 Southside Johnny and Bobby Bandiera share a moment of peace, love, and Jukes (with a dash of La Bamba) - Photograph by Rene van Diemen
The weekend also featured the debut of my Asbury Jukes Family Tree (with an eight-page explanatory booklet) in its most professional presentation yet, thanks to Maggie (who asked, "Why don't you do it as a poster?") and my friend Dave Percival (who took care of printing and suggested, "It'll look good in blue"). It was a project I'd been researching for more than 12 years, an attempt to chronicle the numerous line-up changes that had taken place since the Jukes made their debut in 1975. Our table was located next to Southside's, and he walked over at one point and signed a copy of the poster for me: "To Mike. Stop, already!"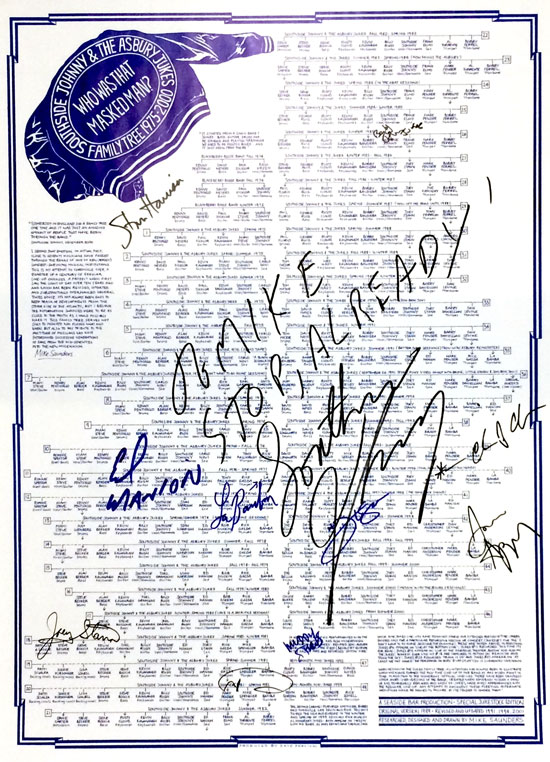 "It was a very well organized event," said journalist Stan Goldstein. "Southside signed autographs for two hours. I was fortunate to help him out at his table as he signed everyone's albums, CDs, and photos. I loved hearing the conversations between him and his fans."
One of those waiting patiently in line to shake Southside's hand was Michael Wilson from Georgia. "I had time to think of what to say," he recalled. "When my turn came up, I reached for his hand and said, 'Thank you for the past 20 years.' He looked me in the eye and said, 'Twenty years?! Where were you da first five?' I love Southside."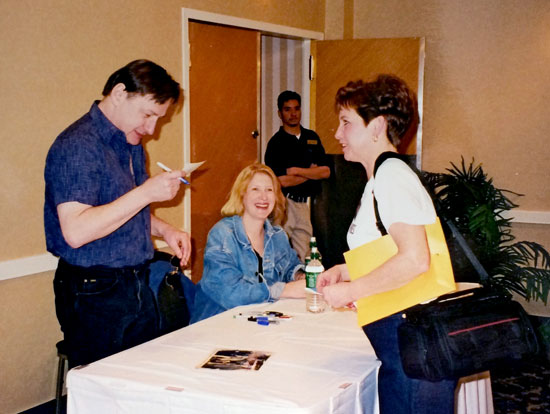 Southside's signing session - photograph by Mike Saunders
"At that point I didn't know any Jukes music, nor did I know much of anything about Southside Johnny. I had only heard his name and heard folks speak of him. Most of my work was in New York City, so I didn't know the Jersey cats or their music. That was my indoctrination to Jukes world, playing Jukestock with Pender and La Bamba and meeting so many of the folks that I know well today. I never even thought that I might be a Juke someday and work extensively with Southside. It has been a hell of a great time being on this Jukes rollercoaster." — GLENN ALEXANDER
"The Holiday Inn hadn't seen anything like it," recalled Dave. "I took my place at Morgan's Bar, and only the music was going to move me. Luckily I found that people-watching was included in the price. Unfortunately, I discovered to my cost, the drinks weren't. I was deliriously happy checking out the comings and goings of fans, musicians, and roadies. By the time it came to an end, I had a hundred new friends and one of the best experiences of my life."
"Jukestock was a wonderful weekend. I was knocked out by the fans' love of Johnny and the guys that had created and defined the Jukes sound and experience. I felt very lucky to be part of trying to continue and build on their legacy. I still feel that way." — CHRIS ANDERSON
In my capacity of Jukes historian, I also compiled a challenging 100-question Asbury Jukes Trivia Quiz that scared off many attendees, but Brian Reiss was undaunted. "As a longtime Jukes fan, the opportunity to attend Jukestock was a hugely exciting privilege" he recalled recently. "I noticed the trivia contest and took up the challenge. I'd long considered myself to be a nerd-level expert about all things Jukes. It was very difficult. I didn't get 100%, but I did well enough to win the grand prize: a pair of tickets to any Jukes show of my choice. I picked the Memorial Day show a couple months later at the Pony. Bruce Springsteen and Graham Parker joined the Jukes for eight songs."
Also present was Linda Tartaglione Thebold, author of the late-'80s fanzine Jukebox and now administrator of a Facebook group of the same name. "Twenty years later I'm still amazed by what an incredible weekend this was," she said recently. "It was great spending time and enjoying the music with fellow fans who 'get it.'"
"Jukestock was a lot of fun, seeing and playing with all the guys. After we played, two fans walked up to me holding a copy of the Reach Up and Touch the Sky album (the only one I had recorded on as a Juke) and a pen. The girl said, 'We were really hoping you'd be here,' and the guy added, 'You're the only Jukes member whose autograph we never got on this album'. So, of course, I signed it." — MIKE SPENGLER
There was also a raffle, with various prizes, which raised $1,400 for Save Tillie and WHY ­— and proved advantageous for Billy Smith. "Prior to the Jukes performance, they were selling tickets for the opportunity to introduce the band," he recalled. "By that time many had been sold. This was a once-in-a-lifetime opportunity; I bought the rest. I won, and I was honored to get onstage and say, 'Please welcome home, Southside Johnny and the Asbury Jukes.'"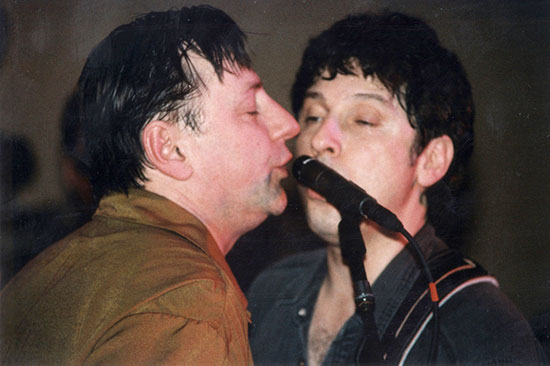 Photograph by Rene van Diemen
A special event required a special performance from Southside and the band, and they didn't disappoint. Their gig on the Saturday night comprised 34 songs, including a four-song acoustic mini-set, and lasted for approximately three-and-a-quarter hours — a feat they've yet to equal, let alone surpass.
Scattered among classics like "Talk to Me," "Trapped Again," "I Don't Want to Go Home," and "Hearts of Stone" were rarities like "Next to You," "On the Beach," and "Little Girl So Fine." There were selections from the previous year's new album, Messin' With the Blues, as well as the usual variety of covers, including "Fade Away" (Bruce Springsteen), "Little Wing" (Jimi Hendrix), and "Bad Girl" (Smokey Robinson). A typically chaotic version of Sam Cooke's "Having a Party" found the horn section wading through the audience, and Maggie, Debbie, and Jane (aka The Jukettes) joining the band on backing vocals.
Southside also brought U.K. fan Neil Packman onstage. He'd explained during the morning signing session that he was in a band back home that plays Jukes covers.
"The intro to 'The Fever' starts, and he asks me to come up," says Neil. "I stand next to him. I am absolutely terrified. I'm certain I will have no idea where to come in. And then I'm singing, with the Asbury Jukes, in New Jersey, in front of 300 of the band's most dedicated fans. We get to the end of the verse and he shouts, 'You're fired, get off!' I'm happy to be fired, because being hired was the best thing ever. I return to the floor, high-fives with the horn section, hugs, and I don't appear to have bought a drink all night!"
"I remember it clearly. It was great to see so many of my Southside Johnny friends. It was also a special time because it was only a couple of days before the birth of my older daughter, Chloe. I was hoping I wouldn't get an emergency call necessitating my return before the show started. I especially enjoyed being asked to play, unaccompanied, my solo from 'Paris.' For decades after I left the Jukes I would have dreams, two to three times a week, in which Southside would appear. When I told this to Johnny at Jukestock, he turned to me, and in his inimitable curmudgeonly manner, said, 'That's because that was the last time you had any fucking fun.' I cracked up. I love Johnny, pretty much no matter what he says. I have such great memories of those years and always love seeing him." — STAN HARRISON
During La Bamba's weekend-closing set on Sunday afternoon, Stan Lisowski presented Maggie, Debbie, and Jane with surprise gifts in appreciation of their hard work. "Kim and I wanted to give them something special, from the heart, so we had plaques done," Stan says. "I recall putting enough thought into it that it would be appropriately touching. I remember Maggie having tears in her eyes, and I thought yeah, there was the expected reaction."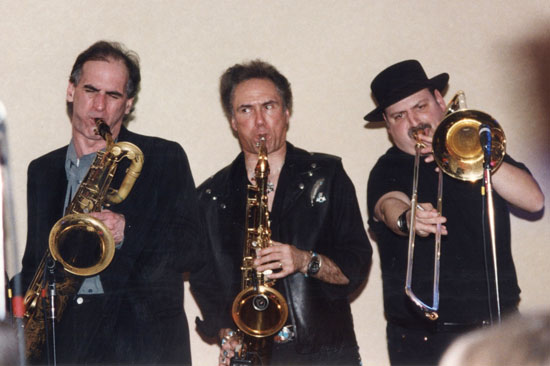 Ain't no party like an Asbury Jukes party cuz the Asbury Jukes party's got horns. L-R: Eddie Manion, Joey Stann, and Richie "La Bamba" Rosenberg - photograph by Rene van Diemen
"I was honored to be asked to perform at Jukestock with my Hubcaps. It was a shoe-in for us, 'cause by that time we'd paid our dues playing private parties in that atmosphere. Fun seeing all our fans. A great time!" — RICHIE "LA BAMBA" ROSENBERG

"I can't believe it's been 20 years. It was a weekend filled with love, spending time with my favorite people. I had the honor of being asked to play with my band, with several Jukes alumni. I still get a lift thinking of it. Jukes fans are the best in the world. I made new friends that weekend, and we got to participate in Jukes lore. Even though a snowstorm tried to stop La Bamba's set, it didn't cool down the great music and spirit." — MARK PENDER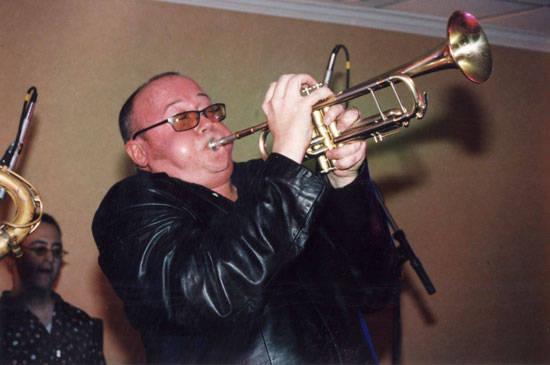 Mark "Loveman" Pender - photograph by Rene van Diemen
The impending snowstorm caused many to leave during the show and forced the cancellation of an optional extra gig by Jarrett Dean and Jukes bass player Muddy Shews (aka Talk Town) at the Stone Pony on Sunday evening. Instead, they set up in Morgan's Bar and played for the diehards that really didn't want to go home.
Among those leaving earlier than planned were Ann-Marie Vermeerbergen from Belgium ("as time goes by, we'll always have Jukestock, the beginning of beautiful friendships") and Gisele Schaefer from Germany ("The long flight was worth it. I found friends I am still in contact with today. I remember lots of drinks and little sleep and driving to the airport with Ann while the snowstorm was approaching. I wish there could be a second Jukestock, but it could never beat the first"). Their presence reflected the international flavor of the weekend, a fact that Southside acknowledged at the end of his set when he thanked everyone for coming, whether they were from New Jersey or New Zealand.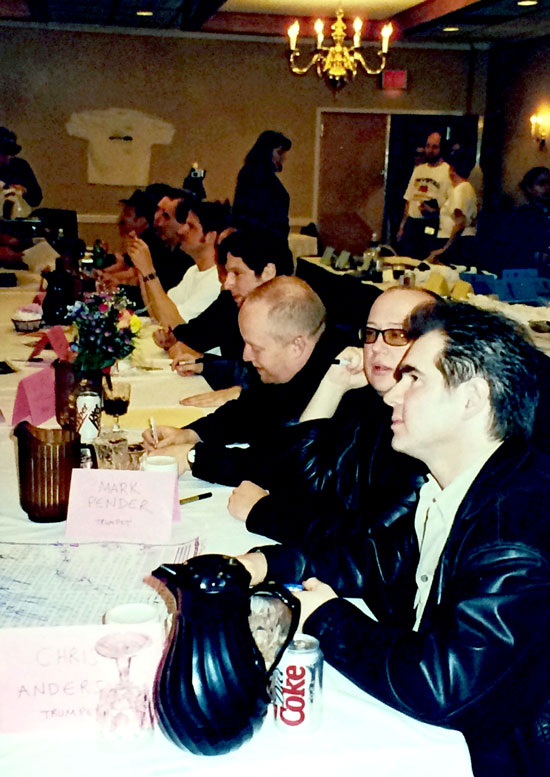 Meet the band: La Bamba, Louie Appel, Eddie Manion, Muddy Shews, Joey Stann, Bobby Bandiera, Jeff Kazee, Mark Pender, Chris Anderson - photograph by Mike Saunders
Once the final notes of the Hubcaps' set had subsided, Dave and I helped the crew (Hood, Joe Prinzo, Sean Giblin, and Tim Holland) to pack up and load the truck as the snow fell. Little did we know, as we ate pizza with the guys afterwards, that we were destined to repeat the experience as The Druids for another 85 shows around the U.K. and mainland Europe over the next six years.
Joe Prinzo is now the only surviving member of the Jukestock crew. He remembers being "impressed by how hard Jane, Debbie, and Maggie worked to make their crazy idea come to life. And it only happened because they did it for the right reason: to share their love of this music and this band. It was one of the craziest family gatherings anyone has ever seen, and one of the coolest things the band has ever done."
"The Jukes are such a big part of my life. All those years seeing the band, never imagining I'd be a member for close to 12 years! I made lifelong friends. Jukestock was one of those special memories. Hangin' with the Jukes family, meeting lots of fans, and of course all the music. So come on, when's the next one?" — JOE BELLIA
The Jukestock weekend received coverage in print media on both sides of the Atlantic. Jay Lustig wrote a piece for The Star Ledger, while I contributed detailed reports for Backstreets magazine and The Ties That Bind. Feedback received by Maggie, Debbie, and Jane after the event inspired them to set up a (now-defunct) Jukestock website to house personal messages, photographs, reviews, memorabilia, the story of my Family Tree, and a poem by Dave.
Several years later, the 11-track compilation Jukestock: Selections From the Board was issued by Leroy Records and later incorporated into the 2007 Jukebox rarities boxed set. Representing one third of the Jukes' performance, it included "Coming Back," "Sinful," "Take It Inside," "Little Girl So Fine," and "Why Is Love Such a Sacrifice?"
In 2017, amateur filmmaker Dennis Laverty, who didn't attend the Tinton Falls event because he had a young son and another on the way, produced Remembering Jukestock, which combines a 50-minute documentary and 90 minutes of concert footage.
"For a person who always wondered what the event was, I was given a wonderful gift to retell the stories of those who were there," Laverty explains. "Through the technology of Facebook, email, and video, I was able to relive the event as if I myself attended. The reaction to the film when it came out was overwhelming."
Jukestock was a major triumph, not just on an organizational level. Apart from bringing fans together from around the world and allowing them to meet the musicians, it saw current and past members of the Asbury Jukes leading their own bands and augmenting each other's line-ups, emphasising the sense of family. Southside kicked things off by making a guest appearance with Professor Crewcut; Jeff Kazee sat in with Bobby Bandiera, who played with the Hubcaps; La Bamba and Mark Pender were permanently by one another's side whichever of their groups was onstage, and horn players turned up everywhere. As they reminisce two decades down the road, it's clear that the musicians had just as much fun as the audience, and that Jukestock was a giant mutual appreciation society.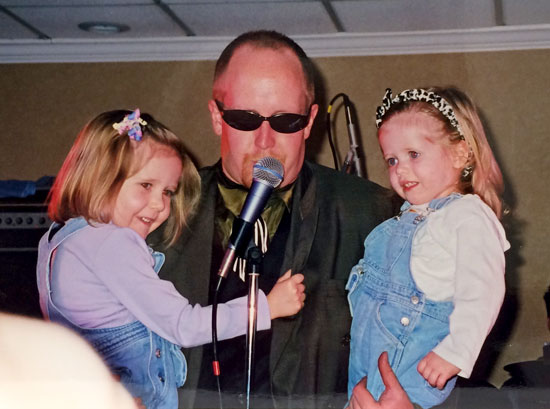 Jeff Kazee with daughters Vassileia and Sophia - photograph by Mike Saunders
"The main thing I took away from Jukestock was the true sense of a fan community. So many folks that knew each other from the shows, fanzines, and the still-emerging internet, hanging together for a few days and telling stories of their many experiences and connections with the band. Not only did they come for the special Jukes show, but they were digging our various musical side-hustles as well! Everybody was hungry to connect and feel the music as the ultimate insider. I'd been in the band for just a few years and couldn't fathom that so many fans had any idea of who I was. The warmth and interest they showed to all of us was — is —appreciated. My daughters Vassileia and Sophia were young at the time, and I remember bringing them onstage to that beautiful, smiling audience. Thanks to Maggie, Debbie, and Jane, and the many others for their inspiration and perspiration in creating Jukestock." — JEFF KAZEE
"Of course, it's real easy to recall how great the musicians were and how much fun everyone had over those three days," says Stan Lisowski. "But the truly special thing to come out of this were the friendships that were formed due to having 300 souls bonding together, and how all of that made them feel. Maggie, Jane, Debbie — you done good, putting things in place for those wonderful times. Moments and faces many of us will never forget. Bravo! Again!"
"What I remember best about Jukestock is the exuberance of the crowd and the band. Everybody was just so happy to be there. It was our own thing, and we truly enjoyed it. I remember Hood bopping on his chair and digging the cool memorabilia that people brought. Debbie May was so proud that she had pulled it off, along with the other fans that helped put it together. We were truly having a party. I hope we get to do it again." — SOUTHSIDE JOHNNY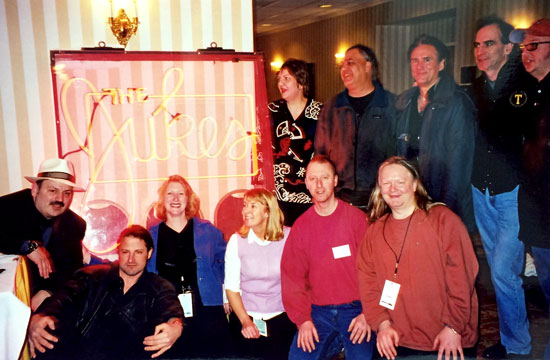 L-R, standing: Jane McCreery, Hood, Joey Stann, Eddie Manion, Mark Pender; sitting: La Bamba, Muddy Shews, Debbie May, Maggie Powell, Dave Percival, Mike Saunders - photograph courtesy of Mike Saunders
Five bands, three days, two decades, one unforgettable weekend. Appropriately, the last word on Jukestock goes to the three tireless women who built it from the ground up and pulled it off magnificently.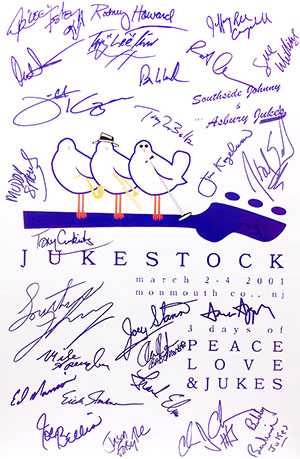 "The whole weekend was magical," says Debbie May. "Meeting and talking with so many friends from all over and listening to great music. Thanks especially to Jane, Maggie, and all the Jukes, past and present, who were involved in making it a success."
"I never in my entire life made so many people so happy at one time, and I'm sure I never will again," reveals Jane McCreery. "That was a special time, and I was so glad to apply my event-planning skills to a joyous event instead of marketing for a Fortune 100 corporation. So many changes since then: We've lost Hood and Sean. The children of Joe Prinzo, Jeff Kazee, and Chris Anderson are adults. Jeff and Constance brought their girls to Jukestock. They had a lot of fun, mainly because I put them in another hotel that had an indoor pool. I'll never forget Jeff saying to Vassileia, 'Tell that lady what you told me.' She approached me shyly and said, 'This is the best party I ever saw.'"
"I still get goosebumps when I think about the amount of positive energy we generated on that epic weekend," says Maggie Powell. "The personal letters of thanks that Jane, Debbie, and I received afterwards from Bill Durborow and Southside Johnny told us sincerely how much they appreciated the support of their fans. I went as a fan, but I left as a Jukette. It doesn't get better than that. We could never replicate that weekend. Too much has changed. Key people have passed on. We got lucky. We created a piece of history, and we reached up and touched the sky."