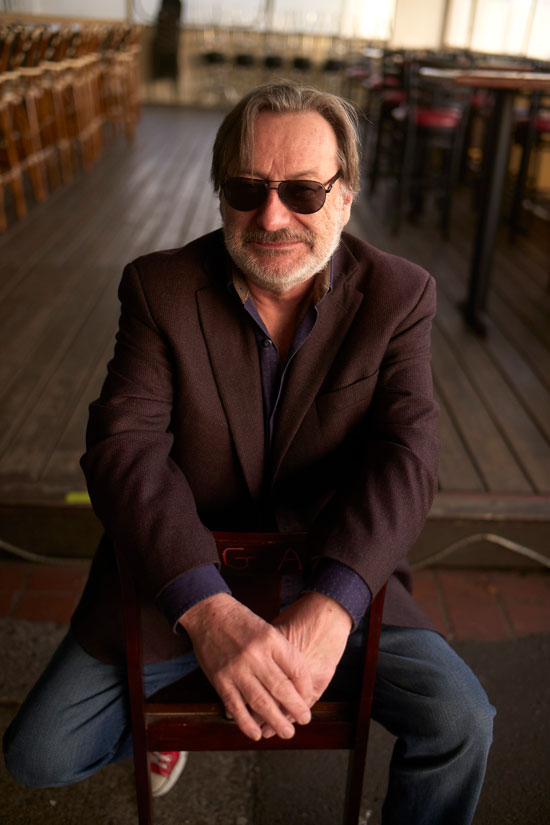 Photograph by Danny Clinks
Last month, Southside Johnny reissued one of the most adventurous albums of his career: Grapefruit Moon: The Songs of Tom Waits, his collaboration with LaBamba's Big Band.
Originally released in 2008, the full-length has been remastered for the 2021 reissue and features a bonus track, a live version of "Straight to the Top." Years later, Grapefruit Moon sounds fresh and cinematic, thanks to its mix of upbeat tracks ("Down, Down, Down"), more meditative fare (the torchy title track), and even a rakish Waits duet ("Walk Away").
While the pandemic has kept him off the road for quite a long stretch, Southside — who shares that he got his second vaccine shot on April Fool's Day — is easing back into live shows. Next week, from April 27 to 29, he's doing his first shows of 2021 at City Winery New York, billed as The Southside Johnny Trio with Jeff Kazee and Neil Pawley. "We're gonna try that and see if people come," he says. "I mean, it's only gonna be 100 people, and they'll be socially distanced. We'll see."
Before that, however, he checked in to chat all things reissue.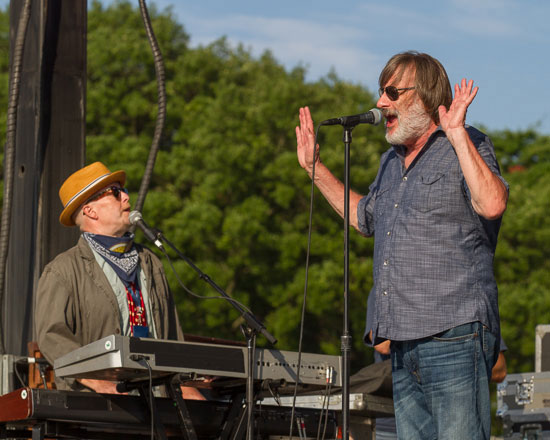 Two-thirds of the Southside Johnny trio — with Jeff Kazee at the Asbury Jukes' July 11, 2020 drive-in concert. Photograph by A.M. Saddler
Annie Zaleski: When you went back and listened to Grapefruit Moon, what stood out to you several years later?
Southside Johnny: I was astonished at how mature it was [laughs]. I mean, it really is great. To me, it was a realization of something I had dreamed about, but it came out better than I thought it would. I think LaBamba — Richie Rosenberg — did a great job with the arrangement. The production was terrific. I was just kind of the singer at that point. But I was even pleased with my singing, which is not always true.
It's so true that you are your worst critic, if you're in the creative field. When I come back and listen to this interview, listening to my voice, I'll be, like, cringe.
[Laughs] I was in a store or a bookstore, what, like, 20 years ago. And a song was playing, and I'm going, "Sounds familiar." This guy is singing some song, and I went: "Oh, that's me." [Laughs] I had never listened to the album once it came out.

At the time, what made you want to do this record?
It was really a confluence of opportunities. I had some money, and we had some time off, and Richie was around. I had always wanted to do some of Tom Waits' songs. Richie used to have a big band. And I [said], "Let's put the two of the ideas together. Let's see what happens." That was really the genesis of the whole thing.
So we got a whole bunch of guys together and rehearsed, and I thought, "This is really gonna sound great. It's also going to cost a goddamn fortune" [laughs]. I had to pay everybody — I forgot that part. But I was so pleased with the way it came out. I'm really very proud of it.
LaBamba did an interview with Backstreets, and he said that it was painstaking work creating the arrangements. I was very impressed, reading about that. A craftsman scoring on paper music pads — you forget how old-school that is. But I love that. And I think that really contributes to the sound of the record, too.
Oh, yeah, absolutely. He worked his butt off doing that. He was writing late into the night for months. We picked our songs. I picked out six, and he picked out six — I don't know many we actually recorded altogether — and we came up with ideas. I like going fast, tempos for dancing or whatever, and keys. And he just went to work and beavered away until he had all these great arrangements.
All of the musicians said the same thing, that they were just terrific arrangements to play, and, you know, complicated. We had some great players. We worked hard to get it done right. It's a very complicated thing to get all these different instruments playing all those different parts, in tune and in time. A lot of it was done live, so that was tough. But you know, he's a perfectionist, and I'm kind of a noodge, so between the two of us, we got it done.
What was it like being in the studio? What was that experience like? I imagine that it was probably different from most of the other records you've made in your career.
Picture Frank Sinatra with all of the horns and all of the strings, and he's standing at this little podium. I was, of course, in an isolation booth, because you don't do that anymore. But it was incredible hearing the music come back and being in the room with the music during rehearsal, just thinking, "We're really doing this." I mean, there's like 15 horns here, and a rhythm section. It was just one of those experiences you never forget.
As a musician, what did you learn from the whole experience of doing this record? Is there anything that you've since applied to something else you've done, either live or in the studio?
I think that mostly what I learned was what I didn't know. Like, how much real work it takes to make charts. When we do Jukes records, we kind of just sing parts. Somebody will come up with a part, and they'll voice it themselves — because it's five horns, or three horns, or whatever we're using to get going. But with 18 pieces, everybody has to have their little niche; you can't play over each other that much. It really made me think about orchestration a lot more. There are so many opportunities in the studio for layering things. You know, to overdub piano, or organ, or a horn solo or something like that. But when you have all of these people playing live, you realize how everybody has to fit in with everybody else. And I've really become a little more meticulous about that since that record.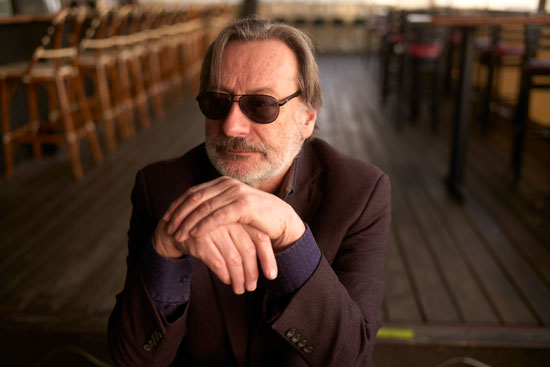 Photograph by Danny Clinks
When you went back and chose which Waits songs to tackle, did you have any sort of criteria? How did you narrow down which ones that you wanted to approach?
Well, I wanted to do the ones that I liked the most. But I also didn't want to do the ones… like, I wasn't going to do "Jersey Girl" or any of that, because they had all been done. The only one I said I'm doing is "Shiver Me Timbers," which a lot of people have covered. But I tried to pick songs that hadn't been overdone. He's always got these great melodies that you really want to capture — and forget the lyrics, they're beyond great. But I just felt that there were certain songs that hadn't gotten their due. Those were the ones I picked.
I appreciate that. Those are the best tribute and covers records, the ones that have unexpected things. Because you're right: you could do a really obvious Tom Waits covers album. But he's done so much; you forget things he's done. And he's such an incredible songwriter.
Yeah, he's just great. He really is him. [Laughs] It's not a construct. He really is. It comes out in his music.
As a fan, what was your entry point to Tom Waits originally?
I think that we got the first or second album. It's so far in the past now. Because in those days, when we were all hanging out as musicians, everyone would buy every new album. They were affordable, and if some guy bought an album he really liked, he'd bring it over where we all were, and he'd play it for us, and we'd all listen to it. Music was just so important back then. It was the entire focus of our get-togethers, other than girls. We just would listen to everybody's records. And somehow, we came across one of [Tom Waits'] albums and just were knocked out. From then on, of course, you bought everything he did.
You got to duet with Waits on the album. What was that experience like?
That was great. Tom lives out in Northern California, and he had this friend who had a studio, and I said, "I'll come out with the hard drive and we'll just sing." He said, "Okay." So we get to this studio, and here's this old sort of a trailer: it's right next to the studio, just this old wooden California house with colorful rugs on the wall, and it was a real hippie den. I walked in and went, "Oh, boy." I've got this modern hard drive, and I'm wondering if they're going to have anything modern in the studio.
But you know, it was great. It was a really cool place to be. And [Tom] came in, him and Kathleen [Brennan]. We talked for a while, and then we sang the song, and then we went out and had dinner. It was very easy and simple, and he was really into it. We got into the humor of the song, and that's, I think, where a lot of our strength lies — both of us — that we can be funny at times.
Did he choose the song? Or did you propose to him, "Hey, let's do this one"?
I think I proposed it to him. I wrote to him and said, "I'm thinking of doing an album here." The same thing that I've done with other people: like, "If you don't want me to, I won't. But if it's okay with you, I'd like to do an album of your songs with a big band." I said, "I'll send you something." He said, "Okay," and I sent one of the rehearsal tapes with a couple of songs. And he loved it.
A couple of other people had done tributes… and he wasn't happy with a lot of the stuff. You know, I've never had a whole lot of people do my songs. I guess when they do, it's occasionally off-putting if they do it in a style that you think is not appropriate for the song. But he was all in. When I asked him if he wanted to sing on one, he said, "Yeah, sure!" And that really made me feel much more comfortable about this whole thing.
As a musician, obviously if you're covering someone's song, you're doing your own thing, and you want to put your own spin on it. But there is that little bit… like, are they going to hate it? Especially if it's a musician you admire. You would worry, "Did I do them right?"
It's tough to do the songs of somebody you admire. If you're going to do it, you just go ahead and do it and don't think about it. But in this case, it was a whole project, and I didn't want to proceed without his blessing.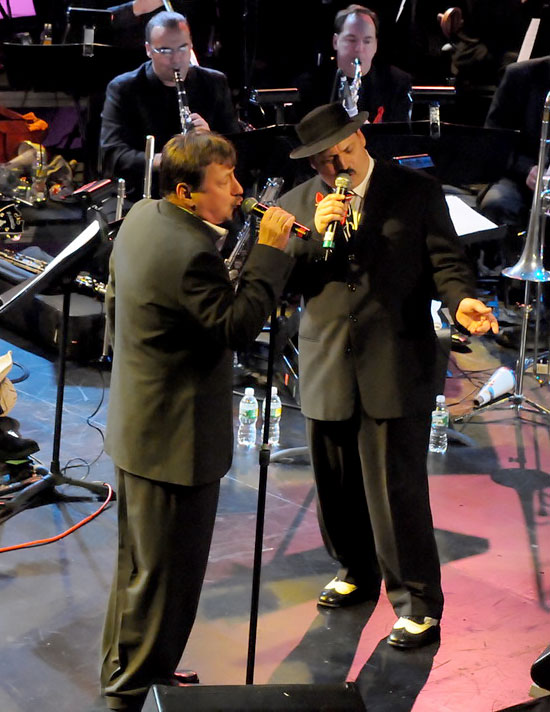 "We had the one shot": Southside and LaBamba at their only Grapefruit Moon performance, the Nokia Theatre album release show on October 24, 2008
What was it like doing the album release show then, taking it out of the studio and onto the stage? What do you remember most about the Nokia Theatre concert in 2008?
Terrifying. [Laughs]
[Laughs] I'm not surprised.
I was like, "I don't even want to do this." I mean, I'm way out of my comfort zone. I know the songs, but how well do I know them? And how's it going to go over? For me, it was not a wonderful experience in the sense that I never did get to relax during it. I wish we had done it twenty times, and that way I could have settled into it. We had the one shot, and we did it, and that was that. But the crowd loved it, and the band sounded great.
I would be terrified, too, because it's something totally different. I mean, how many musicians were backing you, all told?
I think it was something like eighteen. And, of course, you're the focus. They're all looking at you like, "Ha, ha — we don't have to worry about anything! All we have to do is play our parts." I'm like, "Oh my god, I've got to remember all of these lyrics and melodies. Ay yi yi!"
Would you ever consider doing something like that again, once pandemic time is over, revisiting the album live?
I would love to do it again — I wish we could do it a few times so I could settle into it. In these days, who knows what's going to happen next? Nobody knows anything. We'll see what happens in the future. If everything opens up and people want to come to something like that, then I'd be glad to do it.
The Southside Johnny Trio will perform three nights next week at City Winery New York, April 27 -29. Visit southsidejohnny.com for additional upcoming dates.