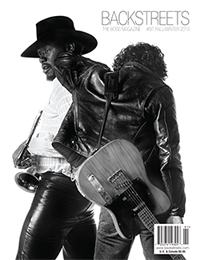 The Fall/Winter 2013 issue, Backstreets #91

Our massive latest issue honors a very Big Man. More than half of the 116-page, perfect bound Backstreets #91 is a tribute to the life and music of... do we have to say his name?

Okay, we will. Our 65-page Clarence Clemons tribute kicks off with Big Man: The Final Chapter, an epilogue to Clarence's book written exclusively for us by his co-author and longtime friend, Don Reo.


After that, page after page of remembrances from longtime friends, colleagues, and fellow musicians, including Little Steven, Robert Santelli, "Stormin'" Norman Seldin of the Joyful Noyze, Vini Lopez, Ernest "Boom" Carter, Mike Appel, J.T. Bowen, Narada Michael Walden, Branford Marsalis, Dale Maharidge, Jo Lopez, Nick Mead, and eulogies from Jake Clemons and Bruce Springsteen.


We've also packed this tribute with stunning images spanning 40 years, from photographers including Eric Meola, Barbara Pyle, Frank Stefanko, Jim Marchese, Rene Van Diemen, Victoria Clemons, James Shive, James Appel, Michael S. Williamson, Teresa Psykaty-Lamicella, Joseph Quever, Guy Aceto, A.M. Saddler, Michael Zorn, and the archives of Billy Smith.


The Clarence tribute section is, appropriately, massive. But it's not the only feature here. We also present the Backstreets Interview with Tom Morello, conducted by editor Christopher Phillips. Over two sessions, and 11 pages in the magazine, Tom discusses his fandom, relationship and work with "the only friend I have who I also subscribe to a magazine about."


Plus: The impending High Hopes, Q&As with Bruce author Peter Ames Carlin and For Music's Sake author Carrie Potter, "fan-based recordings" reviews, and much more. 116 pages, perfect bound, full-color.
If you enjoy our website, we know you'll love the magazine — you can still order a single copy of this issue.


Where to Buy Backstreets
Although Backstreets Magazine is available at a number of bookstores, record stores, and newsstands around the nation and even overseas, availability is not something you can count on in most areas. If you're interested in the magazine, we highly recommend that you consider subscribing — not only to support Backstreets directly, but for the convenience of getting the magazine as soon as it comes off the press and at a discount from the cover price.
Subscriptions are risk-free: as with everything we sell, we offer a money-back satisfaction guarantee.
For those who'd prefer not to subscribe, you can also purchase a single issue directly from us -- tax-free (except in North Carolina), without hunting on newsstands, and we'll ship anywhere in the world. Click here to buy a single issue direct.
If you're determined to go on a scavenger hunt, we can at least try point you in the right direction. Backstreets distributes directly to the following stores:
VINTAGE VINYL
51 LAFAYETTE RD.
FORDS, NJ 08863
JACK'S MUSIC SHOP
30 BROAD ST
RED BANK, NJ 07701
SOUND EXCHANGE RECORDS
1482 ROUTE 23
WAYNE, NJ 07470
...and through independent distributors, to numerous other stores around the U.S. including many Borders and Barnes & Noble locations.
If your store carries Backstreets, feel free to contact us with your store name and address, and we'll happily add it to this page.
If you can't find the magazine at a proverbial "store near you," please ask your local record stores, booksellers and newsstands to carry Backstreets! Interested stores can contact our office for wholesale information. Although the magazine's audience is select, the sell-through percentage is extremely high and the magazine is offered to distributors on a guaranteed full-return basis. In addition to direct distribution, Backstreets is distributed through Ingram, Kent News Company, Ubiquity, and Armadillo.

Backstreets Magazine
New issue contents
Back Issues


Where to Buy
Advertising
Subscriber Services

SUBSCRIBE NOW!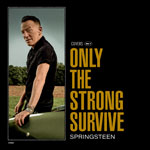 ONLY THE STRONG SURVIVE
The Backstreets Liner Notes, our own song-by-song printed booklet, comes exclusive and FREE with each CD & LP!
ORDER NOW
Backstreet Records is the mailorder division of Backstreets, delivering Springsteen merchandise to fans for more than 25 years. We carry numerous collectibles, tour shirts, books, magazines, and imported CDs and records.
The world's best selection of Springsteen collectibles, all available by mail.
See all the new arrivals in our online shop