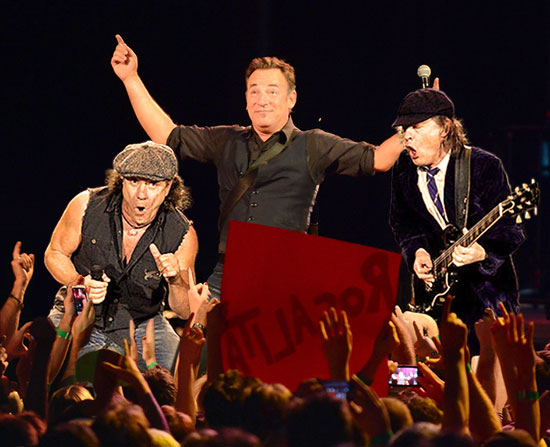 MARCH 31: THE HIGHWAY TO HELL IS ALIVE TONIGHT
AC/DC's Johnson, Angus Young help close out Australian tour
For the final night in Australia, Springsteen went out with a bang like T.N.T., as special guests Brian Johnson and Angus Young from AC/DC brought their bad boy boogie to the E Street stage. The first hint that Bruce had something special up his sleeve came during "Wrecking Ball" with a rare nod to stage proppery, as an enormous black paper-mache orb began to swing on its chain as it dropped slowly from the lighting rig. Then the first stage pyrotechnics since the Super Bowl kaboomed as Johnson and Young emerged, to deafening roars from the Aussie crowd. Eyeing Angus in his classic schoolboy uniform, Bruce joked about having flashbacks to St. Rose of Lima before calling out: "Is there anybody alive out there?... We salute you!!"
The collaboration had a rocky start, with a "Thundercrack"/"Thunderstruck" mash-up never quite coming together (and a brief snafu as Nils and Angus spun around each other, their guitar cords twirled up and entangled). Using a bit of "The Jack" to introduce "Jack of All Trades" worked better, however, and following that up with "Dirty Deeds Done Dirt Cheap" was a masterstroke. Spotlight on Professor Roy Bittan with a rare turn at the mic: "neckties... contracts... high voltage!" Though Johnson and Young left the stage for the remainder of the set, of course they were back in the encore, for the doubleshot everyone had been anticipating since the Brisbane soundcheck: "Whole Lotta Rosie" into "Rosalita."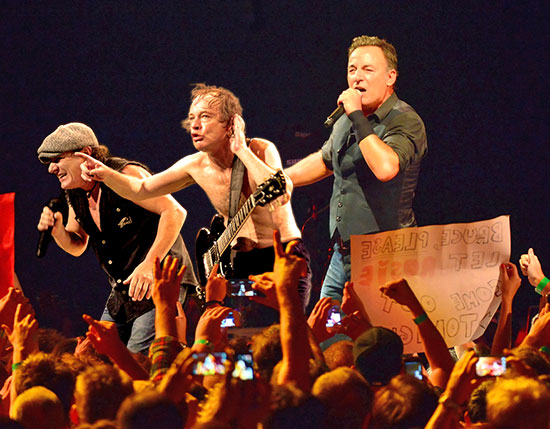 By this point, Angus was of course half-undressed, and as he bared his ass to the Springsteen faithful, Bruce sang a few lines from The Capris' "There's a Moon Out Tonight" (Garry and Max picked it up quickly for a few bars). "And that, ladies and gentlemen," hollered Springsteen, "is the very first bare-ass-naked moon that has ever shone from the E Street stage!... Not that Stevie hasn't considered it upon occasion... I mean arse! Bare arse!" Midway through one of the "Rosies," thanking his AC/DC guests, Springsteen also turned to thank Tom Morello for serving throughout the Australia run; at that moment, however, Morello's melted brains were being scraped off the stage with a spatula.
For the full setlist from this and other recent performances,
see our Setlists page
- Updated April 1, 2013 - photographs by Rene van Diemen

SPRINGSTEEN SET TO RELEASE LIVE PERFORMANCES VIA FILE SHARING
"Bit by bit," says Landau, Bruce will release more complete shows
Bootleggers, open your BitTorrent clients! Bruce Springsteen has given Columbia Records the green light to release live concerts using file sharing technology, and will use his own website, brucespringsteen.net, to seed the inaugural performance. "No one knows what it will be just yet," said manager Jon Landau. "But his own live tapes are about the only thing Bruce listens to, and we have an enormous cache of both two-track and 24-track shows from every tour. Remember the Nebraska tape he carried around? Now the music is stored on a memory stick. How far we've come in our ongoing conversation."
Landau said that he and Springsteen have been waiting for a solution that would expedite the process of getting more unreleased material in circulation, and quickly. "The BitTorrent protocol is the simplest, most direct method we've found," said Landau, "since after creating a descriptor file, a user just has to make the files themselves available through a BitTorrent node acting as a seed, after which those with the torrent descriptor file can give it to their own BitTorrent nodes, acting as peers. The files being distributed are divided into segments called pieces, and as each peer receives a new piece of a file (protected by a cryptographic hash contained in the torrent descriptor), it becomes a source (of that piece) for other peers. Pieces are typically downloaded non-sequentially and are rearranged into the correct order by the BitTorrent client, and pretty soon, voila, you've got your music!"
This past December, Landau said he sent Bruce a note about file sharing, along with four songs: "Born in the U.S.A." "Seeds," "The River," and "War," saying he thought "we might have something here." After weeks of silence, Bruce responded, telling Landau "you sold me that horse in November of '85, remember?"
But recently, Landau said, "Bruce has warmed up to the idea of having a decentralized, fan-controlled element in the mix, and extending that to our official release schedule makes sense." Last month on a flight to Australia, Springsteen led a tutorial for both management and the band on the finer points of the technology, like the merits of FLAC over mp3 and the importance of keeping your client open once you've completed a download. "You think finishing something like Born to Run was tough? Try getting stuck at, like, 98.3% or something," Springsteen reportedly said in his remarks. "That'll drive you really nuts."
"Bruce actually calls whenever my share ratio gets below, say, point eight" Landau said. "The last time that happened, I'd downloaded the second night at Winterland, thinking it was a board. Turns out no else one wanted it."
Live performances aren't the only recordings being on the table; Landau also revealed that another 26 versions of "Chevrolet Deluxe" have recently been unearthed — he describes them as "revelatory" — and are being considered. While pricing and other details remain to be worked out, a trial run should begin sometime around Memorial Day.
- April 1, 2013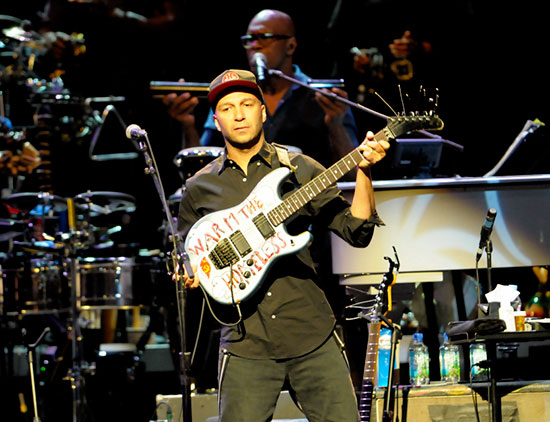 MORELLO "MORTIFIED" BY GUITAR TYPO
As he told the Sydney Morning Herald, Tom Morello only recently discovered to his horror that, somewhere on the way to Australia, the "W" fell off his guitar: "It's supposed to be 'WARM the Homeless,' not 'ARM the Homeless'! I hope you folks didn't think I was some kind of radical all this time!"
Relieved to have set the record straight, Morello also discussed a few tracks in the works for his next Nightwatchman album: "Step by Step (It Can Wait)," "Don't Start a Fire You Can't Stop," and "Slow Down, Friend."
- April 1, 2013 - photograph by Rene van Diemen

THE ESQUIRE: LIMITED EDITION REPRODUCTION, THEN TO AUCTION
Springsteen set to part with guitar he made famous


After anchoring exhibitions of Bruce Springsteen's personal memorabilia in Cleveland and Philadelphia, the musician's primary guitar known affectionately as "the old Tele" will head to the auction block in September. Famously depicted on the cover of Born to Run and played at nearly every concert from 1974 to 1993, the guitar has been replaced on stage by newer models. But its past is glorious and unique: among instruments like Neil Young's Old Black, Peter Buck's Rickenbacker 360, or even Jerry Garcia's duo of Wolf and Tiger, Springsteen's Fender Esquire was perhaps the guitar in rock music.
"It just doesn't work anymore," Springsteen told Backstreets. "Or maybe it does and I can't figure it out. It's more like, 'I used to have this guitar, and I learned how to make it talk,' but now? Whatever."
The auction was inspired by a fellow musician. "Eric Clapton did that with Blackie," Springsteen said, referring to the British bluesman's Fender Stratocaster. Its 2004 auction raised close to $1 million for a drug and alcohol rehabilitation clinic. "And B.B. King — he gave Lucille to the Pope! How crazy is that?"
But before the gavel comes down, the Esquire will spend several months at the Fender Custom Shop, whose designers and luthiers will create a limited run of 275 replica guitars. Kevin Buell, Springsteen's long-time guitar tech, will serve as a special consultant to Fender for the duration of the project. From the weathered finish to the hardware and current pick-up configuration, Buell tells Backstreets that the guitars will be exact reproductions of Springsteen's trusty instrument. "I should know," Buell said. "I've been trying for years to make one. You think 'Spare Parts' is just a song?"
Details on the auction house, bidding procedures, and how to order a replica guitar will be announced soon. One thing is known for certain: Proceeds from sales of the original and replica guitars will go to Springsteen. "I've been charitable all along," he shrugs, "so this one's for me. 'Boss Time,' as Steve would say."
Asked what he'll do with the money— a figure that could approach a cool $5 million — Springsteen said that he wants to go on a space tour. "Met Richard Branson, cool fella, he's gonna hook me up. I may play a short set up there. You know, the whole 'month-long vacations in the stratosphere' thing. Mainly I want to take some pictures and relax a bit."
- April 1, 2013

DOWN UNDER, AND AROUND AND AROUND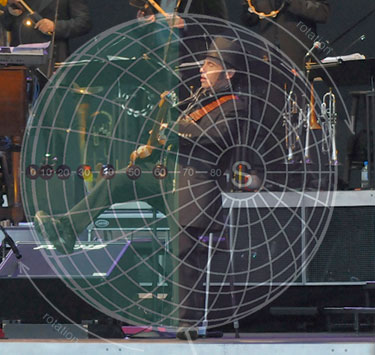 Appearing last week on G'Day, Science! Nils Lofgren helped investigate one of the most persistent myths of the southern hemisphere with his own true-to-life example: "Every night down here, I start my 'Because the Night' solo with every intention of spinning one way, but I wind up spinning the other way!"
"It's the darndest thing," Nils continues. "But if you think about it in non-vector terms: at a given rate of rotation of the observer, the magnitude of the Coriolis acceleration of the object is proportional to the velocity of the object and also to the sine of the angle between the direction of movement of the object and the axis of rotation!"
- April 1, 2013 - photograph by Rene van Diemen

HIGH ON THE MOUNTAIN OF LOVE?
Following the E Street Band's final performance at Hanging Rock, the whereabouts of several of the band's touring ensemble remain unknown: Soozie Tyrell, Cindy Mizelle, and Michelle Moore were last seen embarking upon a post-concert picnic, accompanied by headmistress Barbara Carr, dressed in their lace fineries and headed in the direction of the looming geological formation. We're sure they'll be fine.
- April 1, 2013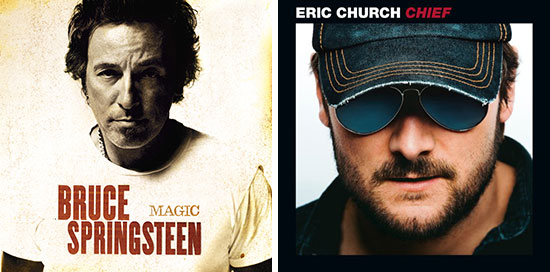 SPRINGSTEEN ANSWERS ERIC CHURCH WITH "ERIC CHURCH"
New song with E Street Band worked up at Melbourne soundcheck
Last summer, country star Eric Church scored a number one hit with his "tribute" to the Boss titled "Springsteen." The song and accompanying video spin the tale of a couple for whom Bruce's music provided the soundtrack to their lives and love. The lyrics name-check songs like "I'm on Fire," "Born to Run," and "Born in the U.S.A.," culminating in the chorus with the lines, "like a soundtrack to a July Saturday night / Springsteen."
While Billboard reported in August that Springsteen sent a note to Church in which he wrote that he and his family were fans of the song, he has never spoken publically about "Springsteen." But last week during a light-hearted soundcheck in Melbourne, Springsteen answered back with a song of his own called, naturally, "Eric Church."
The new song has not made it into the set as of yet, but an enterprising fan did record the soundcheck from outside the arena and transcribed some of the lyrics, which he said were set to the same melody as "Springsteen":
To this day when I hear that song, I see you standing in the vocal booth
Looking for an angle, looking for a way, to earnestly co-opt my truth
Why pay royalties for a cover, of I'm on Fire or Born to Run
When you can lift my imagery, my titles, my name and I get none

I was singing to you, you were posing like me
I was so annoyed, never got my fee
Fired up my lawyer's phone and we said, No
Stayed at it 'til Clive said, "Whoa."
We wrote the long letter, to your label
And I can still hear the sound
Of them begging, "Don't sue."

When I think about you
I think about ASCAP
I think about the old days
When covers paid my bills
Funny how your melody, sounds like my melody
Your hit sounds like "Tougher" on a Saturday night
Eric Church
Eric Church

Whoa-whoa-whoa-oh-oh...
- April 1, 2013