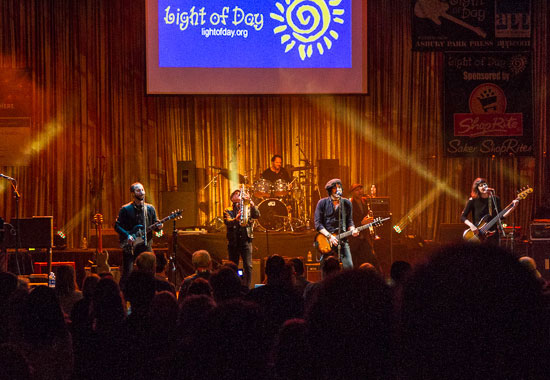 Originating as a birthday party for artist manager Bob Benjamin in 2000, the Light of Day (LOD) effort has always existed as a positive, dynamic force for change. And since its humble beginnings, LOD seems to grow and transform itself each year — existing first as a single benefit concert, then a week-long run of shows, and now playing a dual role as an ongoing international entertainment series and an advocacy and support network for those affected by Parkinson's. As LOD's focus has grown and shifted, so has Benjamin's own focus, as the disease has, over the years, again and again asserted its dominion over his body. Each year, the soft-spoken New Jersey native has issued a brief statement on the state of the movement, weaving in details from his own personal health issues. And each year, despite these setbacks, Benjamin has remained staunchly positive and forward-looking.
But in 2017, LOD's dual roles as entertainment and advocacy organization have been challenged as never before. With the looming threat of substantive changes to a national healthcare system that, despite significant improvement, had sometimes seemed at odds with the struggles of Parkinson's patients and their loved ones as well as the profound post-election feelings of despair and dread that seem to have settled on much of the country at large, the LOD Winterfest in Asbury Park seemed not to be the usual celebratory extravaganza, but instead welcome respite from what some have called "the new abnormal."
Bruce Springsteen, himself a frequent part of the LOD movement since its origins but this year between in a whirlwind book tour and a trip to Australia, was not a part of this year's festivities. Given this scenario, LOD 2017 could have succumbed to the pressure of lofty expectations. Instead, this year's shows in the New York/New Jersey region proved consistently engaging, inspiring and often transformative. Beginning with a celebration of Clarence Clemons' birthday at The Cutting Room in New York City and winding up with a series of acoustic songwriter circles at venues along the Asbury Park boardwalk, the LOD Winterfest 2017, while mostly relying on its core team of performers, gave attendees just the sort of "comfort food" performances that fans hungered for.
The New York event on Wednesday welcomed LOD newcomer Jake Clemons to the fold with a special show highlighting the release of his new CD Fear & Love [see our recent interview], while the Thursday night Asbury Park kickoff at the newish venue House of Independents was anchored by raucous performances by San Francisco's Chuck Prophet (another newcomer) and veteran LOD artist Willie Nile. Friday night saw both the induction of a new group of Asbury Angels at the Stone Pony and a mesmerizing performance by guitar wizard Albert Lee at McLoone's Supper Club. Saturday afternoon featured the return of the popular Asbury Underground music series, which showcases local artists like The Sunday Blues and Arlen Feiles in popup-style performance spaces in downtown Asbury Park, an inspiring History of Protest set by Shannon McNally and friends, and the ever-popular Asbury Blues showcase at the Wonder Bar, which this year featured standout performances from local veterans JoBonanno and Billy Walton.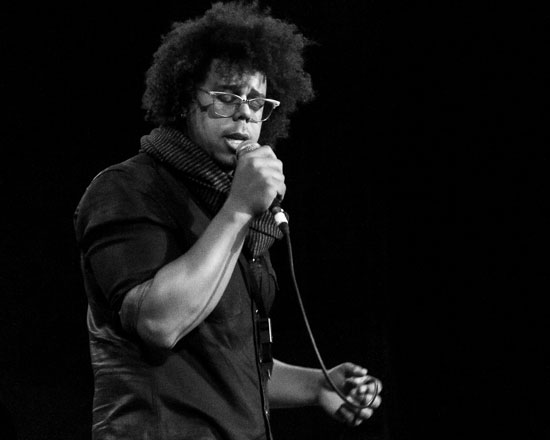 But it's the Saturday night event billed as "Bob's Birthday Bash" that has always been the centerpiece of the LOD movement, this year headlined by Jake Clemons [above]. While there may have been fewer national names on this year's bill, their absence allowed standout up and coming Asbury Park bands like The Battery Electric and Remember Jones and Jersey Shore legend Bobby Bandiera to all but steal the show. Indeed, while longtime LOD participants like Nile and Jesse Malin [top] performed raucous, crowd-pleasing sets before a packed house later in the evening, it was the beginning of the lineup that engaged and inspired early arrivals, and which the late-comers may come to regret missing. Even the night's "walk-in" music — provided by Italian acoustic septet The Fireplaces — was engaging and imaginative.
First up was The Battery Electric, who steadfastly refused to let a tough opening slot before a mostly empty house diminish their optimistic ardor. Introduced by DJ and co-emcee Rich Russo as a "band to watch" and led by vocalist Ron Santee, they delivered an energetic, soul-infused set complete with wailing sax, driving backbeat and crunchy power chords. A band that owes much to the look and sound of Bob Seger's Silver Bullet Band — even credibly covering "Ramblin' Gamblin' Man" — the Battery Electric was just as convincing on originals like the rabble-rousing "Does He Love You." A new CD titled The Heart and the Thrill should garner them some well-deserved attention in the coming months.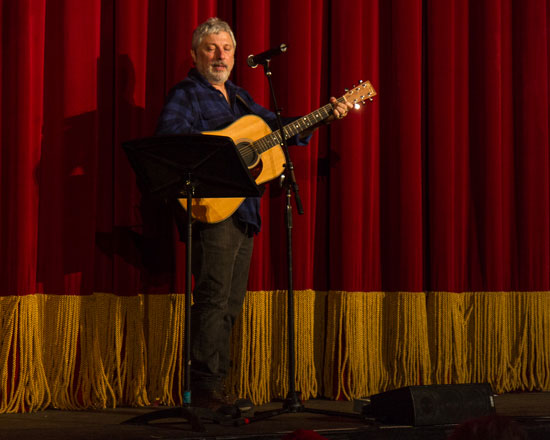 Bobby Bandiera [above], who had somewhat surprisingly never done a solo appearance at LOD, played a brief acoustic set that was unfortunately marred by sound issues. Bandiera, who has been a professional singer/guitarist since his mid-teens, still possesses one of the purest tenors in rock 'n' roll, and his performance of the Jukes classic "Under the Sun" (co-written with ex-Jukette Patti Scialfa) was one of the highlights of the evening.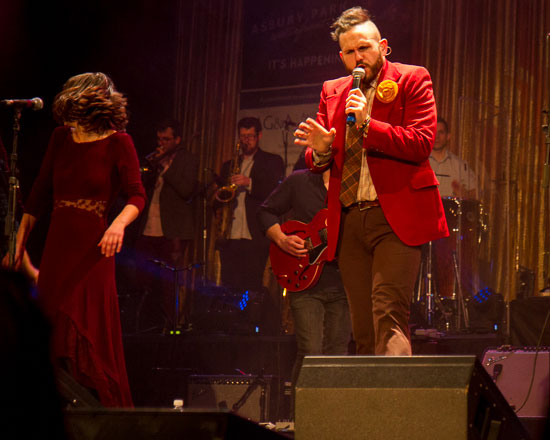 Next up was the soulful Remember Jones, fronted by longtime Shore denizen Anthony D'Amato [above]. The band, which often does themed tribute evenings to the likes of Joe Cocker, Van Morrison, Prince, and Amy Winehouse, effortlessly channels these elements into its own brew of originals with an eye-catching stage show featuring four female backing vocalists and a full horn section. Among the highlights of this set were an unusual cover of the Smashing Pumpkins' "Bullet With Butterfly Wings" and the original "Viola," which allowed D'Amato to showcase his skills as a soul balladeer.
Other standout early performers included singer/songwriter Emily Grove, who over the past several years has established herself as a force to be reckoned with on the Shore scene. Performing on next to no sleep (she had been up early promoting LOD on a CBS New York morning show), Grove was a hypnotic presence, closing her set with an a cappella performance of her own "Johnny Lee."
Another early acoustic act of note was New York-based folk-pop duo Porter & Sayles, whose delightful vocal interplay was positively infectious. Fresh off a residency at the House of Independents and the release of their self-titled debut late last year, this pair of Pennsylvania natives showed off their prodigious songwriting skills on originals like "Free Bird," a hilarious sendup of life as a singer/songwriter, where requests for "Freebird" are de rigueur.
Following them was LOD founding artist Joe D'Urso & Stone Caravan. Always an audience favorite, D'Urso and his band had the crowd up and dancing on originals like "Noisy Guitars" and the set-closing cover of Neil Young's Rockin' in the Free World." The energetic D'Urso has, over the years, become an informal international ambassador for LOD, and he and the hardworking Stone Caravan have come to embody the selfless dedication to the cause that is the true spirit of the LOD movement.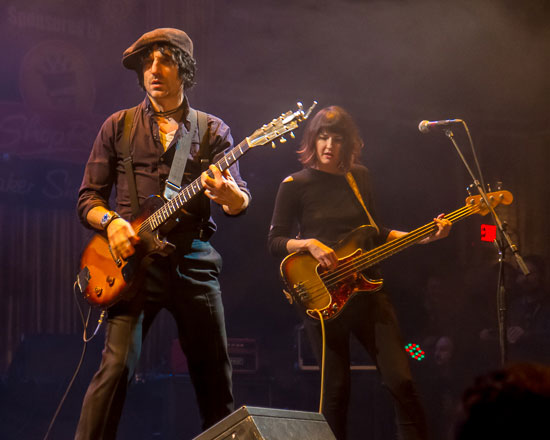 Then, without further ado, out came longtime LOD artist Jesse Malin [above], who over the years has become another audience favorite. "Everybody get up off your ass," he admonished, and with that, he was off and running. The latest iteration of Malin's backing band features a two-piece horn section and the peerless Catherine Popper (Ryan Adams & the Cardinals, Grace Potter & the Nocturnals) on bass. Jesse's set focused on newer material selected from his 2015 CD Outsiders, and the audience was up and dancing on songs like "Corrupted" and the driving "Turn up the Mains," shouting its cathartic refrain, "I feel ok/ I feel ok" right along with him. Malin can always be counted on to pull out a well-placed cover, and this year was no exception, with the lilting Springsteen b-side "Janey Don't You Lose Heart" prompting an audience singalong and the Clash's "Rudie Can't Fail" closing out the set. The hardworking Jesse Malin lives and breathes rock 'n' roll, and it was great to see him finally getting the kind of audience appreciation he's always deserved.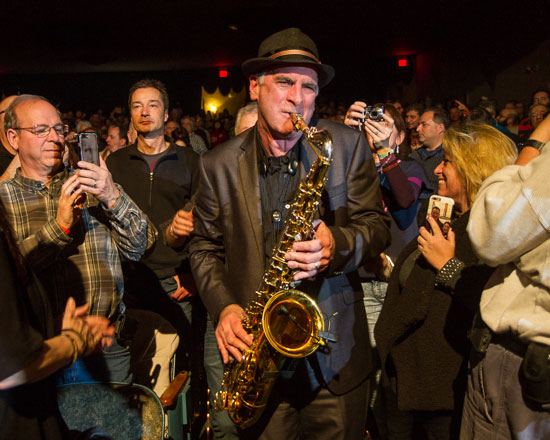 Next up was Jersey Shore legend and sometime E Streeter Eddie Manion [above],introduced by LOD co-founder (and founding Asbury Juke) Tony Pallagrosi, who reminded the audience that Manion was the one who had brought him into the Jukes fold. The pair presented a brief video (filmed mostly in the neighboring Shore town Ocean Grove) that told the story of Manion's recent LOD-related trip to Australia and featured LOD board member Jean Mikle. Manion then plugged his 2015 release Nightlife with a performance of Gene Pitney's "Town Without Pity."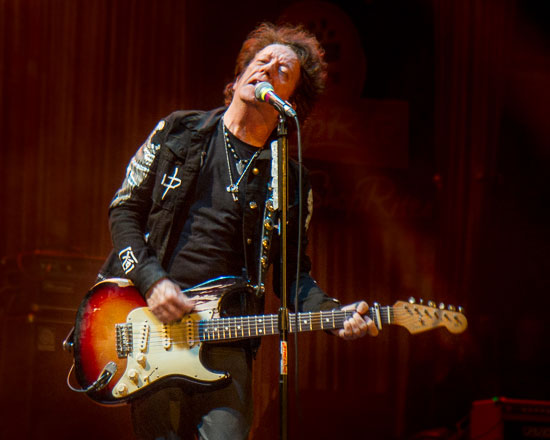 Willie Nile [above] and band (featuring the great Johnny Pisano on bass) were up next, and his high-energy rock 'n' roll had everyone on their feet once again. Nile has enjoyed a late career surge of creativity and seems to always have a new CD out. His 2016 release, World War Willie, was the focus of a rollicking set that saw the diminutive Nile bounding across the stage with typically manic energy. Willie is another artist with a flair for pulling out just the right cover (often in tribute to a deceased friend or colleague), and this year was no exception, as he paid homage to his old friend Lou Reed on "Sweet Jane," its monster guitar riff shaking the rafters. Long a musicians' favorite, it's a showstopper that should be more familiar to audiences than it seems to be. Nile closed his set as he usually does by bringing out a handful of performers to belt the chorus on his anthemic "One Guitar."
Following Nile was Californian Chuck Prophet (Green on Red), who performed a brief acoustic set. The well-respected Prophet is a true musician's musician, having played and toured with artists like the great Lucinda Williams, and he also boasts a Jersey Shore connection in one Ernest "Boom" Carter, who recorded with him in Mexico City for 2010's Let Freedom Ring! CD. Prophet is a vastly underrated live performer, especially when backed by his stellar band The Mission, and it's a shame he doesn't come to the east coast more often.
Prophet closed his set with "Bad Year for Rock and Roll," which pays homage to the music community's tremendous losses of 2016. The oddly prescient track, with its chorus "I wanna go out / but I'll probably stay home" seems to sum up the mood of the nation as only great songwriters can do. It can be found on his upcoming release Bobby Fuller Died for Your Sins (due out February 10), which also includes the standout "Alex Nieto," a tribute to a Bay Area man gunned down by police in 2014.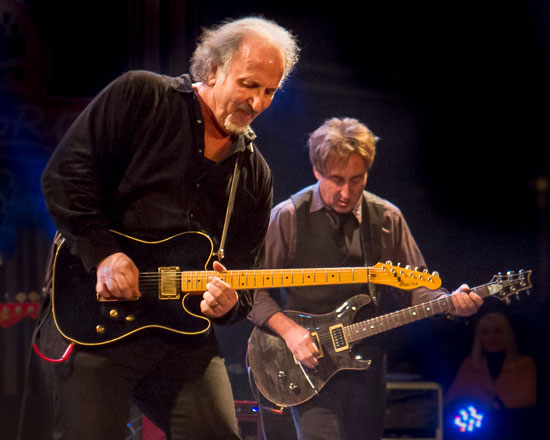 LOD founding artists Joe Grushecky & the Houserockers [above] followed Prophet with a somewhat brief but powerful set, including "Everything's Gonna Work Out" and the ever-popular anthem "Pumping Iron, Sweating Steel." Grushecky and his band should need no introduction to followers of LOD, and he can always be relied upon to bring the show back to its roots in the bars of the Jersey Shore.
Grushecky paused mid-set to address the elephant in the room, namely the absence of his longtime friend and collaborator, Bruce Springsteen. "I spoke to Bruce, and he said to thank you for coming out to support the cause, and he said to 'play some Jersey music.'" The Springsteen-penned Jukes classic "Hearts of Stone" certainly qualifies, and Grushecky & Co., supported by the great Eddie Manion on saxophone, more than did it justice. The Houserockers' set concluded with another dose of Jersey music, as the legendary J.T. Bowen came out to guest on Bruce's "Savin' Up." Prowling the lip of the stage in true soul shouter fashion, Bowen exhorted the crowd as Manion patrolled the audience, saxophone blaring. Longtime Shore performer Jeffrey Gaines followed up with an acoustic set that included a mellifluous cover of Sam Cooke's "A Change is Gonna Come."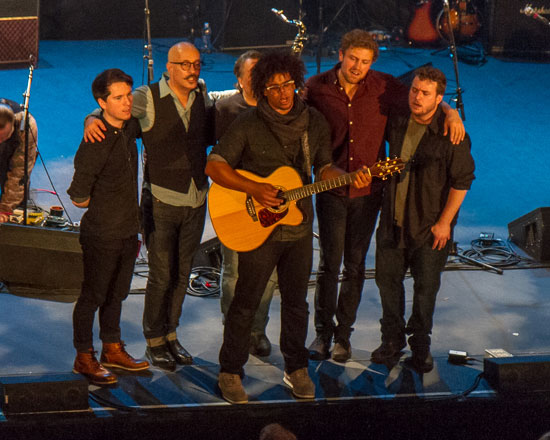 E Street newcomer Jake Clemons closed the evening with a set showcasing material from Fear & Love release. Clemons proved to be another audience favorite, as many stuck around despite the lateness of the hour and warmly supported him and his band as they performed album selections like "Hold Tight" and the set-closing "Carry Me Through," for which Clemons called the band to the lip of the stage for an "unplugged" performance straight from the heart [above].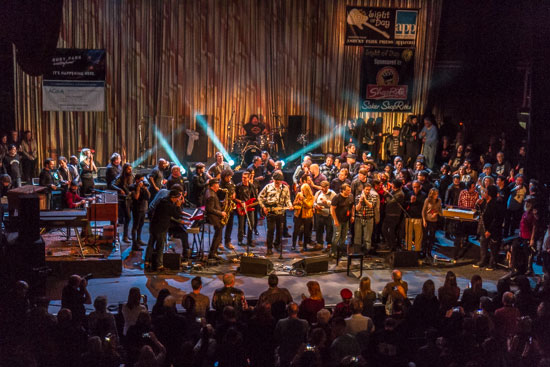 The night ended as these Birthday Bashes always end — with a brief, emotional speech by Bob Benjamin, the presentation of his birthday cake and a singalong jam on Bruce's "Light of Day." Despite the absence of its author, the song loses none of its power. It came as much-needed inspiration in the Brave New World we're about to enter.
- Lisa Iannucci reporting - photographs by A.M. Saddler