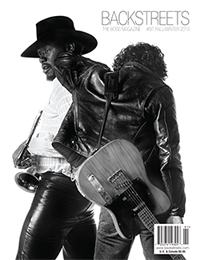 The Fall/Winter 2013 issue, Backstreets #91

Our massive latest issue honors a very Big Man. More than half of the 116-page, perfect bound Backstreets #91 is a tribute to the life and music of... do we have to say his name?

Okay, we will. Our 65-page Clarence Clemons tribute kicks off with Big Man: The Final Chapter, an epilogue to Clarence's book written exclusively for us by his co-author and longtime friend, Don Reo.


After that, page after page of remembrances from longtime friends, colleagues, and fellow musicians, including Little Steven, Robert Santelli, "Stormin'" Norman Seldin of the Joyful Noyze, Vini Lopez, Ernest "Boom" Carter, Mike Appel, J.T. Bowen, Narada Michael Walden, Branford Marsalis, Dale Maharidge, Jo Lopez, Nick Mead, and eulogies from Jake Clemons and Bruce Springsteen.


We've also packed this tribute with stunning images spanning 40 years, from photographers including Eric Meola, Barbara Pyle, Frank Stefanko, Jim Marchese, Rene Van Diemen, Victoria Clemons, James Shive, James Appel, Michael S. Williamson, Teresa Psykaty-Lamicella, Joseph Quever, Guy Aceto, A.M. Saddler, Michael Zorn, and the archives of Billy Smith.


The Clarence tribute section is, appropriately, massive. But it's not the only feature here. We also present the Backstreets Interview with Tom Morello, conducted by editor Christopher Phillips. Over two sessions, and 11 pages in the magazine, Tom discusses his fandom, relationship and work with "the only friend I have who I also subscribe to a magazine about."


Plus: The impending High Hopes, Q&As with Bruce author Peter Ames Carlin and For Music's Sake author Carrie Potter, "fan-based recordings" reviews, and much more. 116 pages, perfect bound, full-color.
If you enjoy our website, we know you'll love the magazine — you can still order a single copy of this issue.


On the Backstreets: Parting Words
Published in Backstreets #90
Winter 2011/2012
By Christopher Phillips
When I was 13, in 1984, I made my girlfriend learn all the members of the E Street Band, their names and what instruments they played. Made is the right term, because while she was a good sport, she really didn't care. She kept getting Danny and Roy mixed up. But she played along — probably because she saw the slight frenzy in my eyes when I talked about Bruce and the band. When I later saw the movie Diner, I saw myself — not the most flattering mirror to hold up, but there it was: Eddie requiring his bride-to-be to pass a quiz, and Daniel Stern's Shrevie crying out to his wife over his records, "This is important to me!"
One name Girlfriend Past never had a problem with was Clarence Clemons.
That winter, I saw my first Springsteen concert. I remember spending a lot of the show poking myself to be conscious that Bruce Springsteen — the real guy — was right there on stage in front of me. I haven't really had that feeling since. Maybe it was just being a kid, or not having seen many shows in my life at that point, but I had to keep reminding myself that was him, here in this building, and he was nowhere else, and no one else in the world (outside of the Leon County Civic Center) was getting to see it. It was somehow a difficult concept to grasp. Bruce would later describe being in New Jersey as being "like Santa Claus at the North Pole... It's like you're a bit of a figment of a lot of other people's imaginations." That night it was like Santa Claus had come to Tallahassee, and I was literally having trouble believing my eyes.
Clarence, on the other hand, was most solidly there. I remember looking over to him during the show and being brought back to reality: this is happening. For all the mythologizing that goes along with the Legend of the Big Man, there was something about him that night — and on many nights afterward — that, for me, was undeniably real, present, and grounding.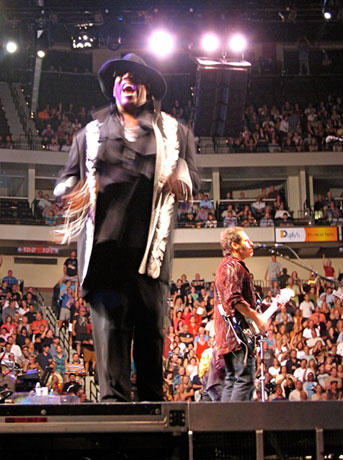 Amidst the sadness when Clarence passed away some 27 years later, here was another thing to try to wrap my brain around: how something so solid, so real, so there... could be gone. When it comes to dealing with death that may not be an unusual question to grapple with, but in this case it feels particularly and appropriately big. I'm still not sure I completely comprehend it or have entirely accepted it. Sometimes it still feels entirely theoretical; in a way, I'm looking forward to the 2012 tour in order to be shown — to confront — what a Big Man-free world looks like. Because what else can we do now but celebrate his life, grieve his death, accept it, and move on?
But I catch myself when I talk about grief. Is that what I've been doing? Grieving? I've never been one to get too worked up over "celebrity deaths." Amid wailing and gnashing of teeth over Michael Jackson or Heath Ledger, callous or not, I tend to say at least to myself, "Yeah, but really, you didn't know him." I even reminded myself of that when Danny Federici died — that as hard as it might be for fans of the man and the music, it's a far cry from knowing, loving, living with or playing with the man himself.
And yet... I feel grief. Honest-to-goodness grief, and I felt it for Danny, too, and part of the challenge this time is making sense of it, even justifying it to myself. Part of it feels this way because, as Shrevie said, "This is important to me!" But it's more than that — it's more than having lost a component of this thing we love.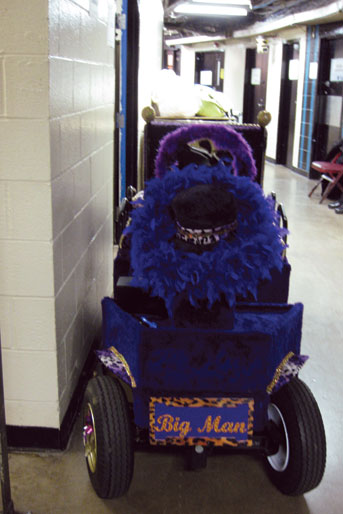 I've been thinking about the last time I saw Clarence, face-to-face. It was at the Greensboro Coliseum — a rare instance, for me, of getting to go backstage, so my heart was already pumping when the Big Man rode up to say hello. He was being driven on his... I don't know what else to call it but the Big Man-mobile, what most golf carts might dream of one day becoming. It might as well have been a throne. He was suddenly there before me, a beautiful woman by his side, a cigar in his hand, a fancy cane between his knees, and an enormous smile on his face. We shook hands, and mine was swallowed up. We made small talk for a minute or two, I don't remember what about, but I do remember his parting words.
"Have a good show, Big Man," I said. And as his cart motored away down the hall, he said, "You too, my brother."
"My brother." For something that really might not have meant anything at all — do you feel like more of a man when someone calls you "man"? — those words lifted me up. Clarence called me his brother! Of course in the minutes and hours and days that followed, as my heart rate returned to normal, I easily put that into perspective. It didn't mean anything. It was a figure of speech, a "see you later."
But what if it did mean something? What if Clarence said exactly what he'd meant to say? And he'd have said it to anyone there in that ramshackle old venue, or even anyone in the world? As Springsteen fans, it stares us in the face, my brothers and sisters. "Maybe our fate is not independent at all," Bruce said on the Tom Joad tour, "Maybe we're all just little pieces of one big soul." All Men Are Brothers. "We are brothers and sisters all."
That, to me, makes my grief make sense. I've lost a brother. Did I know him? Not well. But we spent many nights together, and he was my brother — he was our brother.
Clarence never seemed to mind speaking in such terms. In 2003, he told me in an interview for this magazine: "I look at my music as being an extension of myself, and I try to be as spiritual and pure as I can when it comes to the music part of my life. What I bring to people is pure honesty, and pure love, and hopefully it brings some light and joy to the world... You get enough people who really believe in the music — and there are more of us than you really know — having an outlet, having a way to be able to say it and not be afraid, and know that you're not alone. And the more people who find out that they're not alone, the more powerful they become."
Thanks, Big Man, for your music, your light, your joy, and for making us all feel less alone. Godspeed, my brother.

Back to Magazine Contents

Backstreets Magazine
New issue contents
Back Issues
Where to Buy
Advertising
Subscriber Services

SUBSCRIBE NOW!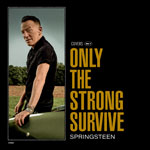 ONLY THE STRONG SURVIVE
The Backstreets Liner Notes, our own song-by-song printed booklet, comes exclusive and FREE with each CD & LP!
ORDER NOW
Backstreet Records is the mailorder division of Backstreets, delivering Springsteen merchandise to fans for more than 25 years. We carry numerous collectibles, tour shirts, books, magazines, and imported CDs and records.
The world's best selection of Springsteen collectibles, all available by mail.
See all the new arrivals in our online shop