"FROM THE VAULTS" DVD SERIES IN THE WORKS
While Tracks and Essential brought many of Springsteen's unreleased songs to light, vast amounts of film footage have been languishing on the shelf -- to the frustration of many fans. But not for long. Thanks in part to the success of Live in Barcelona (which went triple platinum in January), Sony has reportedly convinced Springsteen to release a series of videos from the vaults. Titled simply Live Films, the DVD series is currently planned for Christmas 2004. According to a label source it's not yet set in stone, but so far it sounds like nothing less than fan's dream come true. Here's how the series is shaping up:

Live on the Late Show with David Letterman DVD - Includes Springsteen's complete and unedited 2002 appearances on The Late Show With David Letterman, both "The Rising" and "Lonesome Day." Bonus footage includes "The Rising" from the MTV Video Music Awards, the complete and unedited "Lonesome Day" video, a photo gallery of the band waiting backstage minutes before their historic performance in Milan, and fan reaction to Bruce performing "Pretty Flamingo" in Philadelphia.

Live on Nightline with Ted Koppel DVD - The complete and unedited broadcast of Bruce's appearance on Nightline with Ted Koppel. This release includes the moment when Bruce mentions that he had at one time a song entitled "Harry's Place"; he even reads a few lines from his lyric book. Exclusive bonus footage includes a performance of "The Rising" from the 2003 Grammy Awards, an interview with Conan O'Brien regarding Springsteen's Late Night with Conan O'Brien performance, and a three-second snippet of Bruce saying "This is for Joe" at the beginning of the historic performance of "London Calling" at the 2003 Grammys.

Live on the Today Show DVD - The complete, unedited Today Show broadcast from July 30, 2002. Additional footage includes interviews with people who stood outside Convention Hall to listen during rehearsals, and a brief clip of Bruce instructing Clarence where to stand on stage. Bonus features: interviews with fans walking to their cars after Bruce performed "County Fair" at Darien Lake, and still photos of Bruce performing "You're Missing" on Saturday Night Live.

Live on the Today Show will also include a bonus CD single, containing "Land of Hope and Dreams" (live 2000), "Darkness on the Edge of Town" (live acoustic), and "Pink Cadillac" (studio).

Packaged with all volumes in the series will be a limited edition bonus CD-ROM, listing the names of all the songs performed, recorded, and filmed by Bruce Springsteen and the E Street Band on the 2002-2003 Rising Tour, some of which may be used at a later date.

AL FRANKEN'S RADIO SHOW HOSTS SPRINGSTEEN
Bruce was a surprise guest on the debut program of Al Franken's "The O'Franken Factor," the liberal-and-proud-of-it radio show that premiered on Air America on March 31. Chatting briefly with Franken, Bruce played "Empty Sky" and "Lonesome Day" in solo-acoustic versions.
"And if you want to hear a funnier version of what I just sang," Springsteen said after his performance, "check out Al Franken's new album."
Franken's The Rising, and the Rising Risers Who Rise, due April 20, is a song-for-song "reimagining" of Springsteen's 2002 album, with song titles including "Long Cool Woman (In a Black Burka)" and "Doggone It, Let's Be Friends."

PATTI SCIALFA'S NEW ALBUM RELEASED IN 2002
Asked recently by Backstreets about progress on the long-delayed follow-up to Rumble Doll, Patti Scalfa responded, "It's out. Where the hell have you been?" It turns out her much-anticipated second album has now been awaited a couple years too many -- it actually came out two years ago, and has since gone out of print. Titled Senorita Melancholy, Scialfa's sophomore album was released in July of 2002, while her label's promotional machinery was too busy with Springsteen's The Rising to get the word out. To make up for it, Sony is planning a reissue a few years from now, and will offer "Electric Nebraska" as a free iTunes download when you buy Patti's album at that time.
Tracks on Senorita Melancholy included "Mannequin (That's All I Am to You)," "Dusty Ol' Town," "Baby, Baby, Baby Mine, My Darling," "Love's Fortunate Redemption (Rain on Me)," "Rosaries and Rosebuds," "Rusty Kiss," and "Ramshackle Flower (Give Me Strength)."

LITTLE STEVEN GETS THE "QUEER EYE" TREATMENT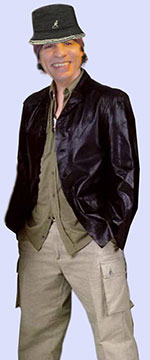 "What I wanna know is, who's givin' you the idea that I need this kinda crap in my life?" Steve Van Zandt asked when five gay men burst into his New York City office to whisk him away for a fabulous makeover. Yes, Little Steven had a visit from the Fab Five, for the season finale of Queer Eye for the Straight Guy. "Well, he's big, black, and beautiful, I can tell you that!" gushed Carson Kressley, "But enough about Mr. C. -- how about Mr. Pirate here? Anyone want to walk the plank? Ahoy, matey! Polly sure does want a cracker!"
After trying on his new couture (right), Steve sat down with Jai Rodriguez for a little culture lesson. "I want to talk to you about your performance?" Jai said, leaning forward and making eye contact. "When I see you onstage, it's like you're frowning. Scowling? You know what I mean? And I think it's important to remember your audience, it's all about love -- we're all here to have a good time with you. We'd love to see you smile. It's a pretty smile! Okay? Let's call everybody back in. Guys?"
Not everything went smoothly; both Rodriguez and Kyan Douglas suffered concussions over the course of the three-day shoot; Kressley is recovering from a shattered kneecap. But Van Zandt had the time of his life. "Hey, they bought me a new freakin' sofa. What's not to like? It's Tjuz Time, baby."

NEW BOOTLEG SERIES TO "KICK MAJOR ASS"
A secretive group of hardcore Springsteen bootleggers, known in traders' circles only as Crappomattox, has had it up to here with official releases. Unsatisfied with the "bullshit hodgepodge" output from Sony, Crappomattox has decided to unveil "the bootleg series to end all bootleg series…es." Kicking things off is the 27-track Volume One: Chevrolet Deluxe: The Forgotten Incomplete Stereo Alternates. This first installment is being downloaded across the web as we speak, in a new compression format that your computer is unable to read. Artwork is available online at 72 dpi.

"BRUCE & FRIENDS" TOUR TO BEGIN IN JUNE
Though every member of the E Street Band is reportedly unavailable for Springsteen's 2004 Tour, Bruce is still going ahead with plans to hit the road this summer. Inspired by the success of the Holiday Show format, Springsteen has invited fellow artists Garland Jeffreys, Joe Grushecky, and Wolfgang Niedecken, to join him; each will play an hour-long set in an order to be determined nightly. The "Don't Make Me Come Out There and Smack You" Tour kicks off in June.
Coast-to-Coast Tour 2004:
June 7, East Rutherford, NJ
June 8, East Rutherford, NJ
June 10, East Rutherford, NJ
June 13, East Rutherford, NJ
June 14, East Rutherford, NJ
June 17, New York, NY
June 19, New York, NY
June 20, New York, NY
June 22, Boston, MA
June 23, Boston, MA
June 29, Eugene, OR
July 3, Trenton, NJ
July 5, Newark, NJ
July 7, Wildwood, NJ
July 9, Englewood Cliffs, NJ
July 12, Tinton Falls, NJ
July 13, Pt. Pleasant Beach, NJ
July 15, Manasquan, NJ
July 16, Dutch Neck, NJ
July 19, Ho-ho-kus, NJ
July 21, Shark River Hills, NJ
July 25, East Rutherford, NJ
July 27, East Rutherford, NJ
July 28, East Rutherford, NJ
Update: Terence Trent D'Arby has been added to the bill, for what is now being called the "I WILL Come Out There and Wring Your Fucking Necks" Tour. Negotiations are underway to have vendors selling beer in the aisles; security at the gates will be tight, frisking for everything except cell phones, pocket cameras, and inflatable beach balls.

MEET THE BACKSTREETS STAFF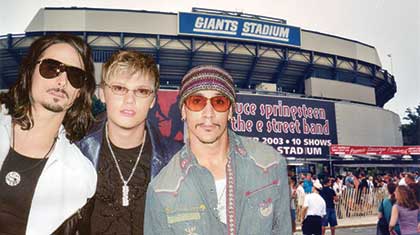 - July 26, 2003